How many of you lovelies are finding that you're planning for a winter wedding? If so, then I really hope that today's wedding gives you plenty of ideas for creating an elegant and warm day.
Please meet primary school teacher Sarah and online business owner Andy, who wed on 14 December 2019 at Dragon Hall in Norwich. The couple wanted to make their intimate wedding cosy and welcoming for their 40 guests, creating a warm glow with thousands of sparkling fairy lights and a rich, deep colour palette of burgundy and green.
Camilla Andrea Photography

+ Follow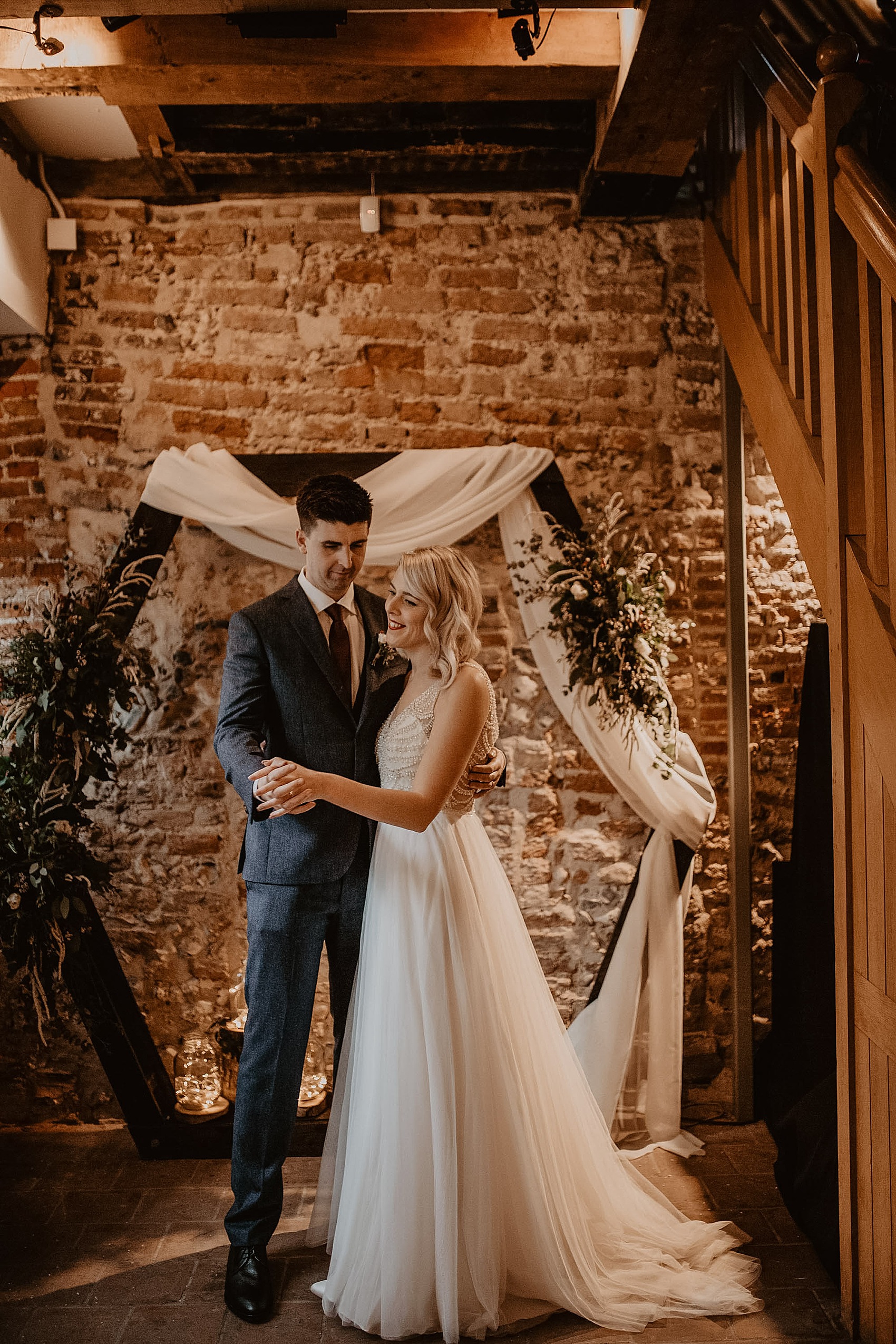 "We knew that we wanted to get married in the city as Norwich is very close to our hearts and having a small city based venue appealed to both of us. Our friends, Lizzie and Nail, also had their wedding reception at Dragon Hall and we loved the charm of the building along with its modern glass back. I knew that getting married in an old Tudor hall in mid-December might be quite cold and bleak so I wanted to make sure that the venue had a warm glow from the start."
The Dragon Hall in Norwich is a Grade 1-listed medieval merchants trading hall, now The National Centre for Writing, and combines ancient Tudor architecture with a contemporary, light-filled glass extension for a spectacular look. What better venue for a small and sparkling Yuletide wedding?
"I knew the venue would be mostly decorated with greenery and warm lighting so my bridesmaids could wear a colour to draw everything in. I loved their deep burgundy sparkly dresses as it gave our wedding a touch of colour that I thought it might require. The sparkle of their dresses also complimented the beading on my dress and together with Andy's woollen navy suit completed our colour palate despite not really initially having one."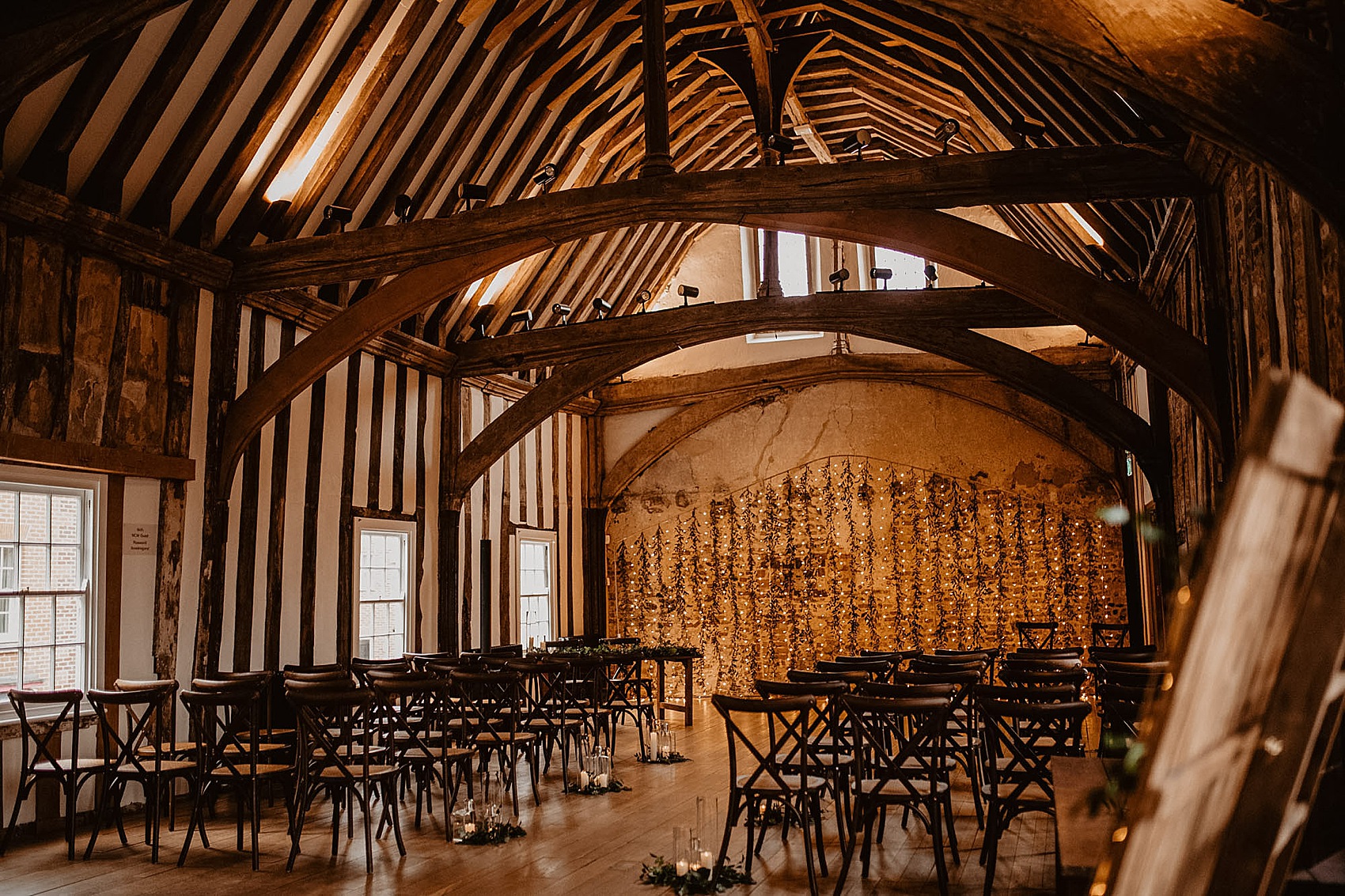 The couple first met on a night out in Norwich and, seven years later, Andy proposed on a trip to New York.
"We actually met each other quite a few times before our first date. Things naturally progressed and after seven years of being with Andy he proposed to me at a steak restaurant in New York."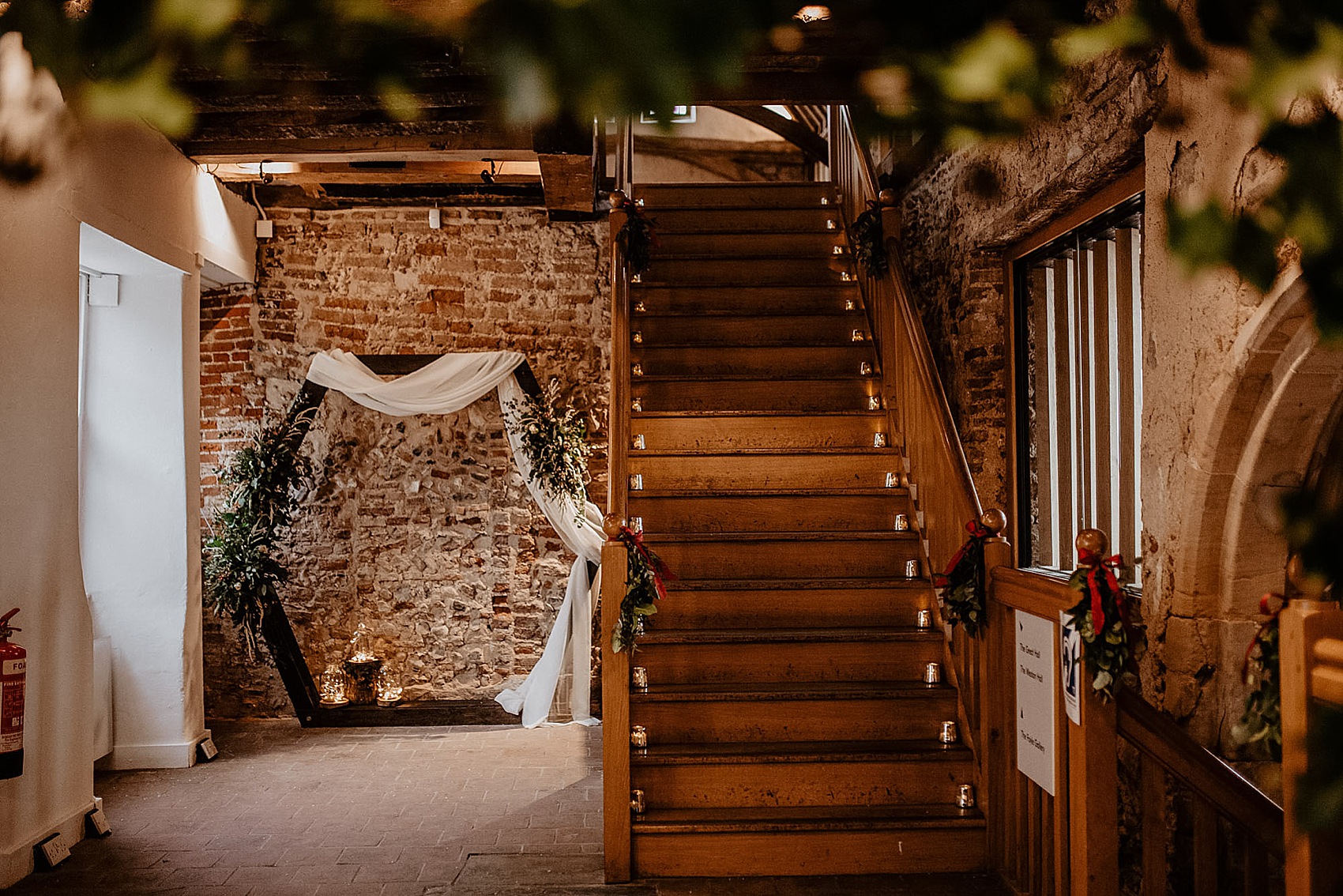 We got engaged on the 9th of April 2019 and we knew that we wanted to get married sooner rather than later. Andy even mentioned in his speech how I paused when he asked me as, in his words, I was totalling up the amount of tea lights we would need to decorate the venue!"
"Luckily, Dragon Hall had some availability before Christmas and I loved the idea of a Christmas wedding. After we finalised the date I became incredibly focused on planning a wedding in under eight months."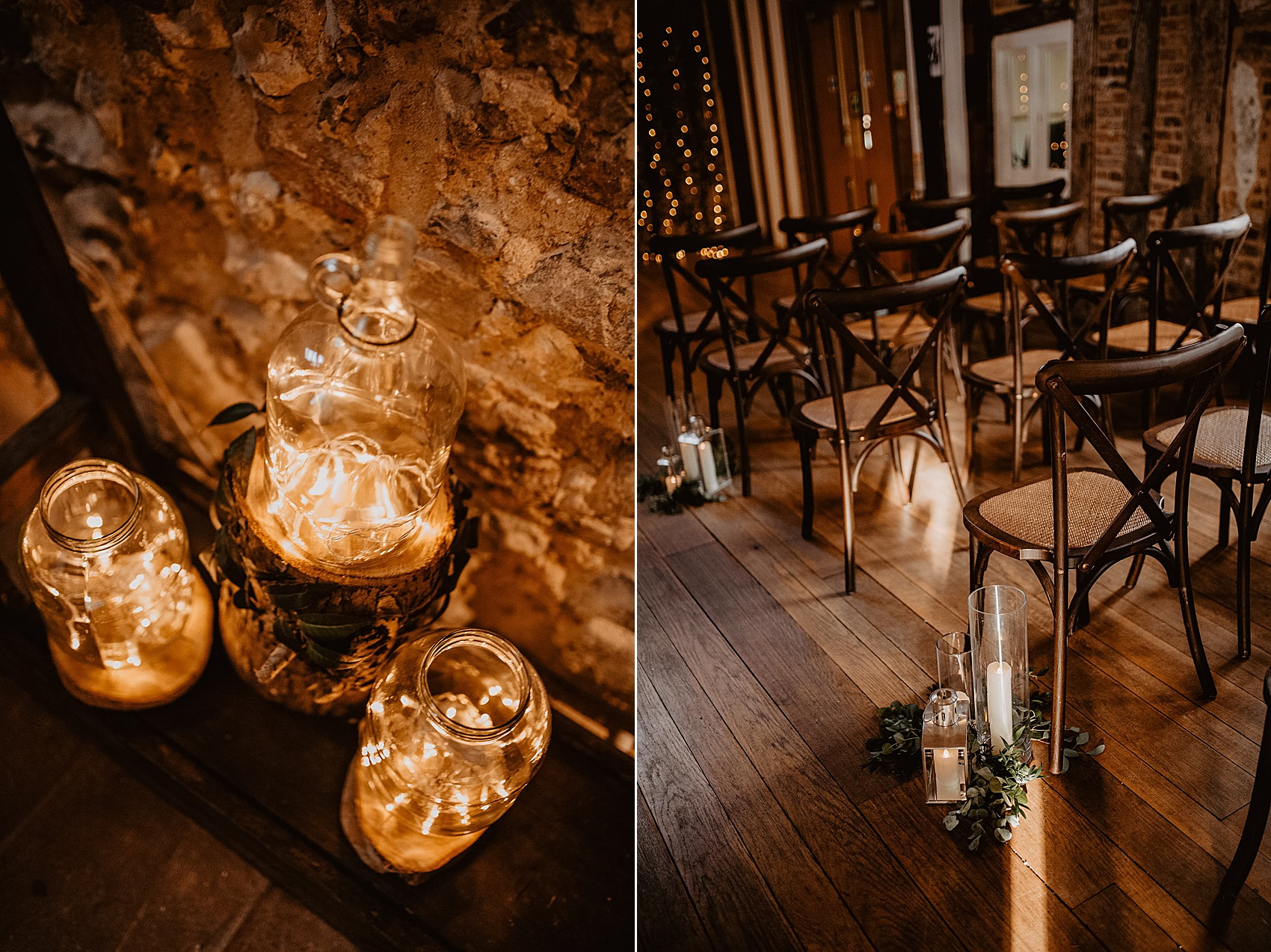 To help bring all their ideas together, the couple asked Sarah at Softley Events to help organise the day and make it run smoothly. They also had help from wedding stylist business, Authentic Charm.
"Sarah from Softley Events was incredibly helpful during the day. Authentic Charm were incredibly helpful and made my dream come true. Jodie and Ang visited the venue and listened carefully to what Andy and I wanted to achieve."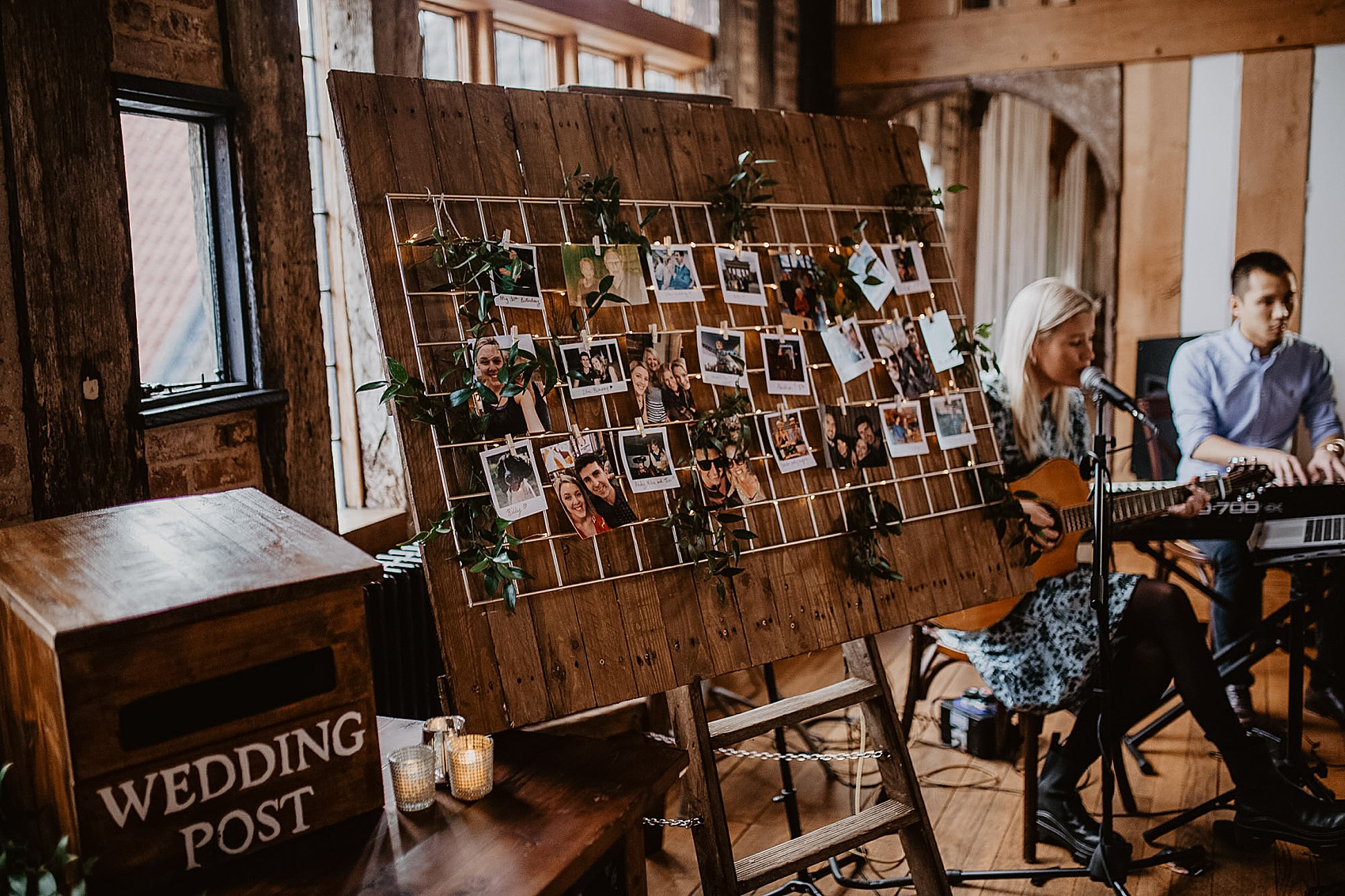 "This was a warm, cosy wedding for a small number of guests during December. After searching on Pinterest, I found a backdrop of heavy foliage and warm lights that I knew I wanted as a focal backdrop to our day."
"Ang and Jodie measured and made a bespoke backdrop which fitted the curve in the timber beam. Together with Anna, from Fox & Fern Florist, they created a backdrop that really made our wedding."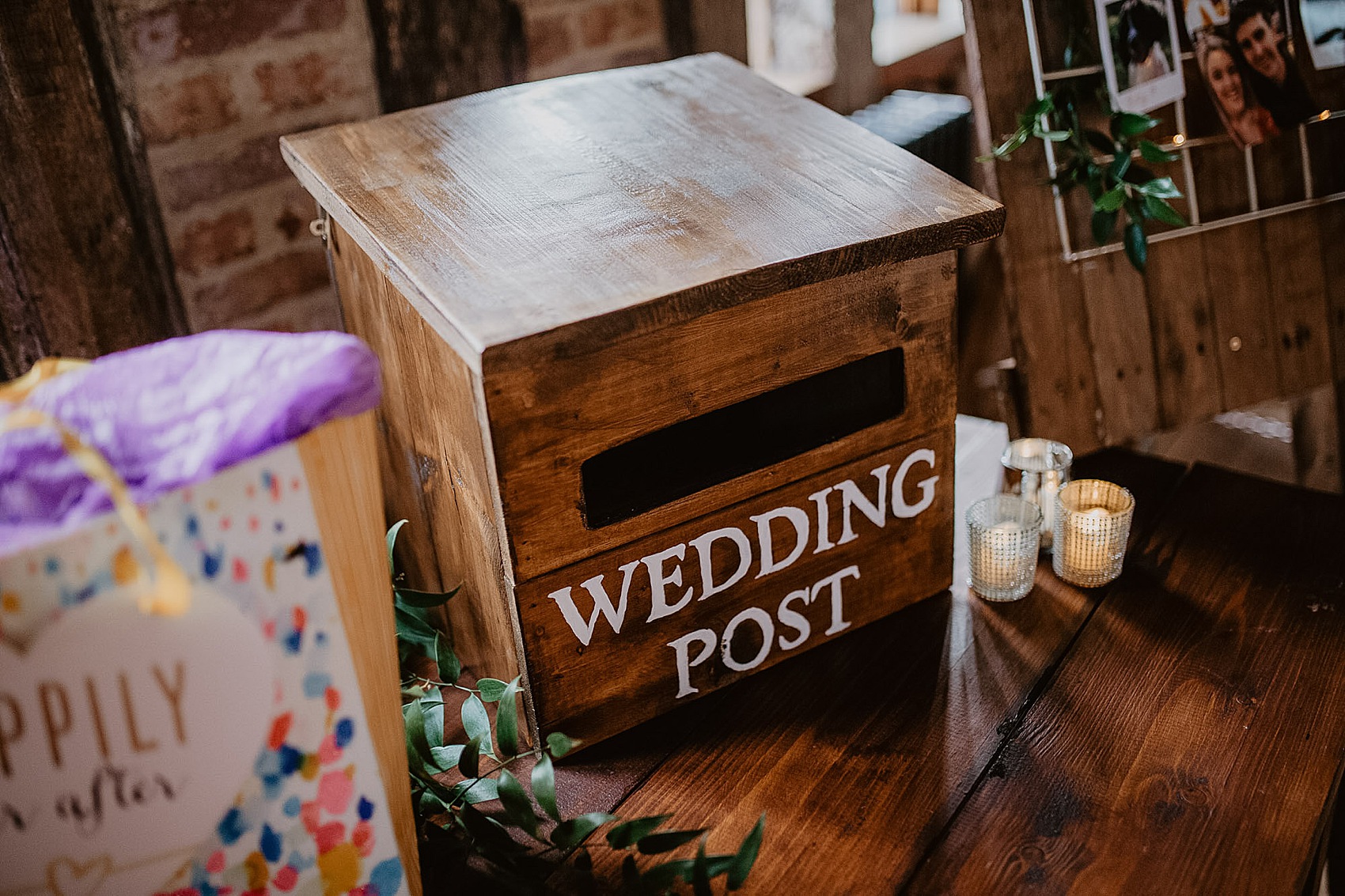 Anna also provided the garlands on the table and the flowers on the day. She knew I wanted heavy foliage and a little nod to Christmas without a real theme taking over."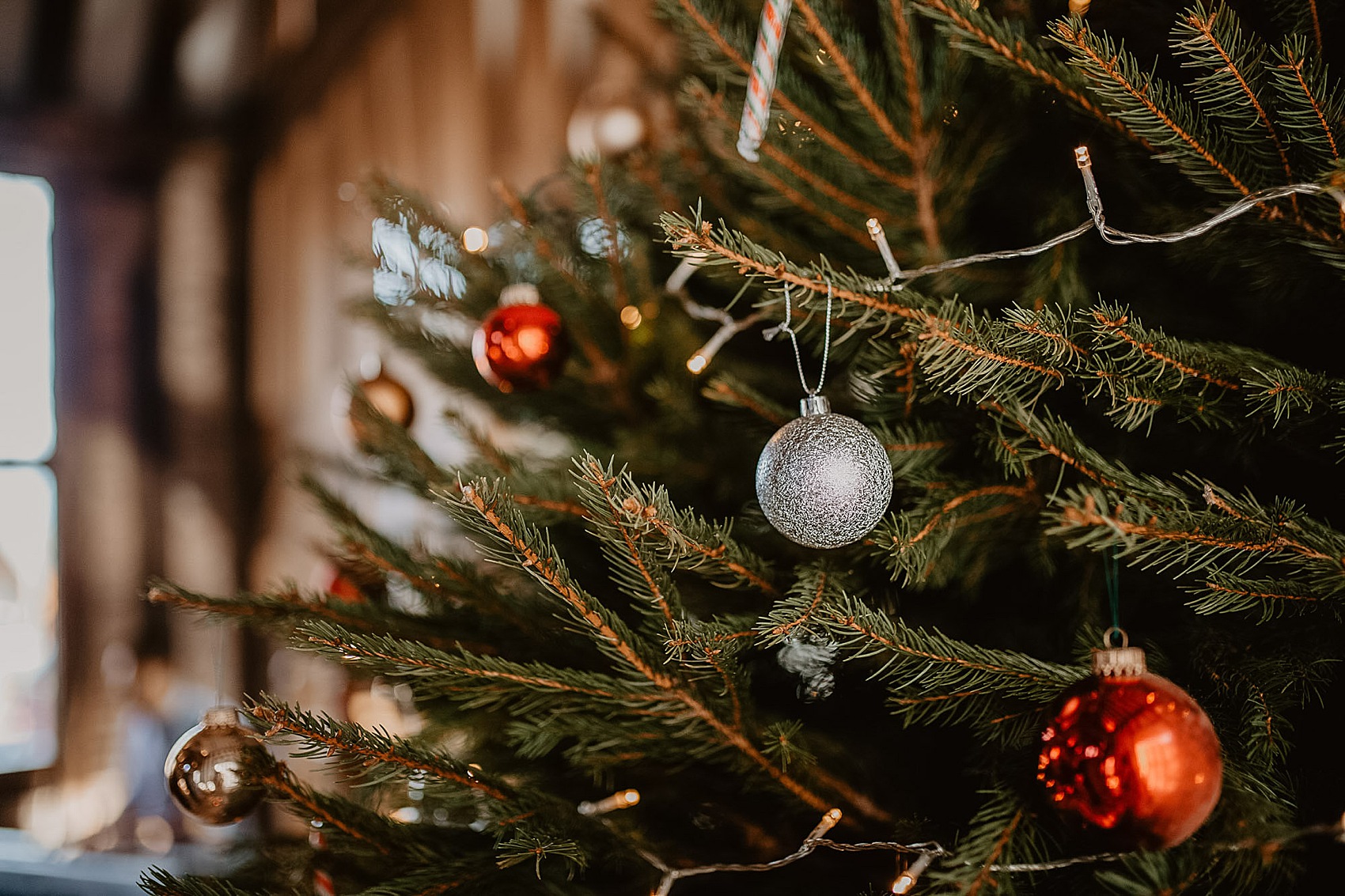 Sarah and her father, Ian, travelled to Dragon Hall in a family friend's vintage Morris Minor.
"Paul kindly offered to take me to my wedding. This was really special for me as I have known Paul all my life so it was a nice personal and family touch to our day."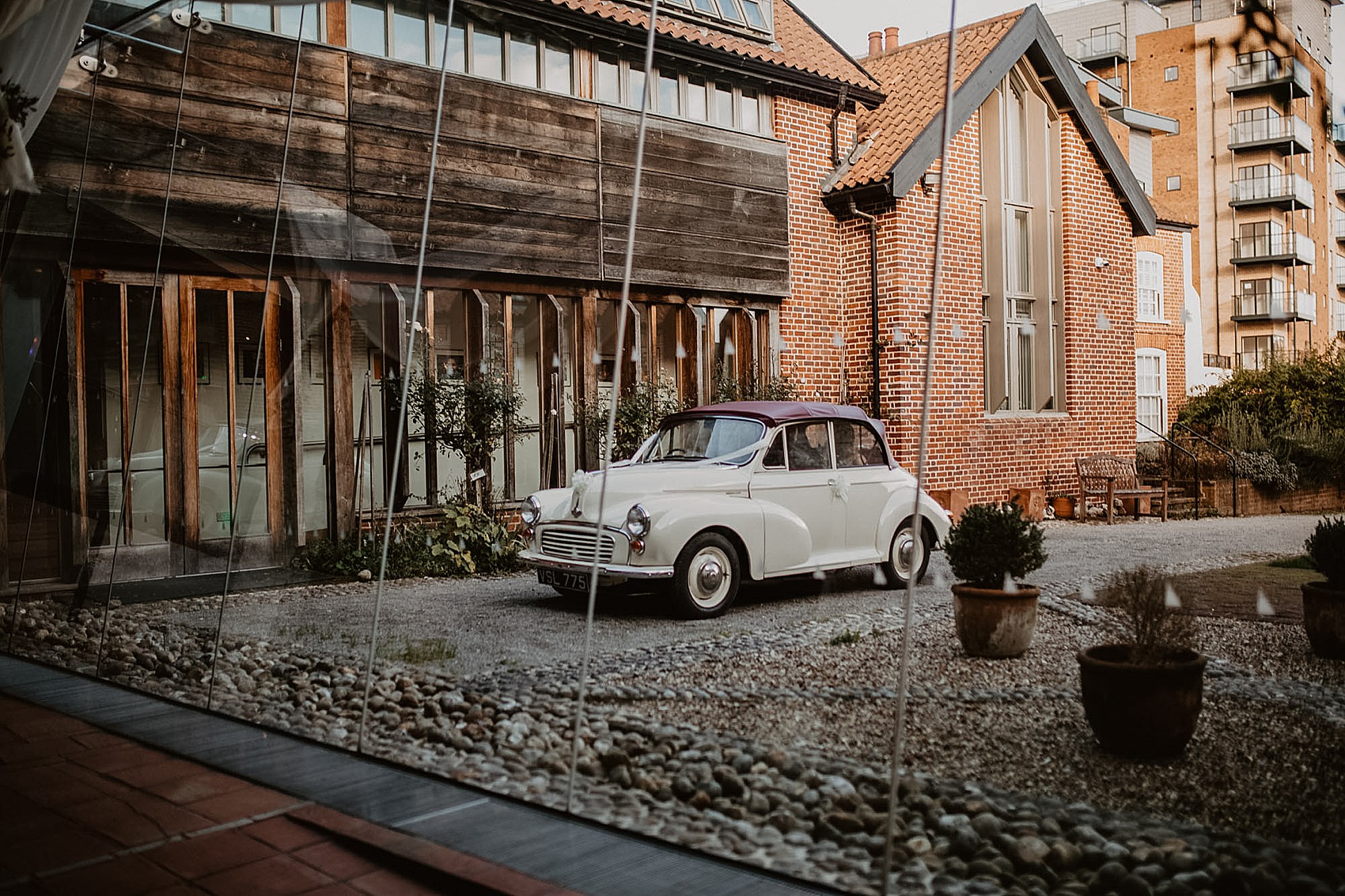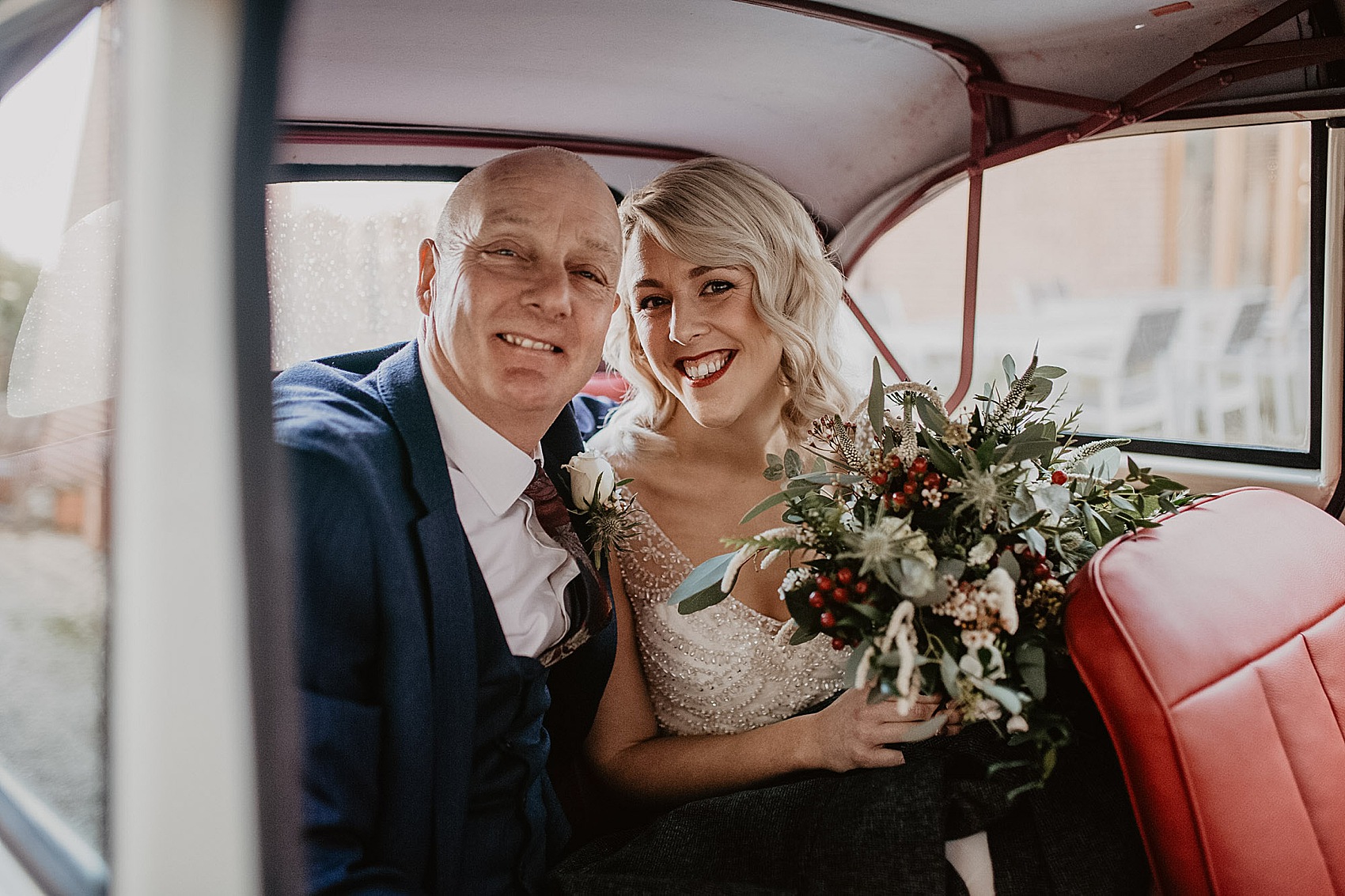 To suit the December weather, Andy dressed in a woollen navy Magee 1866 suit from Hatters in Norwich and a burgundy tie, tying his look in with that of the bridesmaids, who wore sparkling, sequinned Maya wrap dresses.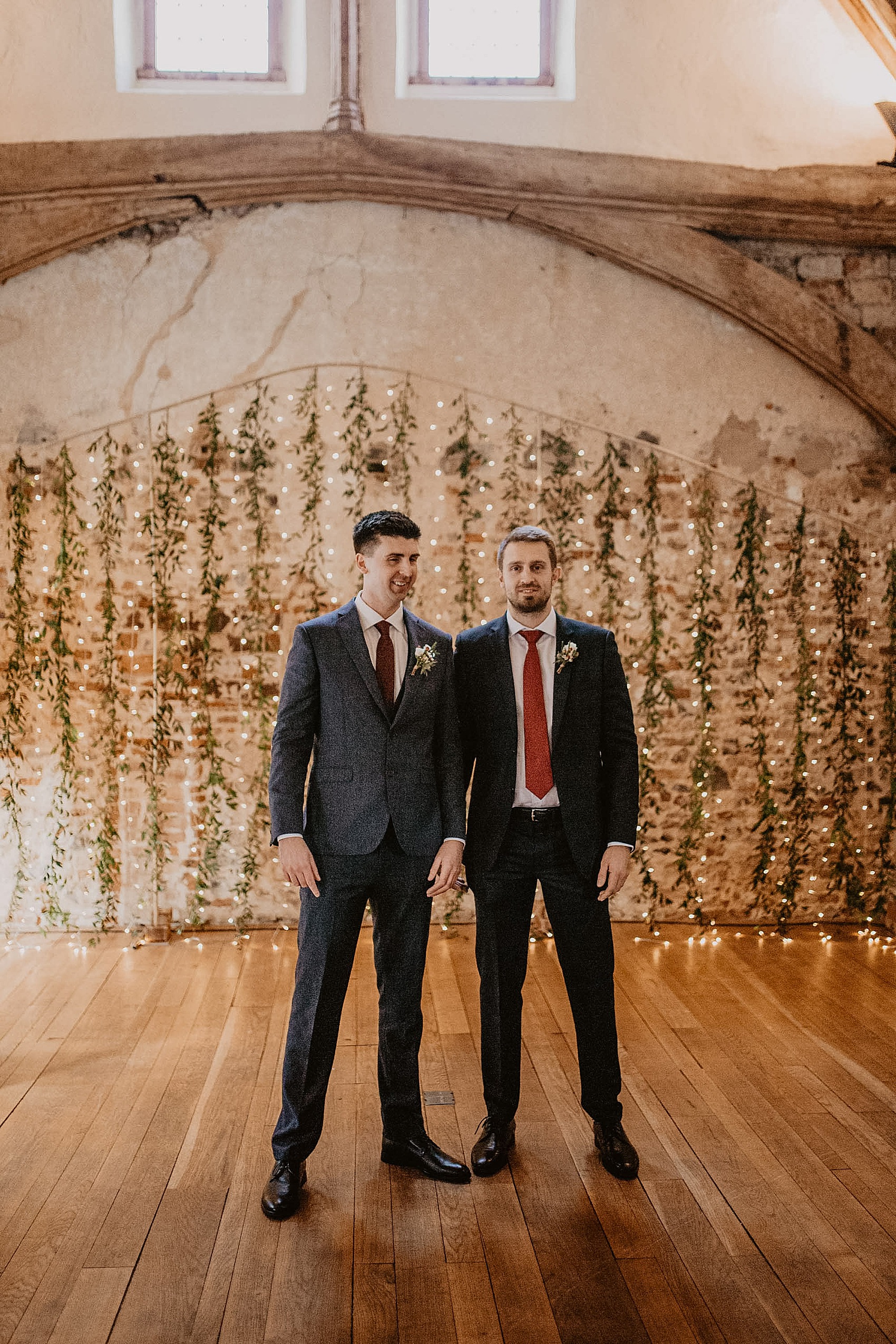 The traditional Christmas colour palette was the most wonderful foil for Sarah's choice of gown, a pure white Willowby by Watters gown from La Crème Brides. Simply cut on the A-line, its lightly-fitted bodice is adorned with era-inspired beads and crystals before flowing into a full, layered tulle skirt that looks simply magical at Christmas-time.
"I had such a lovely experience at La Crème Brides and I often still pop in now to share photographs of the day with them. As soon as I stepped through their door they made me feel comfortable and relaxed."
"They let me look through and my wedding dress was the second dress I tried on in their shop and I knew it was the one as soon as I put it on. Lucy, gave me expert advice on how to accessorise it and fitted it beautifully."
"My sister has just got engaged and I'm praying she finds her dress there as well so she can have the same experience I had. I would highly recommend them to anyone bride."
"I had a good idea about what I wanted to wear before choosing my dress, something comfortable and not too figure hugging that I couldn't dance in it later. I wanted my arms out and I hoped I find something with a little vintage nod. I loved the beaded top and the A line skirt. I loved my entire outfit from my nan's pearl earrings to my sister's borrowed burgundy coat – which I borrowed just before having our photos taken."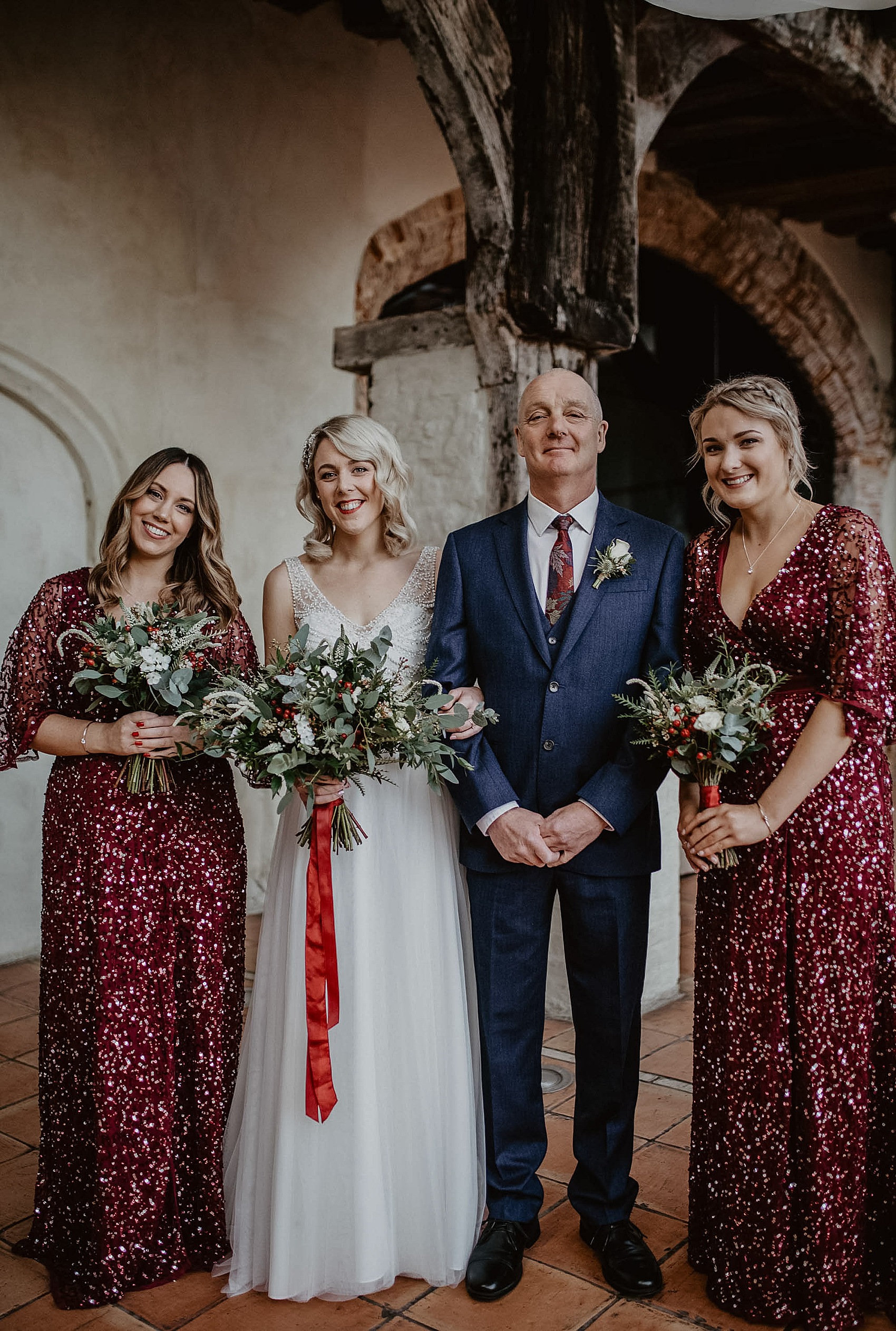 "Anna, owner of Fox & Fern Florist, was recommended to me by my mum's friend. I felt very privileged to have her there on the set-up day as well as her arranging and sorting the garlands for our wedding breakfast. She was friendly and really understood the style of foliage and flowers that we wanted."
"Ang and Jodie literally made this wedding with how they decorated it. They listened carefully to everything Andy and I wanted and helped us use the space well. I loved their bespoke backdrop they created for us which really gave a focal point to or wedding. Lanterns and tea lights were also provided as I wanted as much warm light as possible on a dull December day. We also used their hexagonal arch against the old brick wall and they decorated this using a voile which matched the romantically hanging voiles in the downstairs glass area. As well as being incredibly helpful, they really understood our style and gave advice. I still speak to Ang now about our wedding day."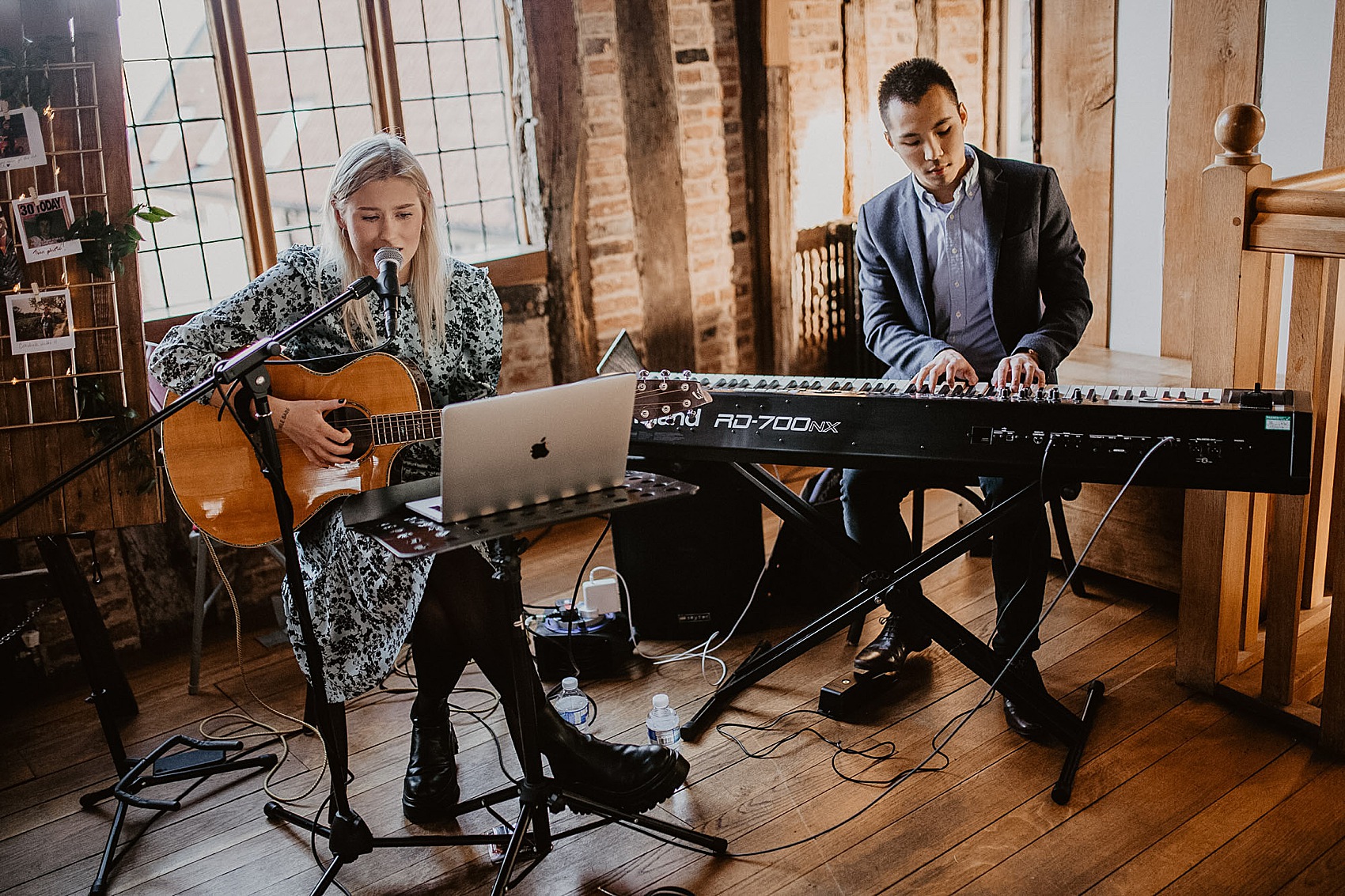 Sarah walked down the aisle with her dad, where Andy was waiting for her. The ceremony was conducted by Norwich Weddings and included a reading of a poem by their friend Lizzie, as well as acoustic music from Lilly & Pete.
"Andy bought my engagement ring from Aurum, a jeweller in the city, and Jon helped us choose my wedding ring. I wanted a band of diamonds set in gold that matched my diamond engagement ring."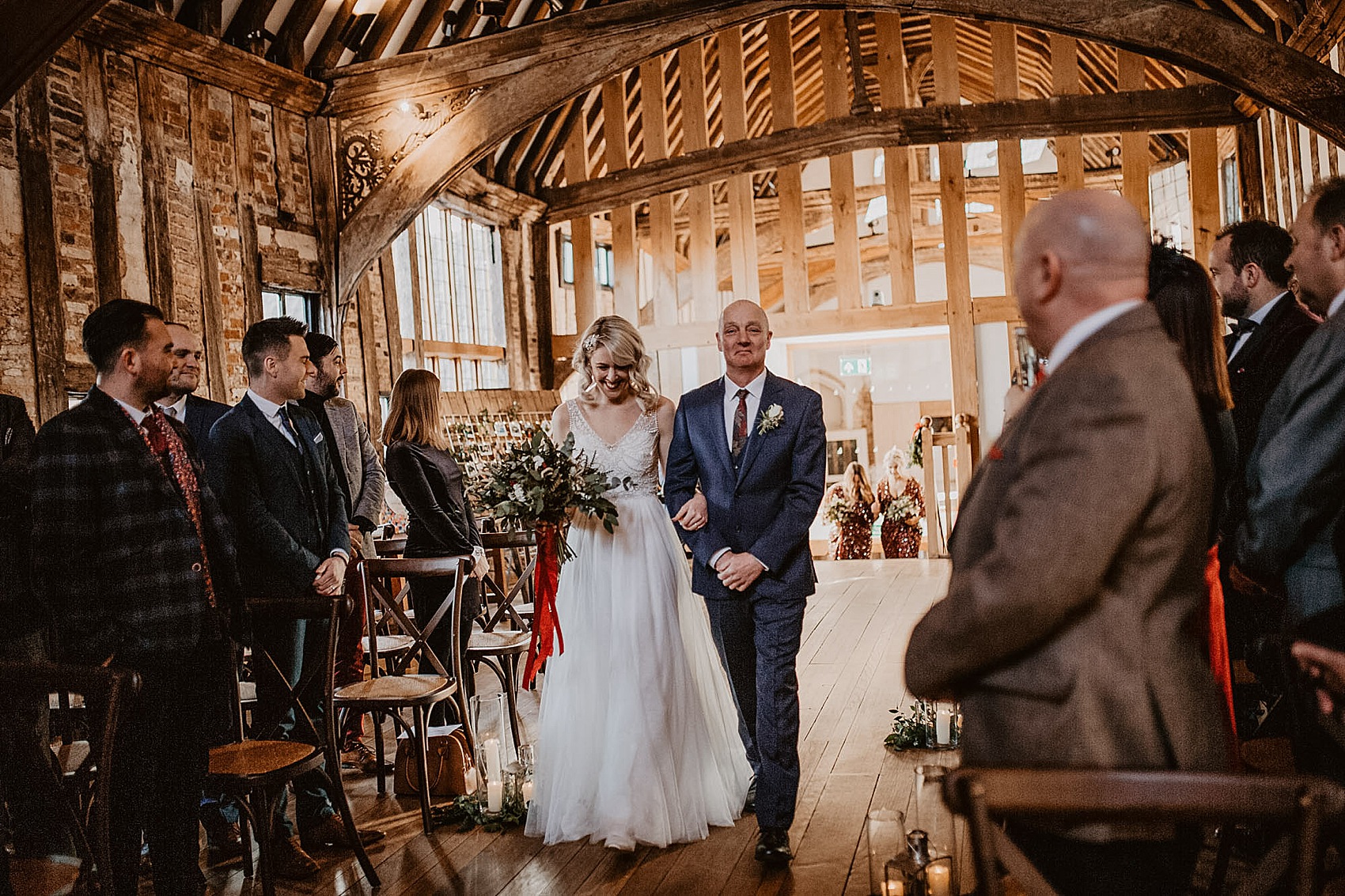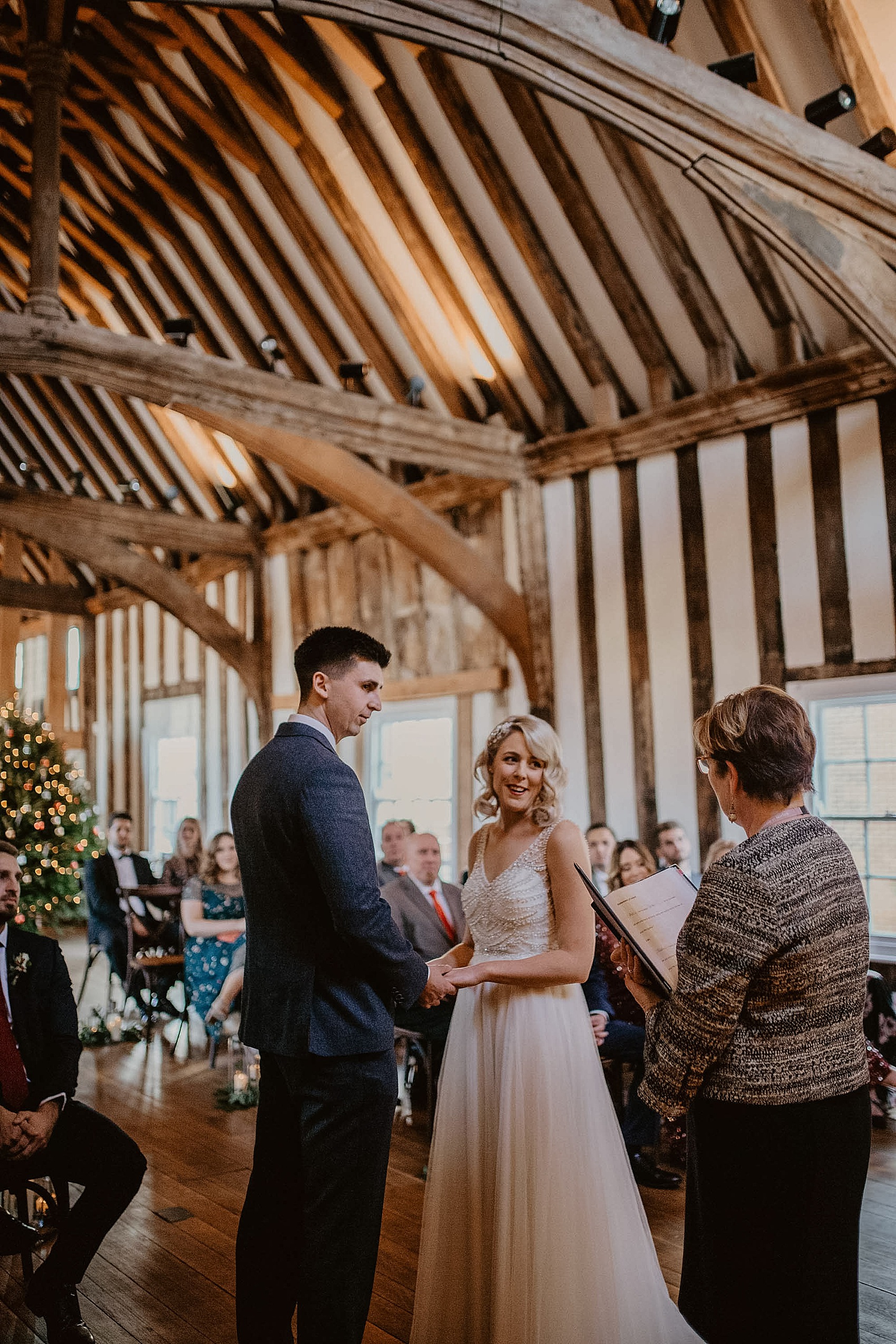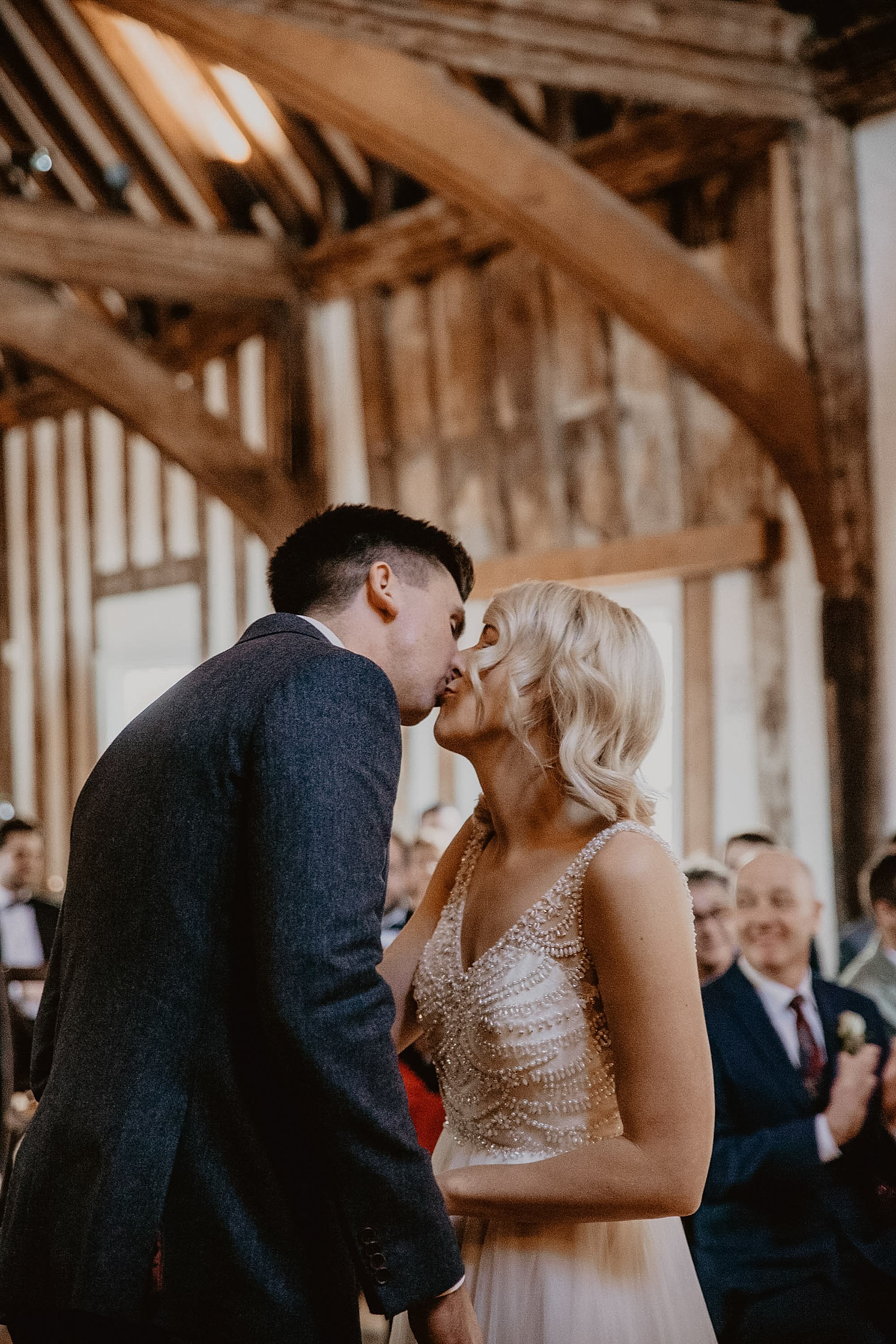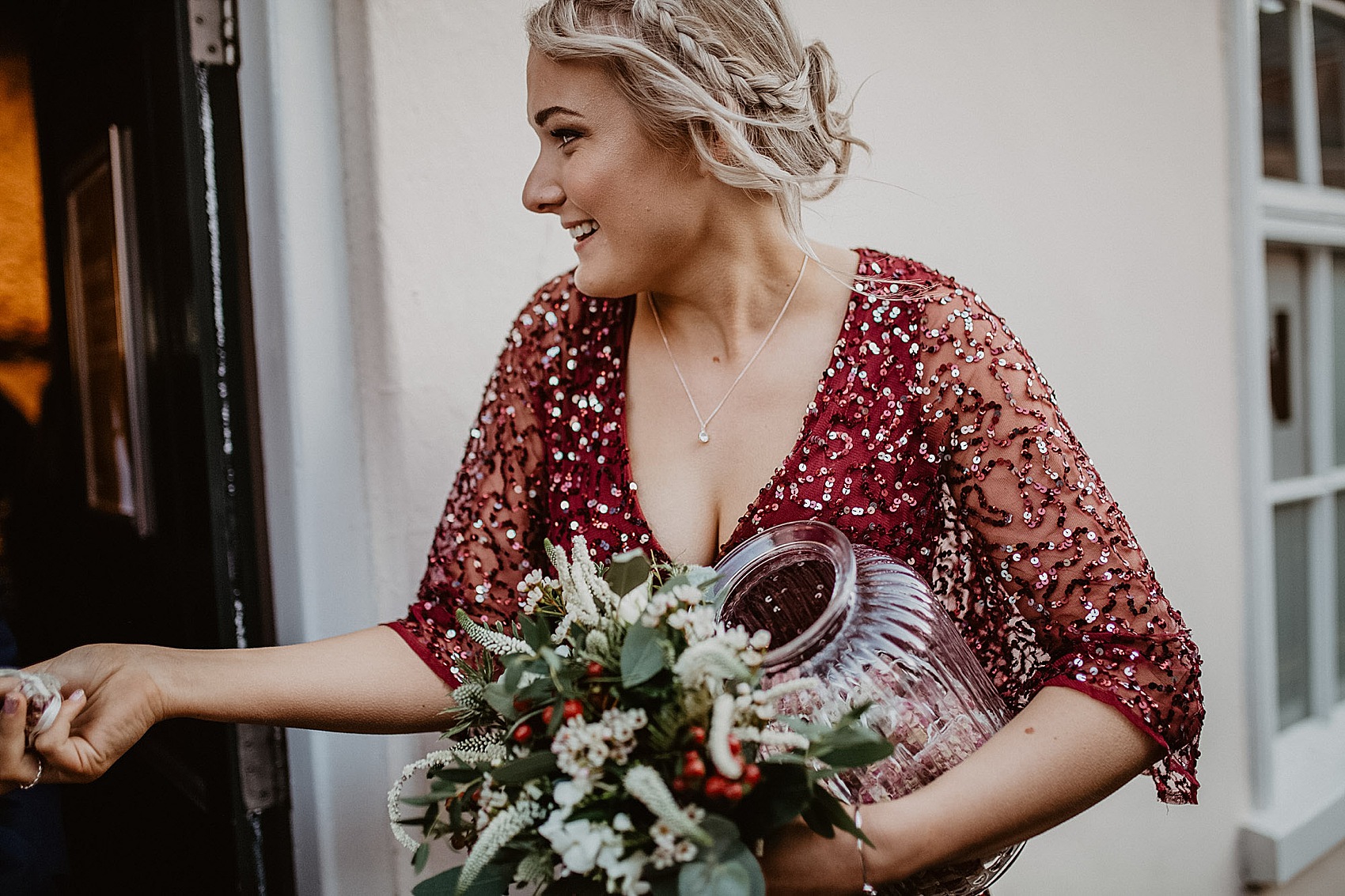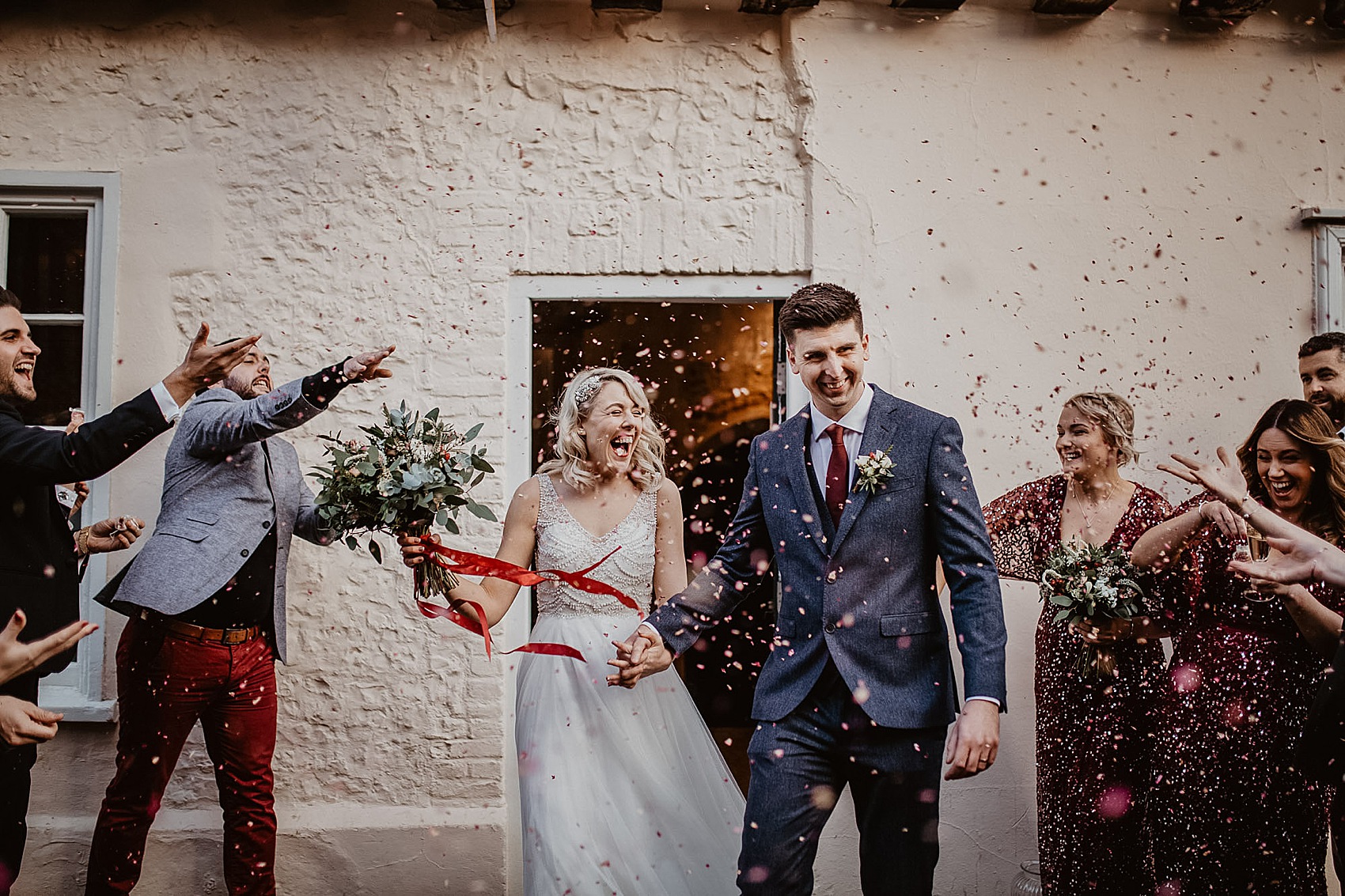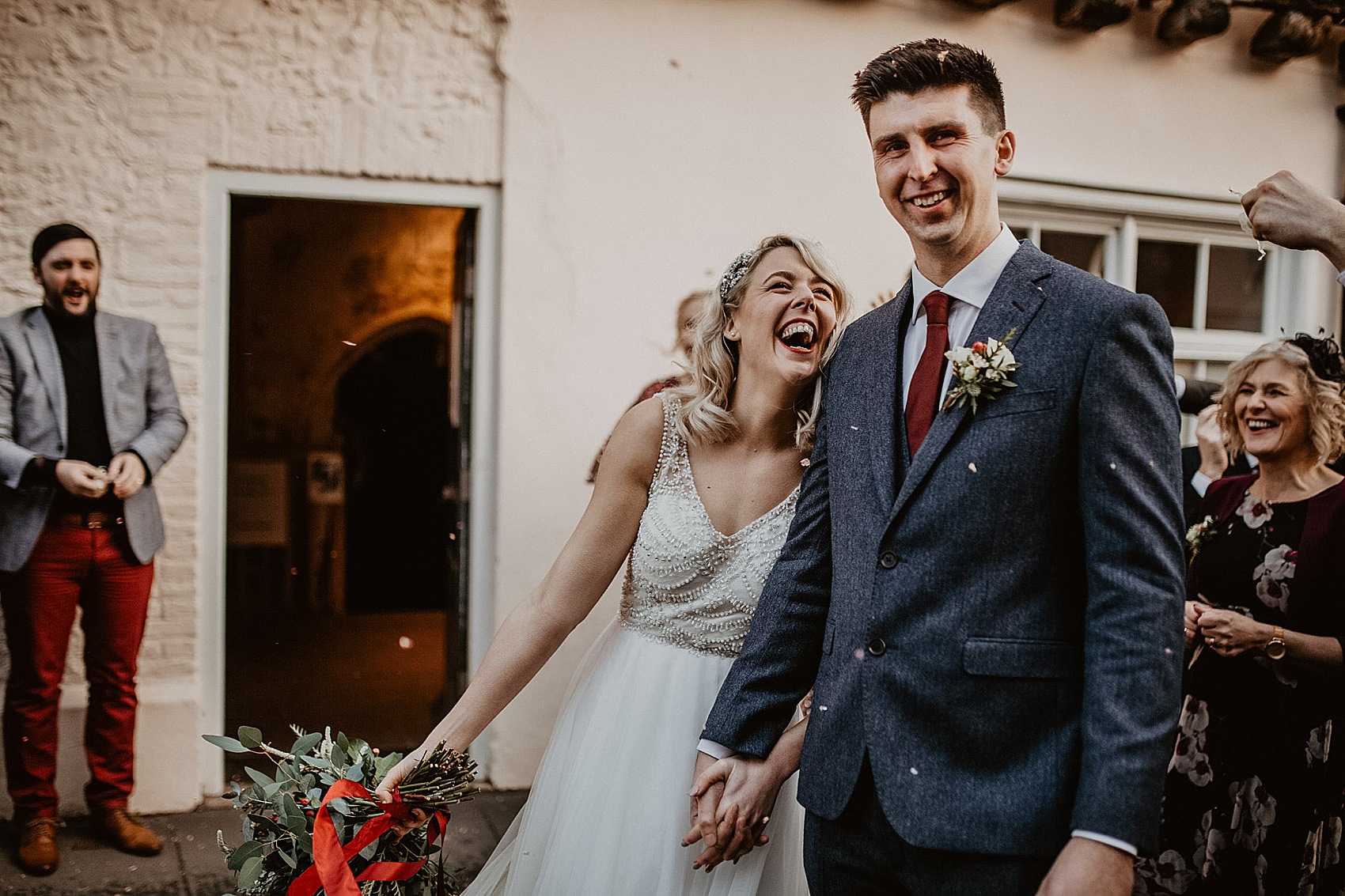 "I felt privileged enough to have my hairdresser, Becky, owner of The Moss Project, there to do my hair on the day. I get on well with Becky and she thoroughly got what style I wanted with knowing me for a number of years."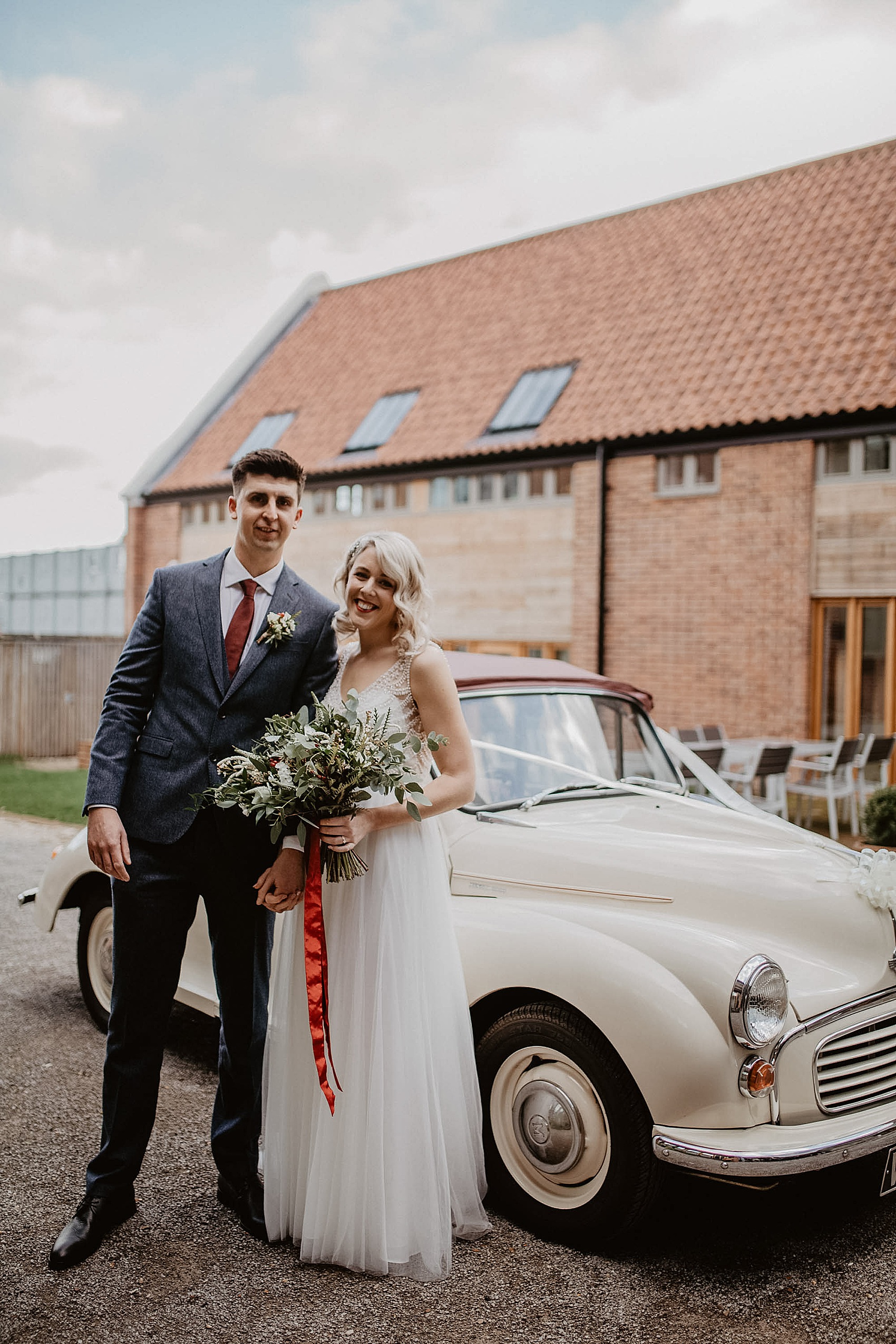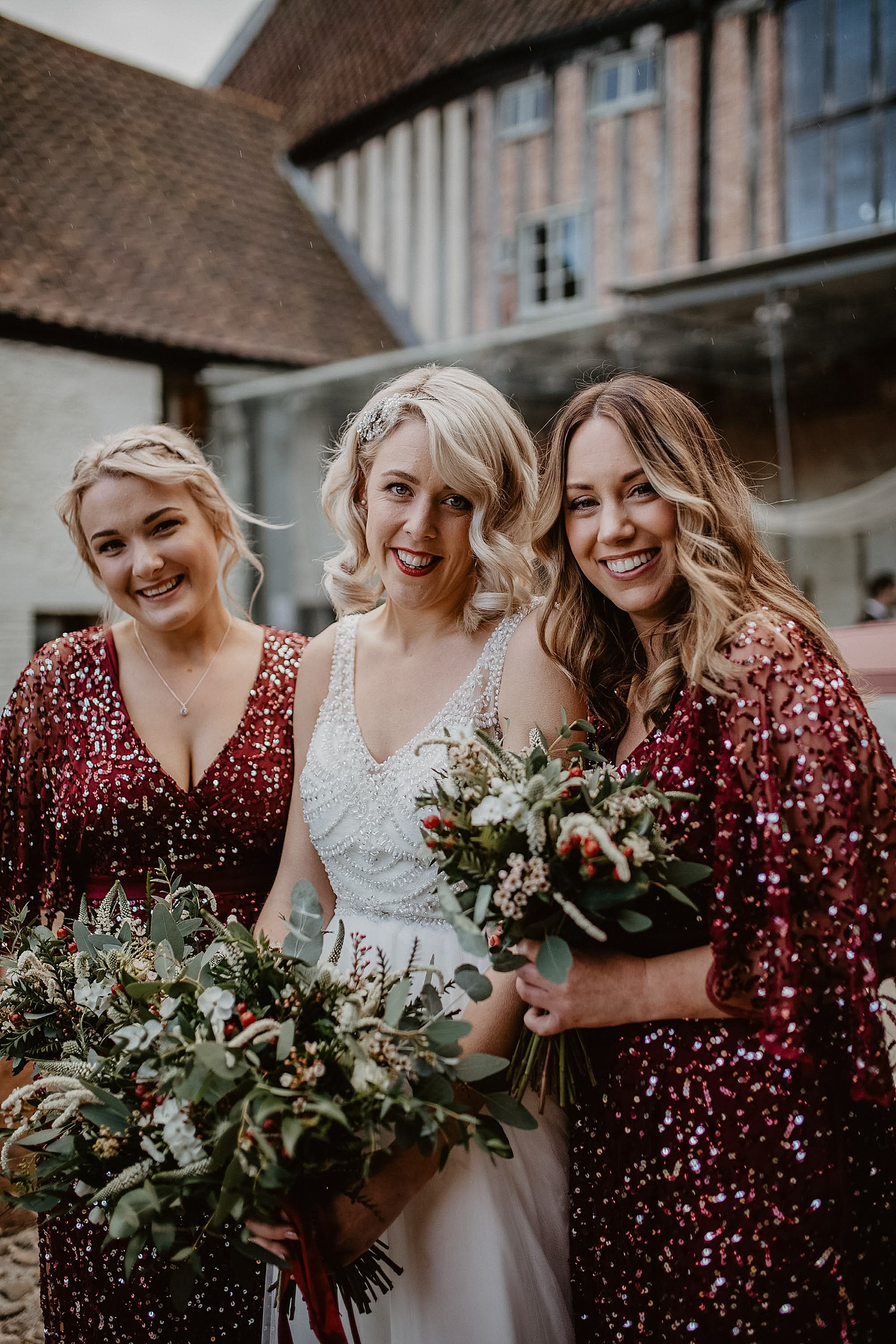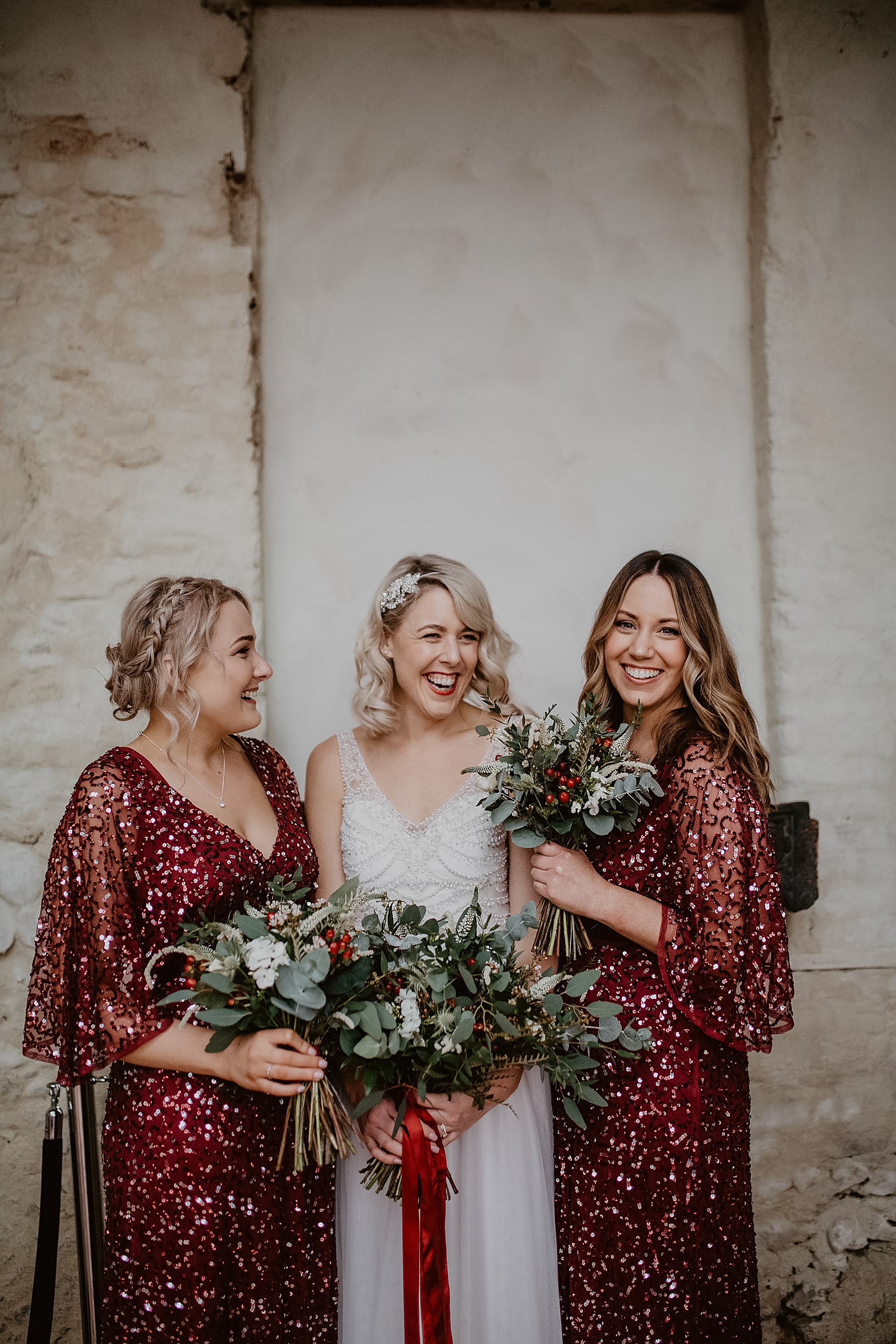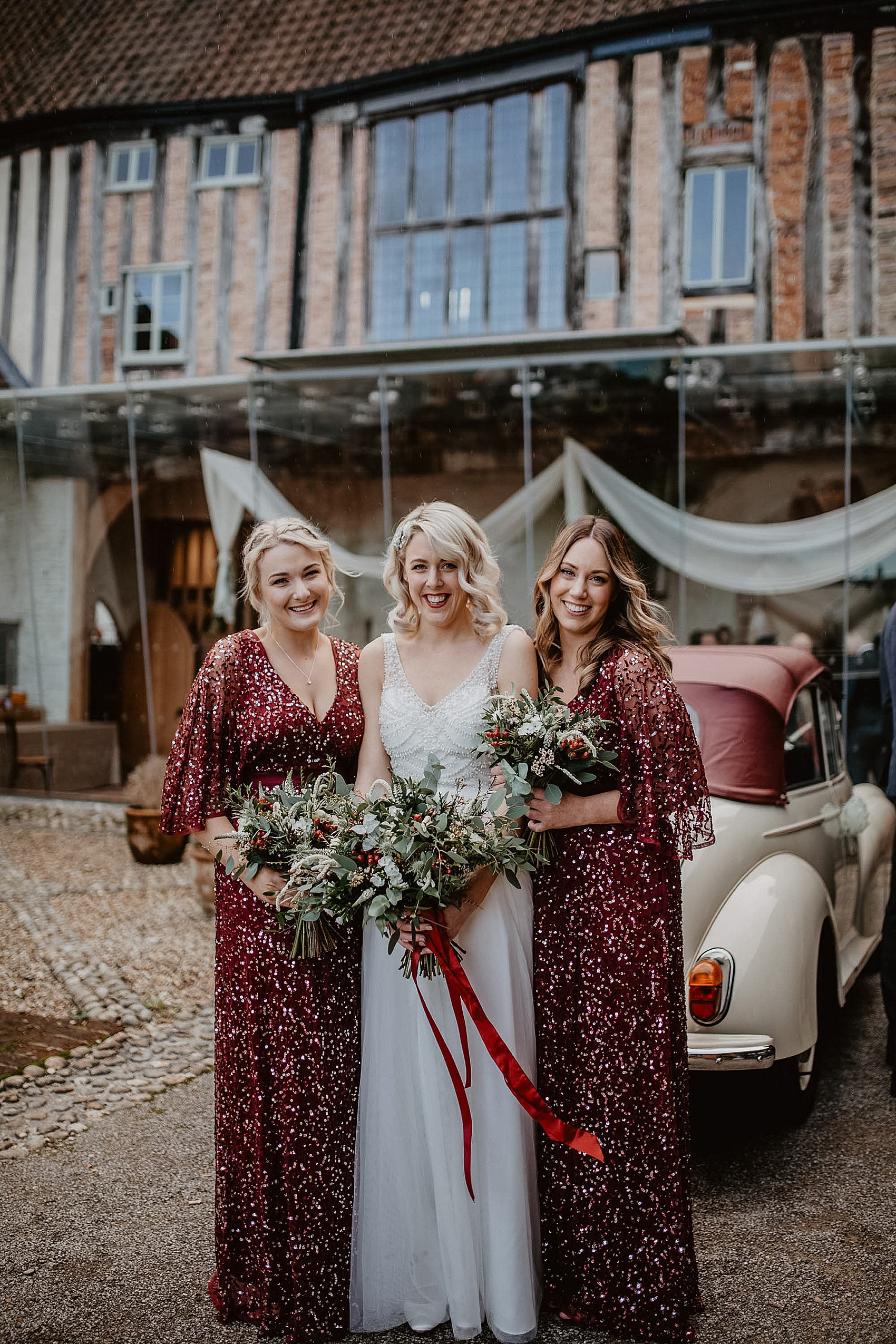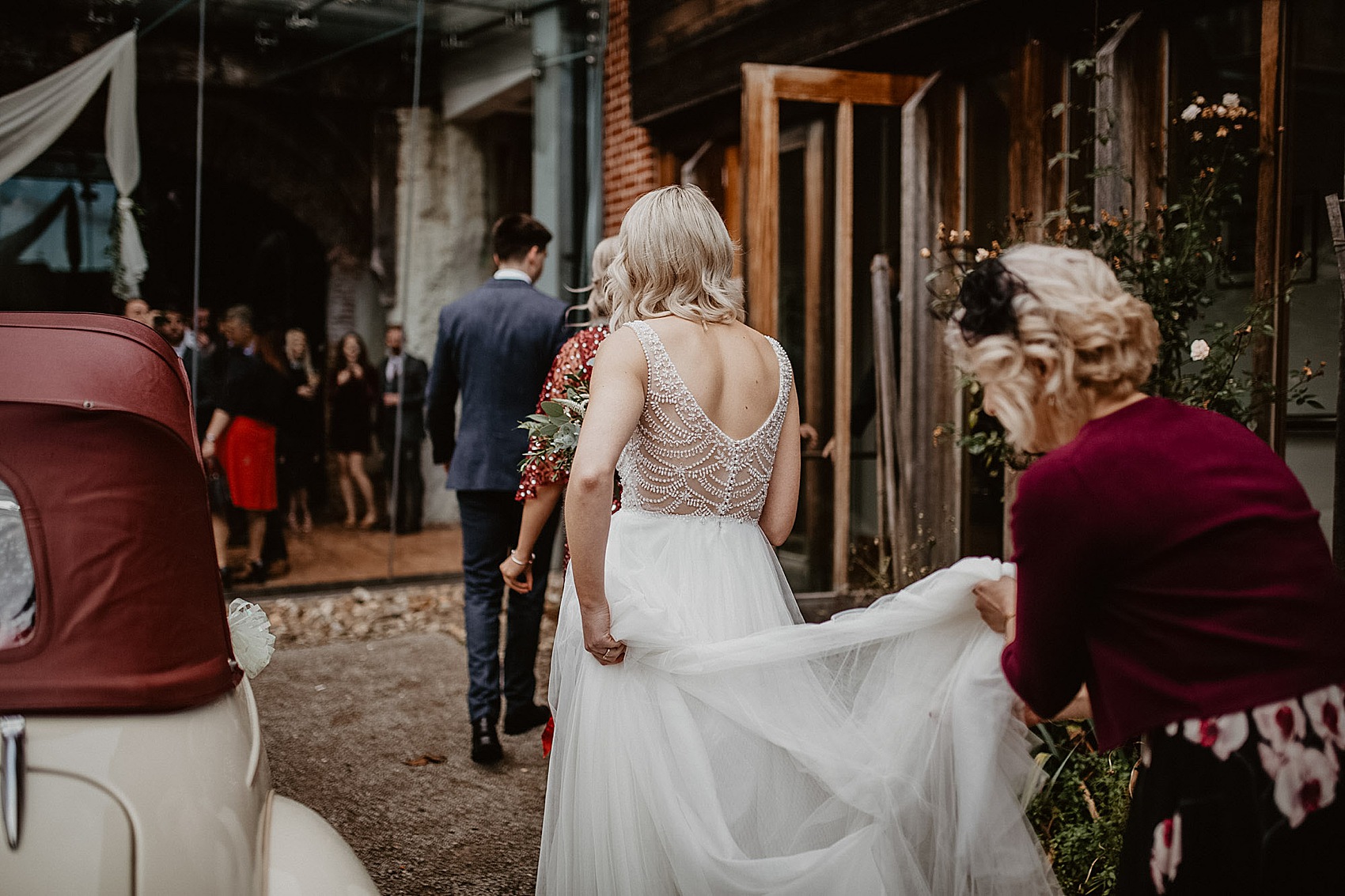 The modern, glass-covered atrium was the ideal place for the post-ceremony canapés and drinks, with plenty of room for the guests to gather and chat.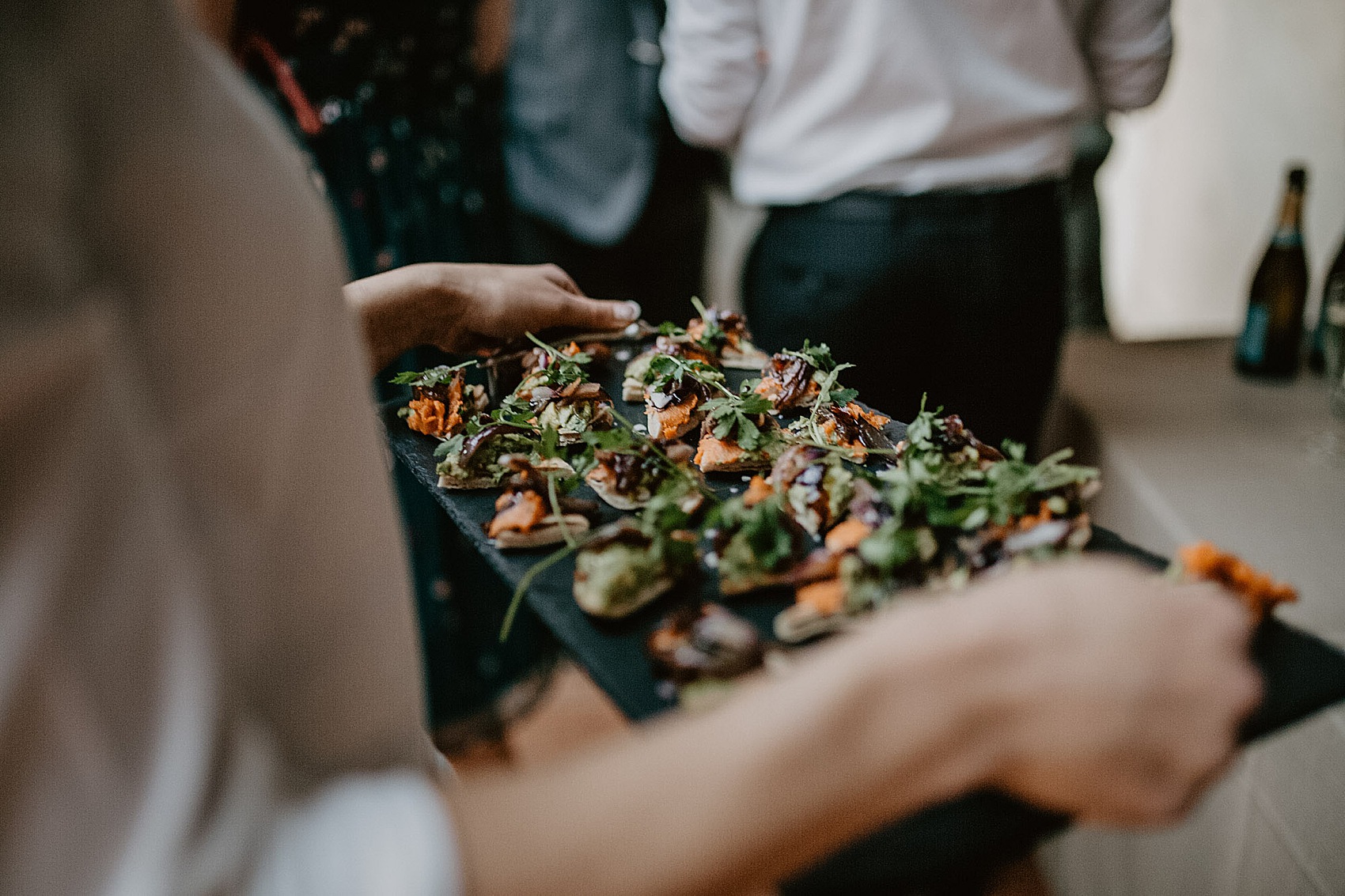 With fine, dry weather, the couple managed to get some timeless shots in Norwich's ancient streets, Sarah keeping the chill at bay with her sister's burgundy coat.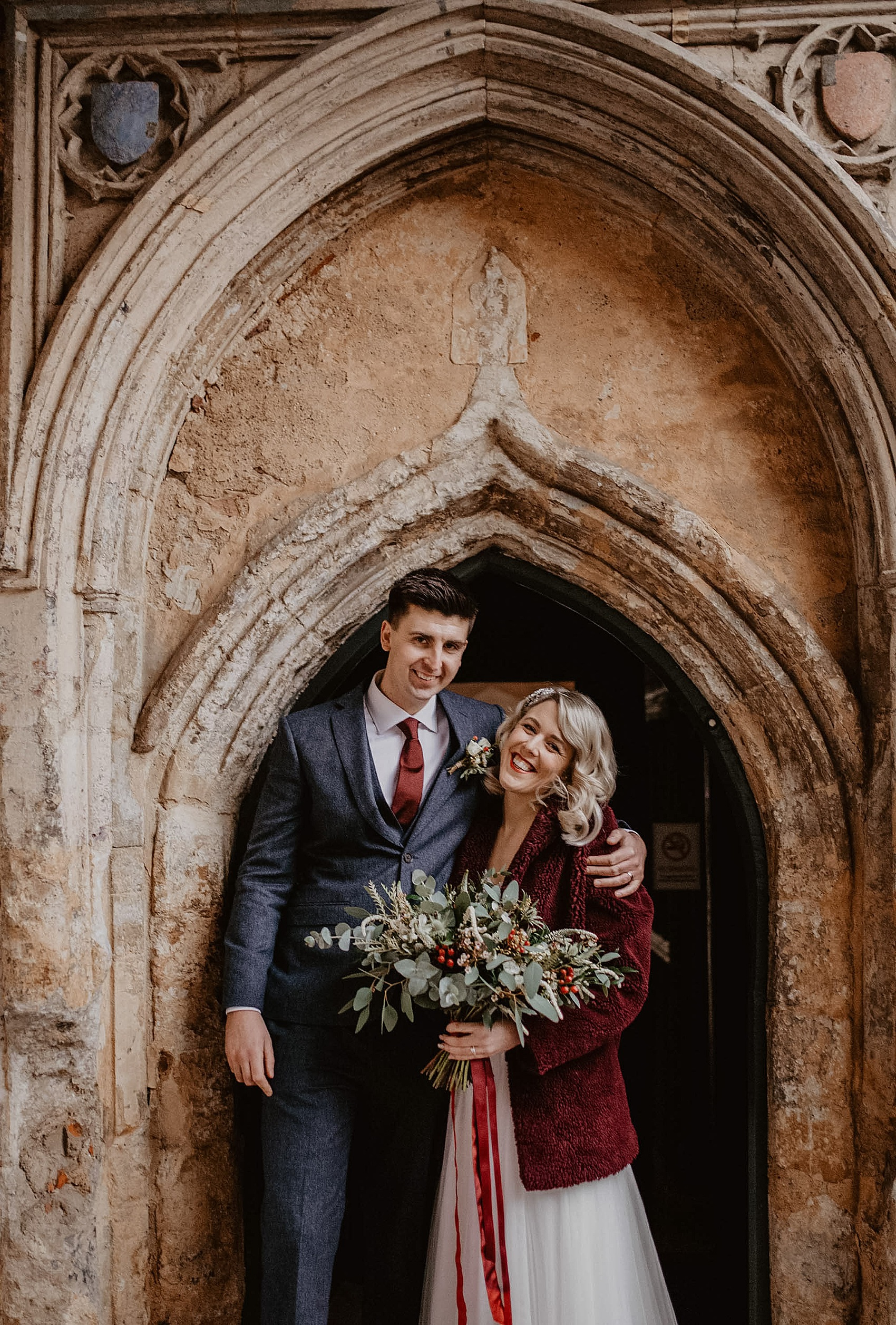 I adore these atmospheric, candid photos which come thanks to Camilla Andrea Photography. Her use of light is just exquisite and she has a wonderful knack for capturing unbridled emotions.
"After viewing Camilla's photographs on Instagram I knew that I wanted her to capture our day. I loved her relaxed style of photographer which for us was about enjoying the day with us and capturing organic moments rather than structured photography."
"She has a great energy and everyone has commented on her beautiful photographs. I would fully recommend her to any bride."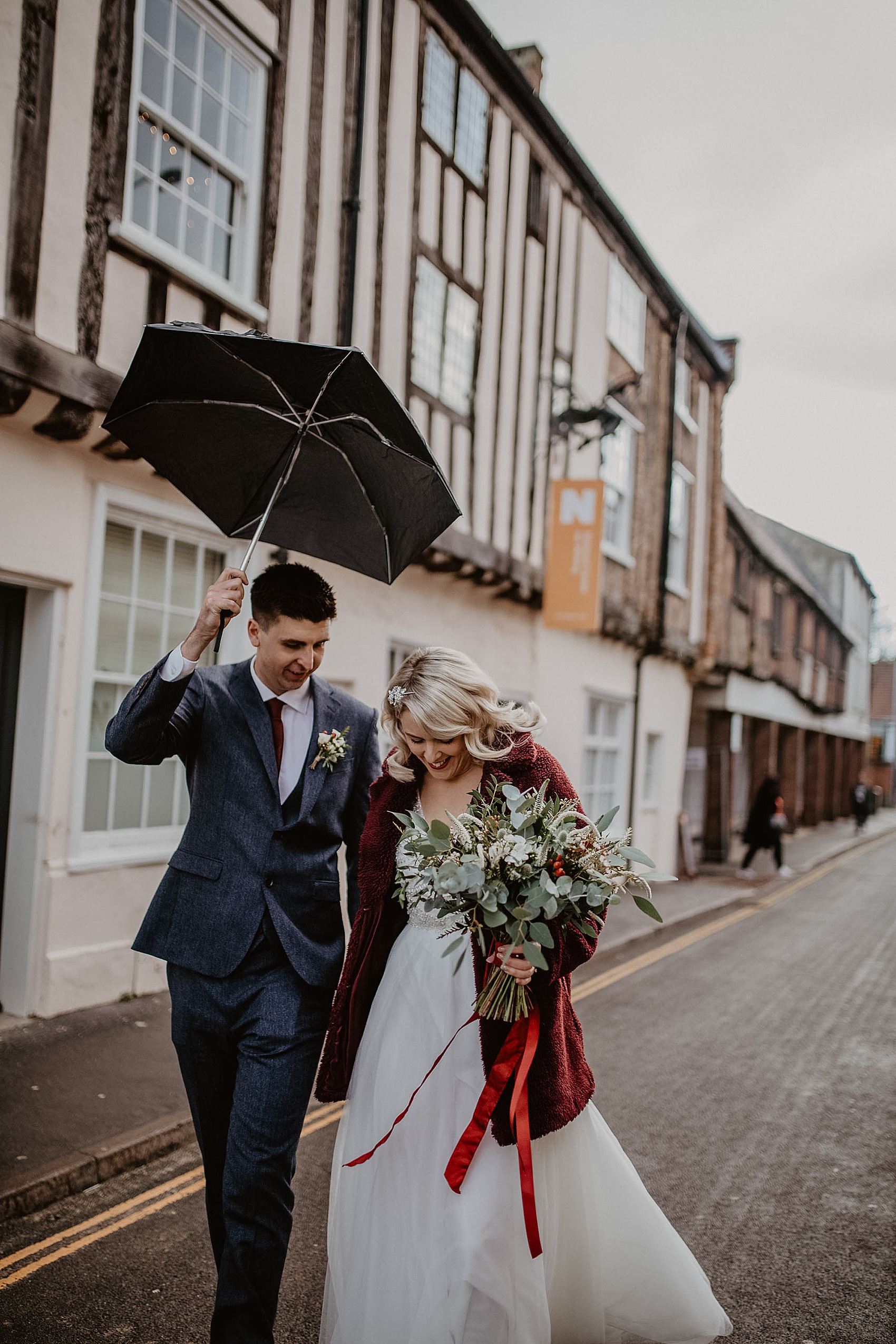 Sarah slipped on simple shoes from Rainbow Club and, another vintage touch, an embellished hairband from Pure Brides in Norwich. It looks perfect on her era-inspired hair style, which was created by her usual hairdresser. She looked glowing and fresh make-up applied by Melissa Abel and scented herself with Jo Malone's Mimosa and Cardamom.
Back in the Hall, the tables were set for the wedding breakfast.
"My sister and I created the place seating names. With only having a small number of guests, I decided not to do a formal table seating a plan but instead Ang and Jodie at Authentic Charm provided us with a board so we could display our photographs on it as a personal touch."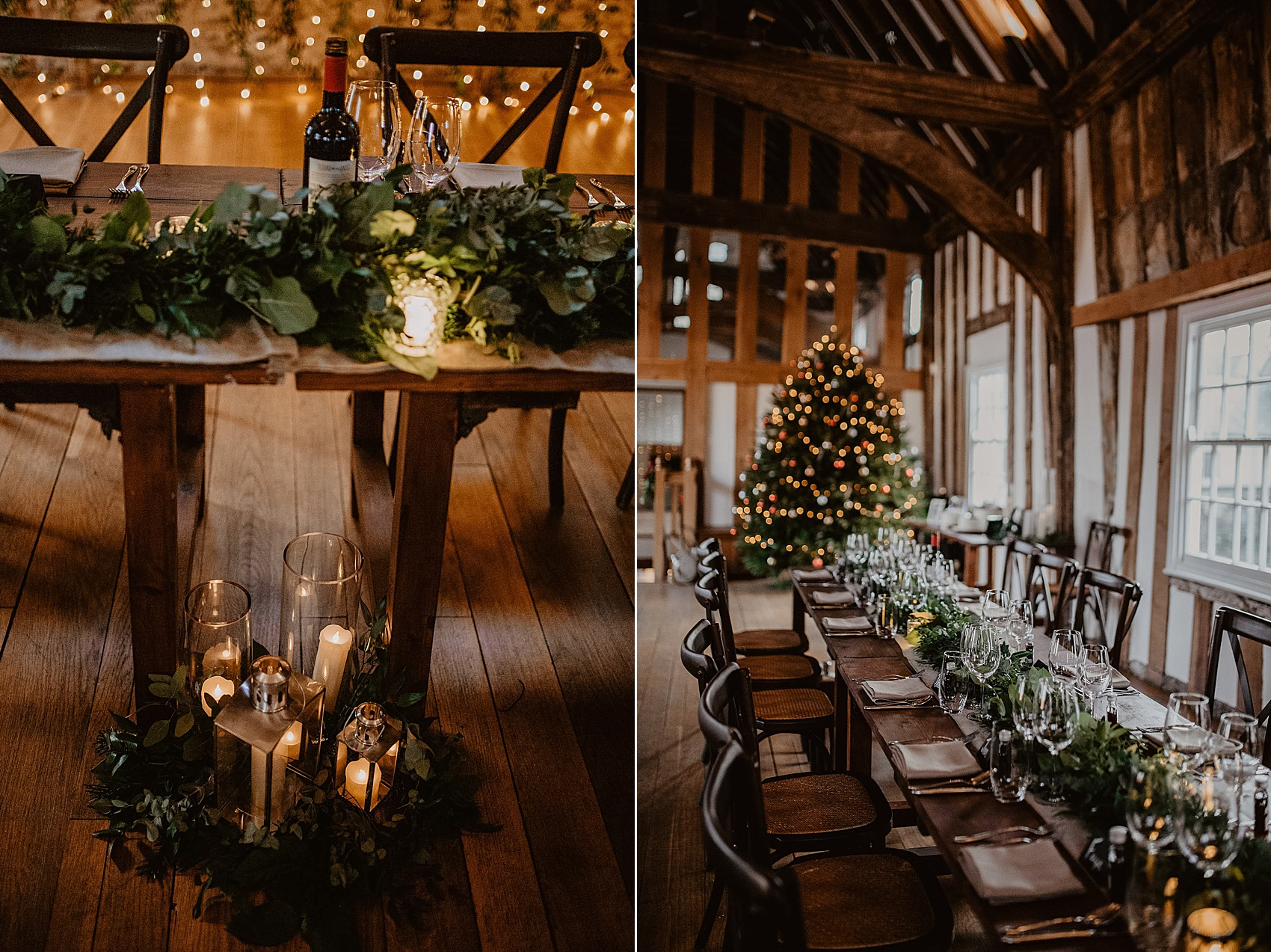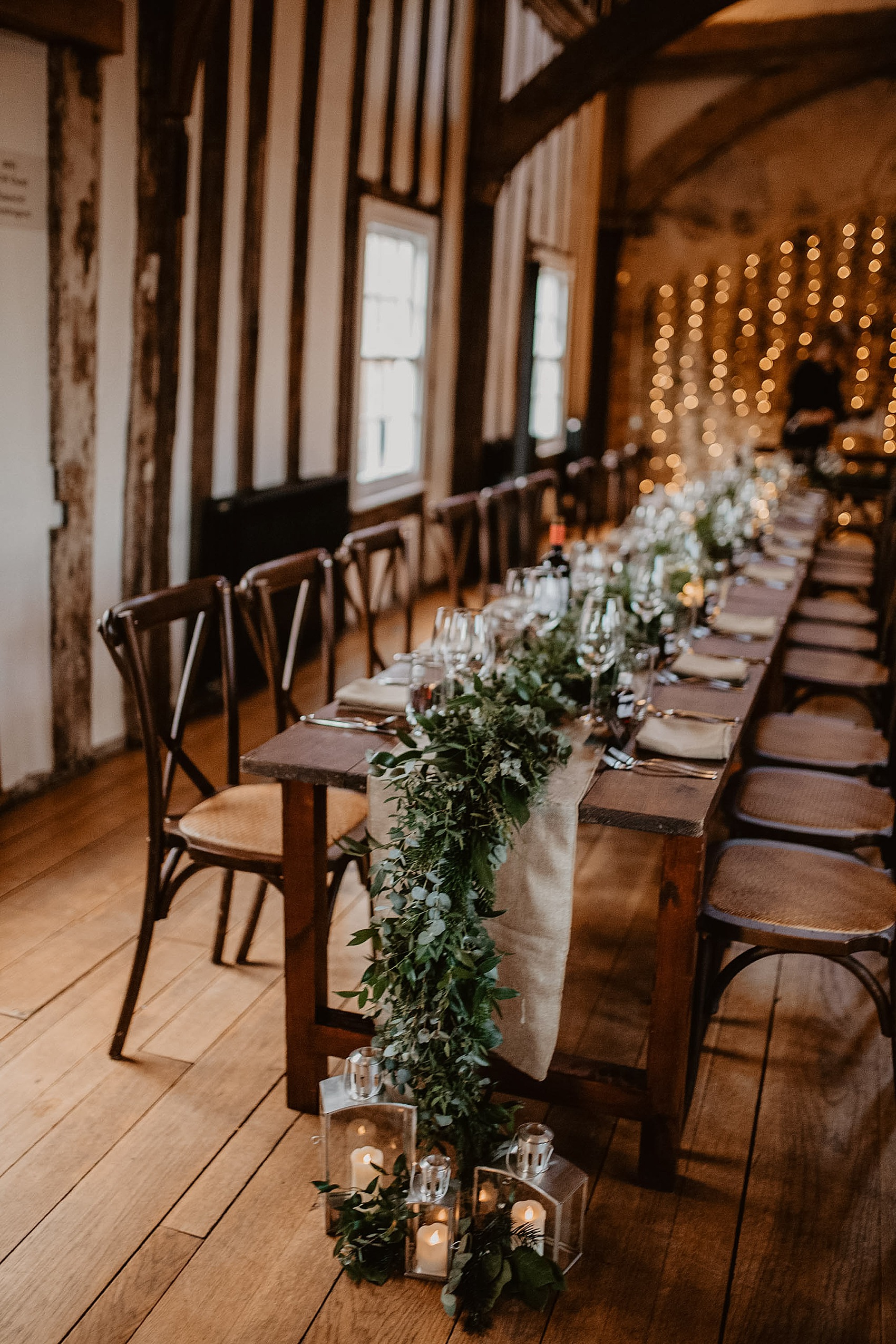 "Robbie, owner of Claridge's Catering, is one of Andy's very good high school friends so we knew that we wanted his food at our wedding."
In a nod to where they got engaged, the coupe left little bottles of New York sloe gin for their guests' favours.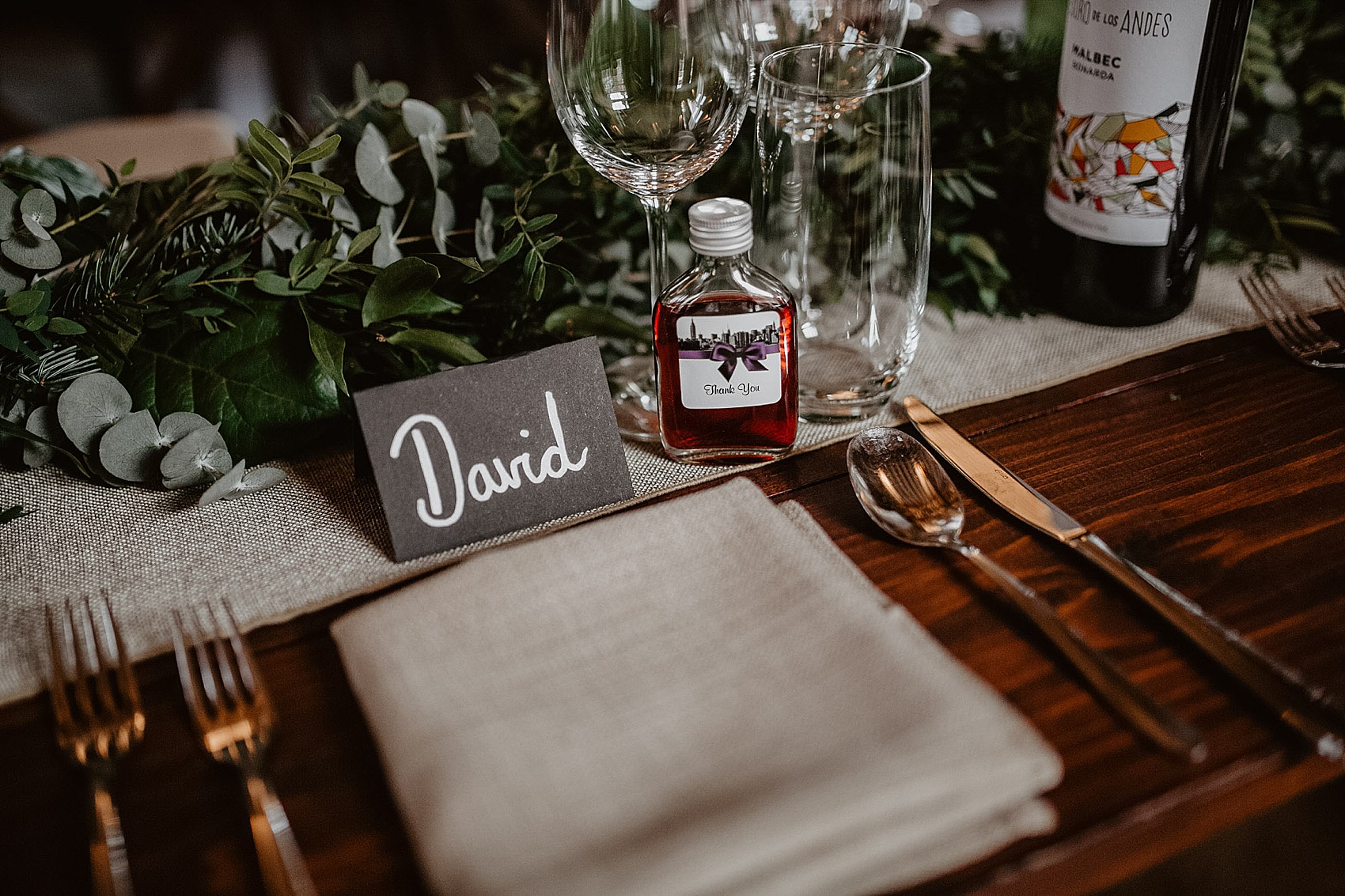 The wedding cake was three separate cakes adorned with seasonal flowers.
"Gill, Andy's mum, was in charge of this department. She asked her friend Denise to make three different sized cakes for us which were decorated in white buttercream icing."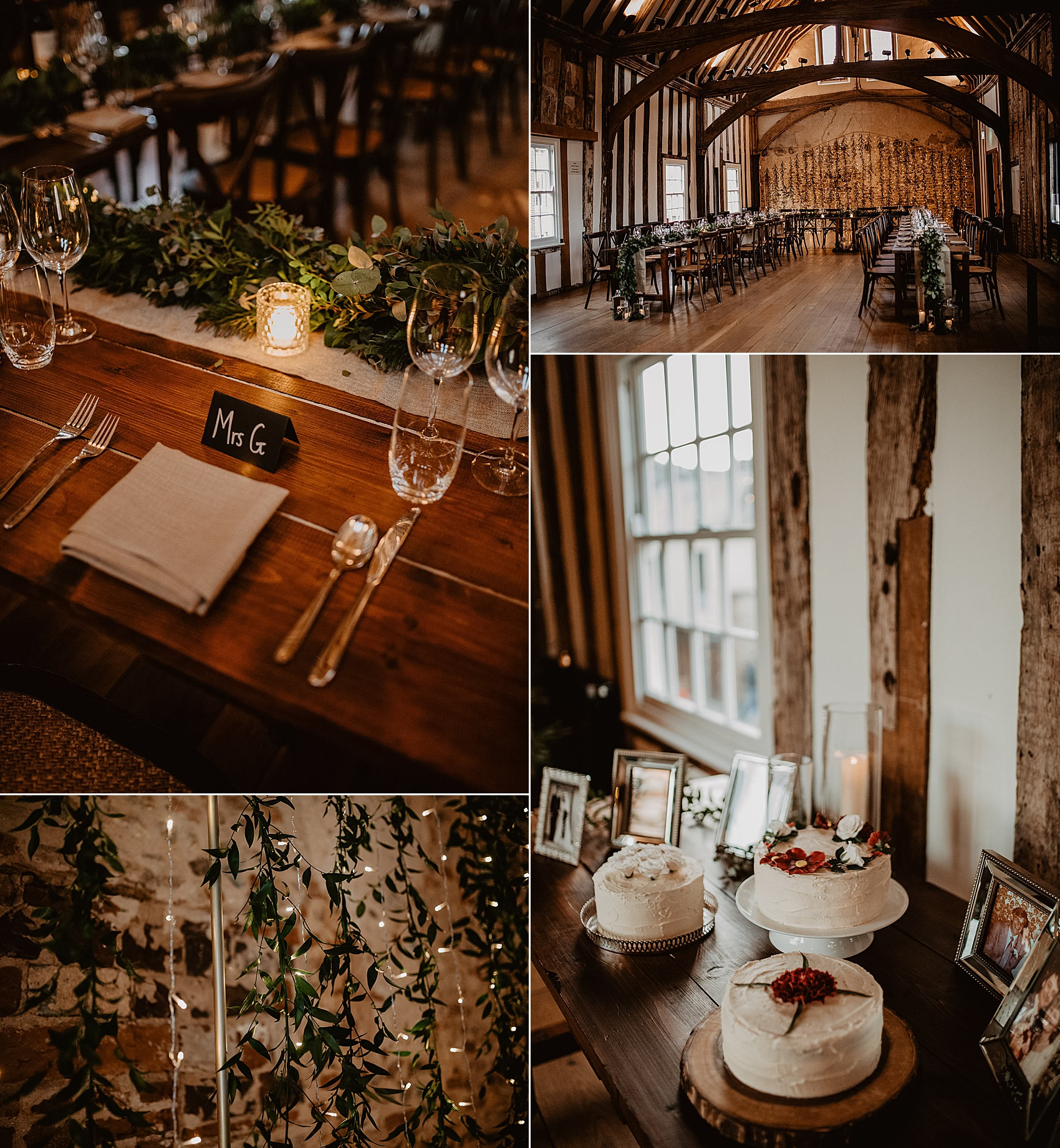 The Hall looked even more magical as night fell, and was a wonderful setting for a party, with music from local band, Jonnie Jump. The couple danced the cold December night away.
"Nearly every bride says it's the best day of their lives and for me this was true. I literally loved it from start to end and if I could it all over again, including the planning then I would in a heartbeat. Marrying Andy was easy and the rest was all a pleasure to do really. My sister, Alice, got engaged on Christmas Eve this year so I'm hoping I can help her."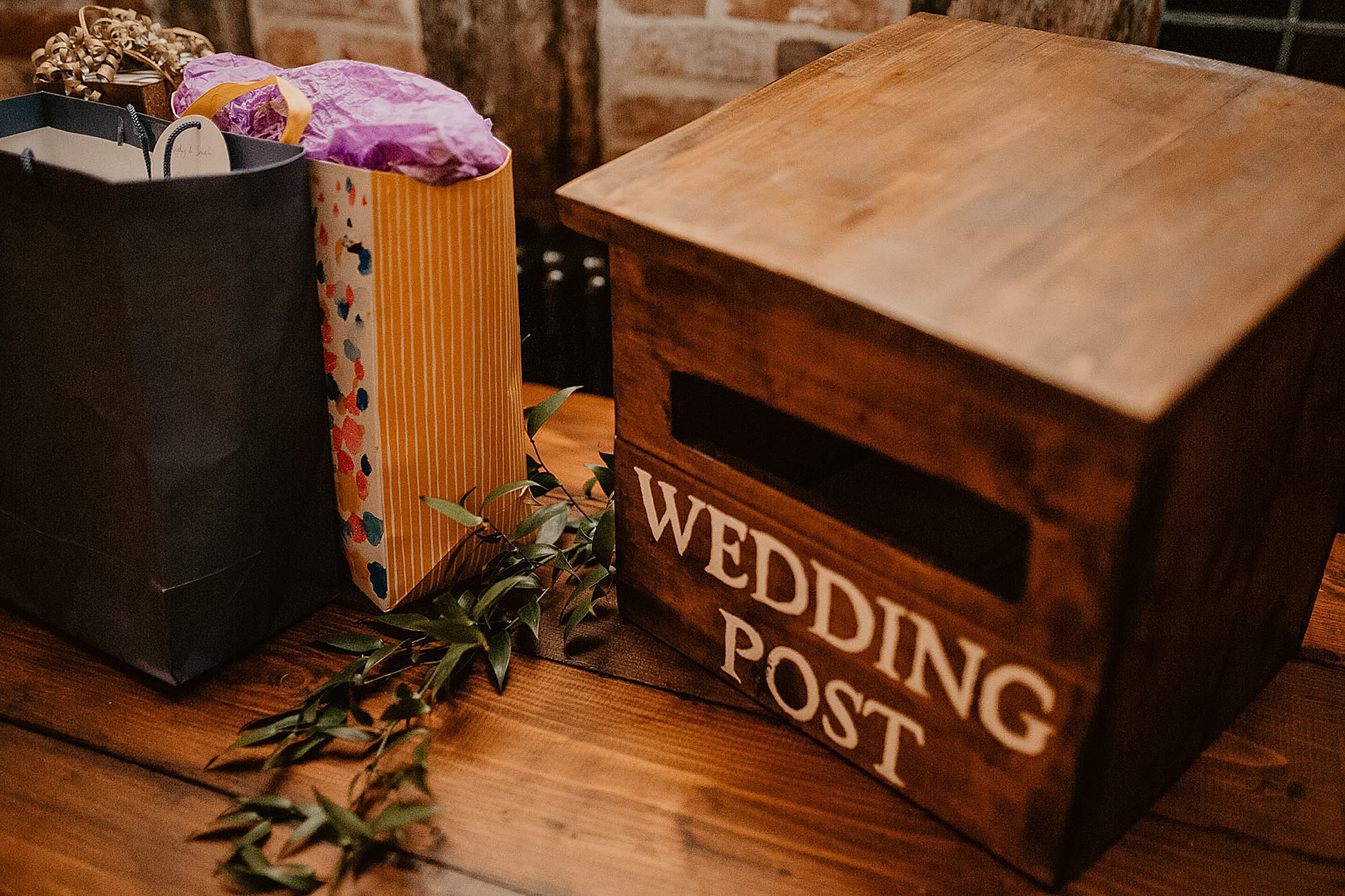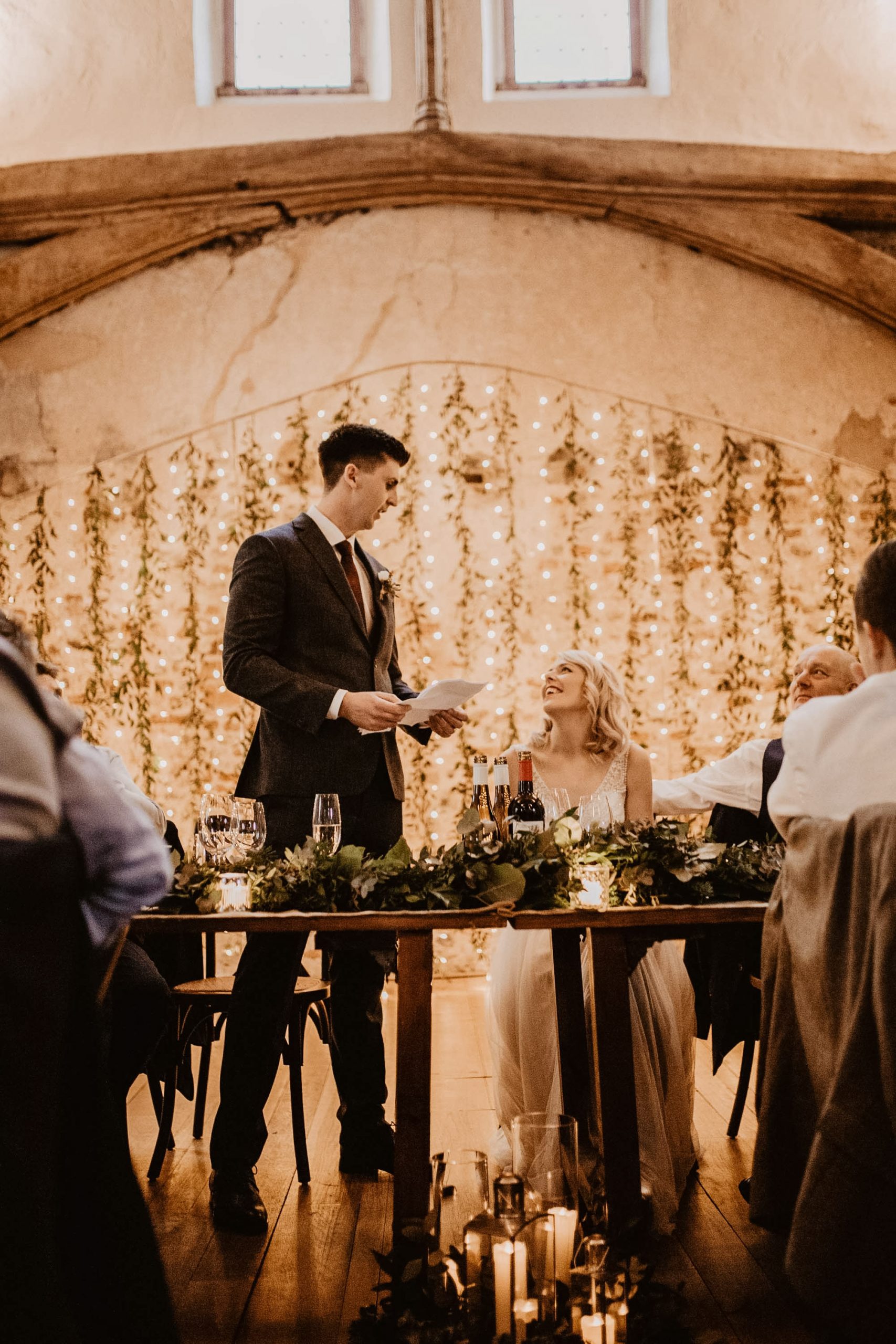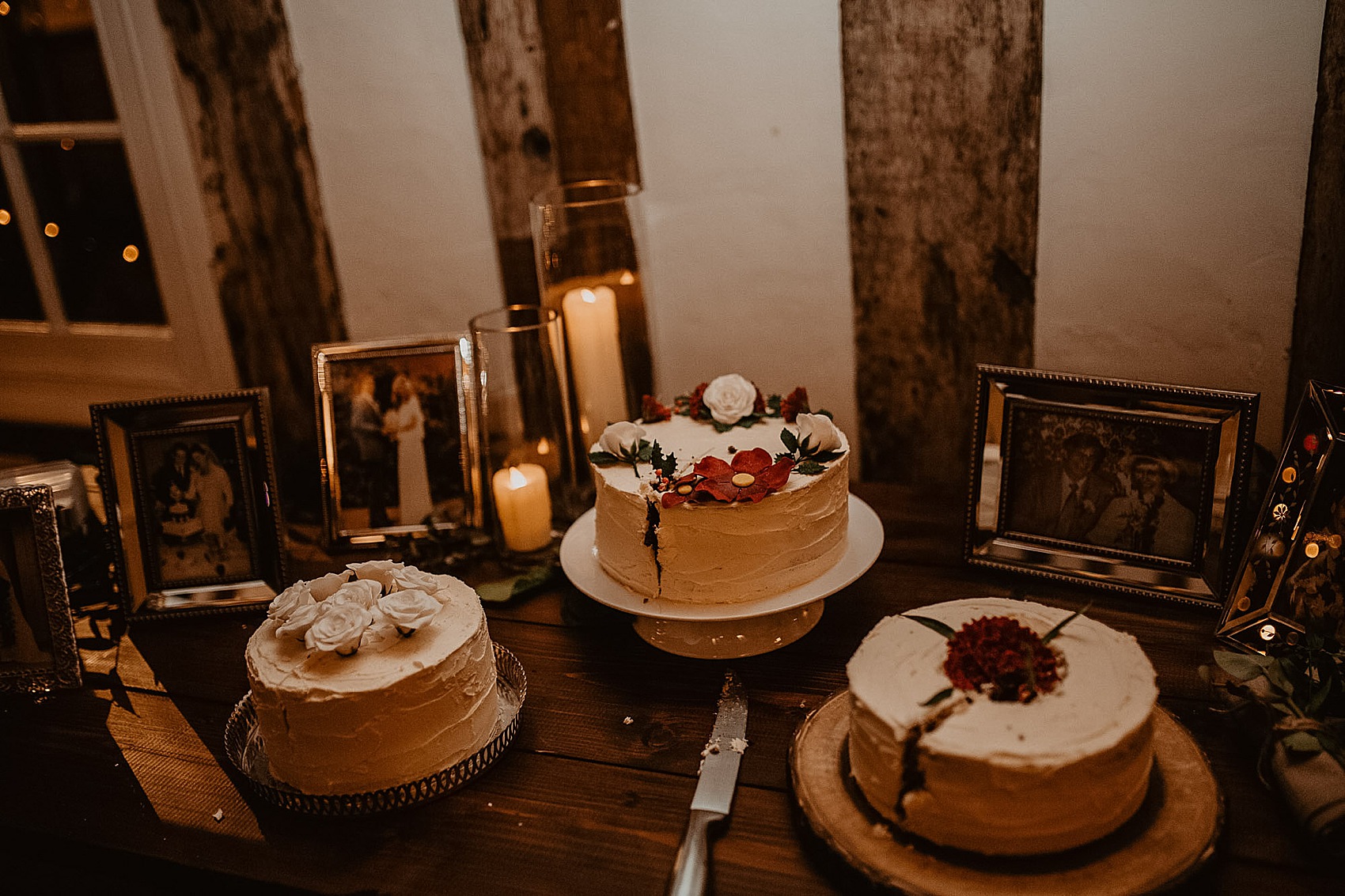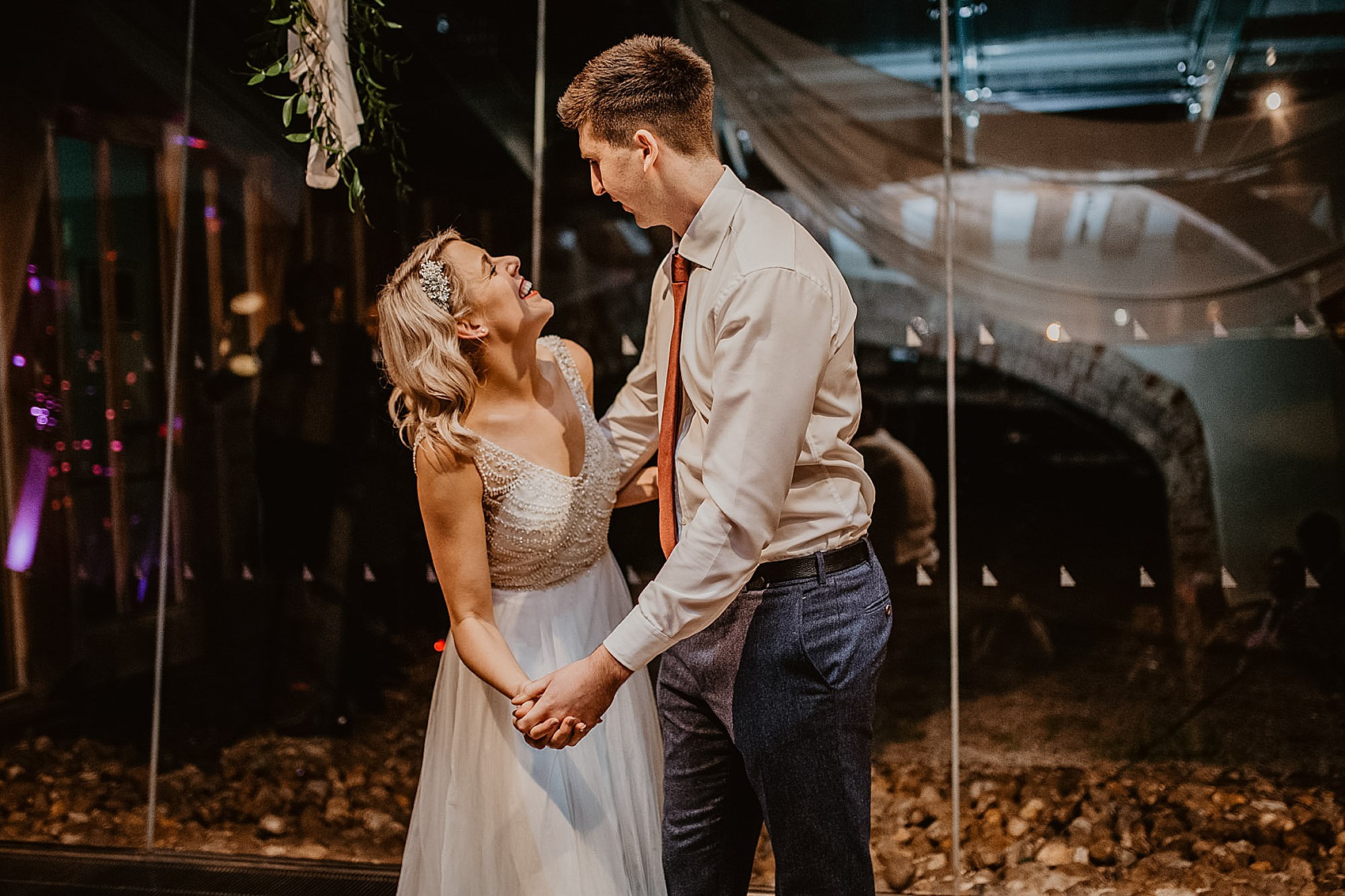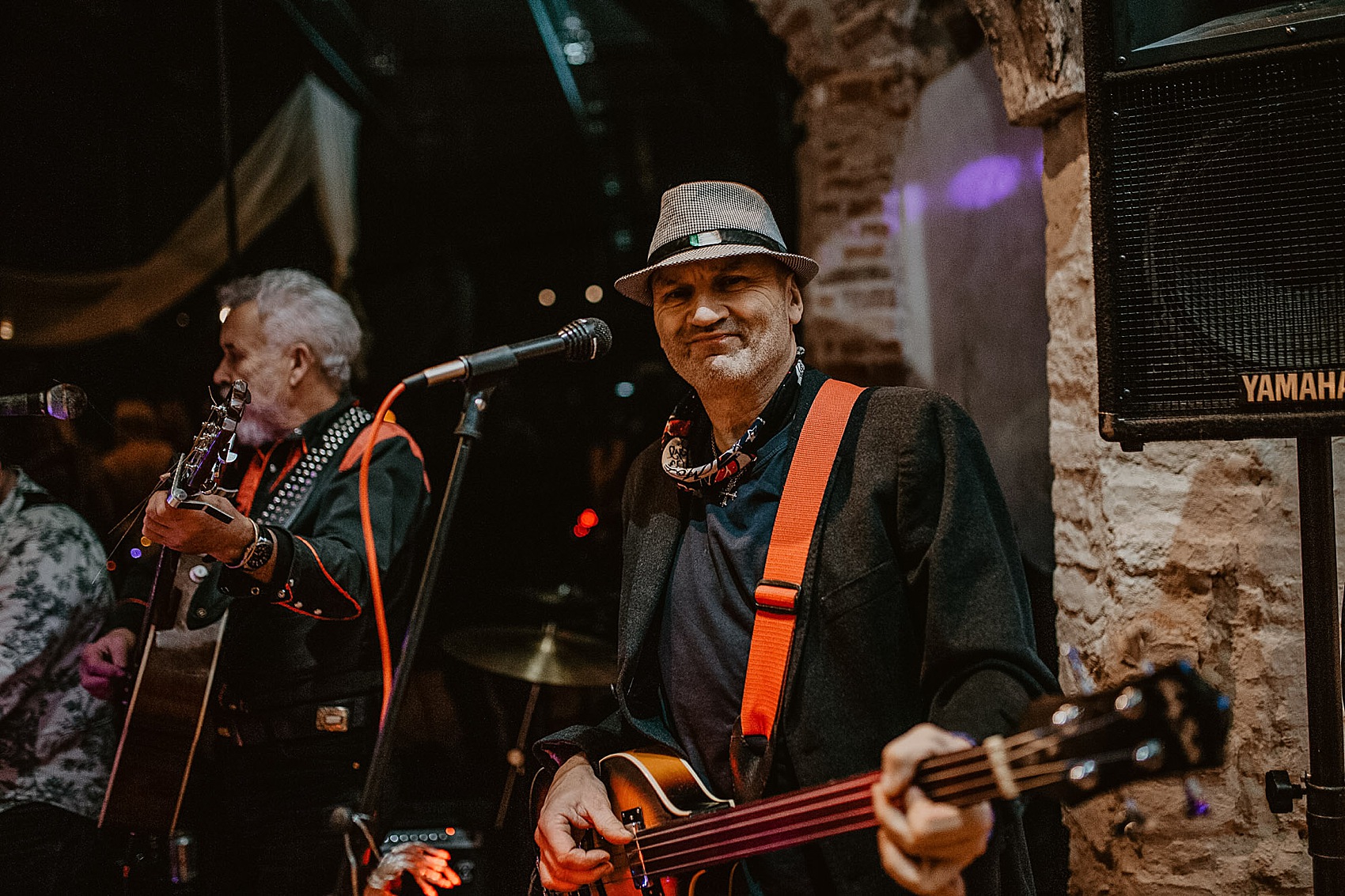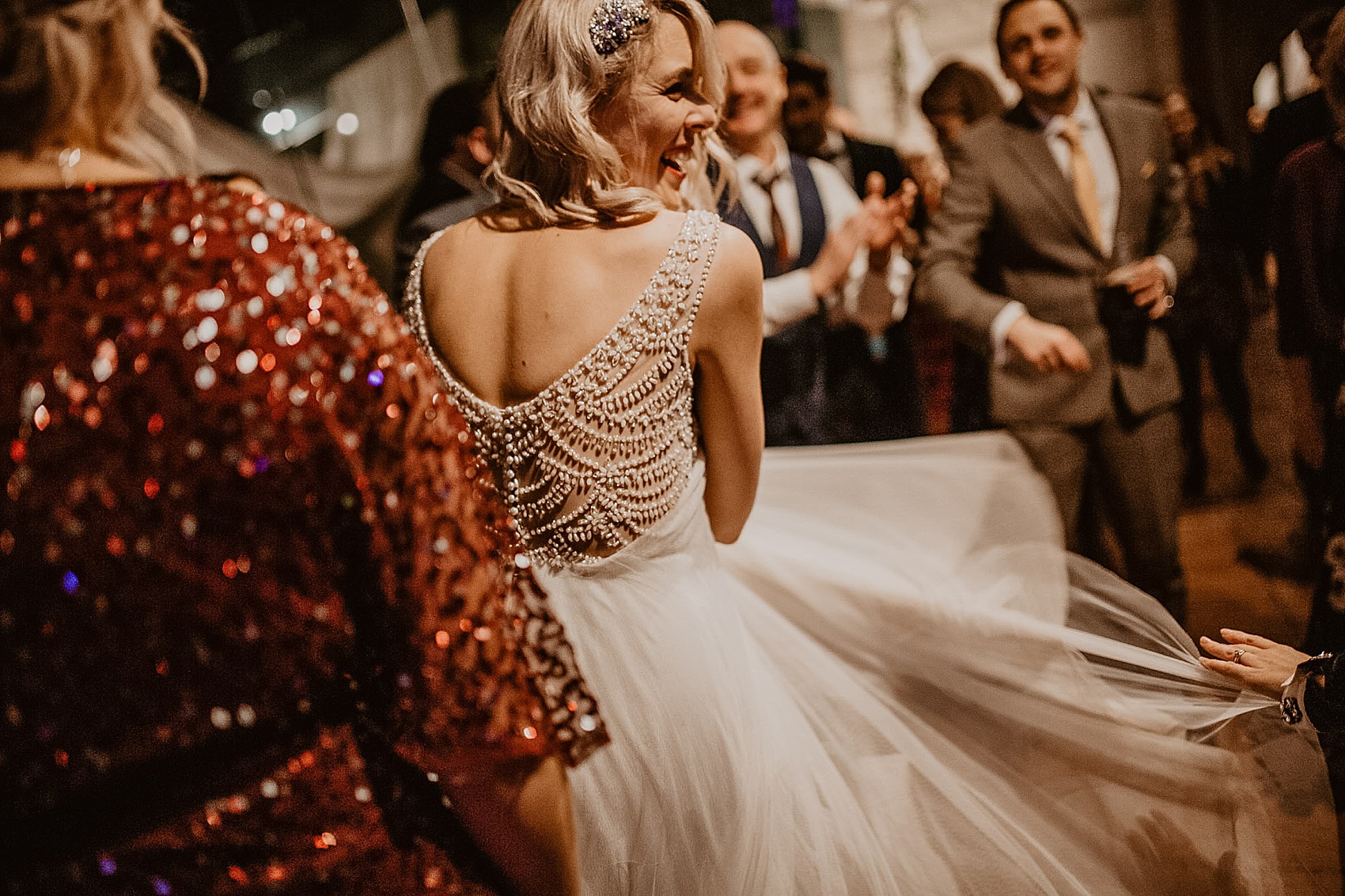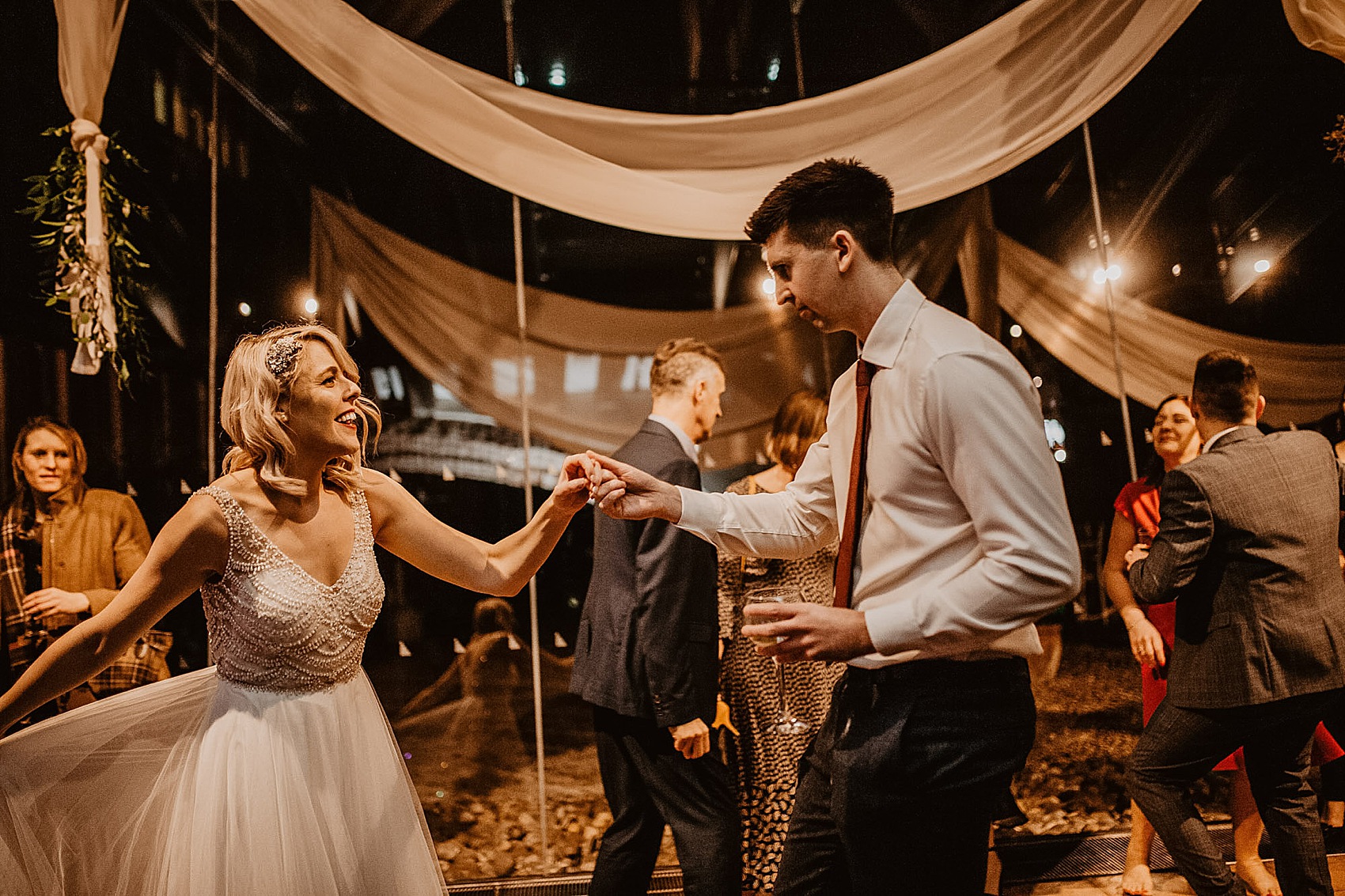 Camilla Andrea Photography, it's been a privilege to feature your wonderful work today and I'm delighted to share more of her work here. Many thanks to you, and thank you Sarah and Andy too. I've thoroughly enjoyed this glimpse in to your cosy mid-winter wedding and I really do think that you achieved your ideal of 'warm glow'.
With love
Ele xx