Our lovely friend and Little Book member Debbie Carlisle crafts the most beautiful collection of headpieces, hair vines, and other accessories like garters and earrings, too.
You'll see one of her gorgeous, sparkling pieces here in the rustic, rural wedding I have to share with you all today. Primary school teacher Gemma and wedding photographer Shaun (of Walker Jones Photography) were married on the 29 May at Inkersall Grange Farm in the heart of the Nottinghamshire countryside.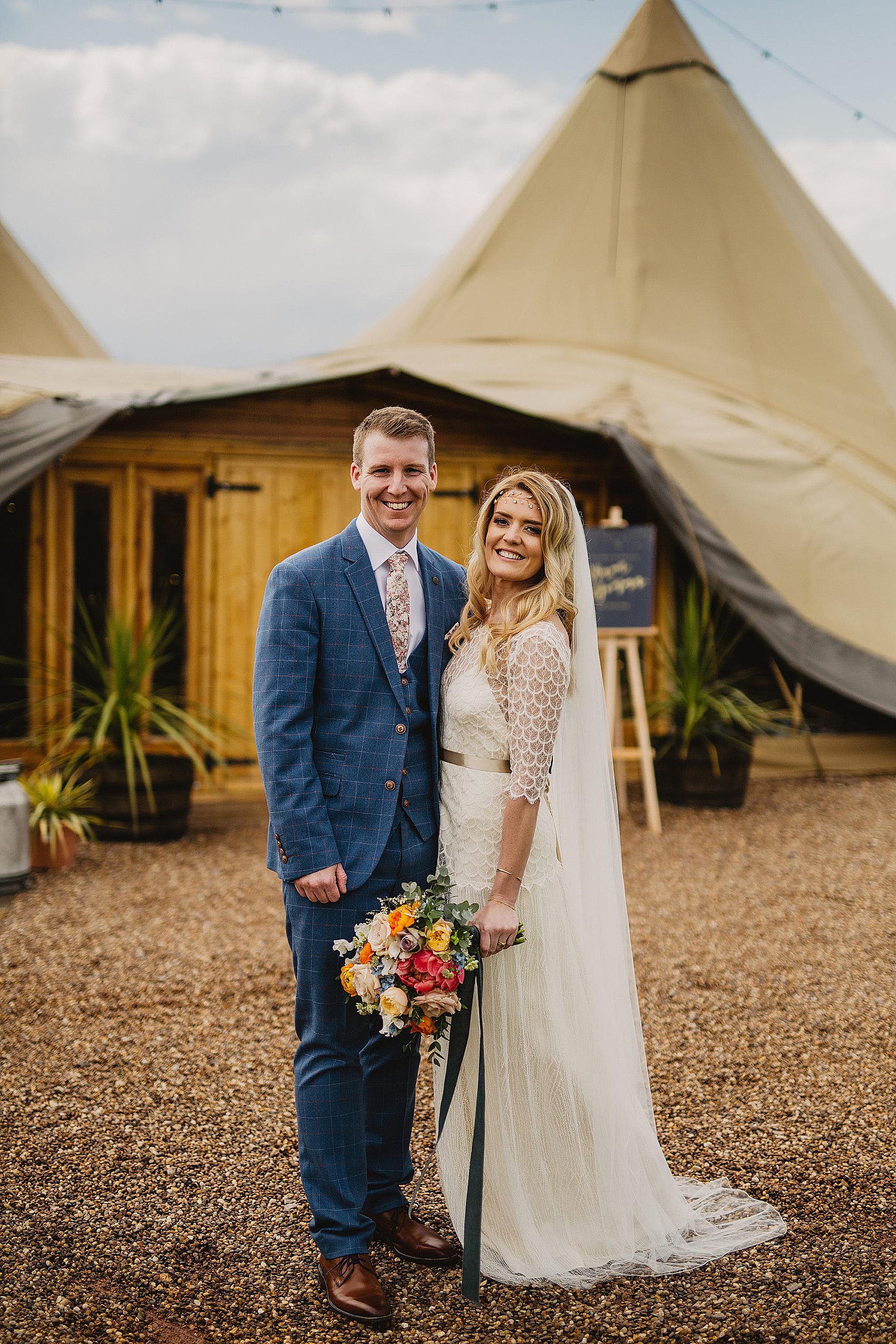 "We adored the venue from the moment I saw it, which is a good job because we had already booked and paid for it a few months before. Both Shaun and Linzi (the owner) breathed a sigh of relief; I can still hear it!"
"We're both huge lovers of the outdoors, as it's the only chance we get to slow down and just be. Inkersall Grange Farm was the perfect venue for us; a gorgeous tipi surrounded by breathtaking countryside. We really felt we were bringing the outdoors in."
Hair and make-up artists Jenn and Helena from Jenn Edwards & Co. were a relaxing and calming presence during morning wedding preparations, and worked with Gemma ahead of the day to come up with an elegant, natural look for her.
"I met with Jenn and Helena a month before the wedding. I wasn't particularly precious about what they did, but I just wanted a style that looked effortless. Helena was on brushes and was fabulous. She was really gentle whilst applying products, talking through different options, and making suggestions as to what she thought might work."
"She perfected the look on her first attempt. How?! Jenn was on hair. She talked me through some possible options and just like Helena, got it spot on first time."
There's a graceful Art Deco feel to Gemma's glorious dress by Kate Beaumont; the 'Astilbe', which Gemma spotted within the first few minutes of arriving at Kate's studio, and she has such lovely words about Kate to share:
"I came across Kate online. Her designs were the only ones I felt any inclination towards: relaxed yet timeless. Her studio, an old refurbished cutlery works, is located at the Beehive Works in Sheffield. Snippets of history lay within the walls, and can be grasped as you walk up the concrete stairs to her studio."
"Kate has cultivated a space that somehow manages to contrast both light and warmth to create a truly inviting atmosphere. It is exquisitely fashioned with plants (how does she manage to keep them alive?!), antique artwork, photographs of past brides and of course, her designs. It's a real clever mix, making the studio look not only vibrant, but a sanctuary to sink into."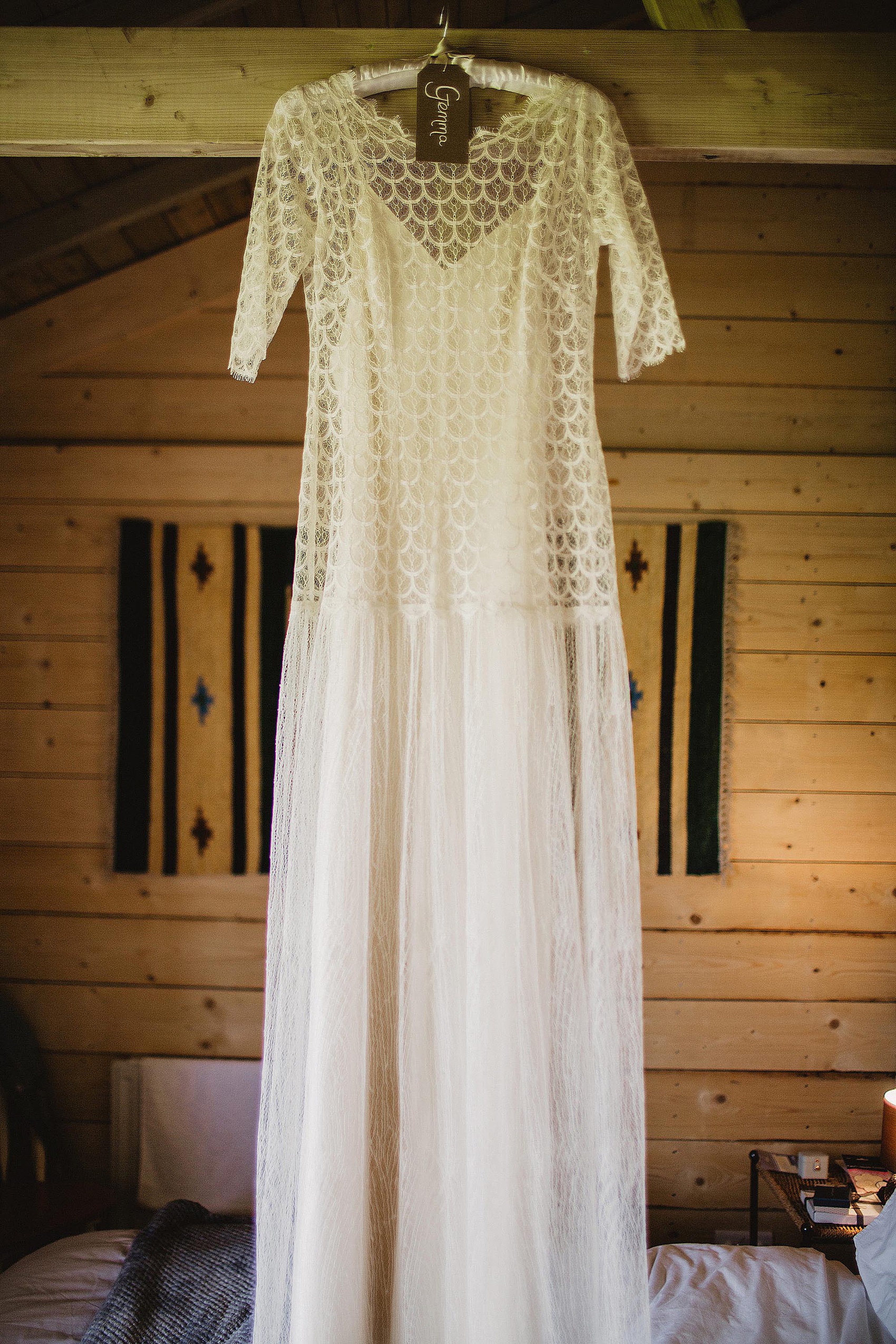 "Kate is a rarity, one of those people with an air of loveliness and wit. She has a true knack for putting you at ease, taking time to get to know what you're about before even suggesting trying on a dress."
"Her vision, creativity, and her ability to bring this to life through her designs speaks volumes with regards to her talent, but it was clear to me that her passion for what she does clearly outweighs any desire to make a sale."
I love the gossamer fine fan motif lace on the dress, and the dropped waist with its contrasting silk ribbon.
"The informality of the contrasting lace design immediately caught my eye, and I knew that was the dress I'd be wearing. It was the first gown I had ever tried on, and it felt luxurious but comfortable, and I fell in love with it instantly."
"We decided to make some bespoke changes; choosing to raise the neckline and lengthening the sleeves, both working beautifully to further create the relaxed style I had envisaged."
"People like to tell you that you 'just know', but I always thought that was a thing people said because they had exhausted all possibilities and were bored. Turns out it really is true, and I was just lucky it took one attempt."
Gemma's shoes were gold block heeled sandals by Jimmy Choo – a gift from Shaun – and she wore a gold chain bracelet, gold cuff, and three rings on her right hand by Missoma.
When it came to rings, making an ethical choice was important to Gemma and Shaun, and they went to meet Devon-based jewellery designer Shakti Ellenwood, who makes all her pieces from Fair Trade gold and conflict-free stones.
"Although there was no kneeling down on one knee, candle lit dinner, will you marry me proposal, there was a ring. I knew I wanted something unique that wouldn't be seen on anyone else, but most importantly I wanted it to be ethical. I fell in love with 'Amina', a rustic yellow diamond set in hammered gold. We loved her designs that much that we asked Shakti to make my wedding band ('Aria') and an eternity ring ('Mimi')."
The bridesmaids' lovely chiffon dresses were by Little Book members Maids to Measure, which were chosen at boutique The White Yard. On their feet, they wore their own choice of gold shoes, and they all wore gold Swarovski crystal hair pins by Debbie Carlisle, too.
"The flowergirl's dress was custom made by Freya Lillie, a small independent business here in Britain. Georgie also wore a flower crown by our florist, Swallows & Damsons."
Zoe from The Golden Letter produced a super suite of stationery in deep navy blue, teamed with pink and gold, including a welcome sign, seating plan and place cards.
"The venue looked beautiful as it was and had we not wanted to, we could have left it as it was and it still would've worked, but we wanted to put our own stamp on things. The beams of the tipi were draped in foliage, as were the tables."
"We added a range of gold candle holders, and opted for light pink and navy blue scented candles and tea lights to create warmth and softness. We also scattered succulent plants in gold pots around the tipi. It was subtle, but we felt like we had made our mark in some way."
"Our boys' outfits were honestly the most difficult to decide on. We knew that ultimate they would be filthy within ten minutes of putting them on (we weren't wrong) but most importantly we still wanted them to look like our kids. In the end we opted for blue shorts from Marks & Spencer, with a linen white shirt."
"Rex wore a blue knitted sweater over the top, and Arthur wore a cream cable knit cardigan. Both wore white Converse. It didn't take long for normal service to resume though, and both were in their Spiderman outfits before the night was out!"
"My earrings were a birthday gift from friends I studied at university with years ago. It didn't make sense to buy new when I already had a pair I loved, kept in pretty much 99% of the time anyway, and if I'm honest, am pretty attached to."
"On the day I wore Elie Saab perfume. I didn't want anything that would be too strong, and I loved how this had a real fresh, floral scent combined with hints of citrus and honey."
Finishing off Gemma's romantic look was a simple picot edge veil by Kate Beaumont.
The couple's wedding flowers were a bright, seasonal delight: bursts of pink, orange and yellow, with peonies, Vuvuzela roses, ranunculus, and delicate sprigs of forget-me-not, oxypetalum and sweet peas, along with gorgeously abundant greenery. Everything, from the bouquets to the floral ceremony arch, was the work of Swallows & Damsons.
"My knowledge of flowers is sparse (just about telling a carnation from a rose) so I knew it would be best to leave this to people who knew what they were doing! I met with Vicky a few months before the wedding, and gave her an overview of what we wanted for the day, with an emphasis on bringing the outdoors in."
"My only request in terms of specific flowers was that they looked wild and unstructured with plenty of foliage. Vicky did not disappoint, opting for yellows, pinks, washed out whites with pops of orange and blues."
"Honestly, if you're confident in your suppliers I would recommend this to anyone. It's such a lovely surprise on the day, and you can't really be disappointed if you don't know exactly what is coming."
"We tried to steer clear of too many traditions, but I knew how important it was to my dad to walk me down the aisle. Those moments before you walk down are quite daunting, so I was really quite relieved I had someone there to hold my hand! My entrance music was Wings by Birdy."
Gemma and Shaun had originally planned on an outdoor ceremony, but the weather had other ideas! As lovers of nature and the outdoors, however, they were still keen to be outside as much as possible. This was combined with a wish for a relaxed, laid back and fuss-free day, using trusted suppliers.
In the course of his work, Shaun had met celebrant Jan Shillito from The Memory Box Ceremonies, and when it came to their day, Jan worked with Gemma and Shaun to curate a beautifully personalised and heartfelt ceremony.
"After booking the venue, the next step was to book Jan. I knew nothing about her, but if Shaun rated her that was good enough for me. As it turns out, Jan was an absolute dream! She is genuinely one of the loveliest, sincerest people you could wish to know, and her passion for what she does radiates through."
"We asked Jan to write and conduct the ceremony as well as co-ordinate in the weeks leading up to and the day itself. From day one she was thoroughly attentive, and as a couple who wanted as little stress as possible it was reassuring to know that Jan was there. She knew exactly what needed doing at each stage and was very pro-active, from our initial enquiries through to our consultation, and finally to our wedding day itself."
"As a couple we think we are slightly uninteresting, but Jan somehow managed to coax out our interests, feelings and emotions, which helped to put together the most beautiful and personalised ceremony which was themed around family and love."
Gemma and Shaun shared the vows they had written for one another, and they also made joint promises to their children Rex and Arthur, too, which is such a brilliant idea. Here, they very kindly share those beautifully written promises:
"Life will not always go the way you planned and that's fine. You will not like everyone you meet. Some people will be unnecessarily cruel, and this will confuse you. Know that it is not you; we are all complicated by nature, and not everyone is as lucky as you. Be there but know when to let go, too. Hopefully we will equip you with enough tools so that by the time you have partners of your own, you do not flee at the first sign of imperfection."
"Just have fun! Don't let the realities of life take it away. Go with your instincts, always. Please don't conform, but equally don't go out of your way to be reckless. We will show you how to find joy in your lives and not in materialistic possessions. You do not need them, you will not remember them, but you will never forget the first time you paddled in a stream or the time you mastered the art of scooting over a death ramp."
Bridesmaid Gemma read a short extract by author Jeanette Winterson about falling in love, and the second ceremony reading was all about family, and read by bridesmaid Jess.
"Without a doubt our favourite part of the day was the ceremony. Even though we had read through what Jan had written prior to the day, seeing it on paper is something very different to how it actually pans out. I was a little worried that the ceremony would seem staged, but it was anything but. It flowed naturally, it felt right, it felt like us."
"Everything we had built together over ten years was depicted in some way in the ceremony, almost like a tale through time. It made us stare everything we have straight in the face. We needed it and we are more thankful because of it."
When one or both of you is a wedding photographer and you're planning your day, choosing your own photographer might be a pretty difficult task! Jon from S6 Photography (whose work we've featured on our pages before) took everything in his stride, despite the changeable weather!
These resulting images are wonderfully natural and full of joy.
"There was never any question who our photographer was going to be. I think Shaun had decided long before we had even made the decision to get married, and I trusted his judgement completely."
"Luckily for me, Jon was wonderful and very discreet on the day. We really didn't want to be stood about for hours taking group shots. I'm too awkward in front of a camera, and the minute someone tells me to smile I don't know what to do with myself (think Chandler Bing)."
For us it was about capturing the moments as they happened; Jon did this perfectly without being invasive, and at no point was anyone made to feel uncomfortable."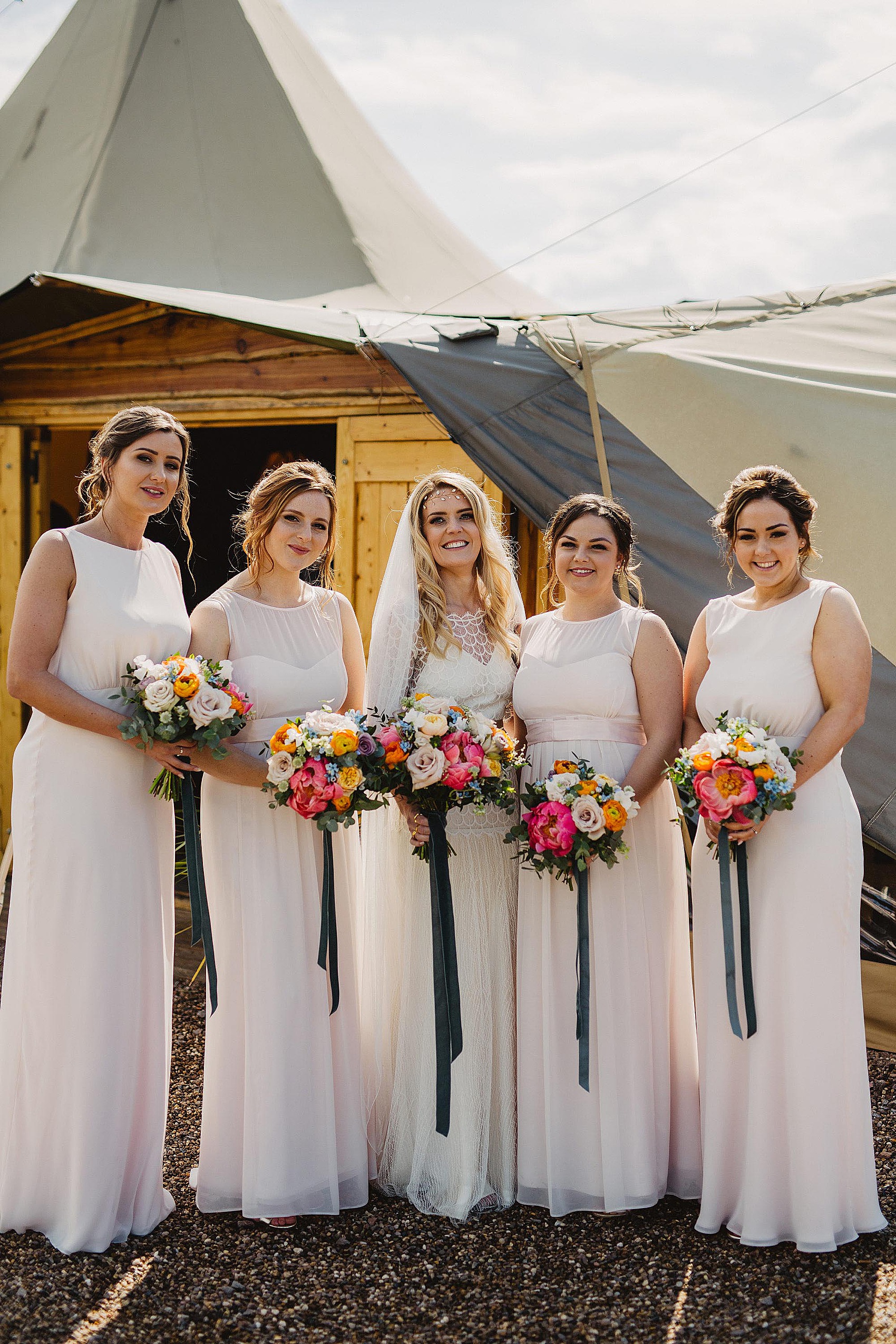 "It is one thing to take photographs as the events unfold, but it is something else to capture the emotion; something Jon managed to do flawlessly, and we will be forever grateful."
To choose his wedding suit, Shaun headed to boutique Tweed & Groom in the South Yorkshire village of Elsecar. He chose a blue tweed suit with a smart and subtle check, paired with a pink Liberty print tie and pocket square.
"We met through a mutual friend over ten years ago – and the rest, as they say, is history. After just over eight years together and two kids thrown into the chaos of our very busy lives, Shaun came home from a wedding he had been photographing at Inkersall, and casually mentioned that it would be an ideal place to get married."
We booked it a couple of days later, I hadn't even seen the venue. We never actually got engaged, but still managed a ring though!"
I'd like to think (but I'm not actually sure!) that Gemma's choice of delicate hair vine by Debbie Carlisle, worn across her forehead, was a nod to the Art Deco, 1920s-30s feel of her gown.
"I wasn't really sure what I wanted to wear in my hair, if anything. I met with Debbie Carlisle (who is just lovely by the way) at her studio in Sheffield. I'd decided that if I couldn't find something here then I wouldn't bother at all. Her studio hosts the most beautiful, intricate designs from hair vines, wedding combs, hair pins and head bands."
"I explained that I wanted something quite simple, and Debbie showed me a few designs she thought I would like. In the end I opted for 'India', a strikingly delicate gold brow band made up of sparkling Swarovski crystals and freshwater pearls, all tied with a golden ribbon."
"When it came to food, we didn't want anything too fancy or extravagant. We opted for what we knew, and what we know people enjoy – comfort food."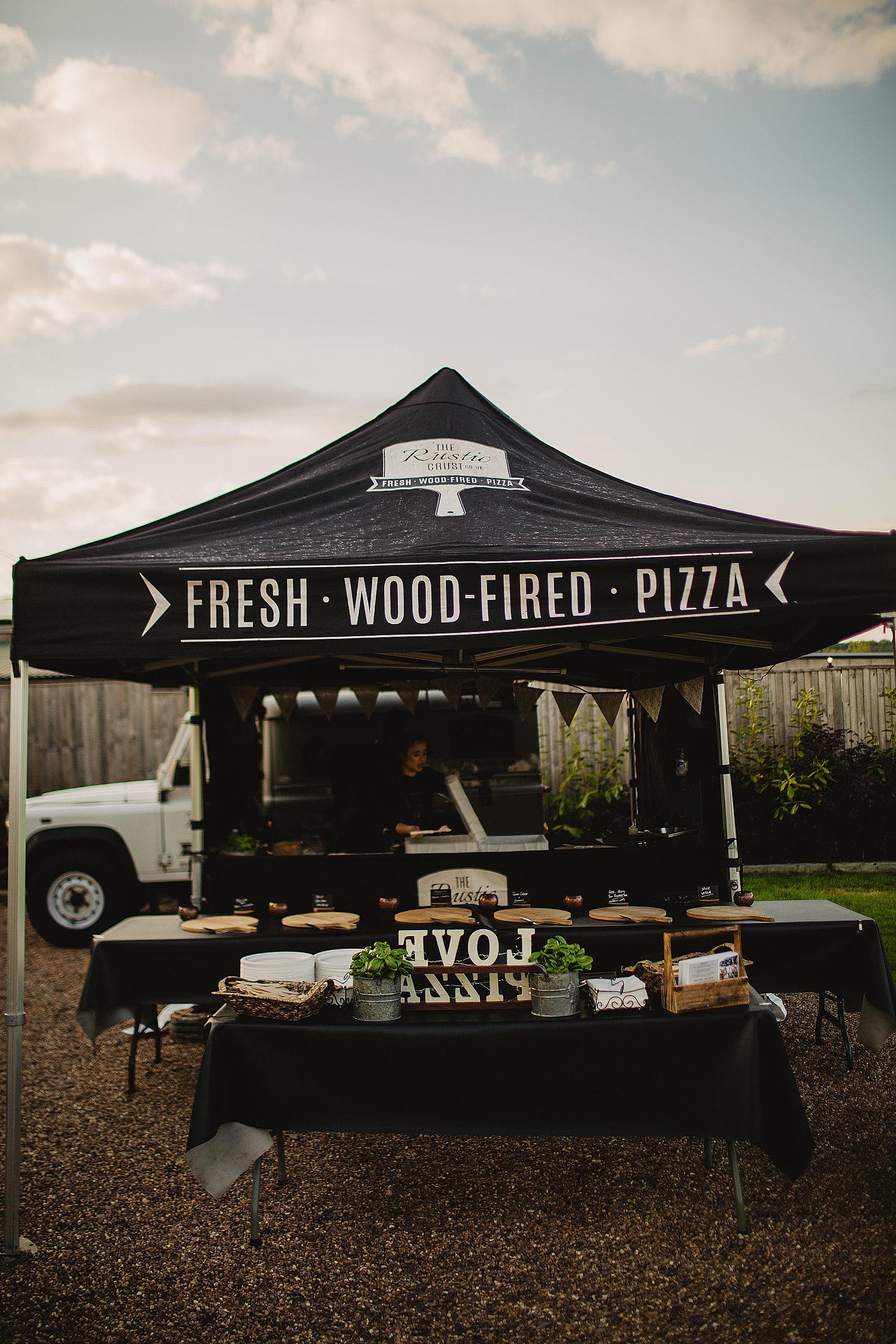 The delicious array of food and drink options were as follows: Fish and chips from Dodson's Fresh Catch, wood-fired pizza from The Rustic Crust, waffles from The Belgian Waffle Tuk, and cocktails from Shake the Spirit.
"They were all brilliant but our favourite was one made by a little girl in my class. Alice told me she was going to make us a wedding cake, but I didn't for one second think she would do it. Lo and behold, there it was on the day – a masterpiece."
"We decided against a traditional wedding cake, instead enjoying creations made by our closest friends and family. We decided to do our own take on the Great British Bake Off, which was intended as a bit of fun, but apparently people take baking very seriously nowadays!"
For their first married dance together, Gemma and Shaun chose Gun Song by The Lumineers, and there was live music from band Happy Hour, as well as magic from Luke Howells.
"As a couple, we value experiences over possessions, and moments that become etched in our memories and that still bring us the same joy as they did the very first time we experienced them. Luke gave us exactly that. Luke's close up magic is the best I have ever seen, his sleight of hand paired with his astute wit kept both us and our guests thoroughly entertained."
"The space at the back of the tipi was our favourite. It is designed around a focal fire pit with leather sofas, cushions and blankets creating a real sense of togetherness. By the end of the night people were sat clutching their bottles of red, huddled together under their blankets and setting the world to rights – just as they should."
Words of Wedded Wisdom
"It's an old cliché but it's true – blink and the day is over. Be really careful to stop at least once, look around, and soak it all in."
"Don't marry for a wedding, marry for a marriage."
Thank you so much Gemma and Shaun, and thank you for your beautifully considered words throughout, too. Accompanied by these glorious images from Jon at S6 Photography, it's been just amazing. Thank you!
Until next time, and with love,
Laura