Oh what a joy to be sharing with you a wedding that was held at the incredibly stylish RSA House in London.
And with a bride wearing a dress by up and coming designer of the moment, Pippa Cooke of Bon Bride. But the best thing about this wedding is, it was planned in just 4 months.  Can you believe?
This is the wedding of Rosie, a Project Manager at London based florist, Wild at Heart, who tied the knot with Field Engineer Kieran on 19th October 2019.
"Olivia, our planner at RSA House was amazing and we met several times before the day and I knew she would make sure everything was perfect."
RSA House, London

+ Follow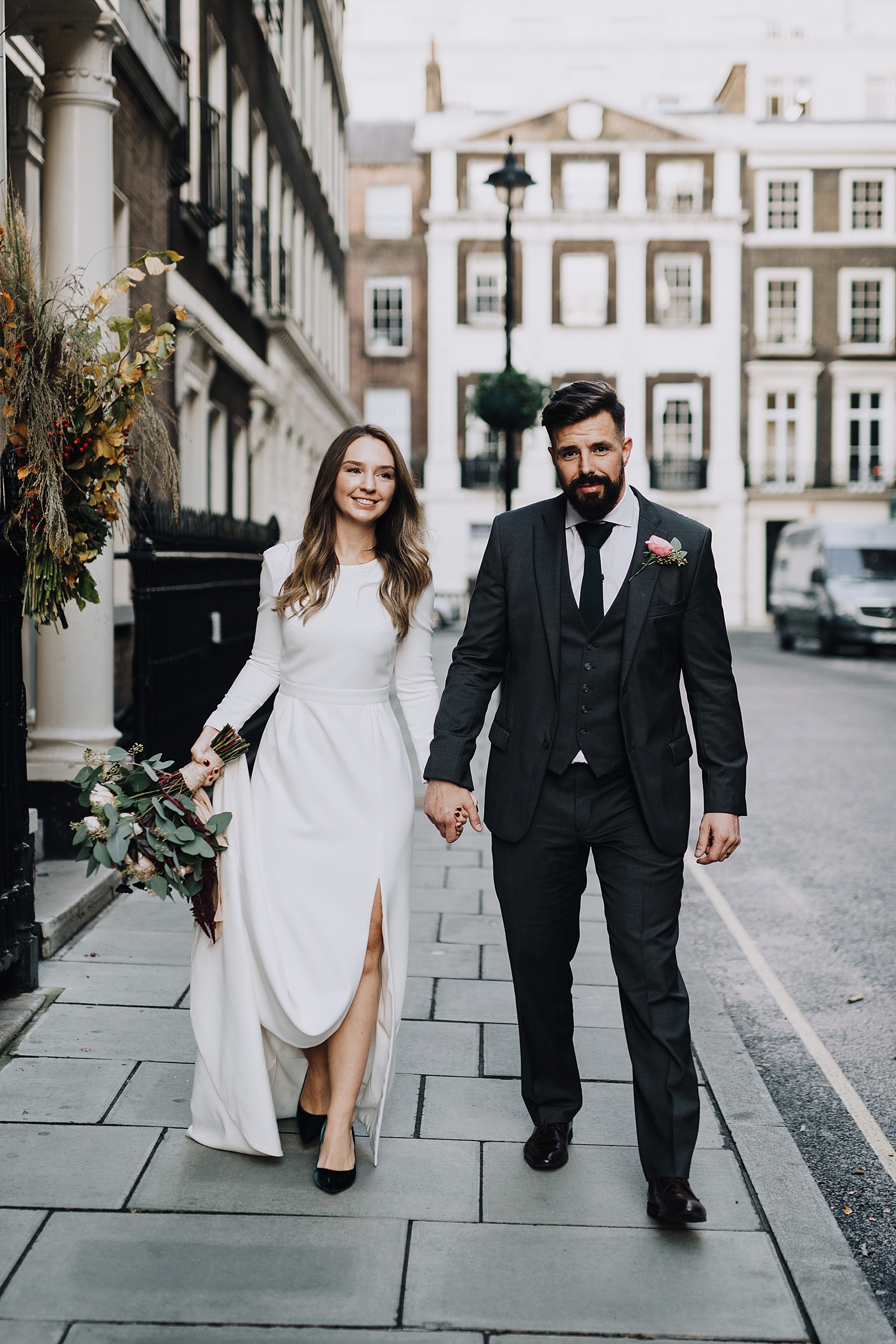 These images were taken by one of my fave British photographers, the lovely Rachel of Rachel Takes Pictures (who is also responsible for these beautiful editorial shoots and this incredible wedding).
"Rachel our photographer had amazing photographs on her website and was recommended by someone so I knew she would be great. She was a dream photographer; she was recommended through the photographer who shot my brother's wedding in 2018. It was the best recommendation and I'm so grateful she was available. On the day she was great fun and made us feel so relaxed with the posed couple shots.""The rest of the day you hardly noticed her snapping away. We got a selection of 20 images back within 5 days and the rest back in only a few weeks. They were incredible and they really captured every guest, moment and feeling throughout the day. We didn't have a videographer but Rachel put together a beautiful vimeo of all the images."
RSA House, London

+ Follow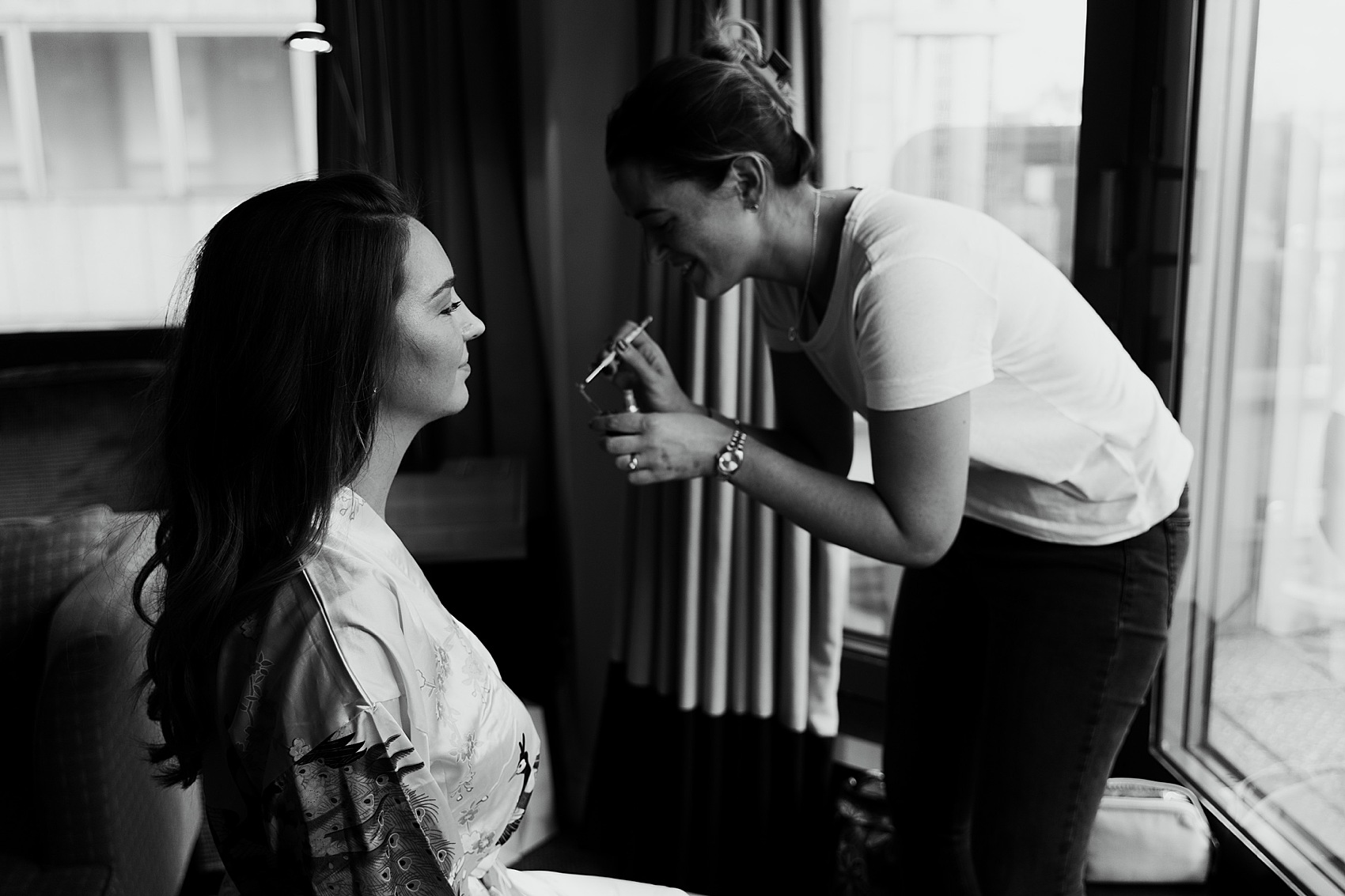 Rosie's hair and makeup was prepared by a talented team representing Duck & Dry Mayfair and N Aesthetics.
"We wanted the wedding to have a modern, relaxed feel but with so many guests travelling from, Hong Kong, Singapore, LA we still wanted it to still have a wedding feel without being too formal."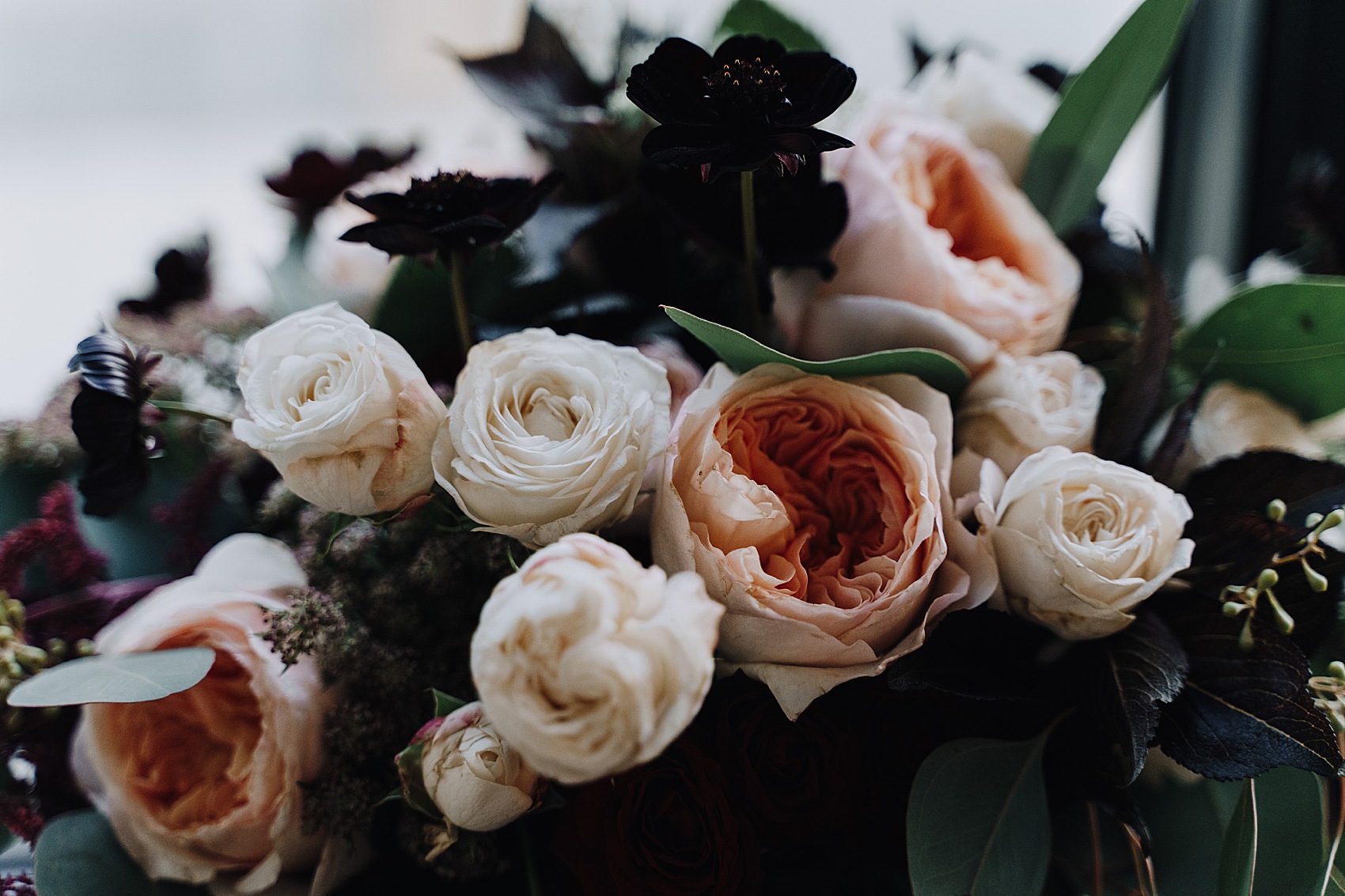 Rosie wore the most delicious pair of green velvet heels by Rupert Sanderson and chose Chance by Chanel as her wedding day scent – selected, she says, because she has always worn this perfume for special occasions.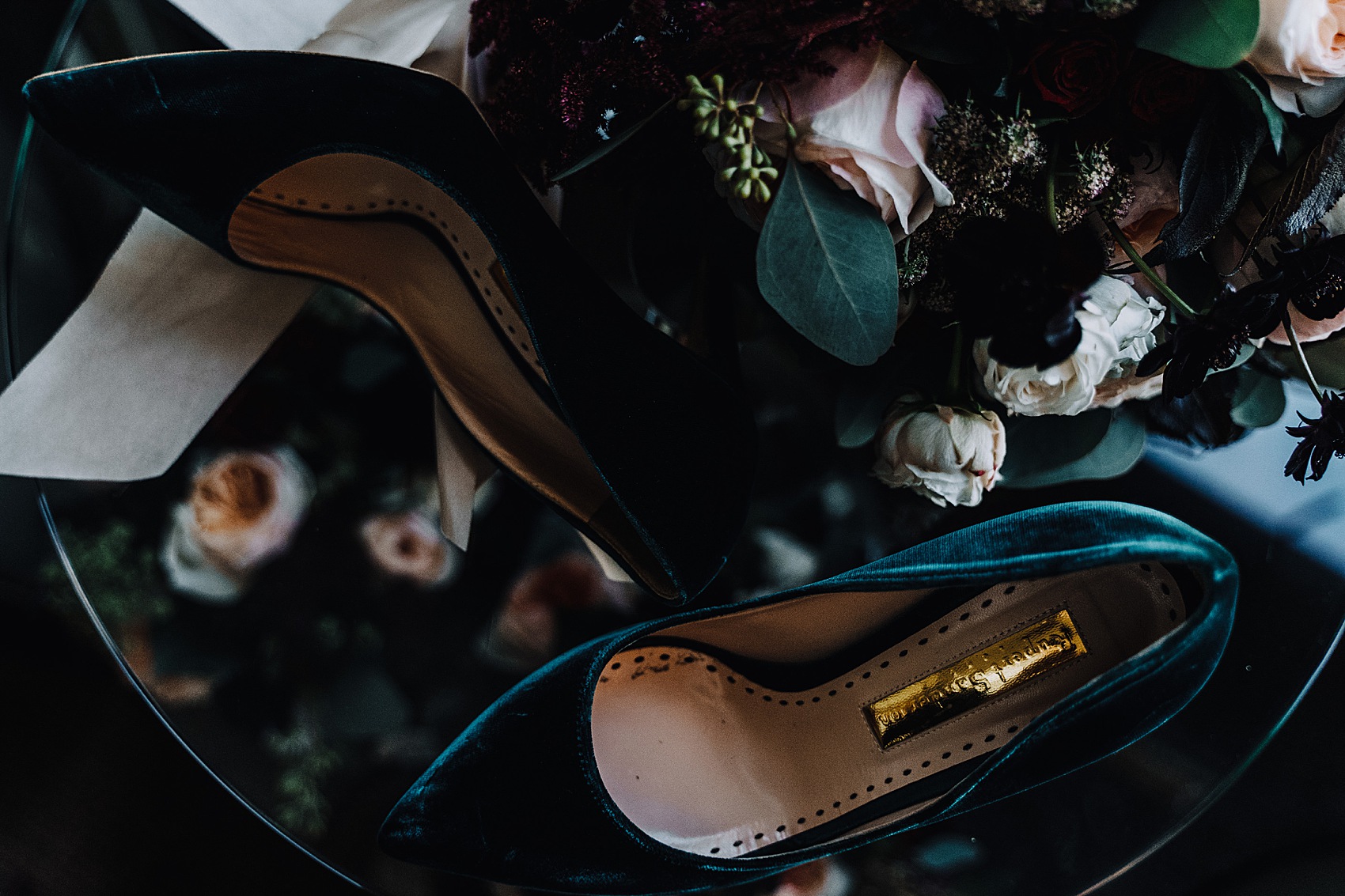 "All stationery was designed by myself, and the wonderful Paul and Ashley from Media Ace printed everything and did an amazing job."
Rosie wore an effortlessly elegant dress with a sensuous high split, by the incredibly talented British designer Pippa Cooke of Bon Bride.
I first met designer Pippa Cooke of Bon Bride last April in London and got to see her designs up close and personal. They are incredible – and Pippa really knows her stuff (she is a former fashion buyer and talented designer to boot).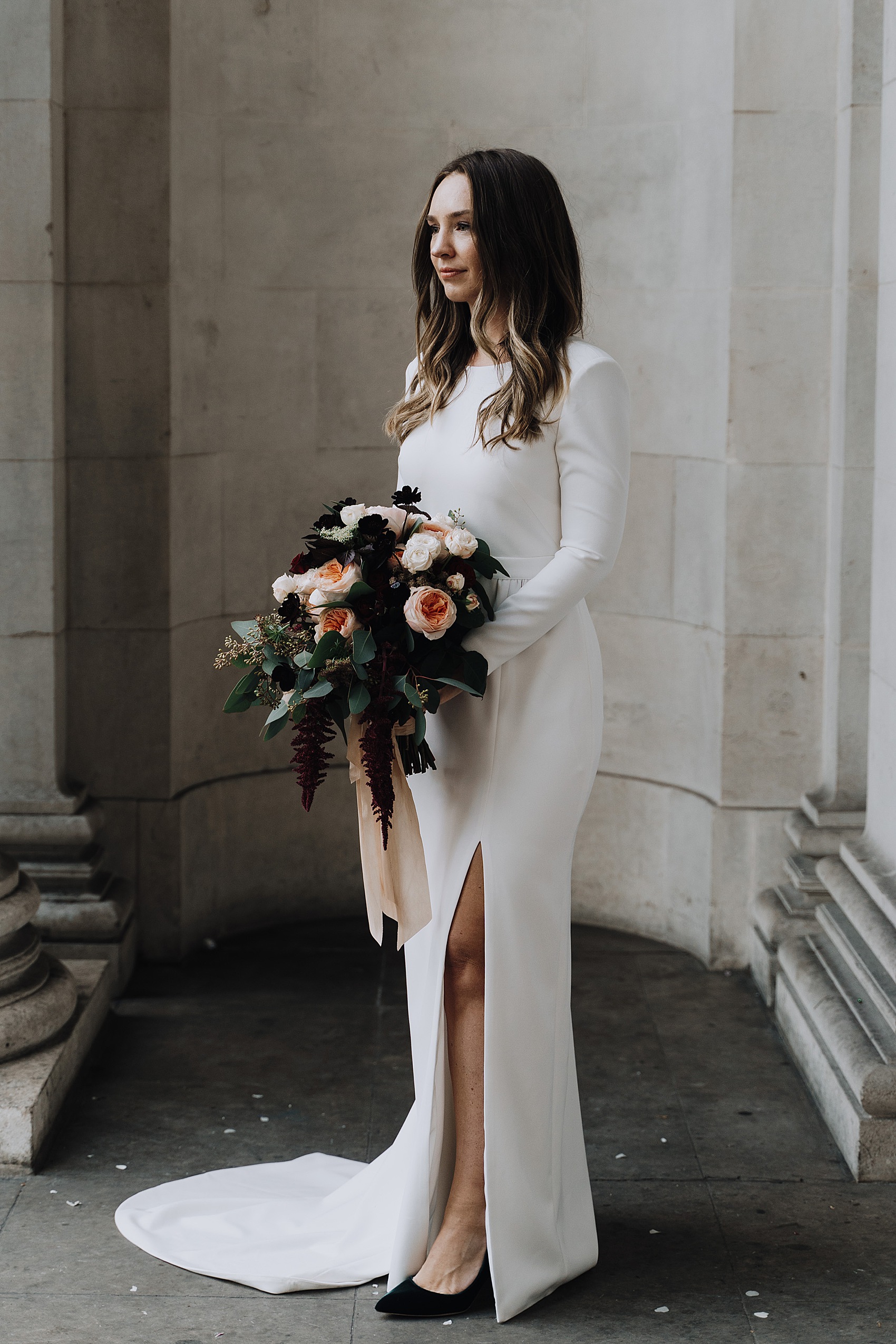 "I loved this dress from the minute I saw it online, I knew it was what I wanted before I even tried it on, modern, simple and relaxed. The long sleeves were perfect for October and the V back detail gave a modern twist on an open back without being too revealing."
"Pippa at Bon Bride was so great to work with, she let me alter the dress slightly and choose my finishings to how I wanted them, the dressmaker made sure everything was perfect with the dress and even altered my underwear at the fitting which was a life saver as it was a struggle to find something backless with support."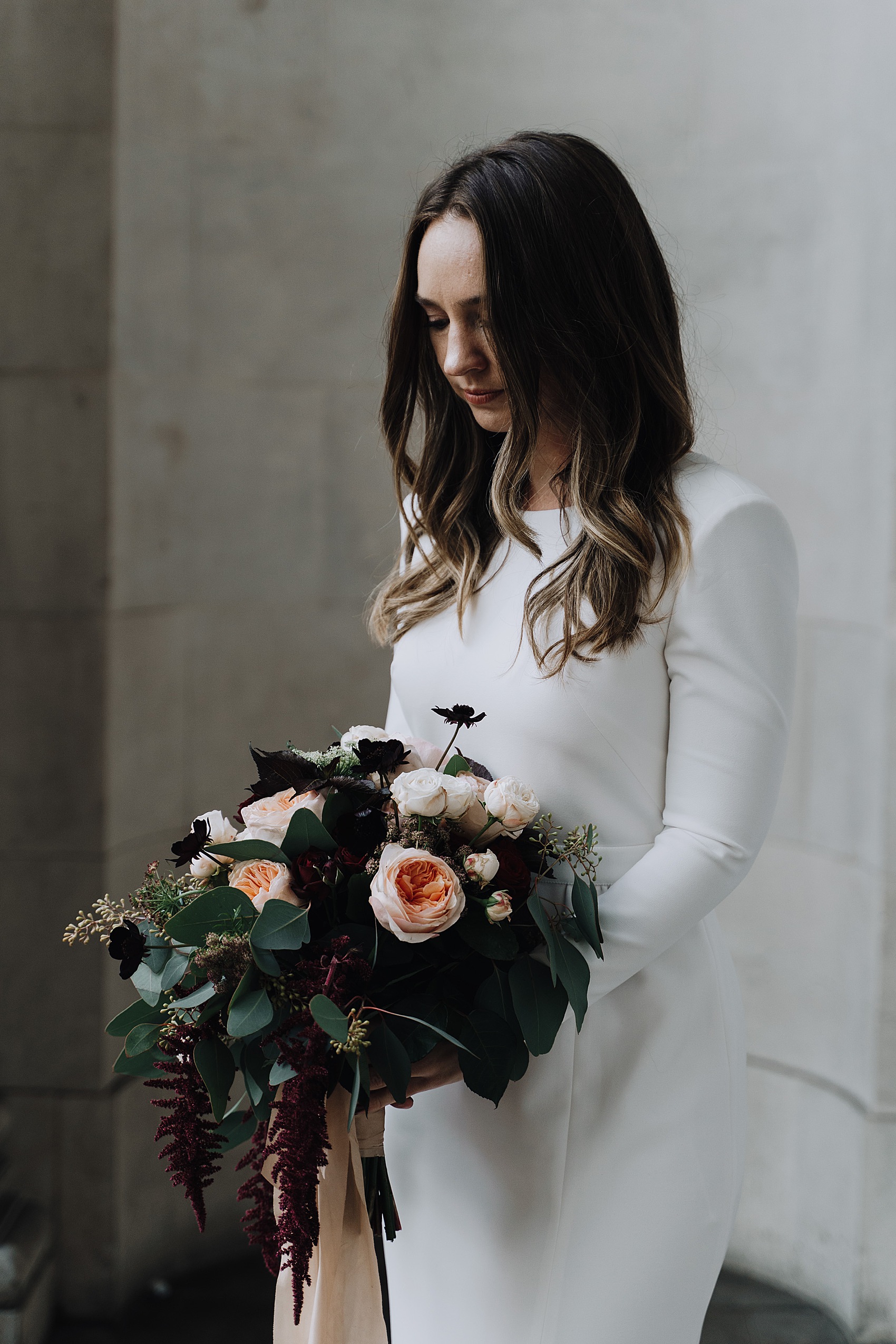 "Kieran and I  met six years ago on a blind date. We were then engaged for three years before we got married."
"As we were getting married in October, we wanted rich, warm burgundy flowers with a touch of blush/peach/apricot tones which were perfect for the time of year and worked so well at RSA House."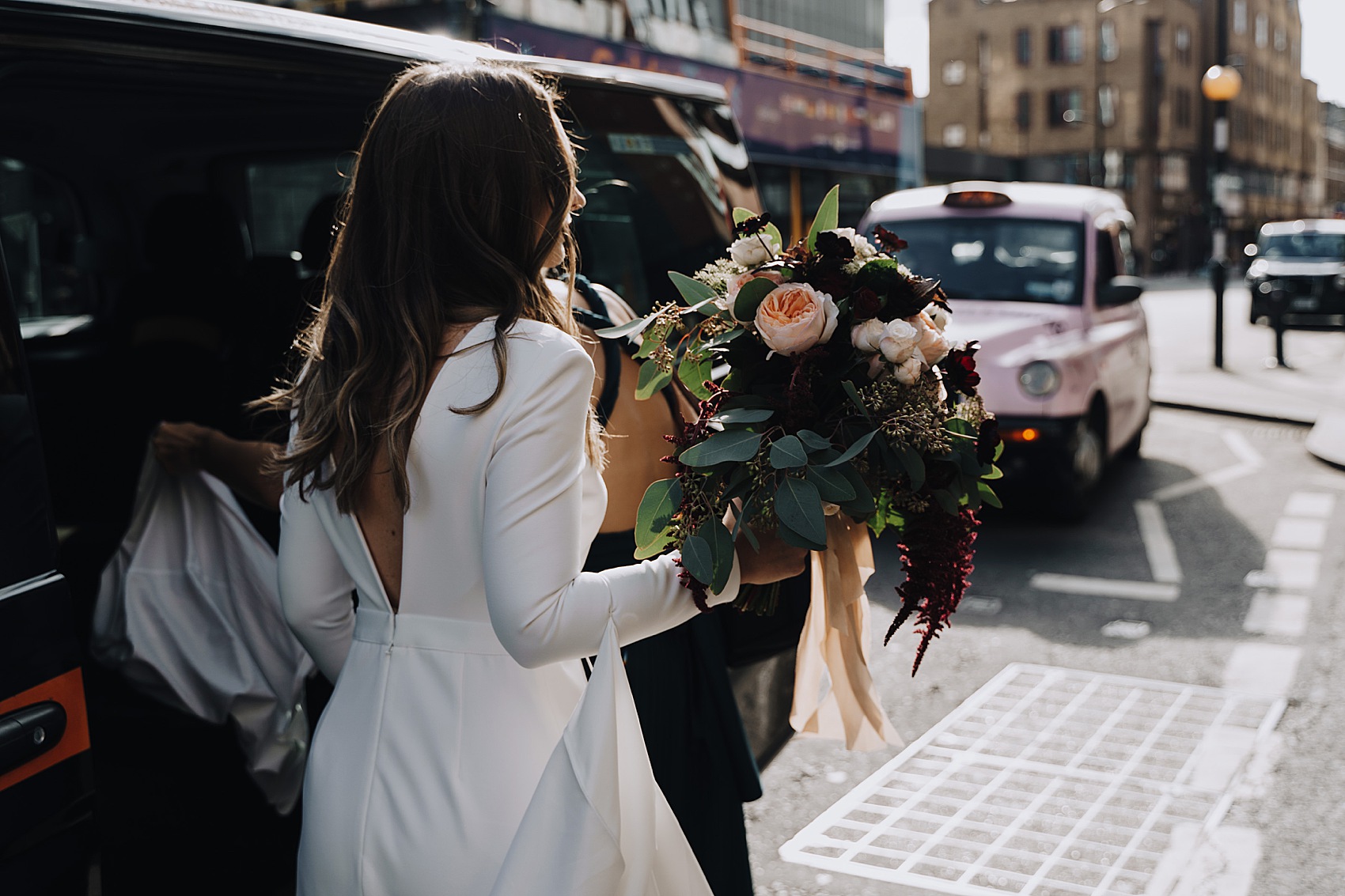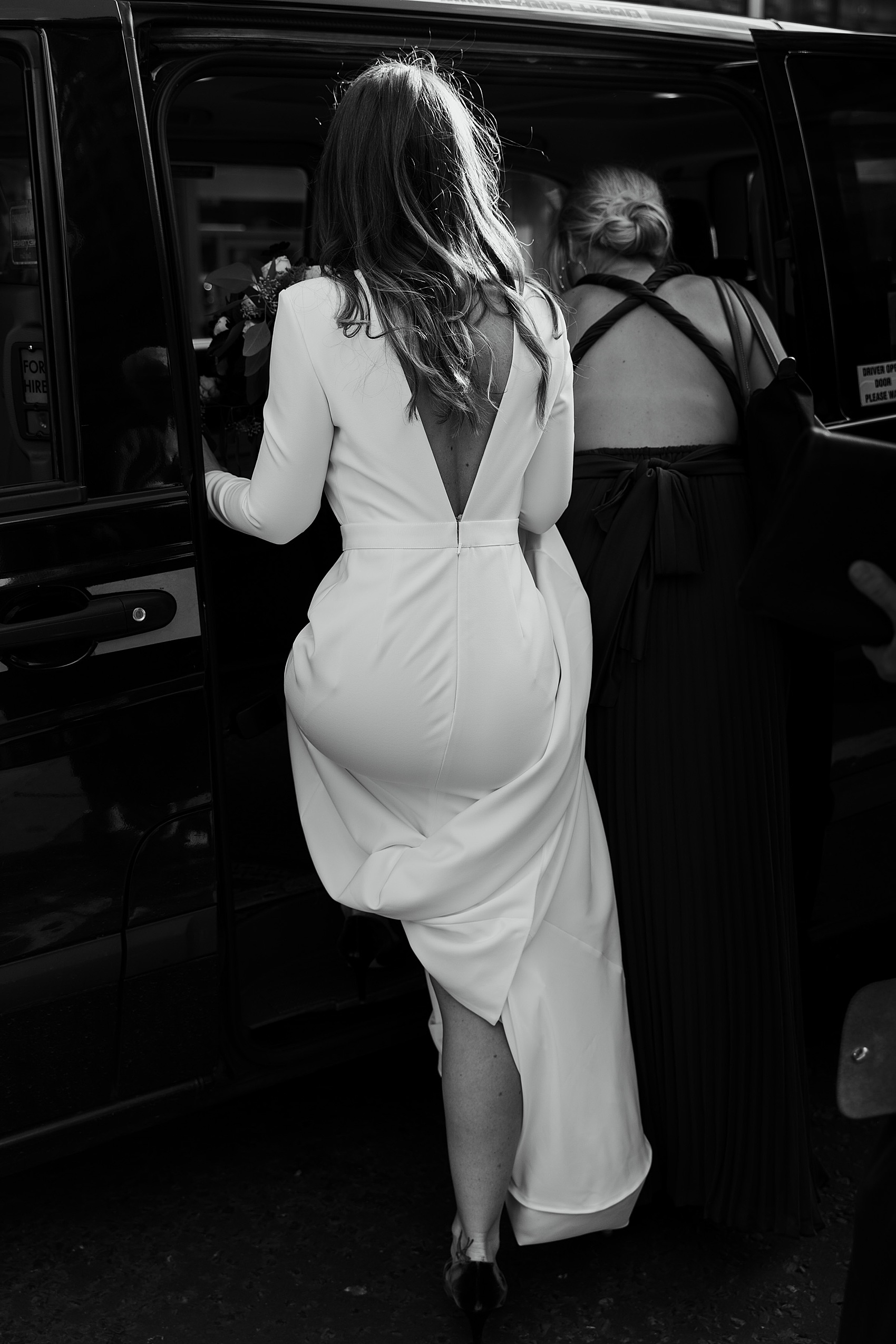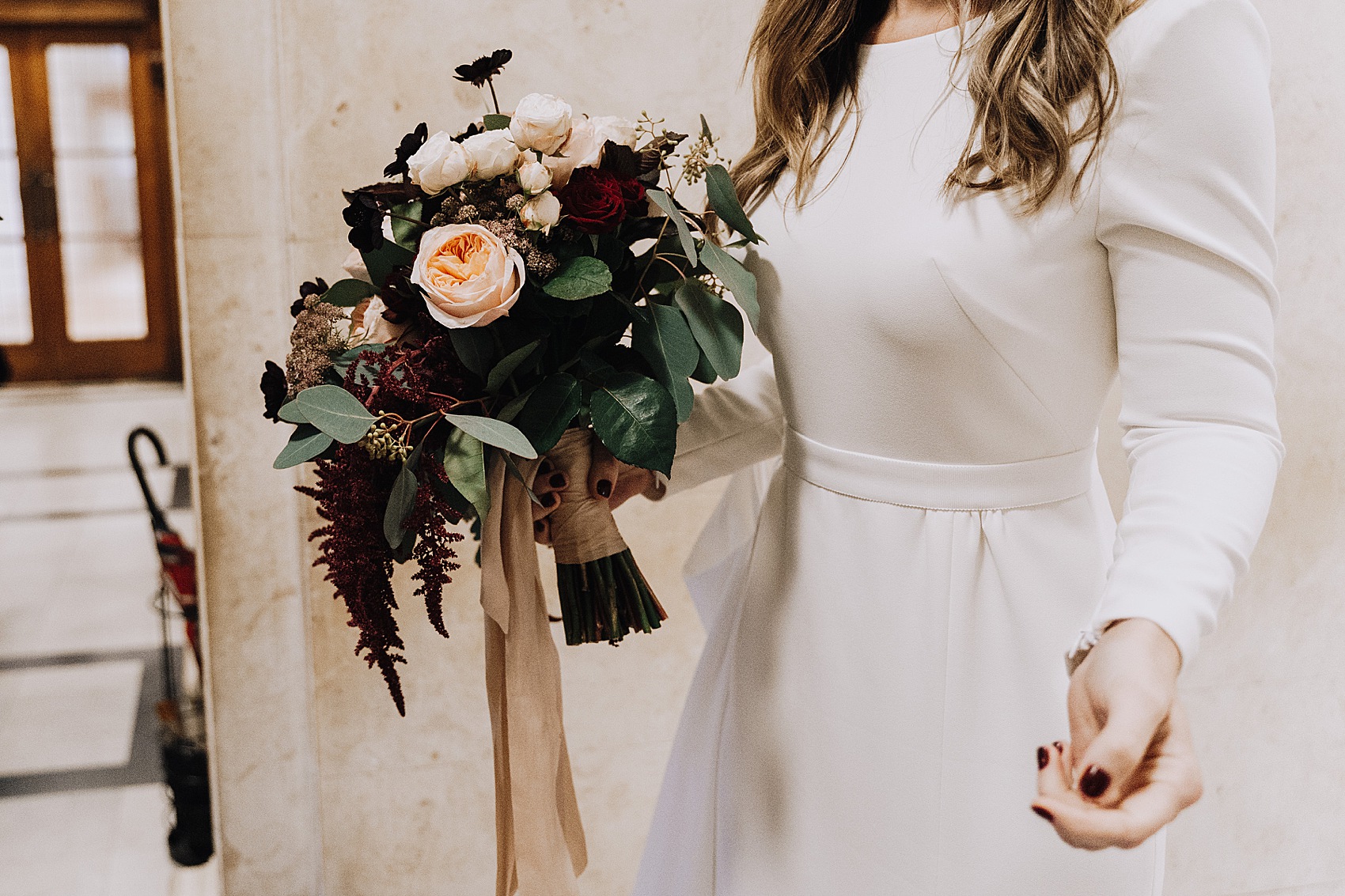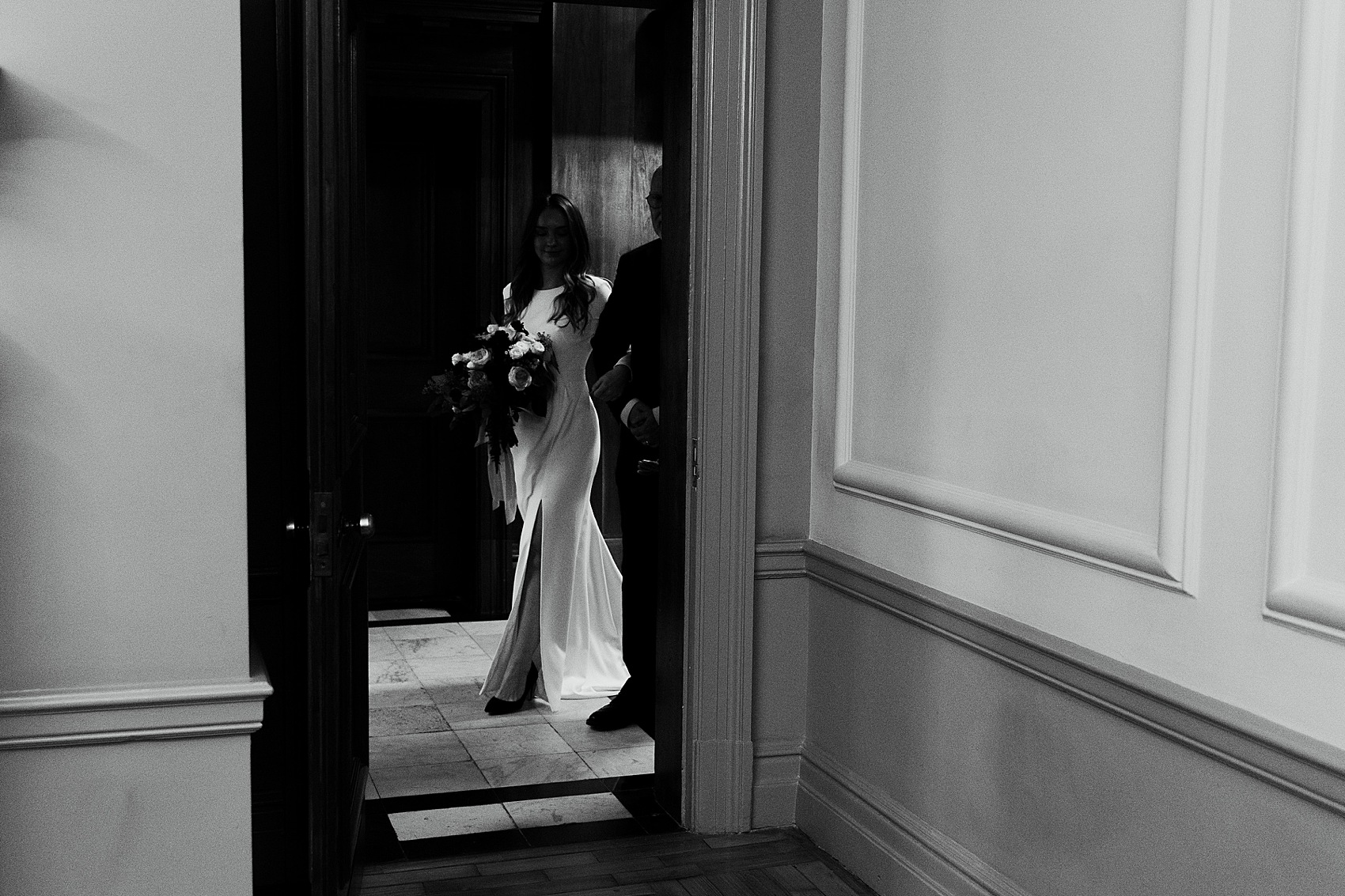 Rosie's father accompanied her down the aisle to the sound of Des'ree's 'Kissing You'.
"The registry office had three sets of vows to choose from; modern, romantic and traditional. Kieran picked the vows for the registry office – he choose the 'traditional' option."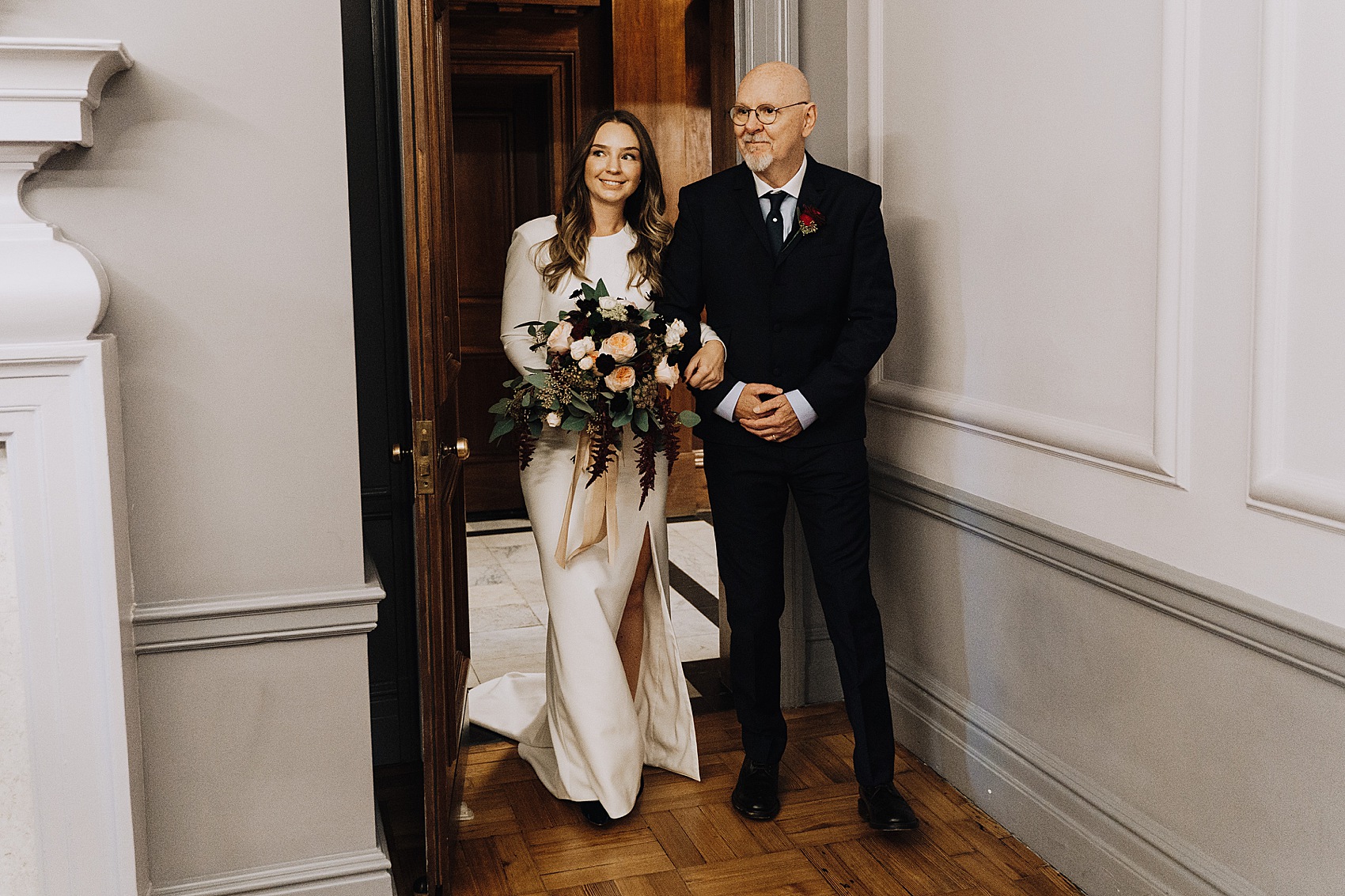 "We had two readings for our ceremony, also selected by Kieran – the first was read by the my mum, 'The Little Prince', by Antoine de Saint-Exupery. The second was read by Kieran's father – it was 'The Amber Spy Glass', by Phillip Pullman."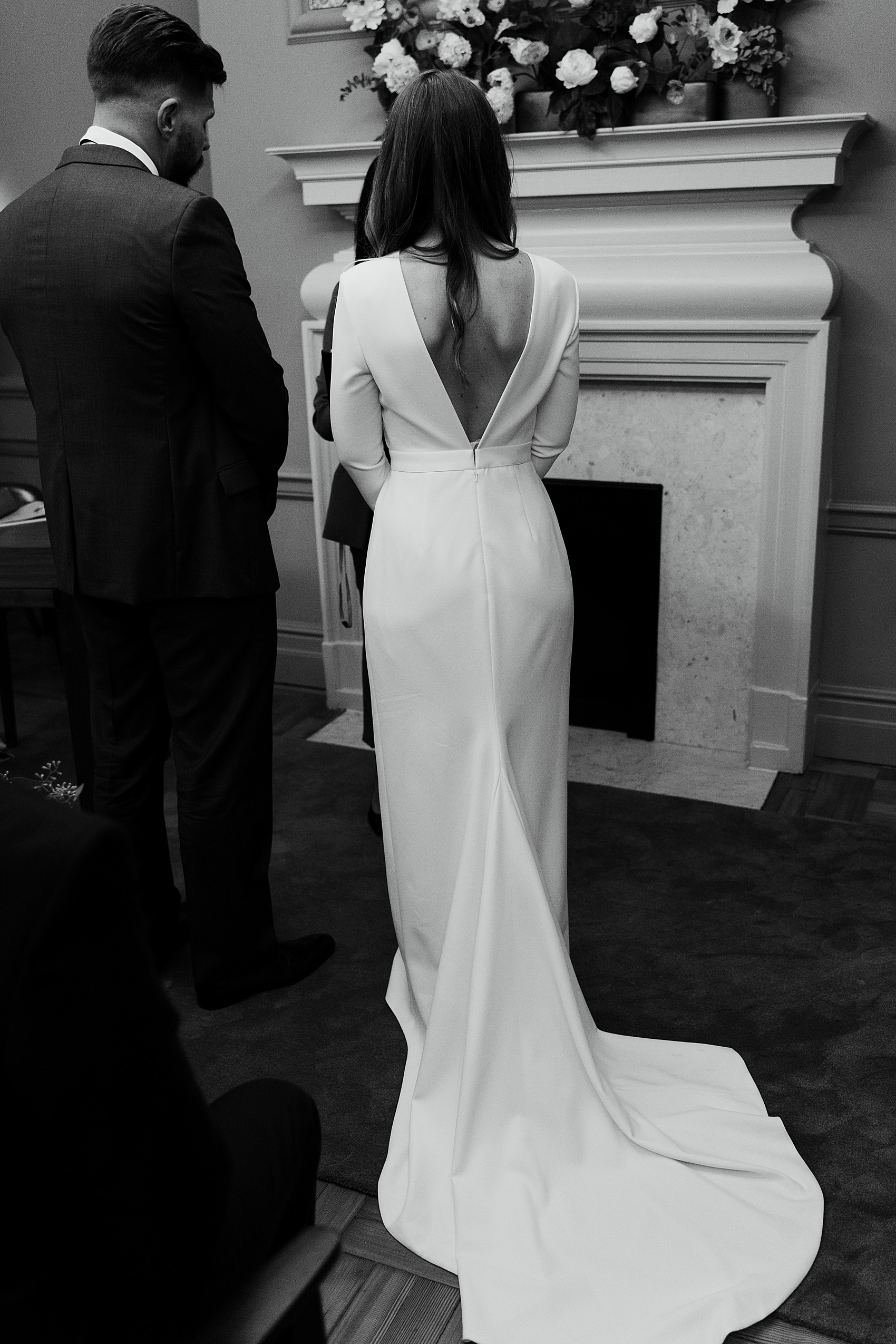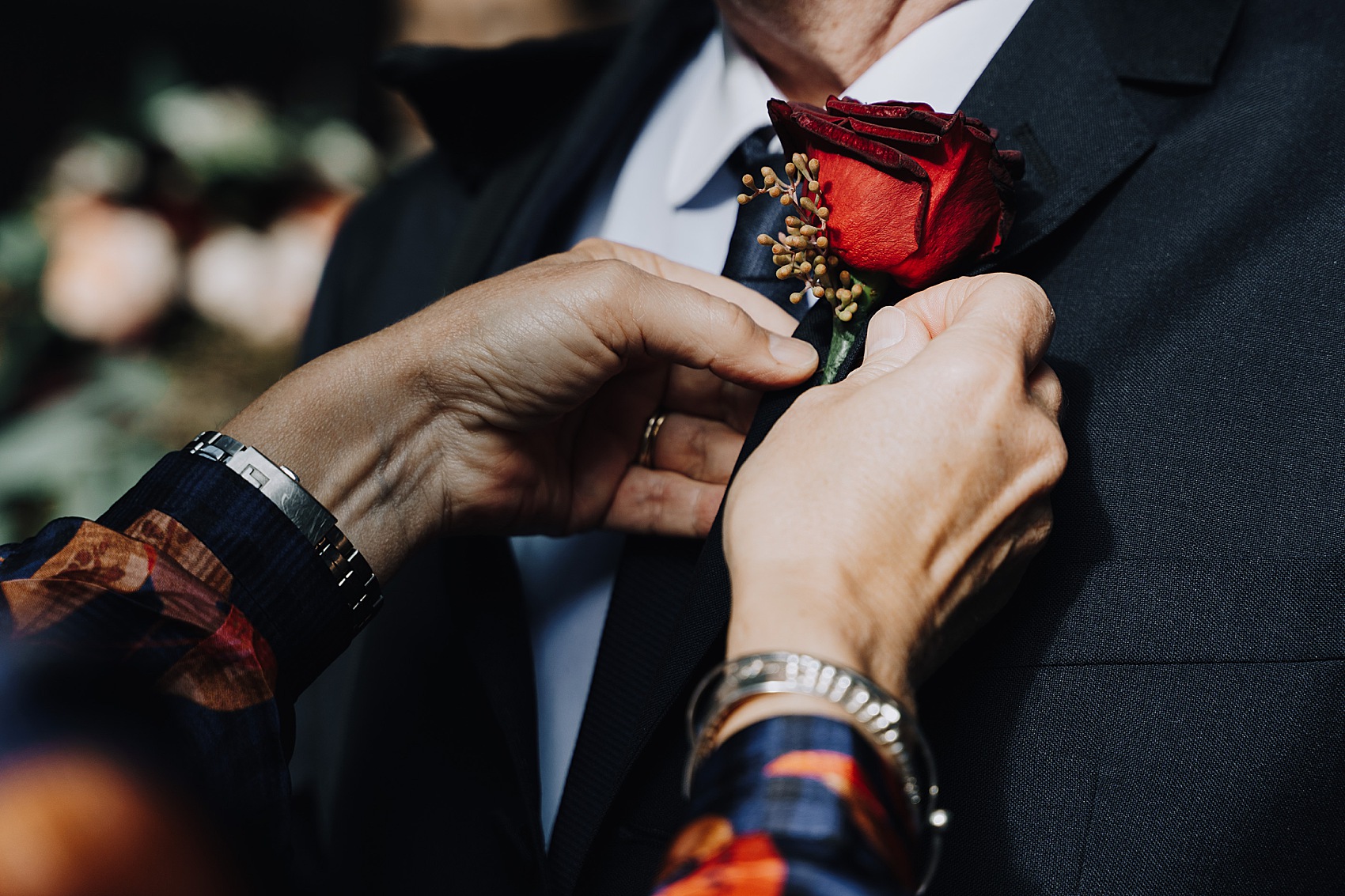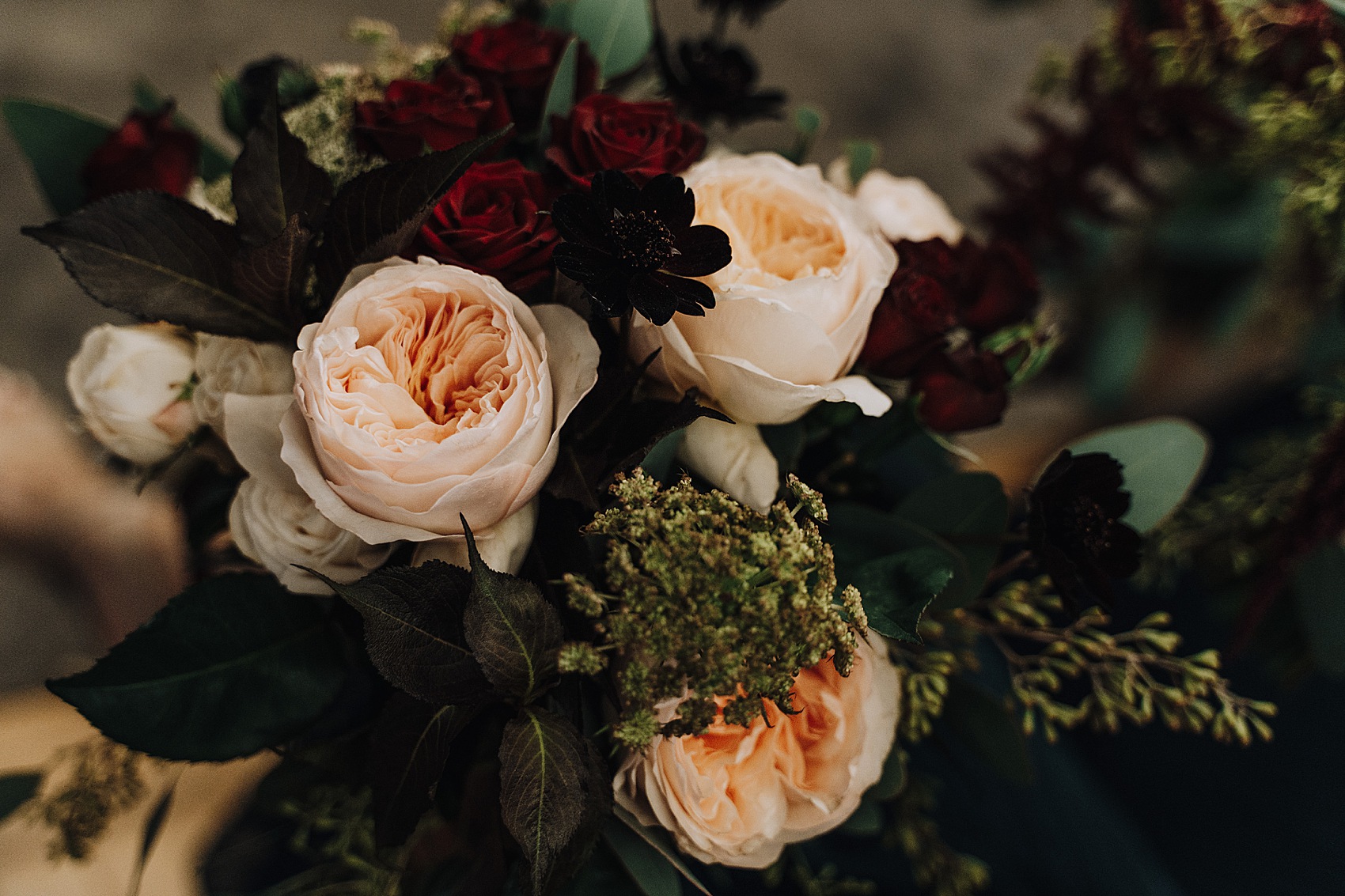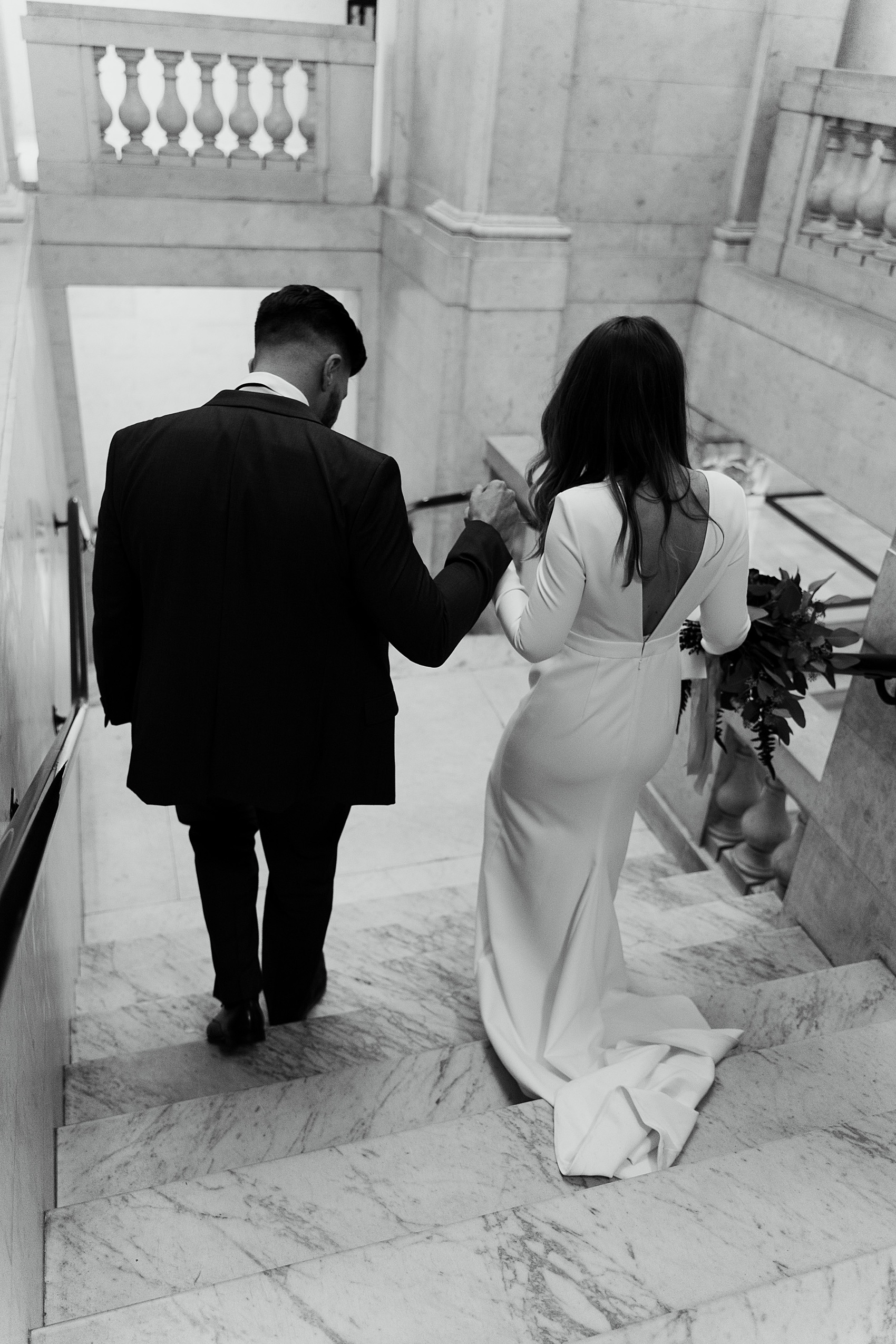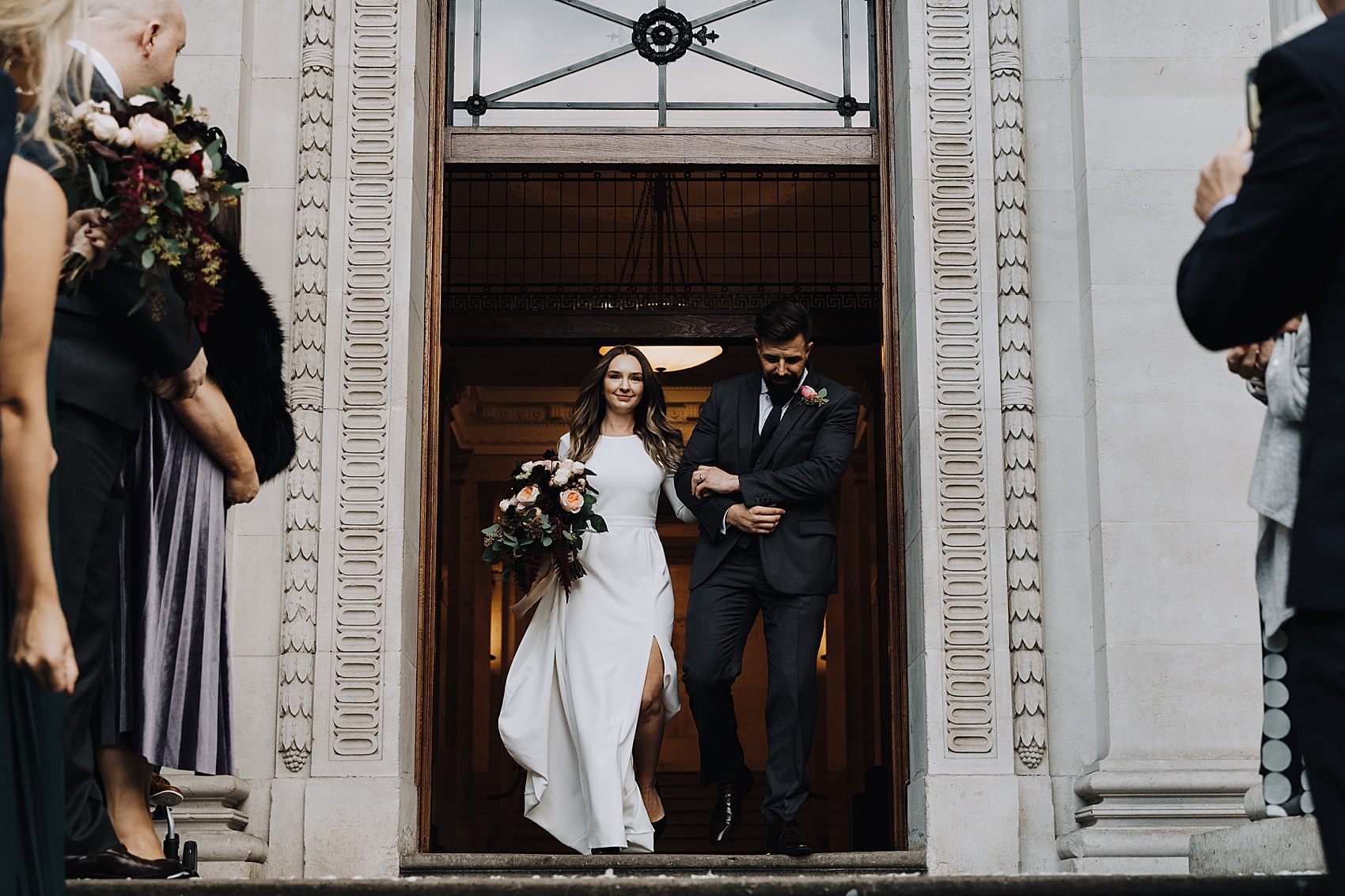 Kieran looked fantastic kitted out in a suave Moss Bros suit and M&S knitted tie.
Kieran's bestmen also wore suits from Moss Bros.
Rosie's bridesmaids looked fabulous in dresses discovered at Oasis for John Lewis.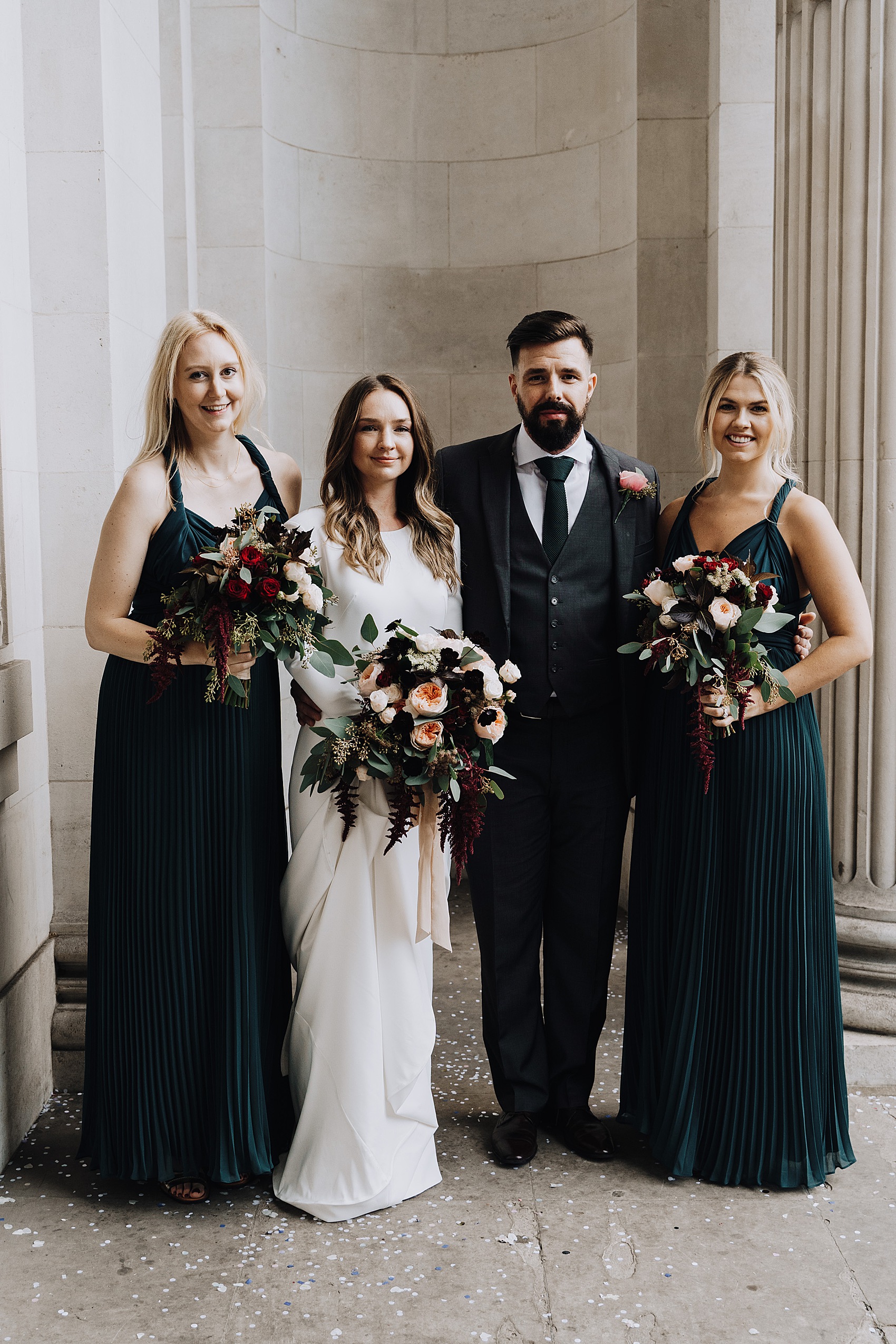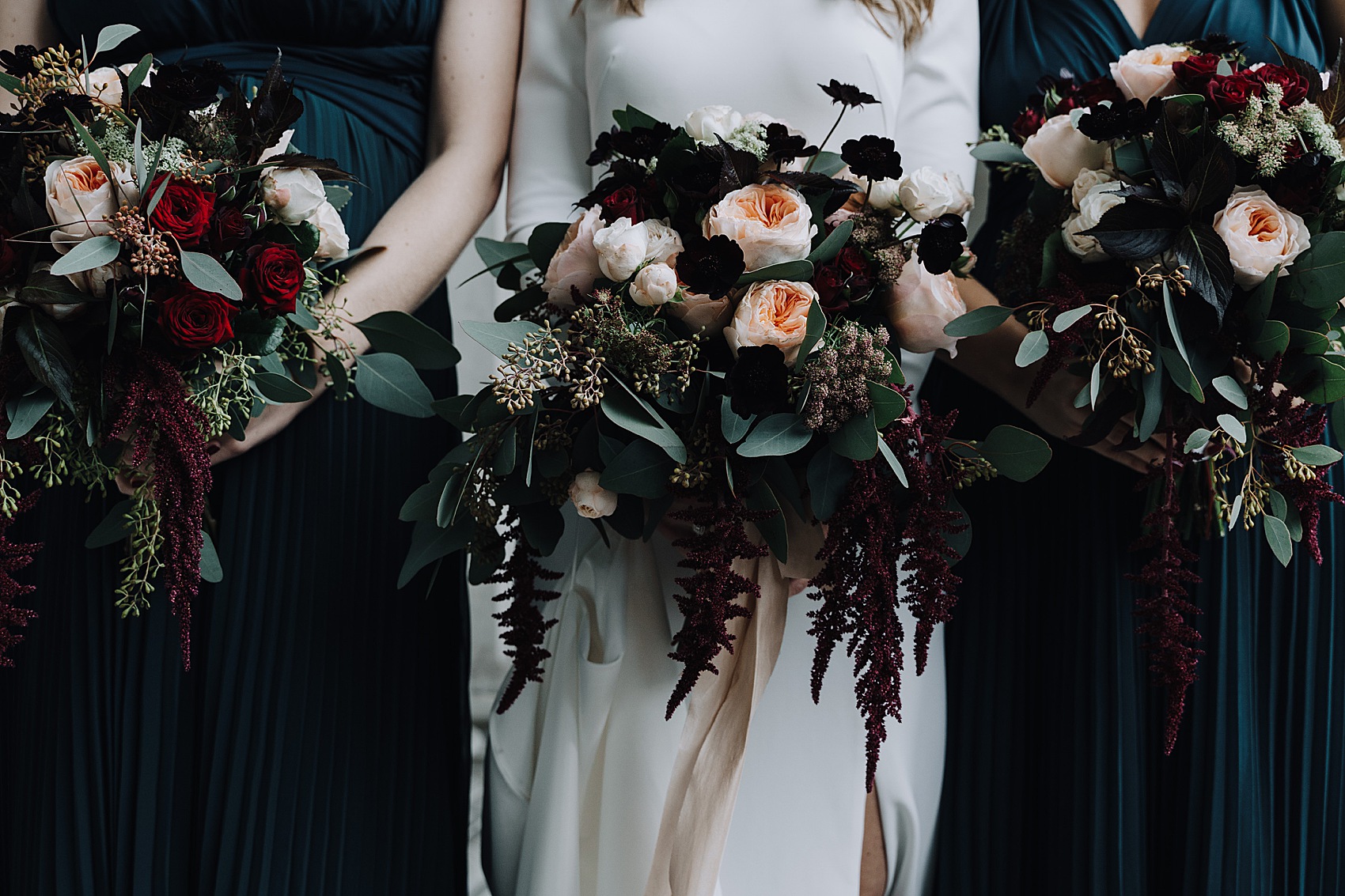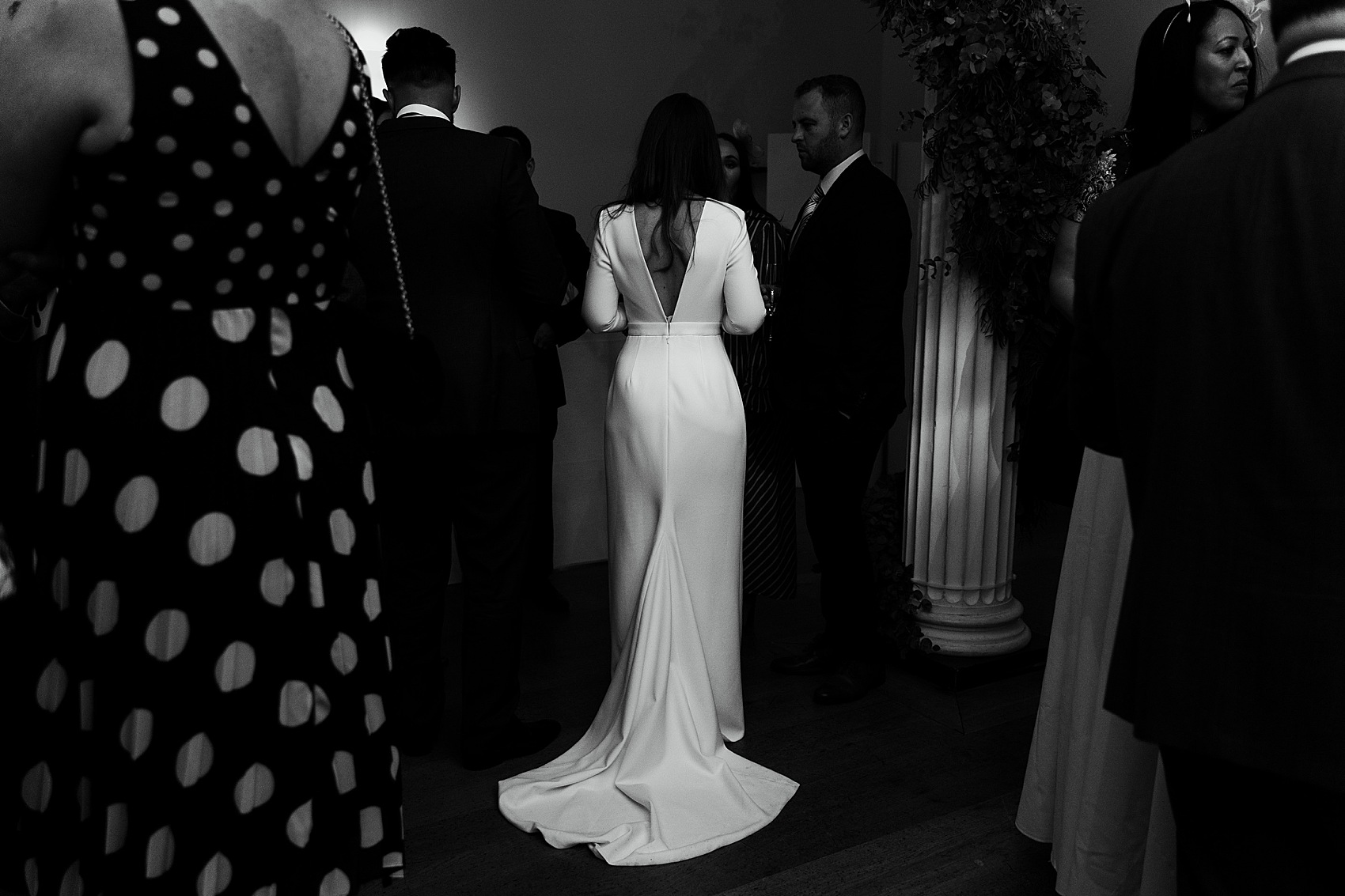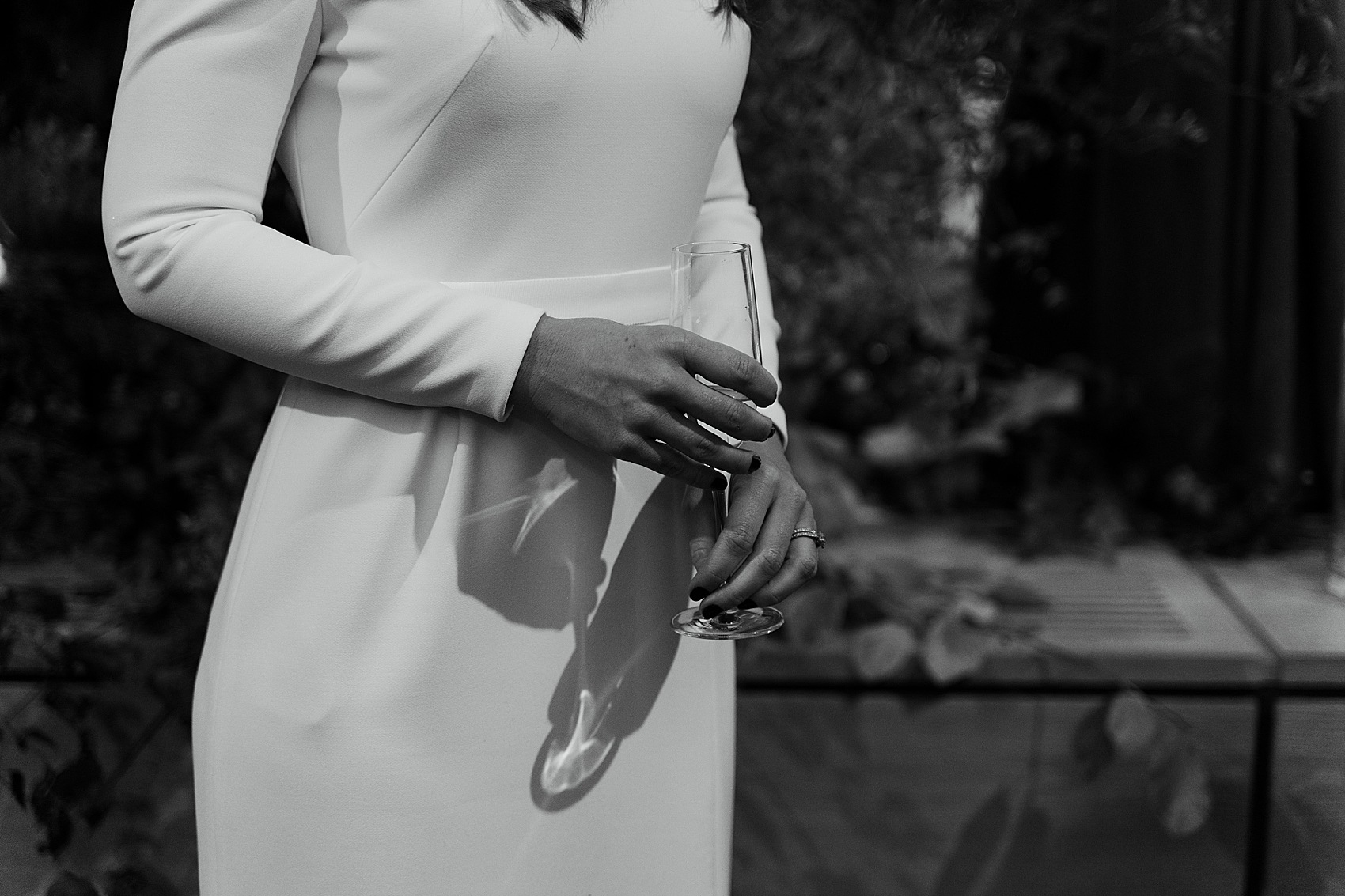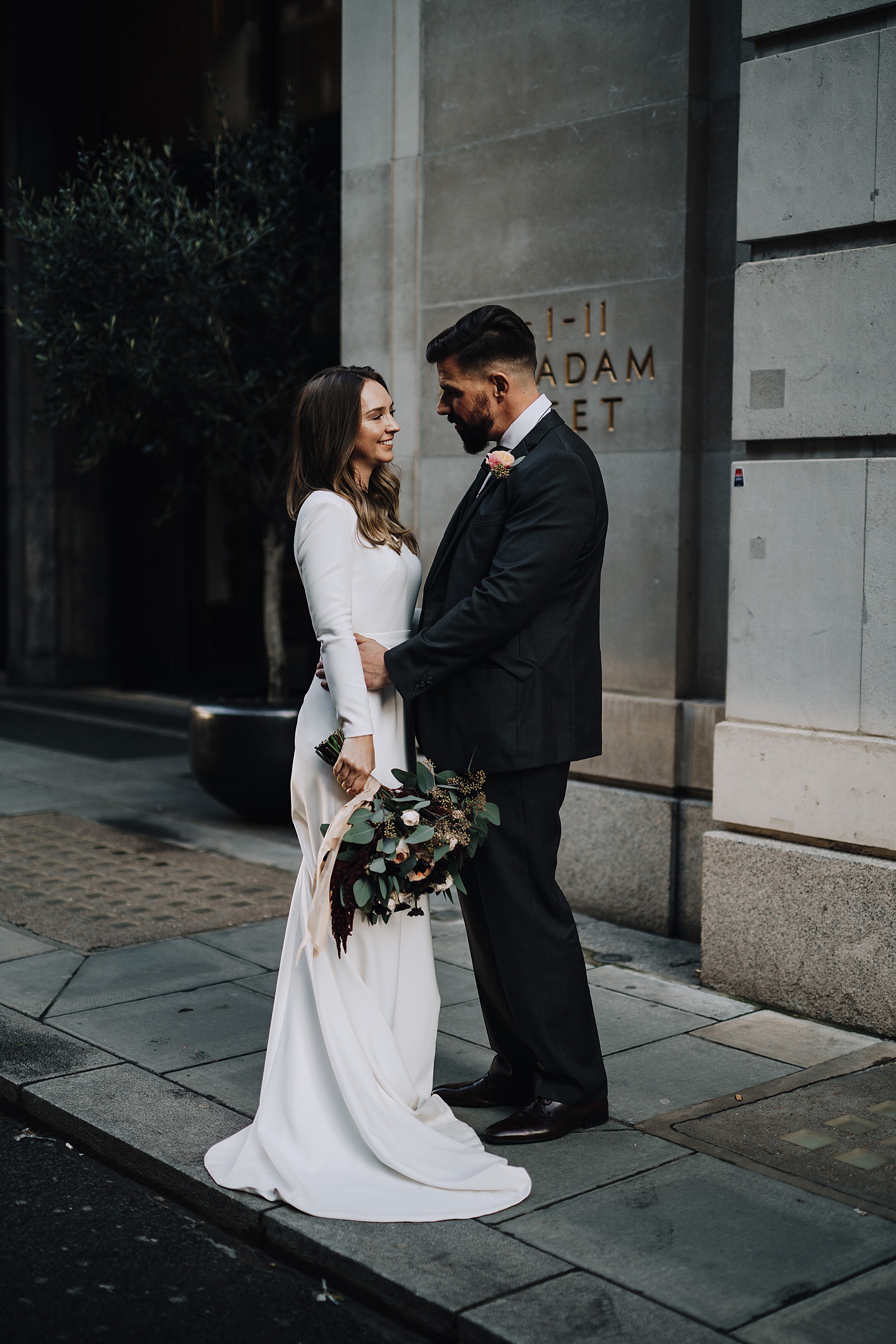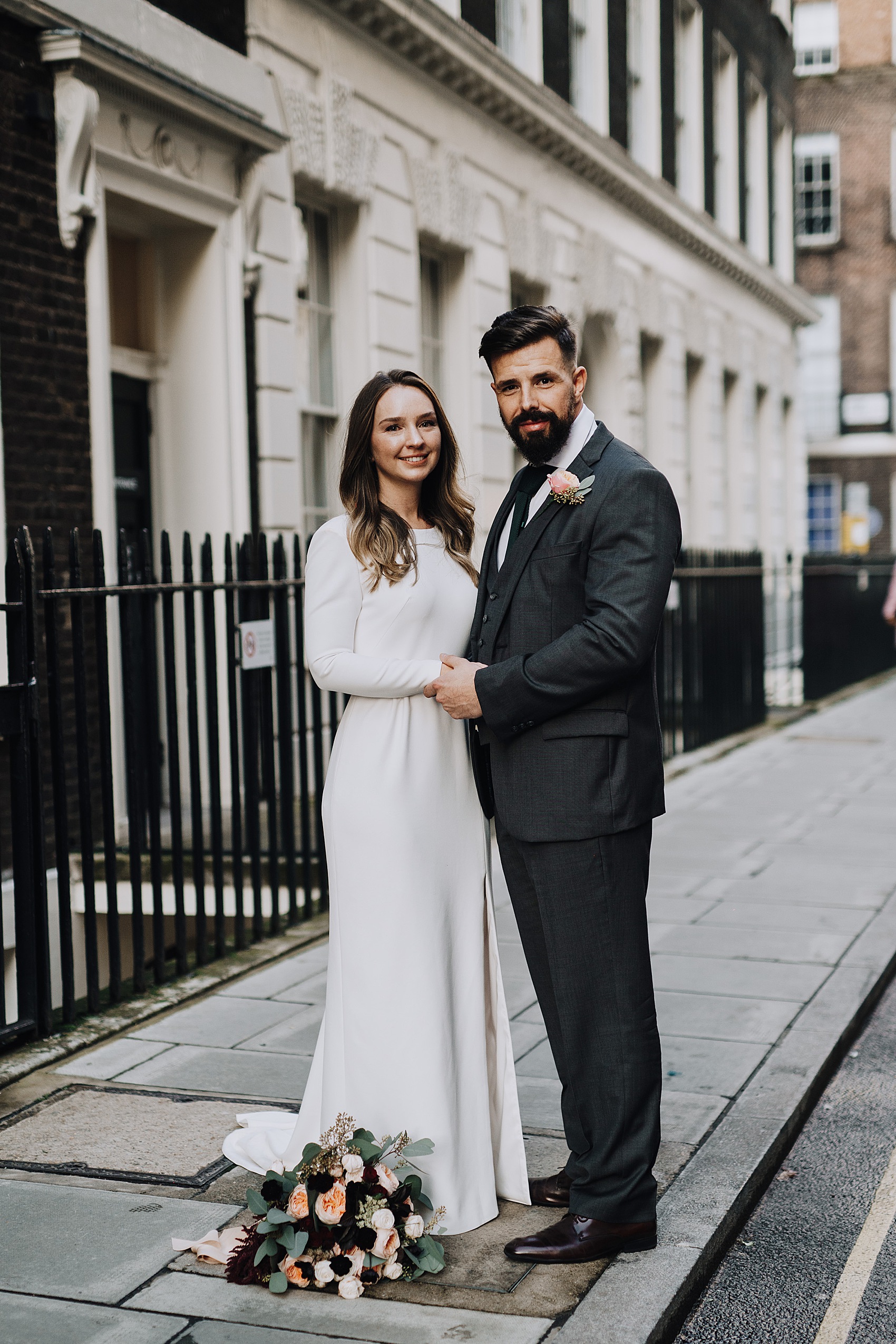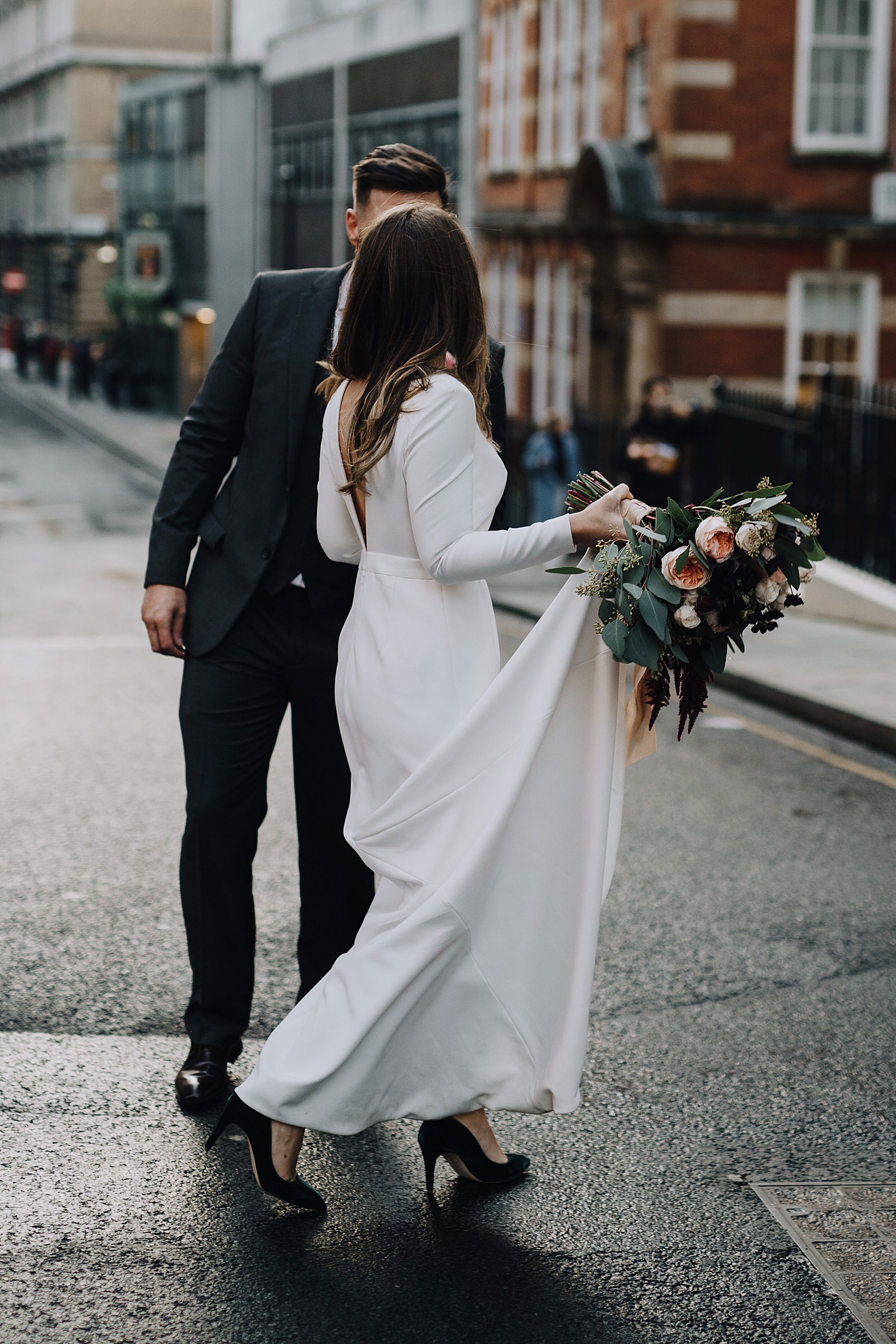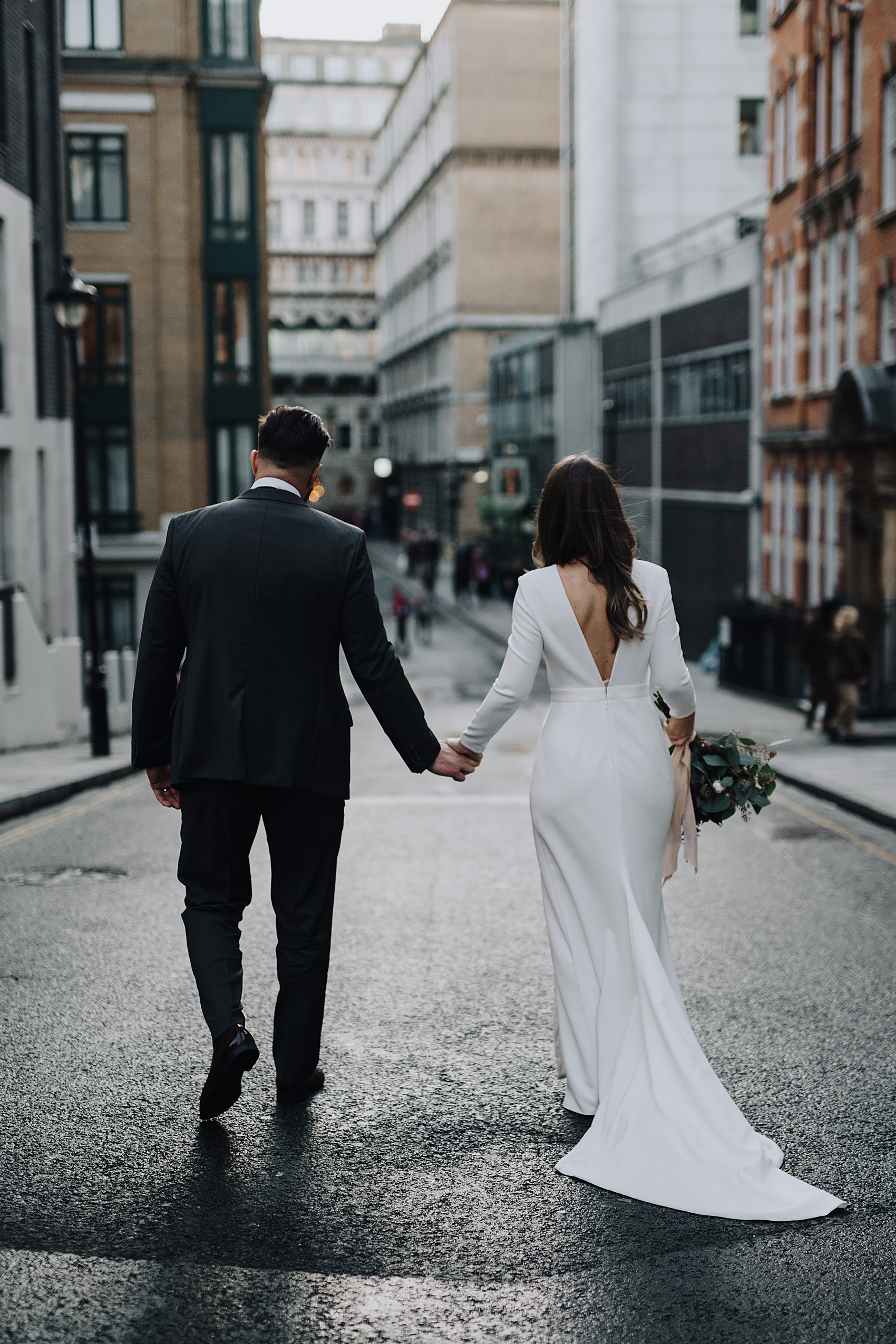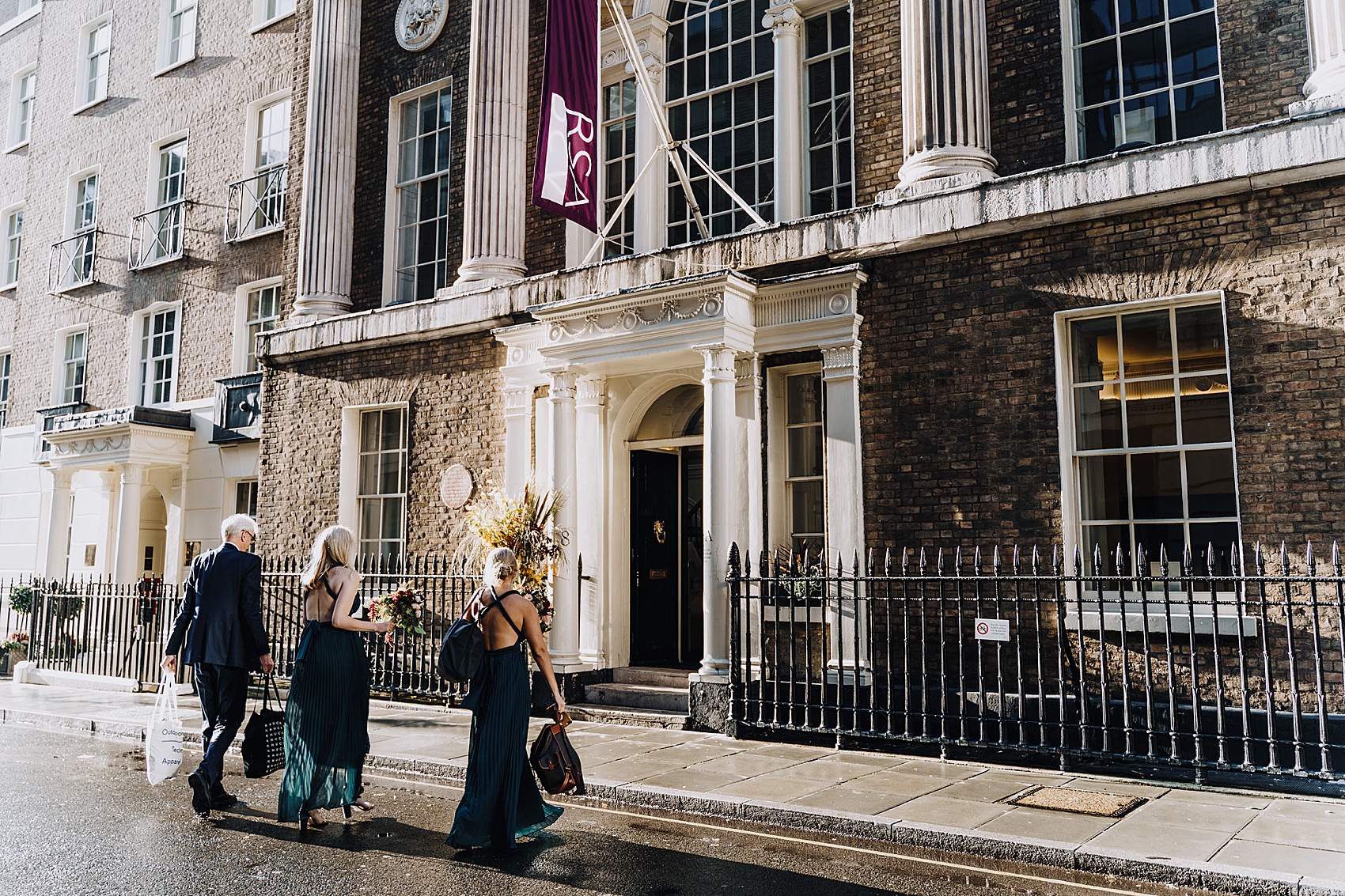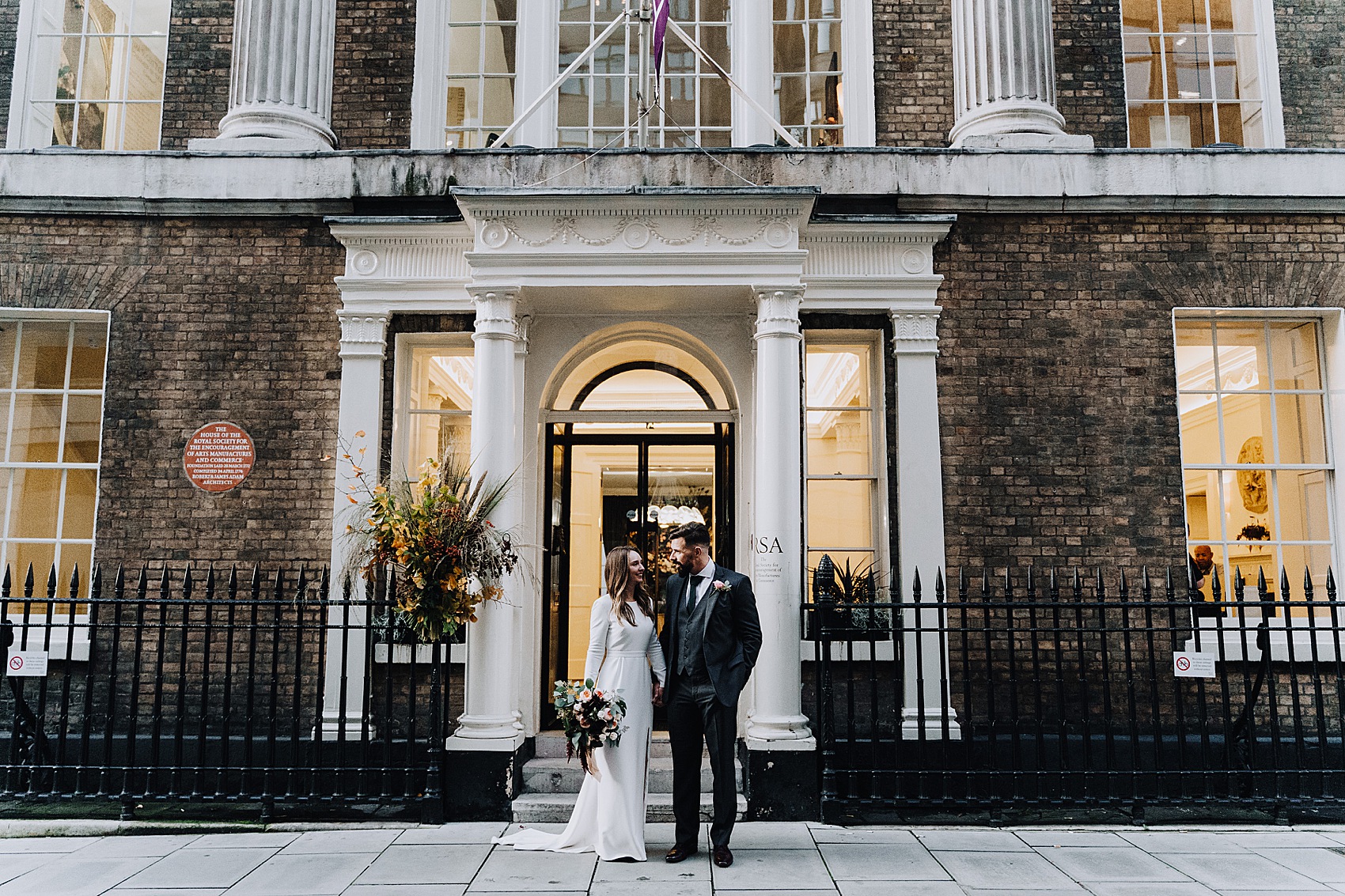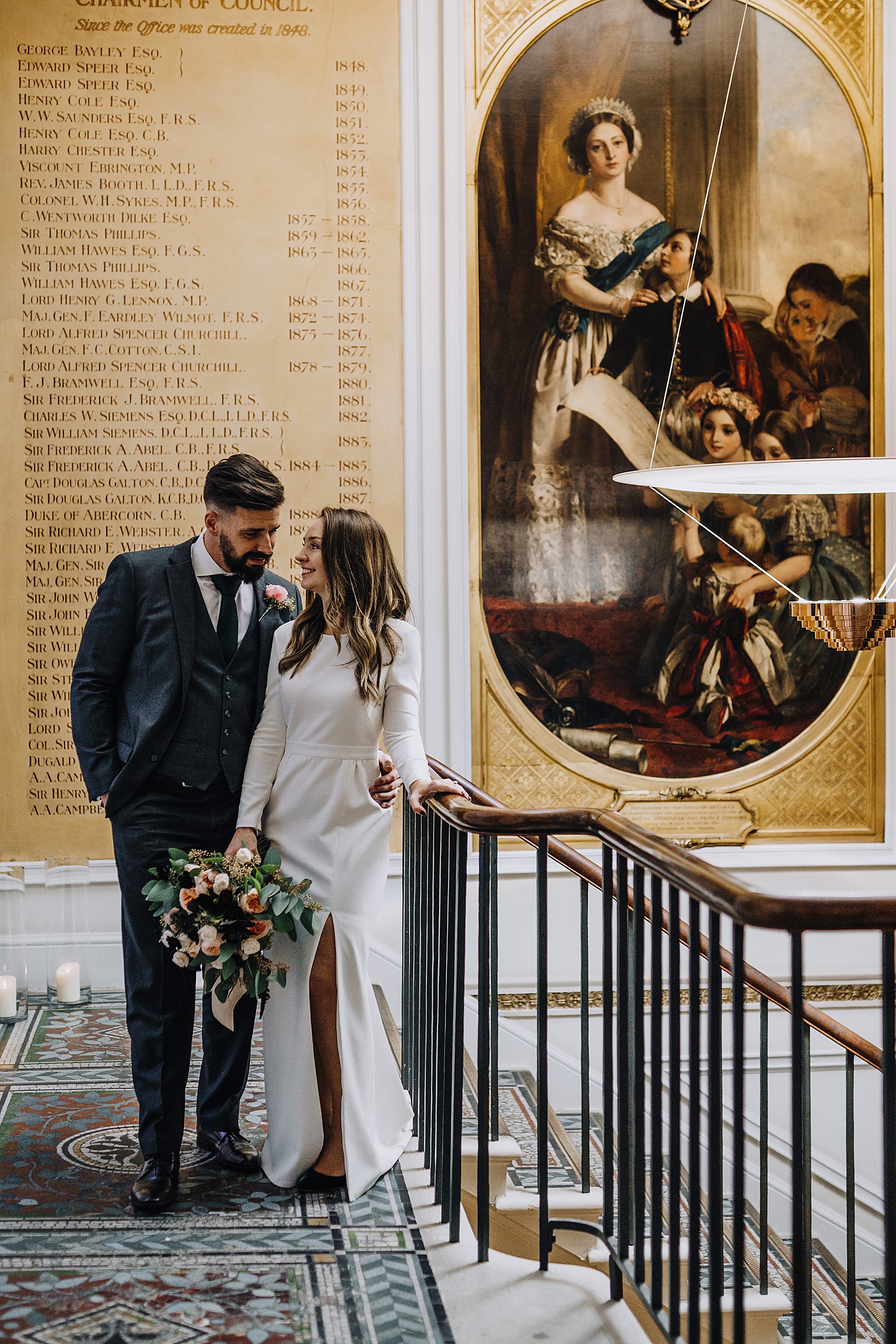 Now the flowers for this wedding are next level…
"I work for Nikki Tibbles Wild at Heart and have seen so many beautiful wedding and event flowers over the last four years that I have loved so I thought it would be hard to choose what style I wanted, however I knew exactly what I wanted. An abundance of rich, warm burgundy flowers with a touch of blush/peach/apricot tones."
"These colours worked so well in the venue, the Benjamin Franklin room is neutral and elegant which meant anything and everything would work."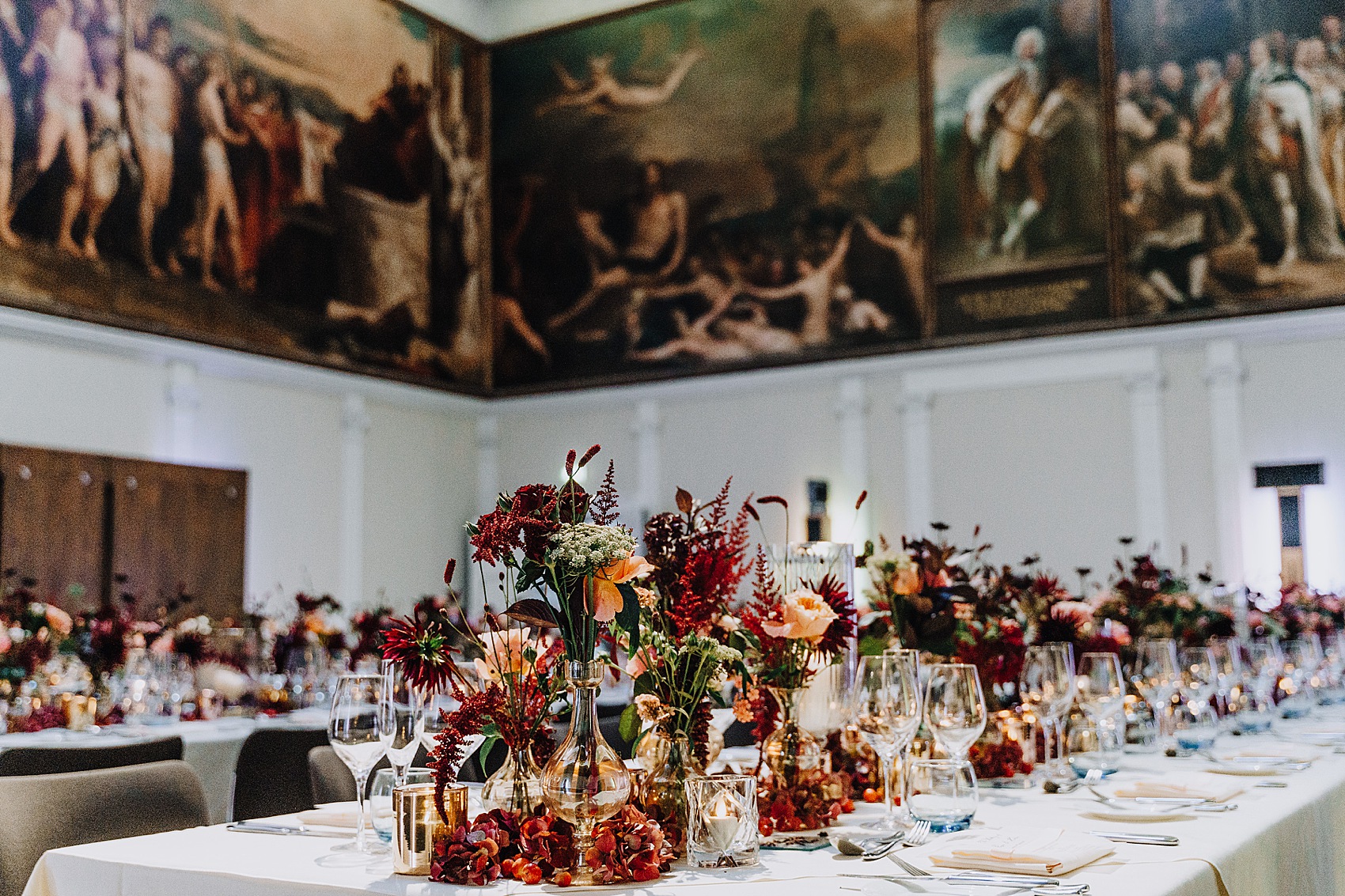 "The great hall where we ate had the most beautiful mural painted on the wall which was picked out by the warm floral tones and gold accessories."
"The florists have so much experience and I knew that they would make sure everything was perfect, they care about every single job they install."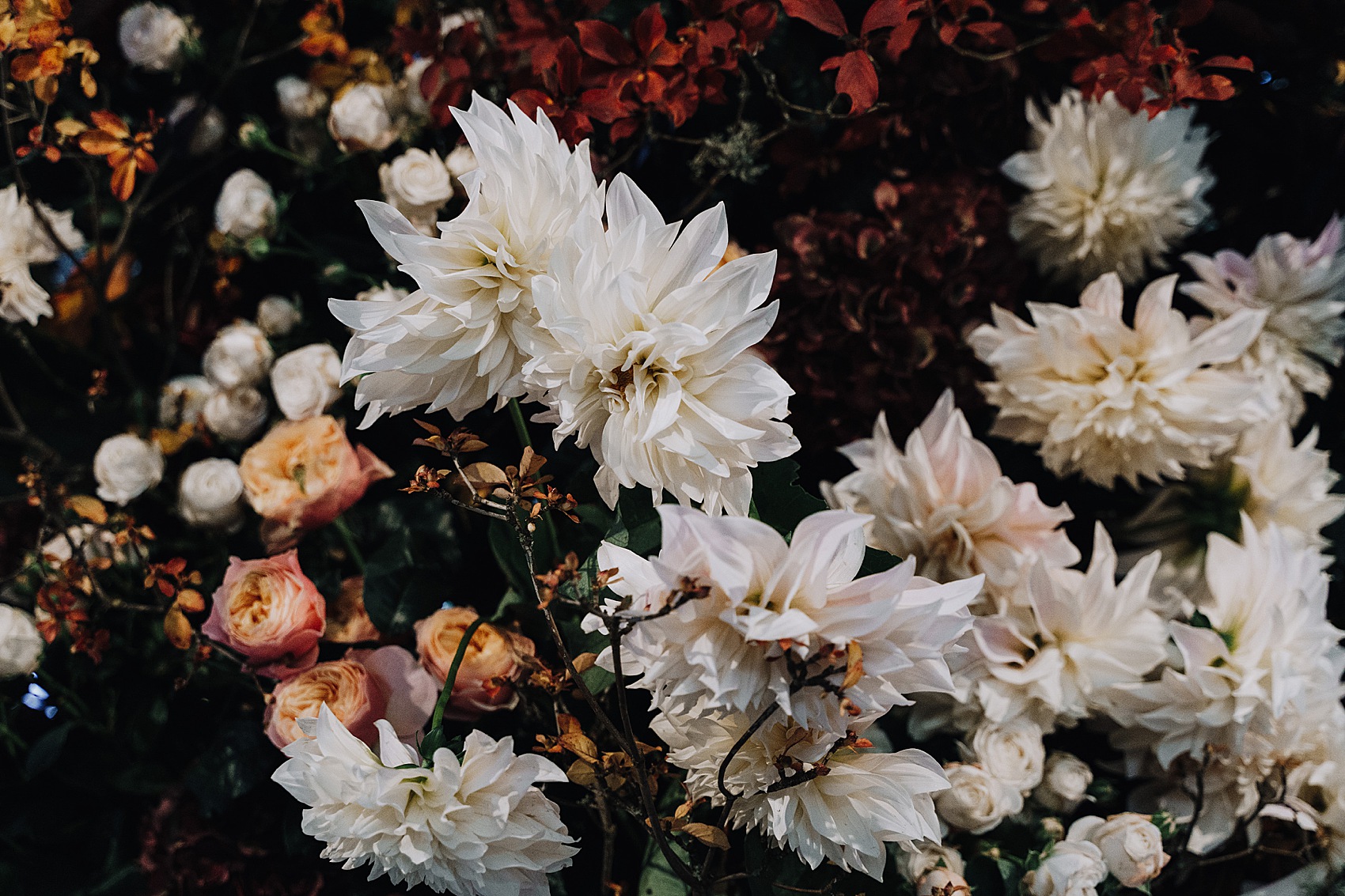 "The final room which was for the after party was in the vaults; a modern and intimate brick walled space, which was dressed to make the most fabulous photo back drop, keeping it modern and wild with seasonal foliage created a modern twist on a flower wall."
"Every room had its own personality and identity which flowed seamlessly from one to the other which made it exciting for the guests when they moved through the house throughout the night."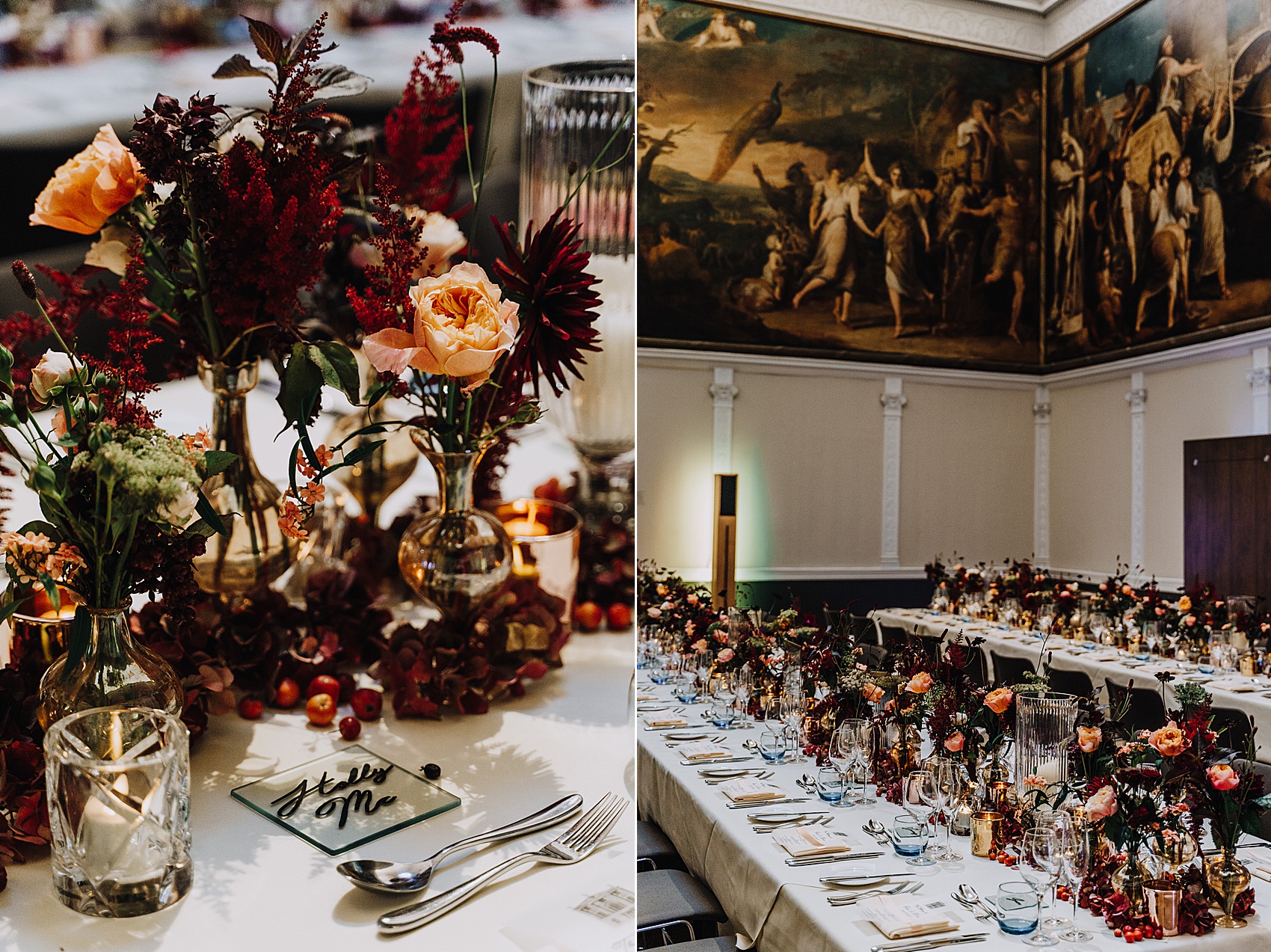 "Our wedding favours doubled as name places; we used glass pens to write all the guests names on to glass coasters, we used the same font on the coasters as we used on our wedding stationery. The glass coasters were £1 for a set of four from Poundland."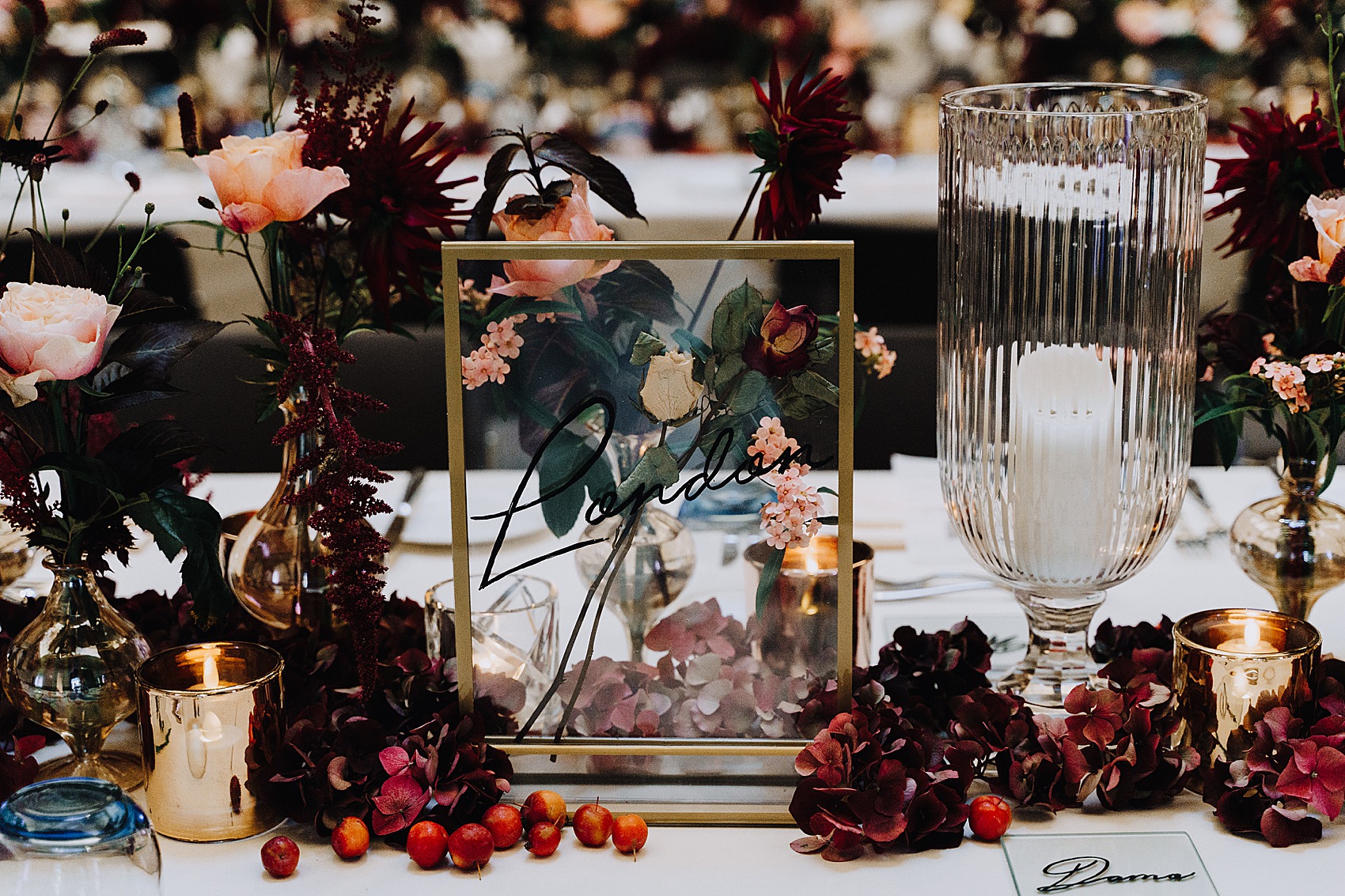 "Wild at Heart attention to detail is exceptional; from lanterns throughout the venue to the carefully placed crab apples on the dining tables and every napkin spritzed with 'White Tea' by True Grace."
"I knew whatever I wanted would exceed all my dreams and it was the one thing I didn't need to worry about for a second."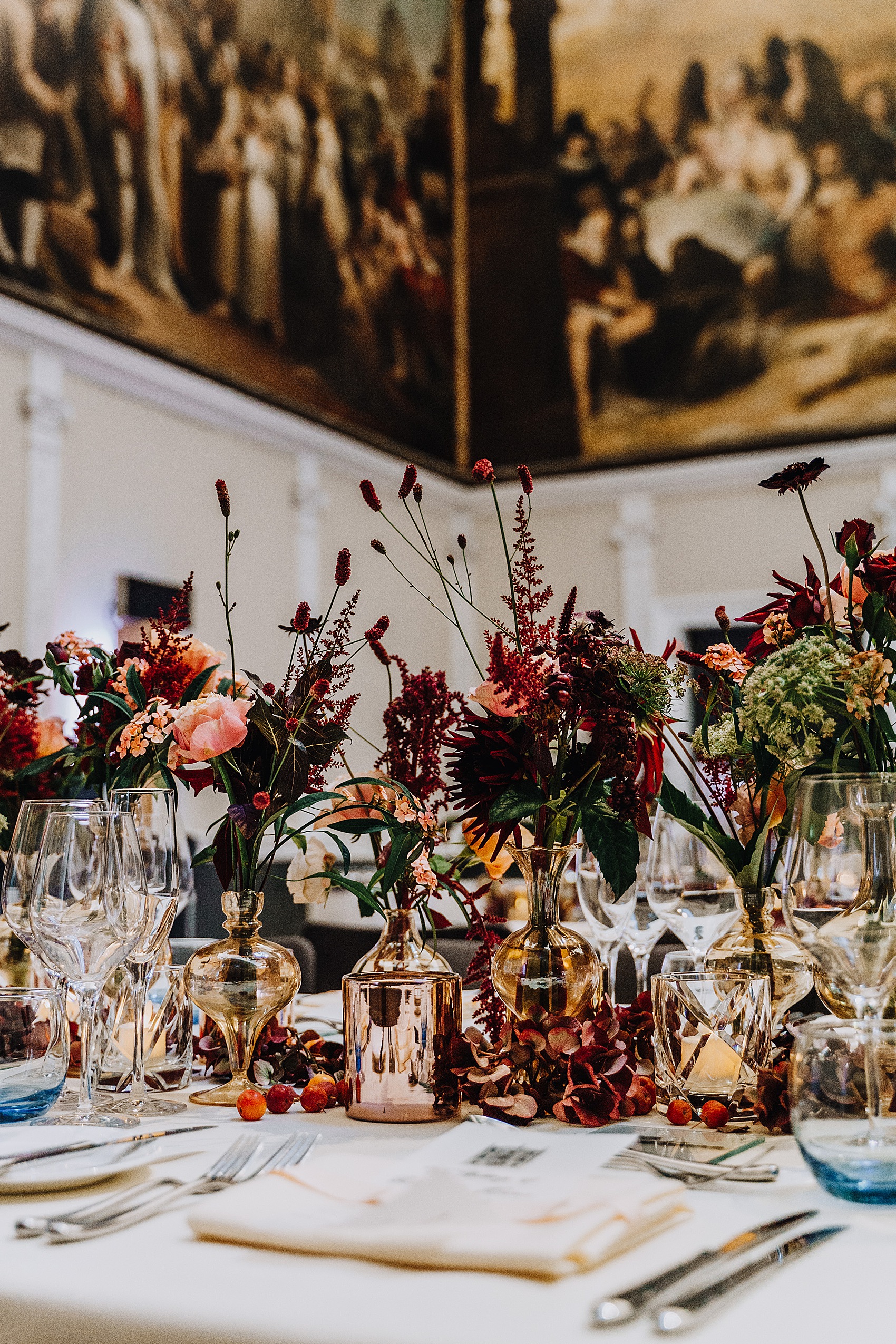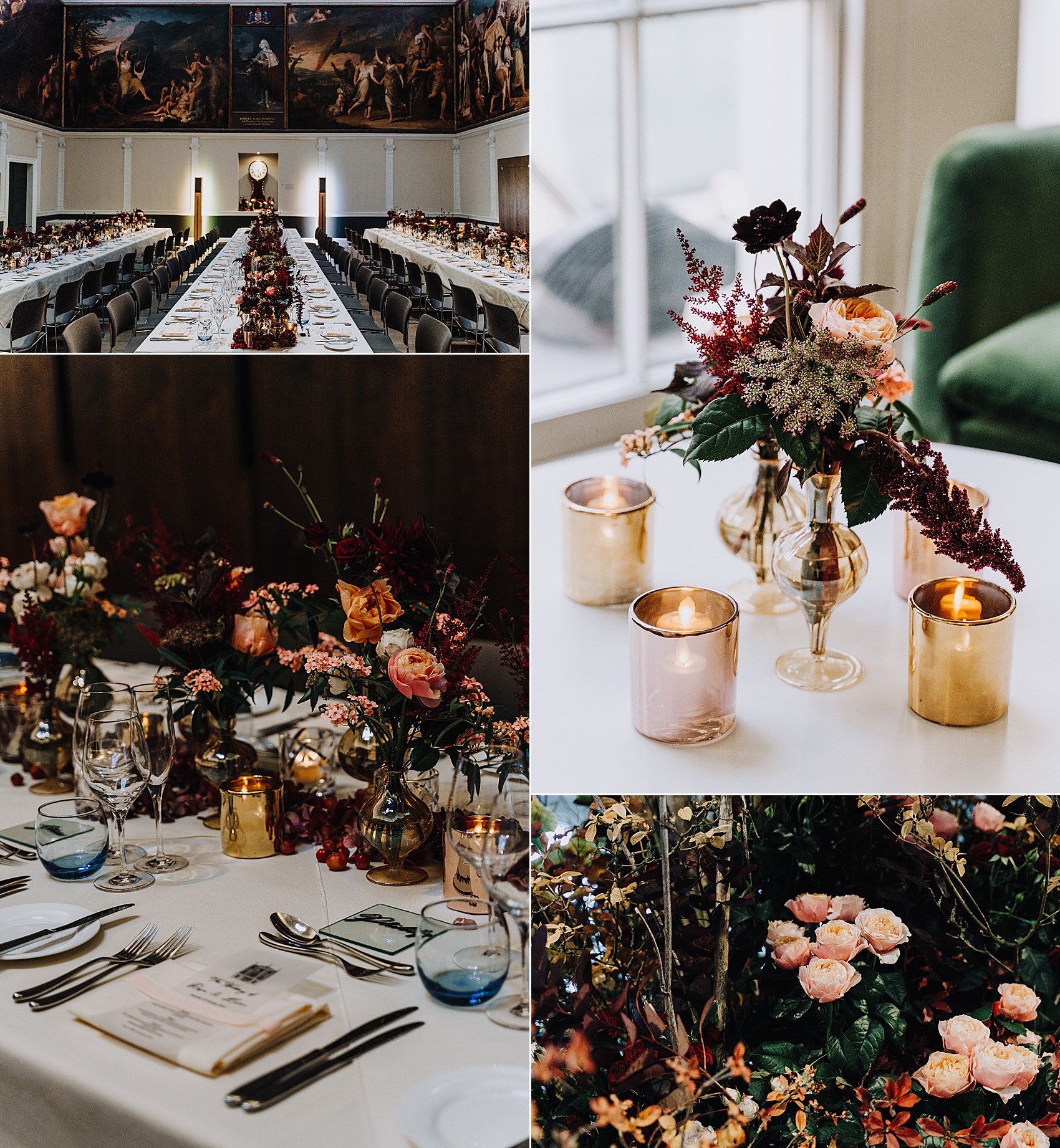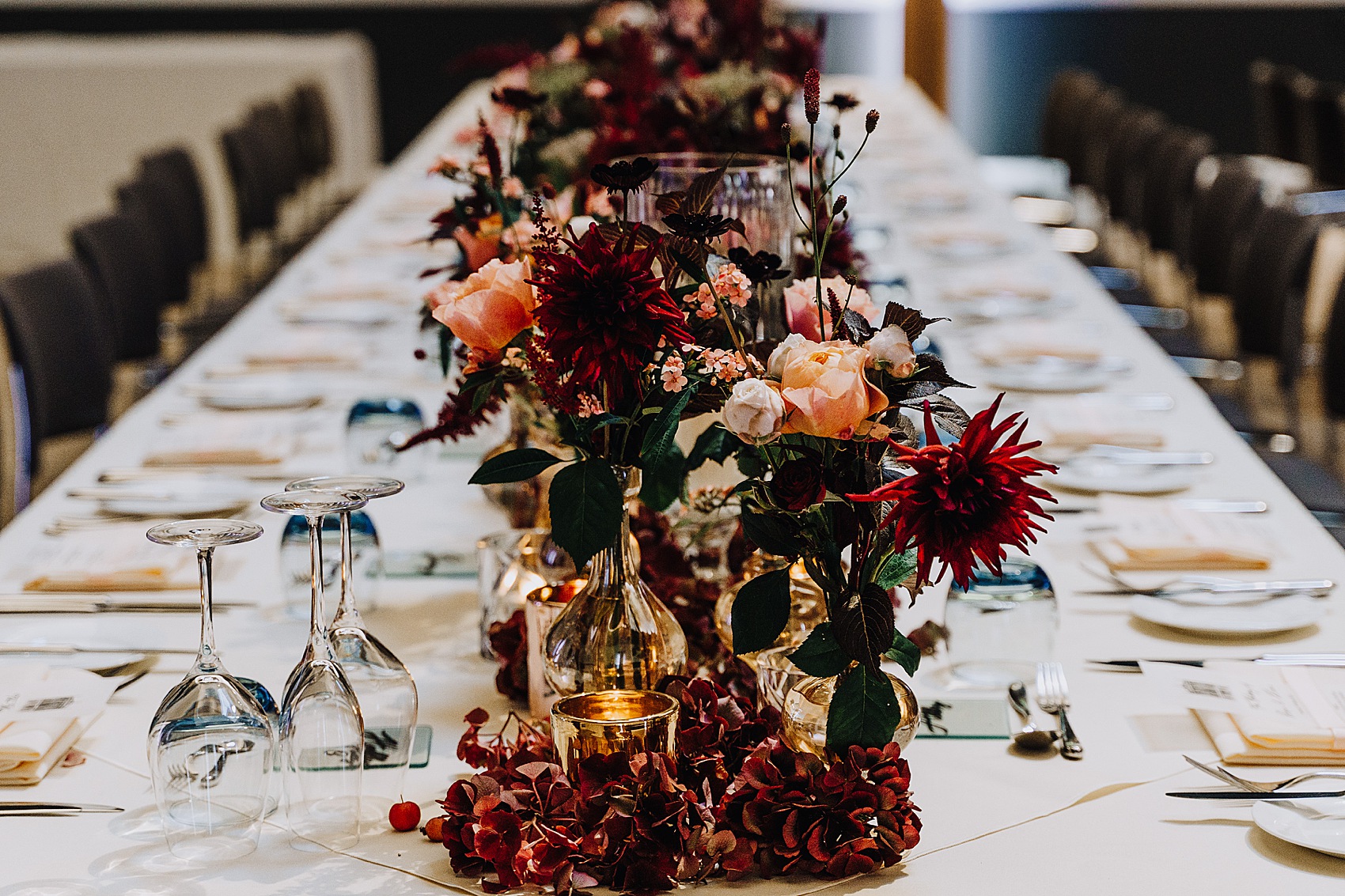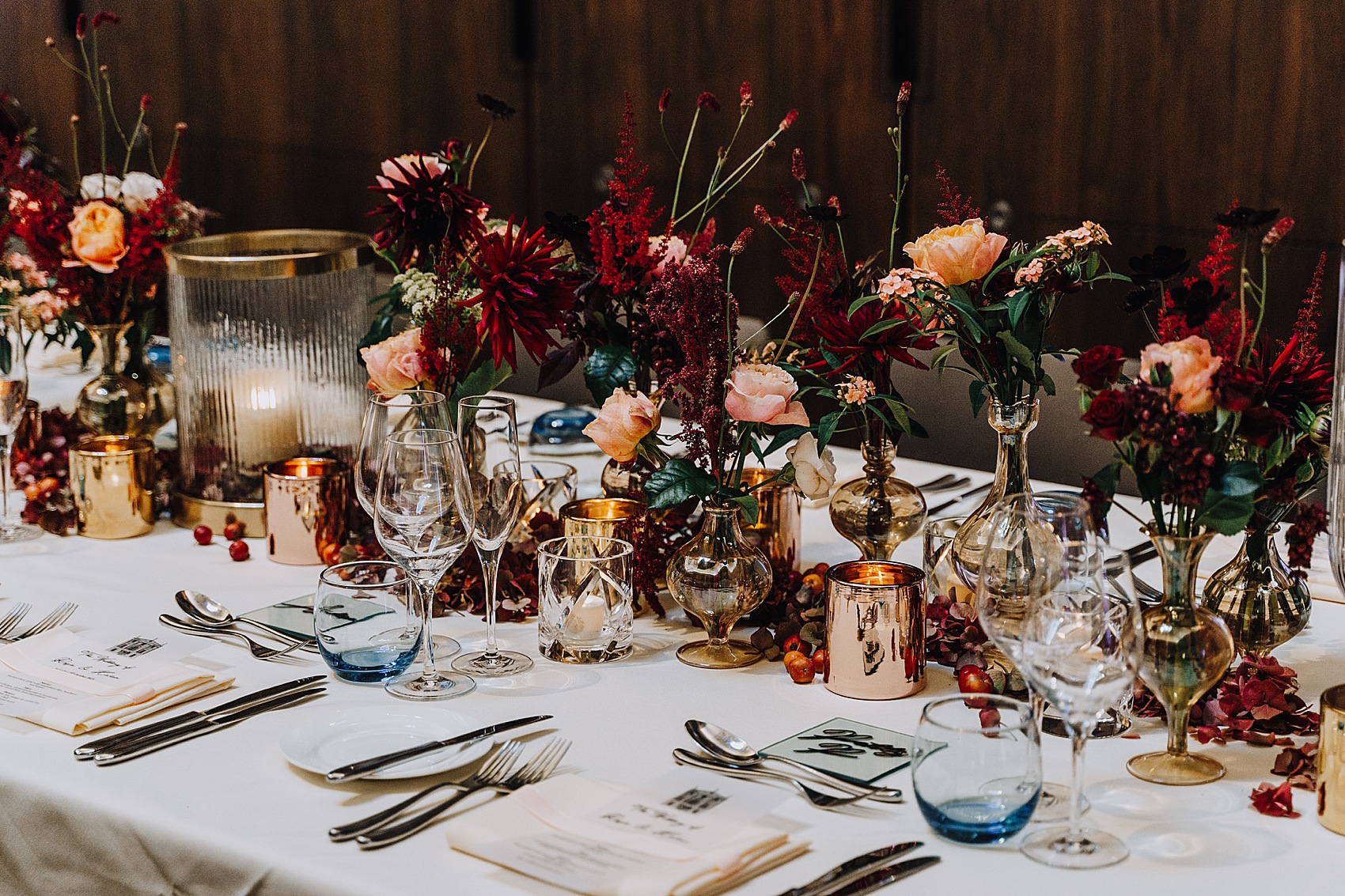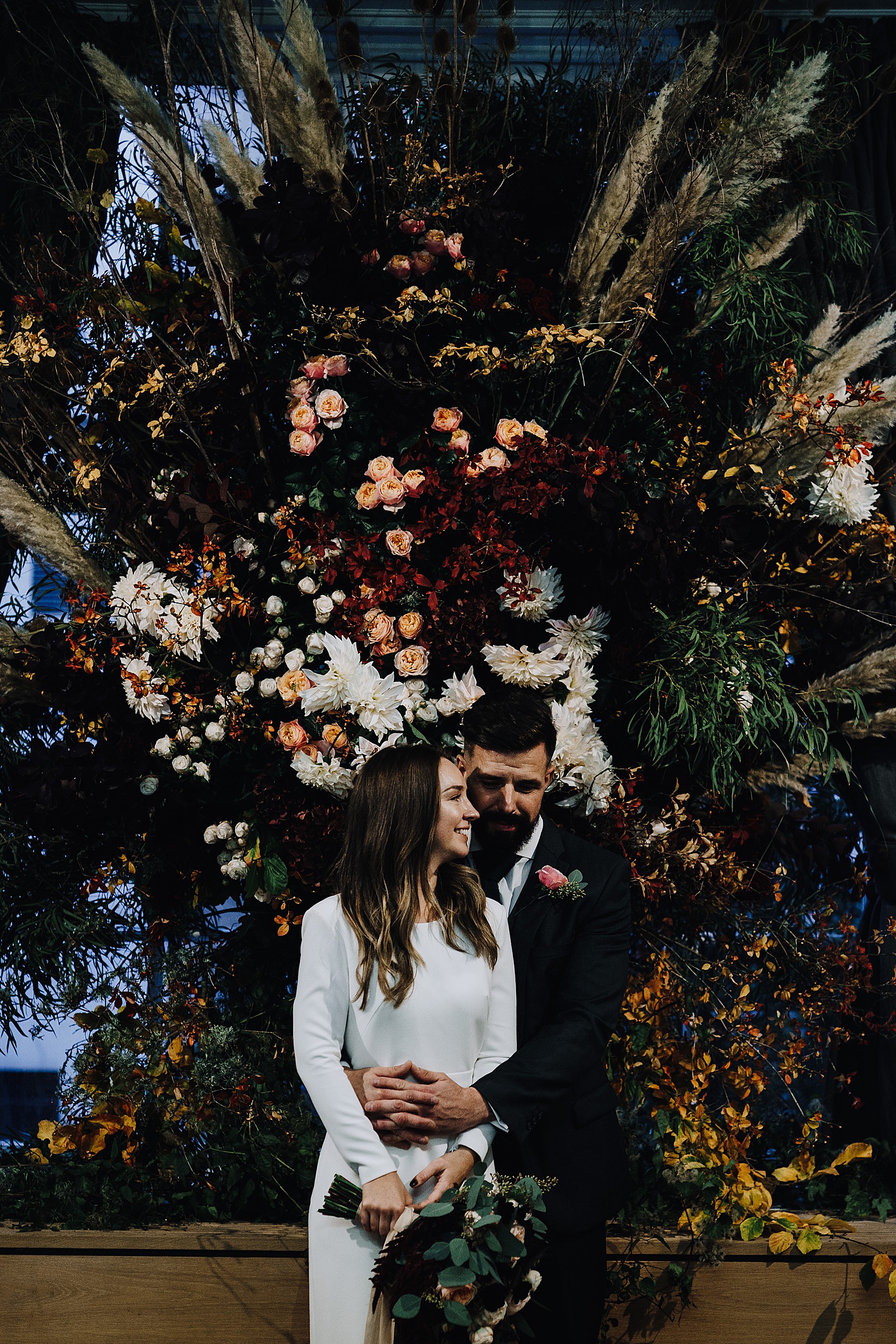 Catering was provided in-house by RSA House and CH&CO.
"Our wedding cake was made by a lovely lady called Anne Cadle who was recommended by our florists. Anne did such a beautiful job, we had a 3 tier, semi dressed cake consisting of carrot, salted caramel and lemon, all three layers were so moist and tasty."
"Our favourite part of the day was seeing all our friends and family in the same room, at once. I wish I could go back and have more time with every guest, it goes so quickly and at the end of the night we felt like I didn't have enough time with everyone."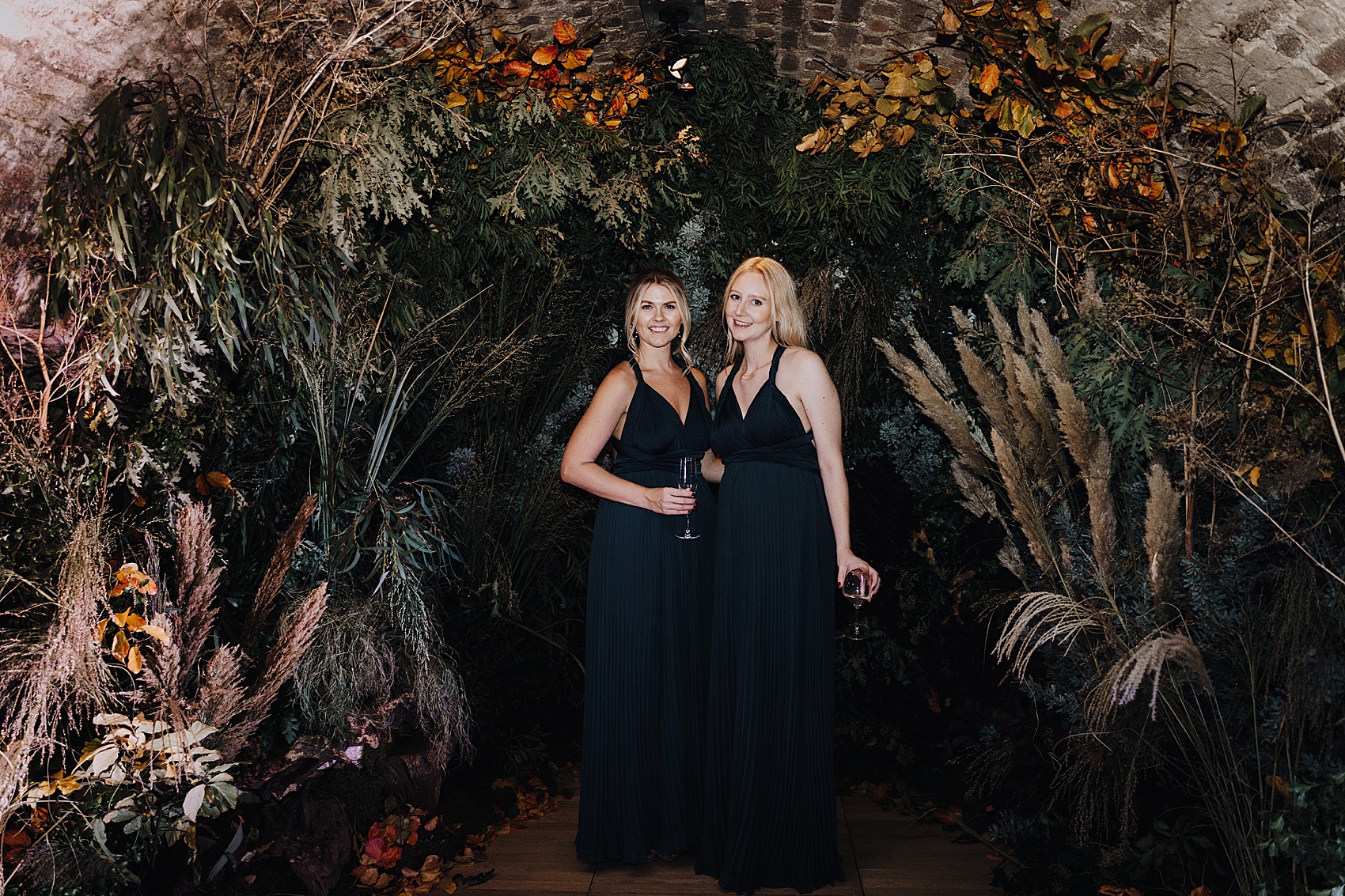 "We didn't have a first have a first dance as I was too shy, but we had a first dance song which was Hungry Eyes by Eric carmen which was played whilst we cut the cake."
Words of Wedded Wisdom
"I spent the run up to the wedding worrying that my guests wouldn't have a good time. Looking back, I have no idea why I was so worried about it, everyone is there for you and to celebrate together, whatever happens everyone will have a great time."
"Find suppliers that you can trust, I think this is key to your day running smoothly, it will mean you can concentrate on enjoying the day rather than worrying about something not getting done or going wrong."
"Spend the time to meet them beforehand, build a relationship with them, it will put your mind at rest."
"We didn't want to spend more than £20,000 and we went over budget by £100."
Utterly gorgeous all round. Watch out for a piece coming up shortly telling you all about the RSA House in London – it is a fabulous venue for those looking for a historical space with a very modern vibe – and incredible vaults for the evening party.
In the meantime, thank you Rachel Takes Pictures for sharing your gorgeous work once again, and love and thanks to Rosie and Kieran.
Annabel x