Are you currently planning (or even just thinking about) your wedding day, and considering a change of outfit for the evening celebrations? Something just right for dancing, maybe with more than a touch or two of sparkle?
If yes, then I have the perfect inspiration for you today, in the shape of this effortlessly elegant wedding at a beautiful Scottish country estate, where our bride transforms her look from day to night by changing into a silver sequinned jumpsuit. It's amazing!
Caro Weiss Photography

+ Follow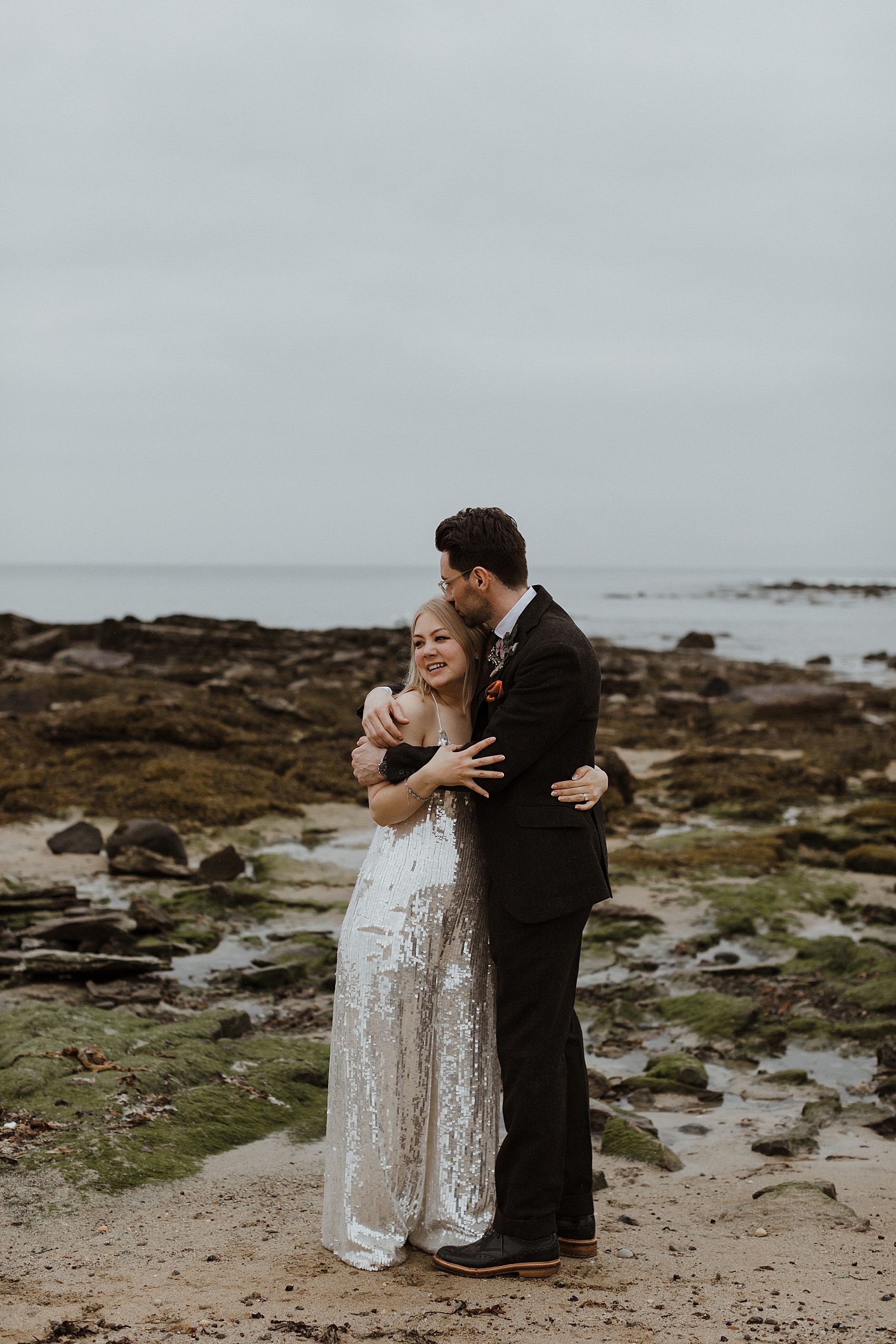 Fashion lawyer Becca and Zane, who works in tech, were married on the 25 May 2019 at the spectacular Cambo Estate, Fife, Scotland. Cambo is a family home; lived in, loved and ran by the same family since the 1670s, surrounded by woodland and acres of countryside, just a few miles from the coast.
"Zane is from Fife originally, and we wanted something that felt like an adventure for our friends in London, plus the venue is stunning. We also felt like Frankie and Struan (who run the venue) really got us and what we wanted to do."
On her feet, Becca wore a pair of iconic shoes – Manolo Blahnik's classic 'Hangisi' design in blue, and accessorised with a bracelet and earrings by Butler & Wilson.
For her daytime look, Becca wore a beautiful, handmade off-the-shoulder silk gown with peplum detailing at the waist, falling to a full skirt with a long train.
"The dress for the ceremony was made overseas, to my measurements, and then altered again when it arrived in Scotland for a better fit."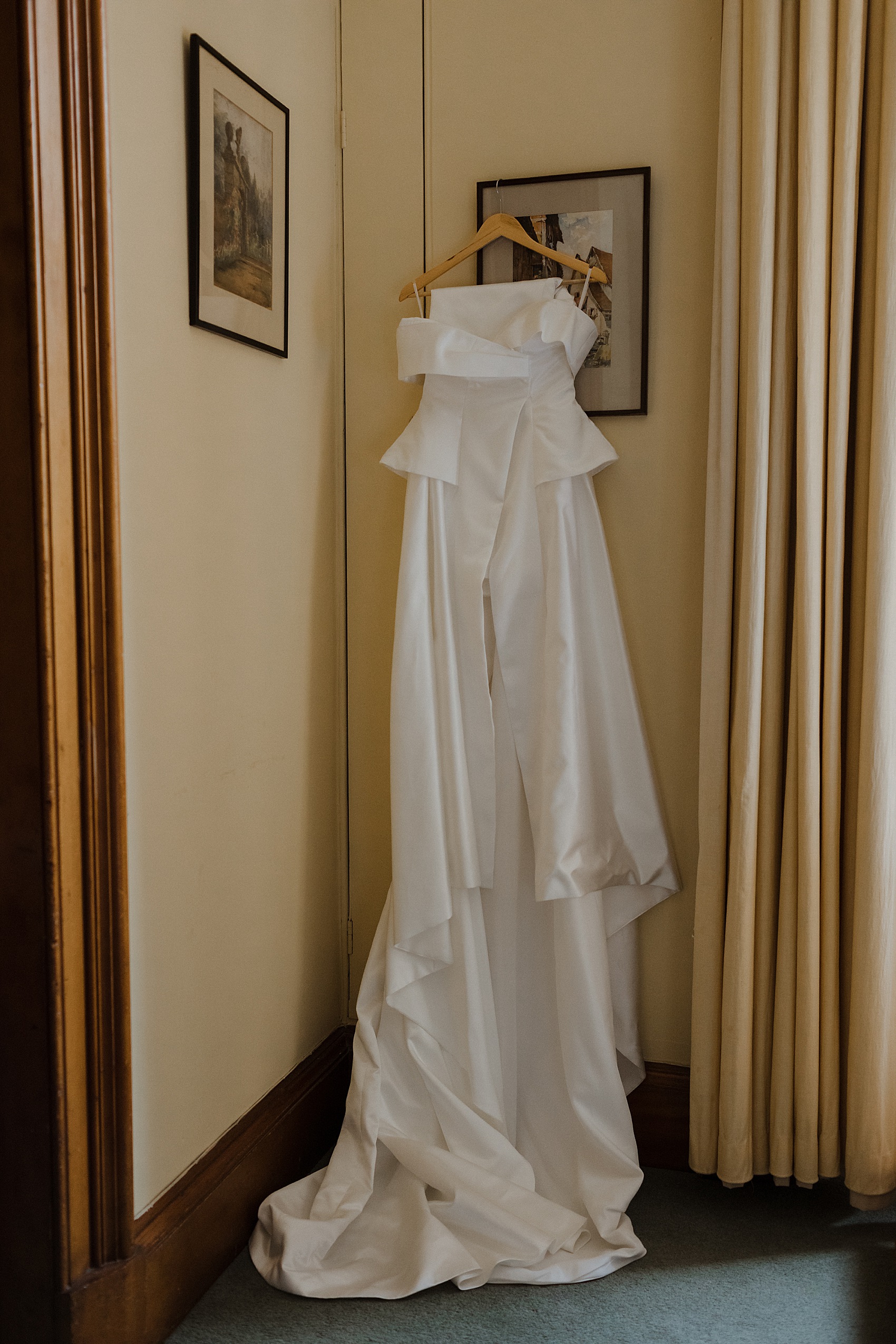 After dinner, Becca changed into her amazing silver sequinned jumpsuit, which she discovered on ASOS, just in time for a dreamy seaside walk with Zane.
"I wanted a jumpsuit for the evening so I could dance easily!  I loved the idea of wearing trousers but didn't want to wear a suit, and didn't feel a traditional dress was very me, so this was a great compromise."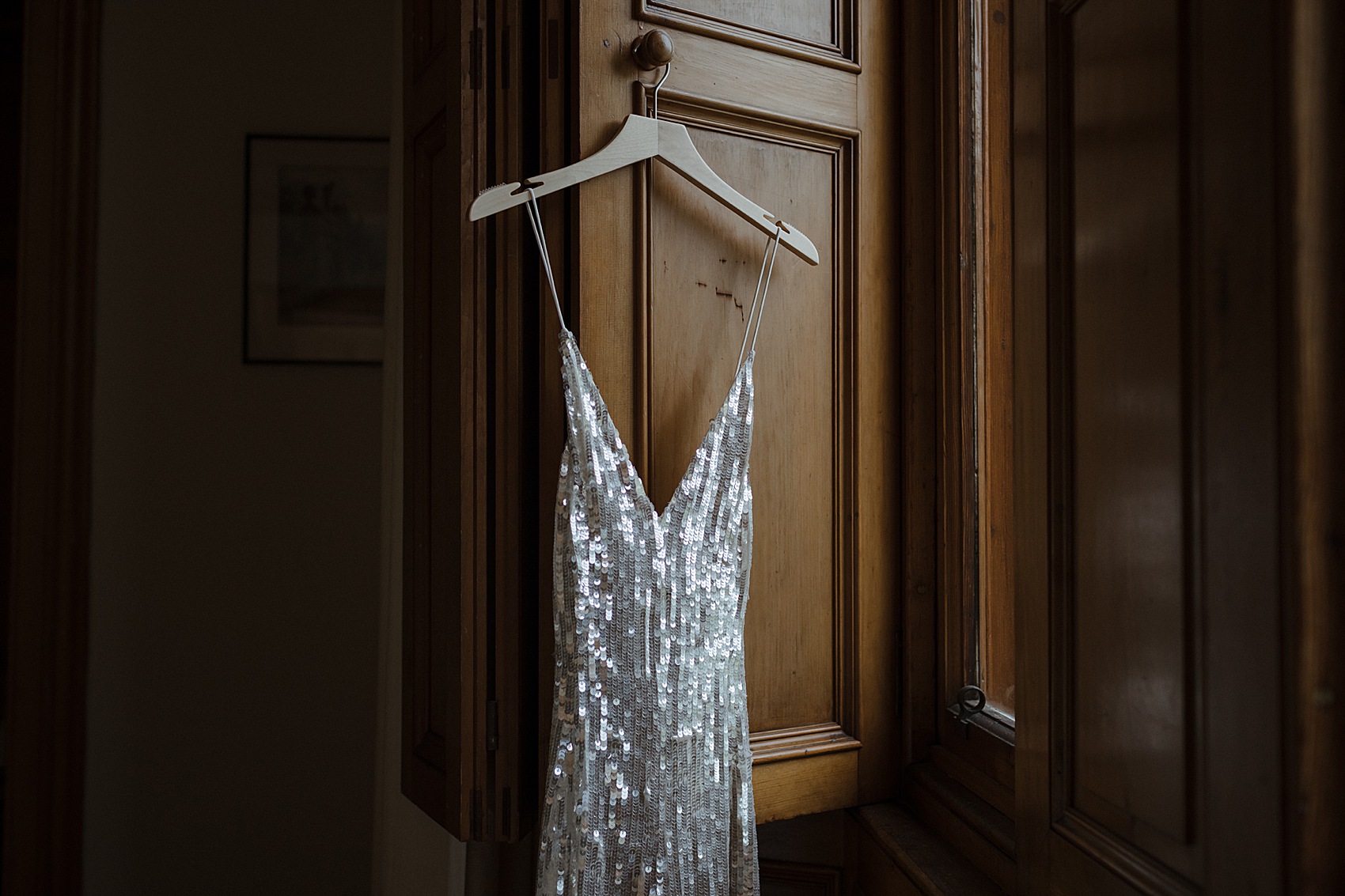 Jordan at Sanctum Hair & Beauty was responsible for Becca's lovely hair colour and sleek bobbed style, and her make-up was by friend and make-up artist, Eliza Clarke.
Becca's flowergirl Ruby May wore a smart suit from Next, together with Converse trainers, and they both carried bunches of lovely greenery together down the aisle.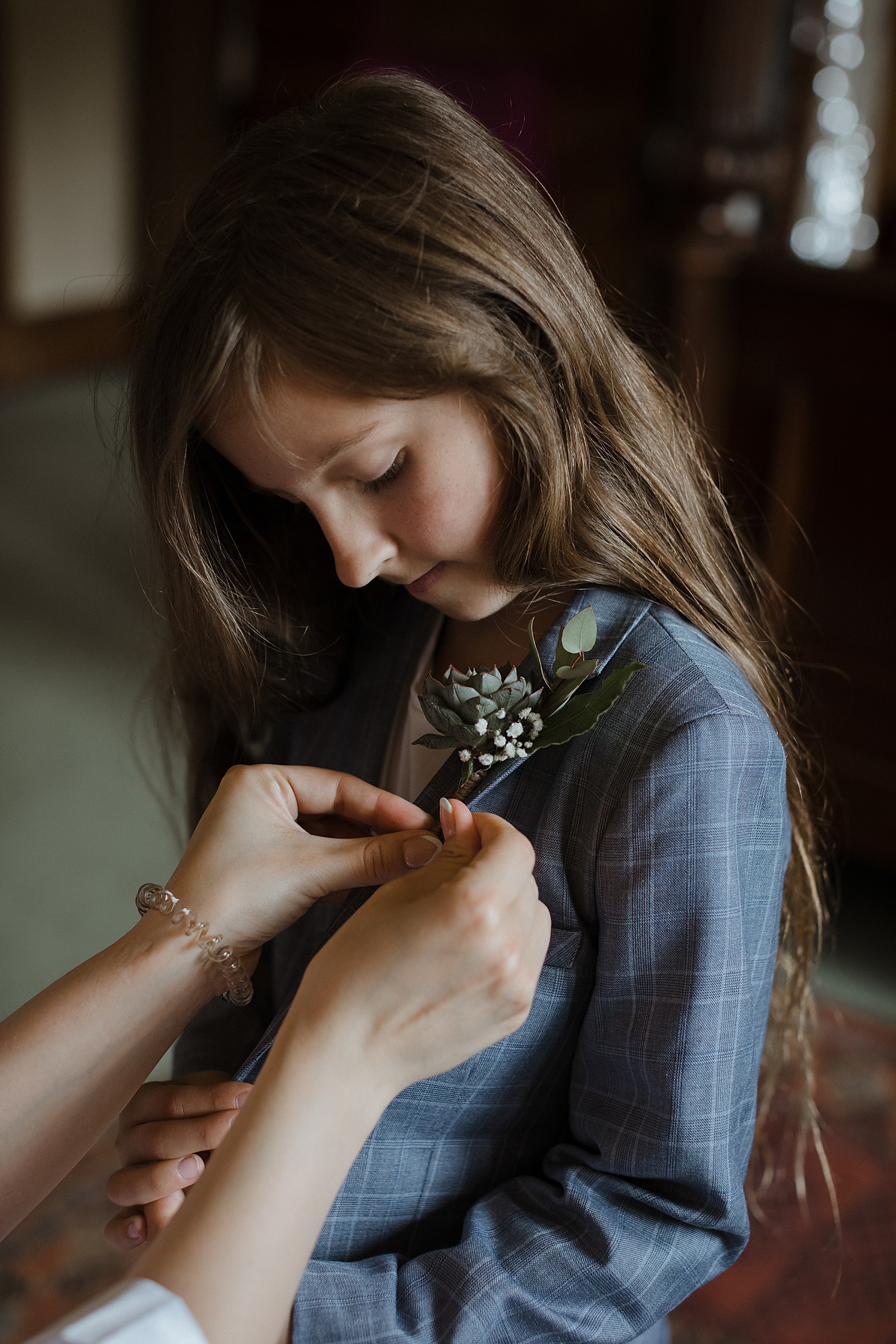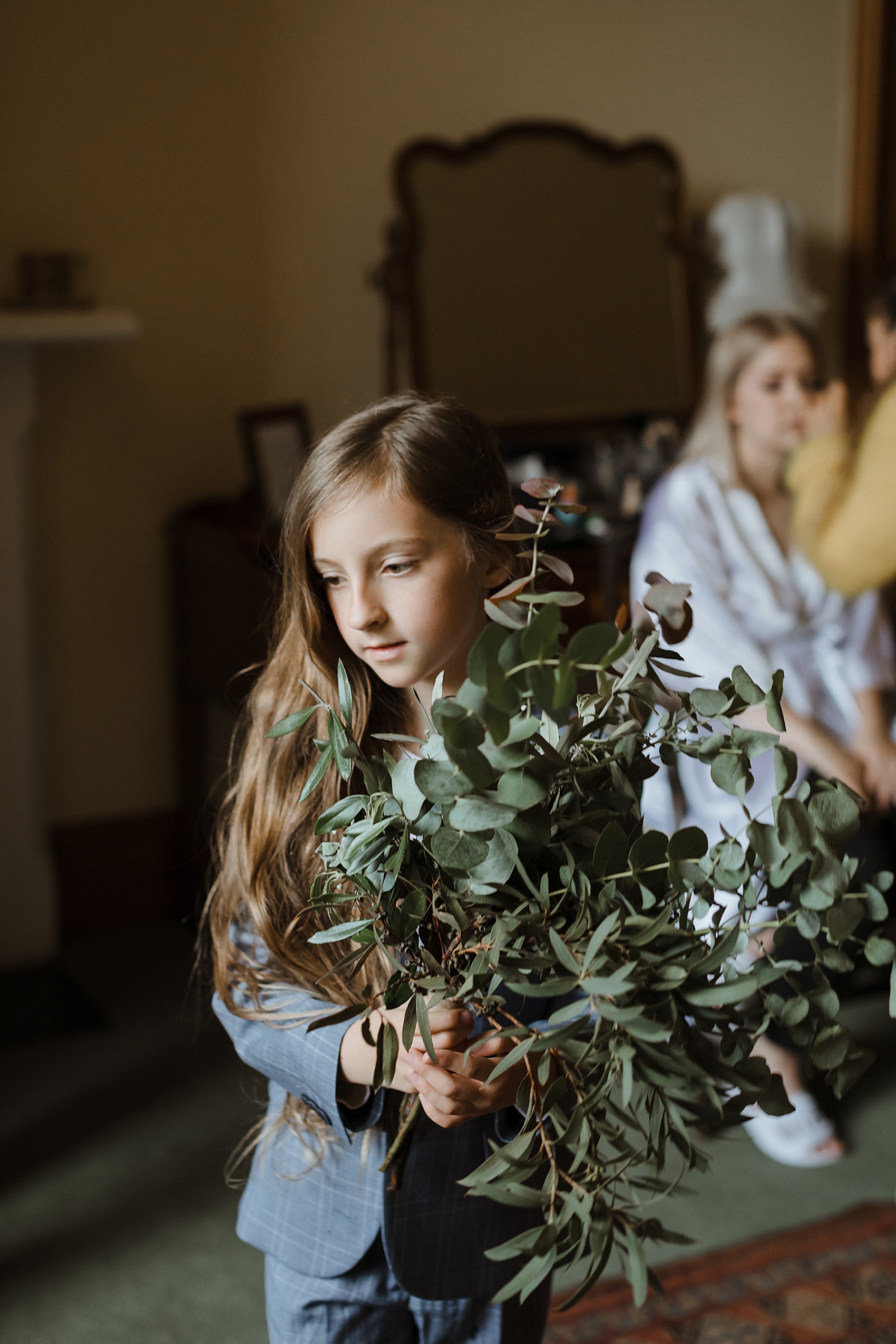 I can't tell you how pleased I am to be sharing more work by our long-time friend and supporter, Caro Weiss. Caro is part of our brilliant Little Book directory, and her thoughtfully composed images are always full of colour, heart and soul.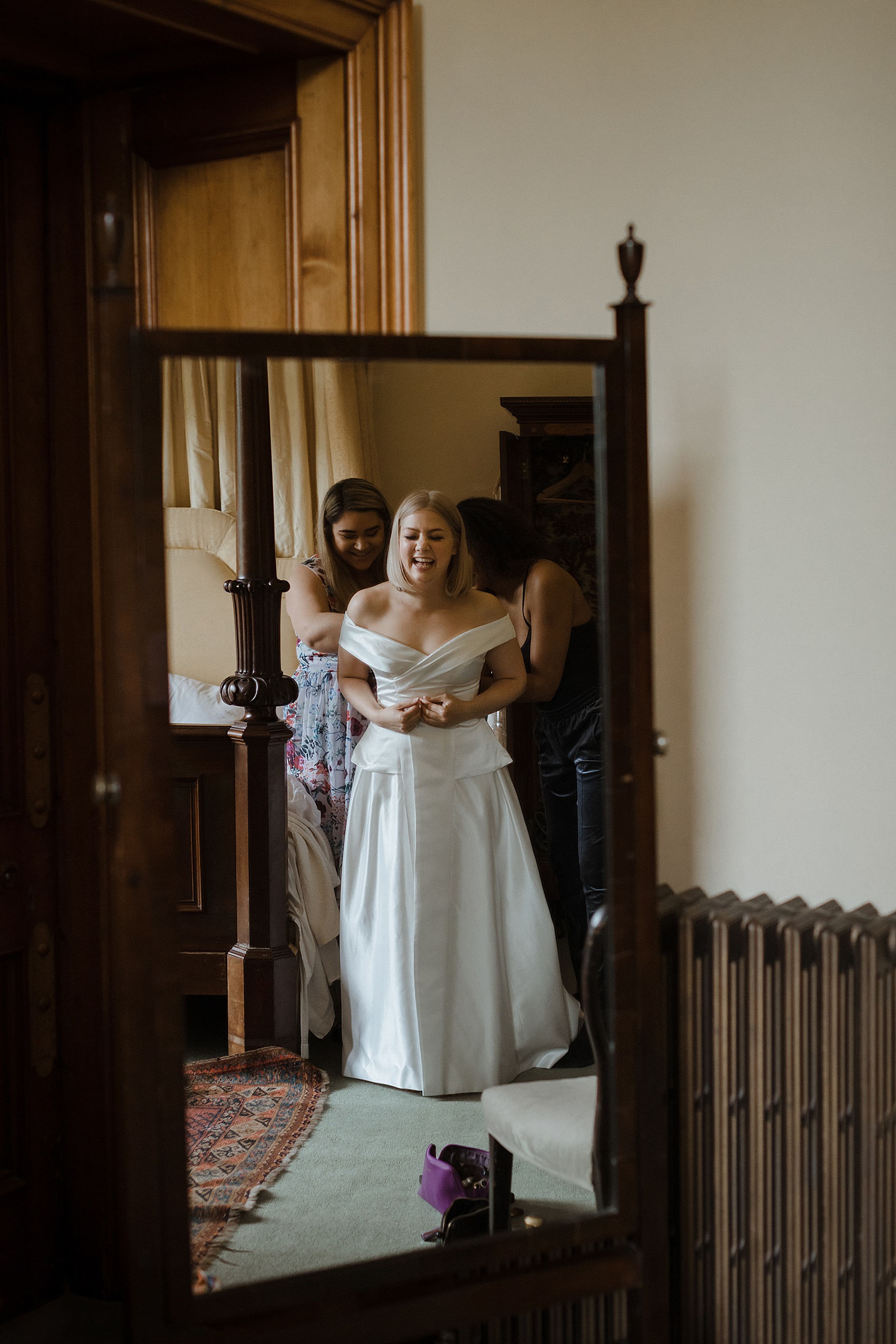 I just adore the way she's captured Becca and Zane's day.
"When we saw Caro's photos we knew she was a non-negotiable for our wedding. Her photos are so editorial, and she was fantastic on the day."
"Caro was actually the first vendor we booked as we were determined to have her!"
Our friend Kieran Evans was our film-maker. He's not only won a Bafta for his film Kelly & Victor, but has worked extensively with the Manic Street Preachers (one of my favourite bands)."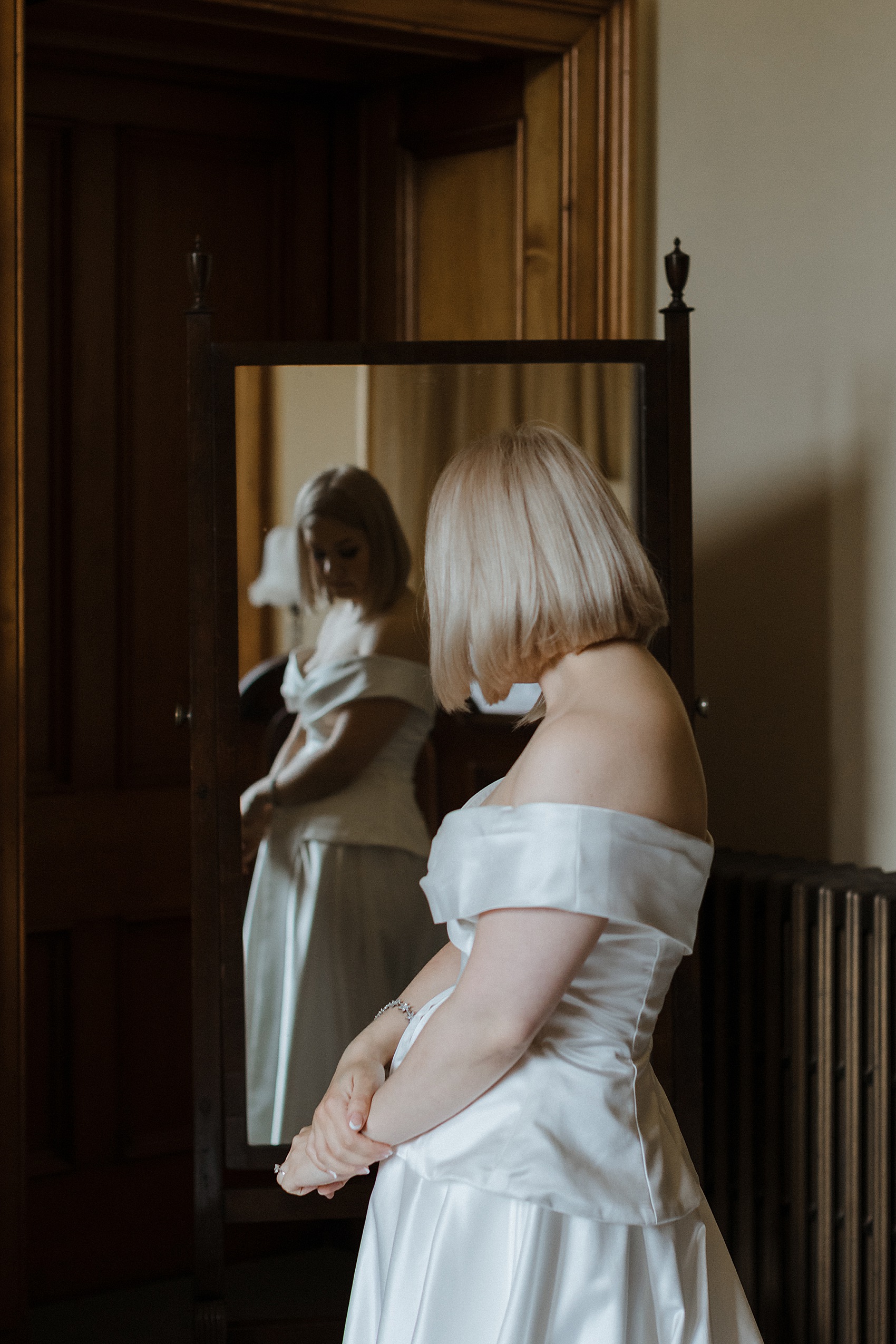 Zane wore a beautifully tailored tweed three-piece suit by Walker Slater, a shirt and Paisley tie by Drake's, a pocket square from Rampley & Co., and shoes by Grenson.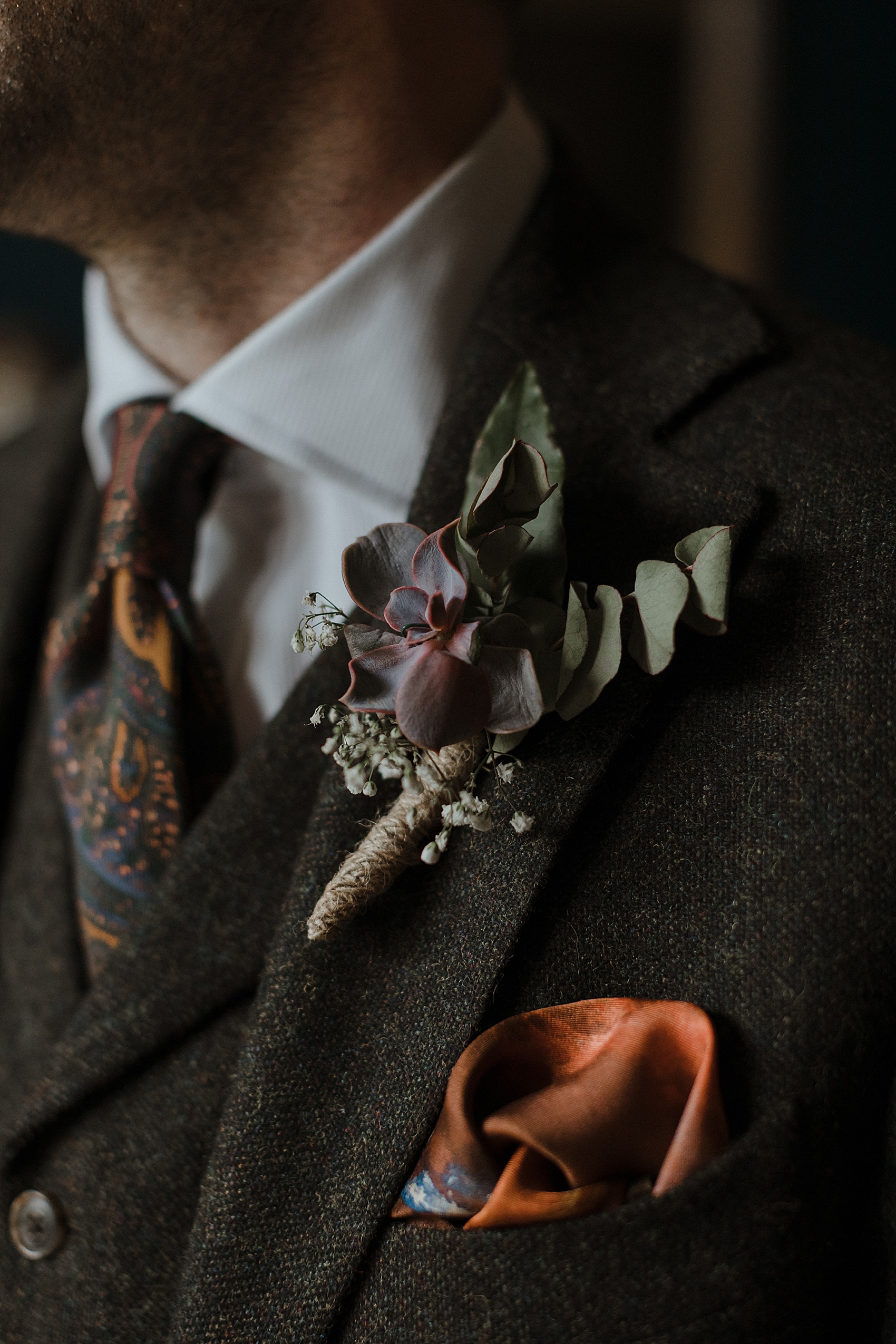 "Our greenery arrangements were DIY. Eucalyptus and succulents were bought wholesale, delivered in bunches and then Zane's aunt and cousins put together the bouquet, button holes and centrepieces. I loved the idea of just having pure greenery rather than flowers, and it also kept the cost down."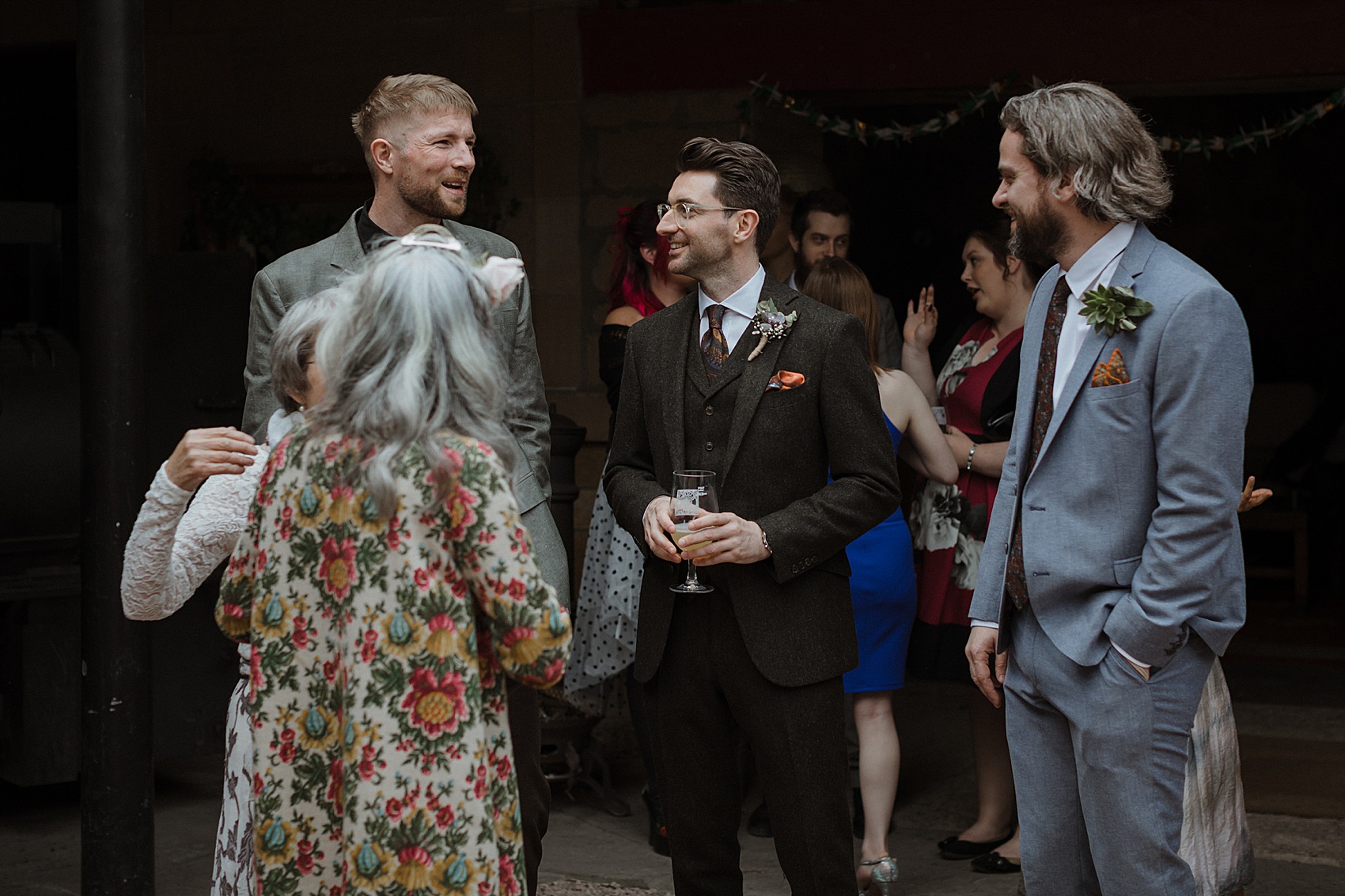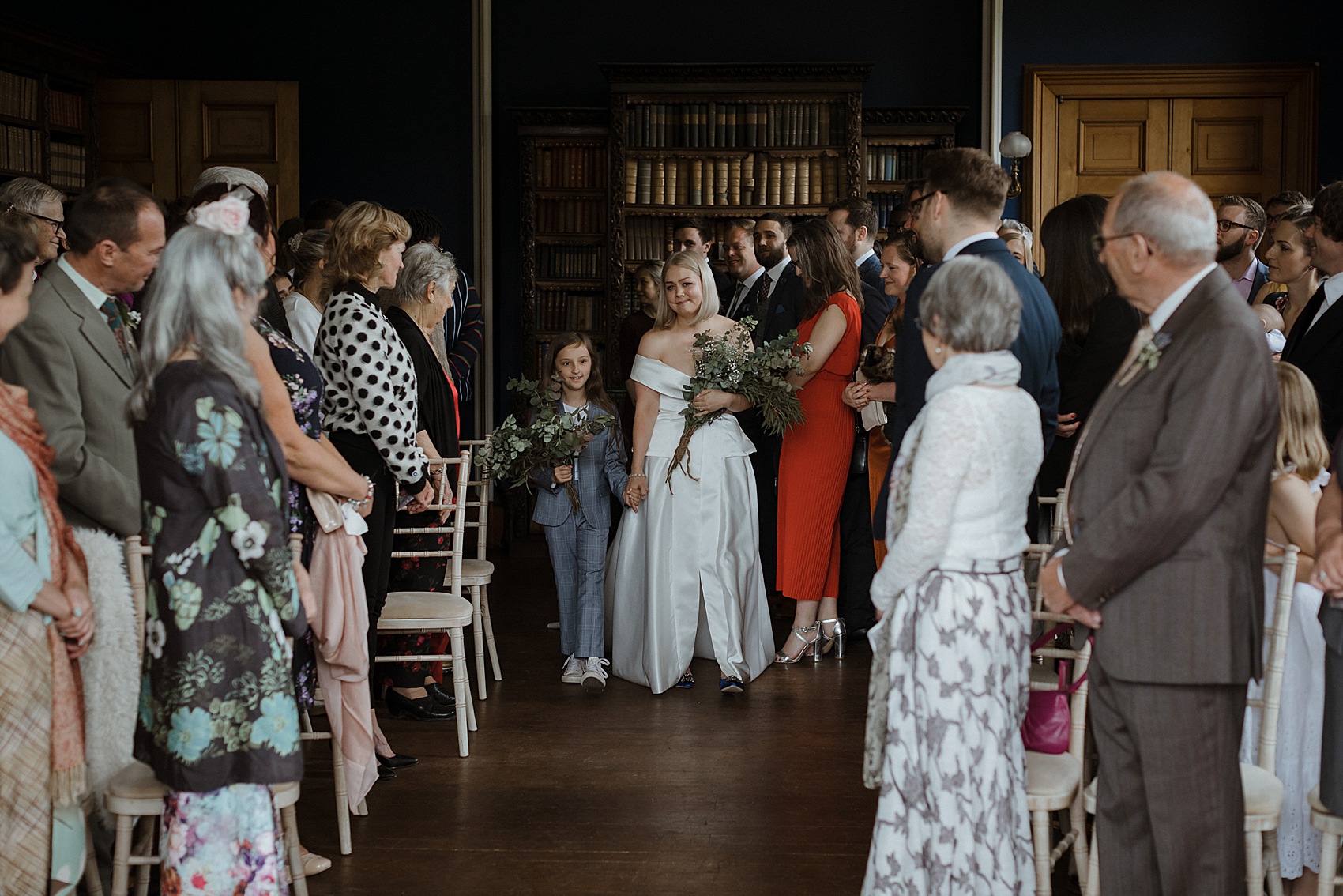 "We met through mutual friends at The-Dream's gig in London about 6 years ago, got engaged on top of Yosemite Falls, California in May 2017, which meant we were engaged for two years."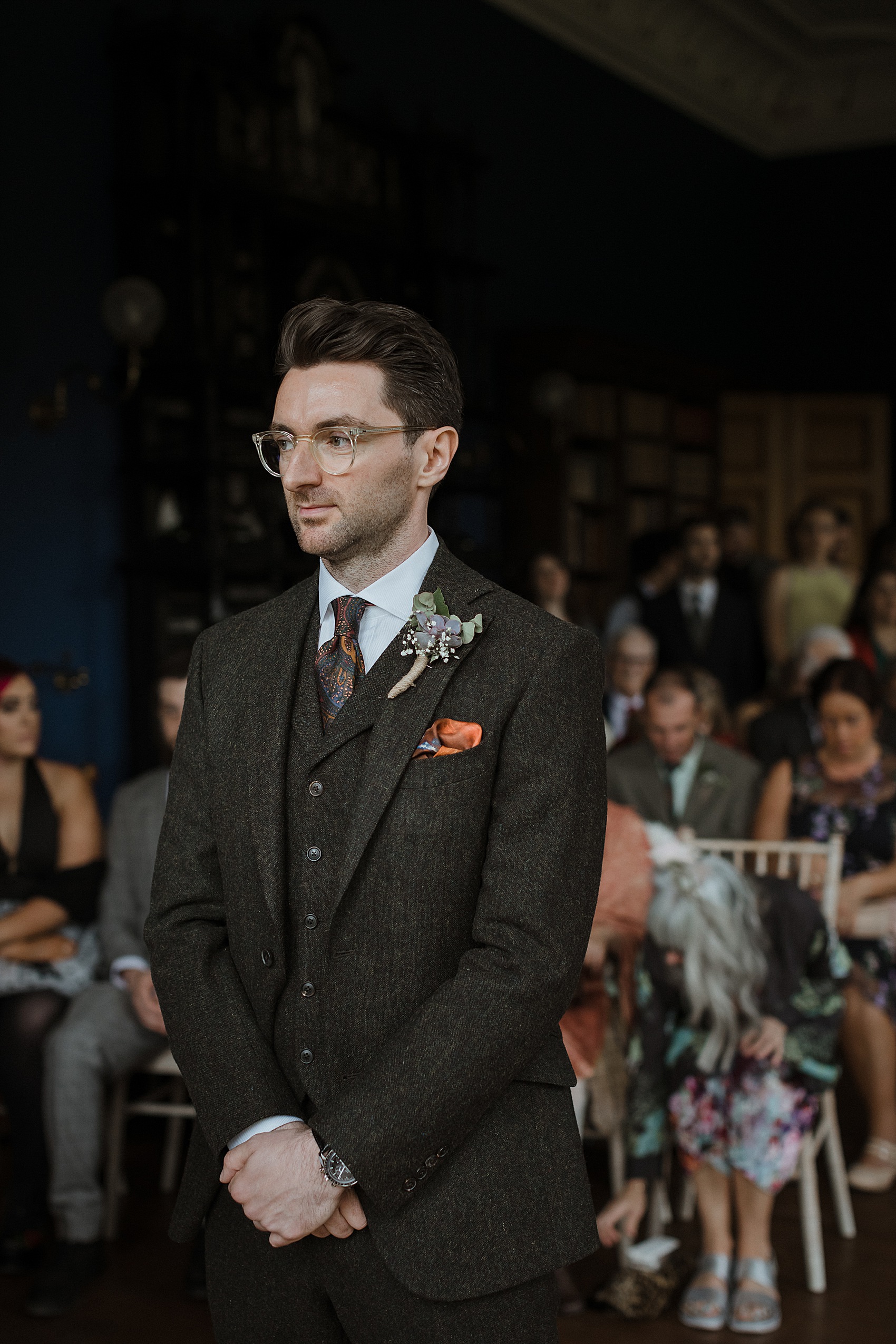 What a wonderful, heartfelt ceremony it was for Becca and Zane, as they exchanged their vows and rings (placeholder rings sourced from Amazon) surrounded by the love of their family and friends.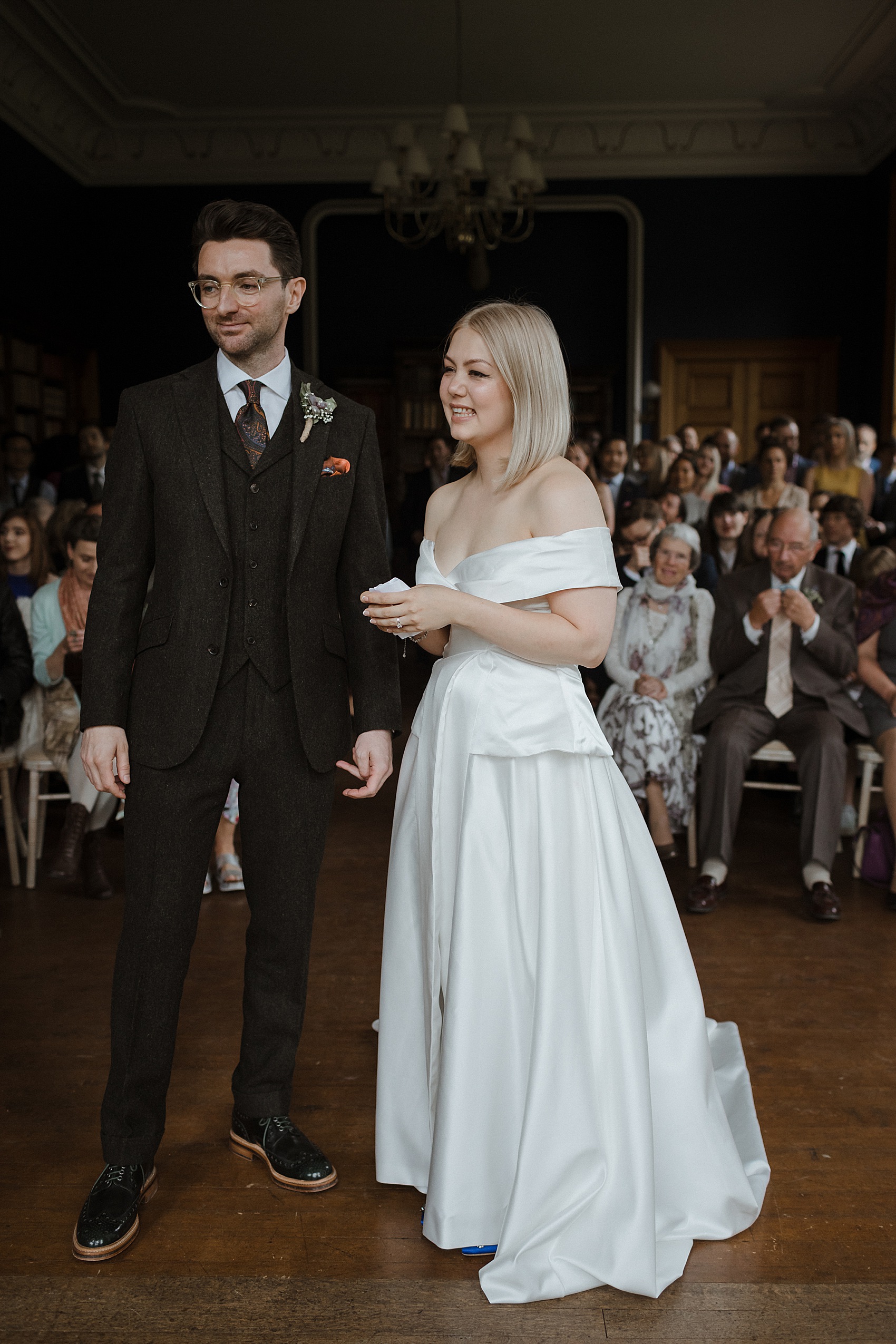 "Our vows short and sweet as we are both quite emotional people, and wanted to keep the crying to a minimum. It didn't really work, as we were both in tears anyway."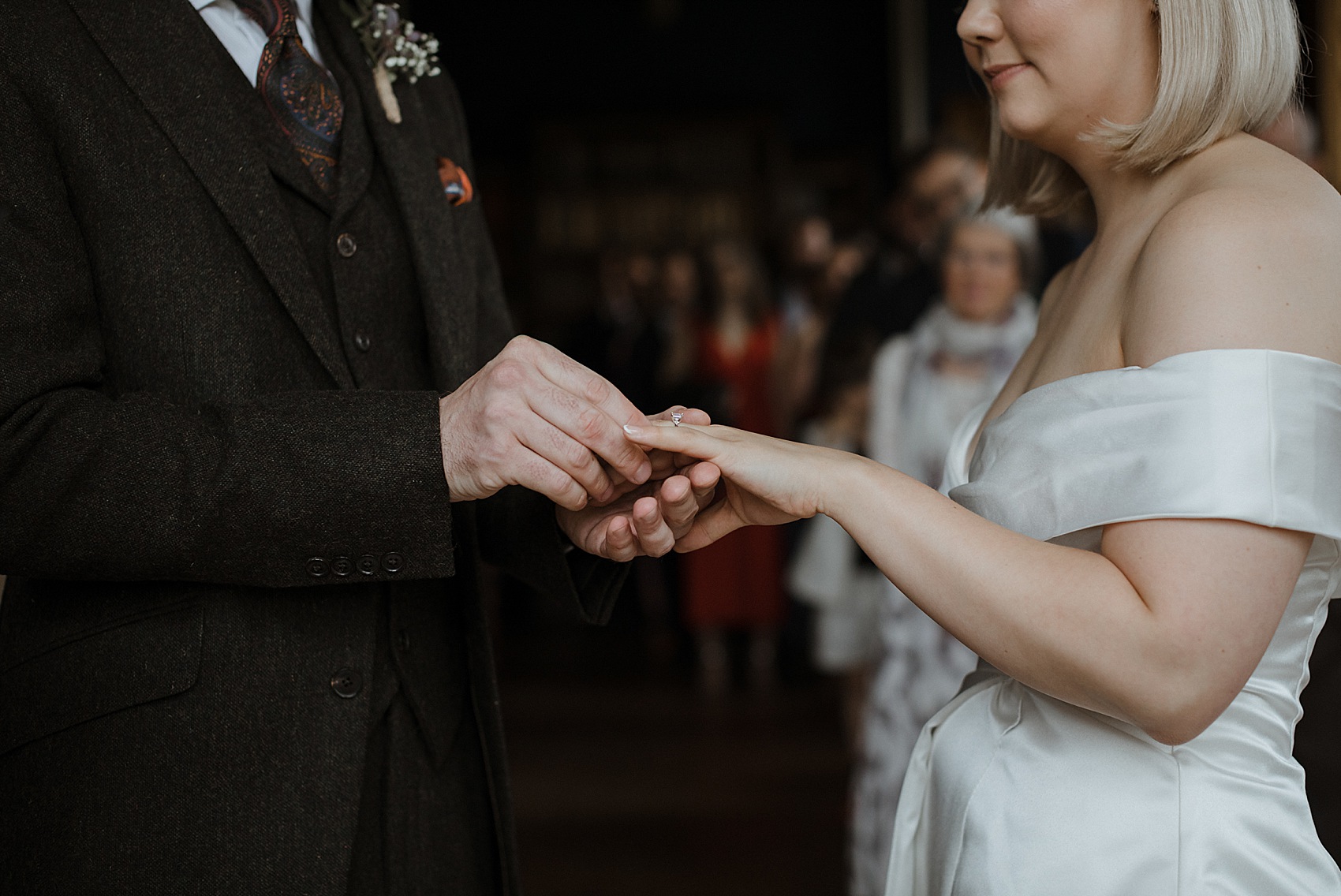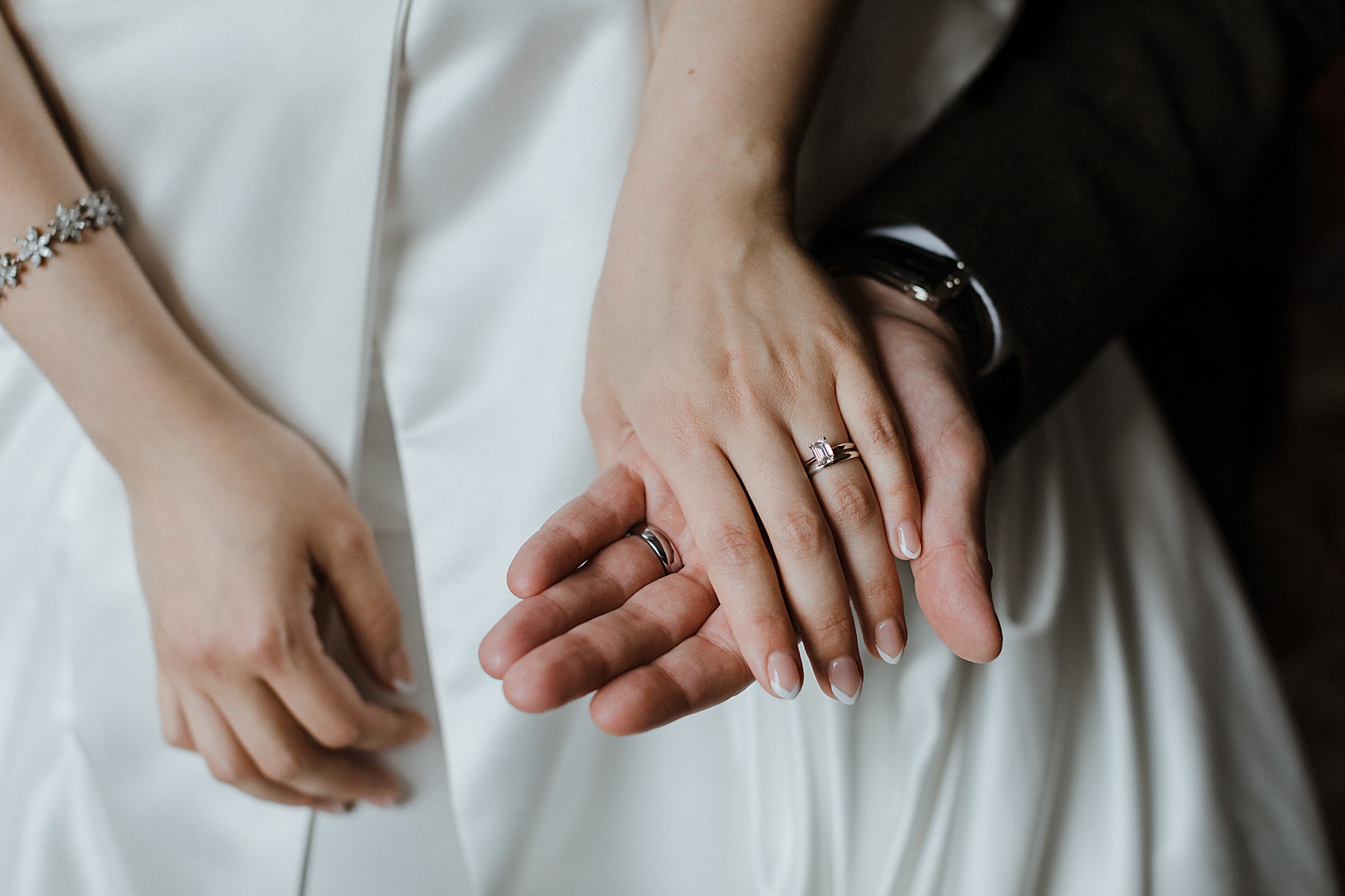 The ceremony concluded with a shower of confetti, followed by hugs, kisses and drinks with loved ones in Cambo's gorgeous, cosy drawing room filled with historic treasures.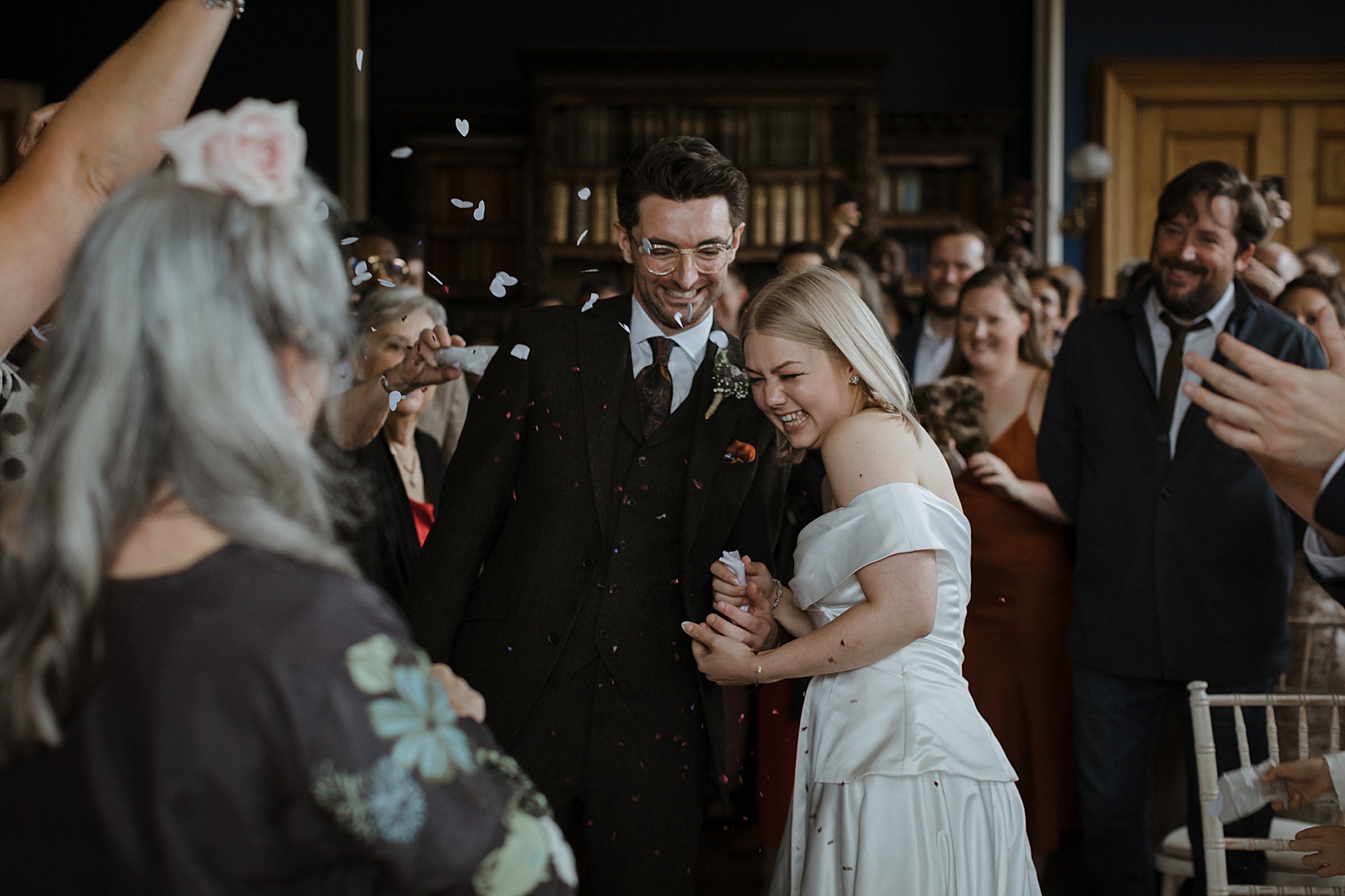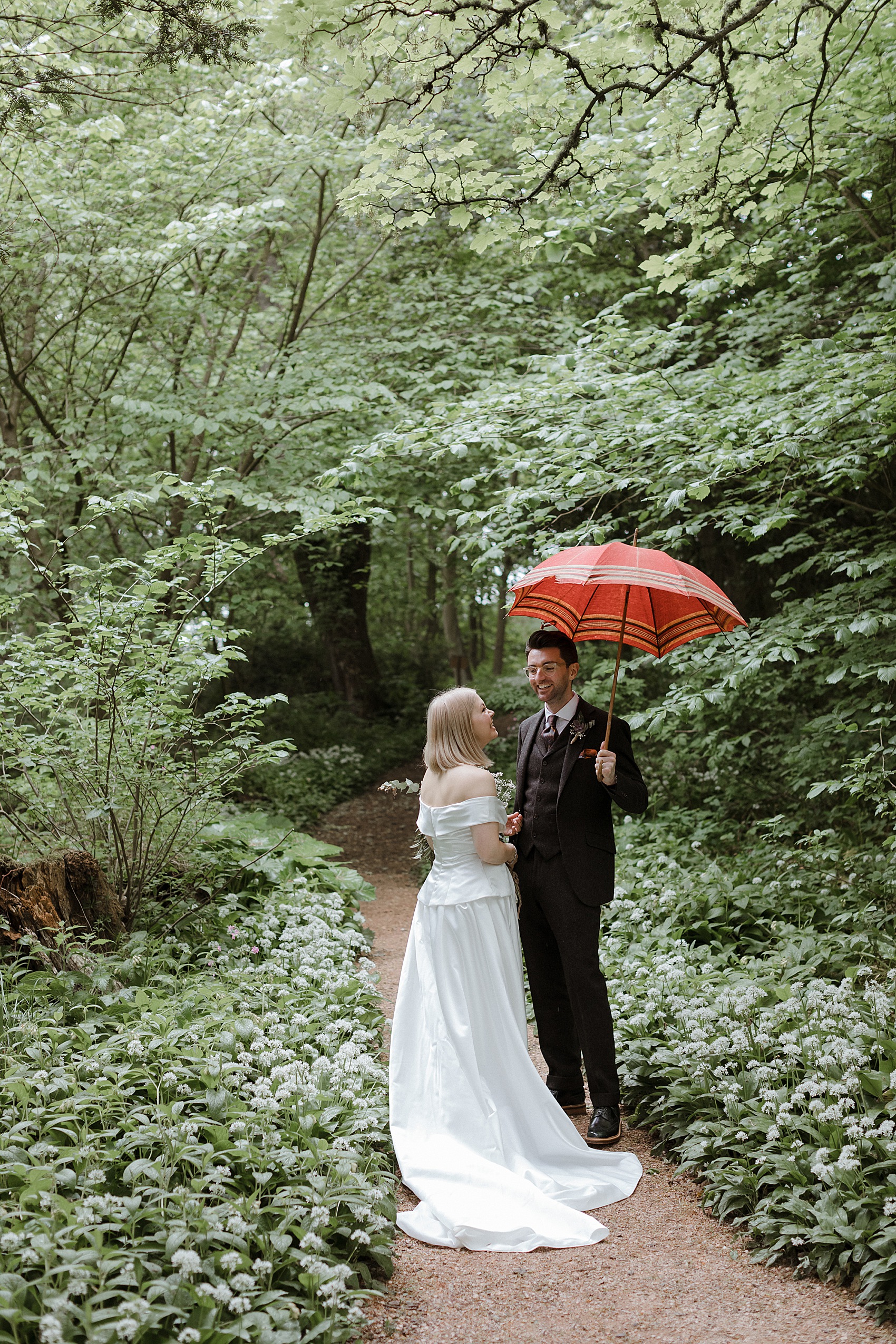 We adore this green and natural wedding bouquet tied with hessian – you can discover lots natural and ethical style wedding ideas over in our ethical weddings Pinterest board.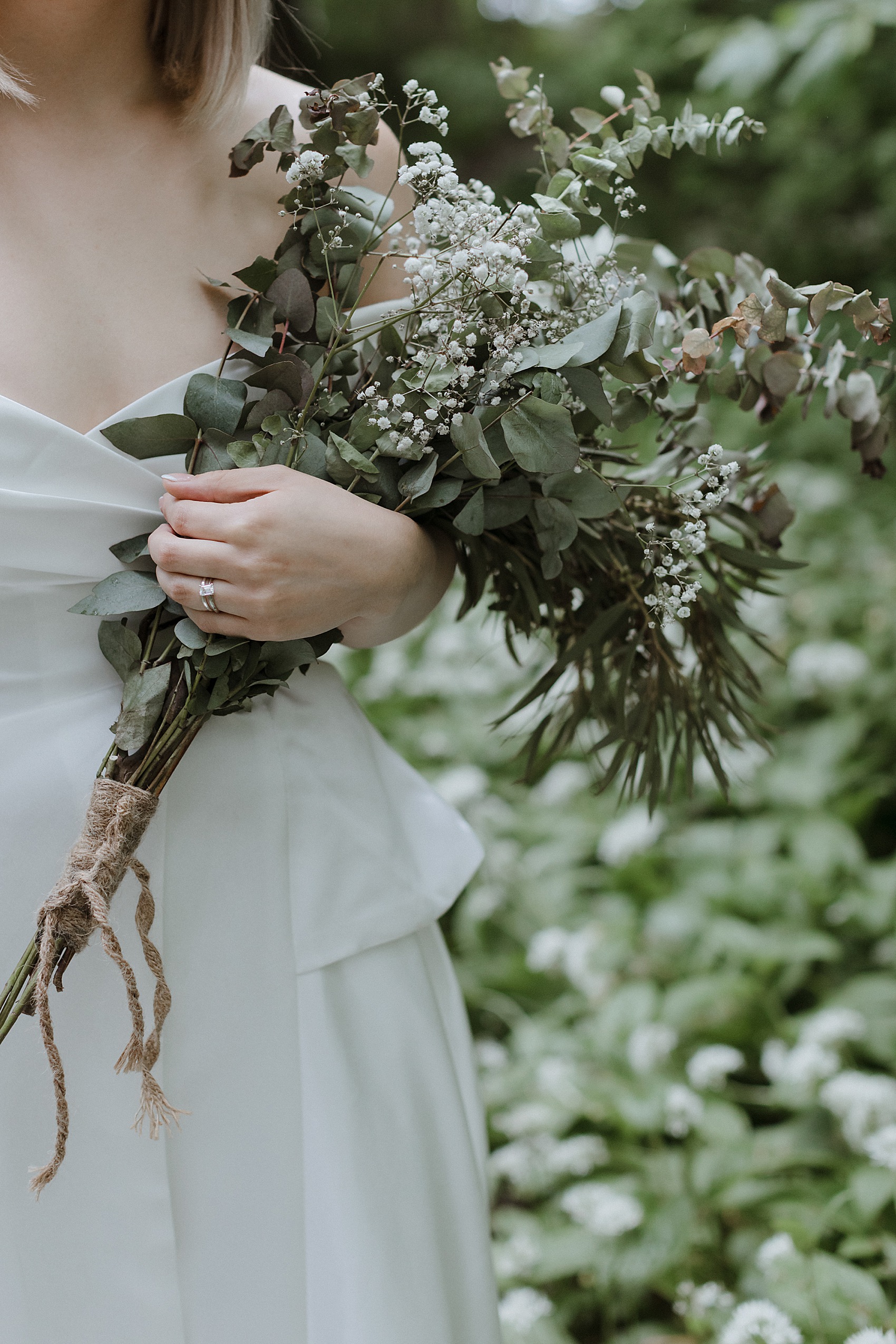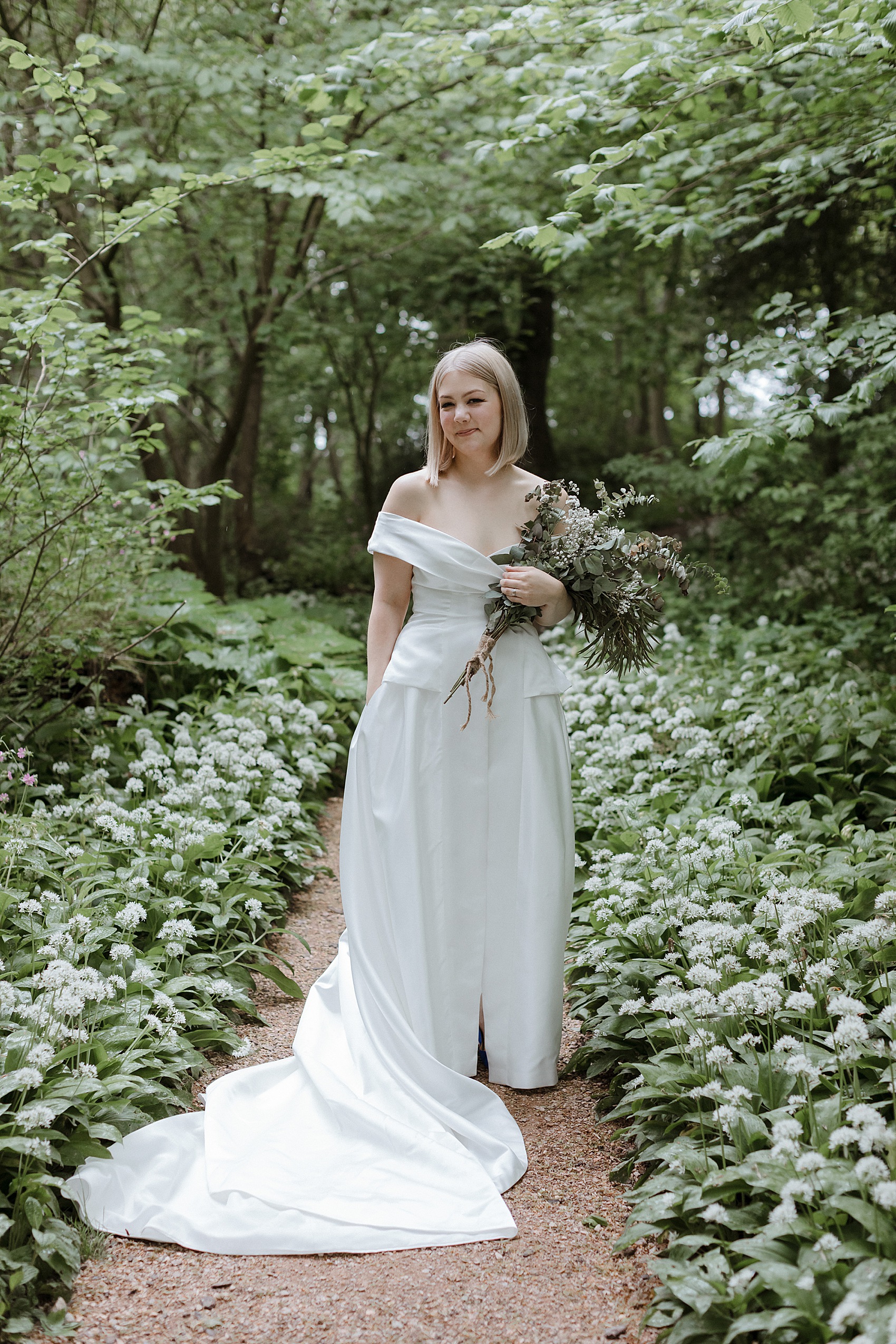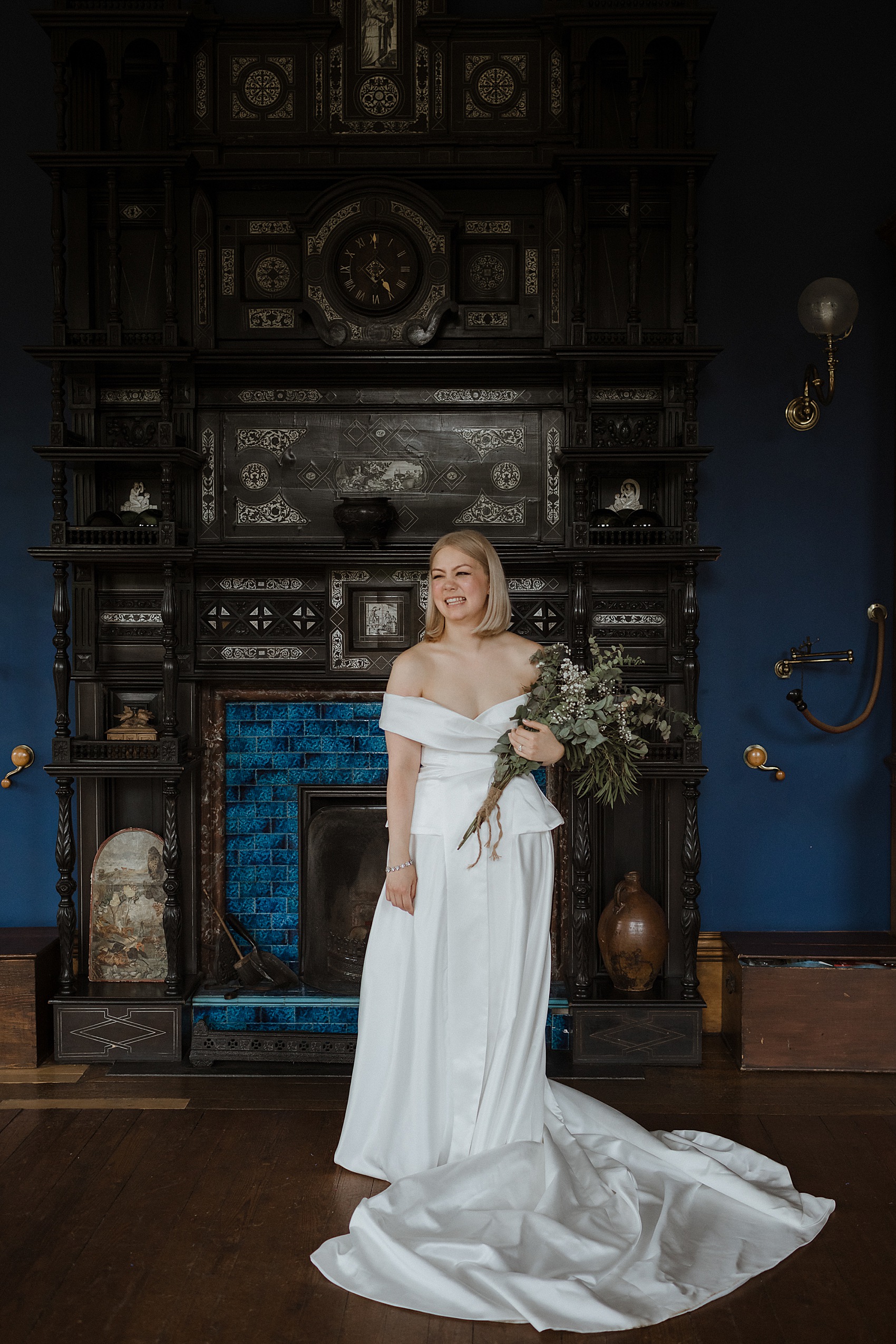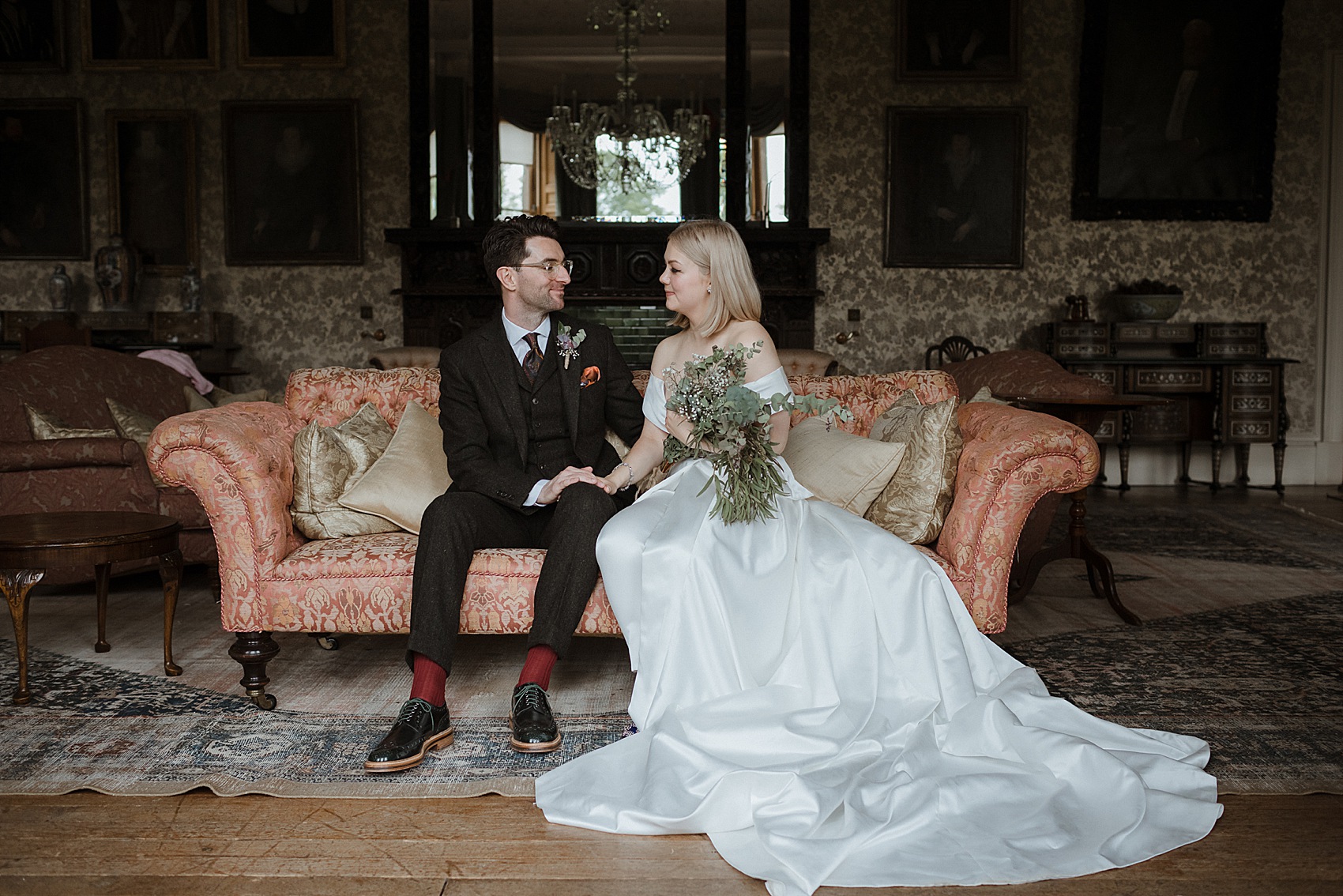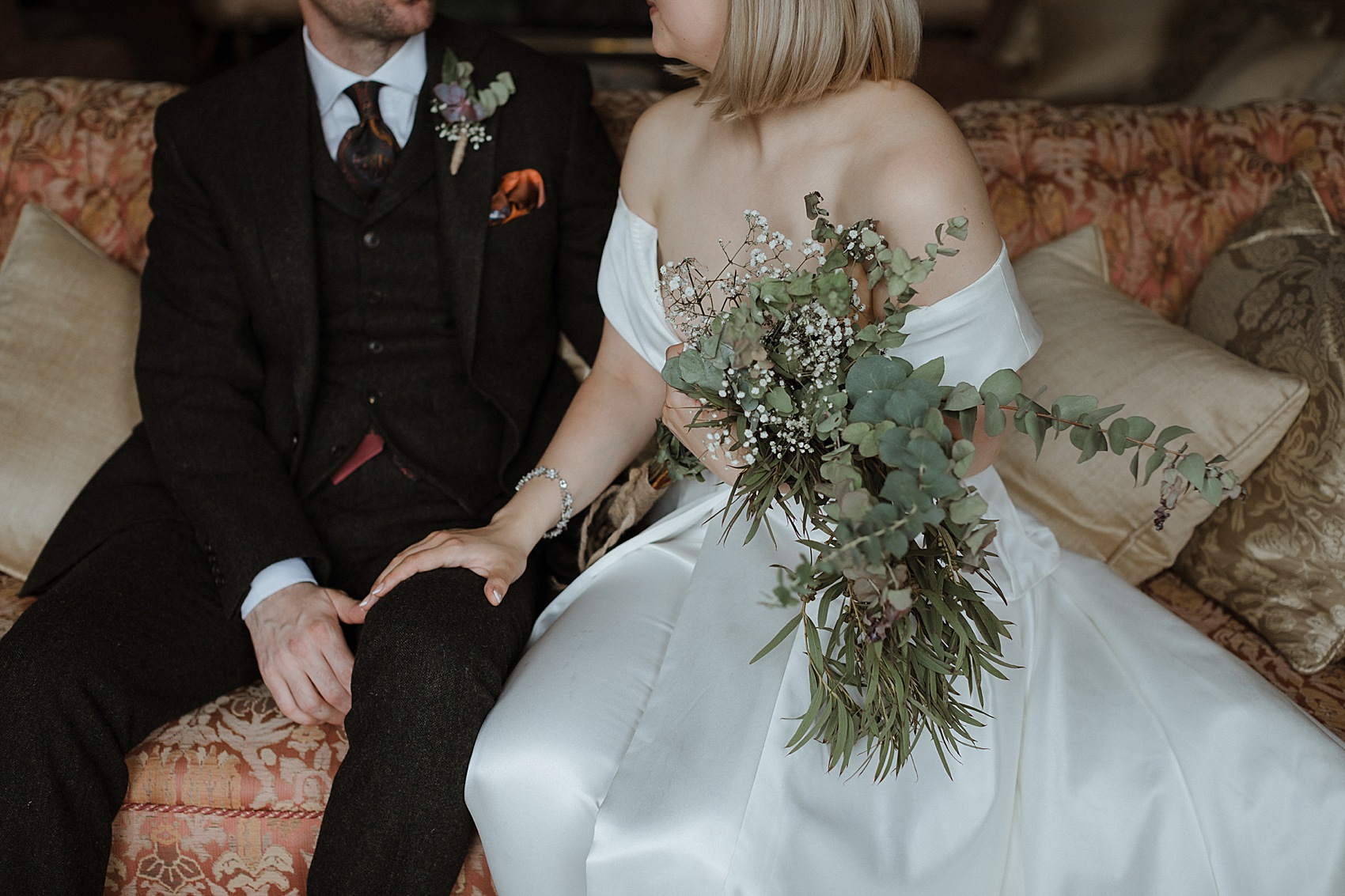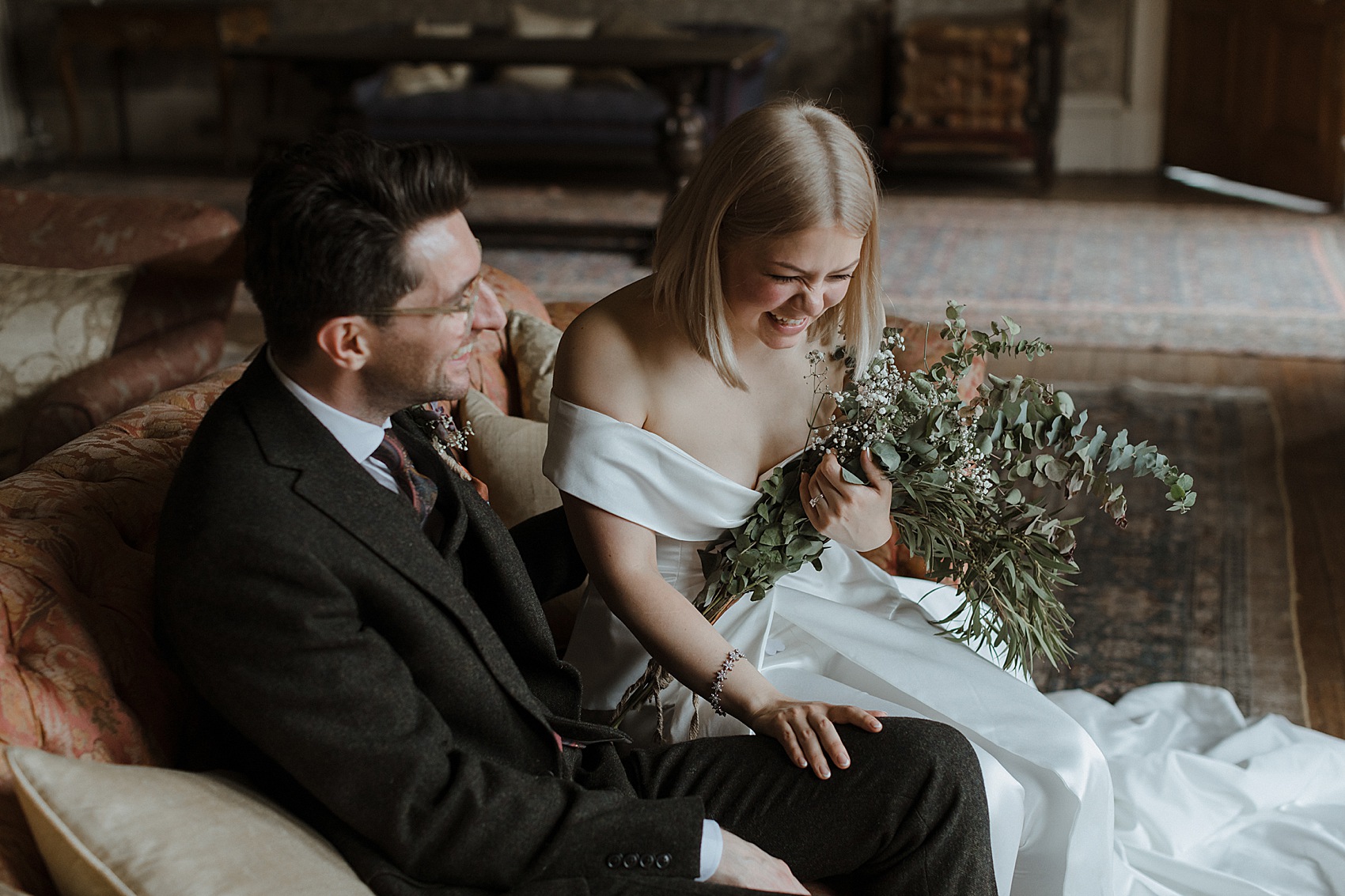 Becca and Zane chose to hold their wedding feast in Cambo's inner courtyard, with a glass atrium and lovely, old cobbled floor.
The little succulents looked wonderful clustered together with vases of tall branches of fragrant eucalyptus down the long dining tables spread with simple, elegant white cloths. Everyone sat down to a sumptuous sharing feast from Ross at Fox Hat.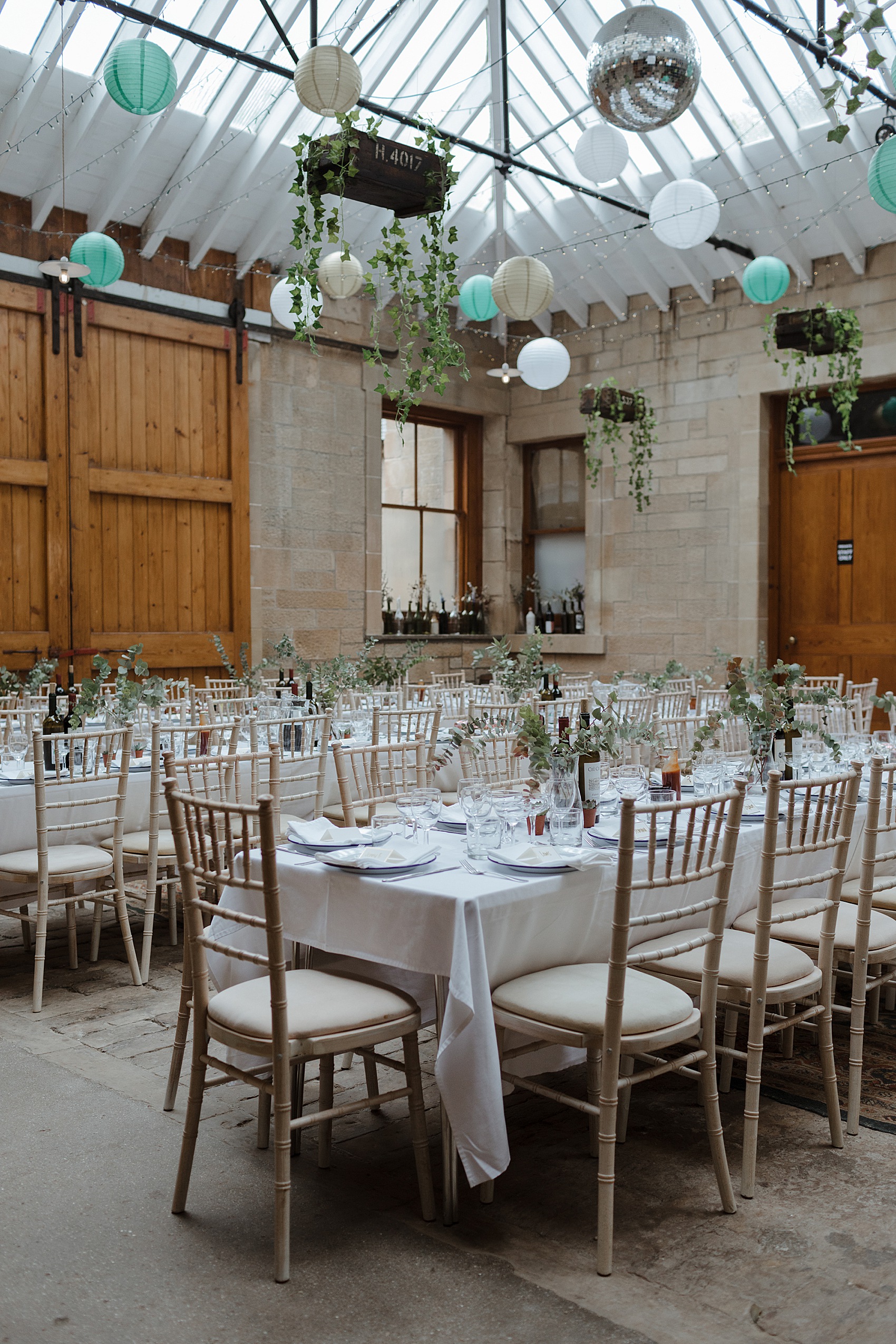 "We tried to stay off Pinterest as we really wanted to stay in budget, and didn't want to get side tracked by things we felt we had to have but didn't really. We picked a few colours that we liked (gold, green and white) and then it was very much DIY."
"We have lots of house plants at home, so it felt right using succulents for the centrepieces on the table rather than flowers."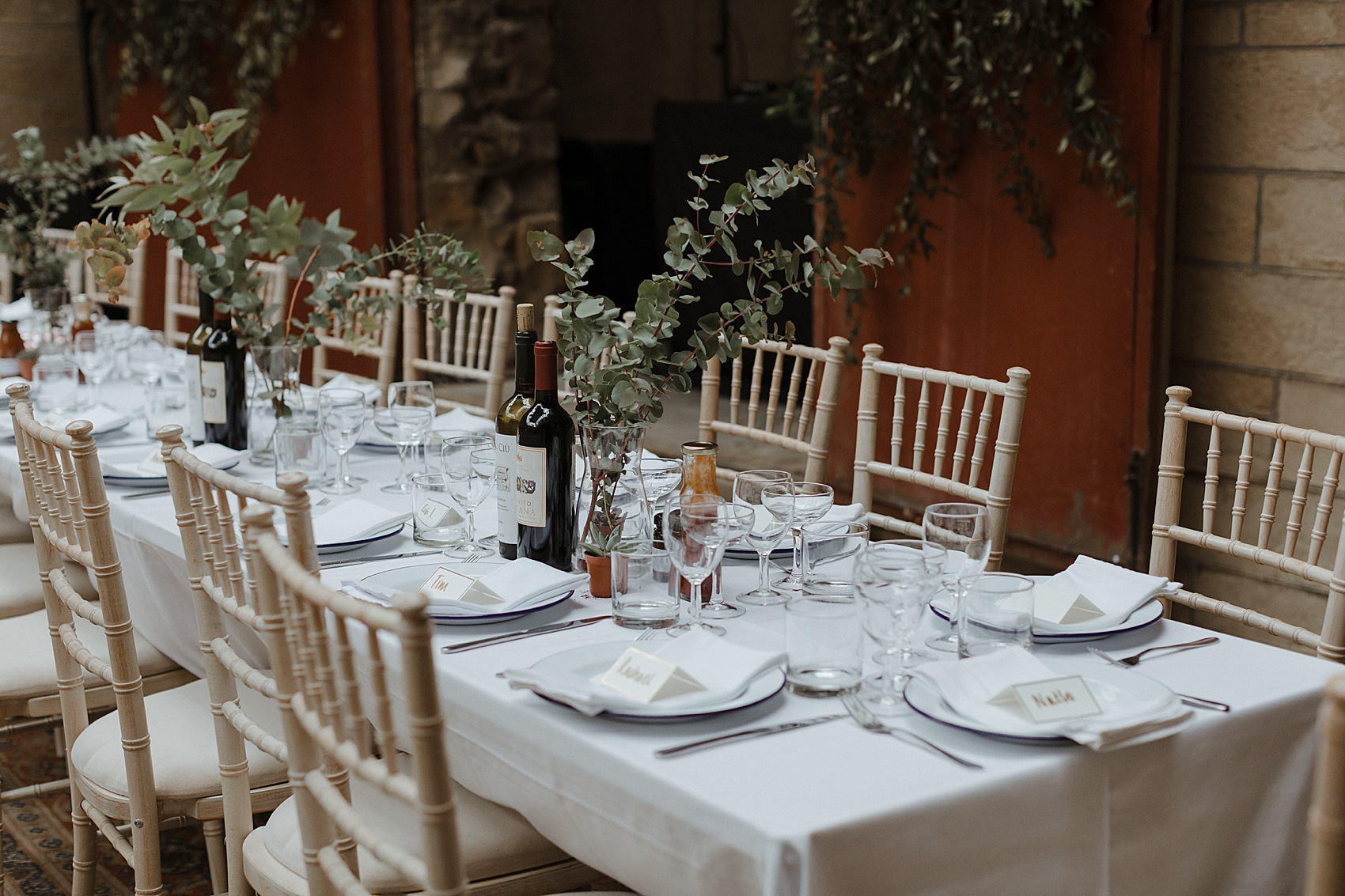 The table plan and place cards were handwritten, and green, white and gold paper lanterns hung from the ceiling. Becca folded 1,000 origami paper cranes, which were then strung together to make bunting.
"We had a few people say it was the best wedding food they'd ever eaten. We can't recommend Ross enough. We also had Jannetta's Gelateria ice cream bike for dessert."
Instead of having a wedding cake, Becca and Zane placed delicious Tunnock's teacakes on the tables for their guests to enjoy.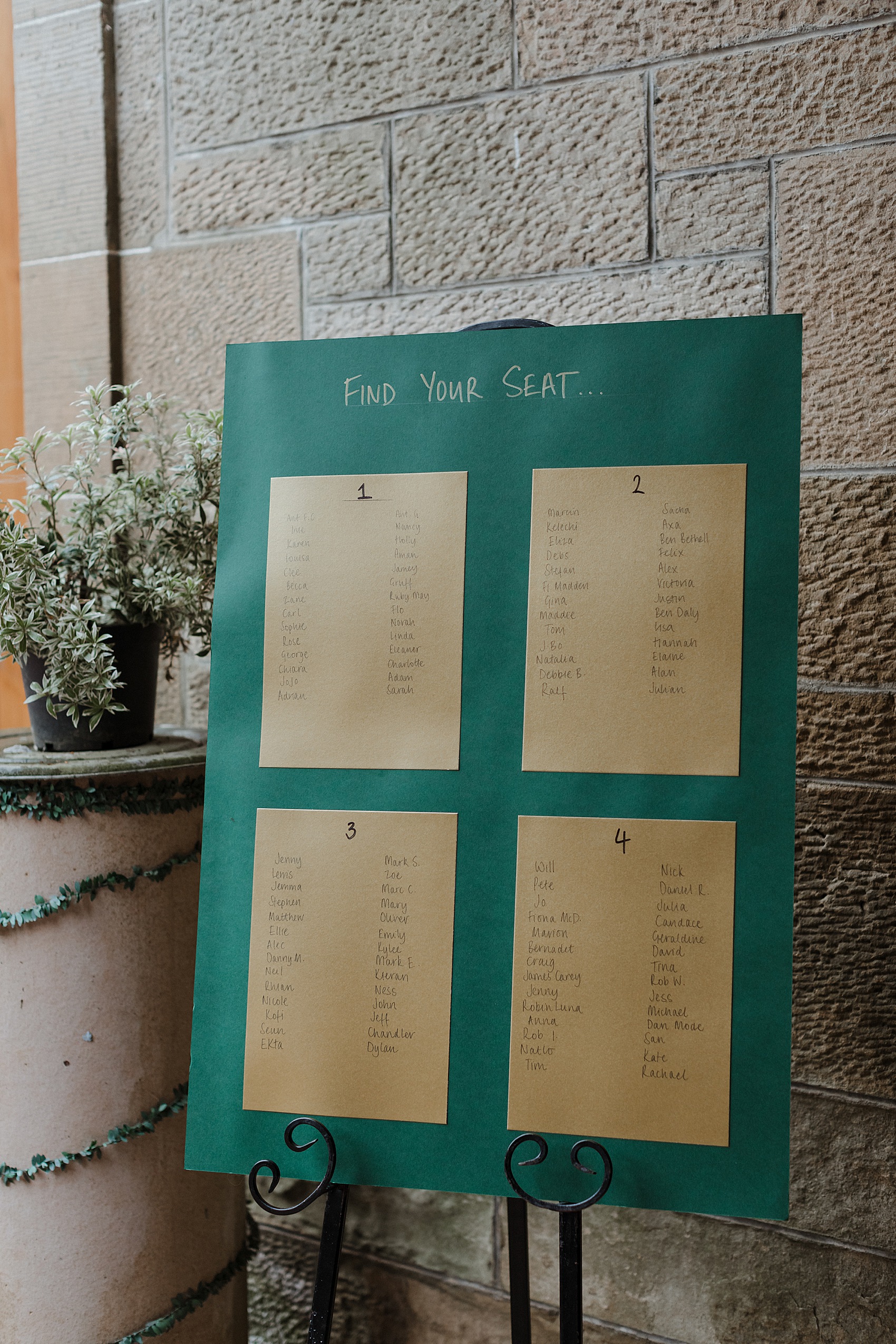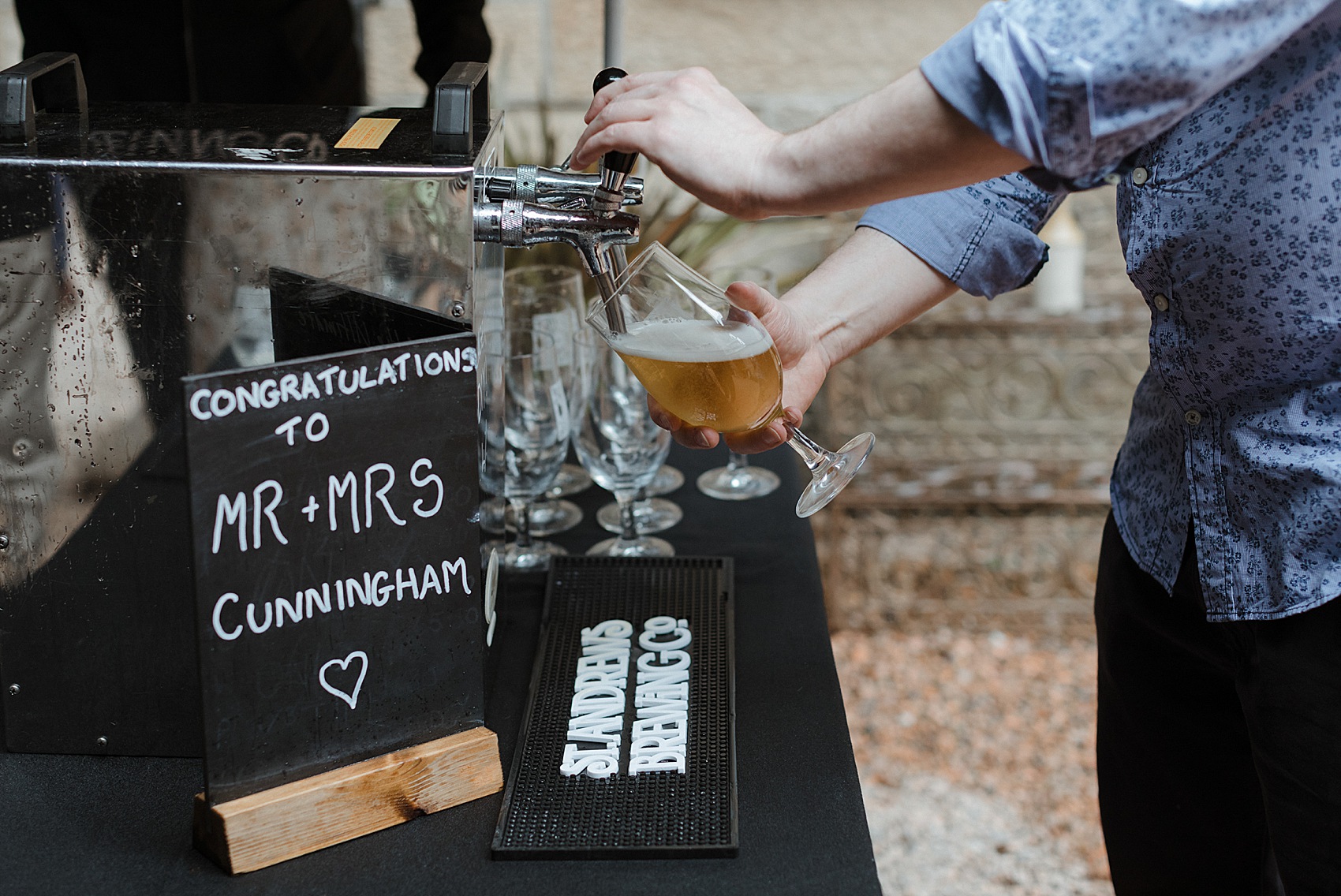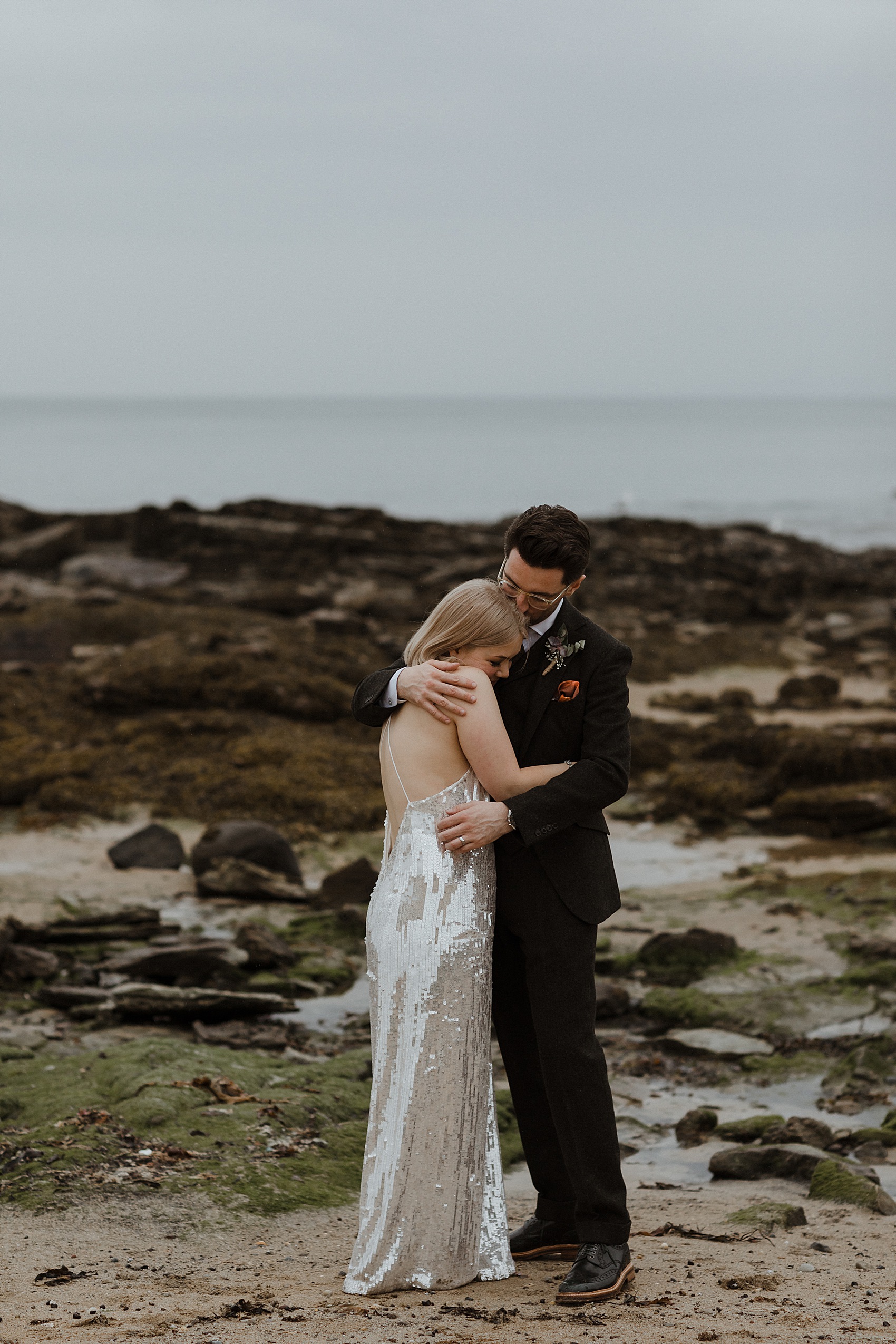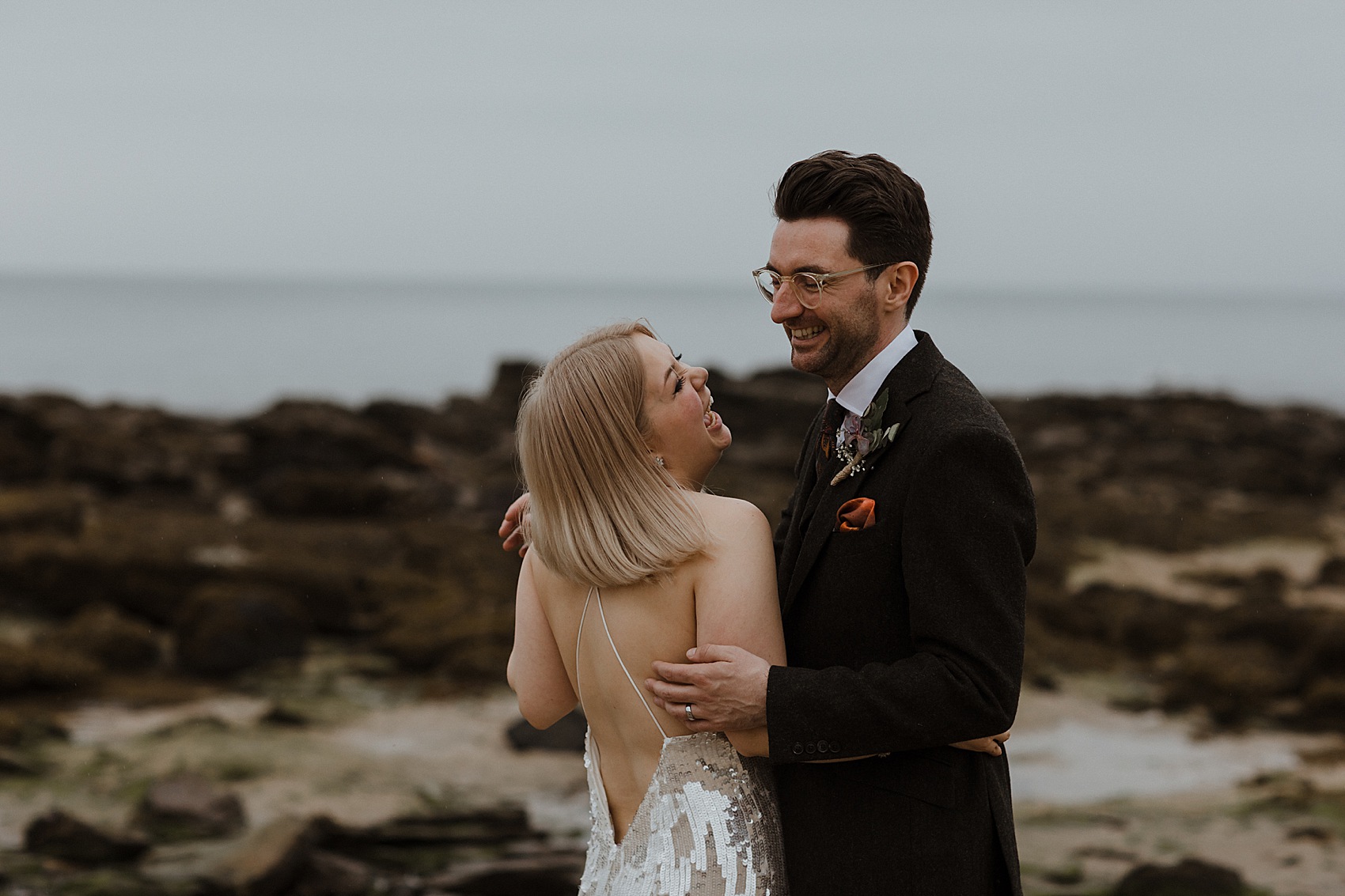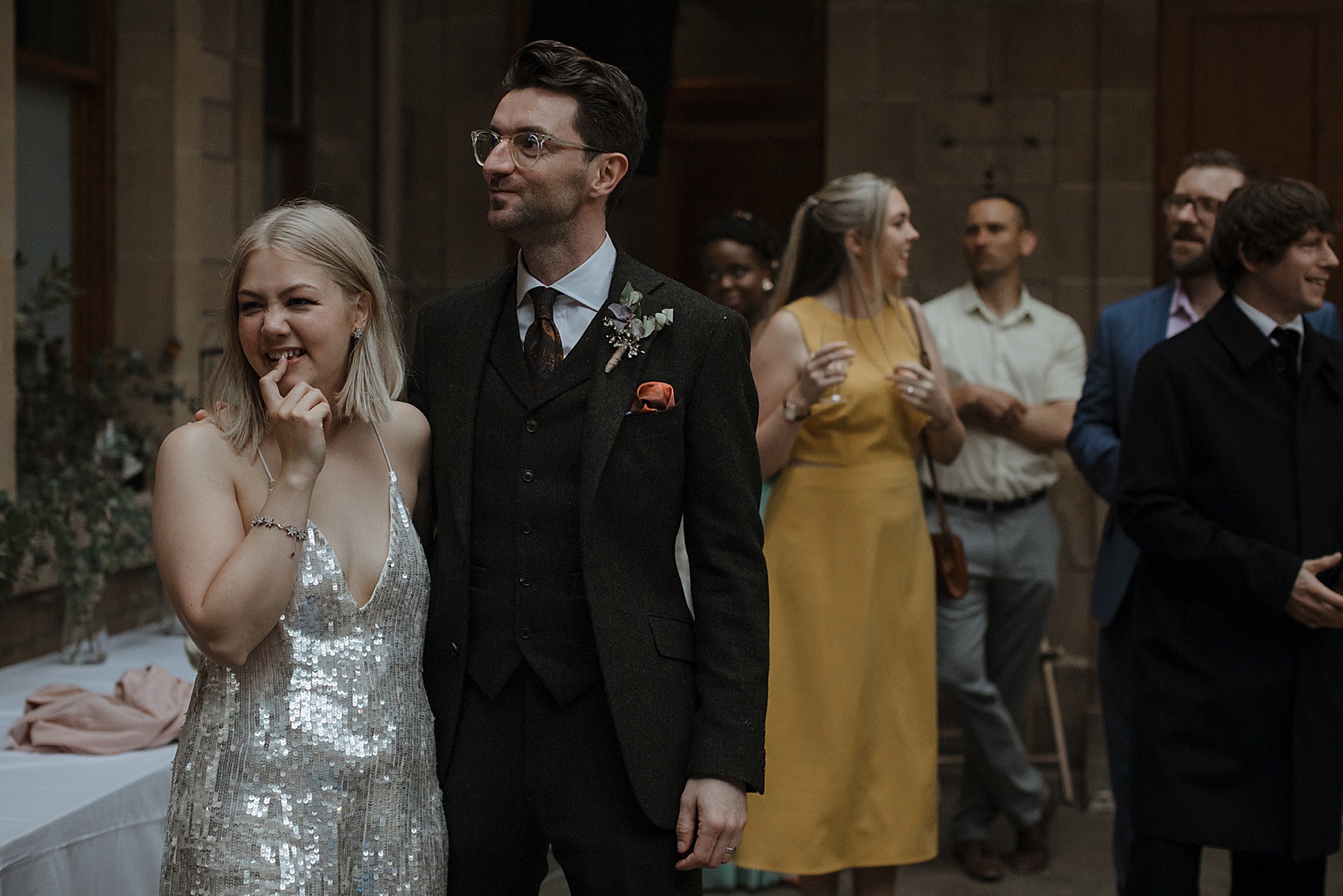 "Our first dance was This Must be the Place by Talking Heads. We both love Talking Heads, and it's a beautiful song. We didn't have a band, but we had several of our friends DJ, which kept the party going until about 5am. We DJ'ed a bit, too!"
"We loved seeing all of our friends and family in the same room, and the wedding beer we brewed with St. Andrews Brewing Co. that went down a treat! We also loved the late night disco. We were constrained by the weather as it rained all day, and had to move some elements inside, but we both think it worked better that way."
Words of Wedded Wisdom
"Choose three things that are the most important to you for your day, and build the day around that. We chose food, drink, music and company, and we knew these were things that we really wanted to focus on."
Becca and Zane, thank you so much; this has been lovely! Becca, I loved your beautiful ceremony dress and of course, your sparkly evening jumpsuit, too. As always, huge thanks to the brilliant Caro Weiss for her exquisite collection of images.
Until next time.
With love,
Laura