Well folks, here we are – our final wedding feature of the year – and what a year it's been. It's been tough and devastating and heartbreaking, and now of course at the last minute, Christmas plans have changed for many of us.
All year too, of course, wedding plans have been constantly changing for so many couples, including those of the couple whose celebration we're sharing today. In fact, they were married less than two weeks ago, and it's their intimate, joyful micro wedding that we have the great pleasure of closing out the year with today. Images by our long time Little Book Wedding Directory member, Richard Skins Photography.
Richard Skins Photography

+ Follow
Solicitors Rosie and Jonty were married on the 12 December 2020 at Elmore Court in Gloucestershire. You'll find this unique, exclusive use venue in our Little Book supplier directory, and with very good reason.
Elmore is a magical place – historic house, idyllic gardens and surroundings, and a contemporary, sustainably built celebration space, too.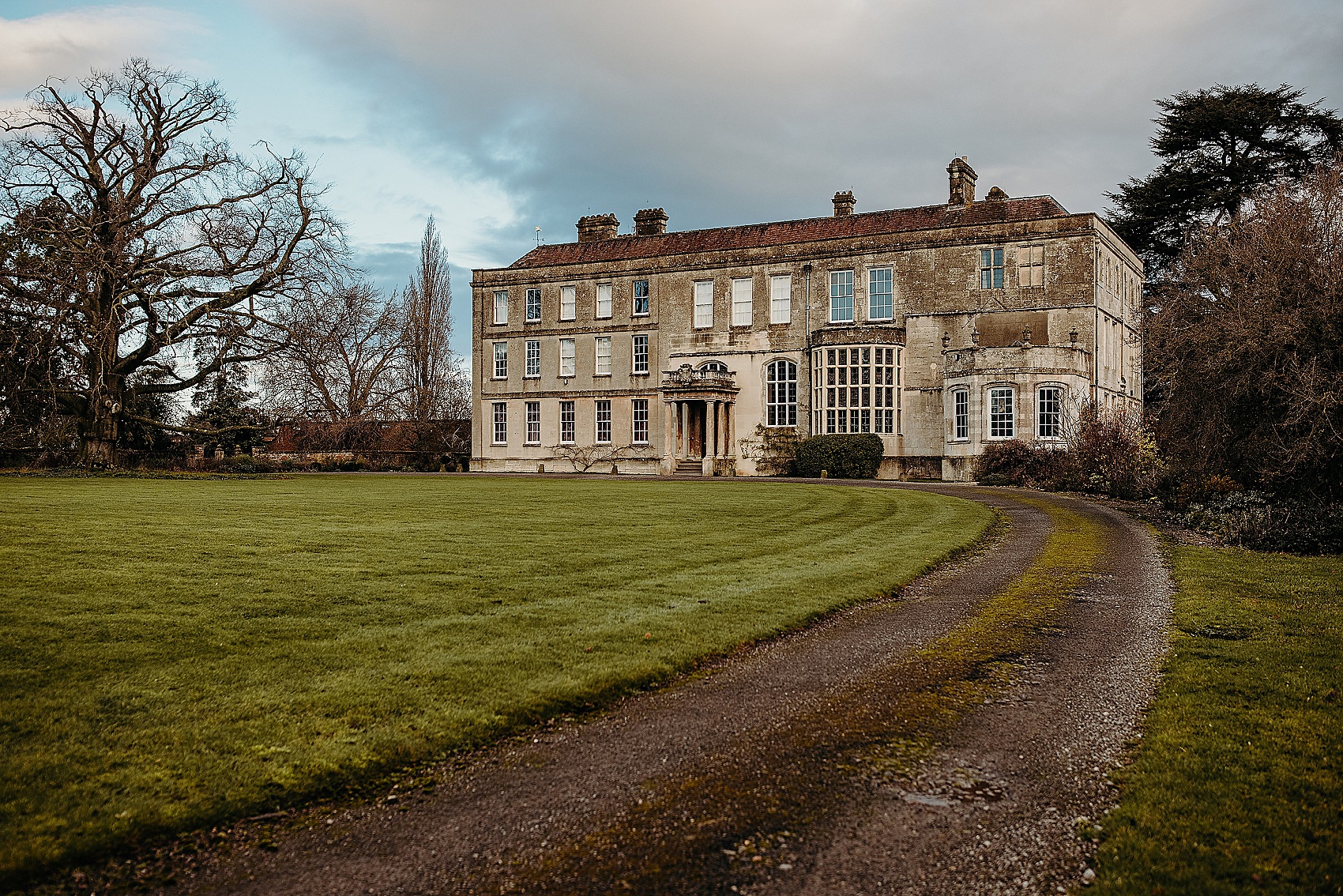 "We chose Elmore Court because it is the perfect blend of impressive country estate and perfect party venue, plus beautiful interiors and accommodation, amazing food and the most incredible staff to boot."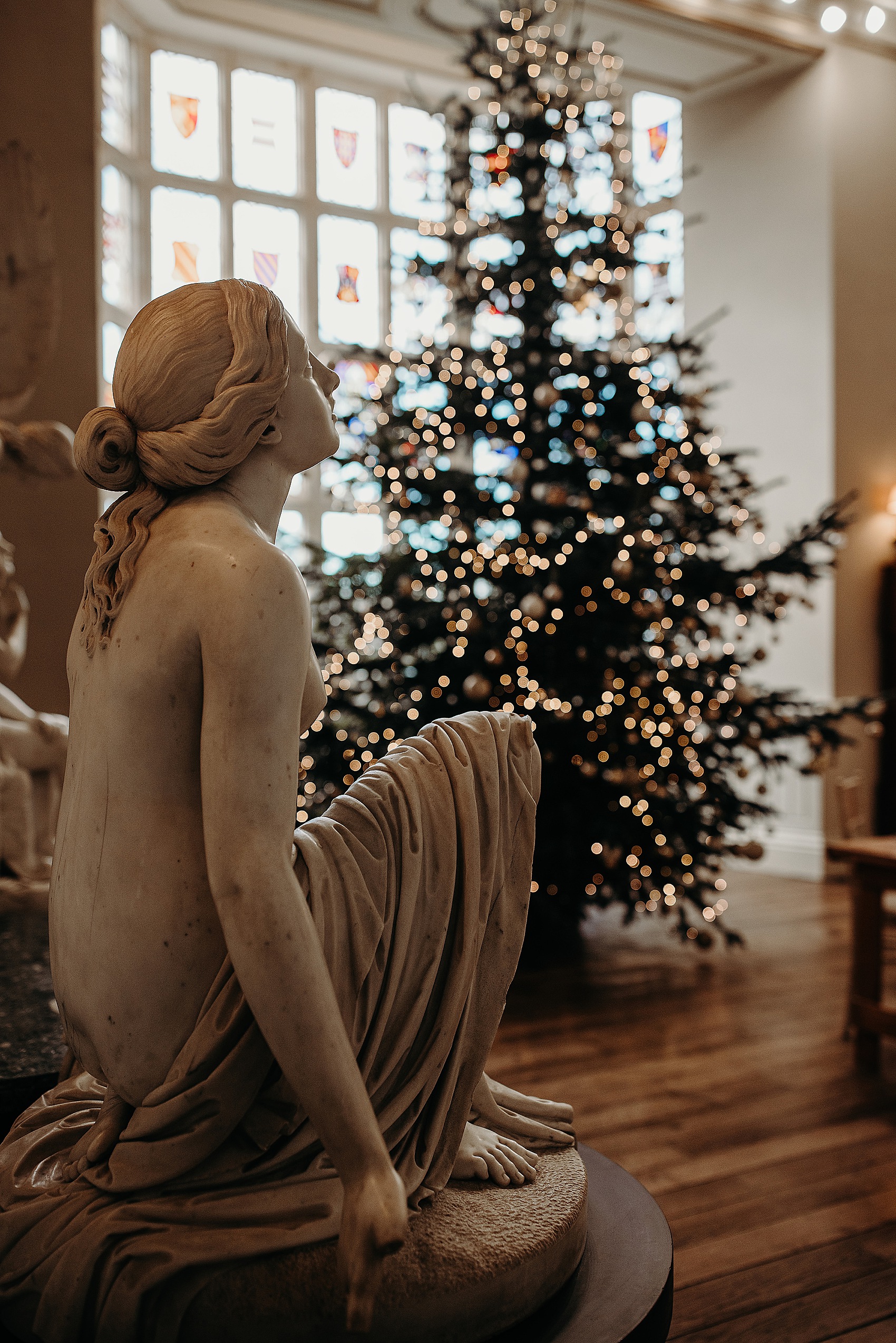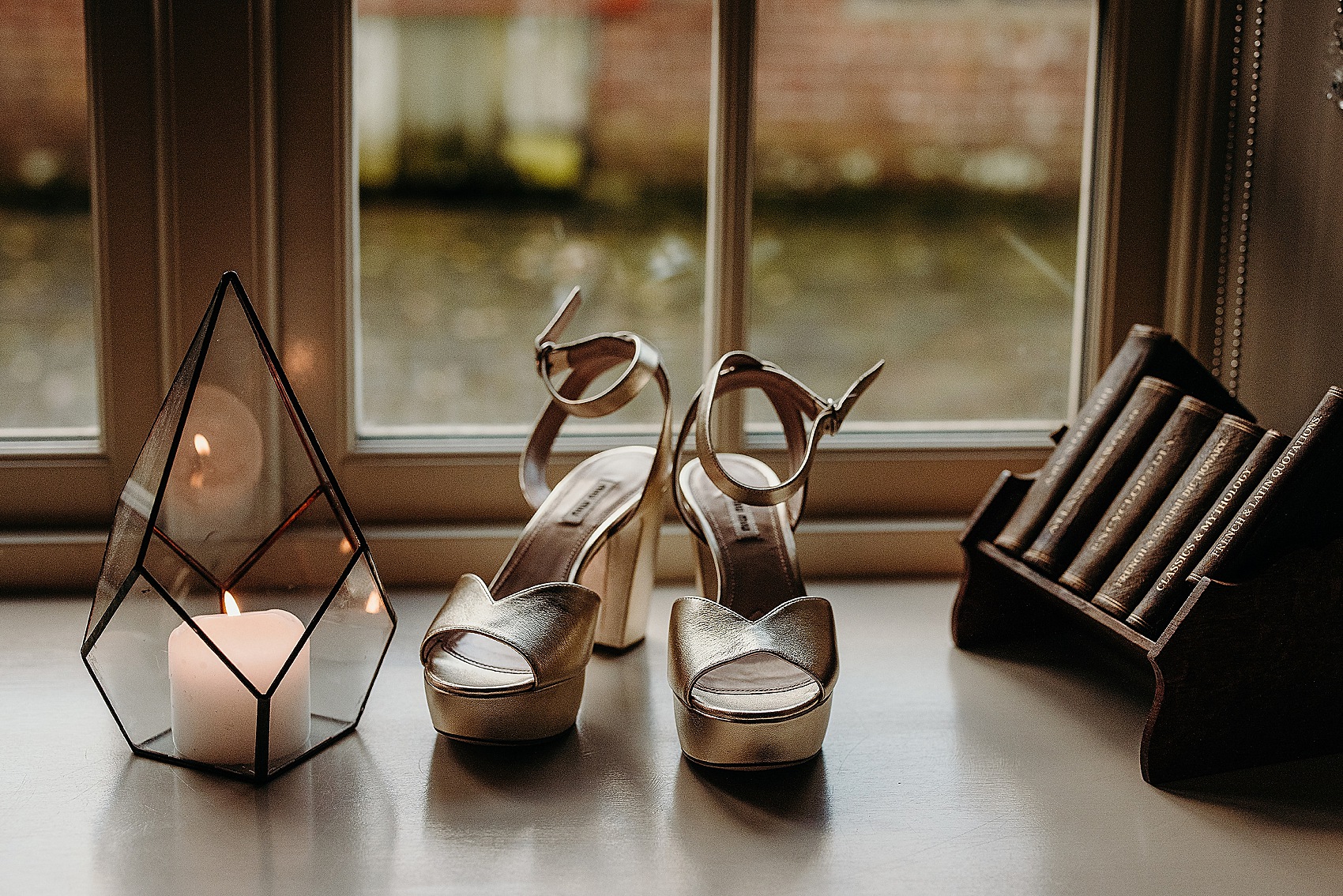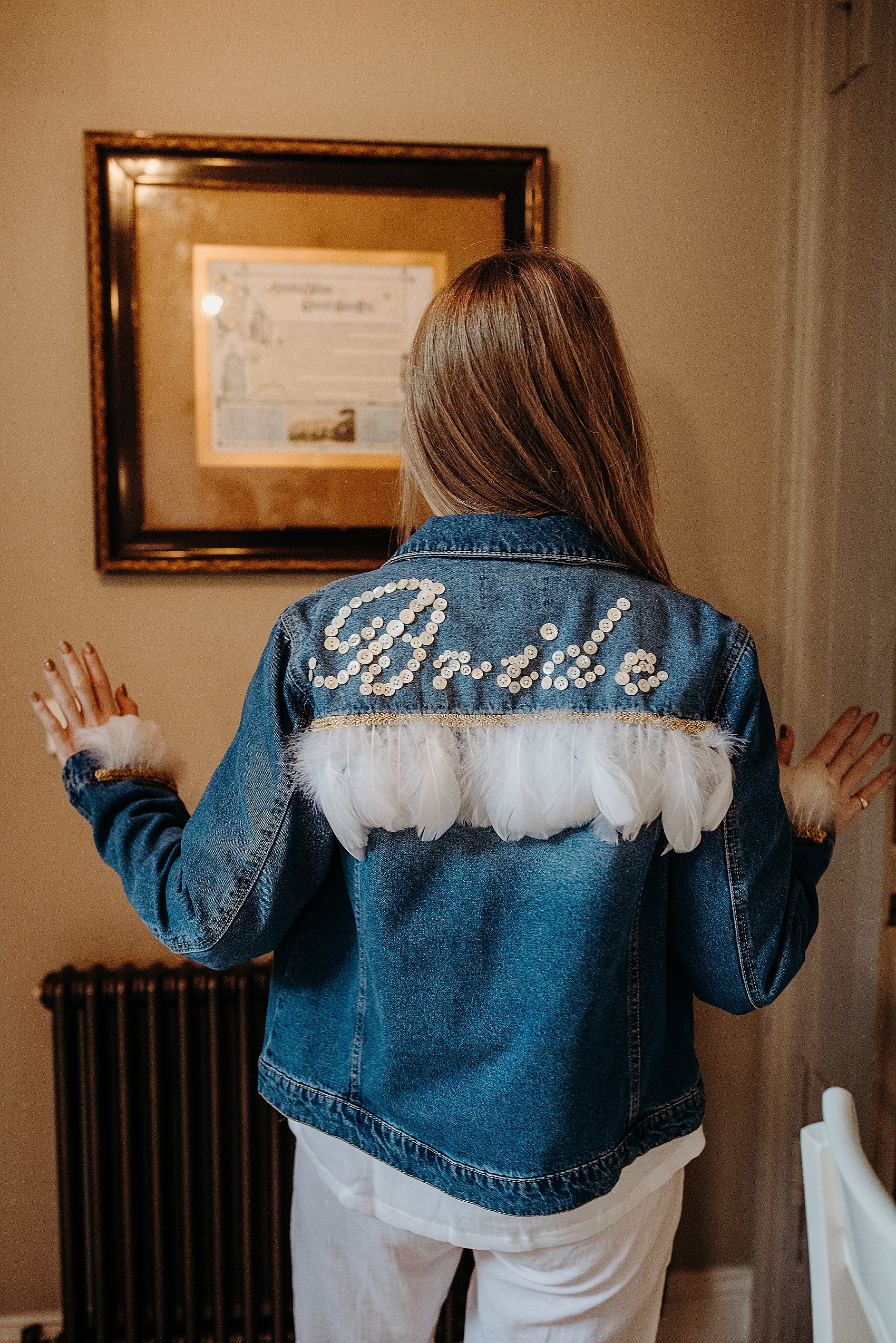 Radiantly beautiful bridal make-up for Rosie was by Stacey Lincoln, and her pretty half updo was styled by Laura Hart from Hart & Hart Harrogate. Rosie says both Stacey and Laura were 'the absolute best!' On her feet, Rosie wore gold platform sandals by Miu Miu.
"My dress was by Phillipa Lepley. I had the most incredible experience at the bridal shop, and over Zoom and on the phone. Special thanks to Laura who helped me choose my dress and veil and went above and beyond."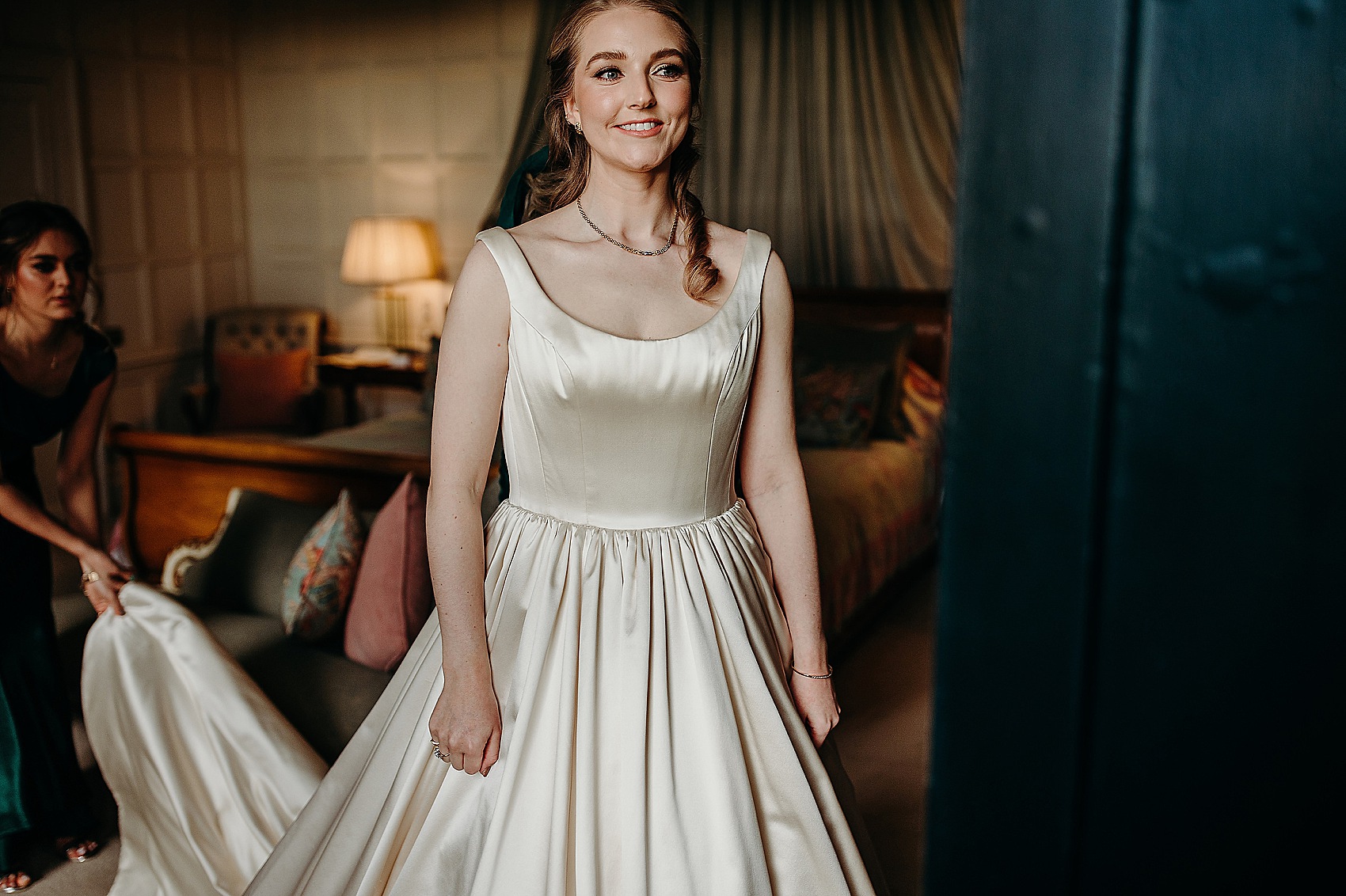 The bridesmaids looked festively lovely in deep forest green satin dresses in a variety of great styles by Ghost London, worn with green chiffon hair ribbons.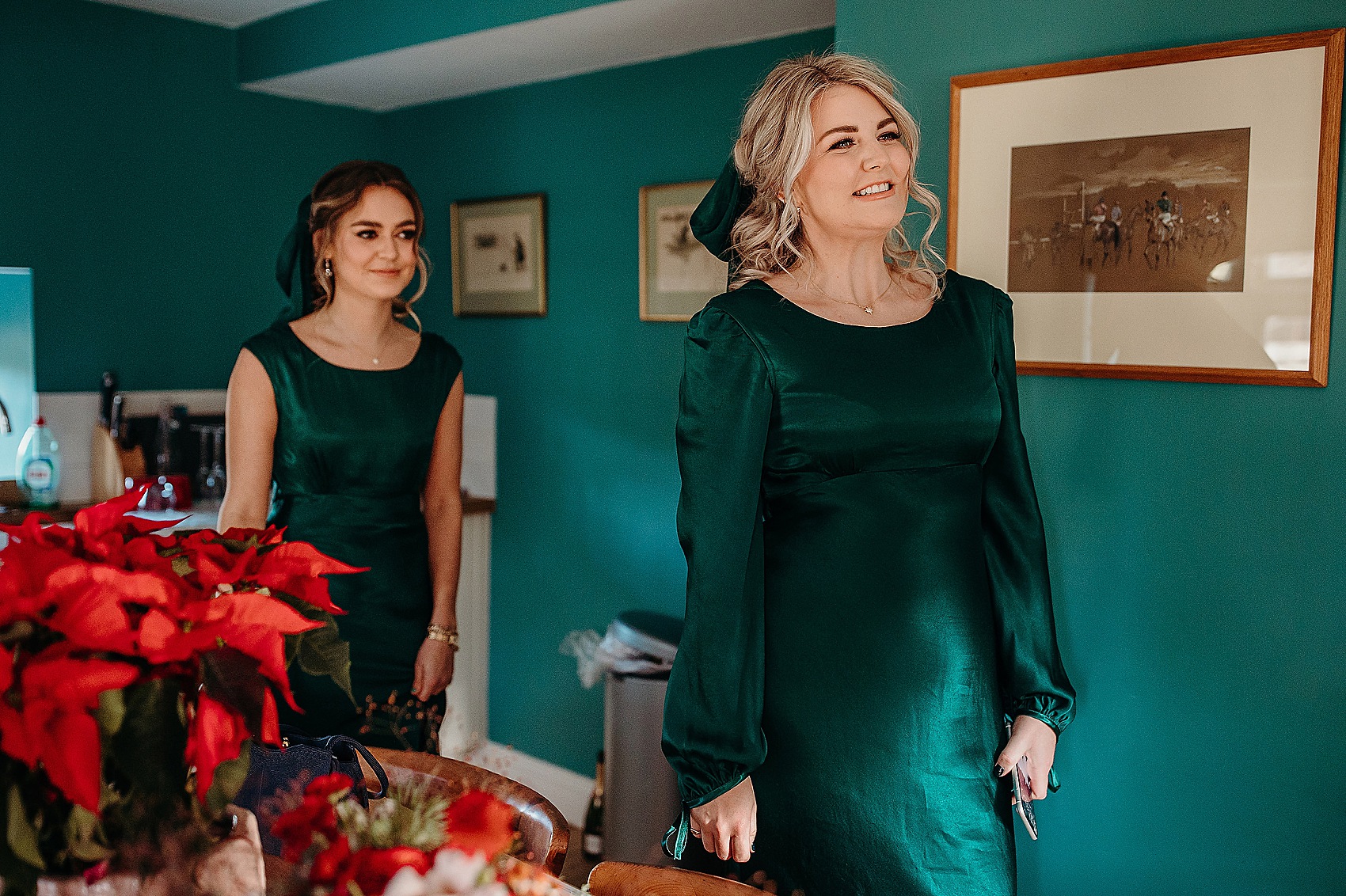 Rosie's dress was a simple yet spectacular creation of ivory silk, with a boned bodice with shoulder straps and a full, ballgown style skirt and dramatic train.
Looking at this dress, I can see little nods to the structured, full skirted styles of the mid to late eighteenth century, and Rosie looked absolutely wonderful.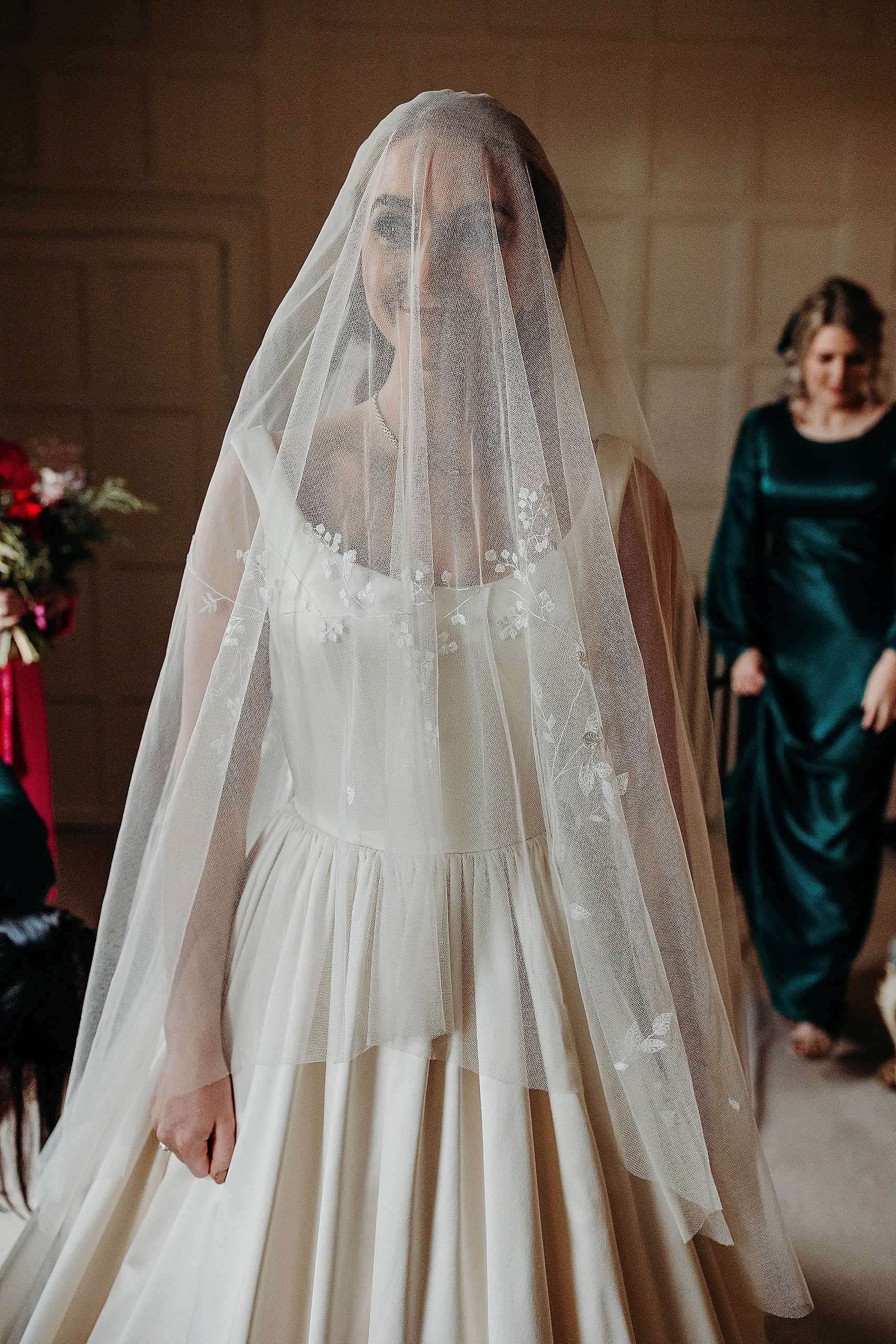 "I surprised myself and everyone else as I planned to wear a lace/ boho style dress, but quickly realised the ballgown suited my shape and the elegant style we wanted to achieve."
Rosie finished off her beautiful bridal look with a delicate floral embroidered, cathedral length blusher veil by Phillipa Lepley, and a little perfume – Another 13 by Le Labo.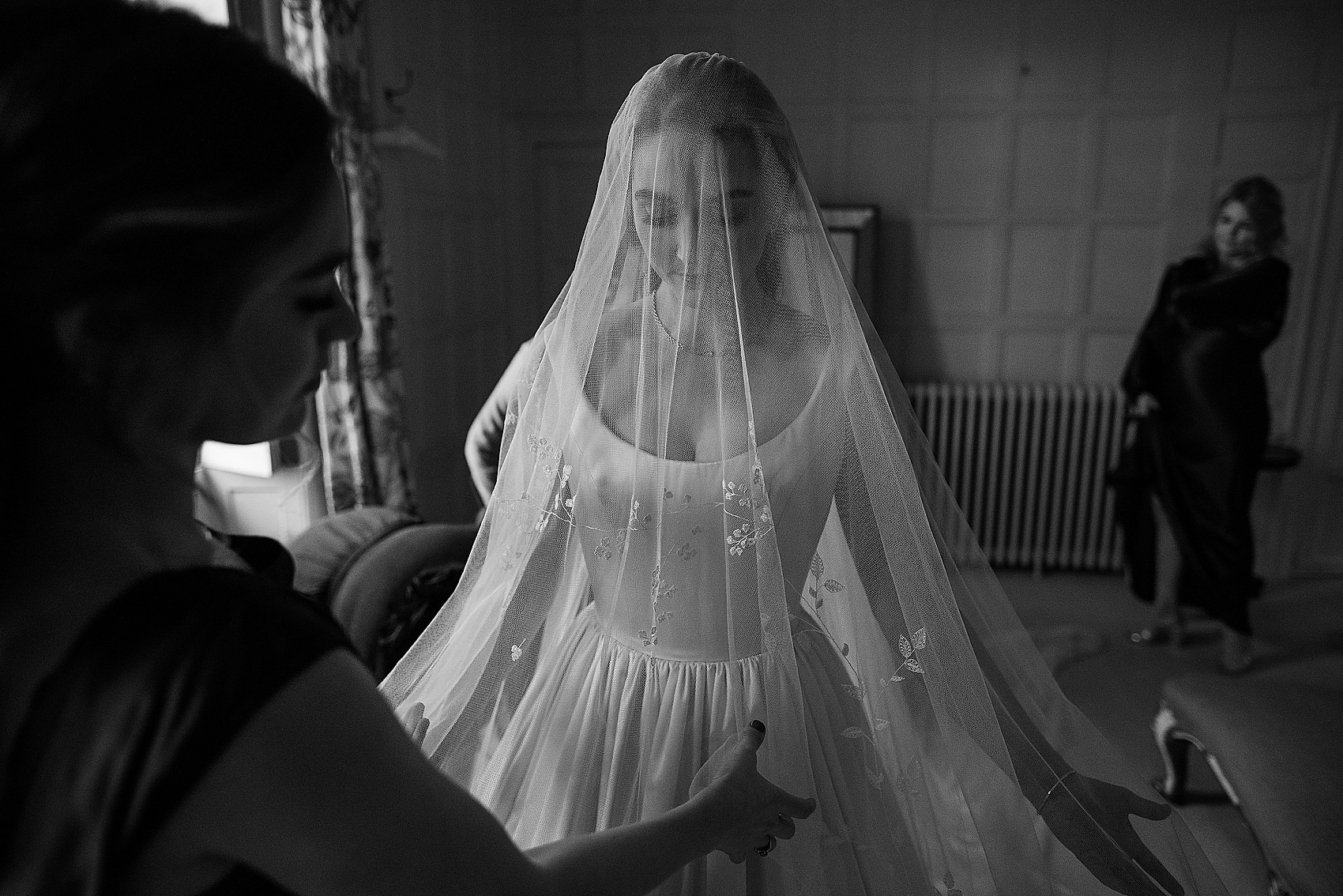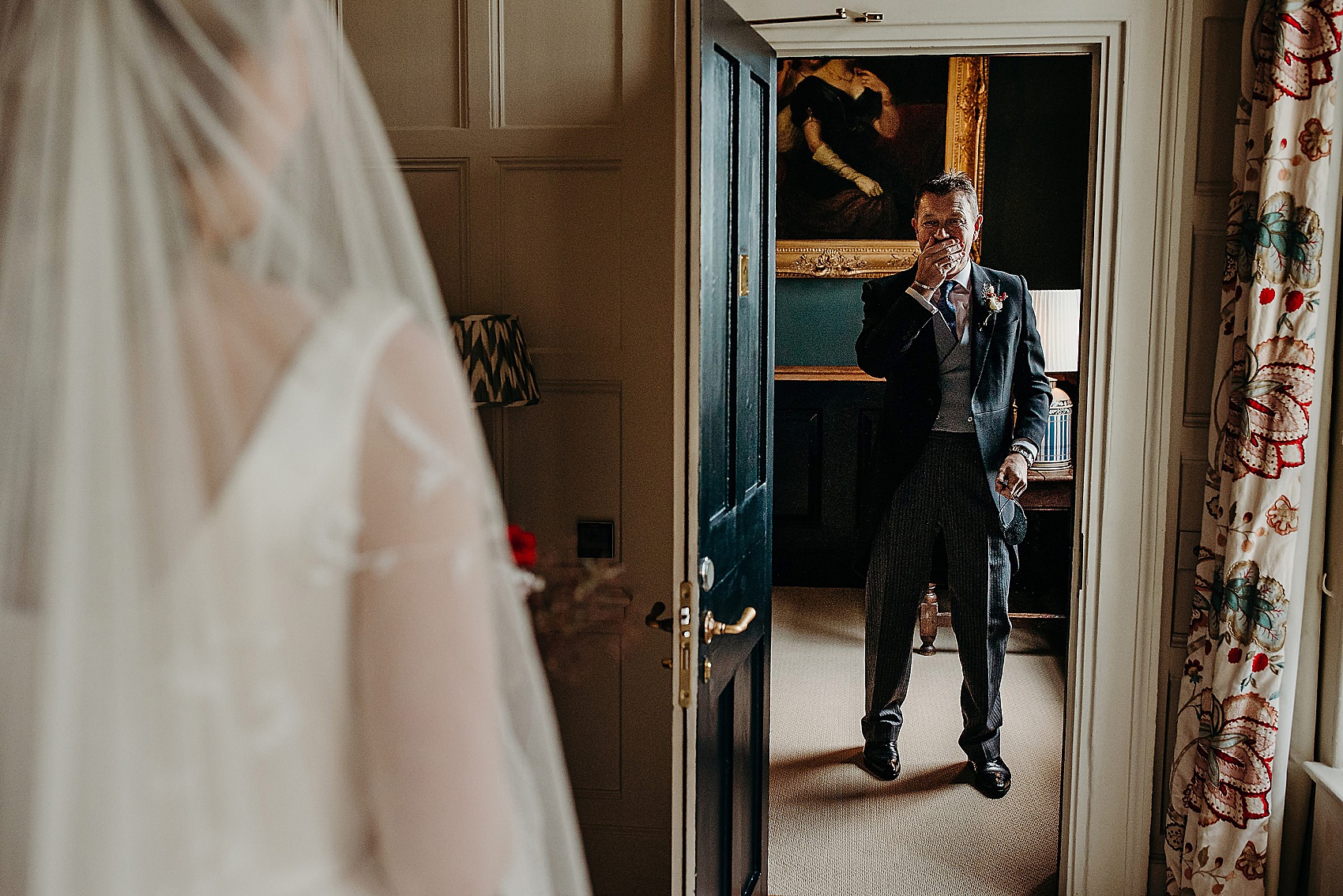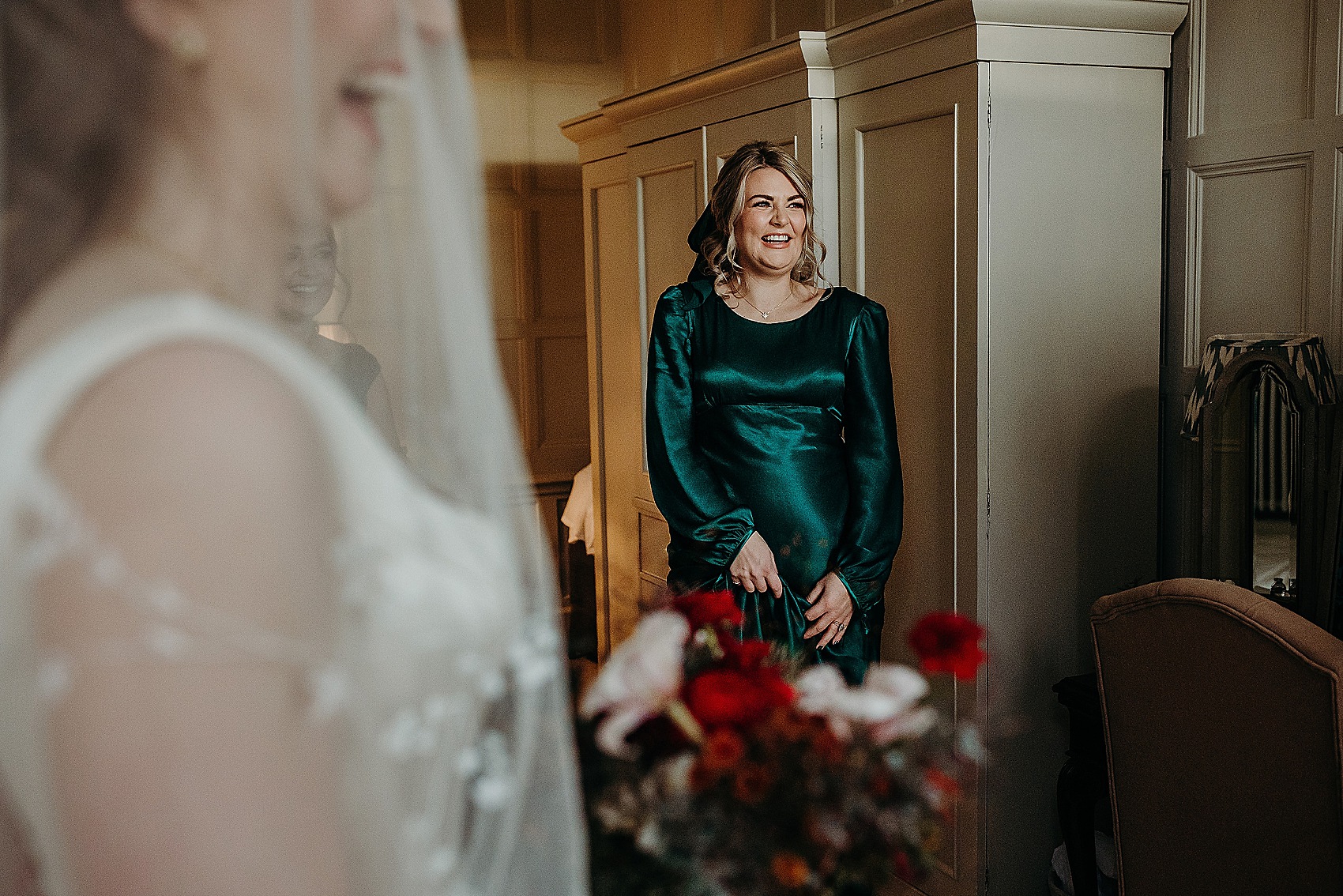 Jonty's choice of wedding attire was a smart and timeless morning suit from Yardsmen, which included charcoal grey pinstripe trousers and a light grey waistcoat worn with a red floral Liberty print silk tie.
"We met at work and were friends for a couple of years. We didn't see each other in a romantic sense until the stars aligned in around August 2018, and Jonty asked me out on a date. Jonty proposed one year later and the rest, they say, is history!"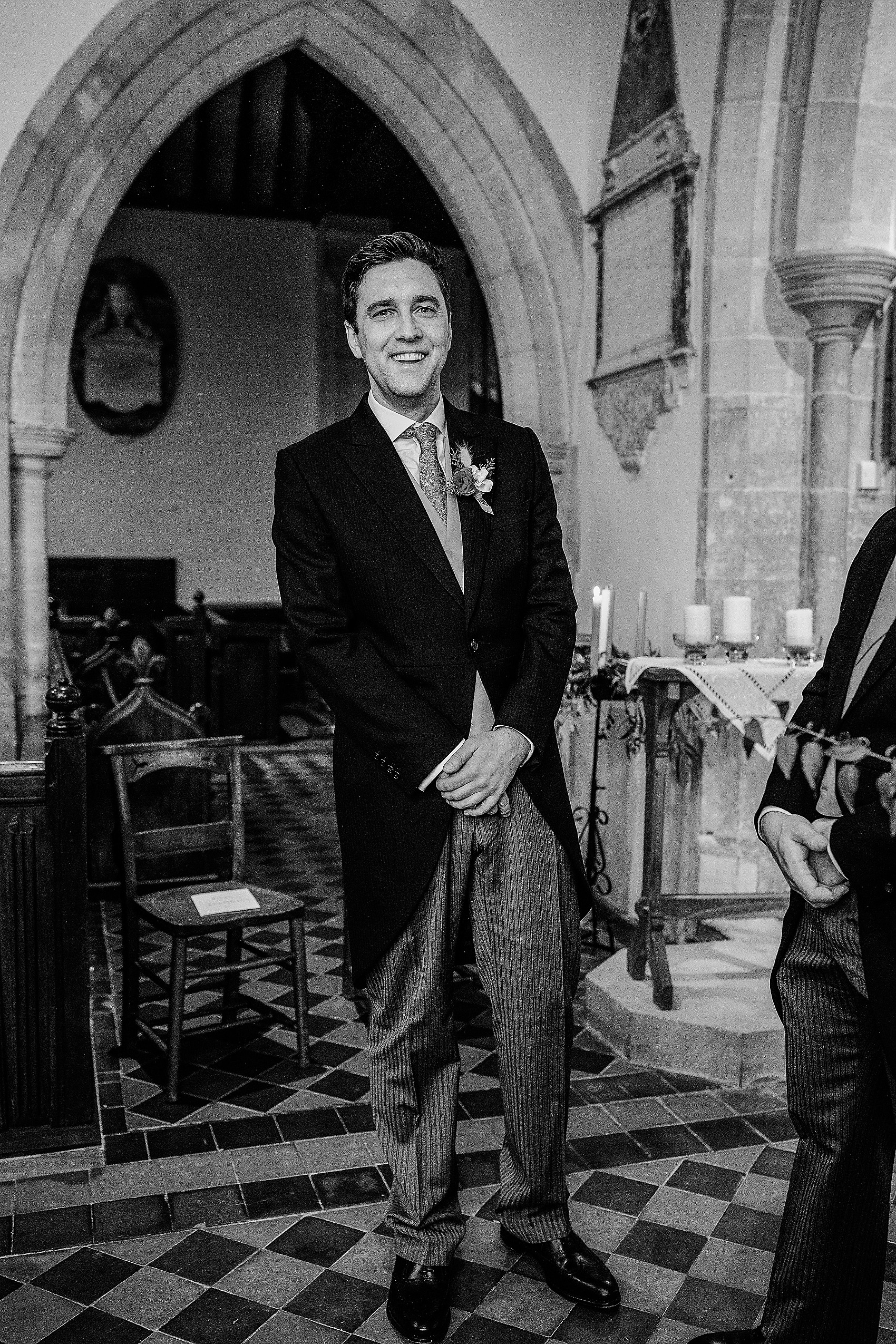 "We wanted to have a church wedding, a fabulous party, and to have a nod to Christmas! We were very lucky in one sense to be able to stick to our original wedding date; however, we had planned to have 160 guests at the wedding, and we ended up having a micro wedding."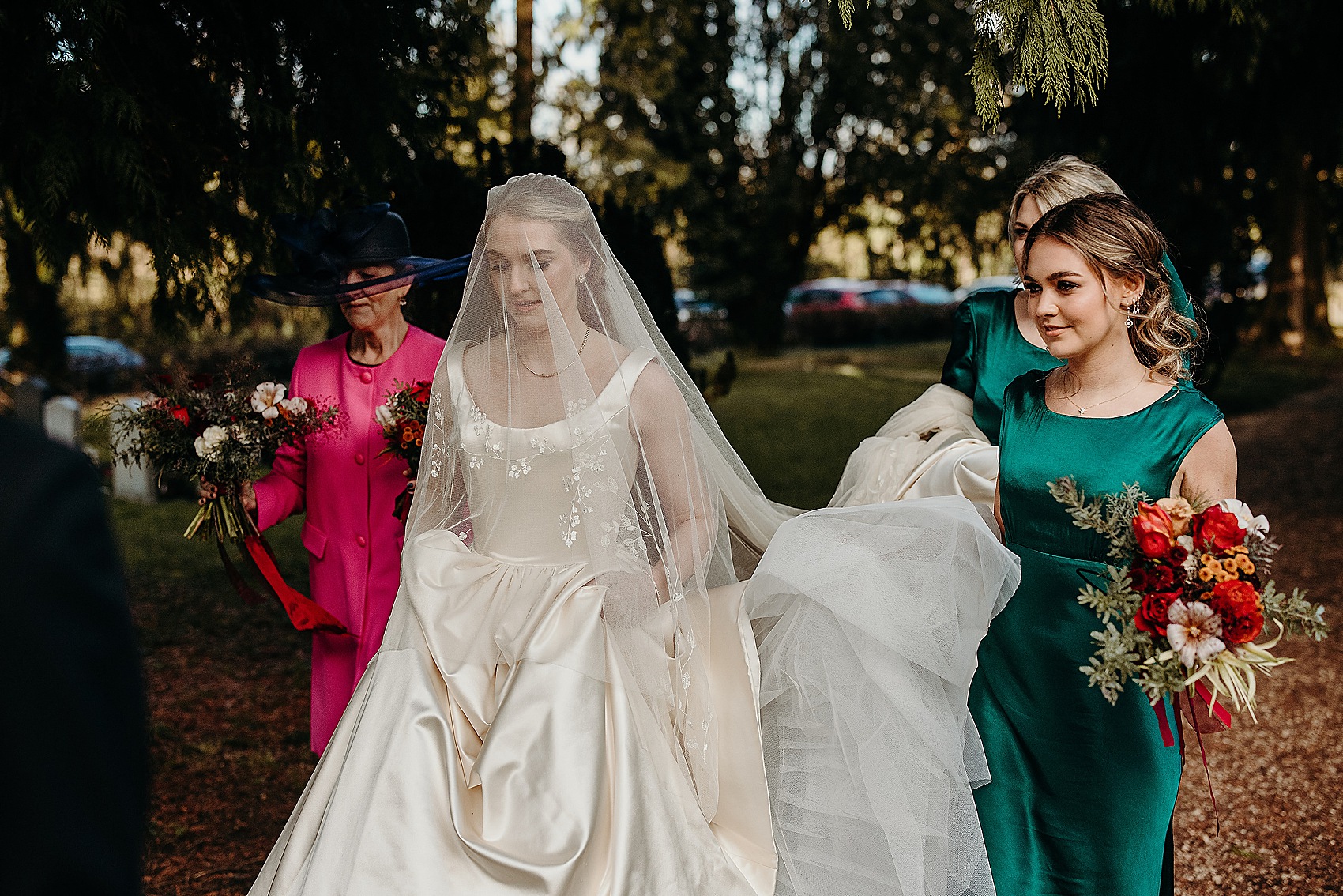 "It was extremely difficult to make the decision to go ahead without some of our closest family and friends being there, but we wanted to get married and we plan to have a big party in future to celebrate with everyone that couldn't be there."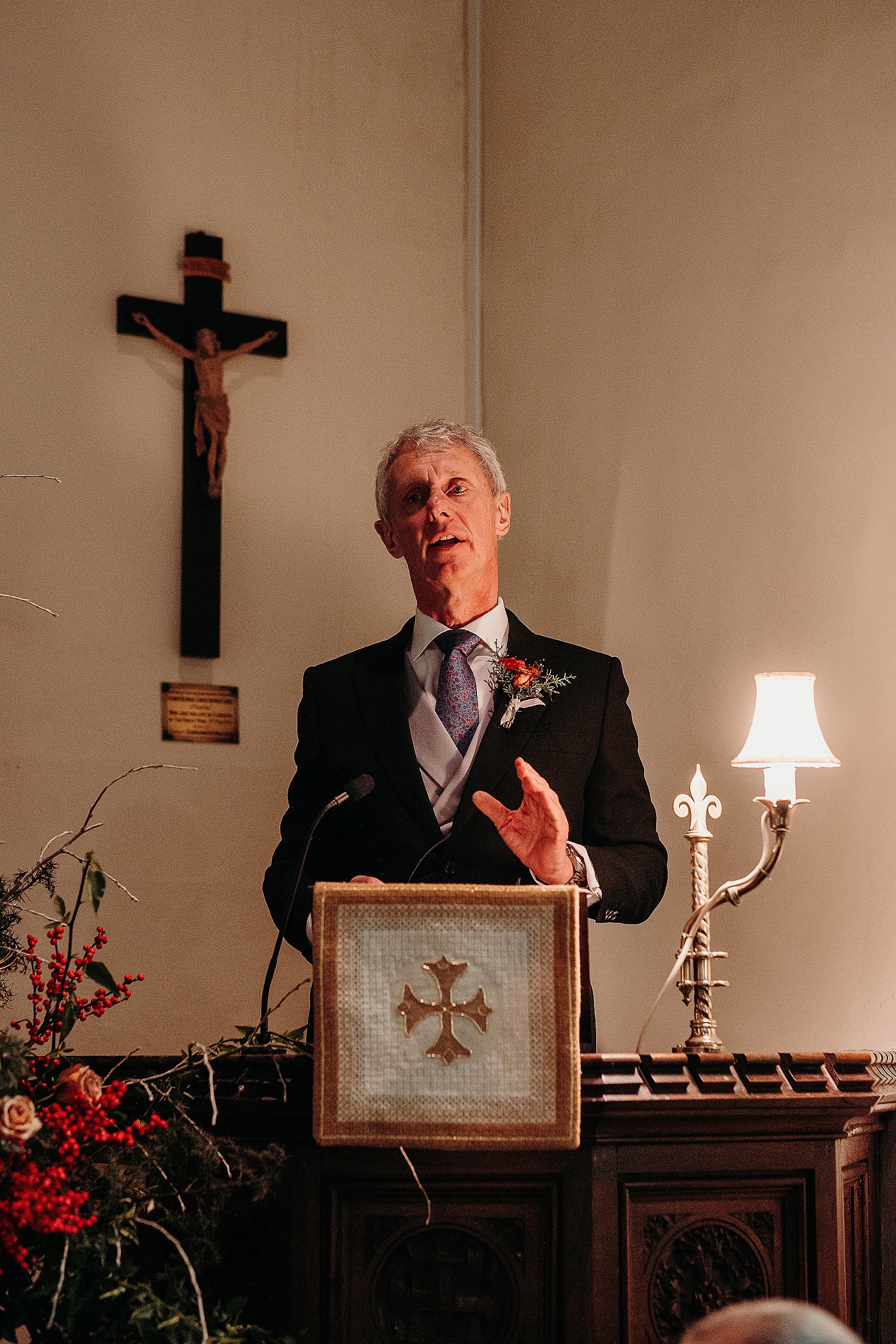 Rosie and Jonty held their ceremony at the medieval church of St. John the Baptist in the village of Elmore, and it was decorated beautifully for the occasion with candles and wild, jewel-toned flowers by Vervain.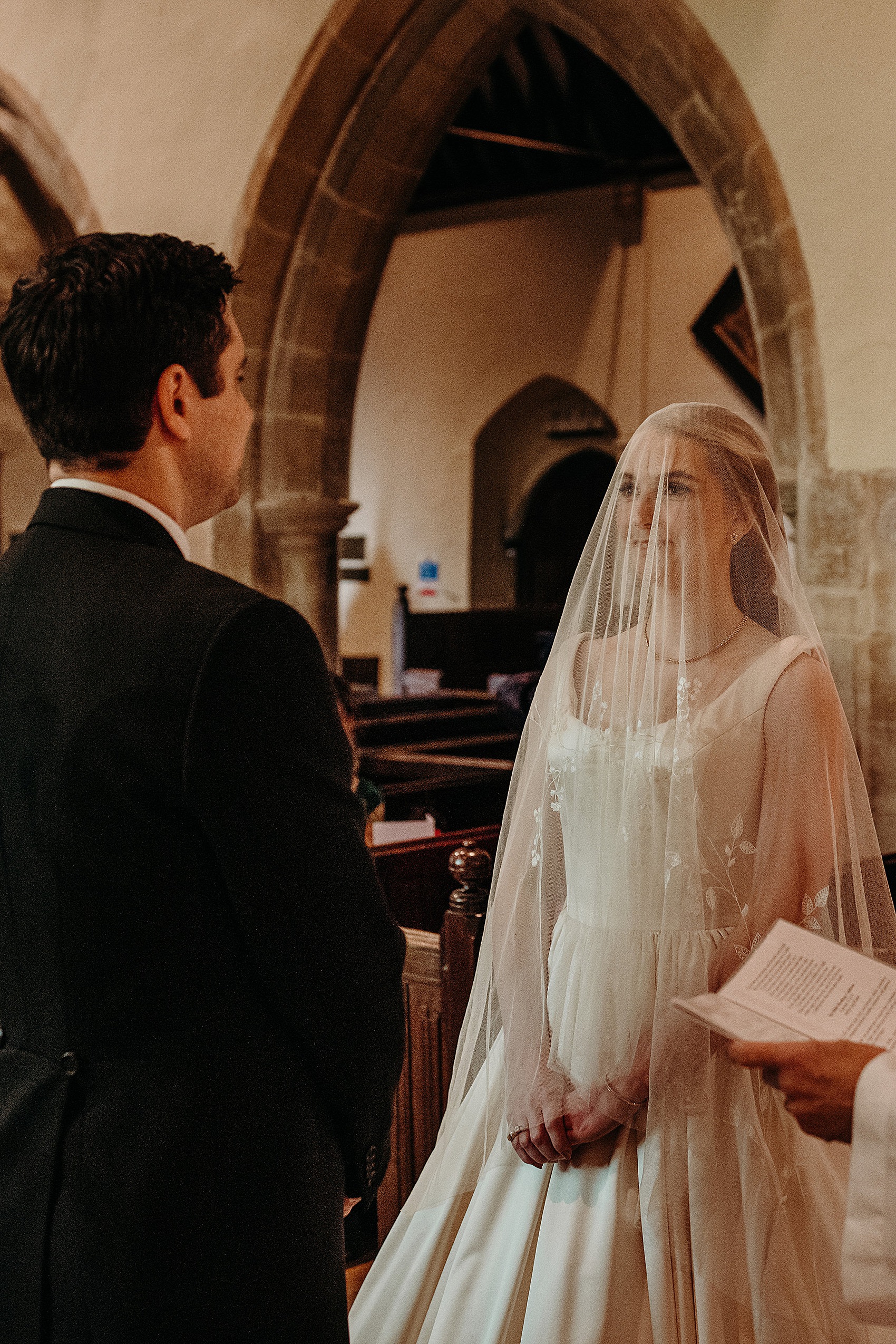 Jonty's favourite piece of classical music – Canon in D by Pachelbel played as Rosie and her father Anton made their way down the church aisle, where vicar George waited to begin the ceremony.
"The vicar did deliver a very personal sermon and referred his and Jonty's love of Charles Dickens, and how Dickens observed marriage in some of his work."
As they exchanged their vows, Rosie and Jonty further affirmed their love with wedding bands chosen at jewellers Ogden of Harrogate.
"They are a wonderful old jewellers in Harrogate, and the manager, Yvonne, is simply wonderful!"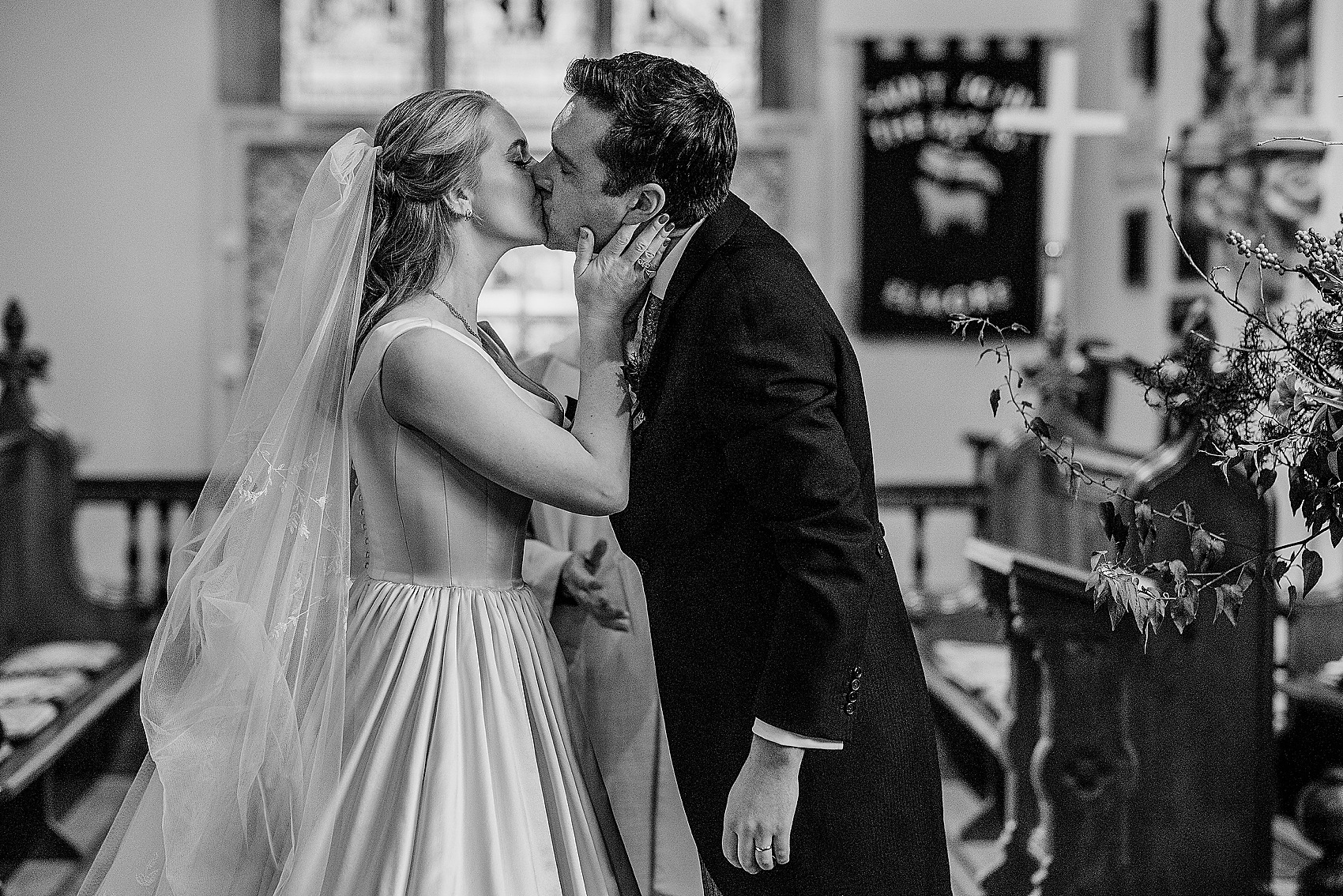 The ceremony was the couple's favourite part of the day; to be able to stand in front of their loved ones and speak their love and commitment to each other.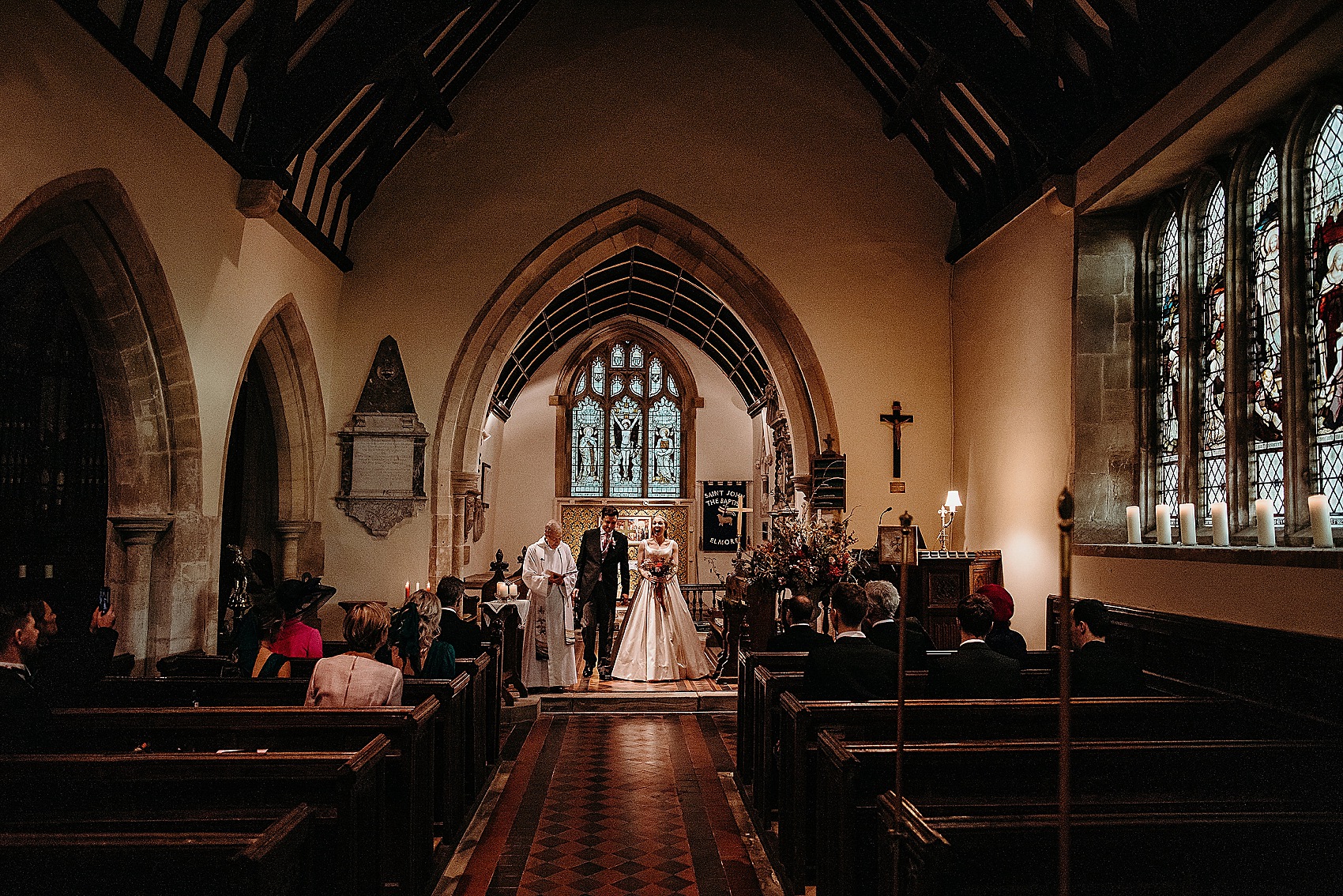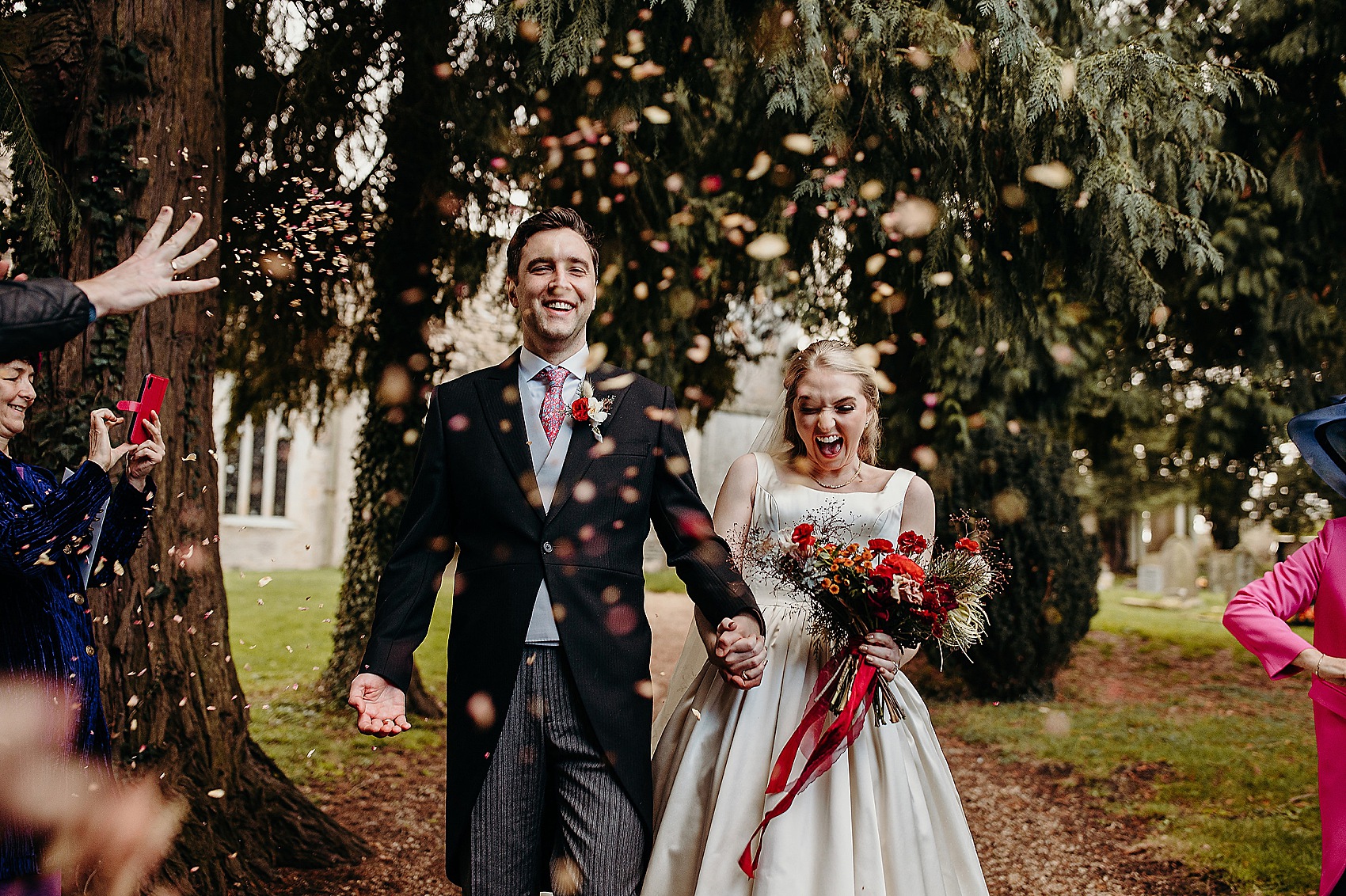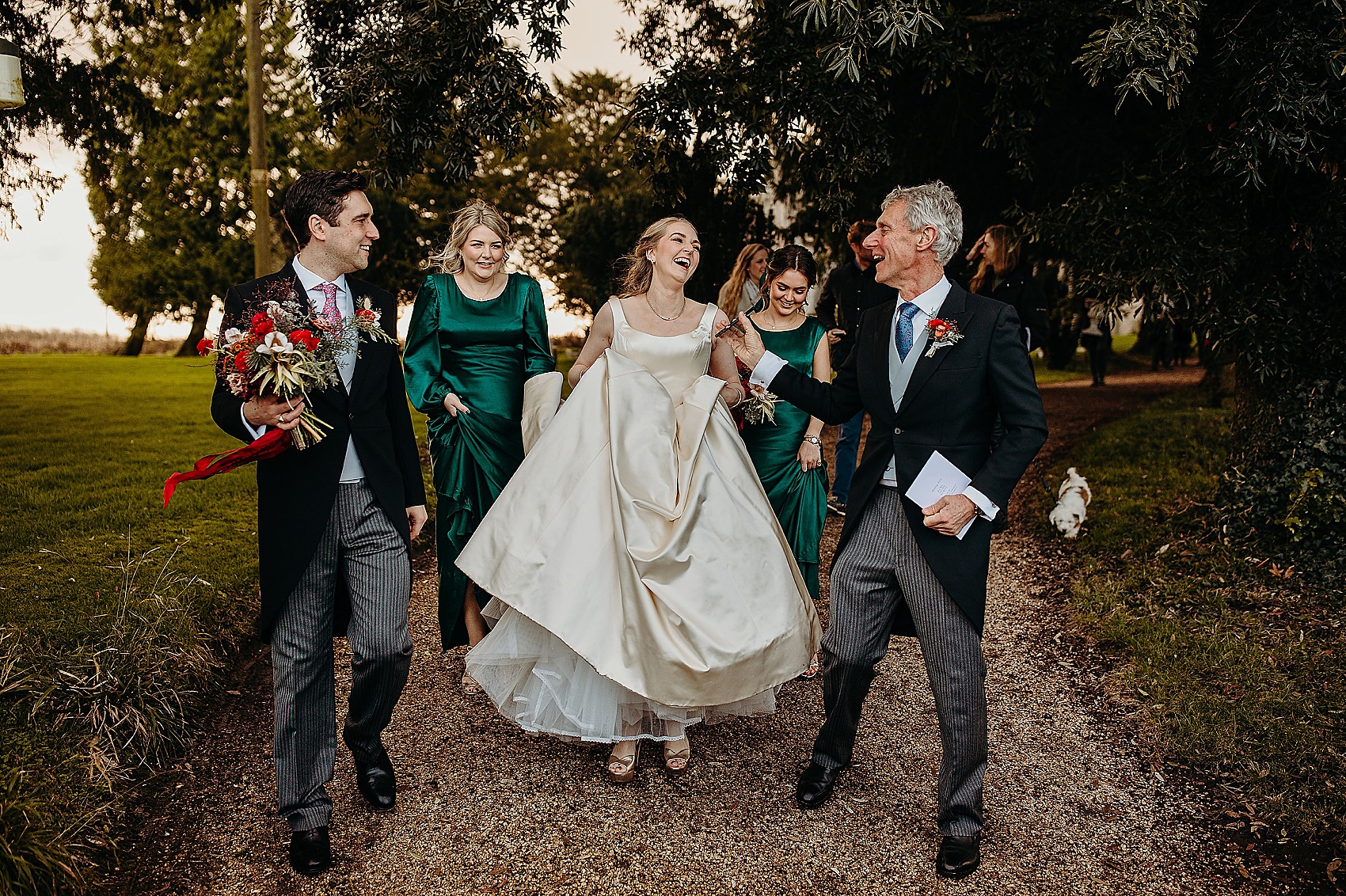 Wedding transport was provided by Kushi Cars, who have the cutest Indian Ambassador car; its bumper adorned with brightly coloured flowers.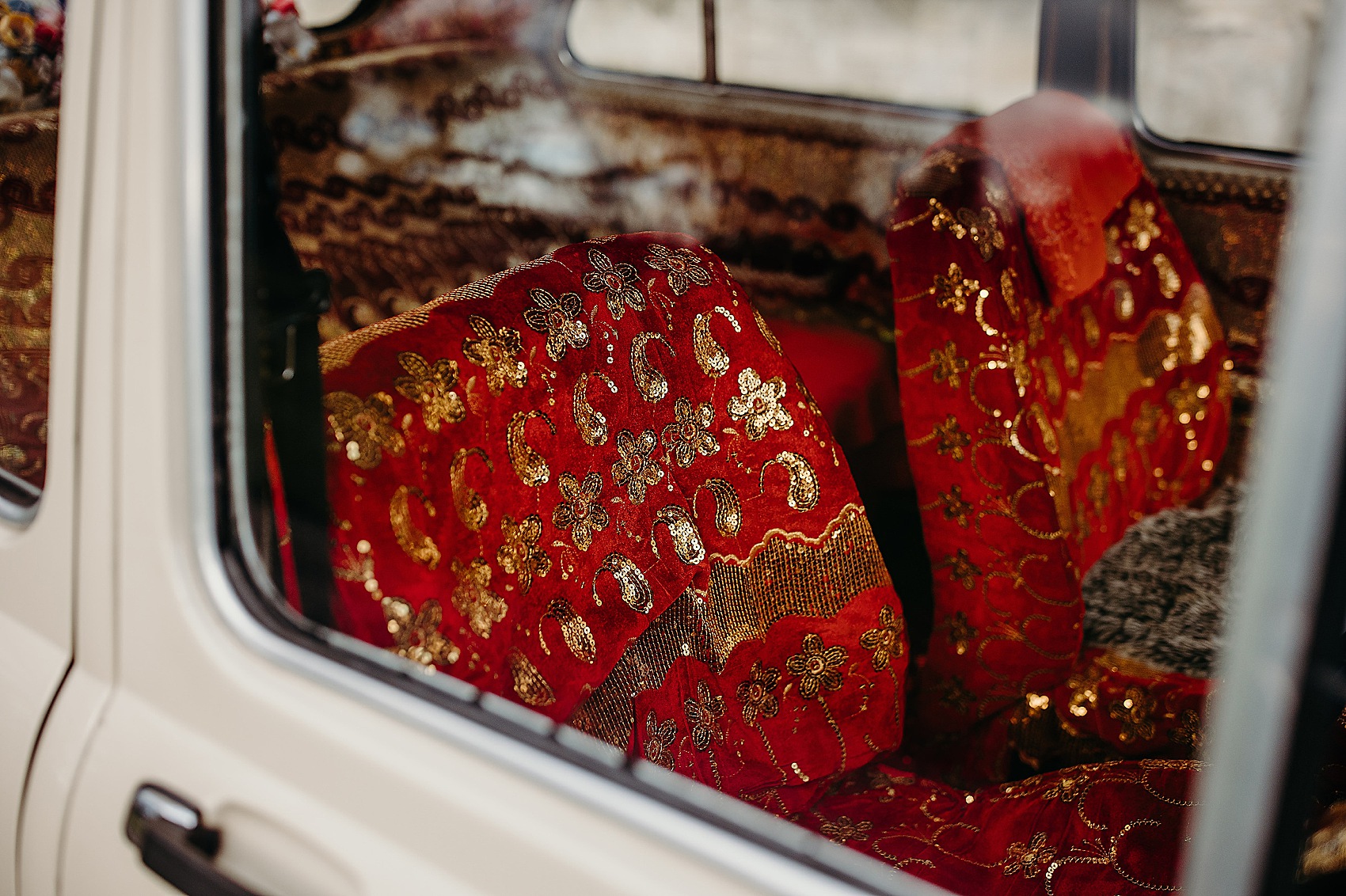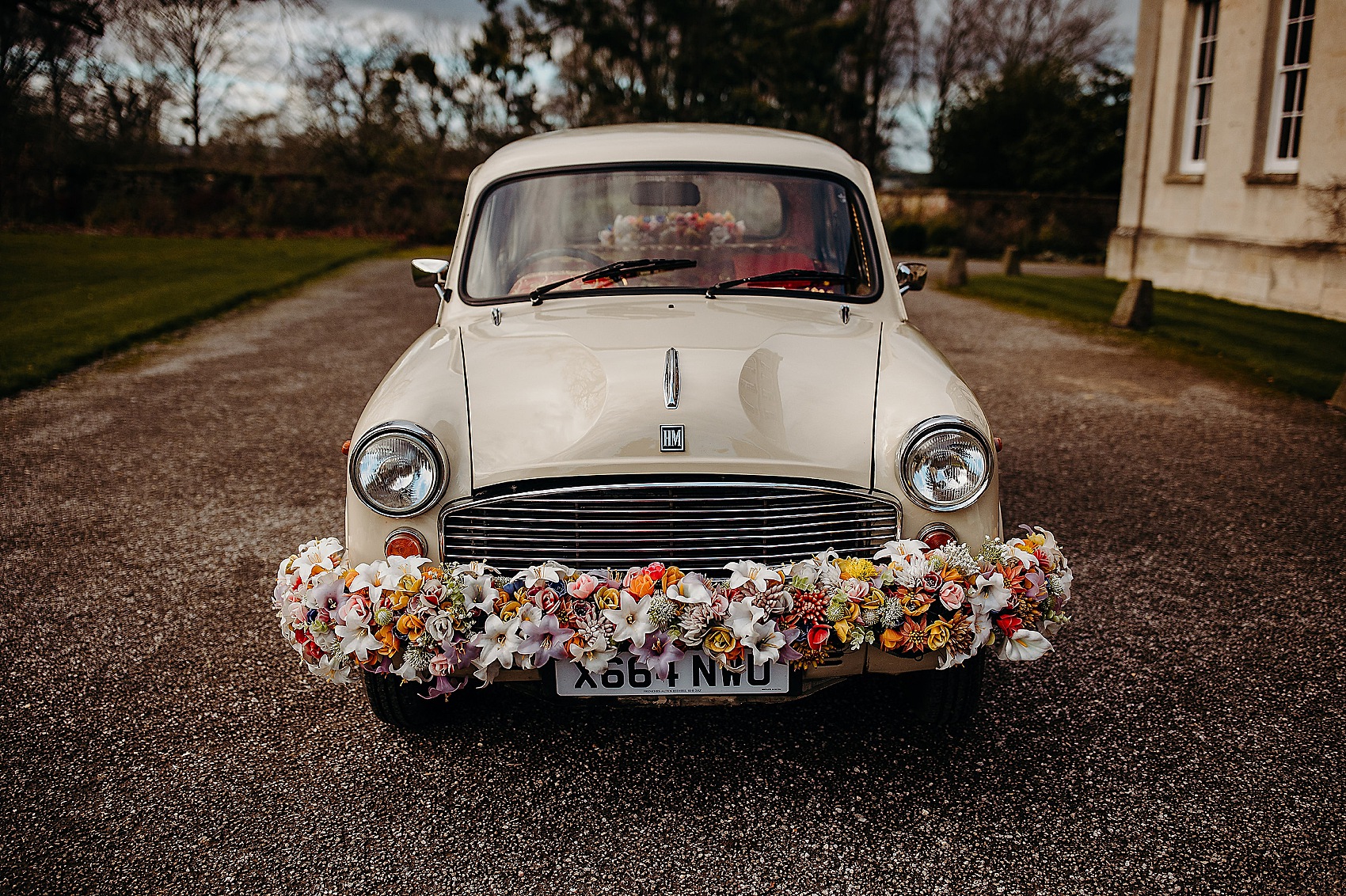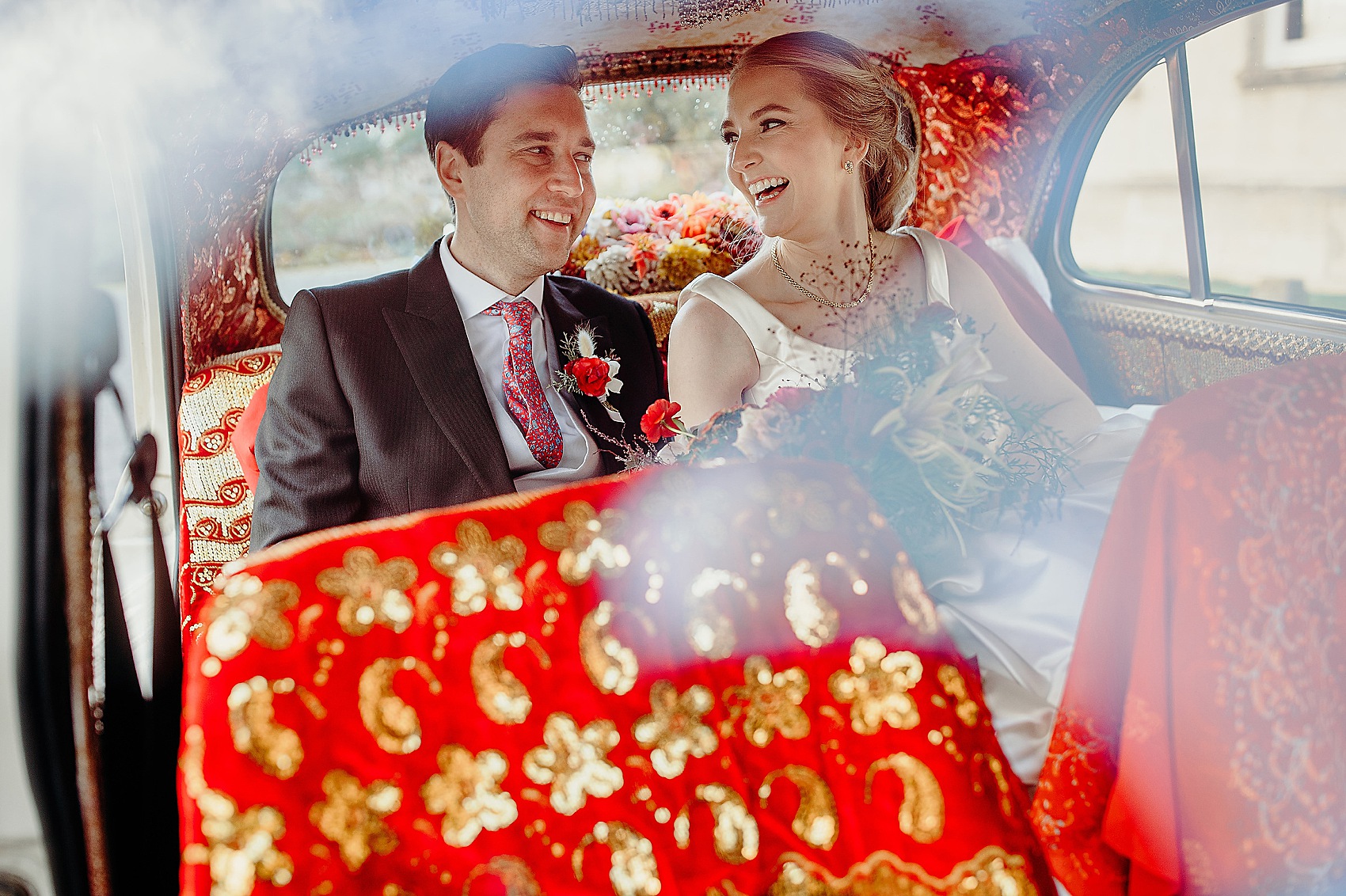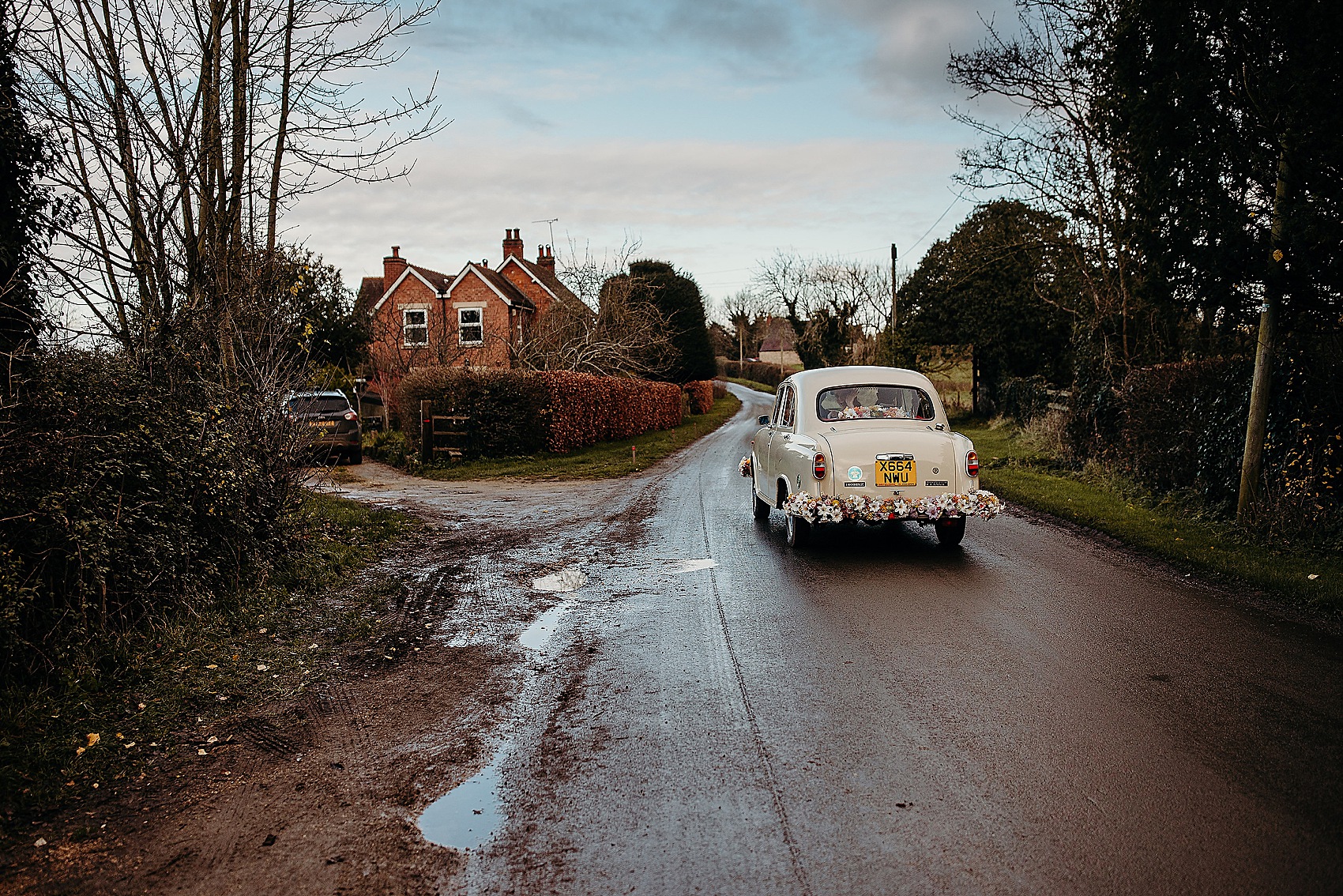 The couple worked with planner Rosie Green Events, who also recommended the excellent Richard Skins Photography to capture Rosie and Jonty's day in his signature candid, documentary style.
Richard is also part of our Little Book directory, and it's always a real pleasure to share his honest, emotive and elegant work on our pages.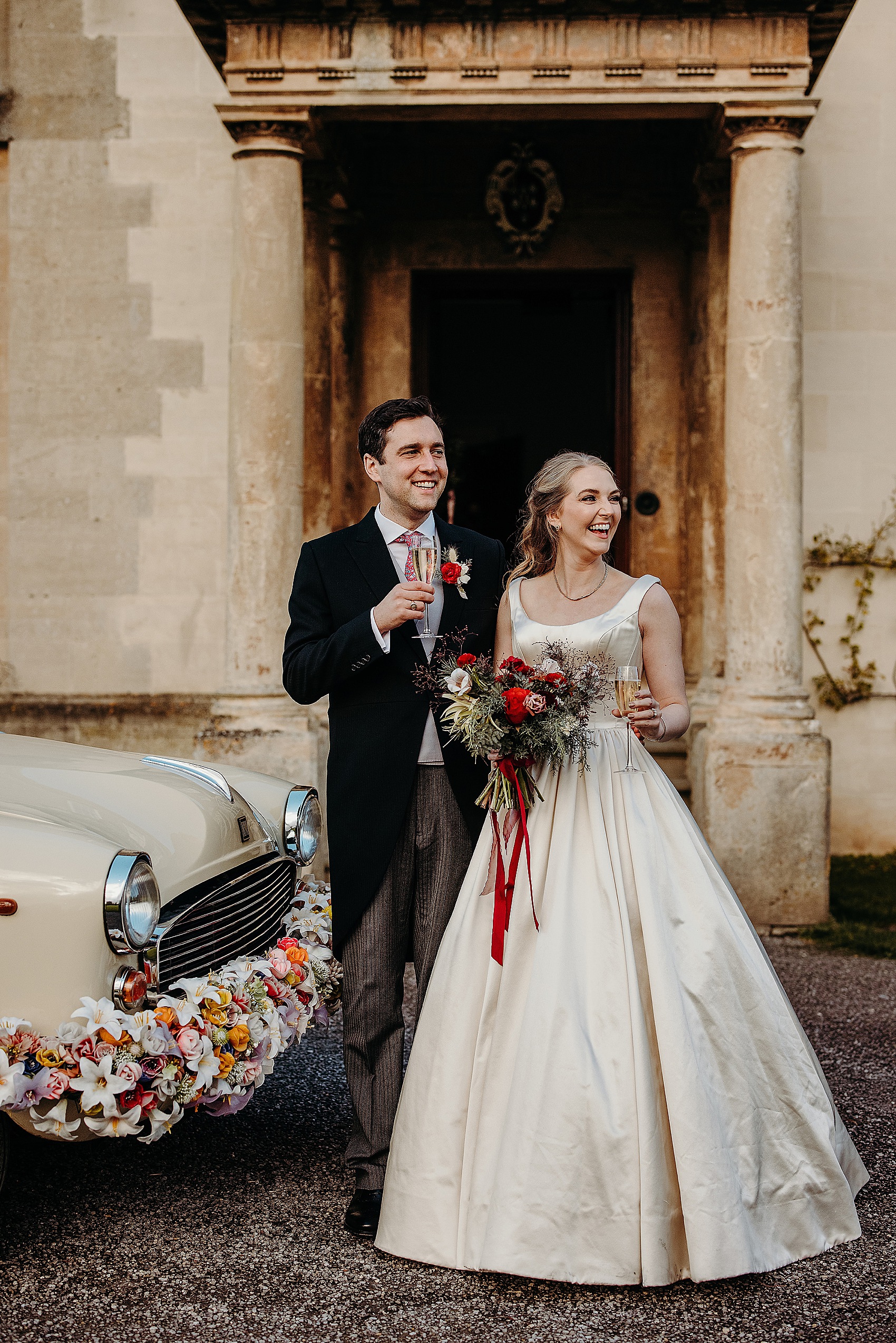 "We wanted documentary style photography, and Richard has been absolutely fantastic throughout – we cannot recommend him highly enough!"
"Our engagement shoot had to be postponed a few times due to Covid, so we met him for the first time on the day, but he instantly put us and everyone else at ease and was a joy to be around for the day."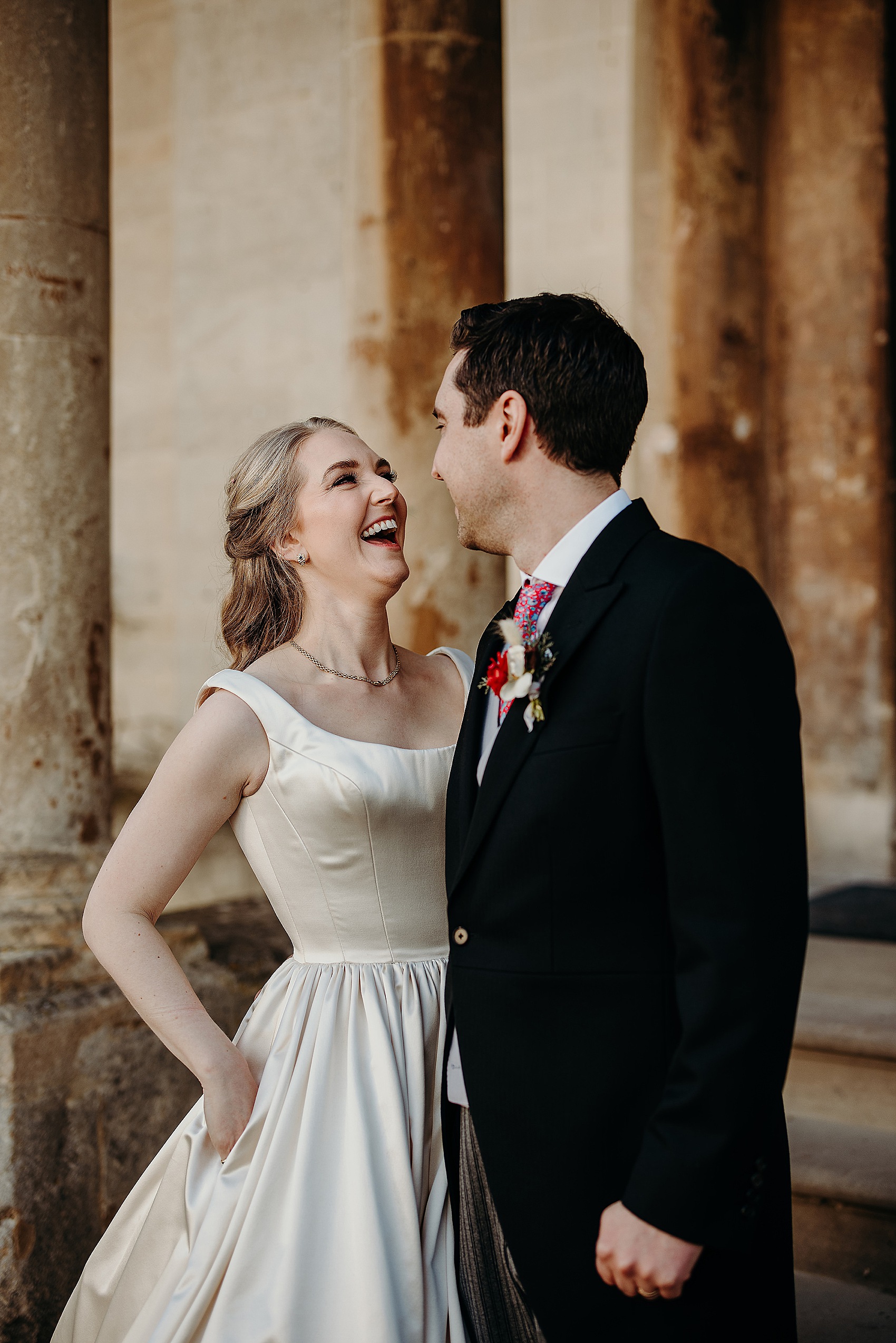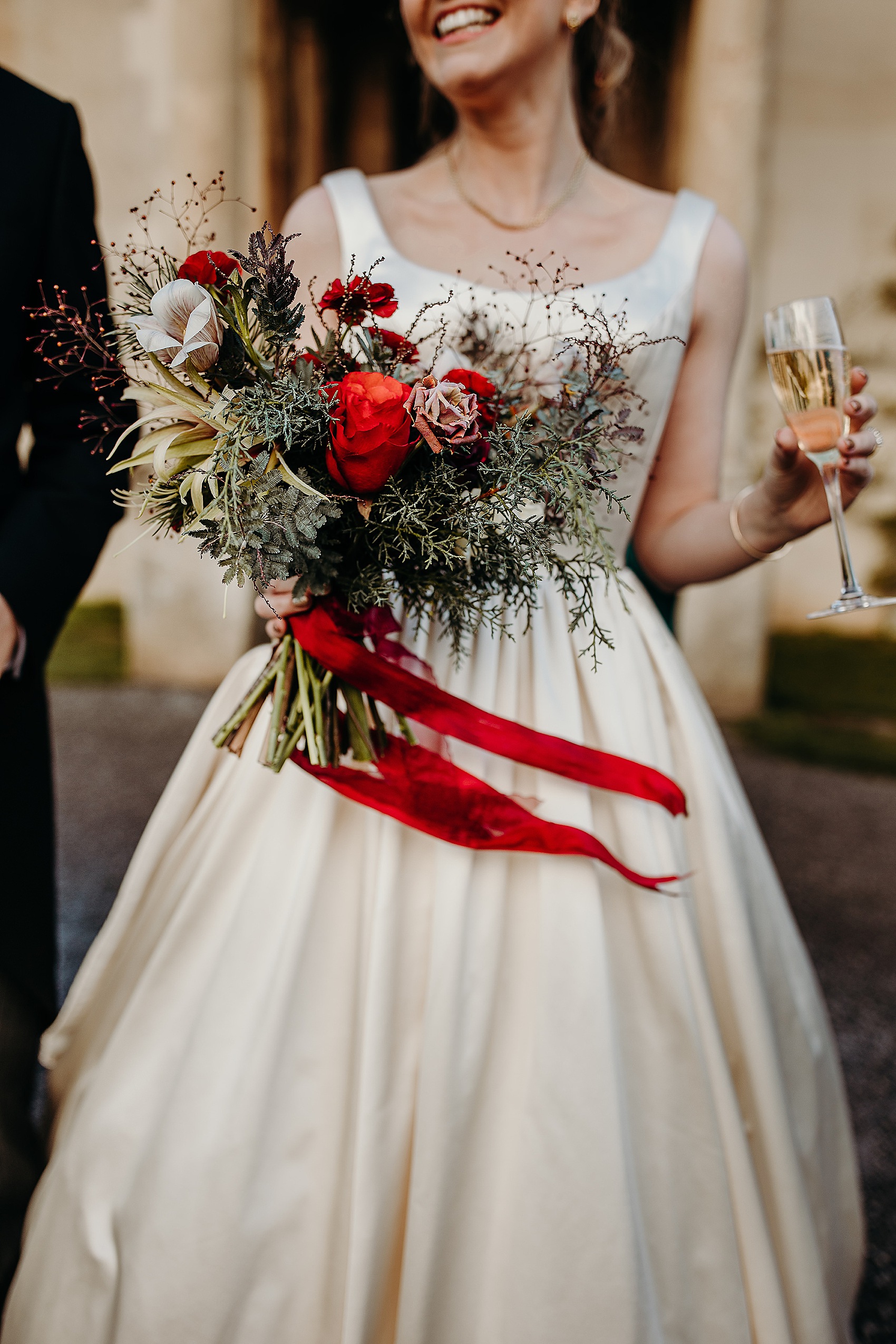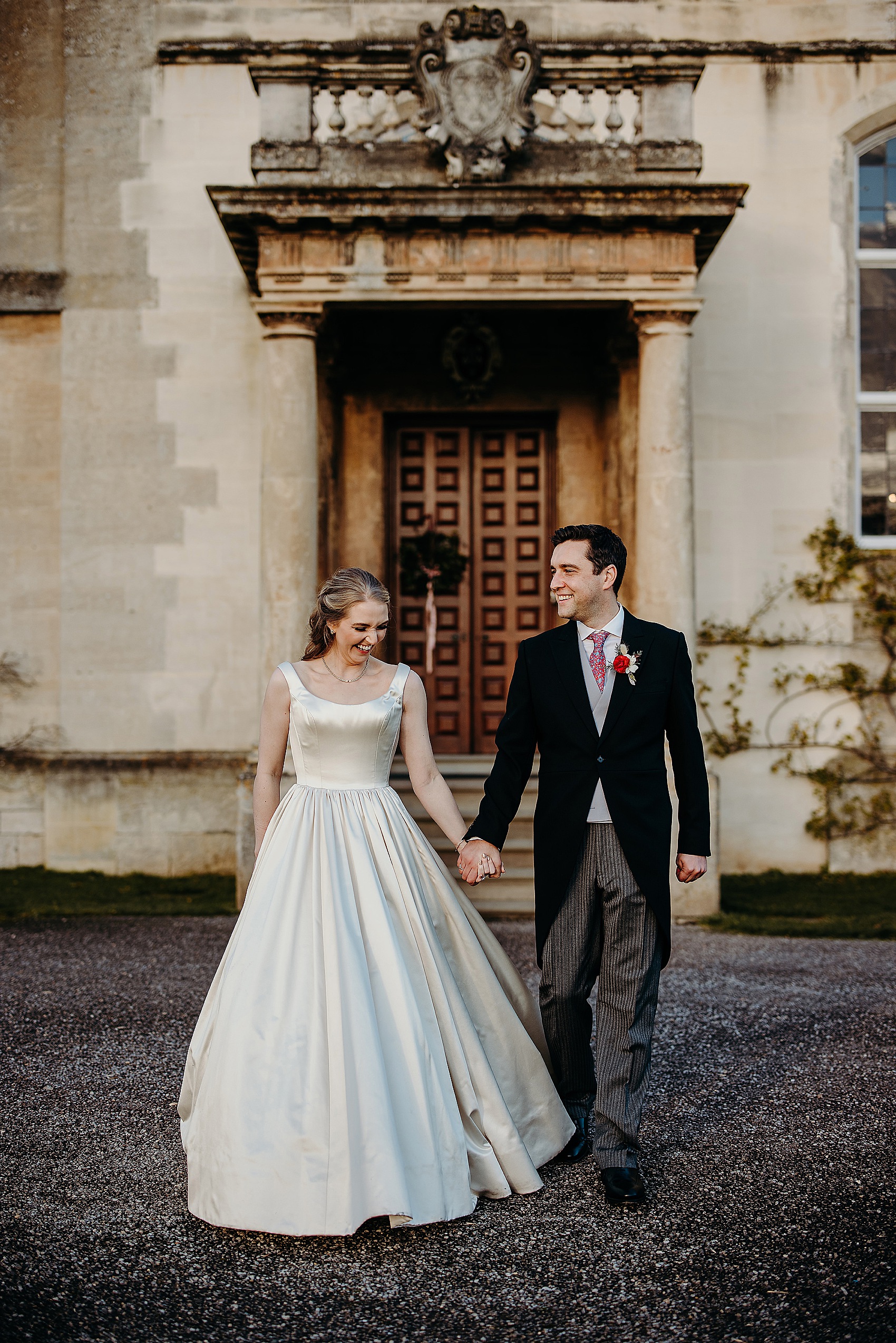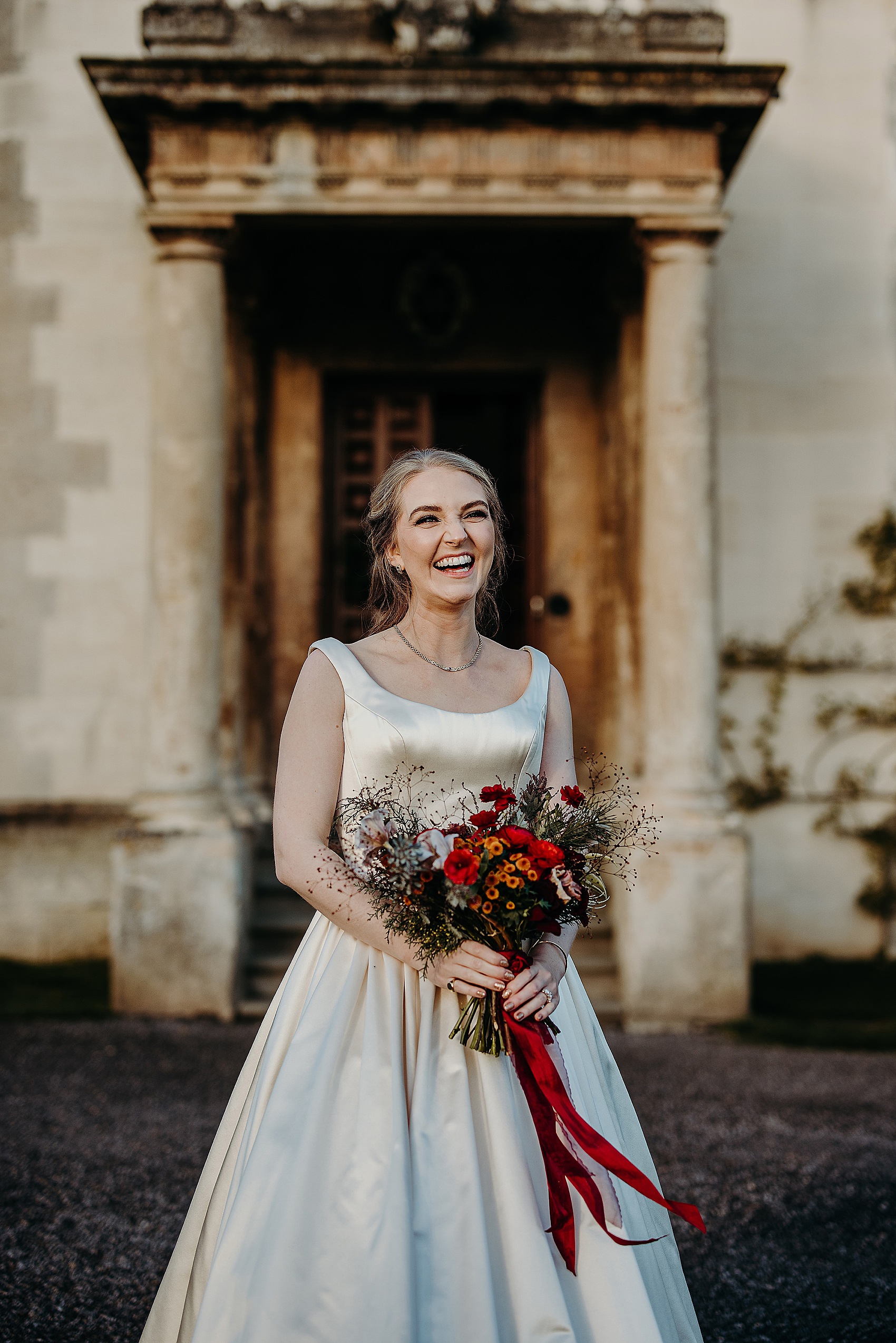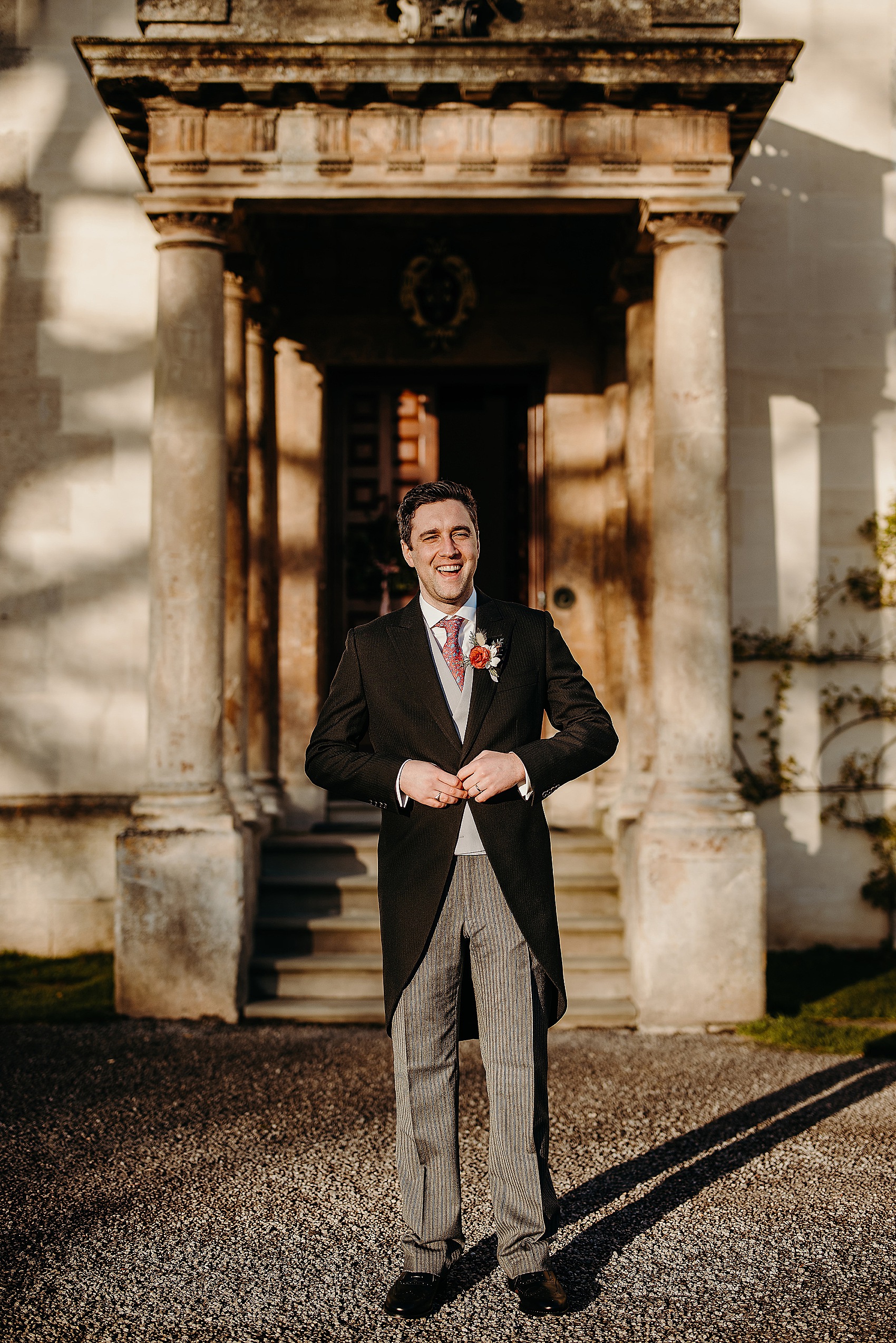 After the church service, it was over to Elmore Court through the winding country lanes in their wedding car, where a welcoming and luxurious dinner set-up awaited them.
A long wooden dining table was decorated posies of flowers in gold vases, taper candles, and a garland of Yuletide evergreen, decorated with berries and fruits, and the beautiful scent of Diptyque candles, and Elmore Court's magnificent Christmas tree filled the air.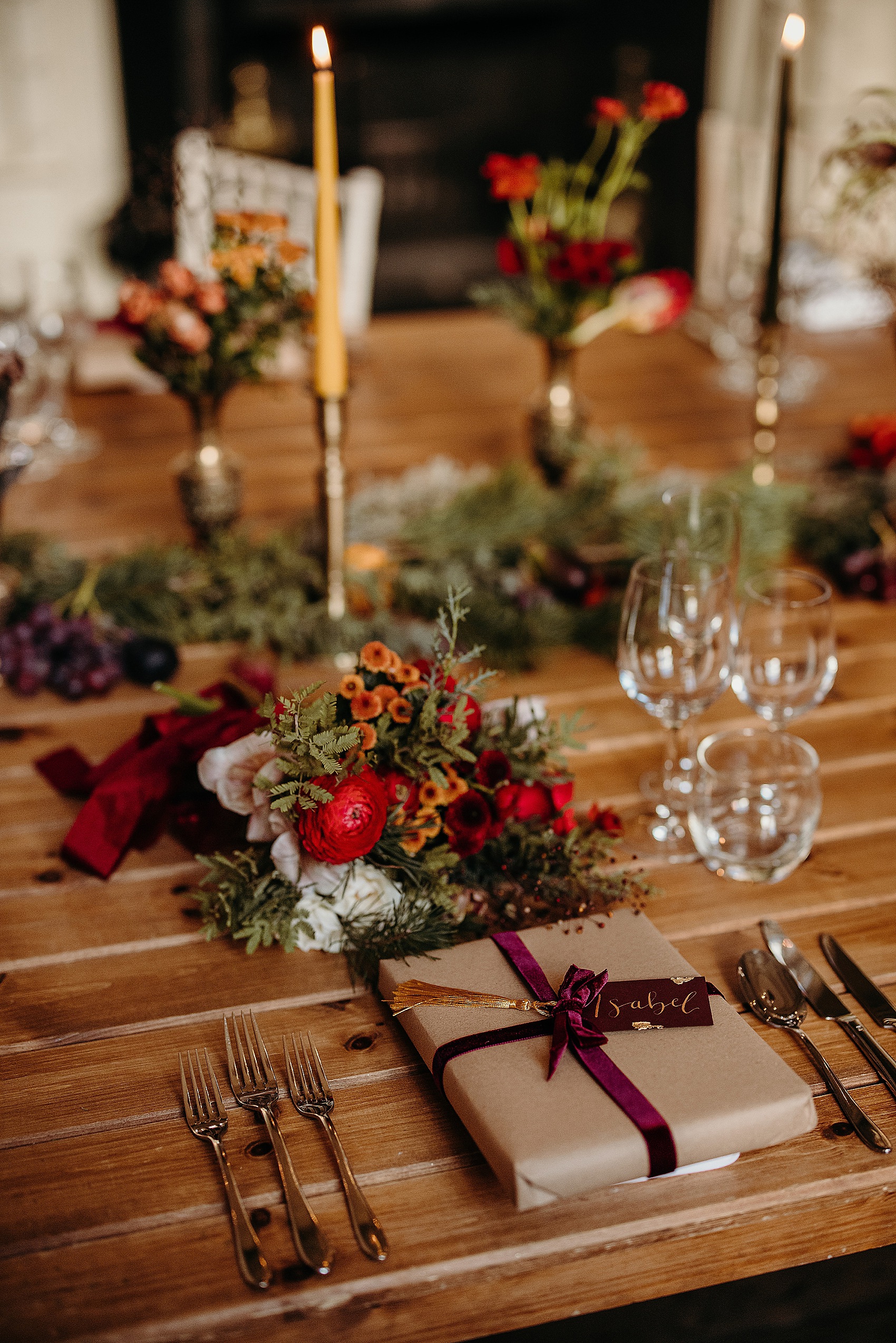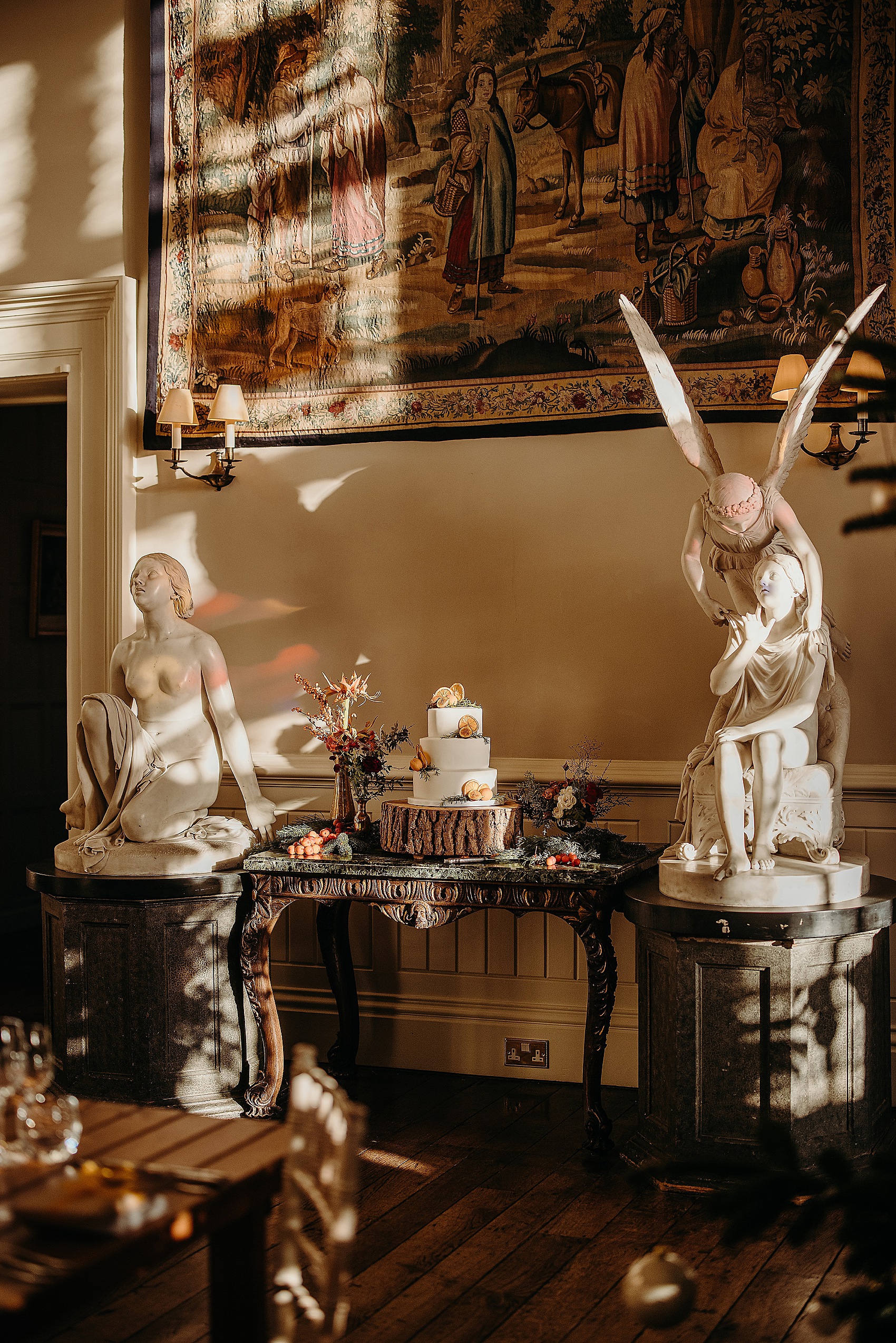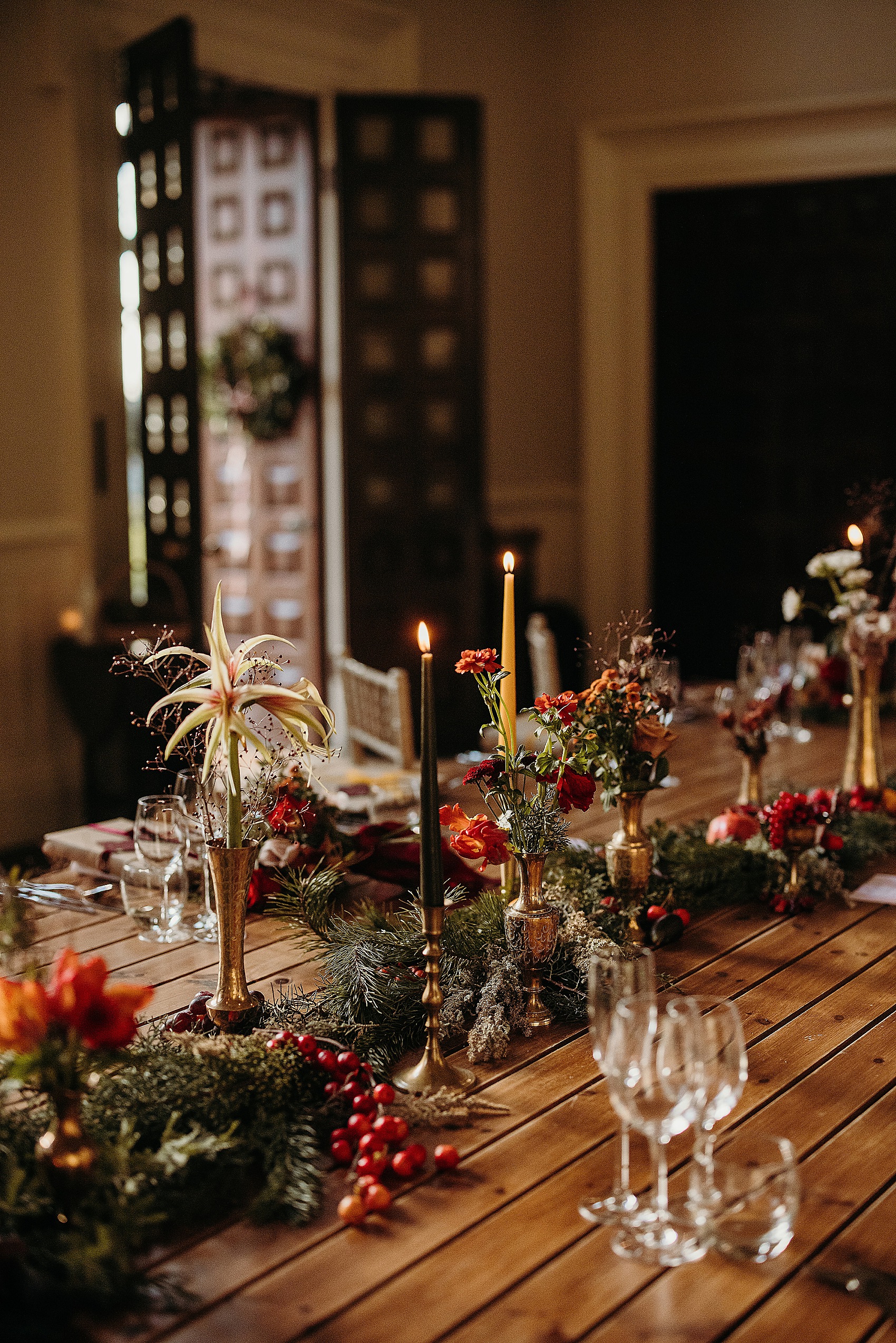 Rosie and Jonty's delicious and elegant wedding cake was baked by Rosie's mother and decorated by Charlene at Cherry Tree Cakerie.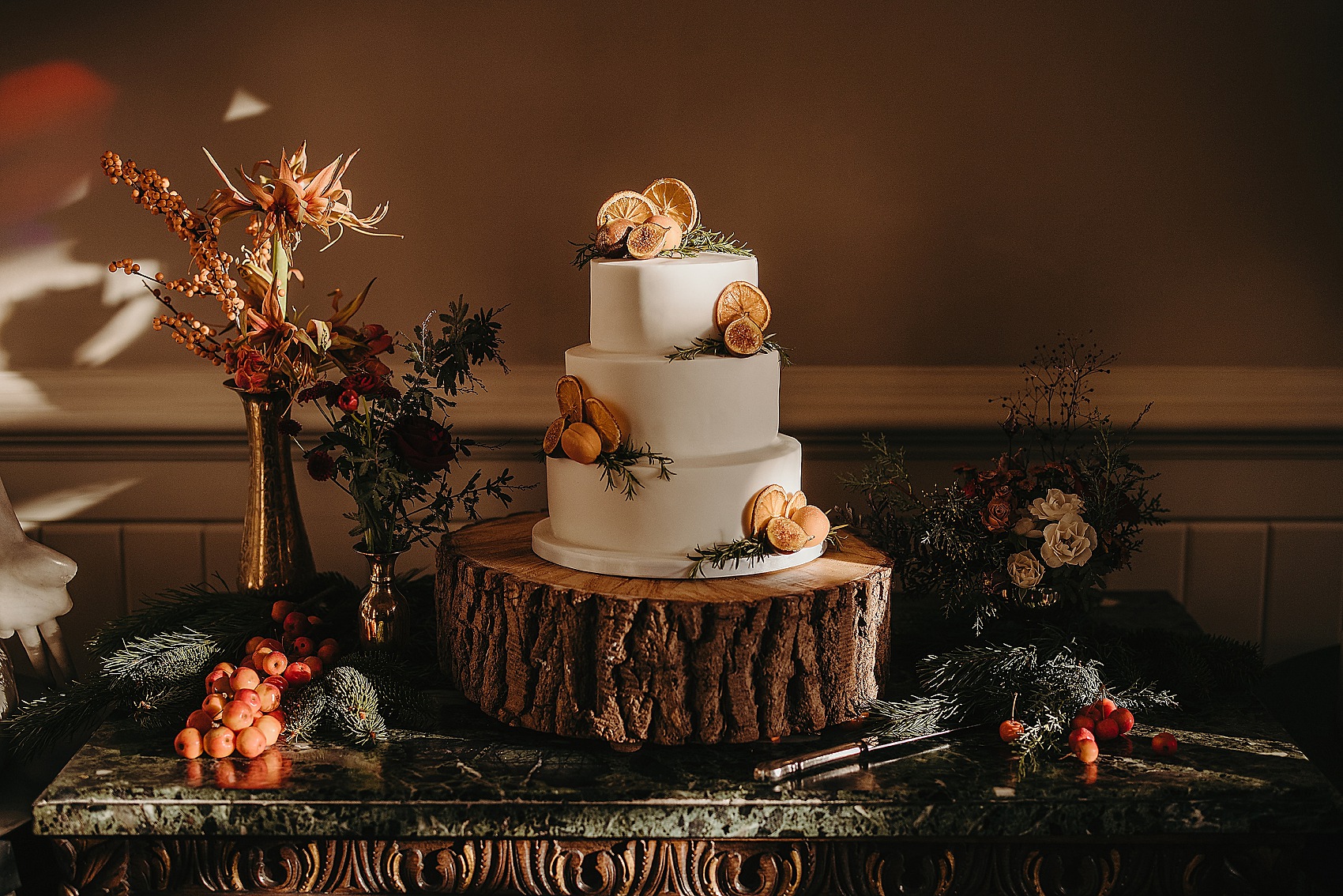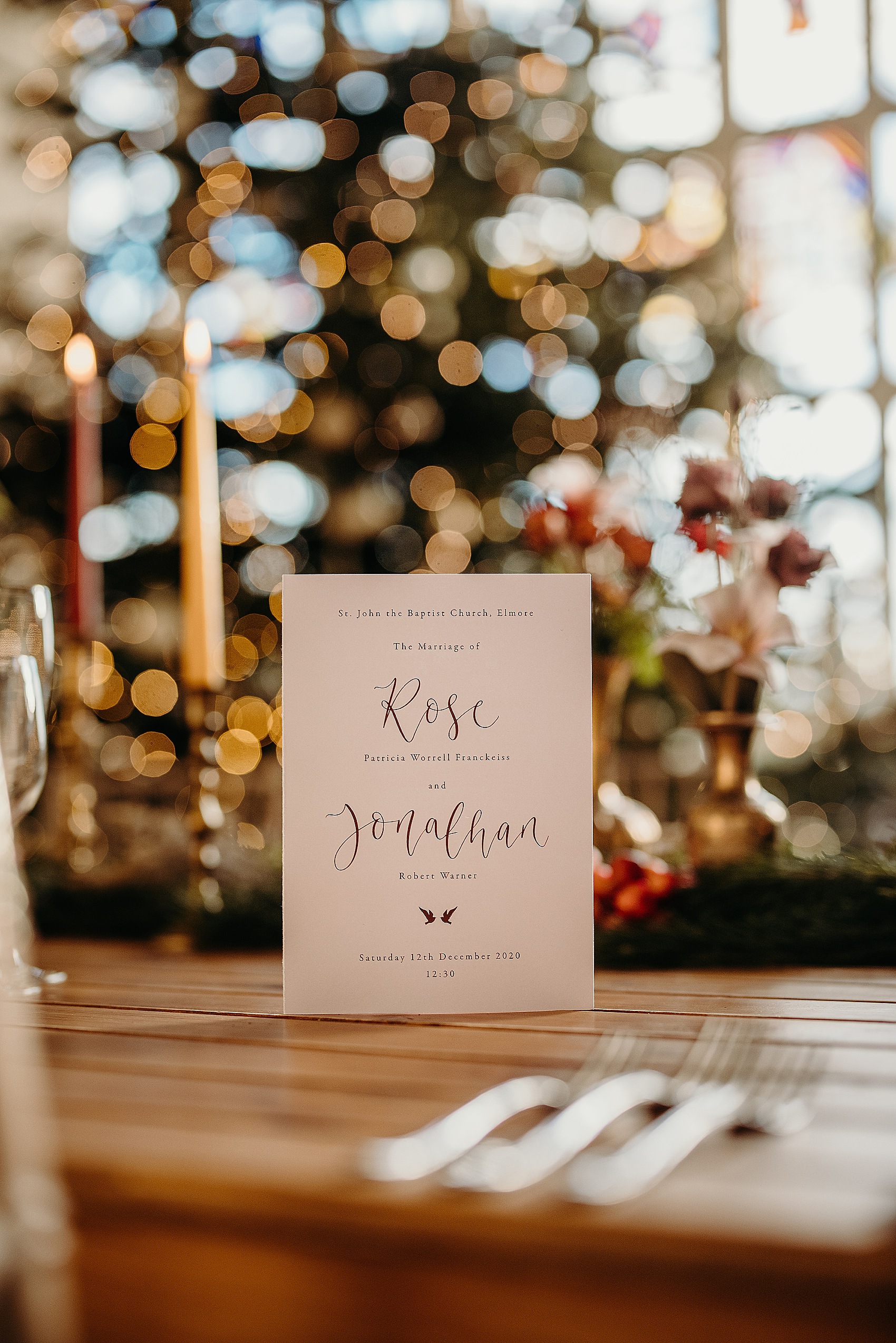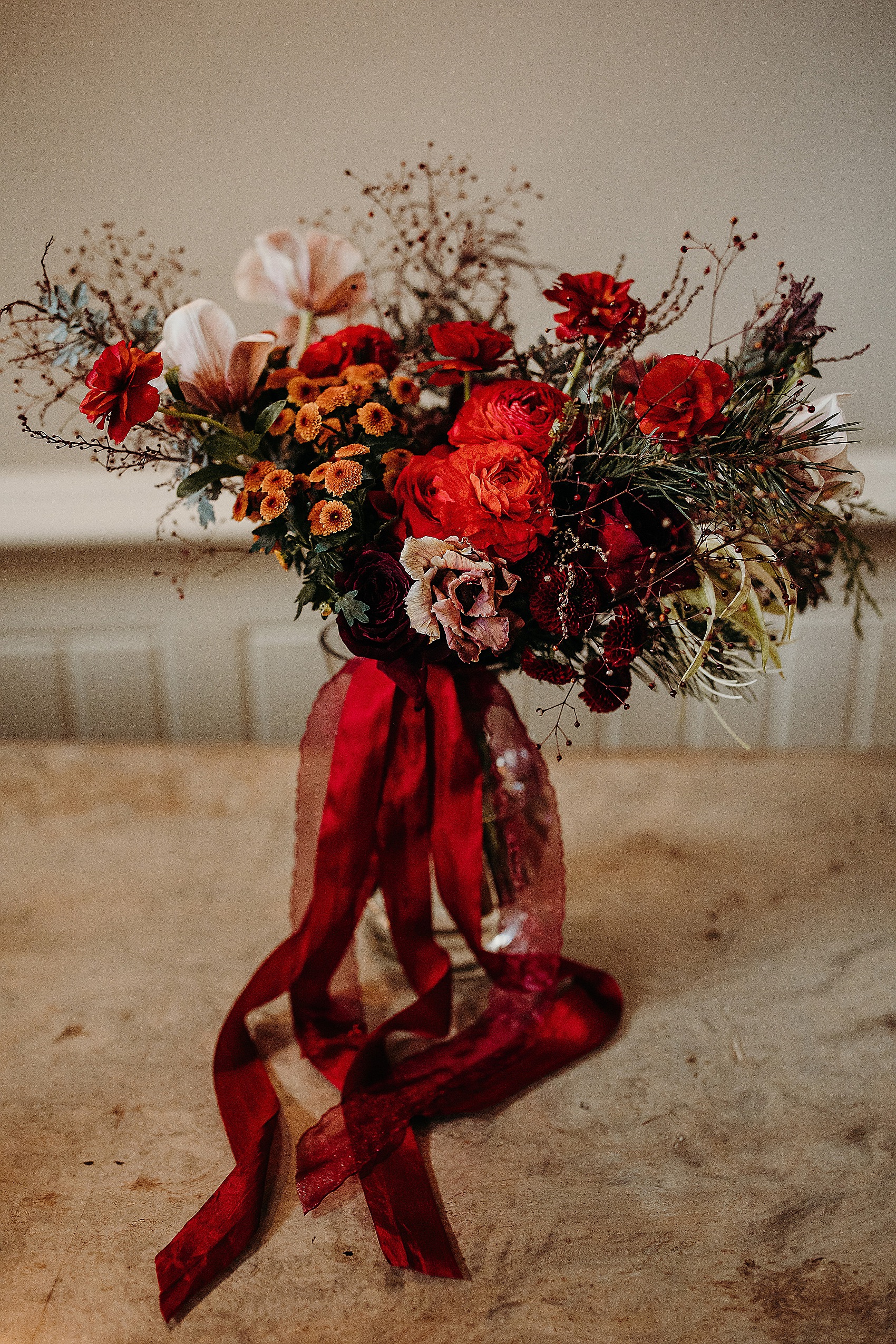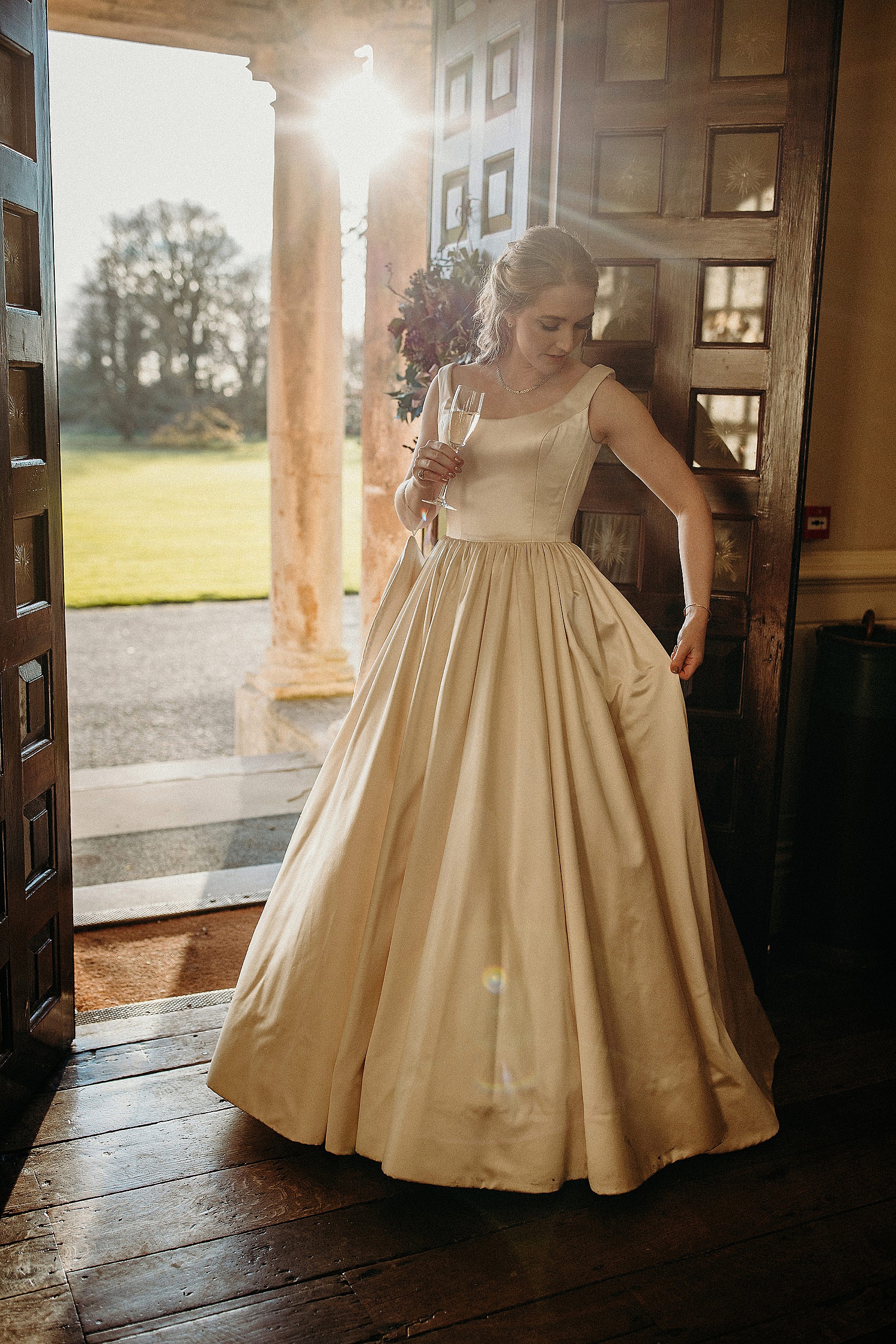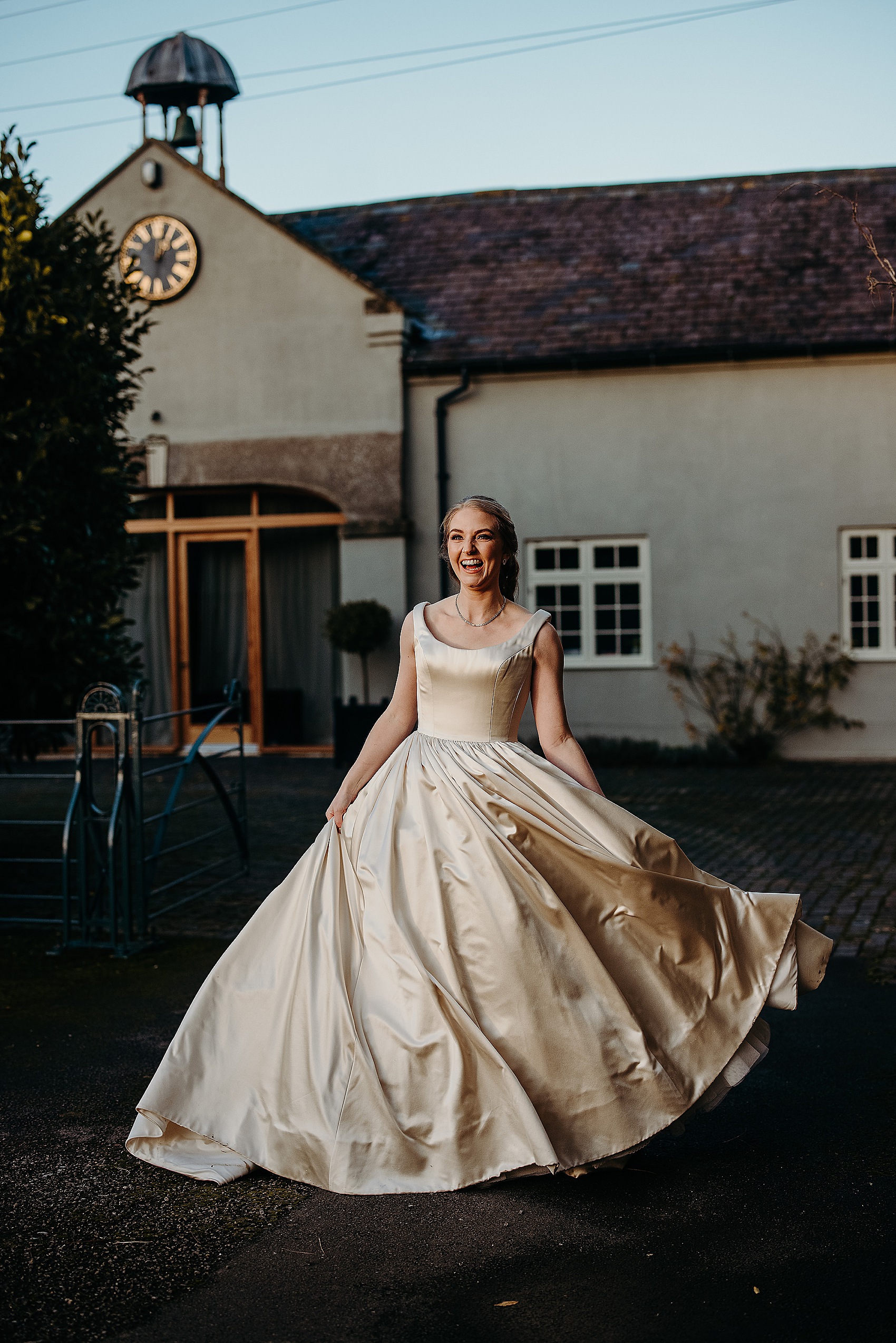 Gifts were opened around the dinner table, drinks and food (from the Elmore Court team) enjoyed, followed by speeches, toasts and the cutting of the wedding cake.
"We bought a book for each of our guests and wrapped them in brown paper and attached the beautiful place name settings our stationery designer LouPaper had created."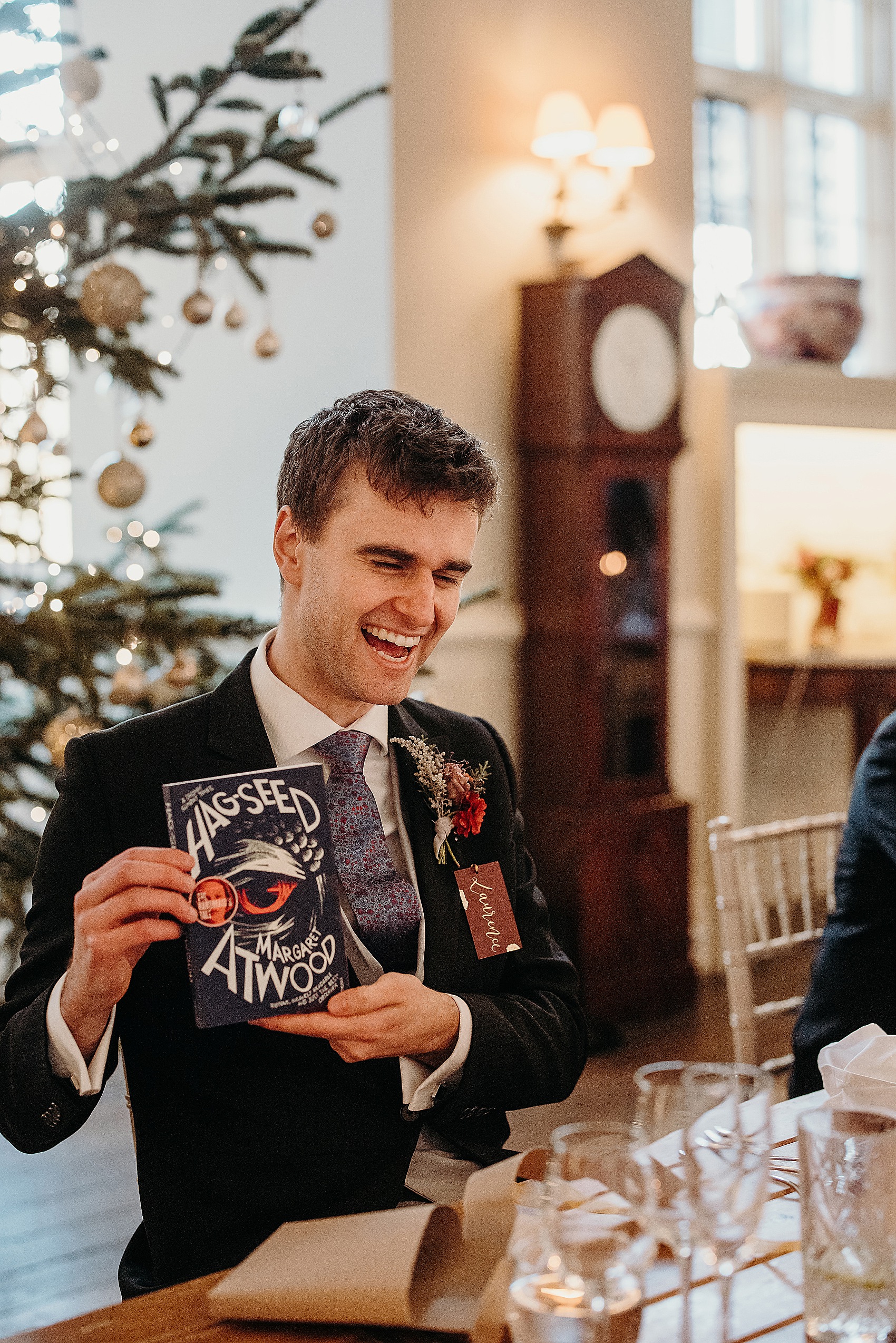 "Micro weddings aren't for everyone, but if you can and want to go ahead, we really did find ours to be simply magical. We were also able to have really personal touches like upgrade our wine and have table presents for all the guests."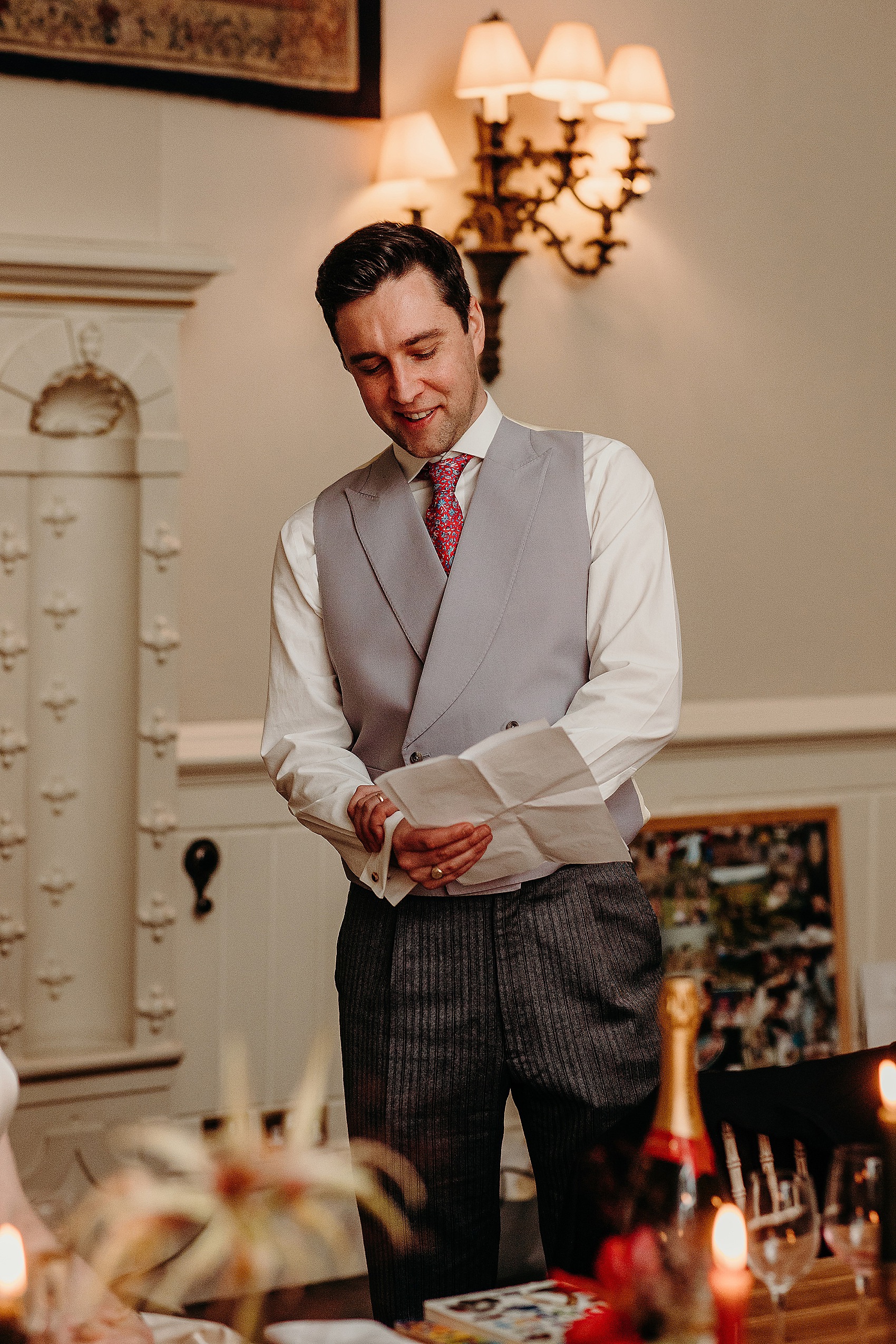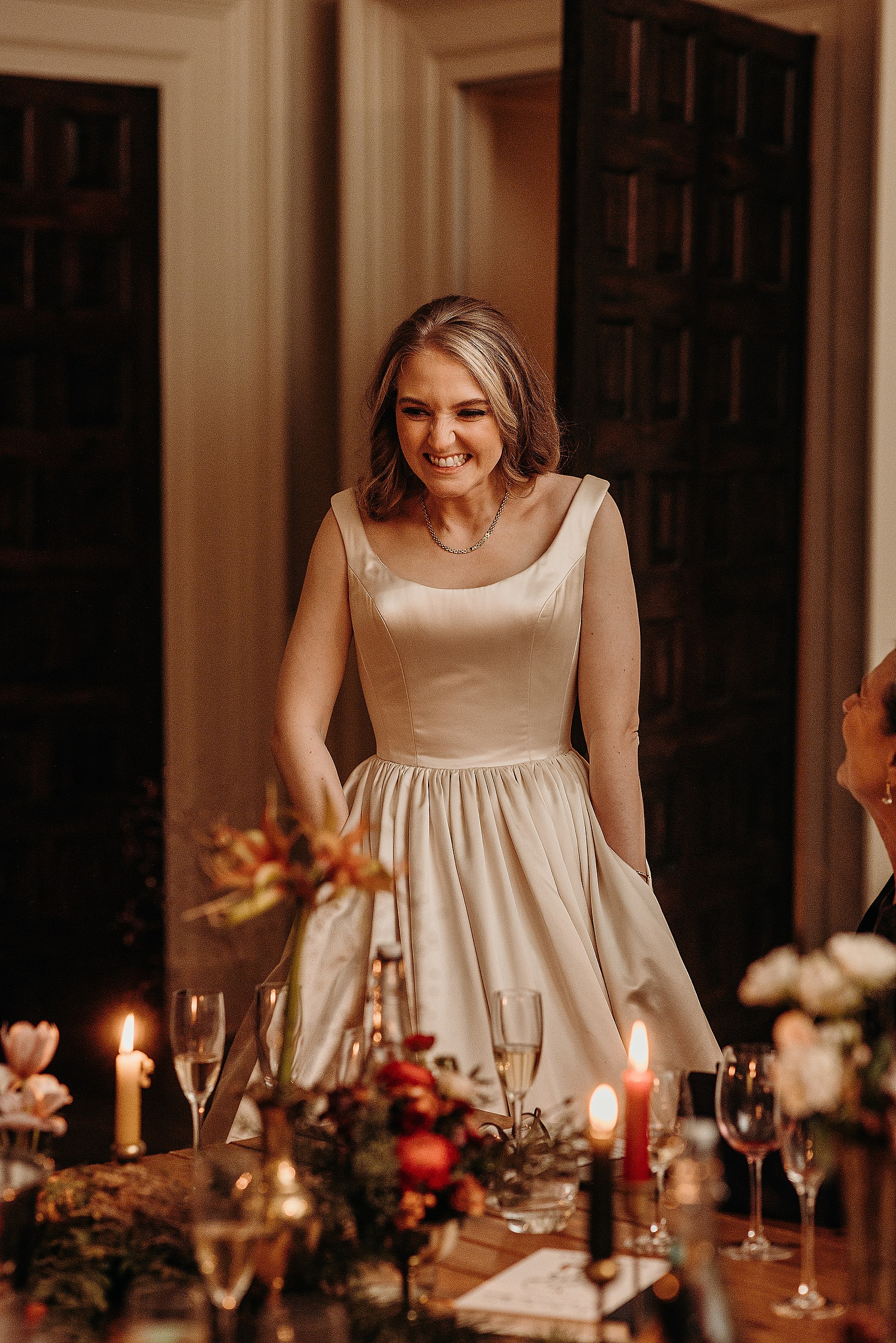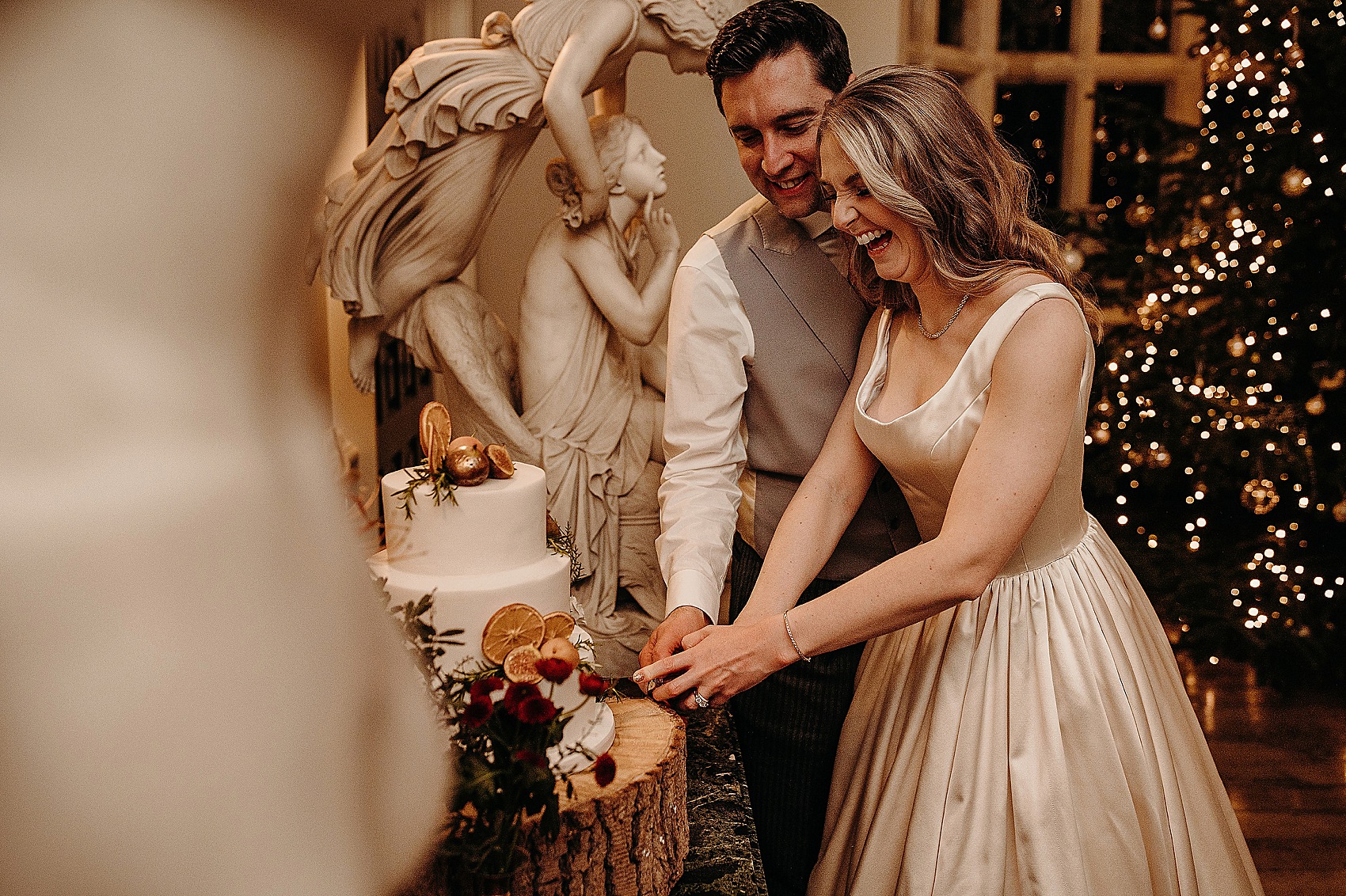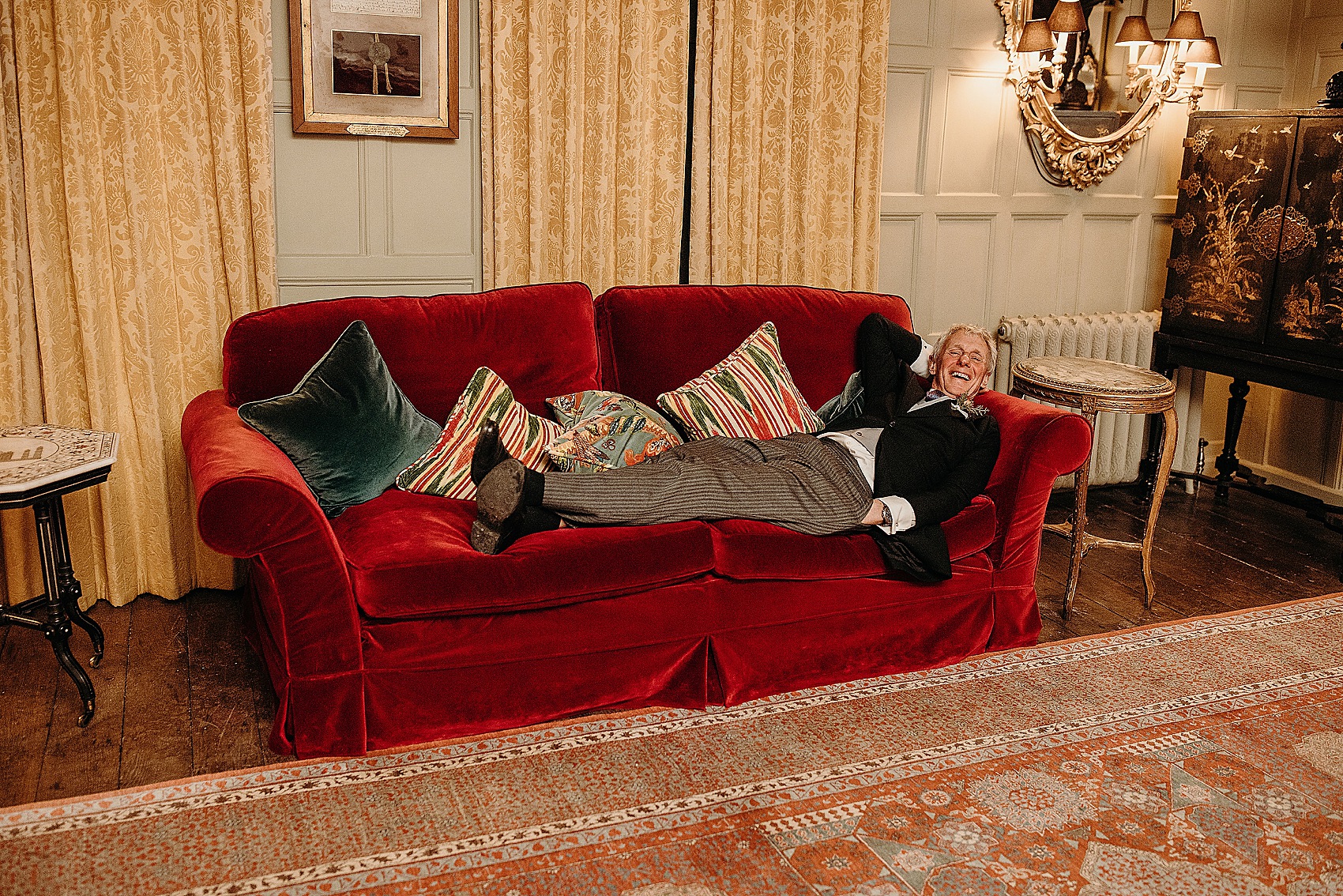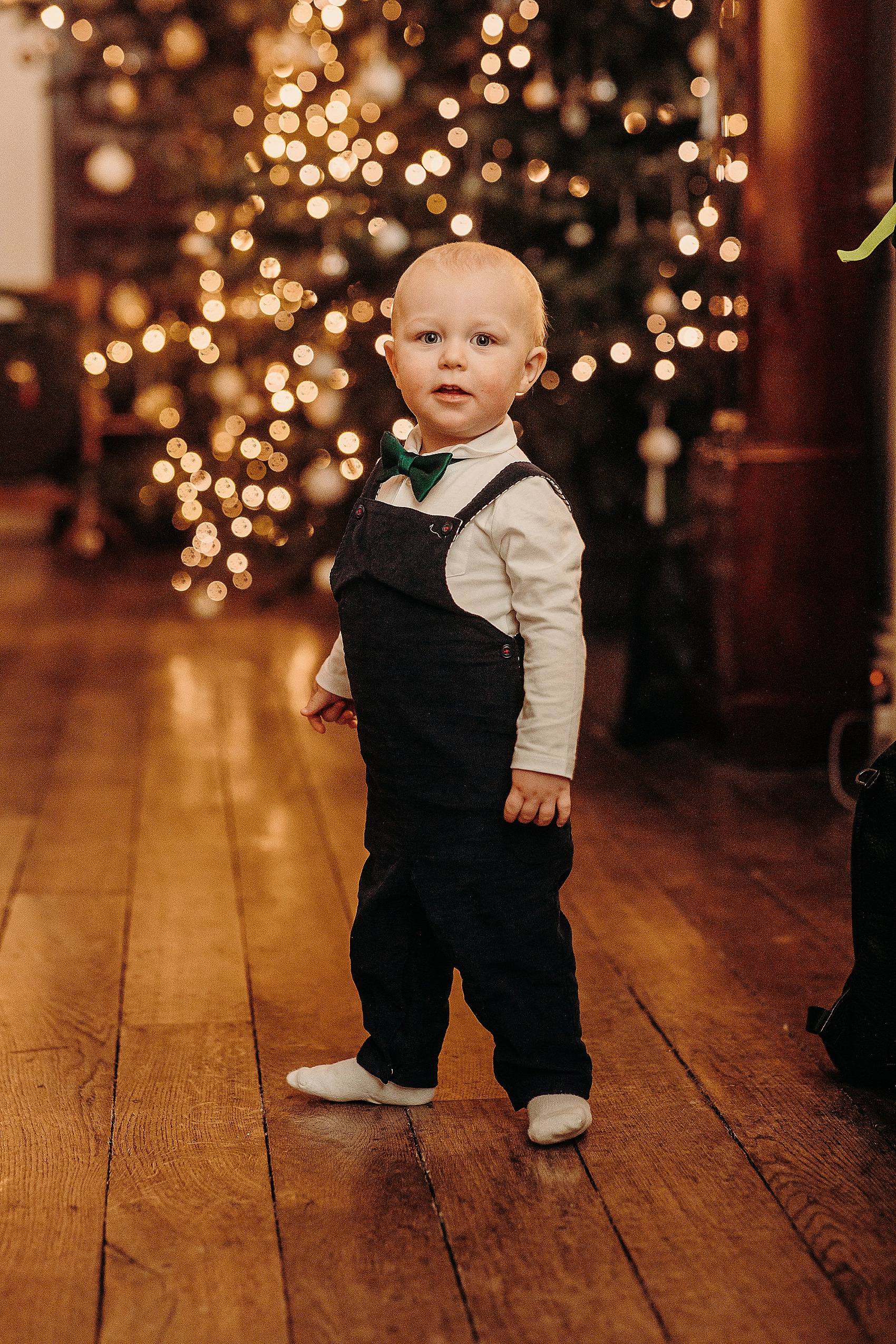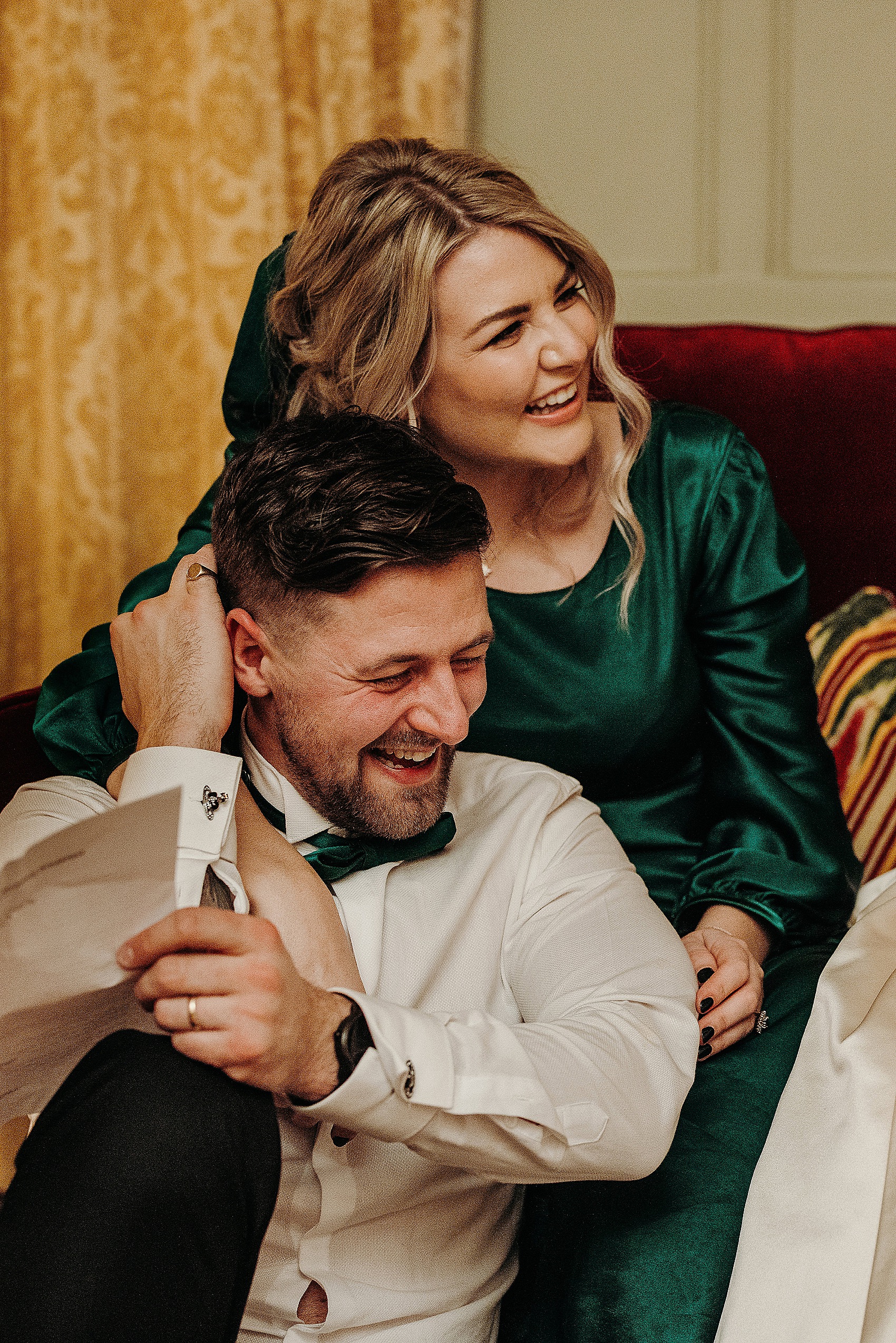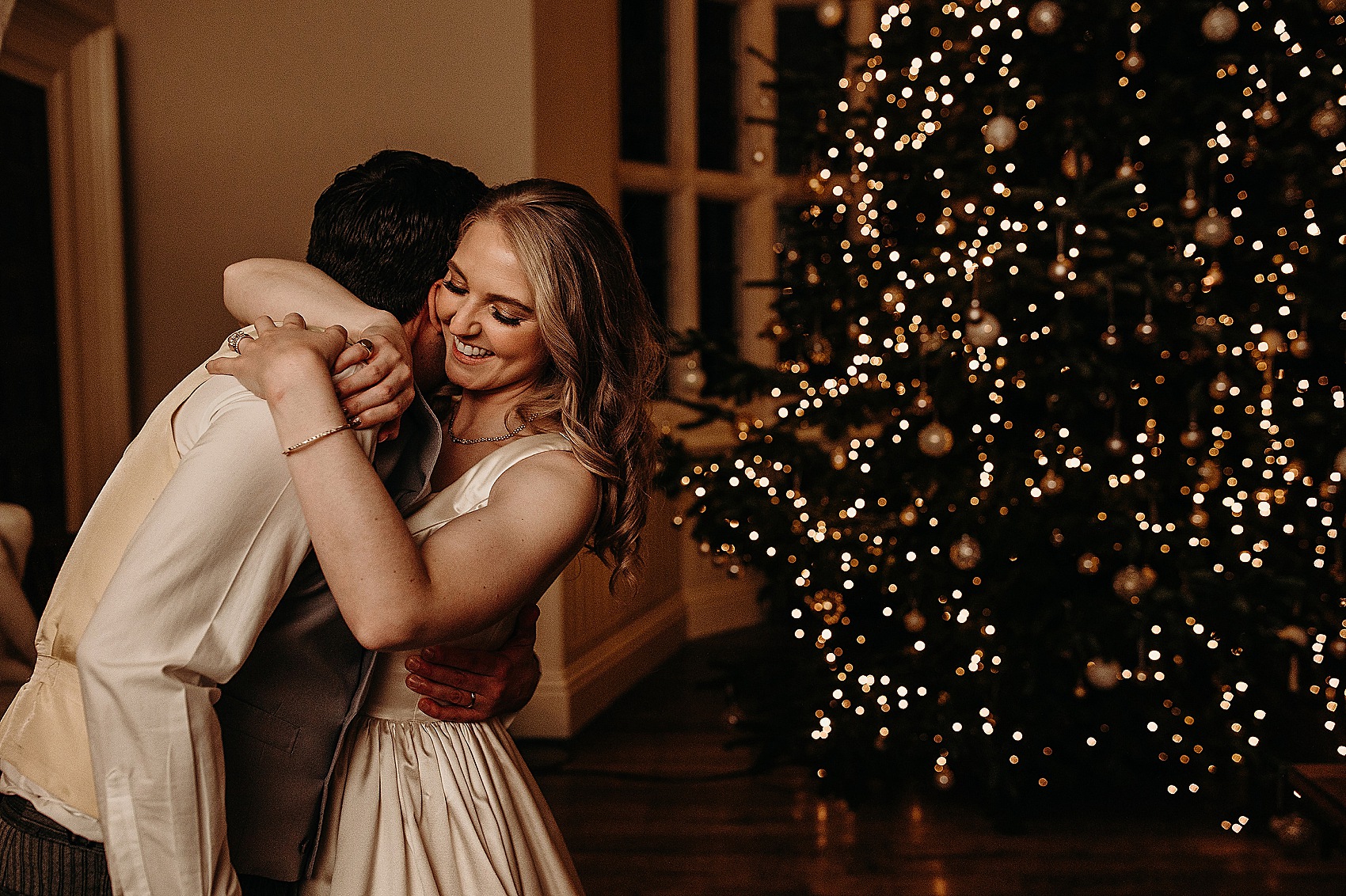 Words of Wedded Wisdom
"If you can, hire a wedding planner – there are so many tips and tricks to make your lives easier and save you money, plus their little black book of suppliers is invaluable! Work out what is non-negotiable for you both and go from there. It maybe people on the guest list, the venue, the party, or having a religious/non-religious ceremony."
"Having planned and replanned a wedding from 160 to 30 to 15 people, we just kept focused on what was most important to us. Try not to get too stressed, it is actually a fun experience and it all comes together on the day! Spend time together on the day. Be it a big or small wedding, make sure you get plenty of time to soak it in as a married couple."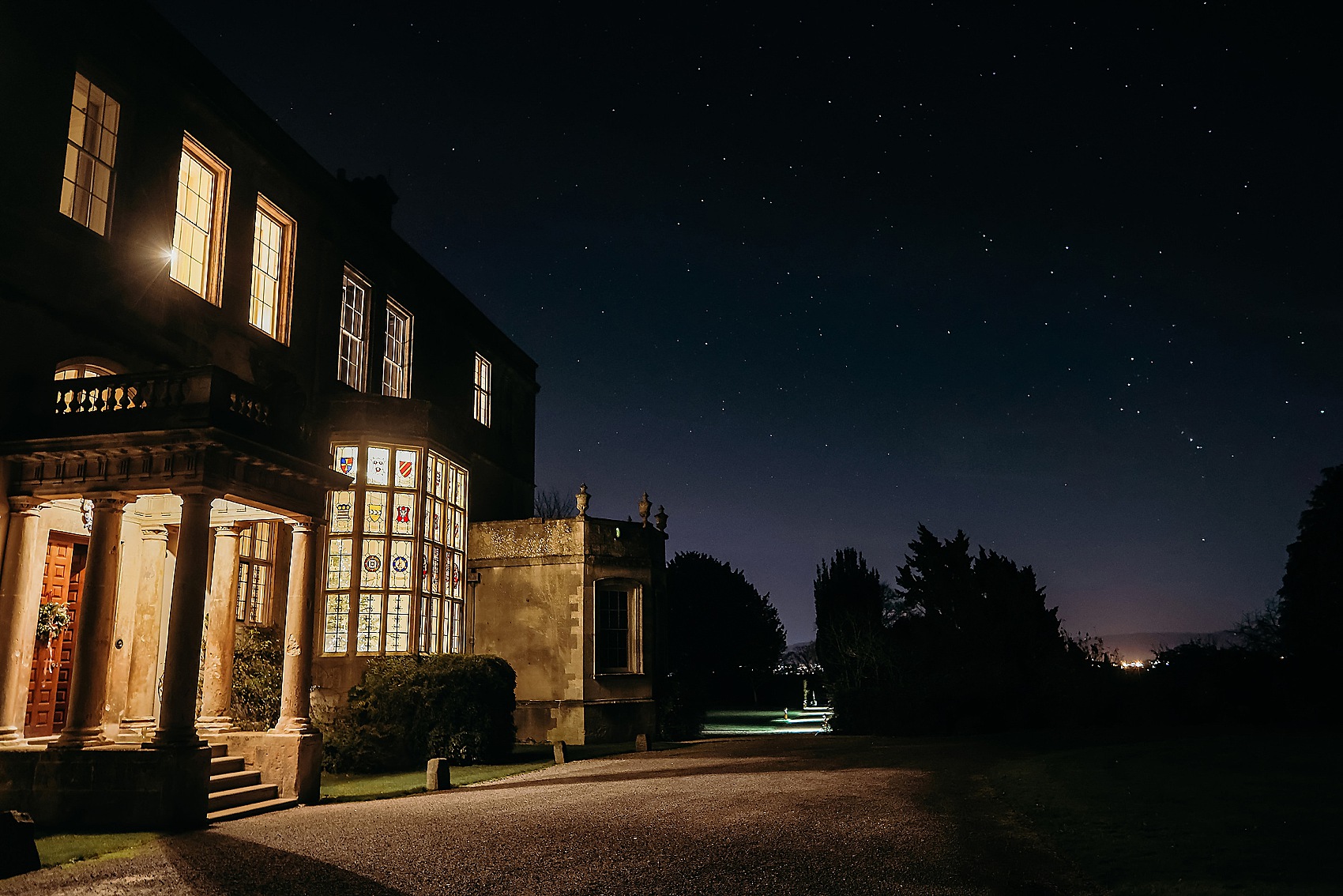 Rosie and Jonty, huge congratulations to you both. It's been an honour and a delight to feature your enchanting, festive celebration as our final wedding of 2020. Thanks, as always to Richard Skins for this beautiful photography, too.
Dear readers, I'll sign off by wishing you all the very best for 2021, and with love,
Laura xx