As we all try to wind down for what is going to be a very different Christmas this year for many of us, we're winding up a year's worth of beautiful, inspiration, heart warming weddings here at Love My Dress.
With just a few days left until we take our annual week long break from blogging, we are so delighted to share the gorgeous wedding of professional model Bo and Stockbroker James with you. The couple tied the knot on 15th June 2019 at a sun drenched and beautiful Son Doblons in Mallorca, Spain.
Anker Prod Films

+ Follow
"Our photographers were Chris and Ruth. We could not recommend them enough! We absolutely fell in love with their style. They captured the wedding – all the details and moments so beautifully. You couldn't even tell that they were there, they practically blended in."
"Anker Prod are incredible videographers who went beyond what I could have imagined!we adore our film and it sums up the vibe of our wedding."
Chris & Ruth Photography

+ Follow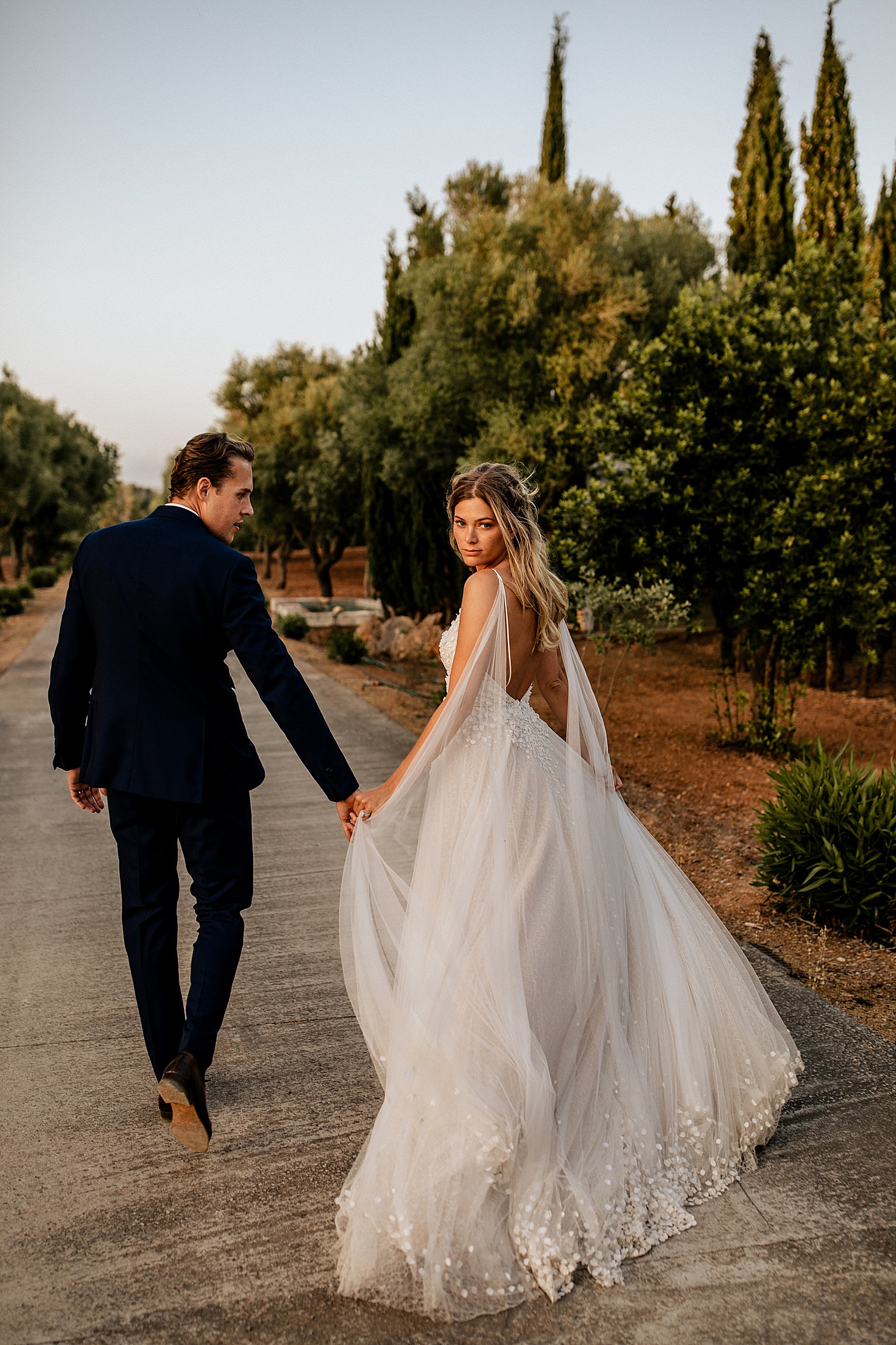 "Jenna of Wonderland Invites is such a patient person. I was very particular about design and she absolutely delivered. The design echoed the vibe of the wedding – capturing the elegant, rustic, organic feel."
"We also designed a wedding logo together which was also used for the wax stamps on the invitations."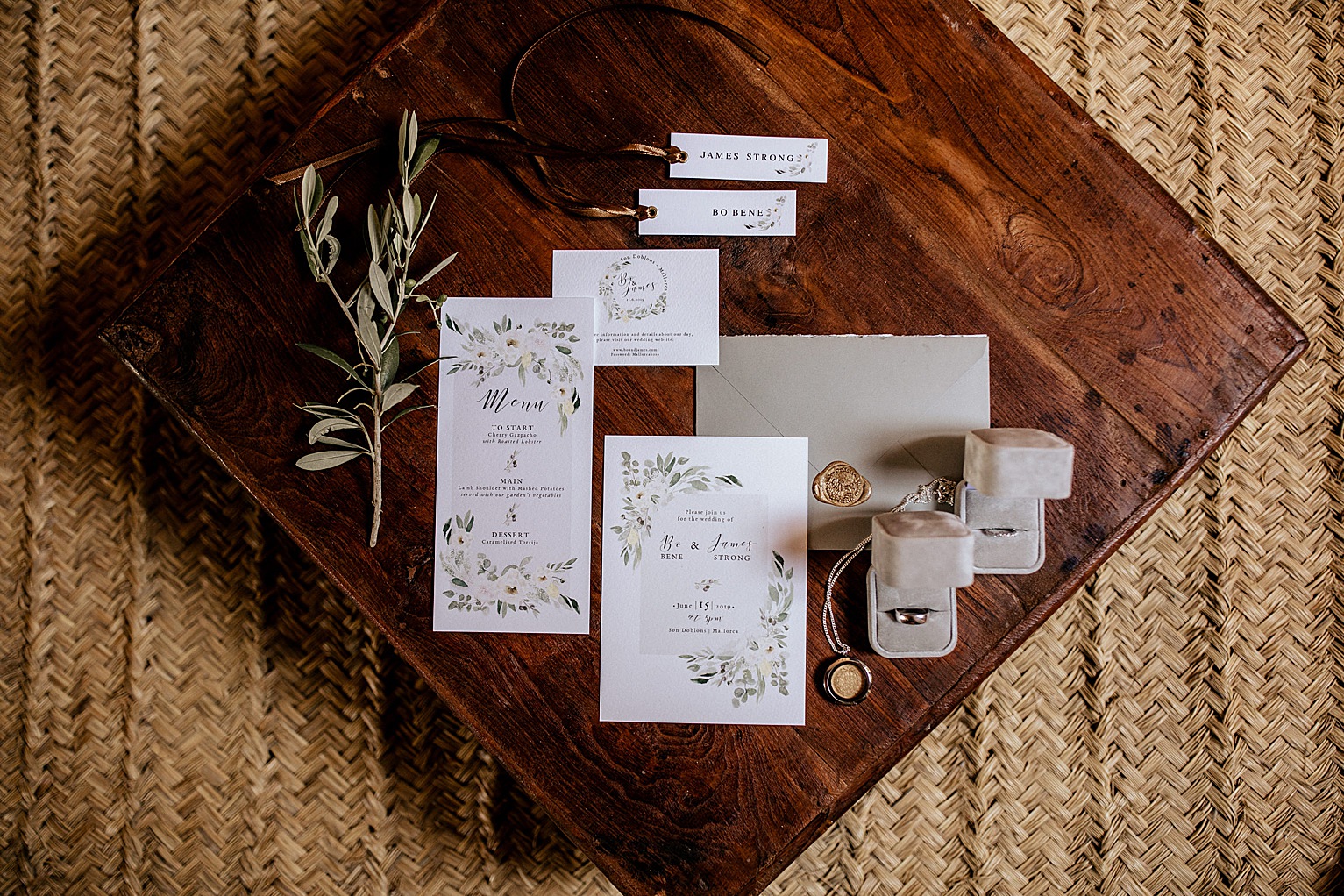 "My hair and makeup artist, Francesca Abrahamovitch, is a celebrity make up artist and a great friend. I count myself so lucky she did my make up on the day."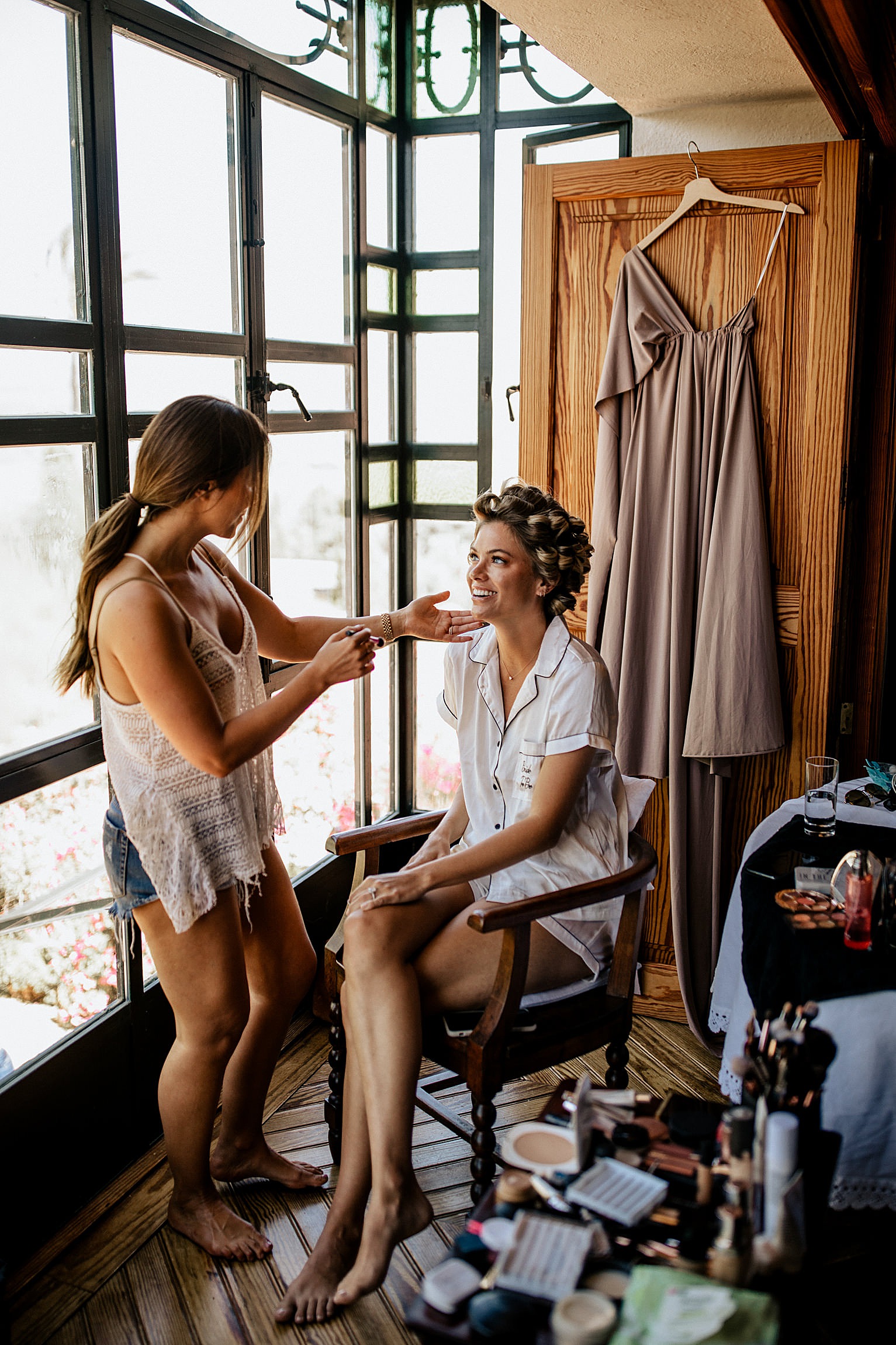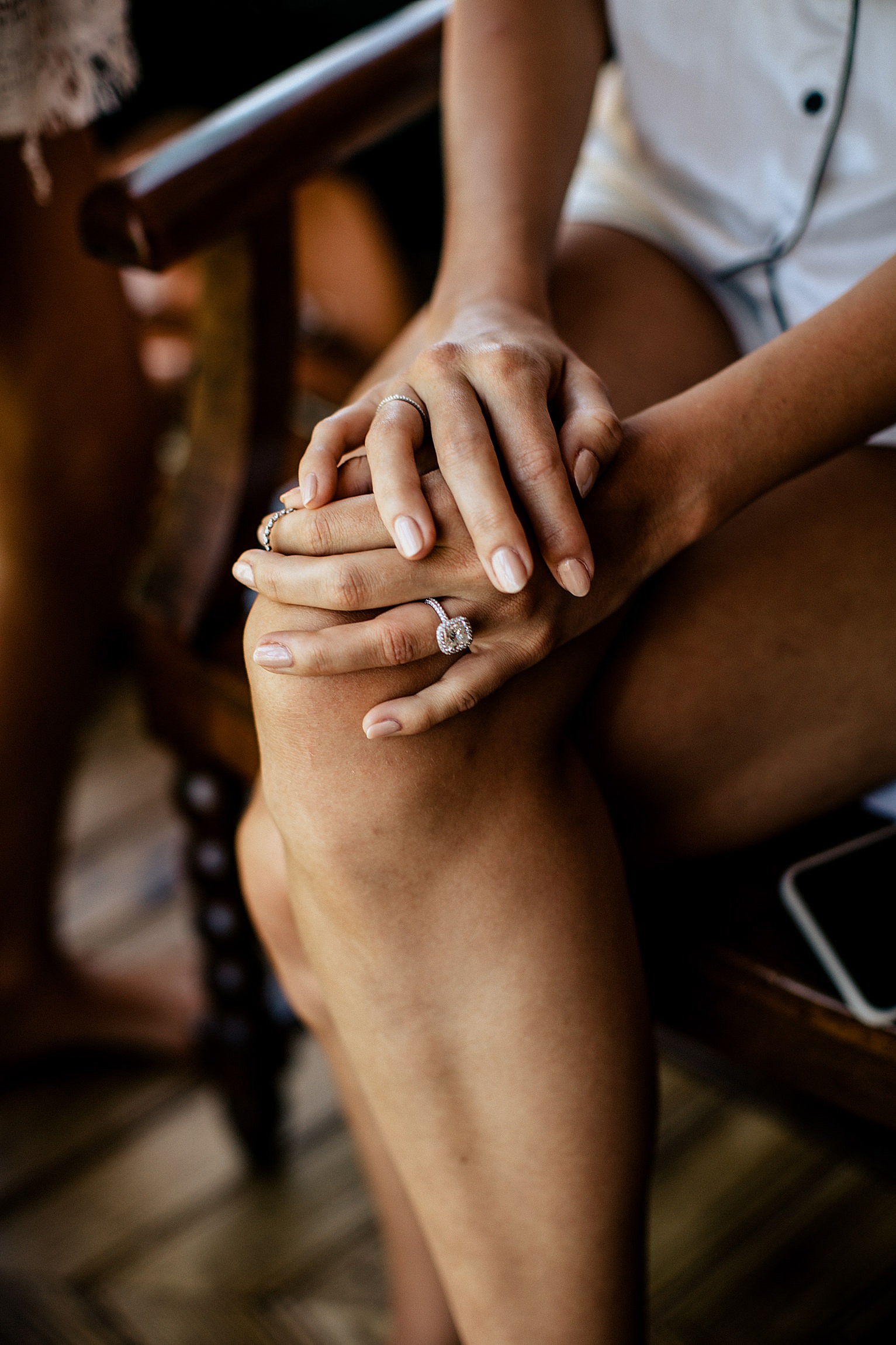 "My close friend recommended a bespoke bridal designer based in North London and sent me her instagram link. I adored the detail and booked in for an appointment."
"I loved the experience; every single fitting. Jo, the founder and designer at Julita London is the loveliest person I have met and we have been friends ever since."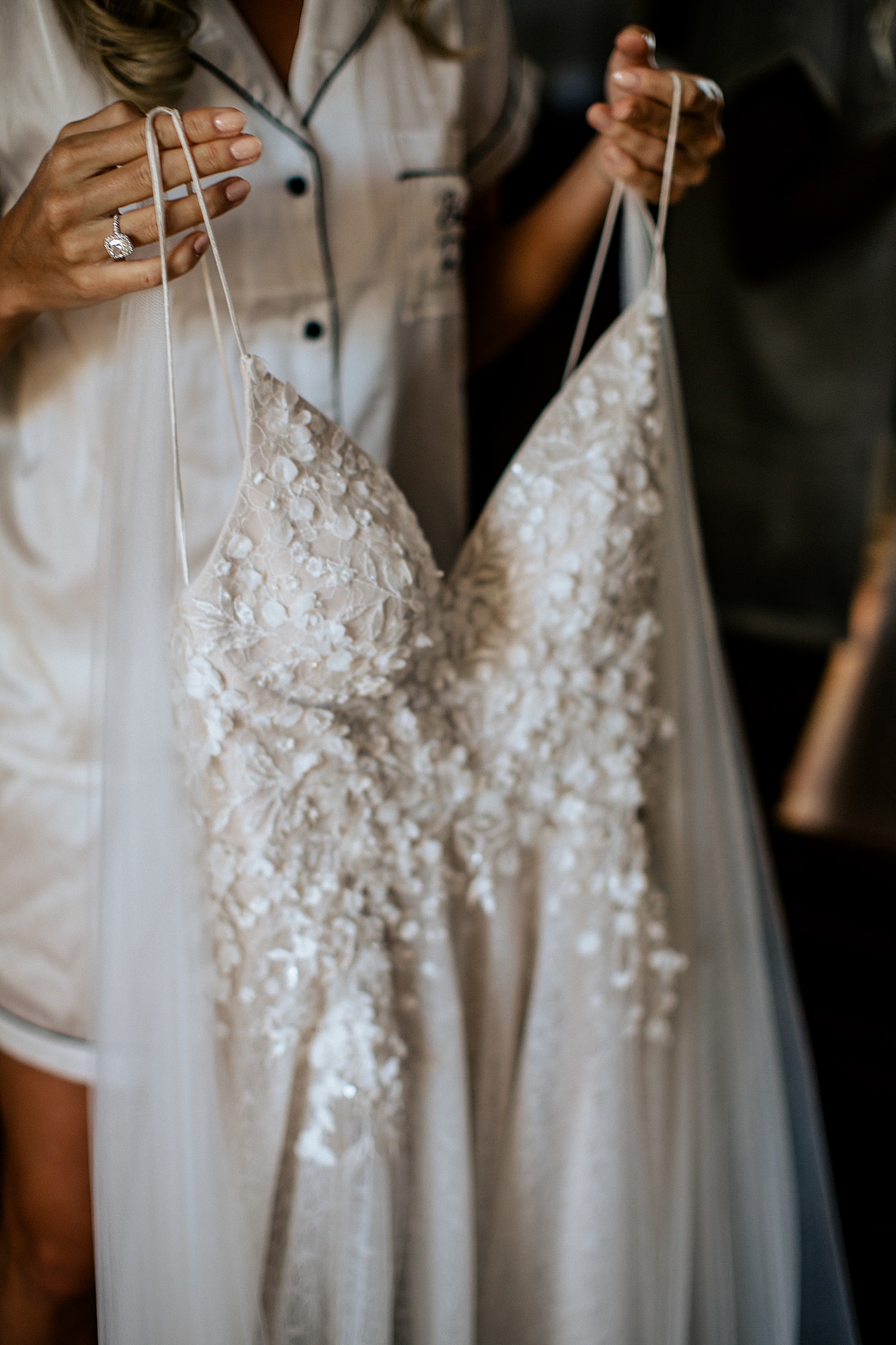 "I wanted something bespoke and unique, and somebody who understood my vision and could guide me through the process."
"Jo and I designed my wedding dress together, and it was such a special experience to see it come to life from the sketch, toile and all the fittings."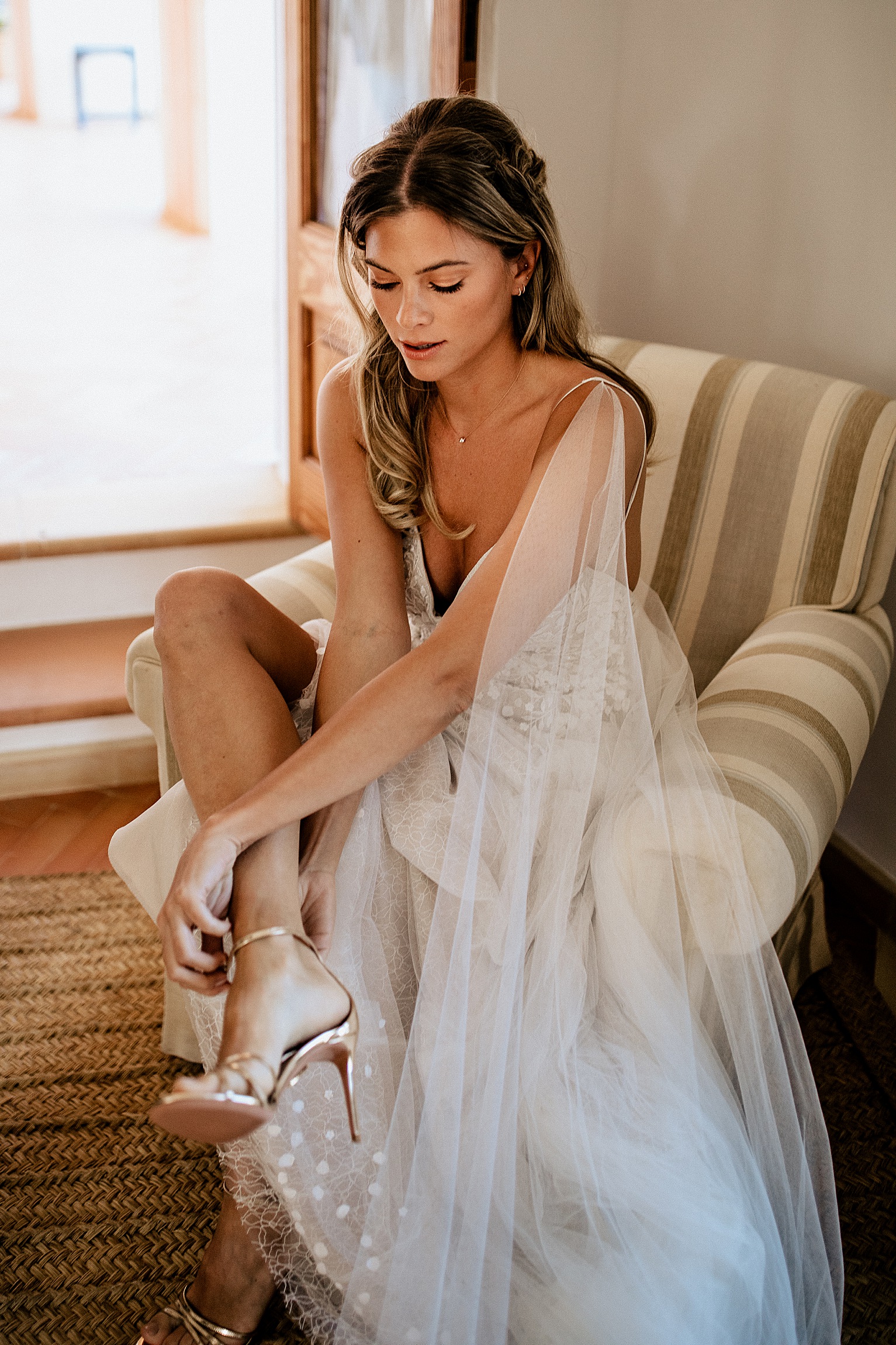 "I was very particular about the embellishment. We spent endless hours putting the lace on the dress to figure out how it would look the best. I can't give Jo enough credit to how lovely she was with me. Her patience has no bounds!"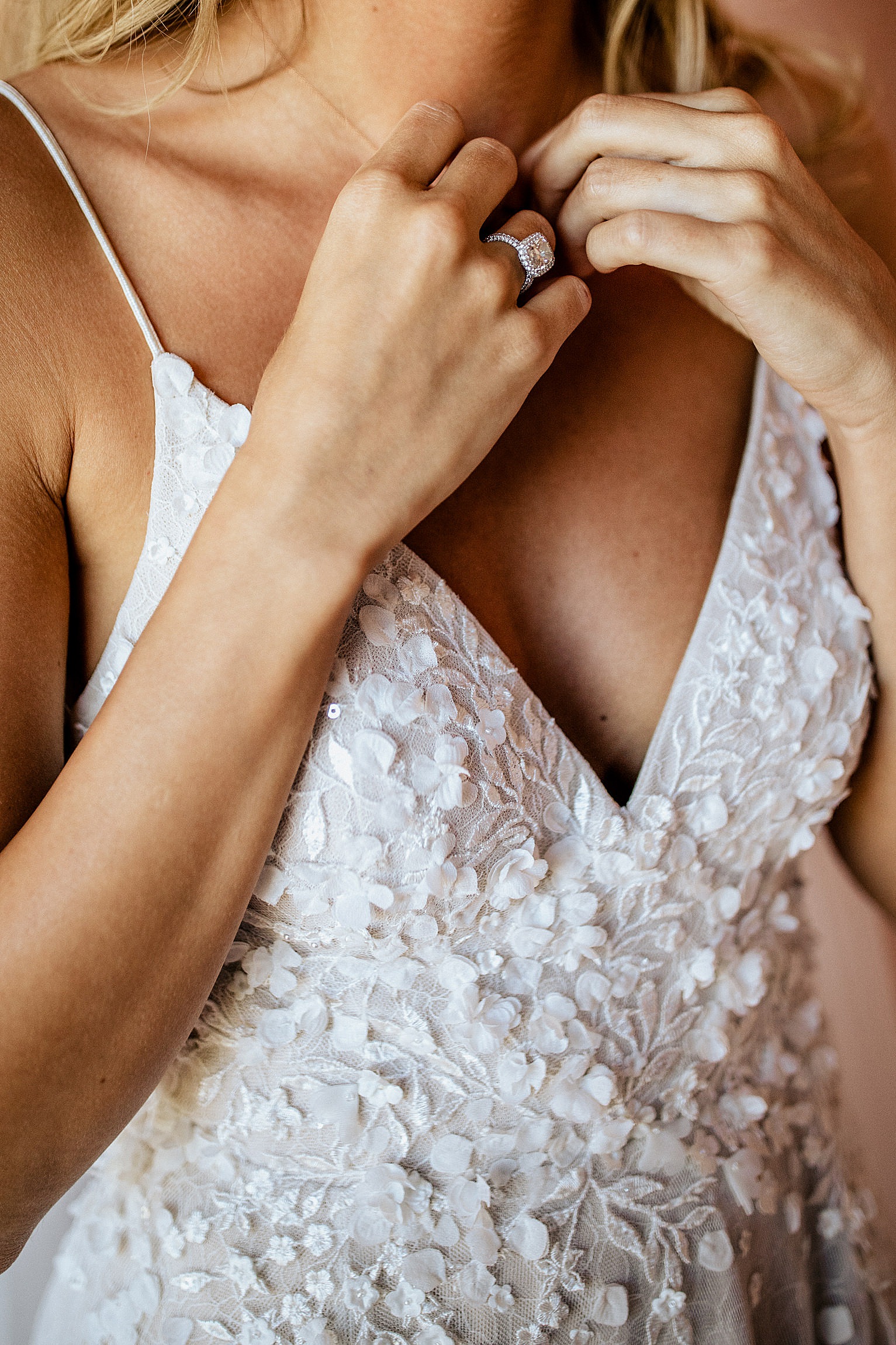 "I loved the romance – the movement and how light it was so I could move freely and dance! We selected beautiful fabrics and layered them to create a weightless volume, the nude lining really set the lace off."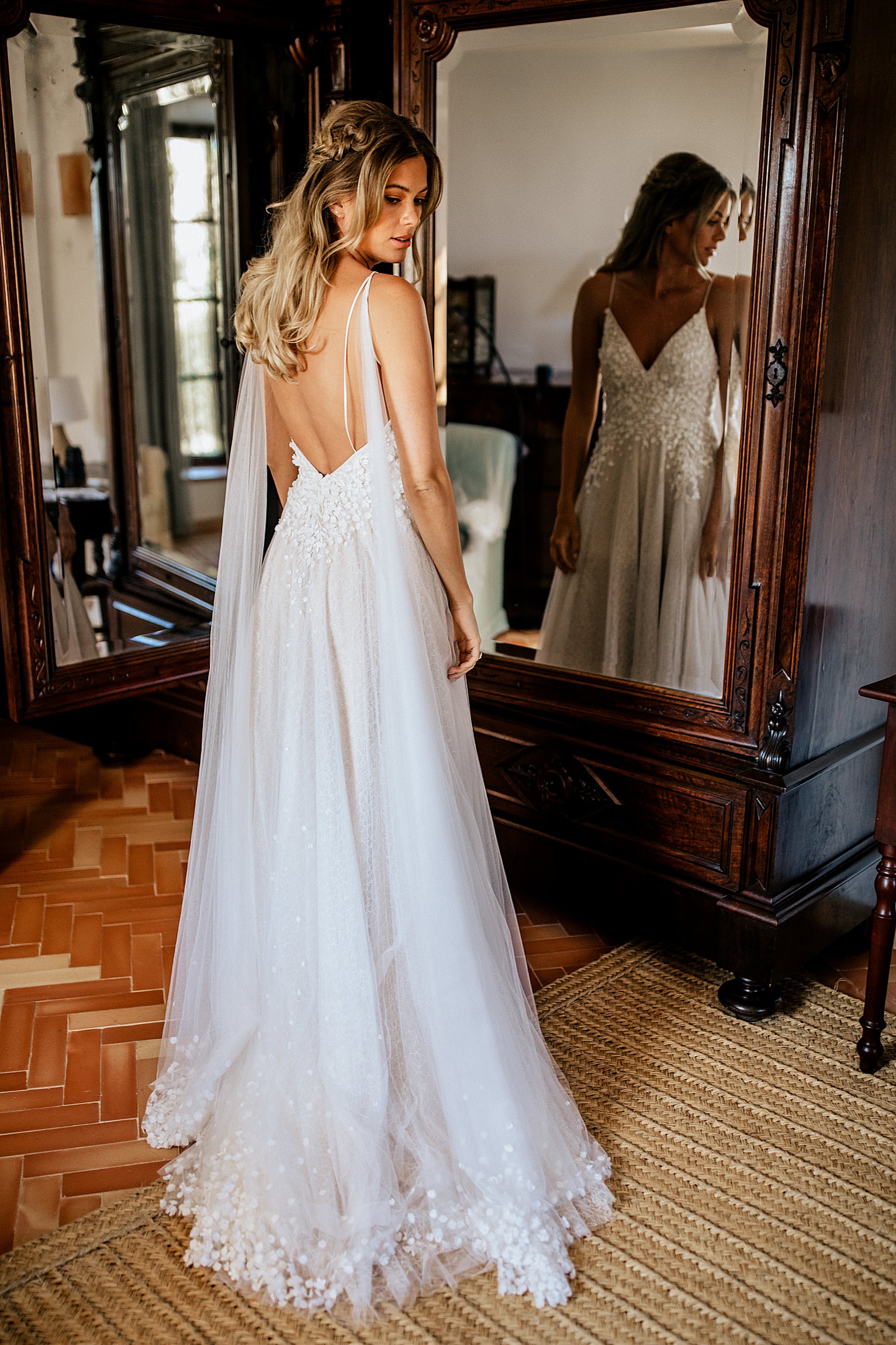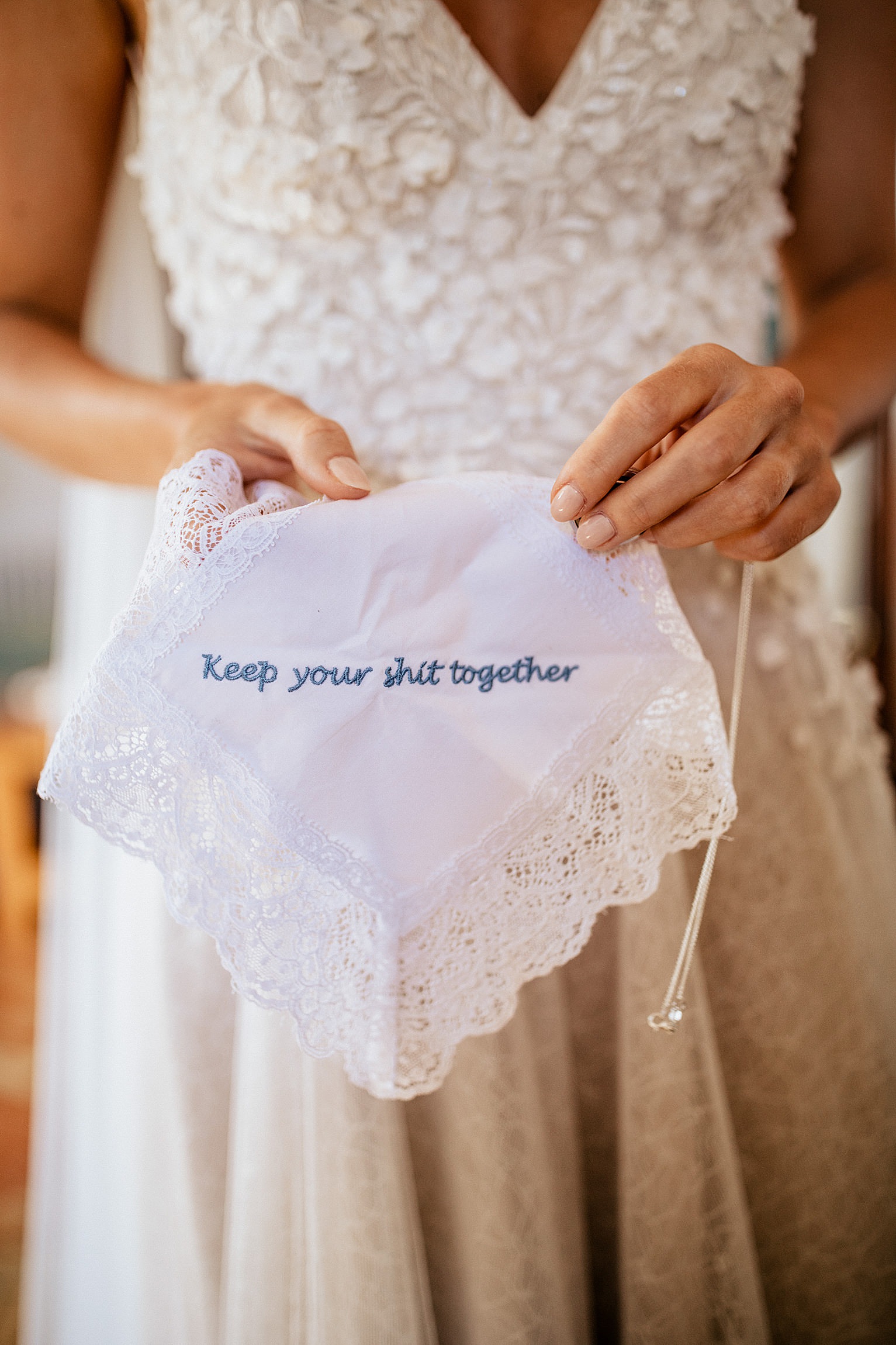 Bo's wedding scent was Diptyque- Philosykos; "It smells like fig trees. Perfect for a Mediterranean wedding."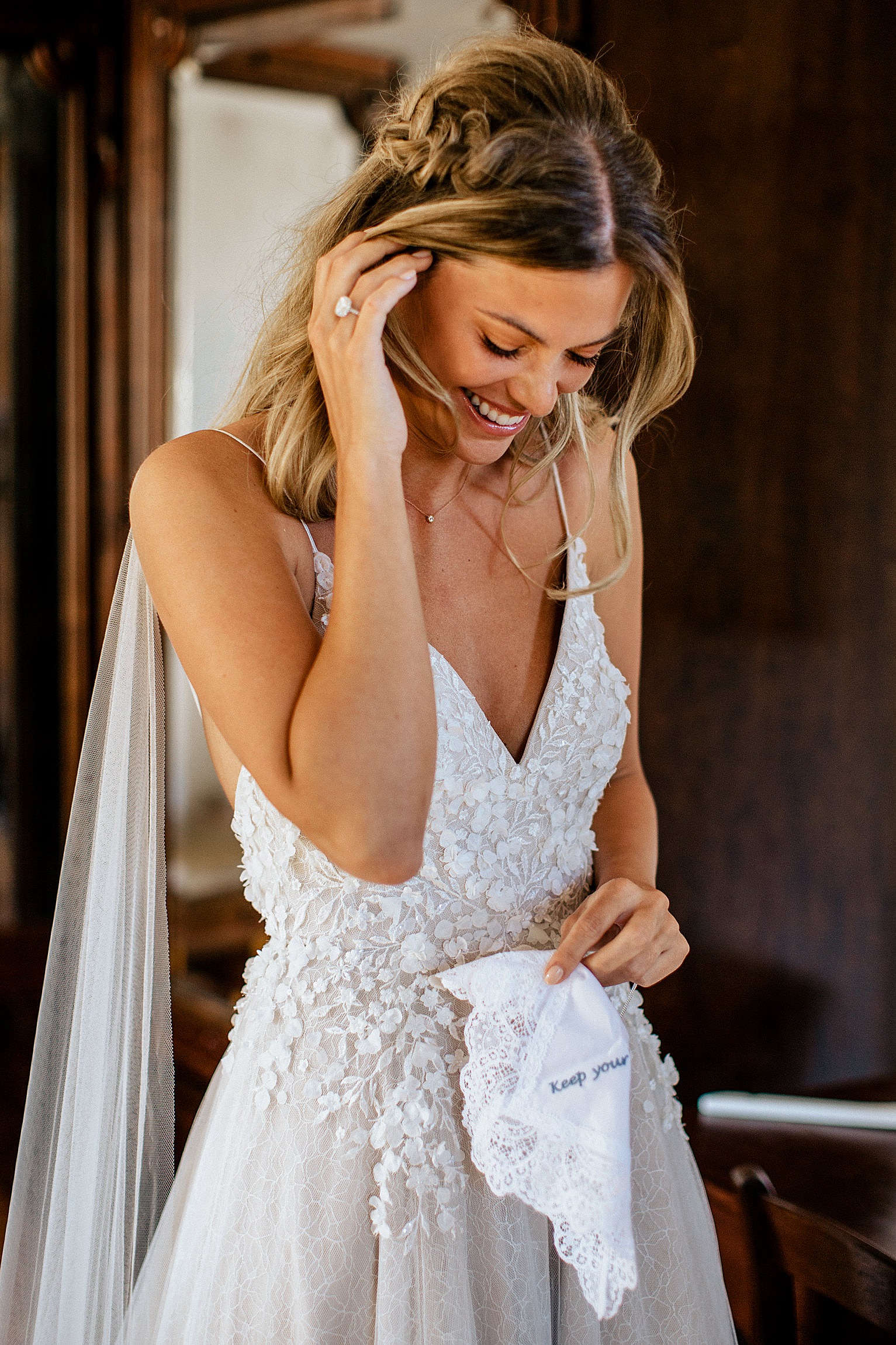 "The detail of the dress was very important to me, I wanted it to be intricate and delicate as if the lace and petals were 'growing' from the top and along the skirt."
"Jo hand prepared and sewed on each vine and petal on my hand. I initially wasn't keen on having the shoulder drapes on my dress, but Jo convinced me and I'm SO glad she did as I loved them."
"Jo at Julita London, made my veil to compliment my dress. It was a cathedral length veil, made from an incredibly soft tulle which was hand embellished petal by petal, like my dress."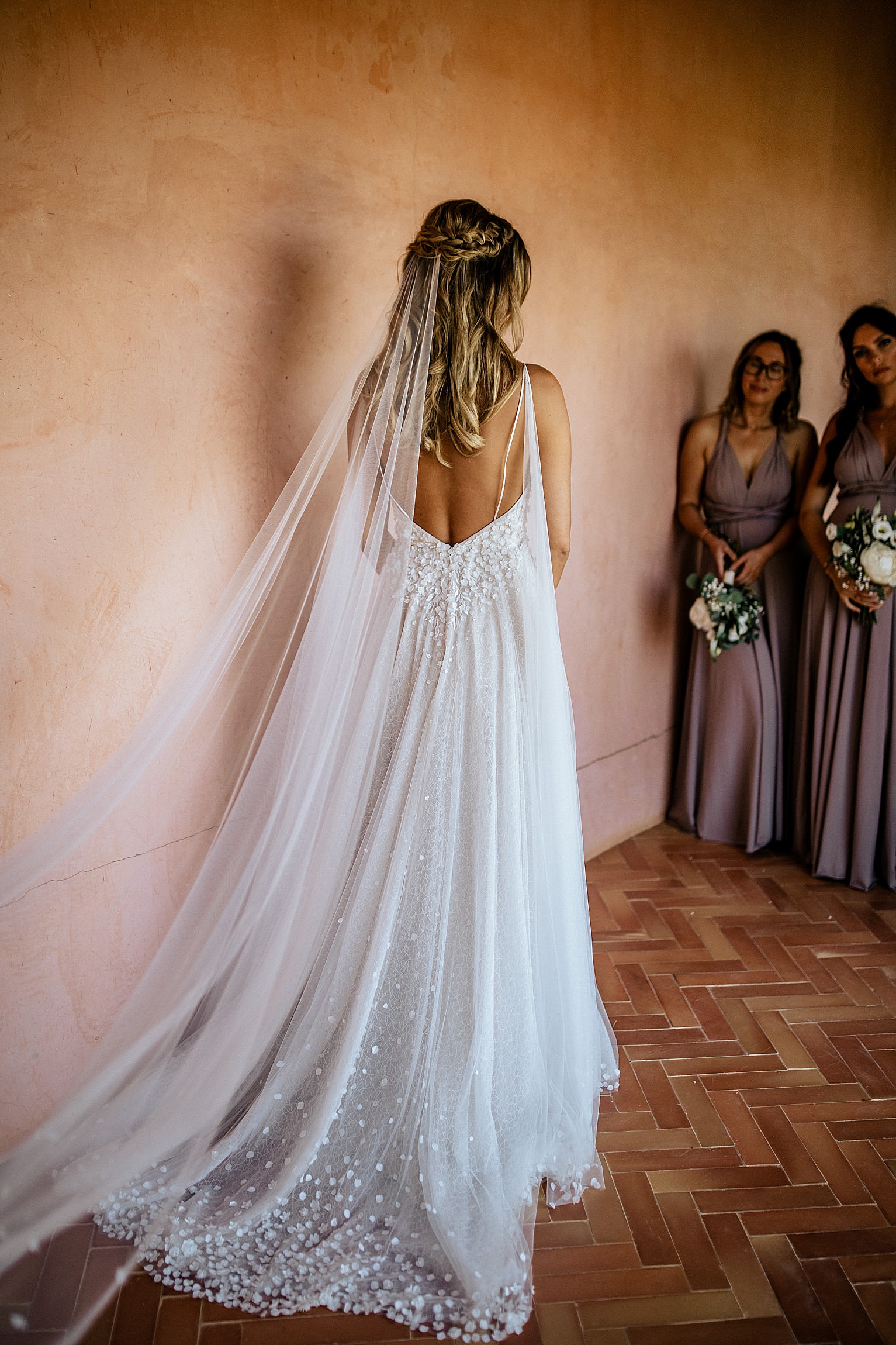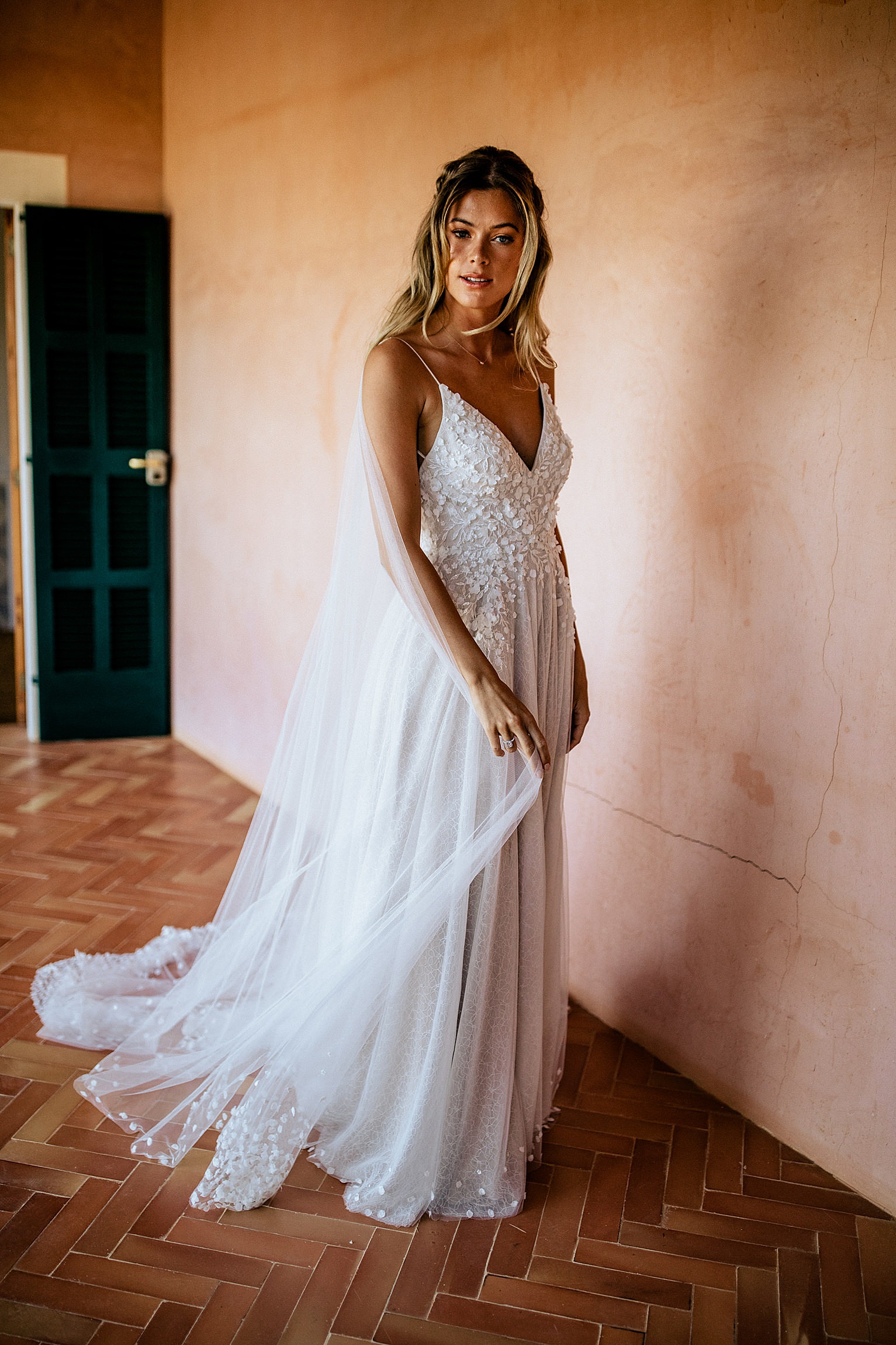 "My grandma gave me an antique coin when I was a kid. She gave one to each of her 3 grandchildren, but we were only actually given it on our wedding days. It's my most prized possession and I treasure it."
"I managed to find a little locket that fit it perfectly and I held it during the ceremony with my bouquet. As my Grandma passed away when I was quite young this made me feel like she was there with me."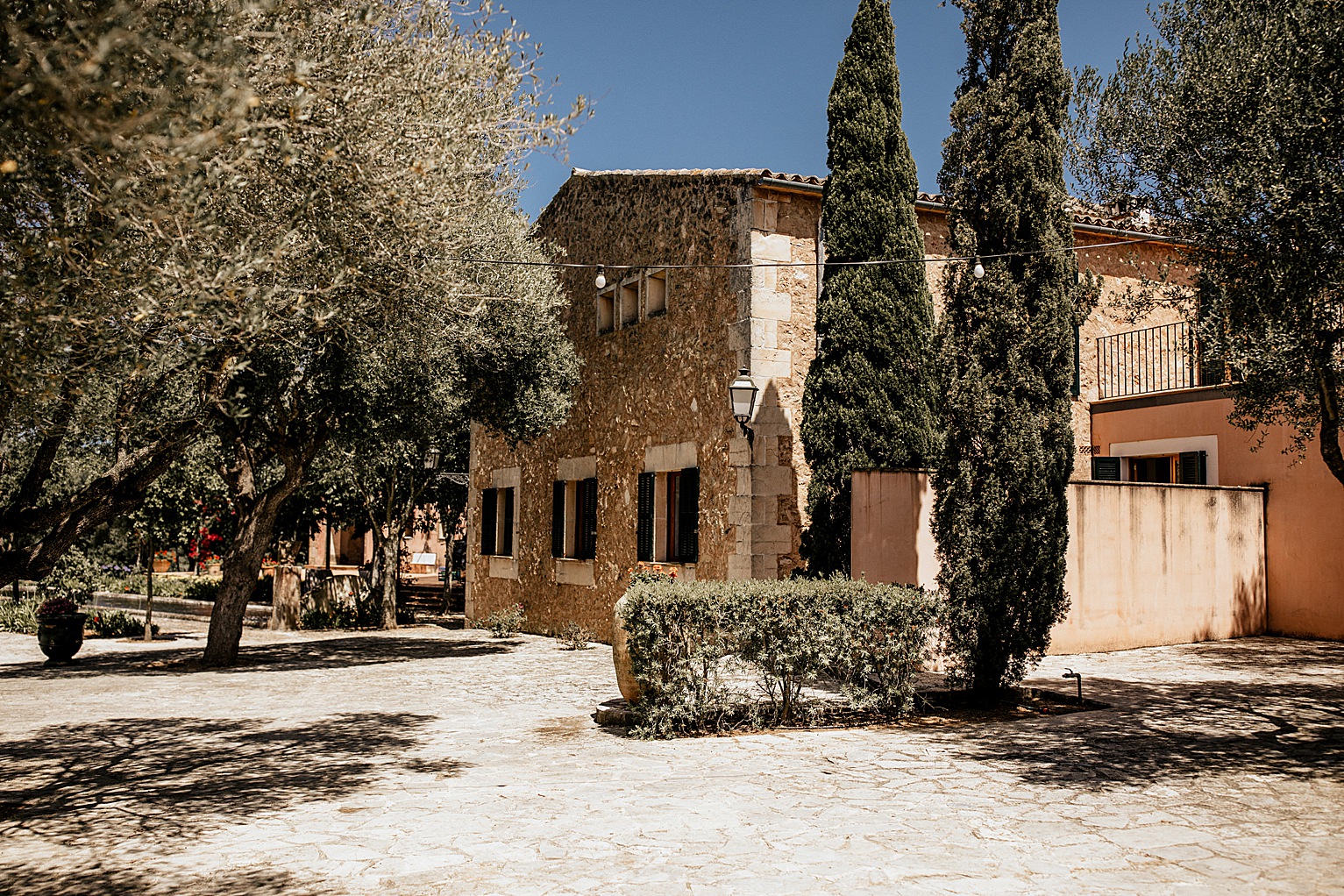 "My husband and I met in a nightclub in London over nine years ago. Times before Tinder would you believe!"
"He approached me in the club and we chatted a bit. I used to have a little test for guys back in the day."
"I would tell people my actual birth name which is Boglarka (I'm Hungarian) – it's a very difficult name to remember."
"James met me later outside and remembered, so I thought he was worthy to talk again after that."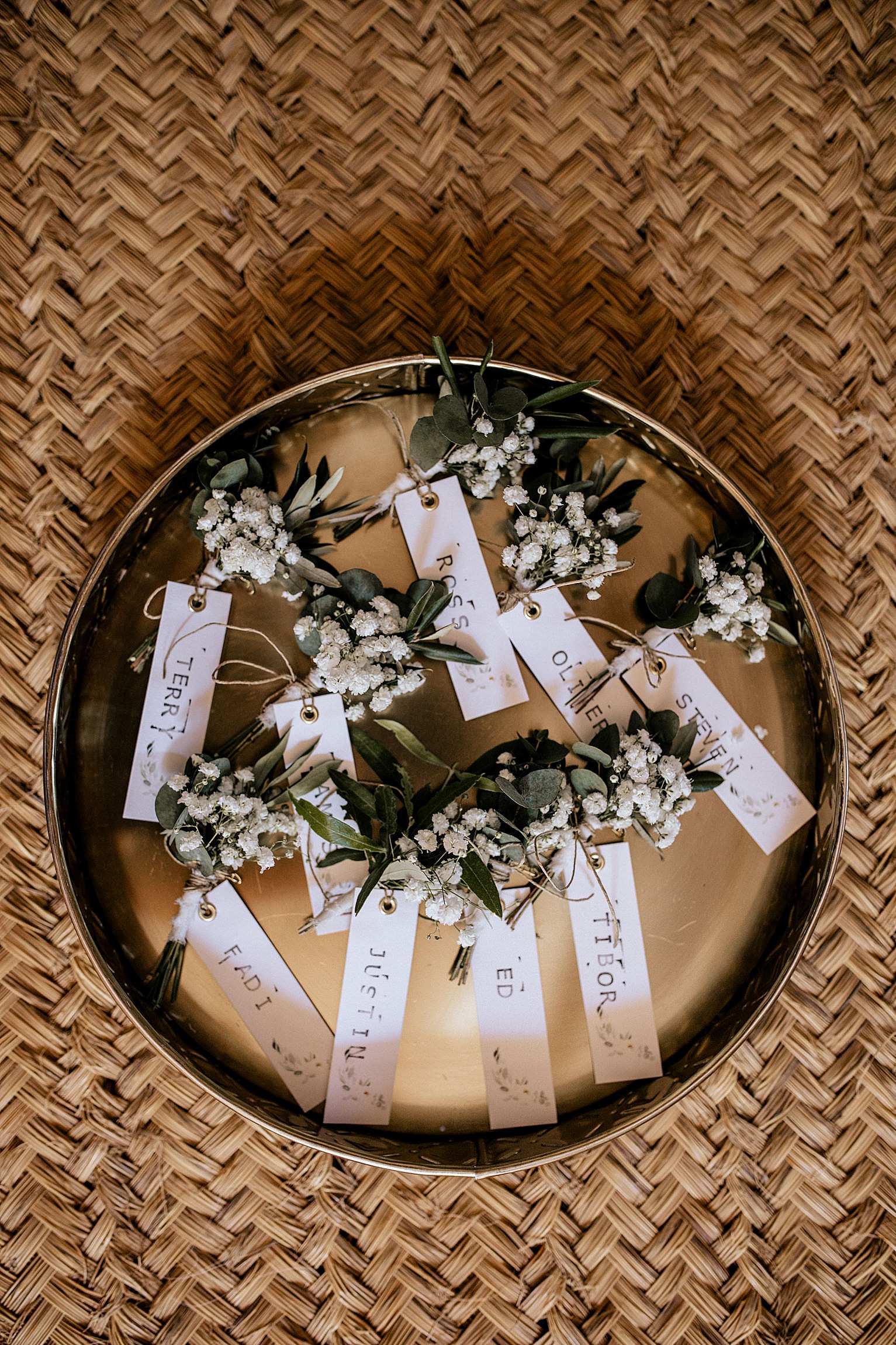 "We got engaged in Thailand. We were staying in Chiang Mai which is the most stunning part of the country. He organised a private dinner over the rice fields, it was so romantic but it was also the most awkward."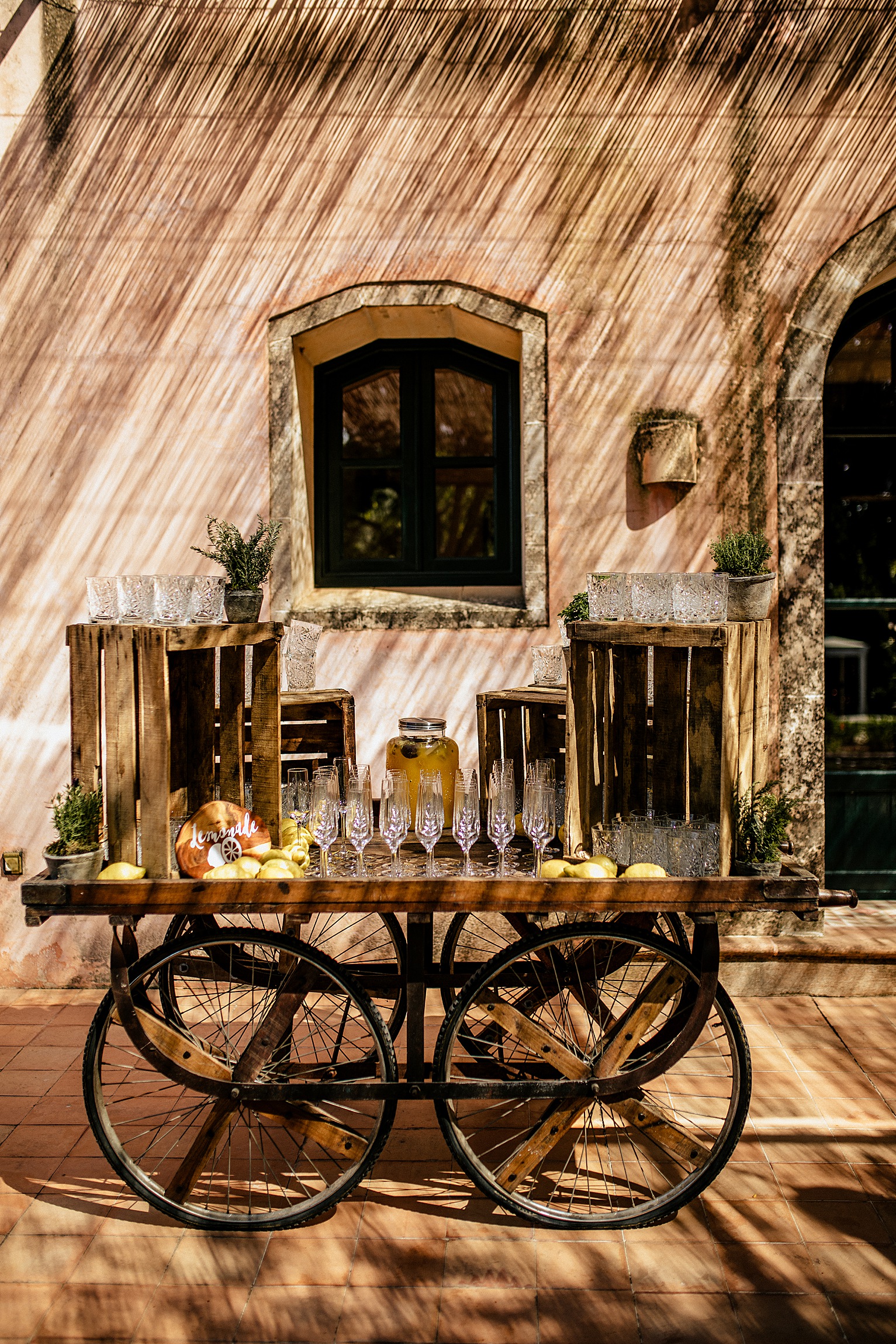 "He knew that I knew he was about to propose. We were like two very awkward teenagers not knowing what to even talk about during dinner."
He finally got down on one knee and said the loveliest speech. Obviously I said yes! After he put the ring on my finger he said 'ahh thank God now the ring is your responsibility!'"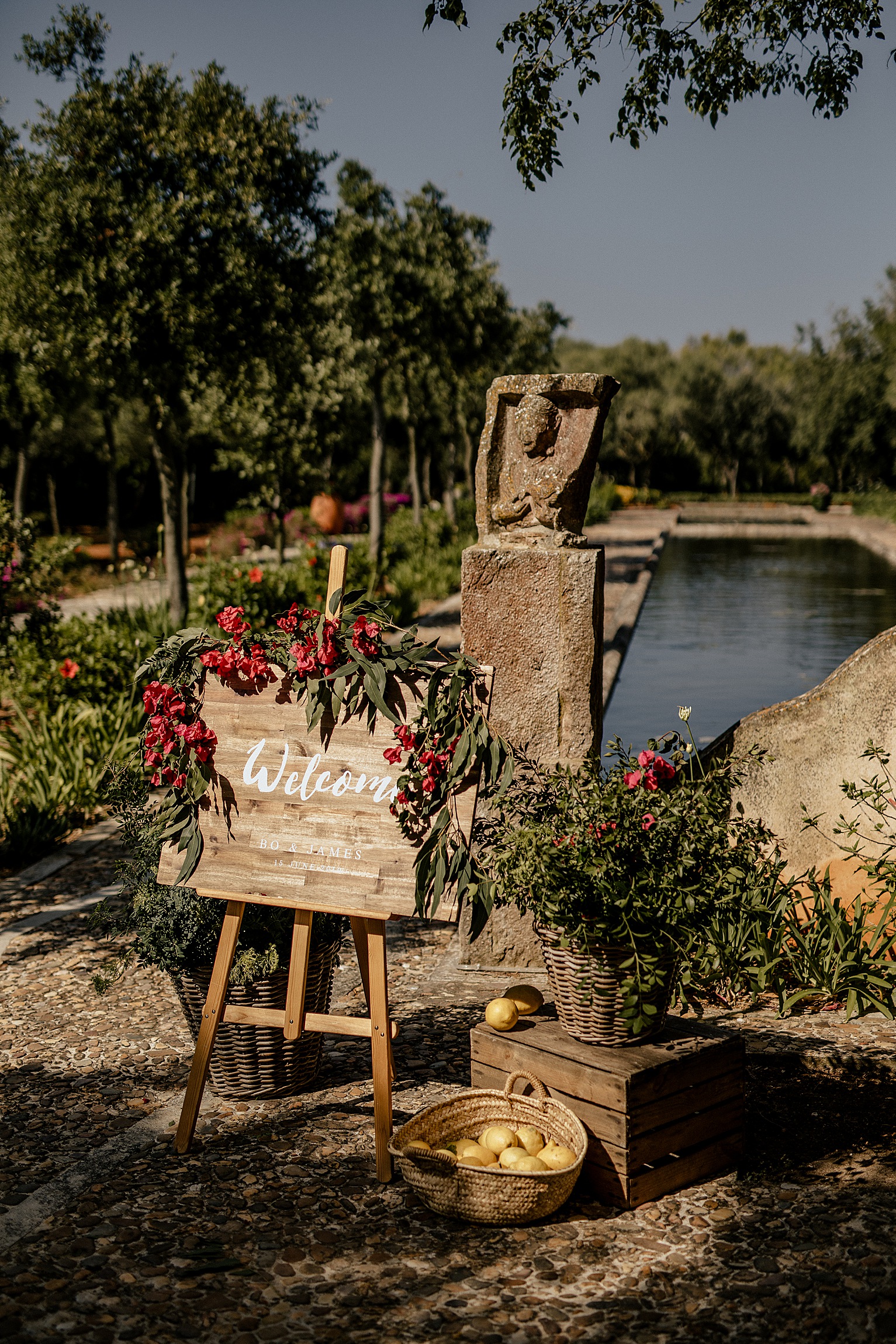 "James and I are often in Spain for holidays. I almost consider it my second home. Absolutely love Mallorca and their particular style, the culture and natural beauty so we decided to embrace that; rustic organic chic with a neo-romantic vibe."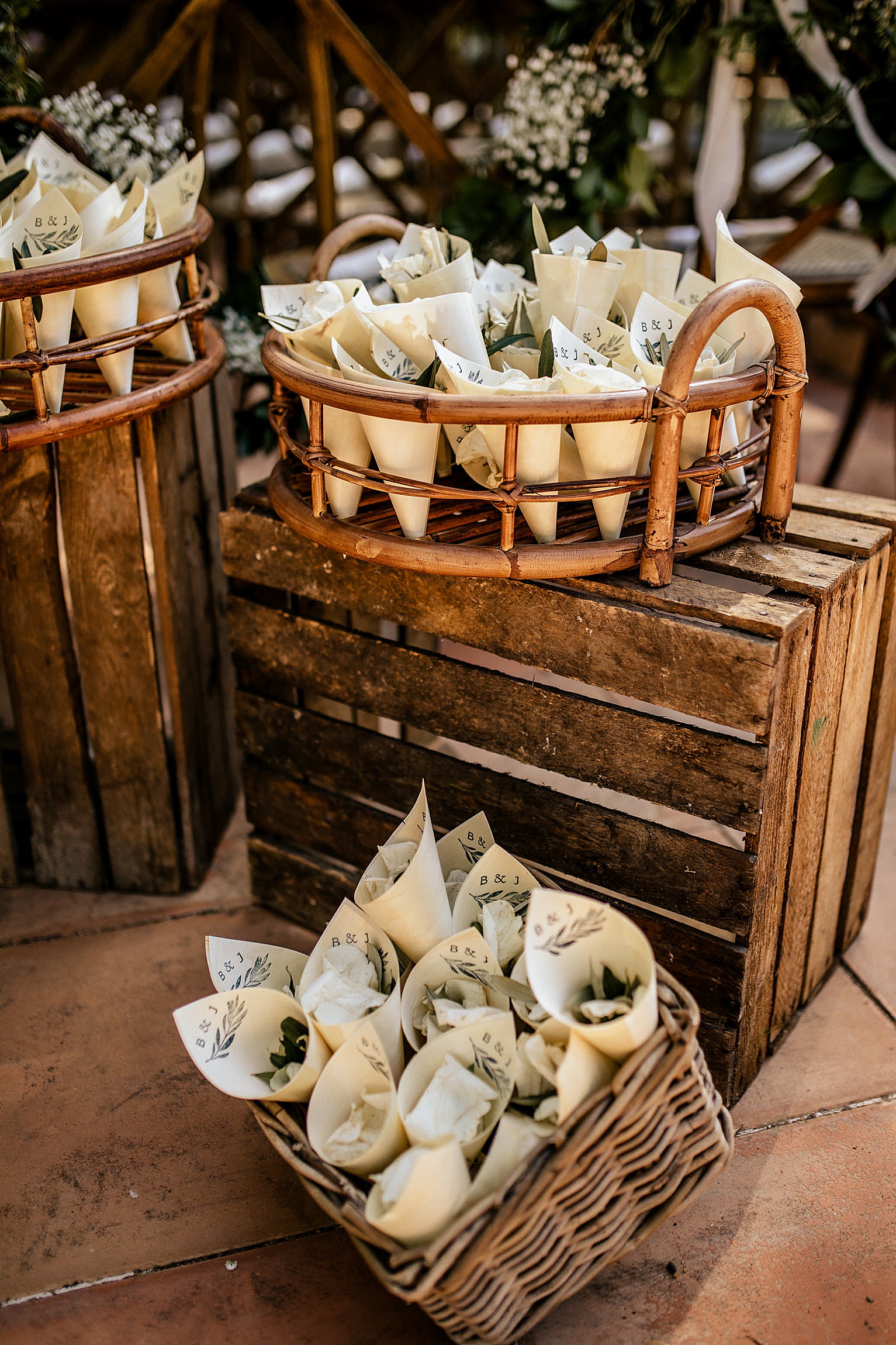 "The venue has a labyrinth of cobbled pathways, between olive trees, pomegranates, oaks, almonds and cypresses. An idyllic setting hidden within the Tramuntana Mountains which become a twinkling glow with candles and string lights draped from above at night like a magical canopy of stars."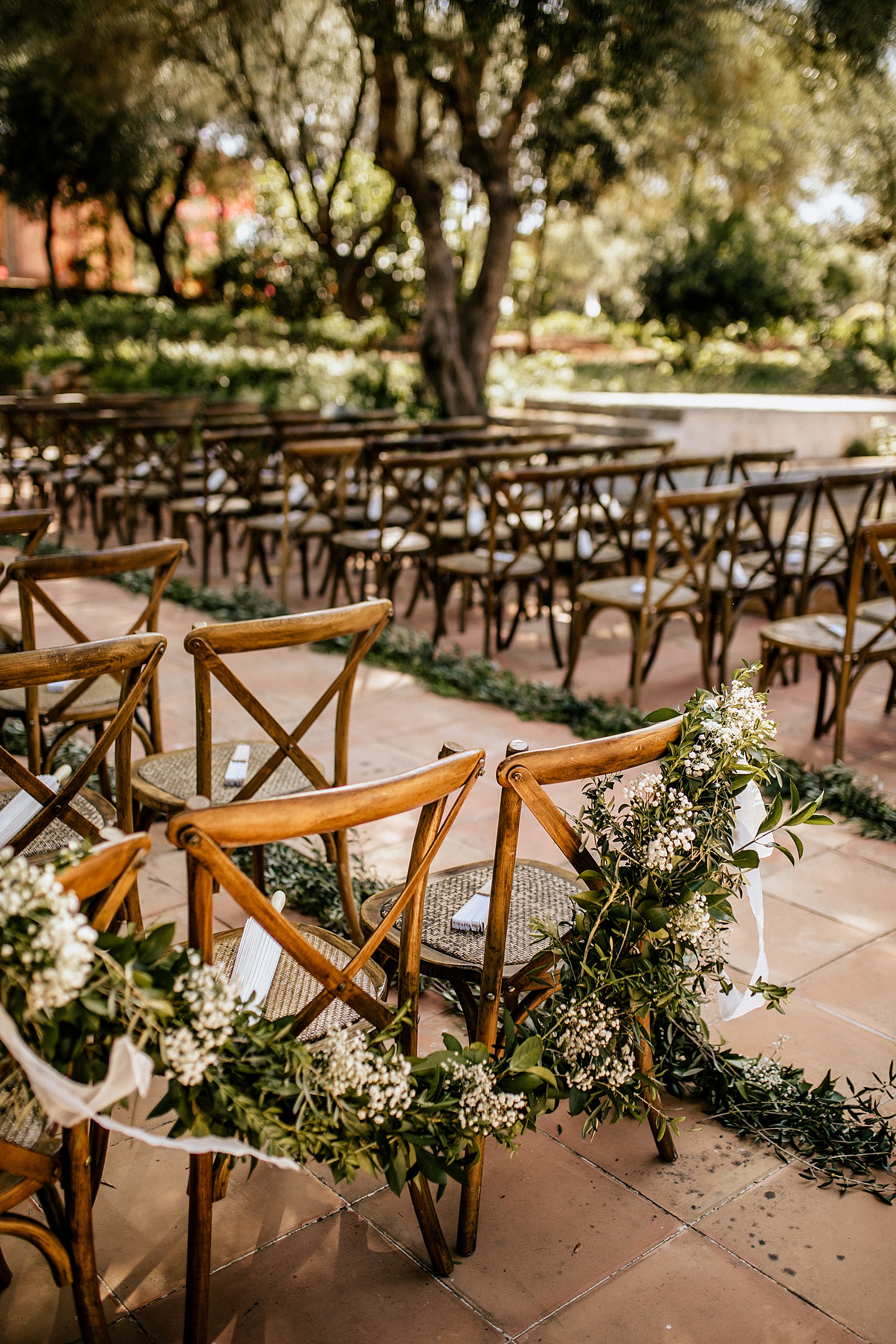 "Our colours were white, green and natural wood – rustic and organic. I also love fresh lemons – so I insisted on having some dotted around!"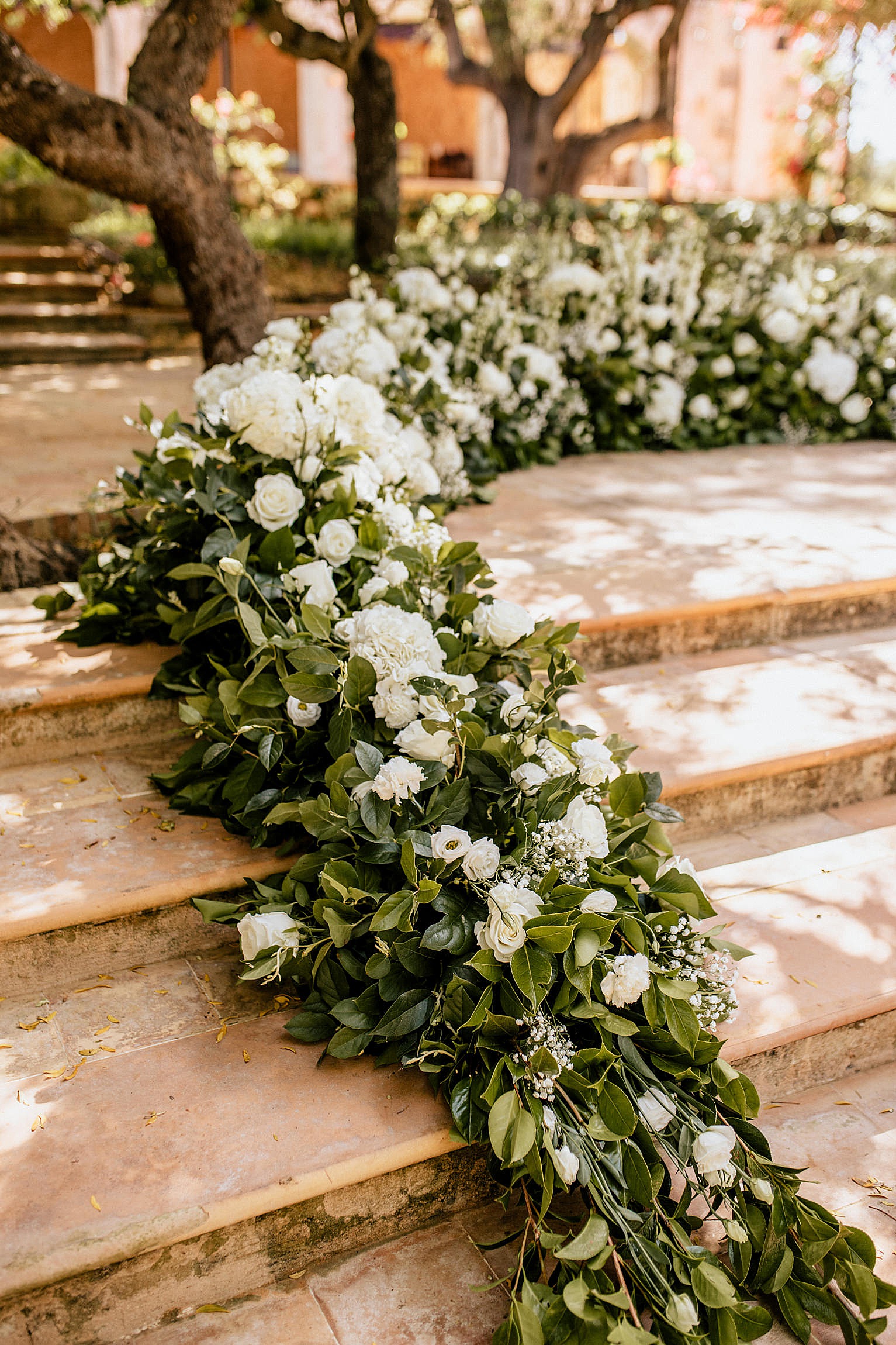 "My favourite flowers are baby's breath/gypsophila and eucalyptus. I told our florist, Francis Deco that the rest is completely up to her and she honestly created magic."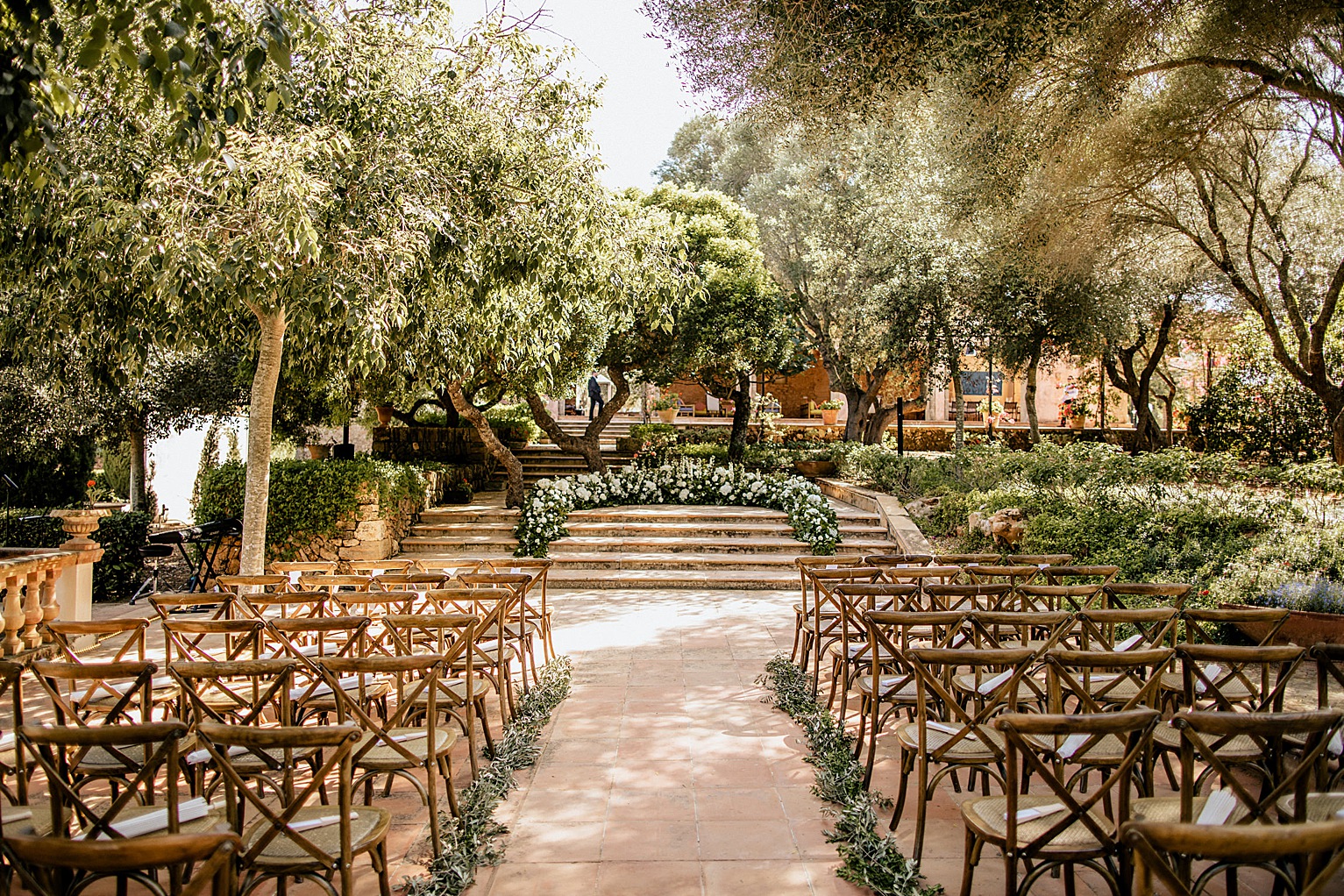 "I would advice anyone if their supplier is good, just trust them and give them some artistic freedom. It often turns out even better than you could have wanted."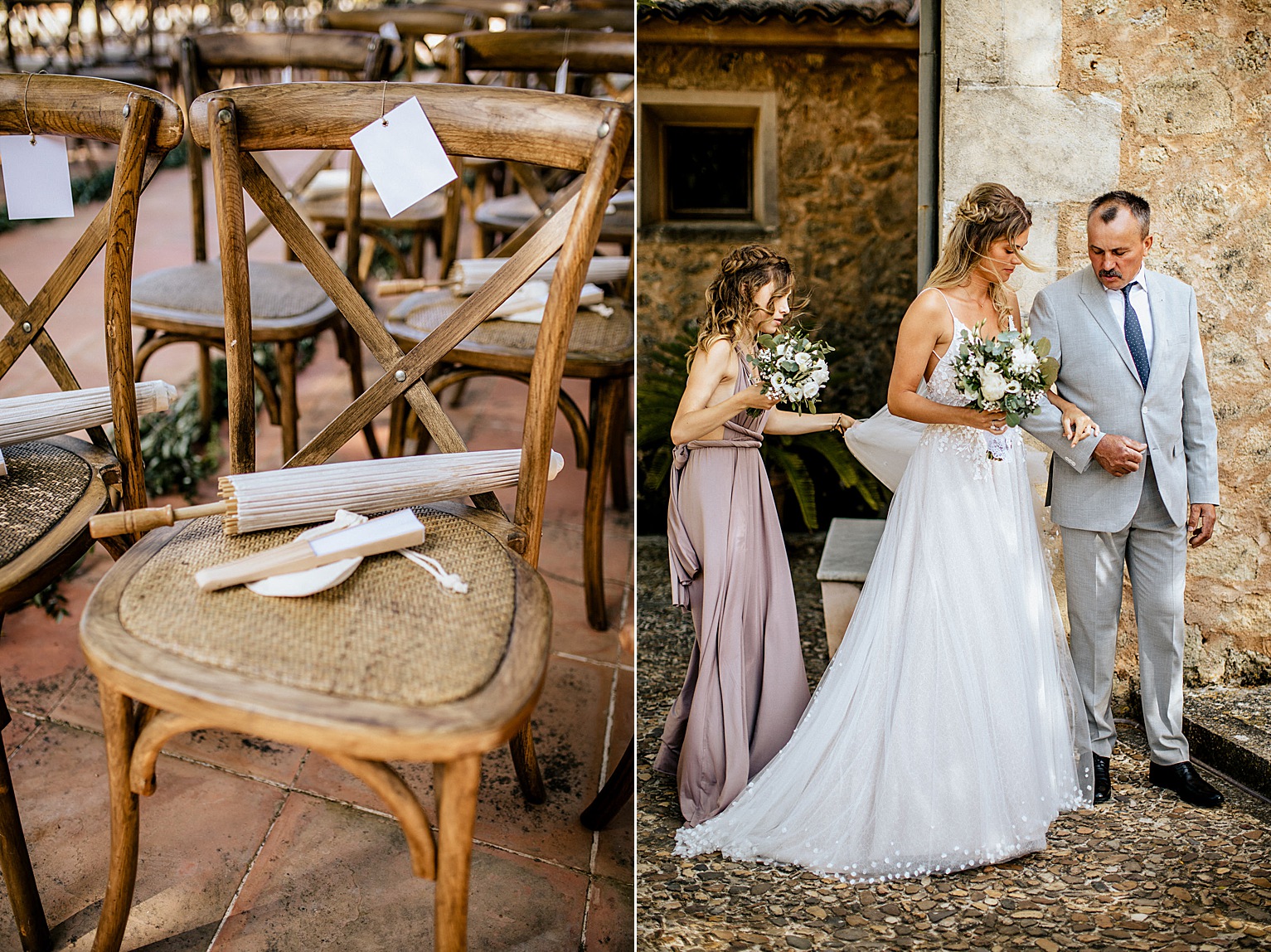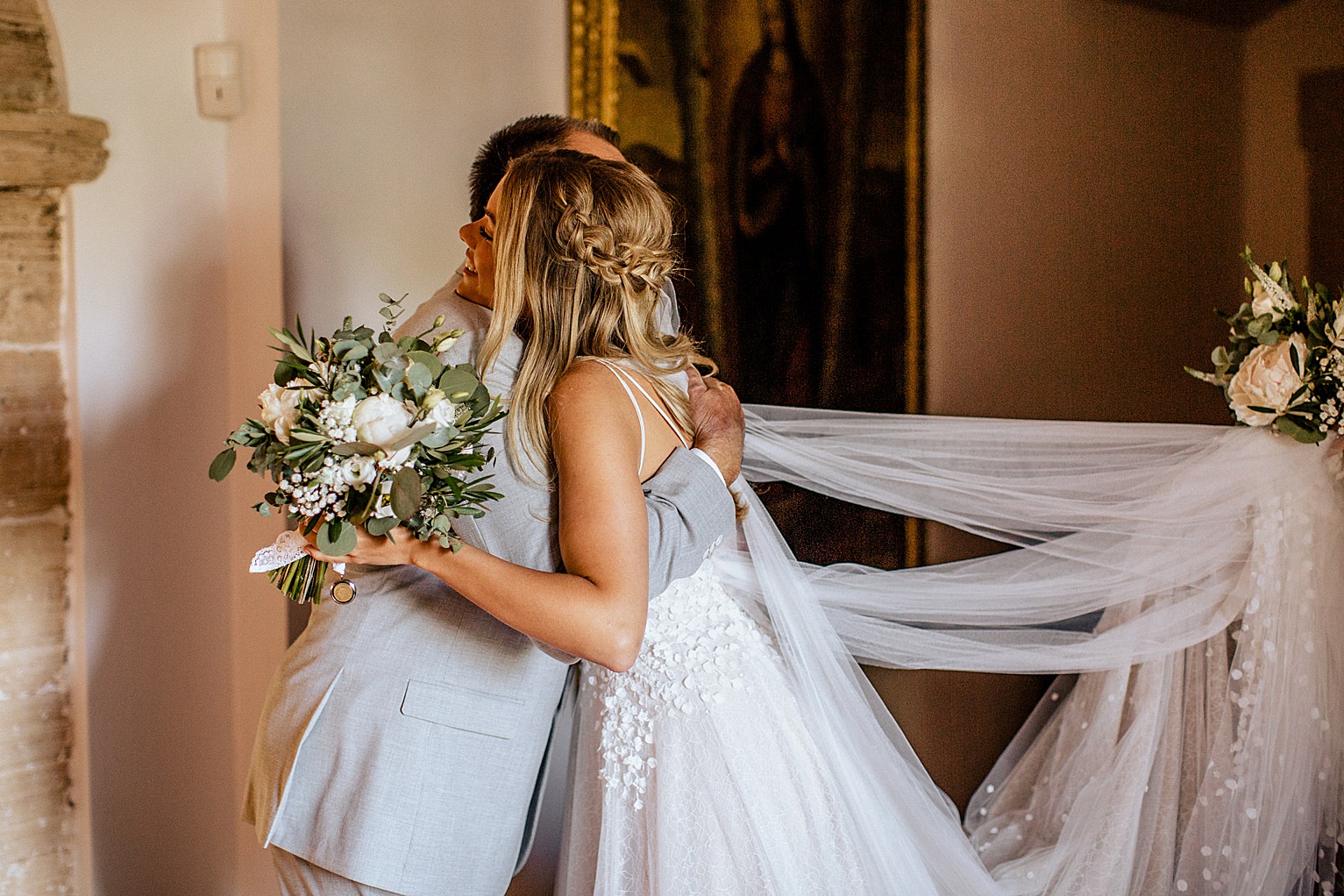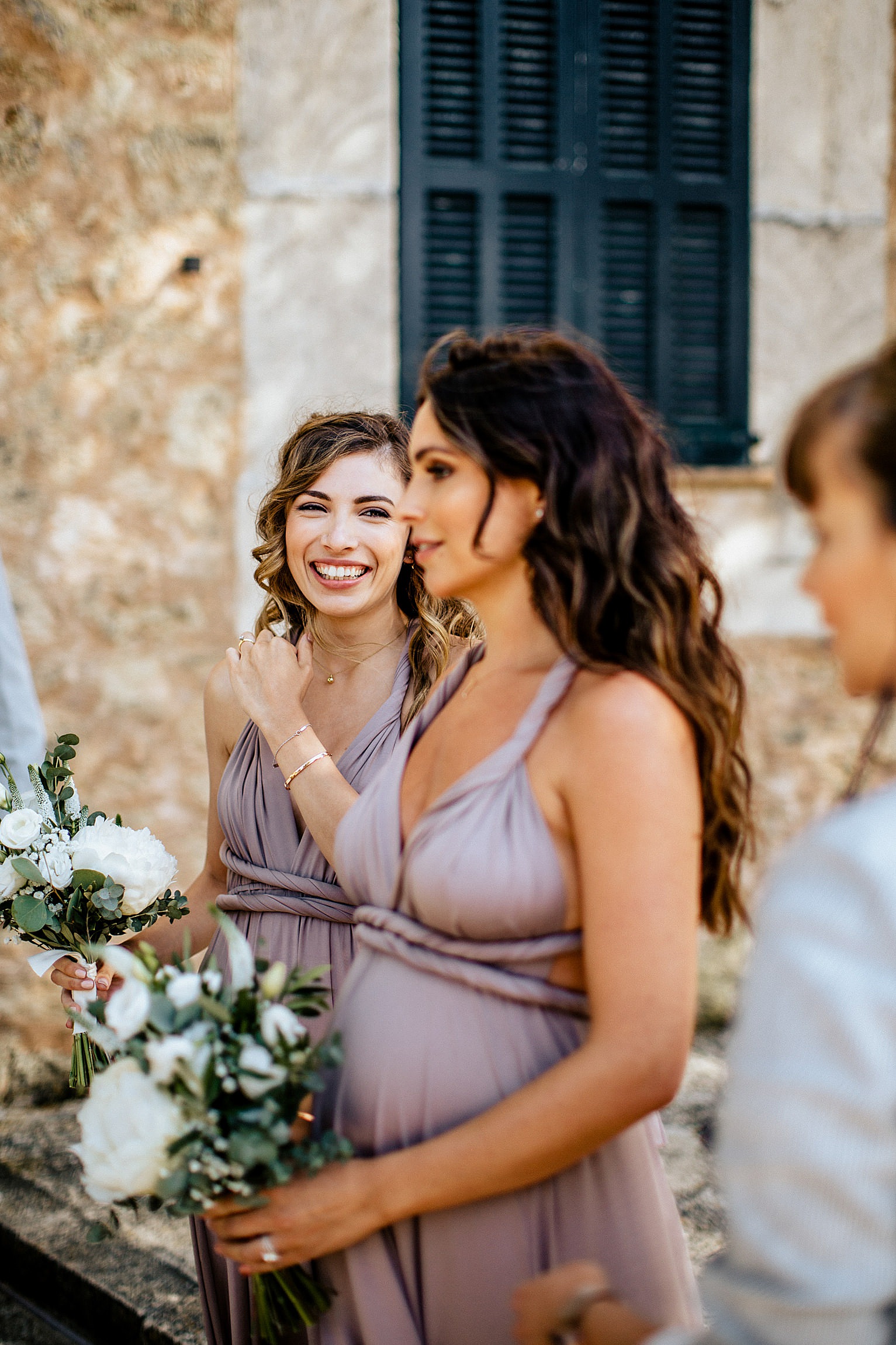 "My father – he is my hero. It was such an emotional moment walking to the ceremony together – so precious to have him by my side."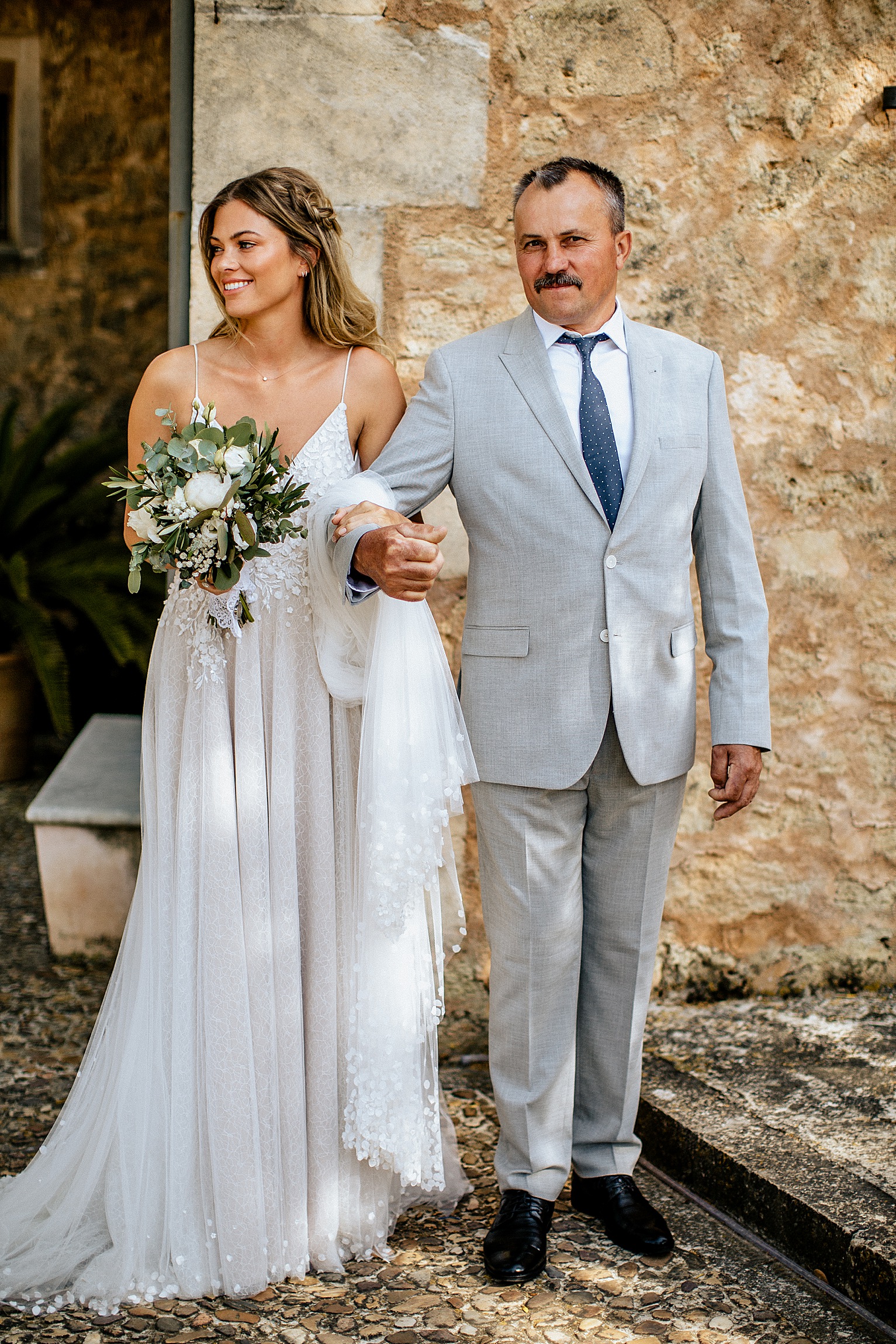 "I'm a huge Oasis fan. I had been planning on using Wonderwall as my' walking the isle' song for a while but some friends including my husband was a bit worried how it would turn out."
"I had such a strong vision how it could sound if a female sang it – the day before I had to decide, I went to a workout class and then at the end of session the trainer played a cover of 'Wonderwall' as a slow song."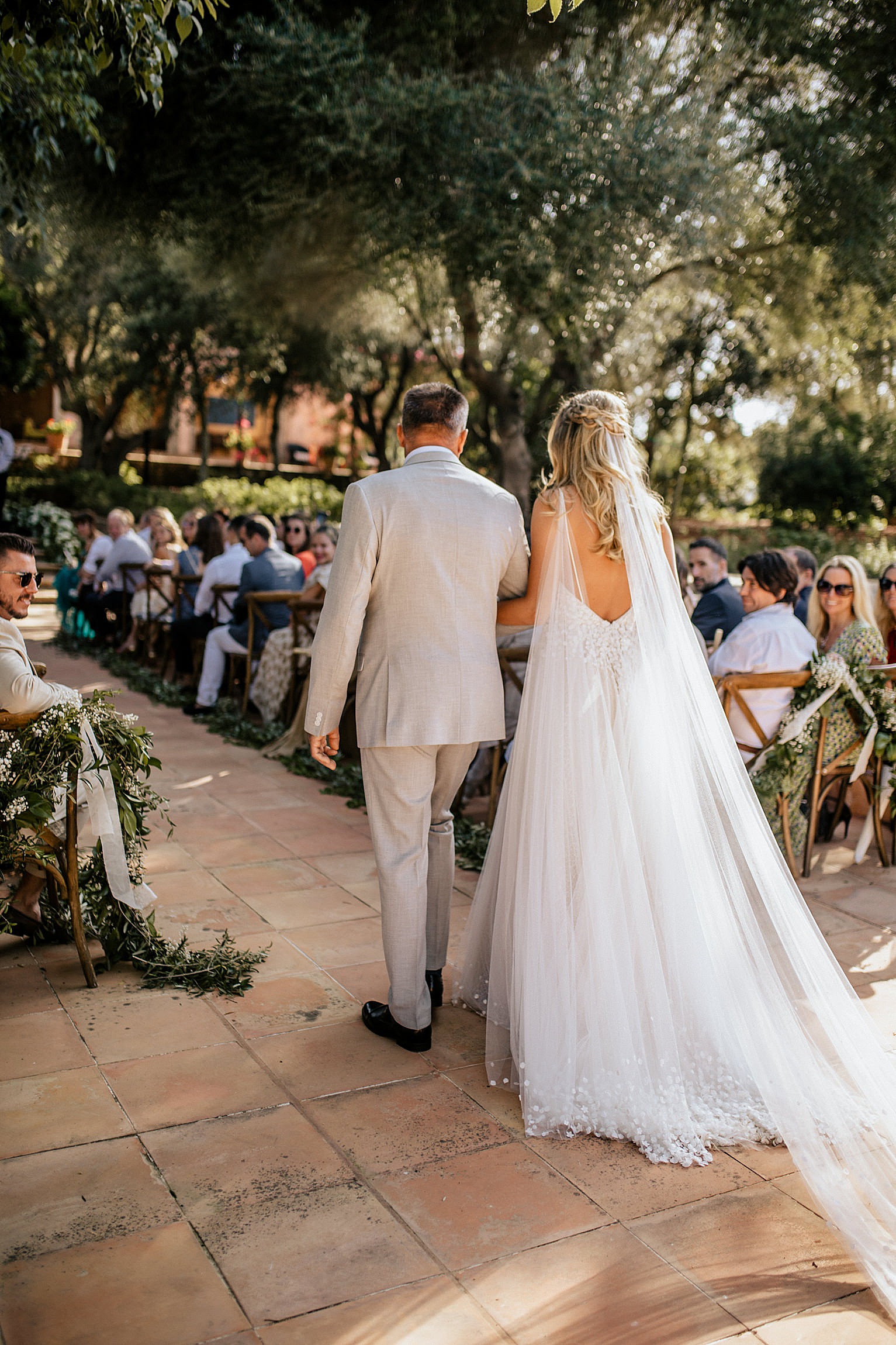 "I took it as a sign and it was the best decision. It was so original and moving. We left the ceremony to "You've got the Love"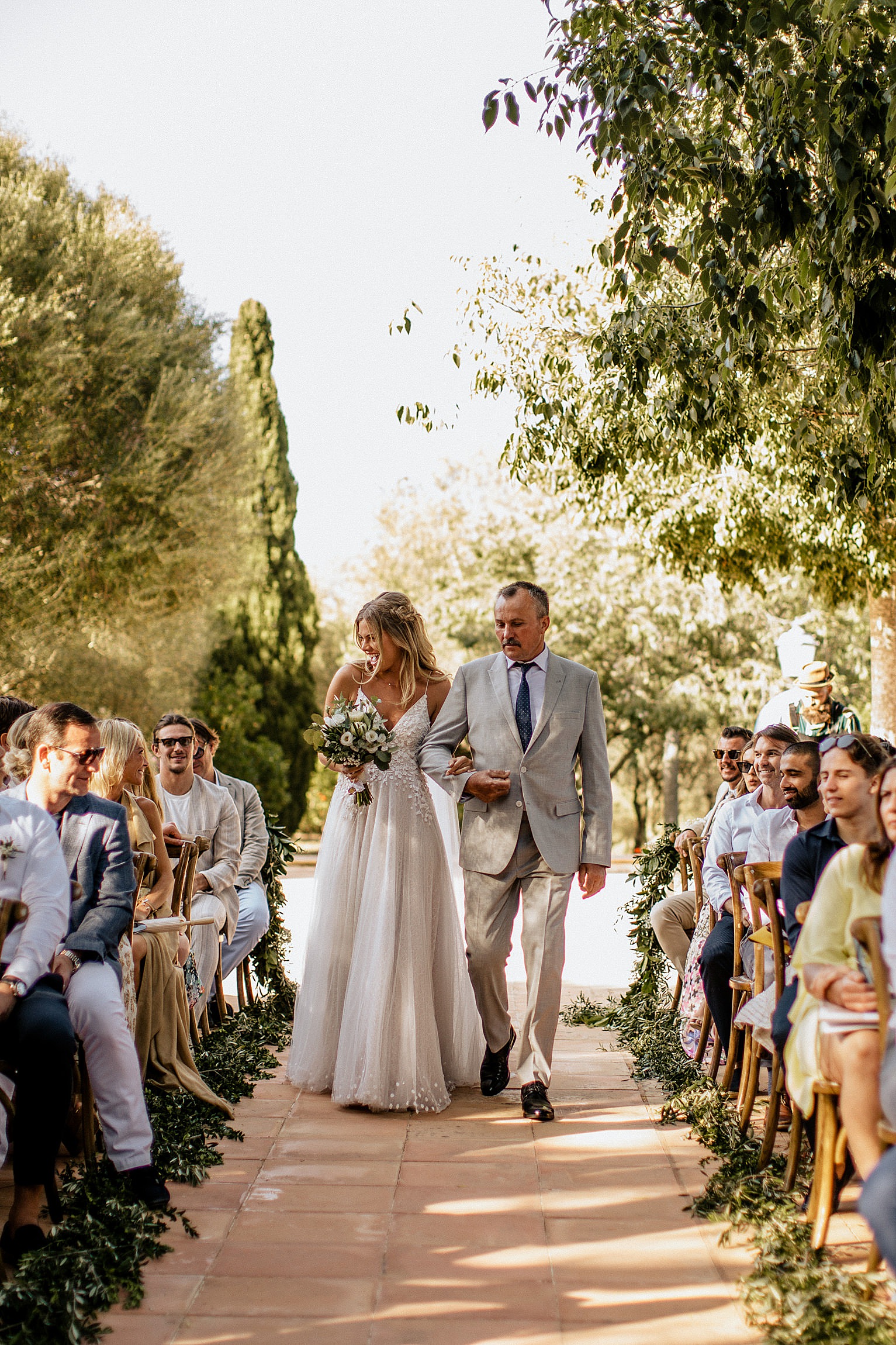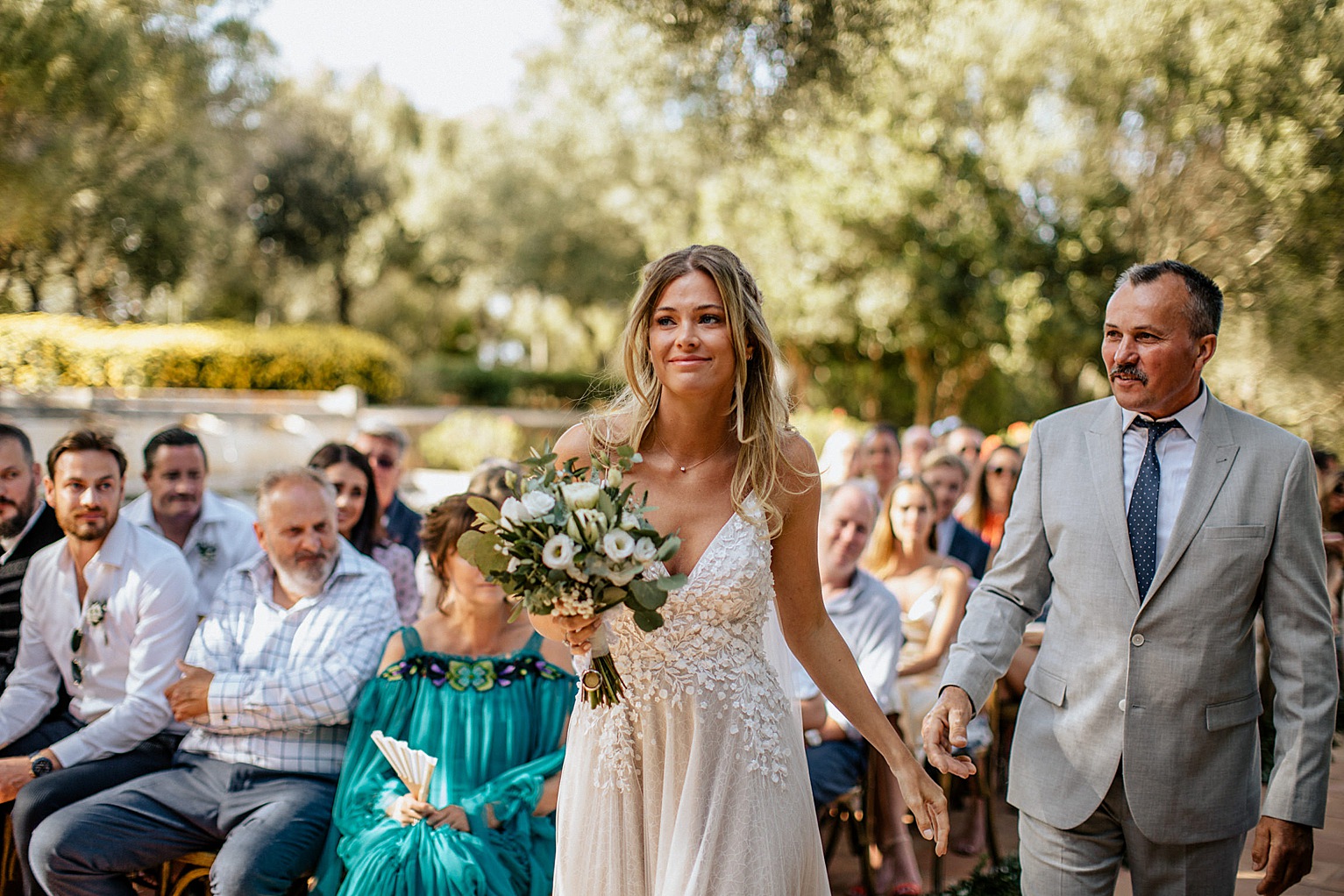 "My parents flew out a Hungarian priest as a wedding present so he could provide a religious blessing. We also had one of our best friends say some words."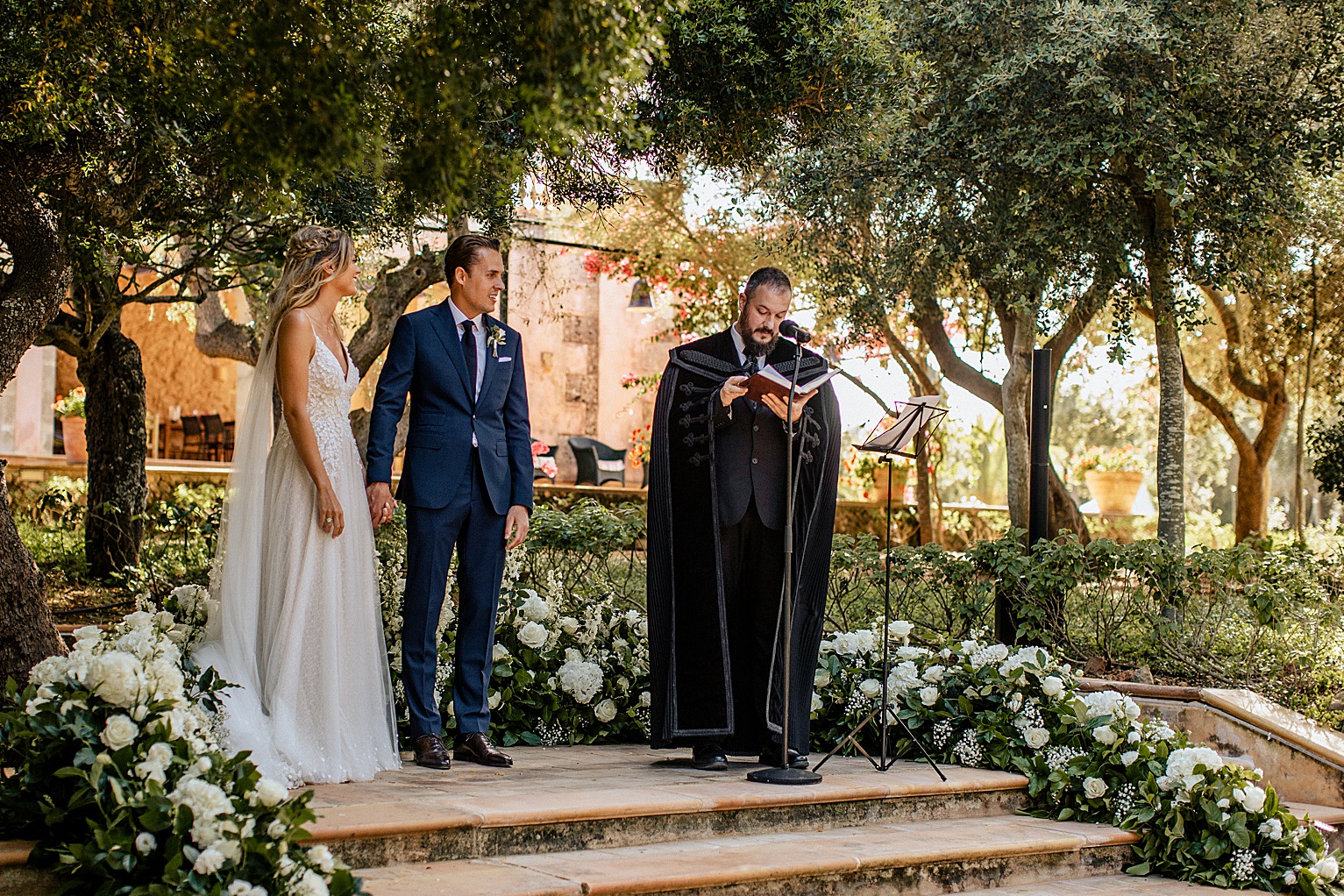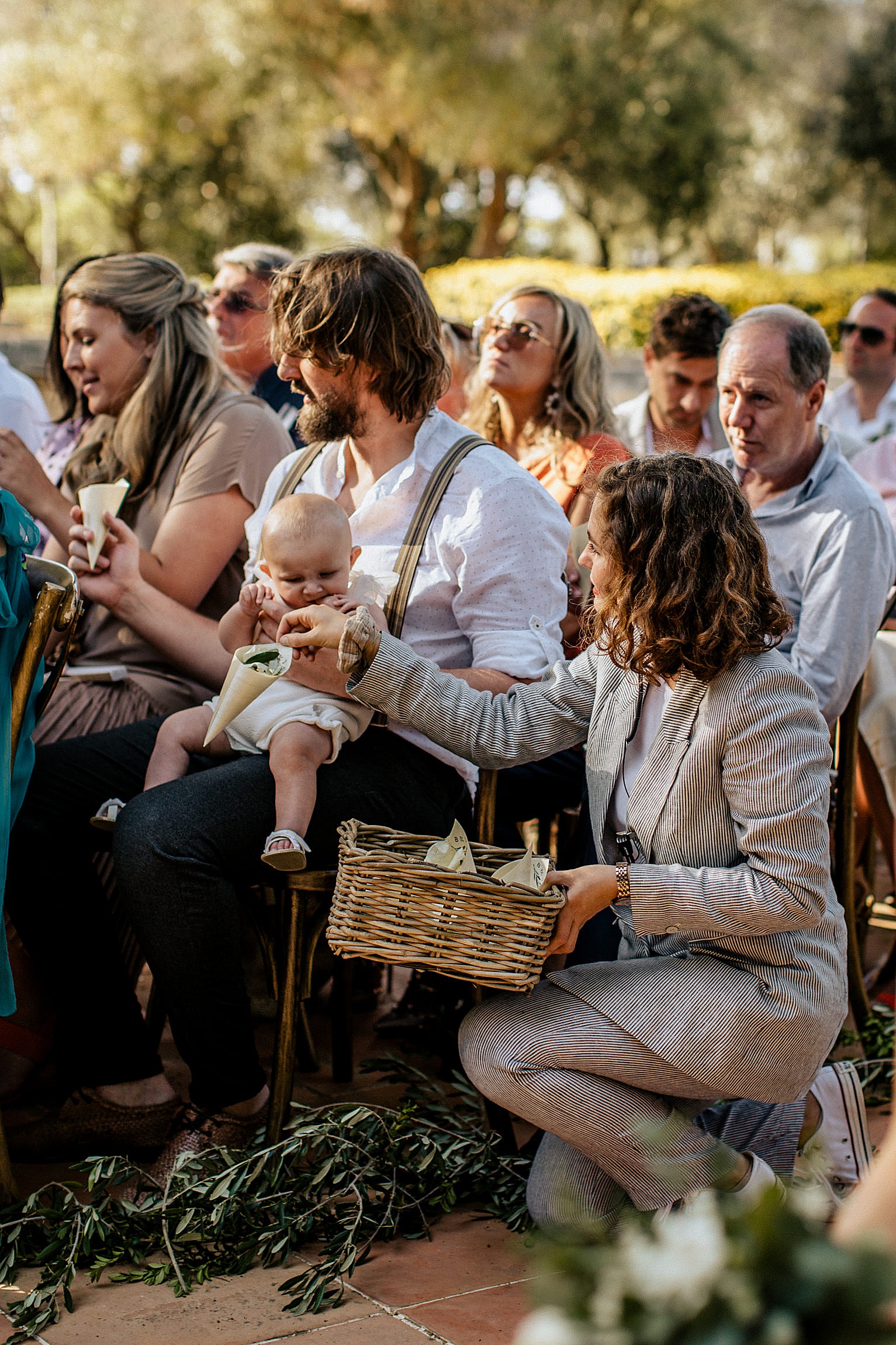 "We didn't really do vows. We asked both our priest and friend to keep it rather short and personal. I think we were both so emotional at that time speaking would have been just too difficult.
"My husband definitely made up for it in his wedding speech. Or as it's now known as 'the wedding roast'!"
"A friend of mine, Devanshi, of One Six, is a jewellery designer from Hong Kong. She made all of our rings exactly as we wanted – she is incredibly talented."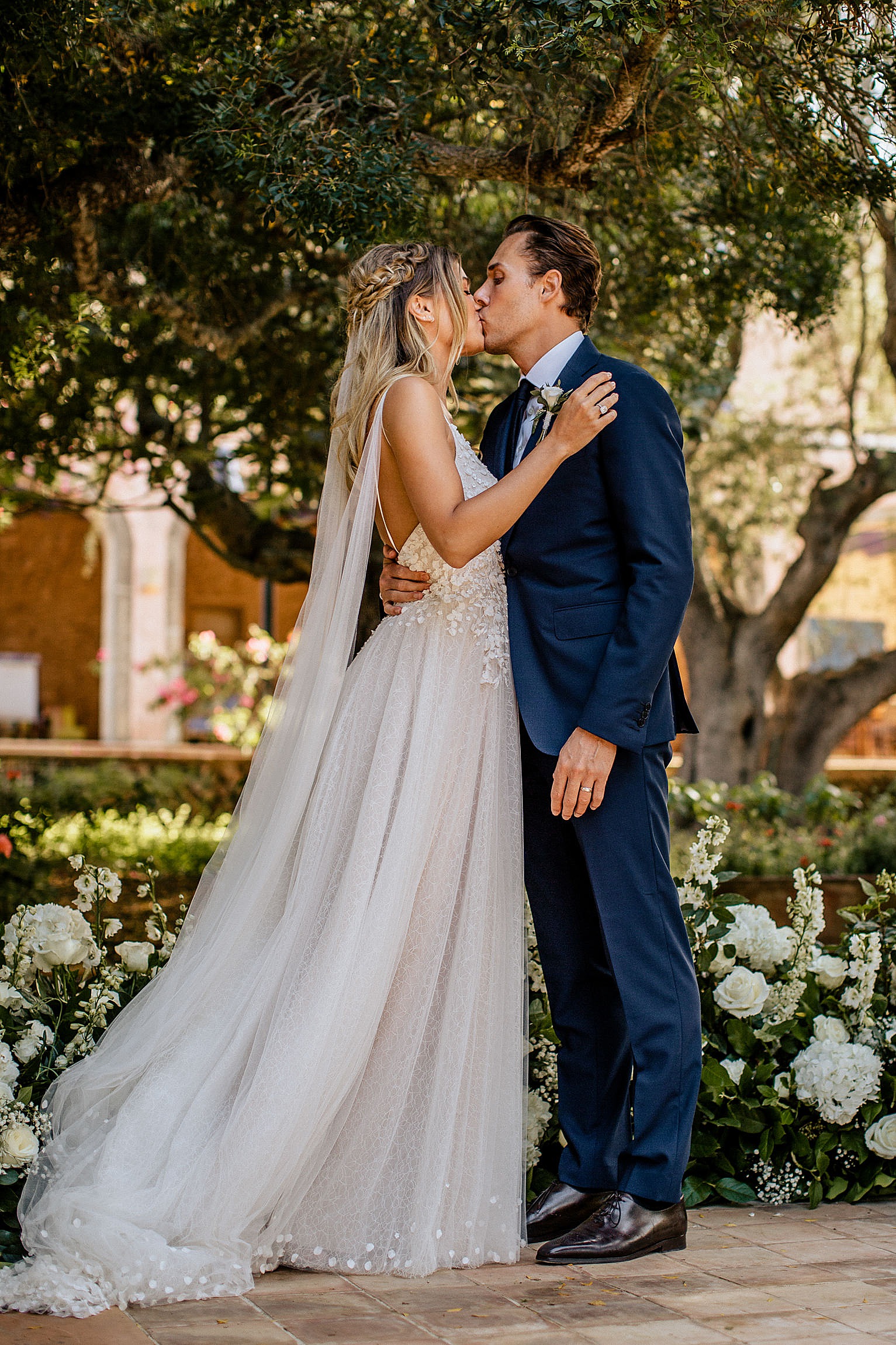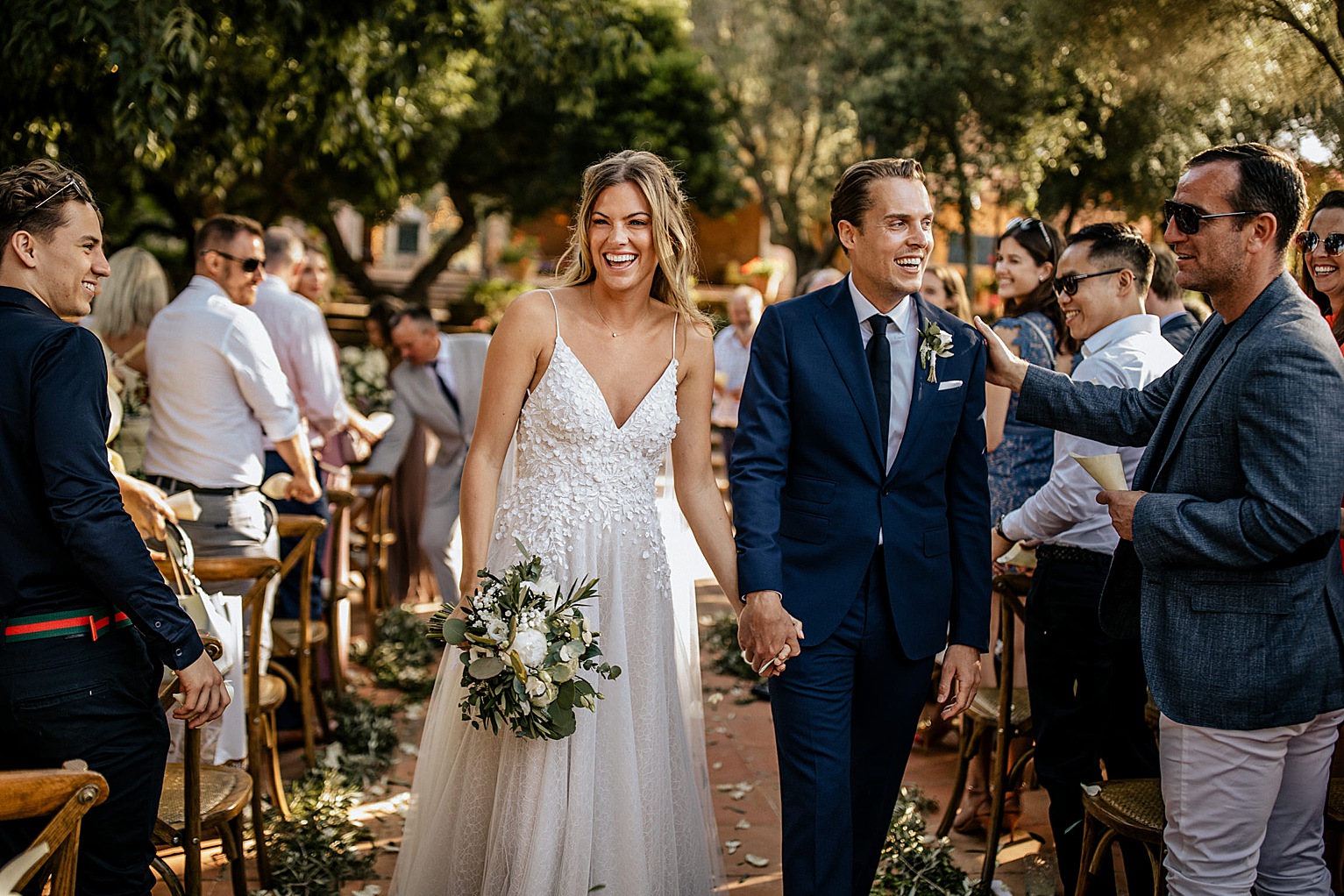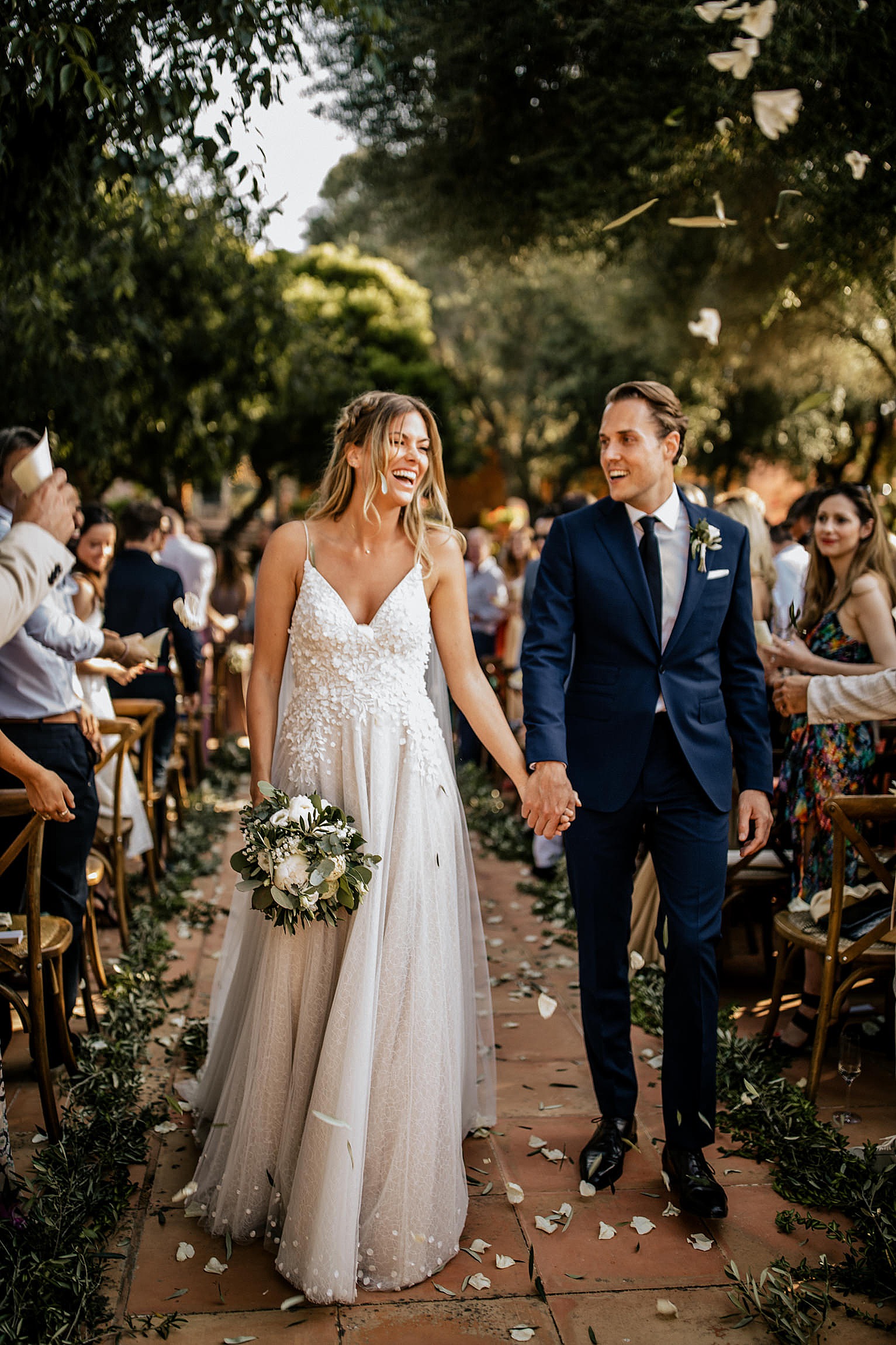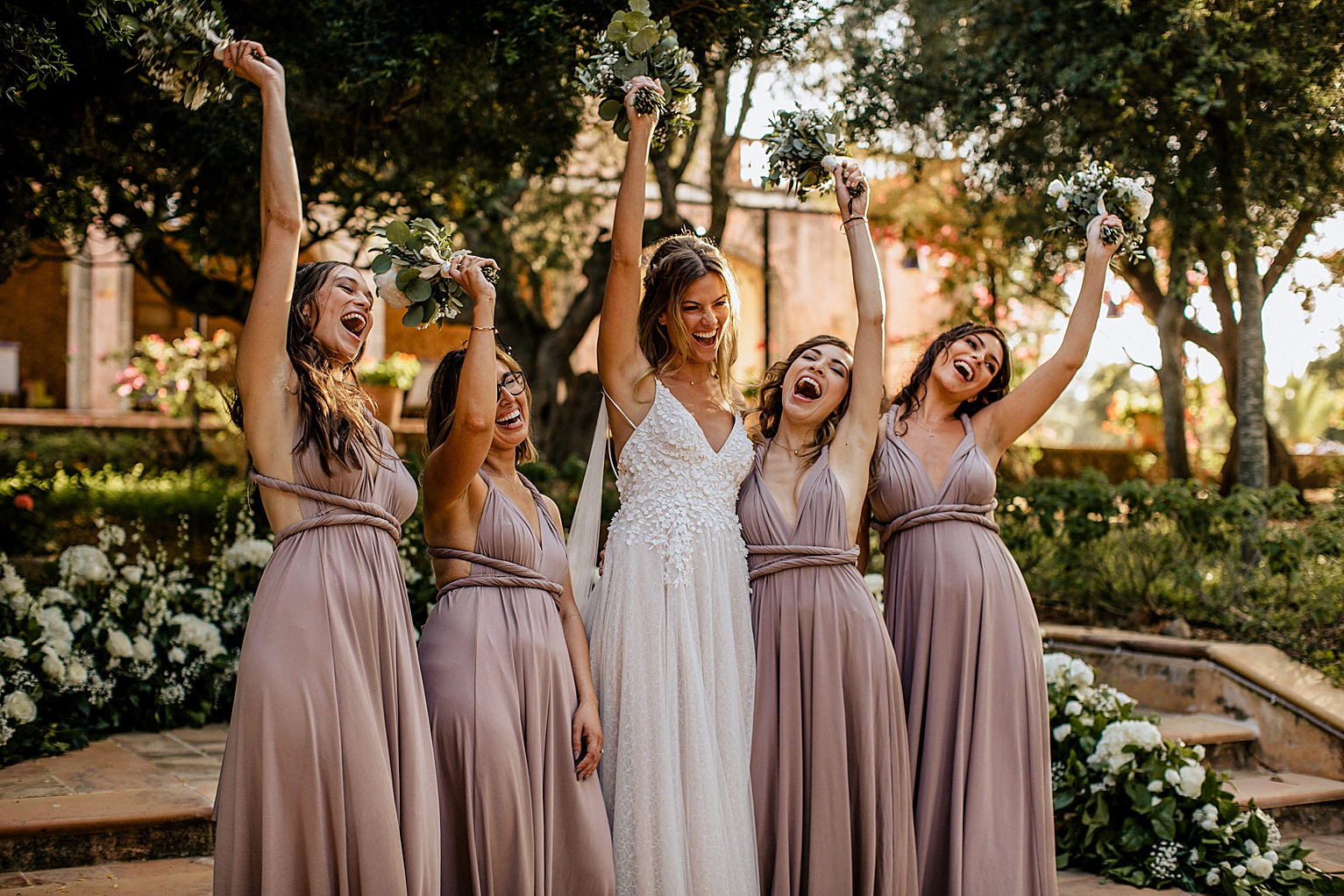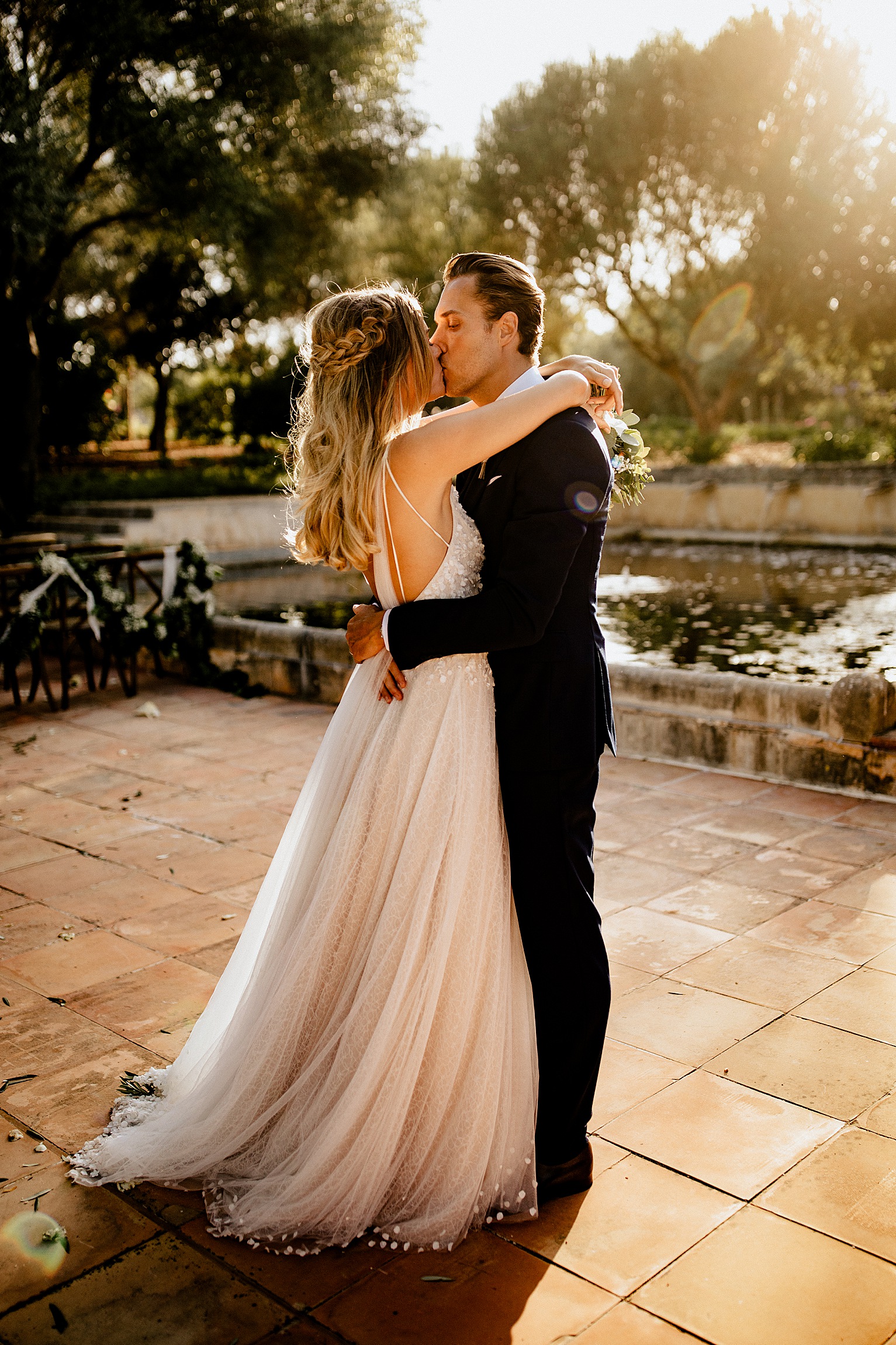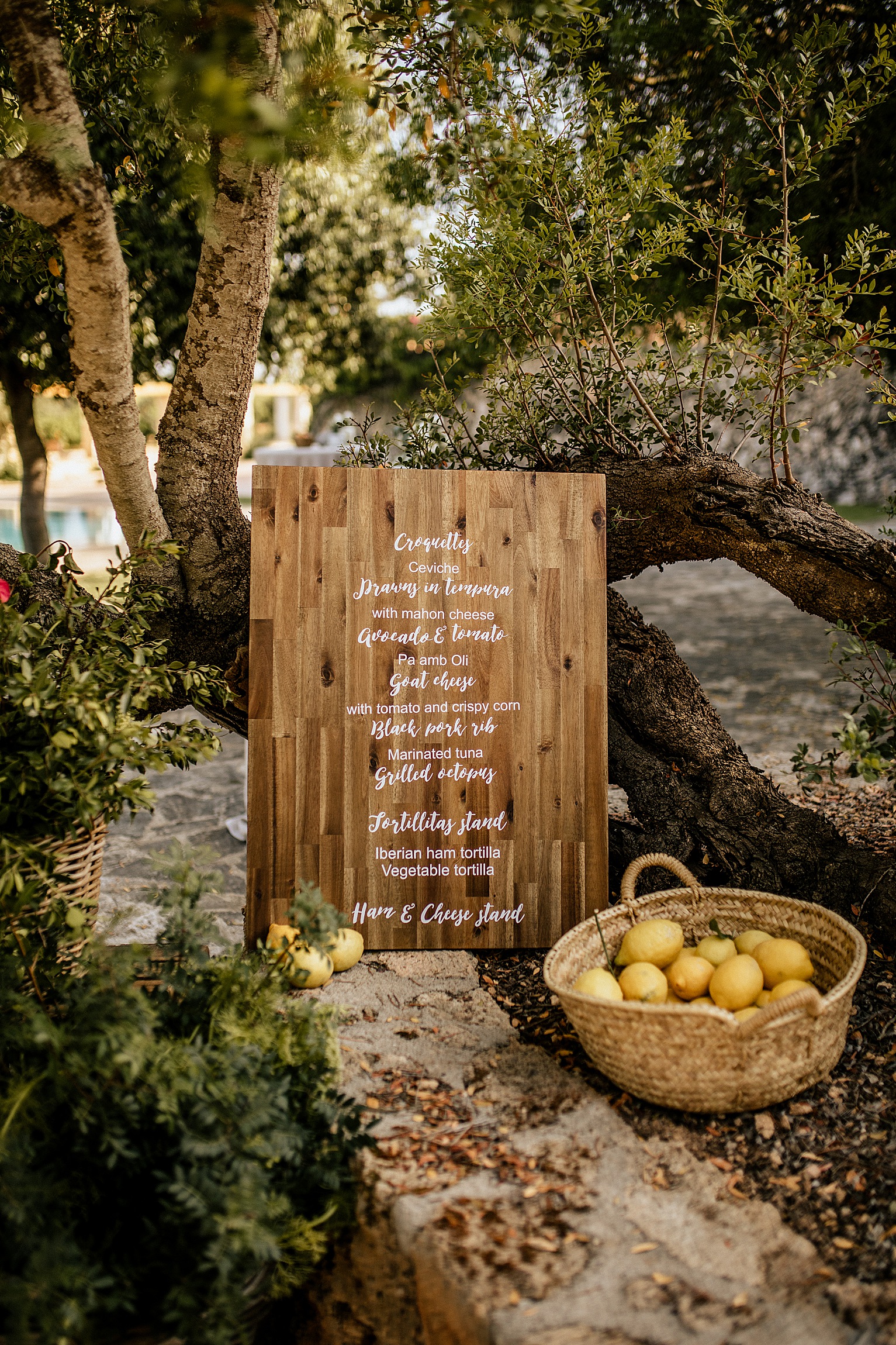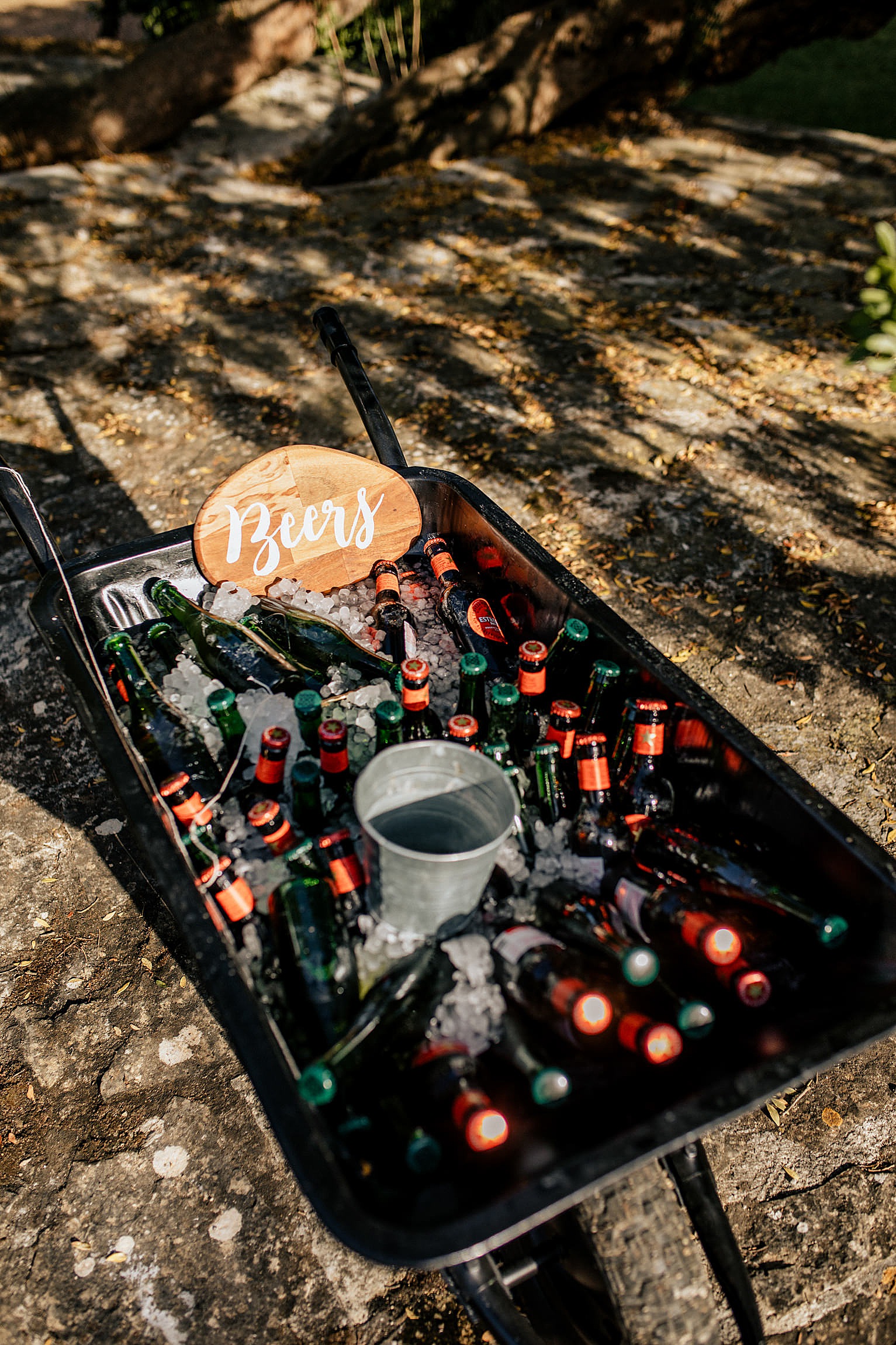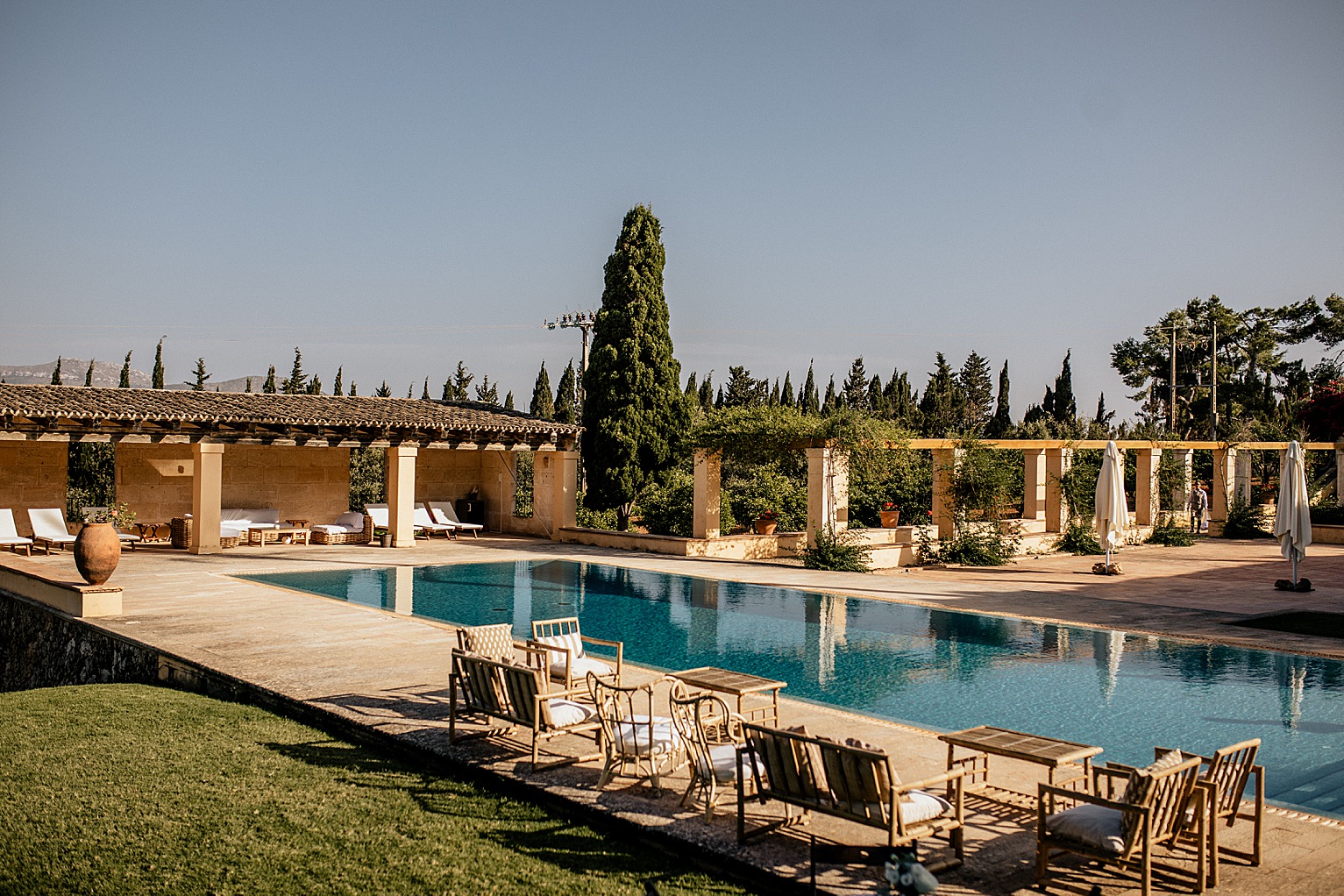 "We weren't going to hire a band for the cocktail reception but I'm so glad we got convinced in the end."
"The band was the absolute highlight! We had the best party at the cocktail reception."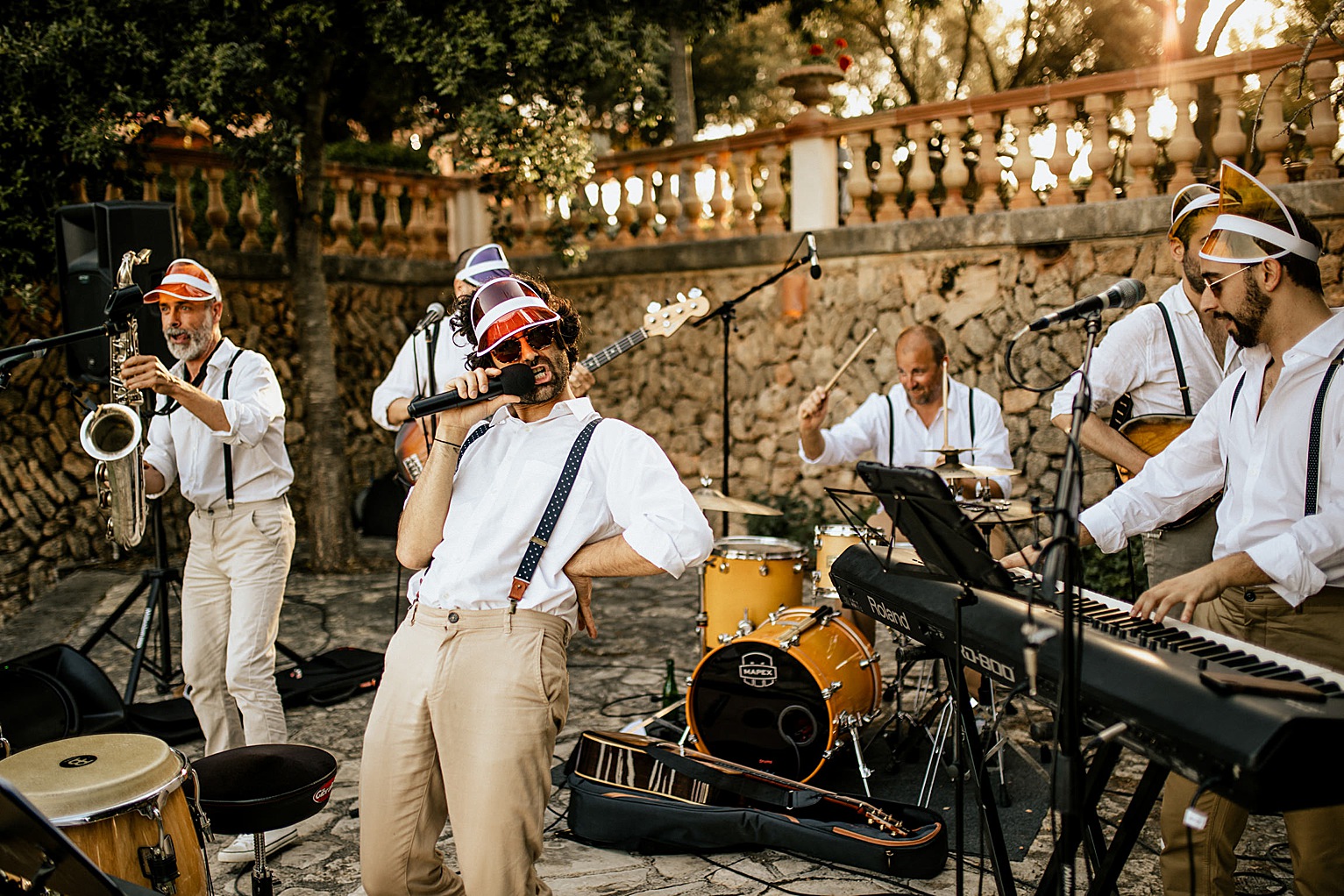 "A good friend of mine Luke Pritchard from The Kooks joined them on stage at one point as a surprise and honestly it was incredible. Paco Colombàs of Panela Productions was incredible – organising everything entertainment related."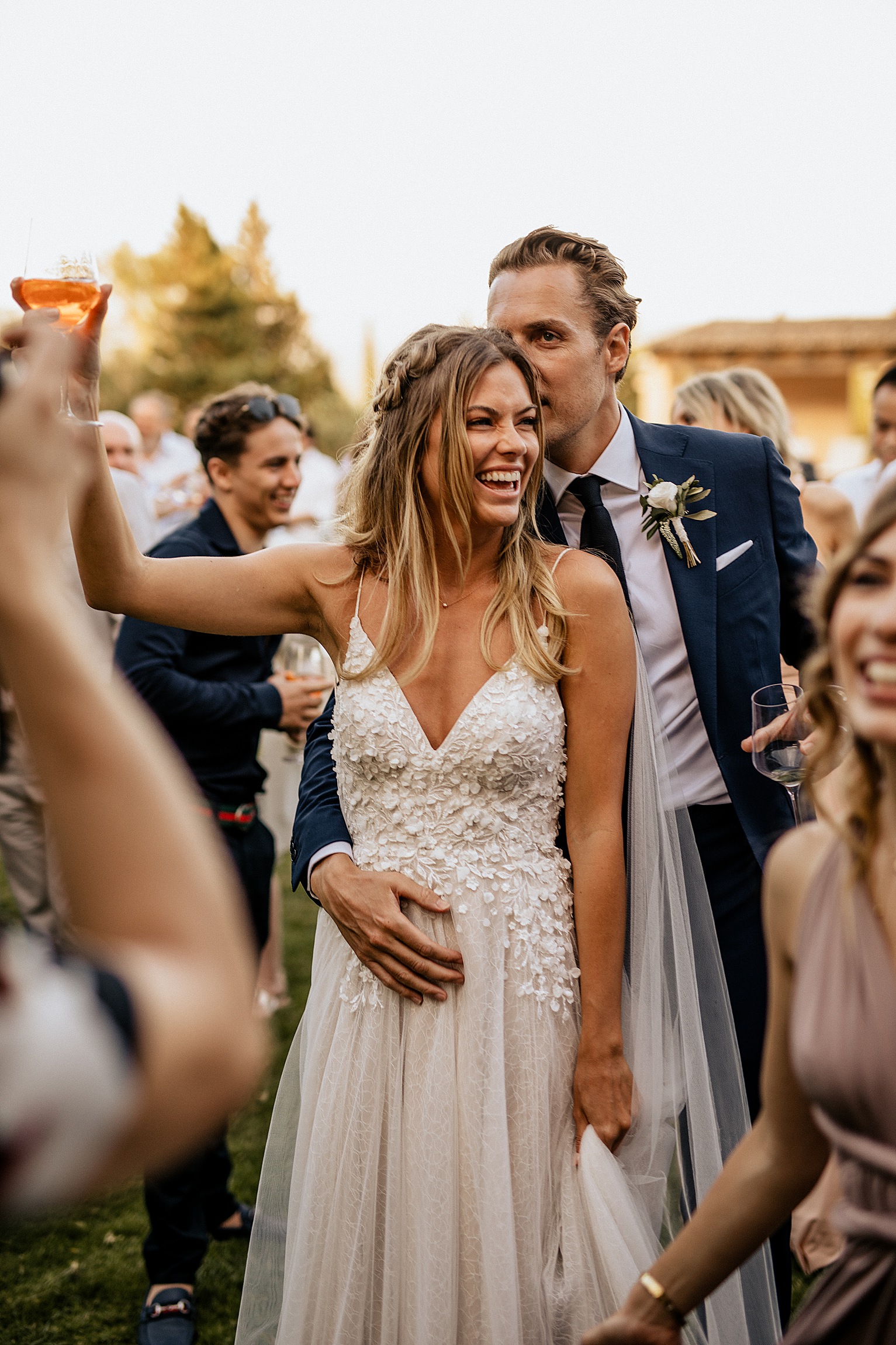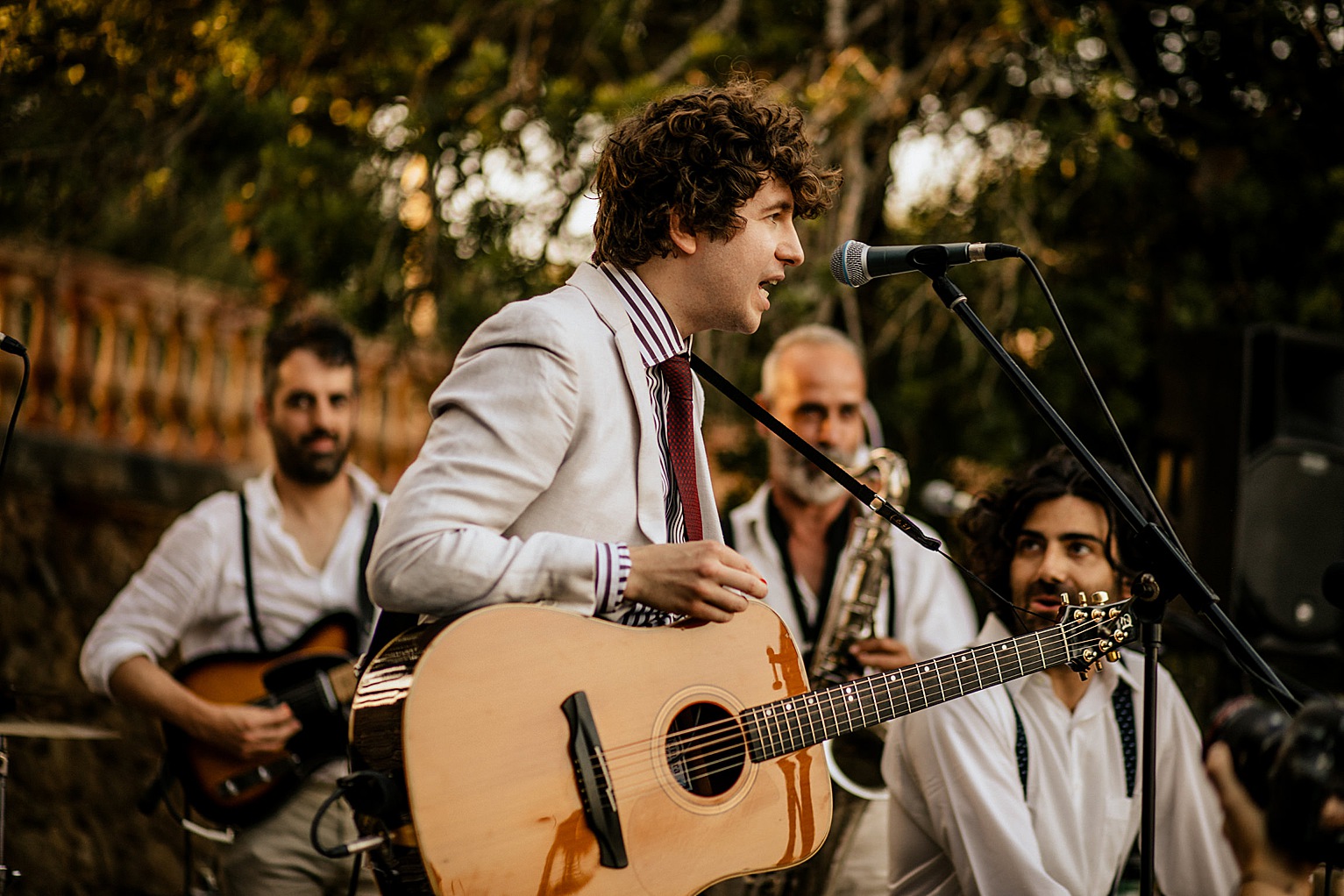 "My favourite moment of the day was probably our cocktail reception. Everyone was dancing, it was late afternoon and everyone had some canapés and drinks. It was the perfect moment."
"I would also like to say I loved our 'day before' event. We had a beach paella party and some dancing and cocktails. I wasn't worried or stressed and really enjoyed that evening. It was the best 3 days anyone could have asked for – I can't put it into words! Surrounded by our friends and family."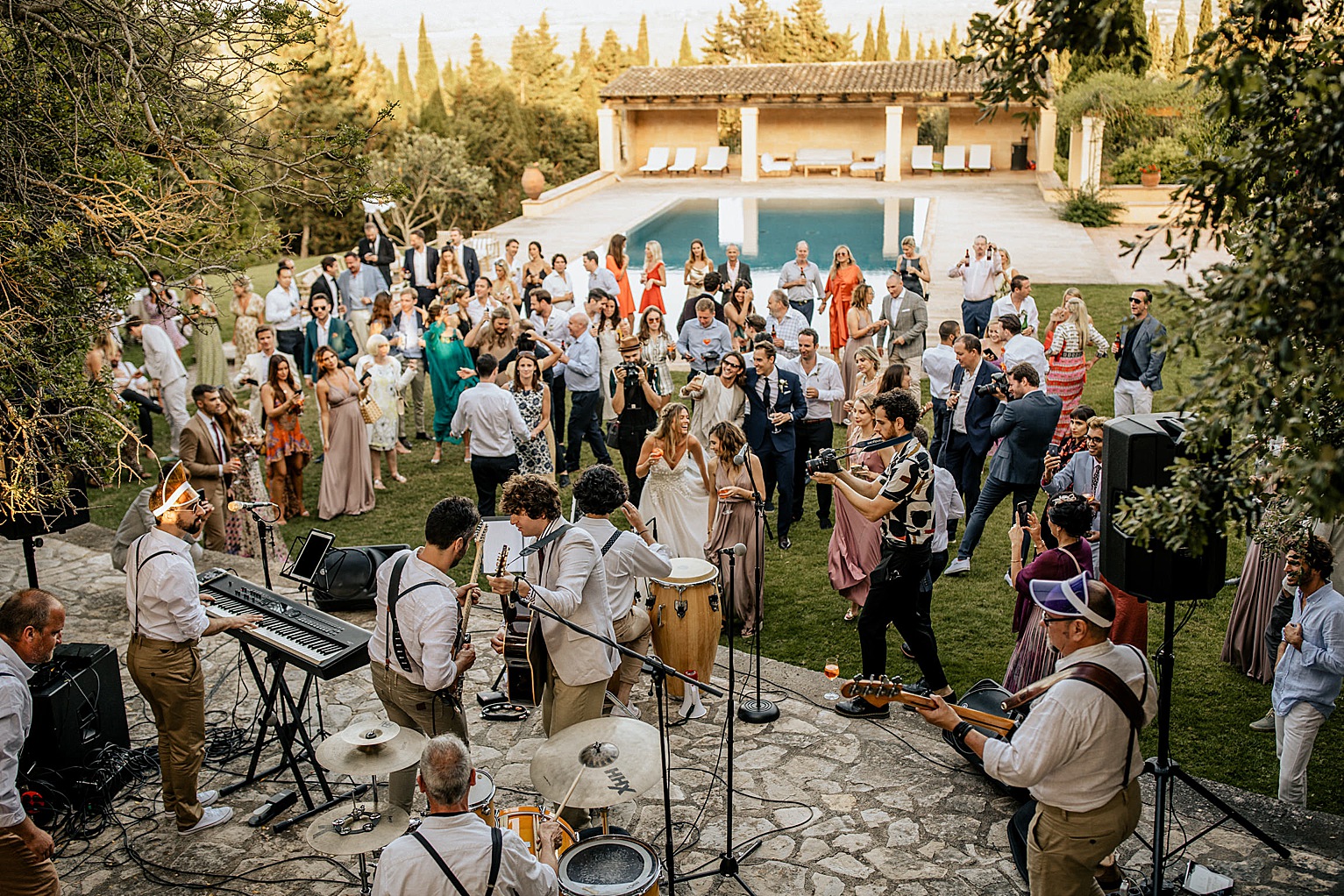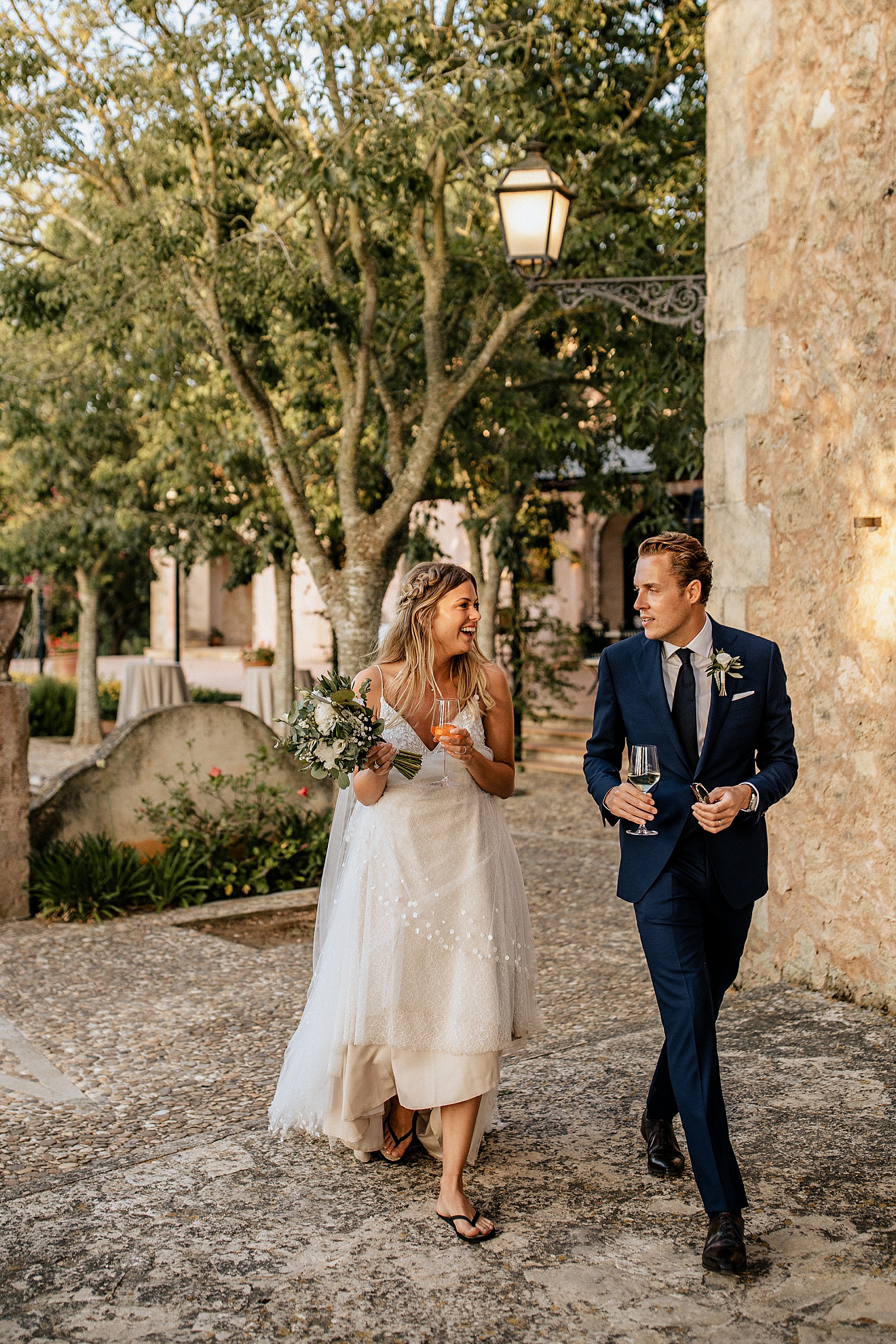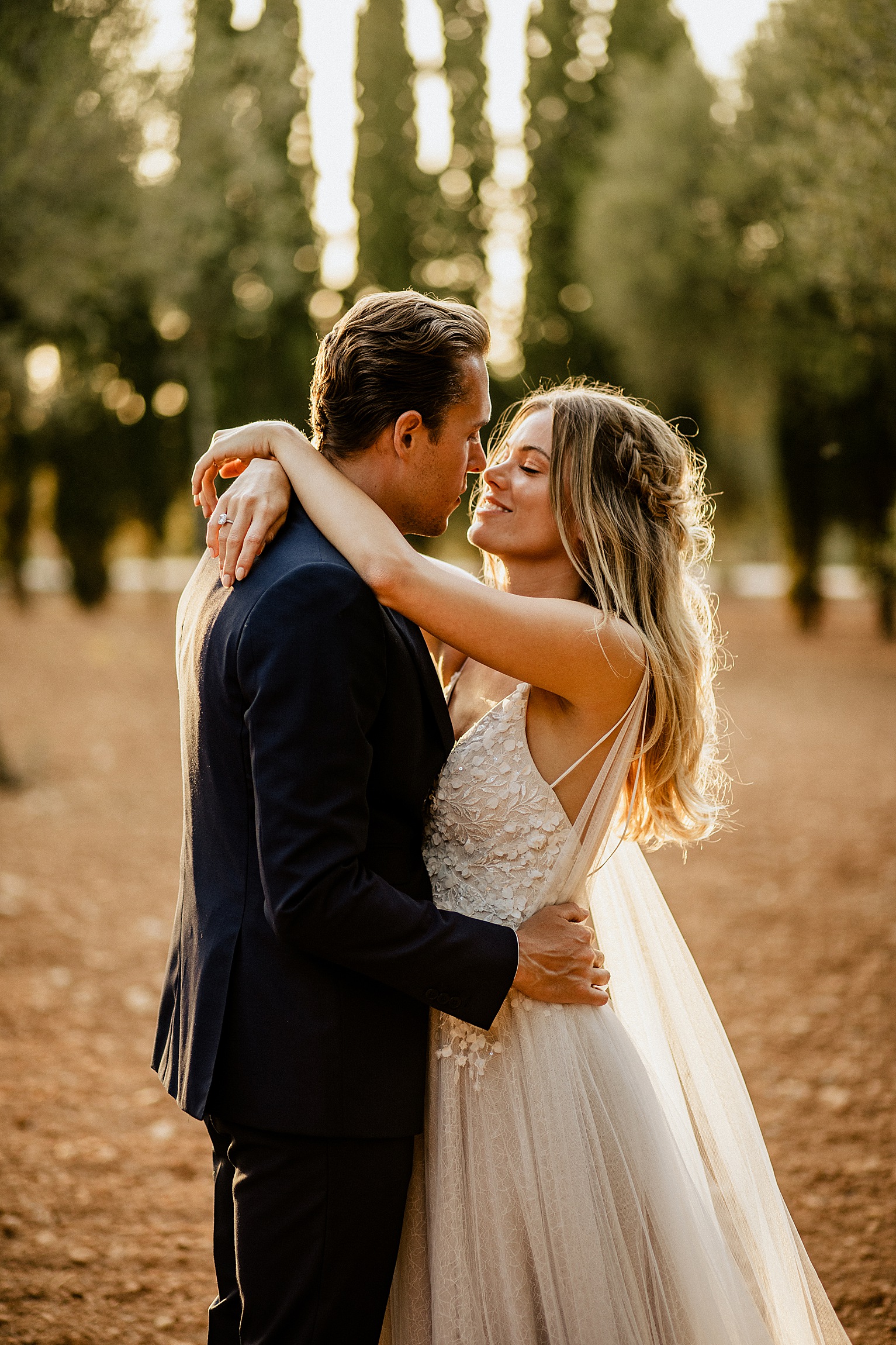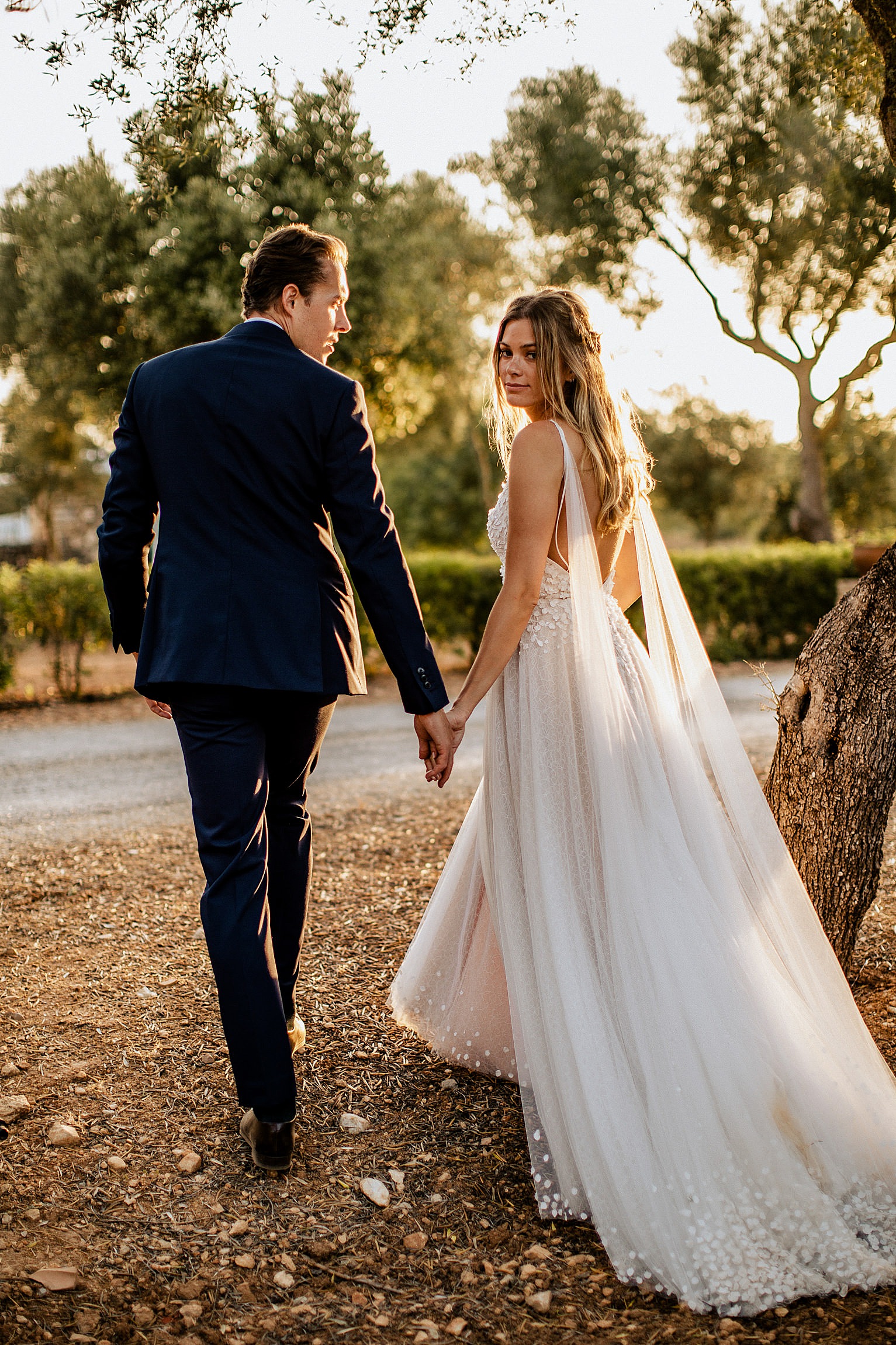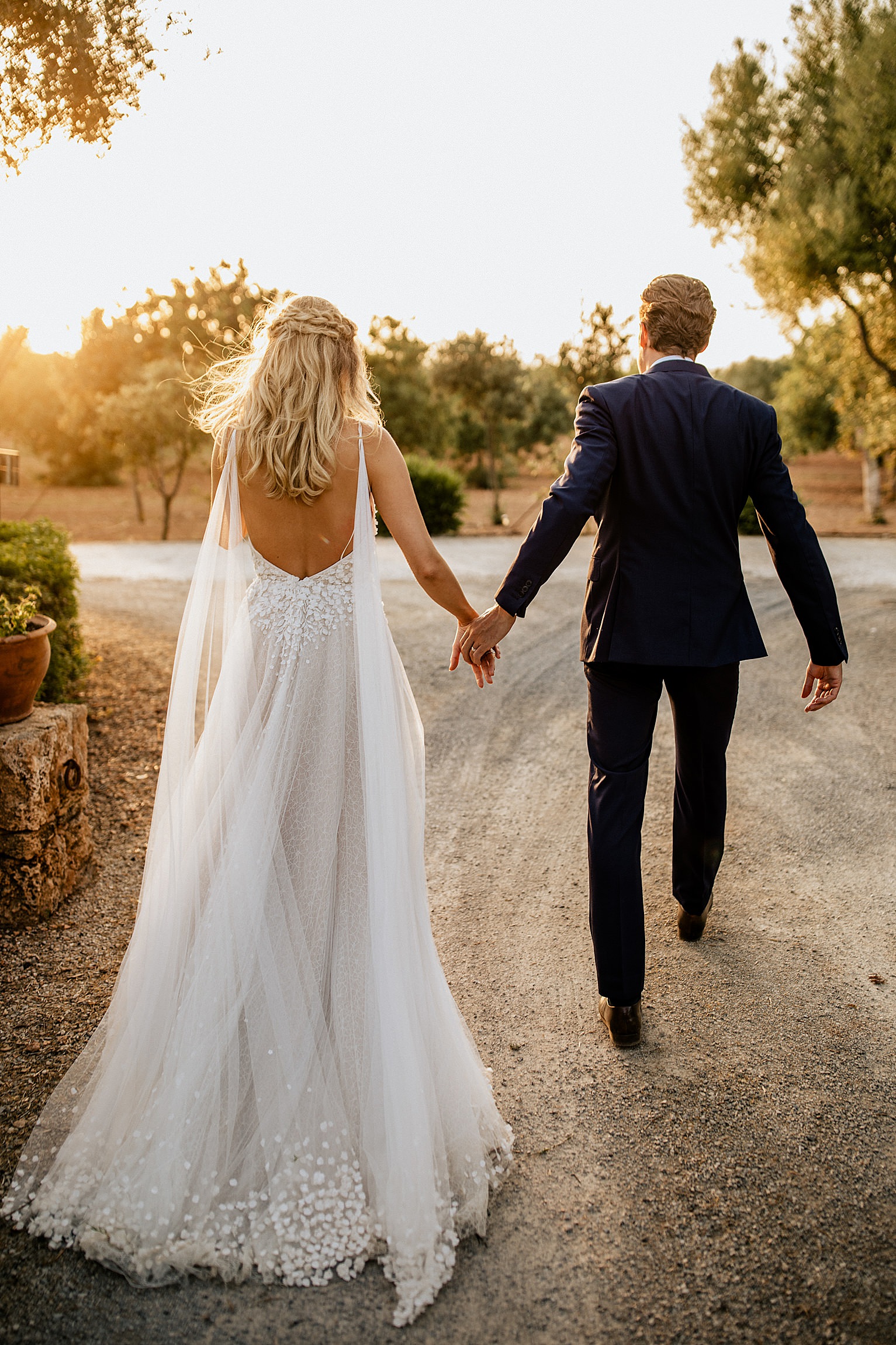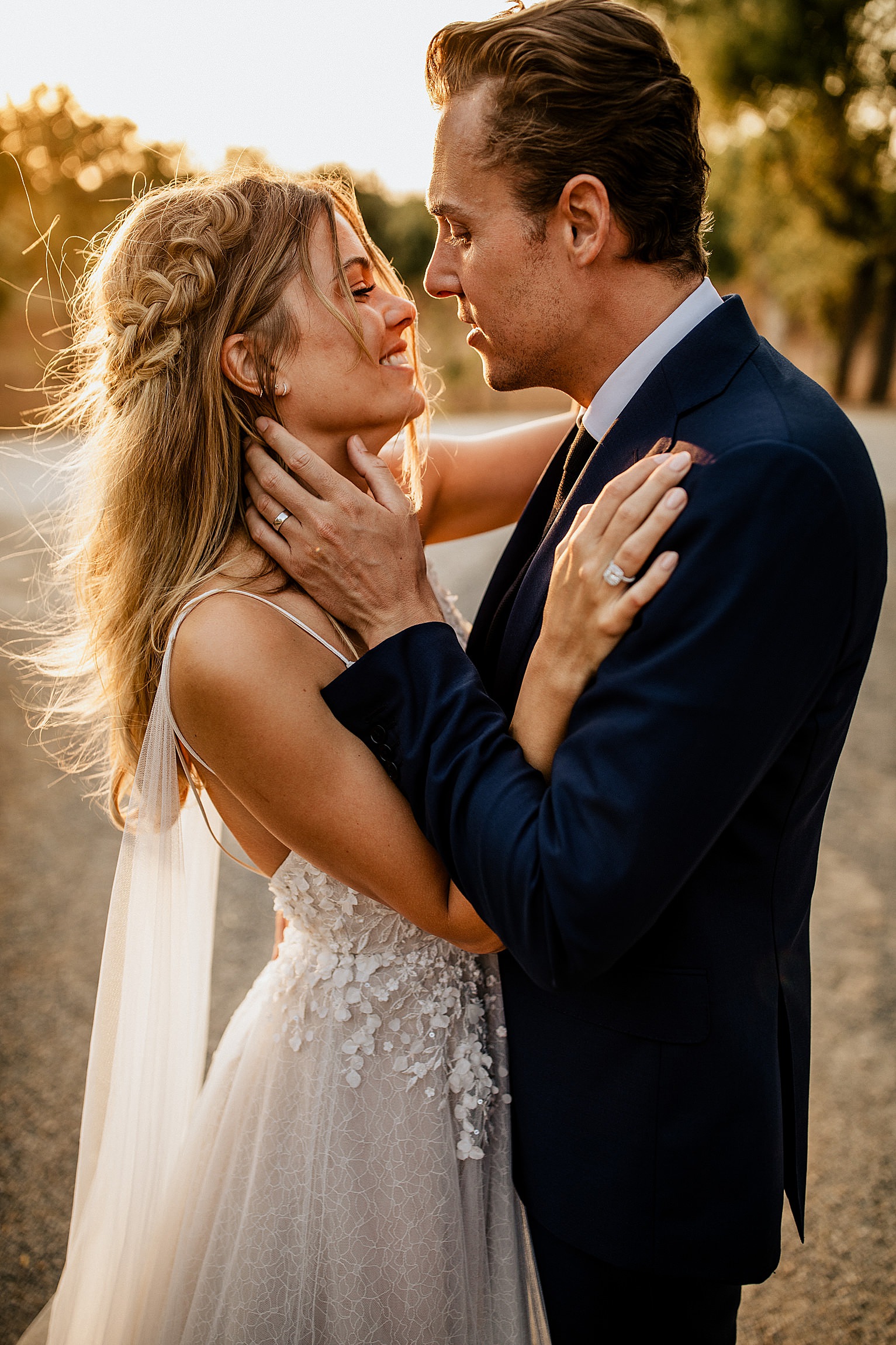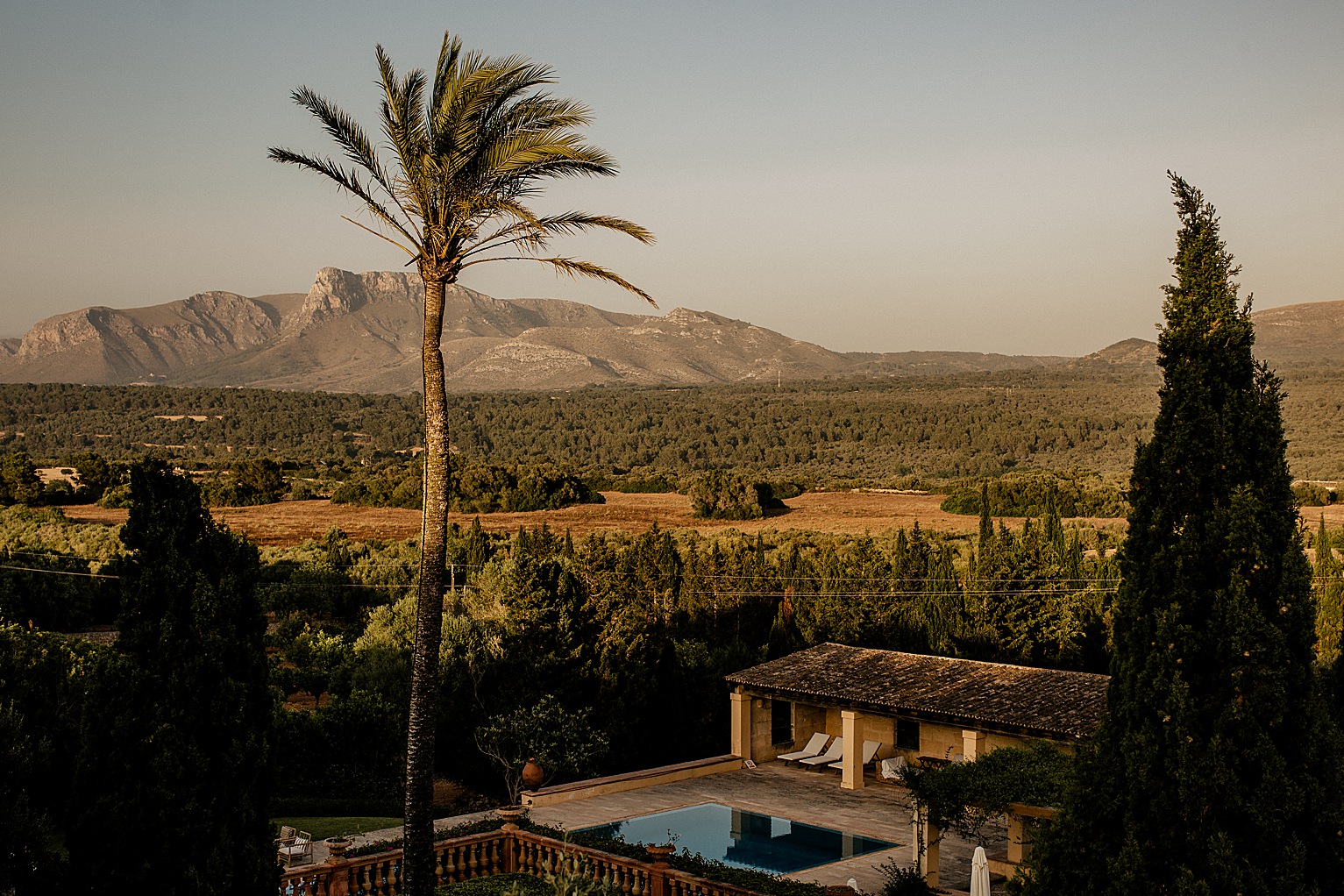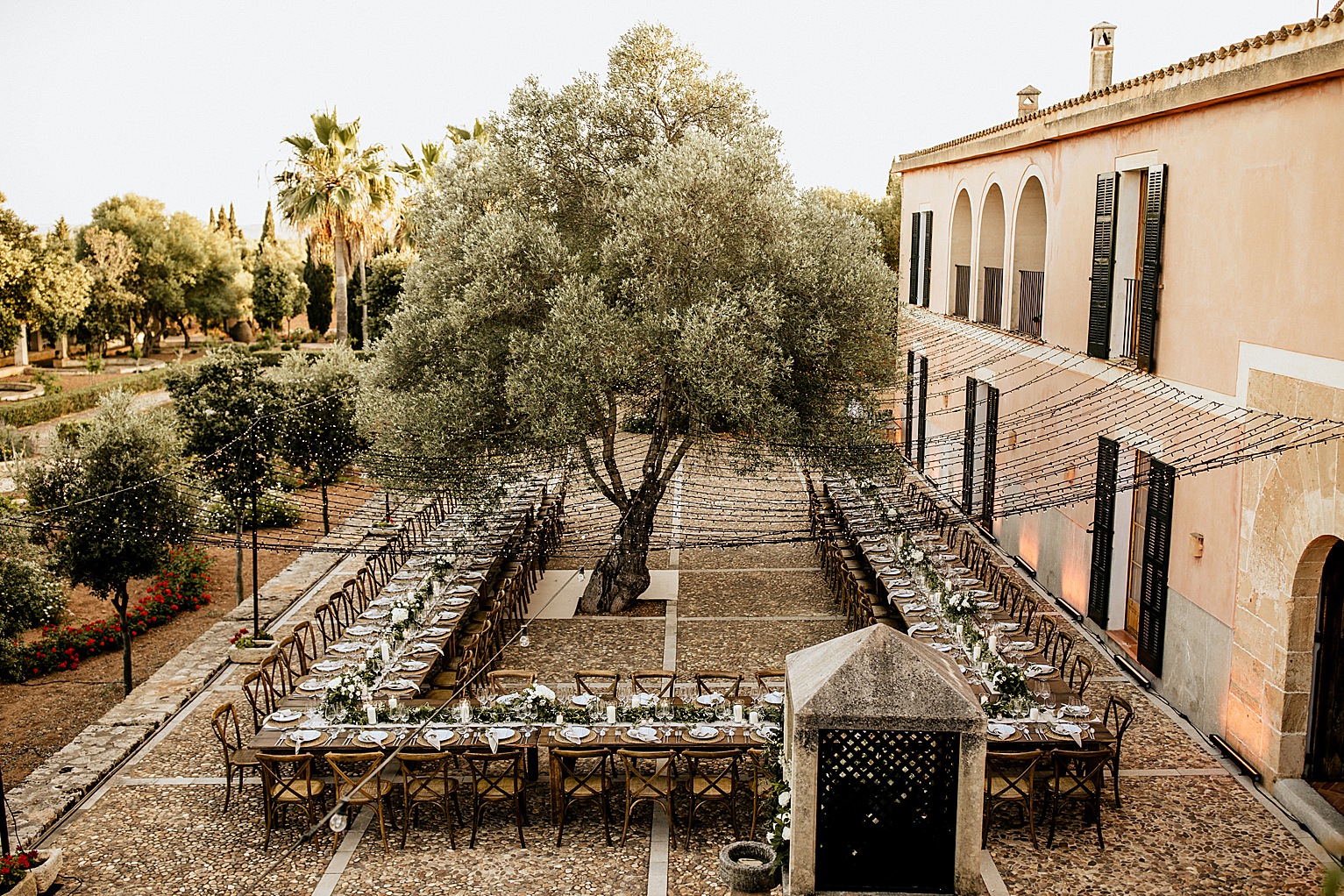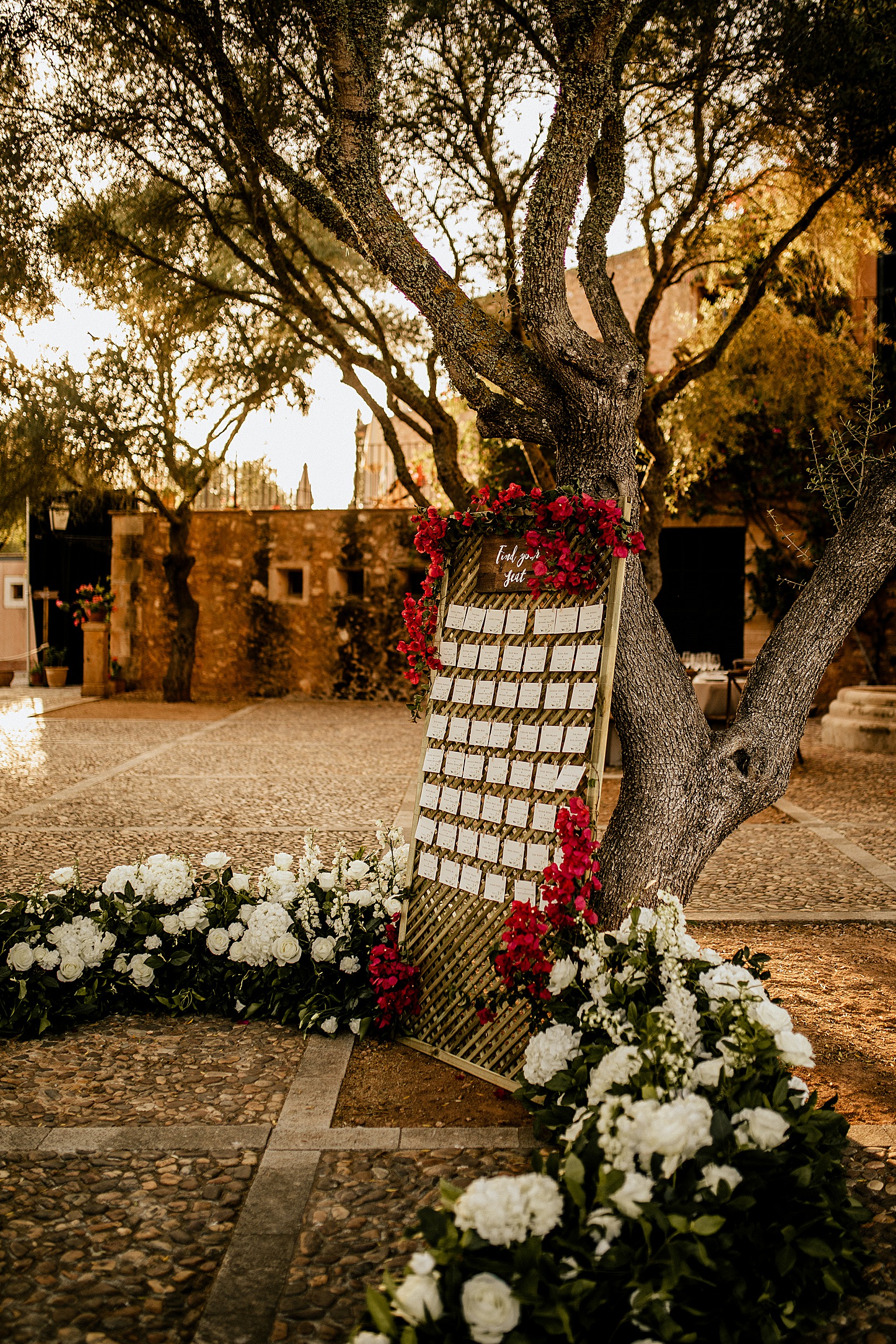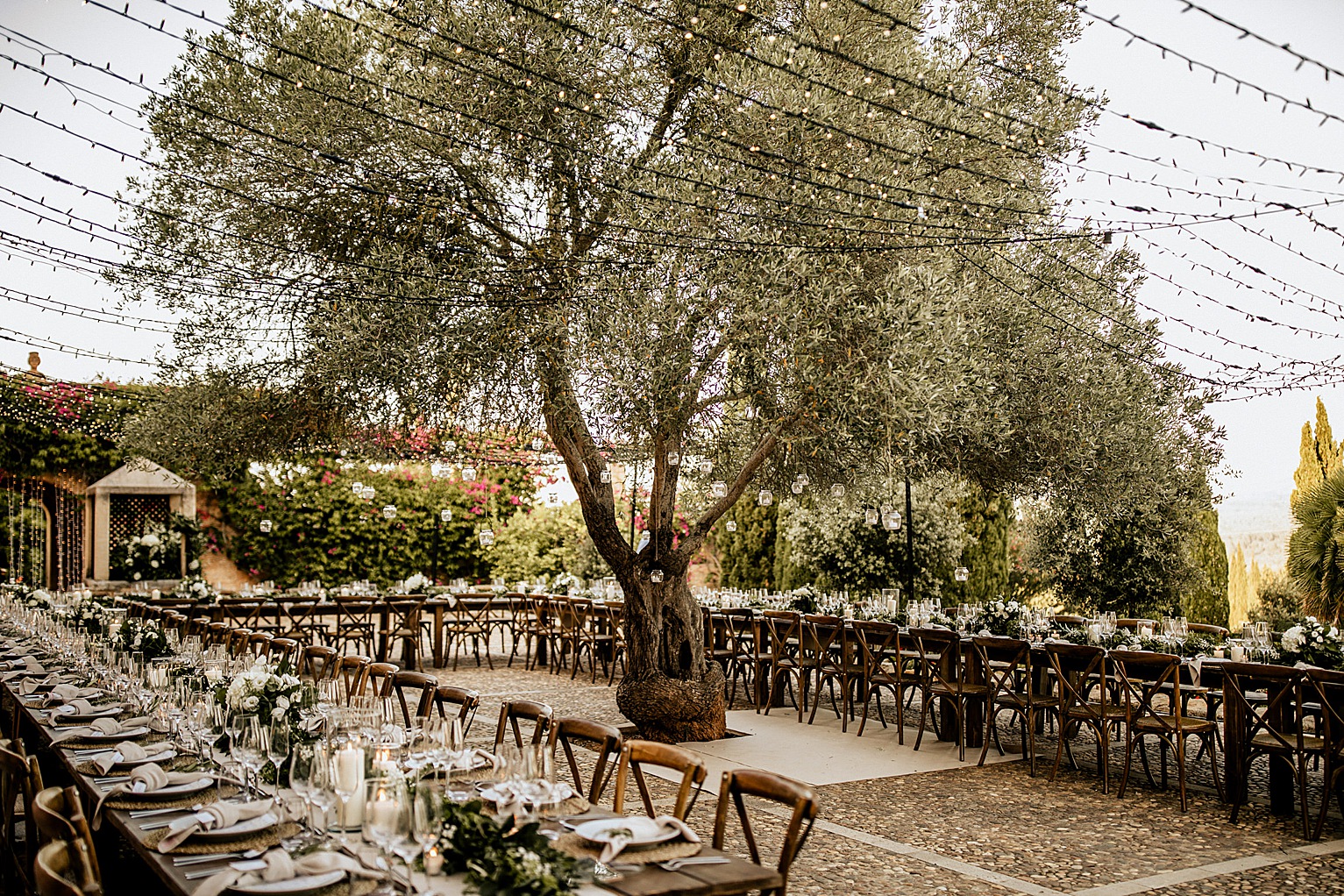 Sublime, rustic decor was arranged by the couple's wedding planner and stylist, Judith of Mille Papillons.
"My wedding planner did all the decor. Judith has the most incredible eye for detail – and was completely there for me – even at 1am when I wanted to double check everything."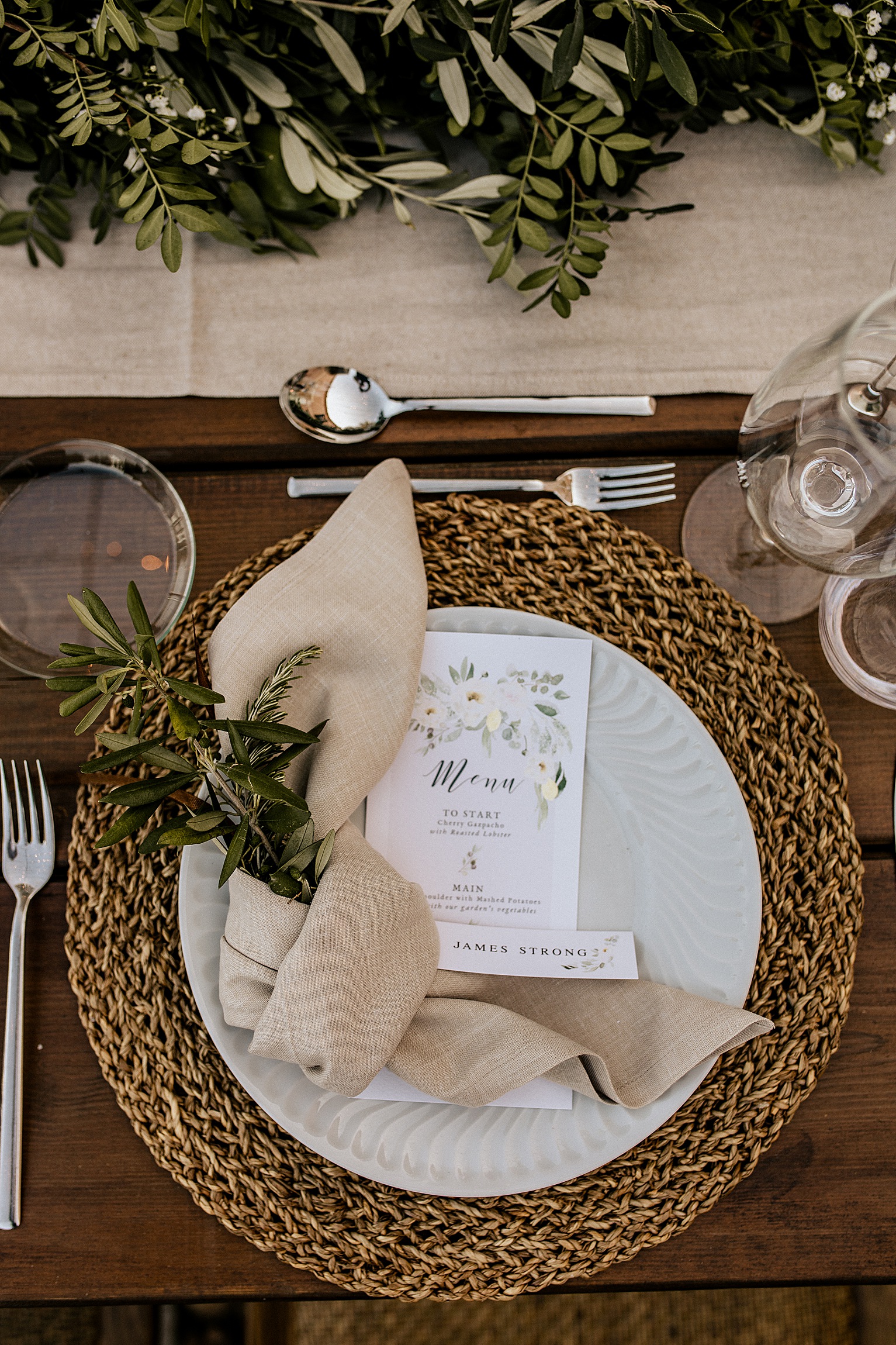 "I am such a foodie! Jardin Catering actually have a Michelin star restaurant inn Mallorca, its amazing."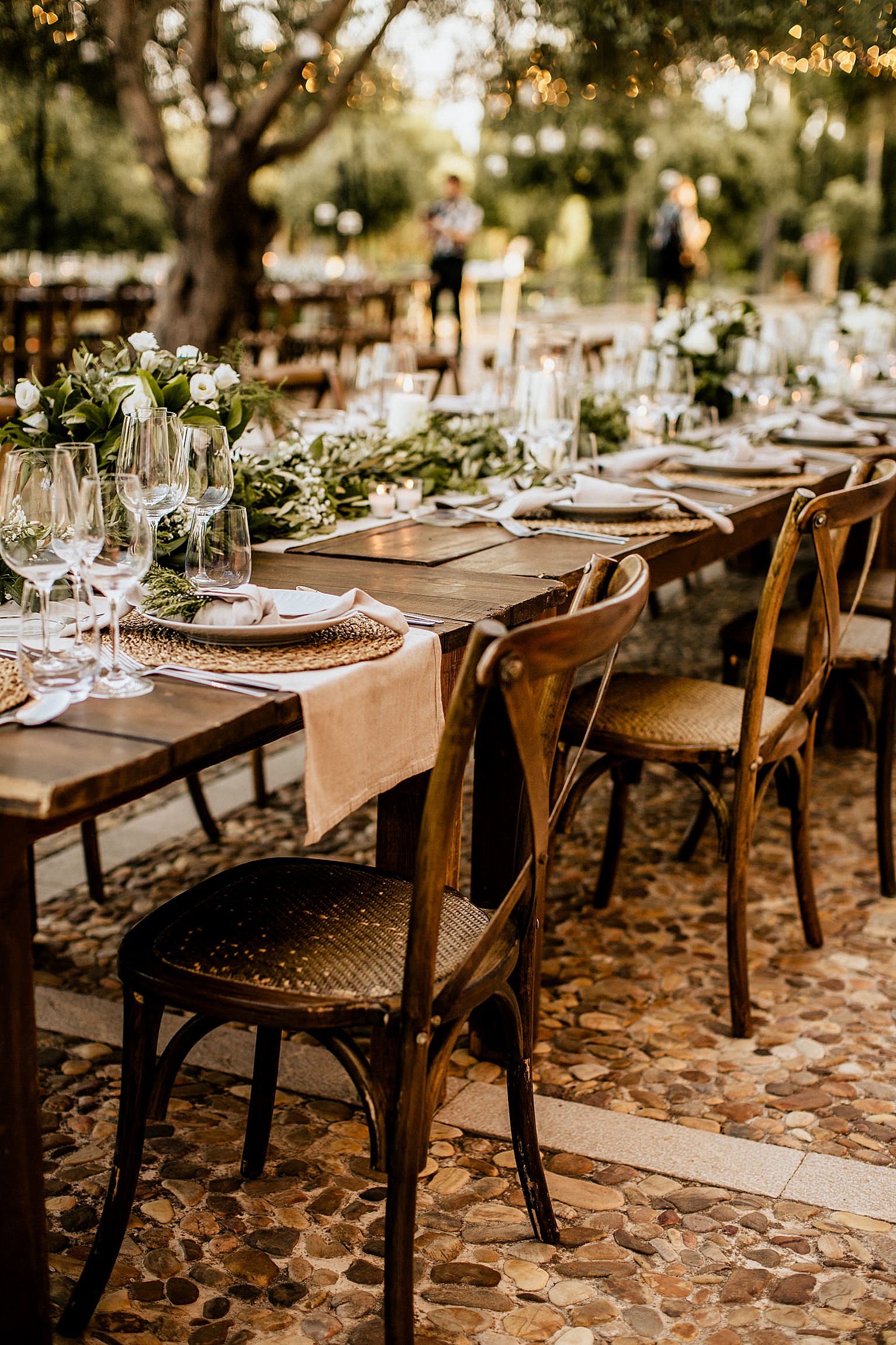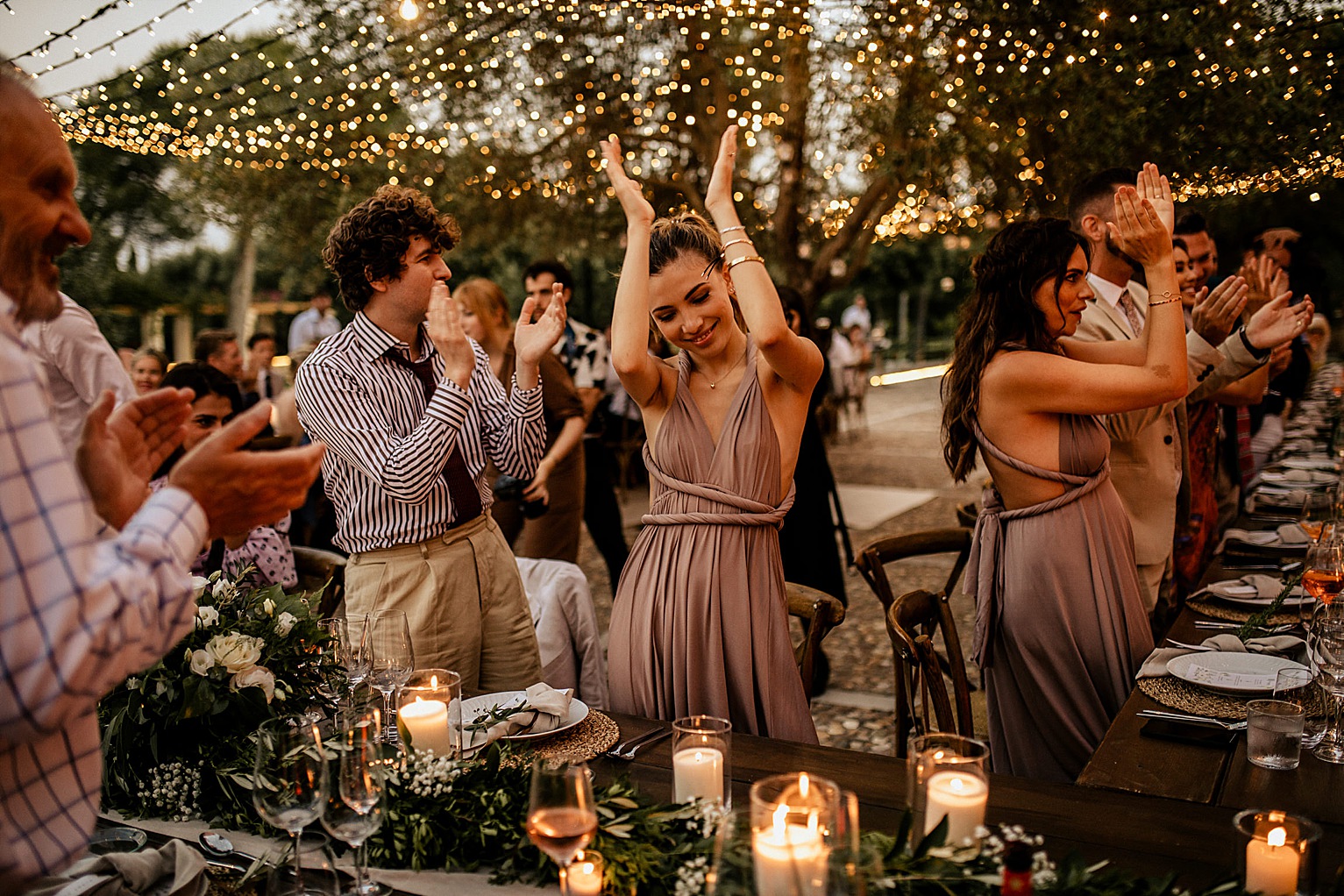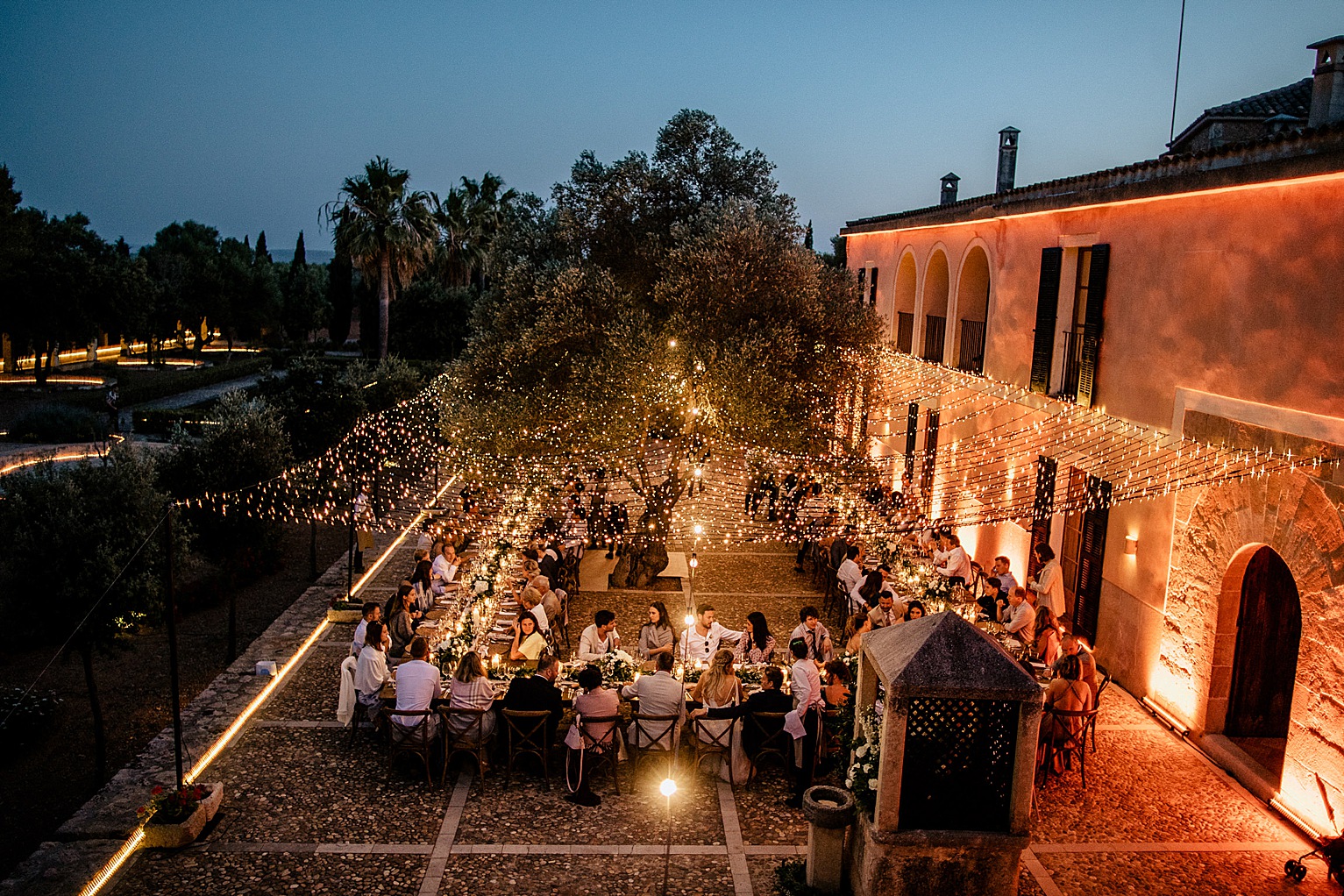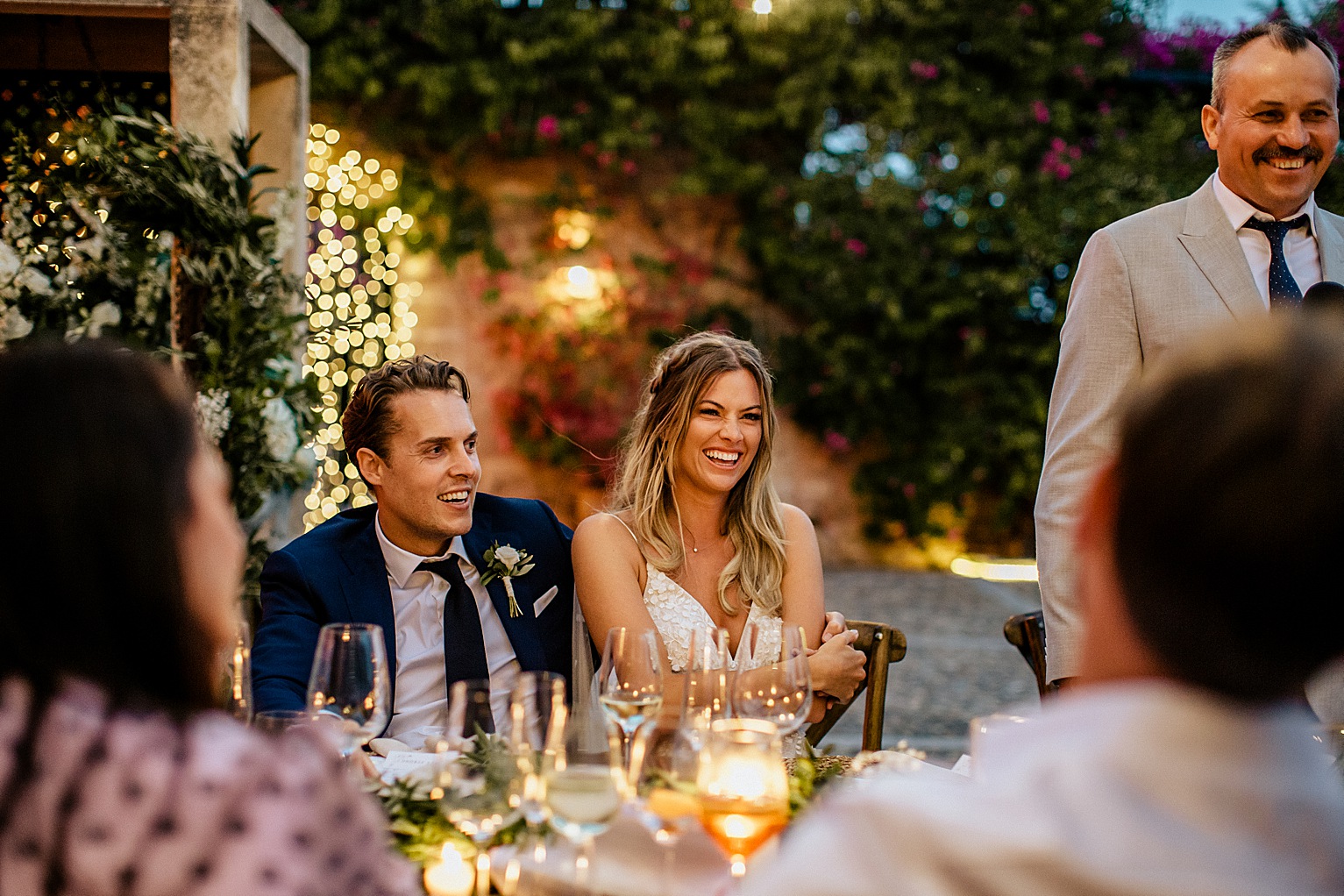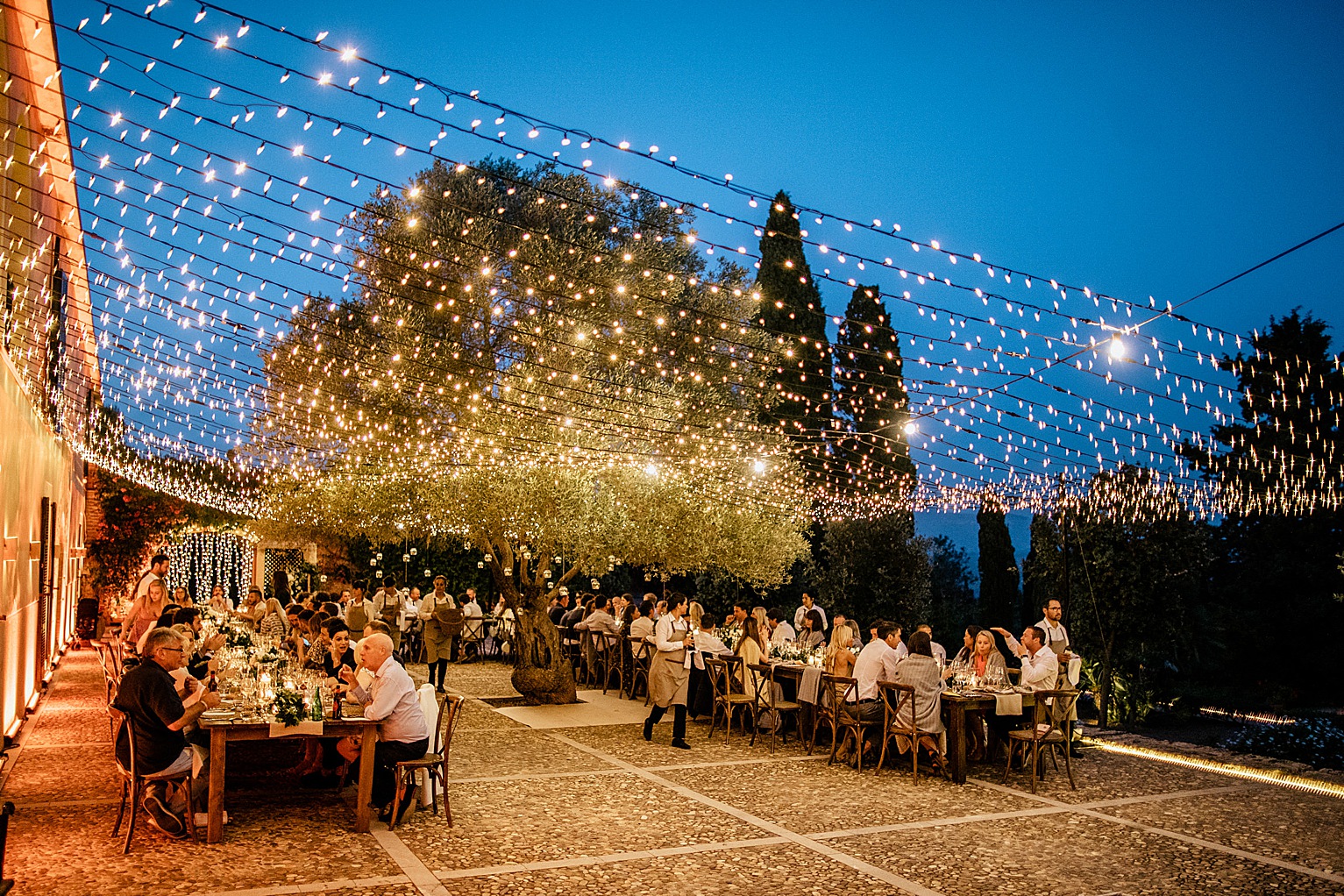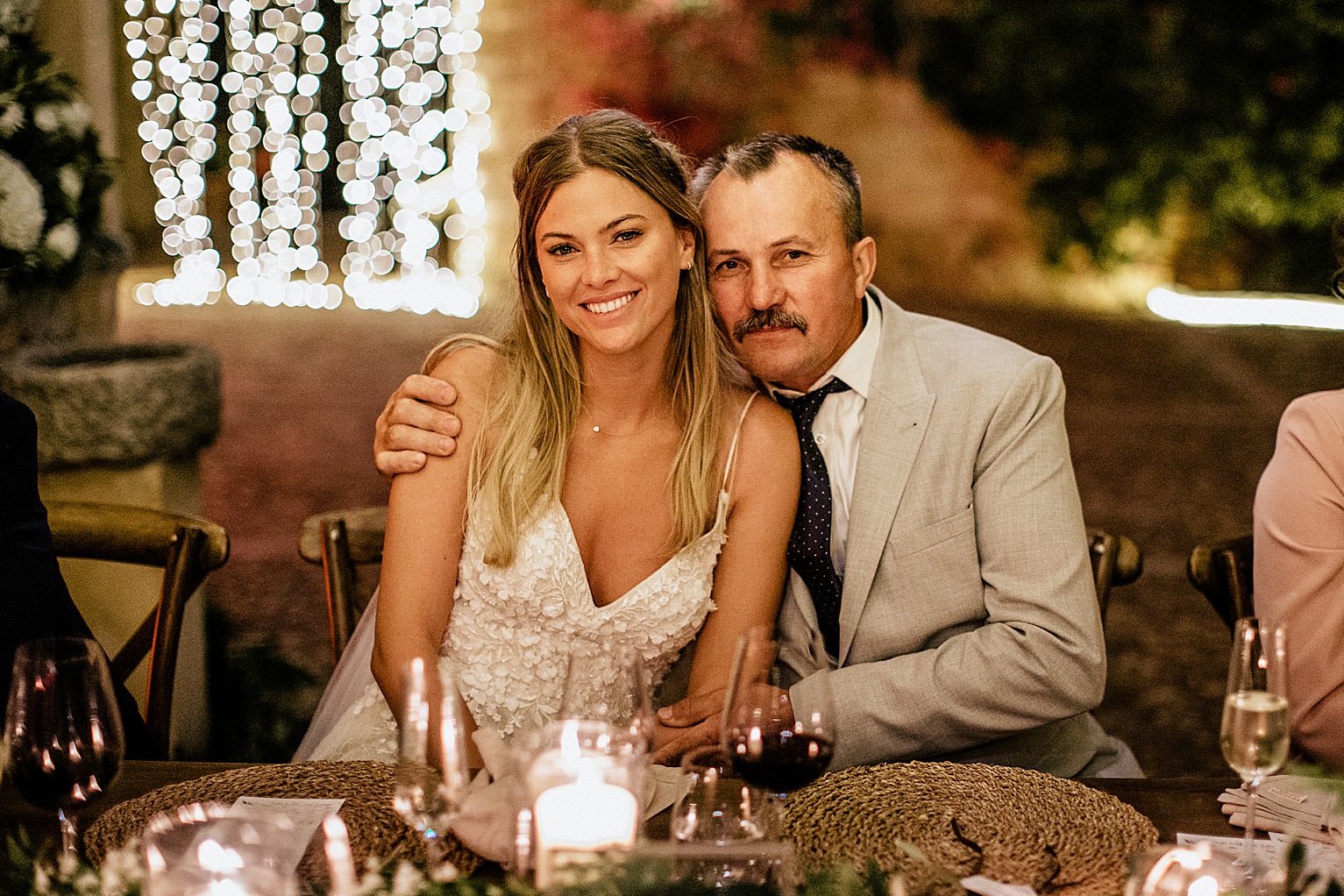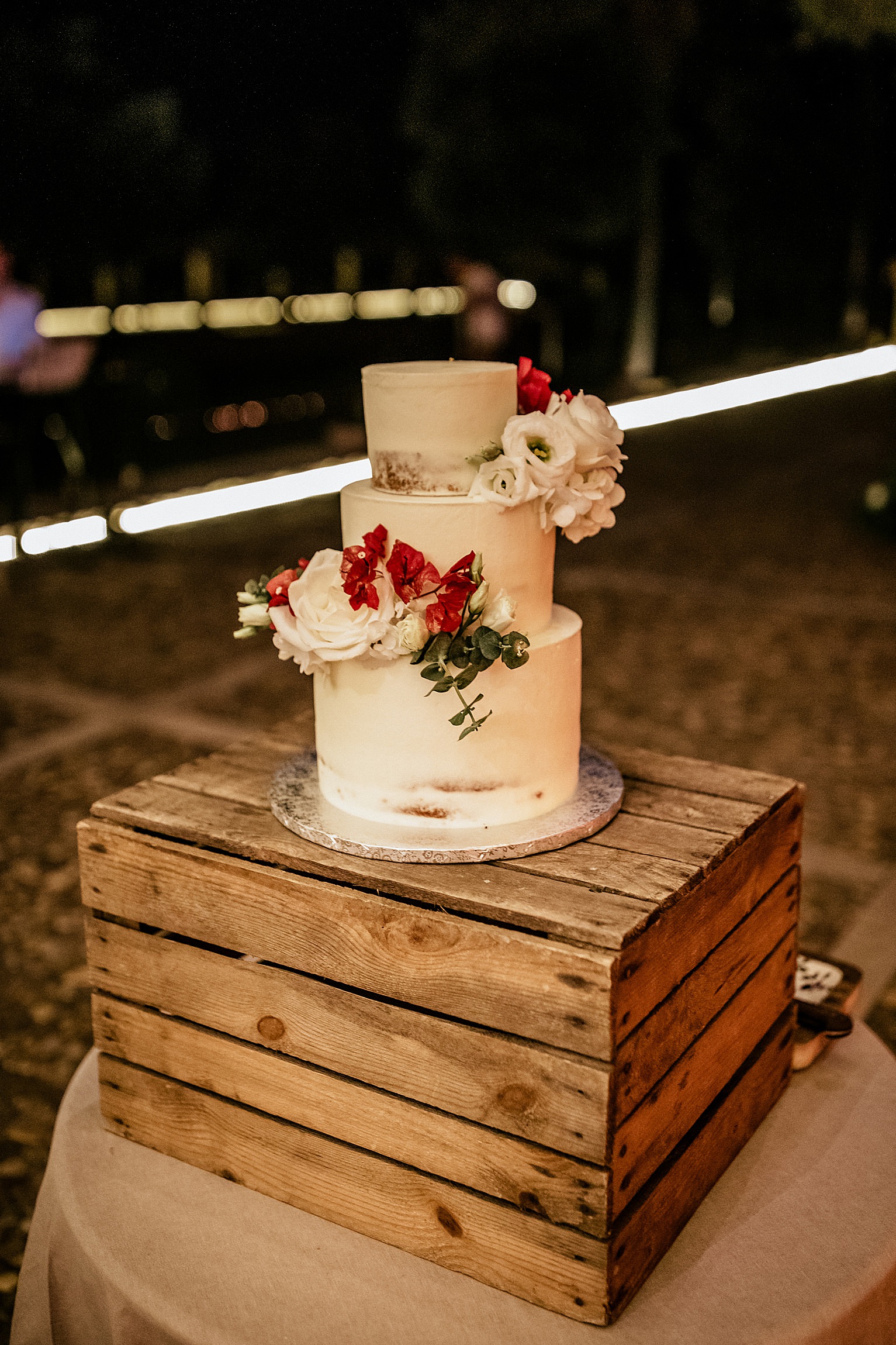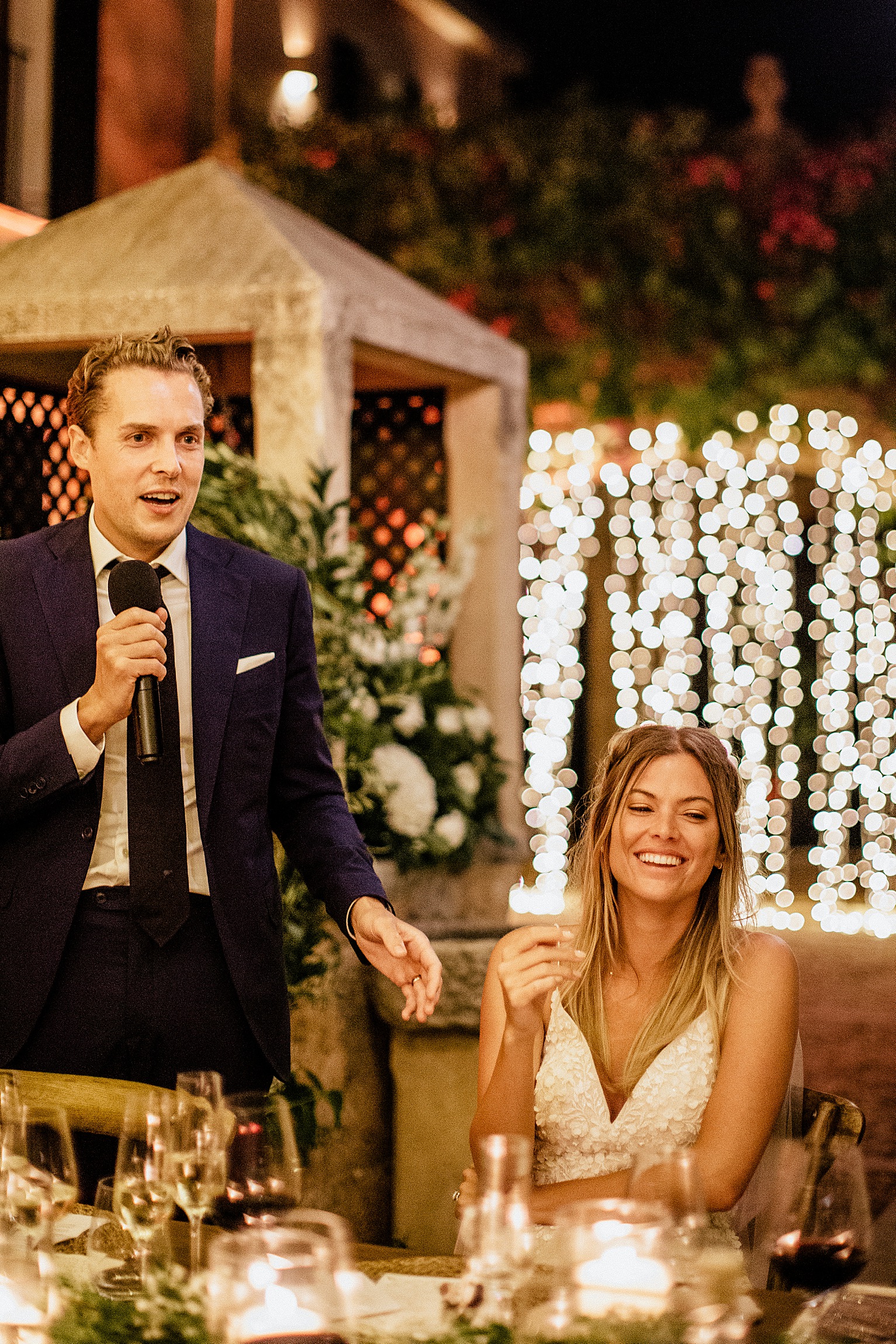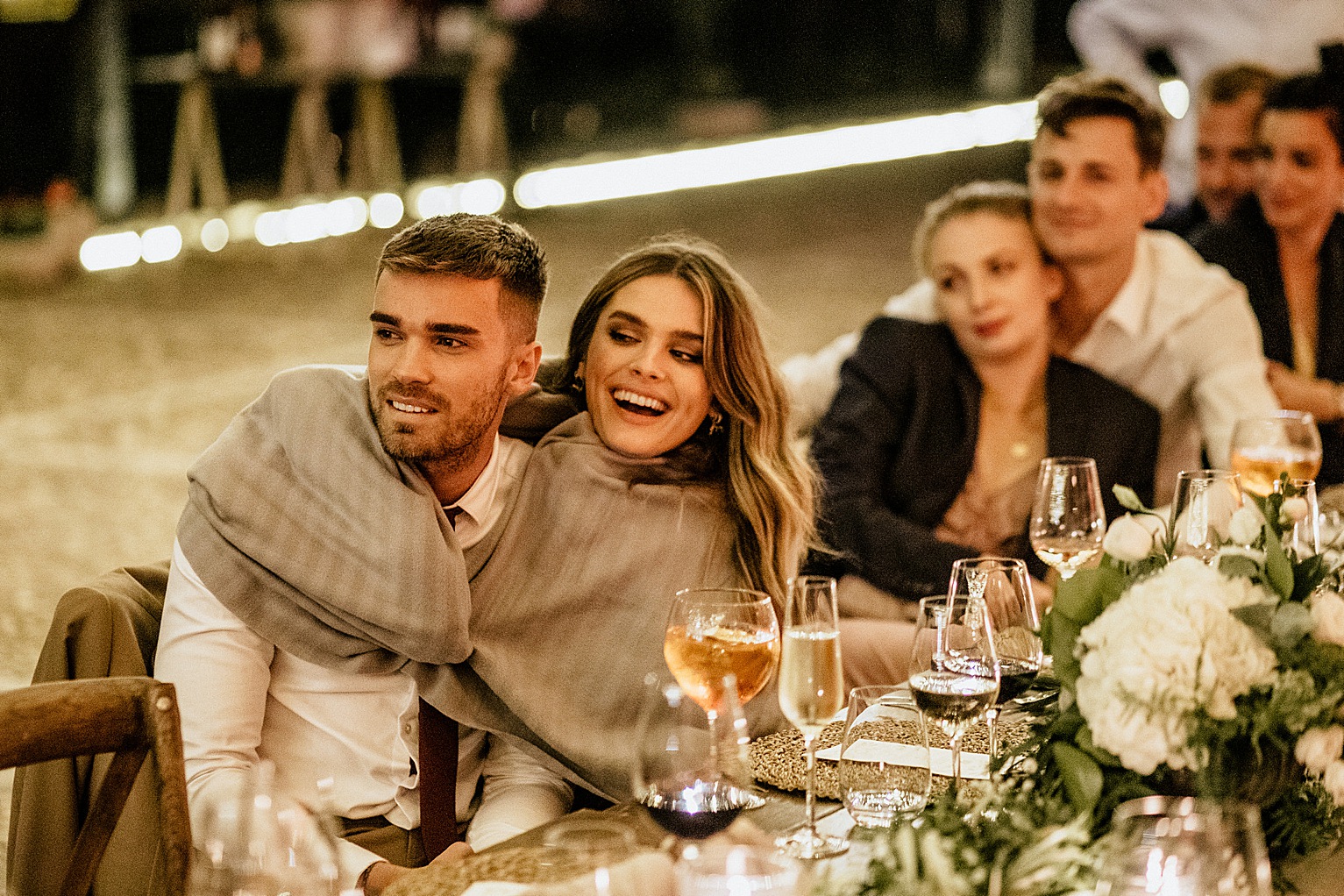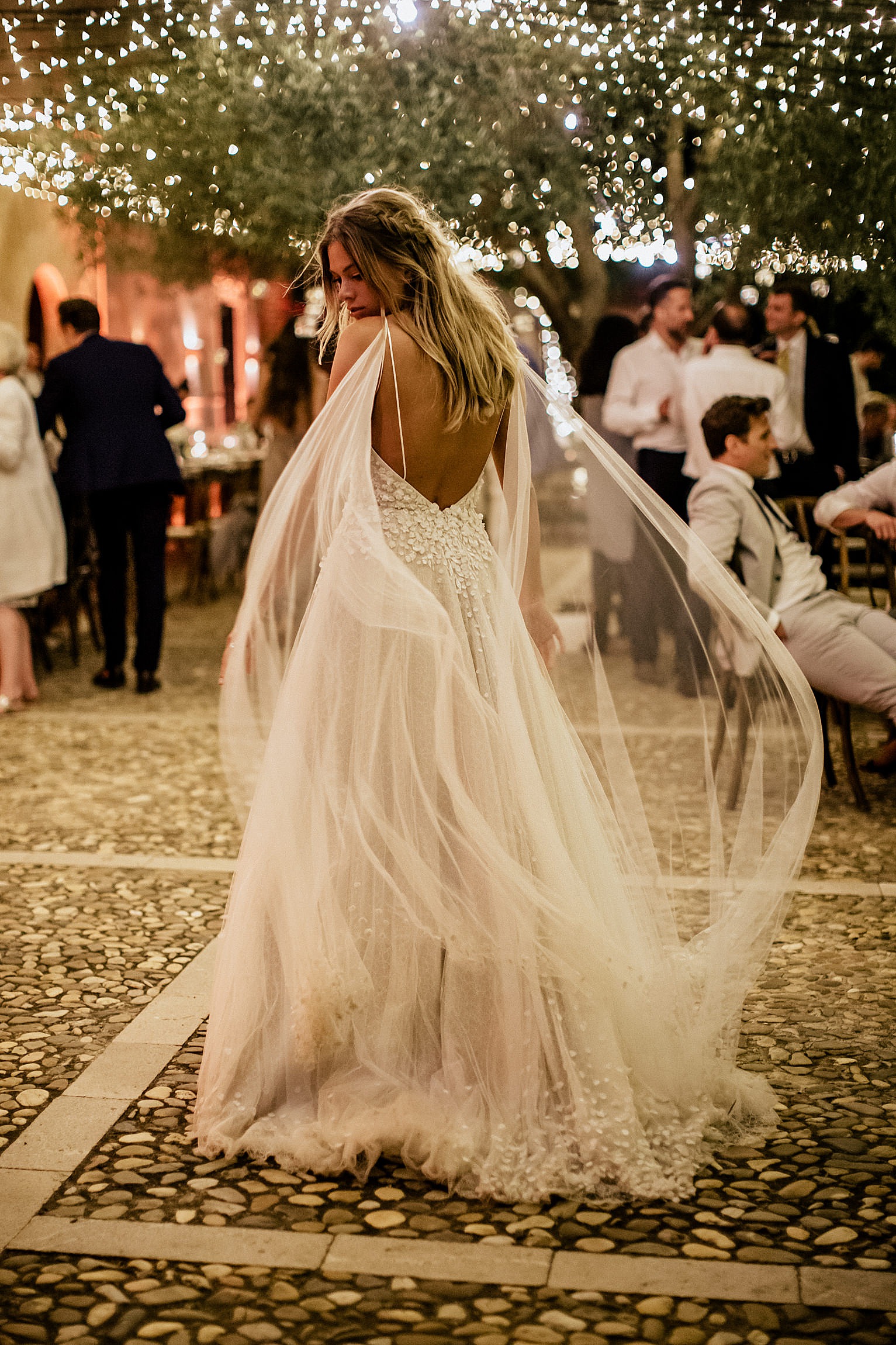 Surrounded by their loved ones and a canopy of beautiful fairy lights, the couple took their first dance to Frank Sinatra's 'I've Got You Under My Skin'. How utterly romantic!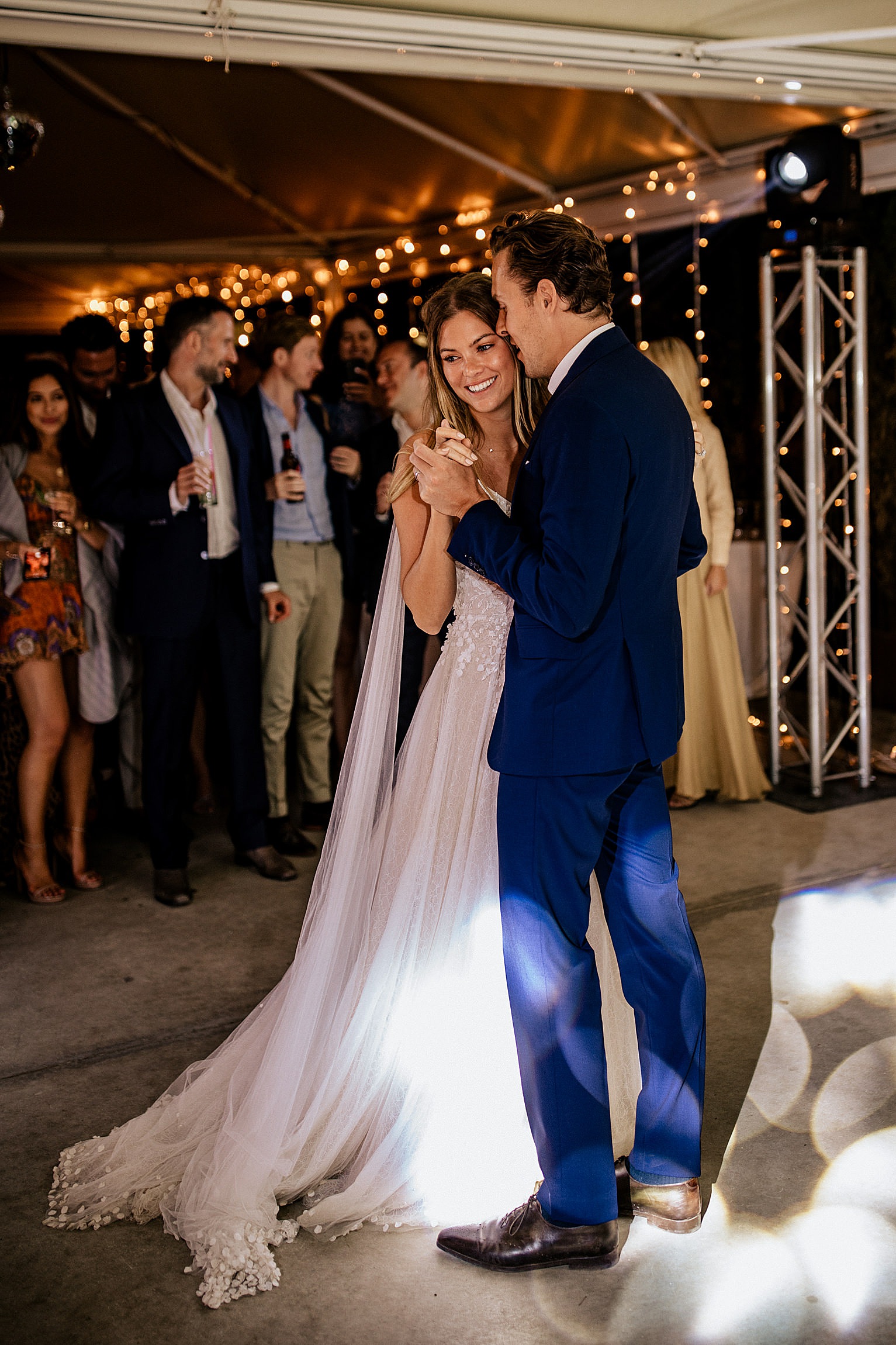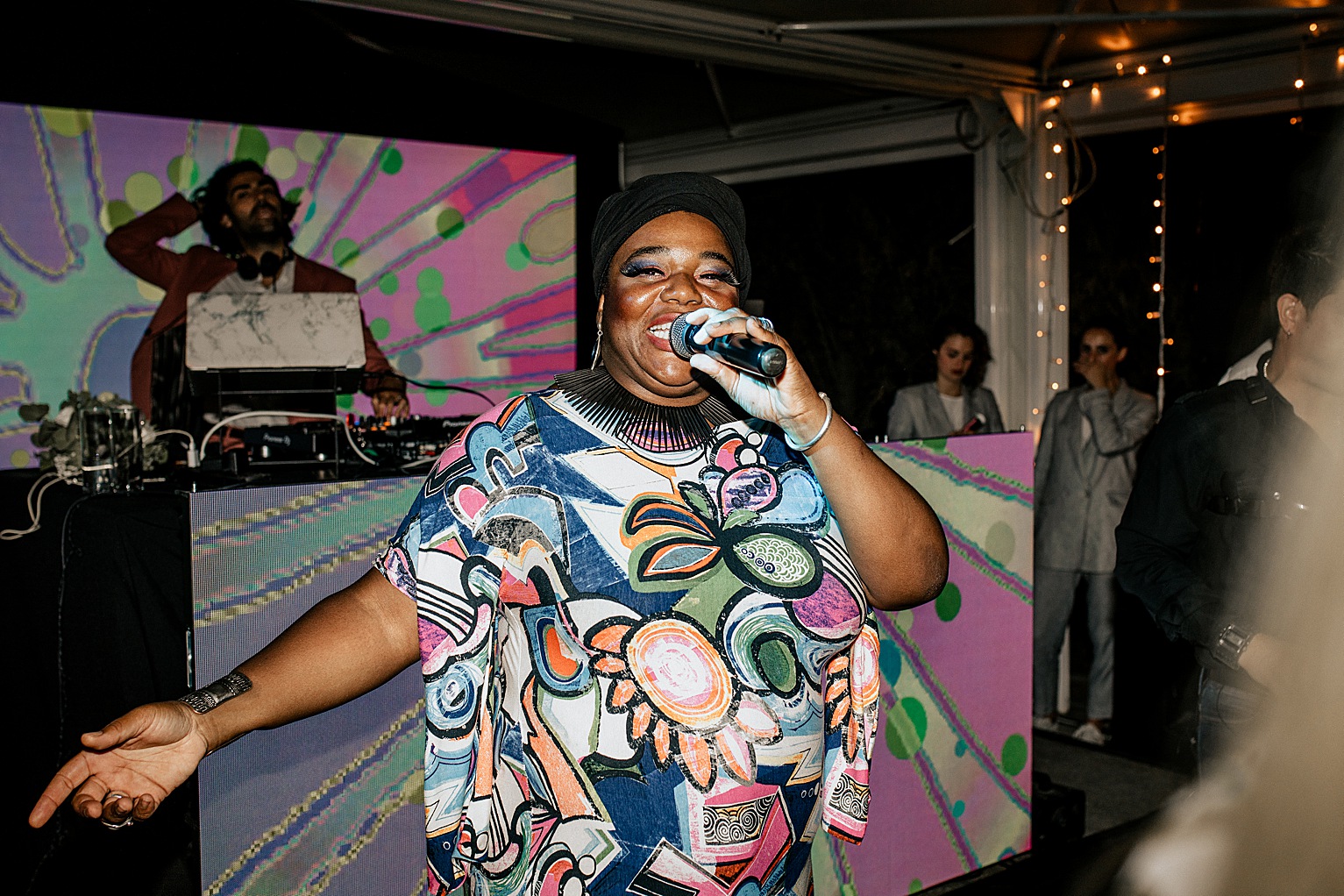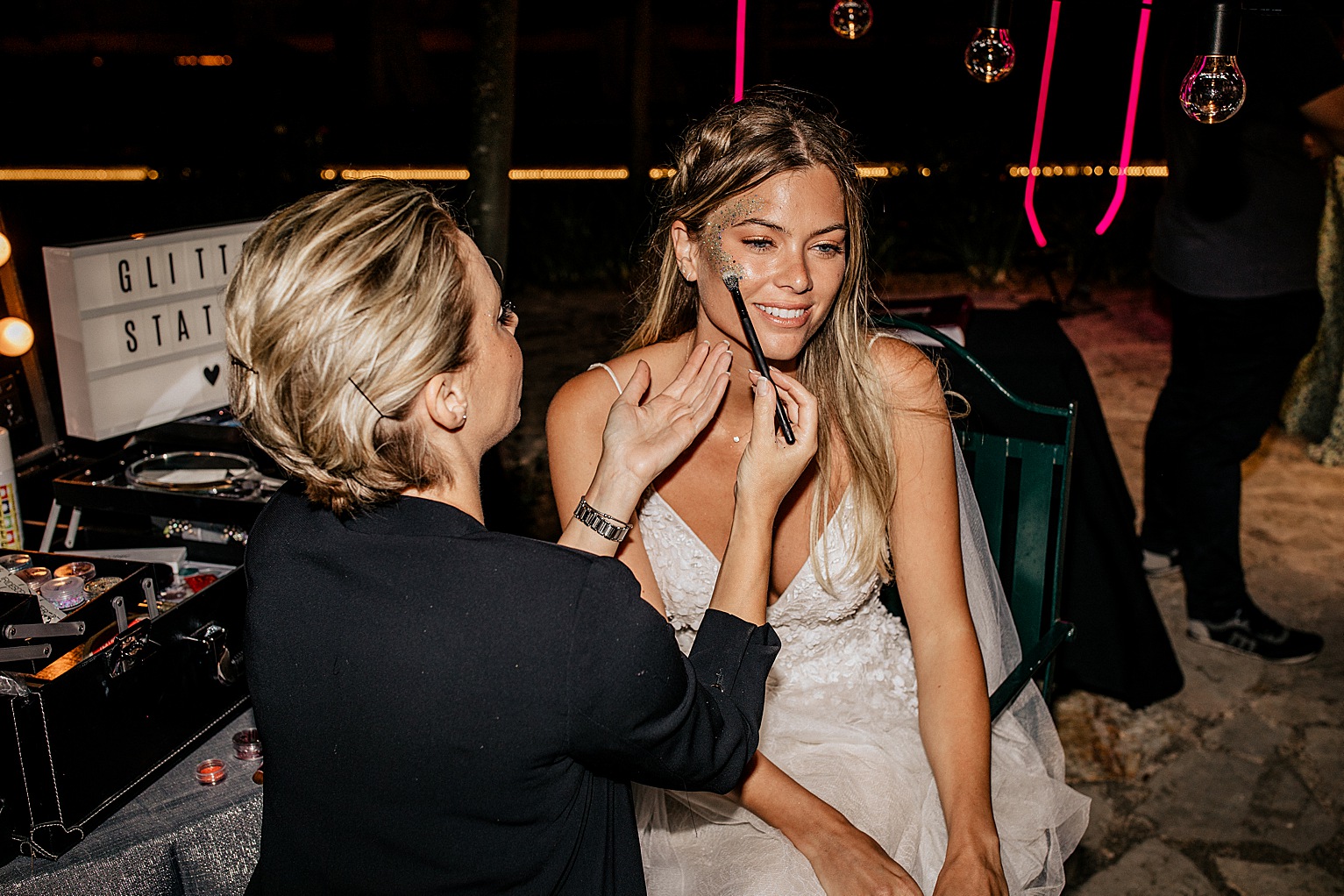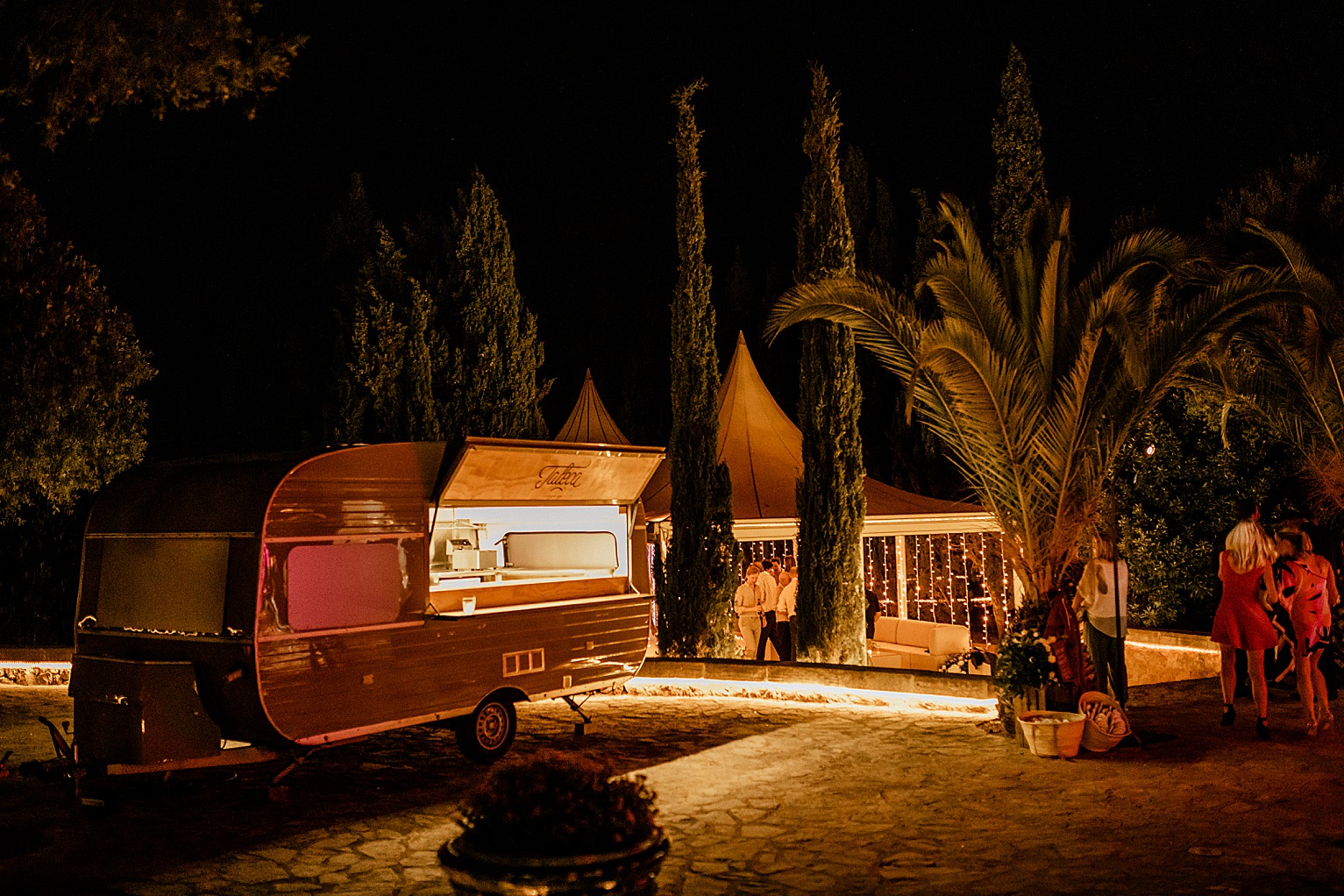 Words of Wedded Wisdom
"I would have started to get ready earlier and drink earlier. I wish I'd stopped fixating about every little detail on the day. On the day you just have to let go of all the worries and enjoy it. I also wish I had more friends around me whilst getting ready. Who says it should only be bridesmaids? Have as many people as you want in the room."
"Be the first in hair and make up! It's so tempting to just get the bridesmaids out of the way and be last so its all fresh but trust me – be the first, then you can always have touch ups later. I wanted photos with the bridesmaids whilst getting ready and I felt like the odd one out without any make up or my hair done. We had to really rush my hair as we didn't have as much time as I would have liked."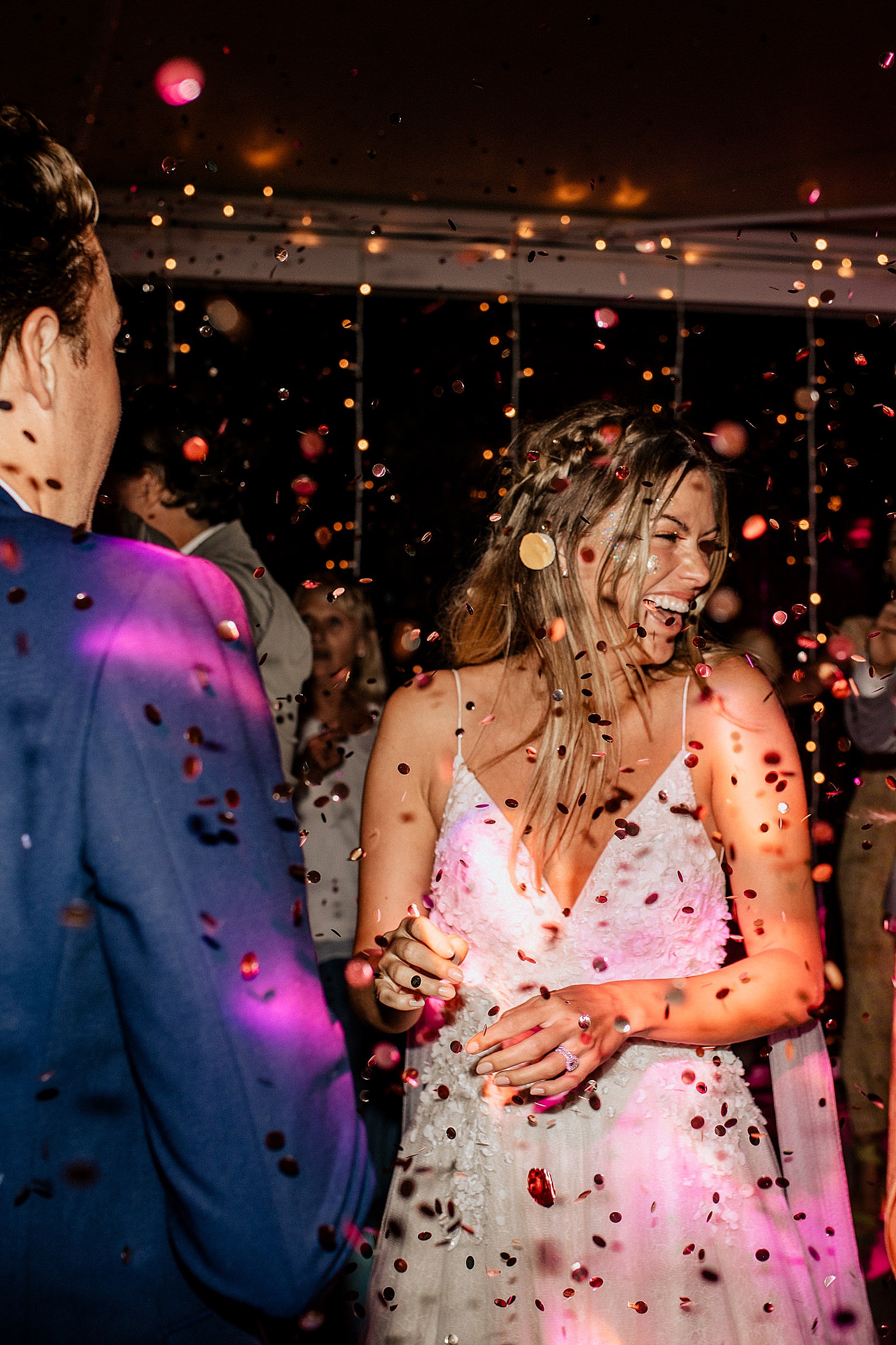 What an incredibly beautiful wedding. Bo, thank you so much for taking the time to share your memories with our readers – we wish you and James a safe and restful Christmas break together this year.
Readers, you can see more from the wonderful Julita LDN Bride here on Love My Dress, including the recent release of this micro collection of bridal fashion.
Love Annabel x