I love how today's sweet couple took two different spaces at the same venue to evoke two different, and equally lovely atmospheres for their elegant and stylish celebration.
This is the wedding of freelance marketing and events director Aqsa and her love Peter, a software engineer. They were married on the 25 June 2019 at the iconic Royal Botanic Gardens Kew in London, choosing to hold their ceremony at Cambridge Cottage, and their reception in the spectacular Nash Conservatory.
"We wanted somewhere outdoors surrounded by nature, and loved the idea of having our wedding somewhere we could revisit. I'd seen a wedding at Kew a year before we had ours, and it seemed like the perfect choice!"
Elaine Williams Wedding Photography

+ Follow
Ten days prior to their Kew celebration, Aqsa and Peter held their Mendhi in a family garden with loved ones, where there was a glitter bar and henna artist, party games, family traditions, and treats like s'mores and pick 'n' mix. The couple's elegant, letterpress stationery suit was from Papier.
On her feet, Aqsa wore a pair of celestial inspired silver sandals from Dune, and in her hair, a sparkling crystal tiara from Ivory & Co. via John Lewis. The wonderfully talented Chhimmi Dholkar Gurung created such a gorgeous look for Aqsa, which included beautiful rose gold eye make-up.
"I wore Tulipe by Byredo I love Byredo fragrances and thought Tulipe would be perfect for a wedding at Kew. It will forever remind me of our wedding."
"I had a beautiful bespoke dress made for the wedding, which didn't quite go to plan so days before the wedding I popped into Liberty and purchased the Needle & Thread dress off the rack, which was perfect for Kew, and the humid weather that day! Very light and comfortable to wear."
Needle & Thread make the most beautiful pieces made to treasure, and Aqsa's dress has their signature frothy tulle and incredible embellishment. What is extra lovely is that the dress was so in keeping with a wedding at Kew, as it's scattered with flowers and butterflies.
Peter wore a smart Hugo Boss suit with a forest green tie, which he accessorised with a Liberty print pocket square.
"After asking my parents for my hand in marriage, Peter proposed in December 2018 over homemade sourdough pizzas. I said yes – we then spent the next 3 months ring shopping together! We were engaged for 6 months before the wedding."
"My bridesmaids chose their own dresses – there was no strict rules, but I did give them a colour theme of nudes / pale grey."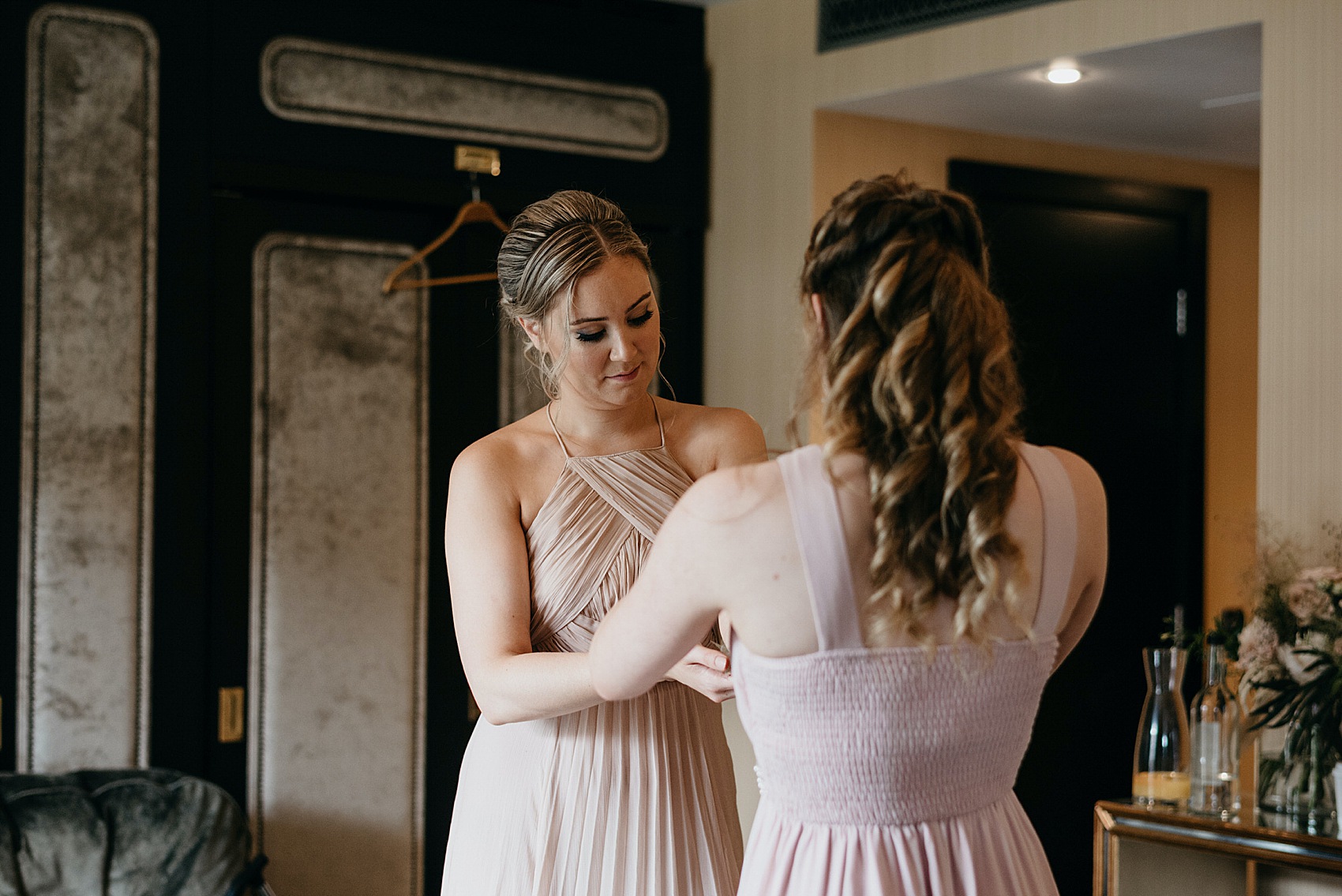 For Aqsa, the first look that the couple shared was her favourite part of the day, and for Peter, it was the feeling of anticipation as the day began, as he waited for Aqsa to arrive, and greeted their guests.
For Aqsa, the first look that the couple shared was her favourite part of the day, and for Peter, it was the feeling of anticipation as the day began, as he waited for Aqsa to arrive, and greeted their guests.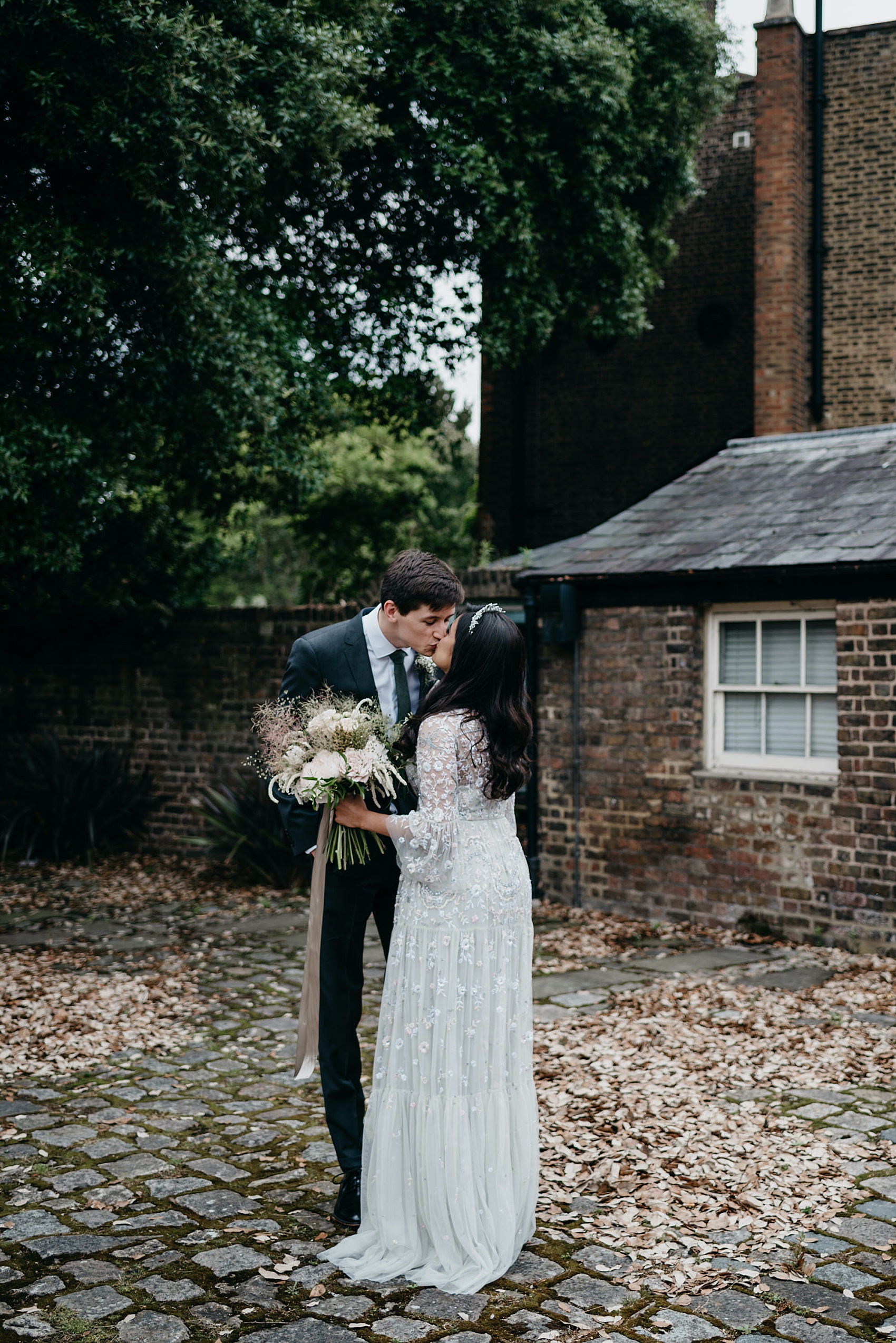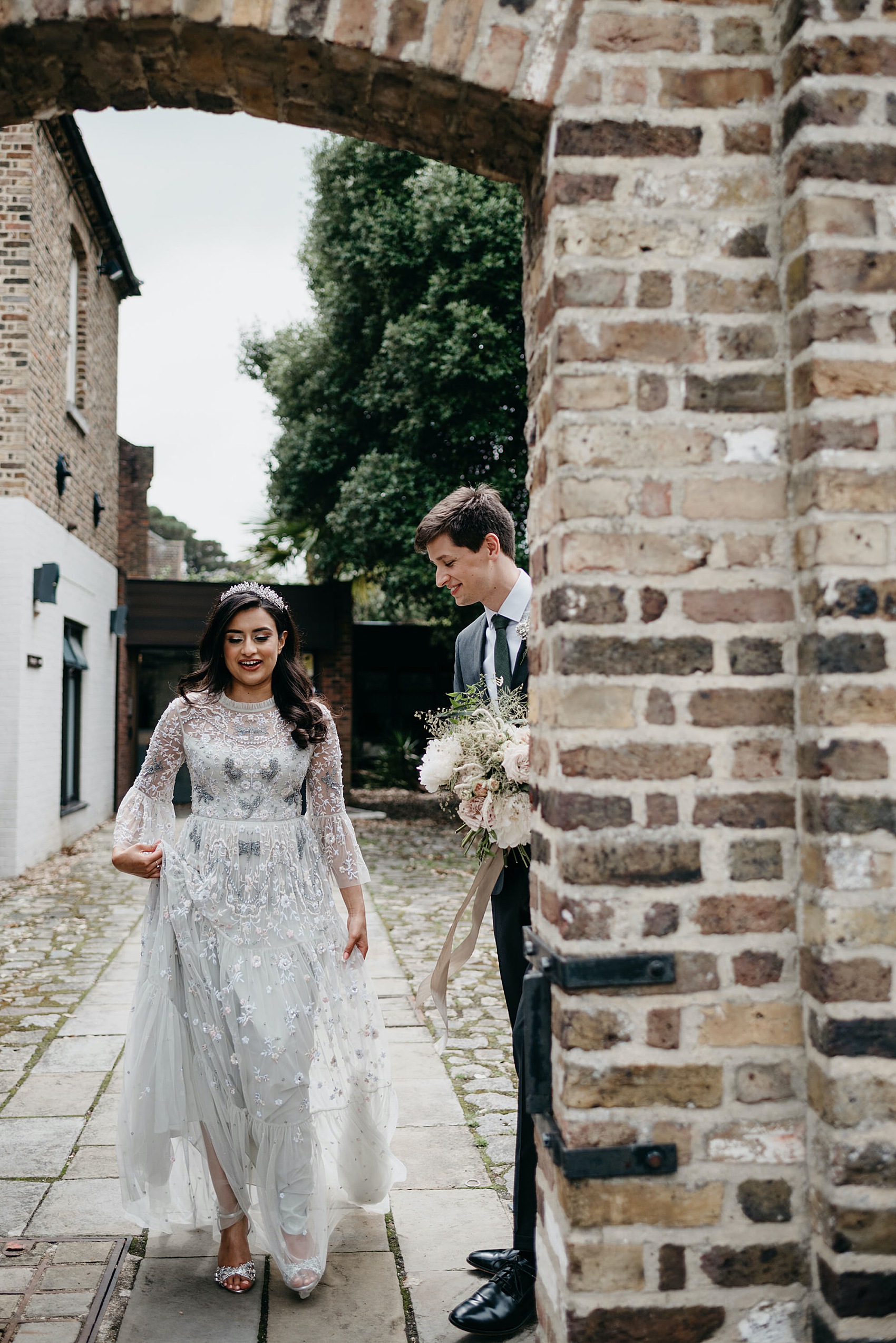 Cambridge Cottage, where the couple held their ceremony, is tucked away in a quiet corner of Kew, and is a former royal residence of the Duke of Cambridge [not the current one, I might add!].
Beautiful on-the-day stationery, including a welcome sign and order of the day was created by Karamele Stationery.
The cottage was the perfect, intimate setting for the ceremony, and was decorated beautifully with vases of pastel hued roses, hydrangeas and peonies together with pampas grass.
Unfortunately, I don't have any details about Aqsa and Peter's florist to share with you.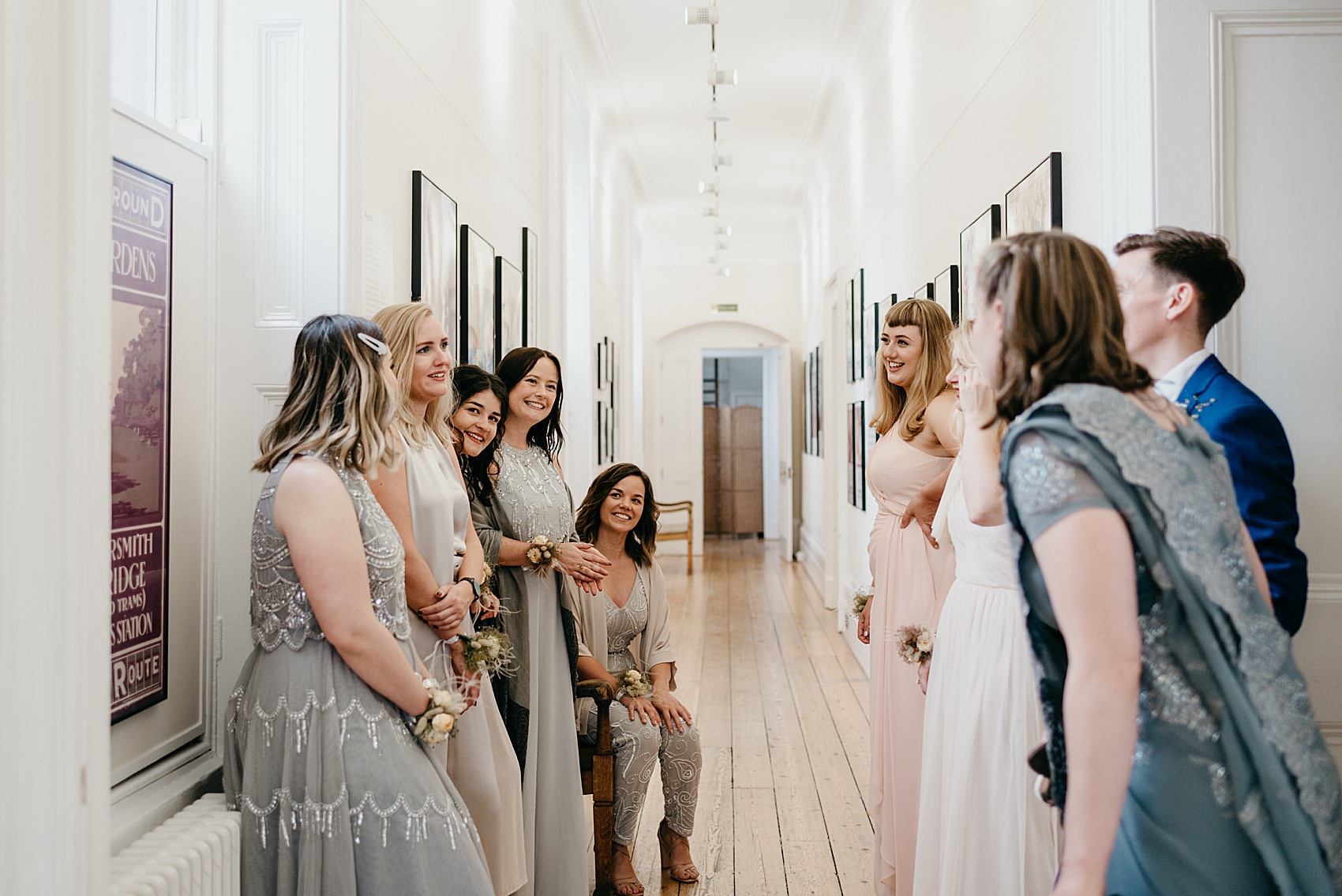 Aqsa walked down the aisle accompanied by her parents, and chose Two Thousand and Seventeen by Four Tet as her entrance music.
"Our readings were Tuesday Kind of Love by Stephanie Georgopulos, read by my best friend Rachel – it summarises us perfectly – and also Desiderata – a poem by Max Ehrmann read by Peter's father."
"This is one of my favourite poems, and the first time I met Peter's parents I was pleasantly surprised to see it hanging by their dining table."
"The story behind this: Peter's maternal grandparents gave a copy to his mother, when she left for university, where she met Peter's father, who later wrote it out in beautiful calligraphy and framed it as a gift for her."
Together with these wonderful readings and their vows, Aqsa and Peter exchanged rings chosen at a jeweller in Hatton Garden [no further details provided].
Outside after the ceremony, guests blew bubbles into the air from personalised bottles, and the couple's photographer Elaine Williams headed with them into their reception space – the historic nineteenth century Nash Conservatory – for more exquisite photos.
"We chose Elaine because she's brilliant! Her photographic style was exactly what we were looking for – candid moments captured beautifully, documenting every detail of day."
"Our couple photos were natural and mostly un-posed, which is great because we're both quite awkward in front of the camera!"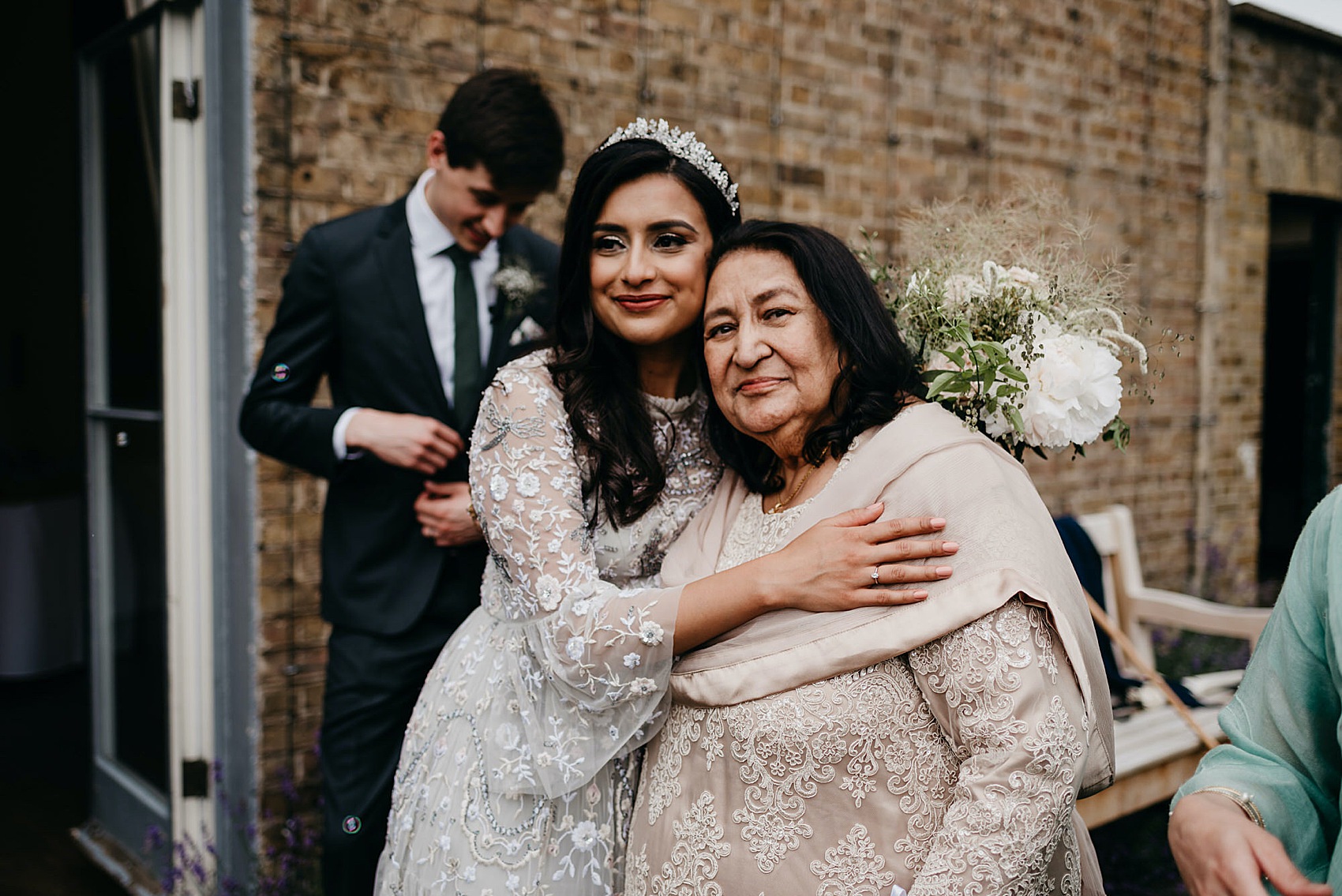 "Elaine tells a story through her photographs, and this is exactly what we wanted – almost documentary photography rather than traditional wedding photos. She was a dream to work with, from start to finish."
"We would definitely recommend her to others – Peter's brother has already booked Elaine for his wedding."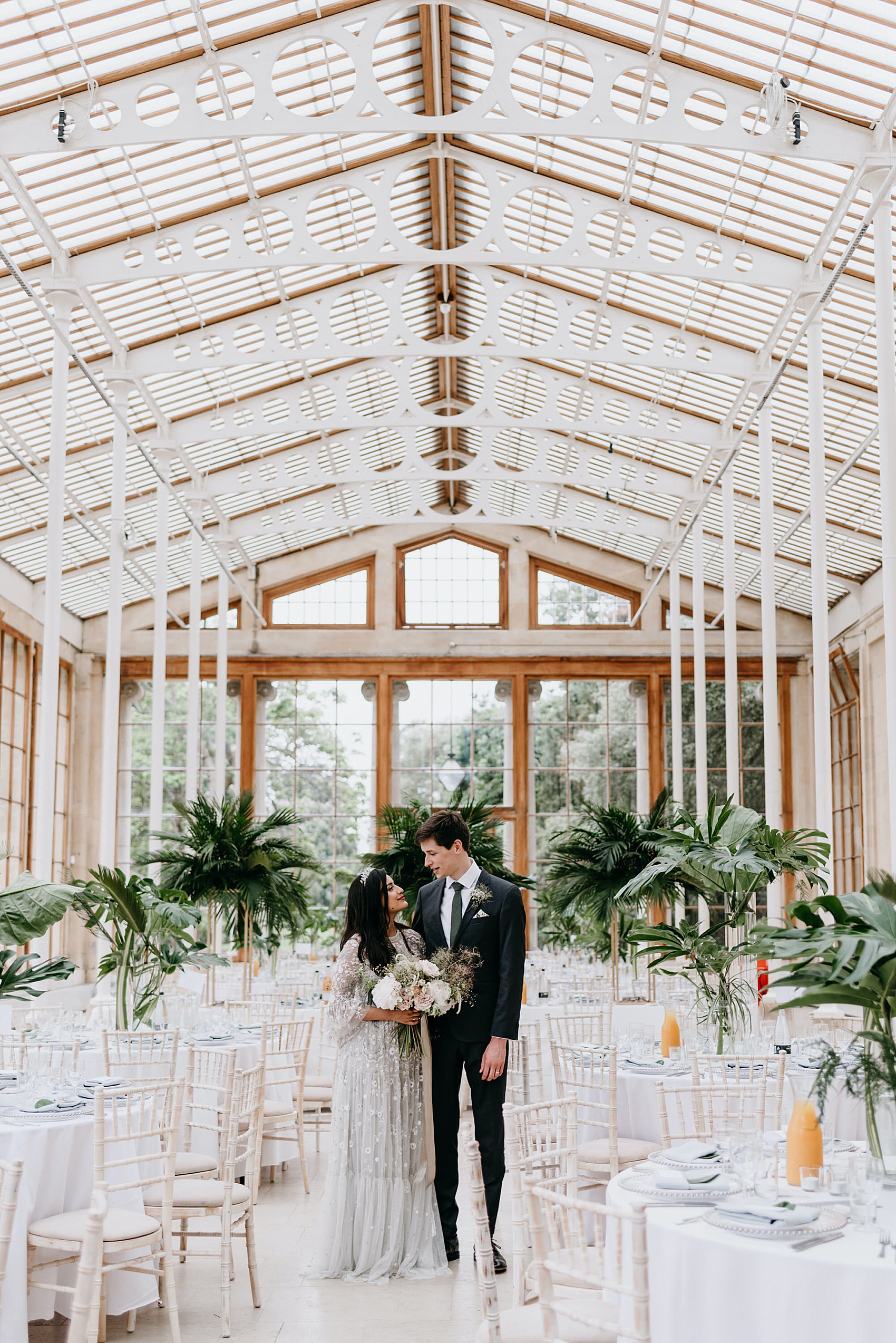 The Nash Conservatory was first built in the grounds of Buckingham Palace before being transported piece-by-piece to Kew in 1836. The light-filled space was just what Aqsa and Peter were looking for in a reception venue.
"We wanted something modern and different. I loved the idea of hosting the reception in a glass space / conservatory with lots of natural light. We're both minimalist and love plants so it was the obvious choice."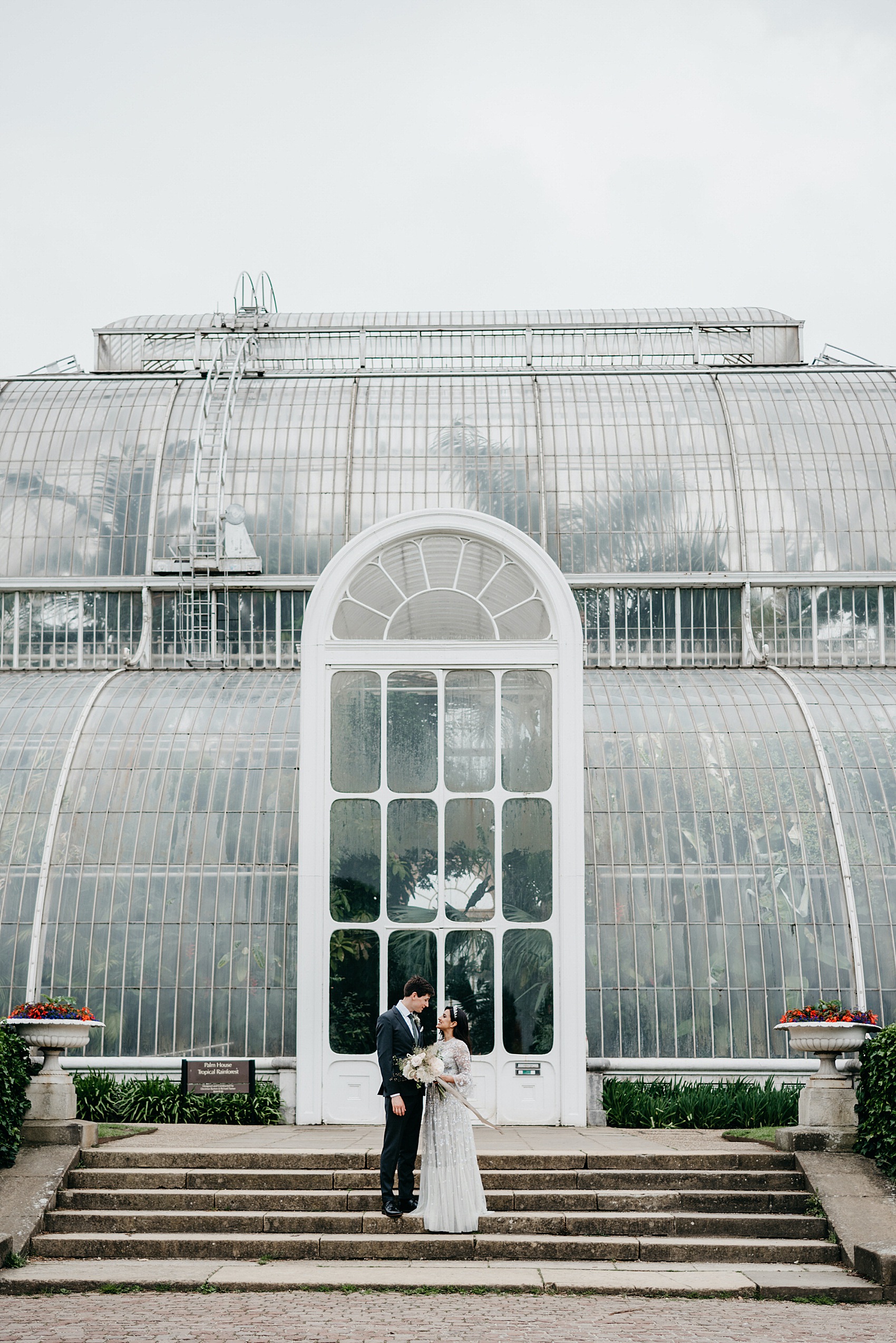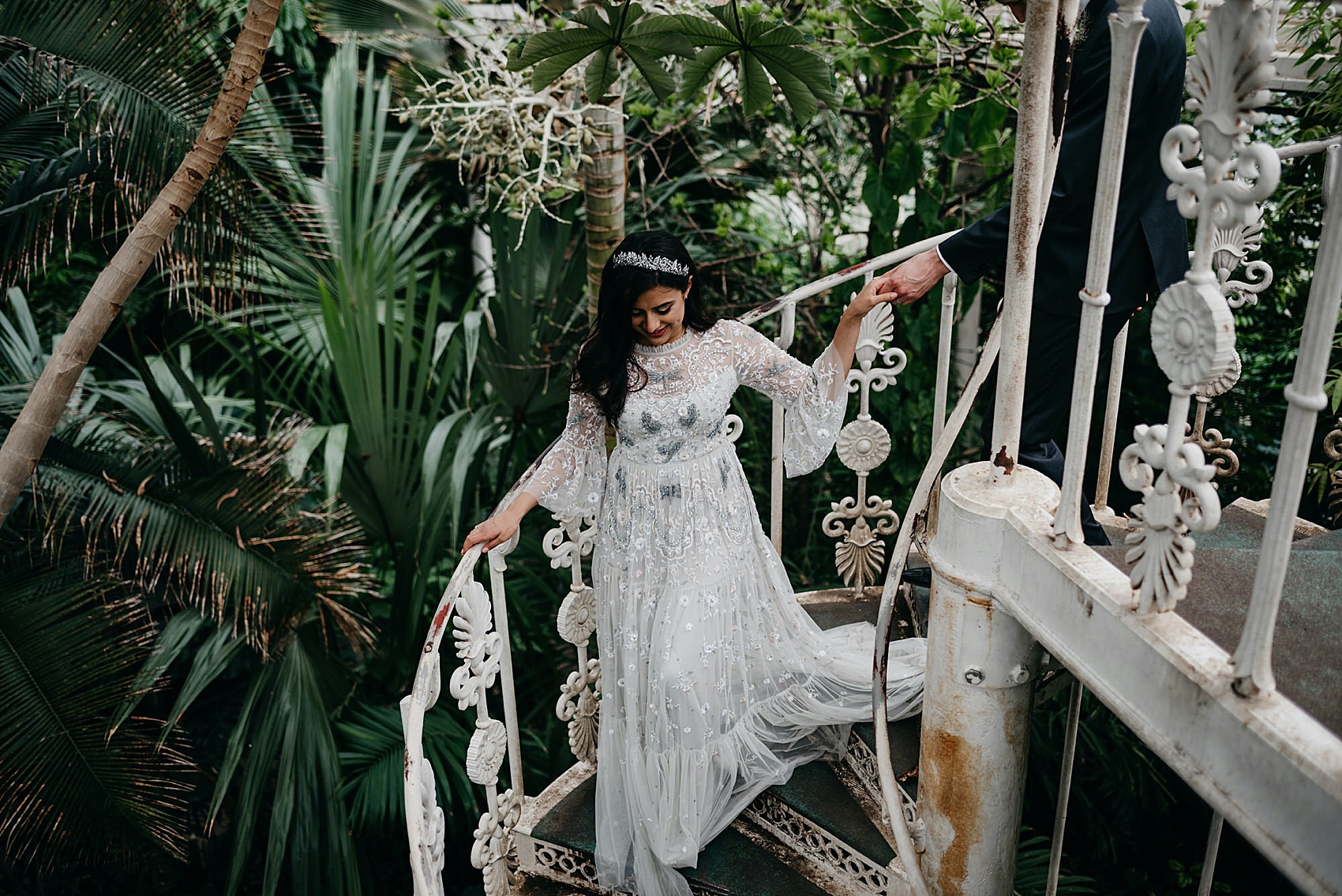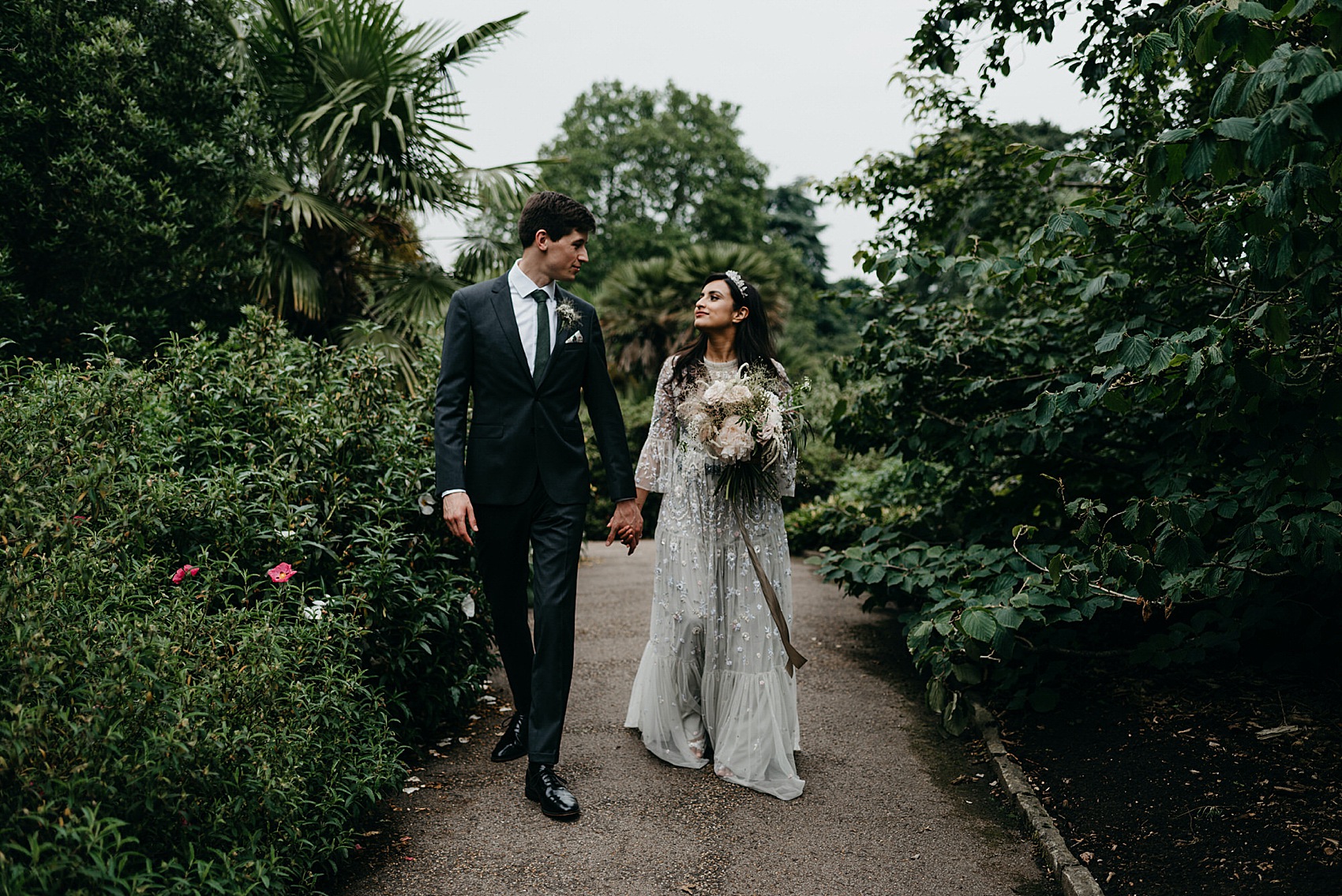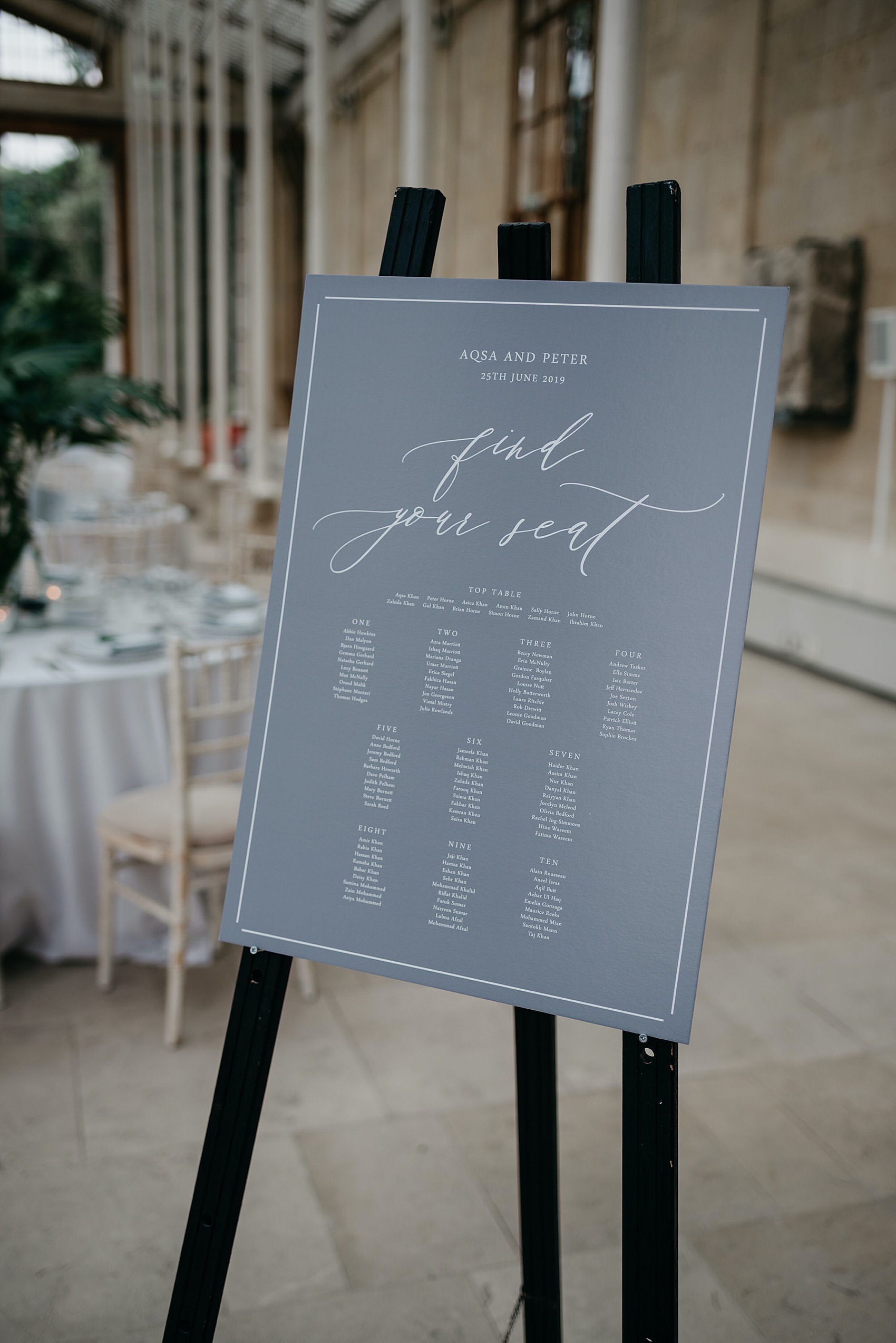 I love the table centrepieces – rather than flowers, Aqsa and Peter opted for different arrangements of monstera, palms and ferns to echo the lush, tropical planting in the glasshouse.
Beaded glass charger plates were adorned with simple white dinner plates, grey napkins and calligraphy place settings, each with a single leaf tucked into the fabric fold.
"I wore a veil for the religious ceremony in the conservatory. I designed this myself and had this made by family tailor. It's a Pakistani tradition to distribute fruit and nuts after the religious ceremony as the favours, so we did that. The fruit and nut mix was from the supermarket, and I made some cute packaging for it to go in."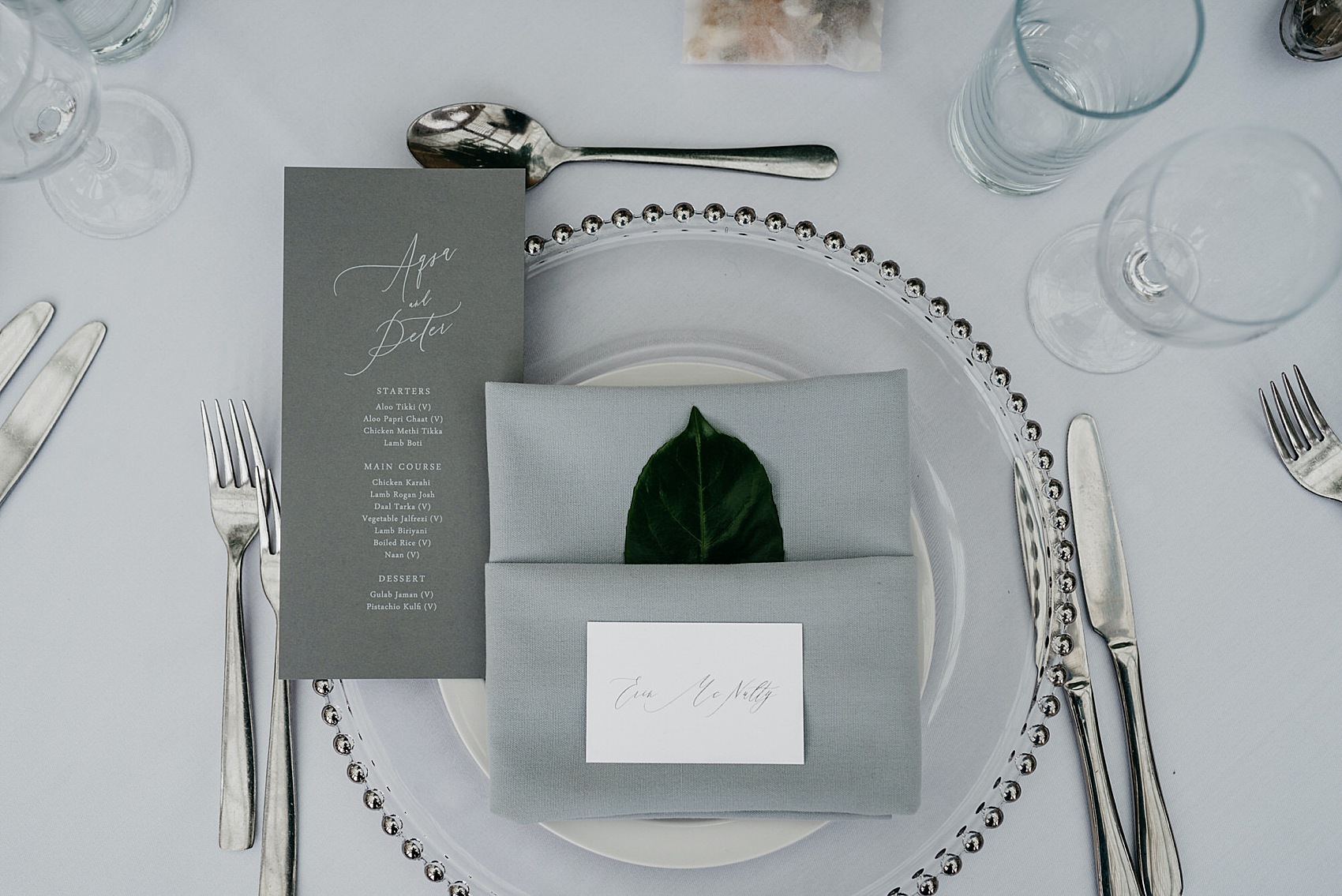 Caterers Laguna served a wonderful wedding feast, which began with aloo tikki, aloo papri chaat, chicken methi tikka and lamb boti. Main courses were chicken karahi and lamb rogan josh alongside vegetable jalfrezi, lamb biriyani, tarka daal, rice and naan. For dessert there was gulab jaman and pistachio kulfi.
"Rosie Bennett – our friend Lucy's Mum, AKA The Looby Lou Cake Company, is an excellent baker, and we've enjoyed her cakes on various birthdays, so naturally she was our first choice! We opted for a tiered semi-naked cake – Victoria sponge, raspberry jam and buttercream, topped with fresh fruit. It was delicious."
After the cake was cut, The London Function Band got everyone onto the dancefloor. Aqsa and Peter decided against a first dance, but the band did perform a freestyle rendition of Bruno Mars' Marry You, and invited the couple up onto the stage to join in.
Words of Wedded Wisdom
"I wish we'd hired an event manager / planner (who knew that managing an event whilst trying to get married is actually quite difficult?!) I was very anxious and uptight trying to ensure everything was perfect on the actual day. Even if you have an events background, this day is special – hand over to someone else and do not work on your wedding day!"
"I also wish I had been more assertive and outspoken about what I expected from suppliers (I forgot that I was the customer, not just an event planner) this time. Perhaps we should also have given ourselves more time to relax before the wedding – 6 months felt like plenty of time but it went by so quickly! I wish I had been more present and really taken it all in."
"Everyone says to relax and enjoy the day, and you promise them and yourself that you will. But something happens when you walk through the door and see that it doesn't look 100% like you might have requested or imagine."
"No-one else will notice, it still looks great so ignore this and remember why you are there! It doesn't need to perfect – spend time with family and friends and really take it all in because the day flies by. Blink and you will miss it!"
"A wedding should be exactly what you want it to be – ignore pre-conceived ideas of weddings in movies, or ones that you might have attended and personalise it to what you want! Don't want a first dance – don't do one. Want to wear a non-traditional dress? Go for it! This is your day and you are marrying the love of your life – let that be the focus and tailor everything around that."
Thank you so much for those honest reflections and words of advice, and thanks so much to you both Aqsa and Peter for sharing your day on our pages. Many thanks to Elaine Williams for these exquisite images, too.
With love,
Laura