Given recent global events, writing this wedding feels especially poignant. Its date, mid-February 2020, means it must have been amongst the last weddings before we went into lockdown. It's a real pleasure to share this sustainable day with you all today.
The couple, who have known each other since the bride was five days old, interwove a sustainable ethos with Art Nouveau and woodland influences, for an elegant, natural vibe.
Belle Art Photography

+ Follow
Please meet Courtney, who is studying for a Masters degree, and writer Isaac who wed on 15 February 2020 at Healey Barn in Northumberland. Drawn to its rustic, cosy and remote feel, they were inspired by their love of woodland, Art Nouveau and seasonal flowers. The result is this wonderfully elegant, atmospheric look.
In her kimono-style Charlie Brear gown from Marrime Bridalwear in Jesmond, Courtney looks relaxed, elegant and sophisticated. I love its unusual, wide-sleeved, dropped waist design, with its nods to classic 1920's design.
"They were absolutely incredible from start to finish. They were willing to help with any request and were very open to discussing budgets and making things work for me. I have already taken two of my friends who are brides-to-be there myself and would recommend them to anybody looking for a classy, but modern wedding dress."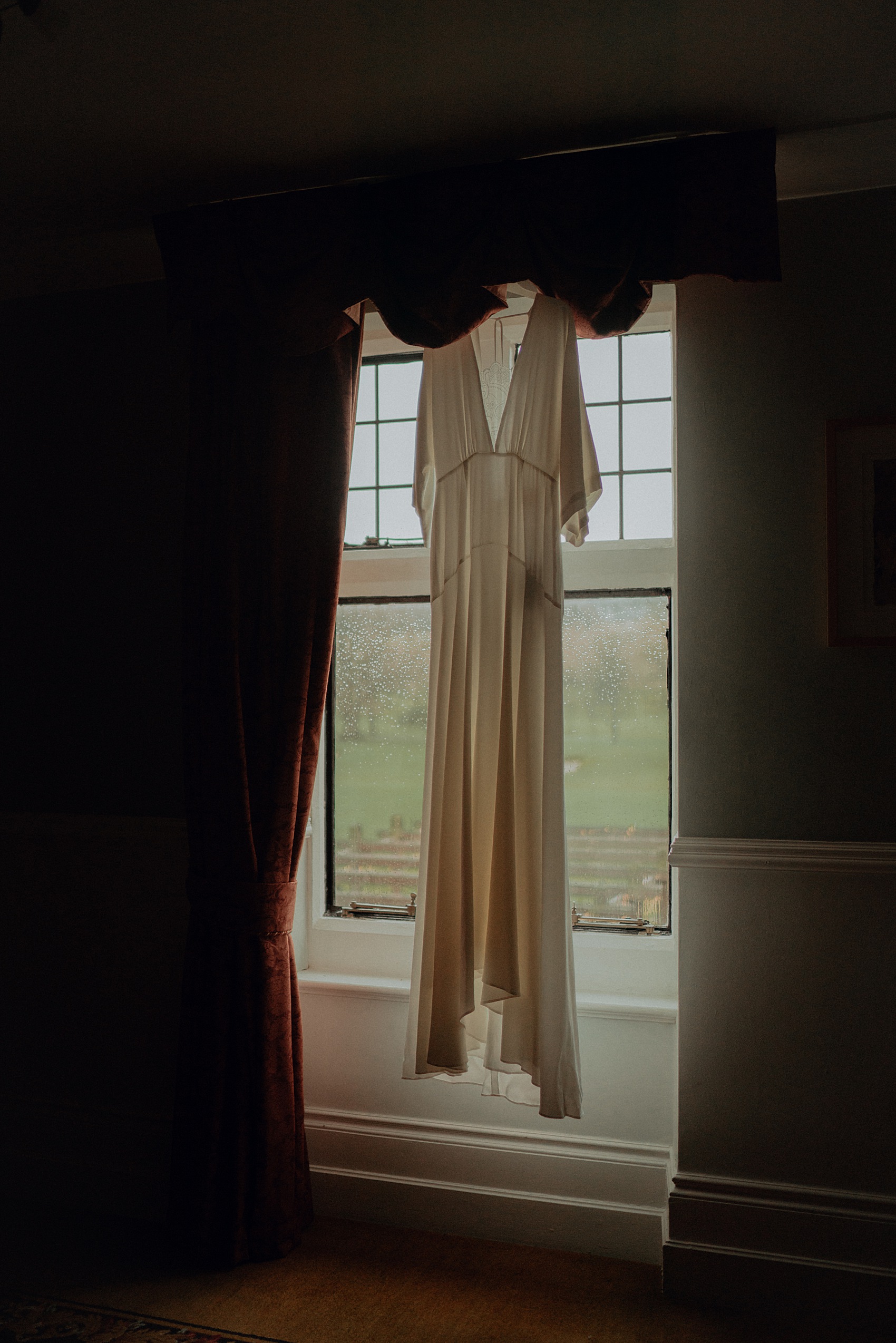 "I wanted something that wasn't over the top but made me feel elegant, beautiful and myself. I also wanted something I hadn't really seen on other brides before, which made the Nyika dress perfect."
"Also, I didn't want to wear white shoes (I'm not one for subtlety in my wardrobe) so I bought shoes from Rainbow Club and sent them back to be dyed the same colour as my bridesmaids' dresses."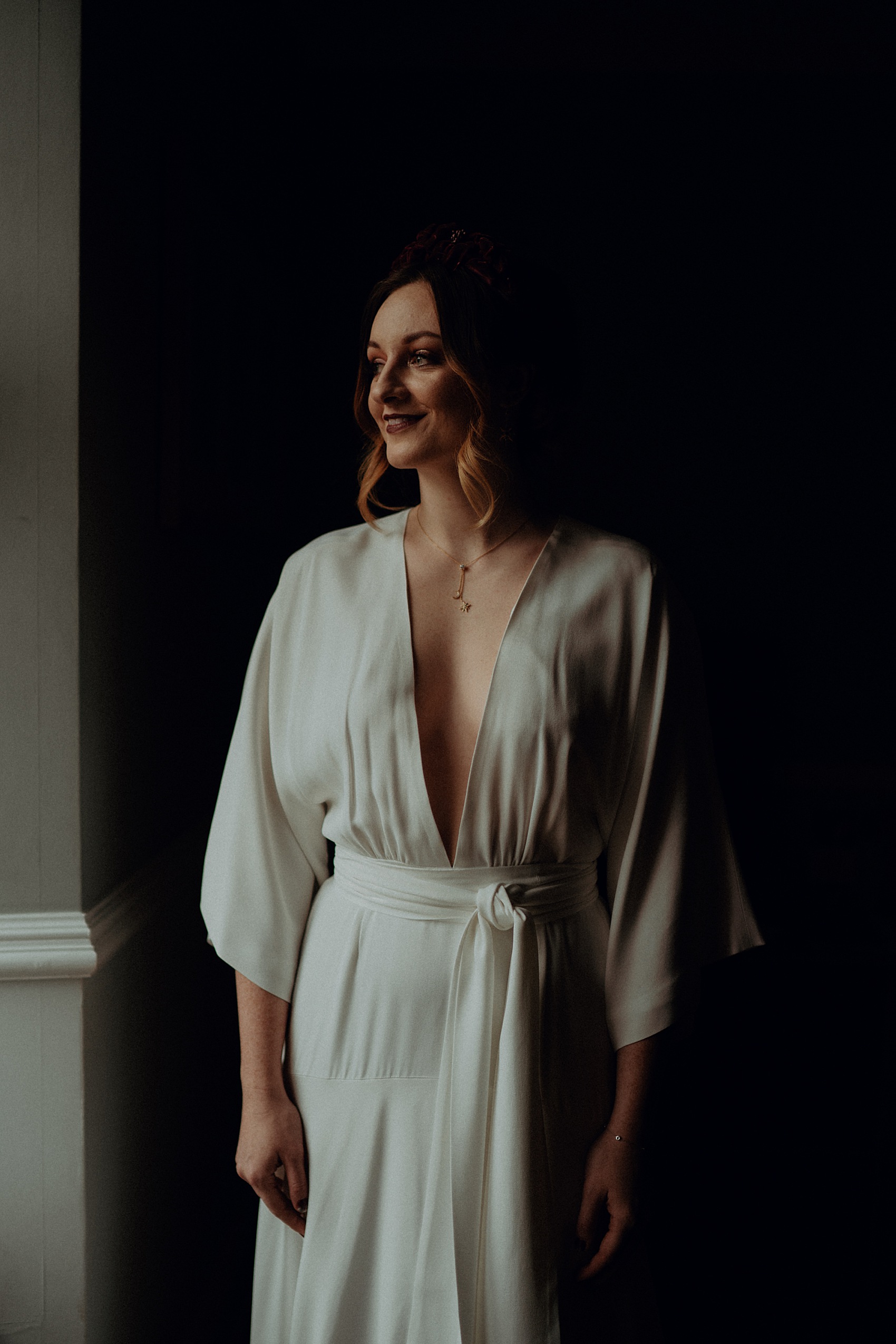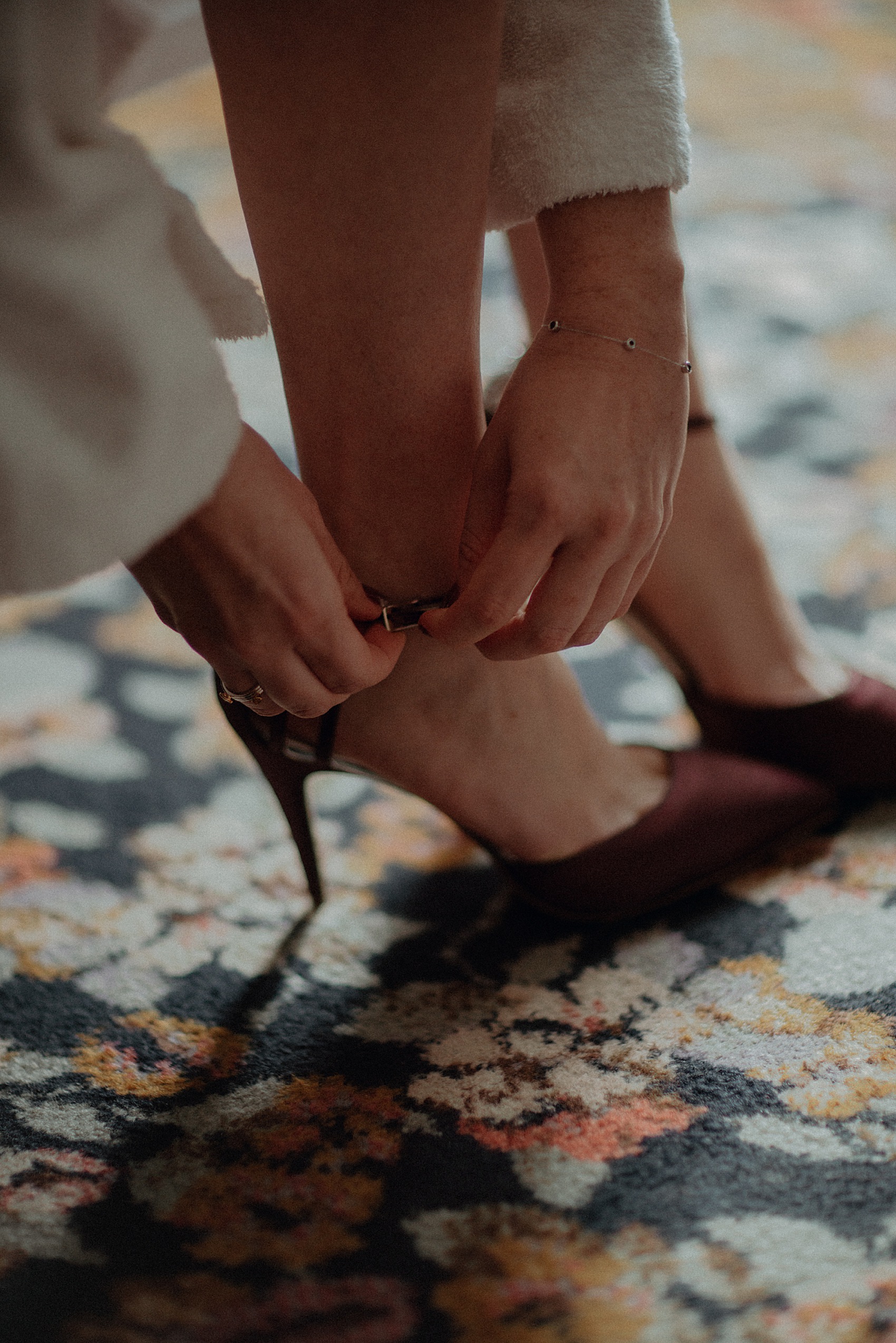 "I found my gorgeous hairband from Folkster in a very similar colour and modified it to remove the veil, which made me feel like an ethereal, woodland princess."
"To complete this look, I decided on a three metre tulle cape from Rachael's Maids on Etsy, with Art Nouveau style brooches to attach it to my dress."
"I loved how elegant I felt, and the pop of burgundy really helped pull it together, for me. I would not have felt comfortable all in white."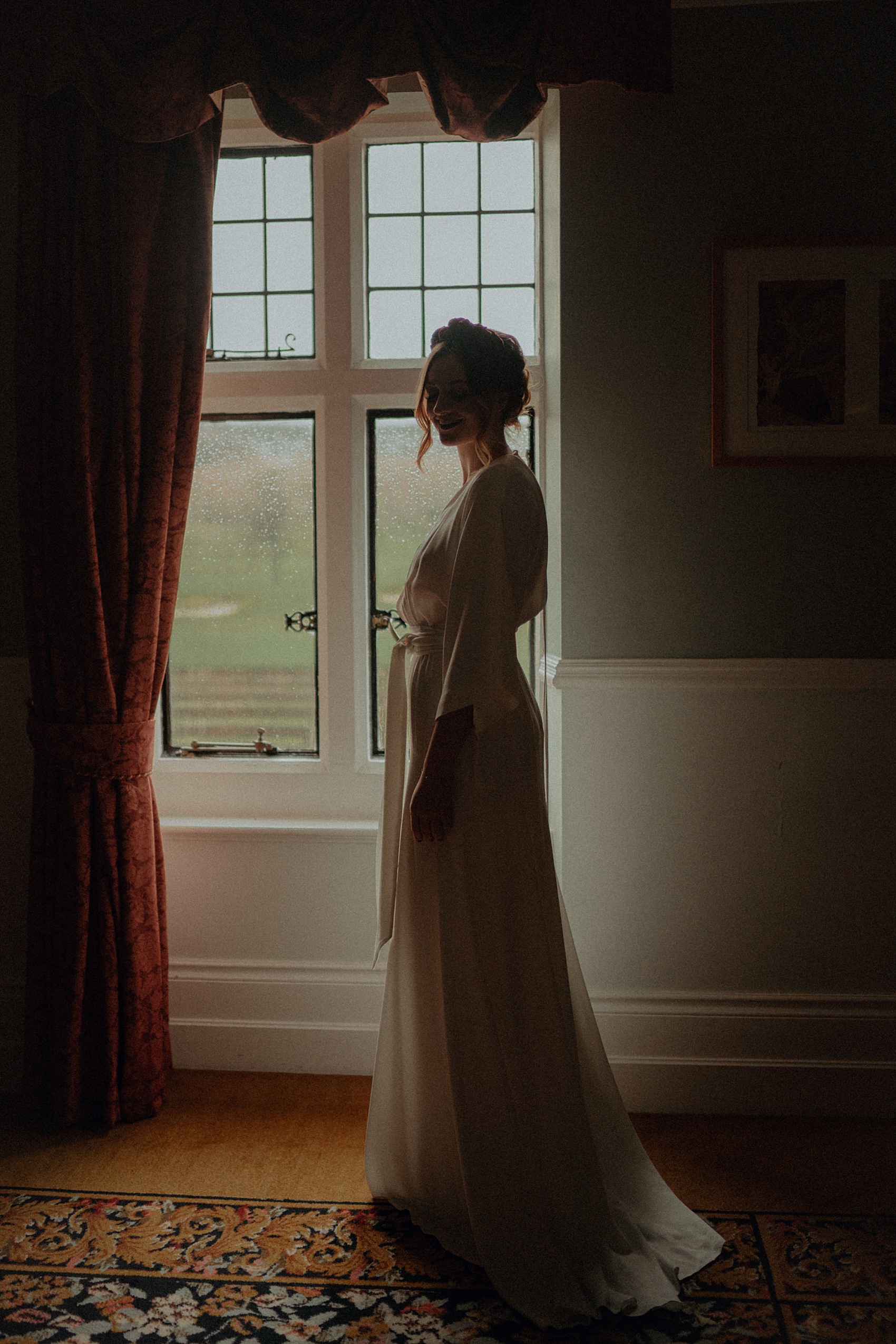 Courtney's bridesmaids wore burgundy Motee Maids gowns with a splash of 20s-style embellishment, bought from Y.A.P Bridal in Newcastle-Upon-Tyne.
The colour is a wonderful match for the burgundy of the bride's headpiece and shoes, and they wore sparkling headpieces from Rachel's Maids on Etsy.
"I had a fantastic experience at Y.A.P Bridal – they were so helpful and attentive. With Motee, you select your top, skirt, colour, and beading and it can be different for each bridesmaid. It meant that my girls could be comfortable in a style that suited them perfectly."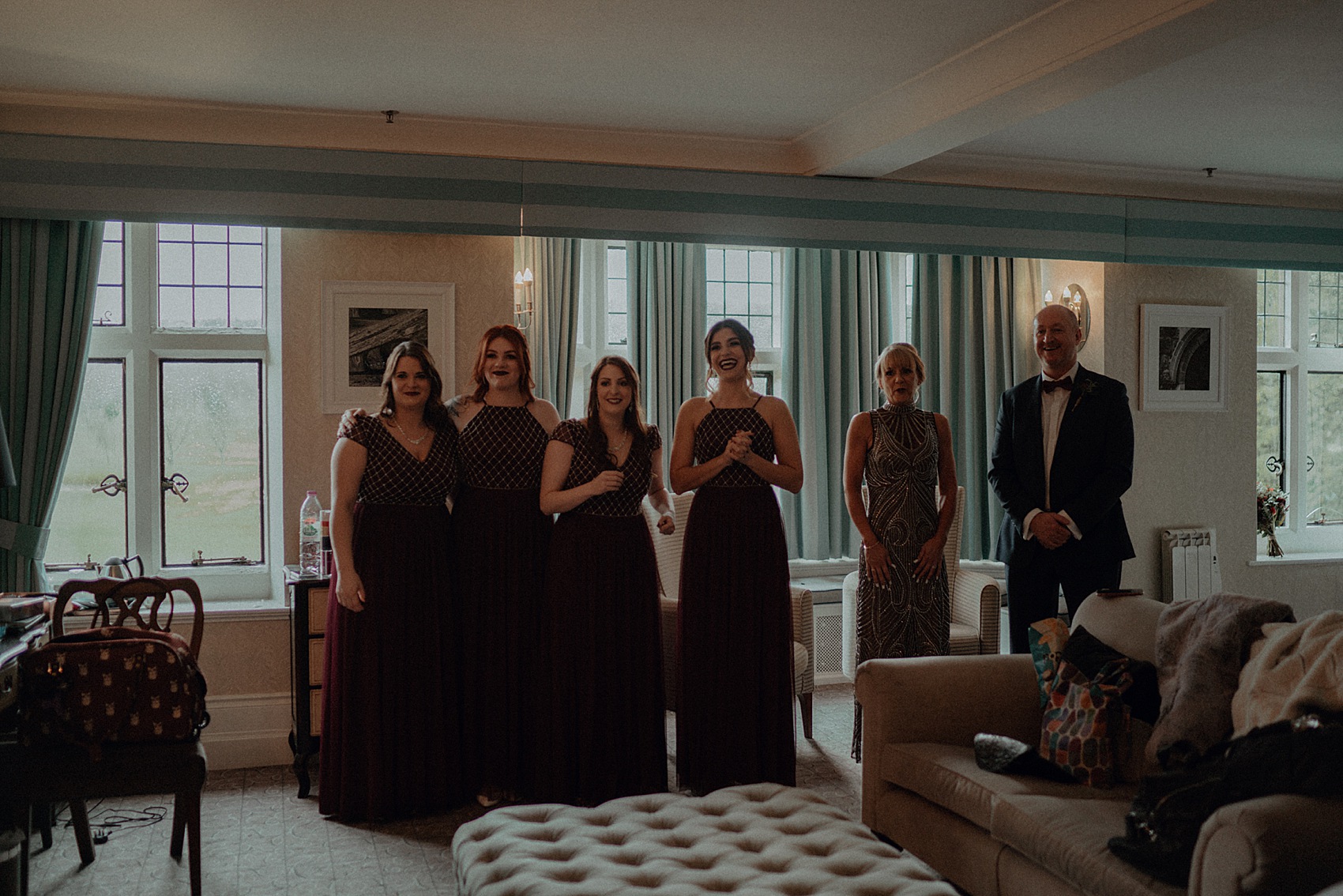 At six foot seven, Isaac finds tailoring difficult but found his perfectly-fitted three-piece suit at Moss Bros.
"He got a very well-priced, custom-sized, double cuff shirt from Moss Bros Clapham Junction store in London, delivered to our local Newcastle branch. He was so happy with it that he ordered a single cuff shirt too. I recommend this service to anyone who struggles to get off-the-hanger sizes to fit them."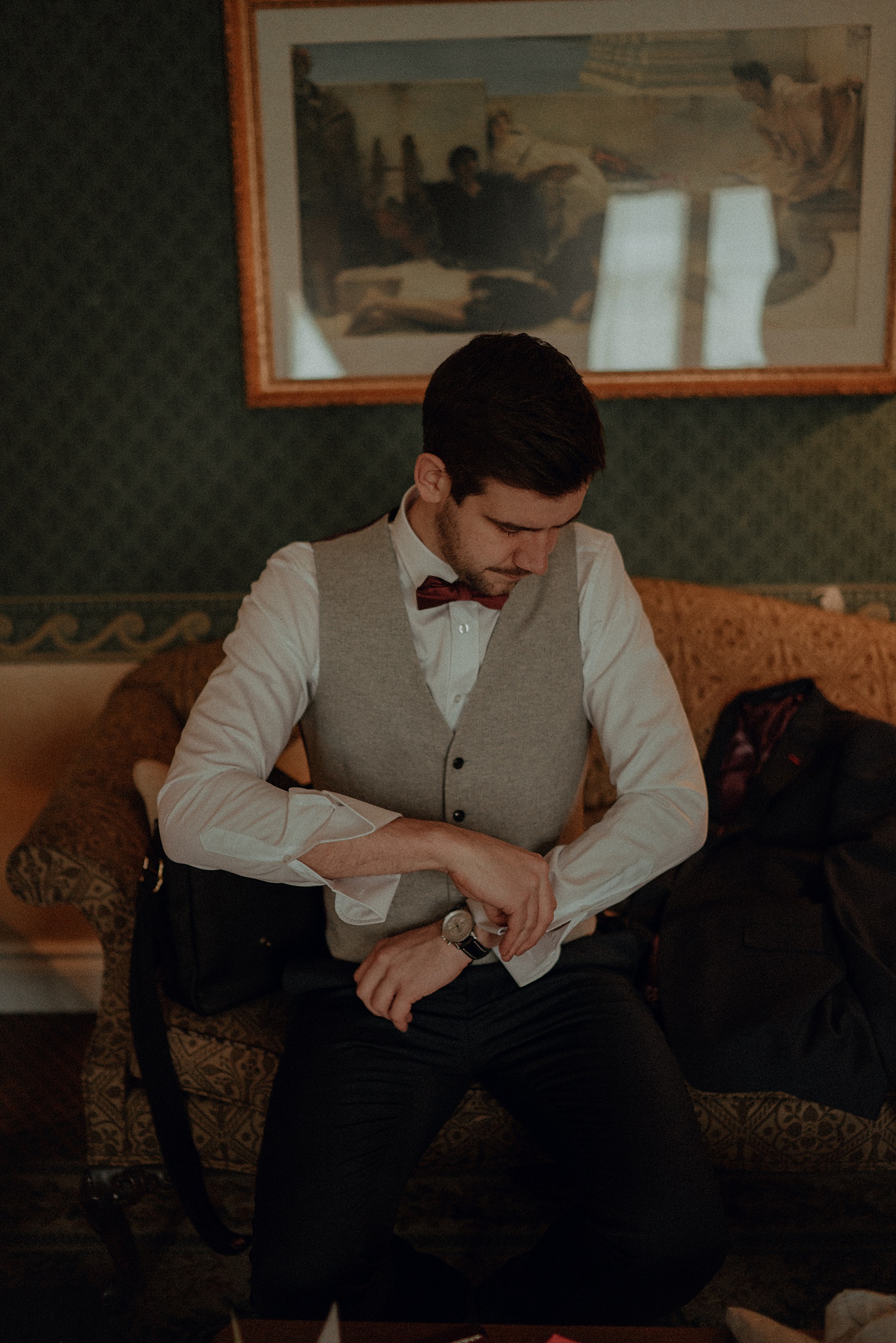 "Healey Barn is only around five miles from where Isaac grew up. We both love Art Nouveau designs so we allowed this to heavily influence the day, as well as bringing in a lot of 1920s-style. We blended this with a woodland aesthetic to bring it together with the interior design of the venue.
"We wanted the floristry to be representative of what you would see outside at that time of year so we went with plenty of evergreen foliage and only had flowers in the bridal bouquet."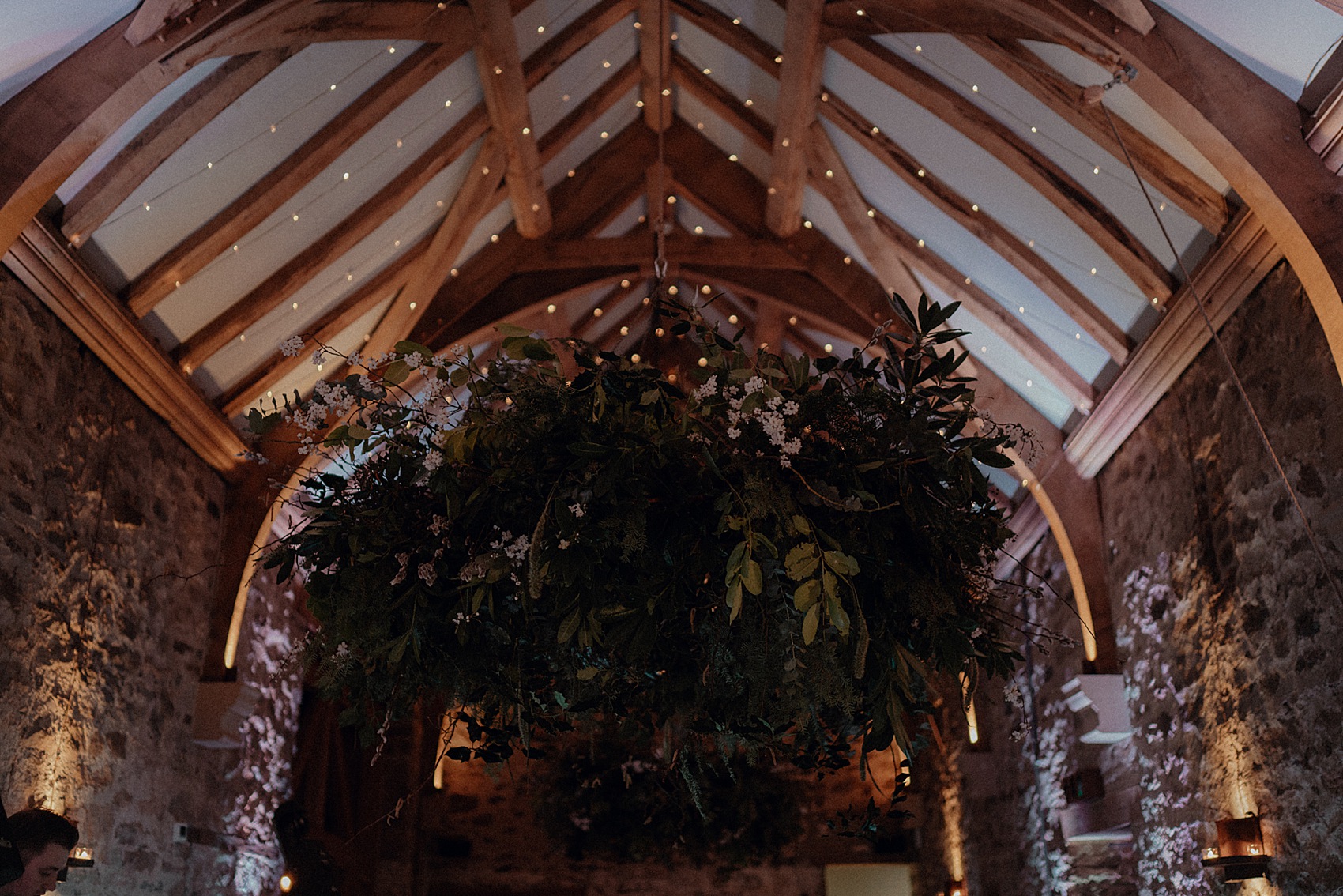 "We also wanted the wedding to be as sustainable as possible, so used natural materials and repurposed existing materials wherever possible (for example, our table centrepieces were glass bottles we'd had our friends and family collect)."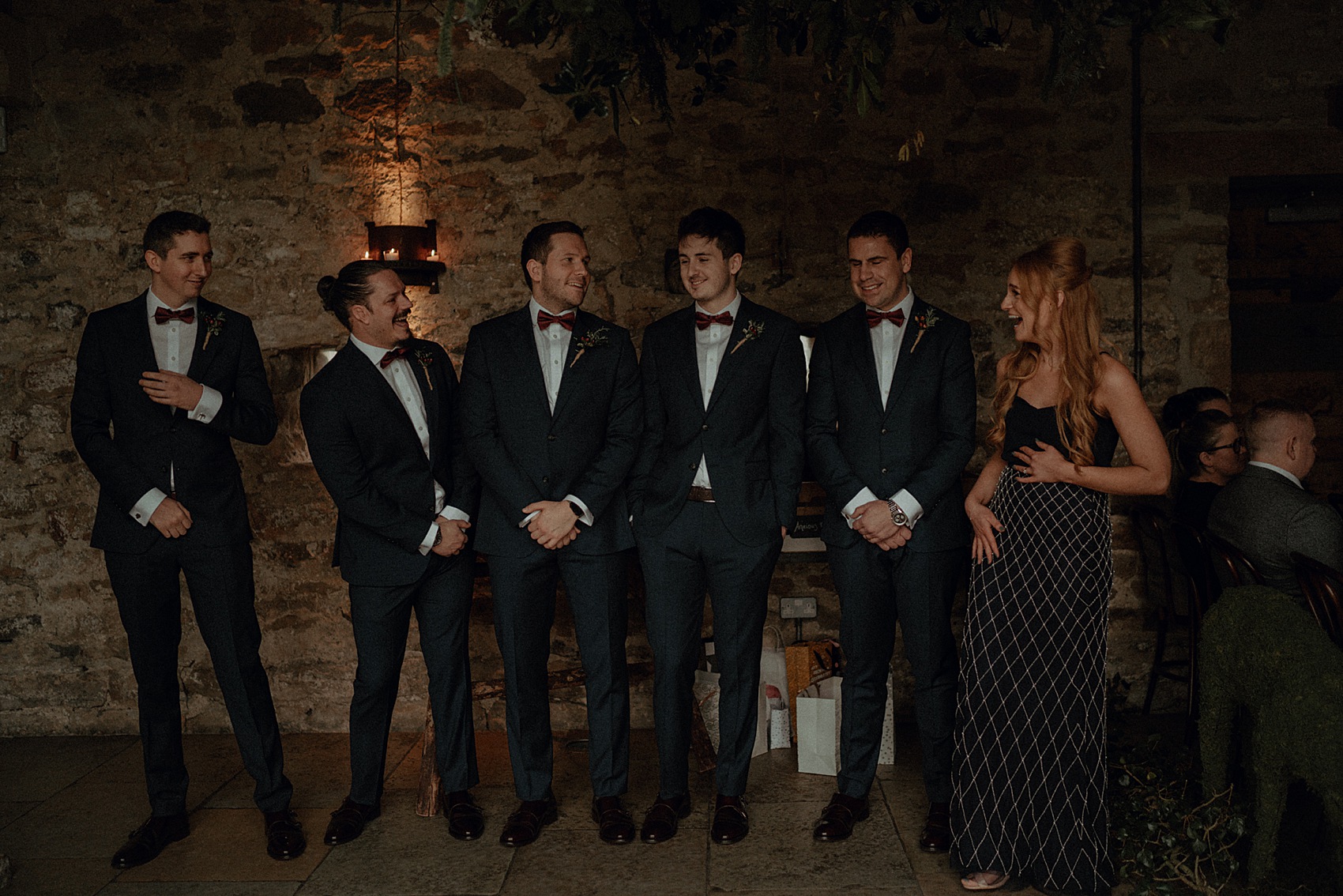 Isaac and Courtney knew each other in their childhood but lost contact until 2014.
"My mum was Isaac's nanny from being a toddler until he was four years old. In 1994, Isaac's family moved to Northumberland from Newcastle-Upon-Tyne."
"This coincided well with my mum's plans, as in February 1994 she welcomed me into the world. Isaac and his family met me when I was five days old on the day I got home from hospital."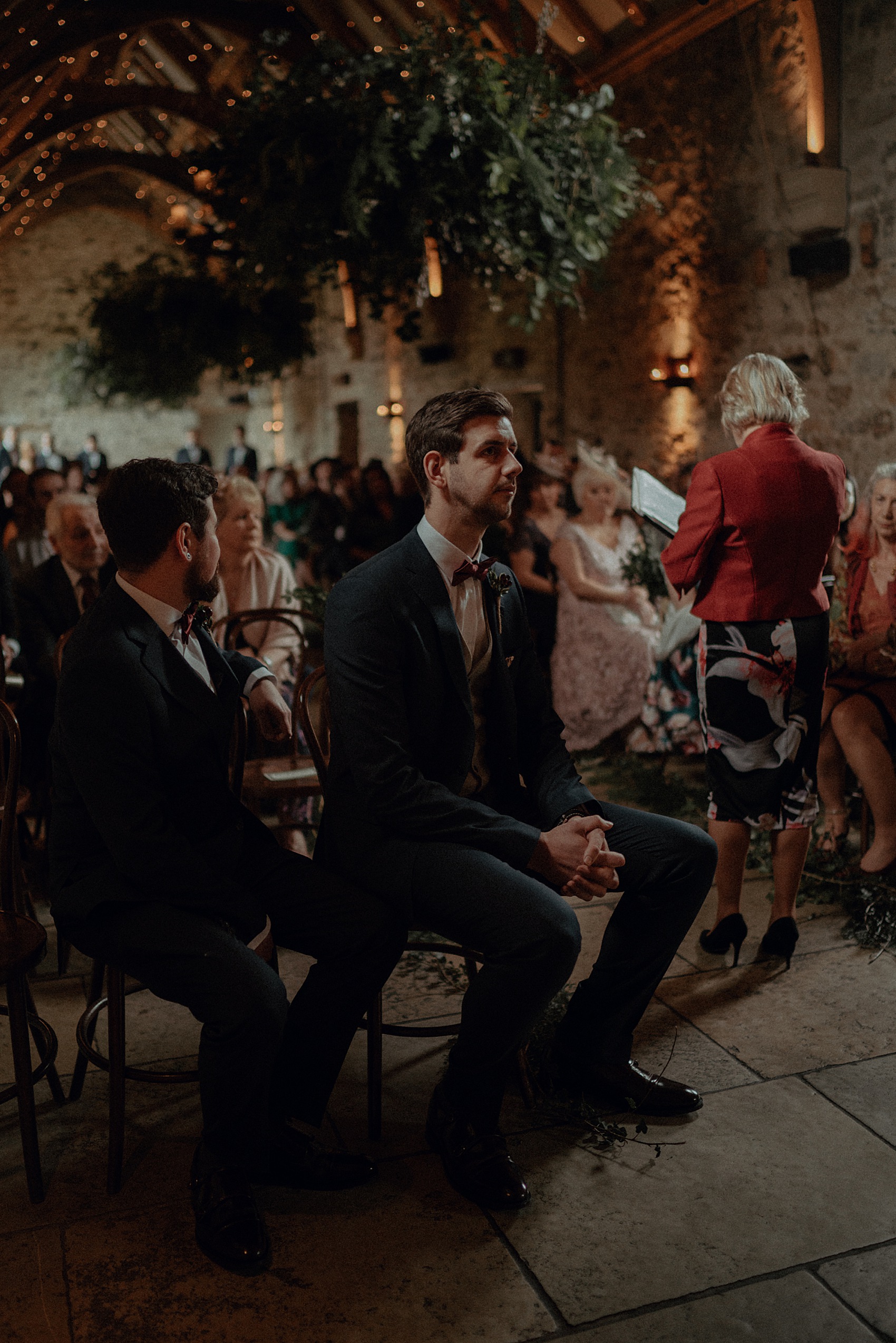 "Our families stayed in touch for a number of years but then lost contact. In 2014, my mum reached out to Isaac on Facebook and our families met up at a local pub to Isaac's family in Corbridge."
"Isaac maintains this was love at first sight for him but I was in a relationship at the time. Later in the year, that relationship ended and we began the relationship that was meant to be."
"In August 2018, Isaac took me to a large private house, Wood Hall, in the Lake District. Here, he blindfolded me and walked me to a magnificent view of the valley. He uncovered my eyes and got down on one knee behind me."
"The view was so great he had to tug on my jumper to get my attention. I turned around to see him and twenty of our family and friends cheering and crying behind him. Everyone then spent the weekend at the hall celebrating. We were engaged for 17 months before our wedding day."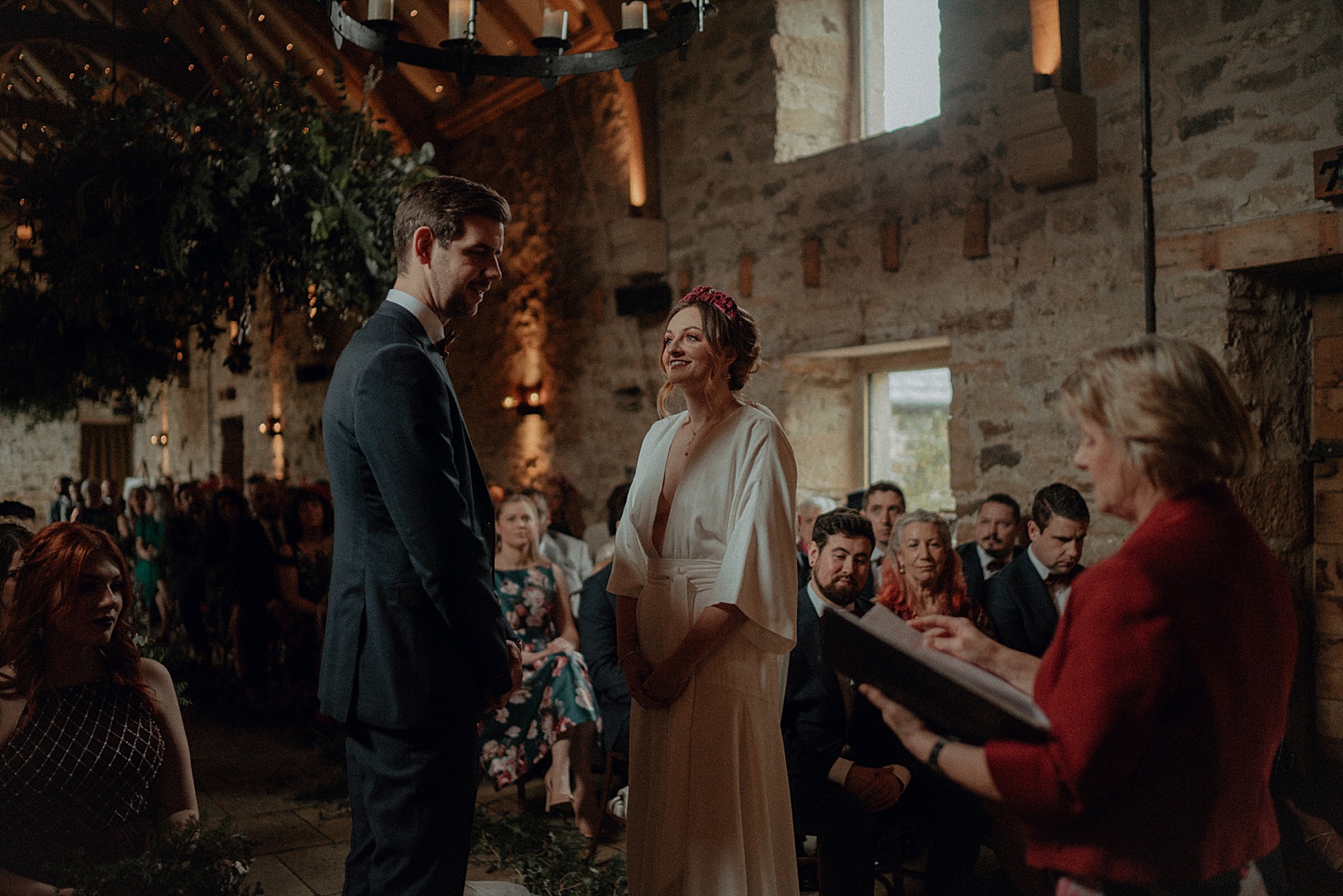 "My favourite part was seeing Isaac at the bottom of the aisle. I hadn't been nervous until the car journey there and I wanted to bolt. But, as soon as I was walking down the aisle, all of that feeling was gone."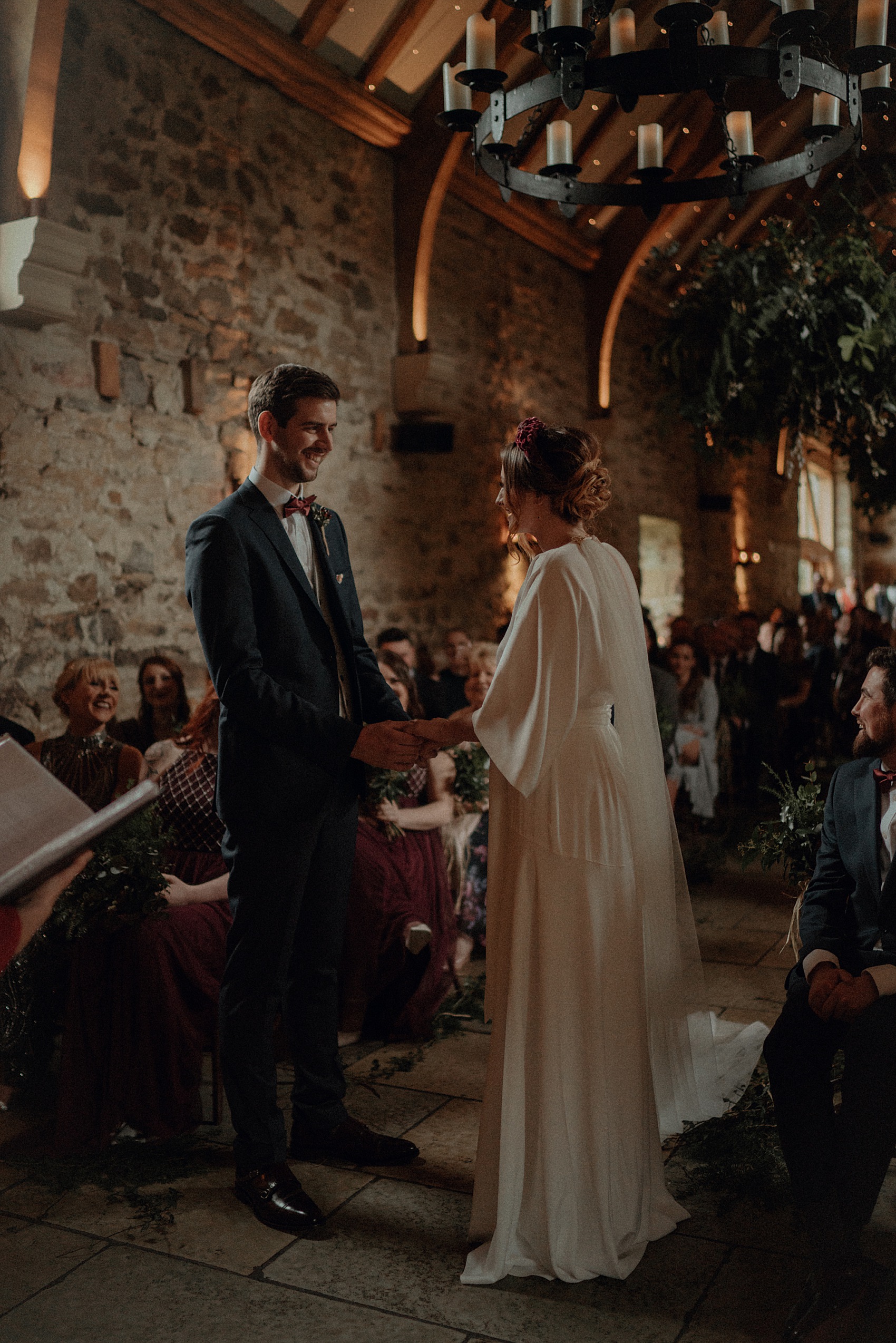 The civil ceremony included a reading of Taylor Mali's 'How Falling In Love Is Like Owning A Dog', read by her younger cousins.
"We didn't tailor our own vows; we went for very simple options from the registrar. We both made speeches before dinner so did not feel the need for this."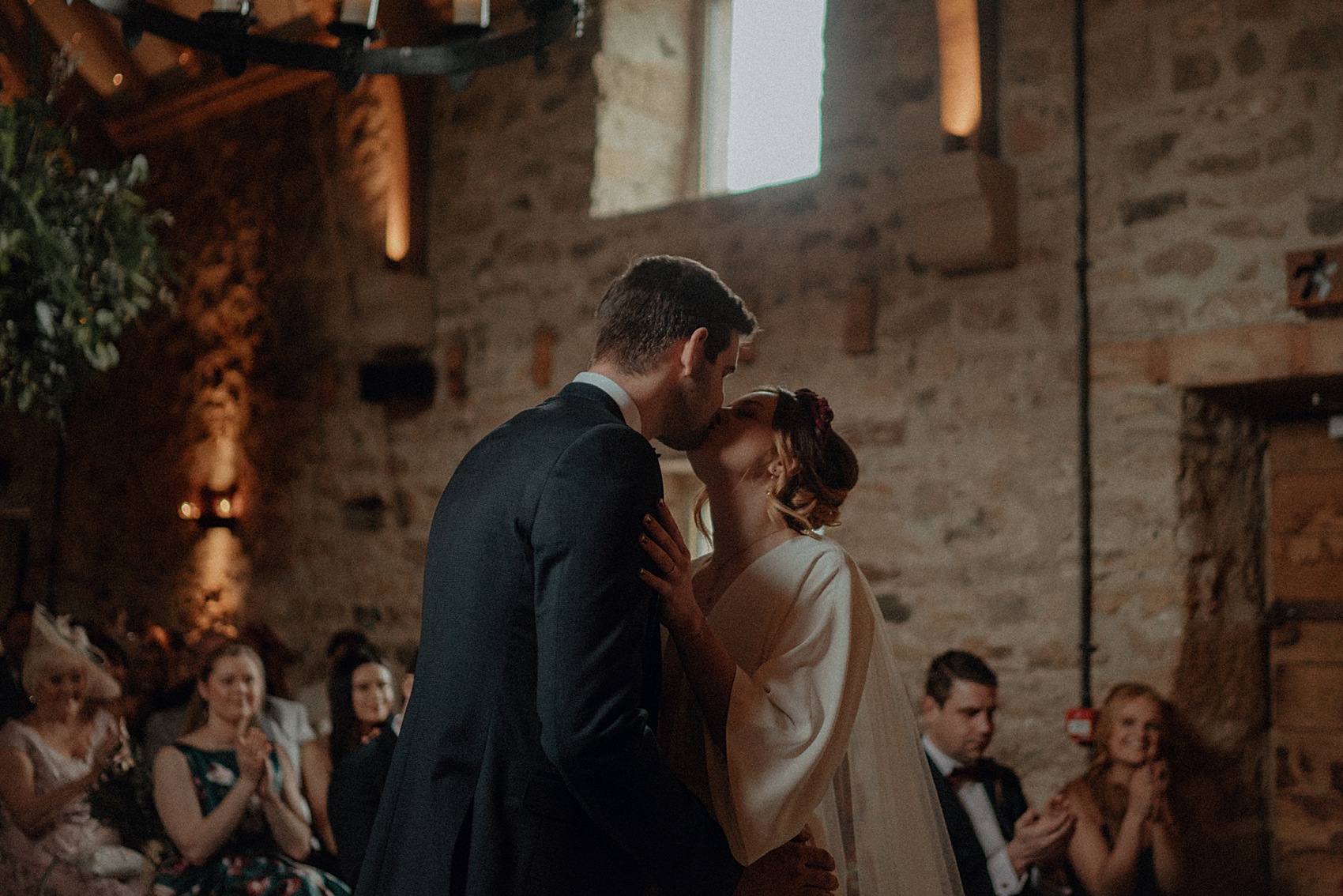 "Dogs have always been a huge part of our lives and our family and friends know this. We chose this poem because we wanted something funny, but that was also meaningful."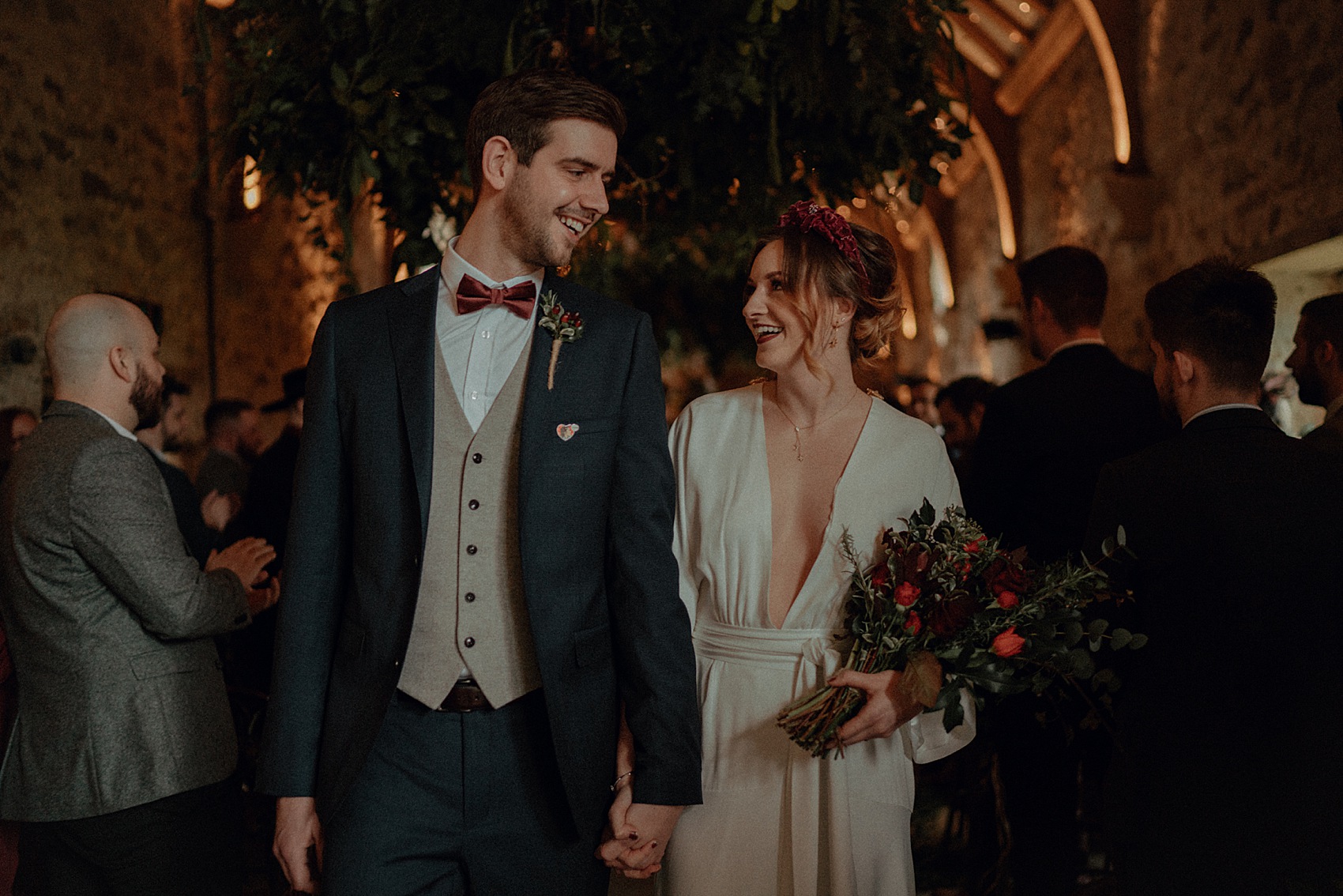 The couple exchanged custom-made rings from John Martin Douglas before being announced husband and wife. Before the party started, they escaped for time together into the Northumbrian woods for these wonderfully atmospheric portrait shots by Belle Art Photography.
Seasonality and sustainability were of prime importance to the couple, so their flowers were gathered by Healey Flowers to reflect this.
"I wanted the barn to look what it looked like outside at that time of year, so mainly evergreens. Also, Harriet and her team forage for a lot of their materials, reducing shipping and improving sustainability."
"The only flowers were in the bridal bouquet to make it extra special. Fleur Couture Floral provided us with the topiary animals, to help with the woodland aesthetic."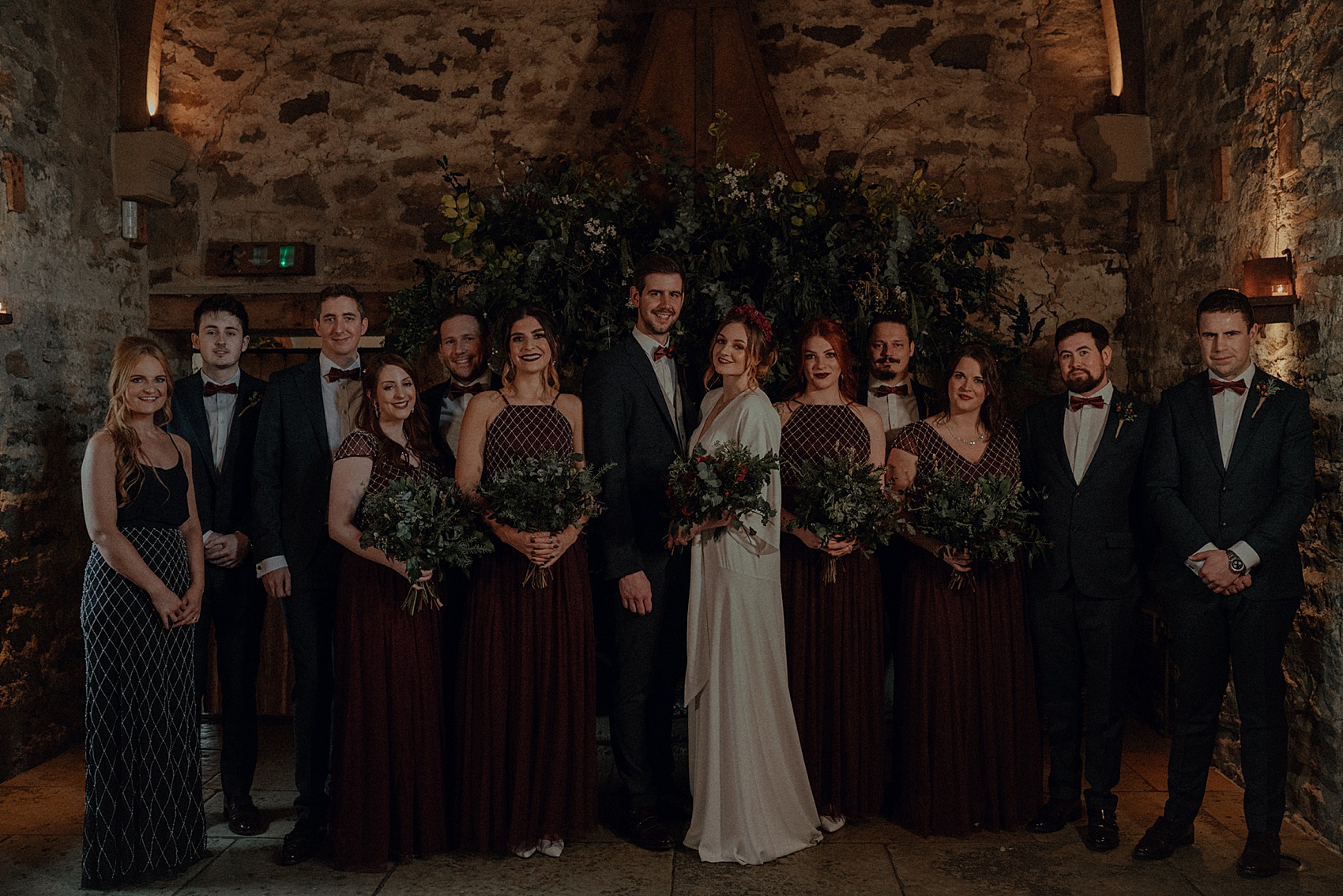 Isaac and Courtney chose Belle Art Photography, who came so highly recommended by their friends. Her work is timeless, atmospheric and classic, and captures all of the cosy, wintry vibes so well.
"We were the third wedding of our friendship group that Becy has photographed. We were so impressed by her work and her presence from the first wedding, we just had to have her at ours. Becy has a way of making things look effortlessly cool and absolutely stunning."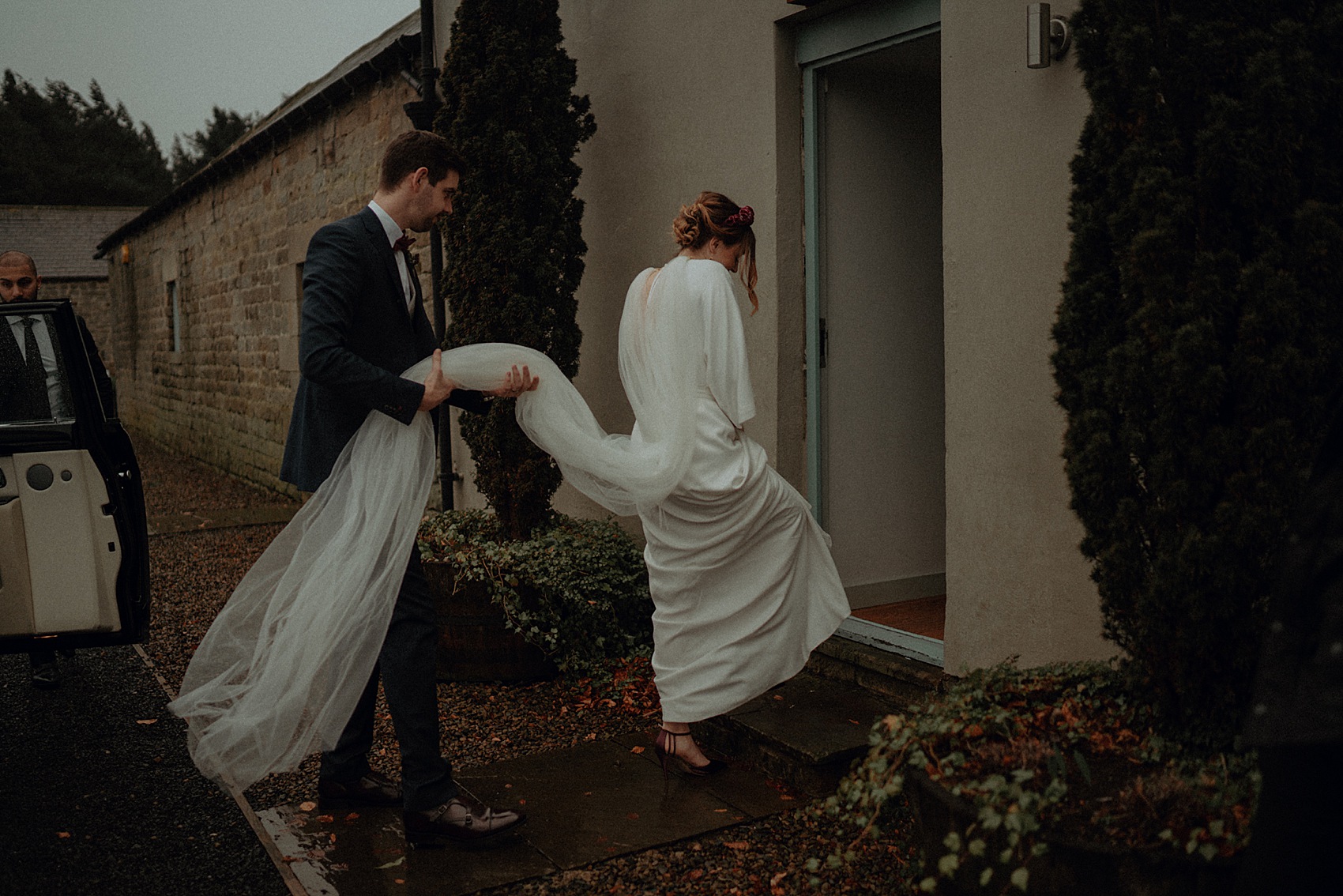 "She is unbelievably talented. I really like that her work is quite dark and thought this would be gorgeous for our winter wedding. She put me at ease in the lead up to the day, as it was in the middle of Storm Dennis and I was obviously nervous about this."
"She told me it was her job to worry about that, not mine, and we'd get the shots no matter what. And that we did! Isaac and I even hopped a wall in the middle of the storm with Becy and Alex, in order to get that shot. "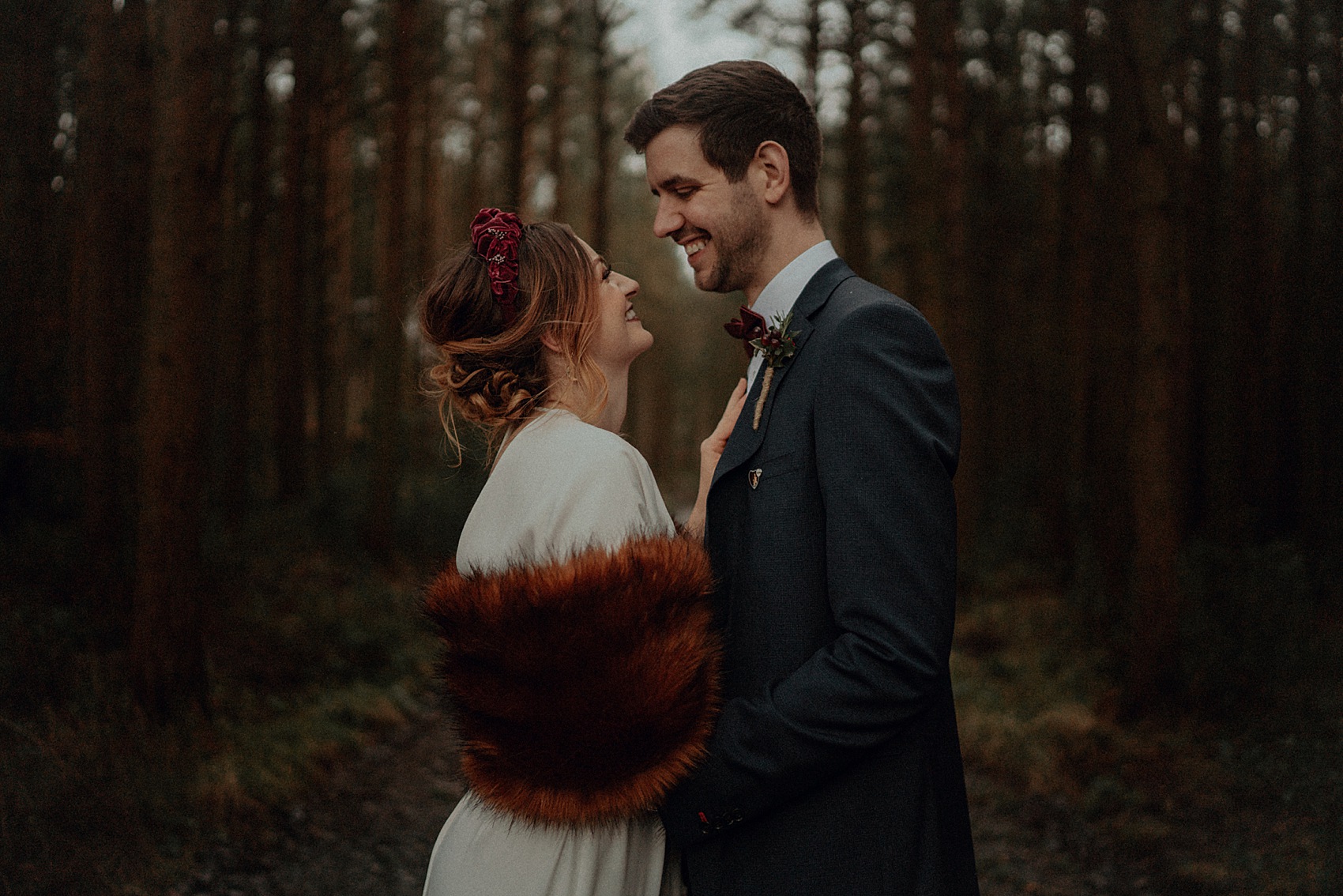 "Becy has a way of being there and putting you at ease without you really being aware of the fact she is there. She is a beautiful human being and all our family and friends commented on how wonderful she was."
I would absolutely recommend Belle Art Photography to anyone and actively encourage you to book her!"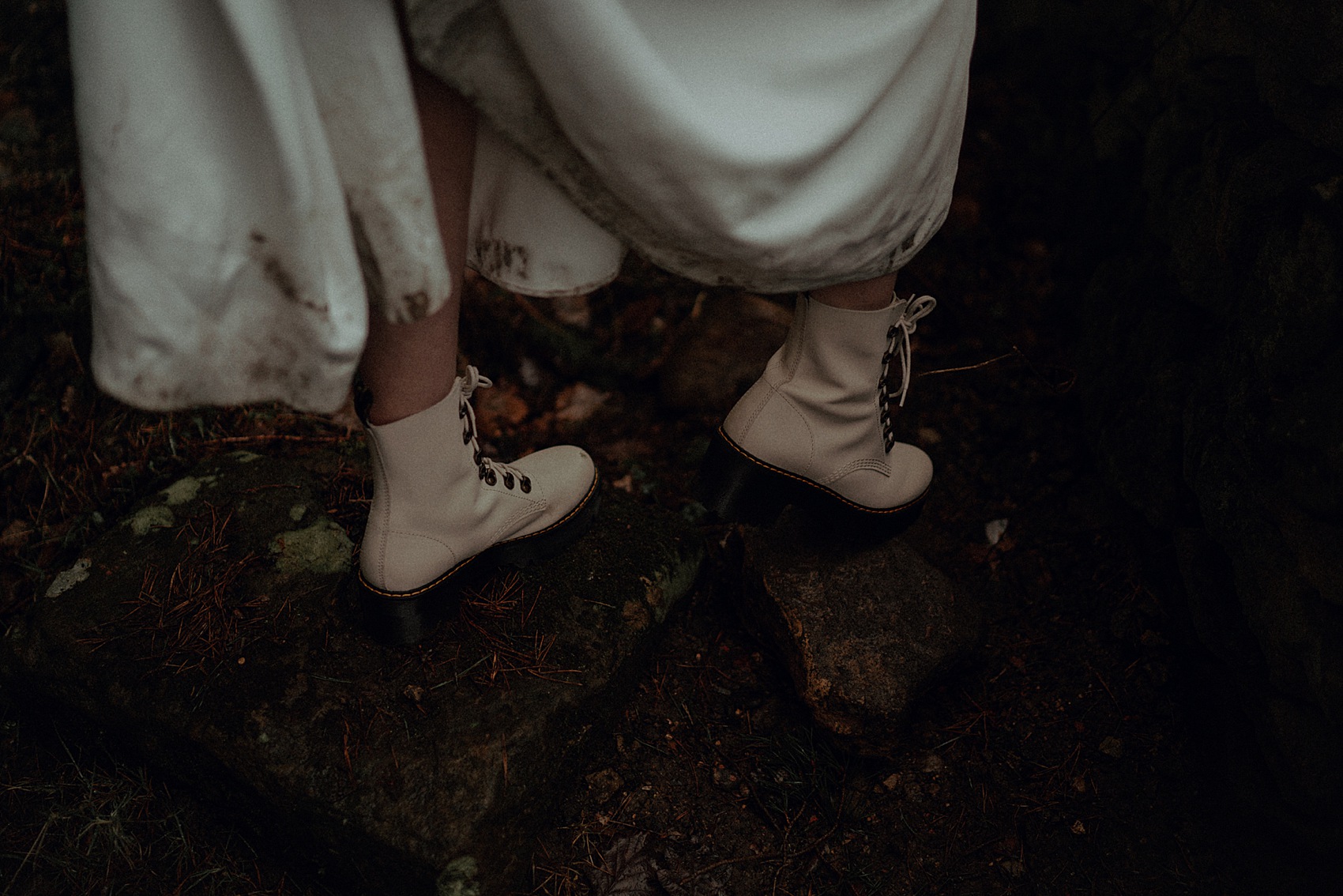 The couple also chose to have a videographer, Studio Lester, to capture every single moment of joy.
"Alex is an absolute dream to work with. He is incredibly warm and kind and very, very talented. What we wanted was a slightly different edit to work I'd seen of his before, but he was more than willing to deliver and that he did."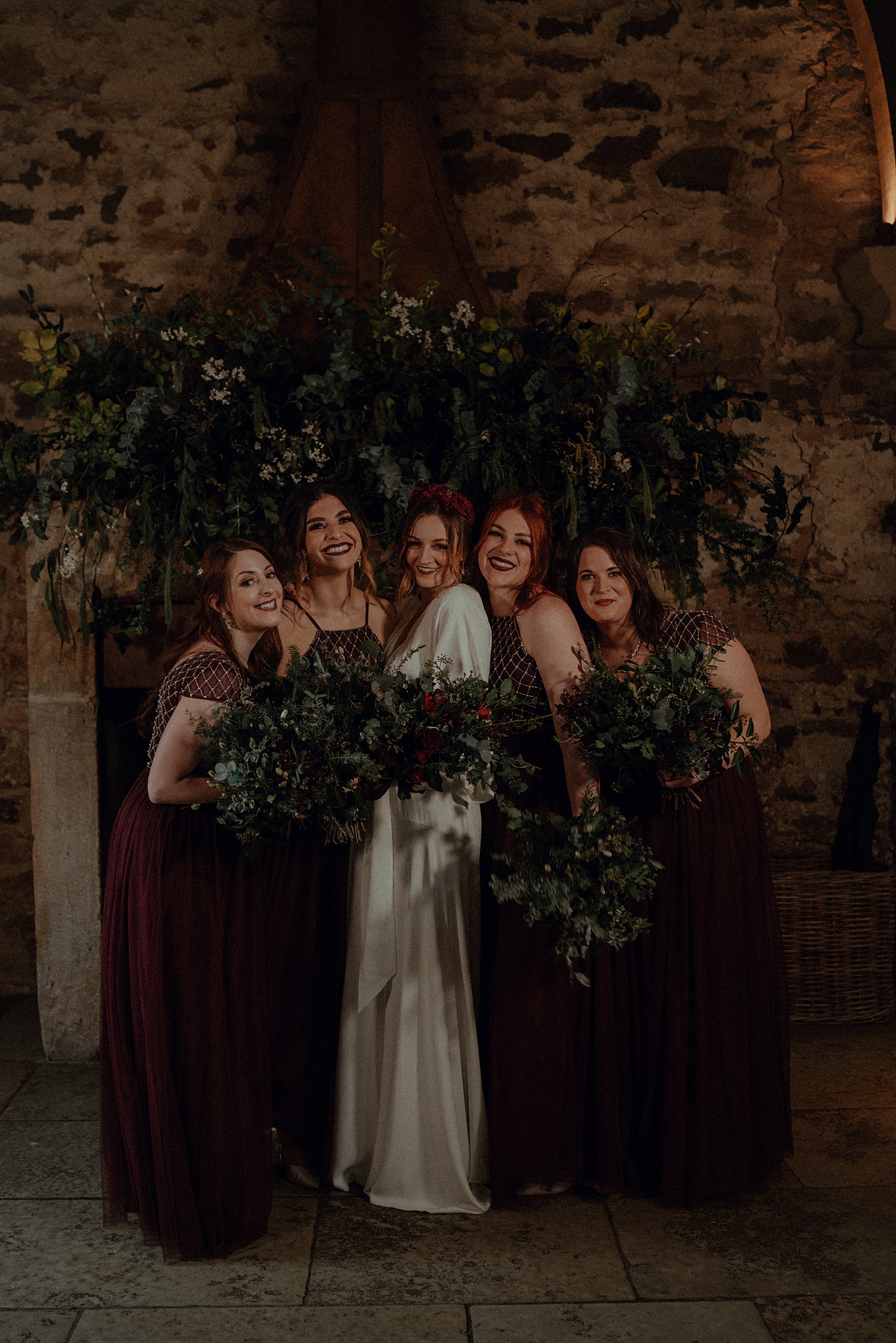 "Our wedding video is absolutely gorgeous and we will be watching it over and over again for years to come. I would recommend him to anyone looking for a beautifully captured video of their wedding day."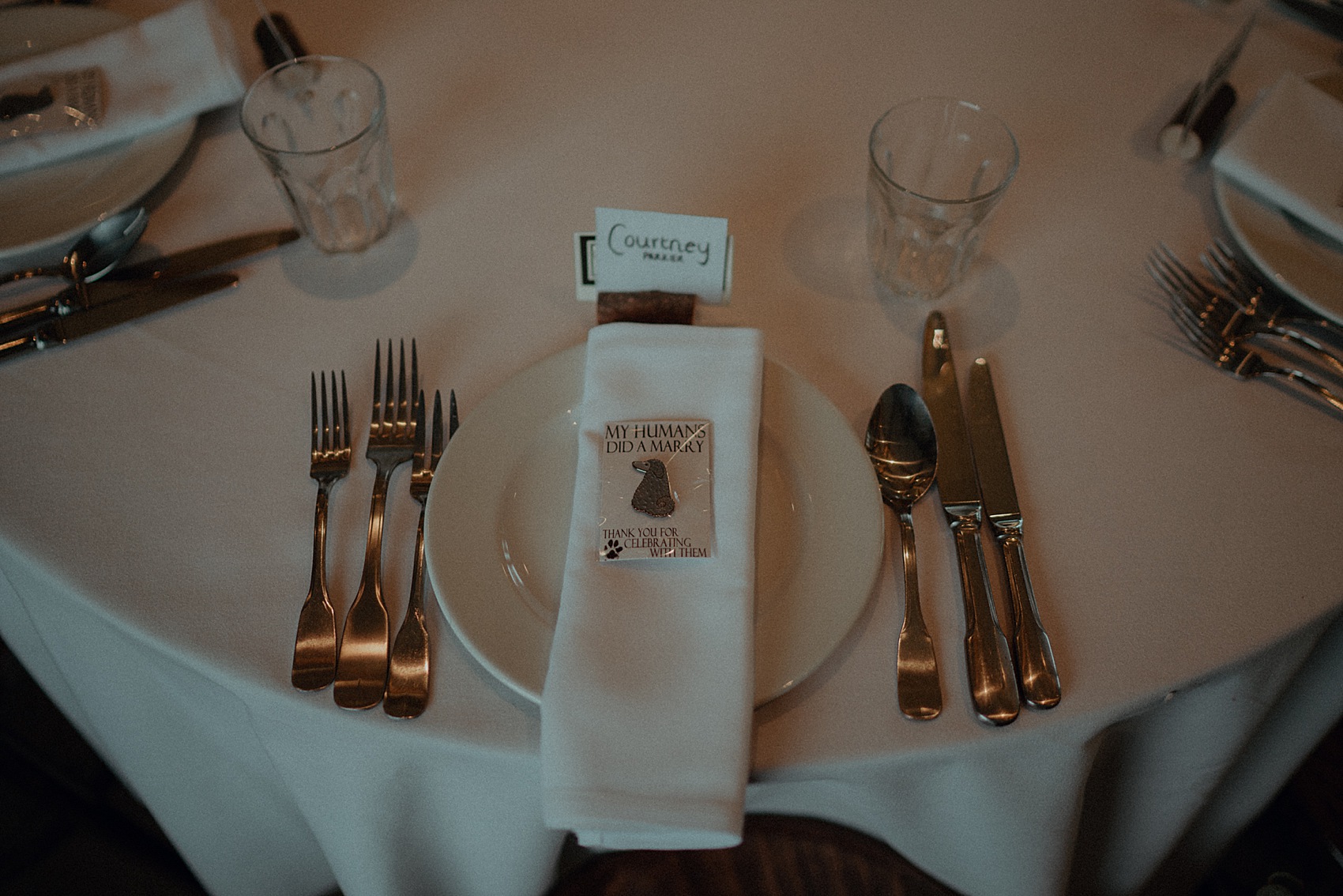 Back at Healey Barn, the high-beamed, airy room had been dressed simply and elegantly for dinner, with plenty of foliage and stationery made by Courtney.
"Our wedding favours were pin badges of mine and Isaac's poodle, designed by me and produced by Made By Cooper."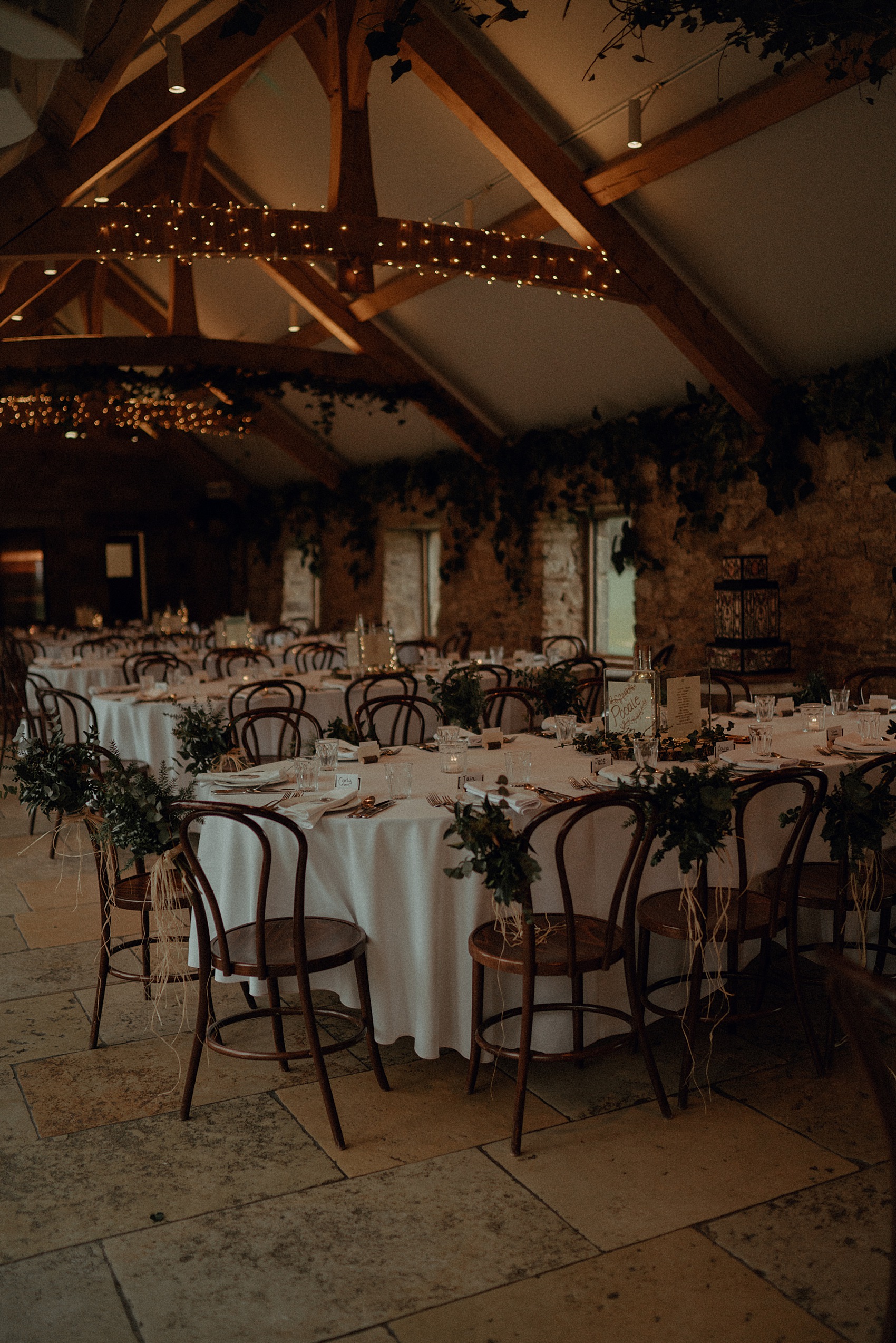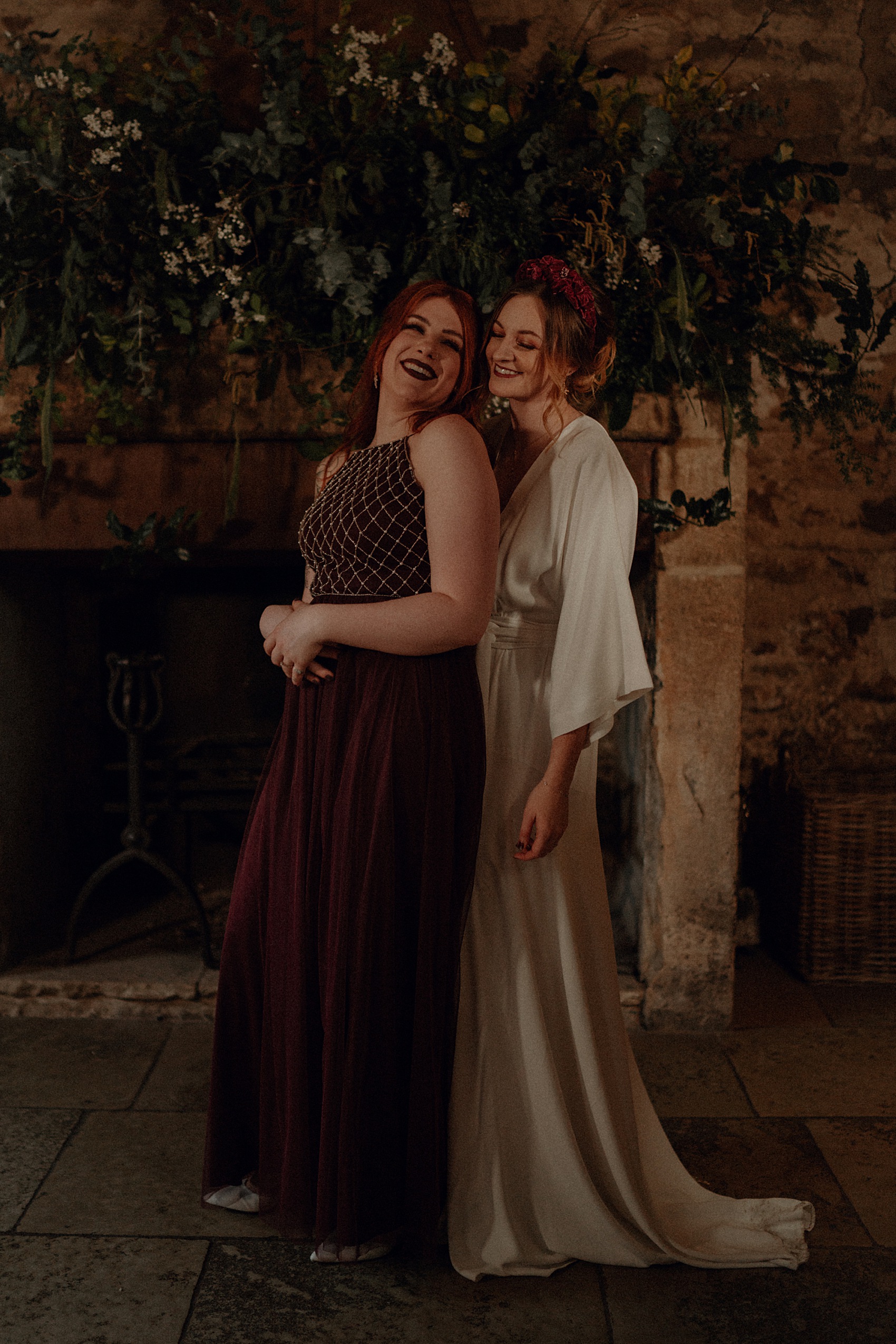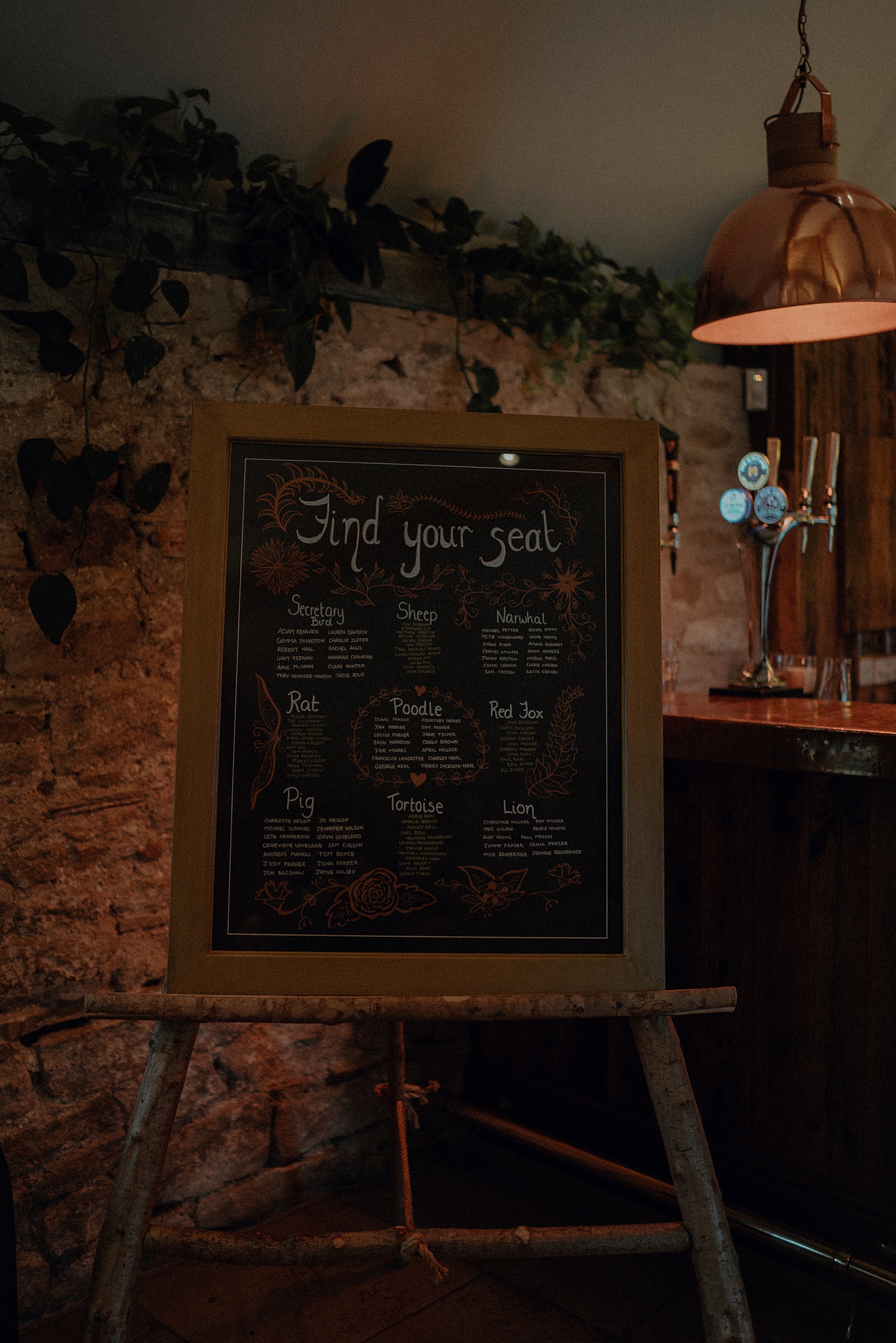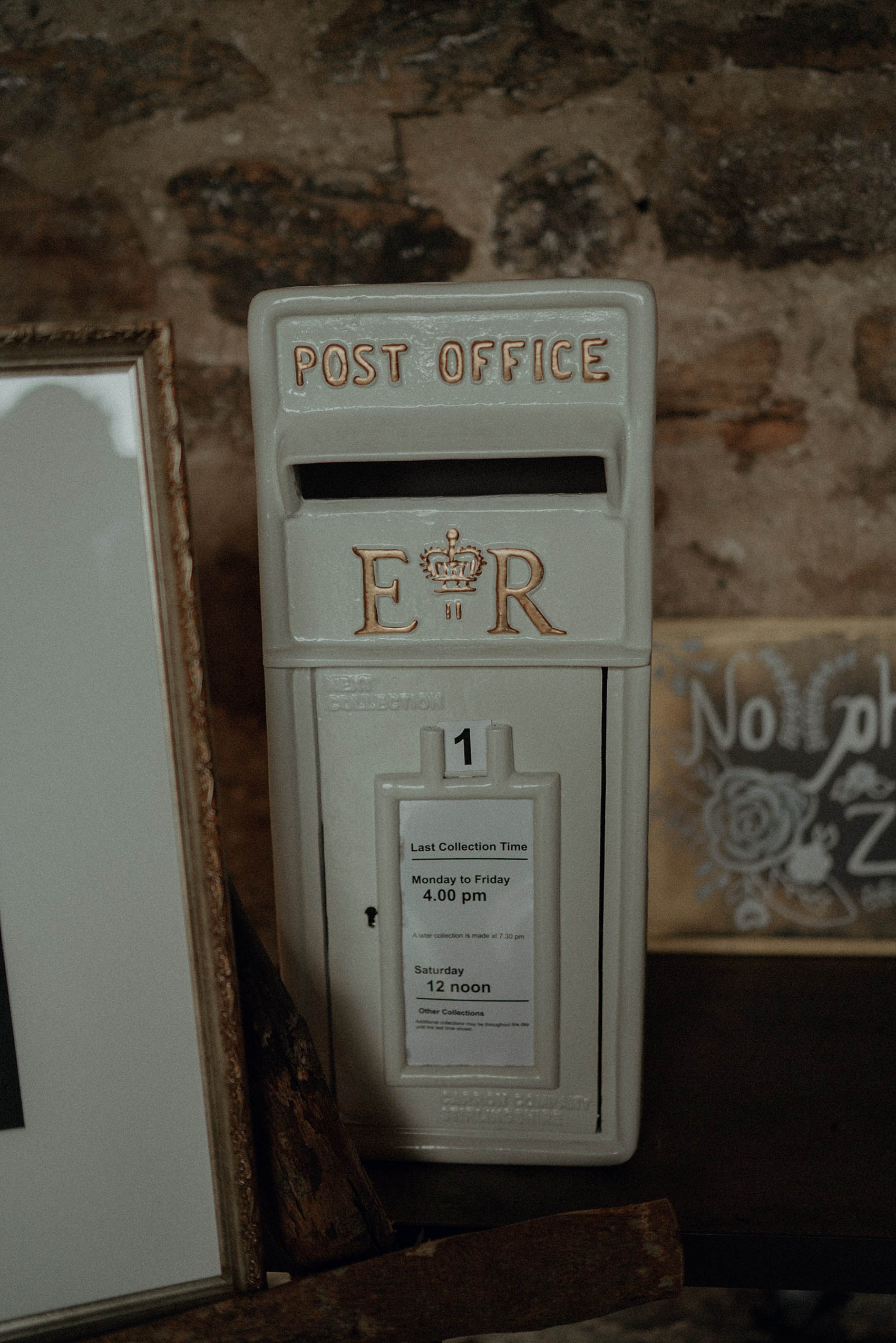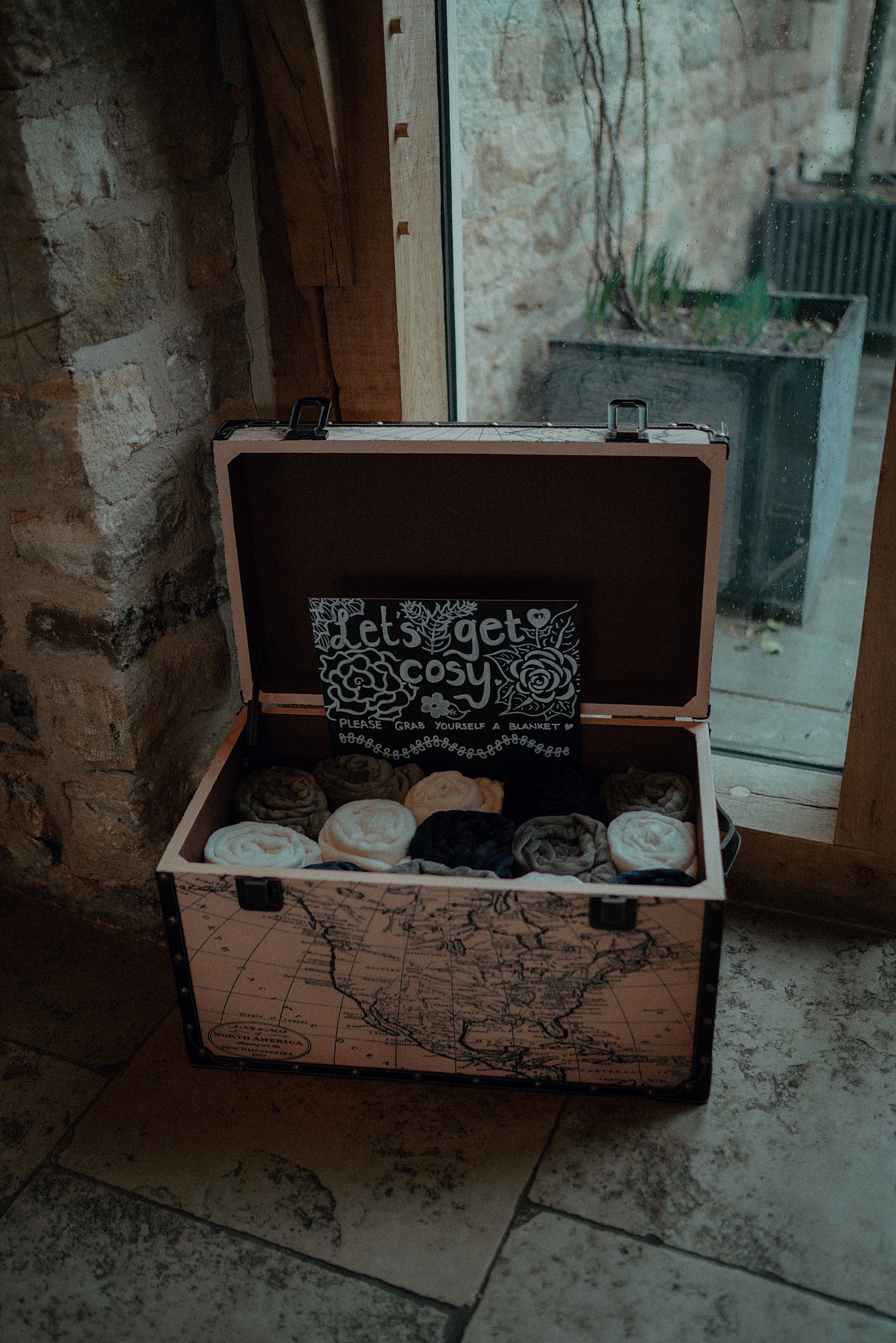 "My gorgeous Thomas Sabo earrings and necklace are so unique and I love that I'll have them forever. It also felt very me wearing non-traditionally bridal, asymmetric earrings for my wedding."
The bride's make-up was flawless with a dark, burgundy lip, applied by Studio HR and her hair was in a graceful, low down-do, styled by Amanda Jane Hair Design.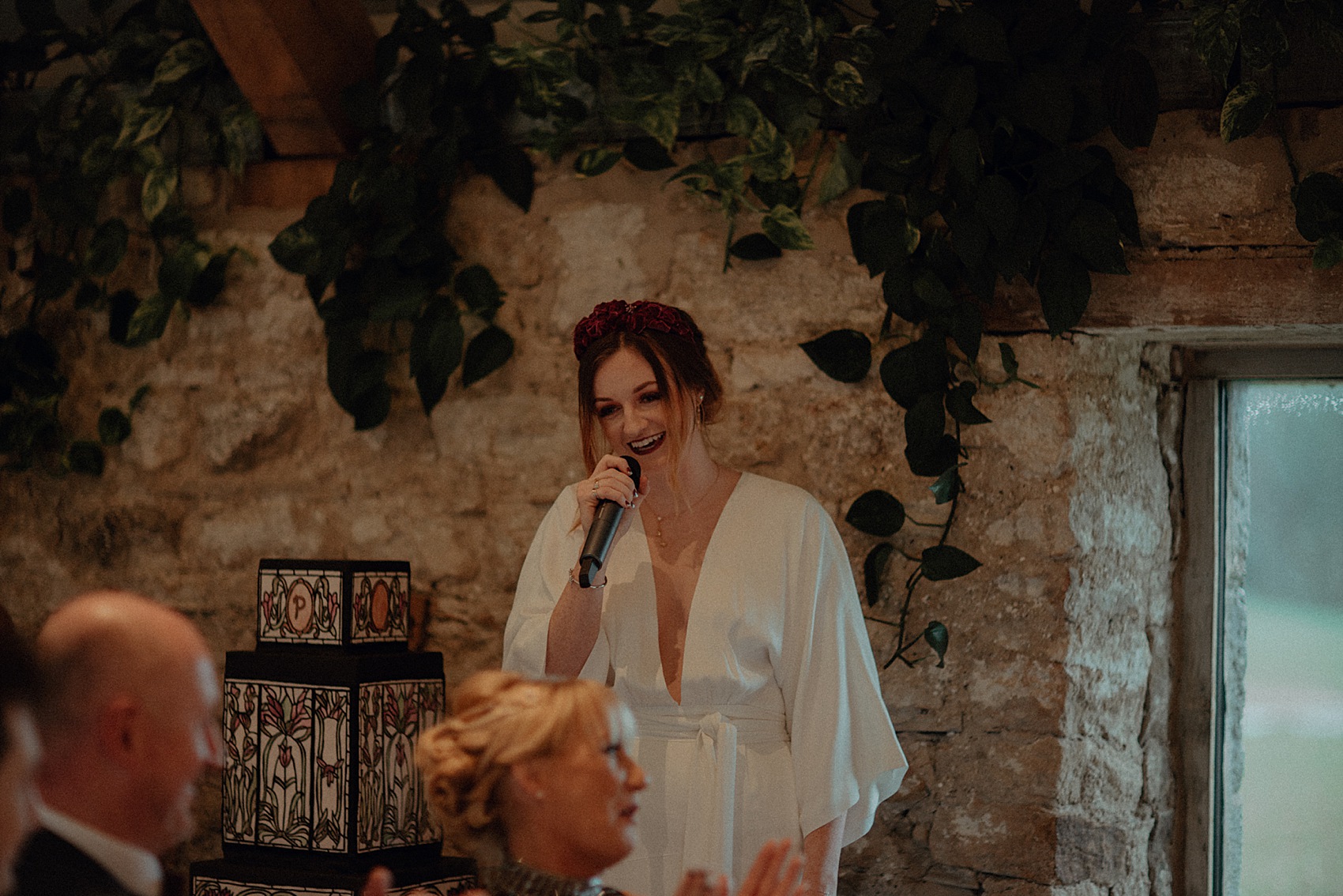 The venue provided the wedding breakfast and this incredible, Art Nouveau-inspired cake came from Bake For The Soul. It really is a work of art.
"Our cake was three square tiers and the middle tier was double height. It was hand-painted to look like a piece of Art Nouveau stained glass. It was absolutely stunning and so many people commented on how they didn't realise it was the cake."
"The top layer was gluten-free and vegan to cater for everyone. I chose Debbie because I knew how delicious her cake was, how delicious her gluten-free and vegan cakes were and because she was incredibly reasonably-priced. She was also happy to work closely with me on the design."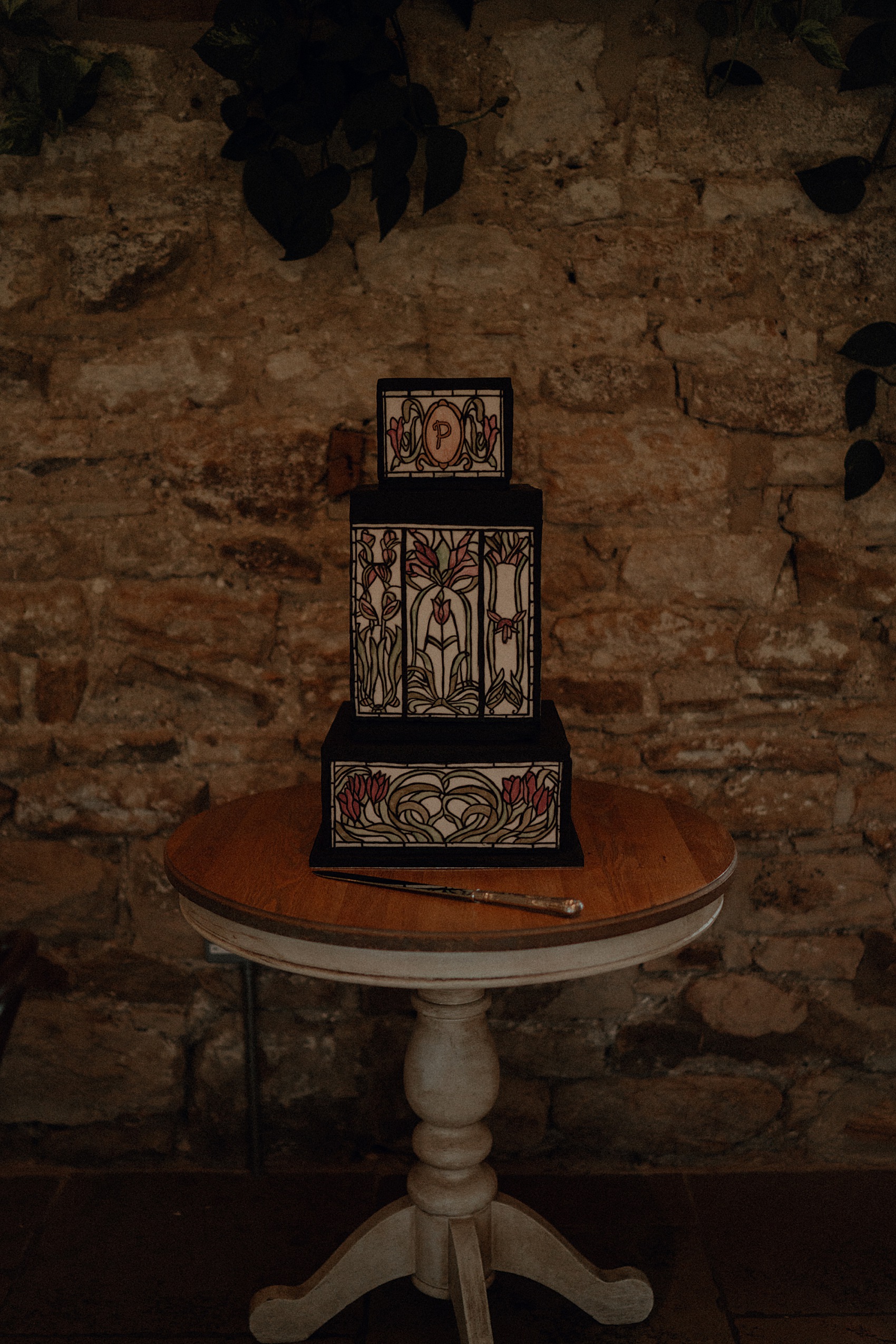 The evening entertainment came from Sonny Tennet and DJ Steven Maddison. To kick off the dancing, the newly-weds took to the floor for a first dance to 'Here (In Your Arms)' by Hellogoodbye.
"We didn't want a slow number; we wanted everyone up to dance with us. Not long after we started dating, I mentioned that I loved this song and Isaac said he did too."
"It stuck as our song from there as it was a bit of a random one for us both to love!"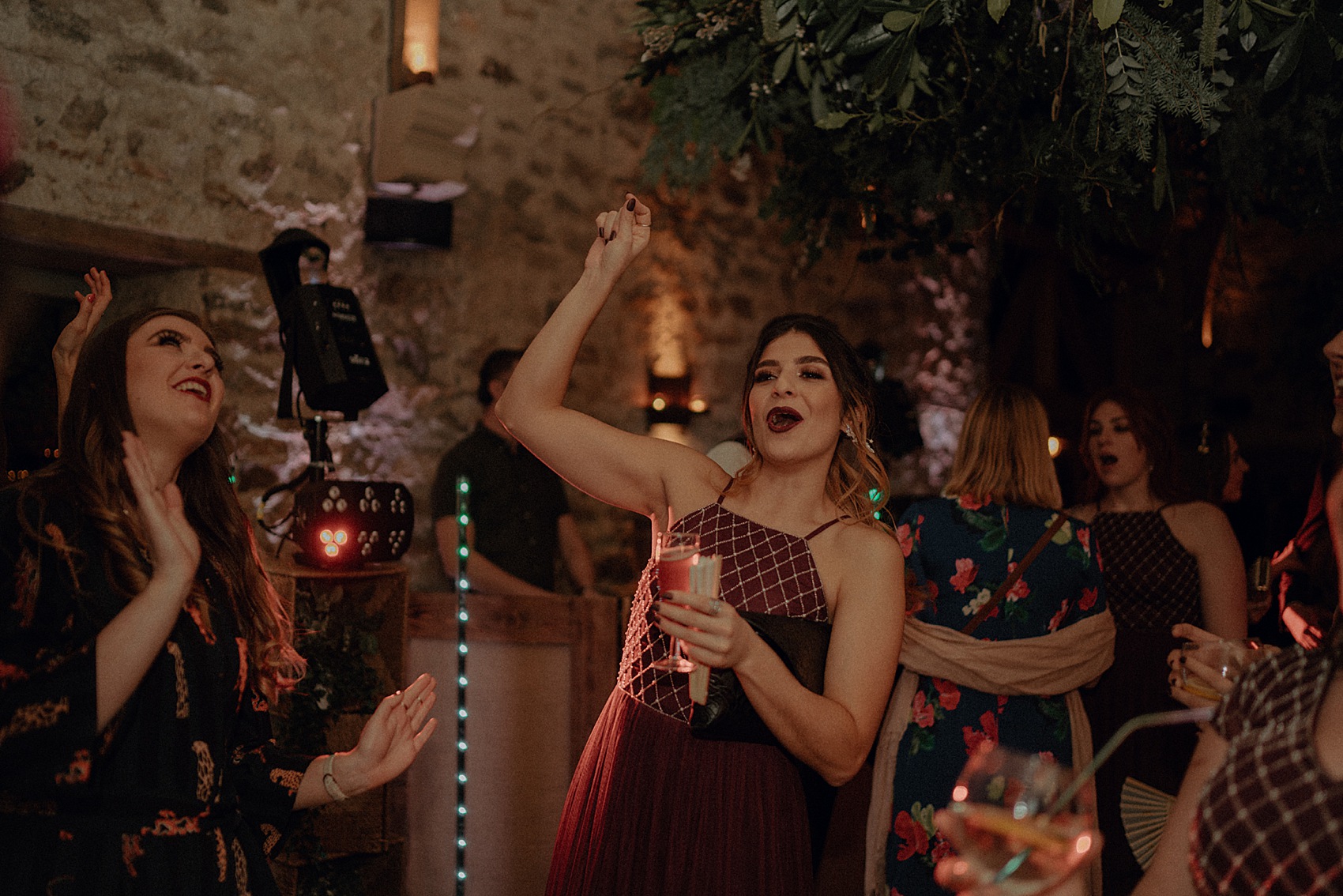 Words of Wedded Wisdom
"I'd say to not get caught up with the minutiae… but I know you will anyway. So, what I will say is that on the day you don't notice it at all so don't panic if you couldn't get the pen you wanted to write your name cards out."
"Try not to get hung up on the people that can't be there. You are surrounded with people that love you and want to be there and you won't get to spend as much time as you think you will with them anyway. Your interactions with your guests on that day will be special, regardless."
"Have some reserve guests. People you will call to invite them to the reception if/when you get very last-minute dropouts (we had five). It's better than wasting good food and you'll likely make someone's day!"
"Don't panic about timing on the day after the ceremony. It will work. Don't worry about the fact that you 'should' have been there five minutes ago. You were spending those five minutes enjoying yourself!"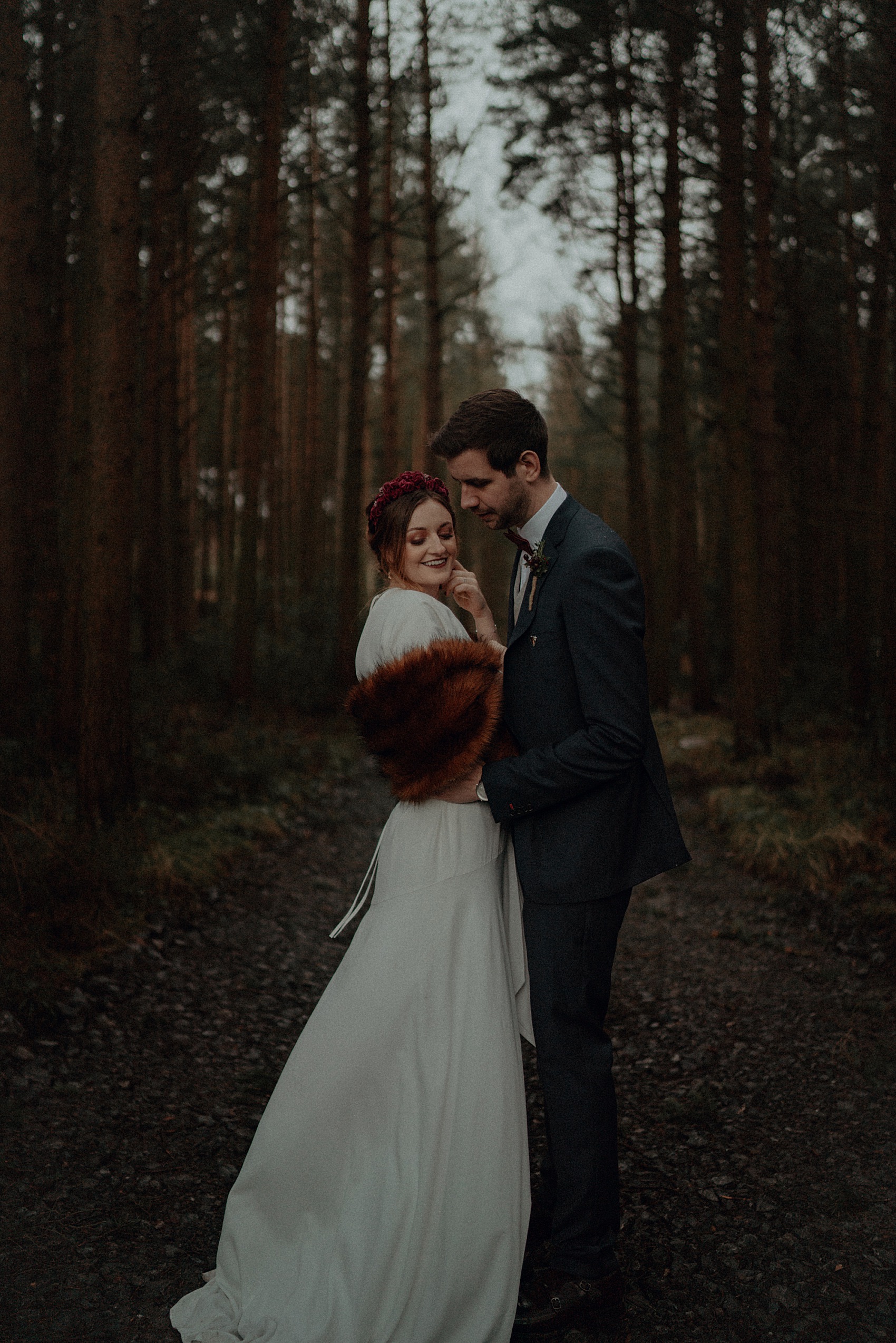 What a joy it's been to share your photography today, Belle Art Photography. Moody, atmospheric and romantic, I've fallen in love with your style. Courtney and Isaac, so many thanks to you as well; what a day. I hope you've had a wonderful few months of married life so far, with many years to come.
Lovelies, if you've enjoyed this February celebration then please follow this link for more winter wedding style.
Ele xx