This is the's 6th iteration of a beautiful wedding that was originally planned to take place at Hedsor House, with 125 guests in May last year but ended up with a ceremony for 15 at Fitzrovia and a reception at Zetter Townhouse on 4th November instead.
Louise, a business development manager, married Barry, a Firefighter after months of postponements and rearrangements. These images were taken by the super talent Emma Kenny Weddings, whose own wedding we shared here on Love My Dress very recently, and whose wedding our Instagram followers adored). By the way, Louise and Barry have already booked their original venue, Hedsor, for a huge 2022 wedding celebration.
Emma Kenny Weddings

+ Follow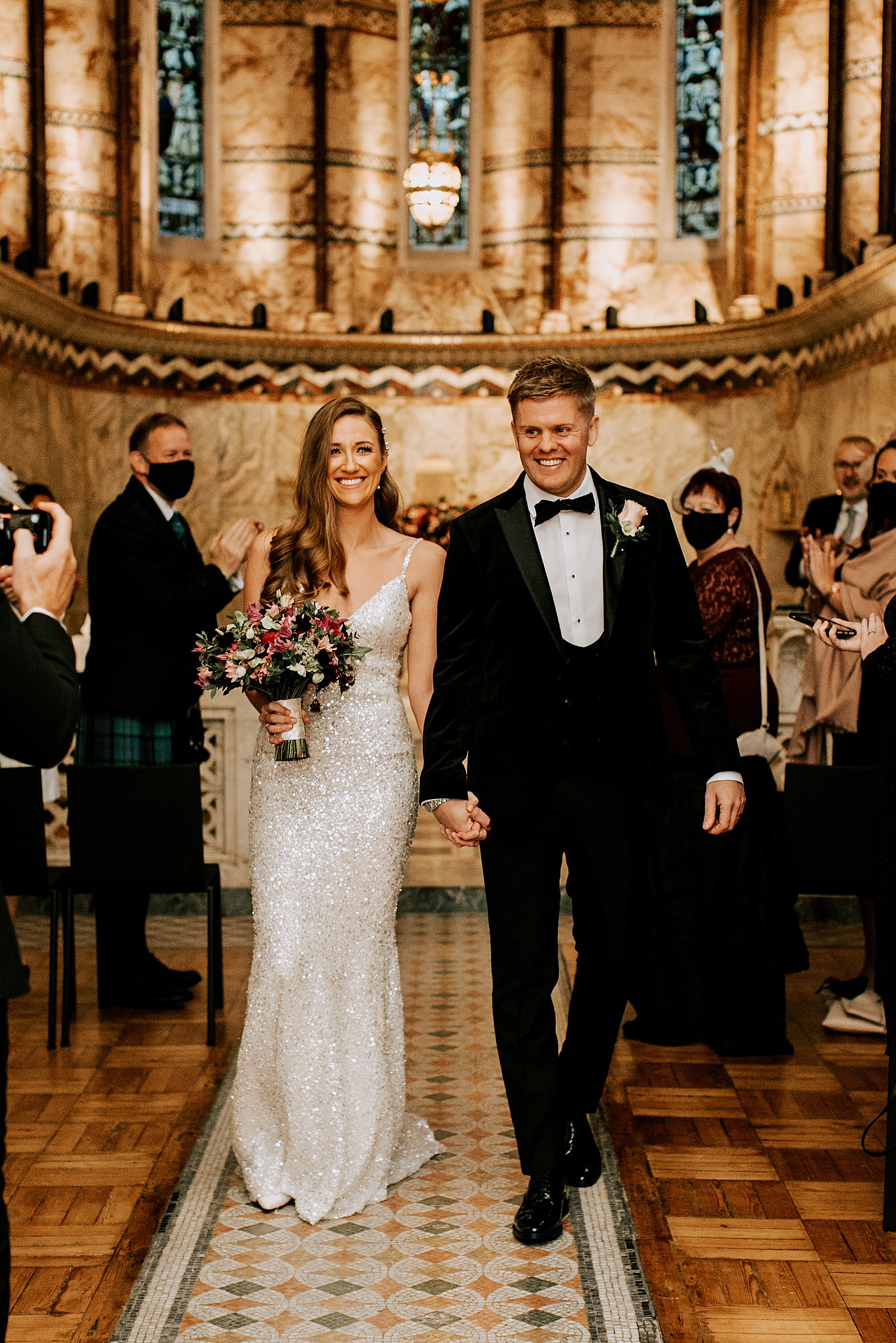 "Lauren of Elevate Bridal stepped up extremely last minute on the wedding day due to a covid sickness with my original make up artist – something which is probably effecting so many people at the moment and something which is completely out of everyone's control."
"You never really think seriously about the 'what ifs' for a wedding disaster but the impact of covid will certainly change peoples approach and contingencies on this. The last minute change made me realise the benefit of booking through an agency – as there were so many people for Tori (the owner) to turn to on a wedding day emergency."
"Lauren was a delight to have around during the bridal prep and as I wasn't able to have any of my friends with me, it was almost like she naturally stepped into those shoes too."
"My make up on the day was exceptional. Lauren absolutely perfected my brief – I wanted something that was different enough from my everyday make up that would really be noticeably glamorous. I already can't wait to have Lauren back to do my make up for the Hedsor celebration in 2022 – it only seems right to end the wedding story with the people we started it with."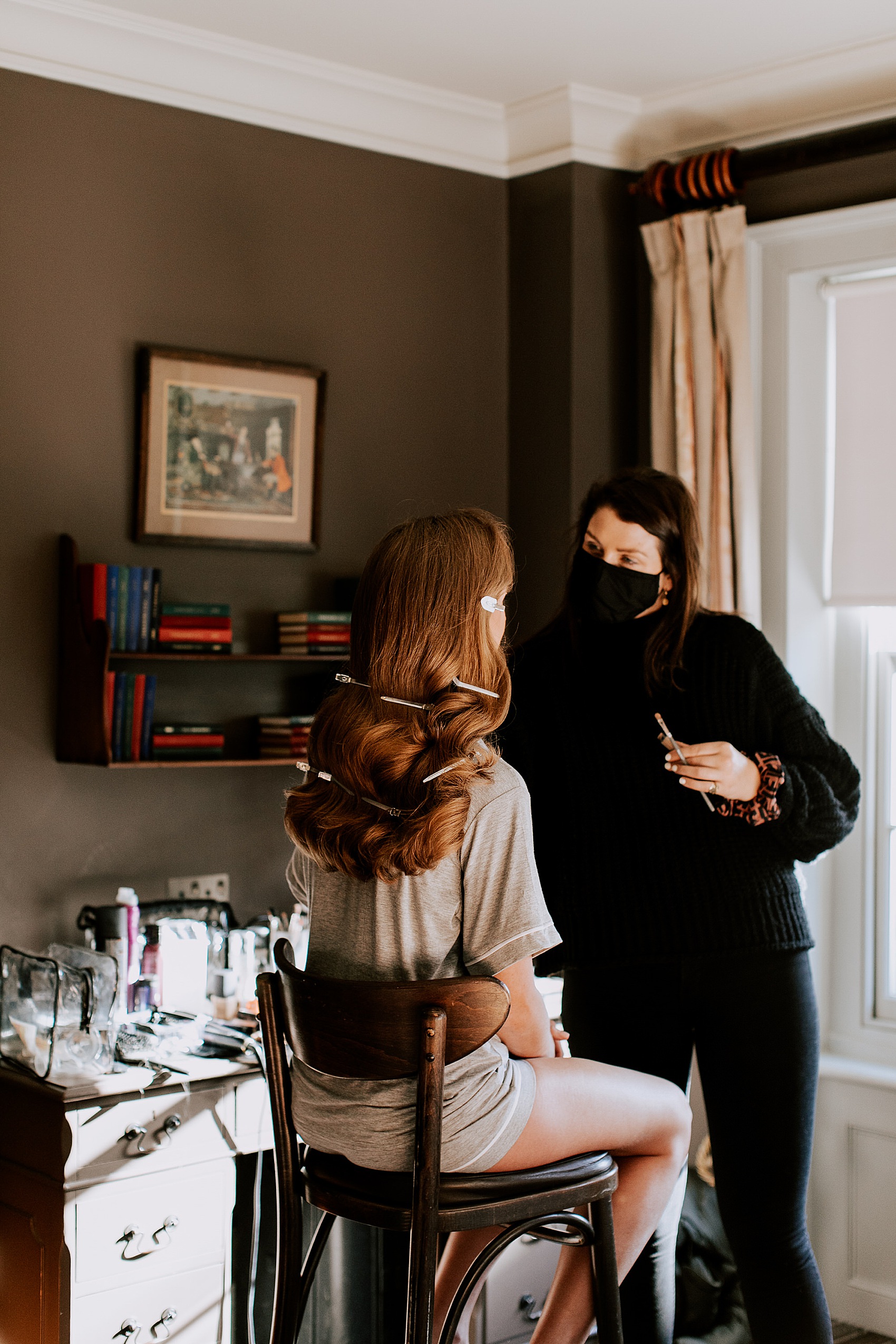 "Luke Benson is one of Barry's best friends and more recently, one of my close friends too. Luke offered to do my hair the minute we got engaged and I couldn't turn that offer down. I really didn't want to have a traditional bridal up do and it was impossible to find inspiration from bridal photos of anything but this."
"Luke reassured me to stick to what I wanted and not to cave to the traditional bridal hair styles."
"I know Barry loves my hair down and I wanted to surprise him – as I think he automatically assumed I would have my hair up and with a veil."
"Luke showed my pictures of what he thought would work for our day and as a friend and a world class hair stylist, I absolutely trusted his word on this."
"My hair was perfect and I felt so comfortable with how Luke styled it – wouldn't have changed one thing about it. It literally fell perfectly no matter how I turned my head."
"My Tilly Thomas Lux pearl slides were a perfect compliment to the style and also kept the hair off my face – which was my one request. Tilly Thomas Lux designer, Sally, creates hair pieces that are out of this world"
"I wasn't brave enough to wear a crown but I loved my hair pins all the same. As soon as I discovered her designs, I knew I would be wearing one of her pieces on my wedding day."
"My mum bought me Tiffany earrings as a wedding day gift – they were diamond studs with a pearl drop and were a perfect addition to my hair pins and my dress. They are a timeless piece of jewellery and will remain very special to me for the rest of my life." 
"I ended up borrowing my Berta wedding dress from one of my best friends. She had never got round to selling it as she was so reluctant to let it go after getting married 5 years ago."
"When our plans changed (and I was not willing to spend yet more money on a wedding that might not happen), she suggested I tried hers on."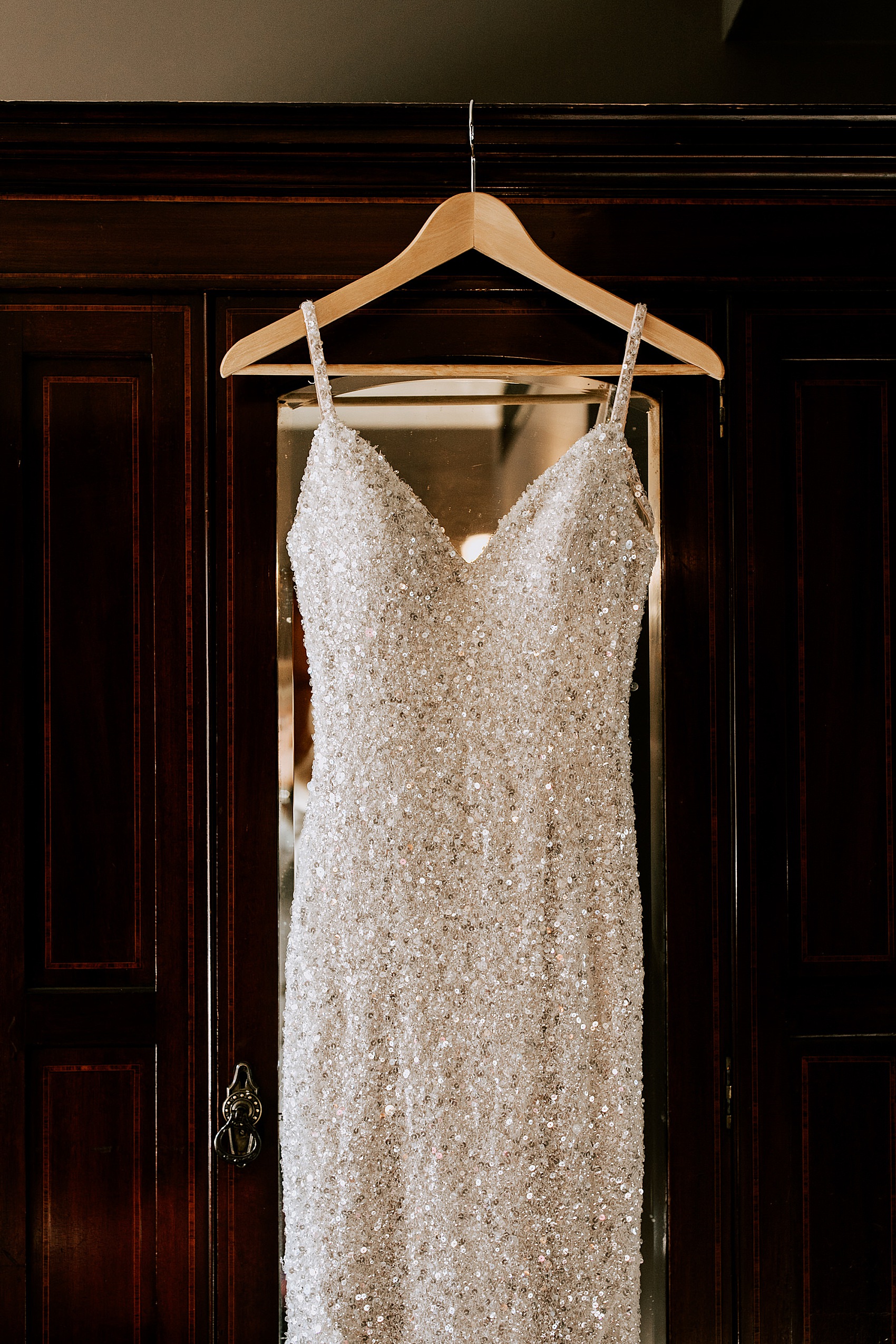 "It fitted like a glove and I loved it straight away. How could I not – it was an incredible fully beaded & backless Berta gown and I couldn't have wished for a better 'borrowed' item for my wedding day."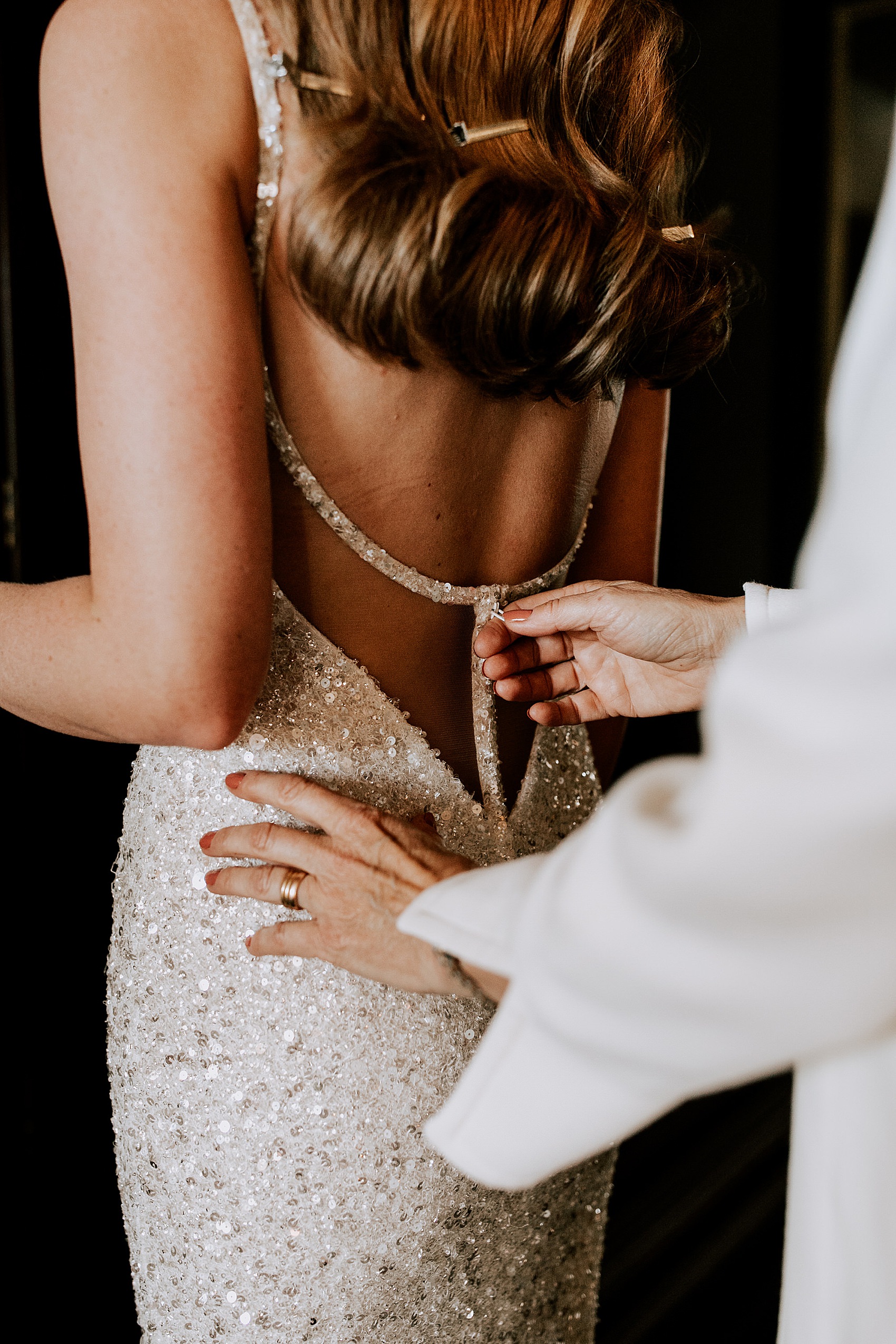 "I loved the timeless, elegant and classic feel that the dress had but with the modern and glamorous edge. I felt incredible on the day and so glad I wore the dress I did."
"Even better, I get to wear another dresses for wedding celebration round 2!  
"Barry bought me Le Labo, Santal 33 perfume for my birthday and had 'Mrs Louise Hazeldine' printed on the bottle. I already loved the perfume and even more so now that it reminds me of our wedding day."
"Charlottle Mills \shoes were a god send on the wedding day – I genuinely forgot I had heels on the entire time. Like walking on clouds! The style I opted for was simple yet sophisticated – which was all I needed to compliment my dress on the day."
"I always knew I wanted my bridemaids to be in Ghost dresses. I love the class and elegance that the dresses ooze. The white colour is a bit of a controversial choice but I didn't want to force a colour scheme into the wedding. For me, the white dresses kept the wedding modern and timeless."
"We booked a white taxi for myself and my dad to travel to the chapel and we booked a red bus for everyone else to travel to the chapel. We all travelled back on the bus together with music and fizz – it was the perfect way to start the celebrations."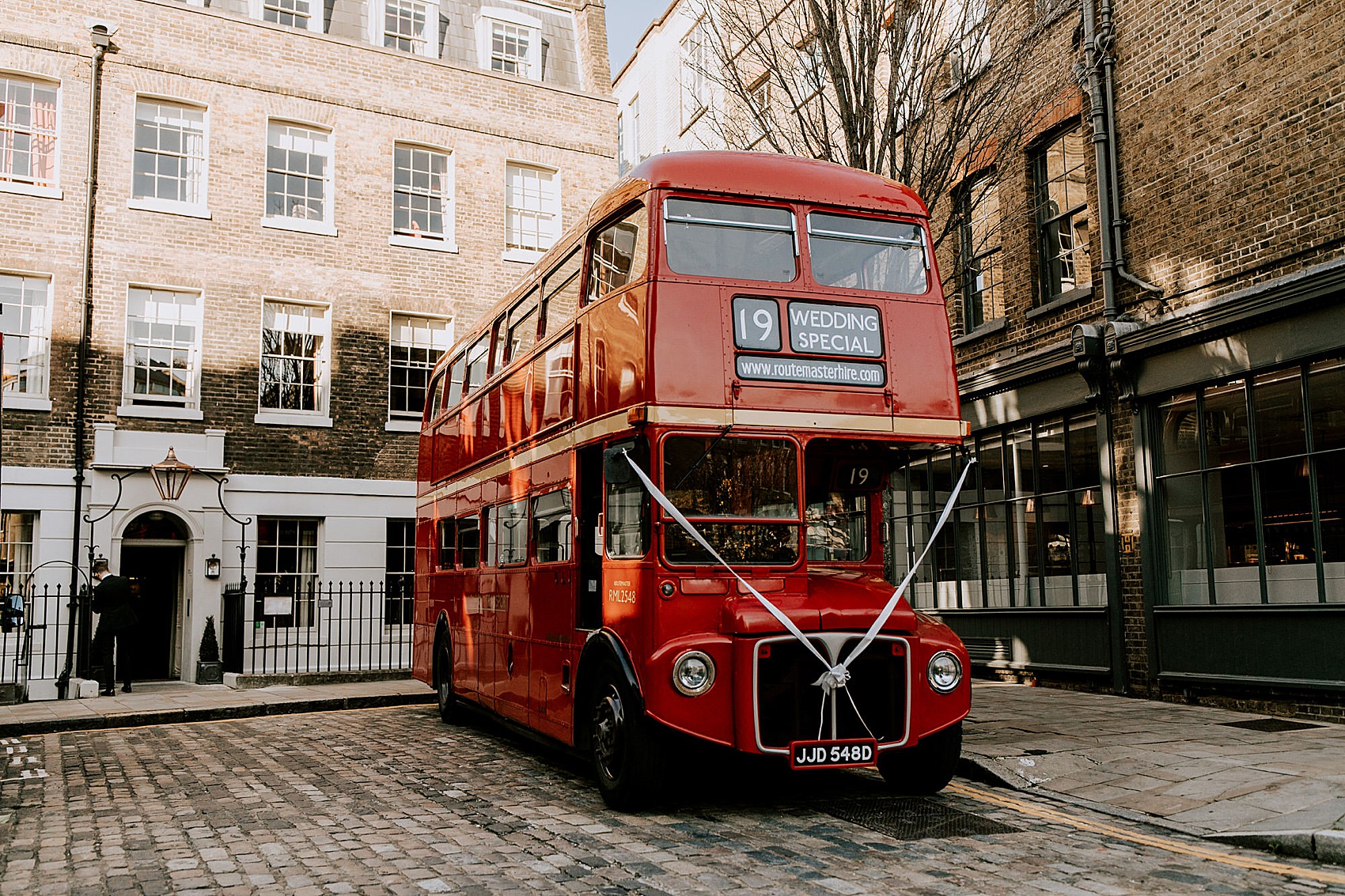 Barry wore a Reiss suit and shirt and shoes from Zara.
"We always wanted to have a smart wedding but I wasn't allowed to make it 'black tie', as Barry wanted him and his groomsmen to be the only ones in tuxes."
"Hedsor suited this style perfectly and we didn't want that to change when we moved our wedding to London."
"Barry was unsure about wearing his tux when our wedding was scaled down but we are both so glad he stuck to his guns – he looked so handsome and it complemented my dress perfectly."
"Barry and I met in Las Vegas in May 2017. I was on a girls holiday and Barry was on the start of a 4 week road trip up the West Coast of America with one of his best friends."
"The engagement was perfect – Barry got down on one knee in front of the Christmas tree (and a very unsuspecting girlfriend!) and asked me to marry him. It was so intimate and perfect for us both. We got to enjoy the moment alone before seeing family and friends to celebrate over the coming weeks."
"Barry told me on our wedding day that he said to Jason in their car journey to LA the next day, that he knew he was going to marry me. We still find it amazing to think we met in the circumstances we did, we lived within an hour of each other and less than four years later are now husband and wife! Fate genuinely bought us together in the most unique circumstances."
"We wanted a wedding day that was smart and glamorous but still modern. We both love getting dressed up for events and wanted all of our guests to feel special on the day too – which is why we gave a smart dresscode."
"My sister walked down the aisle before me and then I walked down the aisle with my dad.  In the rush of wedding changes, I hadn't even discussed the aisle walk with my sister. The registrar asked her if she wanted to and I am so glad she did. She looked stunning and it was special to share that moment with her."
"Walking down the aisle with my dad to 'Here Comes The Sun', by The Beatles, is something that can't be explained. The minute he took my arm, my eyes welled up. I think we were both equally as proud of each other."
"Danny played 'Here Comes The Sun' for us when we went to see him play at Smiths of Wapping – a beautiful dinner setting. We had mentioned this as an option to him and he hadn't forgotten. He started to play this song and gave us both a knowing nod – I got chills down my spine and still do every time I hear it."
I'm sure there are a fair few of you who will relate to the couple's wedding planning journey so far:
Original wedding plan – 1st May 2020 (125 people) at Hedsor
2nd wedding plan – 12th November 2020 (125 people) at Hedsor
3rd wedding plan – 12th November 2020 (30 people) at Zetter
4th wedding plan – 12th November 2020 (15 people) at Zetter
5th wedding plan – 5th November 2020 (15 people) at Zetter
6th and actual wedding plan – 4th November 2020. 15 people at Fitzrovia and Zetter Townhouse.
"We postponed our May wedding date the morning before the first lockdown was announced on March 23rd 2020. November seemed like a safe bet and every was sure we would be ready to party at a wedding by then! In August we started to explore the option of a smaller London wedding as the realisation was setting in that 125 people at a wedding was very unlikely. We viewed Zetter, confirmed the 12th November for 30 wedding guests and sat and waited. At this point weddings of 30 were happening so we were sure this could only get better!"
"However, during a holiday in Salcombe in September, we had the update from Boris reducing weddings to 15 people maximum."
"Although we were both extremely upset, we kept reminding ourselves why we were getting married and we were both sure that we wanted to go ahead, regardless of how many guests we could have on the day."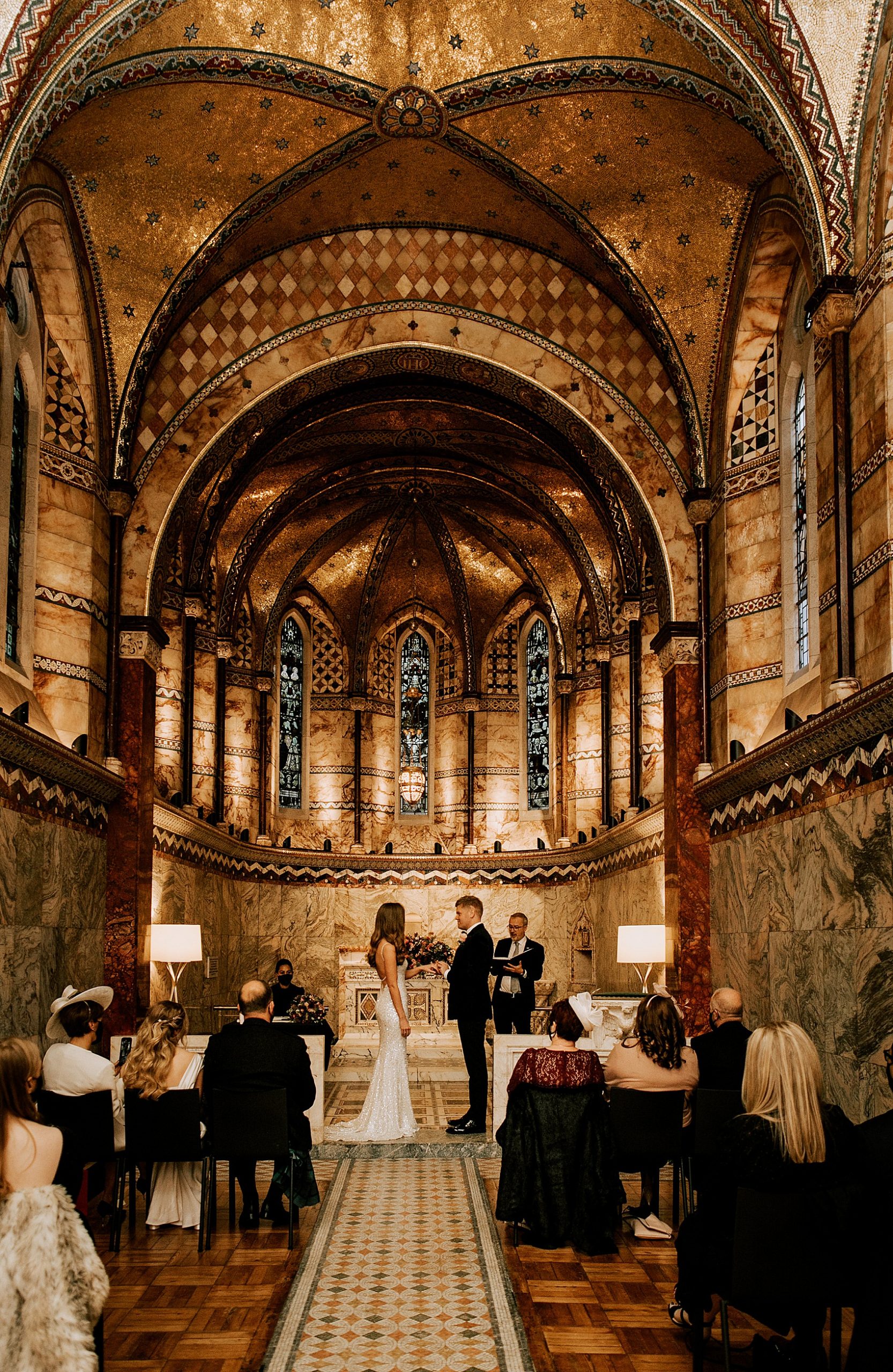 "Towards the end of October, there were rumours of another lockdown so we decided to bring our wedding forward a week to 5th November. This was all confirmed and in place on Friday 30th October and on Sat 31st October, Boris announced another lockdown starting on the 5th!"
"We couldn't believe our luck. Gutted is an understatement. We were so close to finally getting married and it had been snatched from our grasp again. We wallowed on Sunday and on Monday morning we made a call to see if by any miracle we could move our plans one day forward to the 4th."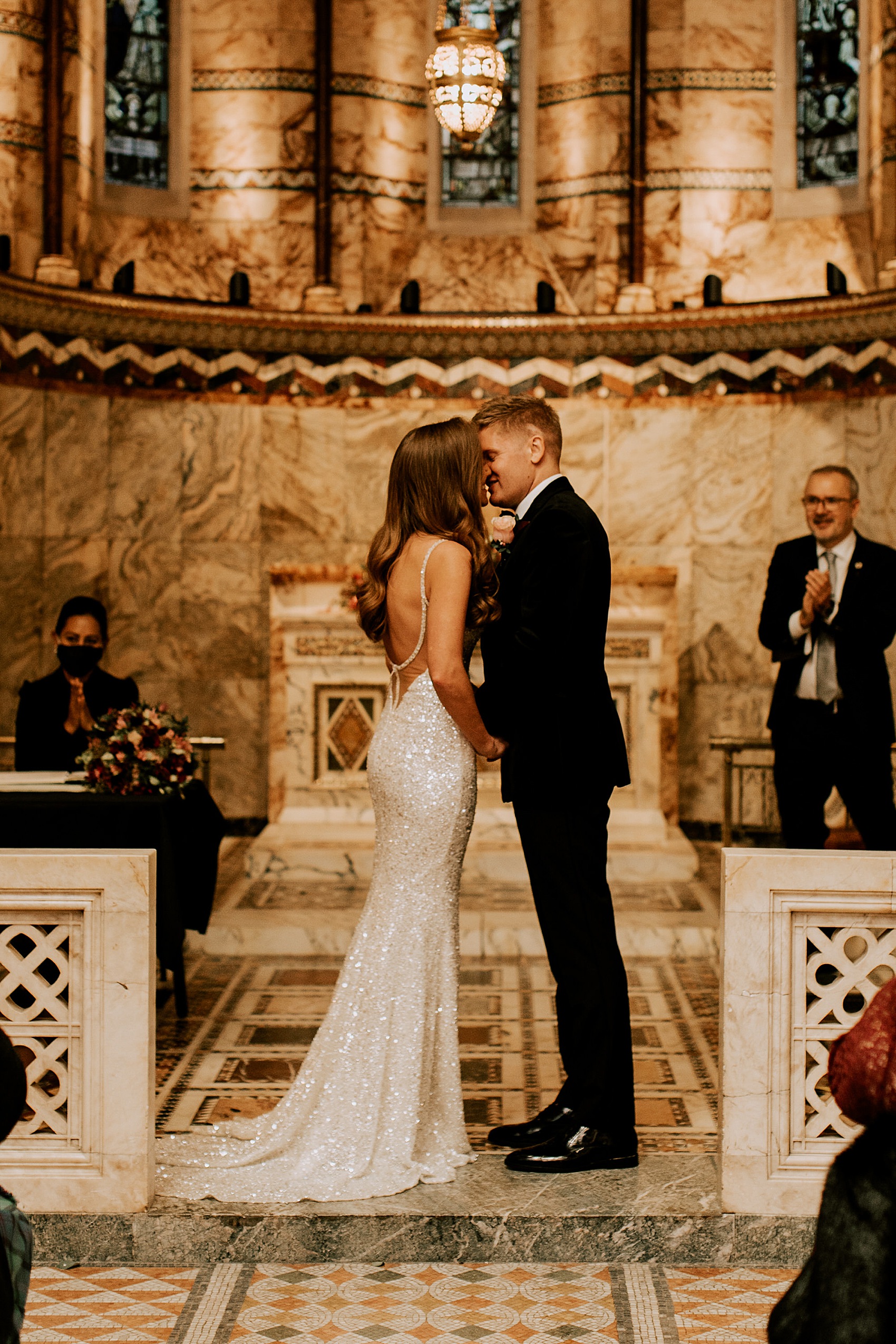 "All of our suppliers had been so thoughtful over the weekend and told us that they were free and that if we could move it, they would be there. 2pm on Monday 2nd we got confirmation from Westminster council that we could have a registrar at 1pm as planned."
"There was cheers and tears but we had no time to waste – we had 36 hours to pull everything forward and get everything into place for our wedding on the 4th. Luckily we had everything ready to go and there wasn't one thing or person that was missing on the 4th November."
"The sun shone all day and the relief in the room was clear on everyone's faces – it was perfect."
"The biggest impact for us both was not having our closest friends. I was unable to have any of my best friends from school on the day – which still upsets me."
"But they completely understood our situation, and all encouraged me to get to the chapel and get those rings on our fingers. Everyone was just so happy for us and didn't once question our decision."
"The only big impact on the actual day that we had was all of our guests wearing masks during the ceremony. Barry and I didn't have to and my Dad didn't have to when he walked me down the aisle."
"We joke about the pictures from the ceremony with face masks on all of our guests but they'll be historical."
"Our original venue which was booked for 1st May 2020 was the amazing Hedsor House. We fell in love with Hedsor as soon as we viewed it and there was nowhere else that could compete."
"When we had to move to a smaller wedding, we wanted something that was completely different to Hedsor House. We didn't want to compare the weddings or always wonder 'what could have been'."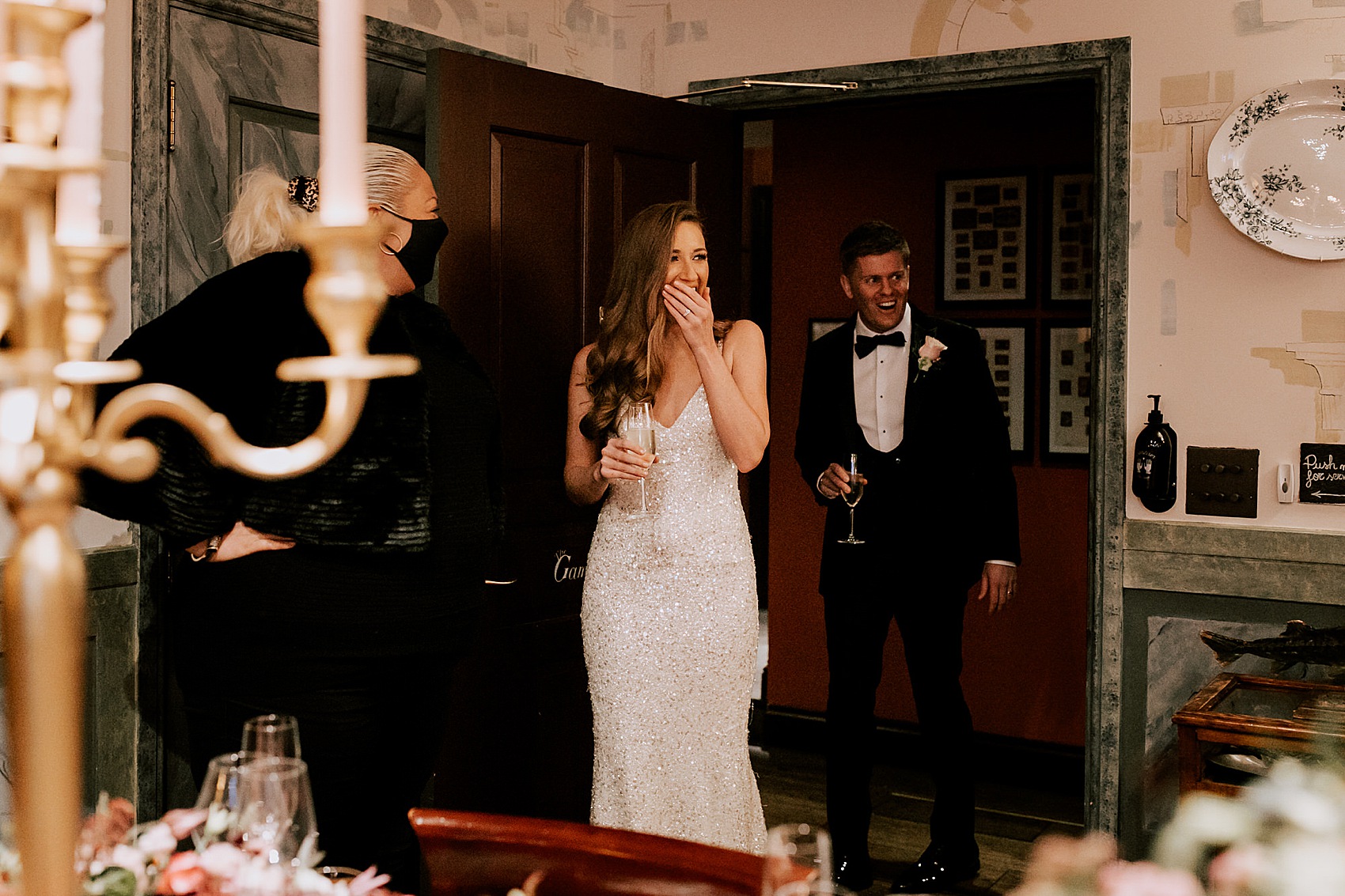 "We wanted to have a completely different and unique venue in London and opt for the 'city' micro-wedding instead. Worlds apart from what we originally planned."
"We viewed Zetter Townhouse in Clerkenwell in August 2020 as we started to accept that we were probably going to have to move to a small wedding. Again, out of the few we viewed, it was a no brainer. The venue is quirky, individual, homely and so aesthetically pleasing."
"One of my favourite details of the day was the table plan – a caricature of all our guests by Hey Draw Me. It was a talking point all day and was such an original way of displaying what can be a very dull but essential detail for a wedding."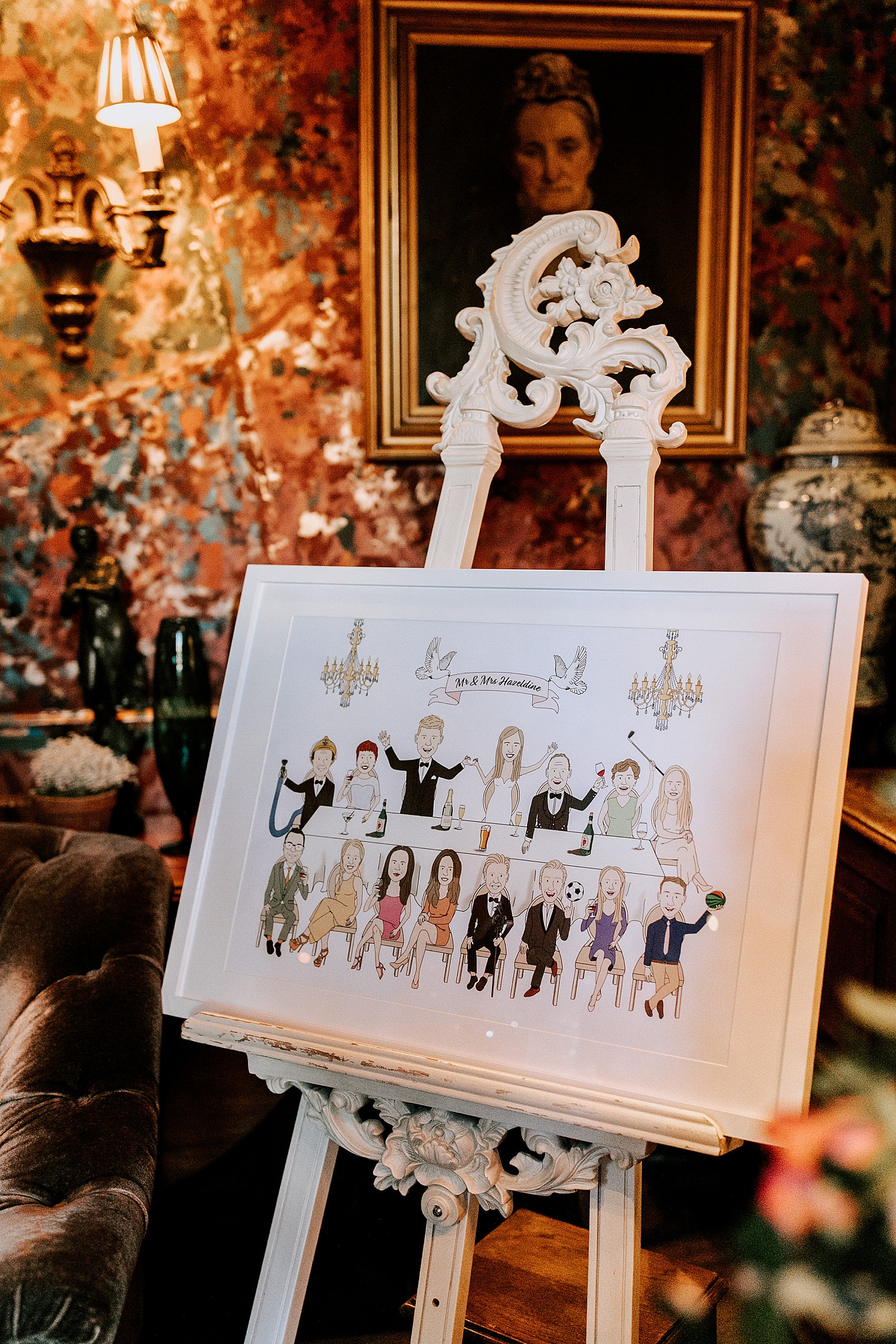 "We chose to have our ceremony at The Fitzrovia Chapel due to the sheer beauty of the chapel. We had never heard of it before but once we saw it online as a licensed venue, we stopped looking for anywhere else!"
"We are so glad that we got to celebrate our wedding at Zetter Townhouse and will be able to go back and visit the venue for a famous Espresso Martini for years to come."
"We have already been back since our wedding day and it was such a great evening reminiscing."
"It will always hold a very special place in our heart and we can't thank all of the staff at Zetter enough for making our day as perfect as it was."
"Hollie, who is the event manager at Zetter, helped us plan our event. She was so accommodating to all of the last-minute changes (due to govt guidelines) and did everything she could to pull our wedding off.  She was extremely thoughtful throughout the process and made us feel very special as a bride and groom to-be."
"I would absolutely recommend Zetter Townhouse as venue and have sung their praises since the day we first viewed it. You are made to feel as though you are visiting someones home and treated like the only guests they have at all times. It really is outstanding and personal service."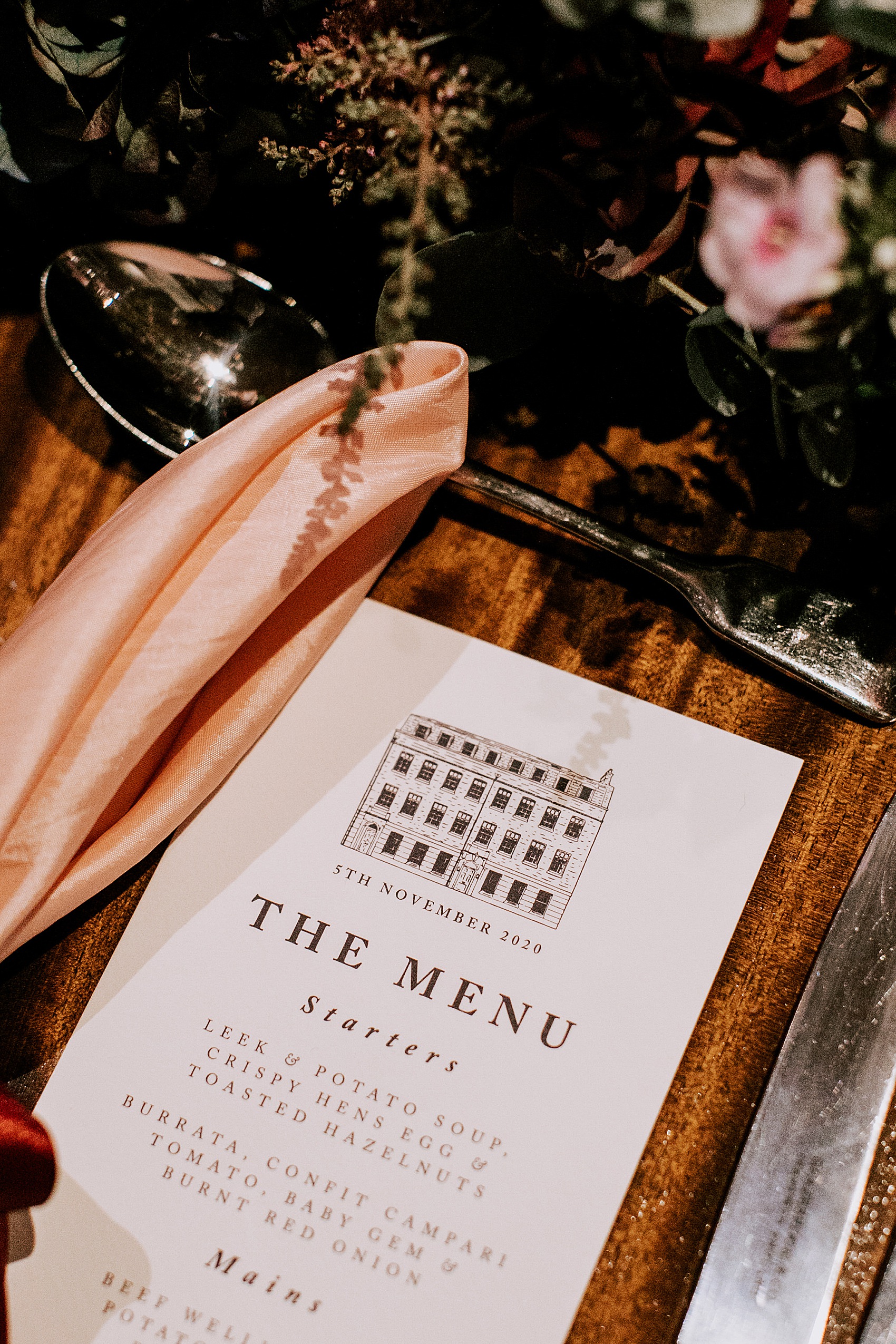 "We chose Amie Bone from the very beginning due to her amazing floristry and imagination – her work says it all. We wanted to be able to leave the flower planning for our venue in her capable hands and wow – did she deliver."
"We had originally planned white flowers from Hedsor but again wanted to go completely different for the London wedding and I am SO glad we did. We based our colour palette on the autumnal time of year, the décor at Zetter and also off a recent shoot Amie had done."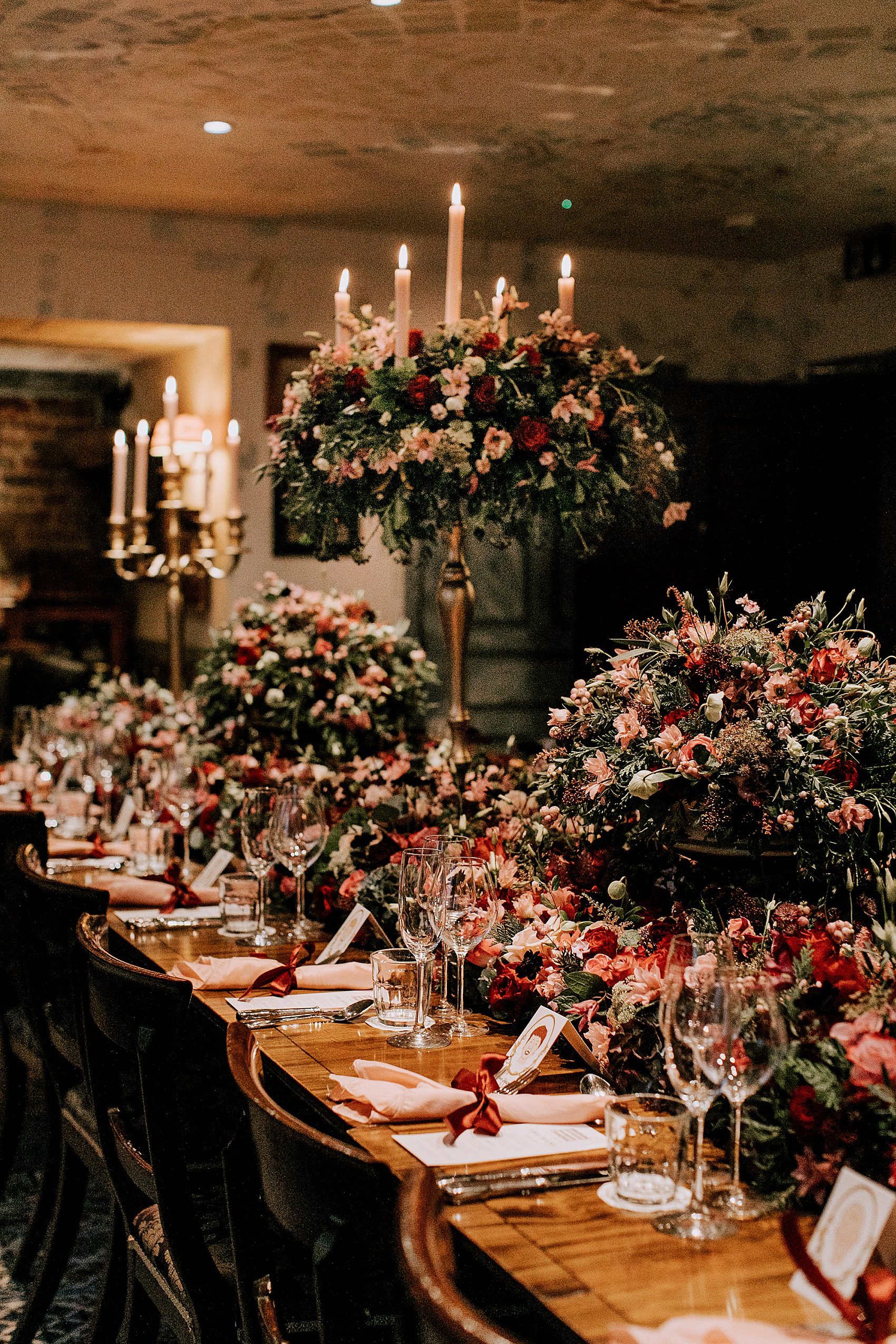 "The flowers on the wedding day were INSANE and we still have people commenting on them – the display, the smell and the colours. My reaction when I walked in the room said it all – there were tears."
"We never wanted to do favours at our wedding – we instead set up a donation page for Macmillan Cancer Support. Macmillan Cancer support is a charity that is close to both our hearts."
"Both of our immediate and extended families, and those of many of our friends, have been directly affected by cancer, so instead of gifts we wanted to take this opportunity to raise funds for a charity that offer invaluable support to cancer patients and their families."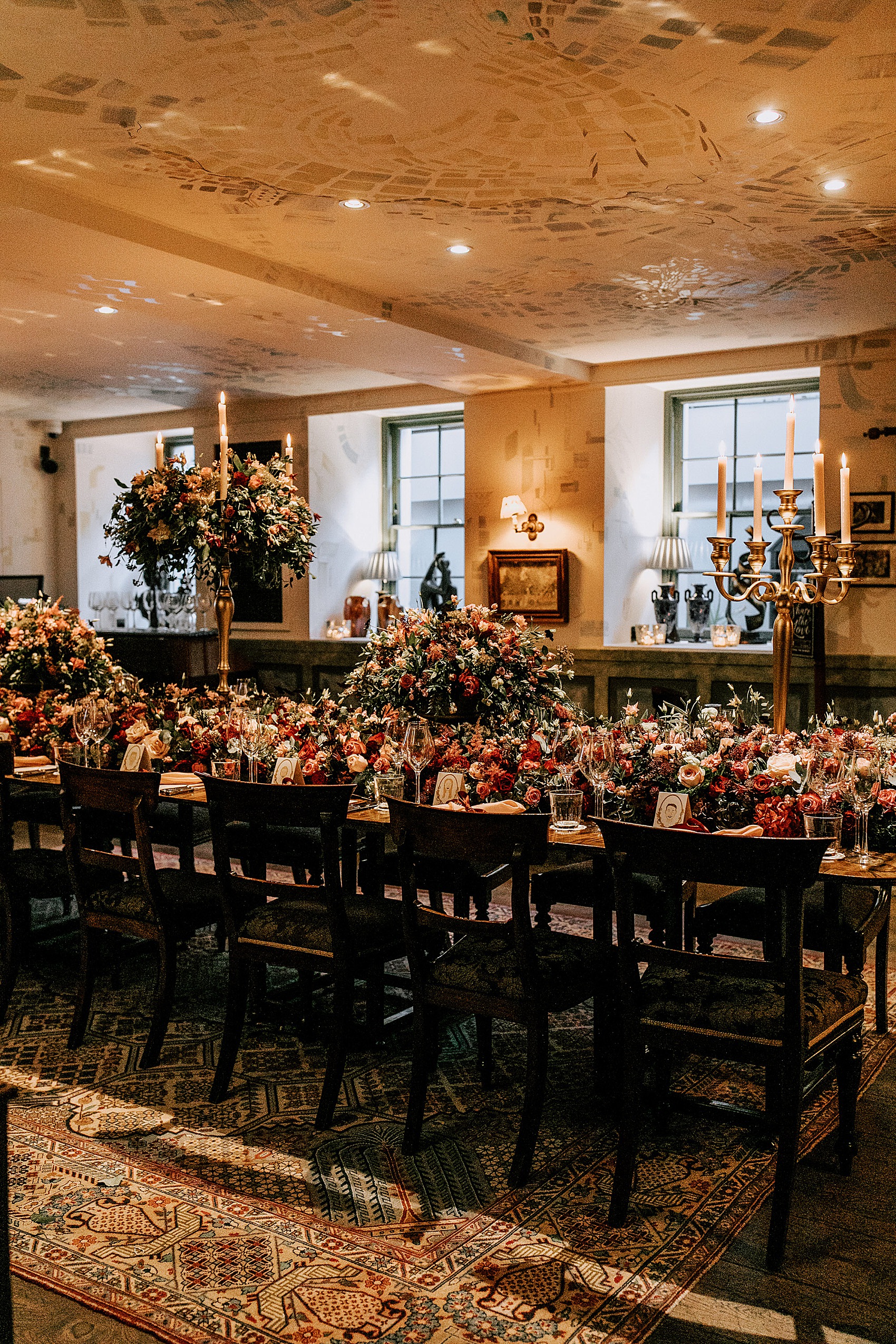 "Amie was so helpful, understanding and accommodating during all our changes and last-minute plans and we were so grateful for this. We absolutely trusted Amie to bring alive the vision we had discussed and she did that and more."
"Amie did all of our décor – nothing more was needed after those flowers and candles."
"Our original cake plans were changed as we definitely didn't need 5 tiers anymore. I sent Katie of Malarkey Cakes an image of our flower inspiration and she designed the cake perfectly. It was modern, which is what we wanted. We wanted to avoid traditional fondant icing and a fruit cake that no one eats."
"Instead we opted for lemon and blueberry for one tier and chocolate orange for the other – both our favorite cake flavours and it went down a treat. The cake looked as incredible as it tasted. We chose Katie for her modern take on wedding cakes, incredible flavours and fabulous cake."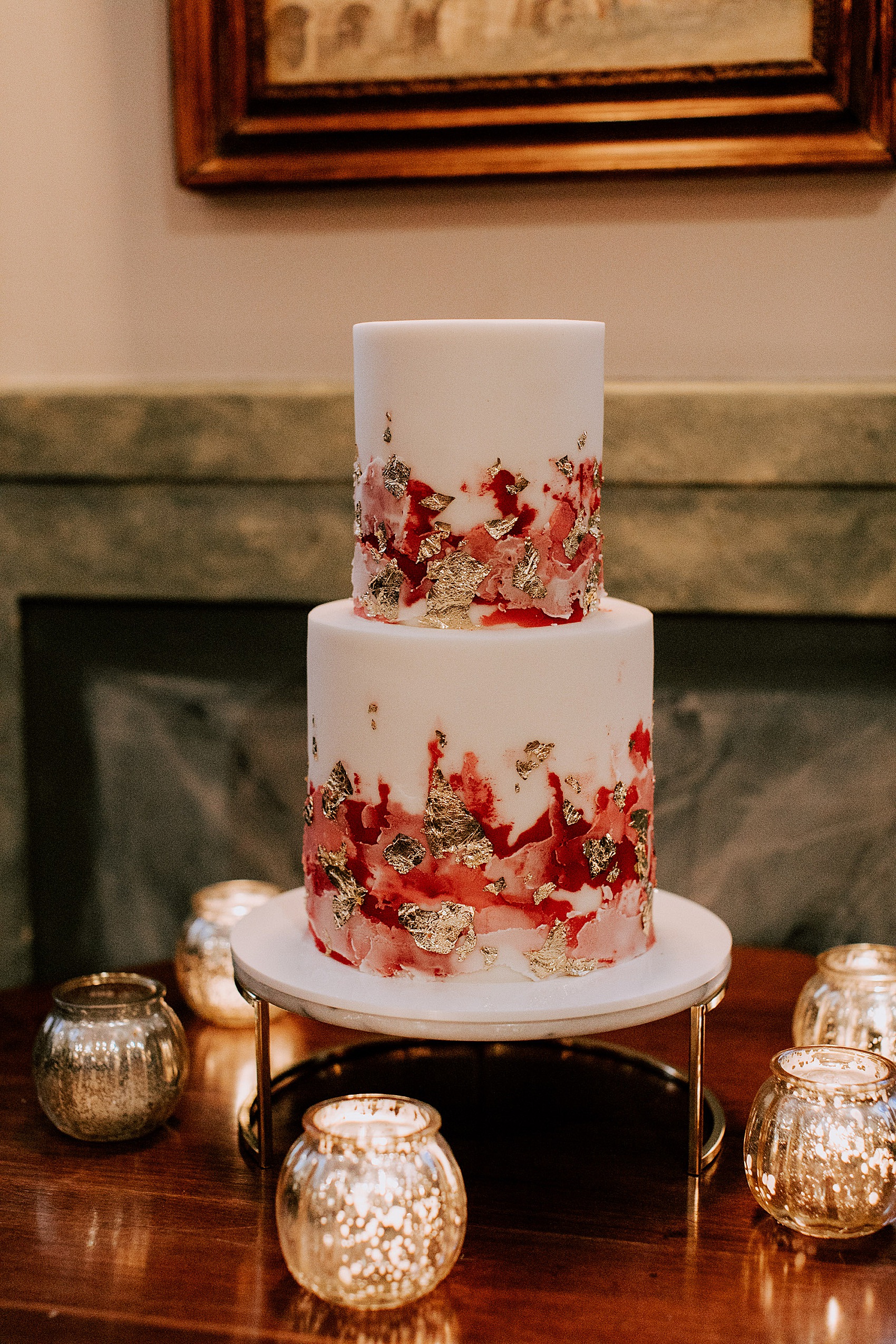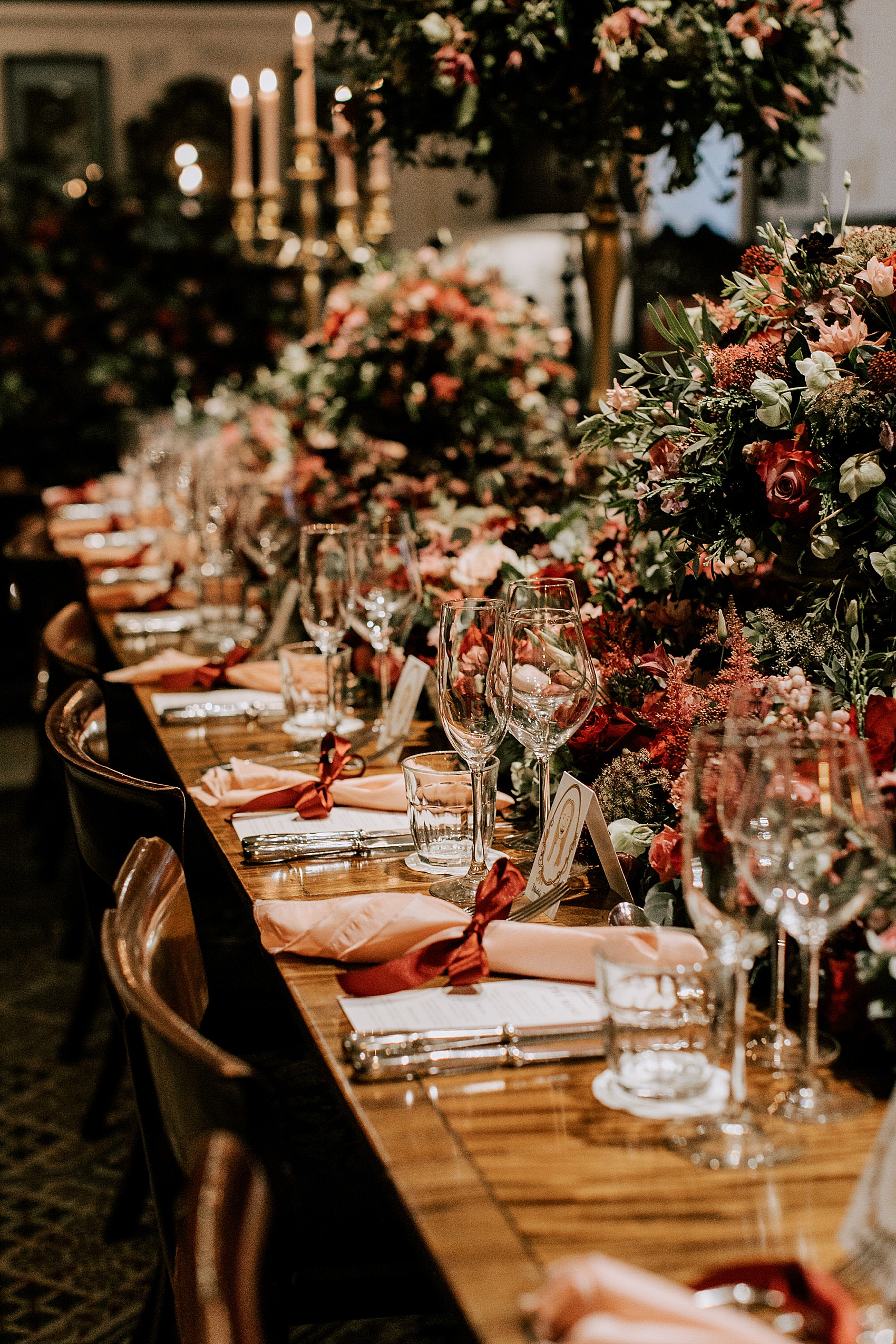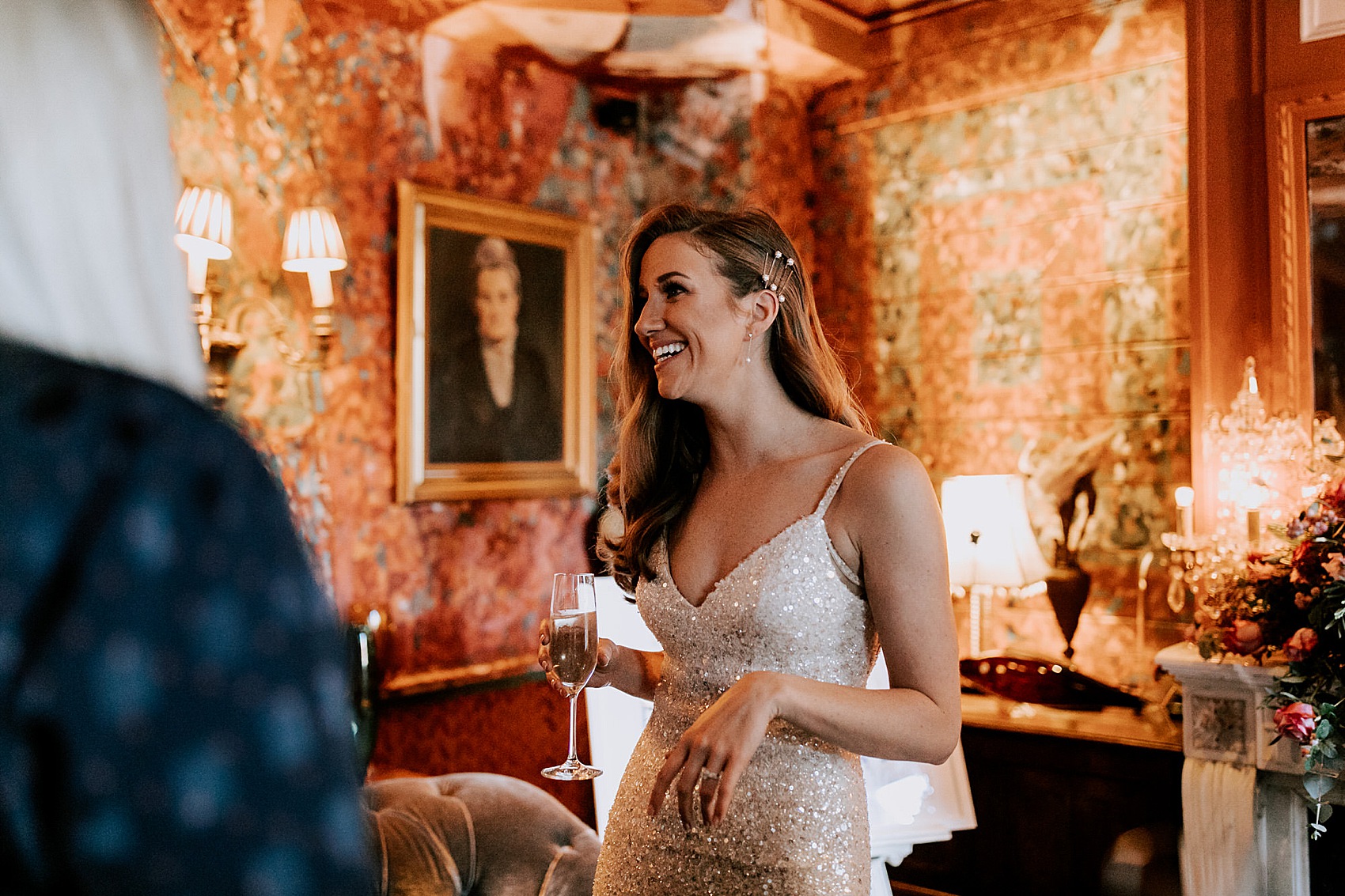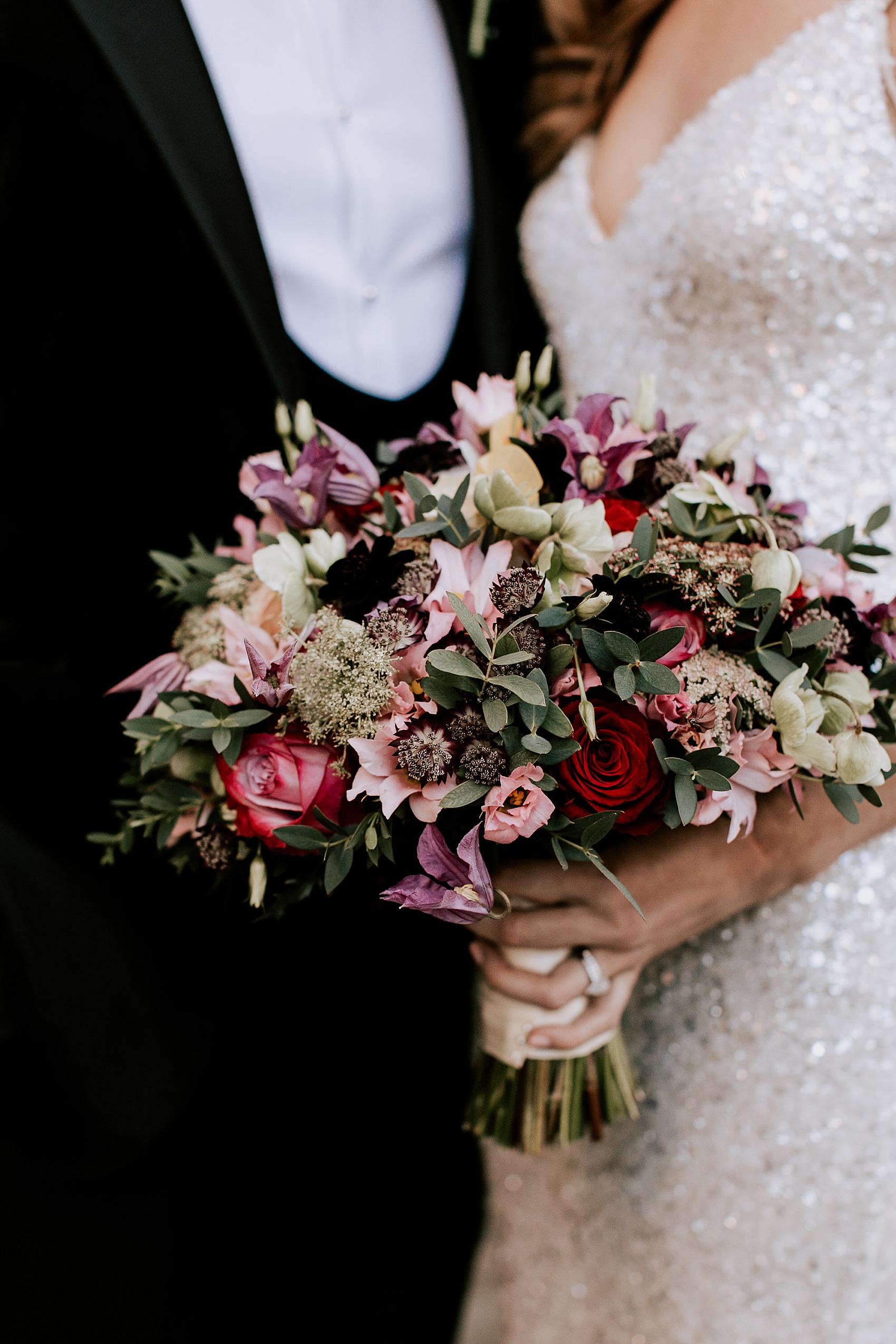 "Emma Kenny Weddings – do I even need to explain why I chose Emma! Her photography is incredible and we both absolutely love her relaxed and modern style."
"I actually used to work with Emma's husband which is how we initially met but we both loved her work as soon as we saw it."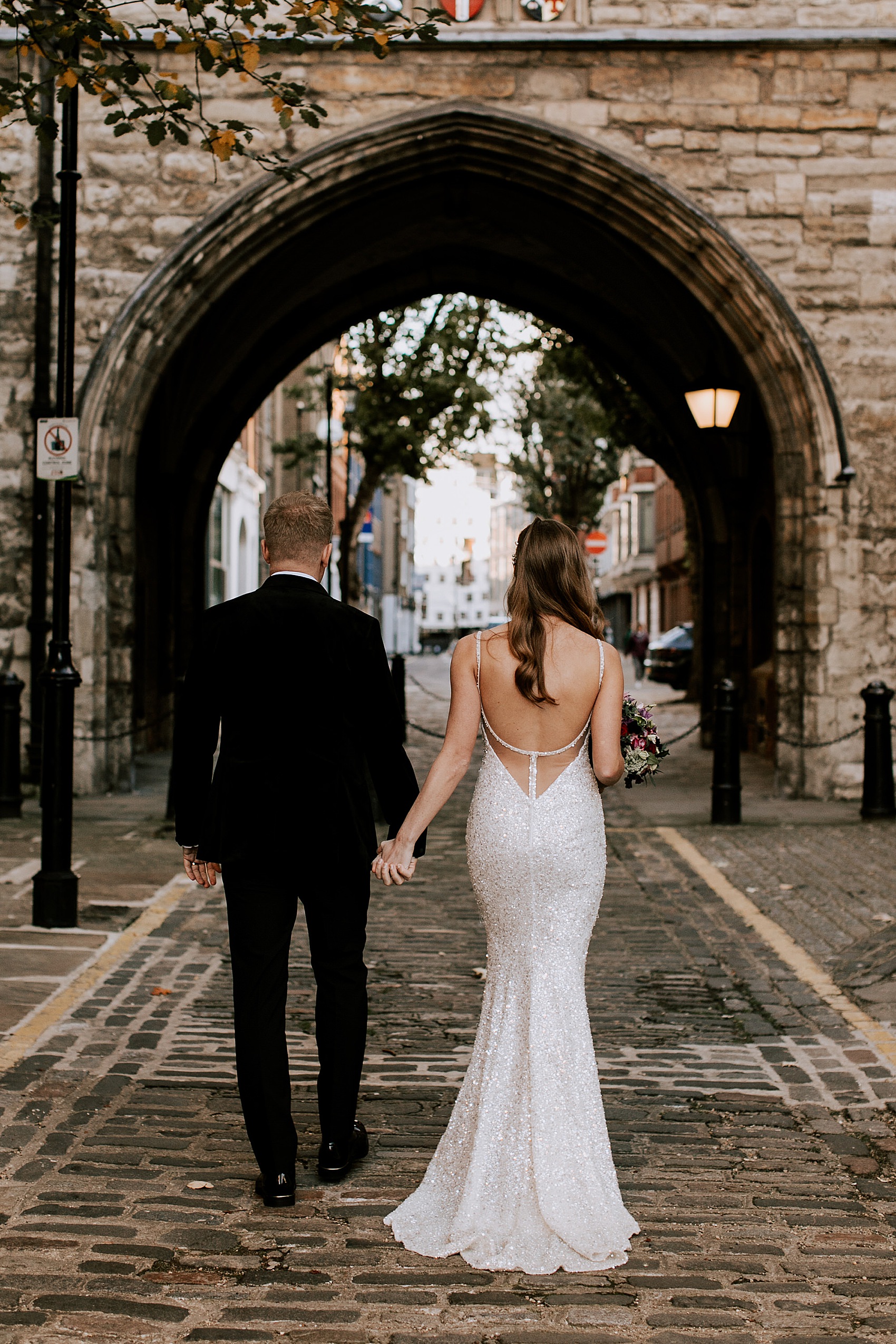 "We wanted to avoid the 'classic' wedding style portraits that were just not us at all. Having Emma around on our wedding day was an absolute pleasure – it was like having an old friend take photos."
"She captured our day perfectly and the photos tell the perfect wedding day story that we finally got to have! All of our guests commented on how friendly and relaxed Emma was and how great she was to have around on the day."
"I smile and cry every time I look through our wedding photos – Emma captured so much emotion in the pictures that it makes it impossible not to relive every moment, of which they are all so special."
"From the minute we sat down to speeches, we were both so relaxed. The formalities were out of the way and we really did enjoy ourselves. Drinking, chatting & dancing all night. We let our hair down and made the most of a perfect day."
"I absolutely loved both my Dad and Barry's speeches. If I wasn't laughing, I was crying. They both had the table in stitches yet were so genuine in everything they said."
I know I am so loved by my parents but it was so humbling to listen to stories that Dad remembered about me or the characteristics and traits that they adored about me. It was a moment of realisation for me that not only are my parents my parents, they are my best friends too."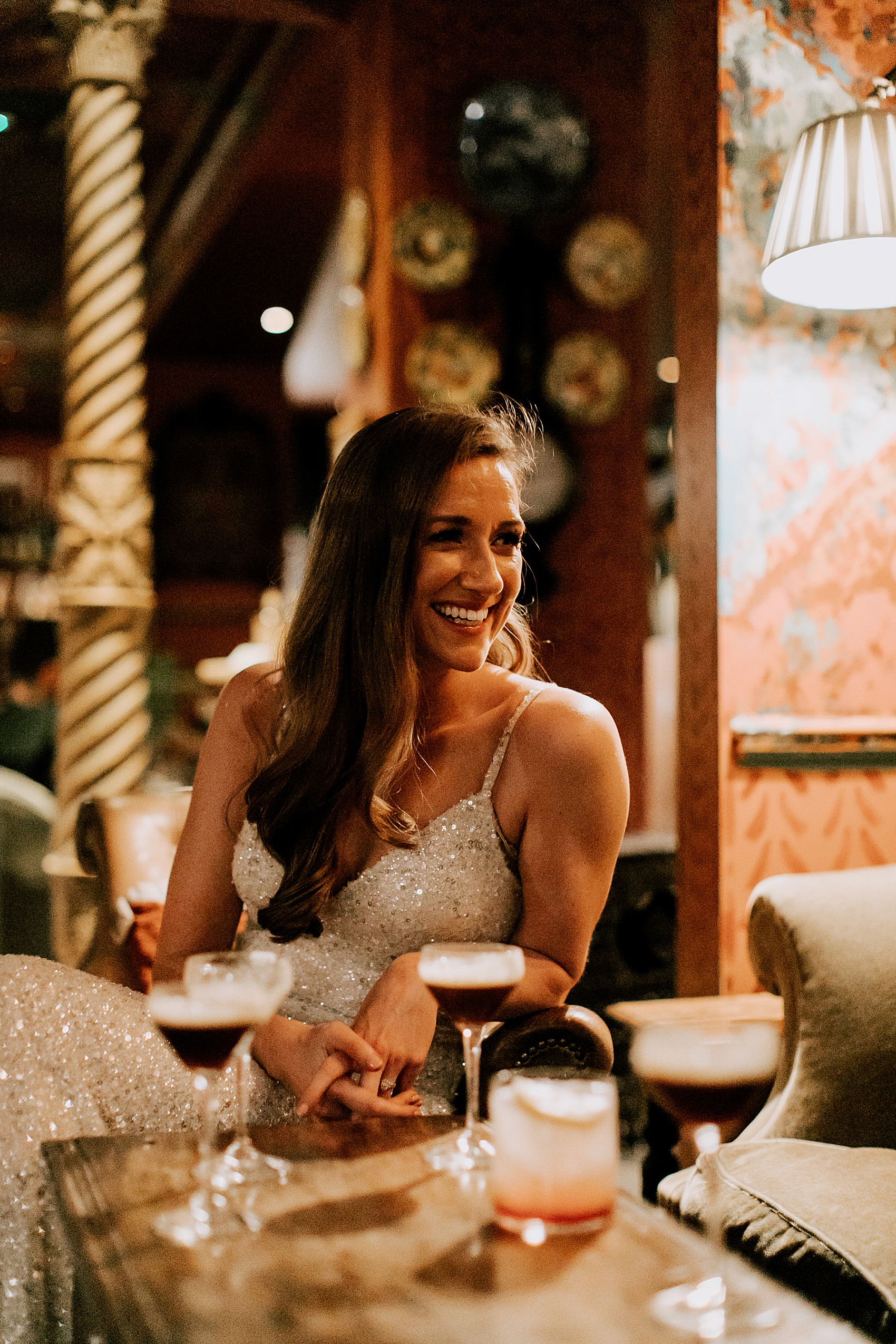 "Simon, Barry's best man, organised for all of our missing wedding guests to record a video message for him to compile into a video. It was a complete surprise to us on the day, which is a miracle in itself as Simon can't keep anything a surprise. It was so special seeing everyone's faces and although it made me miss my friends and family dearly, I was howling with laughter at all the weird and wonderful things they had filmed. It is a video that we will have forever and was such a special thing for Simon to organise for us."
"To be honest, the whole day was so relaxed and intimate and I enjoyed everything about it from the minute I woke up to the minute I went to bed. The day became about us, our love for each other and celebrating this with our family and friends – and less about all the little details and sticking to a military schedule for the day."
"We had a first dance to 'Stand by Me' – Ben E King. We both love the song and it was so fitting – not just for the turbulent 6 months leading up to the wedding but also for the rest of our lives."
"Danny Mills changed from being our pre-dinner entertainment at Hedsor to being our all day entertainment at Zetter. Danny can play the piano and sing like no one else I have seen."
"He is incredible. Danny knows 1000's of songs off by heart and takes requests for all kinds of music."
"He reads the mood of the room and can change the pace of the music accordingly. He had us dancing from the moment we finished eating until the moment the music stopped. We can't wait to party with him again at Hedsor." 
Words of Wedded Wisdom
"Remember why you are getting married – those things will never change and will always give you the energy to get back up and try again. Remember why you love each other, don't take out the frustrations on each other and work as a team to make your wedding day perfect for you both."
"Make the most of the smaller group and make your wedding day perfectly suited to YOU. It is absolutely worthwhile going ahead with a small wedding if your original plans are affected. We had the most amazing and intimate day with our family and two of our best friends. We got to enjoy every second of the day and we both had more time to appreciate each other and the enjoyment of all our family and friends. We have booked another date at Hedsor in 2022 to have the big celebration with all of our guests and we CANNOT wait for this. Milk the celebration opportunities – you'll only get married once and if you can celebrate more than once, embrace it."
"When choosing suppliers for a small wedding it is absolutely vital that you love them for their work and also for who they are – they become such a huge part of your day and will interact with yourselves and your guests more than you would maybe expect – in a good way. You want them to be able to slide into the background when appropriate but equally fit in with your guests like every has known them for years. "
"Remember why you are getting married – those things will never change and will always give you the energy to get back up and try again when you are forced to change your plans. Remember why you love each other, don't take out the frustrations on each other and work as a team to make your wedding day perfect for you both."
"Make the most of the smaller group and make your wedding day perfectly suited to YOU. It is absolutely worthwhile going ahead with a small wedding if your original plans are affected. We had the most amazing and intimate day with our family and two of our best friends. We got to enjoy every second of the day and we both had more time to appreciate each other and the enjoyment of all our family and friends. We have booked another date at Hedsor in 2022 to have the big celebration with all of our friends and family and we CANNOT wait for this. Milk the celebration opportunities – you'll only get married once and if you can celebrate more than once, embrace it."
"If someone could take me back 6 months and remove all the obstacles we came across, I would still go ahead with a small intimate wedding and a big party to celebrate at a later date – the day was perfect. 15 guests was pretty tough on us both and 30 would have been an ideal number but it just wasn't an options for us and marriage was the most important thing by that point."