I'm still getting over the response to our latest What About Weddings campaign yesterday, I will find the words to process it all and respond properly in the next few days.
But for now, I take the greatest of pleasure share this fun and wonderful micro wedding with you. Carolyn, a senior copywriter at a digital marketing agency, married indie cinema manager Phillip on 12th December 2020 at The Guildhall in Bury St. Edmunds.
"Love My Dress was incredible at giving me ideas and keeping me positive about planning our day. Seeing people celebrate their relationship and marriage in so many unique ways is a constant reminder that love always wins. You featured a wedding back in 2015 of Karen Dacre – she wore a silk dress and cashmere jumper and honestly, that was me hooked. I still have an article printed about it in a magazine in my 'inspiration' drawer."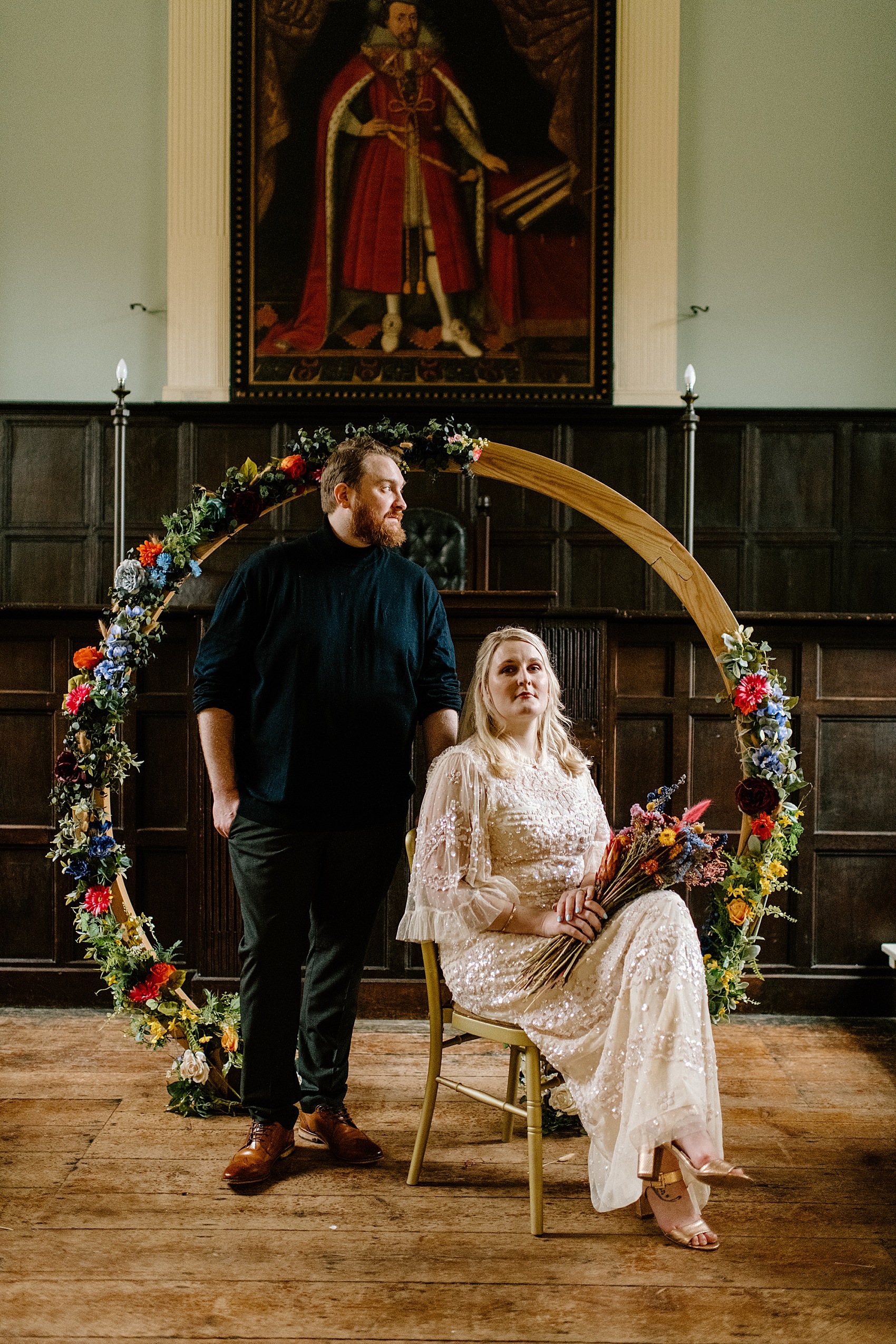 "My cousin asked to 'play' on my Tinder and swiped right on Phillip. I wouldn't usually pick someone who looked so serious. We met at a local pub for drinks in the garden on July 12th, 2019 and started dating from there. We just loved talking and had a lot of chemistry."
"We didn't officially get engaged, as in Phillip getting down on one knee, until around a month before the wedding. That might sound bizarre but we were engaged as in planning to get married, we just hadn't chosen an engagement ring. I guess that means our engagement took place in Sainsbury's, because that's where we were when we agreed to spend forever together, how romantic!"
"I'm not kidding when I say we essentially emptied our living room into the hall! So many of our decorations were our own. We were also very generously provided items by friends and family."
"Our friends Andy and Victoria run a beautiful shop called Lady Norfolk and Lord Rust, where they always stock beautiful old books. They kindly supplied stacks of them tied up with string, which I placed at the end of each row of chairs.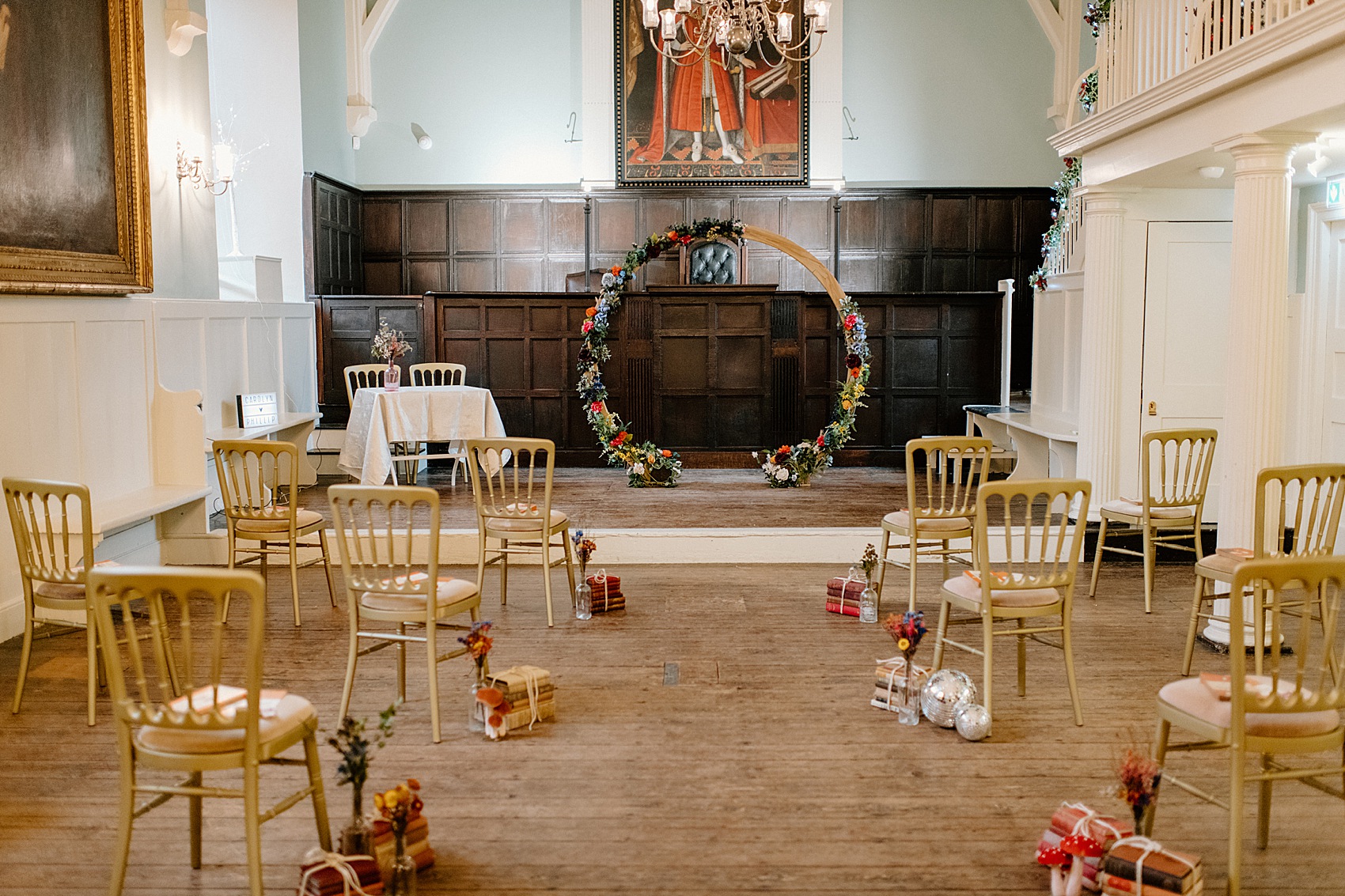 "Then Covid hit and we had to make tough decisions on actually getting married or waiting it out."
"We wanted to get married in July 2021, but our original venue of The Minories in Colchester was shut down forever due to Covid impacting its funding."
"I suppose we are unusual in the fact we then pulled our wedding forward, but this is because both our mums are unwell. We wanted them to be at our wedding above all else."
"I had saved every gin bottle we had from the last year to put my dried flowers in, then added pieces of my home decor. We have eclectic taste, so there was a miniature carousel, tiger shaped pen pot, various light boxes, some velvet mushrooms, and disco balls."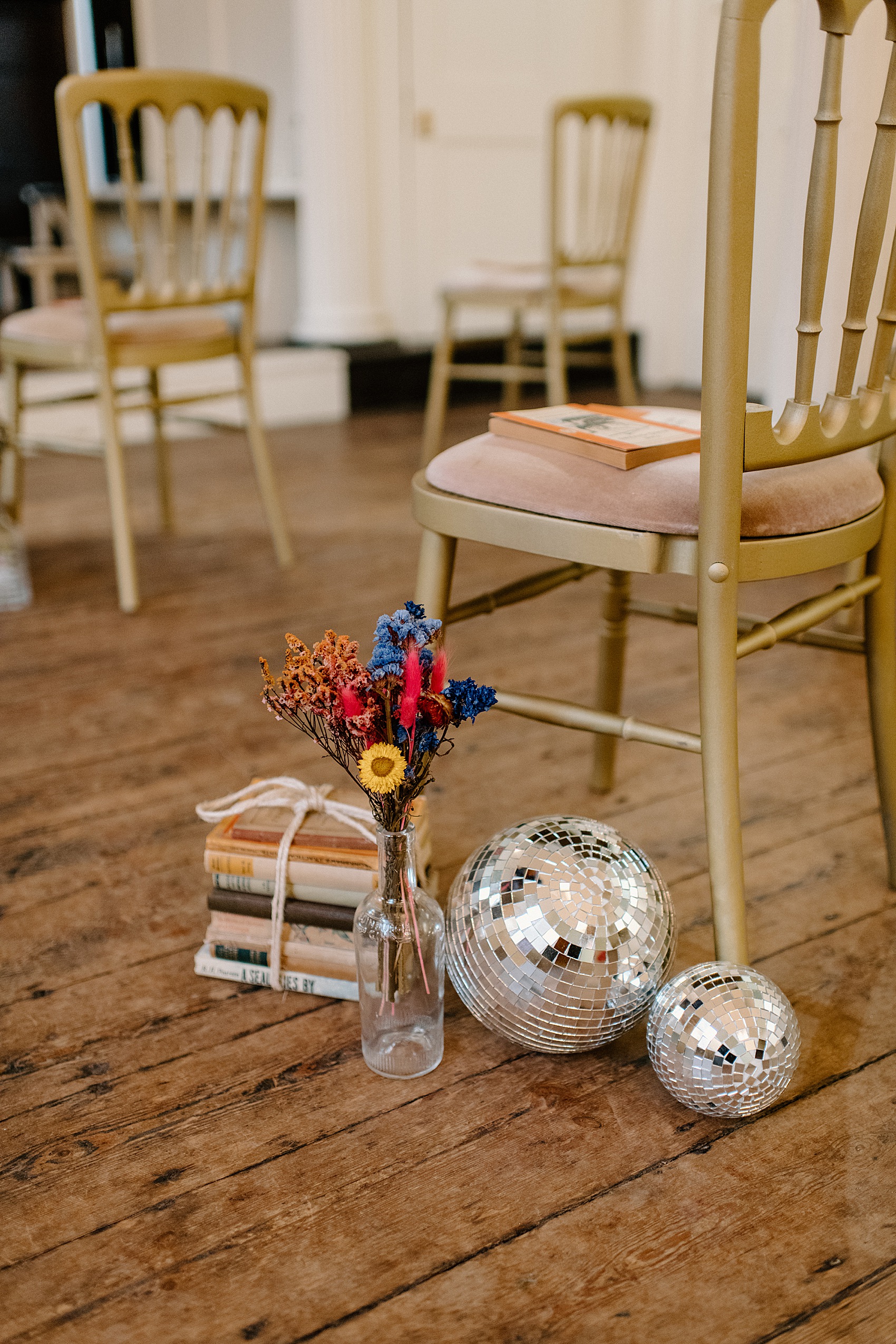 "Neither of us has our biological father in our lives – our mothers are the most important family members, so it was vital they were there. We decided to go for it, and follow the guidelines even though it meant a far more intimate occasion and some serious deadlines."
"When we got married, the area of Bury St. Edmunds was in tier 2. This meant we could only have 13 guests. On the day, we provided custom masks made by a friend in our wedding colours, made sure people maintained distance, and provided hand sanitiser."
"We had one guest who had been previously shielding, who sat on the balcony in The Guildhall, so she could feel safer, which was really helpful."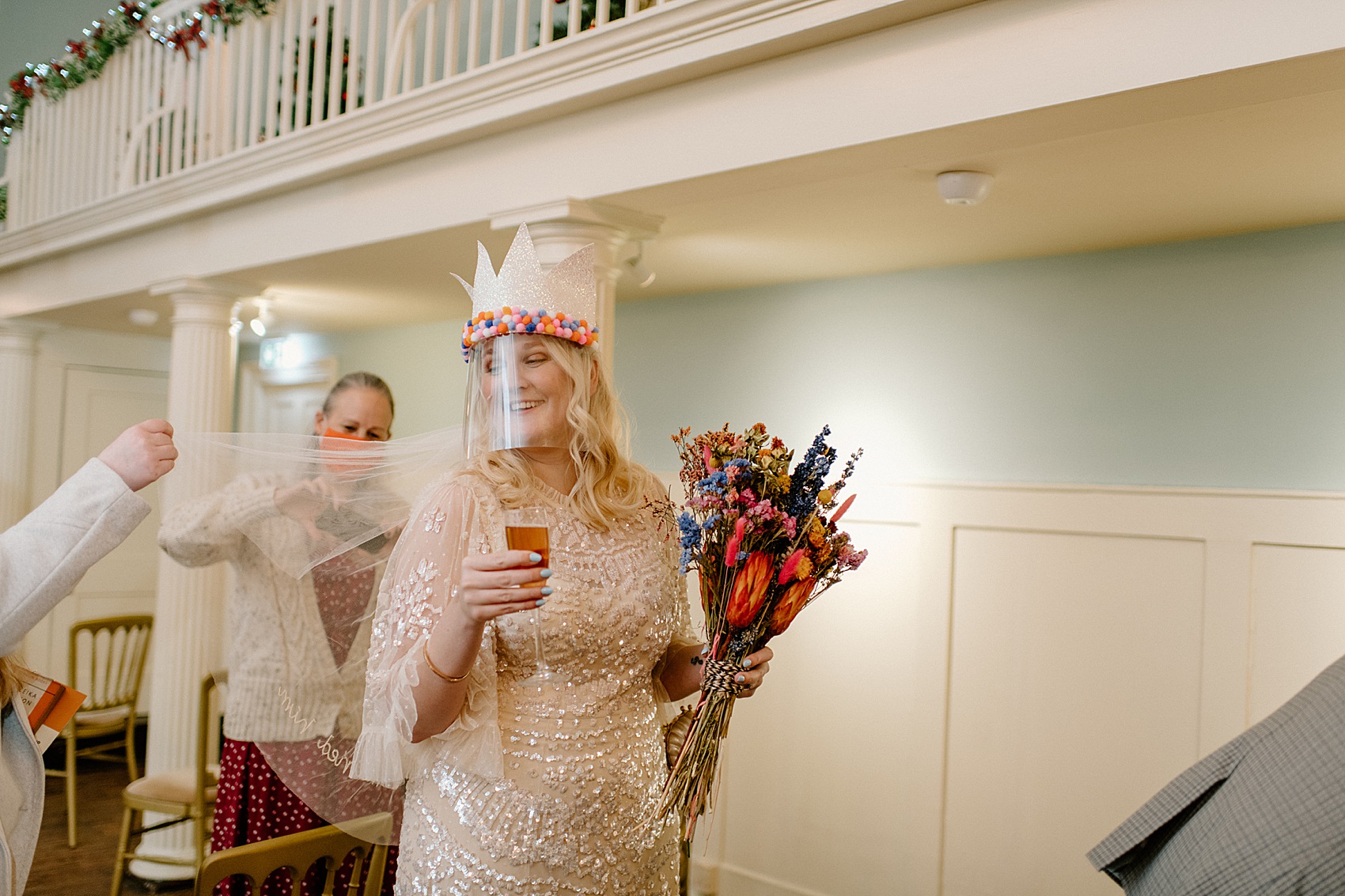 "We decided to keep the reception as a meal for just our parents and my aunt, so just 7 of us at The Weeping Willow pub in Bury St. Edmunds."
"I am so happy that it went smoothly and everyone felt safe. Jill at The Guildhall was so helpful in helping everyone to follow guidelines, but not in a way that affected the spirit of the day."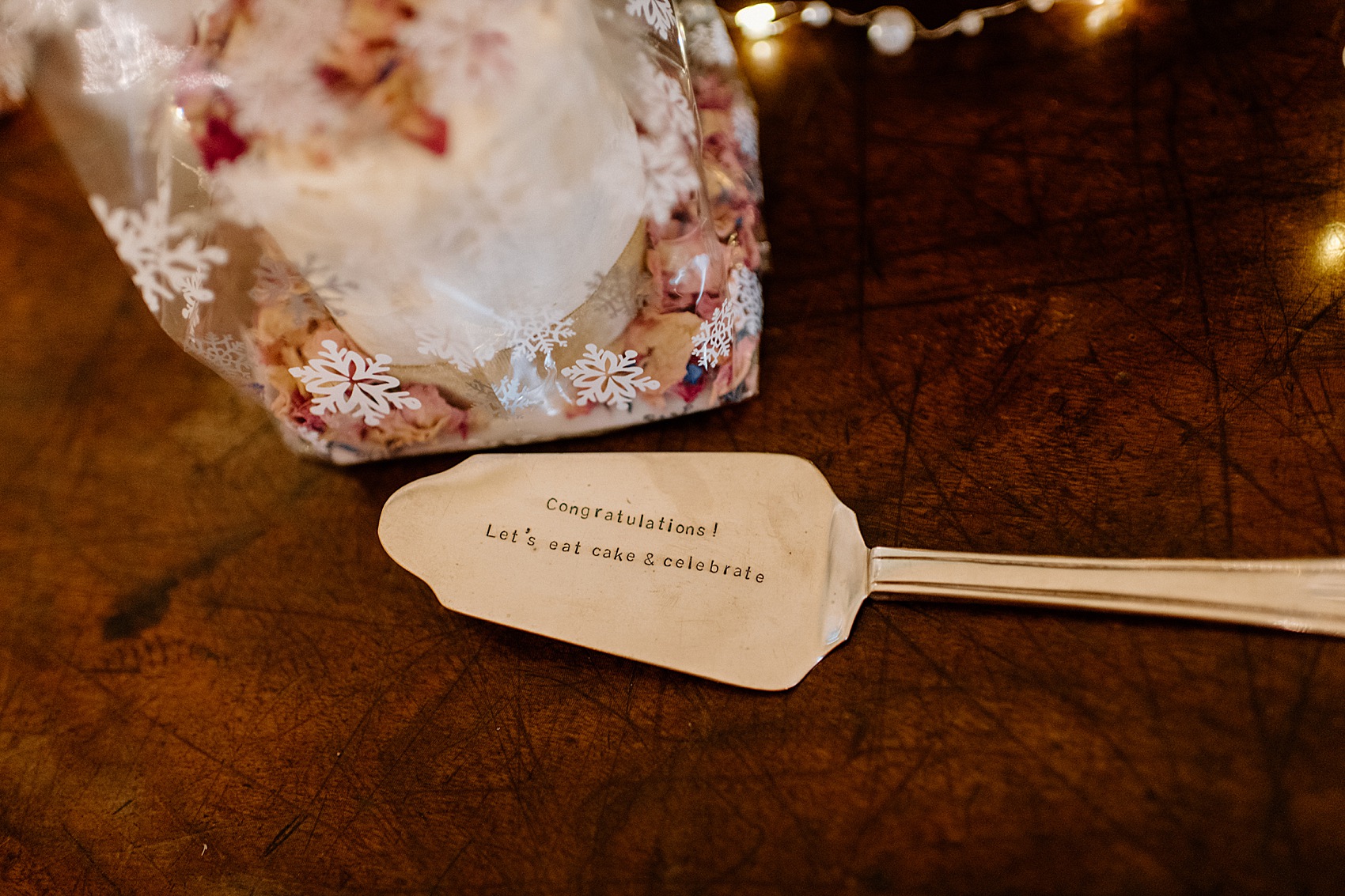 "I know we were lucky to have not had to sacrifice too much to get married, because we hadn't officially booked any large suppliers or services that couldn't be moved, but we honestly saw the opportunity for a smaller, intimate wedding as a benefit."
"My mum said in a small speech she gave that it was now 'a truly special little group of people',  because we shared something together. I loved that."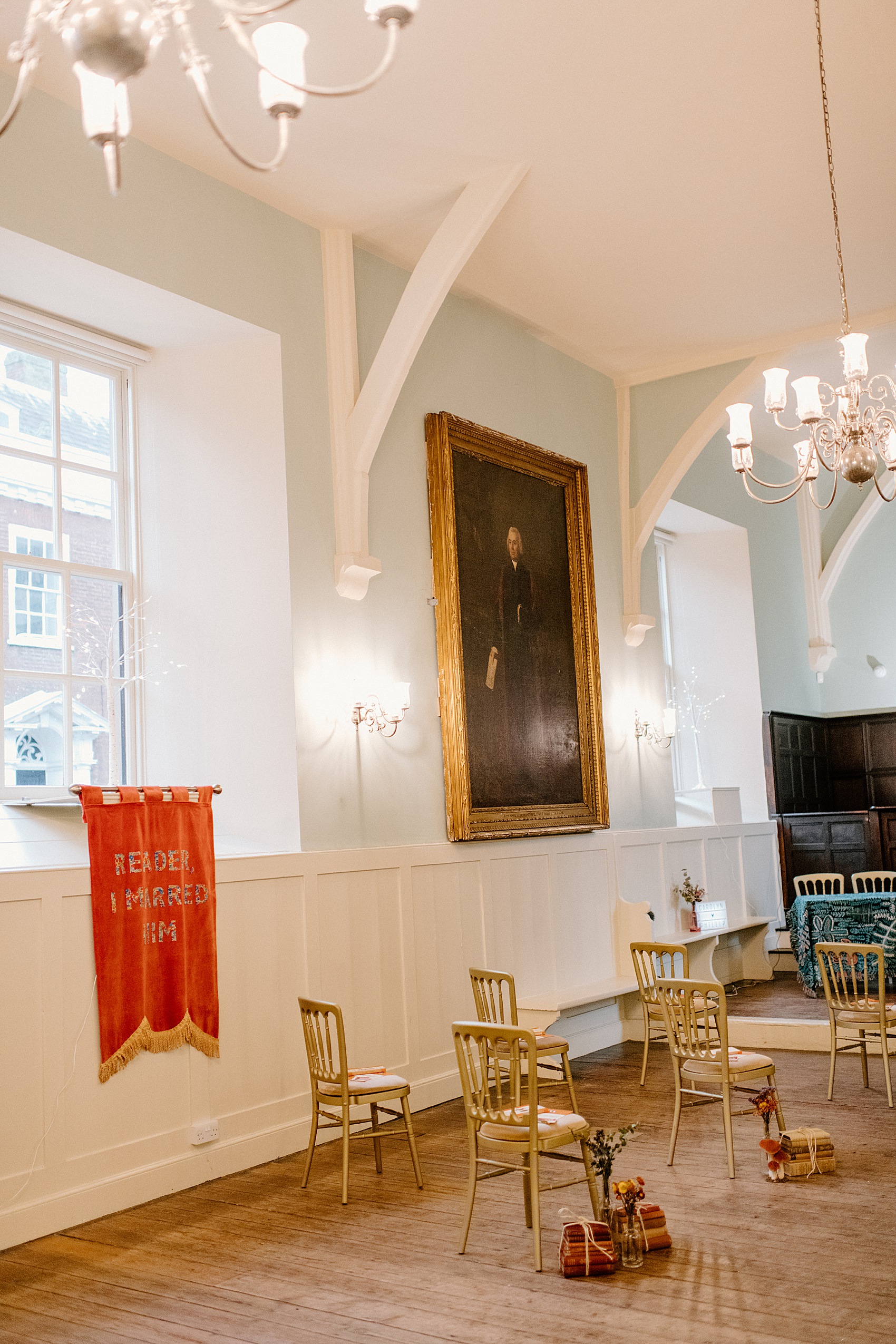 "I read a lot and Phillip loves to play computer games, but both are about escapism and storytelling. Plus, I write for a living and Phillip works with film, so stories was the theme for our day."
"We decorated our wedding with books and chose our reading from a favourite, Dolly Alderton's Everything I know about Love, plus gave each of our guests a Penguin classic to take home. Each book had a customised sticker in the front with the little Penguin logo on."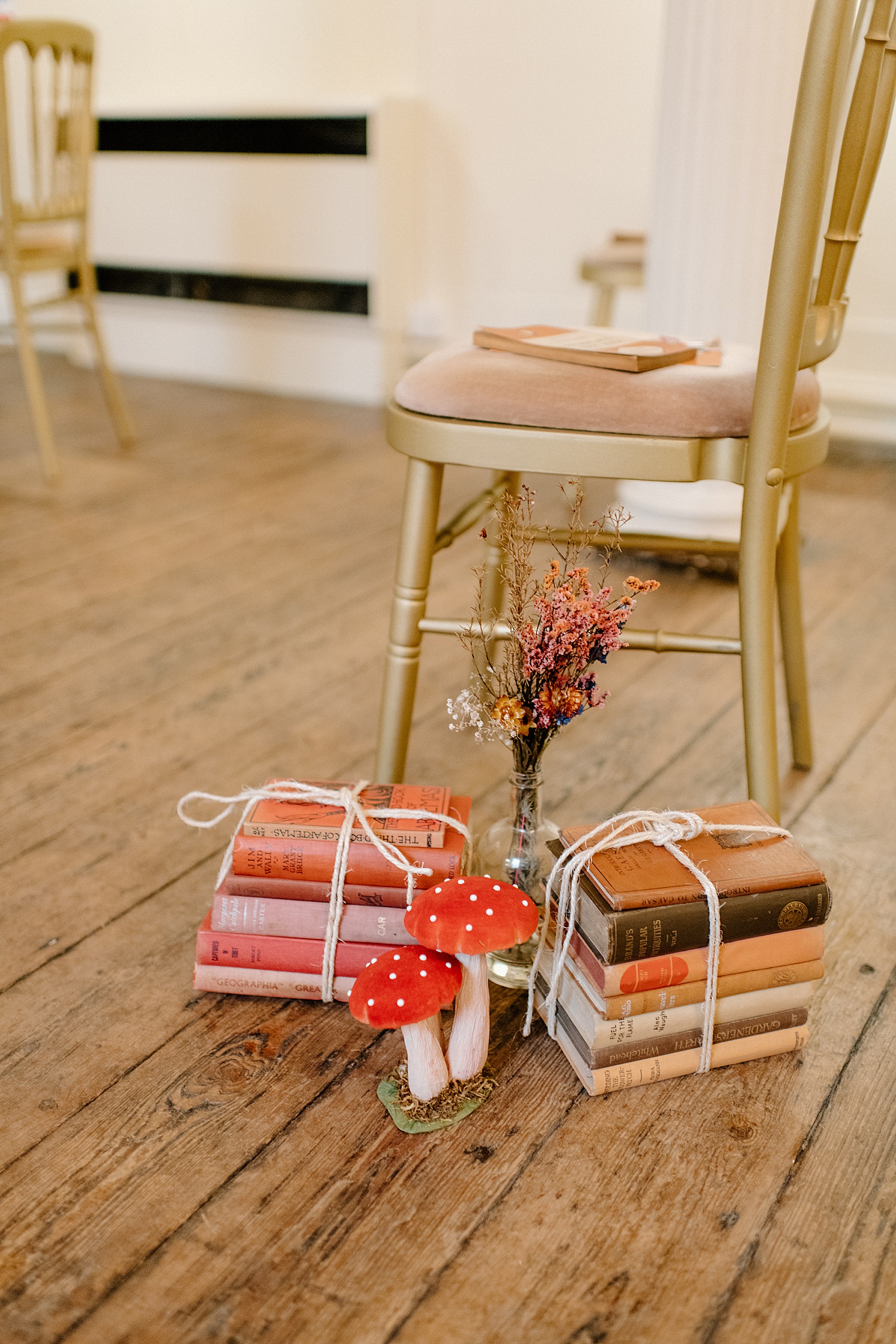 "Jane Eyre featured heavily as it is my favourite story and the quote "reader, I married him", has always felt meaningful. We used a copy of Jane Eyre and transformed it into our guestbook, too."
"Everyone got a Penguin book in the classic orange cover. I bought them from my local Oxfam and tried to tailor the titles to each guest. For example, my mum got 'The Lady of Rome' as she married in Italy, and my friend Ian got 'The Superman' because he made the cakes, was a witness, a ringbearer AND his mum made all our masks, which he delivered."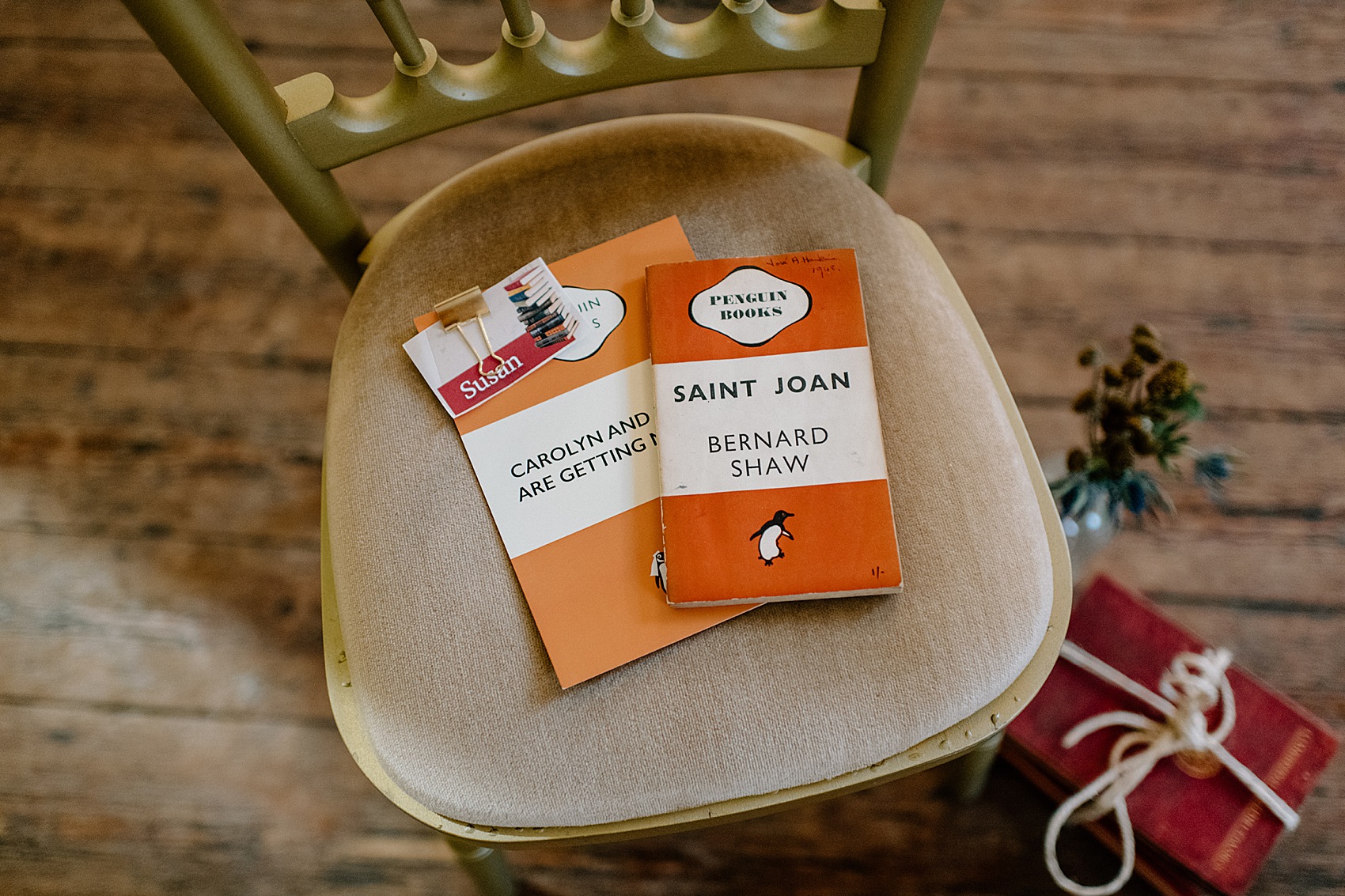 "Inspired by Alice Gabb, and to save money, I made a banner from vintage upholstery velvet and Liberty fabric in Margaret Annie with my mum. It says "Reader, I married him" and now hangs in our hallway."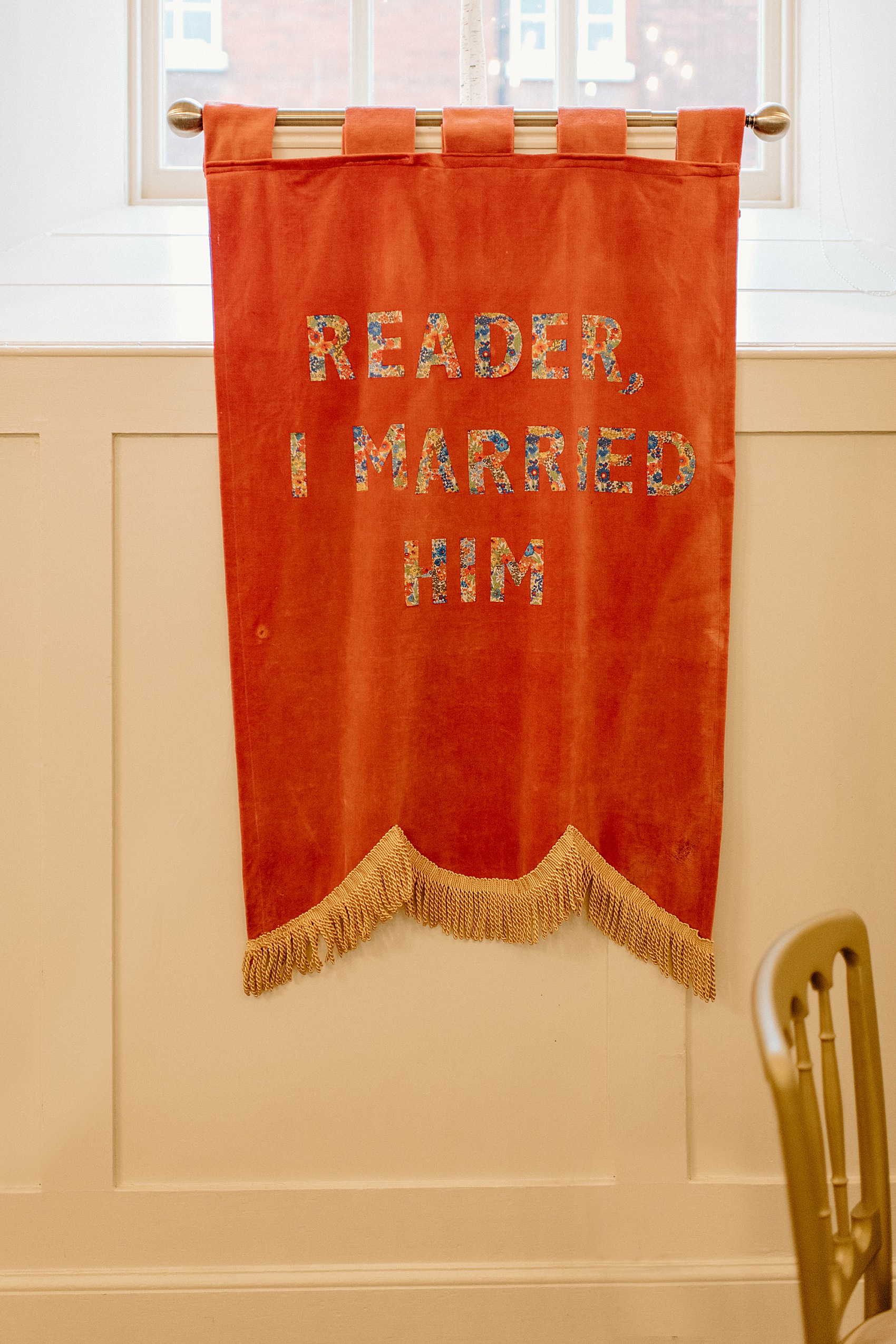 Carolyn wore 'What Would Love Do?' by Lush; "It's a floral scent and my go to for all special occasions."      
"I indulged in a Lulu Guiness handbag in the shape of an oyster shell. Inside it says "the world is your oyster" – so cute! It held my vows and lipstick on the day."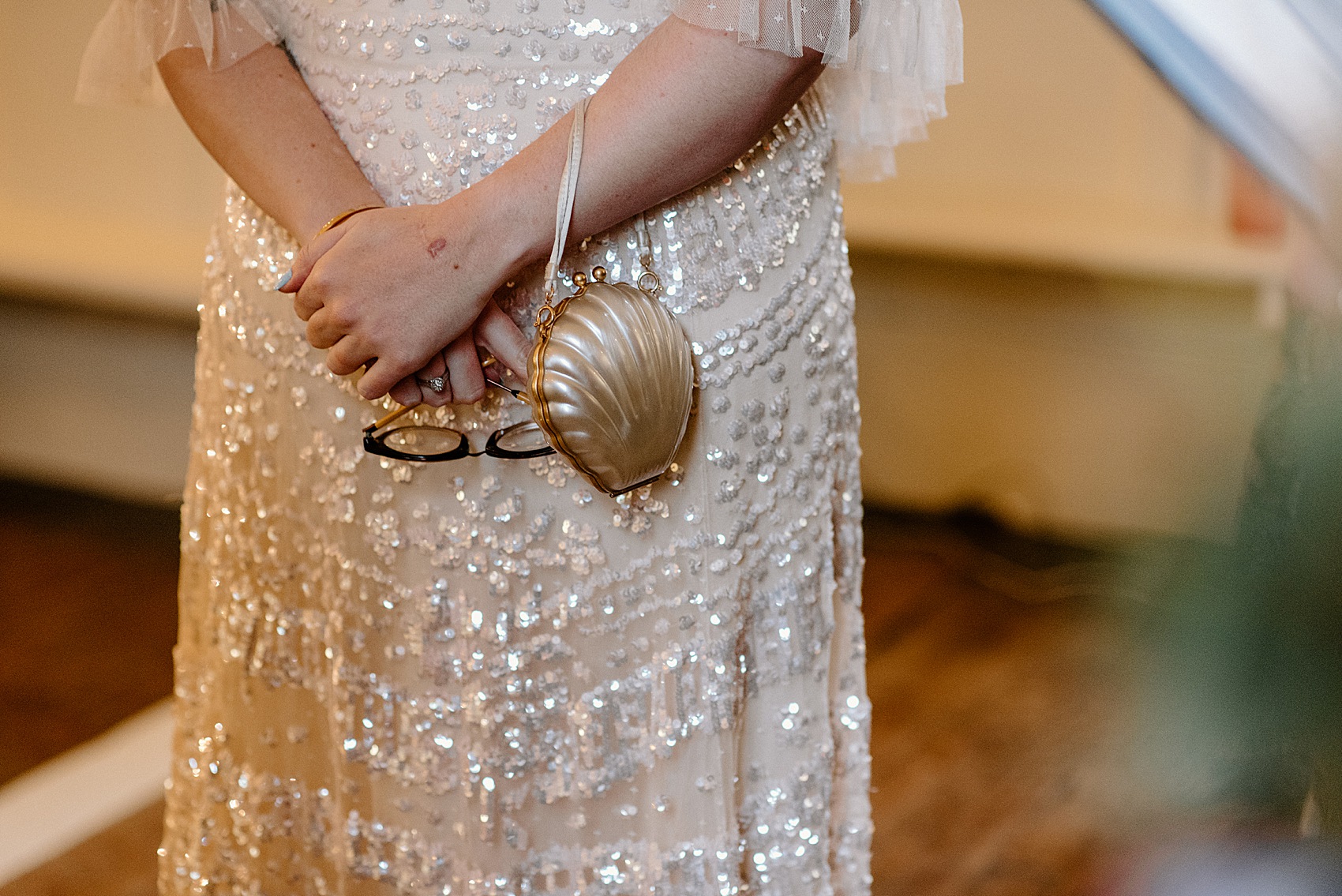 "Phillip wore navy blue trousers and turtleneck from Next. His coat was a vintage find. He didn't want to wear a traditional suit as he would likely never wear it again, so he went for a 'young captain Birdseye' look… minus the hat and pipe!"
"Phillip and I both have a thing for lobsters, so he had a Ted Baker lobster pin in his boutonniere."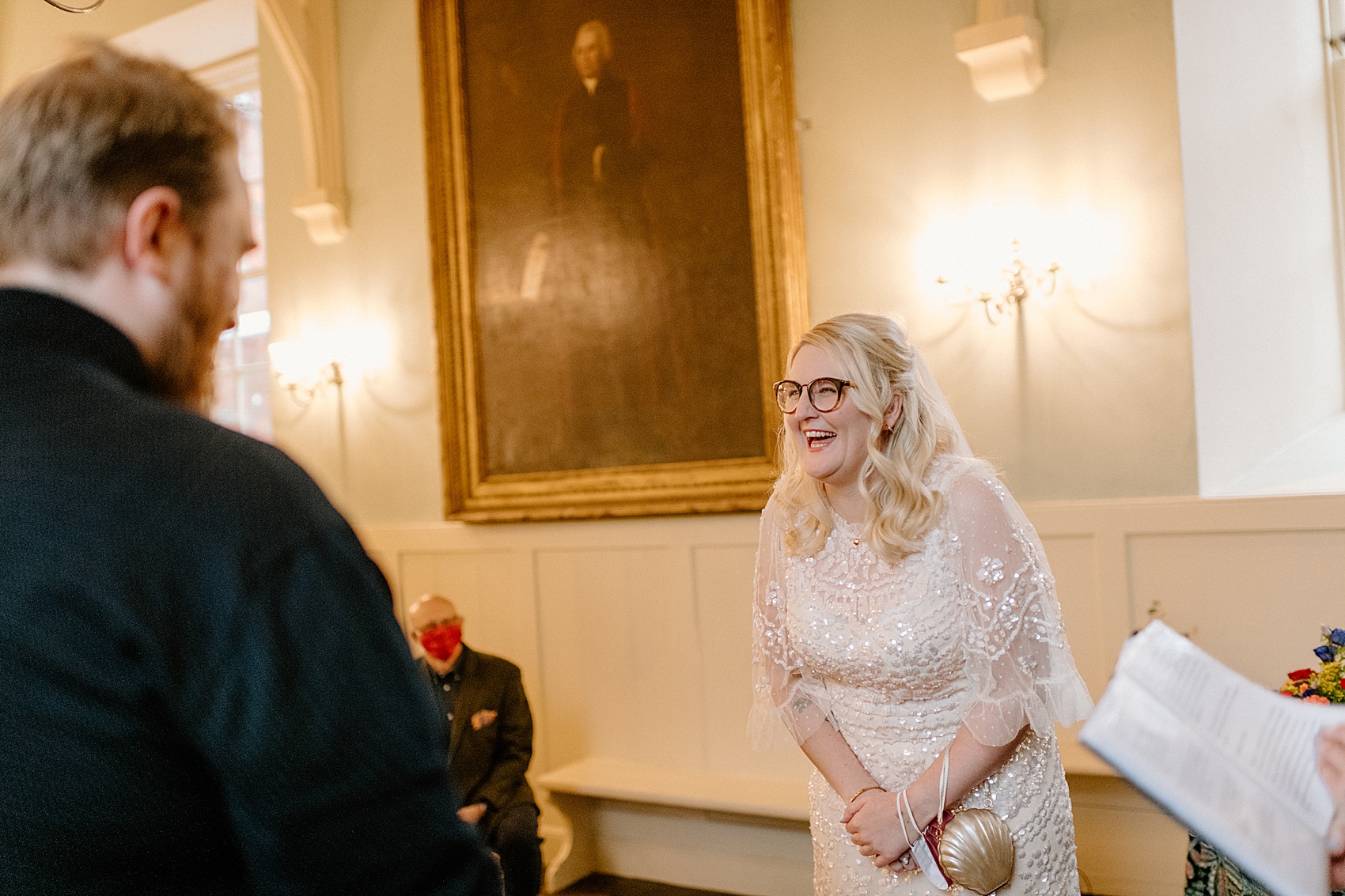 "I love dried flowers for their longevity, but also the interesting textures and colours. I chose to order from Triangle Nursery, a wholesaler I've known through working for them with my agency, because I love the variety they offer. The pricing was fair too, so I could buy plenty and then make up my own bouquet and decorative posies. Because they were dried I could make everything way in advance and not panic that they would wilt. Plus now I have them all over my house in various arrangements."
"I chose dried protea flowers as the main focus, the rest were in autumnal shades of orange, pink, and deep yellows, including spray roses, delphinium, and statice."      
"My bridesmaids both had bouquets from Shida, who specialise in preserved flowers. Again, I wanted them to last. Their bouquets were eucalyptus and more stunning protea flowers."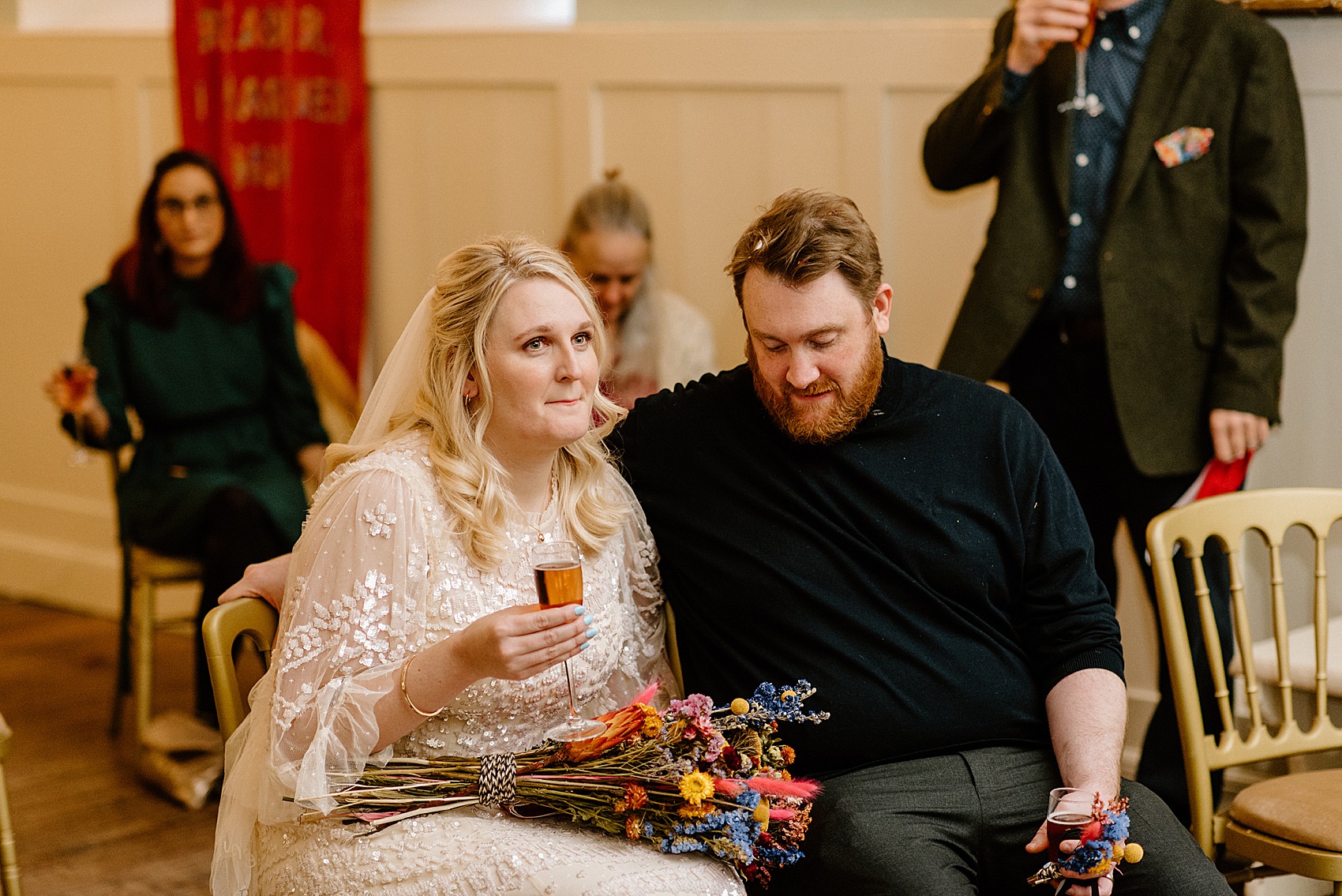 "We had talked about this part beforehand and agreed we didn't want to have Phillip waiting for me. We entered into this marriage as equals, so we both wanted to walk down the aisle."
"Due to restrictions our bridal/groom party had to all walk down the aisle separately, so where we had planned to each walk in on the arm of our mum, we had them go before us. It was actually lovely that everyone got their moment to shine."
"The Whole of the Moon by The Waterboys is 'our song', so that played as we came in. Phillip wanted the traditional wedding march as we left, which actually made us feel like we were in a movie."
"Suffolk registrar, Tracey Beckwith, married us. They were so lovely – Tracey LOVED my pink fur coat and tried it on!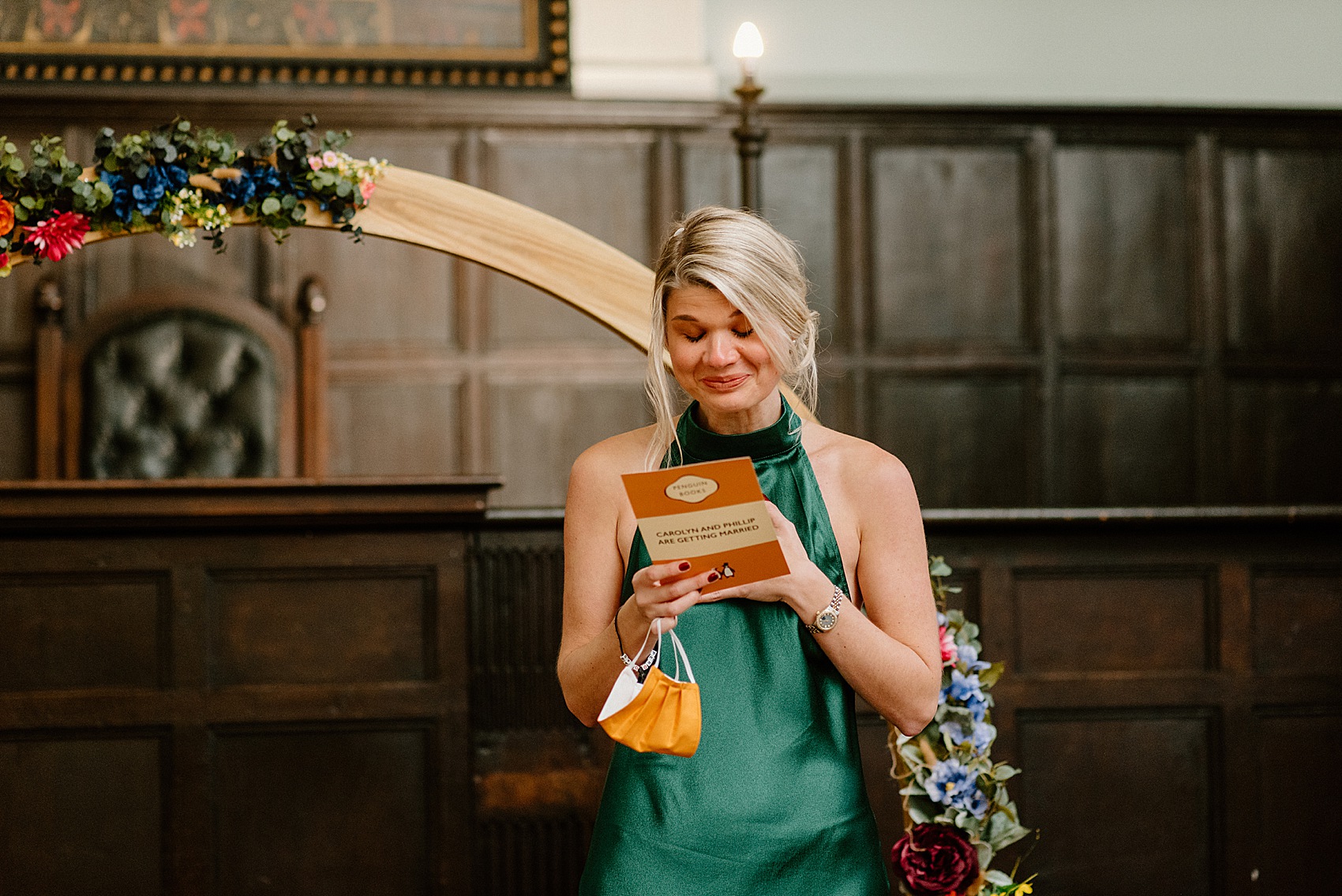 "We both wrote our own vows. I am a copywriter, so the pressure on me was quite high, but I think I pulled it off. It was important to us to say something unique and our own, even if the official promises are lovely."
"Our favourite part of the day was saying our vows. We both said it was the best feeling knowing that we were going to be a married couple, loving each other and tackling life as a team. Neither of us ever felt we would find that."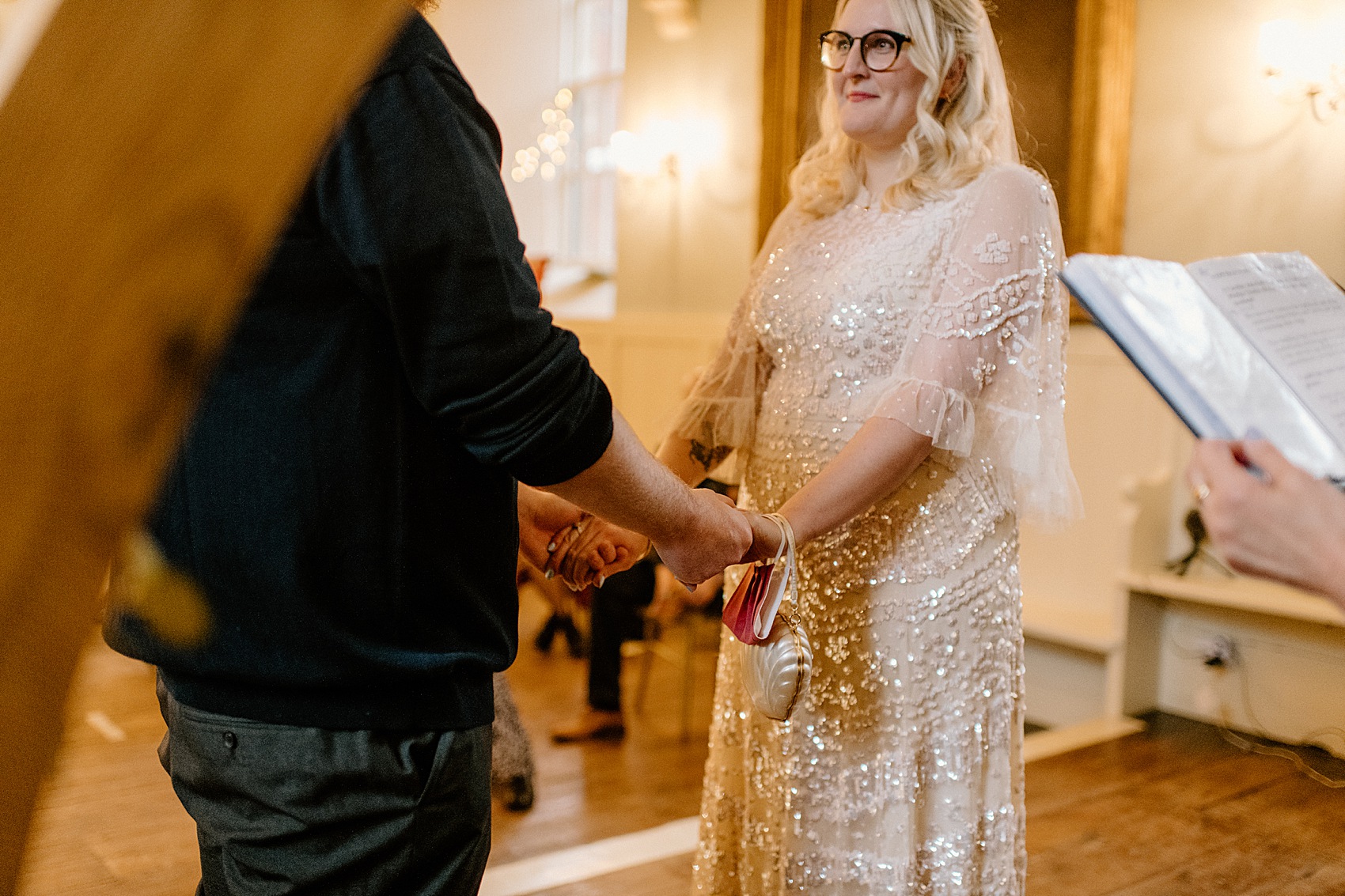 "We had one reading that is an excerpt from Dolly Alderton's Everything I Know About Love. It's a section in the final chapter that, when I first read it, made us really feel 'yes!, this is what love is for us'."
Phillip wanted something untraditional, so it was a wonderful find. You can find it on pages 318-319 of the hardback edition."
Readers – you can see the fully Dolly Alderton reading here in our wedding readings section.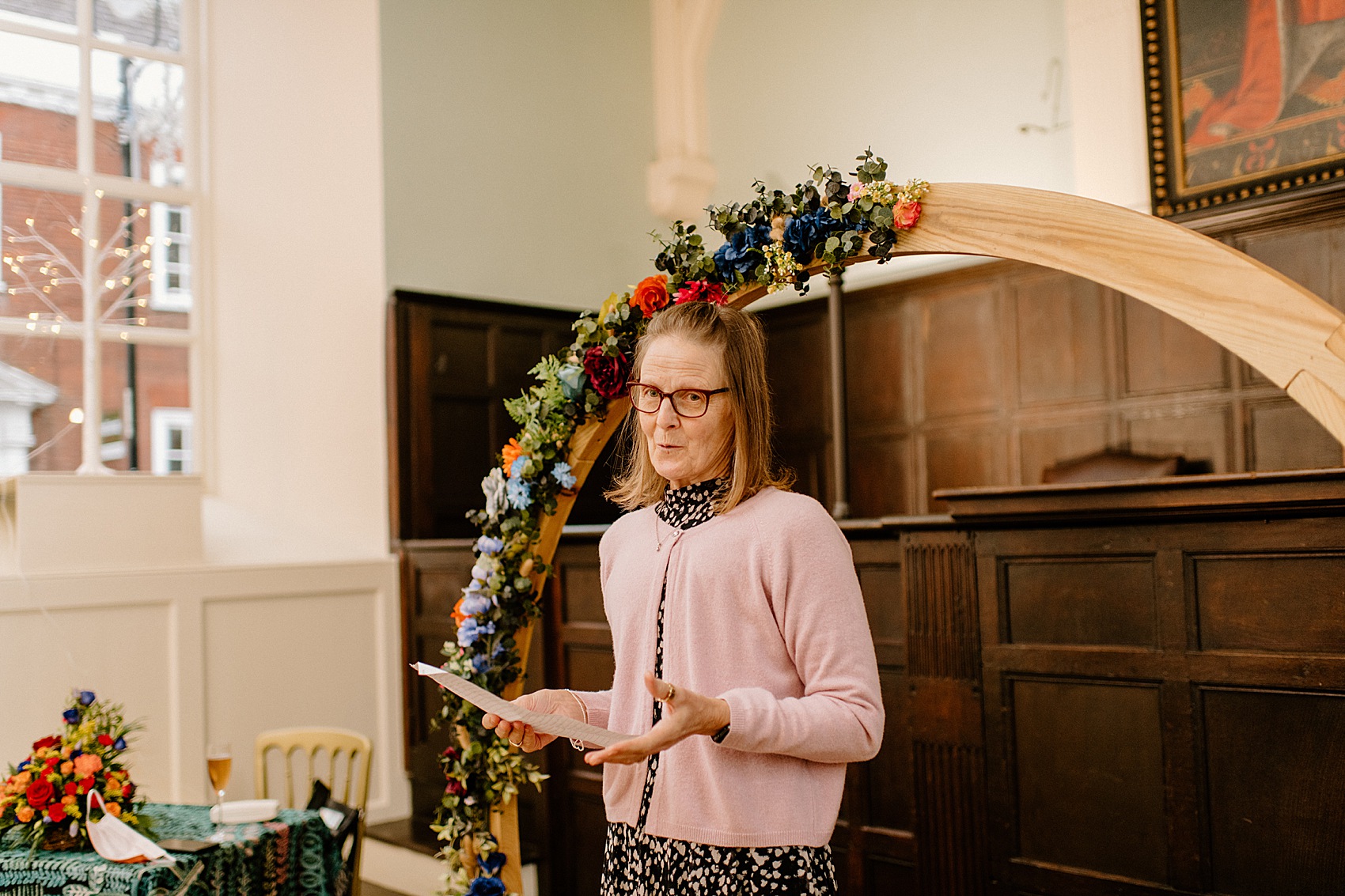 "I wore the Needle & Thread Anais sequin gown in champagne. Even though timing prevented me from buying from them, I have to mention House of Snow Bridal where I went when we were planning for July 2021."
"Harriet is incredible and I fell in love with a Watters Woo gown, but it wasn't meant to be. Harriet still kept in touch and was so kind to me, which meant so much. I would absolutely recommend them to any bride." 
"Both our wedding bands and my engagement ring are from Ernest Jones in Colchester. I chose a super sparkly bridal set, so the two rings would sit beautifully together."
"Phillip wanted something more muted, so his band is a brushed titanium. I cannot tell you how often I stare at my left hand these days."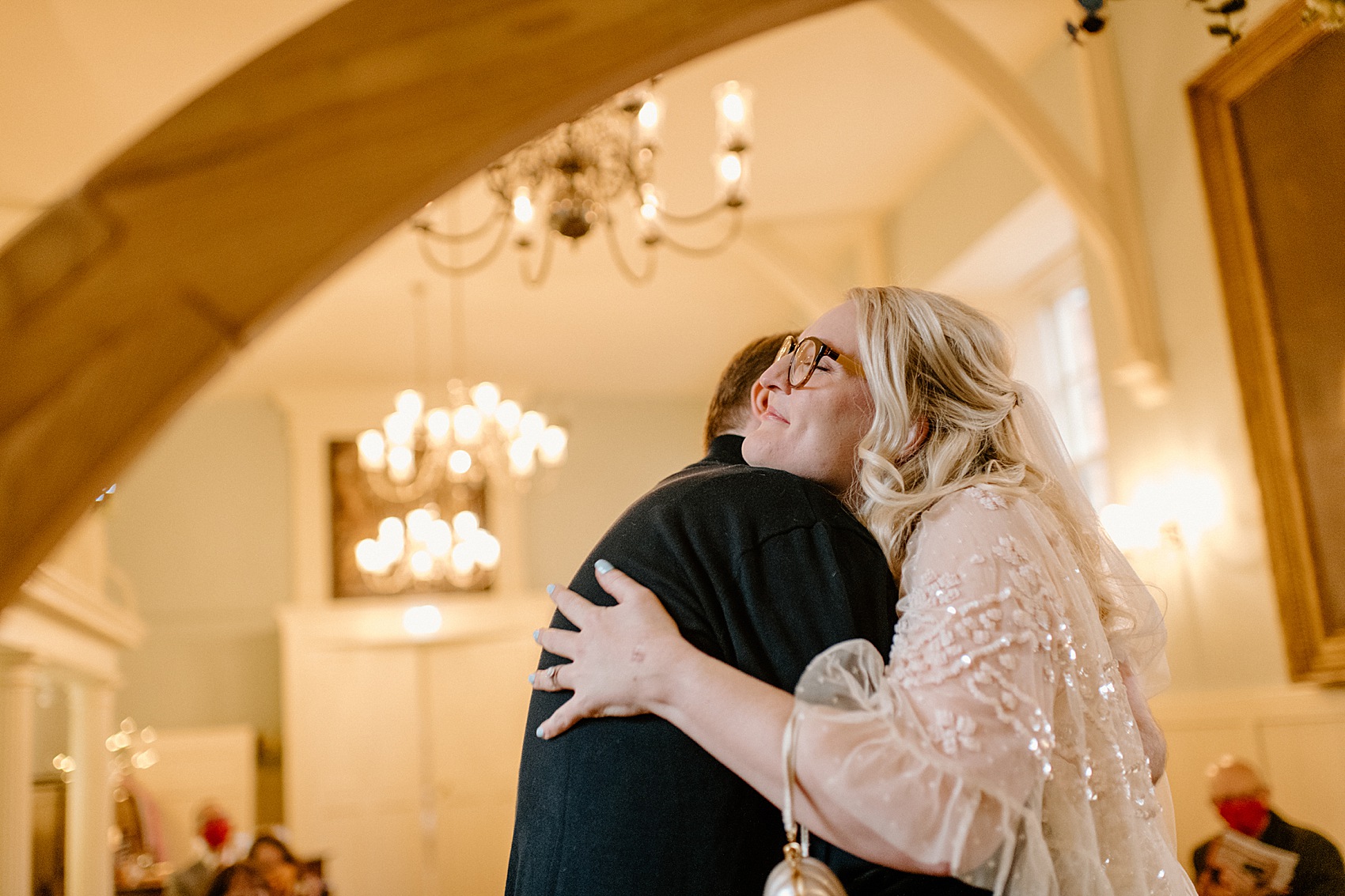 "Our archway was supplied by Sophie at I Loved That who is a friend and colleague of mine. It was customised in our colours and we got so many compliments about it. Plus everyone wanted a selfie under it."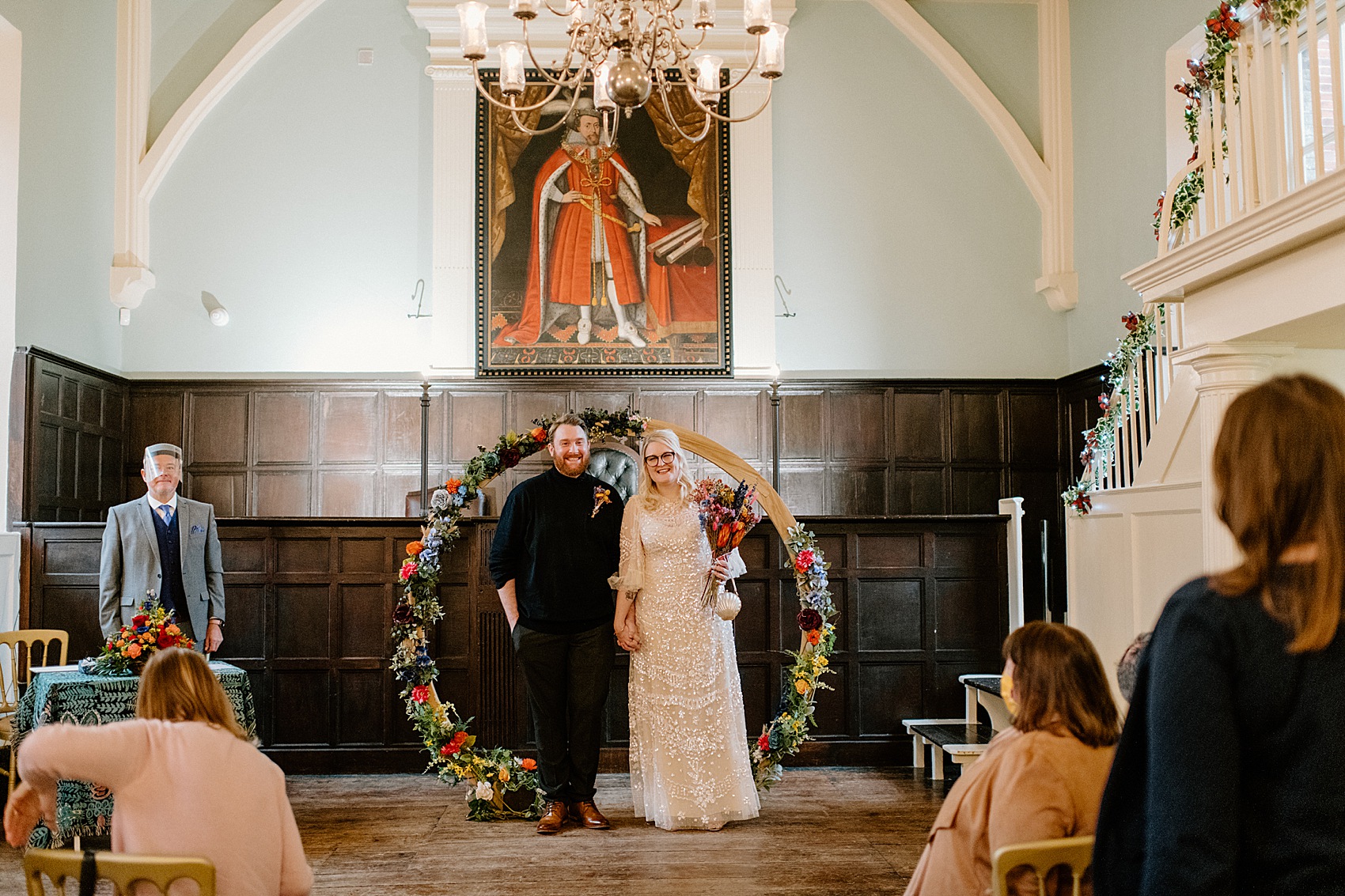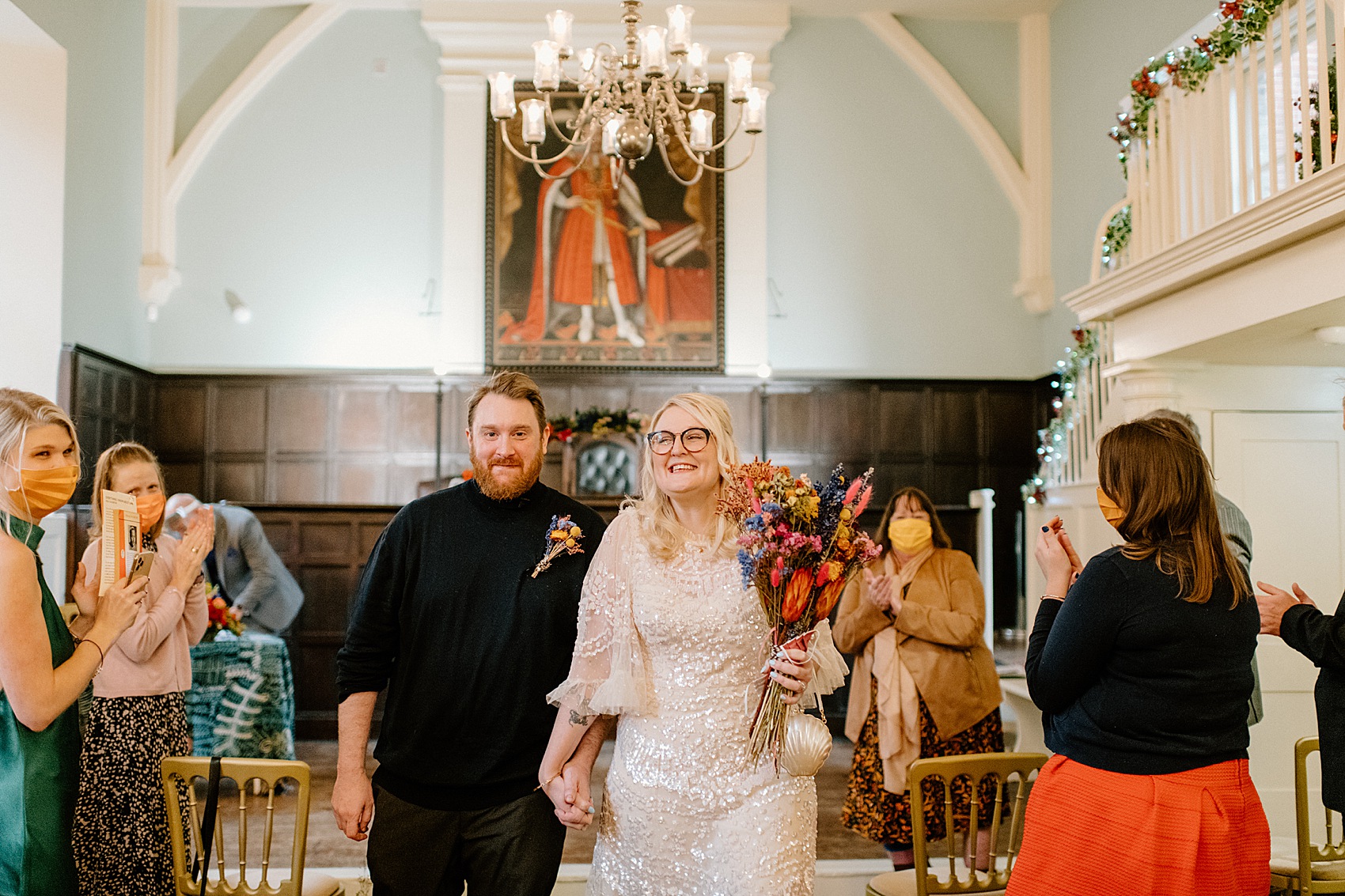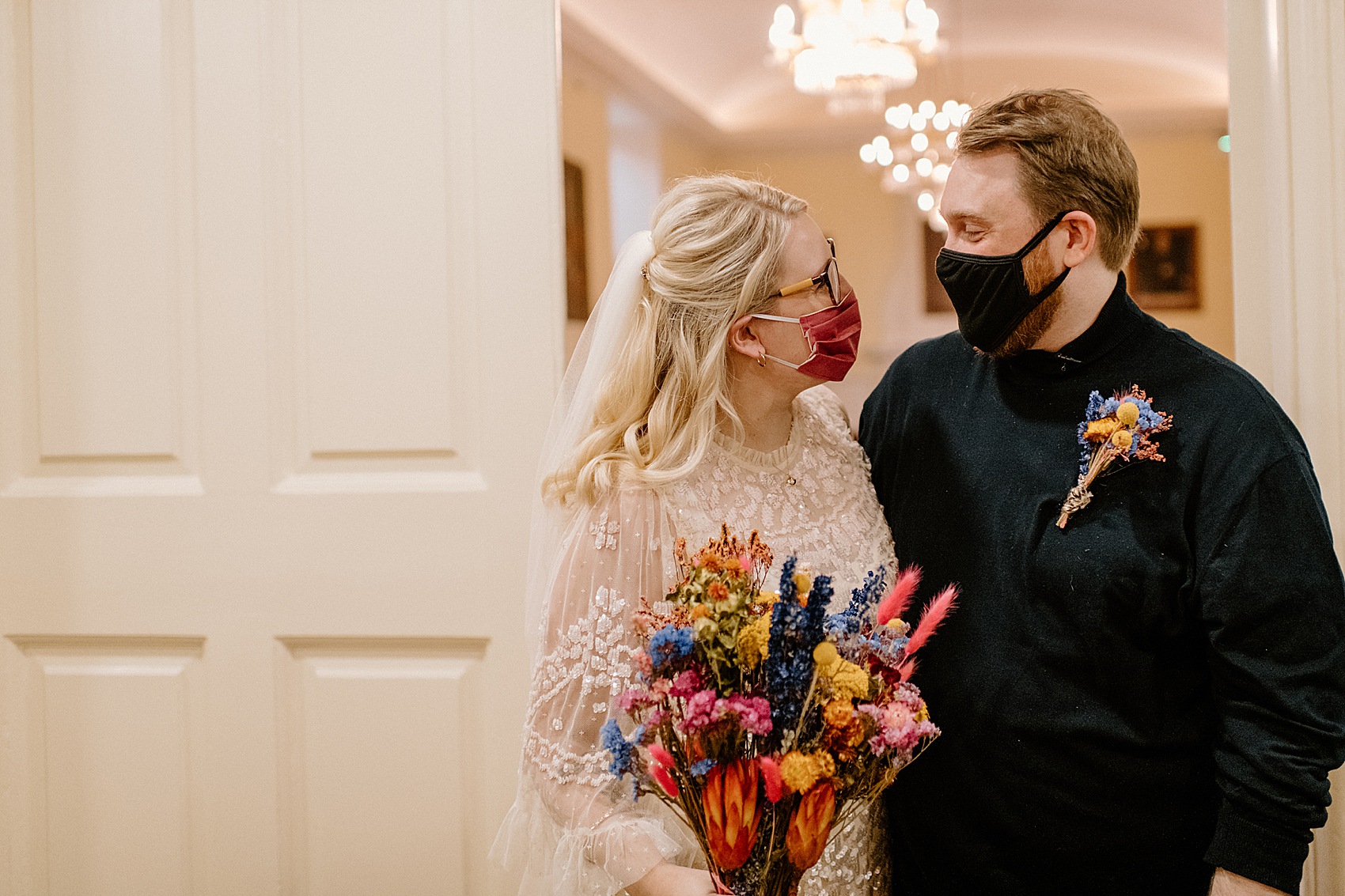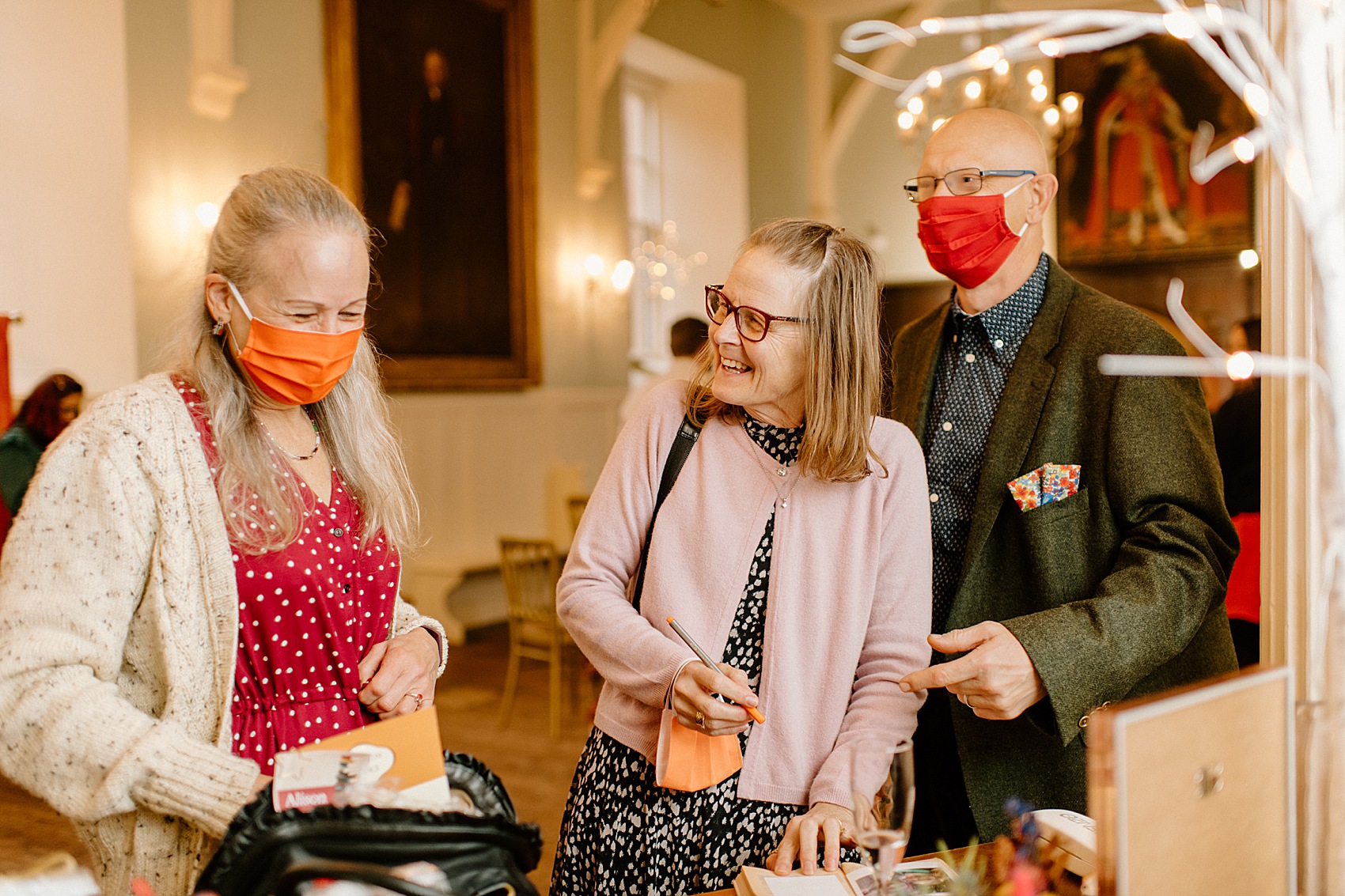 "I let my girls choose their own so they would feel their best. Holly wore a backless, emerald green number from Pretty Lavish and Sarah chose a lace, burnt sienna dress from ASOS."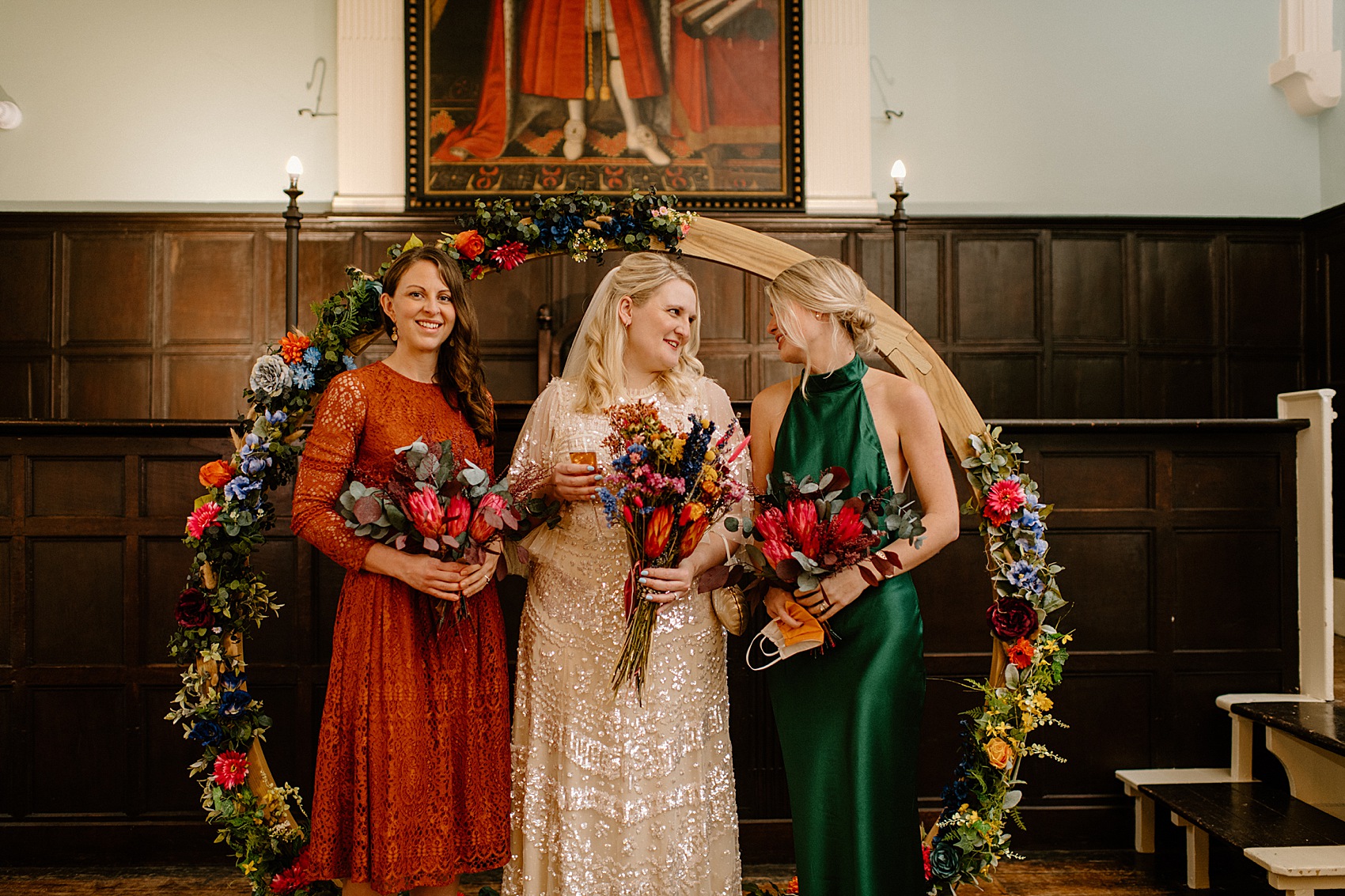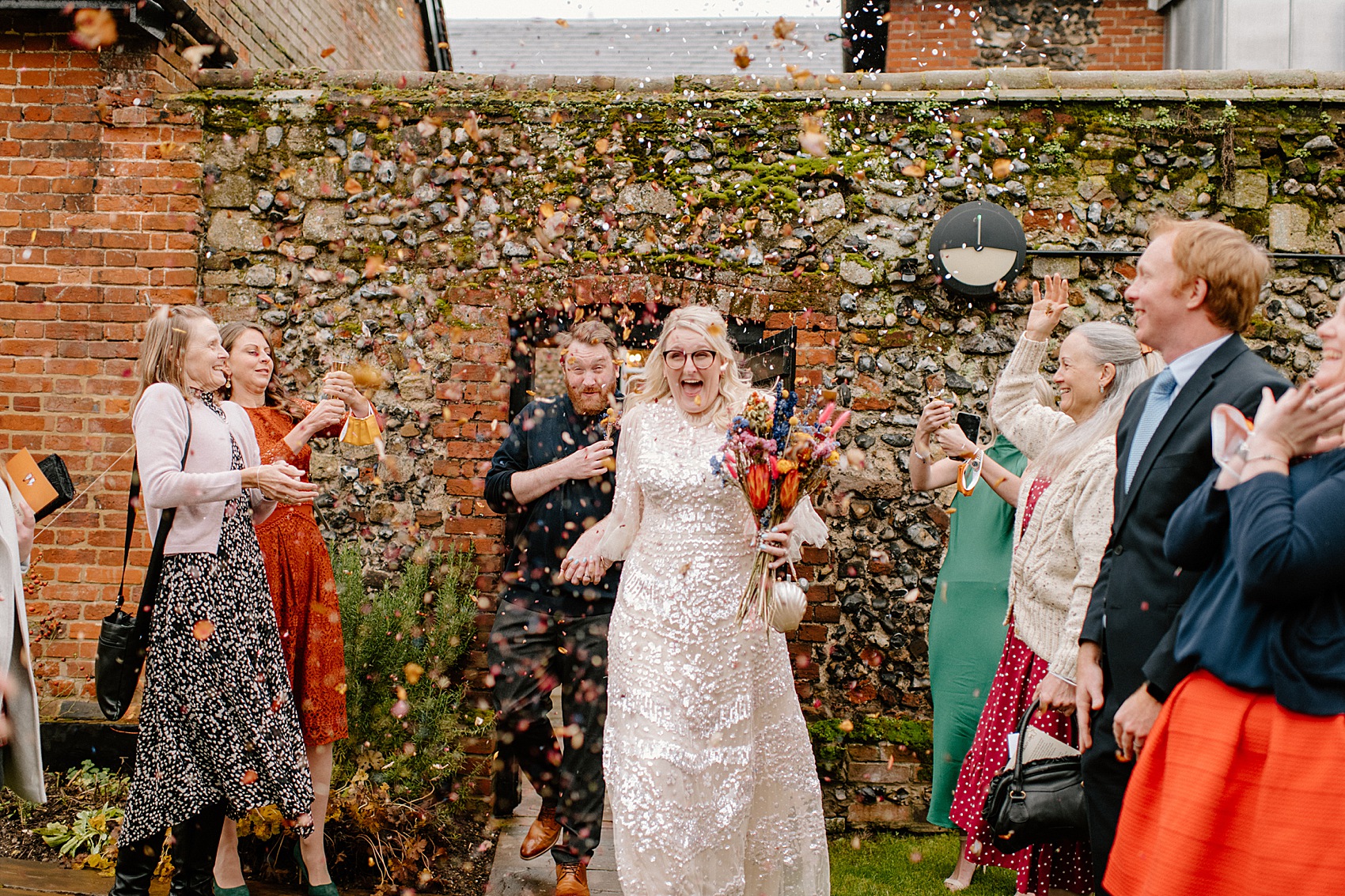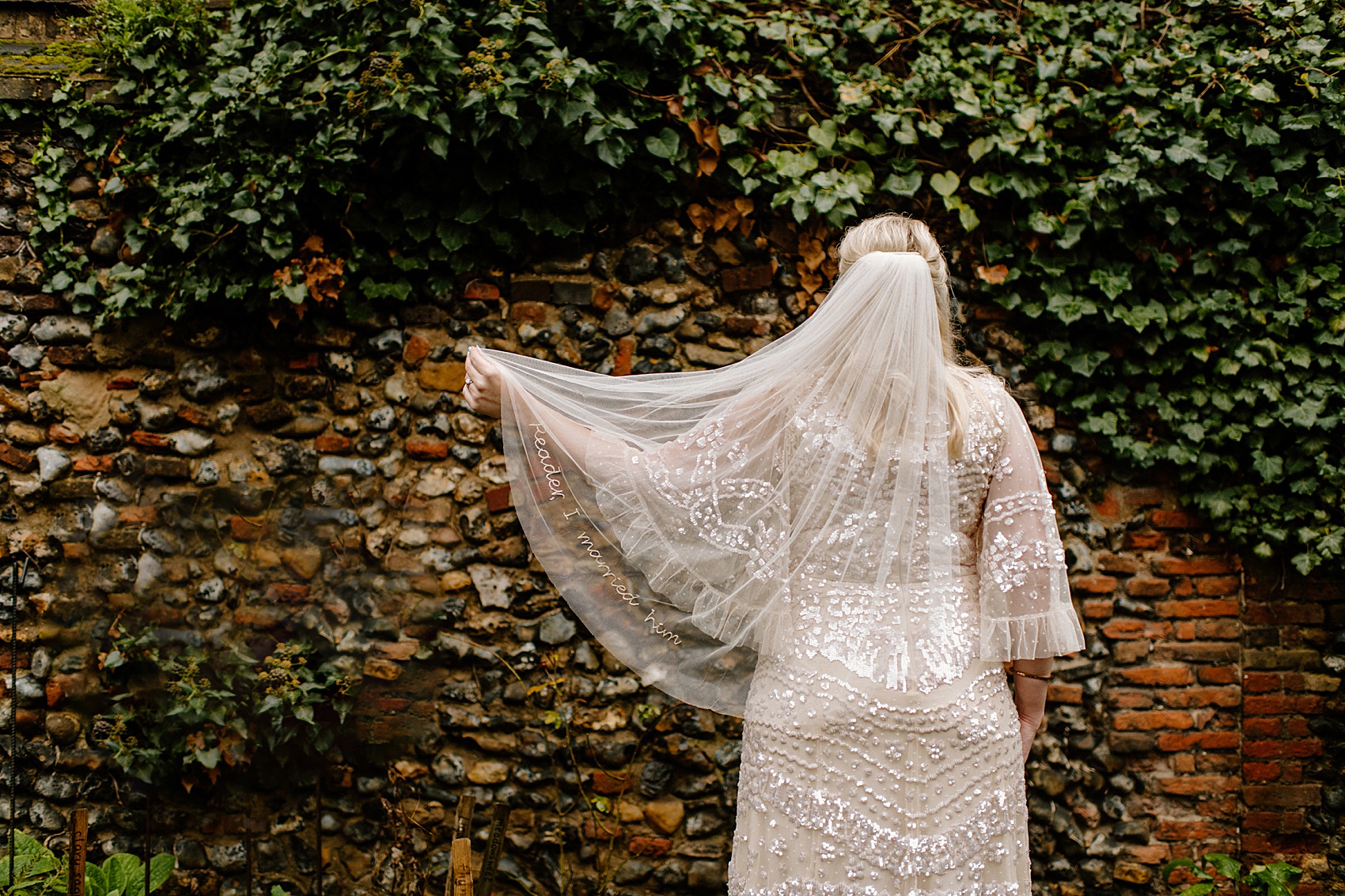 "I wore Sash & Veil fingertip veil in custom dyed Italian tulle. Heather owns a studio locally, so I reached out through her Etsy shop. Heather was so kind and easy to work with and hand embroidered my quote "reader, I married him" into my veil."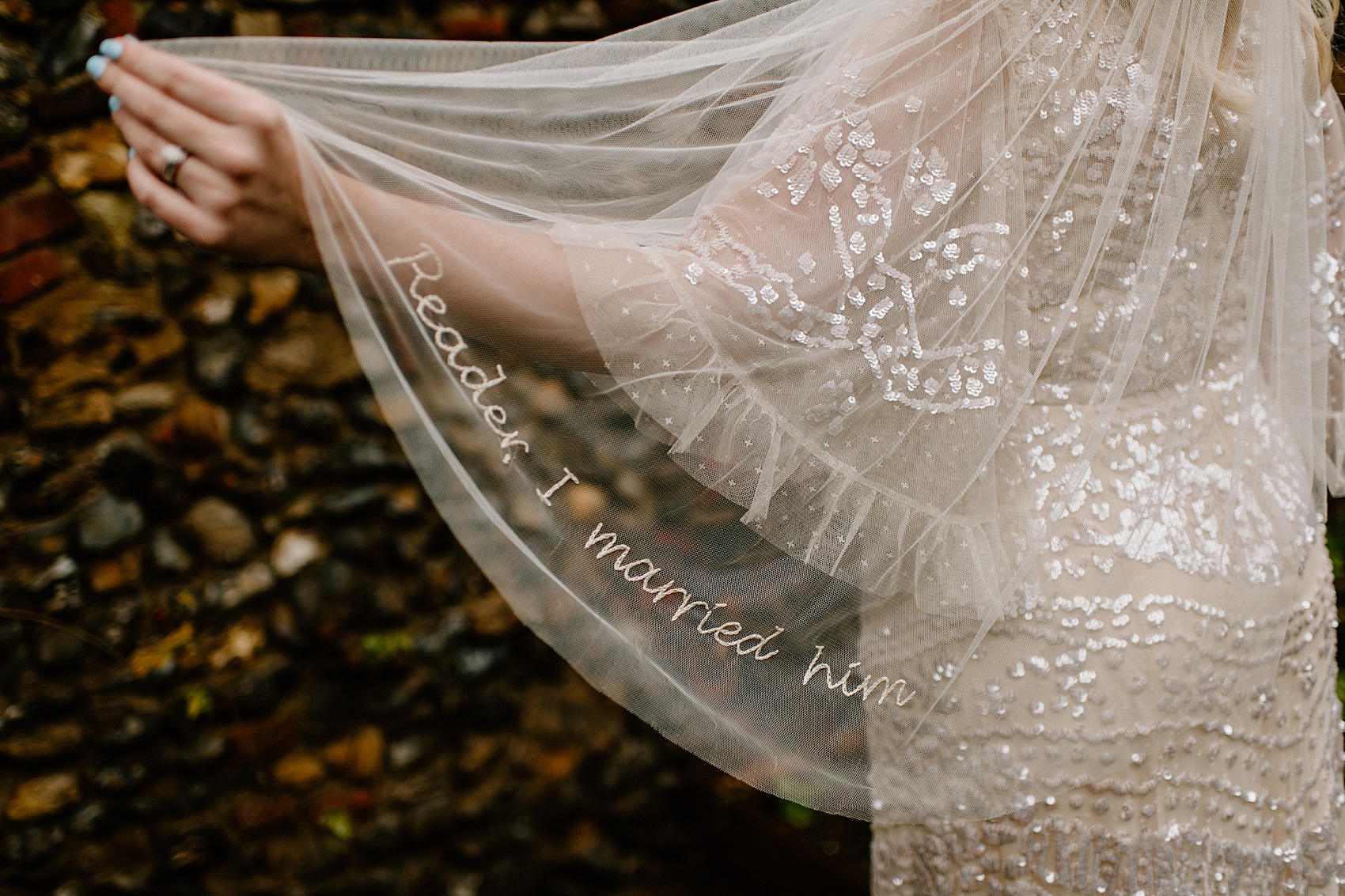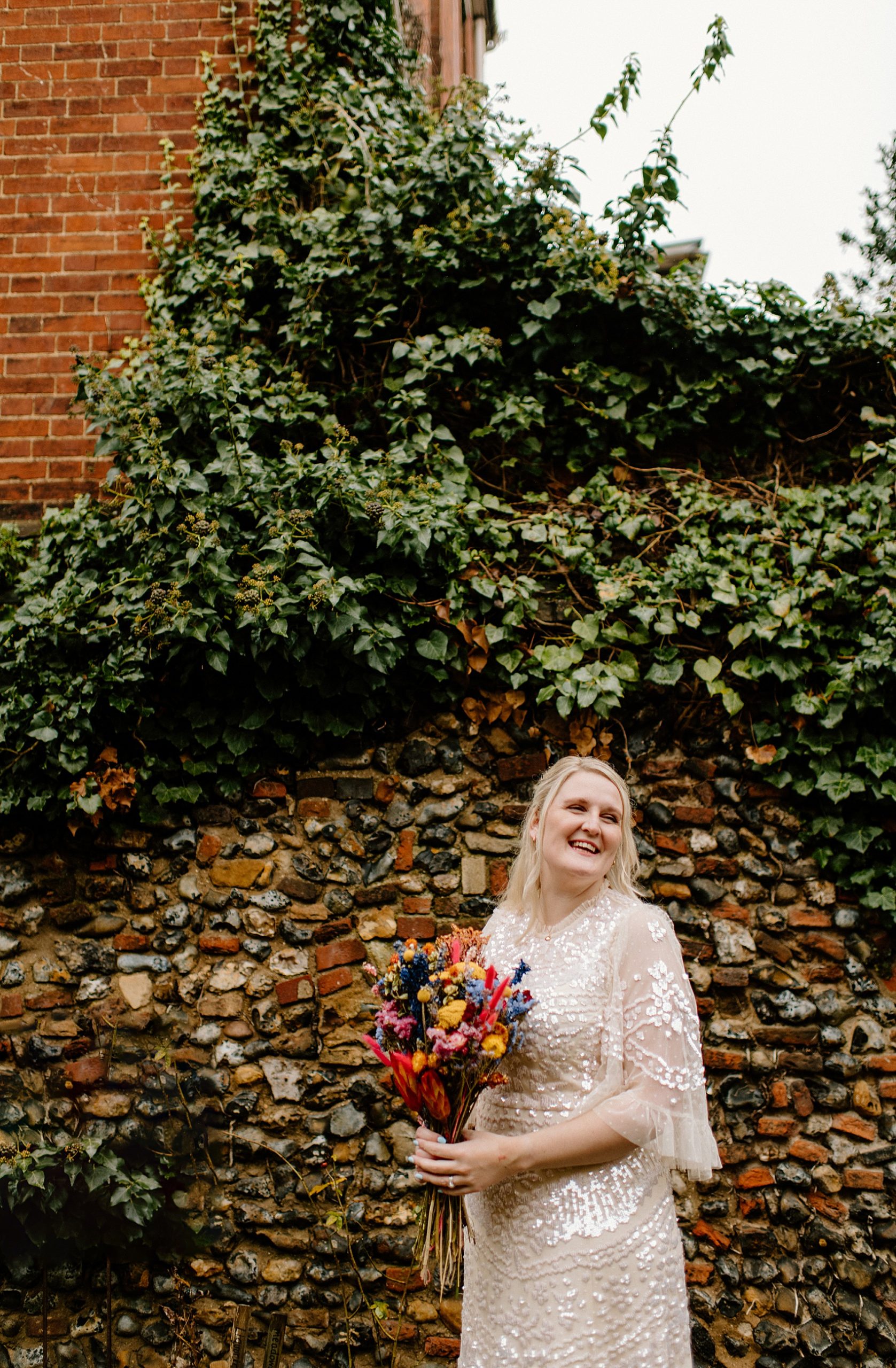 "I did my own makeup, but my friend Louise did my hair and the bridesmaid's too. It was fun because we are all old school friends. My nails were my 'something blue', as I had them done at Beauty at The Bay in Colchester in a gorgeous sky blue gel polish. I love the salon, it's always a luxurious treat when I visit."
"My mum bought me a gorgeous pair of gold hoop earrings to wear. I planned to wear my bumblebee necklace from Alexander Monroe, which was also from her, but Phillip surprised me with a gorgeous locket from Astley Clarke the night before the wedding."
Inside was a picture of us and the back was engraved 'love P'. I also wore a gold bangle from my cousin that has 'be the shiniest f*cking unicorn in the room' engraved on it – it always makes me smile! She got it from Florence and Scovel."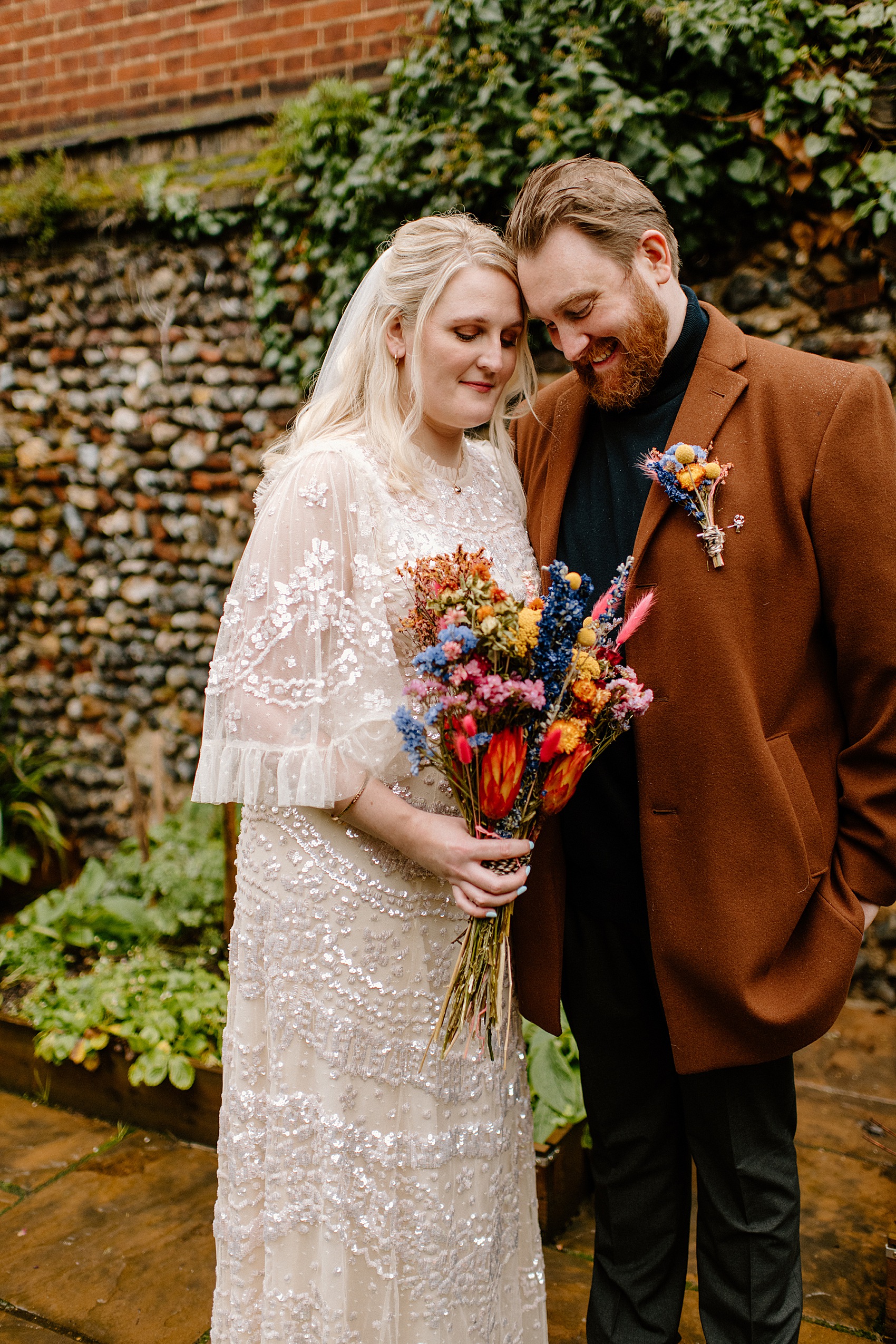 "We chose our venue, because we adore Bury and it's a gorgeous old building. There was so much character and we knew we could decorate it exactly how we wanted to. It has gorgeous, bare wooden floors and a tonne of natural light with super high ceilings"
" I wanted somewhere that would look amazing in photographs in case weather was bad (and that was before moving the date to December). It also has gardens, so we could have a mix of indoor and outdoor photos."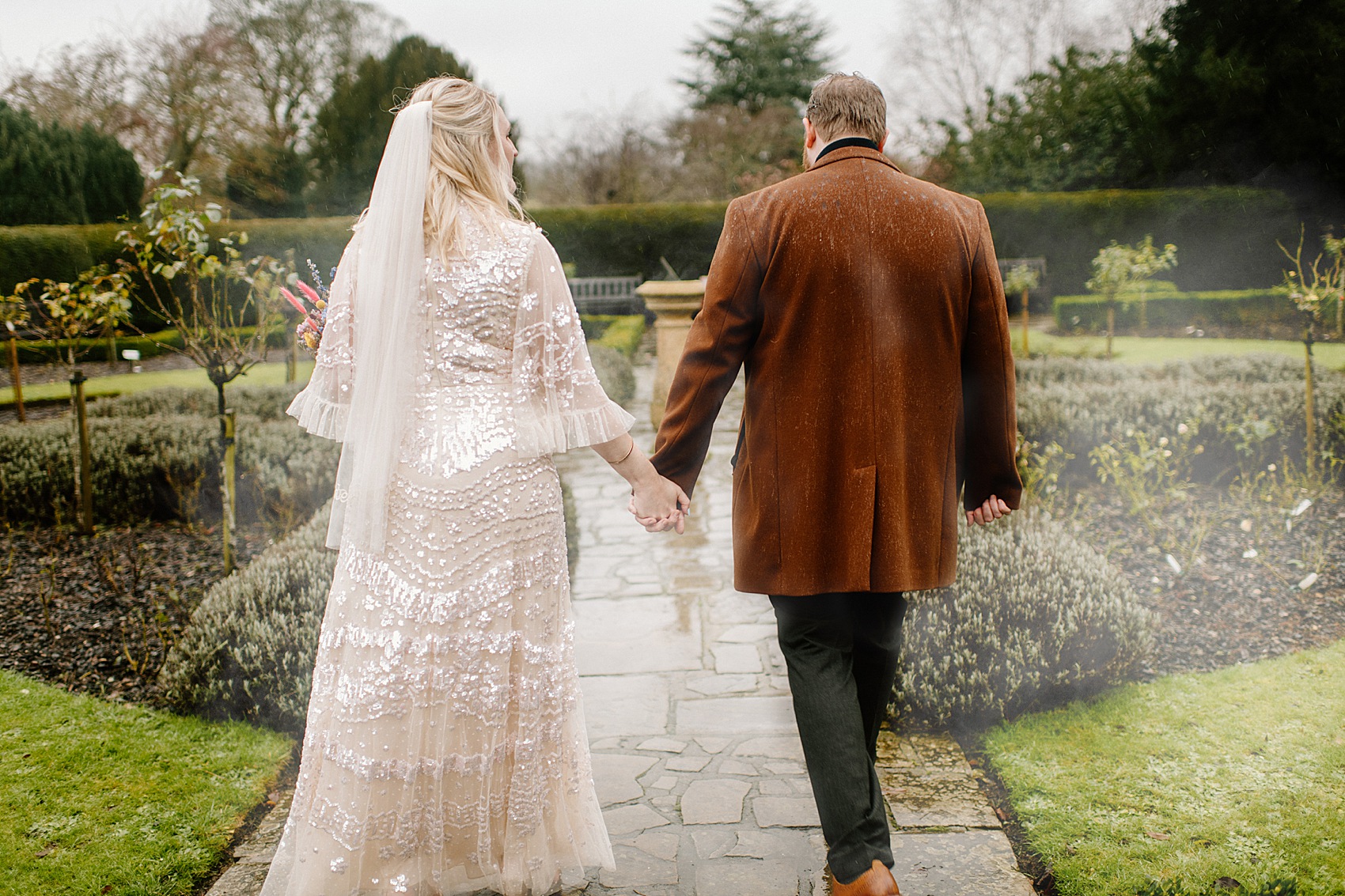 "I wore a pink fur coat from H&M for being out in the cold because I am something of an extrovert. I chose Needle & Thread because the dresses are so intricate, yet have a wonderfully laid back vibe.'
'I love sparkle, and knew that because it would be December and quite dull outside, I could dial up the bling! I loved that I could wear really good underwear because I am not confident in my body and wanted to relax. My gown totally allowed me to do that."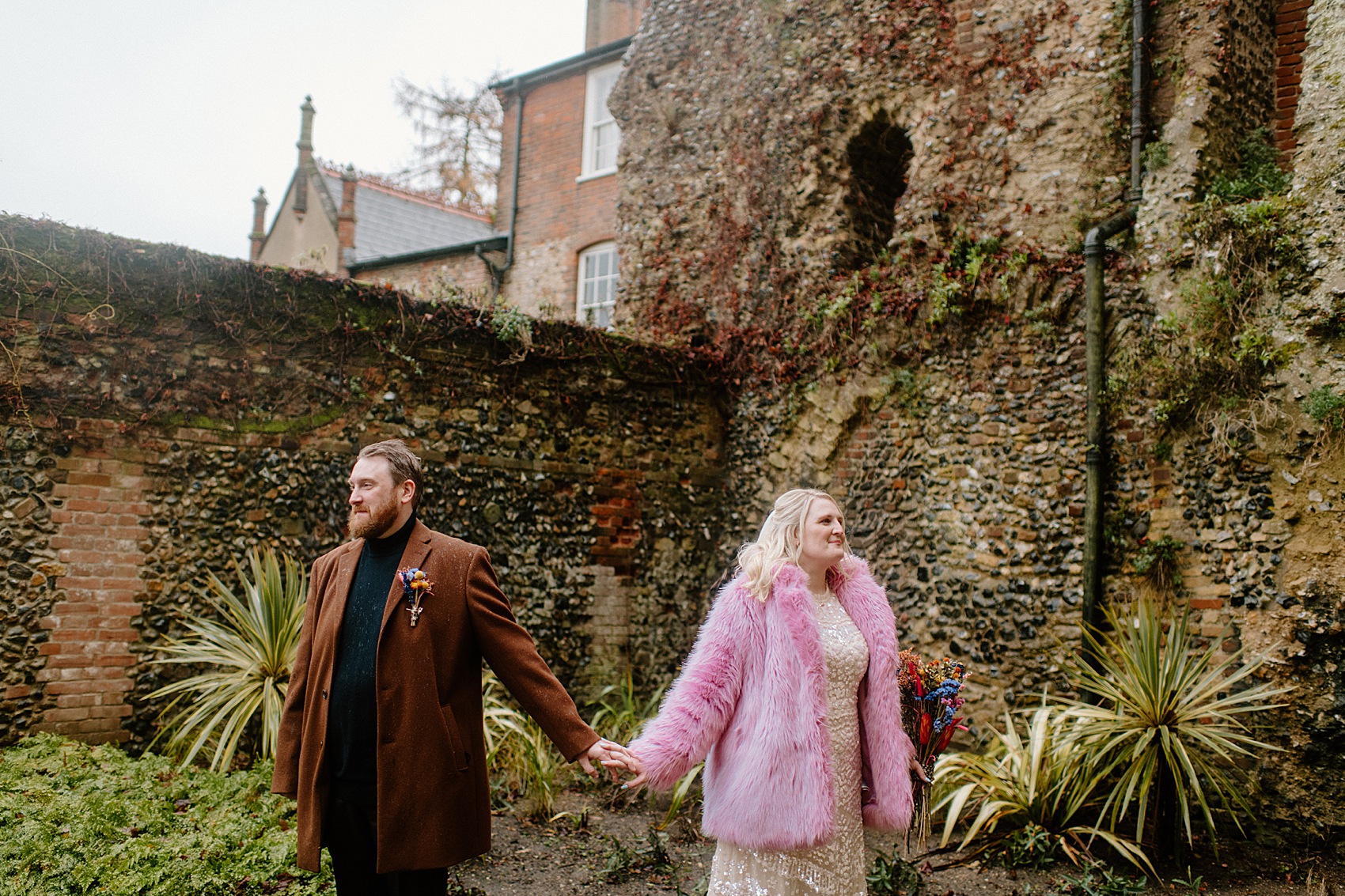 "Our photographer, Ellie Gillard, was recommended by a friend in Norwich. I wanted our pictures to be romantic, with an edge, which I knew Ellie's cool, yet timeless work would achieve."
"Ellie was really lovely to work with, answering our questions, listening to our ideas, and she had to deal with a very rainy wedding day too."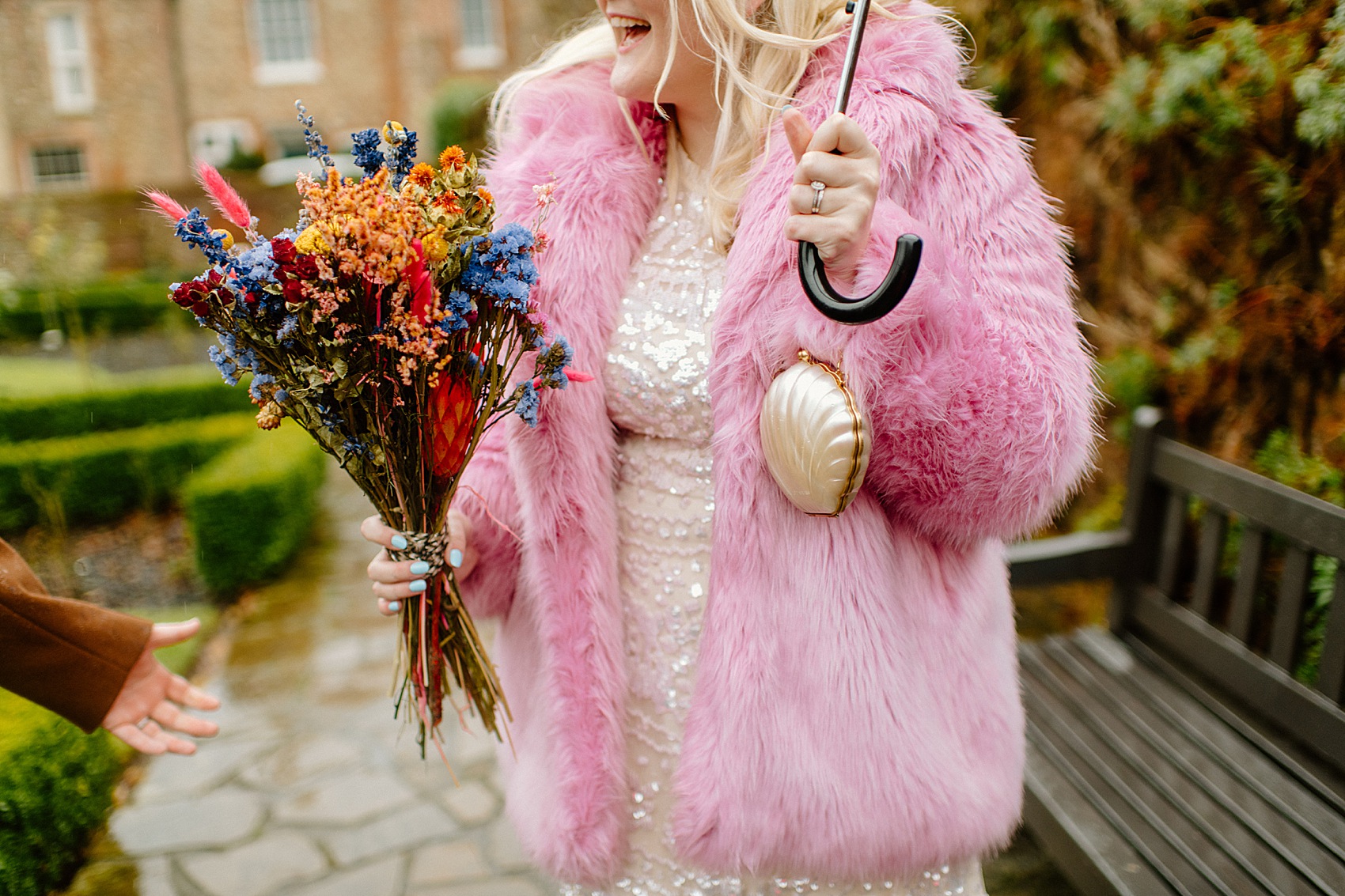 "Our photos will be treasured and we are so excited to frame them and display them in our home. Photography was where we spent the most money, which we planned to do because it's the part of the day that we will have to look back on."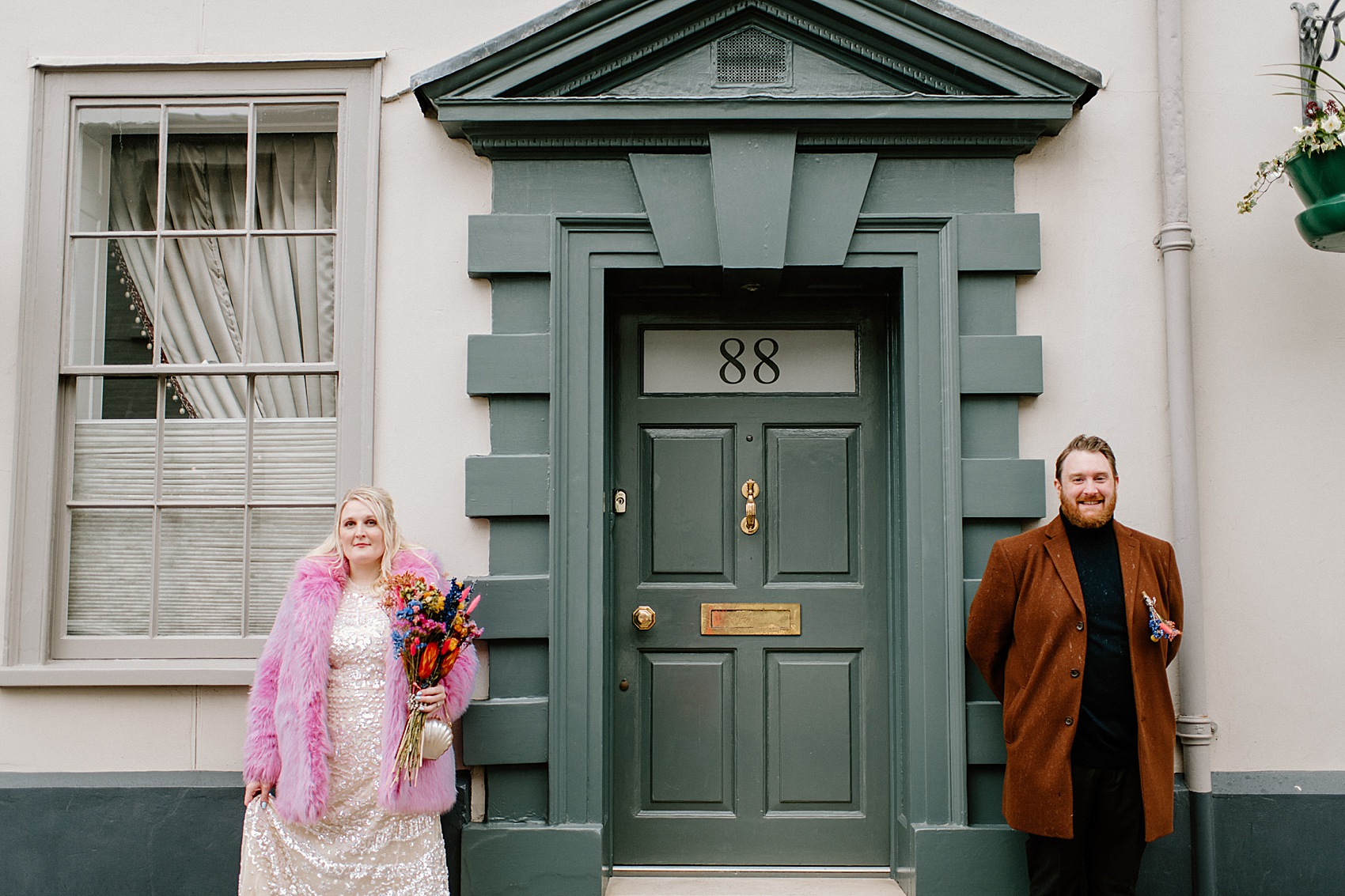 "We chose The Weeping Willow in Bury St. Edmunds for a meal after the ceremony for family only. It's a stunning restaurant with a delicious menu. They put us in the Raspberry Room, which is the most gorgeous shade of pink!"
"Our wonderful friend Ian made one big gluten free carrot cake for our reception meal, and an individual cake in chocolate or vanilla sponge for each guest that couldn't come to the reception to take home. Edible flowers covered all the cakes and they looked amazing. Ian needs to get on Bake Off, stat."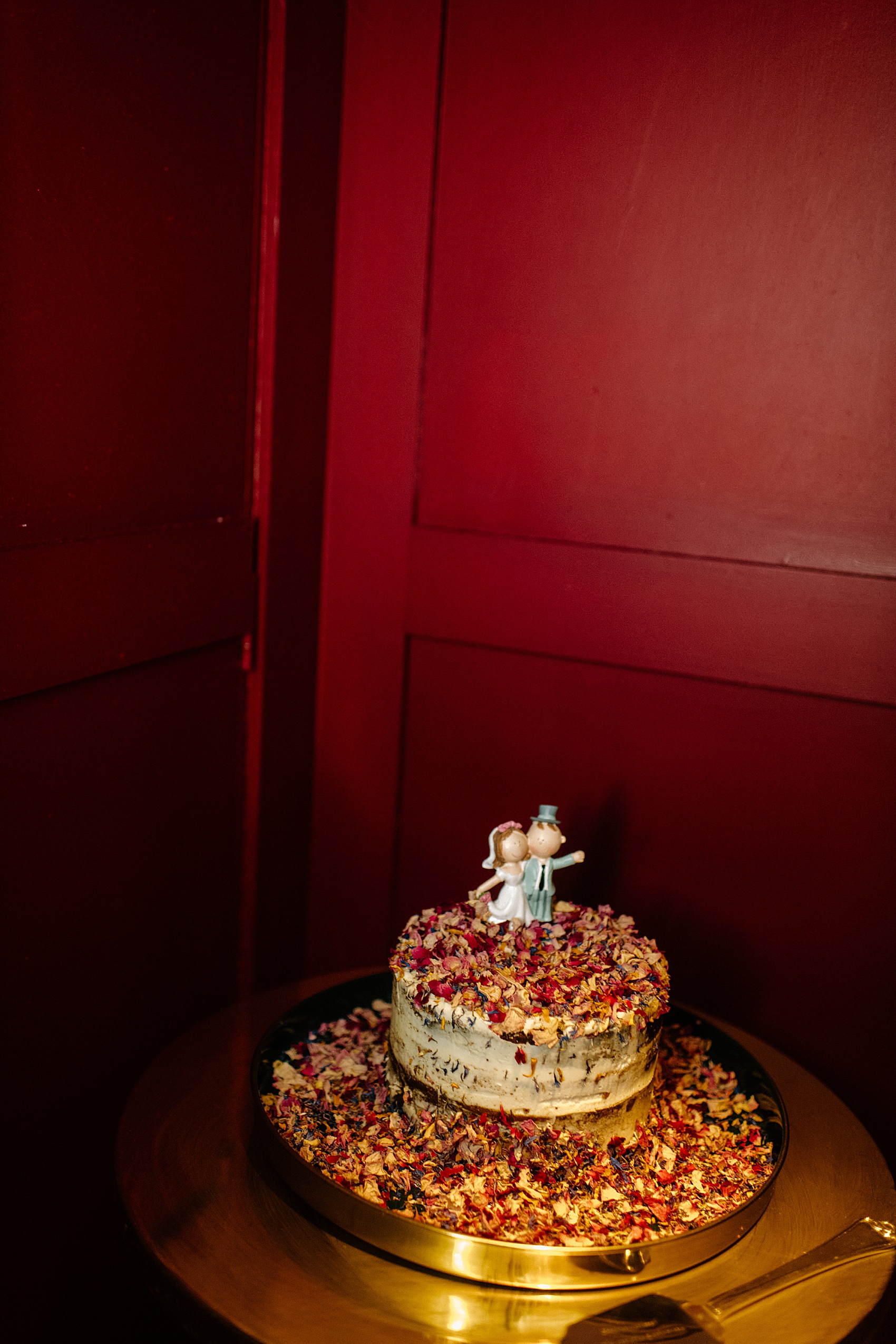 Words of Wedded Wisdom
"Planning most things in life is boring, but a wedding is SO MUCH FUN to plan, so get stuck in! Be realistic about your budget, but don't assume that means you have to sacrifice on style. We pulled in favours from friends and family to help us, and this meant they felt a part of the day as well as saving us a fortune."
"Also, take inspiration, but make the day unequivocally yours. Your unique relationship deserves an equally unique celebration. I used a lot of physical magazines rather than online resources, but honestly most of my inspiration came from Love My Dress."
"I would say for those struggling, to remember that your day will come and it will be so beautiful. However, the delay is on the wedding, not your love for one another. You can celebrate that every day."
"The weddings you feature are 'real' – does that make sense? I may preach the whole 'do what you want to do' mantra, but that can be very difficult for couples nowadays, as social media portrays so many 'perfect weddings', the pressure is on. I sought sanctuary in your blog, seeing wedding gowns sourced from ASOS and affordable options was extremely comforting and helpful."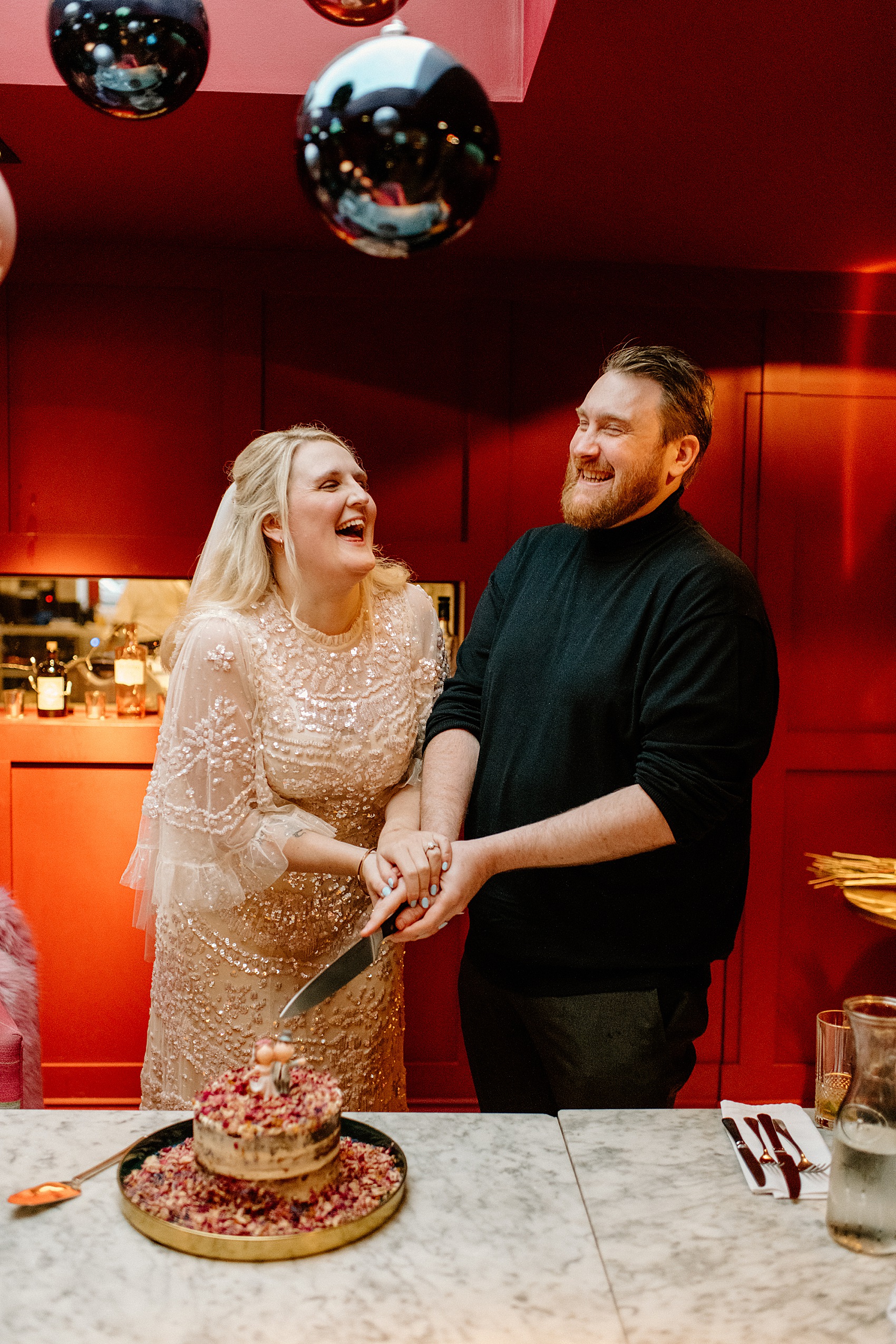 The Wedding Budget
"There's a quote in my favourite movie Father of The Bride; 'I used to think a wedding was a simple affair, I was wrong. That's getting married. A wedding is an entirely different proposition. I know. I've just been through one.'  It makes me smile and reminds me that it's the married part that matters, not how much you spend on the affair!"
"We were pretty adamant that it should be an affordable event, even before the micro-wedding planning switch up, so a £5k budget was set and we had a detailed spreadsheet to track costs."
"We spent just under that, I was so proud of us. That's including my engagement ring and the very expensive hotel we spent our wedding night in. We were very lucky to have friends who helped us though."
"We designed our save the dates with Papier, but then when we went down to a Covid-friendly micro wedding, we decided to just message people to save money and trees."
"When we were planning for a larger occasion with full reception, we had some table number cards made by Origami Fox, which were Penguin themed. We've saved them for when we can have a big party because they are too lovely not to use."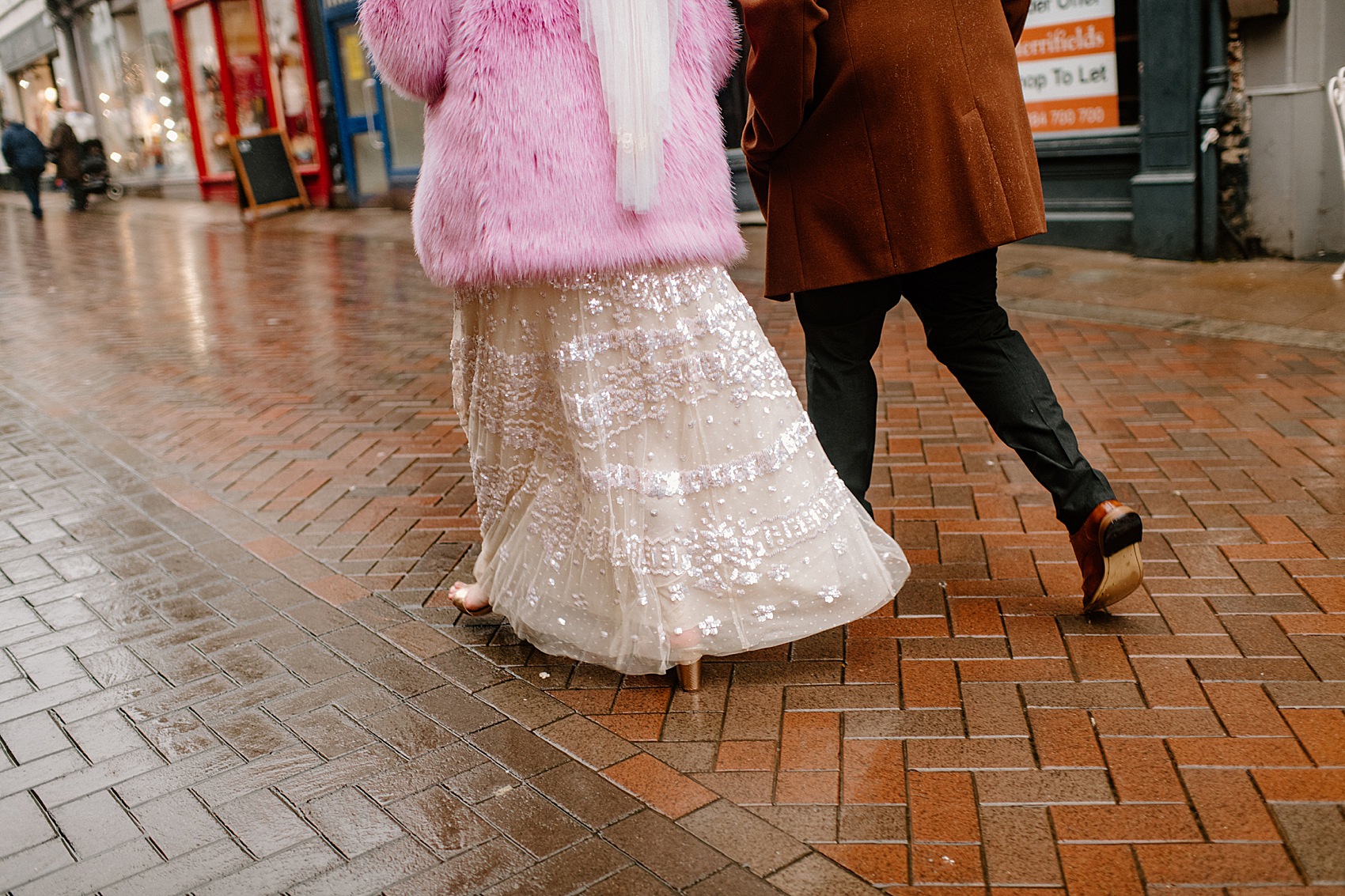 How absolutely wonderful is all of this? Carolyn and Phillip, thank you so much for the incredibly talented photographer Ellie Gillard, whose work I'm very proud to have been sharing for years now on Love My Dress.
Readers – you can find more micro weddings here on Love My Dress, and more Needle & Thread brides here.
Wishing you all a restful Sunday,
Annabel x