Today's international couple are going to completely charm you with their dreamy, whimsical delight of a wedding day, which took place in late wintertime, just as the signs of spring were beginning to gather pace.
Their chosen venue was Dewsall Court, who are part of our lovingly curated supplier directory, Little Book; a wonderful home away from home in which to celebrate. This is the wedding of hair stylist Megan and her love Craig, an actor. They were married on the 29 February 2020 at Dewsall Court – a beautifully restored seventeenth century estate in the Herefordshire countryside.
Marta May Photos

+ Follow
"We wanted a vintage English countryside feel. Something romantic and whimsical that felt warm and homely. We chose Dewsall Court because it's magic and felt like home."
Megan made wedding invitations, menus and place cards with paper from The Paper Recyclery. Graphic design came courtesy of Lisa K. Weber, whilst elegant letterpress printing was by Ladybones Print Co.
Megan and Craig are based in Los Angeles, where Megan is a hair and make-up artist. As such, she always thought she would take care of her own grooming on her wedding day, but after listening to advice from clients and friends, she decided to give herself a well-deserved pampering by securing the services of the brilliant Nicola Harrison for her make-up.
"I found the wonderful, talented Nicola, and her work was stunning. Because I wasn't going to be able to have a trial run until I got to the UK a week before the wedding, we had many conversations about what I liked and my concerns."
"I was absolutely blown away by her and her talent. She was so knowledgeable on everything from make-up to nails to skincare. I walked out of my trial feeling beautiful and excited. On the day she was my angel."
"Her presence with us getting ready was so lovely. I'm so thankful to have found her, and that I pampered myself that day. I have never felt so beautiful. Her make-up was so natural, I felt like an enhanced version of myself."
To perfectly complement her show-stopping dress, Megan wore a blusher veil by Amanda James Bridal, embroidered with the couple's initials and their wedding date.
On her feet, she wore Prada heels (with a pair of boots to walk safely to the wedding chapel!) and she was also gifted a necklace by Tiffany & Co. from her mother (at their rehearsal dinner) and a bracelet by David Yurman from Craig.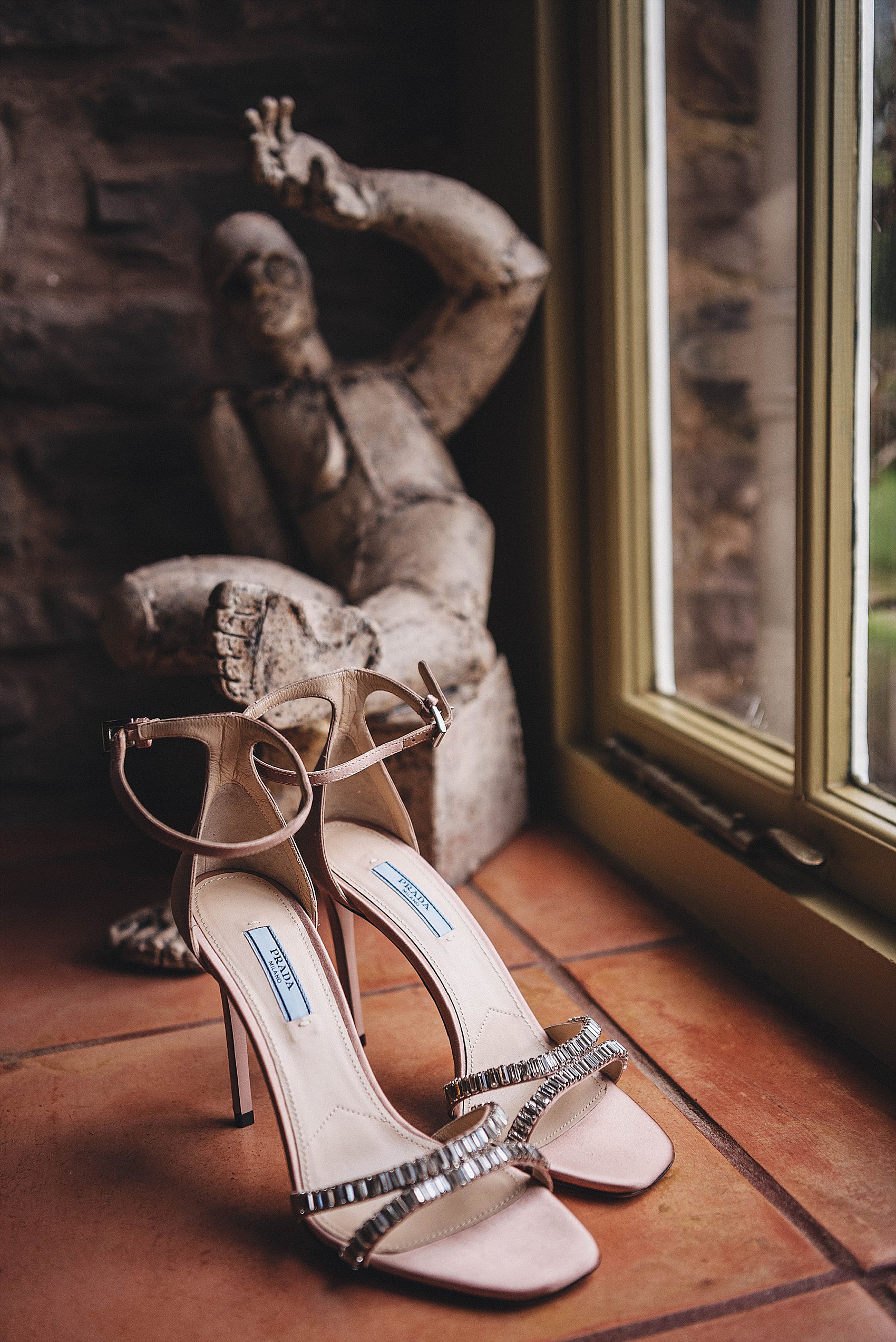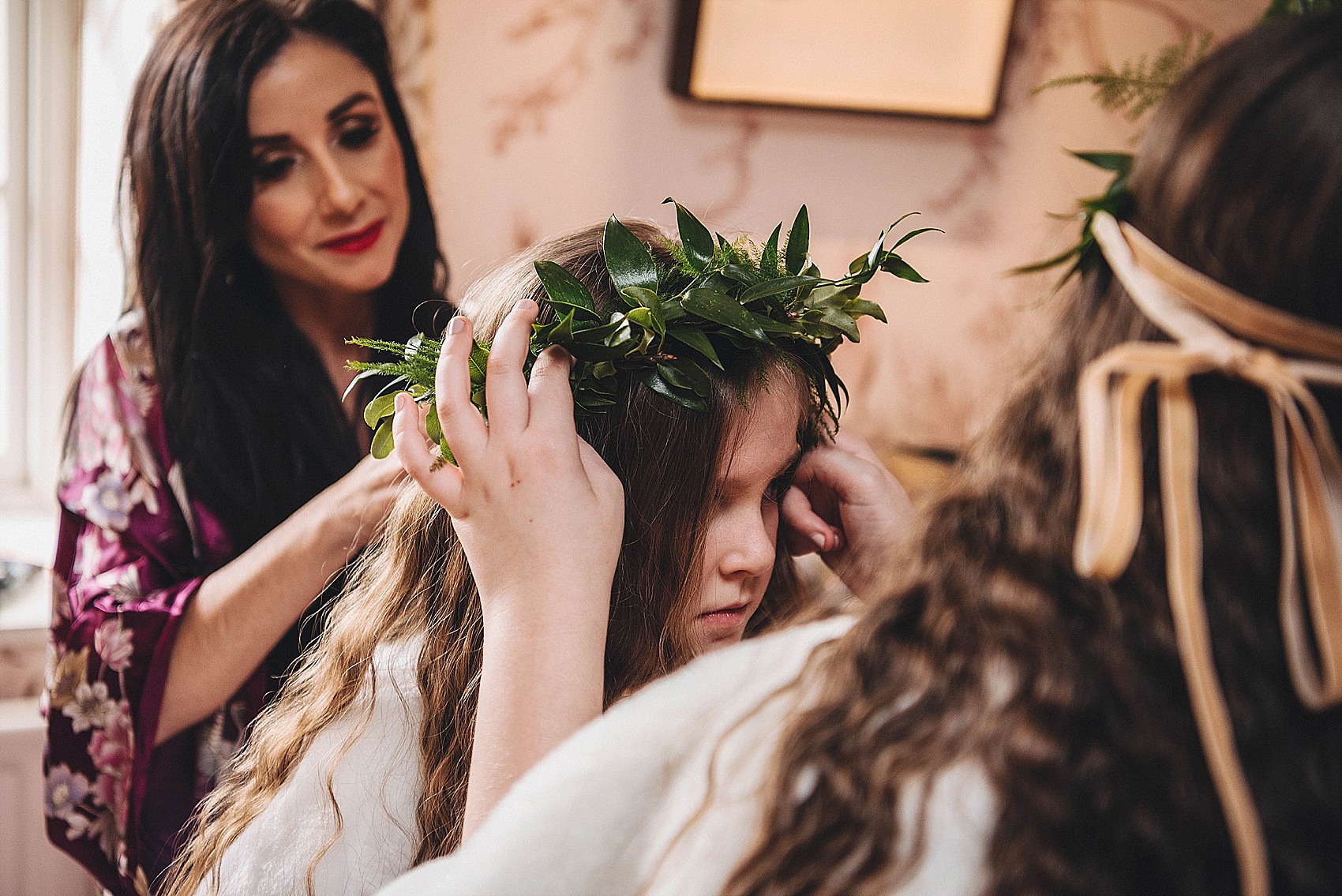 Megan's exquisite wedding gown was a lovingly handmade, bespoke creation by Amanda James Bridal, who is based in Los Angeles. After visiting Amanda's atelier, Megan decided on a beautifully cut corset with sweetheart neckline, paired with an ethereal skirt, both in a striking angel wing motif tulle and lace – with an embellished belt accent.
"Being an artist and hair stylist, I wanted my wedding dress to be special and unique. Craig and I had a 2 year engagement but I wasted no time in the quest to find my perfect wedding dress."
I started out excited: my first dress shop was in Beverly Hills with one of my Maids of Honour. We drank champagne and had a fashion show of dresses. The second time was in San Franscisco with my Mom and mother-in-law."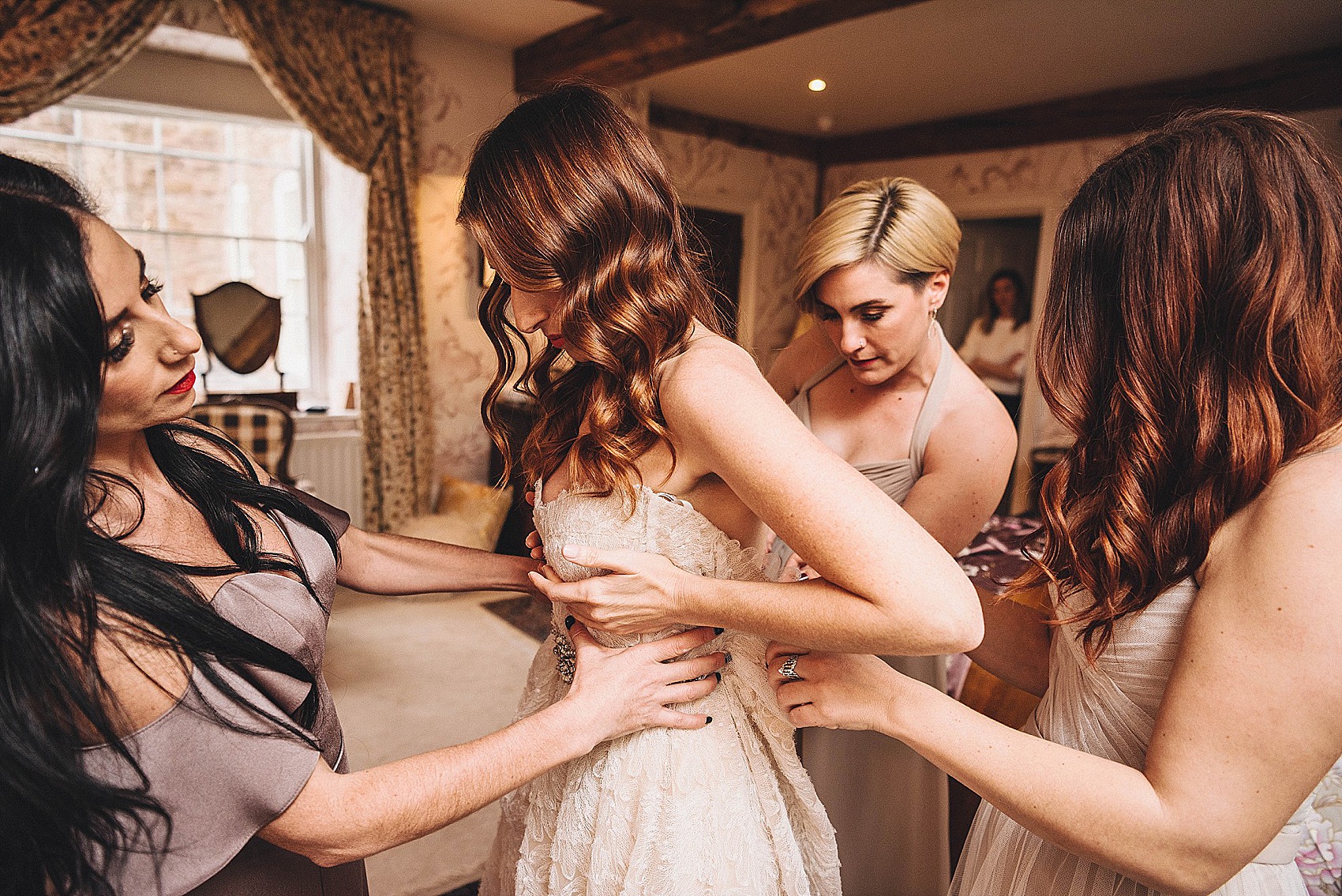 "I spent the next couple of months researching dresses on Instagram and going to different shops trying on dresses. I went to so many I eventually started going alone. I started to wonder if that movie moment of finding 'The One' was really true."
Feeling discouraged, I stumbled upon a photo of my friend Kelly on Instagram in this amazing silk wedding dress from an up and coming designer in Los Angeles."
"I immediately looked at their website and made an appointment ASAP. I decided to take my fiance with me this time – he didn't come in with me of course!"
"We made the trek to downtown LA to Amanda's showroom. Craig escorted me to the door of her shop, which is on a top floor overlooking the city. Amanda greeted me with her warm smile. I sat down with some sparkling wine and we discussed what I was looking for in a dress, and the vision for my wedding."
"I tried on three different dresses before 'The One' moment happened. I put on the dress, which was originally a two-piece. The top was originally a nude corset and the skirt was made of tulle like I had never seen before – it looked like angel wings. I asked Amanda if she would be open to creating my vision based off this outfit, and she was. I said yes to the dress! Craig picked me up an hour or so later."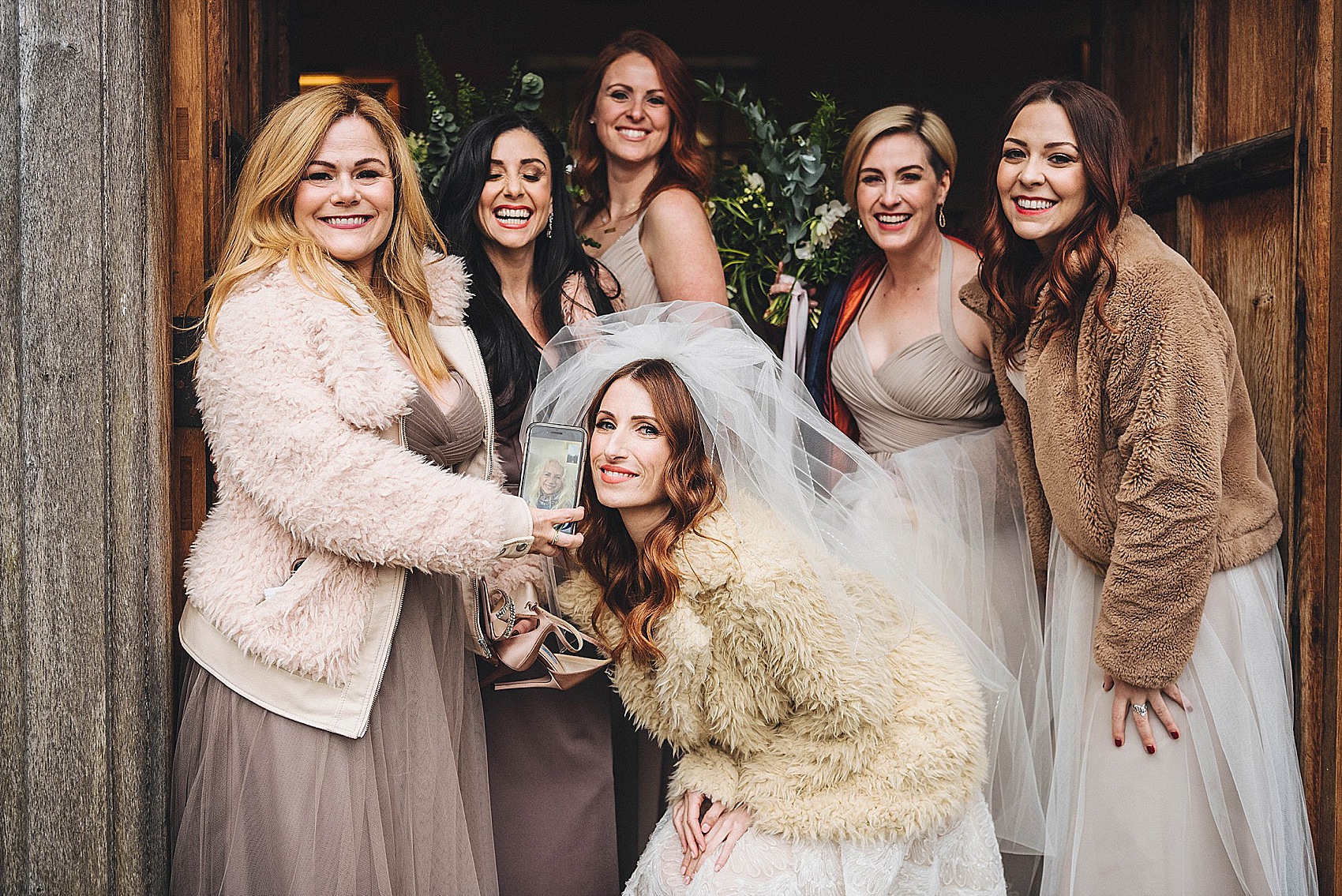 "Over the next year and a half I would have many appointments with Amanda, each more special than the last. My dress was custom-made to fit my body perfectly. It was everything I could have dreamed of."
"I couldn't recommend her more. It was such a personal experience to get to work with my wedding dress designer. Amanda is such a talent, and I felt honoured to one of the first handful of brides she worked and created with after she launched her first bridal line. I loved that no-one else had worn my dress."
"Craig wore a wool suit in racing green from ASOS. Craig loves fun socks, and on the day he wore one sock with peanut butter and jelly sandwiches, and one sock with pugs on [we have two pugs]."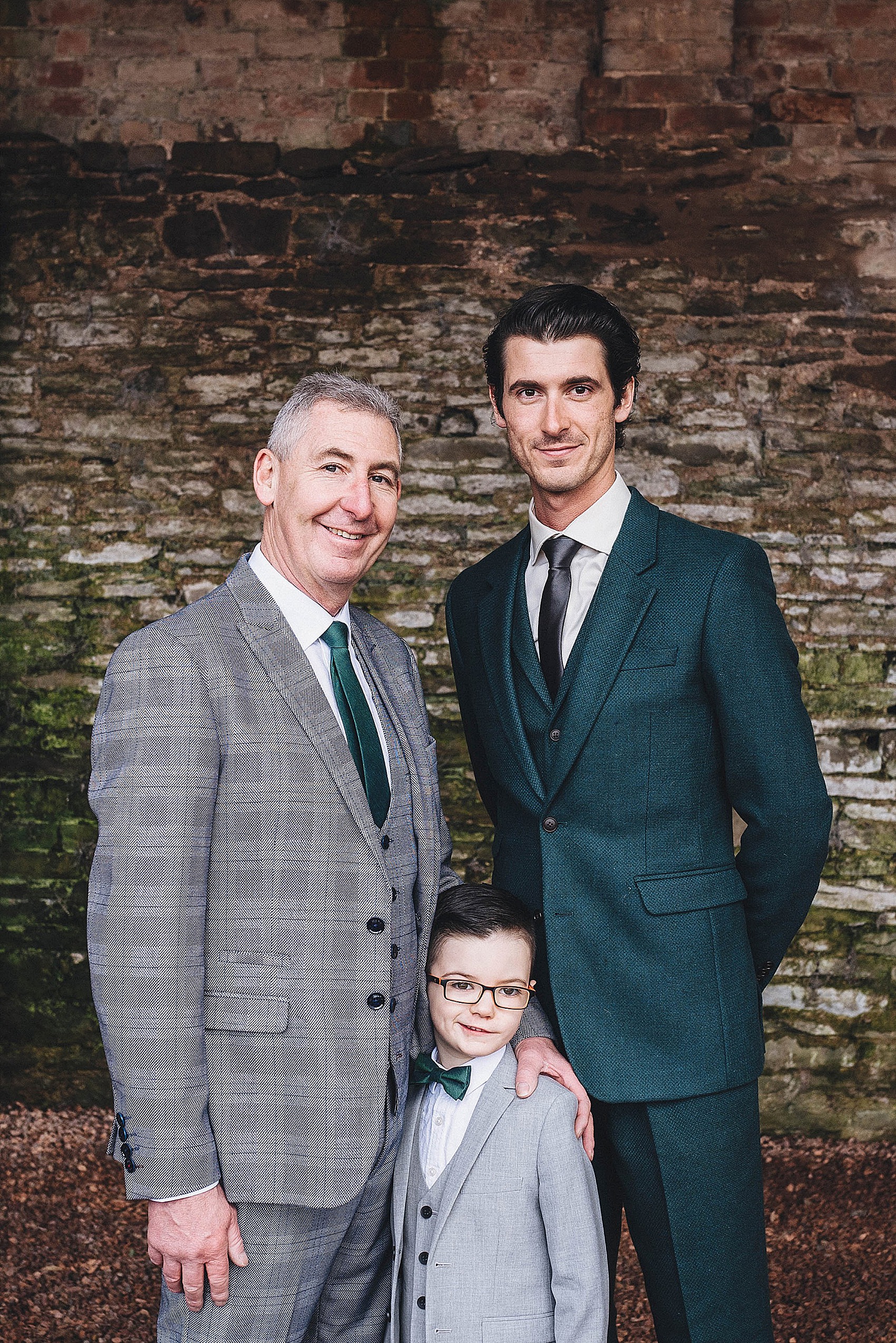 Megan and Craig decided to hold their ceremony in the on-site chapel at Dewsall, and there Craig awaited the arrival of his bride, as she and her bridesmaids took a rainy walk through the grounds to reach him.
Inside the chapel, the aisle was lined with glorious blooms by The Cotswold Florists, and Megan carried a beautiful bouquet of roses, hellebores, sweet peas and greenery. Her brief for the floral arrangements was wild and whimsical, and Hannah and Hilary most definitely delivered!
"My younger brother walked me down the aisle, as my father is no longer with us. I walked down to Somewhere Over The Rainbow by Israel Kamakawiwoʻole as a tribute to my father, who was Hawaiian."
The couple were able to customise their ceremony, with deeply heartfelt vows exchanged alongside rings by David Yurman, and a beautiful reading of Shakespeare's Sonnet 116 [one of my own all-time favourites, too!].
"Our favourite part of the day was seeing each other for the first time as I walked down the aisle."
The sweet flowergirls wore ivory dresses and cosy capes from David's Bridal, whilst the bridesmaids looked wonderful in taupe and champagne hued tulle dresses from Kleinfeld Bridal, with different faux fur jackets to complement the excellent one worn by Megan (sadly no details provided about this!) to ward off the damp February chill in the English countryside!
"I gifted my bridesmaids necklaces with their names and birthstones from Robyn Rhodes, a local LA designer."
Outside after the ceremony, there were kisses and confetti, and Craig carried Megan through the kissing gate at the end of the chapel path, and through into Dewsall's lovely gardens.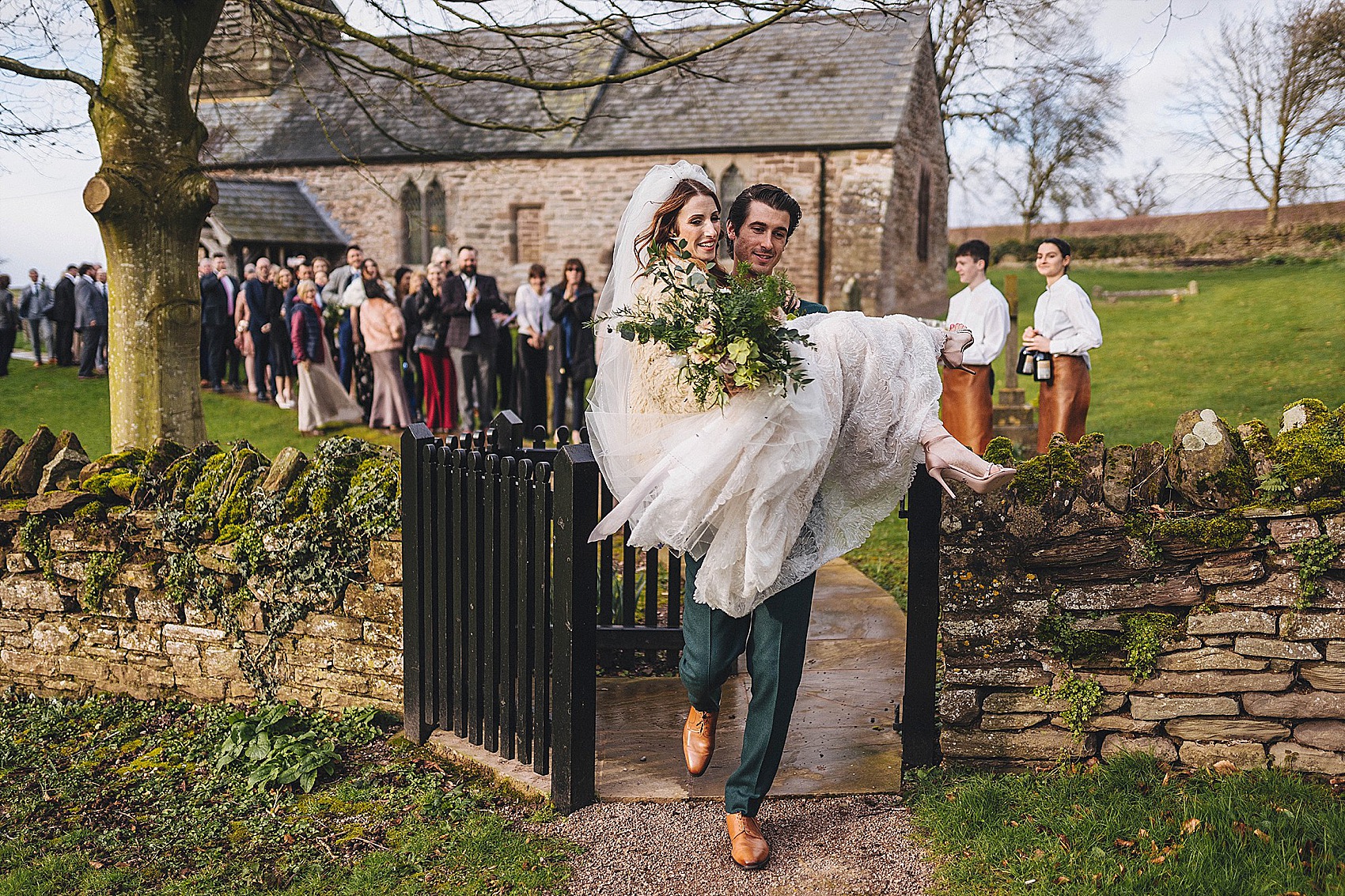 We have the combined talents of Marta May and her husband Artur to thank for these sensitively captured and completely enchanting images of Megan and Craig's day.
"Our photographers were amazing. It was clear from the start that this wasn't just a job for them, it was a passion. Marta's enthusiasm overflowed, and it felt like she was just as excited for our wedding as we were."
We knew from that moment that we would get the most amazing pictures – and we did. The artistry and sentimentality makes looking back at our day so special."
"Having two photographers was also key. Marta was with me all morning and her husband was with the boys. Having them there for 11 hours made it feel like they were a part of the family, and they were such an added joy to the day."
"Recommending Marta is so easy for us. There is no question in our minds that Marta and Artur are number 1!"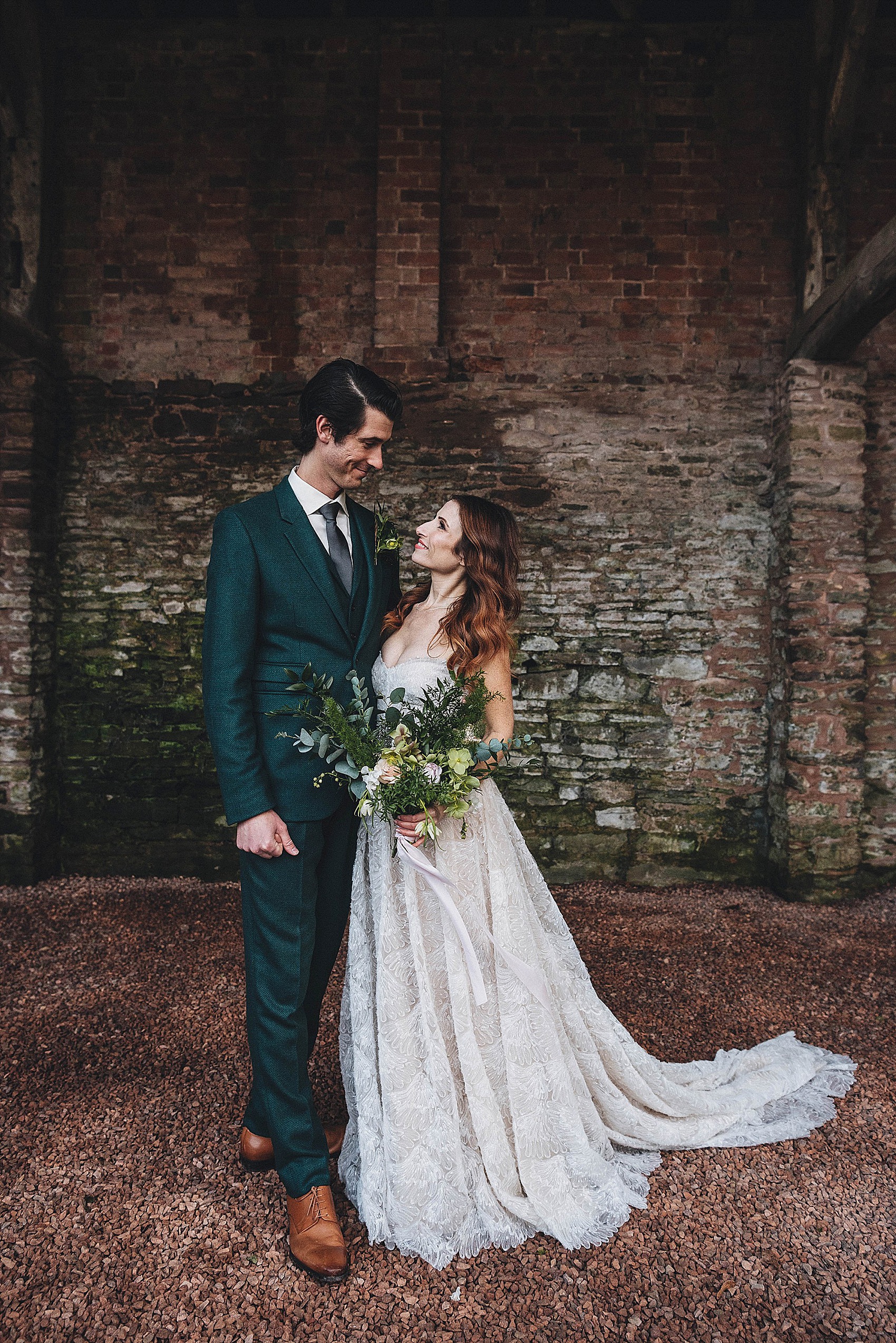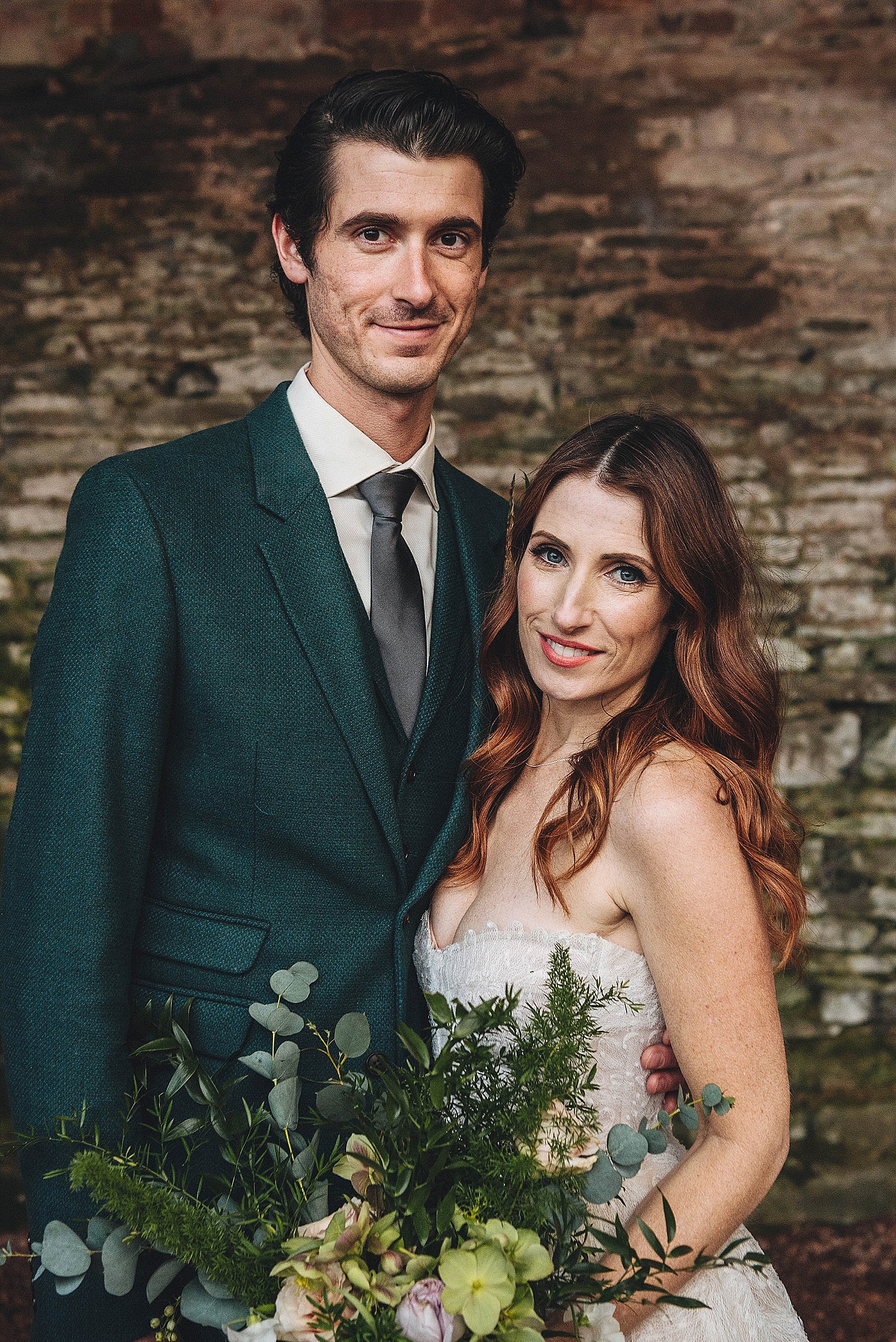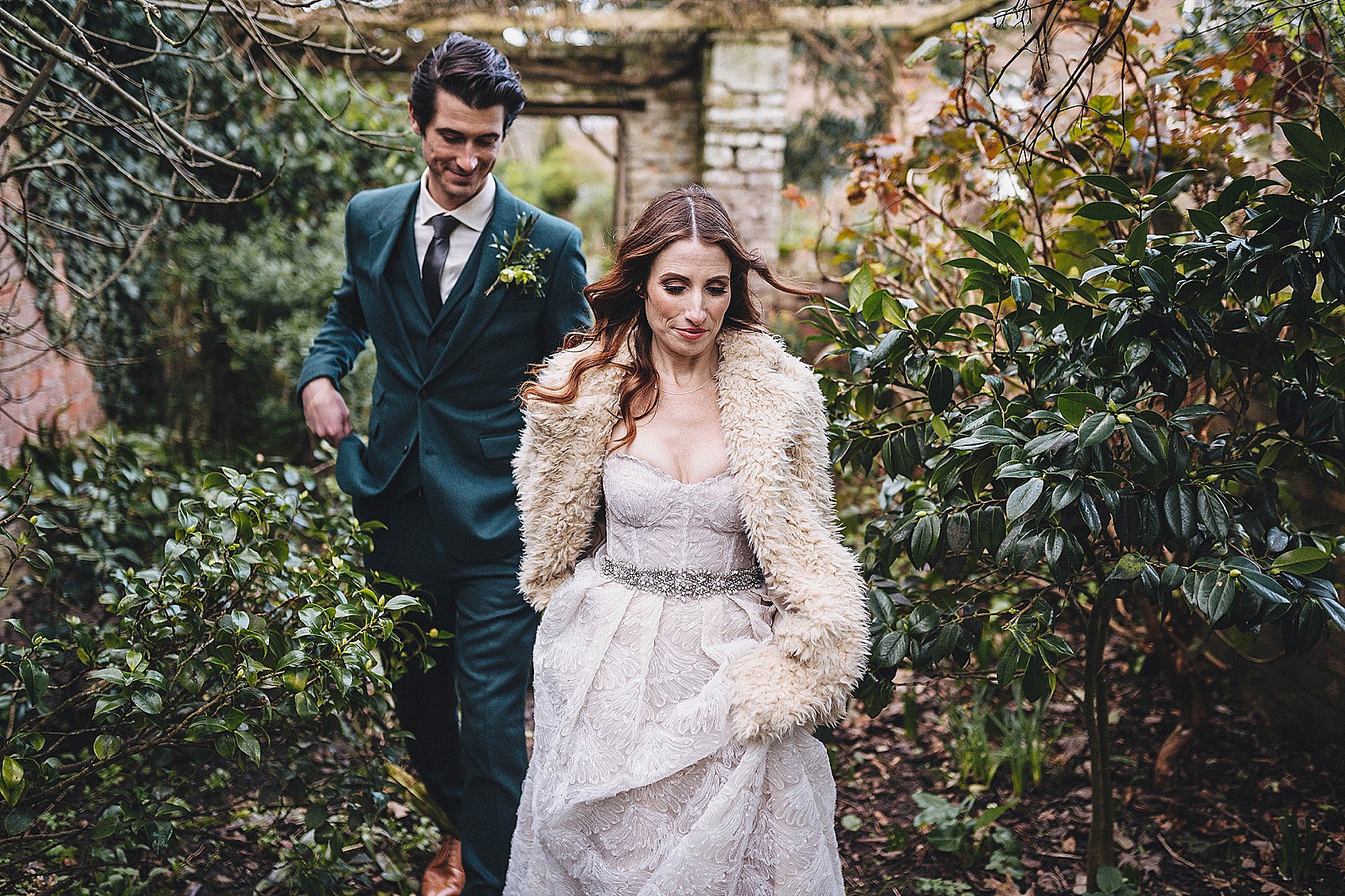 "Our florists designed the barn with foliage installations on the wood beams. The tables were covered in foliage as well, with taper candles and feathers."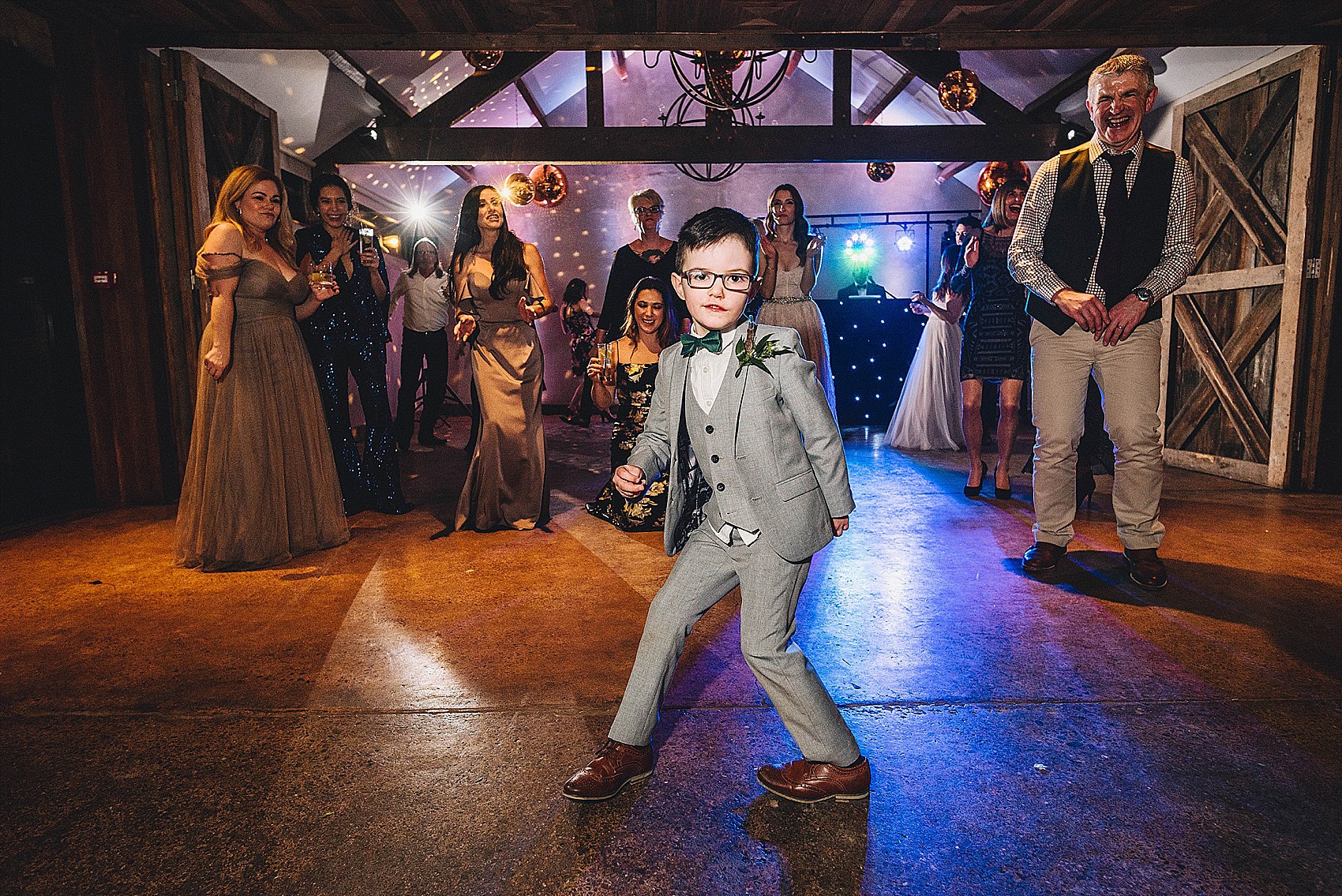 The happy couple enjoyed a merry, candlelit feast with their loved ones, with delicious food from the Dewsall Court team. This was followed by an amazing cake – peanut butter and jelly flavour – decorated with Polaroids of Megan and Craig snapped that day, made by Lydia of Lagom & Love. There was also a macaron bar, too.
"For our first dance, we took dance lessons to choreograph the first 90 seconds of our dance to Taylor Swift's Lover. I have always called Craig lover. Our entertainment was Pete Stead DJ. A DJ of 45 years, he effortlessly picked up on our taste and kept the dancefloor packed all night."
Words of Wedded Wisdom
"Fight for what you want and don't invite anyone you don't want to come. Remember the day is about you two. Have someone set a glass of champagne aside for you both and take 5 minutes together directly after."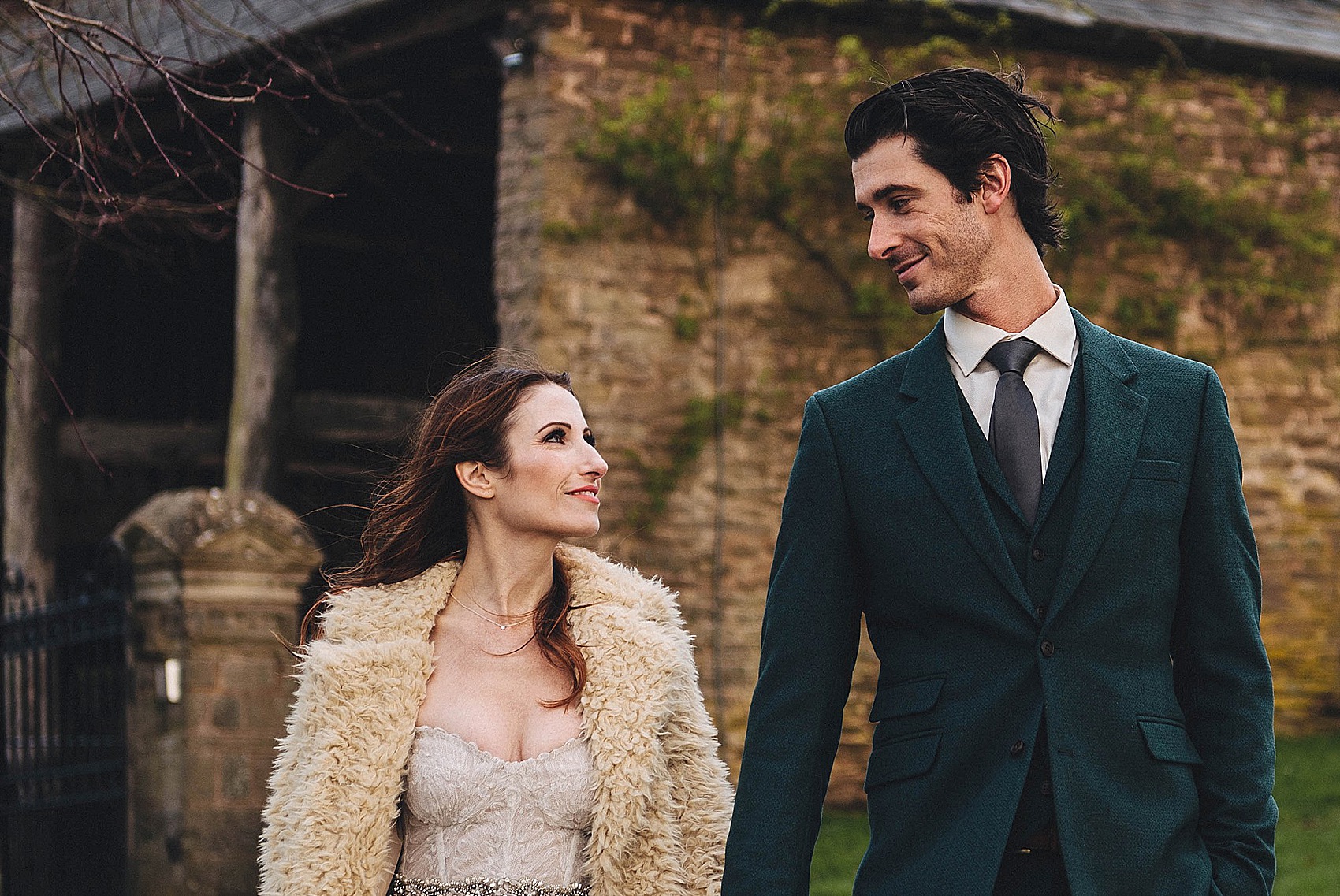 Megan and Craig, thank you so much! What a joy it's been to share the details of your lovely day, and I especially enjoyed your meeting and engagement story! Huge thanks to Marta May Photography for these beautiful images, too.
With love,
Laura