A family owned country estate with a moated house no less, is the breathtaking setting for the timeless elegance of today's early summer celebration. Here, our couple took their inspiration from the classic beauty of their venue, opting for vintage glamour and black tie attire.
Victoria and Morgan Sadr-Hashemi were married on the 15 June 2019. Victoria is a Customer Care Specialist, and Morgan works as a Head of Engineering, and this lovely couple wed at the spectacular Grade I listed Helmingham Hall Gardens in Stowmarket, Suffolk.
Soulful Reflection

+ Follow
"We wanted something with the wow factor. We visited lots of other venues, but when we arrived at Helmingham we were blown away, right from the moment we arrived."
"They have a lovely long driveway framed by trees, a large estate with a moat, and deer roam freely around the grounds (well, not completely freely during your wedding!). They have award winning gardens which are breathtaking, and definitely worth a day trip on their own."
Sharon Cudworth Photography

+ Follow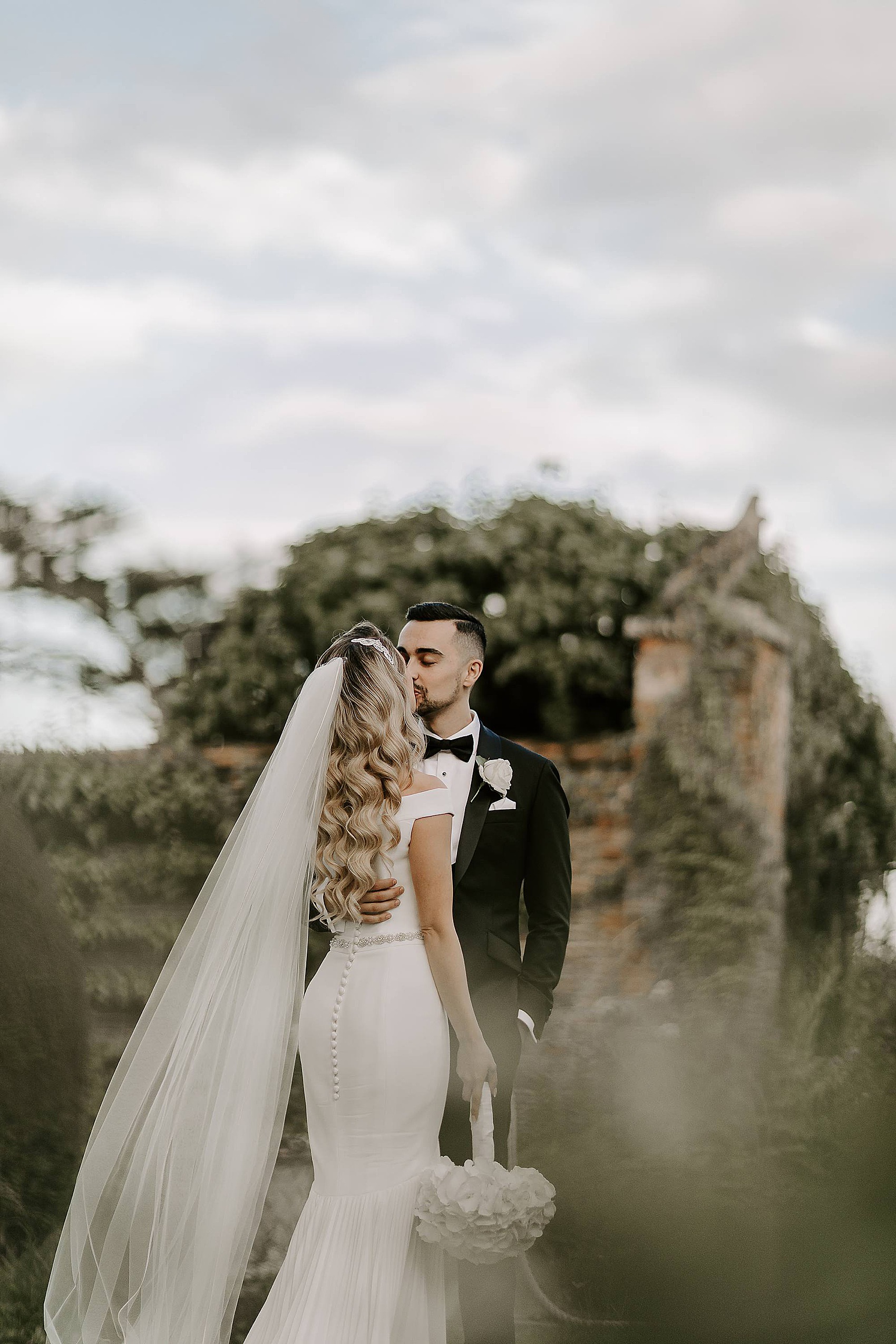 The couple's invitations were designed by Katie Sue Design Co., and elegant vellum menus were by Dahlia by Lauren – one for each guest so they knew what they would be enjoying for dinner.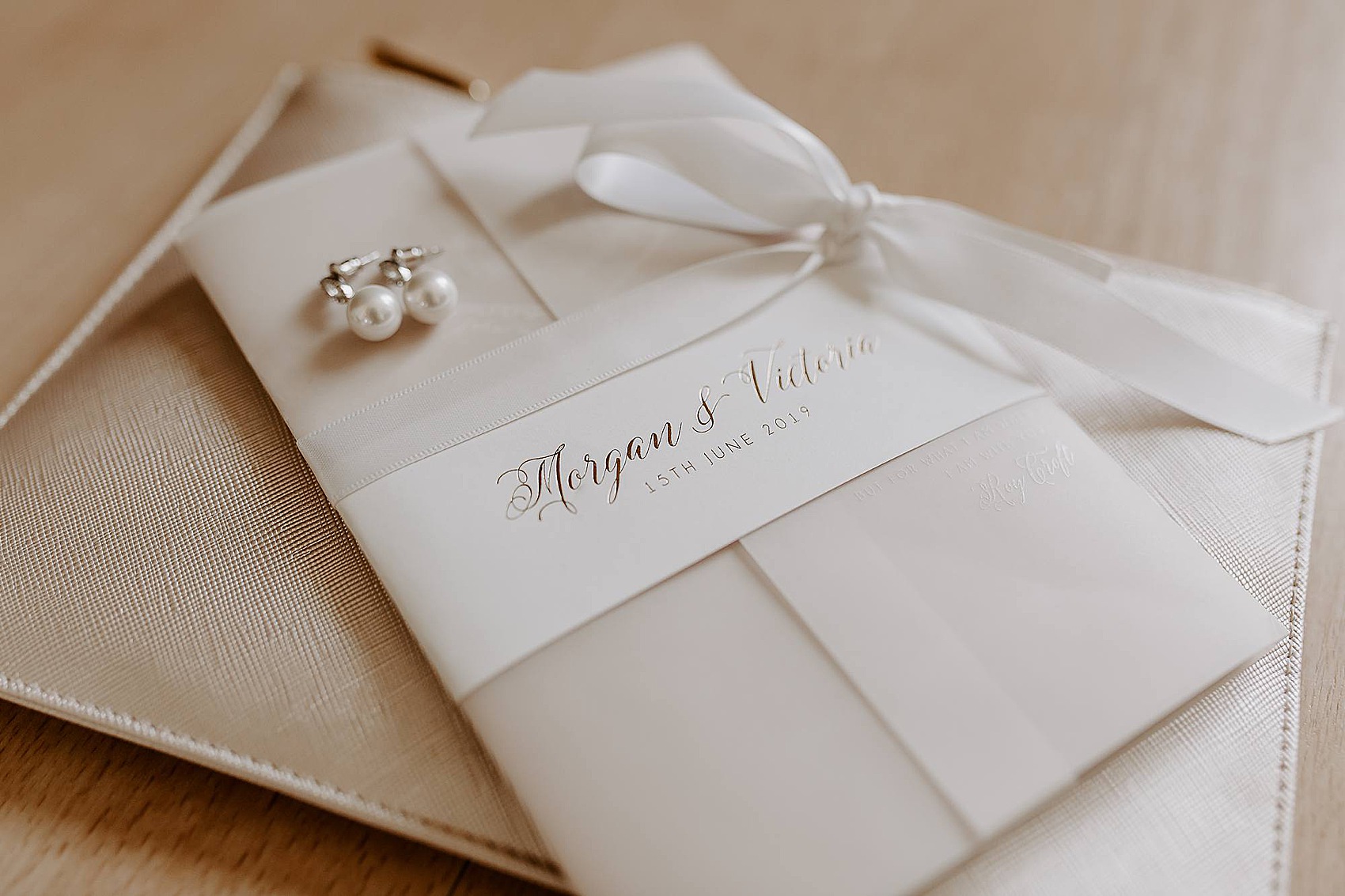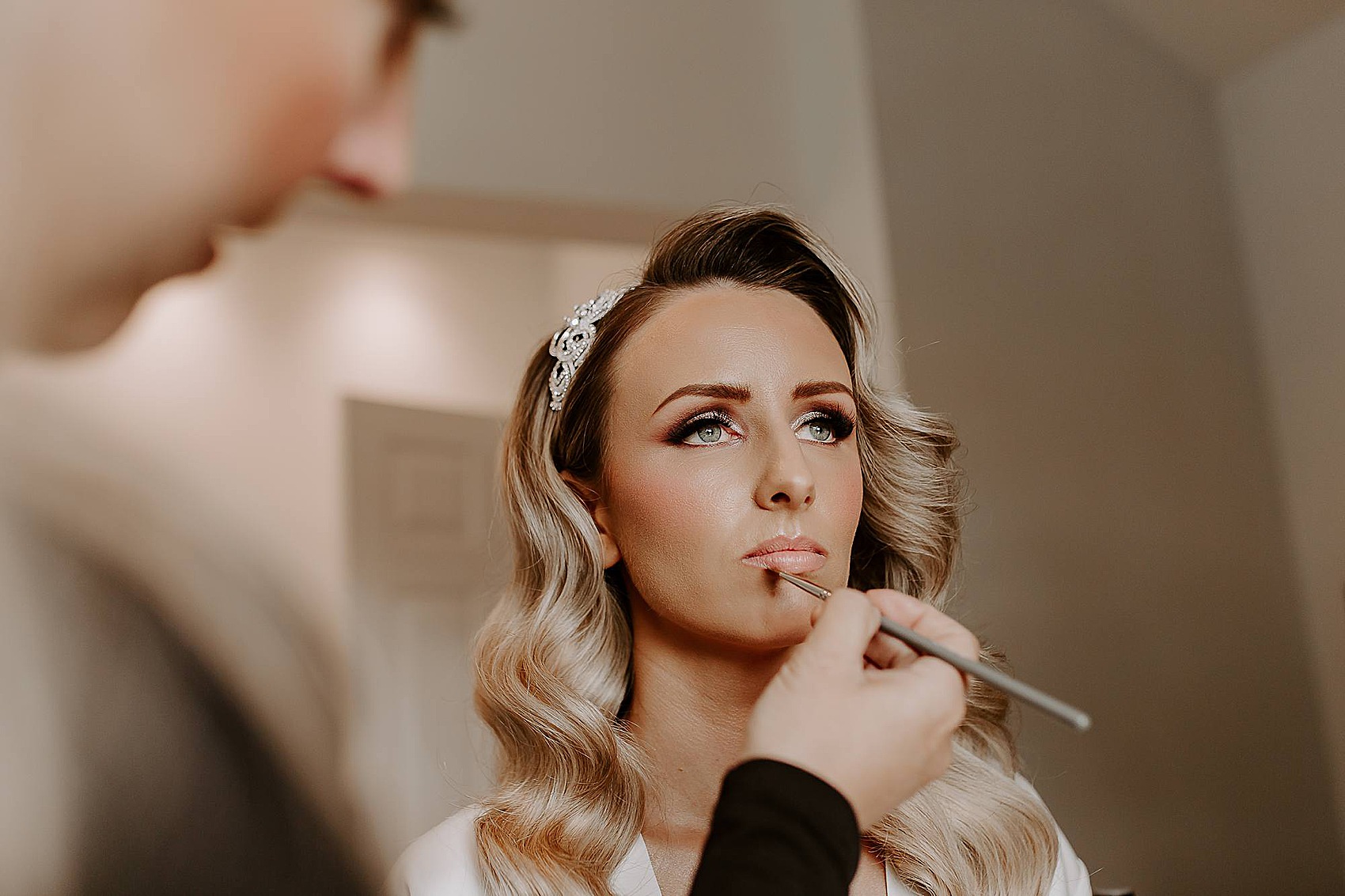 Make-up and luscious, vintage inspired hair styling came courtesy of Botias, as well as Victoria's earrings, too. On her feet she wore white heels from ASOS, and for her wedding day fragrance, something very special from heritage perfumers, Floris London.
"My perfume is called Victoria by Sadir. This was actually a perfume I created myself in a session that was a gift from Morgan many years ago. He bought me a new bottle as a wedding gift, which I opened on the day."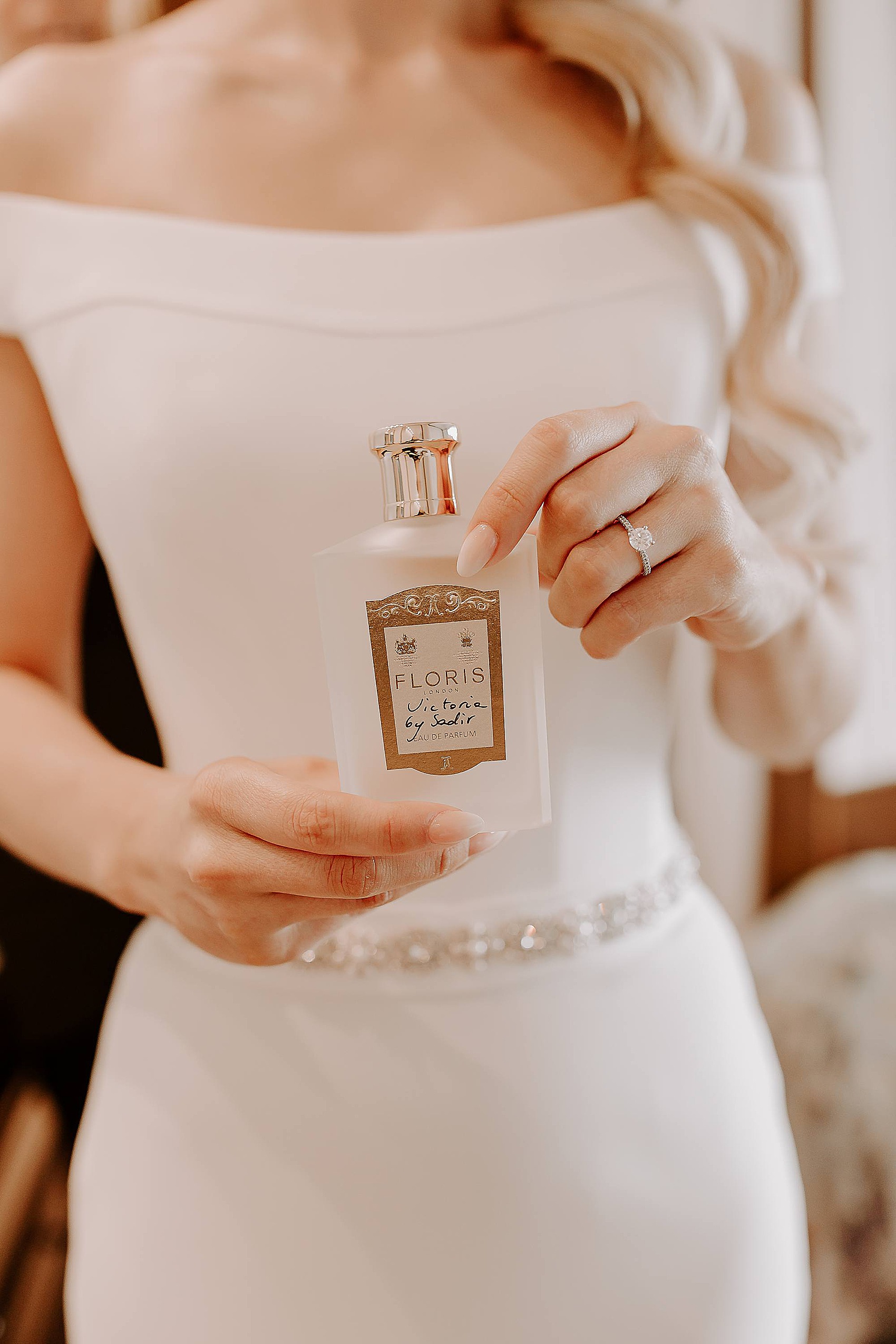 Victoria had a wonderful experience at Colchester boutique The Wedding Shop, where she chose the beautiful 'Nouveau' dress by Suzanne Neville. Victoria opted to remove the pleated sleeves so that the bodice was a graceful Bardot style, falling to a slinky skirt with elegantly draped pleats.
"All my appointments were with Angie who is the owner of the store. She always made me feel incredible, even when I was having doubts about the dress. I had multiple fitting sessions, and was delighted with how the dress fitted."
"A little touch that was really handy is that you receive emails to remind you of your appointments, which is always helpful when you're planning a wedding and have a lot on your mind."
There was added sparkle with a belt and hair comb from The Wedding Shop, and to finish Victoria's bridal look off, a long veil, also from The Wedding Shop.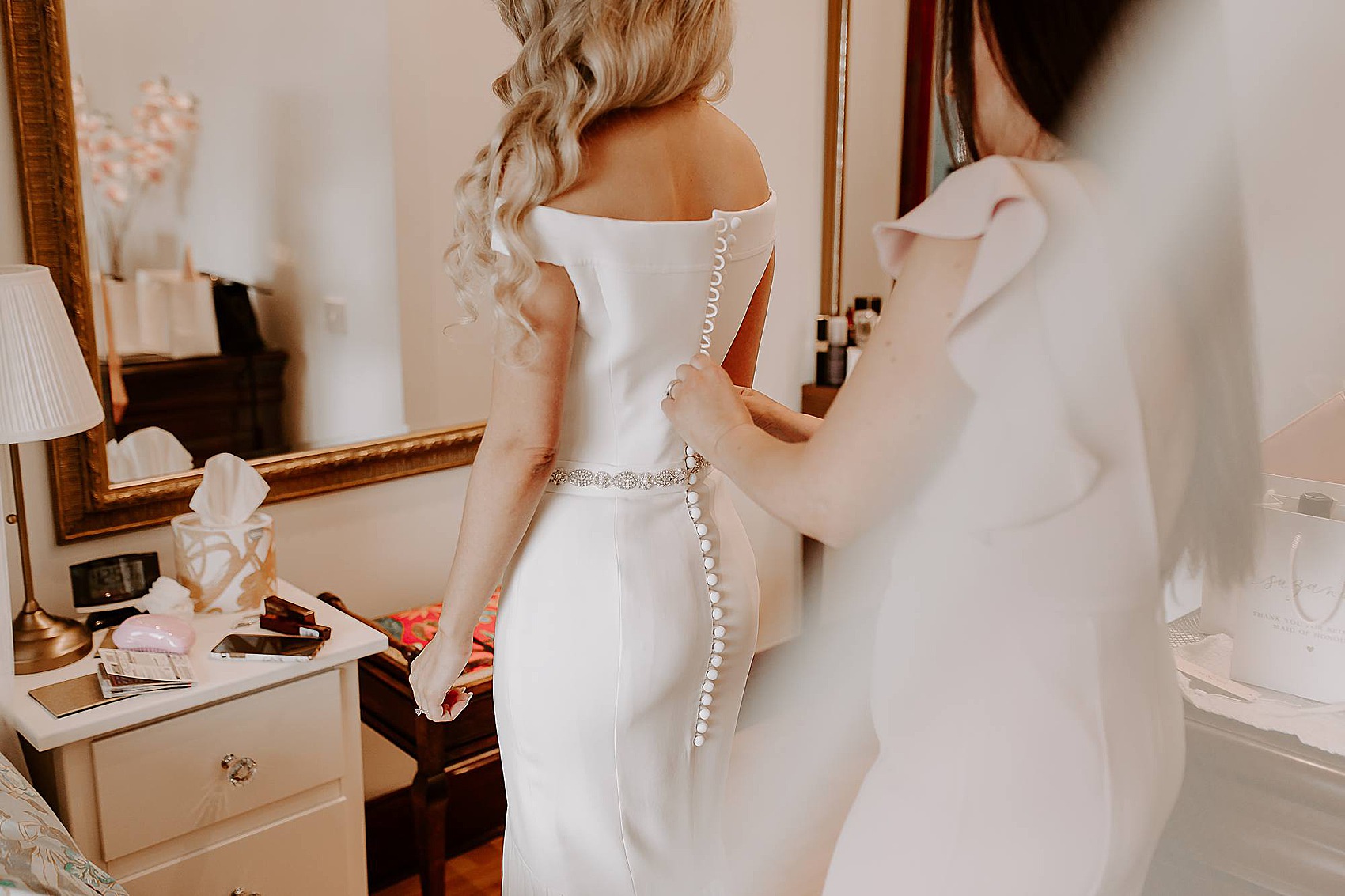 "I tried on a lot of dresses, and this one just fit so well. Any off-the-shoulder style dress or top had always felt flattering for my frame. This dress actually came with detachable pleated sleeves, and as soon as I took those off I fell in love with it."
"To top it off, my mum had actually picked the dress out and suggested I tried it on."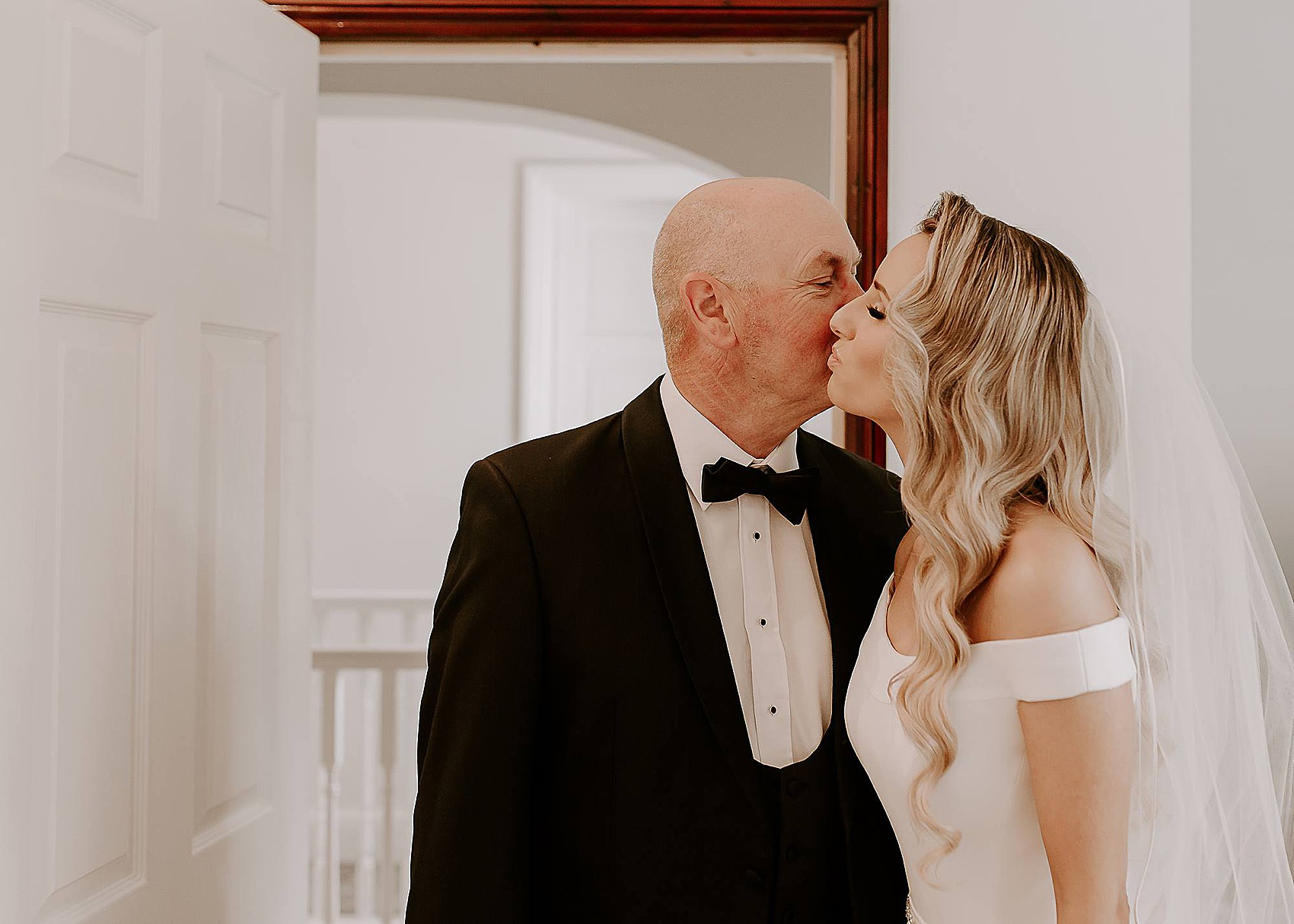 Victoria's bridesmaids looked amazing in long crepe gowns (the 'Cecilia design) with fluttering sleeves and low V-backs in a smoked blush shade by TH&TH.
There was also Victoria and Morgan's sweet niece as flowergirl, too, looking lovely in a white dress from Matalan.
"We took extensive notes at friends' weddings to include the bits we wanted from theirs! The colour scheme for the wedding was chosen to match the bridesmaids dresses that I found, which I loved."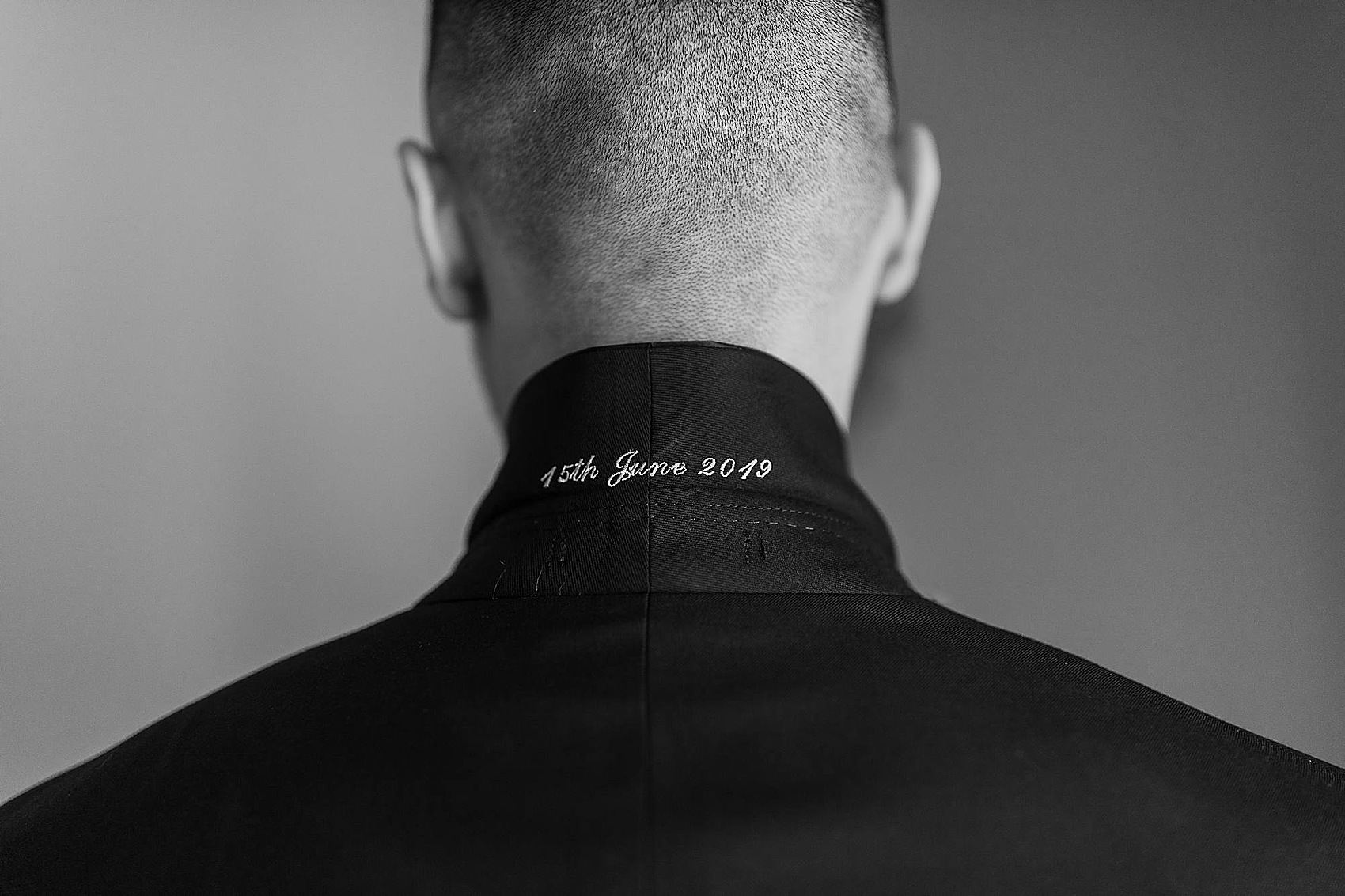 Morgan paired his smart black tie with a cutaway style waistcoat, a simple pocket square, an engraved pocket watch from Etsy, and shoes by Loake.
"Morgan's suit was from Anthony's Formal Wear in Colchester. This suit came with a personalised collar with our wedding date to commemorate the special day."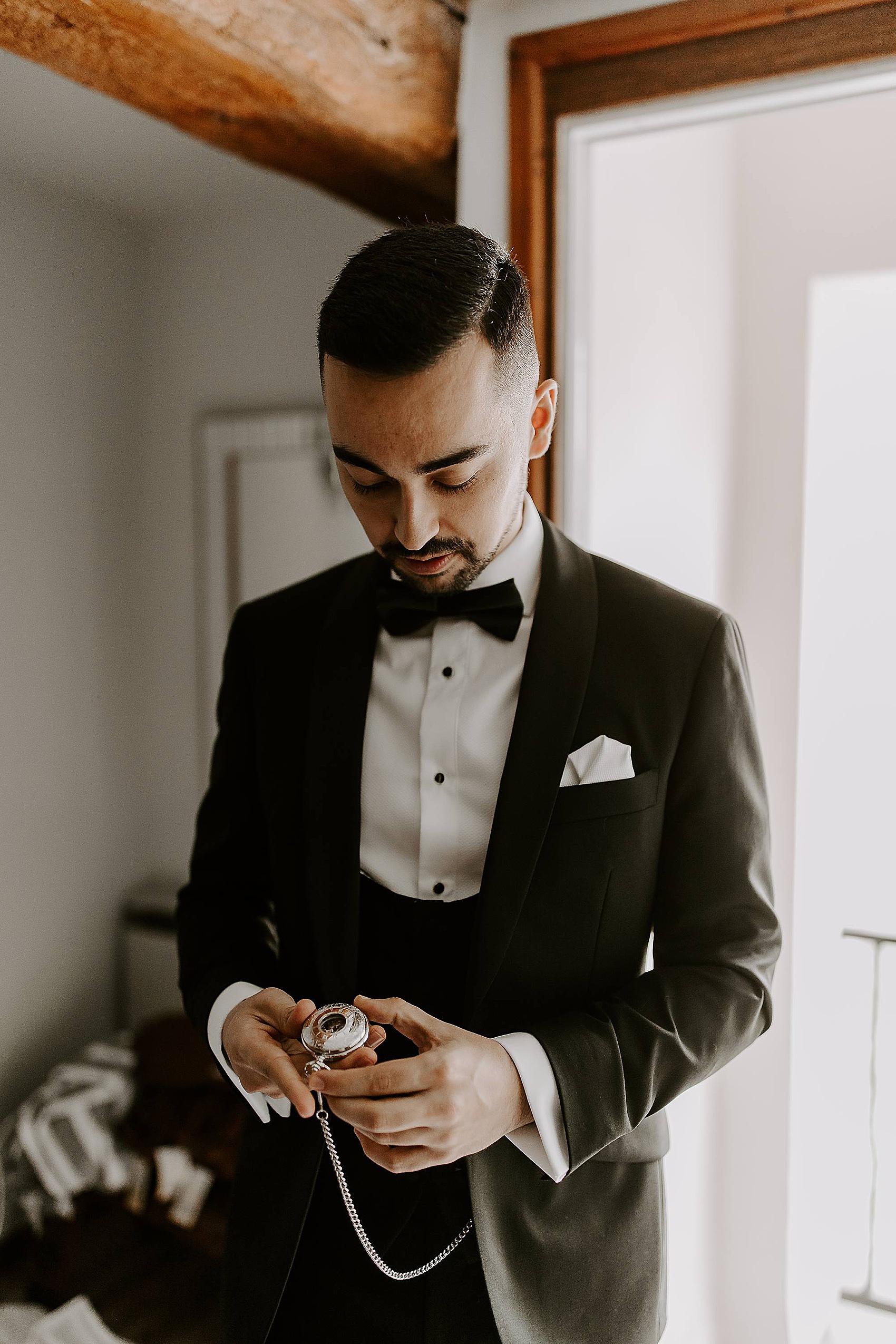 "We met on an evening out in Ipswich in 2013. I'm local to the area but Morgan had just moved up from London for work."
"We got engaged on Valentine's Day 2018, by which point Morgan had a new job in London so was living there, but I had yet to move down with him as we were in the process of selling his home in Ipswich."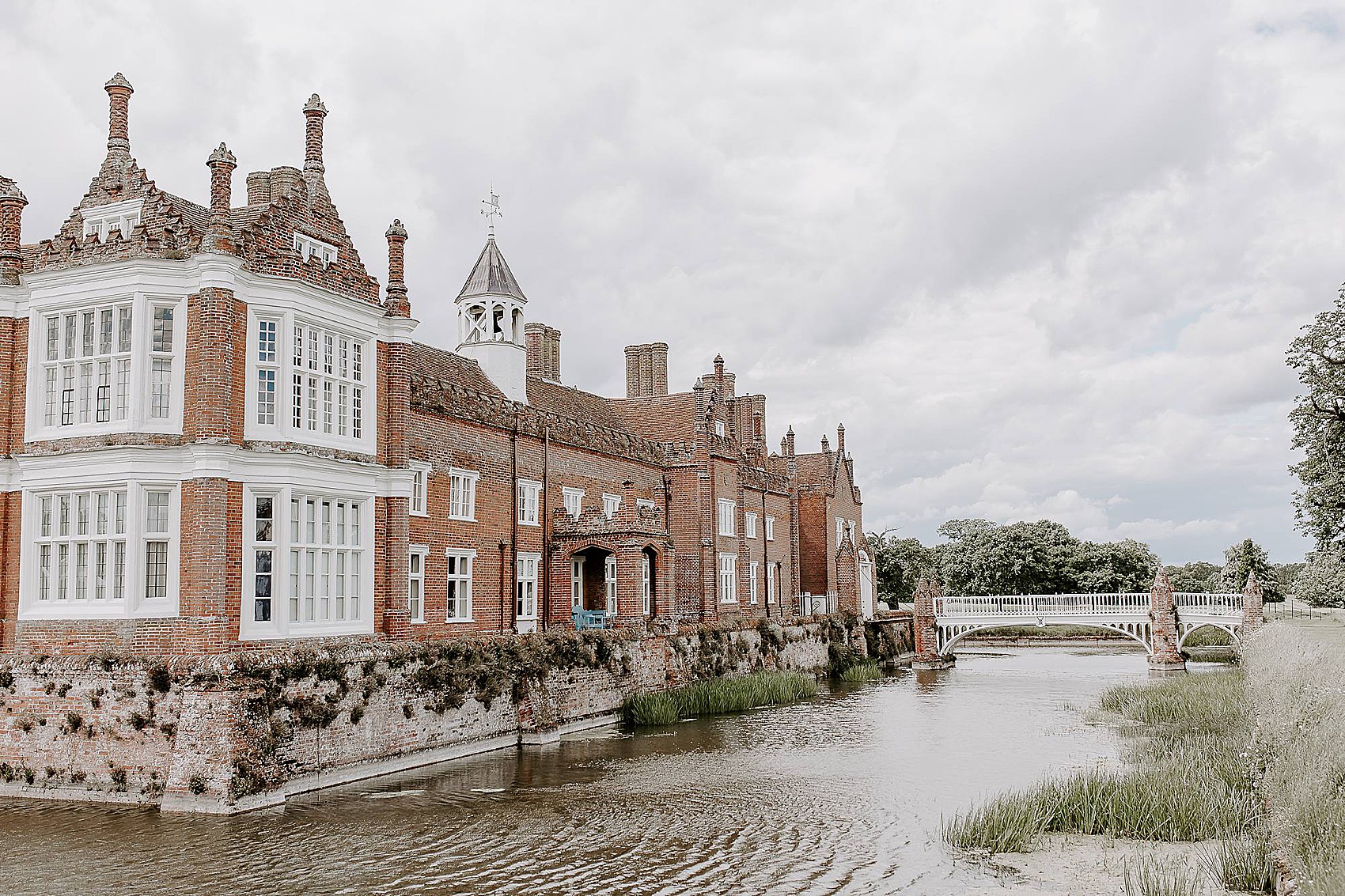 "Because we both lived apart, Morgan suggested we both take the day off work to spend Valentine's Day together in London. He wanted the proposal to be private, so once I was ready to leave in the morning he proposed just as we were walking out of the door."
"We then went to see Aladdin the musical in the West End, and had a lovely evening meal out together. All in all a perfect day."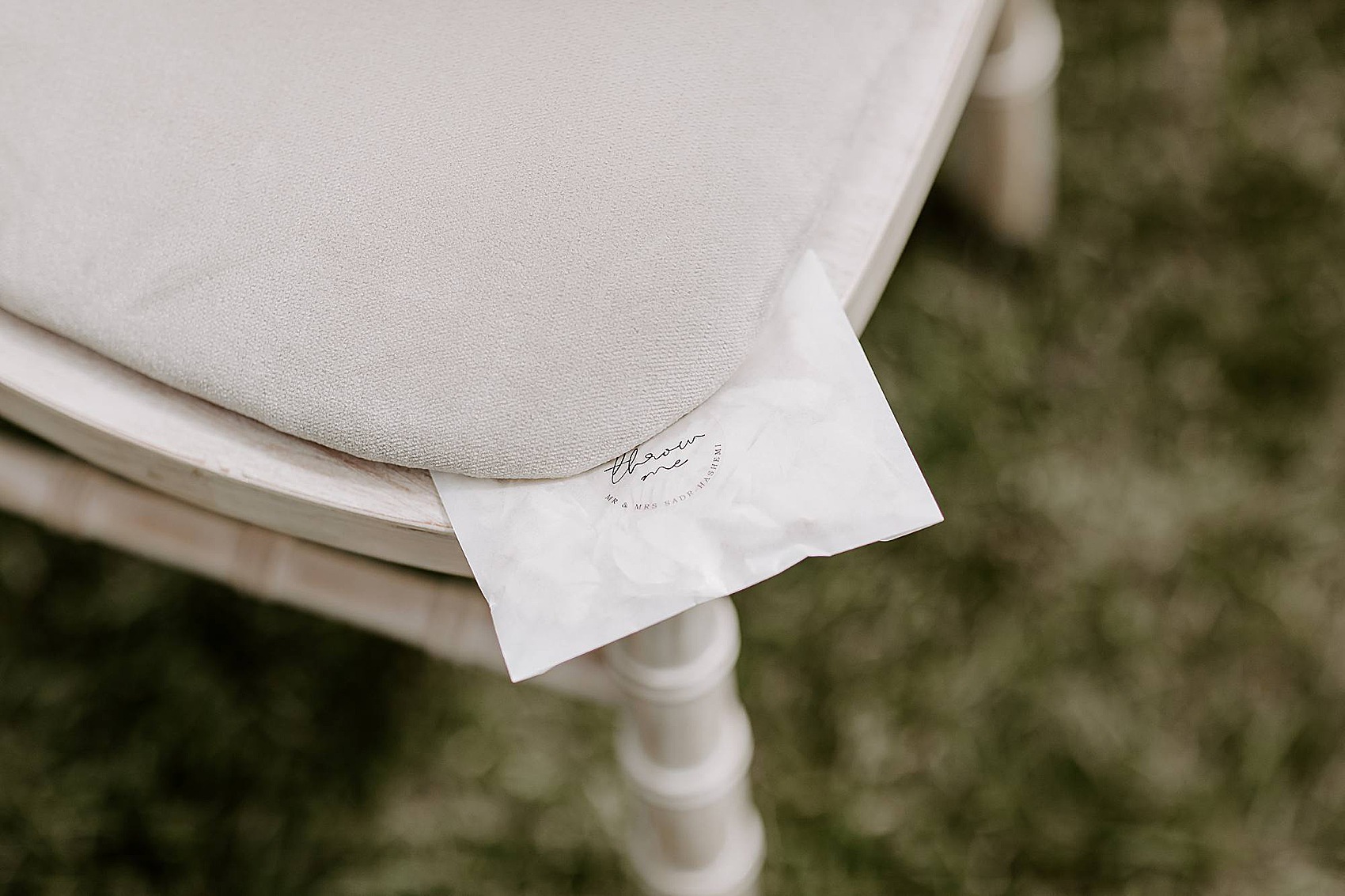 "The Helmingham Hall Estate is privately owned, and the family have lived there for hundreds of years. They still live there, and as a result they limit the number of weddings they have per year down to 3 or 4, so we felt very lucky to have ours there."
"This meant they weren't affiliated with any suppliers, giving us the freedom of choice and the ability to craft the perfect wedding the way we wanted."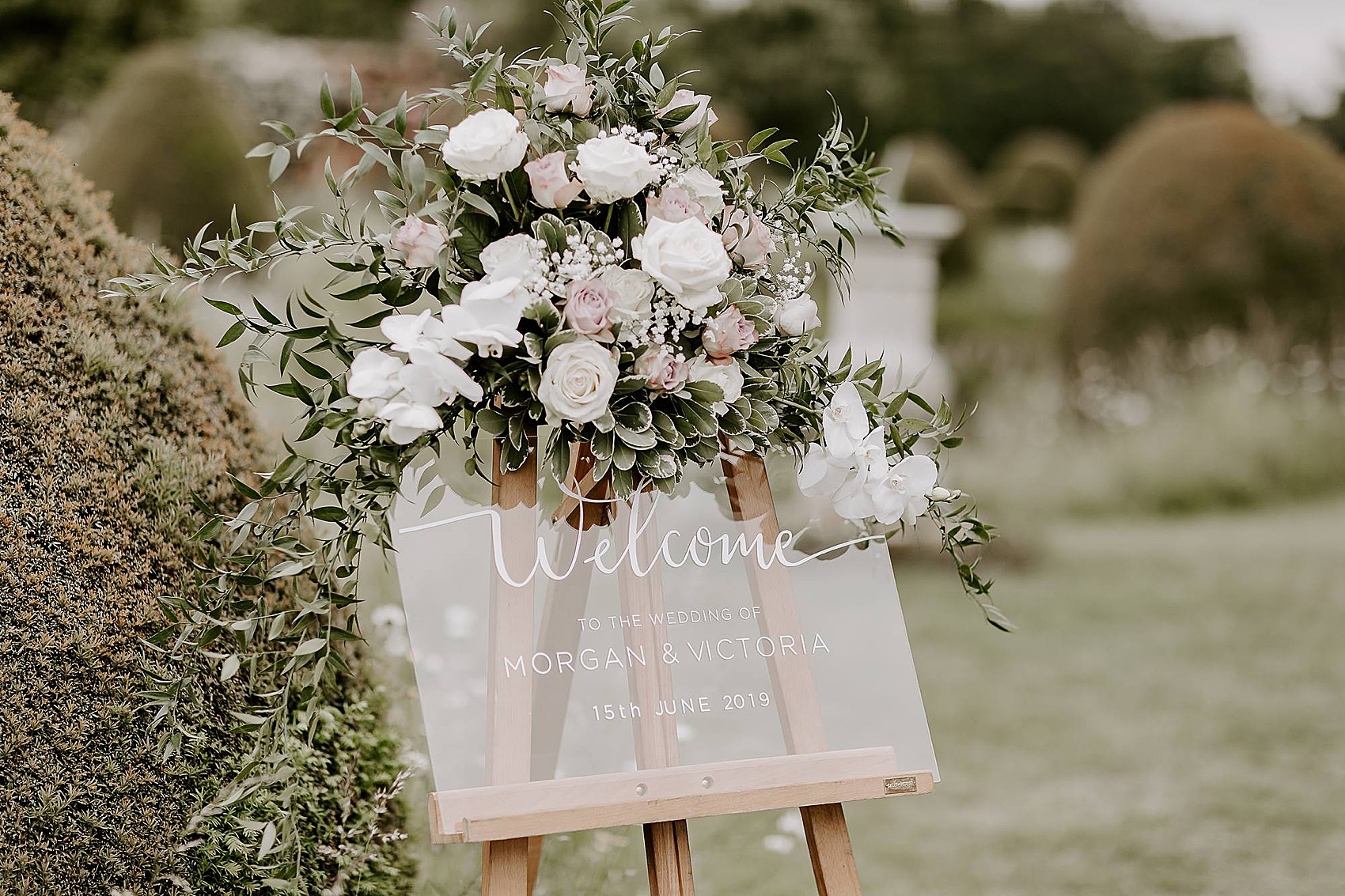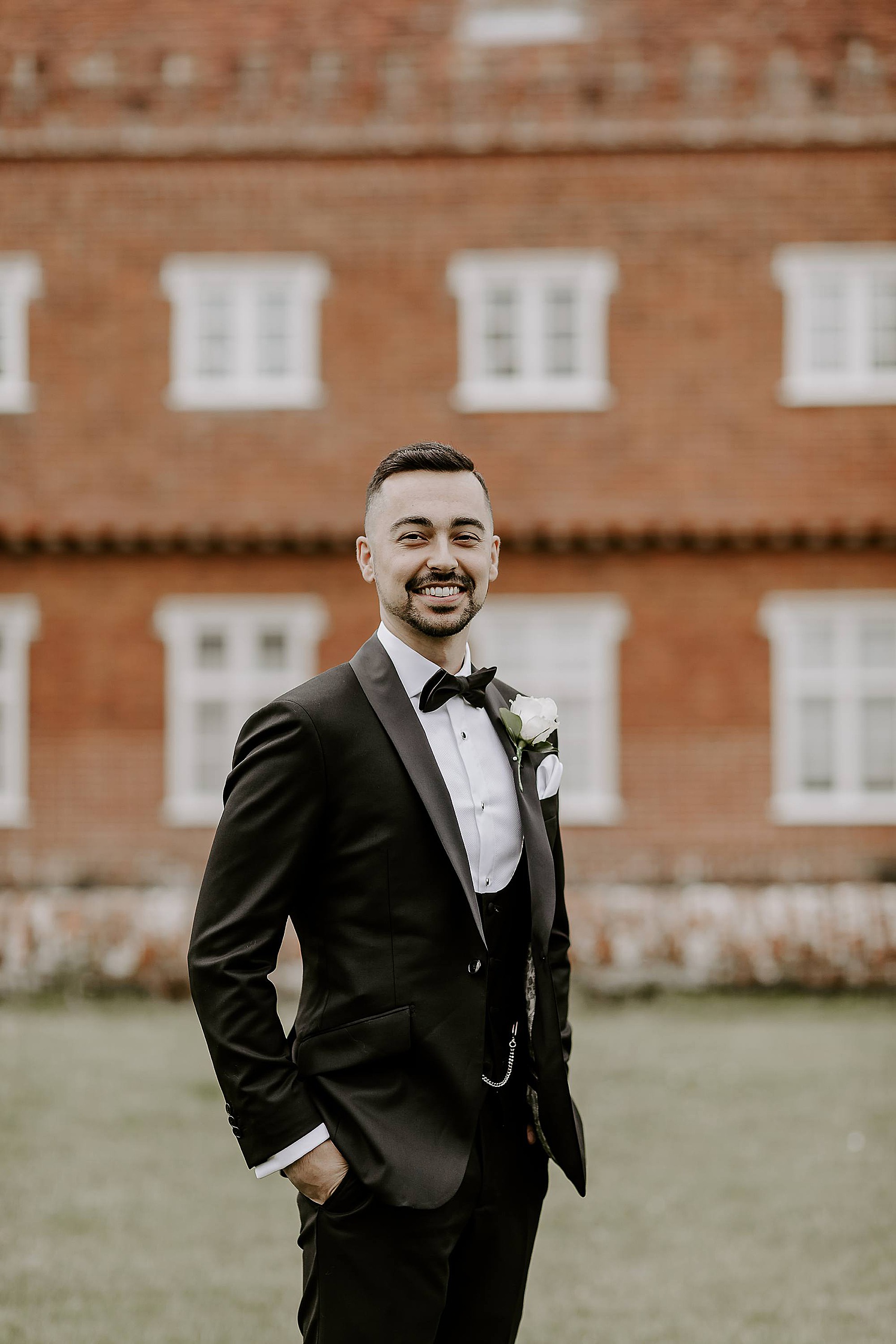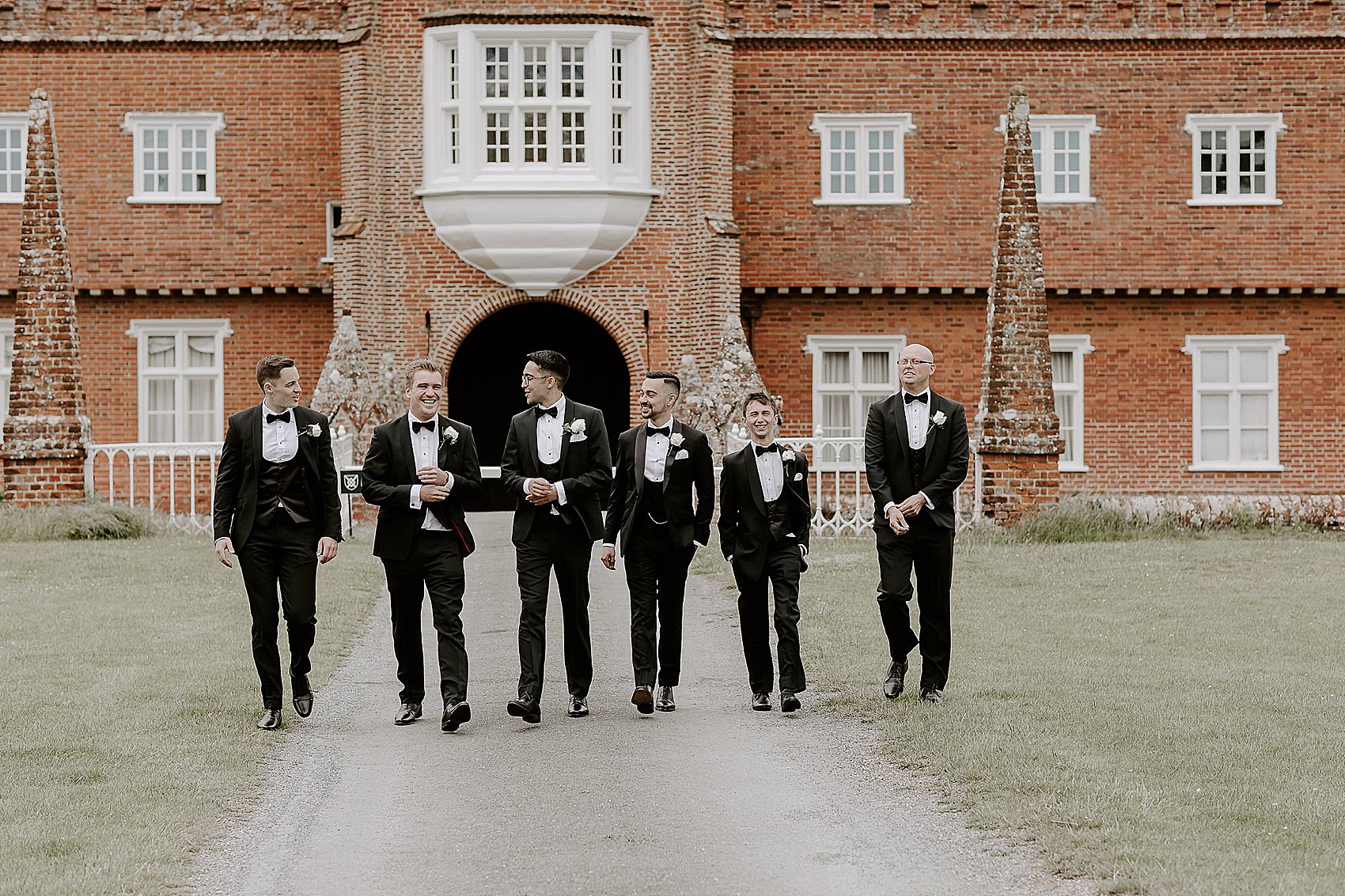 Victoria made her way to the ceremony in style, in her uncle's lovely vintage car. She carried a bouquet of snowy white hydrangeas by Murtons Florist, Ipswich, who created all the wonderful floral arrangements for the day in shades of soft white, ivory and blush pink, with roses, gypsophila, orchids and greenery.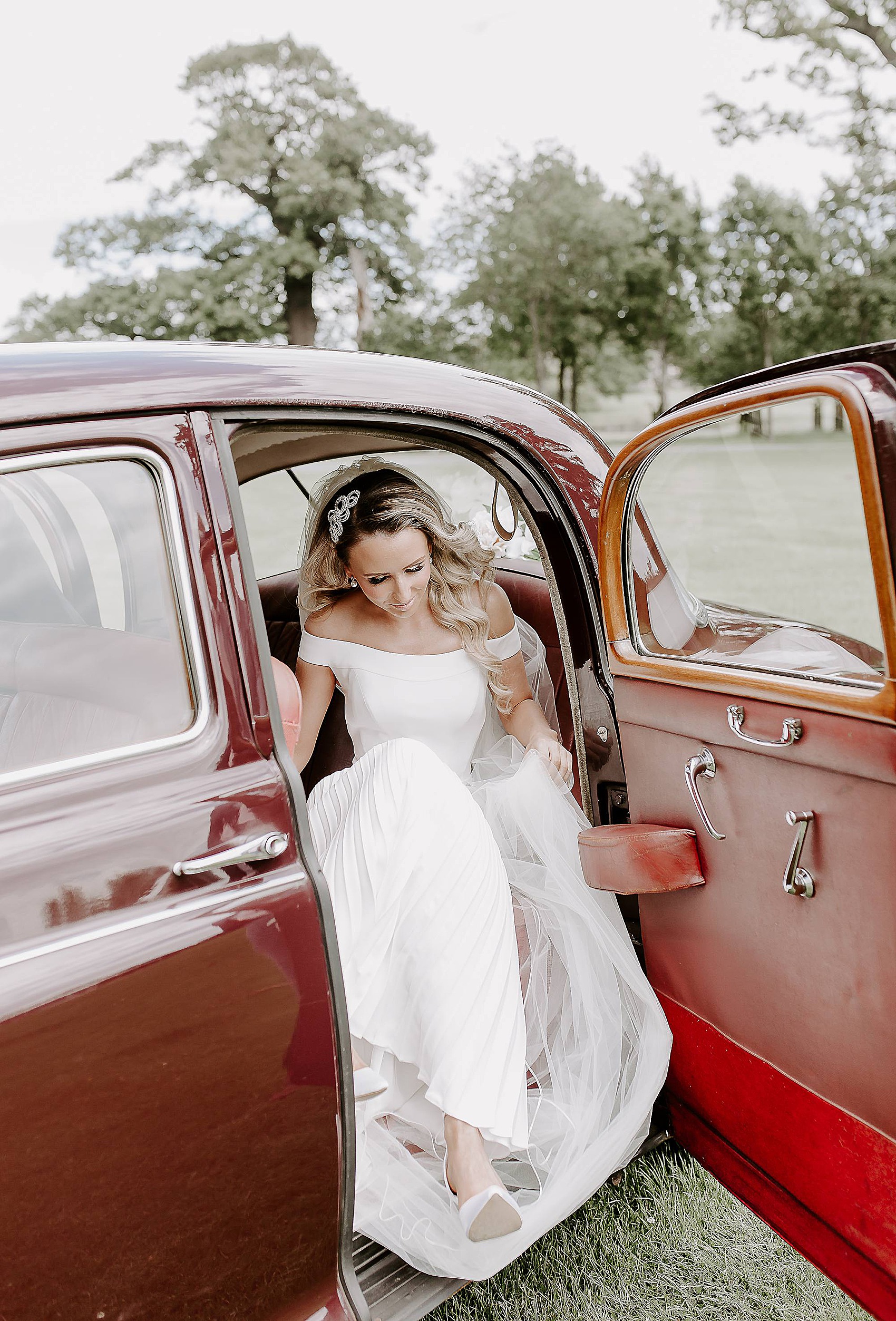 "I wanted something classy, traditional and in keeping with the tone of the venue. Morgan wanted something close to nature. Most of our inspiration for the style of decor was taken from Instagram. We were so pleased with the flowers, they were stunning and the company were so professional. They went above and beyond!"
Arioso String Quartet played Can You Feel the Love Tonight from The Lion King as Victoria walked together with her Dad Martyn down the aisle for their garden ceremony.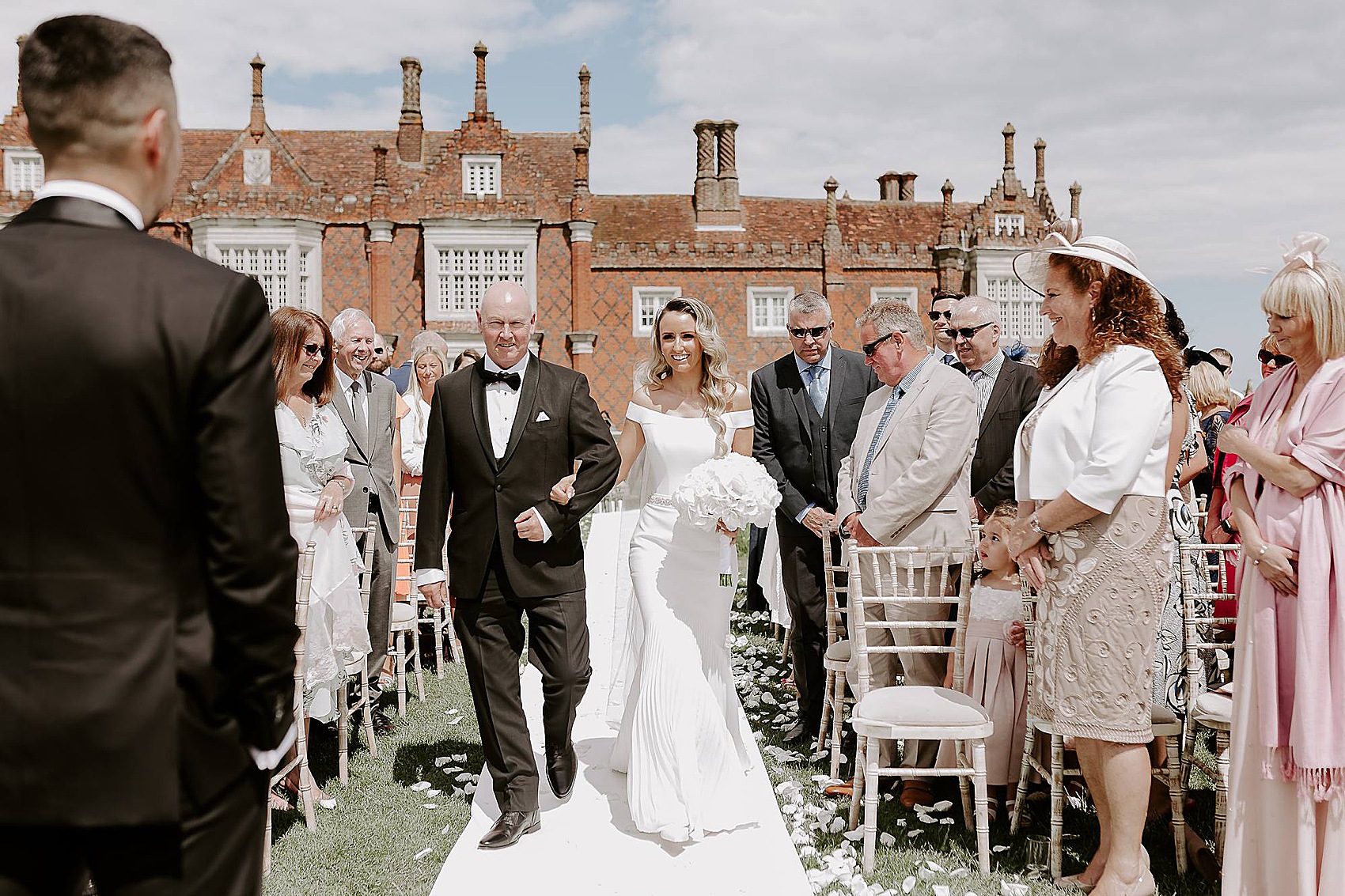 Registrars from Ipswich Council performed the ceremony, and Victoria and Morgan chose from a selection of pre-written vows. As they made their promises to each other hand in hand, they also exchanged rings, chosen at Blue Nile.
Victoria went for a French pavé diamond and platinum band, whilst Morgan's was a simple and classic platinum design.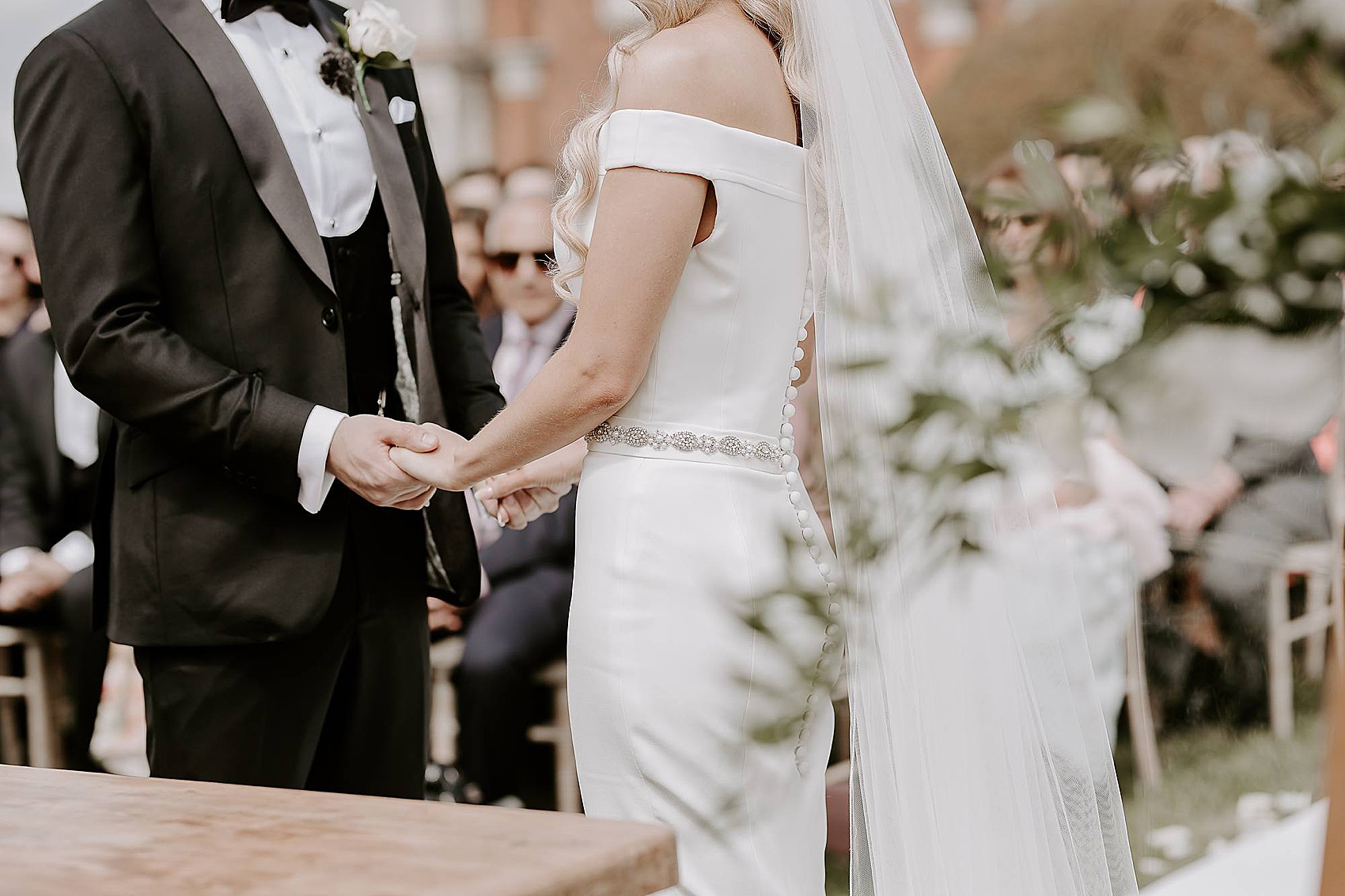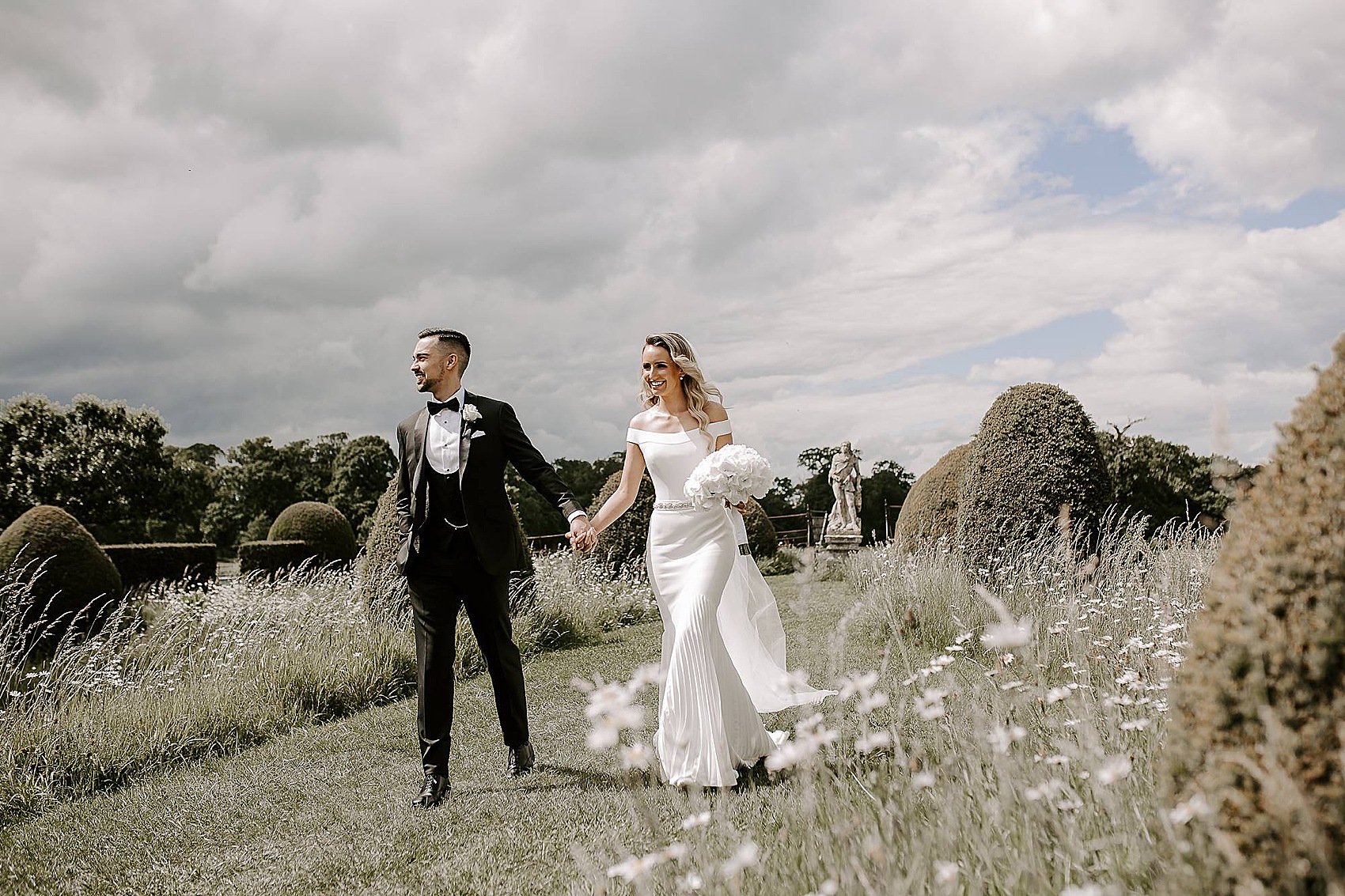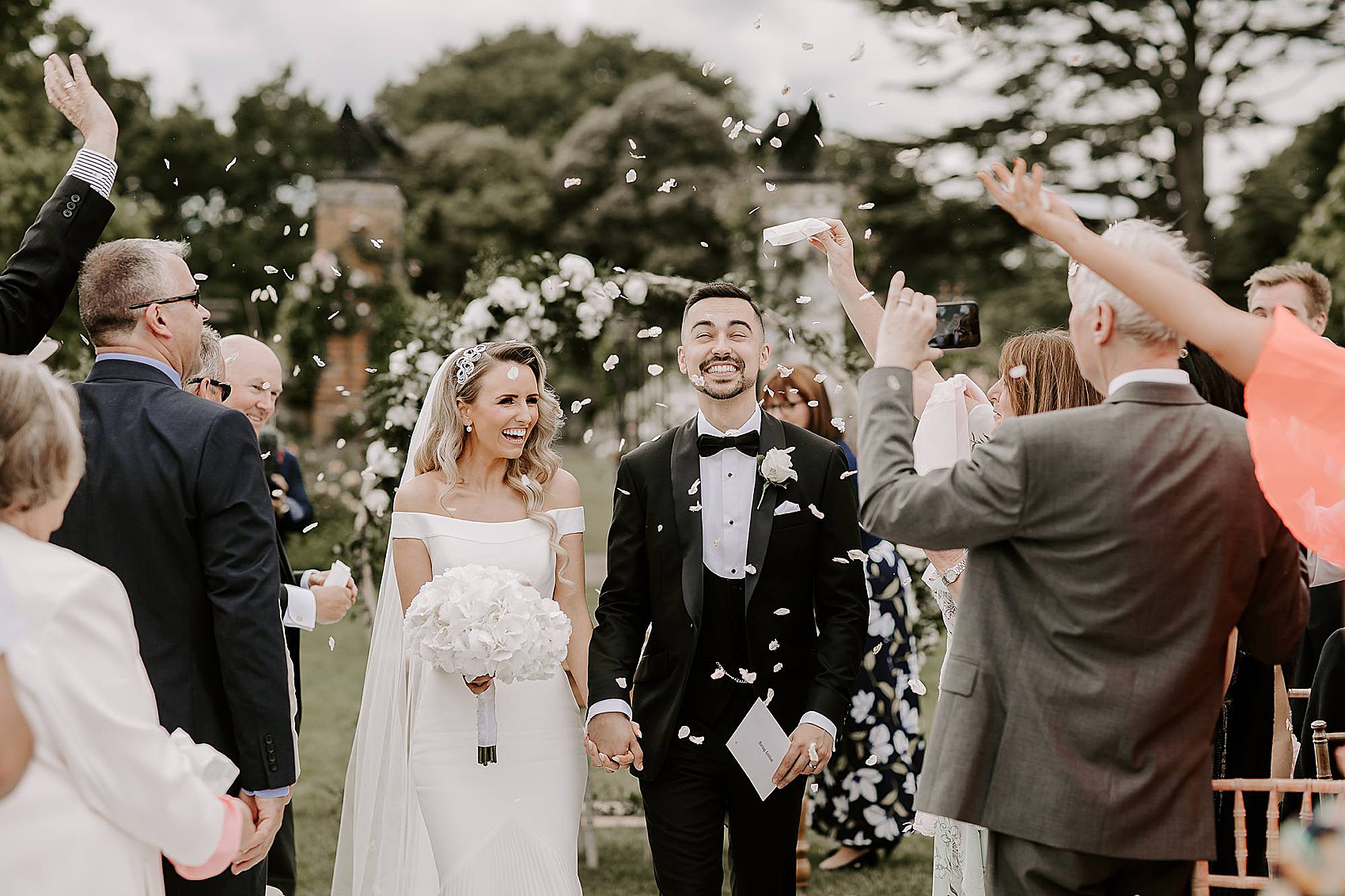 When it came to their choice of photographer, Victoria and Morgan were keen to have lots of natural and candid shots, with very few posed photos across the day.
As soon as they spoke to Sharon Cudworth, they knew they'd found their perfect fit, and I'm delighted to share her work for the first time on our pages today.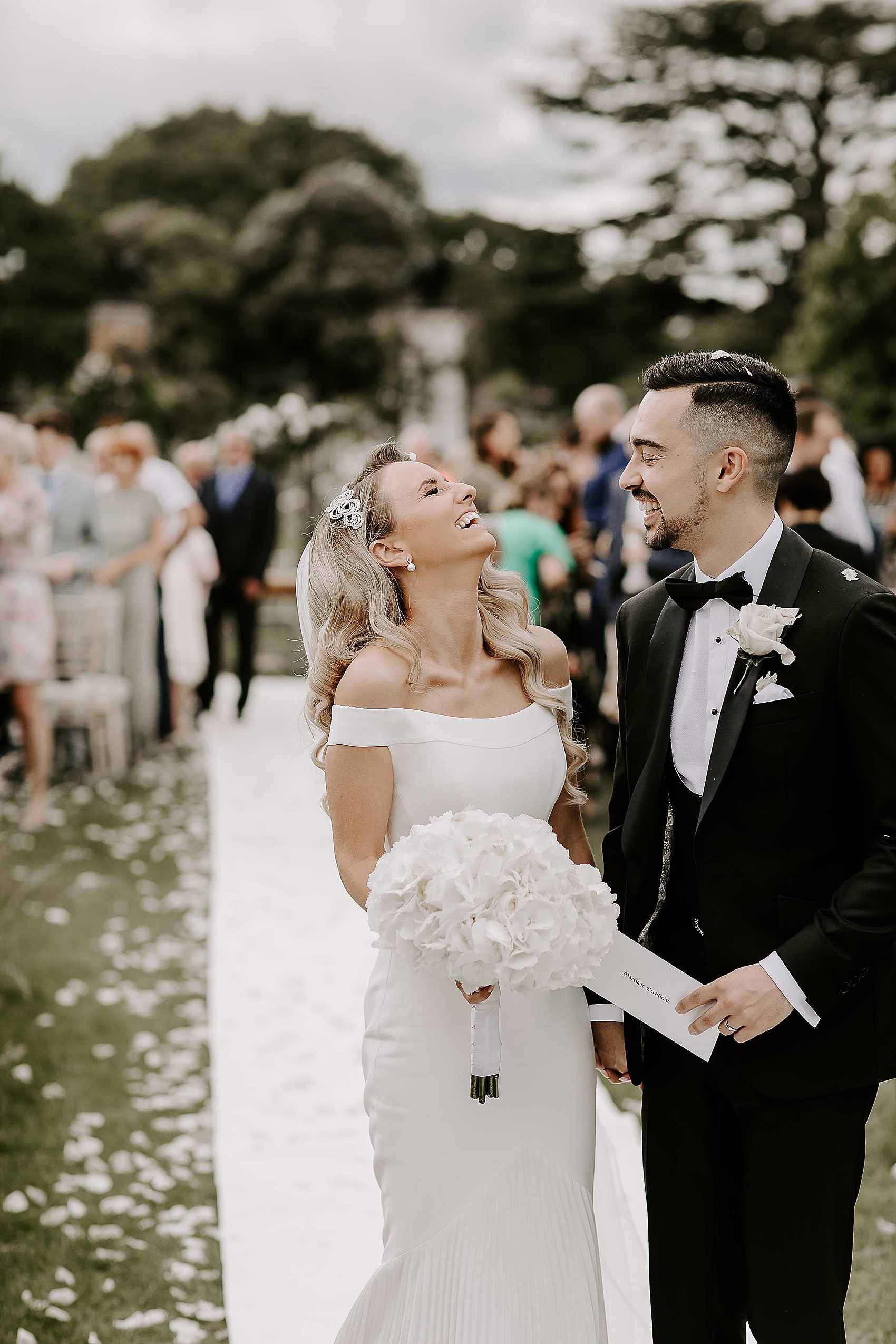 "We wanted to have everyone, especially ourselves, spending their time enjoying the day rather than posing for photos, and Sharon could clearly deliver this for us."
"We sat down with Sharon and chose a handful of photos that we wanted to pose for, or moments we wanted to capture, and trusted her to get the rest – which she did beautifully! We now have the most incredible photos to remember the best day of our lives."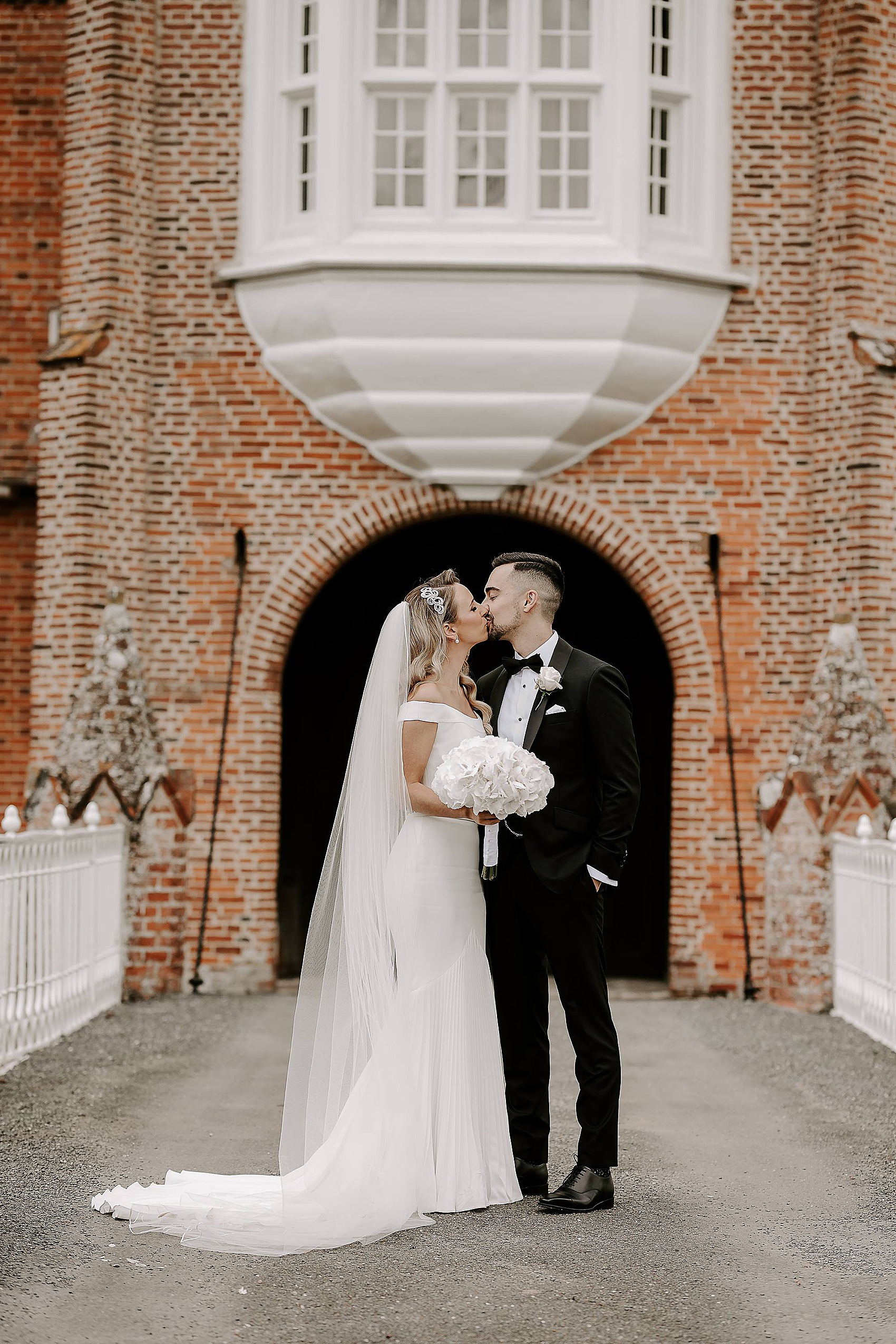 "She also made us feel really at ease at the prospect of working with her. When we got chatting to her we knew we would get on well. On the day, she even felt more like a friend than a photographer, and was able to navigate all the family demands that come with a wedding seamlessly."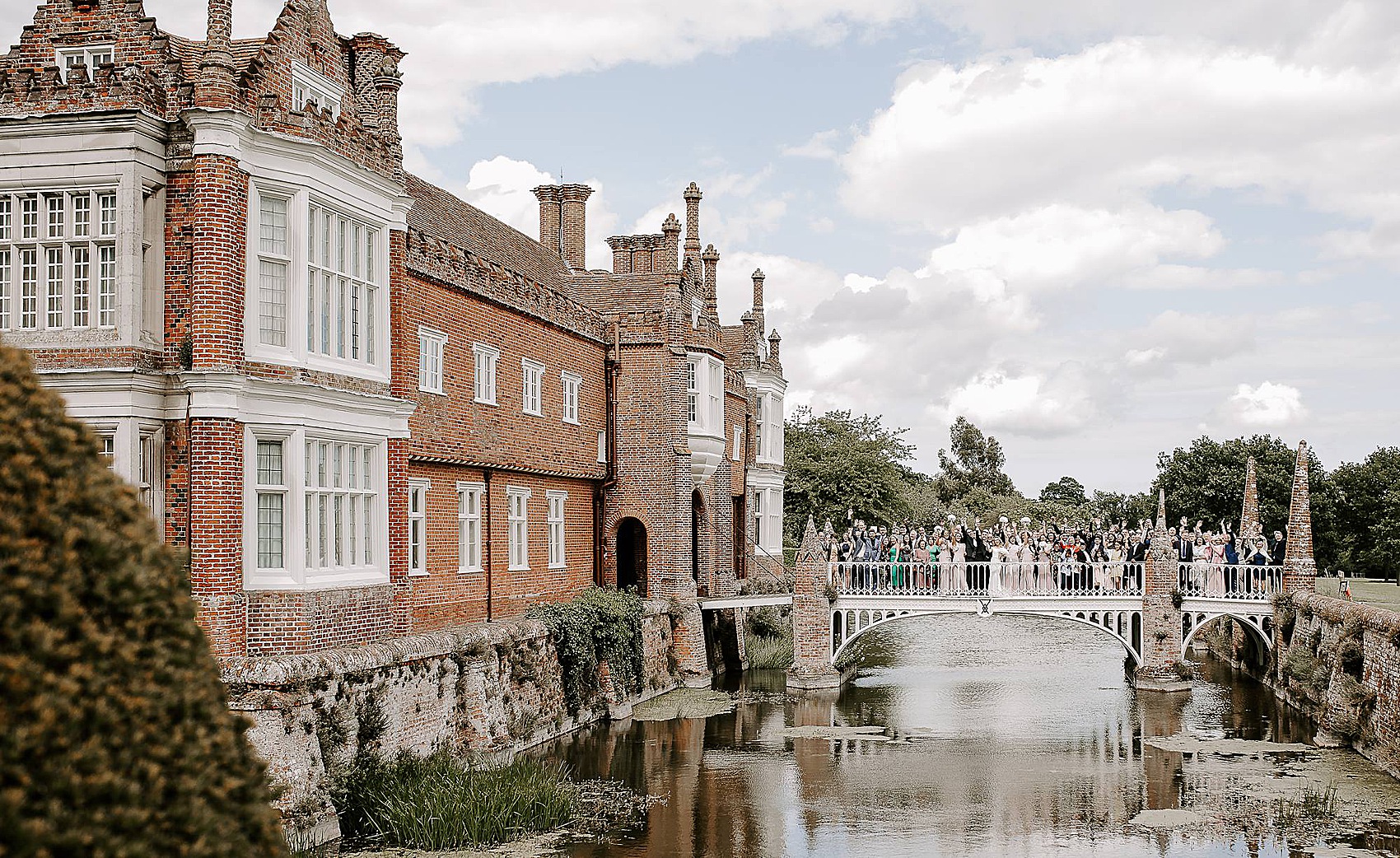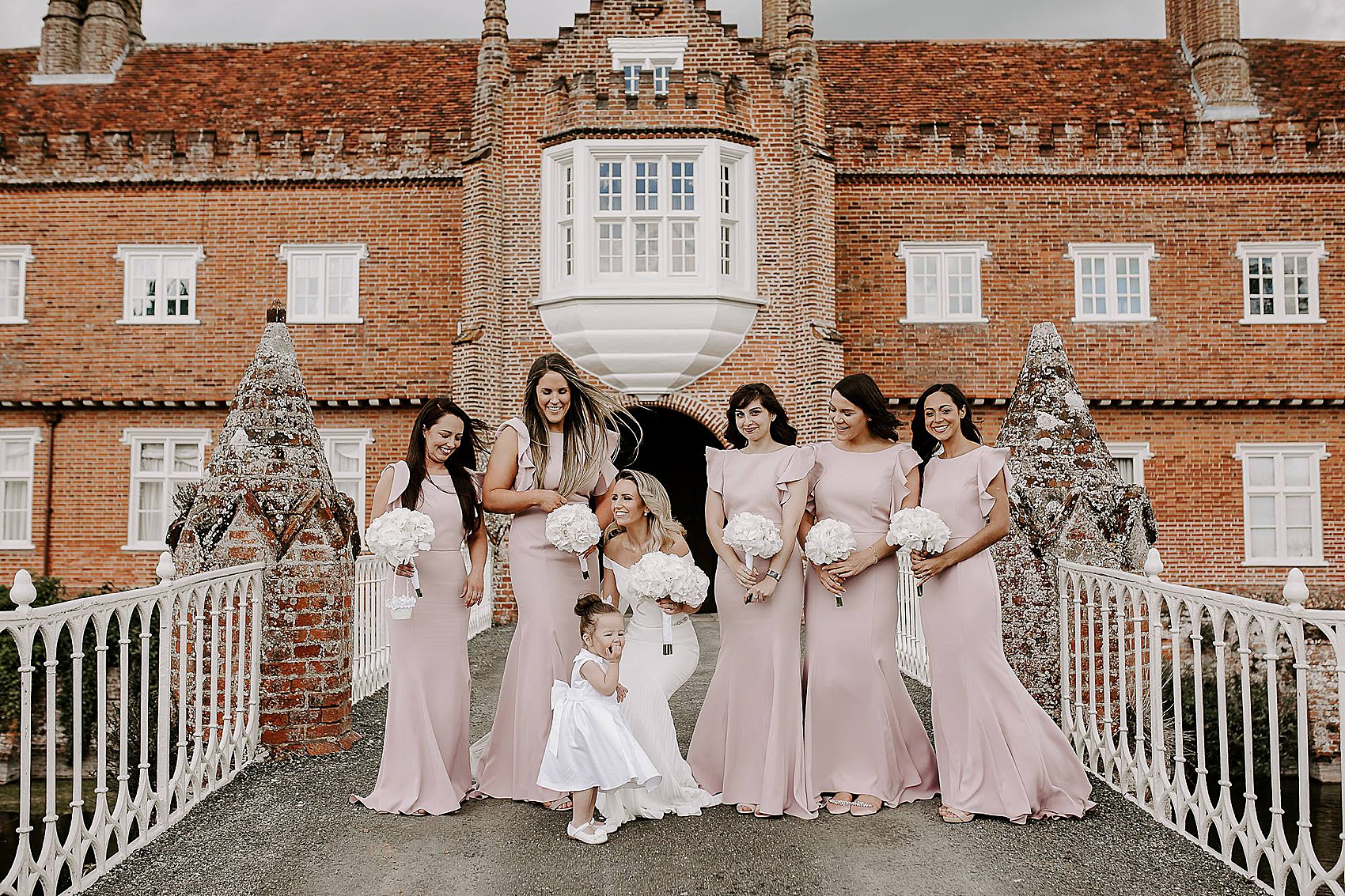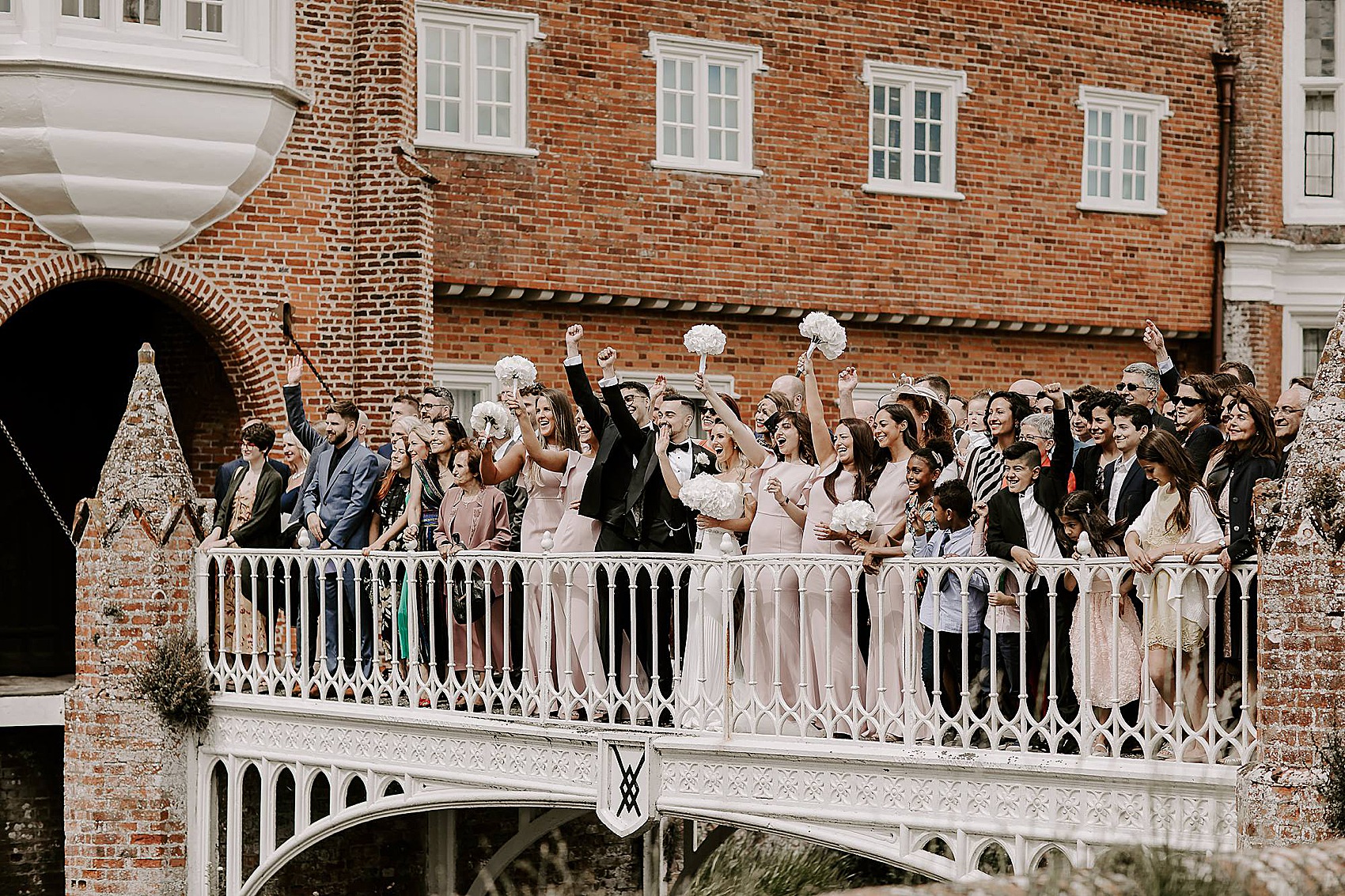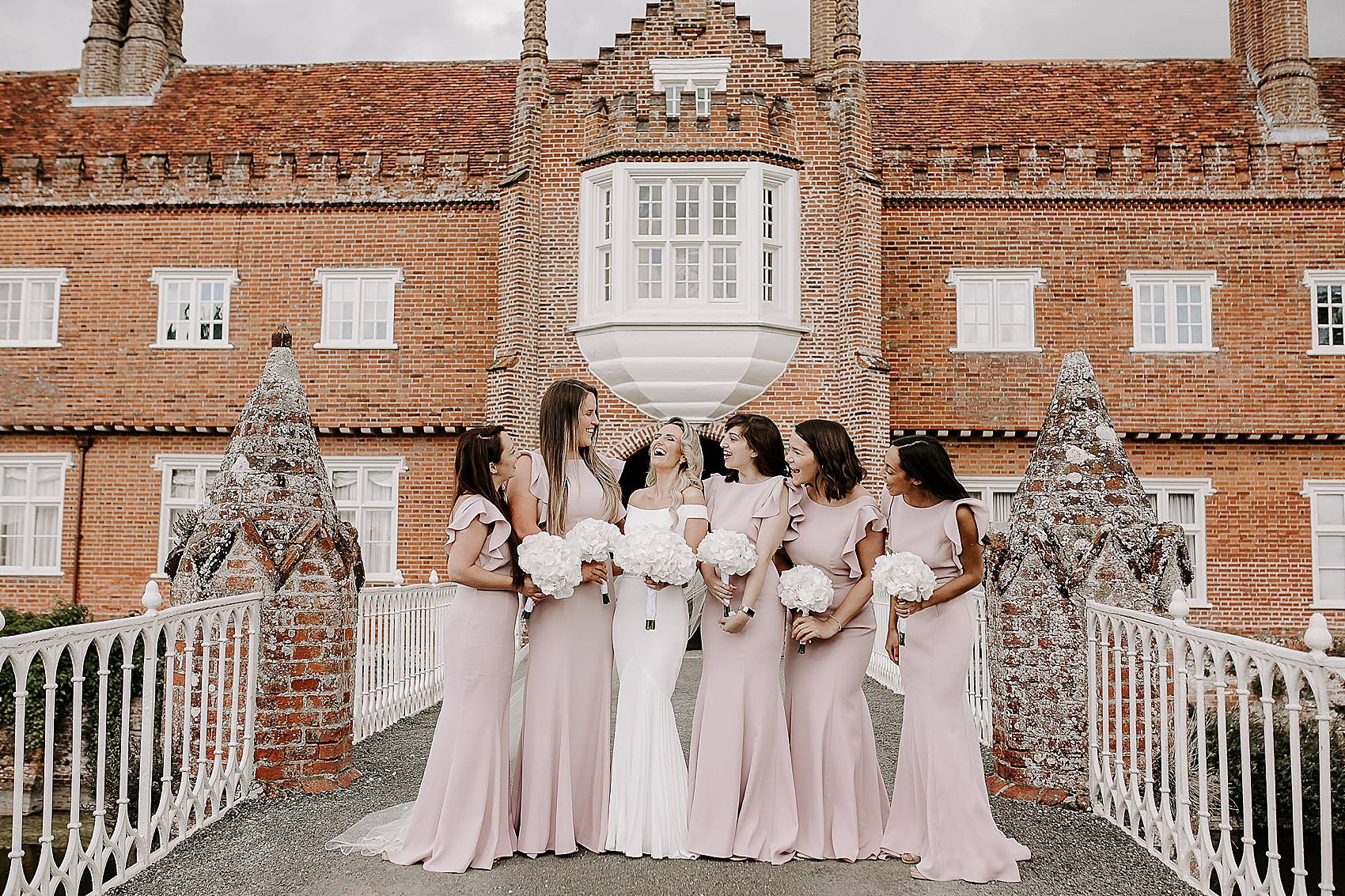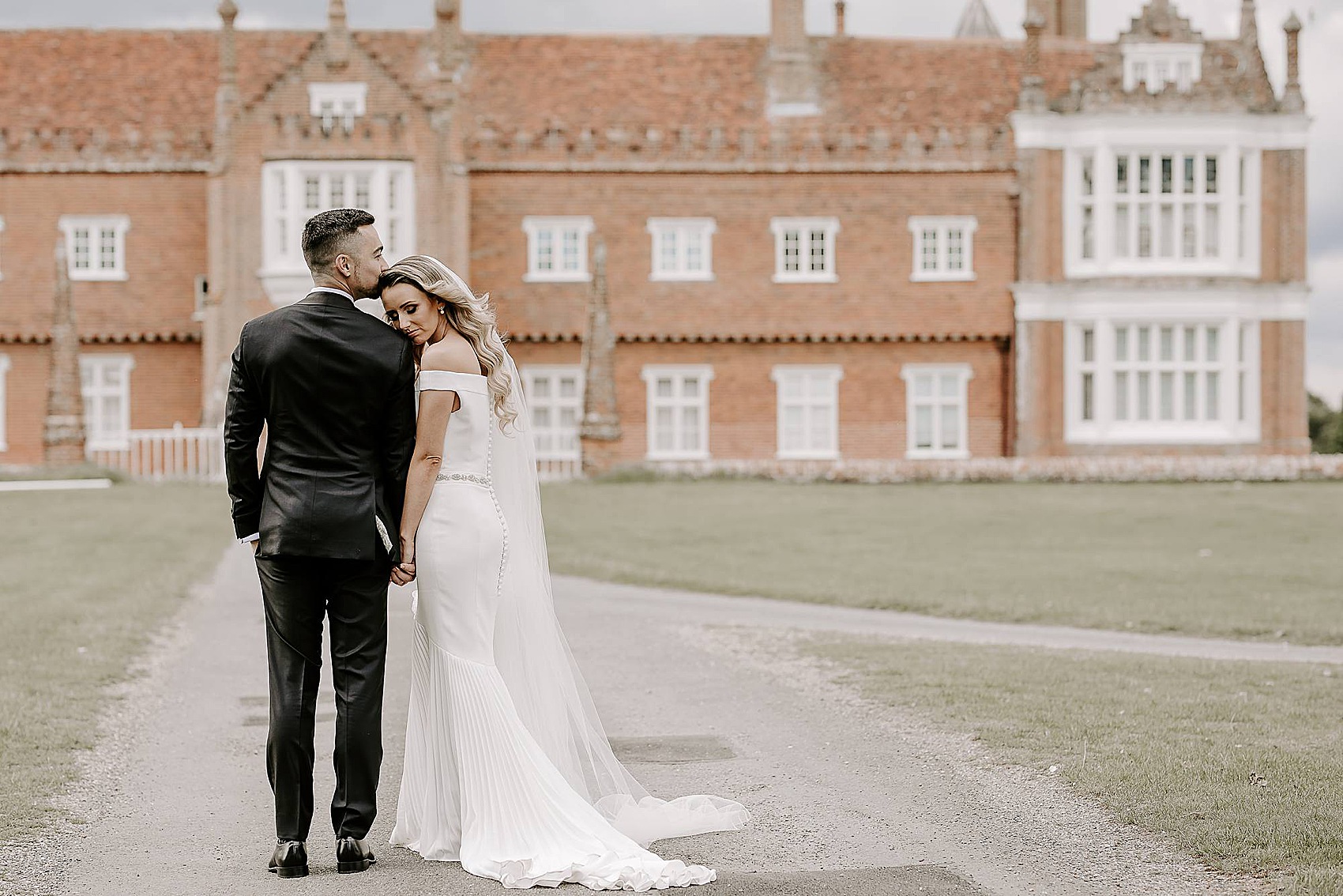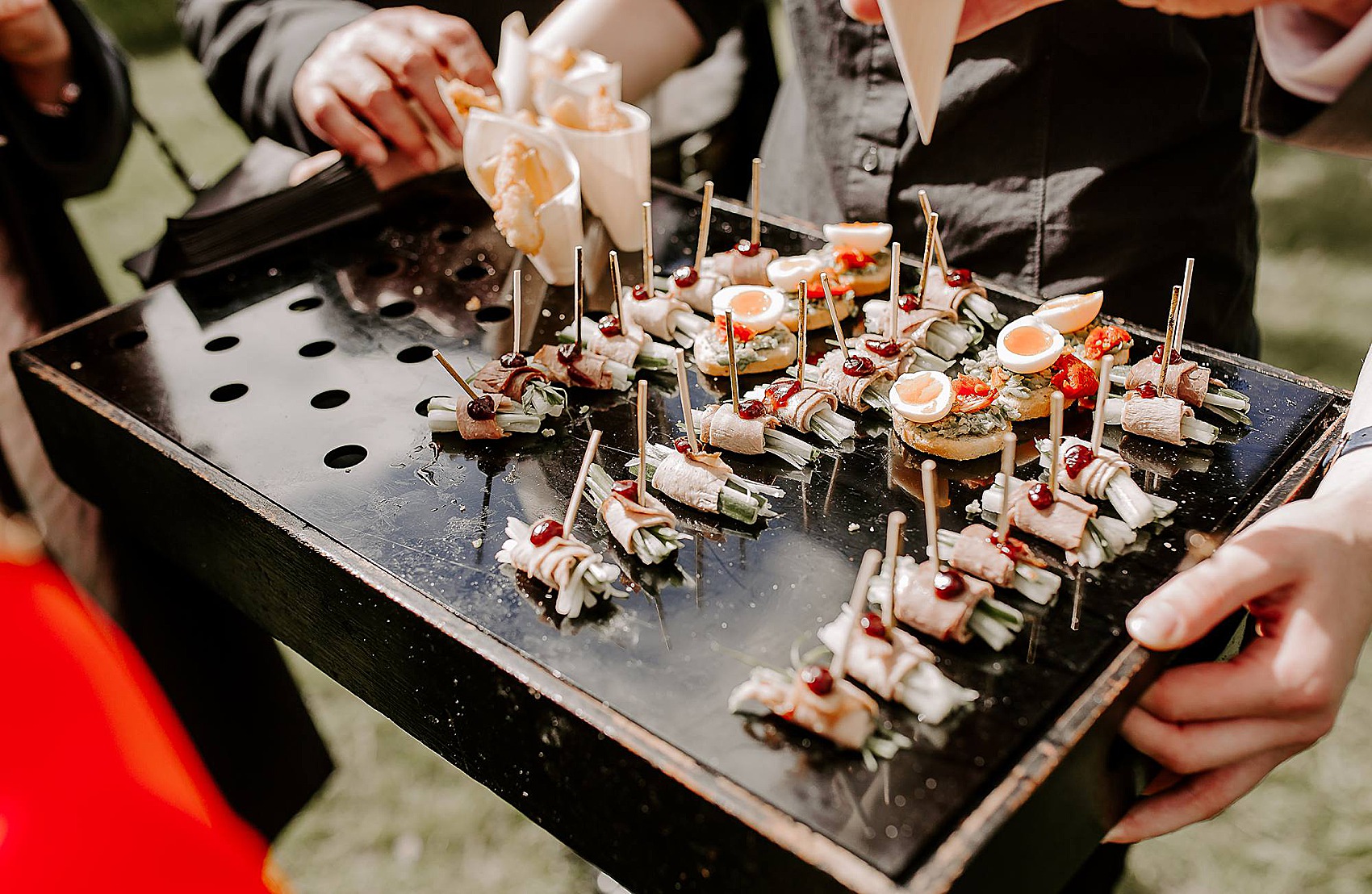 "Being able to celebrate our love with all our family and friends was our favourite part of the day. Especially our niece, she stole the show as a flowergirl and I didn't mind one bit!"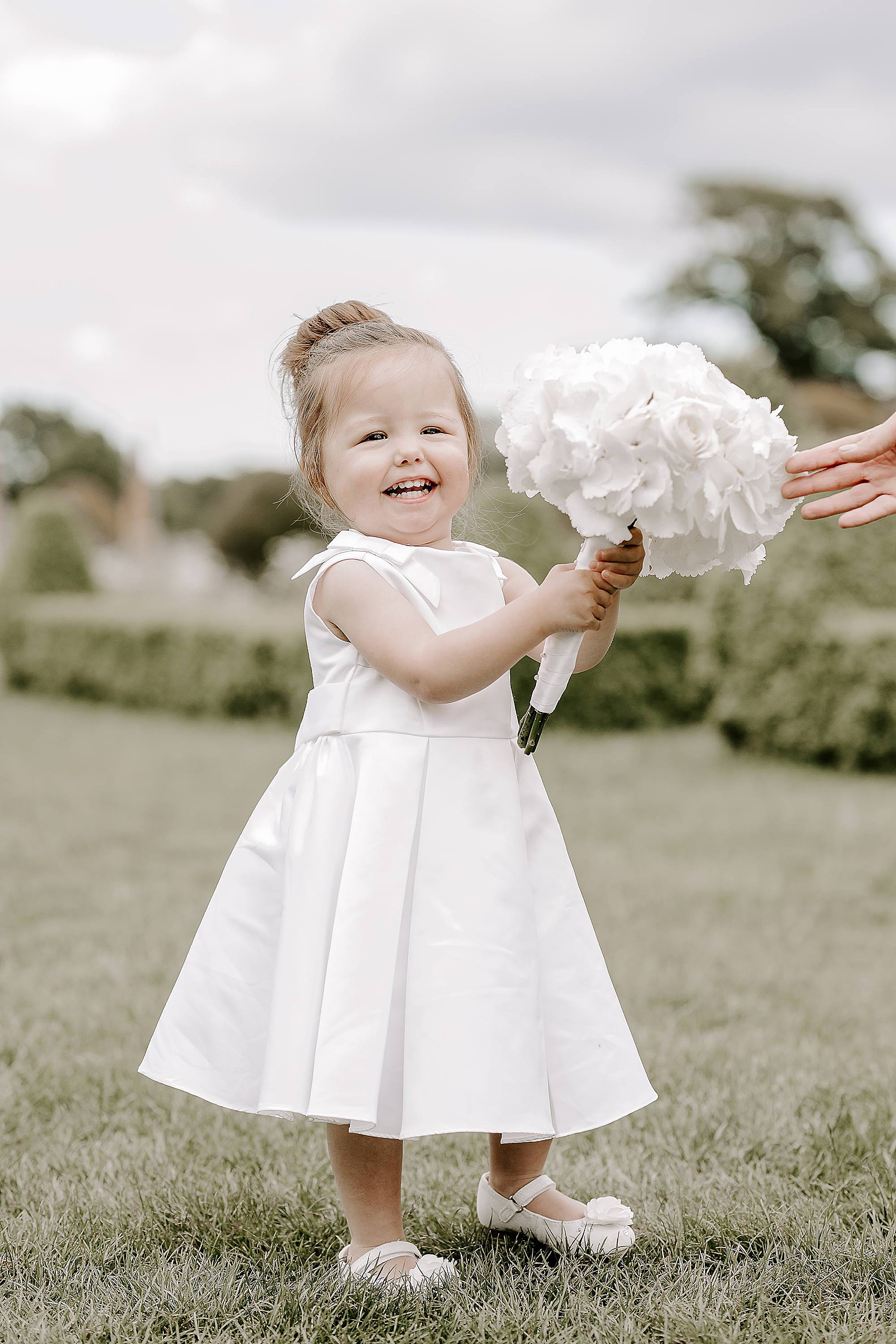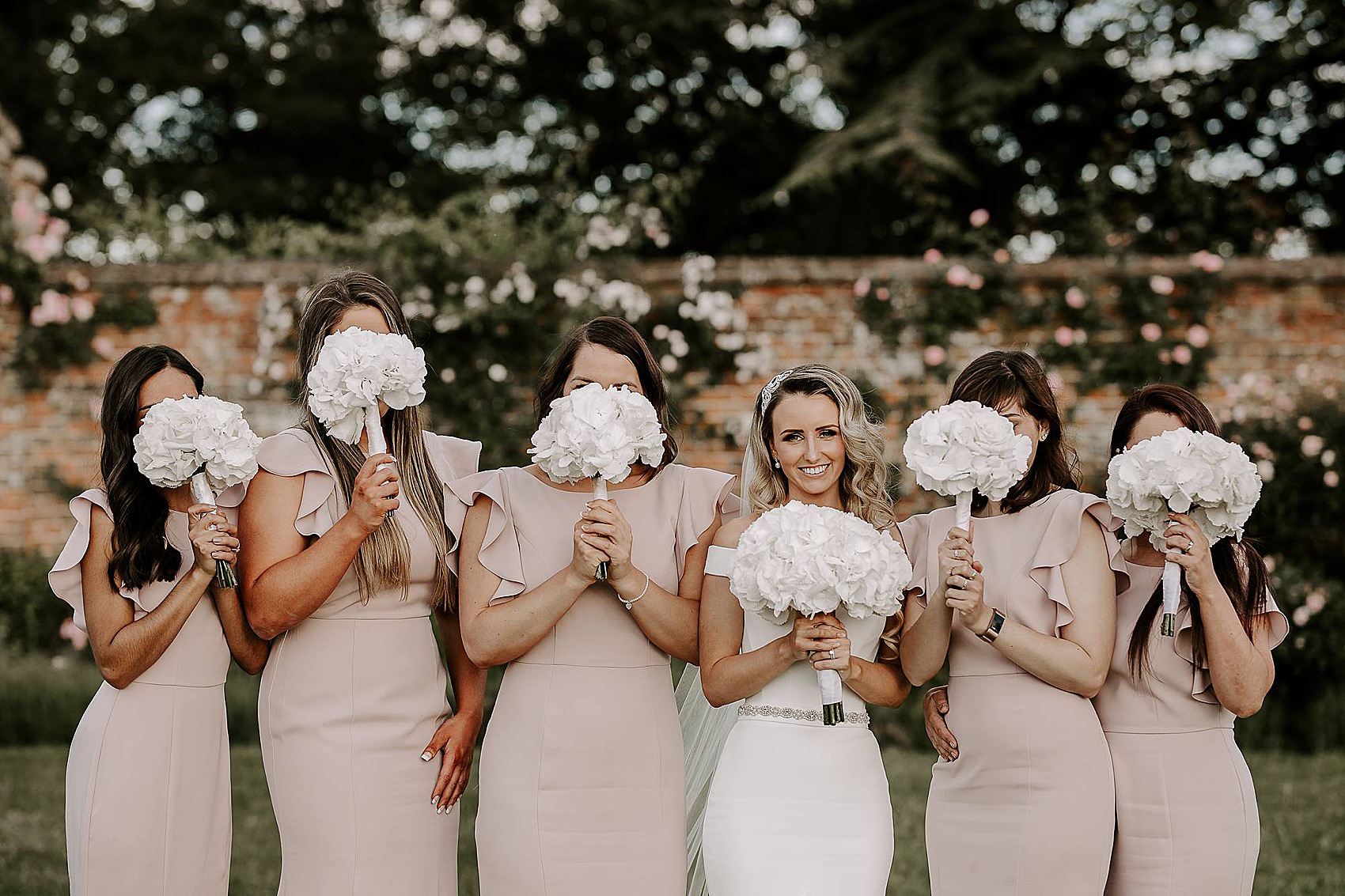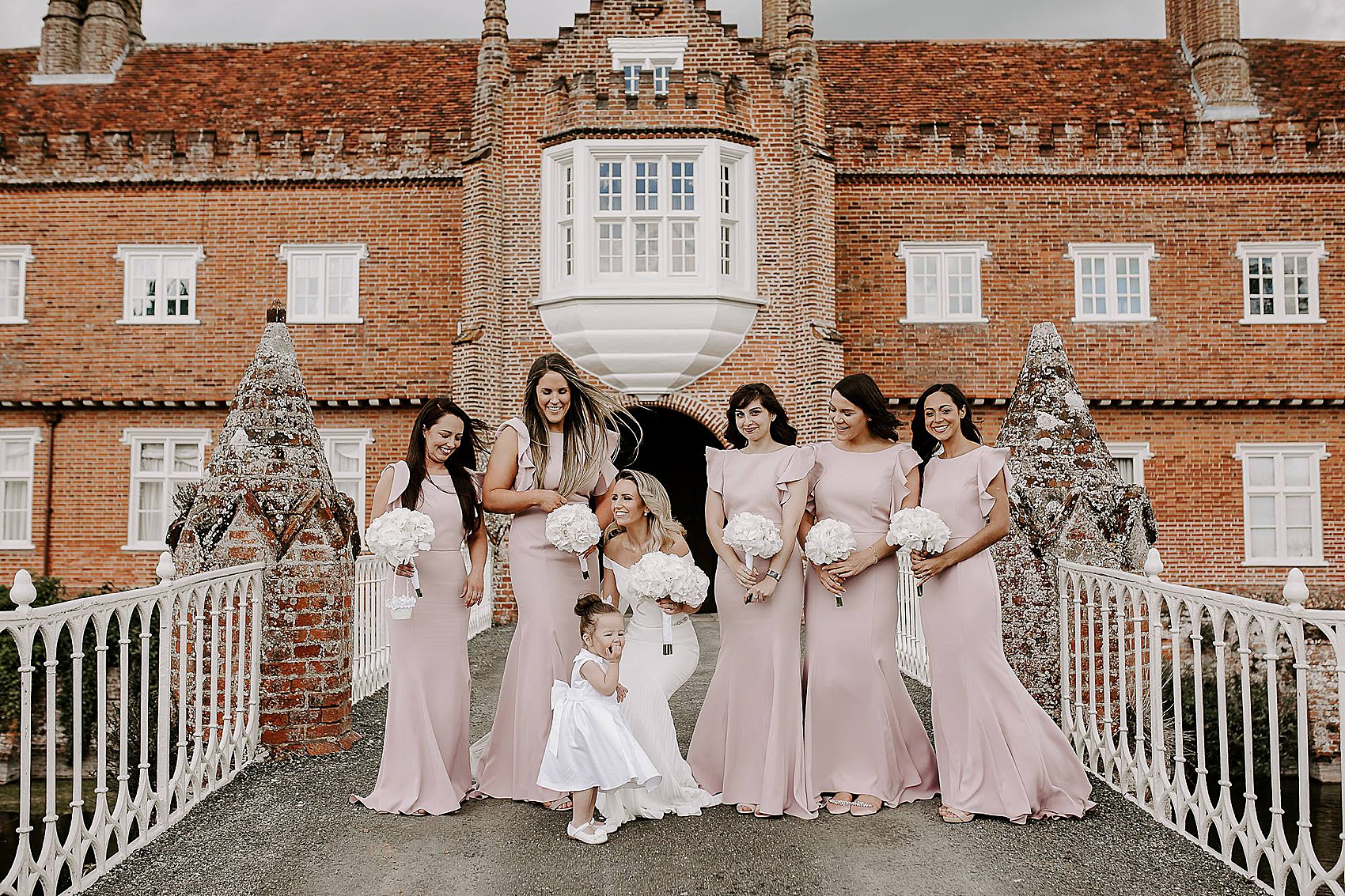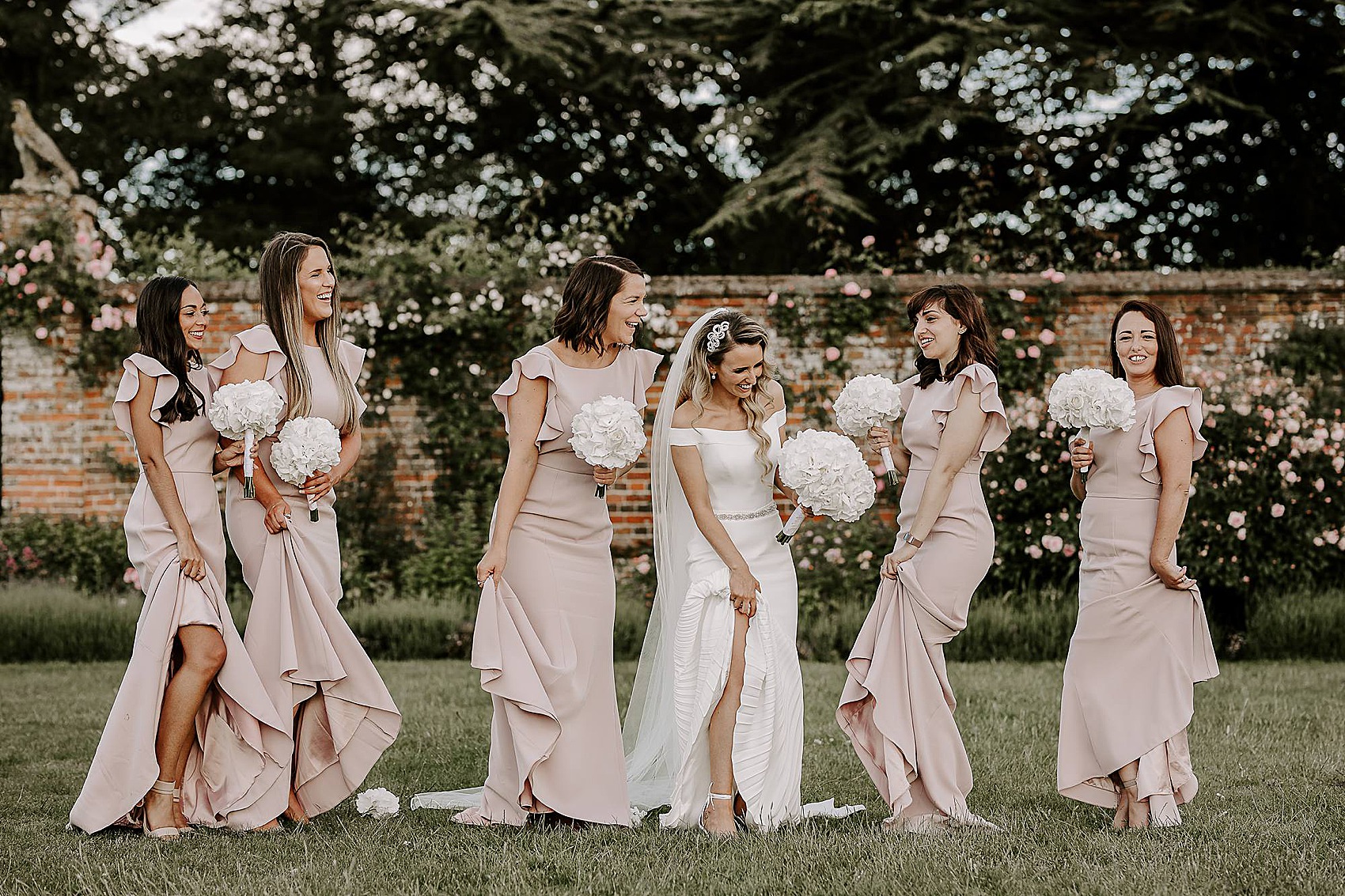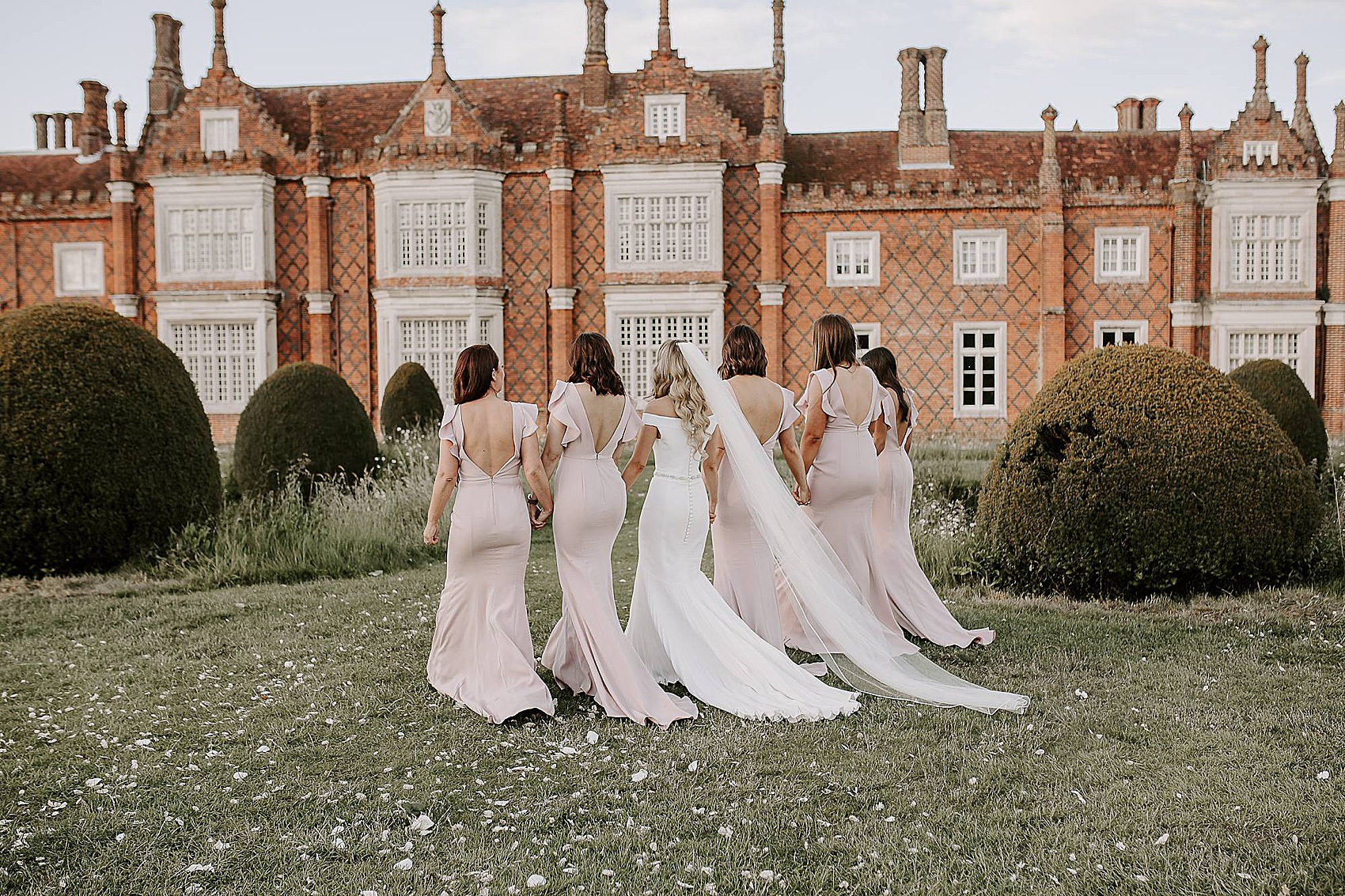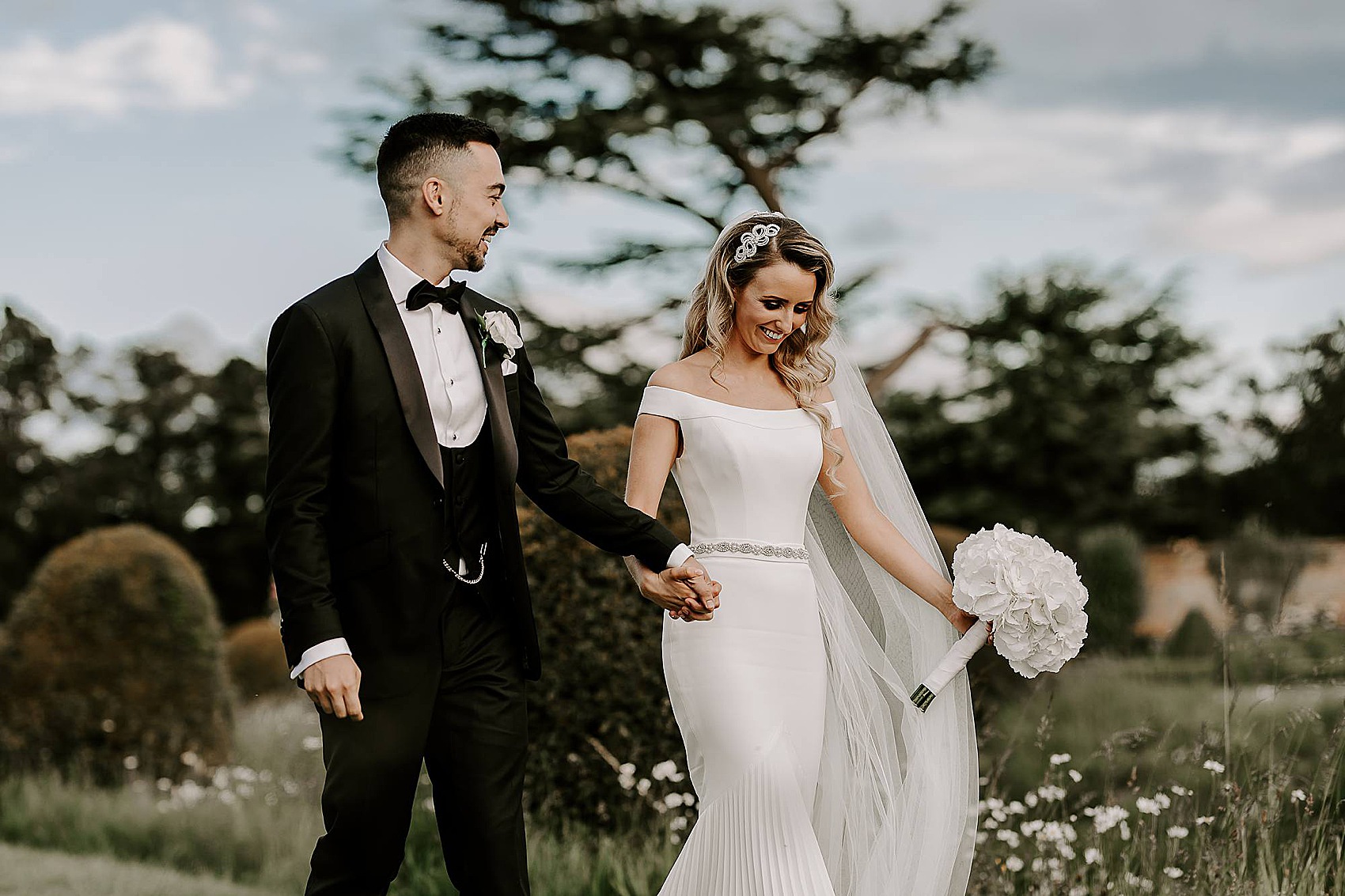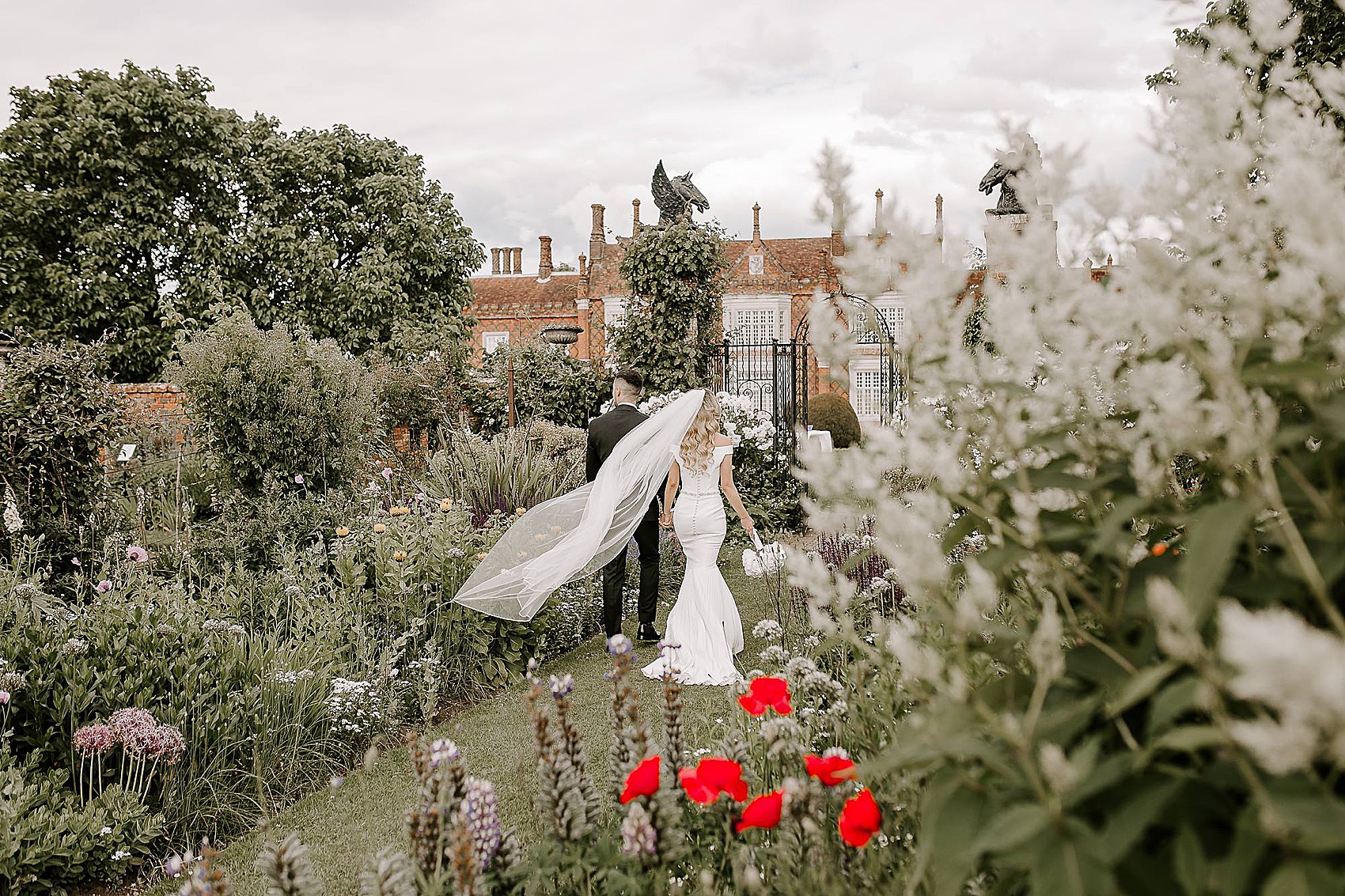 A gorgeous, clear-sided marquee with a beautifully draped ceiling canopy was provided and set up by CrackerJack Marquee Company.
"Kevin from CrackerJack was really helpful, right up to the eve of the wedding. He set up well ahead of time, and arranged it all with Katy at Helmingham."
"Helmingham provided us with a wedding coordinator, Katy, who helped act as a point of contact for all our suppliers and turned our high level plan into action. On top of all that she was a lovely person! We had a marquee for the wedding breakfast and evening, and the ceremony was outside. This meant that unlike many other venues, there was no limit to the number of guests we were able to have. Morgan has a large family so this was a must."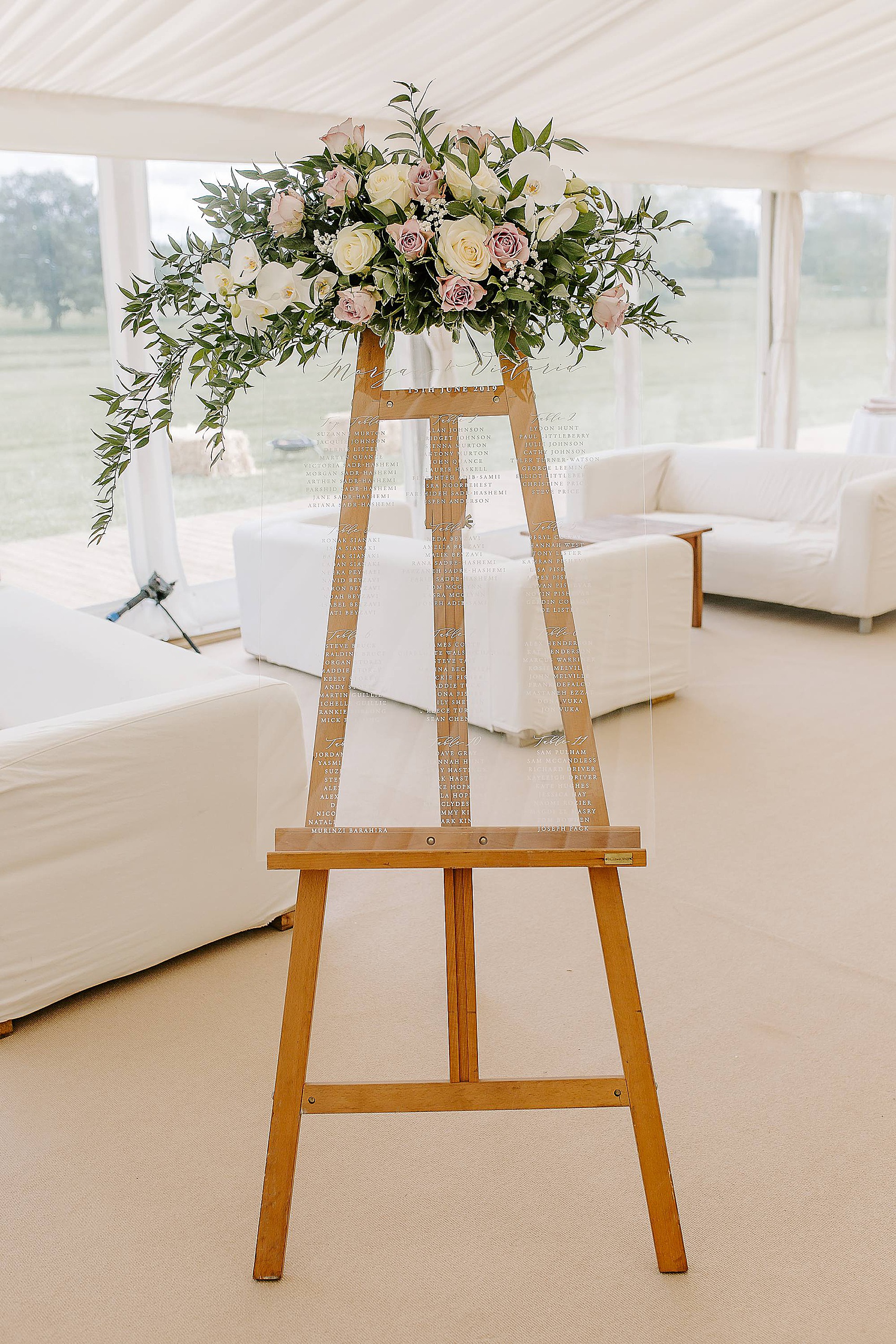 Table centrepieces were beautiful floral arrangements in tall vases to give height and drama to the room. There were also scented candles and glass tea light holders, and as table settings, gold beaded charger plates with soft pink napkins.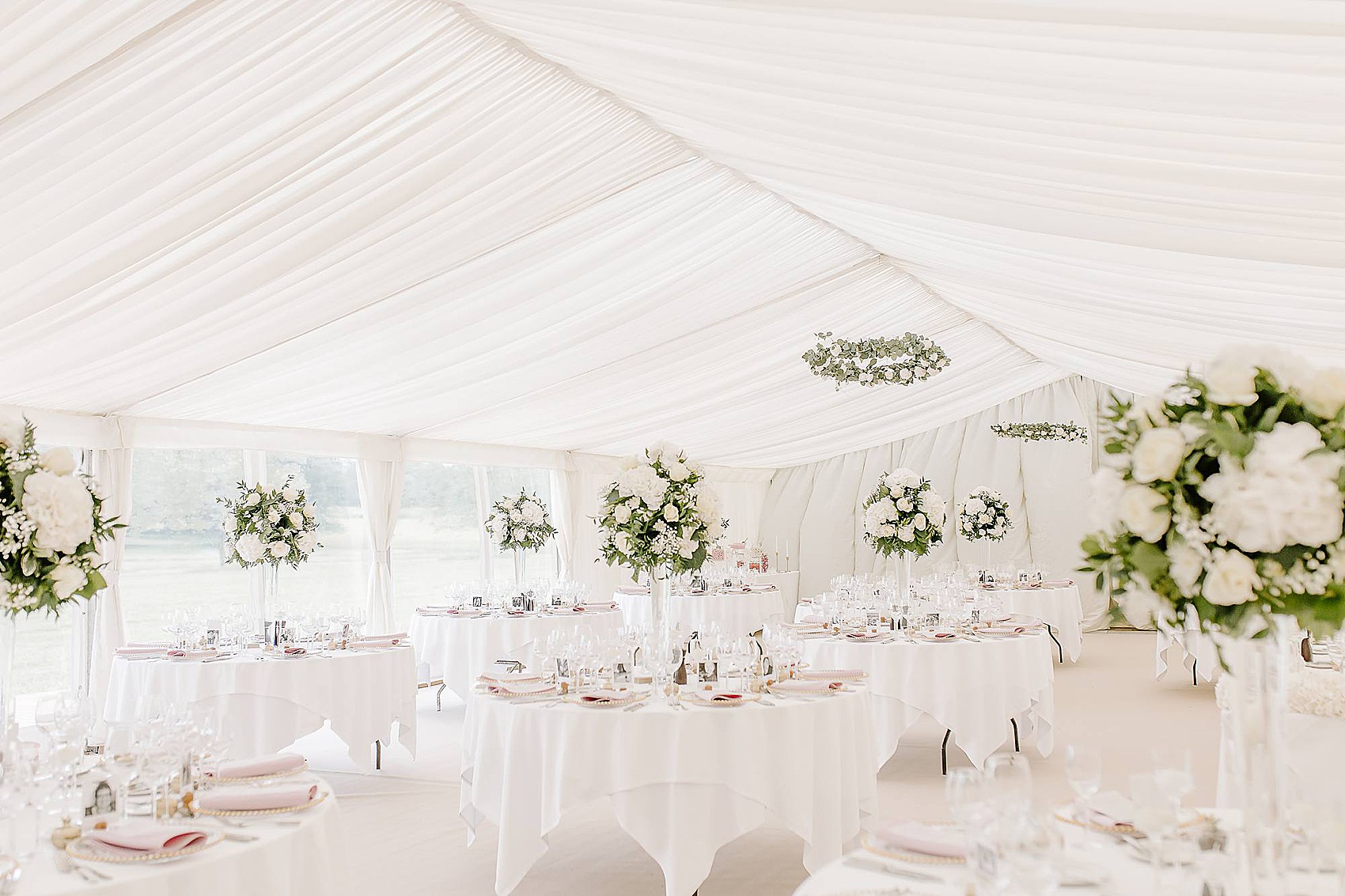 "Our place names were black and white Polaroid style photos of each guest with their name under the picture. We tried to make sure each photo was a time that we had enjoyed together with that guest."
"Favours were golden pomegranates from Etsy, which we filled with glazed almonds we made ourselves. Glazed almonds are a traditional sweet in Iran, and Morgan is half Iranian and half Welsh. We followed a recipe from The Spruce Eats."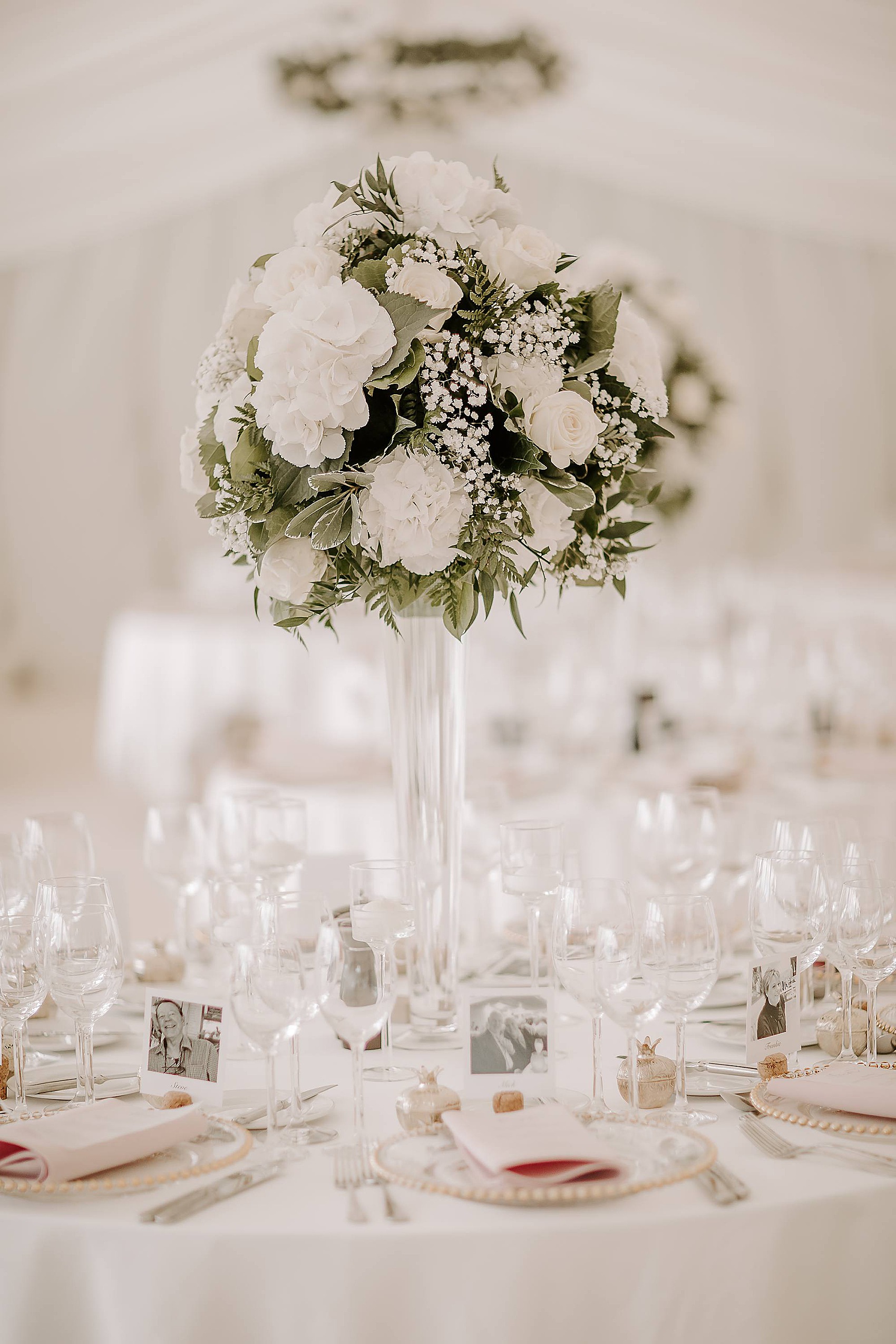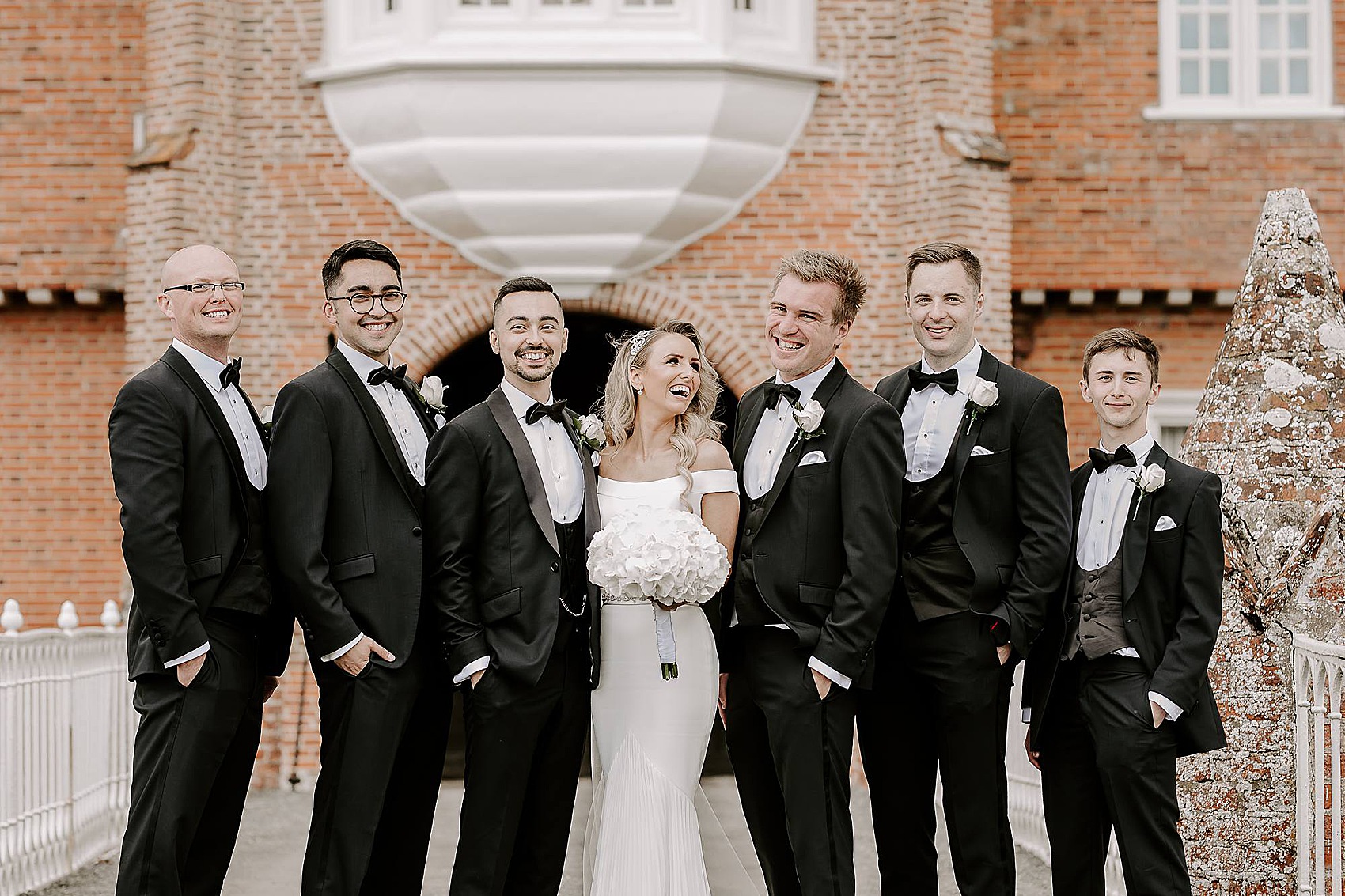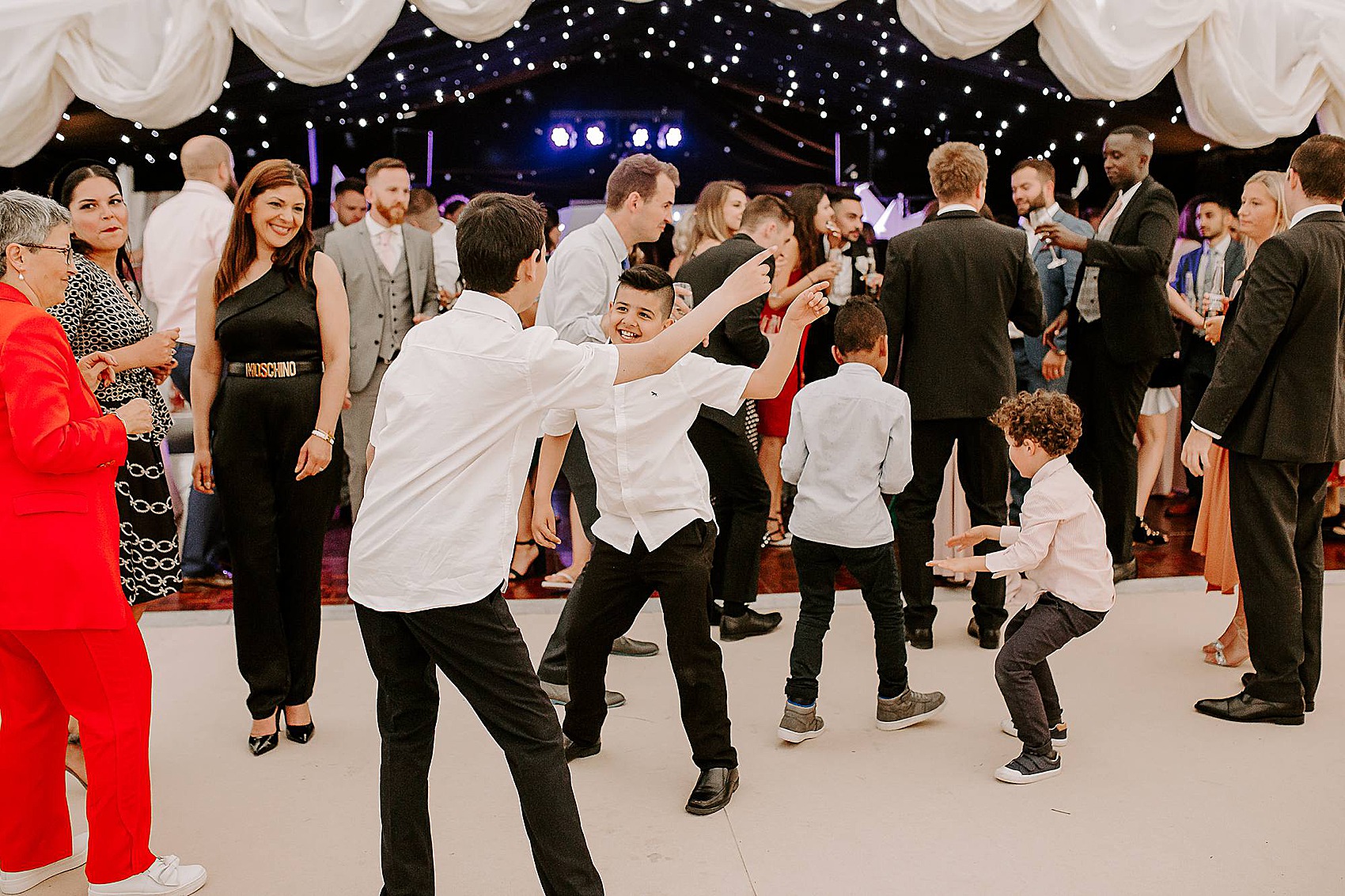 Everyone sat down to a feast prepared by Milsom Catering, which was followed by the most spectacular five-tier gold leaf cake by Amelie's Kitchen.
"Flavours were carrot and pecan, red velvet, chocolate and salted caramel, and white chocolate and passionfruit. It was five tiers with one false tier and flowers to match the bouquets. The colour scheme was dusky pink, and we had 24 carat gold leaf on the cake to match the theme."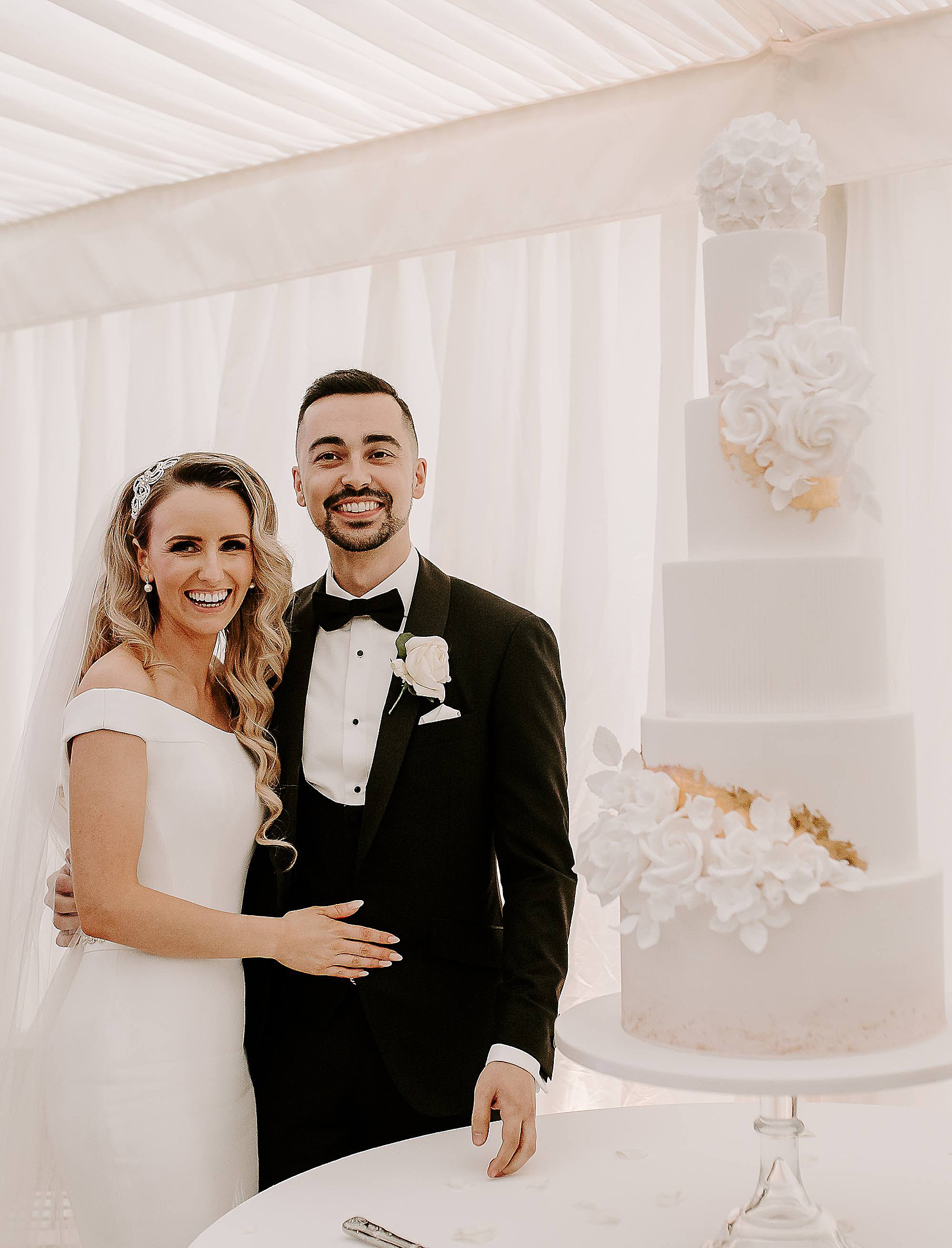 Later on, under a star spangled canopy, Victoria and Morgan enjoyed their first dance together to a mash-up of T-Pain's songs – as Morgan is a huge fan. Following this was  more music from Cutting Discos & Entertainment.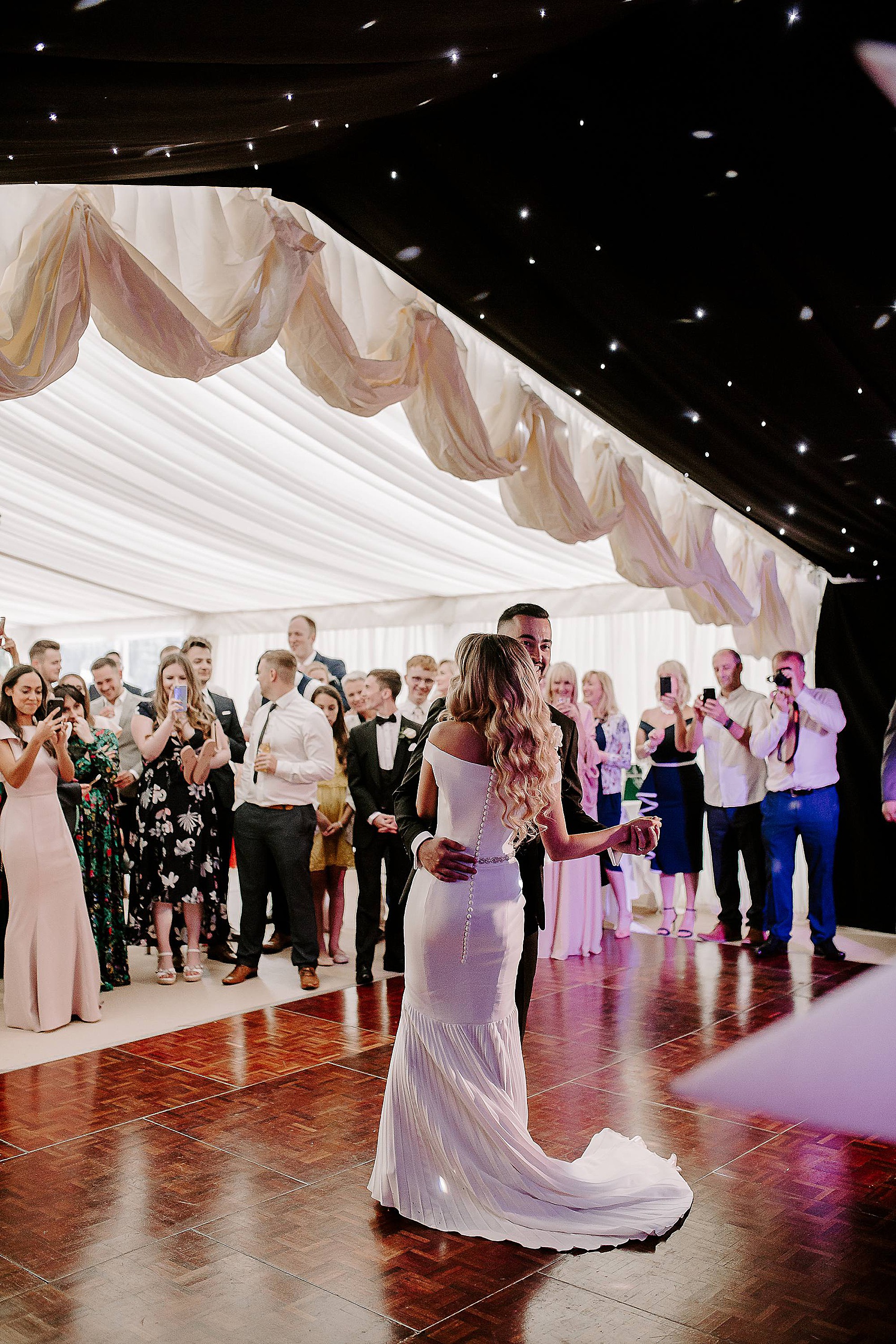 Words of Wedded Wisdom
"Take a few minutes as a couple to just step aside, look around and take everything and everyone in. This is your wedding day. If you're anything like me it's a day you've dreamed of your entire life. Everyone tells you it goes by so quickly and it really does, so don't forget to enjoy the moment."
"Try not to let the wedding planning stress you out too much, it all comes together in the end. Even if it doesn't, chances are on the day you're so caught up in the magic of it all that you won't even care."
"People should do weddings in their own way. We've been to so many types of weddings and they've all been fantastic because they reflect the couple so well and we can see how happy they are. There's no 'right' way to do a wedding. It's all personal."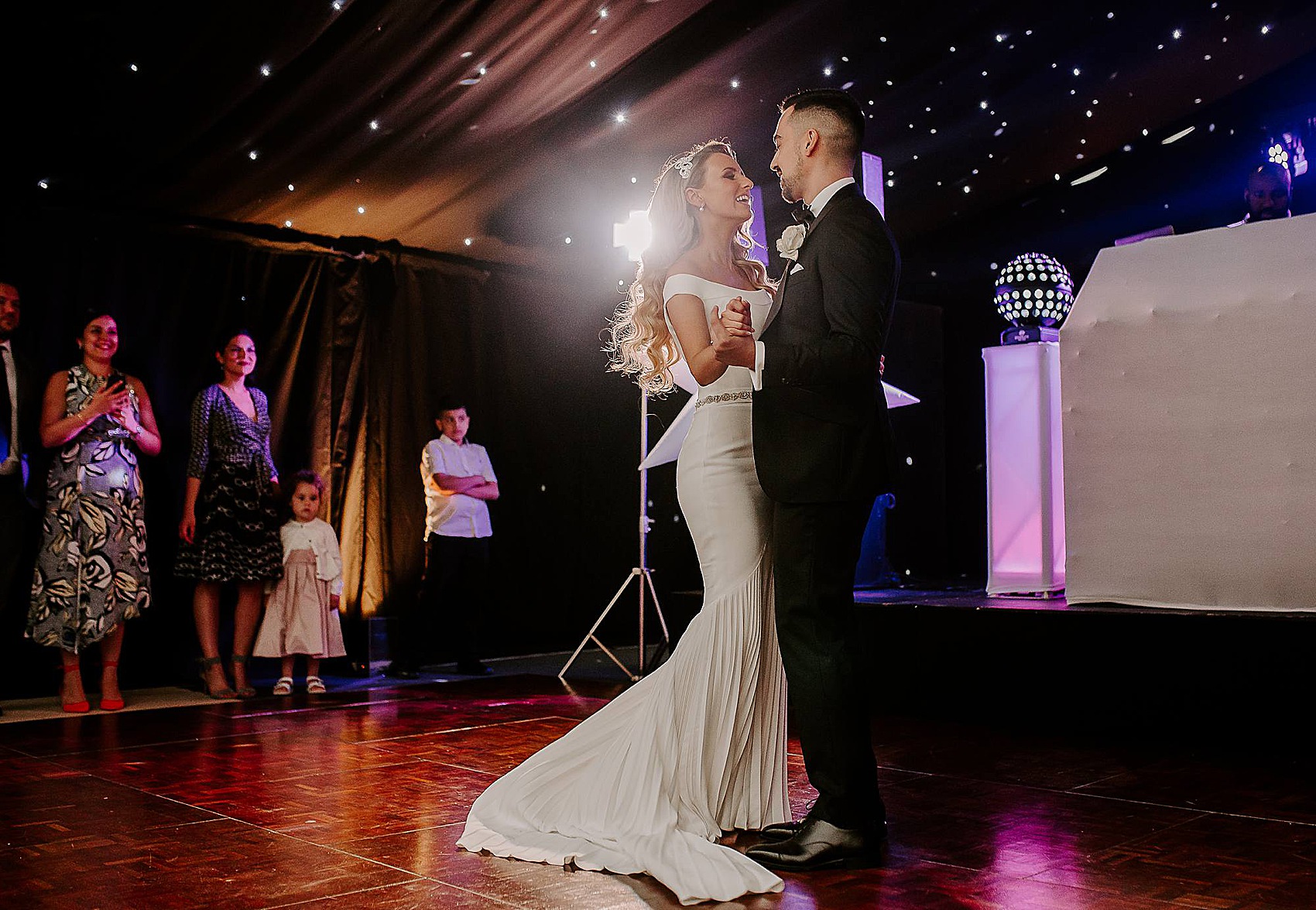 Victoria and Morgan, thank you so, so much. What an elegant, beautiful treat this was. Many thanks to Soulful Reflection for their super film, and to Sharon Cudworth for these glorious images, too.
Until next time.
Love,
Laura