Hello loves, it is my privilege to get your Sunday off to a superb start. I really hope that today's blissful combination of richly-coloured blooms, the most elegant of wedding gowns and a personal lakeside pavilion ceremony sets you up for the rest of the weekend.
Please meet Anna, lawyer and owner of soon-to-launch luxury staycation business The Ruralist and barrister Sam, who chose Heckfield Place in Hampshire for their rescheduled Jewish wedding on 17 September 2020. For the couple, a beautiful, relaxed, Covid-secure wedding was key, and they worked closely with the venue's event manager Emma Soum to realise their vision.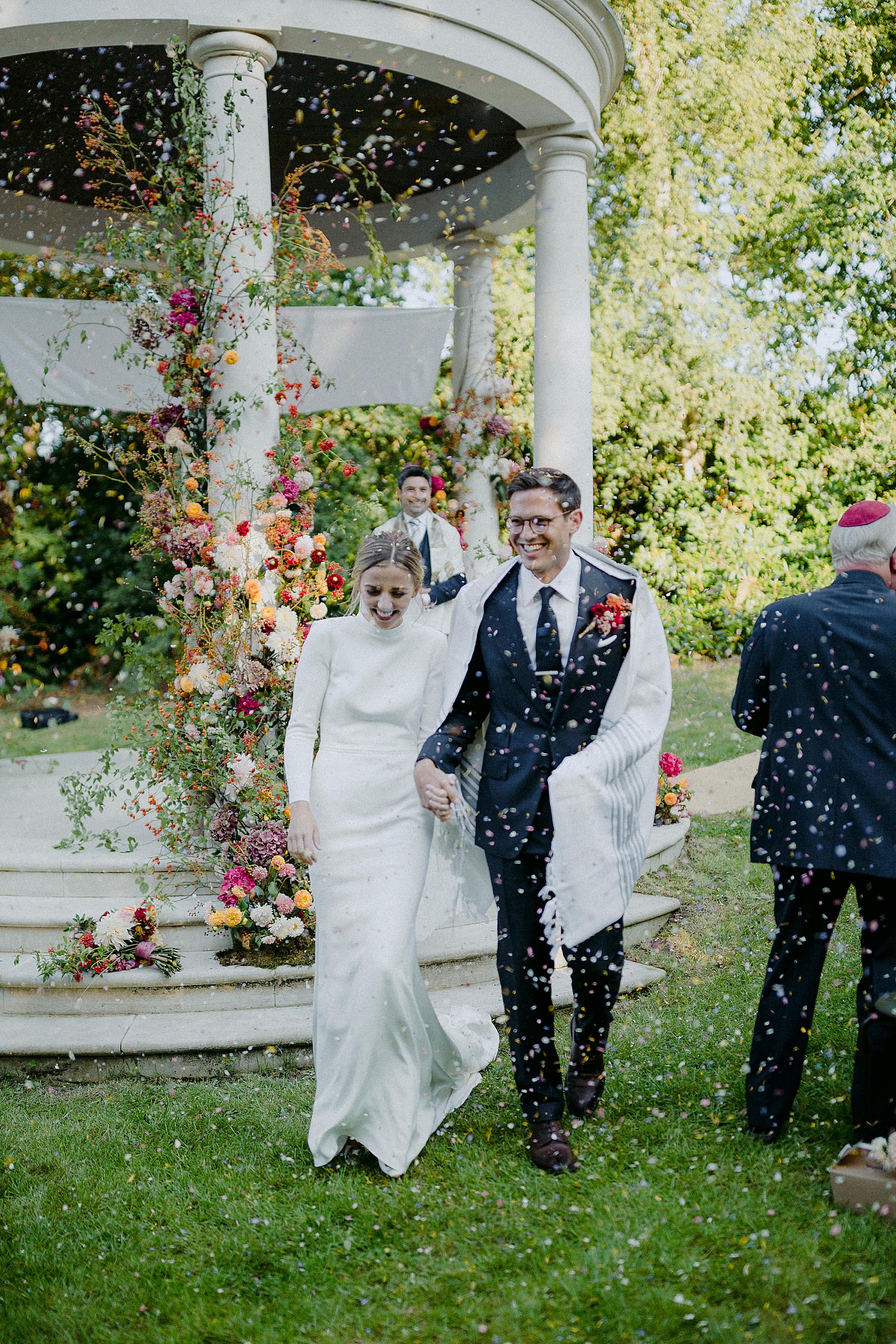 Like so many other engaged couples, Anna and Sam had their plans disrupted by Covid restrictions but they found Love My Dress an essential support of advice.
"We visited Love My Dress almost daily in the run up to our wedding. We noticed very early on that the Love My Dress team had been working relentlessly to highlight the impact of Covid on couples, suppliers and the wedding industry as a whole. We would just like to acknowledge all of their hard work on the #WhatAboutWeddings campaign and thank them, in particular founder Annabel, for being a voice of clarity among all the uncertainty that continues to surround weddings."Anna was lucky that her friend Rachel Singer-Clarke was able to do her hair and make-up. The look she created is so elegant and natural; just perfect.
"Rachel is a professional make-up artist and is usually travelling for work but her schedule had cleared at the last minute as a result of Covid restrictions. I usually find it quite stressful having my make-up done but Rachel somehow makes it feel like a spa treatment."
It's so good to see the work of one of our Little Book Wedding Directory member's celebrated here; the incomparable Emma Beaumont. Emma creates the most luxurious, modern, romantic looks for brides and I'm in love with this sensational, bespoke, high-necked design. Please do visit her directory pages for more information and beautiful, beautiful gowns.
"I tried on several dresses but none of them felt right. I saw a dress made by Emma Beaumont on Instagram and decided to go for a bespoke dress."
"The first appointment with Emma is what you imagine being a bride-to-be is like – you sit there sipping on a glass of sparkling, describing the dress you have in mind while Emma sketches. I loved it; so much that I also asked her to design a jumpsuit for the evening."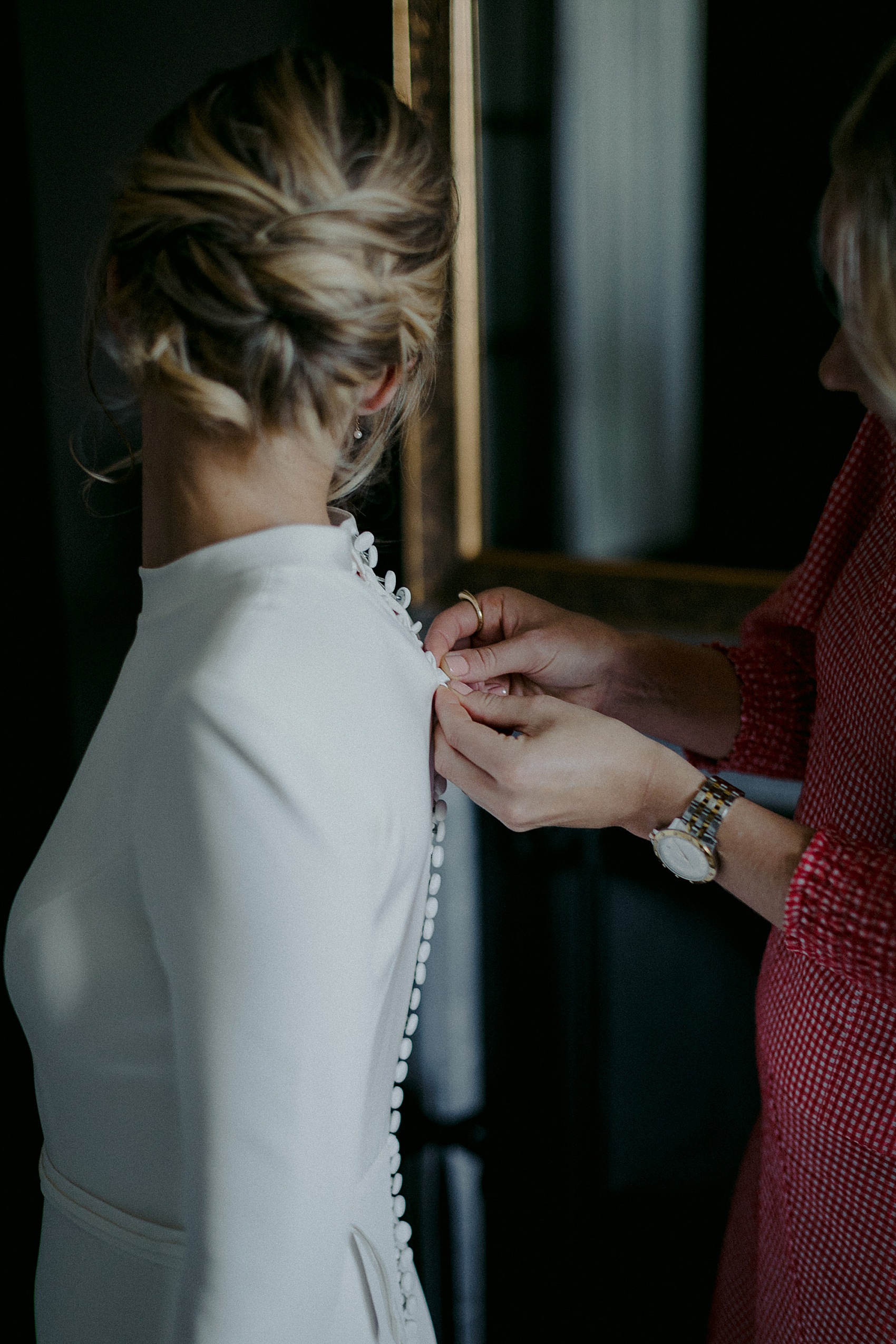 "I wanted something so simple that the simplicity would actually be the main feature of the dress, though I realise now that the design itself was actually quite complicated. Thankfully Emma and her team were on the case."
"I wore a perfume I bought from a perfumery in Tel Aviv and it reminds me of that wonderful holiday with Sam. It's made by Zielinski & Rozen and the fragrance is orange, jasmine and vanilla."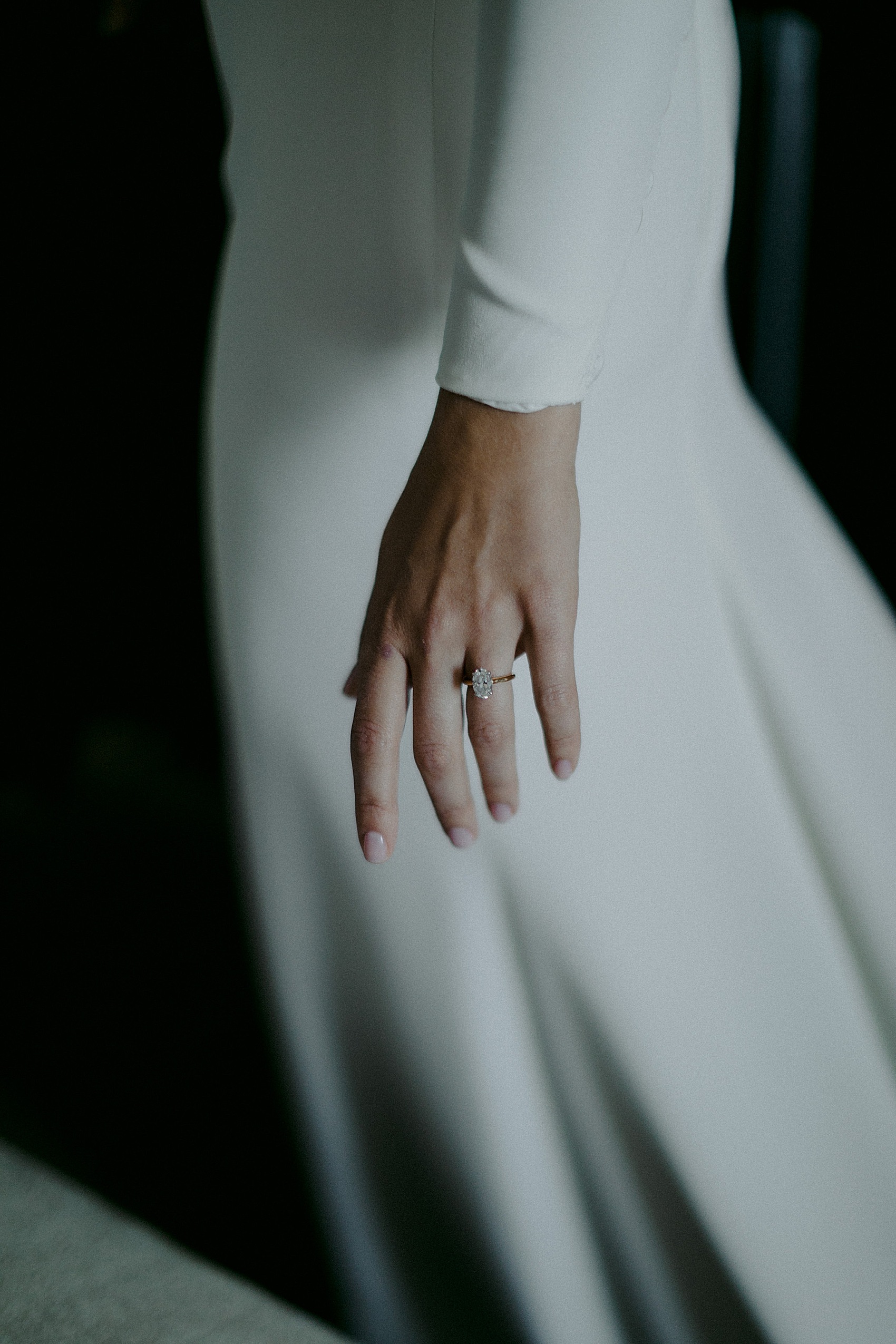 Anna wore iconic, ivory shoes from Manolo Blahnik (since dyed emerald green so that she can wear them again) and the earrings her mum wore for her own wedding.
"Putting them on made me think about my mum getting ready for her own wedding day. I hope the next generation of our family will wear them one day."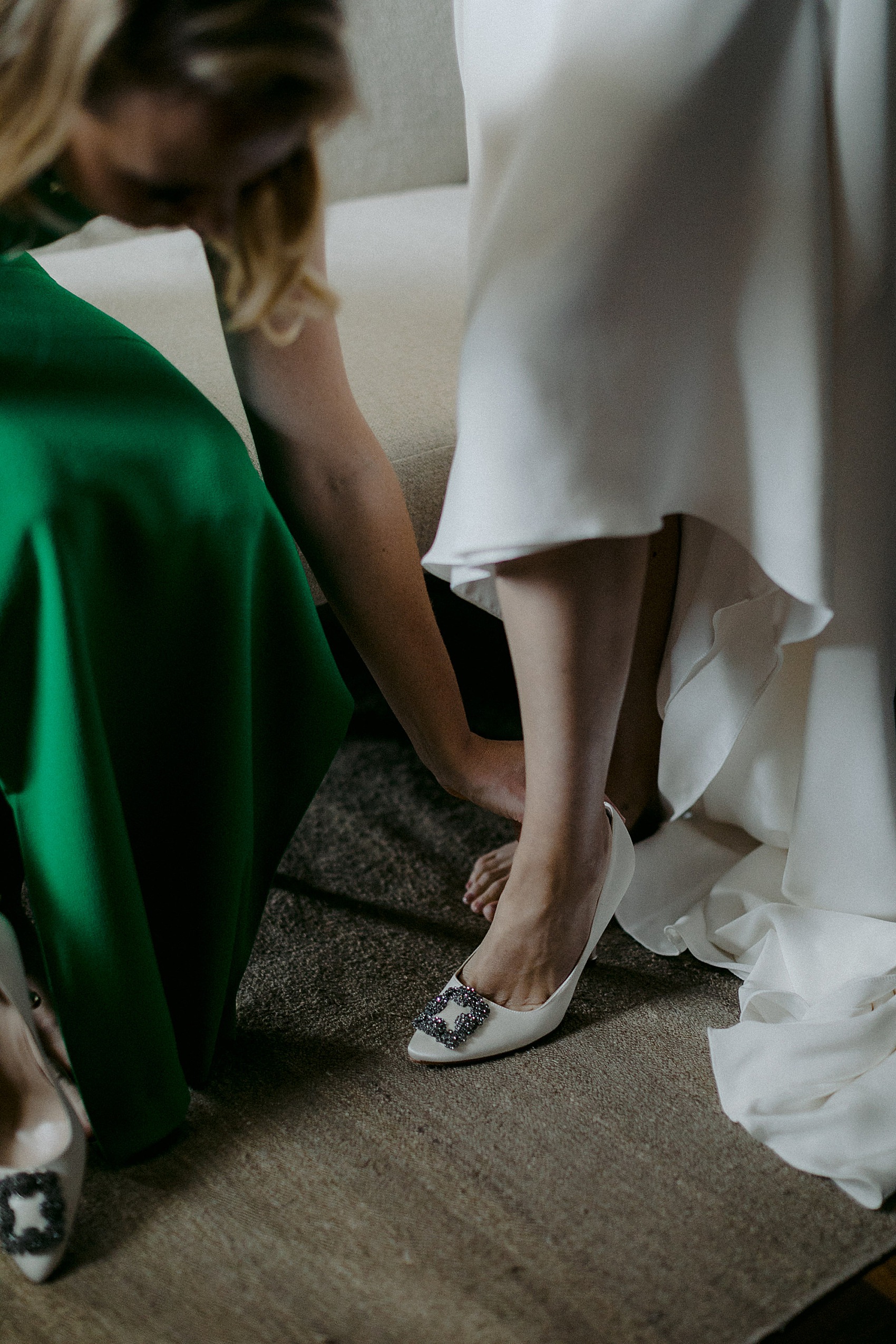 "We had originally planned a wedding in the Lake District (where I'm from) with 150 guests in May 2020. Initially, we postponed until March 2021 but within a few weeks we found that the uncertainty was taking the joy out of organising and so we decided to cancel entirely."
"As an antidote to the disappointment and to treat Sam for his birthday in July, I booked a stay at Heckfield Place."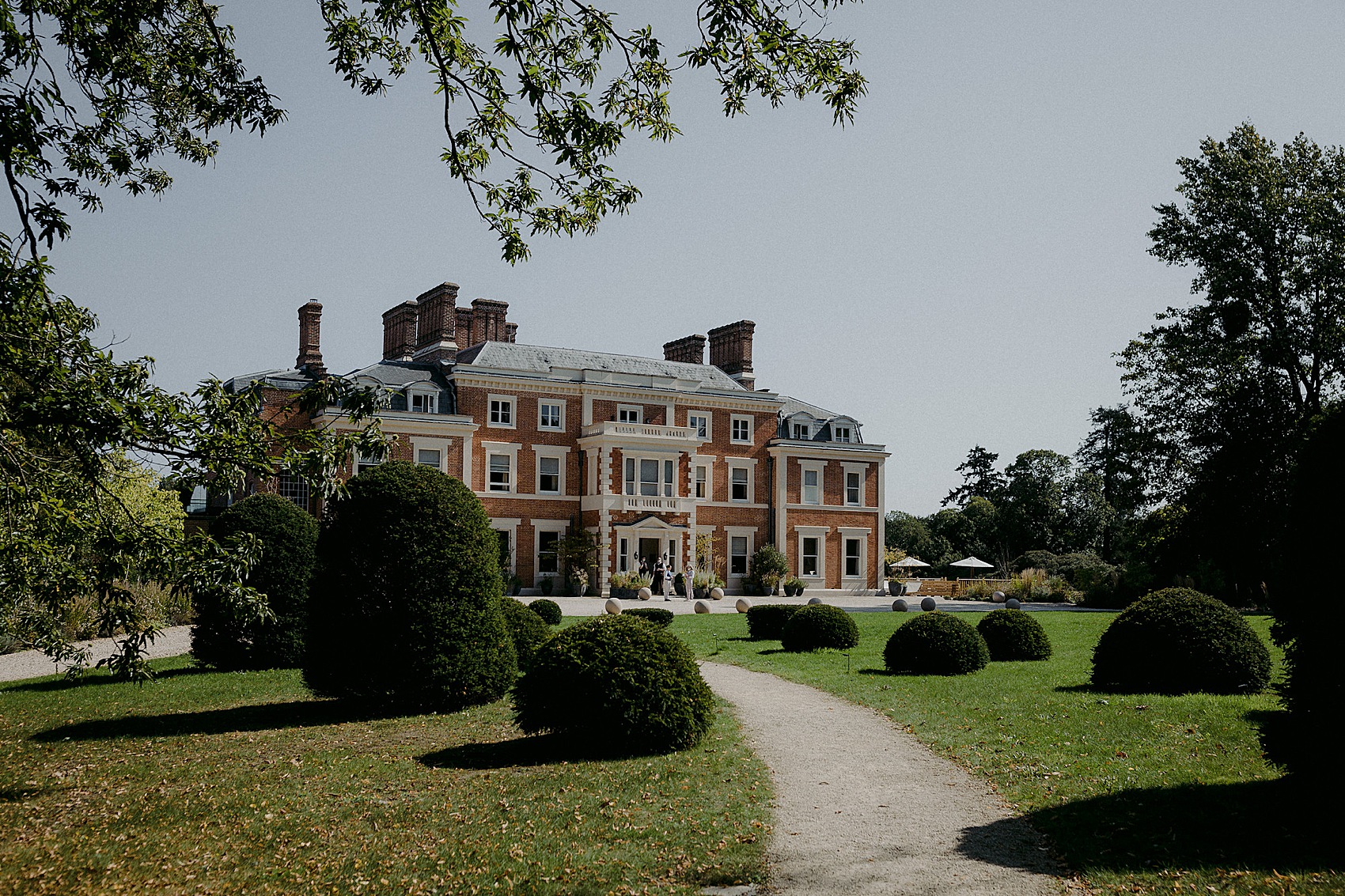 "While planning that trip, I thought it would be such a beautiful place for a small outdoor (and therefore Covid-safe) wedding. We did consider it for our original wedding but it was out of our budget with 150 guests."
"We figured it could be feasible now that we could only have a small number of guests."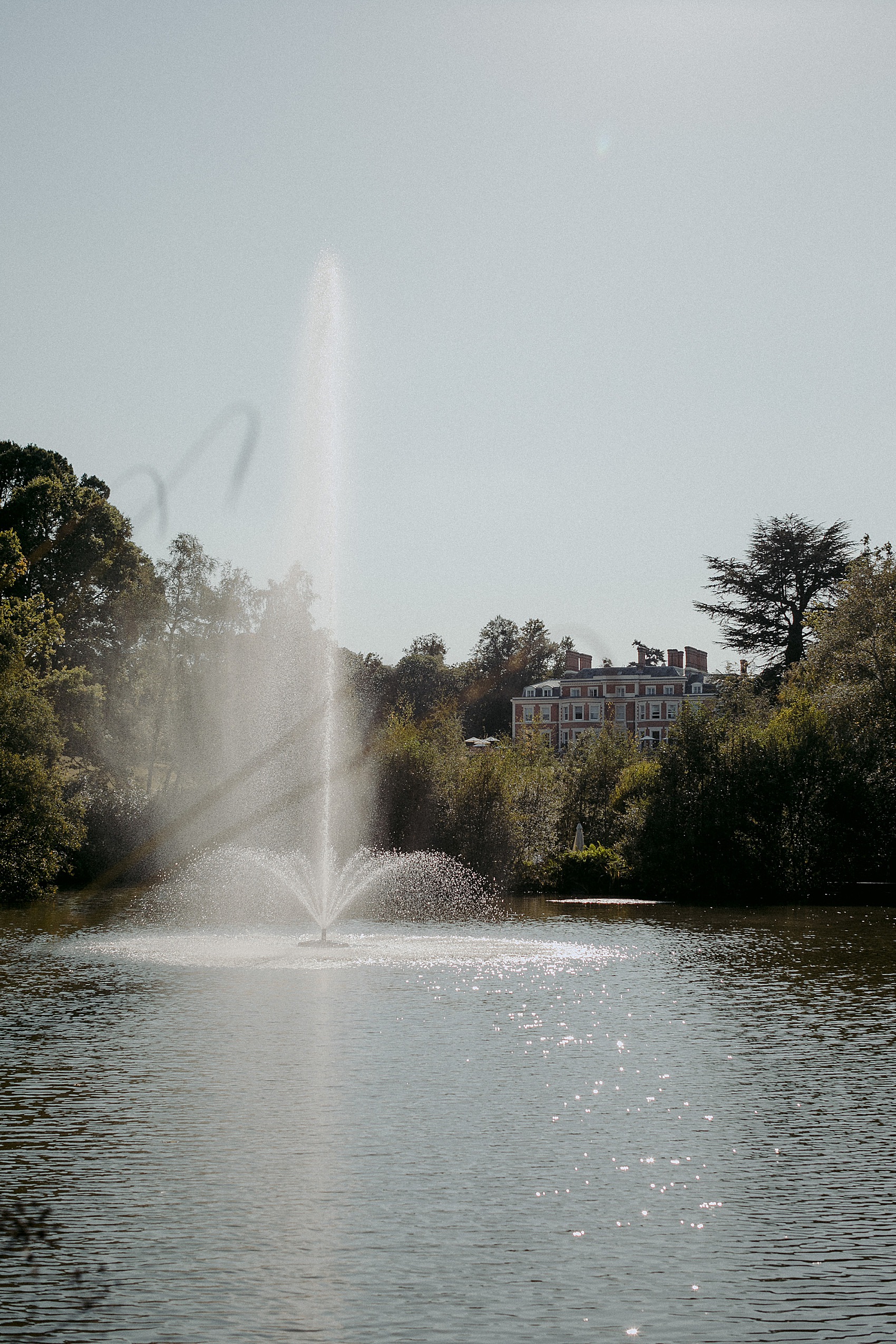 "We spoke with Joanna in the Heckfield team who told us they could make it work – we were thrilled! We pencilled in the wedding date for September and, given the uncertainty, didn't really start planning until just a few weeks before."
"We met Emma Soum who was involved every step of the way. It really felt like a collaboration; Emma, Joanna, me and Sam worked together on every detail with the aim of arranging a beautiful, relaxed and Covid-friendly wedding."
"We genuinely looked forward to all of our planning Zoom calls! Every time I thought of something that needed to be organised or a detail we wanted to include, Emma's response was either 'Leave it with me' or 'Yes, I already thought of that, it's done'."
As you can see, with such a beautiful backdrop for the inside elements and the lake and garden for the ceremony, there wasn't a need for too many styling elements but the venue was made even more beautiful by the use of exquisite seasonal blooms, mostly locally-sourced.
"When we visited Heckfield Place for the first time we noticed how stunning the flower arrangements were around the hotel. We were delighted when they said that April Deering, their in-house florist, could provide flowers for our wedding. We were lucky that in September there were beautiful blooms growing everywhere so we could focus our budget on covering the pavilion in flowers for the ceremony."
"We weren't too specific with what we wanted because we trusted April's informal yet impactful style and focus on seasonal, local flowers. We requested dahlias, craspedias and lots of foliage but other than that the flowers were a surprise on the day.  Most of the flowers were sourced from Heckfield Home Farm."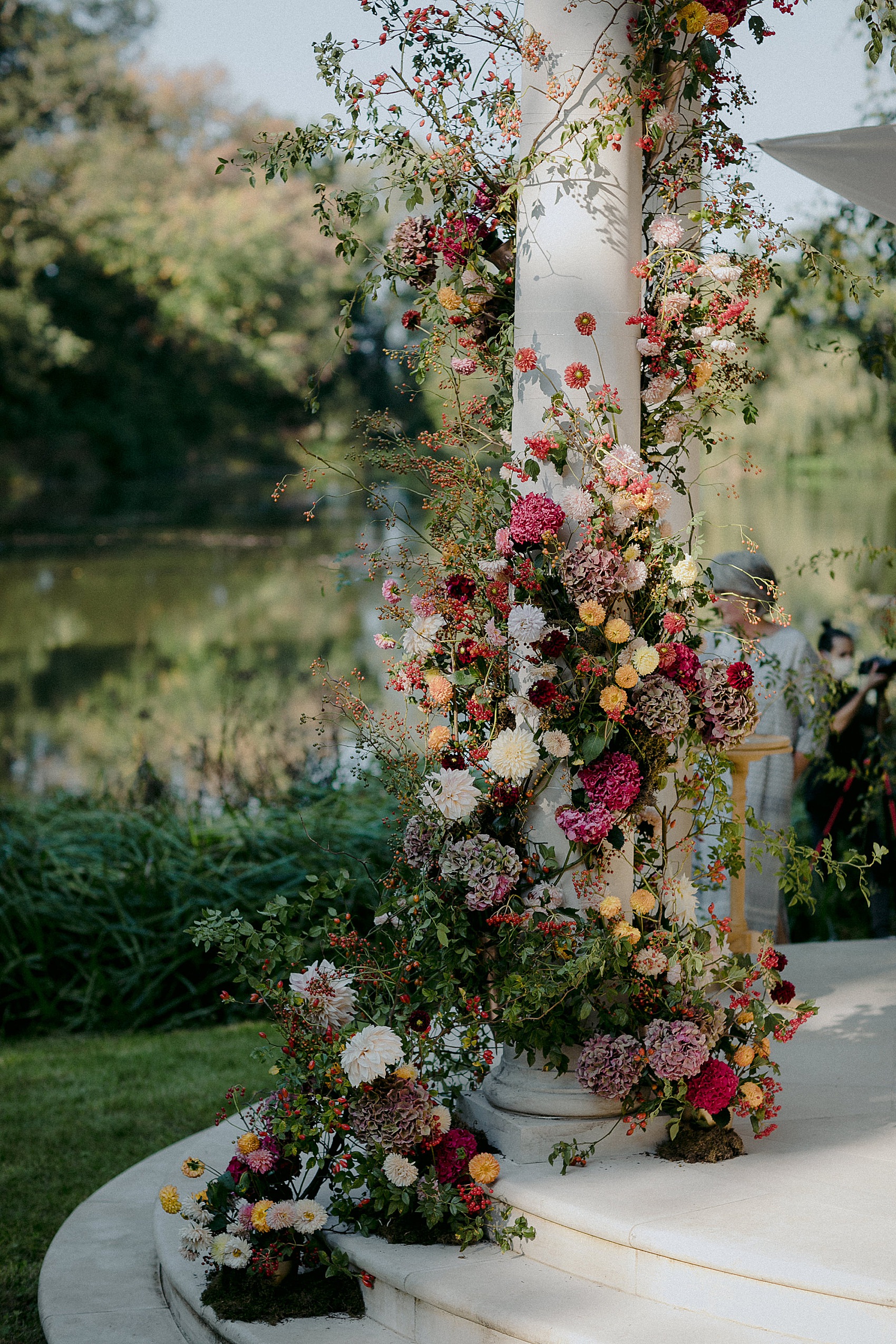 The couple met in their Law School library whilst Anna was studying for her solicitor qualification and Sam was training to be a barrister.
"Our mutual friend Laura introduced us and we hit it off straight away. We both flushed bright red as soon as we met. Laura and I met just a few weeks before and have now been best friends for six years. She is also one of Sam's closest friends from their Uni days."
Along with his dapper Tom Ford suit, the groom wore Crockett & Jones shoes and Tom Ford Neroli & Portofino Forte aftershave.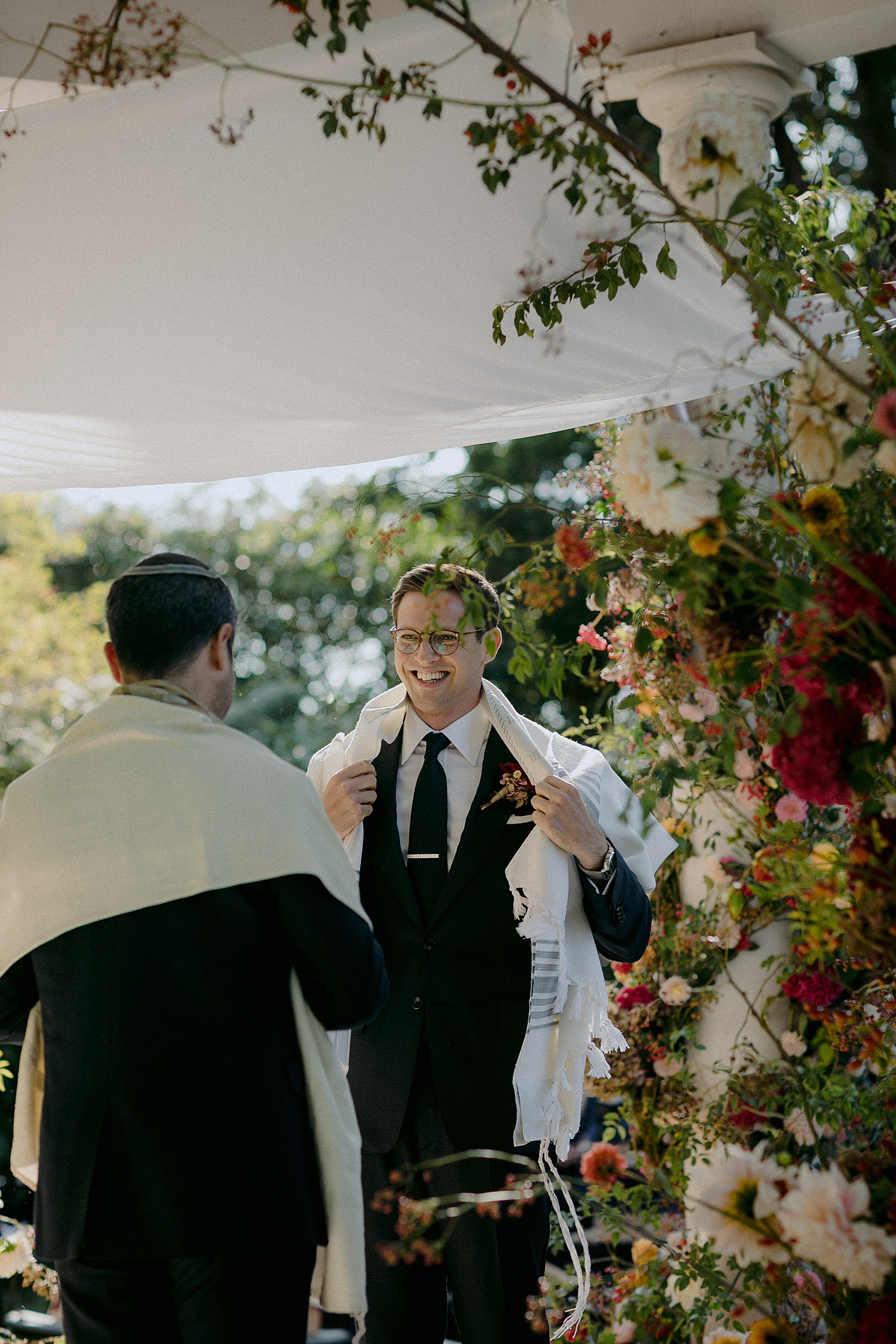 Thanks to clement weather, the chuppah was put up inside the lakeside pavilion (and what a gorgeous view!) with the guests seated in bubbles. Their orders of service were designed by Rose & Ruby.
"We allocated seats for each part of the day to make sure everyone was always seated with their bubble and two metres apart from others. For the ceremony, we made boxes with each guest's name on which April Deering decorated with ribbon and dahlias."
"The boxes included the kippah (Jewish head covering) you would usually have in baskets at the entrance (which of course wouldn't have been Covid-friendly) and a few favours such as mints, tissues and the essential antibac!"
The bride began the walk up to the pavilion with her father to Kara Marni's cover of 'My Love Is Your Love'.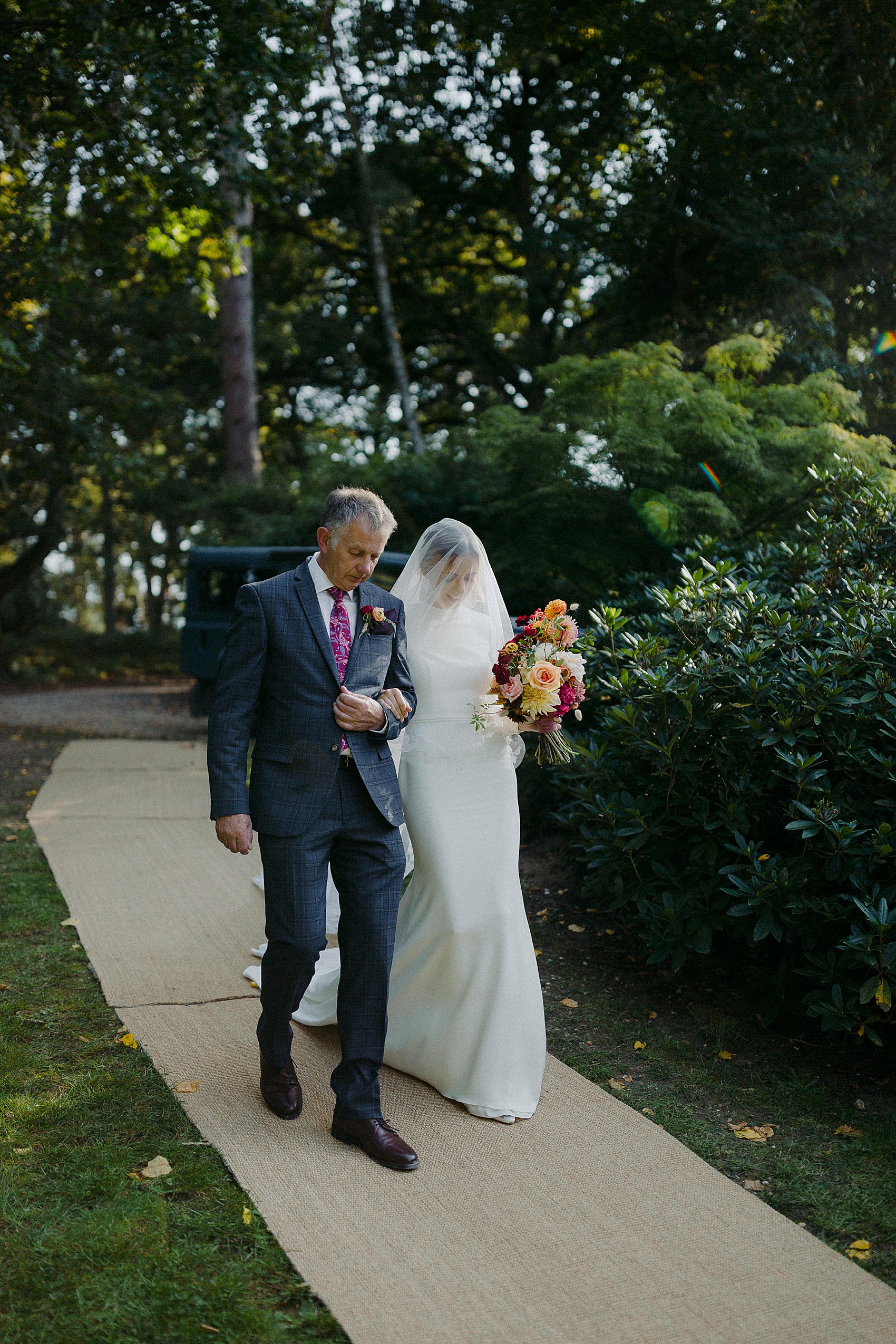 "Sam met me and my dad halfway down the aisle and gave him a huge hug before taking my hand. That was the most significant and emotional moment of the day for me."
The ceremony, was performed by Senior Rabbi David Mitchell of West London Synagogue.
"We first met Rabbi David when I started my Jewish conversion course (JPrep) a few years ago so it was very special for him to be able to officiate our wedding ceremony."
"In many ways, the ceremony was a traditional Jewish ceremony. However, we tried to incorporate some of our own interpretations of traditions as well as finding ways to represent our respective upbringings (I am from the Lake District and Sam is from North London) and now our life together."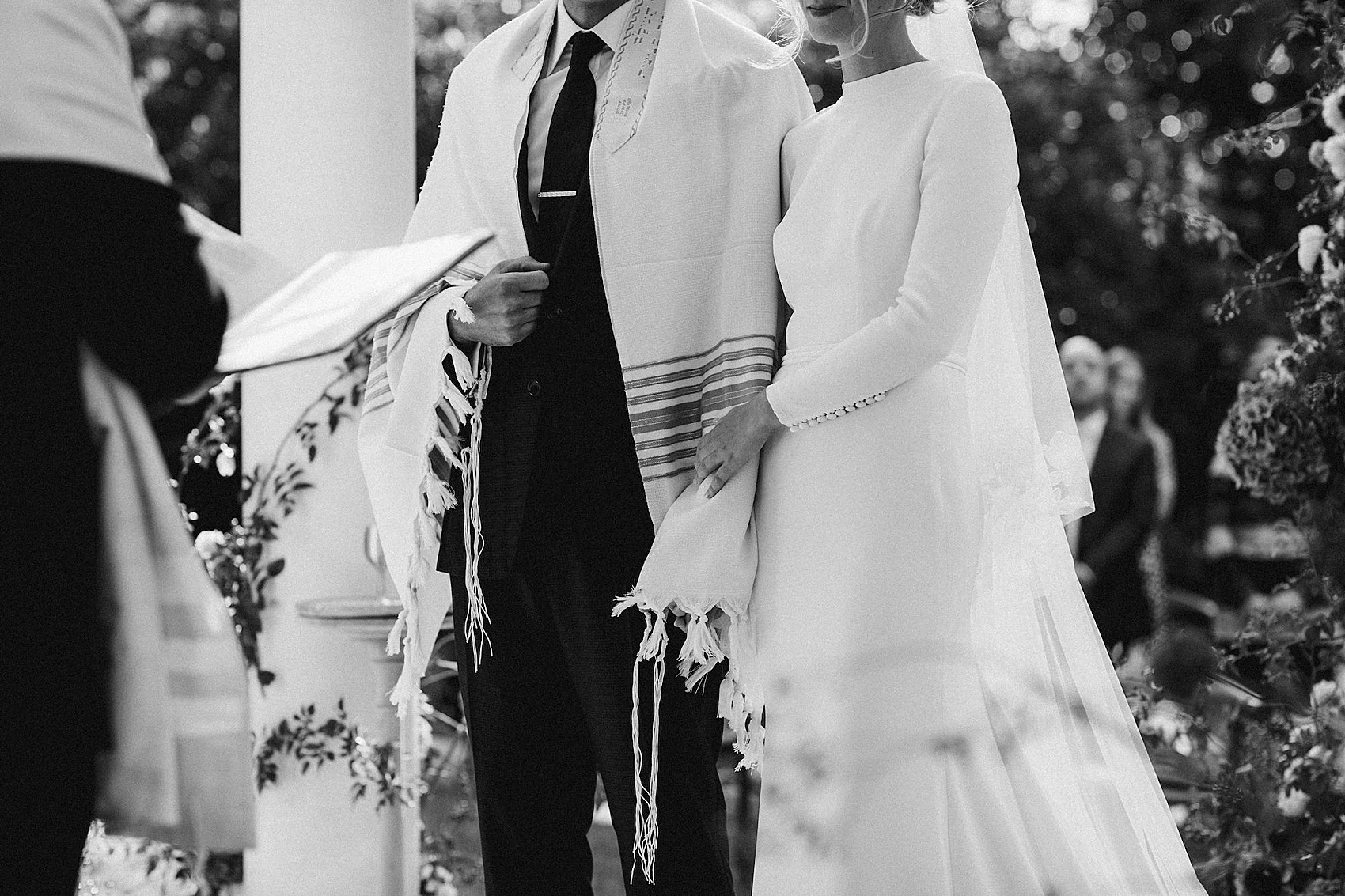 "Traditionally, the Rabbi recites seven blessings in Hebrew. Instead, we asked my brother to read the blessings in English and Sam's dad to read them in Hebrew."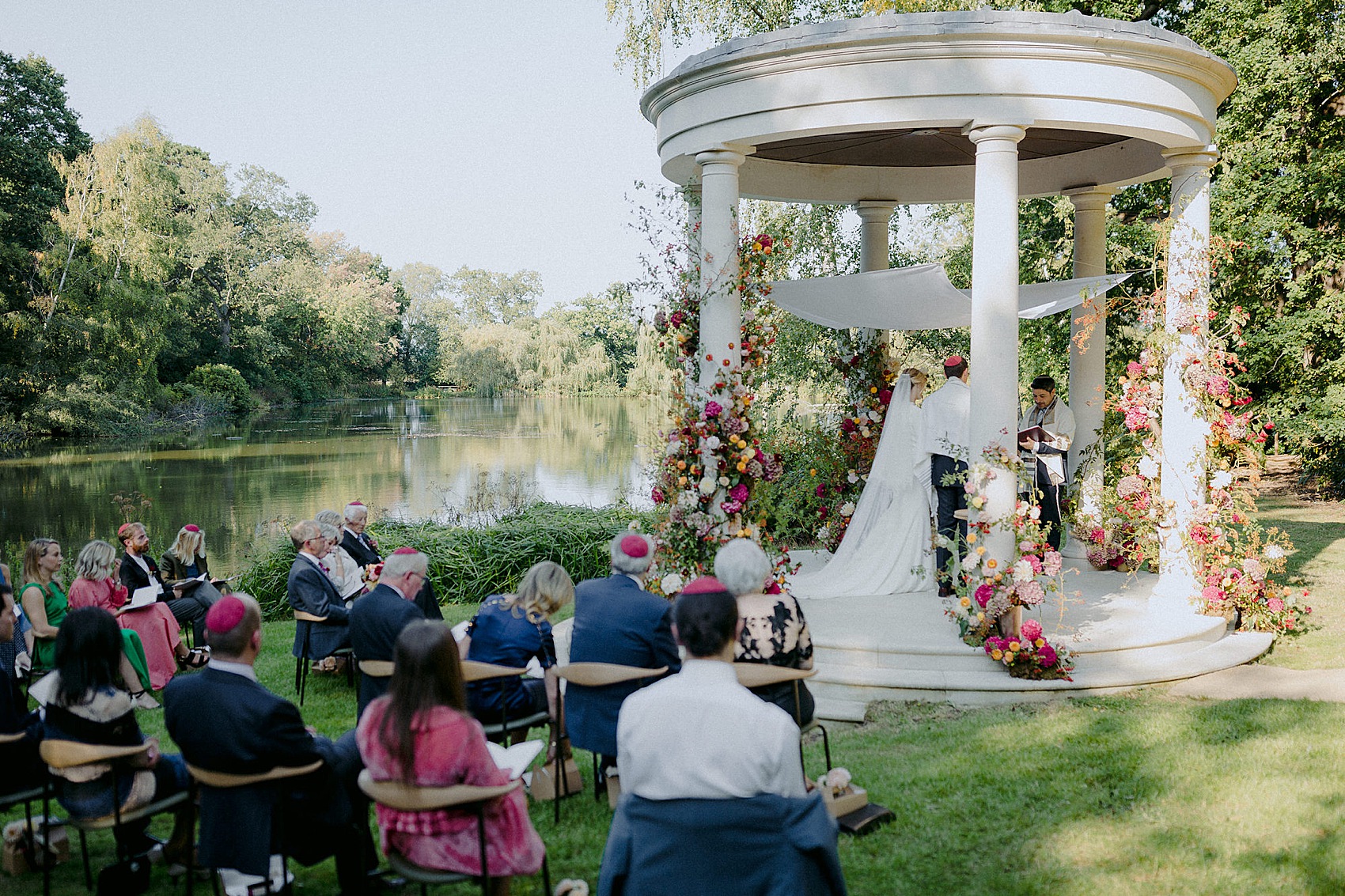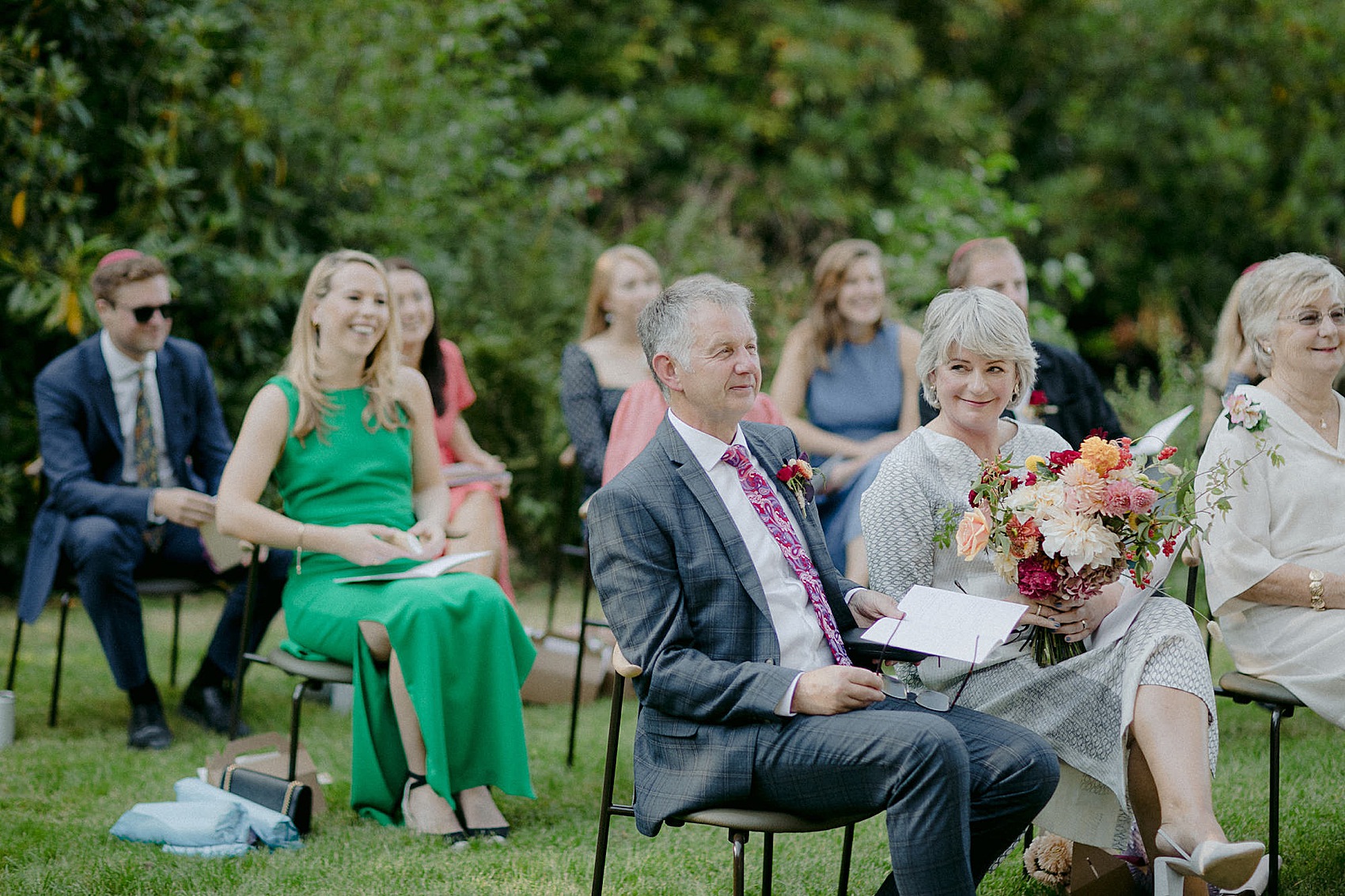 "We wandered down Hatton Garden to find a jeweller to make our wedding band and happened to go into Queensmith. It was a really enjoyable experience. They showed us how the rings are made and offered to polish up my engagement ring each time we had an appointment."
With September often being unpredictable weather-wise, the couple arranged for two chuppahs from The Happy Chuppah People to be in place.
"The team were fantastic. With no fuss at all they brought two options – one for good weather (a floating chuppah inside the lakeside pavilion) and one for bad weather (which, if we had needed it, would have been an indoor, free-standing chuppah)."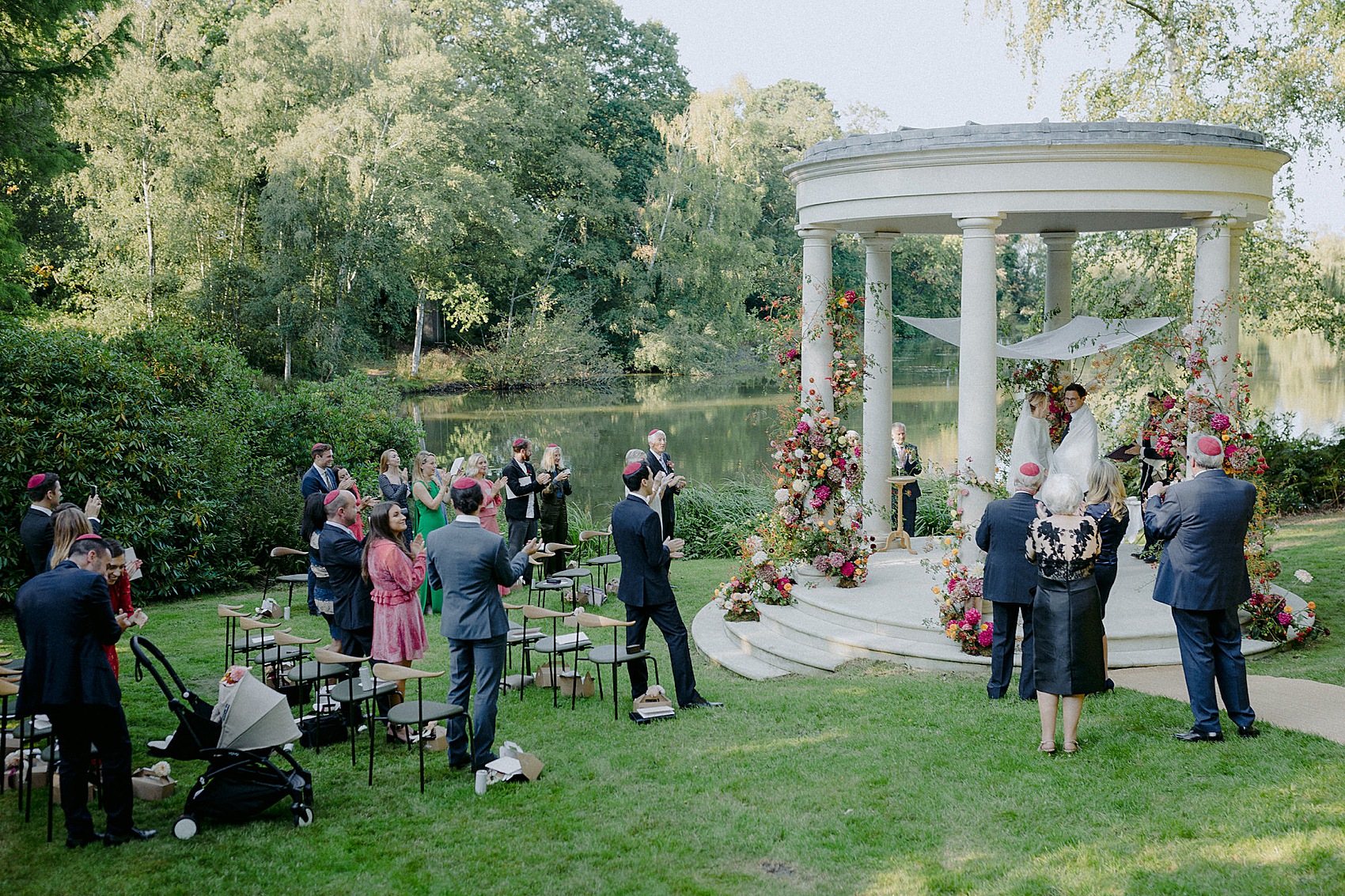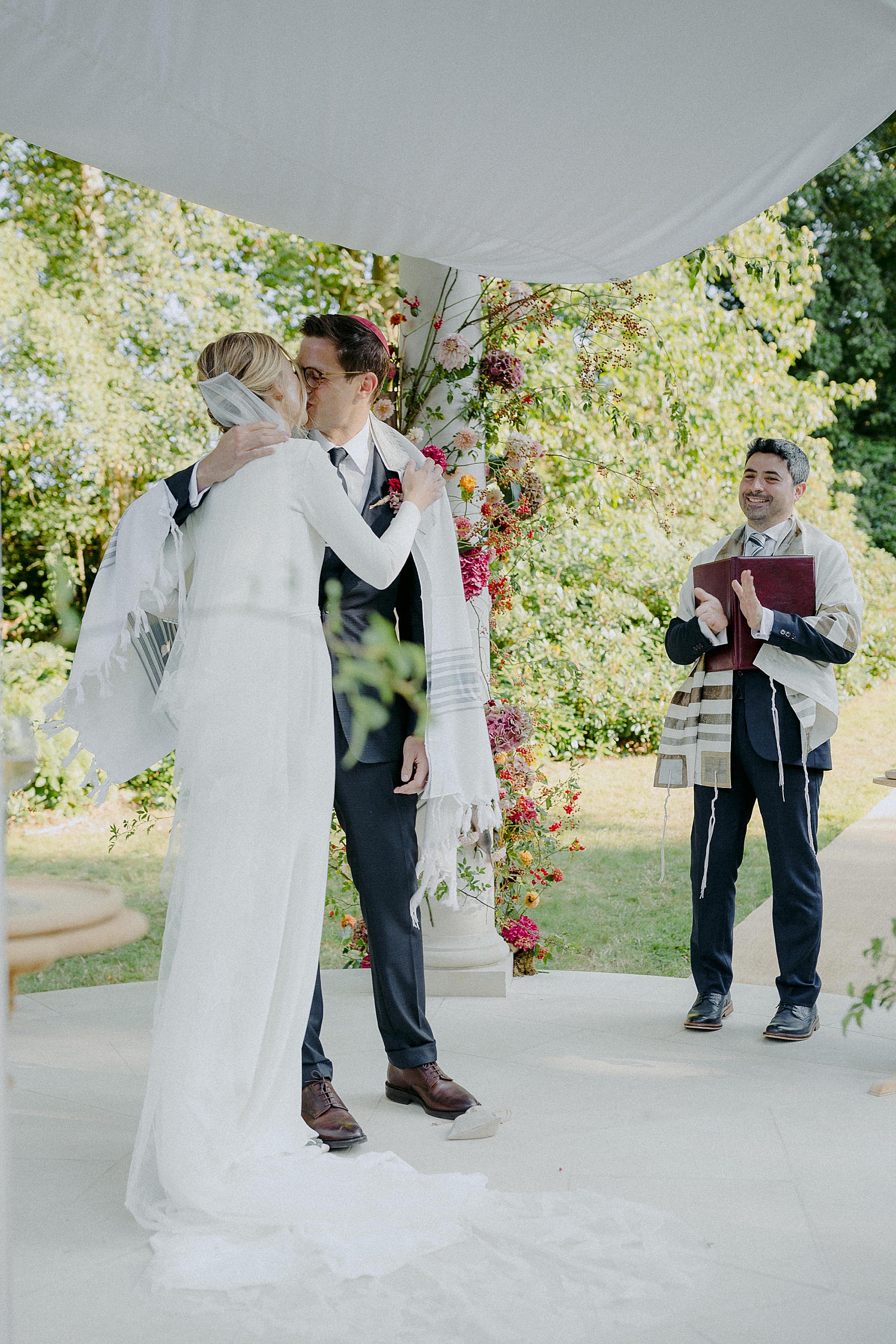 "Immediately after the ceremony, we spent a few minutes alone together before joining our friends and family at the reception. The run-up to the wedding had been hectic and up until the day we really didn't believe that it would be able to go ahead. It gave us the chance to pause and appreciate how lucky we were to have this wonderful day."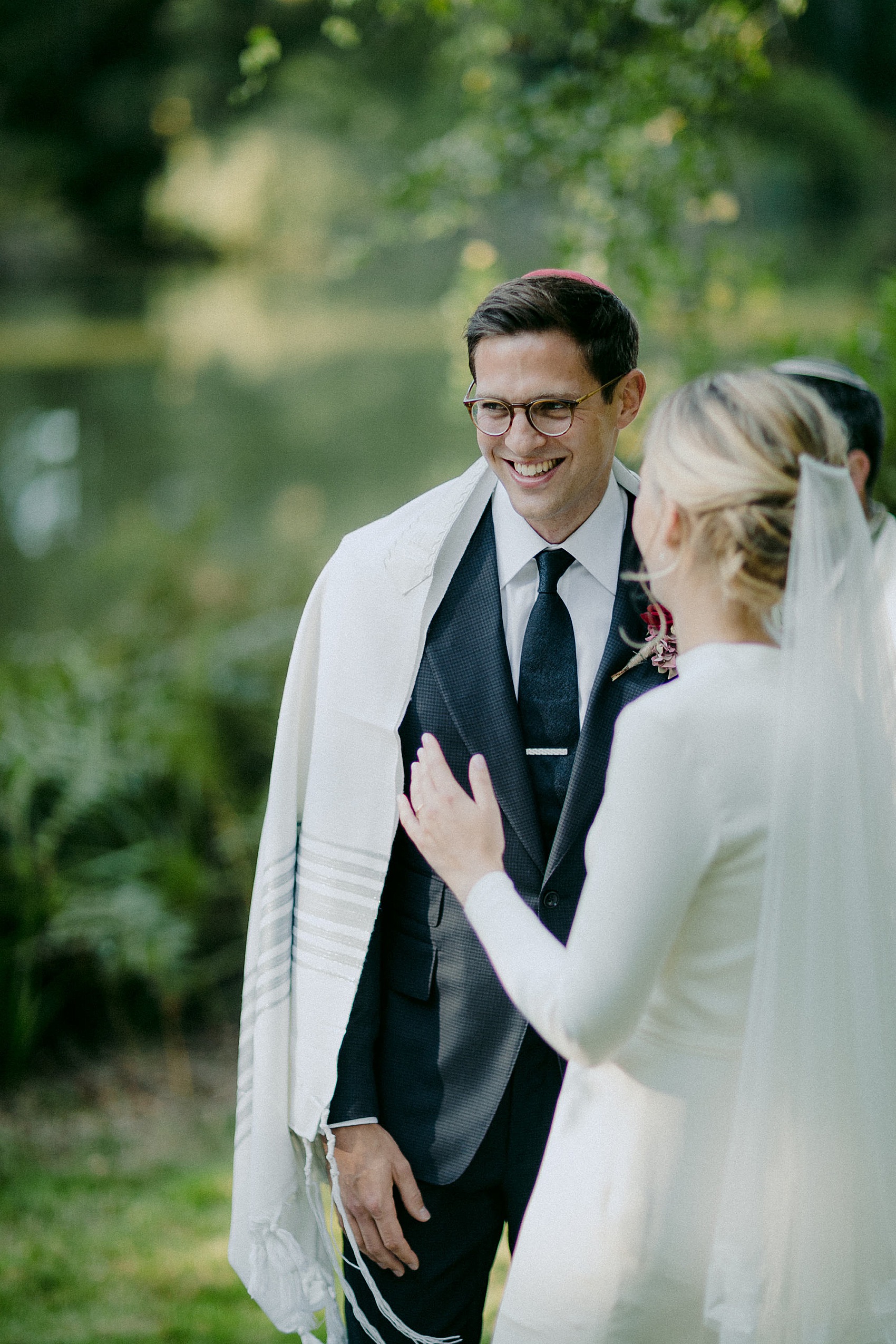 The couple have some reassuring words for couples uncertain about whether they will be able to hold their ideal wedding in the face of Covid.
"To put a positive spin on what has been a terrible year for couples hoping to get married, the perfect wedding you imagined probably isn't possible anymore so the pressure of that is gone. Once you accept it won't be exactly how you imagined, you can relax and savour the moments you are allowed to have."
"The small details you were worrying about for the original wedding seem insignificant when the biggest challenge is being able to have a wedding at all."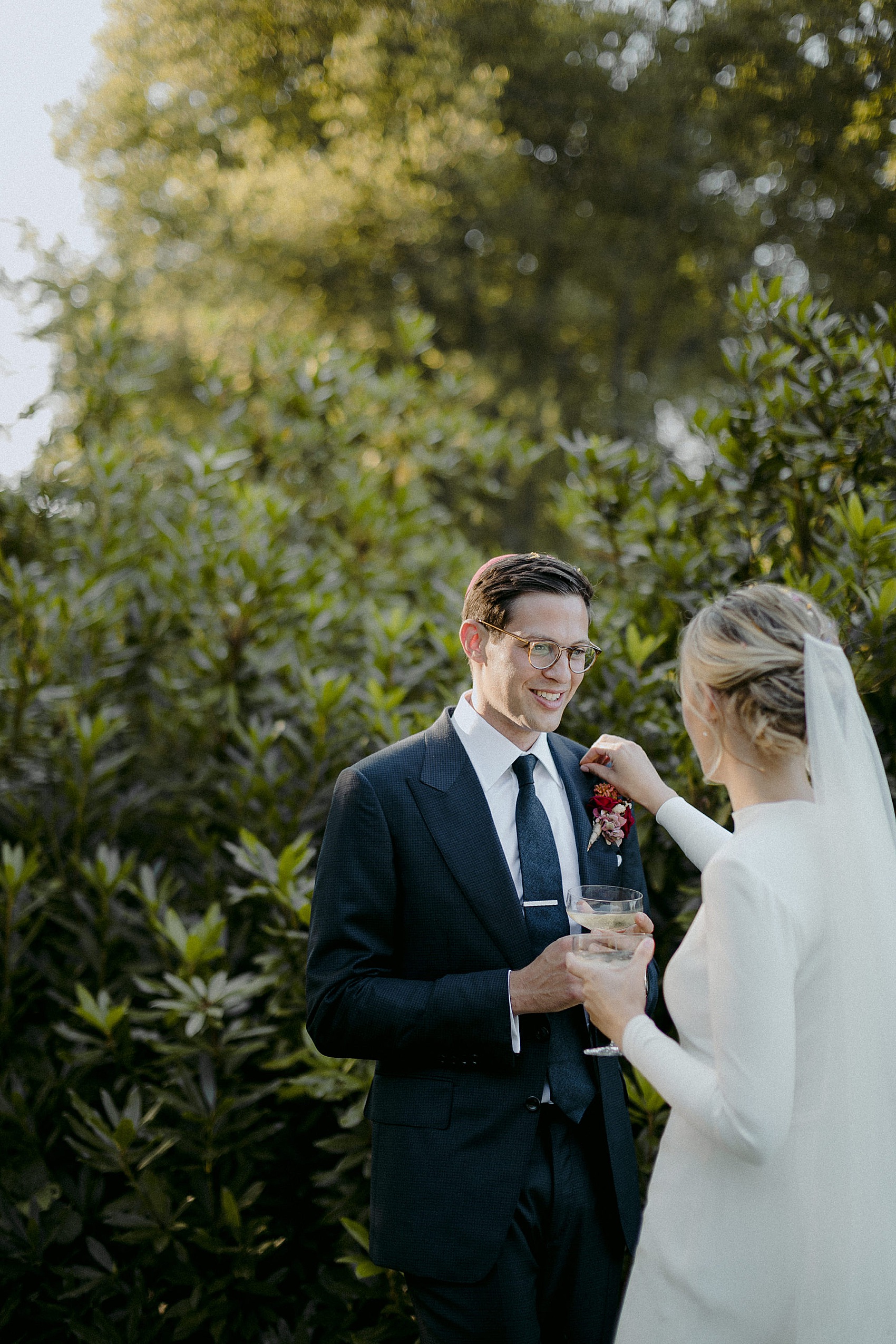 The long, hand-embroidered veil, also by Emma Beaumont, mirrors the gown's elegant train to gorgeous effect.
"It was important that I wore a veil because the groom lifting the veil is an important part of a Jewish wedding ceremony. I wanted to keep it very simple with leaves embroidered around the edge being the only detail."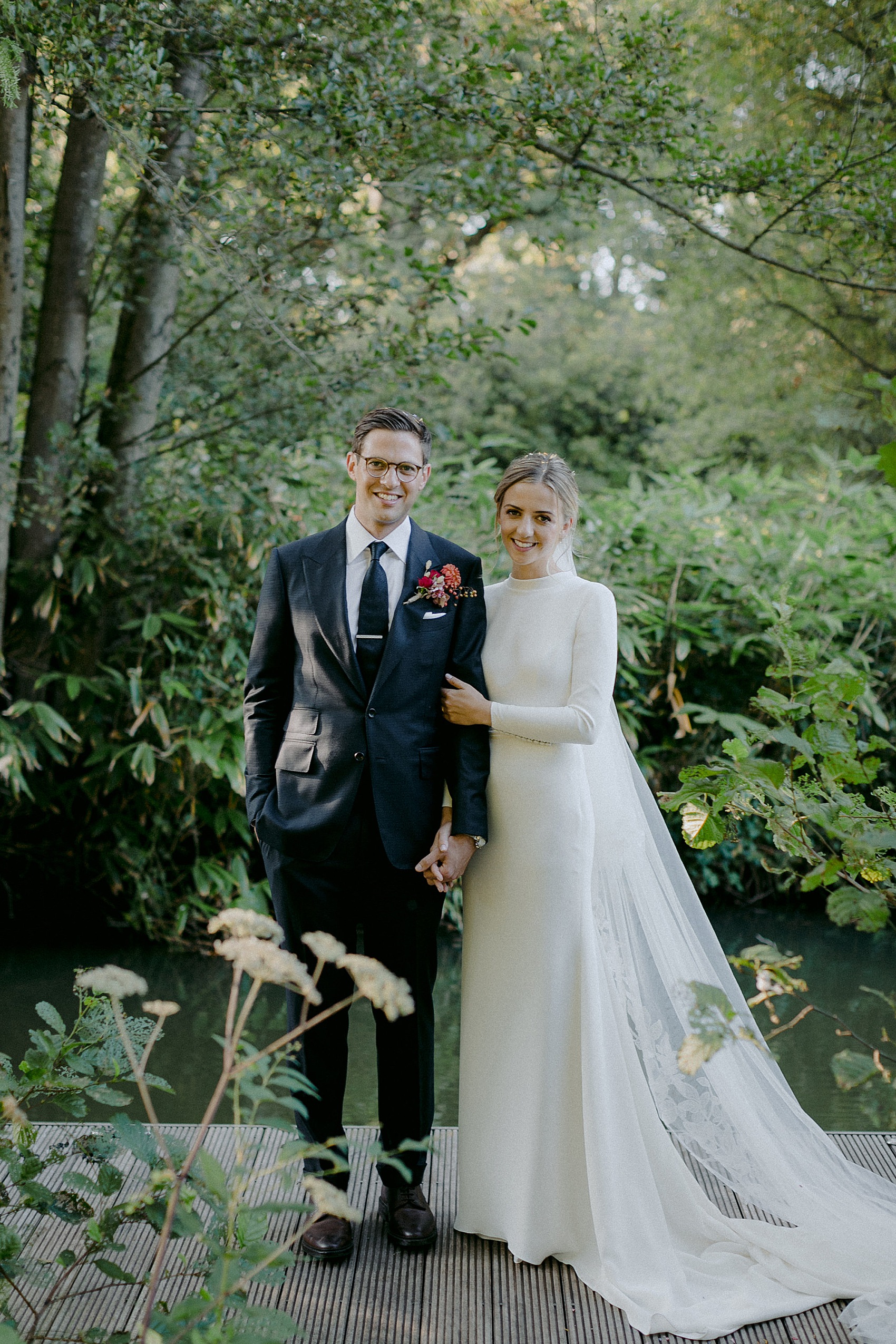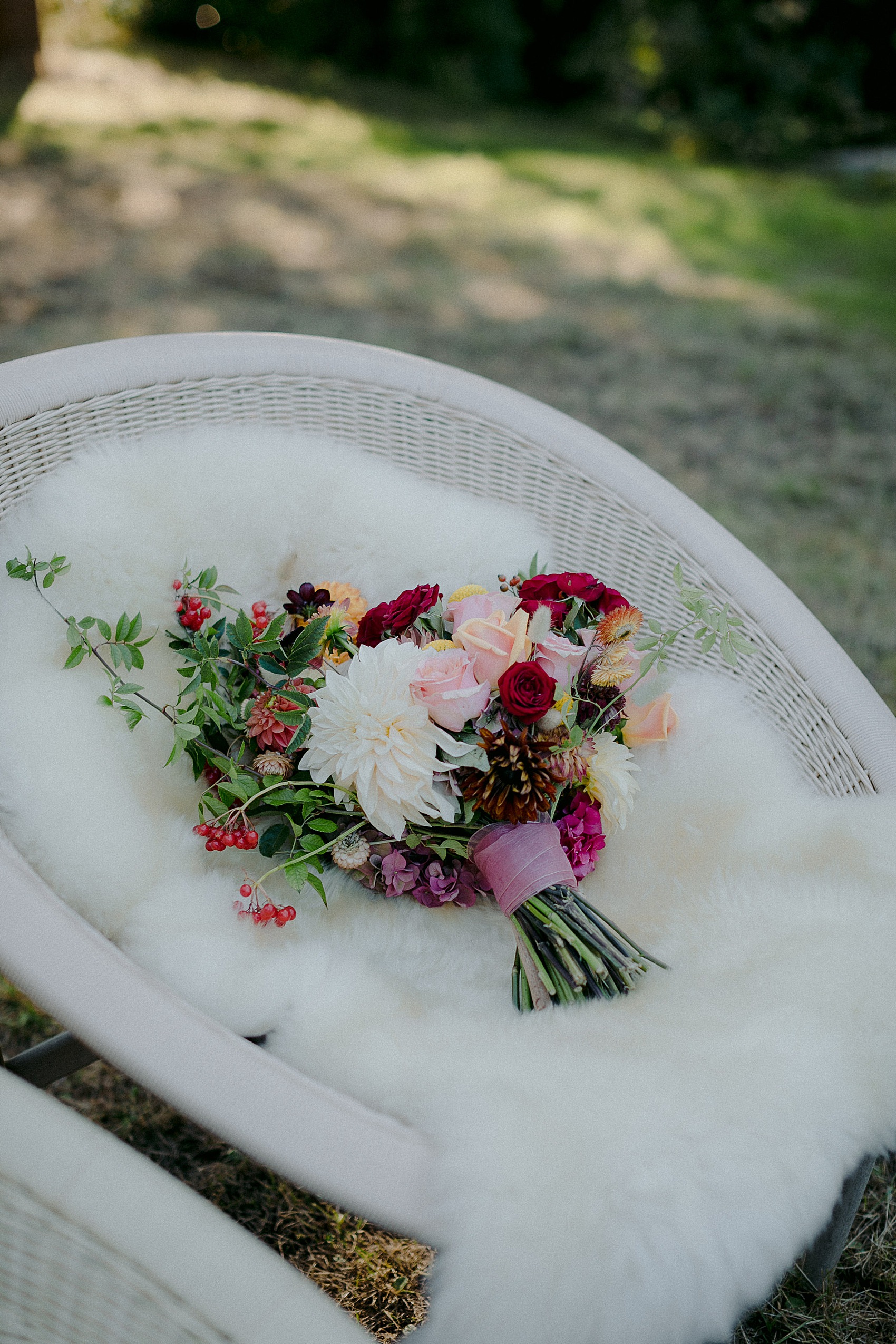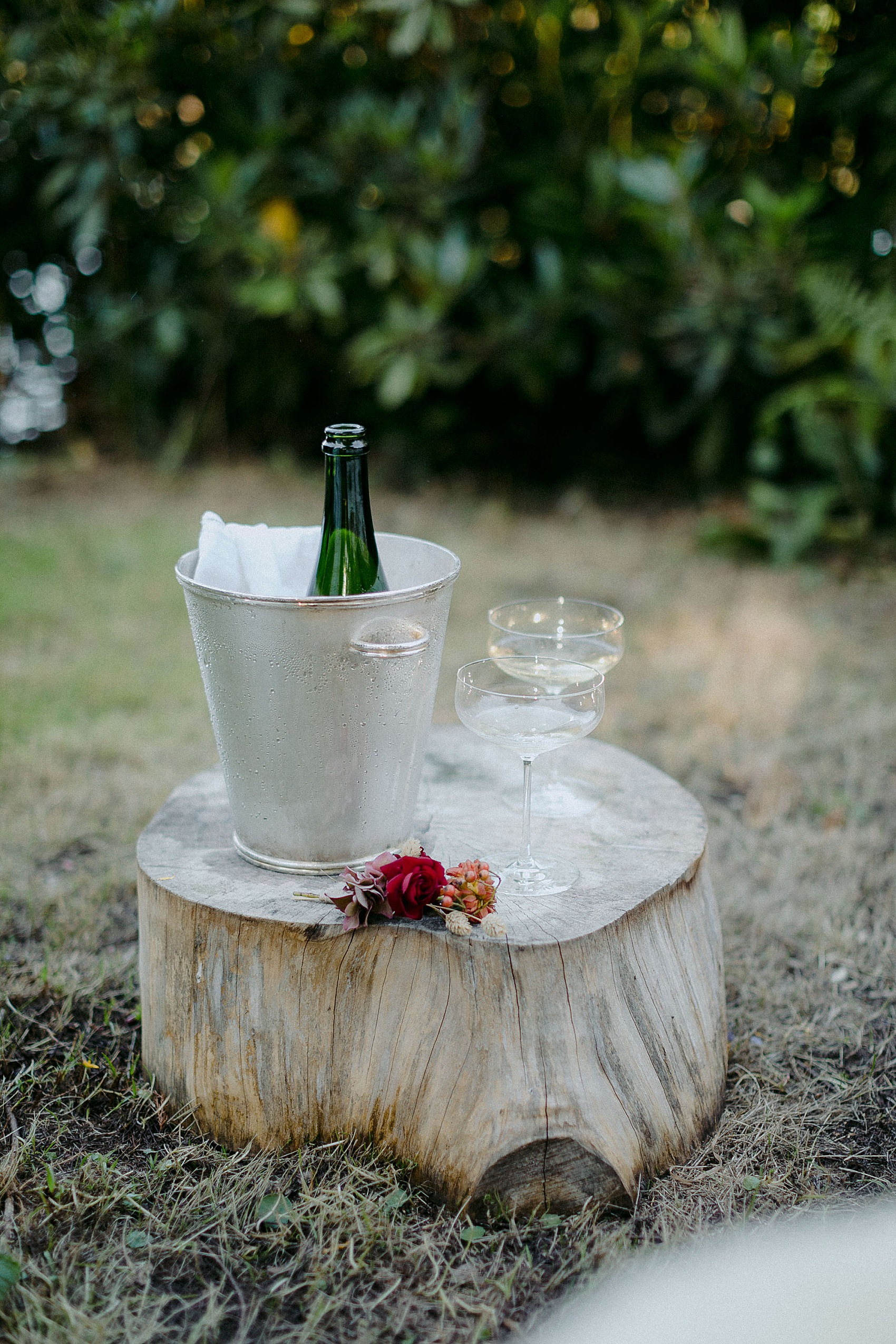 The couple held their reception in Heckfield's gorgeous grounds and had thought of everything to make the guests feel relaxed and comfortable.
"We had canapés at the reception but they were delivered on a plate for each bubble."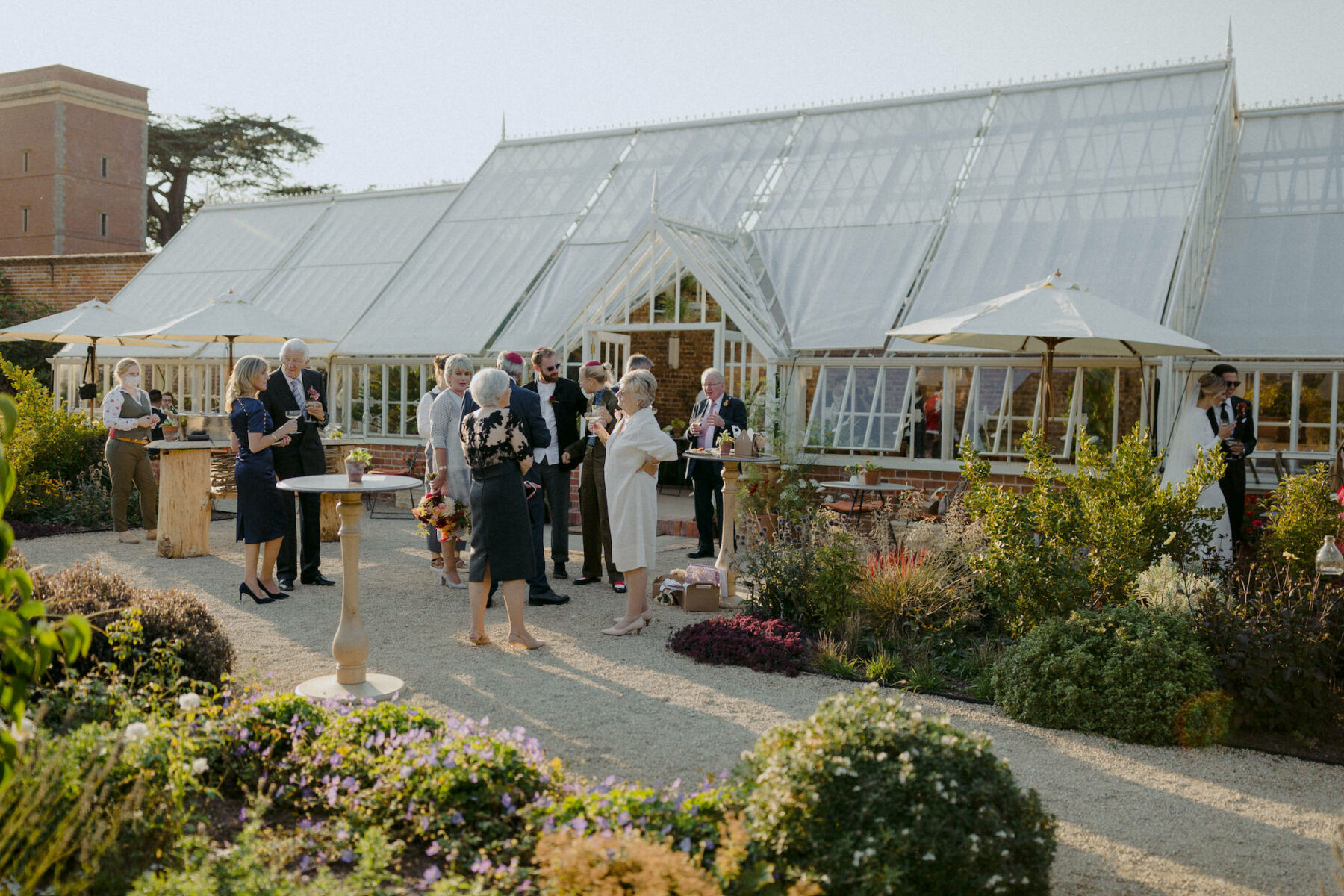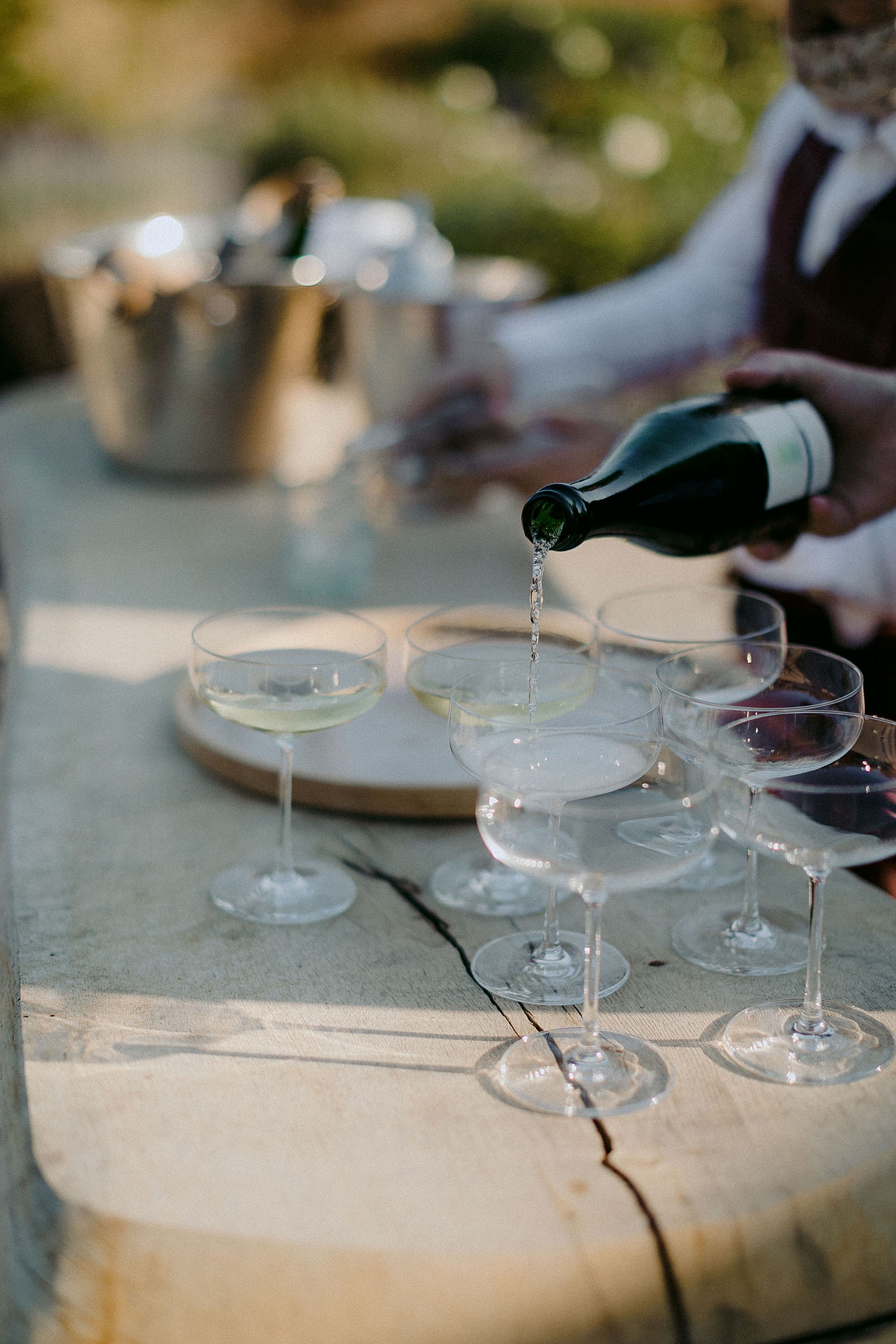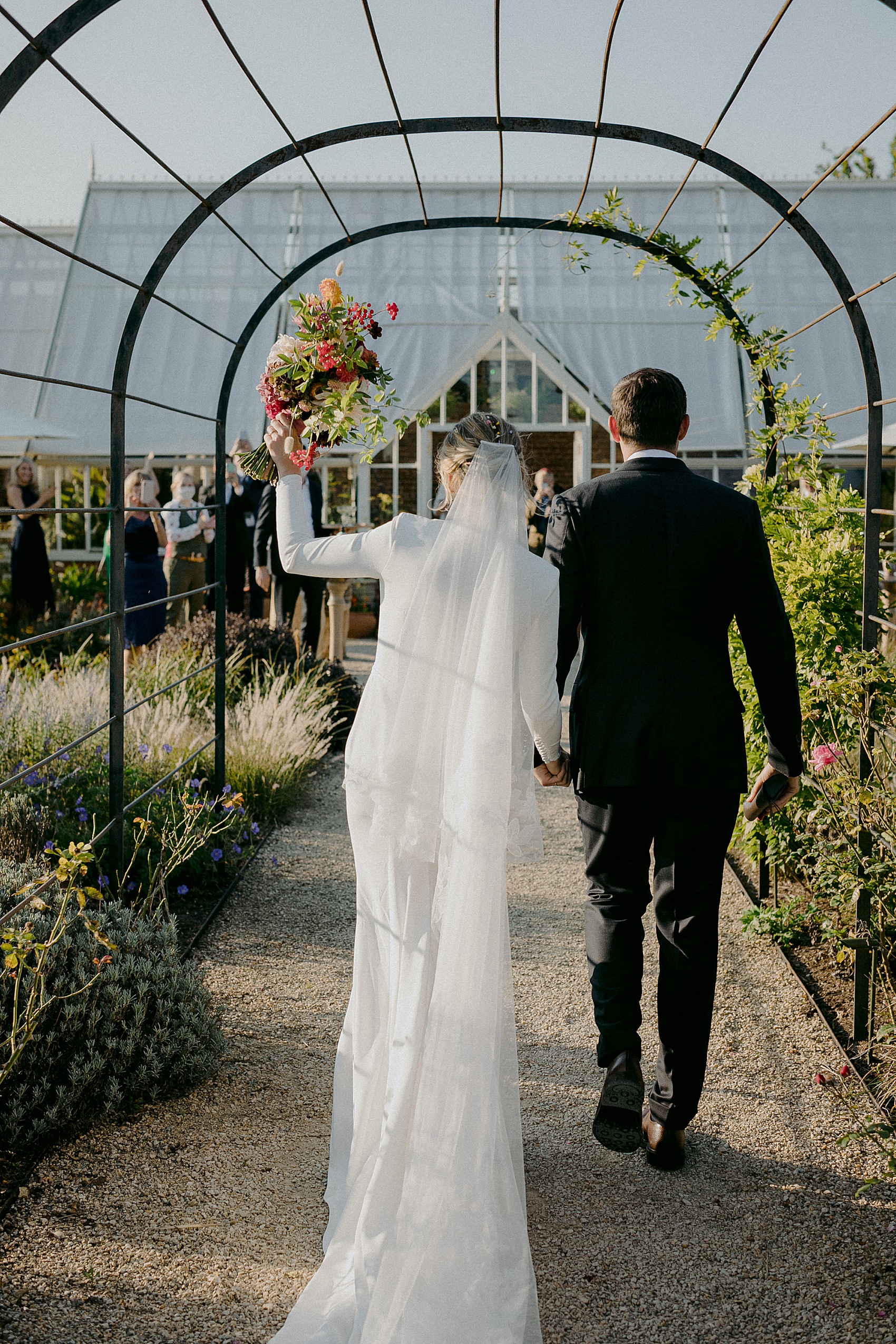 These dreamy photographs, which make such glorious use of the warm September sunshine, are from the camera of Haydn of Ferris & Twine.
"We booked Haydn for our original wedding and our hearts were set on him capturing our day so we were lucky that he was available for our rescheduled date. We are over the moon with the photos."
The couple had an ingenious solution for creating their own wedding video and I love that they were still able to support wedding suppliers in spite of Covid restrictions.
"Given number restrictions, we didn't have a videographer. However, we rented a camera and some of the Heckfield Place staff very kindly shot some footage of the day for us."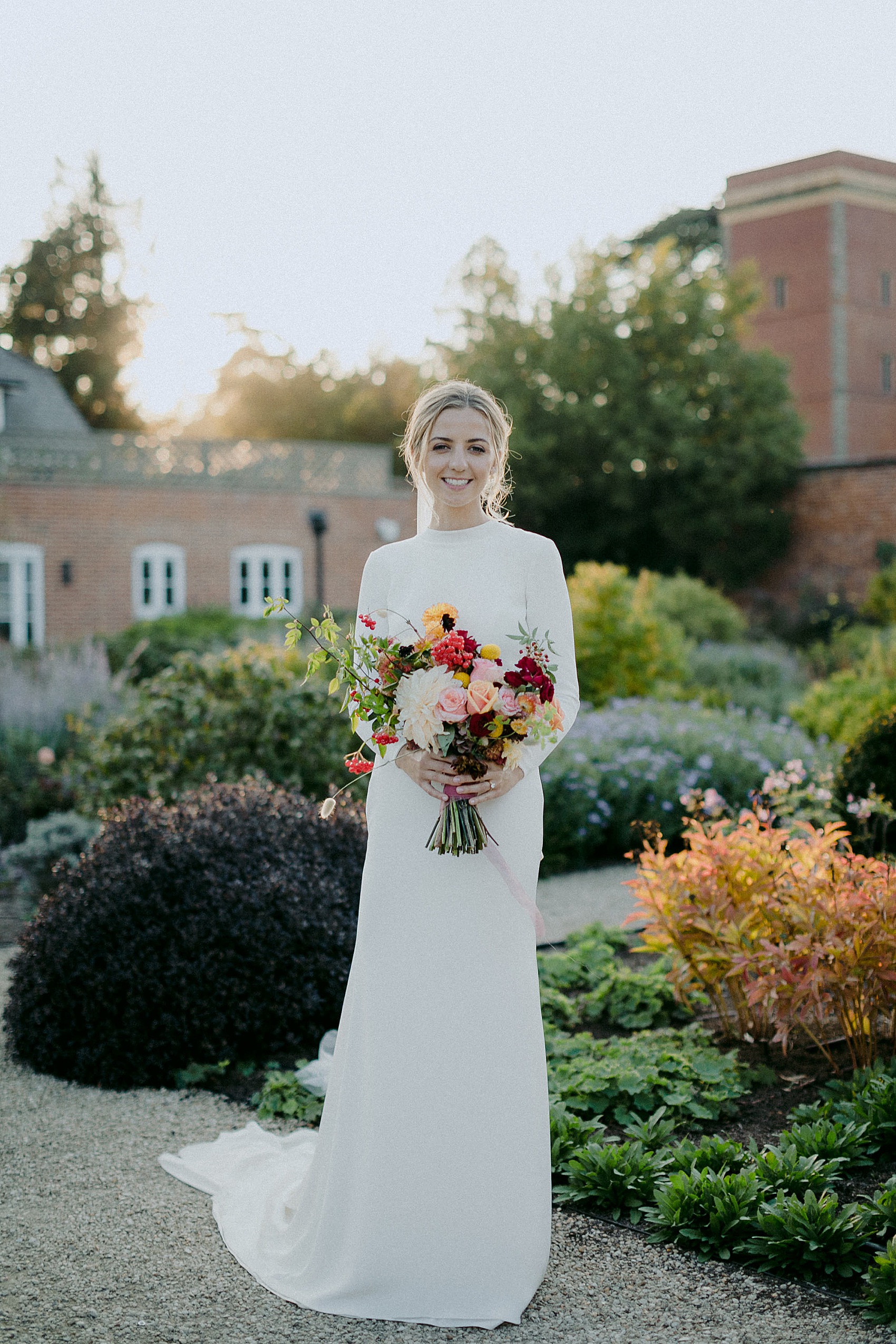 "We sent that footage and some clips shot by guests on their phones to a professional videographer to edit for us."
"Arran Kenny of AK Films did an incredible job of turning amateur video footage into a professional video. My best friend made a speech at the reception in the form of a poem that she wrote."
"Arran asked her to record the speech (from her wardrobe to give good sound quality!) and used clips of it as a voiceover on the video. We are so happy that we have a short video to remind us of the day."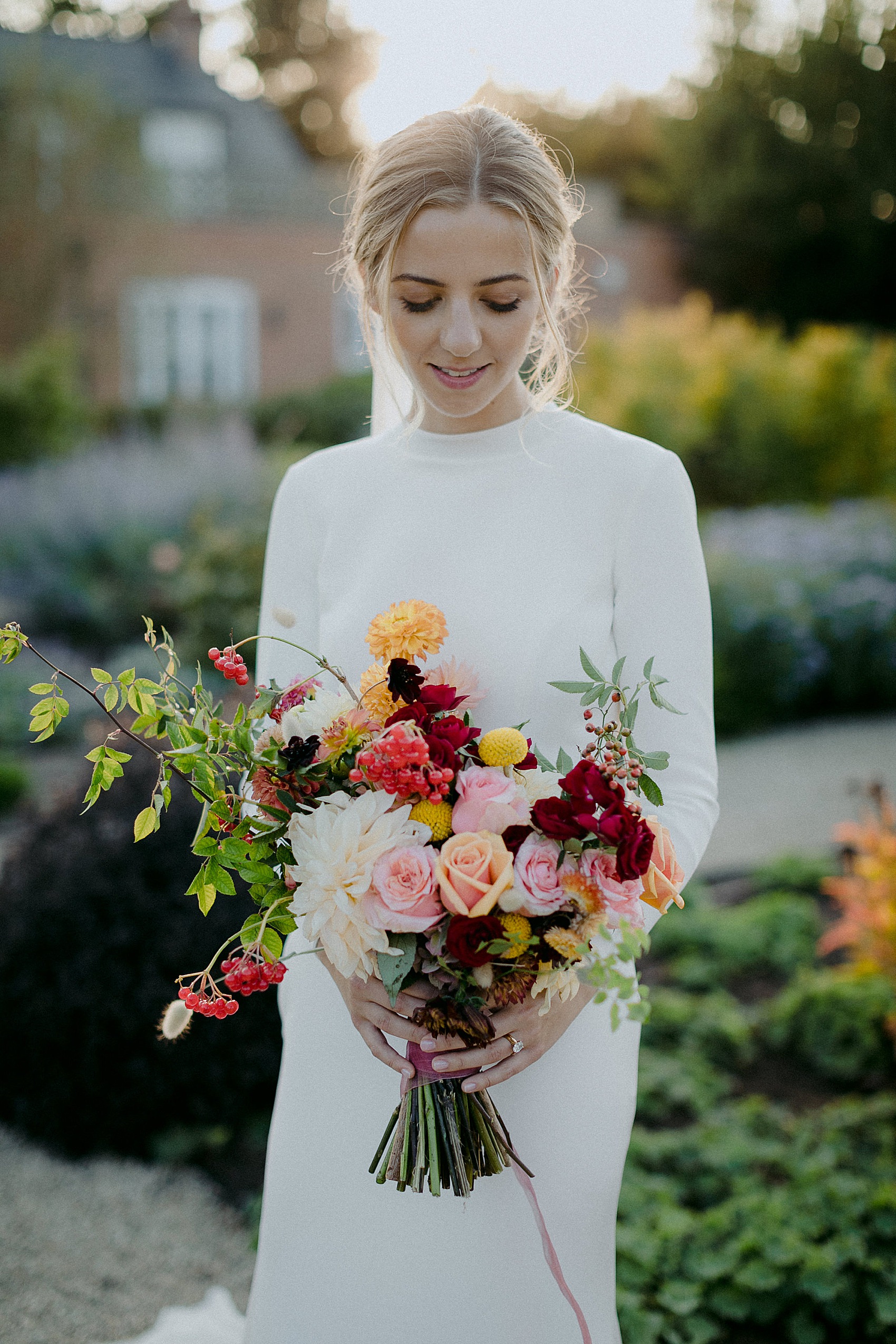 The food and cake came from Hearth Restaurant at Heckfield Place.
"Our reception was held in the Hearth Restaurant at Heckfield Place with a menu by their culinary director, Skye Gyngell. The restaurant for dinner was set up with one table per bubble. We were slightly worried about how this would impact on the atmosphere but it worked well; it felt like being at a restaurant."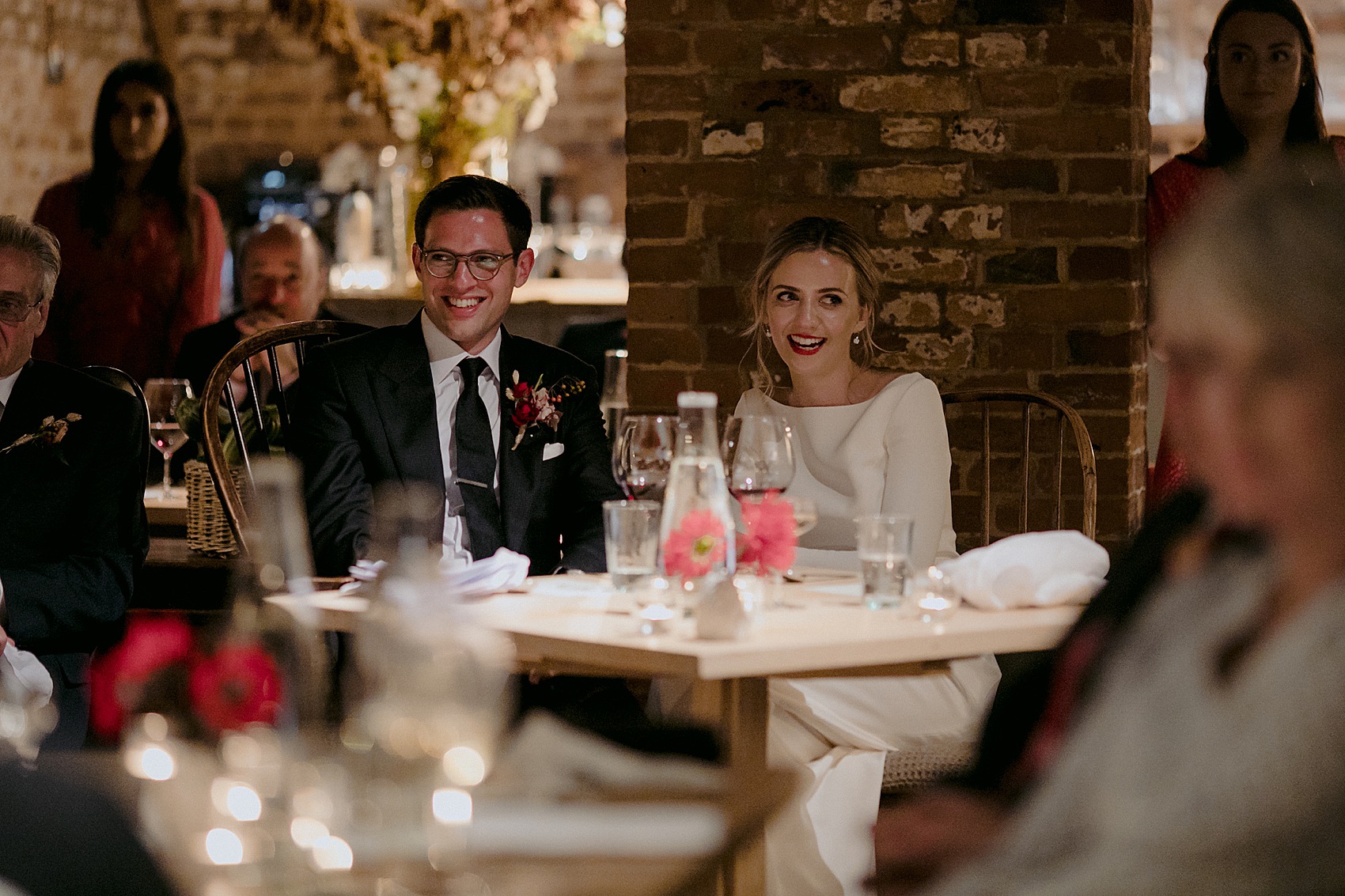 "We had a chocolate cake with caramel butter cream decorated with flowers from Heckfield Home Farm."
"My parents put together favour bags to bring a touch of the Lake District to the wedding day. They included fudge from The Toffee Shop in Penrith, The Lakes Distillery gin and a lovely book, 'Lakeland' by Hunter Davies."
"I absolutely loved the speeches. My dad's speech had everyone in tears, particularly when he asked everyone to give a huge round of applause for Sam's Uncle Mark, an NHS Doctor who had been (and continues to) work relentlessly to save Covid patients. My best friend Laura wrote a poem which brought the house down."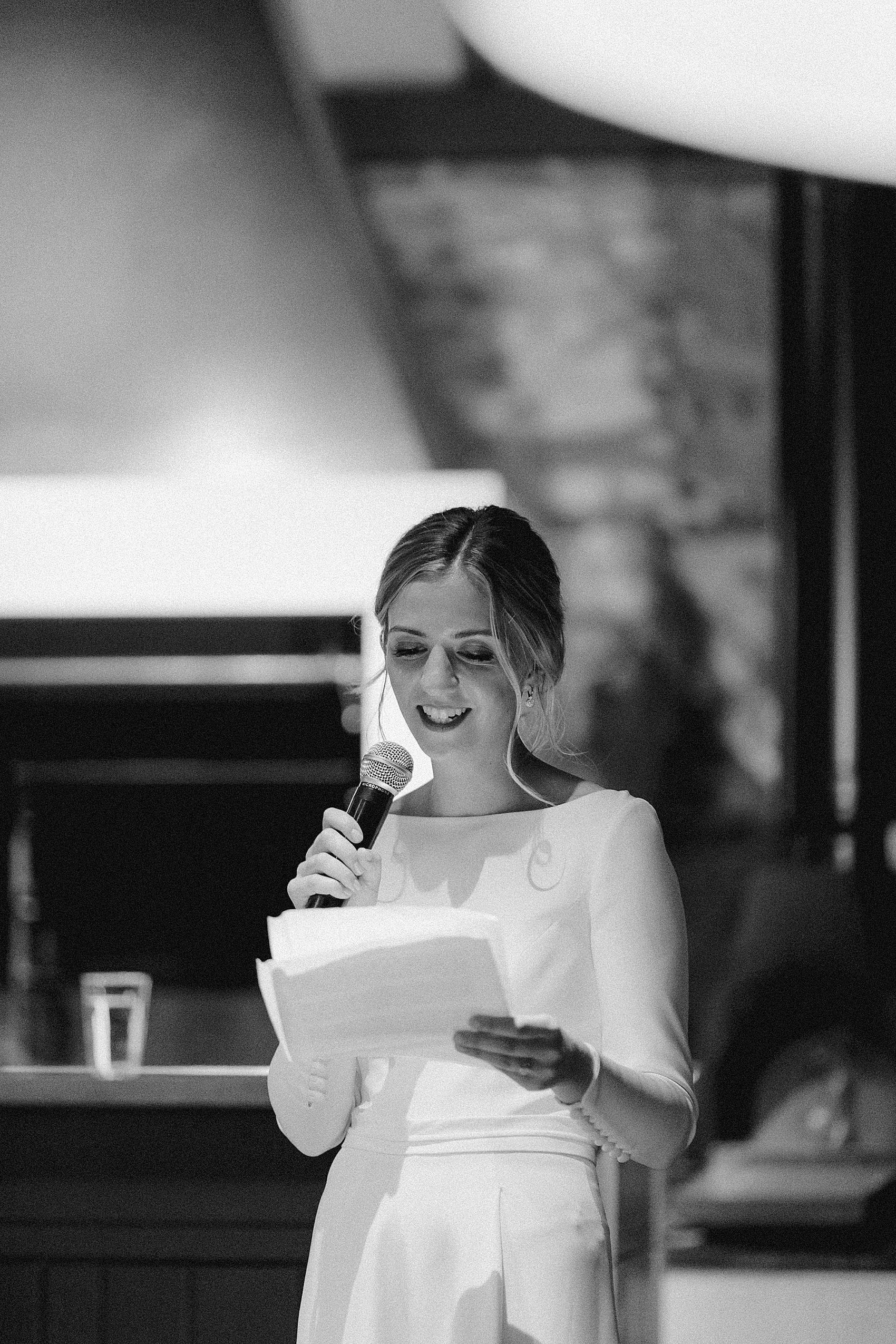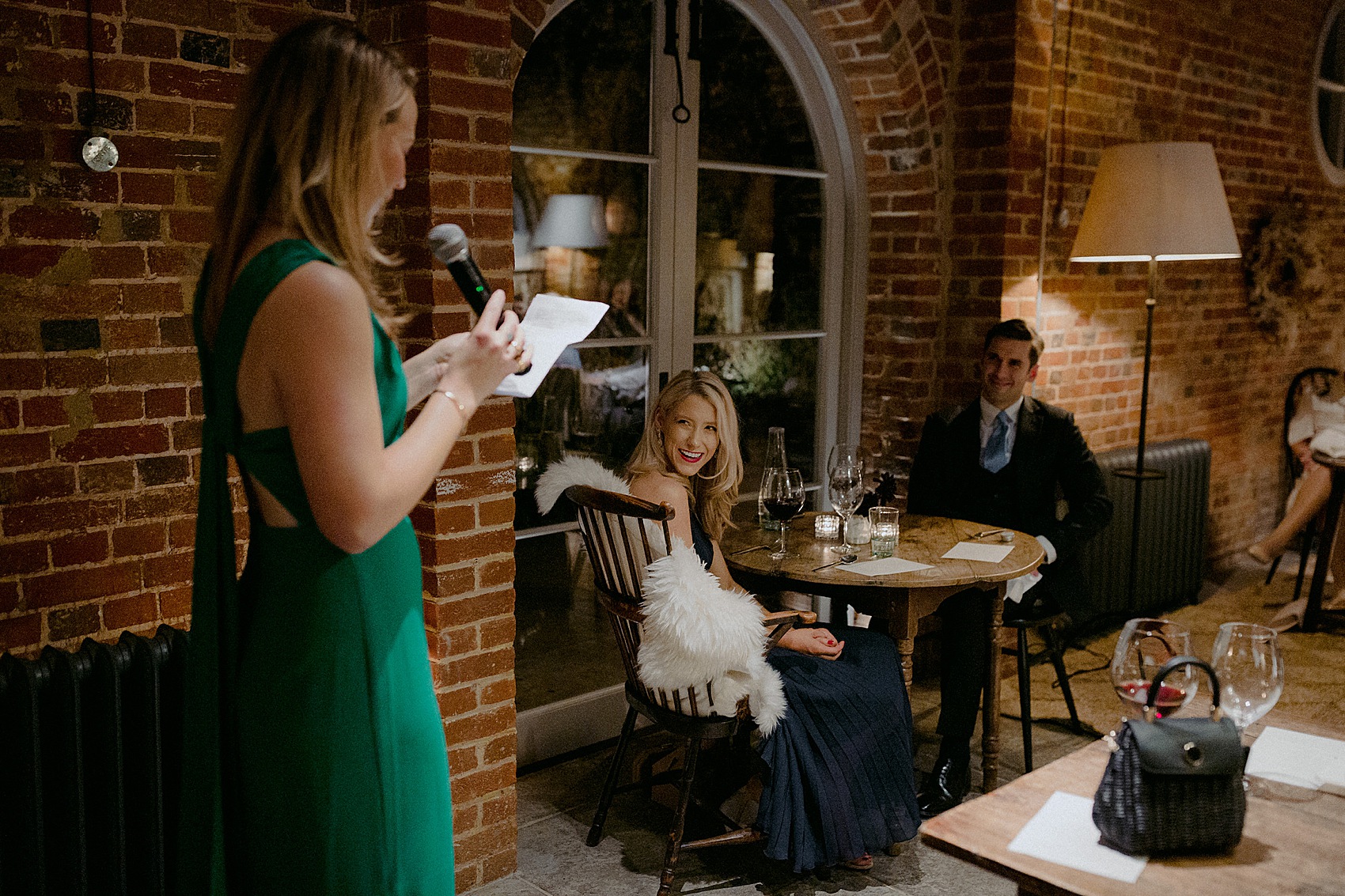 I love how the newly-weds extended the celebrations in to the evening with a special musical performance from Daisy Wood Davis, singer and the lead in 'Beautiful: The Carole King Musical' accompanied by pianist, Luke Holman.
"Instead of dancing or a party we had a musical performance in the evening. Seating was marked with a soft blanket with each person's name on, so that they could use it to keep warm outside later in the evening. It was inexpensive to do; the blankets were a few pounds each and we used iron on calligraphy for the names. The personalisation was to make sure that the blankets weren't mixed up later on which could pose a Covid risk but they also acted as a favour for guests to take home."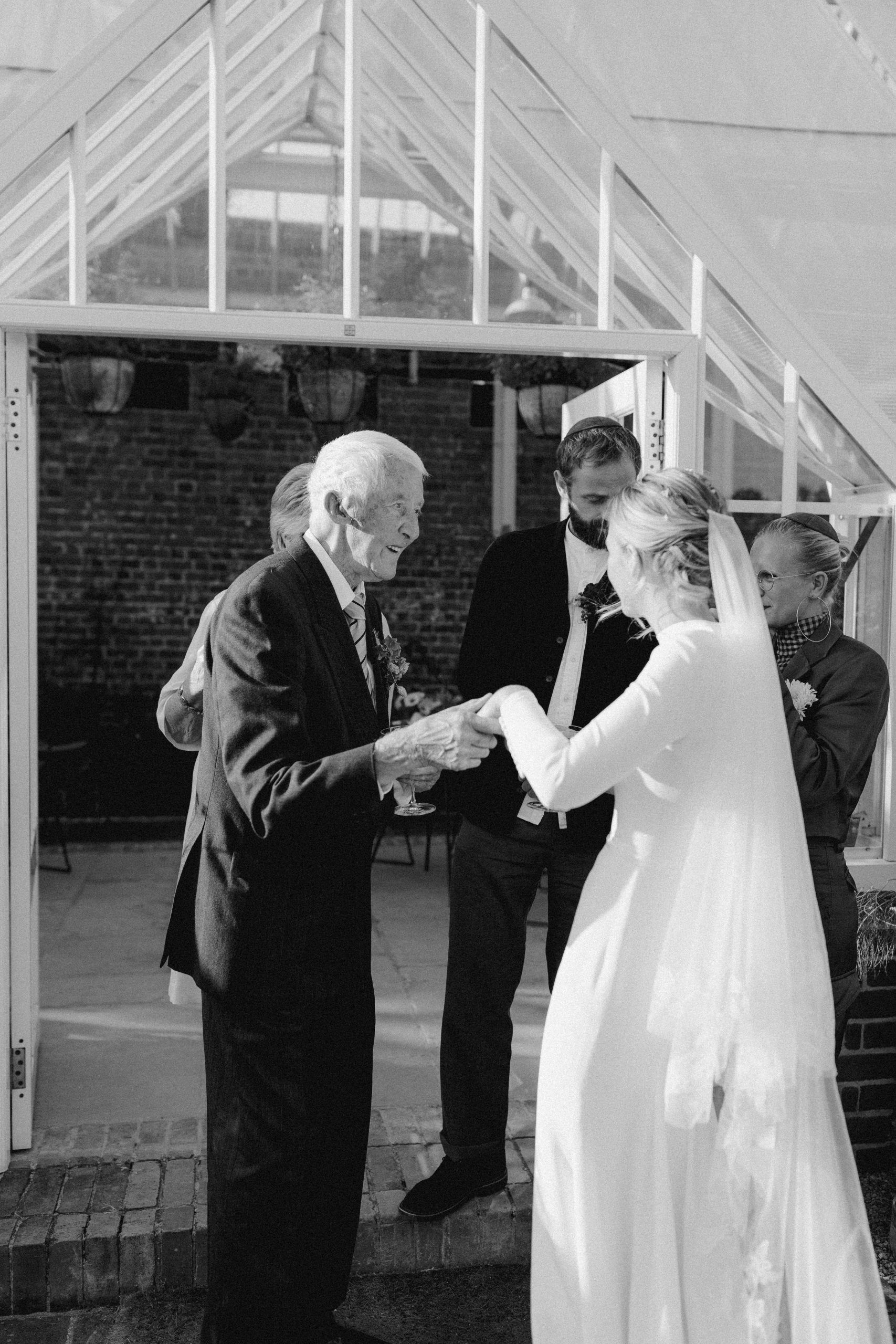 "Our actual first dance wasn't planned. We didn't plan one as it wasn't clear whether or not it was allowed. Shortly after, it was confirmed they were allowed. We both absolutely love Carole King; one of her songs was playing when Sam proposed."
"We reached out to Daisy Wood-Lewis via Instagram to ask if she would consider performing a few songs at the wedding. It was one of the best moments of the day when we surprised our guests after dinner with her performing accompanied by pianist, Luke. We of course couldn't get together on a dance floor but we did get to have a sway and a sing-along in our seats."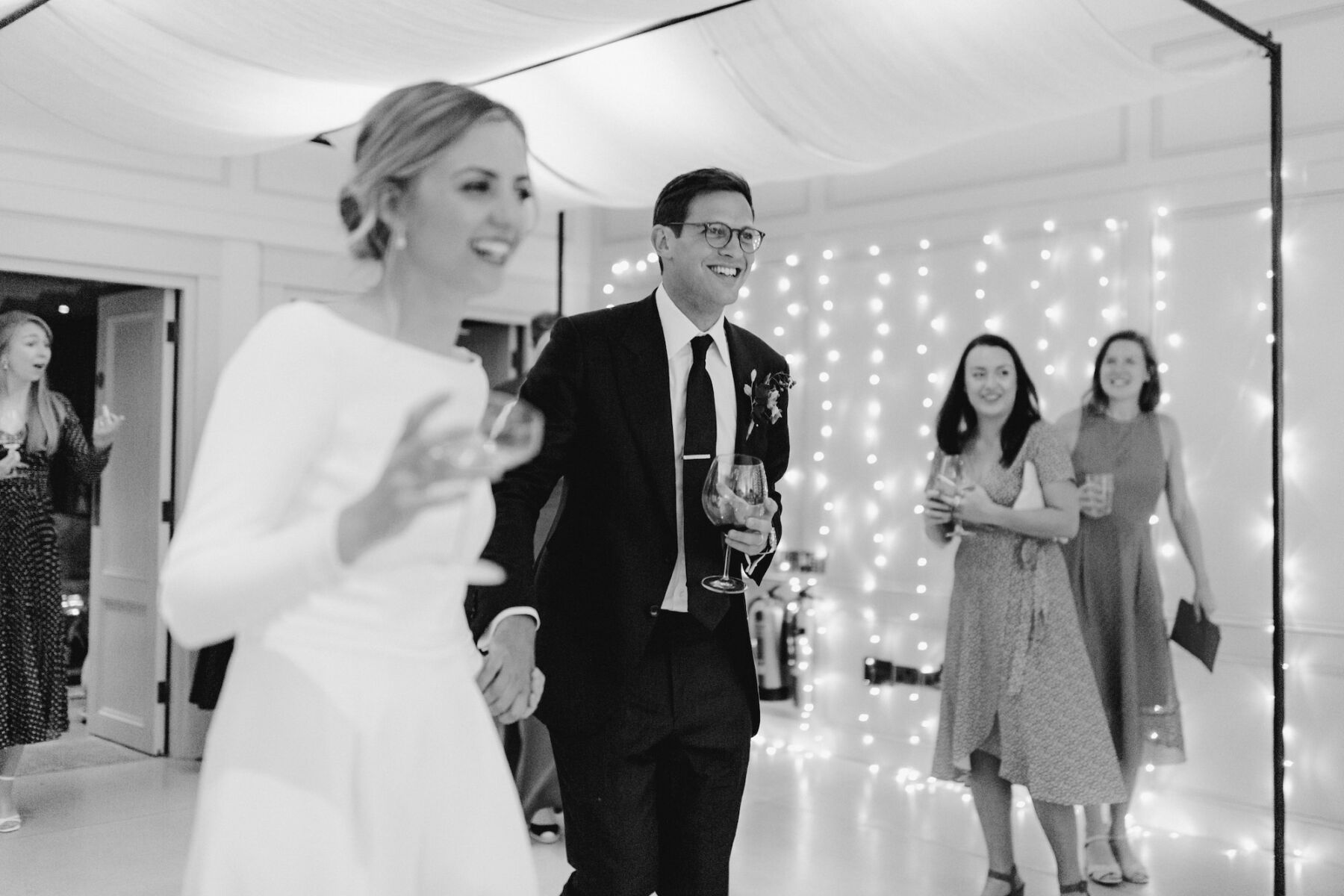 Words of Wedded Wisdom
"Make sure that you feel like you are on the same wavelength as your key supplier – the planner, the stylist or the venue, whoever is really driving the day."
"If you trust their style and instincts and feel like they 'get' what you're trying to achieve, you will feel so much more relaxed in the run up to the wedding and on the day itself. And, you'll probably end up being good friends with them long after the day is over!"
Anna and Sam, congratulations on your wedding and sending so much love and thanks for allowing us to share your very beautiful day here. It's inspired me to take a look at other brides who have worn Emma Beaumont's gorgeous designs and if you'd like to join me then check out this link. Finally, thank you so much Ferris & Twine; it's been a joy to share your work.
With love
Ele x