A fairytale, historic French chateau in the Languedoc is the setting for today's rainy, but no less dreamily romantic celebration, surrounded by the famous sunflower and wheat fields of the region, and handcrafted decor and styling from talented and generous loved ones.
Welcome to the wedding of Hannah and Will, who were married on the 27 July 2019 at Chateau la Commanderie, Plaigne, in South West France. These touchingly candid, elegant and evocative images come to us courtesy of our directory member, Corrina Tough Photography. Based in South West France, Corrina offers contemporary heirloom photography to be treasured.
"We originally chose Corrina because we loved her style, and after our first video chat we knew she was clearly passionate about what she does – Corrina was going to think of every detail."
"As we were planning a wedding in France from the UK, Corrina spent time getting to know us via video chats, and we knew she would capture those spontaneous, almost-forgotten moments that would otherwise pass us by so quickly on the day."
"One of the best pieces of advice I can give couples, is don't underestimate how important the photographer is – they will spend the entire day with you and share in your most intimate moments. Not only is Corrina a beautifully creative photographer, she is an incredibly genuine and warm person. Having her with us felt like another friend at the wedding. We would whole-heartedly recommend her."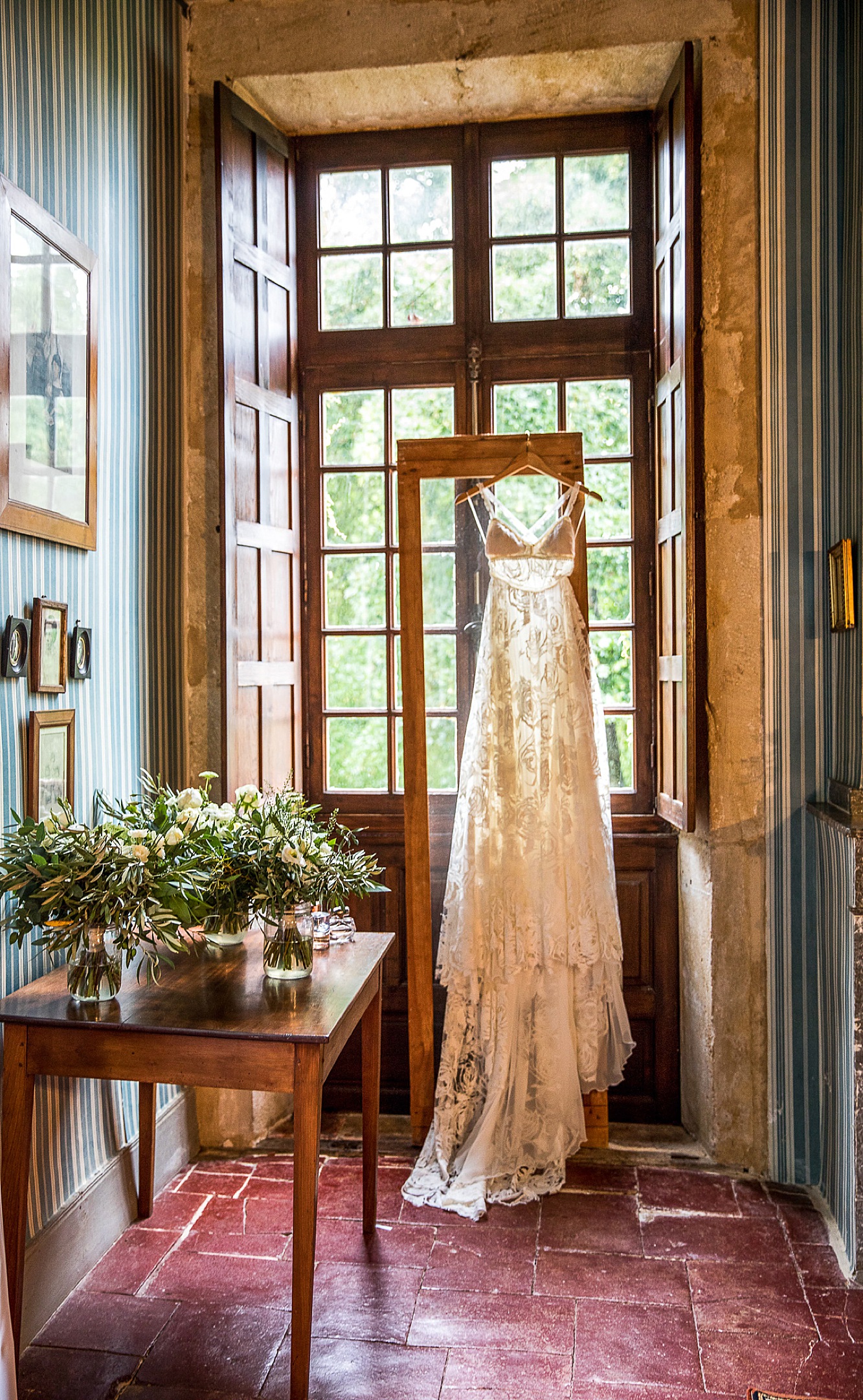 When it came to her outfit choices, Hannah had a wonderful time at the Grace Loves Lace UK flagship boutique in Shoreditch, East London.
There she discovered the perfect daytime choice for her and Will's summer wedding: the beautiful boho 'Megan' dress, named after Grace Loves Lace's founder, no less! She also chose a different dress for the evening – the 'Kiki 2.0'.
Hannah wore shoes from Topshop, and a beautiful pair of baroque pearl earrings [sadly no details about where these were from]. Hair and make-up, including an elegant chignon adorned with fresh flowers, was by Jane Emerson of French Perfection. Sadly at the time of writing, Jane's website is not operational, and I'm unable to find any further contact details for her.
"As someone who has their hair and make up the same every day (and has done for probably over 10 years), I was incredibly nervous about trying new styles for my wedding day. Jane is an absolute pro, and I felt immediately comfortable in her hands. My sister and I visited her gorgeous house in France for a trial, which in itself was a fantastic experience. It was an absolute pleasure having Jane with us for the first part of the day. One of my favourite memories of getting ready with my Mum was her chatting away to Jane like they'd known each other for years."
"When I first started looking at where to buy my dress, I felt quite intimidated by showrooms which seemed overly formal. Both the Grace Loves Lace showroom and its stylists were completely different, and genuinely mirrored the laid-back, unique style of their dresses."
"Grace Loves Lace felt like a perfect choice because their dresses feel so effortless but luxurious at the same time. The style matched the boho-ish, summer style that I'd envisioned. I absolutely fell in love with rose motif embroidery on the 'Megan' dress."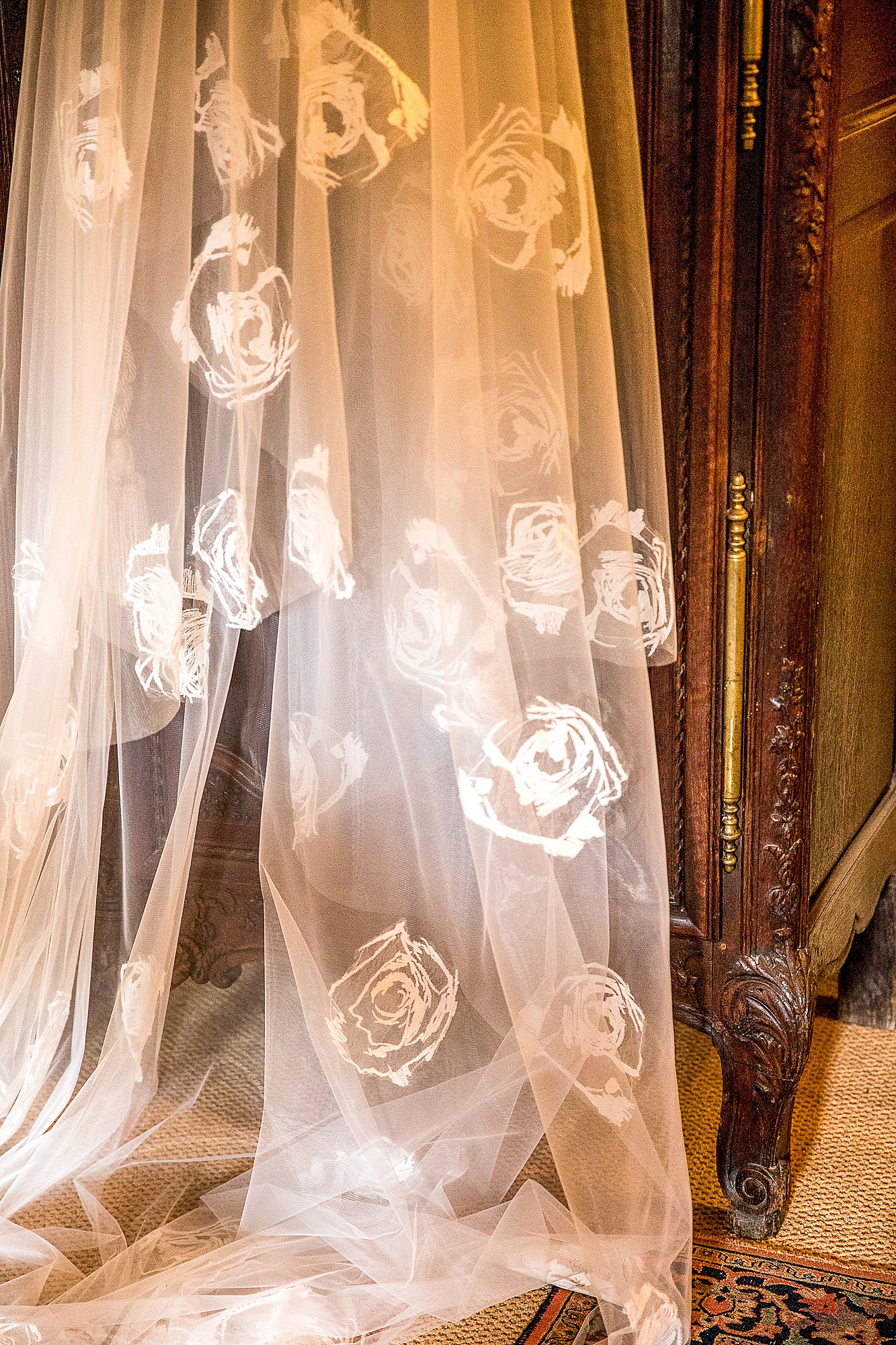 The finishing touch for Hannah was a spectacular Grace Loves Lace veil – the 'Fleur', embroidered with statement roses all over, trailing down to the floor.
"I always thought I wanted a simple silhouette, but once I tried on a few different styles I realised I wanted the drama of a long train and a big veil, which Grace Loves Lace makes feel super cool."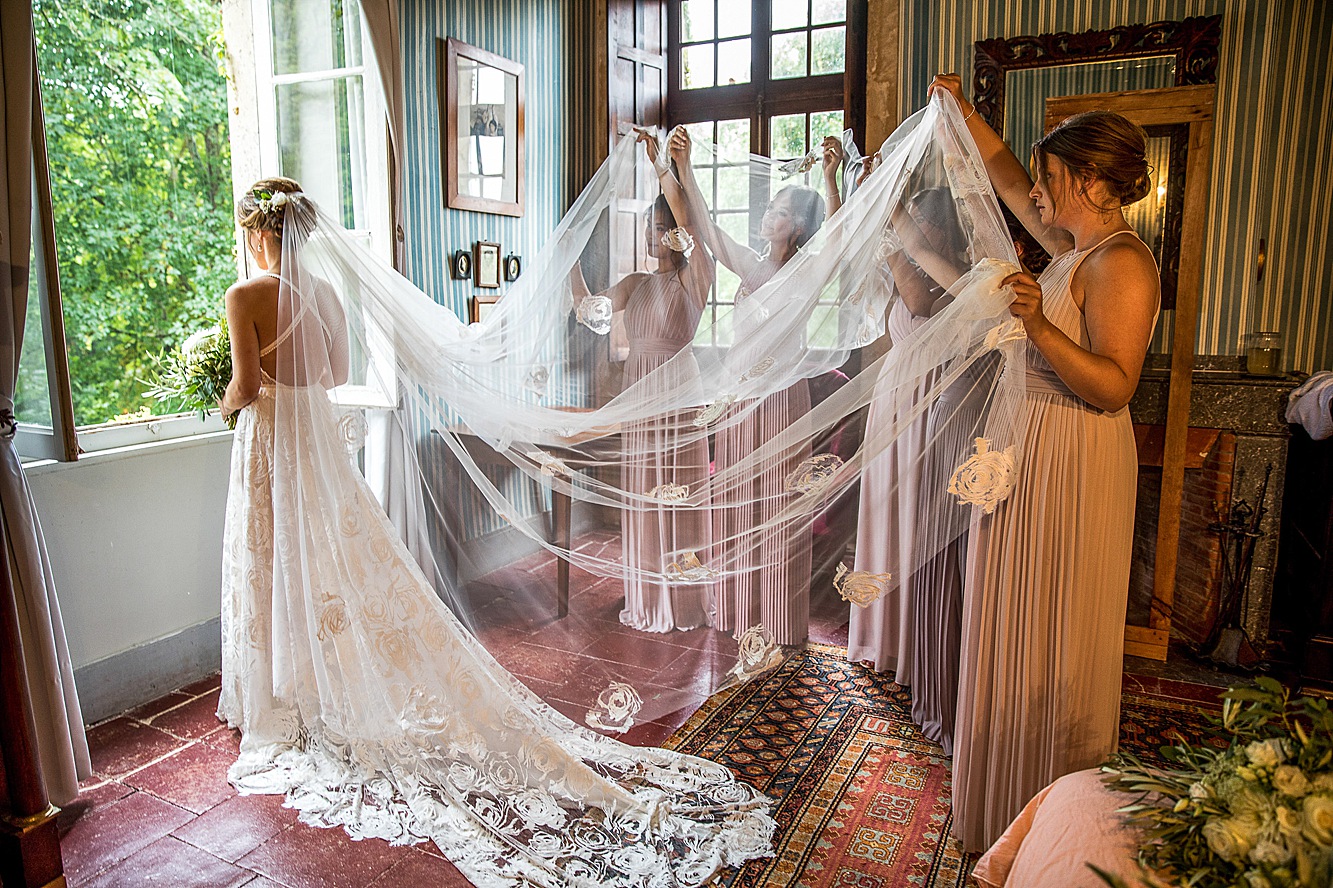 "Sarah Menager was our florist. I love wild looking bouquets and wanted lots of greenery with clean, white flowers."
Hannah's magnificent bouquet included olive branches, and huge white dahlias, roses and lisianthus, and its unstructured beauty looked wonderful paired with her dreamy boho dress and rose embroidered veil.
"Will wanted something relaxed so he opted for a plain navy suit with a white shirt and a buttonhole (with no ties or waistcoats) from Moss Bros. As the suits were tailored, each had a unique lining with personalised embroidery."
The bridesmaids wore different style maxi dresses with lovely pleat details in an array of soft blush pink shades, which were all from TFNC London.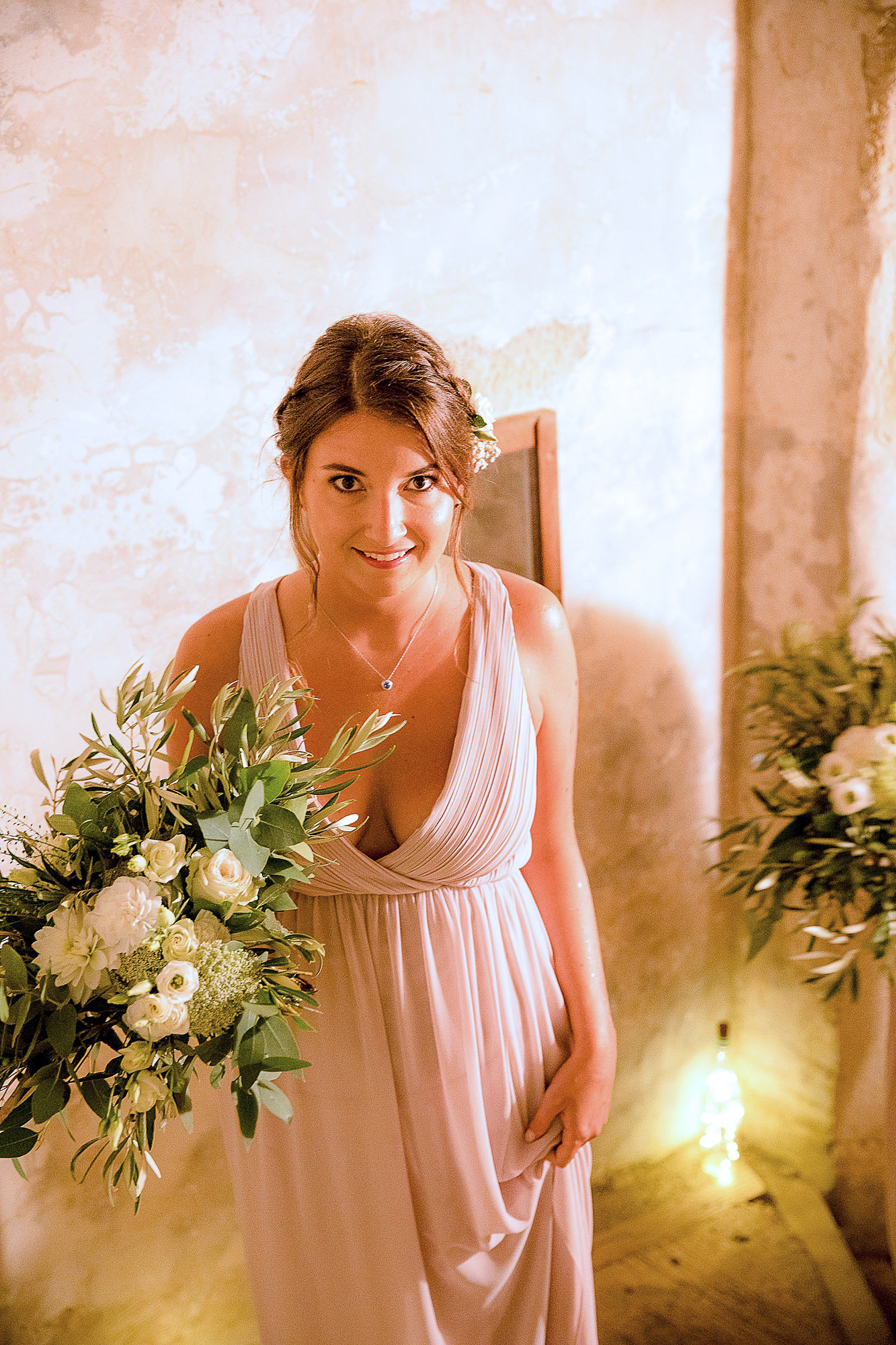 "As we were getting married in the South of France in the summer, we wanted the wedding to have a relaxed, informal feel, and really wanted to embrace our incredible rustic setting."
The couple first met on the school bus, both aged 16, and have been together ever since. Will proposed to Hannah at the end of a holiday in the beautiful Dordogne.
"One of the first things he said to me after he proposed was 'and I think we should do it next year'. After that, we never considered a longer engagement."
"On our wedding, despite it being July in the South of France (and despite us all enduring 30c heat for the week prior), the heavens opened and it rained almost non-stop for the entire day.
This meant that most of our planned shots had to be moved, but Corrina effortlessly switched up the plans and found beautiful locations to shoot instead."
Hannah and Will both knew that they needed some additional support in the form of on-the-day coordination, and turned to Grant Morgan to ensure every aspect ran smoothly.
"Grant and his team really took the pressure off on the day, and if you're thinking of going it alone without a planner, having an on-the-day planner is an absolute must!"
The couple held their ceremony in the chateau's charming library, with rose petals scattered on the floor, and the old stone fireplace decorated with a lovely floral garland.
Hannah was accompanied by her Dad, sister and bridesmaids down to the ceremony, negotiating the chateau's tricky turret with her veil! She walked with her Dad down the aisle, to Here Comes the Sun played live by her cousin Charlie on guitar.
"The song means a lot to my family because it reminds us of my Grandad, who passed away a few years ago. Charlie was also wearing my Grandad's waistcoat, which was really special."
Surrounded by their loved ones, Hannah and Will made their vows to each other, in a ceremony conducted by a celebrant from Weddings Words & Wishes.
"We really wanted the readings to be chosen by our readers. My brother-in-law, George, chose to read Union by Robert Fulghum. Will's sister, Alice, wrote her own reading, which was incredibly touching and personal. I had obviously heard it before the wedding day but think I cried every time it was read!"
Will had chosen Hannah's engagement ring at Hatton Garden jewellers Arlington & Co., and so it was a special moment for them to go back there and choose their wedding bands together.
"We were also both certain from the start of our planning that we wanted to have a wedding week, so we stayed at the chateau for a week beforehand with some of our close friends and family. This made the wedding day itself feel so much more relaxed – we'd all been celebrating for a week already!"
"Unfortunately for our nearest and dearest, attending the wedding week meant they had also been tricked into becoming wedding decorators, cleaners, planners and general moral supporters."
"This was honestly unintended – for some reason I thought we could do it all ourselves – but without a doubt there is no way we could have pulled off the day without them."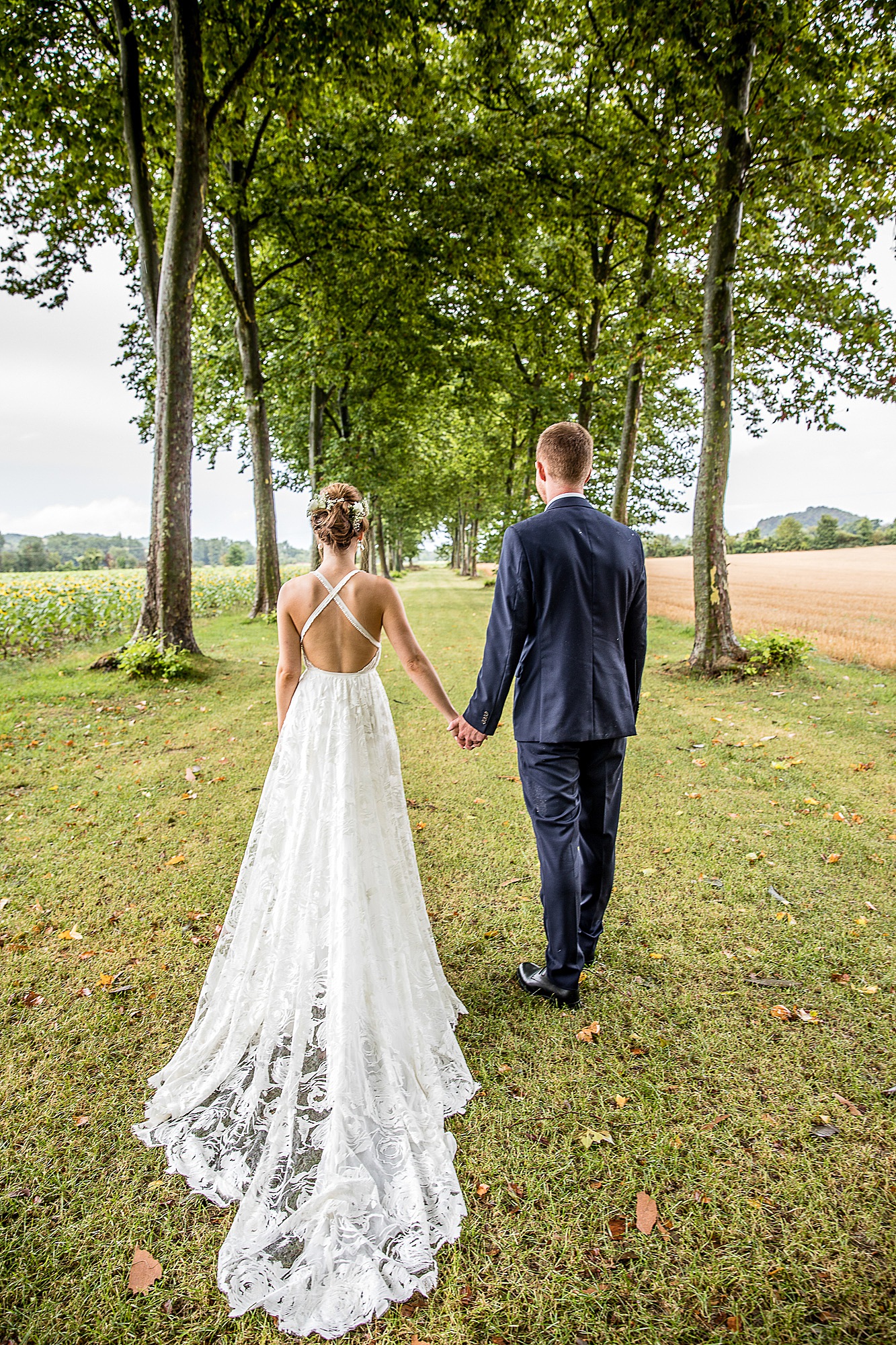 The couple supplied their own drinks for the celebration, which included delicious sparkling wine made by Hannah's step-dad Andy at his vineyard in Kent.
The wedding feast came courtesy of the excellent C&N Traiteur.
"C&N were true professionals and the food was excellent. Their coordination on the day was perfection – they turned up in the torrential rain and didn't even look worried, and somehow our 120 guests all had hot, delicious food despite it being served in a tent about 50m from the chateau's catering kitchen in the pouring rain."
"Probably one of the things that our guests have commented on the most since our wedding was how amazing it was that C&N used parasols to shelter the food as 5 waiting staff shuffled the food over underneath it – genius!"
Family and friends also lent their creative talents to lots of elements of the styling and decor, including Hannah's Aunty Julie, who hand embroidered an exquisite seating plan, as well as table numbers and place names. You can find more of Julie's work on her Etsy page.
"Will's brother, Pete, created our save the dates and wedding menus. We didn't opt for a hard copy wedding invitation and used Appy Couple, an app which lets you send out invites electronically (by email, text, Whatsapp etc.) which meant that we didn't need to gather addresses beforehand."
"I know some people hate the thought of departing from the traditional wedding invite, but I thought it was great. It helped so much with planning – that we could just download a copy of the guest list or everyone's dietary requirements."
"Will's brother Pete and his girlfriend Clarisse hand-painted our gorgeously rustic order of the day board on a wooden crate, and made lots of other wooden welcome and bar signs. My brother-in-law's Mum, Bethan, hand-made gorgeous hessian bunting, which we hung from the trees around the chateau and in the tent."
Floral hoops and lanterns hung from garden trees, and in the reception tent, there was a rustic cocktail bar, and dining tables set with simple white cloths and pretty floral centrepieces.
"We also had the idea of spray painting empty wine bottles and using them as candle holders and vases to decorate the chateau. This involved an army of wine drinkers, bottle scrapers and spray painters!"
Lighting was supplied by Be Lounge, who were also able to provide a lovely open-sided stretch tent at the last minute, following the change in weather forecast.
On the day as the heavens opened, this was a very much needed element so that the festivities could continue.
After the speeches and toasting (with the sparkling wine bottles opened with a sword, no less!) there was a magnificent, French wedding classic – croquembouche decorated with sparklers, made by caterers C&N Traiteur.
"We didn't have any traditional wedding entertainment. We put together a playlist and hired a sound system and lights from Be Lounge. I was worried about the lack of entertainment/DJ, but it turned out to be one of the best decisions we made. It meant that every song was one that we loved and thought would get our guests dancing, and our guests were incredible and danced the night away with us until 6am."
Favourite Moments
"There were so many incredible parts of our day it is so difficult to pick a favourite. I think one of my favourite parts was the speeches, which were all so heartfelt and hilarious – given by my Dad (Danny), Will's three Best Men (Pete, Ali and Gareth), my sister and Maid of Honour (Abi), and Will's uncle (John). I really loved that my sister gave a non-traditional Maid of Honour speech – I hate that women don't usually get to give wedding speeches, and seeing her up there was such a genuinely proud moment."
"We also loved the party – once all of the pressure of the ceremony, formal photos and the speeches was over we could just relax together and enjoy ourselves with our loved ones on the dancefloor. Once our pre-planned playlist ended, the music turned to impromptu karaoke, which were some of our favourite memories of the night."
Words of Wedded Wisdom
"I would definitely think more about a Plan B. We had planned our entire day outside (ceremony, meal and reception) and the weather forecast only changed from summer sun to non-stop rain a few days beforehand. Luckily we had indoor options at the venue, and our equipment provider, Be Lounge, was able to provide a tent at the last minute (which looked amazing)."
"I knew I was supposed to have a Plan B when I was planning, but it felt too daunting at the time to fully prepare for it, especially without a wedding planner – because Plan A was stressful enough! Although it might create extra work beforehand (or might mean you need to plan Plan A in a less regimented way) being more flexible in your plan will definitely ease a lot of stress if things need to change last minute."
"If you can extend your wedding day into a wedding week or wedding short break, do! Having a week in France with our family and friends the week before meant that we could enjoy time with everyone and create so many amazing memories surrounding our wedding as well as the day itself. The day goes by in a flash!"
"I hated hearing the advice 'You won't worry about all of the small details on the day' and 'Something will go wrong, but you'll still have the best day' whilst I was planning – I was going to plan so well that nothing could go wrong at my wedding! The rain threw almost all of our plans up in the air, but having so many supportive family and friends and amazing suppliers helped us pull it off anyway."
"If you told me beforehand that my wedding day in the South of France in July was going to pour down with rain, I honestly would have been devastated. But I can wholeheartedly say that it took nothing away from the best day of our lives – if anything, it was even better than we could have imagined. So, at the risk of giving unwanted advice – something probably will go wrong, but you'll still have the best day! And if it rains, apparently it's good luck."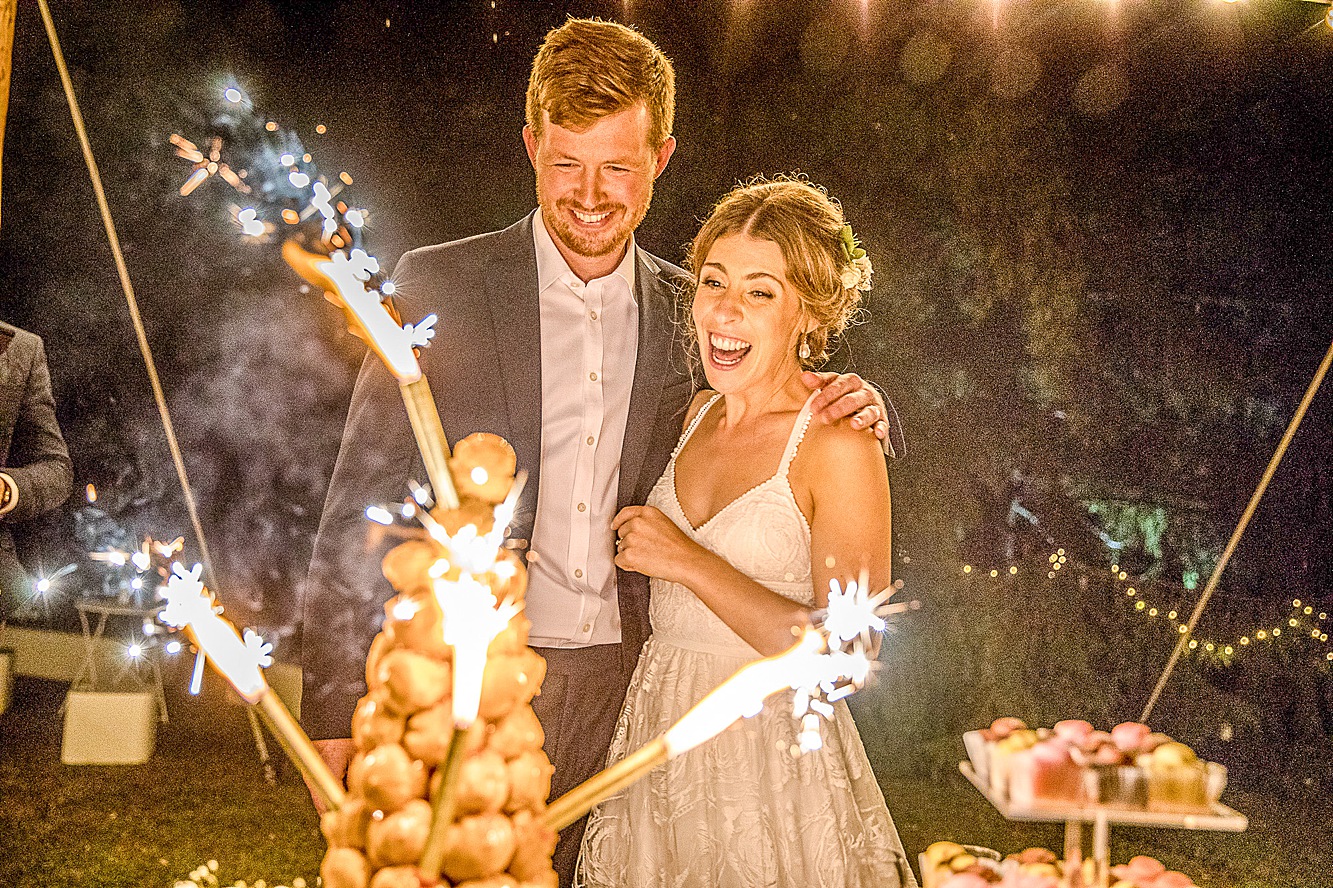 Hannah and Will, thank you so much for giving us this glimpse into an utterly charming day. What an enchanting venue you chose – a true fairytale. Many thanks also to Corrina Tough for these exquisite images.
Until next time.
Love, Laura x