We're travelling over to the breathtaking Californian coast today for something a little different – a light, bright and contemporary Korean wedding in Long Beach.
I adore the modern styling of this joyful day, filled with stylish white touches and accents of fresh green, with lots of lush foliage and plants, a whole wall of softly flickering candles, and bridesmaids in mint green.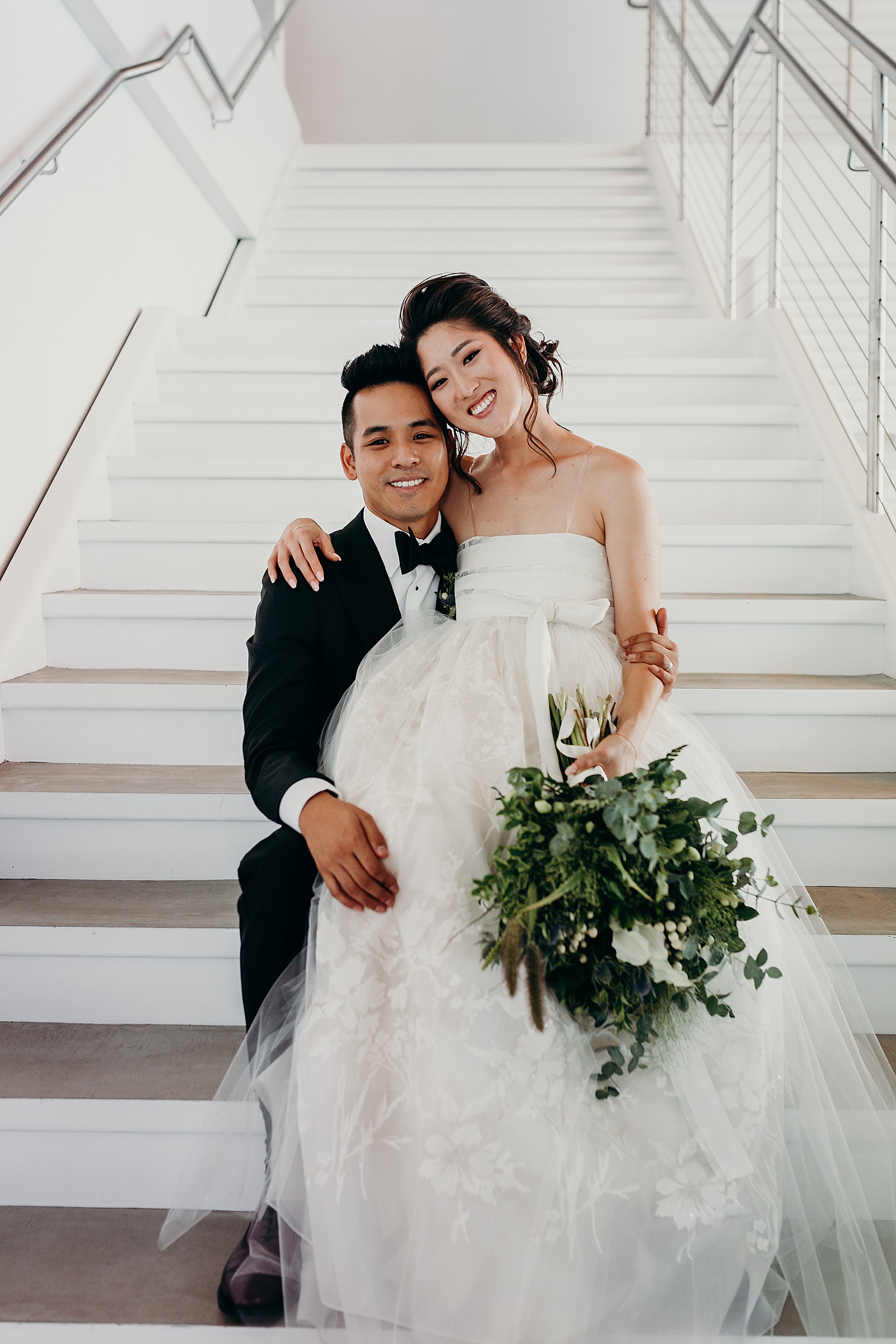 Elementary school teacher Becca married Chris, a data analyst on the 11th August 2019 at The Modern in Long Beach, California.
The Modern is a soaring, industrial loft venue situated on the top floor of an aircraft hangar overlooking Long Beach Airport, and offered Becca and Chris the beautiful, blank canvas space they were looking for.Becca had a wonderful time getting ready for the day ahead with her bridesmaids, and was beautifully groomed by hair and make-up artist Jenn Chu.  In her elegant, curled chignon, Becca added a comb of fresh flowers and foliage, and on he feet she wore a pair of glittery gold and crystal studded heels [sadly no details provided as to where they shoes were from]. Bridal jewellery came courtesy of Tiffany & Co.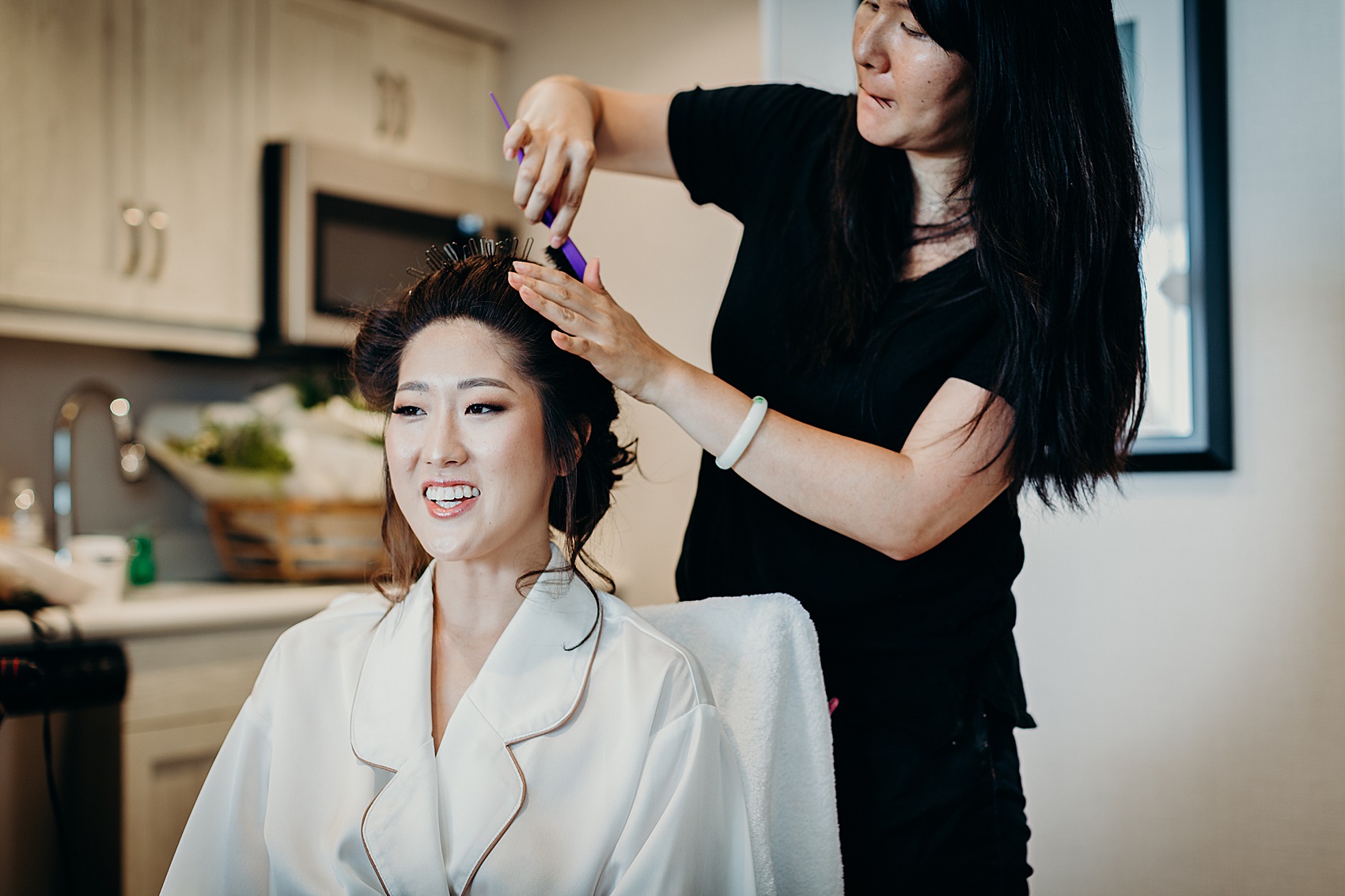 For her wedding outfit, Becca opted for a modern twist on a Korean hanbok, traditionally worn on special occasions and for celebrations. Becca's graceful design in white with floral printed silk and tulle was by Meehee Hanbok, with a delicate jacket to wear during the reception, and a simple, long veil.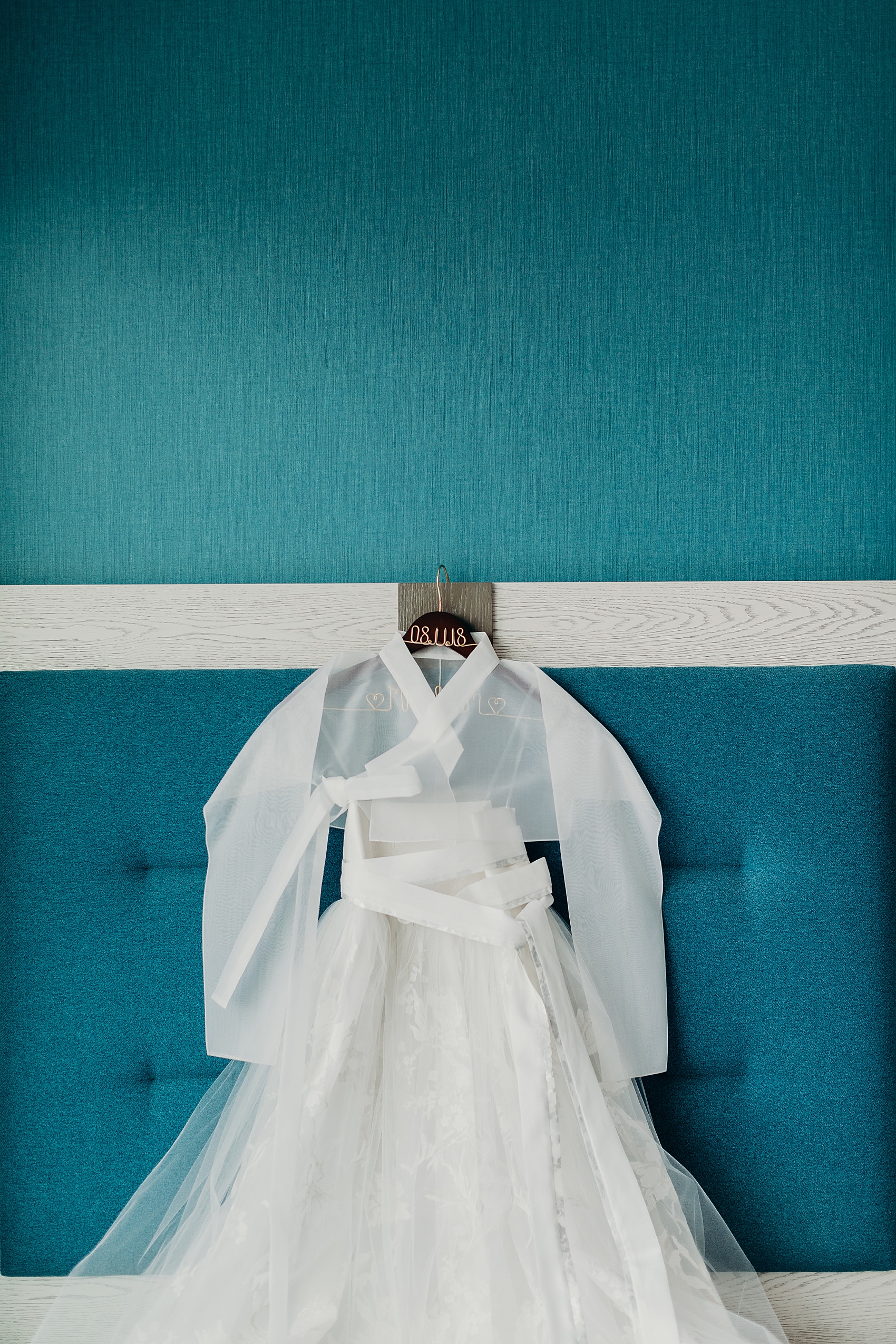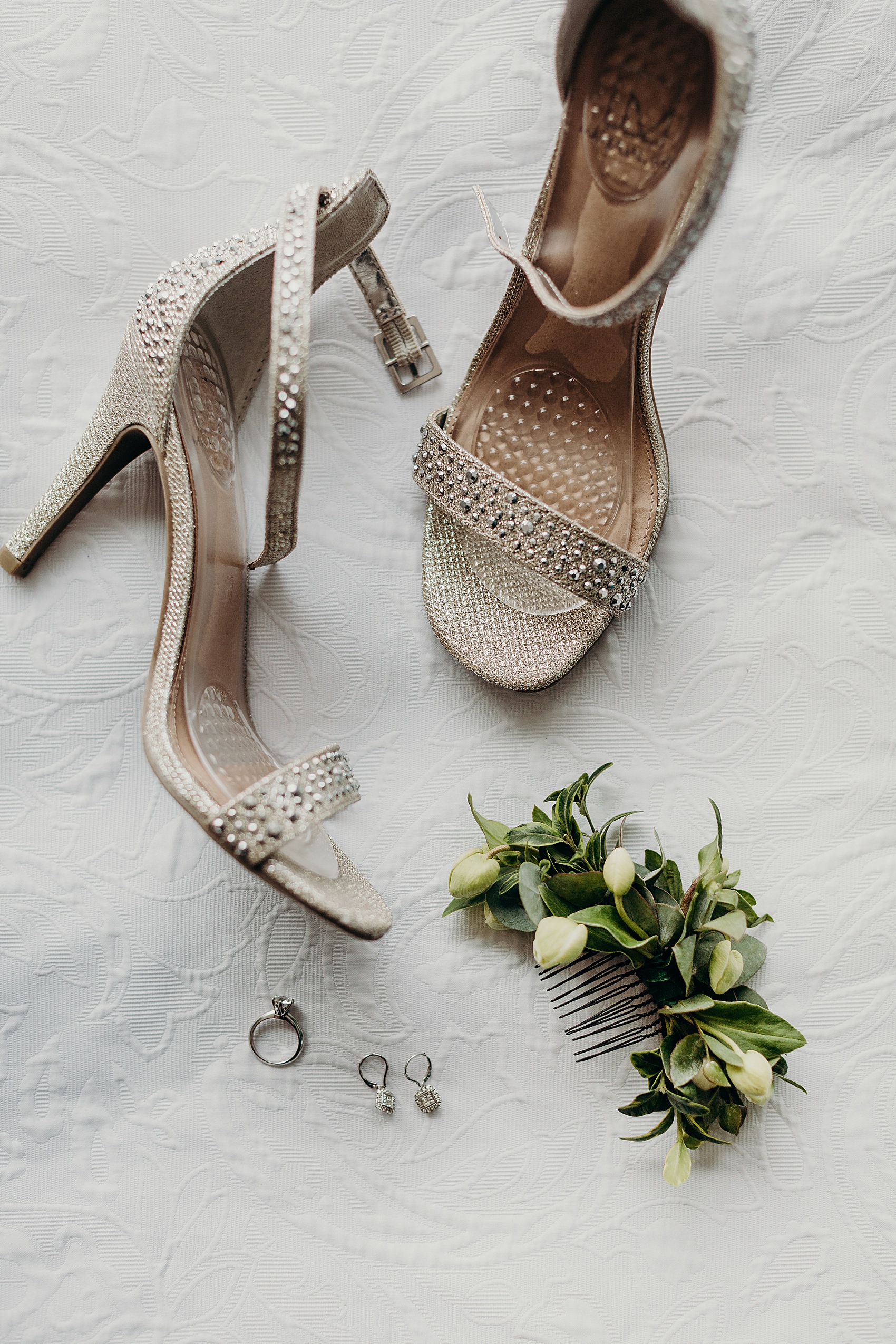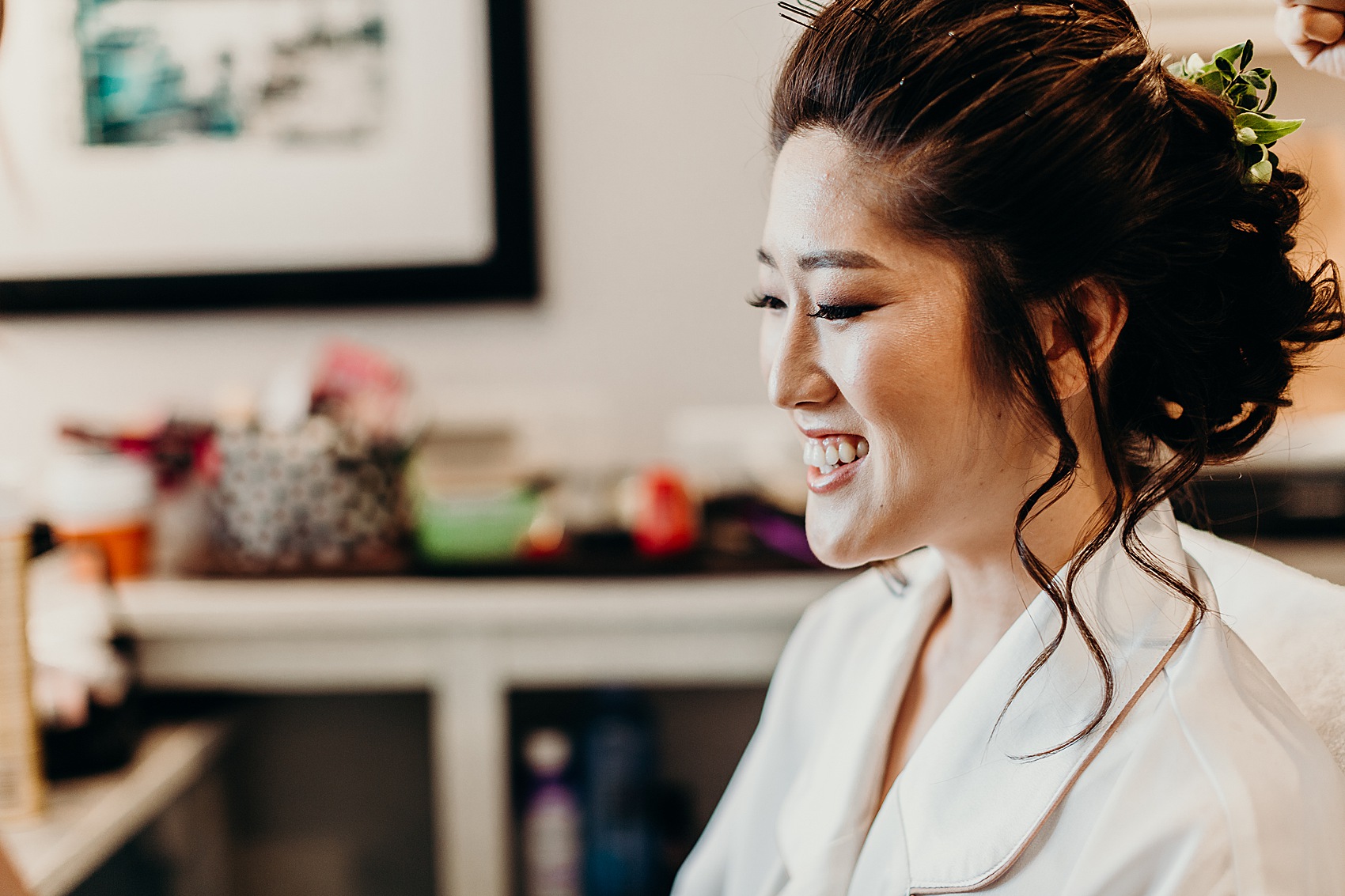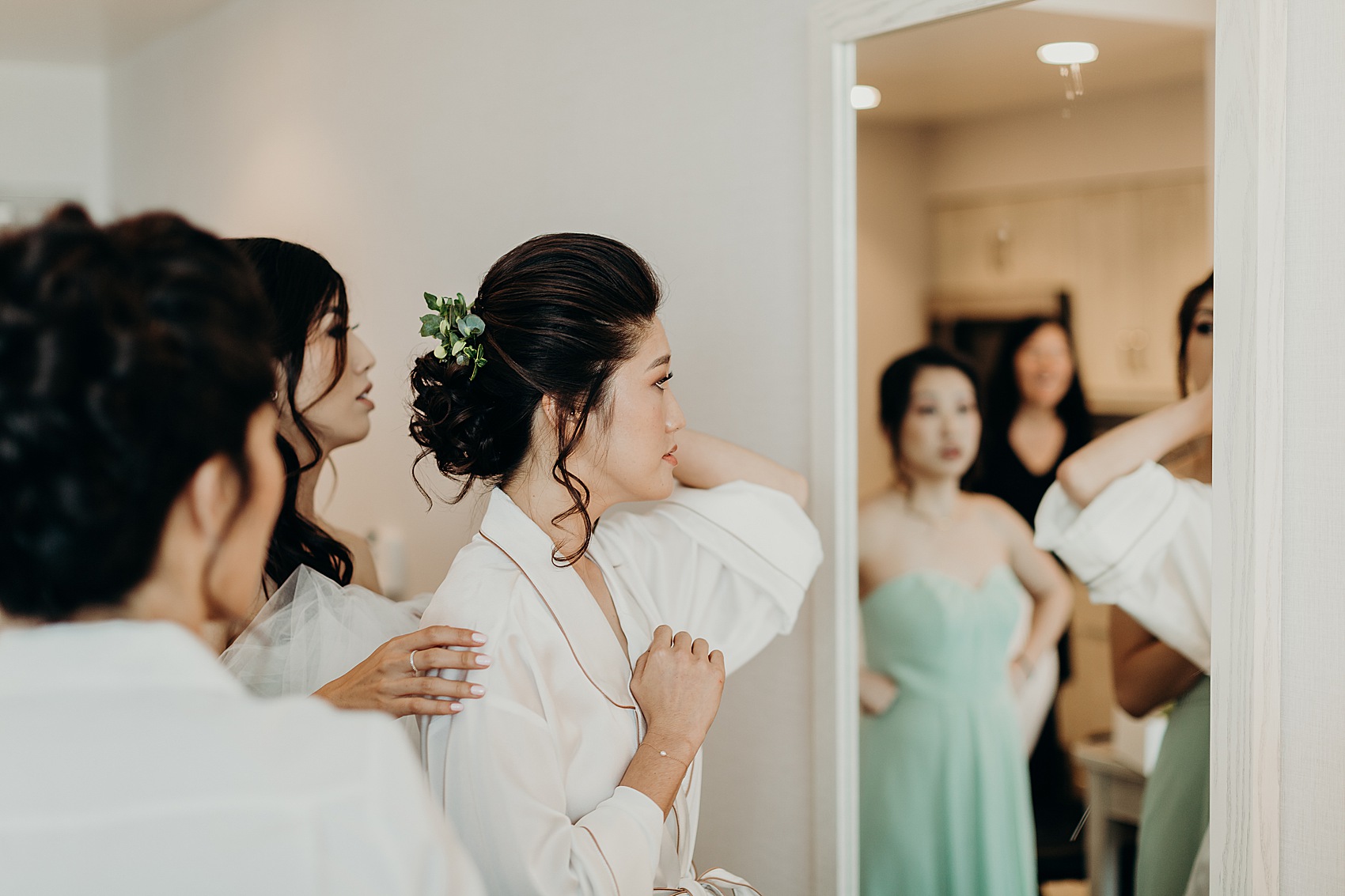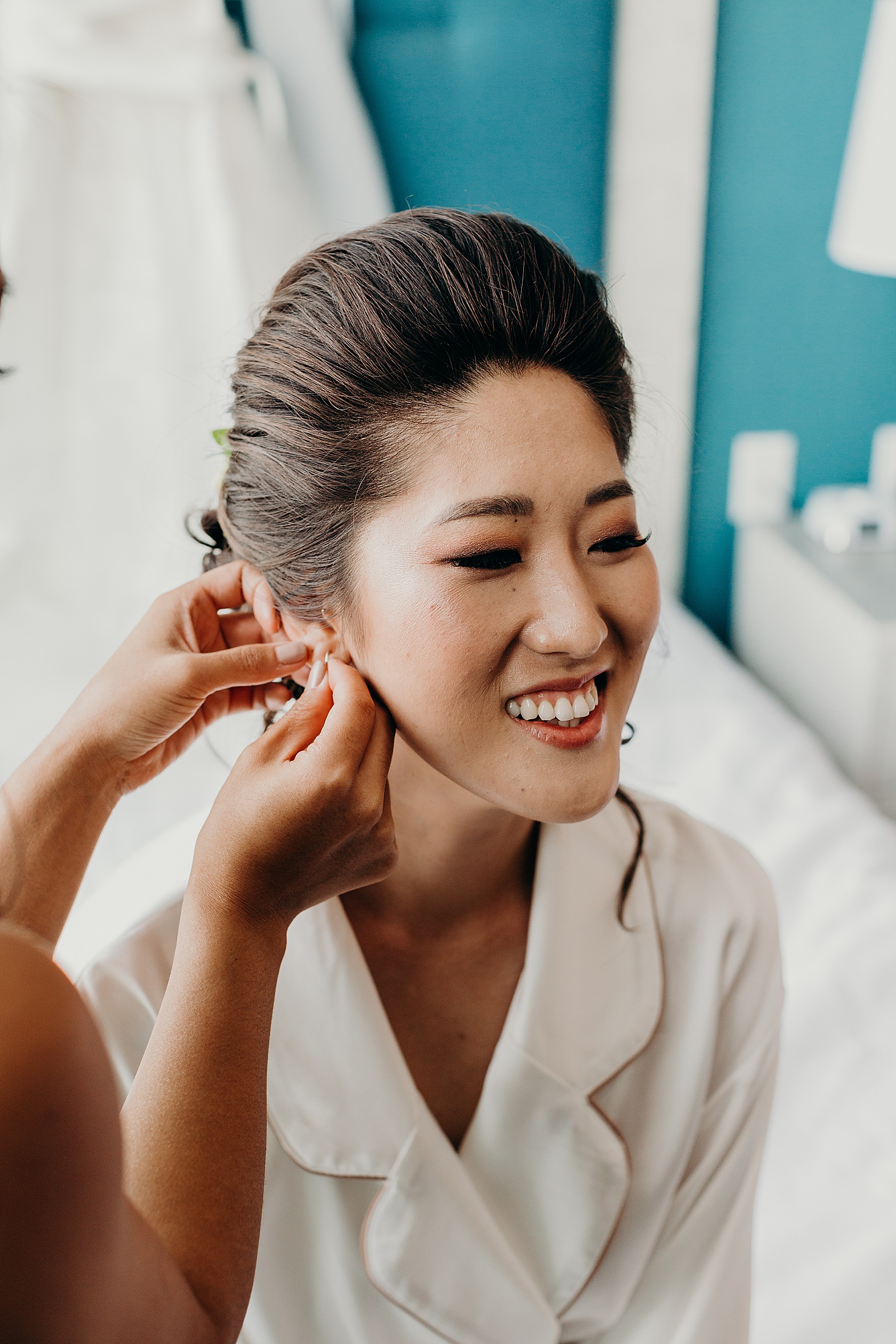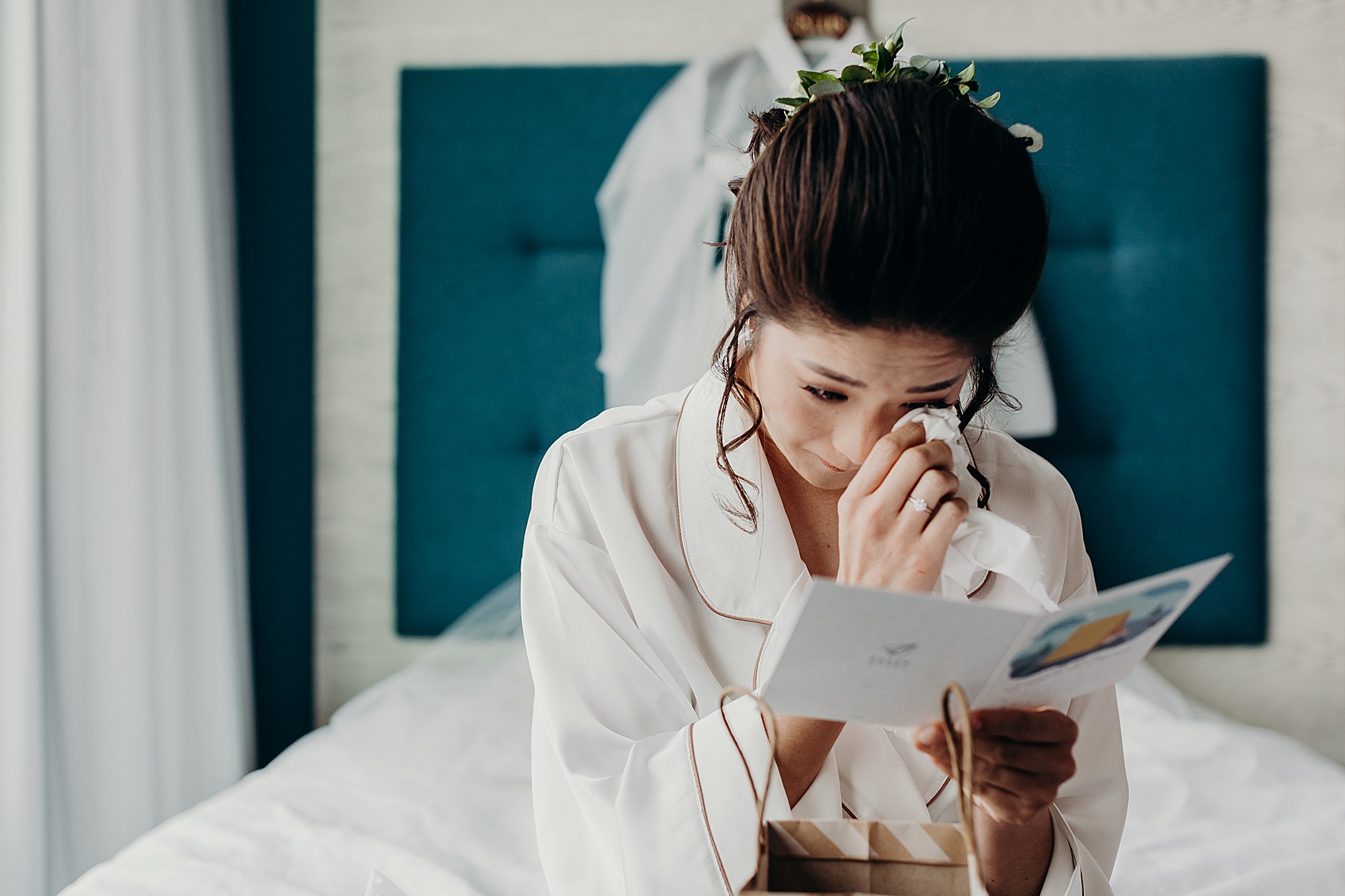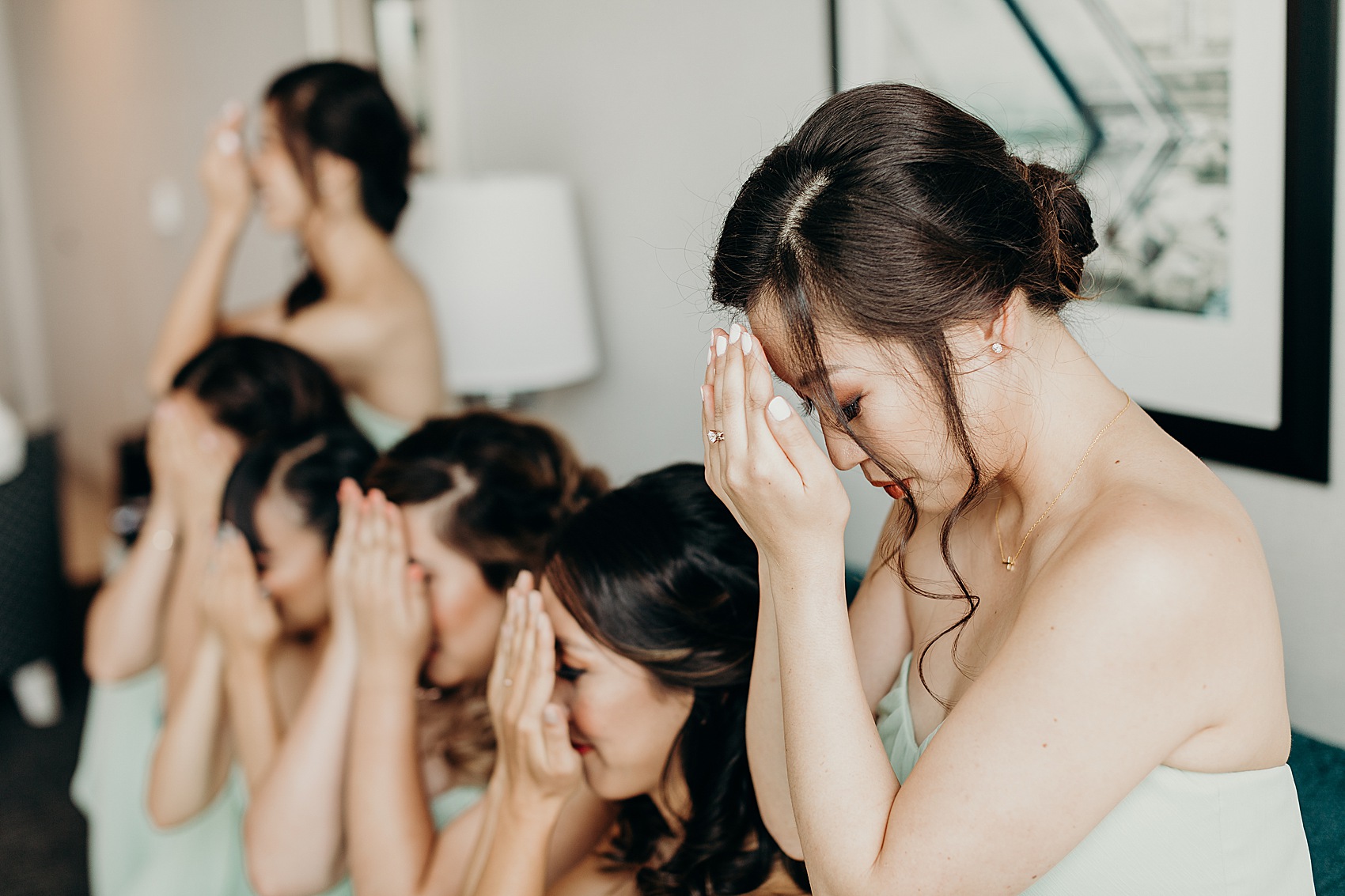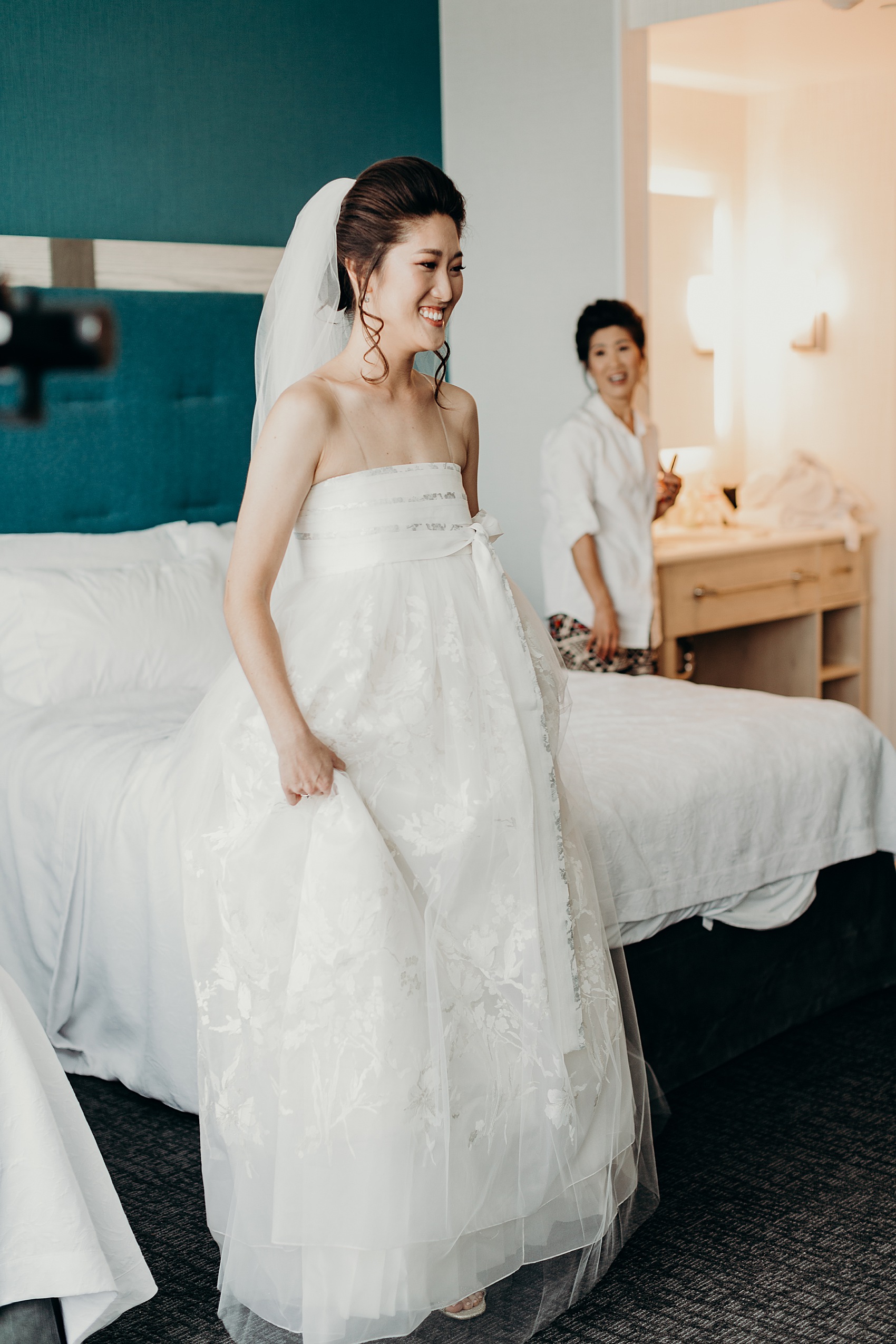 The bridesmaids wore matching strapless, sweetheart neckline dresses in pale mint green from David's Bridal, and together with Becca they carried elegant bouquets of white calla lilies and hypericum berries, with sea holly, eucalyptus, grasses and lots of wonderful foliage – all created by Ema Parker of Hanaya Floral Works.
"My best friend from middle school (who is still my best friend today), Kristen, has an older brother named Noel. Noel and Chris were in the same grade level and they were friends. This was how I came to know who Chris was in middle school, but we didn't officially meet until the summer before my freshman year in high school."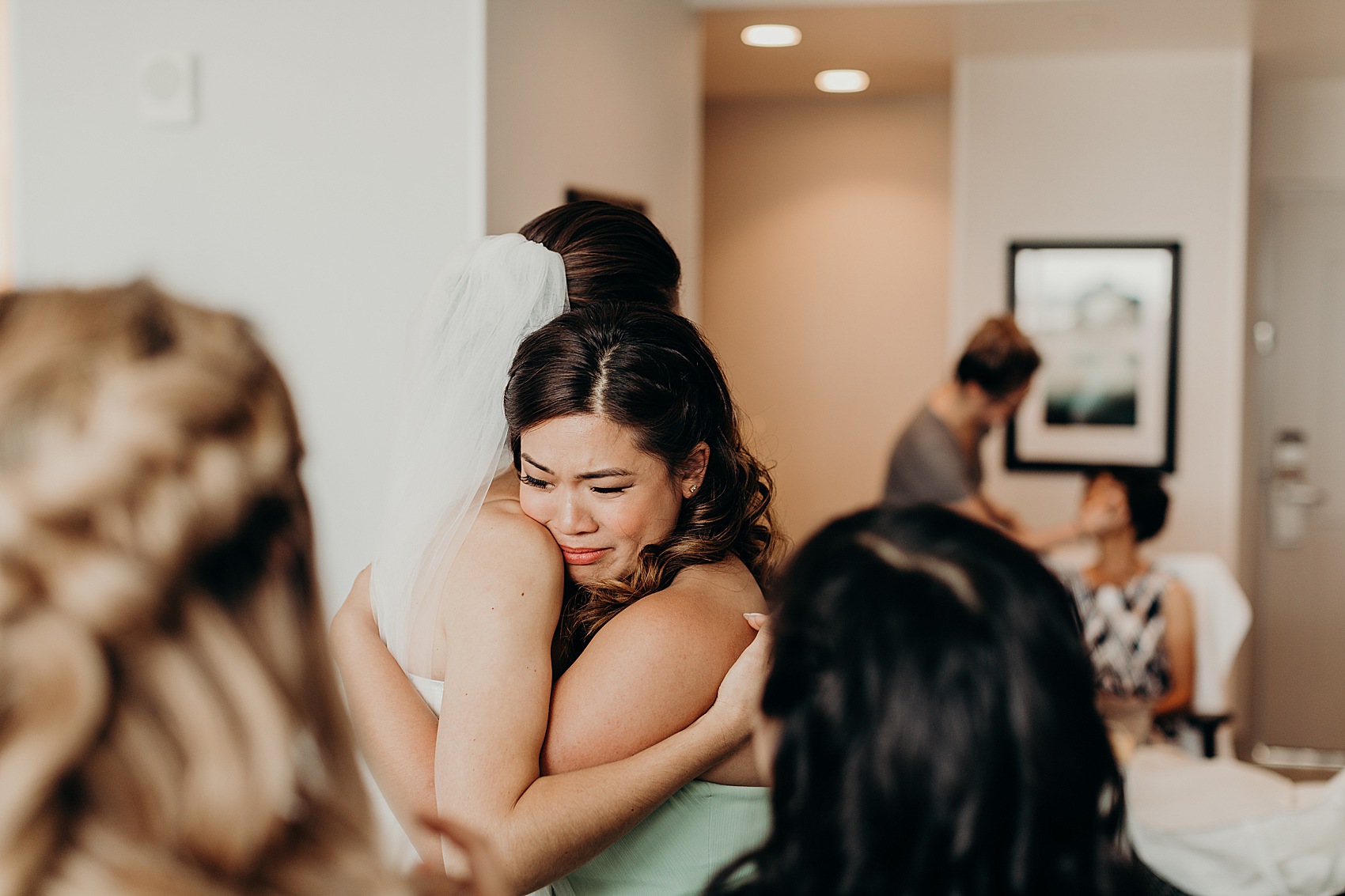 "Noel and Chris were hanging out, and I was hanging out with Kristen, and we met at Kristen and Noel's house one day. That's when my crush on Chris started! I thought he was so cute and was excited that I'd see him around on campus in high school."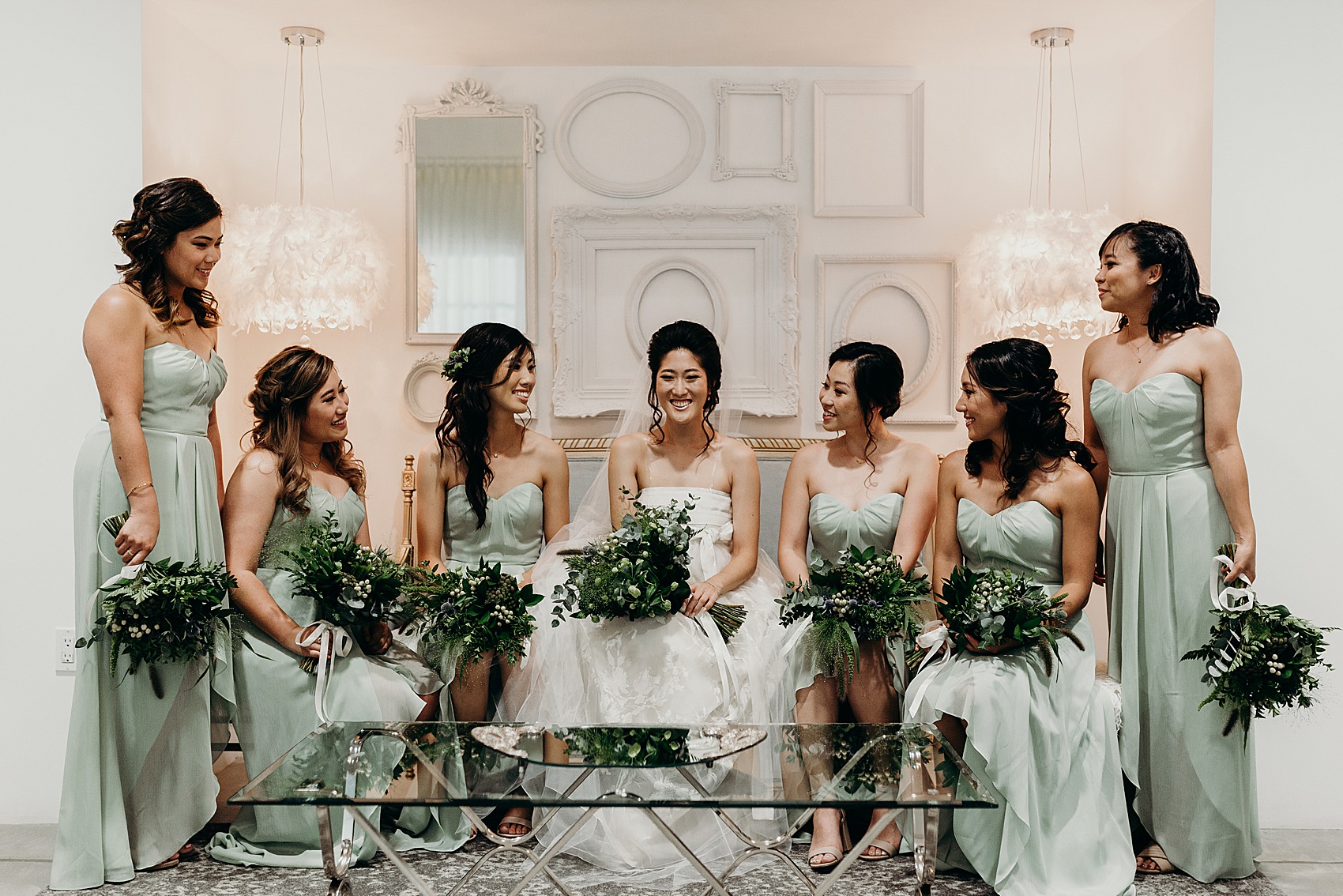 "Nothing really happened for a while after that because we were both pretty shy, and didn't see each other very often – since we were in different grades/classes."
"But my sophomore year, Chris and I got put in the same Math class (I was advanced for my grade) and in some magical way we were then paired together by our teacher as study buddies for our class' final exam."
"This was how I got his number (thank you, Mrs. C!). The summer after my sophomore year was when things really kicked off."
"We hung out a lot more often and went on dates, and then on August 11th, 2006, Chris officially asked me to be his girlfriend (in Korean) and of course I said yes! The rest is history!"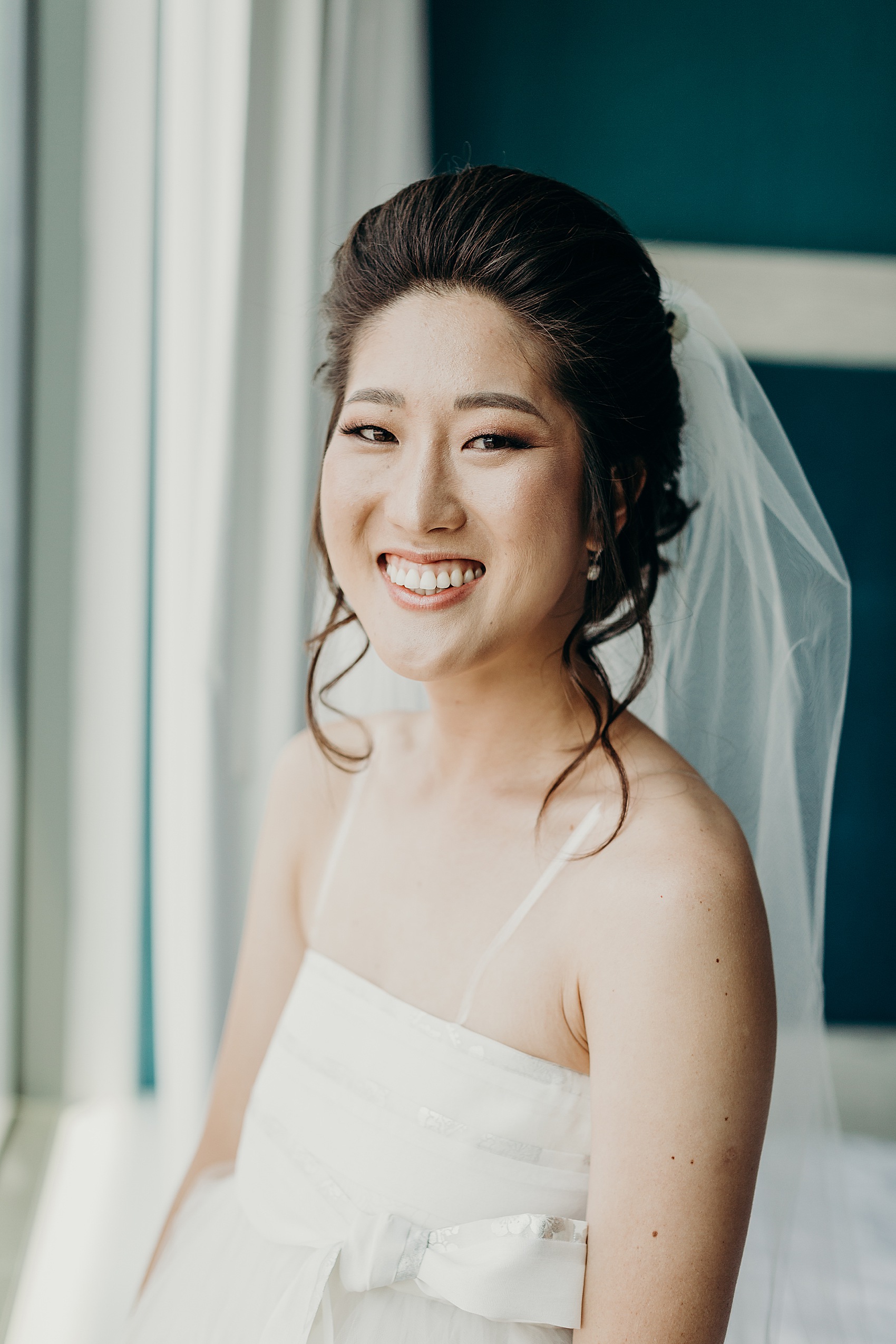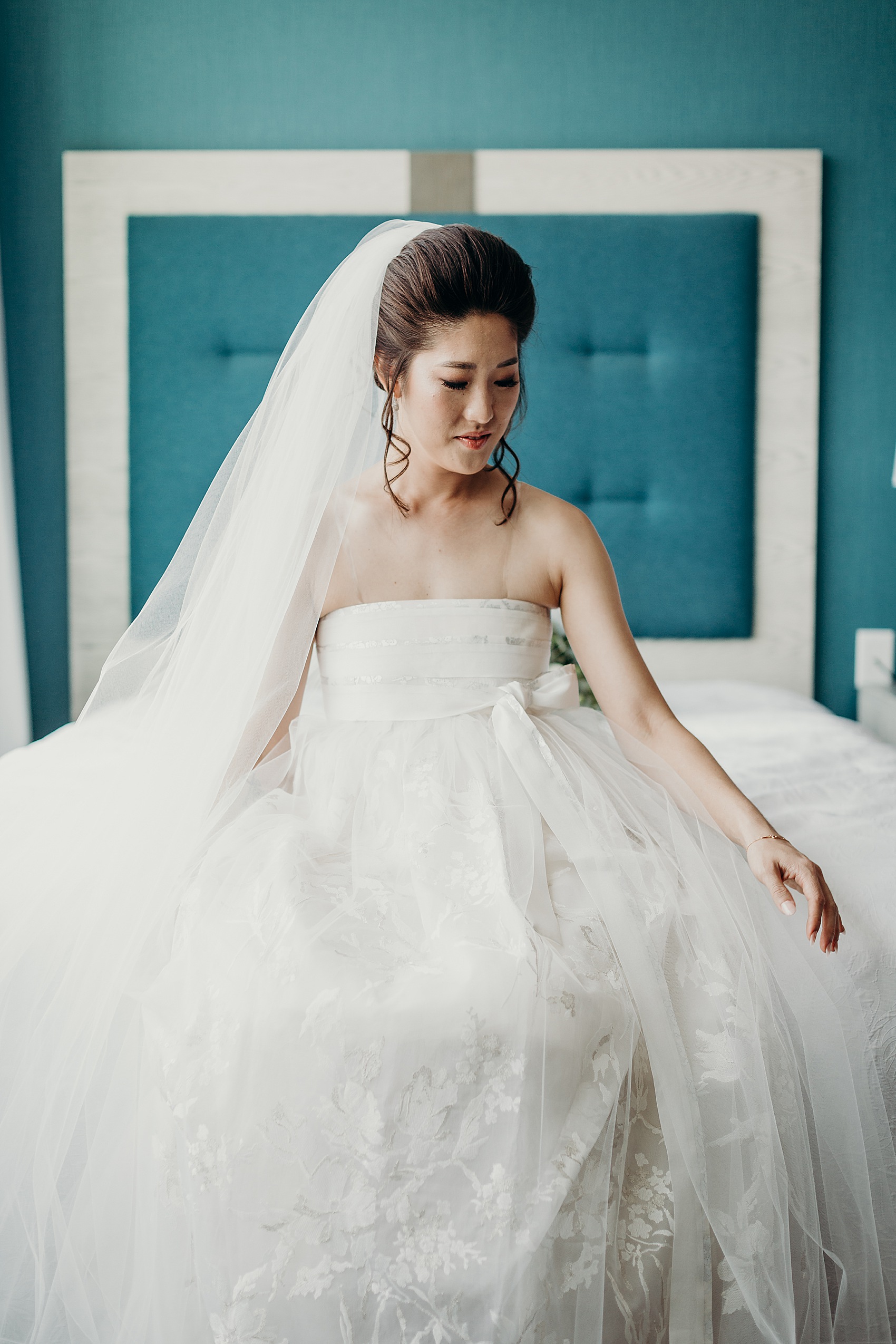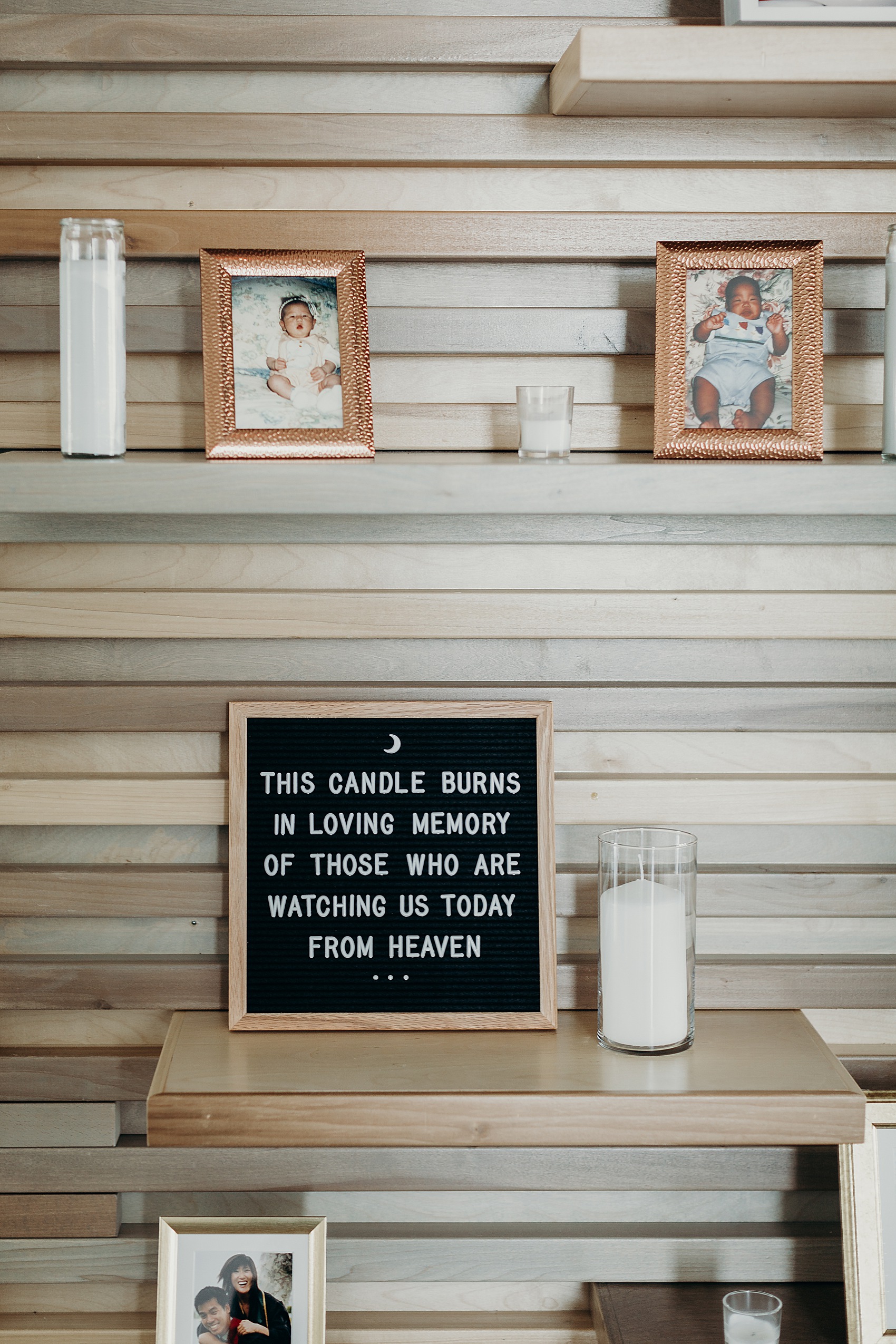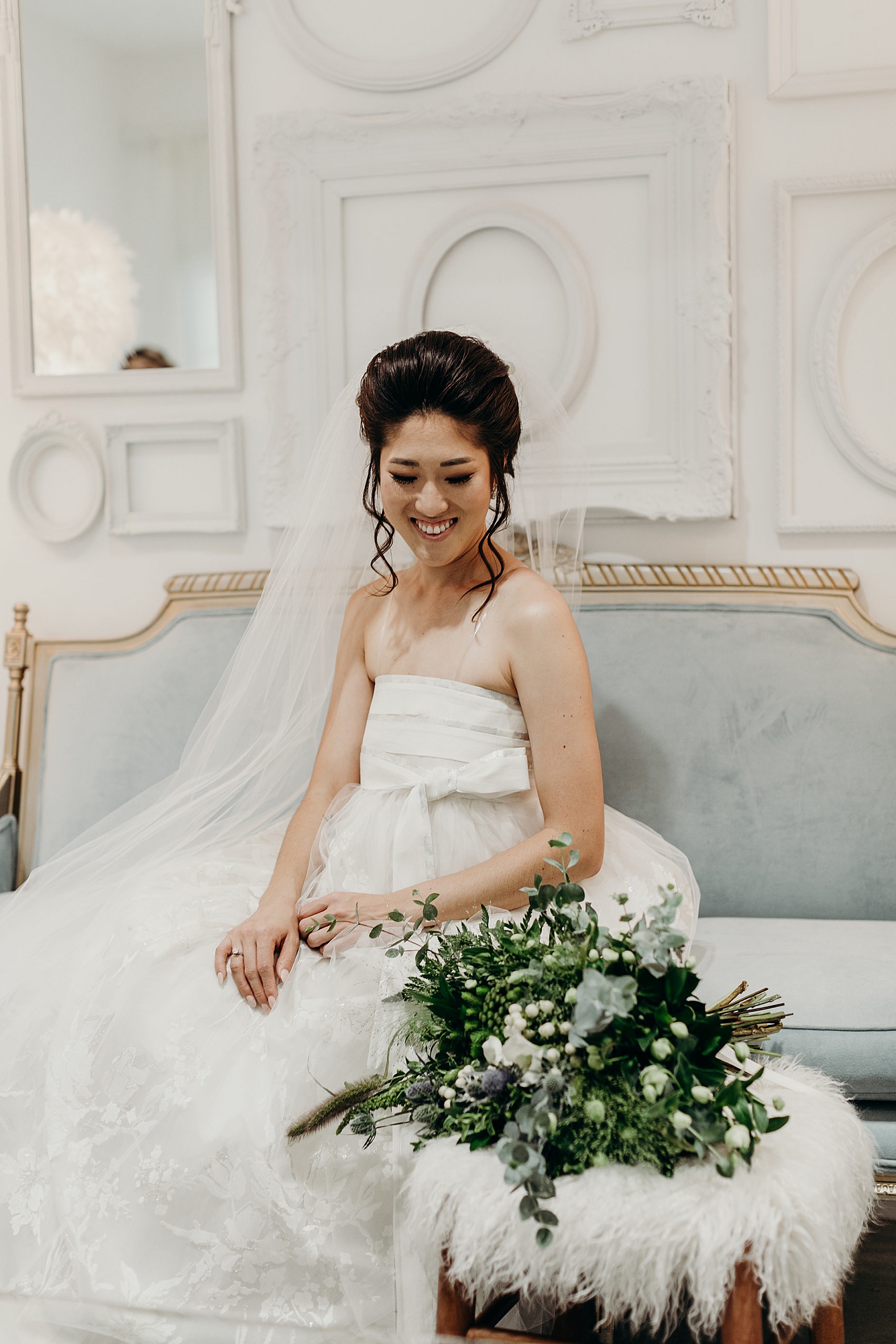 Ahead of the ceremony, Becca and Chris met for a first look, and Chris looked super-smart in classic black tie from Suitsupply. I do so always love how couples' photographers capture these emotionally charged moments.
Becca and Chris' brilliant photographer was Kenny Wong, whose sensitive, narrative style lent itself perfectly to the couple's gorgeous day.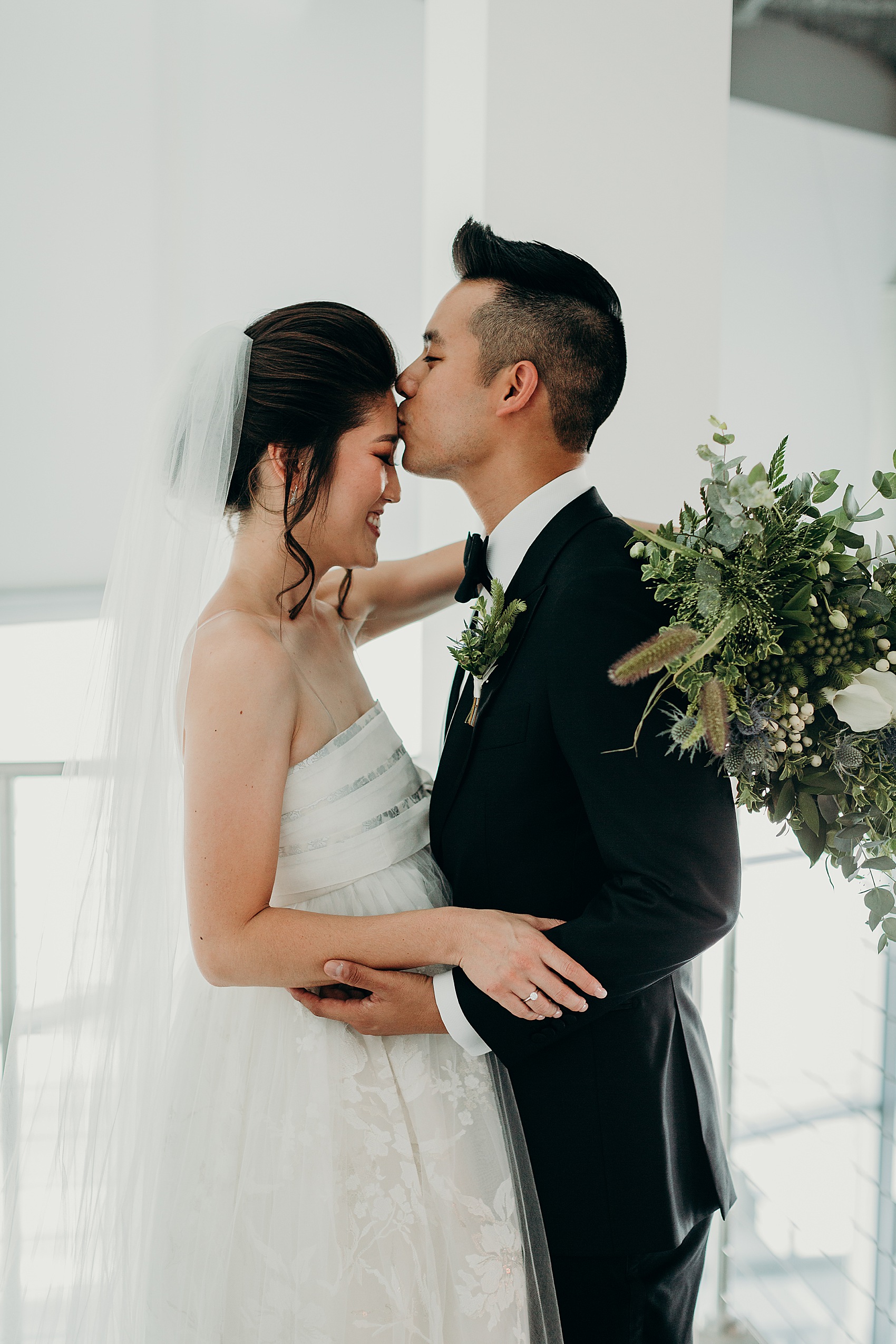 "I still remember the moment I really felt like I fell in love with Chris. It was a brief moment a few months after we had gotten together, when we had driven to our campus to play badminton at our school's courts over the weekend."
Before we got out of the car, in the split-second moment of silence, Chris said out of the blue, 'You're my best friend and I really like you.' It totally melted my heart and was exactly what I was thinking in my head. That's when I knew I had really strong feelings for him."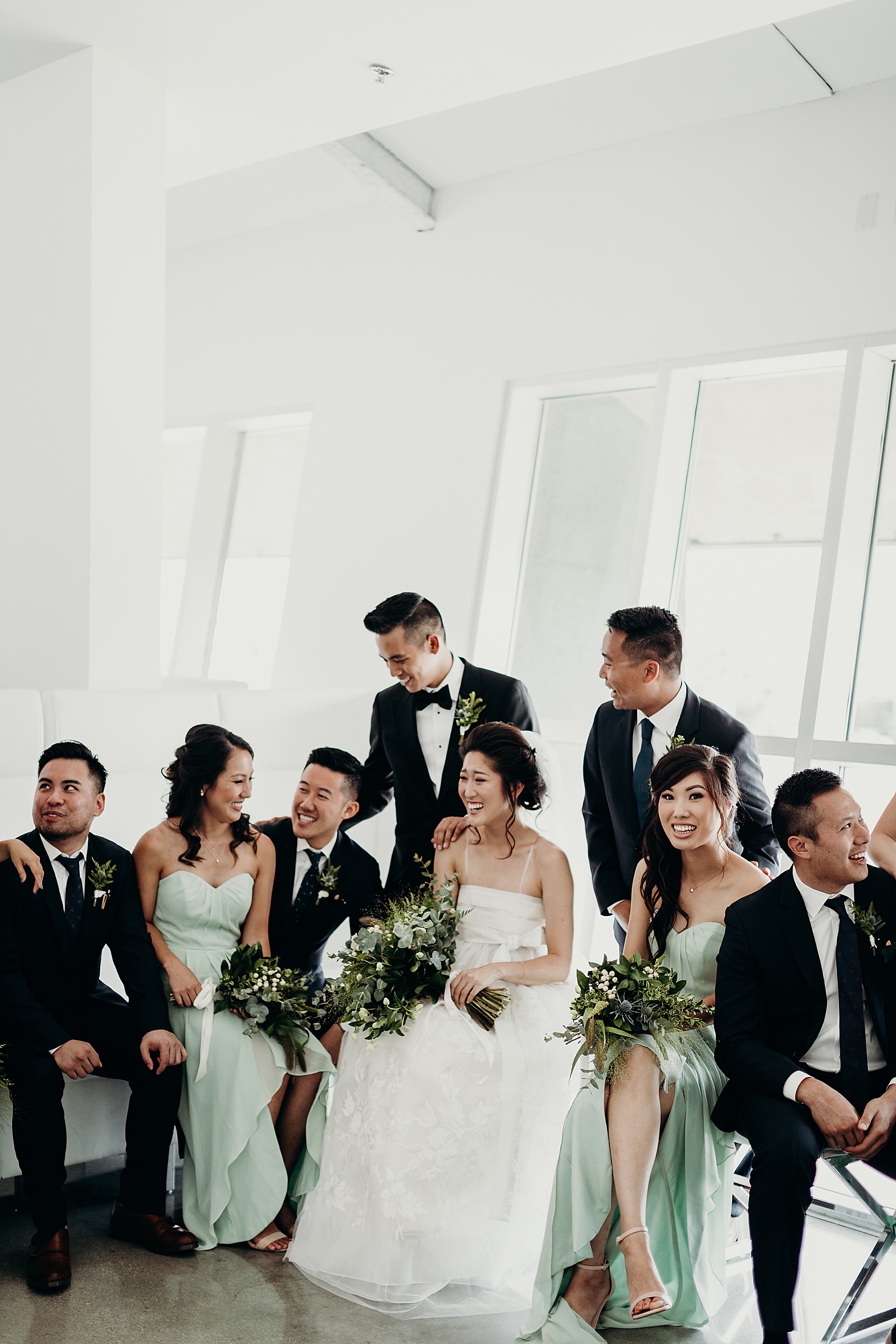 "For Chris, he says: 'Becca was my first love. But that first love has evolved into such a strong and fortified bond that it's unfair to just describe the first moment I felt that love."
"Afer all that we've been and grown through, the moments that reaffirm that what I have is rare, are the simple ways she makes me laugh with her snort-giggling and silly dancing around the house.'"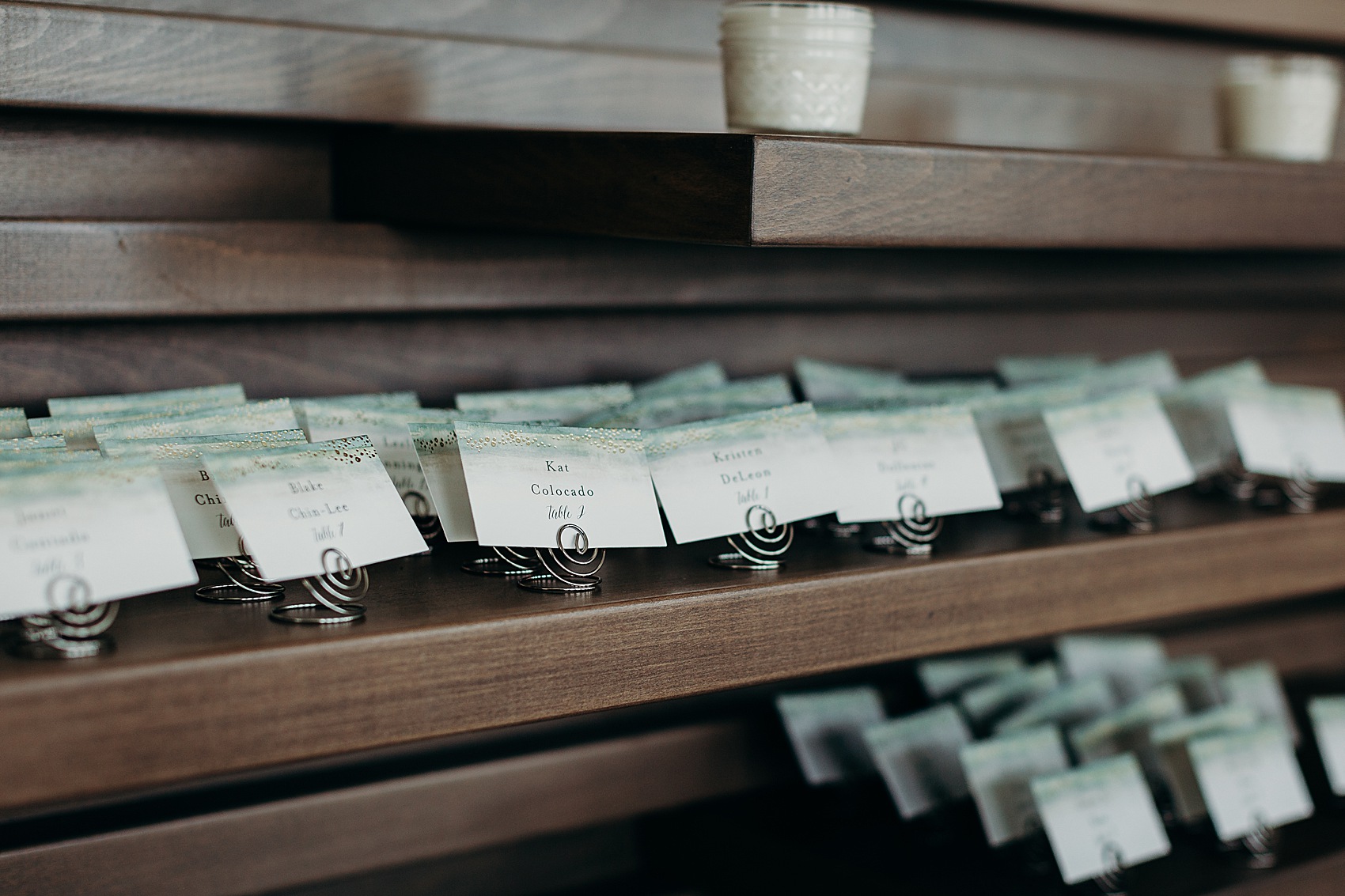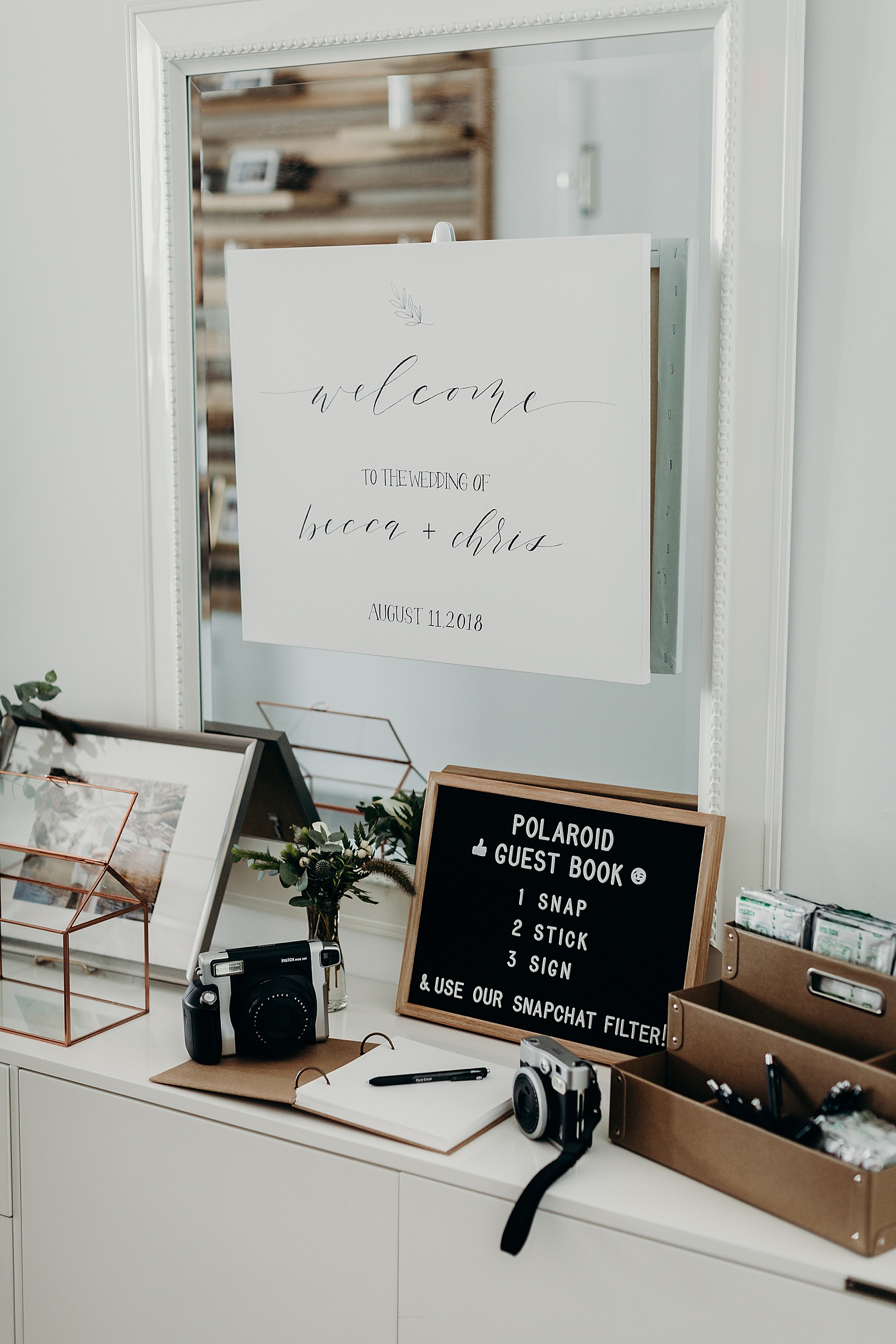 Becca and Chris were supported in the planning of their day by Shirley Han of Everly Events, and the backdrop for the ceremony in The Modern's bright and airy loft space was a wall of shelves dotted with vases of foliage and simple white candles, with a woven wall hanging in the centre.
"Chris proposed on our 10-year anniversary, August 11th, 2016. I actually had no idea that this was going to happen because I didn't yet have an official job."
"Basically, anytime Chris and I would talk about our future, having been together for a good amount of time by now, we always had said that we wanted to be financially responsible and move forward only when we were able to afford the wedding and life we wanted for ourselves."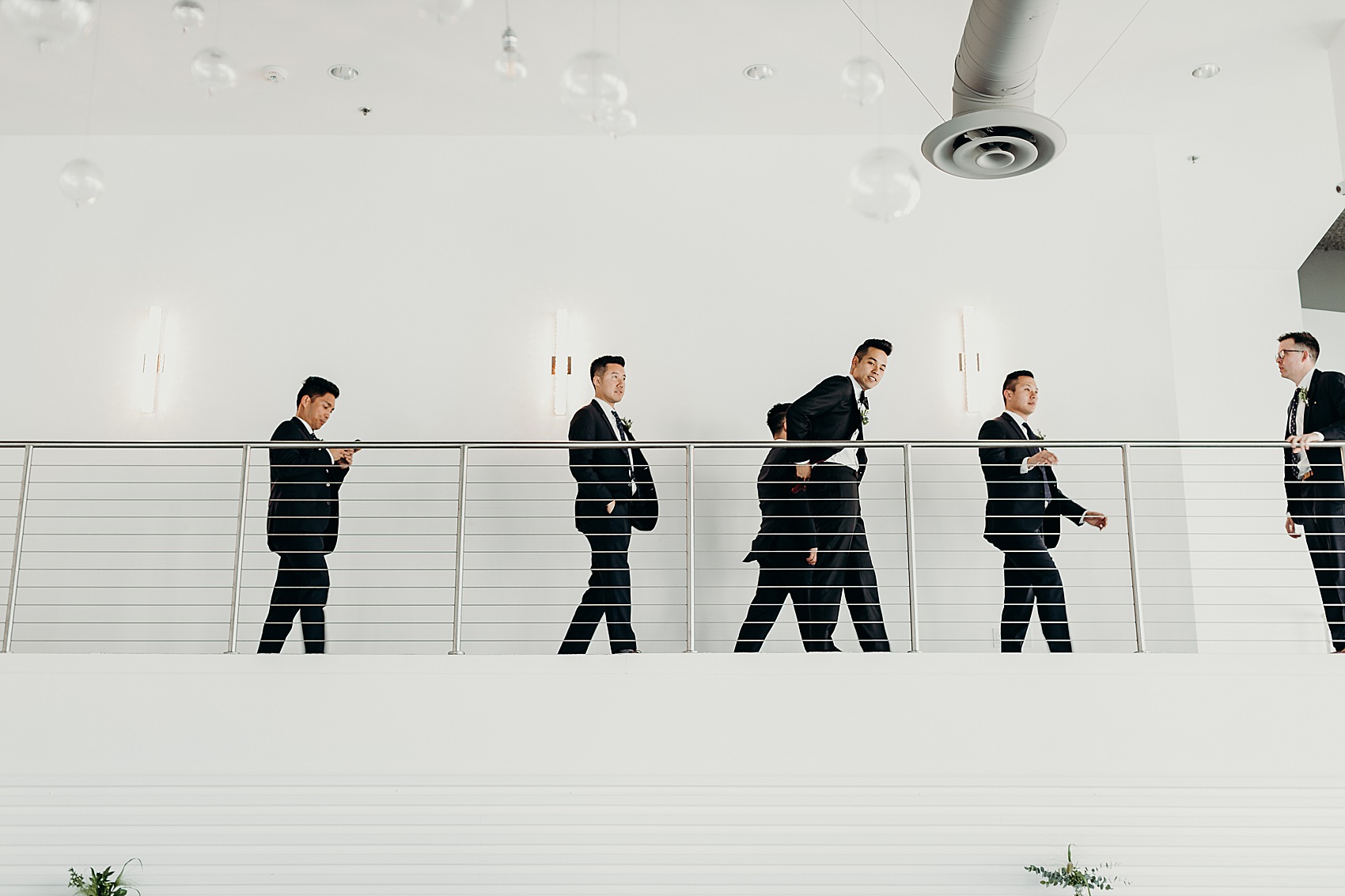 "In the spring of 2016, I received my teaching credentials from San Diego State University and Chris, and I had decided to move in together with a friend of ours, Melanie, in Orange County."
"I spent the whole summer looking for teaching jobs in Orange County and didn't find any opportunities besides substitute teaching."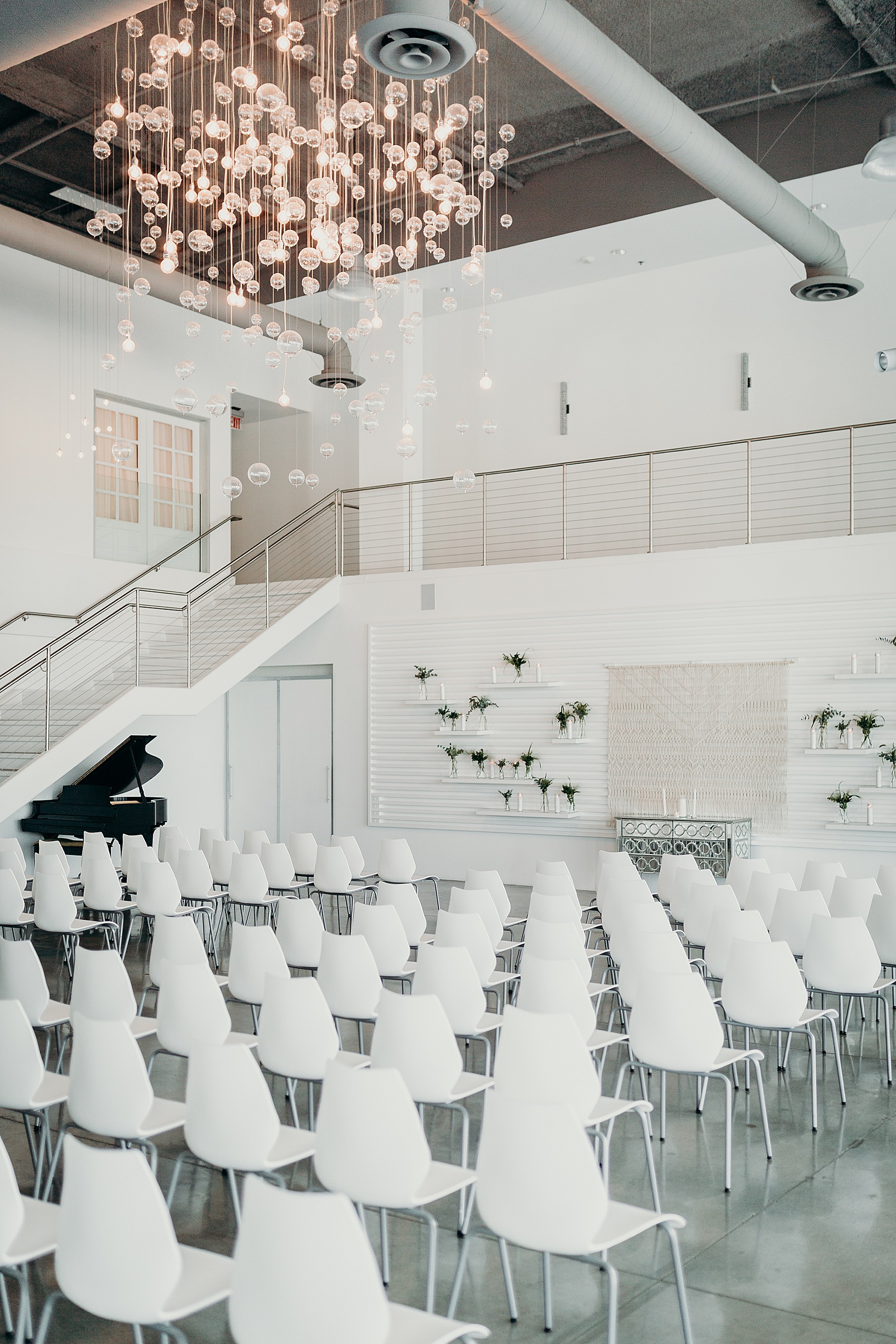 "I figured this was my only way in with any district, and also figured that Chris and I could always wait another year before getting engaged. What I didn't know was that Chris had been planning on proposing on our 10-year anniversary all along!"
"He took time off work and planned a surprise trip to Sequoia National Park, that I thought was to celebrate our anniversary – only to find that my sister, his brother, my cousins, and closest friends, were all there to celebrate this momentous event with us!"
"There were decorations, strung lights, displayed photographs, a babbling brook, beautiful trees, his brother on the keyboard, and our friends and family."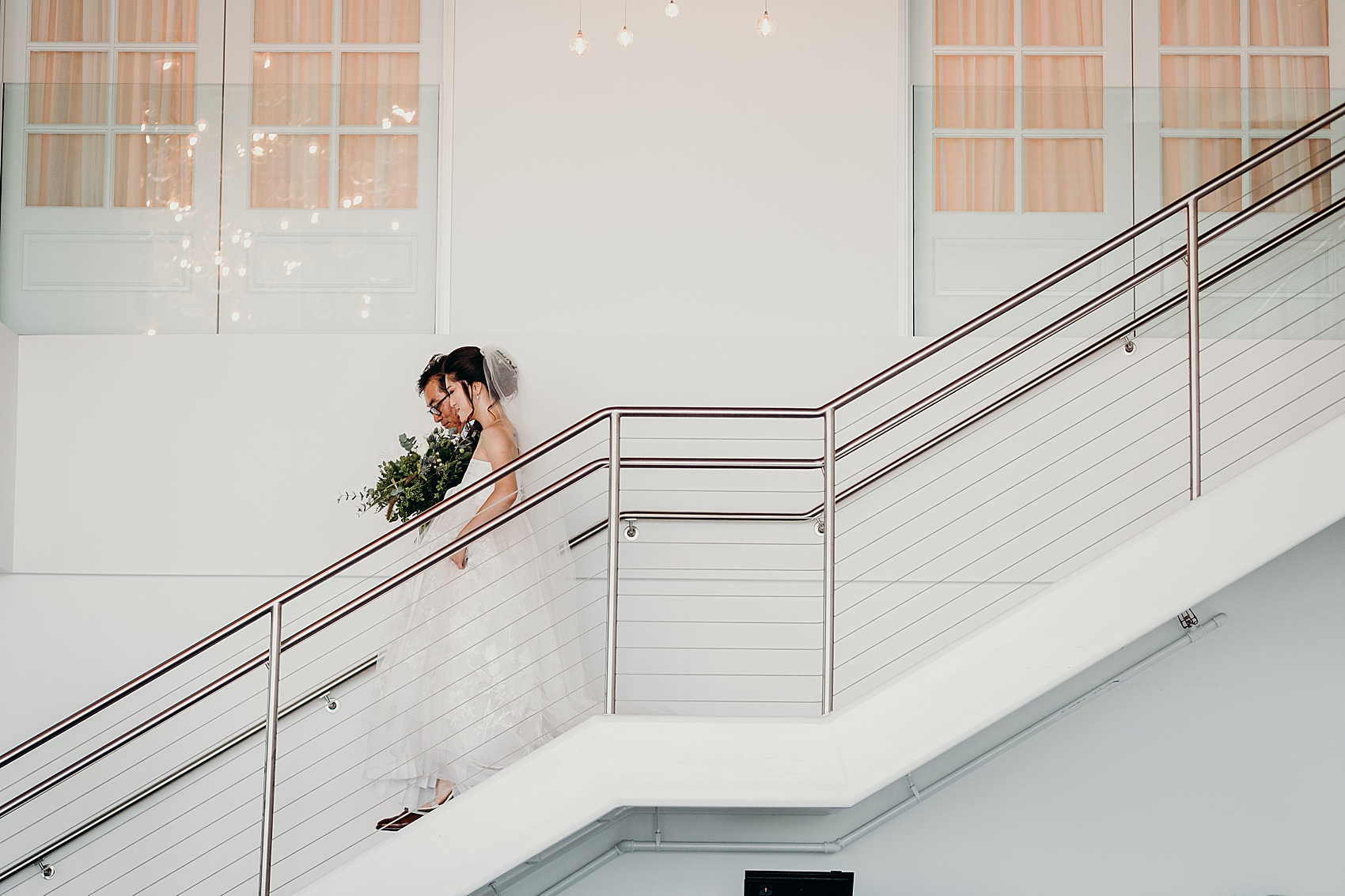 Another favourite part of the day for Becca was hearing Chris' specially written wedding vows to her, and they laughed and cried their way through them together.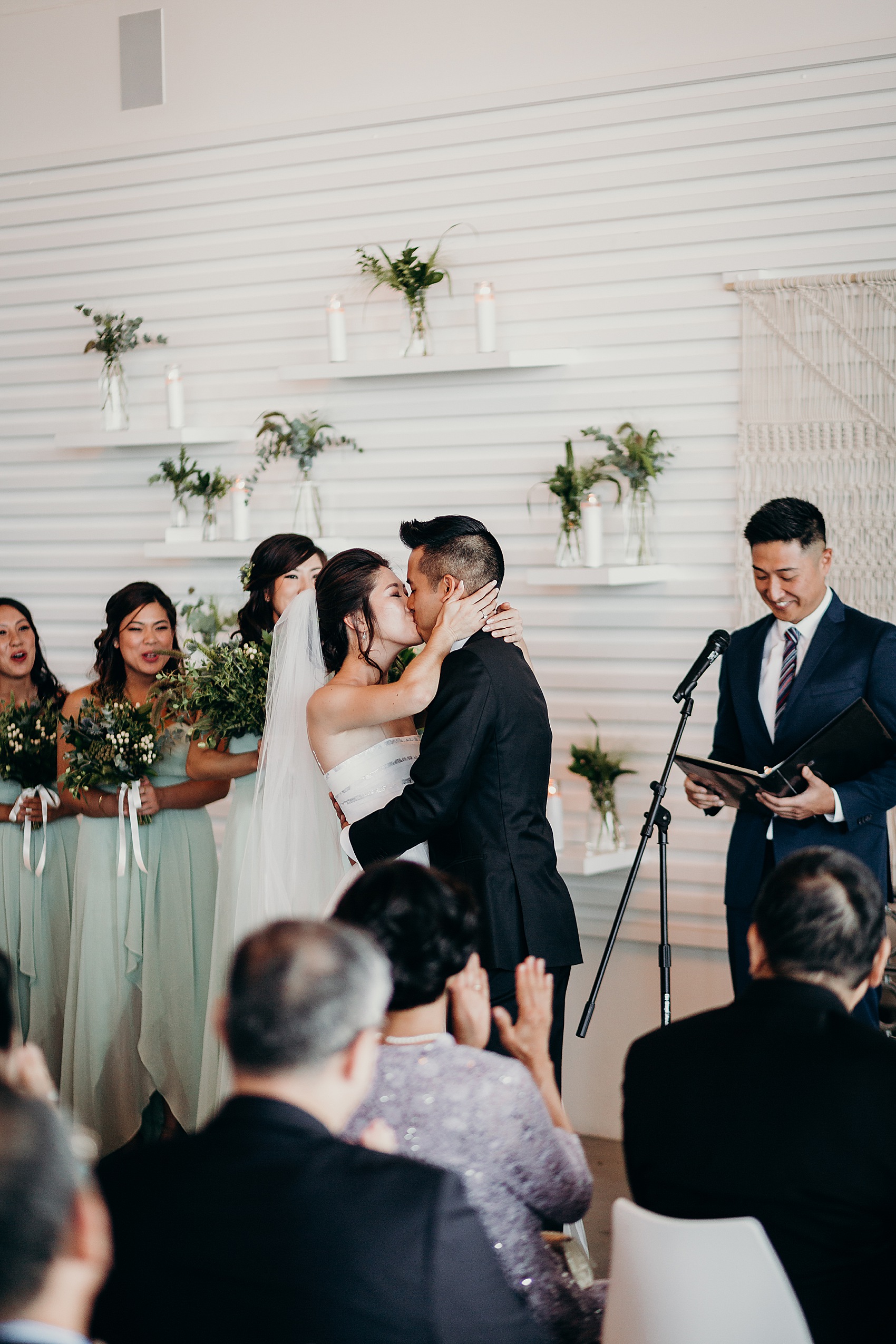 "We wanted a naturally bright room. Our venue had floor to very high ceiling windows, and was just a clean, blank slate."
"It really was the perfect canvas for us to do whatever we wanted, and the way the venue looked, there was just no possible way to make it look anything but absolutely beautiful."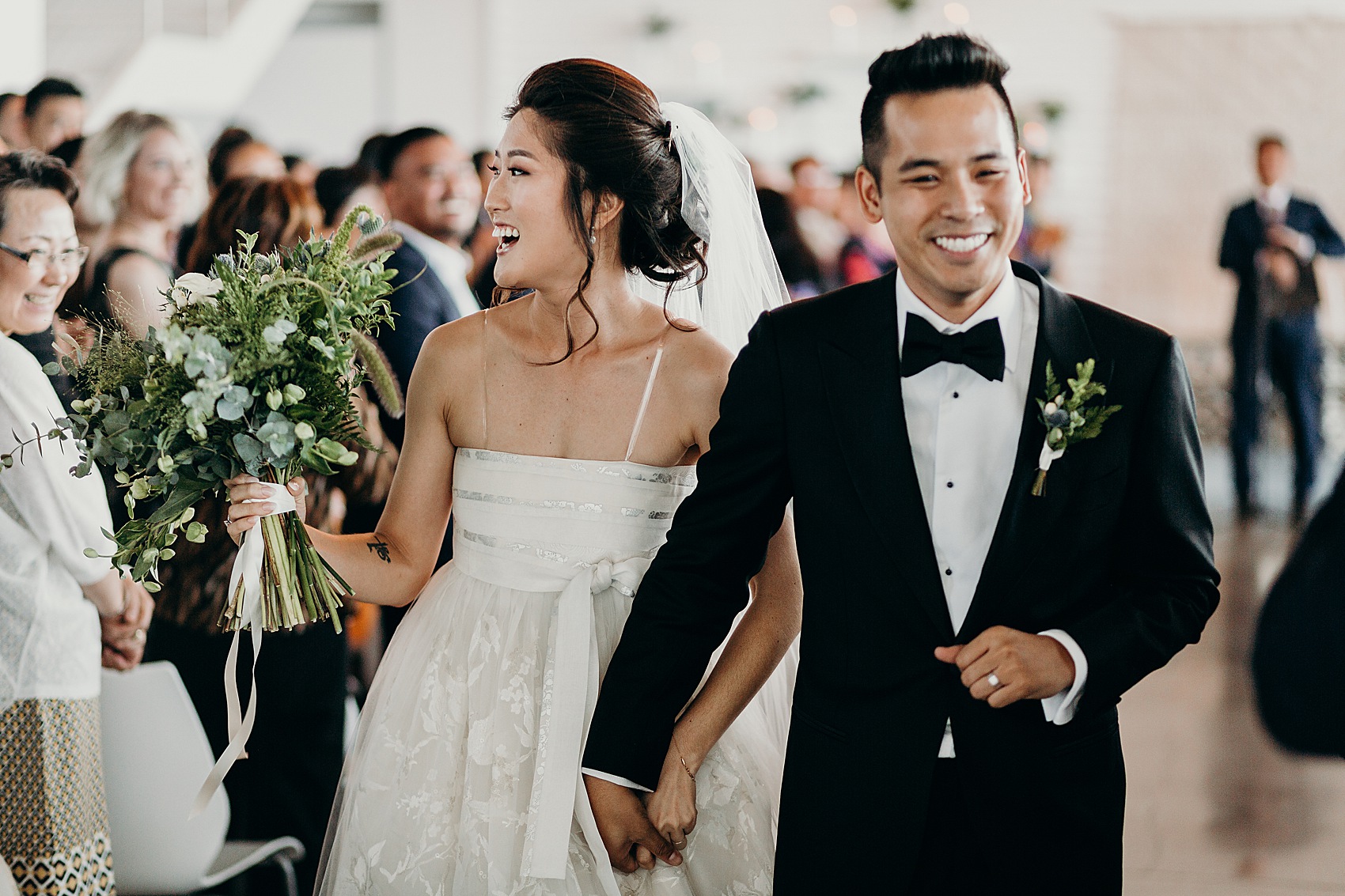 After the ceremony, they enjoyed time together on the venue's private terrace, as the space was transformed for a beautiful reception, with round dining tables for guests laid with classic white linens, simple glassware and gold cutlery, with foliage and candle centrepieces. Becca and Chris enjoyed their meal together at their own sweetheart table, with the feast courtesy of Jay's Catering Company.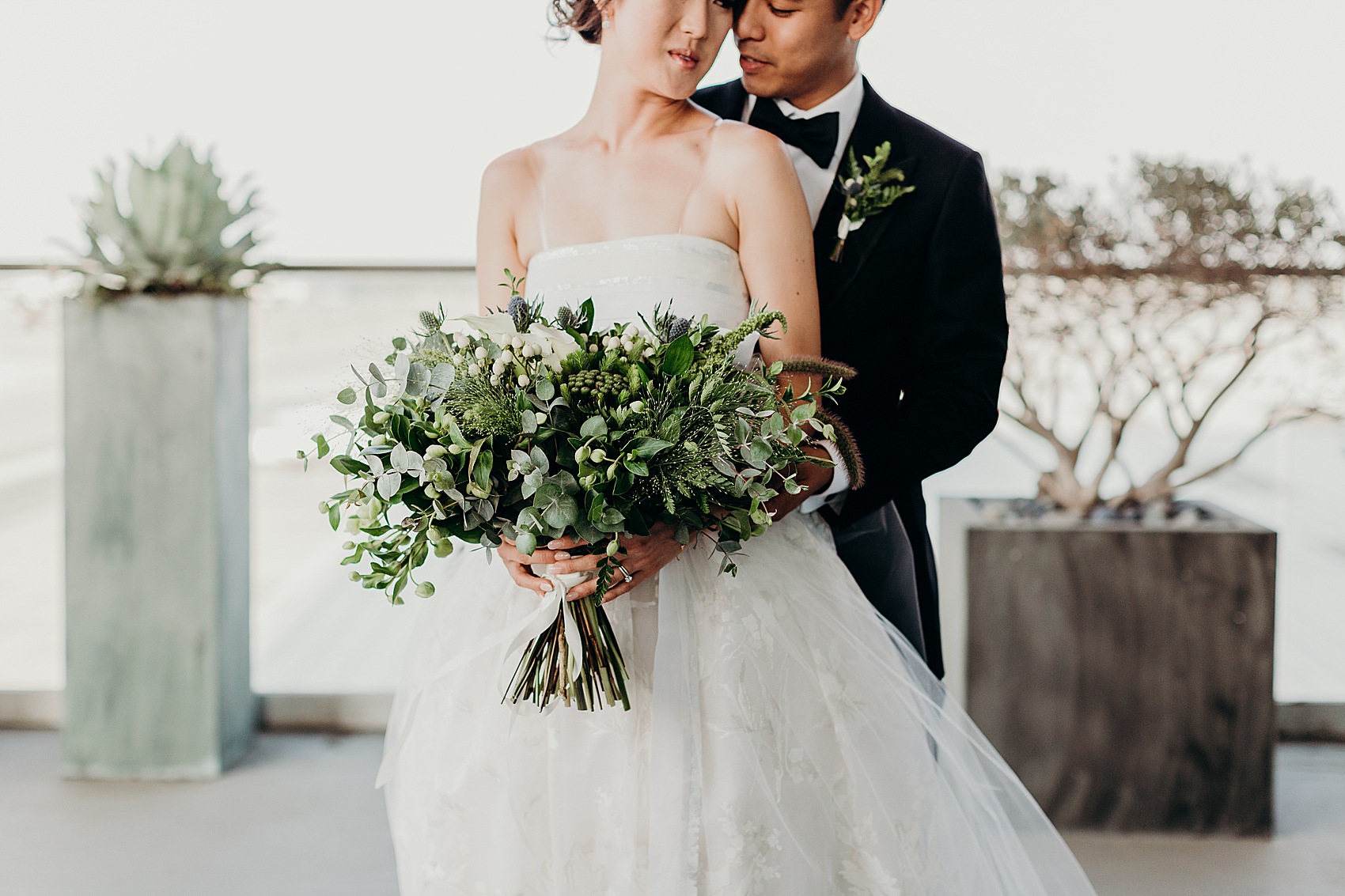 "When we woke up the next morning, looking crazy with make-up smudged all over, messy hair, our after-party outfits still on, we just snuggled each other really tight in our hotel room and relished our amazing wedding day before getting out of bed and starting our day."
"Chris's favourite memory was: 'Waking up at 5am after a few hours of sleep, putting on my tux, and tying the perfect bow tie knot in a single try. That, and standing in front of my wife reciting my vows to her in front of all our friends and family.'"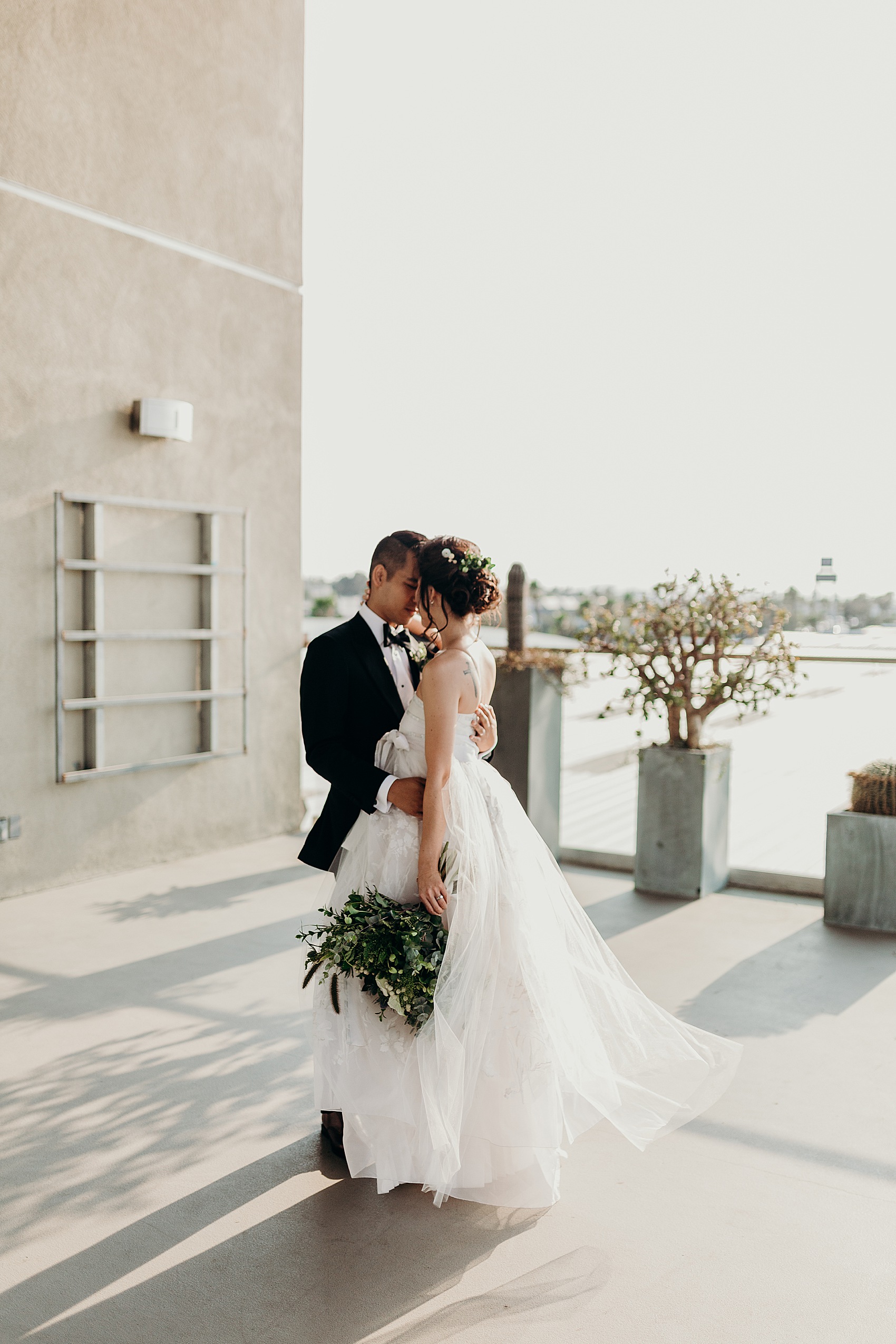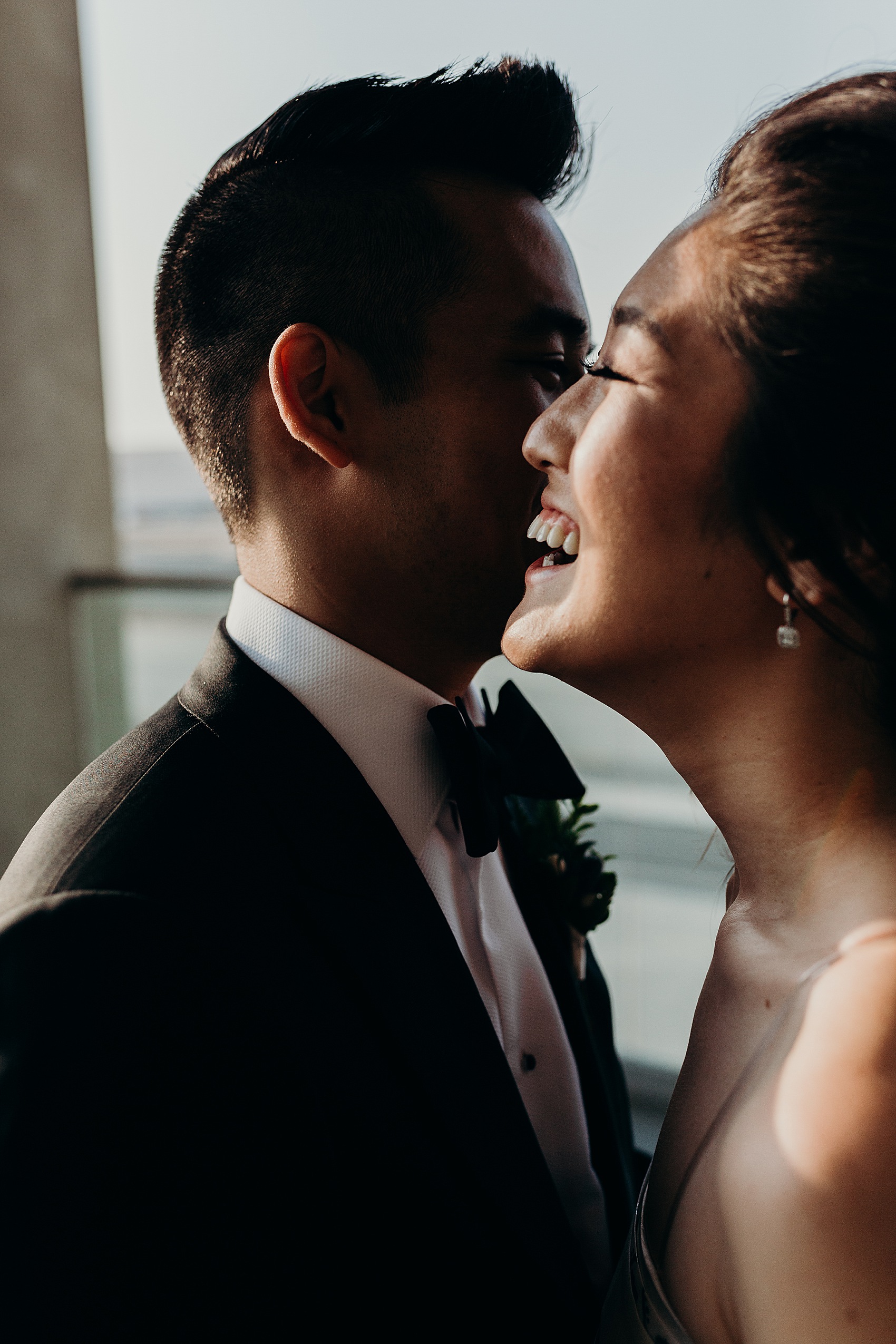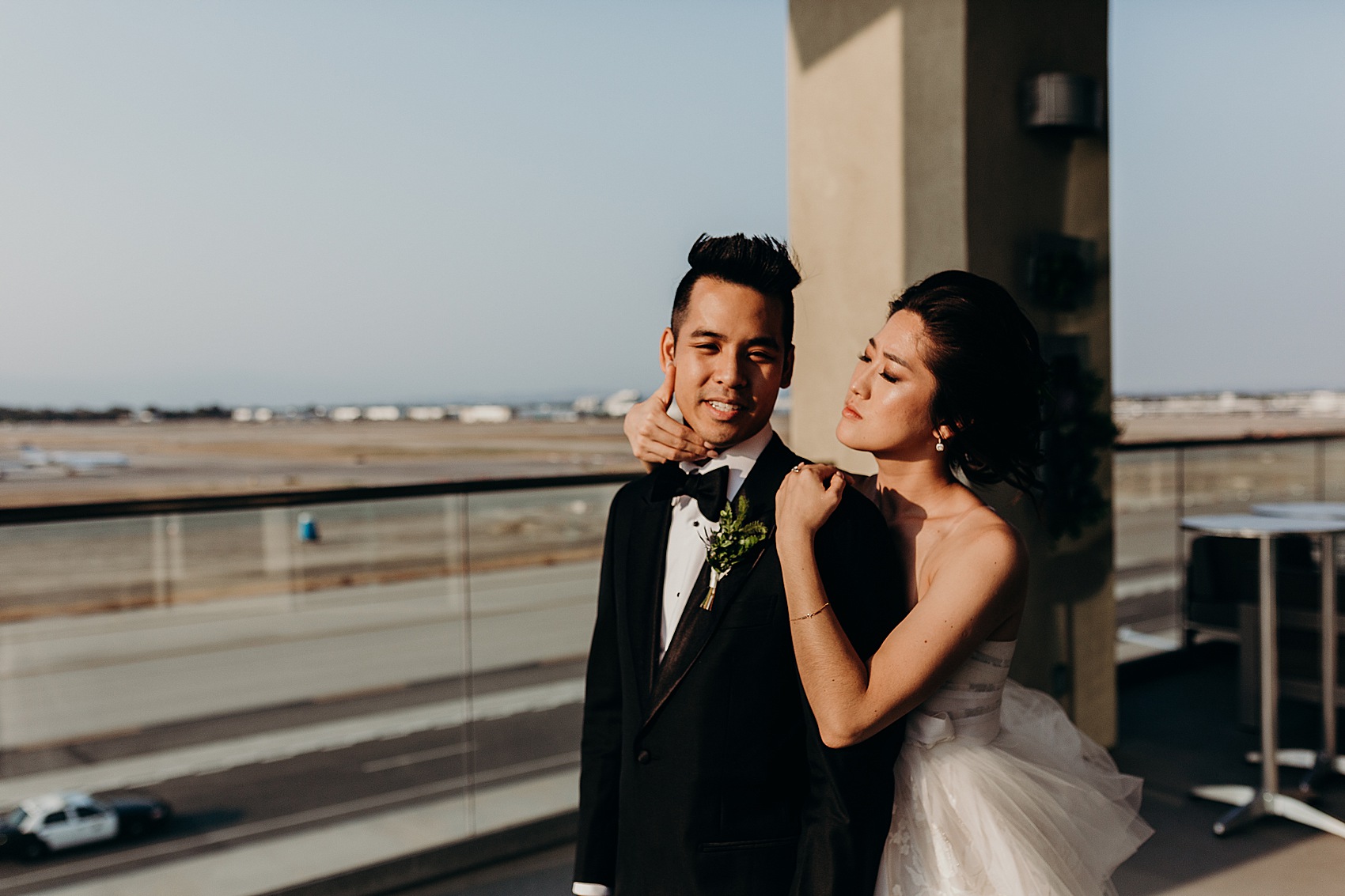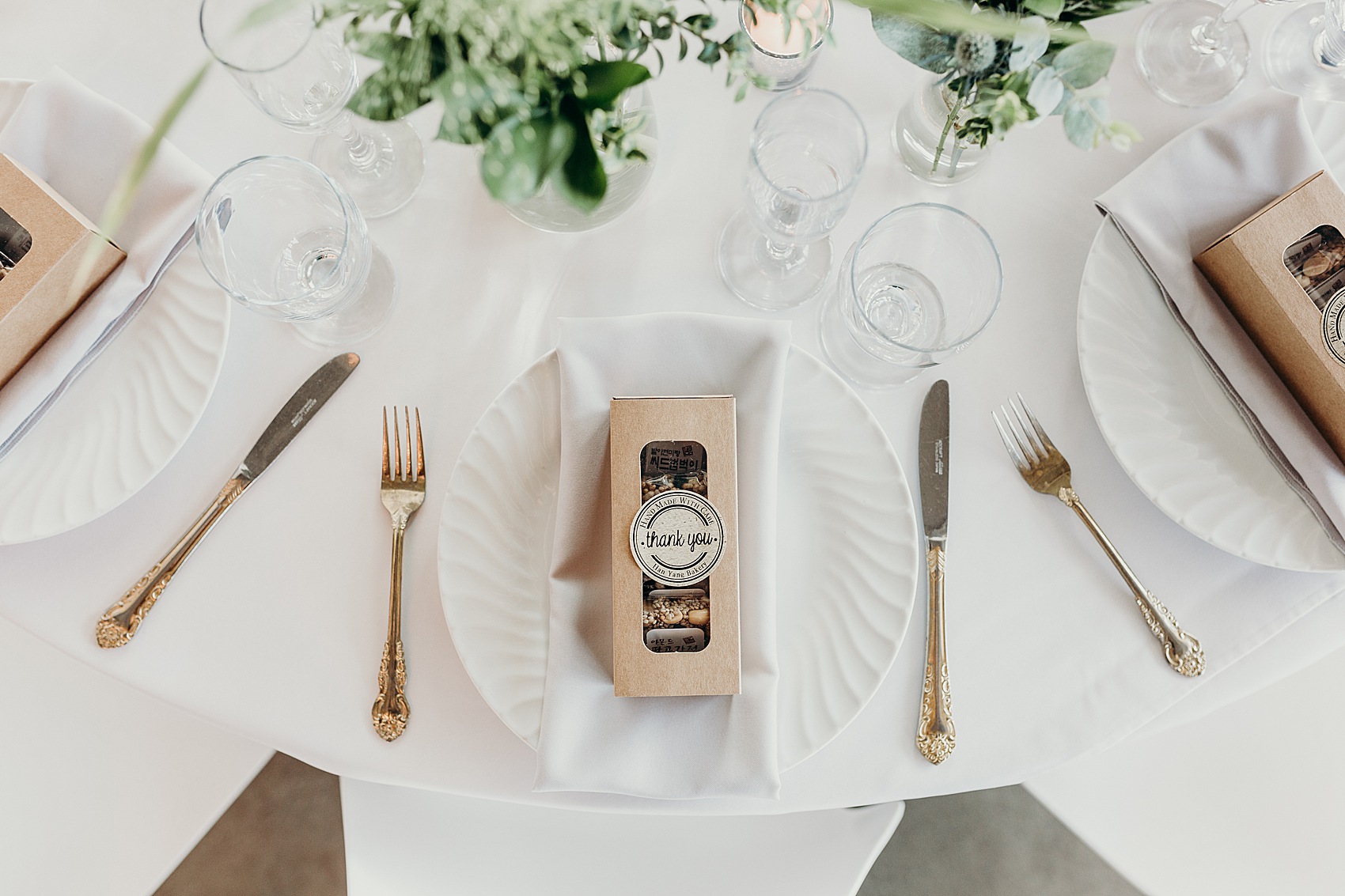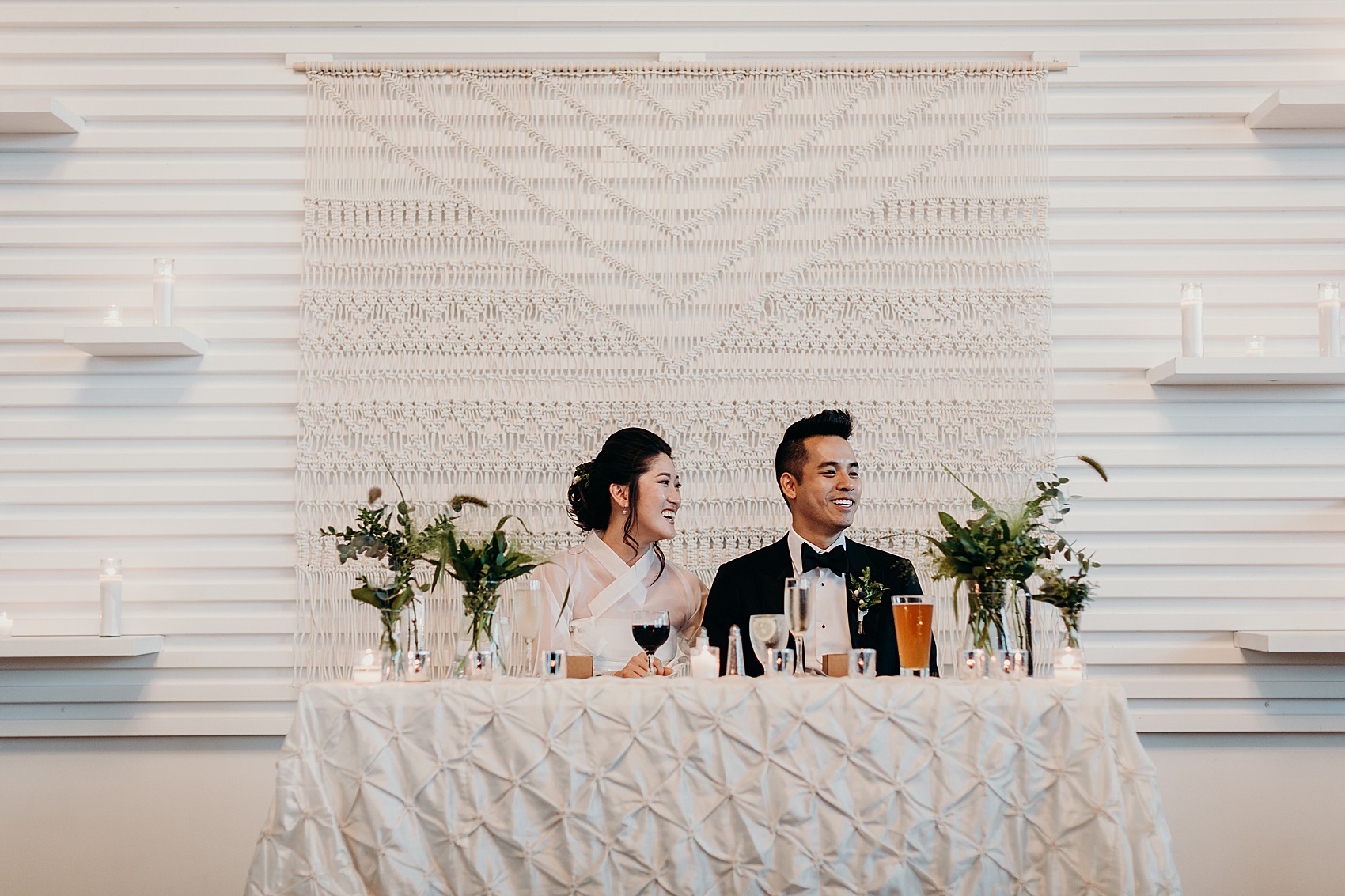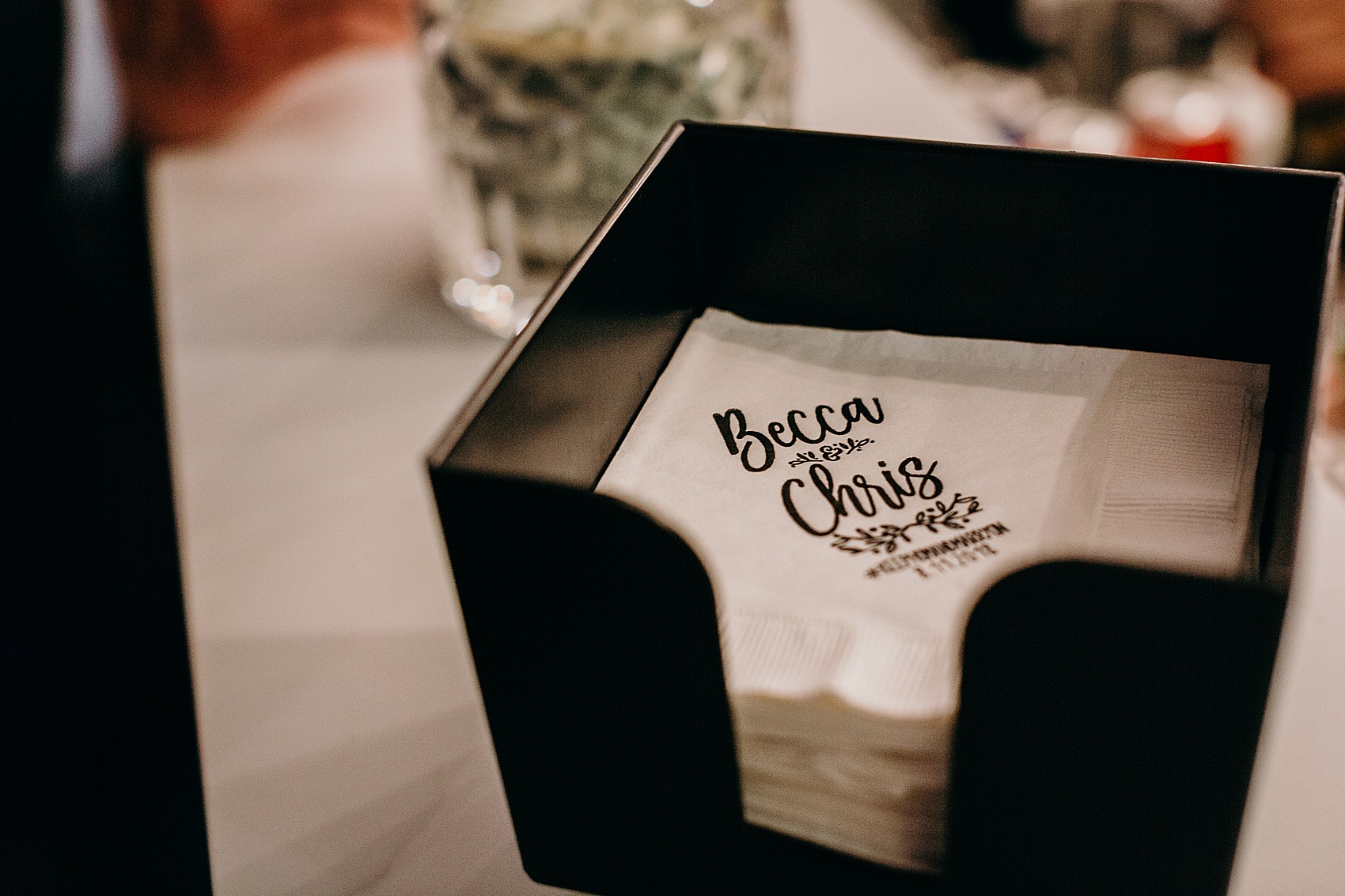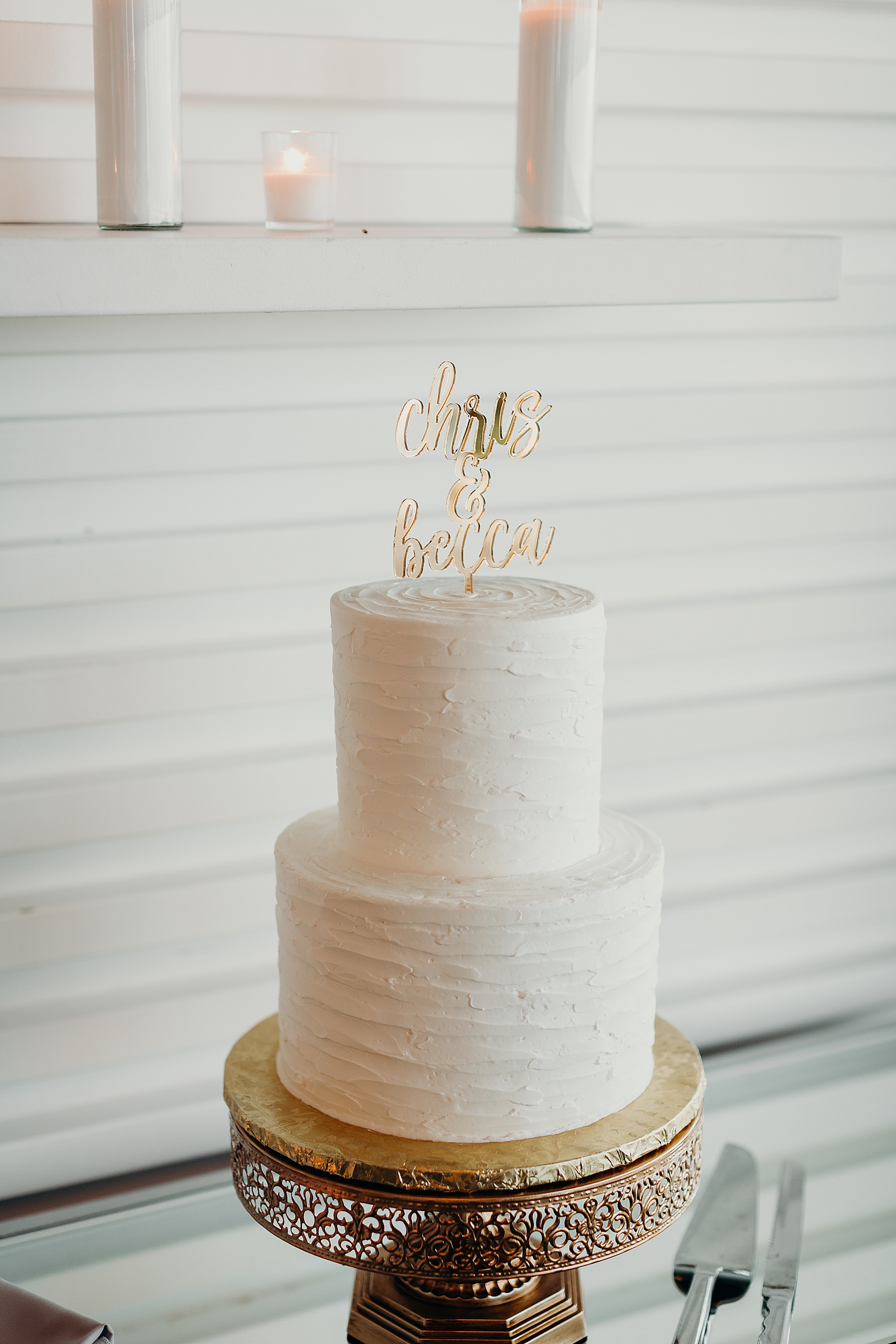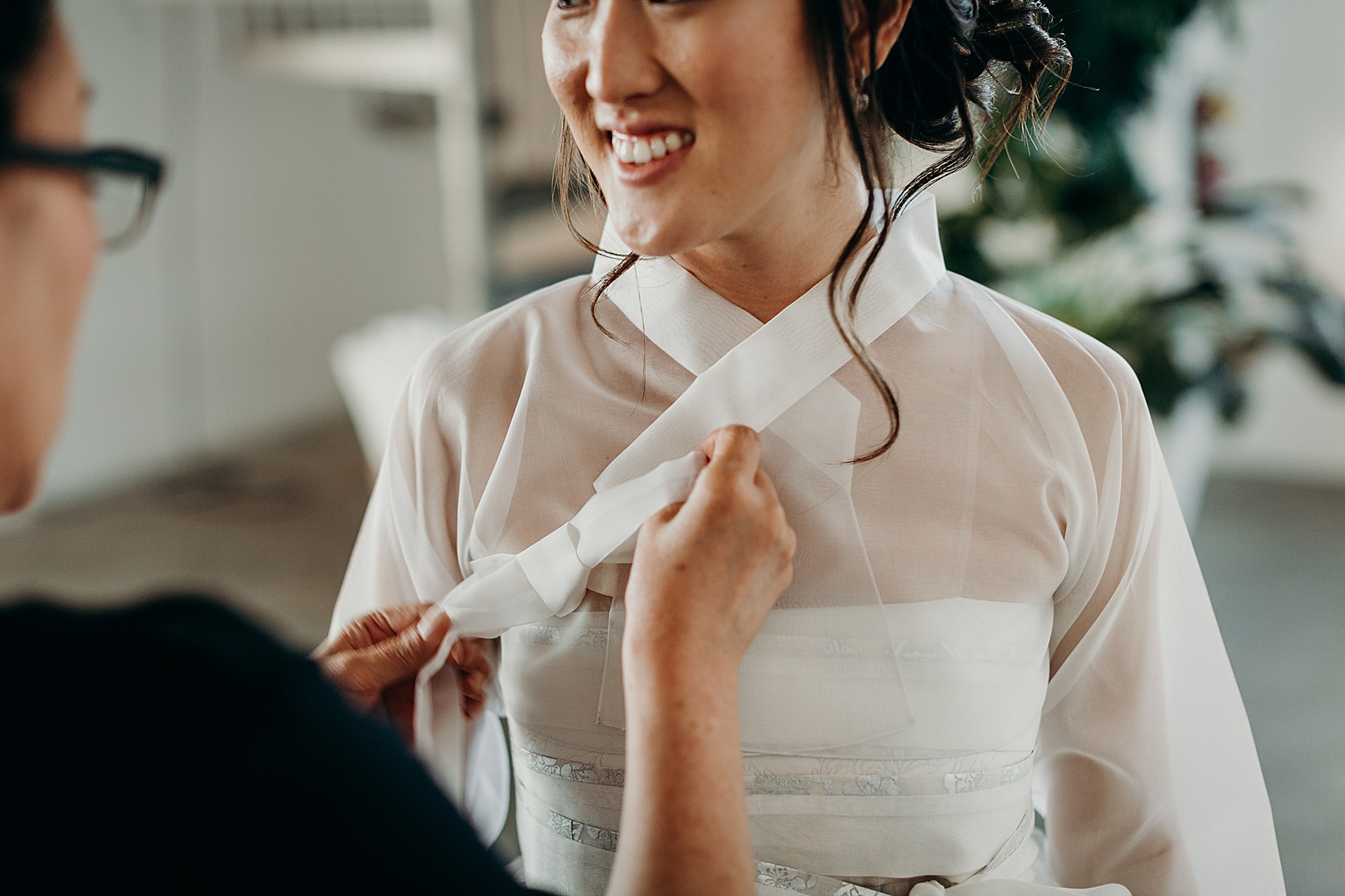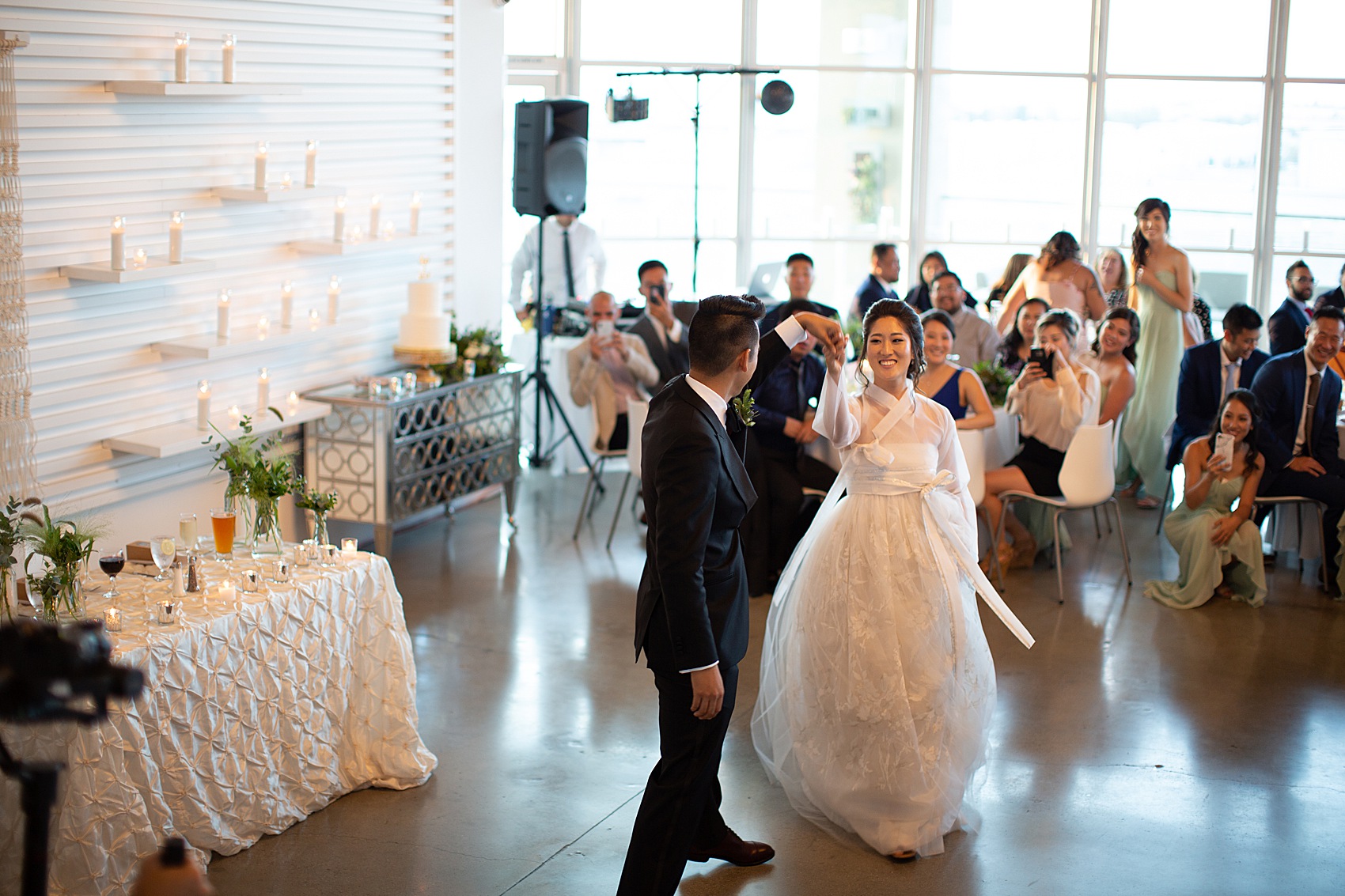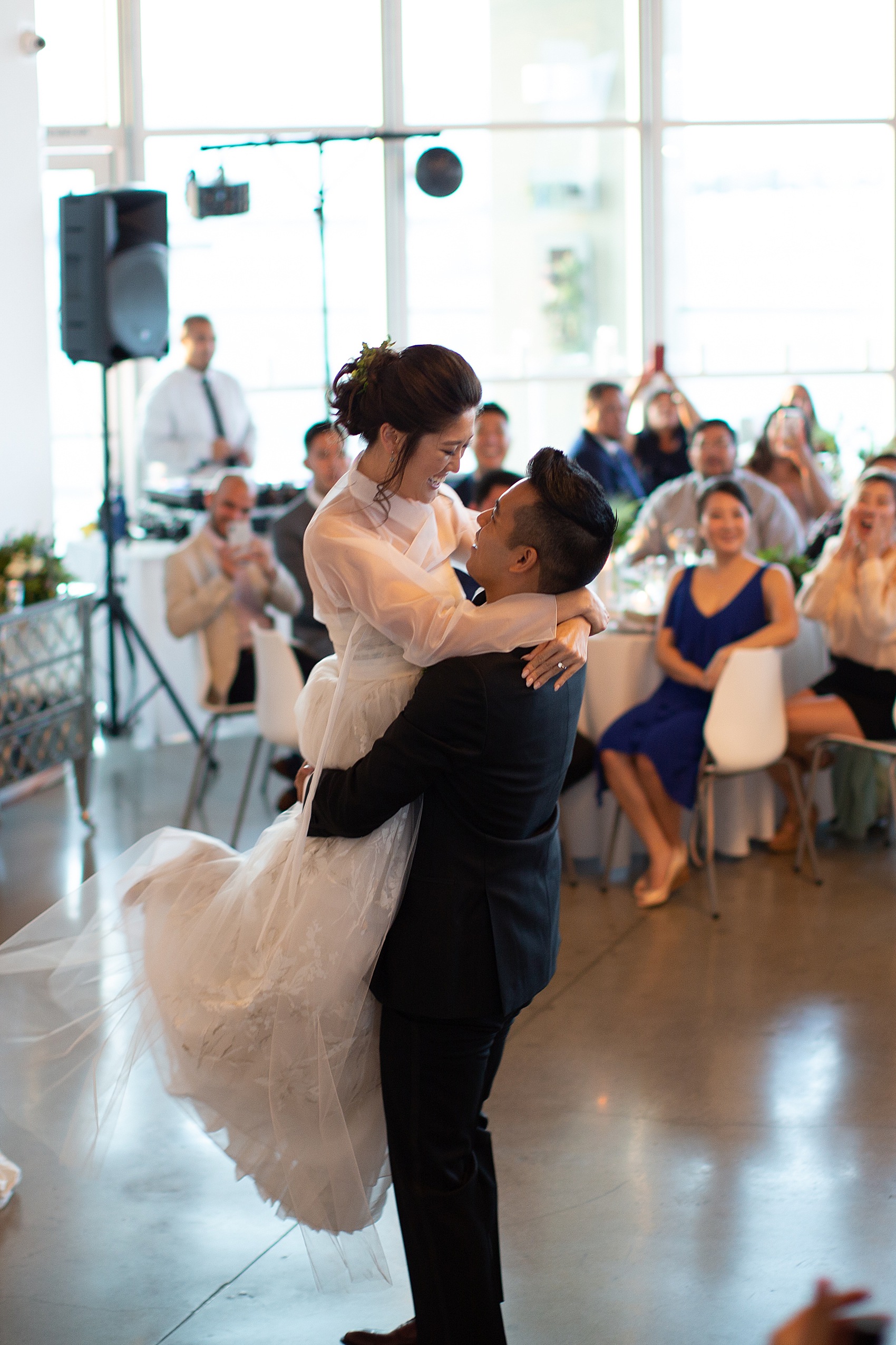 Becca and Chris, thanks a million to you both, and huge congratulations, too. What a sweet and stylish day you had, and it was all wonderfully captured by photographer Kenny Wong – thank you so much!
Until next time, and with love,
Laura