This gorgeous late Autumn day was the backdrop to the most gorgeous and laidback wedding – the kind we can all look forward to later this very year, fingers very firmly crossed.
Joanne, a Cryptography Researcher, married Sam, a Probation Officer, on 1st November 2019. The bride wore a cool AF Grace Love Lace dress, which she discovered at the Grace Loves Lace flagship store in London.
"When we started planning our wedding, our main criteria was that we wanted it to be fun – a 'knees-up' was the phrase we kept coming back to! – so we really wanted the day to be relaxed, have lots of personal touches, and most importantly a free bar! It was also important to us to have our family and friends involved in the day."
Epic Moments Photography

+ Follow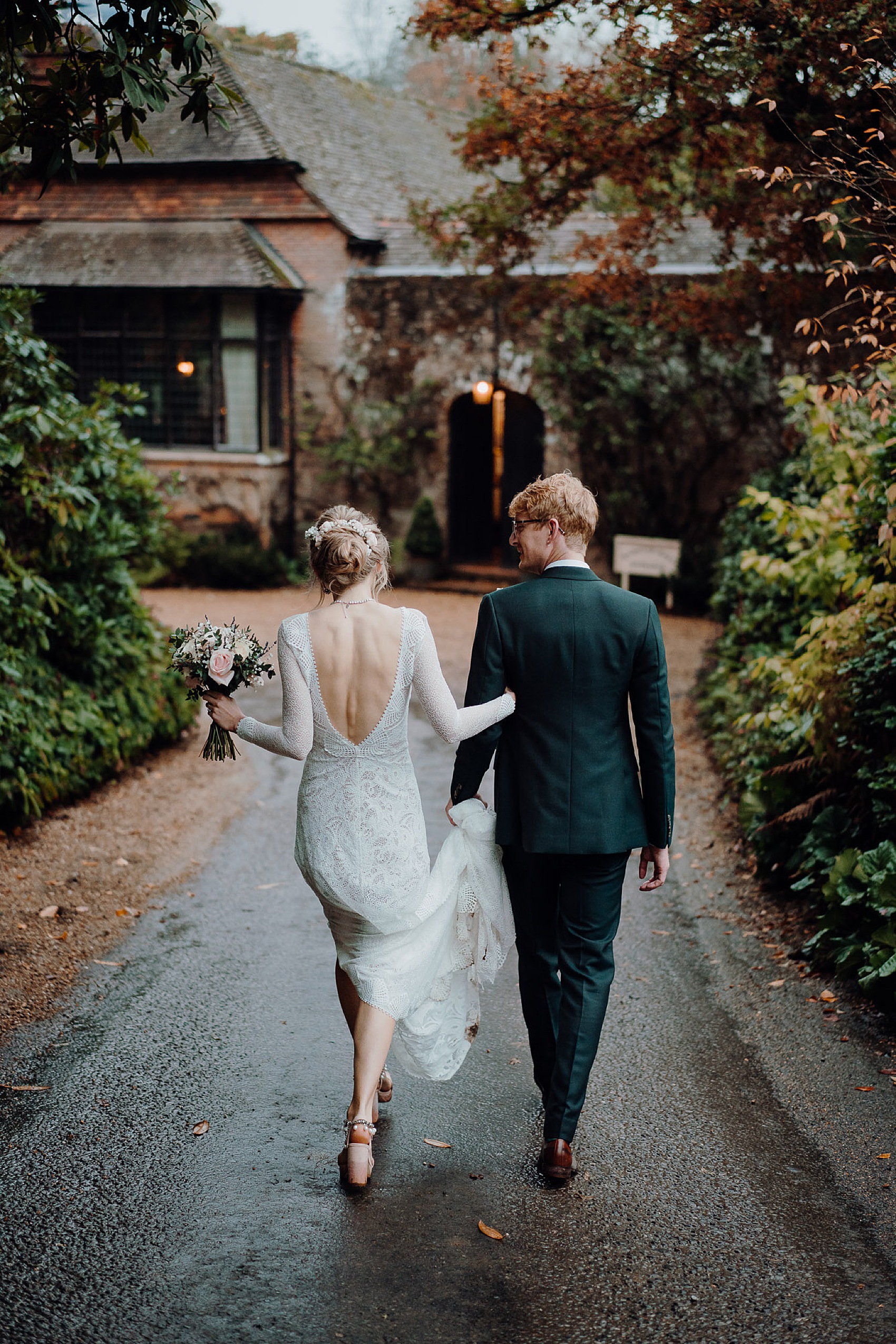 "We feel so lucky to have been able to get married before the start of the pandemic, and our heart goes out to all the couples who have had to change their plans because of this terrible virus."
"I think our only advice would be that however you end up tying the knot, it will be the happiest day of your life, so whether you decide to have a smaller wedding now or wait until some kind of normality is restored, I'm sure it will feel perfect and you won't have been able to imagine doing it any other way."
"Jen Hawkins did our hair and was brilliant, she was so lovely and chilled and made getting ready really fun! Make up was by Helen Andrew."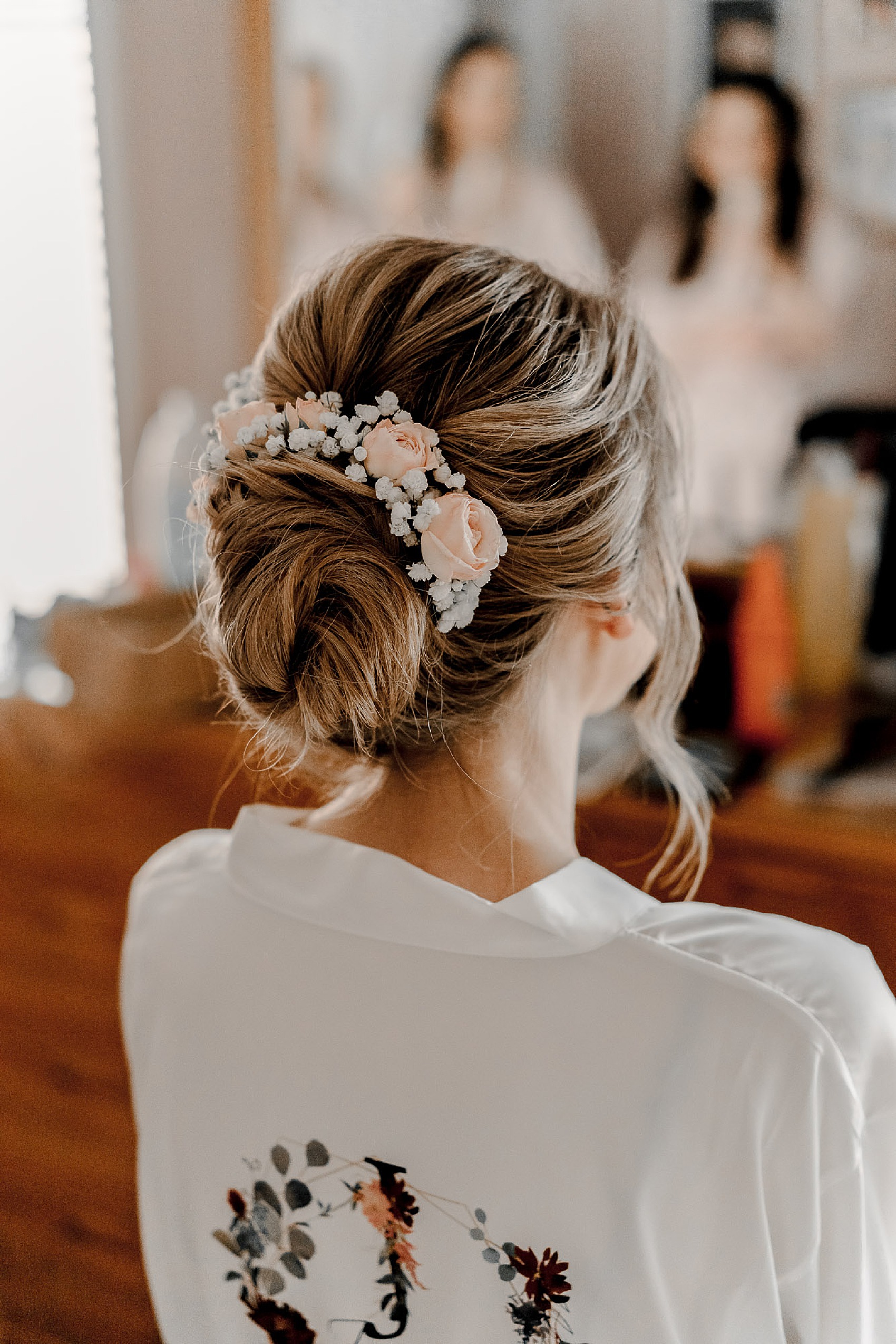 "I got my shoes from Office, and on the day my Mum surprised me with pearl anklets from Grace Loves Lace as my 'something new' which looked amazing with the shoes."
"Unfortunately we both forgot to pack any perfume / aftershave so ended up wearing whatever was in our parent's bathroom cupboards on the day."
"I bought my dress from the Grace Loves Lace showroom in Hackney. They were very helpful and made trying on dresses a really enjoyable experience, would definitely recommend."
"I wasn't sure what I wanted in a dress at first – I knew that I didn't want anything that was too princess-y or traditional, but at the same time I wanted a dress that was quite classic."
I also liked the idea of having a dress with long sleeves since we were getting married in Winter, but a lot of the long-sleeved dresses I initially found tended to be more modest and demure which wasn't what I was after either."
"Me and my mum visited a bunch of dress shops which had lots of lovely dresses but nothing felt quite right – I sometimes felt like the dress was wearing me rather than the other way around! – and I was beginning to wonder if I might never find a dress that I really liked when we decided to pay a visit to Grace Loves Lace after seeing them featured on wedding blogs, and I ended up liking pretty much every dress I tried on."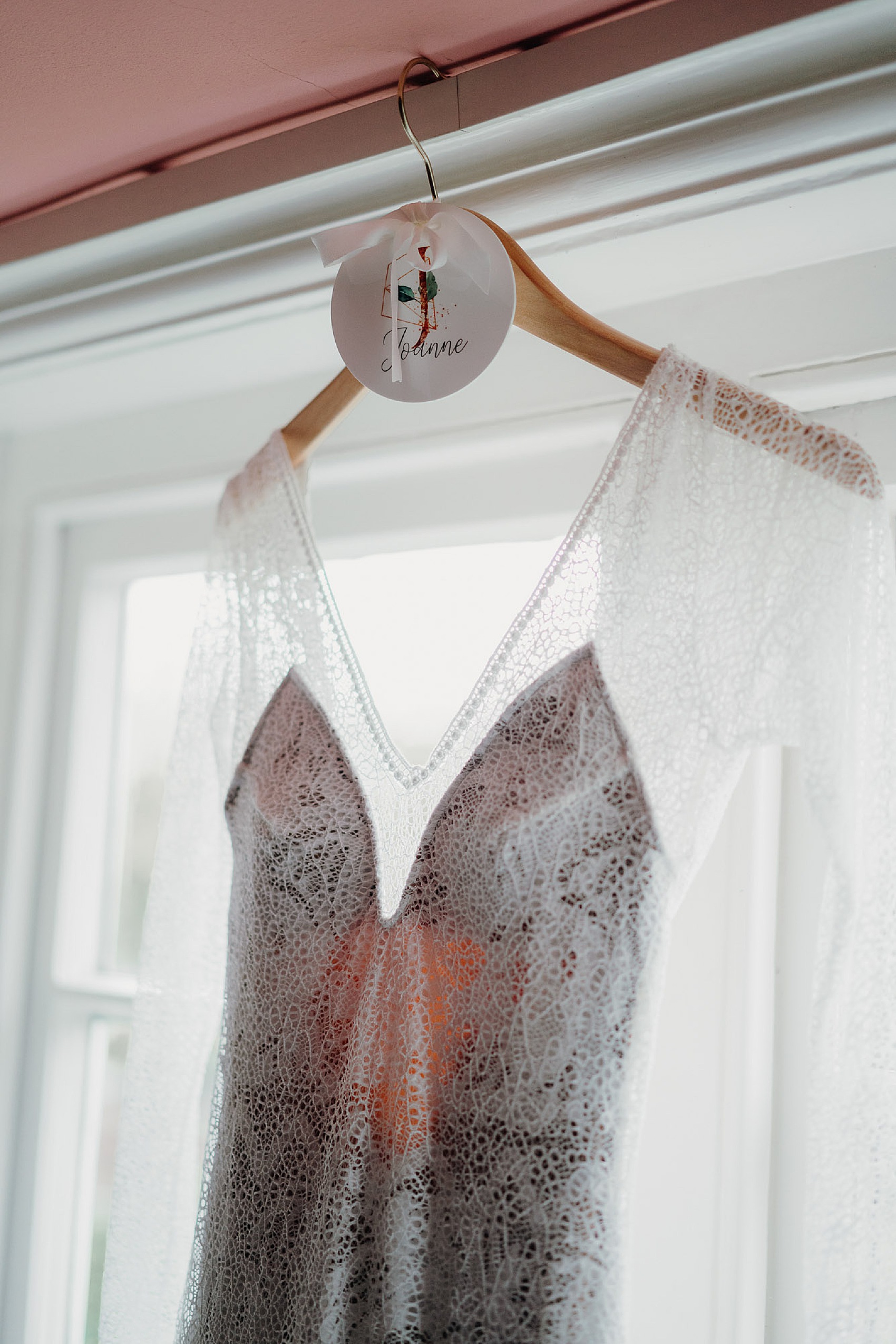 "The dress I picked exactly struck the balance of non-traditional but classic that I was hoping for. I especially loved the patterned lace sleeves and the slit at the front – I never wear long skirts usually and so it felt like a nice compromise between a long and short dress."
"Before I started asking dress shopping I had asked Sam what his ideal wedding dress would be and his response was 'something really classic, kind of fairytale princess, but also smoking hot."
"I didn't wear a veil, partly because I didn't love that symbolism behind it, and more so because my dress was backless and I didn't want anything getting in the way, so I decided to have flowers in my hair instead."
"We got married at the beautiful Ramster Hall in Chiddingfold, Surrey. We both grew up in Surrey so with many of our friends and family close by it felt natural to choose a venue in the same neck of the woods."
"We knew we wanted a no-corkage venue which narrowed the search, and as soon as we visited Ramster Hall we fell in love with it! It was so warm and welcoming and had none of the slightly corporate feel that some of the purpose-built wedding venues we'd seen had, and the open fire made it perfect for a winter wedding."
"The owner Rosie was so lovely and helpful and we're very thankful to her for letting us borrow her beautiful home for our big day."
"We actually met when we were 16 at a 'We Are Scientists' gig, but unfortunately were too awkward and teenaged to find each other attractive back then. We had mutual friends (who were among our bridesmaids and groomsmen) but had seen each other only a handful of times since leaving college."
"About a year before we got together we saw each other in the bar where Sam was working at the time and really fancied each other, but we were both living in different places and so nothing really happened until a year later when I'd moved back home and found Sam on Tinder and swiped right."
"We had the best first date ever and I was crazy about Sam straight away – but in the middle of our date I found out that I'd been accepted to intern in Seattle over the summer, so after just three months together we had to spend the next three months on separate sides on the Atlantic."
"We spoke for hours on Skype everyday (with Sam waking up at four in the morning to work around the time difference!) and at the end of the three months Sam flew out to New Orleans where we reunited for an amazing three week road-trip round the States and were pretty much inseparable from that point onwards."
"Just over a year later we'd moved to London and were living in a tiny room in a horrible shared flat above a parade of shops. I was having a really rubbish week and arrived home on a Thursday night to find Sam waiting with a bunch of flowers and some champagne to cheer me up."
"He produced an amazing scrapbook that he'd put together full of pictures and mementoes we'd picked up on days out and holidays we'd had since we'd been together, and just as we finished looking through it he was suddenly down on one knee with a ring!"
"It was so romantic and personal and completely unexpected and just perfect. We quaffed the champagne and then went for a prawn bhuna at the Indian restaurant downstairs to celebrate! We got married just under a year afterwards – we didn't want to spend too long planning the wedding, and liked the idea of a winter wedding so we wouldn't be too disappointed if the weather wasn't great!
"My lovely Dad walked me down the aisle. Two of Sam's best friends and bandmates played all the music for our ceremony."|
"We walked down the aisle to Free Fallin' by Tom Petty – we both love him and were very lucky to see him play live in Los Angeles when we were bopping round America in what turned out to be one of the last shows he did before he died."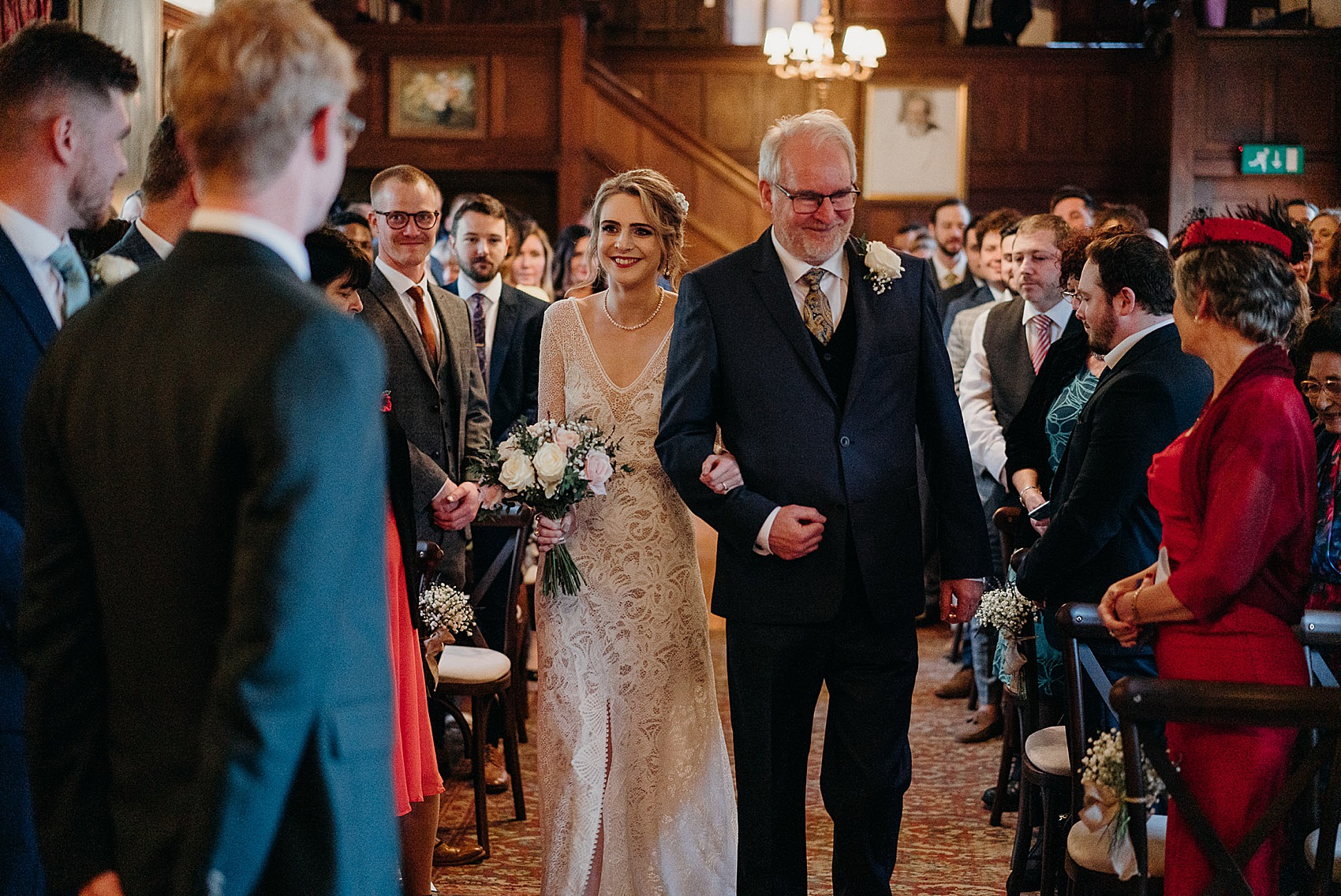 "Our service was performed by registrars from Guildford Registry Office who were very lovely."
"Would you like to share anything about your vows? Did you tailor your own vows? Please free to include an extract from your vows here, readers love to be inspired by how other couples have tailored their vows."
"We just used the standard vows that were provided by the registrars – to be honest we wanted to keep the ceremony as short as possible to get on with the party afterwards. The registrars allowed us to pick two readings for the day, so we decided to pick one that was old and one that was more modern."
"Sam's sister read 'He wishes for the Cloths of Heaven' by W.B. Yeats which I've always loved, and my auntie read 'Love' by Roy Cruft."
"We chose 'Annie's Song' by John Denver for our first dance. We both love John Denver, and Annie's Song is extra special as while I was away, Sam learnt it on guitar and played it for me over Skype as a surprise to cheer me up when I was missing home!"
"My favourite part of the day was probably looking out at all our guests over dinner and watching everyone chatting and enjoying themselves – it really struck me how special and unique it is to have so many people you care about together for one day."
"We signed the books to Dancing in the Moonlight by Thin Lizzy and walked out to I've Just Seen a Face by the Beatles. They sounded so perfect and it meant so much having our friends play for us."
"Sam surprised me with my engagement ring when he proposed – it's a solitaire sapphire set against two diamonds made by Gatwards of Hitchin, and which Sam bought in an auction sale."
"Sam says he chose it because he wanted something colourful (sapphires are my favourite stone) and classic, and he chose perfectly – I absolutely love it."
"Sam secretly enlisted the help of my dad (who collects antiques and so knows a bit about jewellery) to help choose and buy the ring, and after secretly measuring the ring I usually wore on that finger to get the size, Sam's dad took it to be resized so I could wear it straight away after he proposed."
"I had no idea all this had been going on behind the scenes, and all the sneaking round and and help from our dads that went into buying the ring made it even more special."
"The story of buying our wedding bands is less romantic unfortunately – one rainy Saturday afternoon we decided to browse the high street to get ideas for what kind of bands we might want and were quite pleasantly surprised to find rings we liked that day! Sam got his from H.Samuel and mine was from Ernest Jones."
"I wore a pair of antique art deco earrings that my Dad had bought me for Christmas the year before; I didn't tell him I was planning to wear them so think that was quite a nice surprise for him on the day. Just before we were leaving I realized I didn't have anything 'borrowed' to wear, so my sister leant me one of her rings."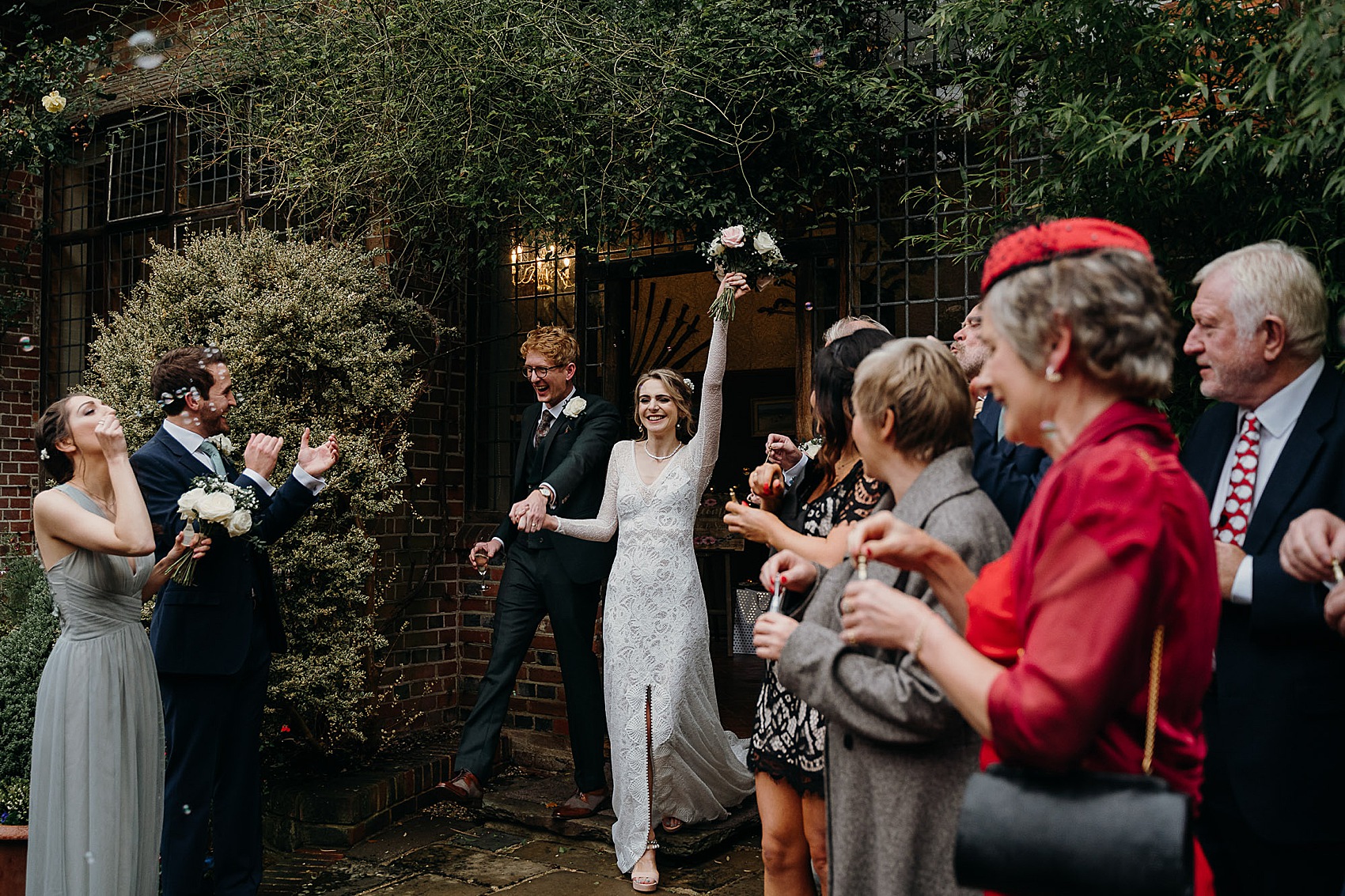 "Sam wore a gorgeous green suit which he had made to measure at Beggars Run. For our first attempt at suit shopping we went to Saville Row and looked at a bunch of designer suits but they were all too formal and business-y, so he was very happy to find Beggars Run who run a really personal service and worked with him to get a suit exactly like he wanted. Sam says they had excellent customer care with even better suits, and would absolutely recommend."
"Funnily enough it turned out that the shops that we bought our dress / suit were on the same street in Hackney, though we didn't realise that until after we'd bought them.
"Sam wore some very jazzy tiger print socks that my Mum had given him for his birthday and that he'd saved for the big day!"   
"Zak from Epic Moments Photography did an amazing job of the photography for our wedding. He was the photographer for one of my bridesmaid's weddings a couple of years previously, and we loved her photos so he was our first choice to photograph our wedding too."
"Neither of us are into very posed photos so we loved Zak's natural style of photography – we often weren't really aware of him taking photos and he captured so many little moments and interactions that we would have missed otherwise."
"He also somehow made it look like a glorious autumn day in our couple's photos despite the somewhat murky weather which is really a testament to his skill! We have looked back over our photos so many times since and can't recommend him highly enough."
"We got our flowers from Bridal Flowers Direct who were brilliant and really helpful when we were choosing flowers."
"The bouquets and decorations were made up of lavender (which we chose because it was my Nan's favourite flower), roses, gypsophilia, and eucalyptus."
The bridesmaid's dresses were from Little Mistress.
"Jacaranda did the most amazing job of catering – everything ran so smoothly and we got so many complements on the food! We had cheese souffle to start (don't know how they managed to make so many souffles so perfectly, I can't even get one to rise…), pork belly for the main course, and a yuzu and white chocolate parfait for dessert. For the evening food we had a tiered cheese cake and a tiered pork pie 'wedding cake', both from Marks and Spencer, with lots of crackers and condiments."
"On top of the usual booze, we got a keg of TEA ale from the Hogs Back Brewery – it's one of Sam's favourite pints, and it was nice to serve a Surrey ale on the big day."
"My mum really took charge of the décor, and did an amazing job of gathering lovely bit and bobs to decorate the venue. Some of her best finds were the glass pepper pot placecard holders that we filled with sprigs of gypsophila and lavender, and a plethora of little silver candleholders, both of which she bought from eBay and charity shops. She also jazzed up an old wooden chest with fairylights to hold gifts and cards which looked really lovely."
"My bridesmaid Emily and her husband were inspired to start a wedding hire business Little Wedding Things after their own wedding, and very kindly let us have our pick of things to borrow for the day so we got some lovely bits rom them, including silver lanterns, table numbers, and a basket of flip flops which were much used as the night went on."
"Would def recommend checking out wedding hire companies – they're a great way to get some finishing touches for your day without the time and expense of buying them yourself."
"In keeping with the lavender theme in the flowers and table decorations, we gave little heart-shaped lavender bags from Shropshire Lavender  to all our female guests. We also bought fun wedding favour sweets from Say It With a Sweetie which guests could help themselves to."
"We got our wedding invites and thank you cards from Tavern Creative, and our place cards from Lisa Goddard and Creativity Gifts, both were brilliant. Sam's friends all have nicknames for eachother and he had the idea to put those on their place cards which went down really well – one of his friends still has his in his wallet."
"We both love traveling so to add some personal touches we named each of our tables after a place we'd been together, and made our seating plan from a map. For table decorations, we bought kitschy retro travel postcards for each place on Zazzle which we framed, and added a humorous little story about what the place meant to us and what we'd got up to there on the back."
"Ever disorganised, I was still finishing the stories at 1am the night before our wedding and wondered what I was doing, but it was so worth it when we saw people pick them up and read them during dinner.""
"Our cake was made by Sweet Passion Cakes, who were recommended to us by a family friend and made up the most perfect cake! We are both big proponents of buttercream (no naked cakes here!) and loved choosing from the different flavours."
"Sam is a big fan of salted caramel so he picked chocolate sponge with salted caramel buttercream for the big bottom layer, with a tier of Victoria sponge, and then a tier with lemon buttercream with raspberry jam on top."
"The cake was absolutely delicious and so beautifully decorated, and we had quite a bit of the chocolate and salted caramel layer left which we froze and enjoyed eating over the coming months to cheer ourselves out of the post-wedding blues! We were supposed to save the last slice for our first anniversary, but Sam ended up eating it all without telling me, which I suppose is a testament to the deliciousness of the cake."
"I adore our lovely little mouse wedding cake topper from AsNiceAsMice on Etsy, who were brilliant, even adding a pair of glasses to the boy mouse to look more like Sam. We originally bought them for the cheese cake but they were so lovely we felt they deserved pride of place on our wedding cake! We have them on a book shelf in our living room now and they are a lovely memento of the day."
When it comes to their favourite moment of the day, Sam says "I'm cheating really by having two. Firstly, when you first appeared at the aisle, you looked so stunning and elegant that I was completely overcome with emotion with the goofiest of smiles on my face. And secondly, when we were heading out through the reception tables for our photos after the ceremony. I was following you and thought that you looked so utterly breathtaking and that I was staring at the front cover of a wedding magazine. Had to pinch myself a bit then."
"I really can't think of anything we'd do differently about the day, so I guess the only thing I'd change would have been to have stopped worrying so much about things beforehand and just trusted that with loads of people who love you getting together for a party it's going to be a great day whatever happens."
"Sam's dad plays saxophone in a covers band with some of his colleagues, who very kindly agreed to do a couple of sets for our evening do! They learned a couple of requests for us; Burning Love by Elvis Presley which they played first in their set which we chose to cut through the soppiness of the first dance and get everyone dancing, and One Step Beyond by Madness for which Sam got up on stage to do the spoken word bits!"
"Their set was full of bangers and everyone was dancing all night – just having Sam's dad play would have been special enough in itself but they were honestly so good we couldn't have wished for a better band! Having previously mainly played civilised work do's I think they enjoyed having a very excitable crowd singing along to every song."
"Afterwards Mark Parker took over and did an amazing job of DJ-ing – everyone was dancing until the very end of the night! We also had a photobooth from Rentabooth who were brilliant – they made a book for us with all the photos in and made everyone write a message as they got their photo taken which was such a lovely memento of the evening which we've looked back on many times since (it's really fun watching everyone get progressively drunker as the night goes on…!)"
Words of Wedded Wisdom
"Make sure to prepare for the journey home and night afterwards! We were so focused on the day that we didn't really think beyond it, so forgot the fare for our taxi, any means of paying for the room, and so many things we needed for the overnight stay – Sam forgot a change of clothes so nearly had to go down for breakfast in his wedding suit, and I can't sleep without an eye mask but forgot to pack one so ended up spending my wedding night sleeping with Sam's pants on my head to block out the light! Luckily my mum was able to drive over the next morning to save the day…."
"If you want a boozy wedding a free bar does go a long way to get the party started, and we found that providing our own booze was surprisingly economical – watch out for special offers on spirits etc. in the supermarket and then stock up."
"Our photographer advised us to keep group shots at a minimum as they can take up a lot of time and get in the way of you enjoying the drinks reception and this was such good advice – getting people together for photos really is like herding cats, and by that point we just wanted to go and say hello to all our guests – so get a couple with your families and then get on with enjoying your day."
"At first everything wedding-related can seem very expensive and it's easy to assume that all suppliers will be similarly priced but it's definitely worth shopping around and we were surprised by the variation in quotes for certain things. We really enjoyed making some of our decorations and it's a great way to add personal touches and save some money, but at the same time don't feel pressured into DIY-ing everything – there are times when it's worth spending a bit more just to avoid the stress."
"Starting to plan a wedding can be quite overwhelming, so pick out a few things that matter most to you – ours were a free bar, music, and food – and prioritise doing those exactly as you want, and the other bits will all begin to fall into place around it. Don't worry about trying to please everyone, organise the wedding that you would want to go to."
"As easy as it is to say, try not to worry about the little things, and especially those you can't control! I spent the week before frantically refreshing the weather forecast hoping the forecast might improve for our wedding day; in the end, we did have some rain but it didn't matter a bit! No one's going to notice if little things don't go as smoothly as planned."
"Don't worry about getting your dress dirty! I think that it is sadly an inevitability, and as much as it's painful seeing the hem get progressively grubbier, you're probably never going to wear it again, so don't let it stop you doing anything you want to do! We went outside for couple's photos even though it was pretty muddy and it was so worth getting my dress dirty for as we've looked back on those pictures so many times since."
"If you find yourself flagging towards the end of the night, have a cup of tea! I began to feel quite tired around 10pm, and my lovely friend Louisa brought me a cuppa and it was exactly what I hadn't realised I'd wanted and totally gave me a second wind."
"We ended up spending around £24,000 which was more or less what we expected (at least once we realised how much things like catering etc. cost!). I did end up spending quite a lot more on my dress than I'd originally planned; I was initially reluctant to spend too much on something you're only going to wear once, but in the end it was worth it for me to have a dress I felt so lovely in."