Something shifted for me this week. Deep within. A desperate longing to immerse within the very heart of Love My Dress – to get back to championing gorgeous British bridal fashion design and the planning of joy-filled days.
We're not out of this pandemic yet. And important work remains yet to be done, but my primal desire to be back in amongst it all is real. Normally, at this time of year, I'd be readying myself for our annual trip to London and bridal fashion week.
Benjamin Wheeler

+ Follow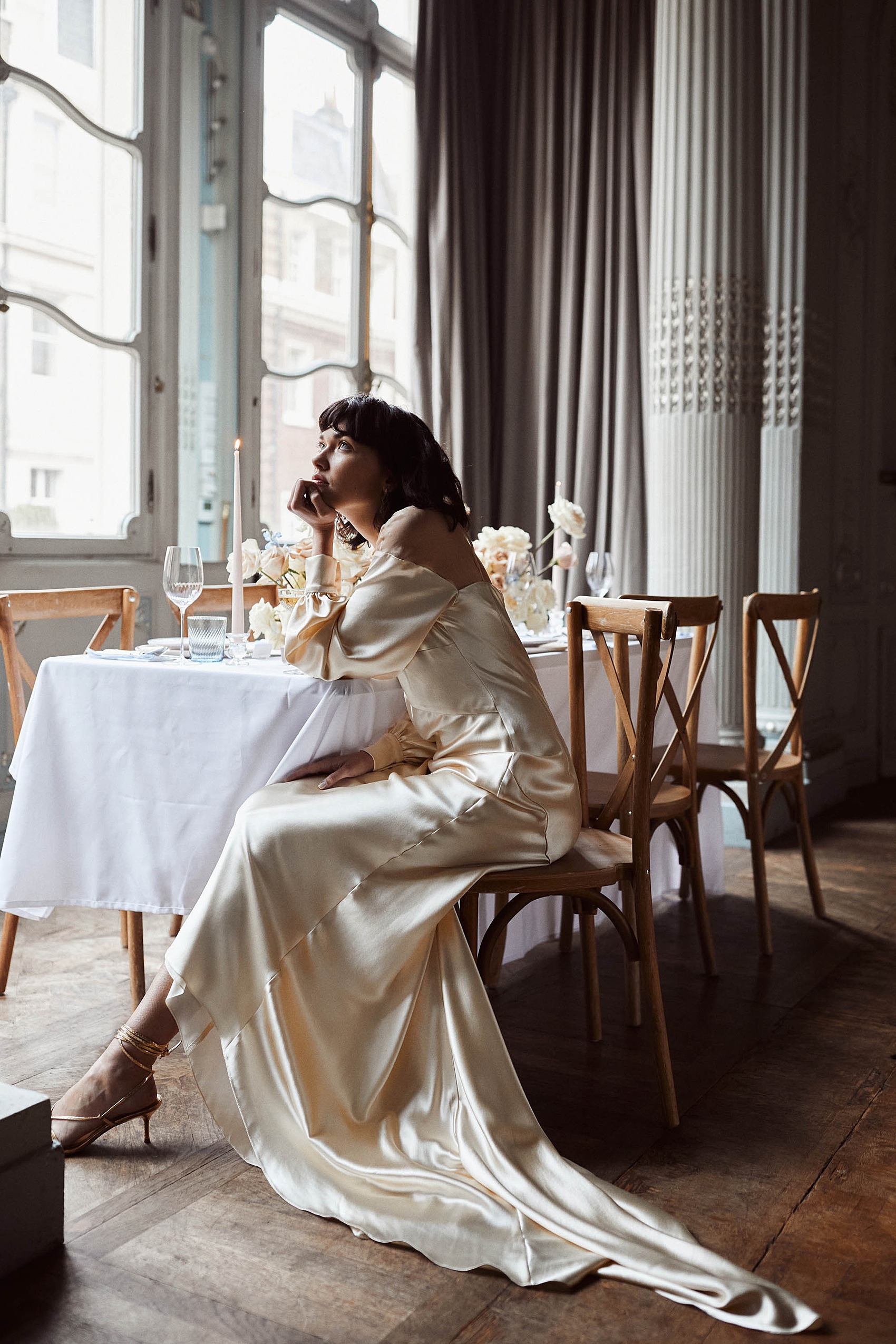 This year of course, that trip is off the cards. But these images so perfectly capture the vibe of our visits; modern contemporary city feels, the energy on the catwalk, the excitement of getting to hang out with creative colleagues and explore new spaces and places.
This sublime and sensuous shoot was submitted photographer Benjamin Wheeler and Rosie Bess, Fashion Stylist & Event Designer, aka, Beatnik Bride. With a career that started at Net-A-Porter magazine and has taken her on to working with the likes of Chanel and Christian Dior, Rosie's fashion credentials were ideal for an editorial that wanted to illustrate how cool, modern weddings can look once they return later this year.

"One of the greatest things about our industry is the camaraderie and joint efforts when it comes to collaborating."
"After such a sad and frustrating halt to weddings over the past 12 months, what we needed more than ever was an excuse to get creative and remind everyone that this will pass, and exciting things will come."
"Towards the end of 2020, we teamed up with photographer Benjamin Wheeler, florist Rob Van Helden, stationer Sophie Lewis of Ruth Kaye Design and designer Jess Kaye of The OWN Studio, to create an elegant, contemporary, fashion focused editorial showcasing the new bridal aesthetics we project for when weddings return once more."
"As for many couples busy cities are often the last choice when it comes to wedding locations, a traditional and elegant setting steeped in history has recently been overlooked in favour of the more quirky industrial aesthetic."
"The team wanted to bring it back to London and encourage the support in local businesses for future celebrations."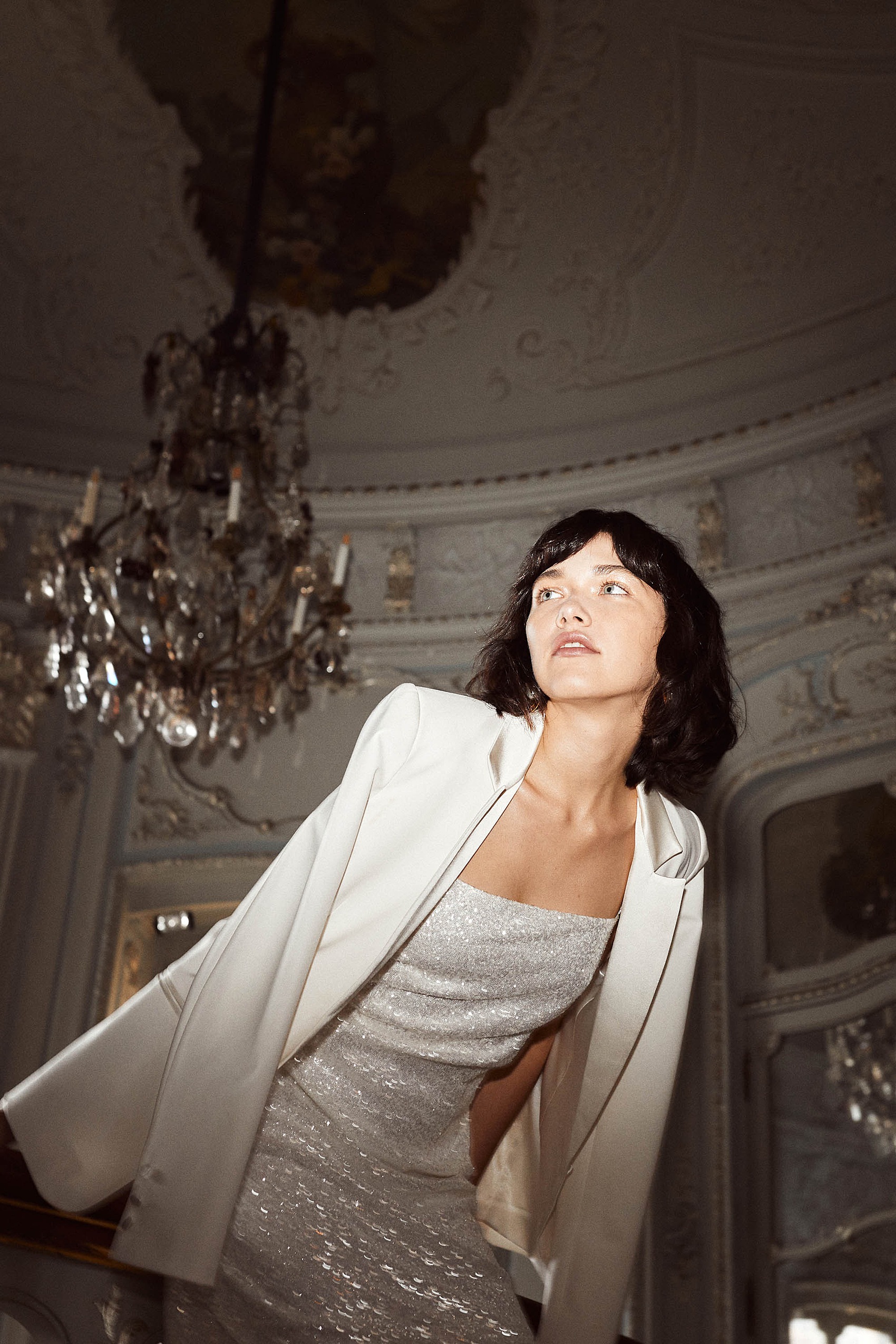 "Through this editorial, we explored a contemporary take on the 'hotel wedding', set in two London venues – Kettners and Savile Club."
"The images tell the story from getting ready and the fun of the build up, through to dinner, the party and the hotel room."
"Savile Club's classic details were a big inspiration in the overall visual design. We deliberately kept the tablescape sympathetic to the powdery blue venue but added modern touches through shape, colour and texture."
"For a stylish city dinner, teased roses cut in varied heights were arranged in sculptural centrepieces, placed between elegantly designed menus, embroidered napkins and tall tapered candles."
"For a luxurious and personal touch, individual roses were scattered loosely around Kettner's bridal suite in glass bud vases and stationary finished with classic wax seals."
"Fashion played a big part in bringing this contemporary character alive with beautiful modern designs from The Own Studio, with each piece made to last long after the wedding day (and become a wardrobe staple)."
"For an all-day party feel, each look was paired with simple bold accessories and completed with textured hair and dewy makeup."
"Our shoot embraces modern changes and themes more aligned to fashion than the usual bridal trends, we produced a party defining and representing individualism and confidence, proving that contemporary and classic can go hand in hand."