In the few years I've been writing real wedding features for Love My Dress, I've never before written about one taking place at a palace – but today that's going to change!
On the 19th September 2020, Roberta and Robert were married in the spectacular surroundings of Fulham Palace; the historic home of the Bishops of London on the banks of the Thames in London. The palace is such a special place, combining Georgian elegance with Tudor beauty within magical walled gardens. Our couple had originally planned to marry in Ibiza in June 2020, but altered their plans in light of the COVID-19 pandemic.
Amy Sanders Photography

+ Follow
"The main theme of our Ibiza wedding was to be outside, enjoying the sunshine surrounded by the wild nature of the centre of the island. When we planned our second wedding, it was all very last minute and always living on the edge of another cancellation or postponement, so everything had to be easy to organise and convenient both for us and for our guests to manoeuvre."
Roberta and her bridal party chatted and enjoyed drinks together as they got ready for the day. Pam, Gavin and Akua from Wedding Make-up and Bridal Hair by Pam Wrigley lent their creative, professional talents towards the hair and make-up, making sure everyone felt like the best versions of themselves.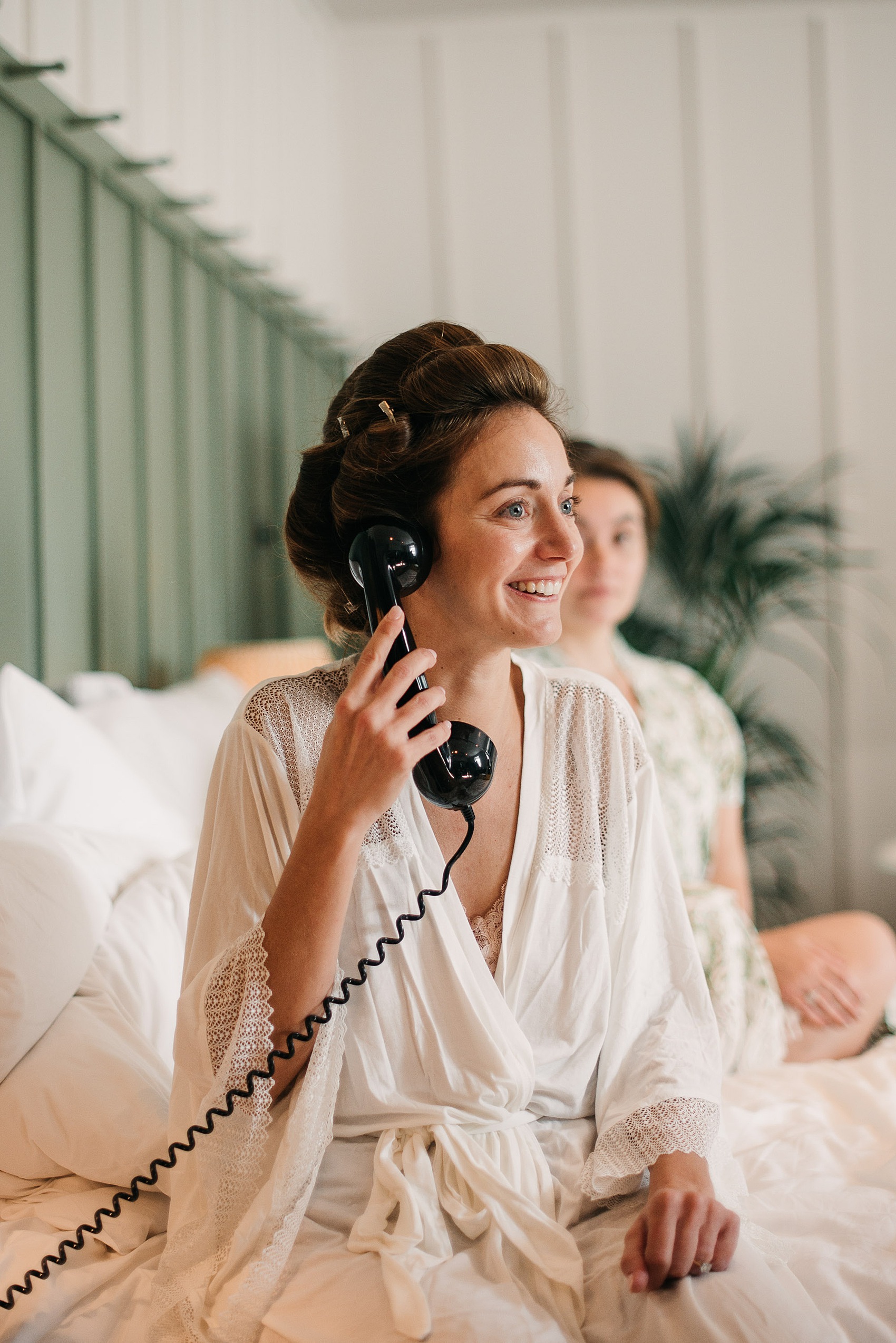 "They made me the most beautiful bride I could have ever been! They were professional, caring and brought a lot of fun to the morning preparations. Myself, our mothers, sisters and bridesmaids all felt super comfortable and picture- perfect."
"The trial with Pam was a huge success. She 100% understood the look I was hoping to achieve, and all her recommendations were flawless."
Roberta's wedding gown – the 'Serrano' by Suzanne Neville – combined timeless beauty with a sexy, modern edge. She discovered this spectacular design at The Dress Bridalwear in Teddington.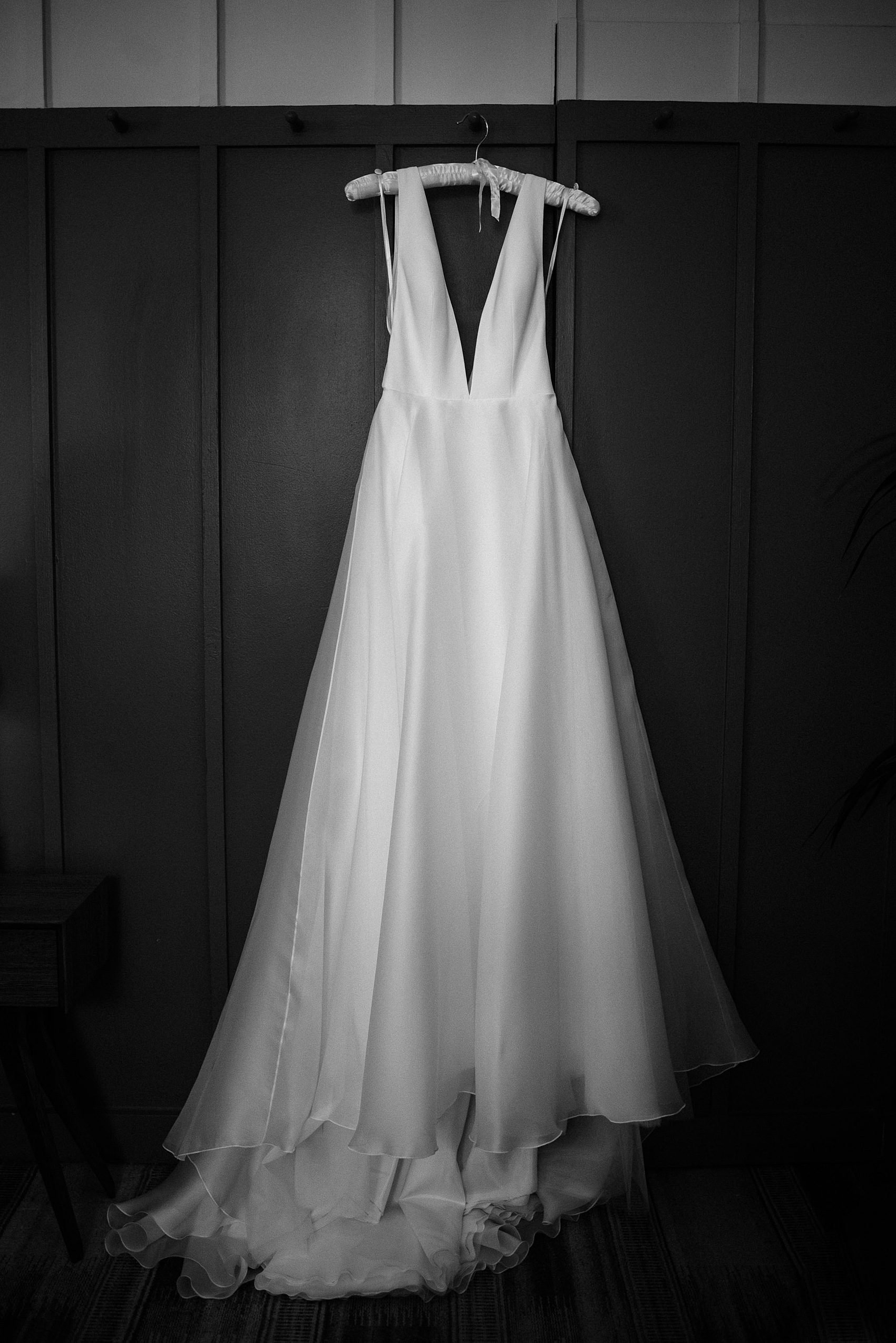 A delicate belt completed Roberta's dress, and she paired this with bargain sample sale shoes from Kate Spade, as well as a veil by Rainbow Club – another sale find!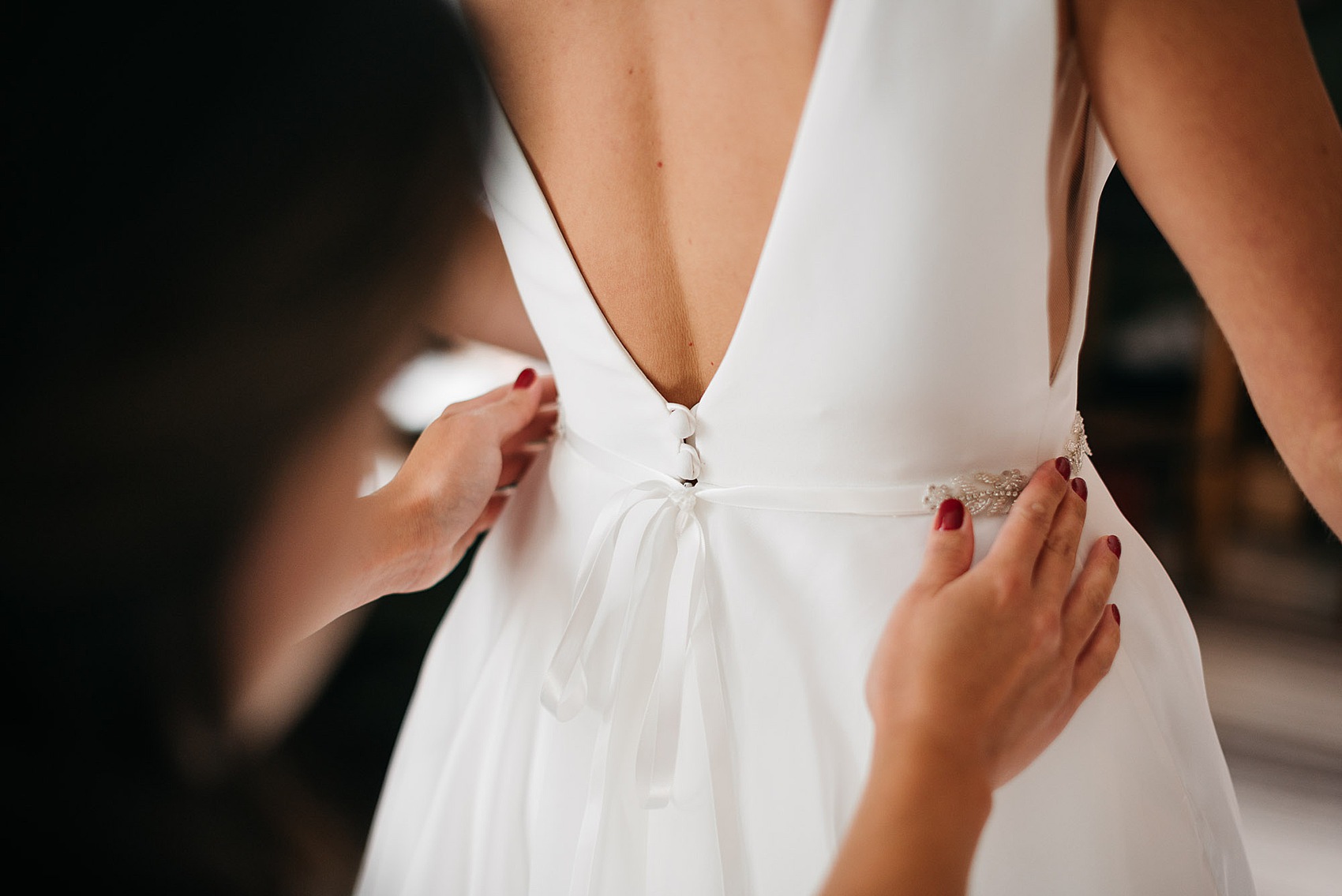 "It was so lovely working with Emily and their seamstress Desi. They were warm, comforting and made me feel at ease and special even in the thick of the pandemic! I would recommend The Dress to anyone."
"I could not get enough of the top piece of my dress. The two deep Vs at the front and back felt super modern and sexy, and the wide shoulder straps suited my shape and it fitted well."
"And the skirt – the fabric was beautiful, luxurious, soft, and moved so freely. The dress just made me feel like a superstar! It was the perfect dress for our Ibiza wedding and I couldn't have changed it for our London wedding."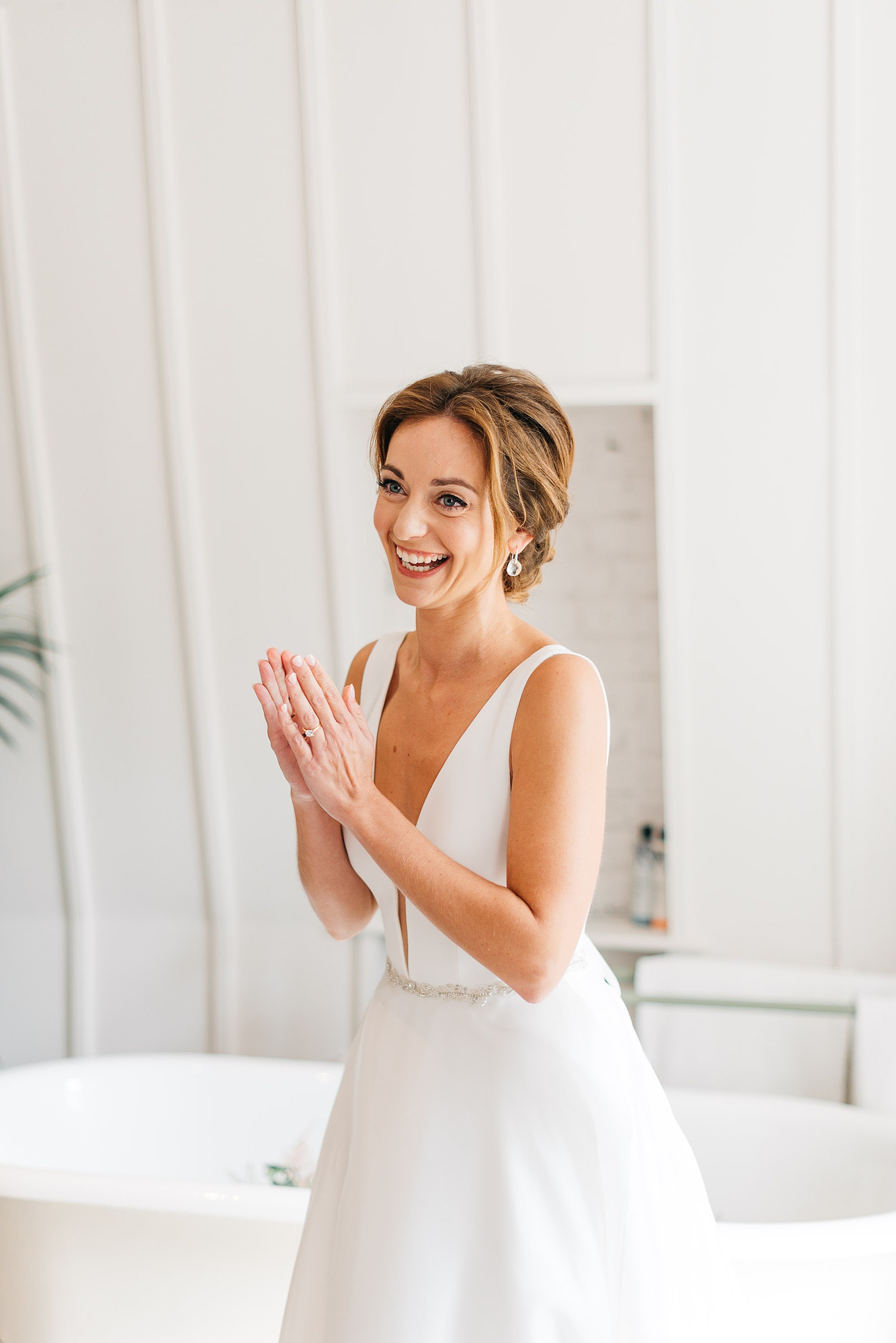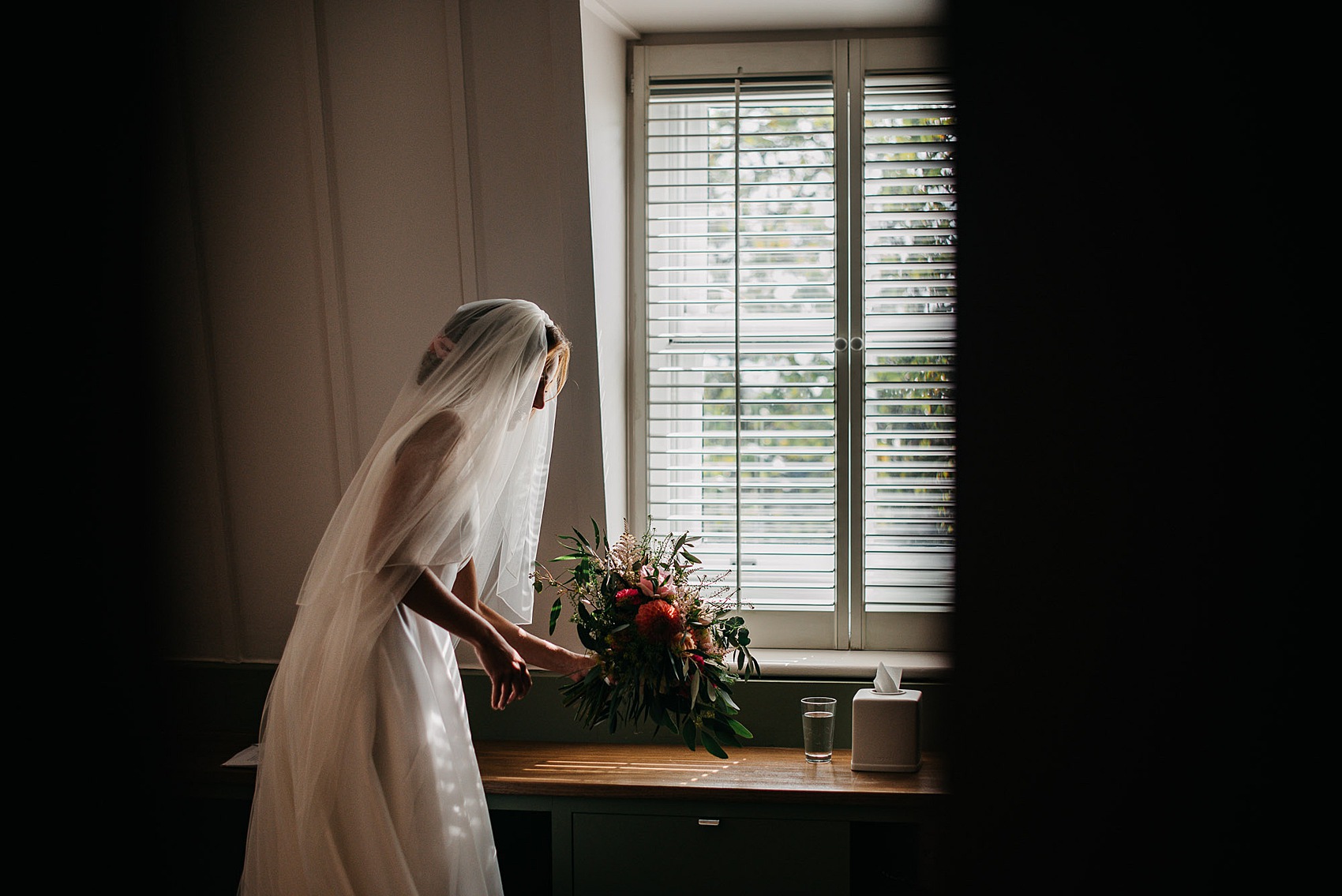 Mary Jane Vaughan's exquisite floral creations perfectly captured the changing season, with late summer and autumnal beauties like orange and cafe au lait dahlias, roses, astilbe and trailing, multi-textured greenery.
"Mary Jane is a flower queen and we could not have asked for more from our wedding flowers. Mary Jane took time to really understand the brief and responded to all the concerns around budget, colours and spatial challenges!"
"She is a fun and caring person to work with, and we could feel all the love she has, and her passion in the process and outcome. The displays were magical and worked perfectly."
Roberta and Robert held their ceremony in Fulham Palace's Tudor courtyard, beside its central fountain, and Blue Topaz Strings played as Roberta and her dad made their way from the wedding car and down the aisle.
"My dad was very nervous about the whole day, even more so than me. He brushed up incredibly handsomely, and it was great for us to spend even just a short time together on the way from our hotel to the venue, and then share the experience of walking down the aisle; a moment that for a long time we weren't sure would ever happen."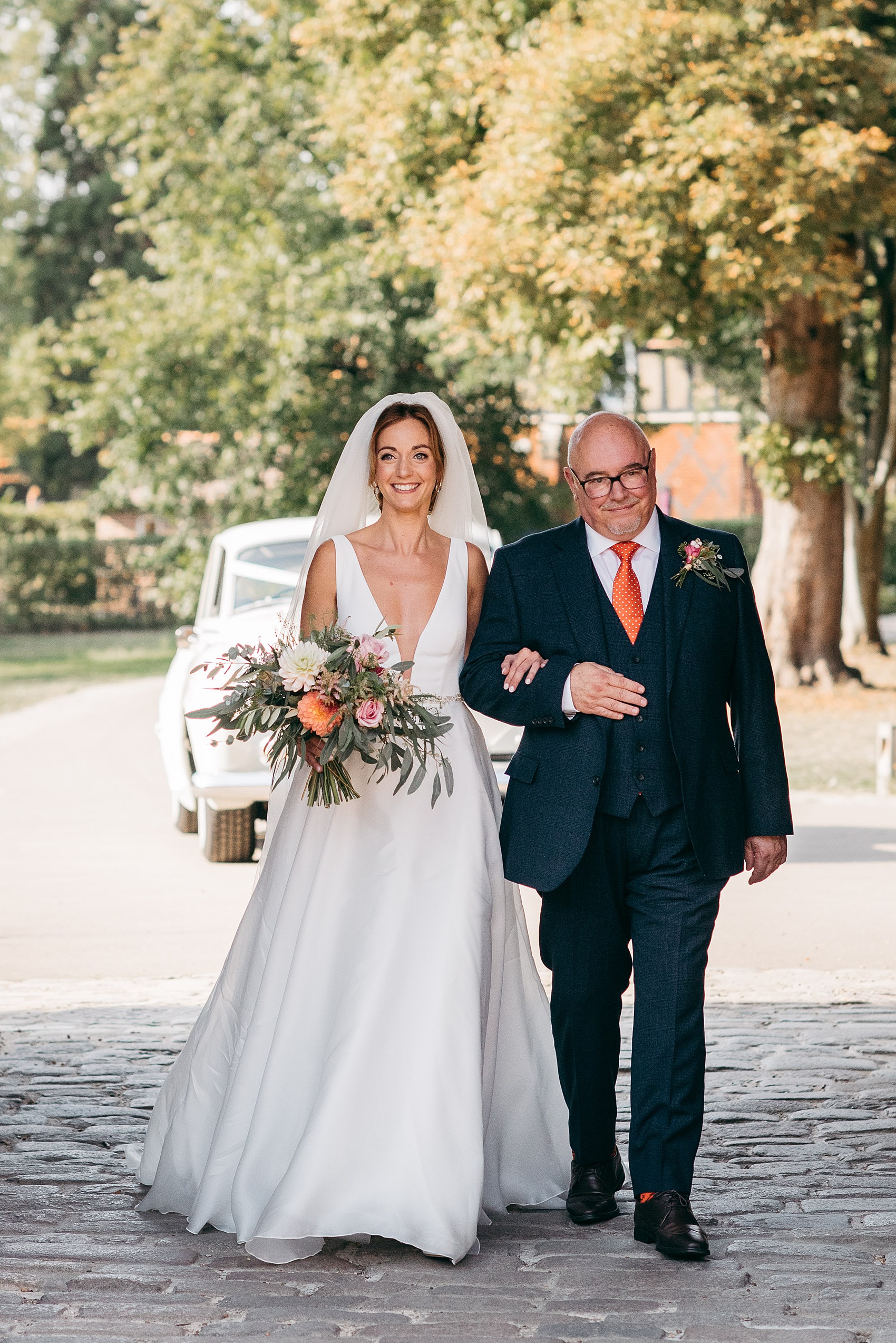 As the couple's original plan was to hold their celebration in Ibiza, they had always planned to be legally married in the UK. They decided to stick with this as things changed, holding their civil ceremony a week before their Fulham Palace celebration.
Robert's sister Lucinda read Love is a Temporary Madness from Captain Corelli's Mandolin, which meant so much to the couple.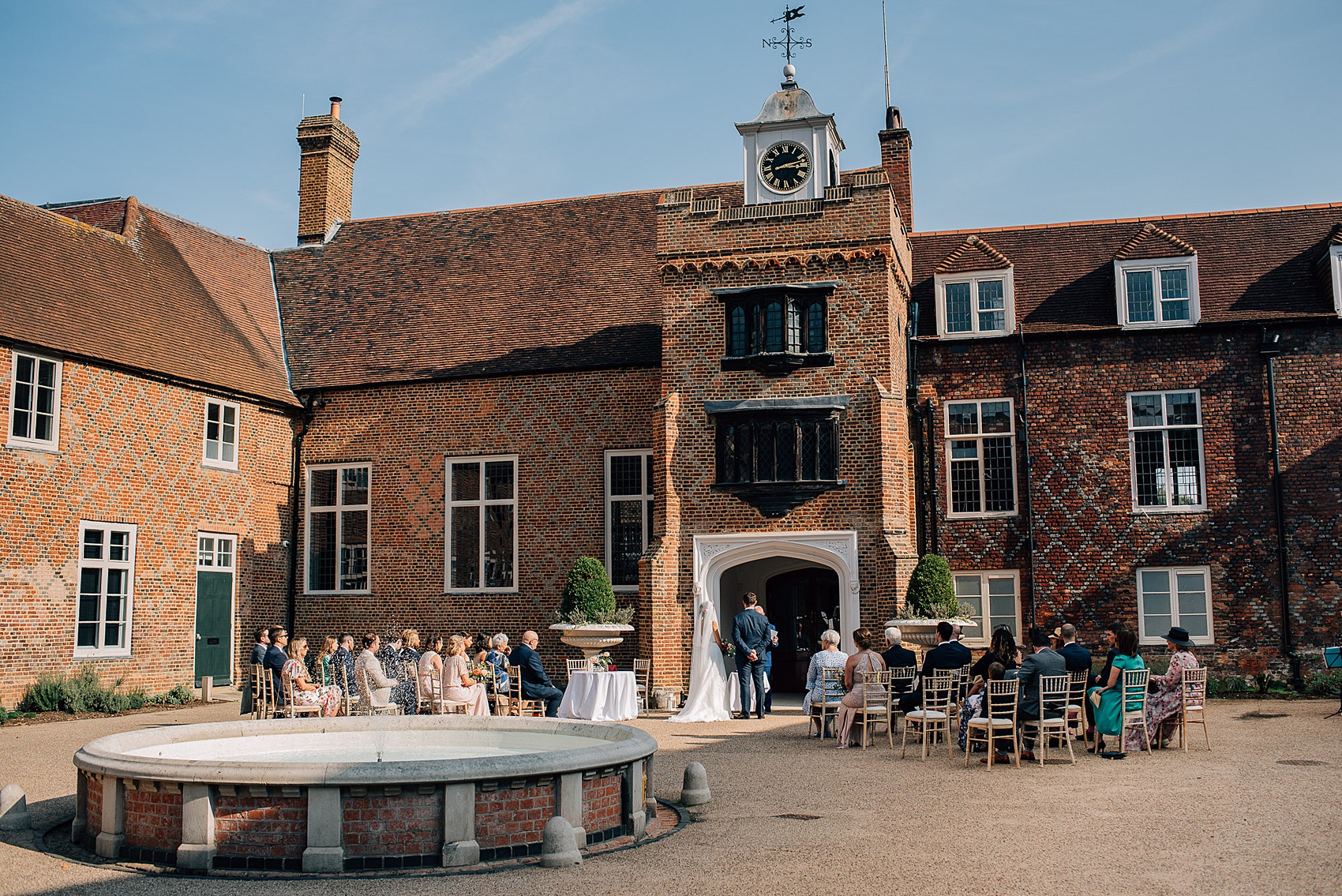 "I am an only child, so gaining a sister to me is such a wonderful honour. When I read Love is a Temporary Madness I burst into tears because it was such an accurate description of my own thoughts and values on love. Everything rings true and feels like a reflection of mine and Robert's relationship and ever growing roots."
"Robert had his grandmother's wedding ring enlarged to fit. Mine was a simple gold band to complement the engagement ring. Neither of us were too picky with the rings as it really was more about the symbol of commitment to one another."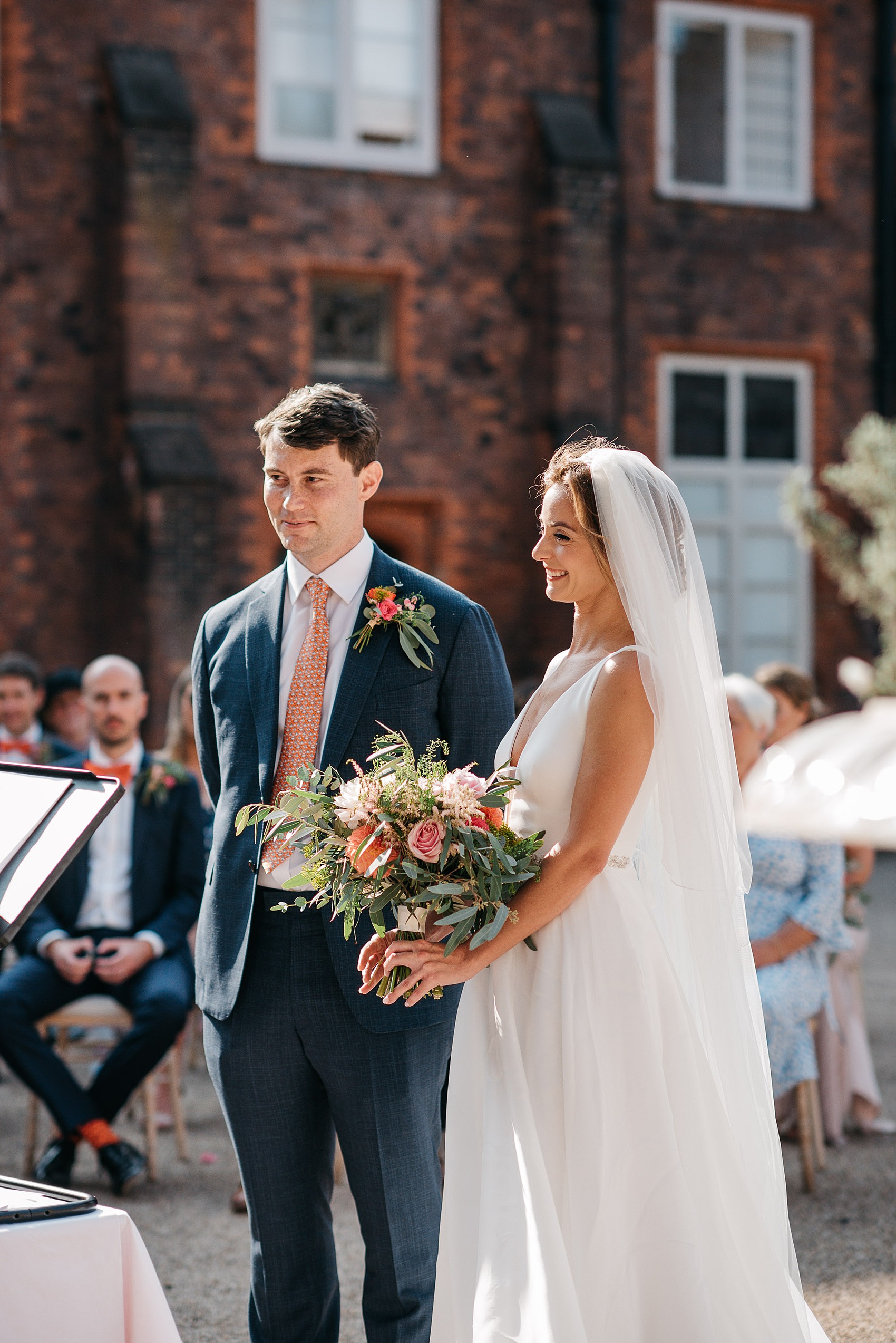 "I didn't want the girls all looking the same, as they are all different and I like the mis-matched look, but I knew I liked the neutral colour theme with a bit of a boho feel. The girls had their own shoes and accessories. I didn't want to be too prescriptive as all our styles are different."
Orange is Robert's favourite colour, so both he and the groomsmen all wore orange ties (Robert's was by Hermes) and this was also reflected in the beautiful flowers, too. Robert's smart suit was from Loro Piana.
"Having been distanced from our families and friends for so long, being able to spend quality time with the people we love so much in a really intimate way was such a luxury."
"I loved seeing my parents surrounded by old friends and how excited they were to catch up, letting go and feeling free to really enjoy themselves. It was wonderful to see all our friends and family getting to know each other better and really investing in each other's company."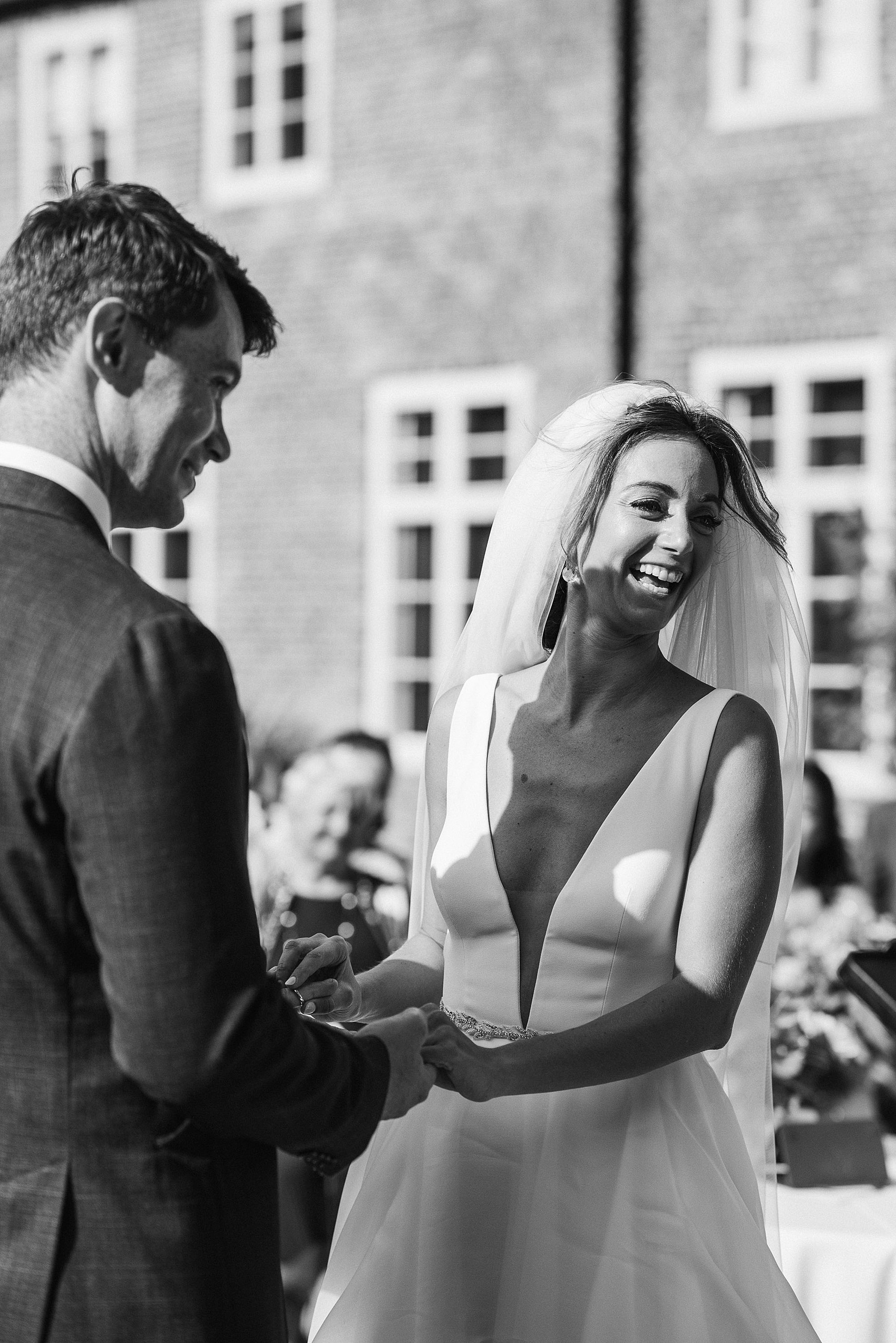 Whilst guests enjoyed cold champagne and delicious canapés, Roberta and Robert strolled into the enchanting walled gardens of the palace with their photographer Amy Sanders, whose wonderful work I'm so pleased to share for the first time on these pages today.
"We found Amy Sanders on Instagram and loved the natural, modern feel of her photos and the moments she captures. Amy is an absolute star and an incredibly talented photographer."
"She has this amazing ability to be very discreet while she captures the most beautiful and natural moments."
"She made us both feel comfortable and at ease, and even with such a short time to get to know each other, it felt like we instantly clicked and Amy understood everything we were hoping for."
"Thanks to Amy and saving our 2020 wedding, we now have so many fantastic memories to cherish. We would 1000% recommend Amy to everyone."
Roberta and Robert first met through their mutual friend Katie, having become friends with her at school and university respectively, on a student night out in Bath when Roberta was visiting her. Nothing happened at the time, but after university, Roberta and Robert would see each other annually at Katie's birthday celebrations.
"One year, Rob asked me out on a date. We were young, it was fun, but nothing came of it."
"The same thing happened again the year after, and the year after that. In 2014, we both seemed ready to invest and decided to give it a go."
"It took time to get to know one another but the relationship naturally grew from there, and it feels like each year we get closer, stronger and grow together; especially surviving 2020 together!"
"Bridesmaids dresses were from all over. I think I ordered about 20 dresses online and returned them all before we got to the final five."
Robert proposed to Roberta in February 2019 – a complete surprise as they hadn't discussed marriage, but it was evident that it was very much on both of their minds!
"We were visiting my parents in Surrey, and on a very easy casual Saturday morning country walk, Rob proposed. It all happened so fast that his 'down on one knee' moment looked more like a lunge."
He snapped the ring box back before I could even see what was inside (he was very, very nervous) and it took me a long while to work out what was going on. It was all a huge surprise."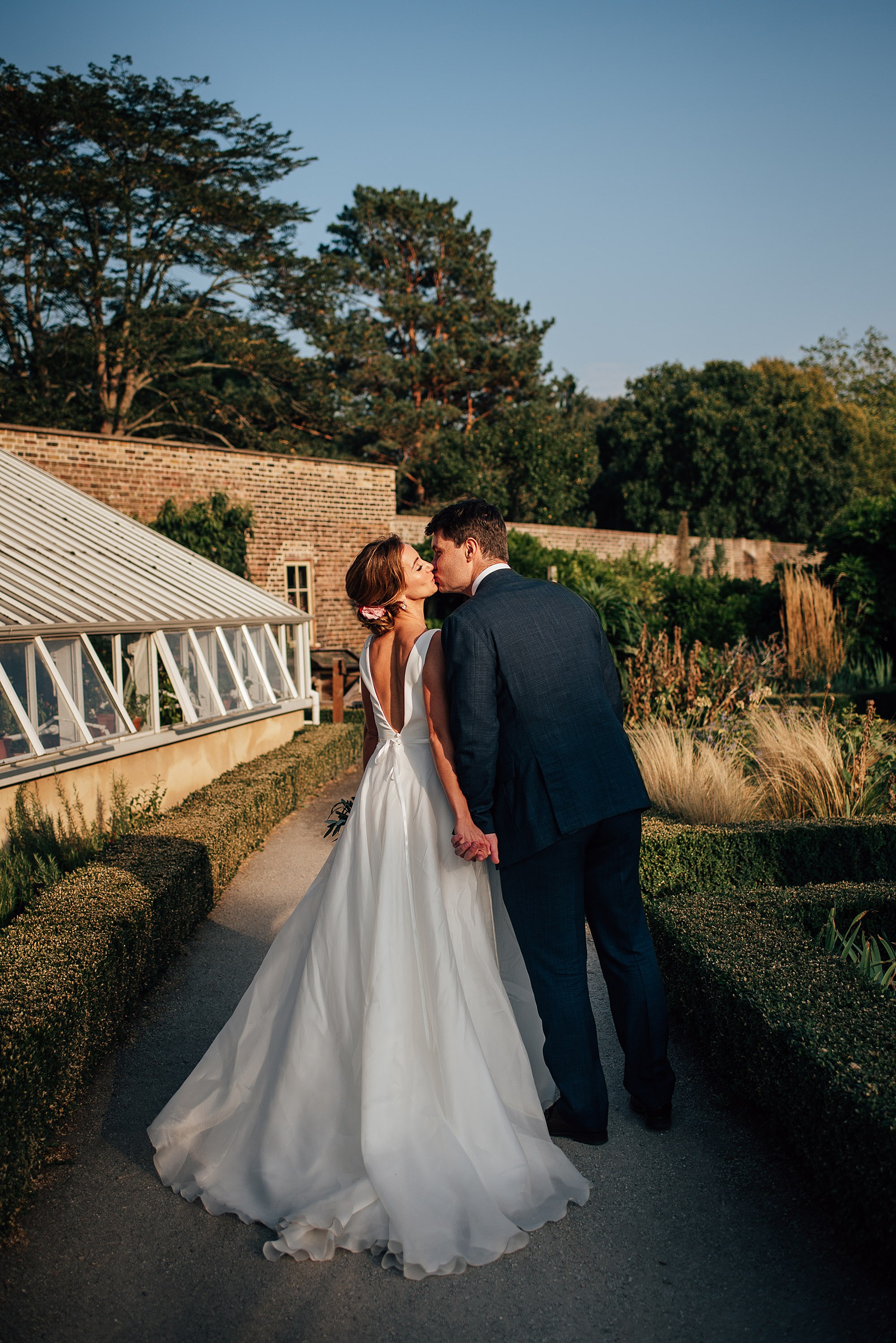 "When Covid hit and we were entering the first lockdown, at first it all felt like it was going to disappear very quickly, but looking back it was pure head in the sand approach. There's no real way to describe the emotions and anxiety that we went through, but it feels self-absorbed to talk about them when all along there are so many others struggling from the pandemic."
"When we realised we couldn't go ahead, we sent notes out to all our guests suggesting we might postpone, and our priority was to limit everyone's financial damage – especially to all our friends and families who had booked travel and accommodation. The next difficult challenge was deciding our next move."
"We thought long and hard about whether we would look to rearrange the following year like so many other couples, and this was, for a short time a real possibility."
"But getting in touch with the venue, most weekends in 2021 were already booked, and they were trying to act as fairly as possible, so rearranging weddings in calendar order, when it came to us, we had only mid-week options left in April or the end of the year 2021."
"Both seemed either too close (which at this stage of the Pandemic felt very risky) or too far. Thinking about our guests and having to ask them to rebook everything, taking even more time off, going through another year and a half of planning (and in hindsight all through the worst of Covid) was not something we were willing to go through."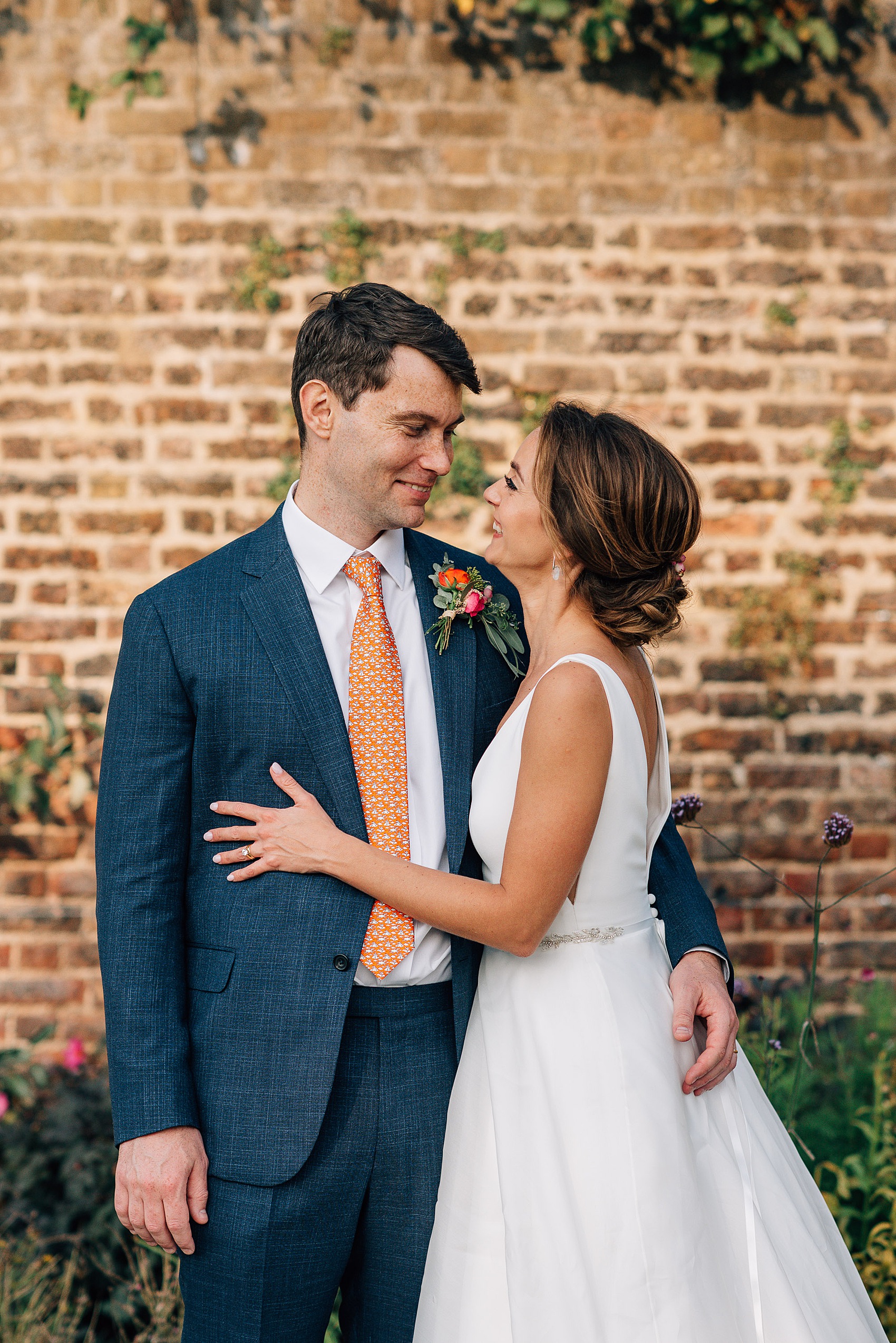 "Telling everyone we were cancelling was really hard. It became clear to us quite soon after that that we didn't want to wait another year to marry. It felt like it was going to be too long for us, too long for our families, and again living through the worst of Covid never really knowing what was going to happen was too stressful and would have taken all the enjoyment- even more enjoyment- out of the whole fun of planning a wedding."
"We were keeping up with the government guidelines and updates rigorously, and when there was a glimmer of hope, we decided on a small celebration in September."
"Fulham Palace gave us three choices of dates and only one really felt like a good option for us. Who knew we would be so lucky to be able to go ahead when only a few days later the government clamped down again and we would no longer have been able to go ahead (again!)."
Roberta and Robert were guided and supported through everything by Fulham Palace's events planner Lara Taylor, and when they first visited, they were struck by the magic and beauty of the place. Indeed, the palace is so tucked away (set back from the river) that they hadn't even known of its existence – a real hidden gem.
"Lara was so sympathetic to our situation and worked super hard to allow us to have the best day possible with all the Covid restrictions. Lara also worked very hard to be as flexible as possible knowing what we had been through before and knowing how quickly everything could change again. Fulham Palace were great at conveying their responsibilities as the venue and so great in terms of flexibility and honesty. They carefully managed our expectations and were transparent throughout."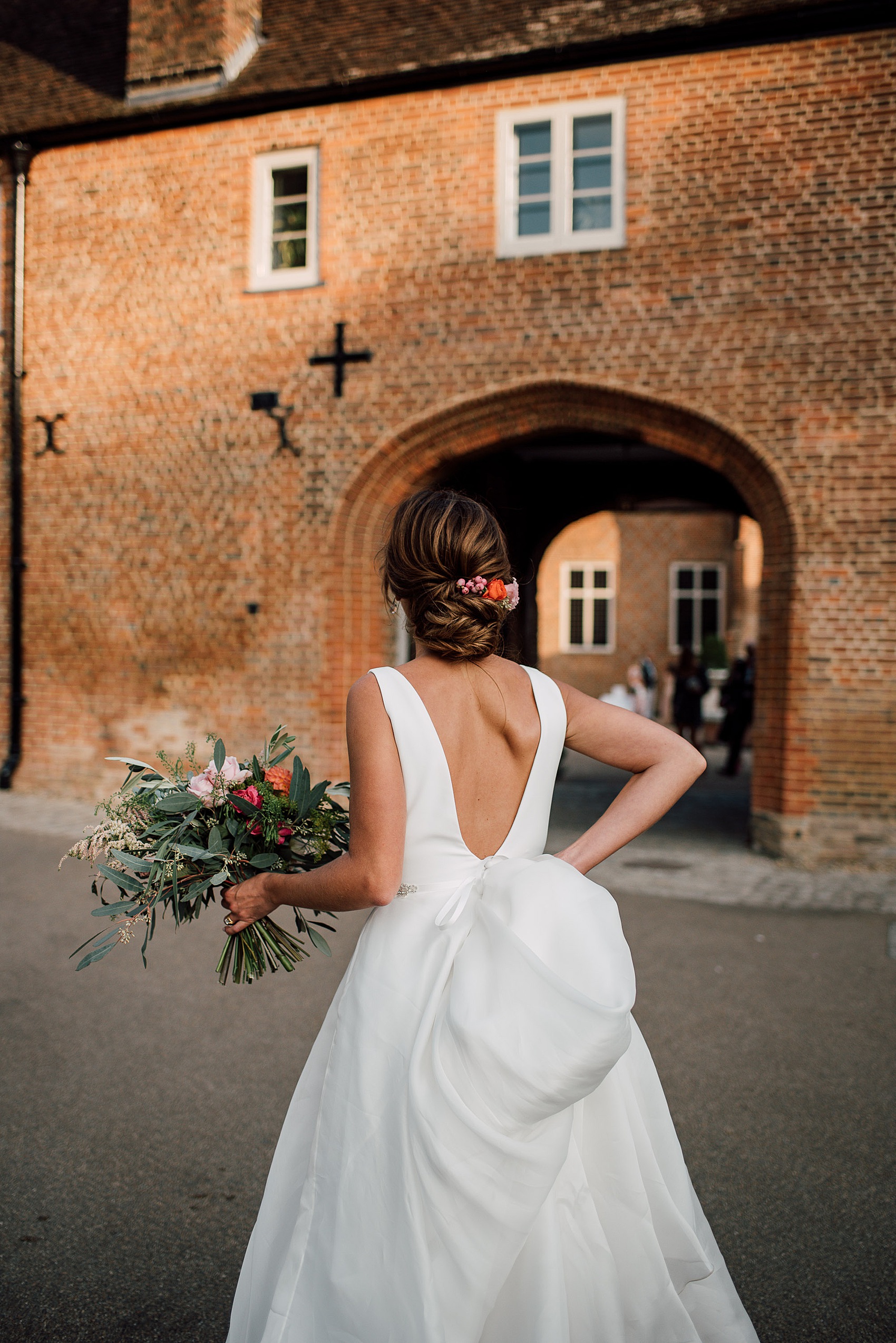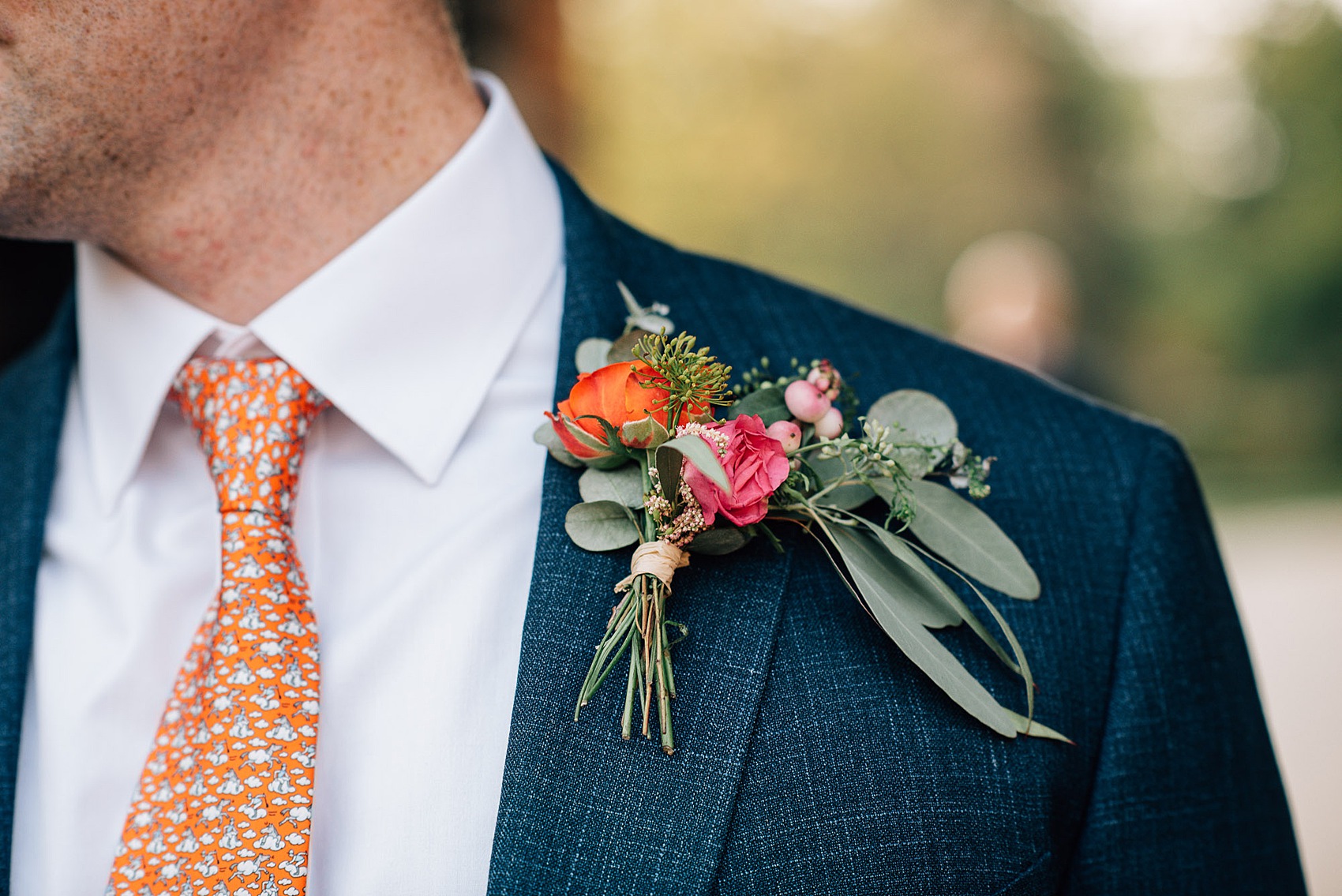 Having trained as an architect, Roberta brought her eye for design to the wedding day stationery, which also included a logo, in beautiful shades of blue. The logo was also added as labels on mini bottles of sloe gin made by the couple, which doubled as place settings with name tags, and favours.
"The ceremony was held outside, with our guests seated 2m apart. The meal was a sit-down service, which was possible at the time, with everyone seated 2m apart, tables spread apart much further, and all the doors left open. The service staff all wore masks and gloves, but smart ones! And honestly the whole event just felt like a normal (but extra special!) wedding."
The wedding feast came courtesy of Bovingdons Catering, and their delicious cake was made by brilliant social enterprise bakery, Luminary Bakery.
"We found Luminary on Instagram too, and they stood out for their purpose. They help and support women who have suffered social and economic difficulties build a positive future. It is really a great enterprise and their cake was delicious!"
Two standout moments from the day for Roberta were seeing Robert at the other end of the aisle before the ceremony, but also his deeply moving and heartfelt speech after dinner.
"There was again so much emotion and vulnerability when he was speaking that his Best Man even weighed in by asking 'Who is this?!' But the part that meant the most was when he said 'Together we can achieve anything'."
"And with the year that we had, not only with the challenges of the wedding, this couldn't be more true. Robert has never really been an emotional person, and seeing so much emotion from him that day really showed me how much the whole day, experience and success of having been able to get through it – despite all the challenges – meant to him too."
Cake cutting and sparklers were followed by the couple's first dance, and they chose a classic – Everywhere by Fleetwood Mac. This was followed by more excellent music by Effectevent, who also supplied the lighting, too.
"Our wedding occurred in the very small window of probably three weeks when the government had allowed weddings up to 30 people to take place where the venue followed safety measures required for the Covid-19 pandemic."
"I think it was just a few days after our wedding that the government then clamped down again on weddings and we could not stop pinching ourselves at how lucky we were to be able to go ahead."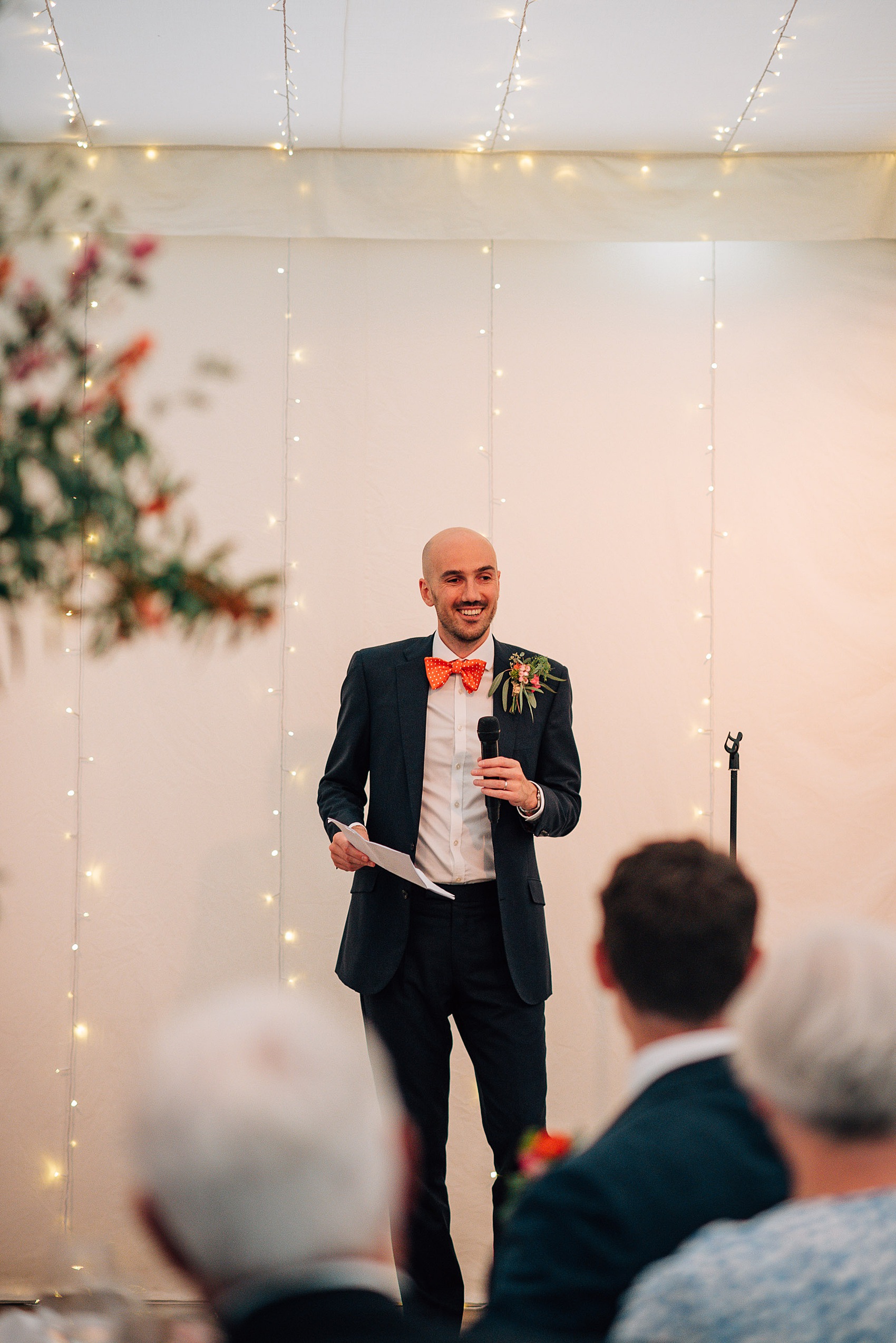 "We were trying to recreate as much as possible the feeling and ability to be outside and have beautiful outdoor green spaces to enjoy."
"All our guests had made such a big and loving effort to plan their time off, their holidays and their childcare to be able to come to Ibiza with us, that we could not put them through it all again, especially in such uncertain times."
Words of Wedded Wisdom
"It's easy to be romanced into spending lots of money even if you don't want to, but get a few quotes from different suppliers to get a sense check of what you are spending."
"I always like to speak to and meet the people who are providing a service because I really believe in instinct and impression, and if the conversations go well, they understand your ideas and you can start to build a rapport, you can have comfort and trust that it will all be okay."
"This is something one of my best friends told me on the day: the day goes by so quickly that you have to make an effort to take a moment throughout the day to really absorb everything happening around you and appreciate that everyone is present to celebrate your love."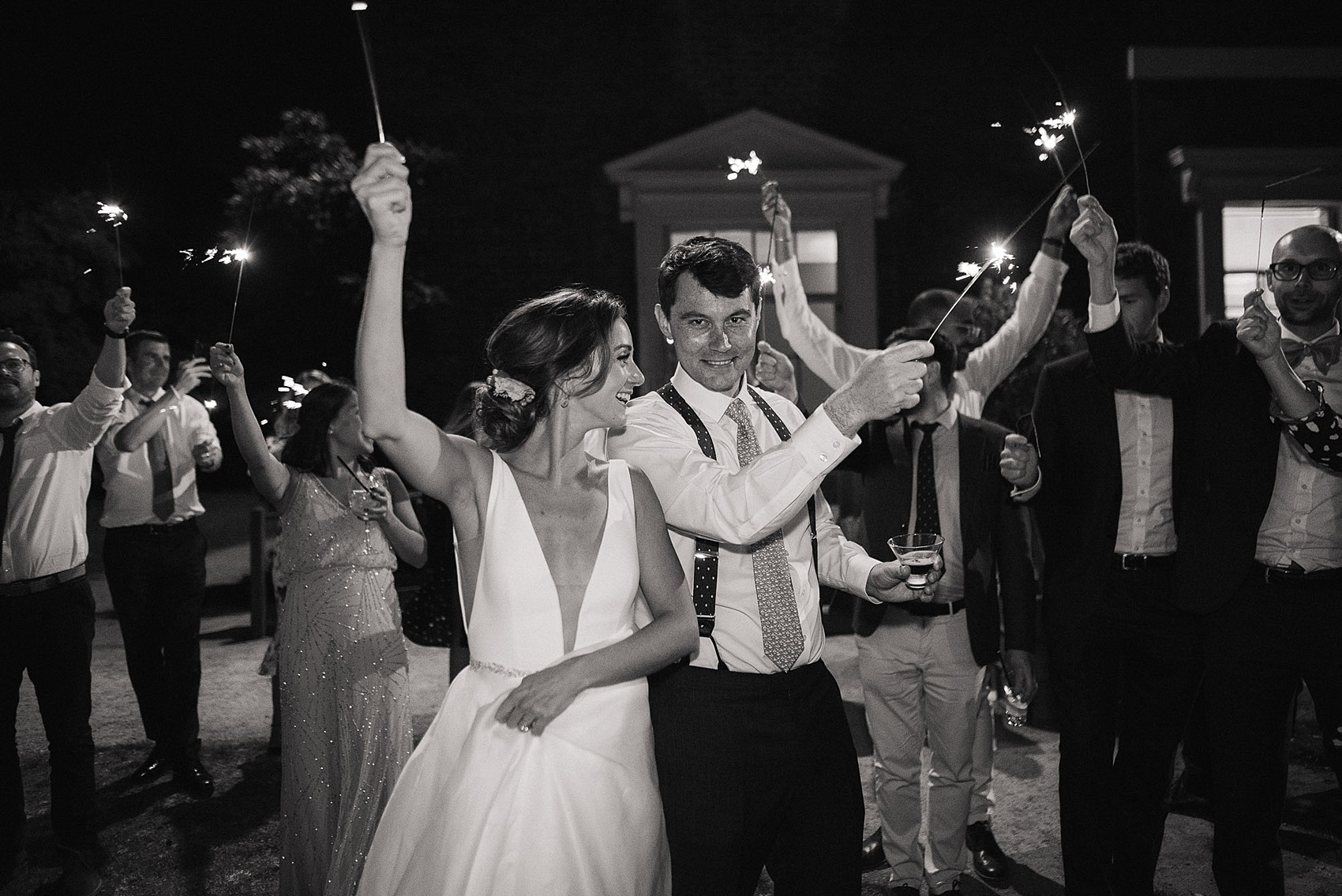 Roberta and Robert, congratulations and thank you so very much for all of your thoughtful words throughout, and for sharing your day with us. Many thanks to Amy Sanders for these truly spectacular images, too.
With love,
Laura