Supporting artists in the wedding industry and providing a platform for their editorial work is something I feel deeply passionate about, but never more so than now.
Artists, designer and suppliers of all kinds working in the wedding industry have had an incredibly challenging past year because of the pandemic. The level of uncertainty has been crushing at times, but true artists will always seek to find a way through such challenges, by getting creative. I admire them so very much for doing so, for their resilience and remaining so creatively driven despite everything.
These gorgeous images provide a tonne of inspiration for those looking for wedding dresses for the curvy bride, featuring designs by & For Love, Alexandra Grecco and Chosen by Khya.
I'm a huge lover of aspirational editorial  – it helps us dream, escape and imagine new things.  I also adore good, relatable, inspirational editorial, like the kind you see here today. This is important too, for it helps us visualise how our (your!) own wedding day could look and feel.
It's a pleasure to share the editorial work of Emmy Shoots, host of the Miles Workshops for professional photographers. These editorial images, captured at the glorious North Yorkshire wedding venue, Middleton Lodge, speak for themselves, though Emmy's words follow.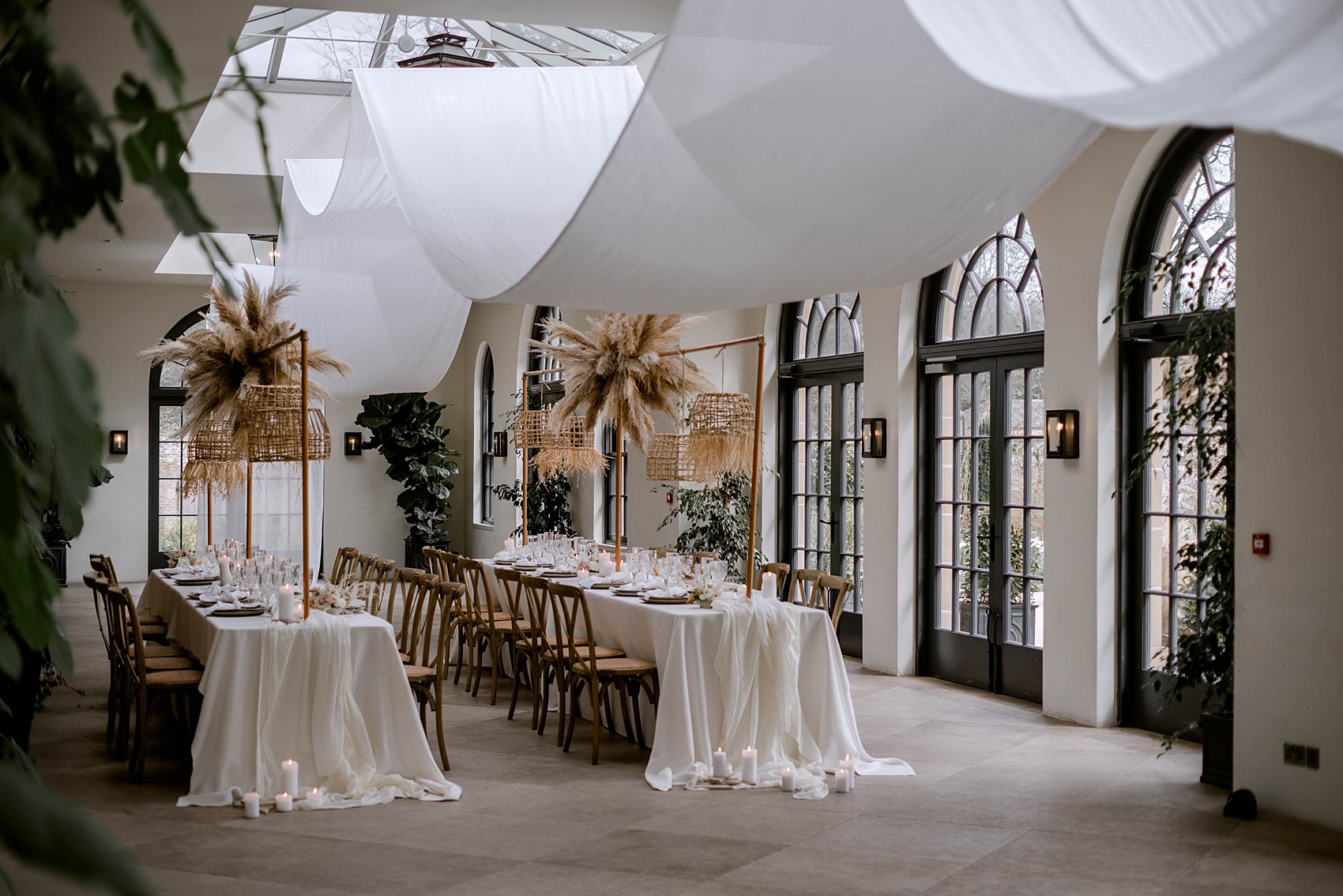 I am also thrilled to be supporting multiple members of our wedding directory in sharing this shoot with you. They include the venue itself, stylist Valentina of The Stars Inside, and the incredibly talented floral designers, Wedding & Events Floral Design.
"This photography workshop was the first we held in 2021 and so we knew it had to be big and beautiful, yet super stylish and elegant."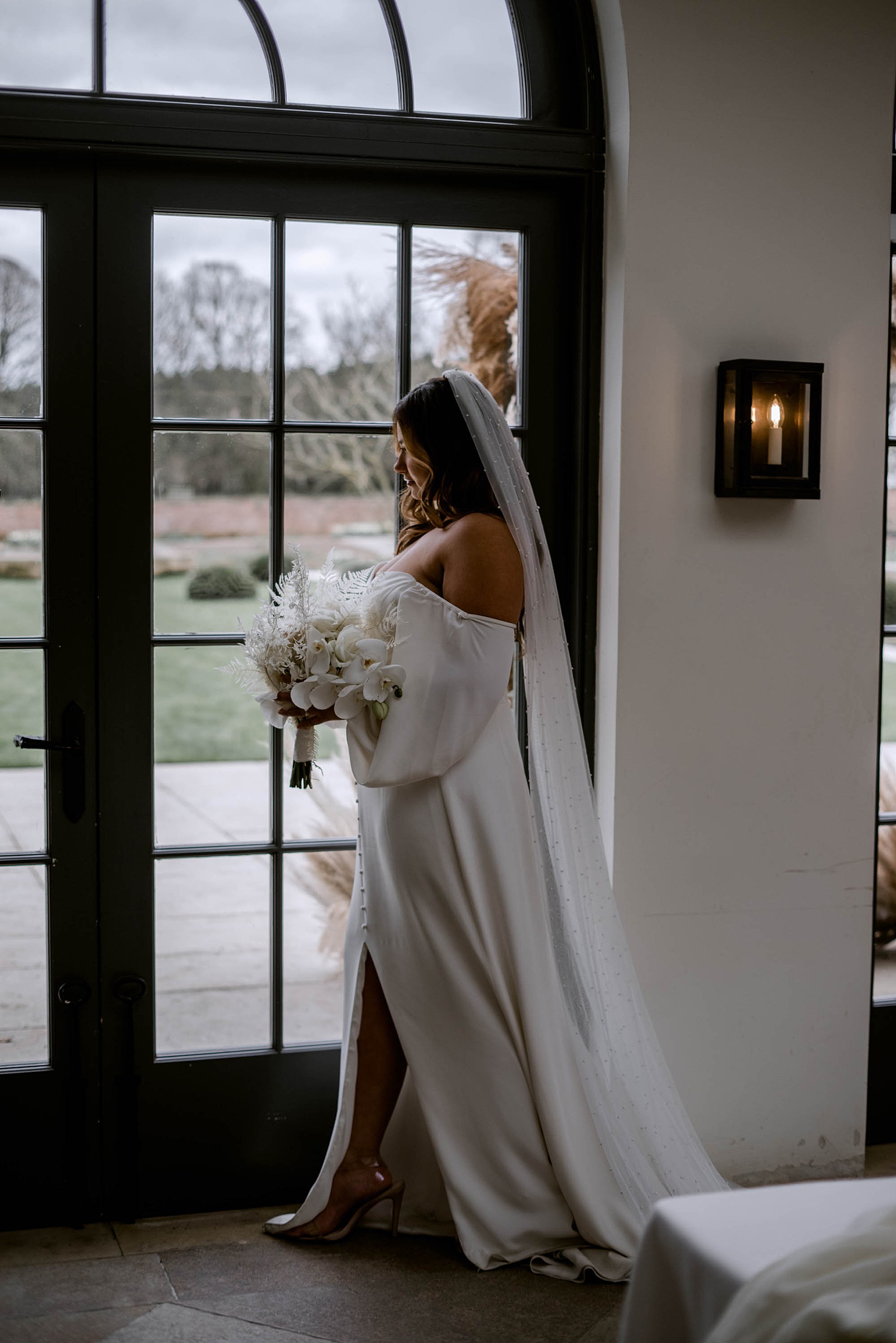 "Each workshop we create, we like to give our photographer attendees something fresh, new and exciting to shoot as well as challenging them with new techniques and ideas."
"We unfortunately had to postpone our workshops for 5 months during the winter lockdown so we knew the first one this year had to set the standard for the rest of the season and give the photographers the start they needed ahead of the wedding season."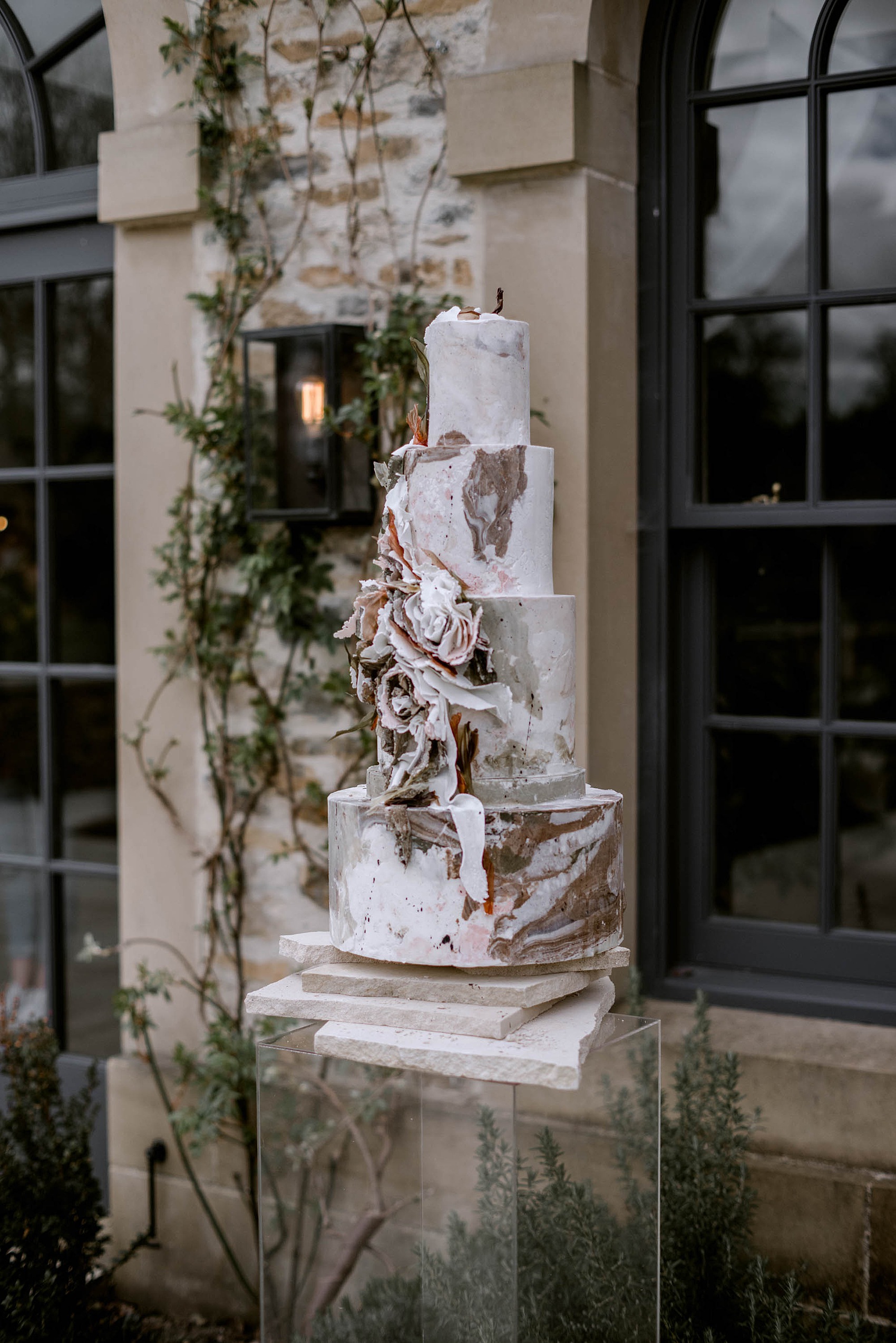 "With so many destination weddings being cancelled and postponed the past year, we thought a mediterranean inspired shoot would be the perfect setting. We've longed to jump on a plane and fly to an Italian villa or a sandy beach in Spain so we mixed it up and chose Middleton Lodge 'Fig House' with all the Italian vibes and lush green lawns."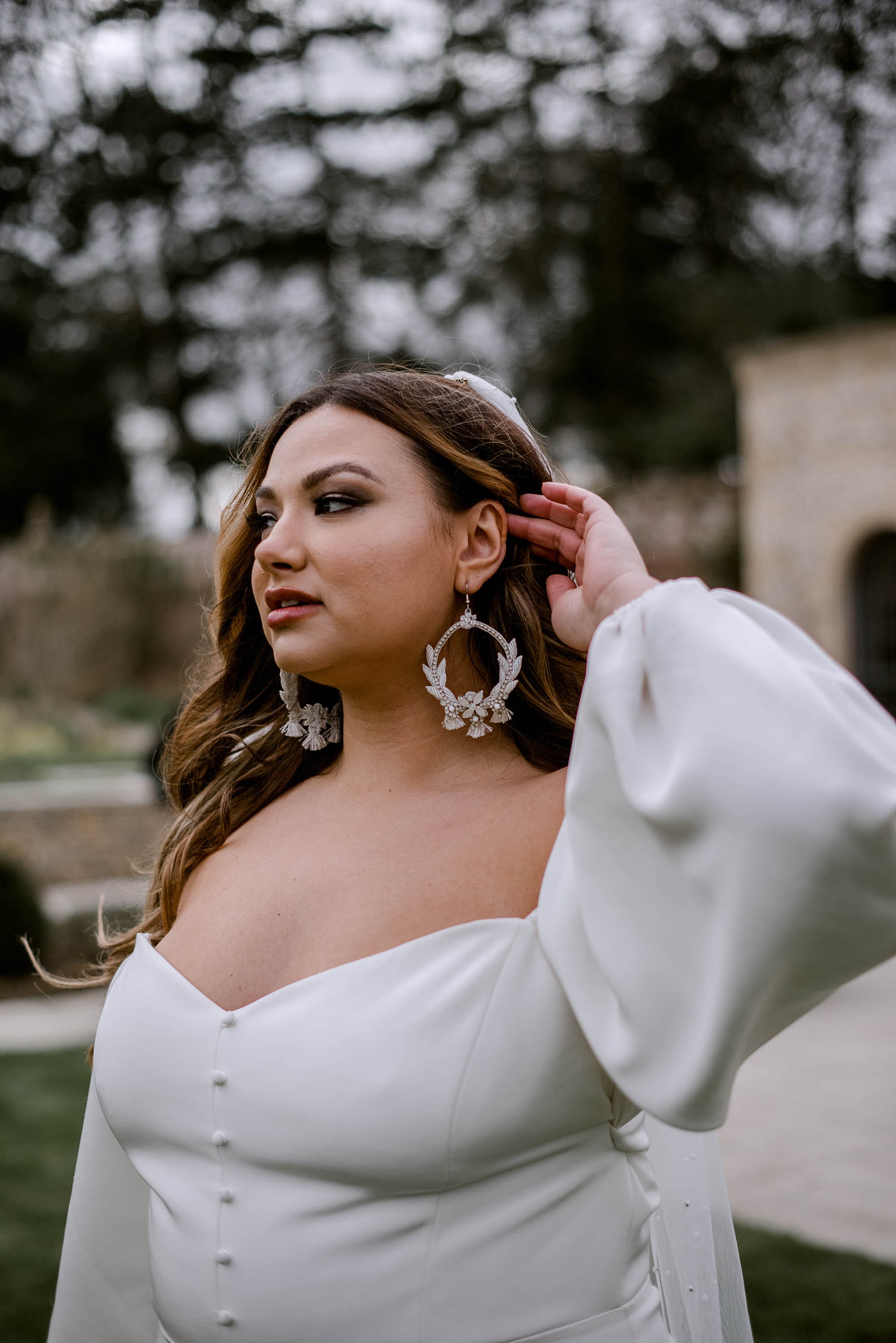 "Delicate fabric draping created a perfection addition to the italian fine art vibes however we incorporated a strong bohemian look with huge pampas installations and weaved lanterns."
"The team at Wedding & Events Floral Design really blew us away with their determination and attention to detail. They really made my vision a reality."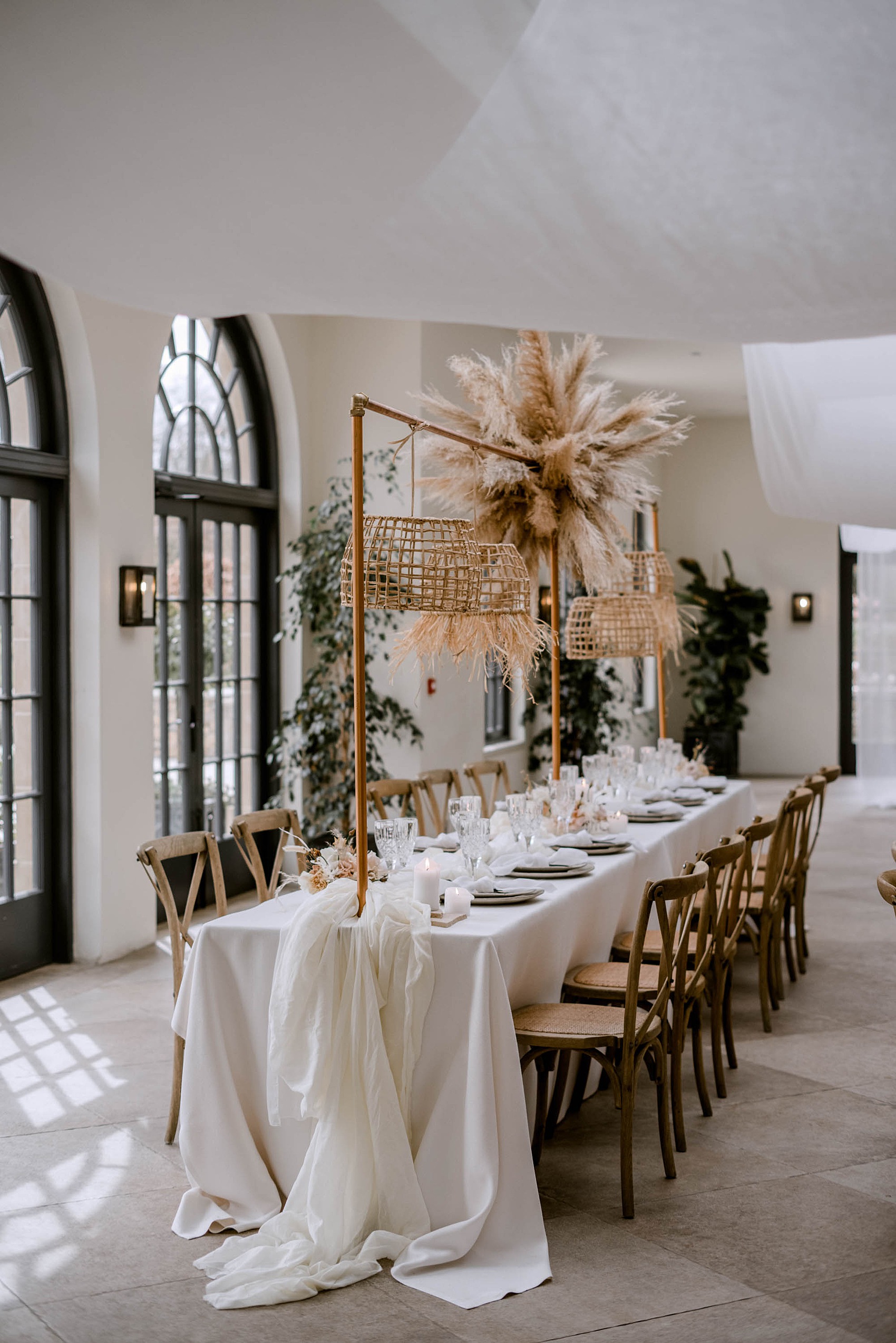 Wedding Dresses for Curvy Brides
"Keeping the whole look tonal, we added elegant crystal glasses to catch the sun just right and to add a touch of sophistication as well as textural linen and marble centerpieces. That was fun smashing up!"
"We wanted to brighten up our photographer's content with fun couples who are enjoying themselves as well as showcasing gorgeous fashion forward bridal fashion brands such as And For Love wedding dresses, Alexandra Grecco and A.B.Ellie – all kindly loaned by Ghost Orchid Bride."
"It was quite important to be sensitive to current matters such as using people of colour, using models of all shapes and sizes (we had a 5ft 4 models and a mixed race plus bride model) as well as being sustainable in our use of products. We are so proud to say no floral oasis was used at all on our shoot."
"The overall style of the workshop was fun, sexy yet sophisticated. We encouraged the models to have fun, be giddy and dance."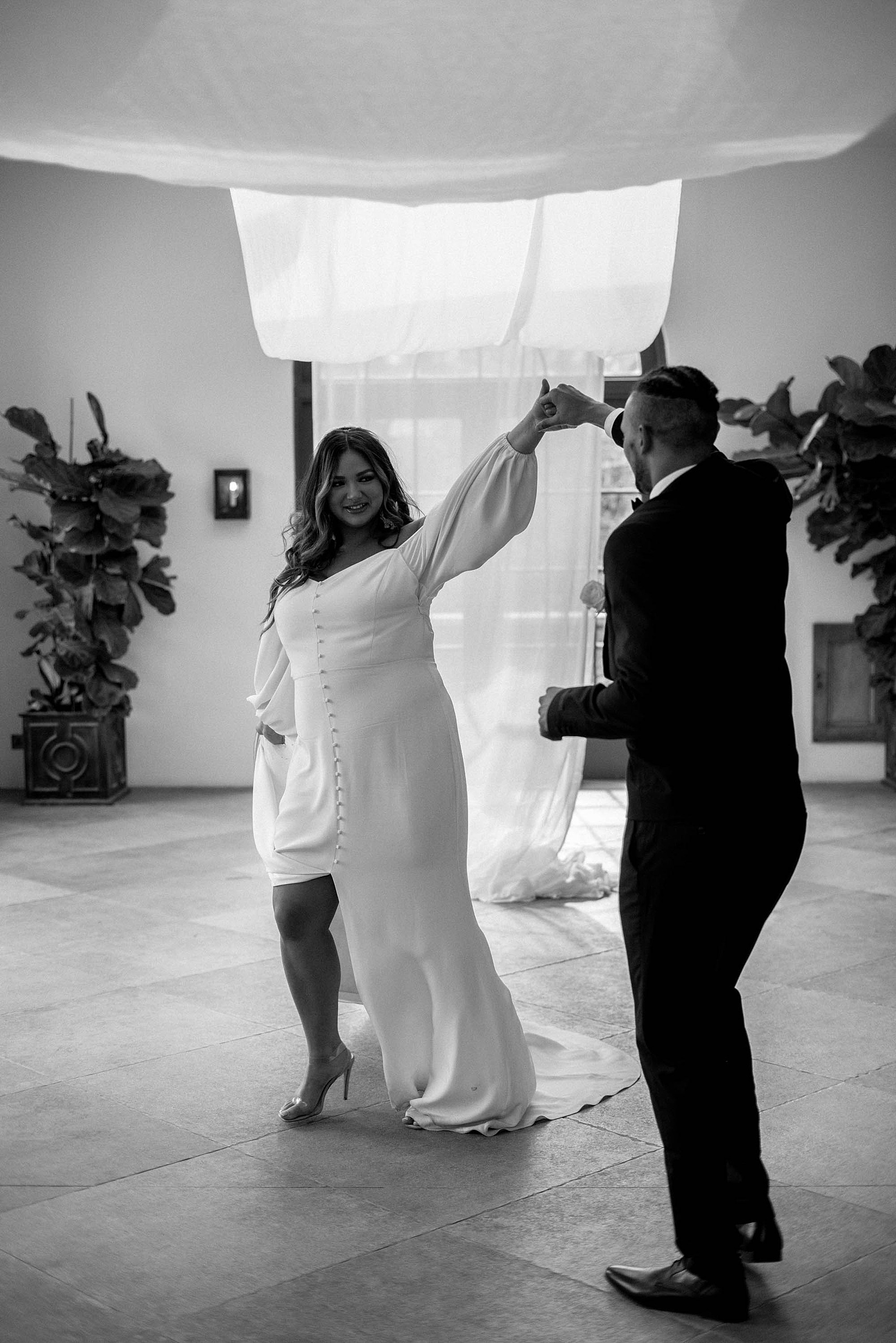 "This 'wedding' was all about a huge elegant, stylish party with friends. We managed to capture real emotion and we're so lucky to have had the team we worked with on the day."
"Every workshop is just magical due to the team that make it happen but also the photographers that trust us to make it work. And did it work? I think so…"
Readers, you can find out more about Emmy Shoots and her wedding photography services by visiting her website.
And if you are planning a wedding in North Yorkshire, we highly recommend you find out more about our highly recommended venue, Middleton Lodge, who we are immensely proud are a member of our directory.