Lovelies, how are you today? Now, not only is today's wedding bright, light and elegant, it was planned in just three weeks. I hope that today's utterly graceful wedding shows you just how
Please meet IT account executive Farah and security officer Mohamed, who wed on 19 September 2020 at Core Clapton in London. The couple had a whirlwind love story, meeting back in January 2020, getting engaged in July and marrying in September.
Farah and Mohamed craved a small and intimate wedding, and planned their modern boho, intimate wedding in just three weeks.
"We had both been married before and both had large weddings. Covid was a perfect excuse to support our wish to have a small intimate wedding. We mainly had guests from abroad and wanted to surprise them with something completely different."
"2020 was our year. We met in January, got engaged in July and tied the knot in September. We met online through cultural recommendation and we instantly matched."
The couple worked with our recommended supplier, Akilah Atiba-Davies, of Events with Akilah and chose the light and airy Core Clapton, which was a perfect blank canvas for them to add some elegant and boho touches.
Lauren Henson Photos

+ Follow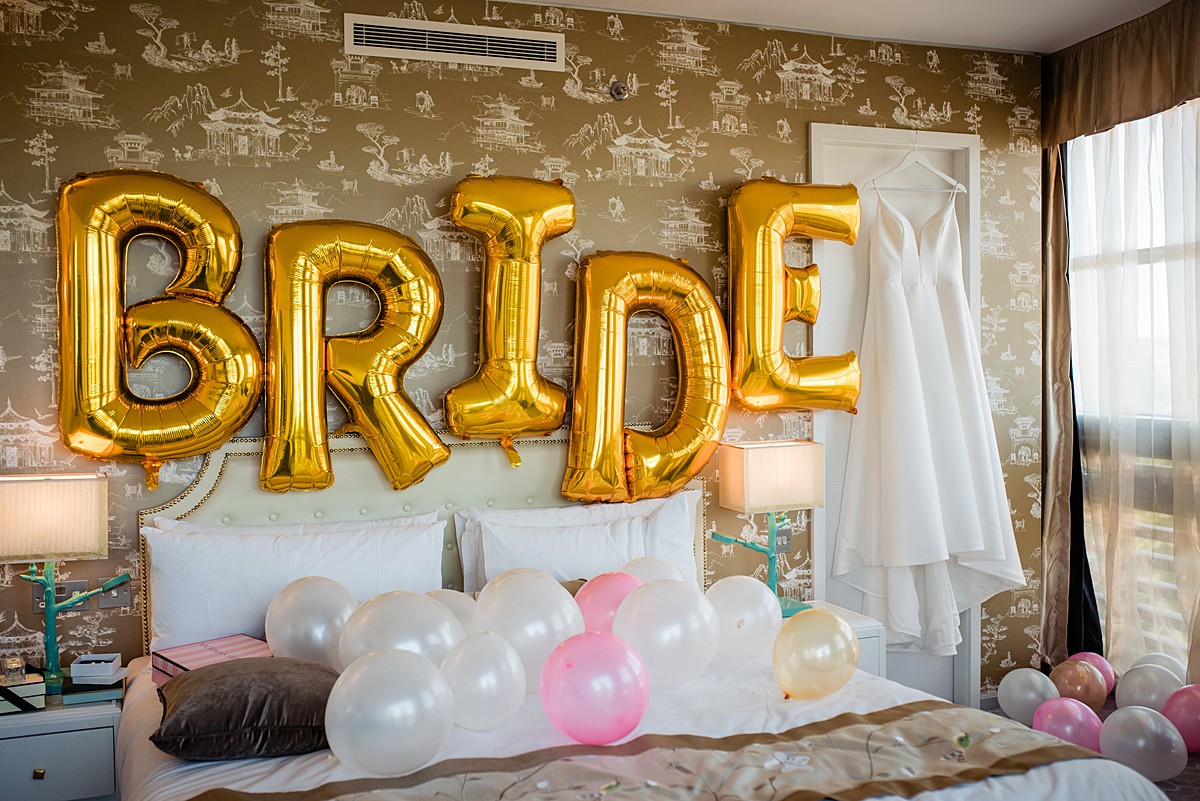 The bride's dark hair was pulled back from her face in a sleek, elegant style and she looks absolutely radiant.
"My hair stylist was Hodan Yassin. She perfectly worked with my texture of hair, had the best advice and I felt very comfortable with the hair style all day!"
"My make-up artist was MUA was Zoe James  MUA who made me look like a princess! At first we had a lot of chats and trials and on the day, I felt very relaxed and confident she would make a killer bridal make-up look."
The bride found her Alan Hannah gown at London Bride Couture. I love that is has pockets, and Farah has an unexpected but totally 2020 use for them.
"Ingrida knows her dresses and helped me and advised me through each fitting. She understood the stress of having to do all of this by myself and in a very short period and was really compassionate."
"I found my dream dress in her shop in a smaller size than needed but Ingrida has a team of seamstresses with golden fingers. In just a week they did my dress and it fitted like a glove."
"I wanted a very simple but chic dress. The dress I found was white, a bit shiny with stiff material and was just a perfect fit. The best? It had pockets!"
"For a 2020 wedding with most friends and family on Facetime, it was great being able to keep my phone hidden there."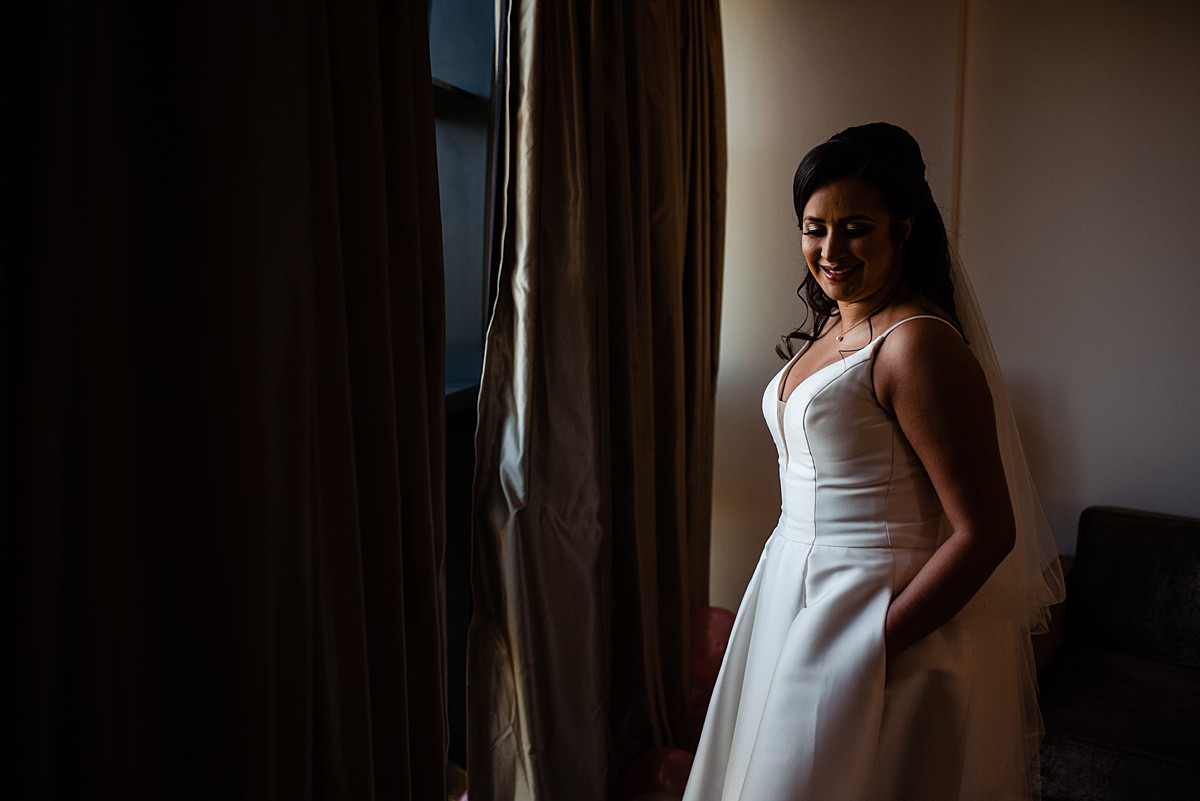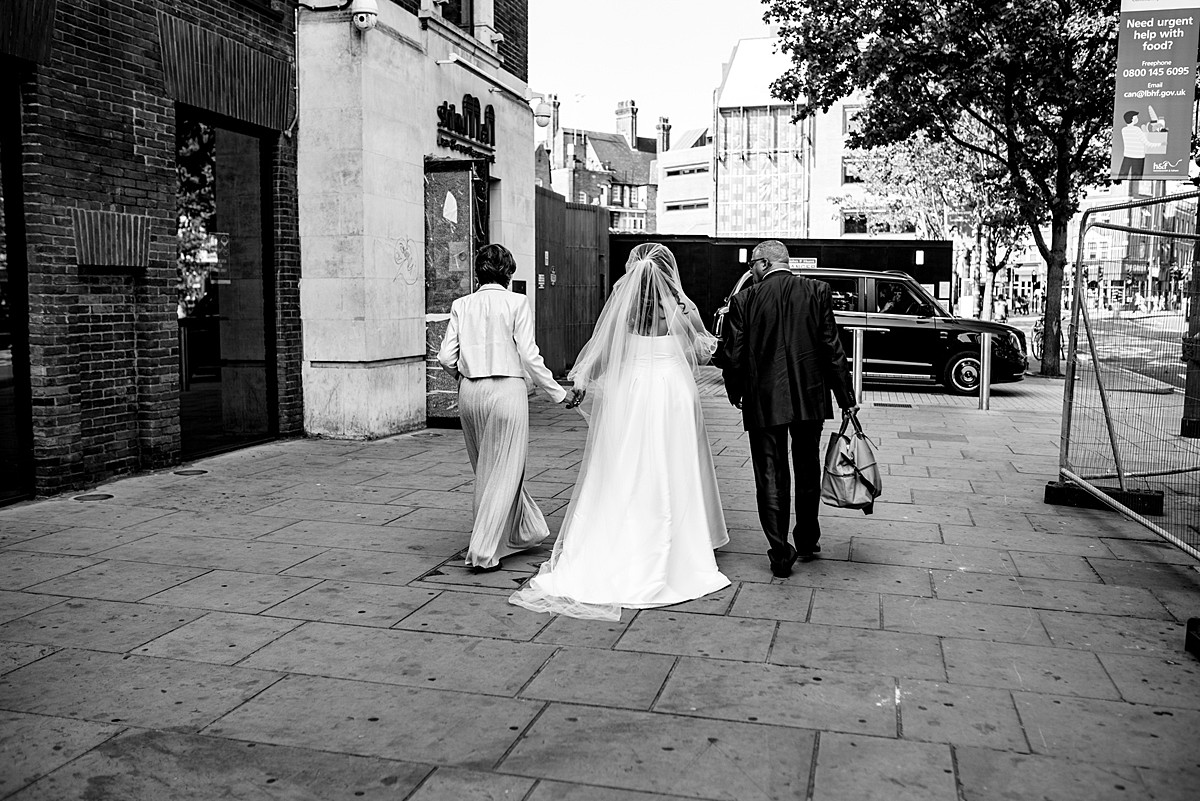 She wore simple pearl jewellery, which matched the pearls scattered over her long, sheer veil.
Farah selected simple and comfortable white high heel sandals from Carvela and wore Jo Malone Peony & Blush Suede 
"It's my and my hubby's favourite scent so it made sense to wear this one."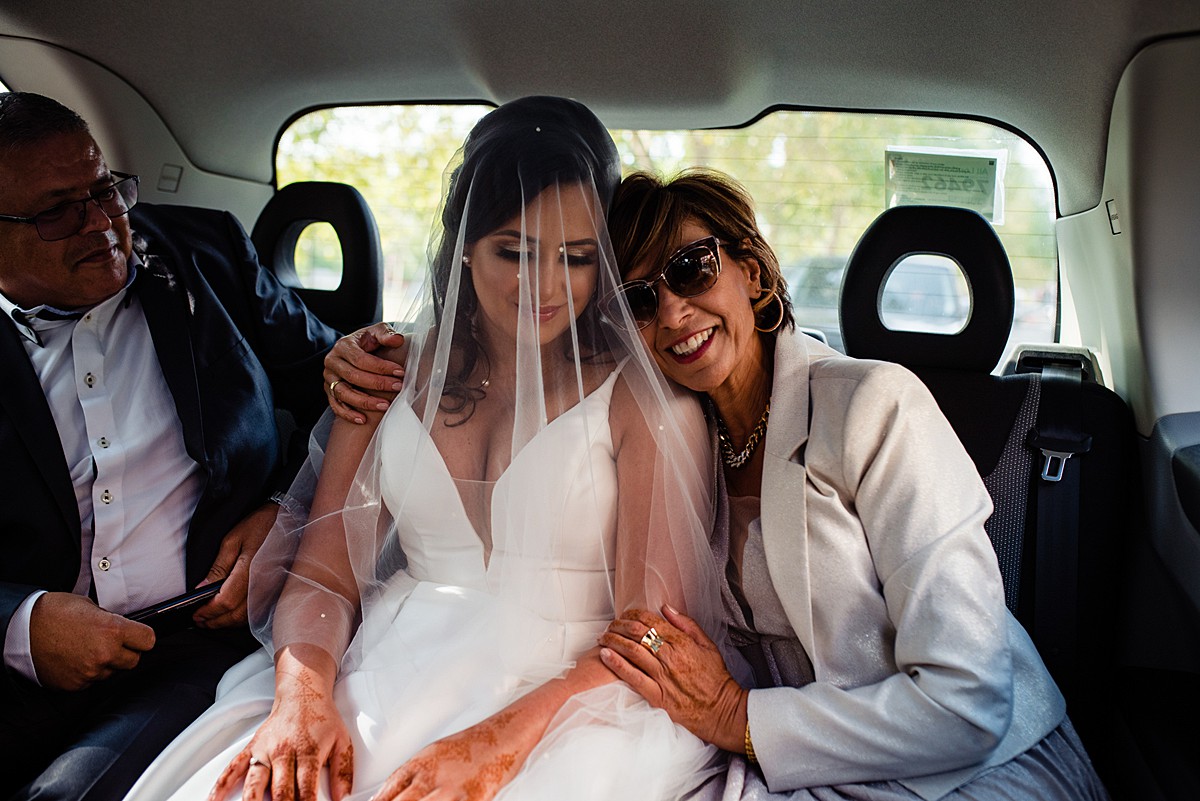 I love Mohamed's slick style; an Armani suit and blush pink tie from ASOS.
"My hubby bought his suit at Armani and had all his fitting done at Ingrida's boutique too. He wore Ralph Lauren all-white trainers which added a modern touch."
The bride travelled to the ceremony venue with her parents in a black cab, before greeting Mohamed in a gorgeous 'first look'. I love how photographer Lauren has captured the look of joy on his face. Inside, they wed, framed by the gorgeous gold frame and flowers.
"Vows are not really part of our culture, but I still wanted to include a toast. After my husband thanked our guests, I had a surprise for him that was magic thanks to the help of our planner. I had framed a picture of my husband's late mother and hid it behind a curtain."
"While I was expressing my love to him I wanted him to feel that she was somehow with us, and I can tell you that everybody cried. He, friends and family, and even our suppliers. That was the most emotional moment of our day."
"My rings were from Durrants of London near Hatton Garden. We loved our experience with Caroline there. They are real craftsman and rings are made to order."
"Mohamed's ring was a simple platinum ring from Vashi, made to order too."
The couple chose photographer Lauren Henson, whose elegant, fine-art inspired style is so well-suited to the light-filled space and exquisite decor.
"Lauren was the best! Our wedding planner, Events with Akilah, advised Lauren for our type of wedding and after a few phone calls I was sold."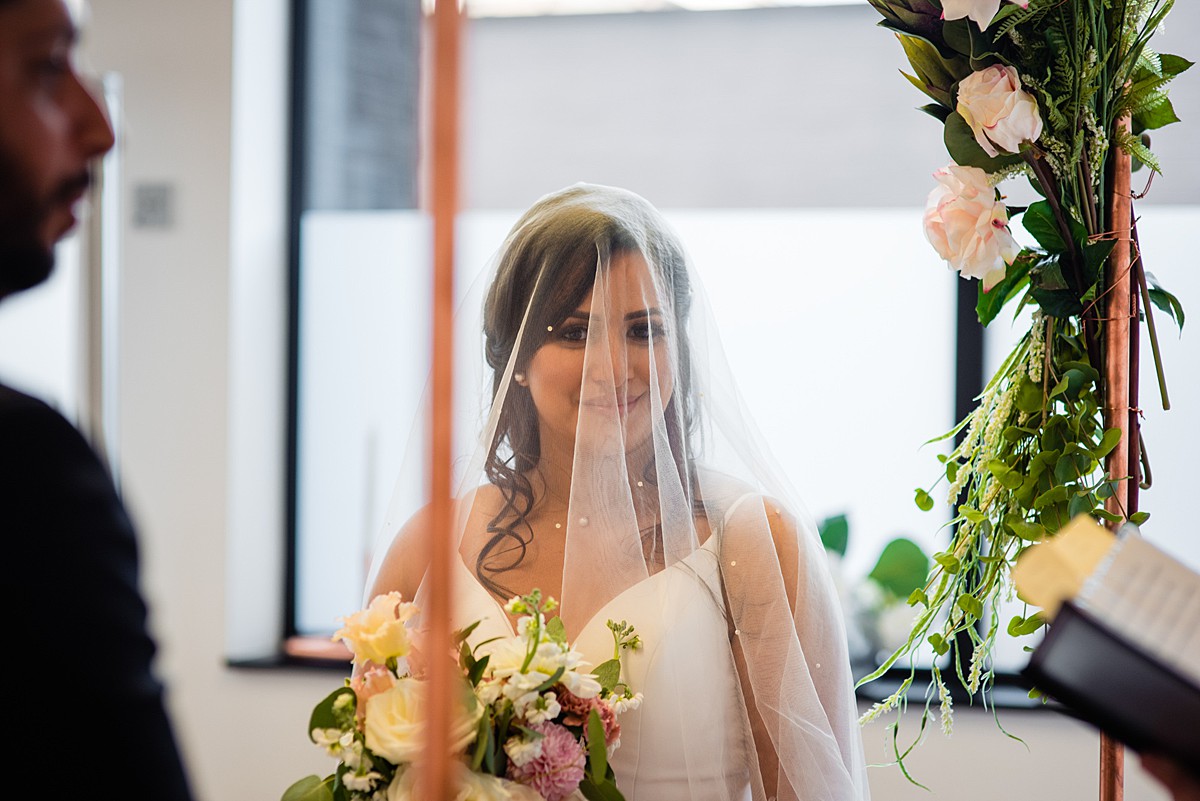 "I wanted someone to understand us, our culture and the vibe of the wedding day and Lauren was the perfect match. She just sent us the best wedding pictures I have ever seen, and it's ours!"
The couple also had a wedding video filmed by David from The Light Painters.
After the ceremony, the newly-weds and their small party of guests piled into a vintage London bus to travel to Core Clapton. The journey was one of Farah's favourite moments of the day.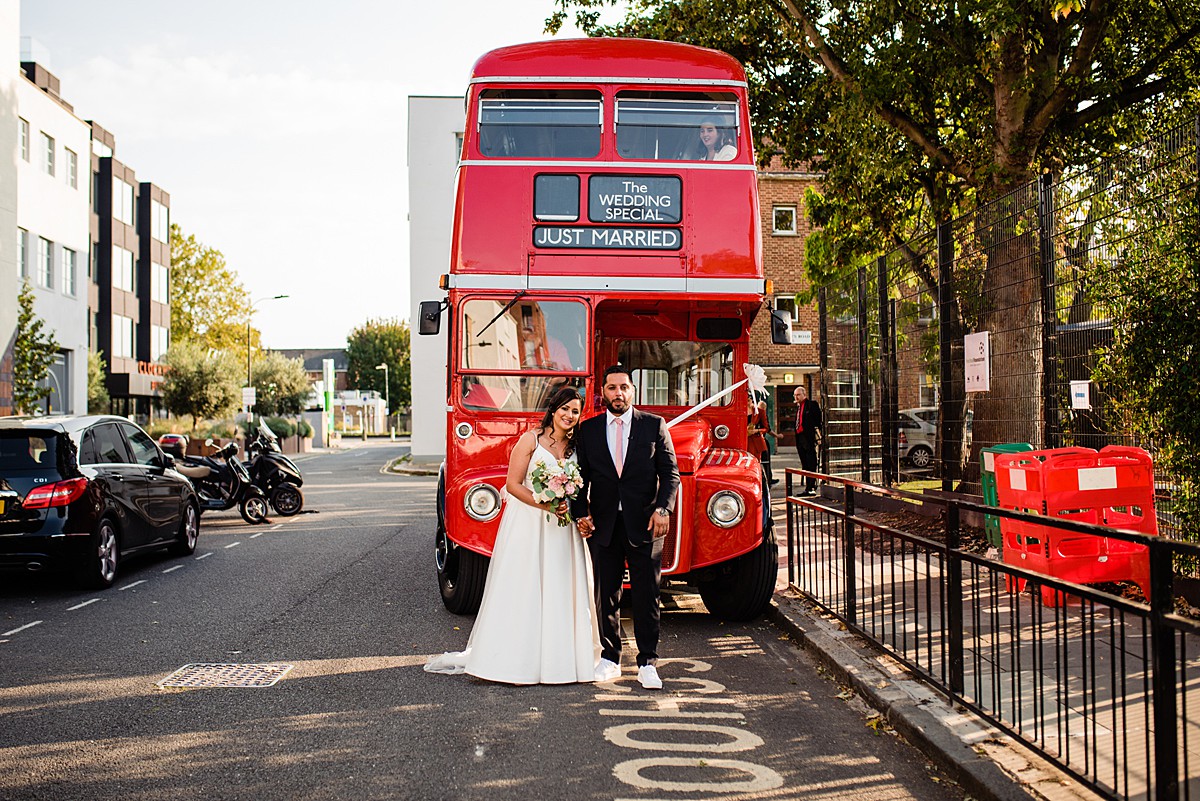 A few additions of gold frames, stylist flowers and a romantic, candle-lit dinner table transformed the blank space into a magical reception venue.
"The W Collection provided the most amazing furniture – our wedding planner sourced our tables, chairs and boho chairs from Pippa in such a short space of time."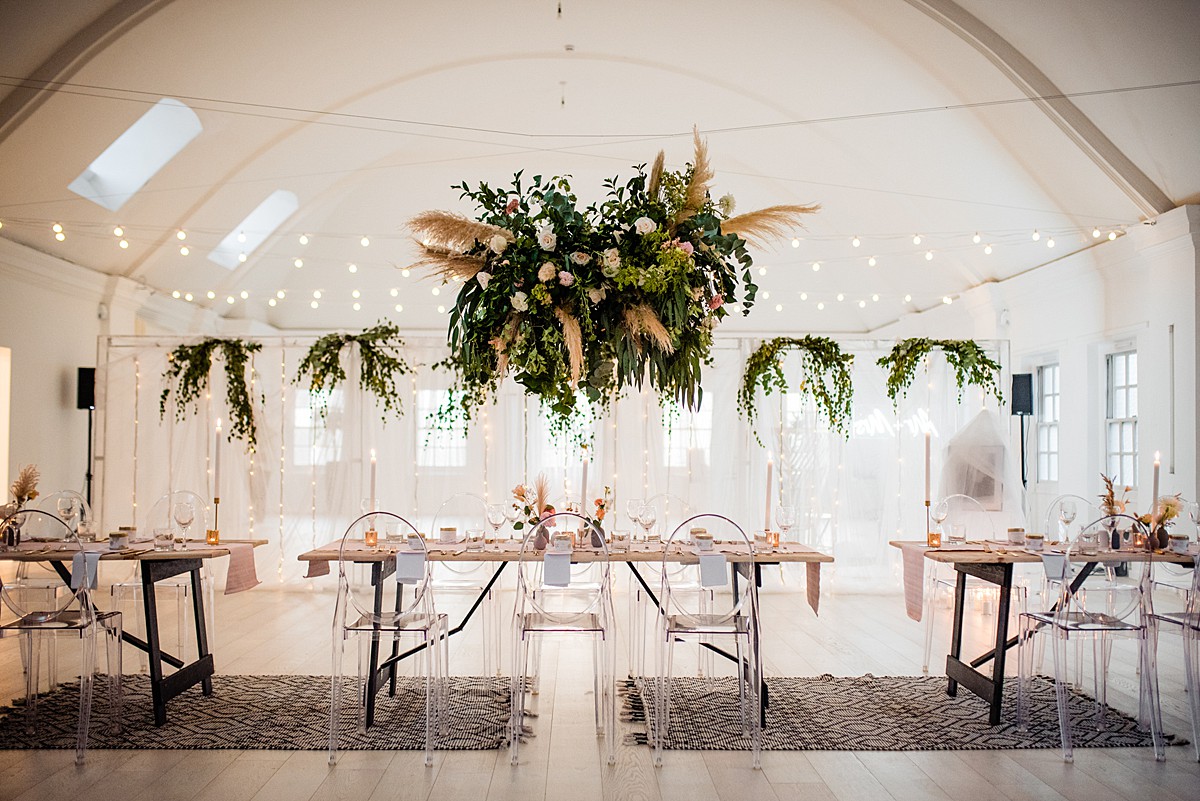 "The neon sign was from Loom & Light; it was perfect. Our backdrops were designed and produced by our wedding planner and we loved it all."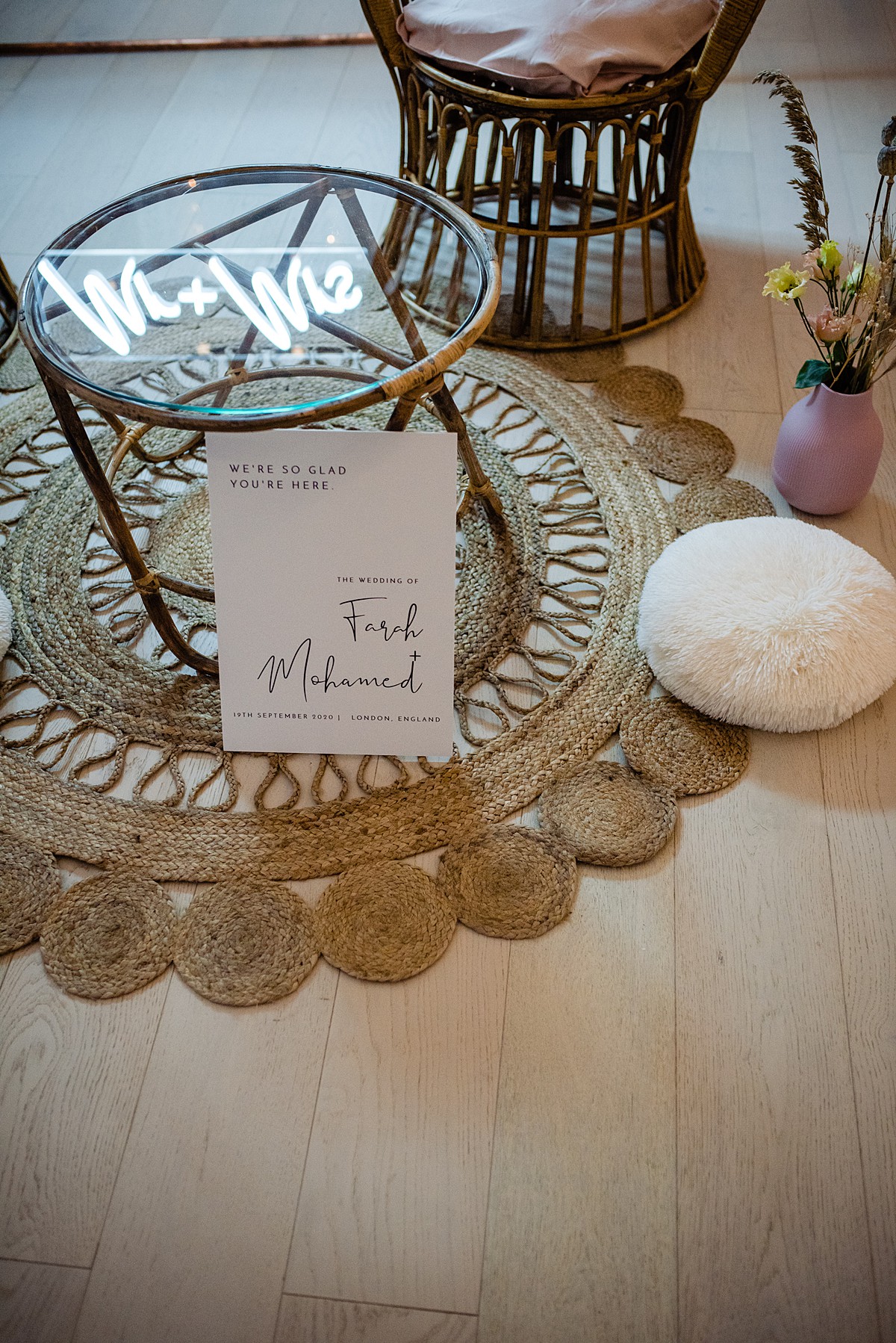 The exquisite flowers were created by Gemma at Iris & Co. I love the look and feel of that flower cloud.
"Gemma brought tears to my eyes when I saw the wonders she did in the venue! I wanted a modern vibe with eucalyptus, some dried flowers and some fresh blowers in blush tones, which she did perfectly and also hung a massive flower cloud above us in the venue which was magical."
"Our wedding planner recommended Gemma highly and glad we went with her."
The party were greeted with welcome drinks and live music from a violinist before sitting down at the two dinner tables which is are romantic with their flickering taper candles and that incredible flower cloud.
"Our wedding planner designed our menu and welcome sign. Our place cards were by a calligrapher named KWT Calligraphy. For favours we had candles made in London, sourced from John Lewis."
The wedding breakfast was provided by Chef In My Kitchen whilst for dessert there was a modern table of sweet treats, and a beautiful wedding cake from Sihem at Oh My Cake.
"I found Sihem almost before Mohamed had proposed. I knew I wanted a French wedding cake with light cream in it and she did wonders. We had a two-tier raspberry and cream semi-naked cake decorated with some flowers."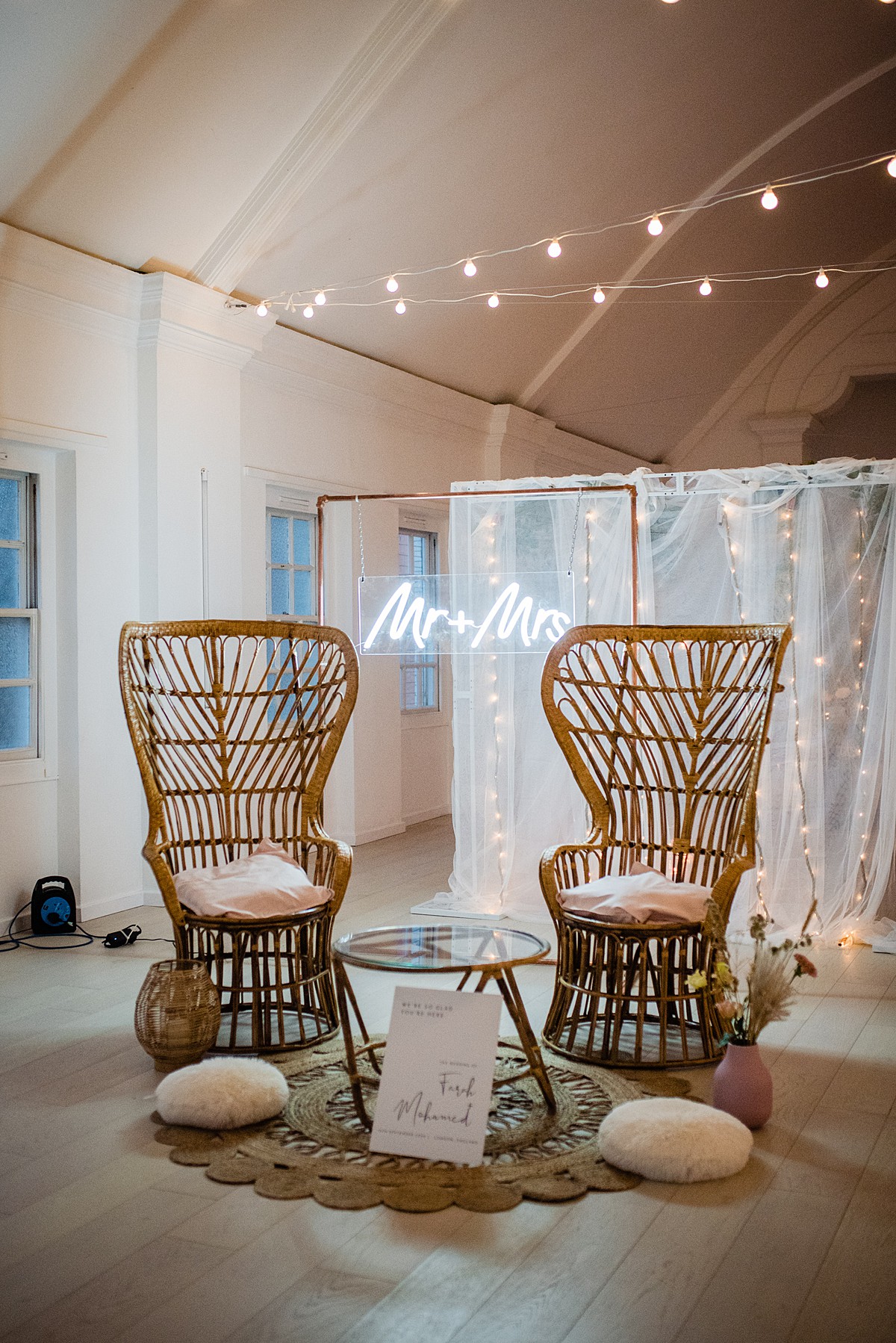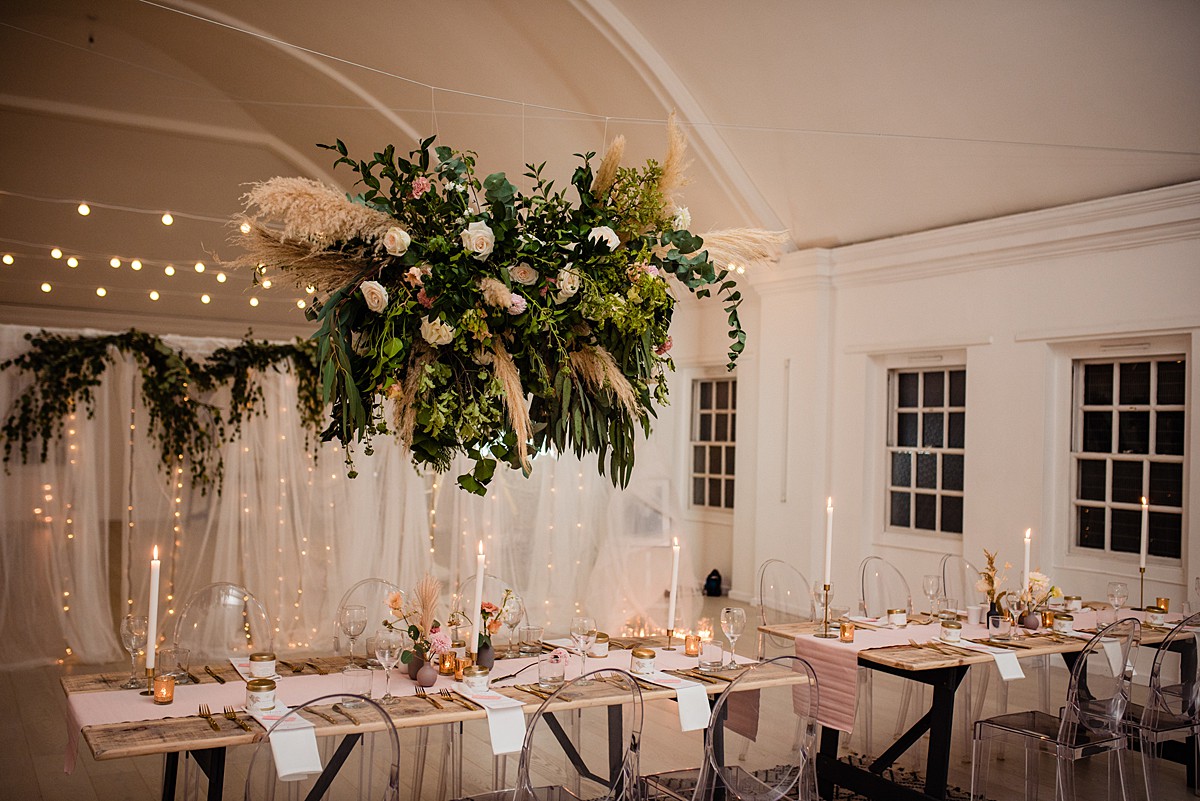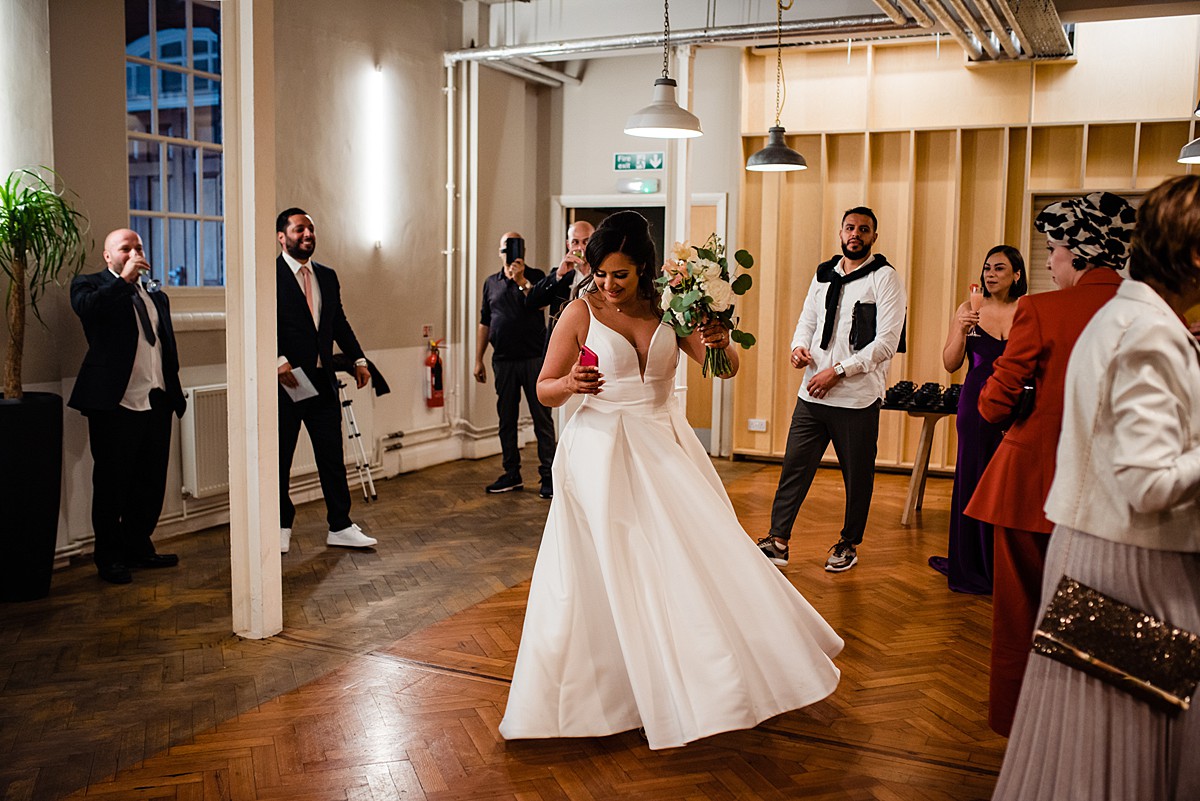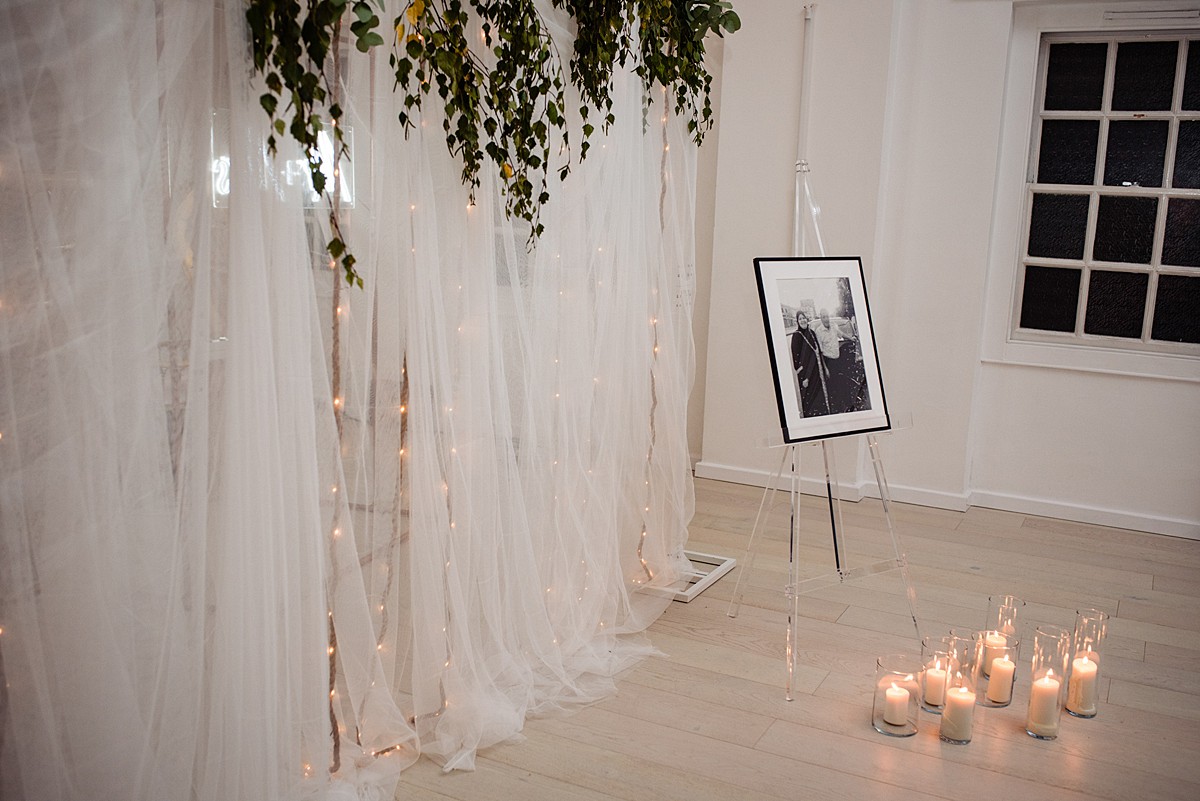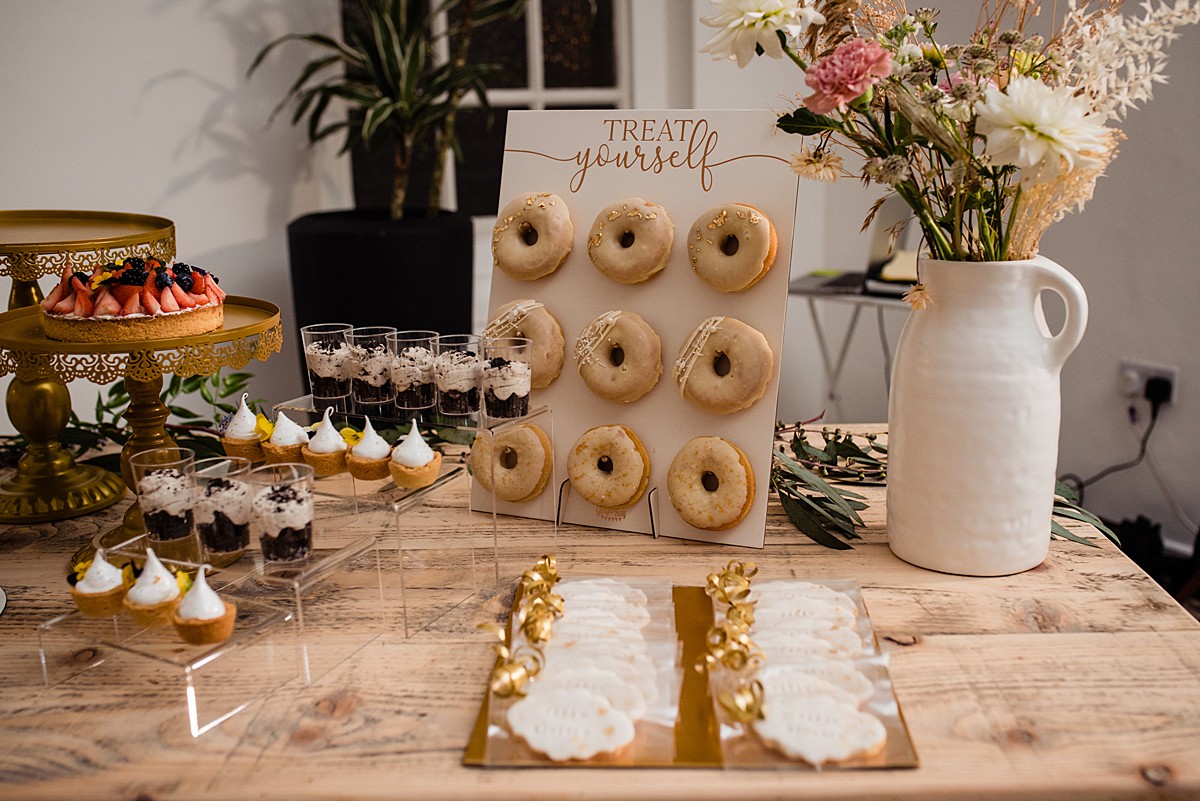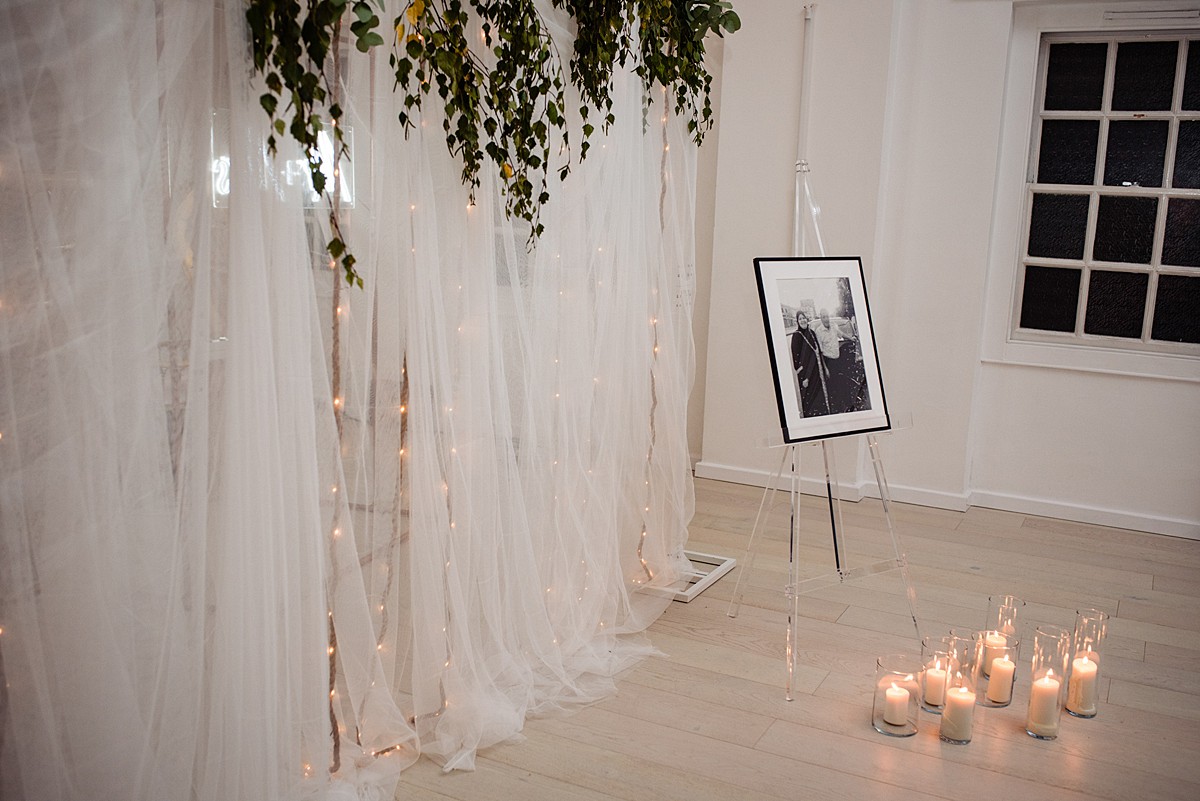 Despite the small numbers, the guest still enjoyed a superb party, with a fun first dance to 'Hey Ya!' by OutKast.
"We wanted a non-Arabic, great song to dance to and a great vibe for everyone to join us."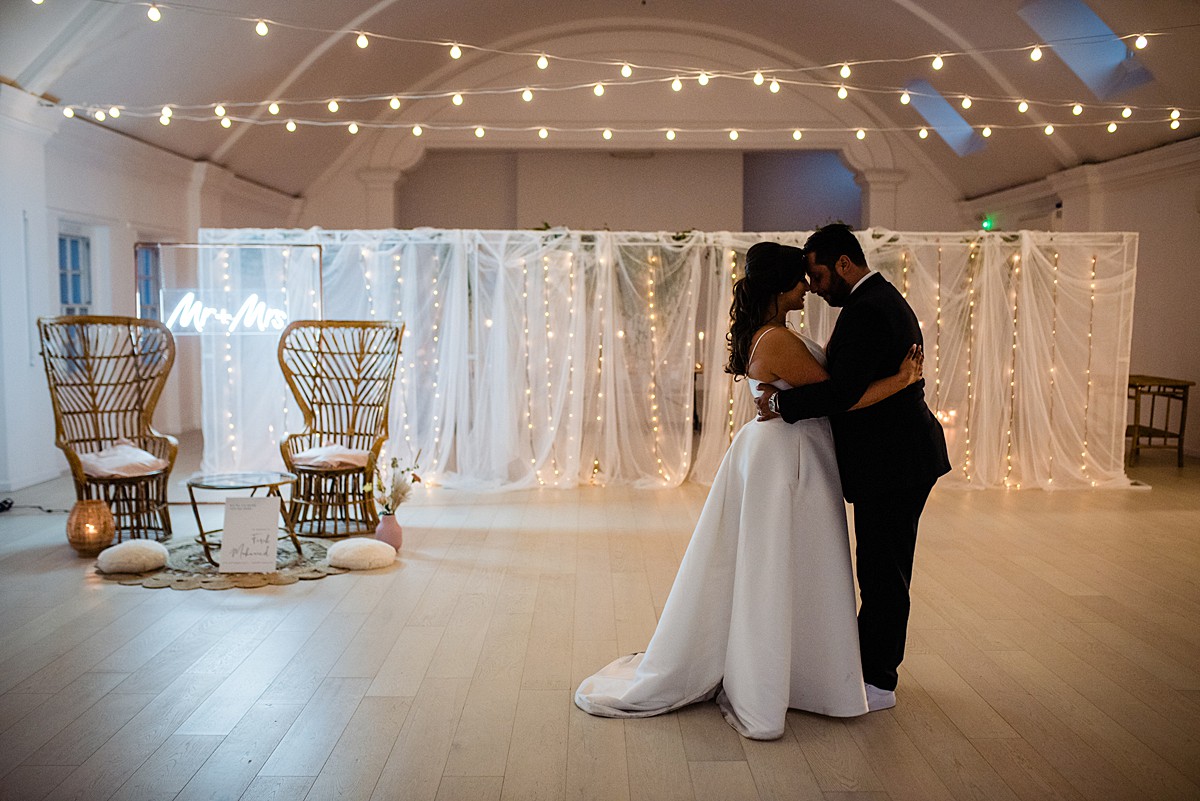 Words of Wedded Wisdom
"My words of wisdom to other couples especially in these times: I love that in English you have two words; marriage and wedding. Do not forget that a wedding is just one night and a marriage is a lifetime."
"Don't argue over little details, compromise, delegate, accept the help. Enjoy every second, do not stress on the day, be present and be happy."
"I had in mind a 10k budget for around twenty guests. We managed to stick to it until the last week where I just stopped counting. It probably ended up at around 13k maximum."
"Starting by hiring a planner saved me so much time, headaches, stress, and money! I would not change one single thing."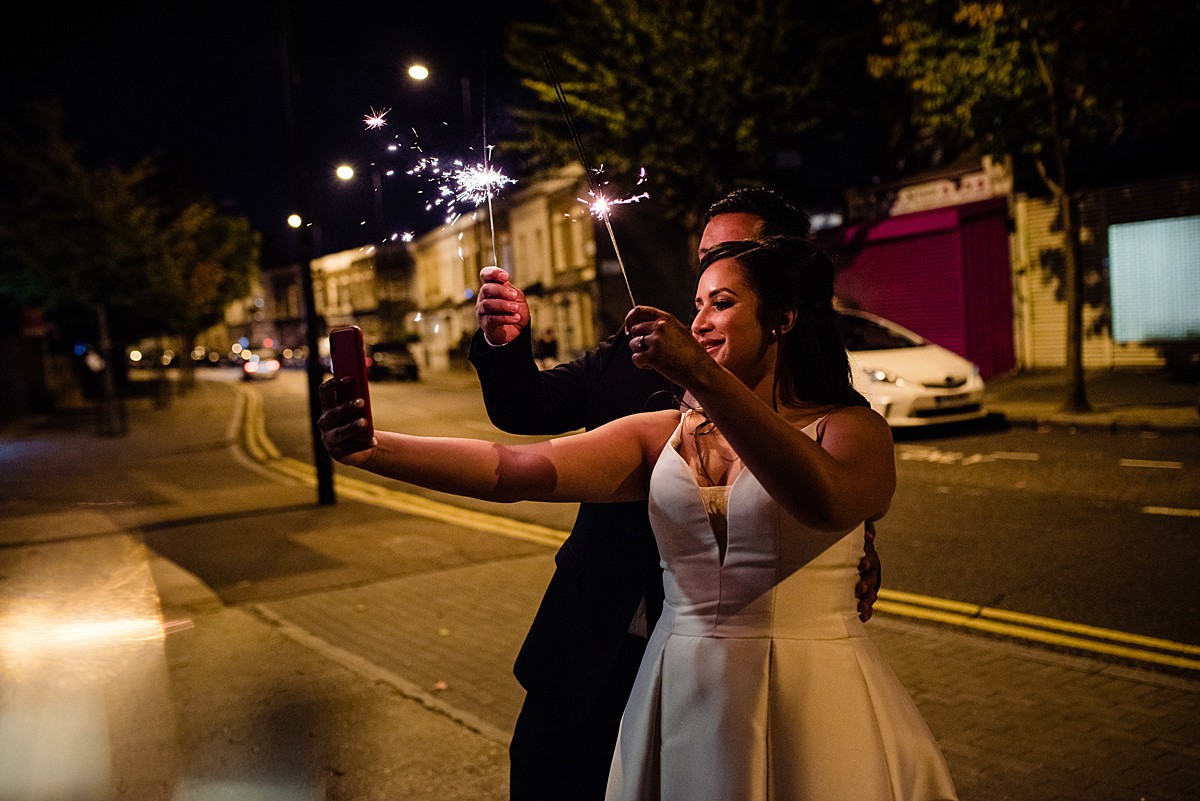 Farah and Mohamed, I'm so glad you managed to wed in between lockdowns, and your love story is just so inspiring. Thank you so much for sharing it with us today; it's been a real honour to see how you put together your elegant and romantic day at such short notice.
Lovelies, if you're thinking about micro-weddings, why not look at this selection on Love My Dress?
Ele xx
x
Additional Credits
The below suppliers and venues are featured in this article, but are not part of the Love My Dress Wedding Directory.
Wedding Planner & Stylist