Hands up if you love vintage detail? I have to admit I love all styles of wedding – modern, minimalist, floral and non-traditional – but my eye is always drawn to era-inspired styling; it's always so evocative of years gone by.
I am totally indulging in the wedding I'm sharing with you today: a micro-wedding in Yorkshire for a couple who channelled their love for 1940 and 50s style into their intimate celebration.
Please meet chartered accountant Becky and media advisor Alex, whose 1940s and 50s inspired wedding on 5 October 2020 was held at St Andrew's Church in Aycliffe followed by a vintage-infused reception at Middleton Lodge, Richmond in Yorkshire.
The couple chose their church because the groom's parents and grandparents were wed there, and Middleton Lodge was the most wonderful historic setting for an era-inspired day.
The couple worked so hard in the run-up to the wedding to style it to perfection, and they have shared more details about how they put together the era-inspired look. I'm so happy to hear that Becky found Love My Dress a great source of ideas and advice, especially pertaining to the Covid pandemic.
"I followed Love My Dress right from the start of the planning process as it was a great inspiration but then it became a support system. The words of encouragement and the thing they did behind the scenes when the pandemic hit was amazing. The #whataboutweddings hashtag got me through the toughest times because I knew we weren't alone. Every time there was another announcement, Love My Dress was the first to comment and to help couples feel supported. I don't think I would have got through pandemic wedding planning without it."
Anna Beth Photos

+ Follow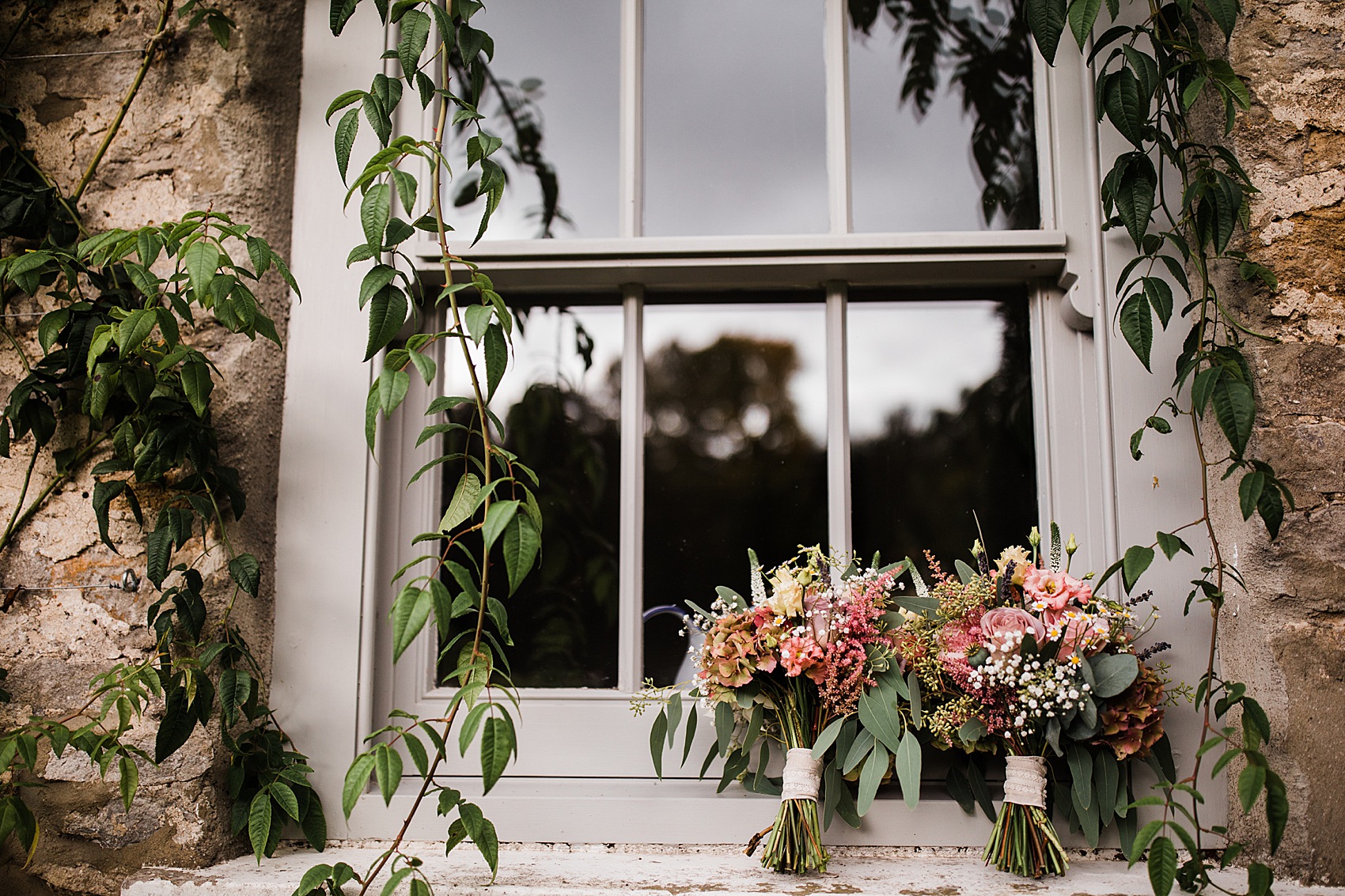 For something blue, a pair of blue suede sandals from Dune London did the job wonderfully.
The couple's dogs also played a starring role in the day.
"Our two dogs have always been such a huge part of our relationship so we had to have them there on the day for cuddles and pictures. We made them customer collars (a bow tie matching Alex's suit for Toby and a flower collar for Molly) and a good friend (Crazy Dog Lady Teesside) brought them in the afternoon."
Becca Hunton Bridal Hair & Make-Up Artist styled Becky's platinum locks into sweet romantic curls, and applied her fresh, natural make-up.
In her hair she clipped simple pearl headbands: a Zara band during the day full of small pearls and a 'party' headband for the night.
"This was made of much larger pearls and was £6 from ASOS."
The groom dressed in an oh-so dapper Cavani tweed suit, just perfect for the cooler October day along with a pair of brown leather Cavani shoes.
I am so delighted to hear that Becky's frankly-beautiful bridal separates were by Catherine Deane, a designer who I've long-admired for her exquisite, delicate pieces. Becky found her perfect combination at Marrime Bridalwear.
"I went dress shopping before the pandemic hit. I was terrified as I thought I was going to hate the way I looked in everything. Marrime were wonderful. From the moment my bridal party and I stepped through the door they made us feel very comfortable and I really enjoyed the experience."
The selection of dresses they have are amazing, although I had my heart set on a Catherine Deane dress. I went for the Catherine Deane trunk show and fell in love with the exact separates I had hoped for! Once Covid hit, they kept in contact with me to make sure that whatever happened, my dress would arrive and my fittings could be done in time."
"I loved the lace and vintage feel of the bridal separates Catherine Deane had to offer. They were also very understated, in that they didn't have loads of fabric and lots of 'poof'."
"I was so scared that I was going to hate being in a wedding dress and feel uncomfortable all day, but because I went for separates, I could mix and match what I wanted so it was like getting a bespoke dress but not having to pay the huge price tag."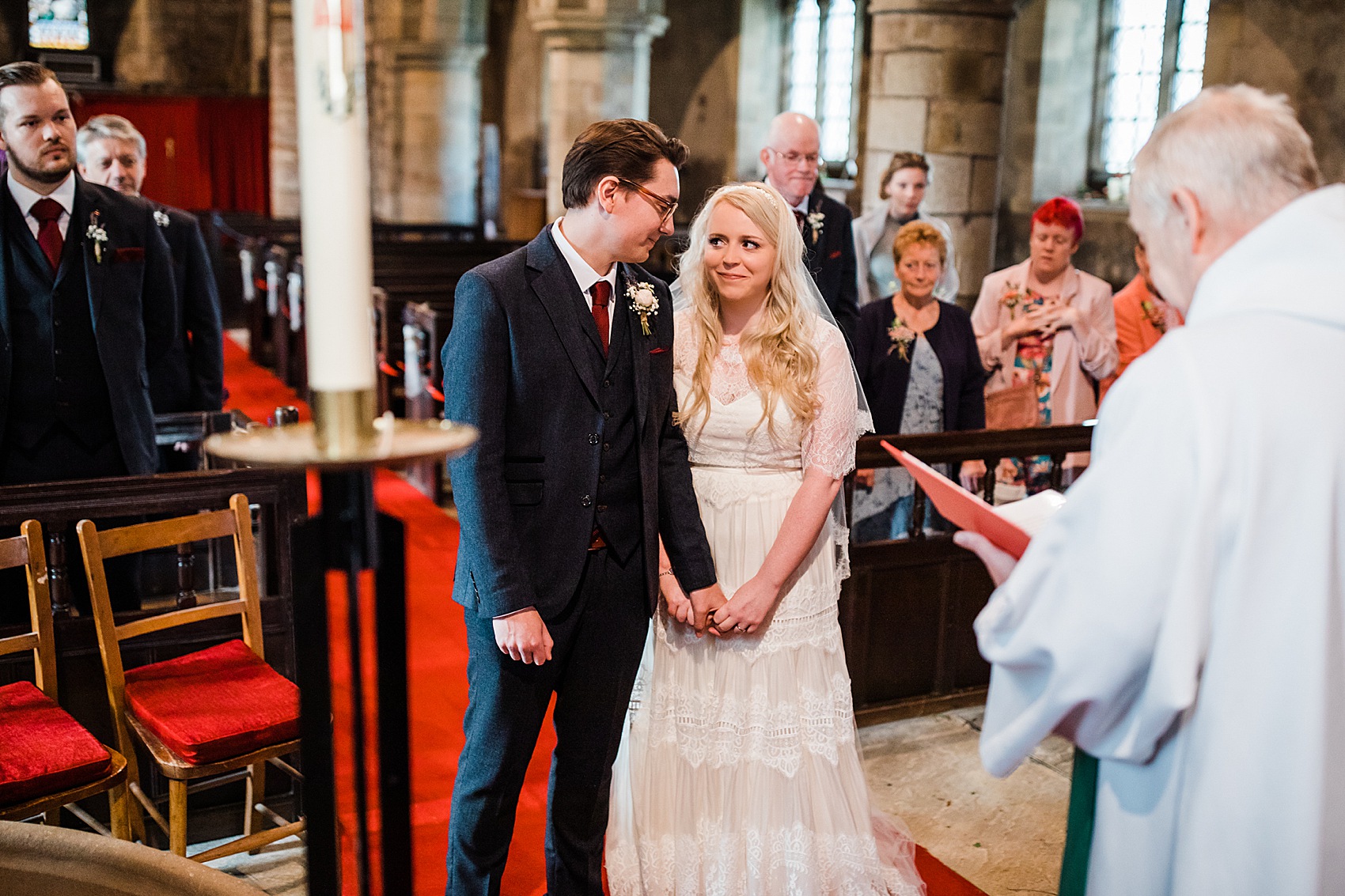 "My dad walked me down the aisle after driving me to the church in our MG – he was very nervous about it breaking down! I cried all the way down the aisle. I think I was that relieved that the wedding was actually finally going ahead and nothing else could stop us from getting married."
"I walked down the aisle to the 'Wedding March' and we walked back up the aisle to 'We Have All The Time In The World' by Louis Armstrong."
Becky and Alex were married by the parish of Great Aycliffe's vicar, Jeff Anderson and exchanged rings. The bride's was from H. Samuel, chosen to complement her engagement ring and the groom's was a non-traditional wedding ring from Goodwins Jewellers.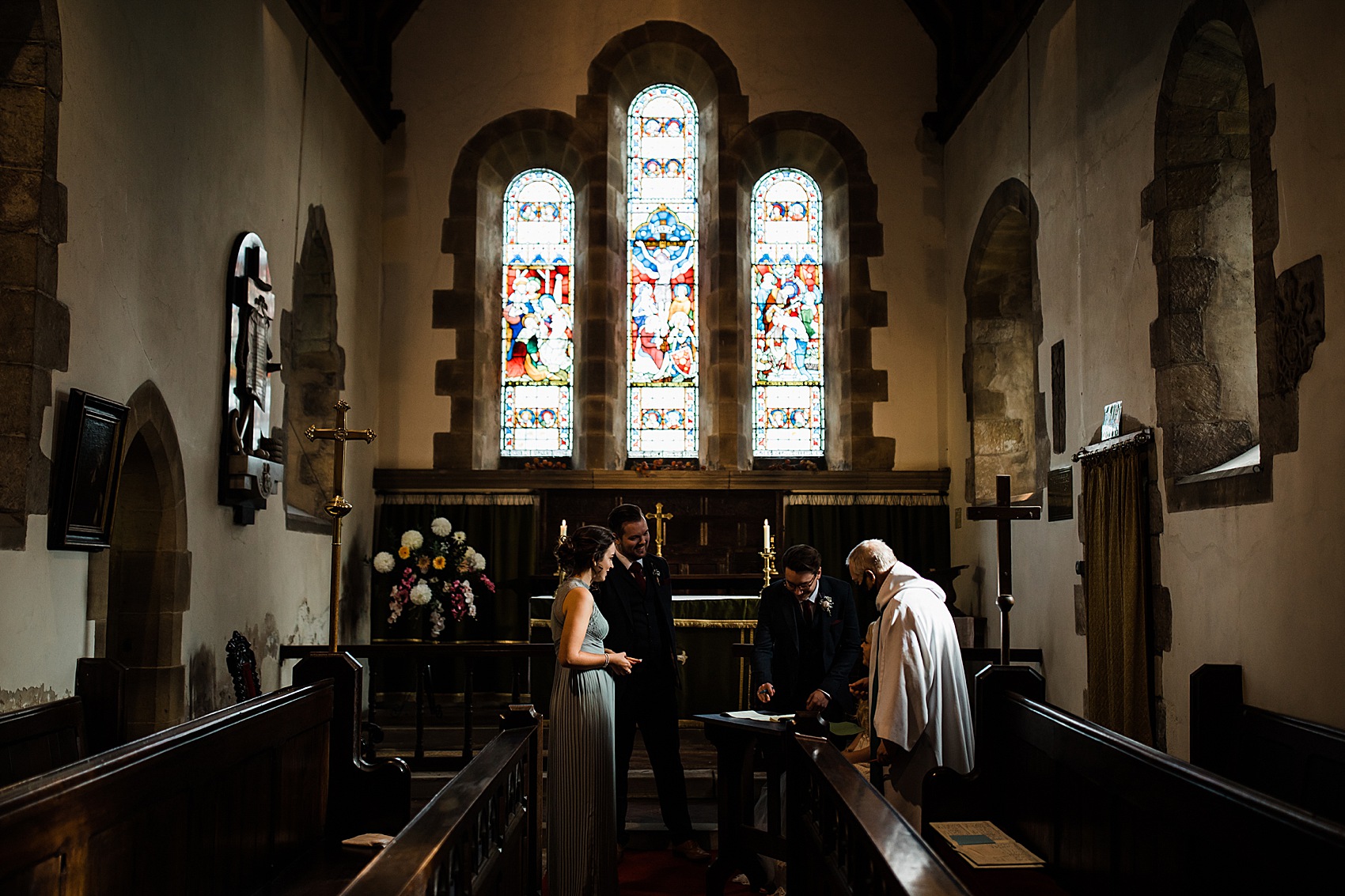 The bridesmaids chose full-length gowns in a misty sea blue from ASOS.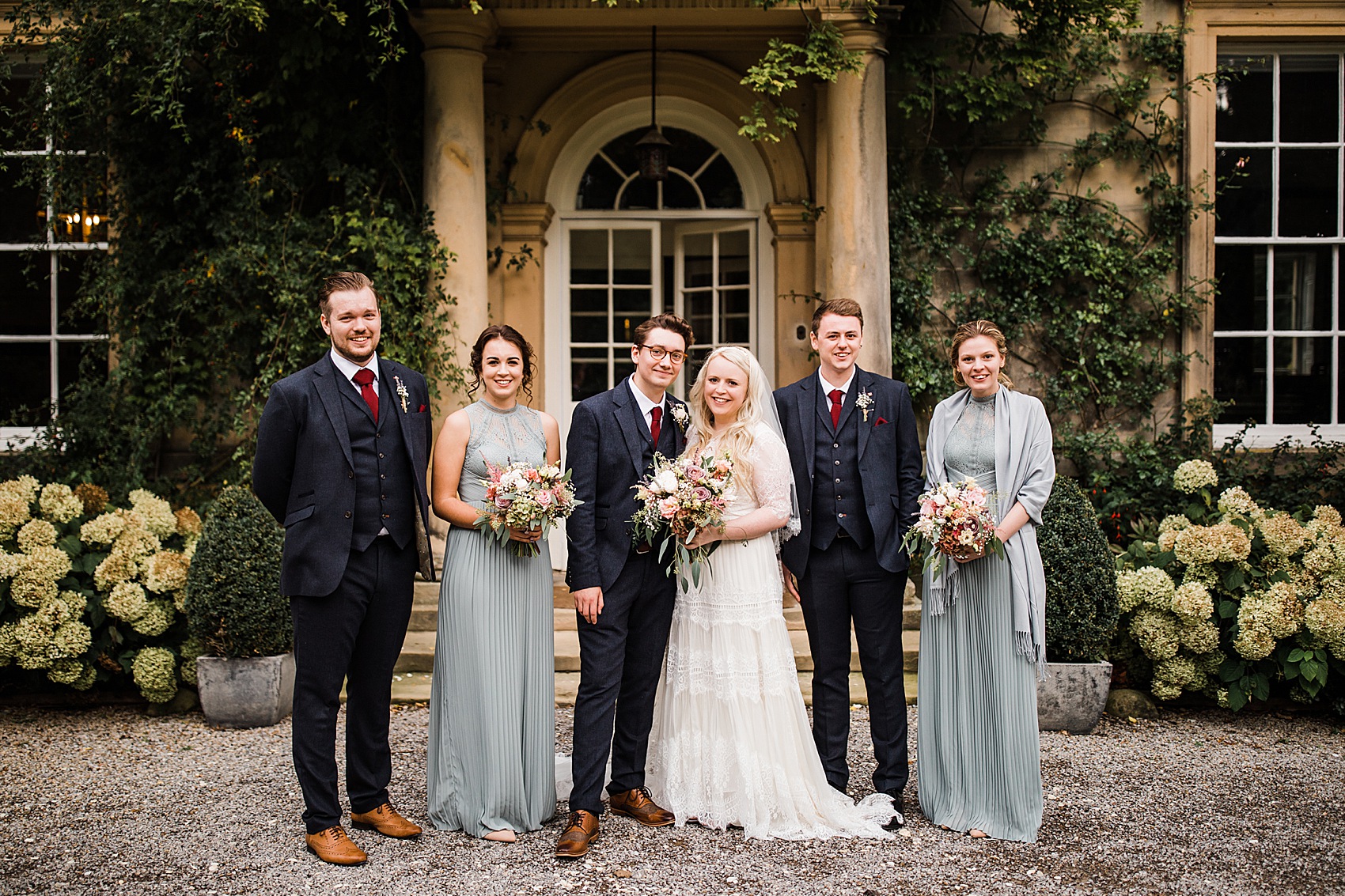 For Alex and Becky, their wedding transport really was something special as the groom realised his dream of owning his own vintage car. Thankfully, on the day, it performed well.
"We bought our own wedding car (not sure how Alex managed to convince me this was the right thing to spend our wedding budget on!). With Alex being a huge classic car lover, it meant he could finally live his childhood dream of owning a classic car."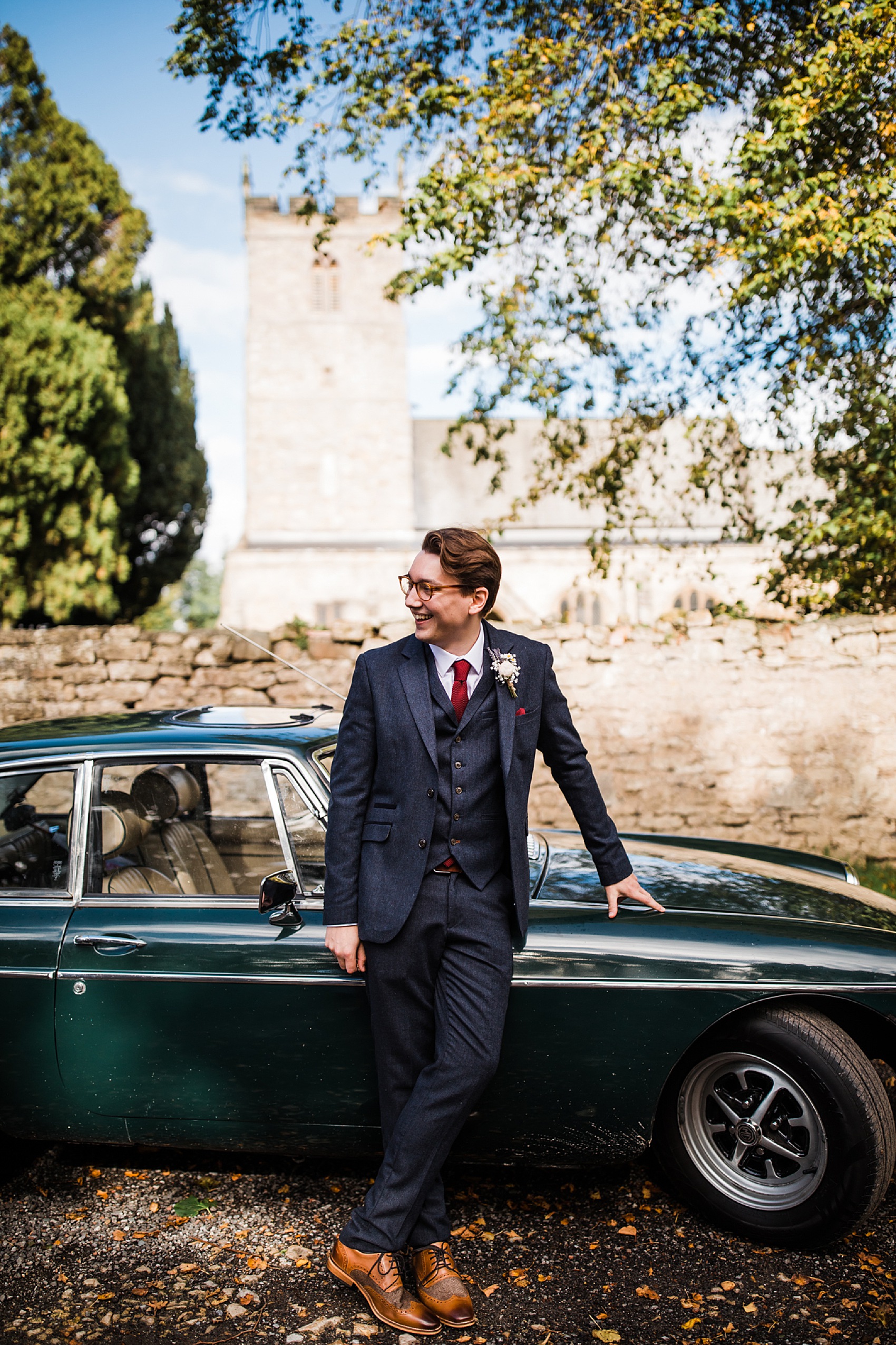 "We bought a 1972 MGB GT. Within one week it had been on the back of a repair truck twice so there was a lot of joking that I wouldn't even get to the church! My dad drove me in the MG to the church and then Alex drove us back to Middleton Lodge."
"It certainly was the centrepiece of the day and it really did us proud! Alex put so much time and effort into making sure it ran and looked right on the day and the pictures speak for themselves."
Alex and Becky met at University and were engaged for around two years after Alex's proposal on board a vintage steam train in Pickering where they had previously attended 1940s weekends."
They had always intended to wed on 5 October 2020 but, due to coronavirus restrictions, they were forced to revise their plans.
"Our wedding date was chosen two years in advance. As it got closer to the date, we came to a realisation that it was not going to be the wedding we had planned. However, we both wanted to persevere with the planning as we had already waited so long to get married. Our wedding had a plan A, B, C, D etc.! All of our suppliers were very adaptable and did their utmost to fit into our ever-changing plans as the day approached and the restrictions kept changing."
"In the two months before, it felt like every week there was a new announcement which affected the wedding. Every blow was devastating but then, with two weeks to go, we got the news that we had missed out on having 30 guests by one week, and had to reduce even more to fifteen."
"This was devastating to us and meant we had to cut key family members  out of the guest list. Again, our suppliers were wonderful."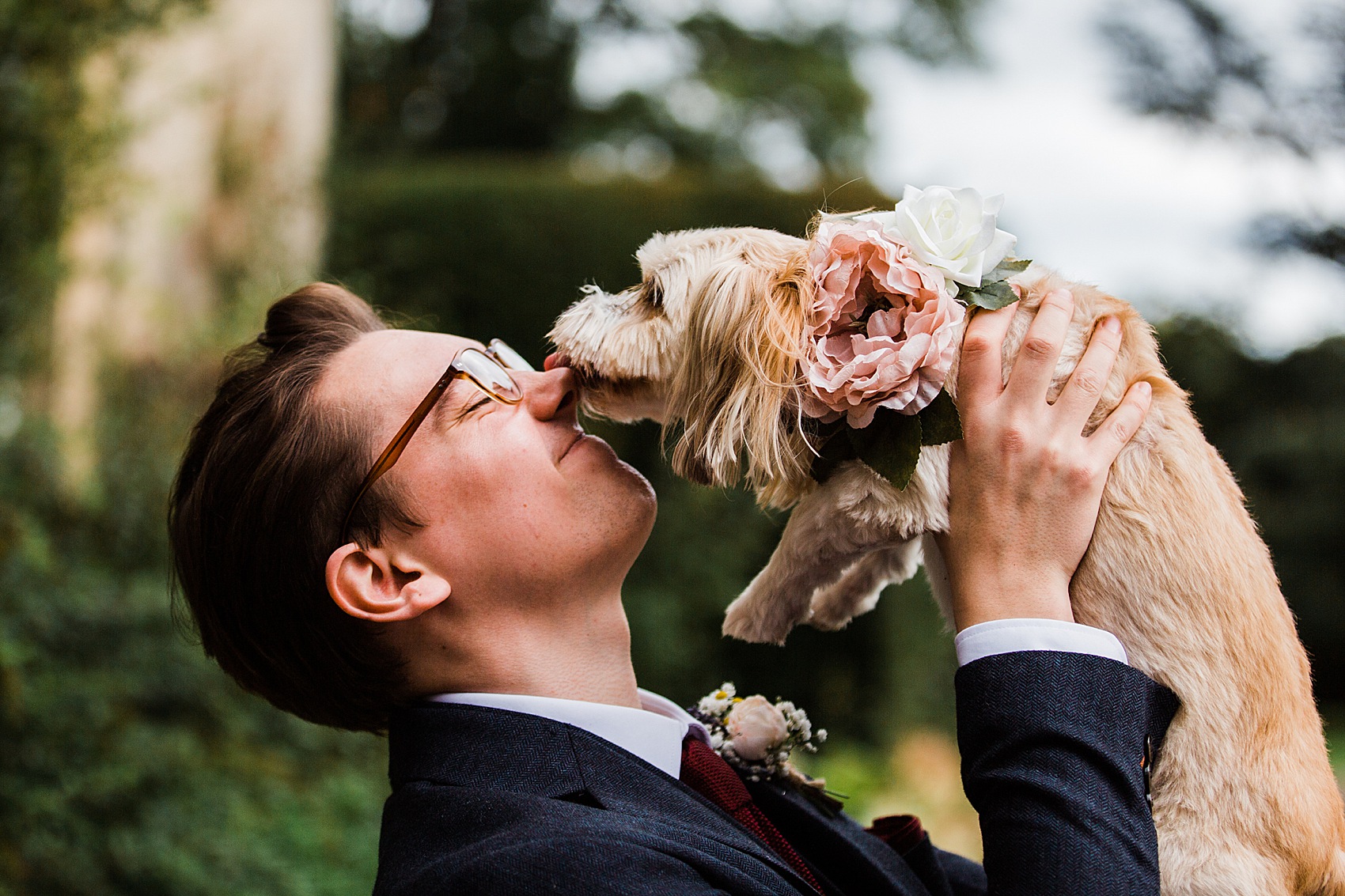 "We ended up deciding to go ahead with only one week to go. Middleton Lodge helped to adapt so that it would still be the wedding we had hoped for and went above and beyond making sure the wedding was safe but also extra special."
"We were lucky in that we were still allowed to have our band, who was a close friend, and as they were a vintage swing band, they were key for us to tie the whole event together."
"We weren't allowed to dance, but that doesn't mean there was lots of shuffling in our seats in Middleton Lodge's gorgeous cellar bar."
Pairing beautifully with the tiered lace skirt was the flowing cathedral-length veil with vintage lace trim which she chose at Marrime Bridalwear.
"I had expected to get a short veil and I didn't want anything too over the top, but at my dress appointment I fell in love with this full-length, vintage-inspired veil. It added some drama to my dress without being too much."
After the ceremony, the newly-weds hopped into the sparkling MGB to drive to their reception venue, Middleton Lodge. We are delighted to list this Georgian country estate on our Wedding Directory, and you can find out more about the mansion here.
"We chose Middleton Lodge after falling in love with the setting and cosiness of the main house. It was the perfect backdrop for a vintage-themed wedding. Middleton Lodge went above and beyond their duty throughout pandemic wedding planning. They adapted so much for us to still be able to have the wedding we wanted and provided so much support."
"They even went on to upgrade my family so we could stay in the Farmhouse the night before the wedding. This is something that made it even more special for us. Getting ready in the Farmhouse was perfect and having my family around me was something I will never forget."
The couple styled the day themselves, inspired by 1940 and 50s style. There are so many incredible details that you can see in these beautiful photos by Anna Beth Wedding Photography.
"Alex loves old films, music and cars while I like classic decor, country styling and handmade details. We wanted the wedding to reflect our passions and personality."
"Most of the decoration and set pieces were either handmade or put together from pieces we have collected in vintage and charity shops over the years."
"The decor really was a labour of love. The moment we got engaged we were planning and collecting all the vintage items we could have at the wedding. We scoured the country's vintage and charity shops and styled it all ourselves."
These photographs are so evocative; I love their timeless style, sense of music and romance too. They are from the camera of Hannah at Anna Beth Wedding Photography; my absolute favourites are those against the richly red and gold autumnal leaves.
"Where to start with the wonderful Hannah! She is a superstar. We both fell in love with her style from the moment we saw her Instagram page. We knew this would be perfect for our vintage-inspired wedding."
"This was really important for Alex as he does a lot of photography and wanted the style of photos to fit with the theme. On the day, it was like having extra guests! Hannah and her second photographer Andrew were true professionals on the day."
"They treated our tiny Covid wedding like they would any other wedding. I was terrified of having my photograph taken. Hannah put me at ease from the moment she stepped into the room when I was getting ready on the morning."
The whole bridal party carried hand-gathered bouquets of flowers, just lovely with their 'just gathered' feel. They were styled by Anna Hunton Florist.
"We wanted a vintage feel to our flowers to go with the vintage items we had been collecting since getting engaged. We had spent two years trailing vintage and charity shops for vintage crockery. We used large vintage teapots for the flowers. I gave the florist a few pictures to go off, but pretty much gave her free rein and delivered all the teapots and bud vases prior to the wedding. When I first saw the flowers, I was stunned. She produced something beyond my wildest dreams and in that moment, everything just came together. They were stunning and a memory I will never forget. After the wedding, we dried all the flowers out and cast them in resin so we could have them forever."
"We had a vintage suitcase for cards with a vintage typewriter (Alex's own) and a vintage sweet table. We had lots of vintage crockery and kitchenalia from our own kitchen to create a sweet table. This had cookies, macarons (made by the cake maker), marshmallows and fudge (made by me)."
"We had candles in jam jars which I made during lockdown. We also had Fortnum & Mason wedding breakfast tea in small brown envelopes with our personalised wax seal. Alex and I have loved going to Fortnum & Mason around Christmas time so this was a lovely personal touch for our guests. Each guest had their own vintage china tea cup."
"Rather than having a traditional guest book, we wanted something different. I love sewing so we went for a guest quilt. I brought my 1950s Singer sewing machine which Alex got me for our first Christmas for a prop/styling, along with the middle panel of the quilt which was embroidered with our wedding date. Guests could write messages on squares of fabric with fabric pen which I can sew into a patchwork quilt."
"Our table centrepieces were designed for round tables but due to the last-minute guest list cut, we used long tables in a horseshoe to make the room feel less empty. We had vintage teapots and vases full of flowers, with candles, old books, tins, cameras, doilies and pearls all along the tables. Most of this is now featured in our house!"
"Their style meant we didn't do too many 'posed' photos, which was perfect. We didn't have to worry about guests getting bored but we did go off around the grounds of Middleton Lodge for a couple shoot and this was a perfect time for some time for Alex and I to spend some time away from guests, but also getting some gorgeous photos."
"We were so happy with the final product. They managed to capture our wedding in such a way that it didn't look like a Covid wedding. I have had so many people say they can't believe how normal it looked from the photos! They captured all the emotion and beauty of the day."
The vintage, floral vibe flowed through the entire day, right from the stationery suite with Alex and Becky created themselves.
"We used lavender from our garden and dried it out to use on the invitations with a personalised wax seal."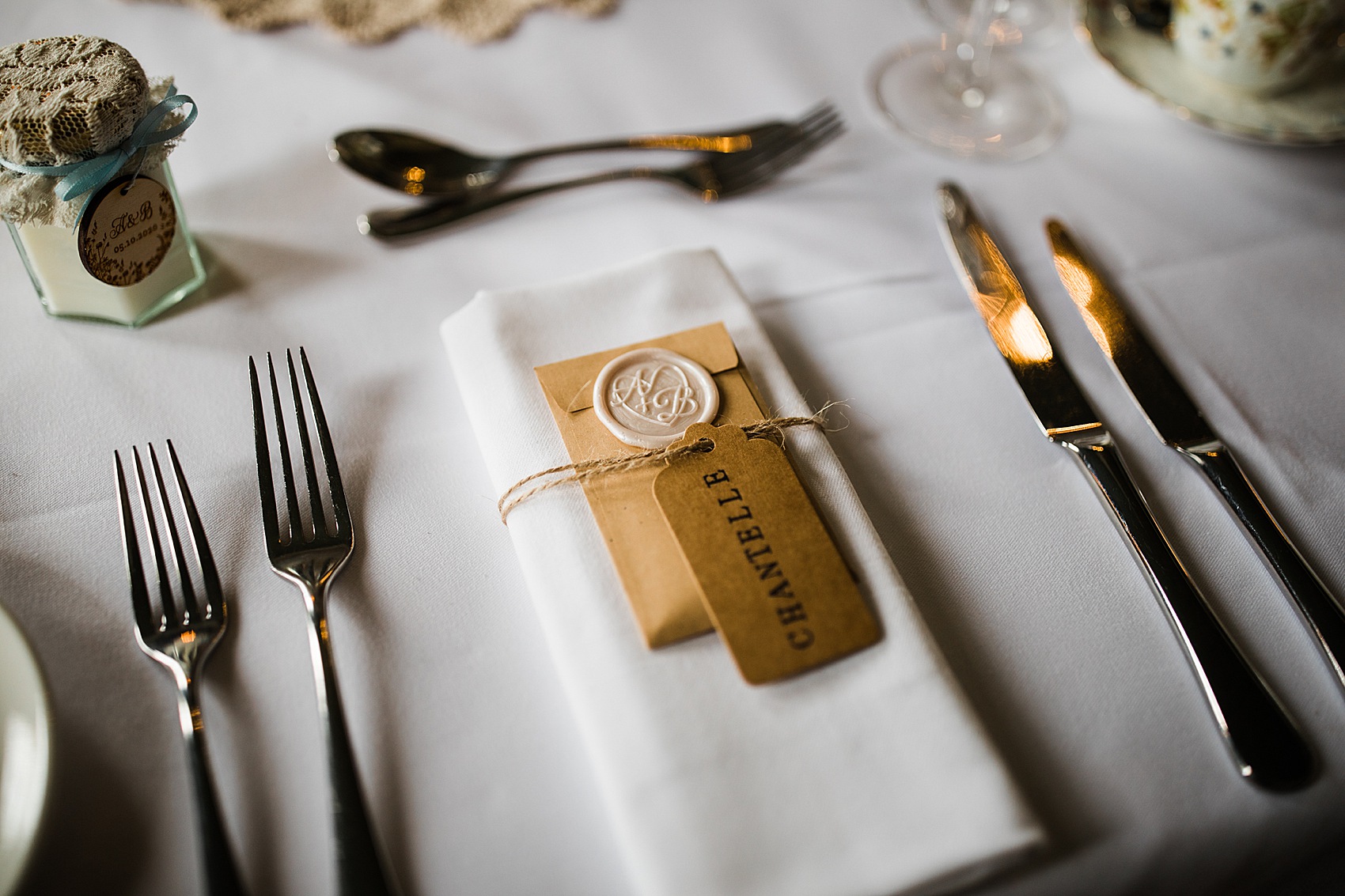 The wedding breakfast came from Middleton Lodge's kitchens and cake maker Sweet Charlotte Cakes put together this elegant tiered cake. I love that they delivered left-over cake to their friends and family who weren't able to attend.
"Middleton Lodge let us customise the menu fully which meant we had the food tailored to us, a perfect touch for such a small wedding. Everything was perfect."
"We wanted our cake to be something quite simple so we could have our flowers as the decor but it had to taste good! The cake was stunning. We had three different flavours; salted caramel,  lemon and poppy seed and coffee."
"It was gorgeous and because we chose not to downsize the cake, it was perfect being able to deliver cake to the guests who couldn't make it on the day."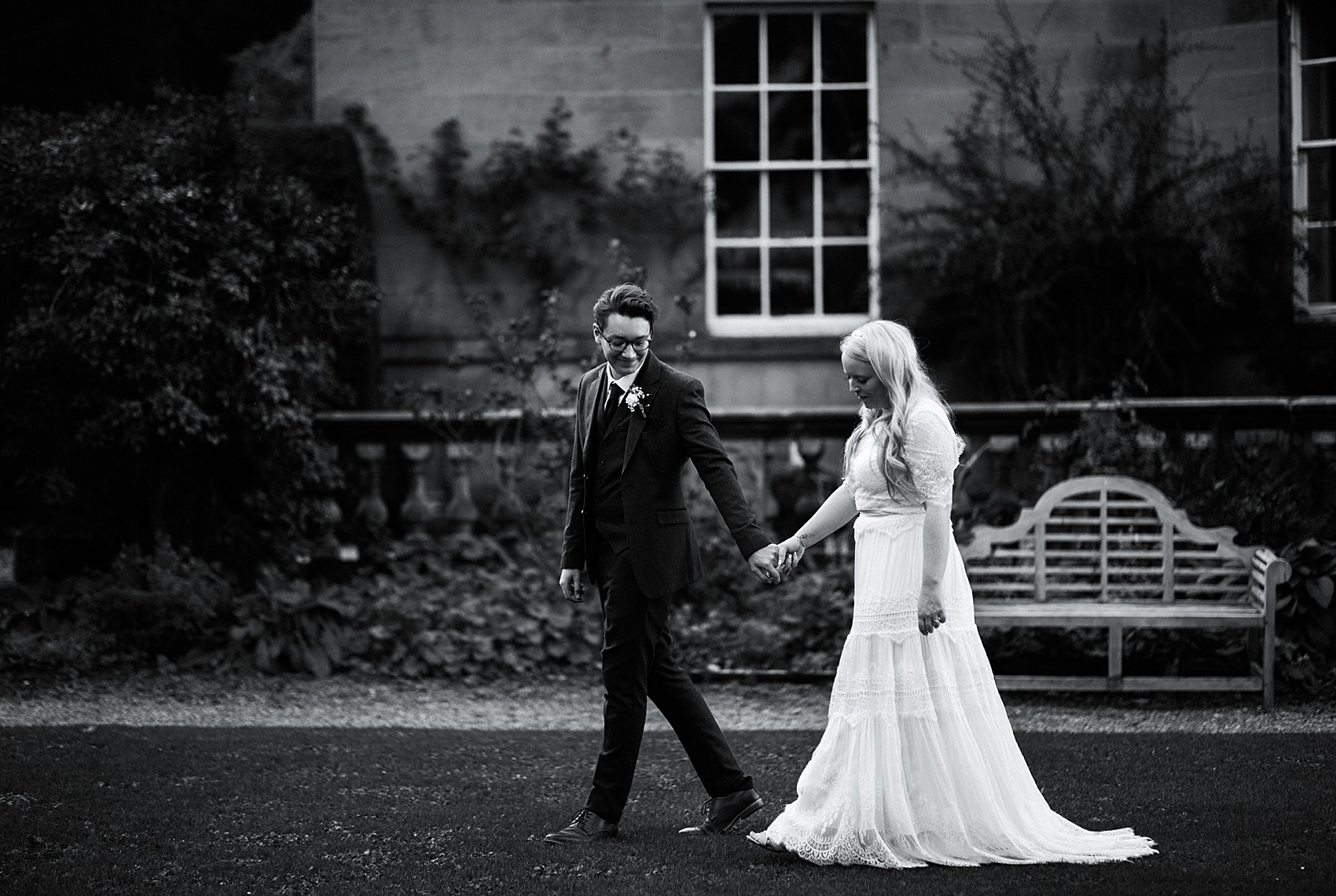 The couple's first dance was, naturally, to 'Moonlight Sonata' by Glenn Miller.
"This fitted with our vintage theme and we made it 'our song' when we would hear it at 1950s weekends or in vintage shops."
Alex and Becky have some favourite moments that they would like to share with us, as well as some special thank yous.
Becky: "The whole day was perfect. The moment we got back in our MG and drove back to Middleton Lodge with our handmade 'Just Married' sign on the back was a real moment for me. We had finally done it. After all the chaos and the stress leading up to the day, it was finally just the two of us together, in the car and married. We had pulled off a wedding in the middle of a pandemic and it felt just as special (if not more) than I'd hoped. Alex's speech was also a highlight for me. Again, I cried!"
Groom: "We pulled into a layby to let the guests get past us on the way back from the church so we could make a grand entrance in the car. This meant we had time for just the two of us to let everything sink in. It was the first moment of calm and contentment we had experienced for months."
"All our suppliers were so adaptable. We had to change our whole wedding with one week to go. The florist had to work with different table plans, the cake lady held off as long as she could to start making the cake as we still hadn't decided to go ahead with the wedding and Hannah (our photographer) had to work with a decimated guest list and Covid restrictions. Our band were given one week's notice and hadn't played together or practiced at all since the pandemic hit, yet they were perfect on the night. All of these people had lost their livelihoods and yet they put 110% into our wedding as if nothing had changed."
Words of Wedded Wisdom
"Everyone says this but don't stress the small stuff. On the day, you will be so carried away by the magic of it all, that it doesn't matter. It may feel like all those details matter leading up to the day, but on the day, you won't even think about it."
"Remember why you are having a wedding. It may feel completely devastating to not have the whole wedding you planned, but that can actually make it much more special."
"Just get married. We were so glad we didn't postpone. It wasn't the wedding we planned but we actually feel it was even better than we could have ever hoped. Beating the odds and going ahead meant it was so much more special than we could have ever imagined. We were even somewhat grateful for the smaller numbers. It was devastating to not have our full guest list, but it was also wonderful getting to spend quality time with family and friends in a very intimate setting."
"One thing we stuck by is you don't get married to have a wedding, you have a wedding to get married. Remember why you are doing it and try to look past what should have been. There are so many more ways you can make the day special whilst trying to work around the restrictions."
"Also, make sure you have good suppliers on your side and try to support them as much as you can. This is their livelihoods; they have lost a year's worth of income and yet their end goal is to make sure you have the day to remember."
Alex and Becky, sending you so much love and many congratulations. It's been a real joy to share your wedding with our readers, and I think your words will give so much reassurance to other brides planning their weddings.
It really is wonderful to know that the What About Weddings campaign supported you. If you want to know more, please do check out the campaign website here.
Thank you also Anna Beth Photography; I'm in love with your work.
Love, Ele xx