I absolutely love weddings which weave together influences from different countries and heritages, and today's elegant micro-wedding is one which does this to perfection.
Come with me to Oxford where elements of Danish hygge combined with Scottish pride and a joint passion for choral music for a stylish and memorable celebration. On 29 August 2020 classical music agent Rebeccah wed secondary school teacher Robert in a Church of England ceremony at the Chapel of The Queen's College, Oxford followed by a fairy-lit marquee reception at The Perch, Oxford. Their wedding venue was incredibly special for the couple, as the chapel was where they first met as choral scholars.
The bride was an active member of the Love My Dress private Facebook group and found recommendations and suppliers there, as well as via our own Little Book Wedding Directory.
"I was a very regular visitor to Love My Dress throughout my engagement and lapped up every real wedding feature. I still do, in fact! The Little Book Wedding Directory and the Facebook Group were also valuable troves of recommendations and inspiration and I've passed on all three to every newly engaged bride I know."
The bride asked Melissa Hair and Make-Up to apply her fresh, minimal make-up and style her hair into this classic up do, in which she wore just a few porcelain miniature roses.
"This was one of the things I was more nervous about in terms of keeping everybody safe from possible Covid transmission. Melissa was such a pro, sending me a very polite but clear guidance document on how to minimise risk for all parties which I could share with my bridesmaids in advance, so that we all knew exactly the protocols to follow and could just relax and enjoy ourselves on the morning."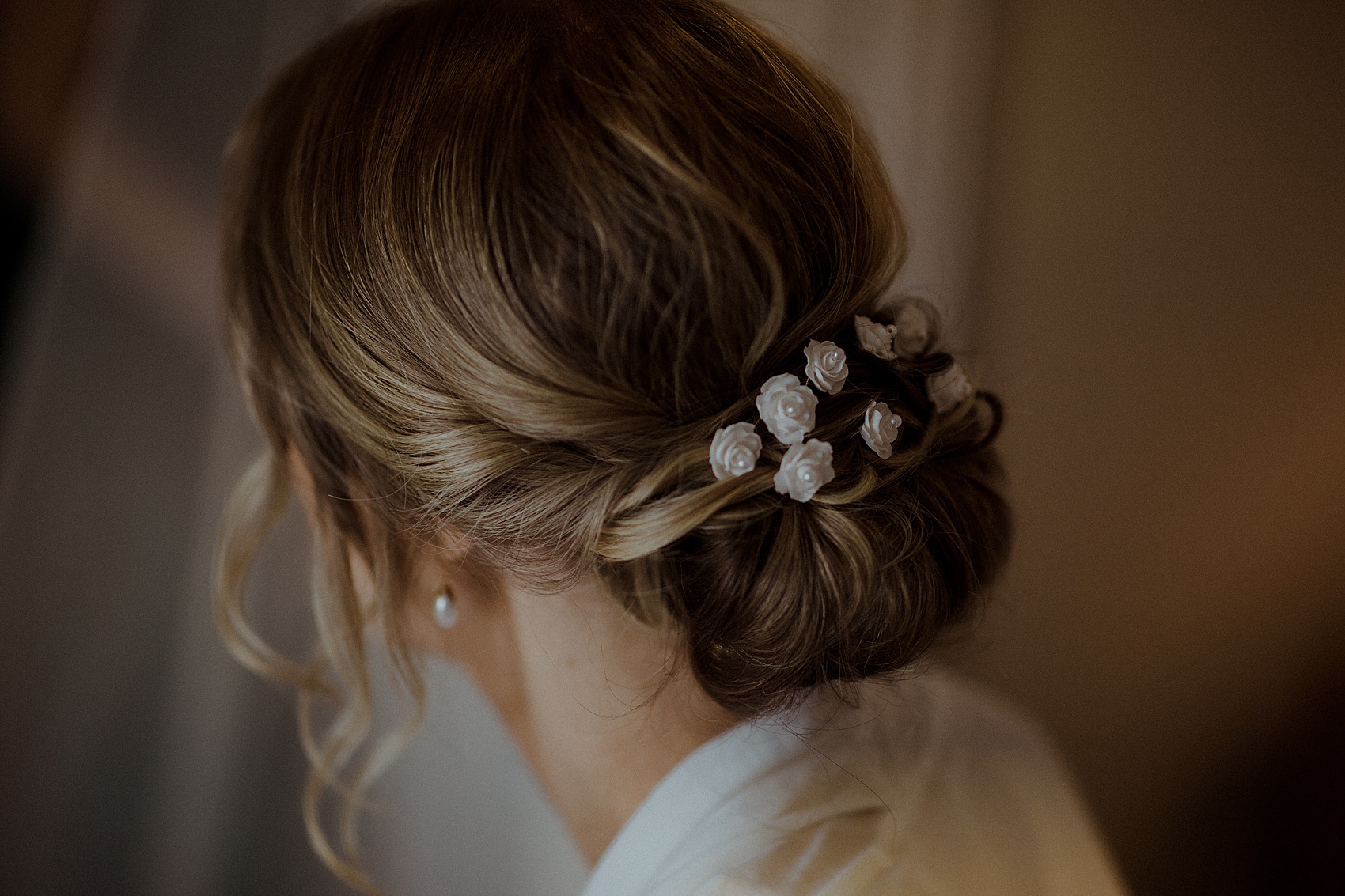 "I wanted to keep my make-up very simple and natural. Melissa really listened and helped tweak the look at my trial until I felt it was just right."
"I wore Penhaligon's 'Equinox Bloom' – such a lovely summery English-garden scent, which we chose together, and will always take me back to my wedding day."
"After chickening out of a full flower crown which I wasn't sure I could quite pull off, I began searching for the perfect porcelain flowers to pin into my updo."
"At the last minute I found the most beautiful off-white miniature roses studded with pearls from Etsy shop True Vine Bridal, who made and posted them for me in less than 24 hours."
"I was on the lookout for some pretty kitten-heels when another bride on the Love My Dress Facebook group recommended Lace & Favour. I found my beautiful peep-toe ivory silk shoes, with a pearl-studded ankle strap, to match my jewellery."
The bride is drawn to a minimalist Scandi aesthetic, and every aspect of this wedding speaks to that, especially her exquisitely simple, timeless silk gown from Sabina Motesem. It looks wonderful on her willow, 5 foot 11 frame and the cowl neck and cap sleeves are summertime perfection.
"I spotted a sample sale dress on Sabina's website that at last I thought could finally be 'The One". I made an appointment to try it on, and while it was almost right, it wasn't quite perfect and I didn't feel it was totally 'me'."
"As Sabina was hanging it back on the rail, the next dress along caught my eye and I asked if I could try it on. Straightaway, before I gave any reaction, she told me I was immediately standing up straighter and looking gleeful. Although I was amazed she could tell before I'd even spoken, she was right – I'd found my dress."
"I wanted to make some small adjustments to the dress after purchase and, after talking through what I had in mind, Sabina sent me home with a bag full of silk off-cuts from which I found a close colour-match and followed up with a helpful email list of recommended underwear brands to use under sleek, flowy silk dresses, which aren't very forgiving on VPLs!"
"My taste for all things simple and unfussy (that classic Scandi minimalism!) led me on a long search for a very simple but well-designed dress, at once classic, modern, and timeless and eventually I discovered – through a Love My Dress real wedding blog post – the wonderful independent designer Sabina Motasem."
"I bought my dress in her sample sale – a long elegant cowl-neck dress in fine Italian ivory silk with a cinched waist and a small train, to which I added little cap sleeves and raised the low button-up back to make it more church-appropriate."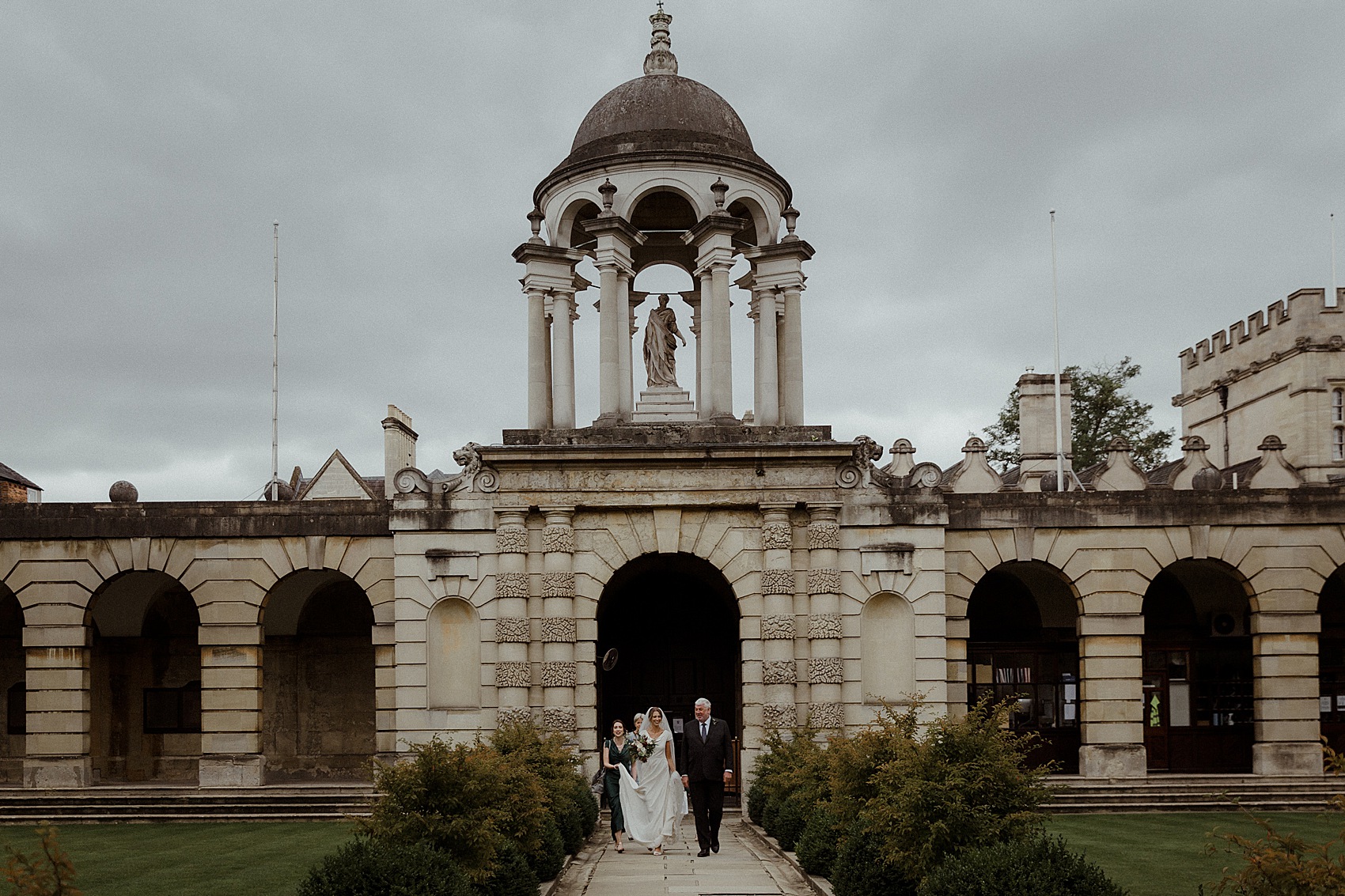 "My veil was an incredible cathedral-length Poirier design edged with Italian lace, bought from The Beautiful Bride Shop. I had kept my dress so simple that I could really go to town on the veil without the overall look being too fussy. It really was the cherry on the cake that made me feel like a real bride."
As with many 2020 weddings, the couple went through many different plans and scenarios in the months leading up to their day.
"After plans A, B, C and possibly even D fell through (thanks Covid), we suddenly had the lightbulb moment remembering our walks to this gorgeous 17th-century riverside Oxfordshire pub, across Port Meadow from the city and along the River Isis towpath."
"Their beautiful beer garden full of willow trees and fairy lights also hosts a beautifully decorated wedding marquee, normally far beyond our budget and booked up years in advance. Thanks to the pandemic they had availability on our date at just a few weeks' notice, and were kind enough to offer the hire at half price."
"The overall plan for our day went through so many metamorphoses as we shifted tack over and over to try and accommodate the ever-changing Covid-19 restrictions and guidance."
"In the end though, we (unwittingly but serendipitously) had a day of two halves, with such a lovely contrast between the formal grandeur of an Oxford College setting for the ceremony followed by a much more informal pub-garden marquee wedding breakfast, where everyone could let their hair down and relax."
The bride was accompanied down the aisle by her father…
"Of the many changes we had to make in the face of the Covid regulations, we were very lucky in one respect – we had already bubbled together with my family during the first lockdown which meant my dad could follow tradition and accompany me down the aisle, which I think meant a lot to him and certainly did to me."
"We wanted to include some German music to honour Robert's wonderful mum, who sadly passed away last year shortly after we were engaged. I walked in to Karg-Elert's 'Marche Triomphale' and between the readings Kirsty sang 'Bist Du Bei Mir', which used to be attributed to JS Bach but which is now identified as a tune his wife, Anna Magdalena, jotted down and he later harmonised in a collection of music he later gifted to her – the ultimate musical representation of love. They performed Vierne's ethereal 'Les Angélus' while we signed the registers and we walked out to the 'Finale' from 'Widor's Organ Symphony No.6′, which is just an absolutely cracking piece of music."
Music was central to the day, and each piece was carefully chosen. Covid restrictions meant, however, that the planned choir could not attend.
"One of our biggest heartbreaks in having to rethink our plans was losing the choir we had always planned of family and friends to sing me down the aisle and into married life. Music – especially choral music – is a huge part of who we both are and the reason we met and fell in love. It was a huge wrench to have to accept it just wasn't possible under the regulations. Plan B, however, was by no means a poor man's substitute. With one of our closest friends being Assistant Organist at Norwich Cathedral and his fiancée a wonderful young soprano, we were still able to include several beautiful and meaningful works performed by some of the finest talent around; K & G Music.
"Music before the service was 'Saint-Saëns' Bénédiction Nuptiale', a piece I know my late grandfather – a professional organist himself – would have loved."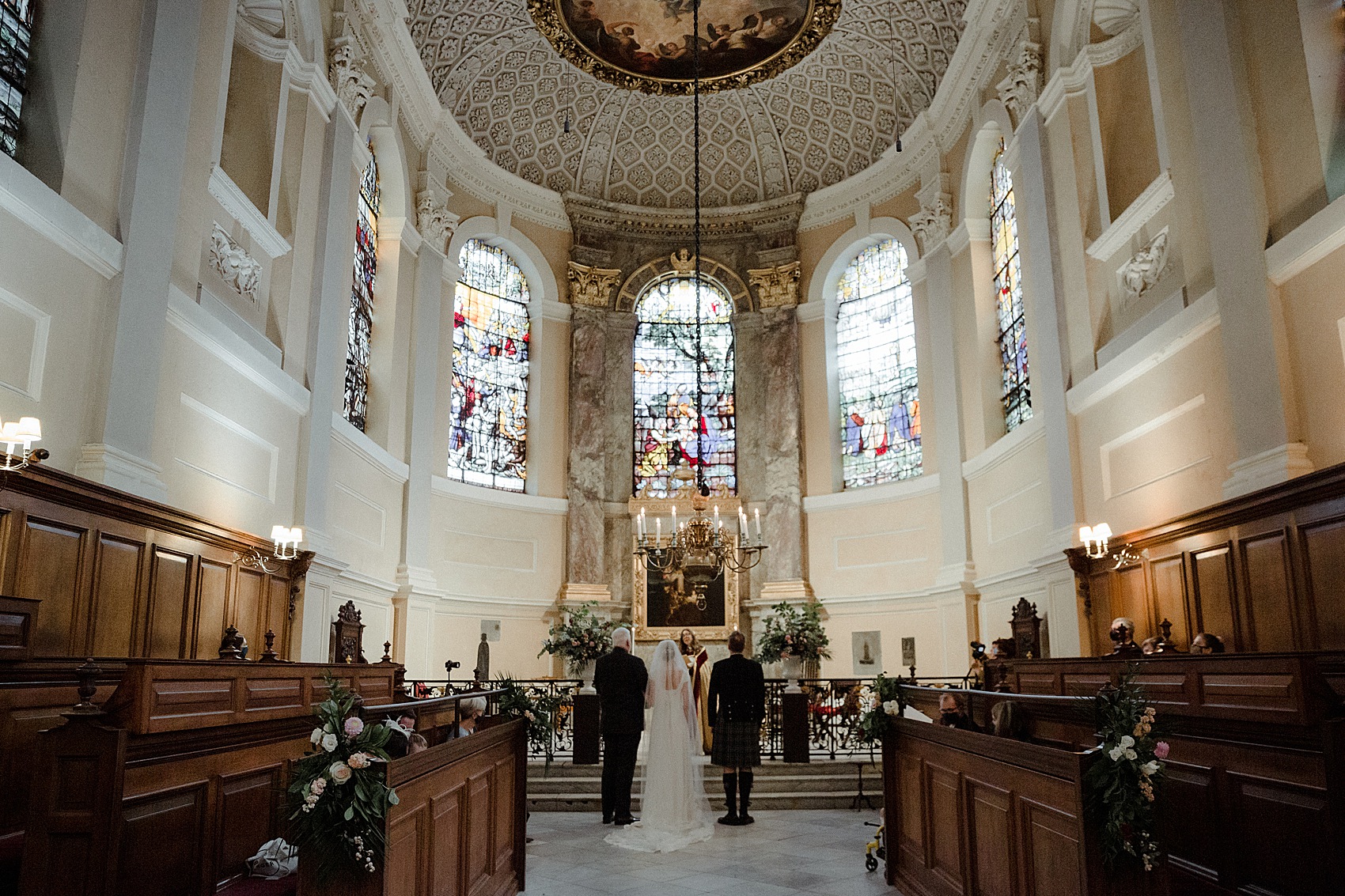 "Nearly a decade after we first met as students at Oxford, Robert proposed on a romantic weekend away back in the beautiful City of Dreaming Spires."
"We had always said there was only one place for us to tie the knot: The Chapel of The Queen's College, the very spot where we had first met, singing together as choral scholars of the College choir."
The couple were married by the College Chaplain and their good friend Aidan, the Canon Precentor at Norwich Cathedral, travelled down to give our sermon.
"It was at once hugely insightful, witty, and moving and so personal to us, since he had been our parish priest for some six years earlier in our relationship and knew us as a couple so well."
The couple thought carefully about the readings for their service, and everything came together to make this the favourite part of the day for both Robert and Rebeccah.
"My godmother read '1 Corinthians 13.1-8a', a traditional but ever-beautiful description of love and of its triumph over all, which felt particularly apt given how unbelievably lucky we felt to be standing there becoming husband and wife in the middle of a pandemic."
"Our friend Claire read an extract from 'Captain Corelli's Mandolin' by Louis de Bernières, which perfectly encapsulates that feeling of a relationship having evolved over the years into one strong unit, with you totally inseparable from one another and knowing that nothing can ever part you, no matter what life throws at you."
"For both of us the actual marriage service was the most wonderfully special part of the day. Having envisaged it for so many years and to nearly have it snatched away at the last moment by the pandemic made it all the more poignant when we finally found ourselves saying our vows."
"We had to pinch ourselves to check the dream really had come true. I had spent the run-up getting more and more nervous about fluffing my words or tripping over my dress, but actually once the service started that all just melted away and it was just so magical."
"Making our vows in the chapel where we'd first awkwardly introduced ourselves, sung 100s of services together and quickly become inseparable, was so special and hugely meaningful."
The couple exchanged classic wedding bands from W.E. Clark & Son.
"We bought my sapphire and diamond engagement ring from a family-owned jeweller in Lewes where I grew up, and returned to their excellent care to choose our matching simple gold wedding bands."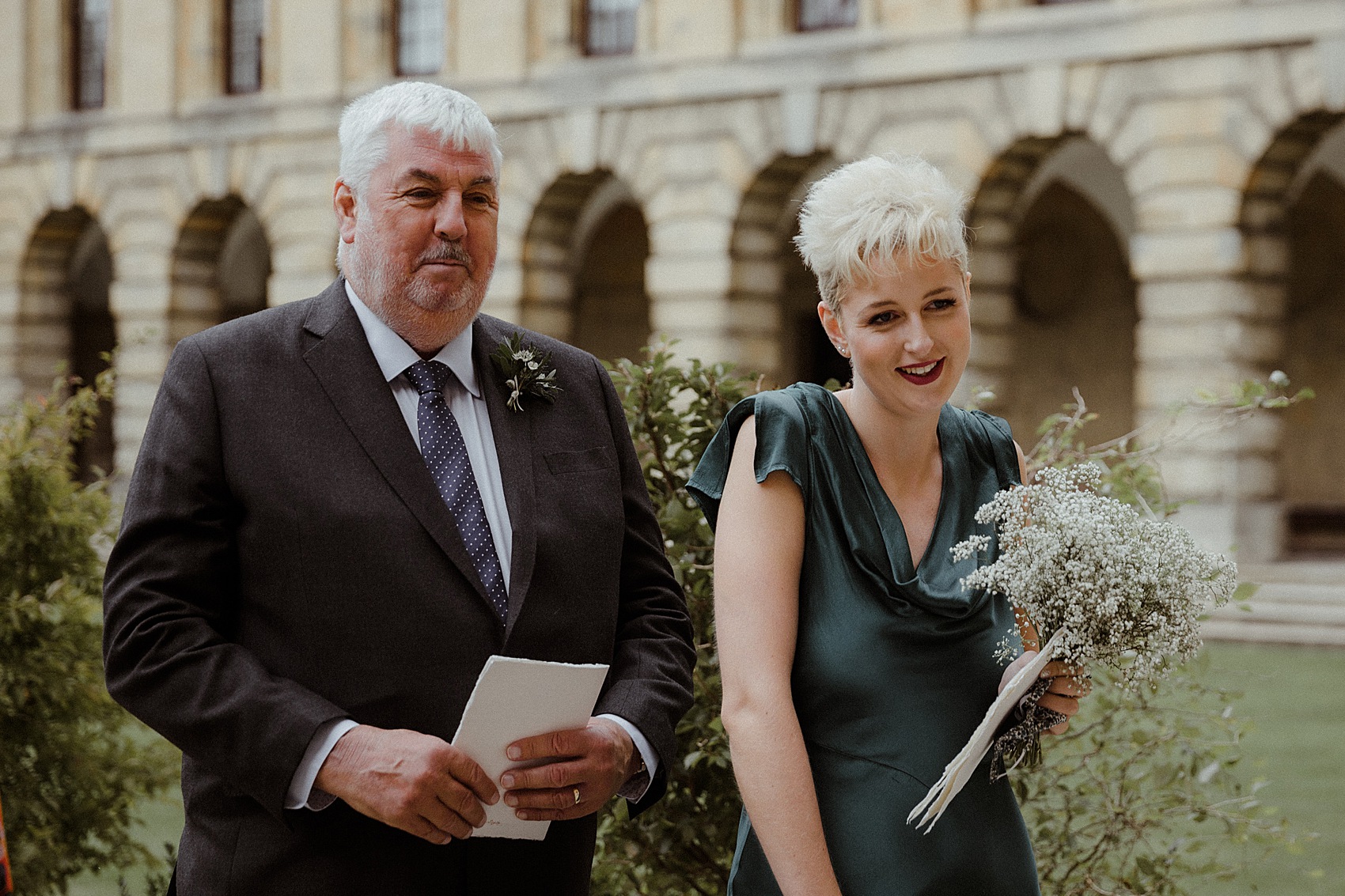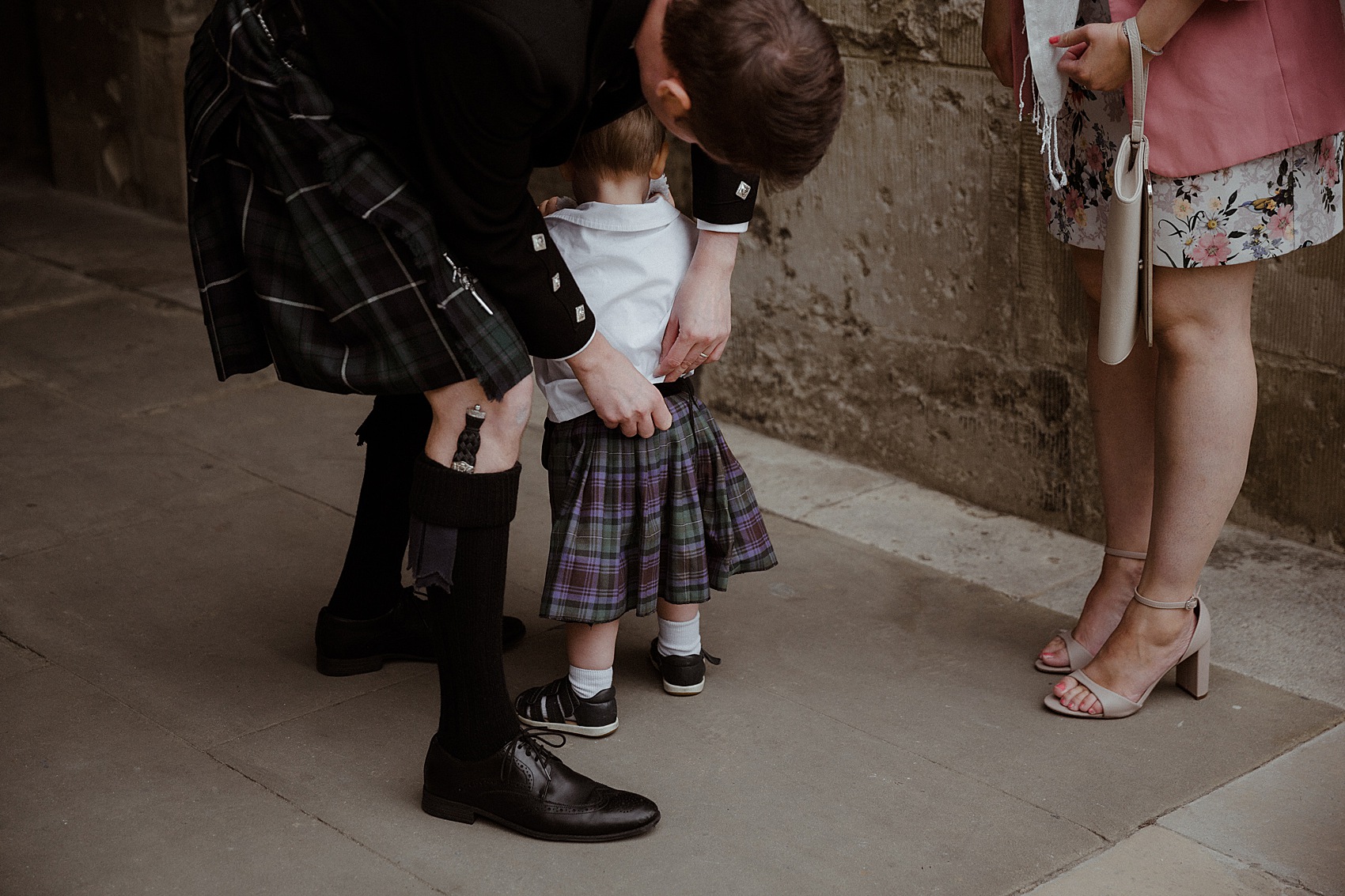 The deep emerald bridesmaids' gowns, from Ghost London, were the perfect complement to Rebeccah's own dress.
"I'd picked these out long before we were even engaged! When I came to buy them, I found to my horror they'd disappeared from the website, but I took a shot and emailed their wonderful customer service, who found a couple in the right size and arranged to temporarily re-add them to the website for me to buy."
"My maid of honour wore her own gold heeled sandals and we found my sister an almost identical pair from Boden – which of course she left behind at home in Brighton. Cue a frantic trip to Office on the morning of the wedding!"
Each girl carried a loose and natural bouquet of white and green, minimalistic and Scandi whilst exuding romance.
"We came across Flowers by Kirsty on Instagram and loved her loose, free, almost boho style; nothing too manicured, formal or stuffy, which just isn't my taste."
"As well as my favourite combination of an abundance of dark greenery and creamy David Austin roses, echoing the bridesmaids' emerald dresses and the ivory of mine, we all carried or wore blue thistles to represent Rob's Scottish heritage and the table arrangements were dotted with tiny daisies, the national flower of Denmark."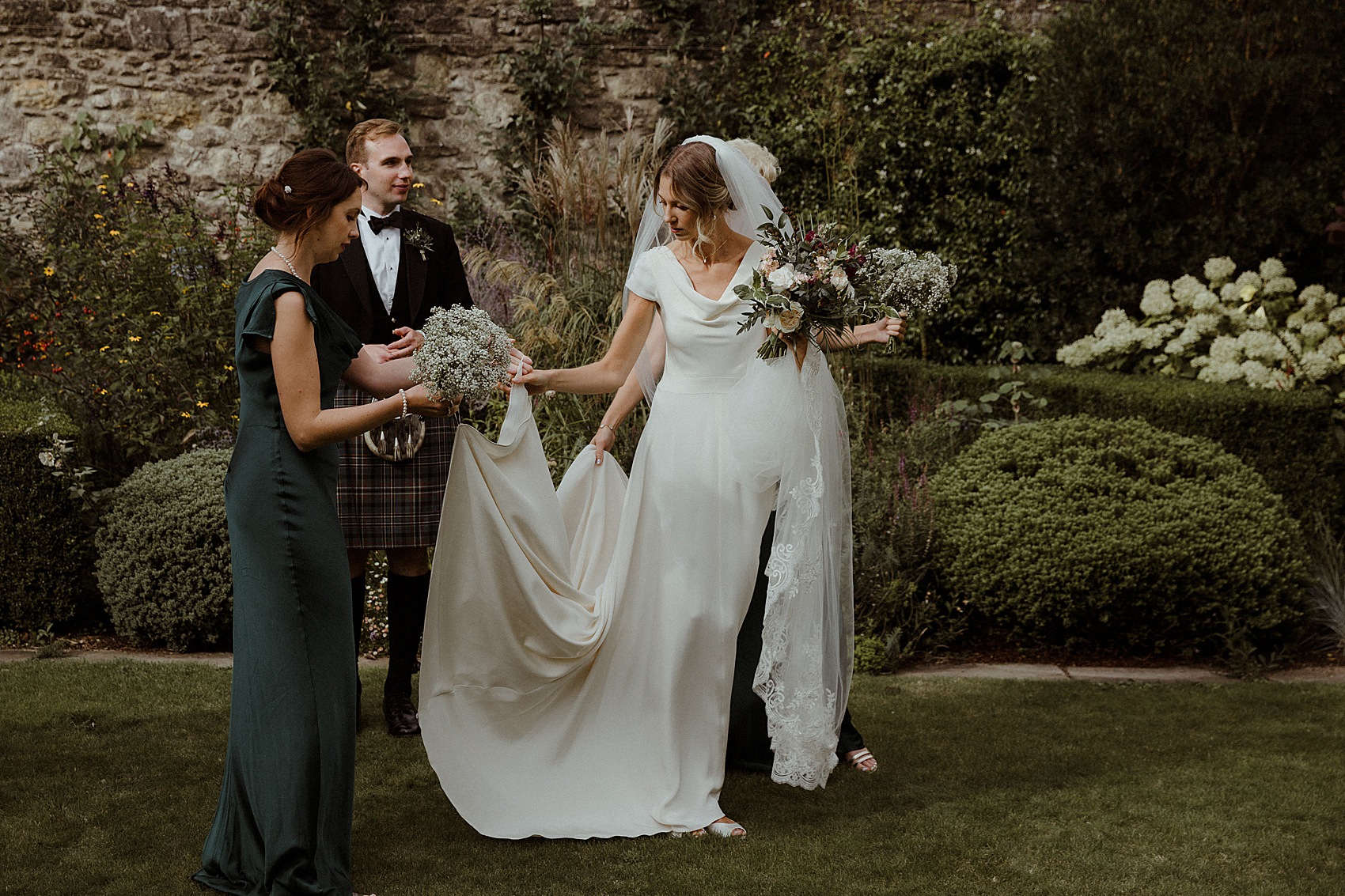 Rebeccah's accessories were kept simple and elegant, and she won her bridal necklace from Britten Weddings.
"I was the lucky winner of the monthly draw at Britten Weddings for new newsletter subscribers. I chose an ivory lace garter a with tiny gold disc charm engraved with our initials and wedding date and a simple pearl necklace on a delicate gold chain with a gorgeous back-drop which won so many compliments throughout the day, as well as two dainty pearl bracelets as gifts for my bridesmaids."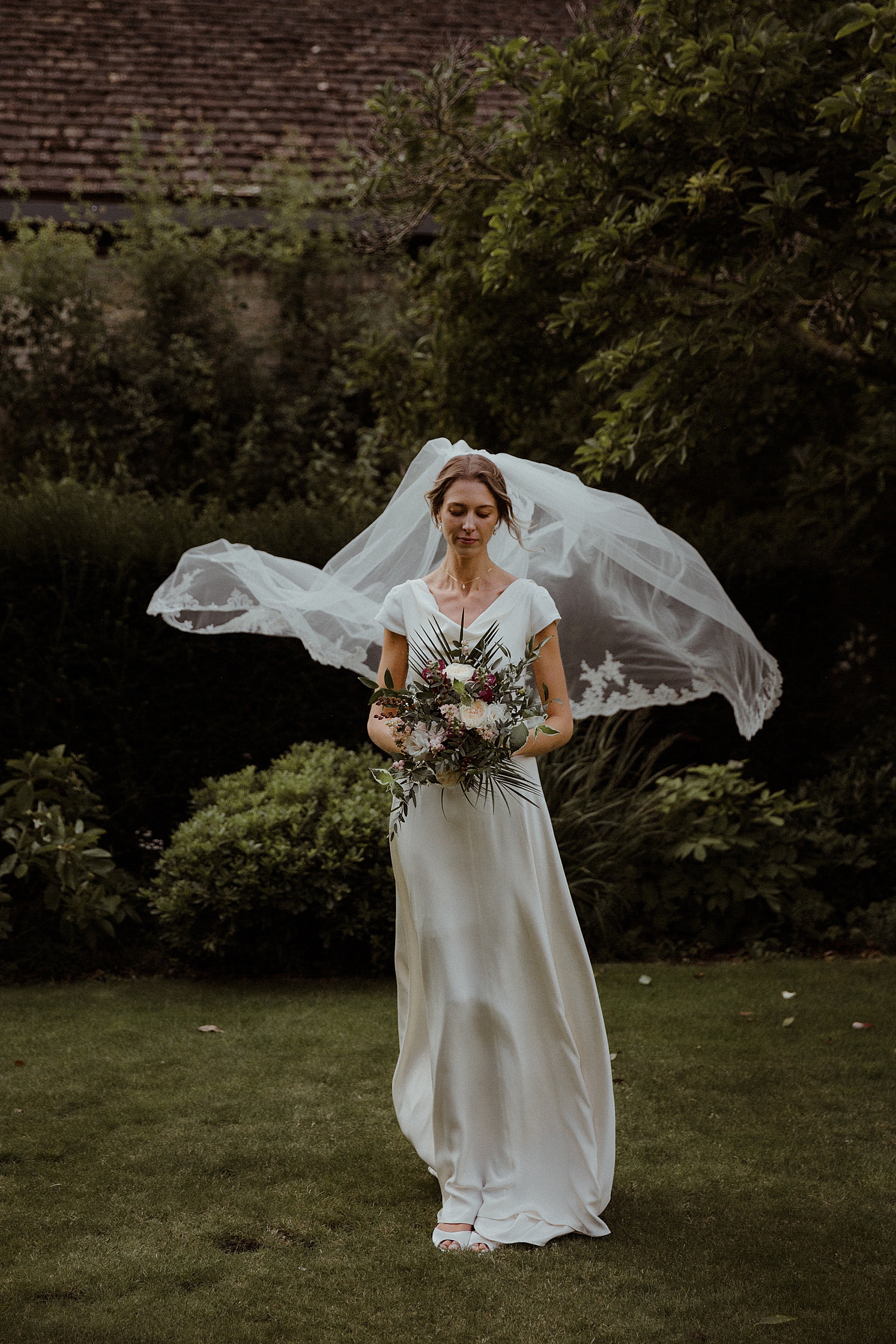 "Robert gifted me a beautiful pair of snowdrop pearl earrings on the wedding morning, designed and made by a wonderful independent jeweller, Silver May. My mum also loaned me my late grandmother's wedding band to wear as my something borrowed. We had been incredibly close and it meant so much to carry a piece of her with me."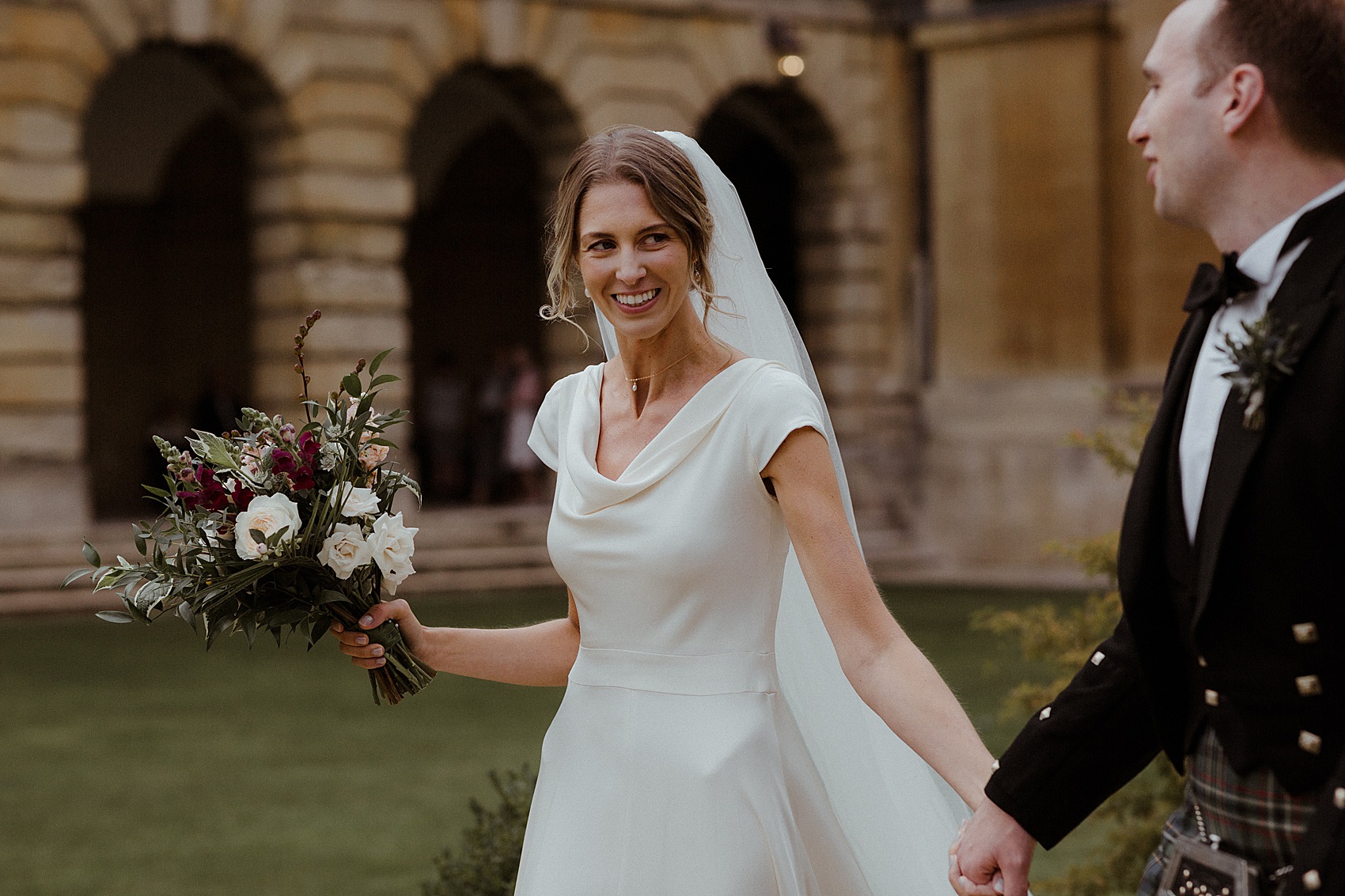 Robert honoured his Scottish heritage by wearing traditional Highland dress.
"Robert had several heirloom kilts in his family tartan (Scott), that had been passed down over generations but the years – not to mention the moths – had not been kind to them, and he wanted something new."
"After many weeks poring over tartan samples, he commissioned a new kilt in Muted Green Scott from R & I MacDonald Kiltmakers which he paired with his usual Prince Charlie jacket and waistcoat and a wing-collar dress shirt from Pink Shirtmakers."
"Robert gifted his each of best men with a silver kilt pin and I gave him a new one featuring the Scott Clan crest and motto – aptly, 'Amo' (I love)."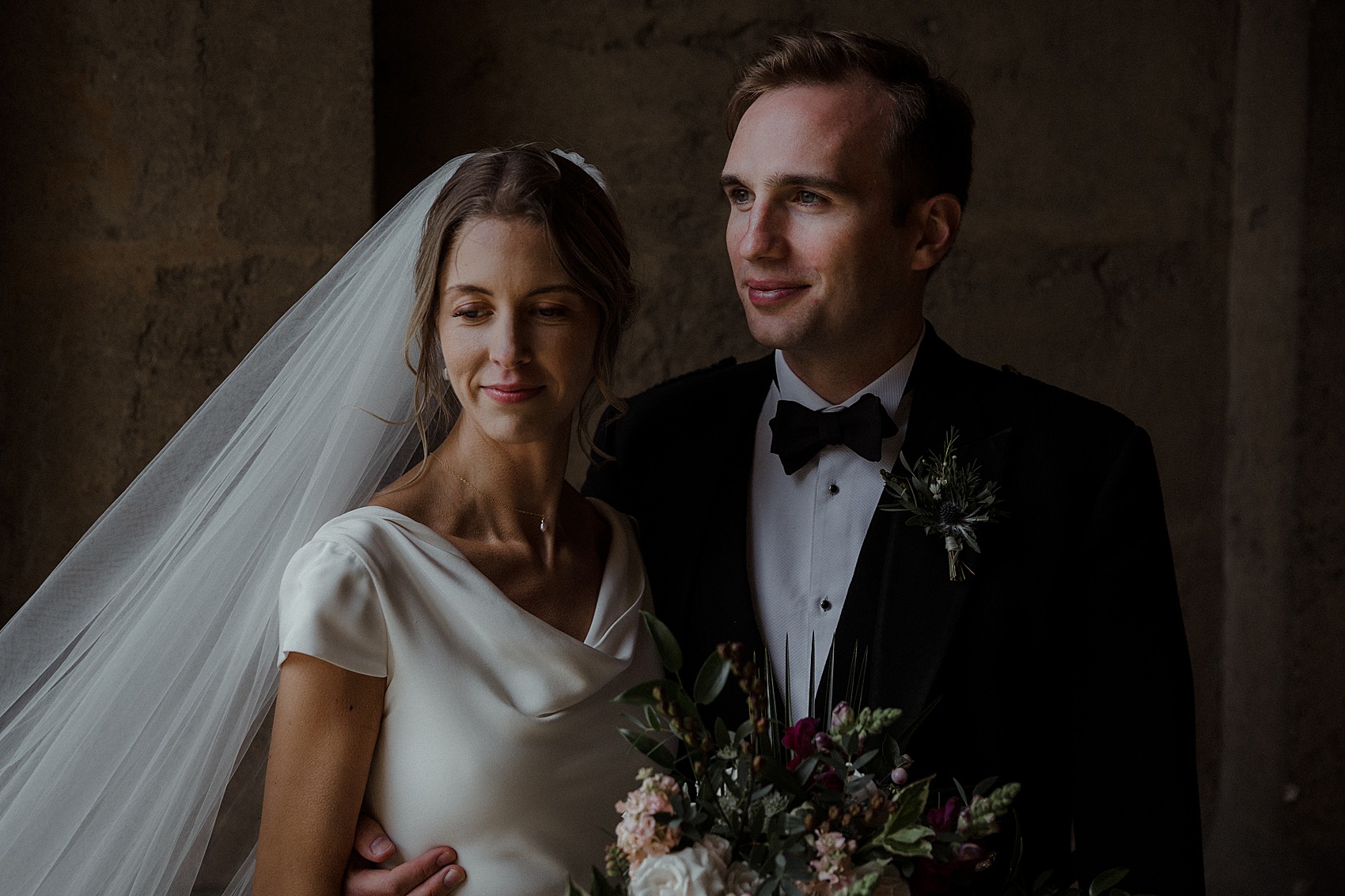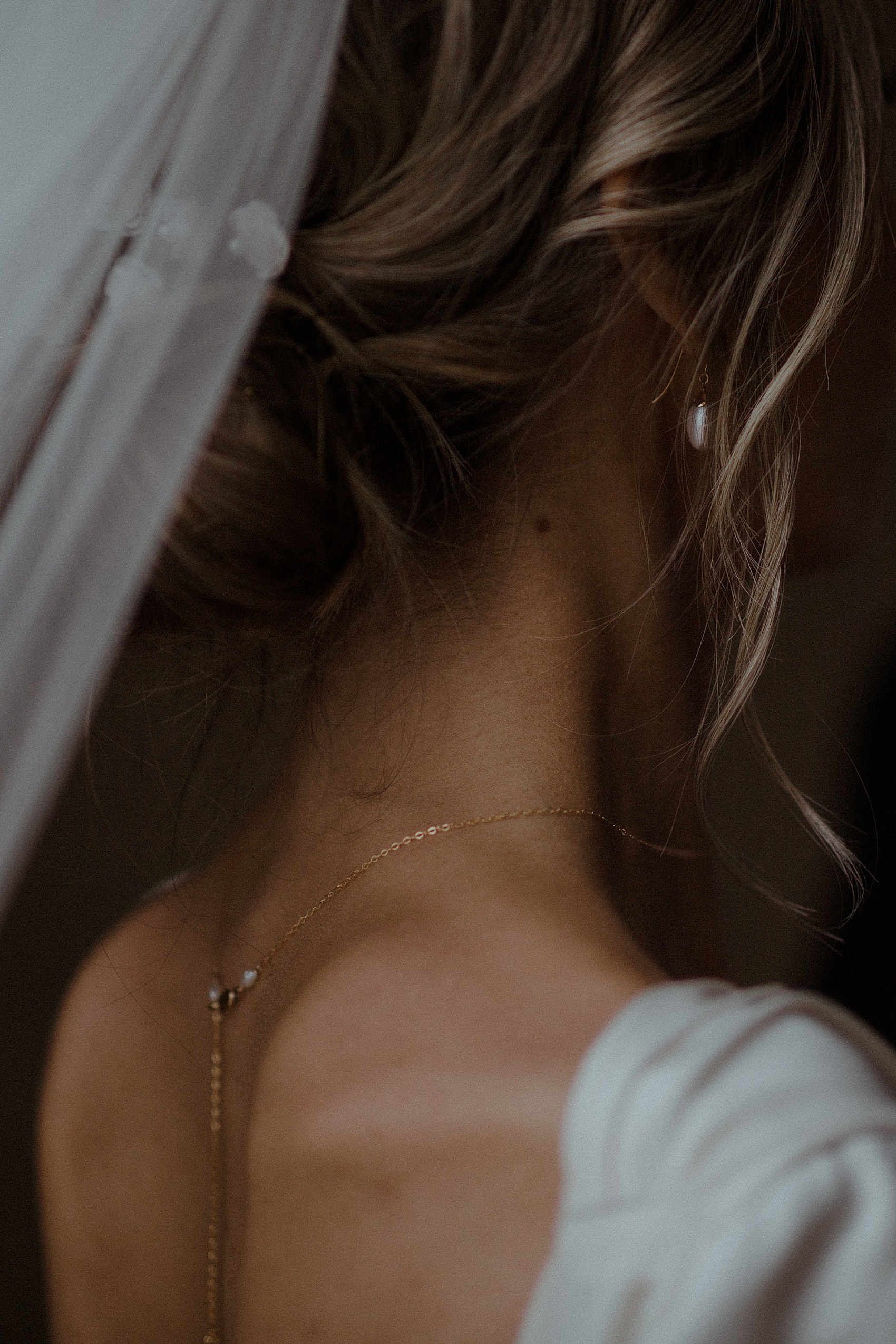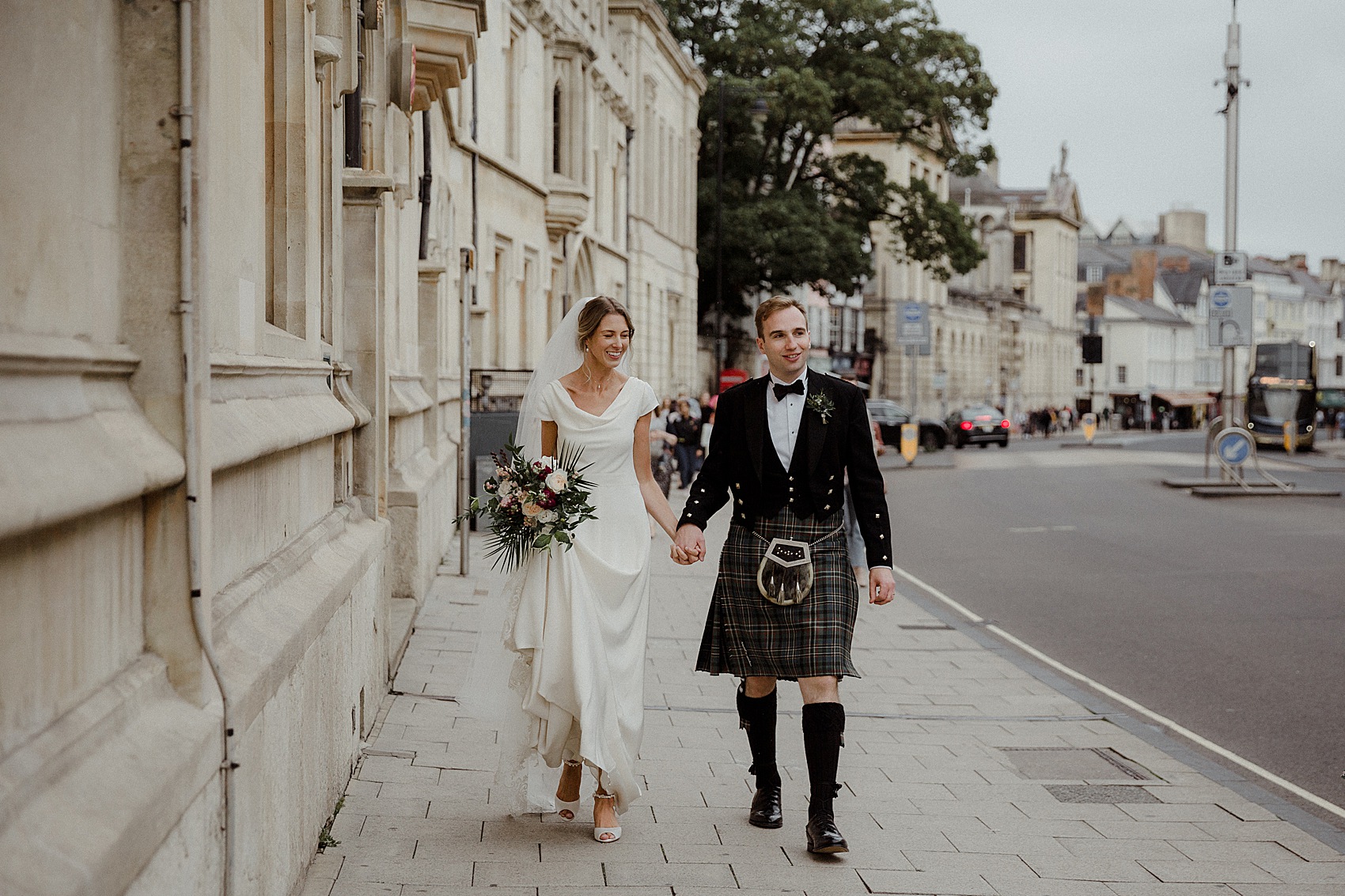 The newly-weds chose such a unique way to travel to The Perch; by boat along the river Isis!
"We travelled to The Perch in style, in two beautiful Edwardian style launches from Oxford River Cruises, tracing the riverside route we had walked to the pub from the city so many times as students."
Rebeccah has a beautiful way of describing the day's subtle influences, so I'll pass you over for her to tell you more.
"As Robert is a fiercely proud half-Scot and I grew up with so many cultural influences from my mum's Danish heritage, we knew we wanted to celebrate these two identities coming together which was the main thing we held on to as our plans changed from our original big party to our cosy little gathering of thirty."
"The strains of 'Highland Cathedral' wafted down the river as we drew up to the jetty as Robert's dad, a champion bagpiper, piped us off the boats and through the fairy light tree-tunnel to the marquee."
"Much whiskey was consumed – though I drew the line at wedding haggis, much to the groom's disappointment – and the gents of the wedding party were all very handsome in their finest kilts and Prince Charlie jackets (as were several of their toddlers: is there anything sweeter than a baby kilt?!)."
"Most of my Danish family were unable to be there but, as is our custom, we strung the place with so many Danish flags you'd think it had been snowing them, had a traditional kransekage wedding cake and decorated the reception marquee to create that warm, convivial, familial, hyggelig or cosy atmosphere loved by Scandinavians (and marketing departments) everywhere."
"I had been so nervous about looking/saying/doing something wrong on my wedding day, in front of so many people, but the reception we ended up having ended up feeling like a big family dinner party of our nearest and dearest, and everyone could just relax and have a cosy time together. Very Danish and very us!"
"The rain started just as we boarded and while it wasn't quite the glorious summer voyage I'd imagined, it was actually really rather romantic, sailing up the river snuggled up under blankets and sipping champagne!"
At The Perch, the couple processed through the most magically romantic fairy light tree tunnel to the marquee, decorated simply with fairy lights and flowers.
"The tables were named after places in Oxford of particular significance to us – where we met, where we had our first date, where he proposed – beautifully designed and illustrated by a family friend, who was too elderly to travel to the wedding in person, but was there in spirit via the medium of his incredible artworks. The place names were by Inkcrafts Shop."
"The food was provided by The Perch and it knocked our socks off. We had several comments that it was the best wedding breakfast our guests had ever eaten – we certainly agreed."
"My dad imported and brought the wine and fizz, which we chose together during a hilarious family blind tasting he held for us."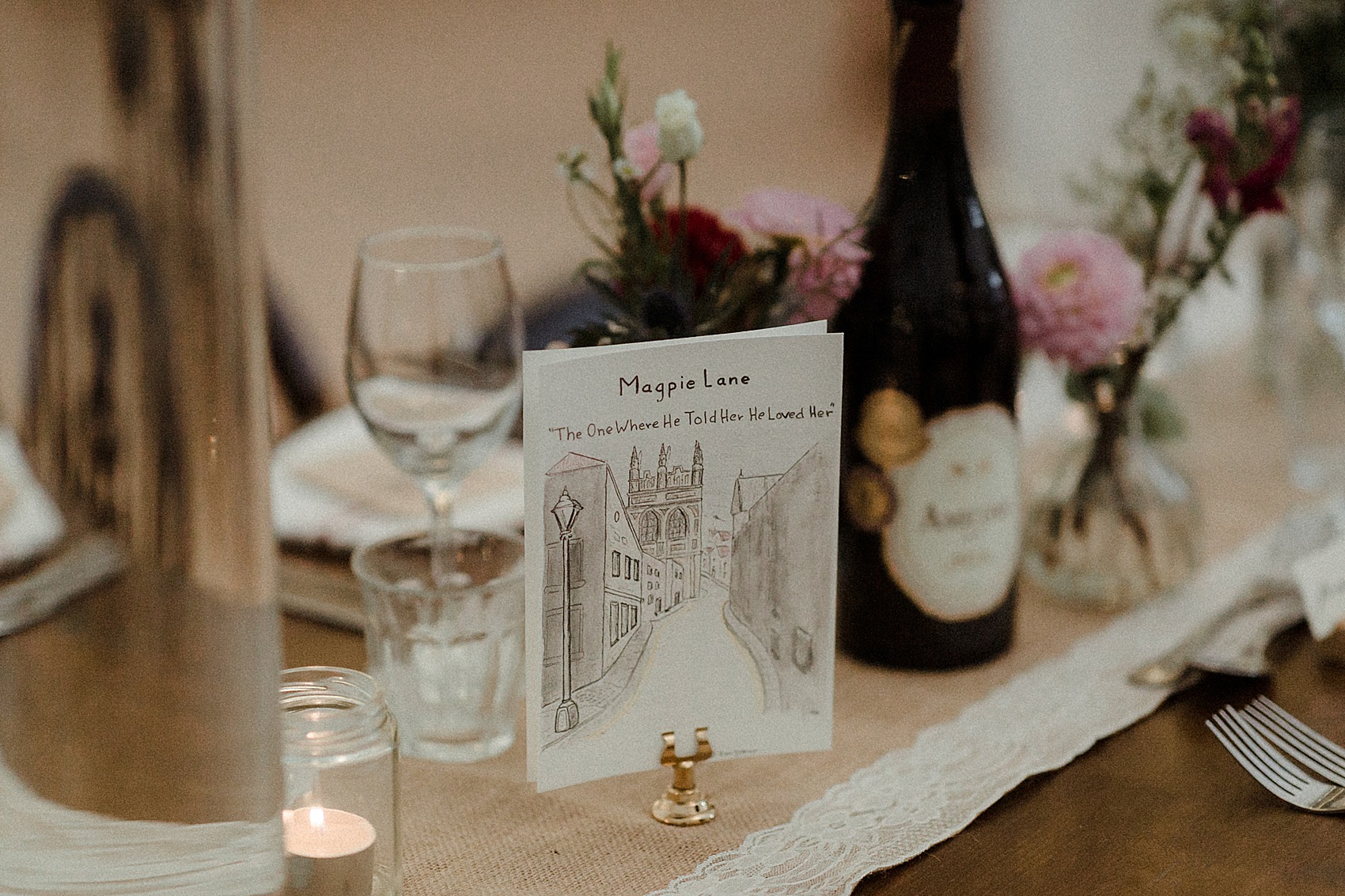 Adhering to this natural feel, the stationery was designed on handmade paper.
"The common theme was beautiful handmade paper and a monochrome calligraphy script. Apart from the table signs (by a family friend) they were all from wonderful independent artists on Etsy – we wanted to support small businesses and there is such a wealth of talent to be found on there."
"The invitations were Good Karma Paper and the orders of service Beautifully Lost Shop."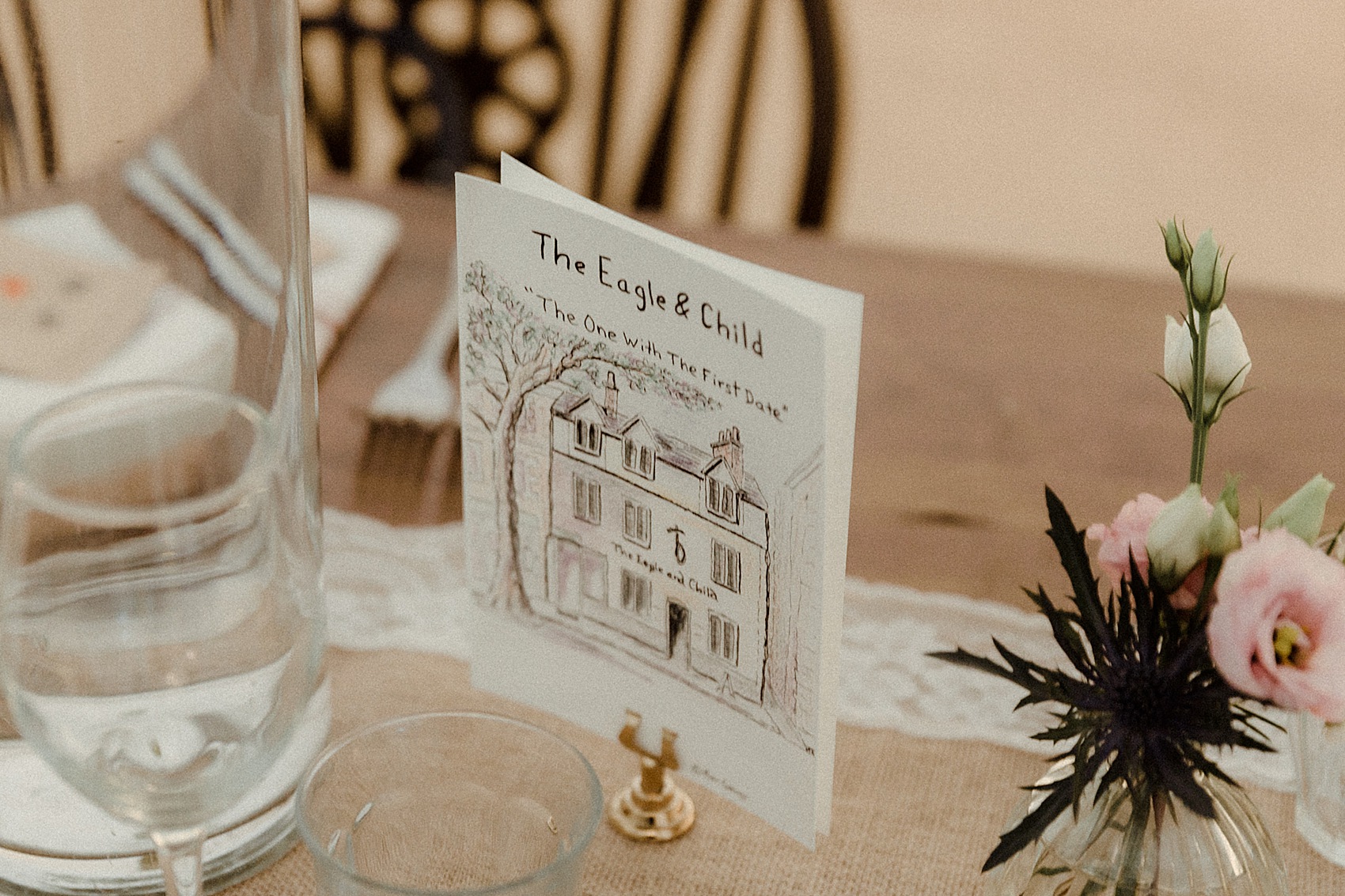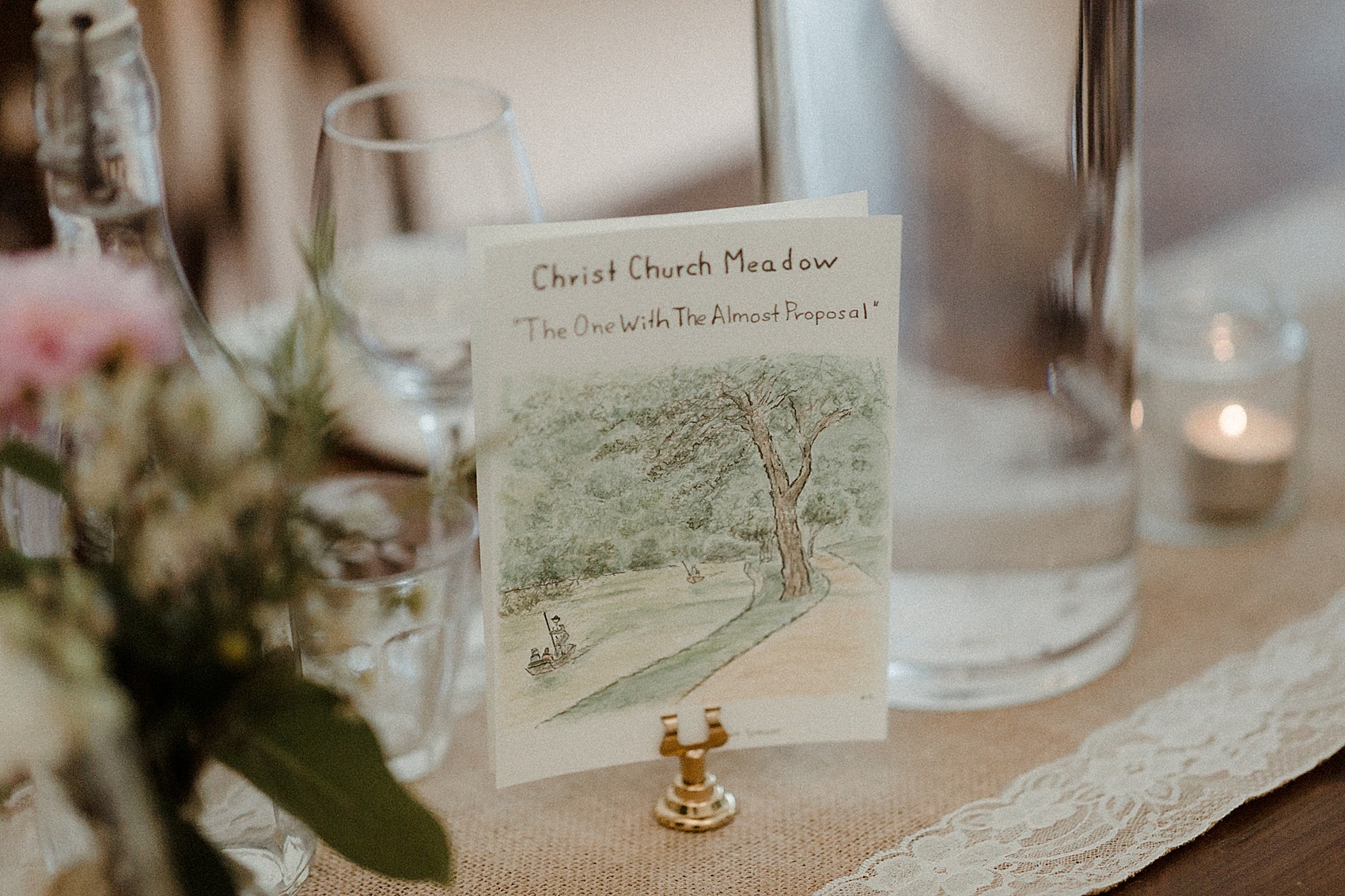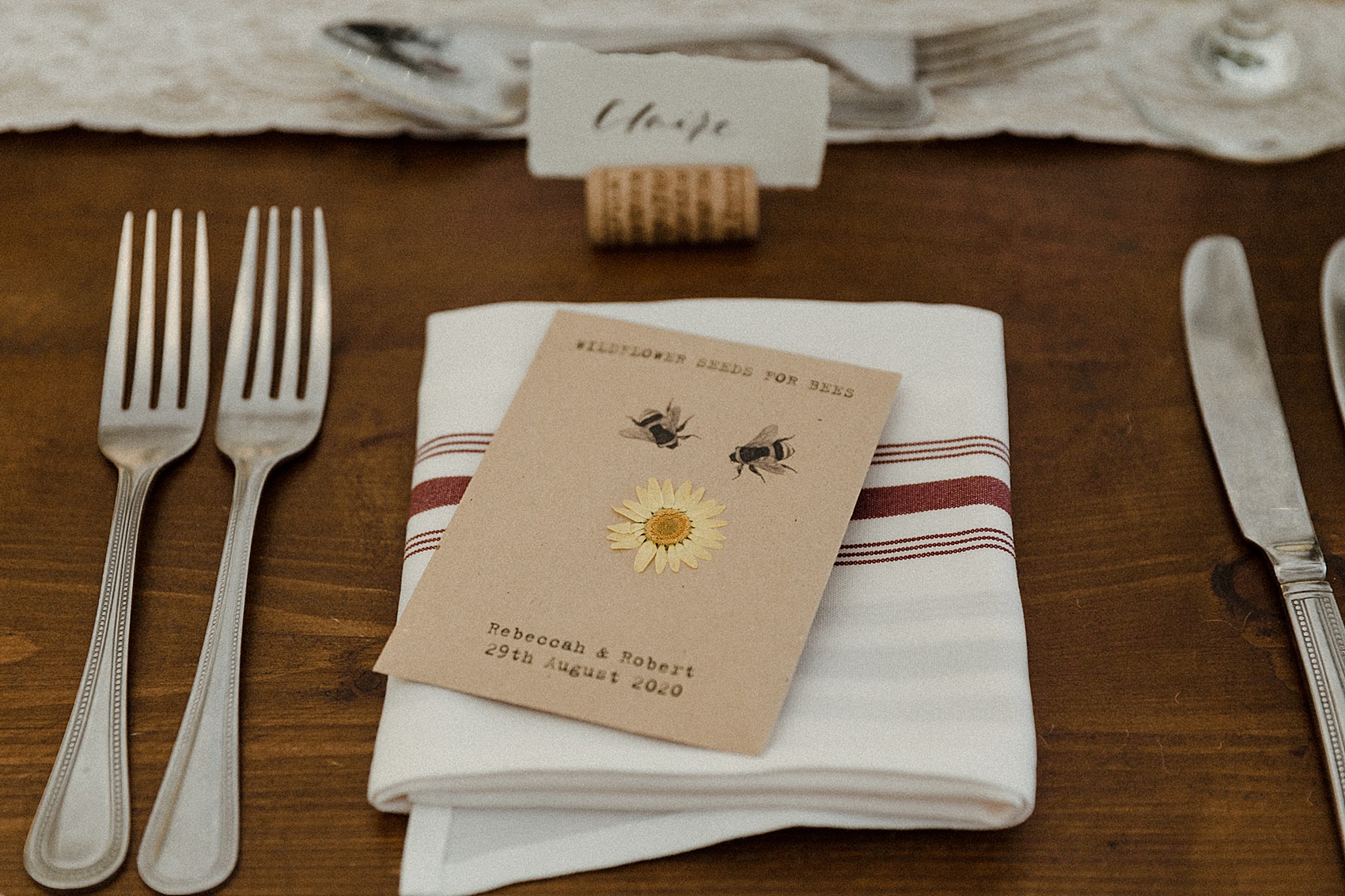 These incredible, timeless photographs are the work of Luisa Delfi; her style combines classic with modern, all along the minimalist Scandi lines that Rebeccah favours and making the most of natural light.
"As the daughter of a photographer-cameraman, I'm even more allergic to the lens than most camera-shy brides and Robert was also nervous about being papped for an entire day. Who wouldn't be? But… where to start! Lu was without a doubt one of the best decisions we made. We hadn't realised how much it mattered to find suppliers you really click with personally, and much of the time had focused instead on those whose products we really loved. With your photographer especially, it makes an incredible difference if it's someone you can relax with and enjoy their company."
"We found Lu after a recommendation from a fellow photographer and when she sent us some sample galleries, one of them transpired to be the wedding of the sister of one of my clients. It must have been fate…! Her photography is so emotive, unforced and unstaged, working with natural light to capture gorgeously artistic shots, with such a beautiful editorial style."
'We had an engagement shoot on what transpired to be the hottest day of the year and we knew we were in safe hands from the minute we got started. Lu kept in regular touch in the run-up, ever sympathetic to our plight as government announcements regularly poured cold water over our latest plans and was a real support, never complaining at the number of times we had to re-plan."
"Not long after the wedding she emailed an incredible gallery documenting every moment in her beautiful trademark style and even posted a selection of prints and a USB in a gorgeous engraved wooden box. We're so grateful we found Lu and will treasure our photographs forever."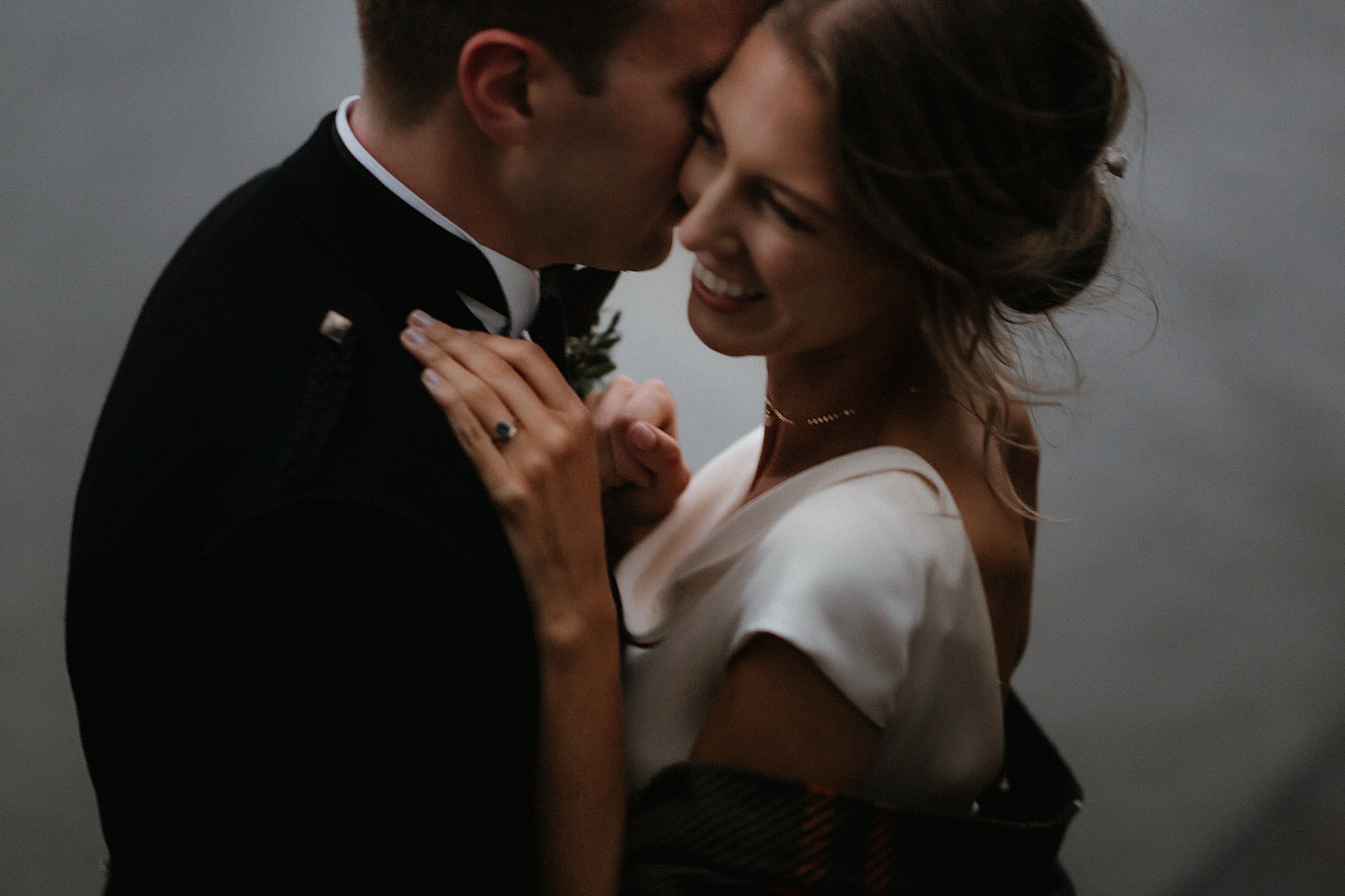 Although a wedding cake wasn't in the original plan, the bride and her mum each baked a cake to feed the party of 28 guests.
"Mine was a three-tier iced whiskey-soaked fruit cake, decorated with more beautiful David Austin roses. My mum baked the traditional Danish celebration kransekage: stacked rings of lacy-iced chewy almondy deliciousness, topped with little wooden peg-doll figurines she had commissioned a lovely Etsy seller, Our Kindi Folk, to paint in our likeness."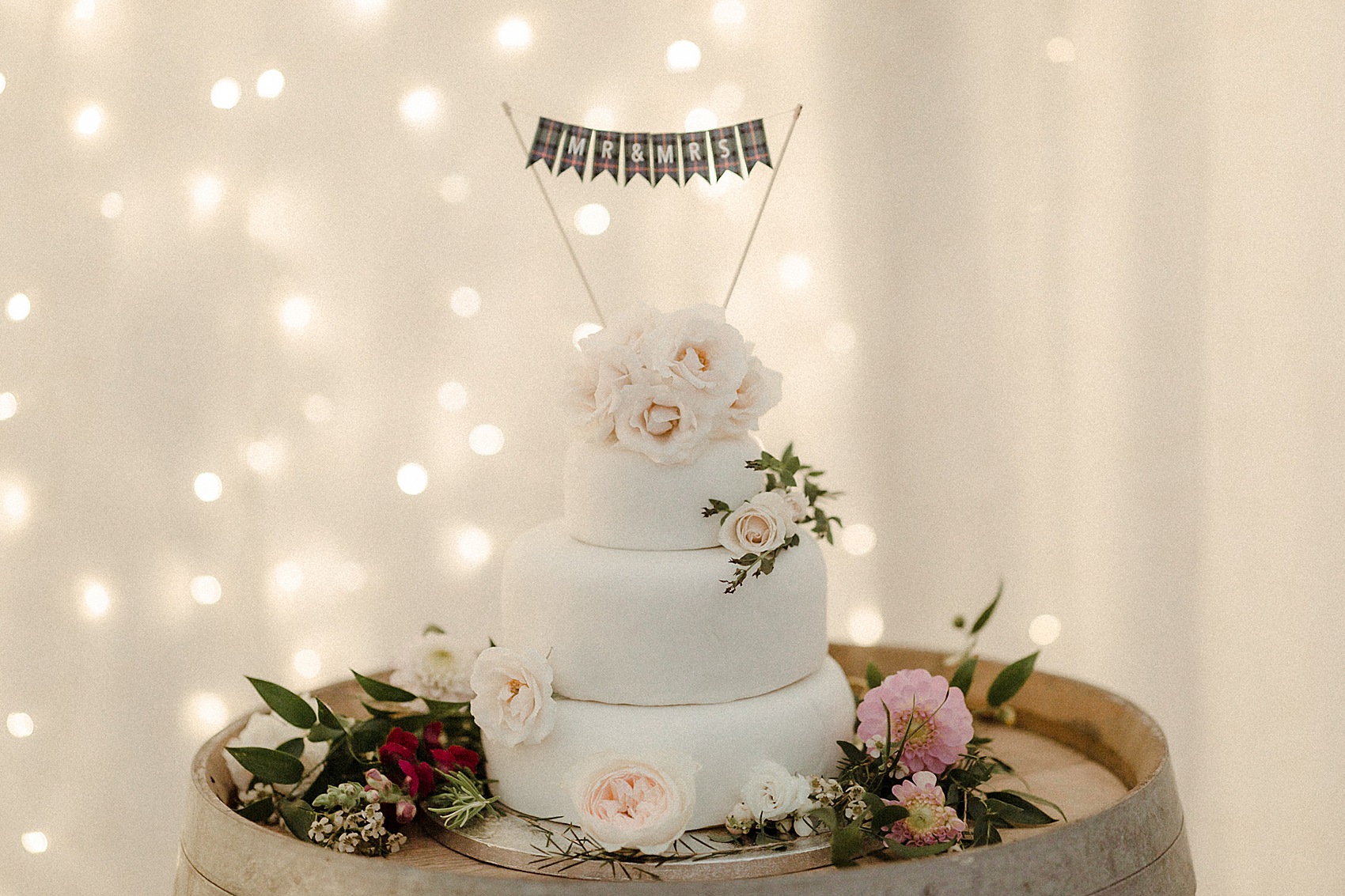 "Since nobody else was allowed to join in we didn't make a big show of having a first dance but it was also a moment we knew we wanted to share on our first day as Mr & Mrs. So, while everyone enjoyed their after-dinner drinks, we quietly put the great Louis Armstrong singing 'We Have All The Time In The World' on the sound system and had a little boogie à deux between the tables."
Words of Wedded Wisdom
"Make the most of the engagement bubble. You'll be married forever but your engagement is a really precious time to enjoy together first. Everyone will want to celebrate with you, so savour every minute and bask in their reflected happiness for you both."
"One piece of advice I read over and over before my wedding was to just relax and make the most of every second – you'll have spent so many months envisaging the day itself but it goes by so quickly it's over before you know it!"
"With that in mind, I think my piece of wedding wisdom would be to invest in the best photographer and videographer you can afford. Those memories become so precious and you'll want to relive it all again and looking back at it all is something you can do together every anniversary for the rest of your marriage."
Well, Rebeccah's account and Luisa Delfi's wonderful photos really do speak for themselves, so I'd like to extend a huge thank you for allowing us to share them here.
Rebeccah, I'm so pleased that you found these pages helpful whilst you planned your day and I'm so glad you and Robert were able to wed, albeit with plan D.
If you adore Rebeccah's gown as much as I do, why not take a look at these brides who chose a heavenly Sabina Motasem gown for their celebrations?
Ele xx