If you're knew to Love My Dress, it's important to me that you know how passionate I am about bridal fashion and supporting bridal fashion designers, but particularly when they represent home grown talent right here in the UK.
My respect for the craft of dressmaking is partly down to my fashion designer husband, who has taught me so much through his skill for pattern cutting and design. I know a good designer when I see one, and Katy Britton of Katy Britton Bride certainly that.
Katy Britton Bride

+ Follow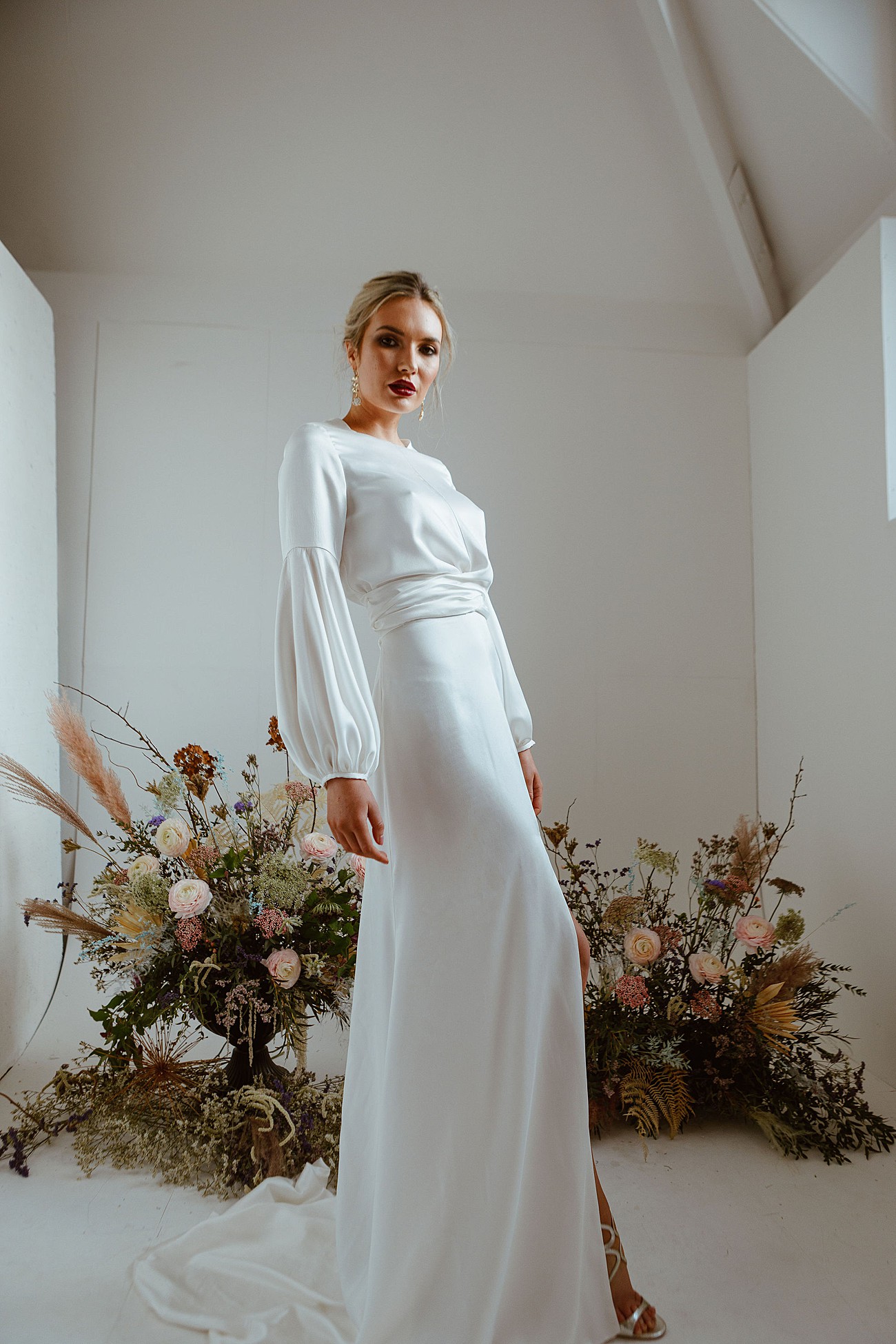 Katy Britton Bride, I'm very proud to say, has recently joined our list of recommended suppliers. Katy is one of many creative individuals working in the wedding industry, who, after the events of the past year, truly amazes me.
I believe that anyone who works for themselves, creatively, and who has survived the last 12 months, has the most incredible levels of resilience and determination, fuelled by an absolute passion for their craft.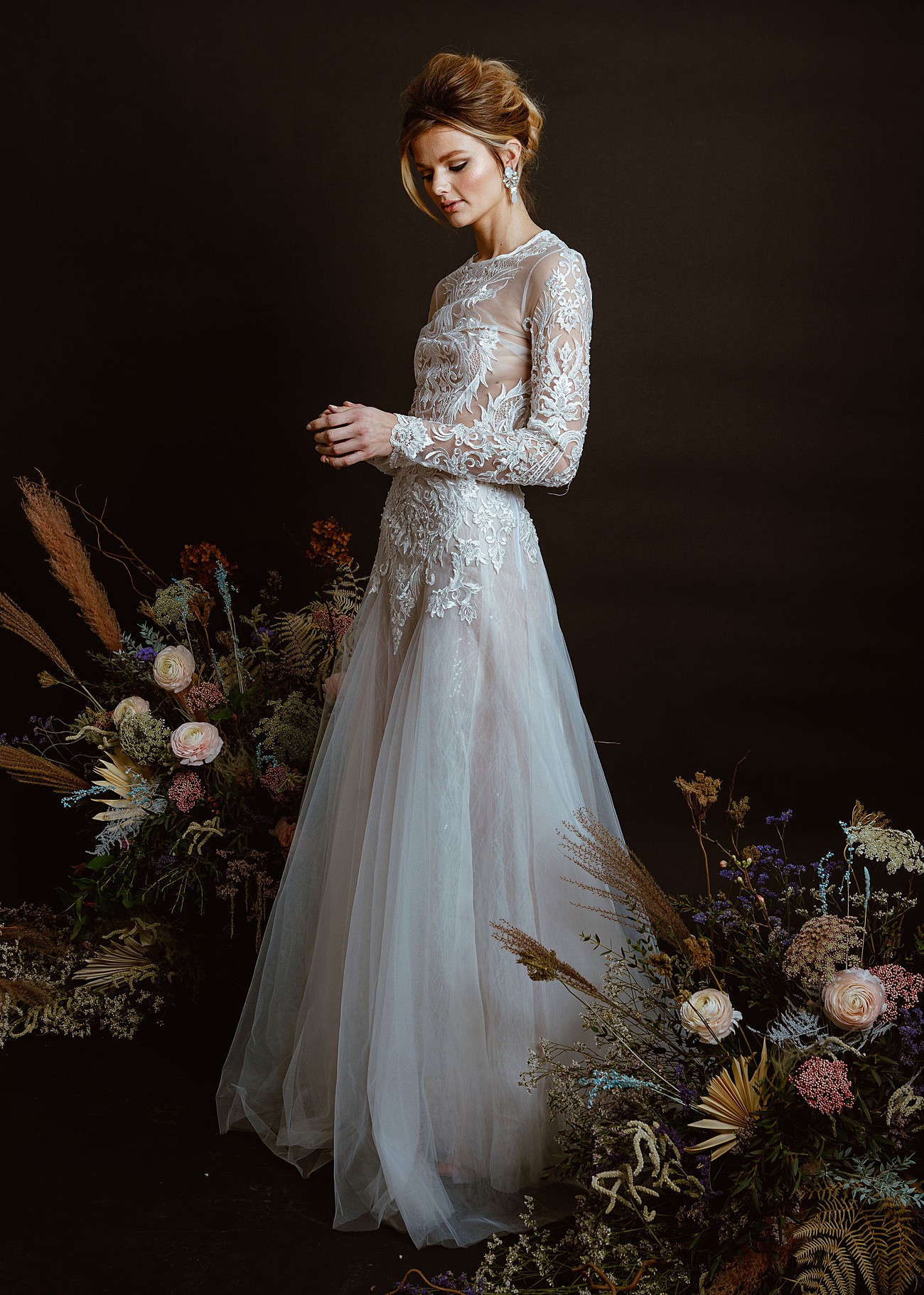 Katy, please introduce yourself to our reader community
Hello! My name is Katy Britton, I live in Nantwich where I run my bespoke bridal label, Katy Britton Bride.
https://www.lovemydress.net/directory/supplier/katy-britton-bride/
How did you end up working within the wedding industry?
I've always loved fashion and design of all kinds, but I've always loved to sew. When I left college I went to work for a bridal designer, and picked up so much knowledge from her.
After my Fashion degree, I realised mainstream design wasn't for me and so started my own bridal label. I can't imagine doing anything else, it's so personal.
The past year has been full of uncertainty for us all and it's been incredibly challenging for business owners to reassure their clients. What things have you done to reassure your clients throughout this time?
I made sure I kept in touch with them all during lockdown, and stressed to them that I could accommodate any changes they wished to make, whether it be dates or design changes.
Our collection is made up predominantly of separates that can be mixed and matched to find the perfect combination.Every piece is fully customisable; laces, fabrics, detail and shape can all be altered to create the ultimate, flattering and beautifully fitting dress for you. Katy Britton
A few of them wanted to alter their dress designs to something less expensive as their wedding were so much smaller.
A couple more had their fittings paused by lockdown, with very little time to finish the dresses on the other side, but we got there!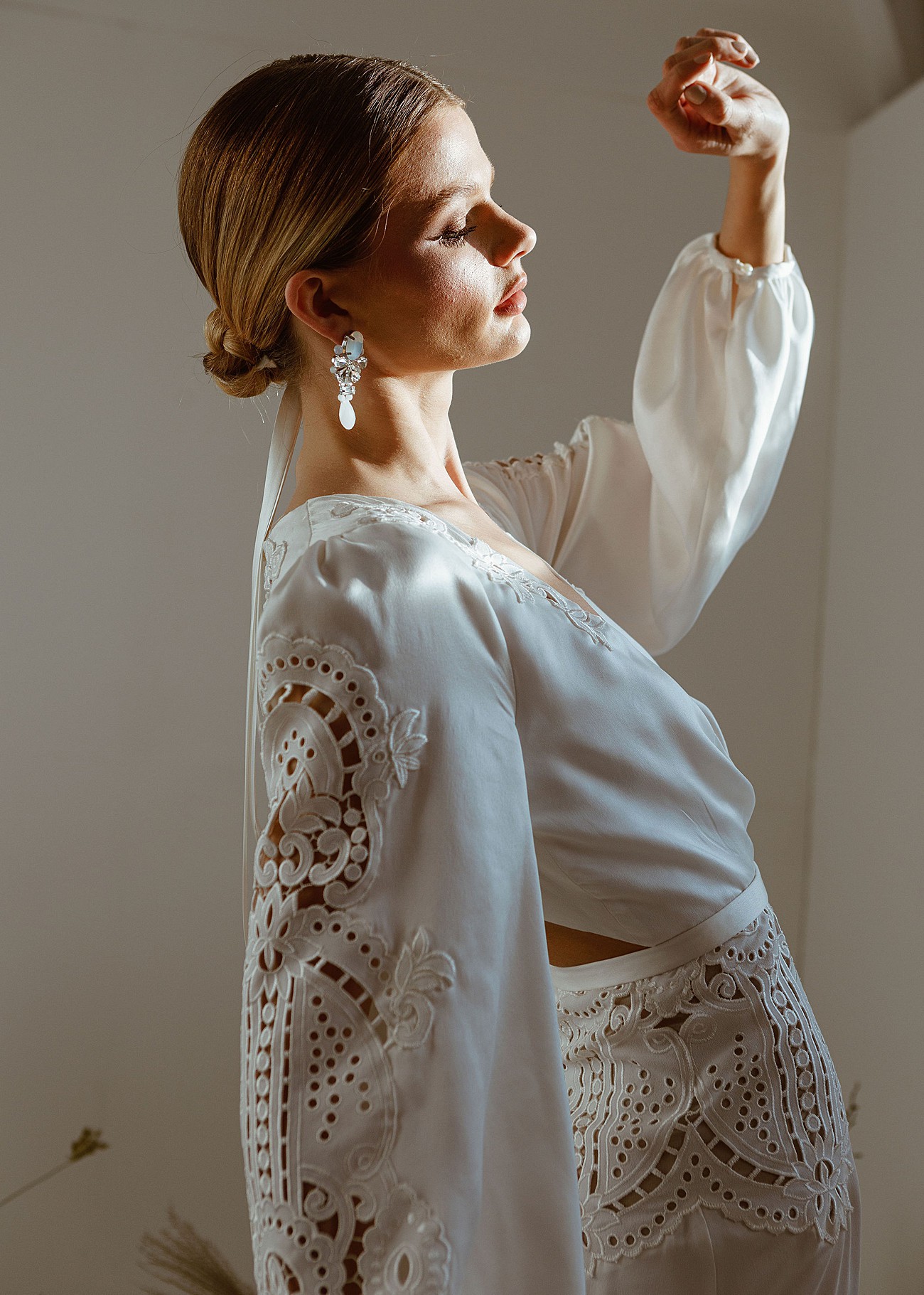 Tell us how you've personally coped throughout the more challenging times of the pandemic and lockdown.
I'm generally a pretty optimistic person, but I think the uncertainty of the pandemic pushed most of us to our limits.
During the darker moments I found something as simple as going for a walk and breathing some fresh air worked wonders. Or a large glass of wine!
I also got into the routine of spending a couple of hours a day at the studio after a hard days home-schooling. Designing is like a tonic for my soul!
Non essential retail has been open since 12th April – how has life and business been for you since then? How are your brides finding it all?
We've gone from excruciating boredom to absolute mania! But it's how I like it, so I'm not complaining. The brides I've seen so far are happy, excited and almost resistant to the restrictions and uncertainty currently surrounding weddings.
They just want to get on with it, and still want to look fabulous on their day.
We last spoke with you in August 2020, and rather a lot has happened since. At the time, you were feeling deflated at the cancellation of London Bridal Fashion Week, which you were due to attend to launch your debut wholesale collection. How are you feeling now and what plans have you to share your beautiful collection with the world?
Well, it was cancelled again for March this year so I did have a little wobble! But, the optimist in me resurfaced and business was resumed.
All being well it will go ahead in 2022, so I can meet buyers face to face. I will be sending out the lookbook in the next few weeks as an introduction to who we are and what we do, and crossing everything for a positive reception. It's pretty nerve racking!
Covid has had a huge impact on the entire fashion landscape. Do you have any views as to how it's going to change the bridal fashion landscape moving forward? And are you already seeing any signs of its impact on bride's fashion choices?
There is a massive shift towards sustainability, whether this has been helped along by the pandemic or not, I don't know. but it's certainly positive.
I feel that everything is so much more relaxed, there is less of a sense of grandeur around wedding plans, and more of a sense of intimacy. Smaller weddings, with the most important people in your life.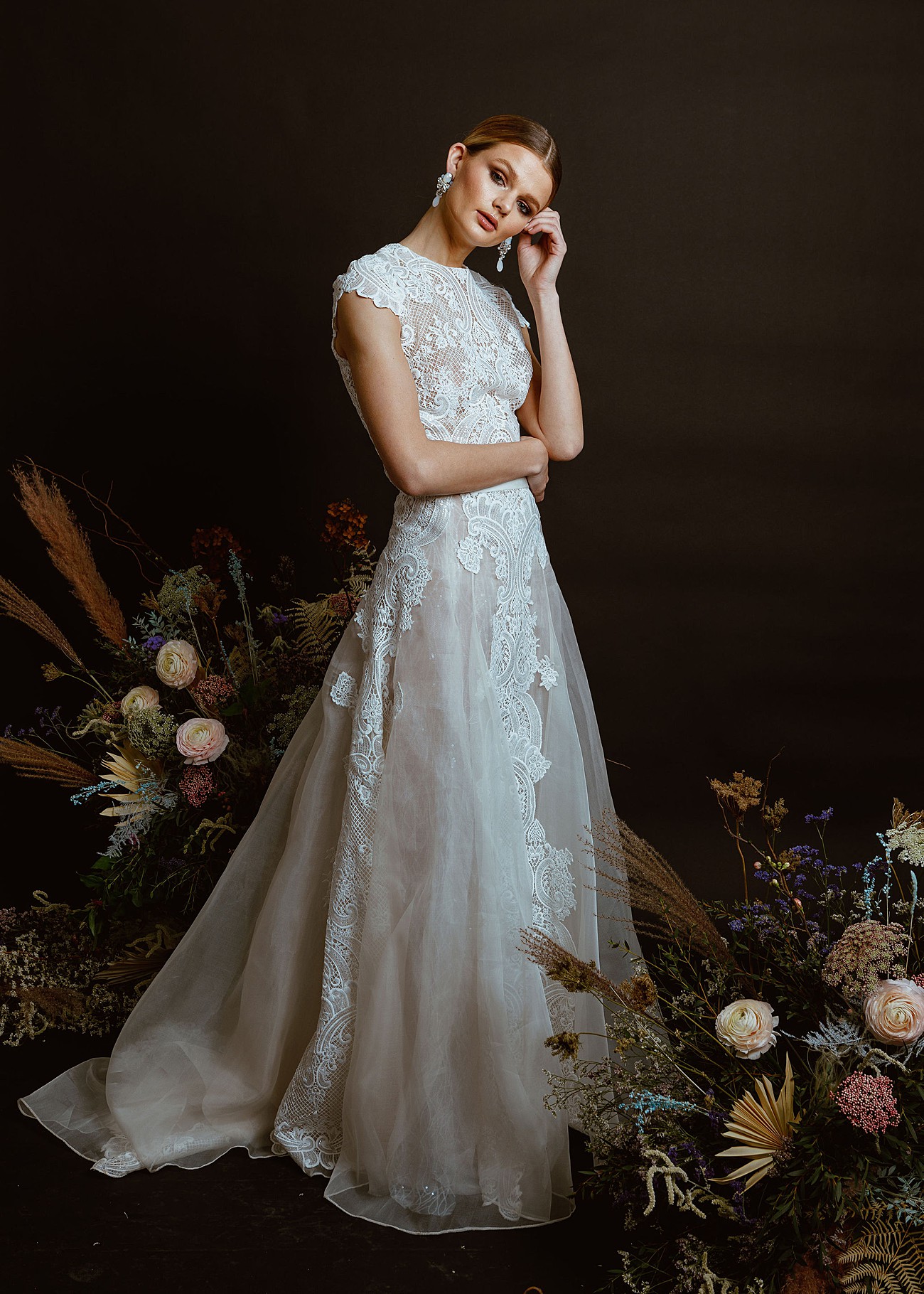 As we emerge into a new post-pandemic fashion era, consumers are making more ethical and sustainable fashion choices than ever before. Can you tell us how you incorporate these important values into your own brand?
Absolutely! All of the silks I use in this collection are GOTS certified, and they are so beautiful. Everything is produced in-house at my studio, and the collection is also designed in a way that the pieces can carry on from season to season.
Most of them are separates, so can be paired with something newer, or even re-vamped. The idea is that my potential stockists can get the most out of their money, and the brides can experiment with combinations and build the ultimate dress.
Your new collection is truly beautiful and the campaign images are so beautifully sensuous and feminine. Please tell us about it. What inspired you and how can brides see/try it on?
Thank you! I'm so pleased with the images, we had a great team. I always find the subject of inspiration a difficult one, as there is never anything specific I can pinpoint.
It can often just be a simple as a beautiful fabric or lace, and designing something to get the best out of it. Brides can currently try the whole collection on at my Nantwich studio.
Is the collection available now?
Yes, I'm just finalising the lookbook and pricing.
Are you able to provide an idea of price?
Yes, it ranges from around £1200 to £3000.
Do you have a favourite design or designs in the collection, and why?
I love the new Luna dress (pictured below). She was born out of lockdown, so I probably owe some of my sanity to her! But, she's really just right up my street, and probably something I would wear.
A little bit retro, a little bit boho, but still very chic.
Are you able to provide any reassurance to the more curvy bride who may have concerns about sample sizes being too small, but who still wants to look absolutely knock out in one of your designs?
Of course. Trying on in bridal boutiques can be tricky for all sizes of bride, things can seem awkward if they don't fit. Most of my samples are 12's (real 12's, not bridal 12's!), but we can work magic in the fitting room with some pinning and playing around.
For brides who are unsure of their final design, I offer a full toile fitting; a mock-up of the style before taking the plunge into the actual dress itself.
These fittings are priceless for finalising silhouettes.
Over the past year, the wedding industry has rebranded on so many levels thanks to some seriously passionate campaigning and lobby. What are your thoughts on the industry as a whole, and what would you say to any aspiring designer hoping to enter and create a bridal fashion brand?
The wedding industry feels like a community, and actually, a pretty lovely one to be a part of. There is a huge sense of suppliers supporting each other. To any aspiring designers, I would say absolutely follow your dream. Keep on top of what's happening but don't compare yourself too much to other designers. Find your own style.
Why do you do what you do and what do you love about it the most? I'm keen to dig a little deeper here and explore why you love the craft of dressmaking in particular. What is it about the process that you find most rewarding?
I gain enormous happiness from creating something beautiful, and making someone feel beautiful in something I have created. It's really as simple as that.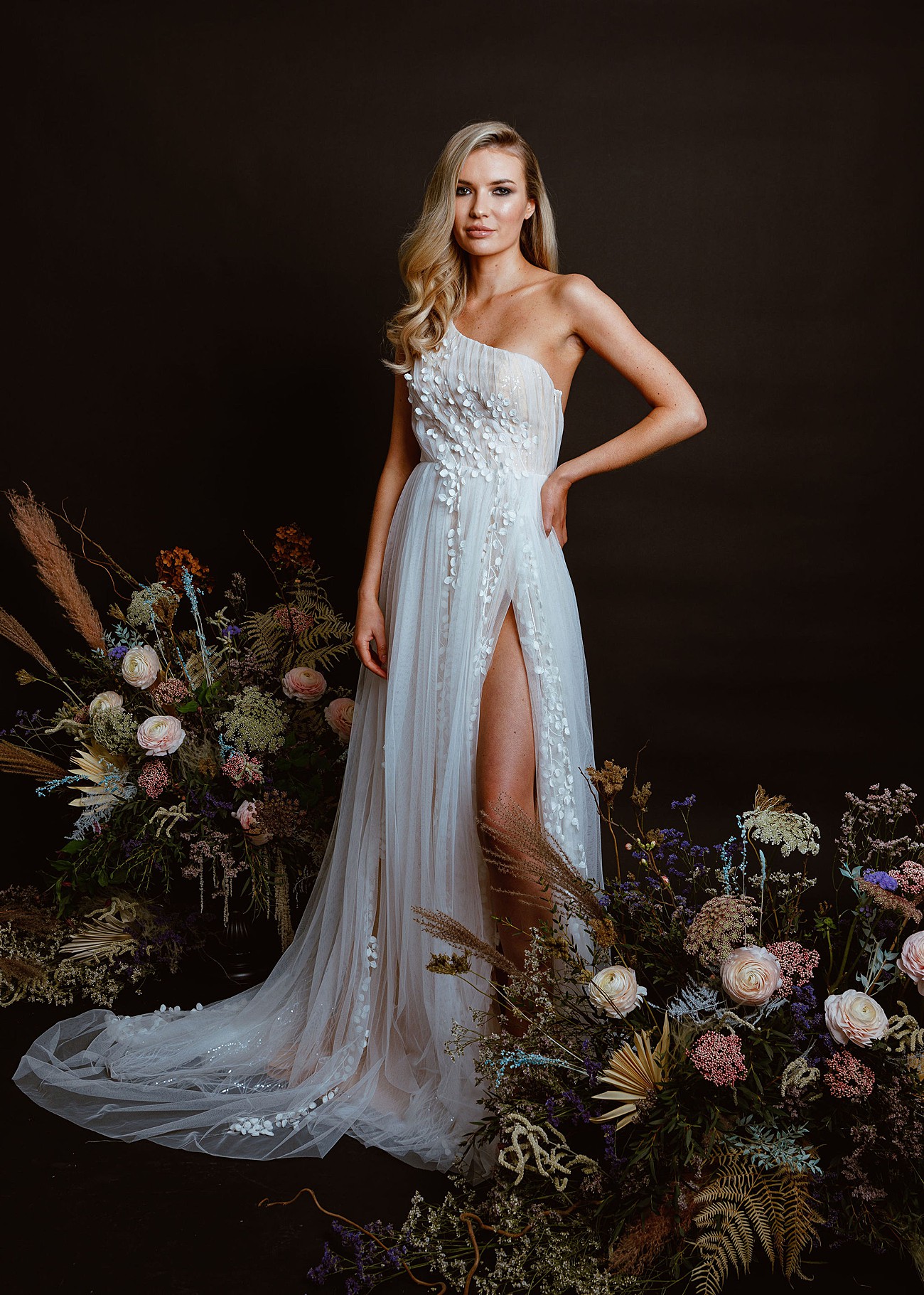 Katy, I'd love to learn a little more about you – what do you love to do in your spare time?
There's very little of that on a day to day basis, but we spend most weekends and school holidays at the beach. It is, without a doubt, my happy place.
What is the last book you read? And any book recommendations for our readers?
I read Harry Potter and the Philosophers Stone to my son! I would definitely recommend it!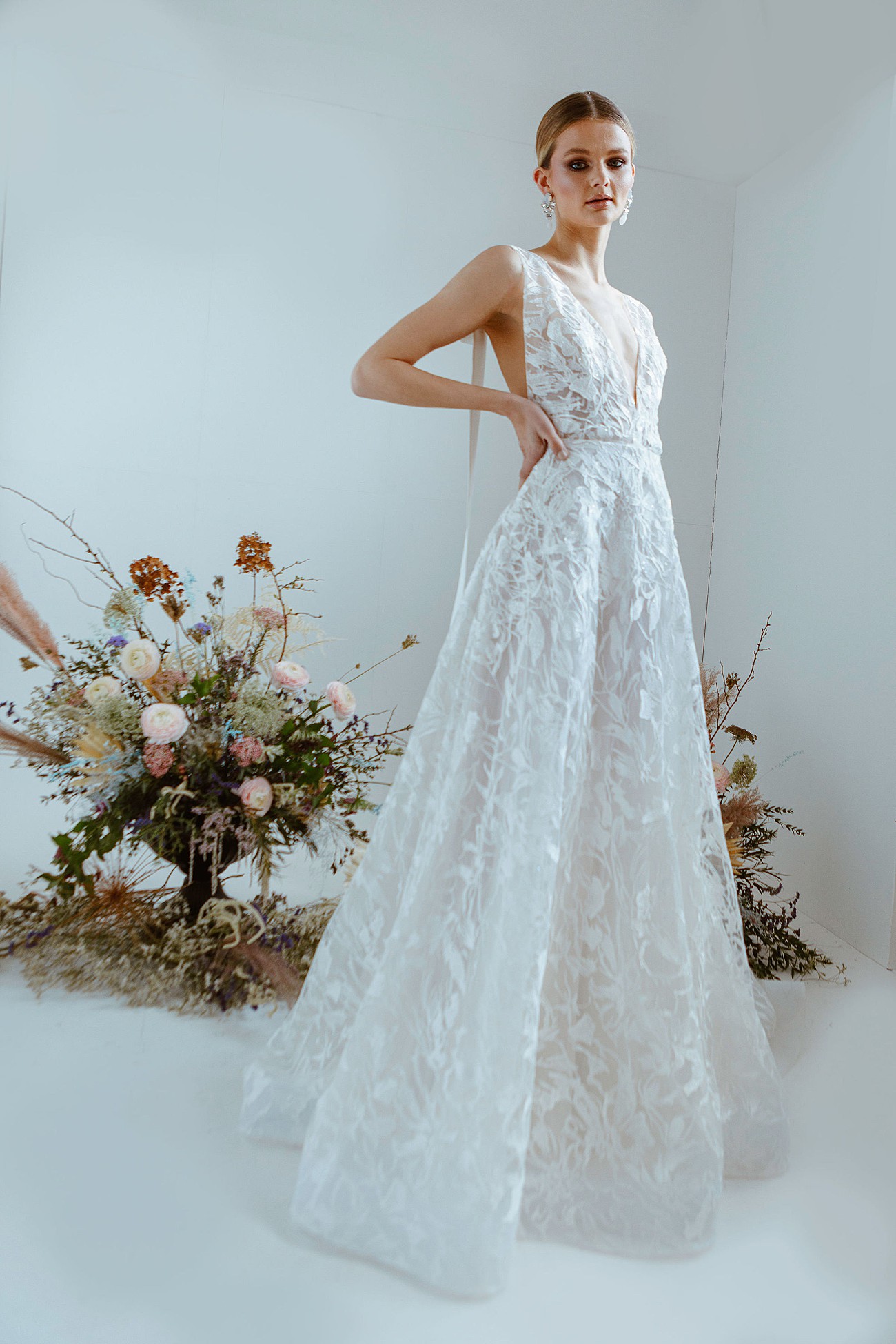 What music are you enjoying right now?
My music taste has evolved very little over the last 20 years (eek)! Rolling Stones, Beach Boys, Fleetwood Mac, Oasis, The Stone Roses.
What or who inspires you in your day to day life?
Difficult to answer without sounding slightly cheesy, but my kids. I want them to see that their Mum has followed her heart, and hopefully it will inspire them to do the same.
Your top 5 Instagram obsessions right now (just link to accounts)
@zimmermann
@zz_fashion_illustrator
@daisymaycooper
@the_lane
@callenschaub
Latest film you watched?
Seaspiracy. A complete eye-opener.
 In one single sentence, how would you sum up your outlook and approach as we navigate through 2021 and seek to exit this lockdown?
Hopeful, excited and looking forward to dressing some actual real life brides!
What main message would you like us to pass on to all the brides in our community?
Just do it your way! There has never been a better time for weddings to be more unapologetically personal and original, and they are the best ones.
_____
To find out more, visit katybrittonbride.co.uk or call +44 1270 747792.
Visits to the Katy Britton Bride studio are by appointment only. The studio is located at Regents Park, 129 London Road, Natwich, Cheshire, CW5 6LW.