Today's brilliant couple and their loved ones pulled out all the stops to have an enchanting, joyful wedding day – and as the couple themselves say – find a silver lining despite the difficulties faced when changing their wedding plans during the pandemic.
We're off to the idyllic Hertfordshire countryside today for the wedding of Mental Health Social Worker Rebecca to Arthur, a Spacecraft Engineer, whose charming micro wedding was held at the church in Kings Langley where Rebecca's Dad is the Vicar.
Sophie Lake Photography

+ Follow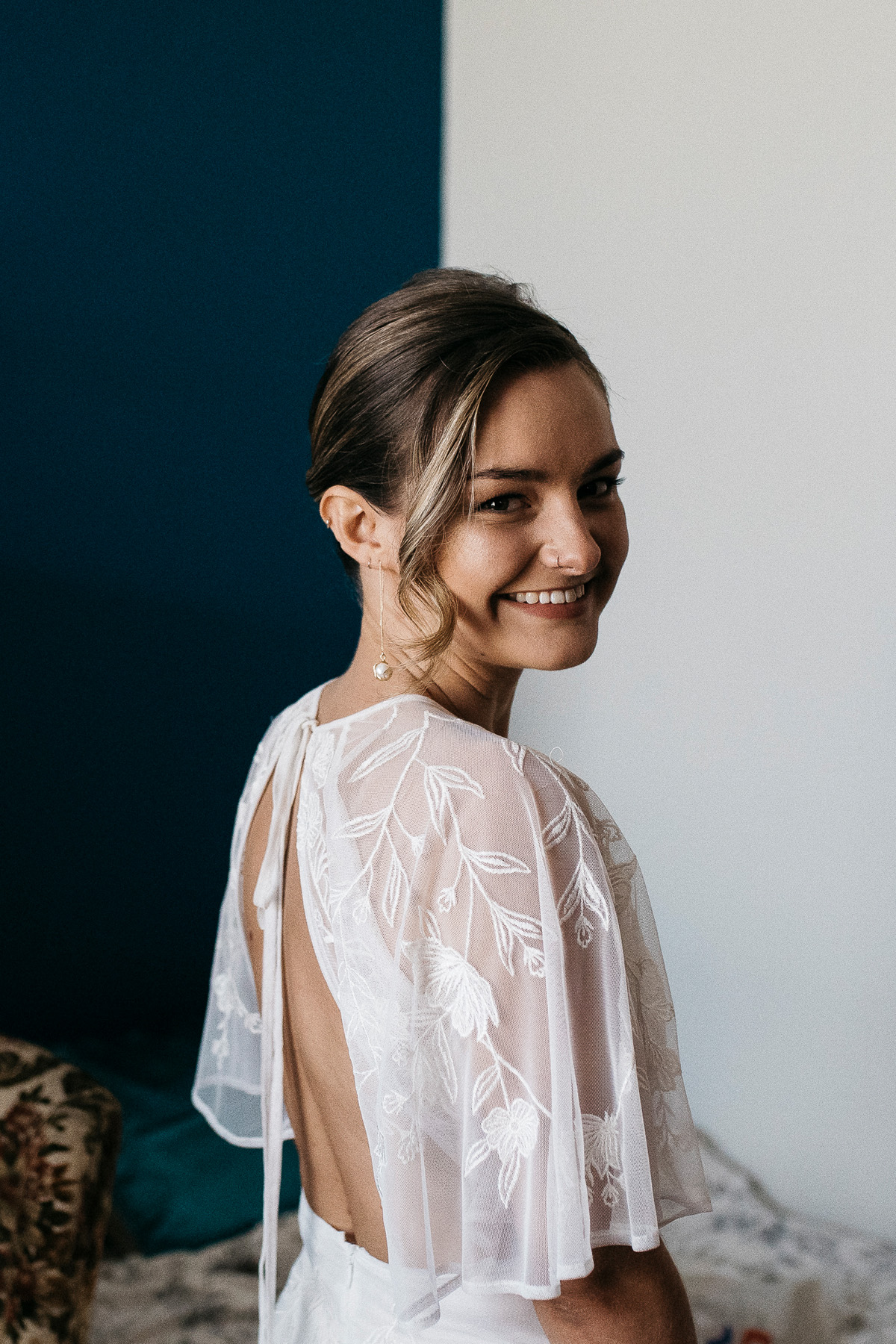 The ceremony was followed by a reception held in Rebecca's parents' back garden, with marquee hire courtesy of W.A. Carr & Son.
Adie Brooks from Hair and Make-up by Adie was there on the morning of the wedding, and styled Rebecca's hair into an elegant chignon with soft, face framing waves along with radiantly beautiful make-up.
"Adie listened exactly to what I wanted, and was so communicative from the point of booking. It really surprised me but she was one of the biggest cheerleaders of the wedding, and unfailingly made me feel excited about the day in the lead up. Her talent speaks for itself but she basically made me look like myself but so much better."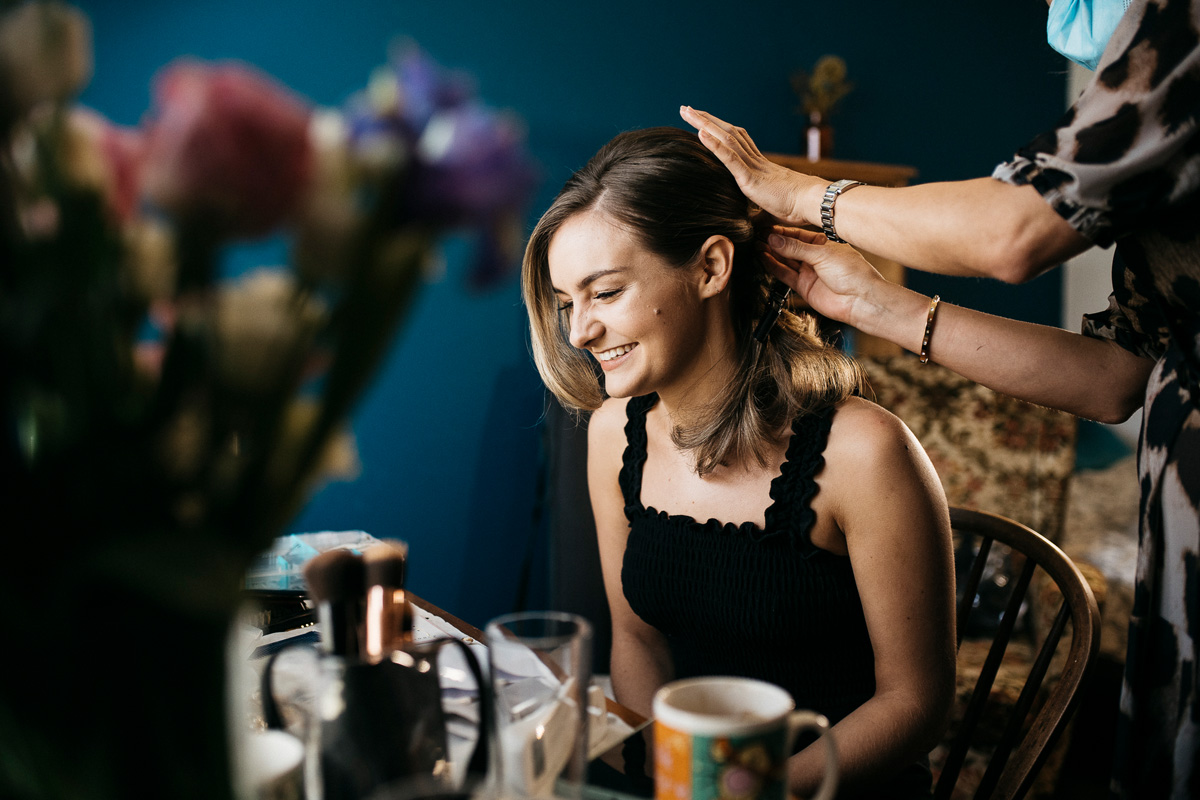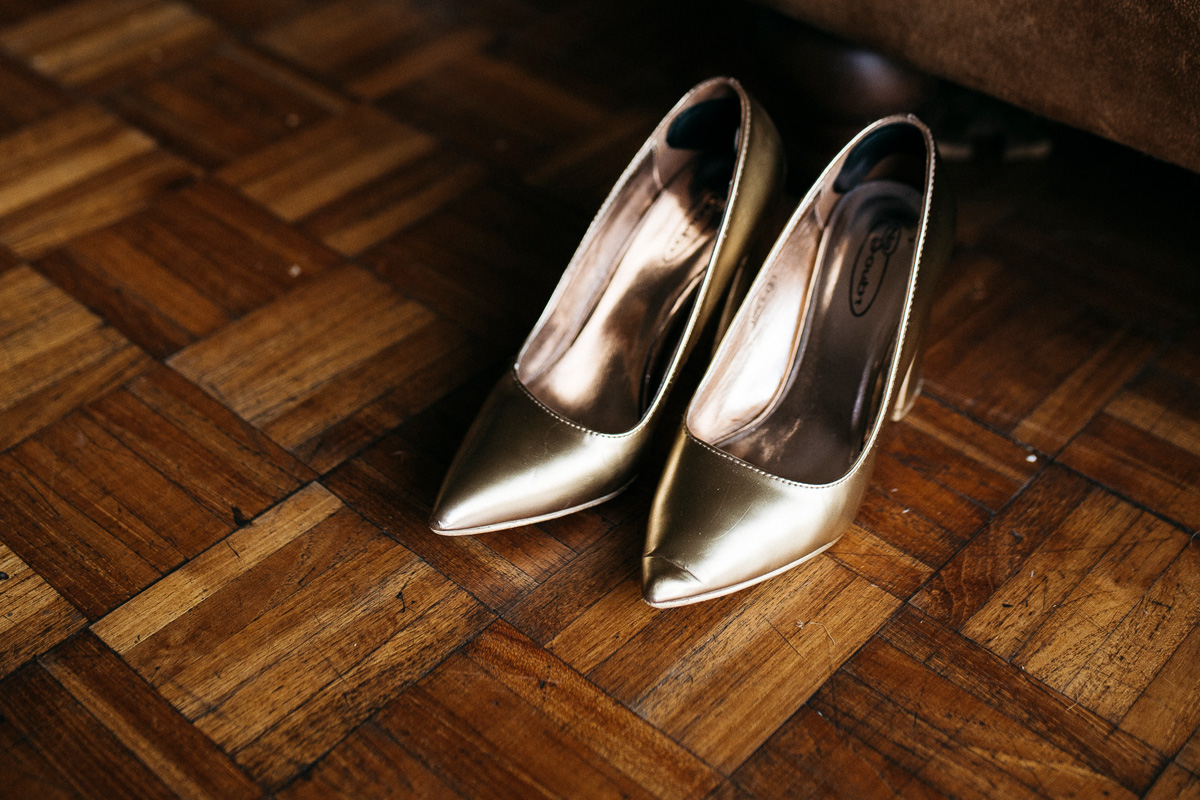 Rebecca chose her lovely bridal dress from ASOS; its ethereal, draped elegance reminding me strongly of the beautiful bias-cut gowns of the 1930s, complete with floral embroidery and a capelet with fluttering sleeves.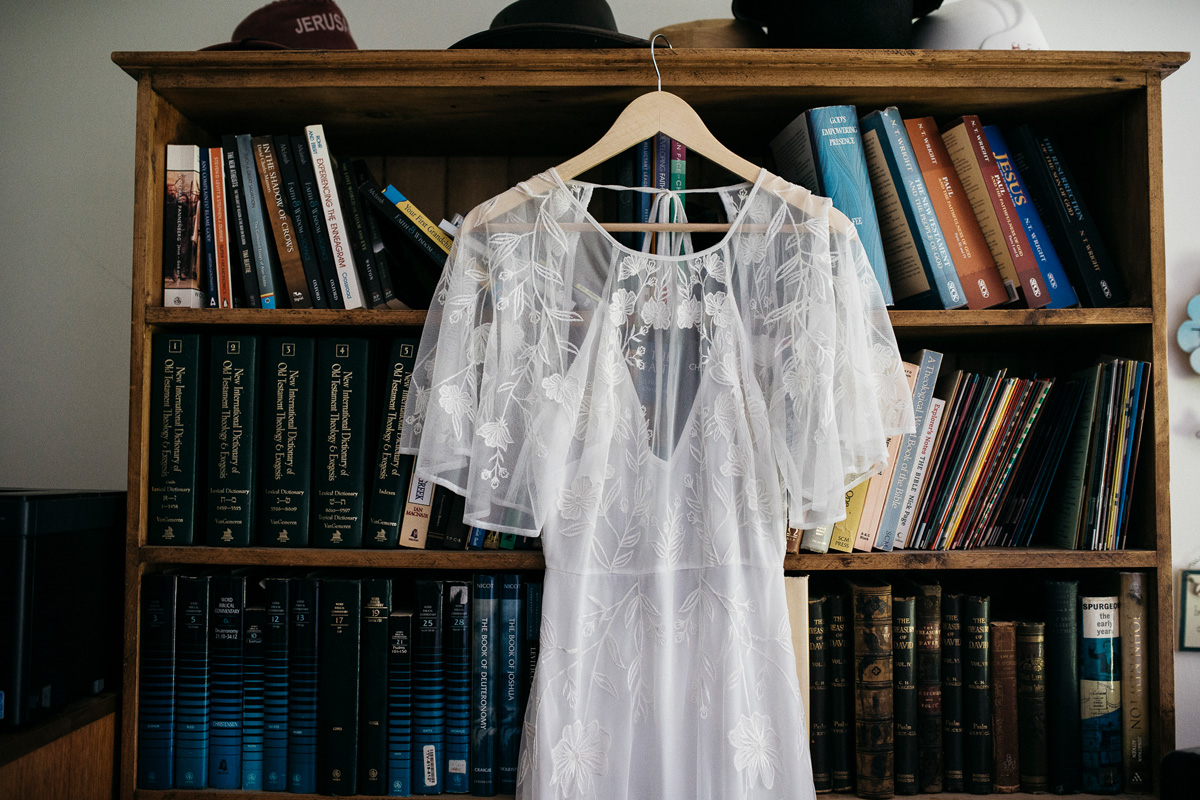 "I was intimidated by the thought of going into a bridal shop and all the attention being on me, so thought I would order some online just to try out different kinds of styles."
"I thought I would definitely want a long sleeved, plain satin fishtail dress, but when I tried on my more boho, flutter-sleeved dress I absolutely fell in love with it, and never ended up going to a bridal shop."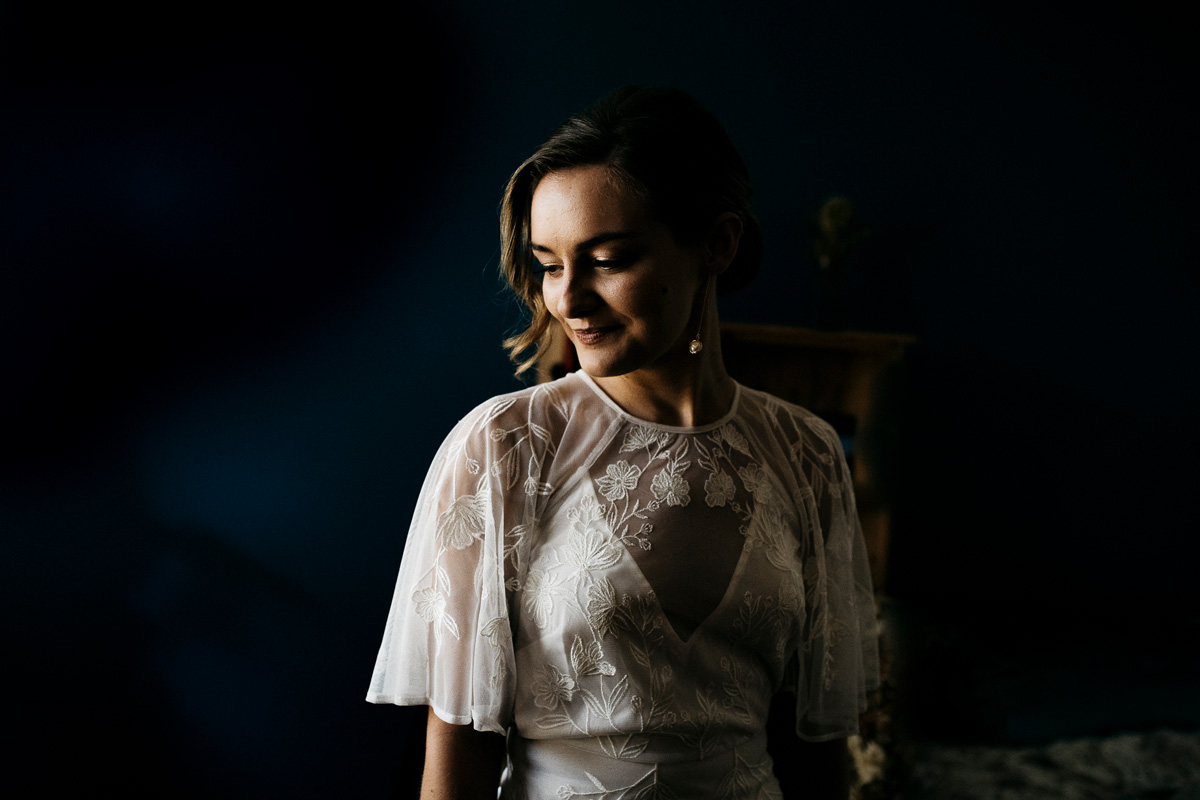 "I needed to make some tweaks to make sure it fitted perfectly and Maria at Maria's Alteration Service worked magic."
"I loved absolutely everything I wore! Feeling comfortable was the most important thing for me. I wanted to look like me, not like Rebecca playing dress up as a bride."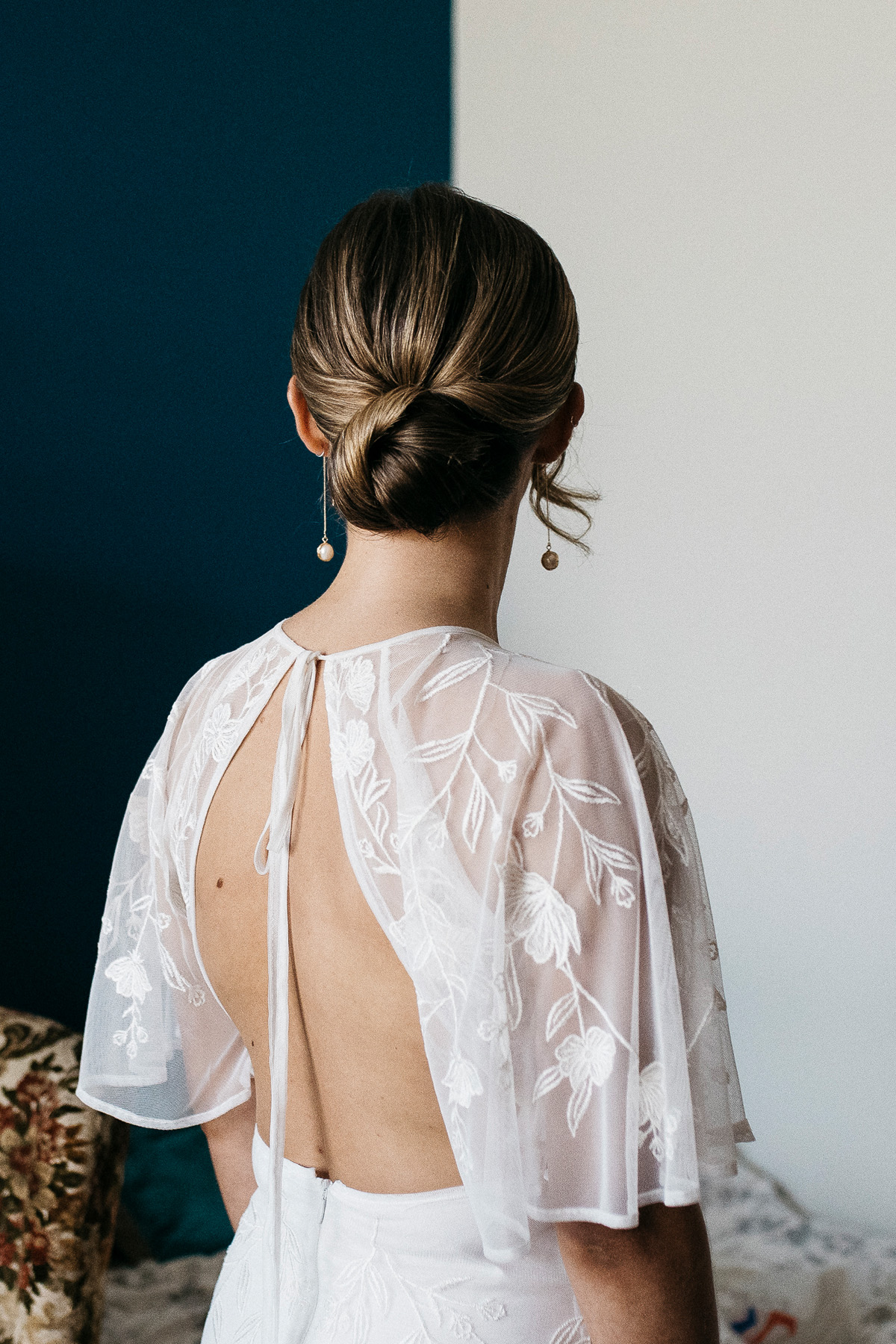 "The majority of our wedding planning was during the COVID-19 pandemic, so we had to think (and rethink and rethink) what was important to us."
"The more I thought about it, the more I thought I would prefer to have some extra-special food and champagne or spend a bit more on stationery than spend loads on my dress."
Rebecca wore statement pearl drop earrings from Studio Hop, and on her feet wore gold heels [sadly no details provided about these, but they were spontaneously spray painted gold by Rebecca and her little sister the on the eve of the wedding!].
Wedding day fragrance was a beautiful and calming blend from boutique indie perfumery Shay & Blue.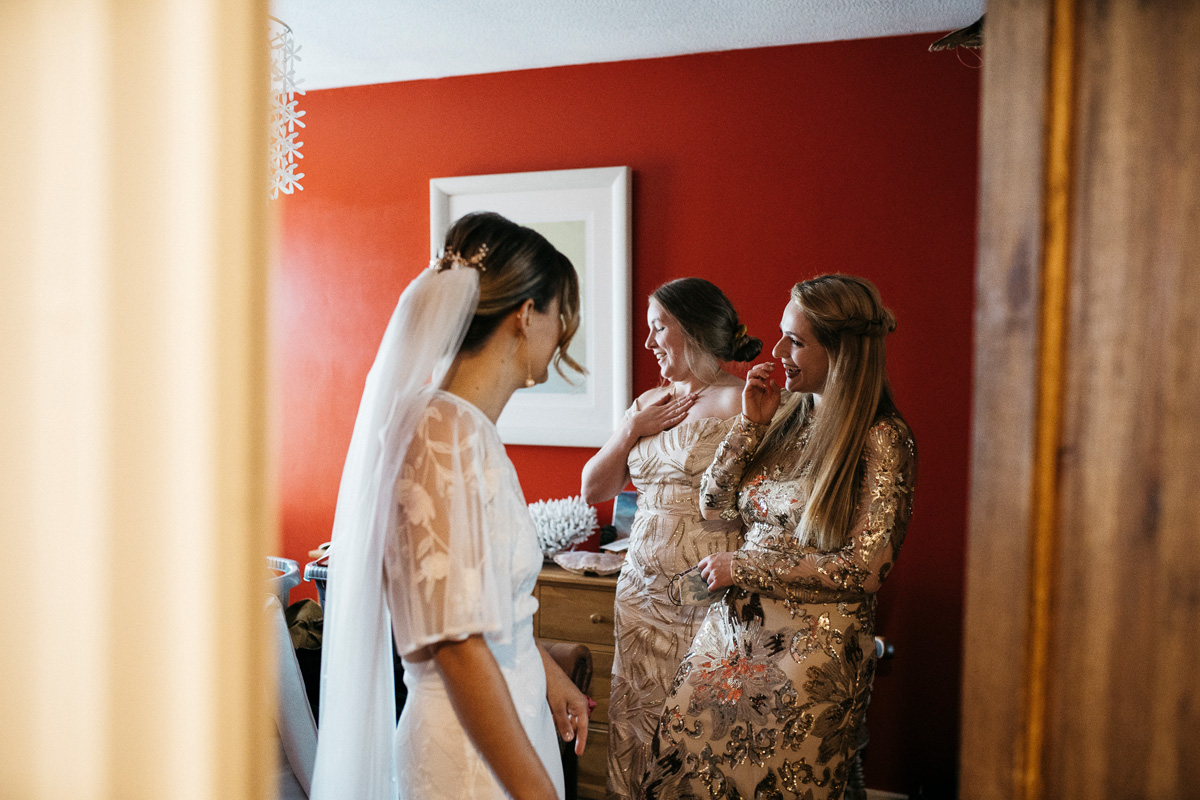 "The scent was made from natural oils and was really calming. I knew that it was going to be a nerve-racking morning so wanted to choose something that was subtle."
"I spent longer looking for this than for my dress! I wanted there to be a scent marker of the day, that would remind me of our wedding day whenever I smelled it, so I asked all my bridesmaids and Mum to wear it, too."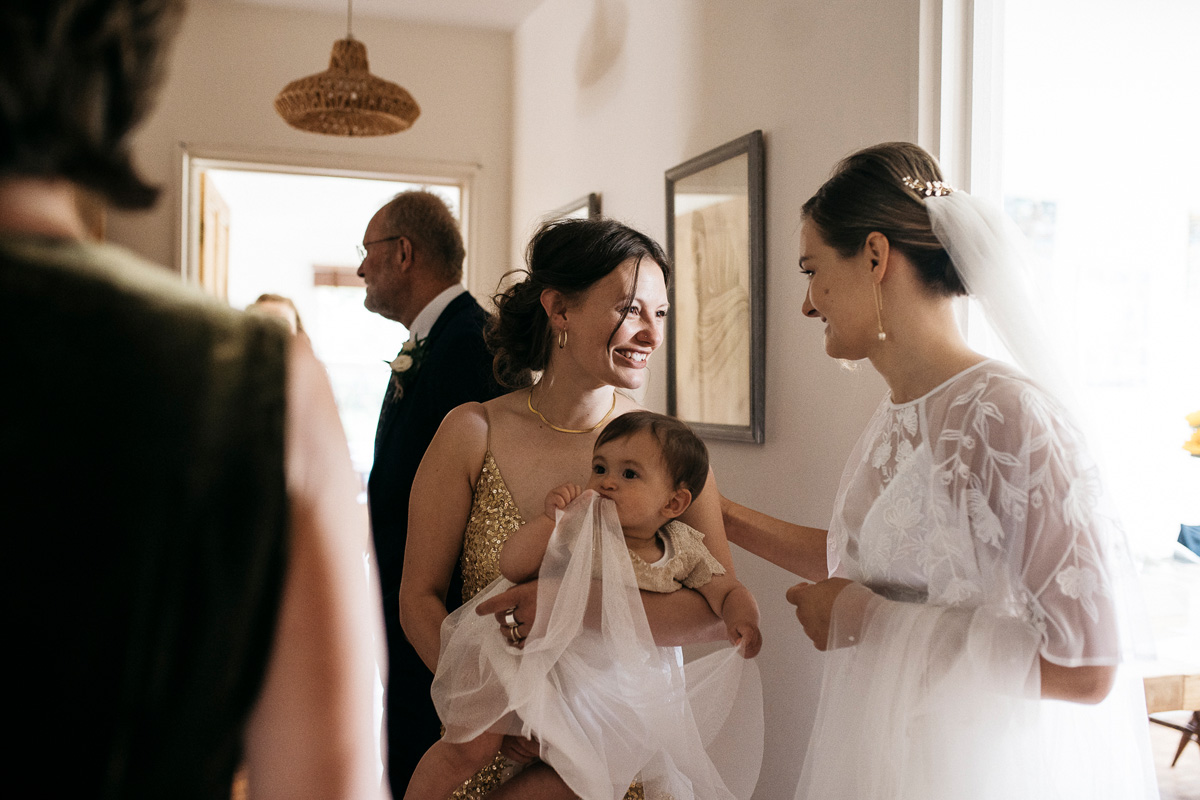 The finishing touches were a veil borrowed from Rebecca's sister, and a beautiful bouquet of white roses and fragrant greenery by Carla at Fabulous Floristry.
"I wanted a classic but ethereal look to the flowers, with lots of greenery and just white flowers. Carla was amazing. She spent time explaining what different flowers meant and suggested including herbs for the smell. She also gave really good tips about how to preserve them afterwards."
Rebecca walked to the church with her Dad and bridesmaids, who looked wonderful in individually chosen gowns in complementary shades of gold and champagne with lots of sparkle and embroidered details.
"One of the most special moments for my Dad was praying with my parents and sisters before going down to the church. It was really grounding and reminded me of why Arthur and I were getting married and the focus of the day."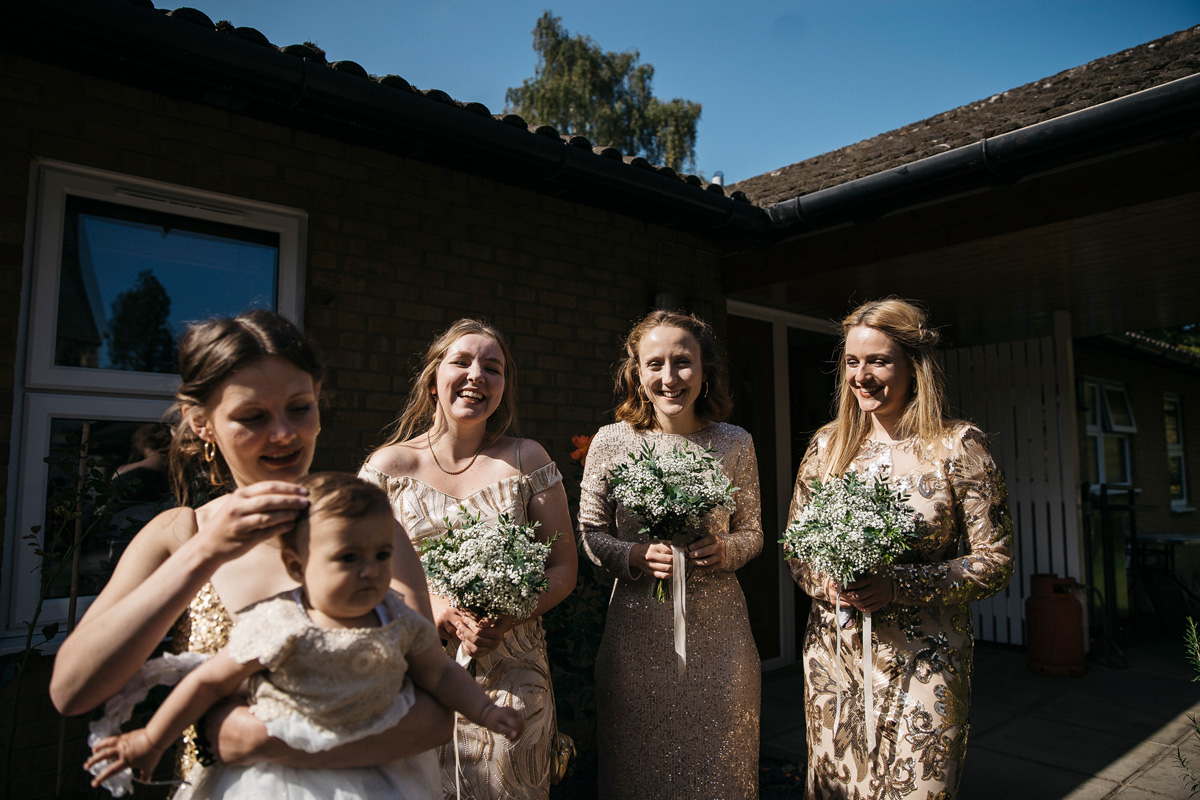 "We chose my Dad's church because we have had lots of great memories, including our first Christmas together there."
"One of the silver linings of having a COVID-19 wedding was that we really had to think about what was important to us, which we agreed was literally getting married to each other."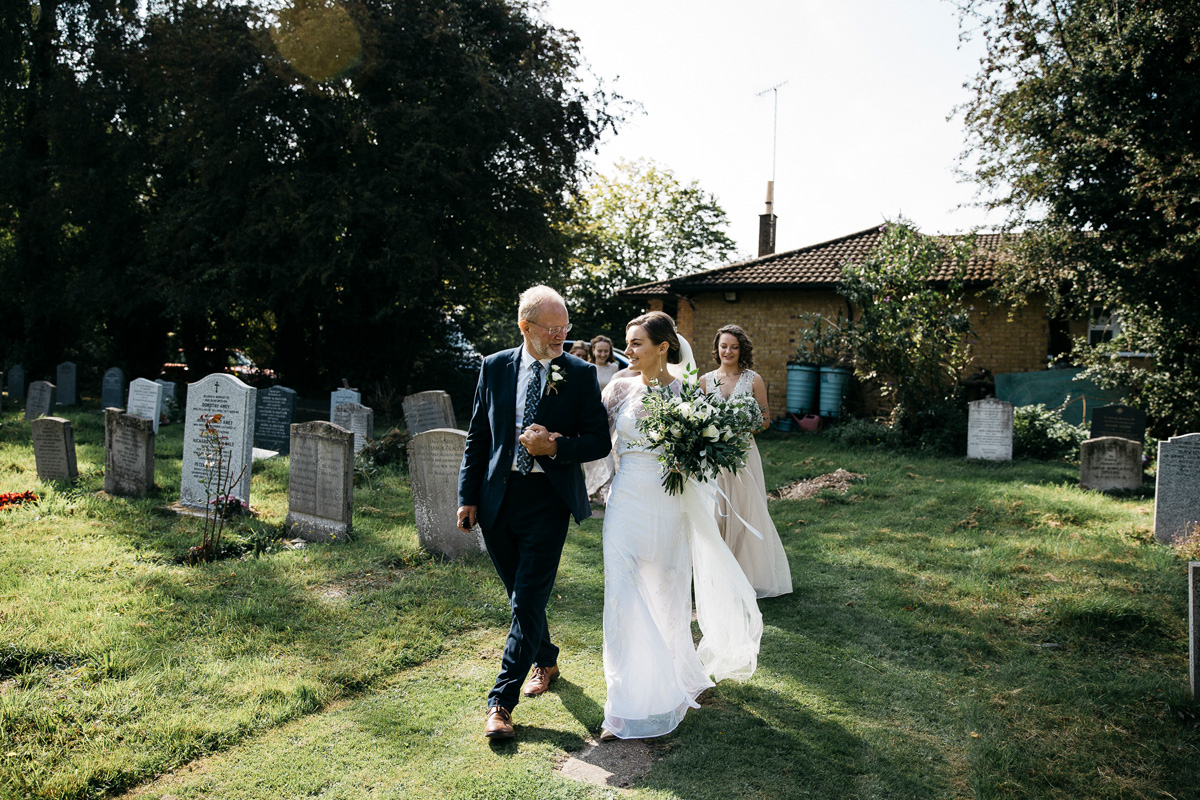 "Our next priority was having our parents and siblings there. Fortunately we could keep our original wedding date but we had to cut the guest list down from around 100 to 30 (this was an interesting process seeing as bridesmaids, ushers and parents made up 20 people)."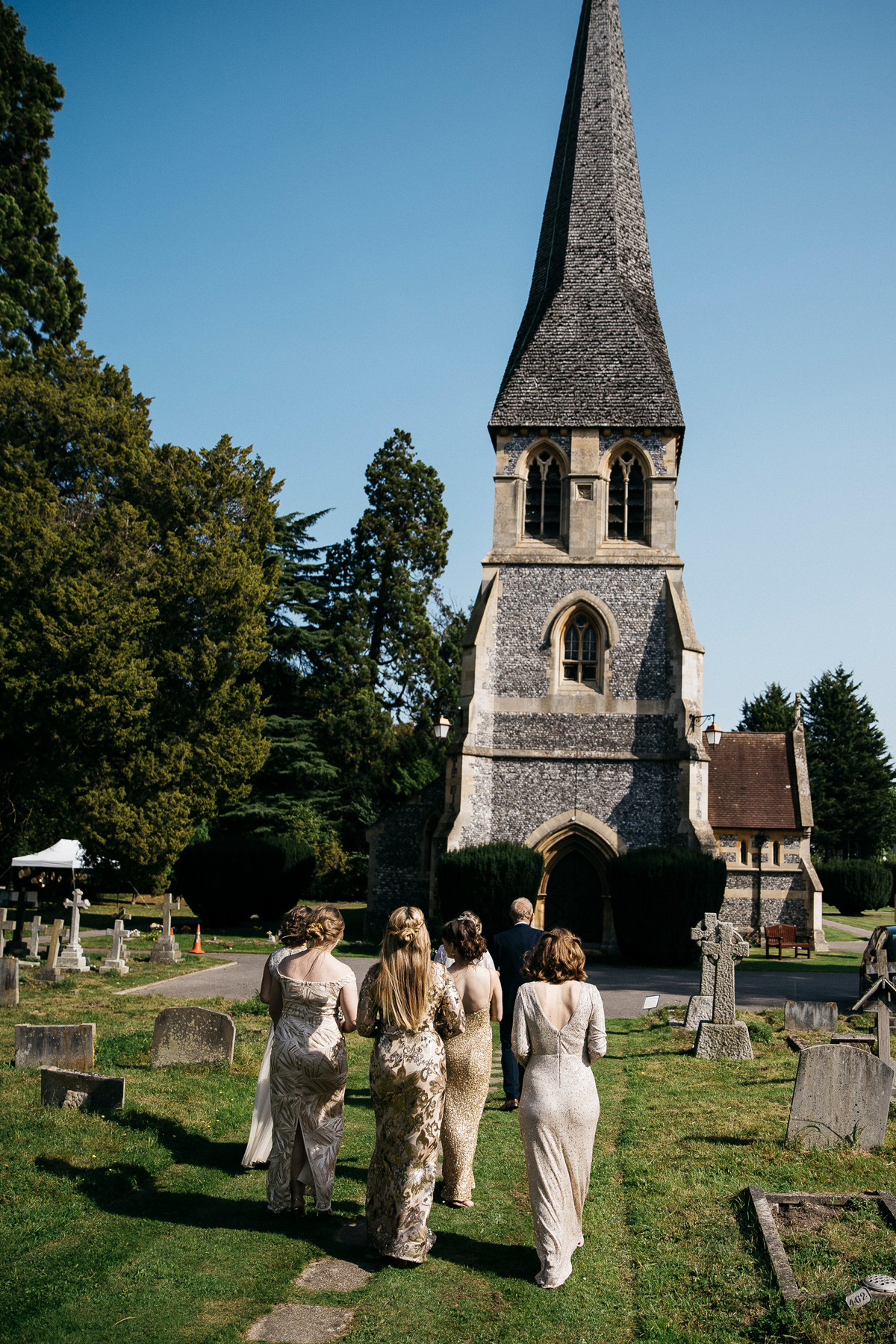 "In the end, after lots of tears, tantrums and reflecting on what was important, we agreed that being married was the most important thing so come rain, shine or a dreaded wedding with two witnesses, we would stick with our original date."
"We decided that we would have as many people as possible at the ceremony and for cake/ champagne in the church grounds afterwards, but no matter what the restrictions ended up being, we would only have parents and bridesmaids/ushers for the wedding breakfast and evening celebrations."
"Because of this, we cancelled our original wedding venue and schmoozed my parents into letting us use their garden for the reception."
"In reality, I just had to quote Father of the Bride ('Ahh we laaaave the veddings at home!') and they were sold. Again, this took a huge strain off because we had total control of the 'venue'."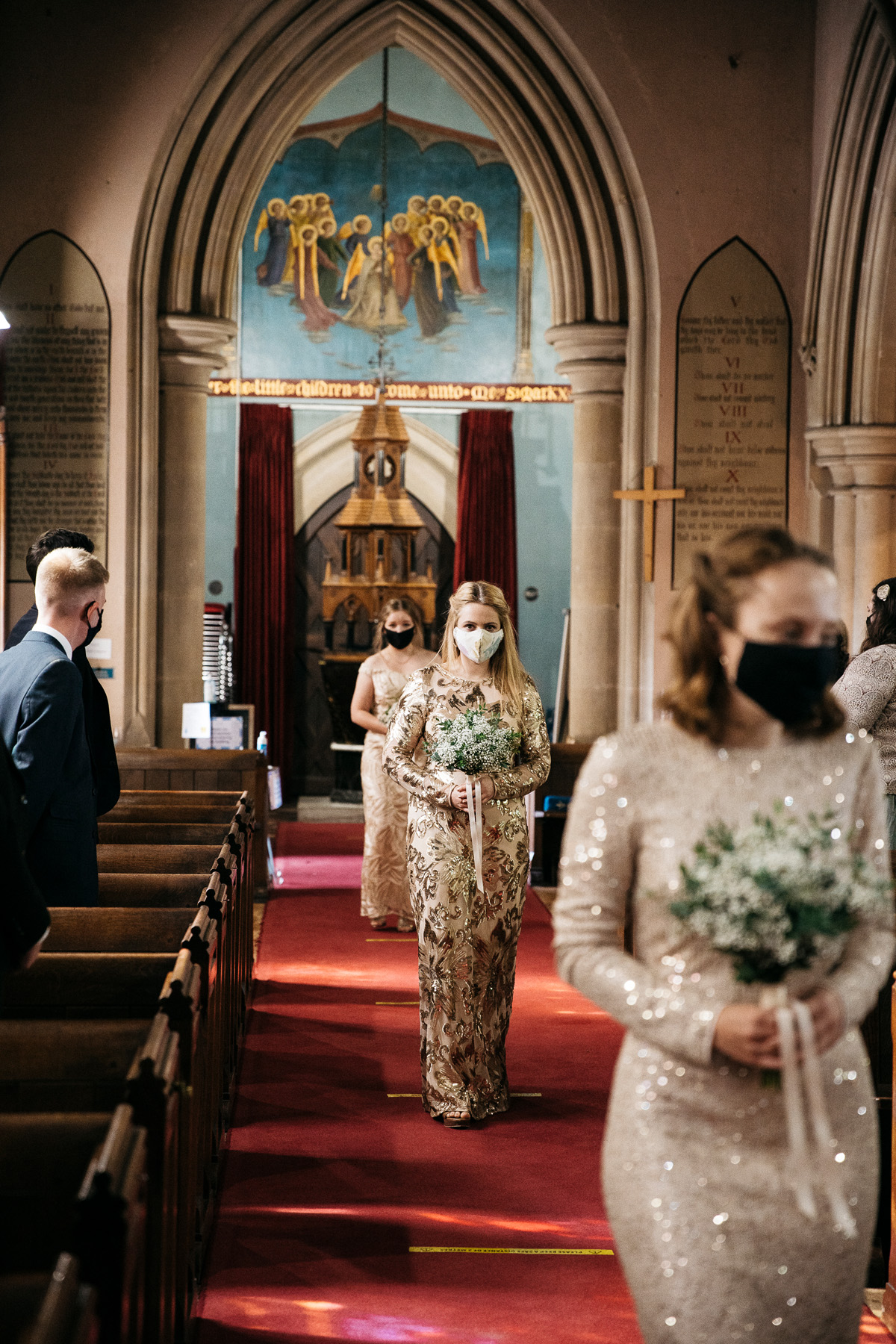 Upon entering the church, Rebecca's chosen song was a piano version of Pachelbel's Canon in D called Always With Me by Your Kimura.
Rebecca's Dad accompanied her down the aisle – he is the church vicar but it was important to Rebecca that he was there on her wedding day as her Dad, so the service was conducted by the chaplain from Rebecca and Arthur's university college (St Catharine's, Cambridge).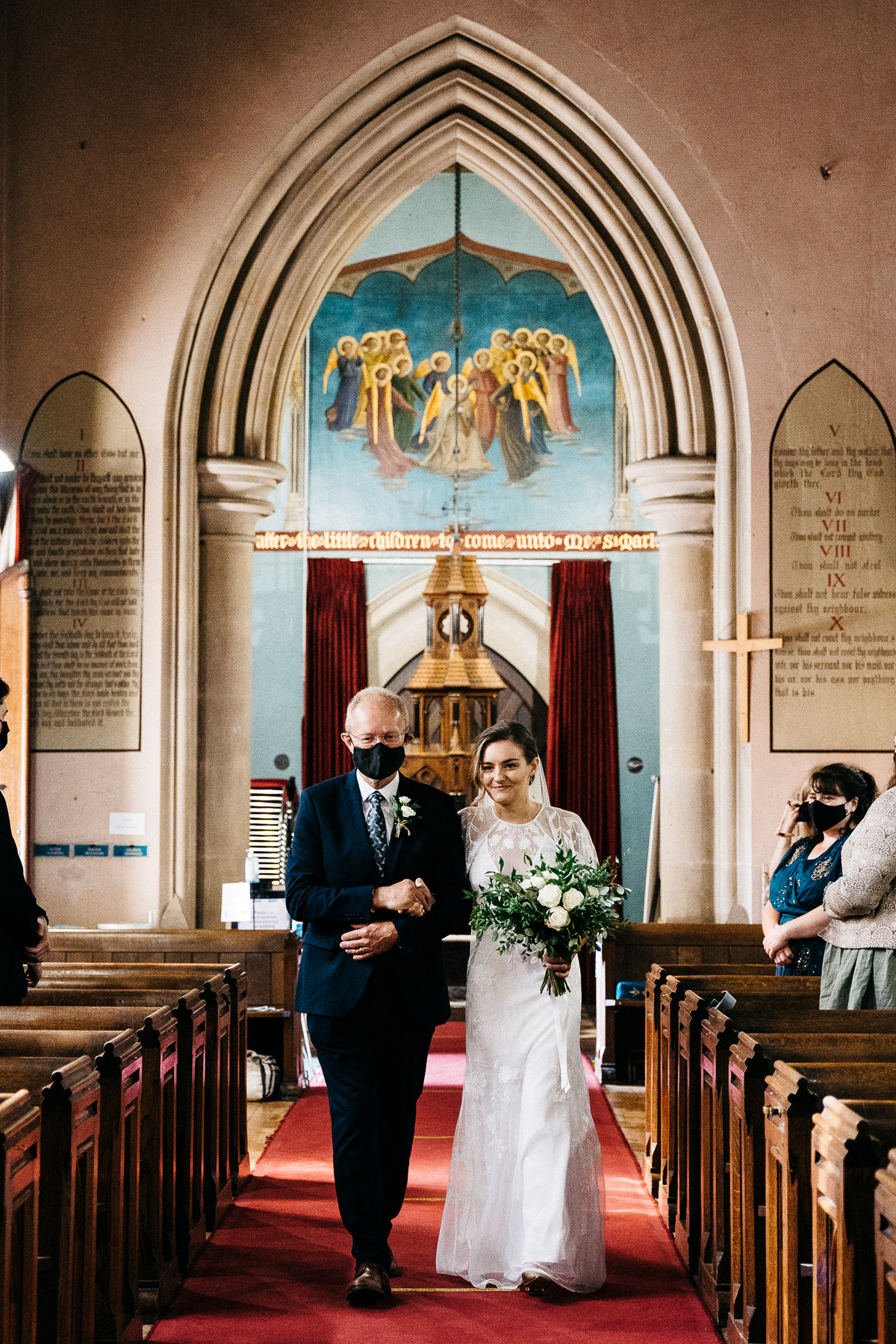 "He became a great friend of ours while we were at uni (not least because he was a wicked connoisseur of wine and whiskey). It was amazing to have someone who knew us conduct the ceremony."
"We used the Church of England vows. I studied Theology at uni and wrote my final year dissertation on the wedding vows. Knowing the history and meaning behind them in depth, I wouldn't have wanted anything other!"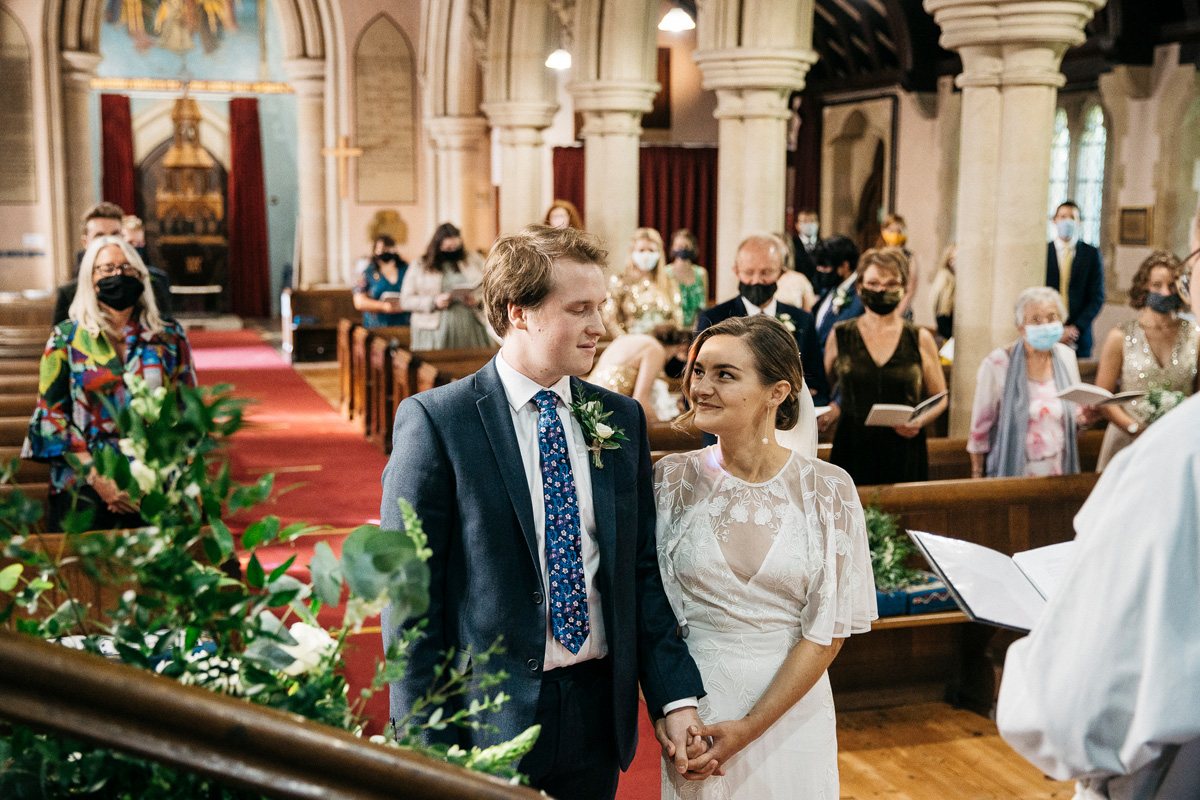 Guests wore face masks, and Rebecca and Arthur also had masks for guests' use at the entrance to the church, as well as clear signage on the pews to indicate where people could sit so as to be socially distanced.
"We wanted the day to be filled with things we would really enjoy and remember, so we kept traditions that were meaningful and discarded stuff that were just traditions."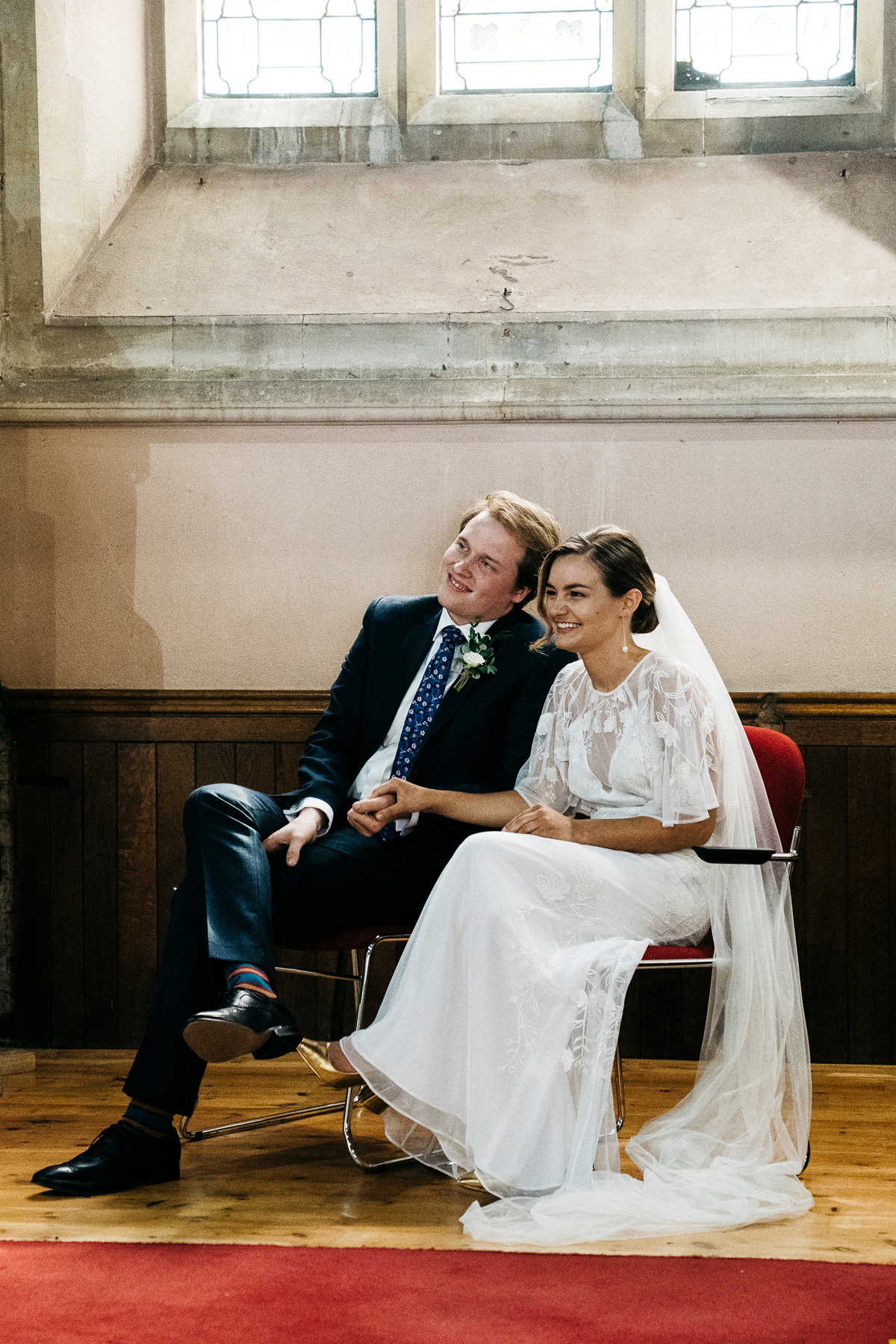 "We agreed with our parents/ family that if there was something they wanted included or that was important to them, we needed to discuss it and understand why it was important."
"Our day was peppered with things we loved, including things that made the wedding preparations fun and memorable. We made our own wedding rings, too."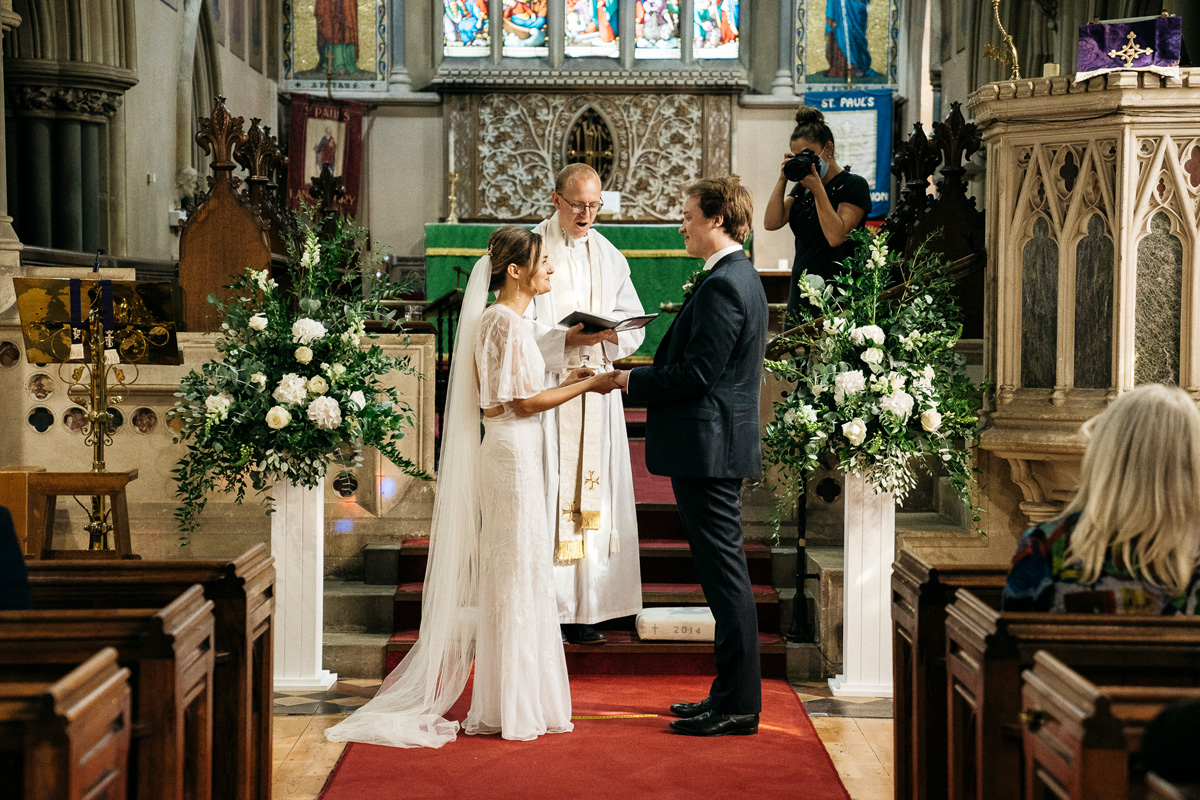 A wedding gift from Arthur's Dad was the workshop at File & Forge Jewellery School, where the couple spent an amazing day making their wedding rings together.
As the Rebecca and Arthur made their vows, they exchanged these specially made rings, and also included the Bible reading 1 Corinthians 13.
"Without a doubt, the ceremony was my favourite part of the day. I loved planning our wedding and the idea of marriage since I was tiny, but actually having the person you love say those vows to you in front of everyone was so powerful and more incredible than I could ever have imagined."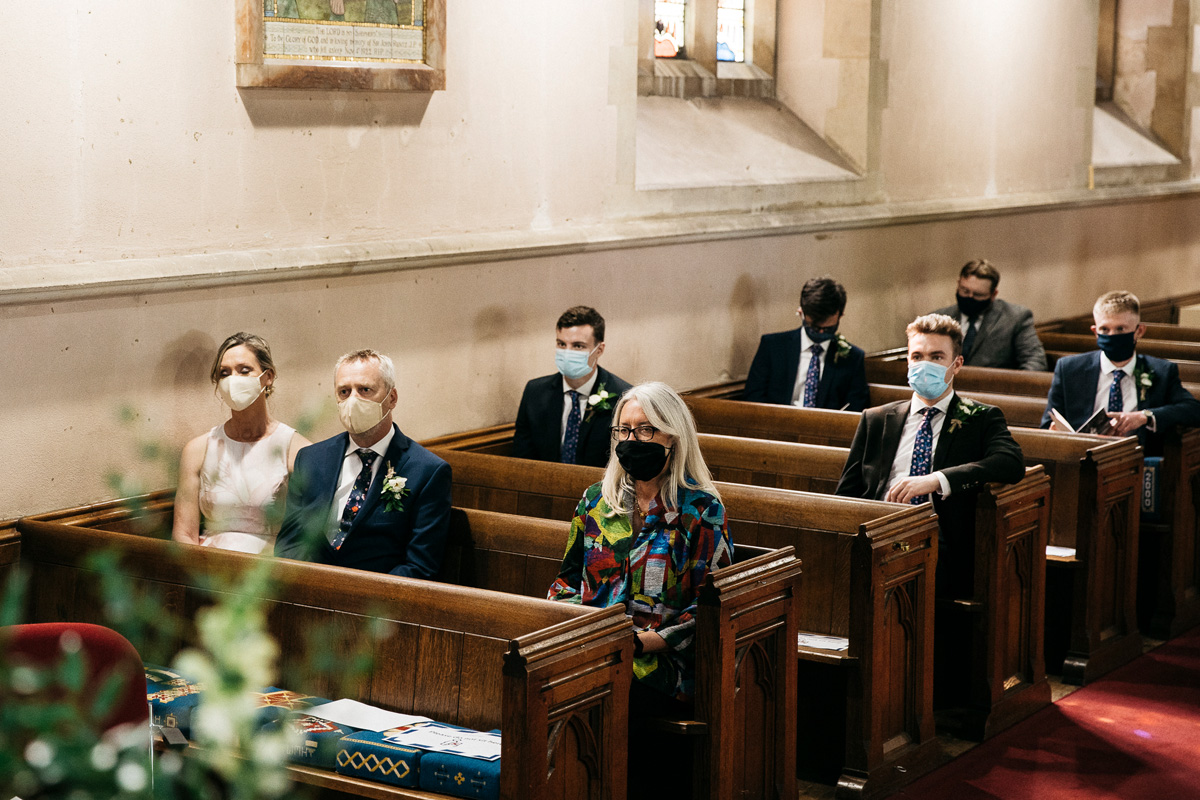 Arthur wore a smart navy blue suit from Ted Baker together with a blue and pink floral print tie, and a very special pair of cufflinks gifted to him by his parents.
"Arthur's parents melted their wedding rings down and had them recast as a cockerel (his mum is French) and a hand of Ulster (his dad is Northern Irish)."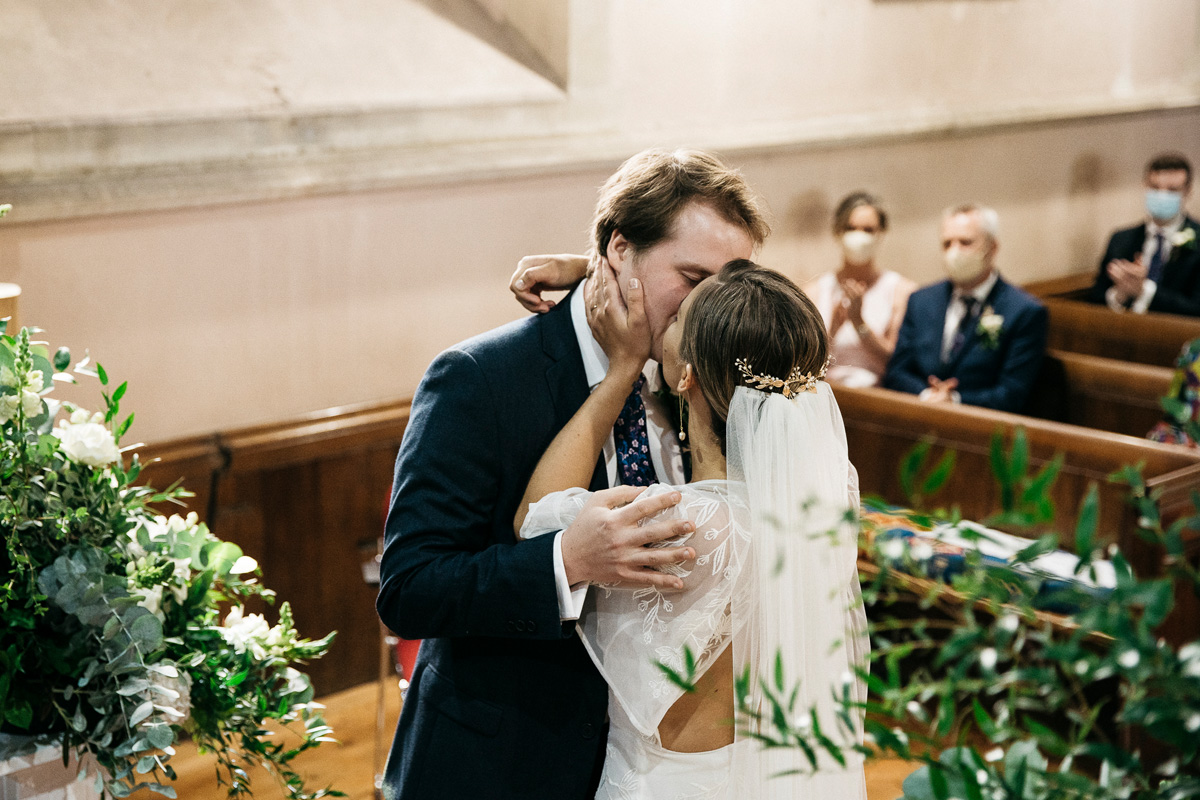 The newly married couple walked out of the church to handfuls of colourful confetti, and on the most wonderfully sunny, golden September day, everyone was able to enjoy drinks and cake in the church grounds.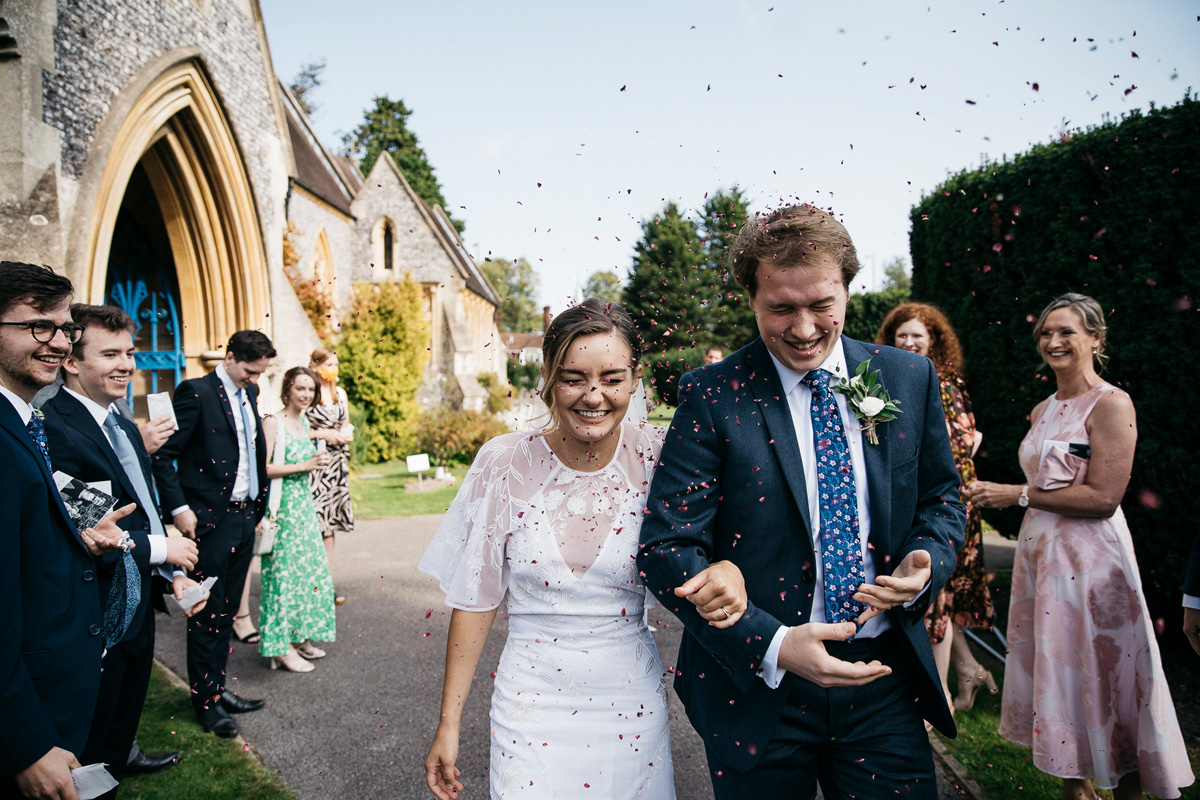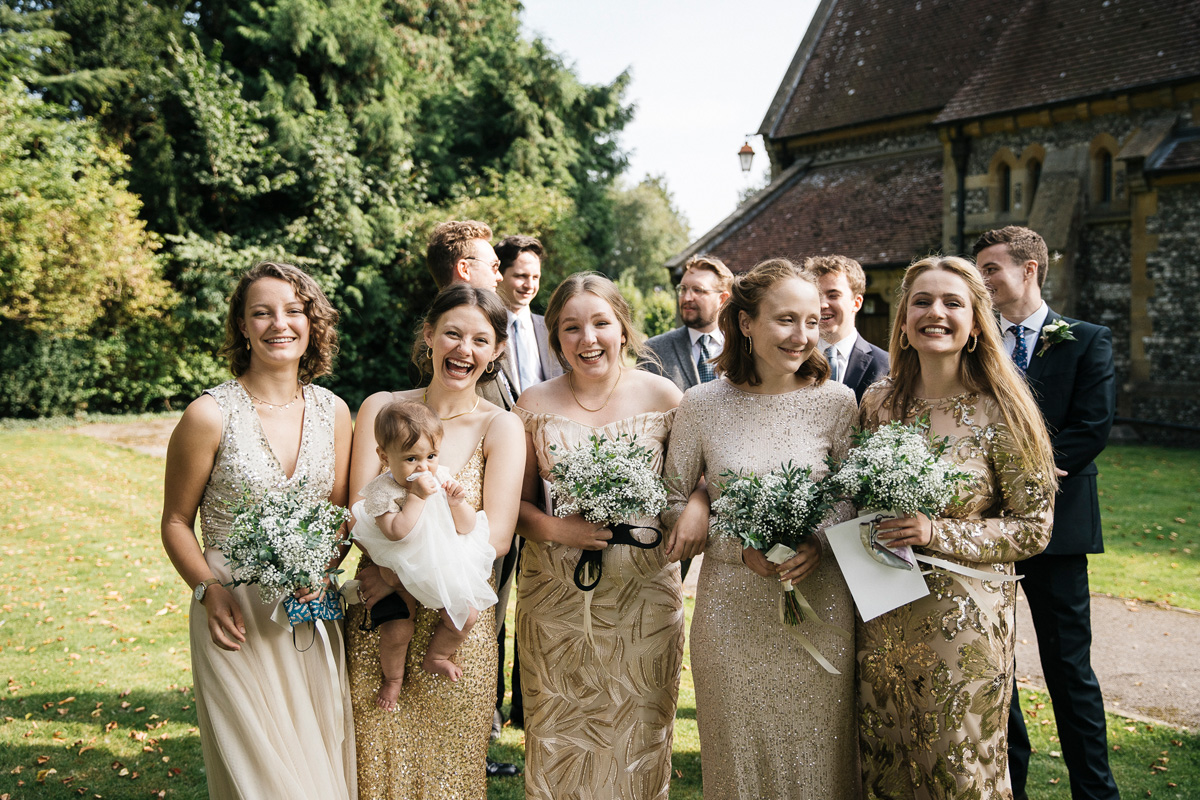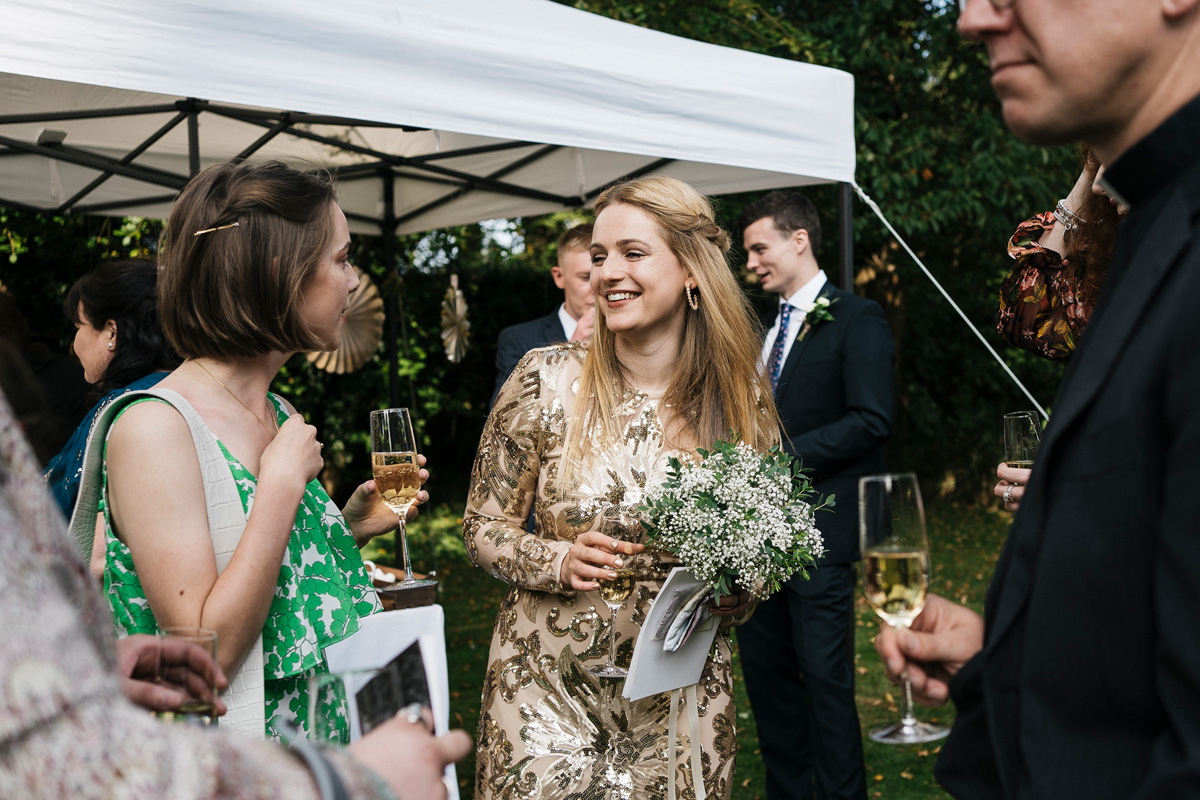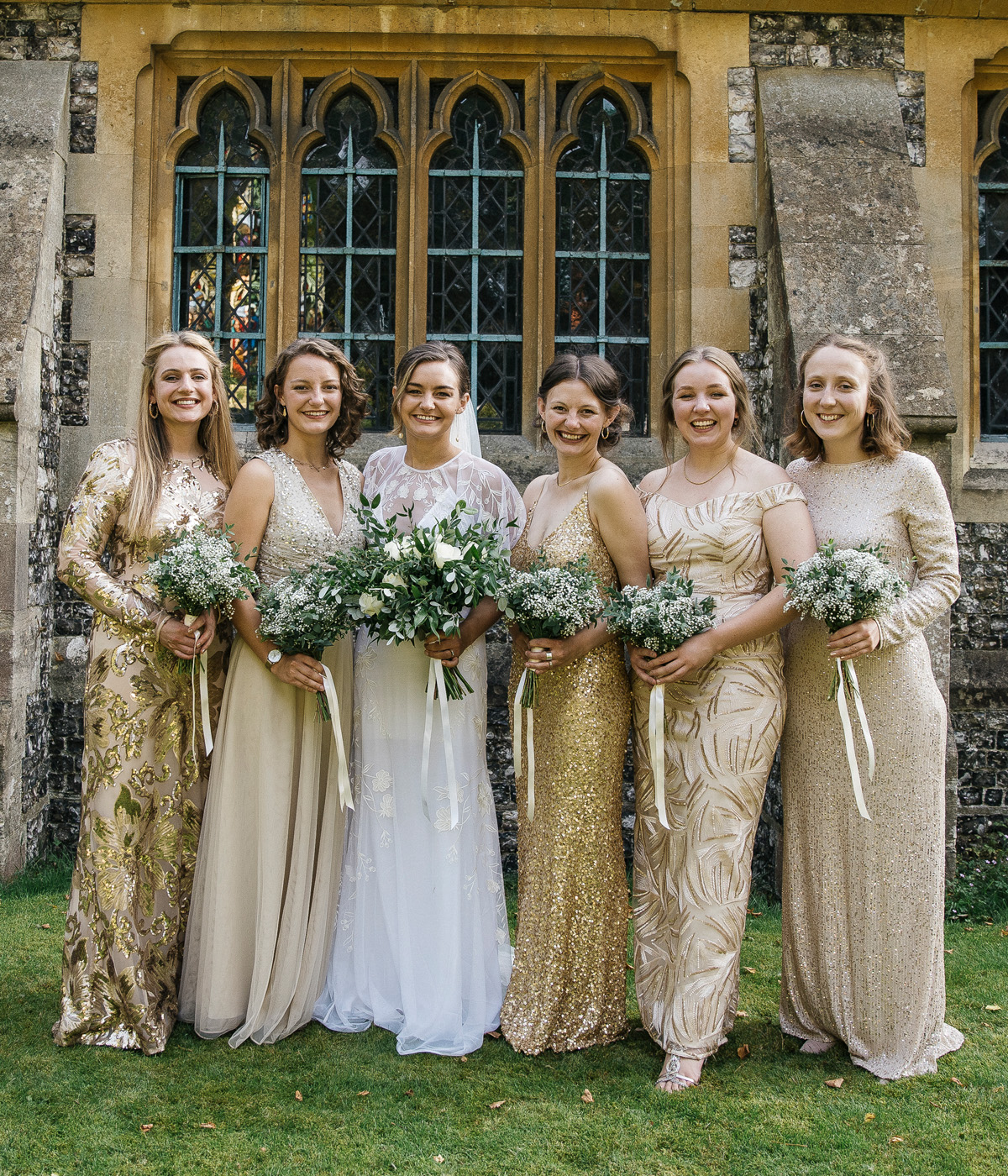 The delicious cake – one layer of dark chocolate with ganache, one of lime and lemongrass sponge with coconut ganache, and one layer of rose and raspberry with raspberry buttercream – was made by The Dandelion Bakery.
"I love baking in my spare time so we wanted something a bit different that we would really enjoy and would remember exclusively from the wedding."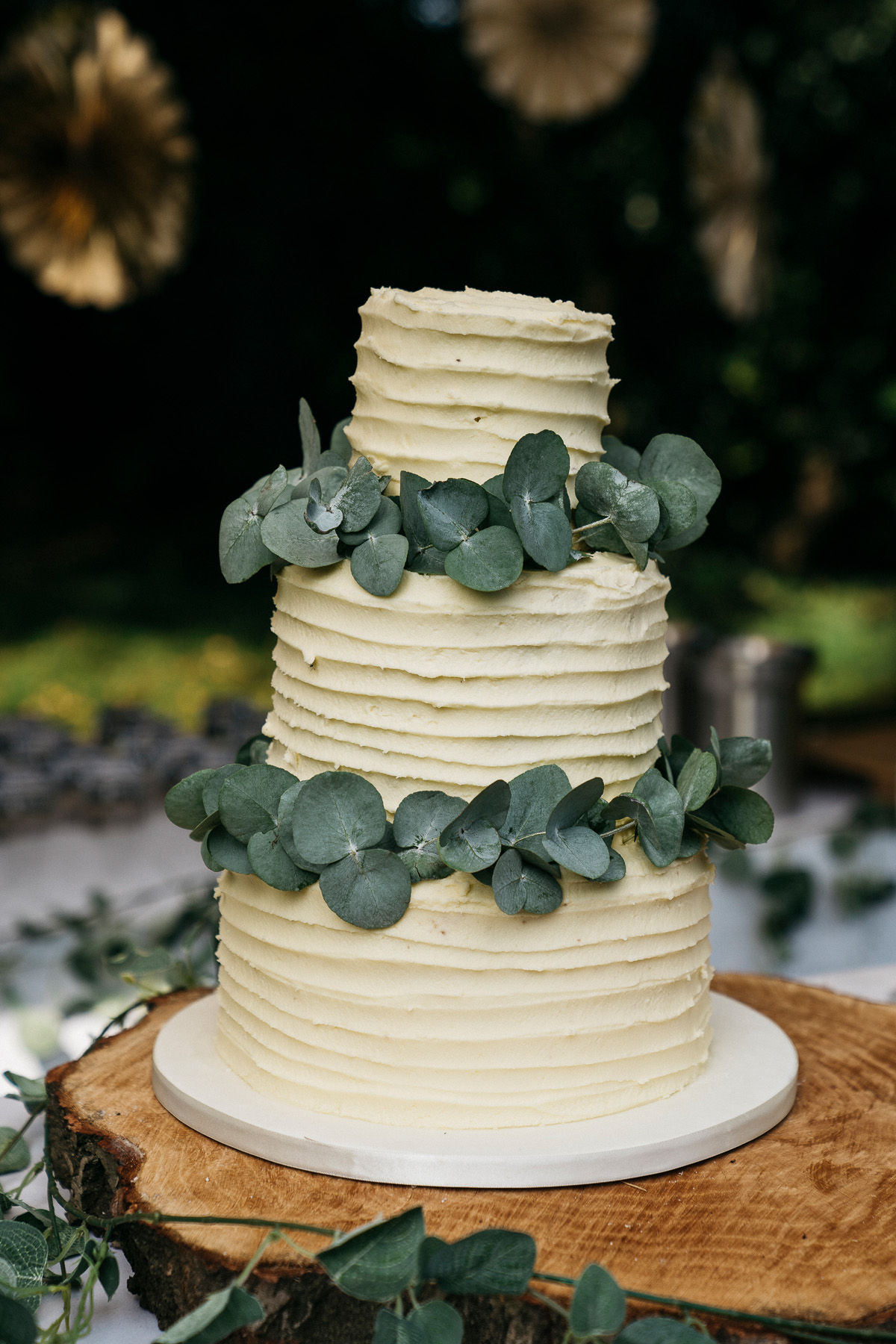 "Jo from The Dandelion Bakery had so many different flavours, and we had the most incredible cake tasting session with her trying out some really wacky combinations."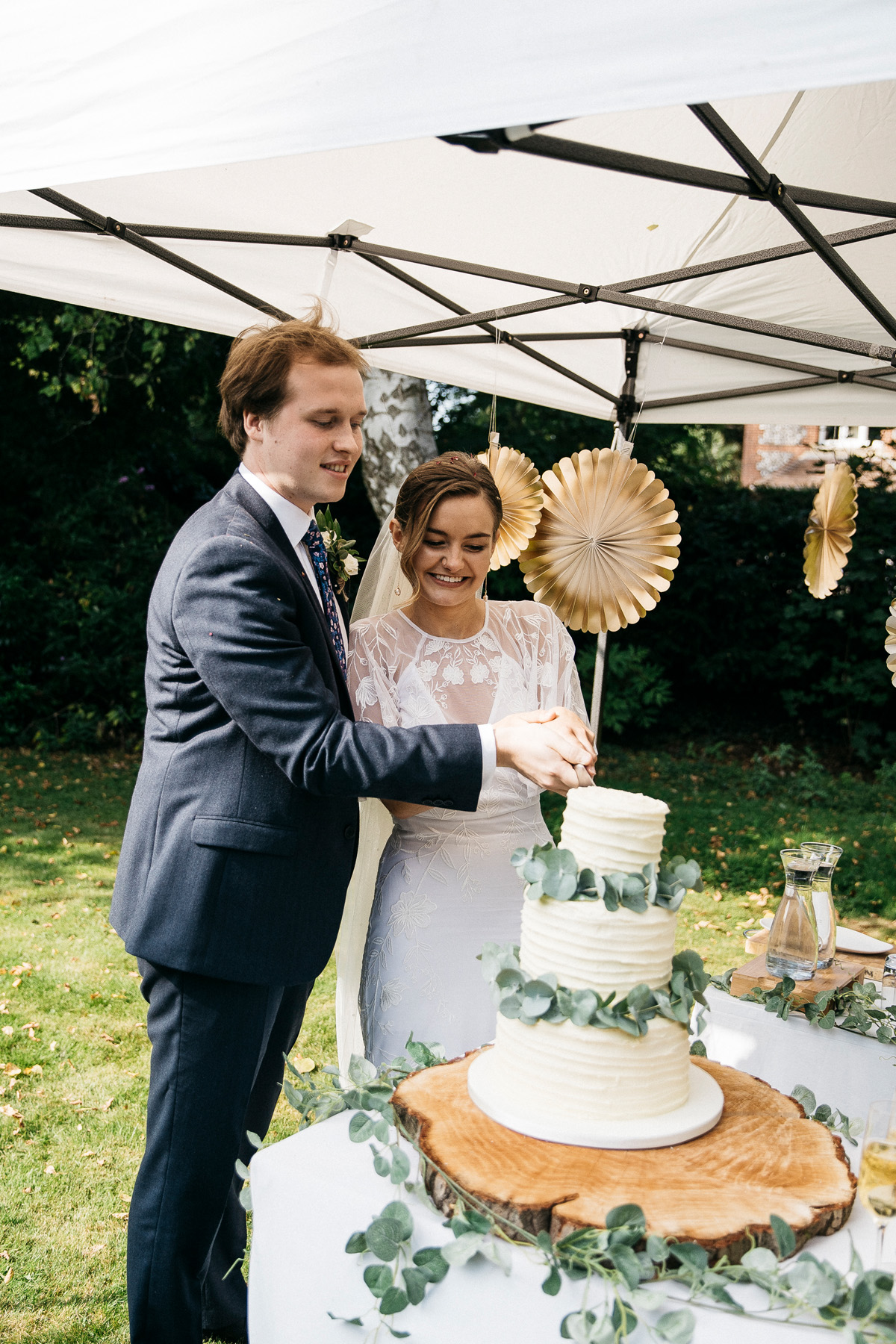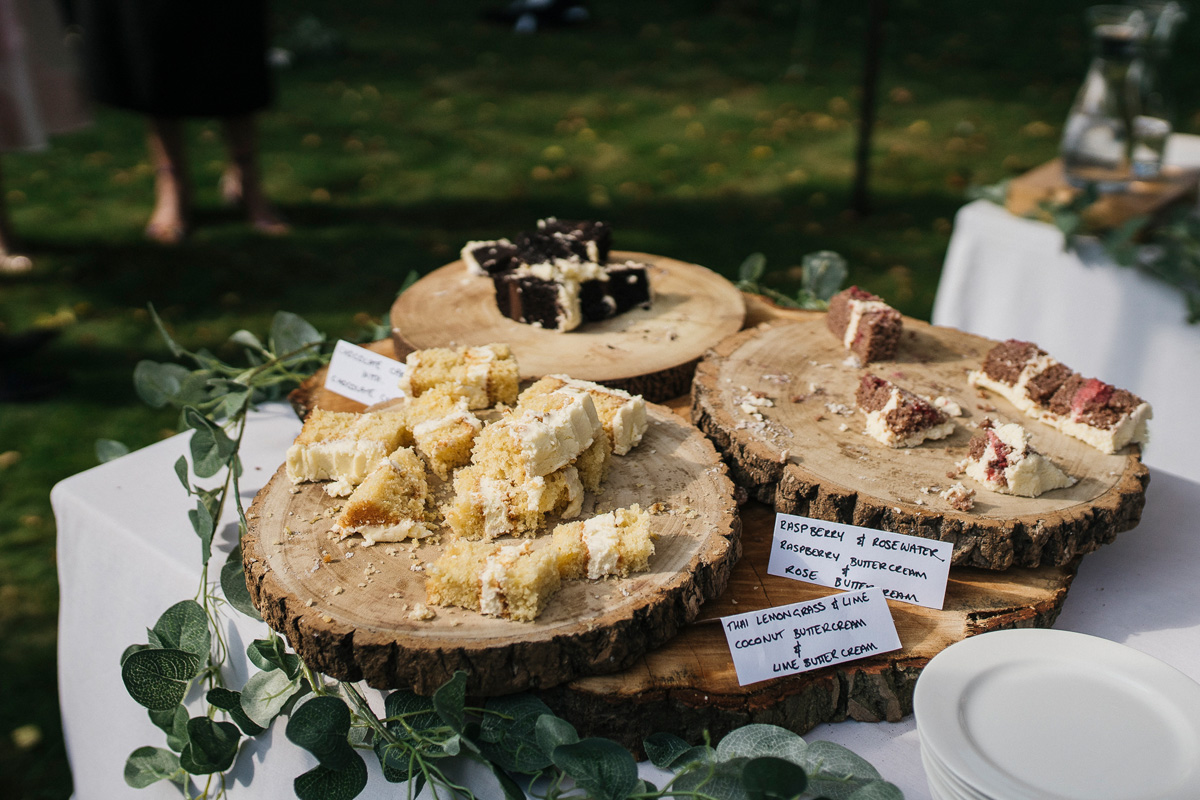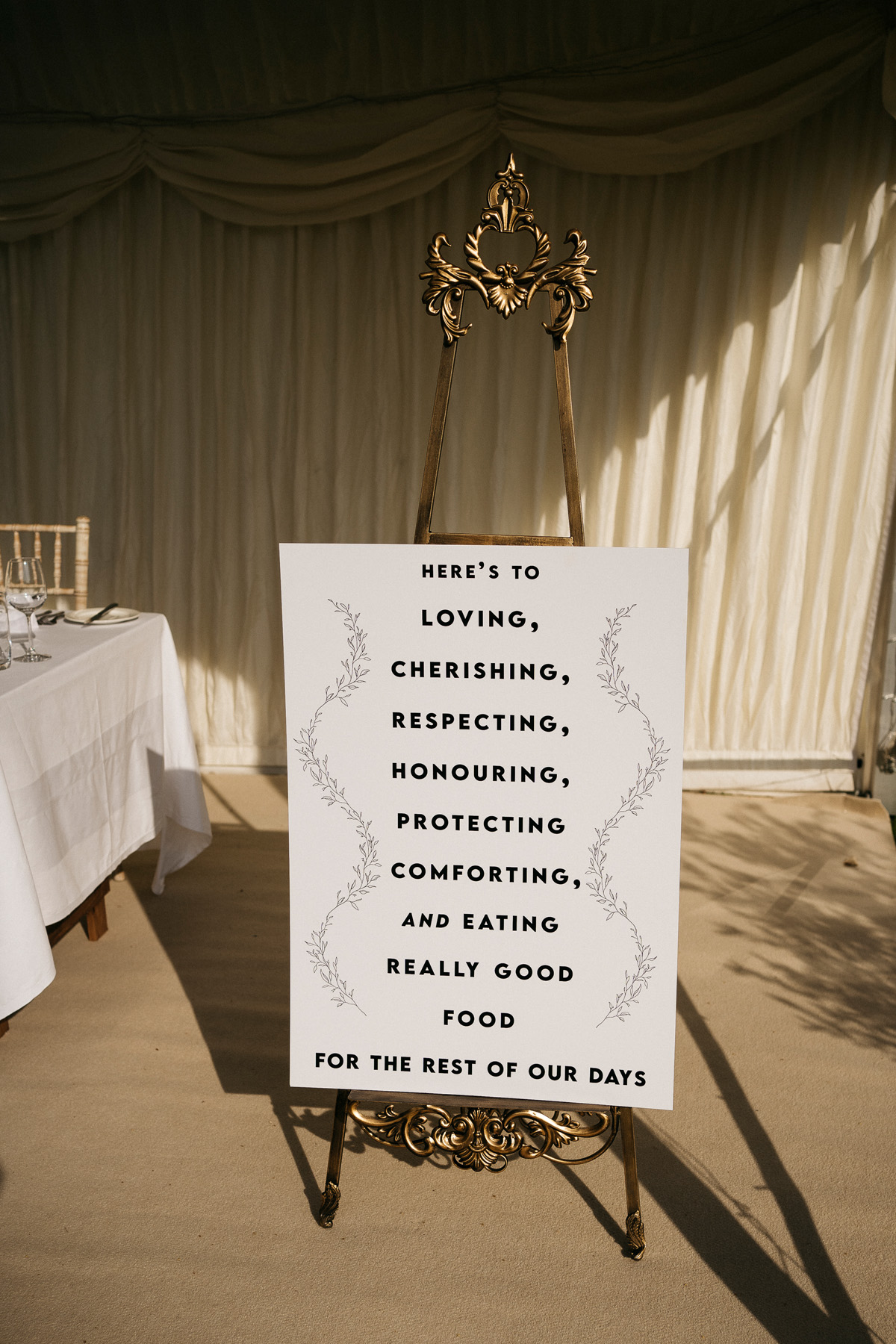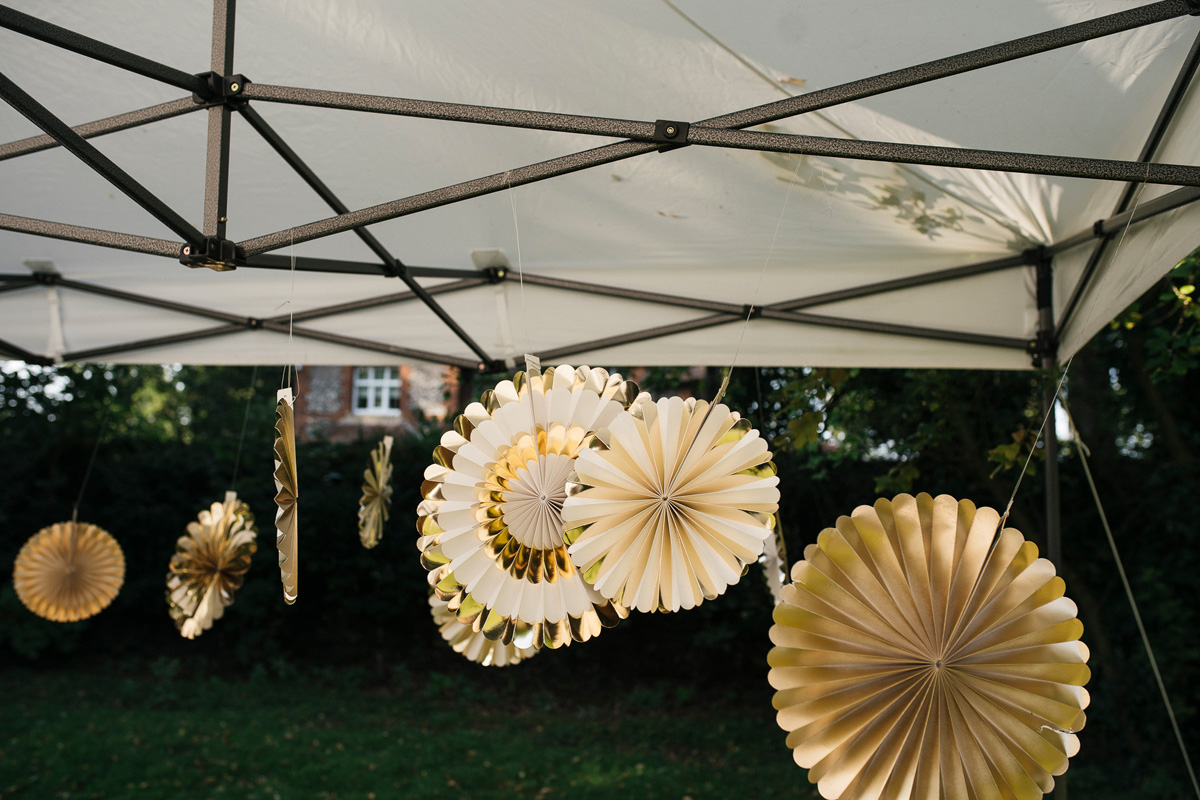 There was a treasure hunt in the church grounds whilst Rebecca and Arthur took some time together, just the two of them, as well as group shots with their wedding party and photographer Sophie Lake.
I'm delighted to share Sophie's sweet, creative work with you all for the first time on our pages.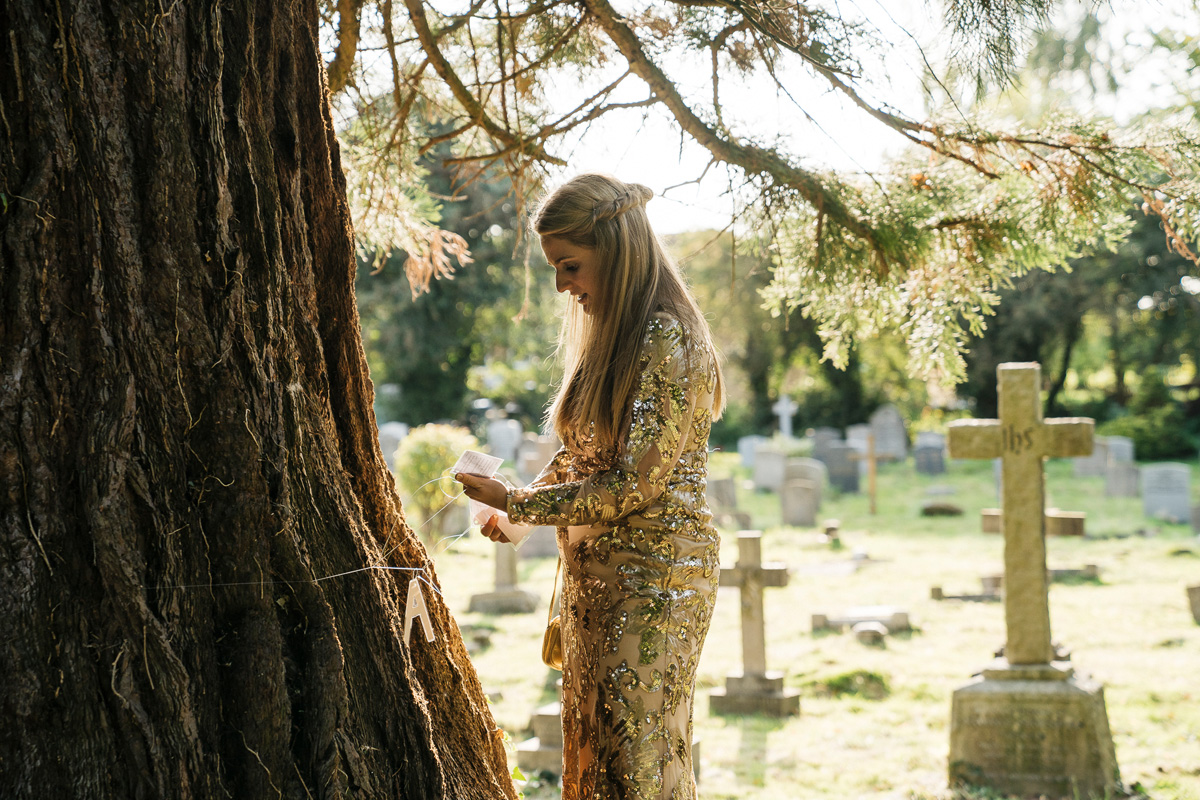 "I would recommend her in a heartbeat. I'm already thinking about how to strong-arm her into taking our family photos when we have kids."
"On the day, Sophie was such a calming presence, we hardly knew she was there and then she produced these amazingly intimate photos."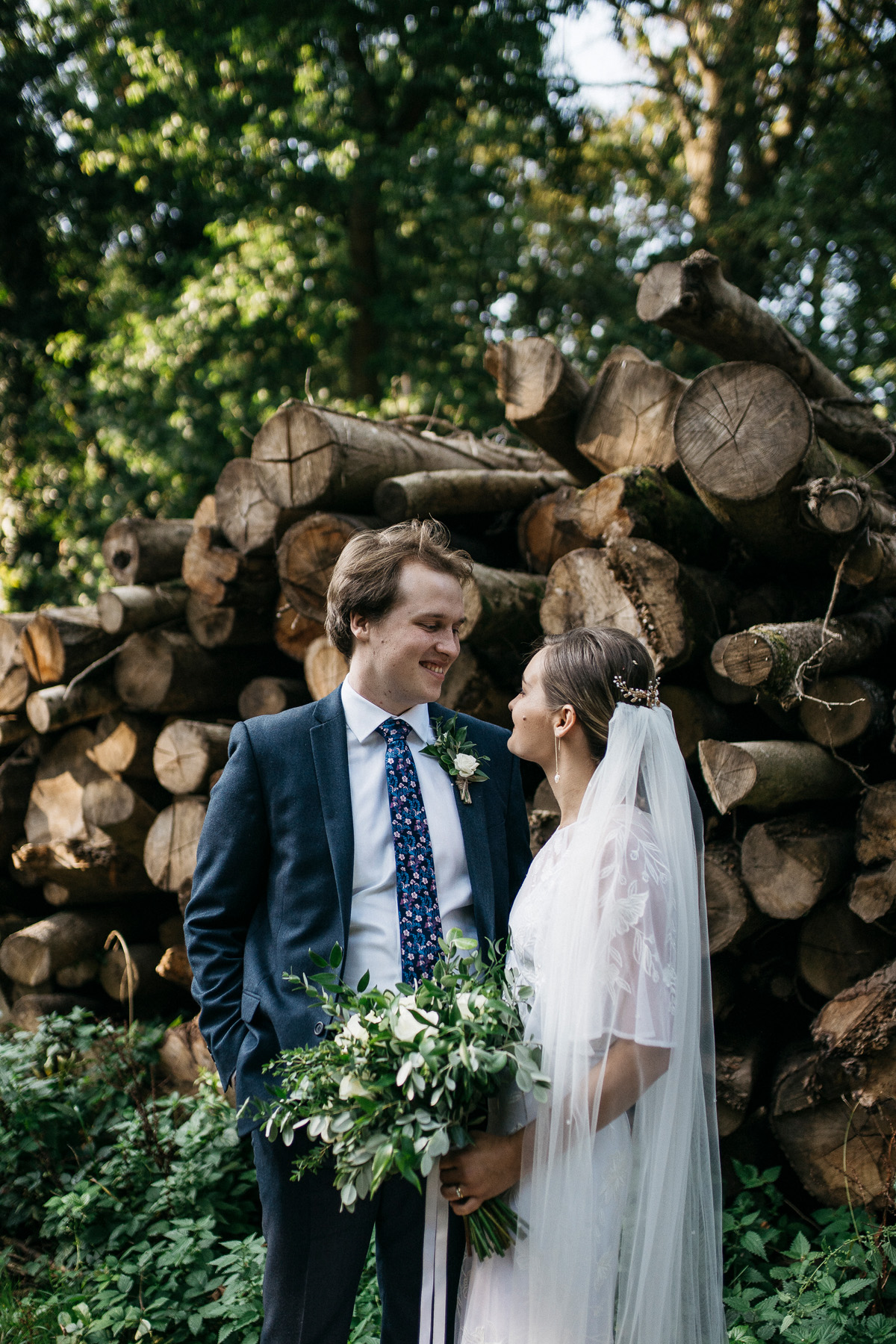 "She took time to understand what was important to us and really captured the spirit of the day – the positives as well as the harder parts."
"She was not pushy at all and let us guide how long we wanted to spend on each part of the day."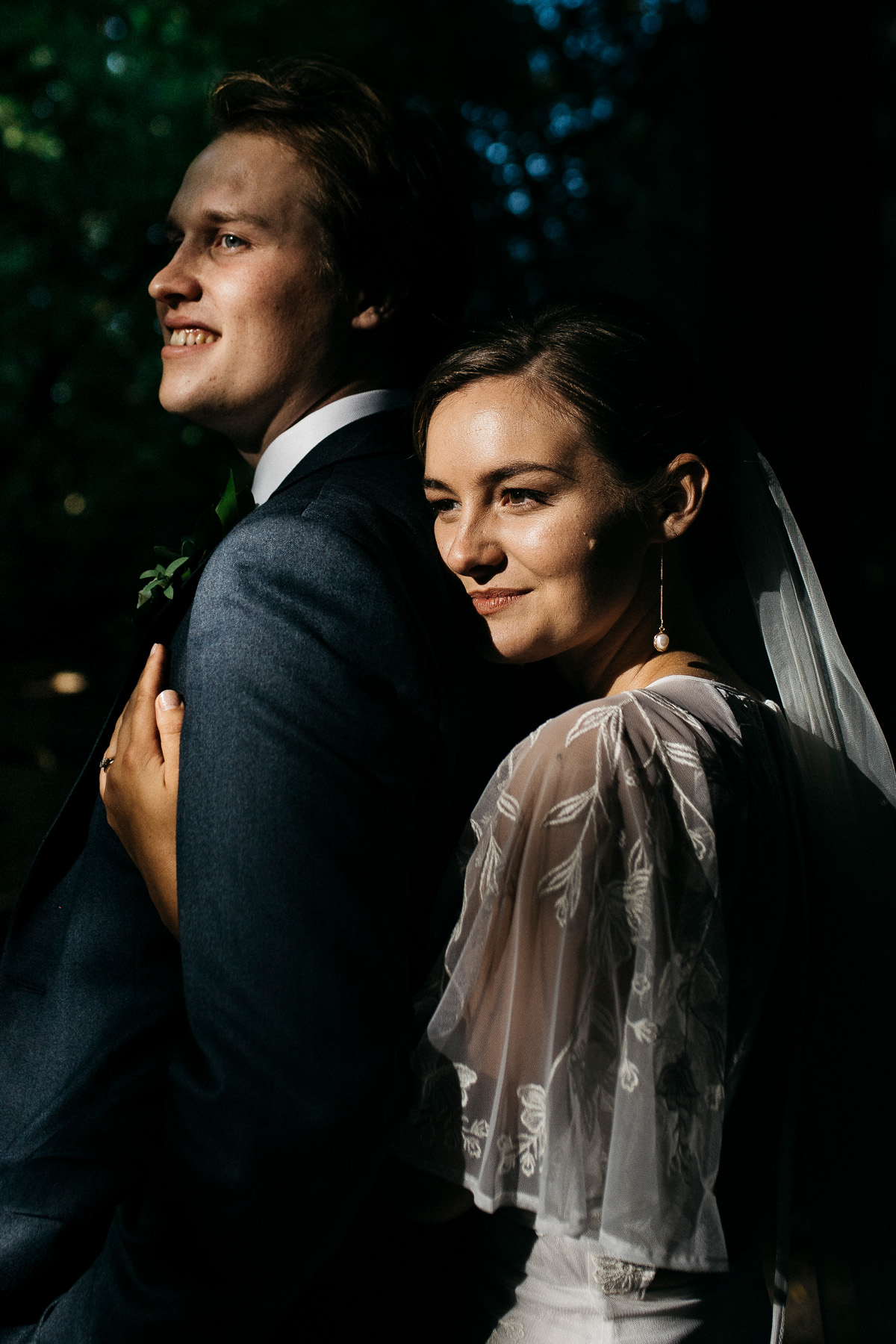 "Arthur and I met at university. Completely by chance we were given accommodation in the same block in our first year, we clicked immediately and the rest is history!"
"After three months of working abroad, Arthur proposed on his first weekend back in our flat. Classic for us, he proposed in our living room in our pyjamas. We had been engaged for 10 months before the wedding."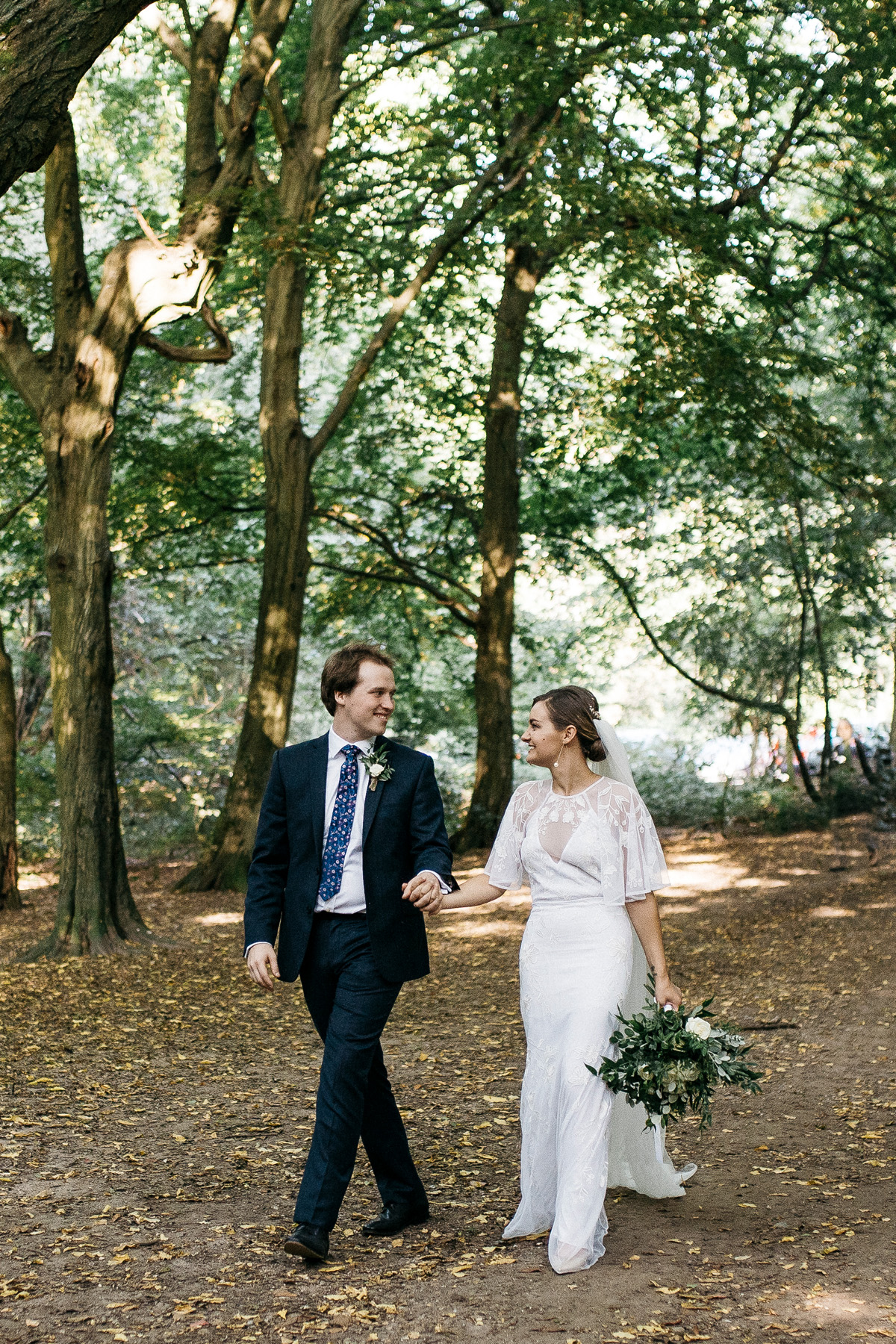 The open reception marquee looked glorious in the golden afternoon light, with menus (and the invitations) from Papier, signage made by Rebecca, and hand lettered place cards by Rosie Wedderburn.
"We were incredibly fortunate that my parents have a beautiful lush garden with a pond. We wanted to work with the space so had a completely open marquee and put over 100 tea lights in jars hanging from trees and bushes around the garden."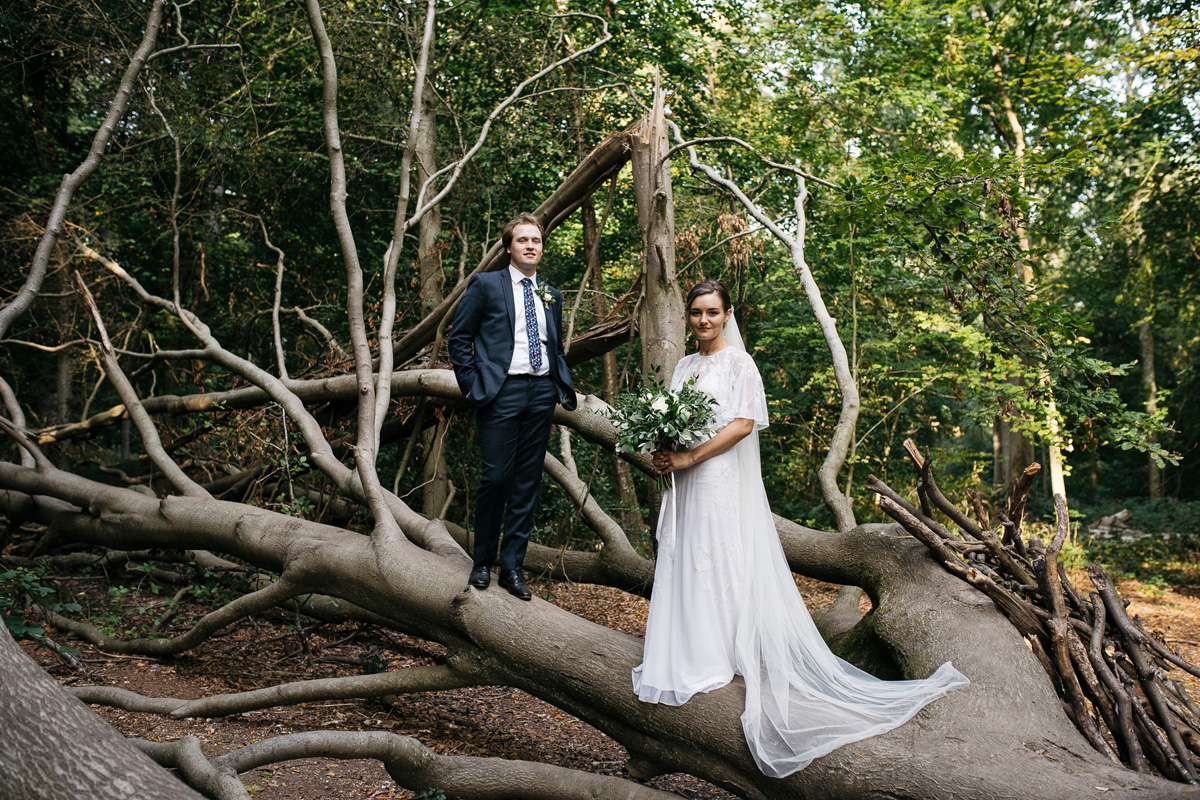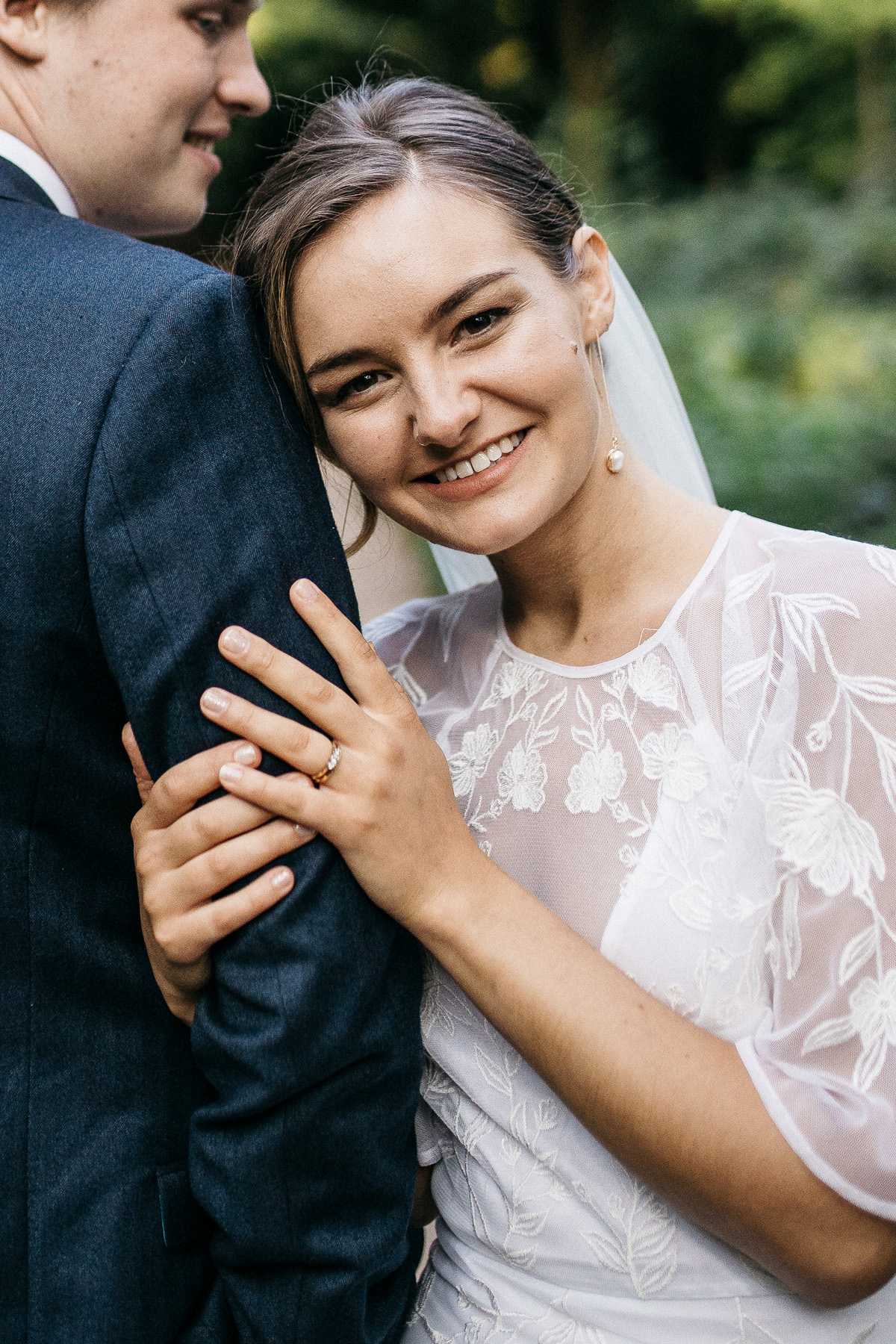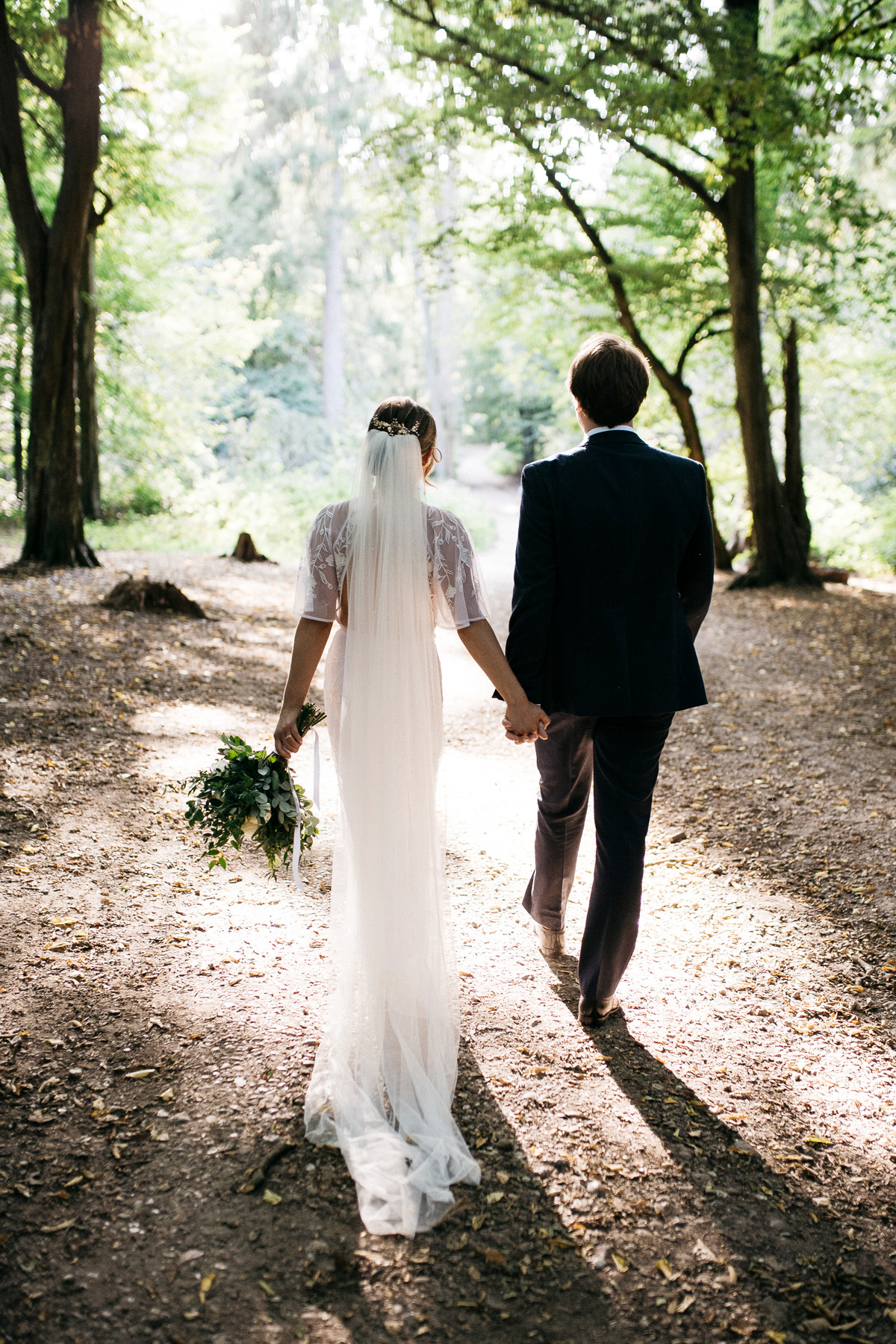 Ahead of the wedding, the couple had taken a trip to France's Champagne region with Arthur's Mum to choose wedding champagne, which they enjoyed on the day.
It was also important to Rebecca and Arthur that they chose as many local, small businesses as possible, and their catering was by Leon Catering.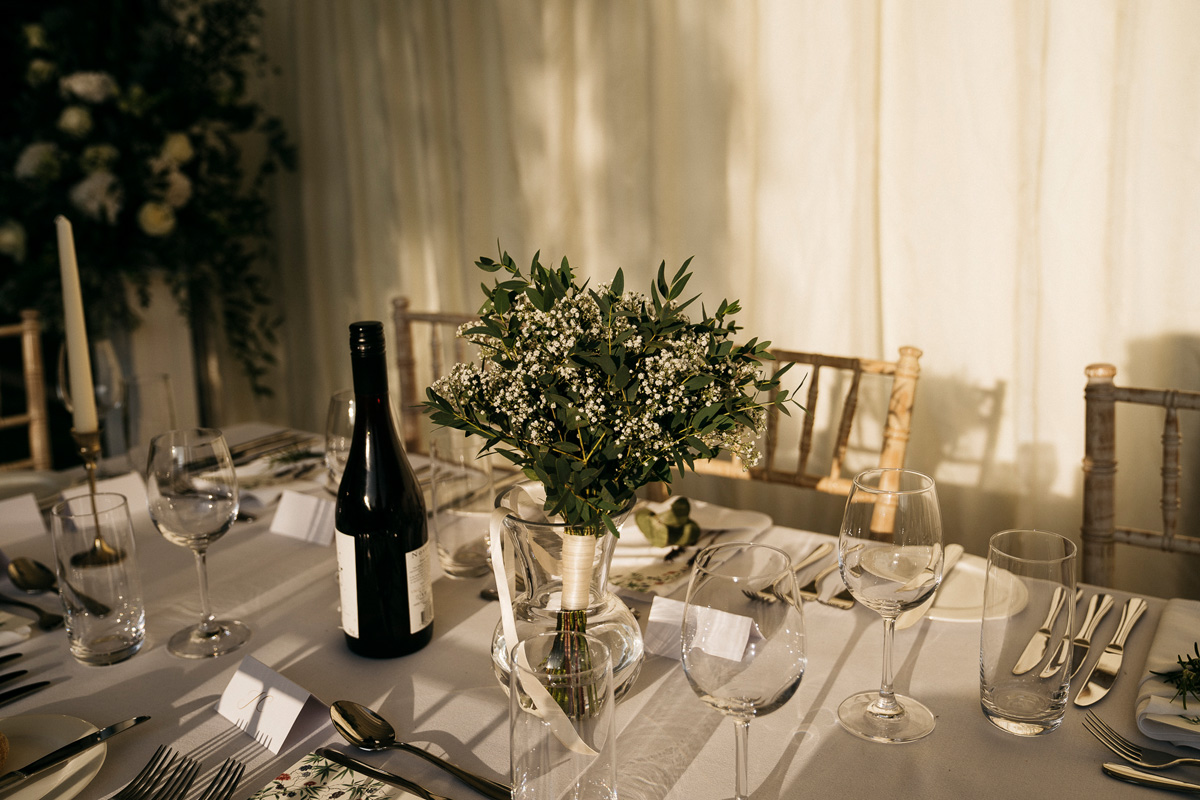 The wedding feast began with aperitifs of Kir Royale followed by tomato and mozzarella balsamic salad, and cauliflower and pomegranate salad with parmesan risotto.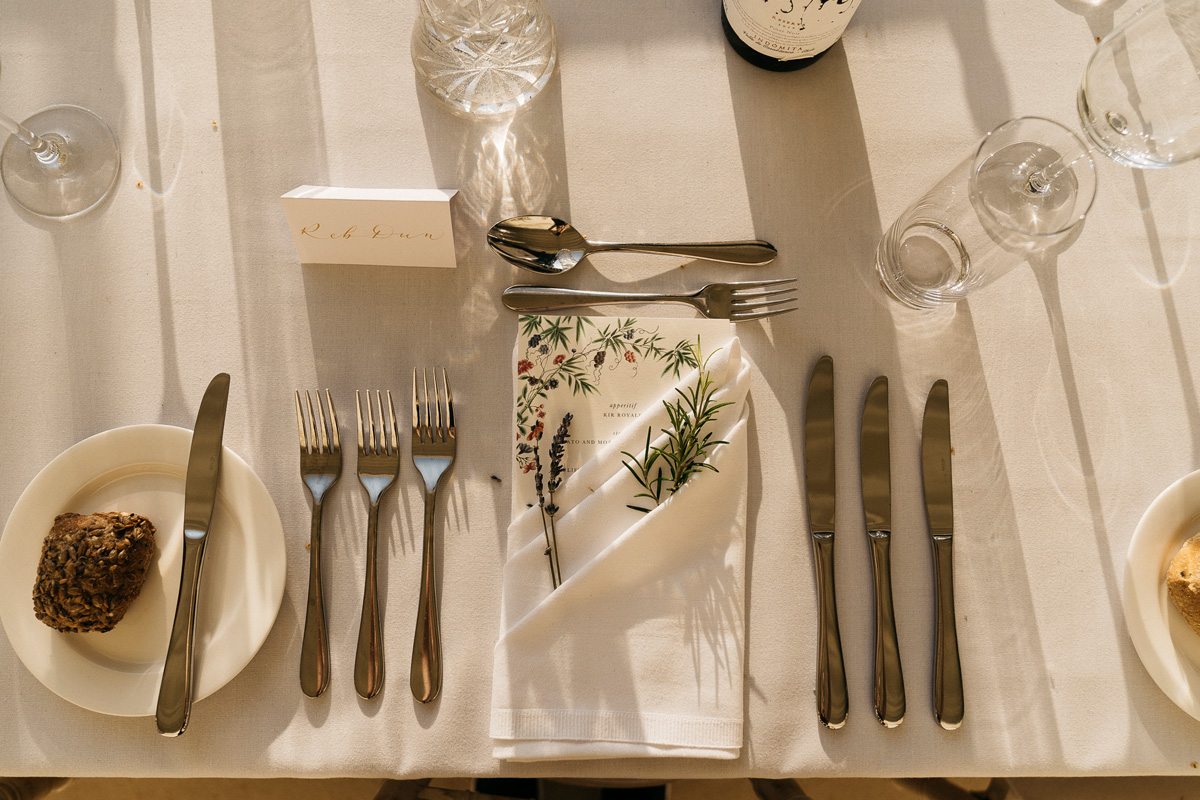 Main courses were confit duck or pine nut crusted carrot with black quinoa, followed by pavlova and dark chocolate mousse for dessert.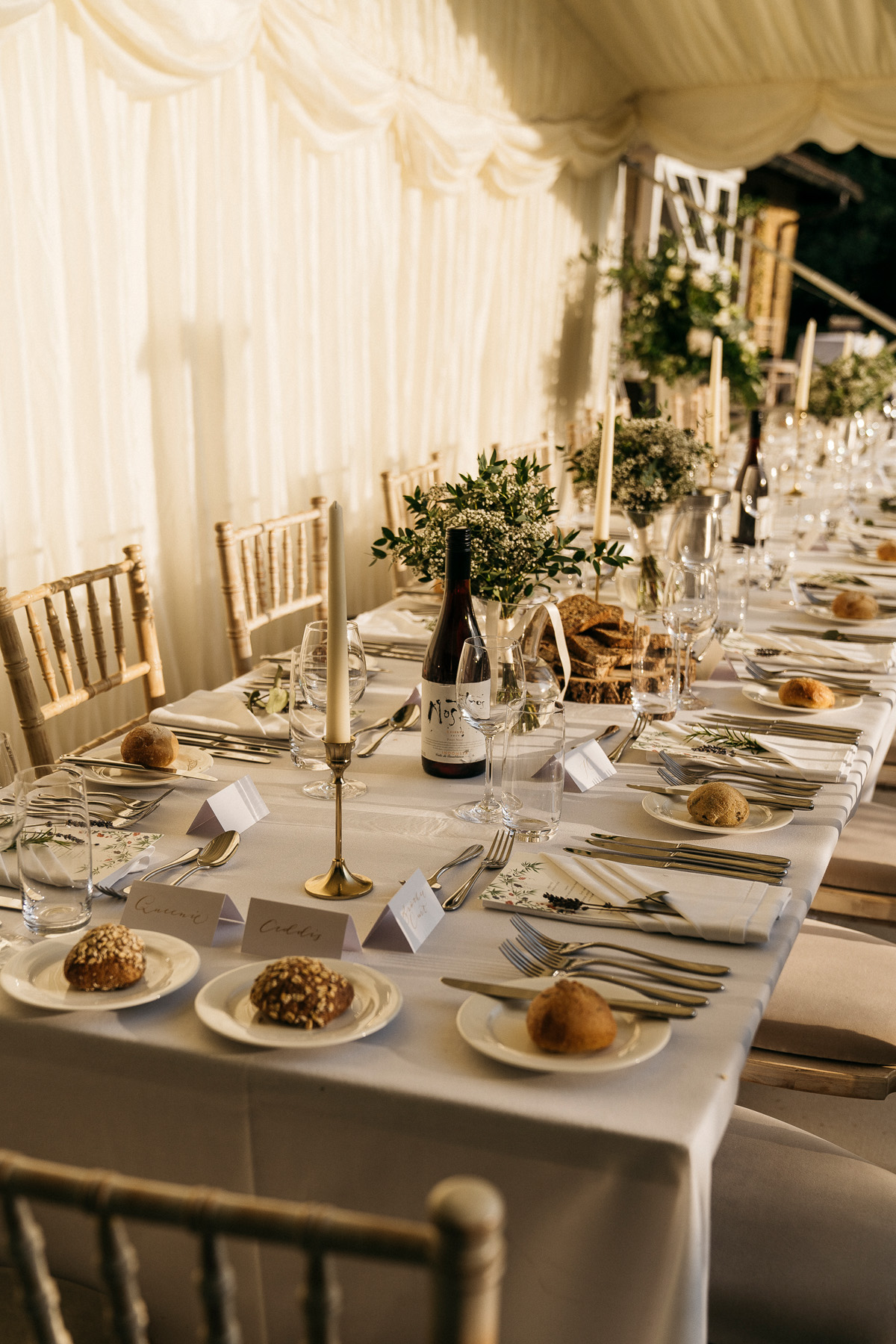 Covid restrictions meant there couldn't be any entertainment, so there was no first dance for Rebecca and Arthur, but they did enjoy a dance together when they got home to their flat – to Happiness by Rex Orange County.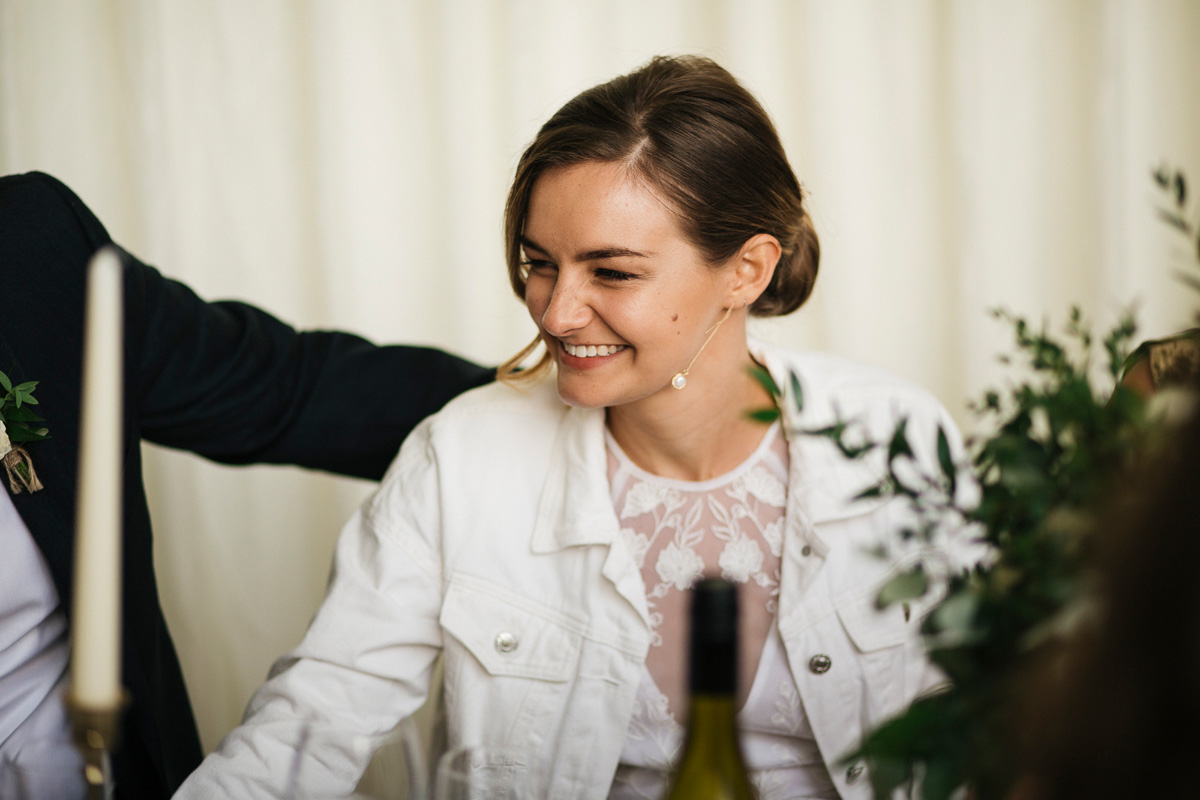 Words of Wedded Wisdom
"Take the time to really explore what marriage (not just the wedding day) means to you and try to incorporate this into your wedding day. Someone promising to spend the rest of their life with you is a pretty amazing thing and we found it helpful to think about our wedding day as a celebration of each other. Your wedding day is going to be incredible because it is your wedding day. Focus the day on being meaningful for you – if you are having a good time, the likelihood is your guests are going to be too, or at the very least will be happy to see you having a great time!"
"As soon as you can, decide what your priority and non-negotiables are. Just getting married? Having certain family members there? Having dancing? Having a party? We agreed that being married was the most important thing to us so, come rain, shine or a dreaded wedding with two witnesses, we would stick with our original date. Being firm on this decision was the best thing we did. The constant planning and replanning was driving us mad and sucked all the joy out of the wedding planning. Being comfortable and having a contingency for our worst case scenario (only being allowed two witnesses, so having to cut two parents out of the ceremony) made everything feel much more manageable."
"Our plan was that we would have a big party post-pandemic for all the people who couldn't come on the day. We were really surprised and grateful how understanding/ lovely all the guests were, but we did have a few who threw a tantrum of their own at not being invited, and my general advice would be screw them! If someone can't appreciate the stress of planning what should be the most exciting and happy day of your life in a pandemic, they don't deserve too much of your time."
"Be really clear on what the restrictions are so you don't have any shocks later on! We didn't realise until the day before that the bridesmaids would have to wear masks actually walking down the aisle and it was just unnecessary stress."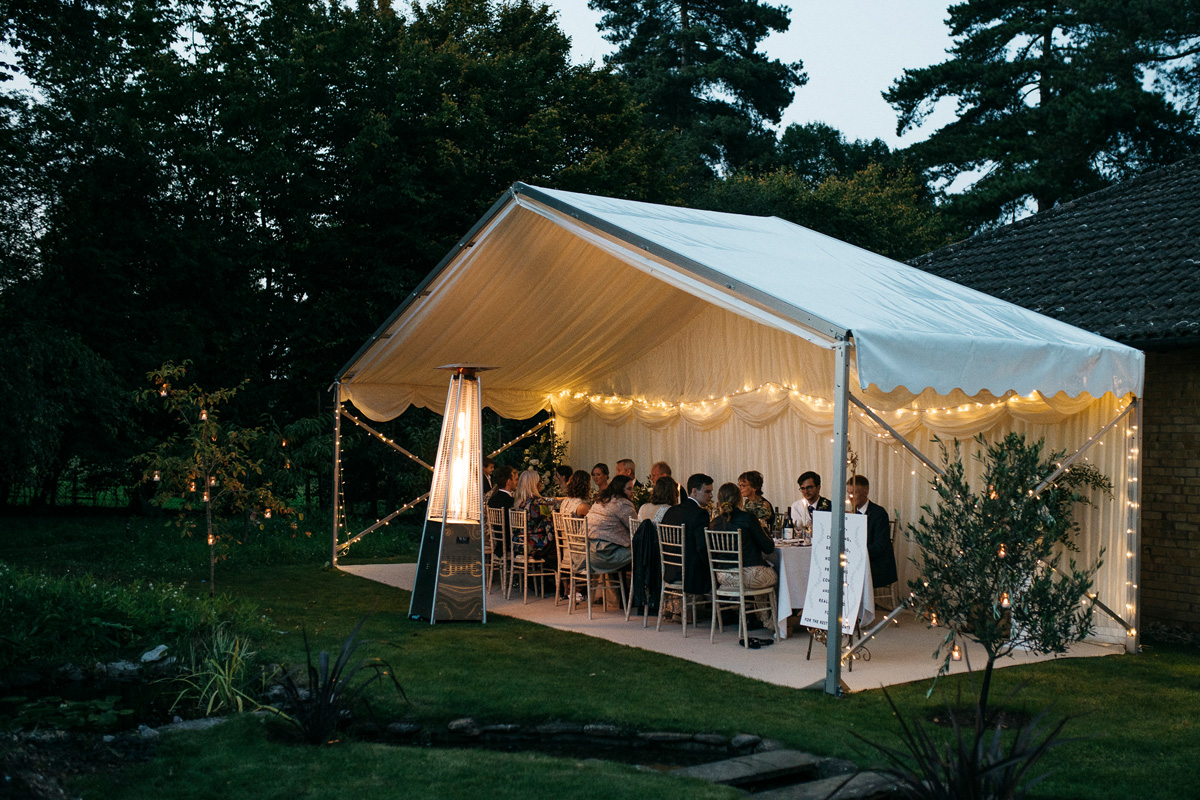 Rebecca and Arthur, thank you so much for your thoughtful words throughout, and for giving us the joy of sharing your day – a true celebration distilled down to all your very favourite things. Many thanks to Sophie Lake for this superb photography.
With love,
Laura