Just 18 months ago, the term 'micro wedding' didn't really exist. Now, thanks to many thousands of couples having to adapt their original wedding plans in light of covid, micro weddings are considered a totally normal way of celebrating, often ahead of a much bigger celebratory party planned later down the line.
This micro wedding brought together Roshni, who works for the NHS as a dietician and her love Nicholas, a Physiotherapist. The couple tied the knot on Saturday 8th May at the Mayfair Library in London, and capturing these beautiful images was London based wedding photographer, Maja Tsolo.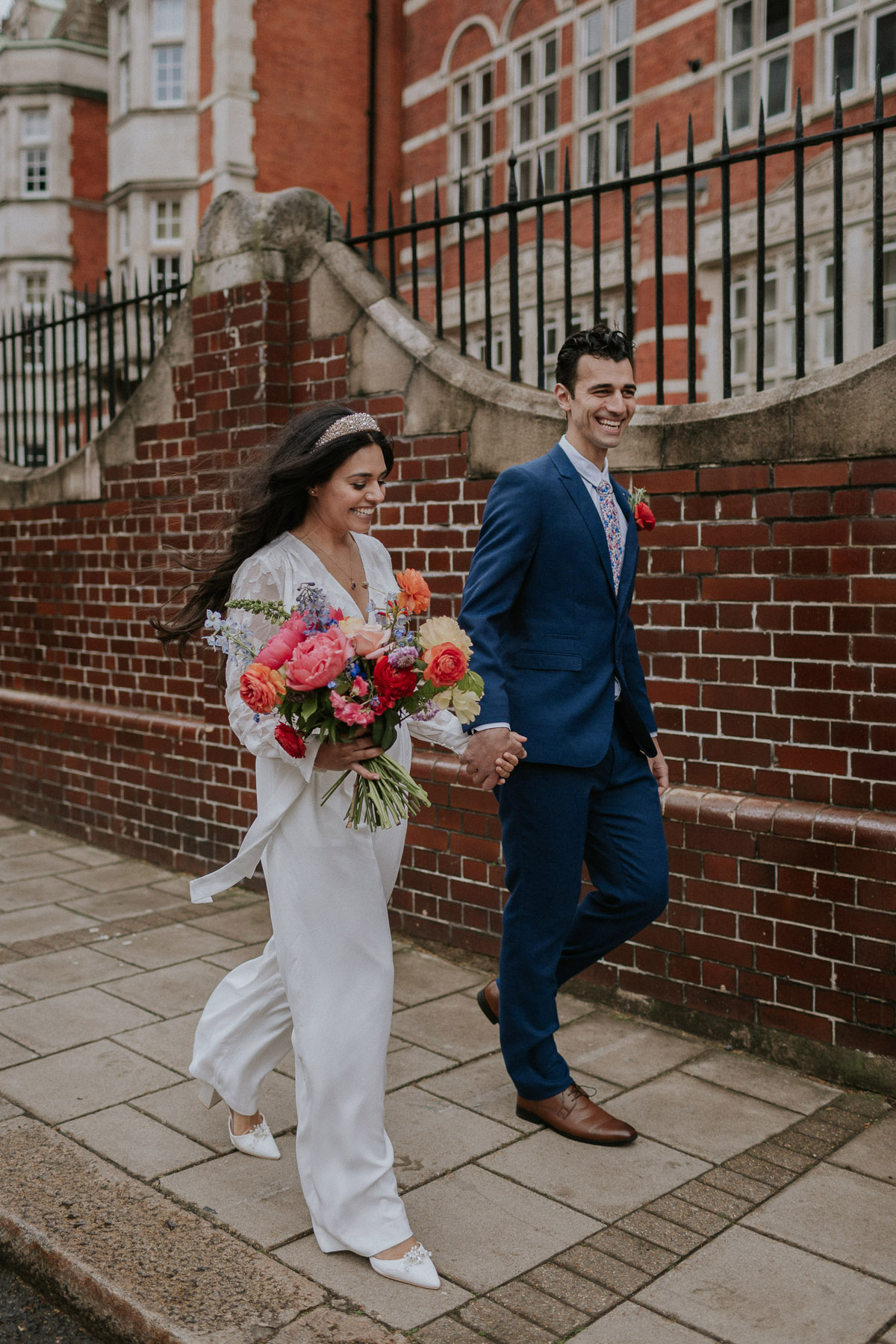 "Getting ready was a favourite moment. It was the first time in a long time that I was having my hair and makeup done."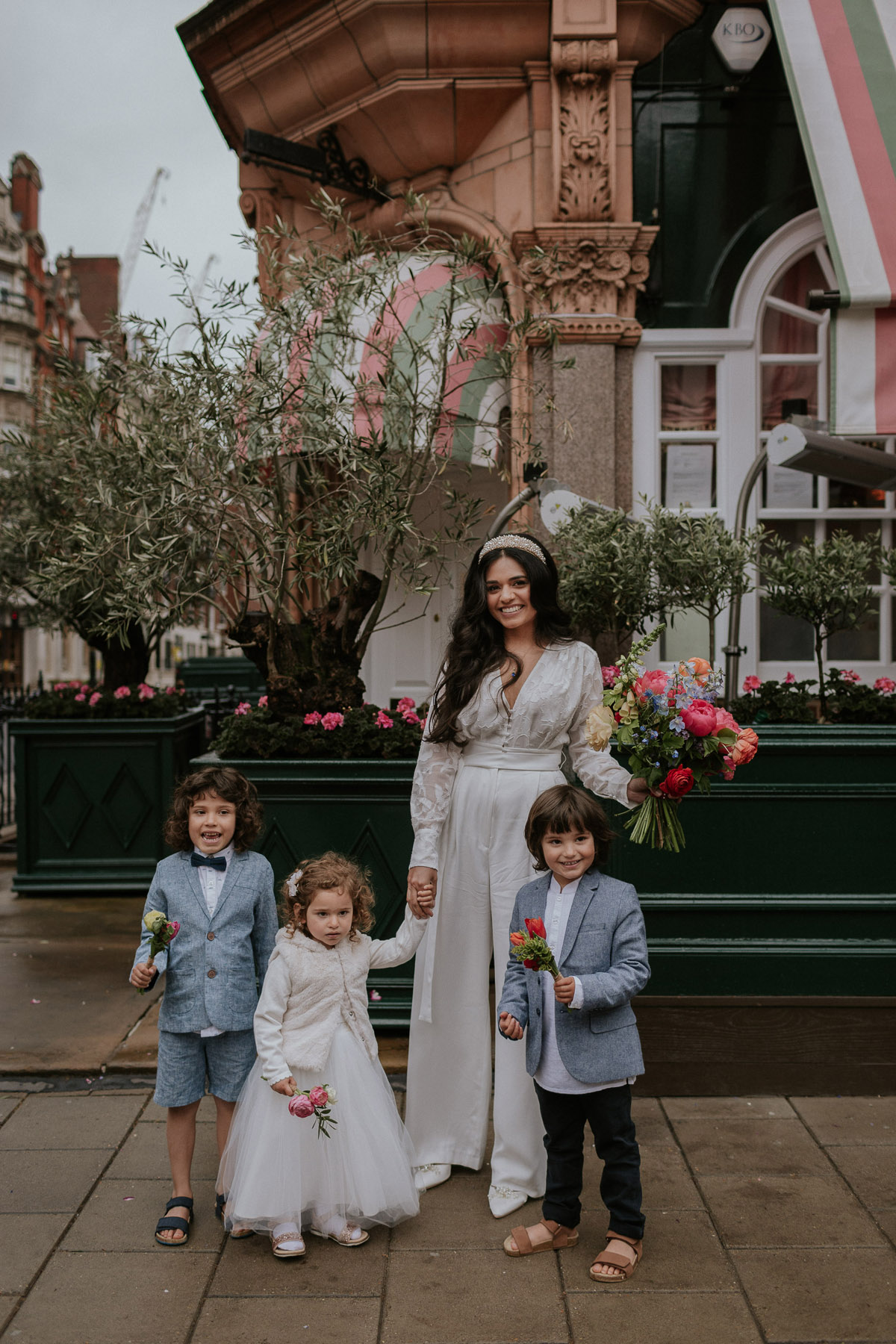 "Those last few hours before you're married is just filled with so many emotions and I want to relive it again particularly the part where I see Nicholas' face for the first time."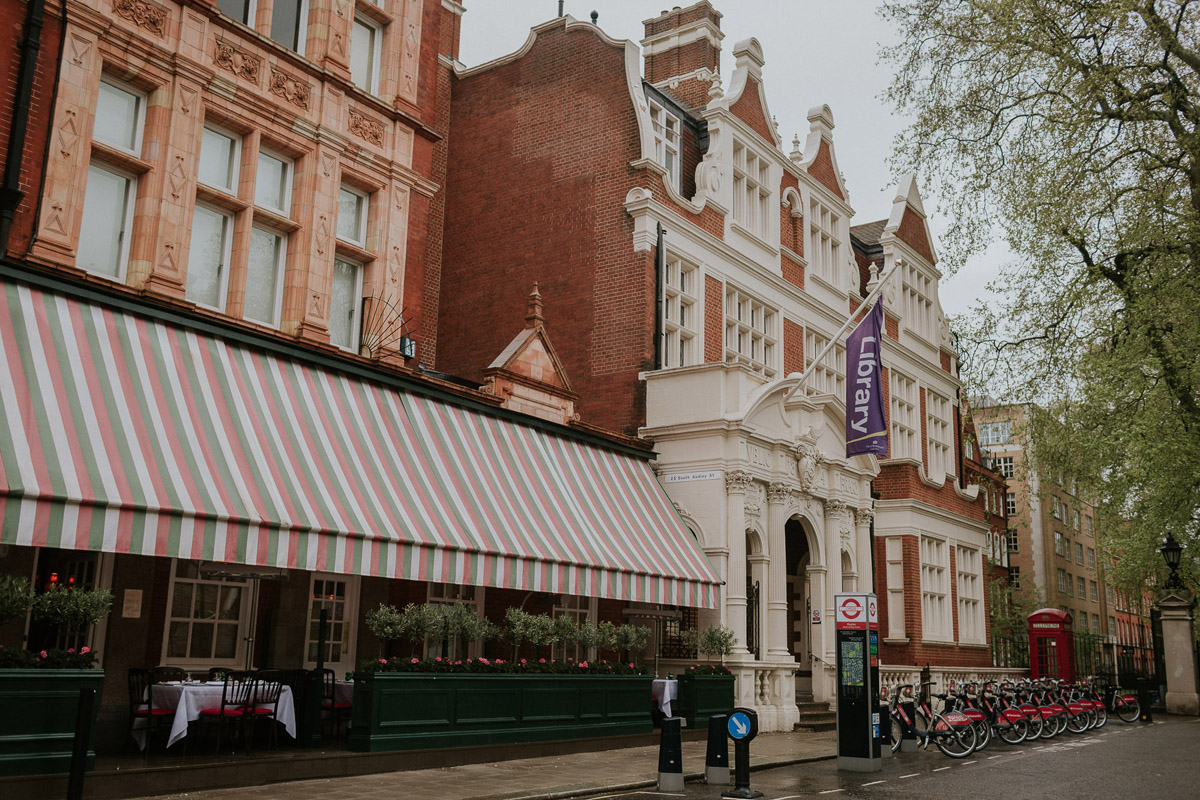 The bride wore a jumpsuit from French Connection.
"I decided to wear a jumpsuit as I'm a trouser girl at work and on nights out. As we are looking to do a renewal of vows at some point for Nicholas' family as a bigger celebration (part 2 wedding) in however many years it takes for Australia to travel quarantine free I will wear a dress then."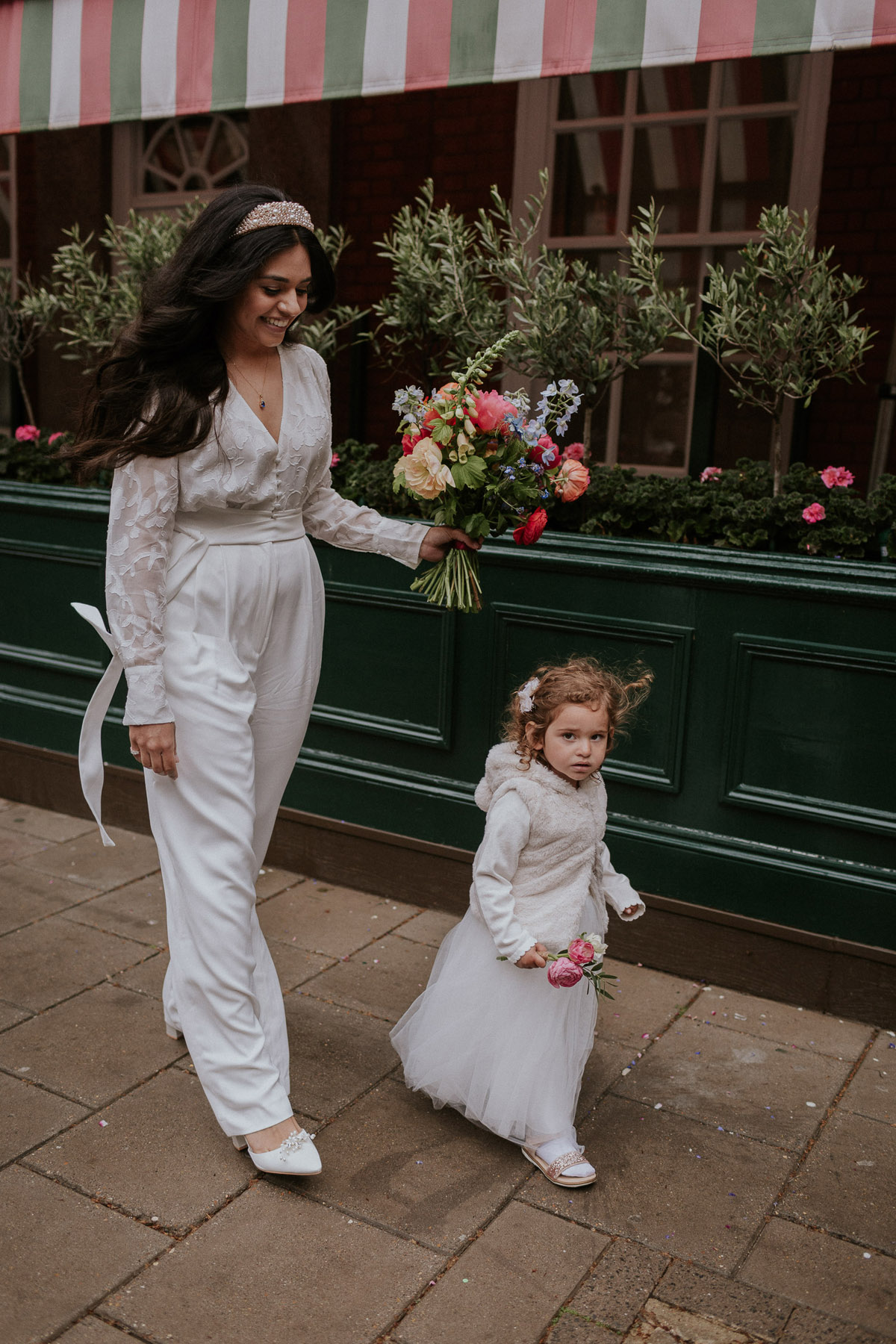 "French Connection provided a good website experience with delivery. I wanted to take the opportunity to wear something that is me and what I am comfortable in."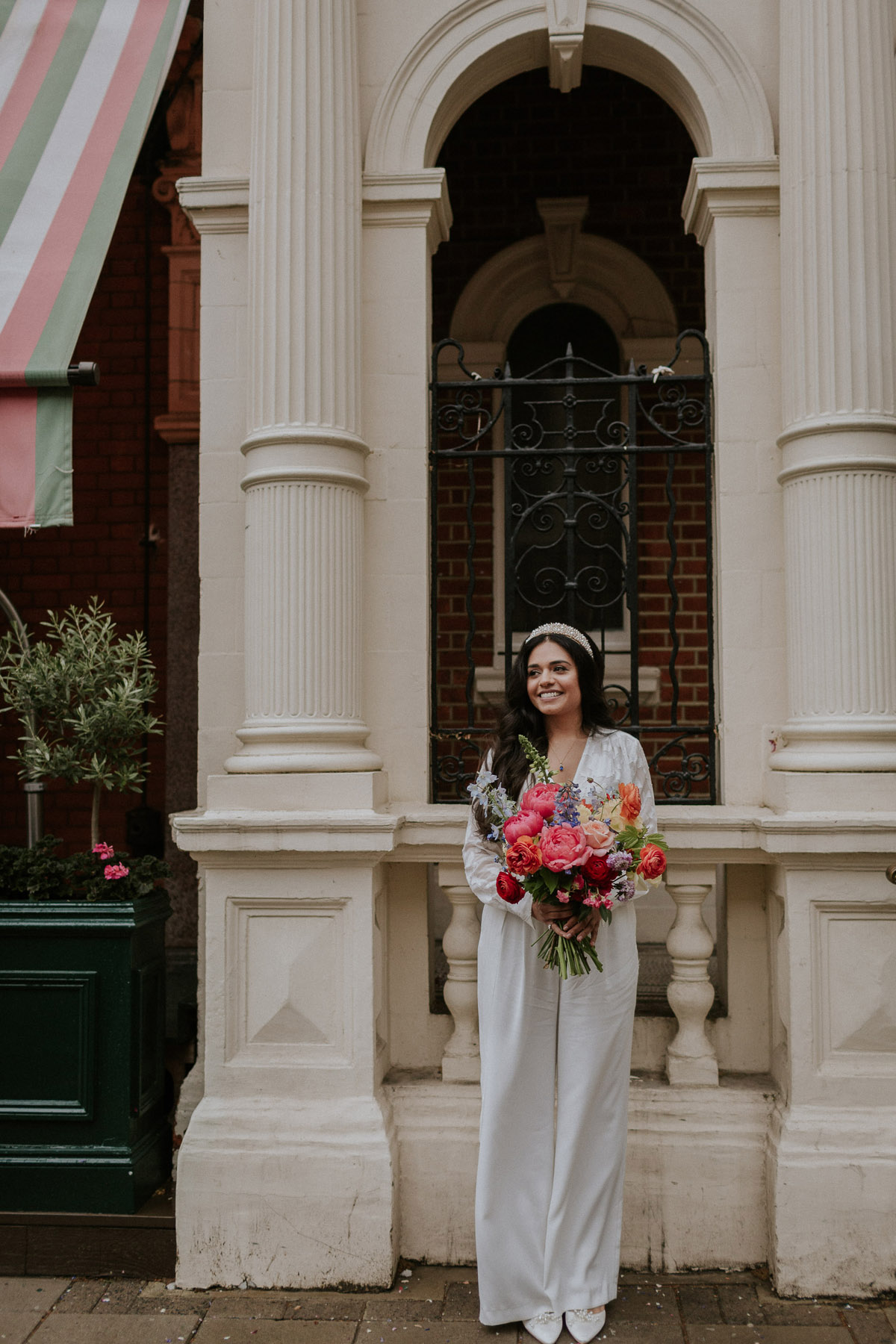 "Just one look at my bouquet and Nicholas' button hole and you will see why we chose Rebel Rebel. I asked for big and colourful and they delivered exactly that."
"I like to have a pop of colour somewhere so there it was."
The bride hired hair and makeup artist Andrea Lewis via cjchairandmakeup.com.  In her hair, she wore the Zea headband from The Bobby Pin.
"We chose Mayfair Library to get married, as we decided to get married very last minute and this was a lovely venue for a registry office."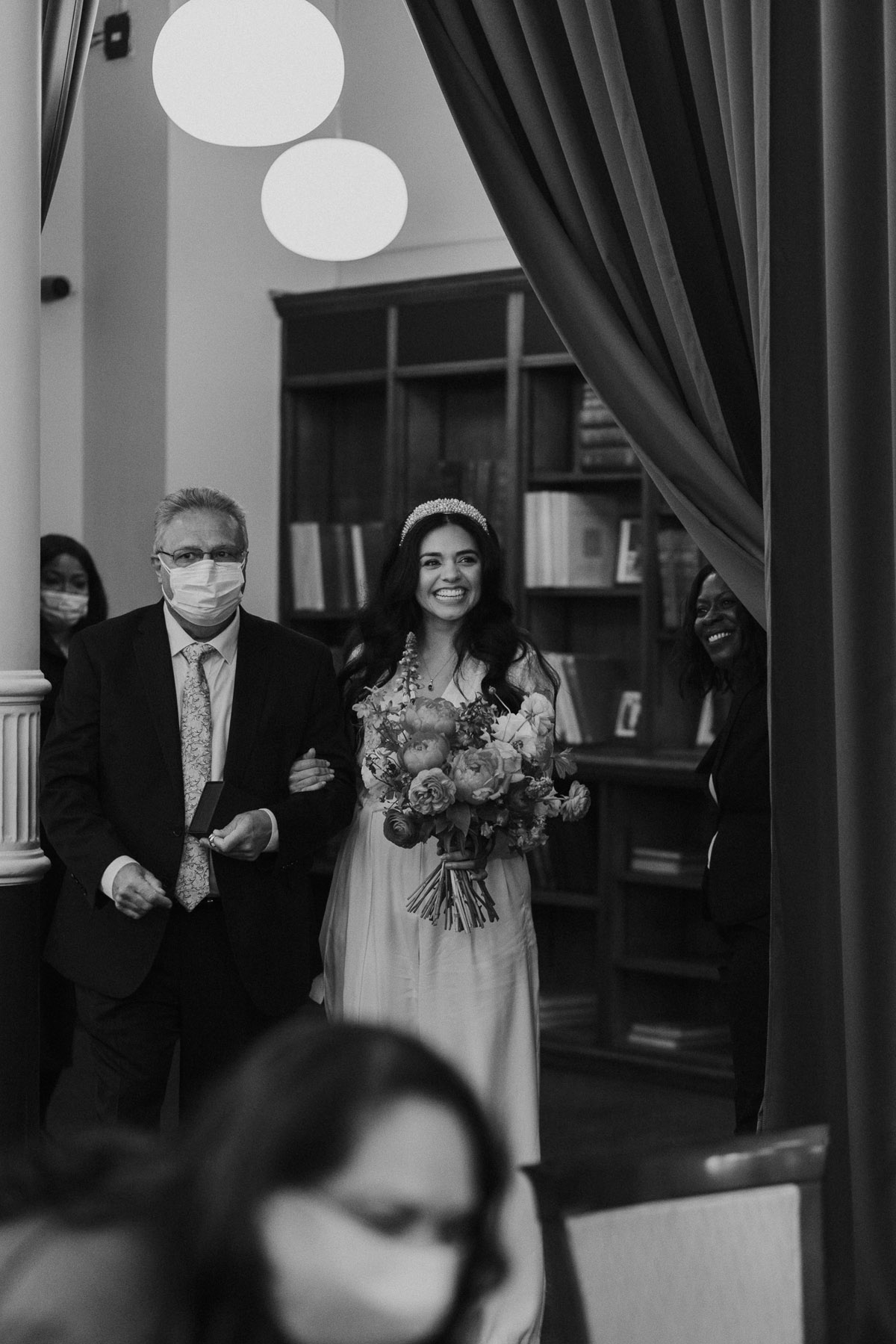 "My engagement ring and our wedding bands were made at Hatton Garden Jeweller."
"Vincent at Hatton Garden Jeweller has made another ring in the past for me. He is very reasonable and you don't feel pushed into purchasing."
"We actually wrote our own vows and read them to each other the night before the wedding as they are too personal."
"We both kept some humour in there, such as promising to carry on dancing to 90s hip hop while we cook. We opted for a traditional script for the wedding."
"Although this was a civil ceremony which is what I wanted as an Atheist, we will eventually have a Greek Orthodox blessing too, as that is what Nicholas wants."
"We booked our wedding during Covid19 so were aware of the restrictions. For the day my family wore masks inside the venue and for the duration of the ceremony but Nicholas and I were allowed to be mask free."
"Chairs in the ceremony were socially distanced. We were asked to sanitise our hands when we arrived and also when sighing the marriage schedule."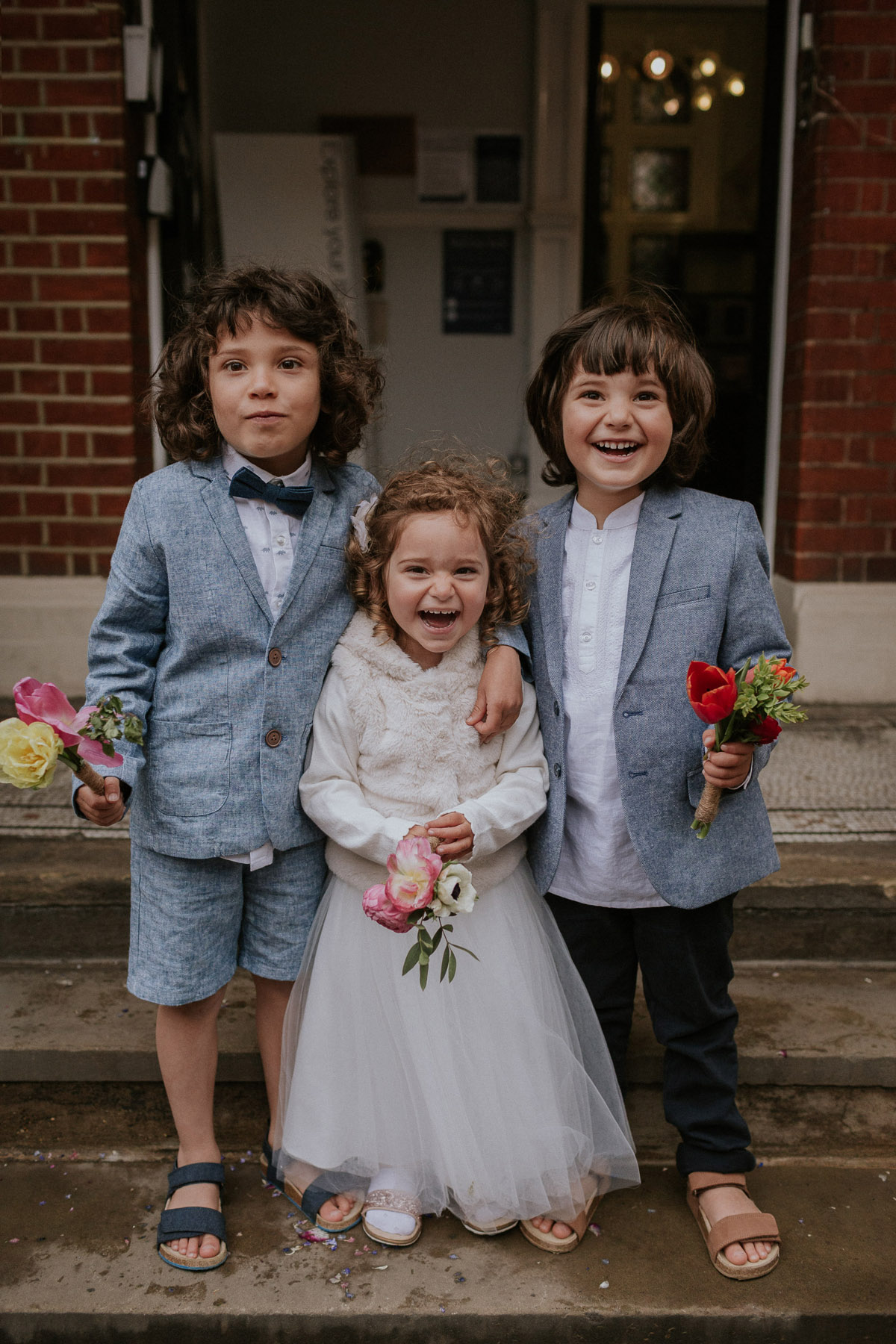 "If you love each other, what are you waiting for? You do what you want to do. Don't let the pandemic hold you back from getting married."
"If we wait for Australia to have quarantine free travel who knows when we can get married?"
"We just went for it because we want to be together now and forever and couldn't wait. You can always have a bigger celebration at a later date like we are doing."
Roshni and Nicholas hired the wonderfully talented Maja Tsolo  to capture their day in images.
"Her style of photography is just incredible. I have browsed her work and she can just capture those split second looks that just tell a story of your day."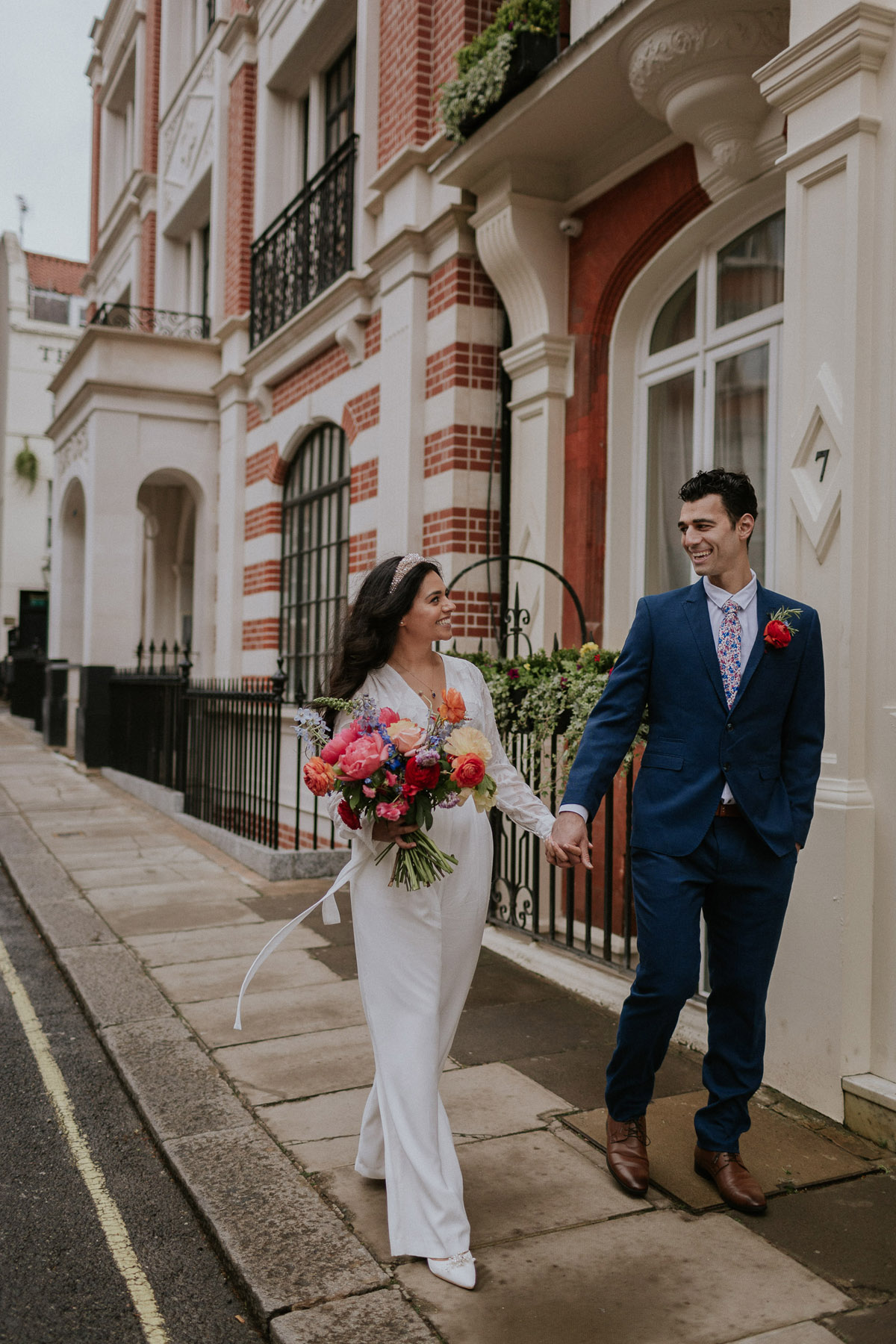 "Maja's photos show the romance between couples. I would definitely recommend her even though I want her to be free for wedding round 2!"
"Nicholas and I met at work at the Royal Free Hospital in Hampstead Heath. He arrived as a locum physiotherapist into my team."
"Our manager decided to play cupid and the next thing I know I had a text from Nicholas. We met right in the depths of the covid19 pandemic in April 2020."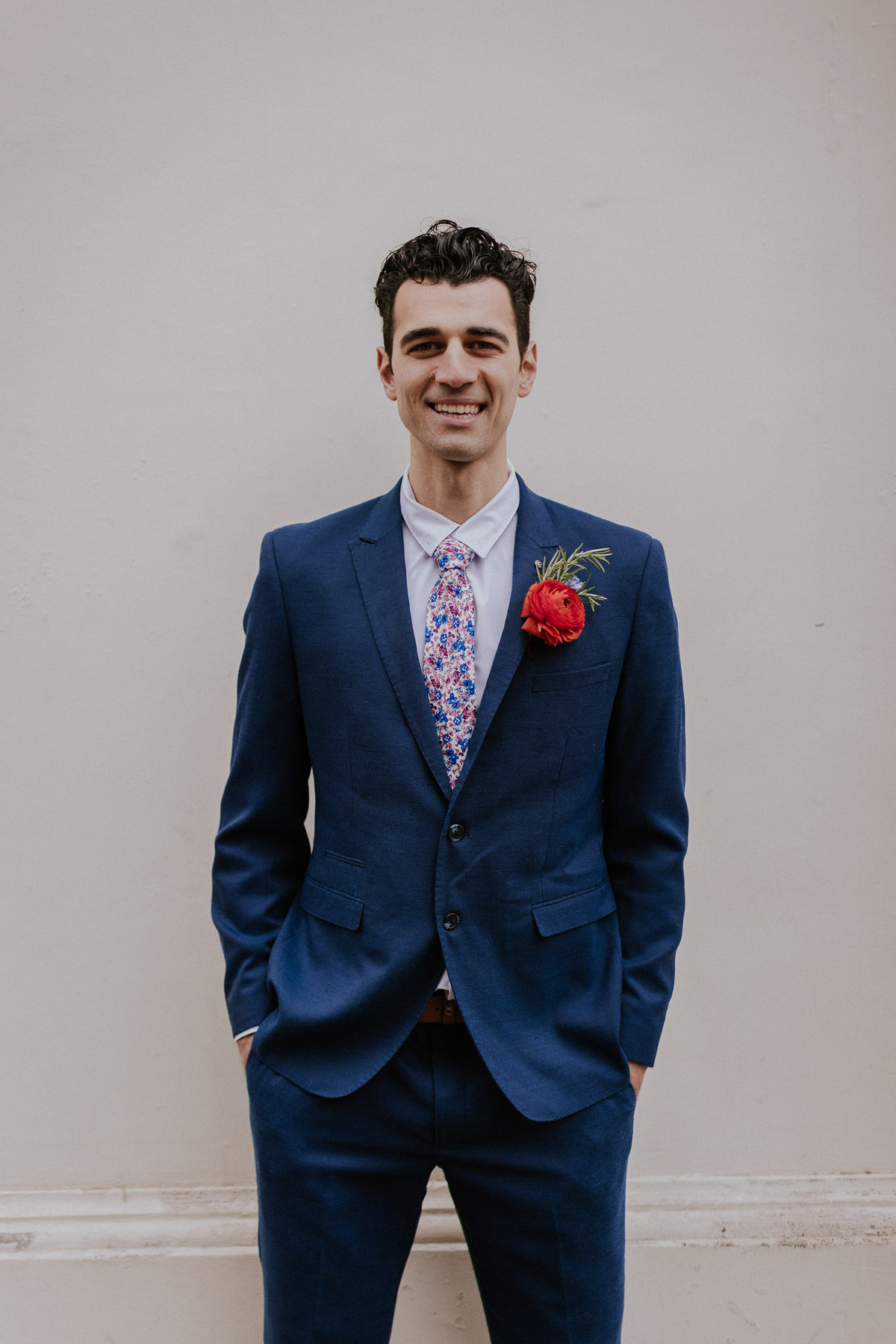 "We worked together on the hospital wards throughout the pandemic. Our colleagues rave on about how we are the best thing to come out of the pandemic!"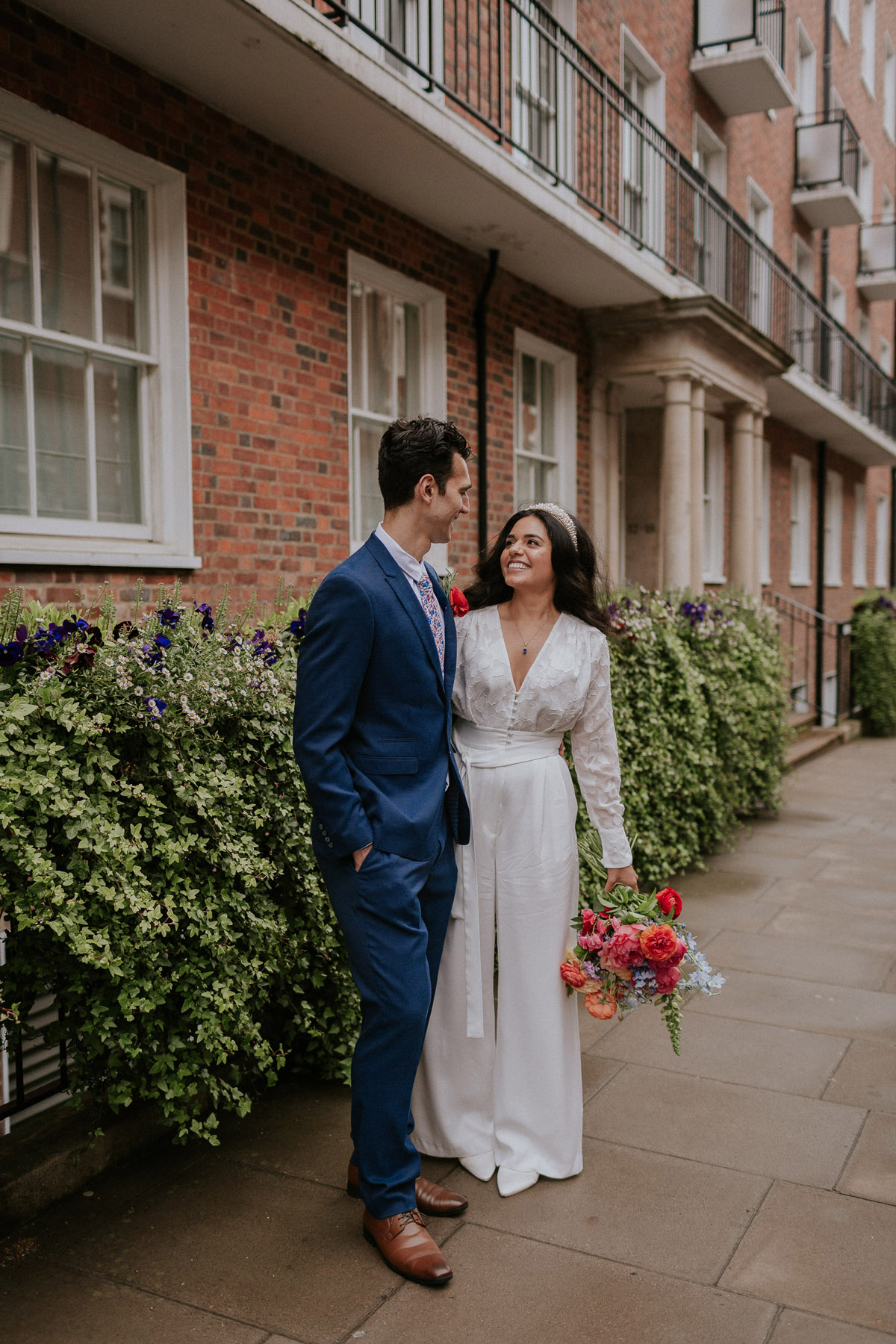 "We had been talking about getting married for some time."
"Nicholas proposed to me on a picnic near to where we had our second date. We were engaged for 3 months before our wedding."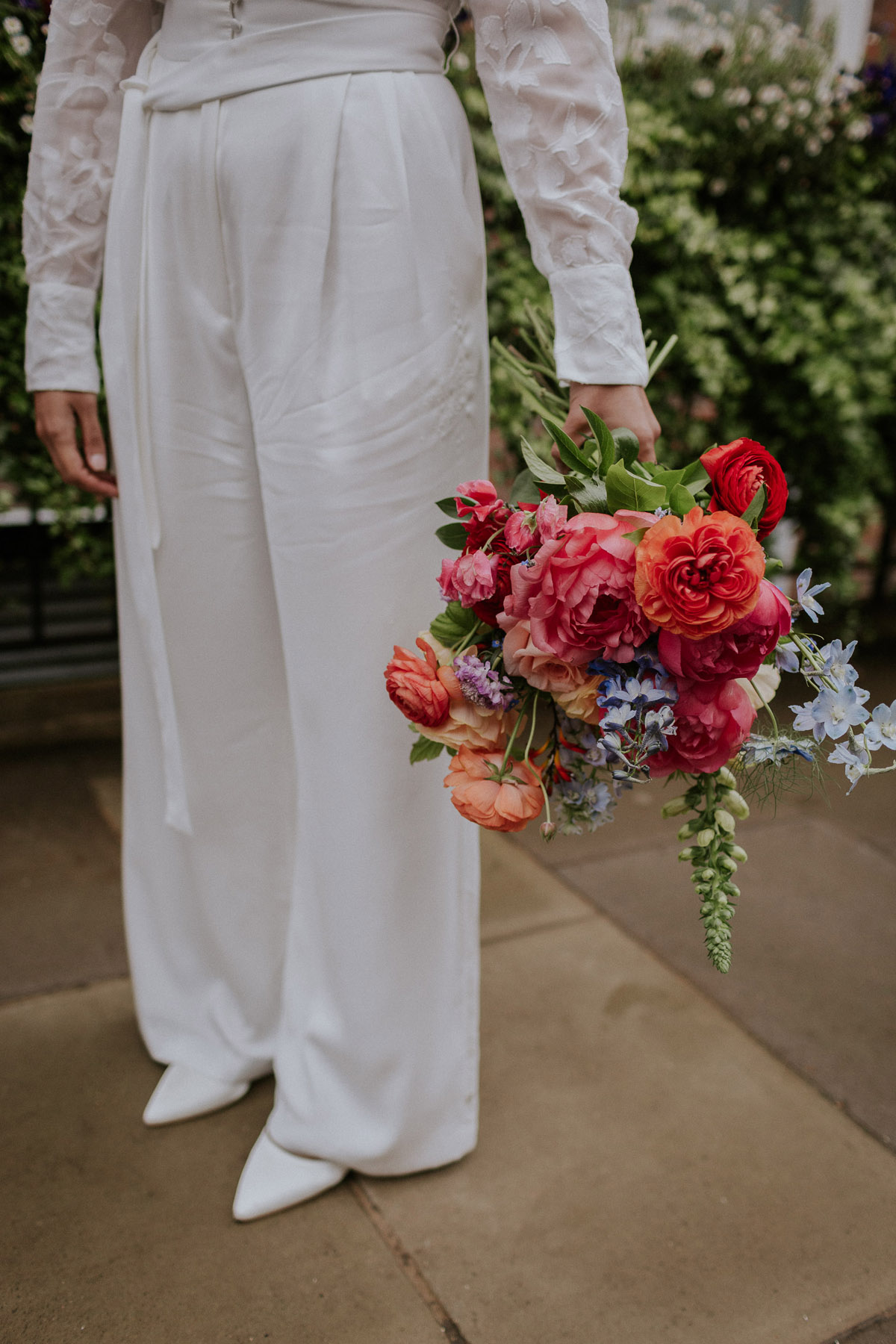 The couple had a lovely idea for helping those who couldn't attend their wedding, feel a little more involved on the day, delivering personalised goodies for them to enjoy whilst watching the proceedings.
Nicholas's family in Australia received personalised cookies from sweetmickie.com, and Roshni's family in England received similar treats from customcookieco.co.uk.
Words of Wedded Wisdom
"If you are sat there wondering if your wedding will go ahead or not you do have the option of keeping it intimate and having a small wedding now and a bigger celebration another time."
You can enjoy many more micro weddings right here on Love My Dress. And if a dress isn't your thing, explore these weddings too!
Sending love to you both Roshni and Nicholas and our love and thanks as always to photographer Maja Tsolo – see more of Maja's work on Love My Dress here.