I'm always so happy to share the wonderful work of Katy and Jim, AKA The Caryls, who specialise in elopement weddings, and who are also part of our brilliant directory, Little Book.
Today's beautiful affair is incredibly lovely – intimate and cosy, yet at the same time set within the wild, open, majestic Scottish landscape of the Cairngorms – in deep woodland, with a scattering of snow on the hills, rolling mist and a ruined castle all for good measure.
This is the wedding of Laura, who works in customer relations for an airline, and Tom, who is a finance assistant for the NHS. They were married on the 10th April 2021 in the wilderness forest at Glen Dye Cabins and Cottages, set within 30,000 acres of private estate in Aberdeenshire.
"We went with The Caryls for our photography on the day and we couldn't have chosen better people. When I first started to look at whether an elopement would be possible, they were the first photographers I looked at."
"We were instantly drawn to their cinematic, documentary style of photography, as well as how natural and relaxed the couples looked."
"We were both quite nervous at the thought of having our pictures taken all day, but from our first Zoom call with Katy and Jim we were immediately put at ease."
"Katy and Jim helped us so much in the planning process – from helping us choose the location, accommodation, and recommending a Humanist to perform the ceremony. Nothing was too much trouble and no question too silly."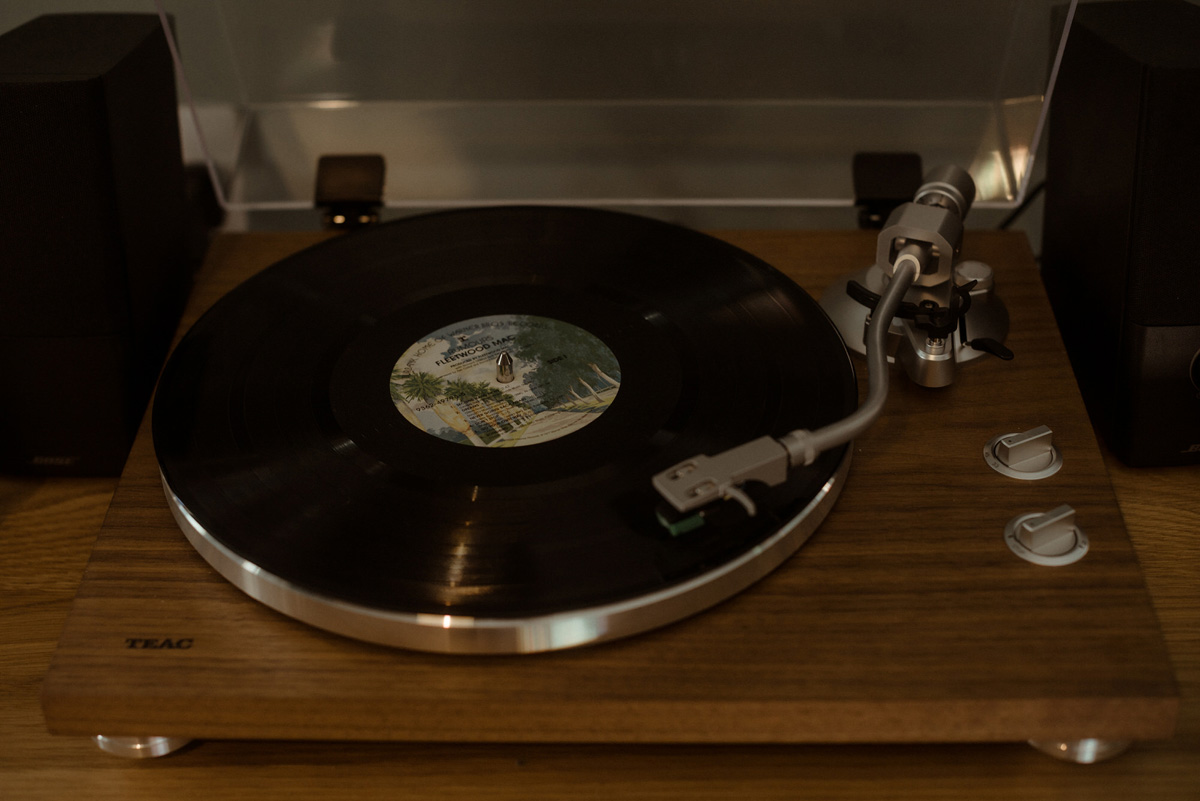 As she was unable to have her original wedding dress altered (due to the boutique sadly being closed) Laura decided to order a dress online through ASOS, and she was thrilled with it.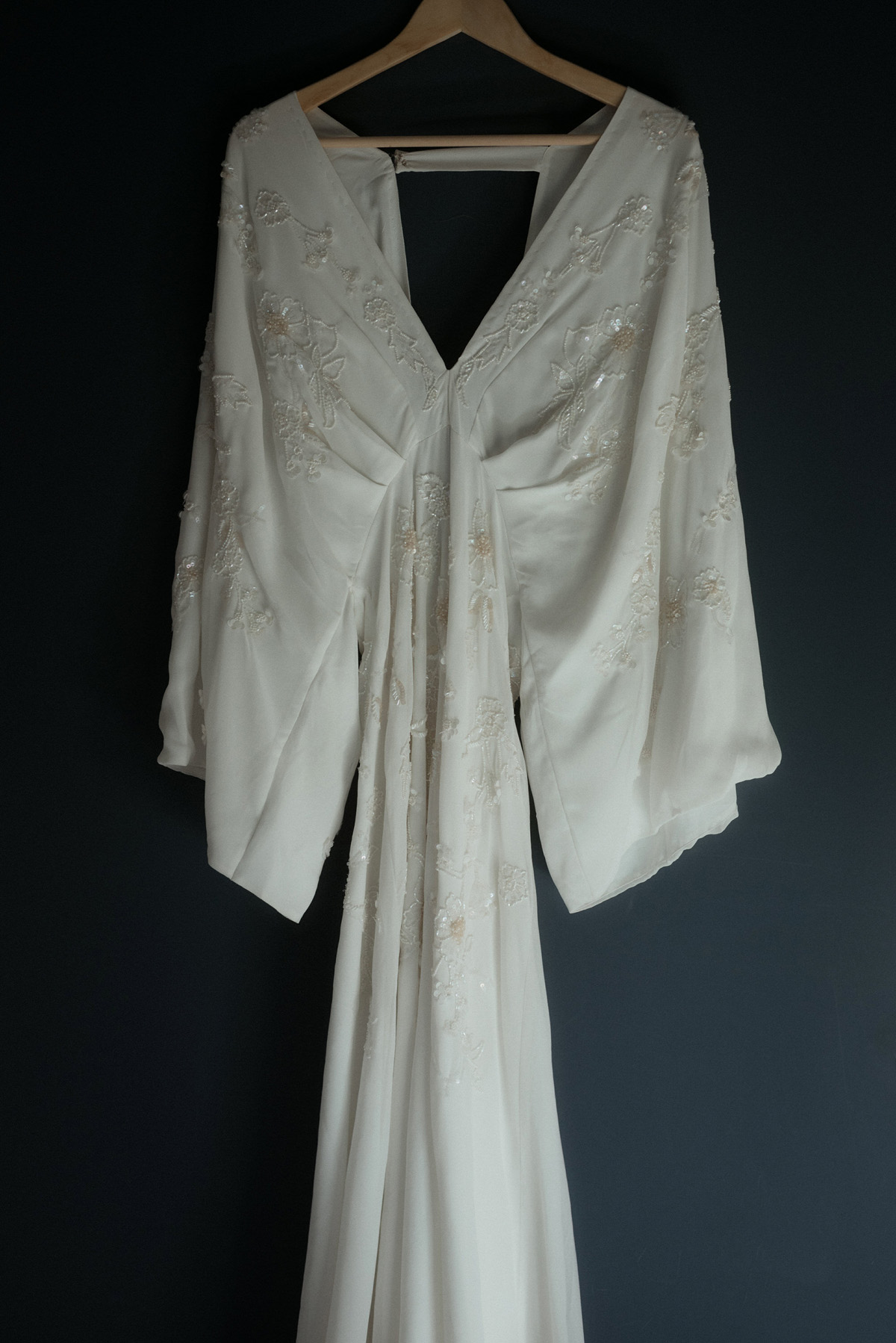 How wonderful she looked, and what a dress, with those wide, draped sleeves – such a lovely boho feel – which she wore with a pair of hiking boots.
"The dress was delivered in a box, wrapped in tissue paper and included a garment bag. This really made it feel more special and I was really impressed with these little touches."
"The dress fit like a glove and I actually preferred it to my original designer dress! I would definitely recommend looking at High Street options as there are so many amazing dresses out there now."
"It was the perfect dress for our elopement wedding and no-one can believe it's from ASOS when I tell them."
"I loved how comfortable I was the whole day. The beading on the dress looked beautiful in the light and the open V front and back and draped sleeves made it feel really modern."
"We decided to make the rings ourselves and went to the The Glamorous Owl in Newcastle to do this. We started with a strip of gold, I chose rose gold to match my engagement ring and Tom chose yellow gold to go with his Grandad's ring that he wears, and then hammered, buffed and polished until we had two perfect rings made by each other."
"This was our favourite part of the wedding planning. Claire at The Glamorous Owl was a brilliant instructor and they even gave us a prosecco afternoon tea, which made the day feel even more special."
Laura took care of her own hair and make-up, and carried a gloriously textured bouquet of dried flowers and grasses, ordered through the English Flower Farmer on Etsy.They can also be found on their own website, The Artisan Dried Flower Co.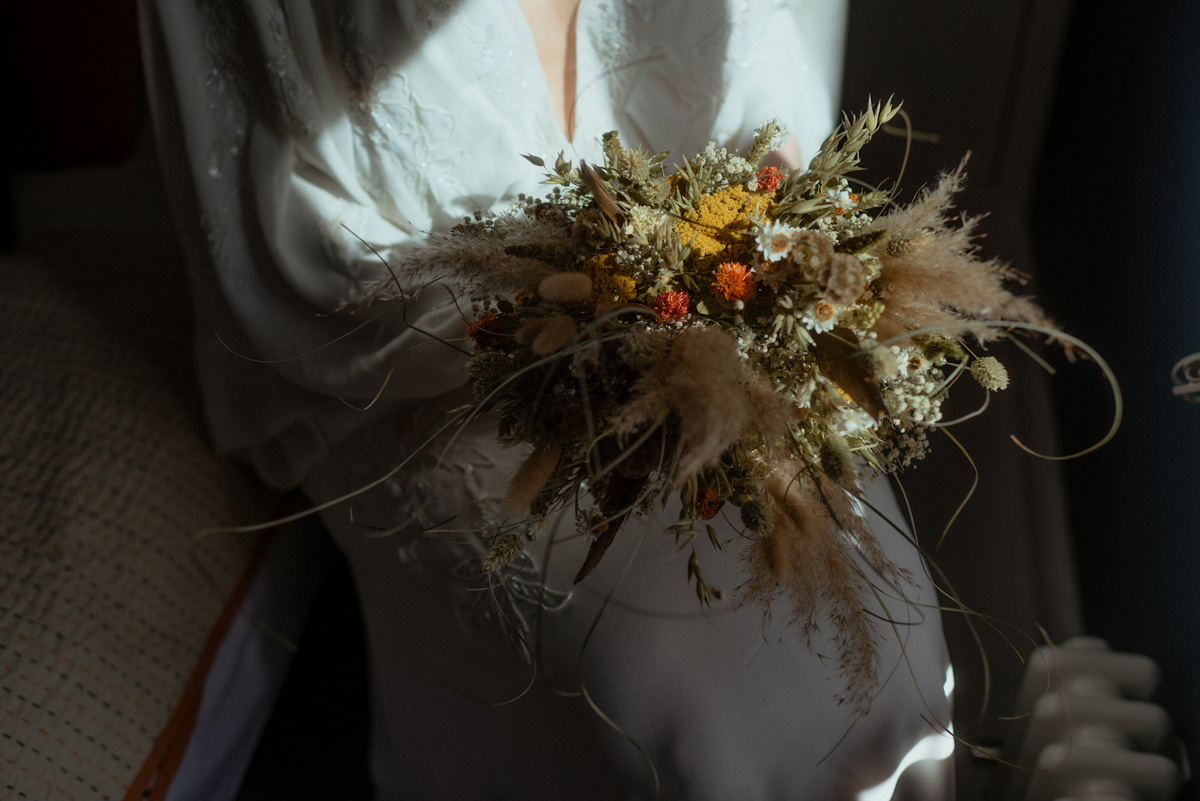 "I chose dried flowers because I wanted something that was going to last so I could display them at home. The yellow and orange colours in the bouquet complemented Tom's suit and fitted perfectly with our surroundings."
Laura wrapped up for the couple's walk to their ceremony location in a cosy recycled wool blanket by the Tartan Blanket Co. and this was a very special part of the whole day for them.
"We were filled with nervous, excited energy, and it was great to chat and laugh with each other along the way."
Waiting for them in the woods was the couple's celebrant, Ashton Easter, who the couple booked through the Humanist Association Scotland.
"As our parents wouldn't be there on the day, we asked them to write us letters which Ashton read out at the ceremony. This was a really special part of the ceremony and resulted in quite a few tears!"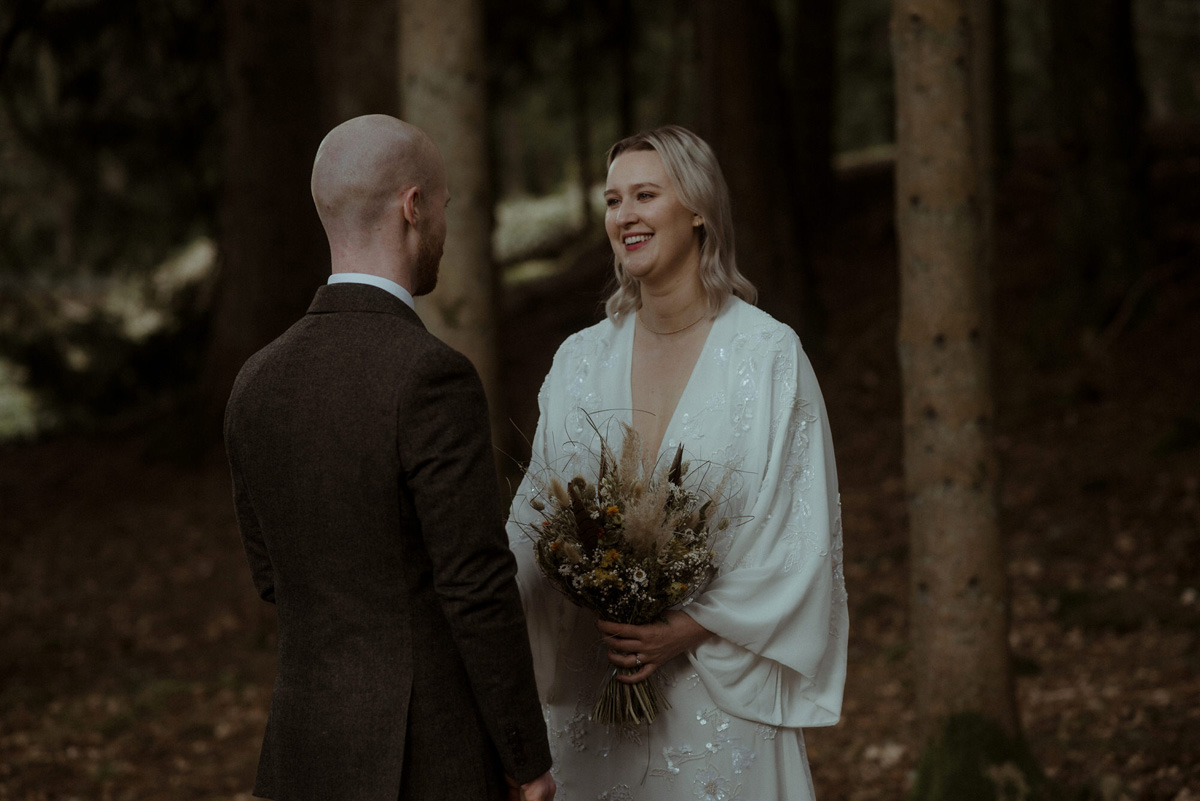 Included in the ceremony was Robert Fulghum's beautiful piece, Union, which spoke to Laura and Tom as it speaks of conversations that begin with 'When we're married', and the final line of the piece is especially moving to her – 'For after today you shall say to the world; This is my husband. This is my wife.'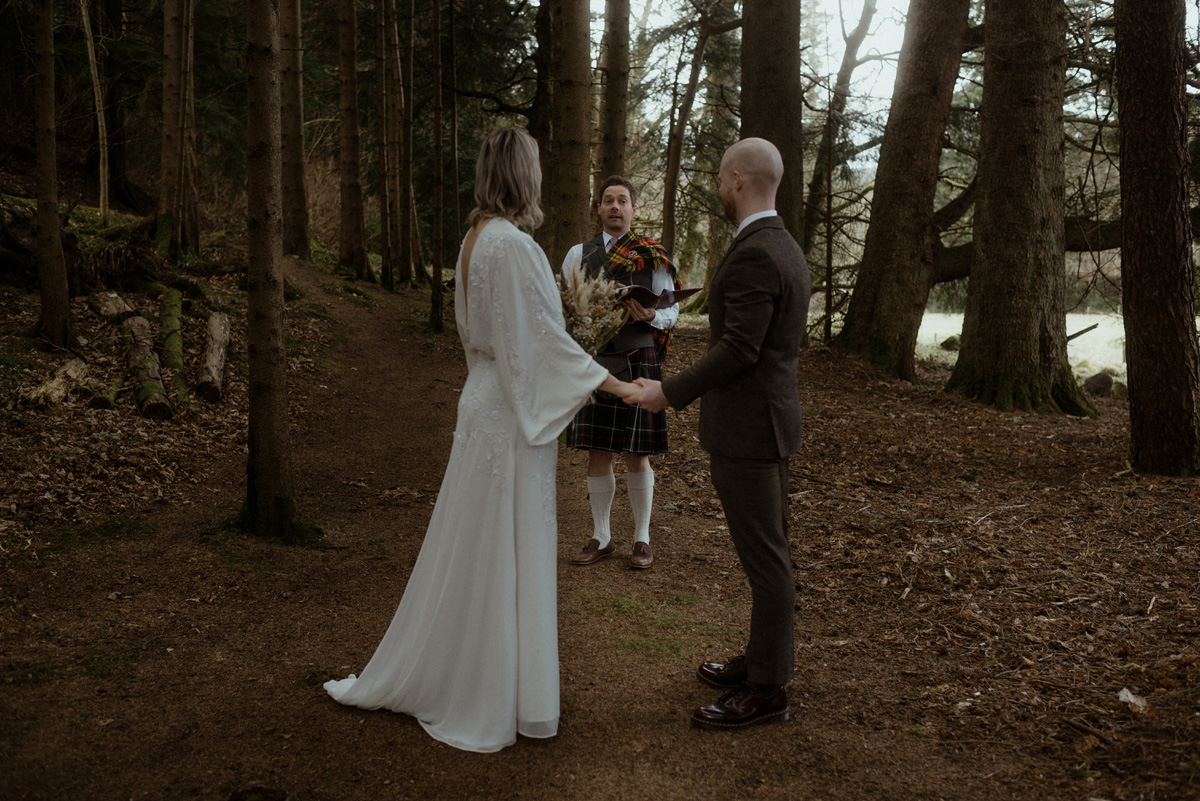 Laura and Tom originally planned to marry in May 2020, but with Covid restrictions, they decided to postpone until April 2021.
When it became clear that that their rescheduled celebration wouldn't happen as planned, they began to think about an elopement.
"We decided that we didn't want a wedding with restrictions, but we also weren't prepared to wait another year to get married."
"I started to look into elopements to Scotland and when we realised it would be possible, everything else just clicked into place."
Although we were sad to not have our family and friends be there, we also can't imagine getting married any other way."
"The past year made us realise that we didn't need the big wedding, and just getting married was the most important thing to us."
"We have rearranged with our original venue and suppliers to have an evening do in September this year so that we can finally (hopefully) celebrate our marriage with all of our friends and family."
"When we decided to elope, we had just 8 weeks to plan, so we wanted to keep the day as simple and fuss free as possible."
"We wanted to take advantage of our beautiful surroundings in the Scottish Highlands and really just focus on the two of us."
"On the day, our nerves about having our photo taken quickly disappeared. Katy and Jim were so easy to chat to, and at times we forgot we were even having our photo taken."
"We have been blown away by the photos, which perfectly captured the whole day."
Our friends and family have also commented that they felt they were there with us when looking at the photos, which is all we could have asked for."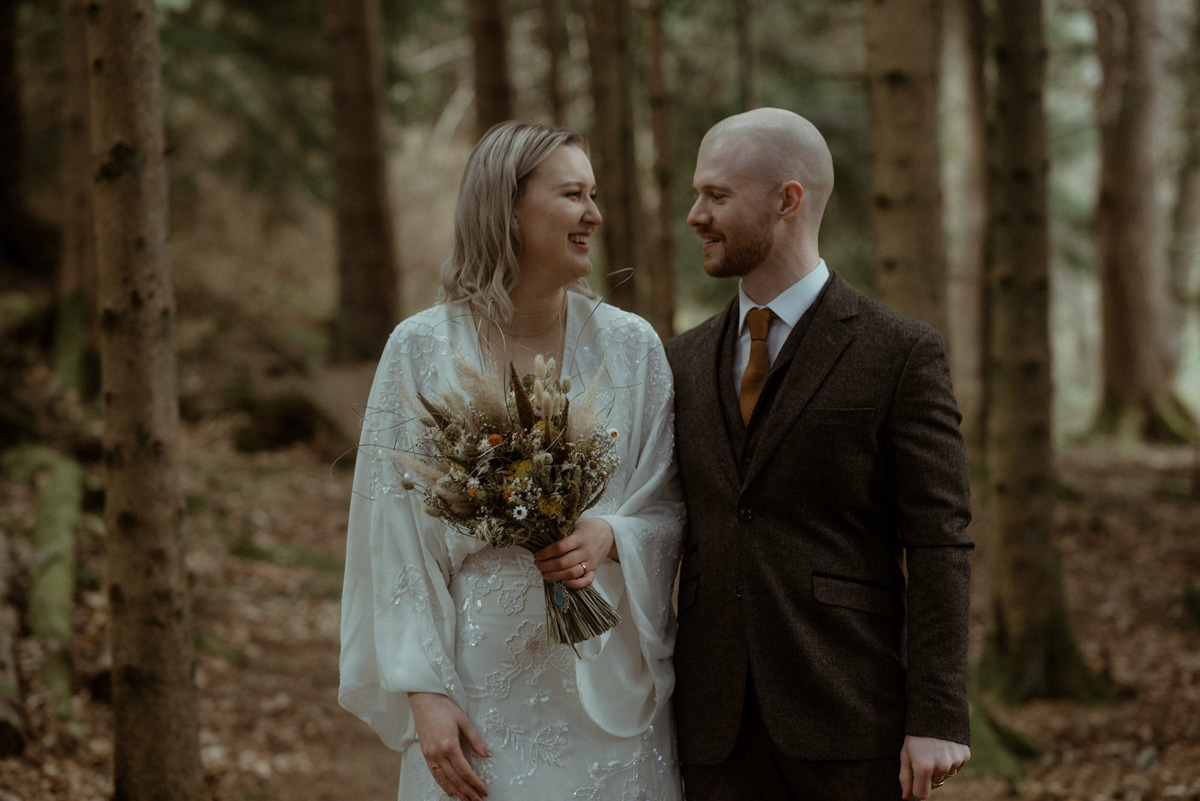 "We would absolutely recommend The Caryls to anyone looking for a photographer, especially couples who are thinking of getting married in Scotland."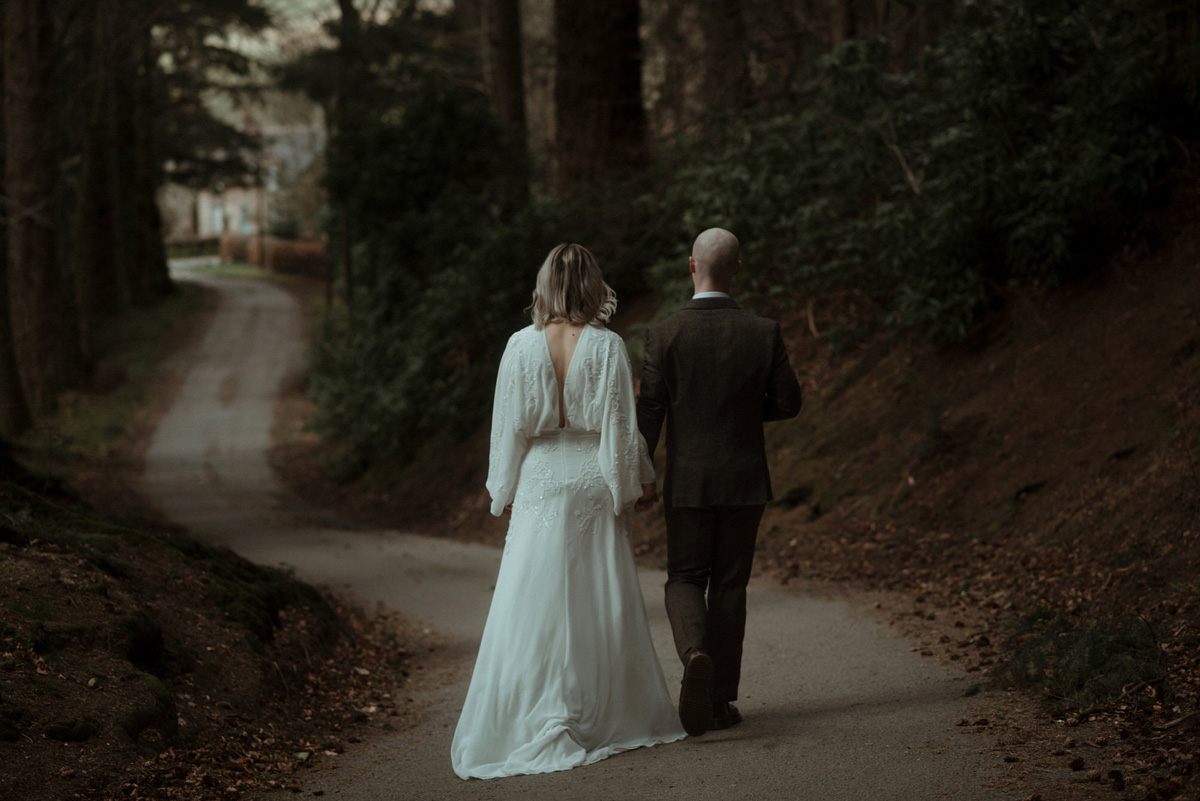 Tom wore a stylish three-piece suit in brown tweed from Mr Munro in Newcastle-upon-Tyne, worn with shiny, cherry red '1461' Dr Martens.
"We bought these on a trip to Edinburgh not long after getting engaged. They went perfectly with Tom's suit."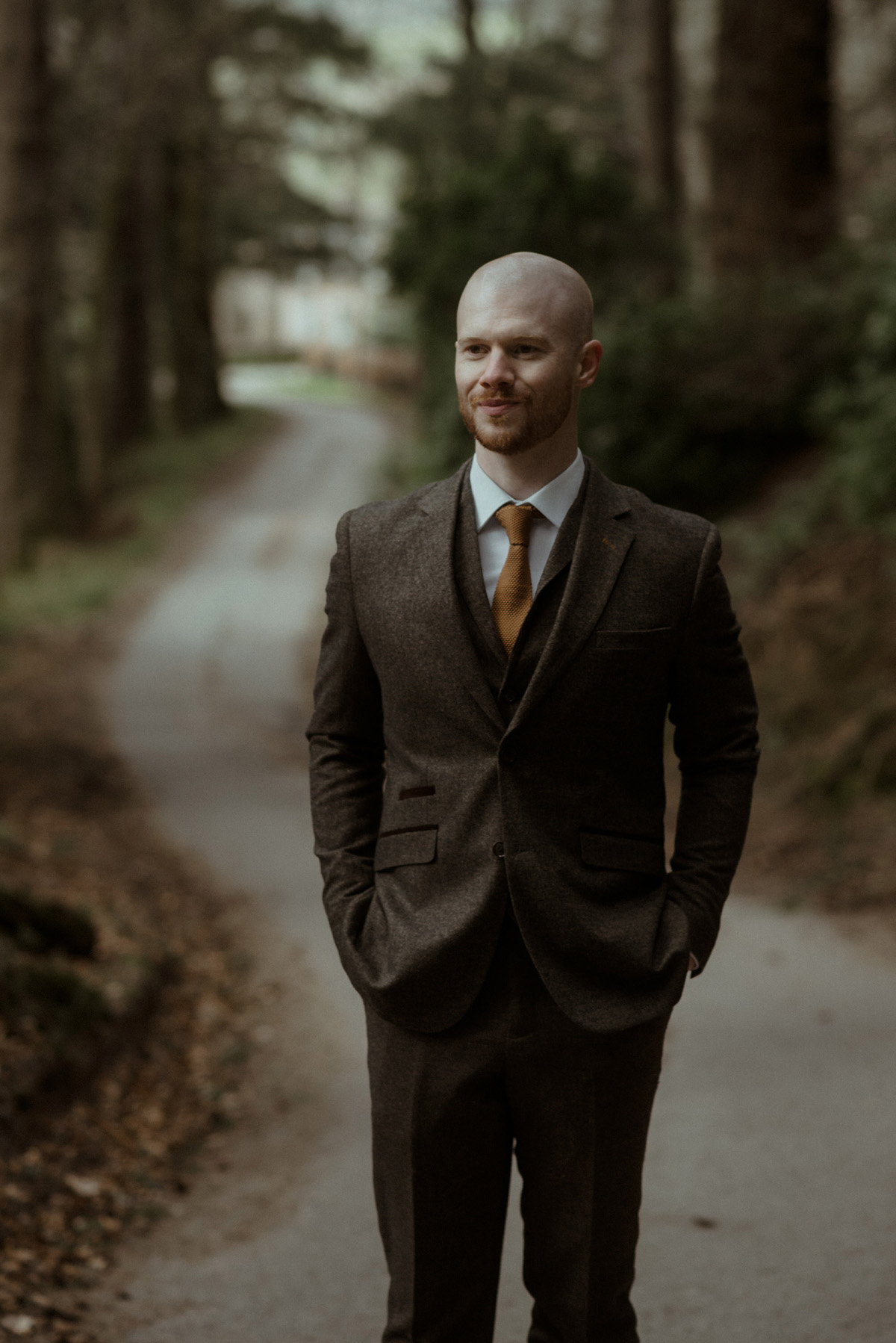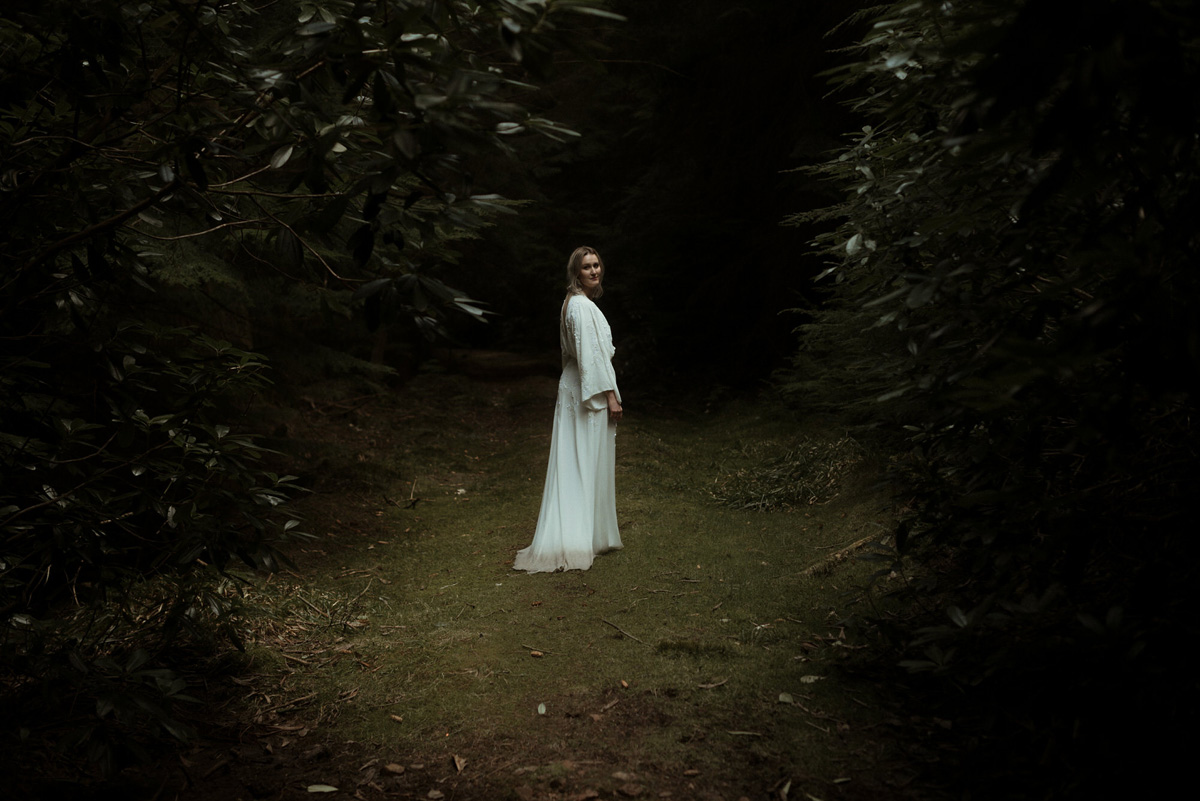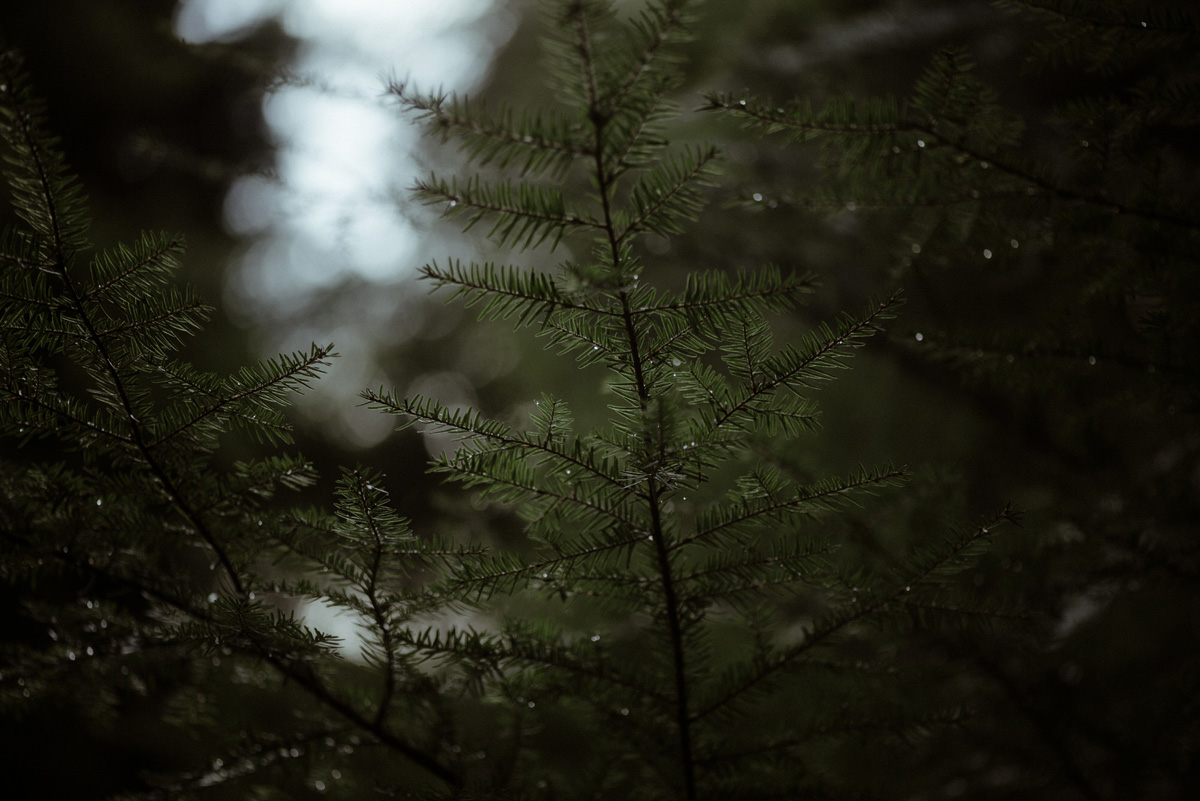 The radiantly happy images of Laura and Tom post-ceremony are exquisitely beautiful, walking in the deep green forest, out on the wild, blustery moors scattered with snow, and then onto clifftops overlooking a ruined medieval castle and the stormy sea beyond.
"We met on Tinder in 2016 and got engaged in July 2018. Tom took me to Edinburgh for the weekend and popped the question as we were walking up Arthur's Seat."
"We then had to quickly run back down as the heavens opened a few minutes later! We originally booked our wedding for May 2020, which was postponed due to Covid."
Back at their cottage, Laura and Tom lit lanterns and their wood burner to ward off the snowy chill outside.
They opened cards and gifts from loved ones before tucking into the most delicious white chocolate and raspberry cake very kindly made by Tom's sister Grace as a sweet surprise, and a wonderful meal box from Home-X in Glasgow, recommended by Katy and Jim from The Caryls.
"We went for the 'Green Haus' 8 course tasting menu, which was delivered in boxes and heated before serving."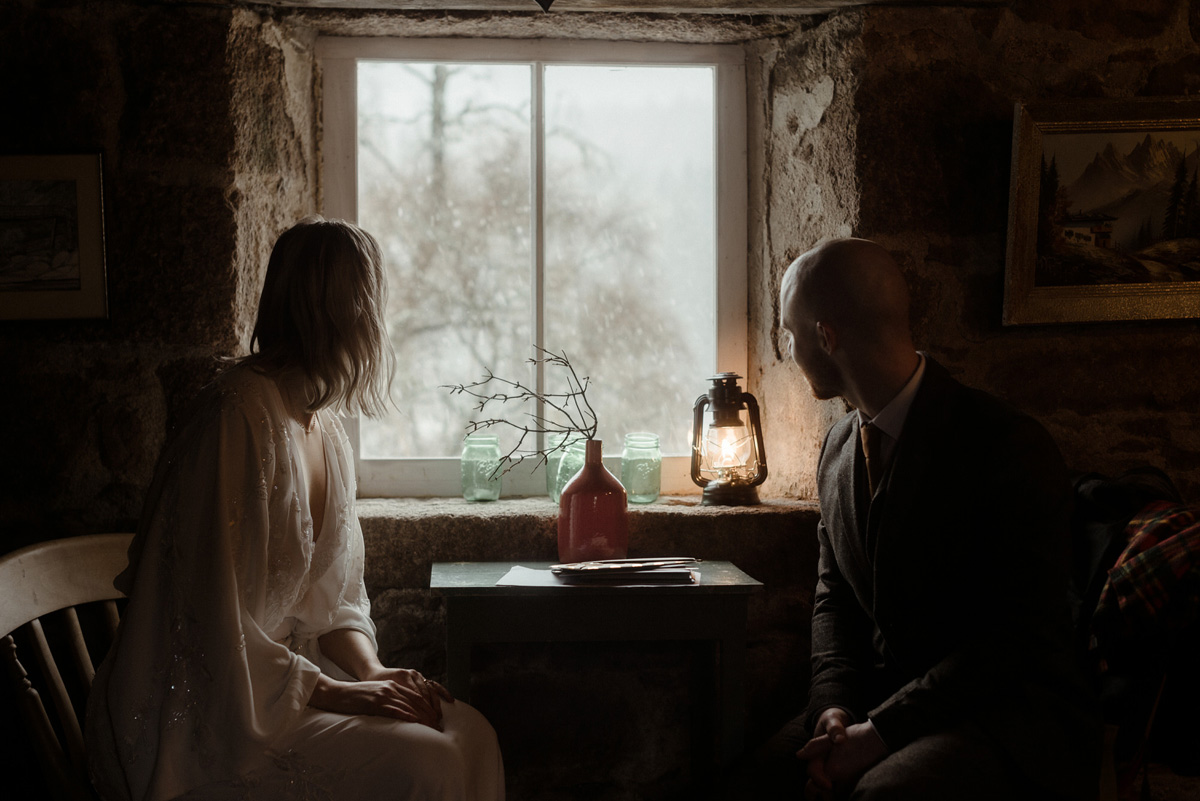 "It's so hard to choose just one favourite part of the day as it was all so perfect! However, after exchanging rings and saying 'I Do', the realisation that we were finally married after the setbacks of the past year is a feeling we will never forget."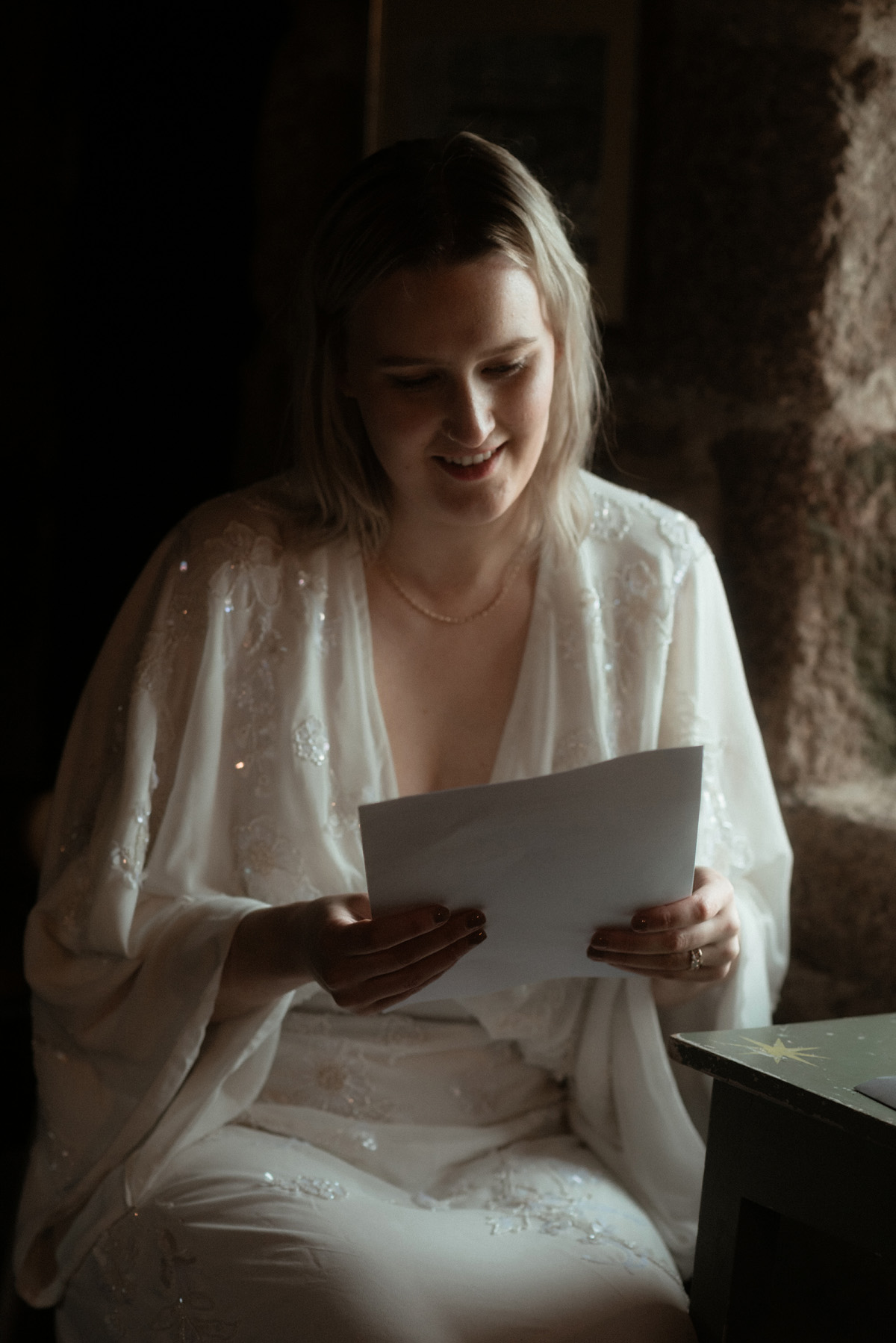 Words of Wedded Wisdom
"If you've had to postpone or change your plans, use this to your advantage! If you want to make your big wedding bigger, change your plans completely, or add some extra special touches to the day, then go for it."
"Just do what makes you happy and what feels right for you as a couple. And if you're going to splash out on one thing, get a great photographer."
Huge congratulations Laura and Tom, and many thanks for giving us this gorgeous glimpse into the cosiest and sweetest of elopements. As always, many thanks also go to Katy and Jim from The Caryls, for transporting us to the Scottish Highlands with their beautiful photography.
With love,
Laura