It gives me such incredible pride and pleasure to share the work of our highly recommended suppliers and Love My Dress wedding directory members and especially when they are as lovely as photographer Emmy, of Emmy Shoots.
Over the past year, despite so many challenges to her business and livelihood, Emmy has been incredibly busy evolving her photography business and her art, refining her skill in shooting on film and capturing romantic imagery within beautiful settings.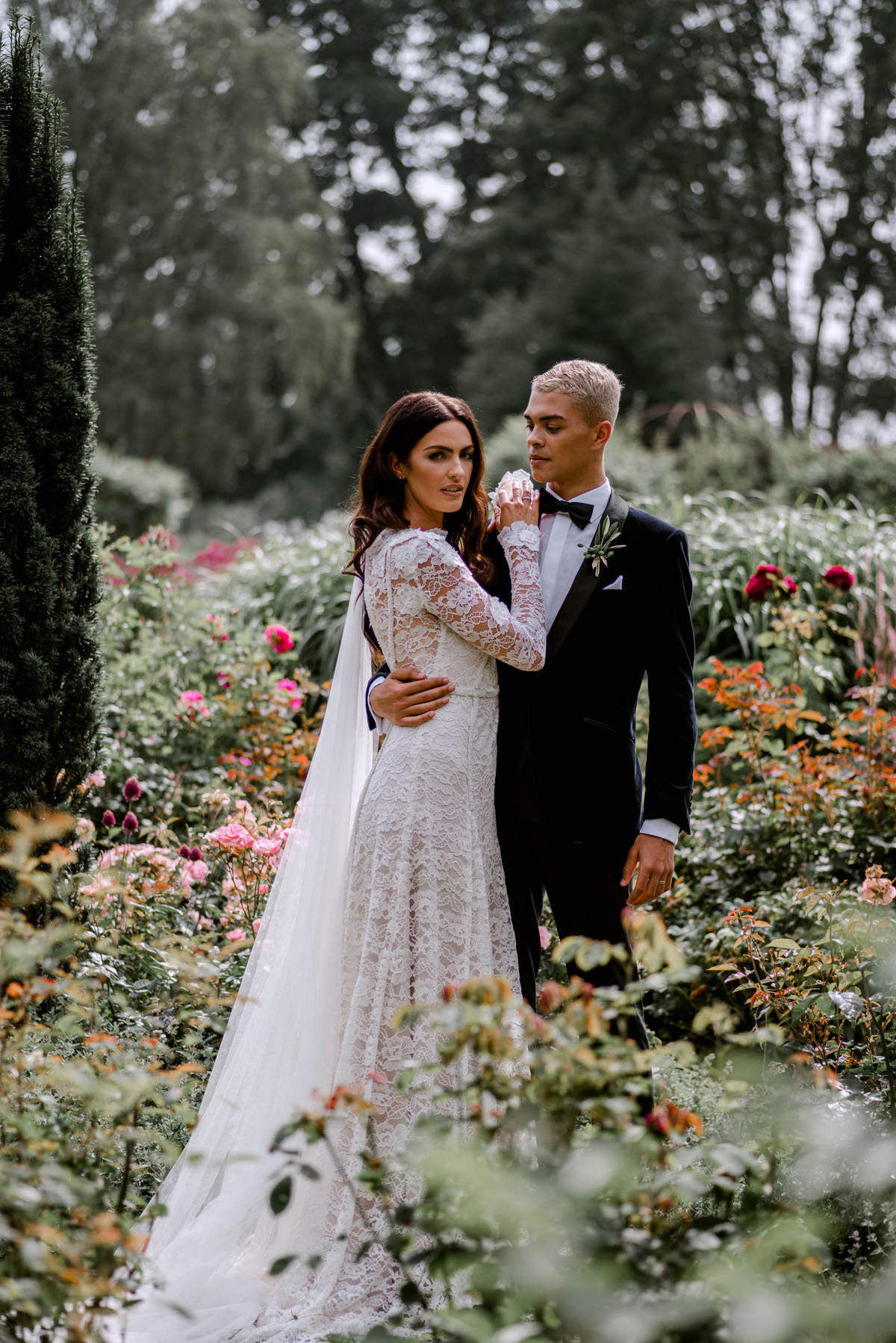 I'm going to let Emmy tell you more but hope you love these beautiful images, many of which were captured by Emmy on film, as much as I do…
"I began to shoot weddings on film just before Covid hit us in March last year. After a lengthy time away from photography, I decided to return with a new branch to my business."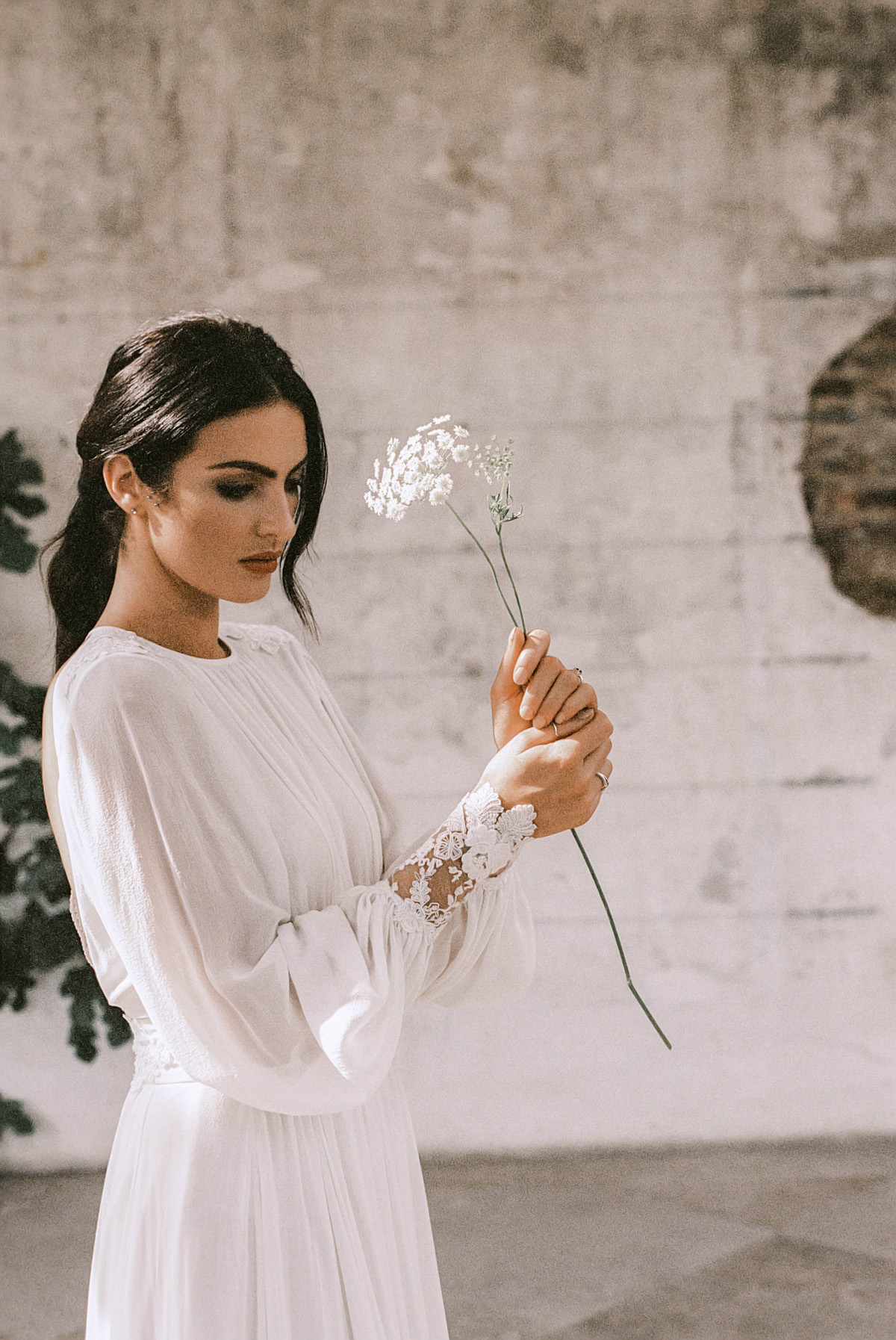 "Film and analogue photography was something I had experimented with at university – the nature of light and how a chemical process can create images is truly magical to me."
"In fact my dissertation was all about this wonderful process, how light interacts and can be seen differently through various mediums."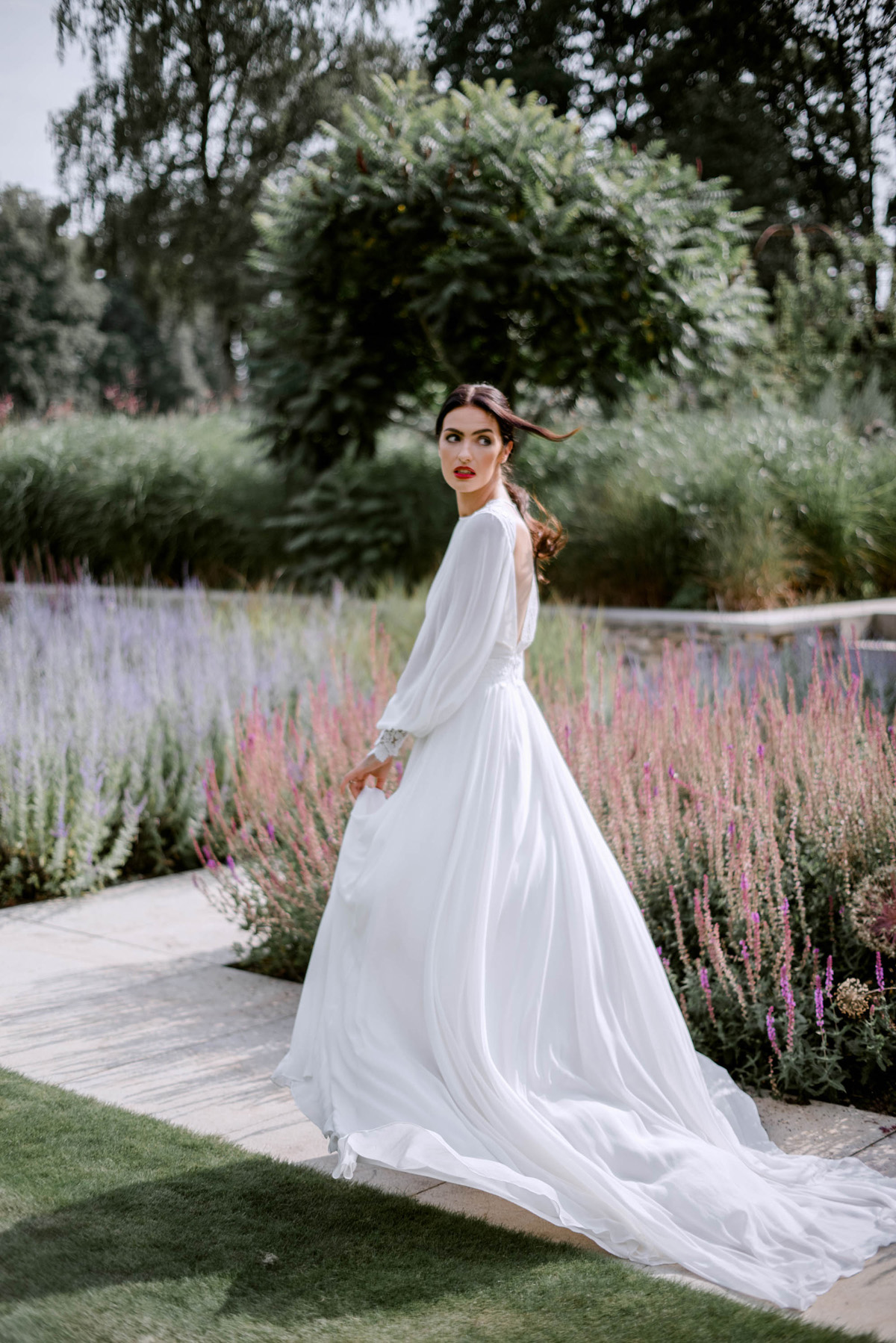 "However after only shooting one wedding on film, the world came to a standstill and it would be 9 months before I picked up my analogue camera again. By this time my style of photography had evolved and I was about to embark on a rebrand which reflected the change of style in my imagery."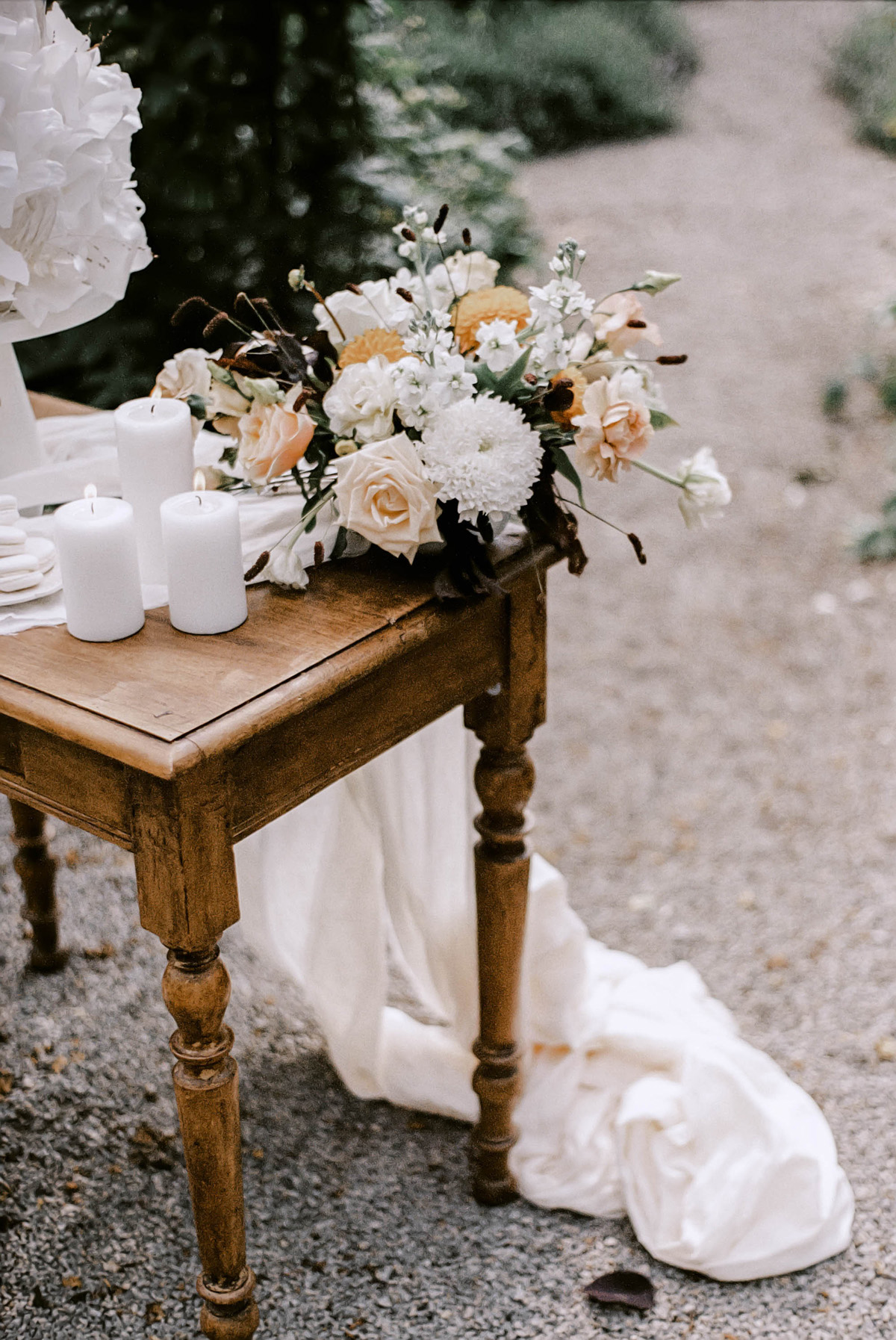 "Following the decision to shoot on both digital and analogue I approached Middleton Lodge, a beautiful Georgian country house venue in North Yorkshire about curating a shoot within their grounds. I'd been planning this shoot since before lockdown so it was very dear to my heart."
"I honestly had the best team of suppliers on board and the day from start to finish was absolutely magical. I even had tears in my eyes when it all came together and I realised my dreams of my rebrand shoot had materialised, and it was even better than I could ever have imagined."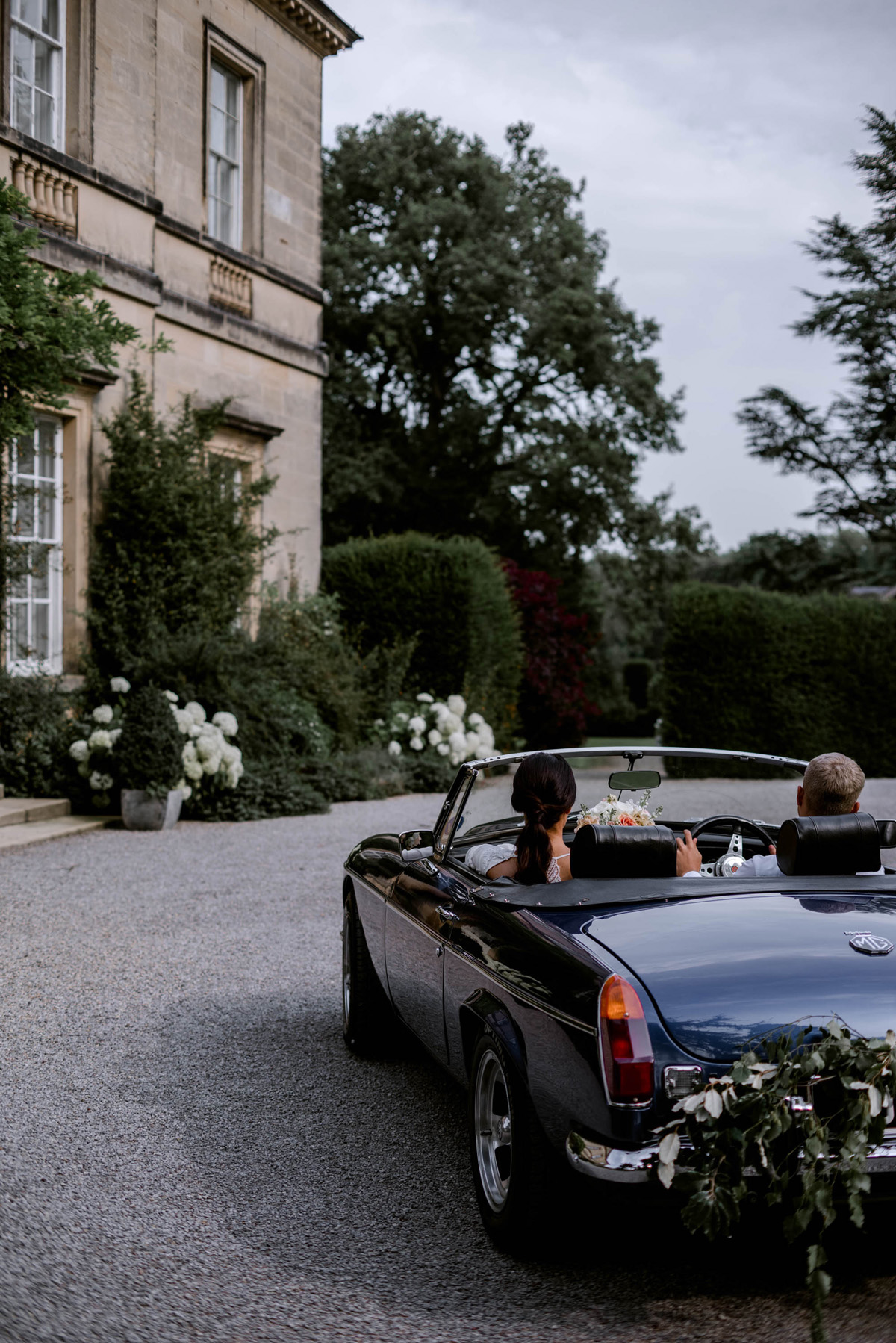 "It's no secret that I love destination weddings, having not travelled much in my early years. Using travel and style as our biggest inspiration we planned an Italian-themed shoot which embraced the architecture of the archways of the Fig House."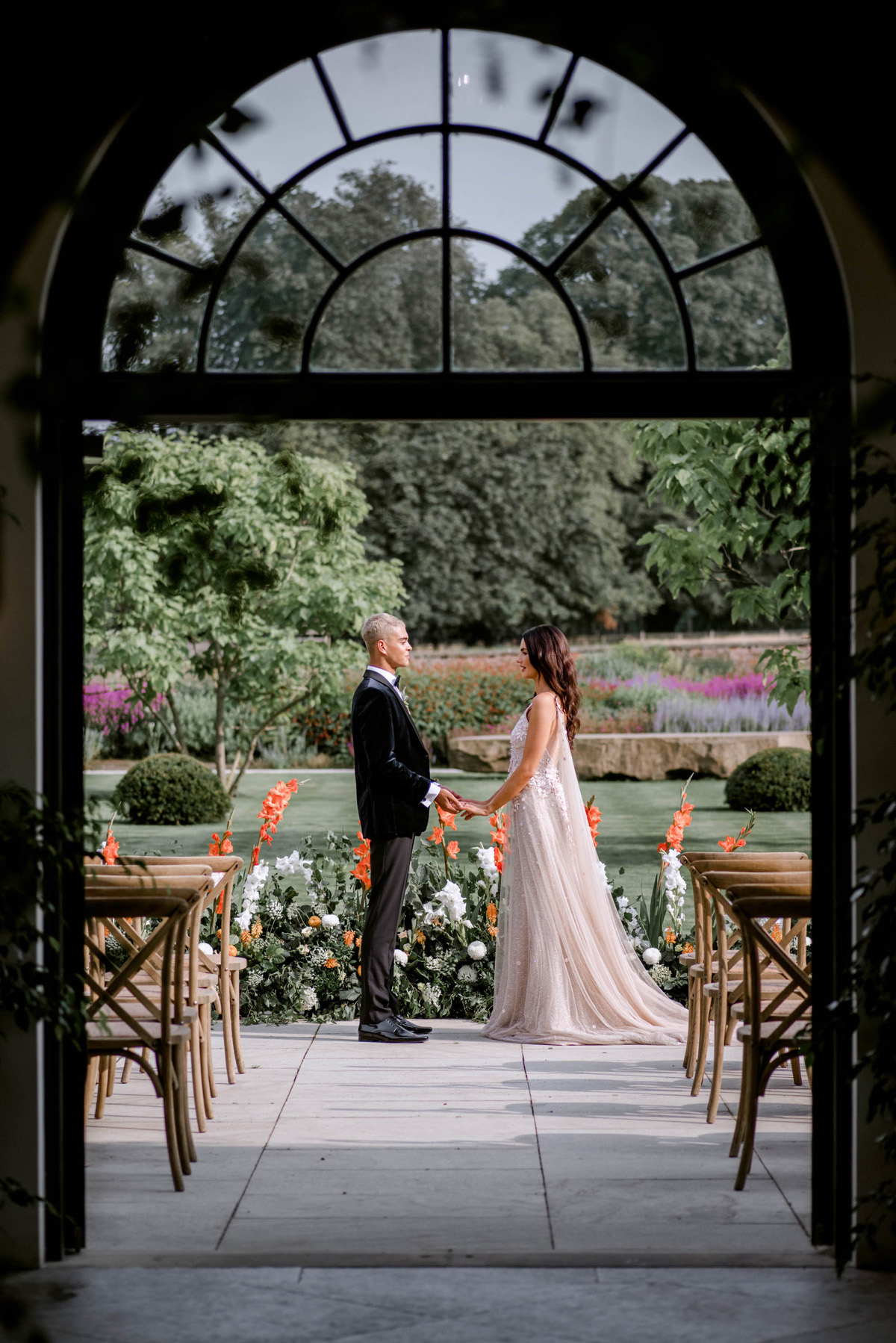 "This beautifully restored addition to Middleton Lodge is a venue tucked away within the walled garden. It has rustic brick walls, lush botanical interiors and the most amazing floor to ceiling windows allowing the room to be flooded with natural light."
"Inspired by Italian photographer, Cinzia Bruschini's work, we created an alfresco dinner scenario just outside the Fig House, rich with olive greens and vibrant colours reminiscent of the Mediterannean."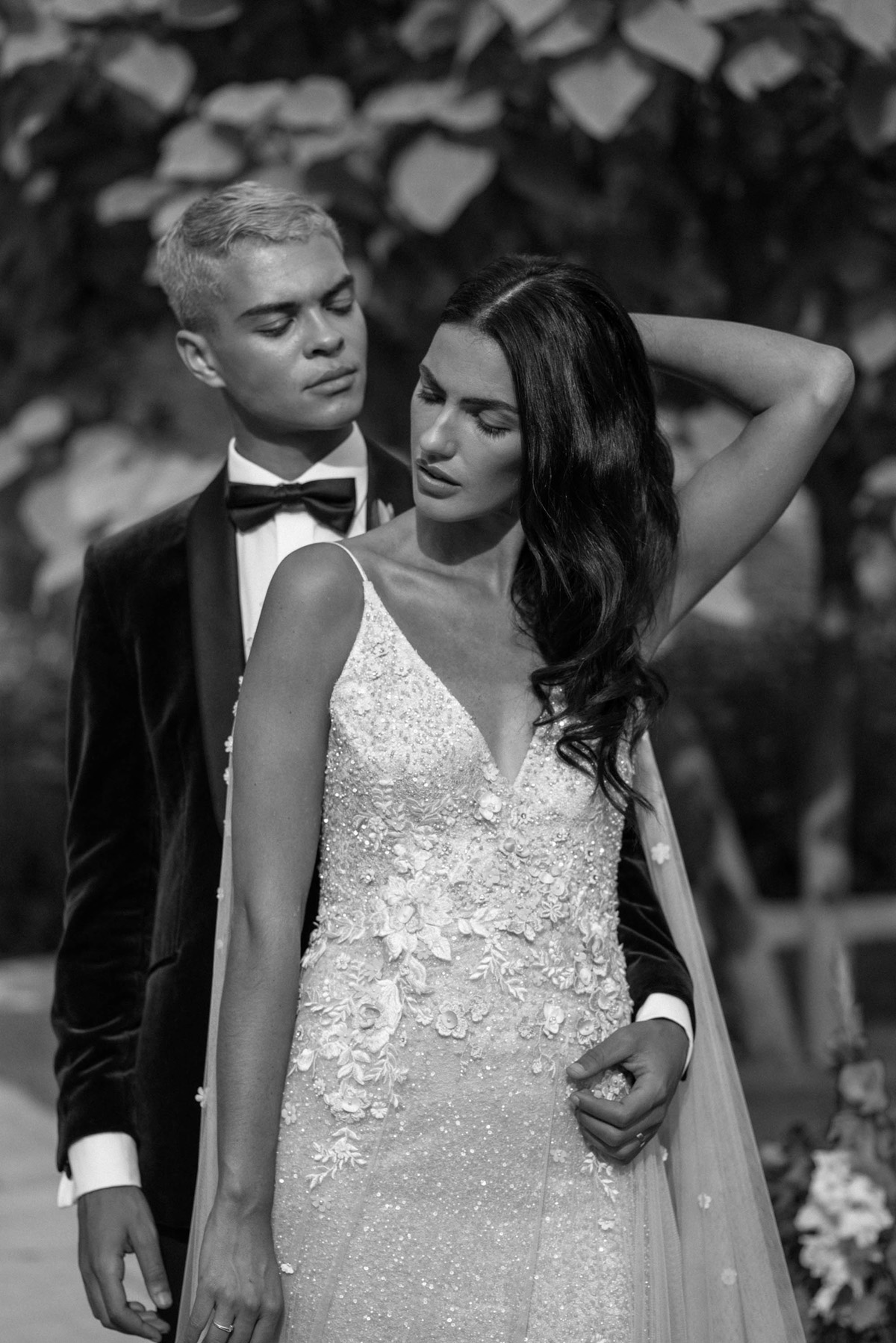 "Delicate fabrics and textures adorned the tables with fine olive sprigs placed upon the ornate crockery, complete with vintage silver cutlery which shimmered in the sunlight. Fine art calligraphy and bespoke water color paintings of the venue were placed amongst the settings before the table was finished with the most stunning rippled glassware."
"Lace and silk dresses were brought in from Julita LDN Bride. As a lover of conveying movement in photography, it was a magical opportunity to experiment with these dresses that were perfectly aligned with the relaxed style of the day."
"Simple in colour yet beautifully ornate, we had a delightful dessert table created by the girls at Where The Ribbon Ends. Their talent knows no bounds, nor does their generosity."
"Amy from Attabara managed to piece my ideas and moodboard together to create the most magical and beautiful day I could have wished for. She is pure genius and such an efficient planner and stylist. We have worked together on numerous projects since, and I couldn't have been happier to have her by my side that day."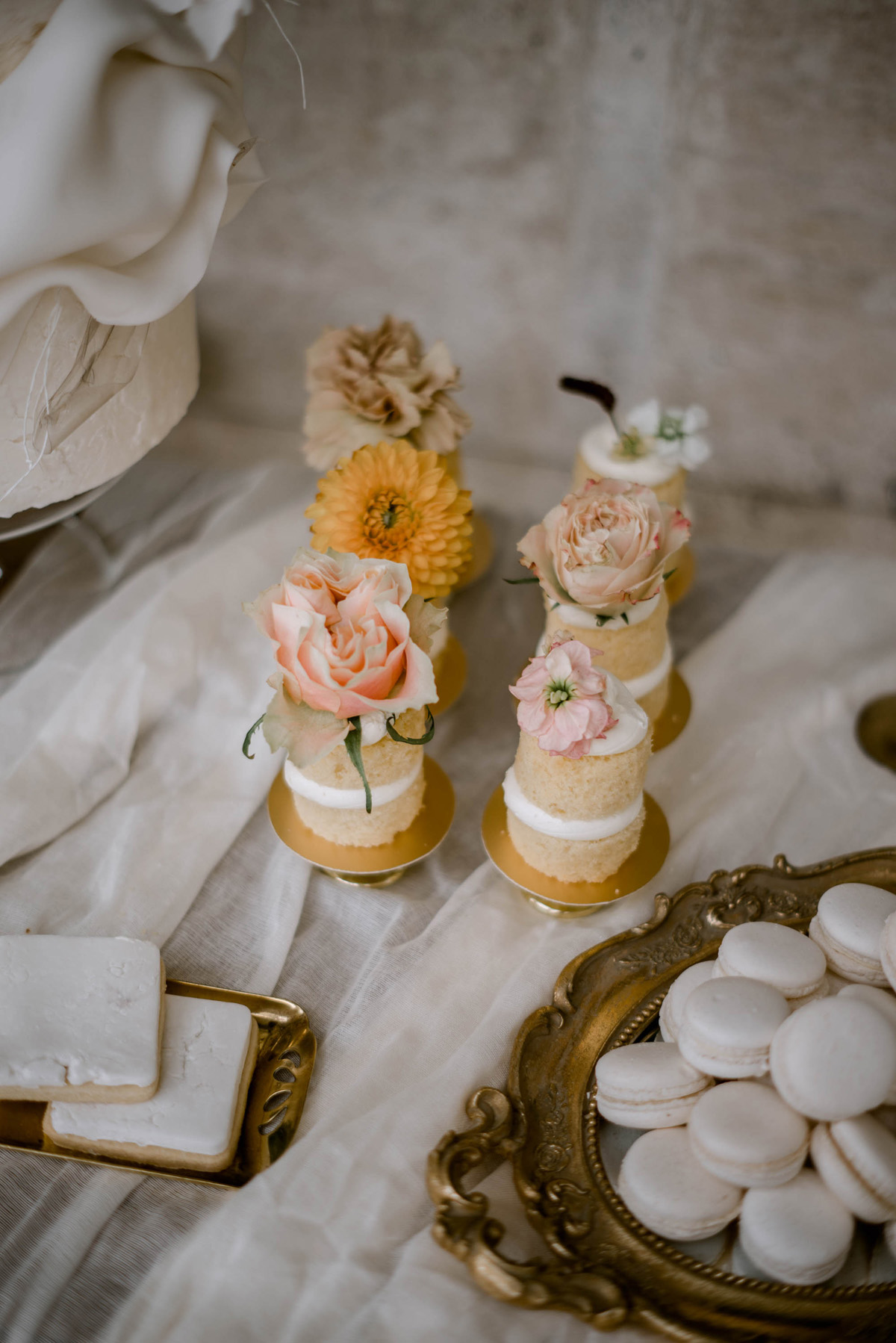 "Receiving my scans back from the lab was a whirlwind of emotions. Film can be temperamental and you never really know how the images will appear. As I had hoped, they came out just perfect and after such a positive, affirming day I'm pleased to say that I have been shooting film at weddings ever since."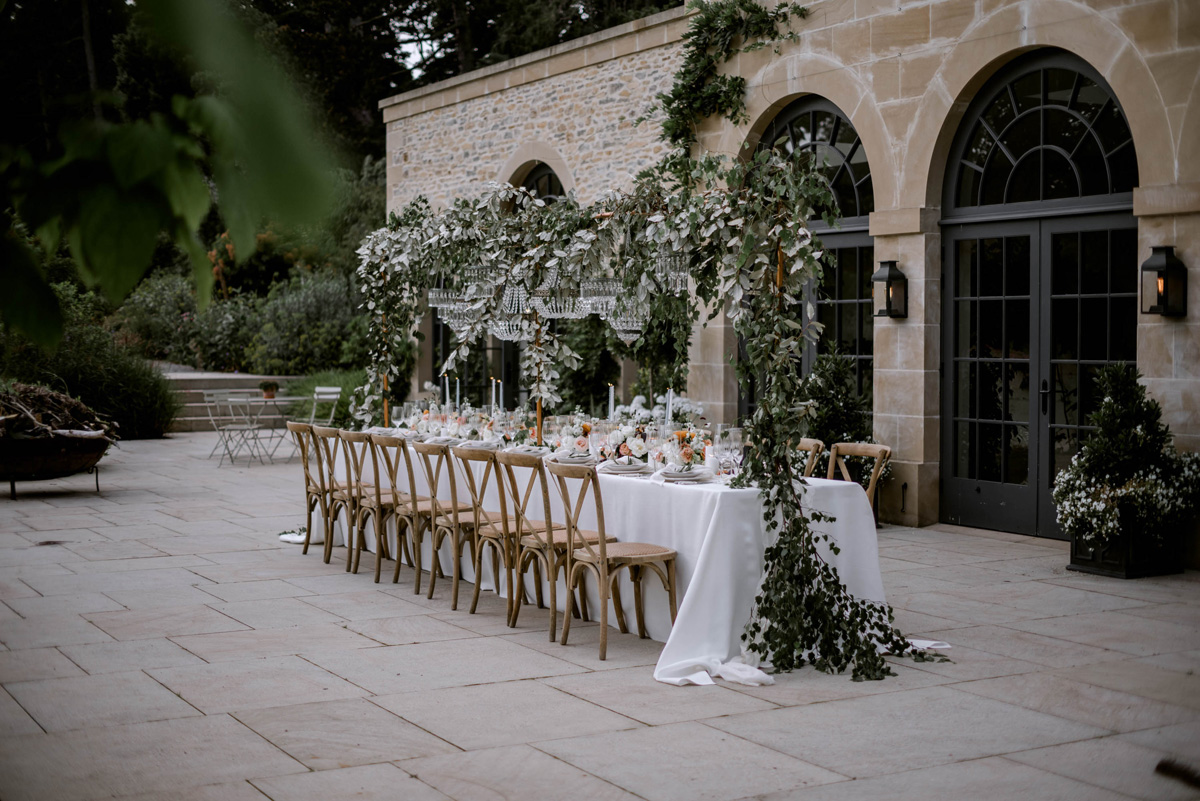 "My lovely couples know that as a hybrid photographer, I shoot a full gallery on digital as well as significant moments on film from which I have received some wonderful feedback."
"I am about to launch my full film packages where I'll be shooting weddings exclusively on film, which just goes to prove how popular this style of photography is becoming. Film photographs often have quite a nostalgic, romantic feel, as well as resulting in a more creamy, flattering colour palette. Sometimes I snap 10 film photographs alongside digital, sometimes I snap 100. Regardless, each one is a gift of light and my couples love receiving these as prints."
"I'd like to thank the whole team involved for creating the most elegant, Italian-inspired shoot and I am so proud of everyone's hard work. It's true that when the world knocked us down, we fought back, came together and invested everything we had to stay afloat."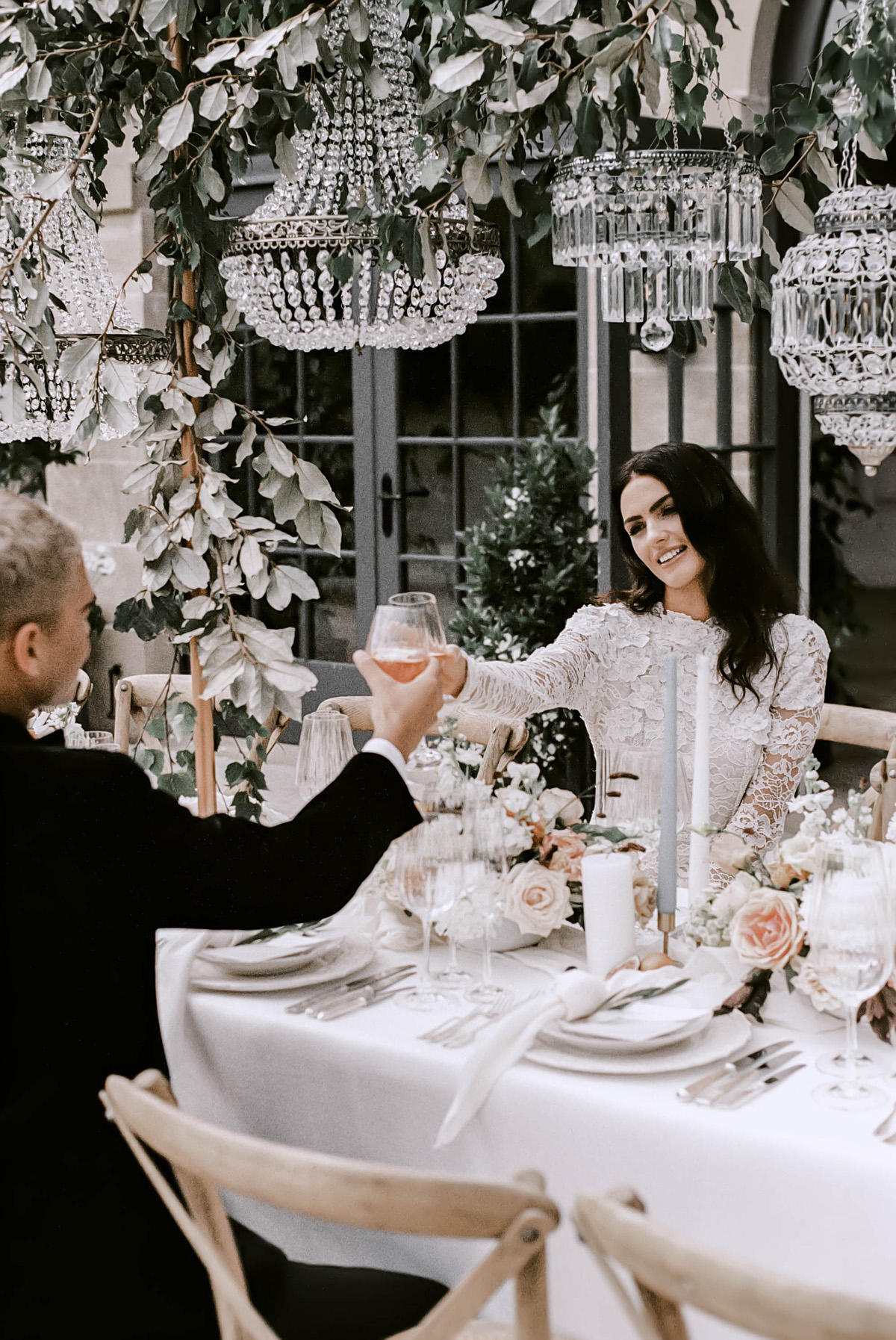 "This day was testament to the fact that we are stronger as a community and the wedding industry is alive and bursting with unimaginable talent".
"Hopefully we'll be able to jet off for the real thing soon."
You can find out more about Emmy and her incredible talent for photographing weddings, via her Love My Dress listing. We are incredibly proud to recommend Emmy to anyone looking to book one of the best wedding photographers out there.