How do you fancy winning £1000 towards a sustainable, eco, vegan friendly wedding dress of your choice? Because our wonderful friend Sanyukta of Sanyukta Shrestha is kindly offering you the chance to do so today.
We have been working with sustainable bridal fashion brand, Sanyukta Shrestha, since almost the start of her 10 year business journey now, and recommend the brand to all brides for whom conscious consumption is important. And as we read that back to ourselves, we have to ask, are we not in an era now where the environment and its care and protection should be at the forefront of all our investments and purchases made in life?
Sanyukta Shrestha

+ Follow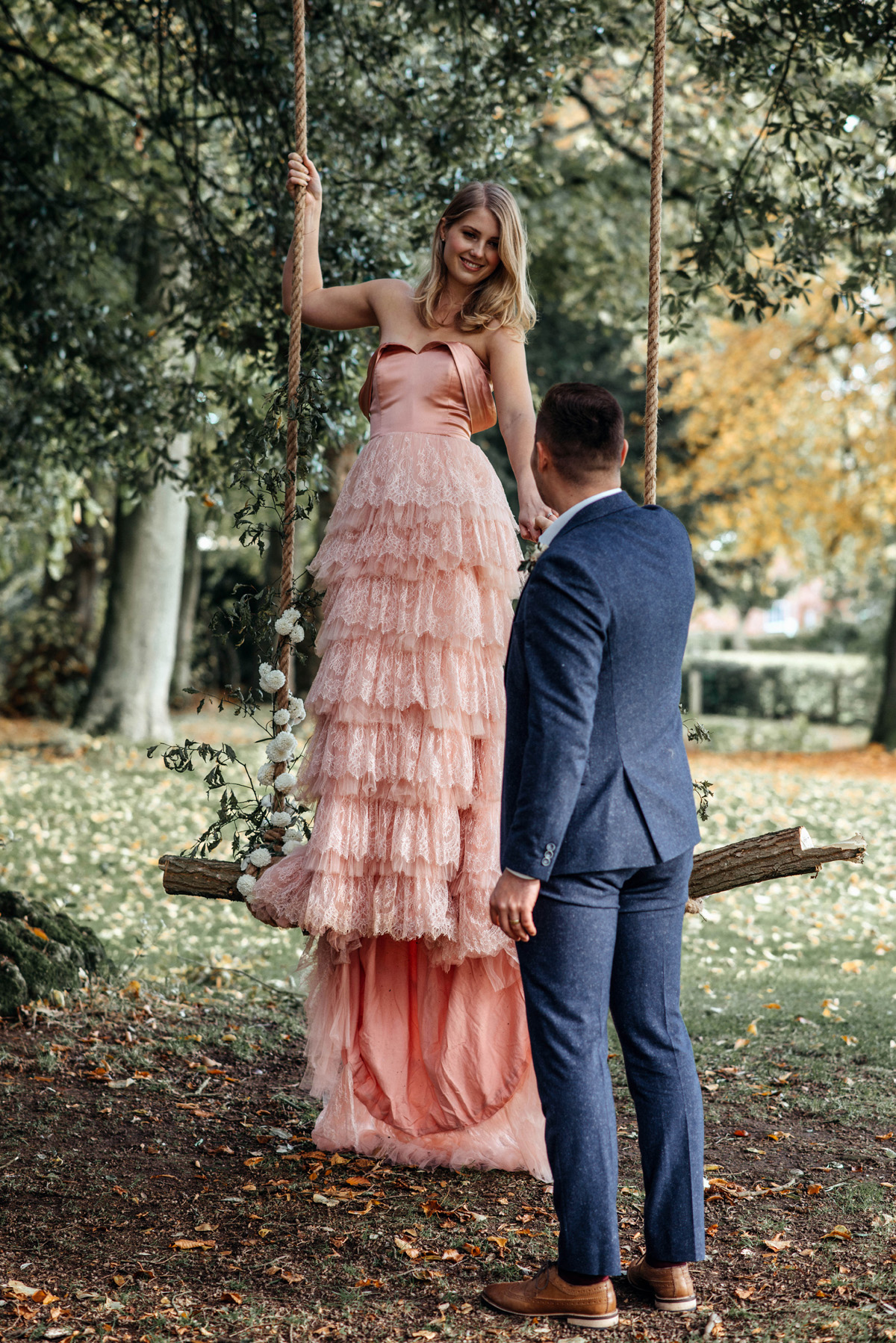 Before we find out more about this wonderful brand who for the past decade, has been dedicated to dressing brides in the most beautiful and ethical of gowns, let's enjoy these beautiful images, captured within the designer's own gardens.
"We wanted to create an atmosphere, throughout this editorial, that would feel cosy, intimate and less destructive to mother earth. We know that many brides have a stereotypical image in their minds when it comes to the concept of a sustainable wedding, and so we wanted to provide inspirational styling ideas that proved you can still have a magical, creative wedding as well as an eco – and vegan friendly celebration too."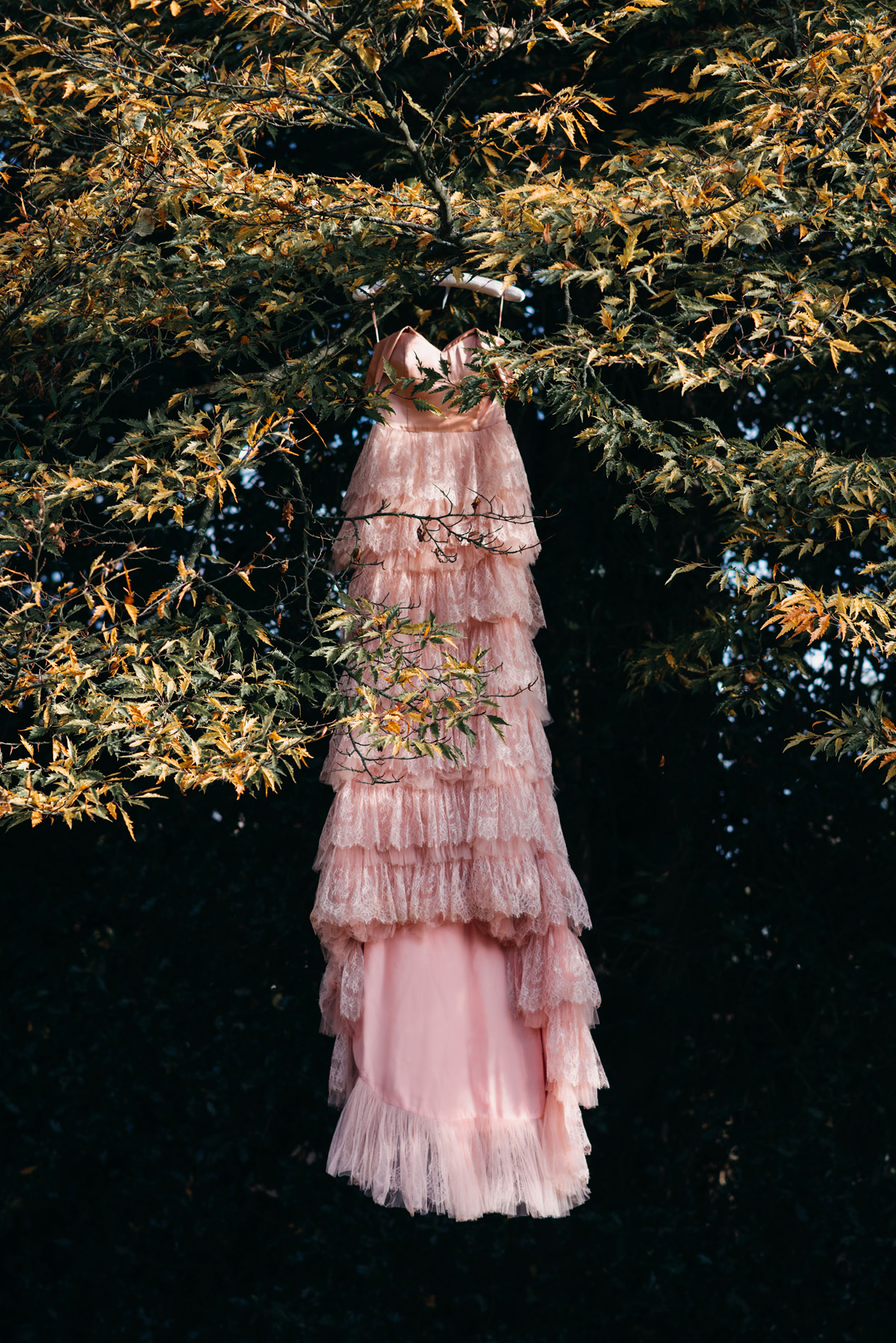 "This whole shoot was conceived and styled by Sanyukta Shrestha and the team behind the brand, who are passionate about finding like-minded ethical creatives, and showcasing some of UK's most talented wedding professionals."
"The photoshoot follows our bride, a youthful spirit, celebrating love in a sustainable way, by choosing a beautiful, ethical pink silk tiered Sanyukta Shrestha wedding dress, eco-friendly flowers, cruelty-free beauty products, vintage pieces of furniture, a vegan wedding cake, sustainably upcycled table decor, wedding shoes that support high level craftmanship and an overall eco-friendly wedding setting and planning that exemplify upcycling and local handcrafts."
The designers own home studio, Seto Mahal, provided the most beautiful backdrop for this shoot. The Seto Mahal, a Georgian estate of 200 years of history, is surrounded by acres of enchanting gardens and woodland and boasts uninterrupted views of rolling landscape on the edge of the Wolds, an area of natural outstanding beauty.
"The gown used in this photoshoot is the Laurel gown, which is made from layers and layers of extremely delicate hand weaved Chantilly lace. The lace is intricately crafted by French artisans with over 100 years of history. It is then mixed with organic silk, hand spun and hand woven 100% bamboo made by local artisan communities, that support women empowerment in remote villages in Nepal."
"When a bride visits the Sanyukta Shrestha studio, we see the beauty of the silhouette, but most importantly we explore the bride's unique personality" says Sanyukta. "When the dress makes her feel the best version of herself, then yes, she has found the one", she concludes.
Laurel was a perfect choice for bringing Charlotte's personality, a romantic English Rose, a fresh dawn. As the dress and bride reflected each other-the youthful spirit, natural rosy tone and effortless beauty of our Bride Charlotte, were the perfect canvas for Laurel gown.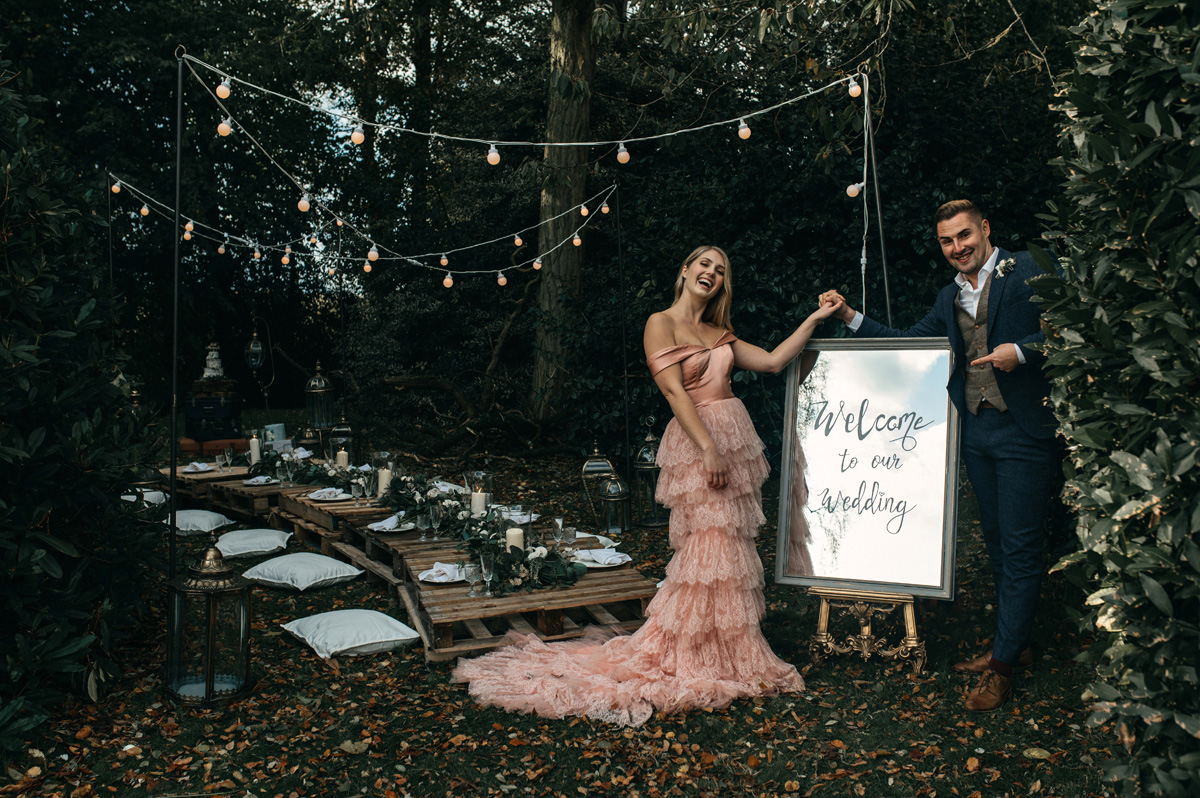 Sanyukta Shrestha is currently running a competition where one lucky individual can win a £1000 voucher towards a Sanyukta Shrestha wedding dress of her choice. Full information and entry is over on Instagram via the following post. We wish you all so much good luck!
View this post on Instagram
Our love and thanks to the wonderful Sanyukta and her team for consistently and lovingly dedicating their professional lives towards being kinder to our planet.
You can find out more about Sanyukta Shrestha via her Love My Dress listing here.
Good luck to all entering this amazing competition!