How do you fancy a rugged Island escape today? We're heading to the Isle of Skye and its majestic landscape and coastline for an intimate, outdoors destination wedding with lots of personality.
This is the wedding of paediatric nurse Kelsey and project management consultant Alex, both from the USA, who swept their closest family and friends away to The Fairy Glen at Uig and Kinloch Follart, Dunvegan on the Isle of Skye for their non-traditional wedding on 10 October 2019.
Nikki Leadbetter

+ Follow
"When it came to our wedding we wanted to share that indescribable feeling you can only find in the Highlands with the people we loved most."
"Not to mention, we both love Scotch and getting the chance to toast our love with a dram of Talisker on the island it's distilled on was definitely a plus."
Their love for Scotland was ignited by the 'Outlander' books by Diana Gabaldon and the couple made the most of the breathtaking scenery with their ceremony and handfasting by a waterfall at The Fairy Glen.
"The 'Outlander' book series led me to travel there solo two times before Alex and I met."
"For Alex's thirtieth birthday in 2018 we travelled there together and fell in love with the truly spectacular Scottish Highlands, the Isle of Skye in particular."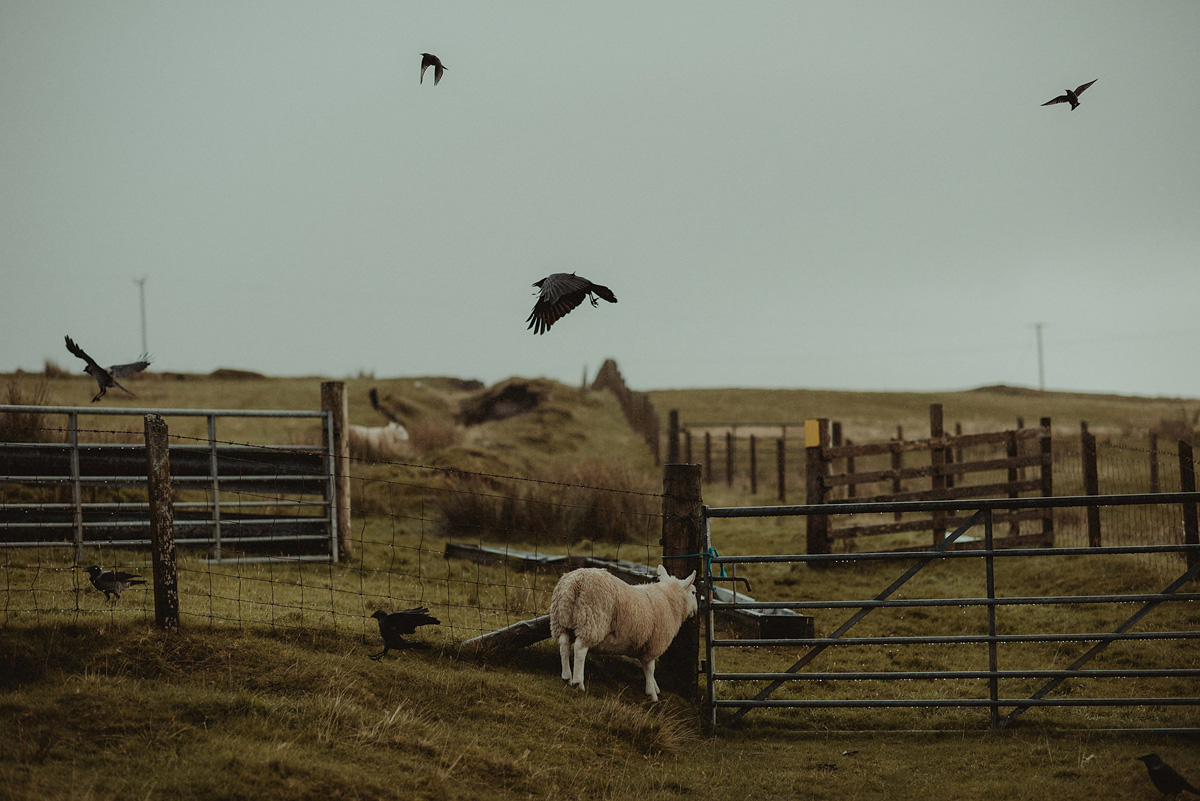 The wild, outdoor style was set by the hand-painted, water coloured stationery by a friend of the couple.
"Our wonderful and creative friend Elan helped me design and put together our stationery. Our invites were hand-drawn then printed on seeded paper so they could be composted or planted after the wedding."
"We got our supplies from Of The Earth in Seattle, WA. I also had a custom wax seal made with our wedding saying 'Sea to Skye 2019', a play on Seattle which is listed as SEA for flights."
"I added vintage stamps to every envelope."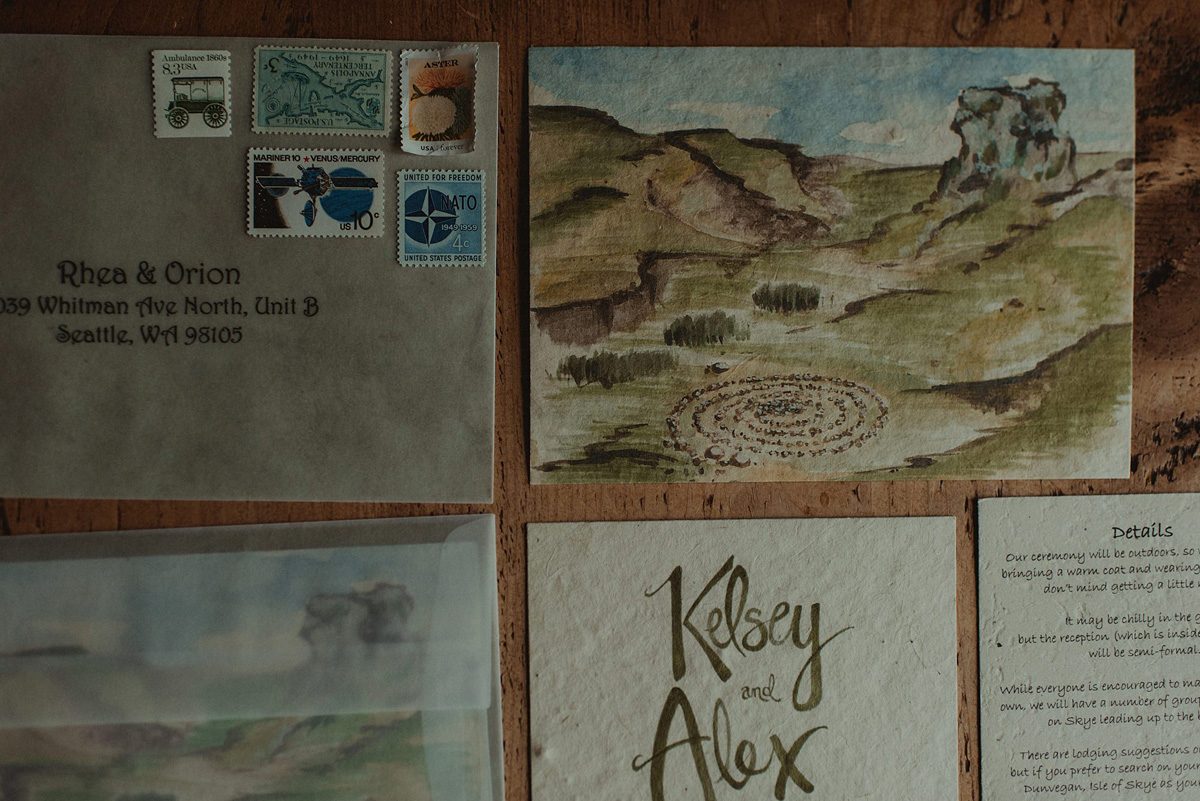 Kelsey visited I Do Bridal in Seattle to select her Justin Alexander gown, beautiful with its fitted, lacy bodice and long, illusion sleeves as well as the dramatic, full skirt and train.
"I'm a very indecisive person so picking my dress was harder than I expected. Our officiant, one of my best friends Sarah, actually found my dress."
I had been dress shopping for a few weeks with no luck and she reached in and pulled out the dress. It was perfect."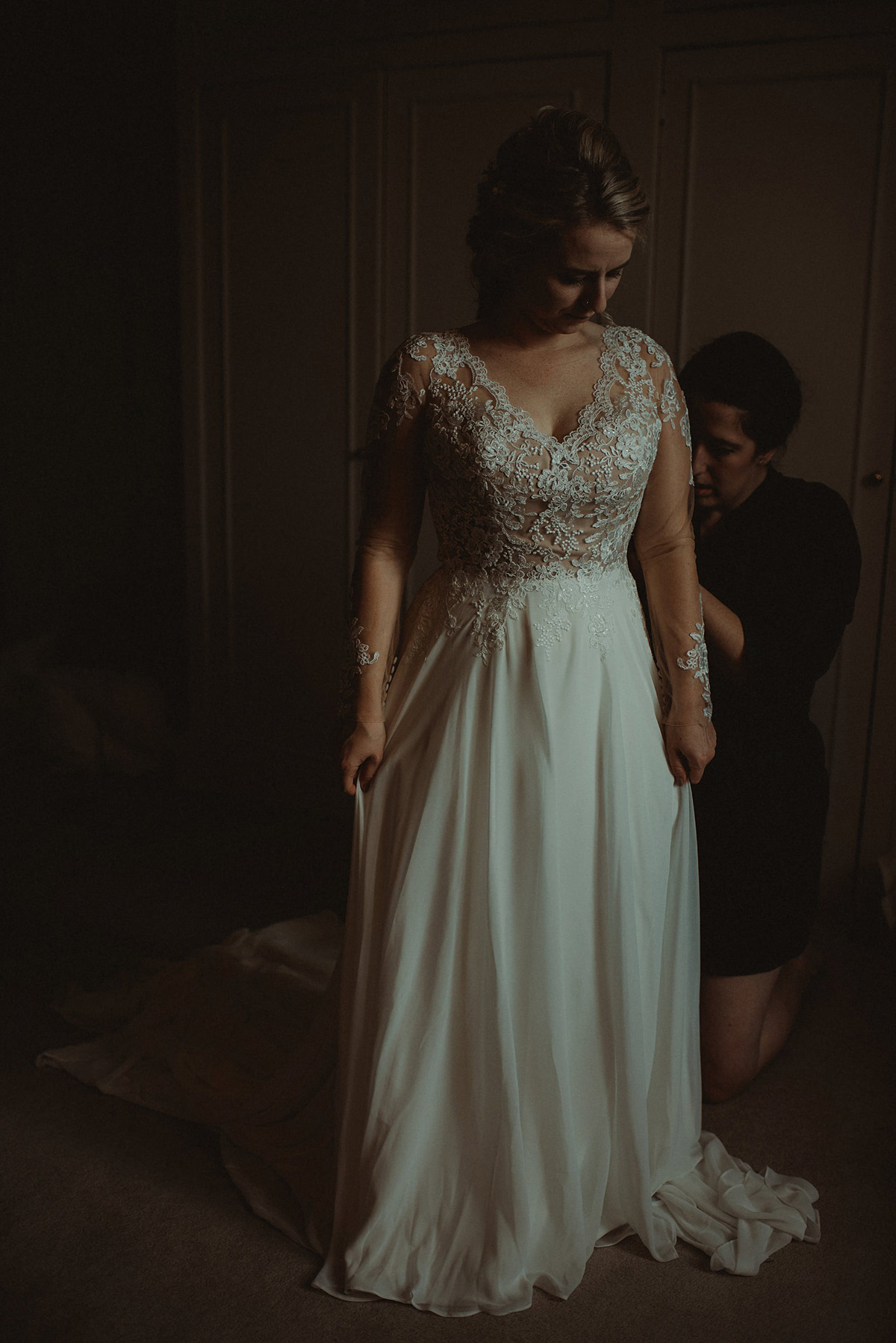 "A fall wedding in Scotland meant cold and unpredictable weather. I wanted a dress with sleeves that was also comfortable as I knew that I wanted to have our ceremony outdoors in the Fairy Glen, and that I'd be in the dress for a long day."
"The dress I chose had perfect illusion sleeves and was incredibly comfortable."
"Where the dress hit at my waist it also allowed me to wear some white fleece tights, a great choice since it was cold, and my boots fit perfectly under it which meant I didn't get my heels stuck in the inevitable mud!"
I'm a big fan of plaited hair, and love this elegantly-undone style by Lynn at Skye Beauty.
"Lynn was a delight. She did my nails a day before which was the perfect 'get to know you'. On the morning of the wedding, I showed her a few images and let her use her creativity."
The beautiful braid she did was the perfect style for the windy, rainy day ahead and was better than any of the reference photos. I had flowers braided in to my hair which truly made me feel like a woodland fairy."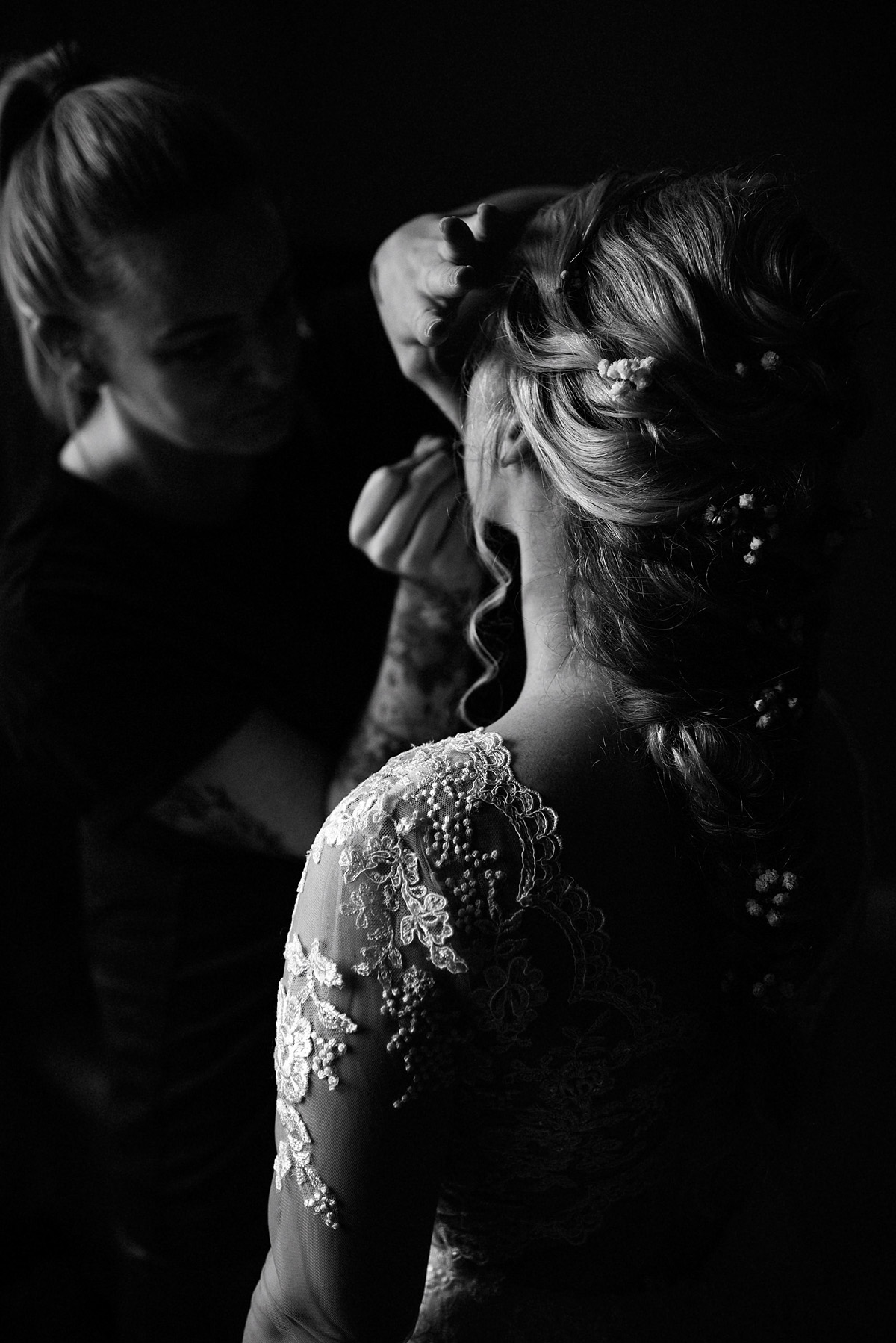 "I wore a pair of boots that I'd travelled with over the last few years. They were a quirky addition to my wardrobe but let me climb all manner of things on the wedding day leading to some truly spectacular images."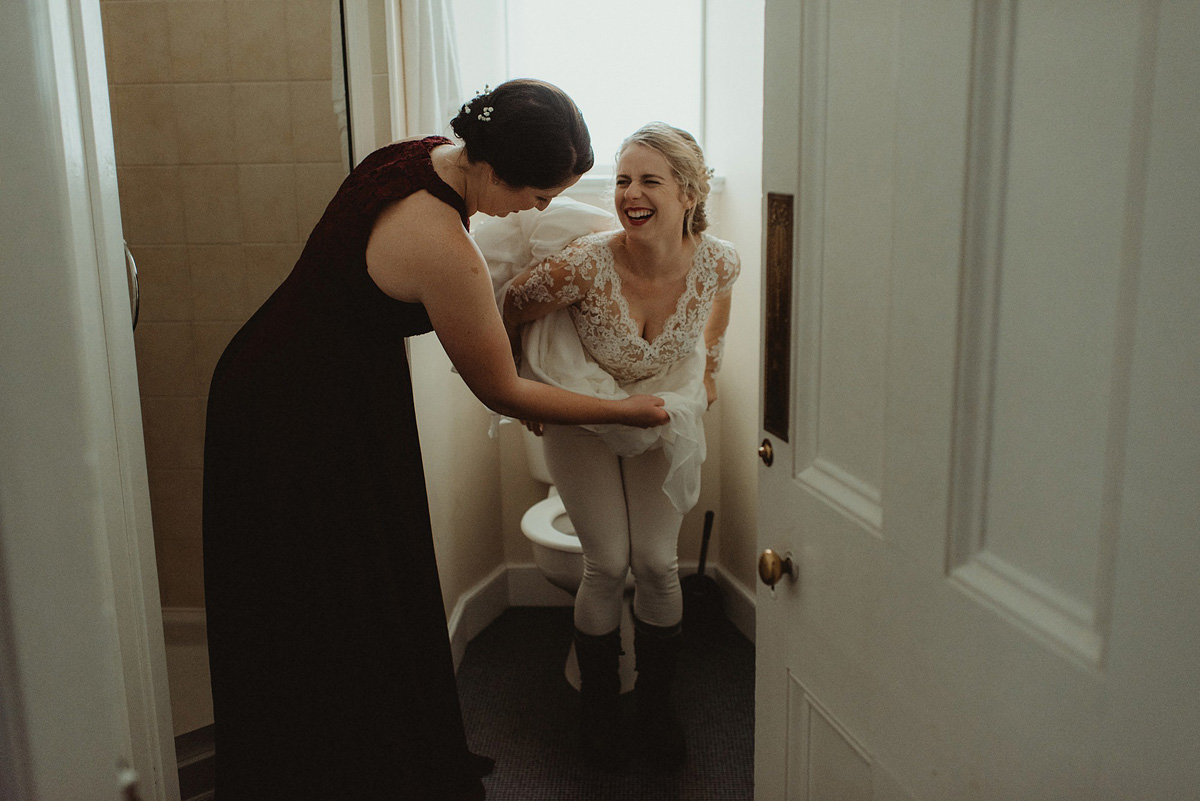 Kelsey carried a fresh, seasonal bouquet by Simply Flowers.
"Flowers were very important to me and the bouquet made with my very minimal instruction was gorgeous."
Before heading in to the wilds for the outdoor ceremony, Alex and Kelsey chose to have a first look, some of my favourite images.
The relaxed and intimate ceremony was held standing by a waterfall and included some really personal elements.
"Gus at Skye Taxis helped us organise transport from Kinloch Follart in Dunvegan to The Fairy Glen in Uig and back."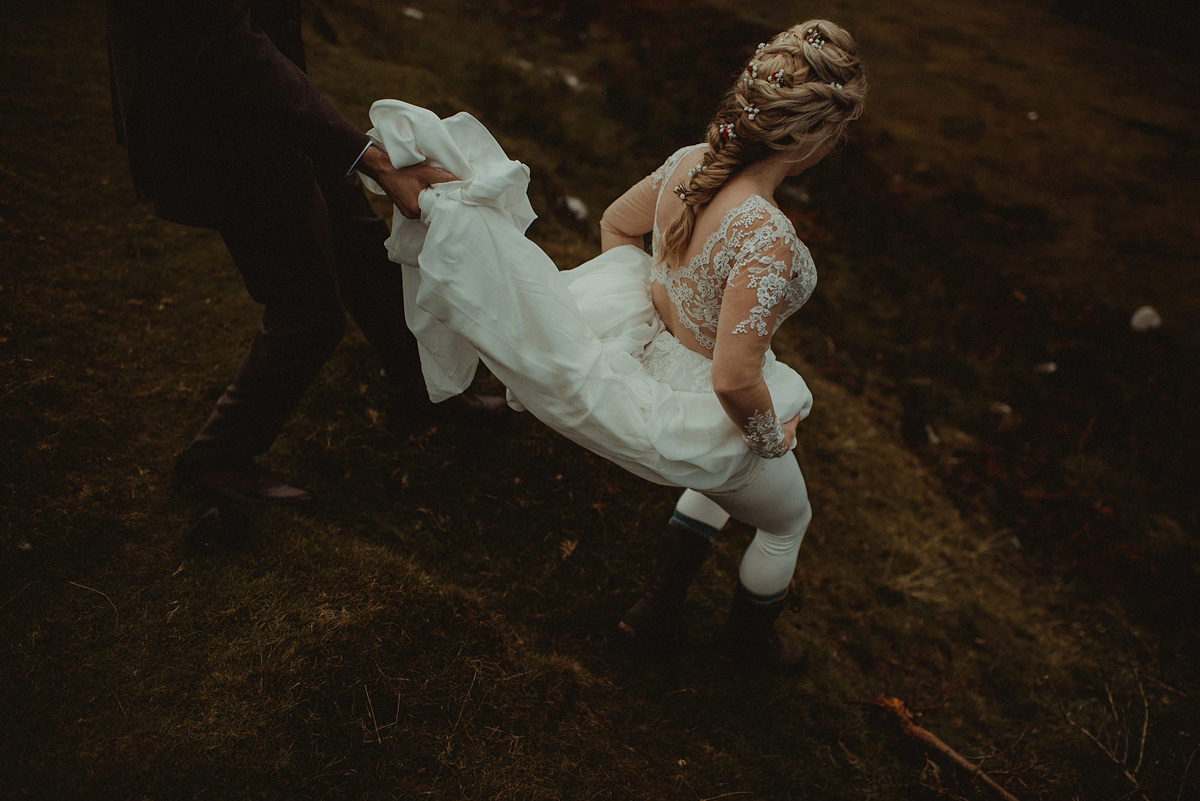 "I walked myself 'down the aisle' as I wanted to be the one to give myself to our partnership."
"We found a beautiful spot in The Fairy Glen under a waterfall and our wedding party was very small."
"I walked out from behind a little hill, practically skipping with joy towards all the people I love!"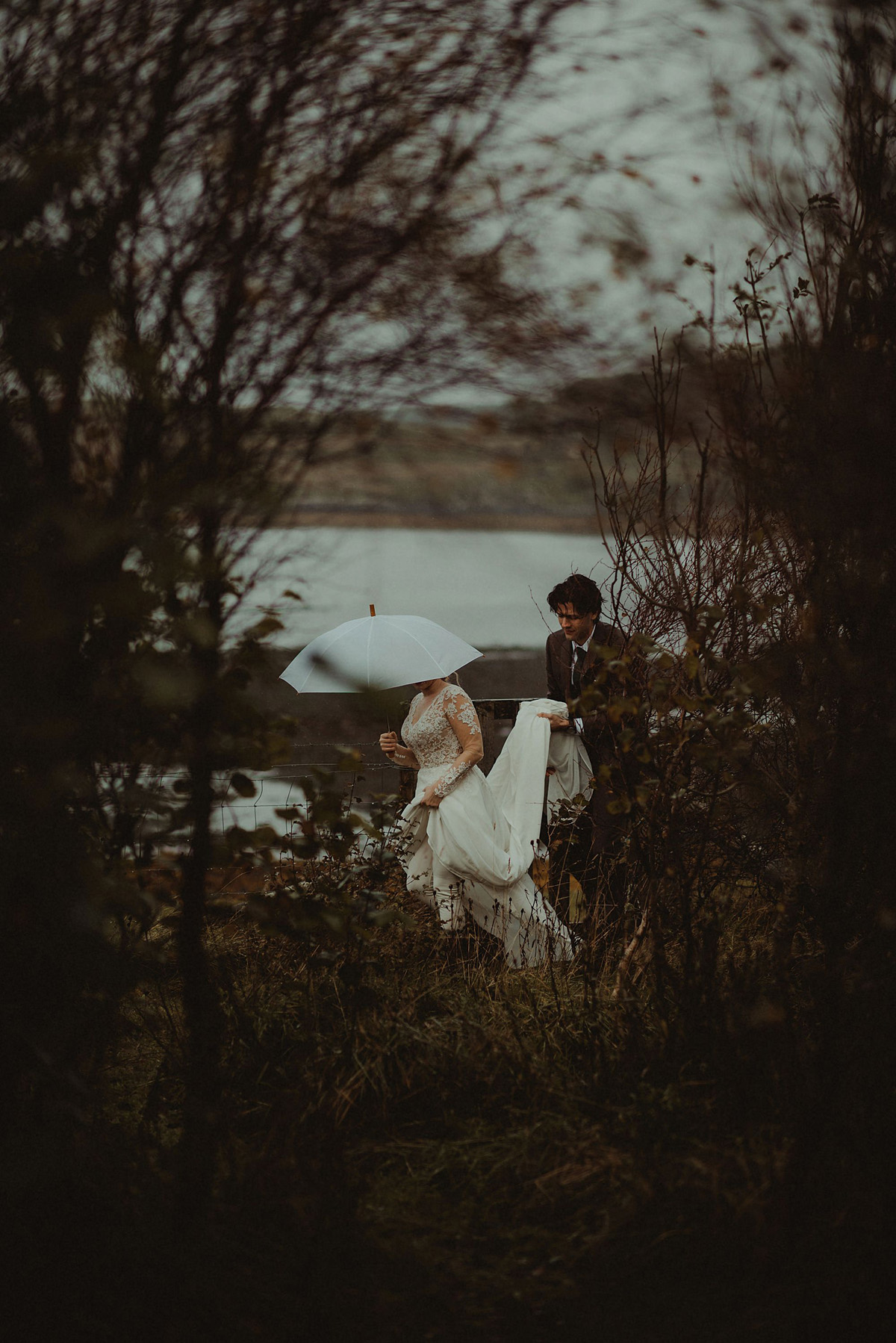 The bride threw on a tartan scarf to keep the autumnal chill at bay.
"The scarf was from The Tartan Blanket Co., a Scottish company that makes sustainable blankets and scarves out of recycled wool."
I picked the Merino Cashmere Knee Blanket in Stewart Natural Tartan as I loved the muted colours and the softness of the cashmere."
The groom wore a warm, woollen, three-piece suit with a deep green tie.
"To stick with our earthy themed colours, Alex had a custom brown suit made by Indochino and a watch I'd gifted him on our first Christmas together."
"When we started planning our wedding we realised pretty quickly that we didn't want something traditional and we wanted to keep it small."
"A destination wedding with our closest family and friends fit us best. We proposed this to our prospective guest list and everyone was incredibly enthusiastic so the planning began."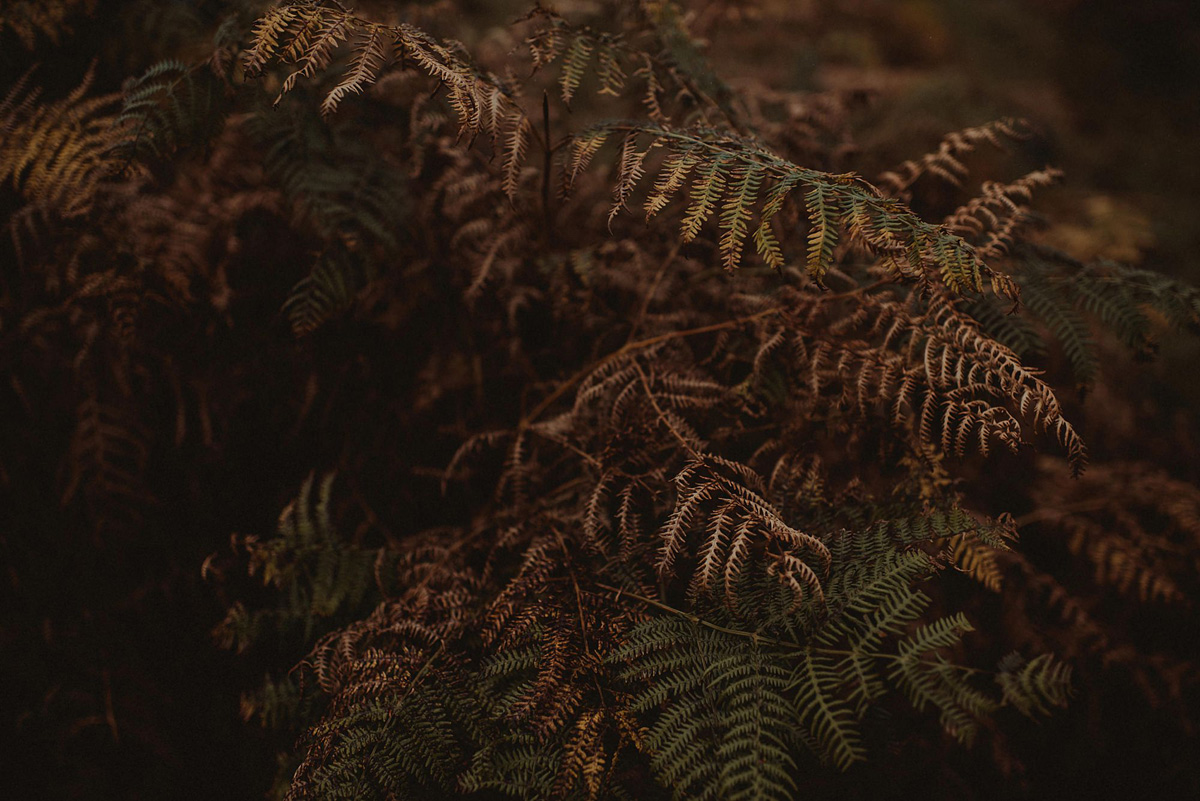 "With COVID merely four months after our wedding, us and our wedding party are constantly grateful for that one last international trip before all the craziness of the last year."
I am immensely grateful for all the love we got to share on that trip that wouldn't have been possible even a year later."
"Our officiant was our good friend Sarah who wrote a beautiful ceremony that included some wonderful Scottish elements and spoke to our relationship in a truly special way."
"As we were getting married abroad and wanted to celebrate that, we added some uniquely Scottish aspects to our ceremony."
"We had a handfasting part of the way through our ceremony. In this we had each set of parents lay a ribbon over our hands and we had a final ribbon laid by our officiant to represent our friends."
"When you tug you 'tie the knot' and we now have a beautiful knotted set of ribbons to represent this moment."
The couple's nature-inspired rings were made by Green Lake Jewelry Works.
"We choose Green Lake Jewelry Works after a friend's recommendation as they are local to us and make custom pieces."
"Alex designed my engagement ring and together we designed my wedding band. My engagement ring was thing as I have very petite hands with a cushion cut diamond and feathers along each side."
"On the underside of my main diamond there is a small yellow diamond inside an engraved sun, a nod to a special saying between the two of us.  My band sits next to my engagement ring and is covered in engraved thistles."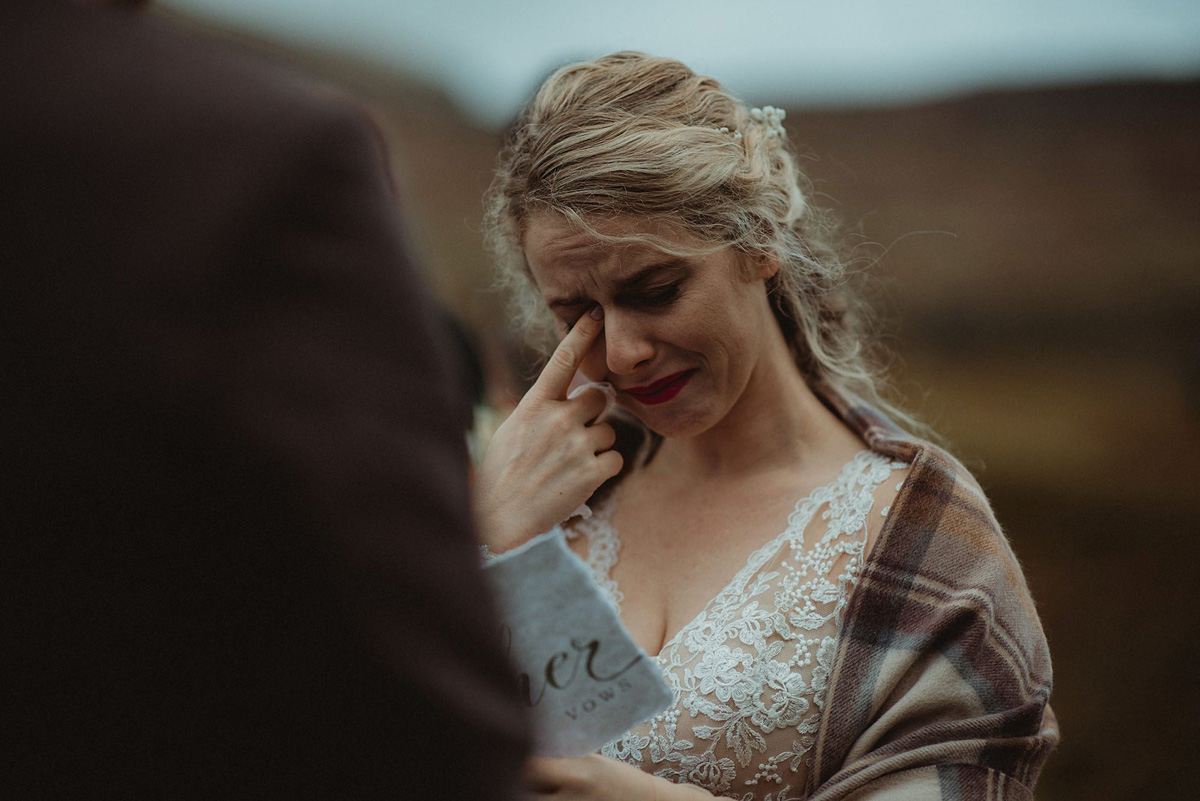 The couple exchanged vows they'd written themselves.
"We frantically finished the vows the night before the wedding while our friends made joyous preparations around the house for the day ahead."
"We then copied these down in to handmade little booklets to be read at the ceremony. Even though we didn't write them together our vows both included promises to each other that were sweet, honest, and realistic. "
"For example, I promised to only let myself get 'hangry' once a day and to always find a balance in life that is uniquely ours."
"Alex promised to always be my dishwasher and to come together with me for strength during hard moments. Alex also included a line from a song his cousin wrote that he felt was a perfect way of describing our relationship, 'If you could help me I would live such a wild life'. We both ended with how excited we were to start this new chapter together."
"For our Quaich ceremony our officiant read a traditional Scottish Quaich poem that is oh so sweet: 'Strike hands with me, the glasses brim, the dew is on the heather. For love is good and life is long, and two are best together. Bless this union of these two, eager for marriage, eager for love. May they begin life together, live that life together, and come to the end together.'"
"We're big whisky fans so we also included a Quaich ceremony at the end of our ceremony, complete with an engraved Quaich from The Quaich Company and some Talisker Storm whisky."
The bridesmaids wore their own choice of gown, with their looks brought together by their matching tartan blankets.
"I asked three of my best friends and my sister to wear colours in any dress they liked. One wore mauve, one emerald, one cream, and one burgundy."
"They all looked lovely but were comfortable and able to choose something that fit them best."
"I gifted all the 'bridesmaids' a tartan blanket from The Tartan Blanket Co. to keep them warm on the day and to have as a memory of our trip."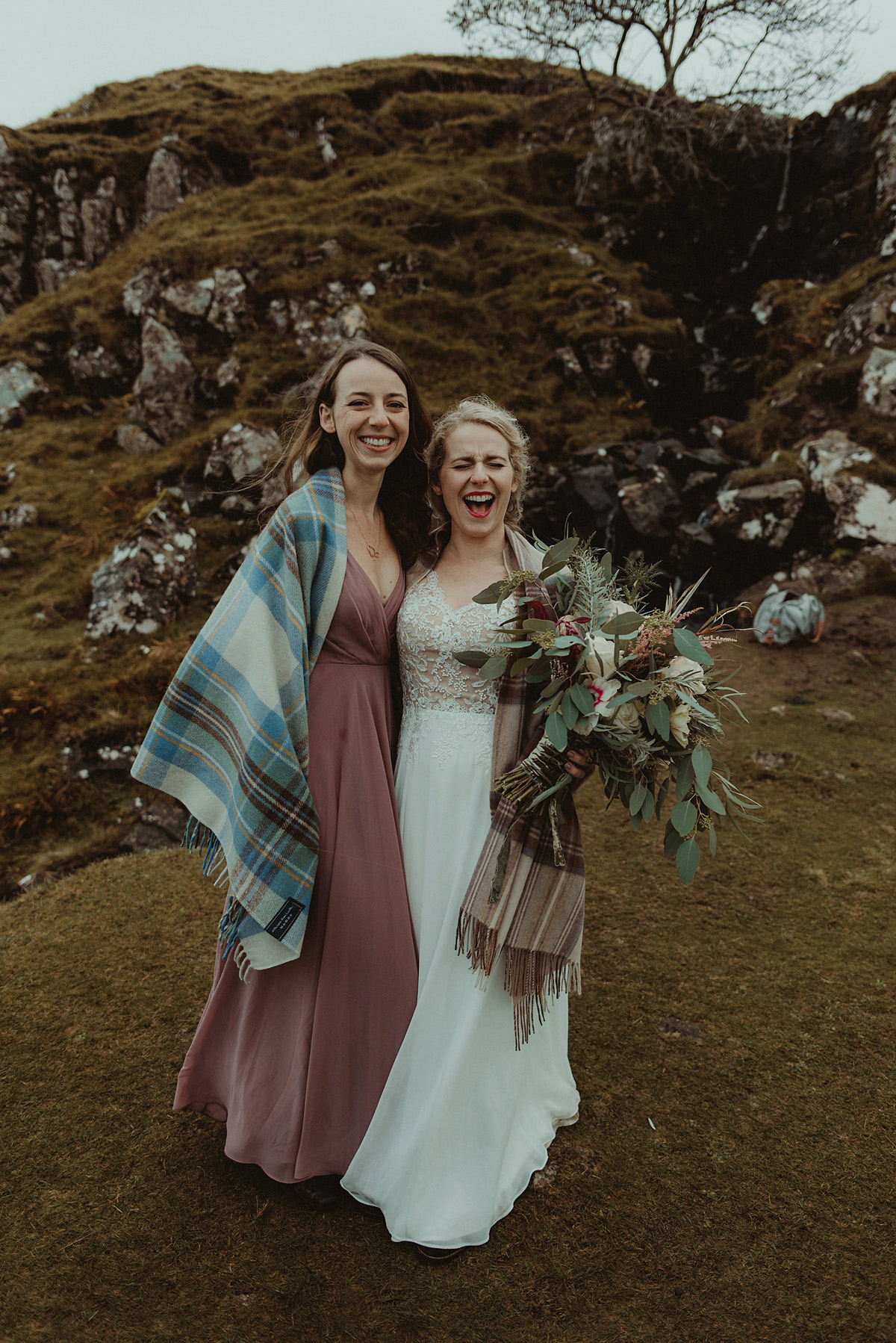 These spectacular photographs are by Nikki Leadbetter Photography, whose talent for capturing incredible landscapes is matched by her knack for catching raw emotion.
"Nikki was by far the best choice that we made for our wedding day! I had been browsing UK based photographers and when we found her I fell in love."
"Alex was particularly blown away by her black and white images as well as her clear ambition for adventurous and intimate shots."
"Our first meeting online was like catching up with an old friend and she was everything we could've hoped for and more for the day of."
"We did an engagement shoot at the Old Man of Storr before our wedding day and had the most fun hiking, chatting and running through the freezing Scottish rain together."
"On the day of she really was more like a guest. She is so unique in her style and yet perfectly present."
"I've never felt more comfortable and she took the most beautiful images that we will cherish forever."
"All our friends and family have suggested getting married in Scotland just to have her for their day."
"She will truly be a friend for life! We even recently had her do both maternity and newborn shoots virtually which was such a treat! Don't hesitate to book her!"
The couple began dating back in March 2016 after meeting at martial arts gym.
"Alex had moved from Minnesota to Seattle and to feel closer to home had joined the Seattle branch of Minnesota Kali Group, a mixed martial arts gym that he had attended back home."
"I joined the same gym since it was near my house and was something different. We met a few months in when I was convinced by one of the instructors to join a Brazilian Jiu Jitsu class that Alex was participating in."
"After a few classes, he tried to ask me out by asking if there were any good restaurants nearby (as he lived about thirty minutes away at the time)."
"Completely missing the subtle attempt to ask me out, I told him that since I lived close I usually ate at home."
"Luckily, when I got home I realised that I had totally missed the point and we made dinner plans for a week or so later."
"Alex proposed on 1 December 2018 in our living room with our cats by asking me to dance to one of our favourite songs, 'City of Stars' from 'La La Land' with just the lights of our Christmas tree."
It was perfect and intimate and we celebrated at our favourite neighbourhood restaurant, then headed to see 'The Nutcracker', a Christmas tradition for us."
Kelsey and Alex stayed in Scotland for their honeymoon, two weeks travelling throughout Scotland together.
"We stayed within our budget, which was about 12,000 USD. We were happy with this as it included the cost of our travel and honeymoon."
After the ceremony, the newly-weds and their guests made their way back to the house, which had been decorated with more flowers and simple fairy lights.
"We used the wonderful charm of our lodgings for the décor, as well as the flowers provided by Simply Flowers."
"We hung some lights in the atrium as well as some bunting made by our friends but otherwise the charm of the manse and the Scottish Highlands were more than enough."
We hand-stamped little bags of breakfast tea with a little Highland Coo stamp I purchased from Catherine Redgate."
The wedding dinner was a relaxed, fun affair, catered by Good Highland Food. Sitting down with their guests was a surprise for Alex and Kelsey.
"We came back from our photographs and ceremony to see that our friends had managed to find enough tables and chairs in the house and crammed them into the dining room so we could all have a sit-down meal – something we hadn't thought we'd be able to do because of the size of our wedding party and the venue."
It made me so emotional to get to share that meal with everyone in the same room after they'd all travelled so far to be with us. It was a wonderful surprise."
"Instead of cake we ended our wedding meal with our favourite dessert, sticky toffee pudding, made by our caterers Good Highland Food. It was divine!"
We were very DIY with a lot of aspects of our wedding and since we aren't really cake people, our friends offered to make us a small cake to cut."
"They made us a beautiful, naked Earl Grey cake that we topped with some flowers. It was the perfect sweet end to our wedding day."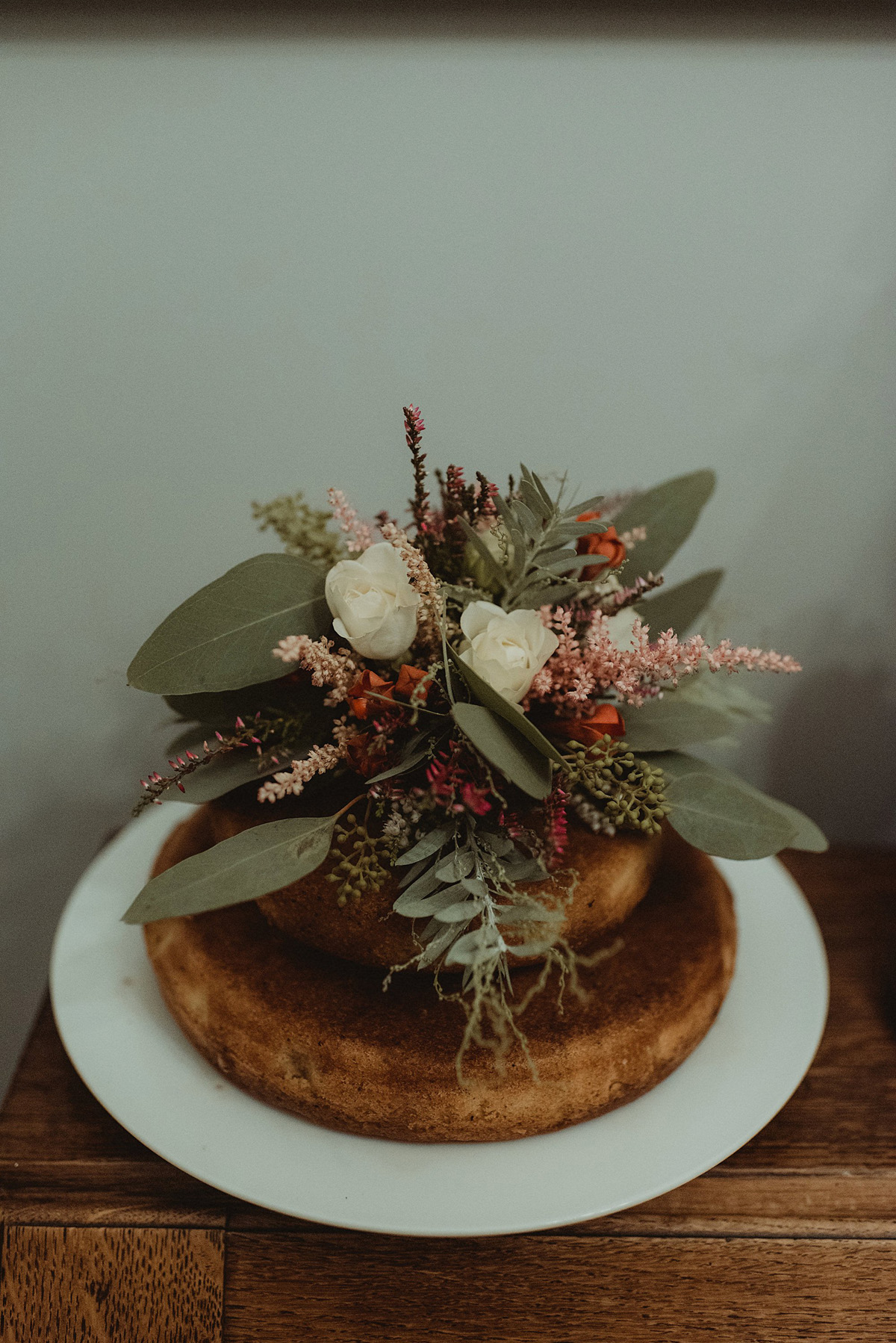 The couple kicked off the evening festivities with a first dance to Ben Howard's 'Only Love' before some unexpected ceilidh dancing.
"Ben Howard is one of our favourite artists and one of the first concerts we went to together. His songs are hauntingly beautiful and 'Only Love' is particularly so."
"The sweetness of the lyrics, 'I'll be yours to keep… Darling you're with me, forever and always', fits our love story."
"We didn't have traditional entertainment but our officiant Sarah used to call at Ceilidhs and so we had some wonderfully impromptu Ceilidh dancing at the end of the night!"
Words of Wedded Wisdom
"Pick a few key things that you want to splurge on –- our number one was photography and we don't regret that one bit! We also made a few other things a priority."
For us this was location as our 'venue' was a rented house that half the wedding party stayed in for the week and it doubled as the reception venue."
"Don't let a destination wedding scare you. The internet allows you to find fabulous vendors from half way around the world with a little leg work."
"In my opinion, no one has ever regretted a reason to travel, especially to share special moments with those you're close with."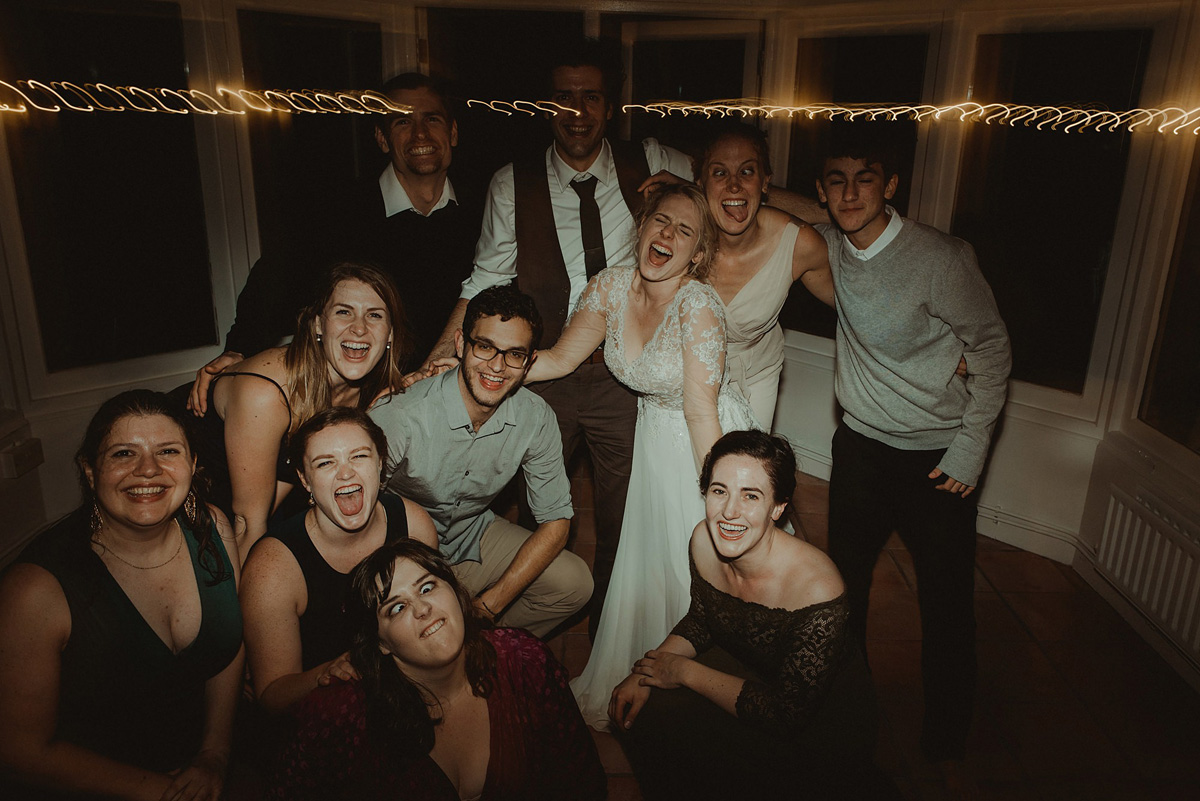 Kelsey and Alex, what a day! Thank you so much, and many congratulations. Thanks also Nikki Leadbetter; it's been a true joy to see your work on Love My Dress once again. For more weddings in the Scottish Highlands, please enjoy this selection here.
Ele xx