It is an absolute joy to share today's wedding with you lovelies today. Not only was the celebration a flower-filled, summer-time delight, the venue was the couple's very own farmhouse wedding venue, Launcells Barton in Cornwall.
Please meet Matt and Lara, who wed on 16 July 2021 at their home in Bude, Cornwall; Launcells Barton. Owned by Matt's family since 1949, the Grade II* listed manor house is now a gorgeous wedding venue, run by the couple, which fuses old world charm with modern simplicity, along with the most breathtaking views.
We challenge you not to fall in love with these beautiful images.
Launcells Barton

+ Follow
The couple met when they were working in the same office building in London before moving to the farm together and transforming it into the most beautiful wedding venue.
We are so happy to support this couple and their beautiful home and wedding venue in our Love My Dress Wedding Directory, so please visit their listing for more information.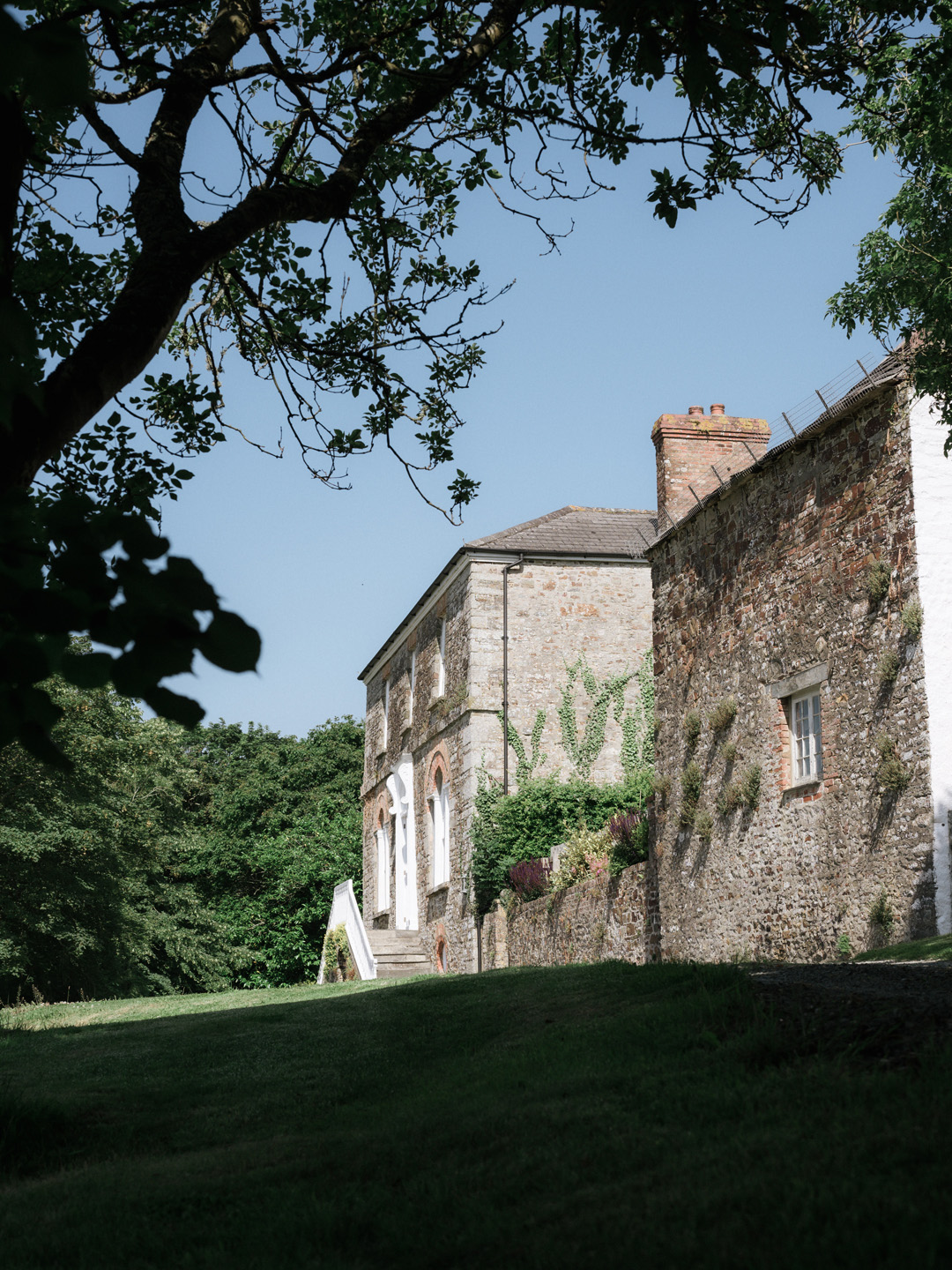 The couple let the house's beauty shine, adding statement, vibrant summertime flowers and farm-inspired details for a relaxed, outdoor celebration in the sun.
"The farm is really special to us and although sometimes there is a love hate relationship (as there's always a never-ending list of maintenance issues and jobs to be done) we couldn't imagine it being anywhere else."
"We really wanted our wedding to feel like it wasn't work, so we wanted to flip it on its head, enjoy the day as much as possible and not be in 'work mode'."
"My very first time visiting the farm, Matt took me on a walk and we sat and watched the sunset over the sea that evening."
"It was where we decided we could actually make this our home and start this crazy adventure in weddings, so we felt it was the only place we could imagine saying our vows to one another."
"It started with the odd 'hello' while making coffee in the kitchen and soon we would have to rush back in to our offices without being noticed as we'd been stood chatting for so long. After only a year together we bought our first house and thought we were settled for a while."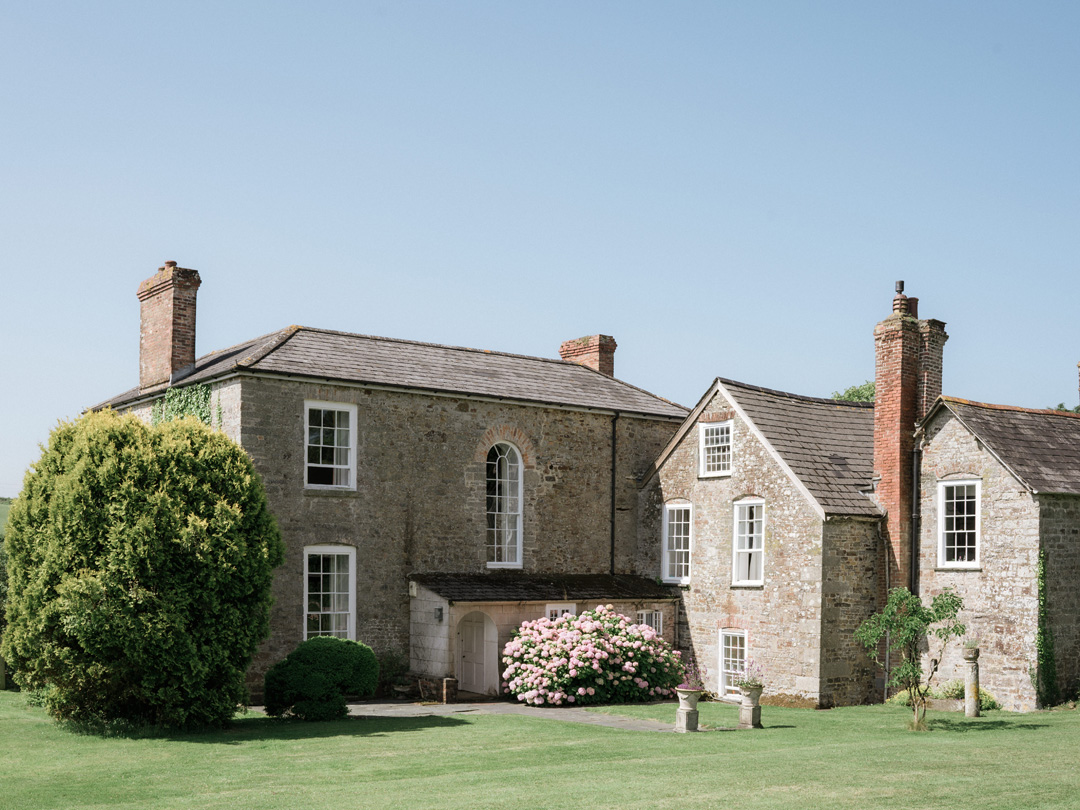 "Within a month of us moving in, the decision came to do something with the farm in Cornwall. Matt's parents didn't want to leave the farm but Matt's uncle, who was partner in the farm, did."
"With the farm falling down around their ears and so much investment needed, we knew it wasn't going to be easy and that was a huge understatement."
"We came up against so many problems, from planning, to building hold ups, to invasions of cows ruining our newly-laid lawn. We slept on a mattress on the floor for the first six months and an iPad came in very handy while trying to juggle, painting barns and parenting a three year old."
"After almost five years together and seeing so many weddings taking place at the venue, Matt whisked me away to Rome for my 30th and proposed at the top of the Spanish Steps at night overlooking Rome lit up behind us."
It was magical! We had originally planned for our wedding to be last year and after three dates, we finally got to have our day this July."
"Maybe it was meant to be as the weather was incredible and the day was just utterly perfect."
Lara wore her hair down in glamorous waves, styled by Hannah Woodgates Hair Design.
"She's such a lovely, hard working person, juggling her own salon and creating amazing wedding hair. My make-up was by Gemma Sutton. Gemma was amazing last year."
"When I was having a down day, she would drag me out of the house to go on a coastal walk and we would chat until we felt better. People like that are rare and I'm lucky to have such an amazing make-up artist as a friend."
Lara had two wedding dresses. Her day dress was a super-simple, fitted gown by Sewn Up Productions, which showed off her beautiful figure.
"I had both dresses made in the end. I had in my mind what I wanted but when I tried them on, I didn't feel like me. As I had dragged my mum and mother in law all the way to London to go to a trunk show of a designer which ended up not being what I wanted, I ended up in Davids Bridal to get a feel of something different. I ended up in a really simple dress and was shocked at how much I loved it!"
"It wasn't the right shape and needed a lot of work and I knew it was going to be a struggle to dance in at night, so I decided to have an evening dress as well so I could completely relax in the evening."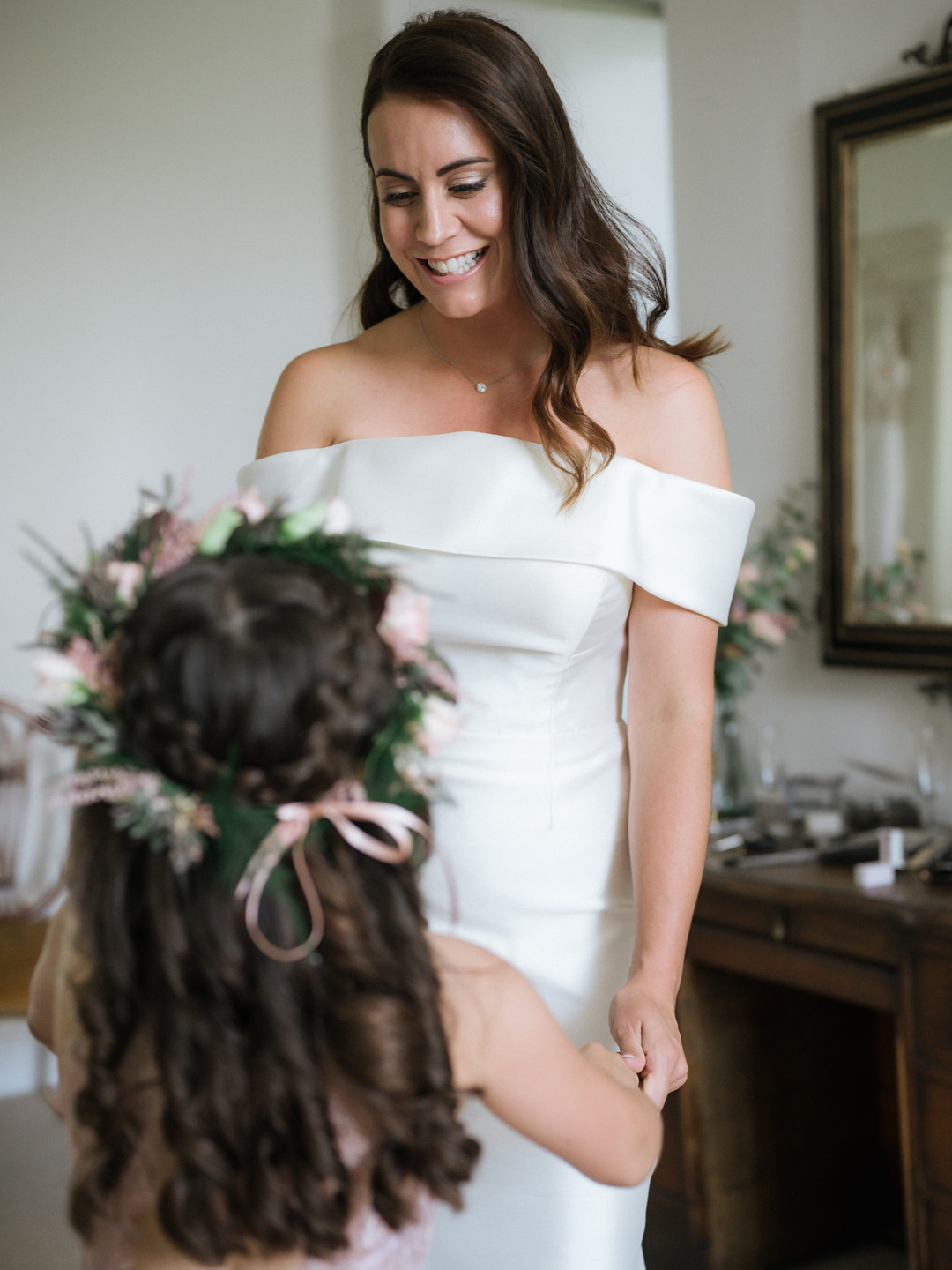 "I ended up finding Charlotte at Sewn Up Productions. She designed and worked on both dresses with the amazing seamstress Bethany."
"The whole process was going so well until Covid. Last year we were pretty much ready to go with the dresses and I just needed to go up to London for a few days to have my final fittings."
"But, after a year of stress and lockdowns, my body and shape had changed and as so many of the alterations had already been done on both dresses, it was all a bit stressful as made to measure is a lot harder to change."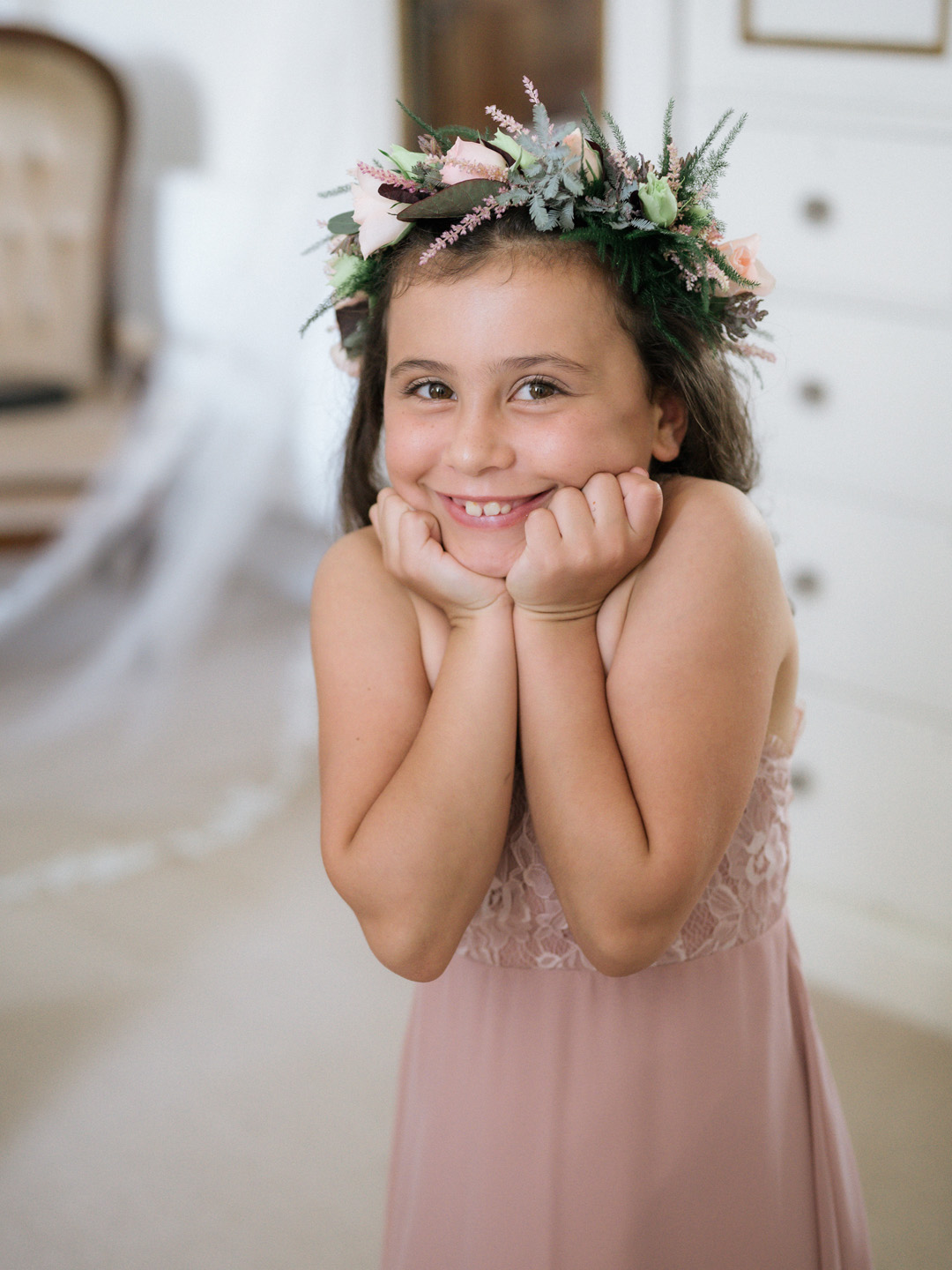 "After a few days of alterations in London and running out of time, I came back to Cornwall and didn't feel 100%, so I took them to an amazing local seamstress who managed to fit me in last minute."
"I ended up losing more weight over the stress in the run-up and needed more taking in. There were still bits that I knew weren't 100%, but there was no time to change it and I had to tell myself that no one else would notice."
"It was hard to get my head around as I'm such a perfectionist, but on the day, I didn't notice and I honestly didn't care."
"All I wanted to do was enjoy the day with the people I loved! Looking back, I think I was getting so anxious and worried about the dress and my weight as it was the only thing I could control in the crazy world of planning a wedding in a pandemic!"
"I loved the simplicity of my day dress. I have curves and it's taken me a long time to be proud of them."
Matt adores my curves and I wanted him to know it was a dress with him in mind. I'm not a frills and whistles type of person and I wanted my dress to be timeless. I wanted to look back in twenty years and still love it."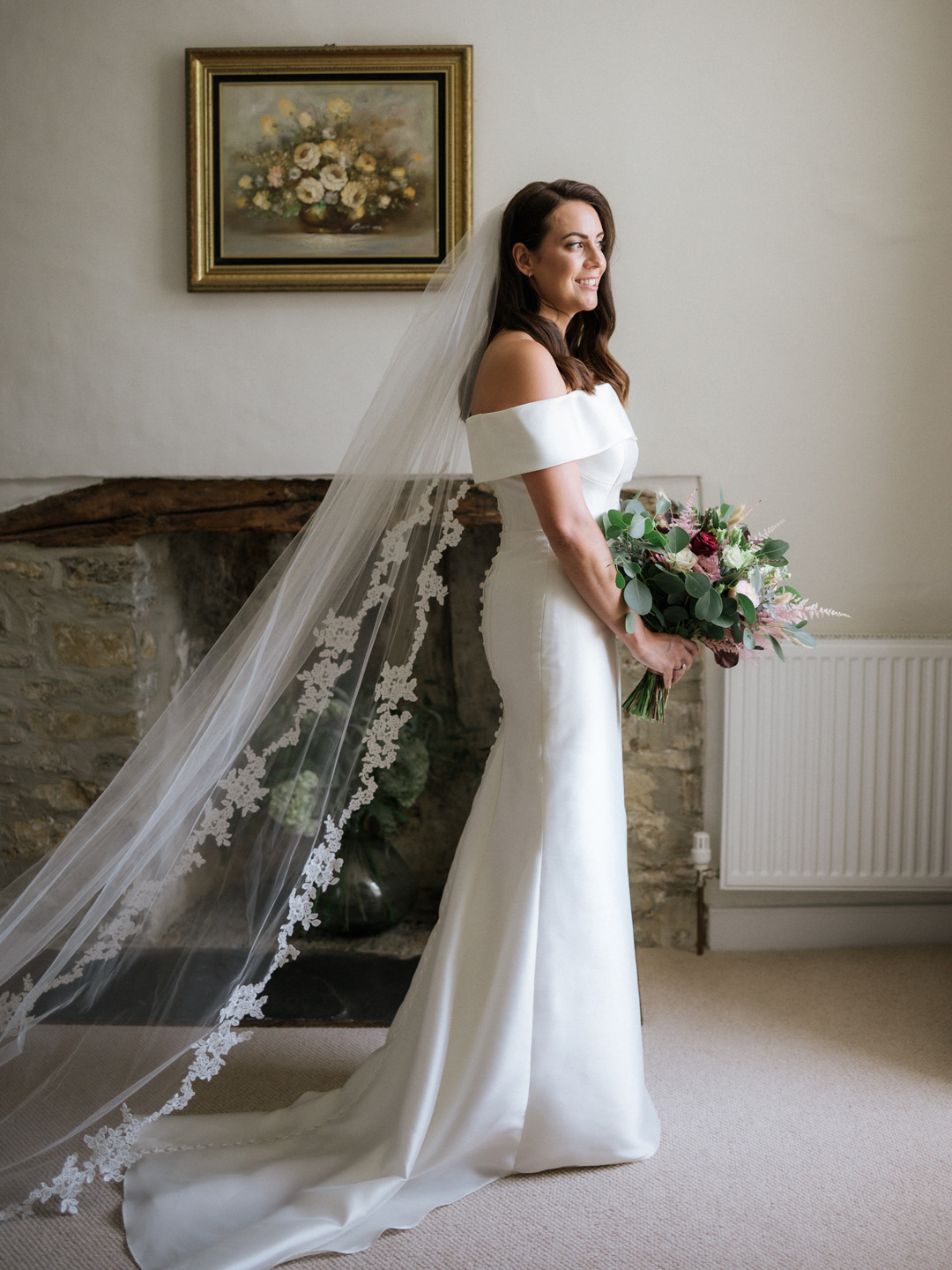 The wedding styling was predominately a vivid selection of summer blooms, put together by Bleujen Florist.
"I've known Erica since we started here and have seen so many beautiful weddings her and her team have created. When I came to her about our own wedding, she was so excited."
"I really wanted the flowers to make a statement as I've always loved them and think they really bring something special to a wedding."
"I wore my mum's earrings. I'm not a very 'fancy' person and don't wear a lot of jewellery so I only wanted something very simple."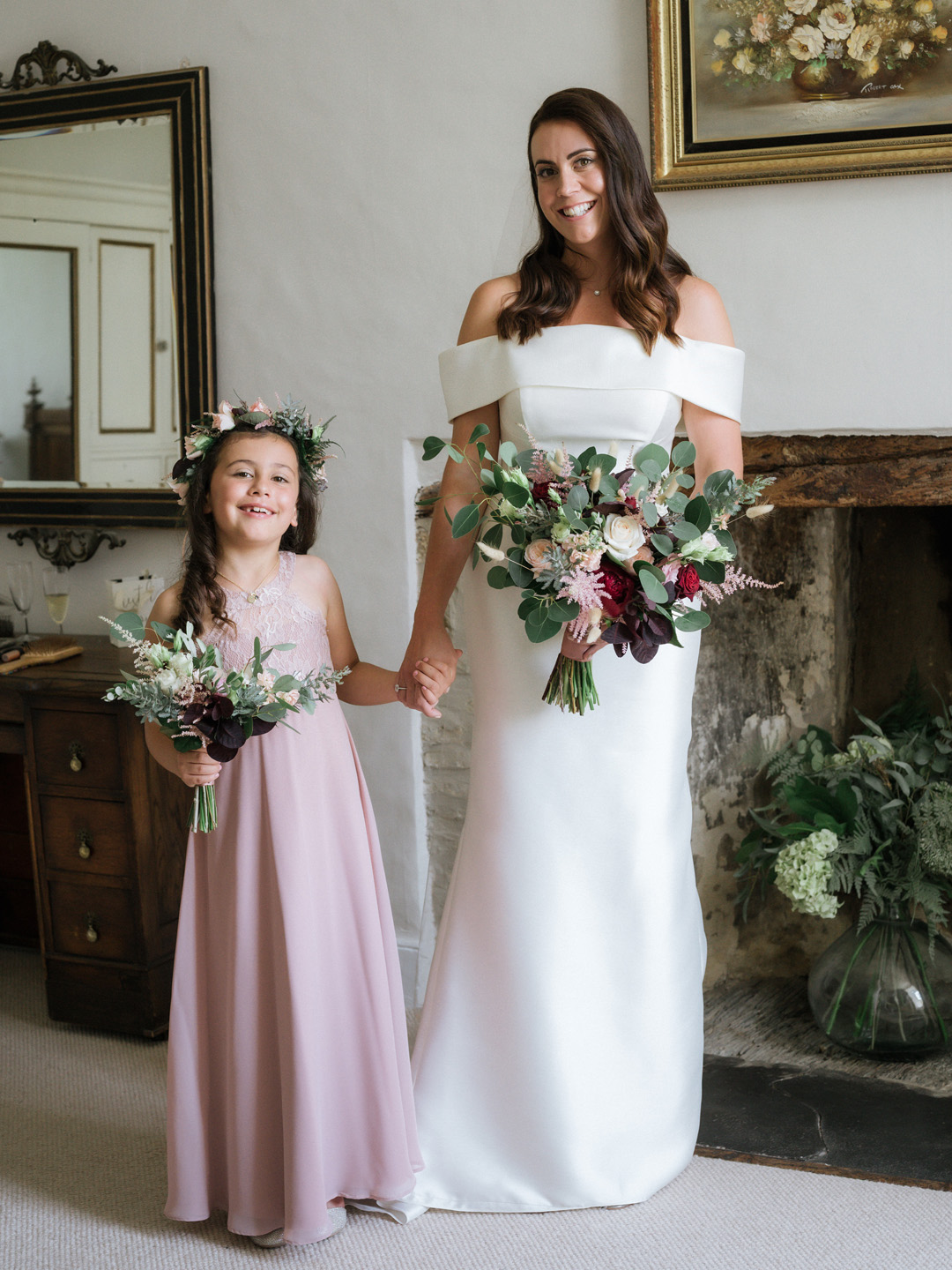 Throughout the day, the guests were entertained by music from the couple's friends. Lara tells us more.
"So many of the people we had at our wedding have become friends over the years, as we've worked on so many weddings together. They really wanted to be with us on our day, so we couldn't just choose one."
"The acoustic for the ceremony was James Dixon Music and for the welcome drinks we had Cut The Mustard. Our surprise a cappella was LG Entertainment and the band was The Zu Zu Men."
"Finally, our disco was Crown Entertainment."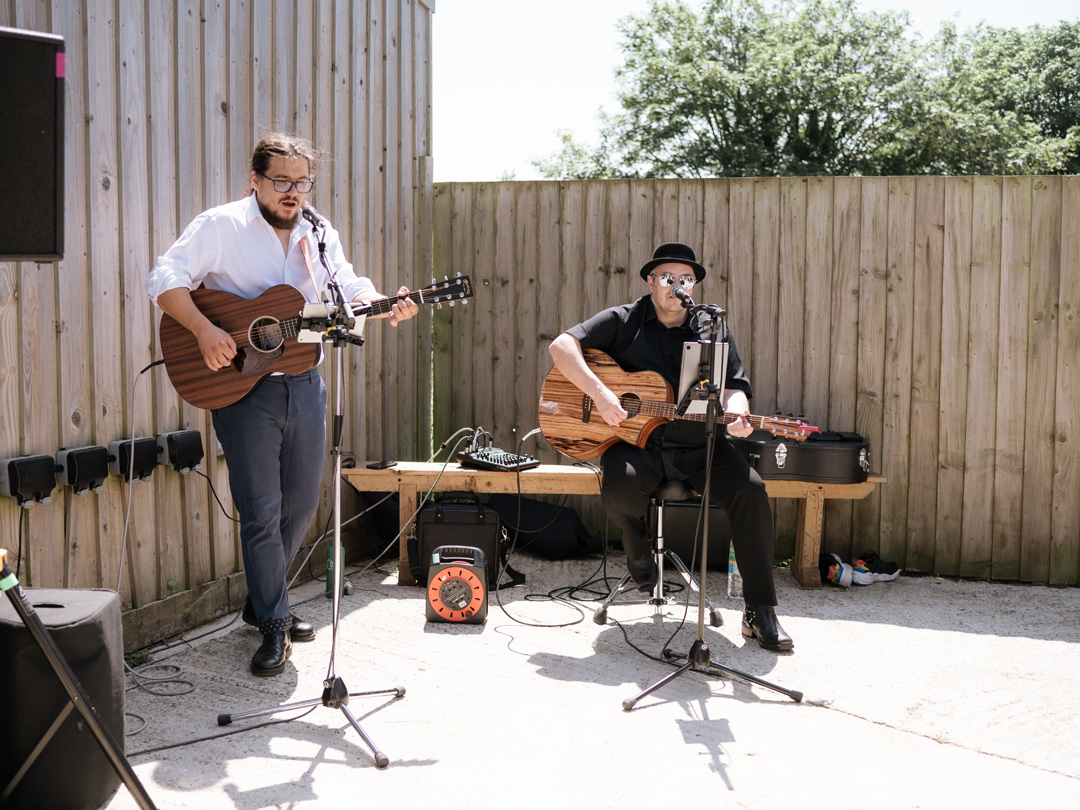 "We tractored all our guests up to the field and had our ceremony in a field of flowering clover. We later made it legal in the sitting room of the house, with just our parents."
"Flipping everything on its head was a bit of logistical nightmare and if the weather hadn't been on our side it wouldn't have been possible, but we just knew we could make it work and did most of it last minute when we saw the weather forecast."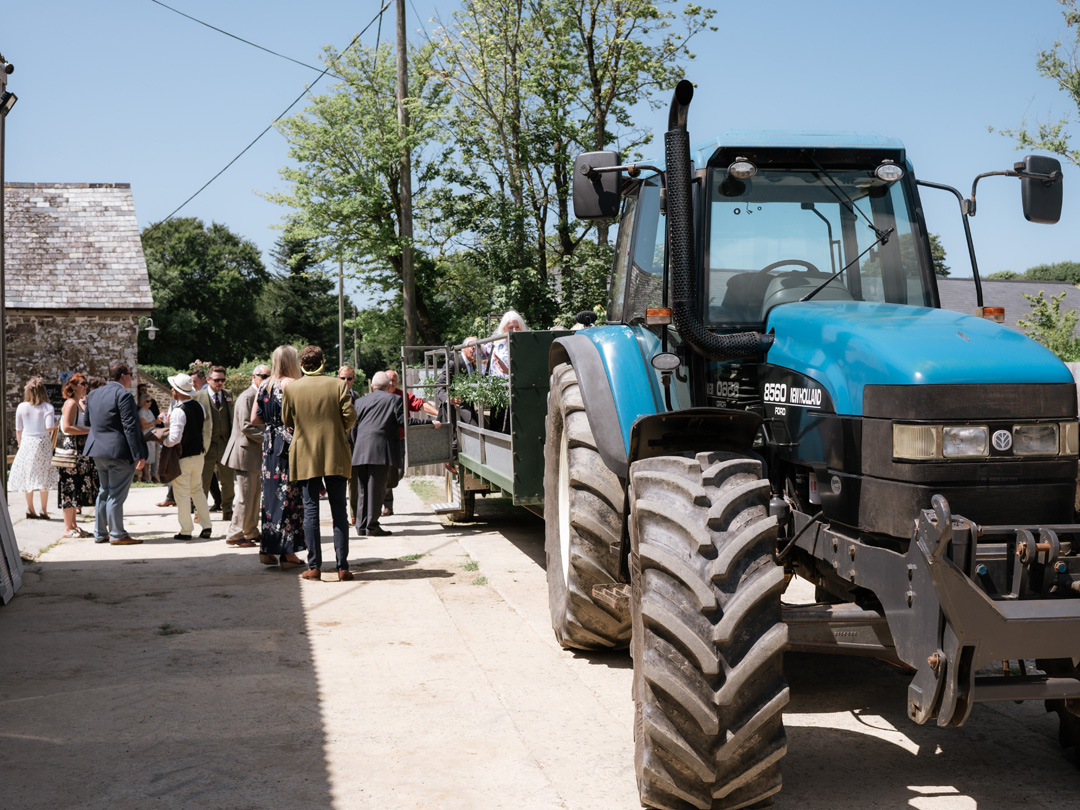 As Lara mentioned, the couple's wedding was delayed due to Covid restrictions but they had the additional difficulty of having to arrange it around other postponed weddings booked in at Launcells Barton.
"We had originally planned to have our wedding in June 2020, which we moved to June this year, which we then moved to July following the roadmap announcement in February."
"After the final stage of restrictions being lifted got delayed in June, we just couldn't face postponing it again."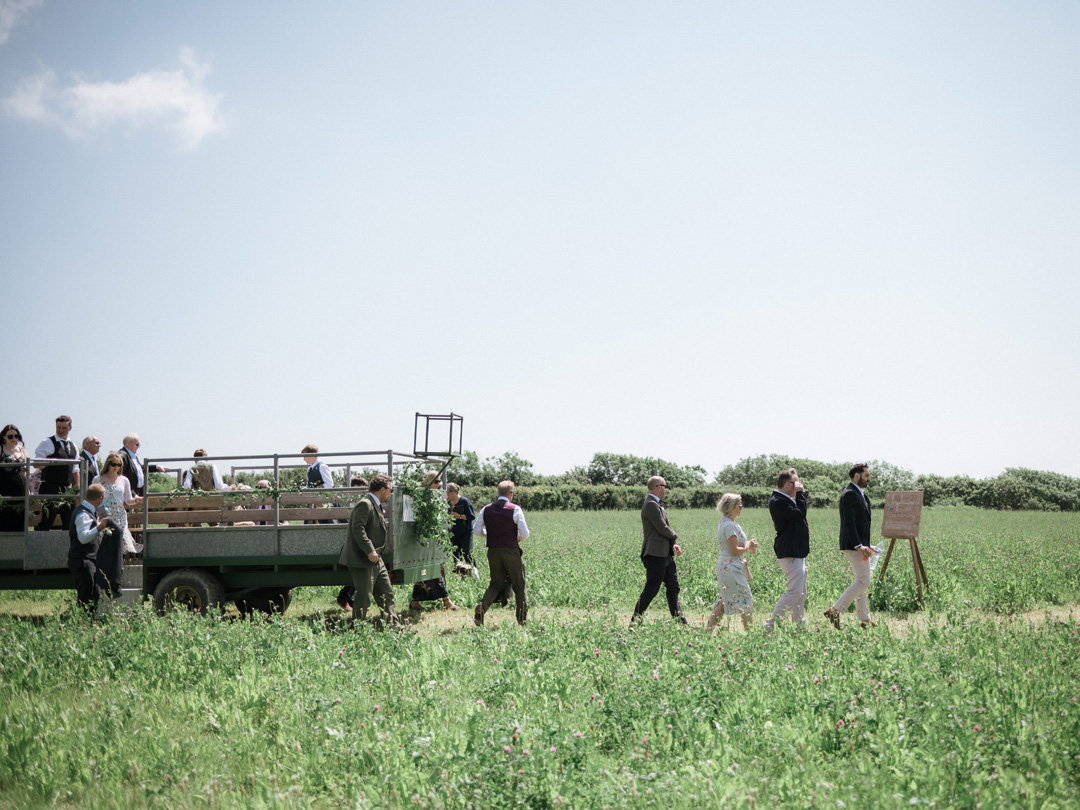 "We wanted all our guests to relax and fully enjoy the day. I had my best friend and my mum get ready with me and, of course, my glam squad who are also good friends of mine, but I just wanted a stress-free morning with fizz and music."
"Of course, my best friend Sophie and my mum were there to help with my dress which was especially helpful when getting off the tractor for the ceremony!"
"After having postponed over 60 weddings at the venue and knowing we had a very busy couple of years ahead, we knew it was now or never and we didn't want to wait any longer!"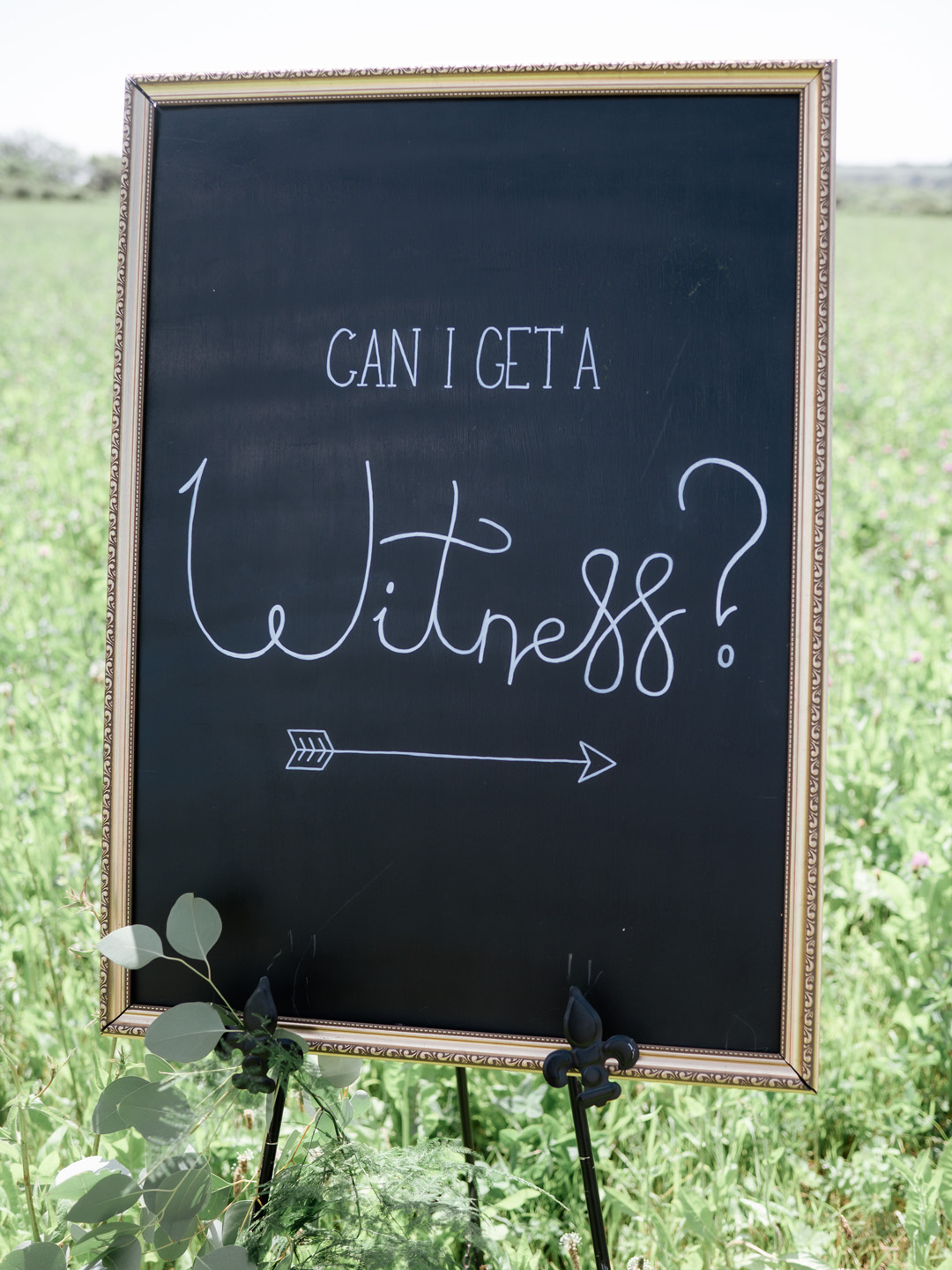 "The kids were growing up and I'd already had the dilemma of them no longer fitting into their outfits."
"With Matt's parents also becoming unwell last year, we wanted to finally be married with everyone we love around us."
"The ceremony arch that our florist creates was just more incredible then I could have ever have imagined!"
"Because of the heat that week, Erica wasn't able to set up the flowers the day before like she normally would, so she came in the morning of the wedding so the flowers didn't wilt."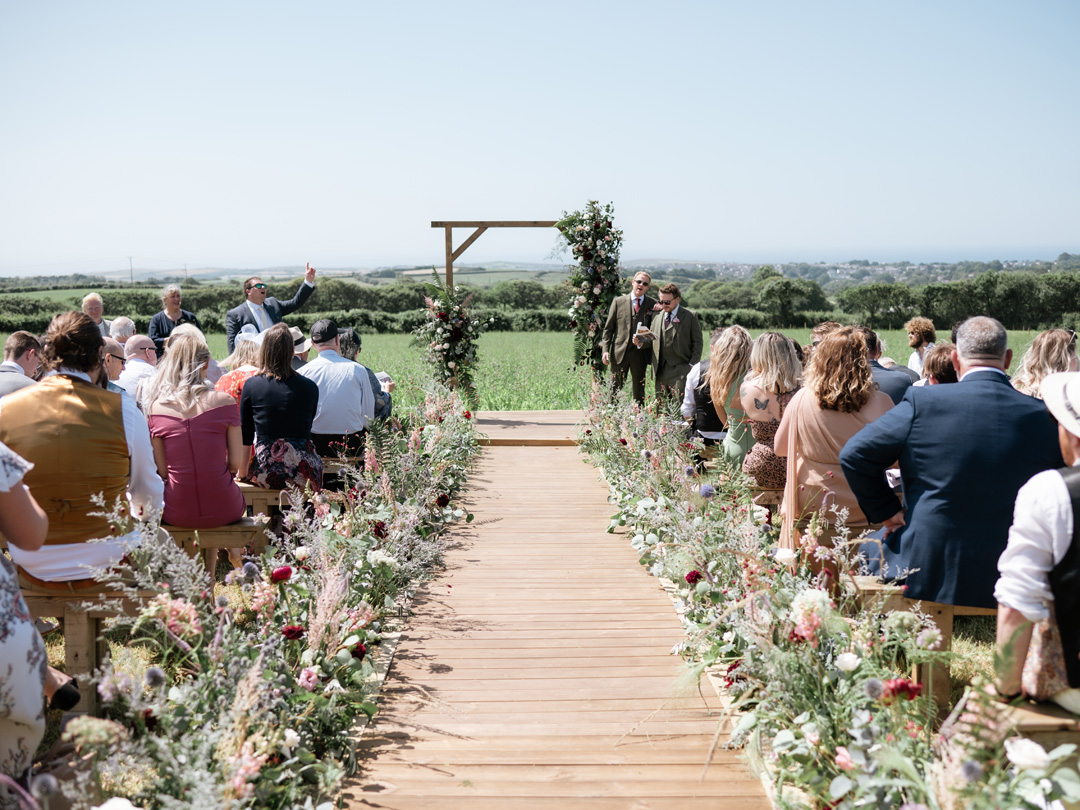 "As I didn't get to see it all the day before, my wedding co-ordinator came in with a few pictures as I was getting ready. It blew me away and I was so excited to see it for real!"
"Matt and our maintenance team made the arch and aisle the week leading up to the wedding. We had many back-up plans in case the weather wasn't great but luckily as the weather was so good, we could go with the original plan."
Fitting for the countryside venue, Matt wore a bespoke tweed suit from Cad & The Dandy.
With such gorgeous weather, the couple were able to go ahead with their original plans to wed outside. After travelling via tractor to the field, Lara walked down the 'meadow' aisle with her daughter.
"When I came out of the house to get on the tractor for the ceremony, all of our suppliers were out cheering and clapping and Cut The Mustard started playing 'Obviously' by Mcfly. I broke down crying as I just couldn't believe everyone had done this for me and that I was actually on this side of things."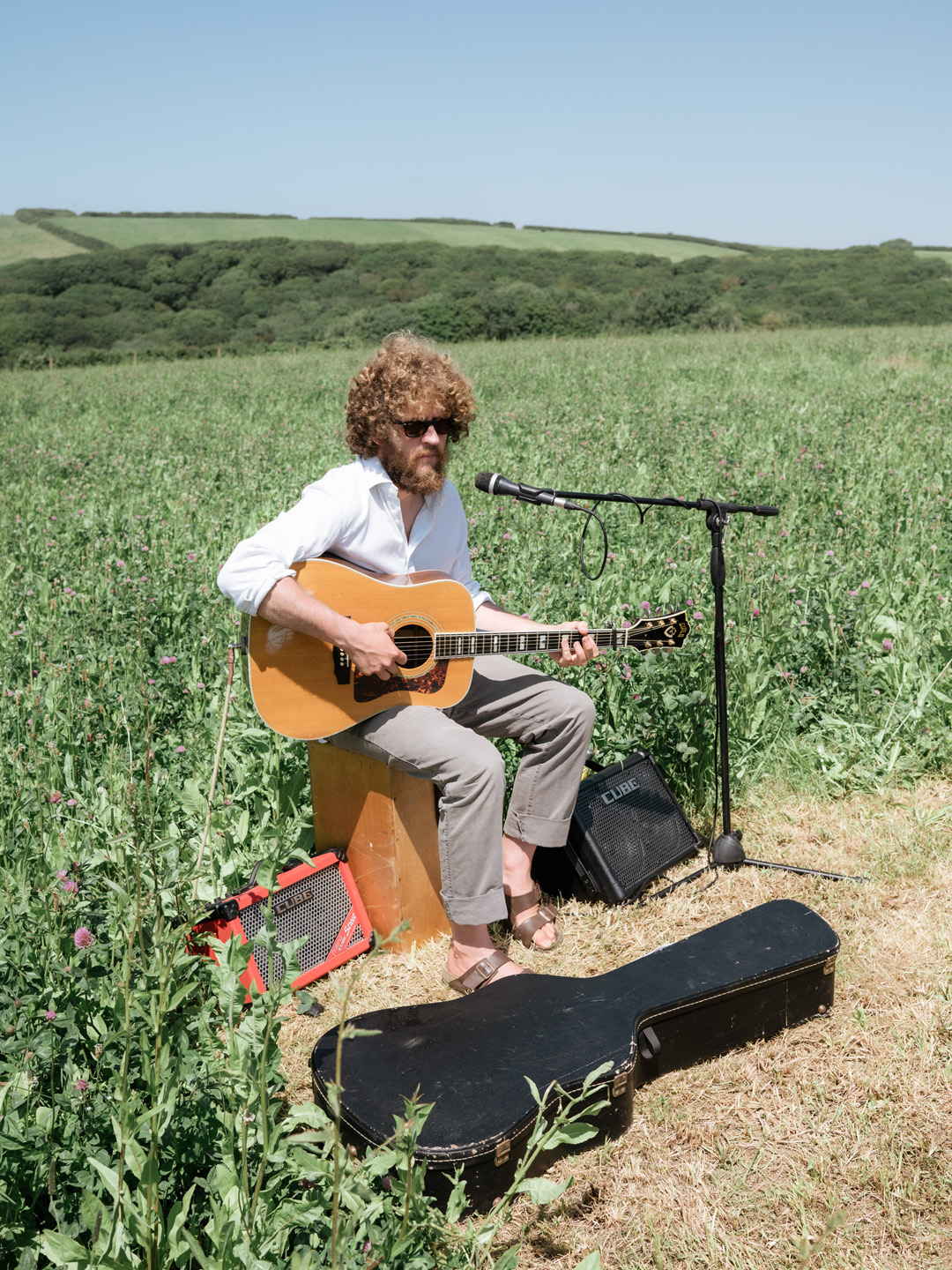 "I chose not to have bridesmaids apart from my daughter who walked me down the aisle."
"James Dixon sang us down the aisle to 'Solider', by James TW. I heard it years ago; it's about two people that have been through a lot, but they get through it because they have each other."
"It's always been our song and the moment I heard James playing it before walking down the aisle, I felt a wave of emotion."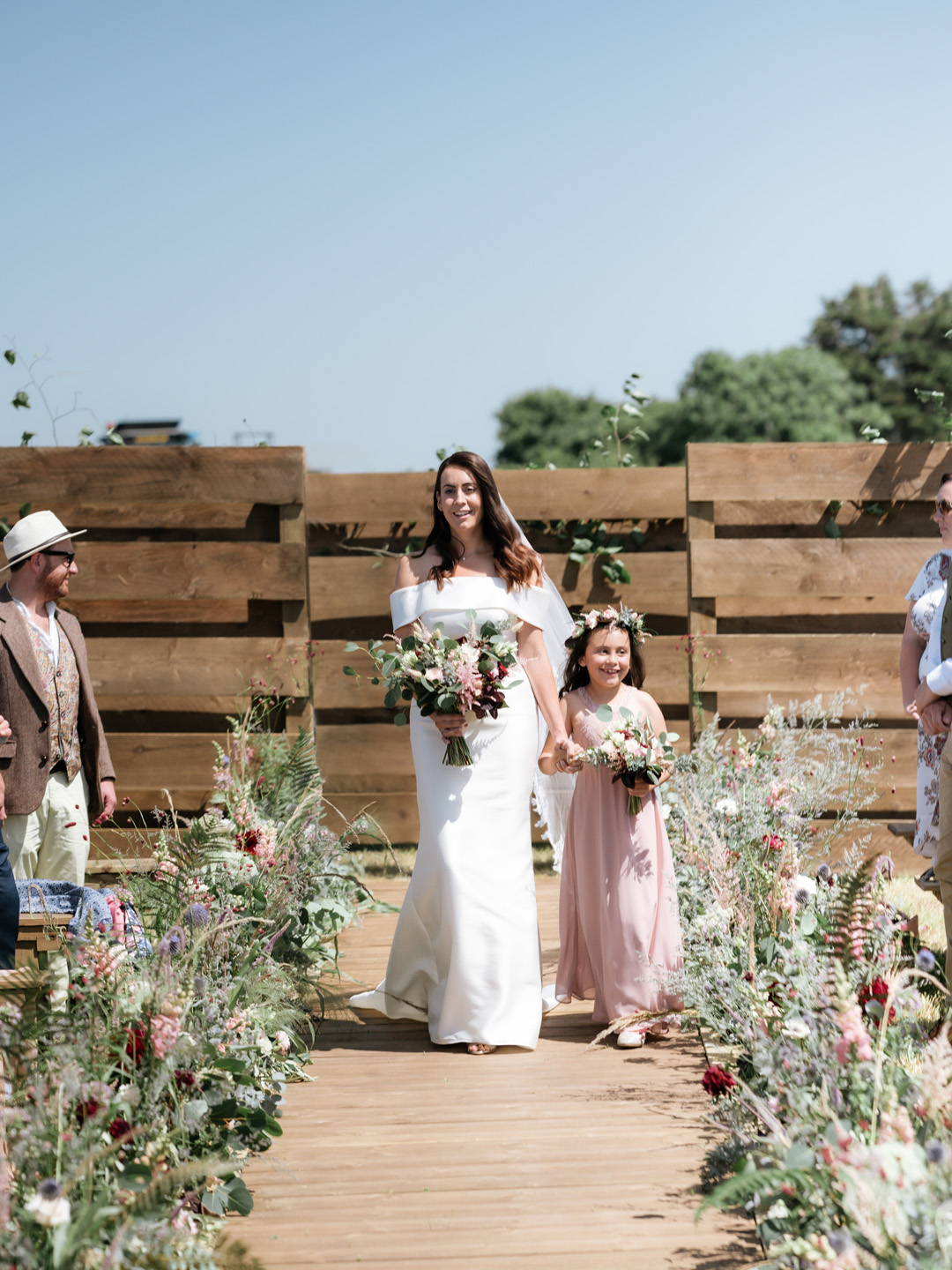 "Matt had his back to me as I first walked in but as he turned around we locked eyes and we both broke down crying."
"I don't remember walking down the aisle or anyone else being there. In that moment, it was just the two of us."
"The Cornish Celebrants conducted our ceremony up in the field as we wanted our ceremony to be really personal."
"They always make every ceremony feel so special and they put so much time and effort into writing the perfect ceremony script."
"They even give you the full script to keep after so you can look back on it. It's was all such a whirlwind that I was really thankful to have it."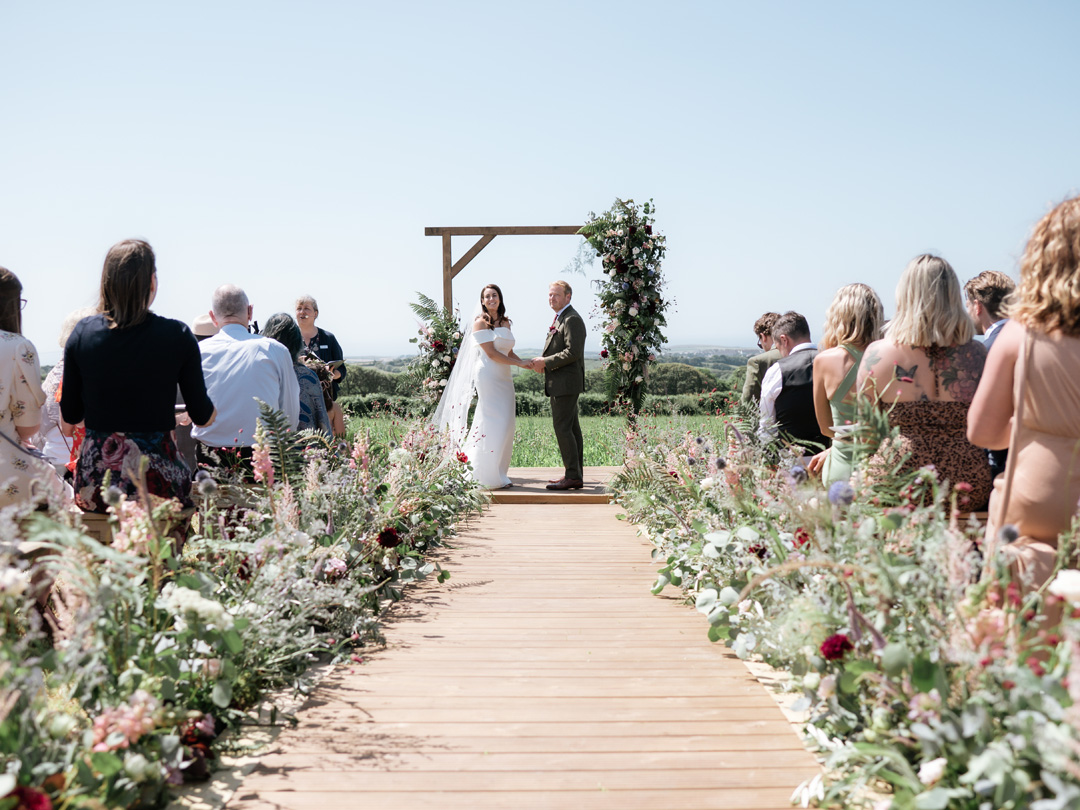 "Matt and I said our own personal vows and promises and my daughter did a reading of 'The Velveteen Rabbit'."
"We asked my parents and my daughter if they welcome Matt and his two boys into the family, and Matt's parents and boys welcomed me and Sophia into theirs. For us the wedding wasn't just about the two of us but about bringing all the family together."
"We wanted our children to know that it's a special day for all of us and we chose to symbolise this by tying a Cornish Family Knot. Each person had a different coloured rope and, as we all pulled together, we made one unbreakable knot that supports each other."
"We chose 'The Velveteen Rabbit' as I read that to Sophia often and it's one of our favourite books."
"I love how the book talks about real love and how you can never be ugly to those that love you, but by the time you are real you're a bit shabby and worn out."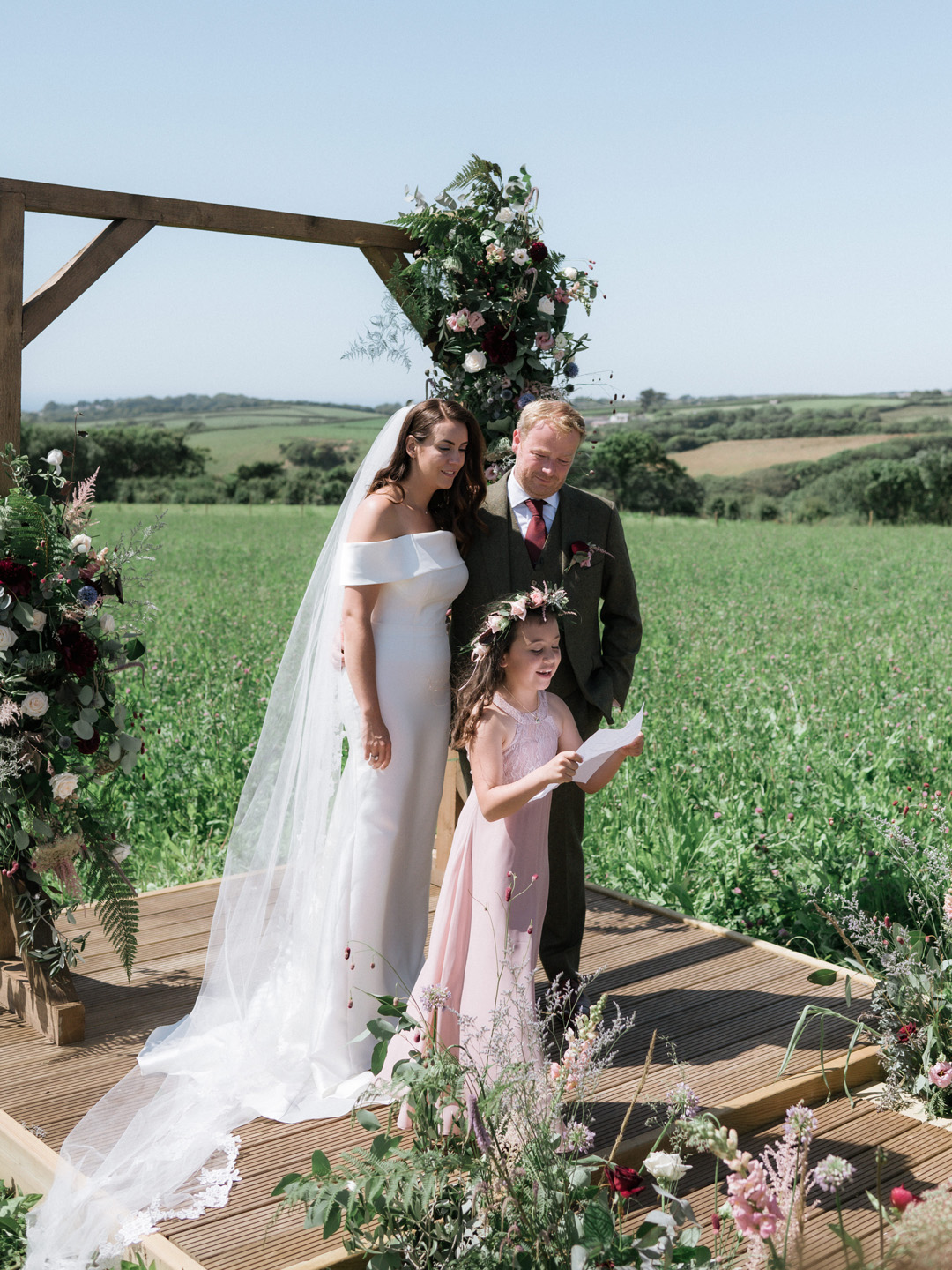 The couple gave each other a ring from Boodles in London.
"When Matt and I first got together we went for a weekend in London, happened to walk past Boodles and saw this particular ring."
"Matt said, 'If ever I propose that would be the type of ring I would get you'. We went in to try it on and I fell in love instantly."
"Unfortunately, once we started the business, we didn't have the funds for things like that as everything we had went into starting the business."
"But, Matt was adamant that one day that would be the ring and when he finally proposed almost five years later it was. He kept his promise."
"The ceremony was hands down the best part of the day. It was so emotional and special and what the whole day was about."
"We have been through so much together in the past eight years that the ceremony was about us saying we made it and we're finally here, stronger than ever."
"It was about saying those vows in front of the people that mean the most to us and making our family official. Seeing the support and love from our friends and family meant the world to us."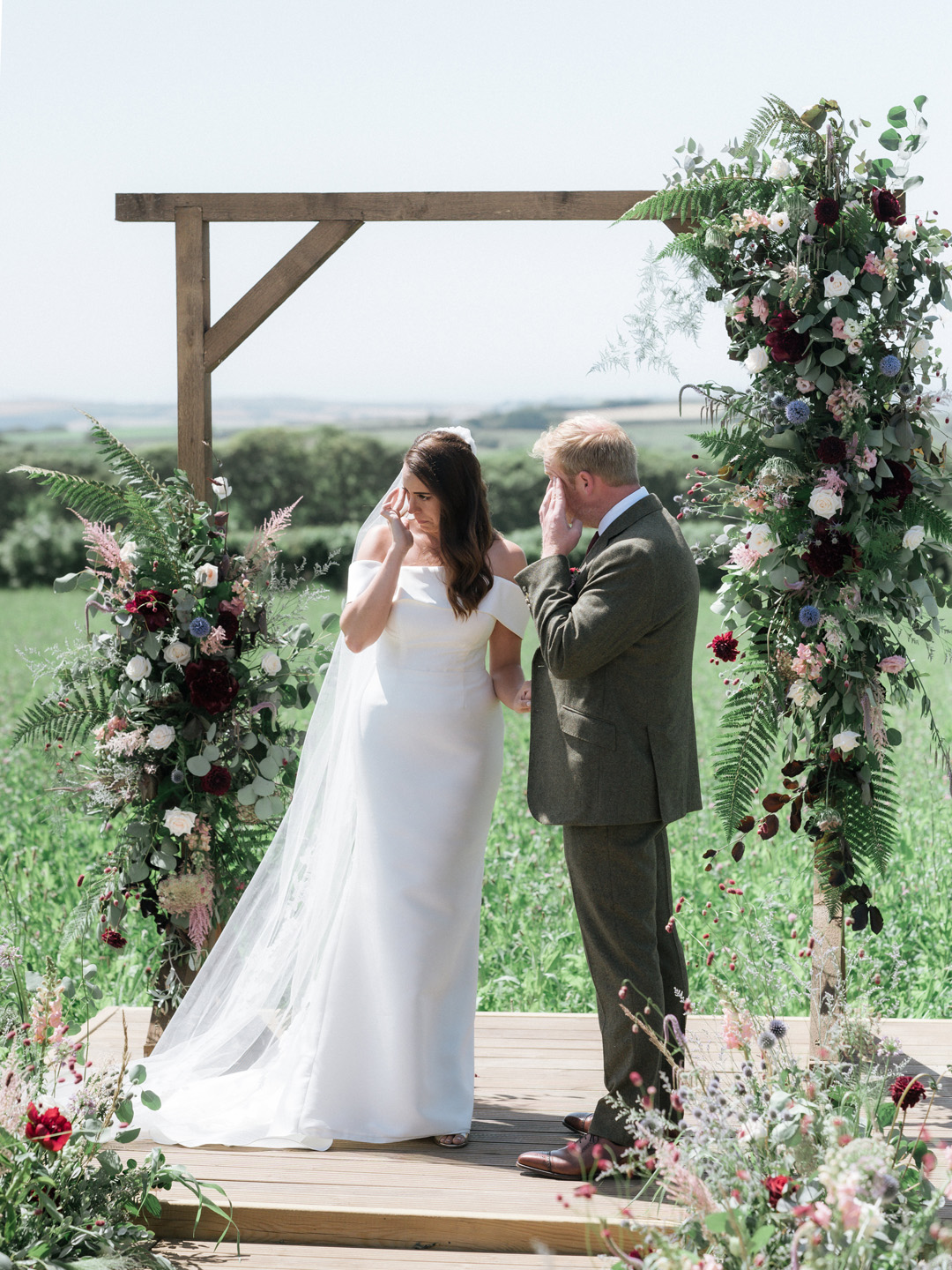 "We had Freddie our dog with us during the ceremony and Matt's eldest was tasked with looking after him, but during the ceremony he got off his lead and was bouncing in the meadow flowers behind us."
"It was utterly perfect and everyone was chuckling as his head kept popping up! We also had everyone up singing 'My Girl' and one of Matt's friends was asked to lead the singing."
"It was hilarious as he just kept shouting out to different people in the crowd."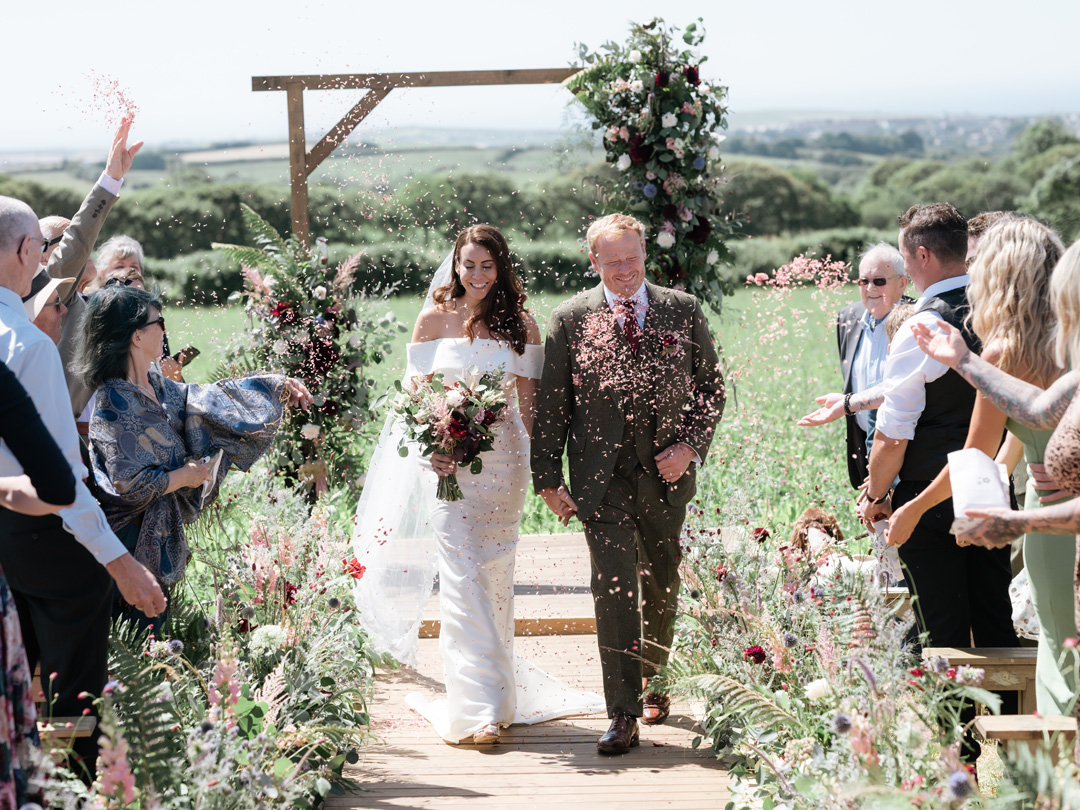 Capturing the beauty of the day was McGivern Photography. His work has such clarity, vibrancy and simplicity, just perfect for the summer wedding.
"We met Oli back in 2016 at one of our first weddings. We were both finding our feet in the crazy wedding world as it was also one of Oli's first weddings."
The field ceremony was followed by the legal vows made inside the farmhouse.
"We made our wedding legal with just our parents in the sitting room as all our guests took their seats for the meal."
"It was more emotional than I thought it would be. We see the registrars often when they come to do weddings but having them there for us and saying those legal words was just so overwhelming."
"It was so intimate and the ladies from Cornwall Registration team made it so very special for us. We all ended up standing there crying!"
"Very quickly Oli become a regular at the venue and, after one night of sitting up talking and drinking wine until the early hours before a styled shoot, Matt and I knew that when we finally did get married it had to be Oli. We wanted someone that felt like a friend with us all day."
The couple also chose to have a video from Wandering Film Company, a taster of which you can enjoy below.
View this post on Instagram
One of the farm's barns was filled with trestle tables, foliage from the farm and more flowers, ready for the wedding breakfast, provided by Dish Cornwall.
"We've known the Dish team for years and have become fab friends. Not only is their food and service incredible but they are lovely people too."
"After being let down by one of their suppliers, they even went down to the harbour at 4.30am on the day of the wedding to get the seafood off the boat themselves."
"So many of our guests said it was the best wedding food they've ever had and some even said it was the best meal they've had, full stop."
"LG Entertainment did our surprise a cappella and beat boxing set during the meal. Matt's guilty pleasure is 'Pitch Perfect' and the kids love the songs from the films."
"I wanted to give Matt his very own 'Pitch Perfect' performance and get everyone up dancing!"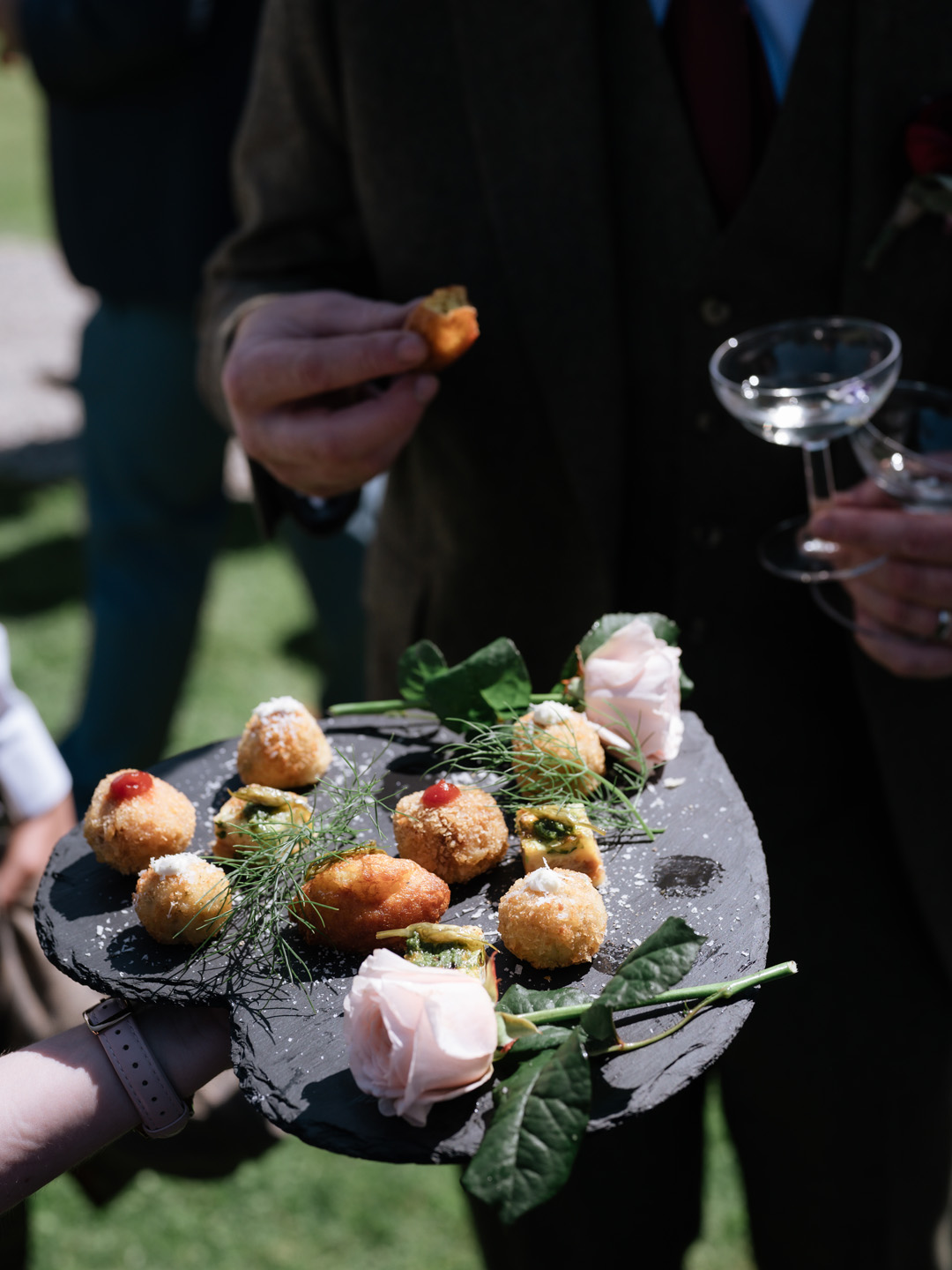 To help them step out of work mode on the day itself, the couple worked with Rebecca Marie Weddings.
"Rebecca ran the day for us and was also always at the end of the phone to answer any questions and just be the hug I needed, when it was all getting a bit stressful."
"I had an idea of bringing the outside inside for the meal and our florist Erica of Bleujen Florist. went off on the farm the day before the wedding and cut down huge branches to create the foliage ceiling."
"It was a huge ask but the team did an incredible job. For the ceremony, I wanted it to look like I was walking through a flower meadow."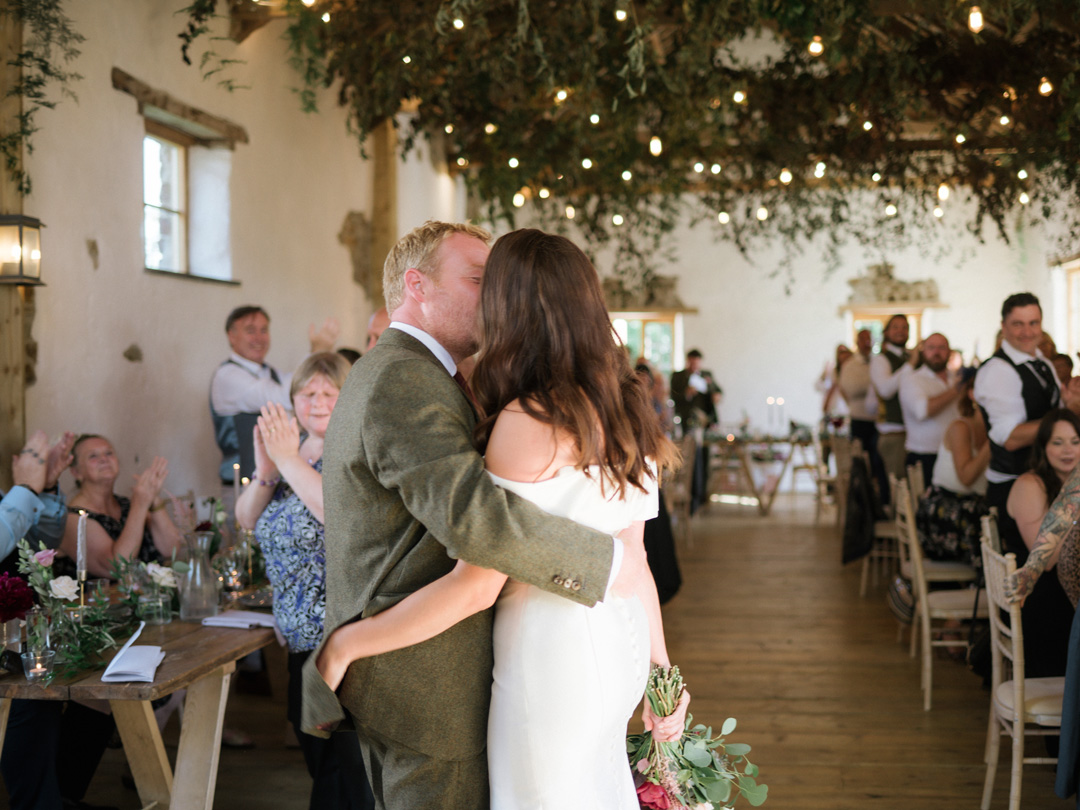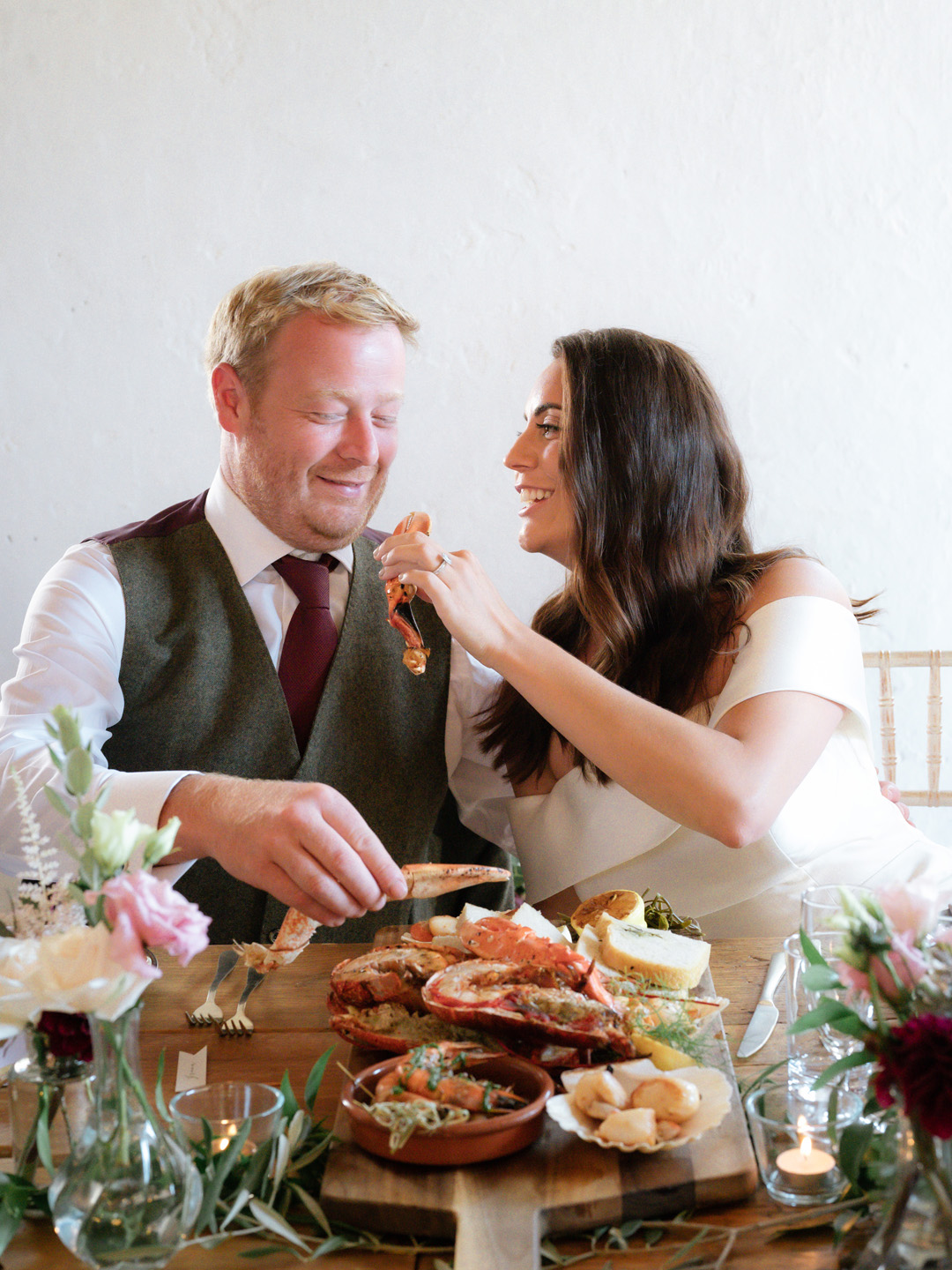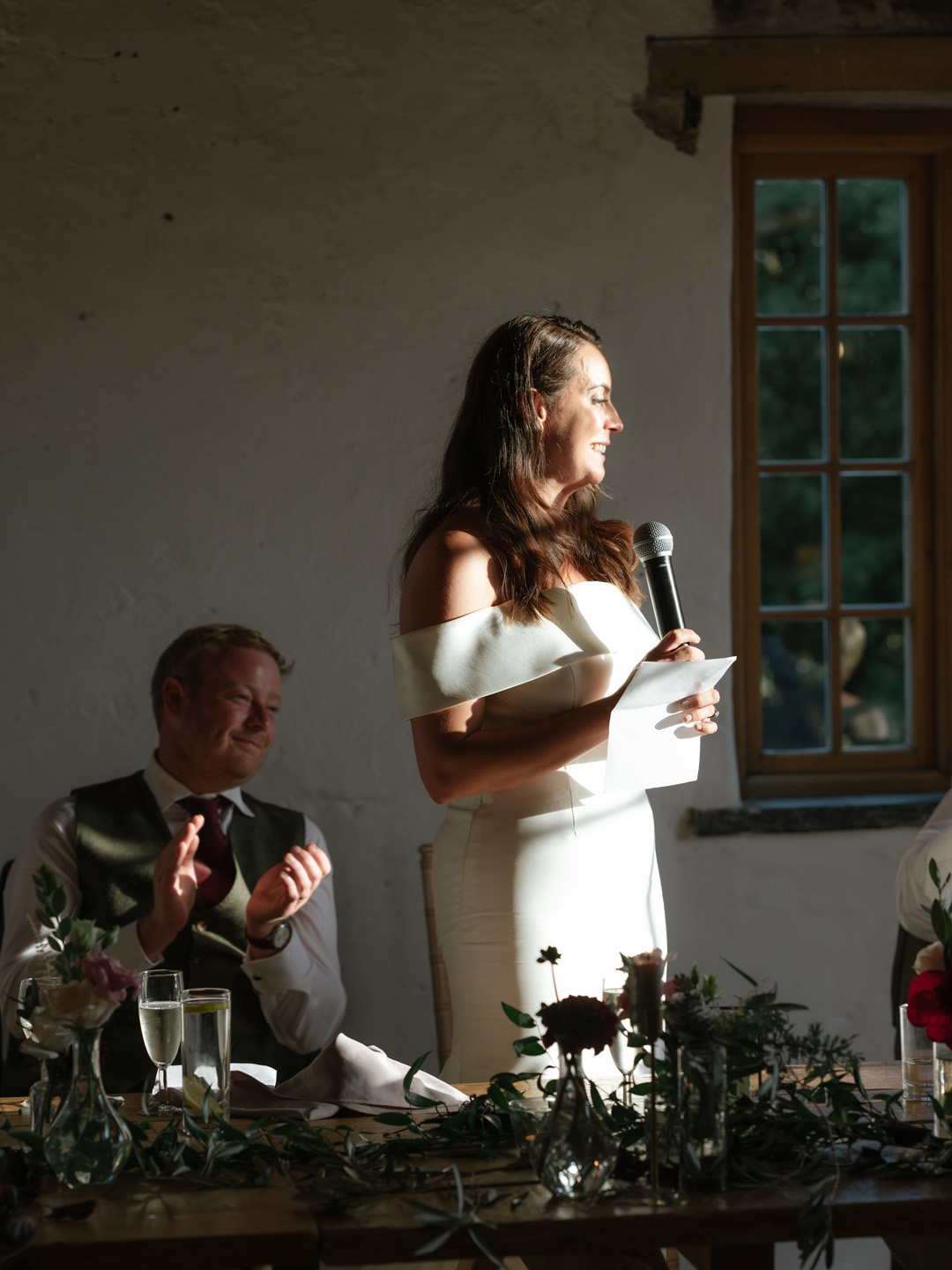 The wedding cake was a spectacular statement cake, embellished with edible gold foil. It was created by Edible Essence Cake Art.
"I wanted something a bit different and dramatic for our cake. So many times the cake is an afterthought but I've seen so many styled shoots and incredible cakes to not make it a bit of a statement!"
"Jen handmade all the sugar flowers and hand-painted the cake, adding gold touches to match the gold throughout the table styling."
It's great to hear how Lara found inspiration on Love My Dress, not only for her own wedding but to help other couple's plan their days too.
"As a business and a bride, I've loved Love My Dress since we began. I love looking at all the different styles and reading about all the wonderful days."
"The thing I love about Love My Dress is that it feels real and achievable. These are real people's days. from big extravagant weddings to smaller intimate days"
"They show all the different types of days you can have and that they are perfect no matter what."
"During the pandemic, Love My Dress was there to support businesses and couples and for that I am ever thankful as both a business and a bride."
"Showing what people have really gone through and the sacrifices people are willing to make to what they had originally planned, showed the human side of the pandemic and that people are willing to put up with all the stress, last minute changes and worrying, just so they can marry the person they love and start that next chapter of their lives."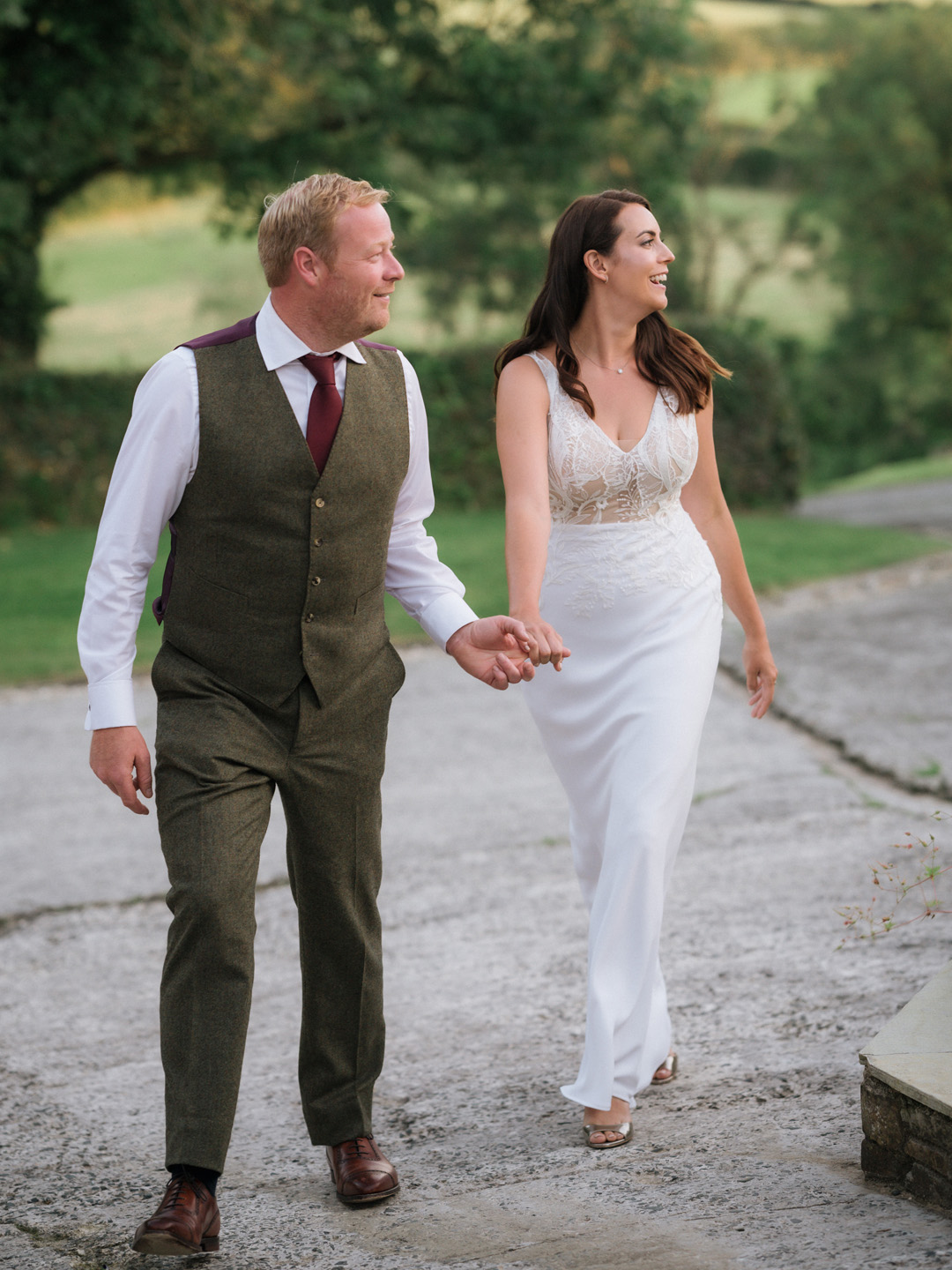 "It's not just about one day but about what marriage means to so many people – starting a family, buying a house."
"For us it was about putting this difficult time behind us and finally bringing our family together. Now, more than ever, we need that joy and celebration."
"Through all the tough times, Love My Dress showed that love wins, no matter what."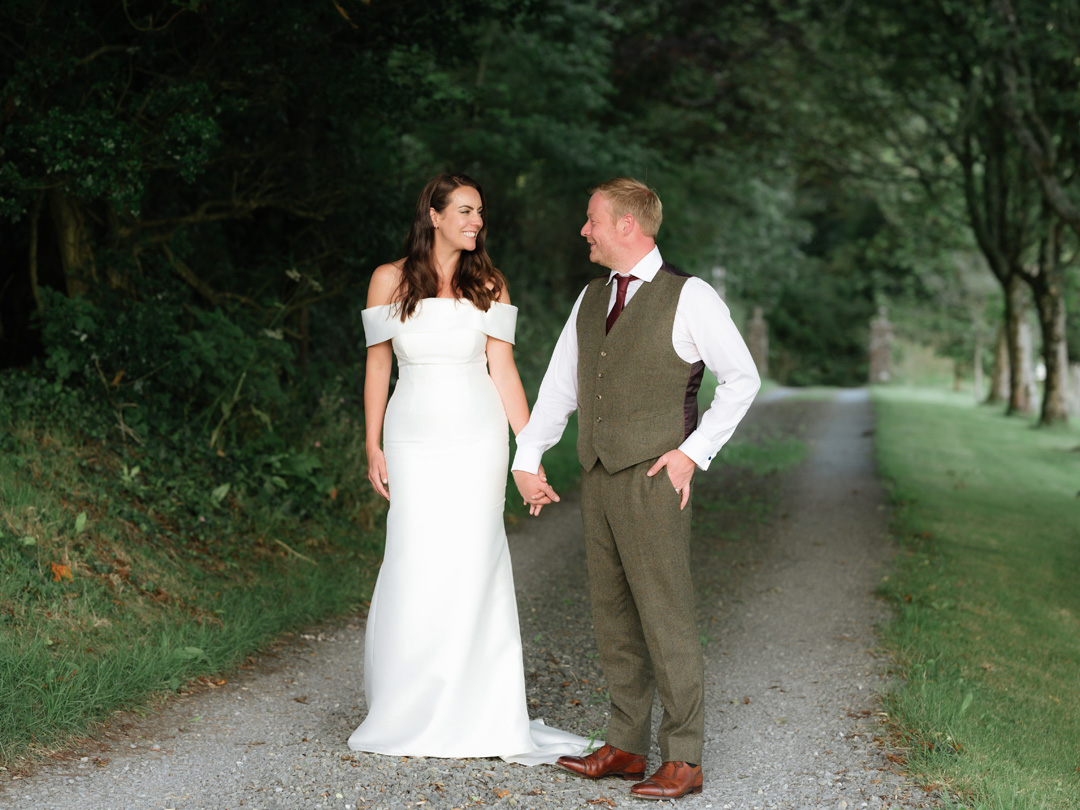 "We packed a lot into the day and I had a few surprises up my sleeve for Matt, which all added to the stress of everything but I wouldn't have changed a thing."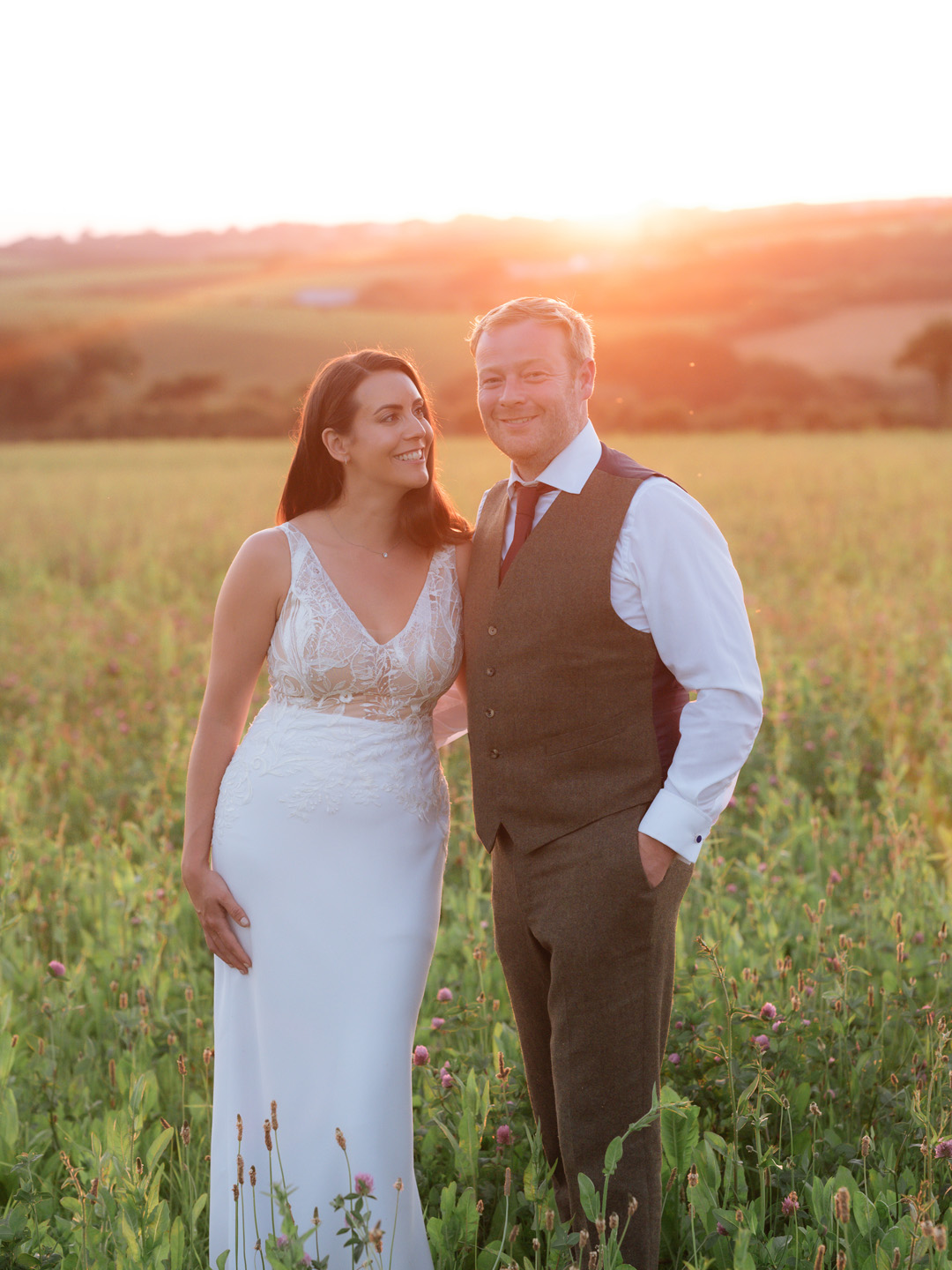 "Our first dance was 'Feels Like Home' by Chantal Kreviazuk. We used to dance to this song in the kitchen of my tiny flat when we first got together."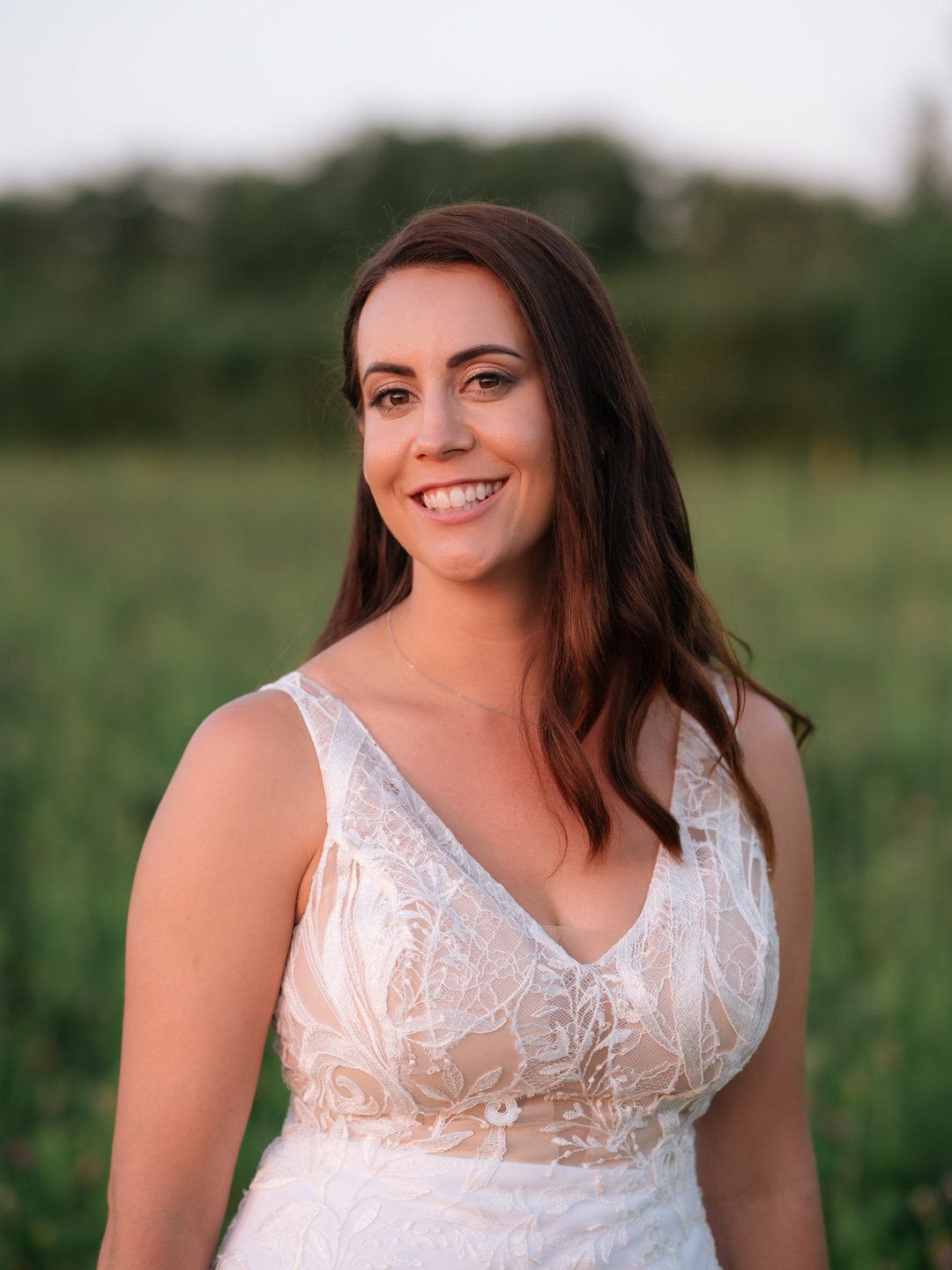 "We had an incredible team of suppliers that we trusted immensely and knew they would deal with everything and anything on the day, so we could truly enjoy it – which we did!"
"Doing what I do for a living and knowing all the little things I do throughout a couple's day (which people wouldn't necessarily know about) I had to trust they would do them for me so I could feel like the bride for the day."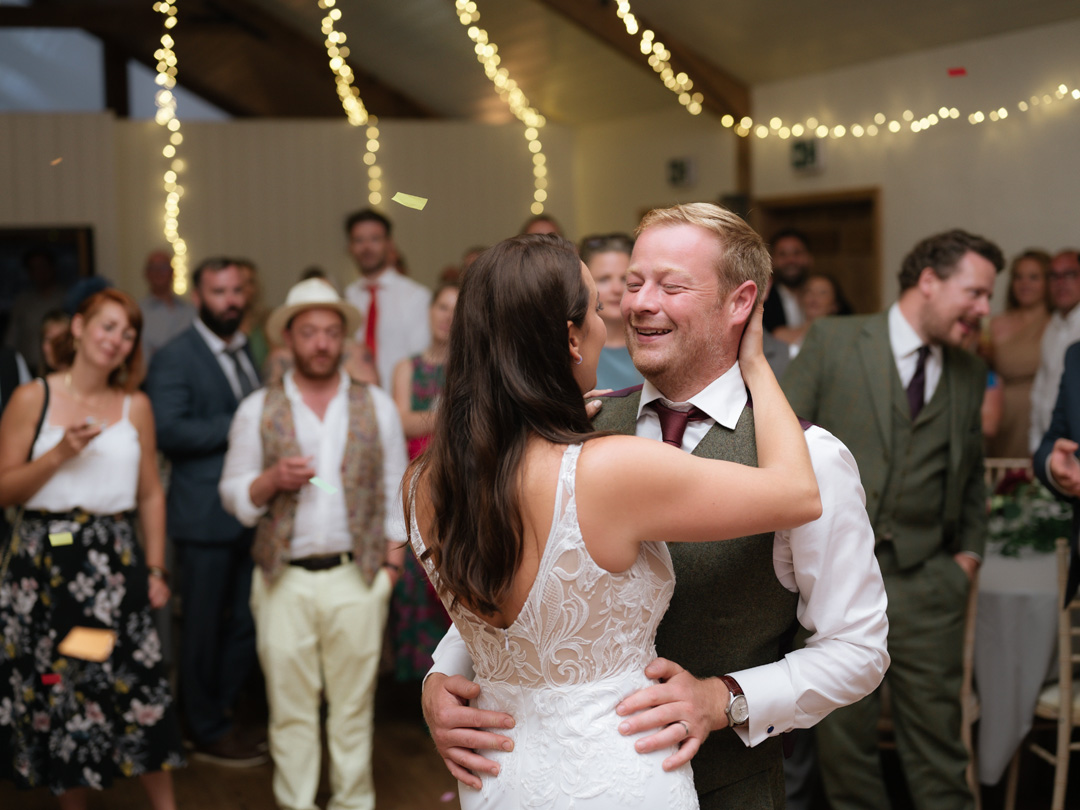 Words of Wedded Wisdom
Lara has some thoughtful reflections to share from her experience.
"Trust in your suppliers! You've hired them for a reason; because you love what they do, they are experts at their profession and will bend over backwards to do everything in their power to make your day special for you, because they genuinely do care."
"Most people in the wedding industry are small, independent businesses who work their socks off because they have a passion for what they love."
"There is so much that goes on behind the scenes that most of us will never see, so much prep, time and effort goes into making sure everything is perfect, so let them be creative and trust them."
"People shine when they feel respected and valued, so a simple gesture of kindness goes a long way. Give them ideas and let them run with it."
Thank you, McGivern Photography, for your beautiful work. Lara and Matt, all my love and congratulations to you both. How wonderful that everyone pulled together to let you truly enjoy your day as bride and groom.
Thank you so much for letting us share in your day as well. If you'd like to see more weddings and styled shoots at Launcells Barton, please do enjoy these Love My Dress features.
Ele xx