The UK has some incredible, truly stunning wedding venues – Euridge Manor in Chippenham in North West Wiltshire is one of them.
Euridge Manor was chosen by Oliver and Ellie Rose Butler, who together own Ellie Rose Bridal boutique in Bath. The couple finally tied the knot on 25 August this year, with a day that was overflowing with romantic touches with the most magical of backdrops.
White Stag Wedding Photography

+ Follow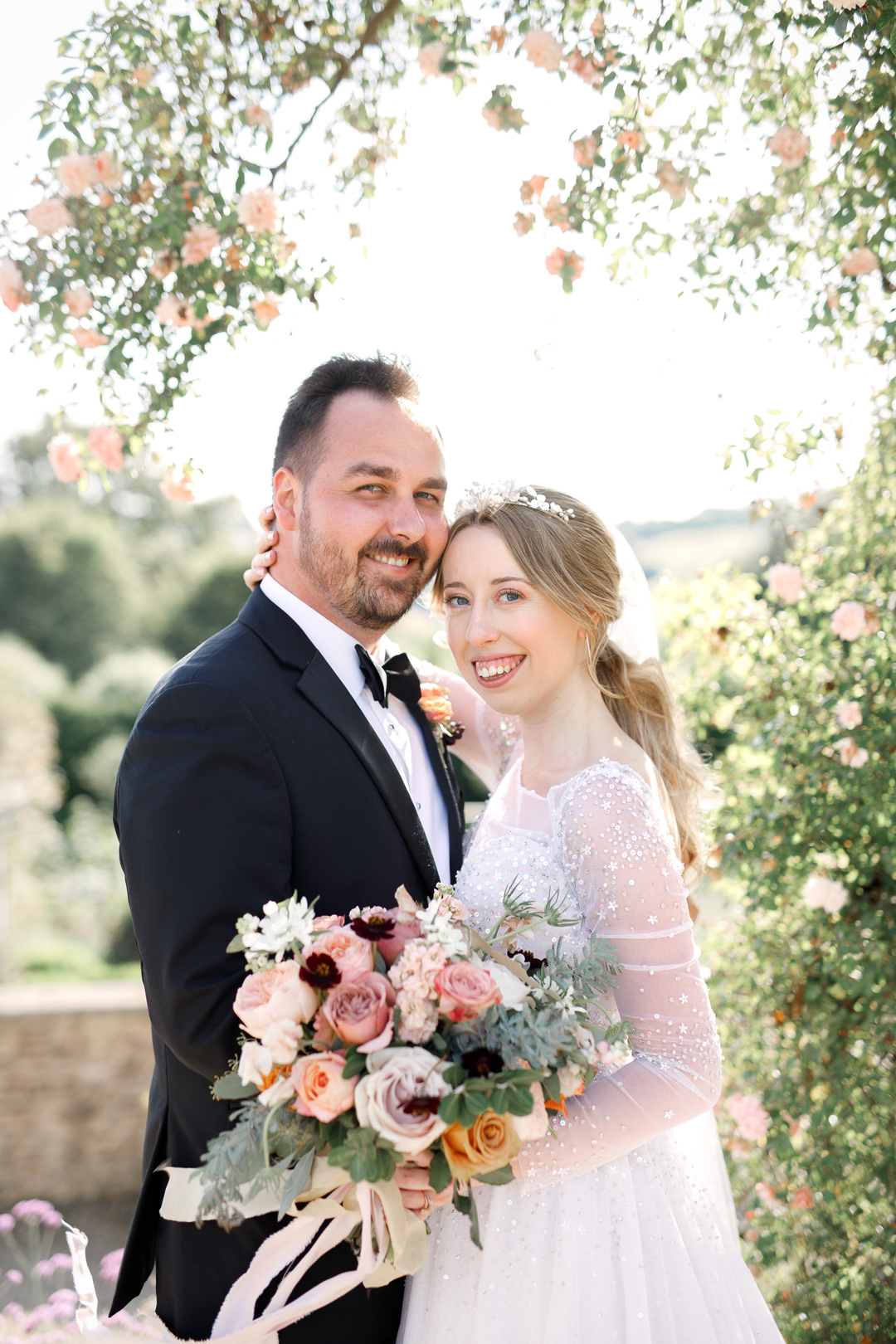 The bride's long hair was pulled back into a modern ponytail by Abigail Constanza, worn with a gorgeous tiara from Untamed Petals.
Makeup was fresh and pretty, applied by Sophie Wylie Makeup Artist, and the final touches were Pandora earrings and Chloé fragrance.
Ellie wore the most exquisite, feminine gown featuring a long, full train, an open back and a long-sleeved, sheer sparkling bodice.
It was a unique collaboration between herself and designer Hayley Paige.
"My dress experience was fairly unique given that I work in the industry. I was in a bit of a pickle as I have seen so many gorgeous gowns over the years and tried so many on for work."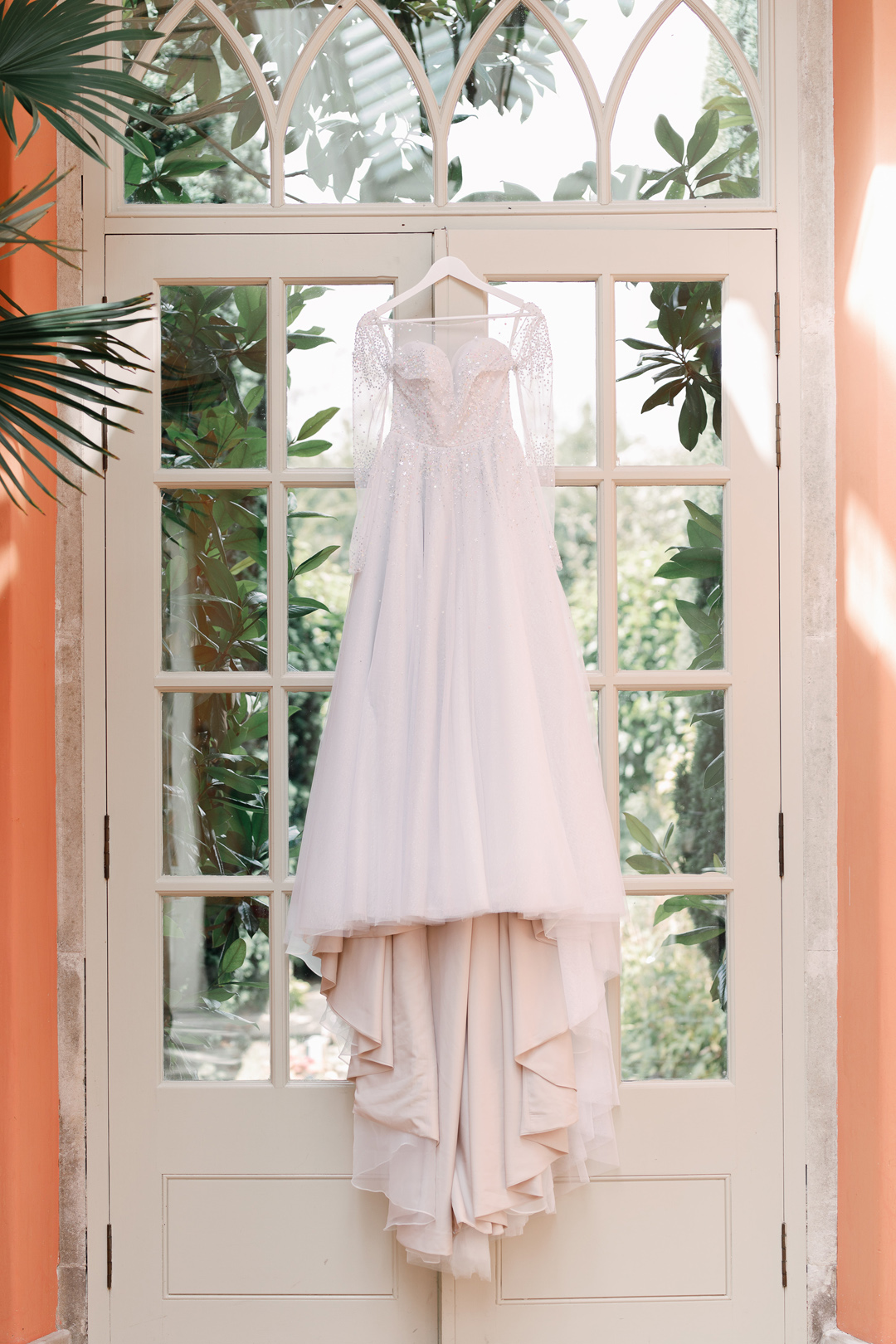 "When it came to the dress, I knew it had to be Hayley Paige as I love the magical feminine vibes her gowns give off."
"Because of my role in the industry, I'm lucky enough to have met Hayley a few times and from those meetings form a friendship."
"When I visited her in New York for the release of her latest collection she asked if I had any thoughts on my gown."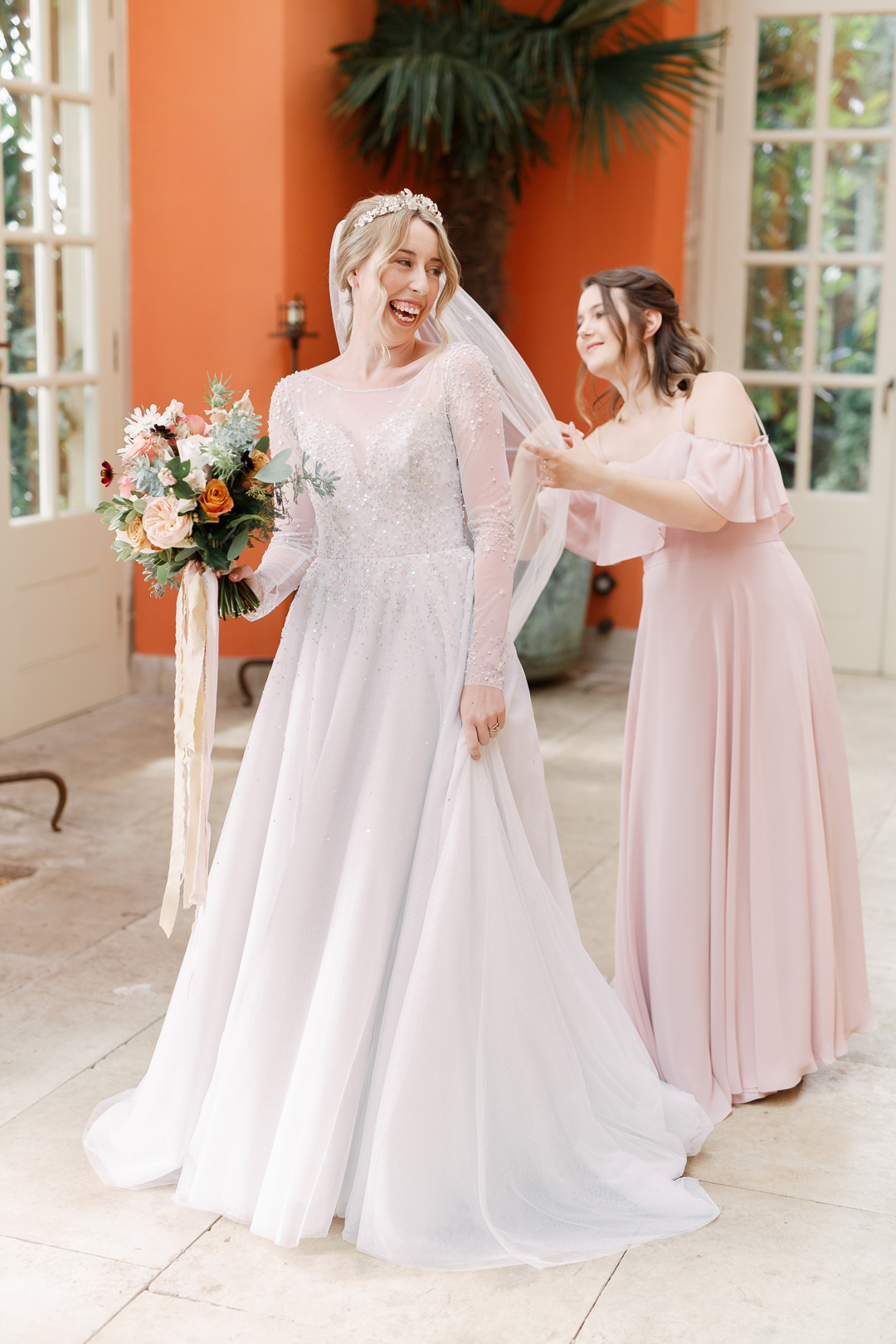 "I had recently borrowed one of her exclusive red carpet gowns for our engagement shoot, which White Stag Weddings also photographed."
"It was then that she offered to work together with me on designing my dream dress. It really was a dream come true!"
"A few days later I went to her showroom on 7th Avenue where we talked dresses. I had time to really think what I wanted and knew this was a once in a life time opportunity that I didn't want to waste."
I gave her my main brief of sleeves, A-line, sparkle with iridescent beadwork and left the rest up to her."
"She is a world famous bridal designer after all, who I trust completely. It wasn't until my dress arrived that I saw it for the first time but I knew the quality of work would be exceptional."
The gown was complemented by a sheer veil from Rebecca Anne Designs and sparkling Steve Madden heels.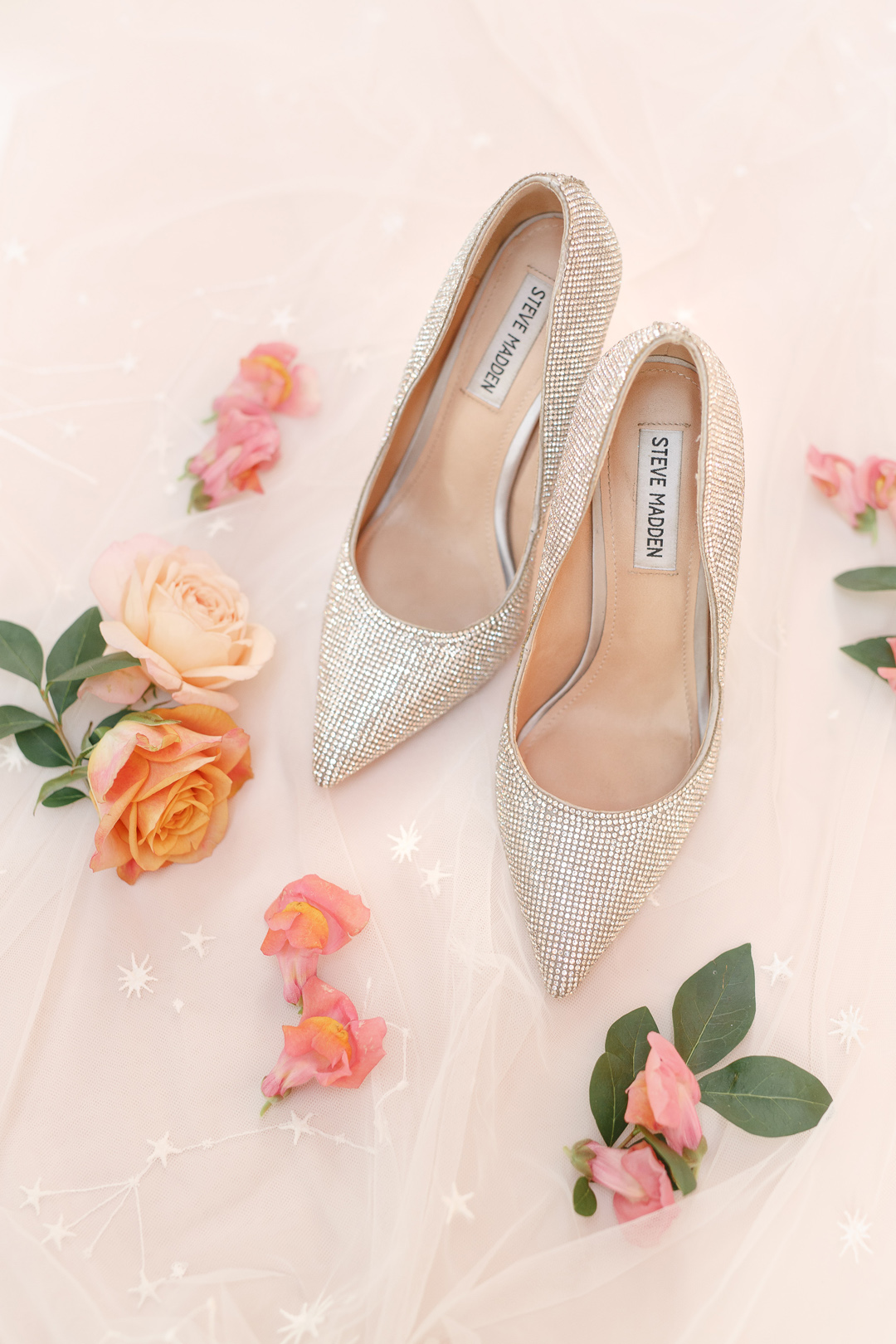 The couple's style for the day was romantic and timeless, with an abundance of flowers in peach, apricot and pink from Grace at Bramble & Wild. Ellie met Grace when she herself was a bride searching for a gown in Ellie's boutique.
"When we met Grace all those years ago and I looked into her work I knew there was no other florist for us. She's not only very talented but kind, patient and creative which was much appreciated through our planning meetings. "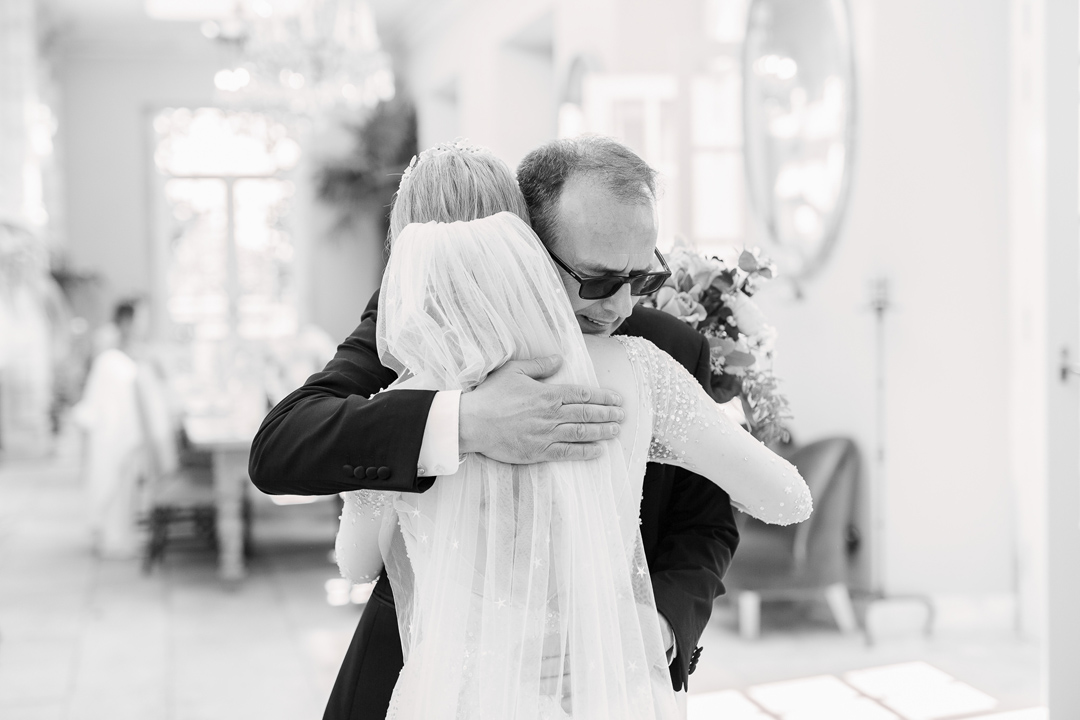 The couple's original wedding plans were disrupted so they had a small civil ceremony in July 2020 and saved their celebration for the following year.
"We had planned a very different wedding for 3 July 2020 but due to Covid that could no longer take place."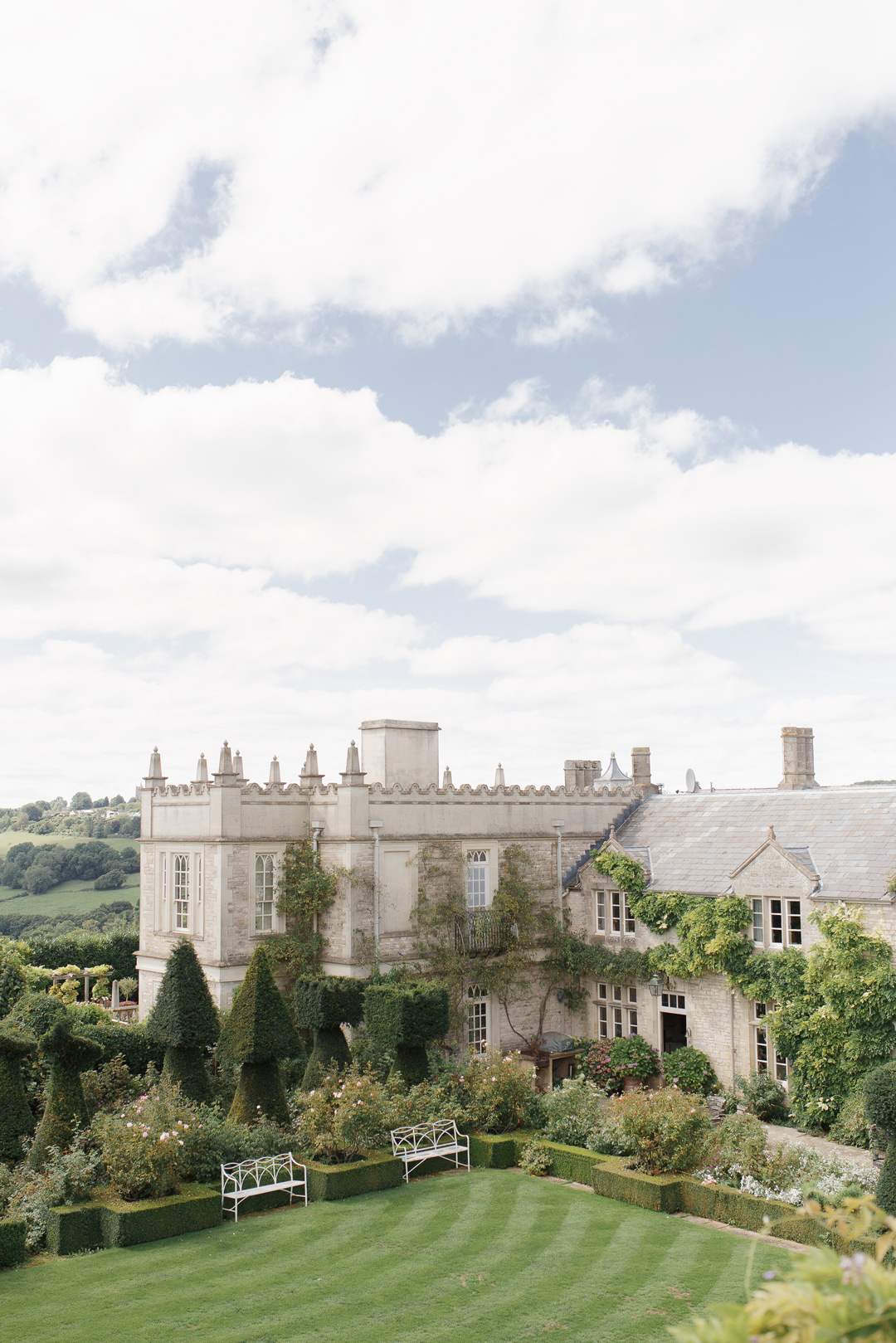 "Instead, we got married at Bath Guildhall on 28 July 2020 with our parents, siblings and two nieces. It was truly perfect and was about the marriage, not the wedding. "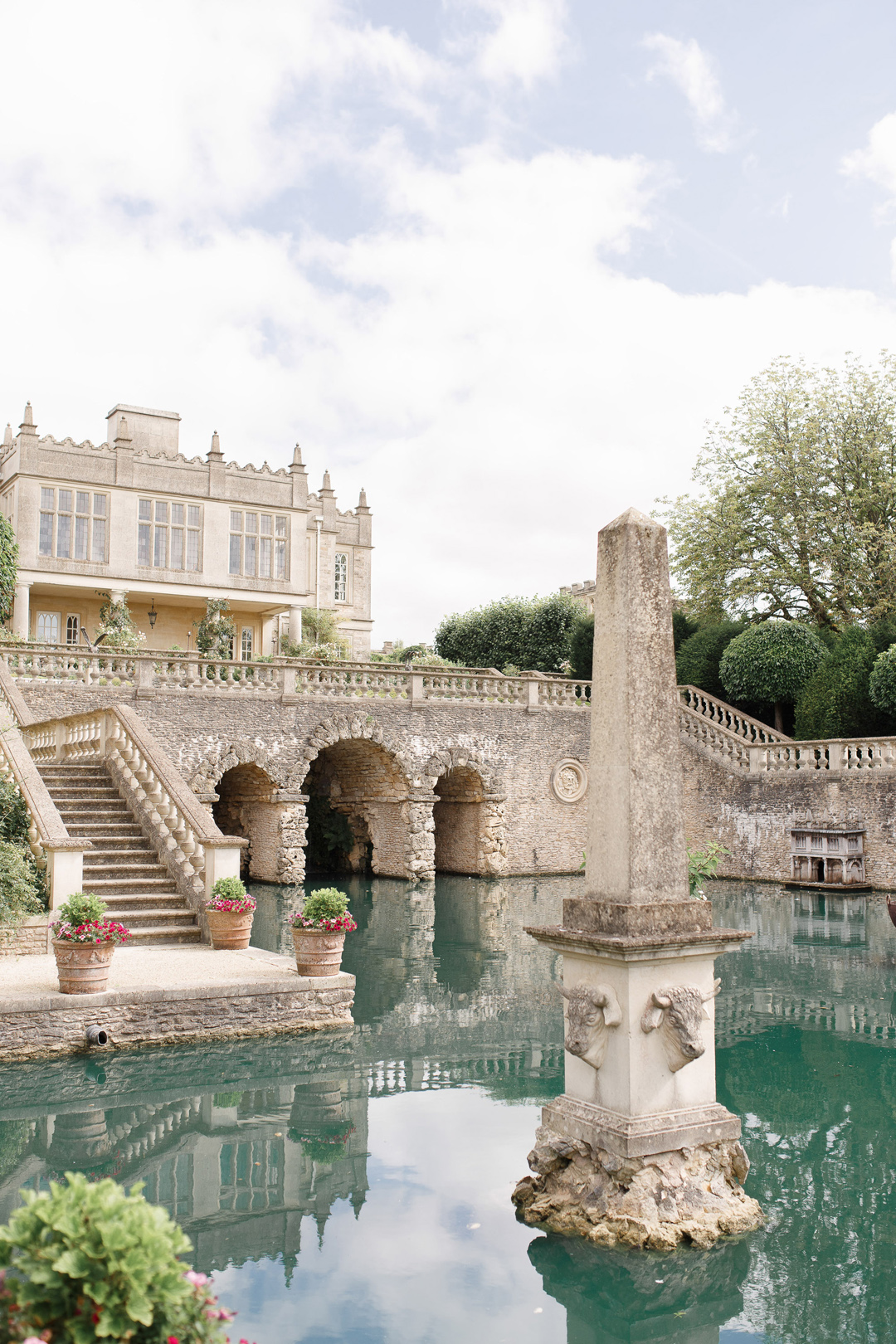 "We still wanted the big wedding day though, after all we had helped so many brides achieve their dream days and we had seen how magical it could be."
"We then set out on planning the most perfect day."
"We need to add how wonderful all of our suppliers were. Their flexibility and guidance through changes of dates et cetera made everything so much less stressful and we can't thank them enough."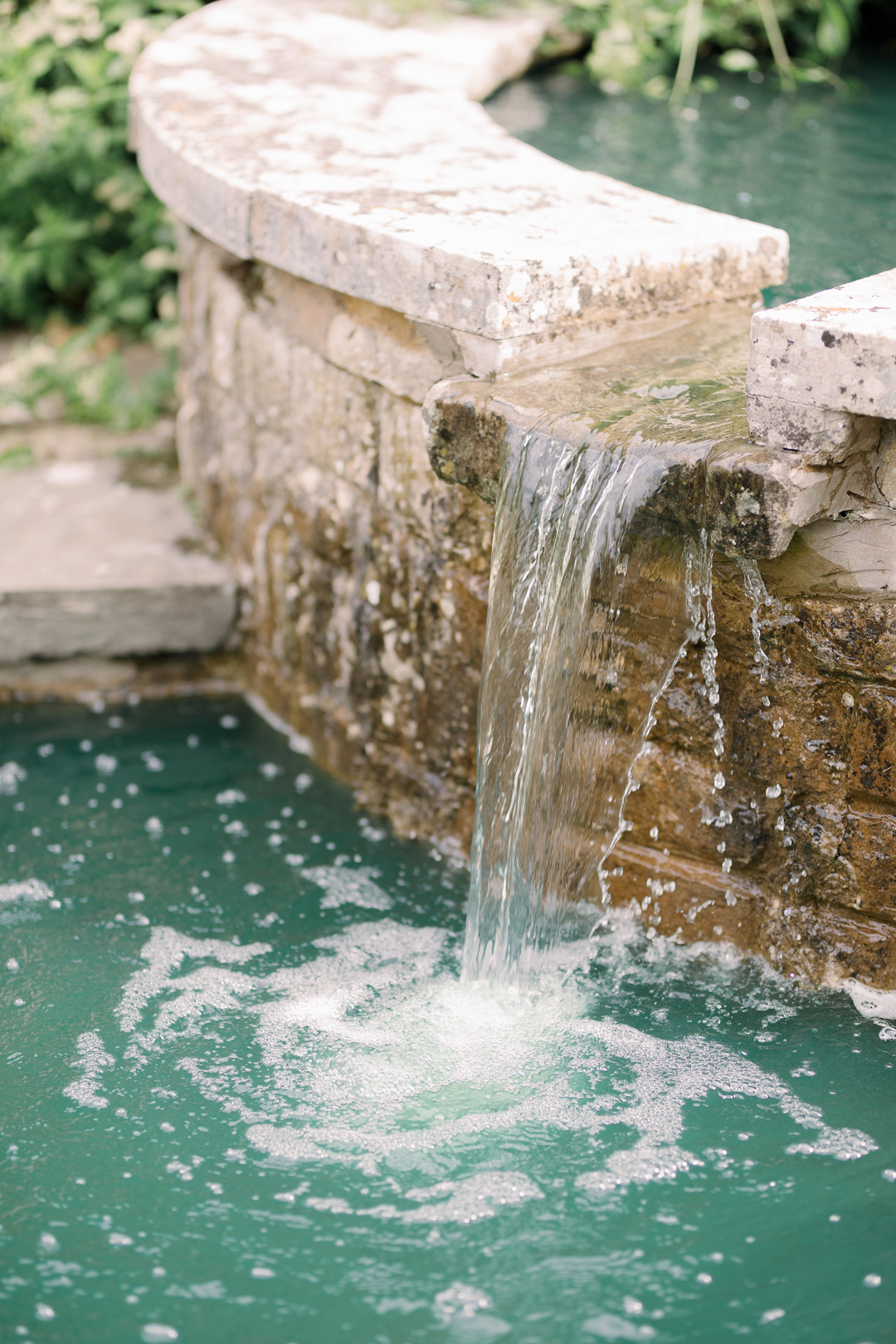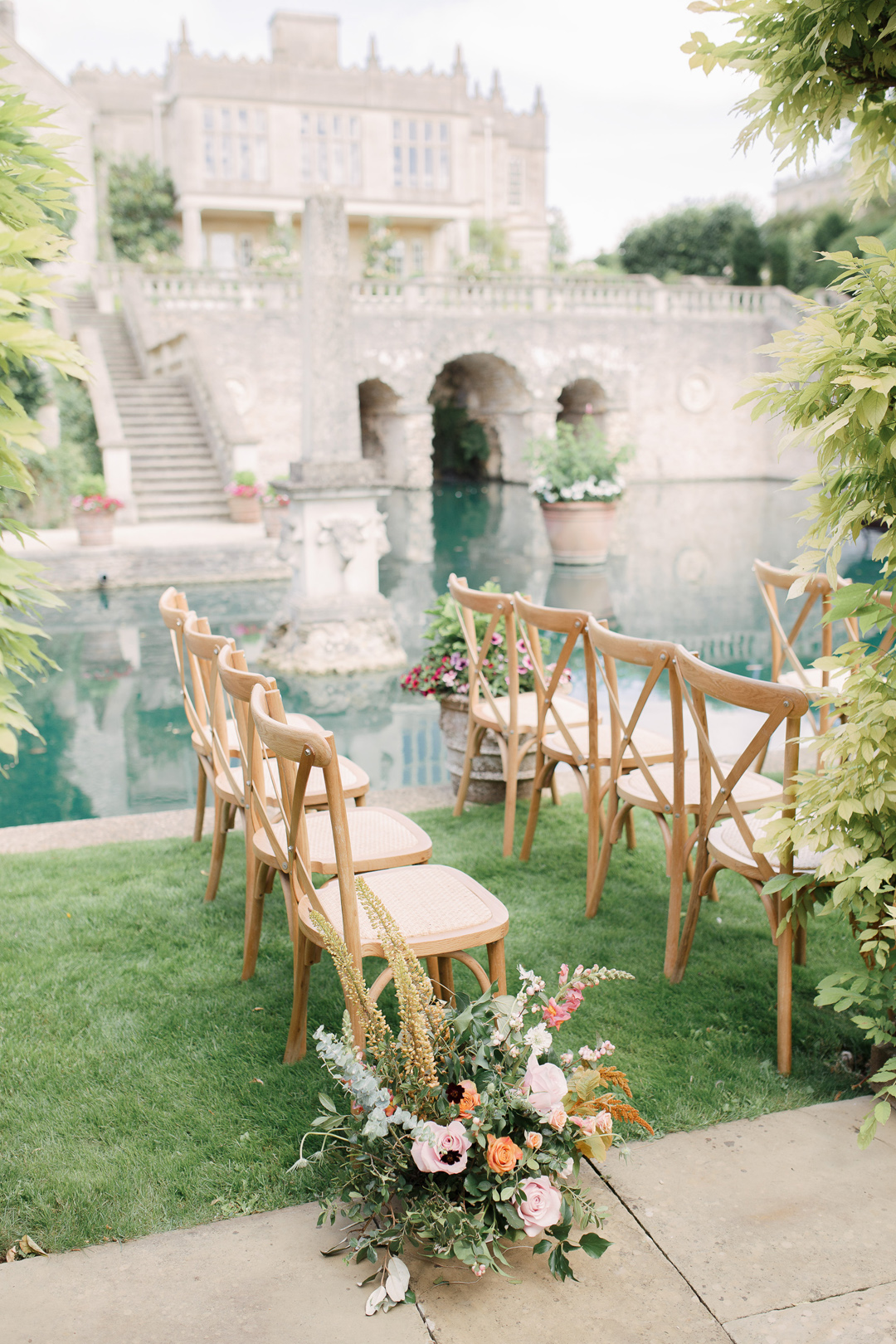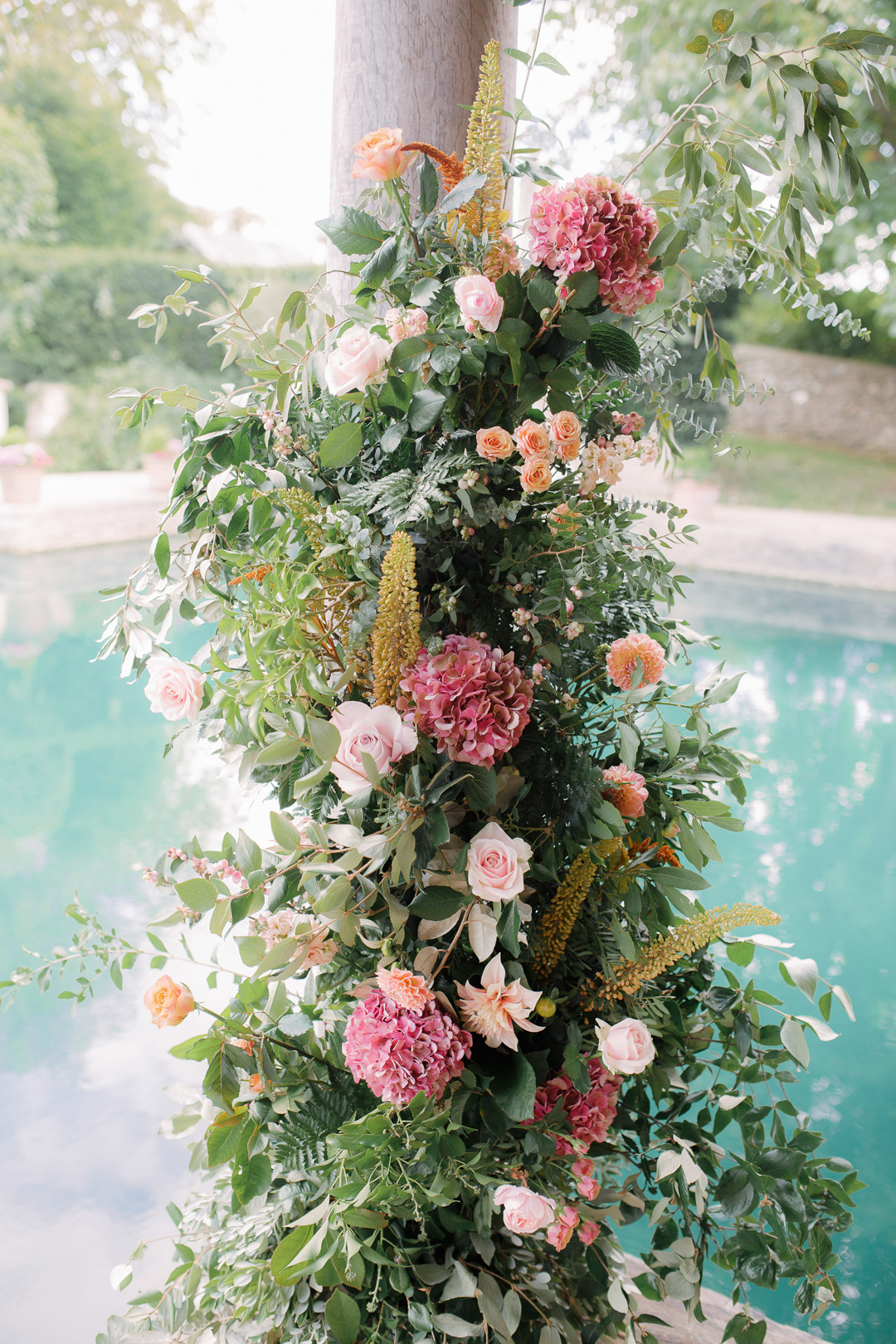 The romantic and formal vibe of the day, very suitable for the incredible surroundings, was set by the traditional morning suit from Moss Bros worn by Oliver.
He added a quirky, personal touch with his dachshund cufflinks.
"Oliver and I met in our last term of first year in university where we were both studying Performing Arts. "
"t was during a slightly questionable version of 'Macbeth' that our paths crossed and we have been together ever since."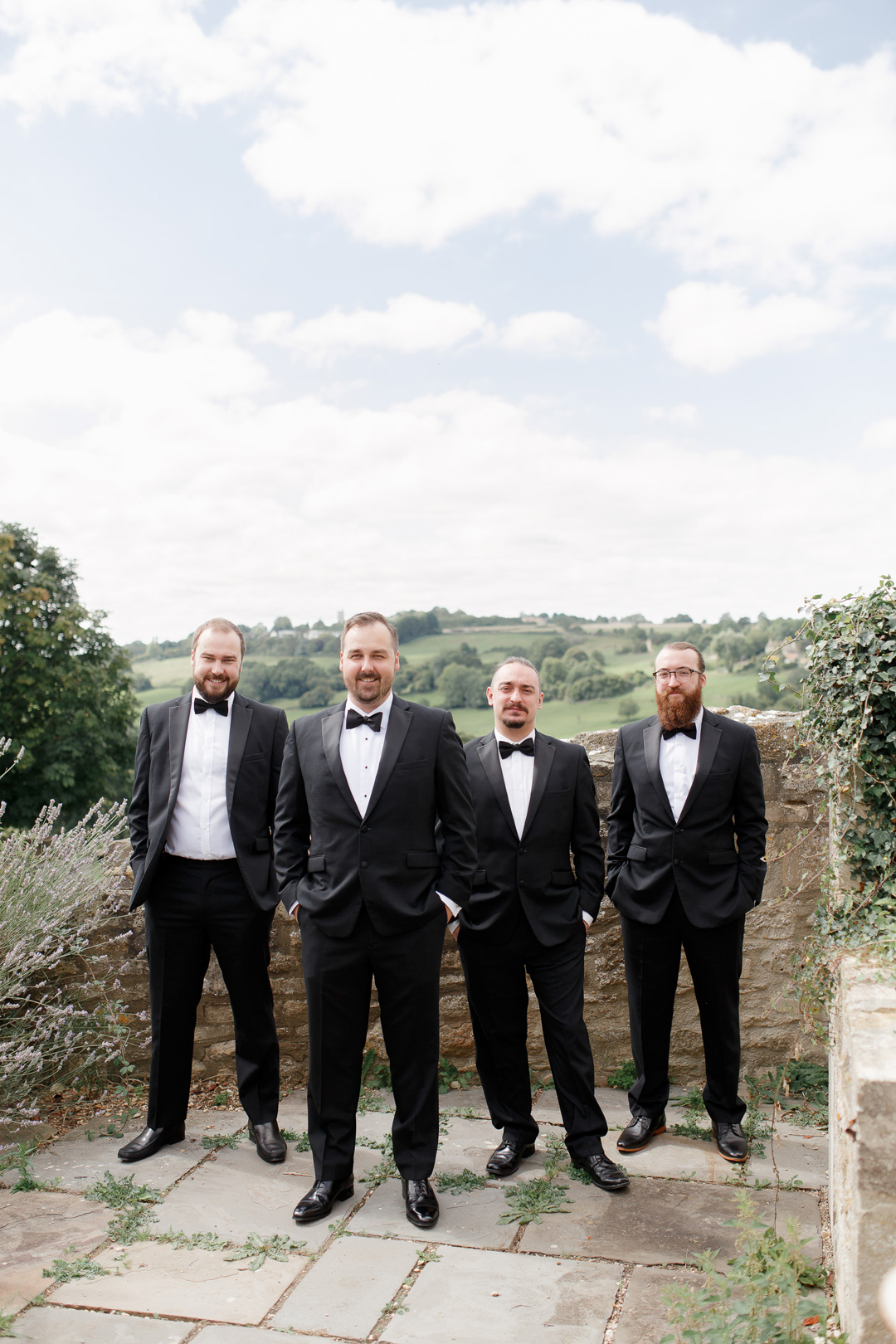 "It's hardly one of Shakespeare's most romantic plays, but I can't help but romanticise things in my head."
"We got engaged on the cliffs in Langland three years later once we had graduated from university."
"It took us four years from there to finally tie the knot ourselves as we were too committed to helping our brides."
"For the men, we loved the classical look of dinner suits. It suited all of the guys and meant that we could also use any colour scheme elsewhere."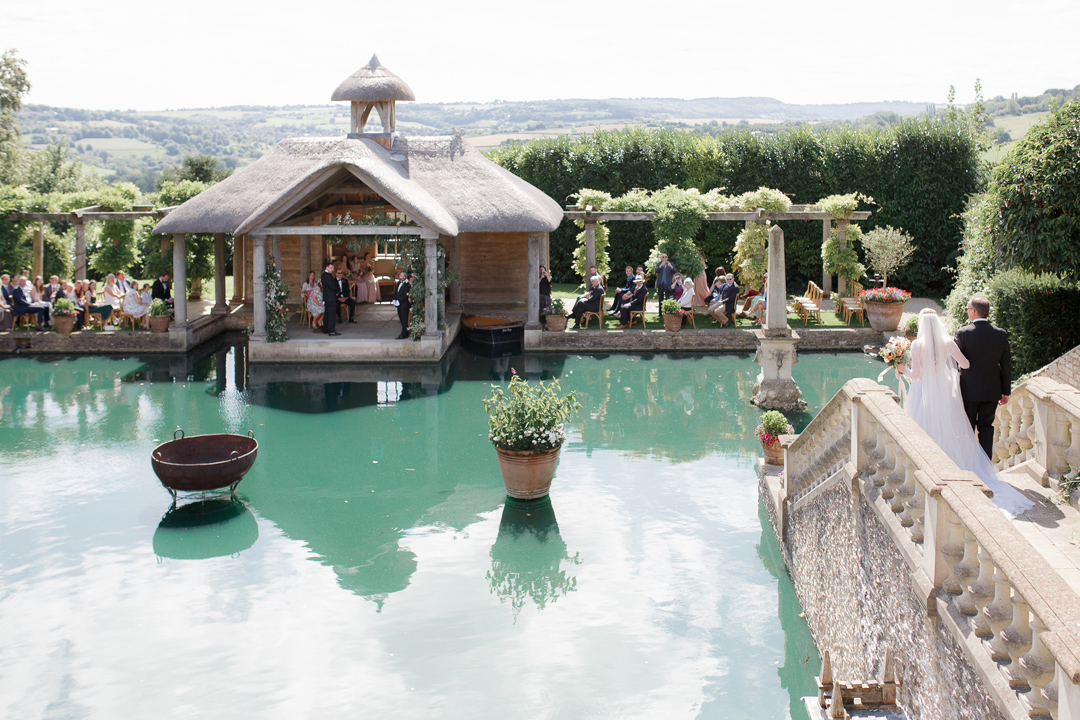 The beautiful weather meant that the couple could make full use of the Manor's landscaped grounds and the ceremony was held under the pergola by the turquoise blue.
Oliver and Ellie selected Jason Mraz's 'I'm Yours' to play as the bride walked down the outdoor aisle.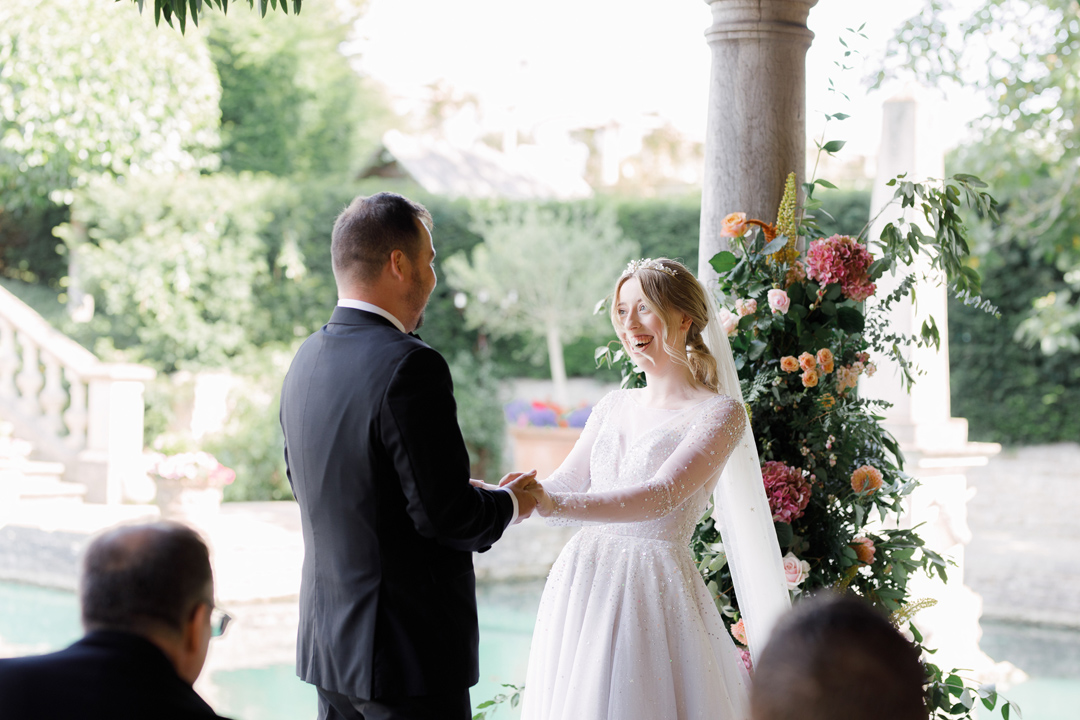 "My father walked me down the aisle on both our legal ceremony in 2020 and on our wedding day in 2021. He's my hero!"
"One of our closest friends held the ceremony. We met Alan when we attended university in 2012 and have been best friends ever since."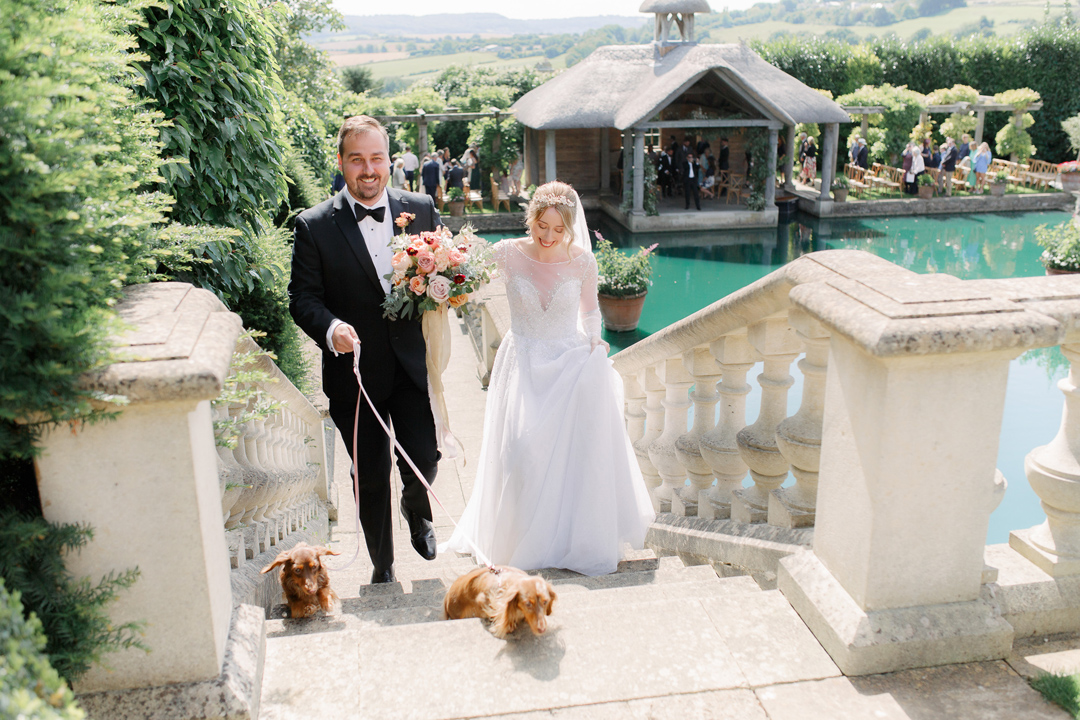 "It was important to us that someone special in our lives perform the ceremony and as we were already legally married, we had no restrictions with who could do the ceremony."
"The ceremony was extra personal because Alan knows us both so well and it really made it so special."
"We wrote our own vows. Oliver even managed to include some jokes about how competitive I am and how we aren't allowed to play cards anymore."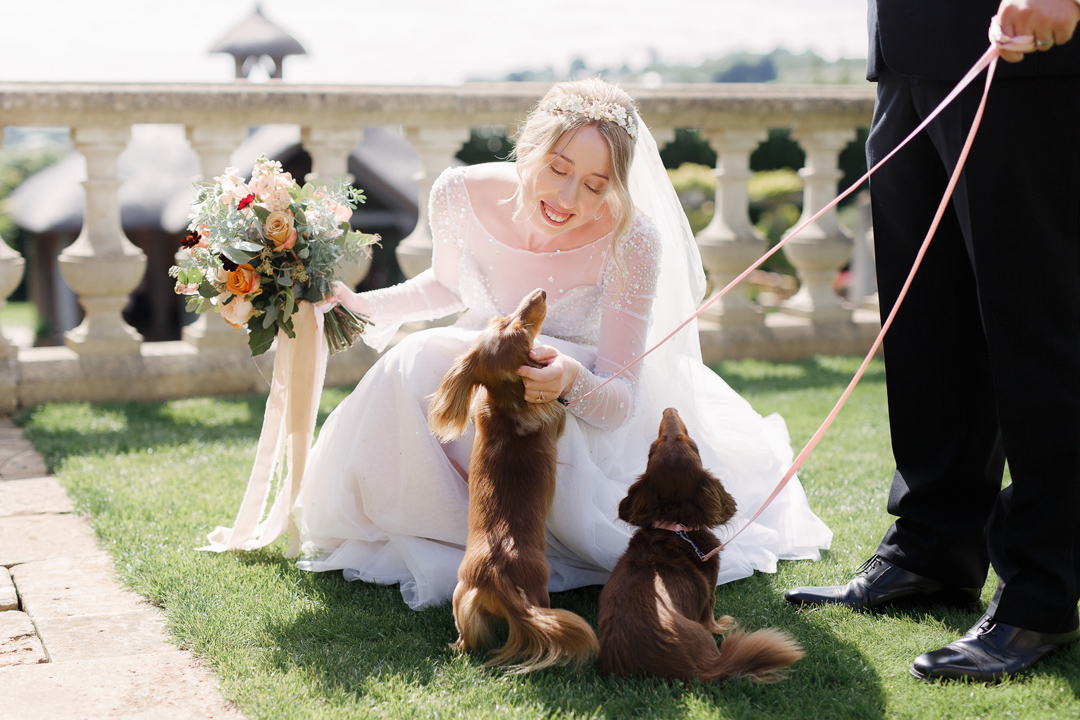 The couple had two readings and exchanged rings from La More Design and Goldsmiths.
"'The Art of Marriage' by Wilferd A. Peterson was performed by my best friend, Jessica. Jessica and I have known each other since the early days of primary school and have been inseparable even since."
"We often say we are each other's soulmates. The second was 'From Beginning to End' by Robert Fulghum and Oliver's mum Kathy read this just before we exchanged vows."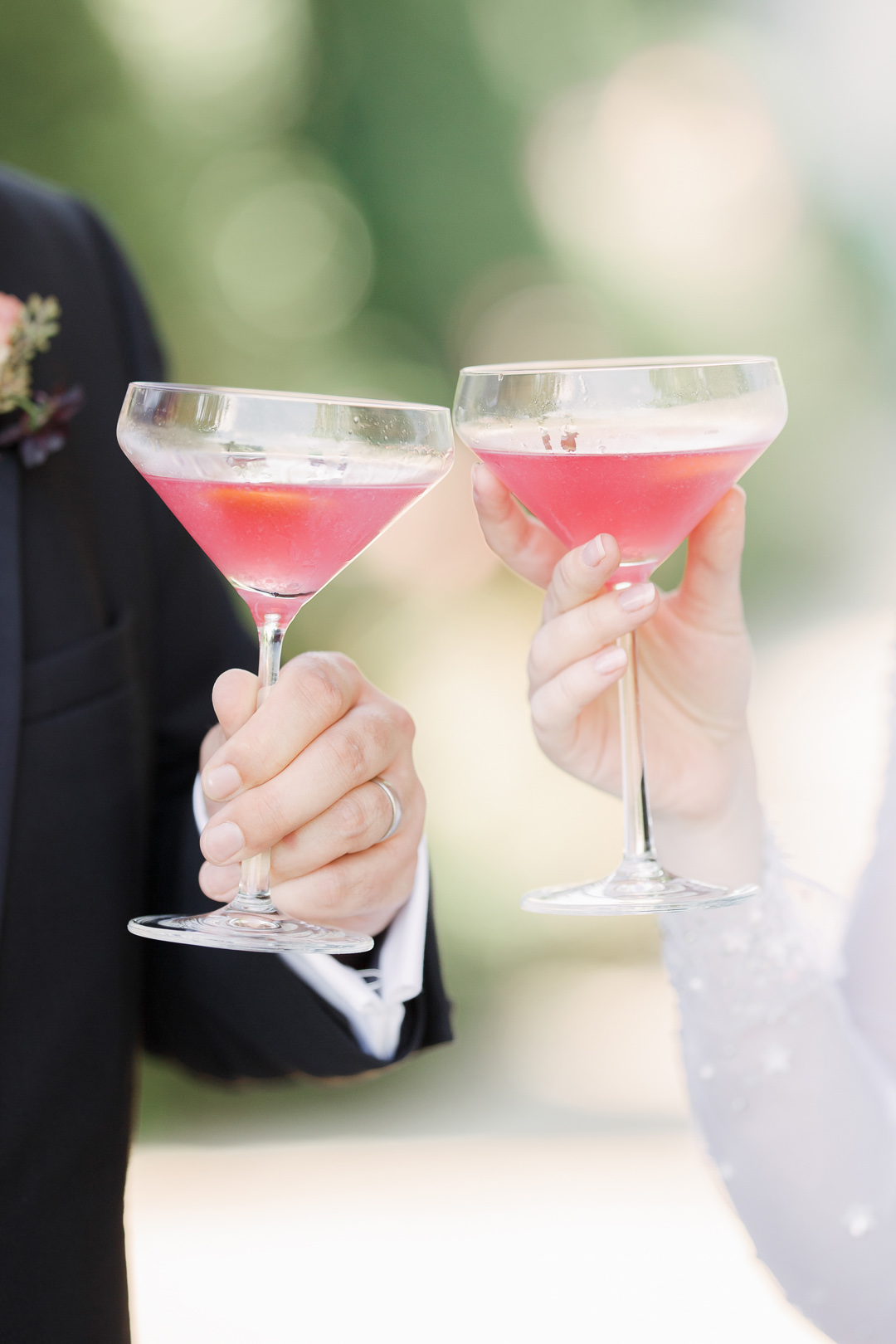 The bridesmaids wore a selection of Hayley Paige Occasions gowns in the palest of pinks, each chosen to complement their individual figures and personalities.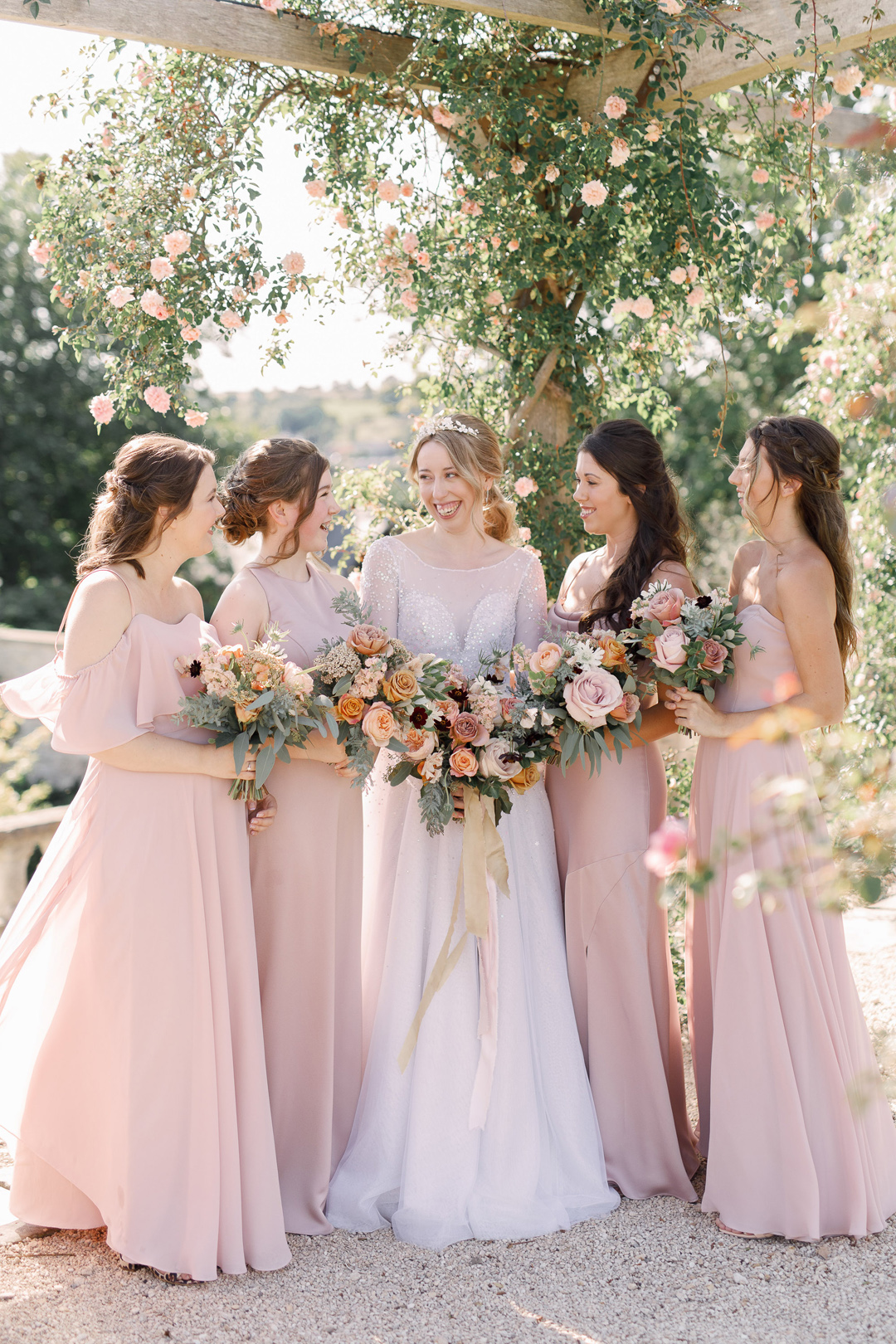 Each beautiful detail of the day has been photographed by White Stag Wedding Photography in their romantic and airy signature style.
"We found White Stag Weddings on Instagram and fell in love with their style of photography."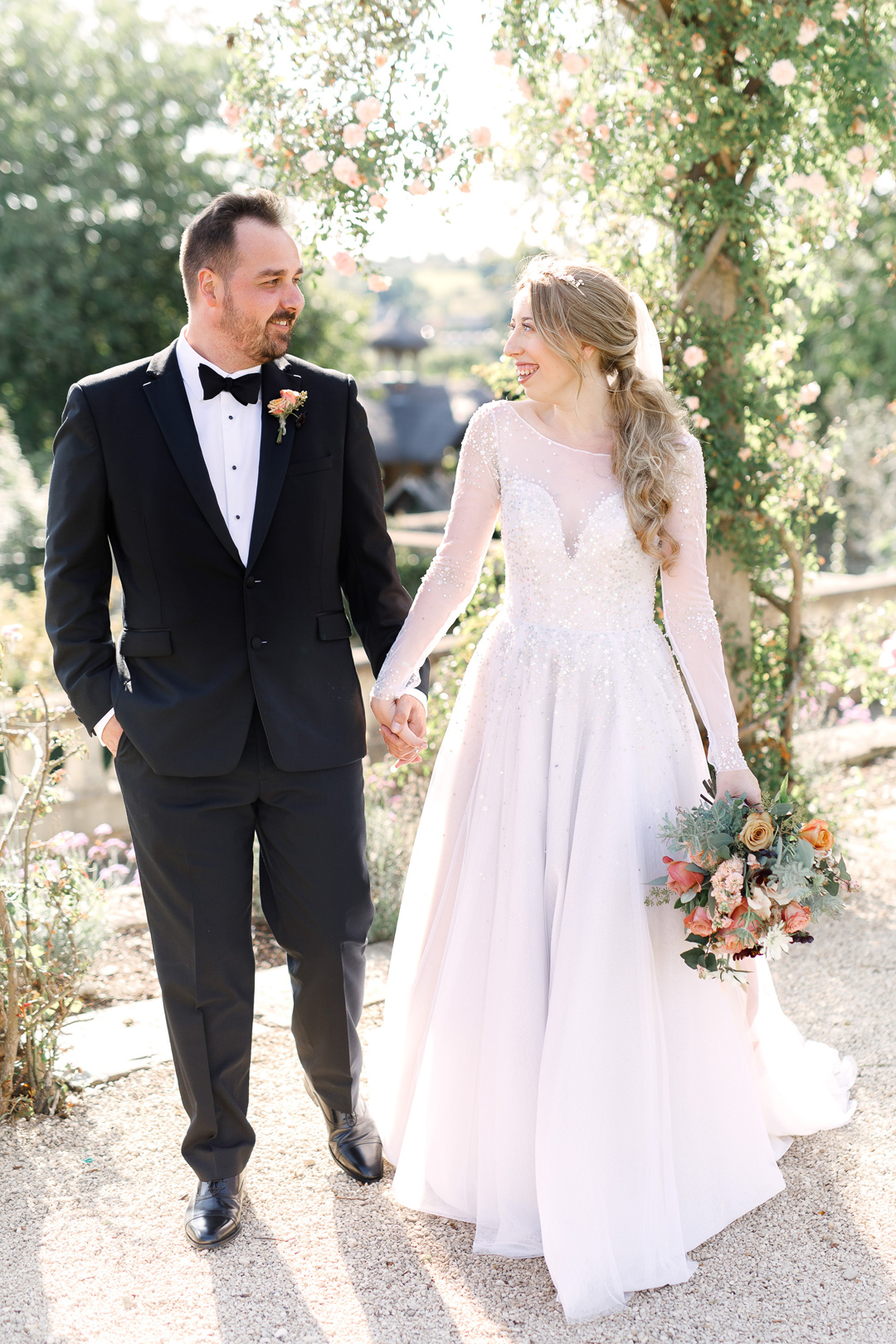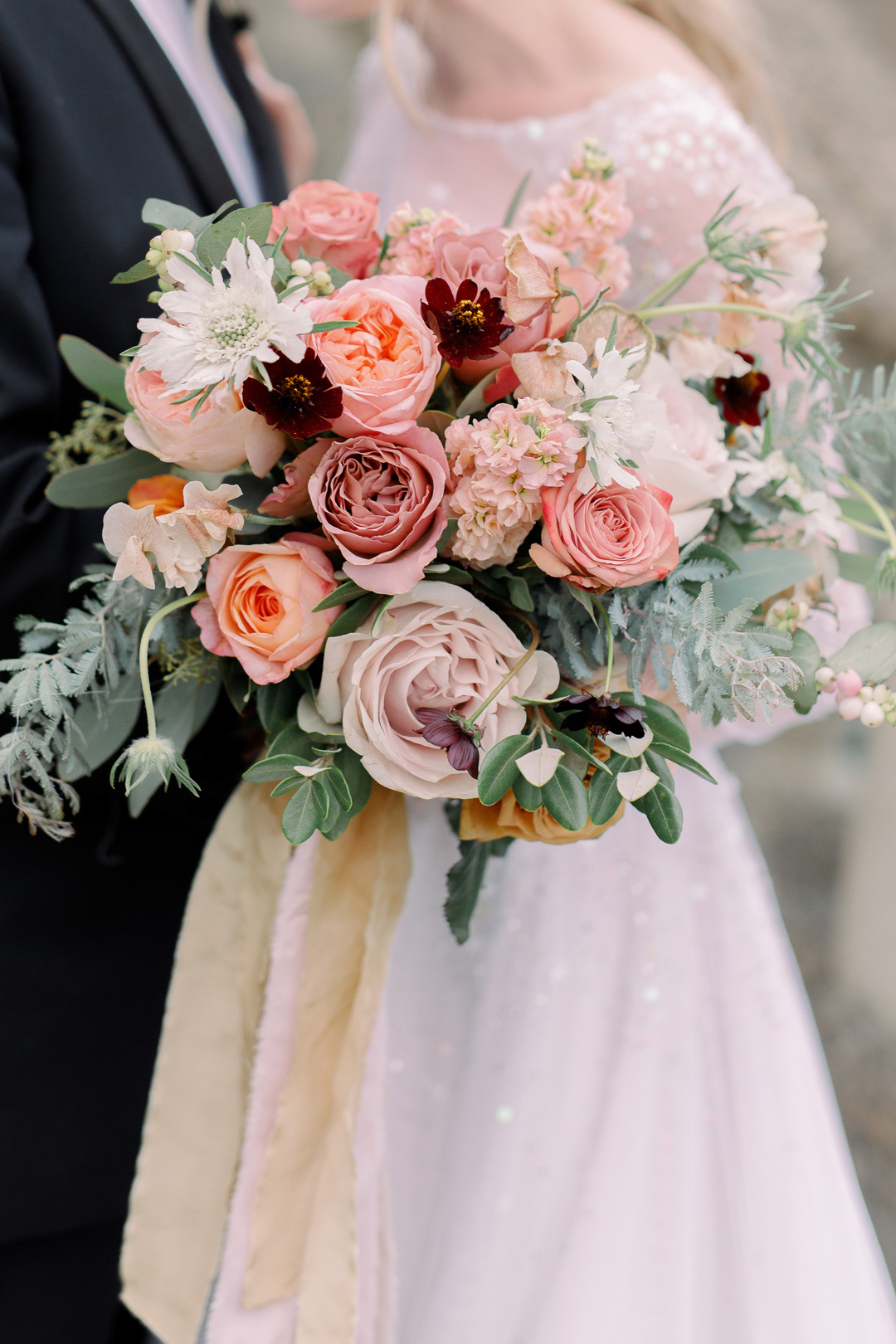 "We booked them really early on. We also did an engagement shoot with them in 2019 and they photographed our ceremony at The Guildhall last year."
"We felt so relaxed around them which was so important to us as neither of us like our pictures being taken. Would recommend, 100%!"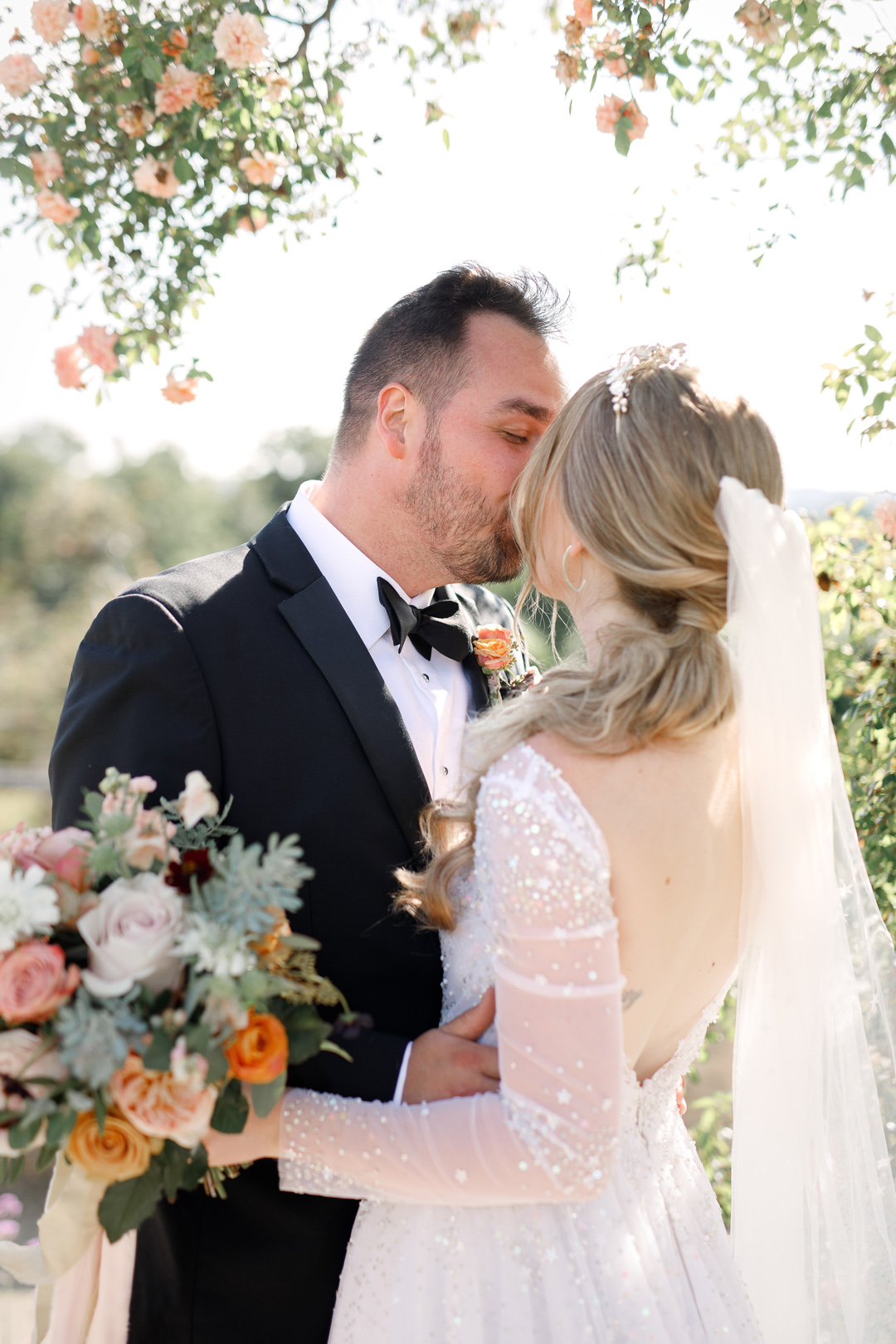 After exploring the grounds for some wonderful portrait shots, the newly-weds and their guests headed inside the manor for the formal wedding breakfast.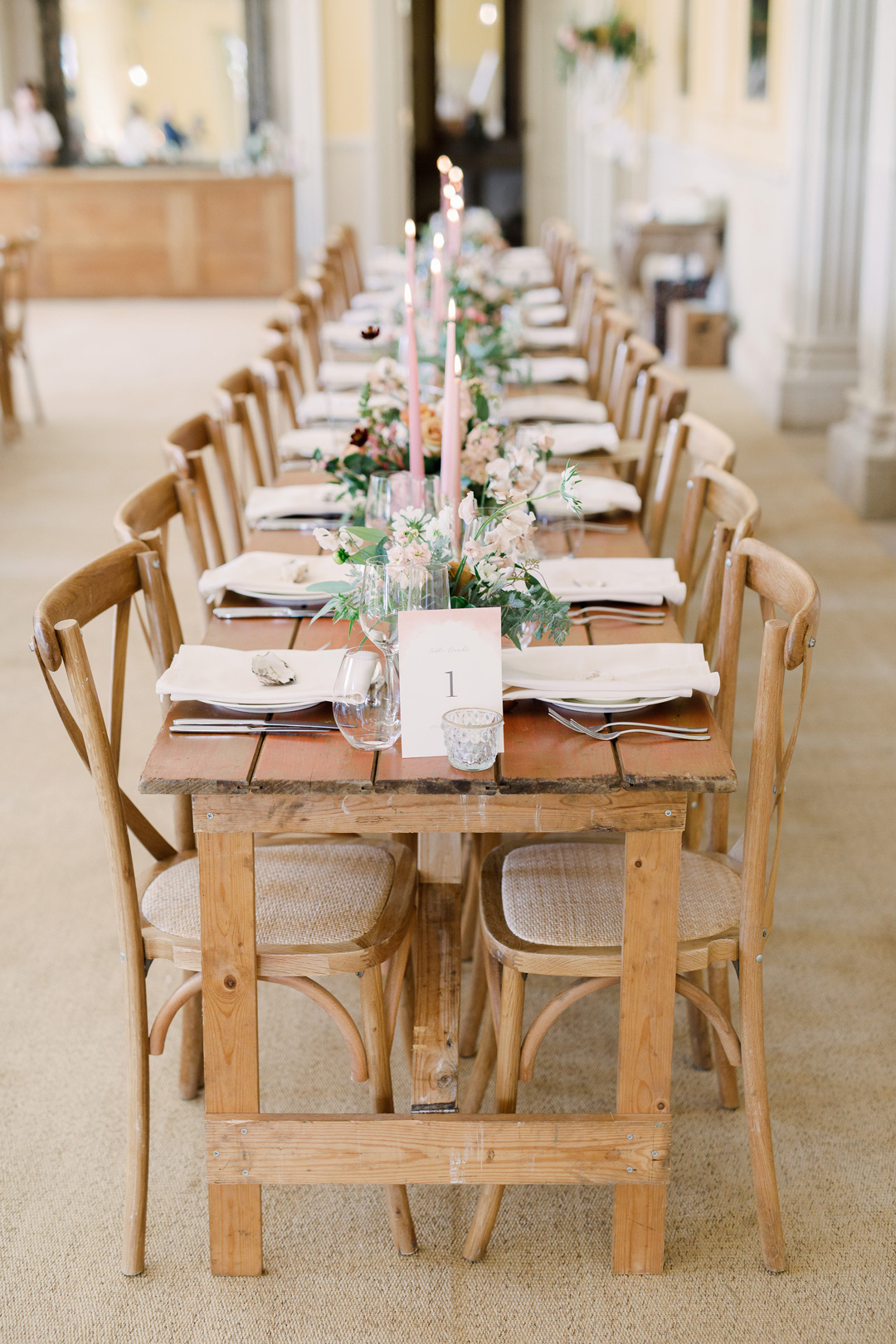 The tables were bedecked with posies of fresh flowers, peach taper candles and oyster shell place names.
"I scrubbed 60 oyster shells and wrote our guests' name in gold pen. Our wedding favours were lolly pops from The Lolly Pop Shop."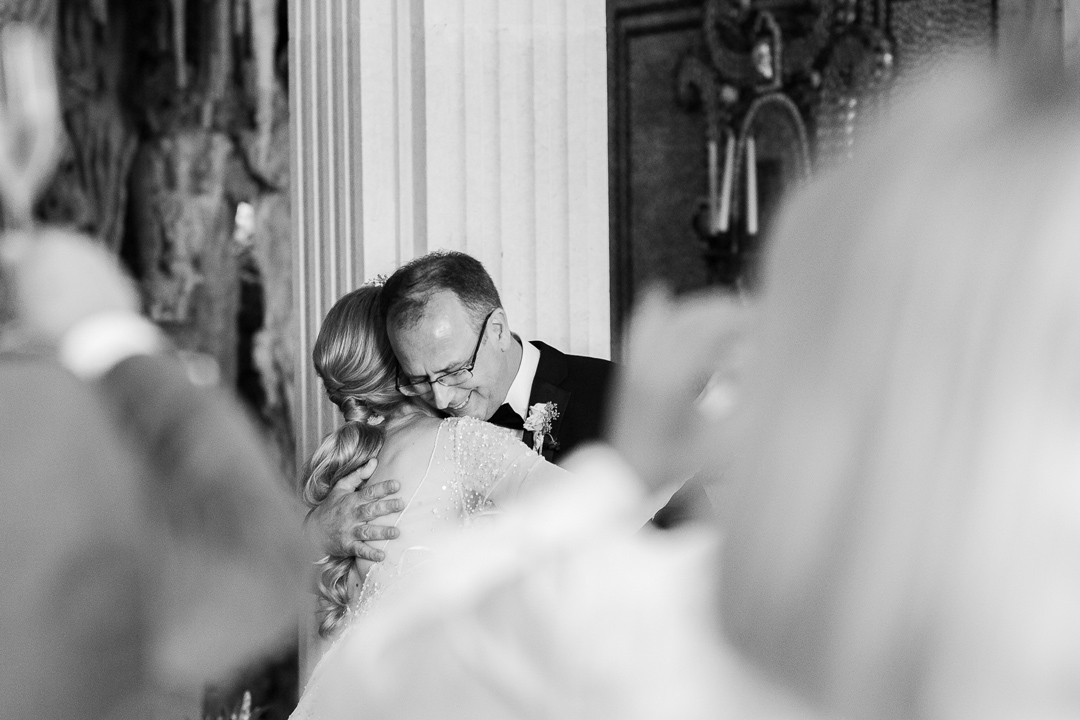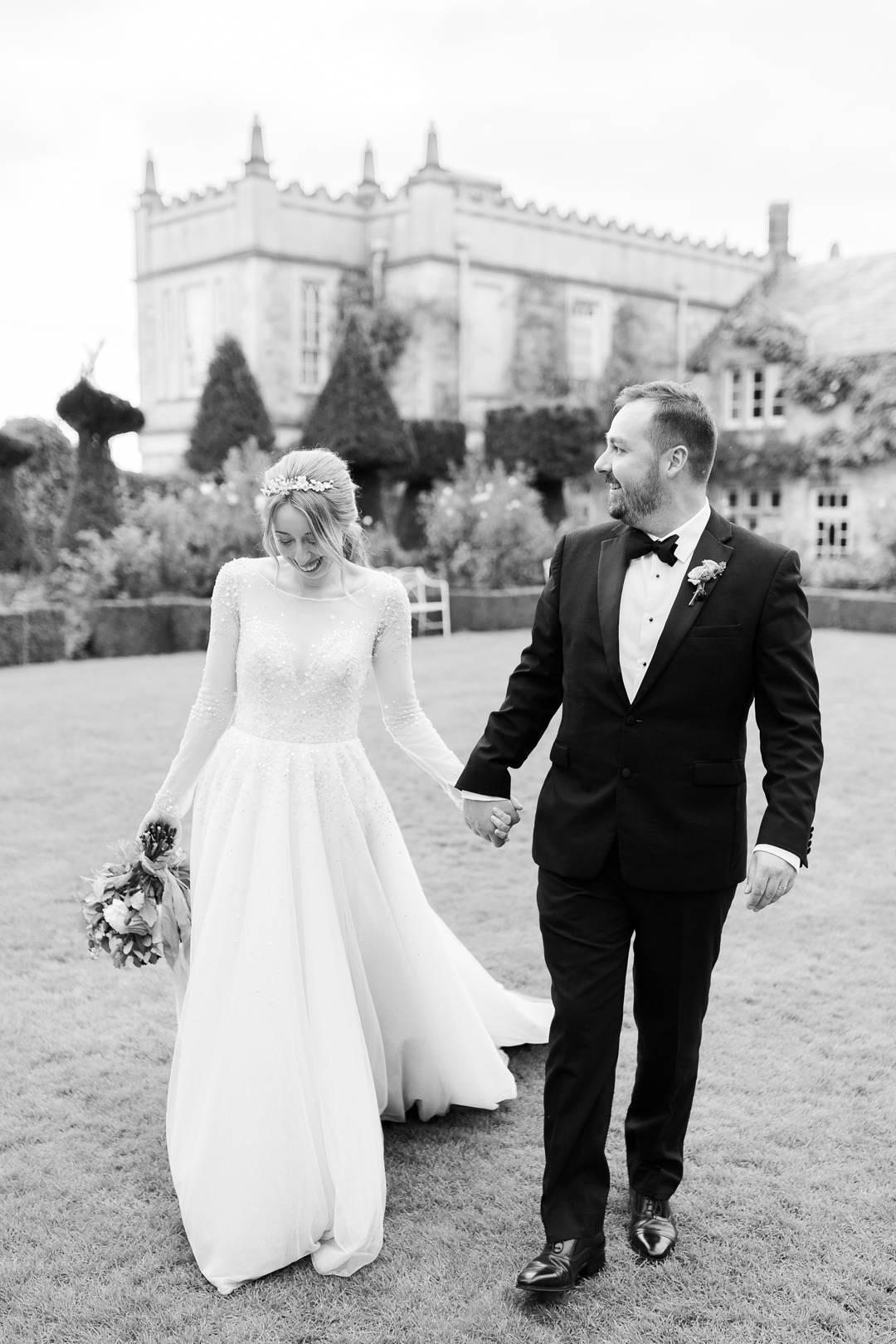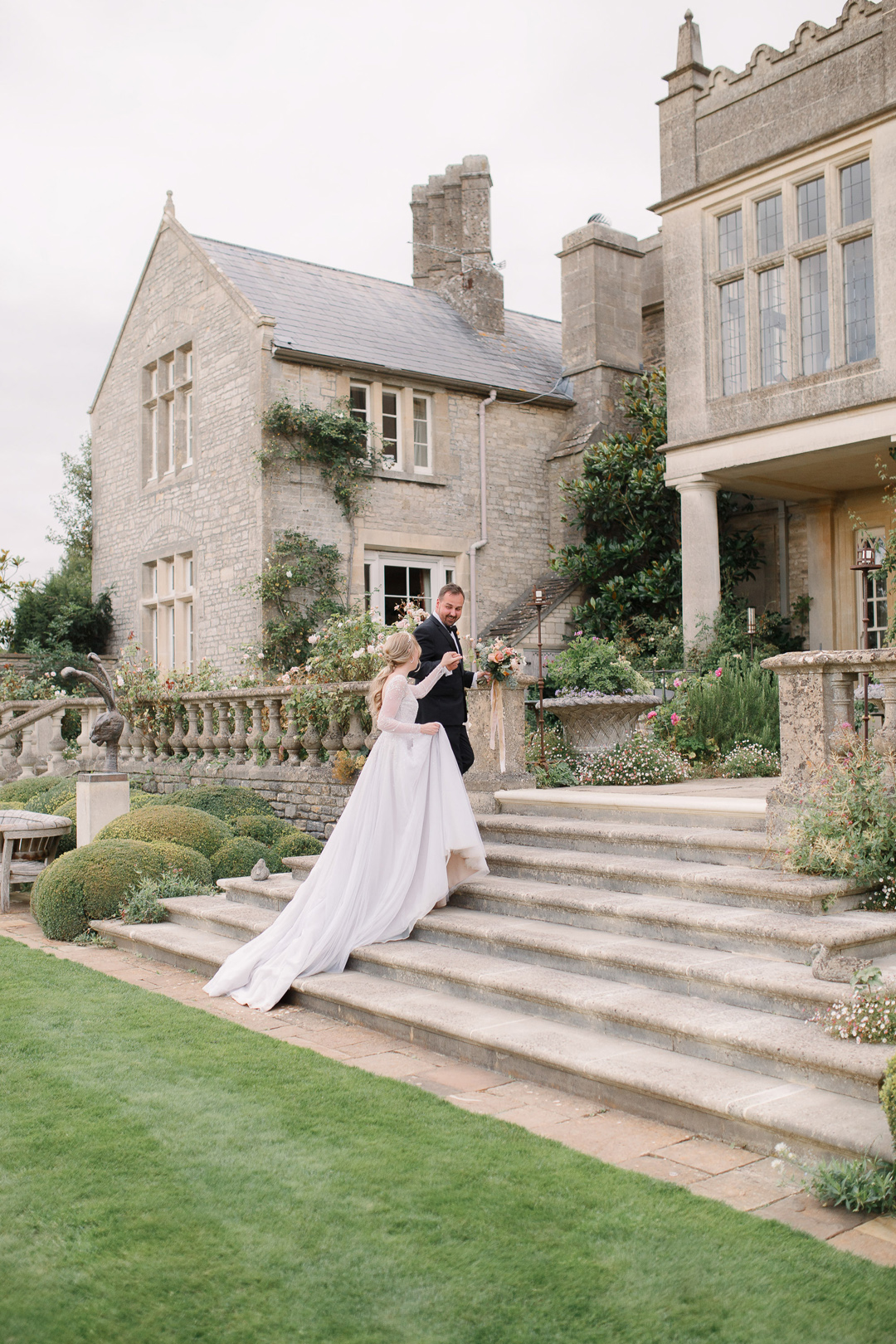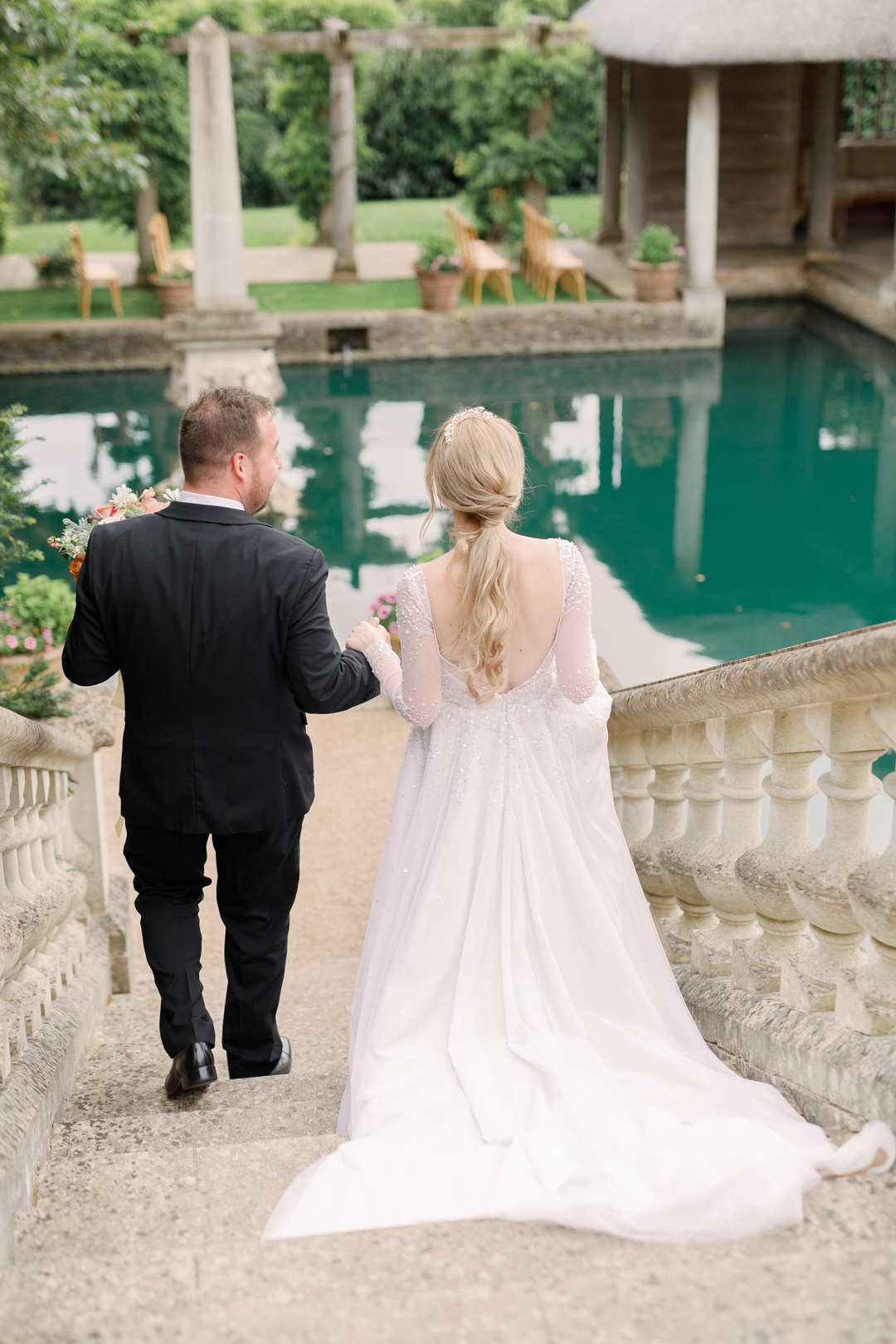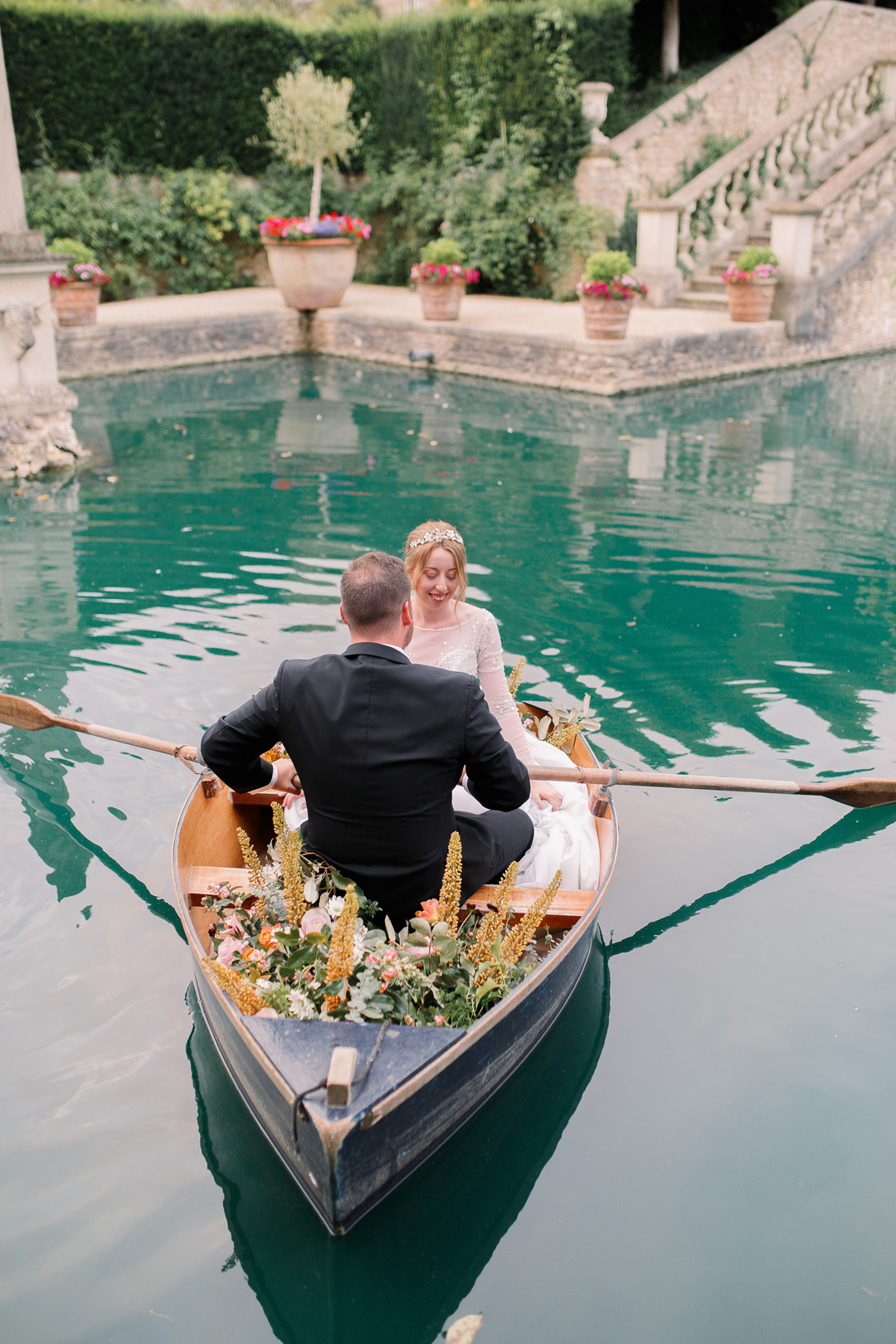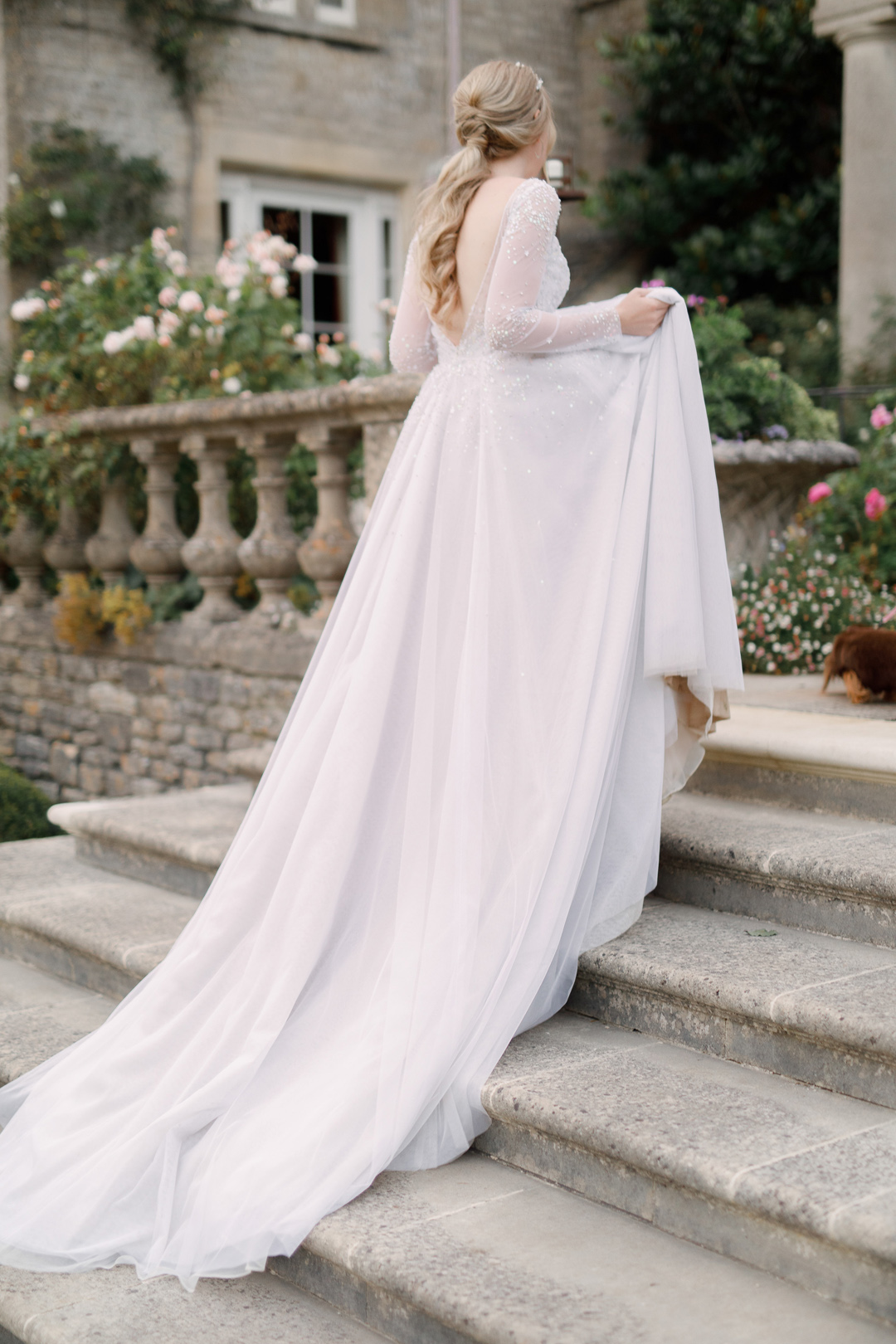 The evening party had music from Tux Fizz and a first dance to 'Who Are You When I'm Not Looking' by Blake Shelton.
"This was Oliver's choice as he said that at the beginning of our relationship this song reminded him of me."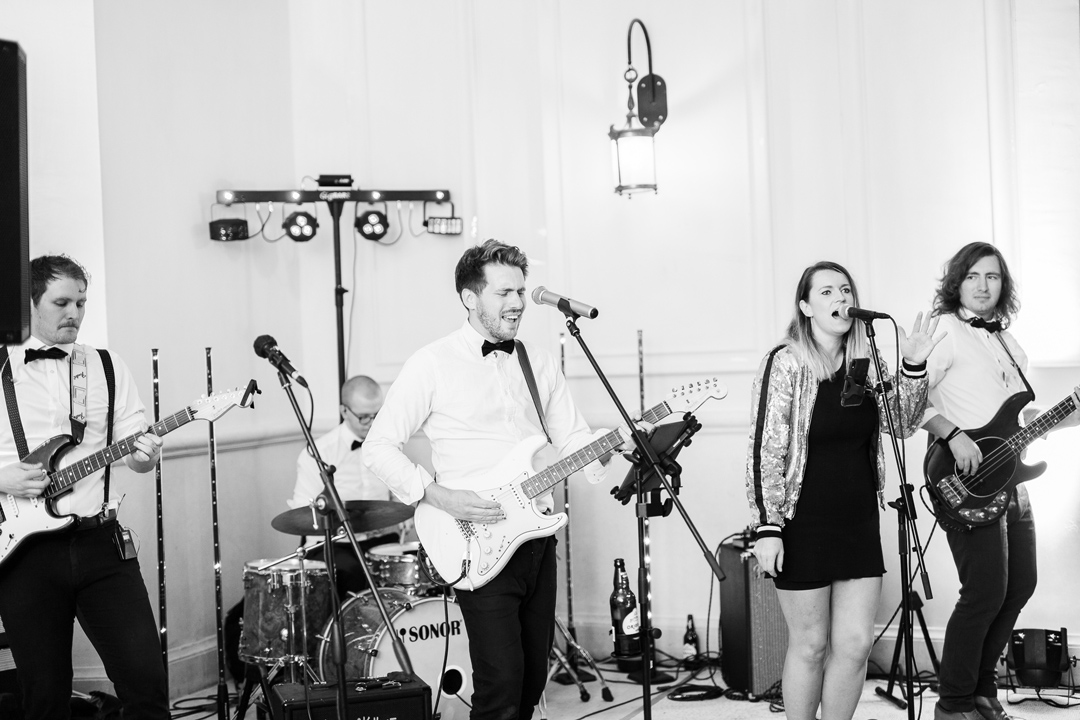 "The day was everything we dreamed of and more! My favourite part would have to be seeing so many family members after such a long time."
"It was quite emotional and just so wonderful to be surrounded with all the people we love, at such an incredible venue, after so long."
Words of Wedded Wisdom
For Covid couples: "Stay positive! I know more than anyone how hard it can be and how at some points you just feel like giving up on the idea of the perfect wedding day. But, I promise if you work at it, it will happen and it will be worth it."
"Keep a wedding folder. Make sure you're organised with what and who you are booking, contact details etcetera –  it makes everything less stressful when you can keep on top of it."
"Remember that it's your wedding day – don't do things that you think your guests want. Think about what you want and remember that they are coming for you. If you're enjoying the day then everyone else is too!"
Ellie Rose, I'm in total awe of your gown and what a wonderful experience for you to have had. I'm so happy that you chose to share your wedding with us today so thank you to you and Oliver, and to White Stag Photography too.
For more brides wearing Hayley Paige then why not enjoy these Love My Dress weddings?