Totally delighted to welcome back the beautiful Cornish Place today, after sharing this gorgeous editorial that took place at this romantic new countryside wedding venue earlier this year.
Once again, the owners of this beautiful, bucolic getaway, teamed up with Emma Marshall, from Miss Bush Bridal boutique in Ripley Surrey to create some editorial magic. Emma is one of the most talented stylists I know – an exceptional example of how intelligent, feminist women who love to support women are running British bridal boutiques today, and in their own brilliant and unique way, changing the brand and reputation of the wedding industry…
Emma has a view or two on representation within bridal fashion, particularly when it comes to age and size. I asked Emma to share some of her thoughts to accompany these images. I loved that the model choice for this beautiful suite of images didn't default to the standard. Over to you Emma…
"I love and loathe collaborative photo shoots but I also appreciate that they are a way to pull yourself up by your bootstraps, create content and evolve brand partnerships."
"The one rule I live by is that I must see the model for a casting. Modelling is an art form; physical theatre, mime. Not everyone can do it and the entry requirements are far more demanding, than being easy on the eye."
"Models are also a reflection of brands values, as witnessed by the recent remarkable Savage X Fenty show. They are expected to not only to sell the product but speak its truth. In fashion they are aspirational, in bridal they ought to be relatable."
"In a recent discussion on Love My Dress's Instagram feed it also appears that many women find themselves invisible and under-represented in bridal fashion marketing."
"The truth is economic as well as ideological. The maths doesn't usually add up to making 'sample pieces' available and for promotion in many different sizes. Most models are a UK size 6 to 8 – we are delighted to be able to find the occasional 10."
"Yes, we know this has no relationship to our actual clients, but we also know that women rarely scale as size charts would have us believe."
"Therefore, to bring truly relatable imagery to marketing, fashion's relationship to dress sizing and production methods has to change. Models and muses ought to be cast before a collection is even made."
"When you are asked to help with a friend's photoshoot, where they have no budget for a model AND they are based in Cornwall you have to think creatively. I suggested to Andi that her and her husband model."
"Andi is 53, a very similar age to a lot of my clients AND she has a full bust on a petite frame. After I managed to overcome her objections about hating her photo being taken (and who, truly, apart from a pro-model likes this?), she reluctantly agreed."
"I chose a pure silk Lilly Ingenhoven dress, a label I picked up prior to Brexit – sadly now made unworkable by it."
"Lilly's designs are at that sweet spot between High Street and classic bridal, sustainable and, by design, are naturally inclusive."
"Yes, you can wear a bra, yes it has sleeves and a high neck, no it doesn't make you look booby, yes you can wear your coolest shoes."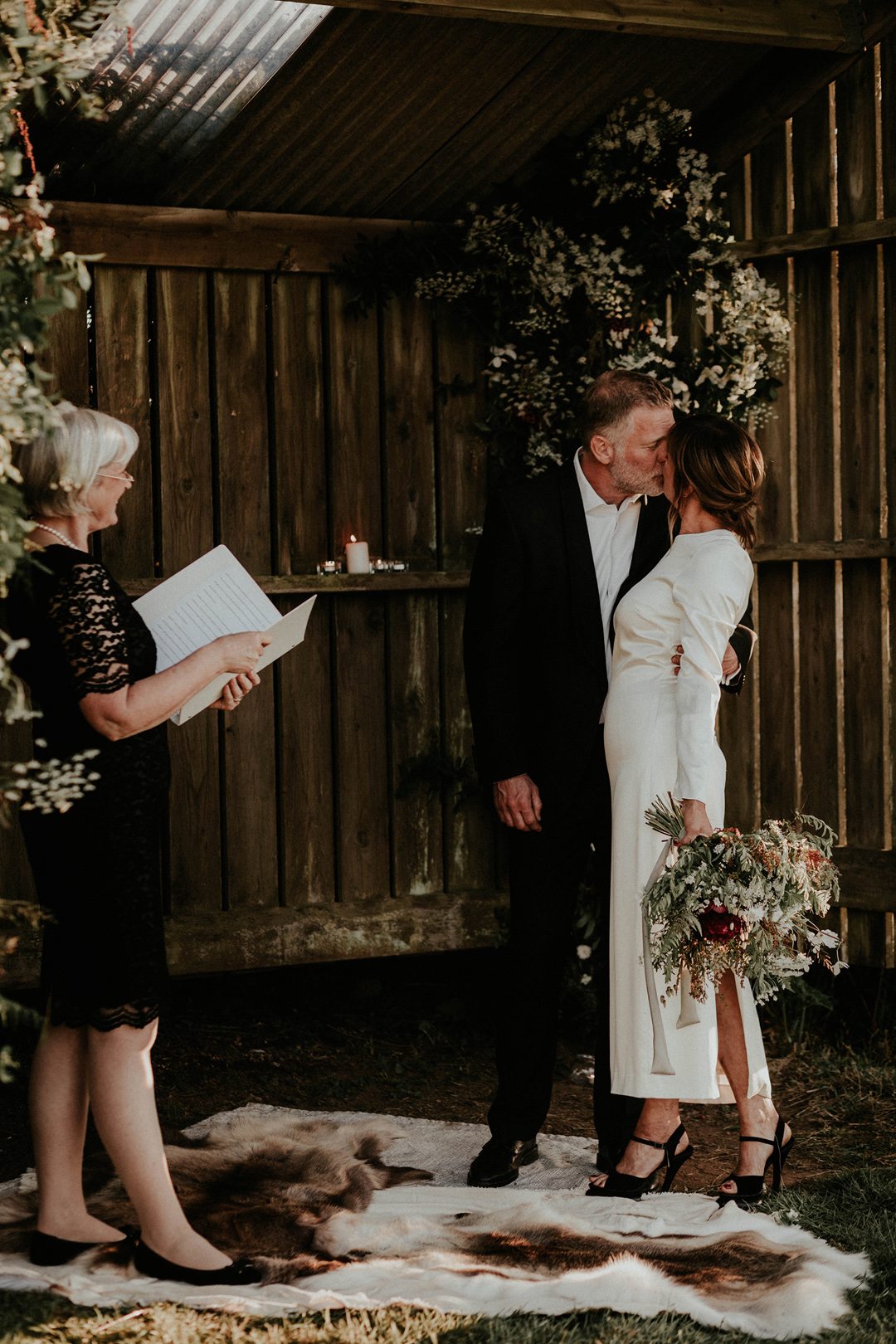 "I picked the Ingenhoven label before Covid was a tickle in our collective throats, before micro became macro and every mainstream fashion journo' suddenly developed an interest in bridal."
"I knew the look was needed, because I work on the shop floor. My clients are very age and size driven, and I need to provide elegant design solutions that put the client first."
"I am glad that Andi chose to put aside being 53, menopausal and a myriad of other excuses we learn from adolescence, to step in front of the lens with her husband Adam. I am glad that Andi was prepared to tell the story of her brand, The Cornish Place and Miss Bush's."
"The bridal industry must seem contradictory from the outside but I can promise it is populated by 100s of women trying to make meaningful change and I thank Andi for putting on a silk dress for the cause."
Note from the Editor: This editorial took place at The Cornish Place and was captured by photographer, Olivia Whitbread-Roberts and featured multiple Cornwall based suppliers.
You can find out more about this lovely wedding venue by visiting the website at thecornishplace.com – Andi and her (model!) husband would love to  hear from you.