Classic, elegant and beautiful. These are just three words that sprang to mind as I enjoyed the magnificent portfolio of images that form today's feature. Make yourself a cup of something warm and sit back for the wonderful wedding of the lovely Antonia and Craig.
On 21 August 2021 business development director Antonia wed portfolio manager Craig in a Church of England ceremony at The Parish Church of St. Mary the Virgin, Petworth followed by an English Country-inspired reception at Cowdray House near Midhurst in West Sussex. The couple desired a timeless and classic wedding, with the bride wearing a custom-made Jesus Peiro ball gown from one of favourite boutiques, Miss Bush in Ripley, Surrey.
Miss Bush Bridal

+ Follow
With extra time to plan, Antonia decided to style the day herself, working with Erin at Cowdray House.
"We toyed with the idea of an event planner but with such a long engagement, I hoped to do most of the planning and styling myself – I am a bit of a control freak! We were very lucky that Cowdray House allocates a dedicated member of the team to oversee your day and is the main point of call for any supplier."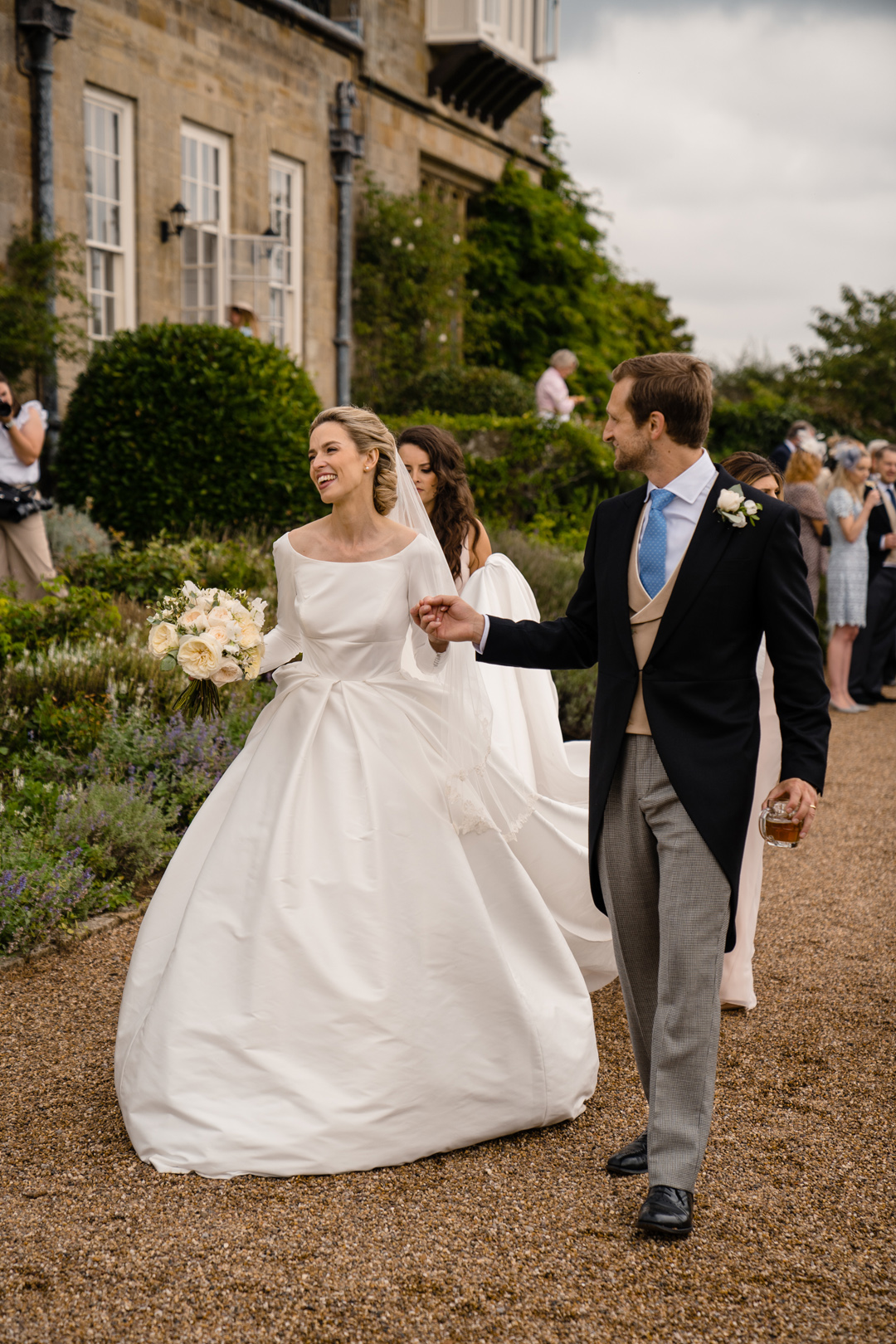 "We had the wonderful Erin from Cowdray House who was just fabulous; so calm, so kind and a real support to us during the week of the wedding and on the day. We also had Andy Boyd from Caper & Berry, our caterers, who was phenomenal."
"In the build-up, he met with us at Cowdray, talked about the itinerary and timings, where particular décor could go and how the bar would be set up. His knowledge and experience were incredible and he genuinely cared about our day."
"Lastly but certainly not least, our florist Karen Watson of This Floral Life is the dedicated Cowdray House florist and she knows it like no one else."
"It was a pleasure to work with her and talk through the styling, colour scheme and how to piece every part together to make the house feel like ours."
The Bridal Dream Team styled Antonia's hair into a beautiful, intricate up do and her make-up was soft and flawless.
"Nadia Harper MUA and Gavin Harvie Hair are a powerhouse and made me look and feel like my best possible self. I had two hair and makeup trials with the Dream Team (one was before lockdown and my dress was finalised) but it was basically an excuse to see them both again."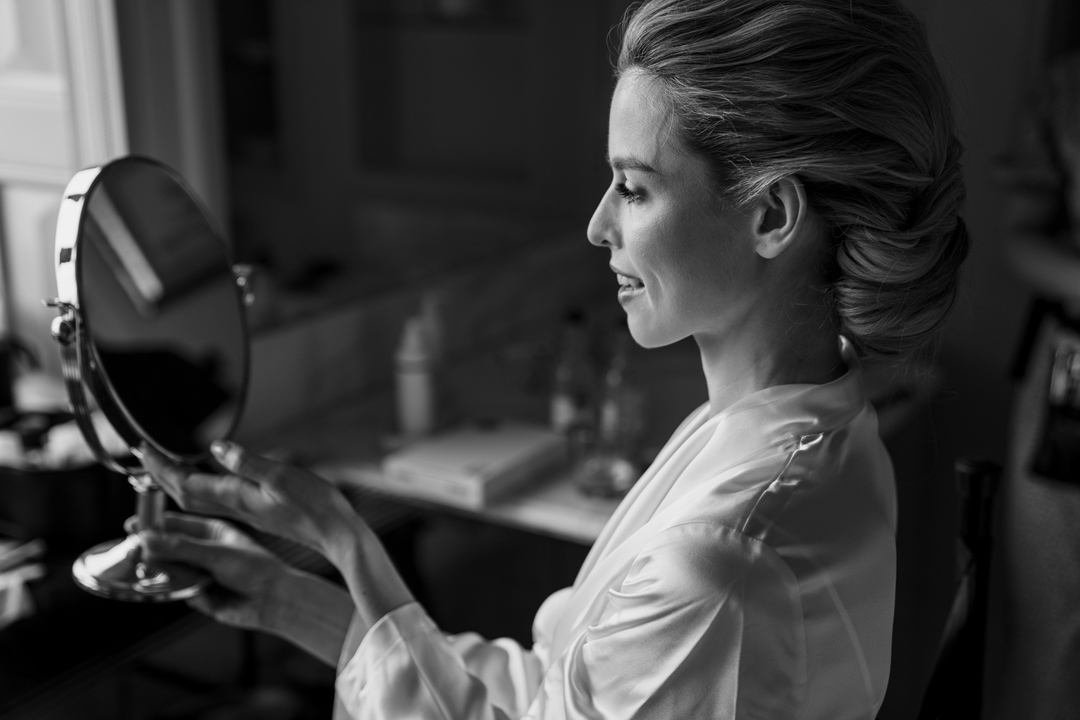 "I chose sophisticated, classic up-do with a large, low bun and for make-up, fresh, natural coverage. I really wanted to feel and look like 'me'. My nails were DryBy London and Inessence Beauty."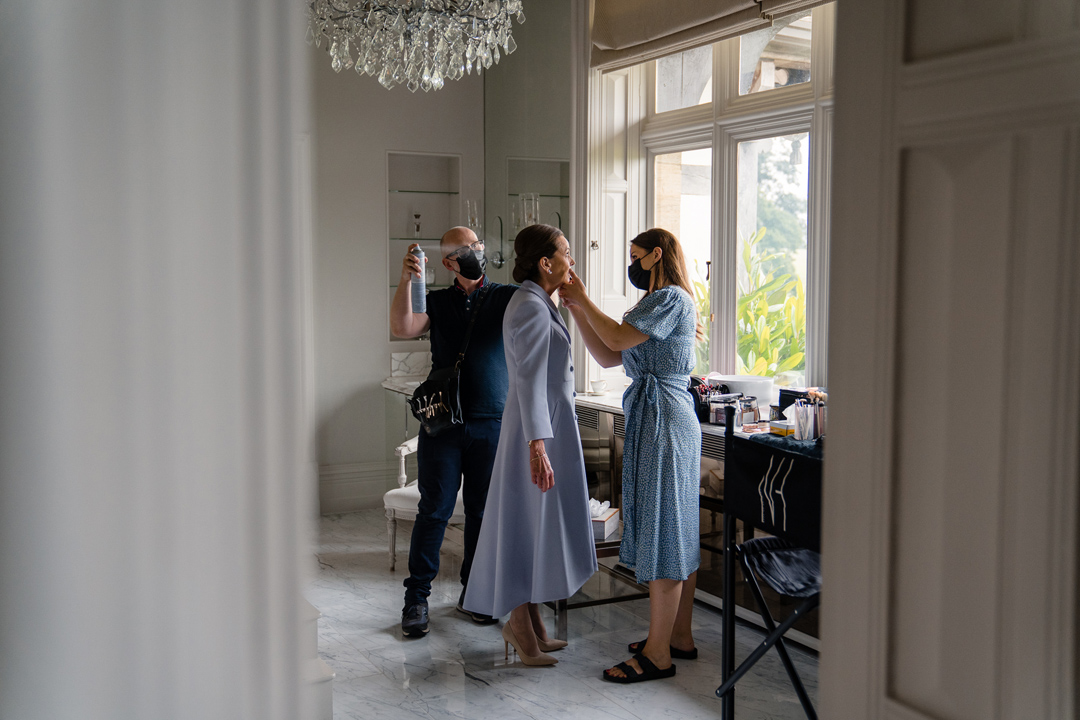 It's always brilliant to hear bride's recommendations about Love My Dress Wedding Directory suppliers, so here's Antonia with more about her experience with the wonderful Miss Bush bridal boutique in Surrey. It is here she found her custom-made Jesus Peiro gown, a bespoke creation of styles from Jesus Peiro and the Miss Bush Anniversary dress with a long, feature overtrain. TO find out more about Miss Bush, I invite you to visit the listing here.
Antonia was also dressed by the incredibly talented Ben of Nortier Shallow – another Love My Dress recommended supplier, on the morning of her wedding.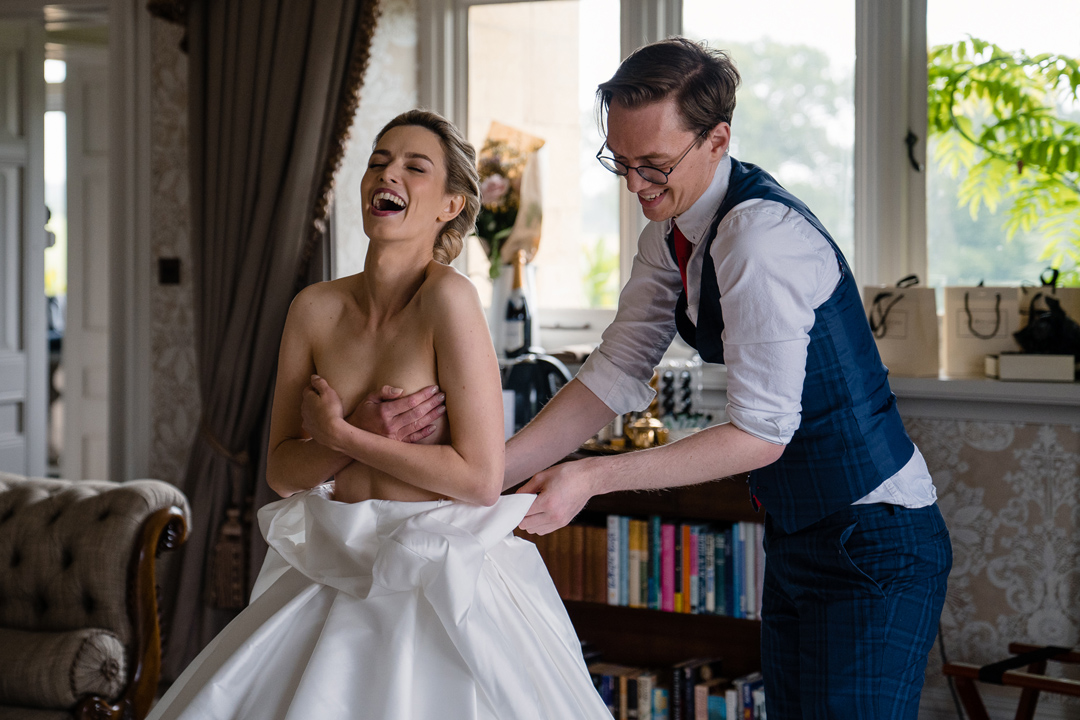 "The Miss Bush team is everything you hope to find when on your wedding dress journey. Led by Emma (who is absolutely a godsend to the industry) and her truly experienced team, I couldn't have been in better hands and I owe so much to Jo, Corinne, Emma and the wonderful women who are Miss Bush."
"When I started my wedding dress journey I knew I wanted a long train, volume, sleeves and lace."
"I also knew Miss Bush stocked a variety of select designers and that Jesus Peiro could be a good fit."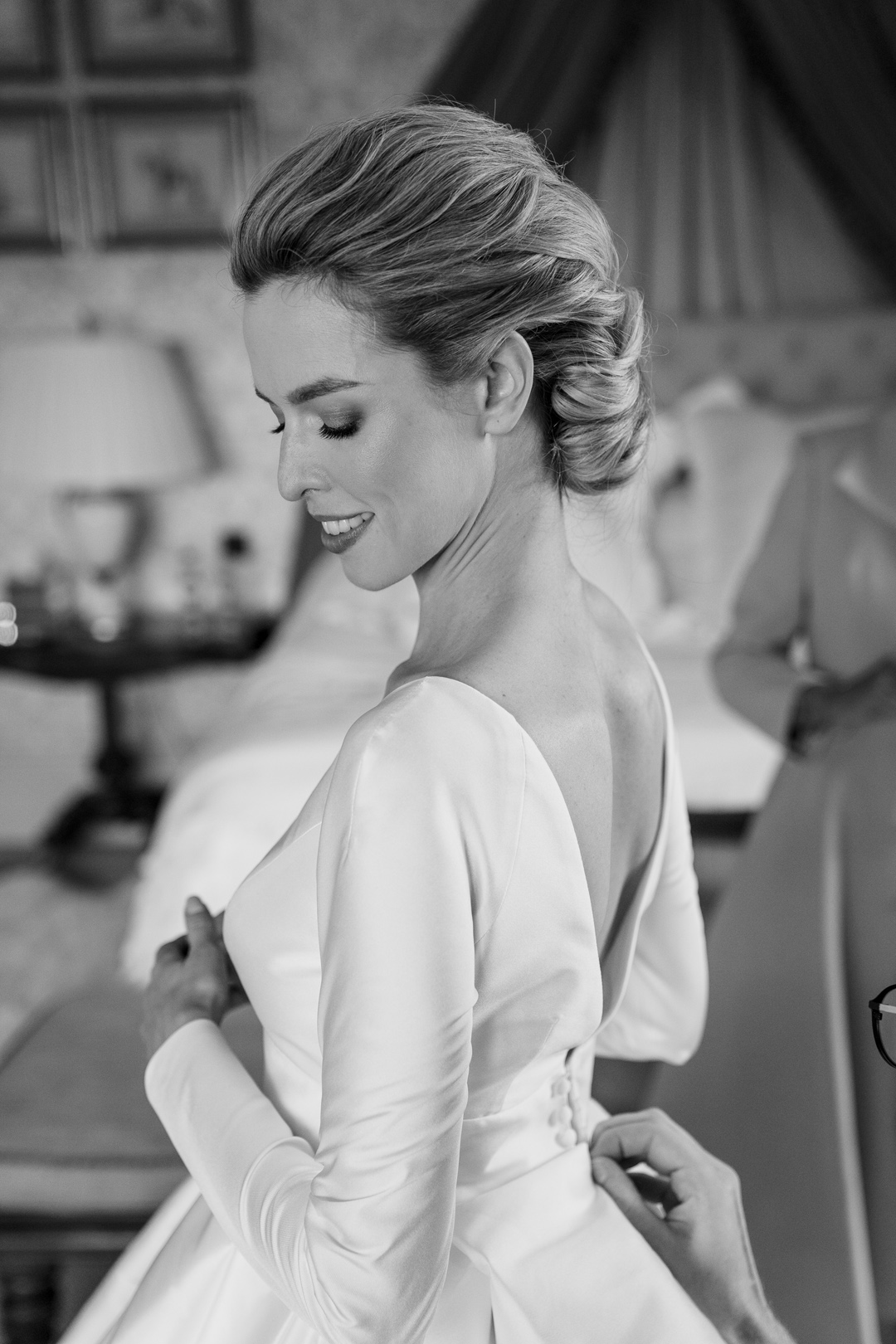 "Across multiple fittings, where Emma and Corinne were exceptionally patient, we started to piece together a lace bodice/top half with a cinched waist and large skirt."
"I wanted to emulate a classic, traditional style but with a modern twist of a V-back. It felt very Kate Middleton without being a copy."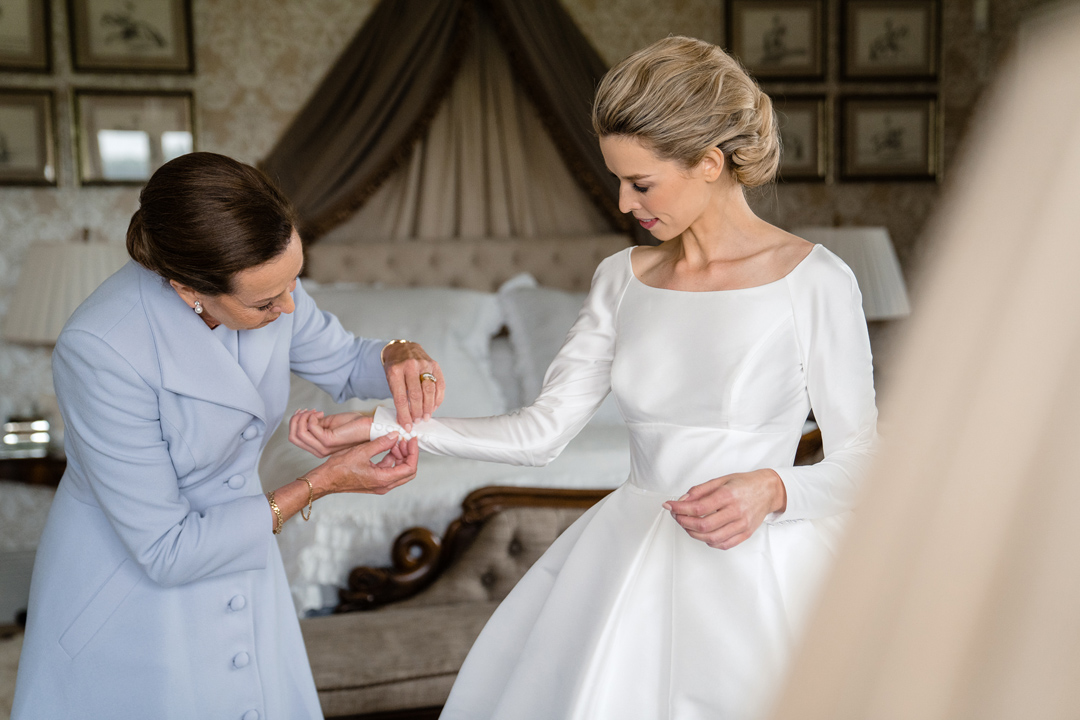 "The Jesus Peiro overtrain was very me, and provided a dramatic and bold look that I could remove for the wedding breakfast. Originally designed to be worn sightly further back on the hips we pulled the front clasps forward to make the train and main dress seamlessly blend."
"But, the worst happened: I changed my mind and the skirt and bodice were not quite working for me."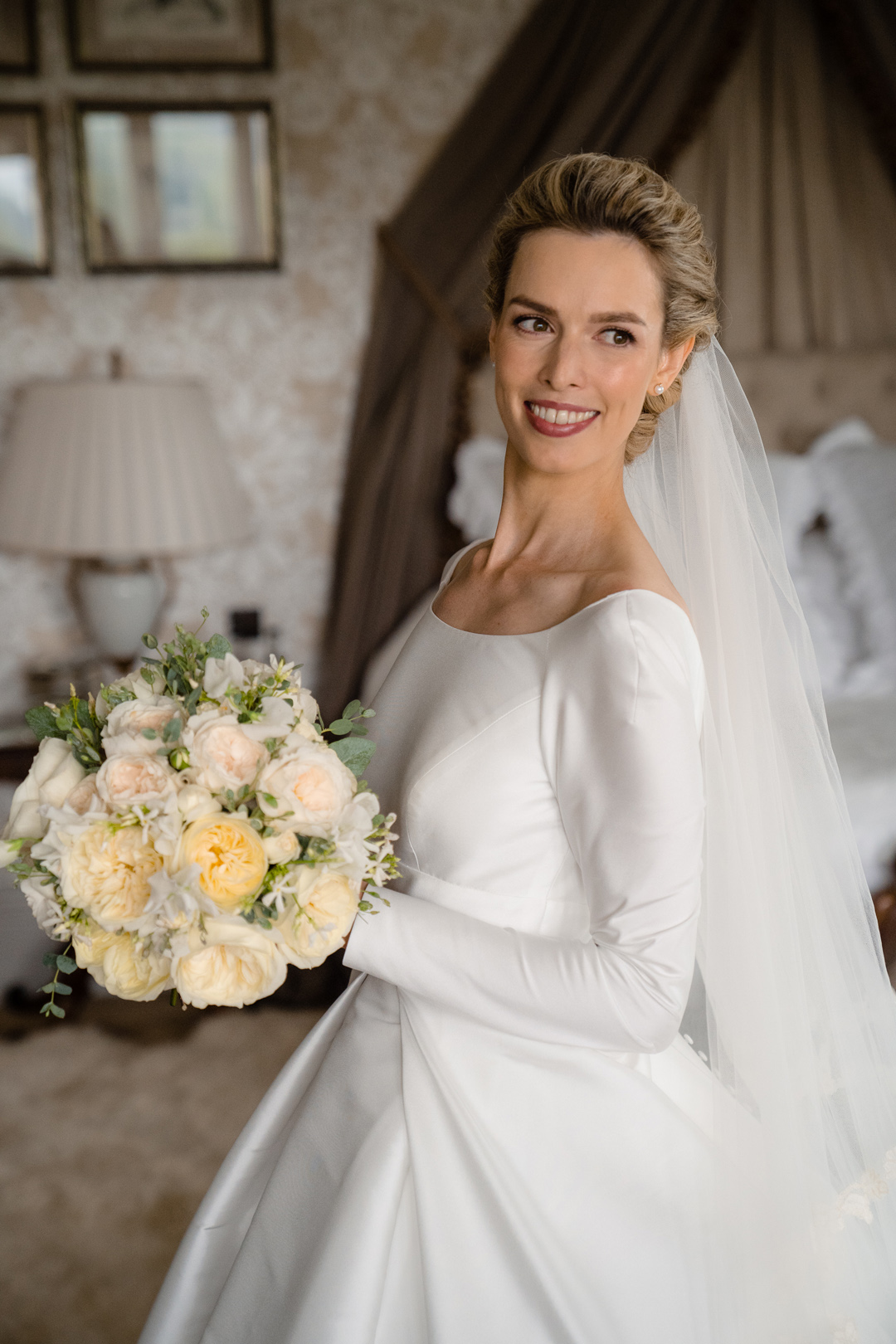 "In a stroke of genius, the Miss Bush team suggested I try the Jesus Peiro Anniversary dress made especially for Miss Bush. It had the sleeves I wanted and V-back. Suddenly, I relaxed and knew I would be much happier in this design."
"The lace would have to come from the veil! We decided to remove the pearls on the sleeve and add inside cuff buttons to match the back of the dress and the additional buttons were placed on the overtrain."
"I always wanted a large and long wedding dress that would evoke a sense of a classic wedding and bride, without looking like a meringue or that I was trying too hard."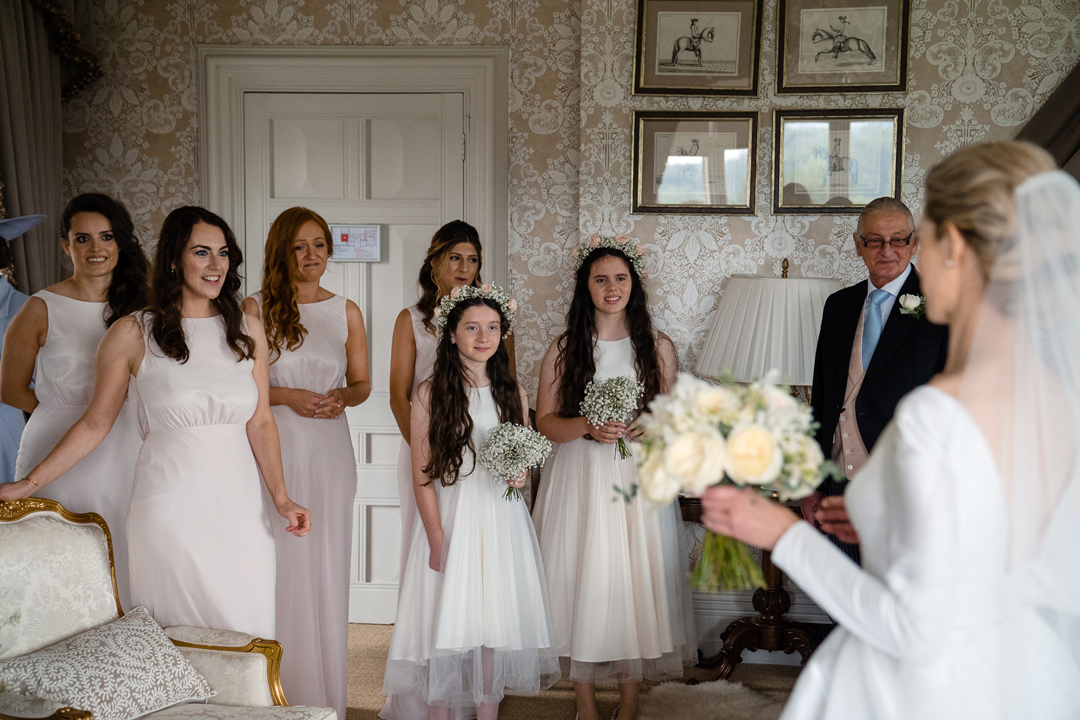 Antonia's shoes were white satin 'Hangisi' pumps from Manolo Blahnik with a sparkling buckle on the toe. For her 'something old, borrowed and blue', Miss Bush sewed a sapphire ring into her dress pocket in a tiny blue bag that also included a sixpence. Earrings were from Liberty.
"As a wedding gift, my parents and sister bought the bridal lace version of my signature scent, Jo Malone Peony and Blush Suede, and a second bottle with our wedding date and initials engraved into the bottle. They also generously gifted a Jo Malone Peony and Blush Suede candle to light the morning of the wedding that I completely forgot about until we were about to leave."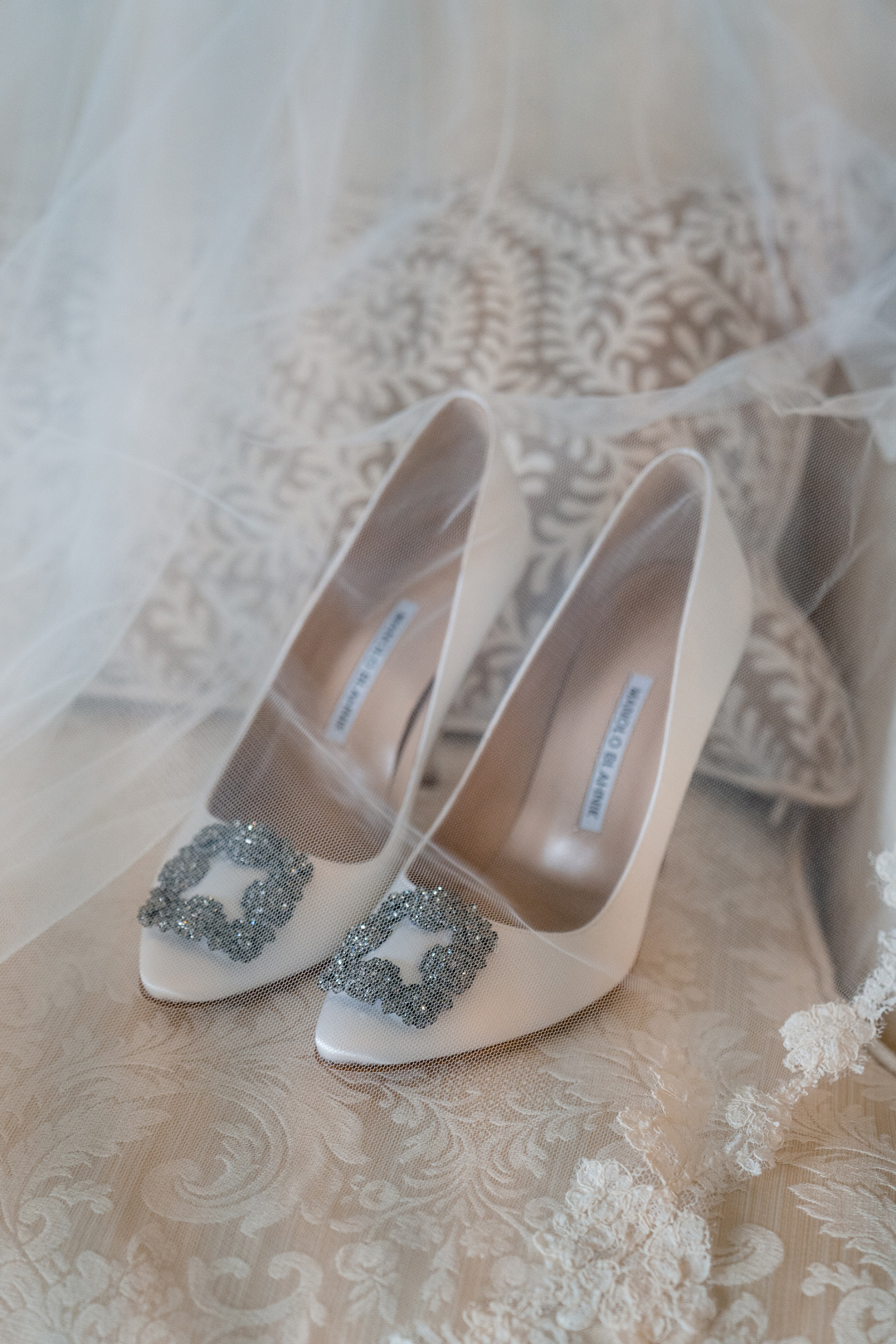 The simplicity of the gown was complemented perfectly by her sheer, five-metre train which pooled over the overtrain. The two-tiered veil, with its delicate lace edging, was a bespoke design by The Couture Veil at Sassi Holford, overseen by the Miss Bush team. Sassi Holford is another designer listed on our Wedding Directory; find more details here.
"I adored my veil and the process of piecing it together. I always envisaged having my face covered with the veil when I walked into the church, it flowing behind me. I wanted the lace on the veil to almost look as if the roses and foliage were growing along the edges and slowly becoming smaller around the fingertips."
Antonia carried a bridal bouquet of white and ivory David Austen garden roses with rose buds, sweet peas, jasmine trails and eucalyptus, tied with ivory ribbon, created by Karen Watson at This Floral Life.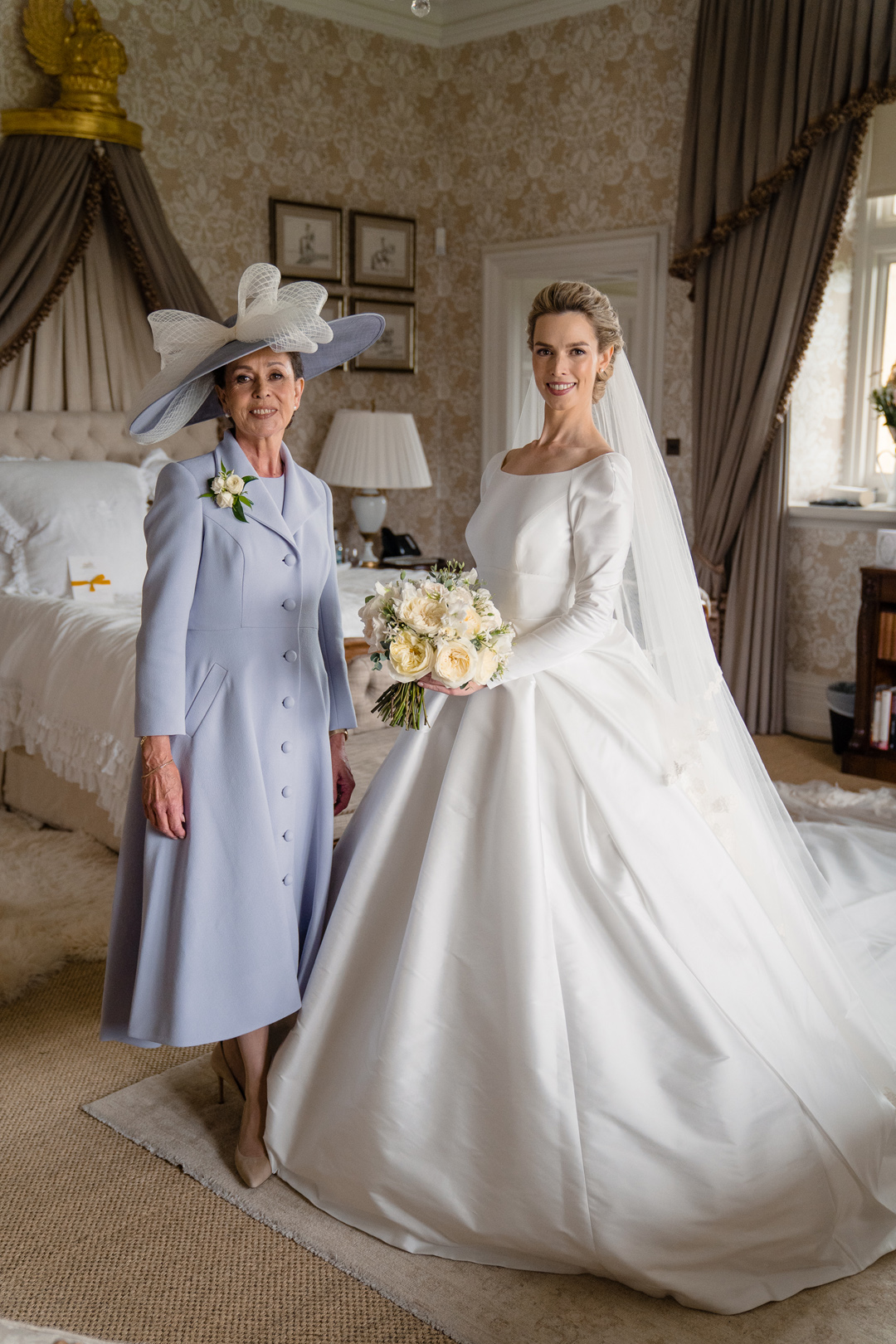 "The shape had to be just right because of the overtrain and Emma worked incredibly hard to source the right 'naked' veil via Sassi Holford's The Couture Veil and the right lace. It truly was a work of art."
"Growing up I had a very specific image in my mind of what my wedding dress could be and it always involved a long train and veil. There would be layers, weight, petticoats, hoops and sleeves but I was desperate not to resemble the styles of the 80s, no matter how iconic."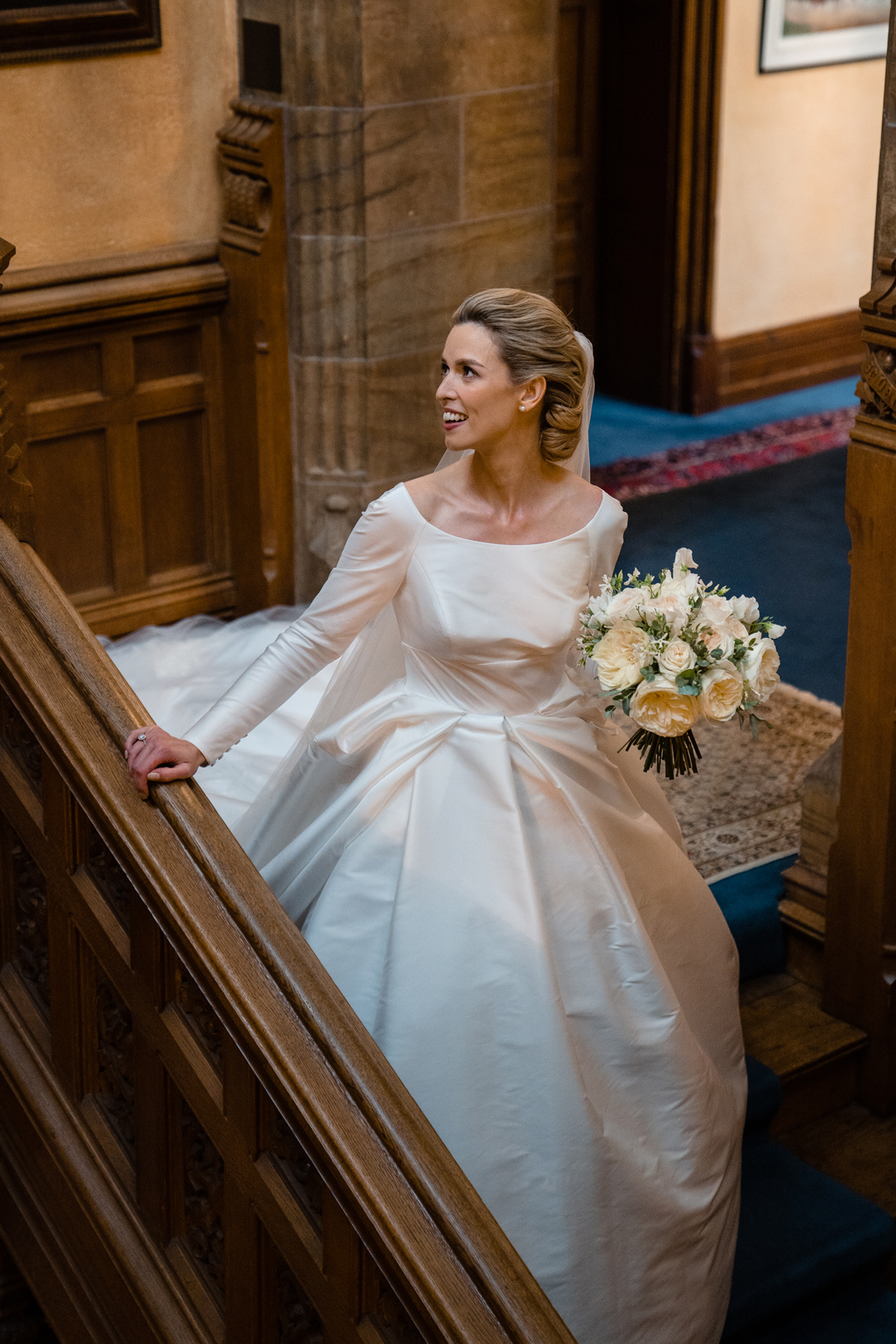 "I felt confident and comfortable in my wedding dress having been so involved in each part of its construction and knowing all the elements that brought it together. I wasn't afraid of size or length, and certainly not shy of making an entrance!"
"Moving our wedding service to St Mary's in Petworth was a strange twist of fate as, quite simply, I would have struggled to wear my wedding dress and veil in the smaller family church we had planned originally so moving to Petworth was fate. I loved the drama and silhouette of my dress when put all together: the dress itself, the overtrain, the veil and the shoes."
"Knowing I had those sparkly Manolos that I'd always wanted underneath layers of petticoats and material was a wonderful feeling."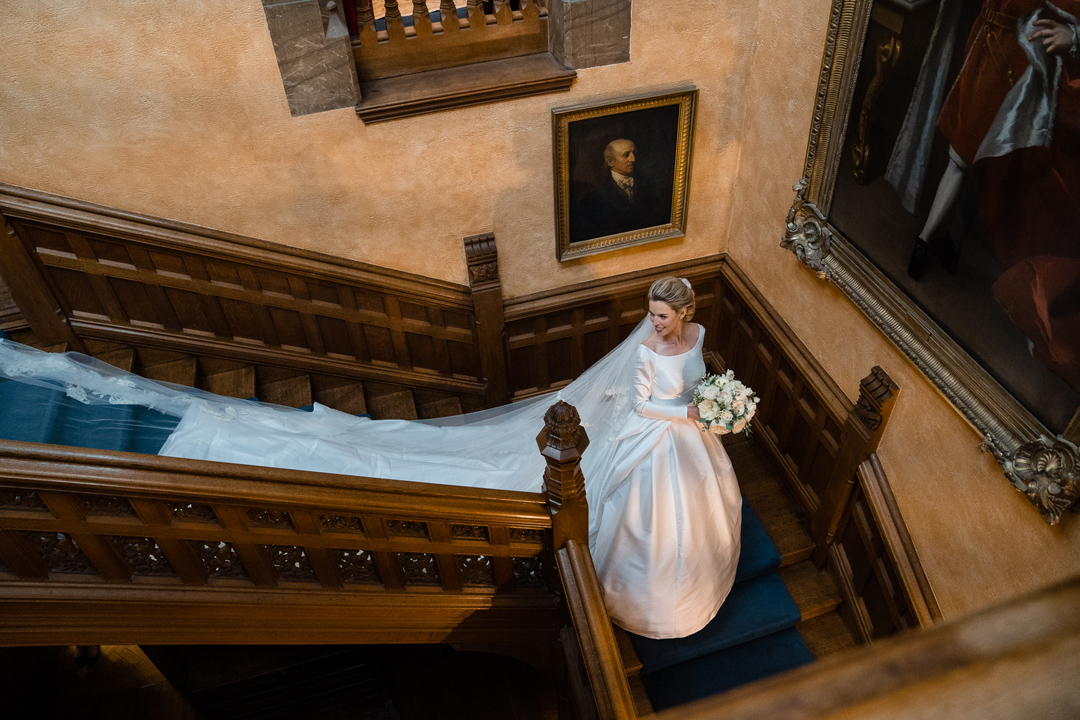 The couple had a clear vision for their day; English Country garden with soft tones of white, green, blush pink and a touch of blue, the same as her parents had 35 years ago. Flowers were key to the look, created beautiful by Karen at This Floral Life.
"Our wedding flowers were hydrangeas in white and pale pink, and David Austin wedding roses alongside traditional English roses in ivory, peach and pinks, greenery, sweet peas and scabious. My favourites. I was very keen to have David Austin roses due to their scent, beautiful names and the elegance they exude."
The church porch was exquisitely dressed with a floral arch of greenery and eucalyptus foliage with pale pink hydrangeas, pale green hydrangeas and roses in pale pink, pale peach and ivory with delphiniums at its base.
"I had always wanted an arch to walk under into the church. We wanted it to feel like the greenery had always been a part of the church, moving gently upwards. If it hadn't rained I would have had the opportunity to stand underneath it before the ceremony."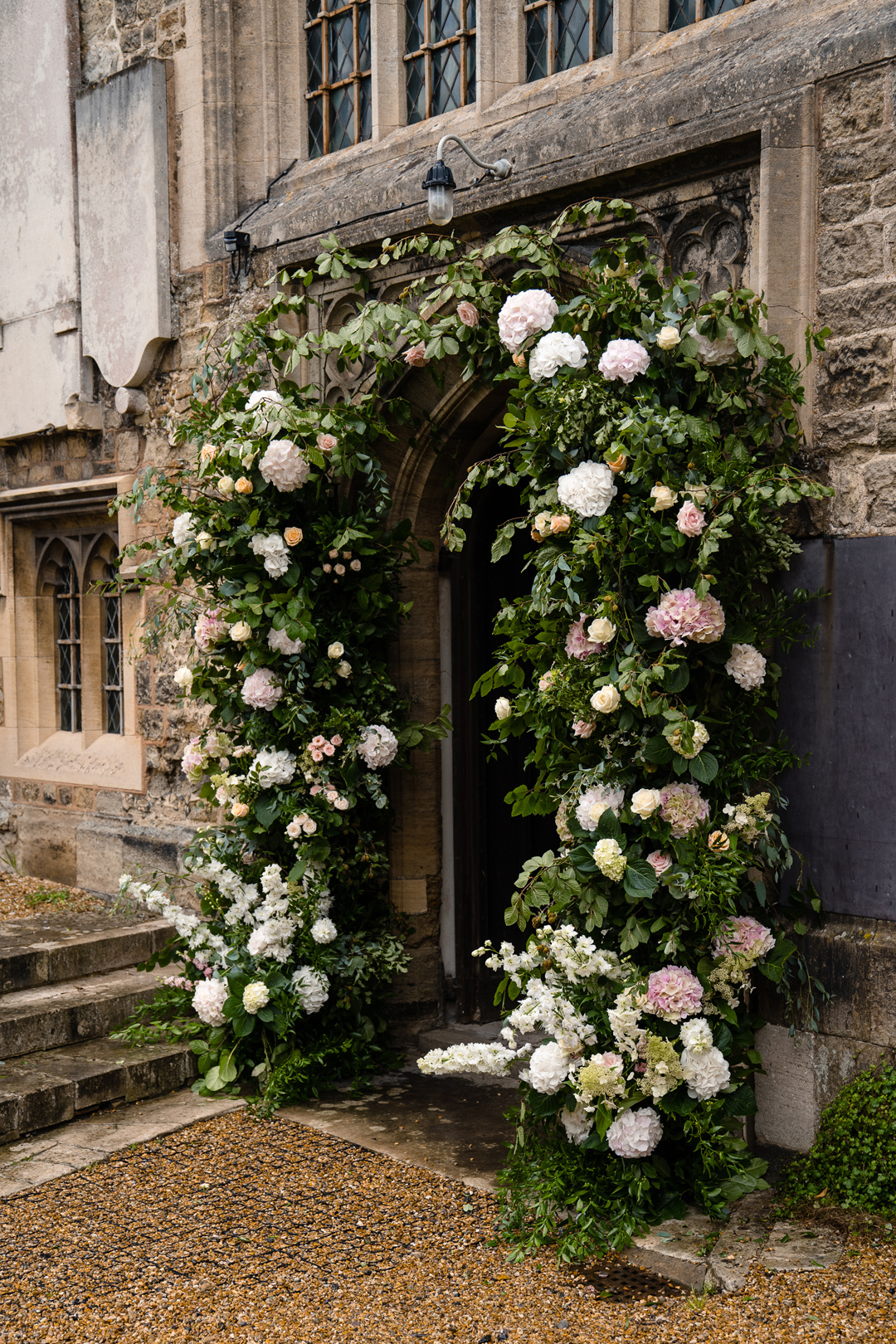 Craig and Antonia have been a couple since May 2009
"We always knew our day would be traditional with a Church of England wedding in a church of significance to family and us."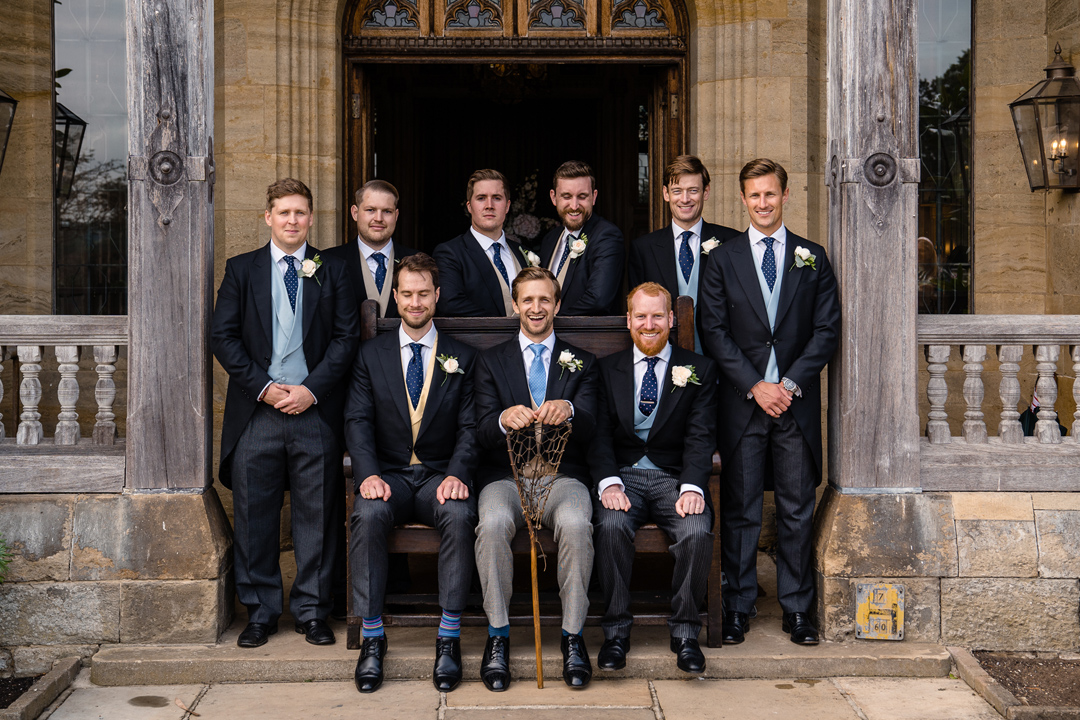 "Our story started 13.5 years ago at Hurstpierpoint College, West Sussex. Craig tells the story differently but we first started 'speaking' after I sent him a rather embarrassing message on Facebook and slowly we got to know one another. Craig being the year above at our boarding school was quite the College gossip."
"We went to different Universities (Exeter and Reading) which allowed us to fully immerse ourselves in university life, but long distance was difficult. Eventually, we both moved to London and in 2015 we bought our first flat together."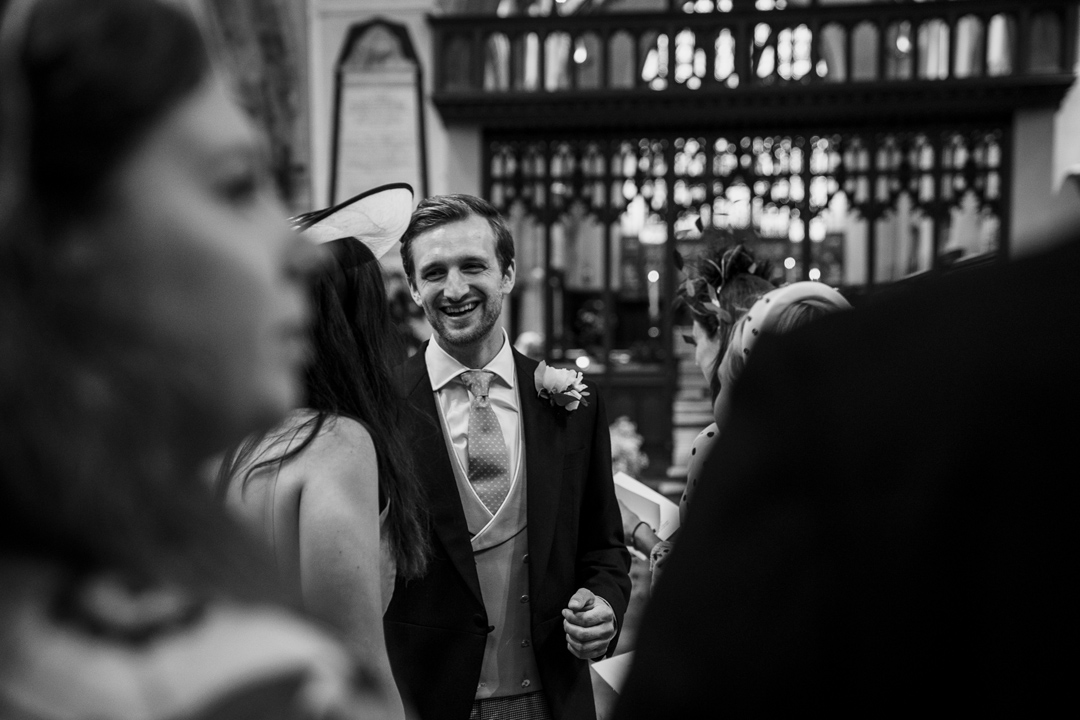 "Craig's proposal was a complete surprise, despite having been together for so long. On Good Friday 2018, he took me for the Sunrise Breakfast at Duck and Waffle, London. He then took me for a walk through a silent St James' Park and, with a backdrop of Buckingham Palace, he proposed."
"I was absolutely stunned and couldn't speak. He had planned an entire day, booked us in to The St Pancras Renaissance Hotel and had a table reserved at my favourite restaurant, The Wolseley."
"Just to make sure my answer was 'yes', the next day Craig drove me to St Mary's in Thakeham, West Sussex and as the sun was setting proposed once again. He had bought a toy ring for me to keep so we could choose my engagement ring together."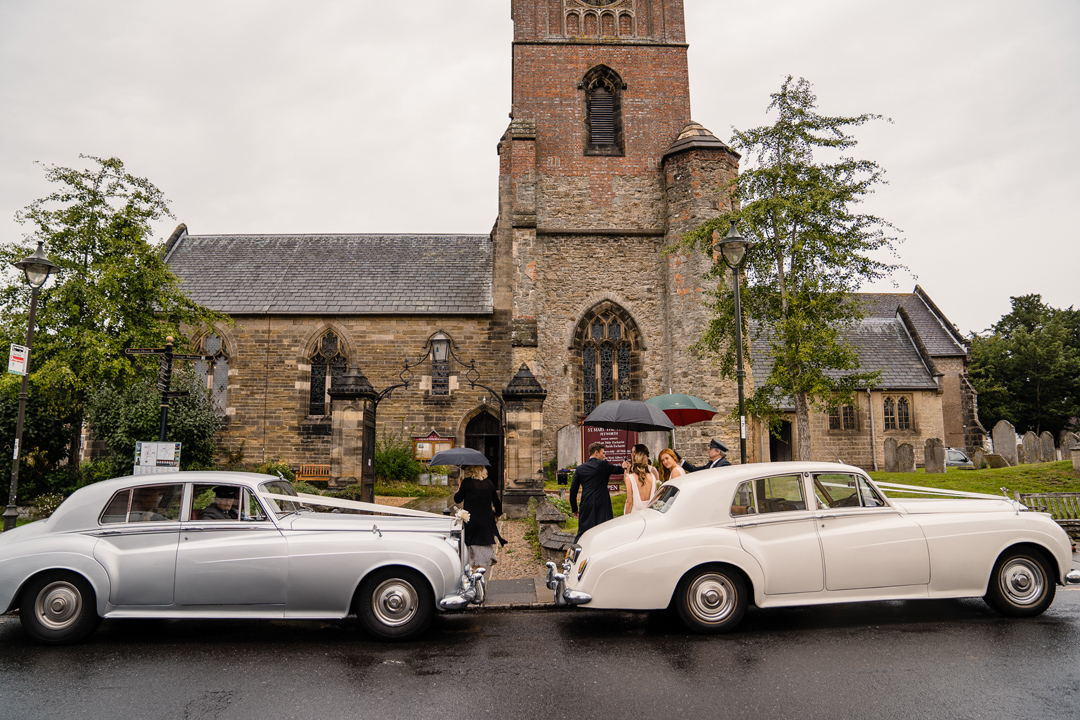 "We both wanted a long engagement so that the wedding wouldn't completely take over our lives and to give us an opportunity to save and plan. I also felt a little young to officially tie the knot."
"From engagement to wedding was going to be 2.5 years. We decided to push the wedding back by a year to allow for the dust to settle and allow us to have the day we imagine."
The couple's original wedding date was 26 September 2020 but they decided early on in the first lockdown that they would postpone to 2021.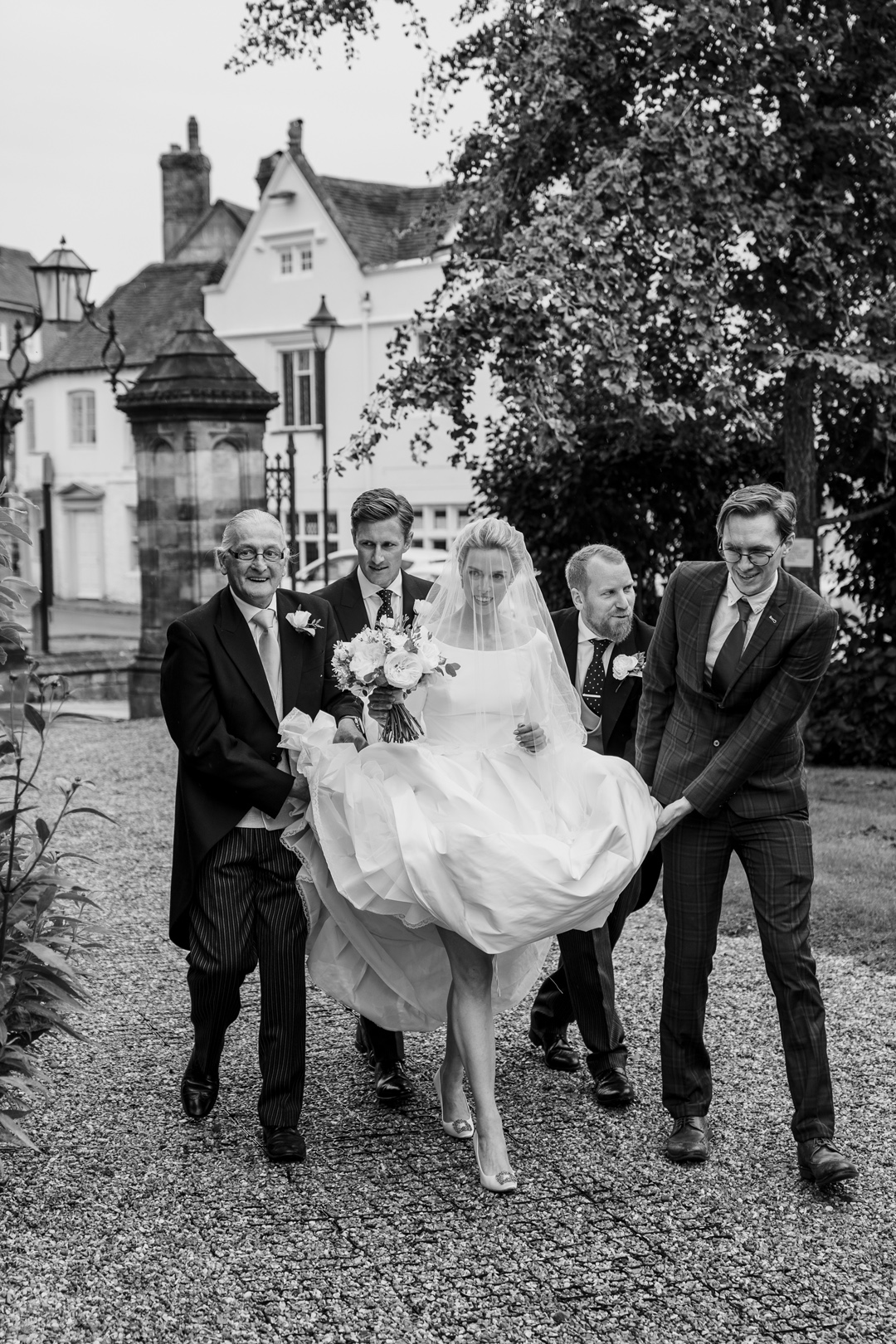 "There was still so much to organise and try on and I couldn't see us being able to finalise waistcoats, bridesmaid dresses, getting the flowers we wanted and, of course, the guest numbers were so unknown. It also didn't look like our plans would ever stay still and for peace of mind we should move quickly. I spoke to Cowdray right away with a view to pencilling in a Plan B date for August 2021 and we decided that we would make the move when necessary."
"We weren't long in to the summer before Cowdray agreed to let us move to Summer 2021. The fact that we had an unrestricted day was very lucky as the guidelines could have changed."
Antonia was a regular visitor to Love My Dress, and a supporter of our What About Weddings campaign, throughout her planning.
"Thank you so much for producing such inspiring and beautiful content, especially during 2020 when no one knew what to say, do or ask."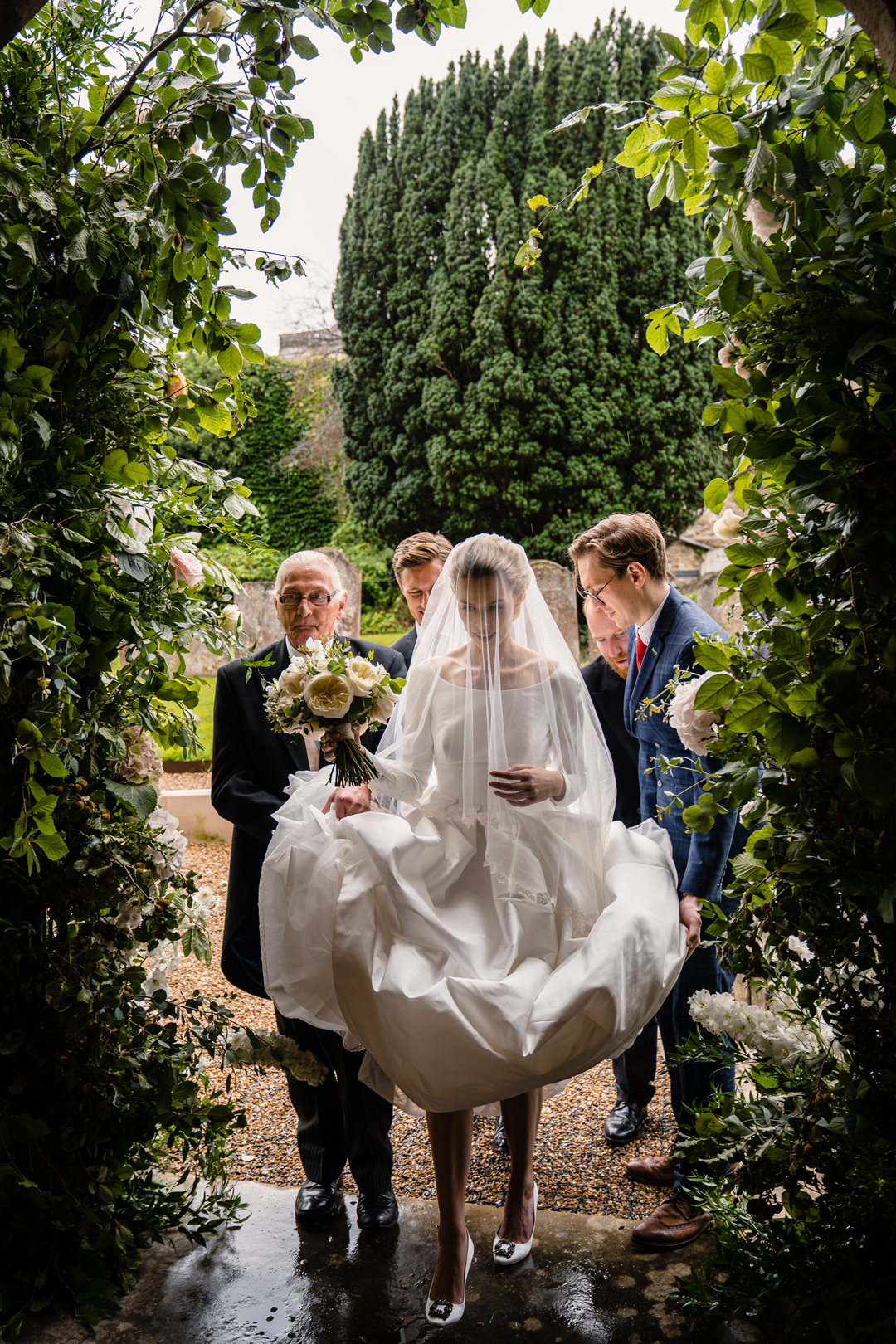 After getting ready at Cowdray's Houses bridal suite, the bride and her father travelled to the church in a Rolls Royce Silver Cloud hired from Premier Carriage before walking in to the same piece of music as her mother had at her own marriage, 'Finale Symphony No. 3 in C minor, Op. 78′ by Camille Saint-Saëns (arr. Jonathan Scott).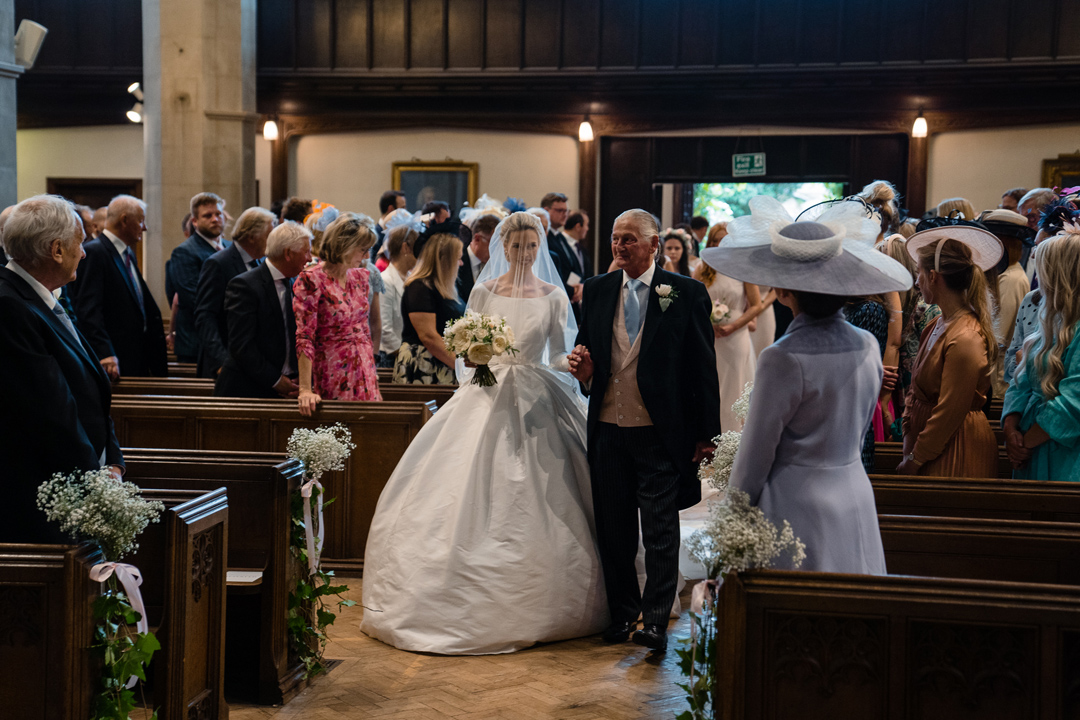 "My mother walked down the aisle to this organ piece and it had to be the same for me. It is really stirring and certainly heralds the arrival of the bride. With the church and my wedding dress, I felt it suited the part."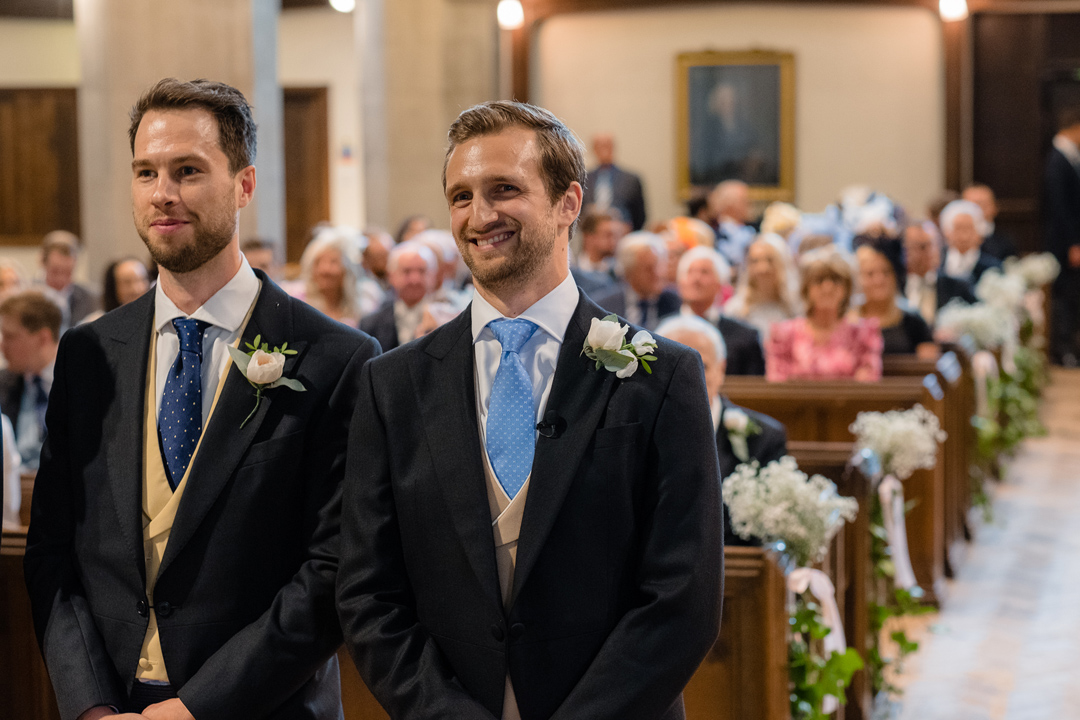 The Reverend Sara-Jane Stevens of St Mary's Church in Thakeham led the service, which included prayers written by the bride's godmother.
"We will never be able to thank Sara-Jane enough for marrying us and for her kindness during so much uncertainty. When she came out to the wedding car to check on me (while it lightly rained) it meant the world and she instantly put me at ease. My godmother read the prayers before our final hymn. They were beautiful and very moving."
"We chose traditional Church of England wedding vows and I chose to say 'obey'. The language used was very formal and we felt suited our day."
The first reading was Shakespeare's 'Sonnet 116 (Let Me Not To The Marriage of True Minds)', read by Elaine Hawken, the mother of the bride.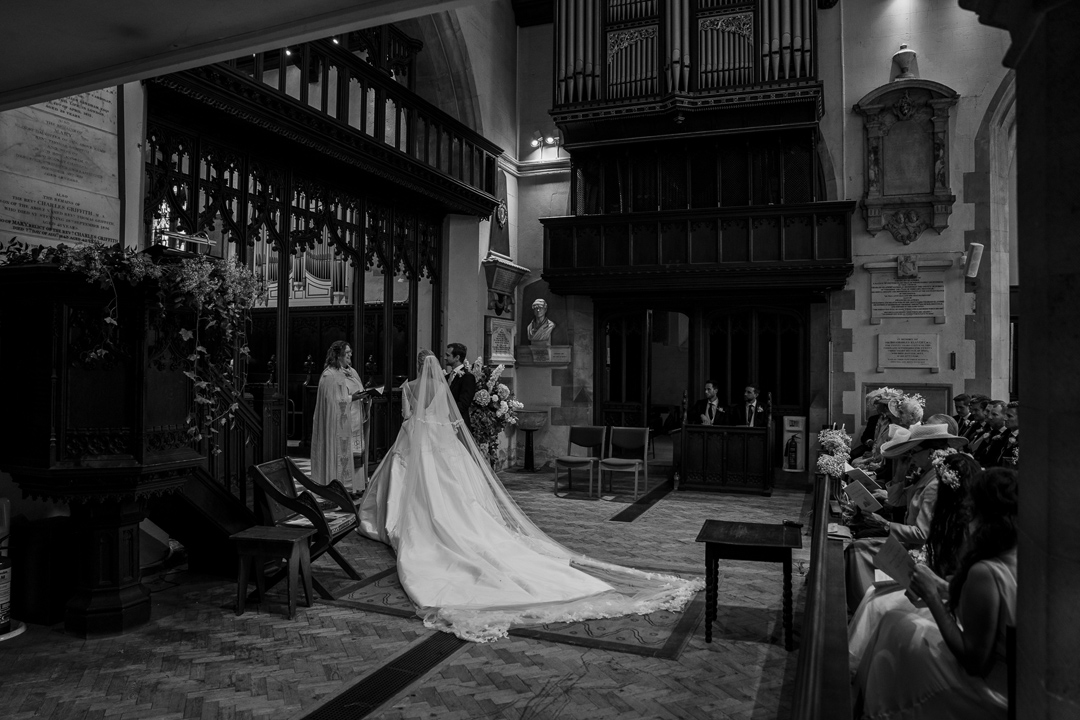 "My mother is a LAMDA teacher and Shakespeare has always been a prominent feature in my life, from my English BA and by performing in plays. It wouldn't have been our wedding without Shakespeare!"
The second reading was 'Forever Young' by Bob Dylan, read by Sophie Wellesley-Wood and the third was 'A Love Poem Between Two Lovers' from 'Song of Solomon Chapter 2, Verses 10-13; Chapter 8, Verses 6-7′ read by James Gibson.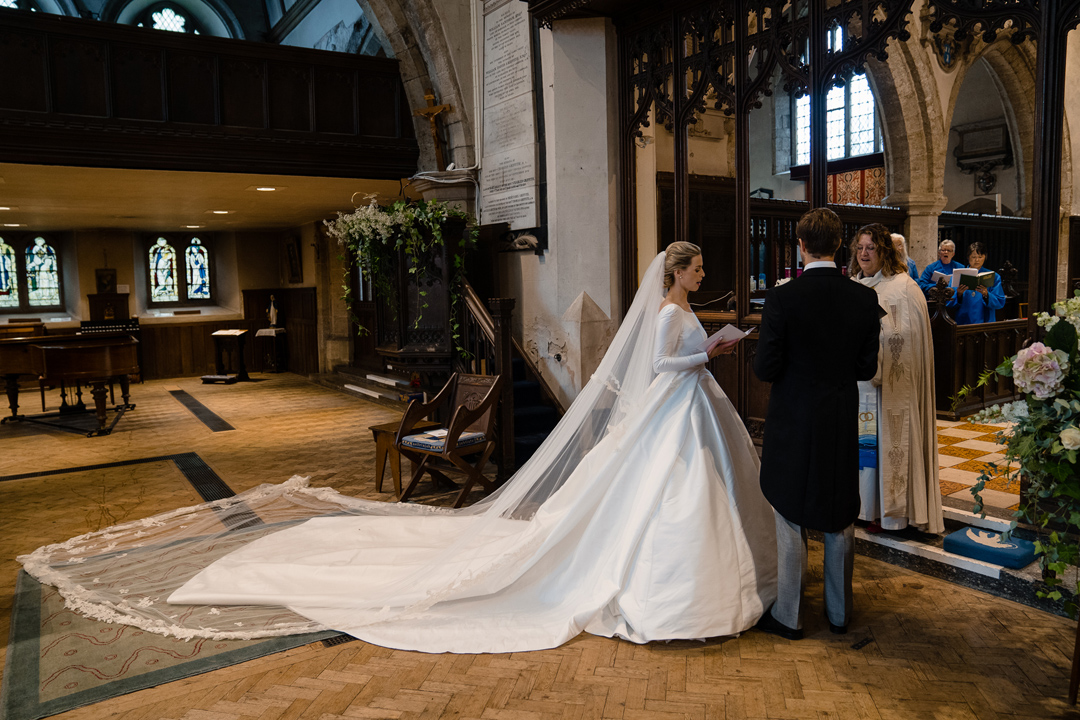 Music was very important to the couple, with special pieces chosen for the service. During the signing of the Register, the choir of St Mary the Virgin, Petworth and friends sang 'The Lord Bless You and Keep You' by John Rutter.
"We sang this piece regularly as part of the Hurstpierpoint College choir and I had to have it during our service. It evokes such happy memories of school but also first meeting Craig (who was not, I hasten to add, in the choir!)."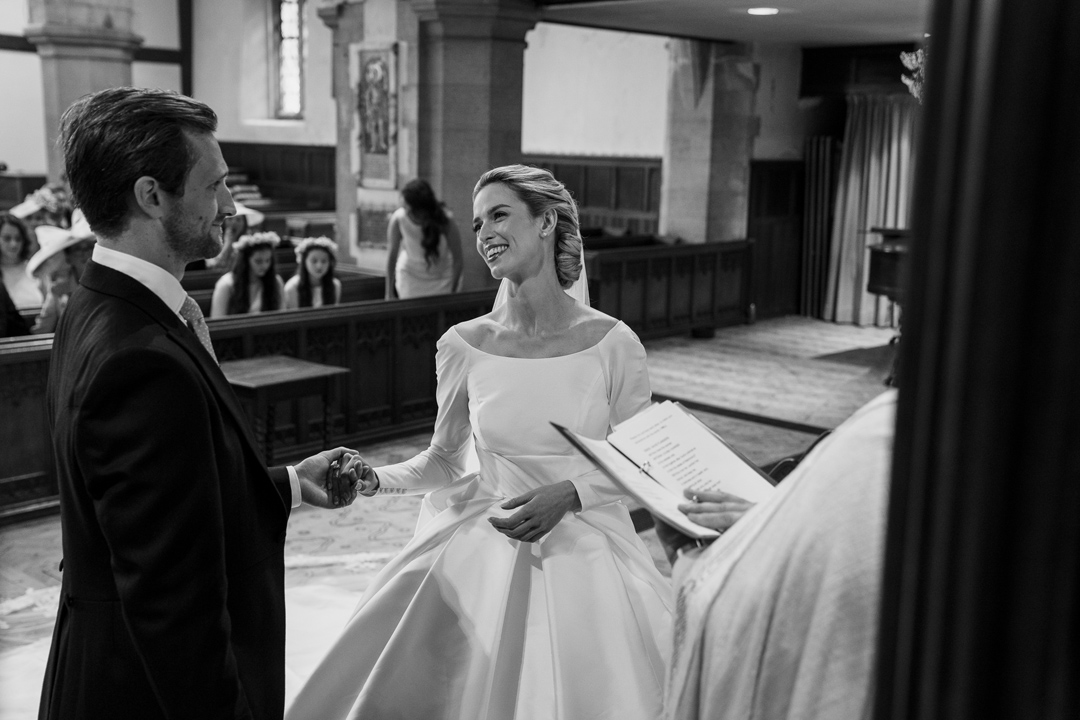 The bride's sister Dominique sang 'All of Me' by John Legend, accompanied by Alex Ling.
"This is the only song Craig has said reminds him of me and it's very much what we think of when asked about 'our song'."
"My sister is a wonderful singer and it was a privilege to have her sing as chief bridesmaid as we finalised the paperwork in the nearby Lady Chapel."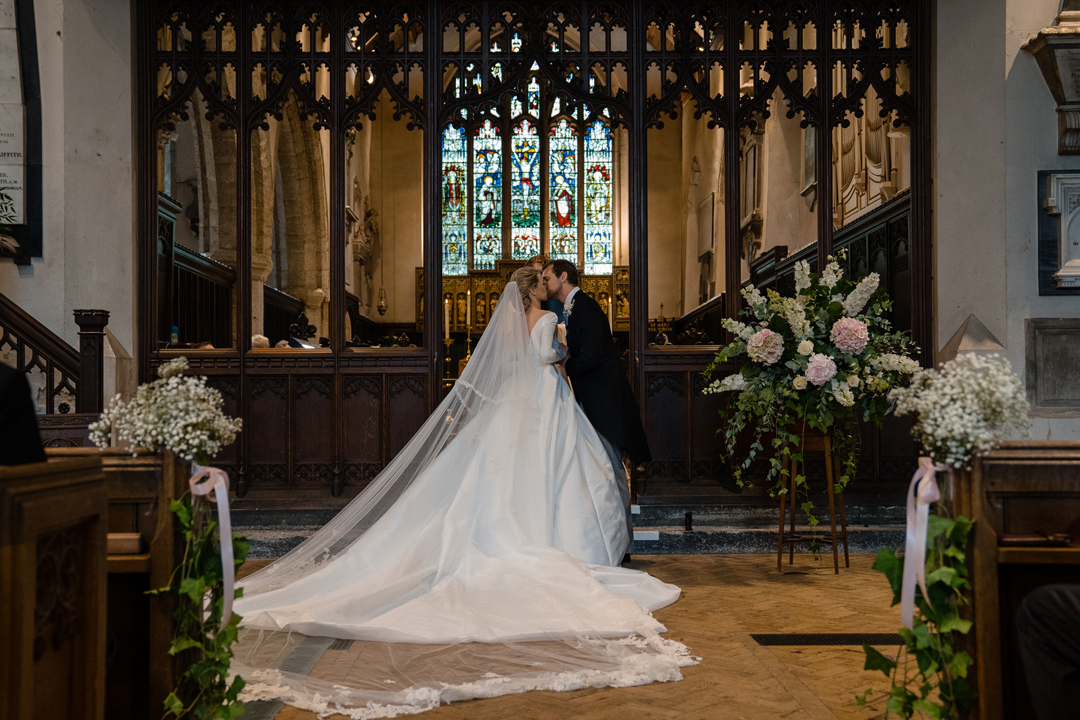 "Music has always played an important role in my family (my sister is a musician and we both trained as singers) so to have Dominique sing during the Signing of the Register was very special."
"She and friends also joined the Church choir to sing 'The Lord Bless You and Keep You'. I was so distracted during the signing; I just wanted to listen."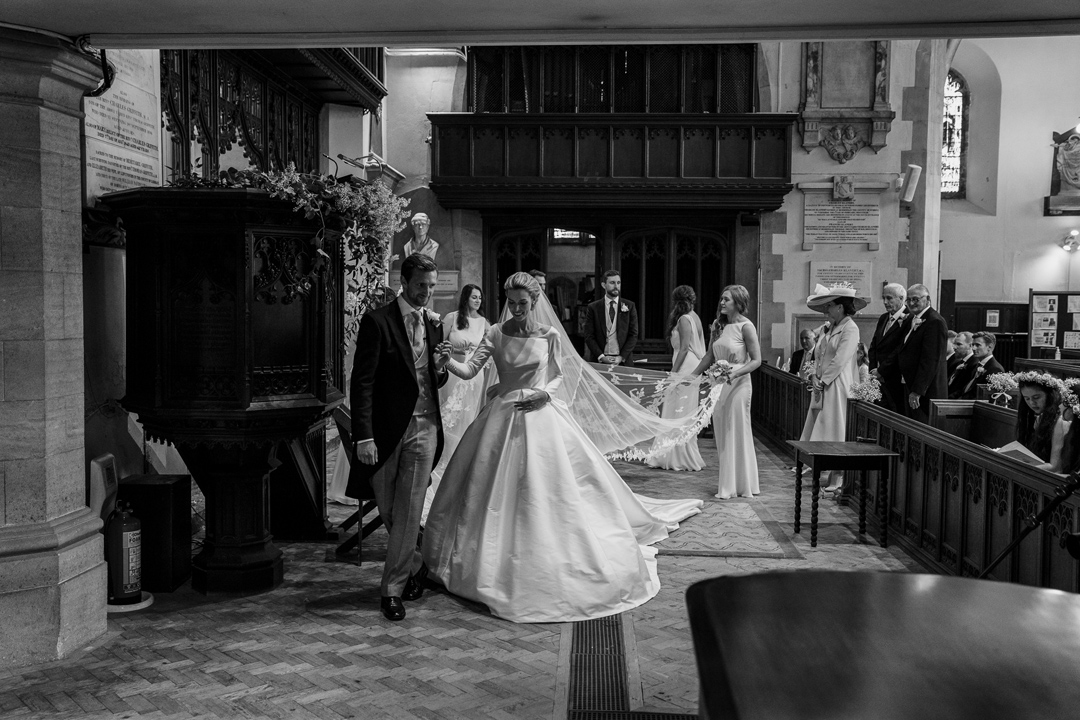 The couple exchanged rings, Antonia's from Browns and Craig's from Sophie Breitmeyer, where the bride's engagement ring was also designed.
"My engagement ring was designed by Craig and me when we got engaged. He knew not to propose with a ring as I had absolutely no idea what I wanted and I wanted to create something special together."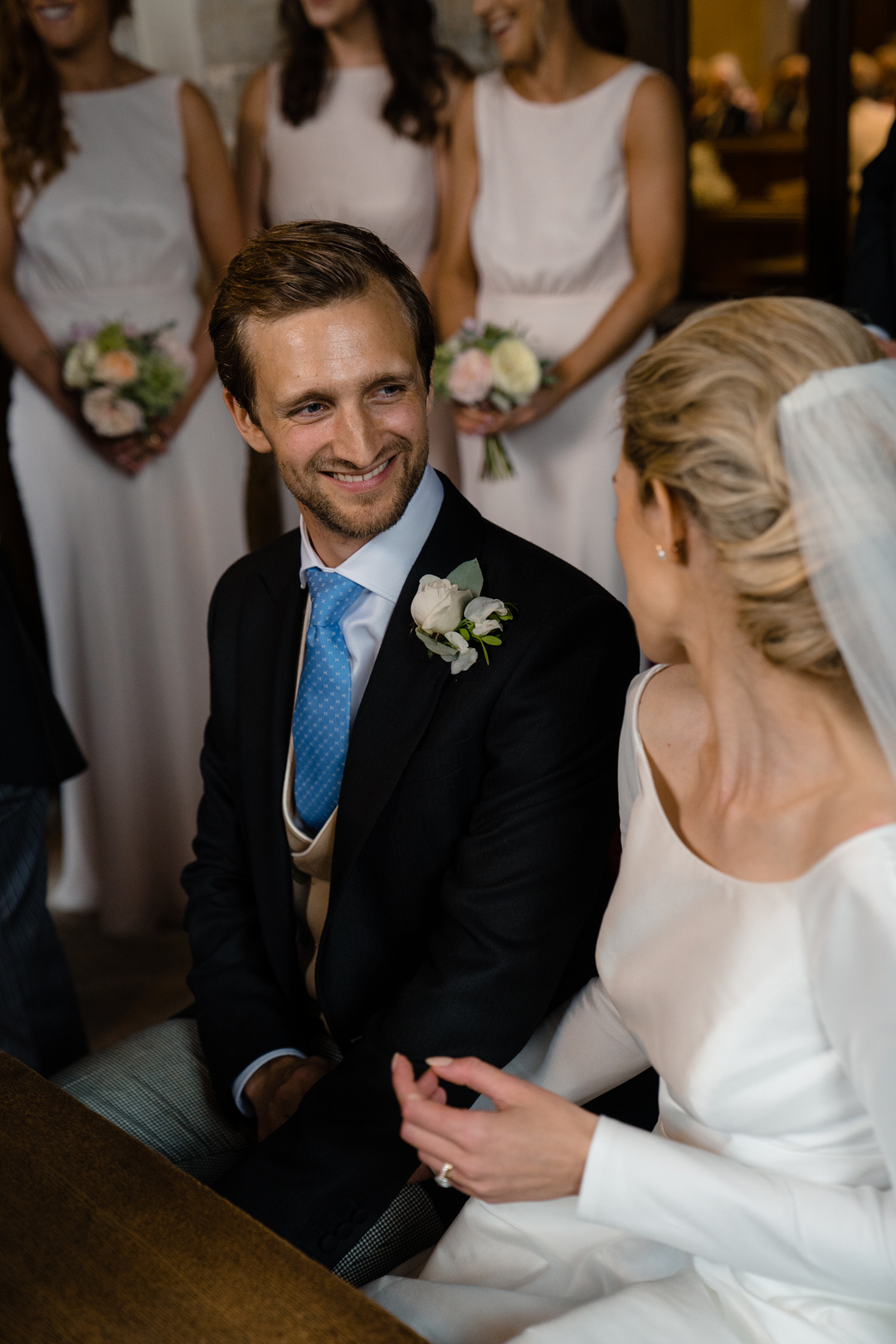 "My wedding ring is made from South African gold and South Africa is a special place for Craig and I."
"I wanted something simple, slim and yellow gold and my band just stood out to me as we walked past Browns' New Bond Street Store in the summer. It was fate."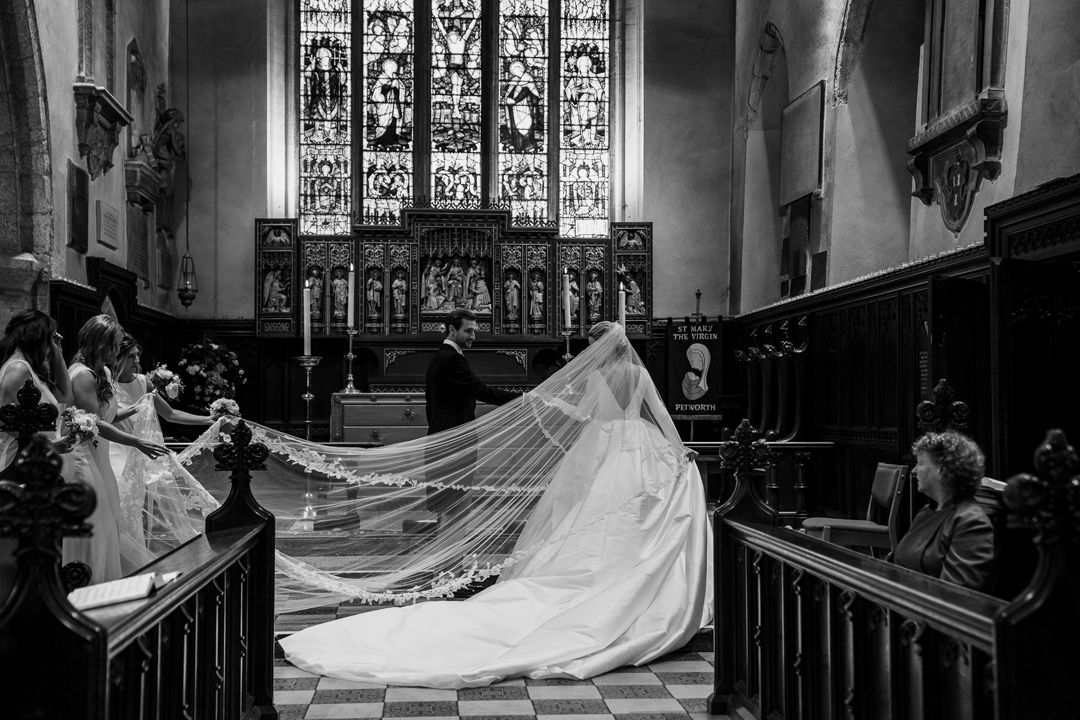 The newly-weds walked out to 'The Symphony for Organ No. 5 in F minor, Op. 42, No. 1', composed by Charles-Marie Widor.
"This was played at the end of term at Hurstpierpoint College, where my father also went to school."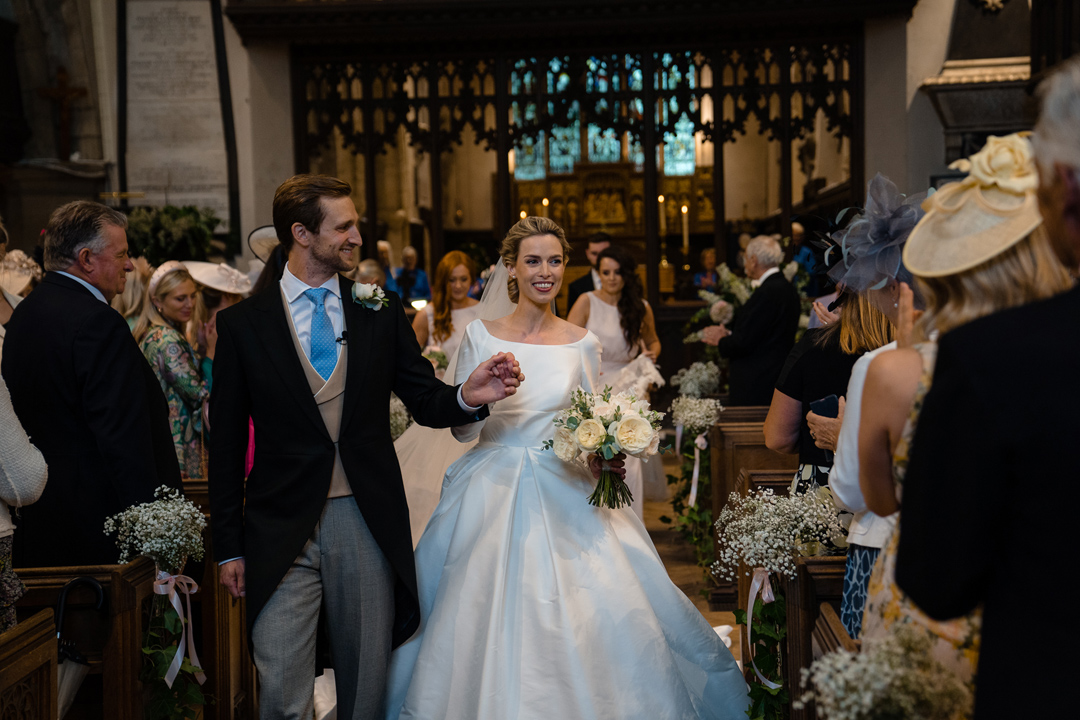 "As we exited, the bells of St Mary's Petworth were played by the ringers of Petworth and St Mary's Thakeham where my maternal grandfather was Captain of the Tower. The peel was so moving."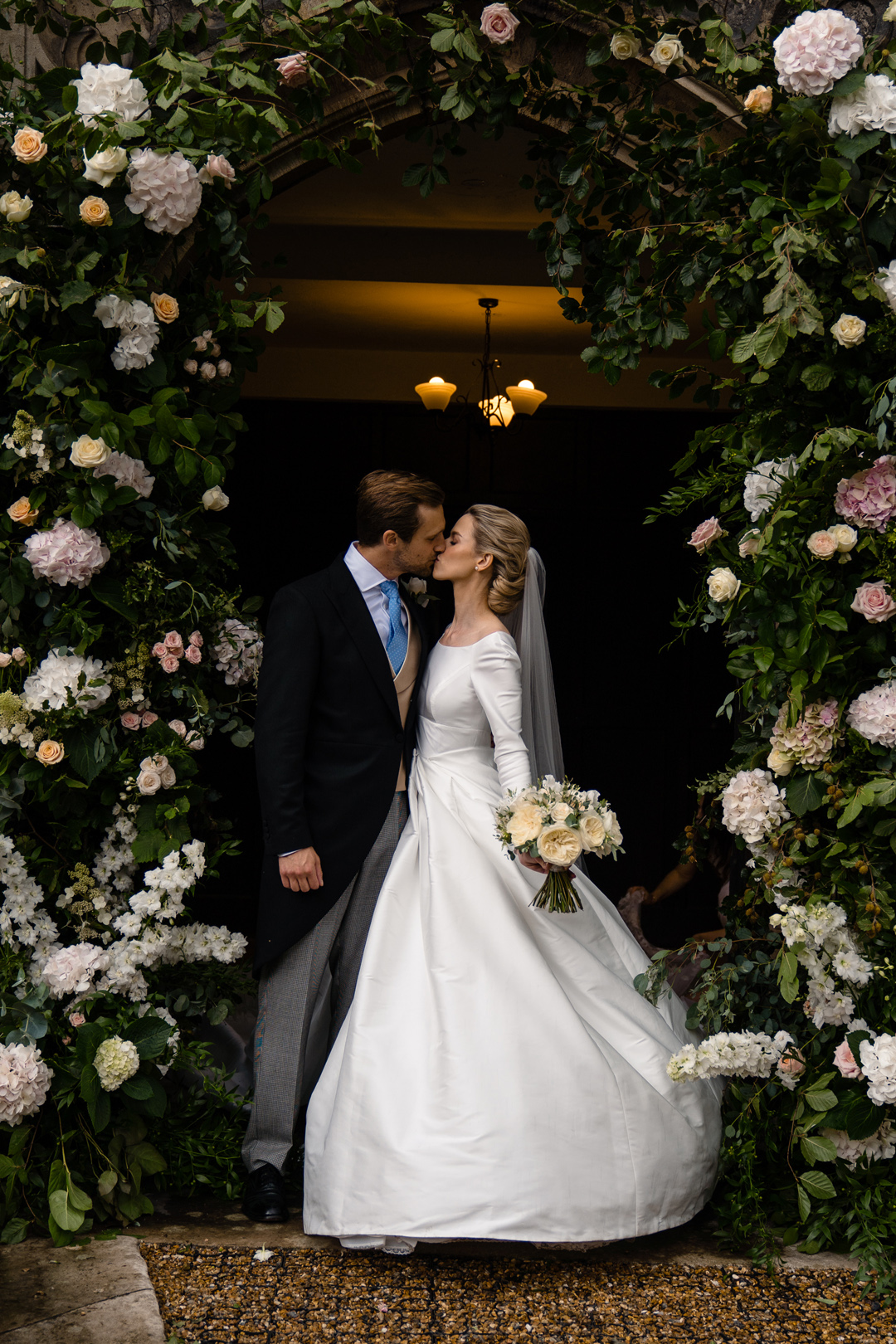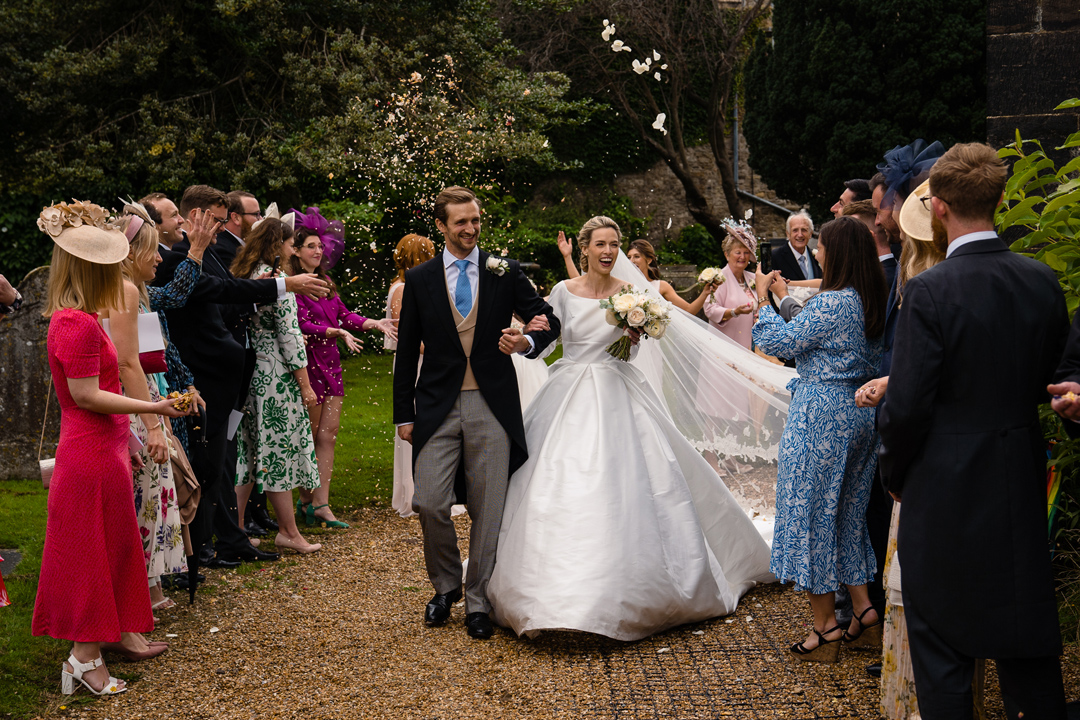 The couple hired Helen Abraham to document their beautiful day in images.
"We loved Helen's ability to take beautiful candid shots as well as formal portraits that were in traditional, clear style."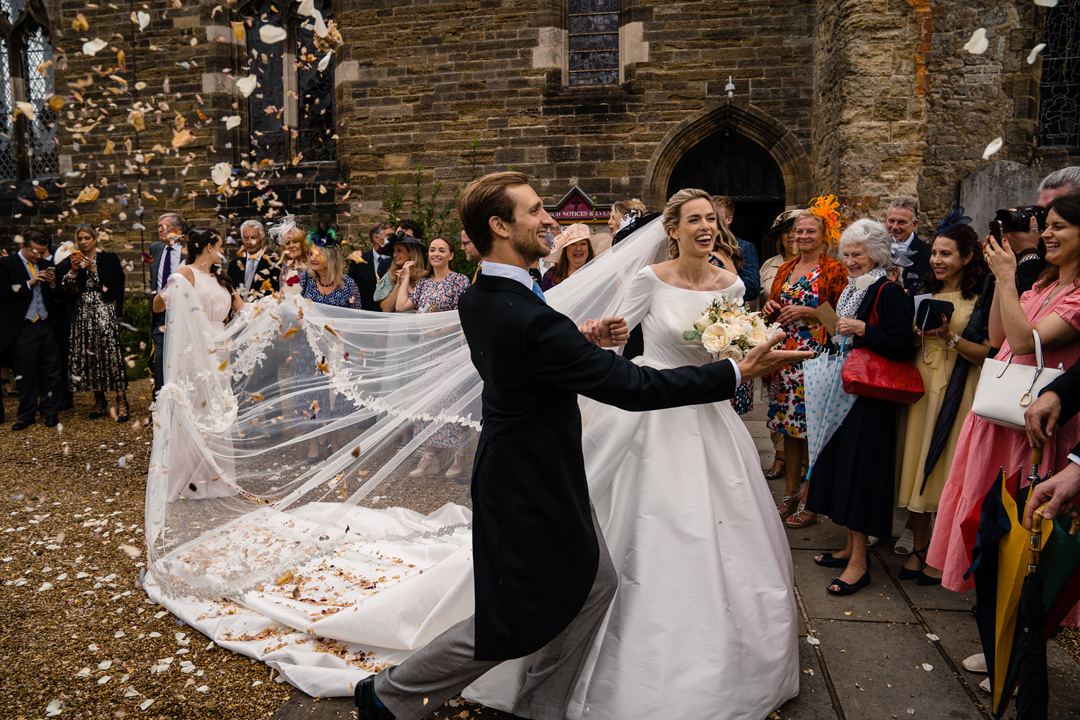 "Looking at her portfolio, she had experience taking images in a church whether at the peak of summer or a darker, rainier day."
"Whatever weather we had, we knew she could produce something beautiful and classic."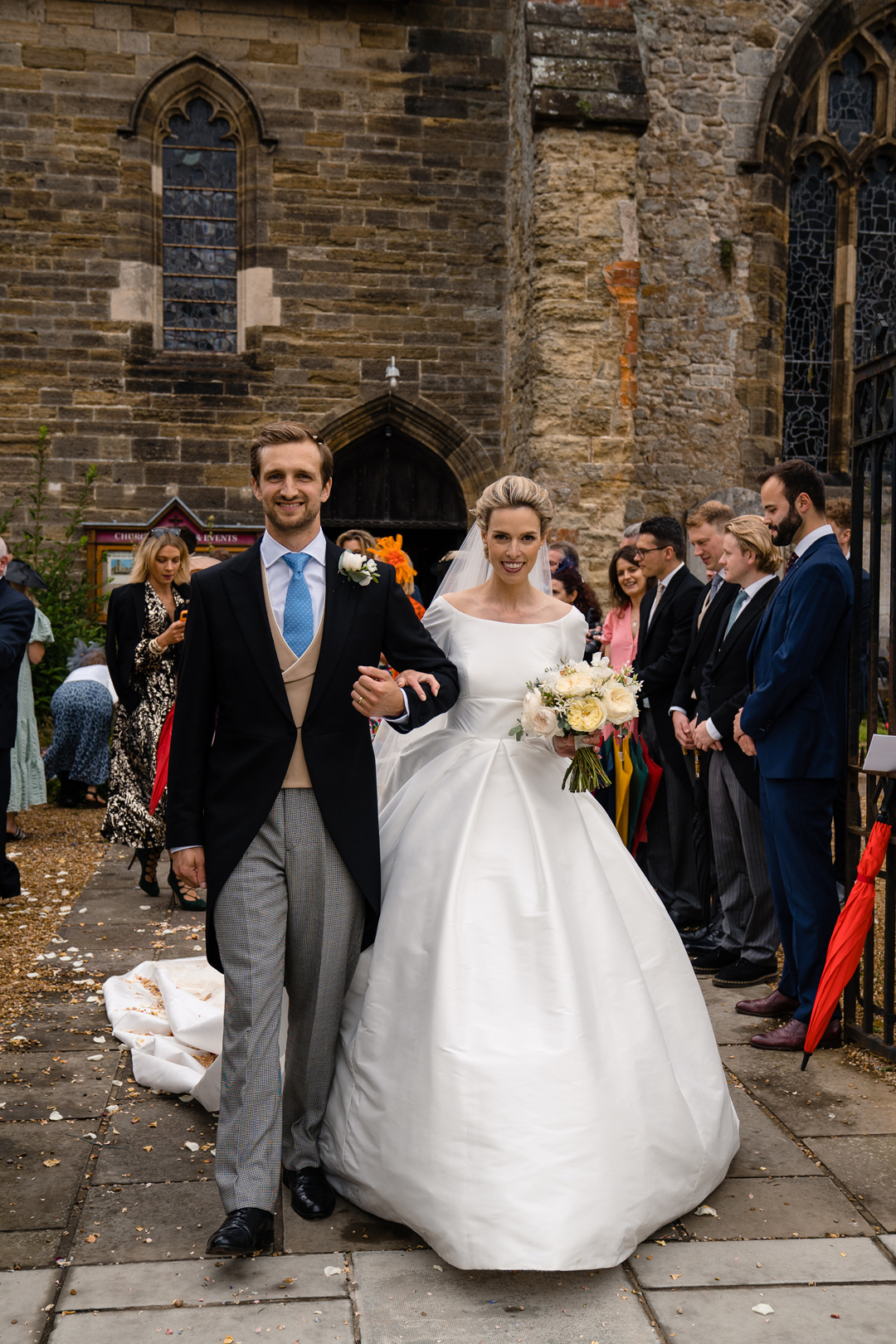 "Helen managed to produce an incredible range of photographs from multiple angles and positions – we had no idea she was moving around so much! Incredible."
The images of us under the arch will be treasured forever."
They also hired Ash Videography to produce a beautiful film.
"We loved Ash! She took the time to get to know us and ask what our key moments would be for her to look out for (I did warn her about my dress size and length!)."
"Having a videographer was really important to us and worth the additional spend. We will treasure our video forever."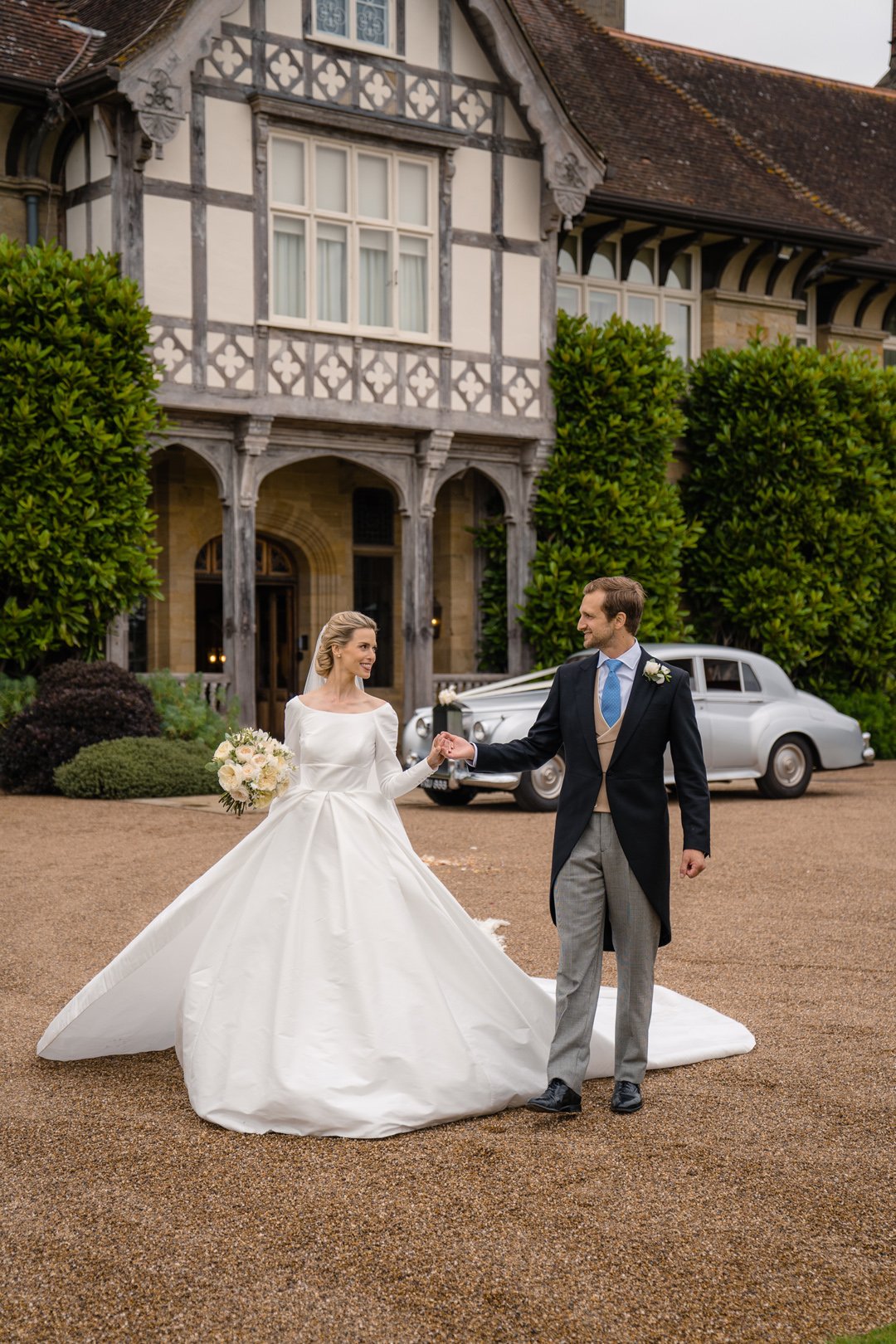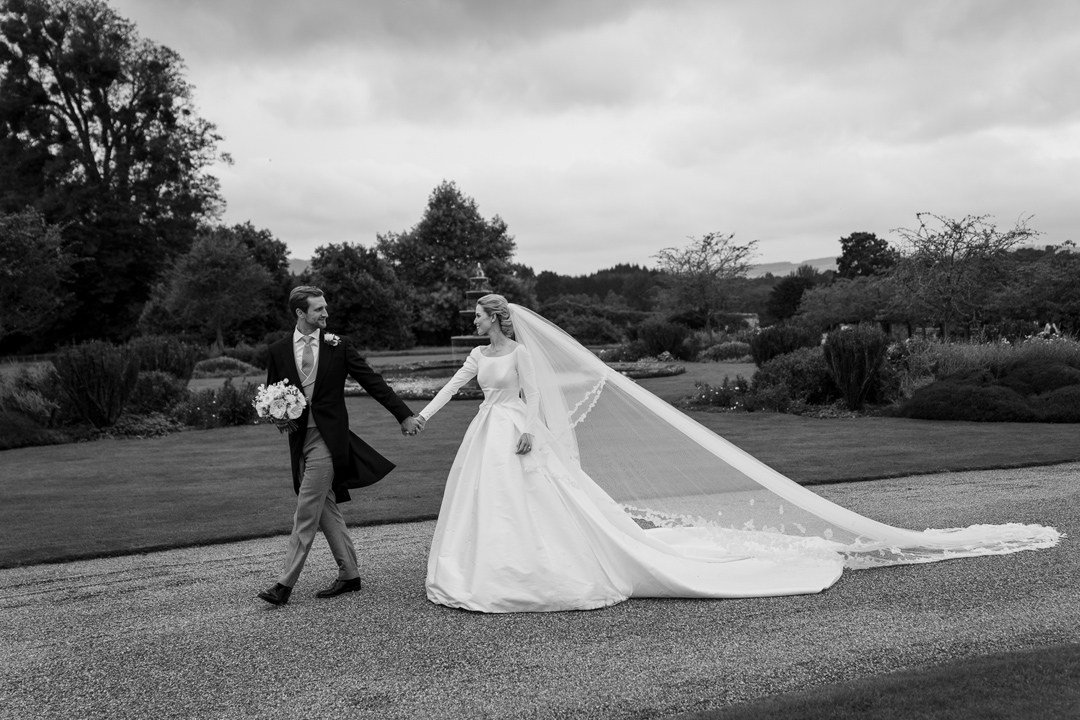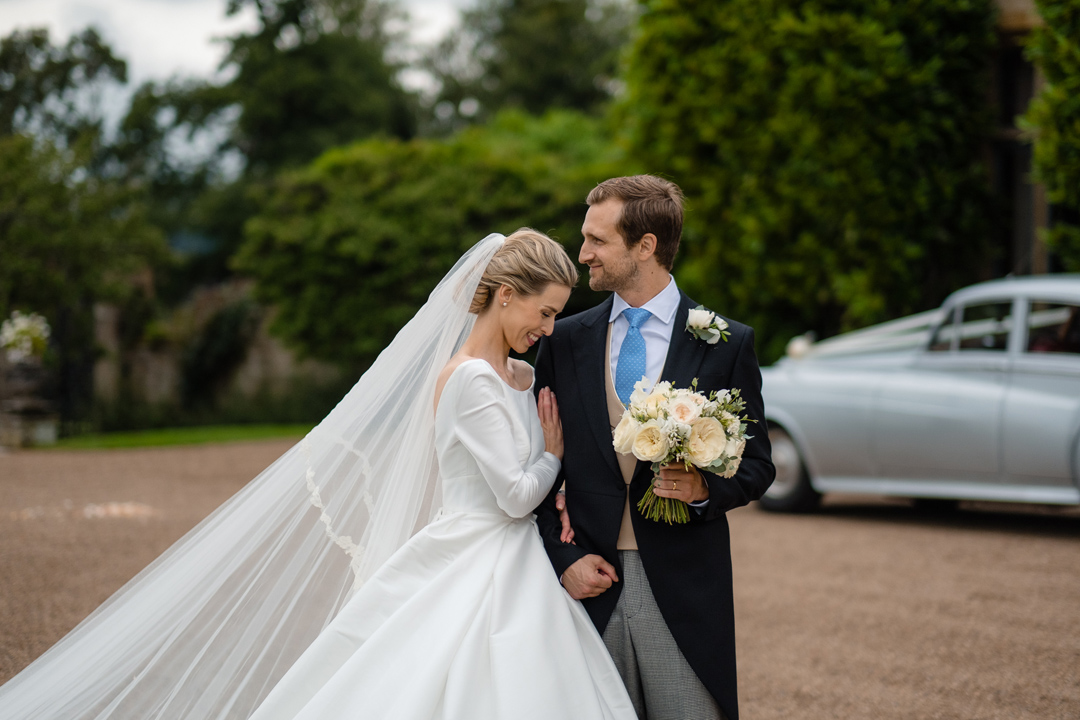 Antonia's grown-up bridesmaids looked elegant in the cream soda 'Regent' dress from Maids to Measure.
"The girls looked absolutely stunning and the colour was so soft and subtle against the bolder colours of Cowdray House but also tied in beautiful with the wedding flowers. They wore L.K. Bennett nude suede heels and I gifted them pearl stud earrings to wear on the day."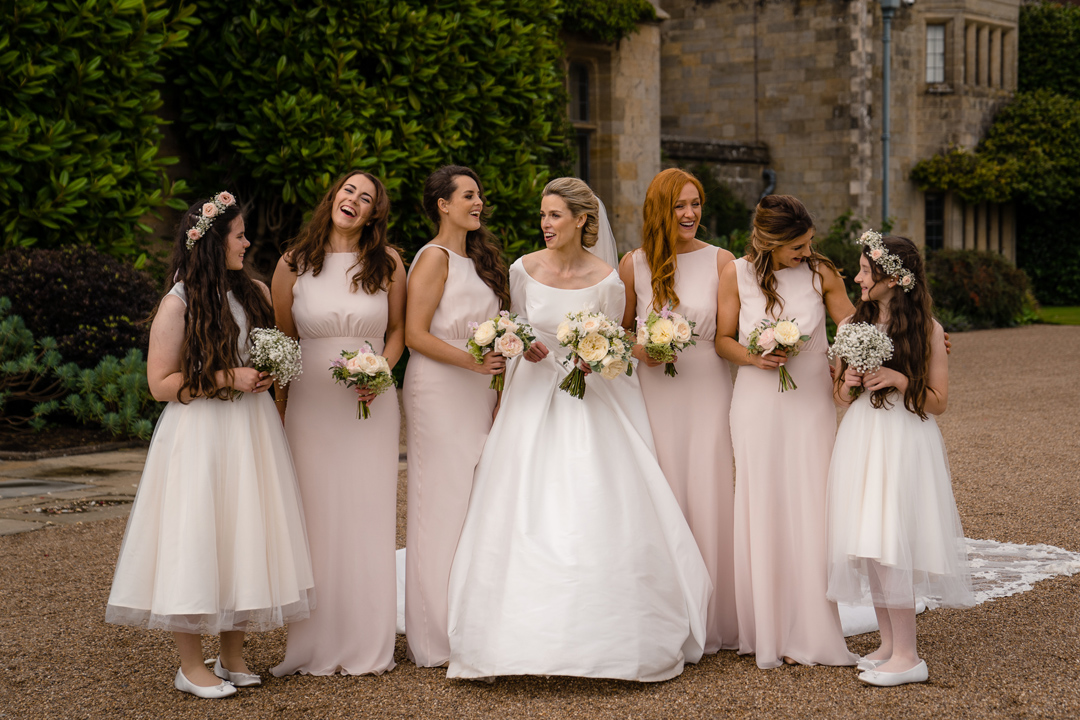 They carried posies of blush pink and white garden roses, sweet peas and eucalyptus, tied with blush pink ribbon.
Antonia also had two flowergirls, wearing customised gowns from Next and flower crowns of gypsophila and pink roses, with posies of gypsophila and pale pink ribbon.
The mother of the bride wore a Suzannah London dress and an incredible hat from Hostie Hats.
The newly-weds and their guests headed to the reception venue, Cowdray House.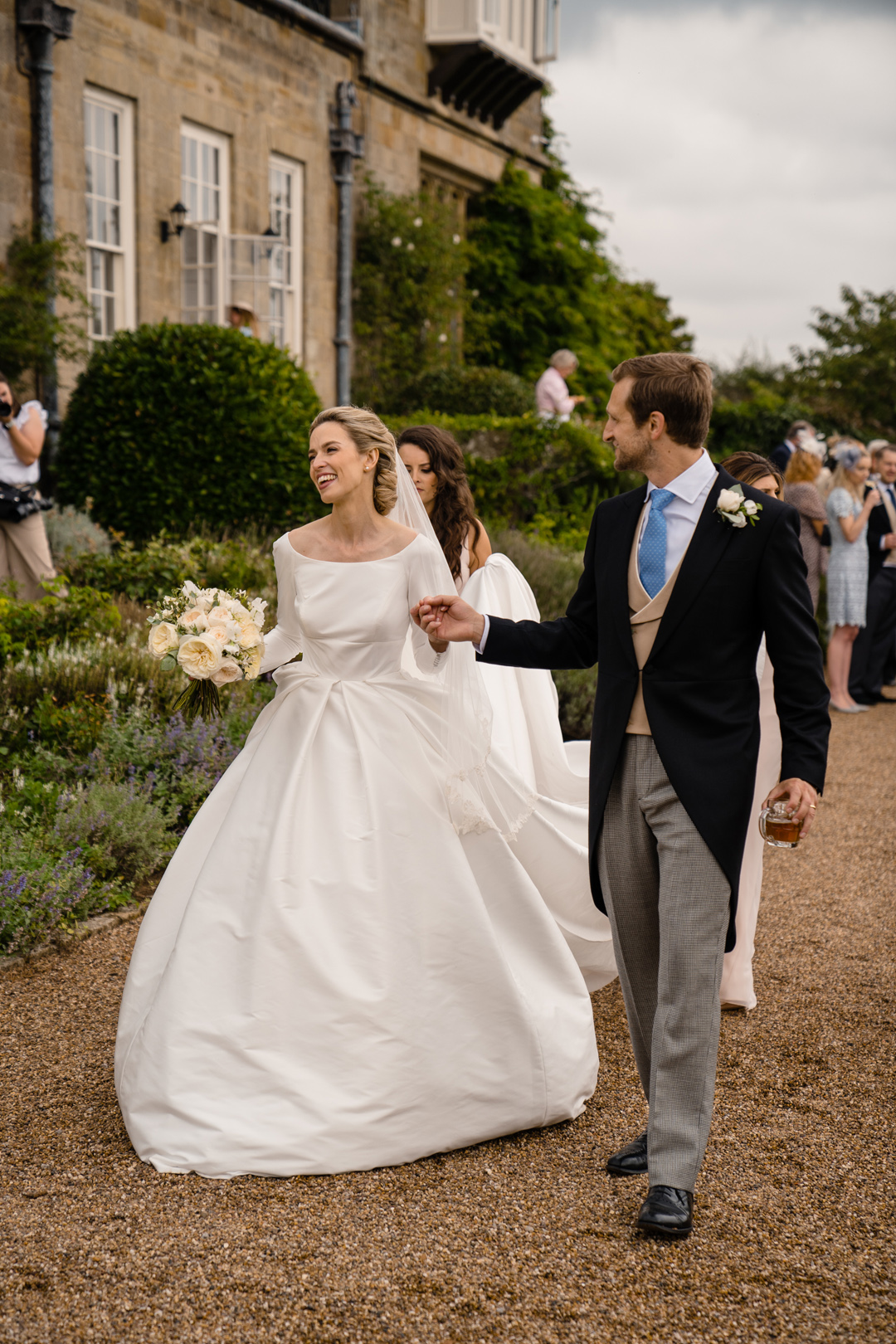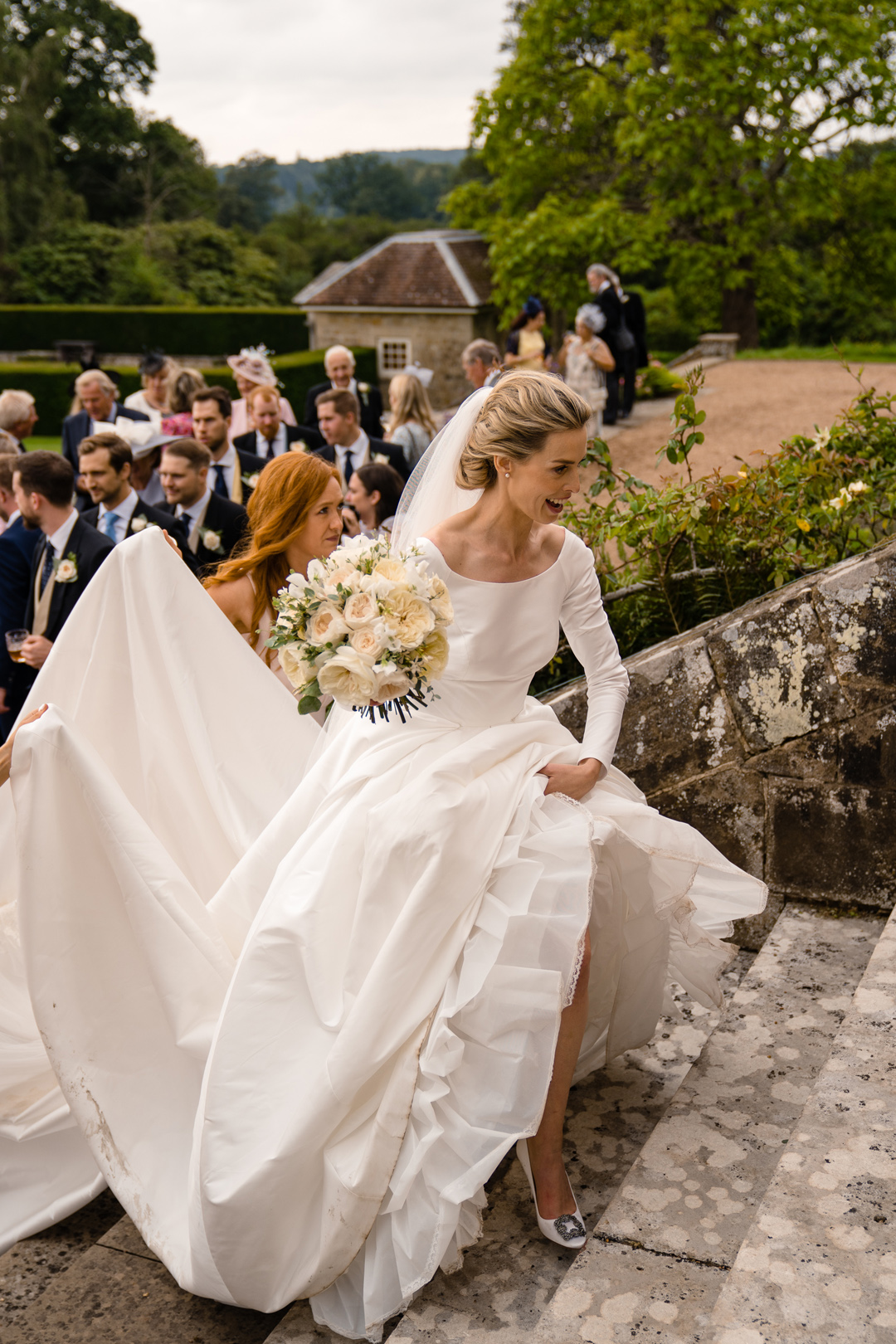 The banqueting hall was set with long, long dining tables ready for the wedding breakfast, provided by Caper & Berry.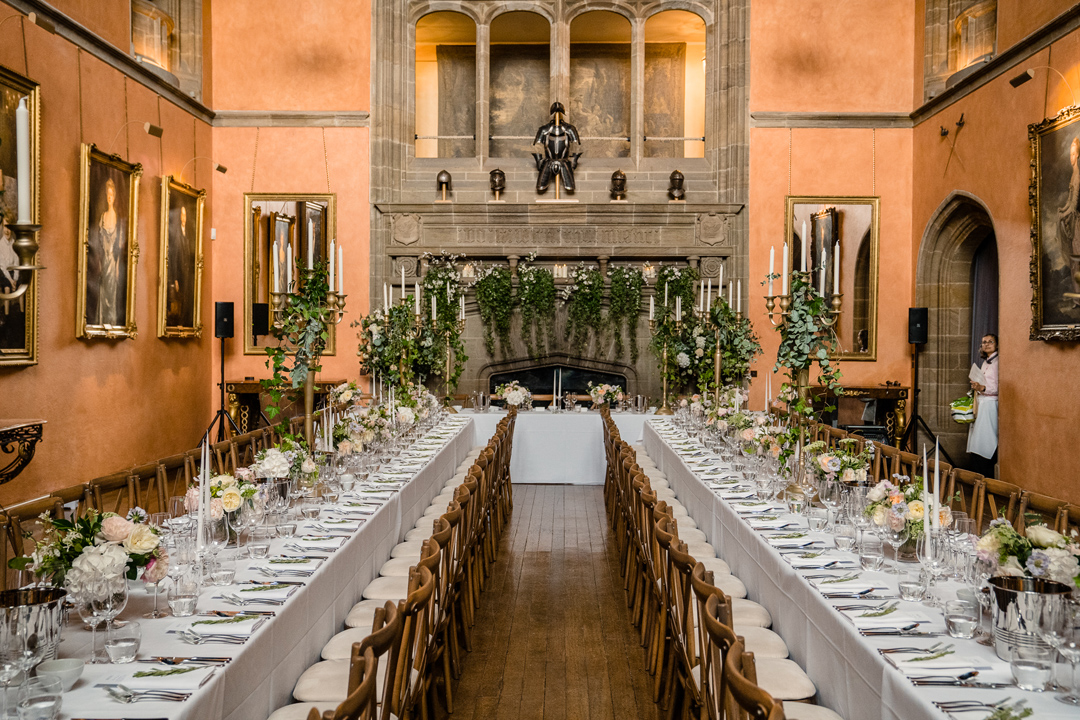 The tables were dressed with candelabras decorated with simple ivy and eucalyptus foliage, as well as footed glass vases with pale pink and white hydrangeas with peach roses, pale blue scabious and foliage.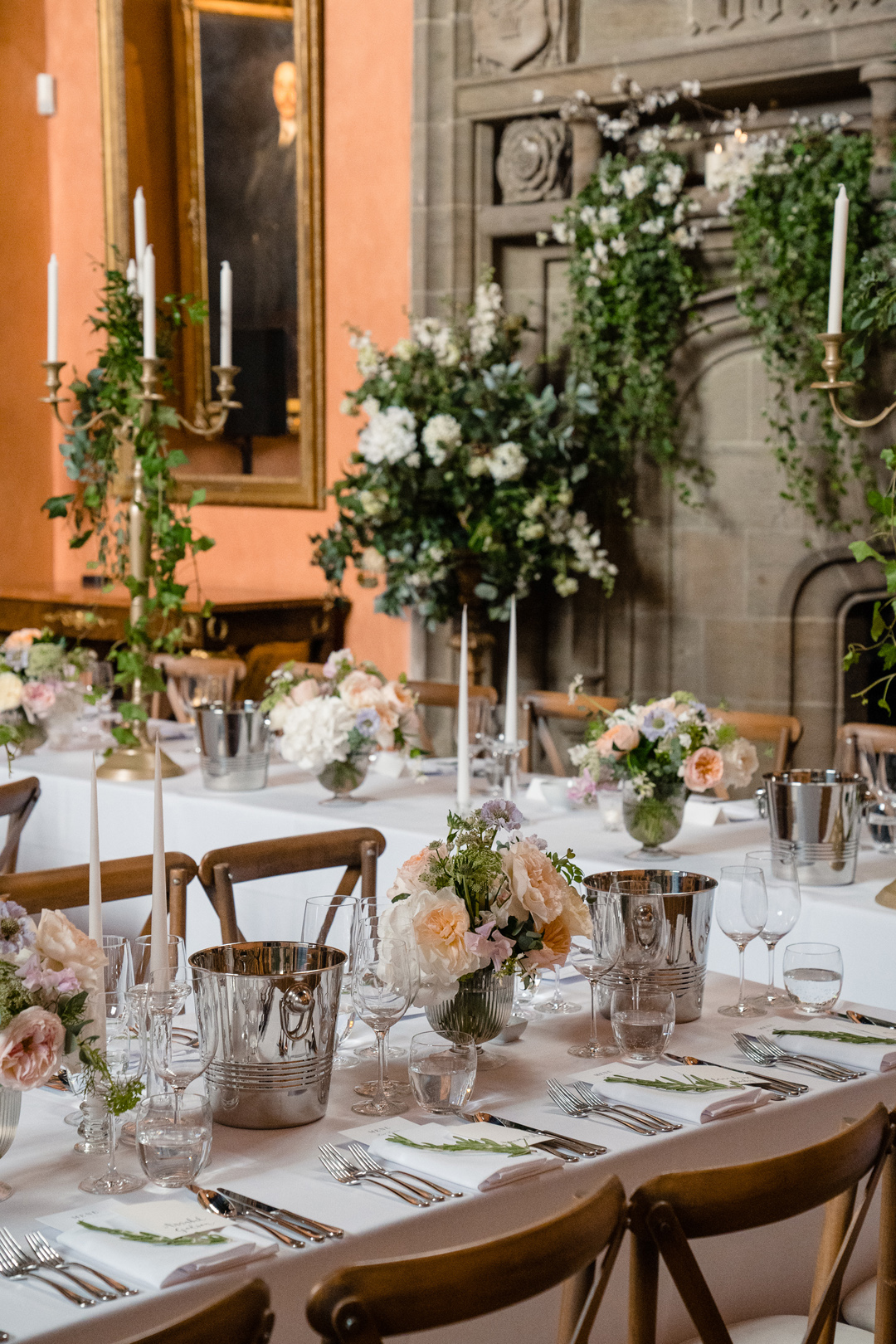 "We had fresh rosemary sprigs on each napkin to tie with the main course of roast lamb."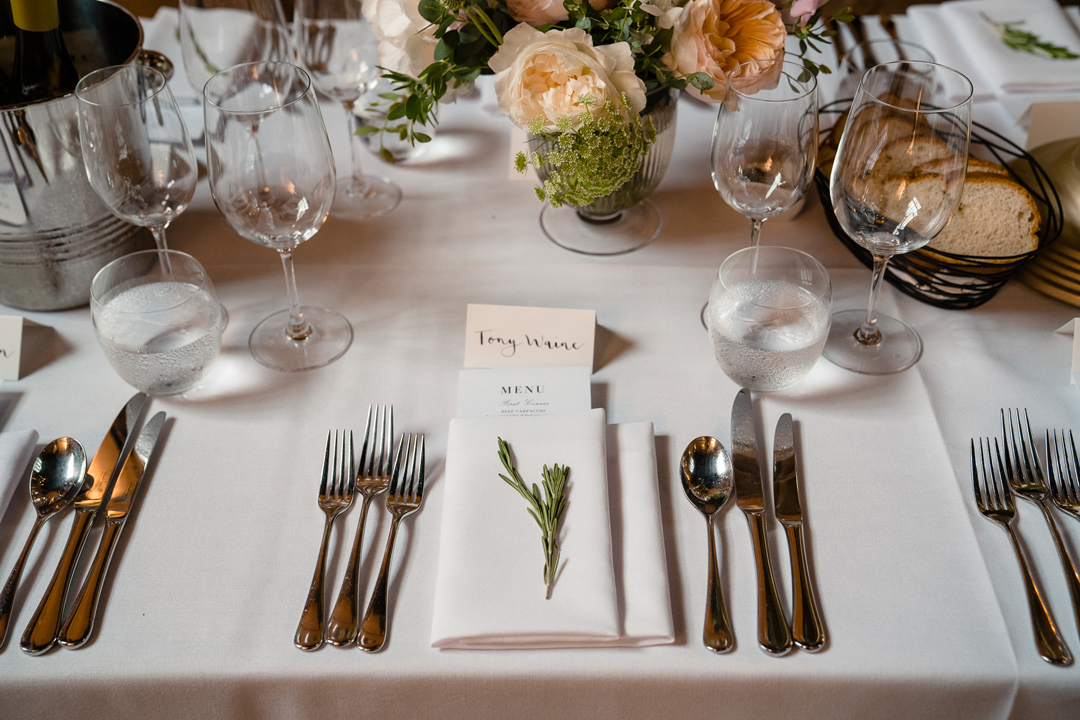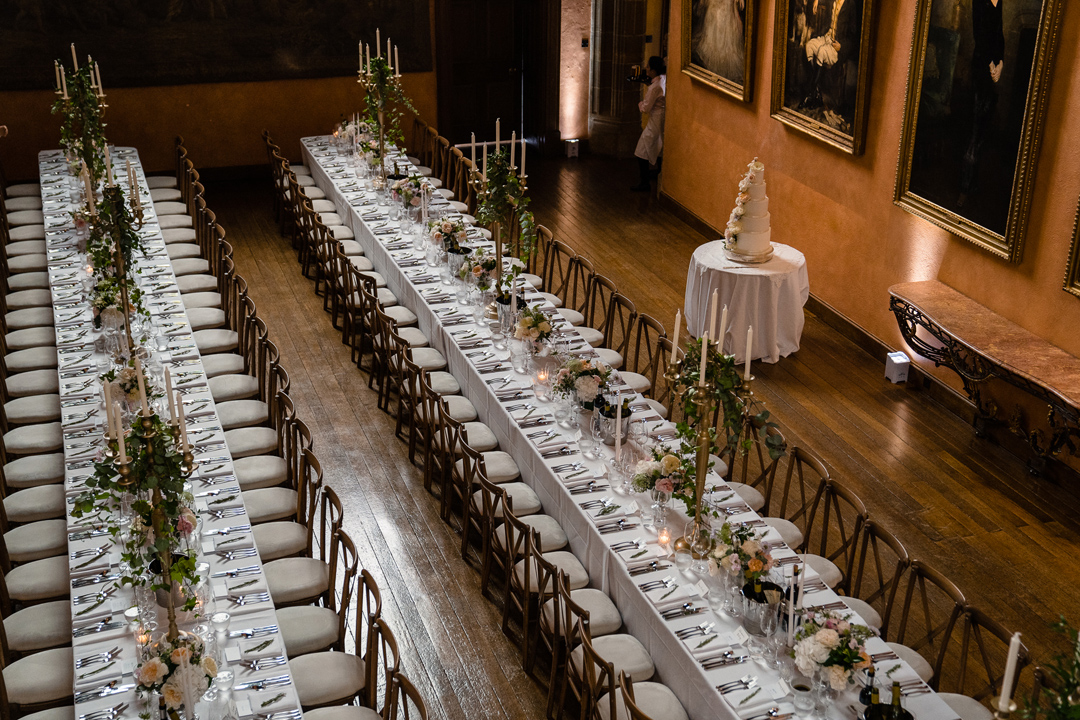 "We decorated one of the drawing room tables with family wedding photographs and images from our engagement shoot (captured by The Springles) as well as Jo Malone and Cowdray candles. The scent was wonderful."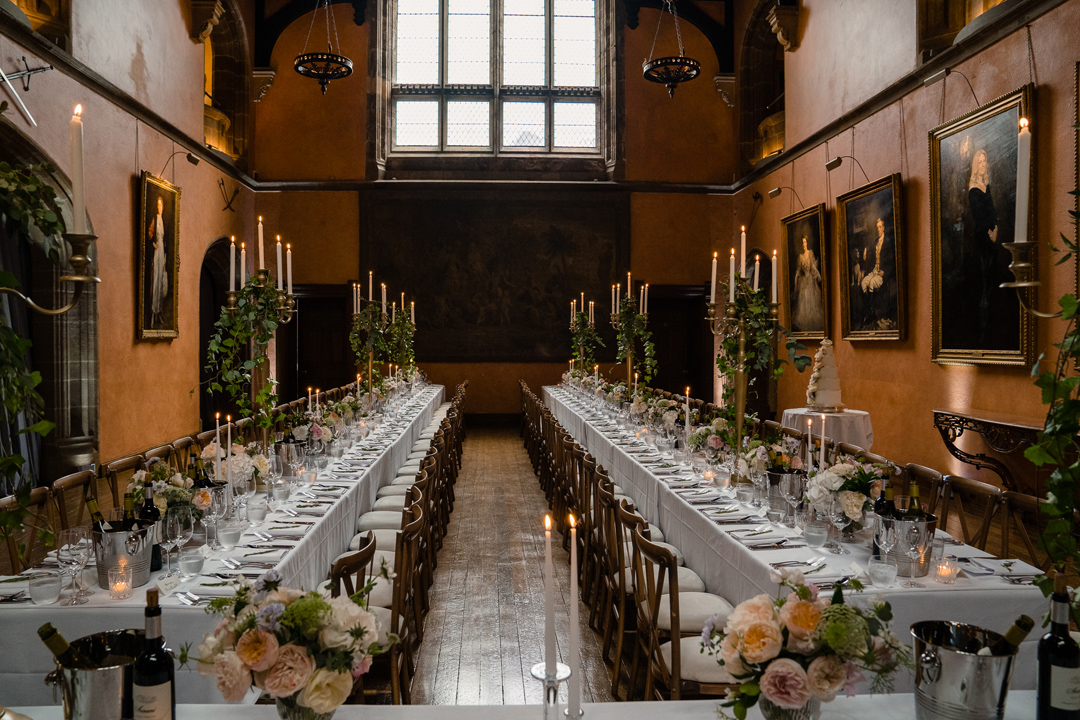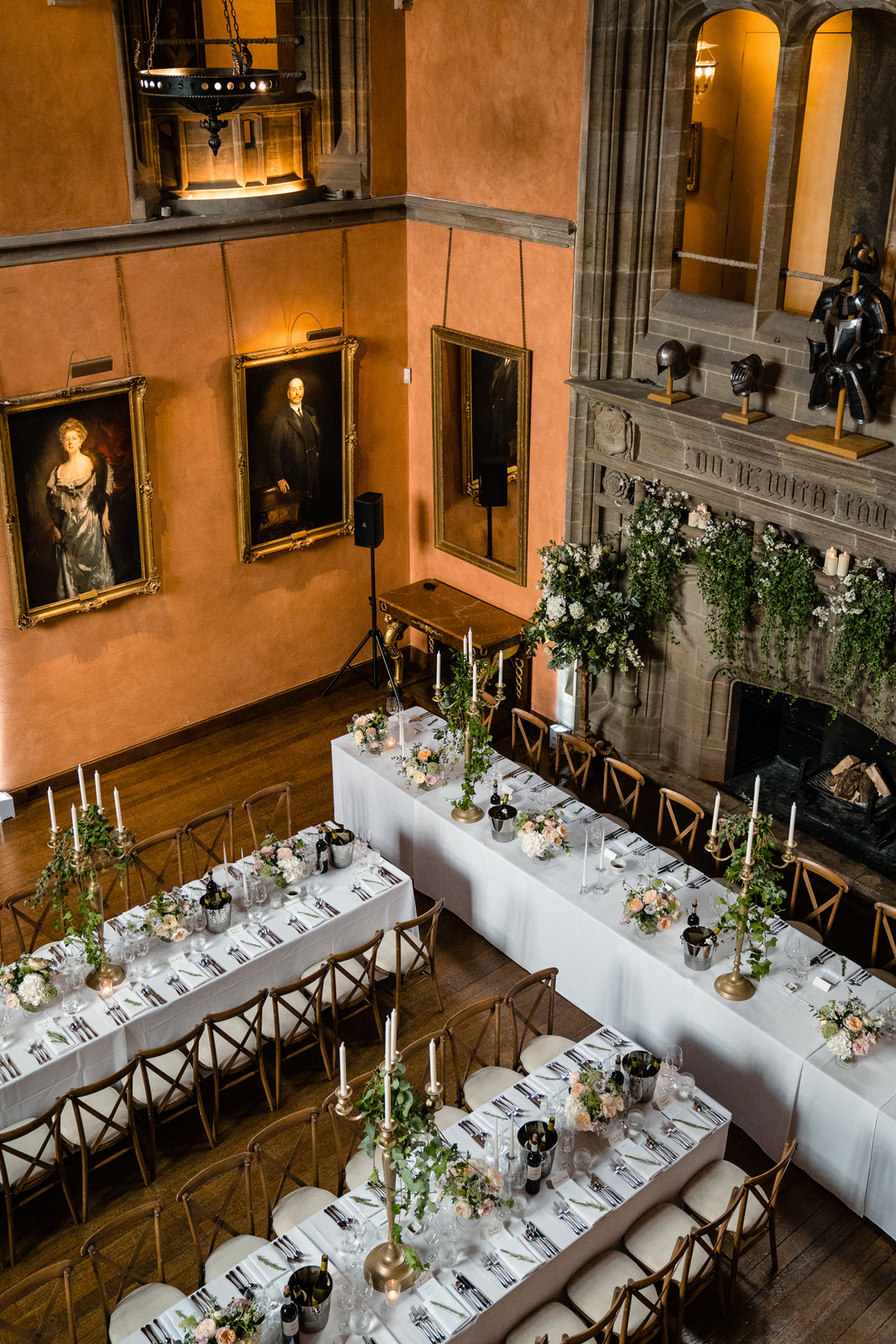 The bride designed the menus whilst Era Calligraphy created the table plan and top table place cards.
The guests' place cards were by Ellie Riley Calligraphy and invitations had been designed by Rosemood Atelier.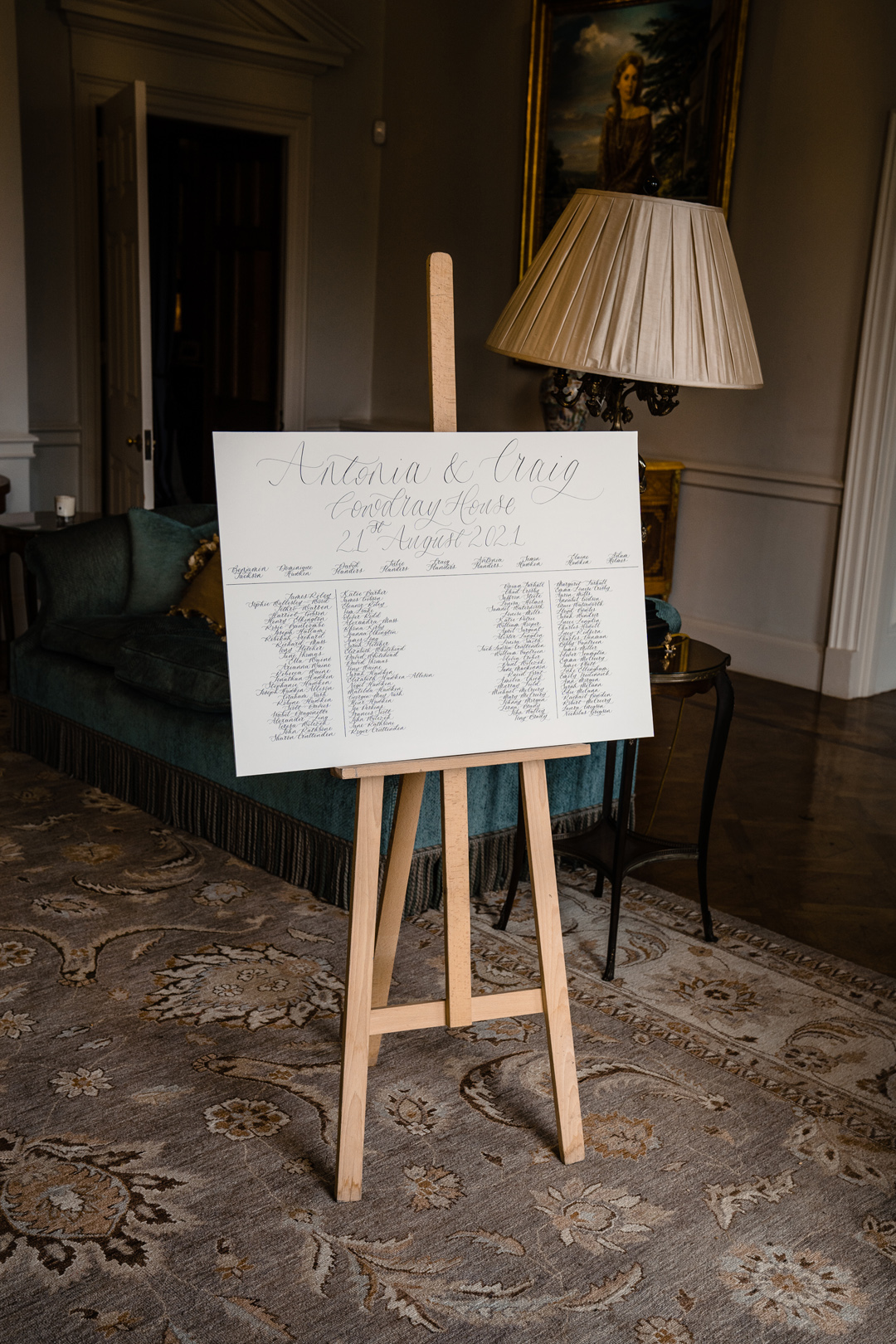 In keeping with the classic and timeless style of the day, Craig and his groomsmen wore morning suits from Favourbrook, comprising houndstooth trousers and jacket and a buff waistcoat with cream piping.
His vivid blue tie was Hermès and he wore his father's watch.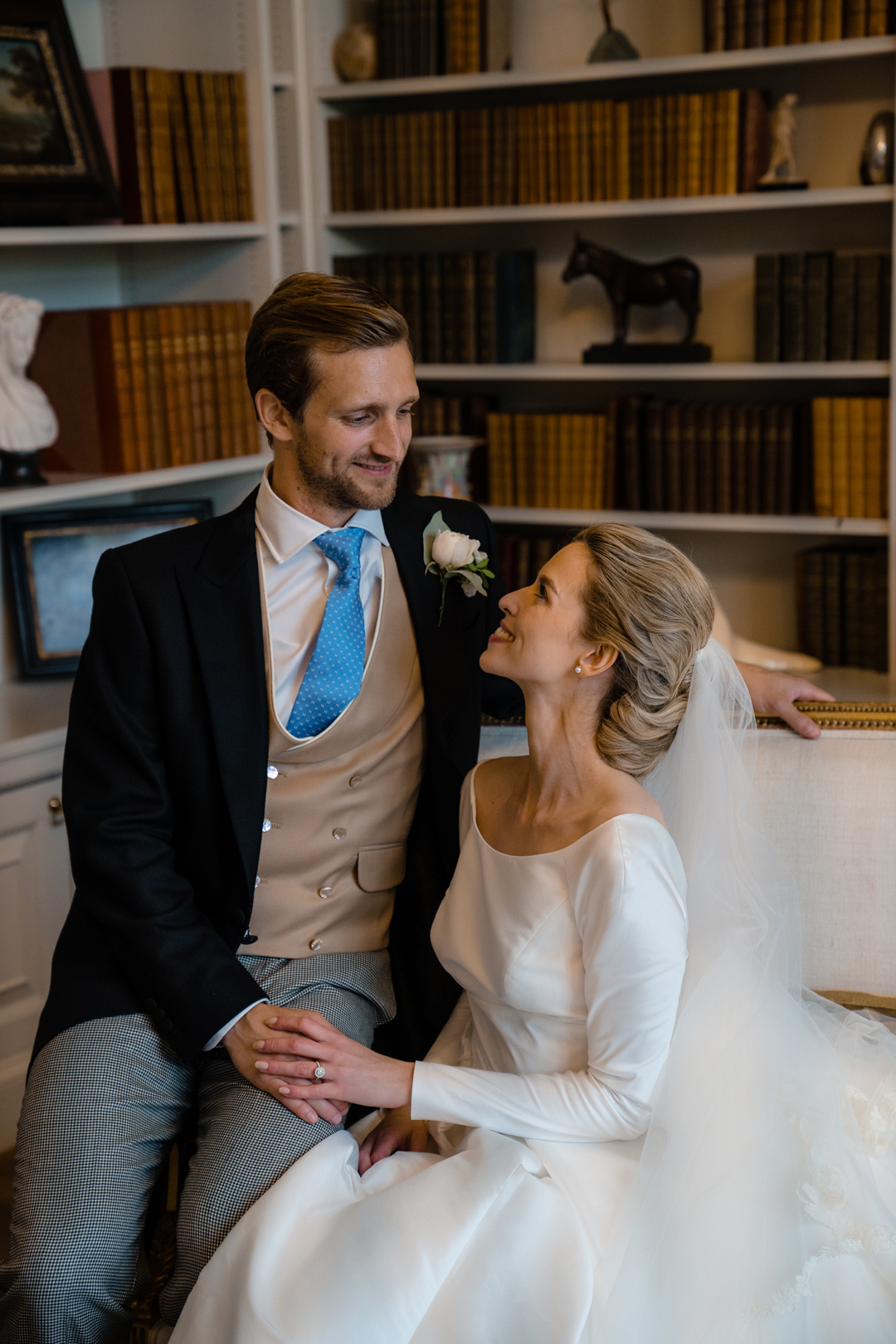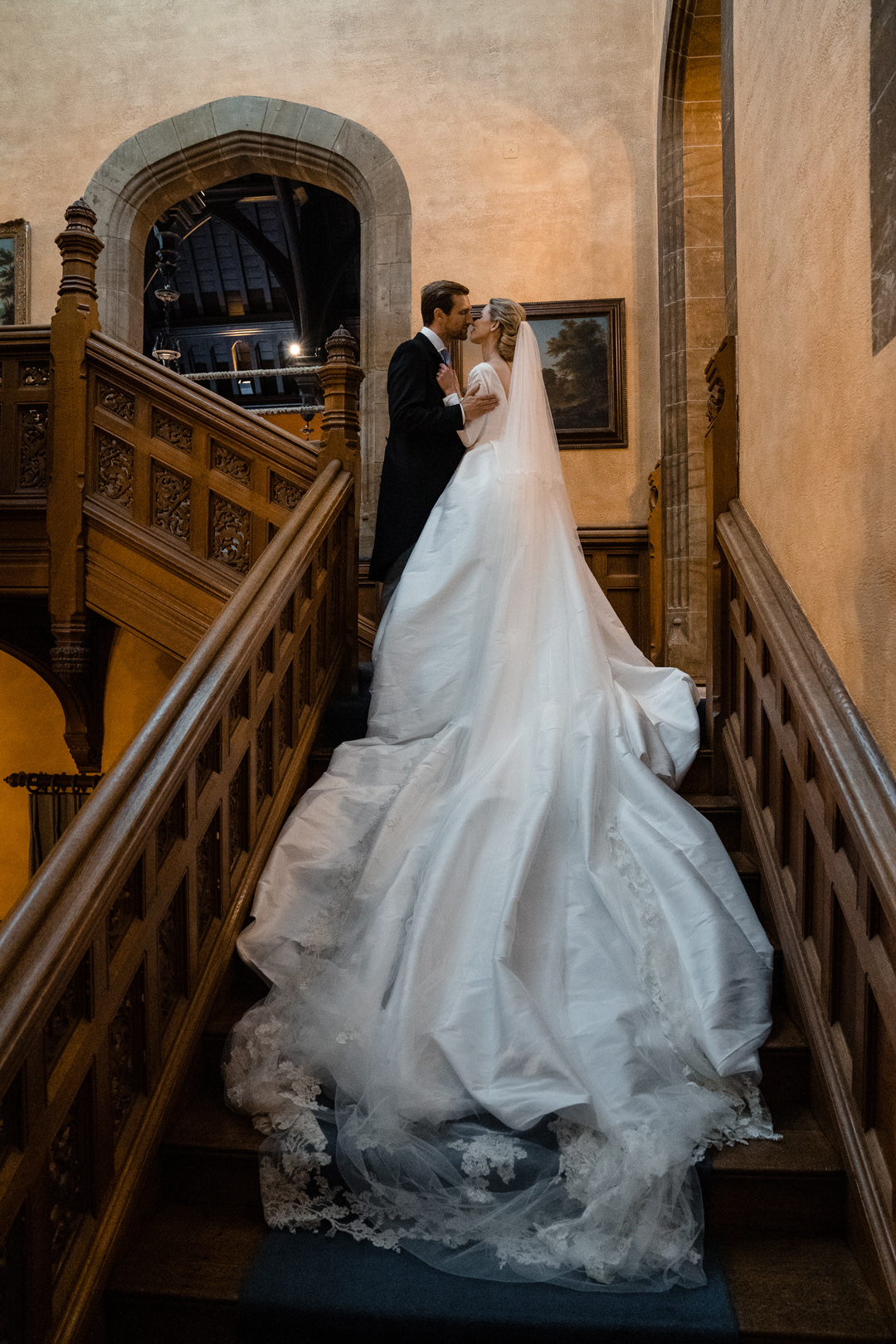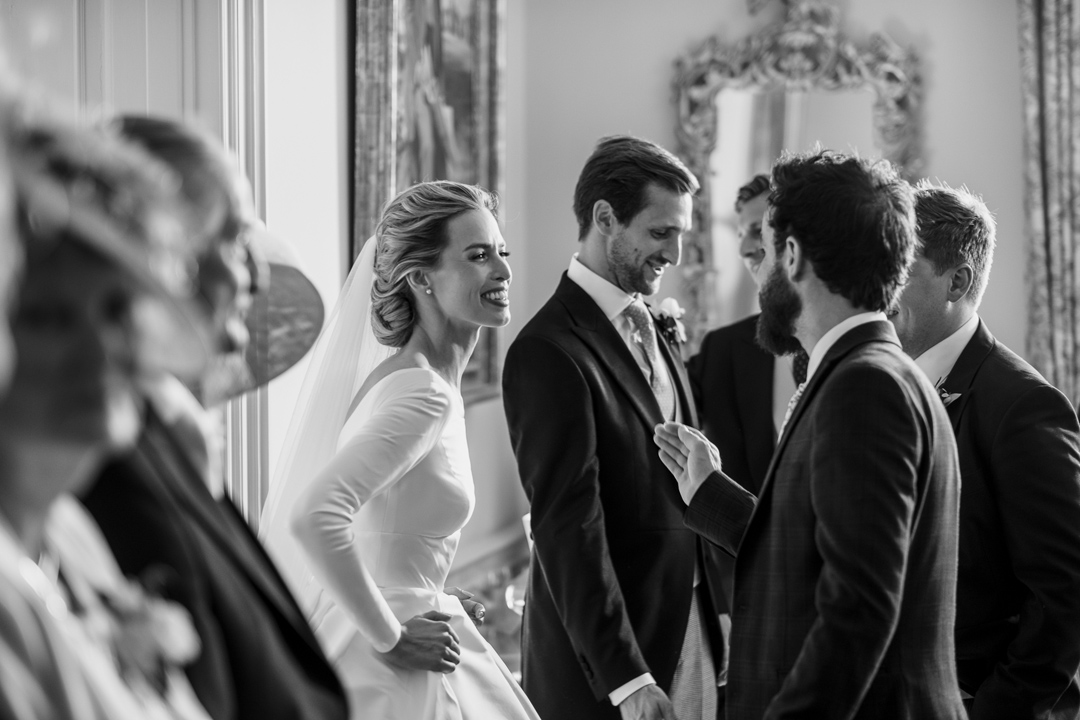 The couple's tiered wedding cake from  Emily's Mixing Bowl was decorated with fresh flowers and there was a savoury cheese tower option from Hamish Johnston.
"Our wedding cake from was gorgeous. It was five-tier with three flavours; Victoria sponge, carrot and ginger, and lemon and elderflower with white chocolate ganache and royal icing."
"The cake was decorated with real flowers including David Austin roses to match my wedding bouquet. Underneath the wedding cake stand was my parents' wedding cake lace cloth."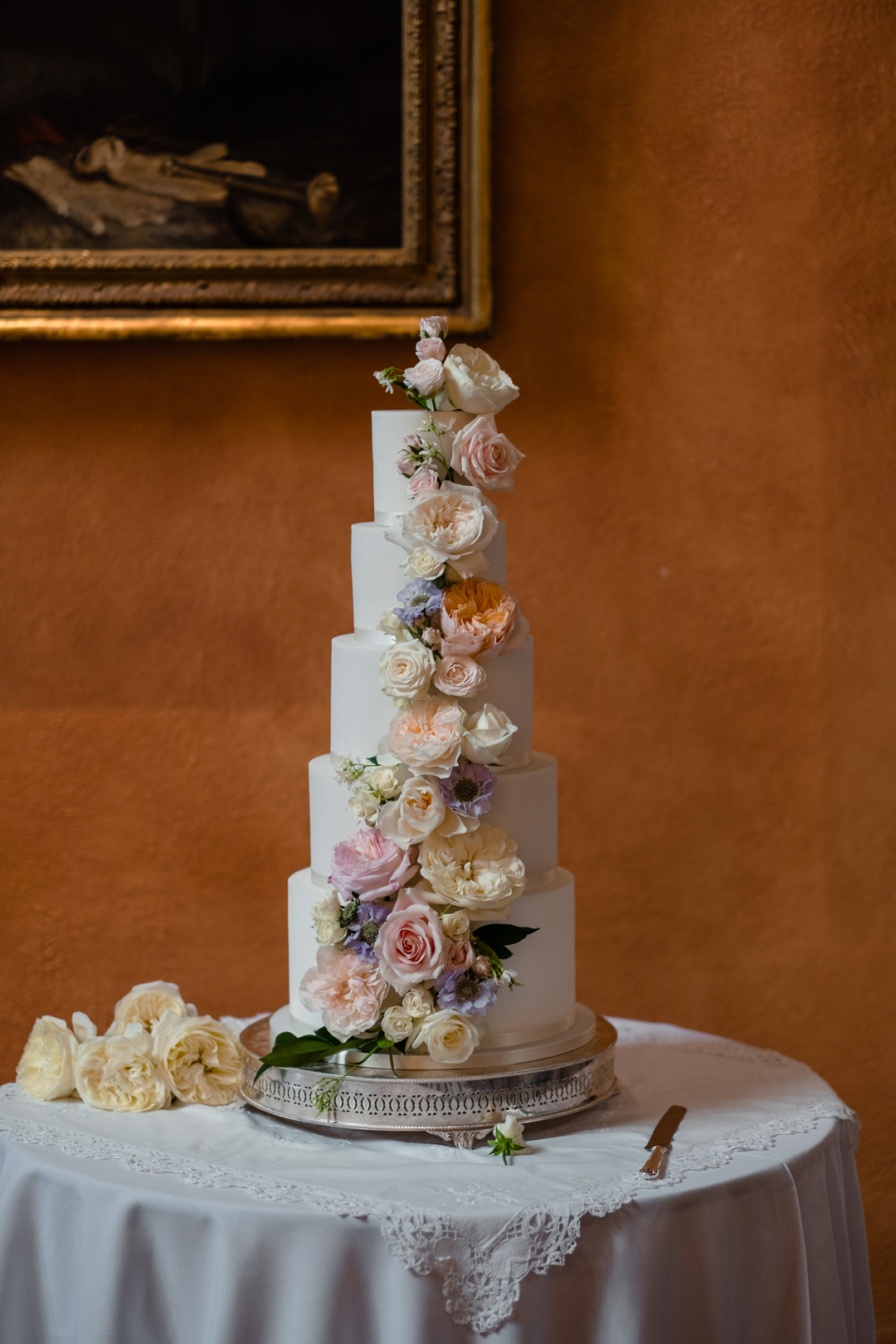 Before the party dined, Antonia's godfather recited a Grace which he had written.
"Caper & Berry provided fabulous food and attention to detail."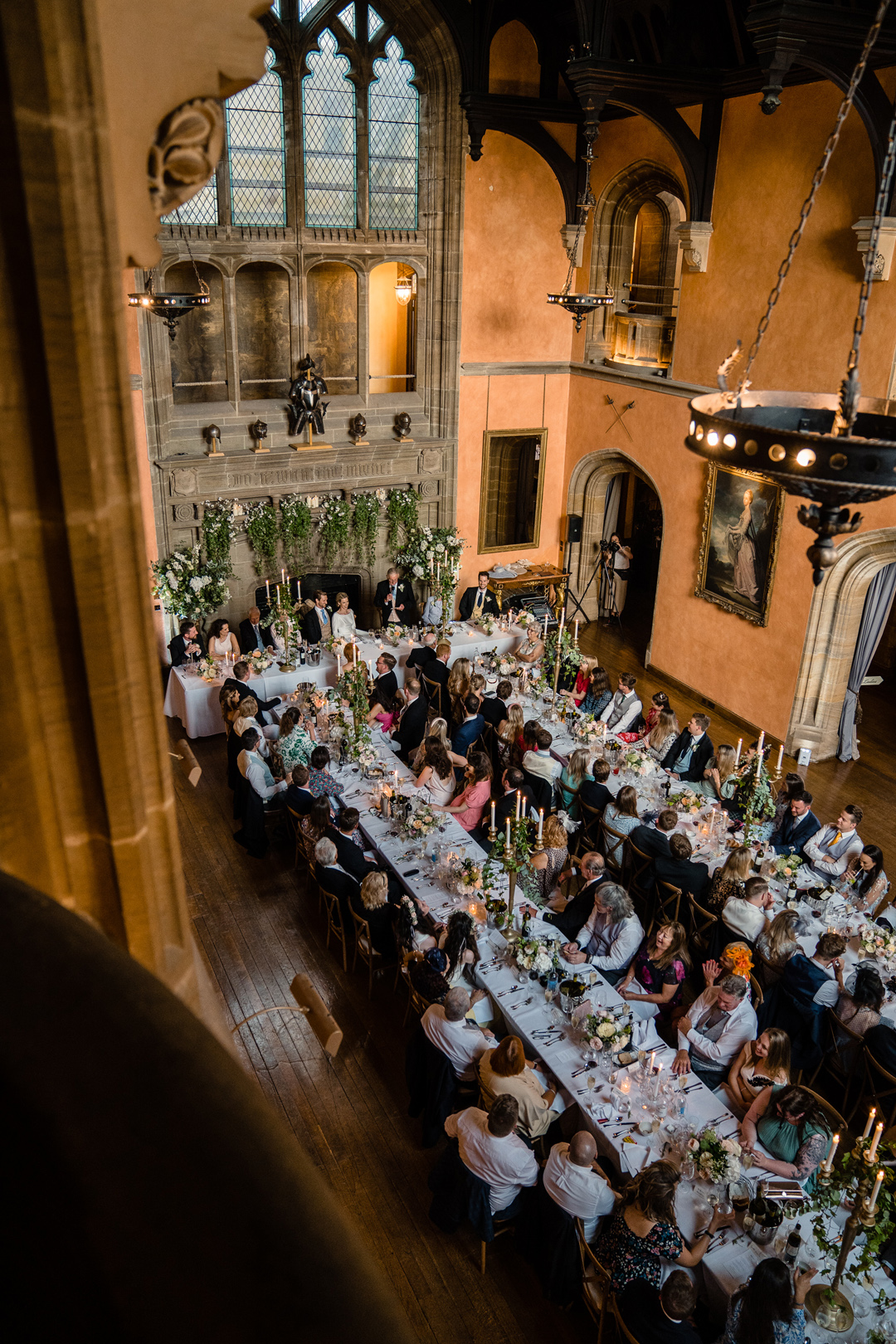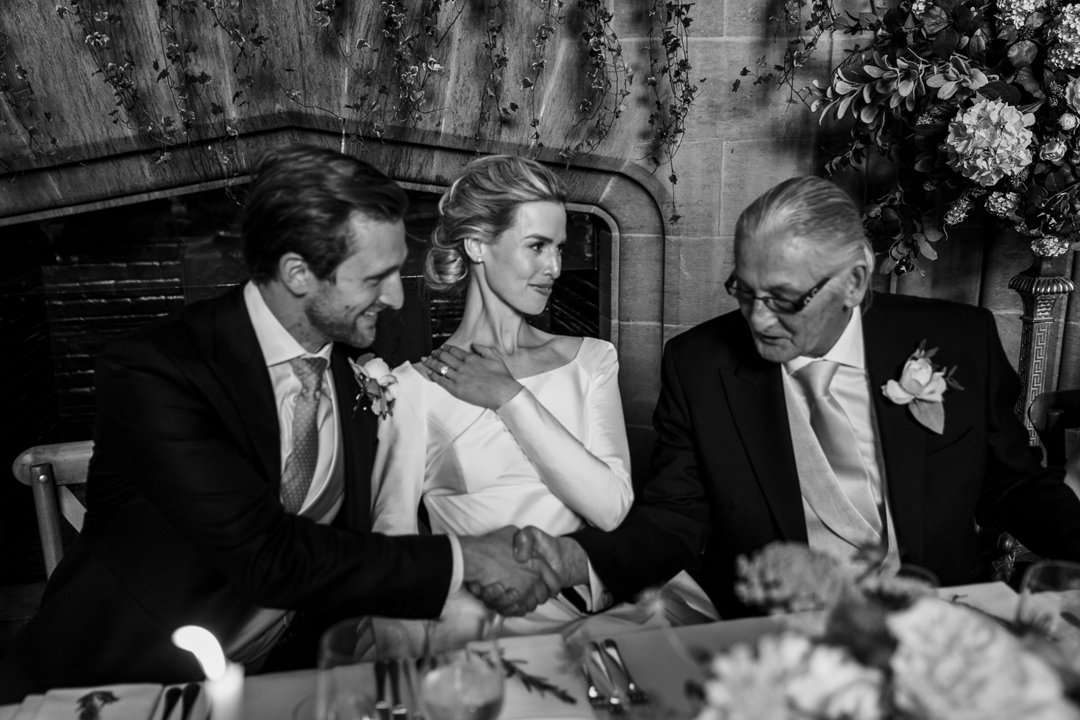 Like many others, Antonia and Craig's wedding plans were derailed by the Covid pandemic and church renovations, so over to the bride to explain the changes they had to make before they wed.
"Craig and I were not originally supposed to get married at St Mary's, Petworth."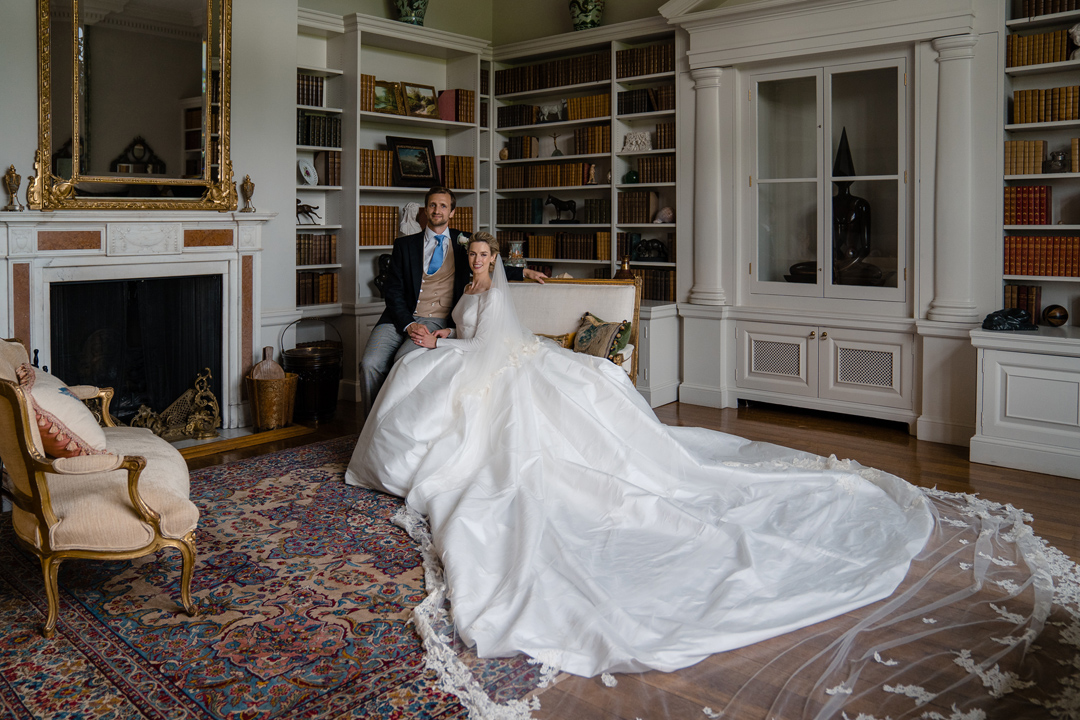 "When we first started to plan the one element of the day that didn't need to be discussed or searched for was the church."
"We were going to get married at St Mary's Thakeham in West Sussex, which is where my mother's parents got married, my parents got married and my sister and I were christened."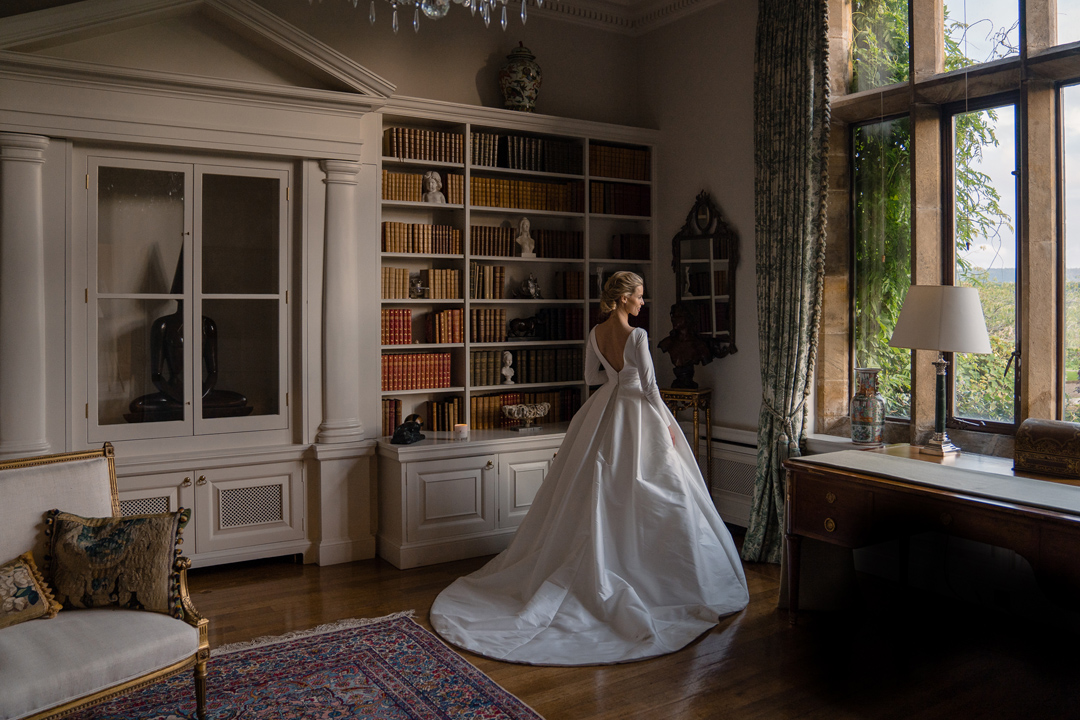 "My maternal grandparents are also buried there so the church holds a huge amount of family significance. Craig also proposed there (for the third time the weekend of Easter 2018). "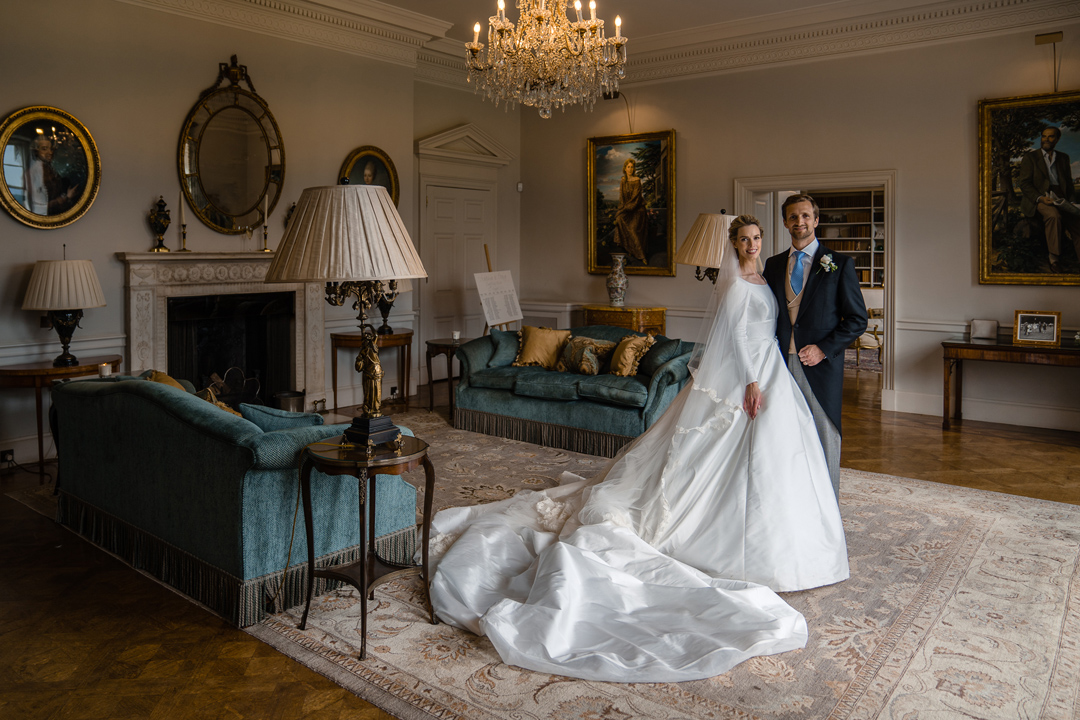 "It is very much the family church and all of our plans were built around this beautiful, traditional English church."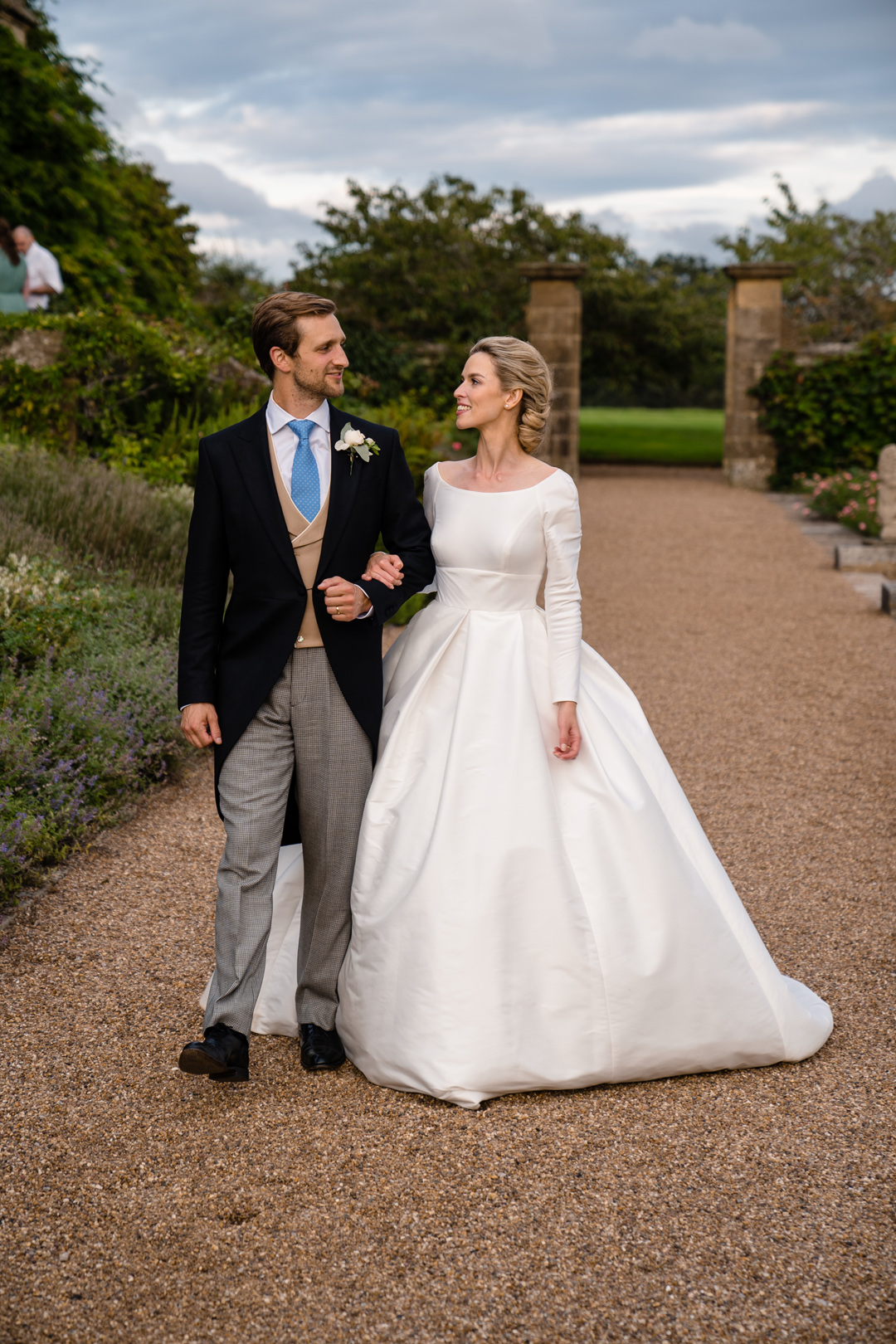 "A year into our engagement we were told that the church would be undergoing refurbishment but that we could still get married there on 26 September 2020."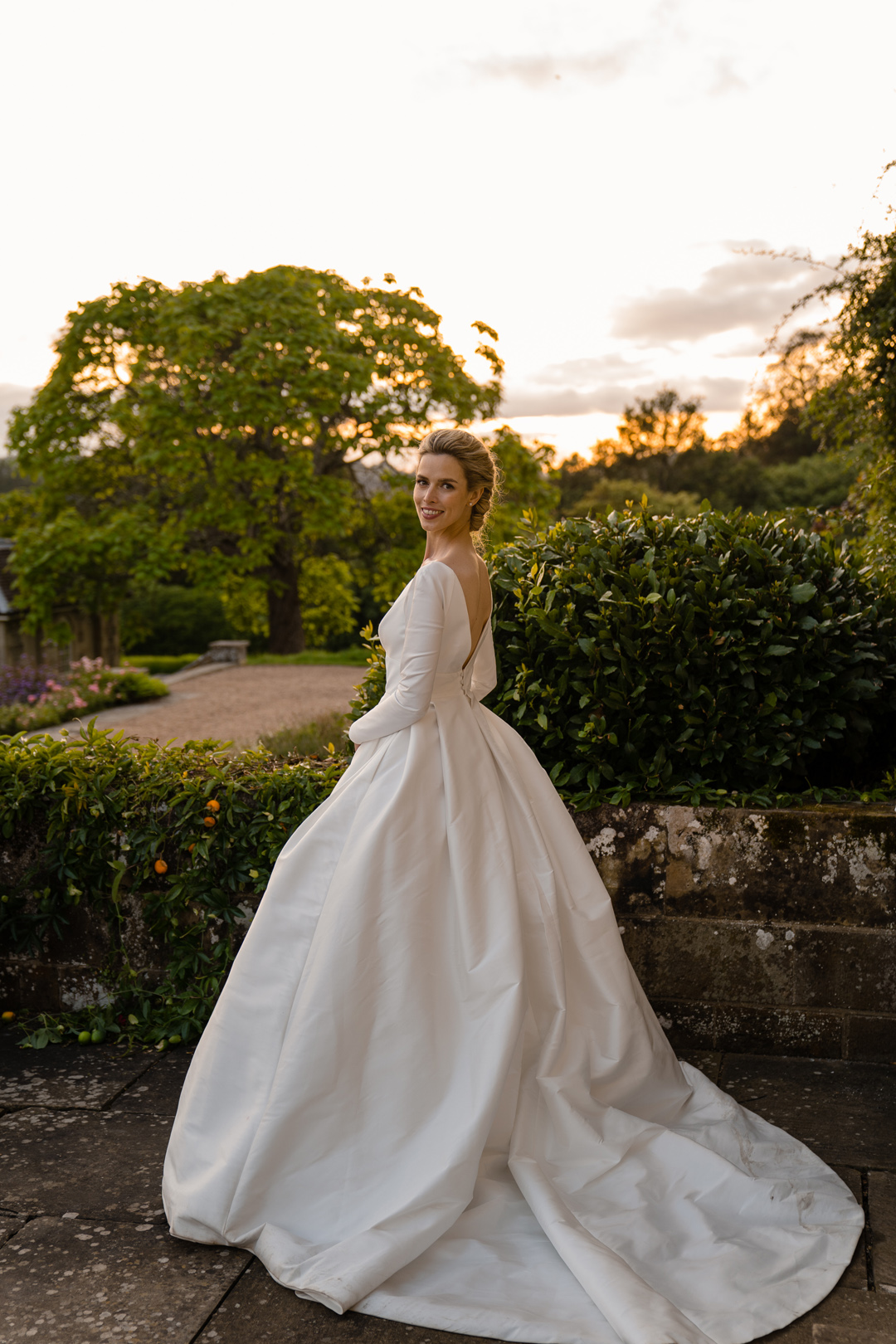 "As works were postponed in 2019 it became clear that the church wouldn't be completed on time and we were told to find a new church."
"We were heartbroken and it was something we just hadn't expected to have to factor in."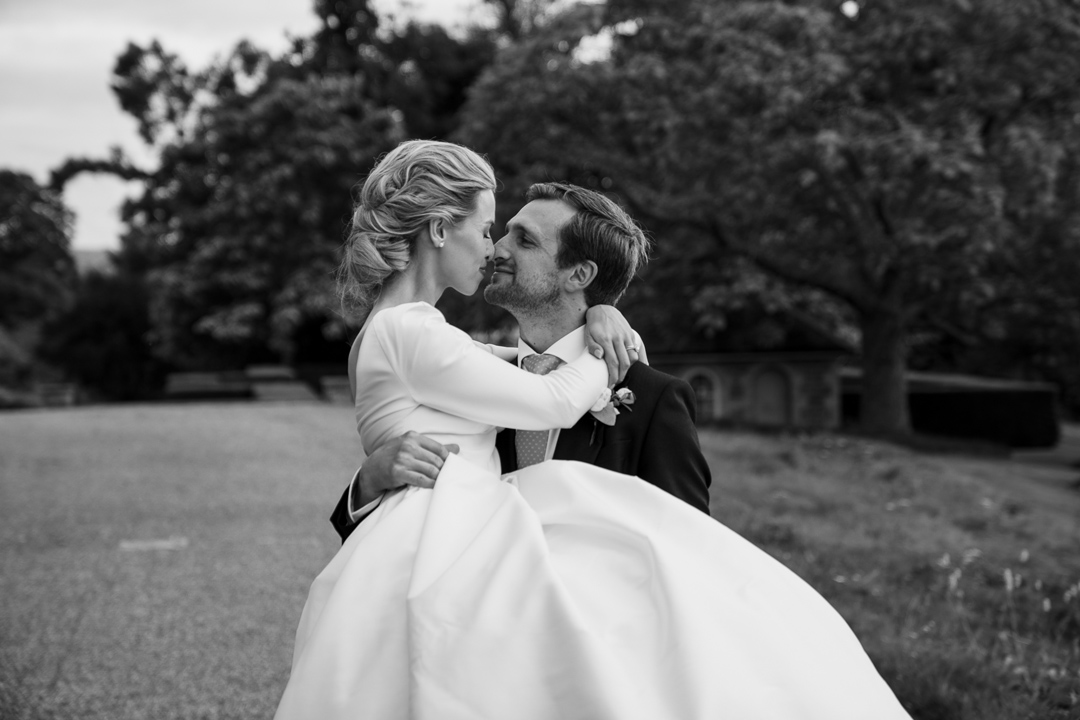 "With limited options in our diocese, we had to find another church that fitted our guests, our wedding style, was close enough to our venue, had our date available and would let us establish a connection to the church by visiting six times in a row ahead of the big day. Not a short list! That led us to the beautiful St Mary's in Petworth."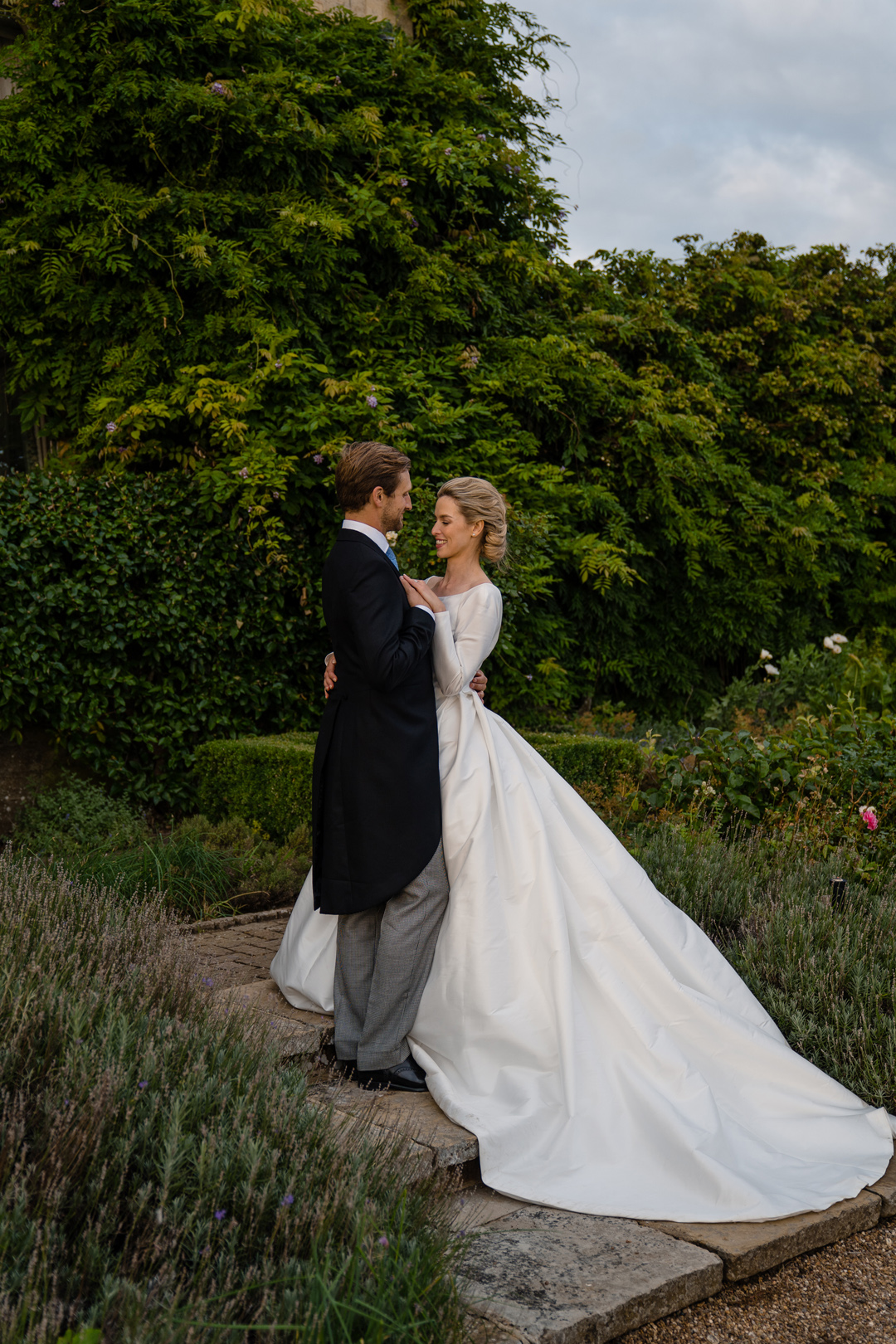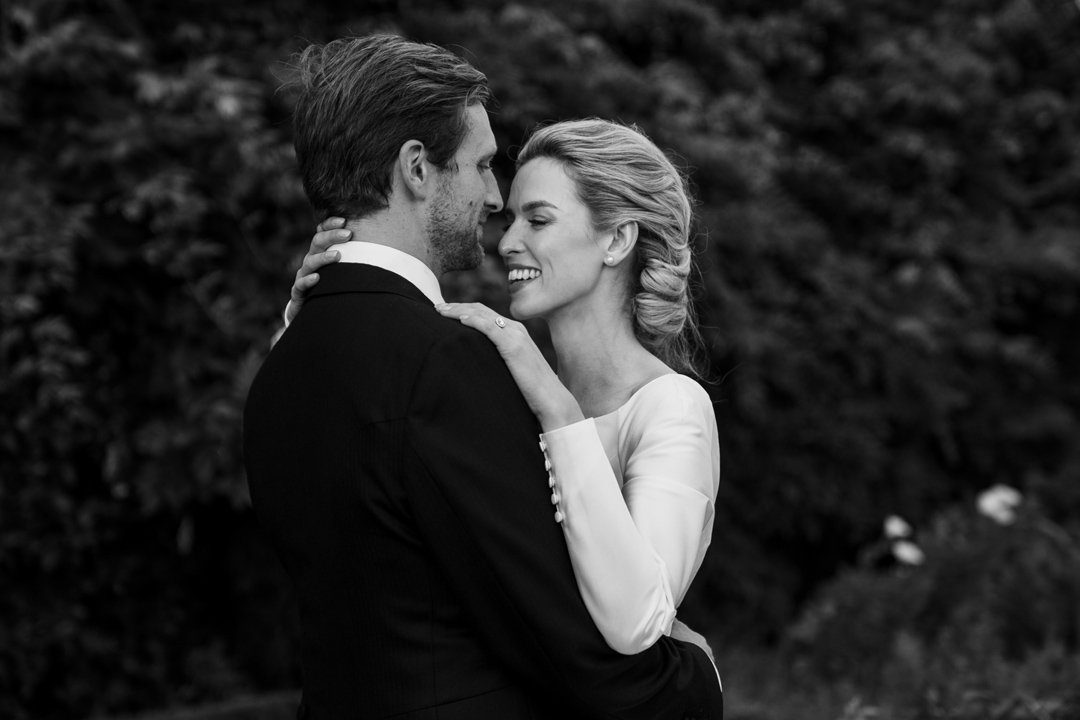 "It was a short drive from my family home where I would spend the night before the wedding and was very close to our reception venue, Cowdray House."
"The decorative ceiling is gorgeous and we hoped to replicate the small family church feel in a much larger venue."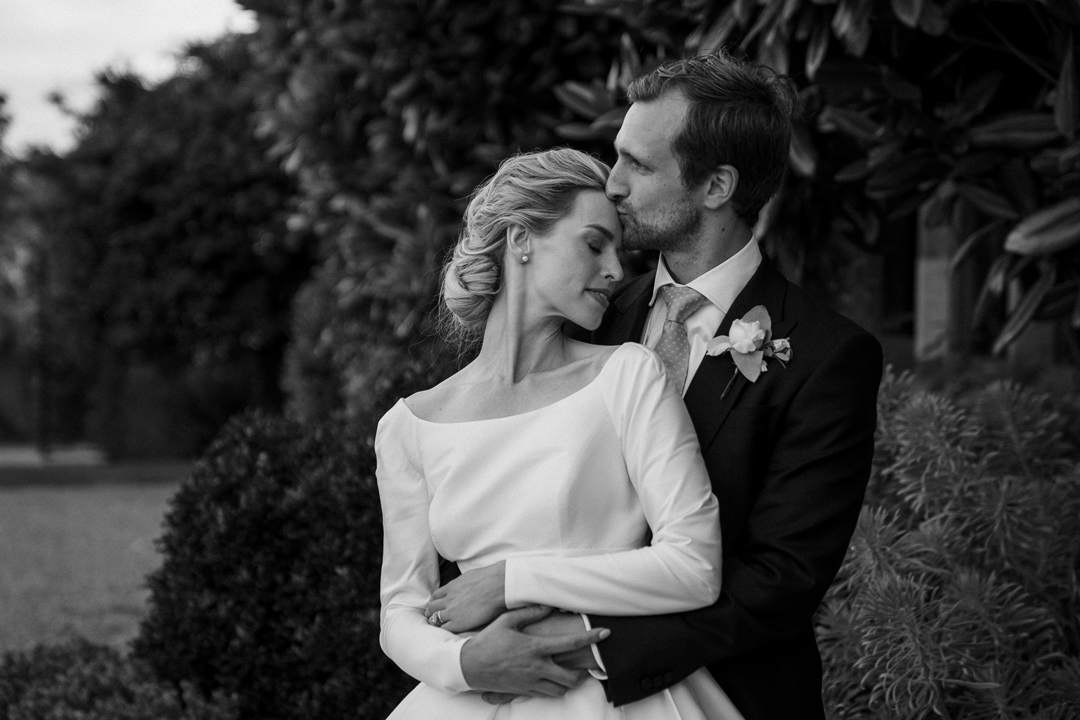 "Thankfully, we had time to establish our connection and started journeying from south London once a month (getting the opportunity to attend a lovely Christmas service) for six months. And then, the Pandemic."
"Our visits were stopped and Zoom services couldn't be applied to our visit total. With such confusion and uncertainty surrounding our wedding, very early on into the pandemic decided to postpone our date, liaising with Cowdray and Petworth to make sure the dates aligned."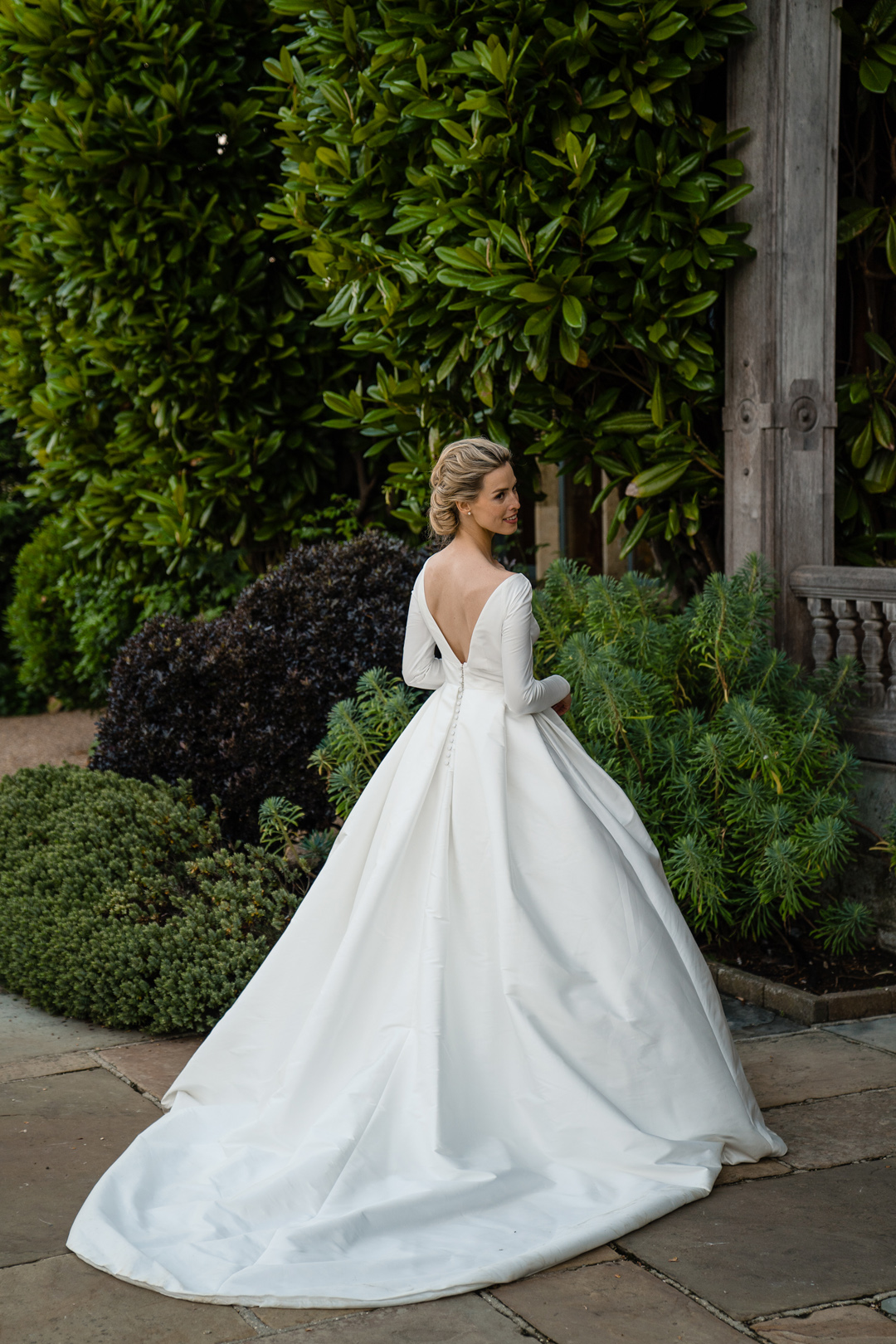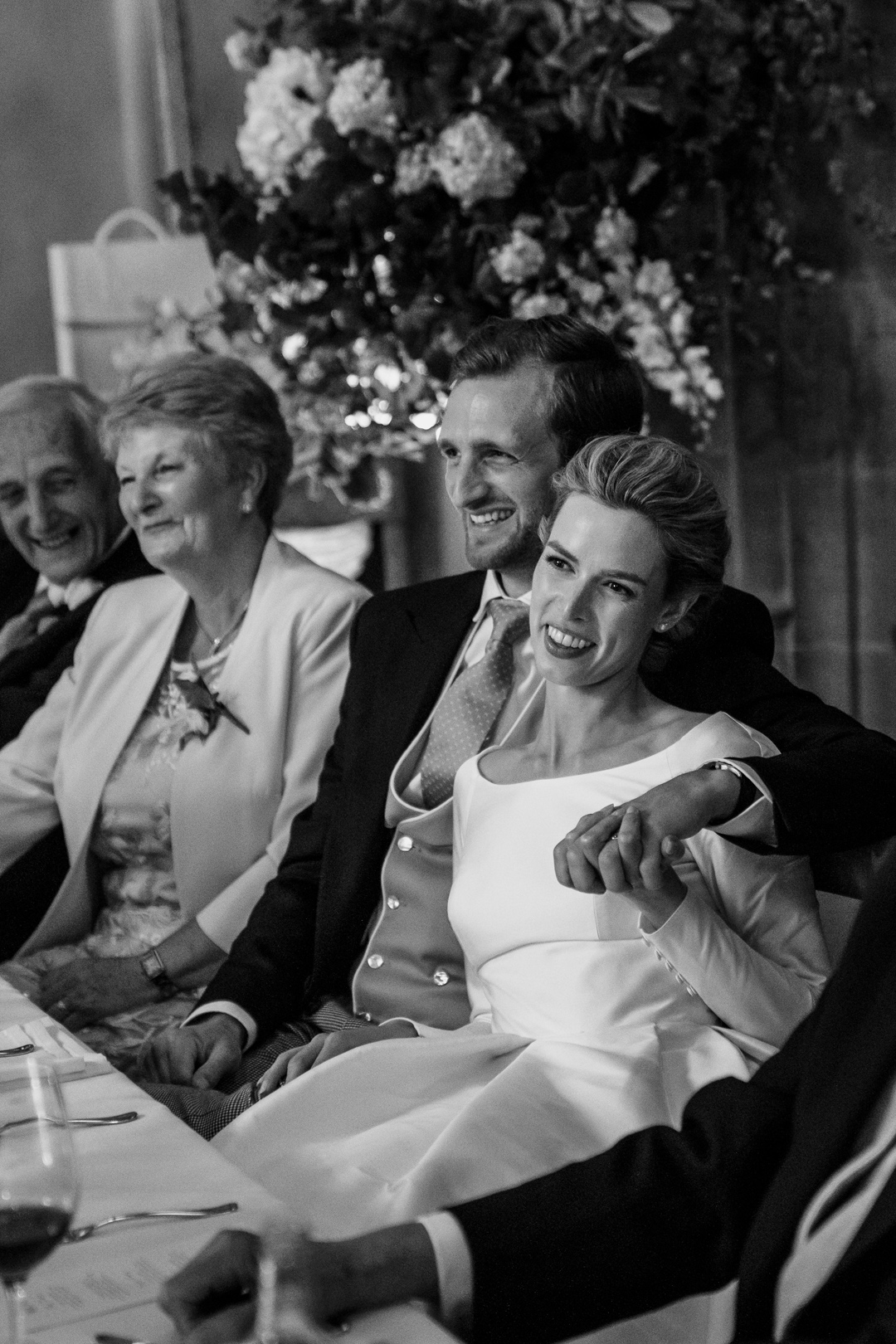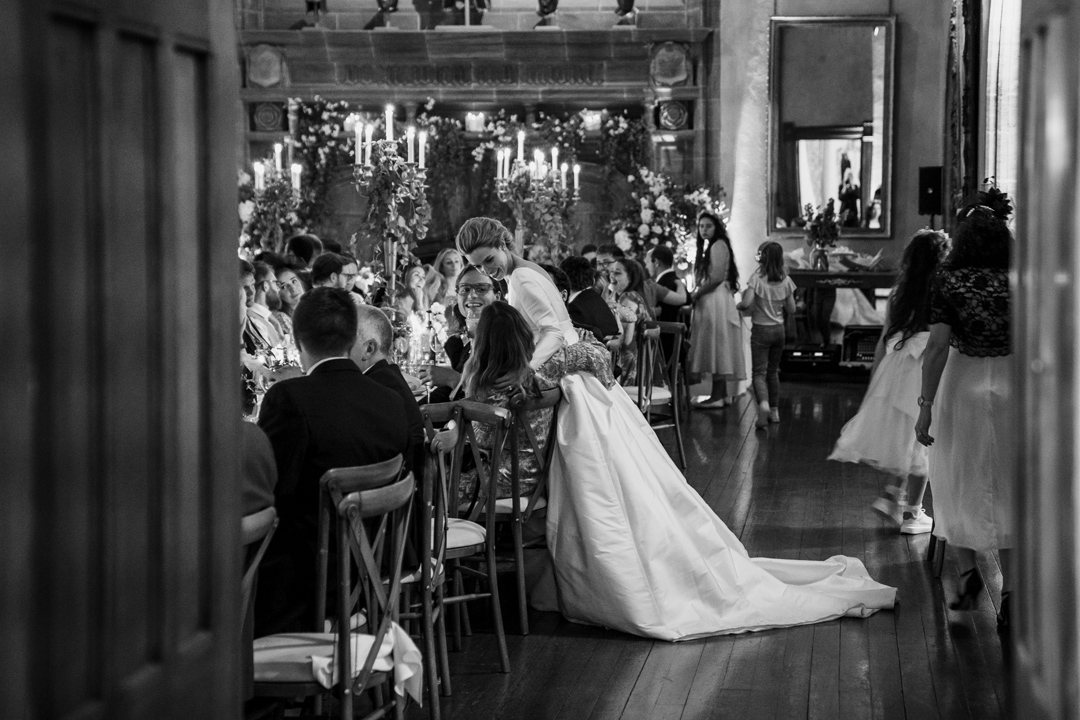 As night fell, the evening party got started with music from DT8, a twelve-piece band.
"They had everyone on the dance floor all night. They were so kind to learn additional songs for us and they truly were the life and soul of the party."
The first dance was to Paolo Nutini's 'Someone Like You'.
"It's a beautiful, gently melodic song and we both adore Paolo's sound and voice. While it played over the speakers we felt like we were the only ones in the room. No one could do that song justice so it had to be the original recording."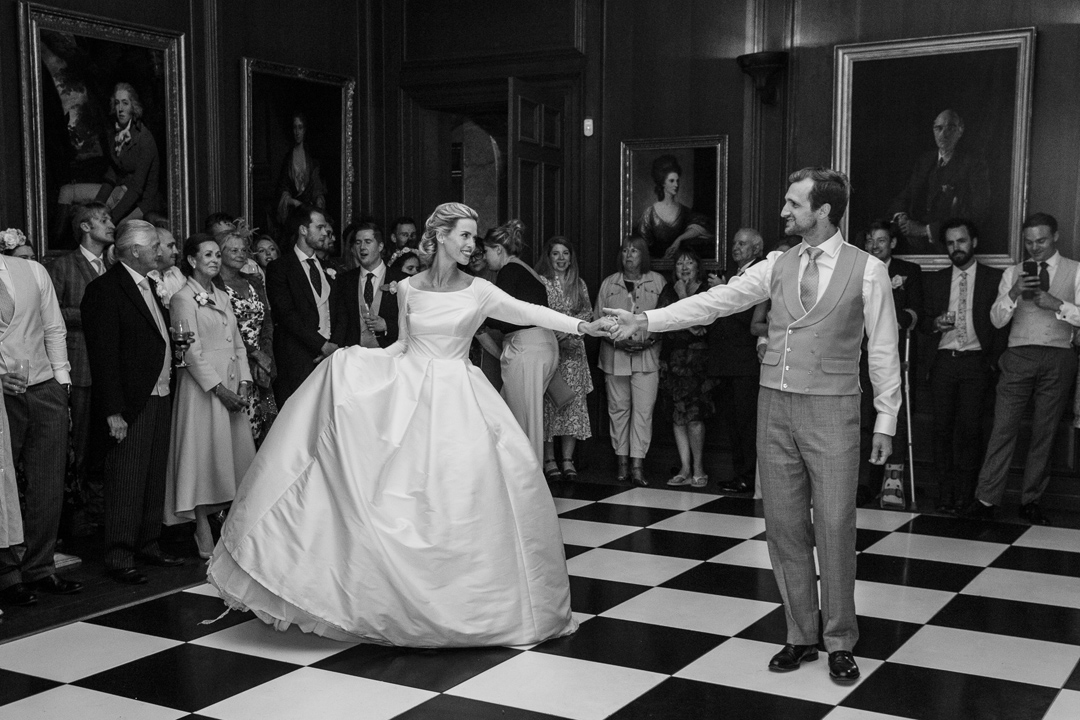 "It's romantic and slow, and provided the perfect rhythm for our choreographed first dance routine (put together wonderfully by my mum). It originally involved a lift but when Craig saw the size of my dress he thought we better not attempt it."
"We did it later to 'Time of my Life' after a few drinks and did, I'm glad to say, nail it. Once this track finished the band took over with another Paolo Nutini track, 'Pencil Full of Lead', and the dance floor was instantly filled. I've never seen people so happy to be dancing to live music."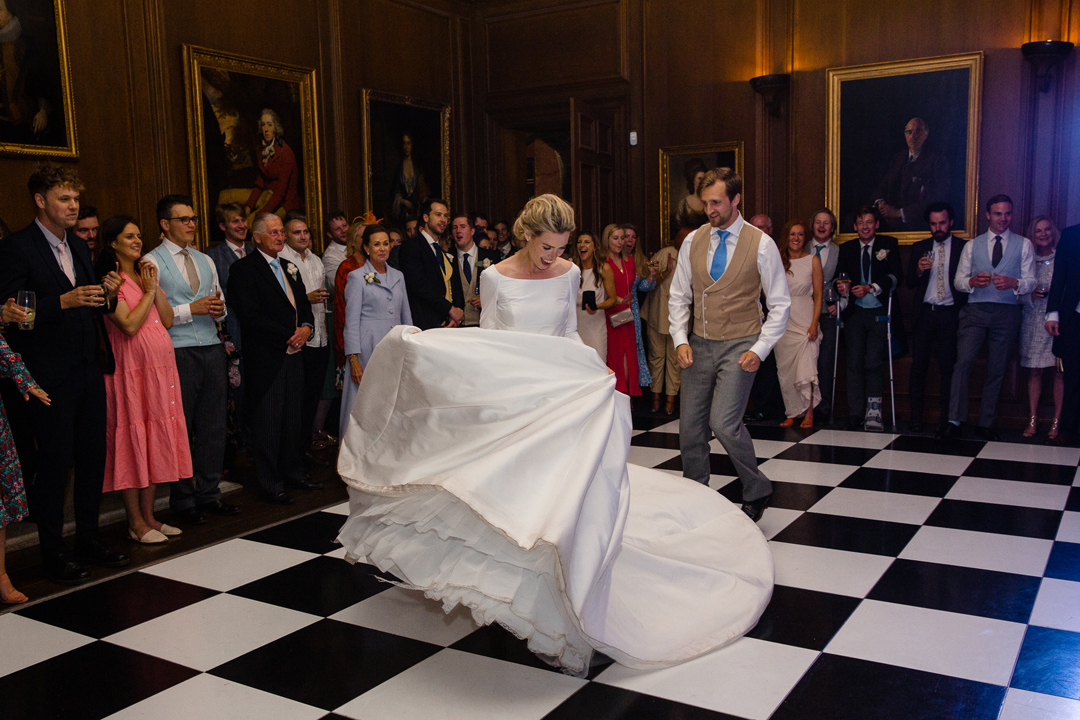 "Picking a favourite part is hard! Each section of the day felt so special but ultimately, the fact that we had the day we wanted without restrictions and with a full guest list meant the absolute world to us."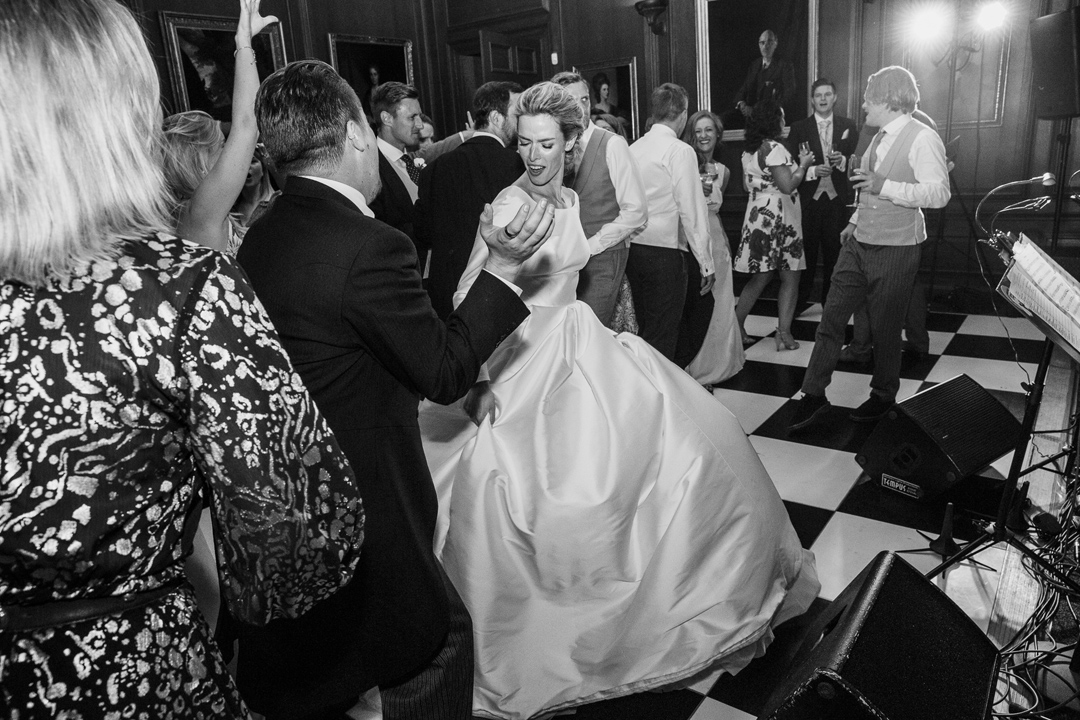 Words of Wedded Wisdom
"Trust your suppliers – they are experts for a reason. But, if there's something you really want or your gut is telling you to push on, listen to that feeling."
"Communicate what you want to your videographer and photographer. They can't read minds and key photos could be missed."
Antonia has also shared some advice to share for other brides affected by Covid-19.
"Decide what you can and can't do without if things can't happen as planned."
"Make lists and plans with your suppliers and guests and continue to communicate with them."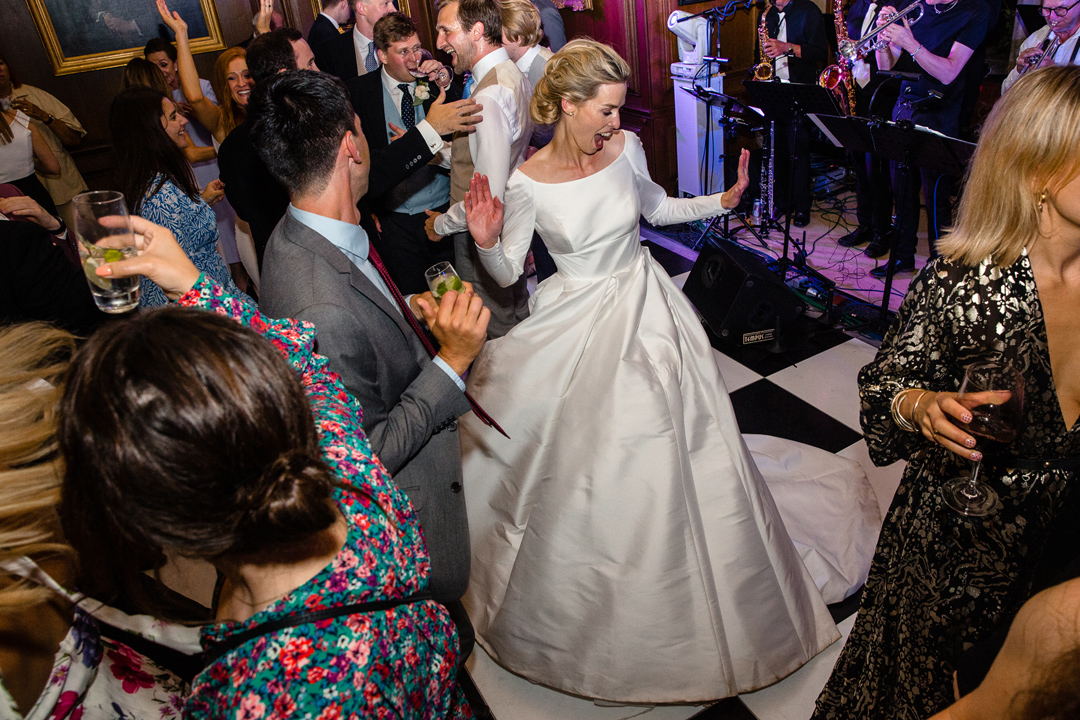 "It's so easy to put off the hard conversations or to avoid the news for fear of hearing the worst but keeping abreast of news and developments really helped us. Family and friends will understand if your plans must change."
"The pandemic and having to postpone really forced us to think about the elements of our day that were the most important to us and what we could compromise on. We continued to hope that guest numbers would continue to rise and restrictions fall away as planned but it was certainly stressful trying to continuously factor in 'what ifs'."
"While numbers remained uncertain we drafted guest lists of multiple sizes and drafted Plans B, C and D. Ultimately, we had to make the call a couple of months beforehand as to whether we would go ahead regardless of restrictions changing and, after months of uncertainly and putting our lives on hold, we decided to push ahead, whatever the weather, restrictions, numbers and food."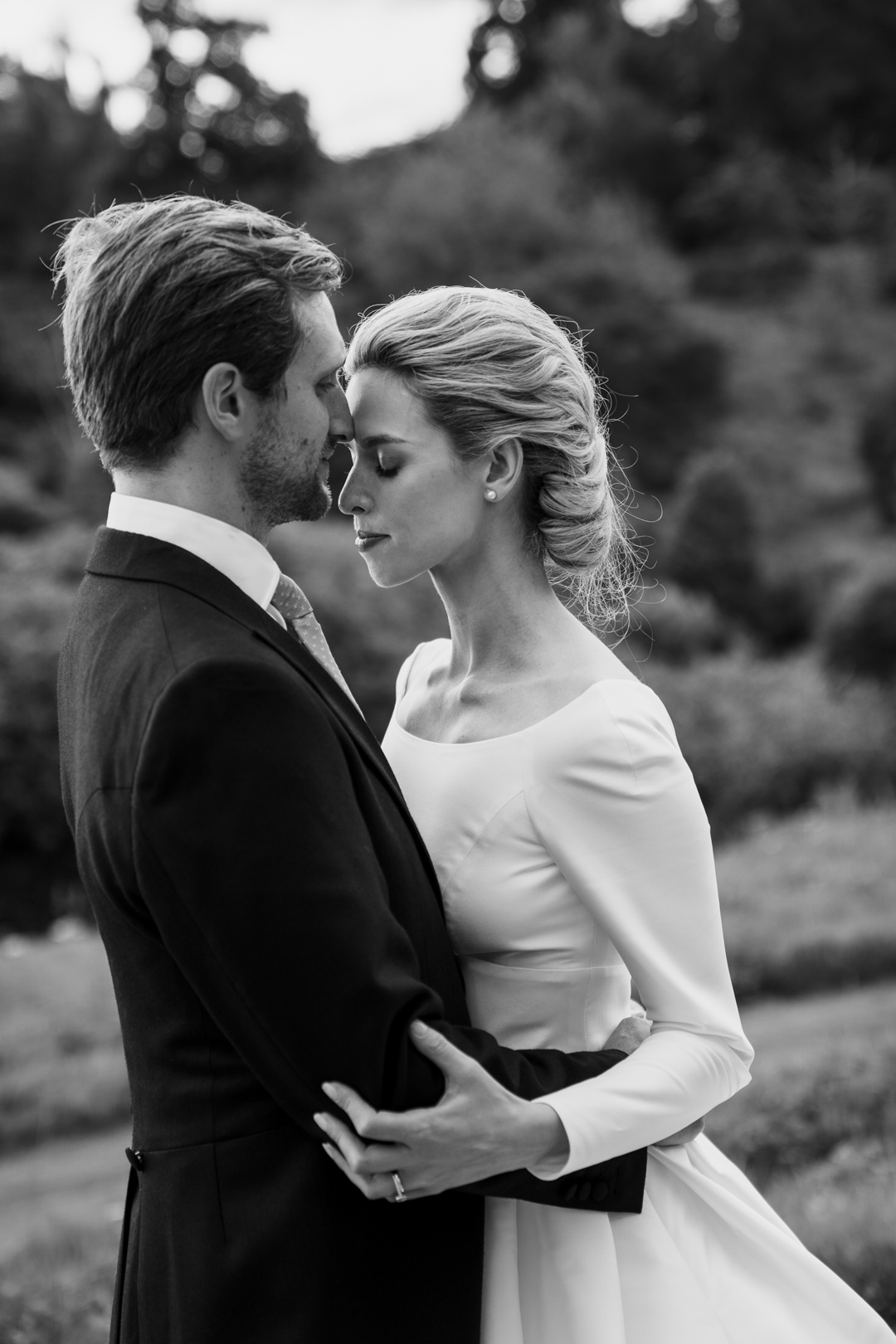 Antonia and Craig, what a beautiful, beautiful day. It's been wonderful to have a glimpse of it and your exquisite gown here today so thank you to you both and to Helen Abraham Photography.
Thank you also for your support of What About Weddings; we're so glad it benefitted you. For more English Country Garden weddings, get inspired with this selection and to see more brides wearing Jesus Peiro, please follow this link.
Ele xx