The Peak District played backdrop for this beautifully vibrant, fun-filled outdoor wedding, that took place in the great outdoors and features a bride wearing an Essense of Australia gown.
This is the wedding of hospital pharmacist Priya and reception teacher Stu who wed on 24 July 2021 at Hollowgate Farm, Froggatt, Peak District. The ceremony was held outside with a reception in a sailcloth tent from Helsby Tents and was the whole day was planned to be a big, loud, fun-filled, fusion wedding which combined the best bits the bride and groom's cultures and upbringings.
"We really wanted a venue where we could have free rein over every aspect of the day and could focus on the things that were really important to us."
"We wanted the autonomy to choose all of our suppliers and to party until the early hours."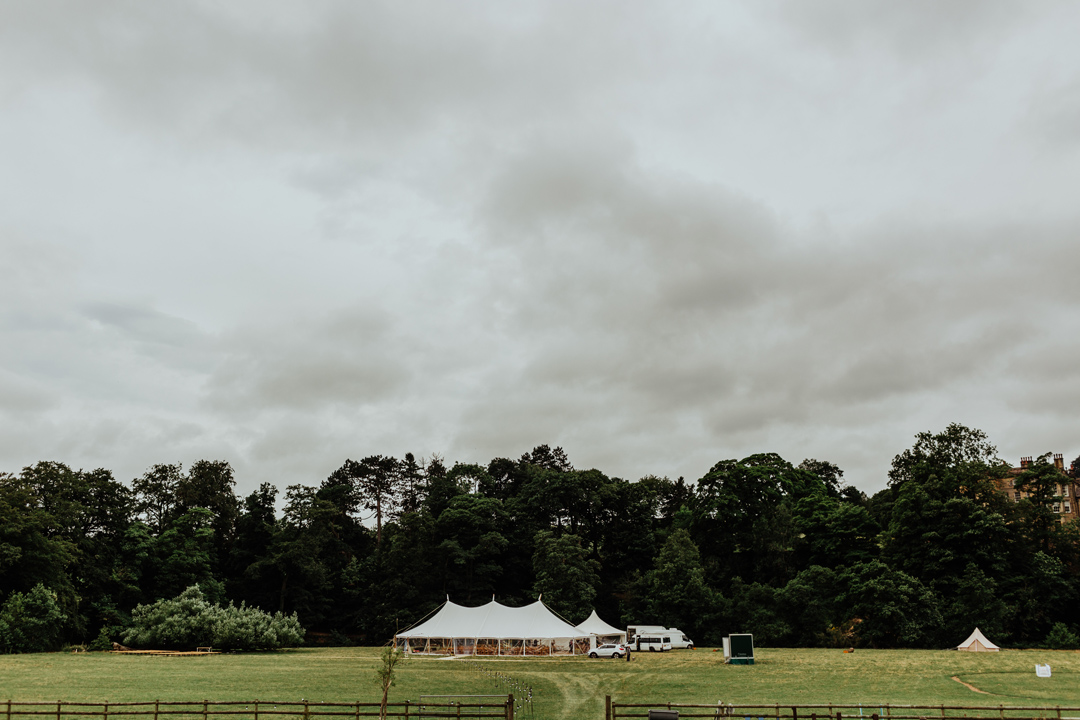 "Essentially our venue was just a field with no electricity or a water source so a very, very blank canvas."
"Organising everything from scratch was challenging but ultimately it meant that we could choose all the bits that were most important to us both and our families.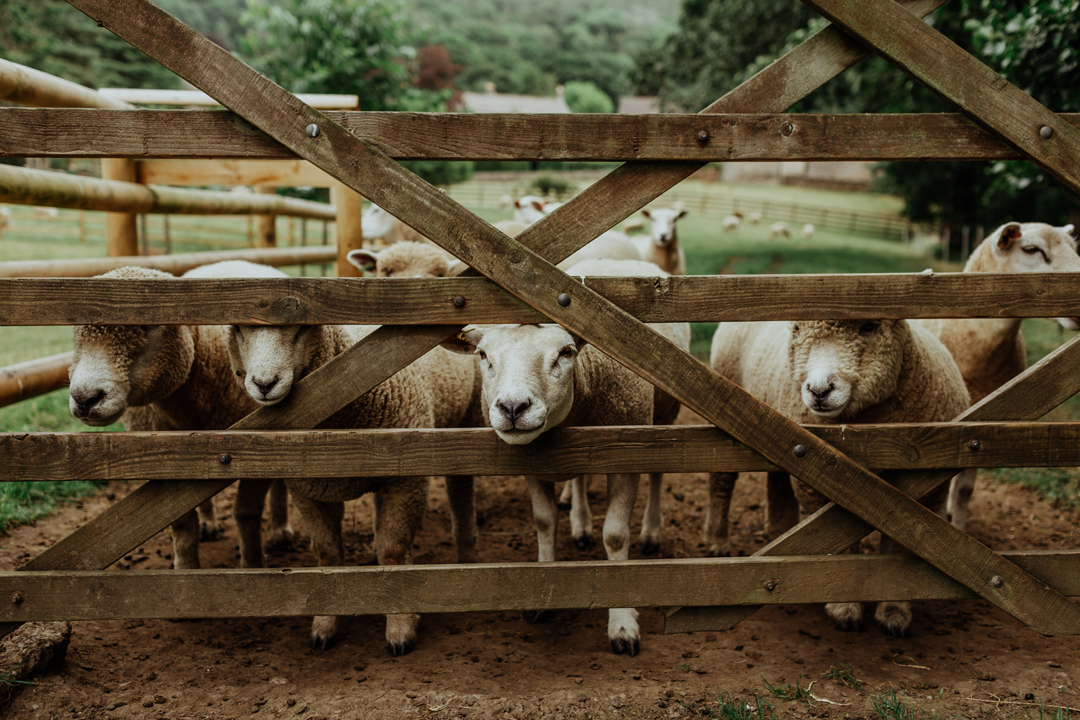 "Jude, our booking manager at Helsby Tents, was amazing from start to finish. She helped us make hundreds of contingency plans for the all the different Covid permutations and was really honest about how best we could get the day we wanted within our budget."
Priya wore a gorgeous, pure white gown from Essense of Australia, featuring a simple, plunging bodice and a many-layered skirt with delicate floral embroidery. She found it at Sheffield boutique Emily Bridalwear.
"I originally booked an appointment with them because I knew they carried a dress that I'd tried on previously and thought was the one. Somehow, the wonderful Meg managed to get me to try a dress nothing like I'd imagined that I absolutely fell in love with. Ultimately it was perfect because it made me feel amazing and it was comfortable enough to dance around in until 2am."
"Emily and her team were just great, so warm and welcoming and hilarious. I really felt I could trust them to make sure I ended up in the best possible dress for me."
The bride styled her long hair into romantic curls and added fresh flowers from Plantology to match her bouquet. Her make-up was done by Laura at Craft Bridal Makeup.
"Laura was great. She was so calming the morning of the wedding and made me feel like the best possible version of myself."
Priya wore her everyday scent, Jo Malone Peony Blush Suede, as did Stu, who wore Bulgari Man Wood Essence.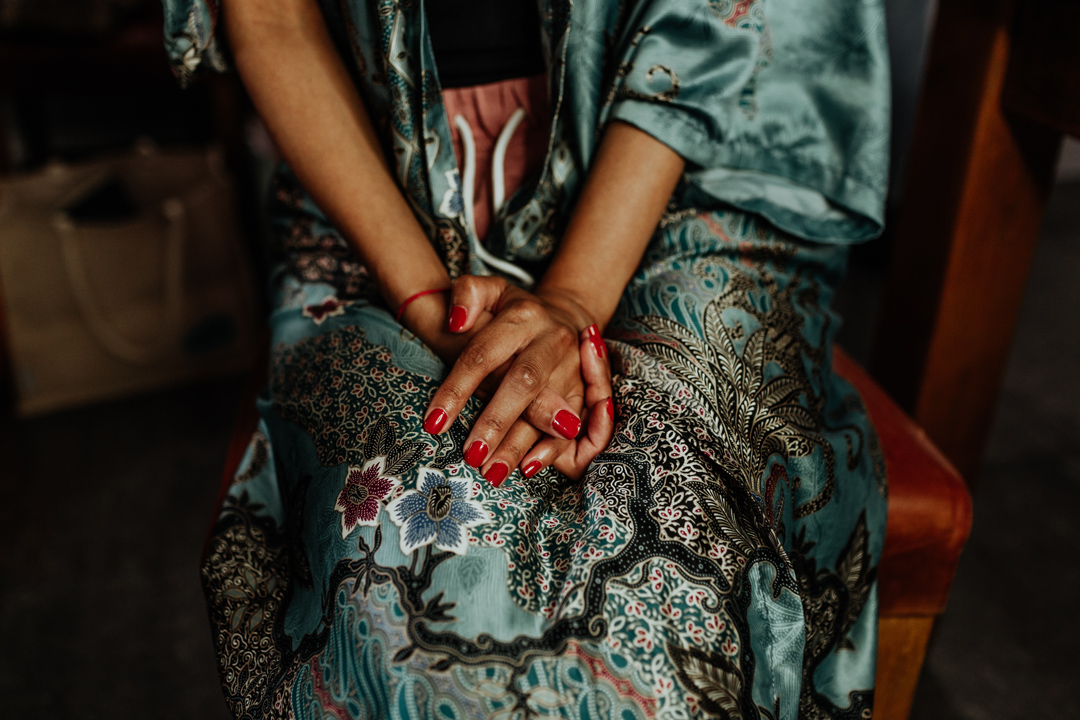 Priya and Stu met online in 2015 and were engaged four years later. As Priya has mentioned, they were a 'Covid couple' and had to postpone their original July 2020 date.
"Stu planned a trip away to York. where we'd been for our first trip away together, and proposed by the river after a lovely meal at Skosh."
"We celebrated with tequila and then spent a euphoric day sharing our news with all our friends and family."
"Compared with some couples we were really lucky as we only had to postpone once. All of our suppliers were so understanding and luckily everyone was able to move over to our new date."
"The run-up to the wedding was pretty stressful with all the uncertainty and there were definitely some tears."
"Stu's school bubble burst the day before his stag and we spent the final two weeks in constant fear that the restrictions wouldn't be lifted as planned or that someone would be 'pinged'."
"We had guest lists to cover all possible permutations of the guidance, from fifteen people upwards."
"Ultimately, we were so, so lucky. The restrictions were lifted the Monday before our wedding and we had the day we'd dreamt of. "
"Out of more luck than judgement, quite a few aspects of the wedding we originally planned helped make it Covid-safe."
"We got married outside and our reception was in a marquee with a number of the sides open for ventilation. We also asked all of our guests to take a Covid test the morning of the wedding and we had hand sanitiser everywhere."
The couple got creative to make most of their stationery and also ordered their order of service booklets from Papier.
"One of the many perks of marrying a primary school teacher is that he is great at cutting things out with a guillotine."
"I also tried to teach myself calligraphy during one of the many lockdowns for the place settings which, as a left hander, was a little challenging. Our order of service booklets featured one of our engagement shoot photos on the front cover."
The bridesmaids wore a selection of gowns from in deep navy blue from Warehouse and Coast.
"I wanted everyone to feel comfortable in whatever they wore. That was much more important than them all being in the same dress."
The girls, and Priya, carried bouquets from Plantology, who also did the buttonholes.
"I loved my bouquet. I really wanted small, meadow-like flowers and it was better than I imagined."
Priya walked down the outdoor aisle arm in arm with both her mum and her dad.
"It was really special to me that they both accompanied me. We used Elvis Presley's 'Can't Help Falling In Love' as my entrance song."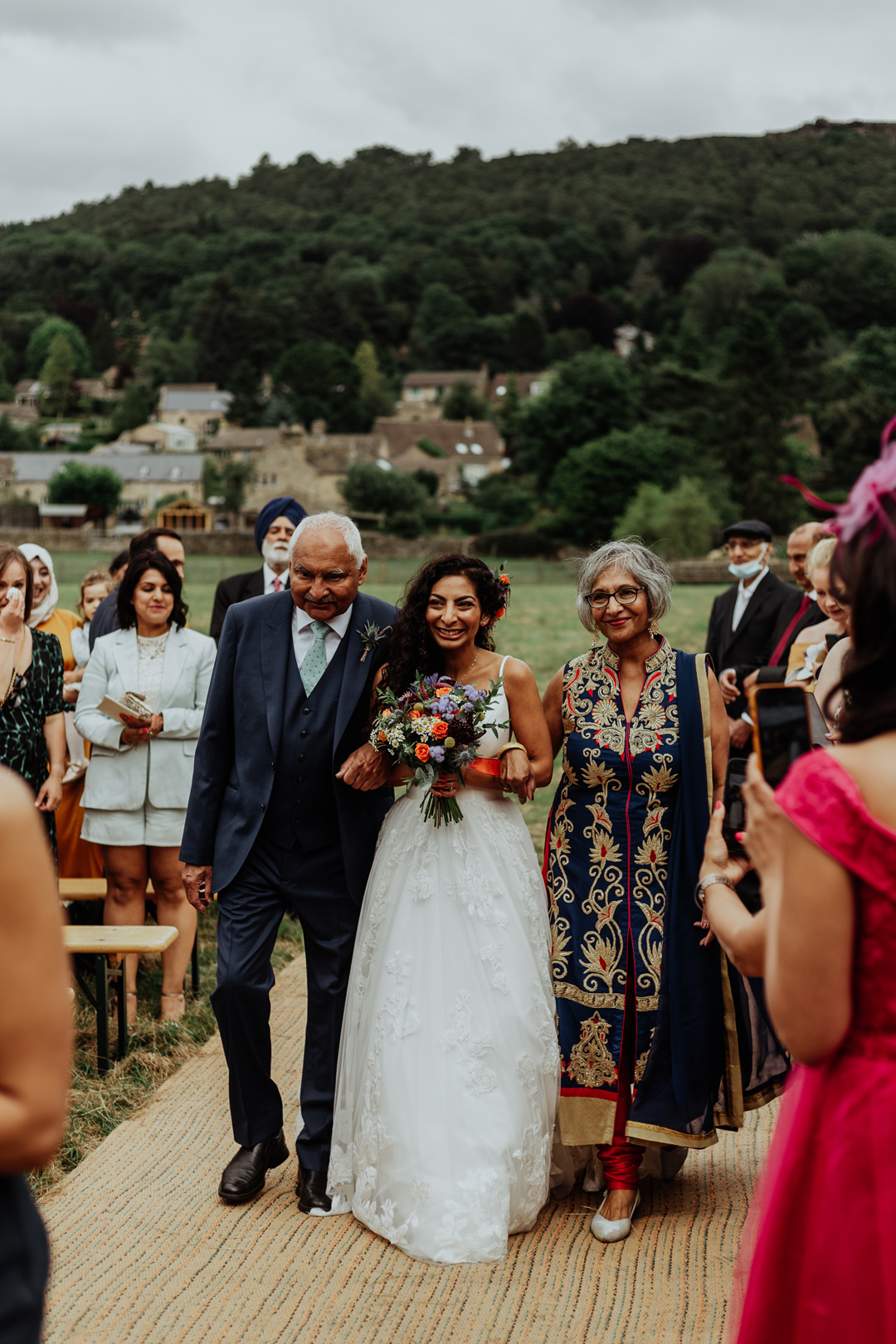 "Stu and his dad are massive Sunderland AFC fans and this is the football club's anthem so it is very special to him and just a lovely song."
"We wanted the day to incorporate all the best bits about both of our cultures and having a humanist ceremony really allowed us to do this."
"We exchanged garlands as well as rings and our celebrant Gaynor helped us incorporate my naniji's (grandma) silver cups which she had received in her wedding trousseau into our ceremony."
"Covid meant that many of our family unfortunately couldn't travel to the UK so it was so lovely to be able to incorporate our family wherever we could."
Stu and Priya wed in a humanist ceremony that was designed to bring in elements from their two cultures.
"Gaynor Doherty officiated over our ceremony. She was wonderful, so friendly and endlessly positive and supportive throughout the many delays and complications. On the day, she made everyone laugh and cry in equal measure. All our guests commented on how she managed to capture us so well in her ceremony."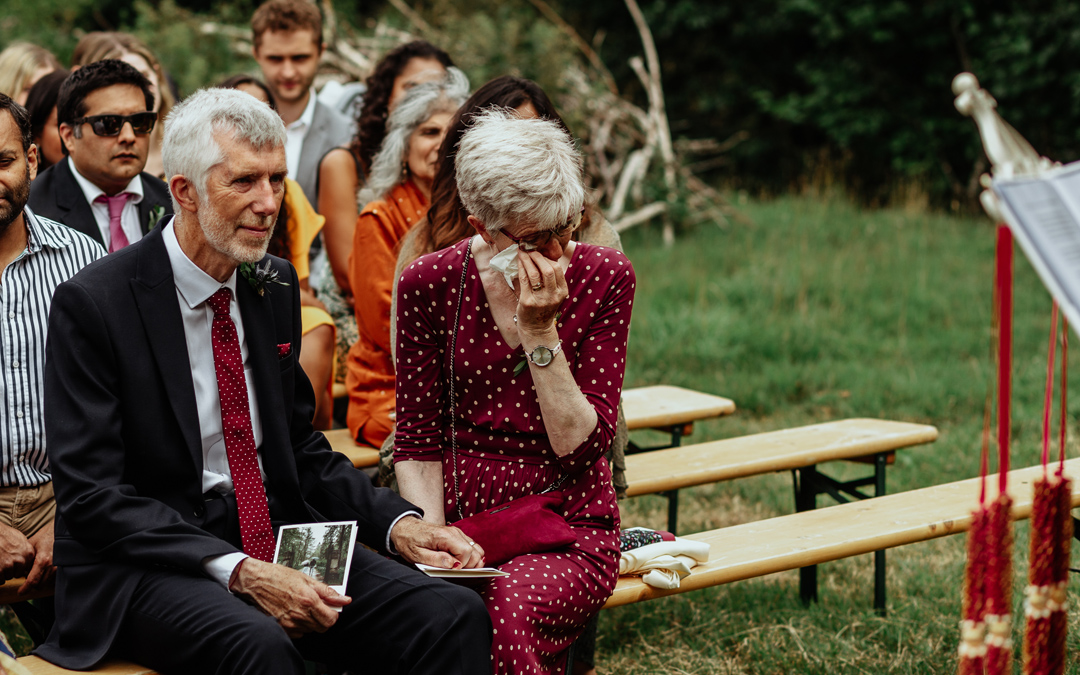 "We both wrote our own promises which we shared with each other before the day. I'm so glad we did; I would have been a crying wreck if I'd heard Stu's for the first time on the day!"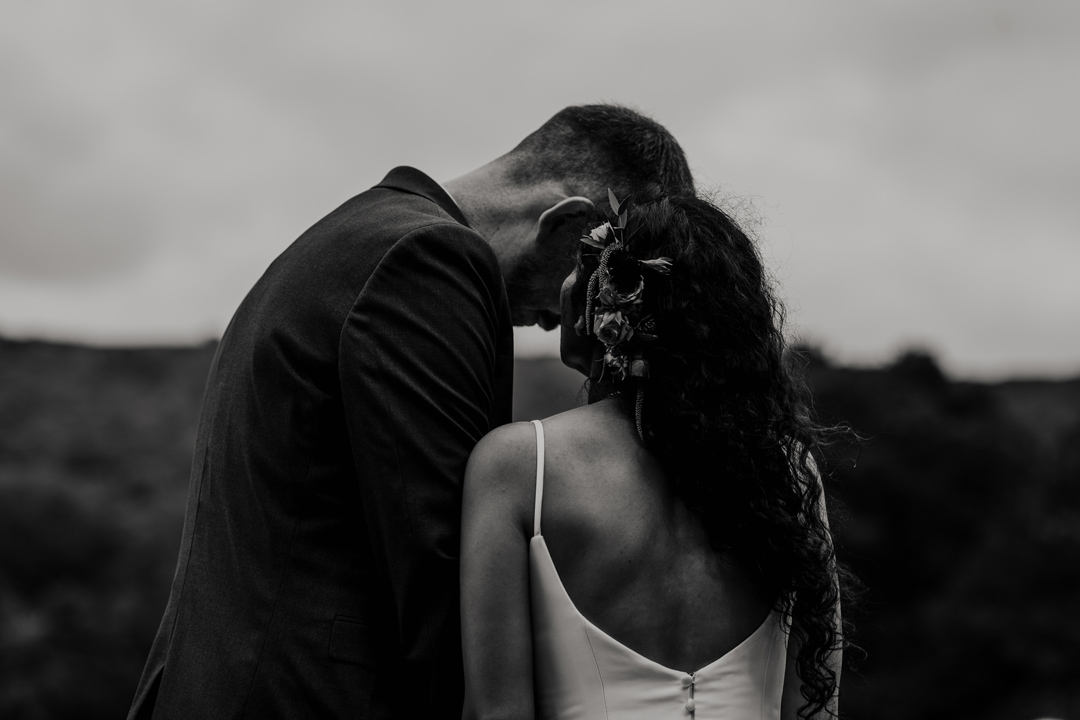 Stu's wedding ring was from Huiyi Tan via Etsy and Priya chose hers from Carrie Elizabeth.
"I wanted something delicate to match my engagement ring and this was perfect."
The couple had two readings – 'I Like You' by Sandol Stoddard Warburg and an extract from 'The Velveteen Rabbit' – as well as a Milni ceremony, with drumming from Northern Dholis.
"Traditionally this would be when both sides of our family came together for the first time and it was lovely and raucous, full of dhol drummers and dancing uncles."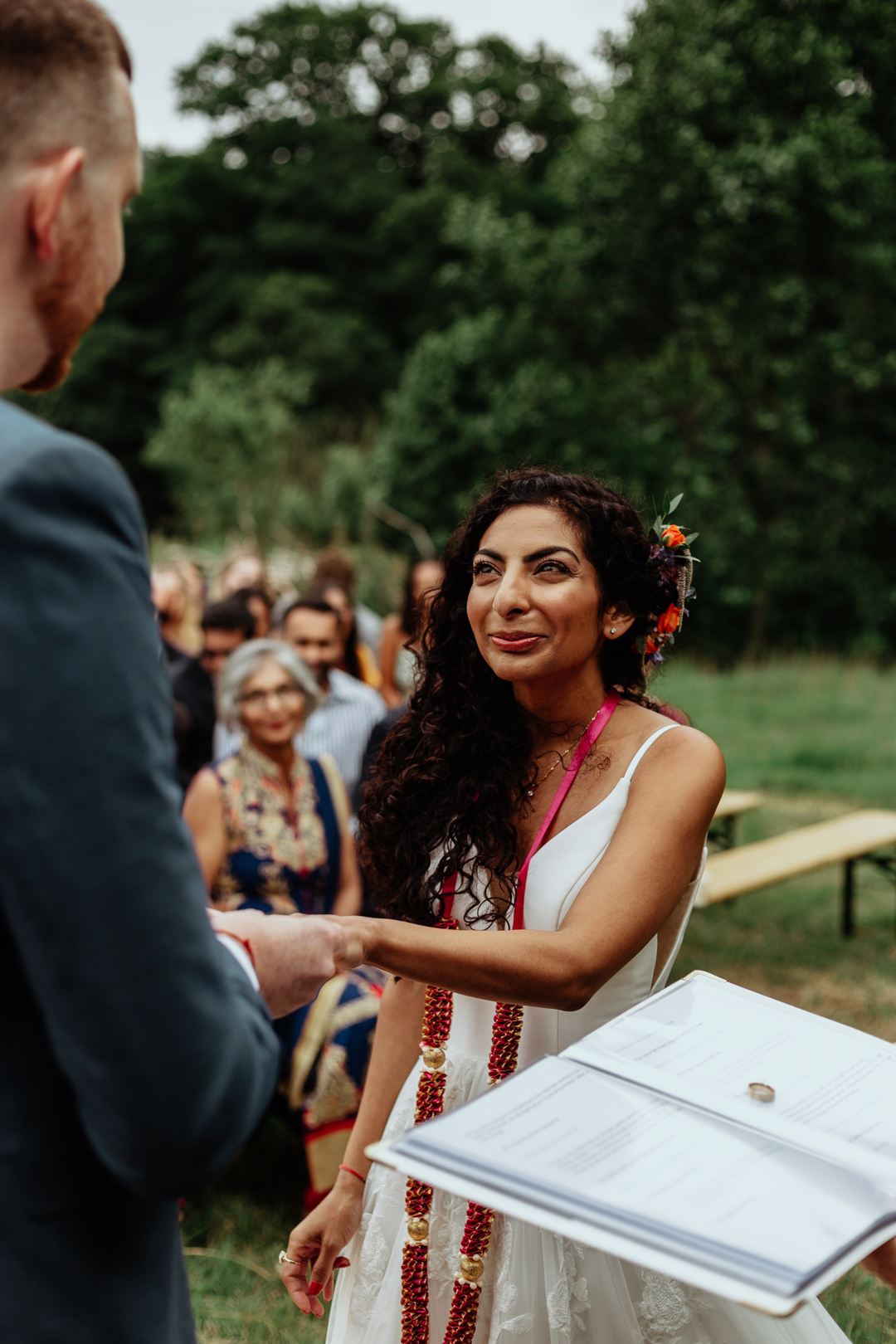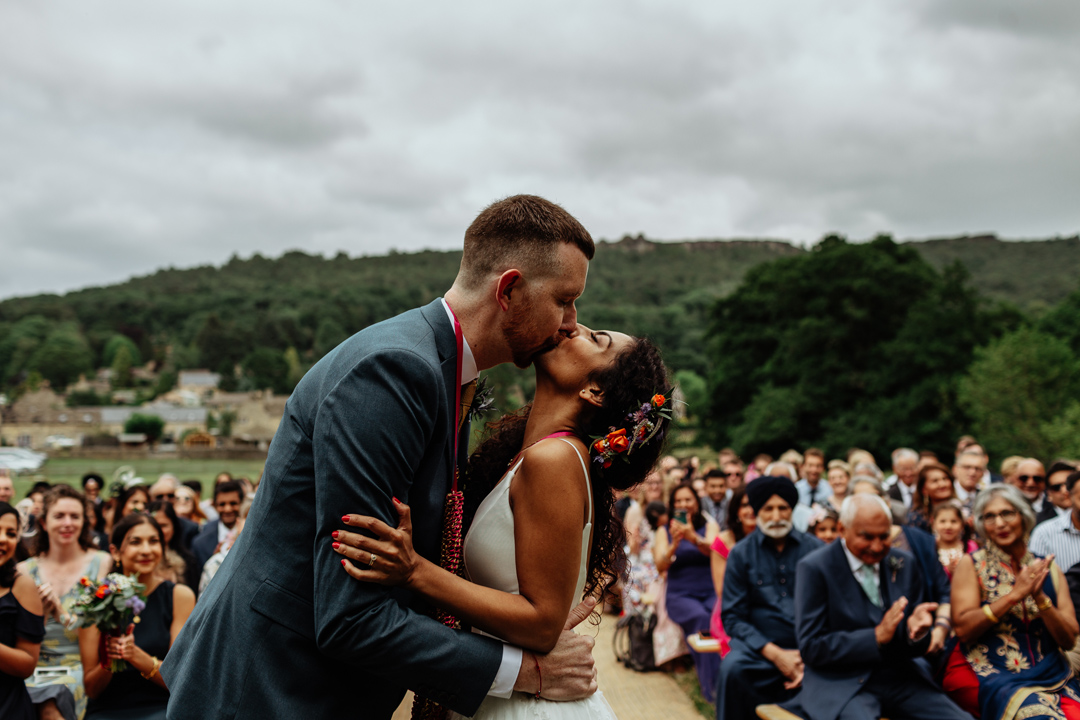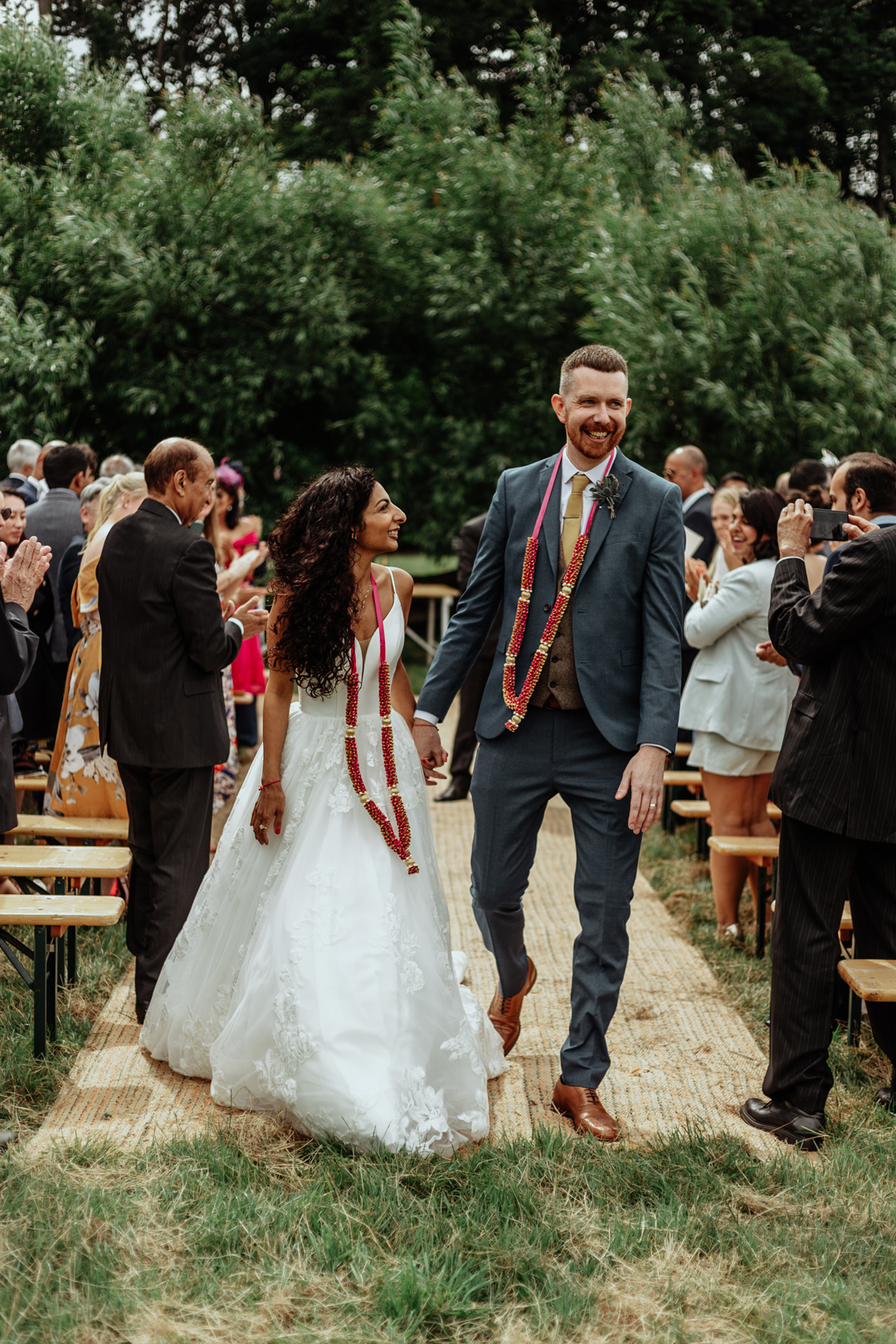 Each detail, as well as the unbridled joy of the newly-weds and their guests, was captured by Luis Calow.
If you love his work, you can enjoy other weddings captured by him on Love My Dress here.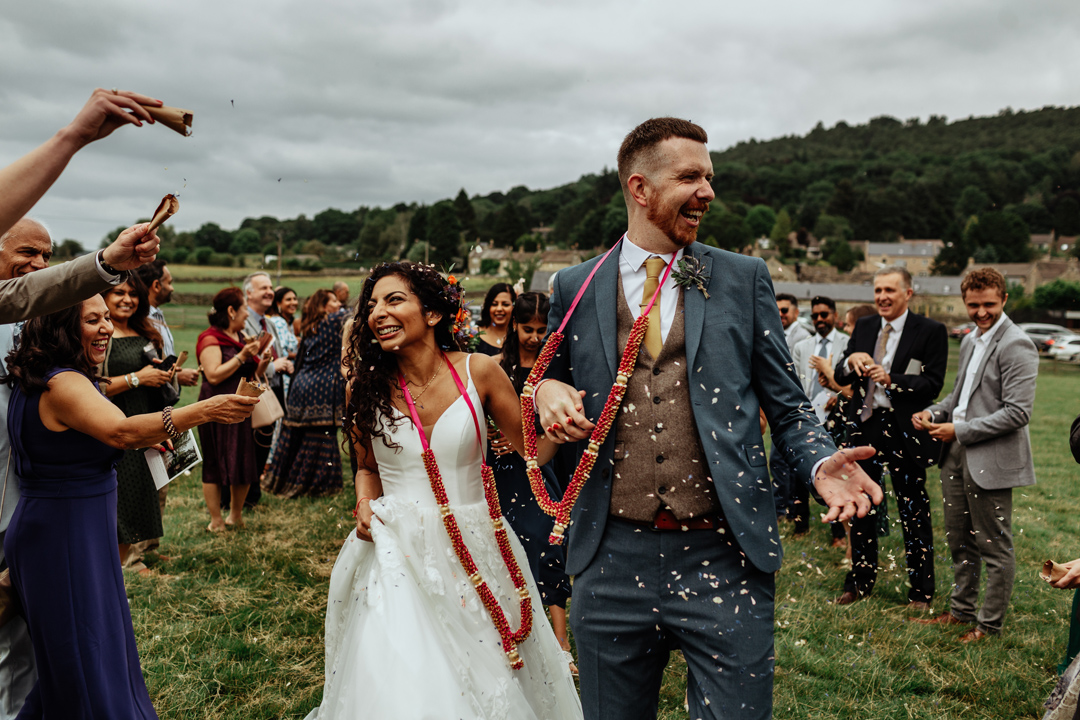 "We don't have enough superlatives to do justice to how amazing Lu is. He was recommended by another supplier and we're so glad that she did."
"From the first phone call, it felt like he was a good fit."
"We loved his unobtrusive, documentary style of photos. We met a couple of months before the wedding for an engagement shoot and I would recommend this to everyone if you can."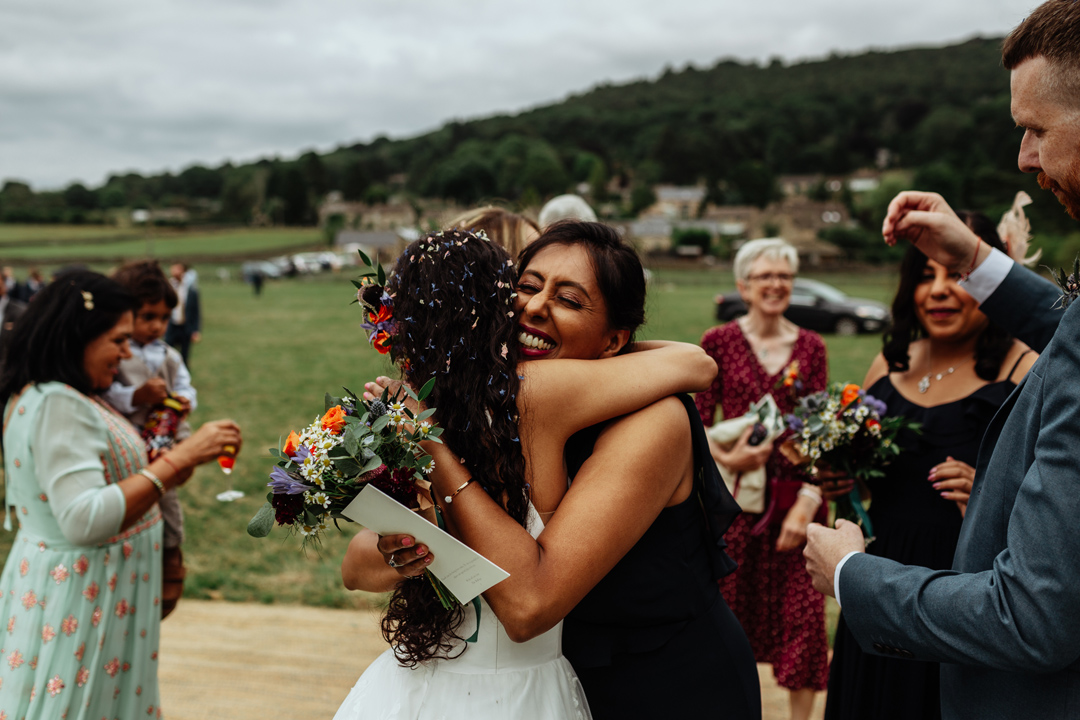 "We felt immediately at ease in his presence and it just meant that it was one less thing to worry about on the day – we knew he'd do a great job."
"We love our photos; he has captured all of joy, love and laughter of the day (and some questionable dance moves). We can't stop looking at them."
The couple had a traditional Indian pre-wedding party the weekend before the wedding in Priya's parents' garden.
"We loved that both of our families got to spend so much time together in the run up to the wedding."
The wedding venue was naturally so beautiful that the couple didn't need to add much in the way of decor; just lots of multi-coloured ribbons and vibrantly-fresh flowers.
"The sailcloth marquee and the surroundings were so beautiful already that we didn't want to add too much else."
"We just decorated with flowers from Bloom Sheffield in glass bottles and lots of candles and ribbons."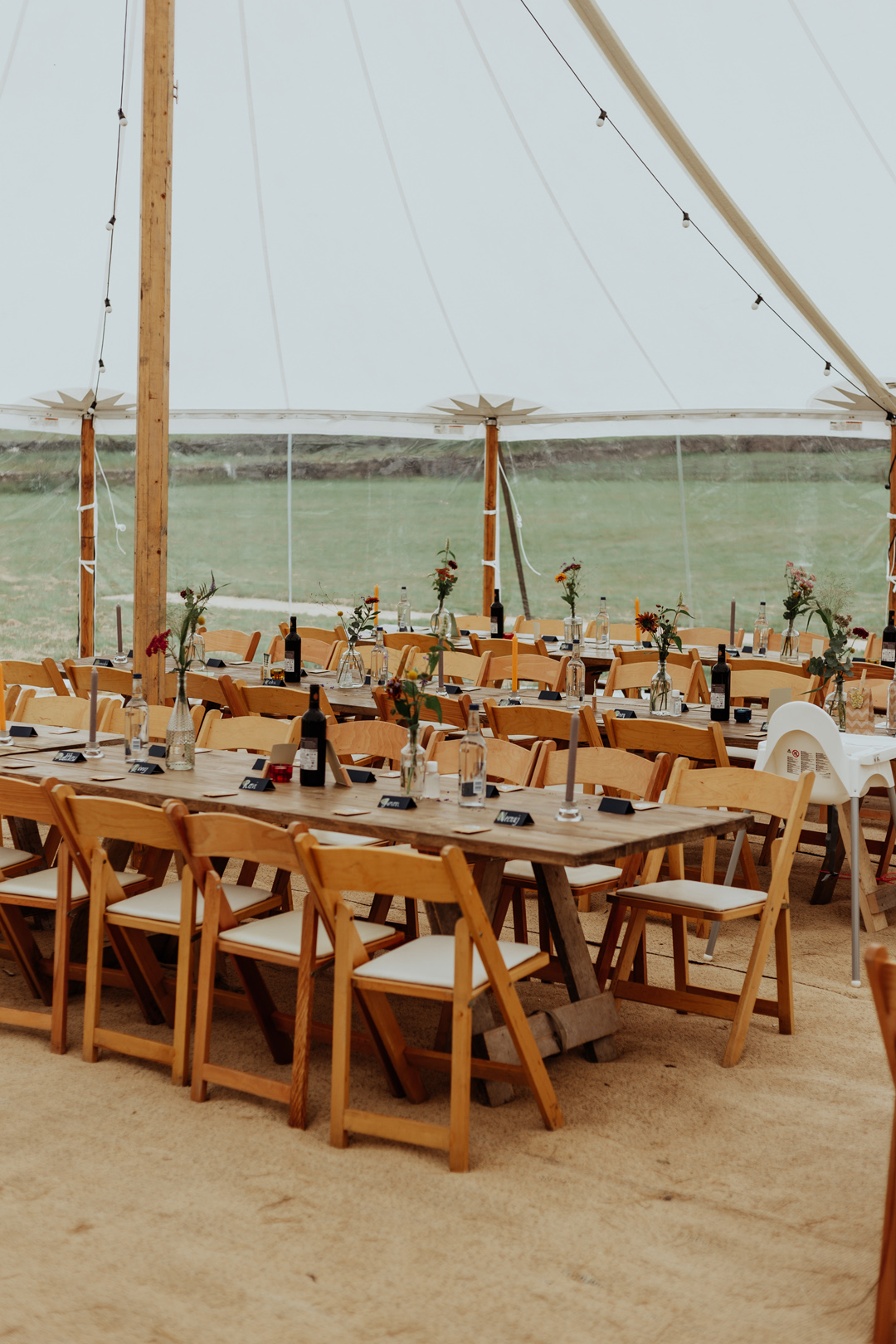 "My amazing little sister Raman spent months buying test tubes and ribbons and flower hoops to help decorate the space and our family spent two years collecting pretty glass bottles."
"We also decorated a little children's area with a teepee, books, bubbles and lots of games."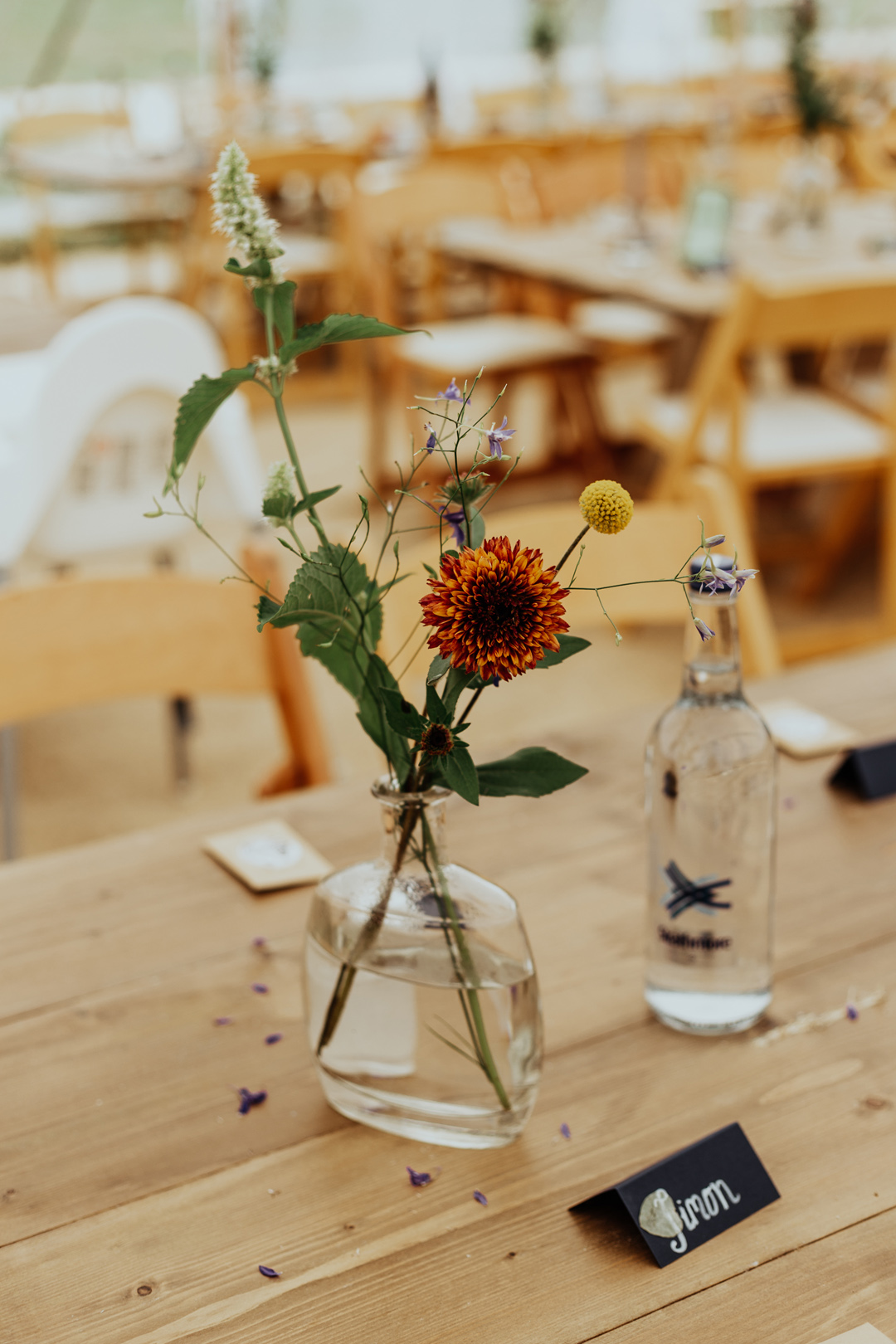 "Our table flowers were provided by Bloom Sheffield. Bloom is a local community flower garden who promote positive mental health for women through therapeutic horticulture."
"I'm so happy they provided our flowers – they are such a great project."
"Plus, their flowers are beautiful! Our lovely family helped us arrange them all the day before our wedding. One of my bridesmaids also brought some flowers from her garden that we used during our ceremony."
The day was full of music, dancing and good food, with drinks reception food and the wedding breakfast from The Clay Oven.
"Clay Oven managed our drinks reception too and they were just seamless, made sure no one had an empty glass and all of our guests were well-fed."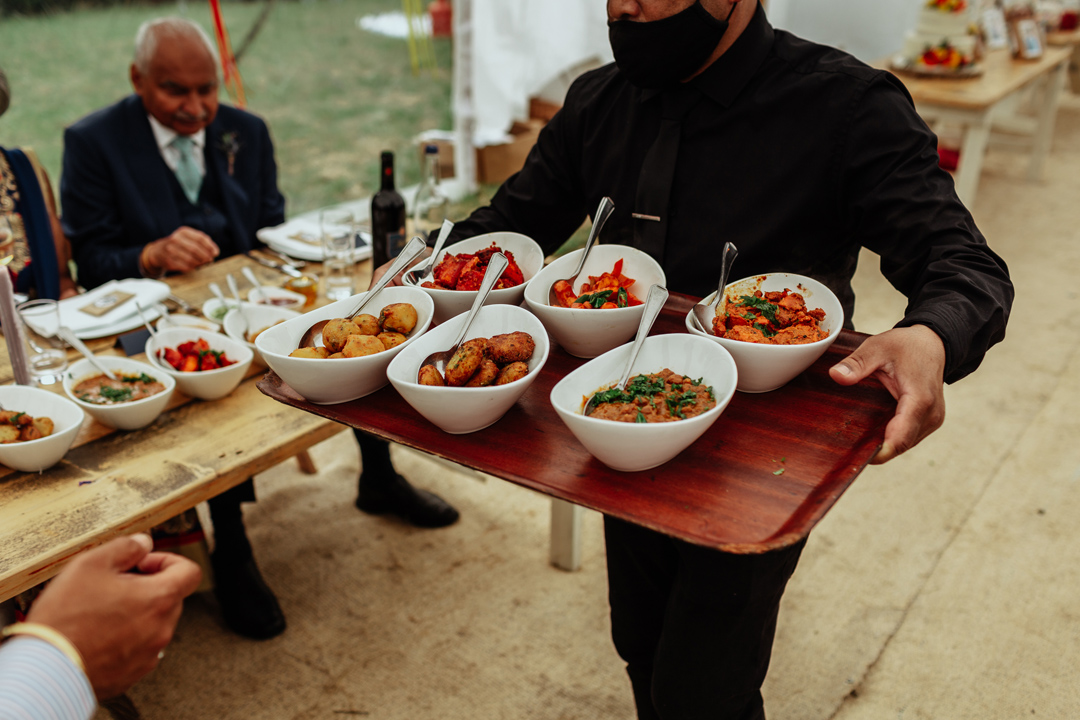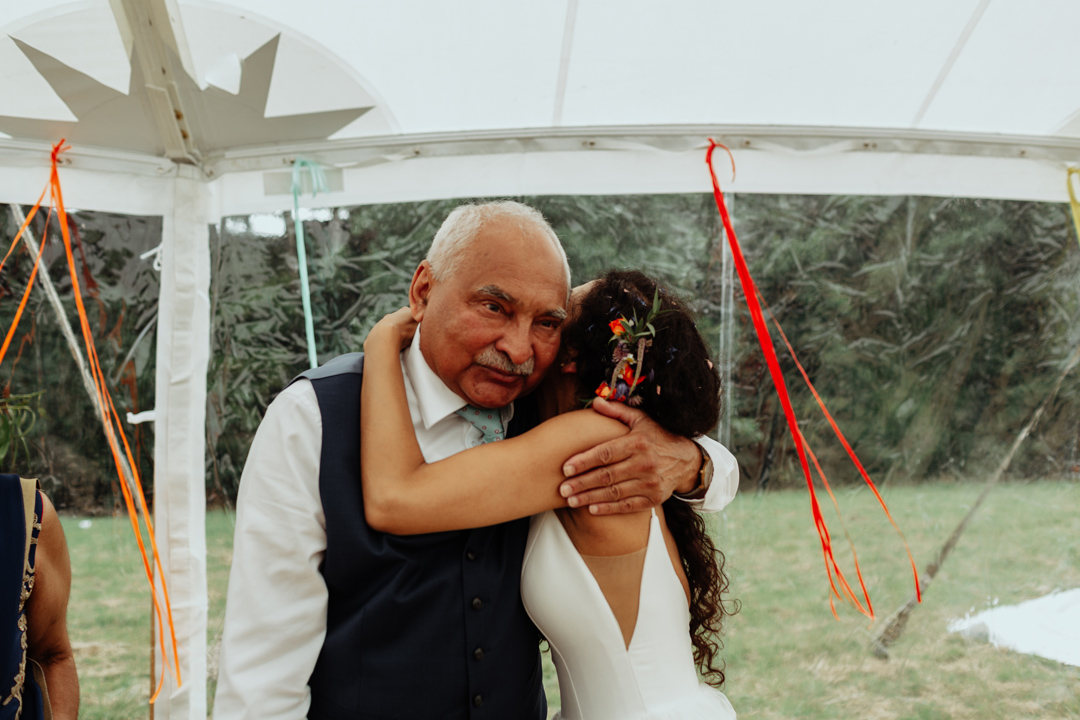 The tiered, semi-naked cake, adorned with lots of fresh flowers, was from For Goodness Cake.
"It took us such a long time to decide on our cake flavours and Sue was so patient. We eventually decided on a three tier, semi-naked cake with one tier each of salted caramel, lemon drizzle and Victoria sponge."
"Sue was so lovely throughout the process, from sending us favour samples during lockdown number one to sourcing flowers and decorating the cake on the day. It tasted amazing!"
"Out of pure luck, our wedding date fell the first weekend after restrictions were lifted."
"There was a moment where we both sat back at the reception and looked out at all of our friends and family talking and laughing."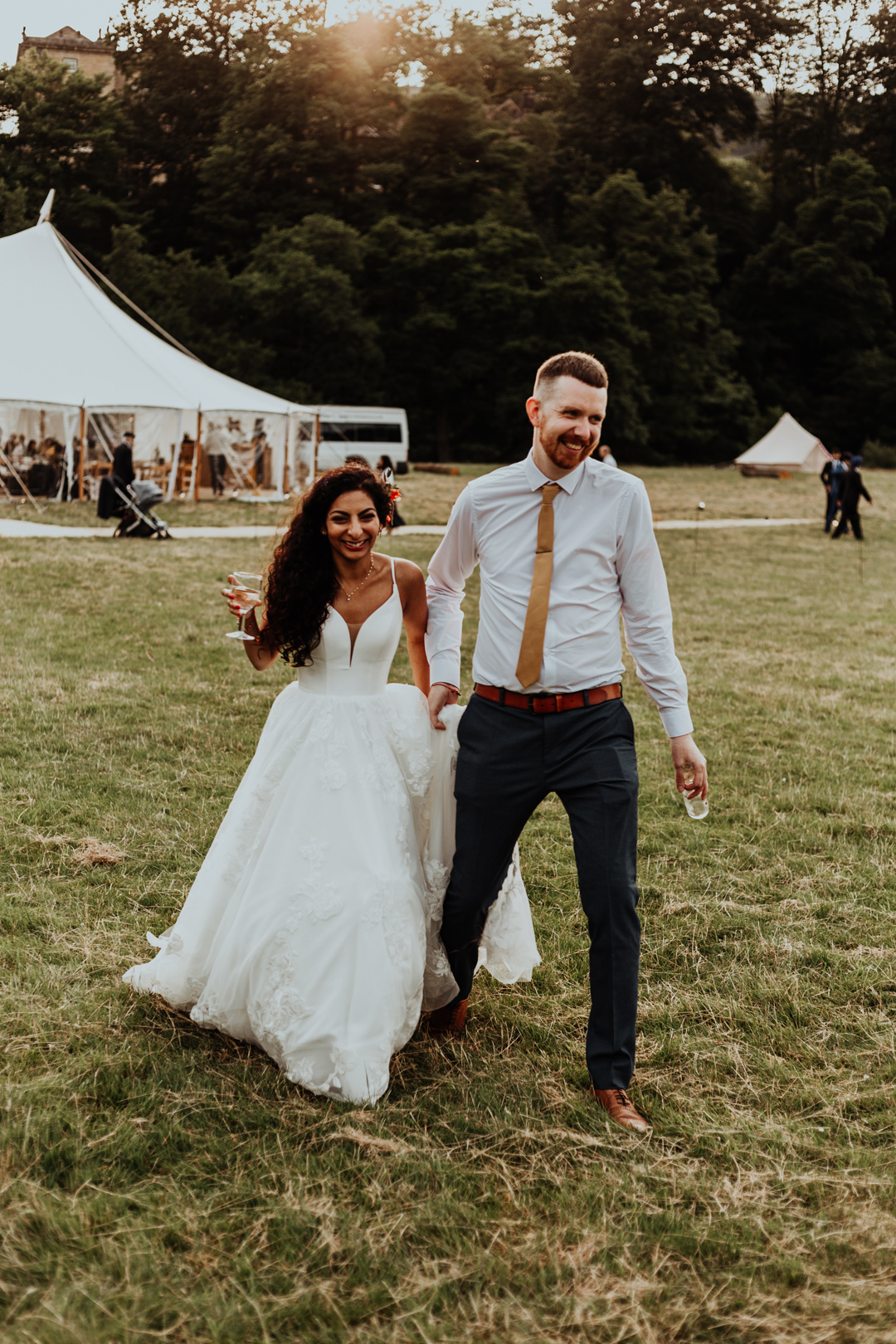 "After such a long time of being apart over the last couple of years it was amazing to have everyone together and to feel so loved! Neither of us stopped beaming all day."
"I'm sure that there are hundreds of things that we could have done better but we have no regrets."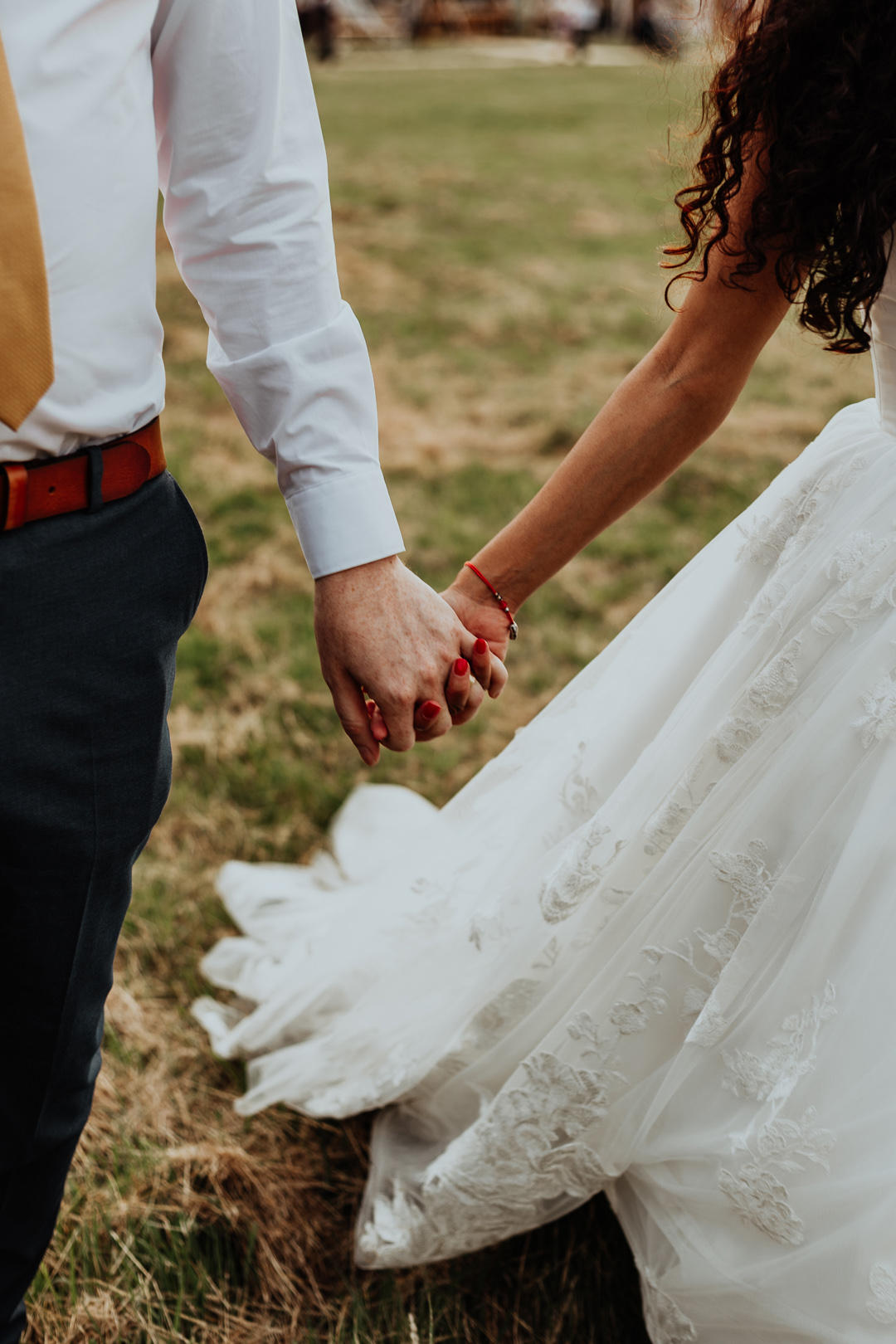 "The day was perfect for us and on the day, you really don't care about all the little things that you might have fixated on in the run-up to the wedding."
"I suppose it would have been sensible to finish writing the place settings earlier so that I wasn't still writing them at 1am the morning of our wedding!"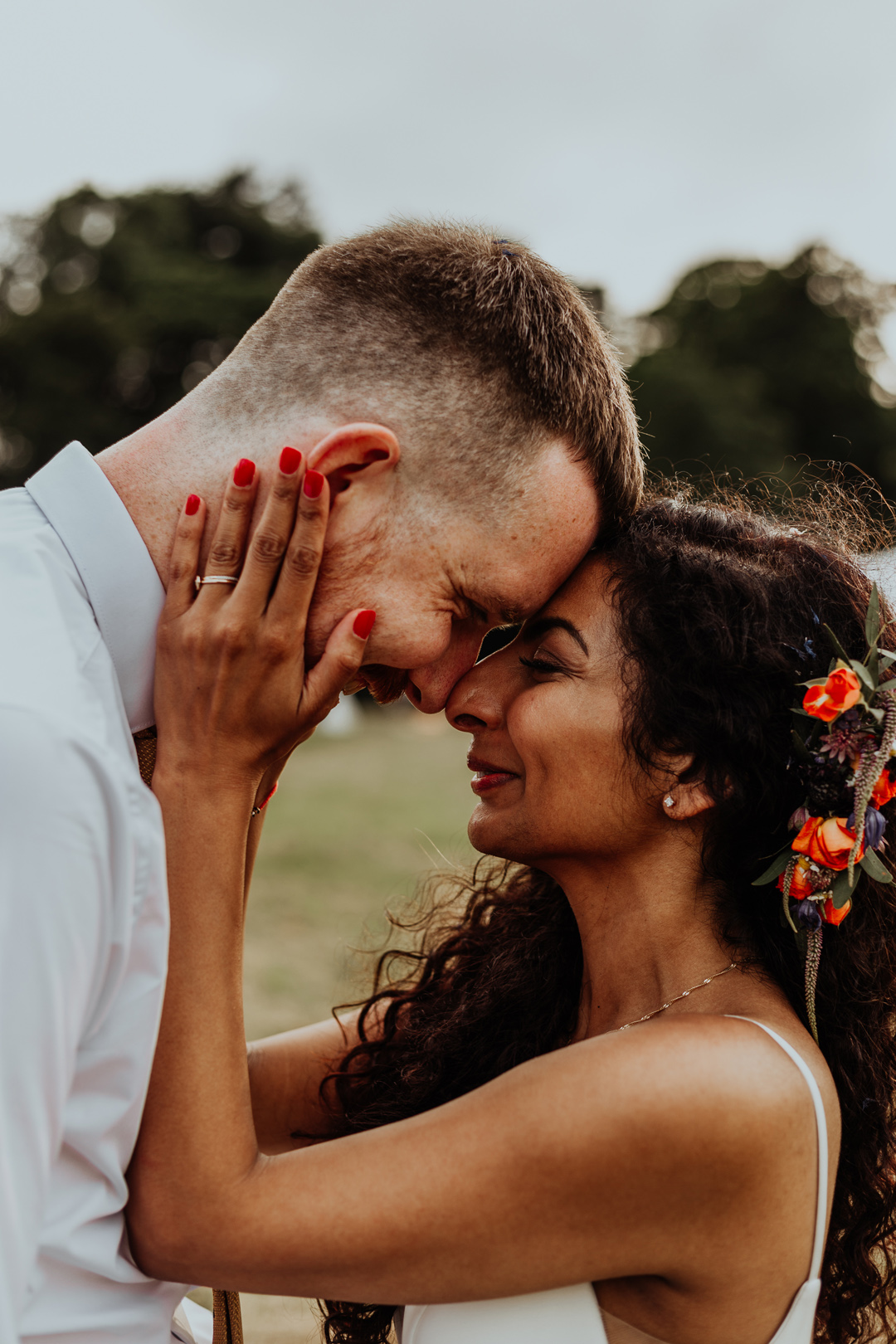 The evening dance was to live music from Loud Noises Brass and DJ Jimmy The Gent.
"They were AMAZING. The band had so much energy and I would recommend them to everyone."
"Both they and Jimmy had the dance floor packed for the whole evening. This was really important to us both so we're so grateful to them."
The first dance was 'Ain't No Mountain High Enough' by Marvin Gaye and Tammi Terrell.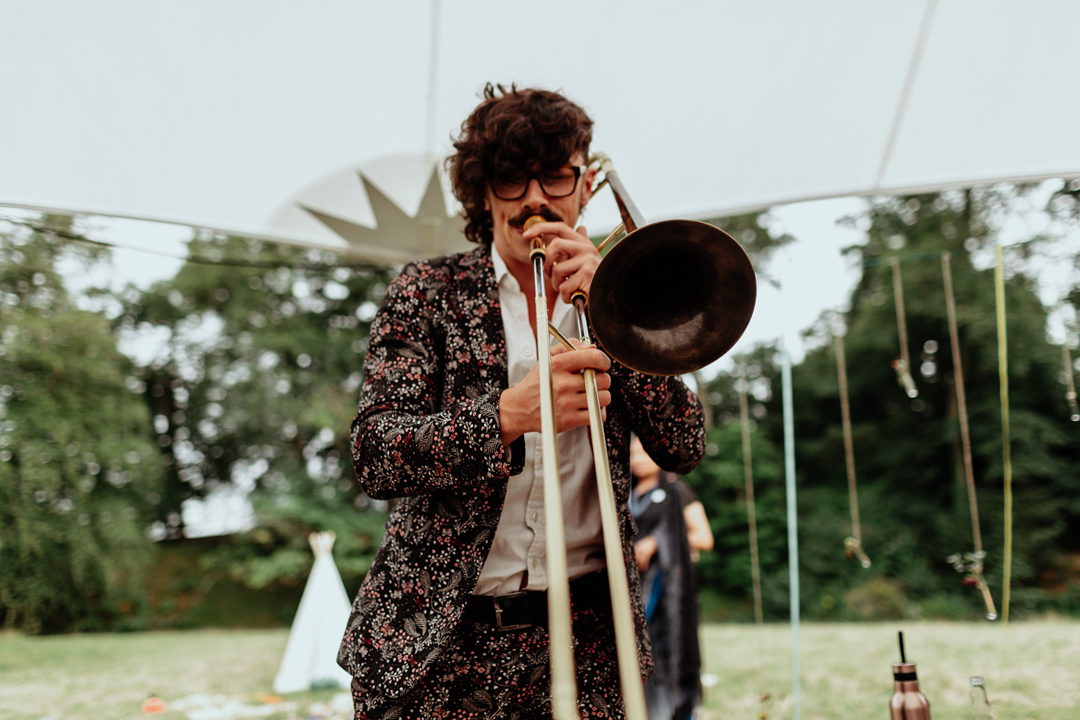 "We have been dancing around our kitchen to this for a very long time so it was an easy choice. We wanted something upbeat that we both loved."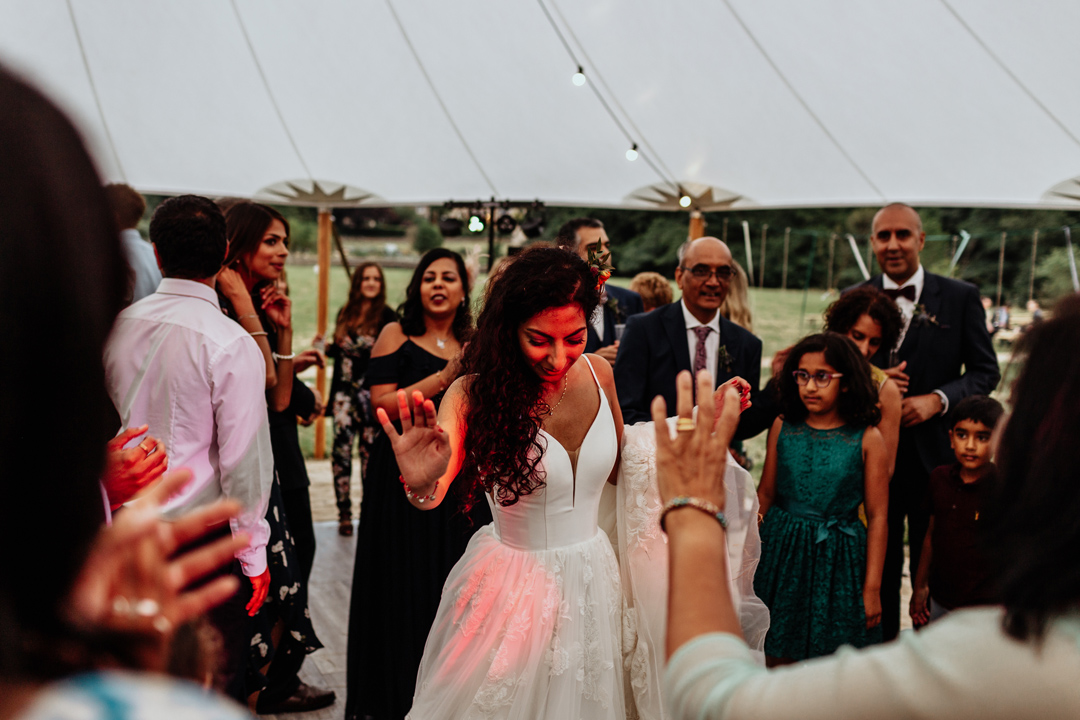 Later on, the guests were treated to fresh pizza from Dough Truck Pizza.
"The Clay Oven and Dough Truck Pizza were both wonderful, super-friendly and accommodating."
Words of Wedded Wisdom
"Try and enjoy being engaged and planning your day as much as possible. Decide early on what the most important parts of the day are for you – those that you are not prepared to compromise on."
"It is so easy to fall down a wedding planning rabbit hole but try and take a step back and ask yourself whether it will really matter to you on the day."
"Try and surround yourself with suppliers that you connect with. We have so much love for everyone mentioned here."
"They worked so hard to make sure that we had the best day imaginable. Accept all offers of help – it can sometimes be a little difficult to relinquish control of certain aspects but you'll be so happy you did."
"There will always be things that don't go to plan in the run up to the wedding but try not to let them become overwhelming."
"Our families spent hours cleaning up goose poo from the area around the marquee the day before the wedding after a gaggle of Canada geese appeared in the field the week before."
"It was definitely not something we planned for but we managed to adapt!"
"Most importantly, remember this day is about the two of you. Everyone tells you how quickly it flies past and they are so right. Try and take some time together to take it all in and appreciate it."
Priya and Stu, I've enjoyed every single detail of your joy-filled, colourful wedding.
Thanks so much for sharing it with us today, and congratulations to the both of you. Luis Calow, many thanks to you as well; such beautiful work.
For more fusion weddings, check out this selection and we've got more brides in Essense of Australia gowns here.
Ele xx