I love a midsummer wedding in the country; the days that go on forever, the long, light evenings and the beauty of the countryside. This year's weddings feel even more special than usual and it's a real pleasure to share this Herefordshire celebration with you.
On 12 June 2021 project manager and interior design lover Giulia wed Ruben, who works in IT, in the breathtaking setting of Dewsall Court in Herefordshire. Ruben and Giulia chose Hushabye Films, one of our Love My Dress Wedding Directory members, to be videographer for the day.
The intimate wedding, which had been relocated from the planned venue of Giulia's parents' garden in Italy, was designed to have a dreamy, fairytale-like feel, with lots of candles and fairy lights to compliment the beautiful summer flowers and foliage. Oh, and it was also a plant-based day, with a completely vegan menu.
Story and Colour

+ Follow
"We chose Dewsall because it was just so incredibly magical, literally out of a fairytale – the stunning period home, the gorgeous garden, it even has a lake, truly incredible."
"We wanted our venue to look and feel dreamy and Dewsall was just that."
We are delighted to share more details about country house venue Dewsall Court on the Love My Dress Wedding Directory, so be sure to visit their listing for more information.
Giulia, who is an interior design lover, organised and styled everything herself.
"We wanted our wedding day to feel magical, fairy-tale-like and for our family and friends to feel like they were transported into a dream."
"Whilst picking the theme I kept thinking about the Elves from 'Lord of the Rings' and feeling very inspired by it."
"I kept imagining an earthy colour palette, beautiful florals and foliage with lots of texture, candle lights and fairy lights, a warm and intimate atmosphere, and that's what we ended up going for."
Giulia chose her gown at the Made With Love Bridal boutique in London, selecting a gorgeously sexy, lace gown from Made With Love's sister brand, Emmy Mae Bridal.
"I visited the Made With Love boutique in Bermondsey with my mum pre-Covid (she specifically flew in from Italy) and had a truly wonderful experience."
"Our stylist, Cristina, was an absolute delight to work with and we had lots of fun throughout the process."
"She instantly understood what I was after and showed me the most fitting pieces. I am so extremely happy with my choice. I loved how beautiful and confident I felt in my dress. It just felt right!"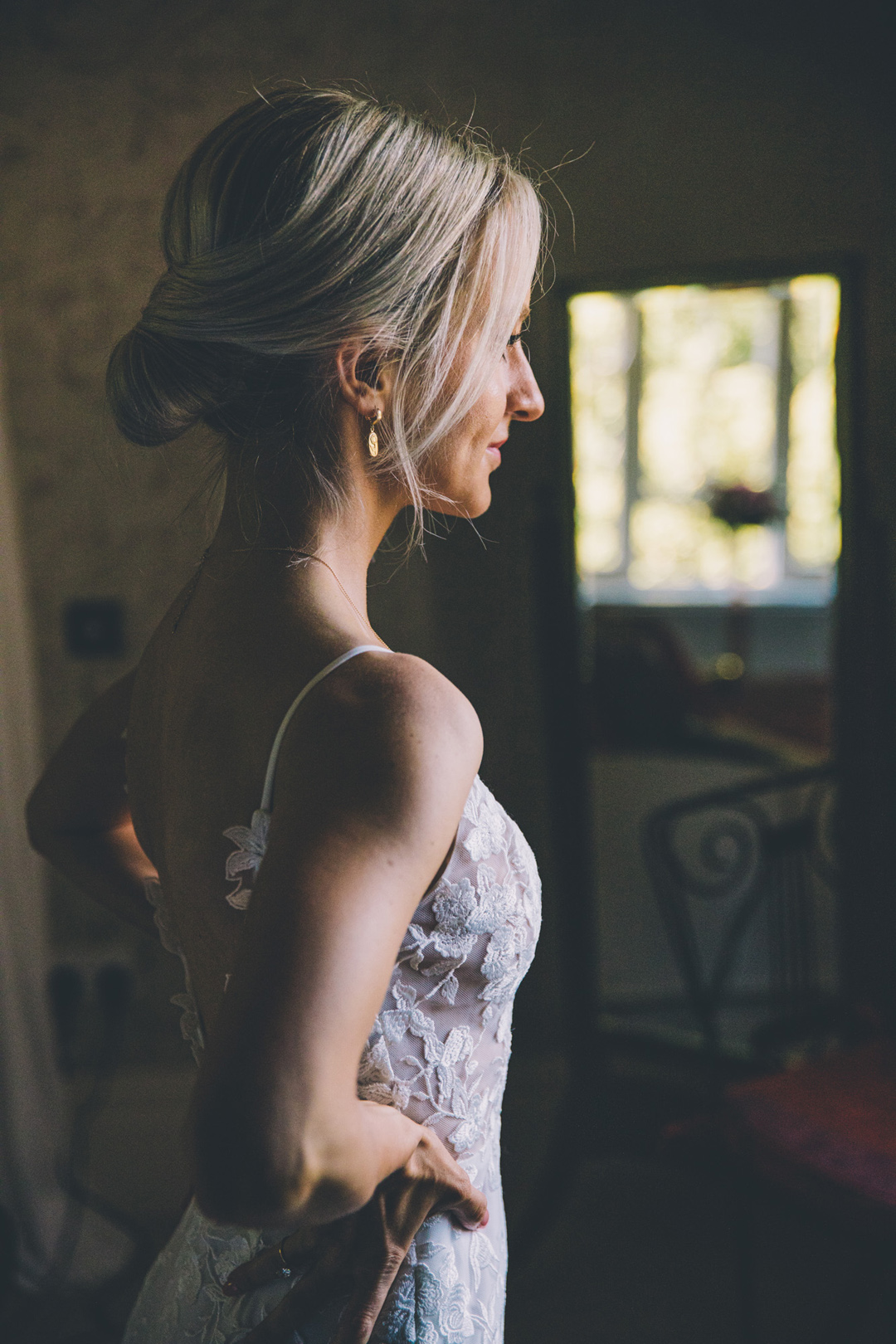 She wore a simple, three metre-long tulle veil from Made With Love Bridal and a modern pair of white Dune 'Madame' heels.
"I wore Daisy Jewellery earrings and bracelet, alongside a couple of sentimental pieces: a medallion necklace that my mum had made for me which has an engraving on the back that says, in Italian, 'beyond borders' (referring to our love) and a gold bracelet that my best friends in Italy gave me as they couldn't attend the wedding in person.
Giulia's hair was tucked into an elegant and relaxed bun by Keri at Off Duty Wedding HMUA.
"I wore Flora Gorgeous Gardenia by Gucci, a stunning, romantic scent."
The groom looked cool and relaxed in his beautiful tailor-made suit by Cad & The Dandy, paired with Timberland boat shoes.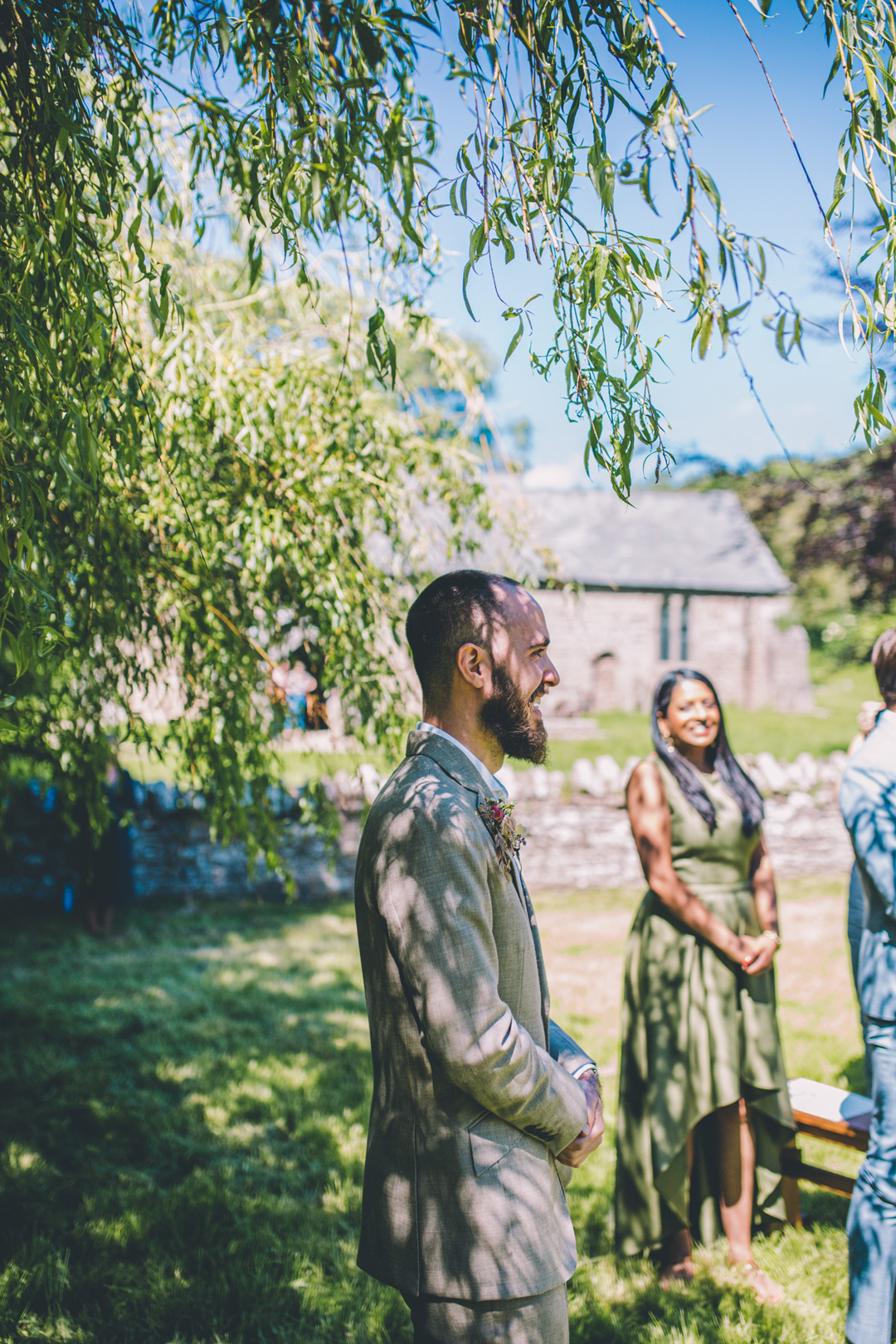 The wedding ceremony was held outside and Unity String Quartet played 'Can't Help Falling In Love With You' as Giulia walked down the grass aisle with her father.
"As we were walking down the aisle (string trio playing in the background, Ruben tearing up at the altar, all so beautiful and magical), my dad was making comments about how uneven the ground was and how I could easily break an ankle! How romantic."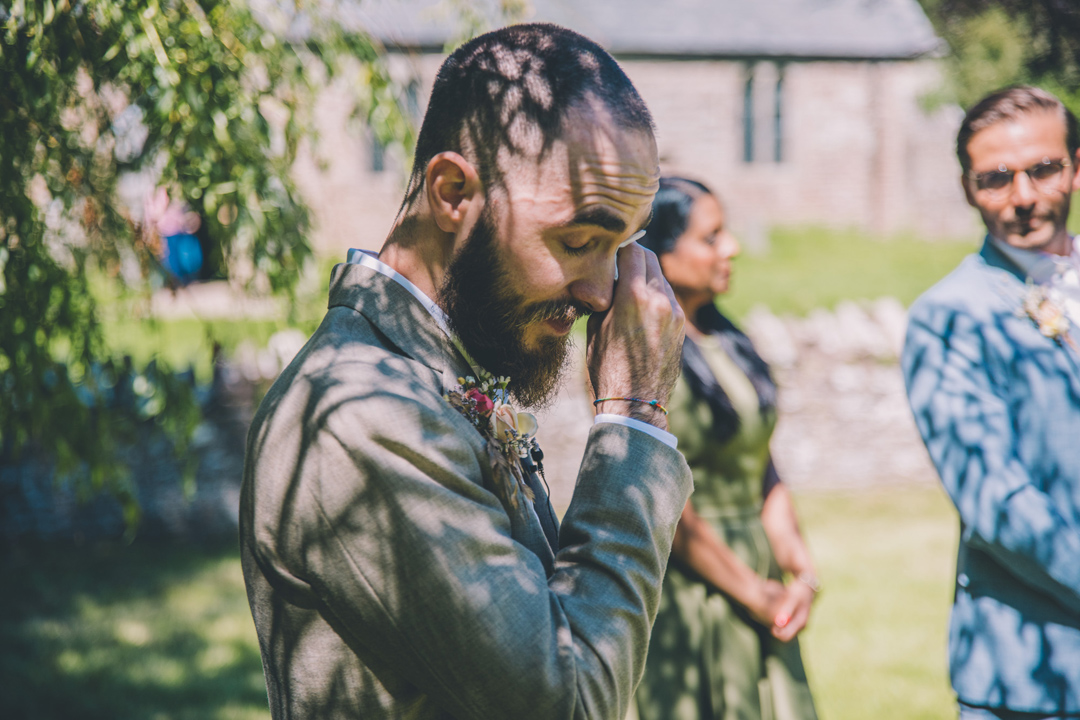 The bride's sister was bridesmaid in a Liu Jo dress and both carried bouquets of full-blown blooms and foliage.
"Our florists were Hannah and Hilary from The Cotswold Florists. They really understood the vibe and the style we were after and created beautiful and effortless arrangements with a mix of fresh and dried flowers (focusing on warm, delicate pastels), sagey foliage and lots of texture. Just stunning!"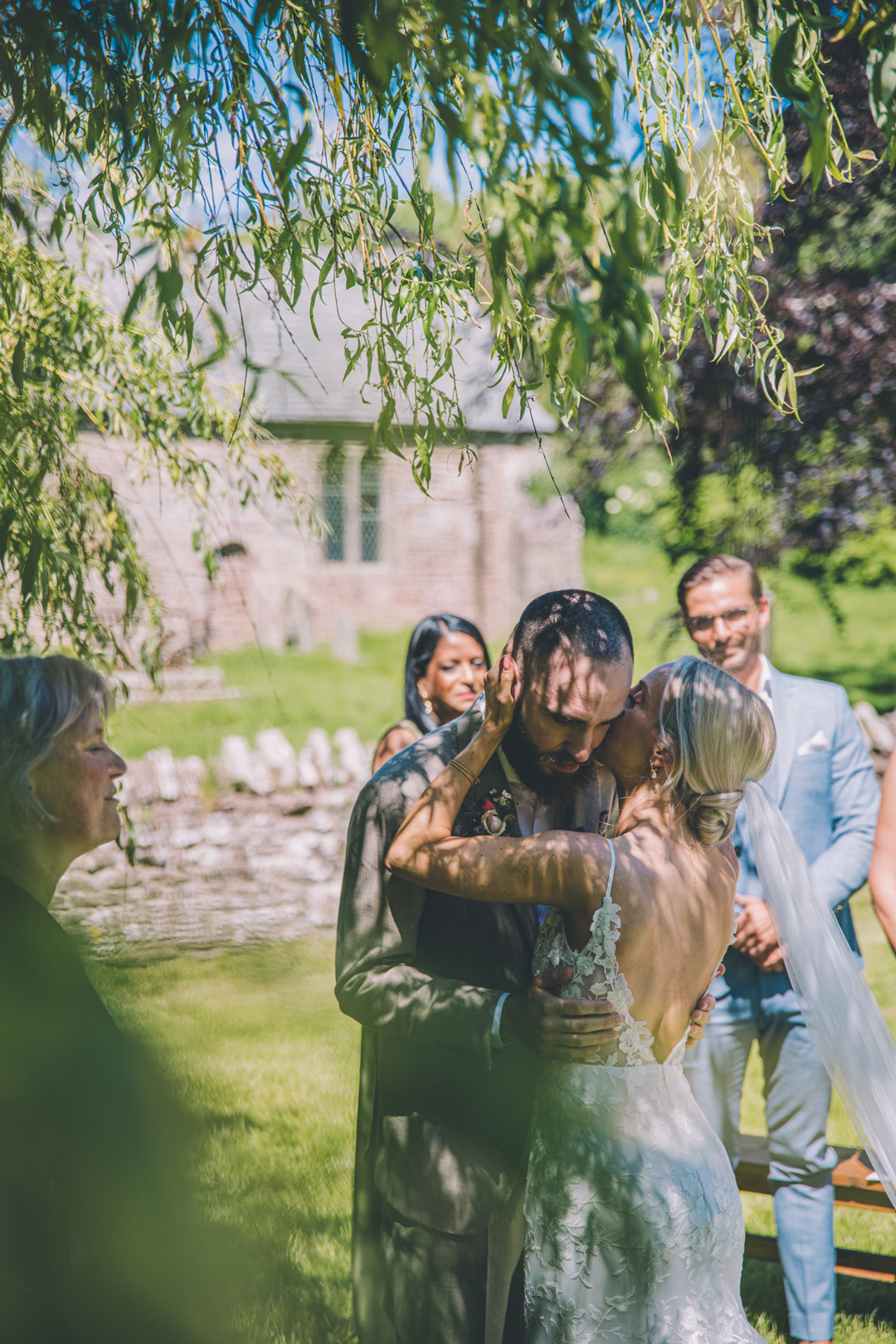 The couple's ceremony was conducted in English but had they had it translated into Italian and Portuguese in a booklet so that their family and friends could follow what was being said.
"It was a great success! We also streamed our ceremony on Zoom to our friends and family that could not be there in person and it was so special! They all dressed up, picked a drink of choice and celebrated with us through the screen. We were so happy to be able to include all our loved ones."
"Our whole ceremony was so incredibly special and just tailored to us. We wrote it ourselves and it turned out so beautiful."
"Naturally, we wrote our own vows too. We asked two of our close friends and my sister to do readings of their choice and all three decided to write their own."
"Of course, we only got to hear them on the day, we didn't want to spoil the surprise."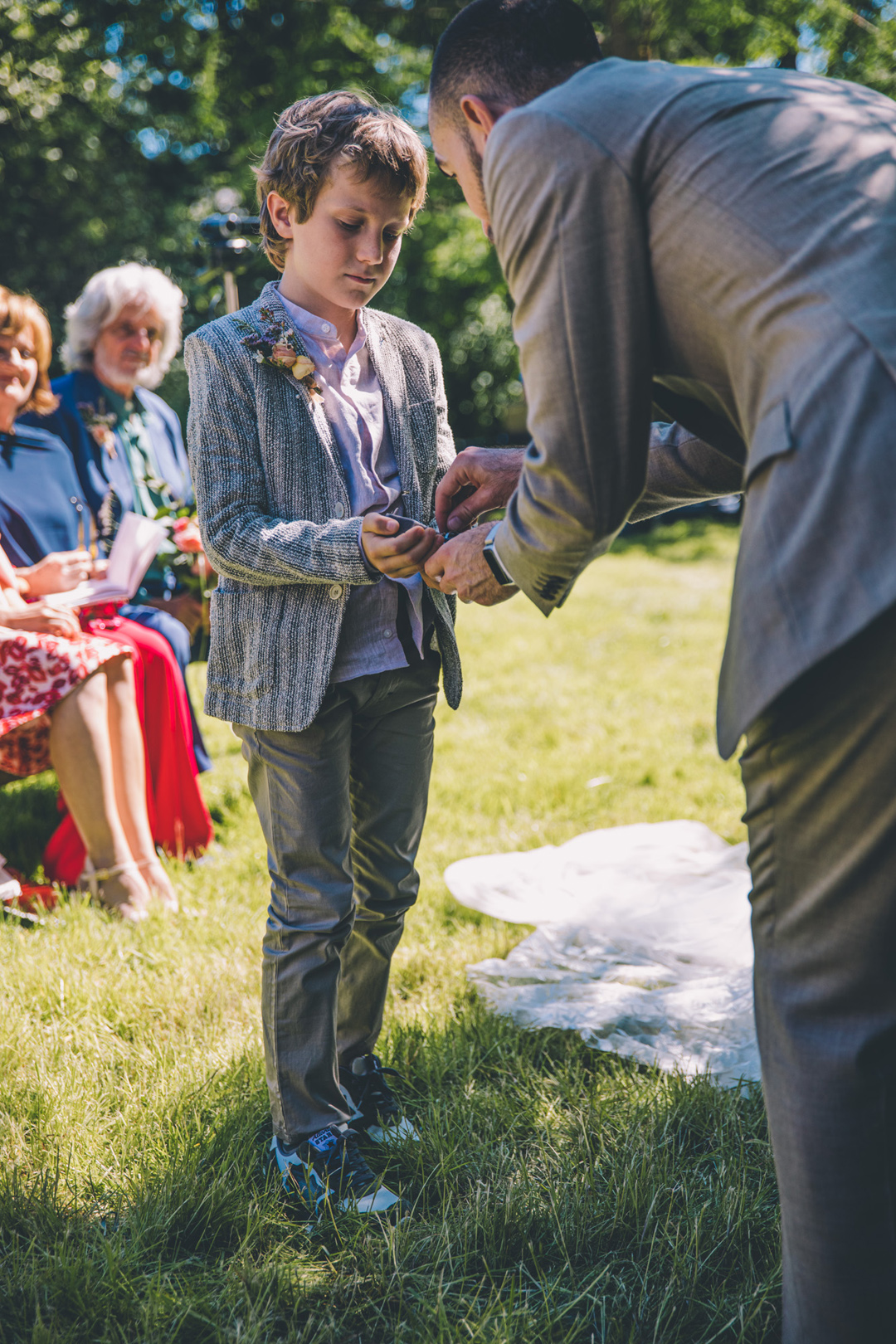 Ruben and Giulia exchanged rings from The True Gem Company.
"Ruben had bought my engagement ring from them and we chose them for our wedding bands because we truly loved their mission."
"They are sustainable jewellery makers who use recycled metals and sustainable, lab-grown gems. They focus on creating pieces that are not just beautiful but also eco-friendly. What's there not to love?"
"We loved every second of the day but the ceremony was an unforgettable moment for both of us. It felt so us, so special, so intimate, so emotionally charged."
Ruben and Giulia met online and got engaged after three years of dating. They had originally hoped to marry in Italy in September 2020, with Ruben's family coming in from Portugal to join them.
"We were going to get married in Italy in my parents' beautiful back garden in September 2020."
"When the pandemic hit we naively thought that things would get better by then and so decided to stick with the original date. Then June came and we figured it'd be prudent to postpone, just in case."
"We were especially conscious about our friends and family from abroad and their ability to travel and be able to attend (Ruben's family is based in Portugal and we had friends flying in from all corners of the world), so we decided to postpone it to July 2021."
"Then March 2021 came along and the UK was still in lockdown, Italy wasn't doing great and had not yet published any sort of guidance on events and weddings, and we were both pretty stressed about what to do."
"We decided to prioritise ourselves and our mental sanity and plan a micro-wedding in the UK."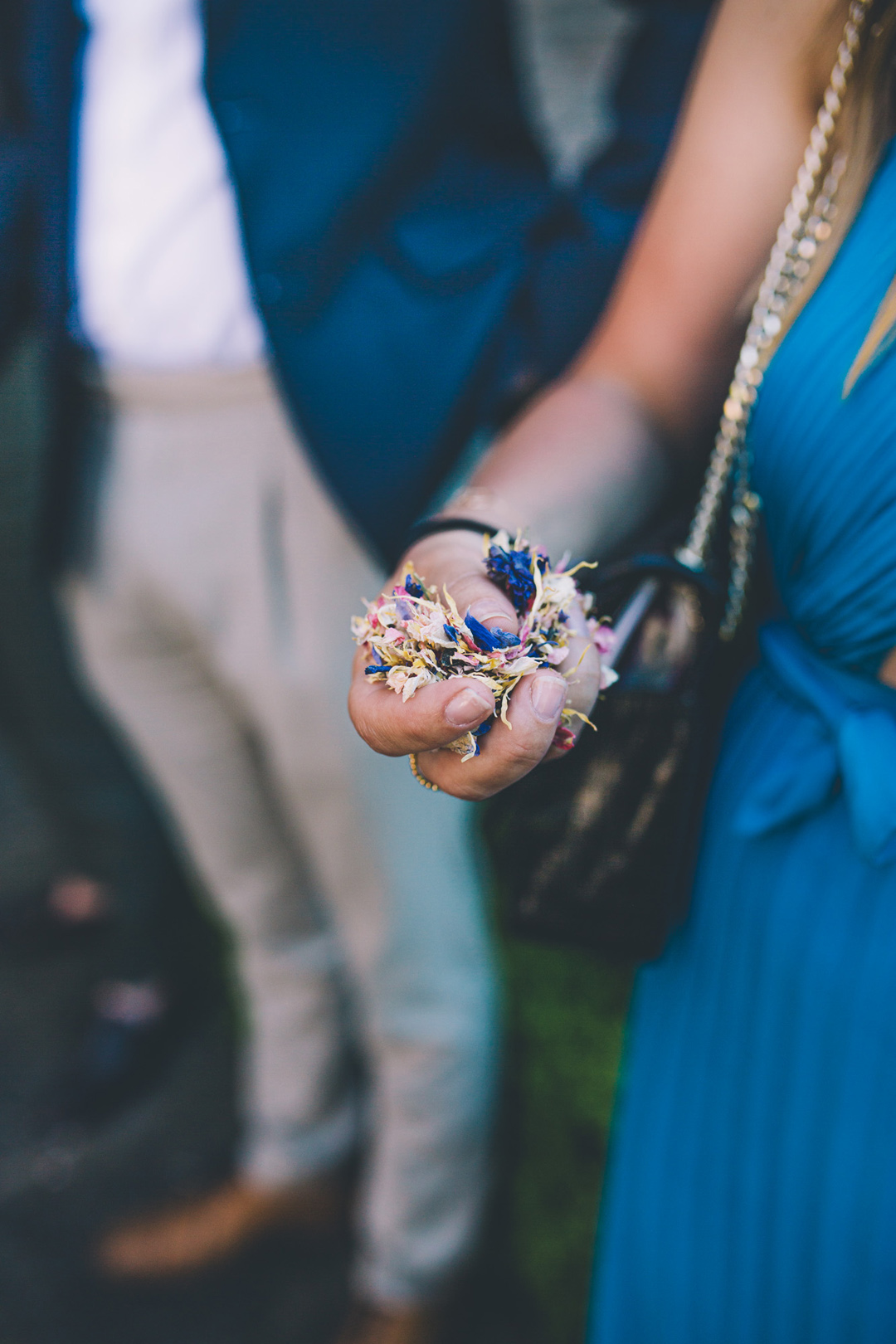 "Whoever could come would come and we would get to enjoy our special day nonetheless. We didn't want this pandemic to hold us back and delay us any further. It was honestly the best decision we could ever make!"
"We had to cut our guest list down to thirty people and manage the complicated logistics of bringing in our families from Portugal and Italy – it was tricky but so extremely worth it."
"Honestly, I think that the universe gave us the wedding of our dreams and we could have not hoped for better. Our pre-Covid wedding would have not been this wonderful and special. We are so happy with how things turned out."
The atmosphere has been so perfectly captured by Dan of Story and Colour Photography, whose style is contemporary yet timeless.
The sunset portrait shots are my personal favourites.
"I found Dan years ago, before I even got engaged. I was browsing through some wedding blog posts and thought 'I need whoever took these photos to shoot my wedding one day!'."
"I thought his style was just perfect: documentary style, informal, spontaneous, not staged, super candid and fresh."
"On the day, Dan blended in with our guests and took pictures without anyone noticing and was able to capture really beautiful, candid moments."
"Even when taking pictures of Ruben and me, he was super relaxed, cracked jokes and made us feel super at ease."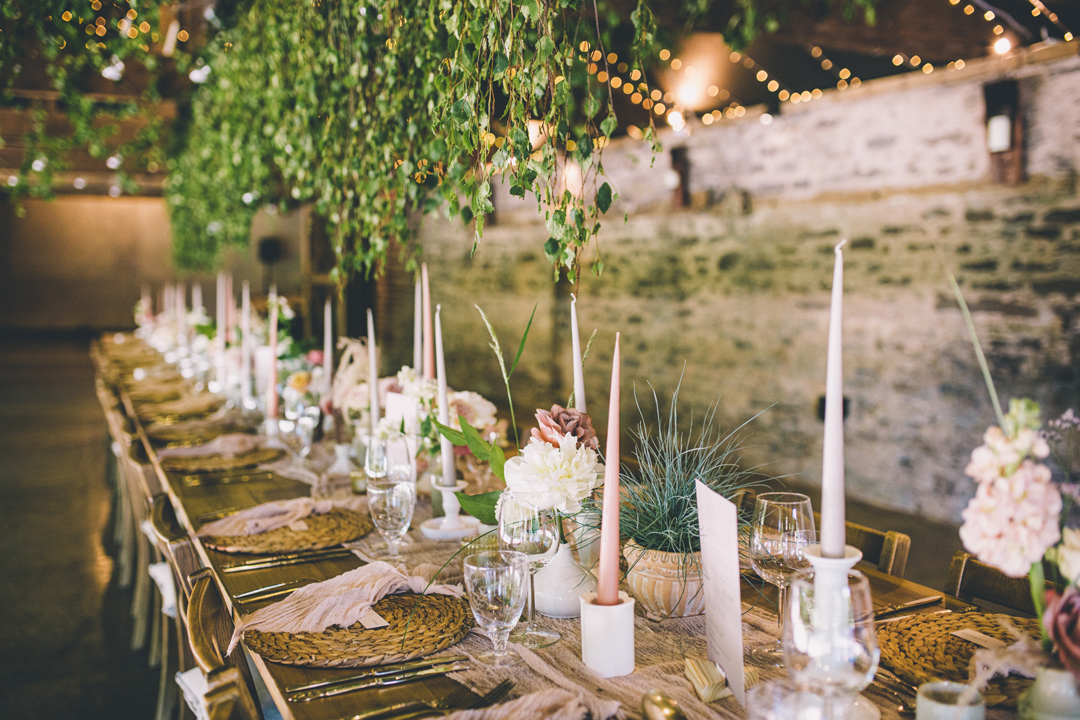 "We really clicked and had such a good time. Believe me, it really shows in the pictures. I would recommend him to anyone in a heartbeat!"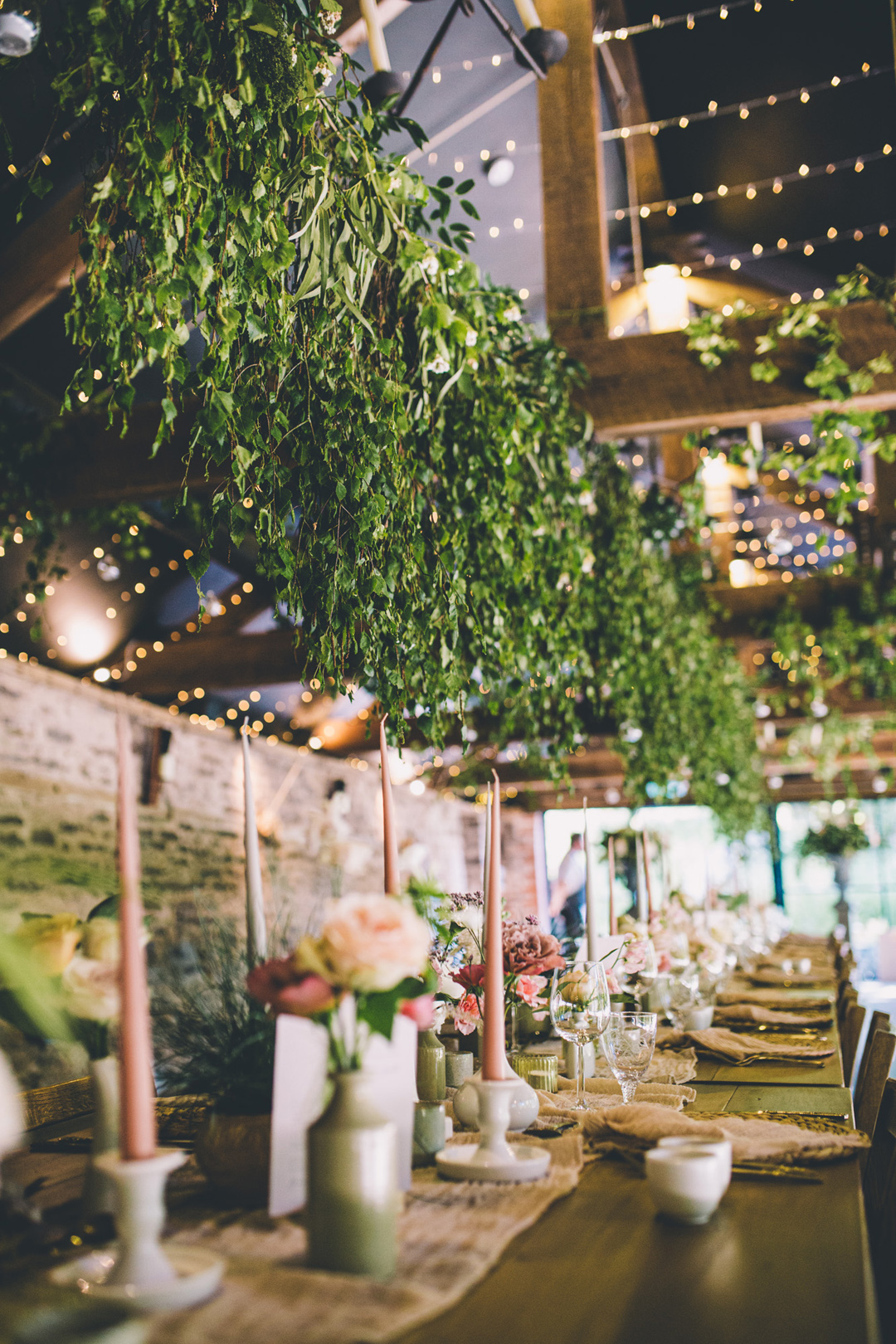 "Florals and greenery were really the key decorative element, alongside beautiful signage and stationery, lots of candles and fairy lights."
"However, for the wedding breakfast table decor, I decided to go one step further and hired some beautiful tableware from Hélène Millot and sourced stunning nude gauze runners and napkins from Emma's Attic Store."
"I wanted to create the perfect dreamy, earthy vibes with lots of texture and all these elements came together perfectly to exactly achieve that. Our stationery was by Abbie Worton."
"Dewsall created the most amazing plant-based menu for us. We are both massive foodies and are super-passionate about living and eating as sustainably and environmentally-friendly as possible."
"We wanted to treat our guests to the tastiest, most mouth-watering plant-based food ever and the team at Dewsall created a truly stunning vegan menu for us. It was beautiful and everyone loved it, even those who were sceptical."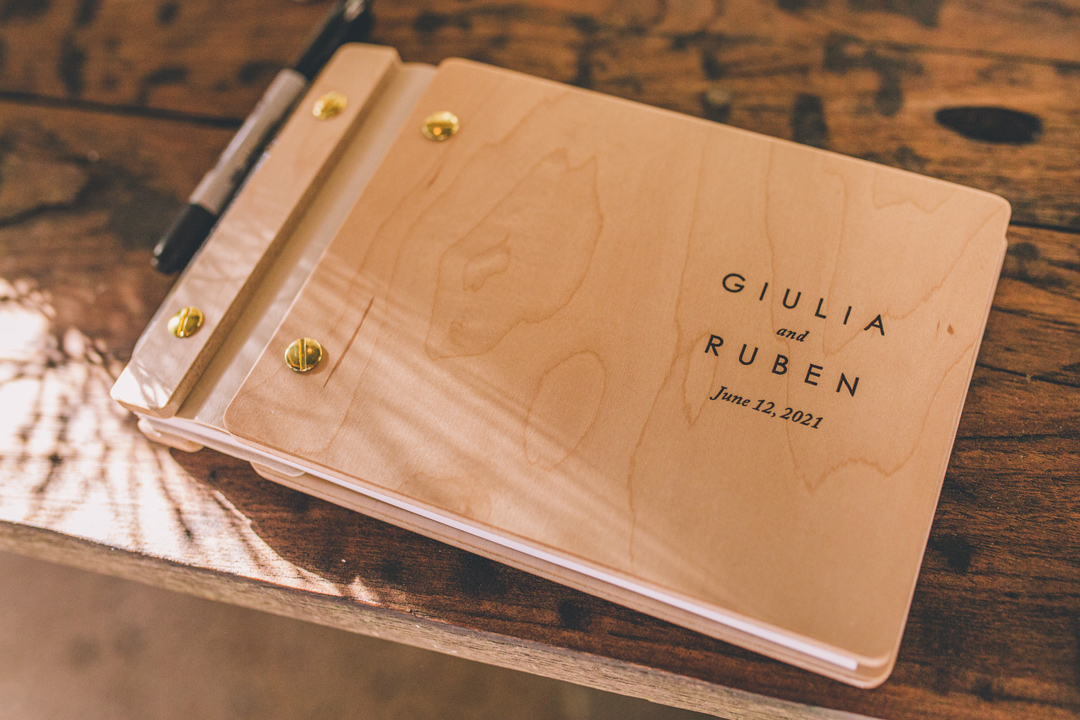 The beautiful tiered cake was also a vegan creation, by Vic's Vegan Bakes.
"We shared some inspo images with her and let her come up with her own creation. We knew how great she was and, believe me, she did deliver."
"Vic created a stunning show-stopper cake with lots of texture and beautiful colour which was not only beautiful but super-tasty."
The newly-weds danced the night way to music from DJ, after a first dance remix.
"We had 'The Time Of My Life' from 'Dirty Dancing', 'Wannabe' by Spice Girls, 'I'm Sexy and I Know It' by LMFAO, 'Sucker' by Jonas Brothers and 'The Harlem Shake'."
We wanted to have a memorable, fun, self-ironic dance that people would have lots of fun watching. It was a HUGE hit!"
"We genuinely loved every single aspect of our wedding and would not change a thing. It turned out exactly as it was meant to be."
Our original budget pre-Covid was £20k and we ended up exceeding it. Worth it? Yes, every penny."
Words of Wedded Wisdom
"Don't postpone! Don't let Covid get in the way of you moving ahead with your life. Trying to manage uncertainty is too consuming and trust me if I say that embracing the situation and celebrating your super-special day despite everything is going to be extremely rewarding and beautiful."
"Remember, it's your day – not mum's, dad's or auntie Janet's. Do what you and your partner truly want. Make it your special day and do what makes you happy."
Giulia and Ruben, so many congratulations on your intimate and magical day. It's been such a joy to see these photographs and share your celebration with you.
Story + Colour Photography, thank you so much for your beautiful work. I hope to see more of it soon.
Ele xx