HR worker Alex married PR worker Ben on 25th June 2021 at Town Hall Hotel in Bethnal Green. The couple then headed to the Royal Inn on the Park near Victoria Park in Hackney to celebrate.
These gorgeous images were taken by Love My Dress recommended supplier, Taylor-Hughes, whose photography we absolutely adore. From the flowers to the gown to the laid back vibe, this wedding is Love My Dress through and through. We hope you enjoy.
"We live in Bow, East London so Victoria Park has always held a special place in our hearts. We've spent many summer evenings and weekends there with friends, we go running in it most mornings and it gave us much-needed green space and respite during lockdown. We also both love a pub, and the idea of having an intimate wedding, celebrating in one of our favourite London pubs, overlooking the park felt really special to us."
Taylor Hughes Photography

+ Follow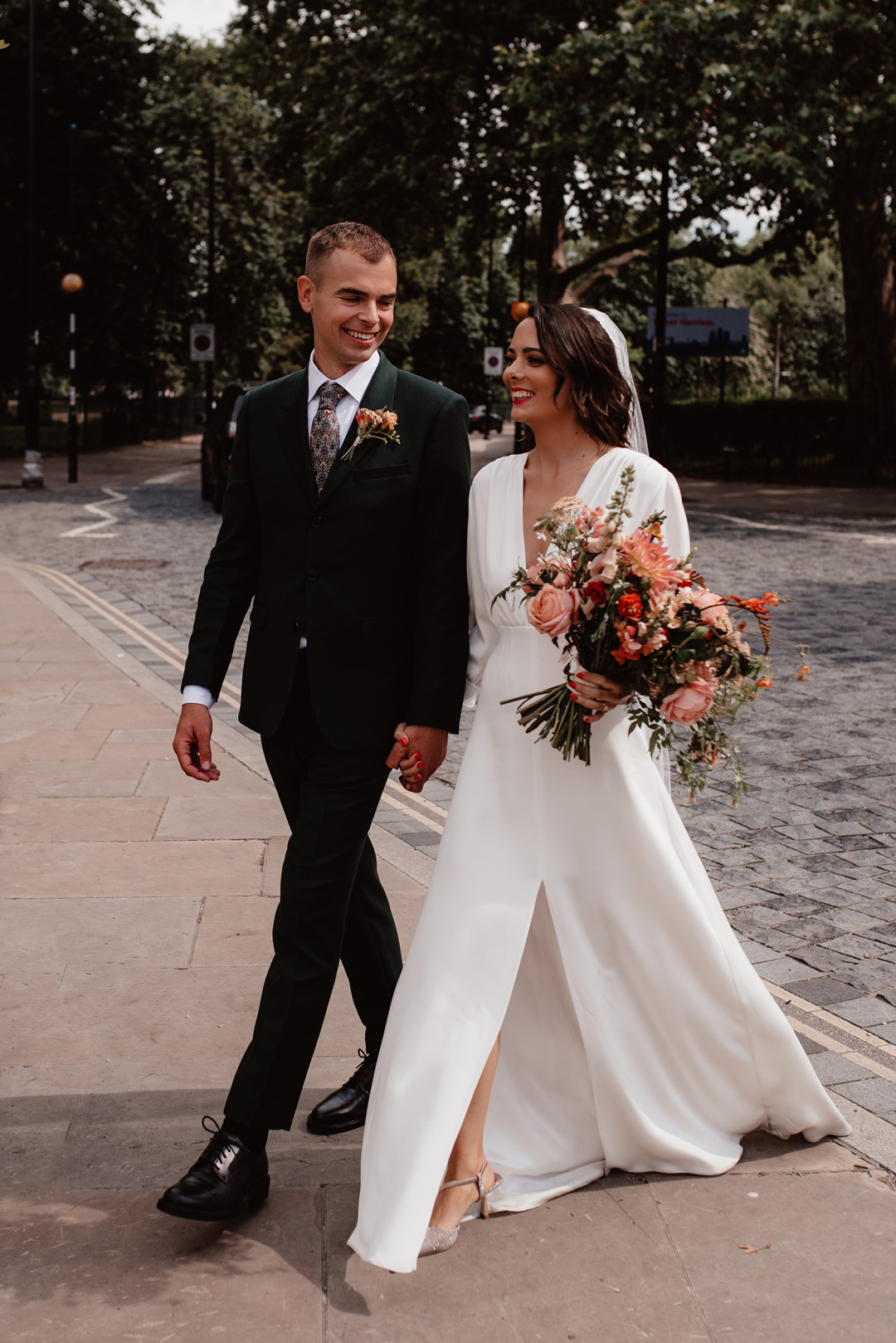 Alex's incredible dress by designer Lena Medoyeff, was a discovery from another of our recommended suppliers and directory members, Heart Aflutter Bridal Boutique.
"I had been to a number of bridal boutiques, and Heart Aflutter in Hoxton was the last shop I went to in October 2020, just before the November lockdown."
"The owner, Cecilia, really took the time to learn about me and my style and was so helpful with every aspect of my outfit including advice on accessories and shoes."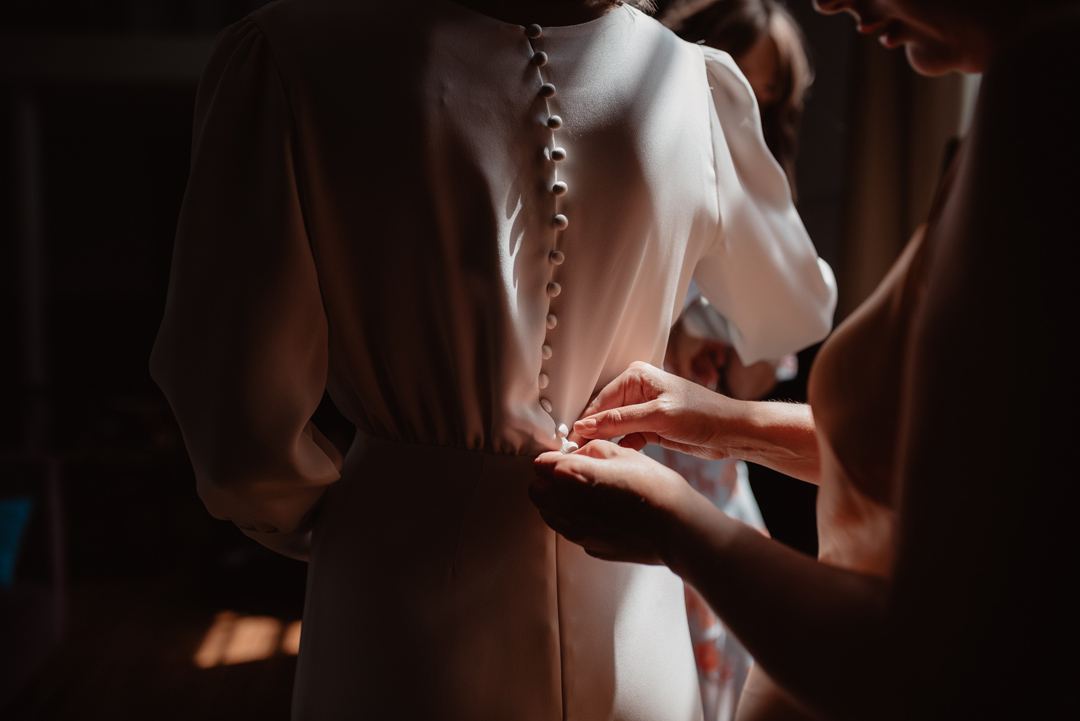 "I knew I wanted something classic and timeless, but which still felt modern. As soon as I put on the Fernanda dress by Lena Medeyoff I felt a bit emotional, which I hadn't done with any other dress previously."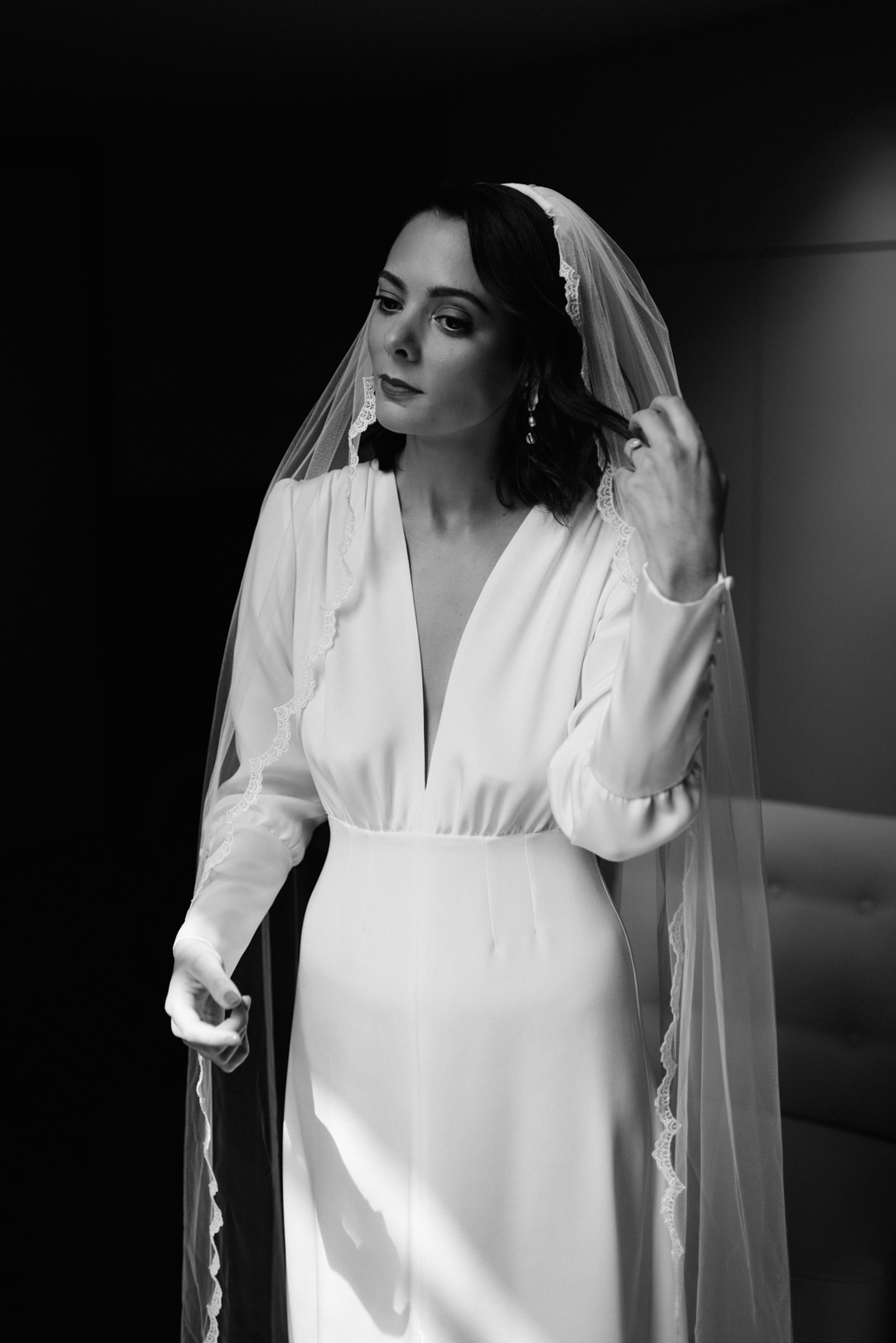 "It was simple yet beautifully cut and I loved the button detail on the sleeves and down the back. It was also really comfortable which was very important to me!"
"I didn't want anything too structured or difficult to move in which might have distracted me on the day."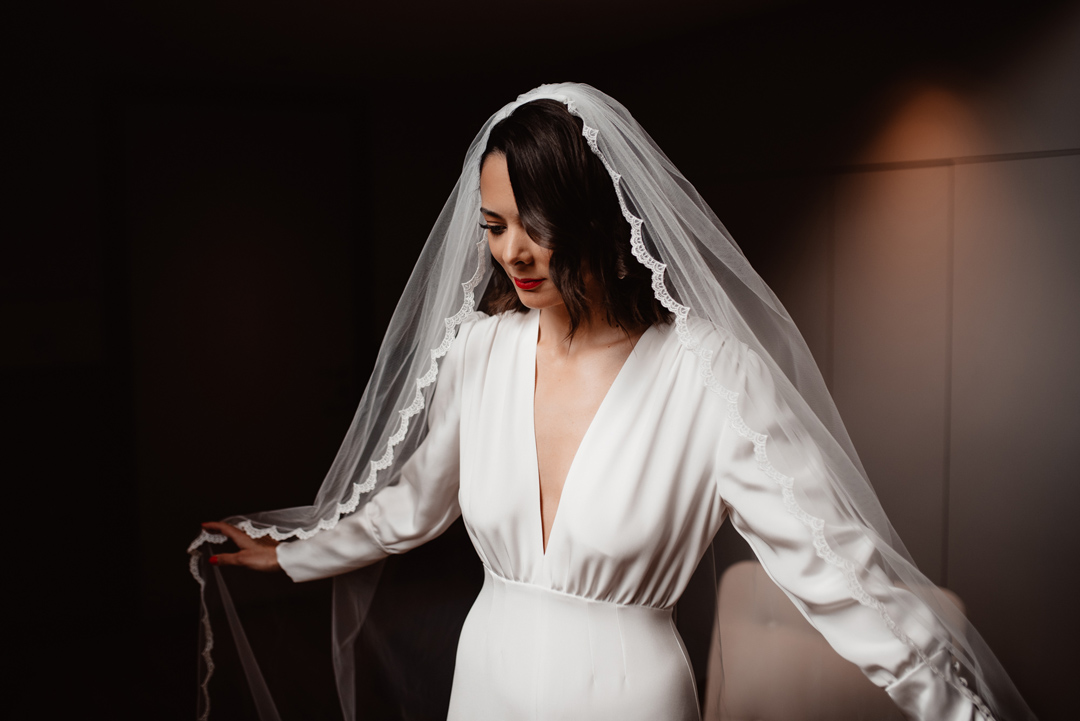 Alex teamed her beautiful dress with a delicate lace edge, floor length veil from Britten Weddings.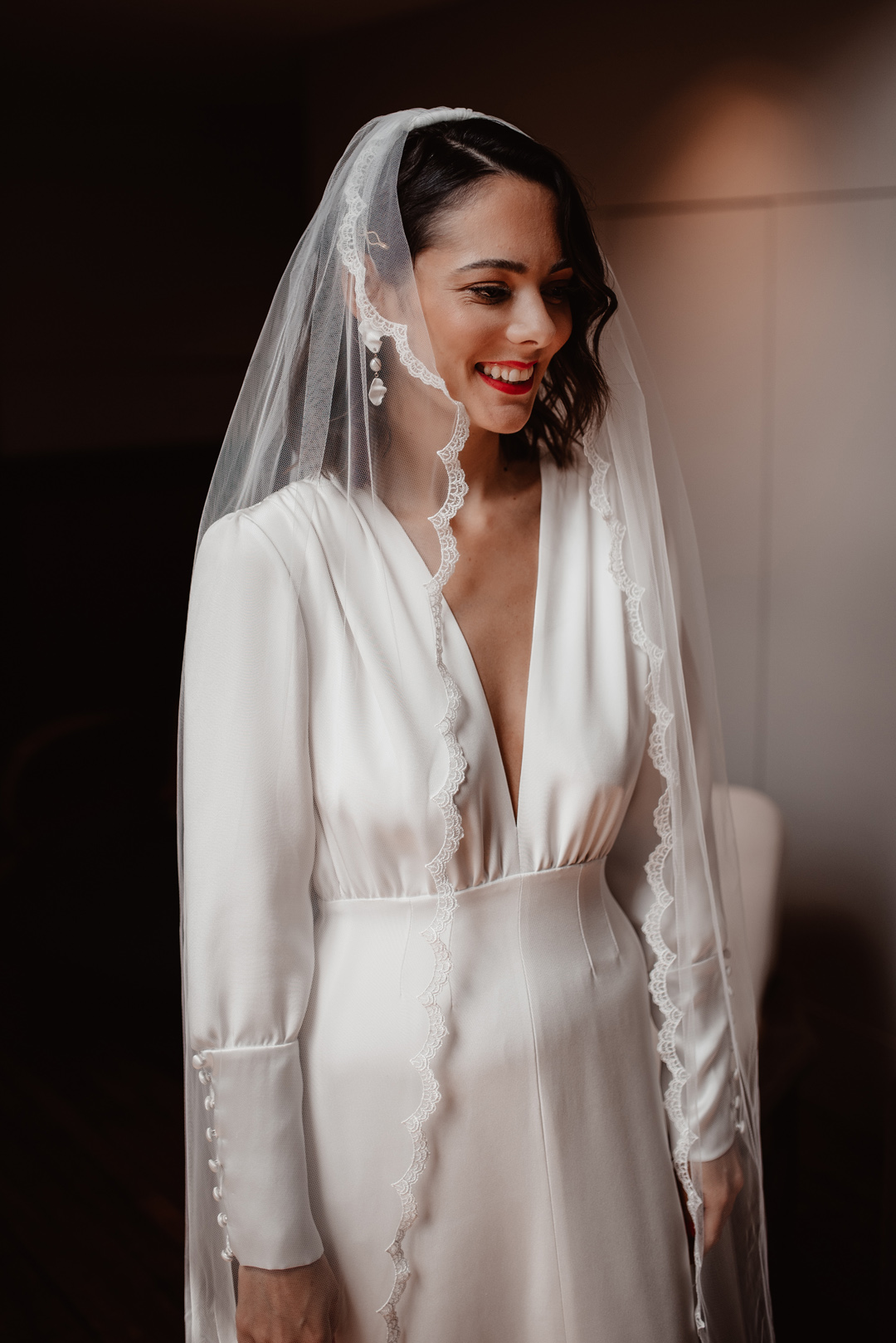 "My incredible, hand-sculpted earrings were from Lua Studios. I had previously bought some simple earrings from another online retailer, but they didn't feel quite right."
"As soon as I discovered Lua's Dali Pearls a few weeks before the wedding, I fell in love! So many of my guests complimented me on how beautiful they were, they were getting just as much attention as the dress and really completed my outfit.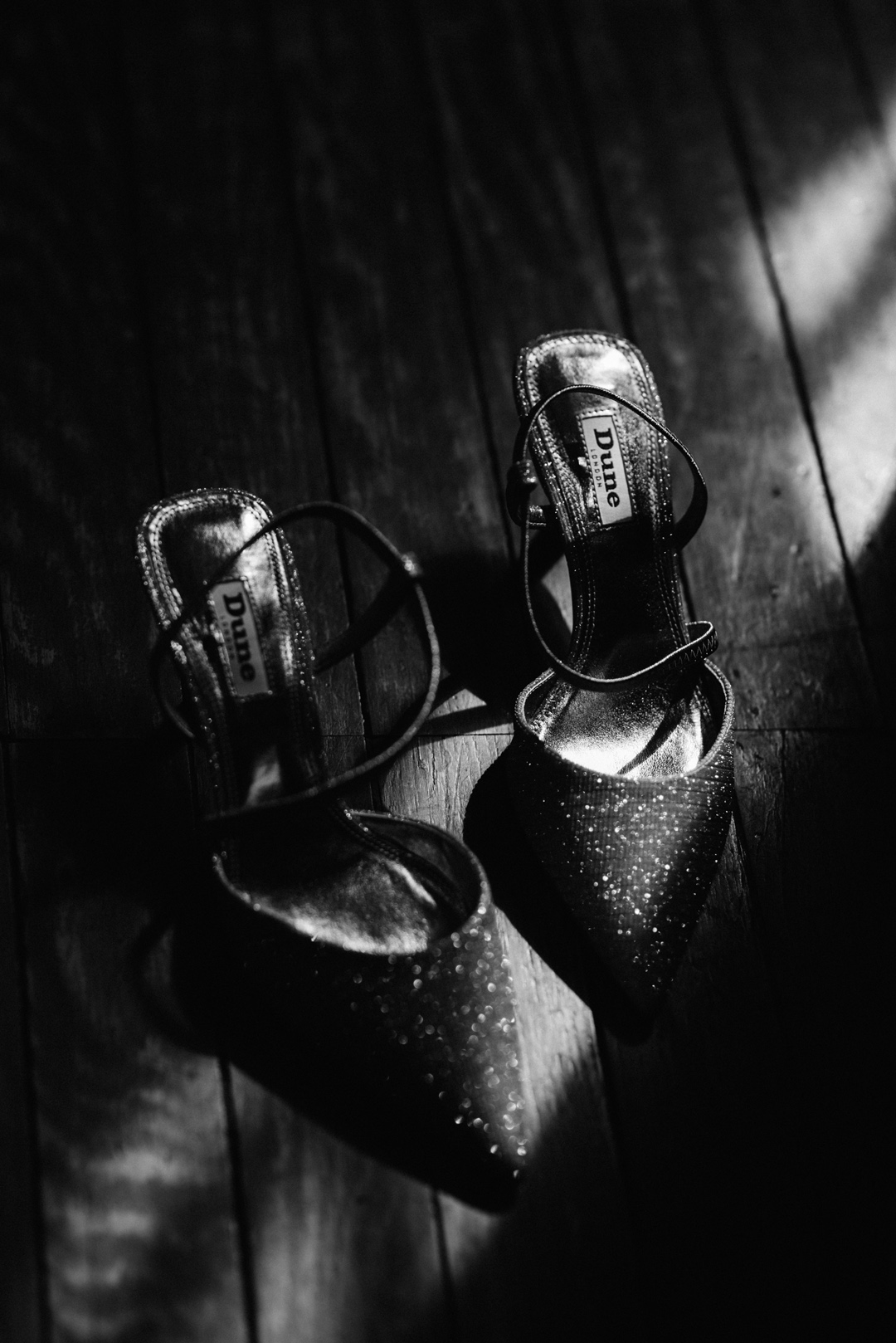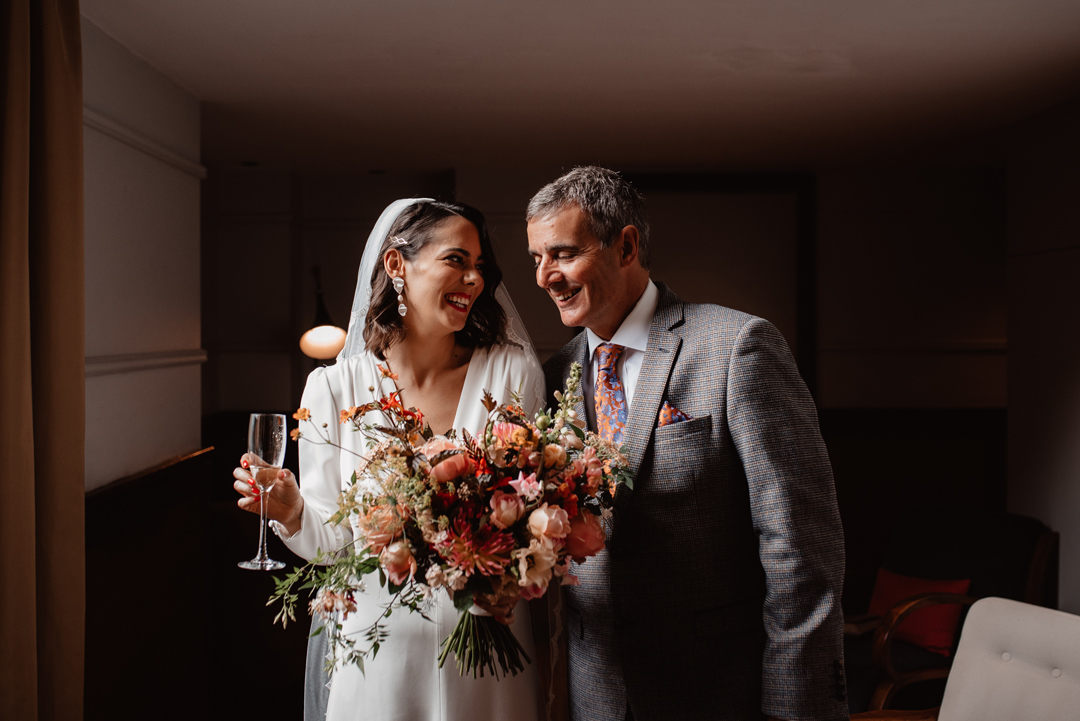 Whilst Alex was getting ready, Ben was stepping into the most dapper dark green suit from The Koooples, which he paired with a tie by Fox & Chave.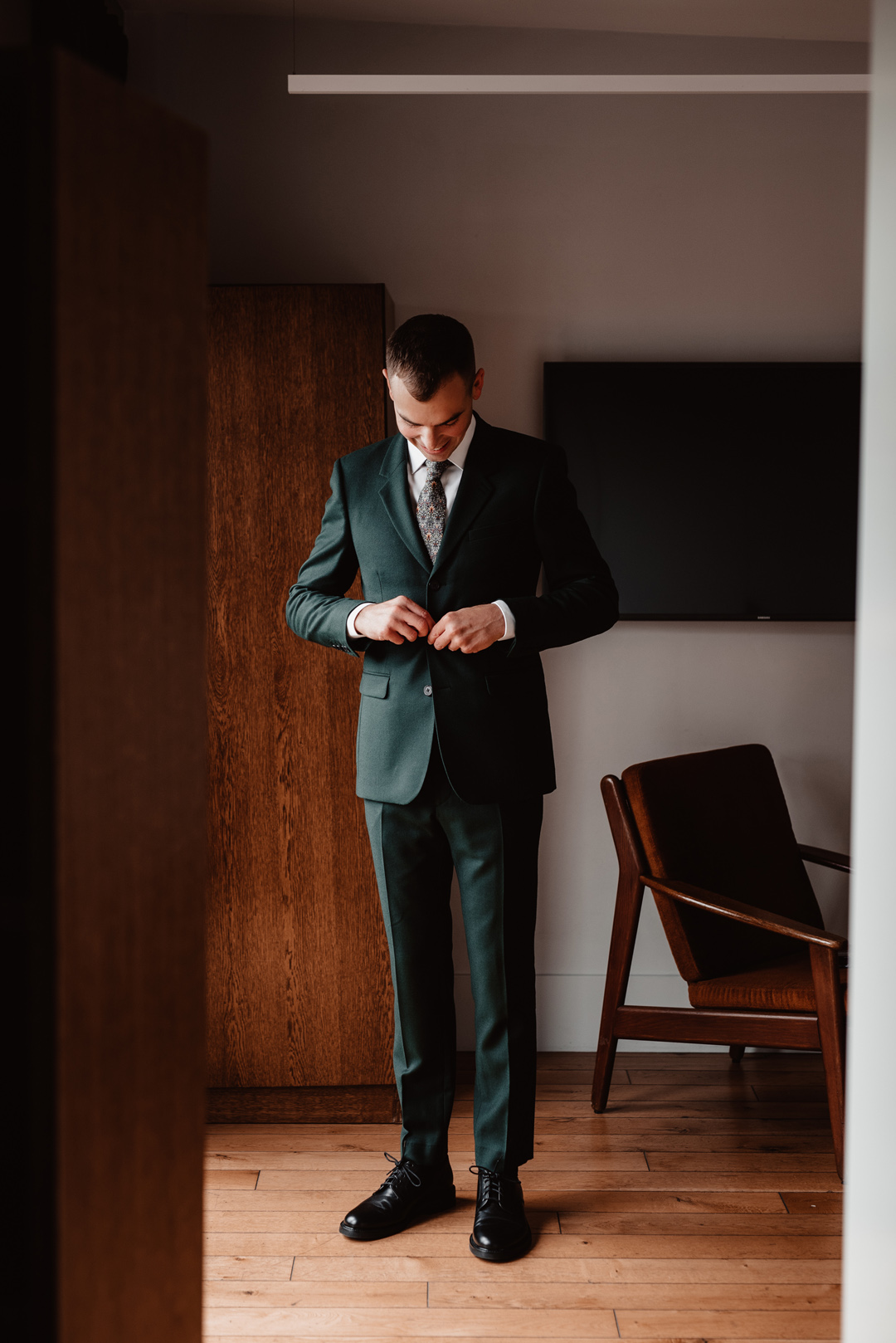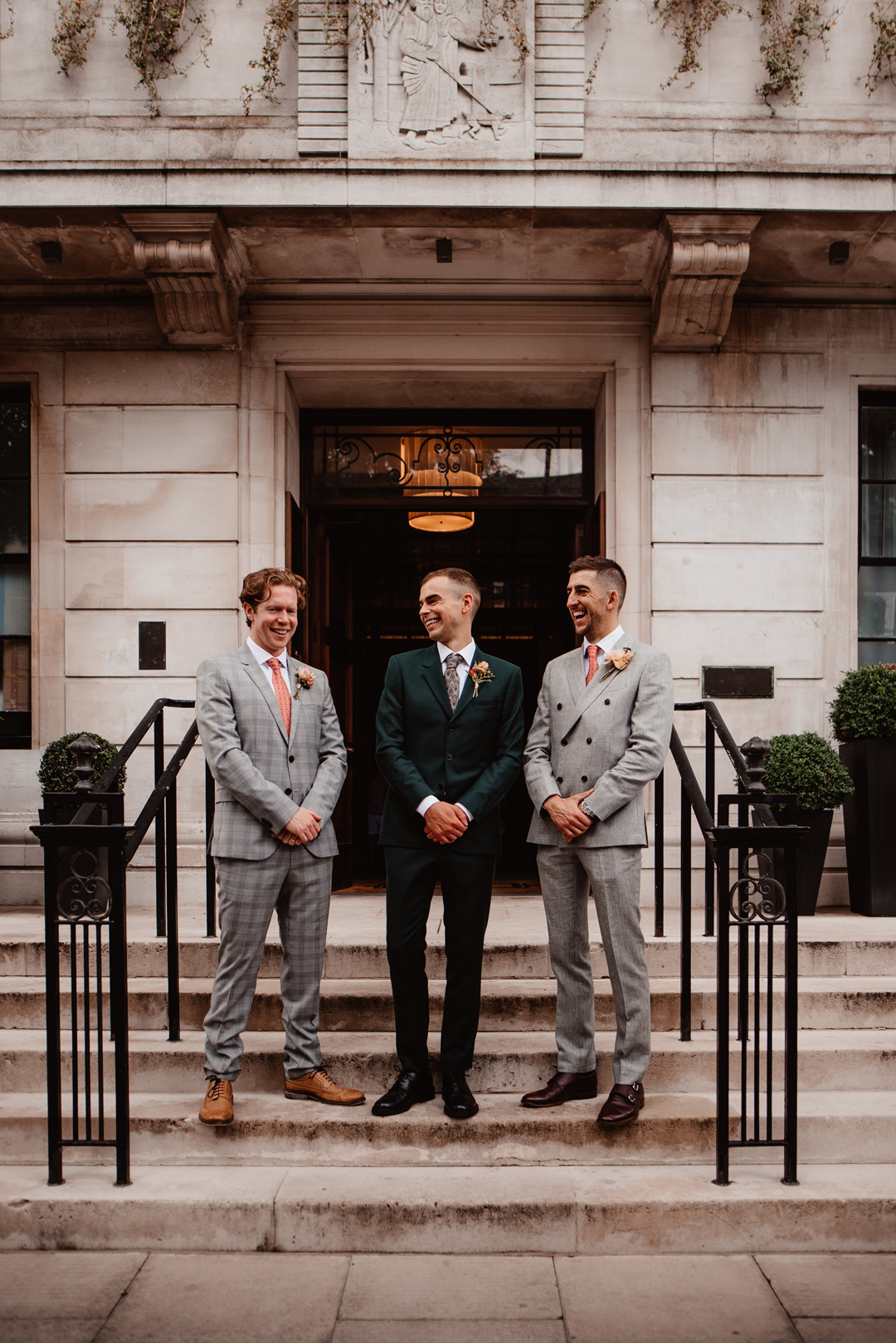 "Ben and I chose classic, timeless looks, but with pops of colours throughout the day through the flowers and decorations, bridesmaid dresses and best men's ties etc."
"My sister and Ben's sister were our bridesmaids, my cousin's three children were flower girls and page boy, and my lovely Dad walked me down the aisle. The bridesmaids dresses were from Weekday and Silkfred."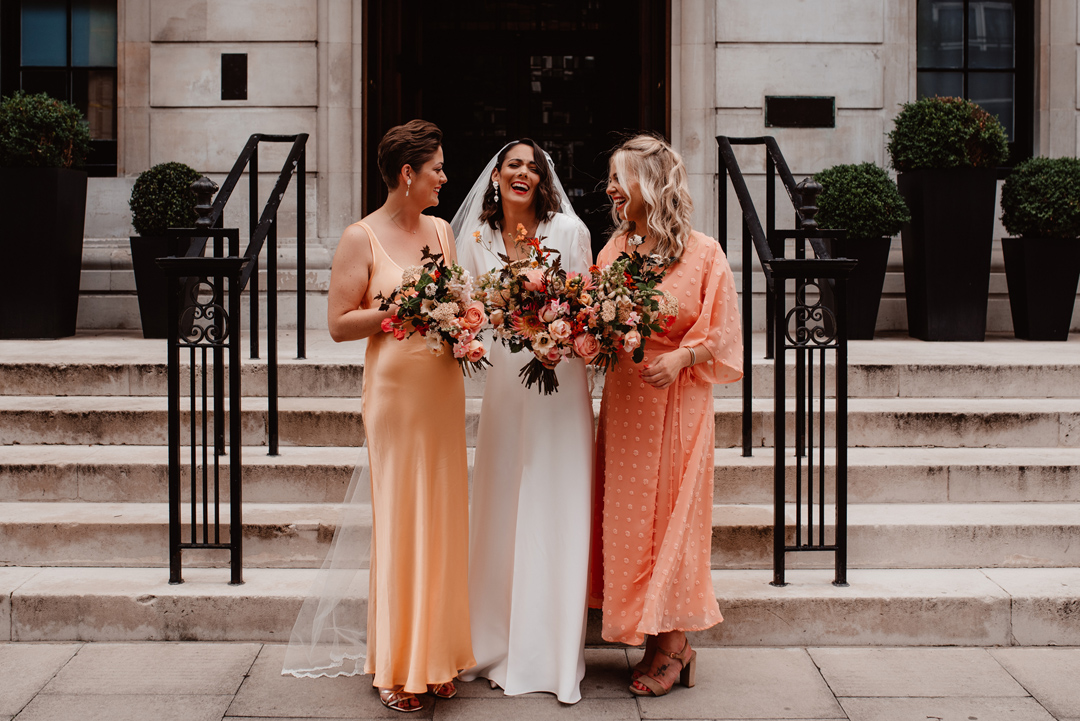 "We were really fortunate that we were able to keep our original wedding date, but there were more than a few moments when we weren't sure if we'd be able to go ahead."
"Our wedding was on 25th June, so only a few days after the government had scheduled to lift all restrictions on 21st."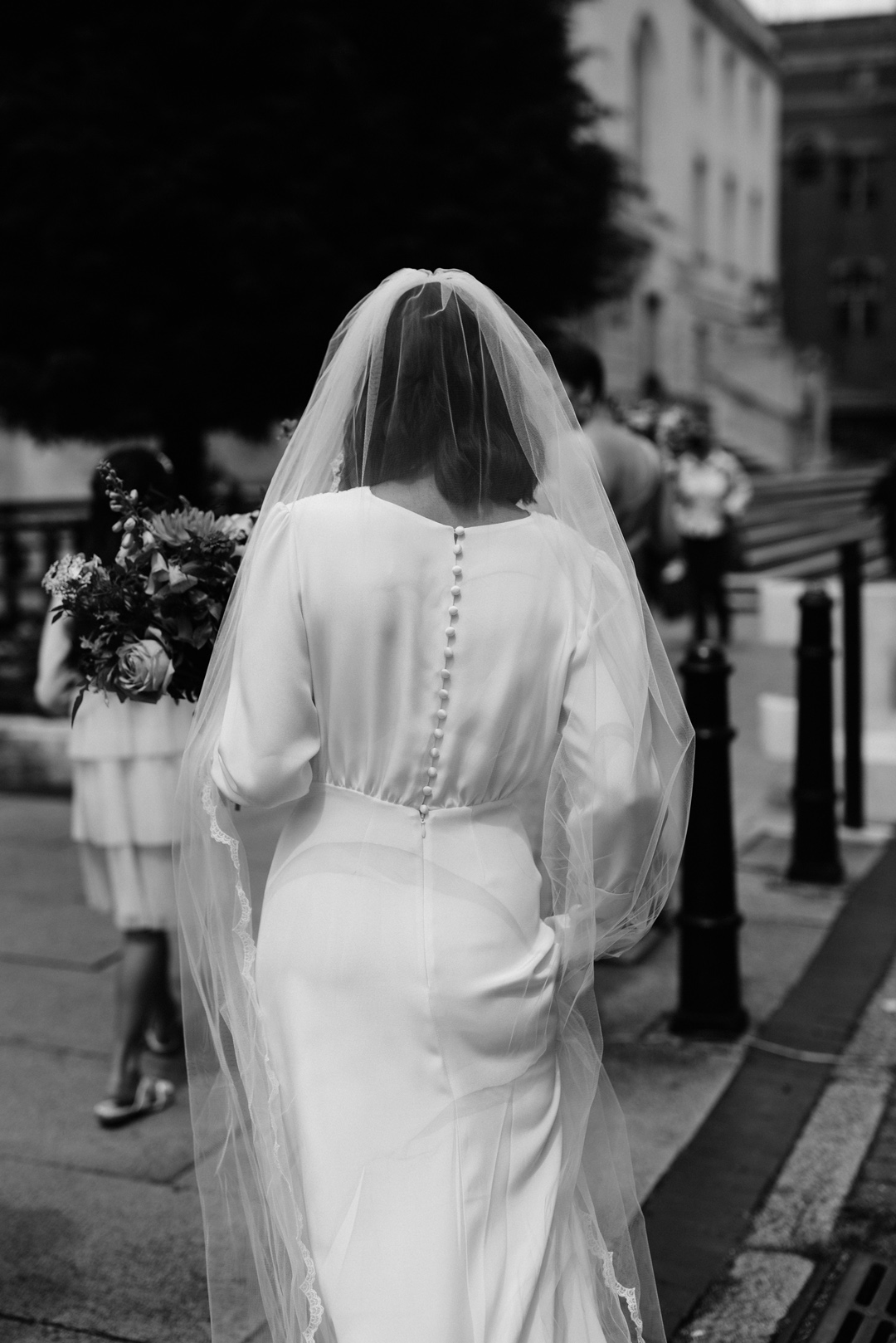 "A lot of our final planning, including confirmation of our guest, list was all dependent on the government announcement."
"The two weeks before our wedding were full on, as we tried to understand what the new rules meant for us (unlimited guest numbers, but with social distancing remaining) and finalised our plans."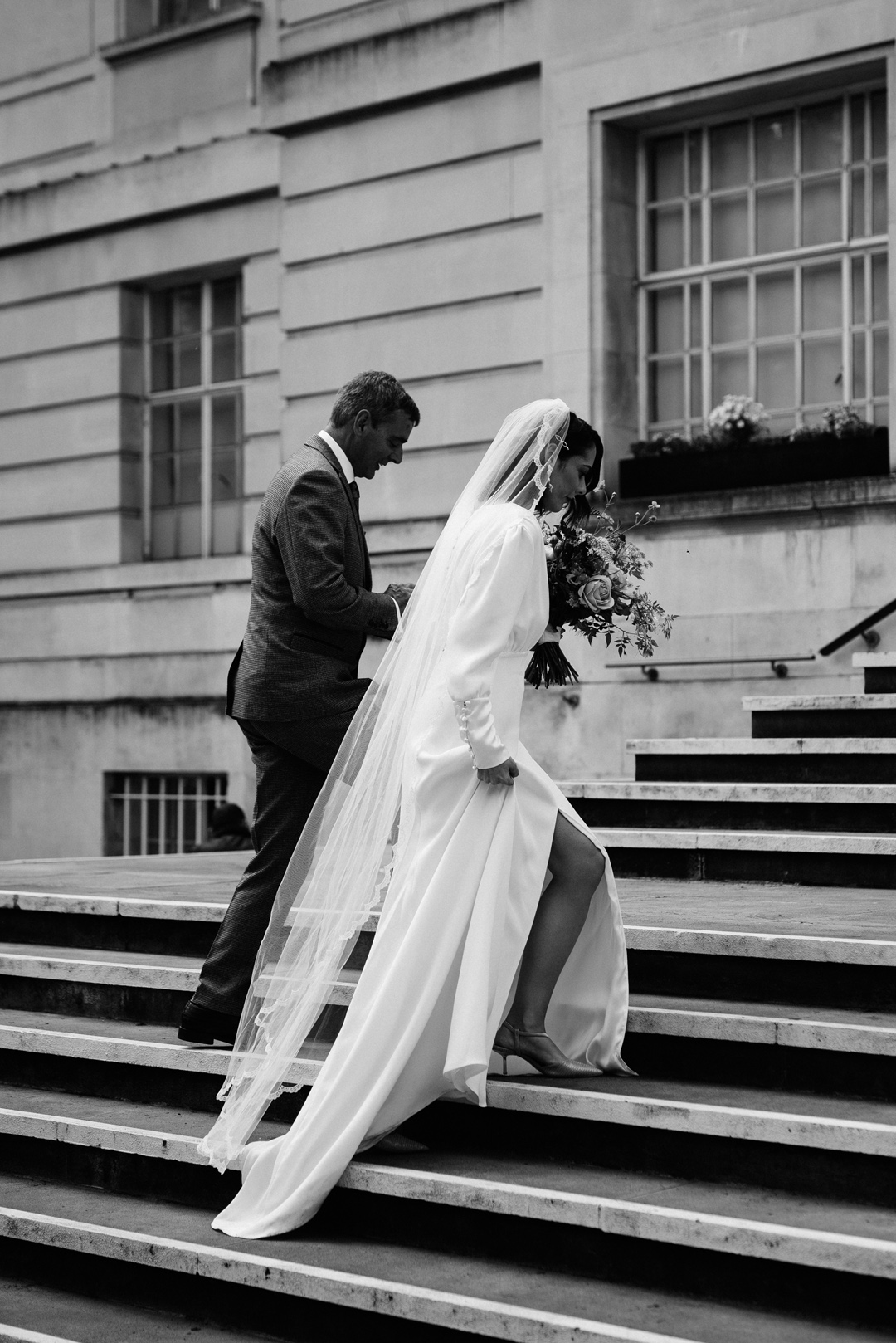 "Hackney Town Hall were able to accommodate 33 people, with guests wearing masks, and at the pub we had a total of 44 people."
"We always said we would go ahead as long as we could have at least 30 at the wedding, so we felt really lucky that we could have more."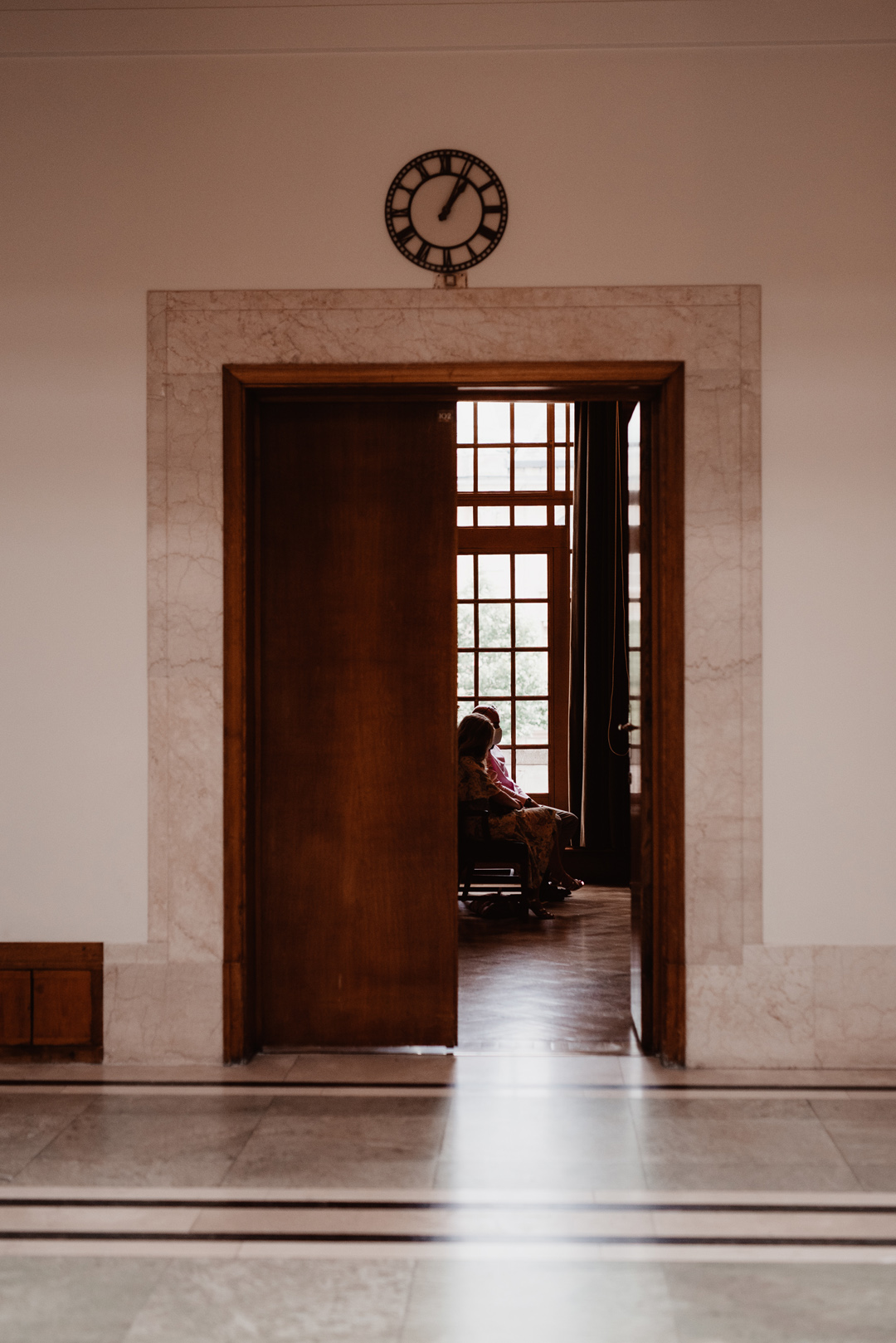 "It was the first time we'd seen a lot of our friends from before the pandemic hit, which made the occasion feel even more magical."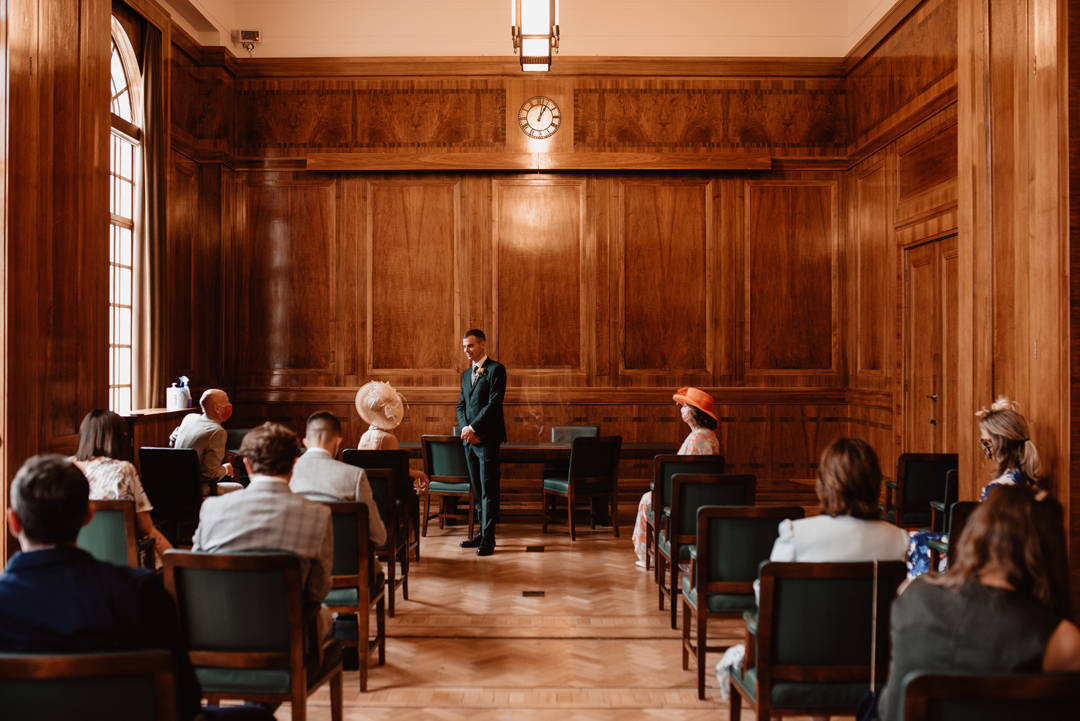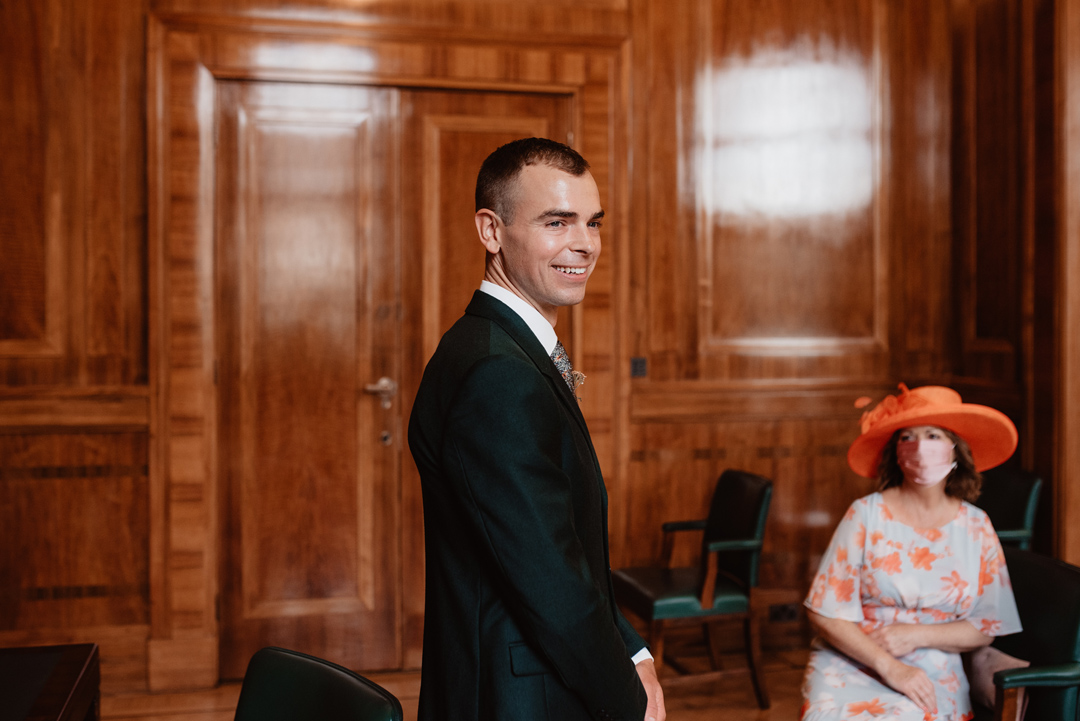 "I walked down the aisle to the 'Here Comes The Sun' by The Beatles and we left to 'Come Together' by Primal Scream."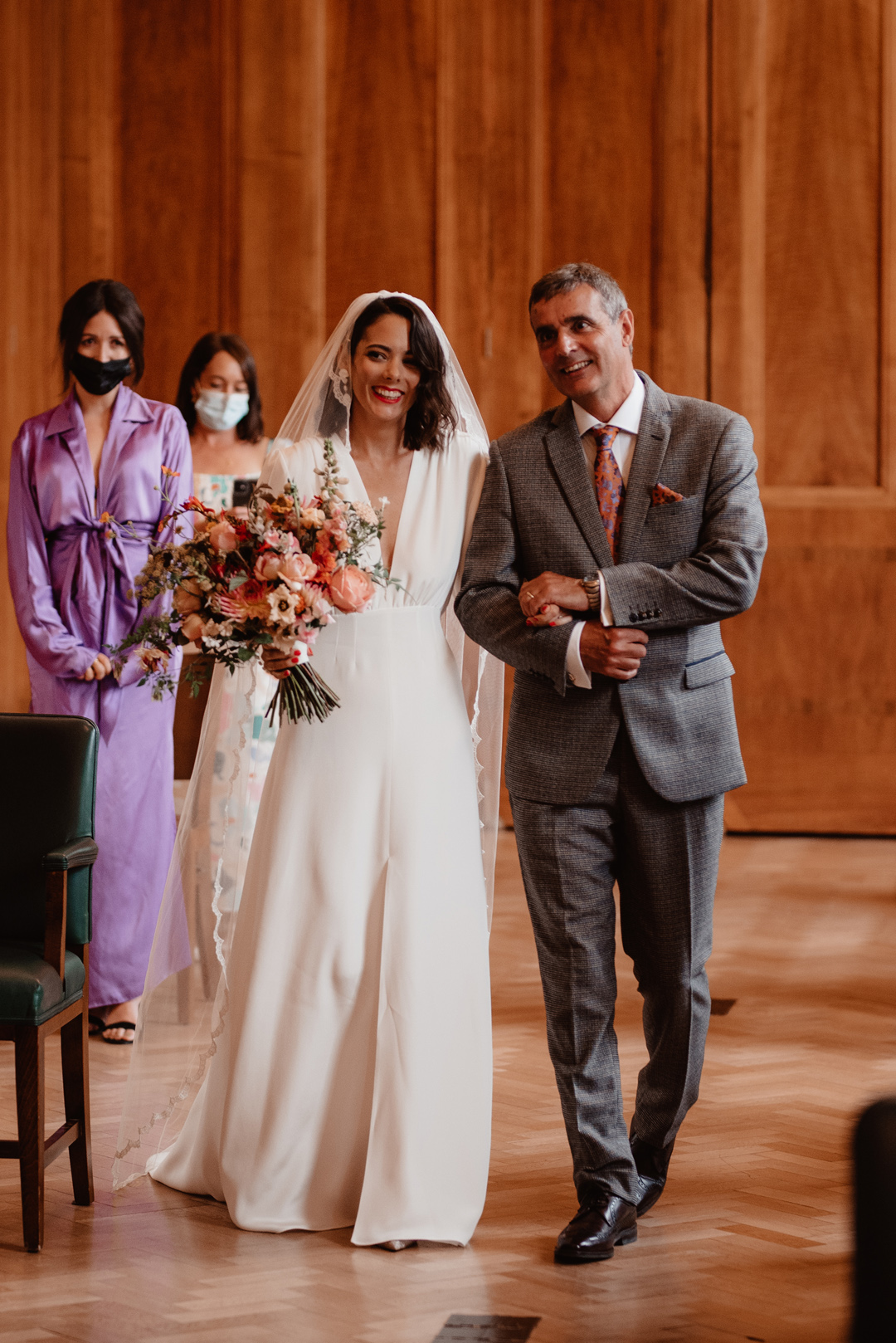 "We asked one of our friends to choose a reading for us, and she picked Epithalamium by Liz Lochead, which was so beautiful. She changed 'across a Glasgow street' to 'a London street' as a nod to our day"
"It was an emotional reading and there were few dry eyes at this point!"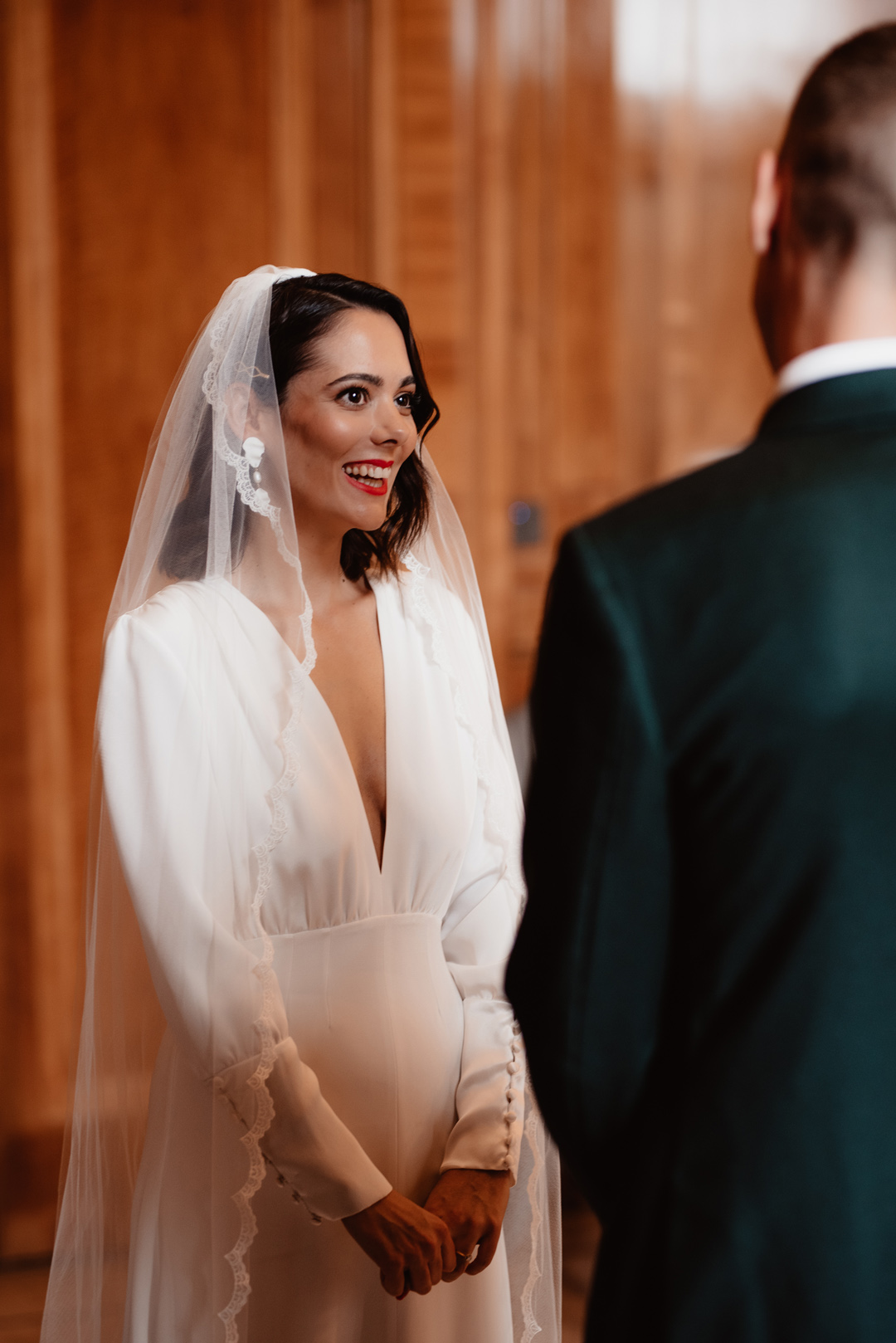 "Ben bought my engagement ring from Hatton Garden in London, so we went back together to choose his wedding ring."
"My wedding ring was my Great-Grandma's wedding ring, and both my Grandma and Mum have worn it so it's very special to me."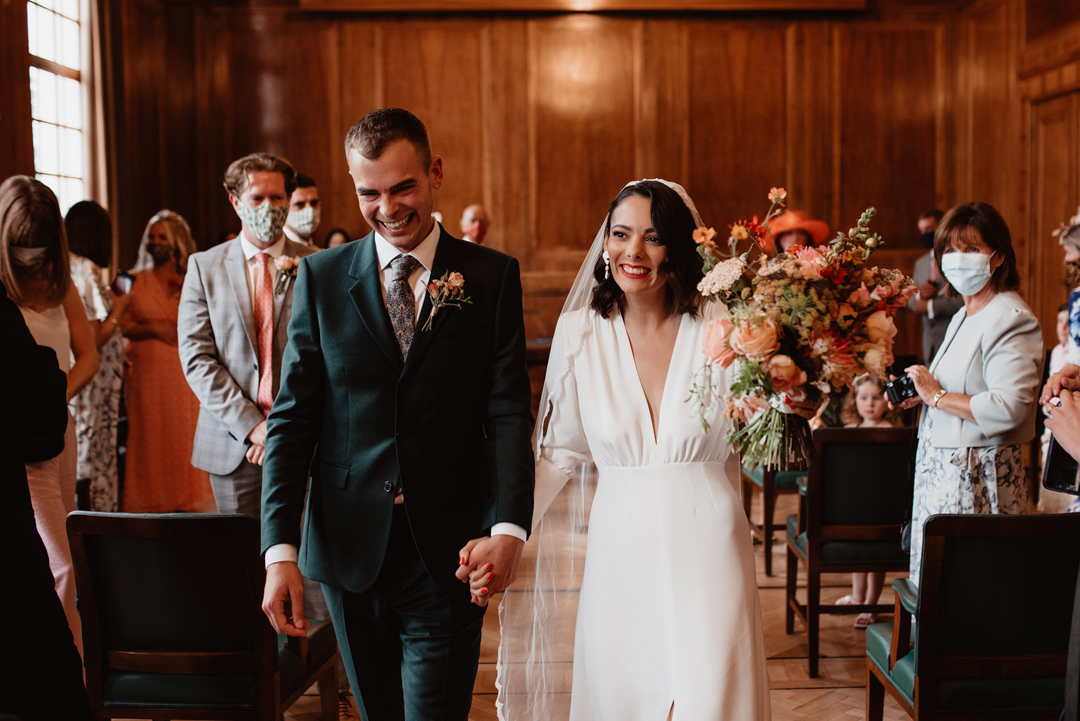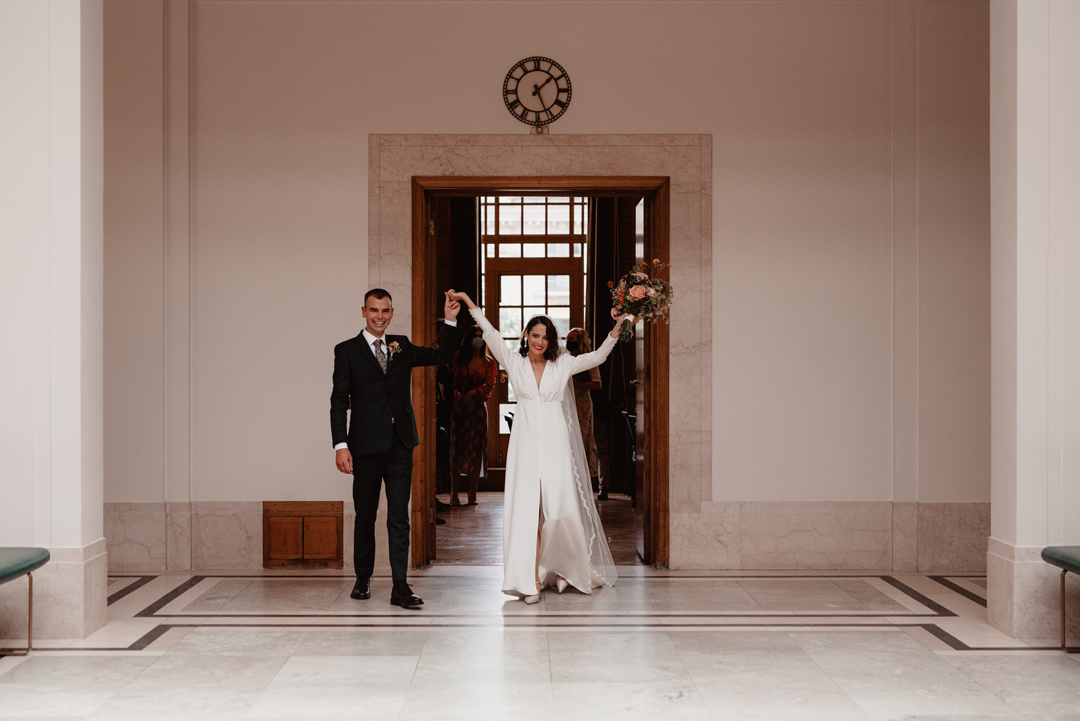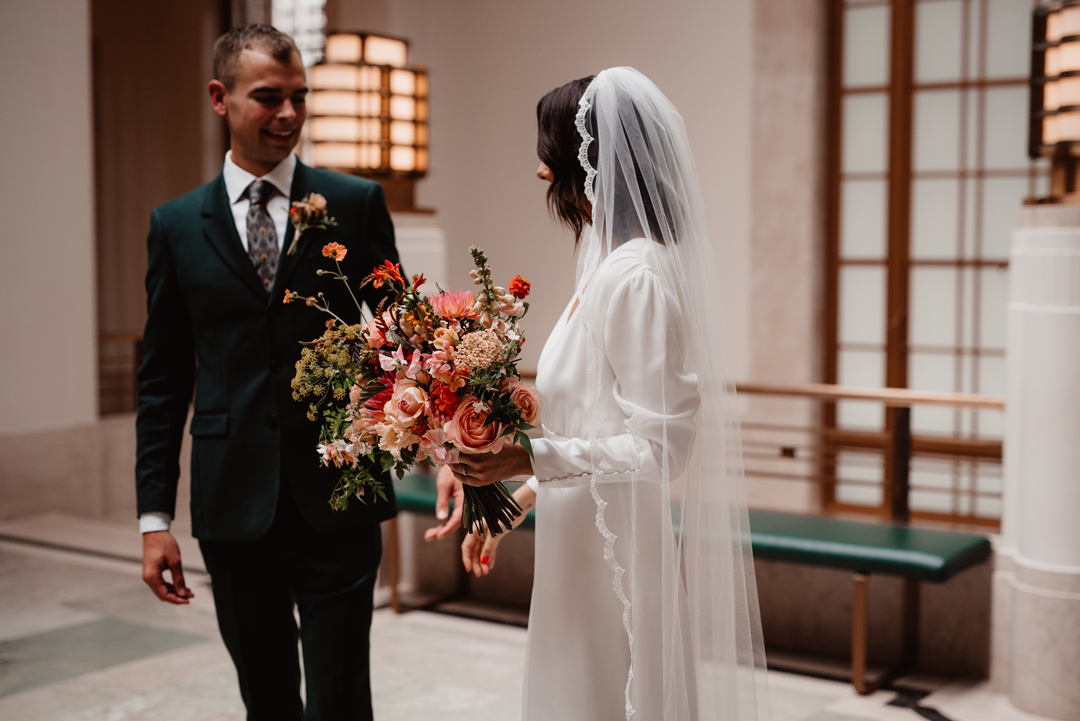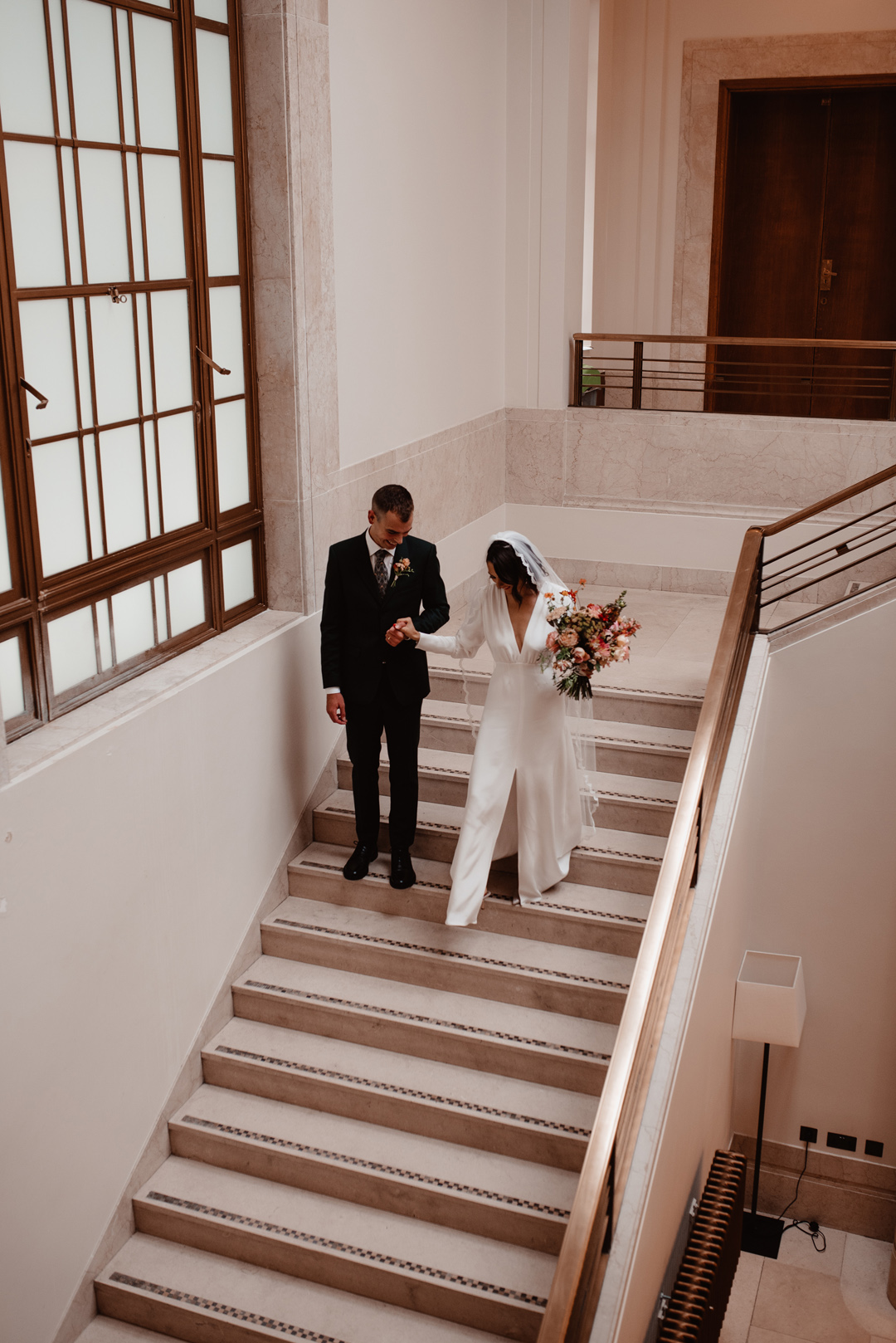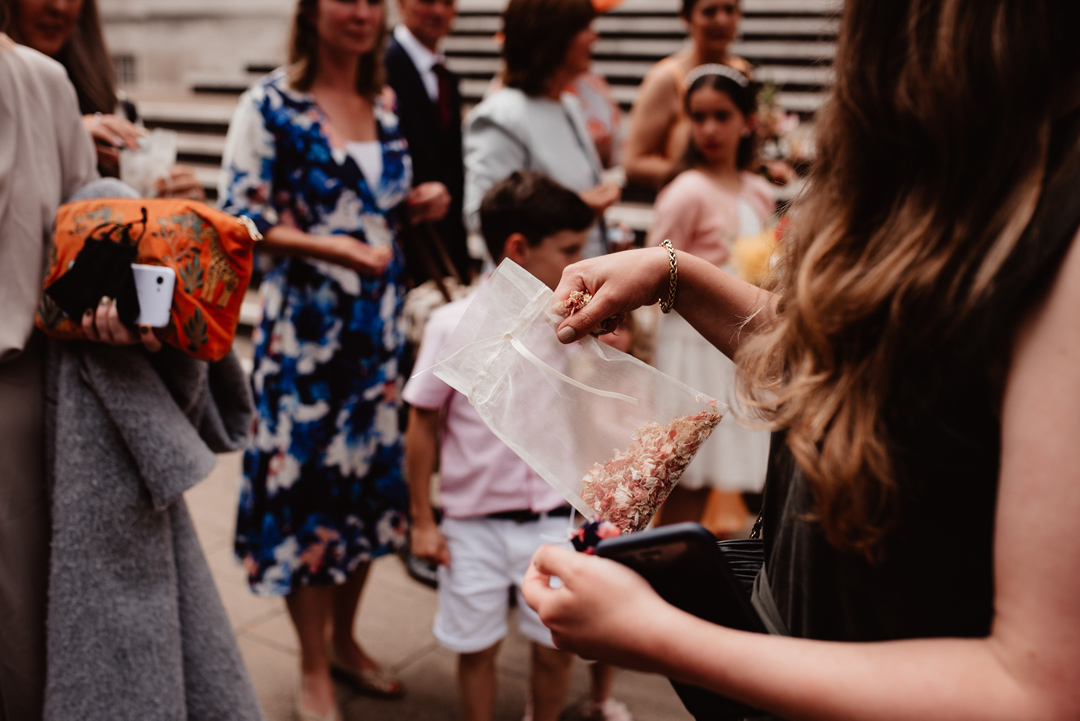 "I knew I wanted my flowers to be contemporary, wild and colourful and Rebel Rebel fitted that brief to a tee. They did my bouquet, my two bridesmaids bouquets, and the button-holes."
"I loved my bouquet so much that when I got home I hung the flowers upside down and dried them out."
"I now have them in a vase in our living room and it's such a wonderful memory every time I look at them."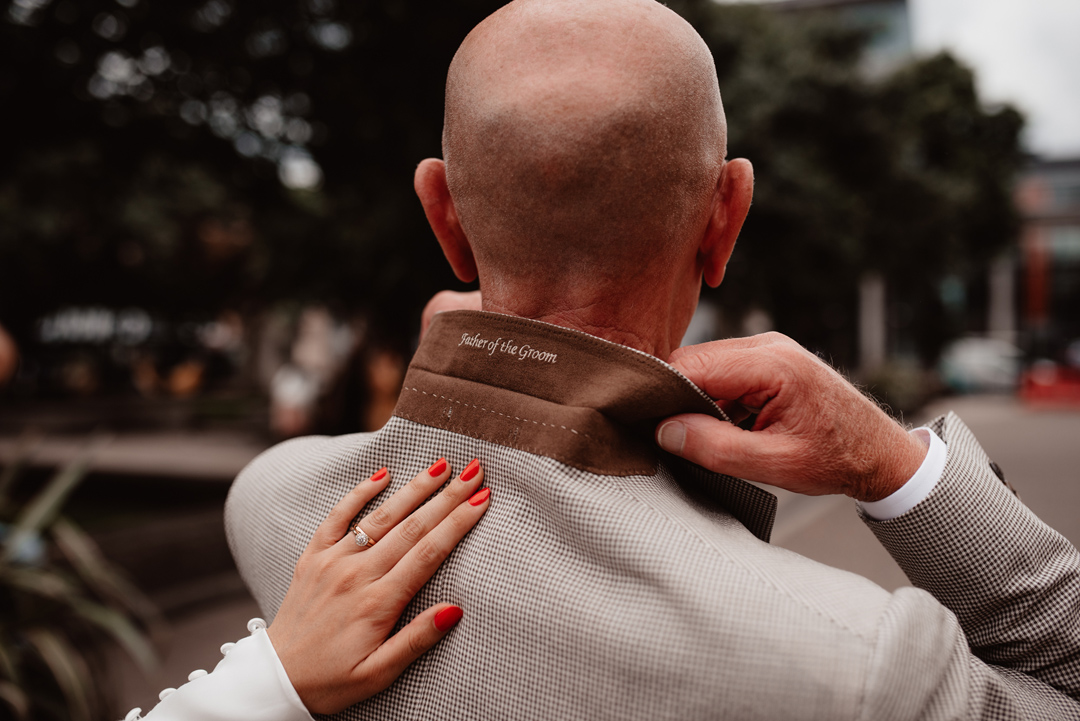 "One of our best friends is an incredible photographer so we asked her if she had any recommendations. She sent us a list of about six photographers and Taylor-Hughes's style instantly resonated with us."
"We arranged a call with them and, not only were they such lovely people, they had a real understanding of the types of shots we wanted."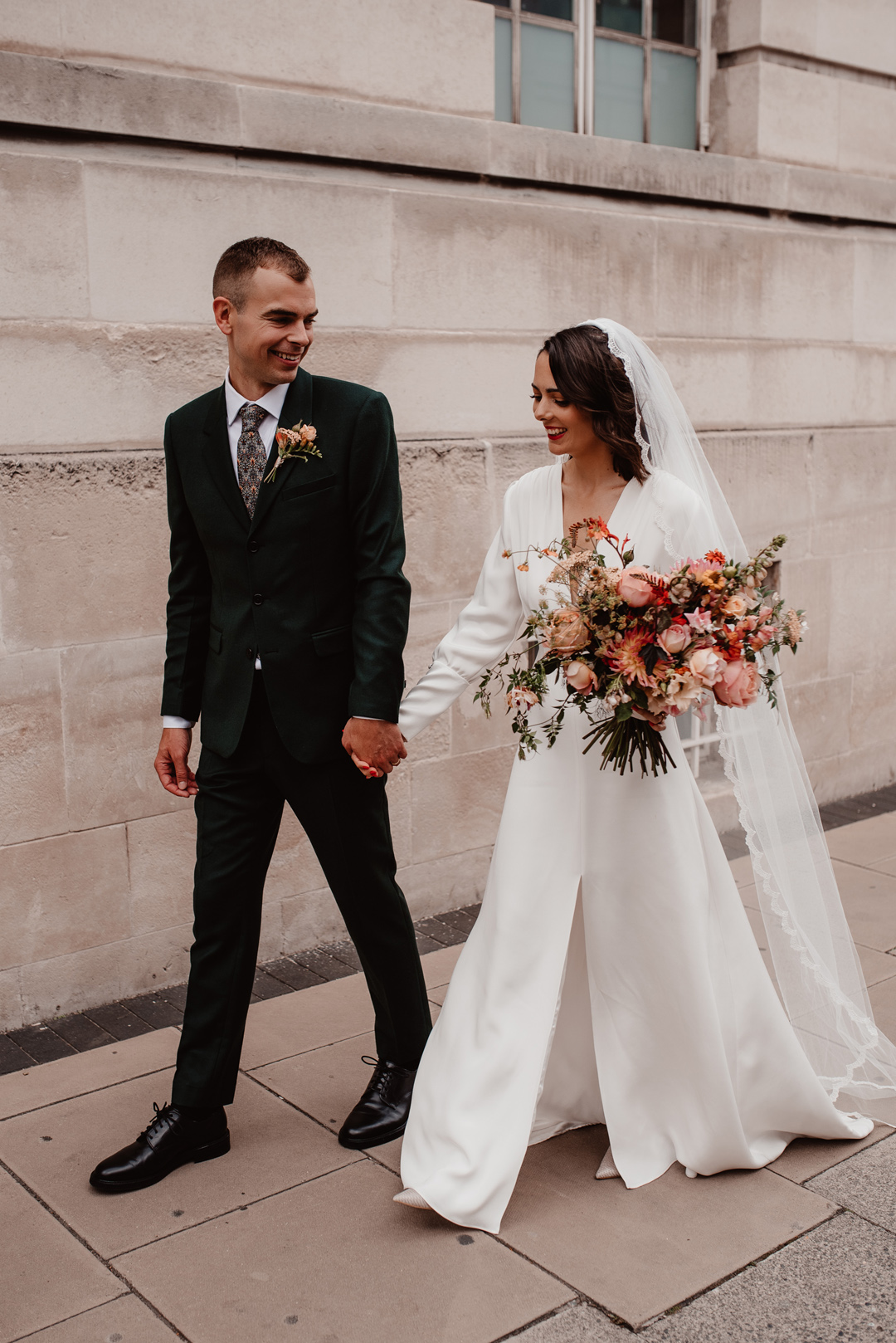 "They went out of their way before the wedding to ensure we had the timings right in order to get all the shots we wanted."
"They instantly put us at ease on the day, and were so calm and friendly."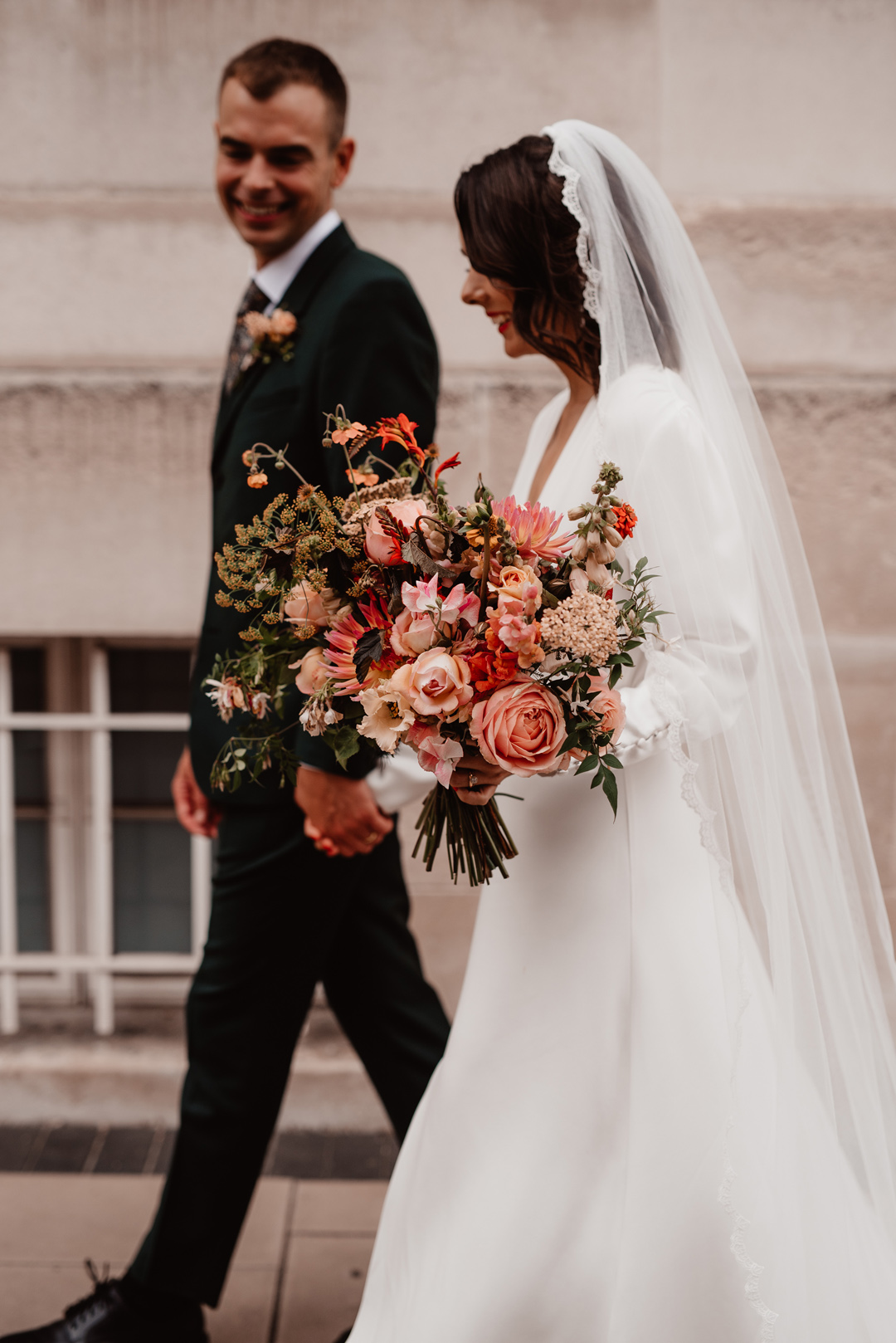 "All of our guests loved them, and they effortlessly made sure we were exactly where we needed to be at all points in the day."
"The photographs themselves were out of this world – everything we dreamed of and more – perfectly capturing all the love, joy and happiness from the day."
"We can't thank them enough and would highly recommend them to anyone."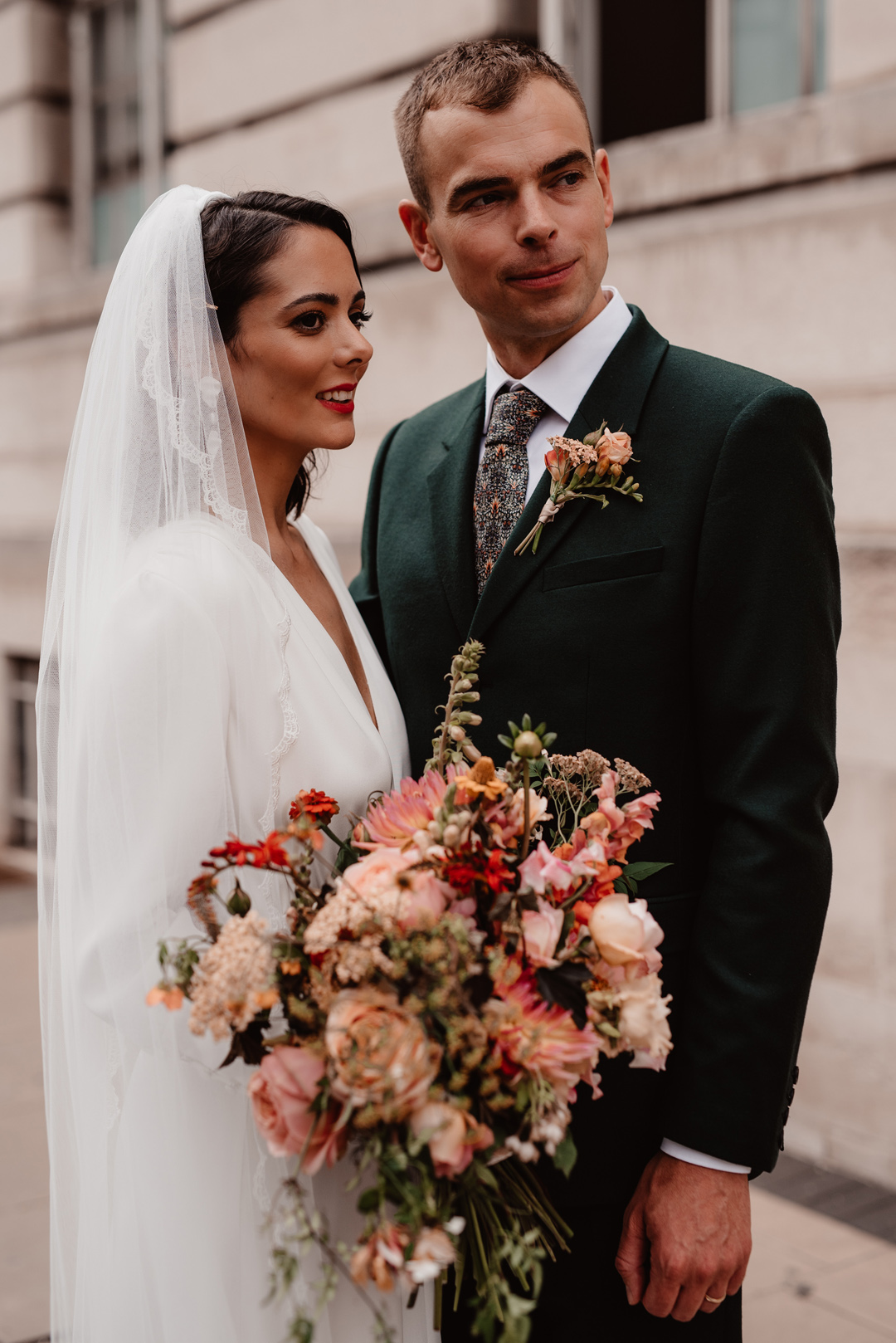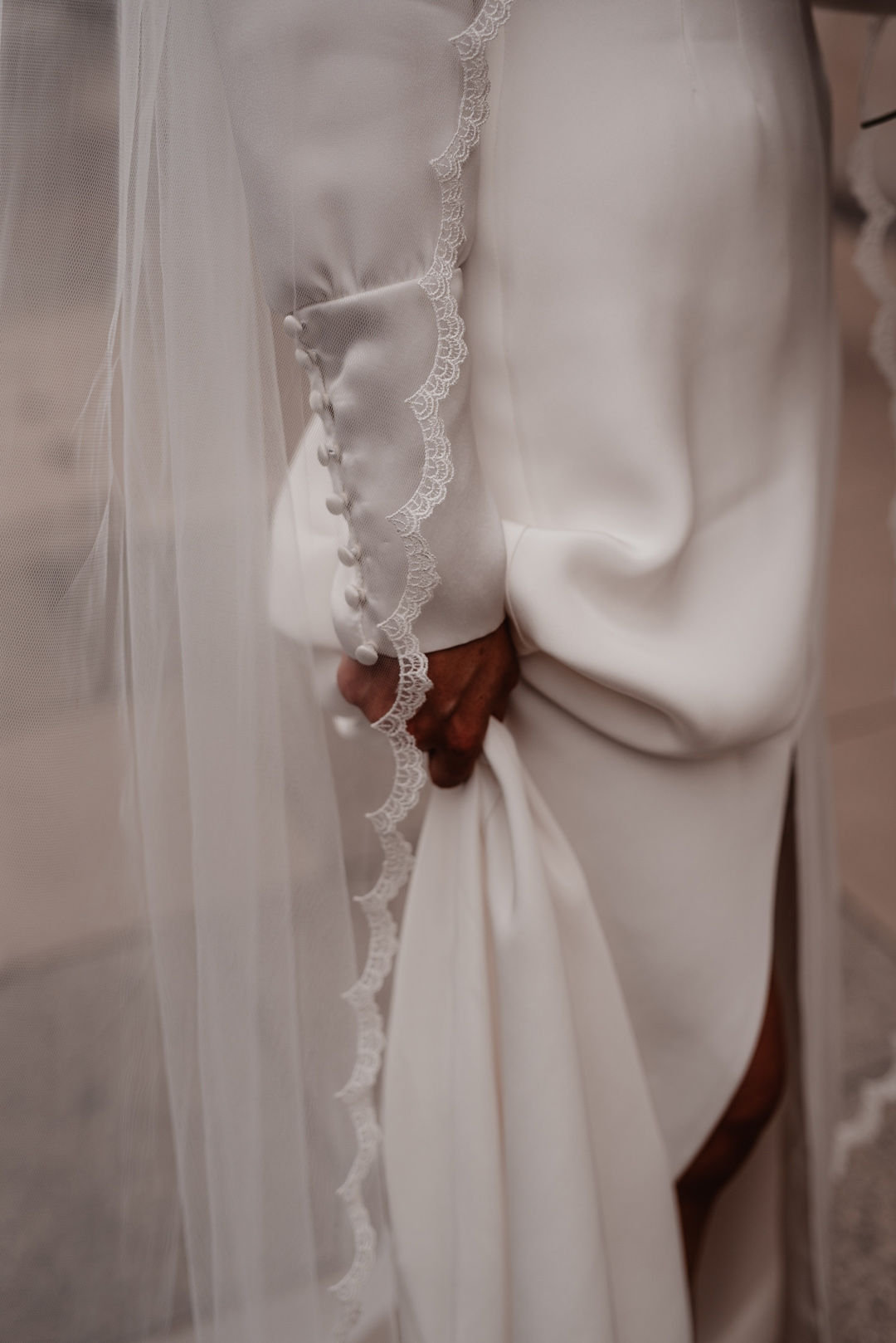 "After a lot of searching, I found Abi Taylor on Instagram and loved the modern yet timeless beauty looks she created – which was exactly what I was looking for."
"Abi and her assistant (Hannah Monk Hair & Makeup) are so talented and just really lovely people too."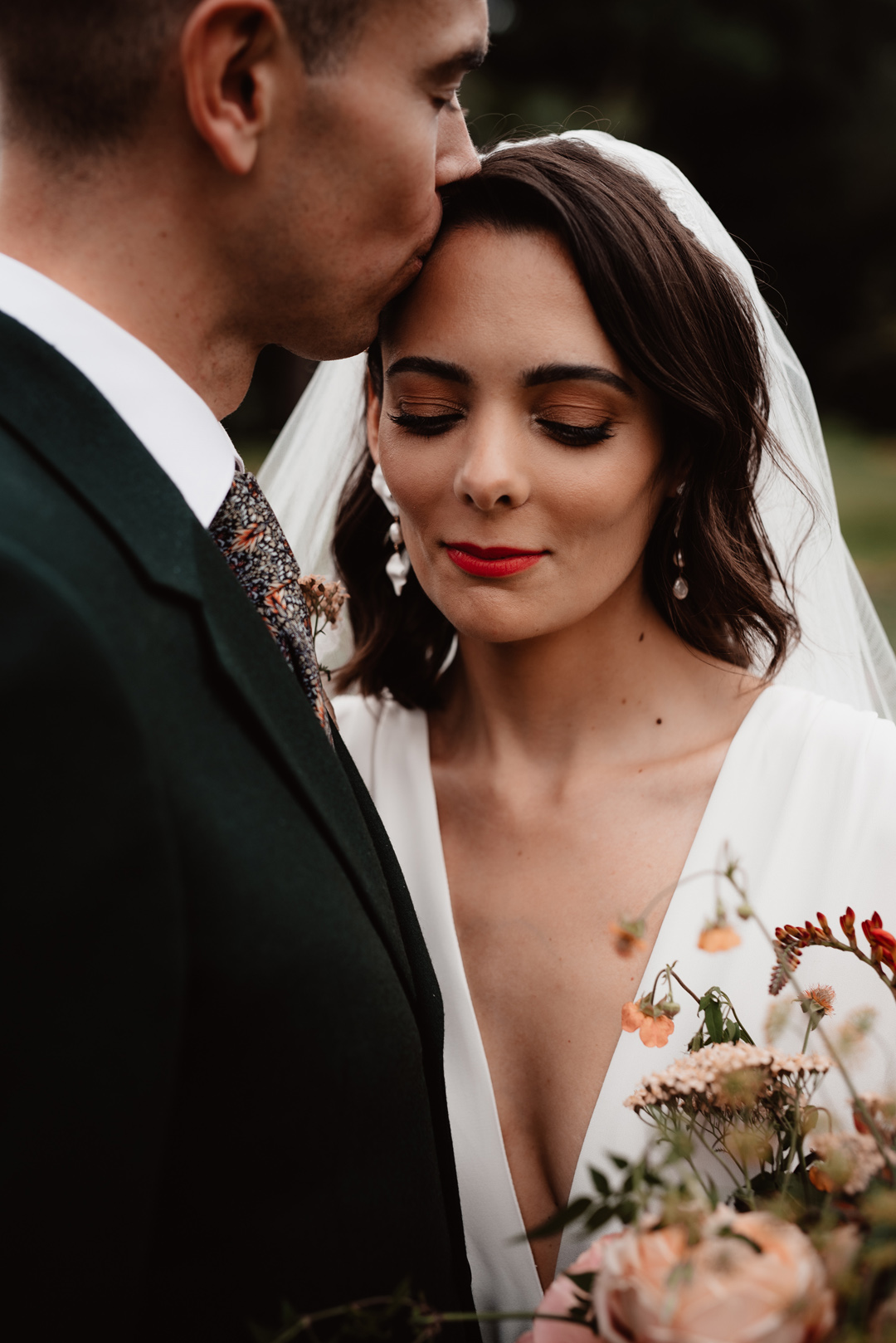 "Our biggest thing was bringing the people we love together in a relaxed environment where everyone could enjoy themselves. The Royal Inn was the perfect place, it's a beautiful Victorian pub overlooking Victoria Park, and they couldn't do enough for us to make sure we had the wedding that we wanted."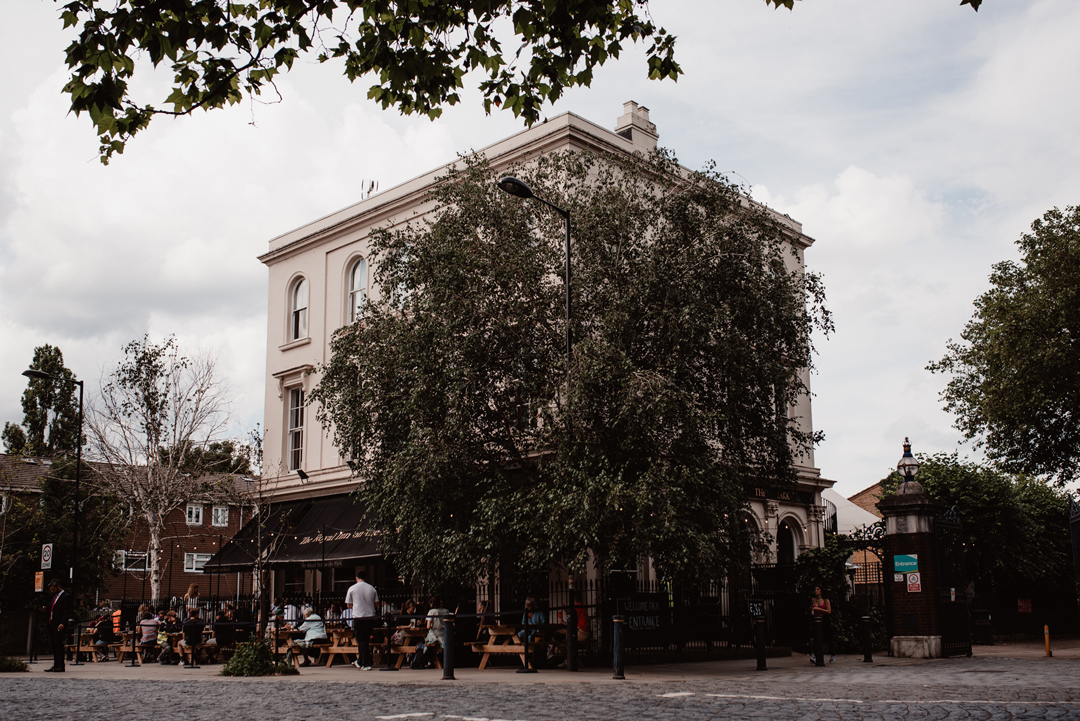 "The room above Royal Inn on the Park is an amazing space already, with high ceilings and big windows so we didn't feel the need to do too much."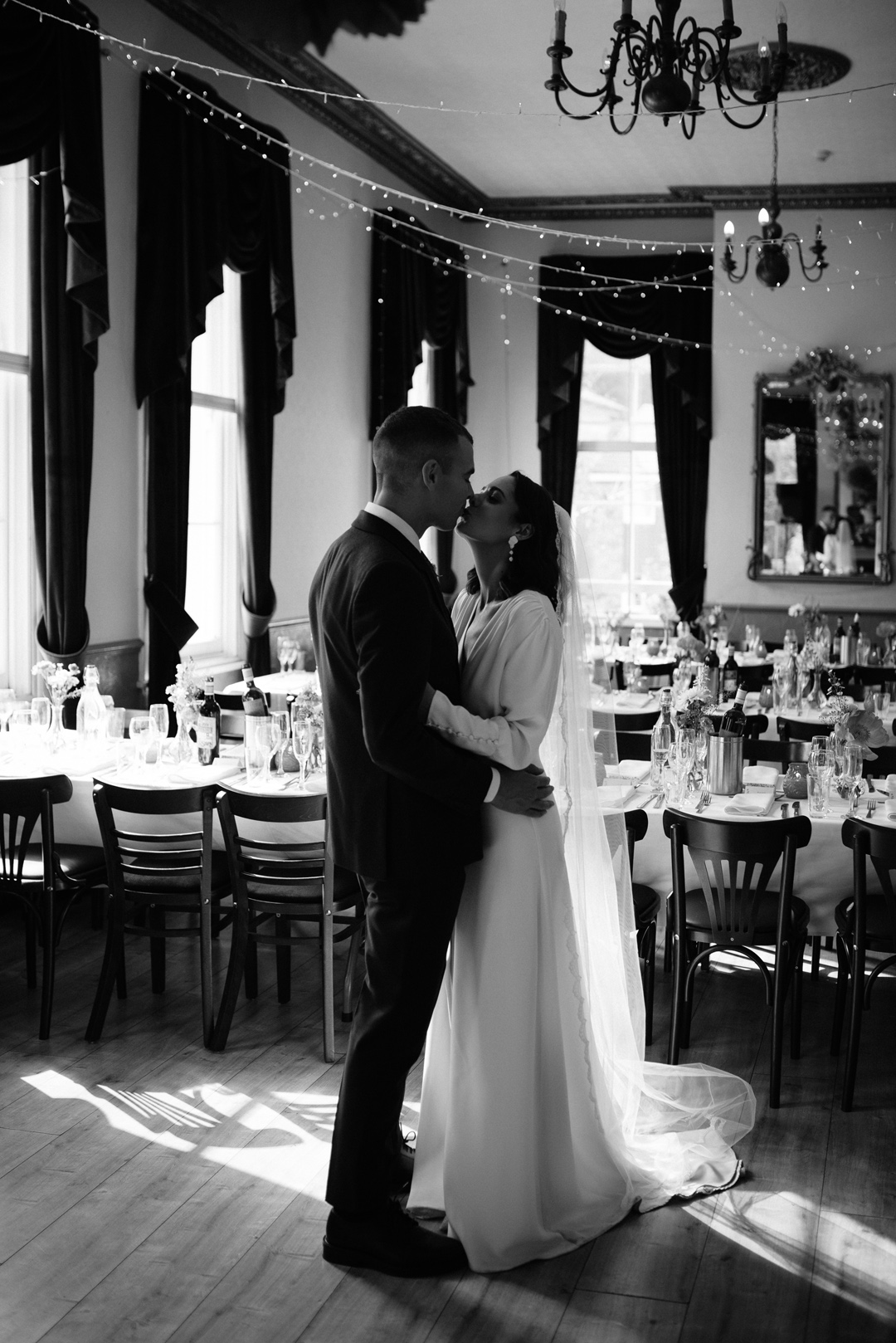 "A few days before the wedding, we took an early morning trip to New Covent Garden Flower Market and bought the most beautiful, bright flowers to decorate the tables and fireplace."
"We also just bought some balloons and paper pom pom decorations to add extra flashes of colour."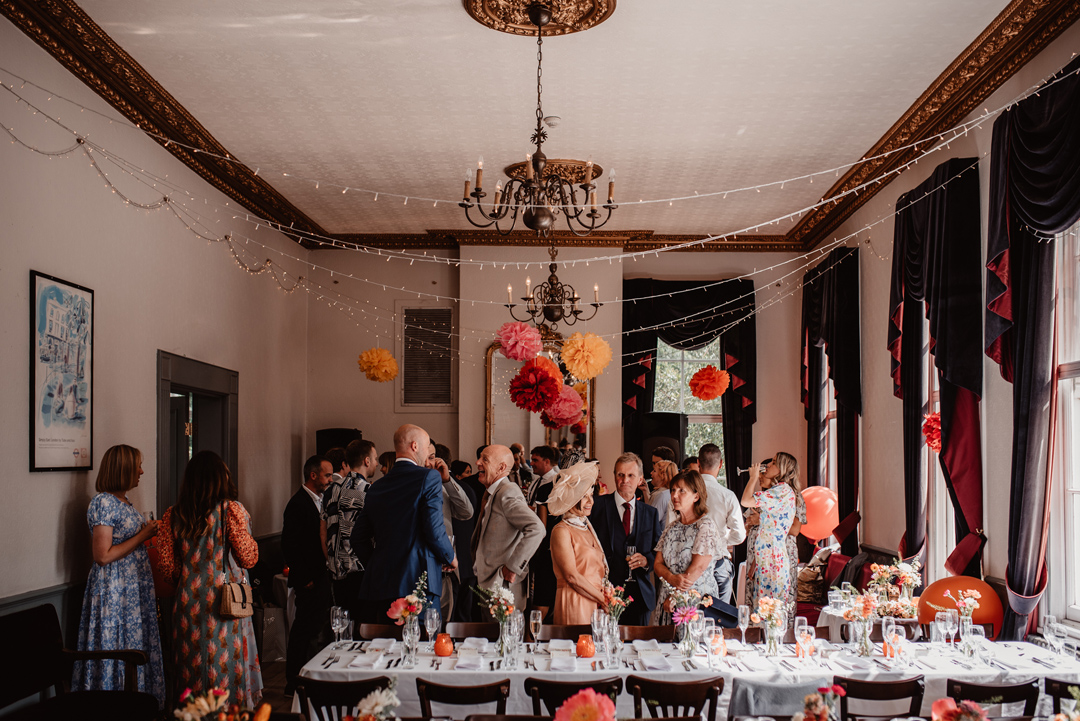 "I also made bouquets for my flower girls. It ended up being quite time-consuming, but we really enjoyed it."
"The food at Royal Inn on the Park was absolutely incredible and all of our guests loved it too."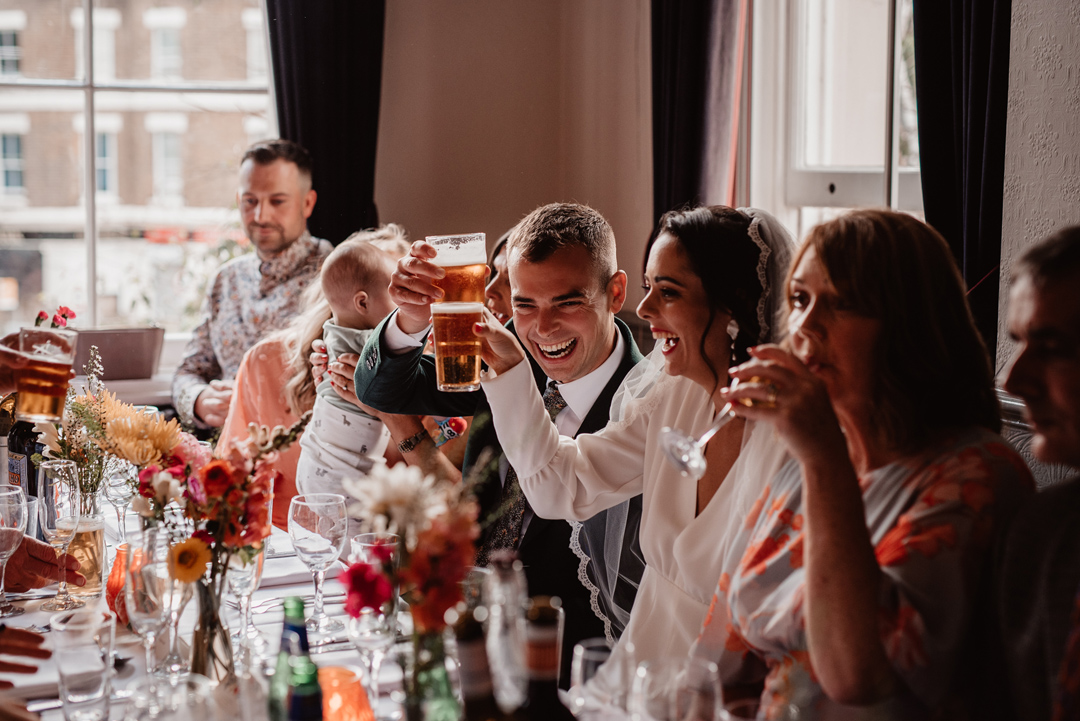 "We matched via a dating app in 2015, when Ben was visiting Birmingham which is where I lived at the time. Ben lived in London but we instantly hit it off over messages and arranged a date for a few weeks time."
"We spent the next couple of years long-distance dating between the two cities before we moved in together in London in early 2018. We got engaged in Mendoza, Argentina in November 2019, at a beautiful place called Casa Glebinias."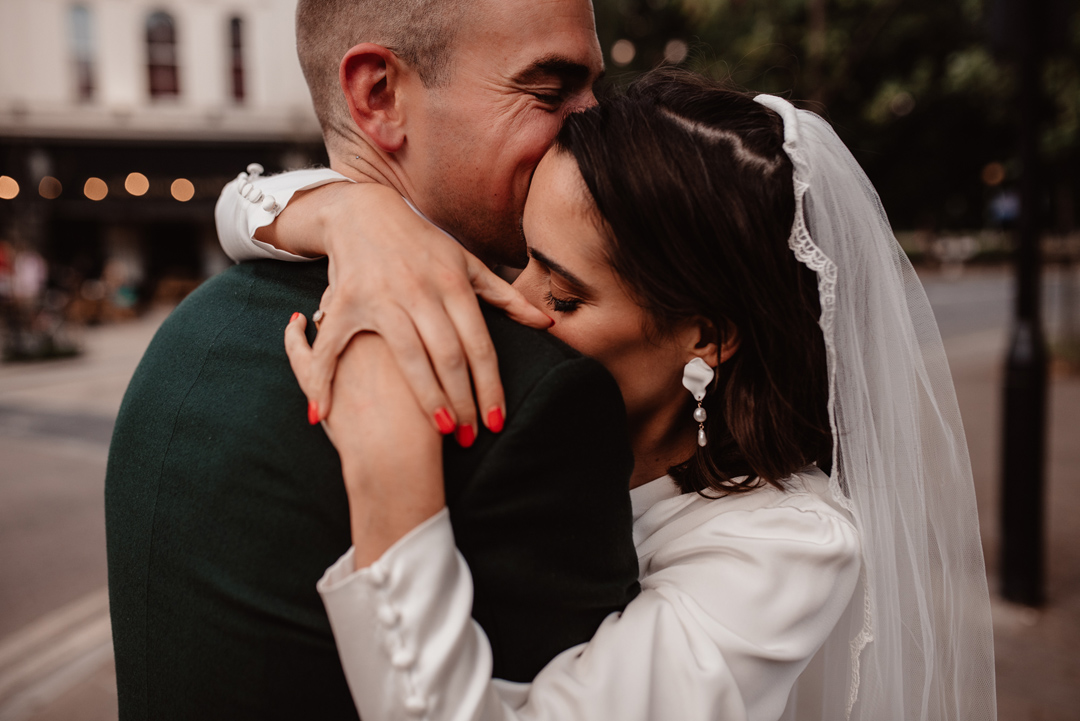 "We originally thought about getting married in the mountains just outside Malaga in and had flown over to Spain to view two venues before the first March lockdown hit."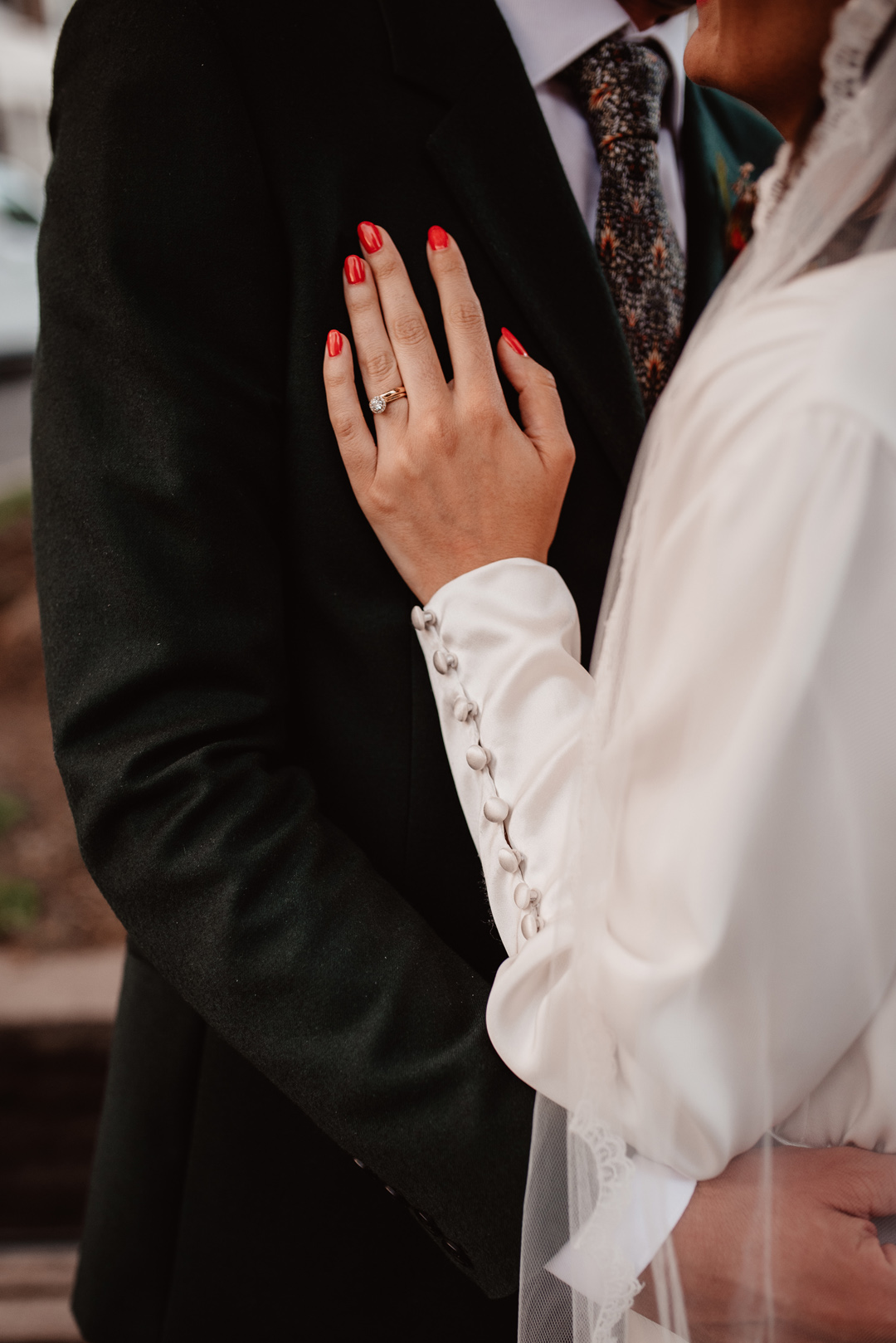 "With so much uncertainty about the future, we eventually decided that an abroad wedding felt risky to commit to, so we started re-looking at options in London, and always had the Royal Inn front of mind."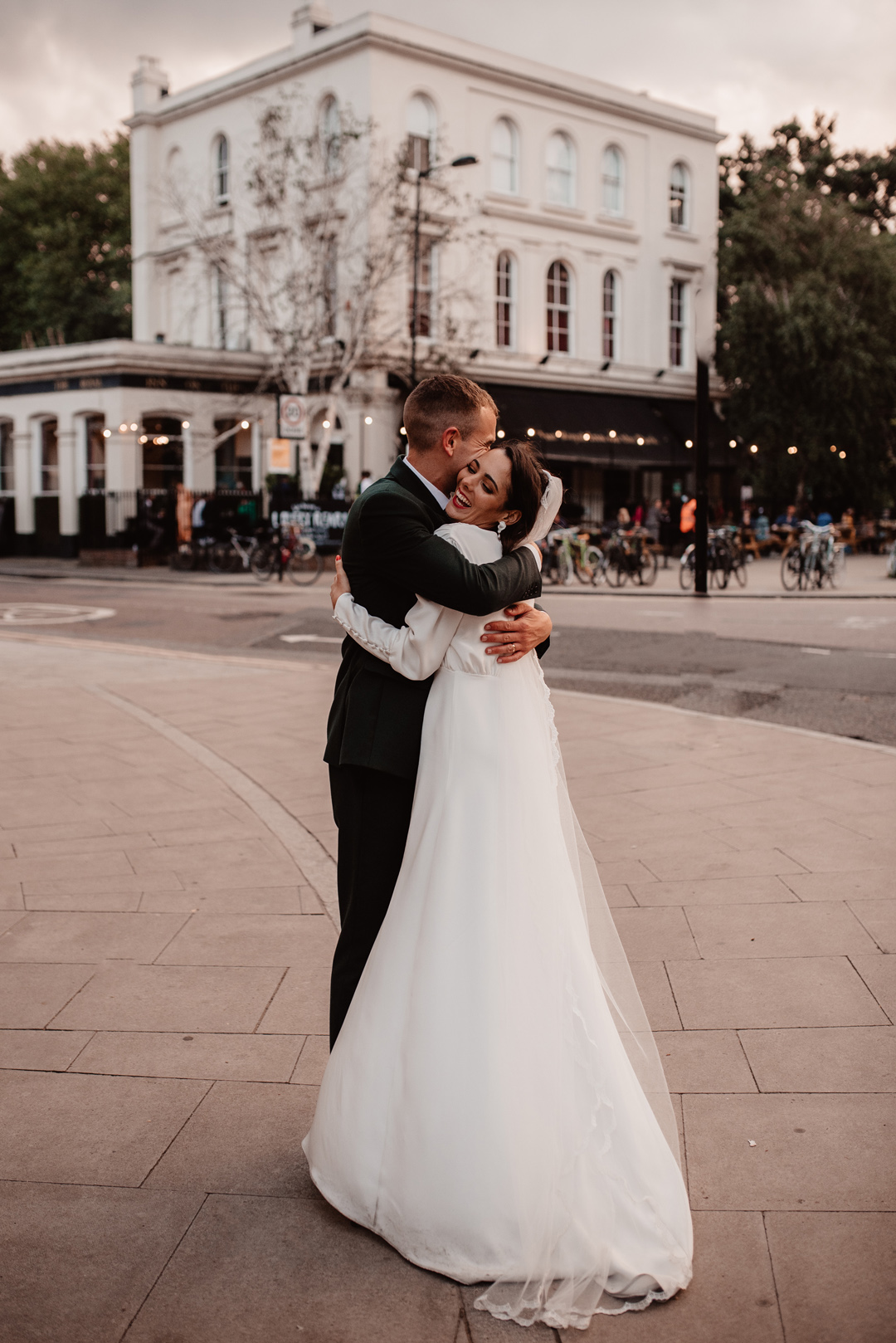 "Music was always going to be a major part of our wedding and we ideally wanted our friend, who is a DJ, to play, but due to restrictions, we curated two Spotify playlists with all our favourite tracks on instead."
"We chose 'Special Night' by Lee Fields & The Expressions, which is a song that has been with us since the start of our relationship. We always knew that would be our first dance."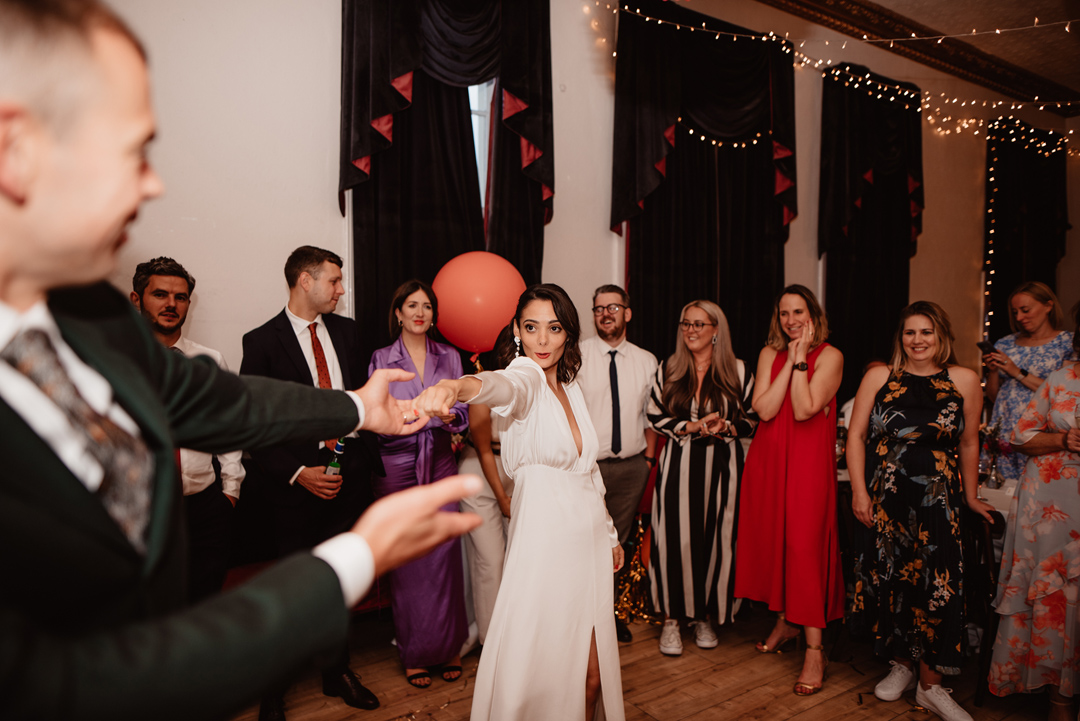 "We both said the moment we saw each other down the aisle in Hackney Town Hall was such an incredible moment that will stay with us for the rest of our lives."
"In addition, just being able to celebrate with our very nearest and dearest after a difficult 15 months for everyone was so overwhelming and joyful."
"With the pandemic there were so many ups and downs before the wedding, but we wouldn't have changed anything about the day. It was everything we dreamed of and more."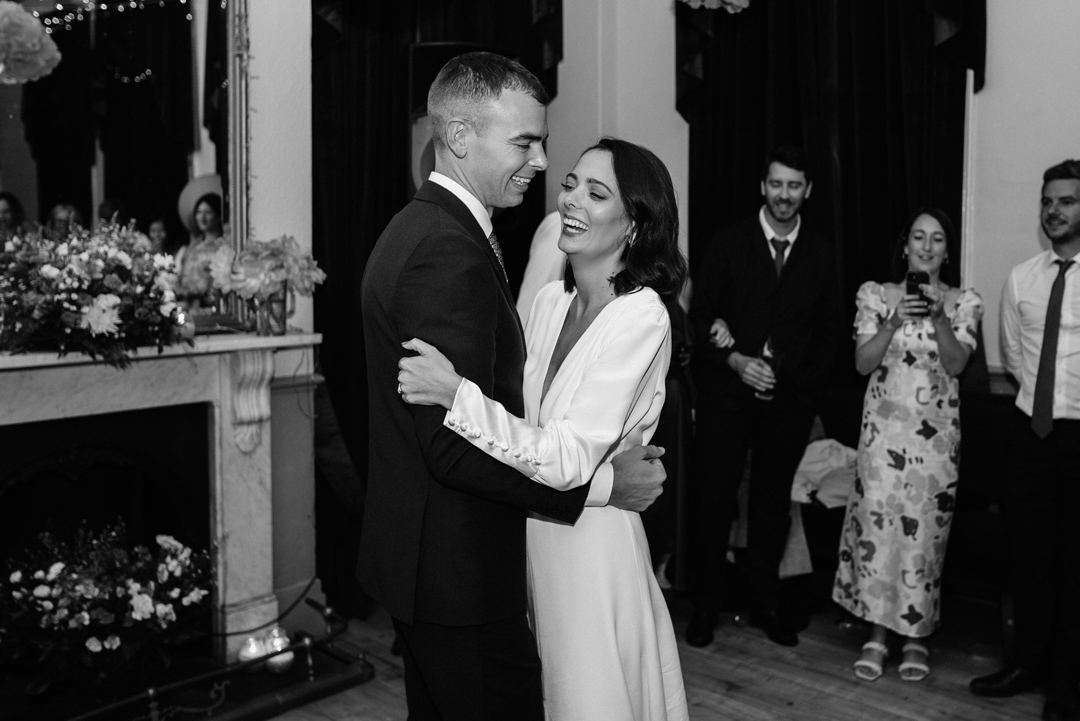 Words of Wedded Wisdom
"On the day I realised that I didn't care about all the small details that I had been worrying about, but if someone had told me that before, I might not have believed them!"
"However, it's true, you get so wrapped up in the magic that nothing else matters."
"The evening before the wedding, our wedding party all went to Lardo in Hackney for dinner, which felt really special. And then the day after, we all went to Victoria Park with champagne, beers, wine, food and music to continue the celebrations."