Most Curious is the wedding show for the style-savvy couple. For those with creativity in their hearts and a finger on the fashion/cultural/zeitgeist pulse, this is the show for you.
We've been supporting this visionary and innovative show since it was birthed into reality by founder Becky Hoh-Hale – around what must be a decade ago now. Every year, Becky scouts and spotlights incredible new talent, fascinating niche suppliers and brilliant creative businesses through the Most Curious show. And she does so through the compassionate optics of someone trying to do her very best to create a diverse and inclusive show.
We're handing the rest of this article over to Becky herself so that she can introduce some of this year's exhibiting talent and share some of the vibes for what lies in store for those attending. It's going to be a belter of a show – it always, always is. So over to you Becky!
Thank you Annabel! I'm here to tell you that Most Curious, the biggest indie wedding show in the UK, is taking over the uber cool Truman Brewery from Friday 4th to Sunday 6th of March, with over 110 design and fashion-led exhibitors, innovative and inclusive fashion shows, amazing installations, inspirational stands, live music, DJs, entertainment, FEAST food stands, coffee stop and bar!
Annabel has invited me to shine a spotlight on 20 of our exhibitors, each with the signature Most Curious bespoke approach that we know Love My Dress couples adore.
As a treat for you all, I'm also sharing a special discount code for LMD readers only: Use code LMDCURIOUS to save 20% when purchasing digital tickets online (offer ends 3pm, Sunday 6th March).

Let's meet some brilliant Most Curious suppliers…
PINK PALMS
Pink Palms is a London based event design studio, creating modern weddings for contemporary couples. We'll encourage you to use colour palettes, textures and patterns you love, we firmly believe your wedding day should be a reflection of who you are!
WEDDING SMASHERS
Wedding Smashers is the award-winning DJ collective, bringing GOOD music to weddings since 2010, always bringing the party with stylish booths, eclectic tastes and confetti cannons!
QUEER WEDDINGS
Queer Weddings UK is an independent wedding planning company and the first of it's kind dedicated to the LGBTQ+ community.
Founder and planner, Lexie Lenoir, aims to create beautiful, one of a kind and style-focused celebrations for the modern lesbian, gay, bi-sexual, transgender, queer and non-binary folx .
She will work with you closely in order to give you the most amazing experience and the memorable day that you always dreamed of.
BLAKE IDA
A place where pure fashion and bridal meets. Blake Ida is made in London, and bespoke every time from the finest quality silks and silk blends.
The collection can be tweaked and is made to fit you exactly, to your measurements, up to any size you wish.
OUR OWAMBE
Our Owambe is a modern wedding blog centred on alternative, style-led black weddings and events.
Unapologetically stylish – their stand will be a showcase of their pick of some of the UK's coolest Black wedding suppliers.
JAN SI STUDIOS
Contemporary wedding wear celebrating craftsmanship and thoughtful fashion. We design modern pieces with style and personality.
Our Signature tailored pieces and separates allow to-be-weds to mix and match, choosing their own unique outfit for their special day.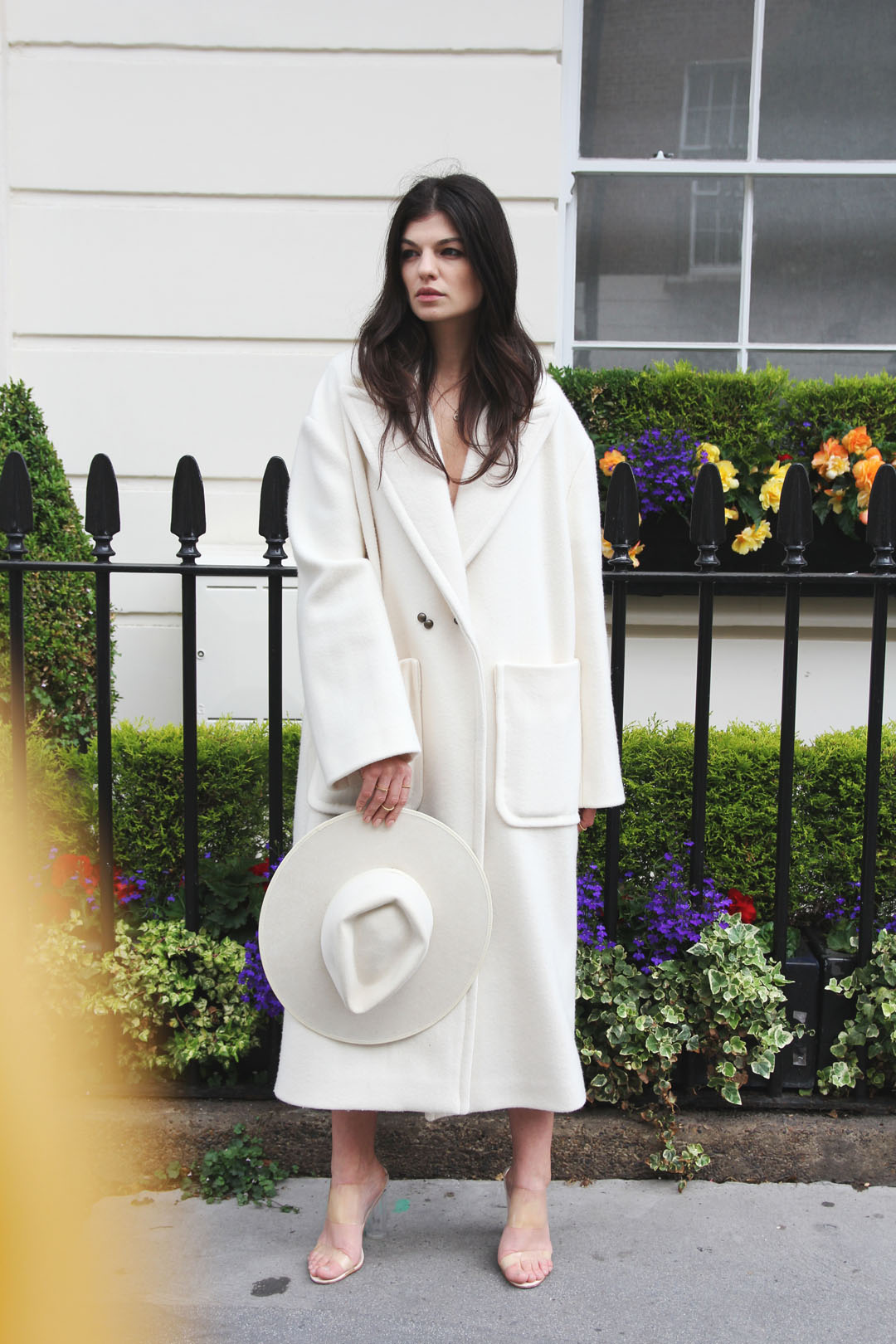 SOMEBODY ELSE'S GUY
Named after the classic song by Jocelyn Brown, Somebody Else's Guy is a new, exciting, sustainable fashion brand from the mind of Newcastle-based designer Corey Dixon.
Her unique items are gender neutral – The only labels here, are the classic disco tracks each garments name pays tribute to.
Use code LMDCURIOUS to save 20% when purchasing digital tickets online (offer ends 3pm, Sunday 6th March).
CARMELLA WEDDINGS
Tichea Brade's passion is to empower design-lead, edgy, fashionable creative couples to plan the best day of their lives, with a big installation emphasis and colour poppin' and graphic feels.
VELVET HEARTS
Slow, conscious heart led design for soulful folk. Made in love, infused with dreams and magick.
Specialising in bespoke & made to measure wedding attire, velvet johnstone creates unique pieces crafted especially for you. velvet johsntone believes in slow, sustainable, ethical design.
ORHAN TAILORING
Orhan London Tailoring was founded by master tailor Orhan and his wife Denise in 2007, with the goal of being the place where everybody was welcome to discover the limitless possibilities of bespoke tailoring.
Where regardless of your gender, figure, lifestyle, image or your background – each person was celebrated for their individuality, liberated from having to compromise on how they wanted to dress.
TOWN HALL HOTEL
The Town Hall Hotel in Bethnal Green, East London is a fave. With dedicated wedding planners, gorgeous architecture and history and a decadent city wedding party feel.
BUD FLORA
Lucie's journey started in fashion photography and production, but always seeking something more hands-on creative, and never feeling fulfilled, she re-trained to be a florist and Bud Flora was born, meshing her two world's perfectly.
EVENTS BY AKILAH
Events with Akilah – Championing small, cultural, and alternative city weddings. There are so many multi-ethnic couples wanting to get married in London who are nervous about getting it wrong in the world of weddings.
Akilah stems in to offer a relaxed and creative approach to your wedding planning, coordination and design specifically to offer a rule-book free and alternative experience, that only builds excitement because your day will finally scream "THIS IS SO YOU".
MELINDA GRANT
Melinda, founder of Melinda Bridal 's vision is to help you look and feel your very best – with you being the inspiration for each job.
She hails from a world of editorial and fashion shows, and knows how to create natural makeup and hair looks that will photograph well and has staying power too.
AWON GOLDING
Awon Golding is an award-winning London-based milliner who specialises in sophisticated and playful hats and headpieces.
Every piece is handmade-to-order in her East London atelier with craftsmanship at its heart, ensuring your dream headpiece becomes a reality.
Use code LMDCURIOUS to save 20% when purchasing digital tickets online (offer ends 3pm, Sunday 6th March).
SUSS
Süss is an online Cake Studio in the heart of East London that specialises in the curation of Natural Dessert Tables and Wedding Cakes.
Founder Julia bakes dreamy cakes with mindful ingredients, cutting down on sugar and supporting local organic suppliers to make treats that are good for the planet and your body.
LITTLE BLACK PANTS CLUB
Little Black Pants Club is a Bespoke Lingerie Service. Made to Measure in Brixton and available on subscription, ensuring a living wage is paid to skilled technicians in London, no more fast fashion lingerie.
It's also cool and beautiful Lingerie that fits! All bodies are unique, when you have something made by LBPC they go the extra mile to make it fit YOU, specialising in larger cup sizes too.
KATYA KATYA
KATYA KATYA is a London based designer label that offers a unique selection of feminine wedding wear pieces from Katya Shehurina.
The unique design style reflects modern vintage inspired aesthetic, impeccable craftsmanship and a lightweight ethereal finish.
KUIT FLOWERS
Kuit Flowers work combines elegance and drama, bringing an euphoric explosion to the senses. He will be bringing his amazing floral vision to the catwalk styling!
Kuit flowers merges a conceptual art backgrounds with flowers, breaking down the norm of what floristry is and going beyond the limits to create show stopping visual works of art.
WOLF AND MOON
Looking for something special, eye-catching and a little different to wear on your big day? We've got you covered!
Wolf & Moon is a handmade jewellery brand by British designer, Hannah Davis, inspired by nature, architecture, art and design.
PAPER TO LACE
Paper to Lace create dresses and separates for the cool modern bride. A mix of romantic bohemian charm and slinky vintage glamour, brought up to date with clean lines and contemporary touches.
Featuring luxurious mixes of silk, chiffon, crepe and lace, as well as exciting new eco fabrics like bamboo and recycled polyester.
Use code LMDCURIOUS to save 20% when purchasing digital tickets online (offer ends 3pm, Sunday 6th March).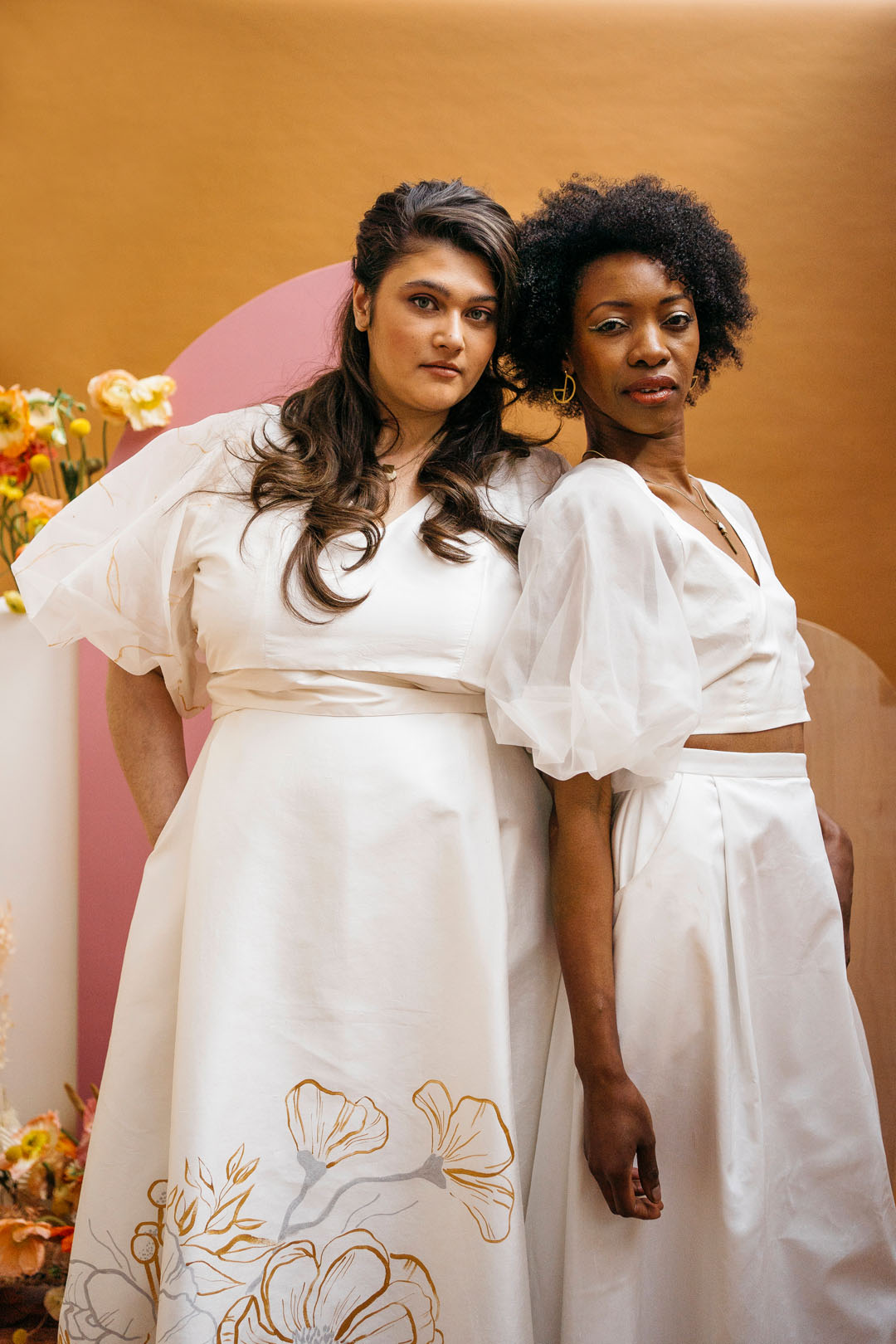 SAGE
SAGE Flowers is a contemporary floral studio based in Peckham, toeing the line between editorial chic and fun sculptured shapes and colours. We're BIG FANS!
They work with to-be-weds across the country to bring their wildest SAGE dreams to fruition, no-matter what the size or scale.
OH SQUIRREL
Founded 10 years ago, Oh Squirrel is a modern stationery, party accessories and homewares studio run by Katie.
The script lettering seen on Oh Squirrel products is owner Katie's handwriting, which is applied to a myriad of beautiful decorative products, including banners and hoops, and satin ribbons perfect for your wedding bouquet or place settings.
CONNIE NORTON MILLINERY
Connie Norton is an ethereal modern, couture millinery brand based based in Royal Tunbridge wells.
As well as couture and bridal collections she offers a bespoke service for hat lovers bursting with ideas or people who would simply love something made especially for them for a very special occasion.
COY BISCUITS
Illustration and body positivity meet in biscuit form! Founder Esi, a illustration grad, creates luxury bakes, for wedding gifting, favours, hens and stens, Edible works of art that are sex positive and celebrate the human form, whatever colour, shape or size.
Most Curious 2022
The Most Curious show will take place on the 4th, 5th and 6th of March at The Truman Brewery on Brick Lane, East London, E1 6QR.
Advance Tickets, standard tickets and VIP tickets are all available here.
And there is special 20% off voucher code just for Love My Dress readers – use  LMDCURIOUS at check out. Offer running from now until the show ends at 3pm on Sunday 6th March.
Get your tickets, get excited and have fun folks!