Can I tempt you with a sophisticated London wedding today, full of romantic roses and a structured silk gown?
The Rosewood London hosted Hannah and Charles' intimate and romantic wedding on 27 November 2021, almost three years to the day since they met. Decorated for Christmas, the magical venue needed few additions other than luxuriant ivory roses to make create an elegant, timeless vibe.
Photography Marta Ilardo Photography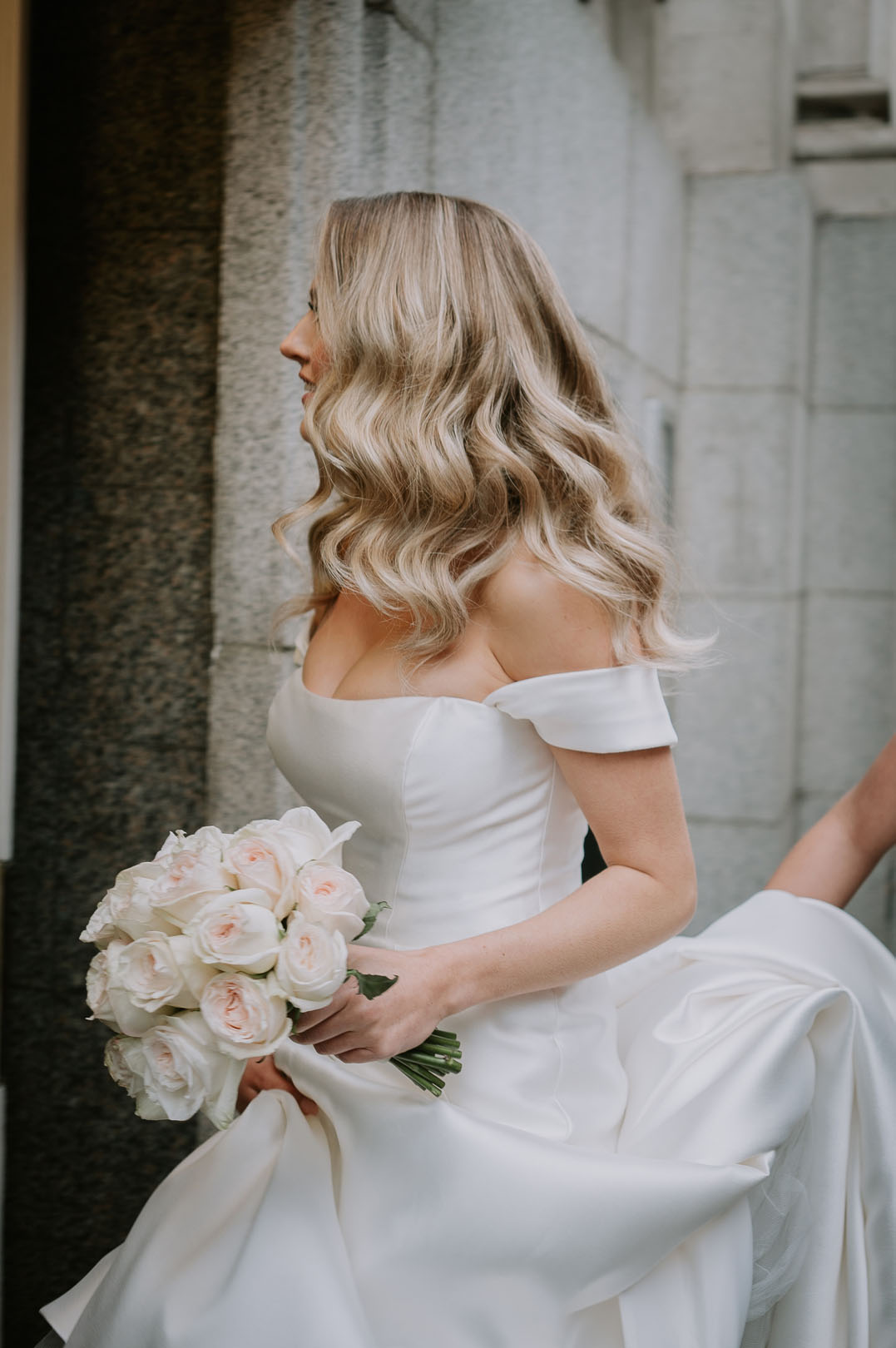 Hannah wore a pair of strappy Jimmy Choo sandals and wore her hair down in super-glam waves. It was styled by Gintare Hairstylist and her flawless make-up was applied by Gabi Makeup Artist.
"I wore Parfums de Marly Cassili. It's my usual perfume which smells amazing."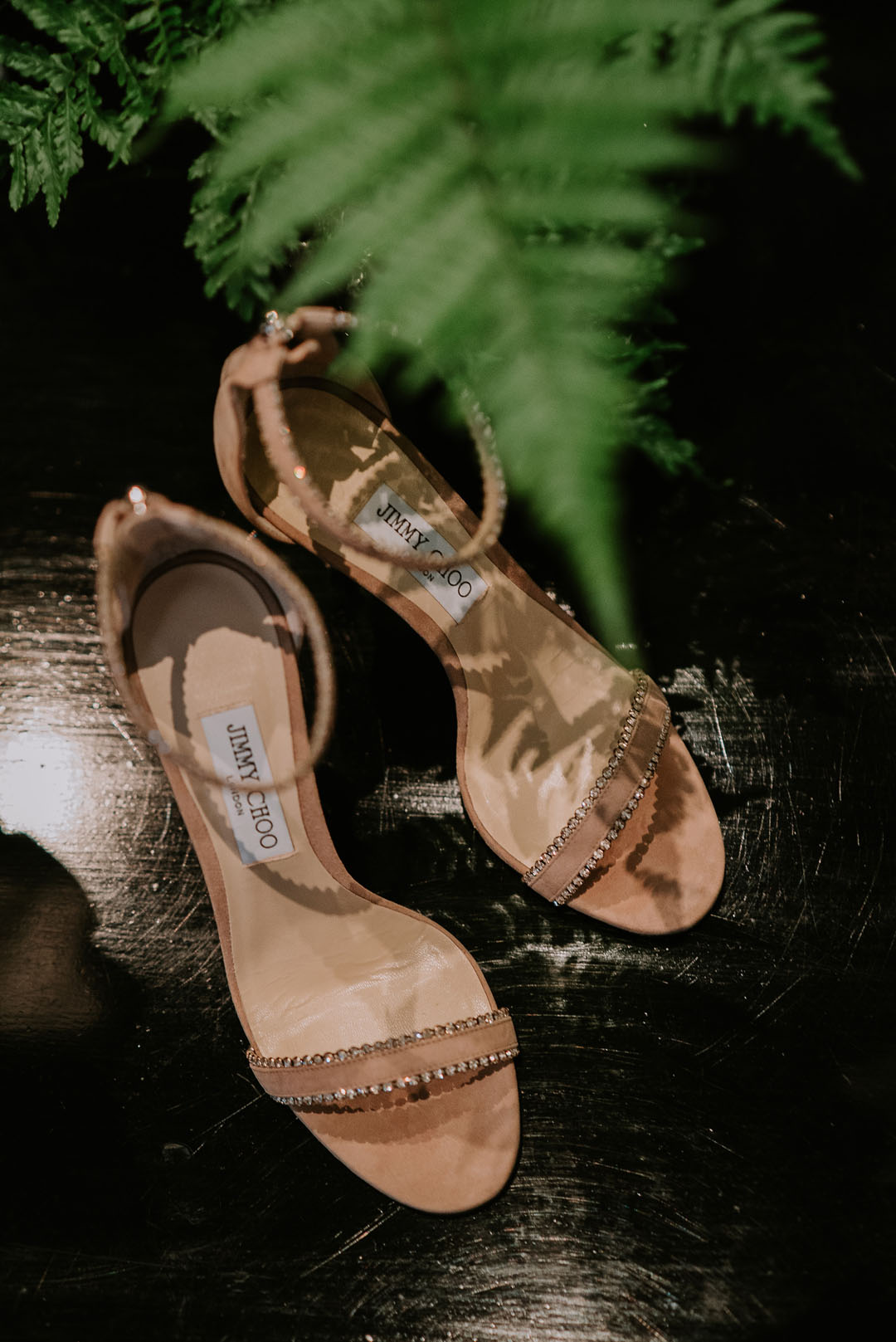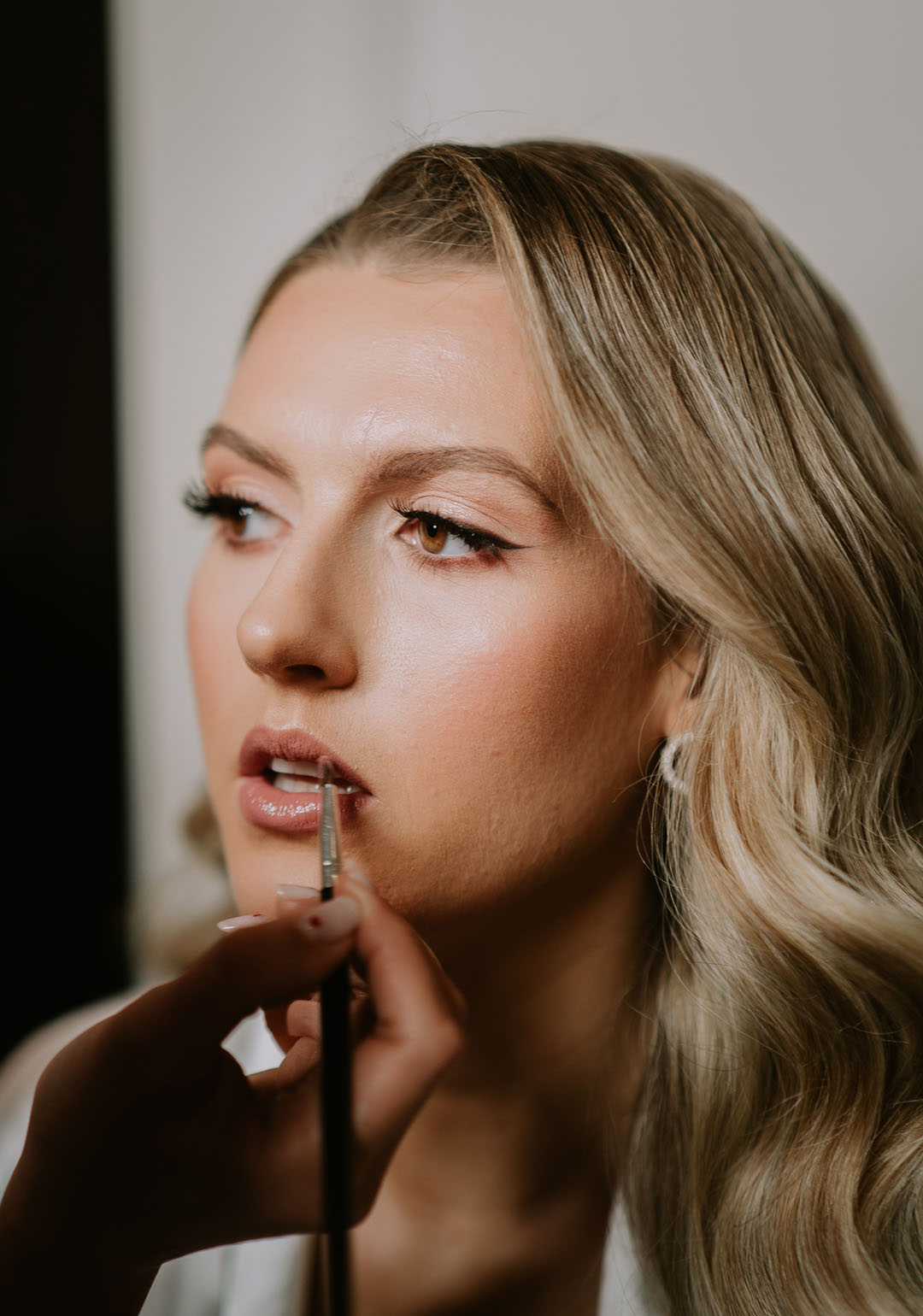 The bridesmaids wore strappy gowns in a deep French blue from David's Bridal and carried posies of pure white roses.
The bride chose an off-the-shoulder, kick-flare gown in Mikado silk from Pronovias. Elegant and structured, Hannah looks so beautiful and at ease wearing it.
"Pronovias offered a great experience and lovely staff. My dress is actually sold and designed as a strapless dress but we added the cuffs to make it the perfect dress."
"The seamstress, Despina, was lovely. She made the whole process really enjoyable and really cared about making sure that my dress was perfect."
"I picked this dress in February 2020 and collected it in November 2020. It then sat in my wardrobe for a year before I could finally wear it."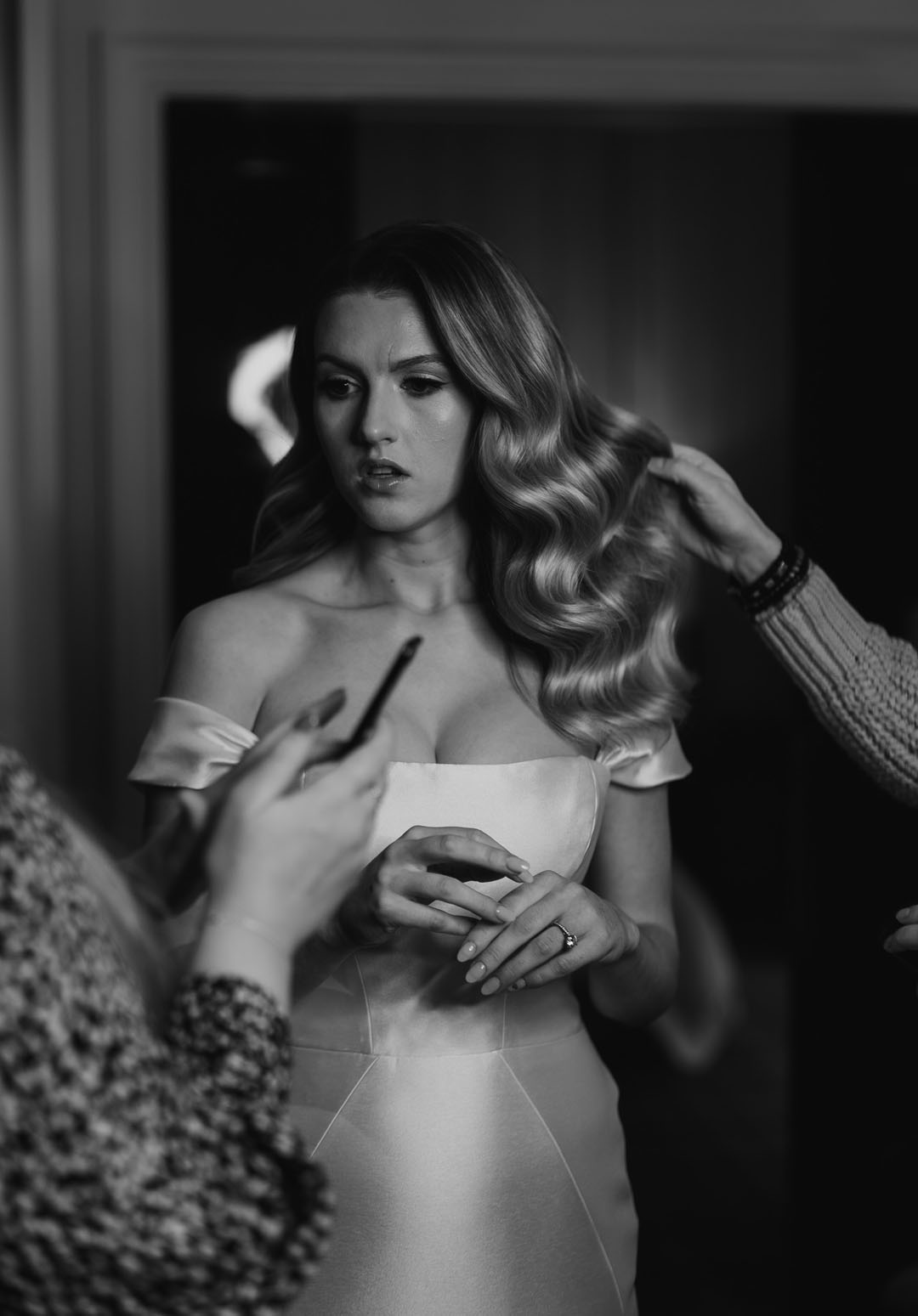 "To be honest, had I known at the time that I was not getting married in the Cotswolds I probably wouldn't have worn the dress I did to Chelsea Town Hall; I was worried it was a bit over the top. However, I loved it on the day and it really didn't matter."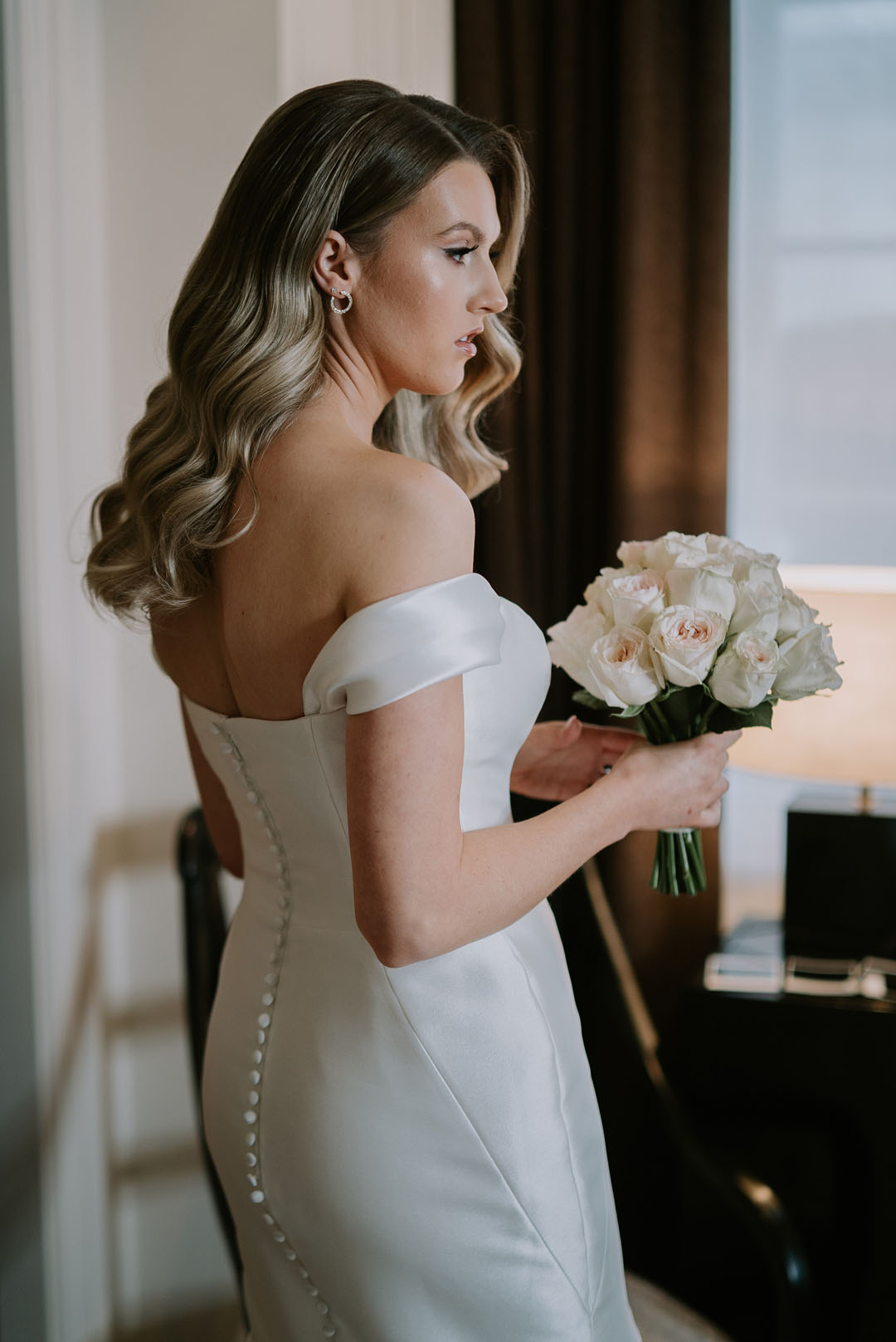 "I wanted a dress with structure and one that wouldn't crease easily. This dress had a corset built in which was great and not uncomfortable at all."
https://www.lovemydress.net/directory/supplier/cesca/
"I also really liked the shine of the Mikado material. I loved that it had buttons all the way down the back – this was pretty much the only thing I knew I wanted when I started looking for a dress."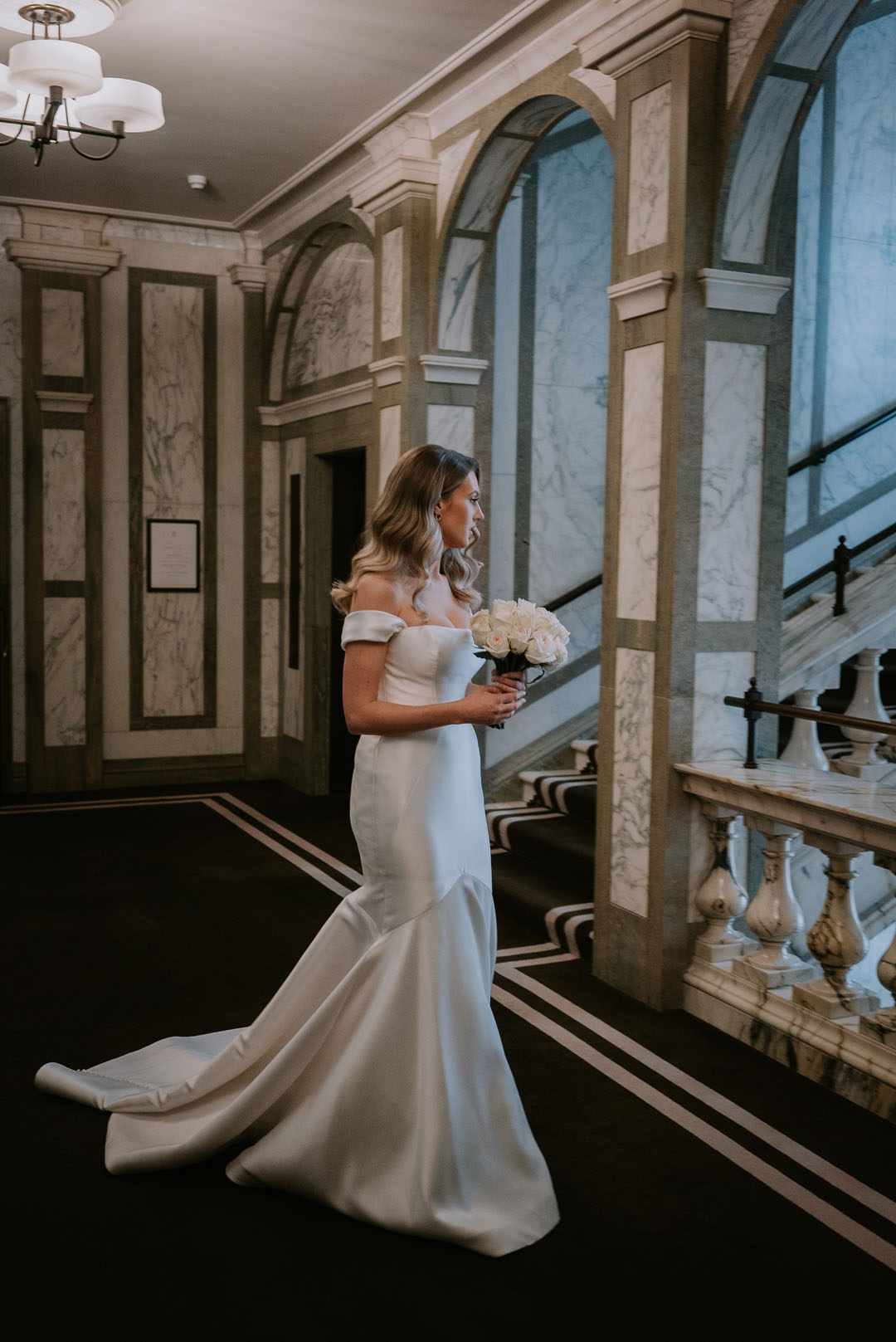 Hannah and Charles met in Dubai in 2018 and were engaged in November 2019.
"We were due to be married in November 2020 but due to Covid did not get married until November 2021."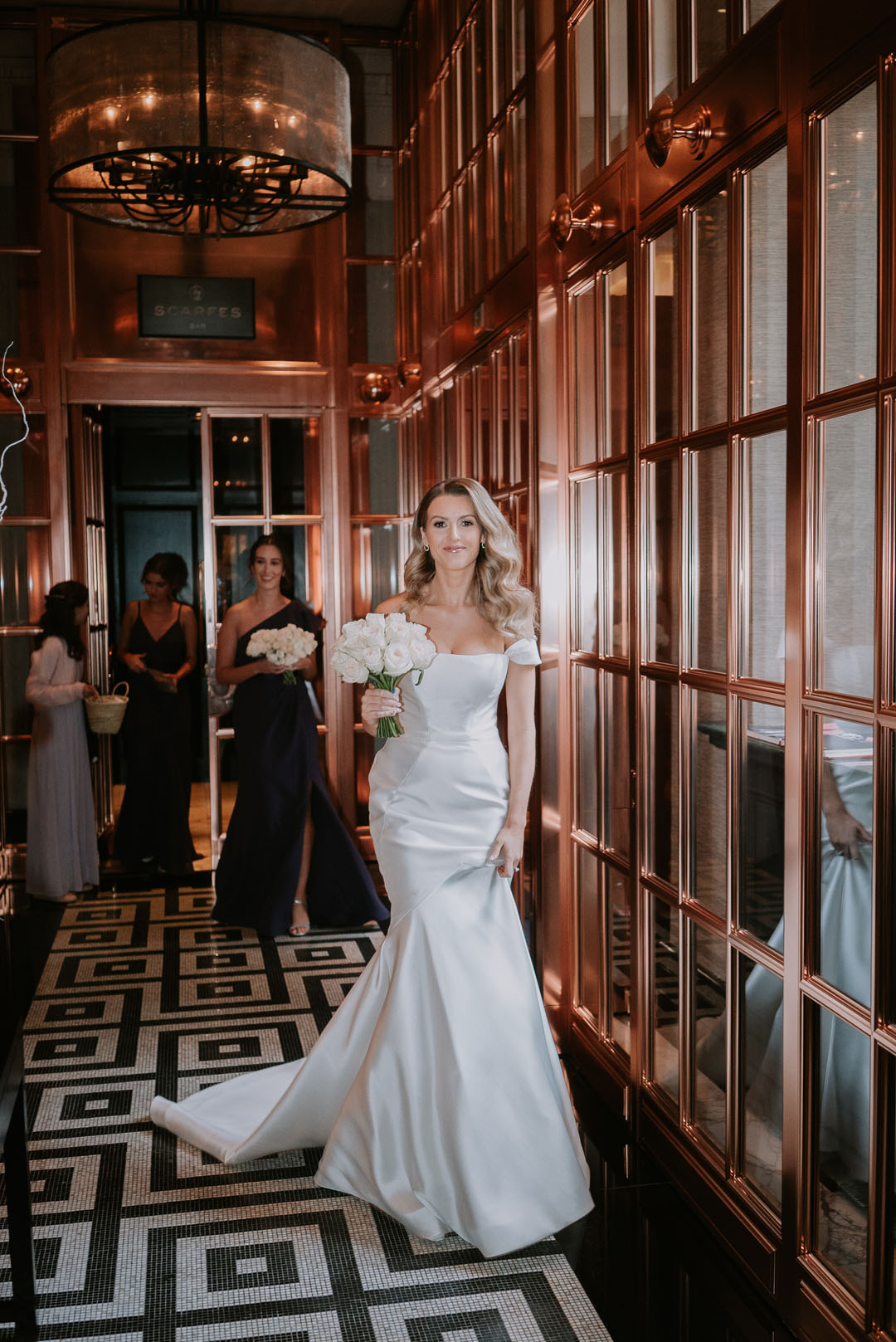 The couple were originally due to get married on 28 November 2020 (exactly two years after they met) but due to Covid restrictions, they pushed it back to December 2020 in the hope that they would be lifted nearer Christmas.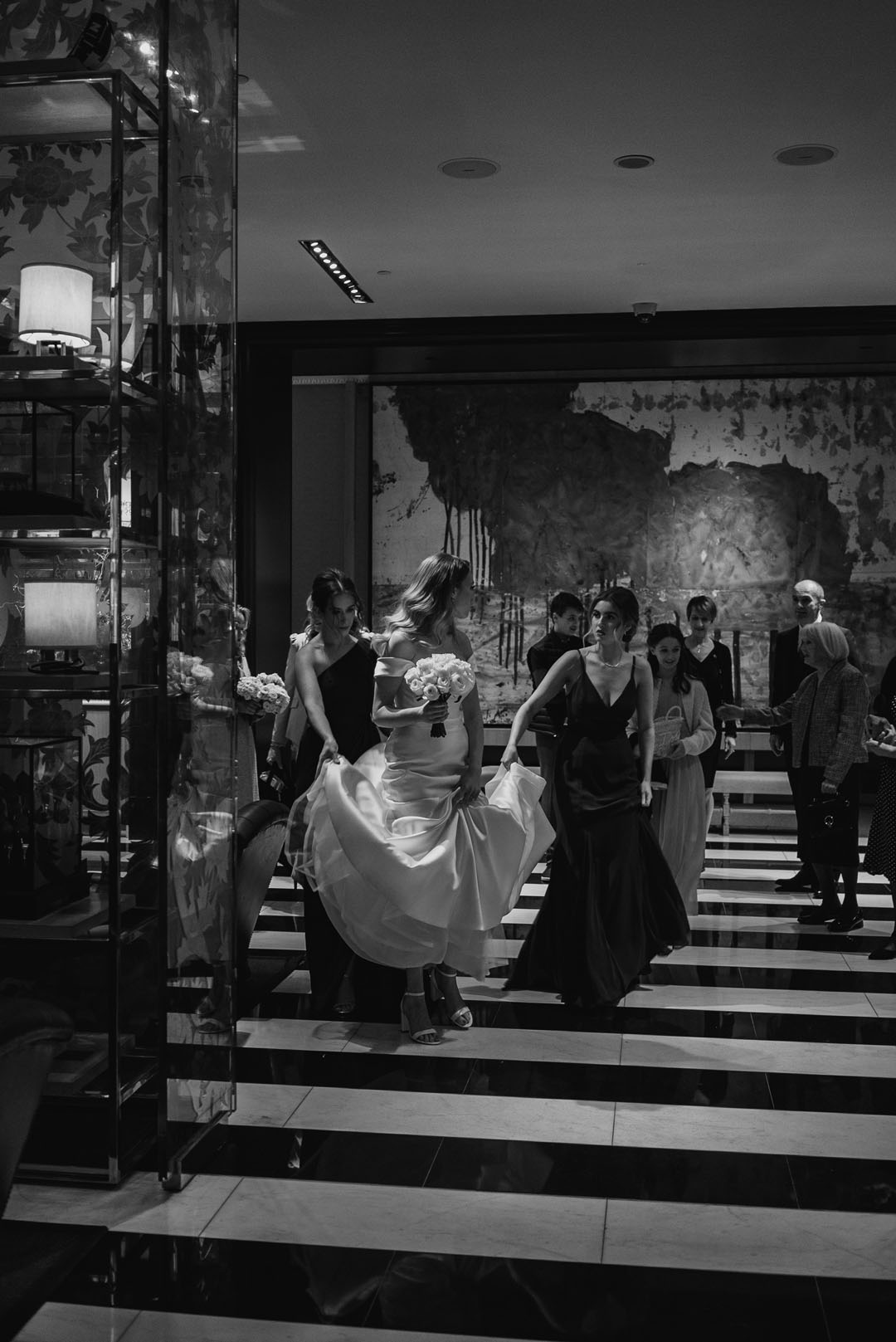 "We went back into a lockdown only a few days before the wedding! We didn't dwell on it too much and focused on enjoying Christmas as there wasn't really much else we could do."
"The hotel and our other suppliers were all really understanding and we didn't incur any fees or lose any money."
"It also gave us more time to think about what sort of wedding we actually wanted as for most of 2020 we were having to change and adapt to whatever restrictions were in place at the time."
"Fortunately, we did not have to follow any Covid restrictions on the day. There were no limits to numbers and masks were not needed."
Each detail was captured on camera by Marta Ilardo Photography, whose combination of fine art and reportage styles is a perfect match to the intimate and romantic style of the day.
"We are gutted that we didn't film it. We were put off due to the cost but it is a big regret."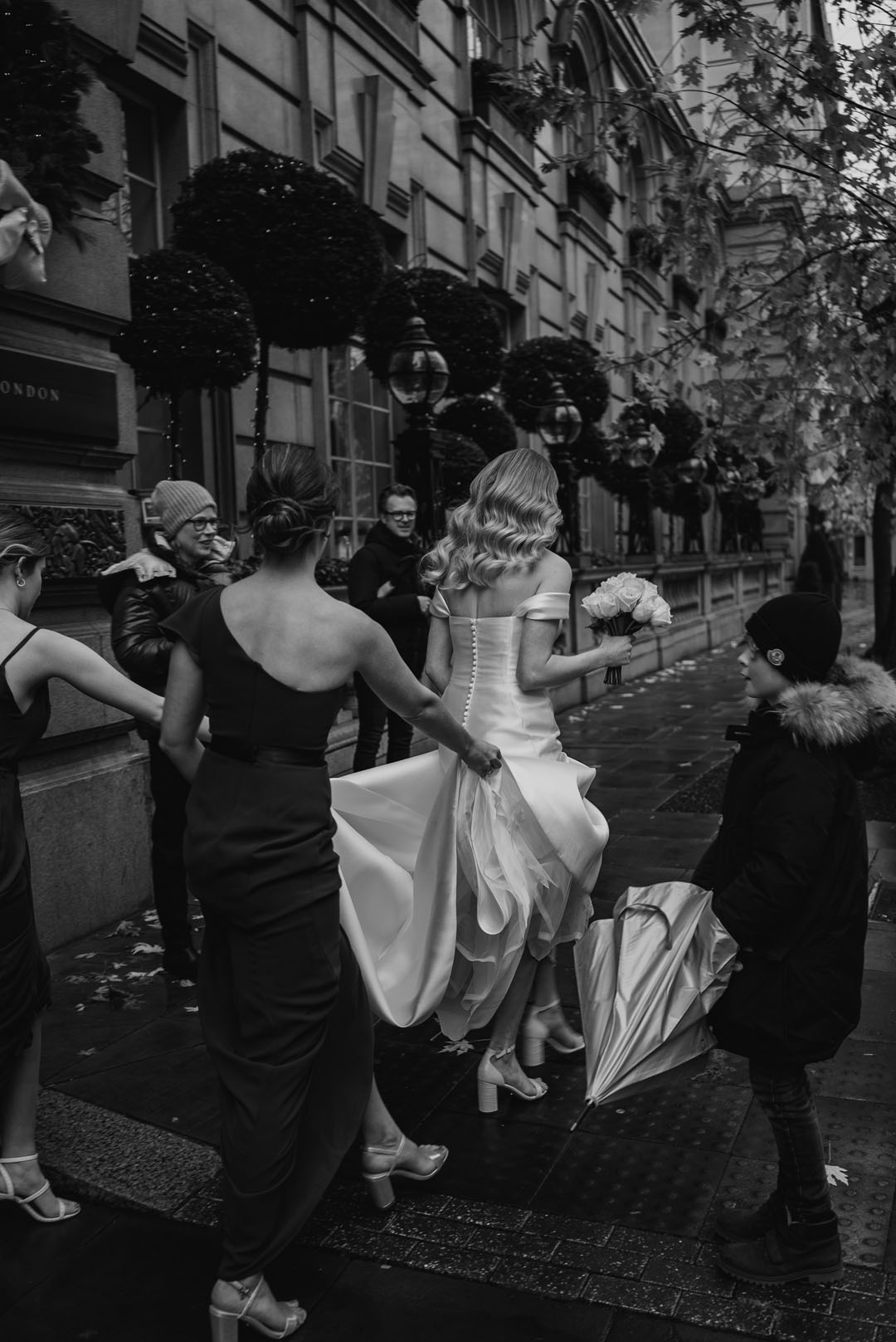 Charles dressed in a dapper blue suit from Ozwald Boateng with bespoke Berluti shoes. 
The legal ceremony was held at Chelsea Old Town Hall before the newly-weds and their guests travelled to Rosewood London for the opulent, dinner party reception.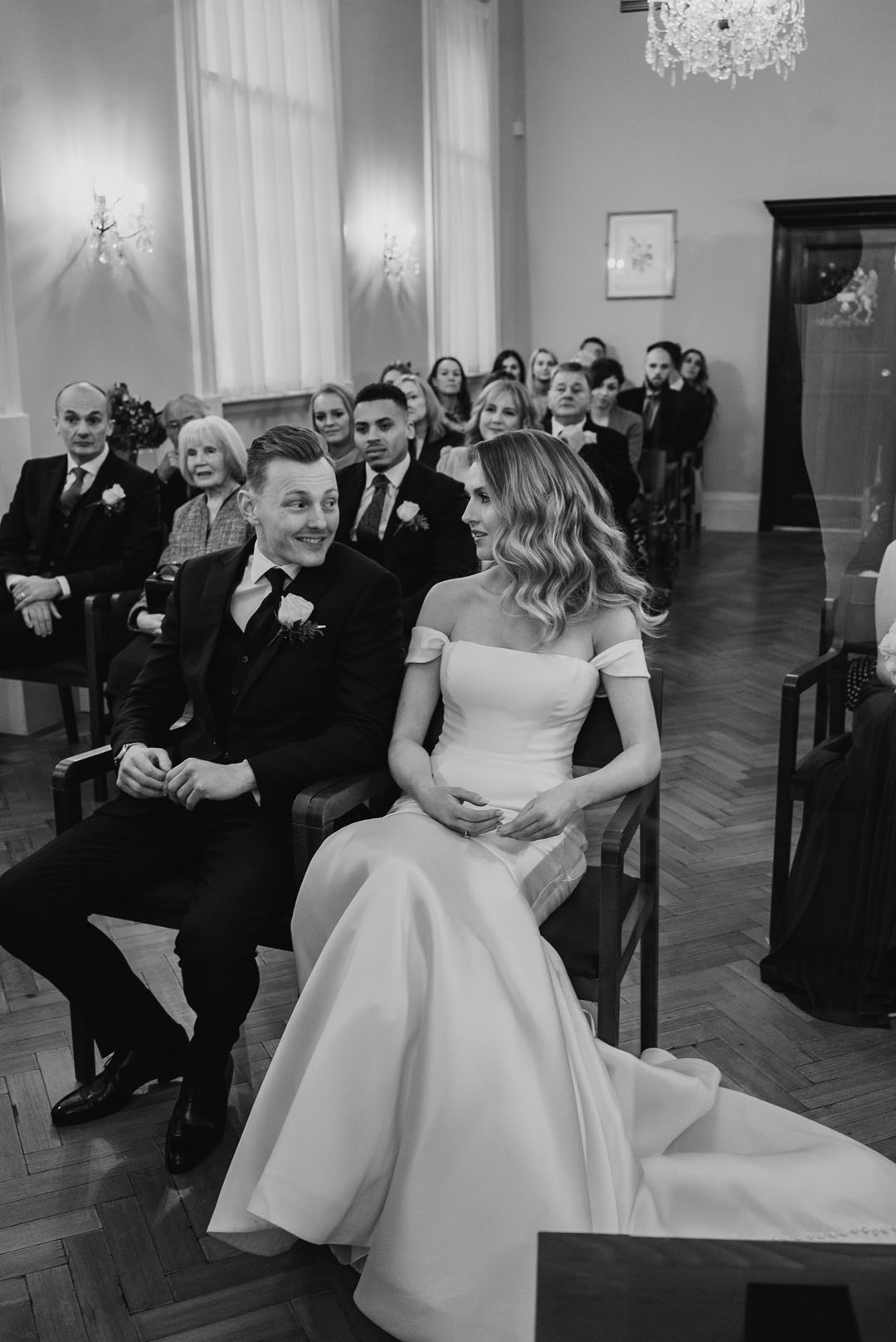 "Our wedding was close to Christmas so the hotel was already decorated beautifully. Our florists were McQueens Flowers."
"They are the florists which the hotel use so it was easier to use them as the hotel dealt with all the deliveries and liaised with them directly. They dealt with the invoices too, so it was one less thing to think about."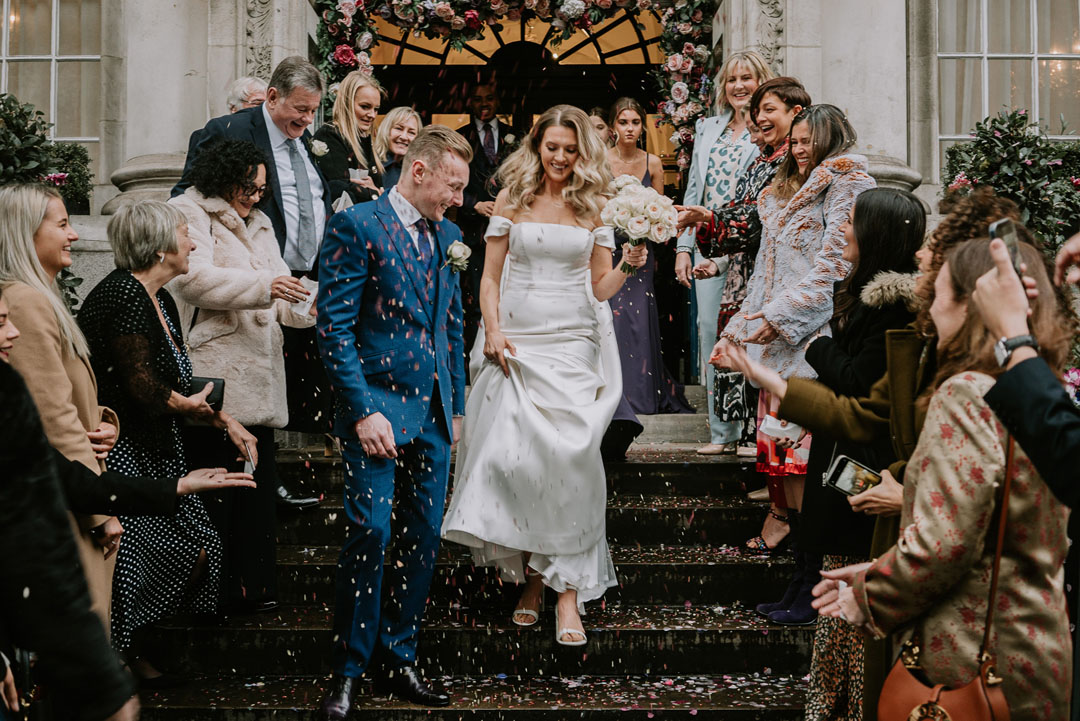 After the ceremony, the newly-weds and their guests piled into a cream double decker retro bus from London Retro Bus Hire to travel to Rosewood London.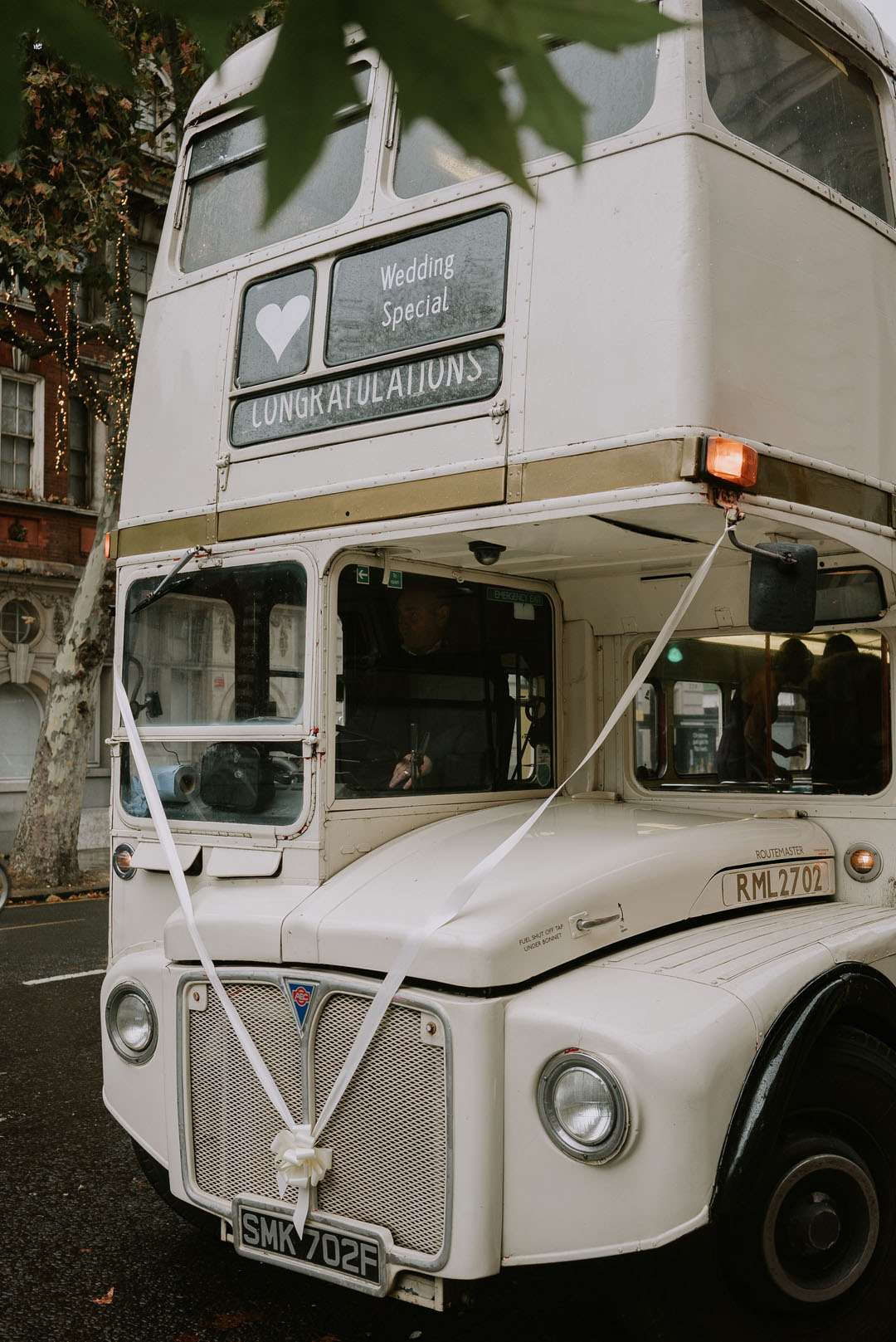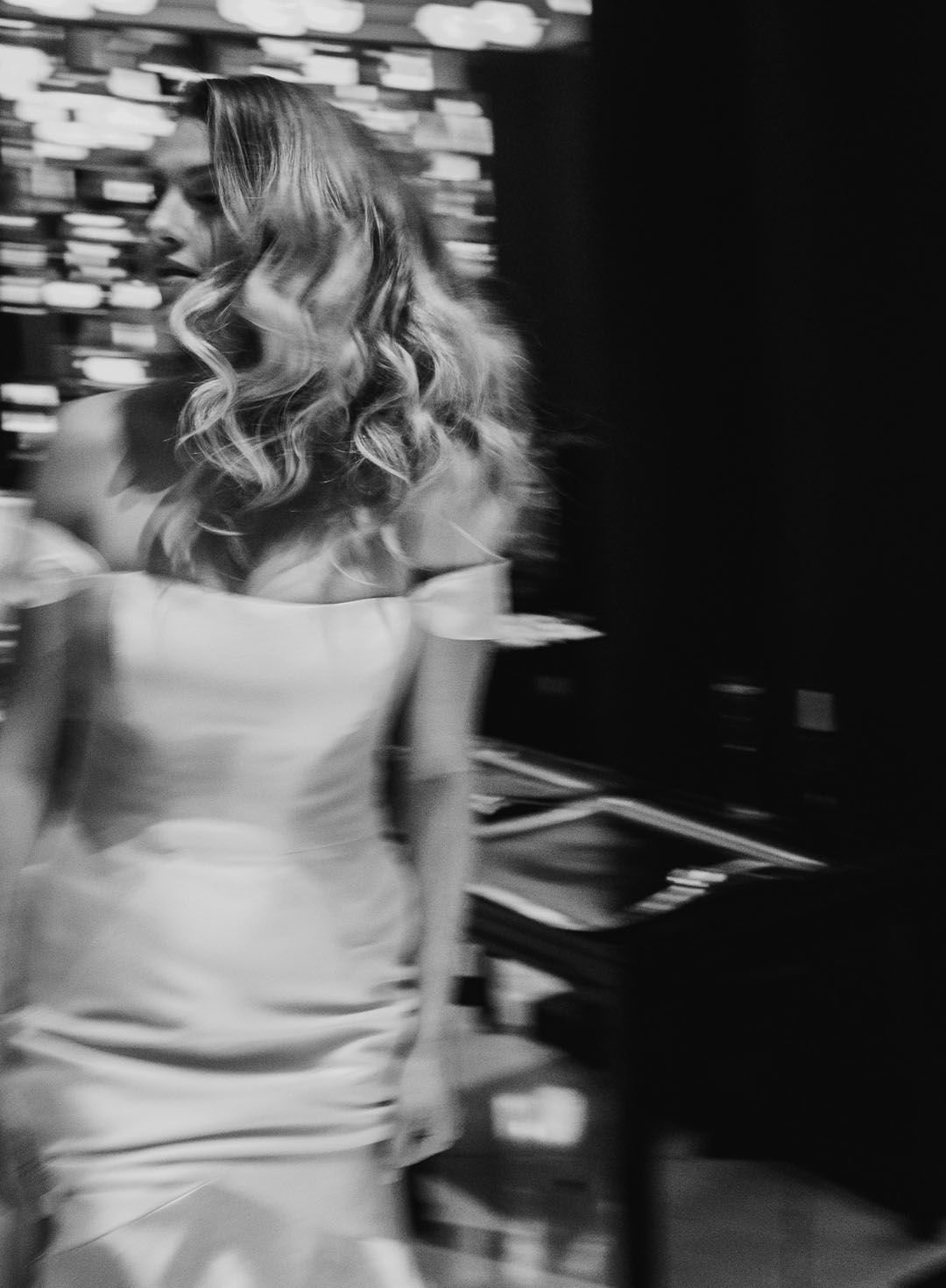 "The Rosewood Hotel and the wedding we ended up having was the result of last-minute plans to try and get married at the end of 2020."
"We were originally going to get married at Foxhill Manor in the Cotswolds but due to restrictions being in place, we cancelled this and looked for a last-minute venue in London instead."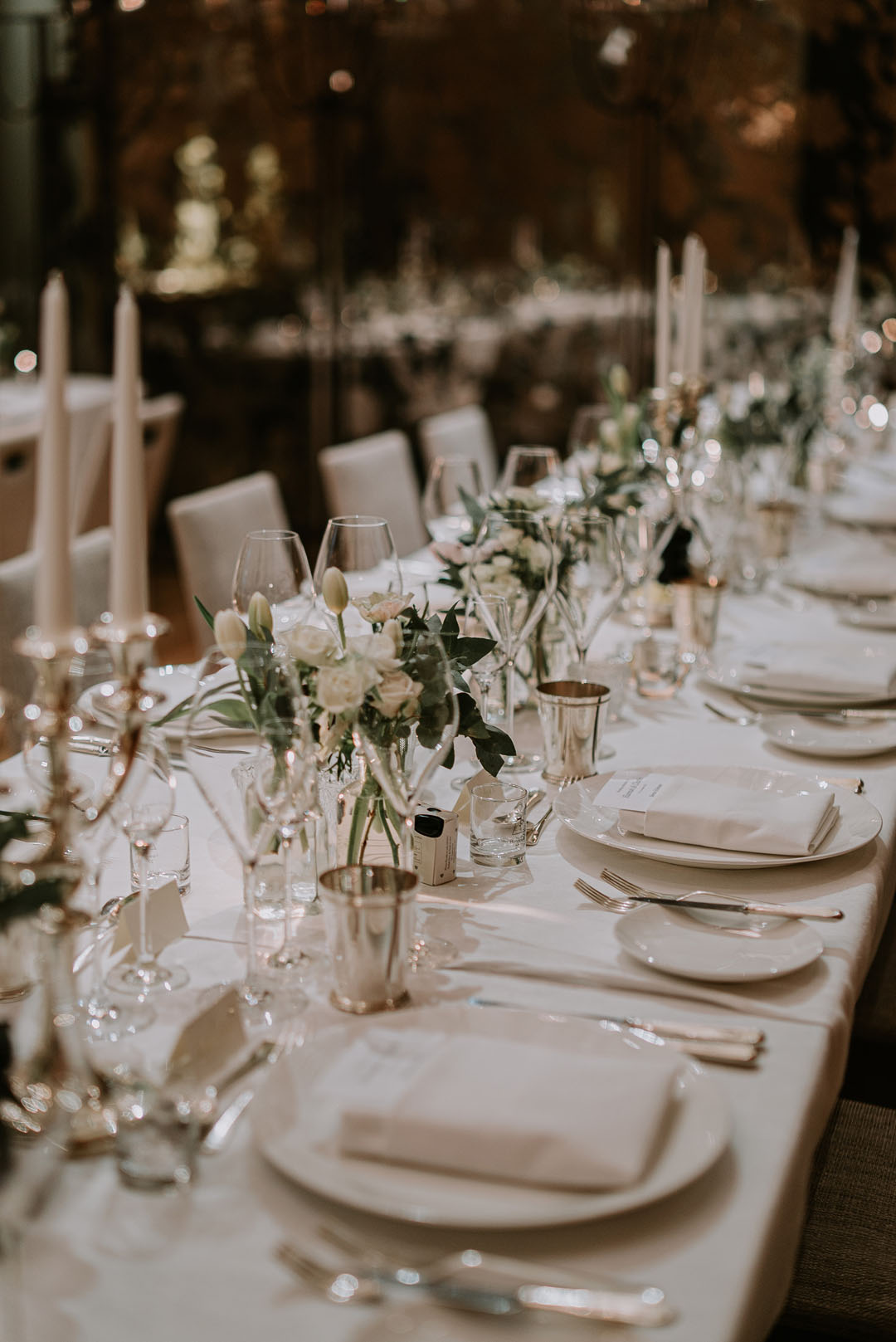 "At the time, the Rosewood was the only place with availability for December 2020."
"We decided to stick with this plan and venue as, after almost two years of planning, rescheduling and not knowing whether we would be able to get married, we realised that a big weekend-long party was not actually what we wanted."
"A smaller, intimate wedding was more us."
"We provided personalised shot glasses and everyone did a shot of Limoncello at the end of the meal."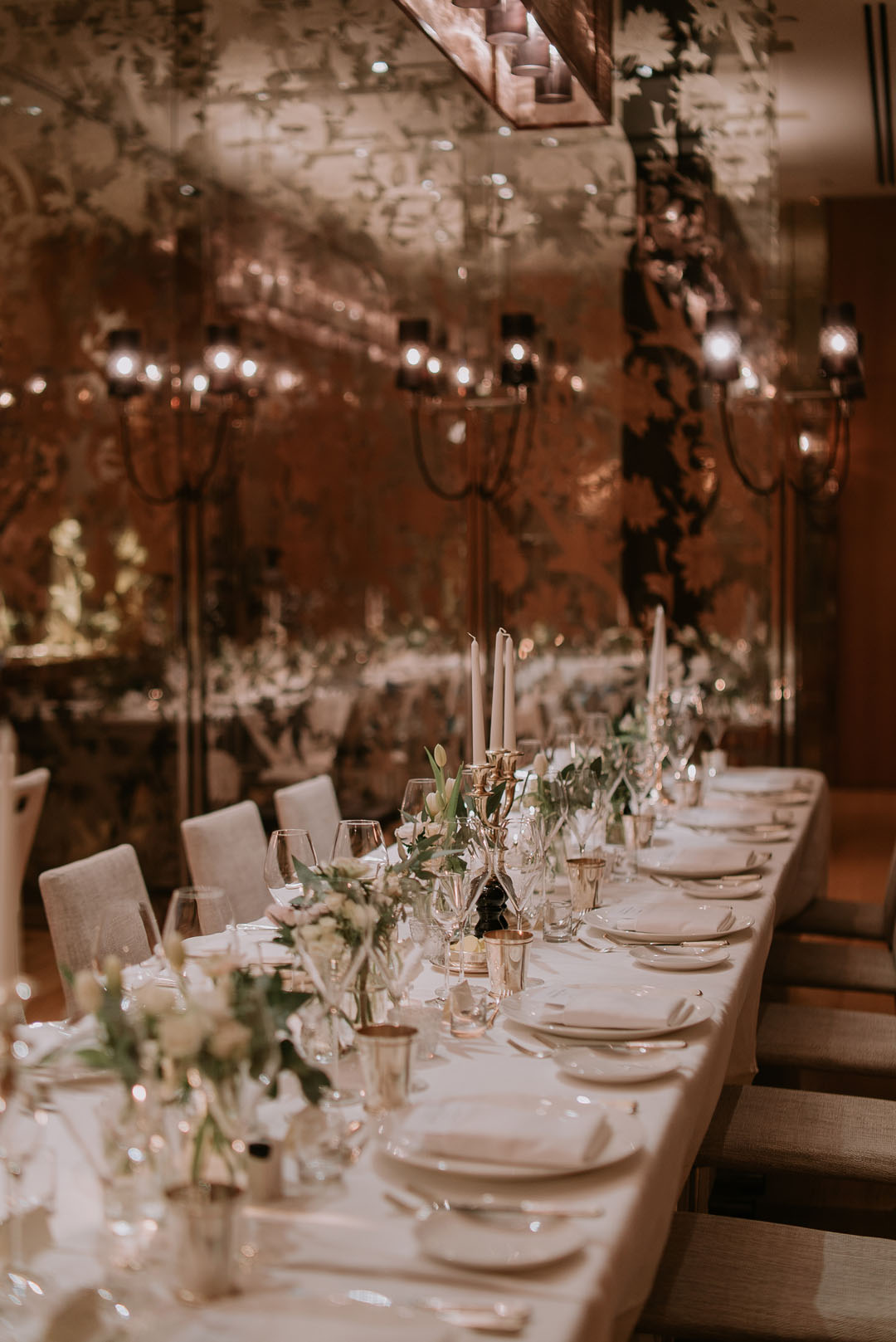 The dramatic, gold-adorned cake was by Maxine Otto Patisserie.
"We chose a four-tier buttercream cake with gold drips. The top tier was a fruit cake and the others were Victoria, chocolate and salted caramel, and Biscoff."
If like Hannah and Charles, your wedding has been affected by Covid, the couple have this advice for you.
"Just keep going. By the time you get to it, you will have had so long to plan that everything should be fairly straightforward and you won't be having to organise everything last minute."
"The day will 100% be worth whatever stress and upset you have had."
"I think you have to expect that some people (especially older family members) may not feel comfortable coming, even if there are no official restrictions in place."
"Just know it probably won't affect your day as everyone else is there to celebrate you and your partner."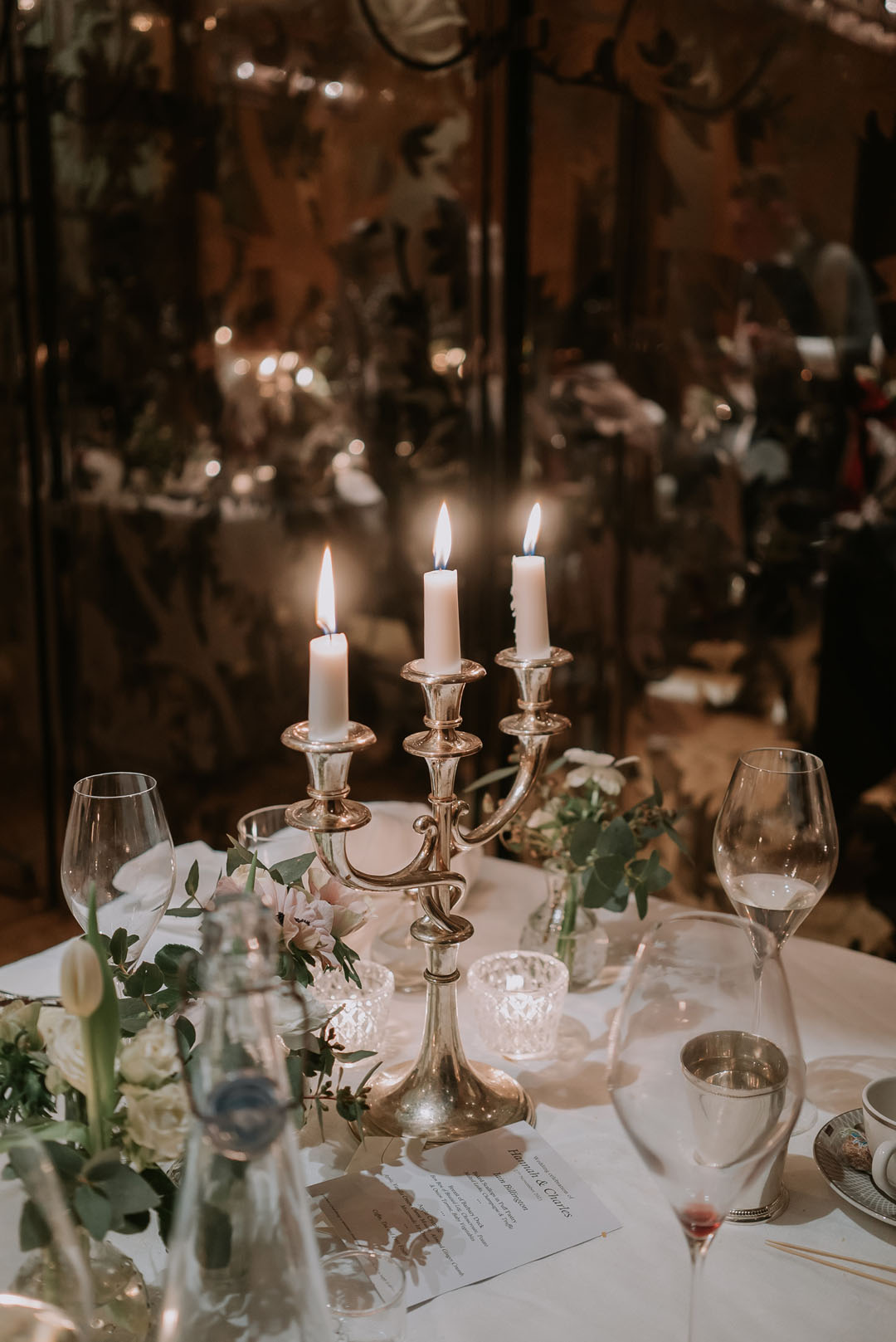 "We didn't have a first dance. After the meal, we moved to the Jazz bar, Scarfe's Bar, in the hotel."
Rosewood London catered the elegant dinner party, with music from harpist Kevin Lee.
"He was amazing."
Words of Wedded Wisdom
"Hire a videographer."
"Organise in advance who you would like pictures with."
"Enjoy every second as this is probably the only day that will ever just be solely about you and your partner."
"Make sure your bridesmaids are organised so that they can take all the pressure off on the day."
What a treat to be a part of your day, Hannah and Charles. Thank you and congratulations. Marta Ilardo Photography, thank you also for your sublime work.
If you'd like to explore more of Pronovias' gowns, please take a look at these Love My Dress features.
Ele xx