Faye & Hugo's Vibrant, Bohemian Inspired Marquee Wedding in the Peak District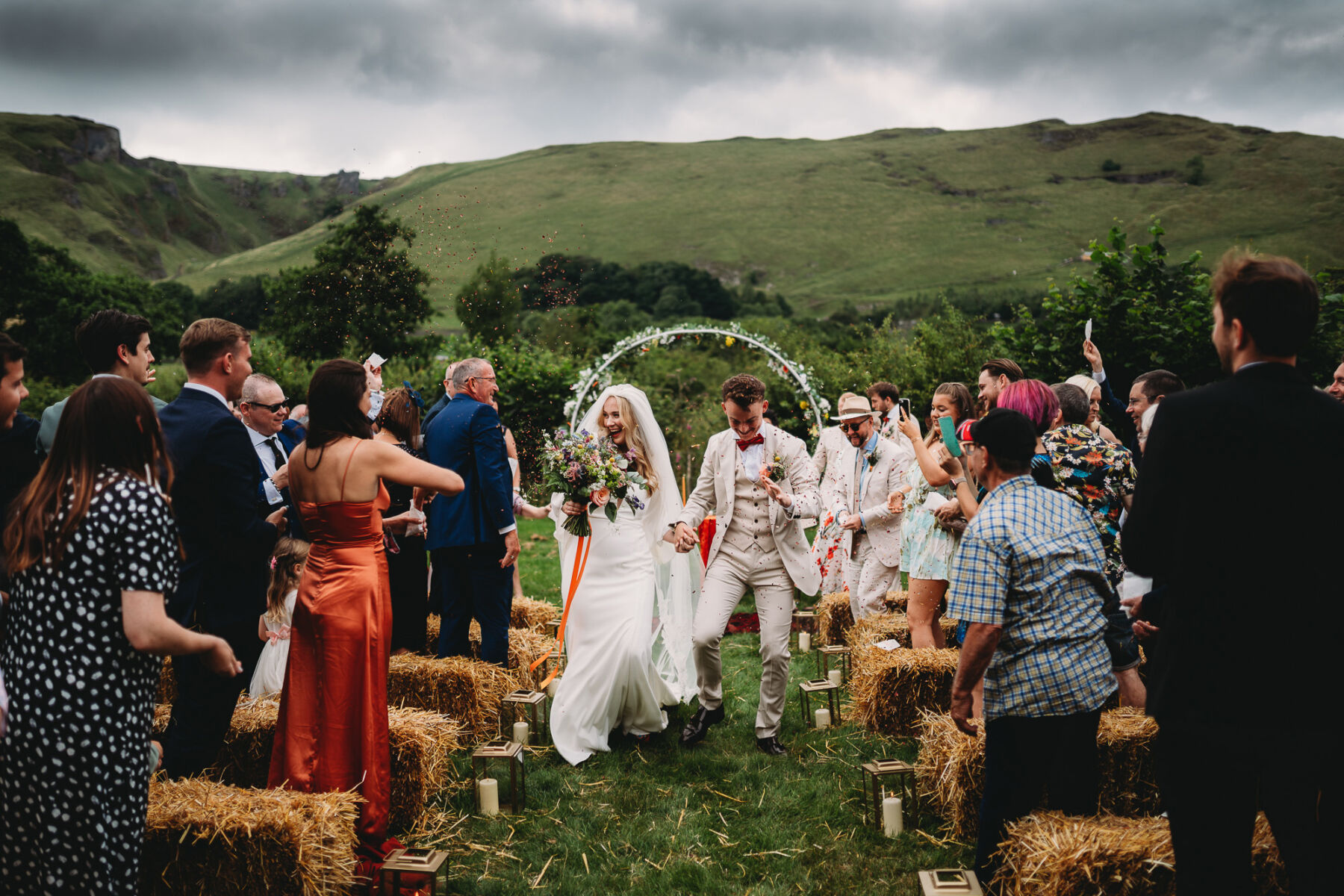 Today's wedding has the beautiful Peak District as its backdrop, against which Faye and Hugo created a funky, colourful, outdoor festival celebration which looks like the ultimate in fun.
This is the wedding of Hugo, owner of a cleaning and facilities management company and Faye, who works with him on HR and marketing, on 24 July 2021. Their venue was Dunscar Farm, near Castleton in the Hope Valley, Derbyshire, where the couple hosted an outdoor wedding ceremony and a colourful, vibrant reception in a traditional petal marquee from A&M Marquees. 
Photography Fly On The Wall Photography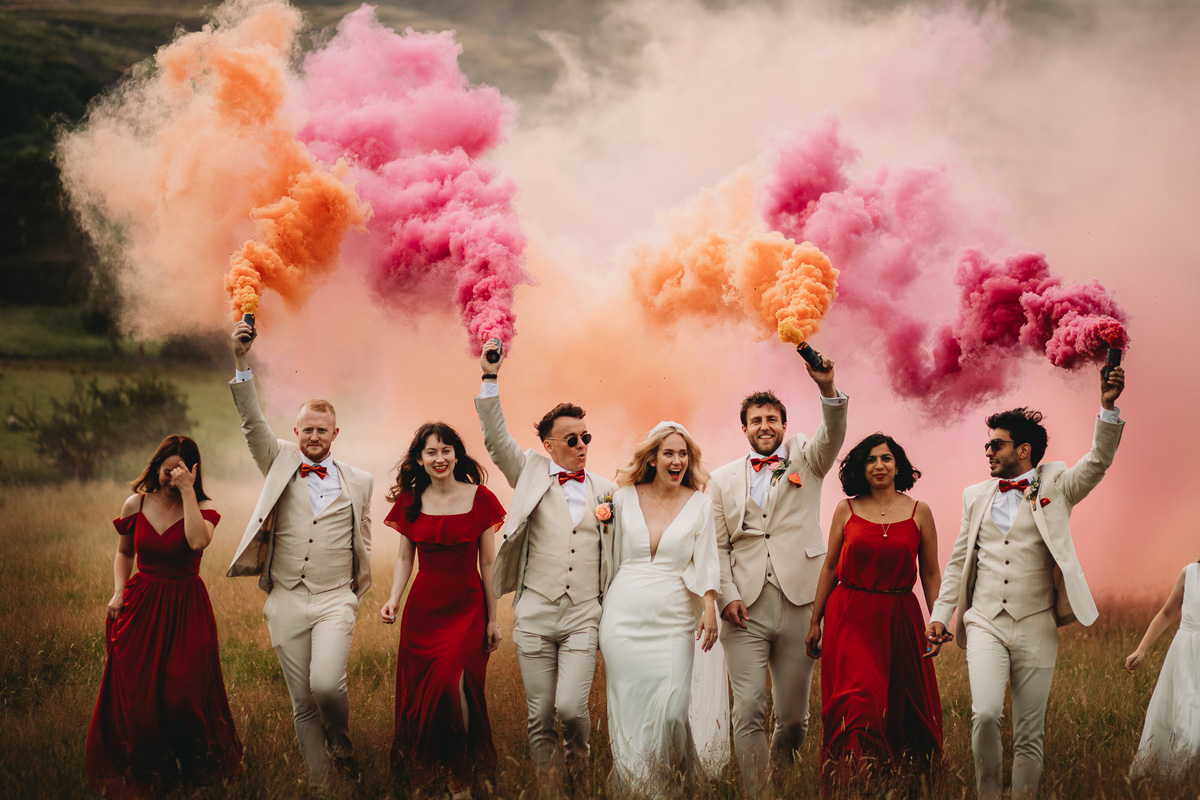 "We've had a fondness of the Peak District and going on long walks since we met. Hugo grew up walking the hills with his family."
"Castleton is somewhere we visit frequently and we figured if we're going to the expense and having lots of family travel from far and wide then we ought to create a spectacular atmosphere. Winn Hill and Winnats Pass looming over our setting gave us just that."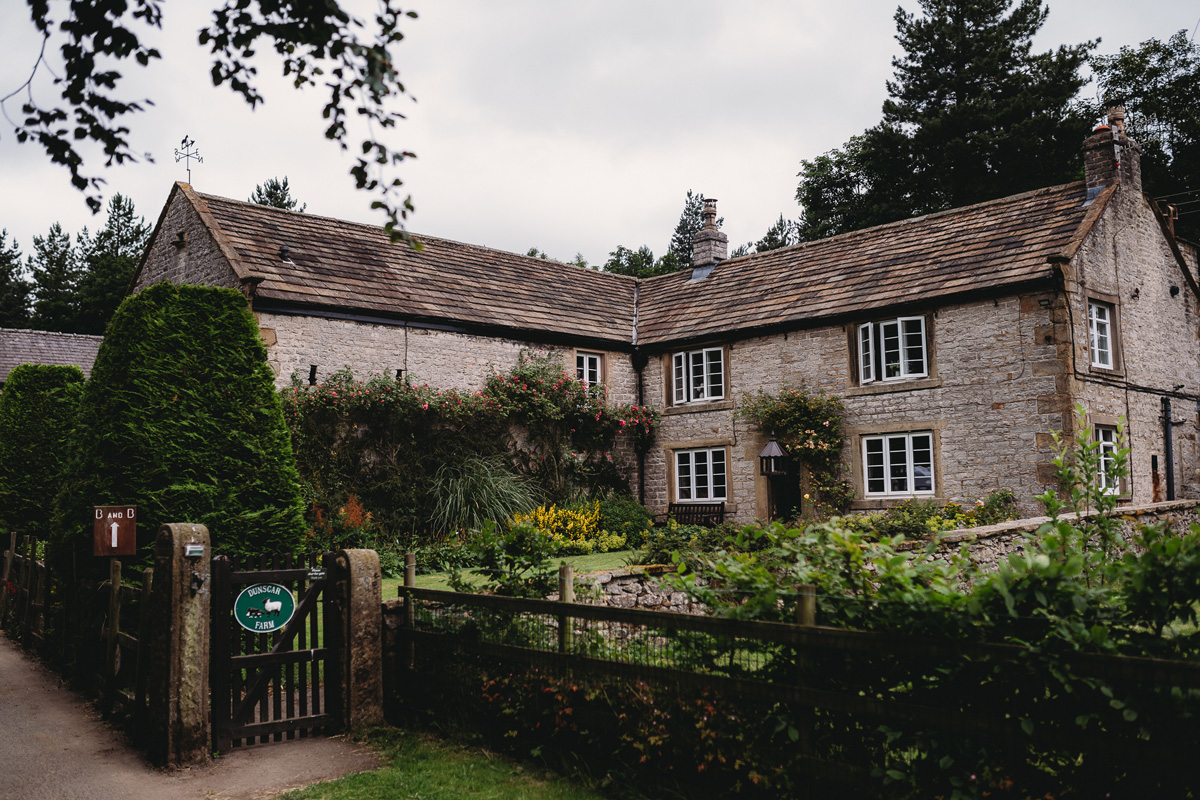 "Naturally, the Peak District was at the forefront of my mind when styling. We chose earthy colours. The bridal party wore rusty orange, inspired by the most beautiful sunset skies over Hope Valley."
"Accents of the same colours were incorporated into the groomsmen's outfits, with rust, velvet bowties. We wanted a romantic, decadent feel with touches of bohemia, in a natural setting."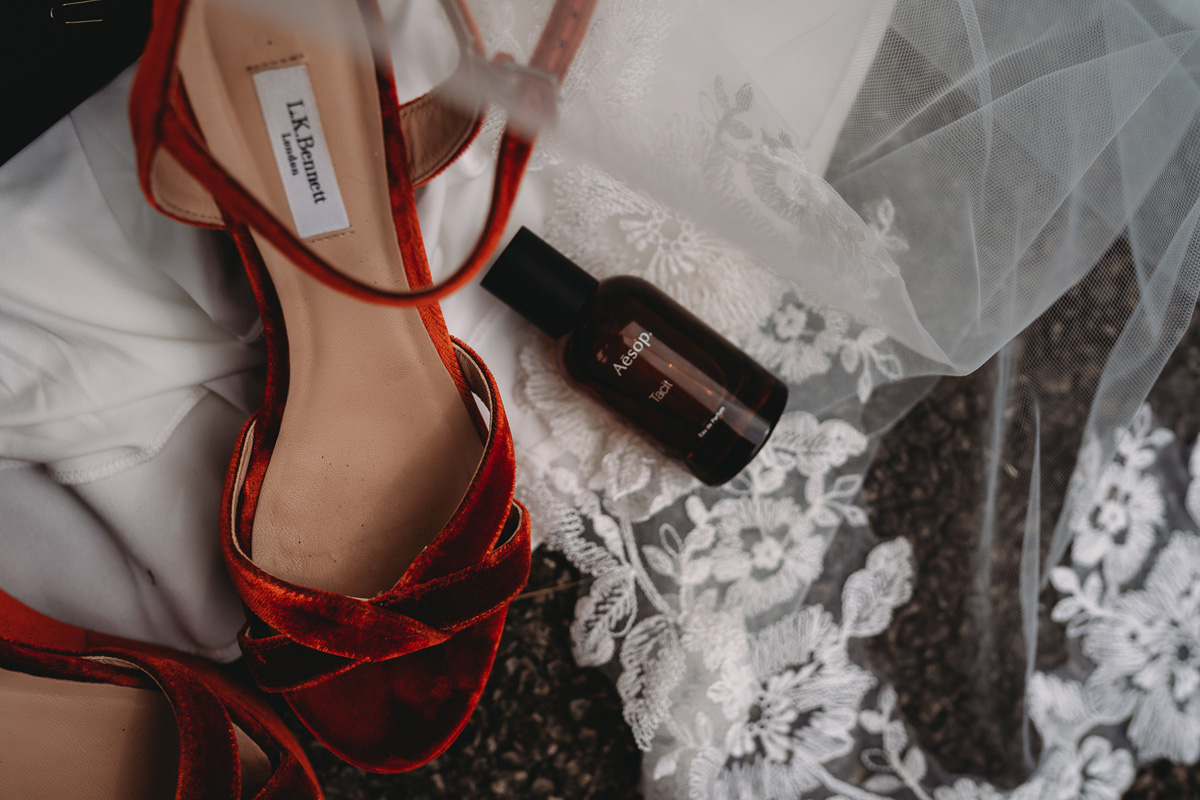 The bride did her hair and make-up herself, creating a gorgeous, wavy down-do and flawless skin with a statement, orange-red lip. Her fragrance was Tacit by Aesop.
"I chose a fine gold chain with a single pearl drop from Lily & Roo and a matching bracelet and pearl earrings. I wanted something delicate and fairly traditional."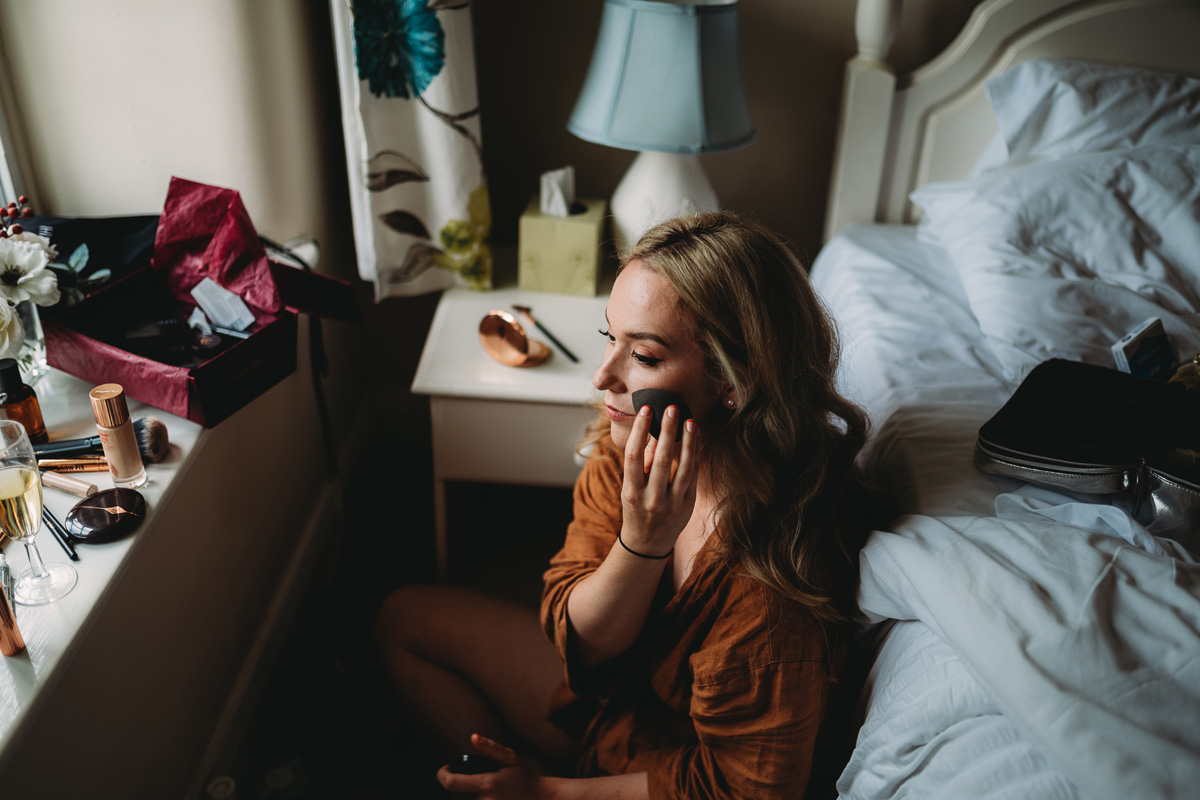 The bride's fitted, batwing gown was the Justin Alexander 'Luna' gown, purchased at Emily Bridalwear in Sheffield.
"They are such a fantastic bunch of ladies, who made me feel so welcome. I hadn't been able to get an appointment as we'd been in lockdown for so long, so when I tried to book a consultation online there was no availability.""
"I sent them an email and Emily was so lovely, they squeezed me in an appointment and assured me that we would find the dress of dreams together."
They did not disappoint! If you're dress shopping in Sheffield, look no further than these lovely ladies."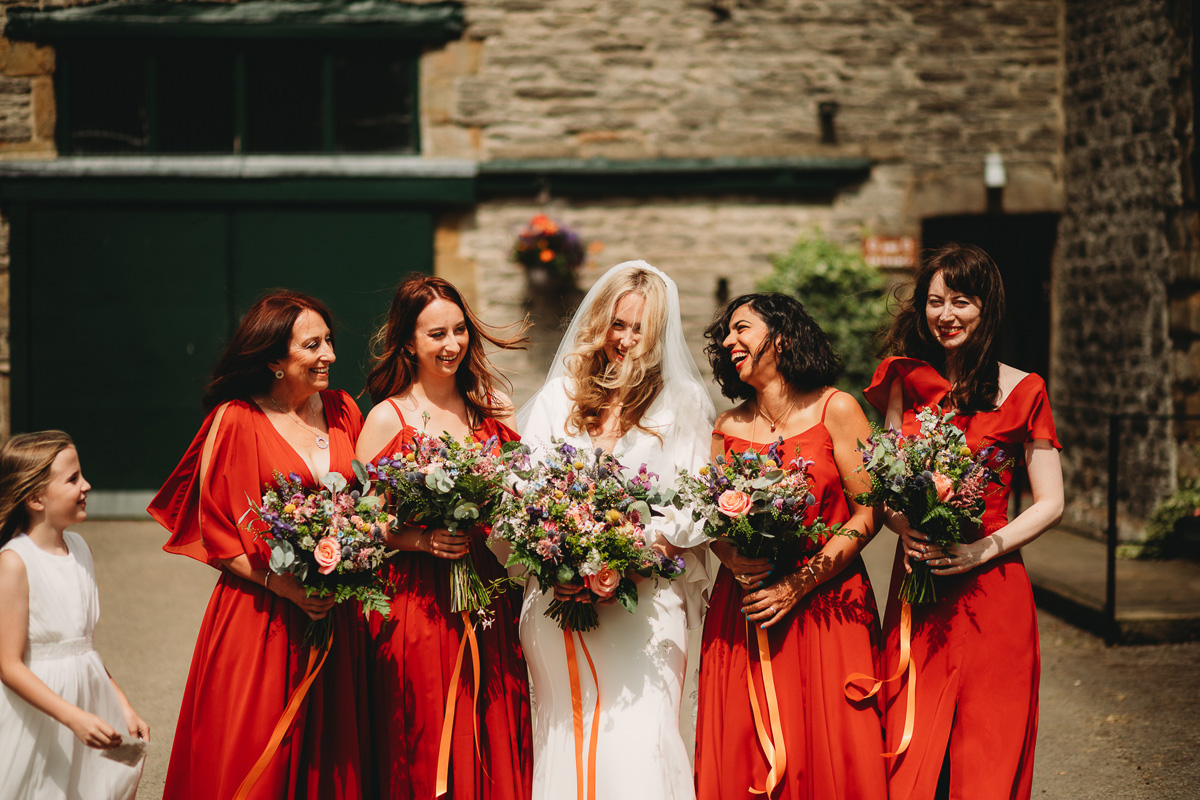 "I went in for a dress I'd seen online and came out with something completely different. I wanted something understated but a bit sexy! It was very minimal, with a low cut-away."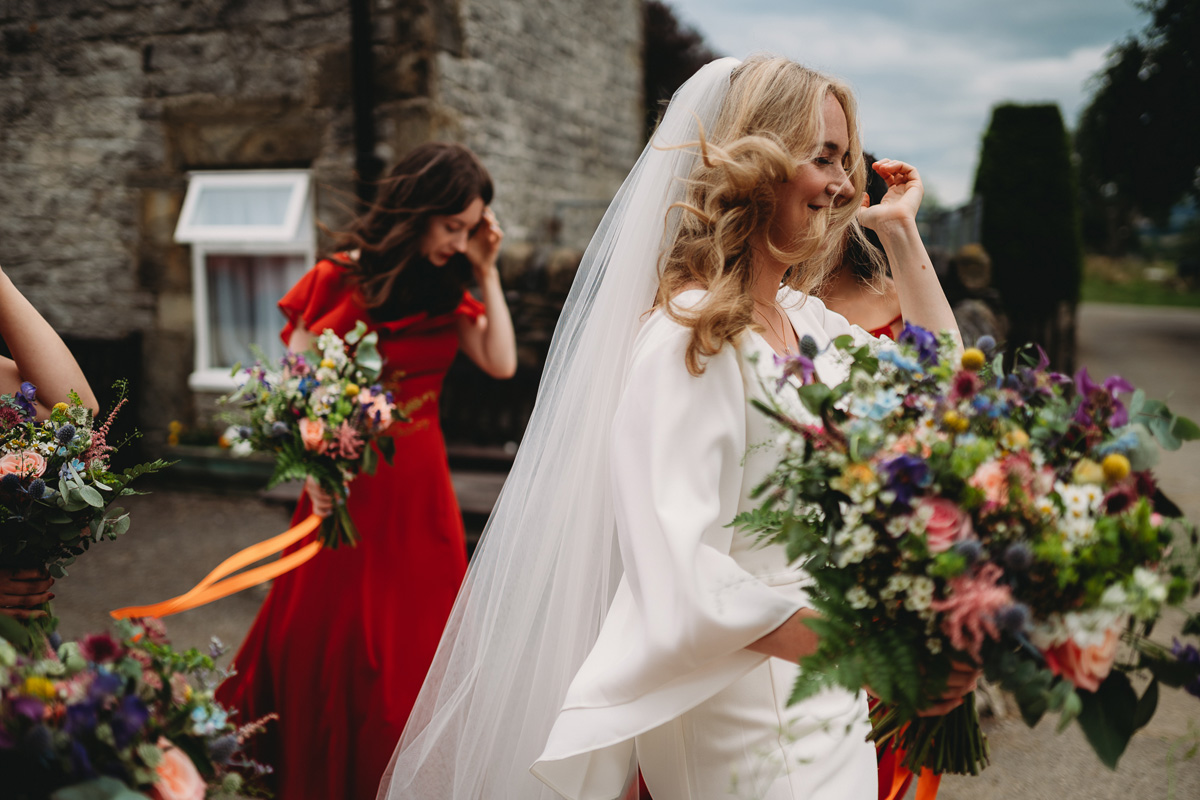 The bride's sheer, ivory lace veil was also from Emily Bridalwear and she added rust orange, velvet wedges from L.K.Bennett.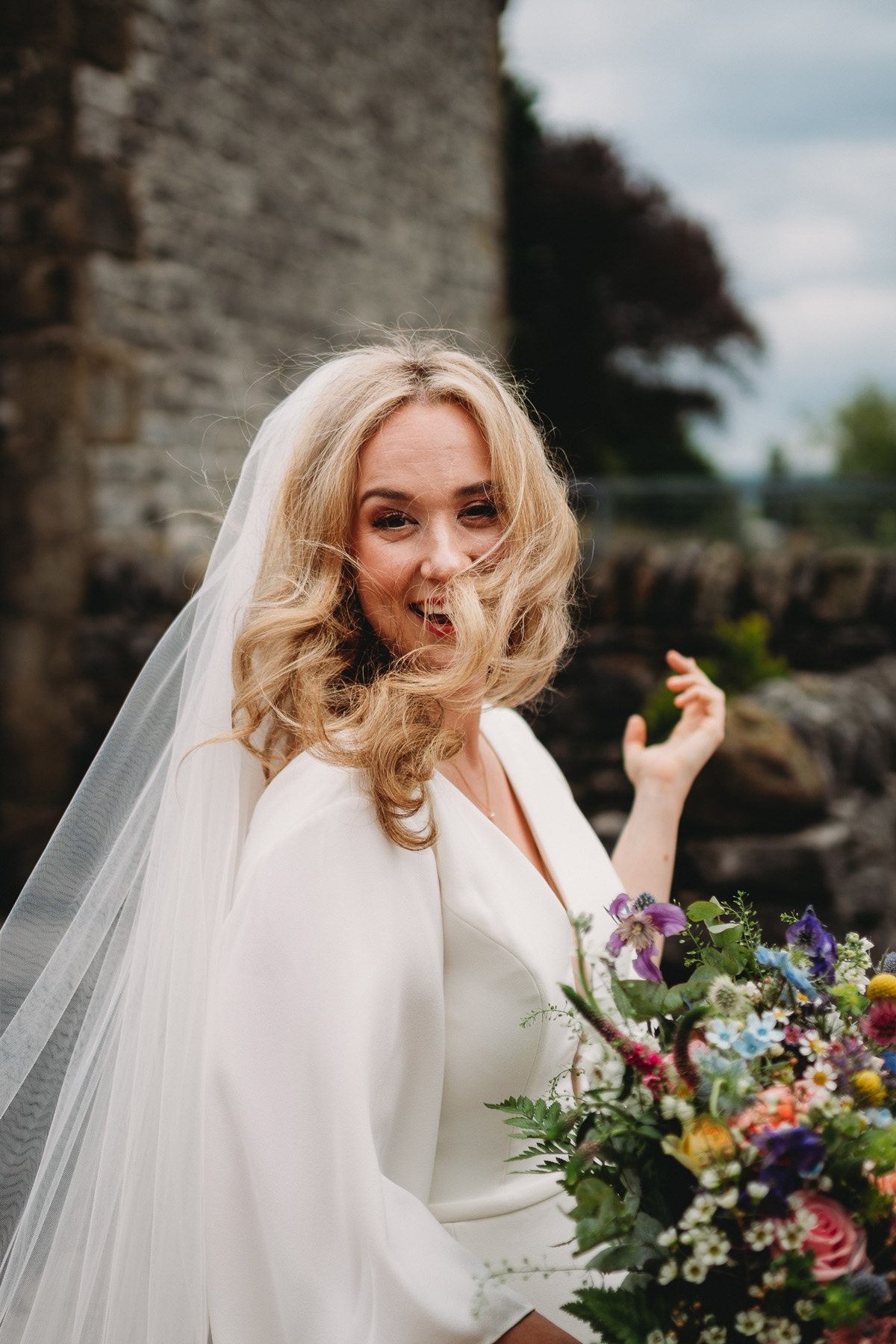 Betty's Flower Club provided the wedding flowers, the bride carrying the 'Fruit Salad' bouquet.
"I wanted to uplift the rust orange with some summery shades and was really drawn to the baby blue accents in the Fruit Salad arrangement."
"Once we had chosen the bouquets, I went on to incorporate splashes of baby blue in my styling and even toe nail paint!"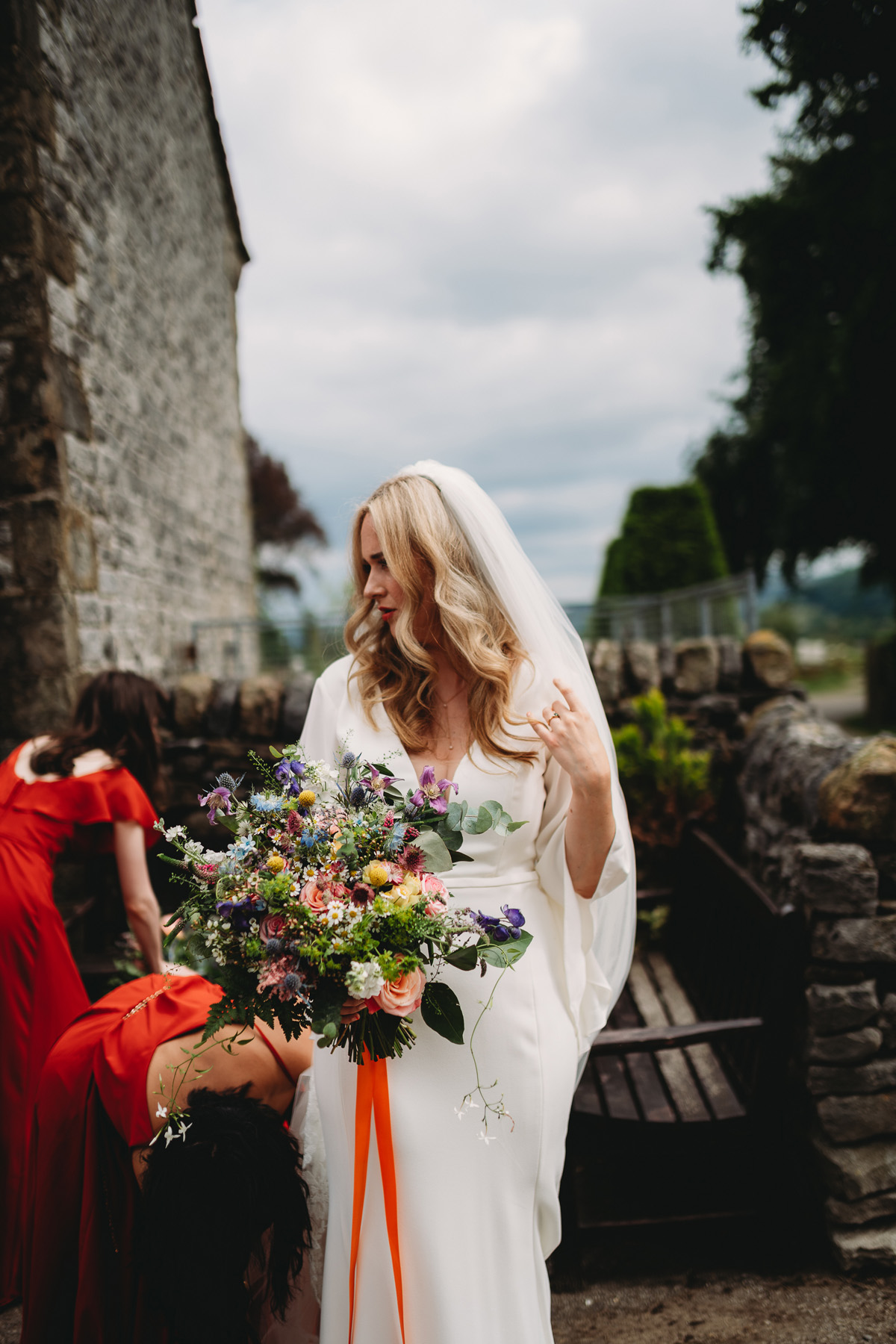 The bridesmaids wore elegant, red ruffled gowns from Babaroni.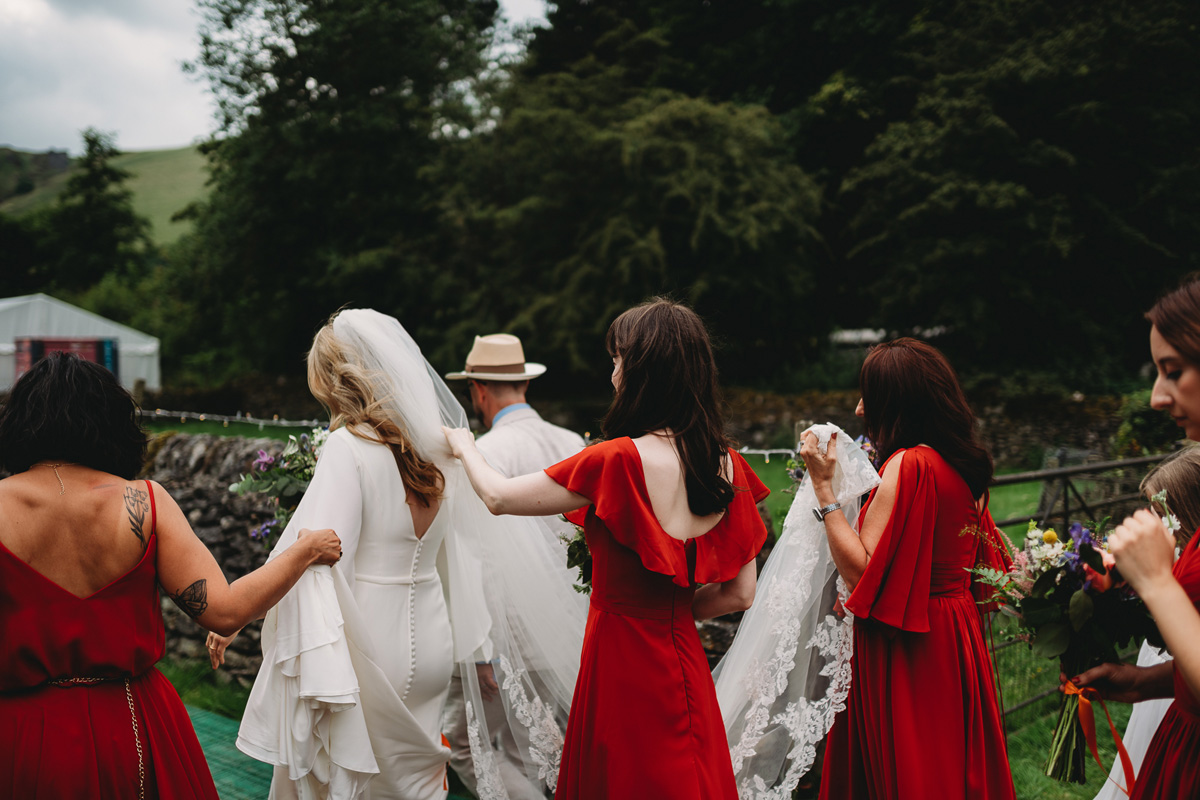 Hugo selected a neutral, three-piece suit from Reiss, adding a rusty orange, velvet bowtie from Etsy and shoes from Reiss.
Faye and Hugo met on a night out in London.
"We met at a cash machine near Finsbury Park station, in between venues. We were both living close by one another in London at the time and enjoyed dates in our local pubs.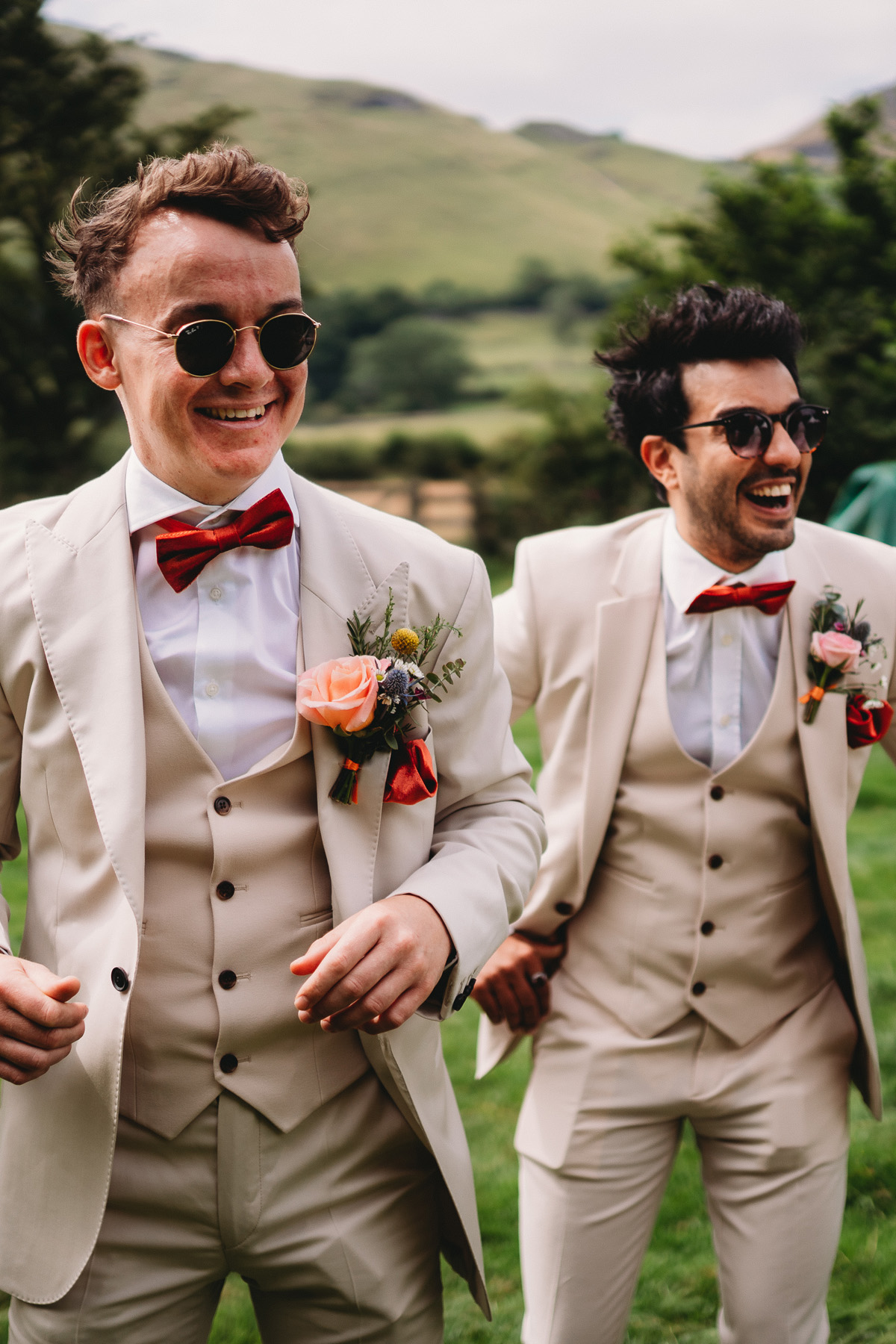 "It wasn't until around five years after getting together that Hugo popped the question in February 2019. We had just over two years of being engaged, which everyone thought was a long wait."
"Little did we know we were about to be hit by a pandemic. We still cannot believe how we dodged the series of lockdowns, with our original wedding date falling on the first weekend of restrictions being lifted in July 2021."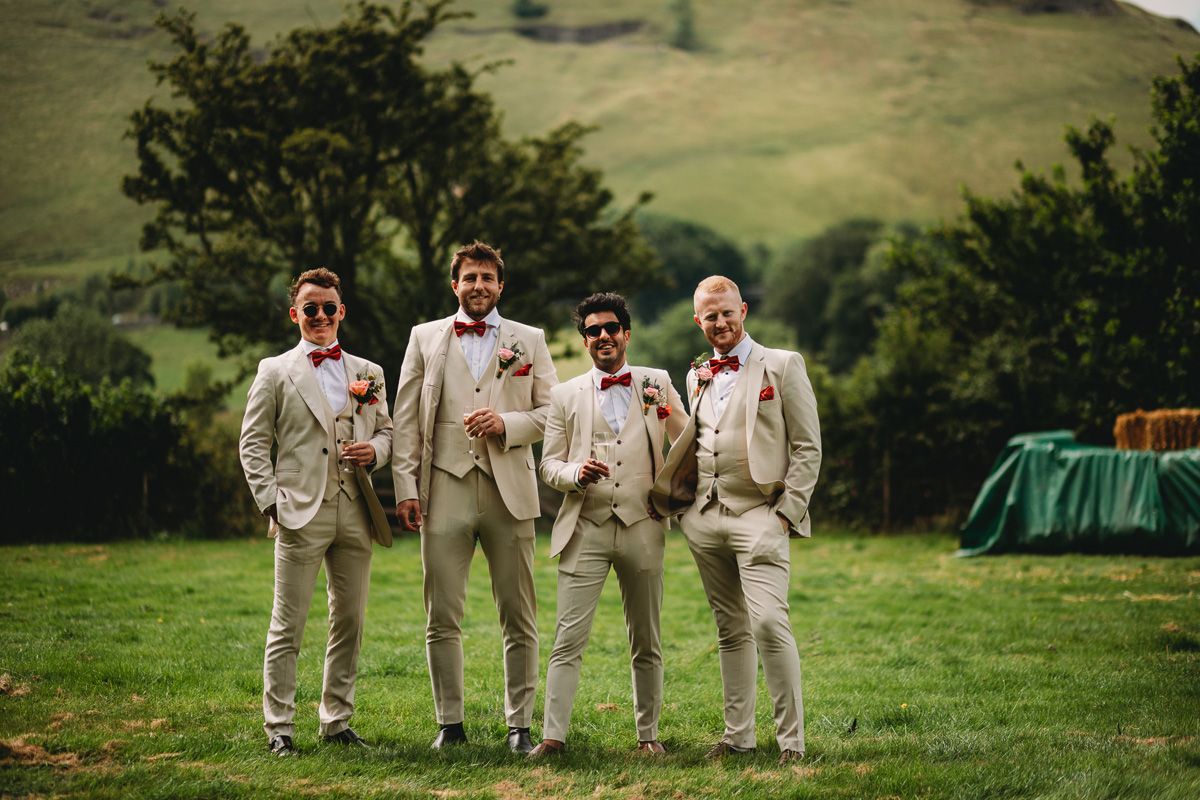 Hugo and Faye wed outside, with the Peaks view providing the ultimate backdrop. They created a ceremony space using rugs, a floral hoop and hay bales for seating.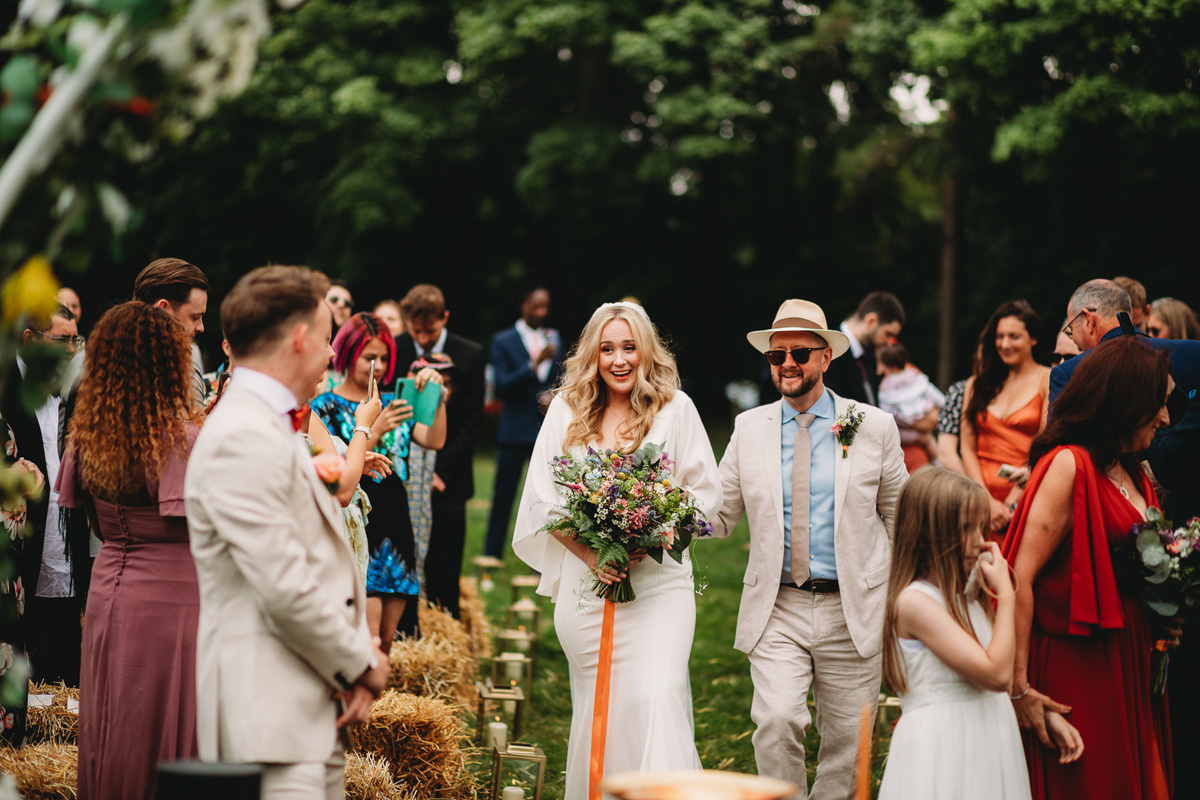 The ceremony was led by Sally, Toast Celebrant.
"Sally's presence and energy were perfect. The ceremony kept everyone engaged and entertained."
"So many people commented on how unique it was – there were no flat moments and everything was so carefully crafted to be unique to us."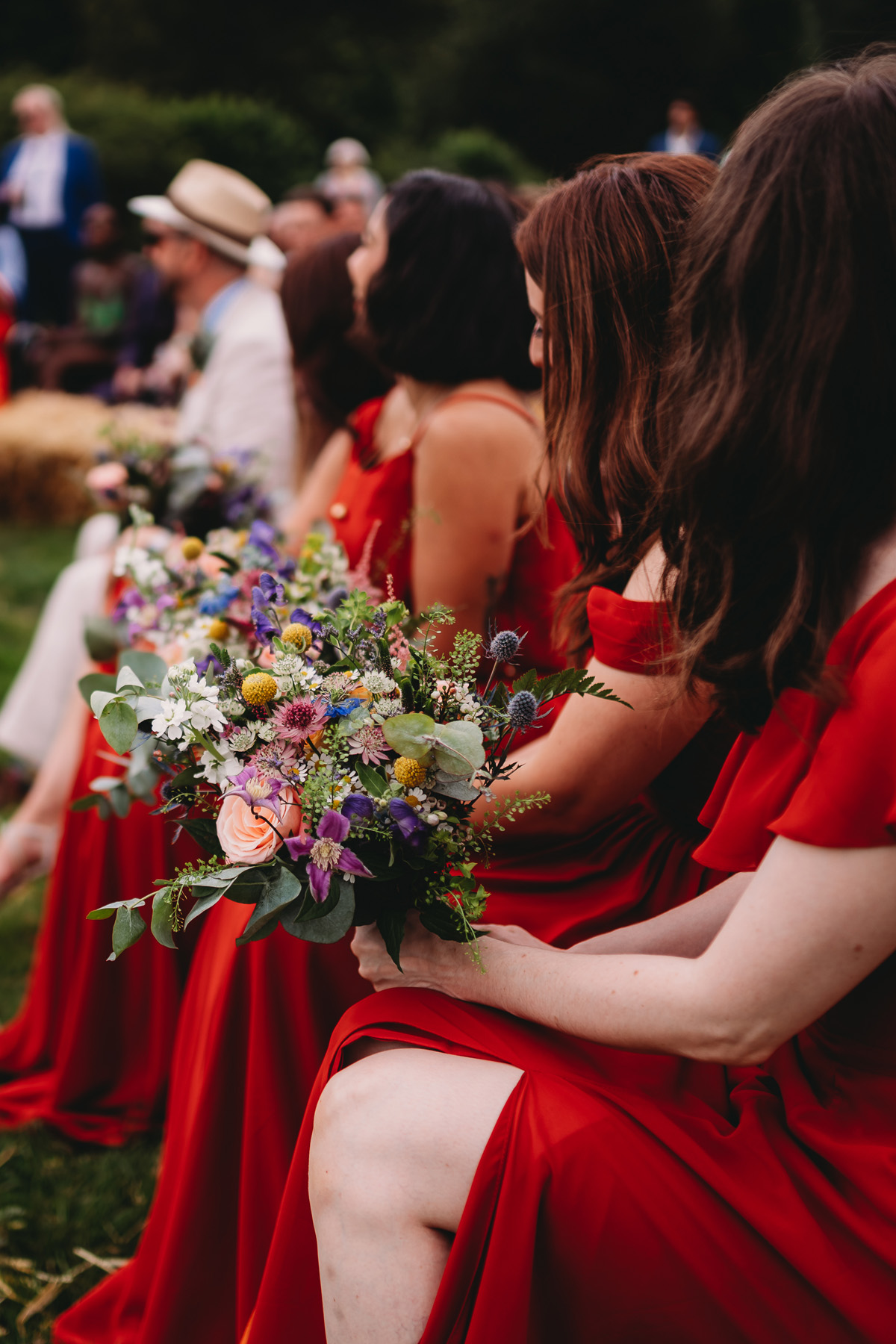 "I had both my mum and dad join me in the processional walk down the aisle. My mum wore a rust orange dress, the same as my maid of honour and bridesmaids. She was in front of me and my dad was by my side. I walked down the aisle to 'Avril 14th' by Aphex Twin."
Celebrant Sally has provided some insights behind the ceremony and its meaning.|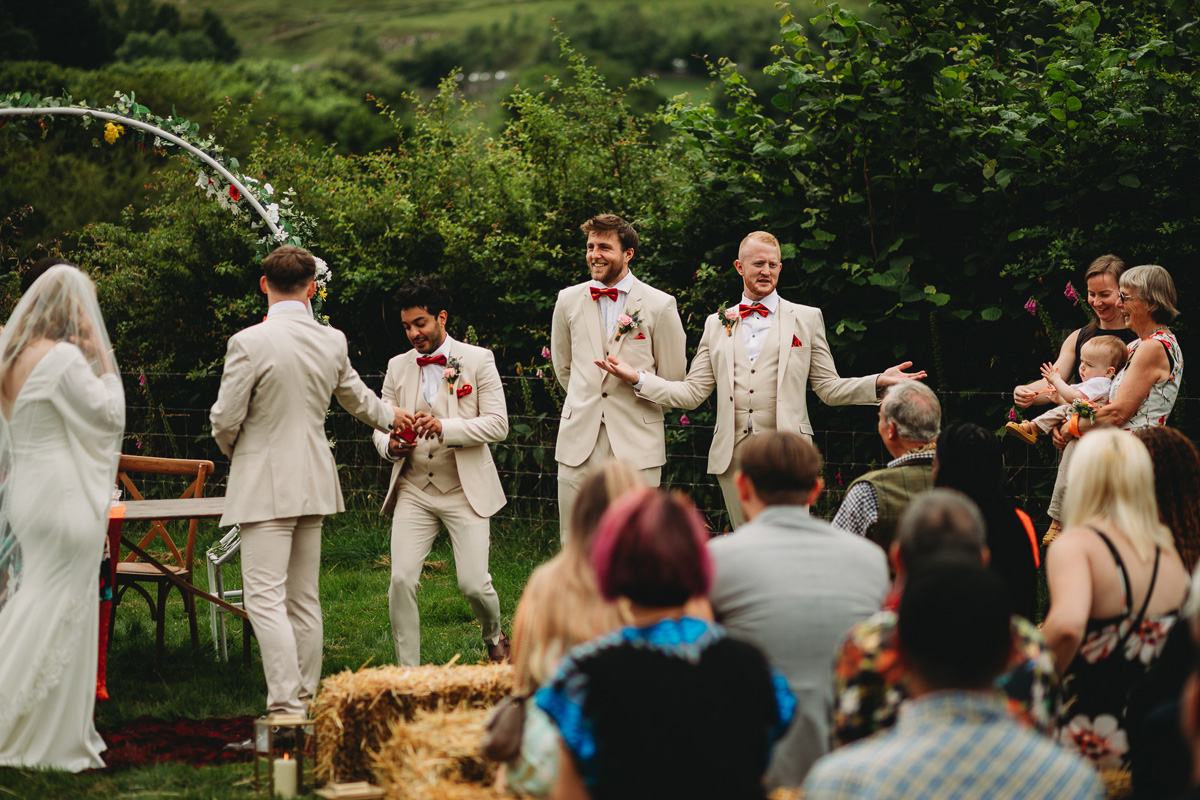 "Faye and Hugo wanted their ceremony to be super-chilled with festival, party vibes. They wanted something totally bespoke and personal to them, something all their friends and family would enjoy every second of. Faye and Hugo wrote their own vows which were just beautiful and from the heart with a few snippets of song lyrics thrown in to give a nod to their love of music and partying."
"They chose to keep their vows secret from each other until the day and there wasn't a dry eye in the house when the time came to recite them."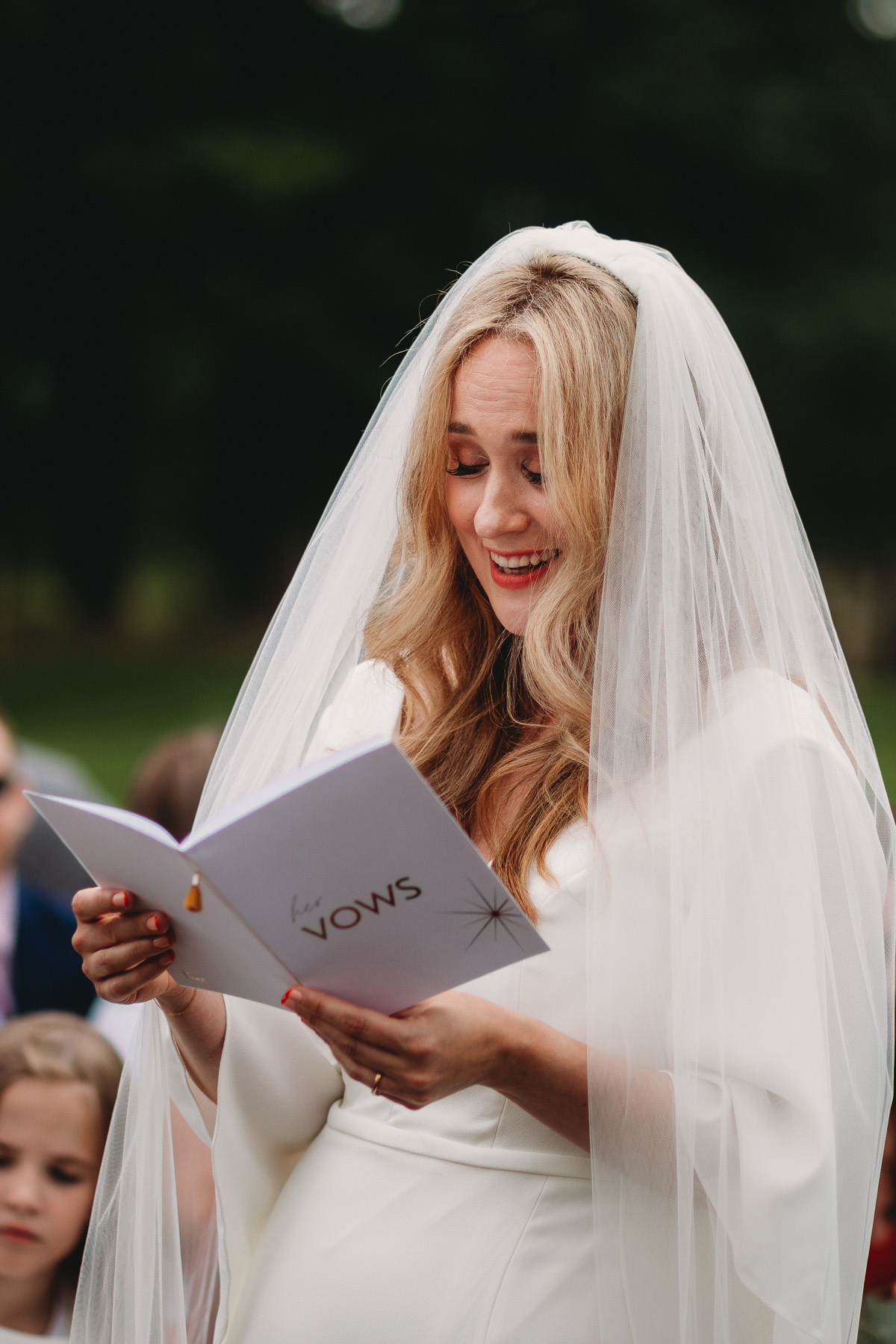 The bride's sisters read John Cooper-Clarke's 'I Wanna Be Yours' and Hugo's sisters created their own beautiful reading.
"In it, myself, Hugo and our son Rufus were re-imagined as a family of dinosaurs. It doesn't sound too flattering but it really was very sweet."
Hugo and Faye exchanged matching engraved, gold Cartier rings.
"We both wanted a thick band and they had a good selection."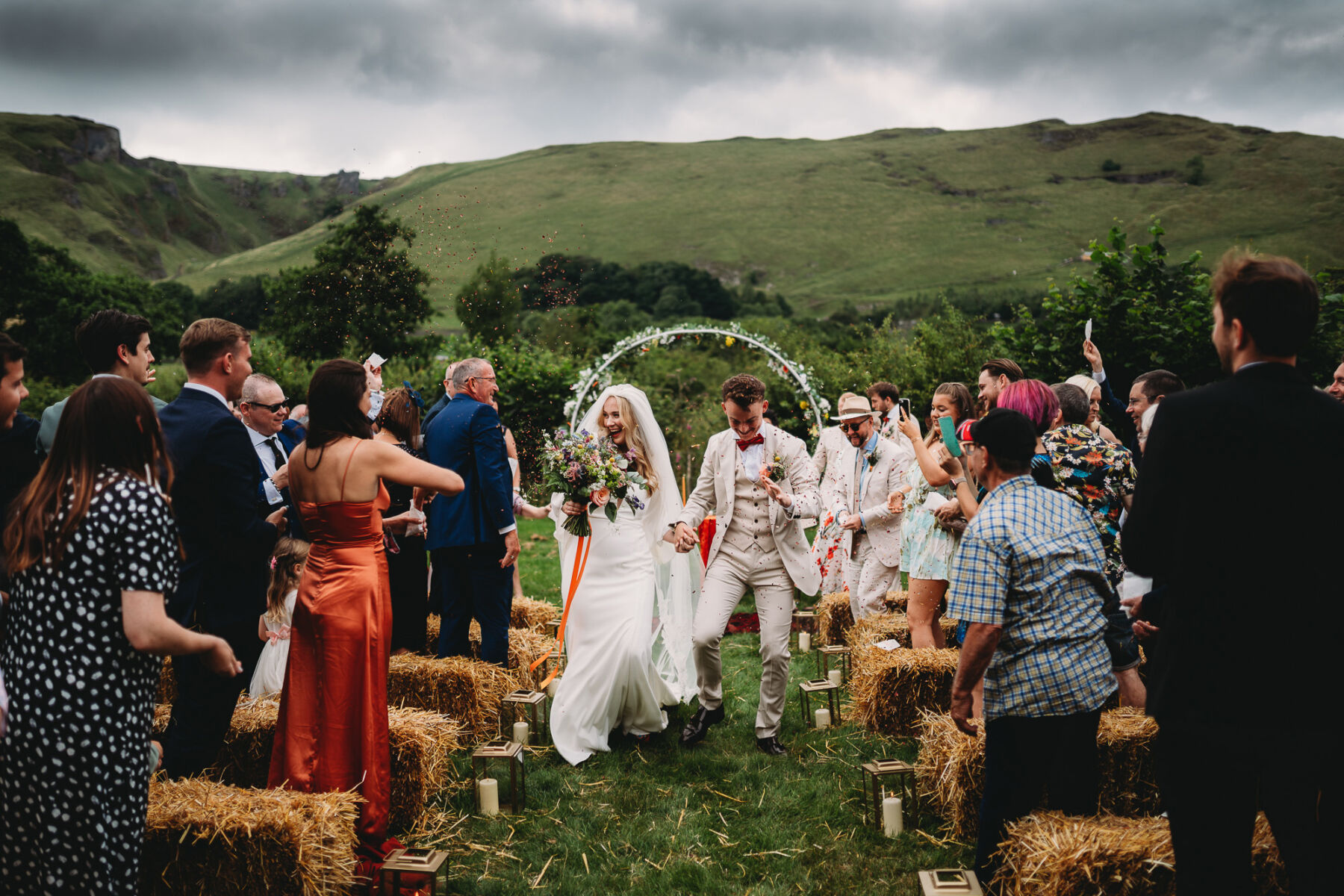 The couple chose a majestic marquee from A&M Marquees which they filled with foliage, fairy-lights and candles.
"A great chap called Mark from A&M Marquees in Cheshire supplied our wonderful traditional, petal marquee."
"With its peaks and swoops in the roof, this seemed like such a fitting structure to go with, taking on the shape of the surrounding peaks and valleys. Perfect."
"A&M Marquees provided all the uplighting and chandeliers in the marquee, as well as our sound system."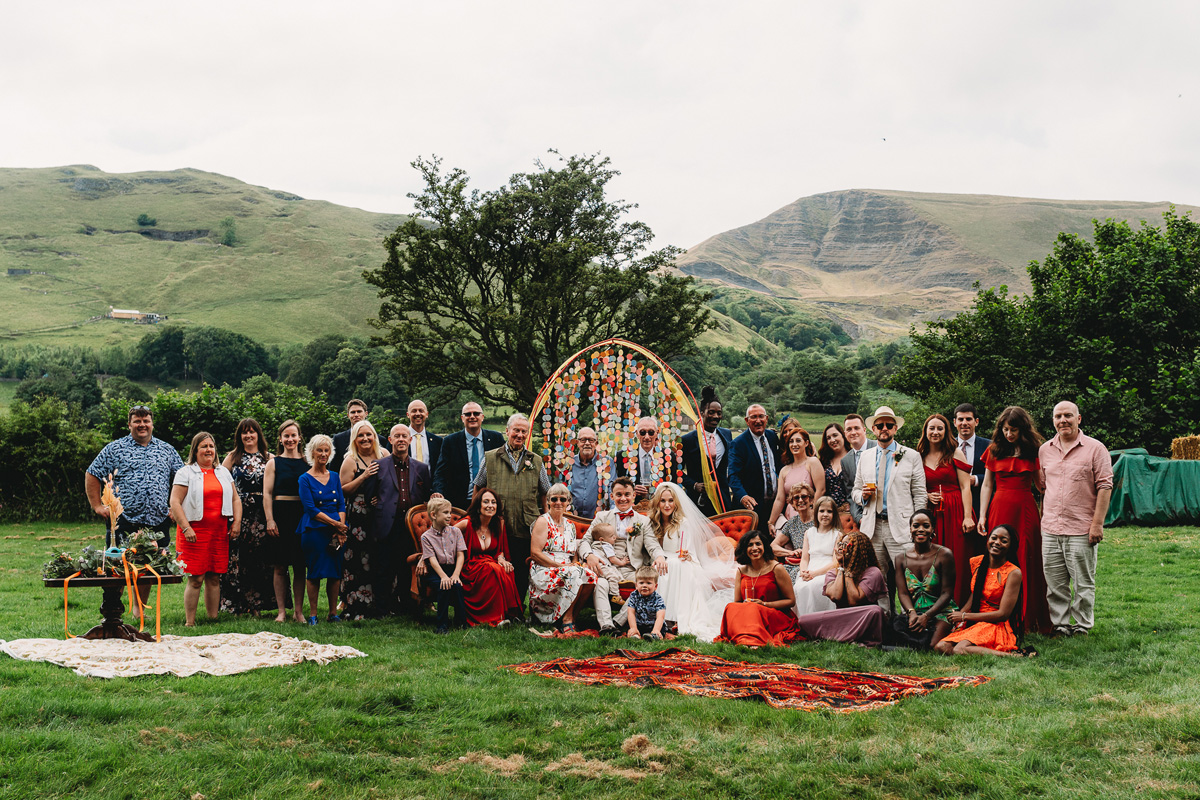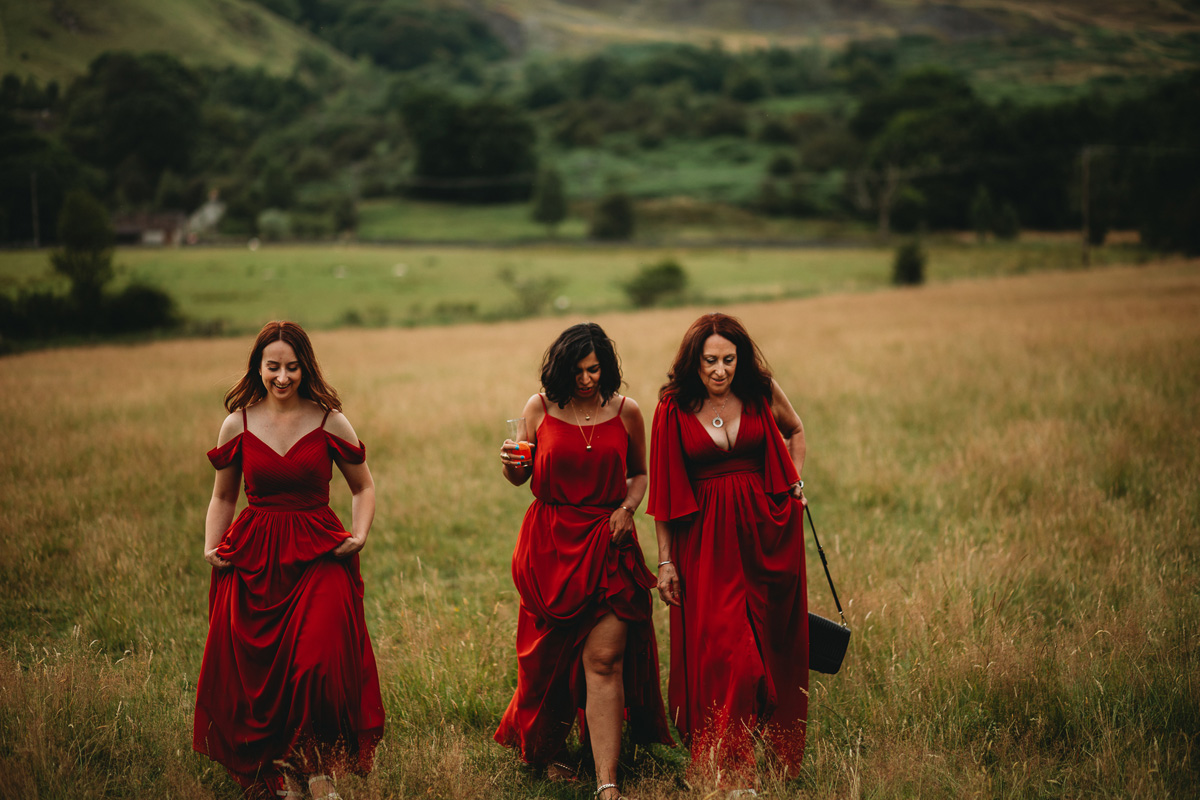 Photographer Adele of Fly On The Wall Photography has provided this epic insight into the couple's celebrations, capturing the finer details as well as the glorious Derbyshire views.
"Adele was recommended by Rachel at our venue. As soon as we checked out her work online, we were confident she was the right woman to go with. She has such a natural and gorgeous style, and captures a real depth and rich quality in her work. Everyone commented on how relaxed she was, just great fun to be around."
The couple were keen to plan and style their wedding themselves, using the extra time through lockdown to delve into the finer details and carefully choose colours, themes and supplies.
"We gave ourselves a couple of years to get plans in place, with great thanks to a bunch of fabulous and helpful suppliers who were most instrumental in everything coming together so well. We had to literally create everything from the ground up, which was quite daunting on the occasions we went to the field to meet with farm owners. I did wonder whether our set-up on the day would create enough of an impact in the middle of an empty field!"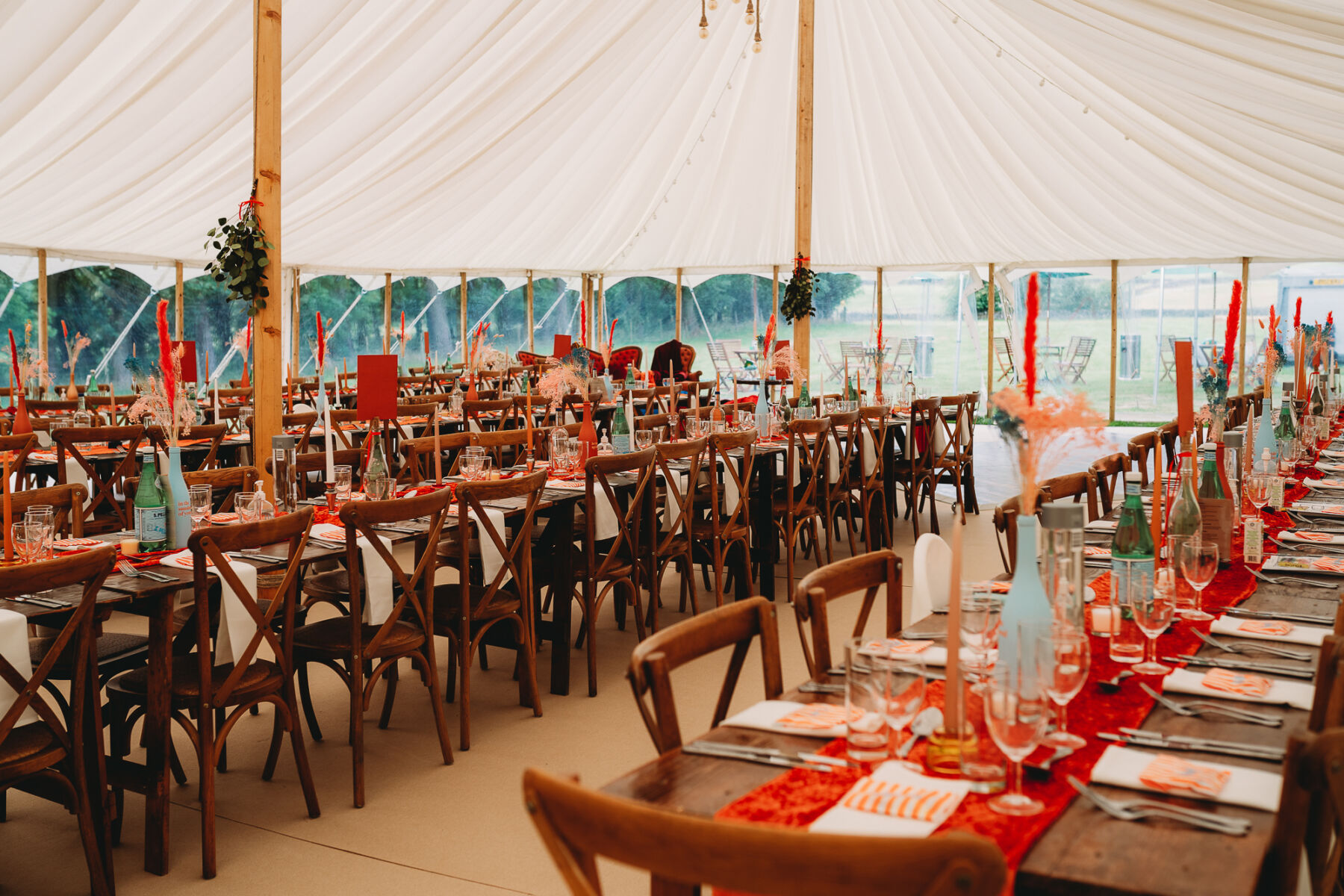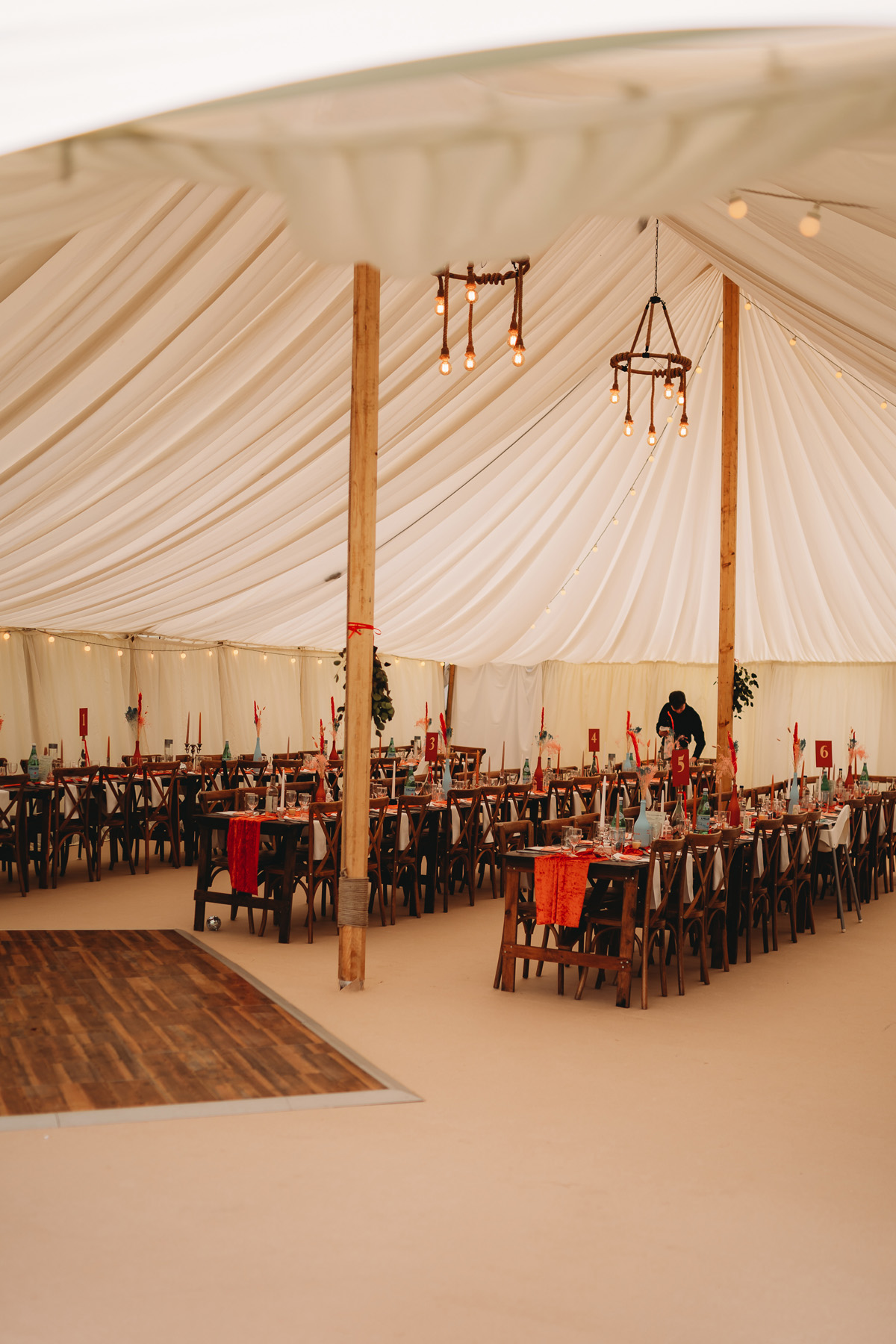 Over to Faye to describe the styling elements.
"It worked out really well to purchase some faux velvet in rust orange from Amazon which we cut into four long strips and used as table runners. We saved a fortune! I spent months dipping in and out of charity shops collecting vintage candle stick holders to use as centrepieces. I'll keep some of my faves to use on special occasions and plan to shift on the rest of them to another bride-to-be."
The bride decorated the tiers of naked sponge cake from Fiona Cairns at Waitrose with colourful macarons.
"I bought macarons to spread out around the tiers, and my florist provided some offcuts and greenery to decorate it with."
"I chose stripy orange candy bags which doubled up as placeholders, and used a baby blue pearlescent vinyl to cut out the names of our guests using vinyl cutter. I chose some pick and mix sweets to match our theme: peach sour love hearts, red gummy lips, baby blue millions, and baby pink and yellow sherbet pips. It was a vibrant bag of treats and went down really well. It was very cost effective to boot!"
"I designed and handmade all the stationery, from the invites to place names, favours to seating plan and sign boards. I purchased a font online."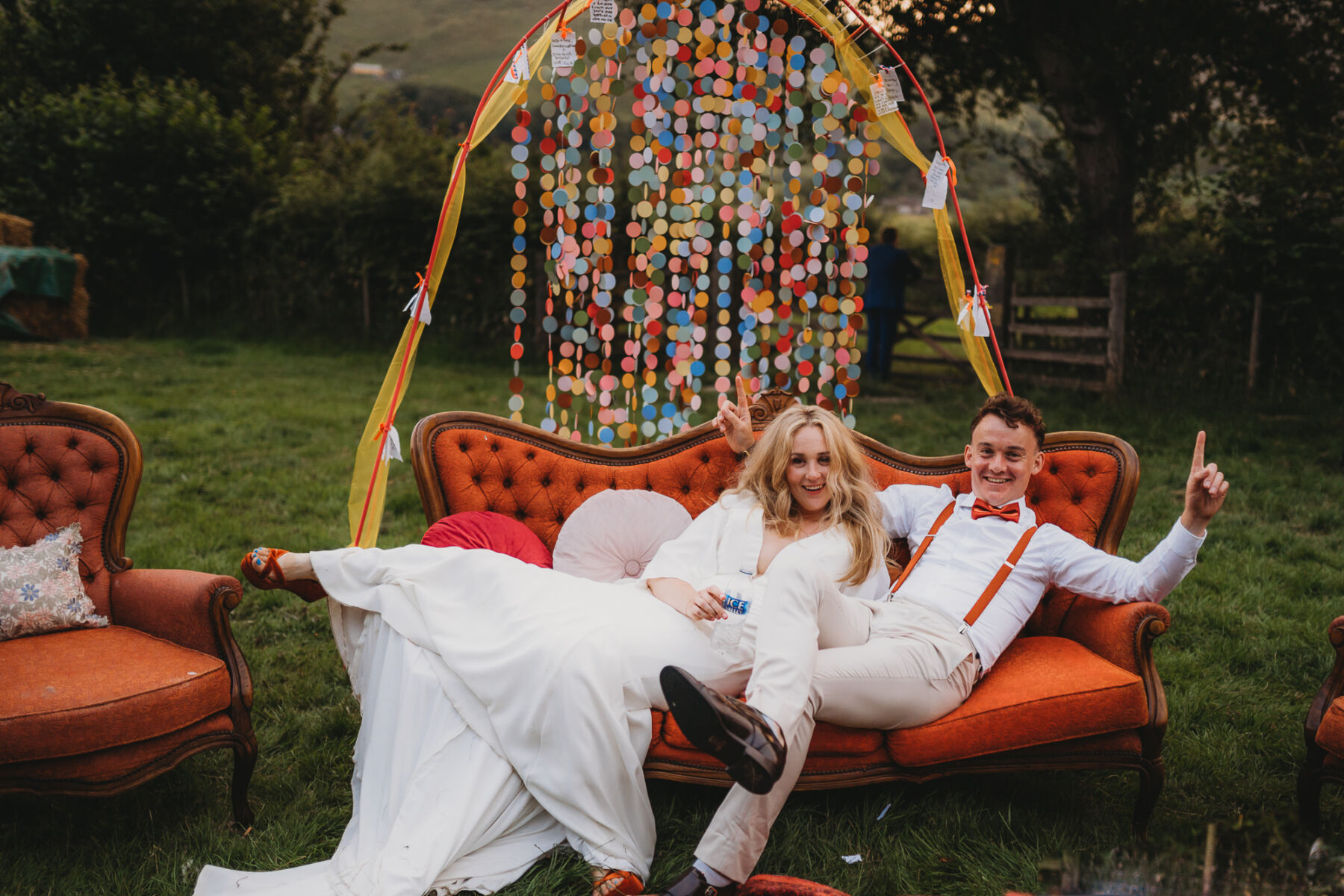 Here are Faye and Hugo's beautiful words for other couples whose days have been affected by Covid.
"Having such uncertainty along the planning process can be so stressful, especially when large deposits have been put down or you're worried about loved ones being impacted by travel restrictions and not knowing if they will be there to share your big day."
"So many of us have faced obstacles during the planning experience over the past couple of years, a time that is stressful enough! Here's to brighter days and celebrating your love with those people that mean so much. No matter where or whether it's not exactly the day you imagined, we shouldn't forget that a marriage isn't just about one day."
"Keep on celebrating, as long as you like! That special meal together, a bottle of something extra nice… keep it coming, you deserve it after all this."
Faye created the soundtrack for the day herself, with friends stepping up to the decks for the late-night party after the first dance to 'Ruler of My Heart' by Irma Thomas. 
"I spent months carefully curating a playlist and went to anorak levels of cutting down track lengths and cross-fading songs which accompanied the ceremony, drinks reception, dinner, and the start of the evening dancing."
"Hugo's friends Jake and Joel are DJs and kindly offered to get up and do their thing late into the evening, where they spanned some funk and soul and old school garage into the early hours. The dance floor was pure vibes!"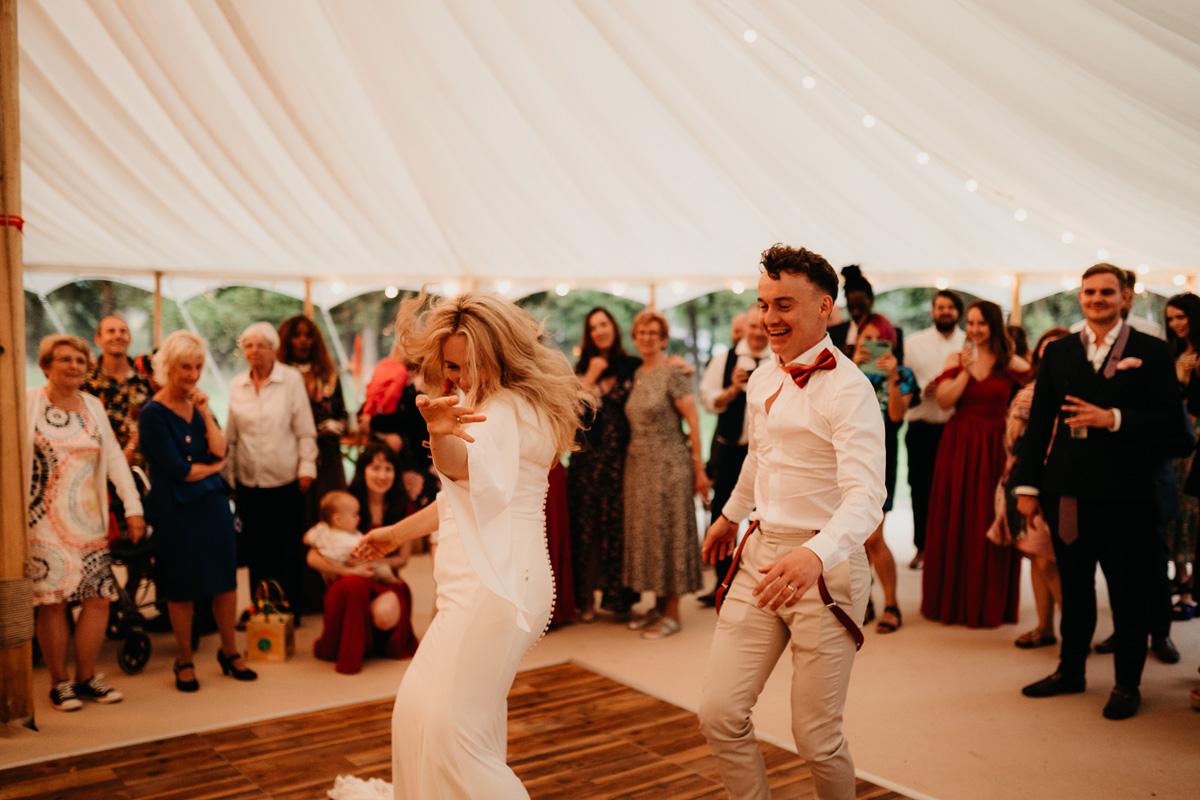 Words of Wedded Wisdom
"Don't scrimp on your photographer and/or videographer. After all your planning and hard work, having the perfect artist capture your day so spectacularly is worth its weight in gold. After all, that is all you have left of your day."
What a gorgeously colourful day, Faye and Hugo. Thank you so, so much for sharing its detail with us, and thank you Fly On The Wall Photography, too.
If you love this joyful, festival-inspired celebration, please get more inspiration from these Love My Dress features.