Sassi Holford: Love Conquers All
When it comes to excellent British bridal fashion, there should be one brand name that immediately rolls off the tongue; Sassi Holford.
Sassi Holford has been creating exquisite wedding dresses for over forty years now. She is simply absolutely brilliant at what she does. We have worked with her for several of these years and it has been the most rewarding and inspiring relationship we've built since launching Love My Dress.
Sassi is currently busy working on the design of her new collection, launching later this year, and looking after her lucky 2022 brides, but we caught up with her earlier this week to talk briefly about her latest collection, Love Conquers All, and her commitment to sustainable design.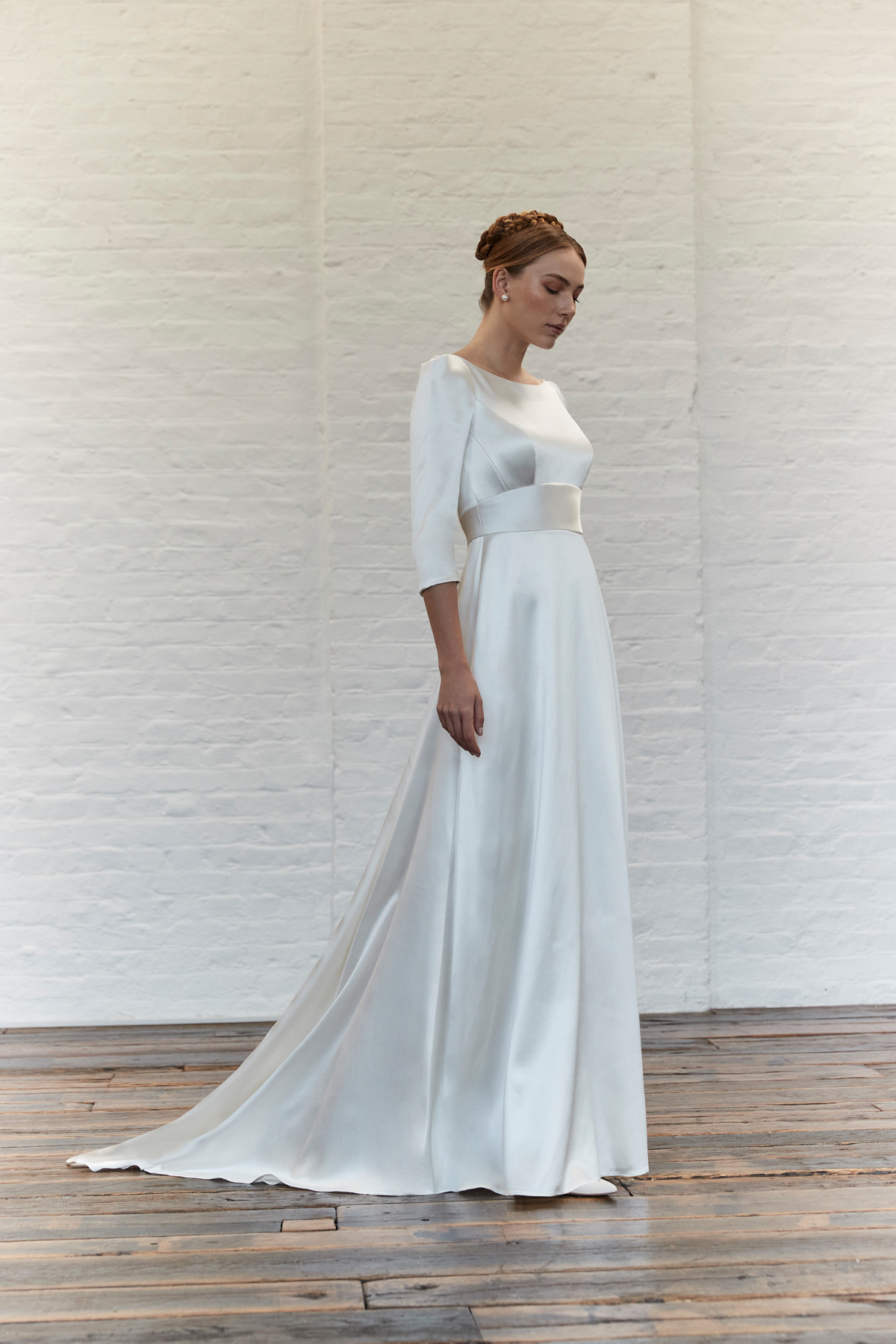 Sassi, can you briefly introduce yourself to our audience?
Hello, I'm Sassi Holford, I'm a British designer who has been designing for over forty years. Where has the time gone?! I design couture bridal gowns, red-carpet creations and ready-to-wear all in the heart of idyllic Somerset. Sassi Holford was born after a friend asked me to make her wedding dress and I've never looked back.
Sassi, please tell us what was the inspiration behind the Love Conquers All collection?
I've had the time to go back to the beginning, to look at the archives and my early collections for inspiration.  My feeling was to take a deep breath, trust my instincts and intuition, and dive in. Love Conquers All is my emotional response to what was the most challenging time in business. My brides have been my driving energy who have embraced the moment and proven that love conquers all.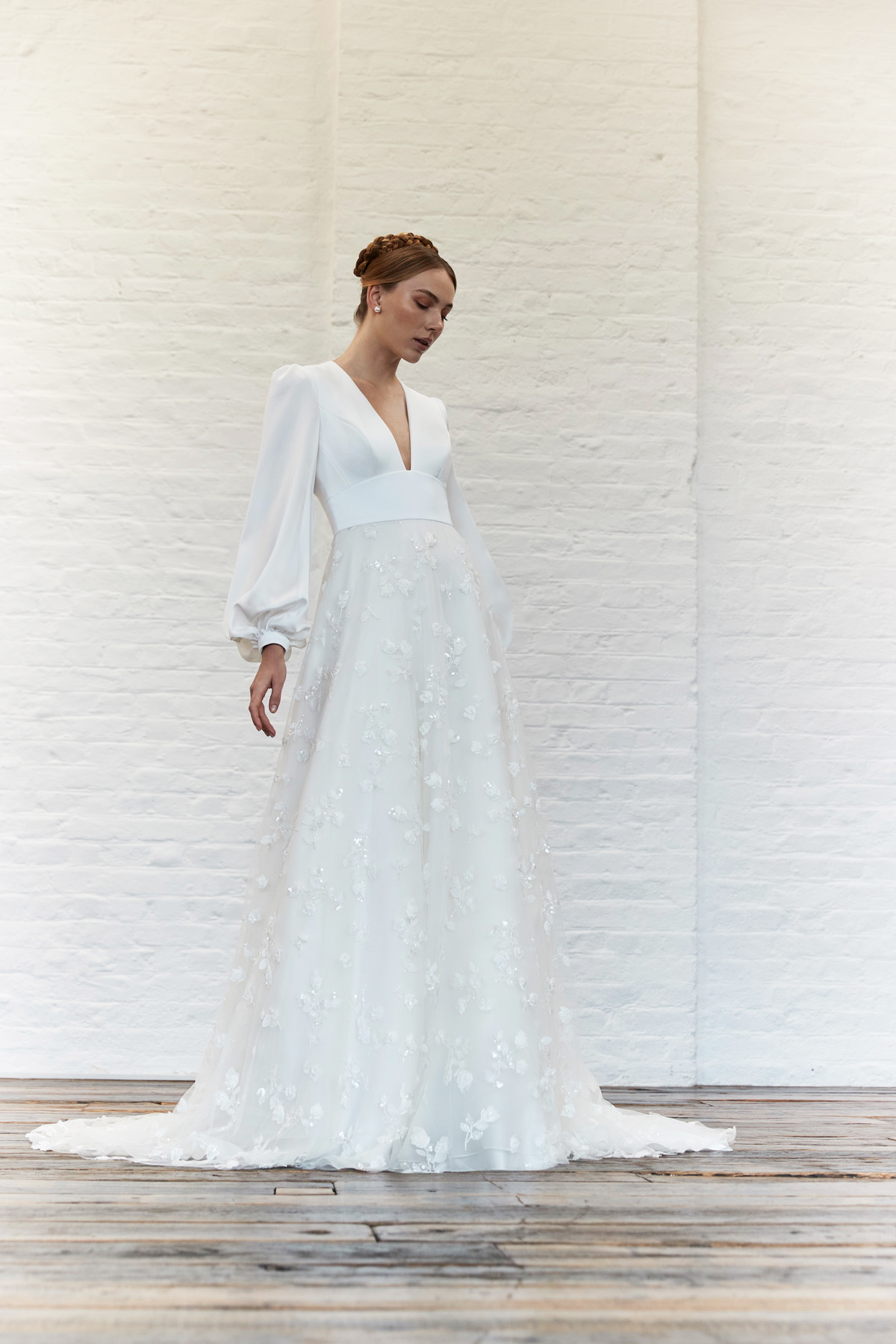 It truly feels like sustainability in the context of bridal fashion has taken a big leap forward this past two years. What efforts is your brand making to produce more sustainably and ethically?
We have a number of schemes that I am proud to be part of to offset our production and be kinder to the planet. All our bridal and ready-to-wear collections are made here in England; it ensures our carbon footprint is low and also supports British manufacturing which is something I am passionate about.
We try to source our fabrics from the UK or Europe where possible too. We recycle and reuse the majority of our by-products, building partnerships with other likeminded business and designers including Phoebe English, Creating Tomorrow's Forest, Lulu and Inner Wheel as well as local schools and colleges.
We have also made the following commitments as a business:
We are committed to the Climate Pledge to become carbon neutral brand by 2030.
Over the next three years we aim to reduce plastic use by 50% and ensure we recycle 80% of our waste.
You can read more about what we are doing on our here.
It's difficult to choose as a silhouette comes to life when it is worn. As much as I love a column nothing beats a beautiful ballgown.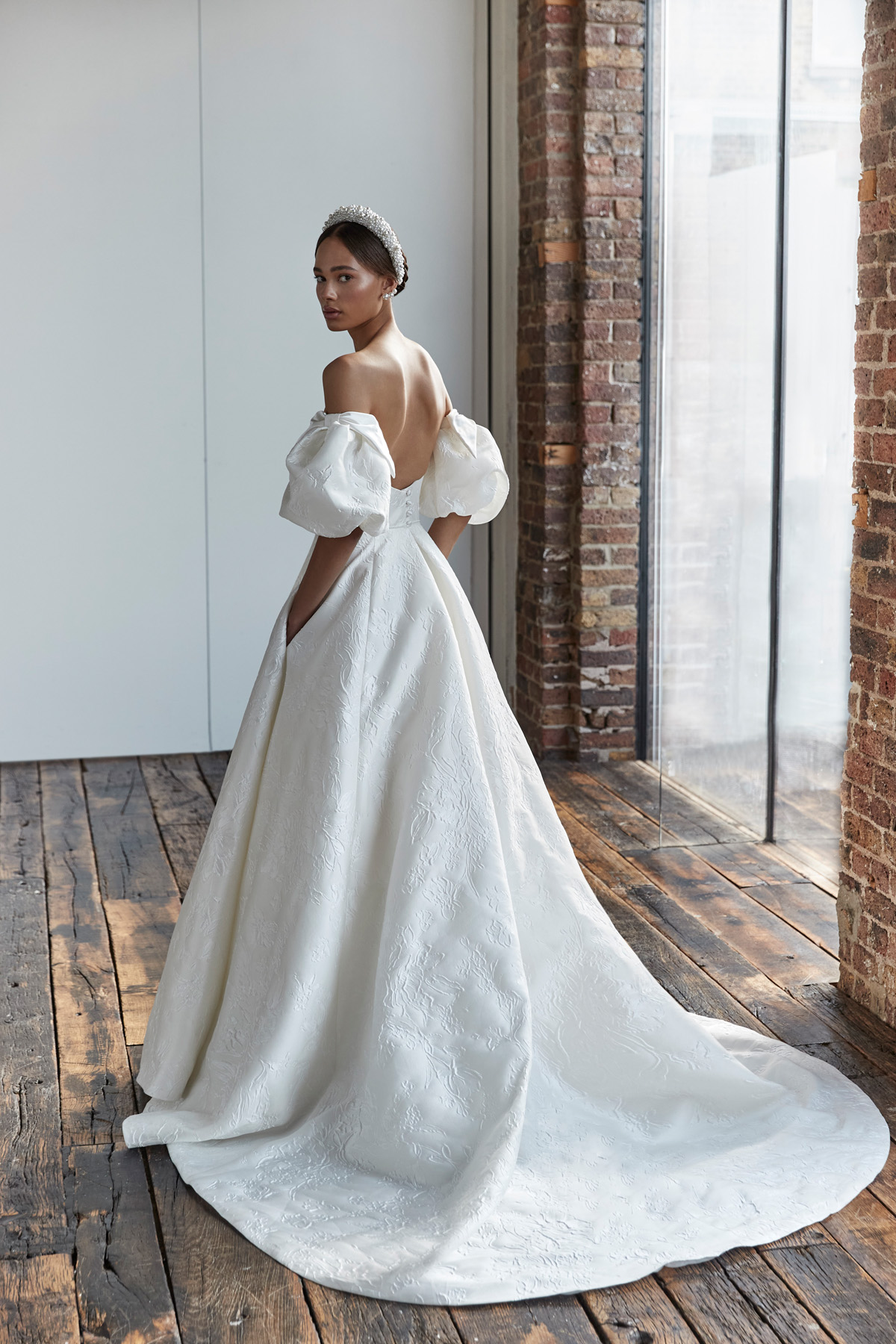 You once told me that fashion is a barometer for what's happening in society. What changes are you seeing, post-pandemic in the fashion choices brides are making and how is your brand adapting to that?
After all the compromises we have had to make, brides are making none for their wedding dress. Fabrics have always been my muse when designing a collection and we are seeing a trend for sumptuous fabrics such as duchess satin.
We have also seen the return of my beloved ballgown.
We're seeing such an incredible number of real brides wearing Sassi Holford gowns across social media right now. What, to you, makes your brand so special?
I have a fabulous team that strive every day to do the best they can for every bride.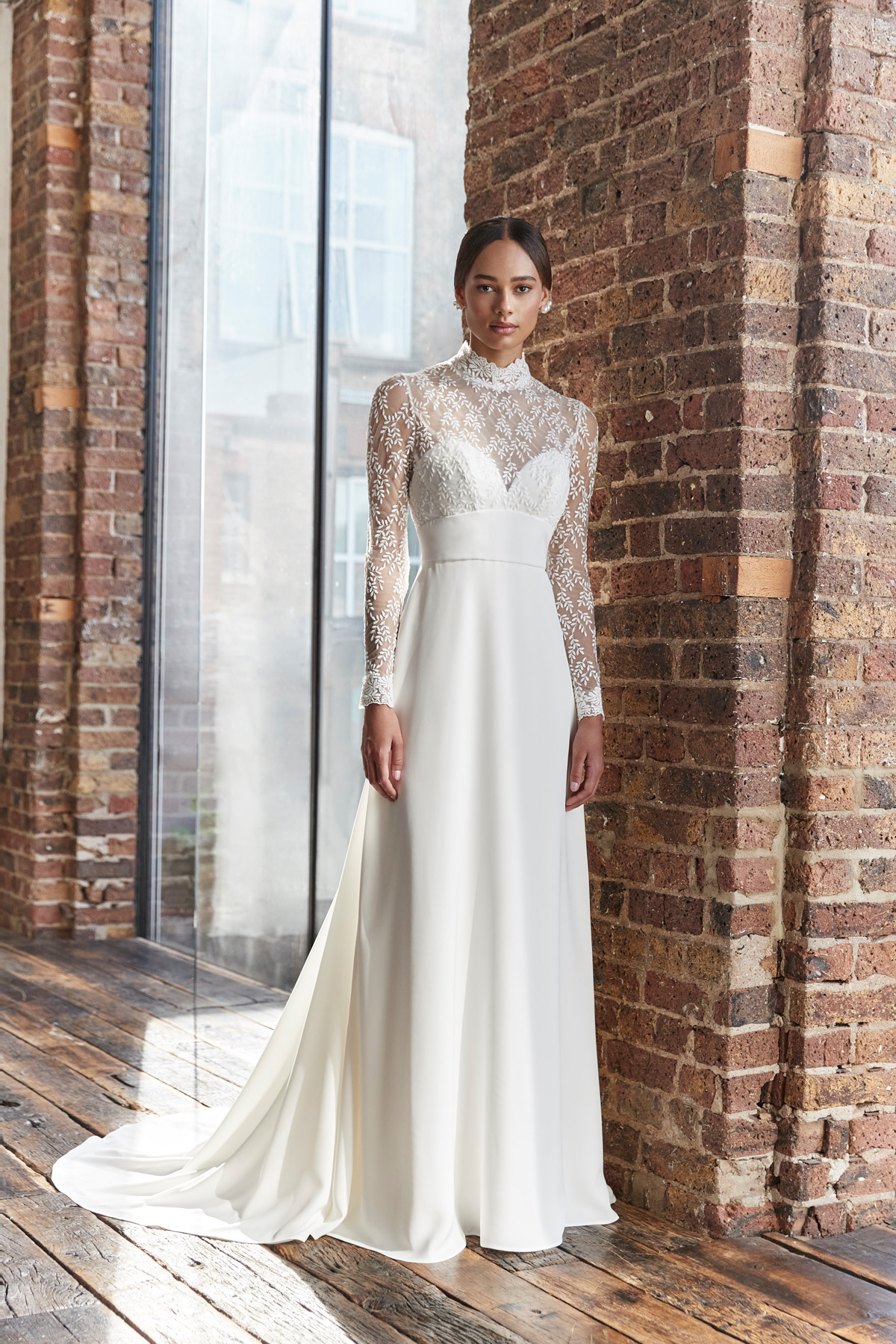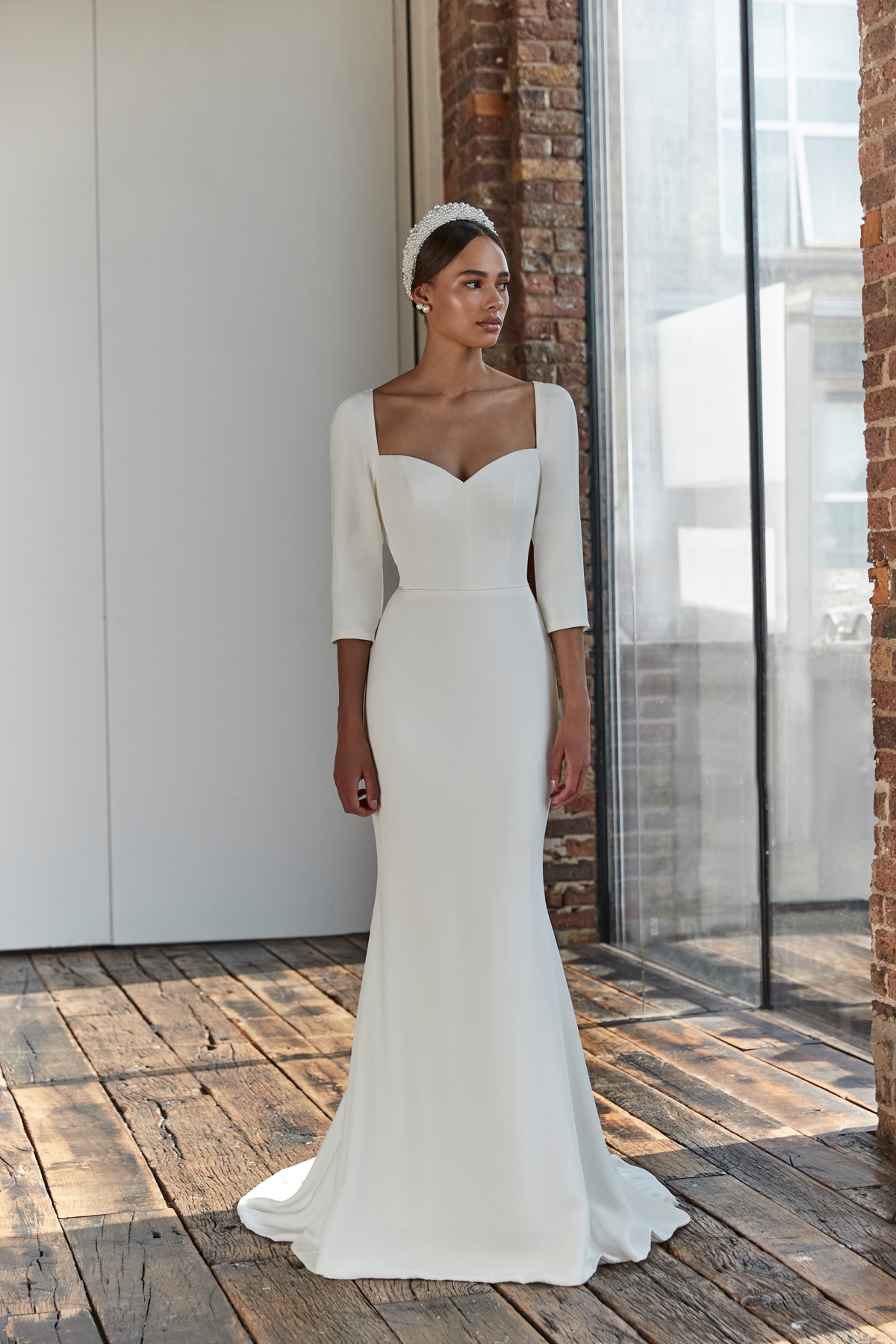 What's your best advice to brides looking for a wedding dress but unsure of their style?
Try to keep an open mind and don't put too much pressure on yourself.  Embrace who you are because the dress should be about you and reflect your personality.  Find a style consultant you trust and explore their suggestions.
Do you have any upcoming designer events we can share details for?
We do! Trunk shows provided an opportunity for brides to try on a beautiful selection of gowns from our full collection. We have the following trunk shows coming up across the summer:
To find out more about Sassi Holford, please visit sassiholford.com.
You can also enjoy exploring and being inspired by many brides and real weddings that have been published on Love My Dress.
Sending love to all the Sassi Holford brides marrying this year! We cannot wait to see your photographs and wish you ALL the love.