A Sustainable Wedding at the Family Home with Yurts and a Vegan Feast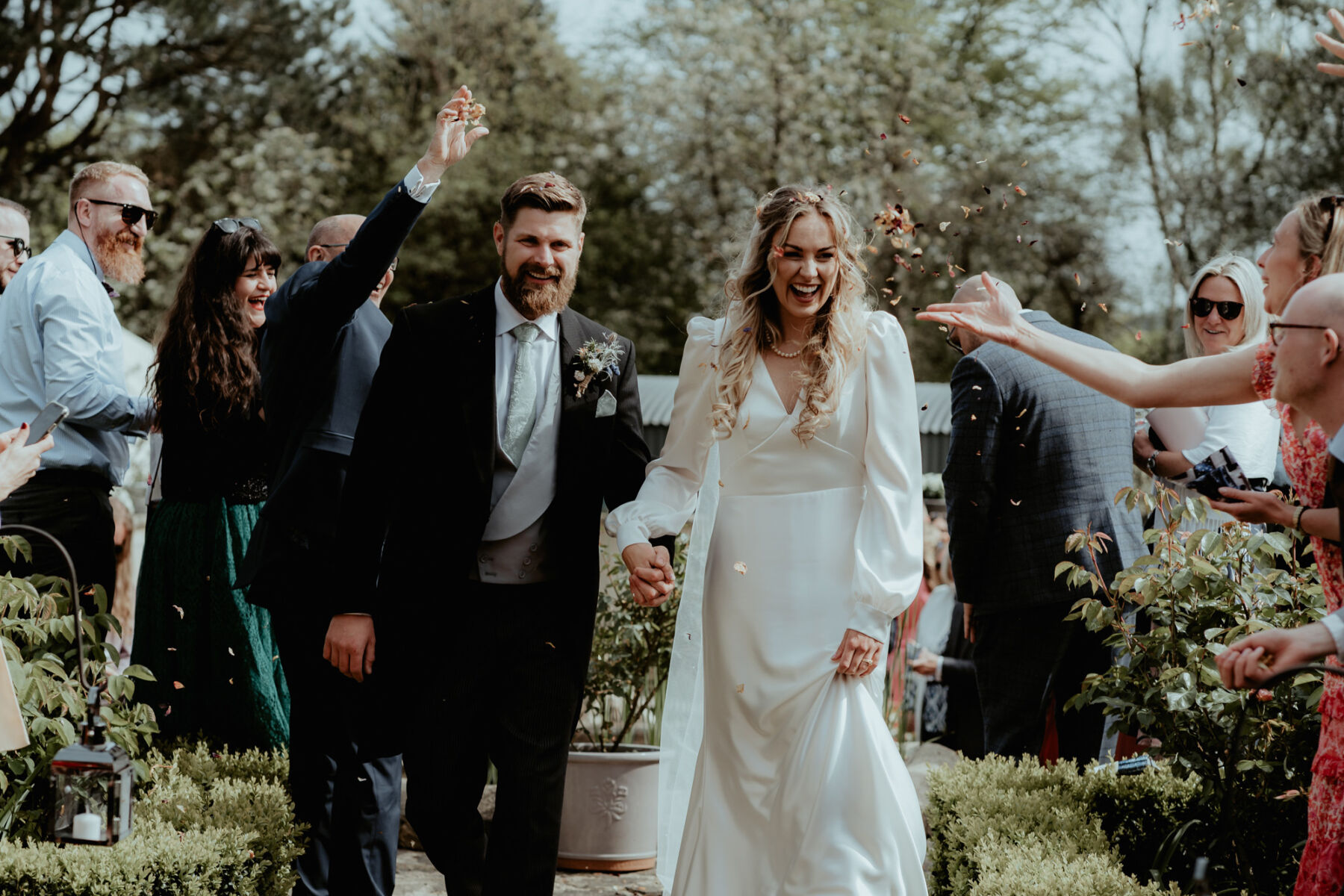 If you're here seeking inspiration for a sustainable wedding, this beautiful celebration is absolutely one to be bookmarked.
Business Psychologist Jade married her beau, Simon, in The Cotswolds back in April this year. As Co-Founder of Motis, an events organisation which connects people and communities to address climate change, then the couple's wedding was always going to be a beautifully sustainable affair.
They exchanged their vows a the same chapel that both of Jade's parents and Grandpa also got married in, then celebrated in the gorgeous gardens of the bride's parents home, which was filled with bell tents and a yurt, where the couple and their guests celebrated with delicious vegan food, good wine and music over the course of the weekend.
Wedding photography by South Wales based Patrick Partridge.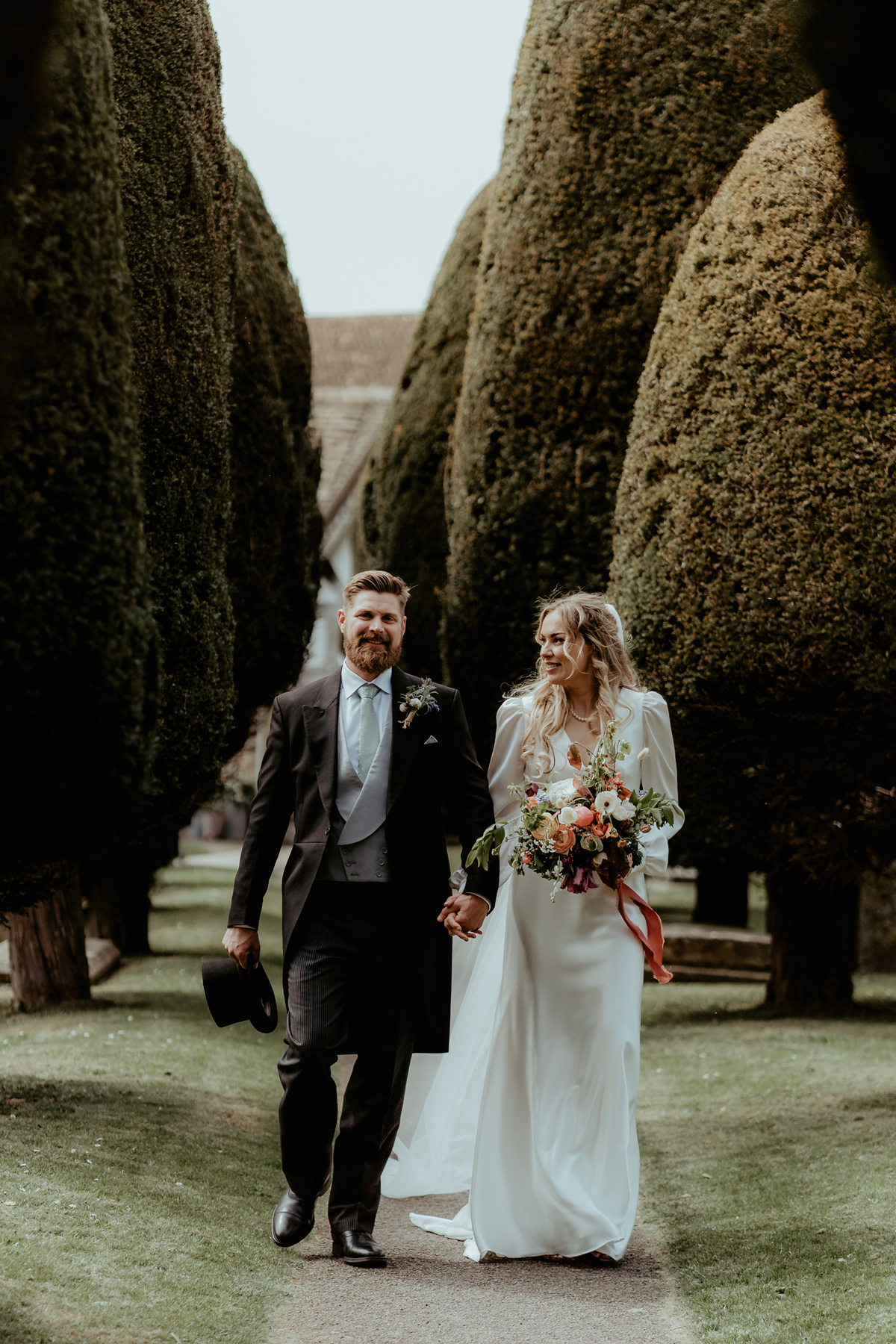 A Wedding at the Family Home
Jade's family home is a very special place for both of us, we've spent a lot of time there as a couple and it was an honour to be able to celebrate our wedding there with everyone we love.
We wanted to be as sustainable as possible and support as many local businesses as we could. We're both vegan so decided to have a vegan wedding, with delicious food that hopefully meat eaters would love! We both love spring time so chose the first May bank holiday when the blossom was blooming and decided to make a weekend of it, having the main wedding on the Saturday and a festival on the Sunday, with four live bands, food stalls and of course, a freshly topped up bar!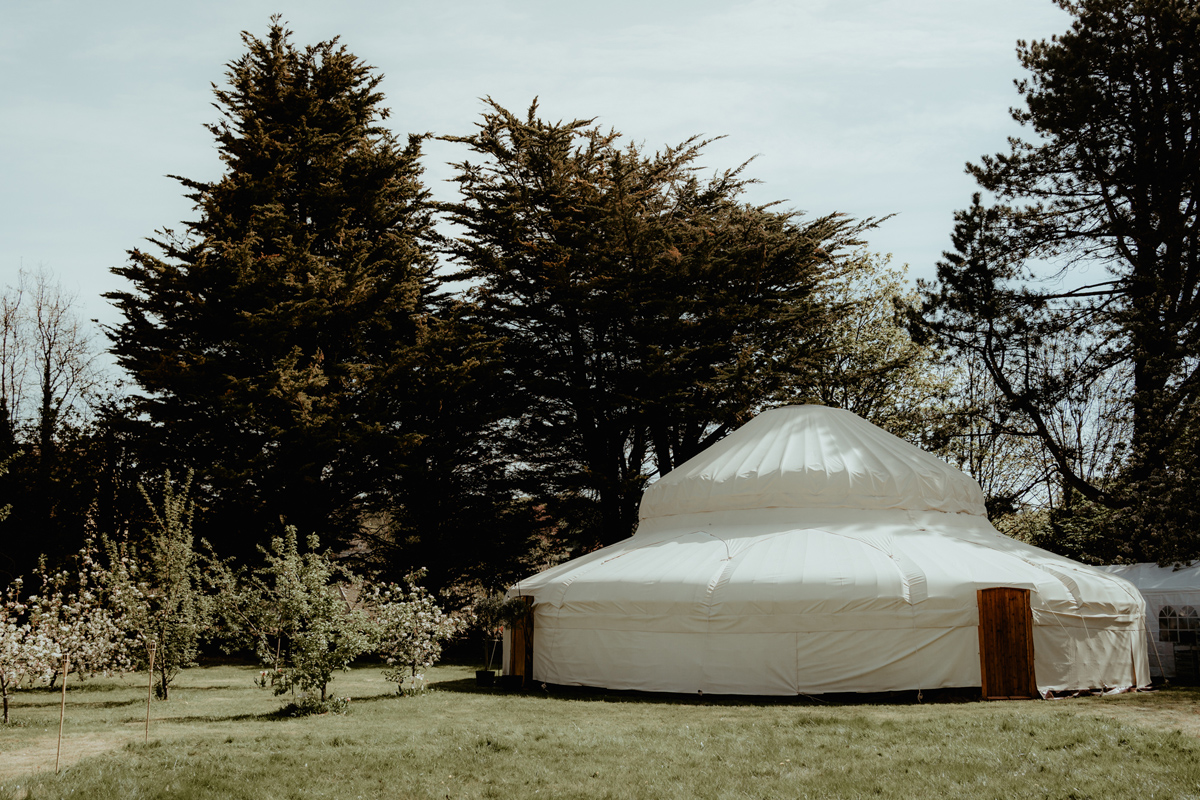 A Dress by Jessica Turner Designs
I had the dress made bespoke by Jessica of Jessica Turner Designs. She was absolutely amazing, listened to all my ideas and created the most incredible dress! I wanted a dress that was sustainably made.
Jessica and I chose a gorgeous recycled fabric that had a satin look, my dress was lined in a bamboo fabric and it was made in the UK.
In the directory Mirror Mirror London
Listed in
In the directory Debbie Carlisle
Listed in
I also wanted the design to be something that I could have made into something else in the future – perhaps a maxi dress or jumpsuit which I could have dyed. Jessica delivered above and beyond!
I would highly recommend Jessica to other brides and have since passed her details to friends looking for their dream dress.
I loved everything about my dress! There isn't one thing I'd change.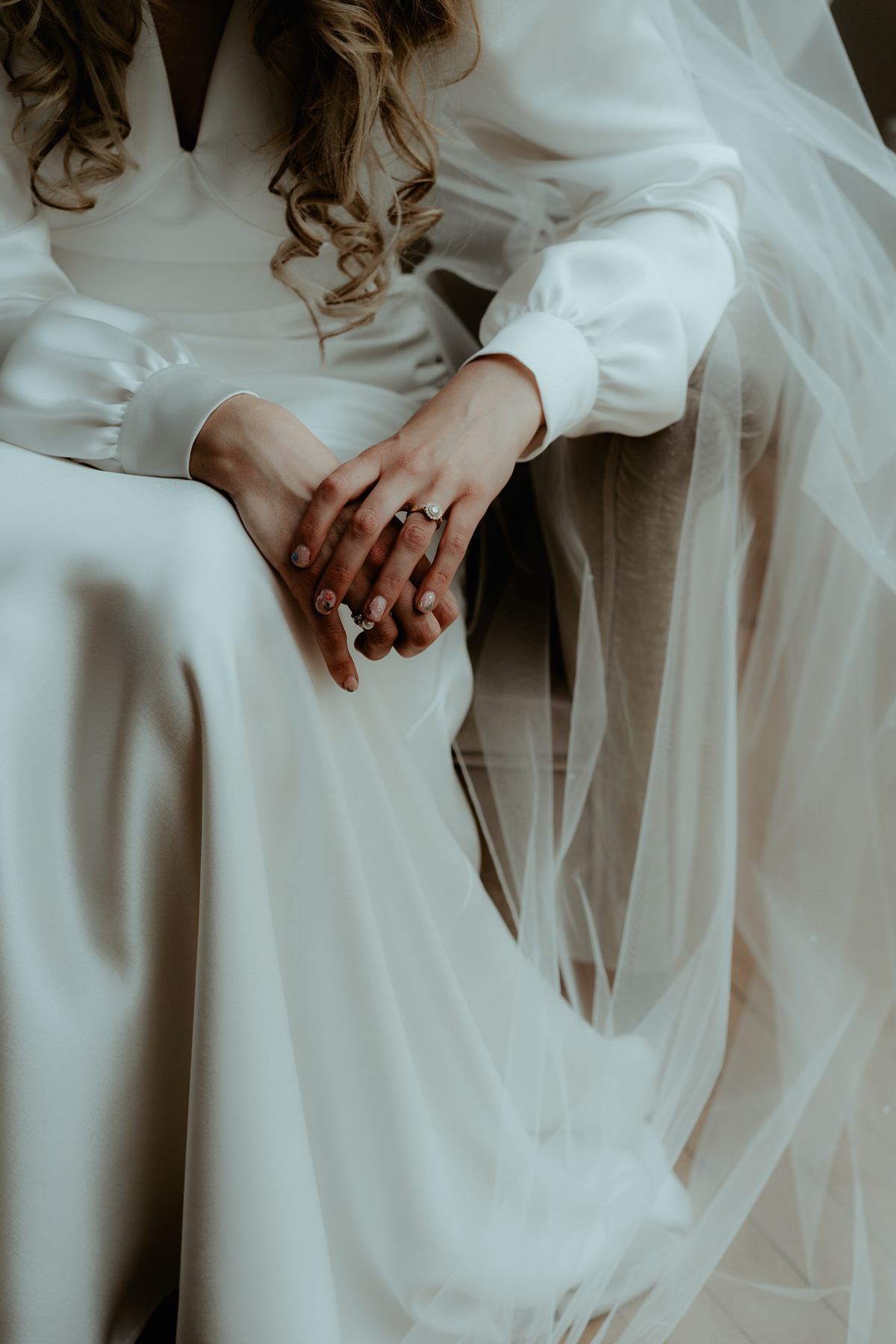 Veil, Shoes & Accessories
My shoes were Whistles in a dusky pink velvet colour. I purchased them from Vinted – they were brand new! My perfume was Chanel Coco Mademoiselle.
My 'something borrowed' was a gorgeous pearl necklace and earrings from my mum and I wore a beautiful pearl ring that used to be my nanny's. She sadly is no longer with us and it meant so much wearing that on my big day. My mum and dad gave me a beautiful ring too in the morning which I wore.
I had a simple veil with tiny pearl beads scattered across it. It was beautiful and made in the UK by Pink Poppy Veils and Accessories.
Ceremony
I was driving to the ceremony in my Grandpa's e-Type Jaguar.
My dad accompanied me down the aisle at St Mary's Church in Painswick, to the sound of Canon in D by Johann Pachelbel.
Reverand Andrew Leach lead our service. We had two readings, each of which meant something to us and to our friends and family. They have special messages that we'll treasure forever. They included Songs of Solomon, Chapter 2 verses 10-13; Chapter 8 verses, and Time Travellers, by Terah Cox.
Our rings were made from the gold from a combination of Simon's grandma's and great grandma's wedding rings. India Mee Jewellery in Bristol designed and made them.
Photography by Patrick Partridge
Our photographer Patrick Partridge was amazing! He went above and beyond and made our day so so special.
He is incredibly talented and managed to capture the most incredible moments, whilst putting us at ease and making everyone smile. We highly recommend him.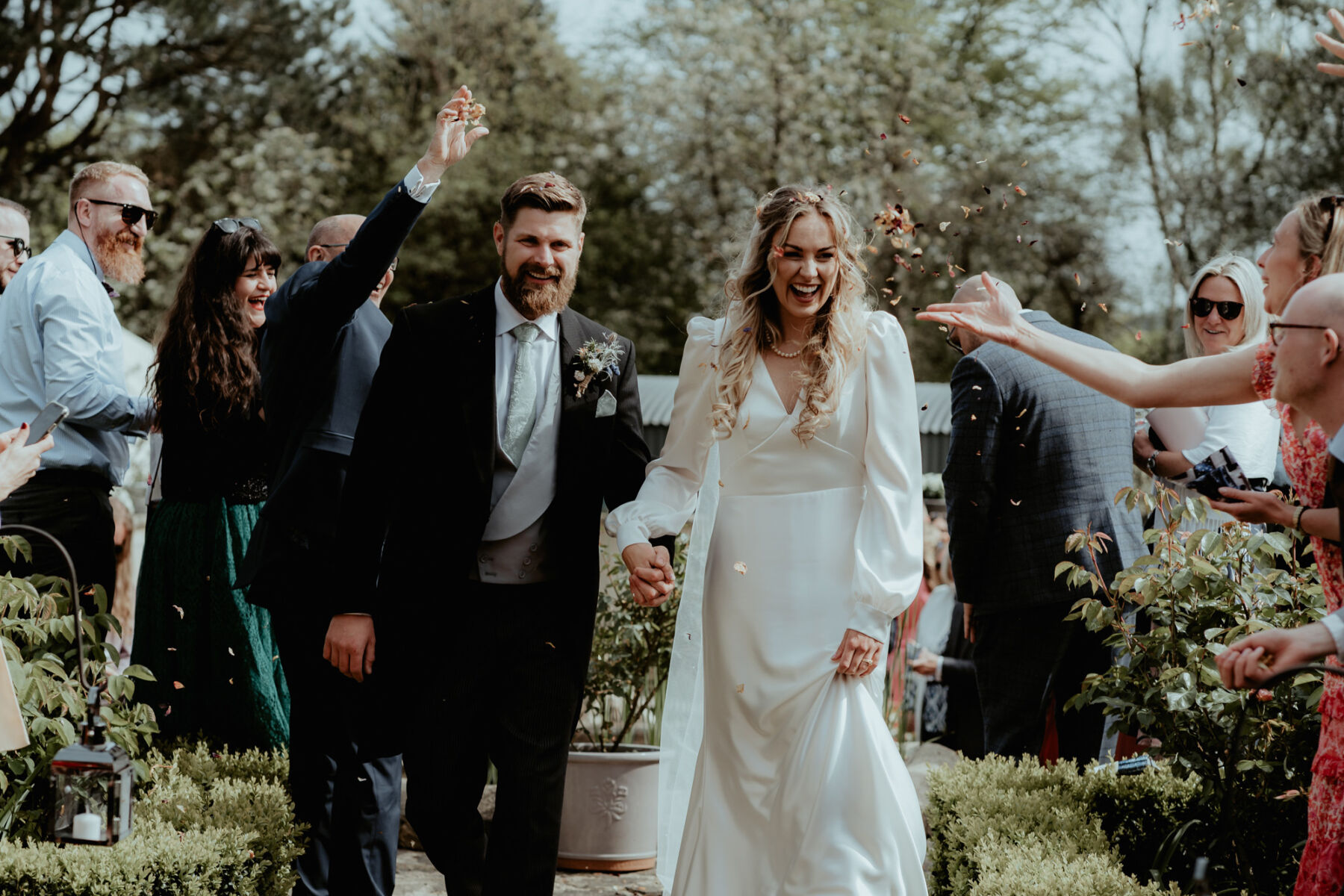 Videography
Our videographer Chris Daymond, Centrepiece Wedding Films, was outstanding! The films are truly incredible, they bring us so much joy watching them. Chris was recommended to us by a friend and we are so grateful to have been put in touch with him. He really is so talented, capturing incredible emotions and memories that will last us a life time.
We highly recommend Chris and highly recommend having a videographer, its such a whirlwind of a day so being able to watch back all the highlights really is so special.
Sustainable British Wedding Flowers & Upcycled Fabric
We wanted British flowers only and wanted to support a local business. We hired Amberley Meadow florist.
I found an amazing fabric at The New Craft House where they sell designer deadstock. Made by SJP then made the dresses.
Our niece wore a lovely white dress and Simon's mum made a gorgeous sash and bow for it from the same fabric as the bridesmaid dresses.
Reception, Detail & Decor
Our incredible vegan wedding cake was made by Maisie at The Long Table, Stroud. Again we wanted to support a local business and we love The Long Table and everything they do. Our cake was three tiers of different flavours with a white icing and beautiful meadow flowers to decorate.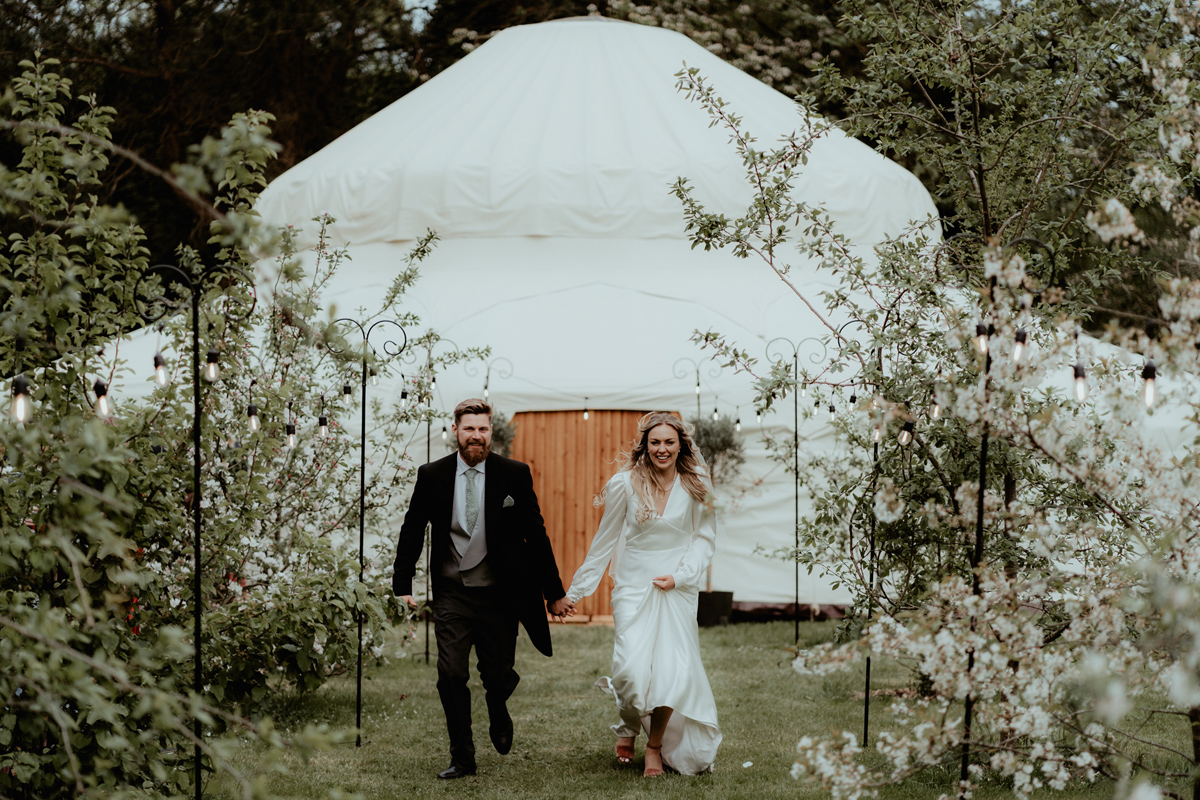 I made all the wedding favours – they were friendship bracelets made from hemp string and mostly recycled beads, wrapped around a seeded paper message for each guest. To this day, some of our friends are still wearing their bracelets!
Furniture was hired from Honeycomb Marquees, festoon lights from Bristol Party Hire and washrooms from Nomadic Washrooms.
From Meeting to a First Dance
We met over eleven years ago in Exeter, where I went to University. Simon was visiting his best friend Dom, who happened to be a friend of mine too. Simon proposed in Pembrokeshire on 27th June 2021, a day before our ten year anniversary.
We were engaged for ten months before our wedding day – and taking our first dance to 'Everywhere', by Fleetwood Mac.
Words of Wedded Wisdom
If you're someone who like me, hates being centre of attention and was dreading that part of the day thinking you'd hate every second – don't! It honestly was the most incredible day of our lives. We wouldn't change a single thing, other than wishing it didn't end! And the most surprising thing for me was I wasn't nervous or anxious at all on the day, even though I was convinced I would be a nervous wreck.
Enjoy every second and if you can, take a few minutes to be with your new husband or wife and cherish those moments as they go so fast. Its your day too – remember that!
On Sunday we forgot to put up the amazing festival flags our friend had let us borrow – we wish we'd asked someone to do this for us as we just totally forgot and they looked amazing!