Kayleigh and Dion's beautiful September 2022 wedding was held at the breathtakingly beautiful Tenuta Di Casa Bruciata in Preggio in the Province of Perugia, Italy.
The couple took a risk, booking the venue months before they actually visited it, but the risk more than paid off. They filled their day with classy, neutral decor, including an abundance of gypsophila, elegant white table linens and tall white taper candles. The bridesmaids also wore white.
Kayleigh wore a figure hugging gown by Viero, a discovery at Kent bridal boutique Dress Dreams. Photography by Vicki and Pete, the British wedding photographers behind The Shannons. Enjoy!
Bridal Beauty and Accessories
I did my own hair and makeup. My earrings were from Lily & Roo and I borrowed a pearl ring from my Nana.
My scent was L'interdit by Givenchy; once we got back to the Rome airport after seeing the venue for the first time in April '22 we decided to buy our wedding scents so thats what I chose to match Dion's.
I didn't want to break the bank on wedding shoes I wouldn't wear again so I got them from Quiz Clothing.
My veil was from the same shop I got my dress, Dress Dreams.
The Dress
I wore a Viero wedding dress, from Dress Dreams bridal boutique. The shop itself is so nicely designed and I feel like they have a really good well-selected set of designers. The staff are lovely and were really communicative on email too, really helped me with my bespoke dress. I would recommend!
So originally I was looking for an A-line, off the shoulder, either lace of completely simple. I was also looking to create a 'second look' with either an overskirt of a twopiece.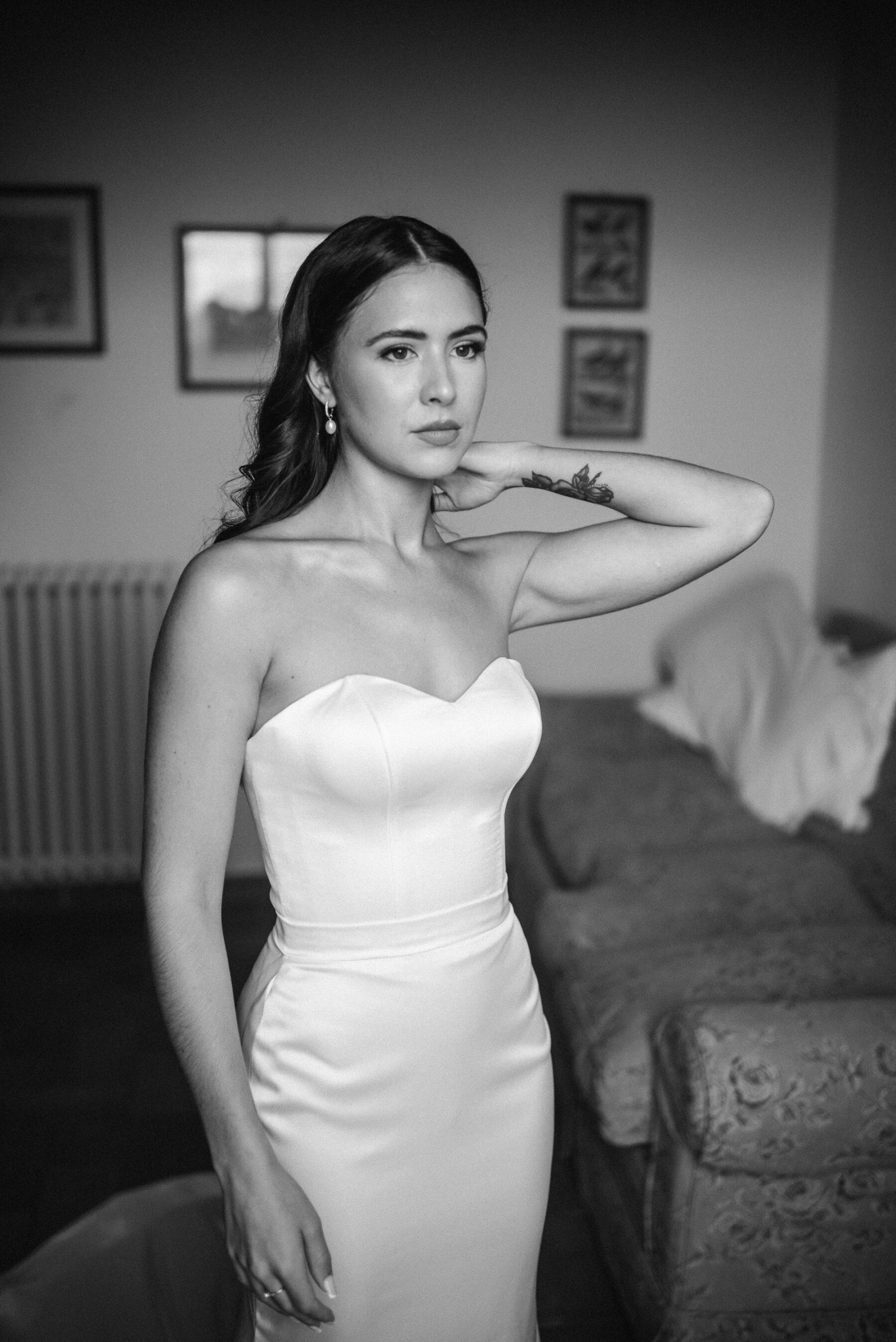 By the time I had my appointment at Dress Dreams I had top two choices which were both A-line. I tried on lots of stunning detailed dresses but was leaning more towards a simple dress. They said they had a two piece I could try which was a corset style top (which ended up being the original top of the dress) and an A-line skirt to match, mainly because it was one of their only really simple designs. It was stunning!
We just worried will it feel too big at a warm wedding in Italy. Kate suggested I tried on this other skirt that hadn't been put with the corset before. It was a slim fitted dress and as soon as I put the two together and walked out I was blown away, the first and only dress my mother in law cried seeing me in.
I never thought I'd have a figure hugging dress but it was so flattering, timeless, incredible quality and let me shine rather than the dress taking over. It also allowed us to have the option of a big overskirt on top but to be honest when I tried them on I just didn't feel like I needed it.
I thought I was unlikely to ever look back and dislike my dress and it would also be classic. You always get told that as a Bride "you just know when its the dress", I would say for me I knew it was the right one because I was really sad to take it off.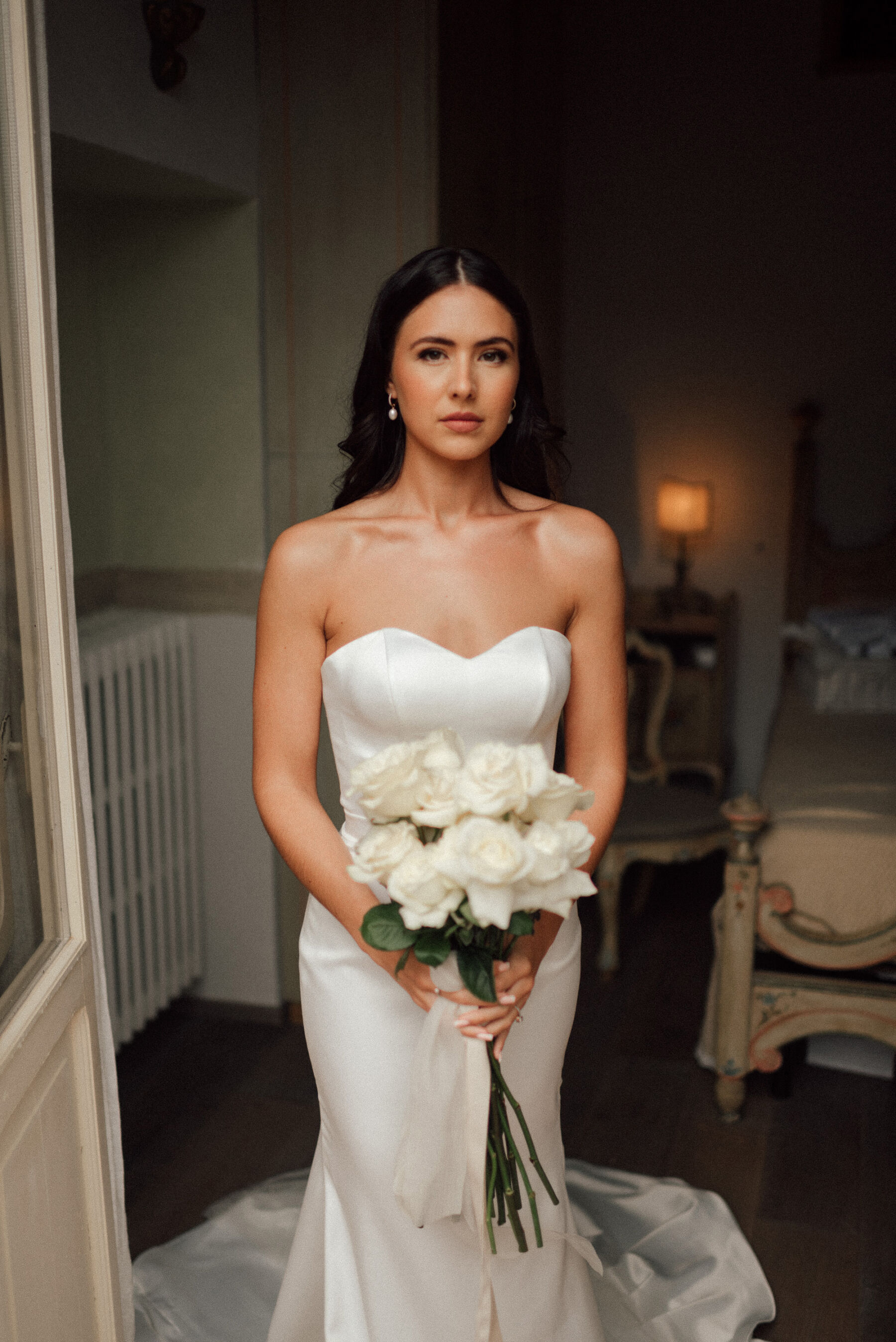 The Venue
We knew we wanted to get married in Italy and after researching different venues, covid hit and we realised we wouldn't be able to go and see any in person. At the same time, we were actually recommended our venue through a distant friend and once we had a look online, got chatting to Luigi, the venue's wedding coordinator, we went for it!
We booked Tenuta Di Casa Bruciata in October 2020 and didn't see it in person until April 2022, but it was everything we dreamed.
We knew we wanted guests to be able to stay onsite and this had plenty of apartments, plus a gorgeous infinity pool and the most incredible views.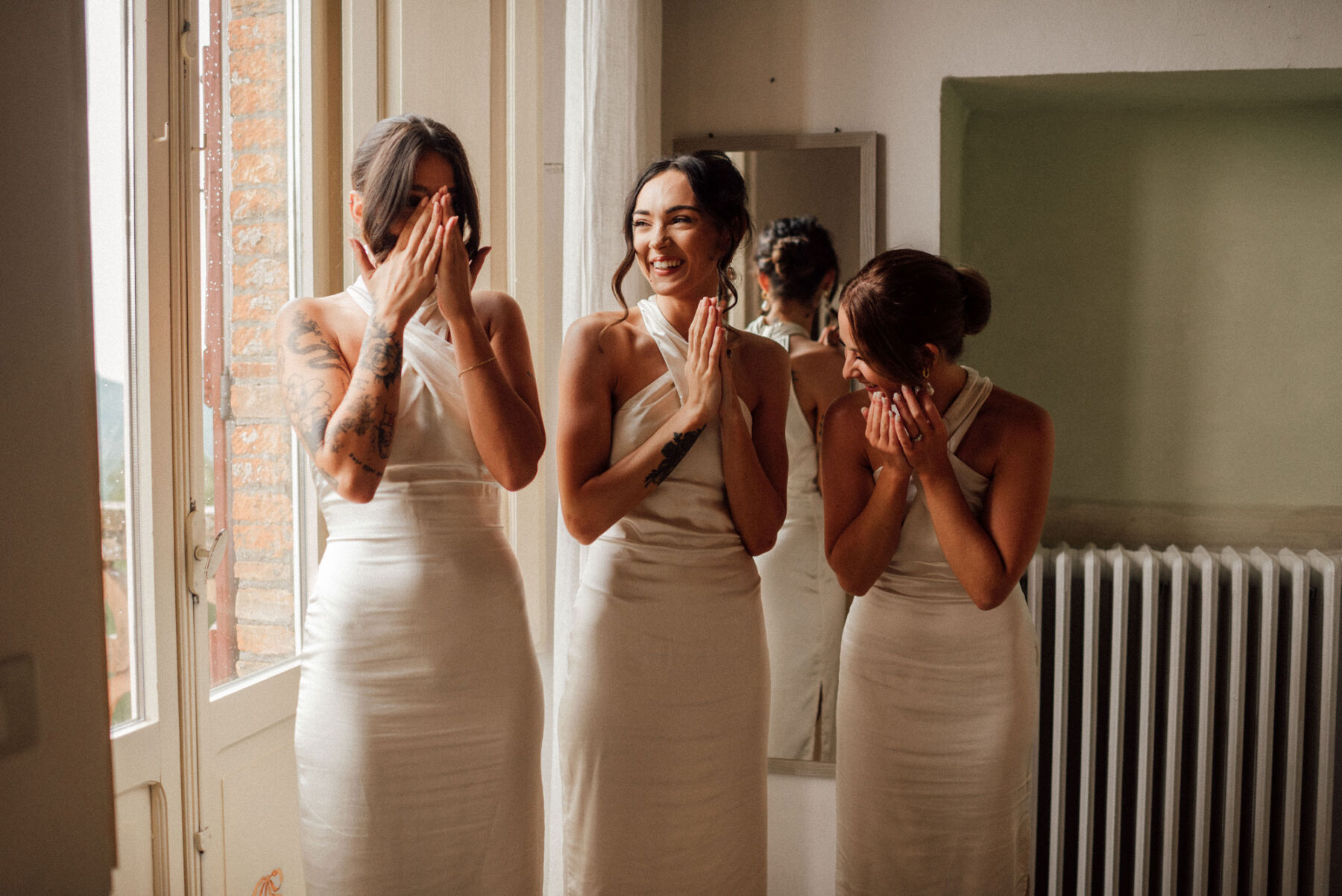 The Ceremony
My dad walked me down the aisle, to 'Can't Help Falling in Love', by Elvis. We're big Elvis fans in my family and its my Grandad's favourite song 
Dion's Mum's friend, Jennie Lichfield is a Celebrant, so she came to run our ceremony.
We got legally married in the UK in July so it meant in Italy we were completely free to do what we wanted, so I 100% wanted to write my own vows. I would recommend it to everybody if you can, its so much more special because it comes from the heart and you create your own promises to each other.
One of Dion's Nan wrote us a poem but couldn't fly to Italy so she recorded it and we plaid it during the ceremony.
Our wedding rings were custom made by Chloe May Jewellery. I have a white gold and diamond engagement ring and I knew I wanted mixed metals so I worked with Chloe to design a yellow gold and diamond ring that was made to fit perfectly around my engagement ring. Dion also has mixed metal which Chloe made for us. There were only 25 of my engagement rings made so I feel really lucky to have a completely unique duo.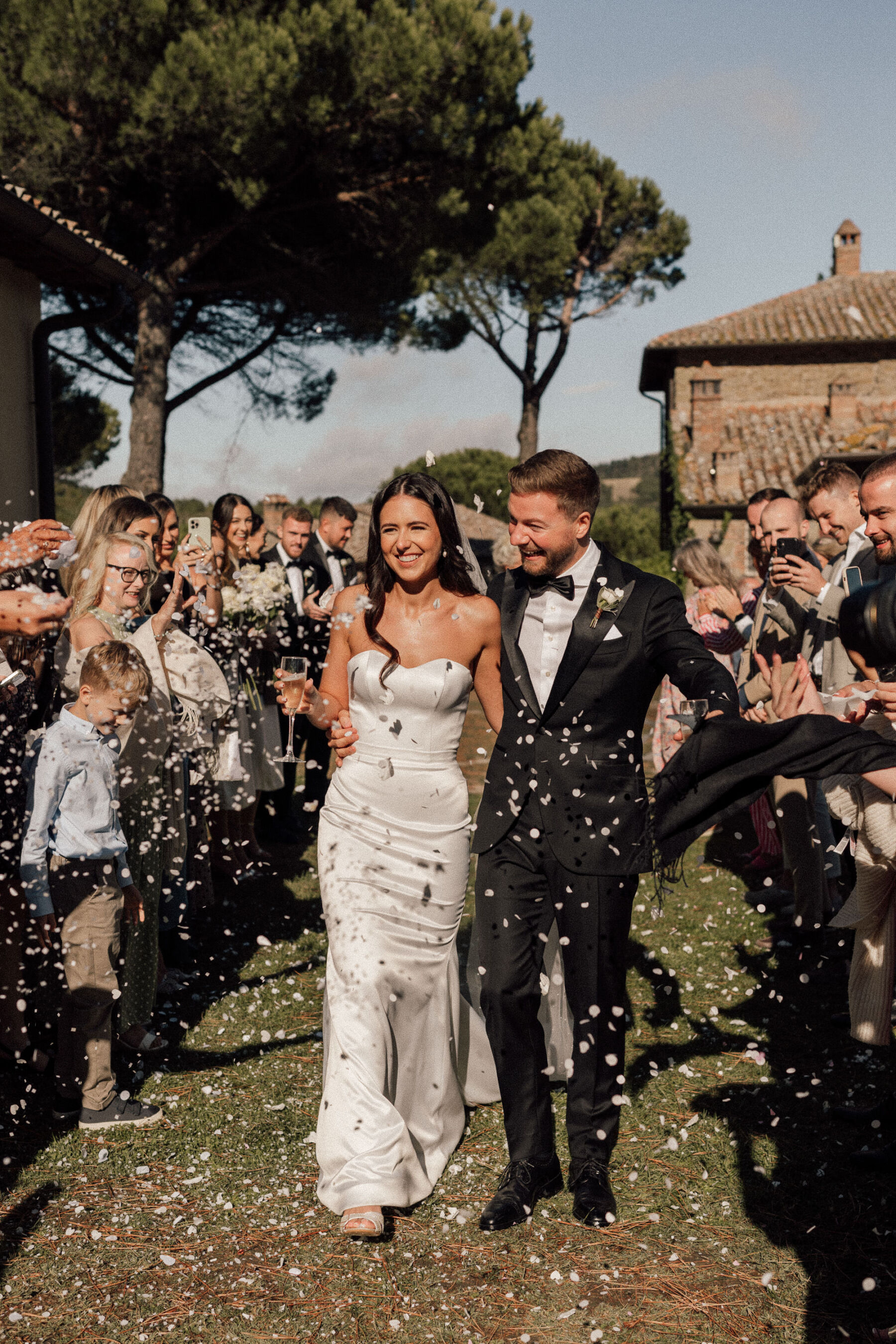 Photography & Videography
Our photographers were The Shannons. I fell in love with their photos! Simple as that! I got a good vibe from them, they were personable and so talented and being a Husband + Wife duo meant we had two photographers which is what I wanted! We highly recommend them.   
Our Videographer, Charli May, was so amazing. Her style is really simple and not overly edited which we loved, highly recommend.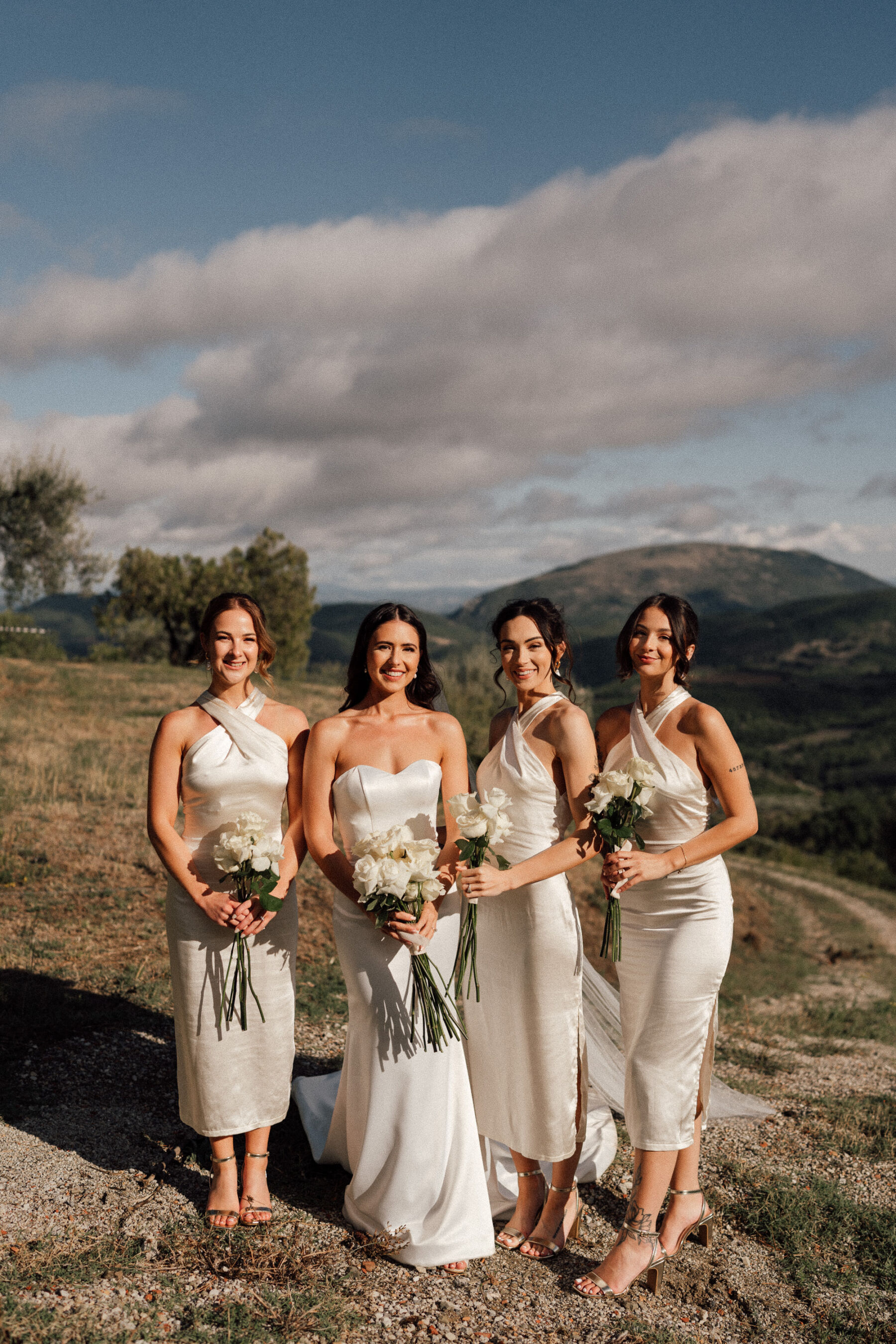 How They Met
We met through a mutual friend when I had just turned 16 and he was 17 (January 2013), we have been together ever since. We got engaged on Christmas day in 2019 (complete surprise) which was six-ish years after being together. And married September 2022 so engaged for just over two and a half years.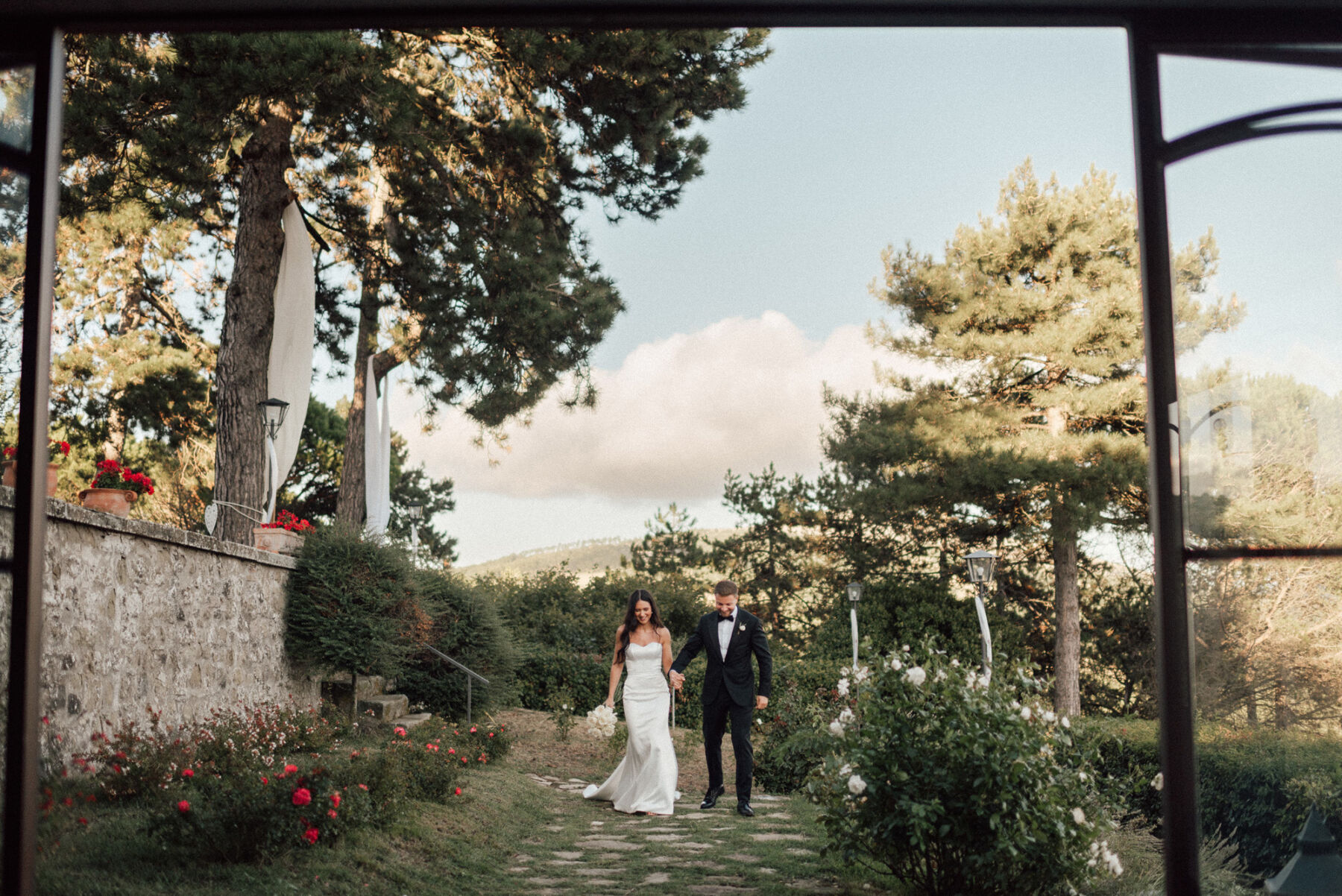 I feel like we are best friends at heart, team mates through life, lovers from the beginning and soul mates forever!
The theme for our wedding was Timeless. Every decision I made went back to that, plus our venue massively tied into how the style of the wedding went. laid back, Italian countryside with modern timeless touches.
Dion's custom suit was by Suit Supply. He also wore his Grandad's watch which to our surprise was from Mappin & Webb, the same place as my engagement ring.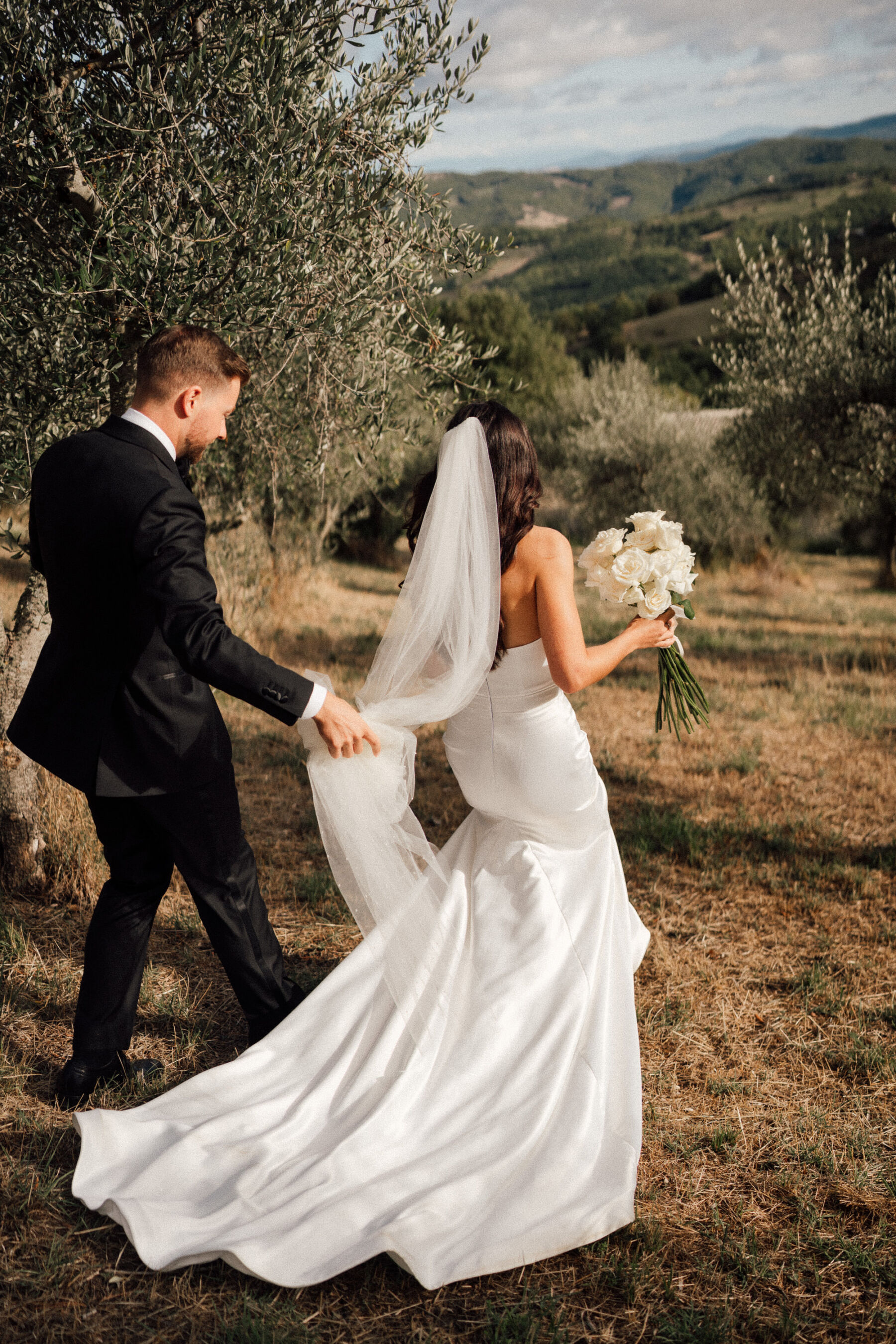 Reception, Decor & Detail
Florist Roberta Turco absolutely understood my vision, I put together a whole moodboard. Again, I wanted it to be timeless so I had a bouquet with big white roses and my table decor was babys breath, roses and orchids.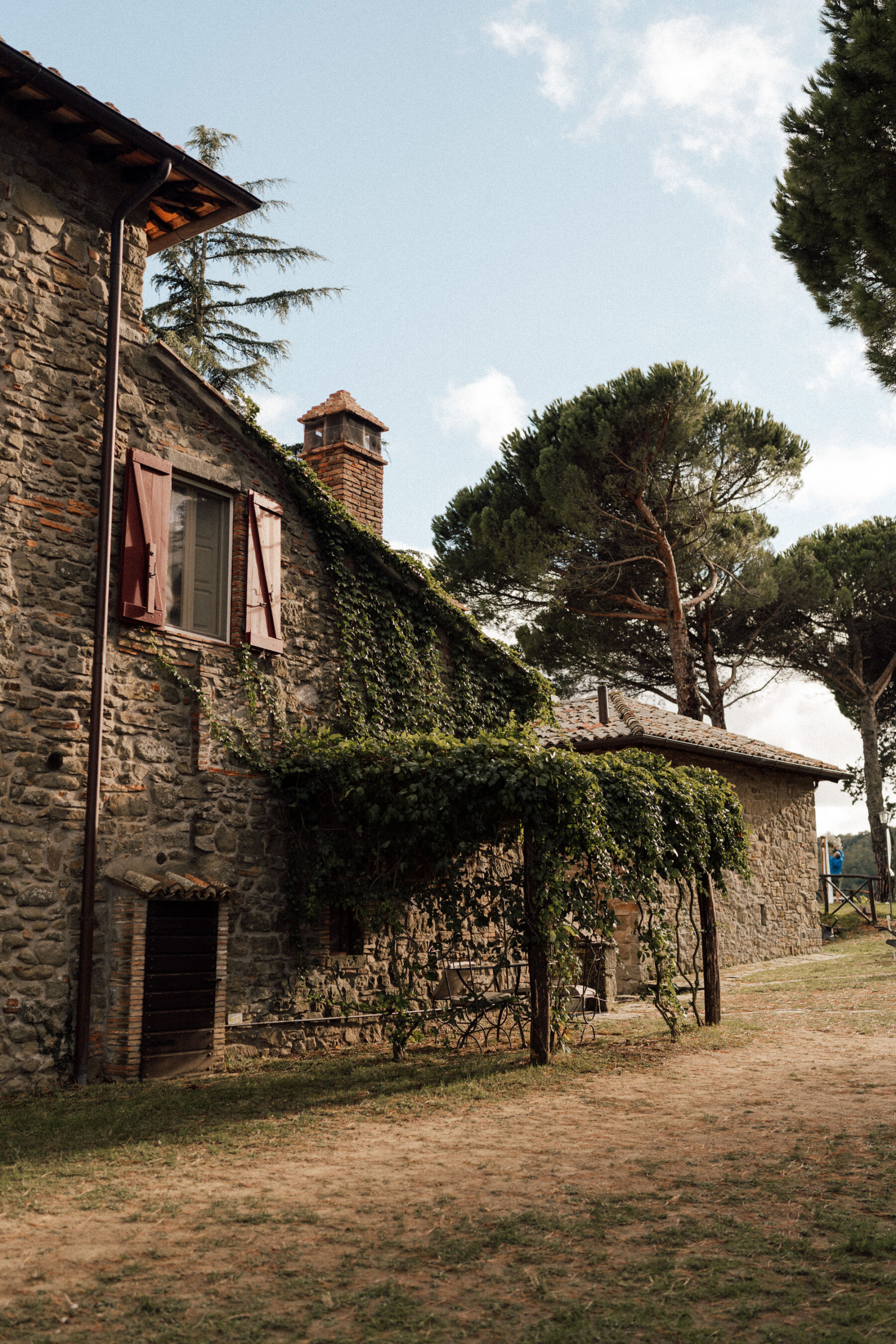 Only cake we had was an Itialian traditional wedding cake from the venue, I wasn't interested in spending money on a big cake but I actually love the photos of us cutting our flat cake! very Italian!
Evening & Dancing
Our first dance was to 'Millionaire', by Chris Stapleton. We love country music and have danced to this for years so it felt right. Our favourite moment of the day was the first dance and the party that followed.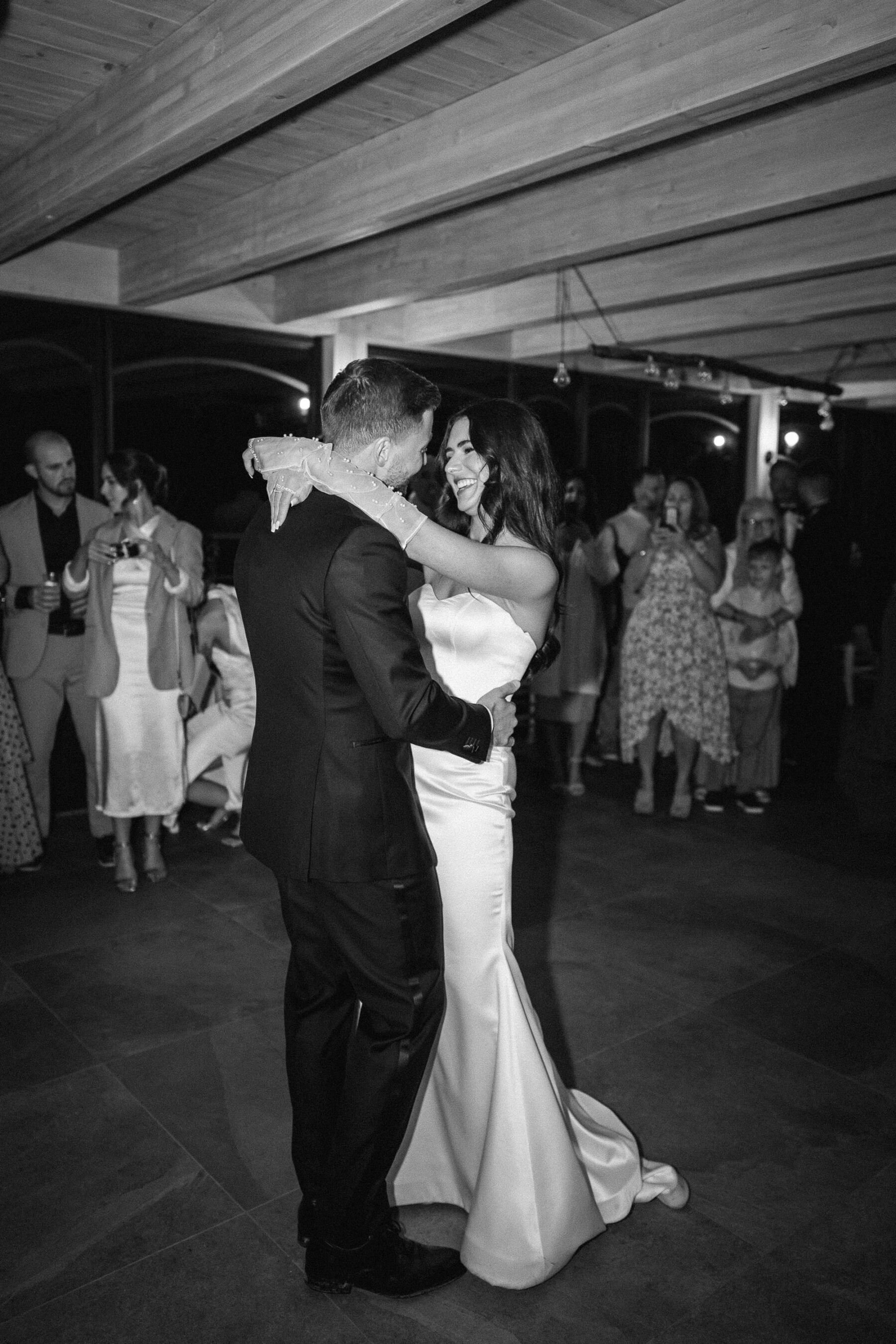 It was the best more intimate party we have ever had with all of our closest friends and family and a playlist created by us. Also by then you get to completely relax and let your hair down! 
Our friend DJ'd for us throughout the whole weekend! We also had two musicians for the ceremony & apertivo but I cannot find their details!
Words of Wedded Wisdom
If you're a Type A Bride like me then do what you do best, be in control of what you can control, create the moodboards, have your visions nailed but keep calm and still try to delegate where possible.
Don't leave stuff till the last minute that don't need to be and if anything if something is done then get it ordered/printed/posted/packed so it is ticked off.
Plan days in your calendar when you'll dedicate time to wedding planning rather than just doing little bits here and there.
Only invite guests you REALLY want on your special day. We were pretty savage and didn't invite all of friend's partners or distant cousins because we were paying to accommodate everybody in Italy and had to keep it fairly small. But it changes the game when you can look around at everybody and know you'd genuinely sit and have a cup of tea with them and it not be a slight bit awkward.
Explore our Directory