Sophie, the Buyer for chic independent lifestyle boutique, The Cross, located in vibrant Notting Hill, exchanged vows with Joe, a talented account director working for an innovative advertising agency.
Their beautiful wedding took place on the 28th of October 2022 at the charming Caswell House, nestled in the picturesque Brizes North region, right in the heart of the breathtaking Cotswolds.
This was very much a homegrown wedding – the couple wanted everything to feel romantic, bohemian and hand-crated, inspired by the artisanal and eclectic style available at The Cross. The bride wore a beautiful and sensuous, backless wedding dress by Parisian designer, Rime Arodaky, which she discovered at The Mews Bridal boutique in Notting hill.
Our love and thanks to photographer Tash Busta for sharing these beautiful photographs.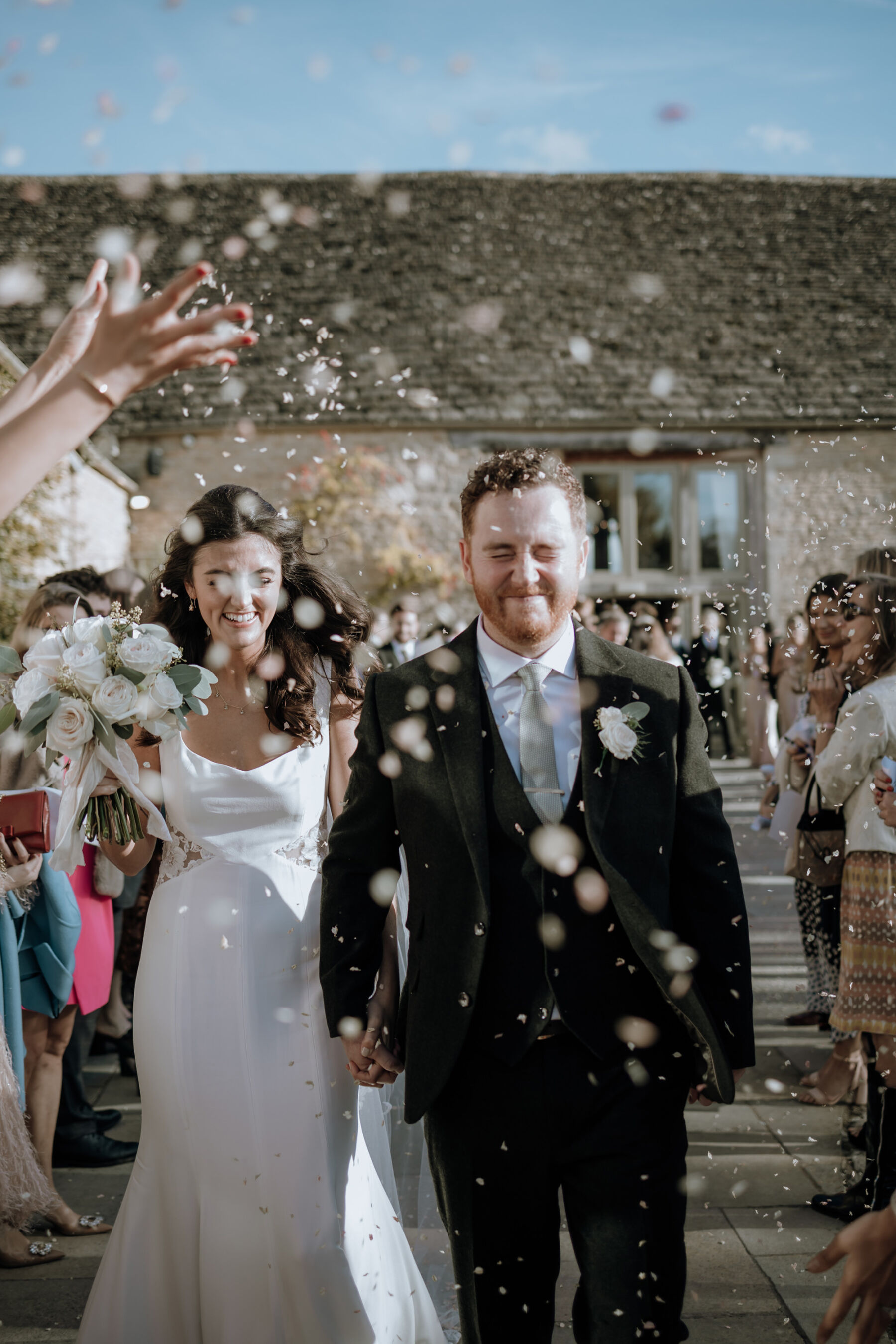 The Venue
Our wedding was at Caswell House, Brize Norton, the heart of the Cotswolds. We had our hearts set on a country barn wedding and Caswell House was so beautiful, I cried as soon as we arrived on our first visit!
We chose the Cotswolds because it's in between both our hometowns, London and Leicestershire, making it equally easy for everyone to get to. We also fell in love with area and all the stone buildings, it is one of the most picturesque places in the world.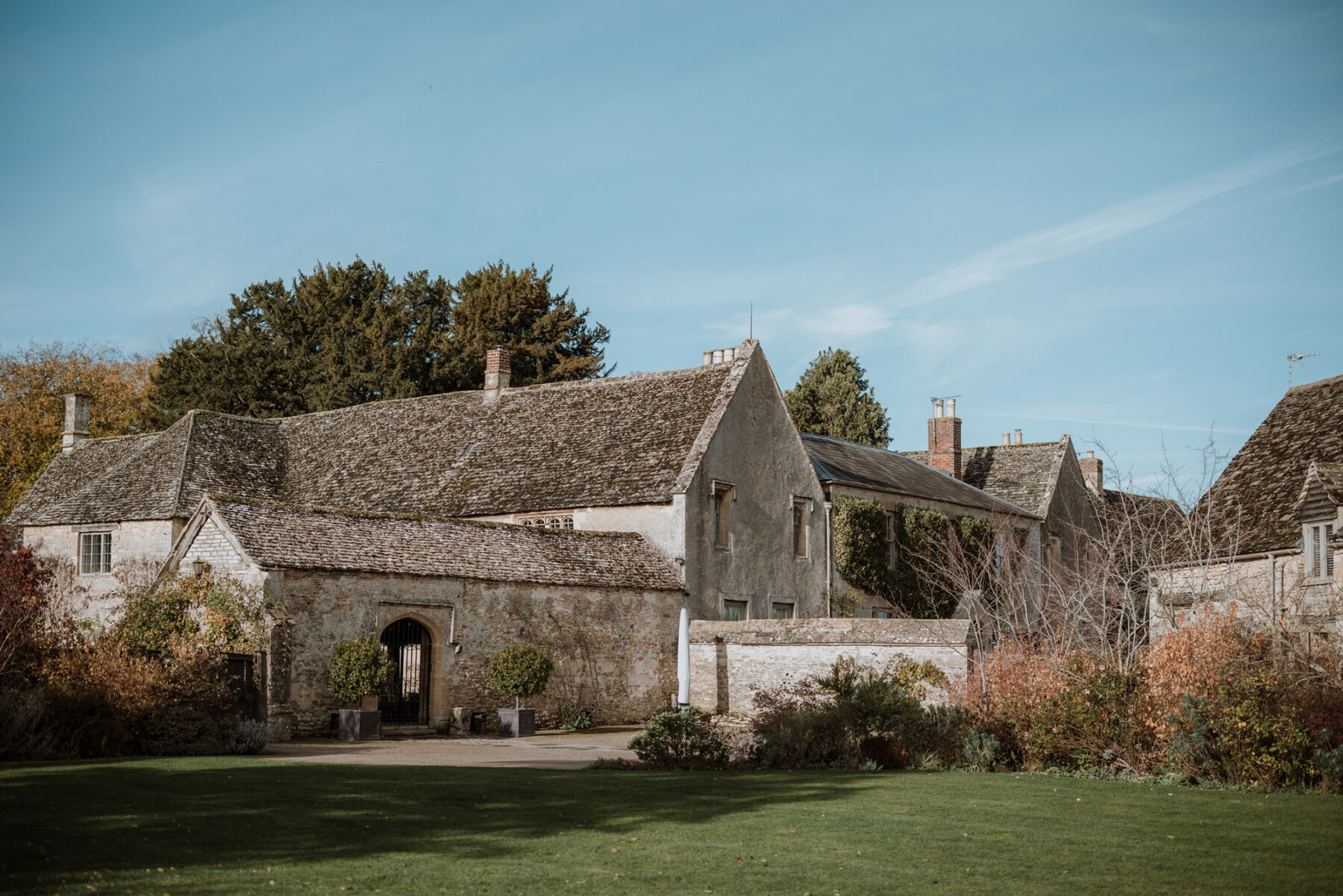 Bridal Beauty & Accessories
My sister is an agent for Hair and Make-up artists at Carol Hayes Management. Julie and Claire are wonderful artists of hers and they did the most amazing job. Julie did a trial with me previously and helped me pick my lipstick shade for the day (pillow talk by Charlotte Tilbury)
I wear Coco Mademoiselle by Chanel everyday but I wanted a scent that was for the day specifically. Everyone talks about smell evoking memory and it's so true. Joe bought me Carnal Flower by Frederic Malle . I always go to his perfumery in Paris when I'm there for work, and love all his perfumes. Carnal Flower is beautiful with Bergamot, jasmine and tuberose notes. It was a real treat and I wear the perfume from time to time now and Joe always says I smell like the Wedding Day!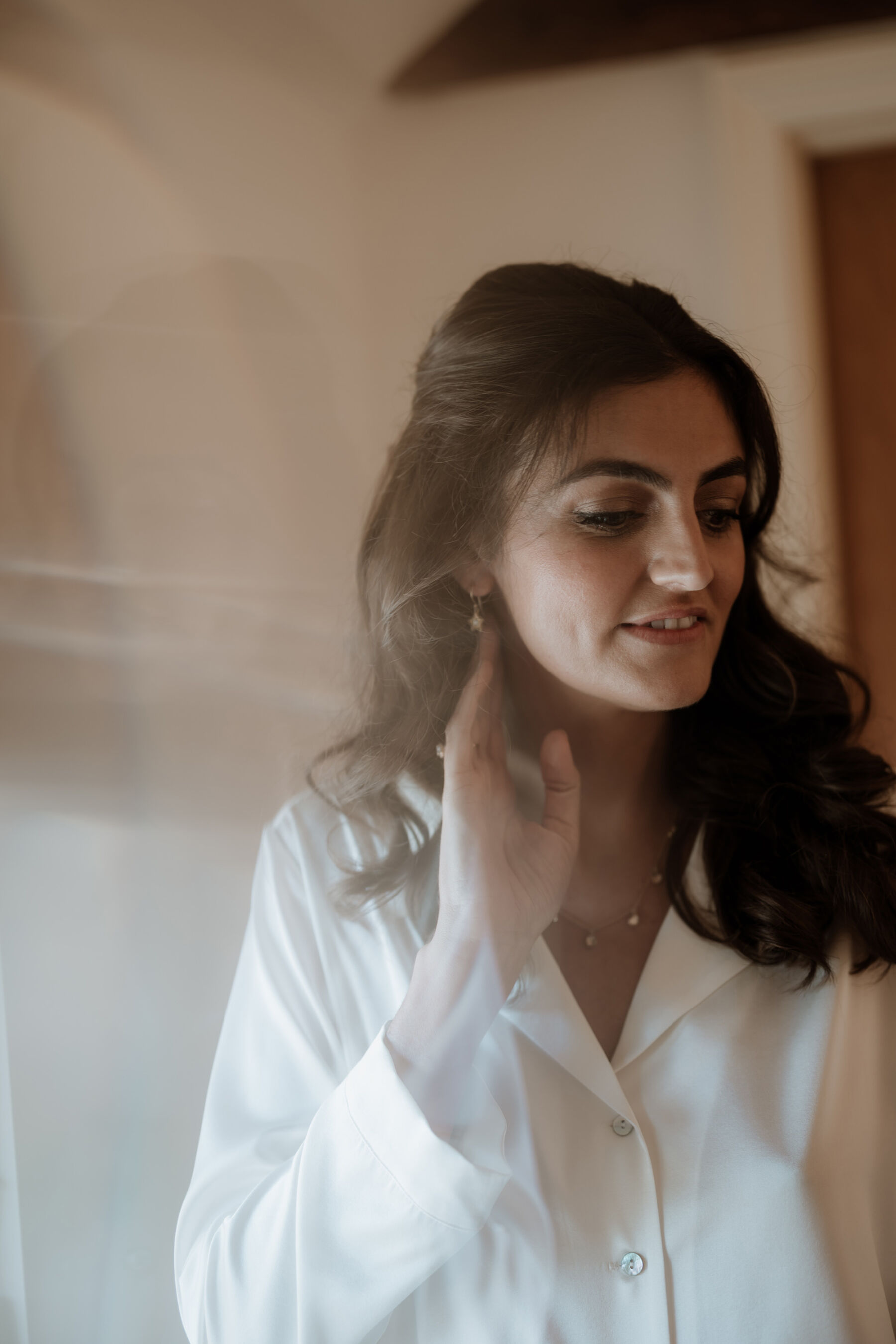 The jewellery I wore was from The Cross, by a designer called Sophie Theakston. I had mismatch gold and diamond moon and star earrings and a gold diamond garland necklace.
My wedding pyjamas were by Parasol Rose, a British sleepwear brand by designer Mim Quinn who we stock at the Cross. A white silk and lace set, they were so comfy and luxe to get ready in. I also had a beaded box bag by Shrimps.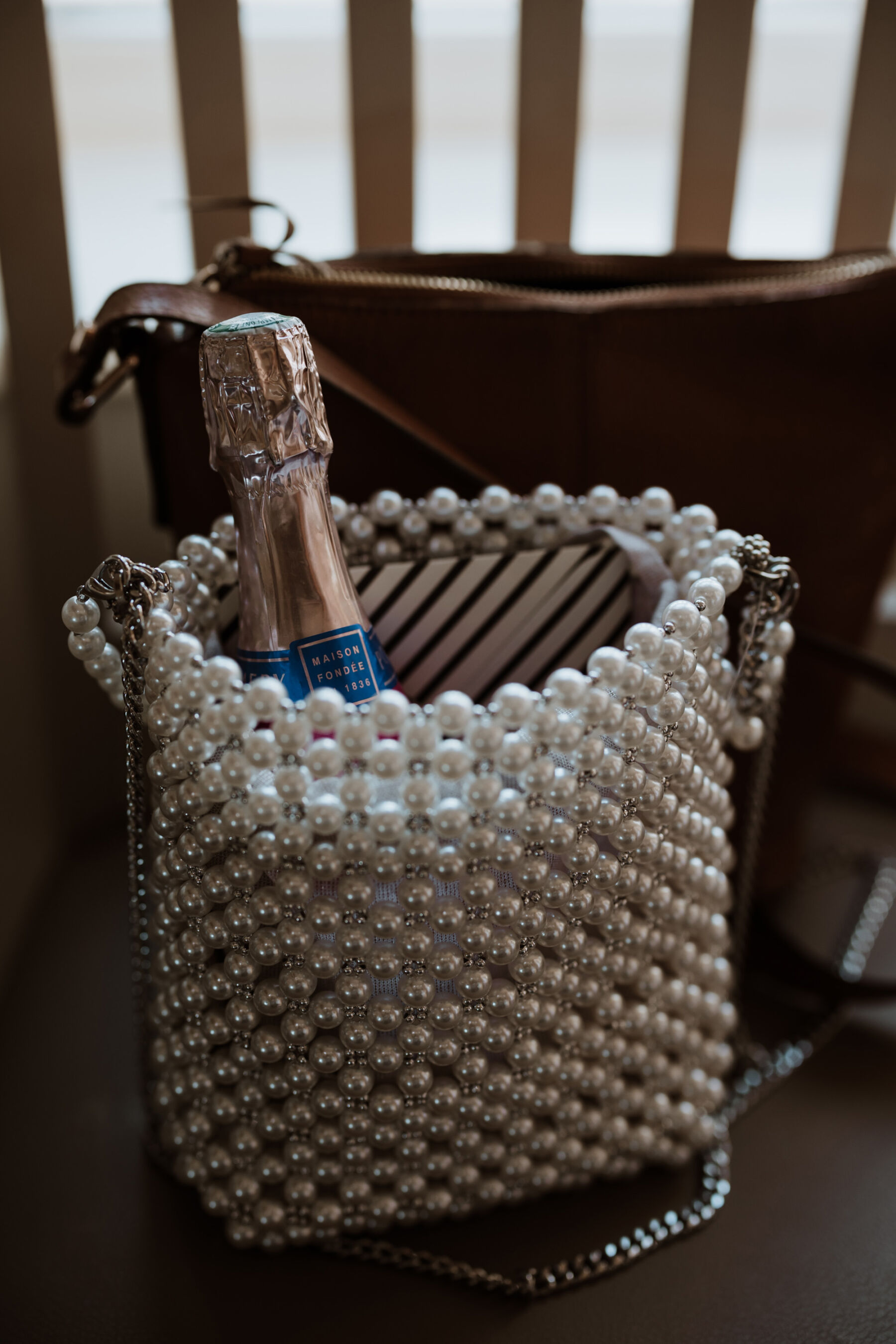 Quite handy for stowing your phone, lipstick and handkerchief and a tiny emergency kit of earring backs and plasters etc. I did not expect to carry it much but it was handy.
I also had my auntie's wedding hat pin for my "Something Old". It's a mother of pearl pin, and we incorporated it into my bouquet.
Although the dress had a beautiful lace train, my bridesmaids made a good point, this is the only day you get to wear a veil! I researched a few bespoke options and settled on Natasha Nicole Studio, which I found on Etsy. She does the most beautiful bespoke embroidery. Natasha was so helpful, working with my budget and my design ideas and sending me lace samples to help me choose. The veil had little embroidered stars and moons and our initials. I love it so much, it actually perfectly complimented the dress.
As a lot of brides go for these days, I went for Loeffler Randall Dahlia shoes, in champagne gold plisse. Sensible height and chunky heel, I didn't change all day! I had amazing flats from The Cross but I did not need them! The Dahlias were perfect for dancing the night away in.
The Dress
I wore a Rime Arodaky gown from The Mews Bridal in Notting Hill. I had spotted my dress designer a few times on here and other wedding blogs.
I bought my dress on a designer day, so I have a beautiful sketch of the dress by the designer herself. The Mews Bridal was an amazing environment to buy a dress. They were so helpful and gave me so many tips, from covering your face with a hair net when putting the dress on to telling me the right spots for fashion tape. The specialise in French designers, and the whole boutique oozes Parisian chic. I would definitely recommend this boutique.
I wanted a few different things in my dress. I loved the idea of a backless dress. I knew I wanted a silk dress with a touch of lace as opposed to full-on lace. I also wanted some movement in the skirt of the dress, I don't know how people dance in those fishtail styles! And that was essential for me!
The Mews recommend trying on five styles, but I really had my heart set on the INXS style, and as soon as I put it on, I knew it was the one! I loved the back, the lace inserts and lace train, it was so romantic and ethereal and felt like me.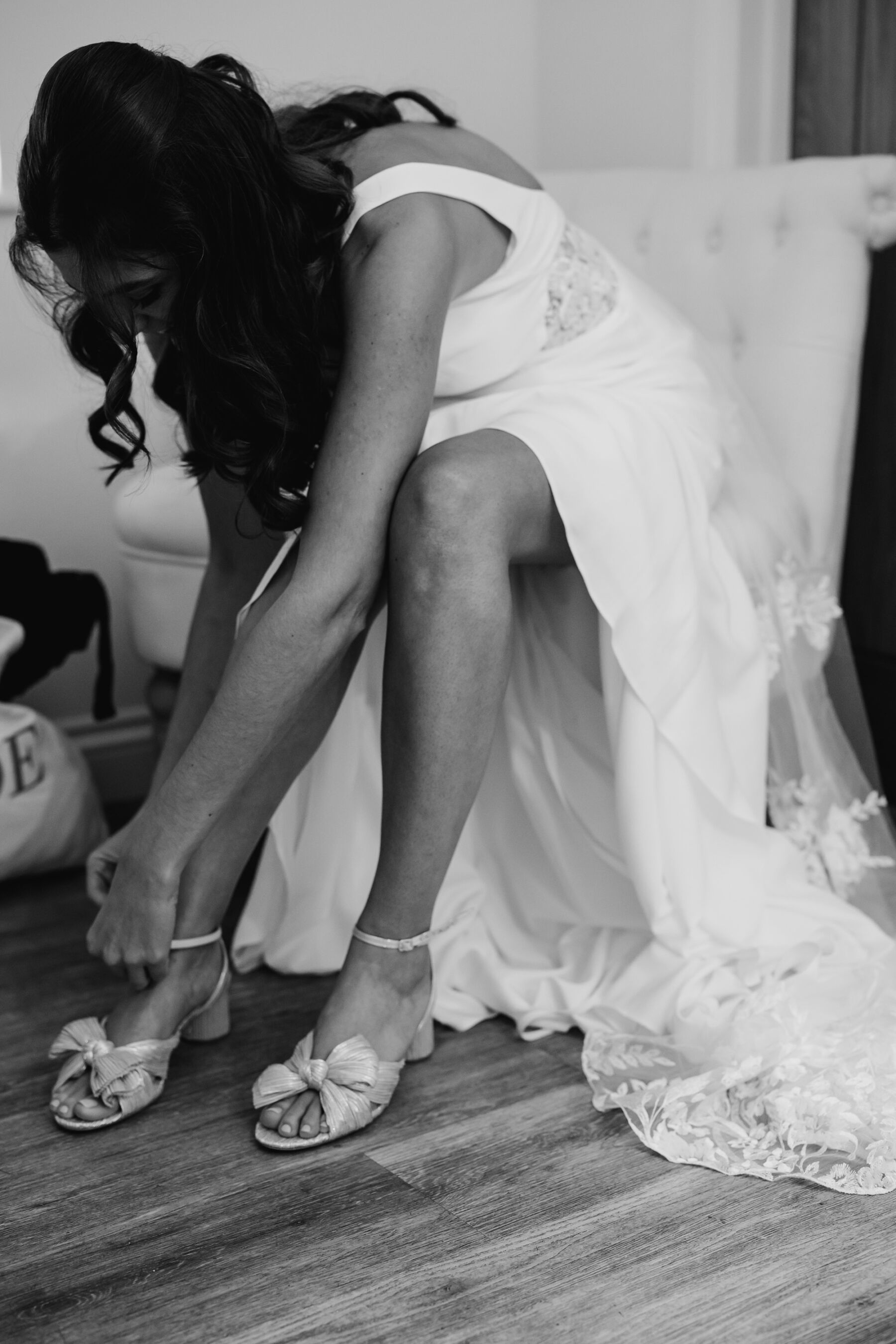 Bridesmaids
The girls wore champagne gold dresses by True Decadence. The only brief for their shoes was nude or metallic! Their dresses were floor length and their feet wouldn't be seen much. A couple of them wore their own wedding shoes! I had been a bridesmaid for all of them previously, so it was quite poetic that they wore their previous wedding shoes! All my bridesmaids have a leather jacket, so instead of a predictable furry stole, I told them to bring their leathers in case it was cold. As it turned out, we have the best weather ever!
Our nieces wore crochet lace top dresses bought from Flower Girl Boutique online.
As Billy (our nephew) was the only page boy, we said he could wear what he wanted and we got him a matching tie to the groomsmen.
Groom
Joe wanted a wool suit in deep green, as a nod to the autumnal season. After shopping around all the obvious suit shops, he settled on a wool Donegal green three-piece from Moss. It wasn't fitting perfectly so he went to Magic Stitch in Kensington. They did an amazing job tailoring the jacket to perfection.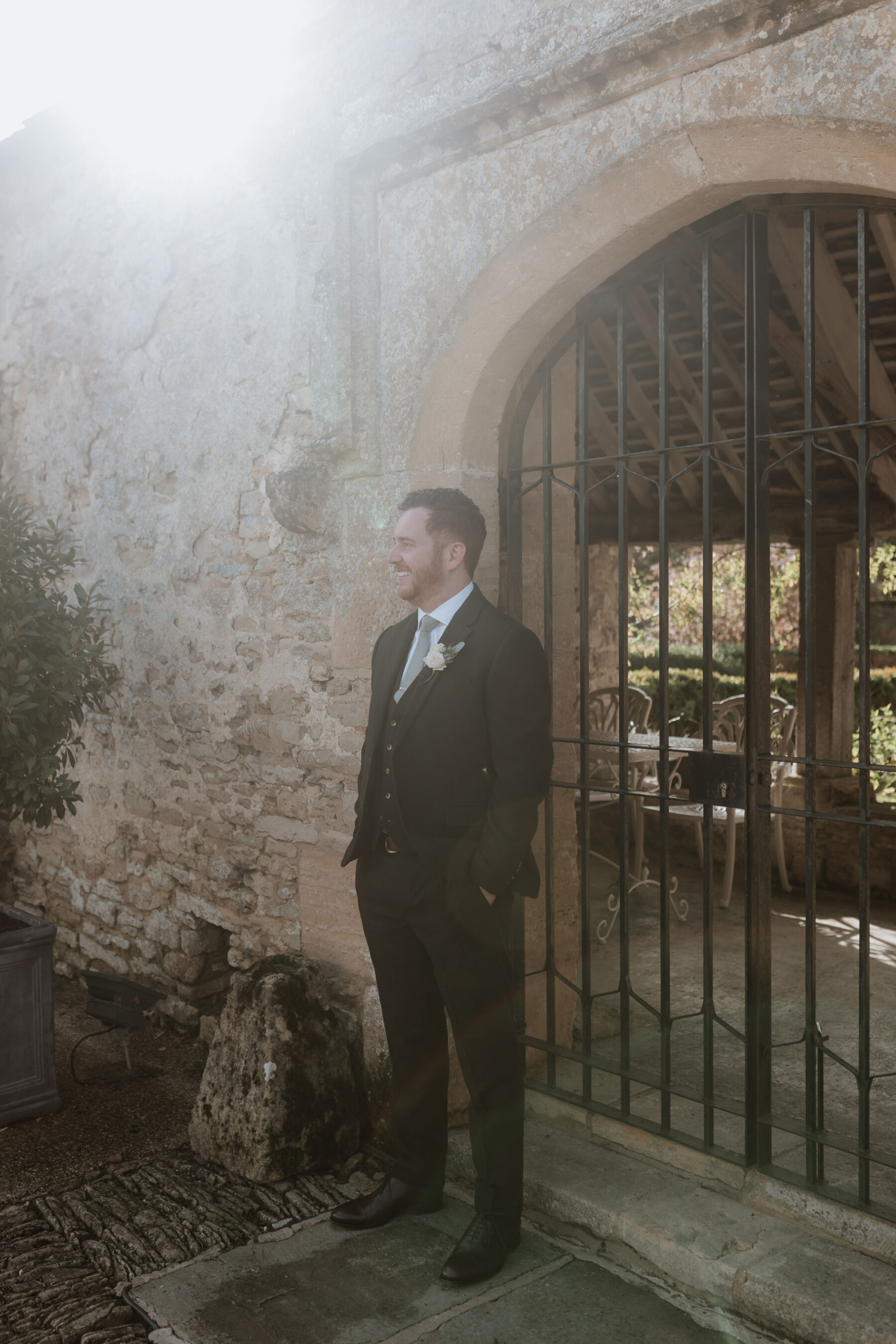 I knew of Magic Stitch via work and refer a lot clients here so I knew they would do a great job.
Joe wore his late grandad's sleeve garters and an engraved gold tie-pin. I had bought him a Paul Smith (his favourite designer) brown belt and fox printed socks (a nod to LCFC).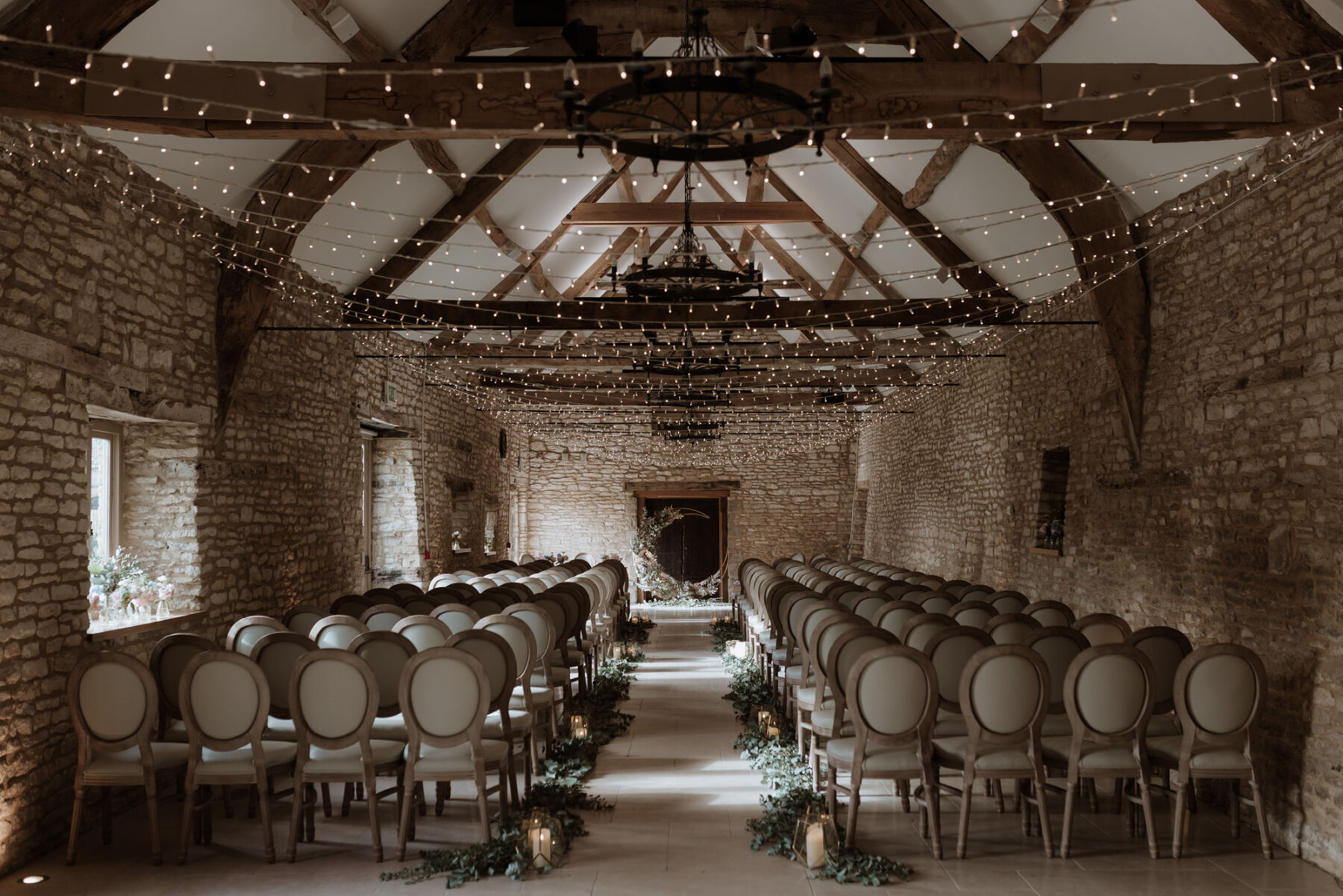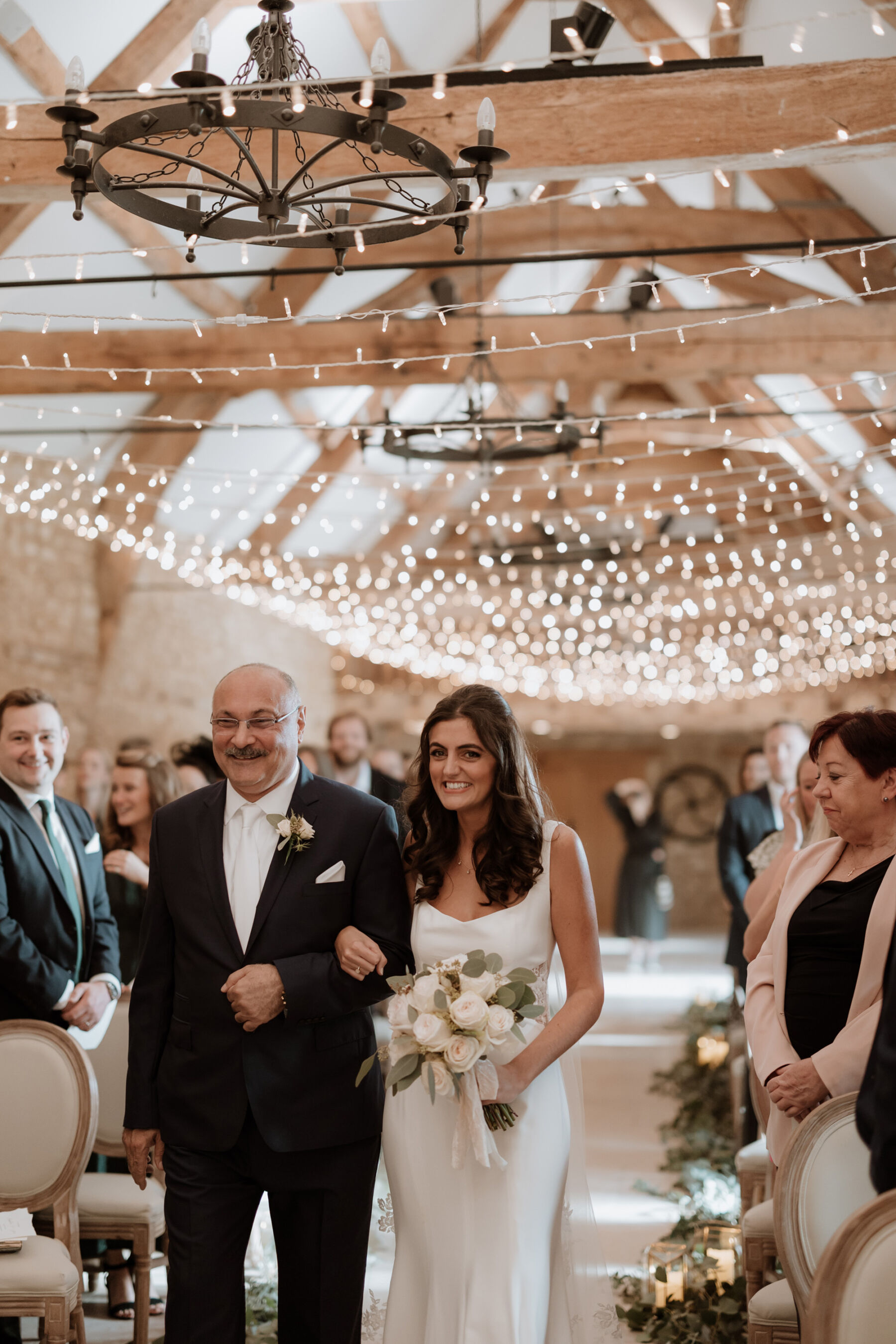 The Ceremony
---
Joe bought the engagement ring and the wedding bands from Crystalink in Birmingham's jewellery quarter. It is a jewellers that Joe's family have used for generations. Joe's dad and granddad had both bought their respective wives engagement rings here.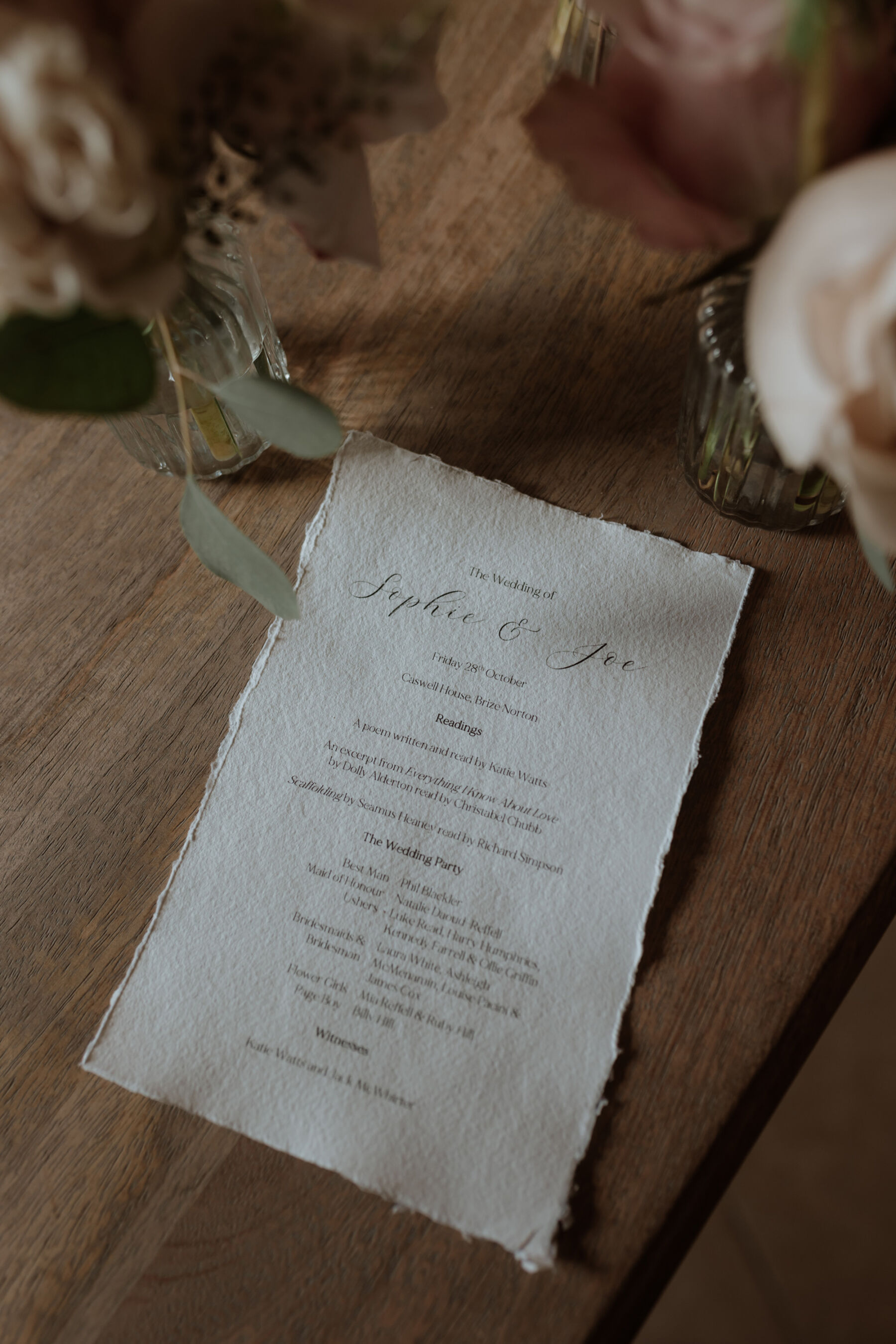 We had three readings. Firstly, we had a poem written and read by my friend Katie. Each flower in her poem had some significance to me and Joe;
Love is like a bluebell
Fragile, delicate, appearing overnight
Turning ordinary woodland walks
Into pathways of springtime delight
Love is like a foxglove's purple bells
chiming in a soft summer breeze
Weaving a spell of secrets
It whispers of wishes and a couple's dreams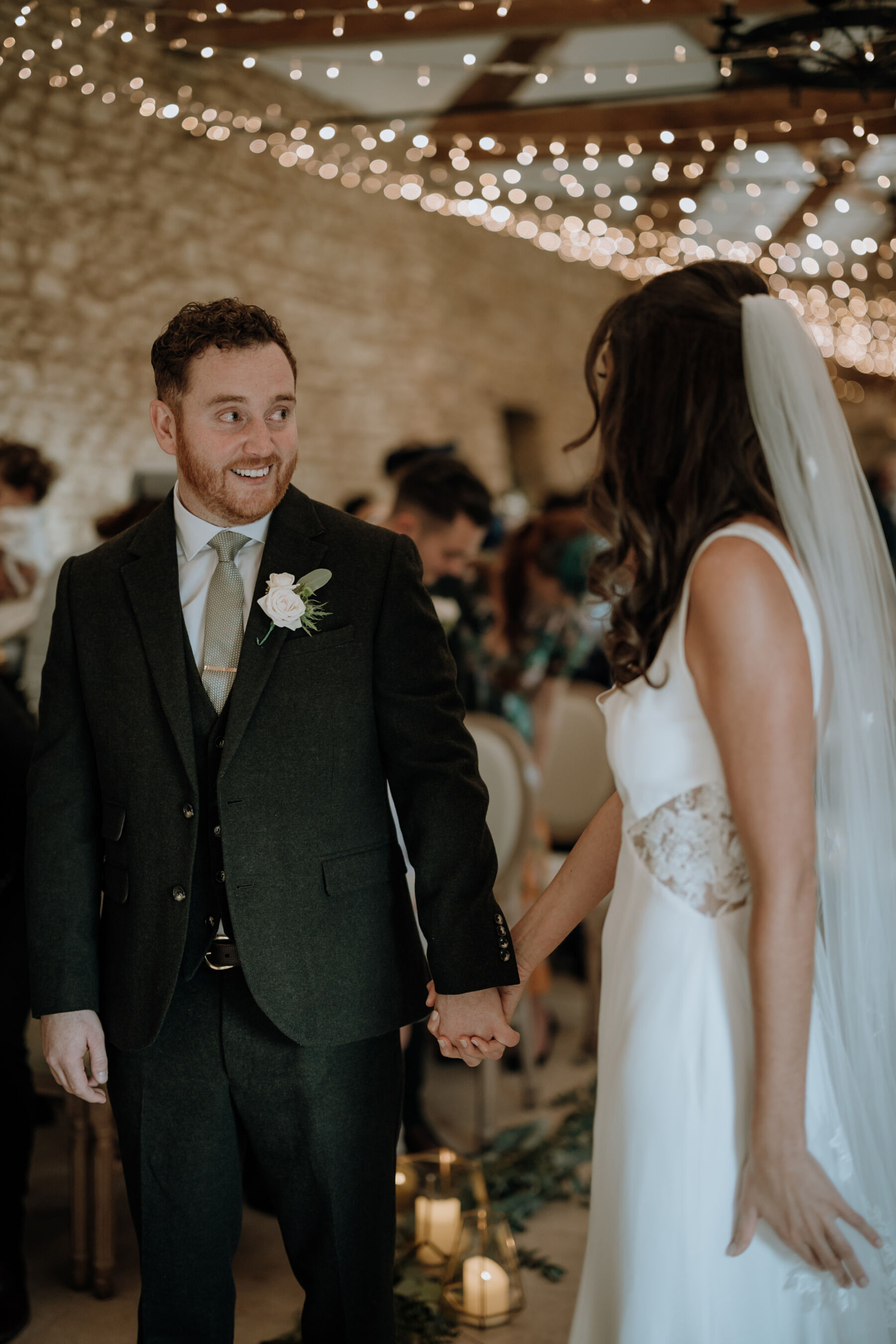 Love is like a thistle
The warrior of summer's hottest hours
Strong, resilient and unwavering
Offering shelter from tempest's showers
Love is like a red, red rose
From English gardens to distant lands
Its beauty blossoms for all to see
Unfurling to join hearts and hands
Love is what blooms this Autumn
A celebration of marriage held today
The foxglove, the thistle and the roses
Combined in love's ultimate bouquet.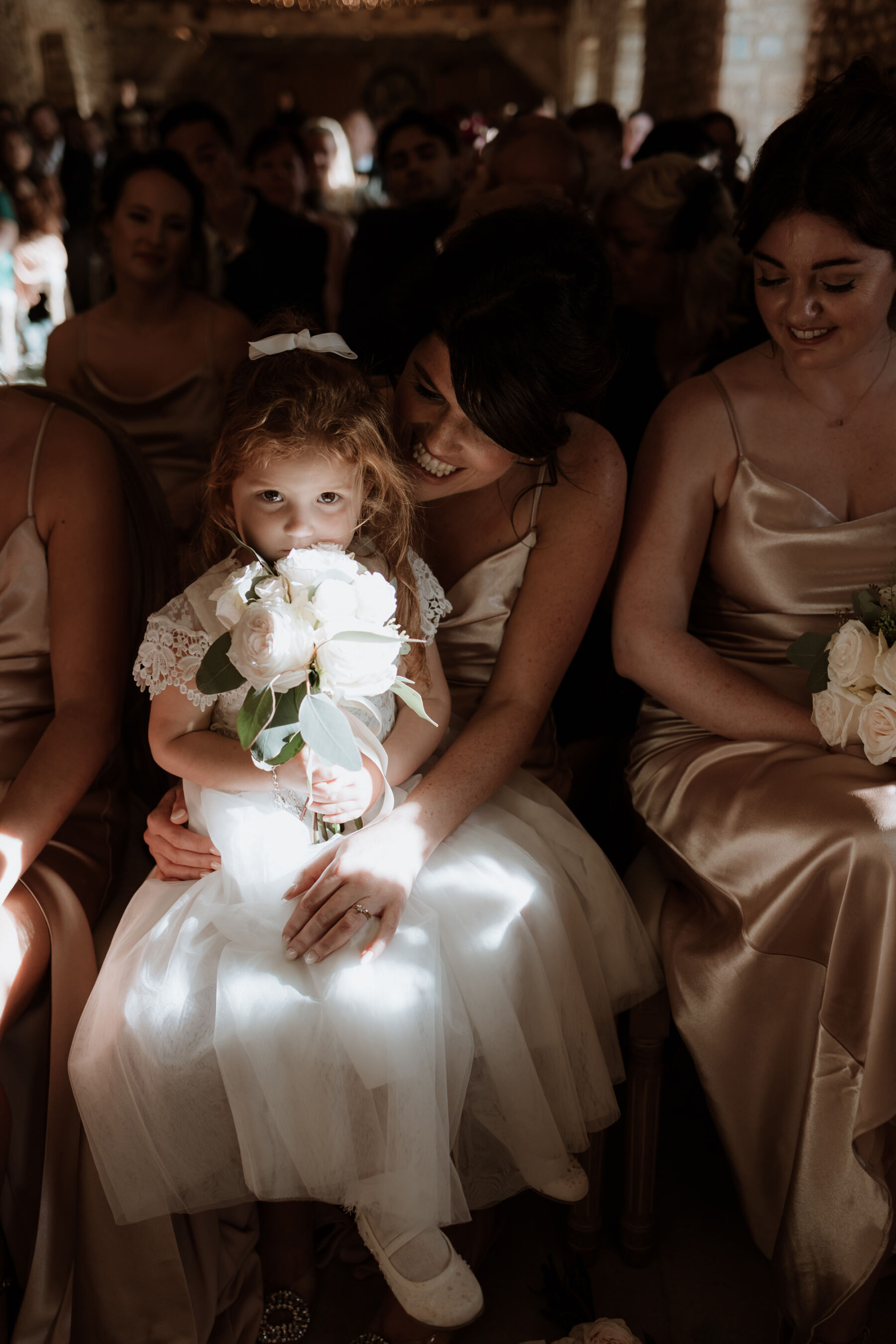 Then, an excerpt from Everything I Know About Love by Dolly Alderton read by my friend Christabel. This piece really felt like us. Lastly, we had a poem picked and read by Joe's friend Richard, Scaffolding by Seamus Heaney.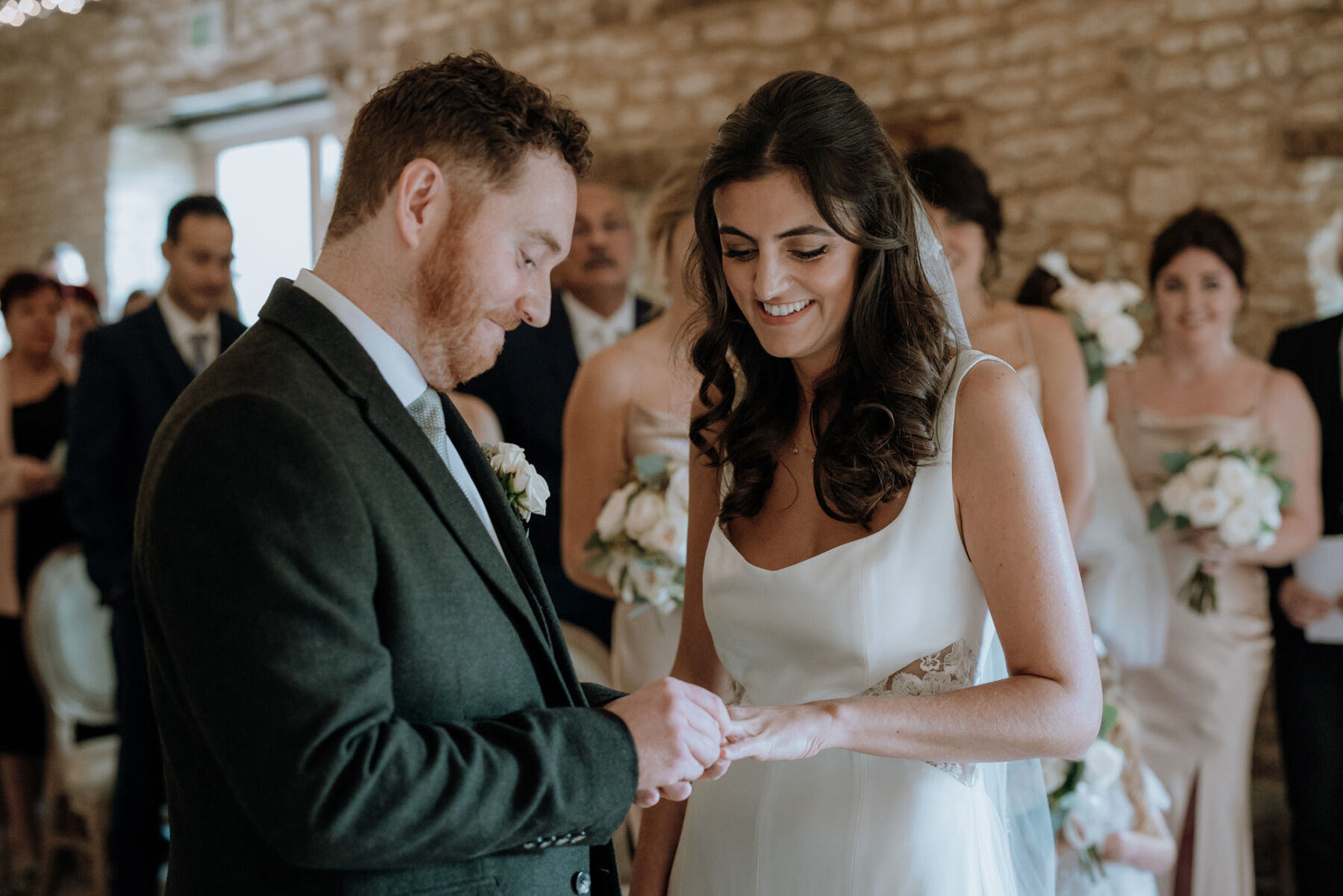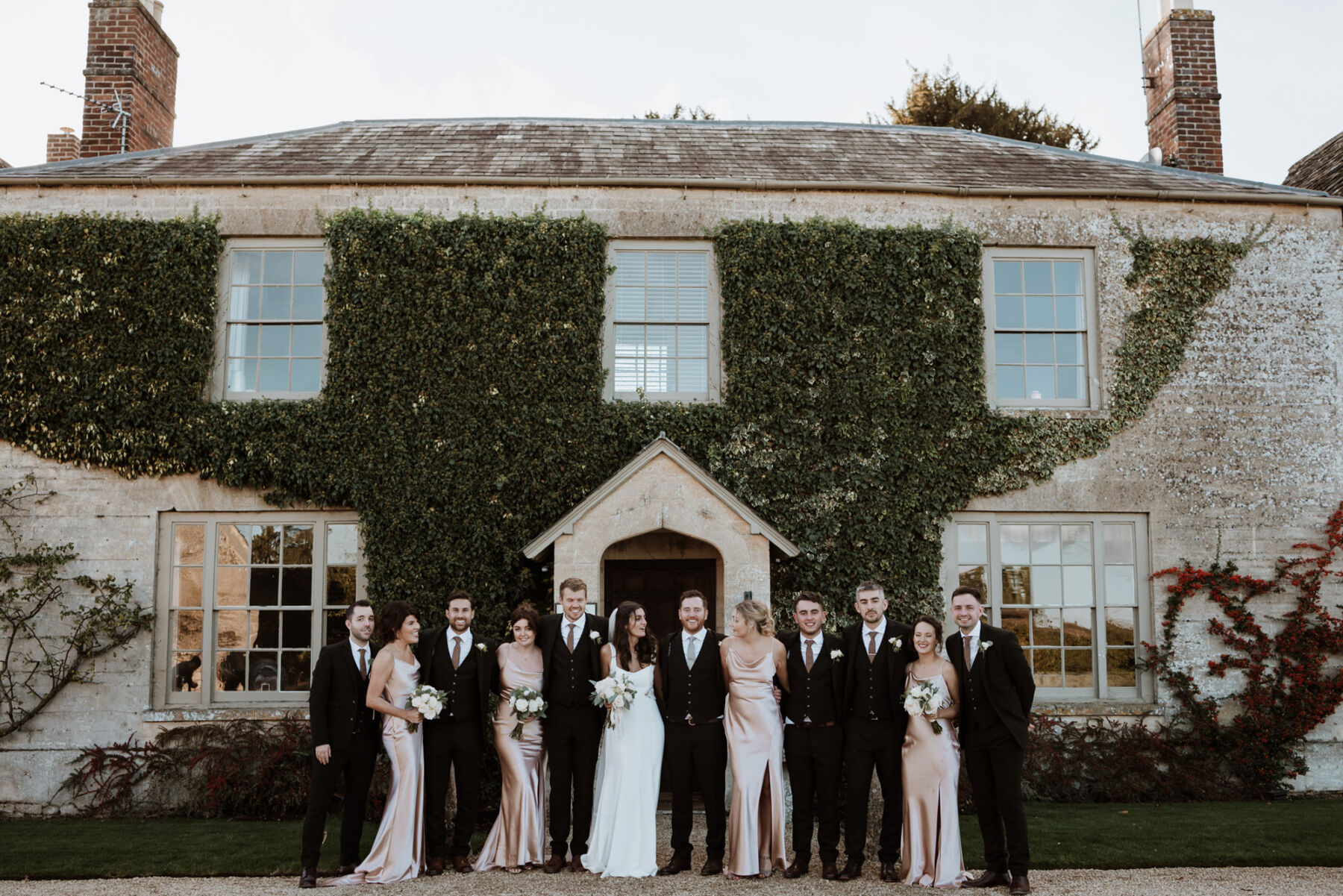 Photography
We both discovered Tash Busta independently so when we came back to each other with the same person, it was a moment.
We had an initial video meeting and we immediately got a good vibe from Tash, who just seemed like a friend we'd had for ages. We told her that we wanted a relaxed approach with candid shots and we wanted to capture the party spirit. In the run-up, Tash was so reassuring and always on hand if we had any queries.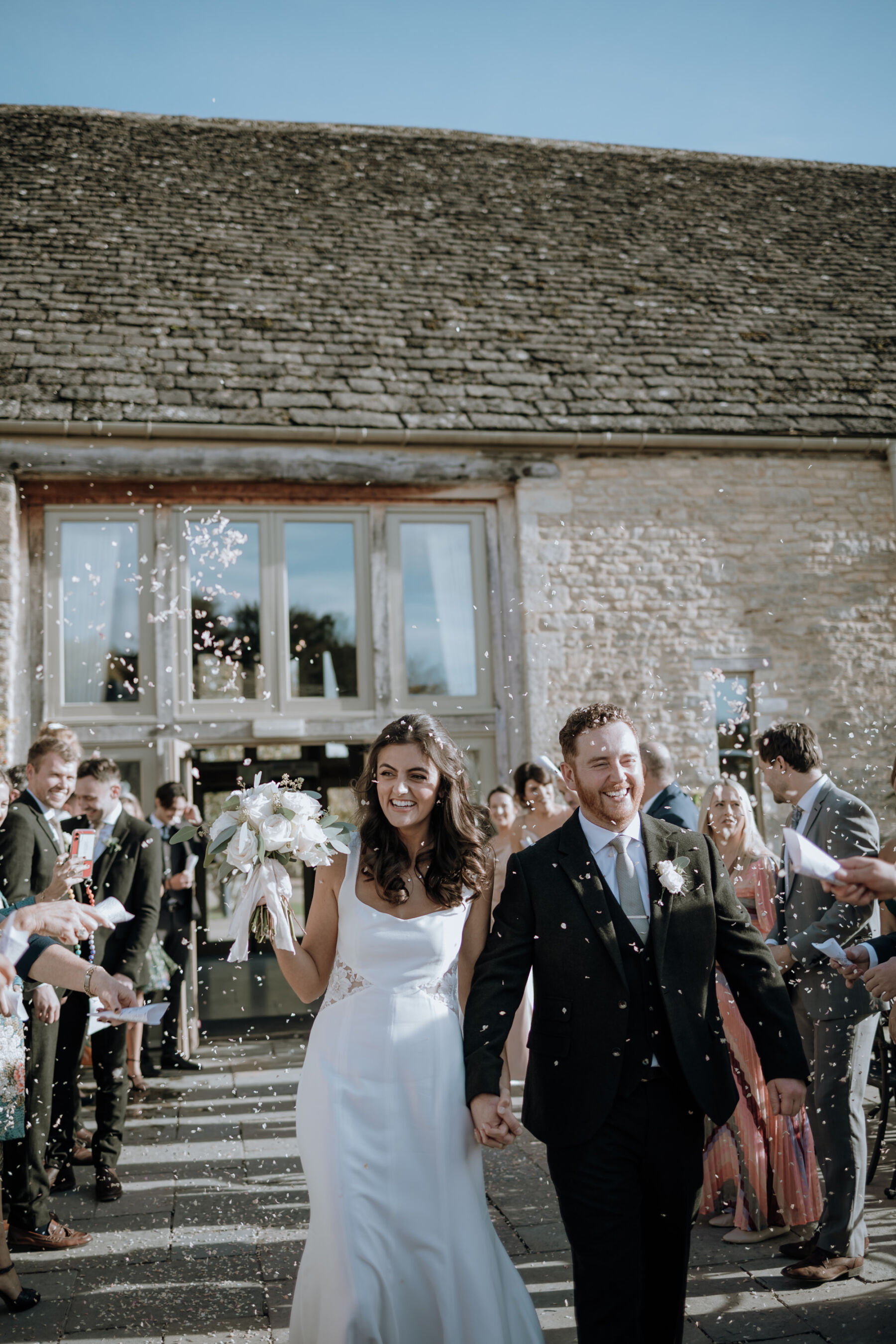 On the day, Tash had this talent to be like a comforting friend but also invisible. She made me feel at complete ease throughout the getting ready moments, and during the couple shots, she had this ability to make us feel so relaxed.
What was also such a bonus with Tash, is the preview sent a couple of days after the wedding. These really keep you going until you get your full package!
When our beautiful pictures came back, I was elated. Every day since the wedding, I find myself glancing at yet another beautiful shot. It's the gift that keeps on giving. I feel like Tash executed exactly what I wanted. I was in love with the delicate moments and the fairytale couple shots and Joe absolutely loved the party shots and the sneaky candids.
I could not be happier with our choice of wedding photographer, I would highly recommend Tash to anyone getting married!
We were extremely lucky to have a great friend, Michael Herd, do our videography for us. He is a Sky News cameraman so we knew we were in absolute safe hands with him. Our final video is a beautiful montage set to our first dance song.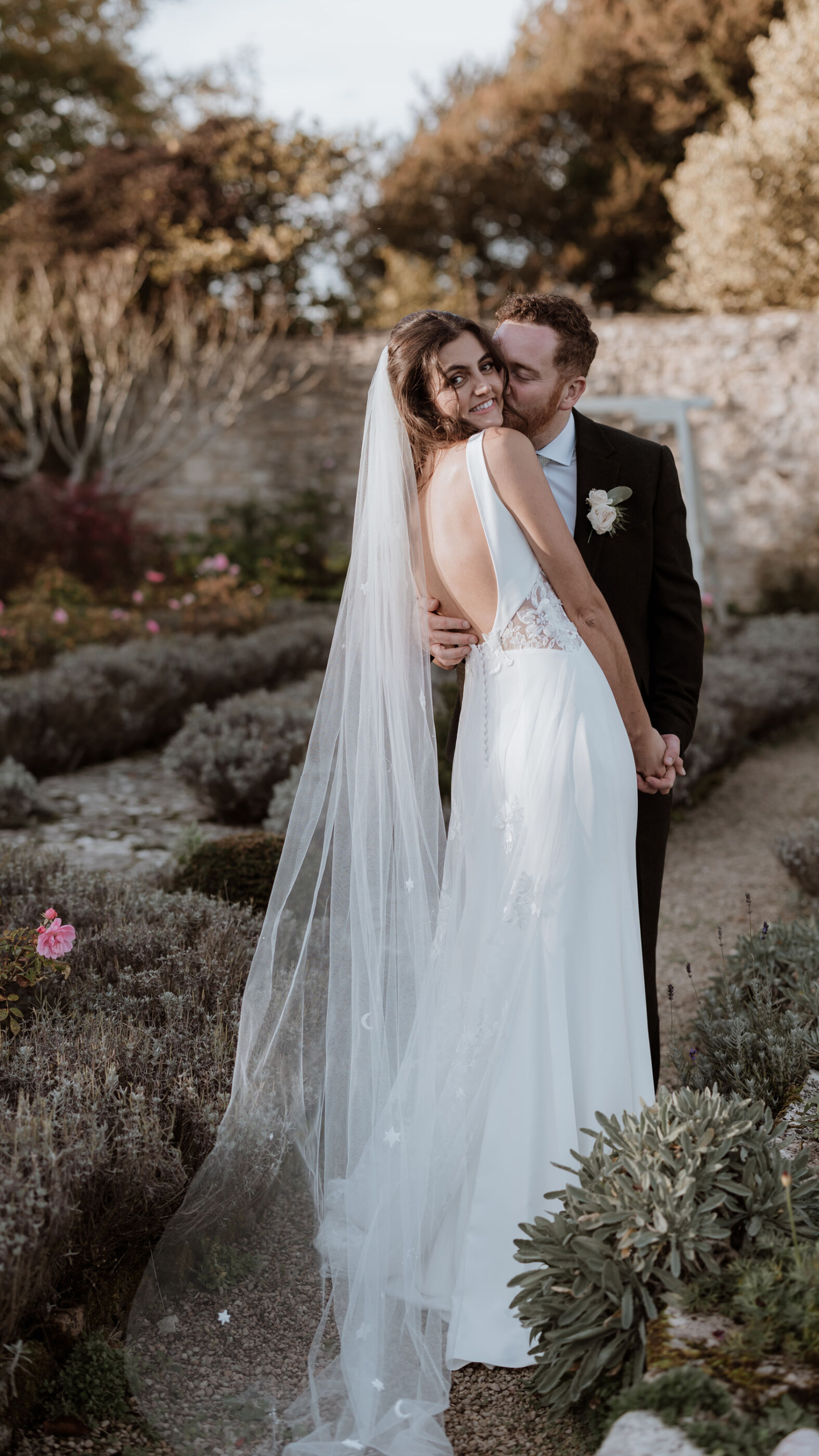 How They Met
We met in the Prince Albert Pub in Notting Hill at the beginning of summer 2017. After dating a while, we moved in together luckily just before the pandemic hit! In 2021, we booked a holiday to the Algarve in Portugal. On the second day, on an evening stroll along the sea cliffs, Joe proposed!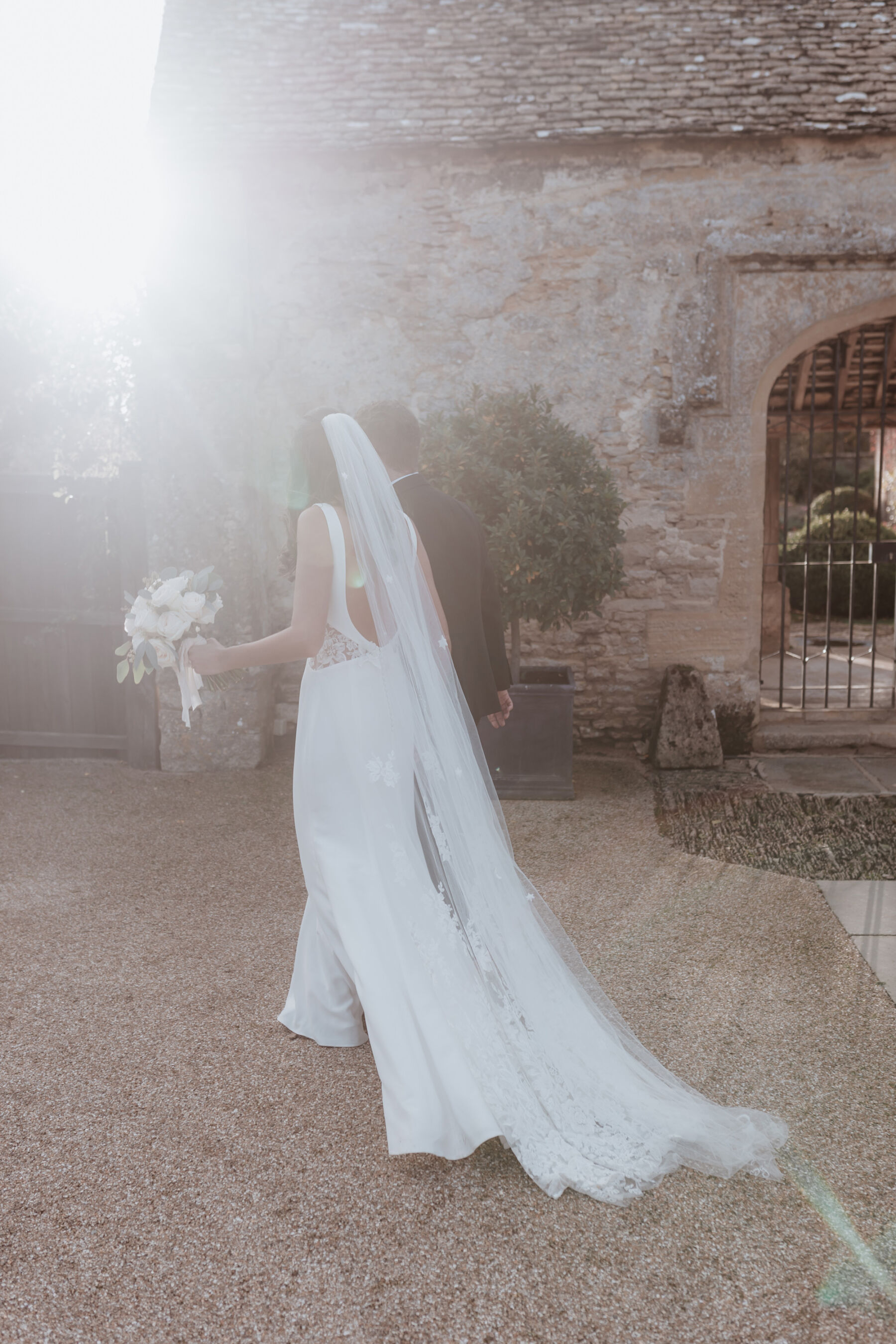 Usually a calm and together person, Joe cringes about how he fudged his words when asking me. I don't remember this, and it was perfect to me! I do remember taking a while to say yes and joe struggling, bare kneed on the pebbly ground.
We were engaged for sixteen months, a long engagement gives you ample planning time and it's so nice to revel in the engagement bubble for as long as you can!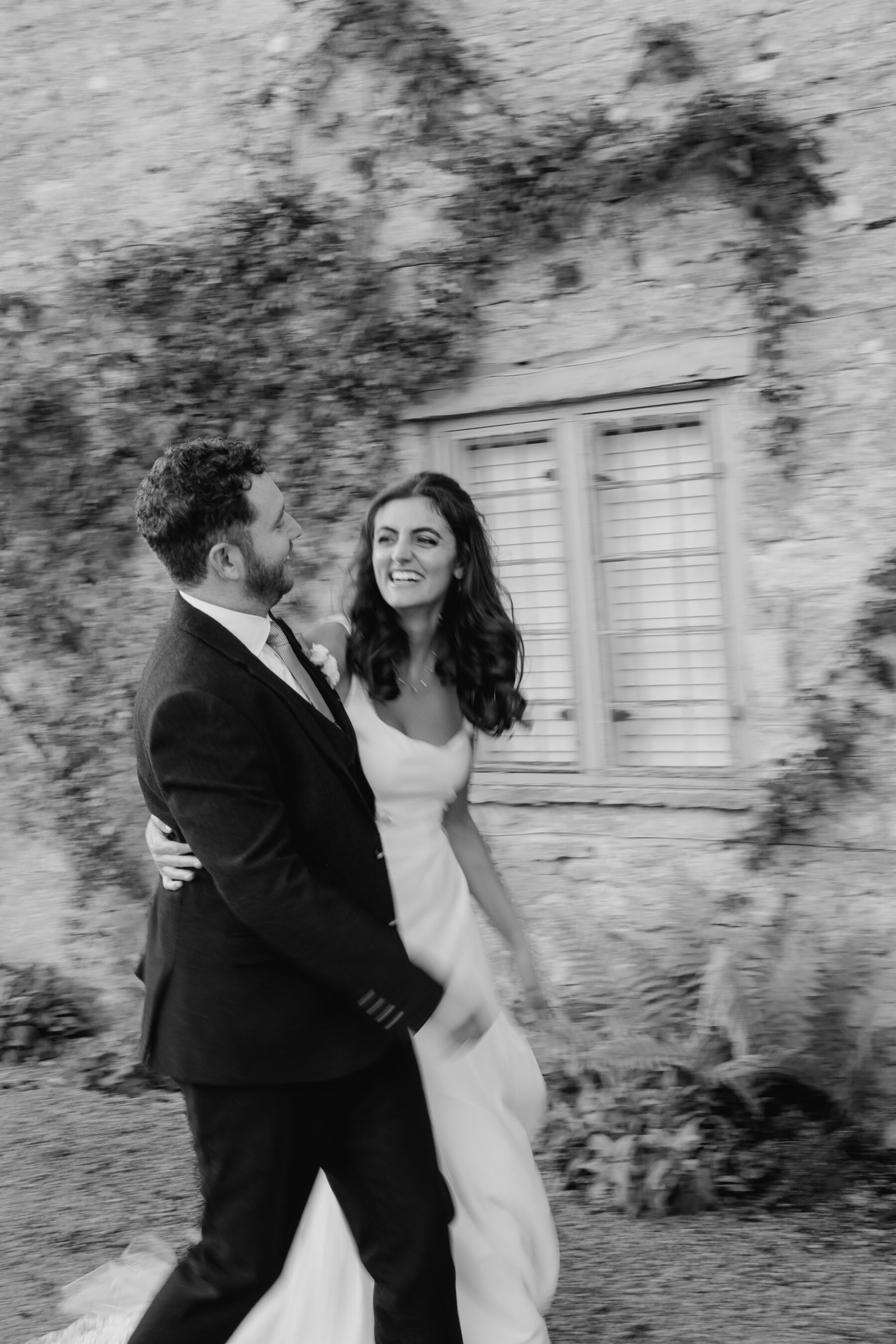 Flowers
We were very lucky to have such talented friends. One of my very good friends, Robyn, works for Wild at Heart. There was never any question of consulting anyone else as she simply wouldn't let me. Robyn knows my taste so well, and knew exactly what kind of flowers and colours I would want (and also which flowers I hate!)
I wanted romantic and dusty shades of pink, nude, off white and blue. We had little jam jars and bud vases of mixed eucalyptus foliage and blousy roses, anemones, ranunculus and delphiniums on the tables.
My bouquet was made up of White O'Hara roses, which smelt amazing. Scarlett O'Hara also happens to be my favourite film heroine so it was a good sign! The boys had white thistle boutonnieres (a nod to my Scottish heritage). The bridesmaids had bouquets of quicksand roses.
We recruited some help with another friend, Kerrie, who works in PR and has flower arranging experience. Her and Joe went and got all the pre-ordered flowers the day before the wedding from Covent Garden Flower Market. We travelled down to the Cotswold with trays of jam jars in the boot. The smell was incredible!
Reception
Decor & Detail
---
I didn't have a strict colour palette. There were touches of watery blues, eucalyptus green and of course, all shades of pinks, nudes and creams with metallic elements throughout.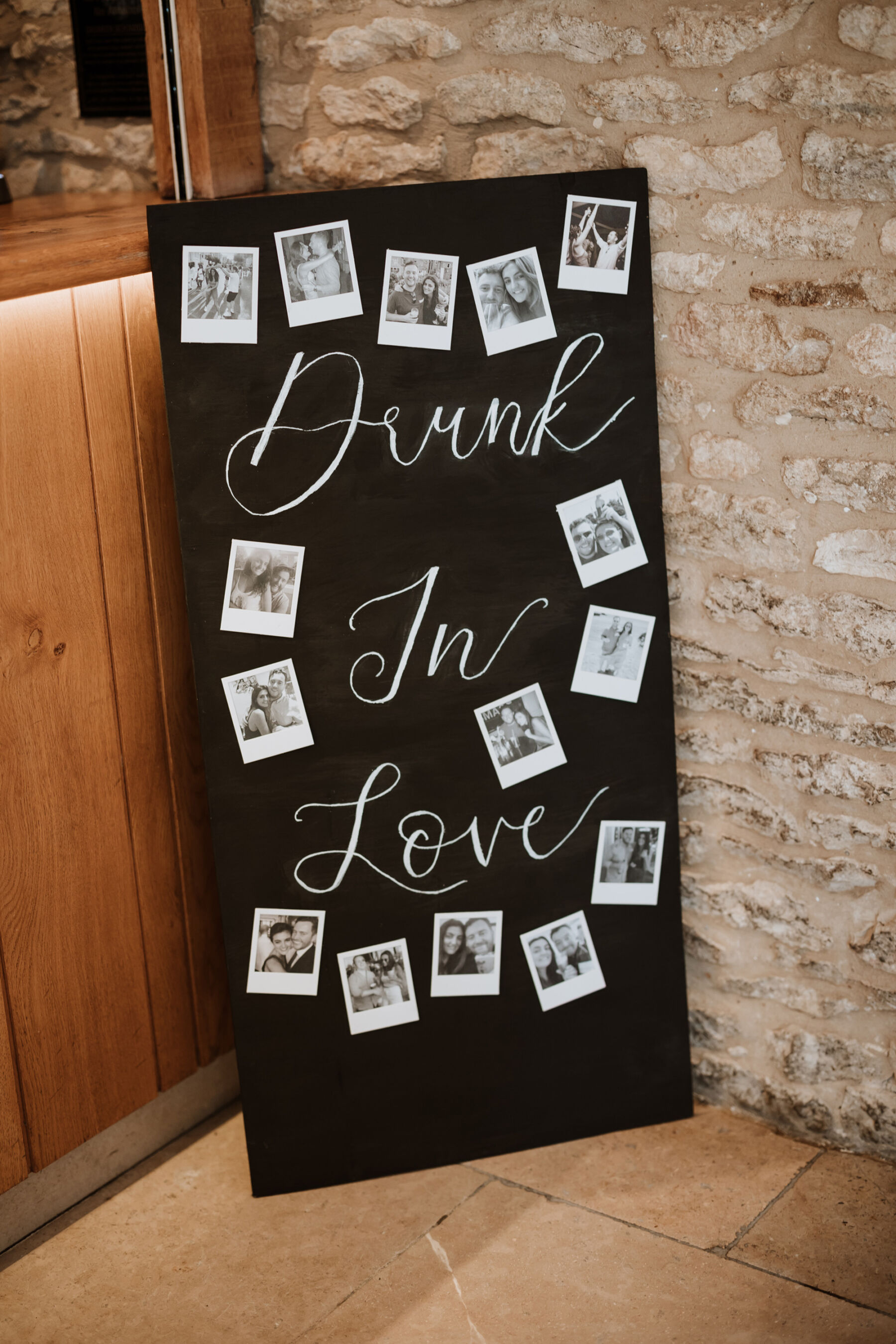 I designed and made all the order of services, menus, place-cards and table numbers myself. We sourced the khadi paper from and an independent gallery in Cuckfield, Artologie. I took up calligraphy for the task!
We made the table plan and welcome sign from scratch with scrap wood, paint and paint pens! Pinterest was huge source of inspiration.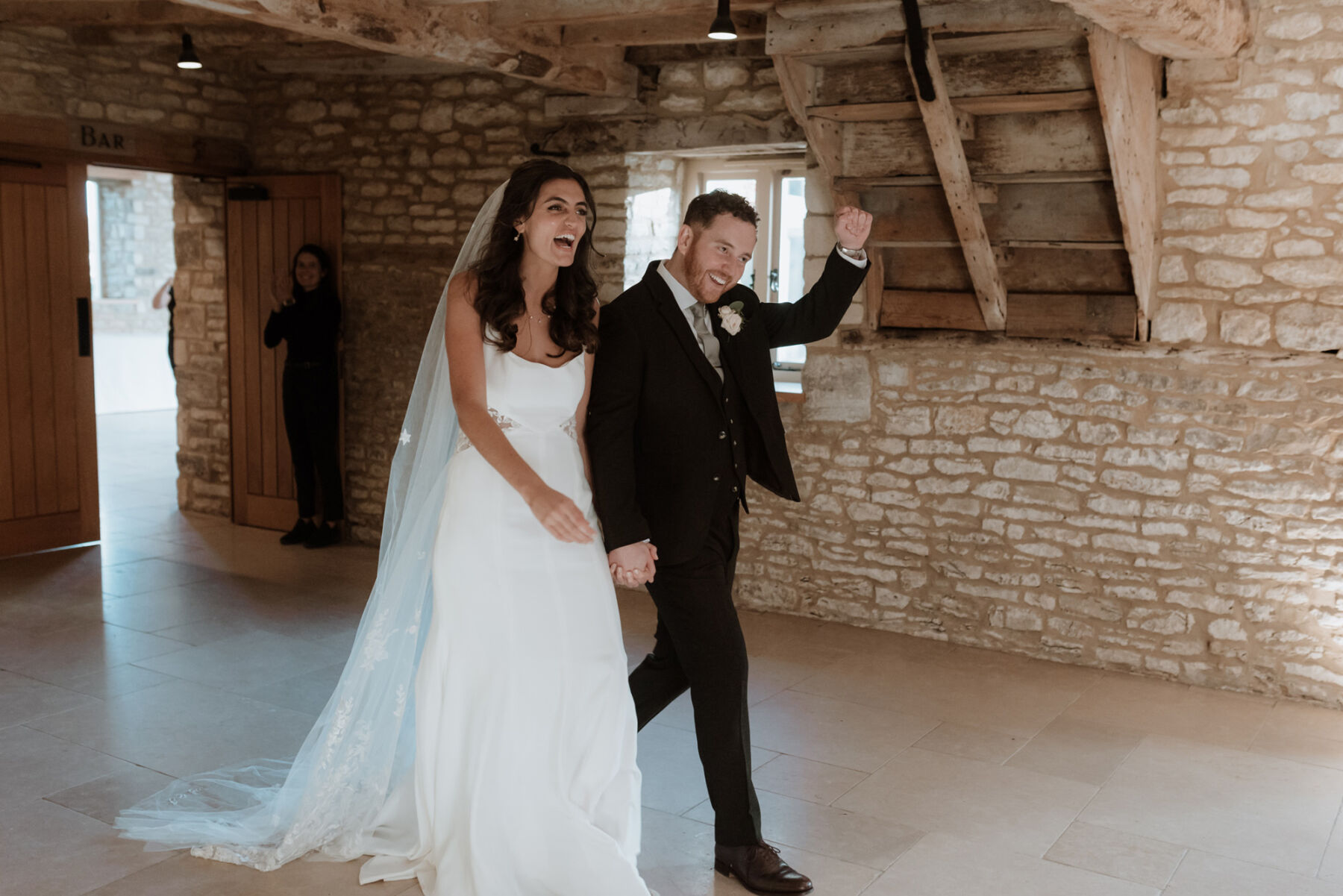 Every place setting had a little box of matches with our monogram on them. These were sourced from Etsy. After many fun date nights together at Ognisko Restaurant in South Kensington, we sourced their house vodka, Kavka. We had flavoured vodka shots on every place. The mini demijohn bottles were found online. We had three flavours, orange & ginger, raspberry and lemon. These went down a treat.
As mentioned before, we had a flower arch in the shape of a crescent moon. The faux flowers for this all came from Lavenders of London, an amazing events company.
My colleague Jess does all our window installations. She happily got on board and dressed the moon arch for me.
Other bits of décor from baskets, lanterns, votives and platters were an eclectic mix from The Cross, Kempton Market and Lavenders of London.
We called upon our great friend Jack who is a professional baker and chef. Jack kindly baked different samples for us to try and helped us choose our flavours. We had three different tiers, Carrot, Passionfruit and Lemon. The cake was decorated with flowers and a crescent moon cake topper.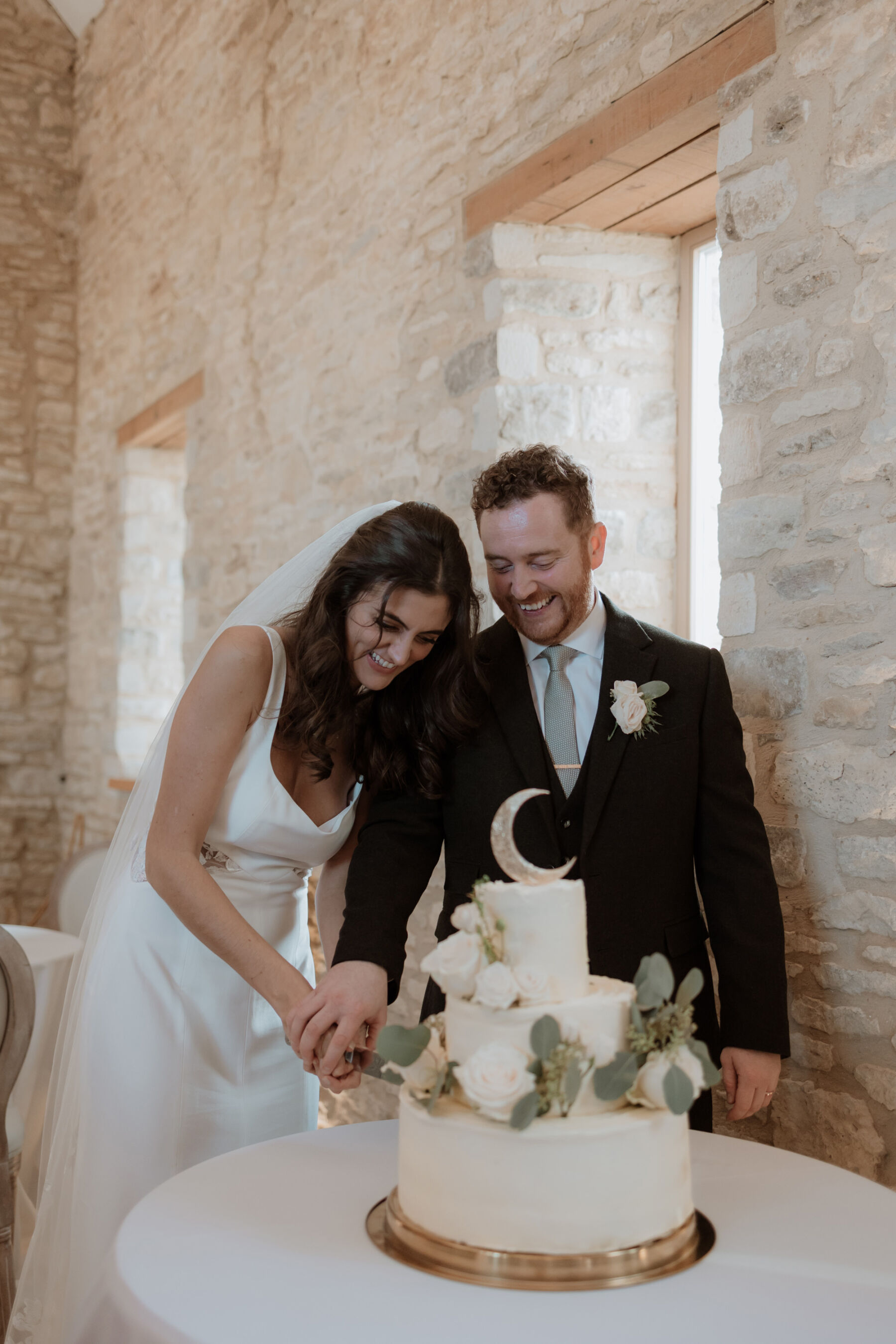 Evening & Dancing
We danced to Paolo Nutini – there was no other way as our first dance track. It's an album track and doesn't mean much to anyone else but me and Joe, but it took us back to our early dating days playing Paolo's old albums in my kitchen while we cooked dinner together and drank wine.
The week of the wedding we actually went to see Paolo perform live at Alexandra Palace.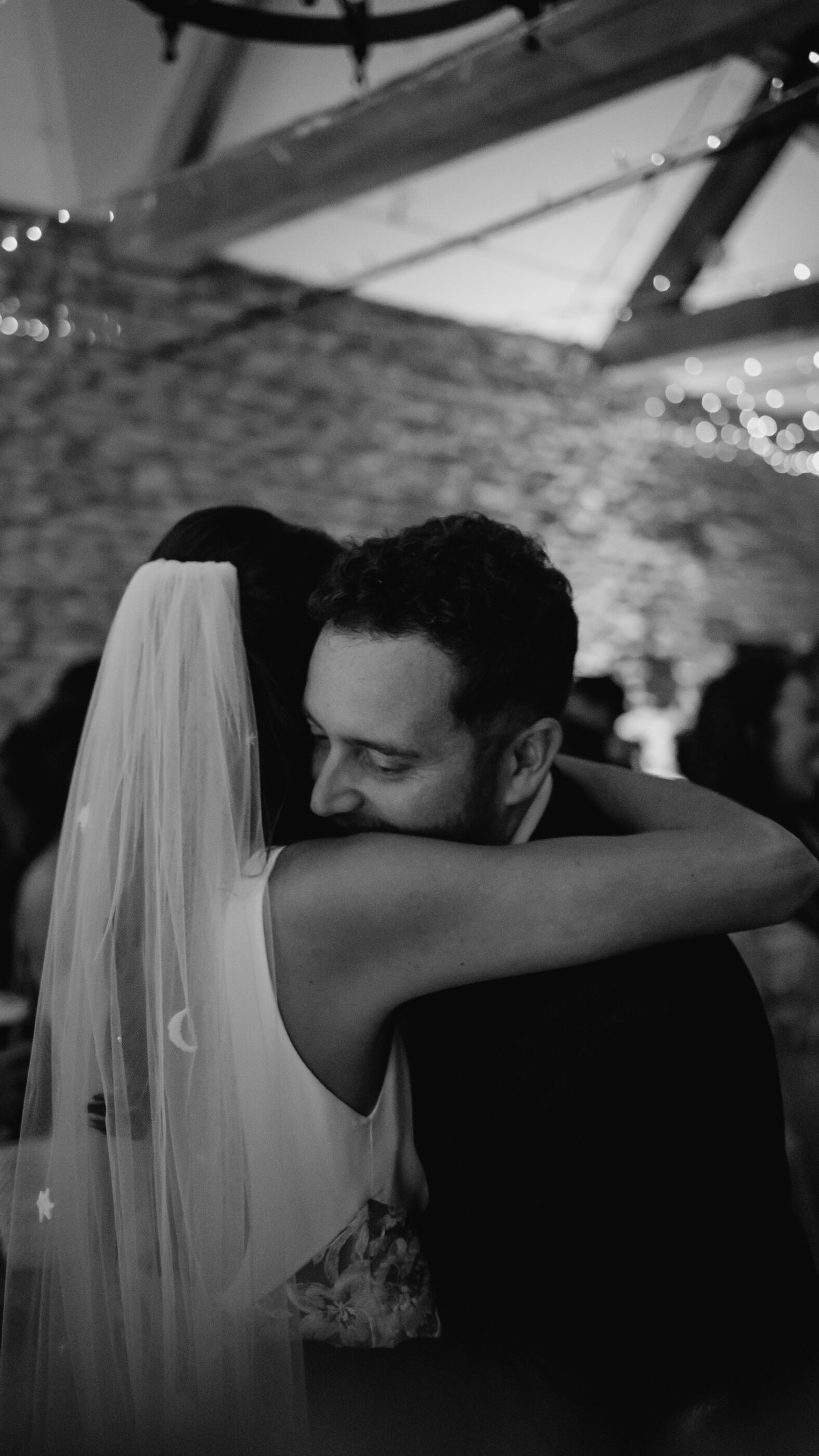 Words of Wedded Wisdom
Be true to yourself and what you want. It's so hard to do, when there are so many outside voices, but the truth of the matter is, you can't please everyone so really, just please yourselves as the day is all about you! When people ask me now if I have any regrets about the day, I find it easy to say no. We really did things our way, and we were so happy with the result.
I think because we paid for the vast majority of our wedding ourselves, this is easier for me to say, so I understand if you have financial help from others, it's not so easy to discount their opinions! In this case, I would say make sure you do not compromise on the things that matter most to you and give your family some little wins along the way!
Make sure you really soak in every minute of the day, as it goes so fast. Take it all in and enjoy it. There will be moments of stress and high emotions in the lead up. The big day makes all the stress, organisation, and hard work worth it. Relax, and enjoy what you've been waiting for.
If you're a Type A personality like me, get all your tasks done in good time so on the last week, you can just be zen. Things will inevitably go wrong, but at that point, you will not care.
Lastly, make sure you and your new partner have a moment together in the madness of the day!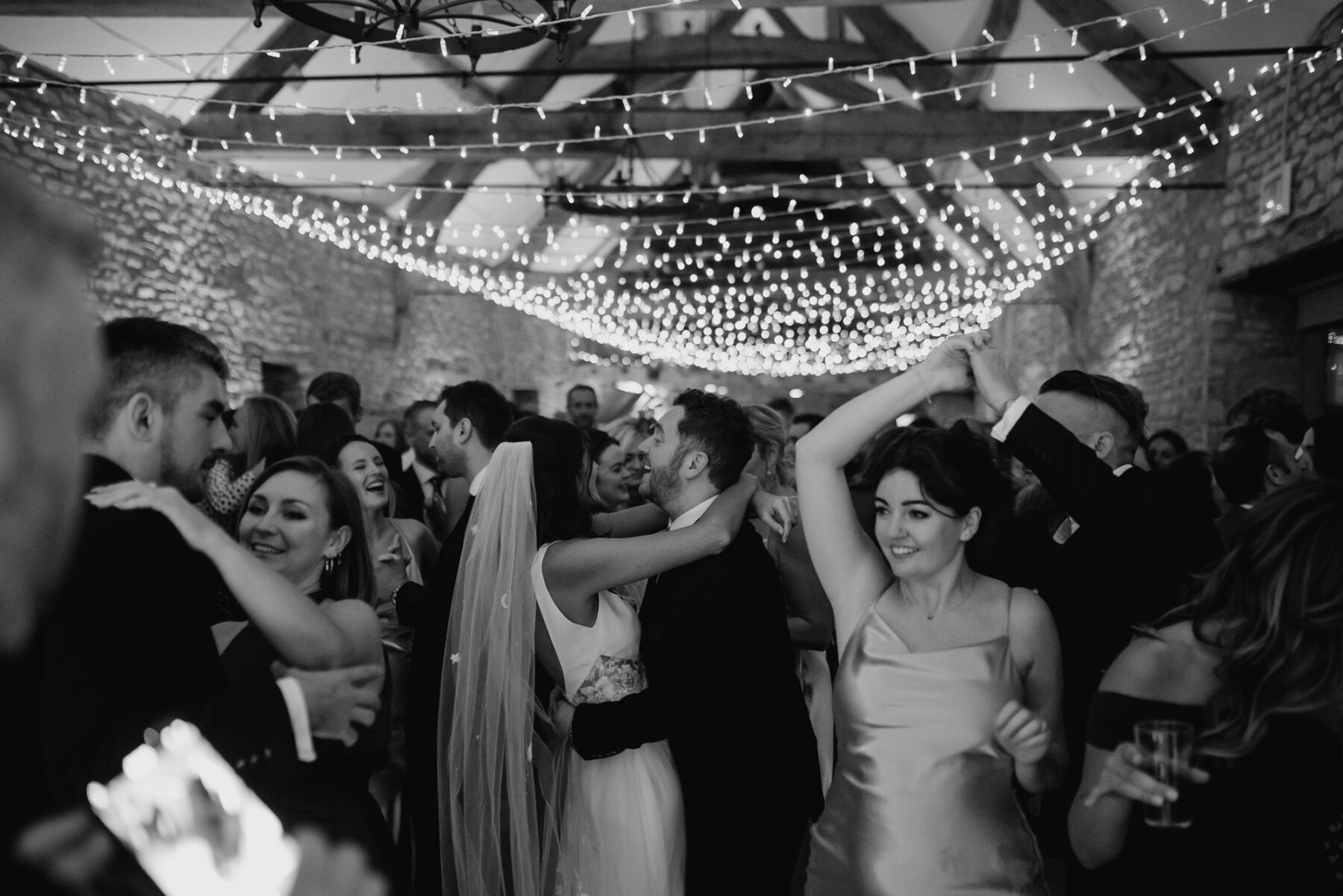 The Shop
Shop Online Now