Livia and Michael's delightful outdoor wedding was held on 6th August 2022 at Durham Castle in Country Durham, UK.
The couple's elegant outdoor ceremony was florally styled by the incredibly talented Blossom + Ash who created a broken arch for the couple to stand beside as they exchanged their vows, and who filled their reception tables with the most beautiful pastel hues and pretty petals.
The bride wore a Truvelle gown and photographer Rachael Fraser captured these lovely images.
The Venue
Mike and I had often talked about Durham Castle being the perfect location and have always been drawn to it. Mike grew up in Durham and I spent a lot of time there during lockdowns. We also had family coming from around the world so we wanted to choose a location that was easy to access. We didn't look at any other venues, we just always new the Castle would be our place.
Being fortunate enough to be celebrating our wedding in August I felt inspired to make the most of having a summer wedding. Additionally, Mike and I love our gardening and flowers so we knew we wanted this to be a focus. We were keen for a whimsical, colourful summer vibe. Beyond this we wanted to show off the gorgeous venue of Durham Castle.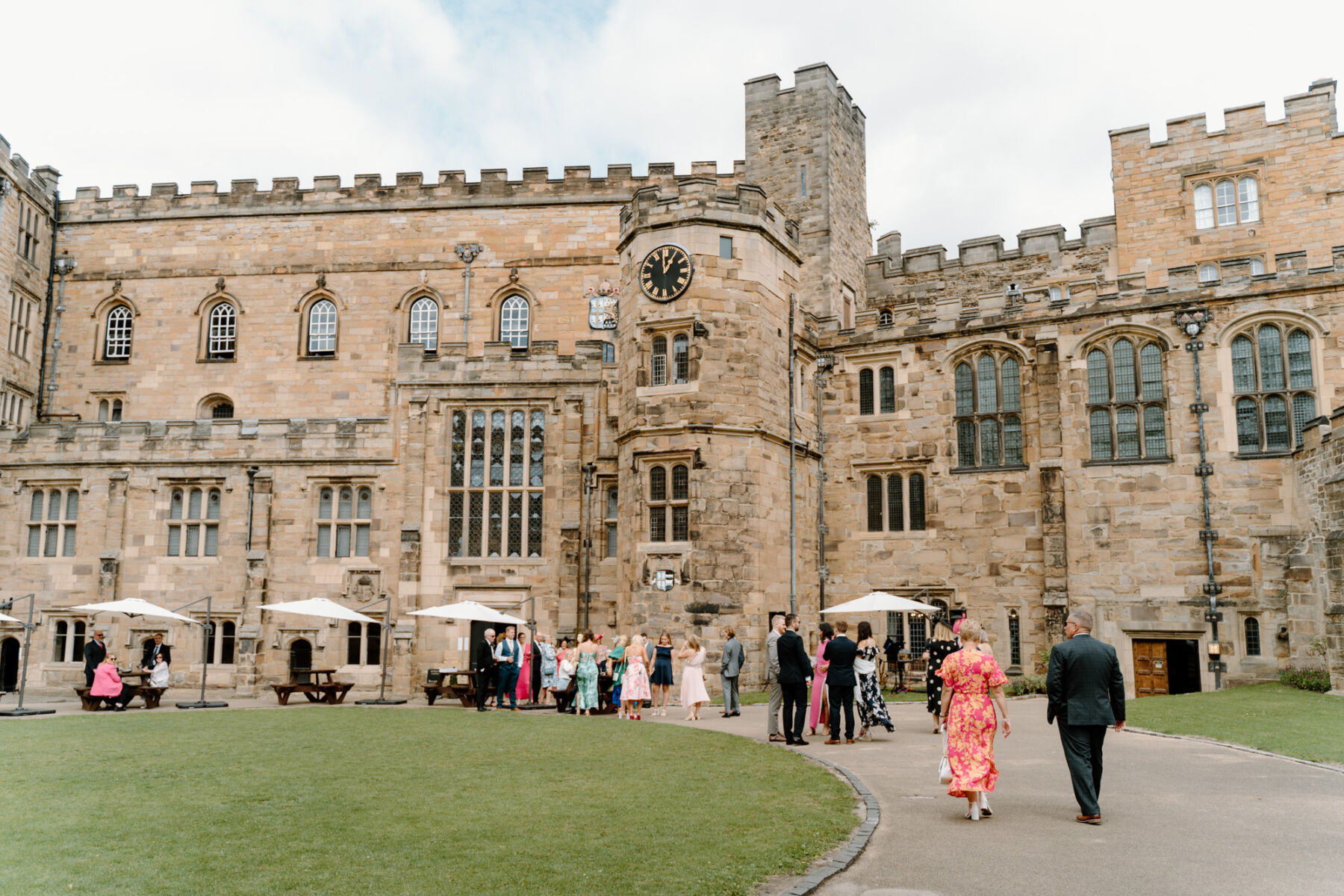 The Dress
Truvelle
---
I purchased my Truvelle dress from The White Peony in Victoria, Canada).
The experience was very special! Trish was fantastic at showing me a variety of styles and then homing in on the cuts and details that suited me best.
It was just me and my mom and she made it a really fun, special mother-daughter experience.
It very much just felt right when trying it on! I loved the fabric details and the finishing on the bodice. It felt summery, classy and a bit opulent too!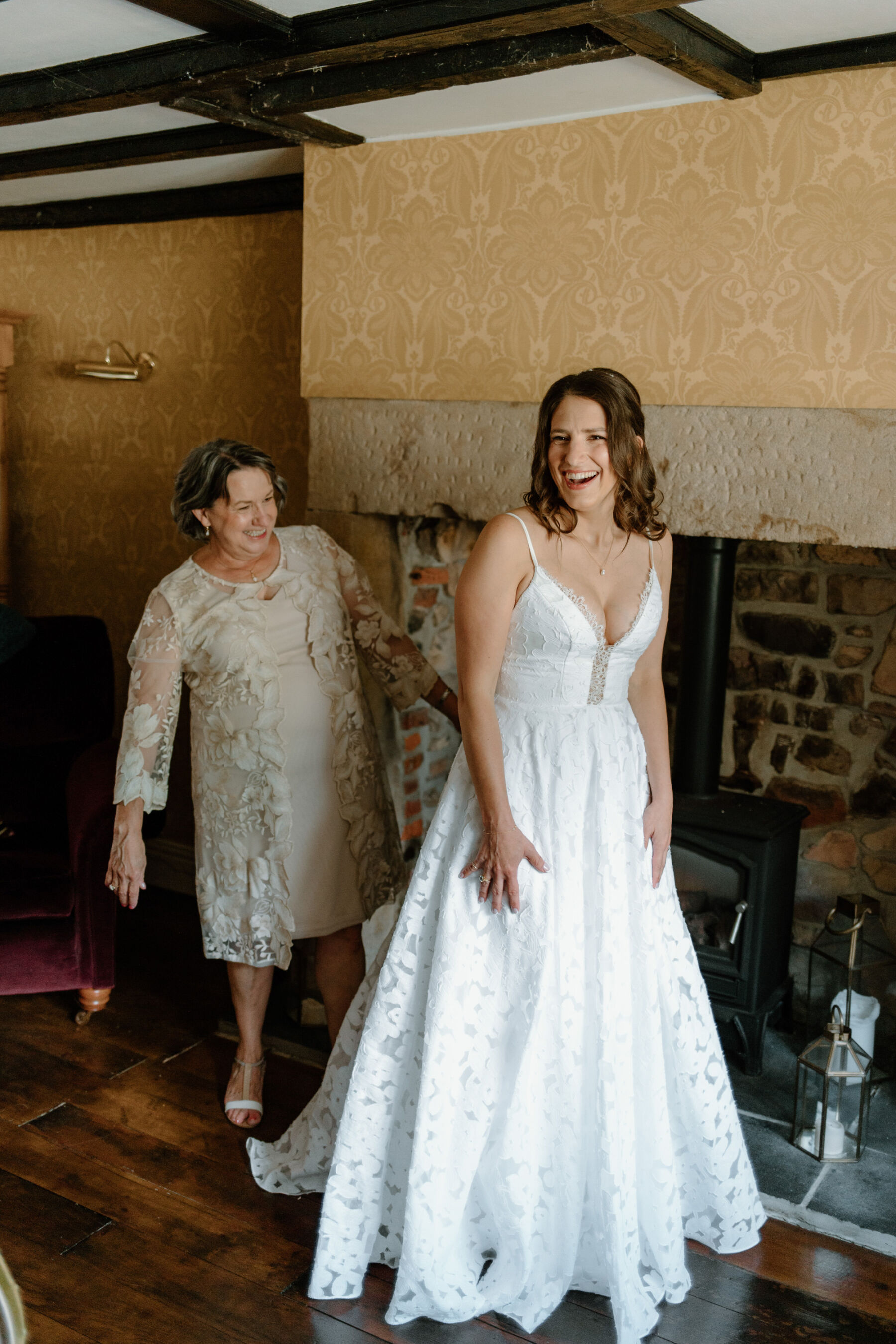 Bridal Beauty & Accessories
A handmade pearl headband by a local Canadian designer from the White Peony/
My perfume was Oyedo by Diptique. My hair and makeup artist wasLaura Oddity.
Both my pearl earrings and necklace were from Leah Alexandra. I wore an aquamarine ring. It was gifted to me by my late grandpa as he wanted me to have one just like my grandma.
My shoes were by Charlotte Mills.
Ceremony
My father, Joe, accompanied me down the aisle to the sound of Pachelbel Canon.
John, Mike's father, acted as a celebrant. My best friend and bridesmaid, Veronique Piercy, sang Songbird, by Fleetwood Mac, during the ceremony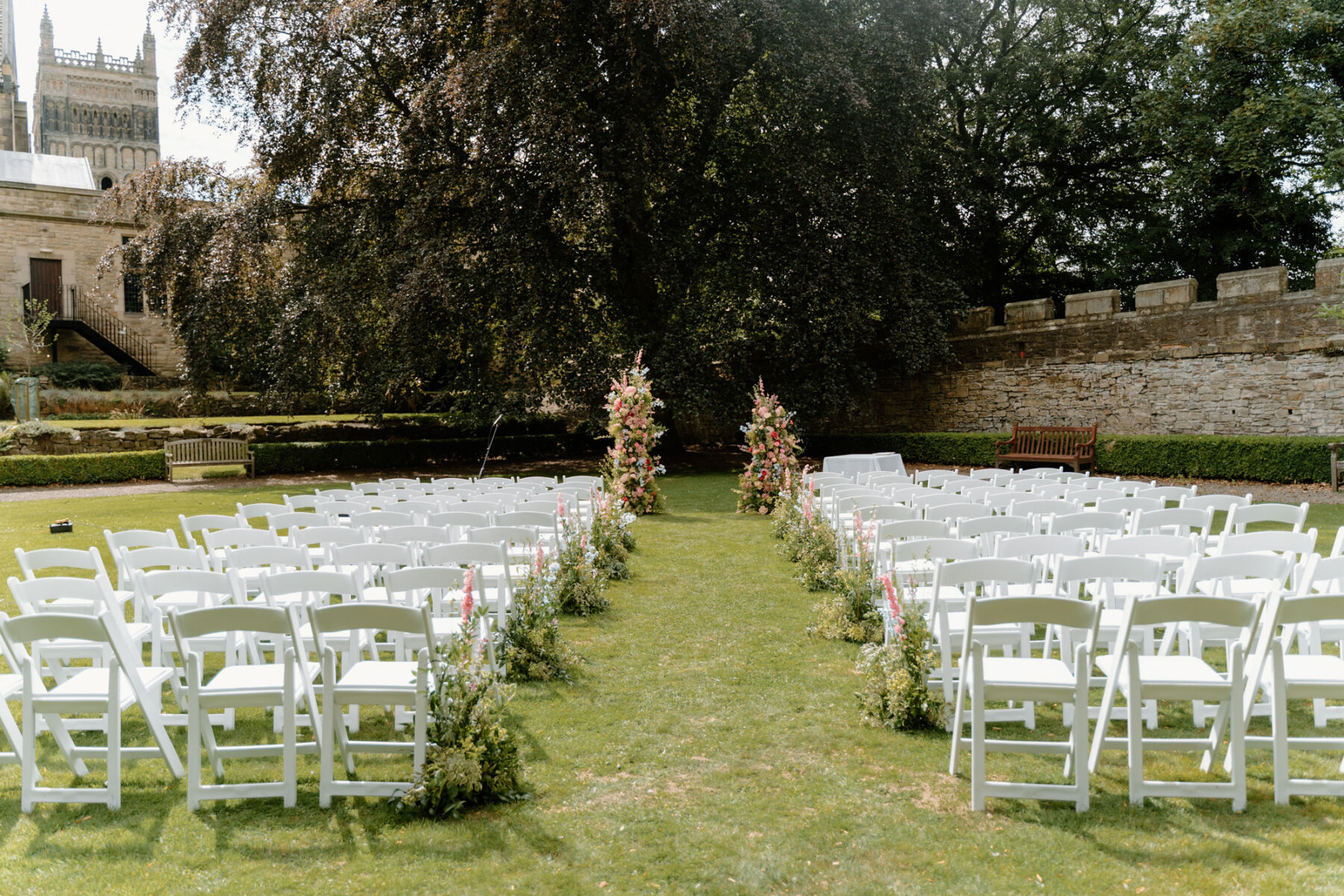 Two days prior to our wedding we got legally married in a small ceremony in Akley Heads Registrar's office. Additionally we held a second wedding at Royal Colwood Golf Course in Victoria, Canada in October to celebrate with guests from Canada who couldn't make it to the UK.
My engagement ring and Mike's wedding rings were from the family. I had a wedding ring made to fit my engagement ring by DM Bespoke. Danny is fantastic –he gives great advice and made the experience so easy.
Photography
Our photographer was Rachael Fraser. I chose her because I loved her style of photos –they felt very natural and not stuffy. I couldn't have been happier with the choice. Rachael and Chloe were a dream on the day!
How They Met
We met at a mutual friend's house party and continued to see each other at house parties for a couple years, before I finally plucked up the courage to take Mike up on his suggestions for a date. Thank goodness he was persistent!
Mike proposed at the beginning of this year, 2nd January. We'd planned a private dinning meal at Dinner by Heston Blumenthal for our two families. That Christmas was the first time I'd seen my family in two years, so this family time was really important for both of us. I felt super fortunate to have family around when Mike proposed and I said yes.
Shortly after getting engaged we contacted Durham Castle. They had a cancellation for 6th August, so we thought why not!? We didn't want to wait until the following year so we went for it!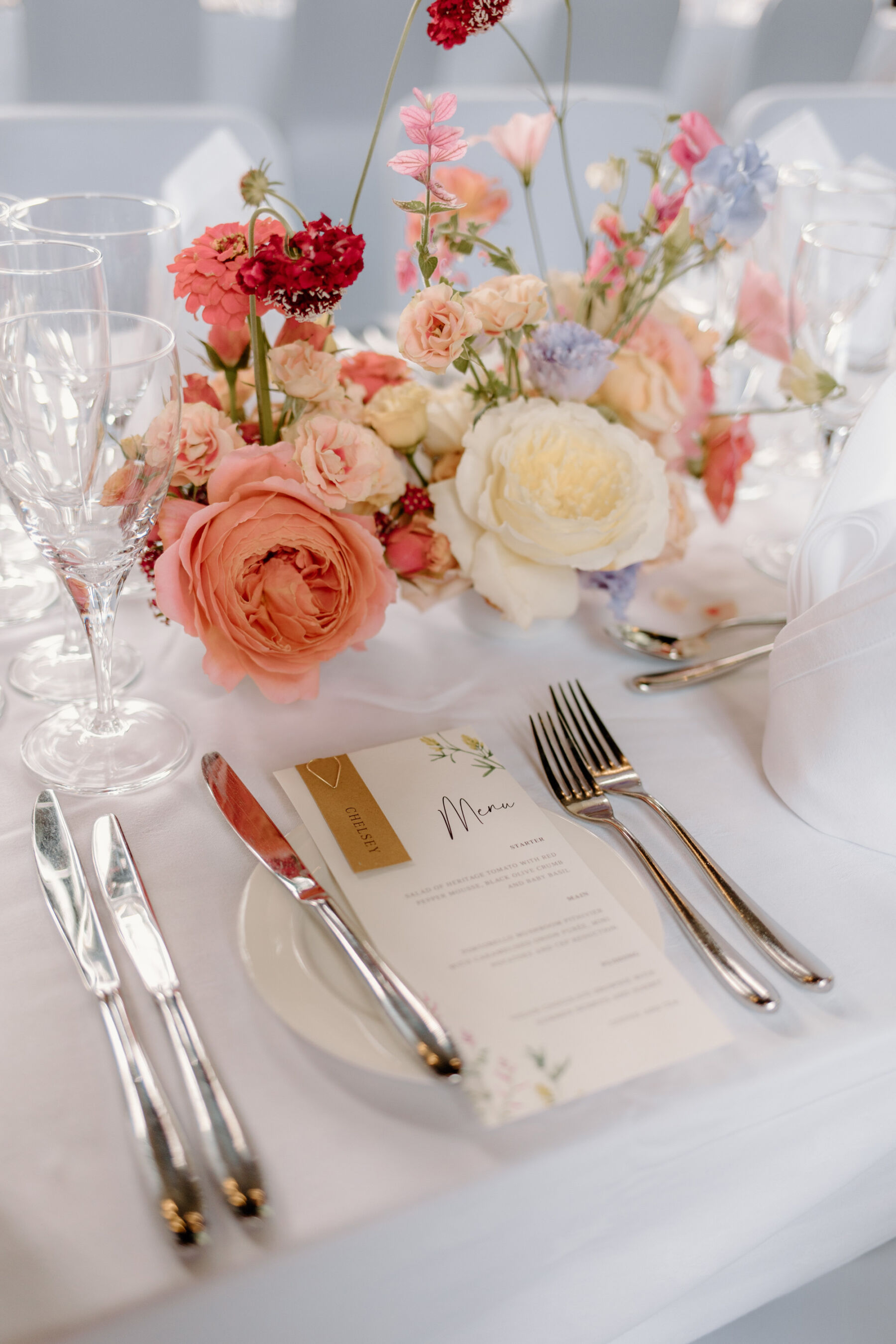 Reception
Pastel Flowers
---
Our florist was Blossom + Ash. I loved her more whimsical style. She uses a variety of flowers so well!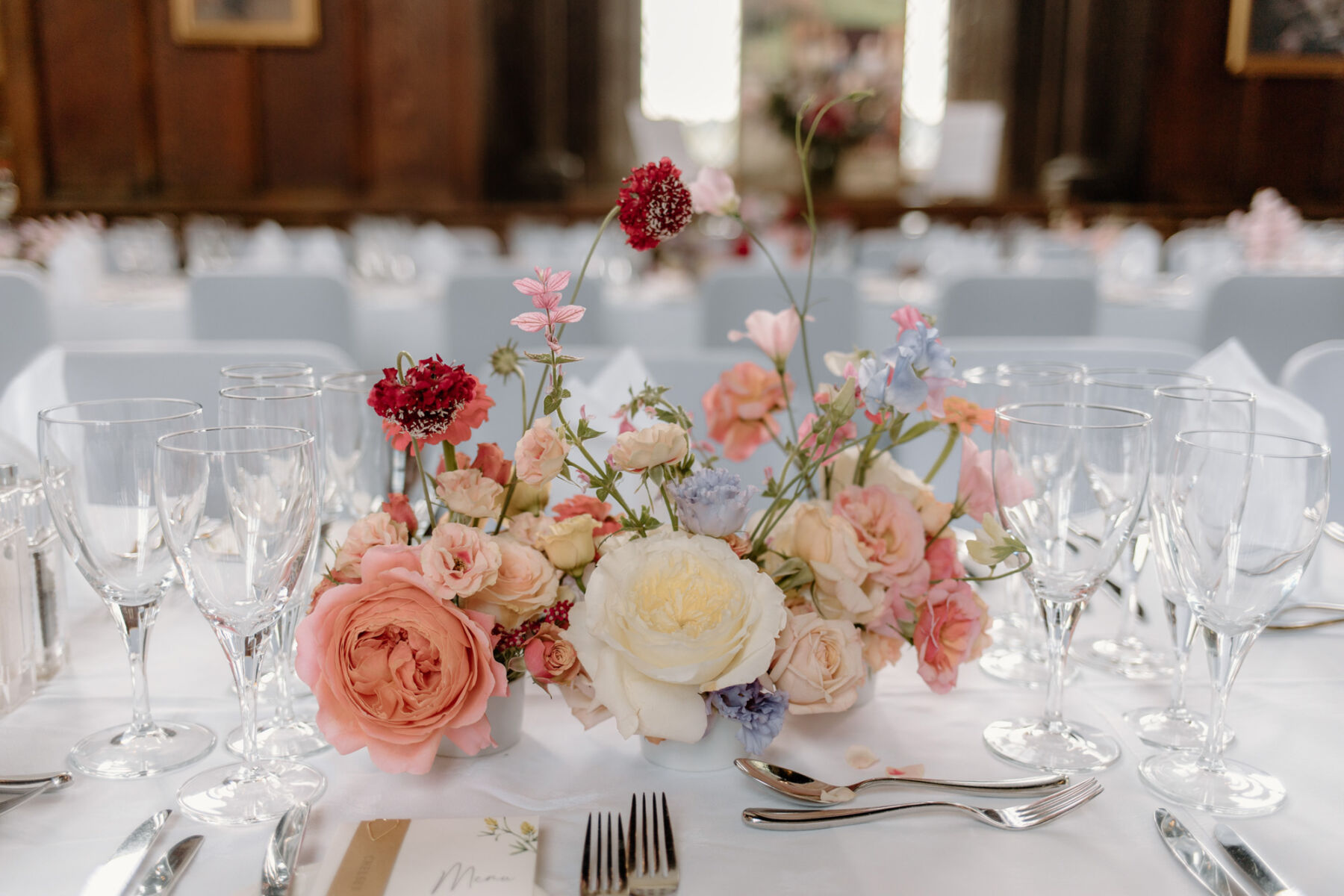 The Master Cakesmith created our four tier cake. There were two tiers of chocolate, caramel cake andtwo tiers of white chocolate raspberry ripple. It was adorned with pearls and fresh flowers. Her cakes are delicious and beautiful!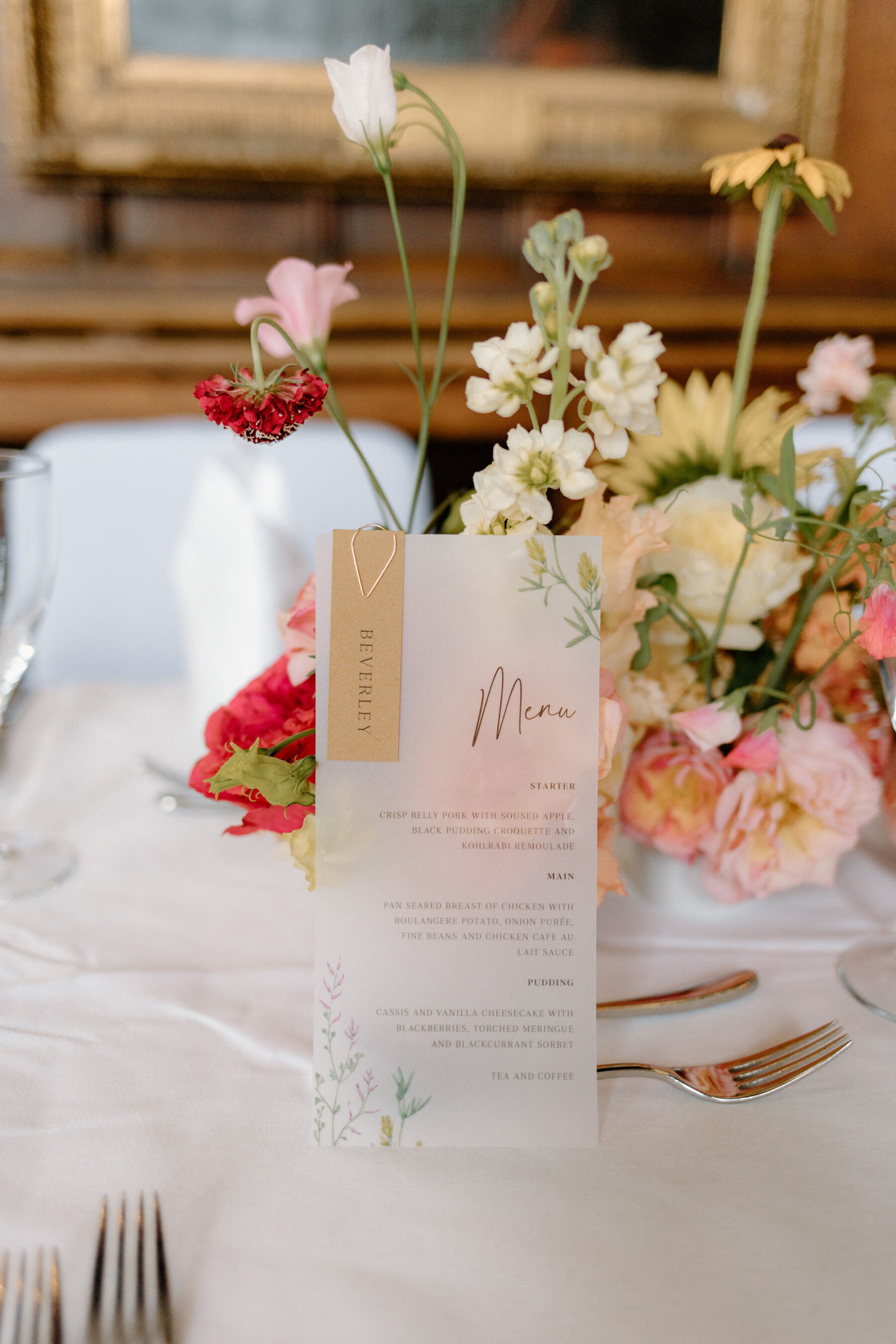 Evening & Entertainment
Our first dance was to Dancing in the Moonlight by Toploader.
I had two favourite moments throughout the day – the dancing was so much fun and everyone was on the dance floor. I also really enjoyed the little bit of time taking photos with Mike as it was a little break in the day to just spend with one another. The photographers/videographers were obviously there but it very much felt like our time.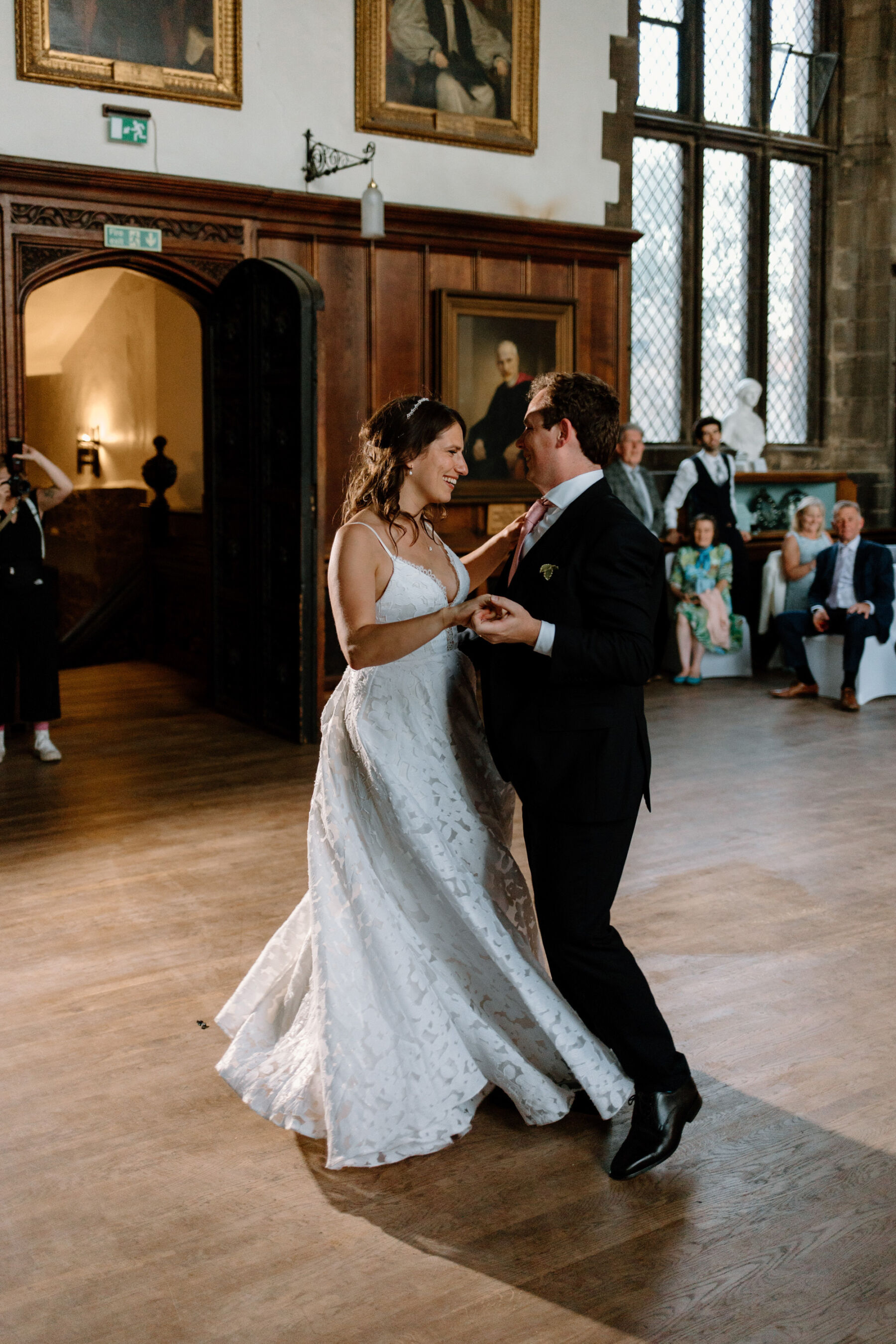 Words of Wedded Wisdom
Put your guests and the experience of the day first. If you do this, everyone will have an incredible time and it won't be stressful for you. So many of our guests commented on this after the wedding. Allowing this to lead our decision making has shaped so many special memories.
Our original budget was £35k and we ended up spending around £40k.
Welcome to the
Love My Dress Shop
Browse the latest handpicked items in the Love My Dress Shop.
Shop by Category
or
Shop by Brand