Hannah and Jake's beautiful, modern and elegant wedding was held in the heart of Manchester City.
Both bride and groom are from Greater Manchester and so are most their family and friends, so opting for a celebration with the glorious, Victorian, Neo-gothic municipal building backdrop of Manchester Hall was an effortless decision. Working closely with planner and stylist, Catherine Stott of Willow and Fig, the couple planned a laid back, fun, late afternoon wedding.
The bride looked incredible in her minimalist, bias cut gown by Theia Couture, which she styled with a slicked back, low bun and long veil with floral detail.
This elegant black tie wedding was captured to perfection by Lindsey Ria – enjoy!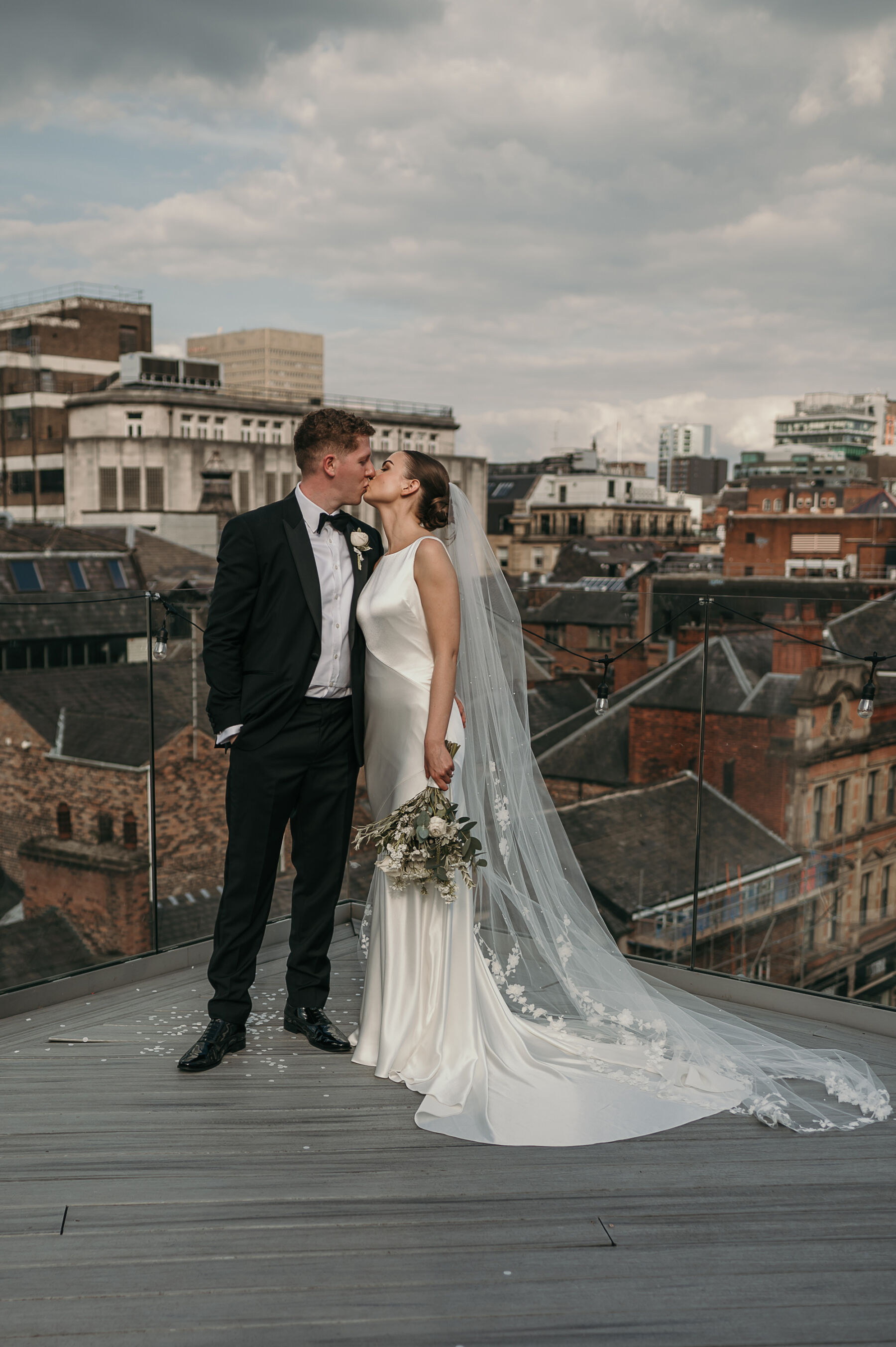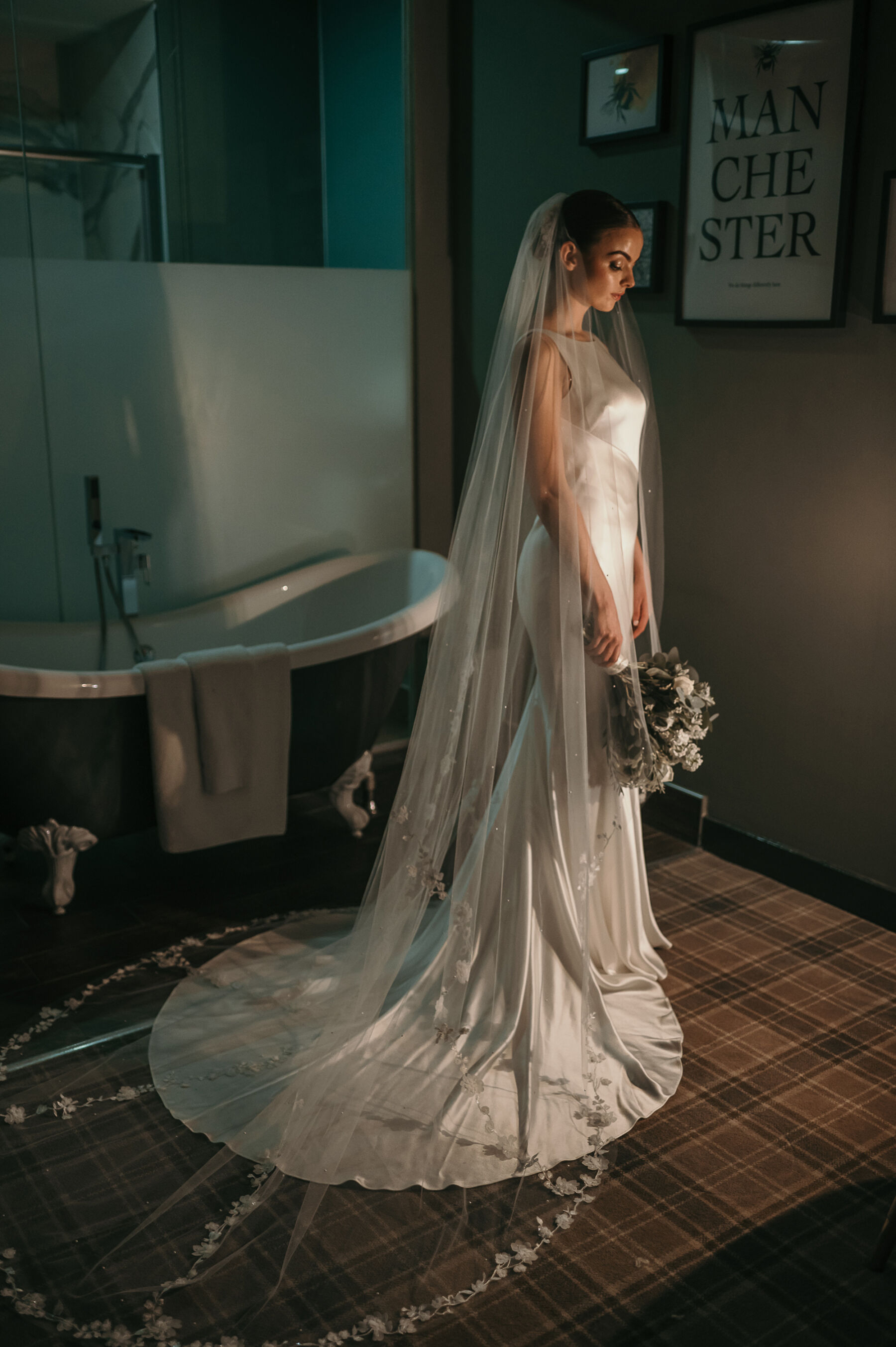 The Dress
Theia Couture
---
My dress was the Iris gown by Theia Couture, which I found at Pretty White Dress.
The team at Pretty White Dress were amazing. I had been to many bridal boutiques prior to finding pretty white dress (all also very helpful with gorgeous dresses) however I just hadn't found the right dress for me. They were very reassuring but also gave me realistic timelines of when I would need to make a decision on the dresses so that it would arrive in time.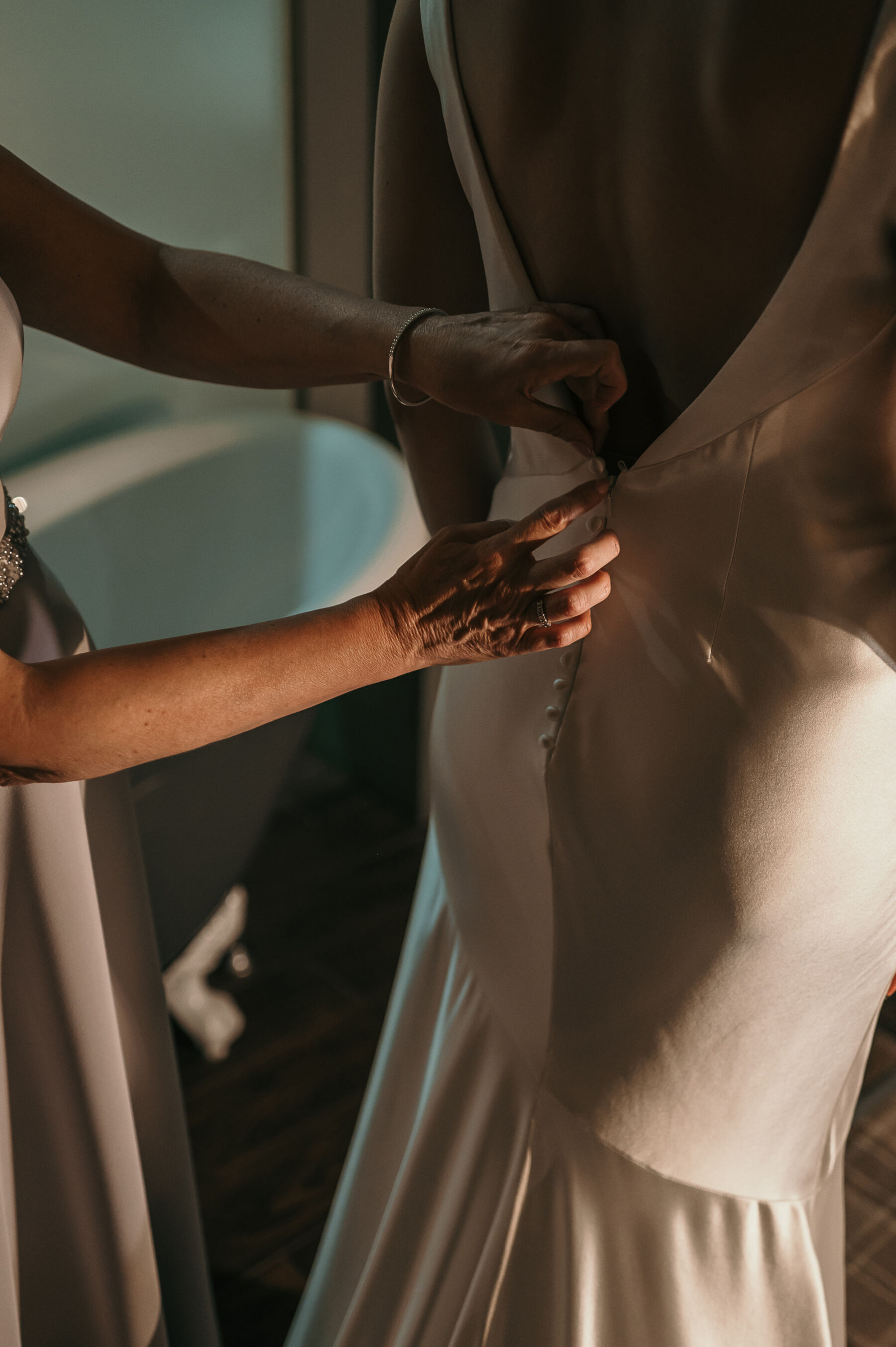 For an indecisive bride this is exactly what I needed especially as we planned the wedding in 12 months and I didn't rush to start trying on dresses. 
I would recommend Pretty White Dress to any bride, the process was so seamless and relaxing and as I also utilised their in house alteration option reduced the stress of having to organise this once the dress arrived.
The dress was altered to perfection and they even made final changes on the day I went to collect it so that it would be perfect on the day it was an excellent service I would also recommend.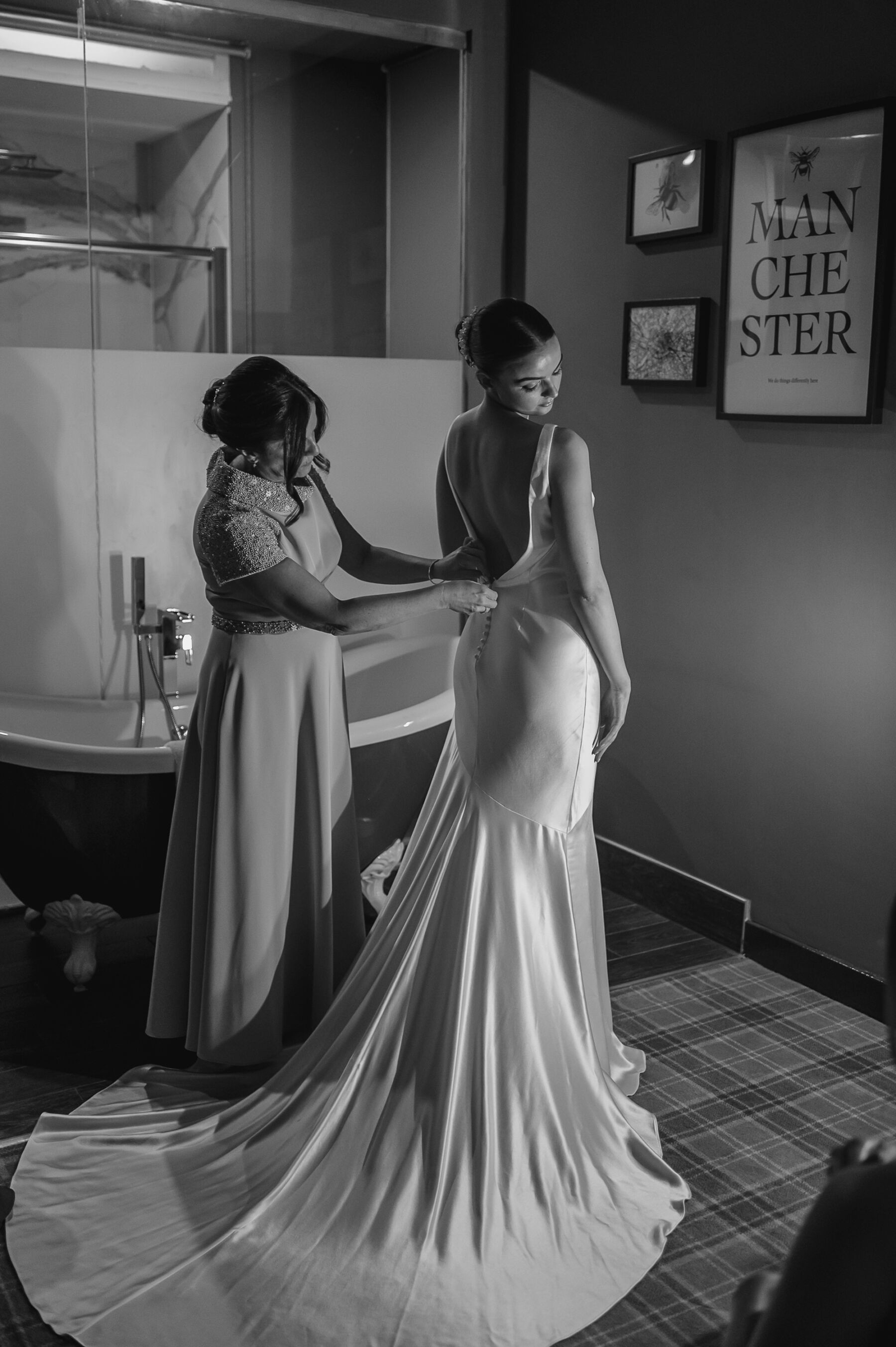 I had a clear idea of the kind of dress I wanted: simple, elegant and something a little more unique. The Theia Iris dress was actually the first dress I tried on in Pretty White Dress and after trying on a handful more and pairing it with the most beautiful veil  I knew I had found the one.
I loved the neckline of my dress the most, as someone who rears away from wearing a more plunging neckline I actually found it difficult to find a dress with a high neckline which gave me the coverage and also the confidence to feel amazing on the day. 
Bridal Beauty & Accessories
My shoes were the Monsoon diamante trim point toe bridal heels in ivory – I got them from John Lewis. My headpiece was from MRCSShopArt on Etsy.
I wore a bracelet that matched perfectly with the style of dress and the veil,  given to me on the morning of my wedding day by two of my best friends that had gone above and to make all of my pre wedding day celebrations so special and making me feel so loved. It was from Lily & Roo.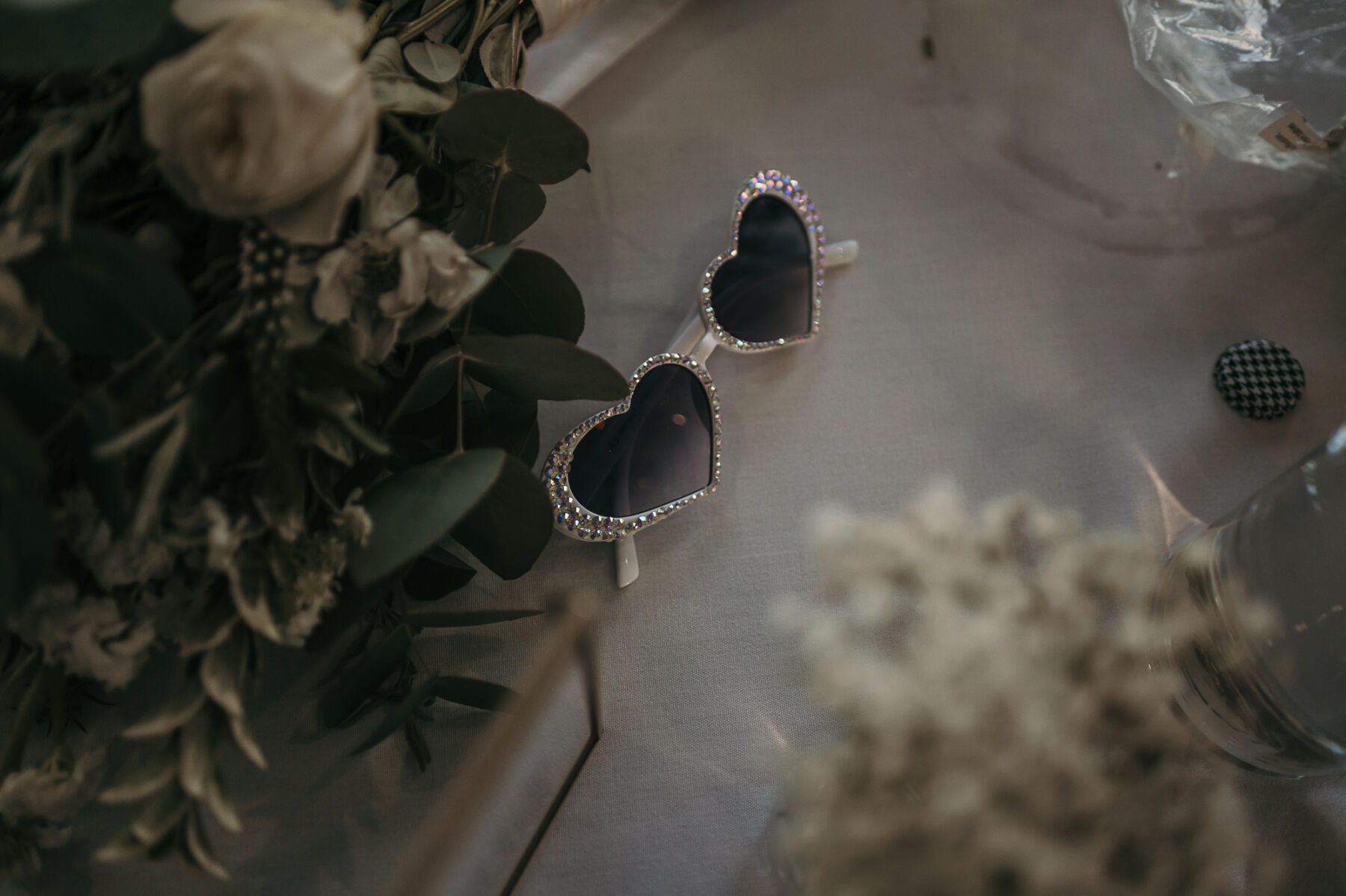 My perfume was Chanel's Chance Eau Fraiche. I got asked often if I was going to wear a special perfume on the day but this is the perfume I wear everyday and I wanted to smell like myself, familiar and recognisable at the altar.
The veil was so beautiful and really made the whole bridal look. It was the Natasha veil by Dream by Savin, which I purchased at Pretty White Dress.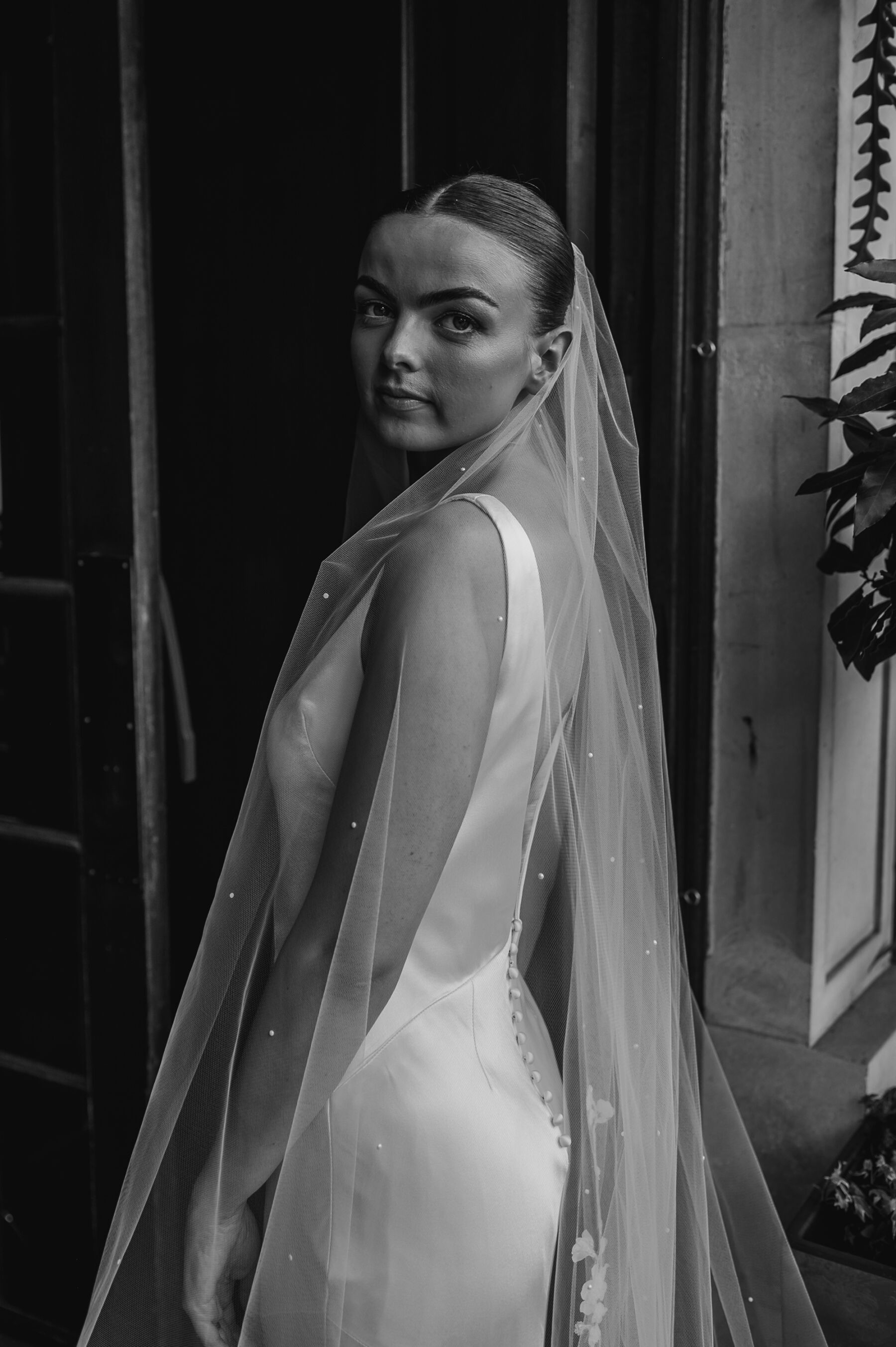 There were no bridesmaids at our wedding as I am lucky to have so many special women in my life.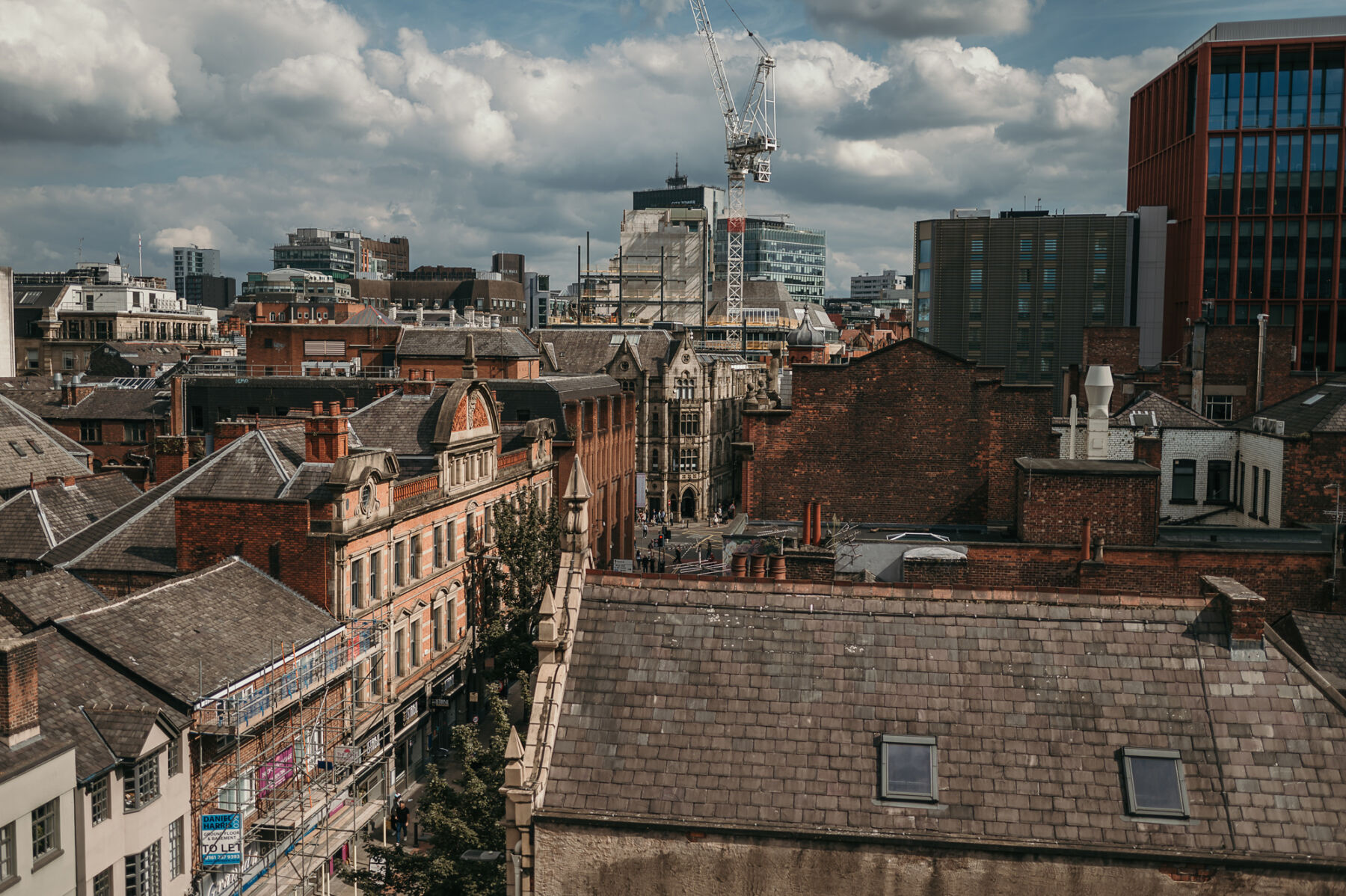 The wedding stylist provided the flowers for the centrepiece arrangements as referenced and linked above. Willow & Fig.
However for the bridal bouquet and buttonholes Northern Flowers provided these and I went with this business as they came recommended, had a great price and were a pleasure to work with. I have already recommended them to my sister in law to be for her wedding next year!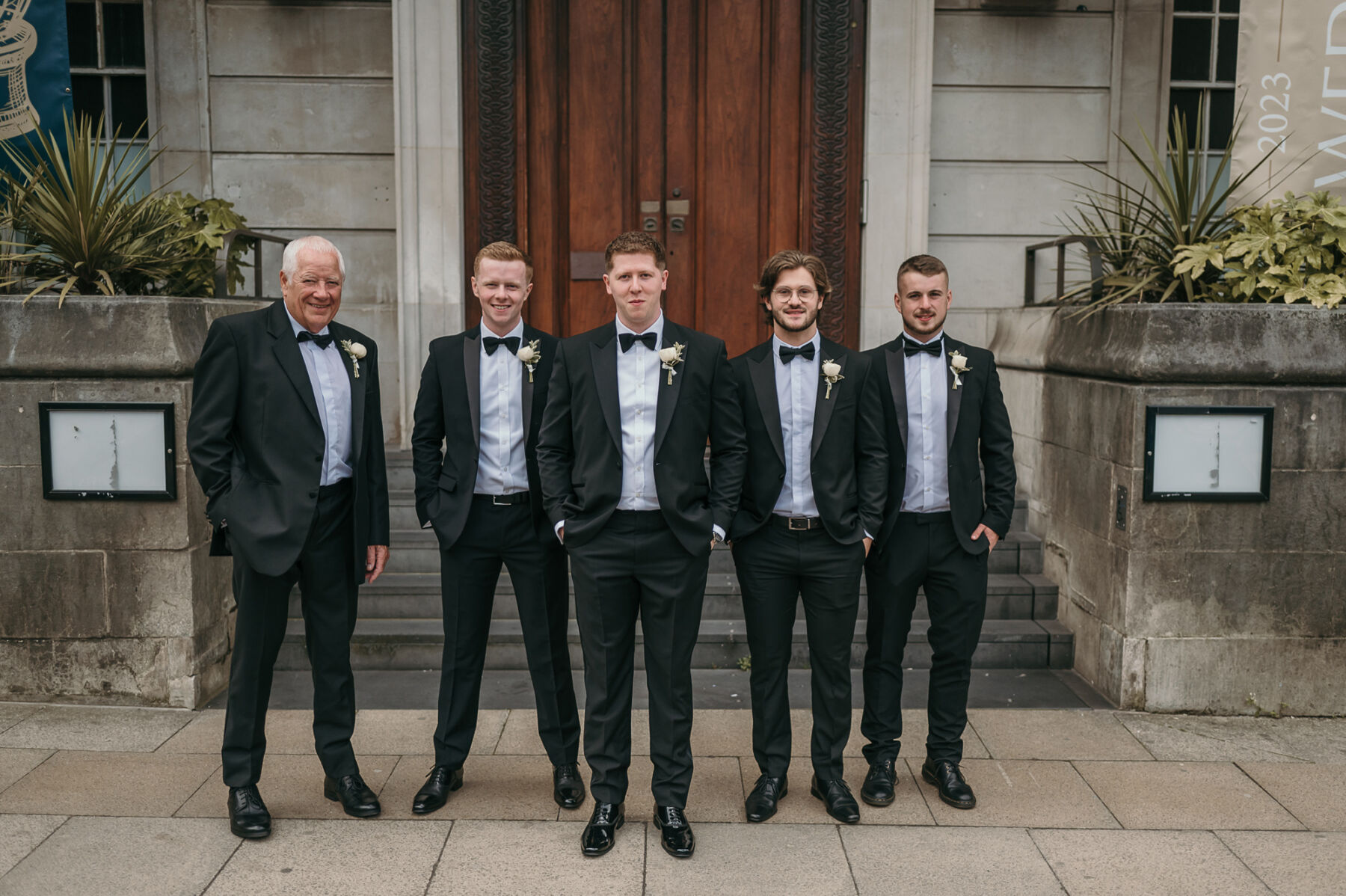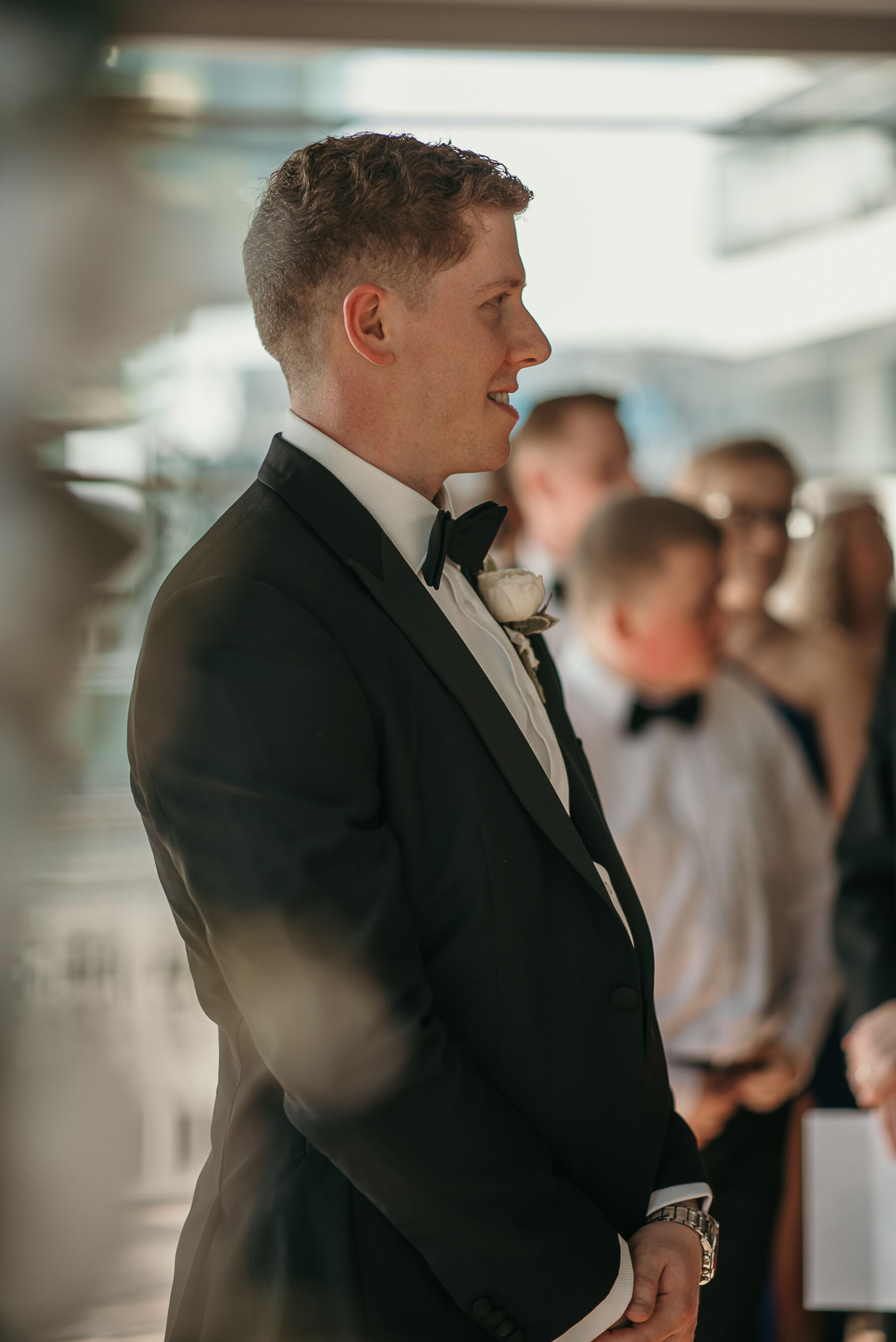 Wedding Ceremony
---
Manchester Hall had a great space, a strong history in the city and we could really envision our day being here.
My dad walked me down the aisle, to an acoustic version of Shivers by Ed Sheeran.
We didn't  write our own vows we just wrote private letters to one another to open the morning of.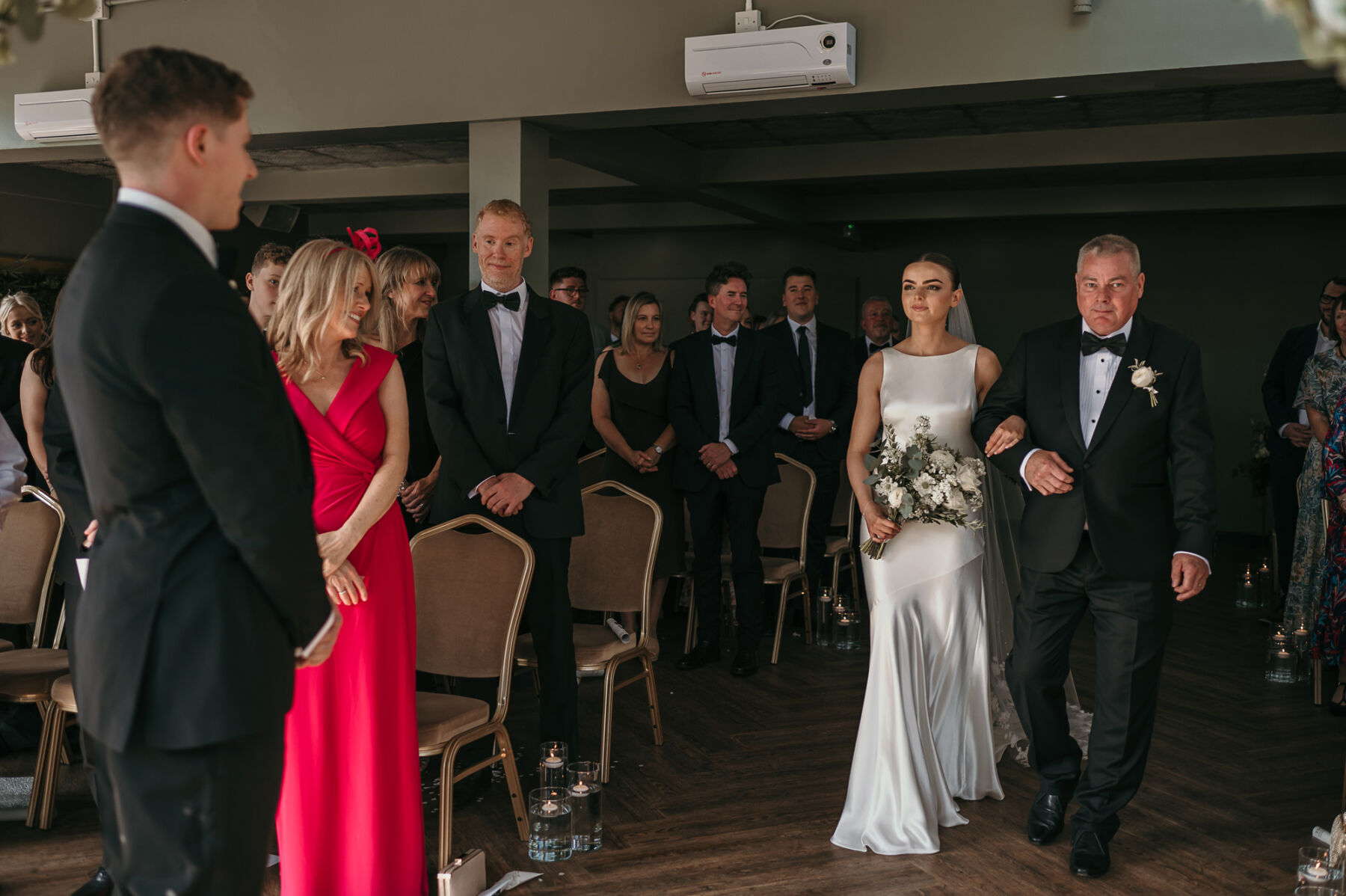 This AA Milne extract from Winne The Pooh was read by my two sisters Alice and Sophie and it was chosen especially by the groom. We also had An Apache Marriage Blessing.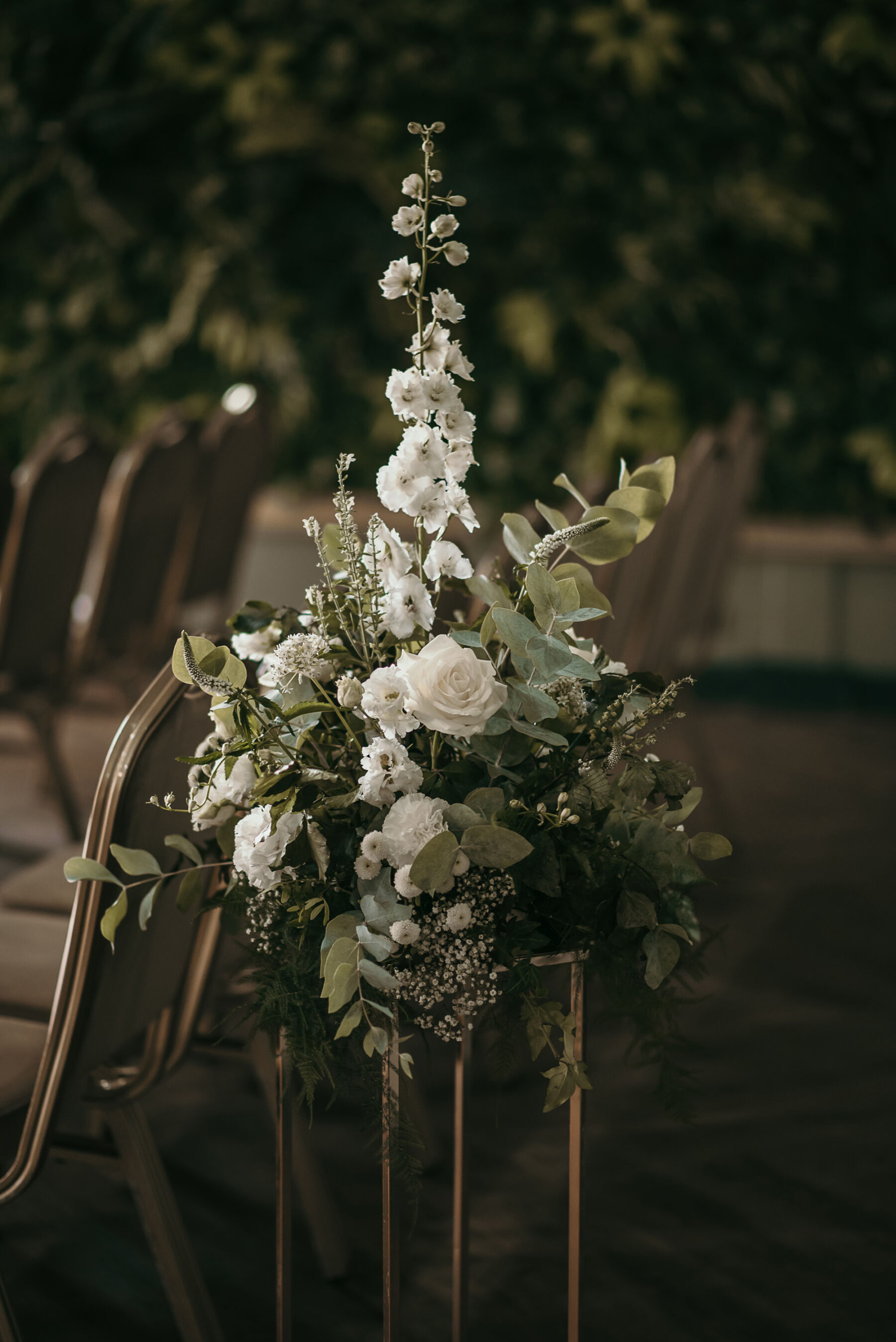 We chose Lily Arkwright for our rings, because Jake had selected this jewelers for my engagement ring as they do high quality lab diamonds and also have their offices based locally to us in Didsbury.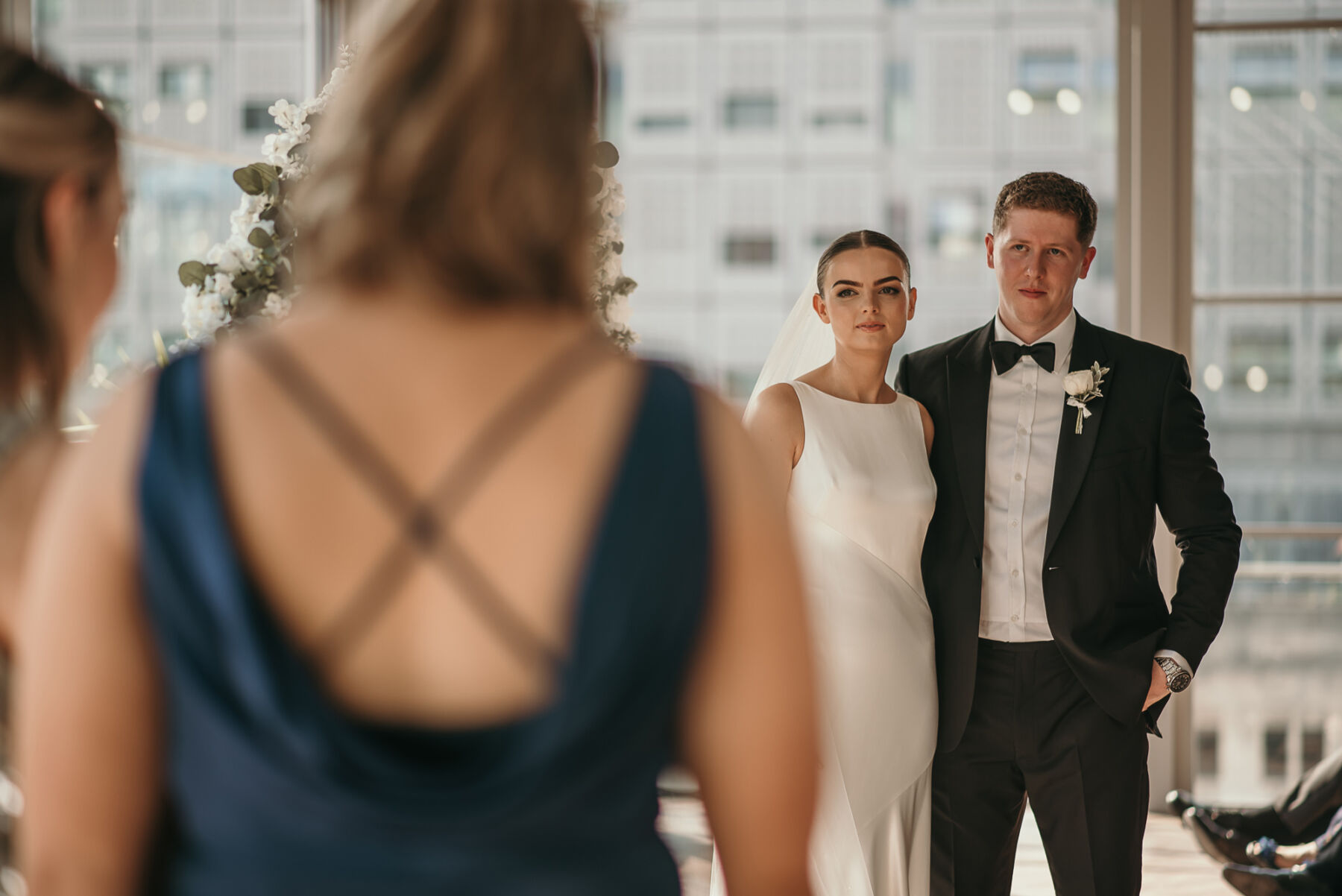 We went to choose the engagement ring together so it was only fitting that we had matching wedding rings from the same jewellers.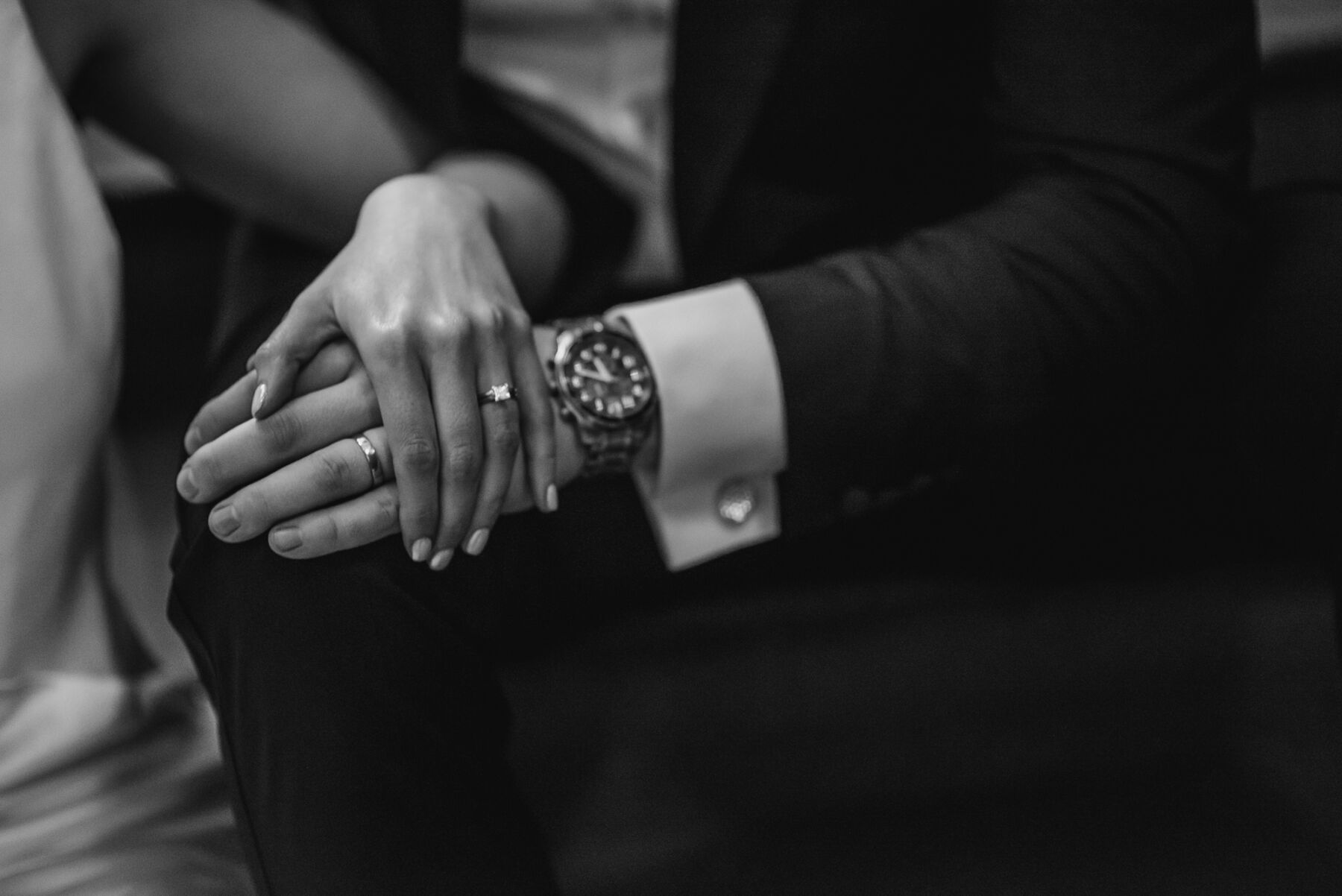 My proudest decoration was the 'moongate' that I assembled and chose the flowers for and put together myself. It was so special having added a little of my own creativity beyond the wedding stylist and seeing it as a focal feature in our ceremony pictures made all the stress of it worthwhile.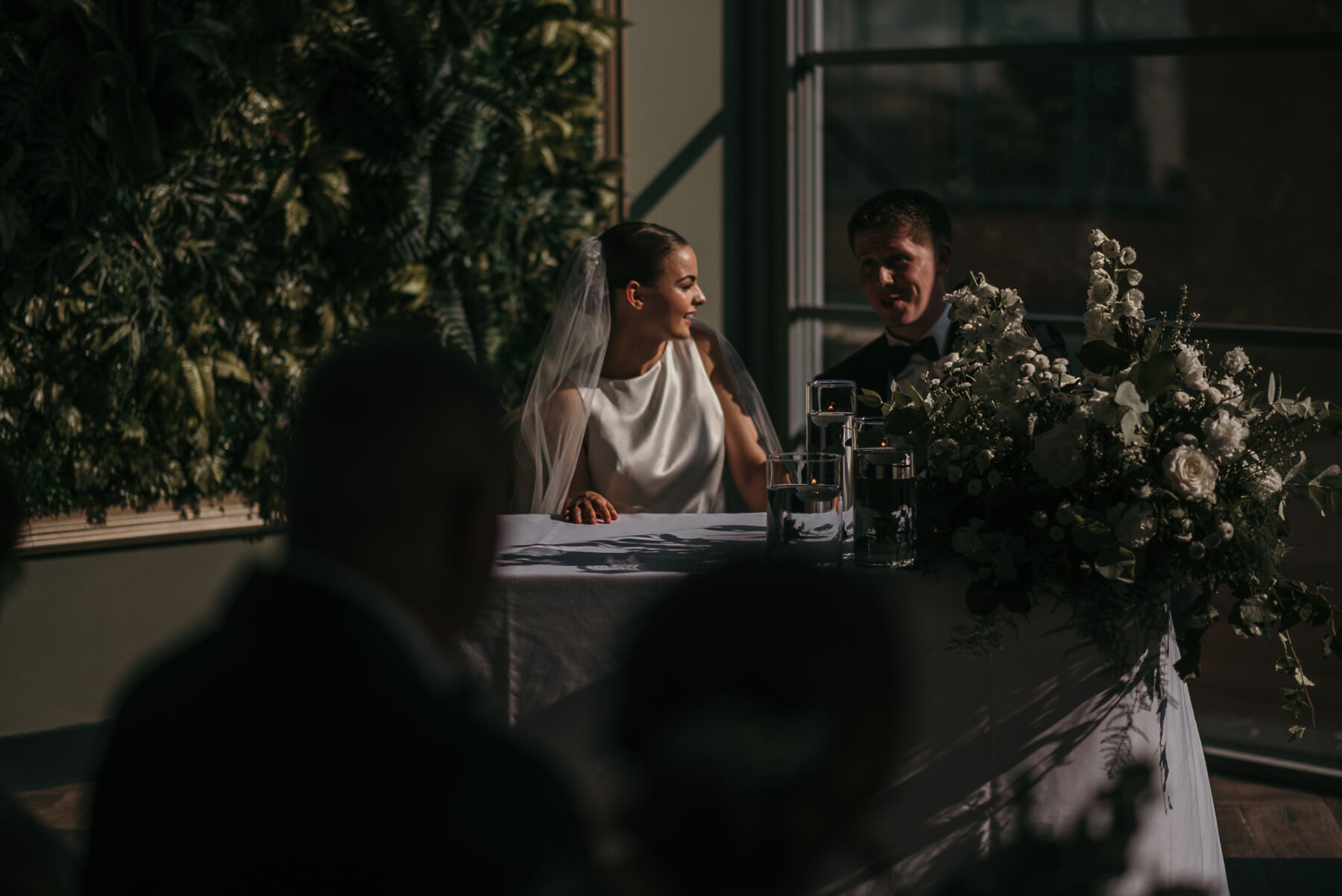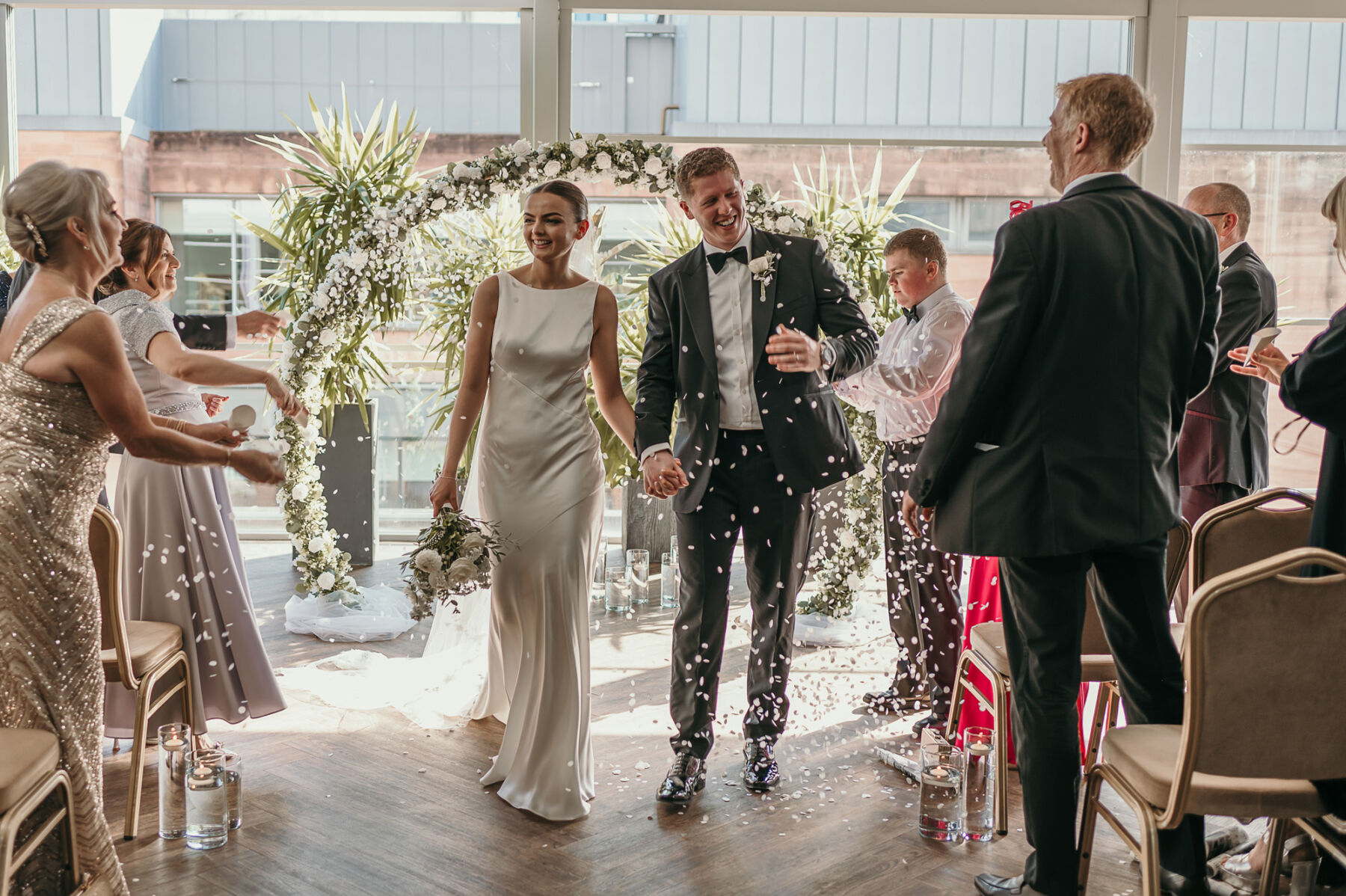 Photography
Choosing our photographer was despite everyone saying it would be one of the most important decisions you make because the day won't last forever but the pictures will.
Jake sent me two photographers he liked the style of and asked me to decide which one I preferred. After speaking with Lindsey Ria on Zoom we knew that she would be a great fit for our wedding. She was so friendly and reassuring, talking us through how she typically operates and likes to work with her couples. We both loved her and her photography style so it was a no brainer.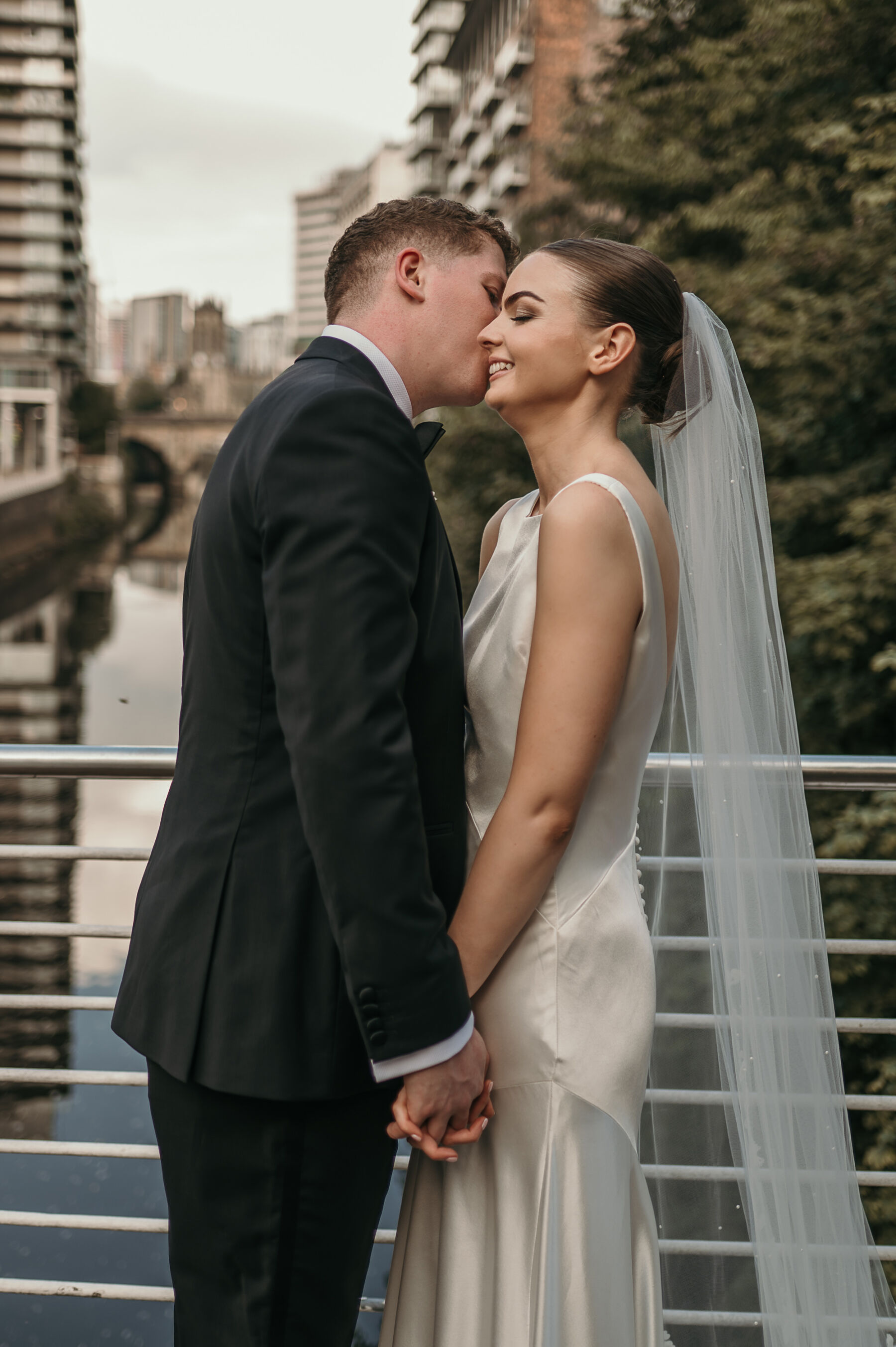 Yes Yes Yes! Of course I would recommend Lindsey to any future bride to be she truly was incredible. Prior to the day we met up and did a walk round potential photo opportunity spots, ran through the day and despite the many changes we had she was never phased and adjusted accordingly.
The lead up was so smooth and made us feel very organised and prepared with the pre wedding questionnaire to ensure we got all the pictures we wanted. On the day Lindsey was everywhere all at once I don't know how she did it.
I have received so many compliments on Lindsey from our guests about her work on the day they were all so impressed! Our previews came through so quickly and they were so much better than we could have imagined, I can't believe those pictures were us on our wedding day and we get to enjoy them for the rest of our lives.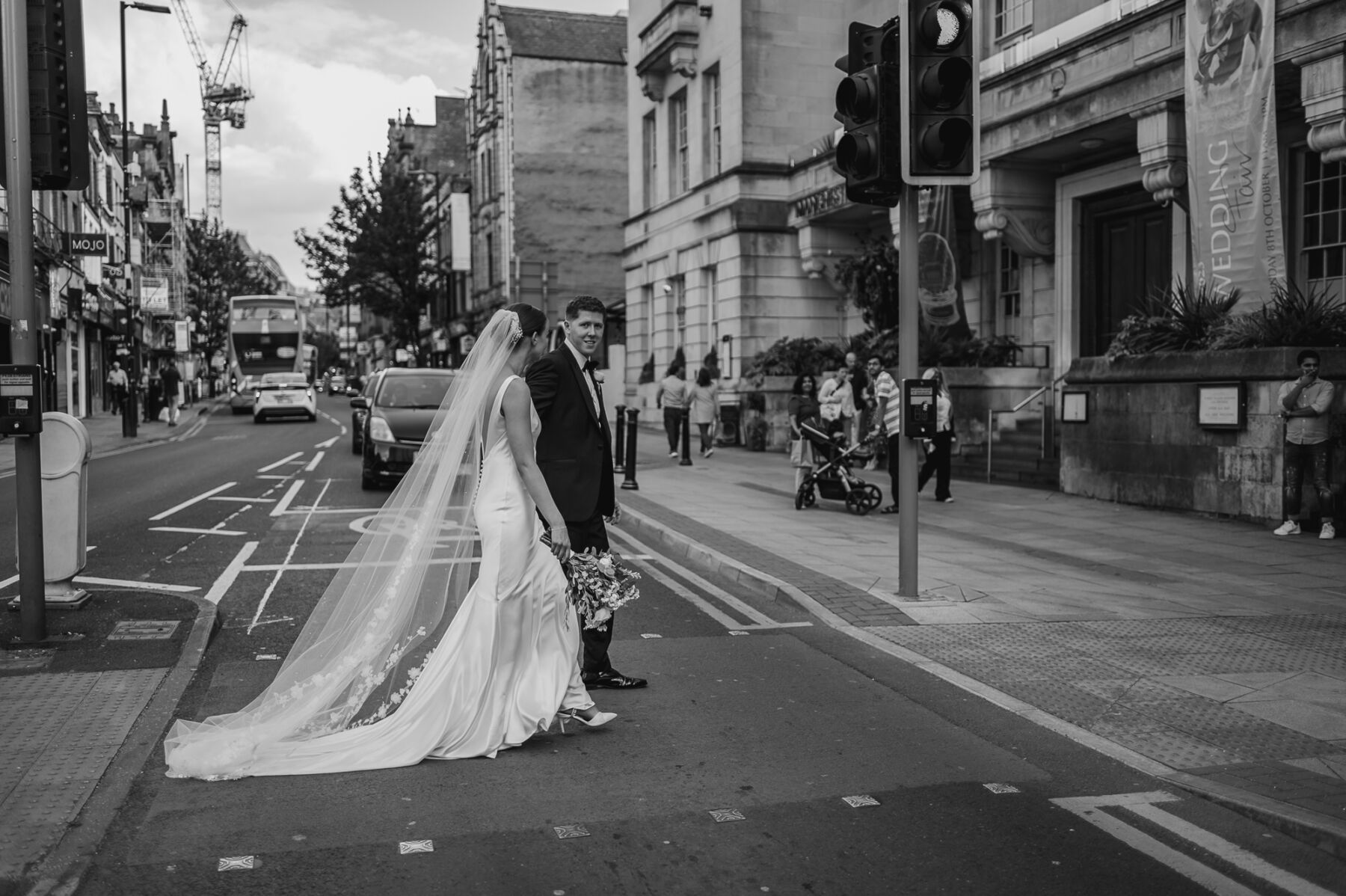 How They Met
We met in high school. We actually dated for a short while when we were 13 but got together officially at Formby Beach where we went for one of our close friends' 16th Birthday the day before our final year of high school on 02/09/2013 when Jake asked me to be his girlfriend in the sand dunes.
So, our wedding day was made even more special as it was also our 10 year anniversary – it couldn't have been any more perfect as it also happened to fall on a Saturday!
Jake wore a Jaeger suit from Marks & Spencer.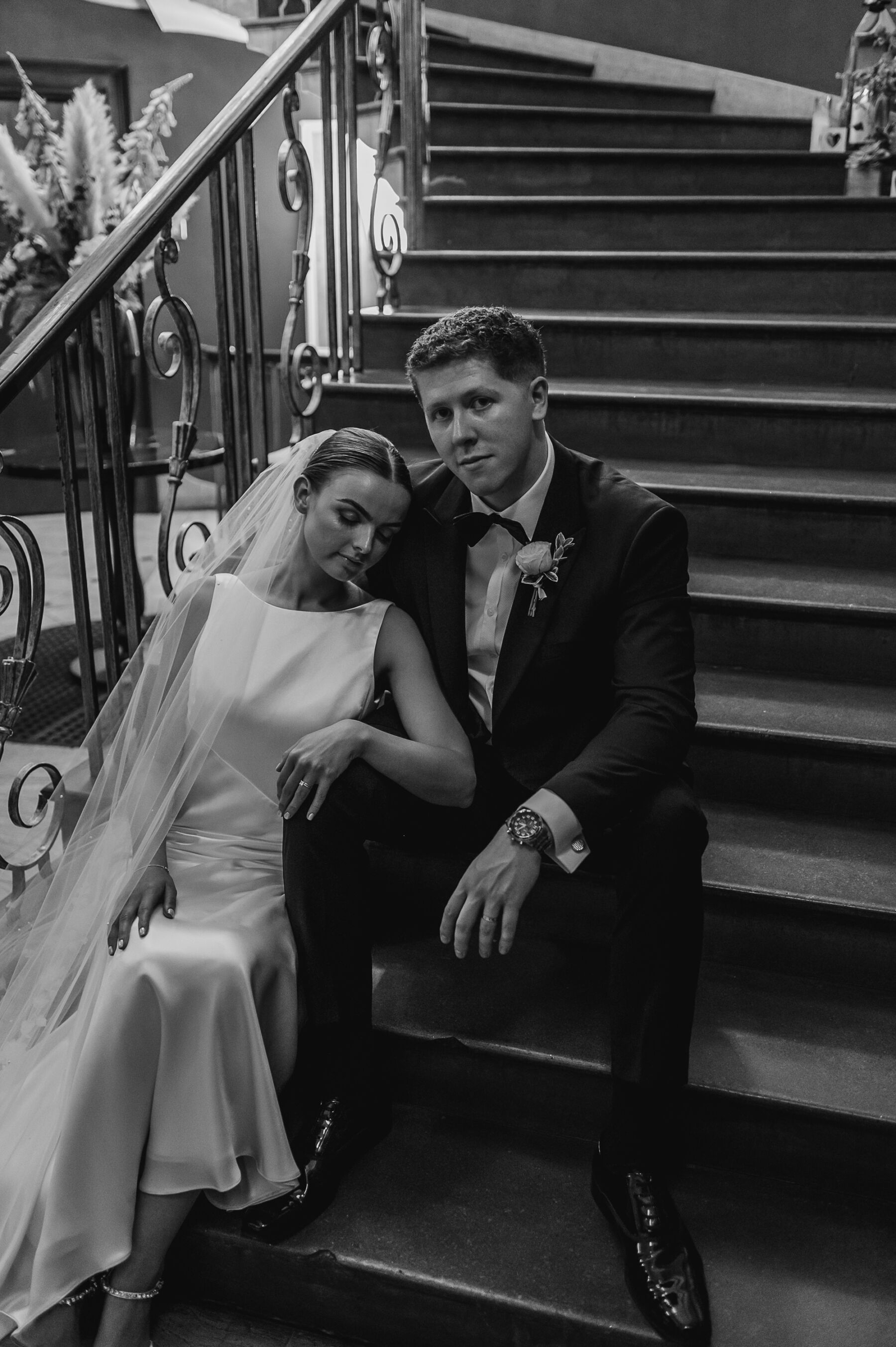 We love to party and dance the night away together so we wanted to recreate all the happy memories we share dancing in the kitchen with our family and friends.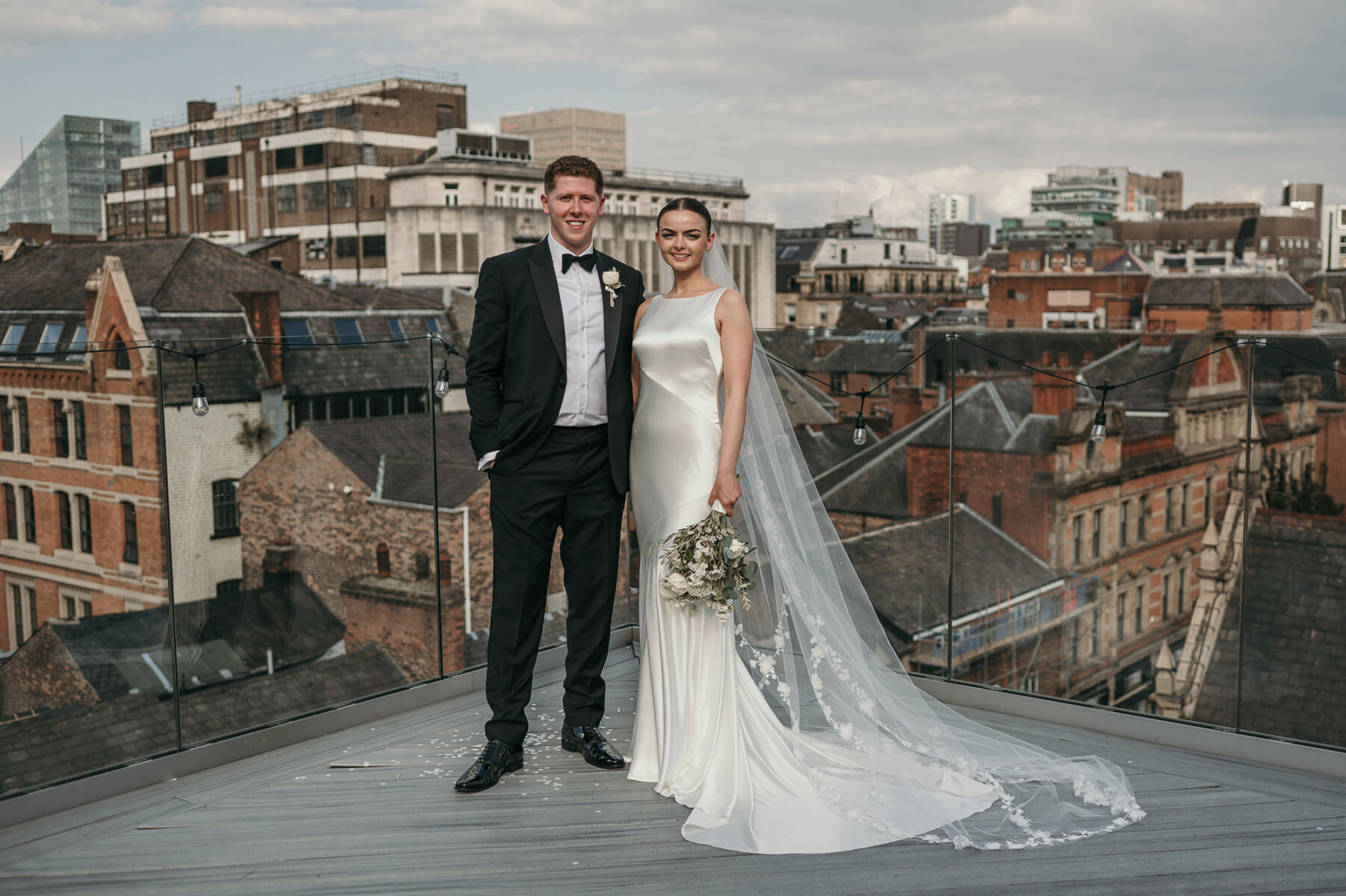 Reception
We used a wedding and event stylist, Catherine Stott of Willow and Fig.
We actually planned our wedding before we announced the engagement so everything was just as we wanted it without any outside influence. We wanted to bring our family and friends together to celebrate our love but in a fun and relaxed way. The ceremony wasn't until 4pm, we had a BBQ as the wedding breakfast and for our wedding favours did a bongos bingo style prizes give away from cash to wigs – it really started the party right!
We did a bongos bingo style tombola for wedding favours where we got everyone up dancing with the DJ playing music intermittently as I pulled numbers out a bingo wheel and invited the lucky winner up to collect their prize.
Each place card had a number on the back which guests had been guessing throughout the day what it could mean.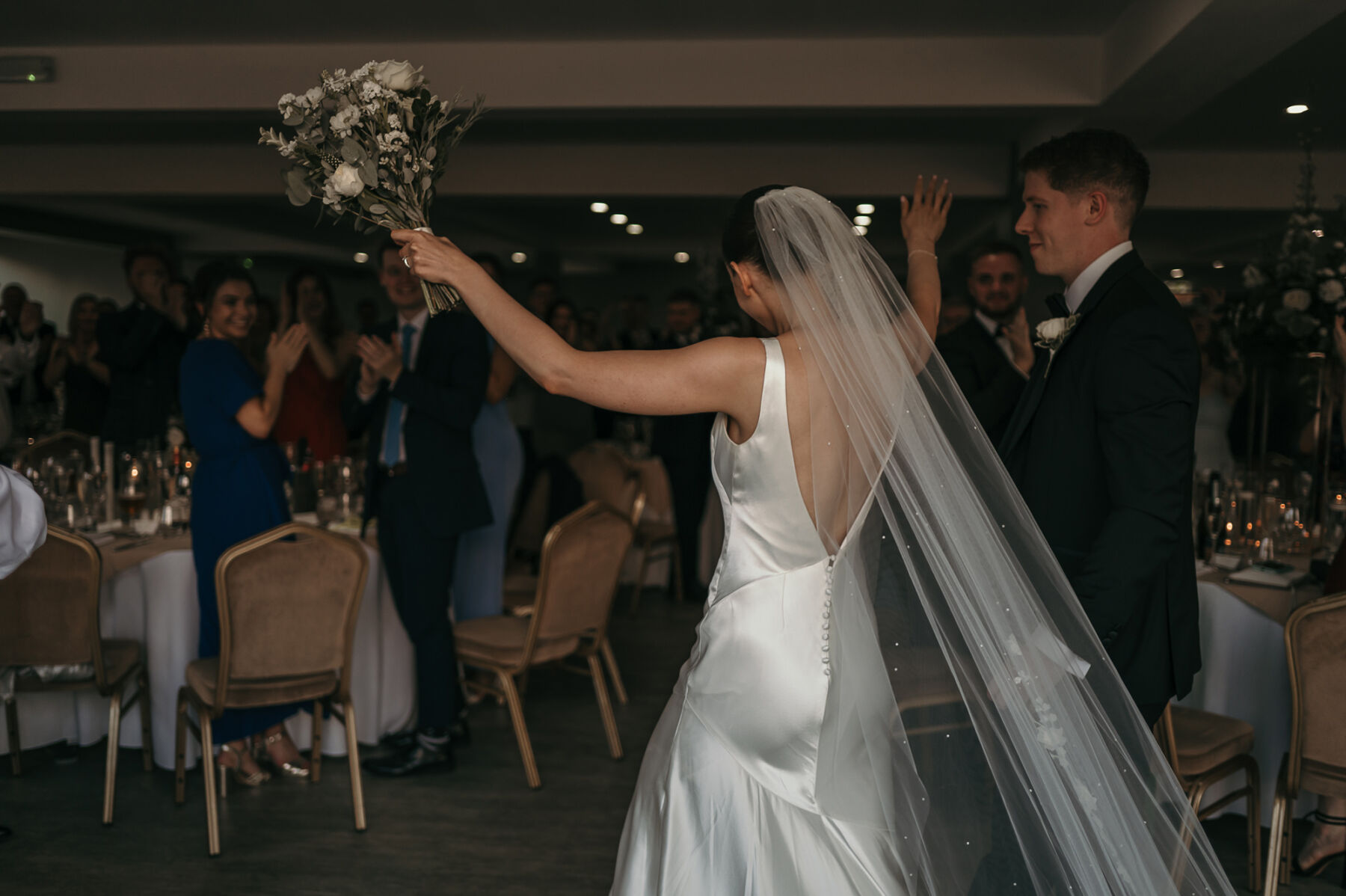 Entertainment
This caused many a debate but for our first dance, we went with Elton John's 'Are you ready for love'.
Music was a key element for Jake and he booked The B Street Band, after seeing them play on a work night out at Albert's Schloss (Manchester) and they really did make the night, dancing under the stars to an incredible six piece band.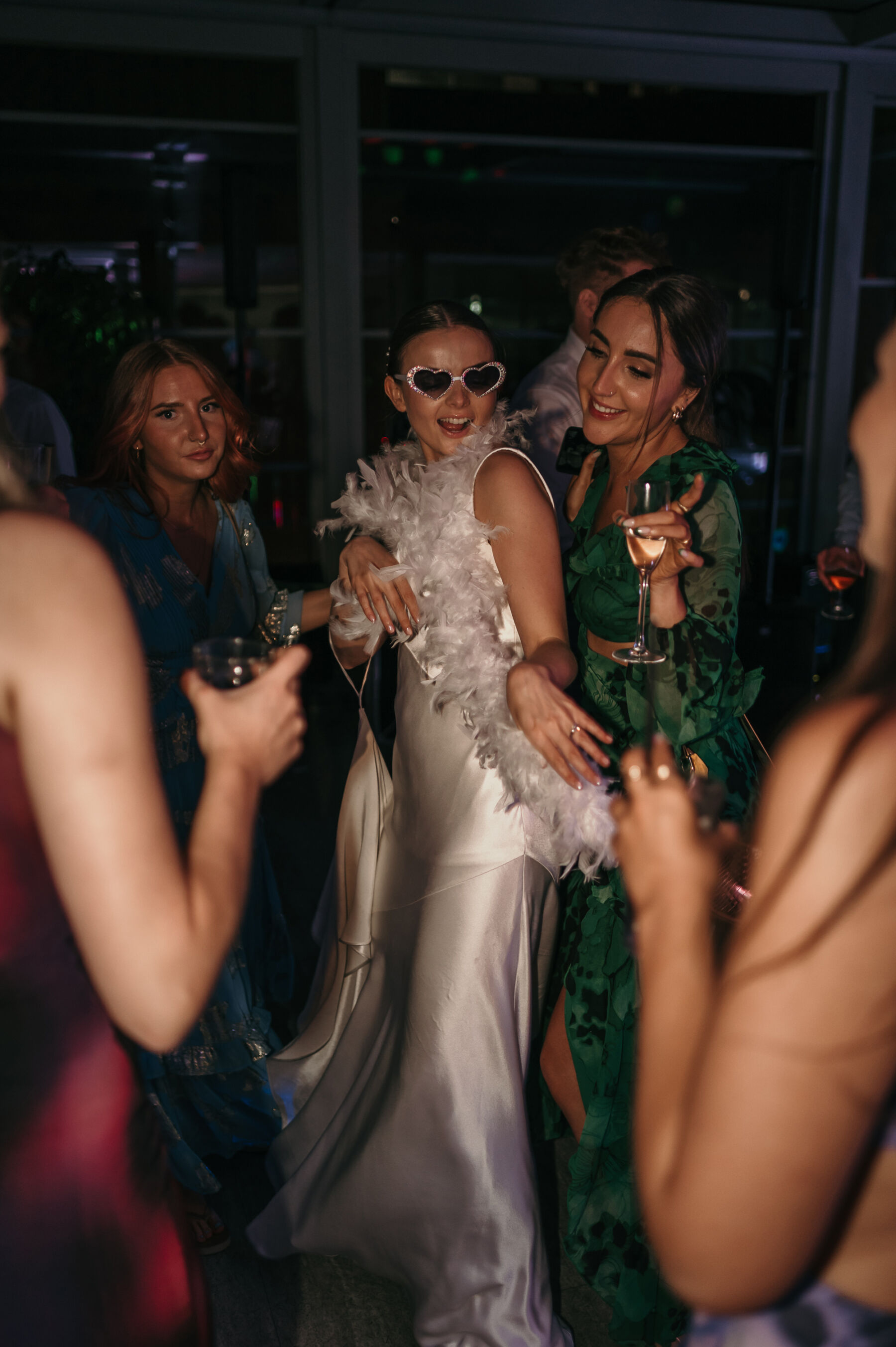 Words of Wedded Wisdom
Whatever budget you have in mind, double it then double it again. Our original budget definitely had to be increased but that was just due to the realisation of how expensive a wedding really is. Seeing as my original plan was more a village hall and pot luck kind of vibe! But the one thing we both said after the day was that we don't regret how much we spent.
Remember that it is your day, yes there are things you are going to do for other people/ to please others  but don't feel like you have to do something because it is tradition or expected. This also goes for online influences – you really don't need all of that extra stuff to make the day about what you enjoy and love and your family and friends will to! 
Also, plan in advance if there is something you can do now then do it because in the final months, weeks, days running up to the day so many little bits will creep up and don't underestimate the importance of forward planning your logistics for the day – not the most glamorous but pays dividends.
Worry less and enjoy the process – everything will work out on the day! Even though we knew that we needed to make a conscious effort to actually spend time together on the day this was definitely more difficult than expected! So, the one thing we would change is spending more time together enjoying the fantastic event we managed to pull off.
And most of all relax and enjoy all your hard work because it really is worth it.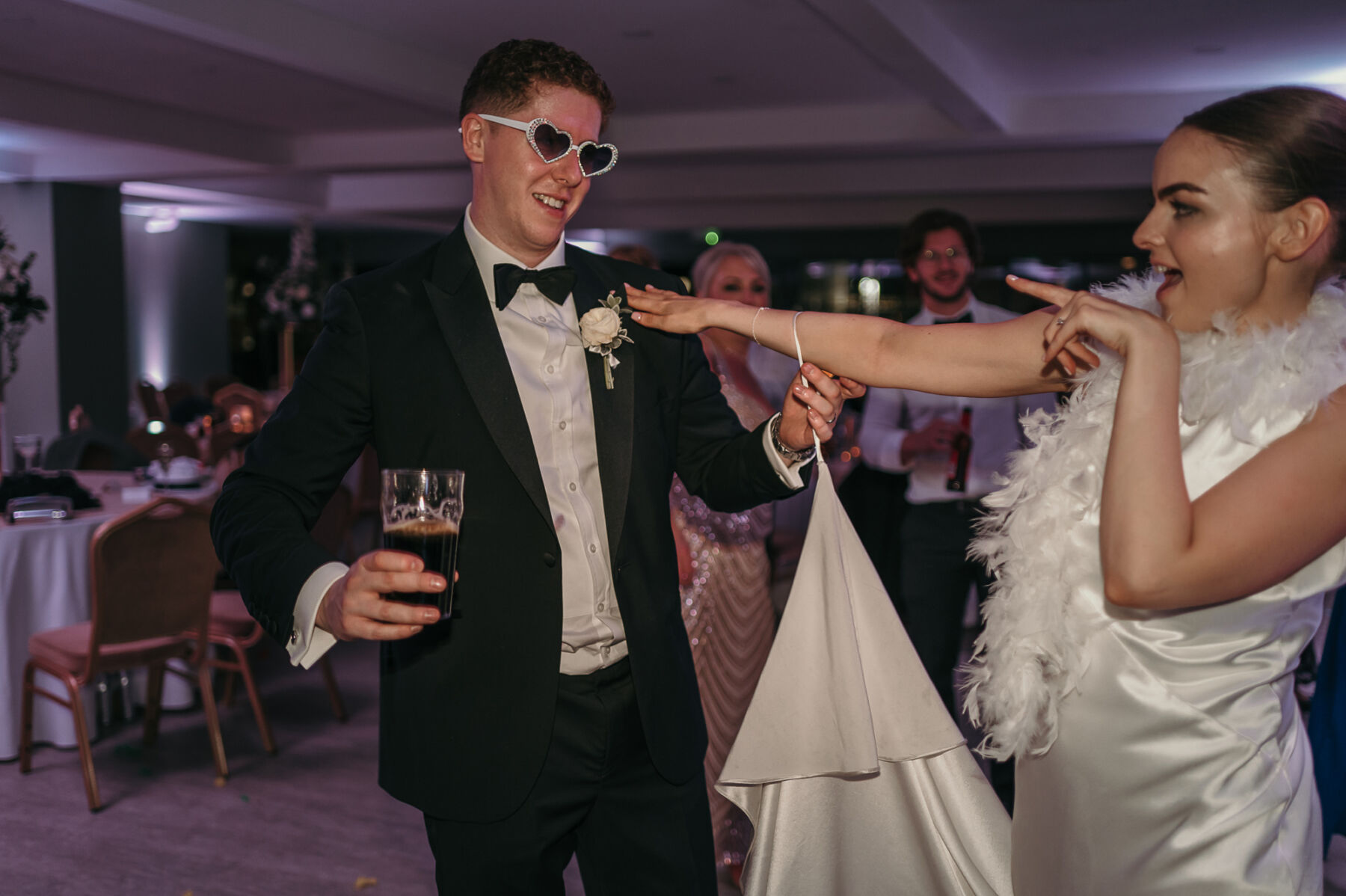 Notes From The Wedding Planner
Catherine Stott, Willow & Fig
As a venue stylist its super important to me to be meticulous and create a vision beyond how you imagine it could be.
Hannah and Jake, put their full trust in my interpretation of their ideas and allowed me to bring their vision to life. We had such an amazing day fulfilling their dreams, so let me share with you how.
It's important to understand the venue when planning decor to enhance the space perfectly. To do this consider the colour of the room, lighting and existing decor so we can tie it into your colour palette even if it's just a hint. This really helps to transform the space and enhances the whole day.
By doing this for H & J we created something fresh and contemporary which really looked amazing in this spectacular city centre wedding. It really did bring the wow factor.
Simple is timeless and will always look classic. This colour palette of green, white and gold echoed exactly that. A combination of floristry and candle light are a perfect pairing
together they create stunning centrepieces and they really where eye catching.
We had the best day styling for this gorgeous pair and it was a privilege to be part of such an amazing day.
Welcome to the
Love My Dress Shop
Browse the latest handpicked items in the Love My Dress Shop.
Shop by Category
or
Shop by Brand