Terre et Lune Cake Design
/

/

Terre et Lune Cake Design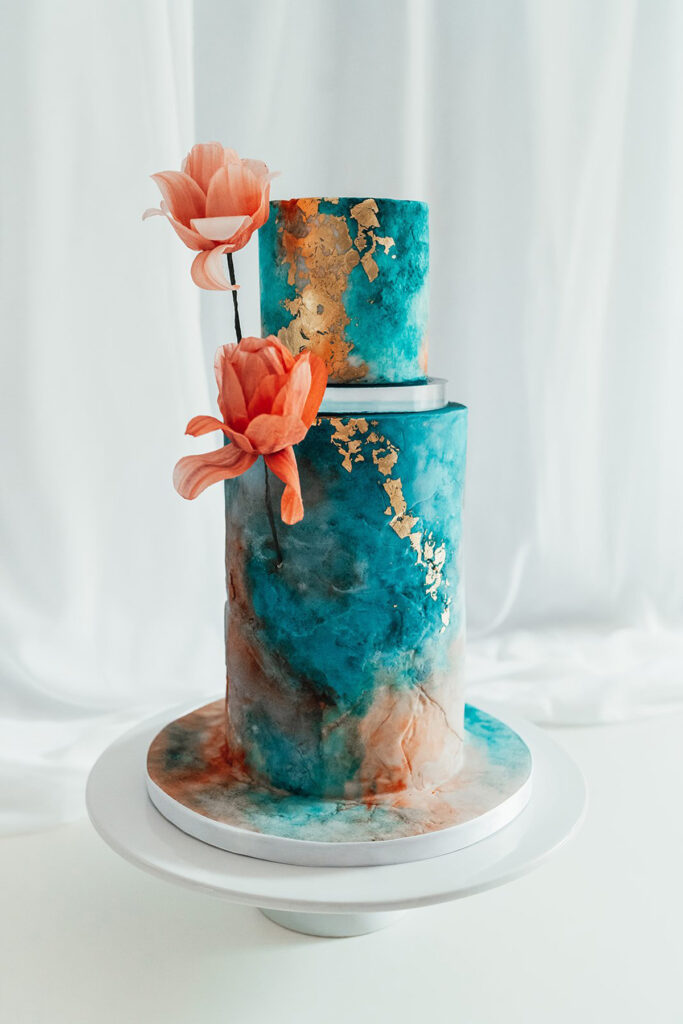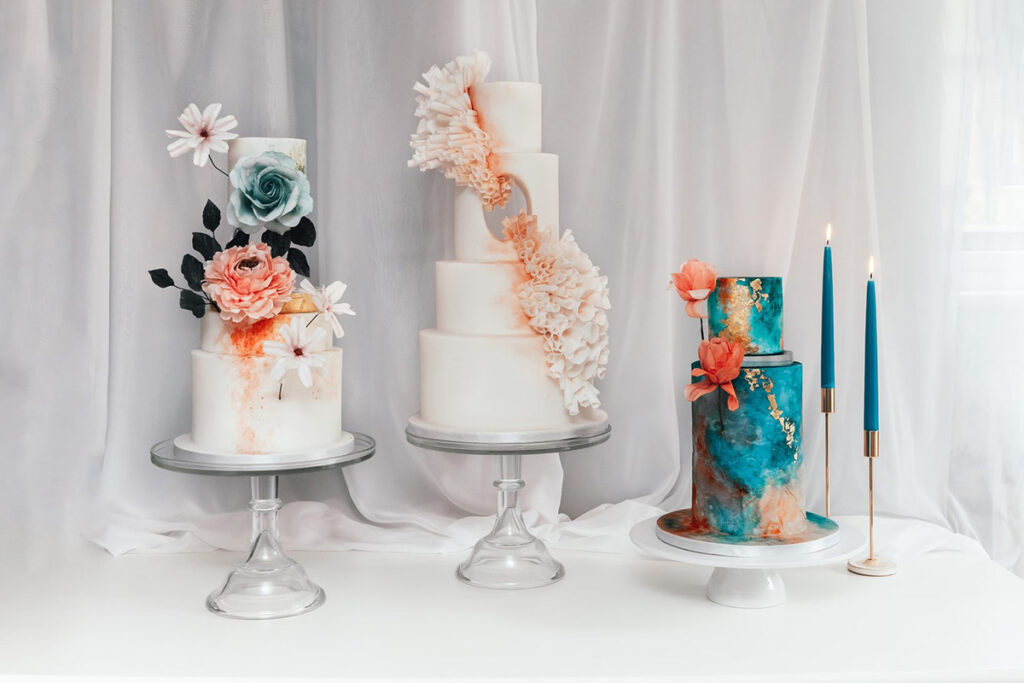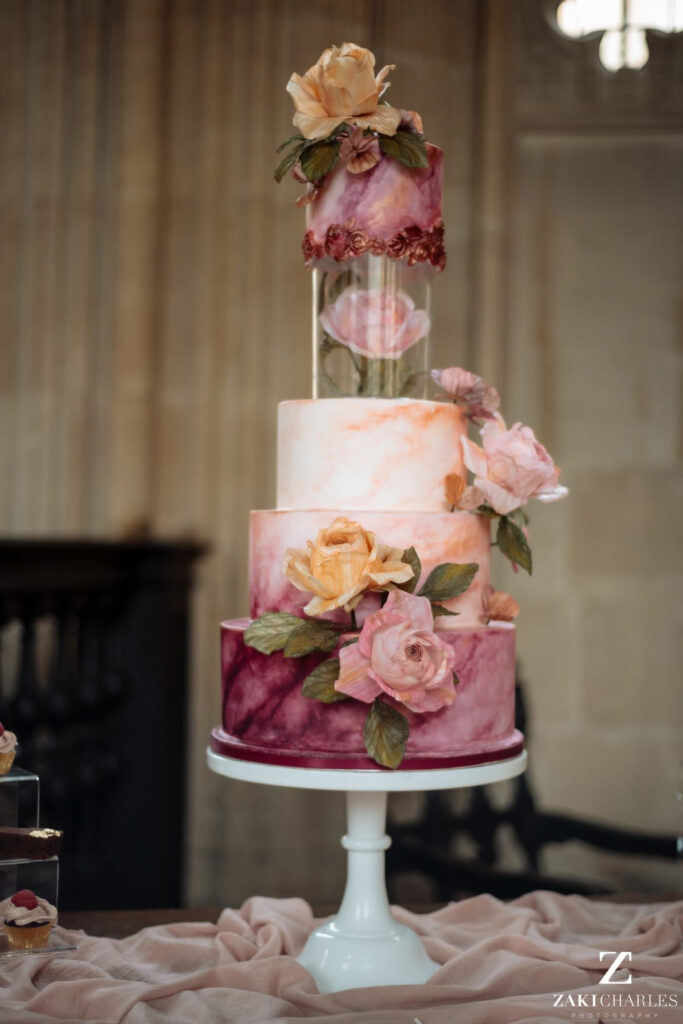 Hello! I'm Charlene Russell of Terre et Lune Cake Design (formerly Cherry Tree Cakerie) in Buckinghamshire – a wedding cake designer with a passion for creating impossibly beautiful artisan wedding cakes and wedding favours. Think relaxed and free-flowing creations embellished with delicate wafer paper florals, hand-painted flourishes and touches of exquisite detail to bring your style to life.
When designing your wedding cake, inspiration can come from absolutely anywhere. You may be influenced by your venue style, colour scheme, theme or maybe a memory, place, hobby or event that symbolises your relationship. As a designer however, I'm inspired by the natural world, florals, fabrics, art, pottery, textures and interiors – the list goes on. This means that the meeting of both our minds will create a design that is truly unique, creative and personal to you.
Whether you have some ideas or need some guidance, I can help inspire and create a design using well-practised decorating skills to make a delicious edible work of art that will tie in perfectly with your wedding day vision.
Charlene was absolutely brilliant throughout the entire time we made contact with her for our wedding cake. She helped us with some flavour suggestions when we were stuck and helped us design our amazing cake, which went down a treat with the guests. It was literally all gone within seconds and we didn't see a single crumb left over. We would recommend this amazing lady in a heartbeat!
Cara & Michael, Notley Tythe Barn
The amazing Charlene did our wedding cake and I cannot tell you how beautiful and gorgeous our cake was, it genuinely took my breath away when I saw it. I cannot recommend Charlene enough, you will not be disappointed, our guests were hunting out more cake on the day
Donna & Adam, Milling Barn
Jamie and I wanted to say a huge THANK YOU to you for such a beautiful cake for our wedding. The cake looked just as we'd hoped, you absolutely nailed the brief! Thank you for being so wonderful in the lead up to the day too, answering my many inane questions and being so accommodating during our tasting.
Kate & Jamie, Lillibrooke Manor
We chose Charlene for our wedding in August 2020, and it was one of the easiest decisions amongst all of the 'wedmin'!! I didn't have a clear idea about what I wanted, only a few things we really liked but couldn't see how it would be pulled together. Charlene took one look at my saved Pinterest's and immediately noticed the themes I was leaning towards. Without me even knowing myself! We had a lovely call to go over some ideas and within a few days she had sketched the most perfect 3 tier cake! For someone that is very indecisive Charlene made it so easy for me to give to the go ahead almost immediately! The final piece was an absolute dream. Charlene pulled together an exquisite 3 tier masterpiece! Beautiful intricate detail and our two little doggies featuring exactly how we wanted them. Charlene is incredibly talented in her work, and more than that she was so understanding and flexible when changes were up in the air due to Covid. She delivered everything perfectly and wowed us and our guests. 110% recommend.
Eloise & Michael, Euridge Manor
Charlene made the experience of designing our wedding cake a personal and enjoyable experience. We had our initial consultation at home (pre-covid) where we got to chat about designs and sample a section of delicious flavours. Based on our conversations and wedding stationery, Charlene designed the most beautiful 3 tier cake and sent us the finalised designs over so we could envisage what it would look like. Unfortunately due to the restrictions in June 2020, our initial wedding date was moved to December. Despite all these changes Charlene remained supportive and completely re-designed our wedding cake for a second time, for a more intimate wedding with two tiers and a more wintery vibe. Charlene always stayed in touch and we knew that the cake would be set up at the venue seamlessly. Our cake was absolutely beautiful and the wafer roses were so realistic too, it truly was a piece of art and tasted incredible with salted caramel and passions fruit for the two layers. We will definitely be recommending Charlene to our friends and family, thank you so much for making our beautiful wedding cake.
Emma & David, Hyde House, Cotswolds