Hello everyone, the new Mrs Isles here and I have such a lovely wedding to come back to after a few weeks away. This wedding is full of pretty softness and femininity with a healthy dose of a dashing boy in blue. If you are like me and the beautiful sight of blush blooms makes you giddy then prepare yourself before looking through these gorgeous Ellie Gillard images. What's impressive is that bride, Rebecca moved to Dubai just one month into her engagement to take up a new job role; so all the planning had to be coordinated from afar.
Rebecca married Tim on 14 June 2014 in a traditional Roman Catholic ceremony in Wandsworth and was then whisked by her new husband, in an open top Mercedes, to celebrate their marriage at the Thames Rowing Club on Putney Embankment.
"Picking a theme didn't come naturally as, although I'd always wanted to get married, I had never really thought about what I wanted it to look like. Growing up, my sister and I had always loved the film 'Seven Brides for Seven Brothers' in which the wedding month is June, so that was when I wanted ours to be. Tim and I both wanted a church wedding and thought that doing it locally to our flat would be a nice way to mark our home ground for the future.  We are extra lucky that the river is so close to us and when we found our venue we knew it was perfect for the day. The style evolved to include bright summer florals and was, hopefully, a modern take on the traditional style of wedding."
Photography Copyright (c) 2014, Ellie Gillard
"We met on Valentine's Day 2009, in Clapham on a night out with friends. Then on my 30th birthday in April 2013 (after a very heavy night of partying) we went to the Tate Modern. Afterwards, while having lunch by the river, Tim proposed! It was very emotional as I had just accepted a job in Dubai and I moved one month later.
We were engaged for 14 months and the planning was pretty tough arranging things from overseas. We really did have to plan ahead – each of my trips to London was usually spent with back-to-back supplier meetings! A great tool for keeping everyone on track was a website called Smartsheet – a shared Excel spreadsheet that I actually use a lot for work and project management. Tim couldn't escape it!"
"My four beautiful bridesmaids (sister Emily and friends Katie, Emma and Annie) were all very different heights (5'2"-6') so I decided it would be impossible to buy a dress that would fit and look good on all of them. So, being in Dubai, I bought fabric from the textile souk and gave it to an amazing dressmaker, Barbaranne Heaton of Moirai Style, to work her magic.
I found Barbaranne from the Dubai wedding directory Bride Club ME. The dress design itself was taken from a bridesmaid dress designed and worn by the actress Rachel Bilson that I used as inspiration for the style!"
Sadly, Rebecca's mum passed away of cancer a few months before the wedding which must have added a tinge of heartache to such joyful day. However, thoughtful touches included her mum throughout the day: diamond earrings given to Rebecca on her 18th birthday by her mum, her borrowed wedding garter, a smiling photograph at the reception, a brooch of hers on the bouquet and Cancer Research donation favours and pins.
"I'd been searching online and in various bridal magazines for inspiration on styles of dresses as I had no idea what I wanted. I came across Naomi Neoh's designs and I liked 5 or 6 of them, which I took to be a good sign. I found BOA Boutique nearby that sold her designs, and others just in case I wasn't sure about them when it came to fitting.
As it happens Naomi's dresses are amazing and I ended up buying Dita – the first one I tried on! (I still tried on about 15 to be sure!) I loved the classic but contemporary shape and fabric. The silk skirt was incredibly lightweight and the laced corset made me feel feminine and confident about my figure. And of course there was the addition of the flower corsage which set off the floral motif for the rest of the wedding."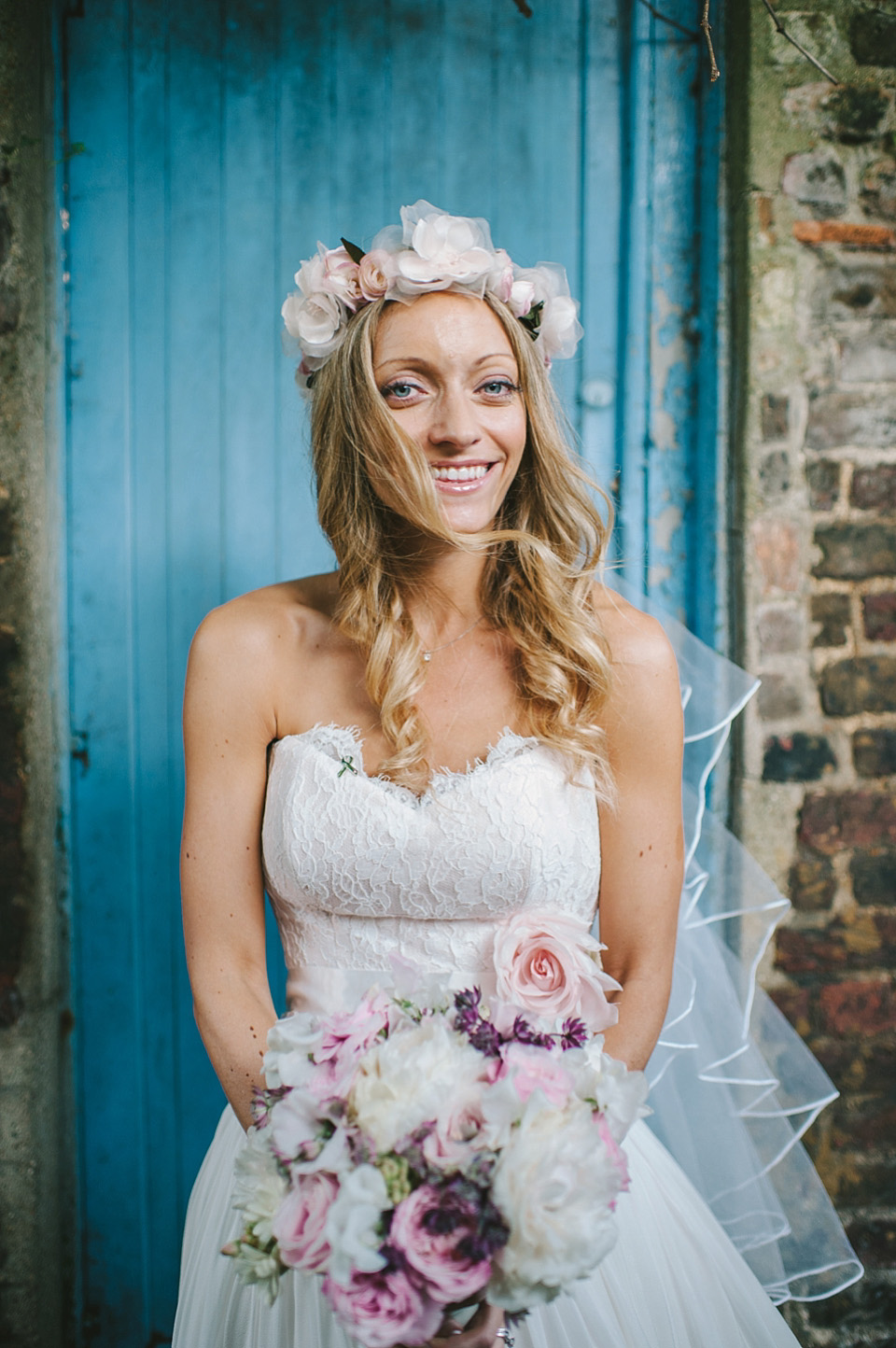 "The wonderful Ellie Gillard was our photographer for the day – she'd also done our engagement shoot the previous year. From the start she really listened to what we wanted (and didn't want) and made the process really fun. We couldn't wait to see the photos after the wedding, as you can imagine and we can't say thank you enough! She really captured the laid back and relaxed vibe of the day. It was so much fun and I think it shows in the photos.
Our guests also commented on how great she had been in her ability to put everyone at ease. She was particularly commended for wading in the flooding riverbank to get the wedding party shot! We loved working with her and would definitely recommend her. We also decided to invest in a second photographer (money well spent) which Ellie was able to provide as part of the service. Big thanks to Kat too!"