My alarm went off at 3.30am.  Deep grooaaaan………… is it really time to get up already?  Shower, breakfast, and time to get ready for the hair stylist coming round at 4.30am.  You read that correctly ~ I was being pinned up 1920's finger curl style at 4.30am!  What an amazing job my friend Lisa Cameron did too.  Meanwhile, my dear devoted Husband had gotten up to sew my frock for the day together! On trying it on the night prior, he had noticed a large tear down the seam – no wonder I couldn't fasten that zip.  Aggh! Needle and thread, quick! 'Stop worrying', he'd said 'I'll do it in the morning for you'.  He cooks too! I consider myself very very lucky…
Quickly don my frock (perfectly fixed) and my heels (all four inches of them) and apply a thick coat of very red lipstick.  All ready to go.  And HURRY!! We're LATE! I made it on to the 6am to Kings Cross with literally 30 seconds to spare.  I'm  not sure the glamorous locks, lipstick and sparkly hair-clip were such a good look for the early commute to the city (too many men dressed in grey suits!) but I was too excited to care 🙂
I finally made it to Kings Cross after at around 9am, hooked up with my wonderful friend and Love My Dress contributor, Cat Hepple, then went for a Costa, to catch up before making our way to Battersea Park, for the Designer Wedding Show.
 As we made our way out of our taxi (we had a lovely friendly London cabby who was quick to proudly show off photographs of his newborn Granddaughter) and into the venue, we were met by a very smartly dressed young gentlemen who opened the doors for us and smiled pleasantly as he greeted us in.  A good start. 
We handed in our complimentary Tickets (courtesy of Magpie Vintage) and made a brief stop at the cloakroom.  Whilst making our way over, the wonderful Tenors UnLimited sang one of their beautiful romantic songs, and as Cat and I glanced across at them, all three gentlemen were looking our way and it felt like we were being personally serenaded! We smiled (probably a little bashfully), giggled and went on – such a lovely little moment. 
Imagery Copyright (c) 2010, Tenors Un Limited
First stop was stand number 242 ~ Magpie Vintage.  I had been so excited about meeting Lisa and Tania, the two ladies behind this wonderful brand of vintage jewellery, and who have become very firm friends over the past few weeks.  As we approached, we could see the twinkles and sparkles of precious stones and jewellery that these two magpies had travelled the world to collect, to make up their unique and truly very beautiful vintage jewellery pieces.  I gasped a breath of admiration as we drew nearer, fixing my eyes upon the necklaces that had been delicately draped over the mirror frame, and the pretty  hair combs that rested on the dressing table.  This must have been the most glamorous 4m x 2m occupied space in the whole of London at that point in time ~ row up on row of carefully placed prettiness, all waiting to impress the visitors that would pass by over the next 3 days. 
A tall and glamorous lady who moments earlier had been busying herself straightening up individual pieces on display, turned to greet us both with wide open arms.  We received the biggest warmest hug and smiles from lovely Tania! I introduced ourselves and soon realised that Tania hadn't realised who we were (she and Lisa had been expecting us first thing).  Even more warm hugs and declarations of "Oh My Goodness! How lovely to finally meet you!" all-round.  An even better start! 🙂
We had been due to meet Lisa at the stand and attend the 10.30am catwalk show with her but had arrived a little late, so we made our way over to the show, scanning around for the description of Lisa that Tania had left us with "grey lace dress! Beautiful necklace and a really pretty headband…" but couldn't find her, so we stood to the side and watched the show run it's course.  More on that later.
Twenty minutes on, and we finally found Lisa. We spent a few moments hugging and giggling – so excited to finally get the chance to meet face to face.  Lisa was soon fiddling about in amongst her beautiful jewellery designs…"come on girls, we're going to glam you up!".  She proceeded to adorn Cat and I with two of the most beautiful necklaces I think I've ever seen ~ I actually lost count of the number of people who asked me throughout the rest of the day, "Is that a Magpie Vintage? it's so beautiful!", or "Can I ask where you got your necklace from?  It's divine…". 
A few moments later, this extraordinarily pretty, petite and immaculately dressed lady approached the stand.  "Well well, Annabel Beeforth and Cat Hepple!", she said.  I looked at the lady trying to veil my sense of confusion in not recognising her, and wondering who she was!  "It's Rebekah!" she said.  Ahhh, Rebekah!  Cat and I had arranged to meet the incredibly talented Stationer, Rebekah Daley to have lunch and spend the day with her.  Cat is a past client of Rebekah's, and I have always hugely admired Rebekah's work. 
Imagery Copyright (c) 2010, Rebekah Daley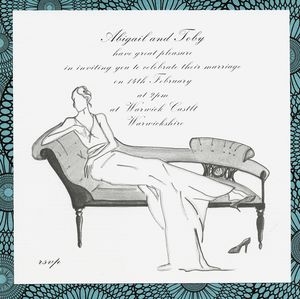 In the excitement of arriving at the event, I had almost forgotten we had arranged to meet!  More hugs, introductions and then Rebekah drew out two ribbon tied little boxes from her handbag.   "A gift for you each!" she said, as she handed them over to Cat and I ~ inside, a really pretty little hand-painted table name place in the design of a pretty clutch bag, each with our respective names on and sparkling with little Swarovski crystals.  What a lovely little gesture! 
We spent the rest of the day together enjoying copious amounts of tea, a lovely lunch and making our way around as many exhibitors as we could. I am serious too when I say that of all the exhibitors on show, Magpie Vintage was the busiest.  All day.  Cat and I would regularly pop by the stand, only to find Tania and Lisa buried in amongst a hive of activity.  You could barely see the display pieces on show, for the number of visitors bustling away and trying their best to get their own view, standing on tip-toes and peering like giraffes over the shoulders of the person in front to catch a glimpse.  I was quietly thrilled for Tania and Lisa (only hoping their feet didn't ache too much!), and we left them both to it as we continued to enjoy the event. 
Lunch (£25 for 2 courses, £35 for 3) was delicious and the service was extremely good.  Tenors UnLimited sang to those dining, including a rendition of the song 'When We Dance' – so beautiful, we giggled as I found tears welling in my eyes! I'm such an old romantic …
The venue was bright and airy and the staff welcoming and helpful, though a temporary issue with the toilets was a little disappointing and um, frustrating (every one of them got blocked!).   Overall, I had a really wonderful time, bumping into many people I had made contact with since starting out Love My Dress. 
The whole entire show was wonderful, but I have attempted to pick out 'the best of the best' below, and explain a little why they really did it for me…


Best of the Catwalk & Bridal Wear ~ The catwalk show was really very impressive; the models glided dreamily down the catwalk looking too elegant for words and glowing in the resplendence of their gorgeous designer wedding gowns, millinery and jewellery. 
The designers that really stood out for me were:-
♥   Temperley London – Alice Temperley's foray into bridal wear instantly filled the dreams of many a Bride to Be who hanker after shockingly beautiful, elegantly cut, floaty fabric that is adorned with the most exquisitely hand-applied sparkles.  The Temperley London gowns on show on the catwalk were from the latest collection that is featured on Love My Dress here.  Alice Temperley took inspiration from the 1940's and 1950's in designing this collection, my favourites of which are below, the Long Jean dress (left), the Long Jessamine Dress (middle) and the Long Ellette Dress (right)…
Imagery Copyright (c) 2010, Temperley London
These dresses draped beautifully and moved with such grace down the catwalk.  The attention to detail I observed on the exhibition stand was second to none. These gowns most definitely have a touch of the divine about them – heavenly creations indeed.
♥   Vivienne Westwood ~ One of the biggest fashion icon's of the century was represented at the show by a collection of the most outrageously glamorous gowns to grace the catwalk.  I adored the exaggerated pouffed shoulders, the short and sassy thigh length mini dress, the elegant draping of the silk on the longer gowns and overall the sense of confidence that the models were dripping in as they made their way out for the much admiring crowd – who were clearly loving every second of it.  We stopped to chat to the ladies manning the exhibition stand, who told us all about Vivienne's unique way of creating dresses (it all starts with draping fabric over a mannequin, rather than sketching a design and starting from there), which is described excellently on page 12 of Gisèle Scanlon's new book The Goddess Experience. As Gisele says herself "in my humble opinion, this is where every Bride should go for her wedding dress".
♥   Heirloom Couture ~ how I ADORED these exquisite, original vintage dresses, that have been sourced and restored by this wonderful company.  'Heirloom Couture unearths forgotten gowns longing to be remembered by today's fashion conscious Bride.  Vintage finds through the decades are restored and provide inspiration for bespoke pieces in this unique collection'.  The only problem is, I've been unable to get to view their website (www.heirloomcouture.com) since returning from the show – hopefully the site issues will be resolved soon. I truly hope so because you all need to visit it and take a look for yourself at these absolutely beautiful gowns. 
♥  Sassi Holford ~ I had so wanted to meet Sassi, but by the time I eventually got to her stand, she was packing up for a shoot late at the Dorchester, so we said a quick hello, then I spent sometime chatting with Sassi's Husband.  To me, Sassi's gown's represent timeless, classic elegance, with a clever twist of contemporary. 
Imagery Copyright (c) 2010, Sassi Holford 
♥   Ritva Westenius ~  I'm a huge fan of Ritva Westenius, who 10 years ago, started to work with her Daugther Chenka, an ex-Prima Ballerina.  Chenka was at the Designer Wedding Show representing this wonderful London based brand of luxury bridal wear.   Chenka had to pop off not long after we started chatting, to view the catwalk show, but we stayed on to chat to her PR representative about Ritva's beautiful wedding gowns. 
Sashaying down the catwalks in their over-sized black hair bows, the models wearing  Ritva Westenius looked the epitome of grace, elegance and confidence.  Beautiful silhouettes, beautifully structured fabric on the more fitted gowns and elegantly draping silk elsewhere.  "I've got to go and see my lovely black bows!" Chenka giggled at us as she made her way off to the show…
Photography Copyright (c) 2010, Ritva Westenius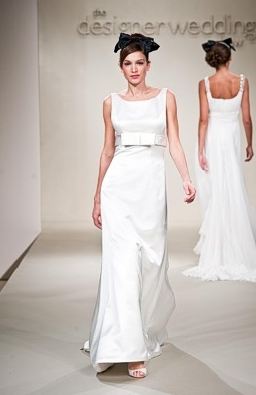 Bridesmaids ~  funny, that I hadn't thought at all about Bridesmaids dresses prior to the Designer Wedding Show, but that they ended up leaving some of the strongest impressions with me from the day…
♥  Two Birds Bridesmaid ~ 'One dress, two sizes, four lengths, eighteen colours ~ over 15 ways to wrap, no alternatives = delighted bridesmaids'.  This is the claim from 'Two Birds Bridesmaid', the new American brand of Bridesmaids dresses that have taken the industry by storm, and who launched in the UK in January this year.  Having seen the dresses for myself, I can honestly say, I'm impressed.  Far from 'gimmicky', they come across as very demure, exceptionally well designed, and the colour scheme should satisfy most Brides to be.  Definitely one to watch.
Photography Copyright (c) 2010, Two Birds Bridesmaids
♥  I Love Gorgeous ~ 'Beautiful clothes for gorgeous girls'….swoon, swoon and swoon again.  Now, I'm one huge fan of pretty vintage style little girls dresses, having a four year old of my own (who just like her Mummy, loves to dress up!) and these dresses were totally DIVINE! Really, really beautiful, they looked like vintage originals, all lace, silk chiffon, wonderful silks, cottons and pretty trims. I really, really liked this stand, it was a big hit for me and I'll be watching this brand very closely from now on.  
Photography Copyright (c) 2010, I Love Gorgeous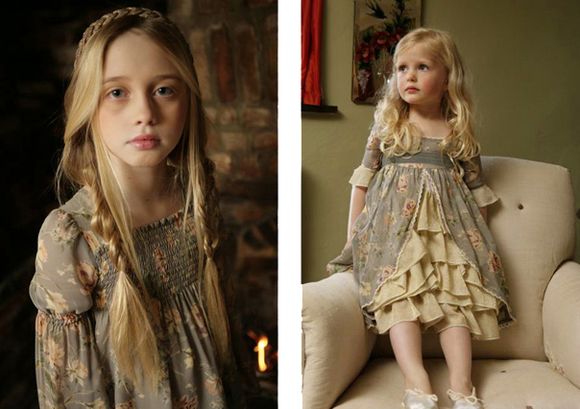 ♥  Nicky Macfarlane Bridesmaids ~ I had been keen to meet Nicky in person, having connected with her recently as part of my involvement in the Absolutely Beautiful Weddings event, but when I dropped by Nicky's stand, she was so busy! I did manage to get a glimpse at some of her totally gorgeous Bridesmaids dresses however and am even more excited about getting a chance to view them properly now at the Absolutely Beautiful Weddings event…
Photography Copyright (c) 2010, Nicky Macfarlane Bridesmaids

Shoes ~ There were some really pretty shoes on show, but as I had suspected (because I'm a huge fan and wore them on my wedding day), one particular designer had me feeling weak at the knees…
♥   Emmy Bespoke Wedding Shoes had an exquisite display on show – definitely one of my favourites.  The designer, Emmy Scarterfield was there, along with her very lovely Assistant Vicky, and PR Manager Jules.  Cat and I chatted for a good half hour with the girls, covering everything from babies to children to being a working Mum and of course, gorgeous shoes!
There is something about Emmy's vintage inspired shoes, and I'm not quite sure what it is.  It could be that they actually look and feel like original vintage pieces (this is craftsmanship at it's finest), that they they sport beautiful art-deco style shapes and cut-outs, or is it the hand-applied crystals, feathers or tiny sparkly buckles? Not sure I can put my finger on it, but they are just the most fabulous and charmingly beautiful shoes ever in my world. And they fit like a dream too – I speak from experience.
Emmy showed us two new additions to her collection of shoes; one, a most fantastic pair of 5 inch heels, backless with sparkly detail near the toe.  FIVE inches!!  And every inch glamorous and gorgeous.  And secondly, a colourful pair of courts that had been produced using original vintage fabric and – wait for it – had a detachable single corsage.  Think flowers for your feet!  Just divine.  Emmy explained that a new service she is to launch soon will allow her customers to bring in their own vintage fabric and have it turned into a pair of shoes.  How absolutely wonderful!  Emmy also showed us a beautiful feathered head-band that Assistant Vicky had spent 8 hours applying teeny tiny sparkly crystals on to.  Emmy popped the head-band onto Cat who of course had to turn round for a peak in the mirror.  It really was very beautiful. 
Full details of Emmy's new designs will appear on Love My Dress very soon.
Millinery ~ There were several Milliners on show at the event, and each exhibition stand looked an absolute delight.  One Milliner however totally wowed me with her utterly exquisite hand-crafted pieces.
♥   Edwina Ibbotson hats and head-pieces are like nothing else I've ever seen before. Just stunning bead-work and detail, I really was blown away.  My favourite piece was an extremely beautiful golden number, reminiscent of the 1920's cloche style hat, which was longer and lower on one side than the other.  It was positioned at waist height on the exhibition stand and I found my hand hovering over it in awe – I daren't touch it, such was it's beauty, despite being asked if I'd like to try it on!  I found Edwina and her Assistants to be extremely welcoming and friendly. I'll be featuring an interview with Edwina very soon.  She is my new obsession.
Imagery Coypright (c) 2009-2010, Magpie Vintage, from their collaboration with Edwina Ibbotson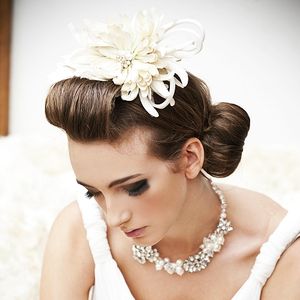 Jewellery ~ It was all about the sparkle….
♥  …and the Magpie Vintage stand twinkled like like a bright and shiny star throughout the whole entire day. They were enviably the busiest stand at the show and had such unbelievably lovely designs on exhibit.  You could not help but be lured in and 'ooh and aaah' over the prettiness of it all.  They will be a big hit no doubt with today and tomorrow's visitors, and deservedly so. 
Imagery Copyright (c) 2009-2010, Magpie Vintage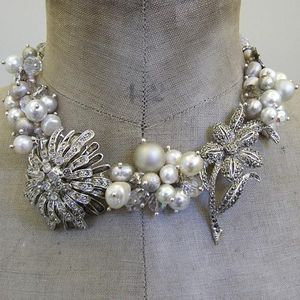 ♥    Passionate About Vintage ~ Of all the other exhibitors on show, one of them had a very big first and lasting impression with me; 'Passionate About Vintage'.  This stand displayed some truly exquisite original vintage jewellery and I was immediately drawn to two delicately beaded purse bags – originals from the 1920's apparently, that the owner, Natalie Leon, had sourced from France. 
Natalie has an obsession with vintage glass beads – claiming to own over 50,000 of them, which she collects to create her own unique and hand-crafted pieces.  I really loved this stand and I instantly warmed to Natalie – she was friendly and approachable, and very very knowledgeable. Having visited her website since the Designer Wedding Show, I have learnt that Natalie has been immersed in a world of vintage and antiques since she was a child and went on to study costume jewellery (her great passion) at University.  This is a lady who really knows her stuff and is extremely passionate about it too.  Definitely an up and coming brand to keep a close eye on, especially if you are into vintage style.  
Veils ~ in any style, in any length, but only one fabric ~ 100% silk….
♥  Ann Guise's silk veils are second to none. Individually handcrafted in 100% silk by her own fair hands, then shipped to Paris for embroidery and special embellishment such as sequins/beads, Ann's beautiful veils are elegance personified.  Ann supplies to Brides all over the world, as her website pays testament.  The veil's on display at the Designer Wedding Show were oustanding, gorgeous examples of what Ann can achieve with her bespoke service.  I'm a huge fan.
Imagery Copyright (c) 2009-2010, Ann Guise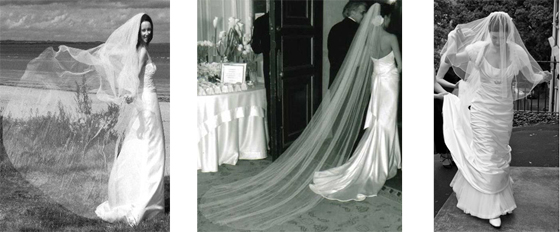 Photography ~  Cat had recently attended a Photography course with Brett Harkness and was keen to introduce me to Brett and his business partner/wife Kirsty.  "I'm the Lady behind the Man!" said Kirsty with a smile, whilst showing me through one of Brett's very impressive sample Queensbury albums.  As Cat and Brett chatted about the more technical aspects of Photography, I took my time to admire more of Brett's sample Photography.  It was divine, the use of light, the styling, just sublime infact.  Aside from his extraordinarily outstanding Photography, I found Brett to be really friendly and enthusiastic and sensed immediately what a figure of reassurance and professionalism he would be on anyone's wedding day.
Photography Copyright (c) 2010, Brett Harkness
Stationery ~ The best of stationery for me was…
♥  Sugalily ~ who featured on Love My Dress last week.  It was really lovely to meet Abbey, the designer behind this fabulous range of vintage and retro inspired wedding and social stationery.  What a lovely lady – and Abbey had a rather fine spot too, right next to the catwalk.  I loved Abbey's pretty new Peacock designs and cheeky wedding table entertainment, and it was good to see that Abbey's quality of production really was top-notch.  Best of all, Abbey had some mini cupcakes with her sugar-iced logo on top, which Cat and I gleefully savoured as we moved on to the next stand – thank you Abbey!
I'm really sad that I didn't have time to get round to the Chartula stand, however, I'm looking forward to meeting designer Charlotte Hewson next month and will be reporting back on her stunning laser-cut stationery designs then.
♥ ♥ ♥ ♥ ♥
I was also sorry to have missed Photographers Julia Boggio, Emily Quinton, designer Yulia Kunze and the Utterly Sexy Cafe team, though am looking forward to the upcoming events where I'll finally get a chance to meet these talented ladies.
I hope you've found some of this useful, whether it's that you couldn't make the show this time round, are visiting tomorrow and want to know what to look out for, or are just keen for some feedback.  If anyone has any questions this feature might not answer, please don't hesitate to drop us a line.
Much love,
♥