A couple of nights back, as I was browsing the web, I came across a brand new, never ventured into before website that almost immediately captured my imagination the moment I set my eyes on it.
As I entered the site, my laptop screen became alive, buzzing with 'life', transforming form a set of mundane Google search results into an elaborate theatre design.  My attention was grabbed very readily as a stage light turned on, highlighting dust particles in the air and the well trodden wooden boards beneath.  A set of long emerald green curtains swooshed to the centre and then to the side again, revealing a number of females clad in elegant flapper frocks and Edwardian style tulle petticoats and corsets.  Meanwhile the dulcit tones of Marlene Dietrich singing 'Black Market' from the movie A Foreign Affair started sounding in the background.  This was like no other introductory website experience I had experienced in a long time, if ever!
And if this was to be my first impression of this new brand I had discovered, then it was indeed wondrous… 
 "Our clients expect the best in vintage and antique textiles with cutting edge designs. We consistently churn out new and fabulous collections every 5 weeks.  Our clothing is couture with hours of hand sewing detail."  
Imagery Copyright (c) 2010, The Boudoir Queen
Photography Copyright (c) 2010, Mark Younger-Smith Photography and 666 Photography
It turns out that this amazing website (one of the most beautifully creative and imaginatively designed I have frankly ever seen) is owned by one Dawn Younger-Smith.  Dawn creates fabulous pieces based on her love of antique dolls and vintage fashion, under the brand name 'Boudoir Queen'.  And best of all, she sells all of her creations via her website, and Etsy (links provided at end!).   
Dawn's background is a colourful one to say the least.  She has modelled for Steven Arnold, who in 1976, helped Salvador Dali with the creation and opening of Teatro Museo Dali, in Figueras, Spain.  Dawn was also a makeup artist for Arnold.  Dawn now lives in Austin, Texas, with her Husband, a former Billy Idol guitarist.  
I'm starting to see how Dawn has been inspired by her life experiences…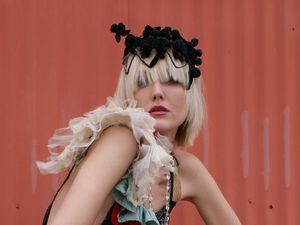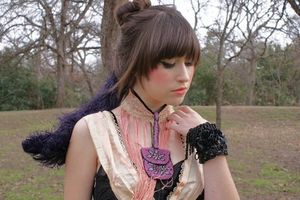 Click through to the 'Client List' and I can see an impressive set of names; Courtney Love, Karen Elson, Molly Simms, Imogen Heap, Vanessa Paradis, to name but a few.  I was more than intrigued.  More click-throughs, this time the Look Book, and I find myself fastly falling in love with the beautifully original designs that grace the pages I find myself devouring my way through; apparently, celebrity favourites are Dawn's textile wrist cuffs, bustle dresses, ruby lined harem suits, plumed head adornments and lush pearl collars…
"My name Boudoir Queen was inspired by 1920's Boudoir Doll's. At one time I had over 500 of them. Their elaborate gowns of silk,rosette flowers and metallic lace inspired me to design doll clothes for people. We specialise in "Dolly Style" I've noticed this style has become quite the trend in Japan right now.  
I have a pale pink studio in Austin Texas located in the Courtyard Shops. It's a diamond in the rough. If you are in the know you can stop in by appointment only."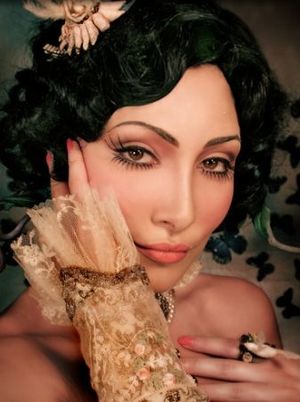 How long have you been designing for and what got you into design in the first place?…"I've been collection antiques and antique clothing starting at a very early age. After being a celebrity make-up artist and stylist in Los Angeles for many years I started collecting Victorian, Edwardian clothing and 1920's Boudoir dolls and textiles. This led me to become a designer about 14 years ago. During my years as I stylist I used a lot of vintage and created some of my own quirky looks . It's always been in my blood."
Where do you seek your design inspiration?.."My inspiration comes from the Boudoir Doll's but I'm also very much into Paul Poiret. He is a true inspiration."
Do you have a muse when designing?…"I have several muses. Our clients are almost all musicians. We have designed for The Citizens Band (Karen Elson) Courtney Love, The Veronica's, Evan Rachel Wood,  Patty Griffin and Imogen Heap to name a few. I would say Anita Pallenberg is one of my main muses. I do love Bette Davis, Edie Sedgwick, Catherine Baba and Marchesa Luisa Casati as well."
Do you have a favourite 'vintage era' and if so, why?…"I love the Edwardian Era and the 1920's. I'm also fond of the late 60's early 70's style."
What materials do you prefer to work with/find you work with most?…"Chiffon, silk,metallic lace,silk ribbon flowers,velvet, doll parts and Victorian Jet."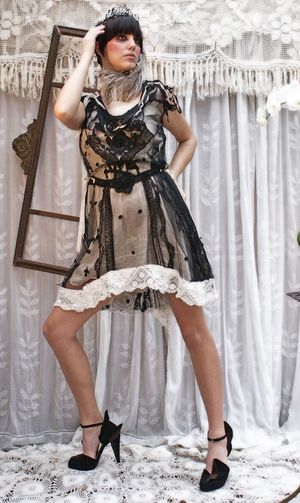 The Boudoir Queen prices range from $45.00 to $500.00 for cuffs and Jewelry and from $275.00 up to $1350.00 for gowns. Dawn tells me that she ships worldwide, and you can purchase her exquisite designs from The Boudoir Queen online shop, or, Dawn's Etsy shop.
Beautiful, brilliant boudoir heaven…
♥