I visited the Designer Wedding Show recently (you can read my report here), and one of the brands exhibiting that really stood out for me was 'I Love Gorgeous' – a line of beautiful
wearable clothes for girls from 6 months to 15 years, with a signature design of classic, flattering silhouettes made interesting with the use of
gorgeous fabrics, vintage trims and pretty embroidery.
I thought the clothes on display at the show were really beautiful; they represented something totally fresh and original in comparison to the usual style of frocks and separates that are sold by the many other brands for flowergirls and Bridesmaids;  think vintage style floral fabrics and dusky pastel colours in silk chiffon, georgette crepe and lace with pretty and delicate finishings. 
I spoke recently with the two designers behind I Love Gorgeous; Lucy and Sophie started designing as they wanted to be able to dress their own girls in beautiful clothes but couldn't find anything out there, and so, the very first I Love Gorgeous collection was released in September 2007 and the brand new Spring/Summer 2010 collection has just been released…
"Our inspiration for this collection came from vintage finds, one of
our favourite themes, whether it be an 18th century christening dress
or a 1960's mini.  Memory and nostalgia play an important part in all our work…"

Imagery Copyright (c) 2010, I Love Gorgeous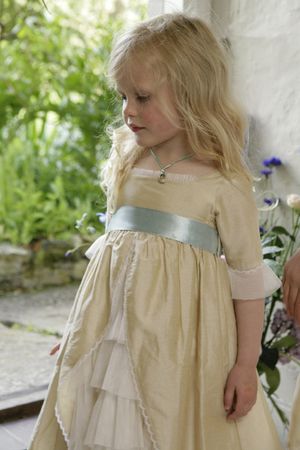 I happened to stopped by the stand with two of my friends – both of
whom have impeccable taste, and both of whom were completely bowled
over by the beautiful little frocks dangling from their dinky hangers. 
We ooohed and ahhhed over a frilly pair of baby knickers and gushed
over several numbers that quite literally screamed 'buy me NOW!', so
unbelievably cute and feminine were the designs.
"Our bridesmaids collection was made in
response to requests from magazines and customers for I Love Gorgeous to
use their signature style in creating a more relaxed approach to bridal
wear."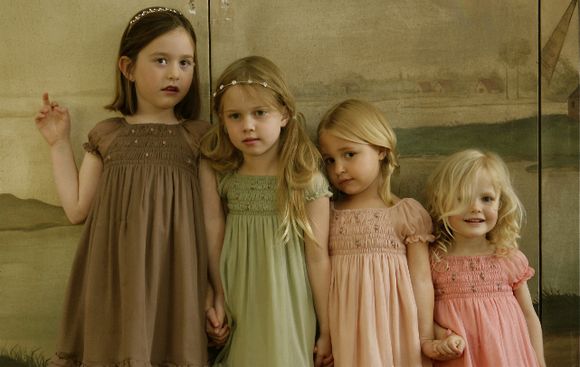 "Our aim is to provide beautiful clothes for gorgeous children.
We love using unusual fabrics that you wouldn't normally find in
children's clothes. Fabrics with a bit of swish in them. Moss crepe,
viscose chiffon, silk chiffon, georgette and soft cotton voile."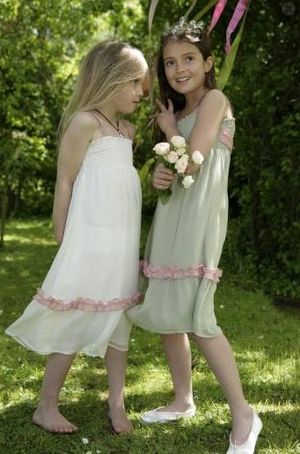 "We love
sourcing unusual prints and putting them together with a bit of sari
fabric or a slash of gold lurex. A froth of net, a hint of lace or some
retro ric rac trim."
I Love Gorgeous designs are priced between £40 and £140 and can be purchased from the website, or from the Notting Hill Shop at 52 Ledbury Road, London, W11 2AJ.  A full world-wide stockists list is available via the website.
I absolutely LOVE these gorgeous little gowns ~ who wouldn't?  🙂
♥